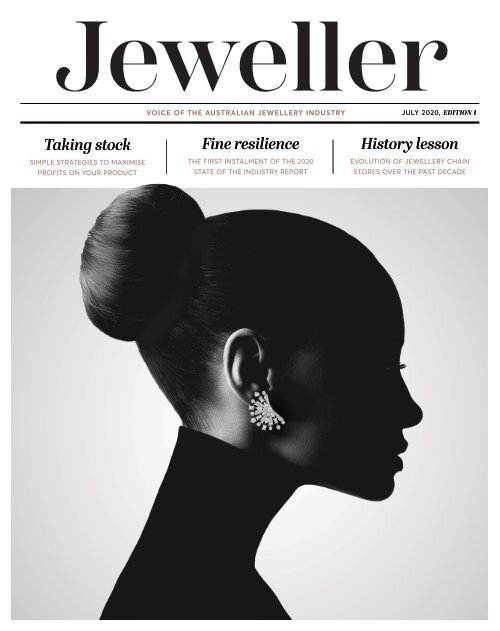 Jeweller - July, Edition I 2020
» Talking stock: Simple strategies to maximise profits on your product » Fine resilience: First instalment of the 2020 State of the Industry Report » History lesson: Evolution of jewellery chain stores over the past decade
» Talking stock: Simple strategies to maximise profits on your product
» Fine resilience: First instalment of the 2020 State of the Industry Report
» History lesson: Evolution of jewellery chain stores over the past decade
SHOW MORE
SHOW LESS
You also want an ePaper? Increase the reach of your titles
YUMPU automatically turns print PDFs into web optimized ePapers that Google loves.
VOICE OF THE AUSTRALIAN JEWELLERY INDUSTRY JULY 2020, EDITION 1

Taking stock

SIMPLE STRATEGIES TO MAXIMISE

PROFITS ON YOUR PRODUCT

Fine resilience

THE FIRST INSTALMENT OF THE 2020

STATE OF THE INDUSTRY REPORT

History lesson

EVOLUTION OF JEWELLERY CHAIN

STORES OVER THE PAST DECADE
---
Be Reconnected

UNITED | CONNECTED | PROUD | RESILIENT

INTERNATIONAL

J E W ELLERY & WATCH FAIR

SEPTEMBER 12 – 14, 2020

ICC Sydney Exhibition Centre, Darling Harbour

jewelleryfair.com.au

Organised by
---
Looking for new product ideas? Maybe you have an unusual request for a diamond or gemstone or perhaps

you need a new supplier for your bread and butter items? Or you are looking for a new watch brand?

The 2020 Suppliers Directory – the "Bible" of the Australian and

New Zealand jewellery industries – has all the answers.

STILL

THE #1

DIRECTORY

280+

Product

Categories

4

Distinct Category

Sections

Individual

Industry

580 Suppliers

Jewellery &

520+ Watch Brands

Suppliers - Are you and your products listed? Retailers – Have you got your copy?

Email info@jewellermagazine.com

Not only is the Supplier Directory the largest and most comprehensive

industry database, you can access it online through any device 24/7.

www.jewellermagazine.com
---
JULY 2020

Contents

This Month

Industry Facets

8 Upfront

24

10 YEARS AGO

Time Machine: July 2010

10

FACTS & FIGURES

COVID-19 Update

27

MY STORE

Erik Runyan Jewelers

13 News

29

56

58

LEARN ABOUT GEMS: BACK IN TIME

Peridot

MY BENCH

Matthew Alexander Crooks

SOAPBOX

June Mann

Features

31

2020 STATE OF THE INDUSTRY REPORT – PART I

Chain reaction: Fine and fashion jewellery chain stores

31 STATE OF THE INDUSTRY FEATURE

Links in the chain

Jeweller explores the evolution of fine and

fashion jewellery chains over the past 10 years.

TOPICS

Better Your Business

45

STOCK STRATEGY

Make the most of your stock with these strategies, writes FRANCESCA NICASIO.

The demise of fashion jewellery chains

Fine jewellery demonstrates unexpected resilience

Mid-sized jewellery chains have mixed results

Some small chains drop off the chain list

IN FOCUS

ZOOMING OUT History Lesson: twists and turns

ZOOMING IN Pandora: past the peak?

HILLS & VALLEYS Key moments for Michael Hill

48

50

52

54

SELLING

Don't neglect these sales and marketing areas, advises IAN ALTMAN.

MANAGEMENT

DOUG FLEENER discusses the most effective ways to motivate staff.

MARKETING & PR

The best marketing strategy is often the simplest one, says THOMAS YOUNG.

LOGGED ON

BETH WALKER explains how to create consistent, high-quality blog content.

29 LEARN ABOUT GEMS

Peridot

4Discover the mysteries

and history of this

glorious green gem.

FRONT COVER The Graff

Solar Multishape Earrings,

featuring white diamonds, are

inspired by the sun breaking

over the horizon at dawn.

July 2020 | 5
---
S A MS GR O UP

A U STRA L I A

WE'LL RISE ABOVE THE STORM

These are unsettling times, with COVID-19 impacting our

professional lives and those close to us. We understand it

is challenging to operate under current restrictions, however

we're getting through this together one day at a time and

there is a light at the end of this tunnel.

Despite the circumstances, take care and make time to

do the things you love with the people you love; it's

never been more important to support one another, remain

positive and keep smiling.

Wishing you a safe passage through this difficult period.

We'll rise above the storm.

Steve Der Bedrossian

CHIEF EXECUTIVE OFFICER

ARGYLE PINK

DIAMONDS

Semi Precious Jewellery

T: 02 9290 2199 F: 02 9262 1630 E: Pink@samsgroup.com.au W: Samsgroup.com.au
---
It all comes together at Palloys

A world first in jewellery production management

Your It all singular comes destination together for all at things Palloys jewellery

A world first in jewellery production management

Your singular destination for all things jewellery

Combining AGS Metals|PJW, A&E Metals, Regentco and Palloys all in the one place, Palloys

Combining AGS Metals|PJW, A&E Metals, Regentco and Palloys all in the one place, Palloys

1300 886 108 | AUSTRALIA WIDE

palloys.com

1300 886 108 | AUSTRALIA WIDE

palloys.com

From ou

BECOME

STO

Due to an increa

we are upgradin

function on our

are trying to kee

vibrant and bus

Please visit w

or call our frie

for more infor
---
Upfront

#Instagram hashtags to follow

Alpha Order

#aquamarine

1 MILLION POSTS

#daintyjewellery

20,792+ POSTS

#designerjewelry

1 MILLION POSTS

HISTORIC GEMSTONE

Sunrise

Ruby

#goldanddiamonds

41,892+ POSTS

#luxejewelry

44,743+ POSTS

4The world's most expensive

ruby and most expensive colour

gemstone is the Sunrise Ruby.

The 25.59-carat Burmese ruby

is prized for its saturated 'pigeon

blood' red colour, and was named

after a line in a poem by the 13th Century poet, Rumi.

#organicjewellery

19,254+ POSTS

#rubies

278,224+ POSTS

#stackingrings

279,332+ POSTS

#unisexjewelry

134,366+ POSTS

#vintagering

182,531+ POSTS

The Sunrise Ruby, set in a platinum

ring with diamonds: Sotheby's

It was mounted in a platinum ring, set between two shield-cut

diamonds, by Cartier and auctioned on 12 May 2015 by Sotheby's.

An anonymous buyer purchased the ring for a record-breaking

$US30.4 million ($AU43.8 million).

Celebrity Style

4 Oscar-nominated Australian actress

Margot Robbie has shown her love for

local brand Lucy Folk's new collection,

Sun Worship. Folk and head jeweller

Craig Spark were inspired by Aztec and

Mayan sun symbols to create "a sense of

hope and optimism" with the designs.

Image credit:

Stranger Things

Weird, wacky and wonderful

jewellery news from around the world

Striking it lucky

4Two of the largest tanzanites

on record have been unearthed

in northern Tanzania, weighing

9.2kg and 5.1kg. They were sold

to the Tanzanian government by

mine owner Saniniu Laizer for 7.74

billion Tanzanian shillings ($AU4.8

million). Laizer has announced his

intention to build a local school

with the profits, with the employees

who mined the gems to be paid 10

per cent of the sale price.

Dark matter

4Israeli-born, New York-based

jeweller Reut Ringel has created

'black gold' by chemically altering

the surface of the metal. Working

with a team of engineers for three

years to develop the waste-free

process, Ringel said, "You get a

much higher-quality colour [than

with black rhodium plating]."

The black gold is prominently

featured in her jewellery line, Reut,

alongside baroque pearls.

Digital Brainwave

Approximately

90 per cent of

18–24 year olds

in Australia

use Snapchat,

checking it an

average of 30

times a day.

4Social media app Snapchat has launched

its Dynamic Product Ads (DPA) initiative,

which allows businesses to automatically

generate ads for products on the platform.

Kathryn Carter, general manager –

Australia and New Zealand of Snapchat's

parent company Snap, said, "The arrival of

DPA, which is free to access, means that

[businesses] will save time – not only on the

creative process but also on the admin front,

allowing them to easily run measurable

'always on' campaigns that will drive

e-commerce sales."

Jewel Watch

4The Goutte de Ciel, or Drop of Sky,

necklace by Boucheron contains

aerogel, a synthetic porous material

that is one of the lightest known

materials in the world.

Icy smile

4Not content with a set of

'pearly whites', US rapper Gucci

Mane has upgraded his porcelain

tooth veneers with $US250,000

diamond studs. The celebrity has

previously referred to himself

as the 'King of Jewellery',

with a collection that includes

an $US80,000 ice cream cone

pendant, a $US500,000 pinky ring,

and a custom-made $US250,000

diamond-and-rose gold

charm bracelet.

VOICE OF THE AUSTRALIAN JEWELLERY INDUSTRY

Published by Befindan Media Pty Ltd

Locked Bag 26, South Melbourne, VIC 3205 AUSTRALIA | ABN 66 638 077 648 | Phone: +61 3 9696 7200 | info@jewellermagazine.com

Publisher & Managing Editor Angela Han angela.han@jewellermagazine.com • Assistant Editor Arabella Roden arabella.roden@jewellermagazine.com

Advertising Toli Podolak toli.podolak@jewellermagazine.com • Accounts Paul Blewitt finance@befindanmedia.com • Subscriptions info@jewellermagazine.com

Copyright All material appearing in Jeweller is subject to copyright. Reproduction in whole or in part is strictly forbidden without prior written consent of the publisher. Befindan Media Pty Ltd

strives to report accurately and fairly and it is our policy to correct significant errors of fact and misleading statements in the next available issue. All statements made, although based on information

believed to be reliable and accurate at the time, cannot be guaranteed and no fault or liability can be accepted for error or omission. Any comment relating to subjective opinions should be addressed

to the editor. Advertising The publisher reserves the right to omit or alter any advertisement to comply with Australian law and the advertiser agrees to indemnify the publisher for all damages or

liabilities arising from the published material.
---
COVID-19 Update

8%

average increase in

spending in all states and

territories except NT in

the week ending 4 July *

* NAB Group Economics, 'Data Insights' 9 July 2020

19 August

scheduled end of

Victoria's second

Stage 3 lockdown

21 points

rise in business confidence in the

latest NAB Business Survey – the

biggest monthly rebound since 1986 –

driven by the mining and retail sectors

* NAB Business Survey, 24–30 June 2020

The Australian Bankers'

Association has announced

customers will be able to

extend six-month deferrals on

mortgages and business loans

for another four months *

* 'The Age', 8 July 2020

PAUL GUERRA

CEO, VICTORIAN CHAMBER

OF COMMERCE & INDUSTRY

"Businesses in metropolitan

areas that have only just

reopened and started to trade

again will now be forced to either

close or return to the reduced

operations they had in place

before restrictions were eased.

Many of these businesses were

already desperate and this will be

a tipping point for them."

KATE CARNELL

AUSTRALIAN SMALL

BUSINESS & FAMILY

ENTERPRISE OMBUDSMAN

"There's never been a tougher

time to be in business... As small

business owners work around

the clock to get back on their

feet, they may not realise the

toll it's taking on their mental

health. Over the coming weeks,

it's important to take time to be

kind to yourself – your business

depends on you being healthy."

ALAN OSTER

GROUP CHIEF ECONOMIST,

NAB

"Overall, there has been a very

large and fast rebound in the

business survey over the past two

months, but keeping perspective

over just how large the hit to both

activity and confidence is very

important... It is likely that the

business sector will [still] require

ongoing support."

84%

of retailers are

operating with COVID-19

modifications of enforced

physical distancing and

enhanced hygiene *

* Australian Bureau of Statistics COVID-19

Survey, June 2020

$534 million

new funding package for

Victorian businesses amid

the second lockdown,

including $20 million for

small businesses in the

Melbourne CBD

30%

of businesses

reported revenue

had decreased by half or

more compared with 2019

* Australian Bureau of Statistics COVID-19 Survey,

June 2020

My Business Health

CIBJO

Rapaport

My Business

Health was

developed with

Beyond Blue,

EveryMind and

Fortitude. You can

access the portal

here.

4The Australian Small

Business & Family Enterprise

Ombudsman has launched a

new service for small business

owners affected by COVID-19.

My Business Health collates

resources to assist in

overcoming business and

mental health challenges

that have arisen as a result

of the pandemic. Cash flow,

staff management, health and

safety, and personal wellbeing

are all included.

Sarah Ho, a

London jeweller

who has

successfully

leveraged social

media to build her

business, will

also take part.

4CIBJO, the world jewellery

confederation, is continuing

its webinar series, 'Jewellery

Industry Voices' throughout

July on Tuesdays and

Thursdays at 9am New York

time.

The 16 July edition, 'Social

Media Marketing: Jewellery's

Brave New World' will

feature insights from

digital growth specialists

including Ben Smithee and

Preeta Agarwal.

Krawitz will

explore diamond

supply, demand,

and prices, and

implications for

the market for

the 2020 holiday

season.

4Senior Rapaport analyst

Avi Krawitz will host

the latest edition of the

publication's quarterly

diamond industry webinar,

'Can the Indsutry Deal

(Again) with COVID-19?' on

Wednesday 22 and Thursday

23 July.

It will include analysis of the

diamond market in the first

six months of 2020, as well

as potential opportunities in

the second half of the year.

10 | July 2020
---
Let's Talk

It's always important to talk, but right now – in the middle

of a worldwide economic crisis – it's more important than

ever to talk and work together.

As we emerge from COVID-19 we want to ensure Duraflex Group

is listening and adapting to your needs as a true business partner.

Duraflex Group is here to support you during this recovery

period, and to help you succeed in 2020 and beyond. We are

open to discussing anything you need to assist your business

during this challenging time.

Phil Edwards

MANAGING DIRECTOR, DGA

We are here to listen and provide support for your business.

Duraflex Group is here to help you succeed.

For more details please call (02) 9417 0177 and talk to your Sales Executive to discuss.
---
With the recent announcements of

government restrictions starting to be

rolled back, jewellers now have the

opportunity to get customers back

into the store.

Effectively communicate the

changes that have taken

place without spending

all their time on the phone.

Do you do custom rings?

Yes we do! Pretty much

everything is customisable,

from setting to stone to cut.

What are you looking for?

Get the free

Texting Guide

CLAIM YOUR COPY

We're wanting to create a

unique engagement ring.

Wonderful, congratulations!

Come on in and we can go

through all the options.

61.478.189.947
---
News

NSW government approves Jewellery Fair to proceed in Sydney

week time-frame reduced as control is regained.

"This is reaffirmed in the position of the NSW

Premier regarding the borders, noting as soon as

there is a drop in cases and stabilisation, she will

review opening the borders," he said.

Fitz-Roy added: "Every other state is up and trading.

We are not relying on one state – [the 2020 IJWF] is

a national event. The end of that six-week lockdown

is still a full month before the show.

"The Prime Minister originally said Australia would

be locking down until September and within a

couple of months, we were able to relax rules in

various states.

The International Jewellery & Watch Fair has been cleared by NSW authorities to proceed at the ICC Sydney.

As COVID-19 restrictions continue to ease, the NSW

state government has approved the International

Jewellery & Watch Fair (IJWF) to proceed at the ICC

Sydney exhibition centre on 12–14 September.

The encouraging news was confirmed by the show's

organiser Expertise Events and follows similar

approvals for fairs in Queensland, including the Gold

Coast Gift & Lifestyle show, which is scheduled to

take place on 26–28 September.

The Brisbane Convention & Exhibition Centre has

also re-opened and received approval to host events

from Queensland Health.

Gary Fitz-Roy, managing director Expertise Events,

told Jeweller, "At this stage the September shows

are all full steam ahead.

"All the feedback and encouragement we've had

over the past few weeks has been around the

industry's need to reconnect."

Addressing the new six-week lockdown in

Melbourne – which is scheduled to end on 19

August – as well as the temporary closure of the

Victorian border with NSW, Fitz-Roy was optimistic:

"We recognise the Victorian situation and equally

believe the actions in place will mean the best way

to resume business safely.

"At this stage the September shows

are full steam ahead. All the feedback

and encouragement we've had over the

past few weeks has been around the

industry's need to reconnect"

– Gary Fitz-Roy, Expertise Events

"It's clear all State and Federal Governments

understand the need to open business up as

quickly as possible. Given the significant economic

pressure, it's likely that we may see the Victorian six

"My understanding is by the actions that have now

been taken, there is more certainty that the borders

will be open sooner and that will mean that the

IJWF can be a national fair, in which case we look

forward to welcoming our Victorian retailers."

There will also be further opportunities for

Queensland jewellery suppliers following the

IJWF, with a dedicated pavilion called Jewellery

Connect to be established at the Gold Coast Gift &

Lifestyle fair.

"It's a special section of 12 stands dedicated to the

jewellery sector," Fitz-Roy explained.

"Many manufacturers and distributors have had to

let their sales reps go over the COVID-19 period,

while others have not been able to see retailers in

months.

"So this will be a cost-effective solution to meet the

Queensland market, and hopefully be introduced

tonew clients and expand their base because they

will be part of the gift fair."

CONTINUED ON PAGE 20

Police drop more than

400 charges against

gold dealer

Alejandro Mendieta Blanco (centre, pictured in 2017)

has pleaded guilty to a single charge.

Colombian-born gold dealer Alejandro 'Alex'

Mendieta Blanco, 34, pleaded guilty to a single

count of receiving stolen goods during a videolink

appearance at the County Court of Victoria late

last month, after police dropped 449 charges

against him.

As previously reported by Jeweller, Mendieta

Blanco, his brother Julio Mendieta Blanco, 37,

and their associate Chey Tenenboim, 39, were

arrested in October 2017 following a spate of

devastating armed robberies at Melbourne

jewellery stores, allegedly committed by gangs of

masked youths.

The Victoria Police Gangs Crime Squad raided

the Collins Street premises of Mendieta Blanco's

businesses, Sell Your Gold and Diamonds On

Sale.

They seized stolen watches, rings, bracelets, and

other gold and silver jewellery reportedly valued

at $250,000.

At a 2019 hearing, police admitted to

encountering surveillance difficulties

during the original investigation of the

three men, including confusion over

the location of the businesses and

malfunctioning recording devices.

The Mendieta Blanco brothers and Tenenboim

initially faced 450 charges each, including

handling stolen goods, recklessly possessing

stolen goods and knowingly possessing stolen

goods; The Age reports that all three have

pleaded guilty to single charges. Another hearing

is set for later in July.

July 2020 | 13
---
What You

Need When

You Need It

For 50 years, we have worked

to provide fast service and

enduring support to jewellers

across the world.

As you open your doors once

again, know that Stuller is

here to help — with services,

custom orders, and in-stock

essentials you need.

Stuller.com

+3493-754-7774
---
New buying group reaches membership goal

Independent Jewellers Collective has achieved its goal of more than 40 retailer members.

Independent Jewellers Collective (IJC), which was

formed in January 2020, has surpassed its initial

goal of 40 retailer members, securing 44 as of 1

July.

Josh Zarb, CEO IJC, told Jeweller that the group

still had more than 100 expressions of interest

pending, and that the number of member stores

was expected to increase in the coming weeks.

"We've been fortunate in that we've had expressions

of interest evenly spread throughout the whole

country, [and] we have members who have joined

us from basically all states and territories so far,"

Zarb said.

While the timing of the launch was complicated

by COVID-19, the pandemic forced IJC to adapt its

processes, particularly in communication.

"The big challenge was the isolation as I would have

ordinarily had face-to-face meetings, but I became

a good friend of Zoom. Now I don't know how I

would live without it!" Zarb said.

"COVID-19 allowed us to take a step back; it allowed

us to really refine what we were doing with our

resources. We spent the time still assisting retailers

– we helped members with marketing, we turned

on all of our communications platforms and put

together private social media groups – and it made

for the perfect opportunity now to hit the ground

running above our targeted number."

IJC has received positive feedback from its first

44 members, with its technological assets and

"community of like-minded people" impressing

retailers during the lockdown period.

"Everyone has been very surprised with how many

resources we've got behind us in such a short

amount of time," Zarb said.

"Members were presented with our entire scope of

assistance and our network of people; it's not just

our staff, I've got an amazing network of third-party

resources to help our retailers, which were built

through my industry relationships over more than

20 years."

He added, "The group was always set up to be a

smaller group [of] really good quality retailers and

supplier partners. And so far, touching a lot of

wood, we've ticked every box.

"COVID-19 allowed us to take a

step back; it allowed us to really

refine what we were doing with our

resources... It made for the perfect

opportunity now to hit the ground

running"

– Josh Zarb, Independent Jewellers Collective

"We've got nearly all the suppliers on board [that

we set out to work with] and we're working through

that process."

When asked about IJC's supplier relationships,

Zarb said, "I always had a core group of people that

I wanted to work with. At IJC, we do not buy and

hold any stock ourselves so we definitely want to

work and support the local supplier network.

"We have a vision to work with good suppliers

and work with them more one-on-one,

through things like product curation, ranges

within ranges, and working with them on web

and digital strategy. Having a tighter working

relationship with our suppliers, as well as retailers,

is what's important to us."

In the near-term, IJC will focus on building more

supplier relationships and finalising trading

terms, rolling out its Christmas marketing plan,

and preparing to launch more digital features and

support for retailers, including custom design.
---
News

Buying group to offer 'virtual' Antwerp diamond trip for members

"It's the same as if they were actually going [to

Antwerp], in terms of the diamond selection process

– they can put diamonds on hold with one merchant

and 'shop around', as if they were walking down the

street in the diamond district."

Pocklington added, "We've scheduled the videoconferences

at set times on certain days that fit

with the different time zones. In New Zealand and

Australia, it will be between 5pm and 8pm, which

works out as being morning in Antwerp."

This year's Nationwide Jewellers Antwerp Buying Trip (group pictured in 2017) has been cancelled, but members

will still have the opportunity to source Antwerp diamonds through a virtual event in September.

With its annual Antwerp diamond buying trip

cancelled due to the COVID-19 pandemic,

Nationwide Jewellers has developed a digitalbased

strategy for members to source highquality

stones from the city's diamantaires.

For more than 20 years, the buying group has

offered members the opportunity to travel to

Antwerp – one of the world's largest diamond

trading hubs – to source high-quality stones from

prestigious diamond companies. Approximately

15-30 members, representing 12-18 stores, have

attended each year.

This year's trip was initially scheduled to take place

from 14–20 March, but was cancelled due to the

spread of the coronavirus.

Colin Pocklington, managing director Nationwide

Jewellers, said, "For many of our members, the

Antwerp marketing program has been a major

factor in growing their diamond businesses. So,

we had to find a way to continue."

To ensure Nationwide members are still able to

source and sell Antwerp diamonds in 2020, the

group has announced it will offer a 'virtual buying

trip' to connect jewellers with diamantaires, as well

as providing marketing materials to promote the

stones and encourage pre-orders.

"From late July through to early September,

members will promote the diamonds through

window displays, social media, their website, and

by talking to customers," Pocklington explained.

"Then, in early September, they will liaise with the

Antwerp diamond merchants based on the preorders

from customers. [This time] they'll do that via

email and also video-conferencing with each of the

three diamond companies. They will receive images

and sometimes videos of the stones.

Nationwide members will also be able to access

digital question-and-answer sessions with the

buying group's diamond expert Cindy Eidukevicius-

Jones, as well as access special price lists.

"We're expecting to get quite good value because

we've had total disruption in the world," Pocklington

said. "There has been a very tight lockdown in

Belgium, so diamond sales have been low."

Pocklington said final Antwerp diamond orders

would be confirmed in mid-September before being

securely bulk-shipped to Nationwide and distributed

to members.

"The structure that we have put in place for the

virtual trip will enable many more members to

participate in the promotion," he explained, adding,

"Those who may not have been able to travel to

Antwerp [in normal circumstances] for family or

staffing reasons will [also] now be able to run the

promotion and satisfy their customers' orders with

Antwerp diamonds."

A webinar is available for interested members,

providing more details about the new buying

process, pricing and marketing. The Nationwide

Jewellers members' Facebook group has also been

updated with information.

New Zealand jewellery

trade show cancelled

The JWNZ has cancelled the upcoming Trade Fair,

scheduled for Auckland this August, due to the

COVID-19 pandemic.

Jewellers & Watchmakers of New Zealand

(JWNZ) has announced its JWNZ Trade Fair has

been cancelled due to the COVID-19 pandemic.

In an email to members, the JWNZ Trade Fair

Committee stated that the fair – which was

scheduled to take place on 30 August at the

Alexandra Park Function Centre in Auckland –

would not proceed due to health restrictions and

border closures.

"There were a number of considerations and

factors involved in the decision, including the

[temporary] closure of the Alexandra Park

Function Centre, the availability of hotel meeting

rooms and accommodation, travel and the closed

border to non-New Zealanders," the email said.

At the time of publication, New Zealand had 25

active COVID-19 cases and was at Alert Level 1,

which the New Zealand government's Unite For

Recovery website describes as "everyone can

return without restriction to work, school, sports

and domestic travel, and you can get together

with as many people as you want".

However, border restrictions were still in place

for non-New Zealand citizens and residents, with

few exceptions.

The news follows the cancellation or

postponement of several other local and

international jewellery industry events, including

Baselworld, the Hong Kong International

Jewellery Show, and JCK Las Vegas.

However, at the time of publication, the

International Jewellery & Watch Fair was

still scheduled to proceed in Sydney on 12–14

September. The next JWNZ Trade Fair will take

place on 29 August 2021.

July 2020 | 17
---
News

In Brief

LVMH reiterates commitment to Tiffany & Co.

takeover as revenues decline

Swarovski announces

tree-planting initiative

4 Crystal company Swarovski has

announced a plan to mark its 125th

anniversary by 'reforesting' a stretch of

land in Australia's Yarra Yarra biodiversity

corridor. Swarovski has pledged to plant 125

trees per day in the area for the remainder

of 2020, with a total of 24,000 trees to be

planted. The reforestation will capture

carbon from the atmosphere and create a

safe habitat for native animals.

Chinese company

accused of gold fraud

4Kingold, a leading producer of 24-carat

gold jewellery in China, has reportedly

been exposed in a large-scale gold fraud.

The company had secured loans of

$US2.8 billion against 83 tonnes of gold

bullion; however, routine testing found

the bars were made from a copper alloy.

The company's shares fell 40 per cent at

the news, and Kingold has been removed

from the Shanghai Gold Exchange.

Cullinan Mine owner

up for sale

4Petra Diamonds, the publicly-listed

company which owns and operates

the historic Cullinan Mine – where the

world's largest diamond was found –

as well as three other diamond mines

in southern Africa, is searching for a

buyer following a strategic review of its

finances. The company has

$US650 million in debt due for

repayment in 2022.

Indian jewellery

show postponed

4The India International Jewellery

Show (IIJS) Premiere – India's largest

jewellery trade fair – has been postponed

from 6–10 August 2020 to January 2021

due to COVID-19, the Gem & Jewellery

Export Promotion Council (GJEPC) has

announced. Shailesh Sangani, convener

– national exhibition GJEPC, said that IIJS

Premiere would be the "first [jewellery]

show of the calendar year" and replace

its sister show IIJS Signature.

Despite speculation the deal could fall through, an LVMH executive has confirmed the French luxury

conglomerate will proceed with its acquisition of Tiffany & Co.

French luxury conglomerate Moët Hennessy

Louis Vuitton SE (LVMH) has indicated it intends

to proceed with its takeover of Tiffany & Co.,

despite declining sales due to COVID-19 and

widespread unrest in the US.

Media reports that the $US16.2 billion deal

could be altered or abandoned surfaced in early

June, as Tiffany & Co.'s international sales

declined by 45 per cent in the first quarter of

2020.

Fuelling rumours, LVMH held an executive

meeting to discuss the terms of the acquisition

– which is the largest in its history – on 3 June.

However, speaking at the LVMH annual general

meeting – conducted as an online presentation

– on 30 June, Antonio Belloni, group managing

director LVMH, said, "We believe that Tiffany

is one of the most iconic jewellery brands.

As such, it fully has its place in the LVMH

portfolio."

"We believe that Tiffany is one of

the most iconic jewellery brands.

As such, it fully has its place in the

LVMH portfolio"

– Antonio Belloni, LVMH

The jewellery company's most recent financial

report confirmed it recorded a loss of $US65

million ($AU94.7 million) for the three-month

period to 30 April. Declines were concentrated

in the US and Asia-Pacific regions, with

Mainland China recording an 85 per cent fall in

sales in February.

The result was attributed to the COVID-19

pandemic, with approximately 70 per cent of its

324 international stores closed as at 30 April.

By 29 May, 80 per cent of international stores

had reopened; however, as at 8 June, only

55 per cent of its US stores – Tiffany & Co.'s

largest market – had fully or partially reopened.

Yet Alessandro Bogliolo, CEO Tiffany & Co., said

recent sales figures in China indicated that a

"robust recovery is underway". He added that

international e-commerce sales had increased

23 per cent for the quarter and represented 15

per cent of Tiffany & Co.'s total sales in 2020,

compared with 6 per cent in 2019, 2018 and

2017.

While Bogliolo remained optimistic, the

company confirmed it had amended its debt

agreements in light of the financial pressure

caused by the pandemic, drawing down

$US500 million from its revolving credit facility.

Tiffany & Co.'s total debt is now $US1.5 billion,

a 16 per cent increase from 2019.

The debt restructuring further fuelled

speculation LVMH could be preparing to alter

the terms of its acquisition. However, Mark

Erceg, chief financial officer Tiffany & Co.,

offered reassurance to shareholders, noting

that the debt amendments were permitted

under Tiffany & Co.'s Merger Agreement with

LVMH.

"Tiffany has an investment-grade balance

sheet, has ample cash on hand and was in

compliance with all debt covenants as of

April 30, 2020. Nonetheless, we still took the

decision (as have many other companies)

to amend certain of our debt agreements in

order to create additional financial covenant

headroom given these unprecedented times,"

he explained.

CONTINUED ON PAGE 20

18 | July 2020
---
FREE

SUPPORT SERVICES FOR

INDEPENDENT JEWELLERS

No joining fee • No agency fee • no security deposits

no fees ever!

• Marketing • Sales Training • Business Planning

• Industry experts at your fingertips

Up to $200,000 interest free finance for stock

- STAY 100% INDEPENDENT -

the largest network with over 450 jewellery stores

P: +61 2 9418 0000

E: info@jgbs.com

www.jgbs.com
---
LUXURY pearl AND opal JEWELLERY

LUXURY pearl AND opal JEWELLERY

LUXURY pearl AND opal JEWELLERY

NSW government approves Jewellery Fair to proceed in Sydney

CONTINUED FROM PAGE 13

"It's about opening the door – and by-the-by, they may have a few days'

holiday on the Gold Coast too!" he added.

For both the Queensland and Sydney shows, Fitz-Roy confirmed that

detailed safety plans were being developed."It's about common sense and

how you approach it, and those plans are in the works now. The idea is

that none of these safety measures will have a large personal impact on

our visitors – we want to be as normal as we can be," he explained.

One of the initiatives being introduced was pre-registration and selfprinting

of identification badges. While Expertise Events will still issue

badge holders and lanyards to visitors, they will not be recycled this year.

"Where in the past we've recycled identity badges or printed them, we'll

now encourage everyone to do that from their own office or home. And

that means it's less of a contact situation. Simple measures are the way

to go because they are the safest and the easiest for us to implement,"

Fitz-Roy explained.

Expertise Events is set to announce final confirmation of the IJWF at the

end of this month; it has announced a special booking offer of a $100

deposit, which will be fully refunded if it is forced to cancel the show. The

Expertise Mate discount package is also available to exhibitors.

LVMH reiterates commitment to Tiffany & Co. takeover

CONTINUED FROM PAGE 18

Upon the release of its financial results, Tiffany shares fell more than 10

per cent. They were trading at $US121.94 at the time of publication.

e are in a situation we never thought we

ould be in. COVID-19 has turned our lives

ide down but there's always a silver lining

We We are are in in a a situation we never thought we we

would would be be in. in. COVID-19 has turned our our lives lives

upside We upside are down in down a situation but

but there's we always never a thought silver

a silver

lining we lining

to would to this

this be crisis.

crisis. in. COVID-19 The industry

The industry has and

and turned our community

our our community lives

another. coming together We are to connected encourage and in support isolation. one

coming pside down together but there's to encourage always a and silver support lining

another. We are connected in isolation. one

o this

another.

crisis. The

We

industry

are connected

and our

in

community

isolation.

oming We will together see each to other encourage after this and all support has passed. one

another. We are connected in isolation.

e will see each other after this all has passed.

his crisis. The industry and our community

ing together to encourage and support one

will see each other after this all has passed.

Stay Stay strong and safe!

e will see each other after this all has passed.

Stay strong and safe!

www.ikecho.com.au | enquiries@ikecho.com.au

Tel: (02) 9266 0636 | Fax: (02) 9266 0969

www.ikecho.com.au | enquiries@ikecho.com.au

Stay strong and safe!

Tel: www.ikecho.com.au (02) 9266 0636 | | enquiries@ikecho.com.au

Fax: (02) 9266 0969

Tel: (02) 9266 0636 | Fax: (02) 9266 0969

www.ikecho.com.au | enquiries@ikecho.com.au

LVMH has indicated it will not buy Tiffany & Co. shares on the open

market and will maintain its offer of $US135 per share, which was

accepted by Tiffany & Co. shareholders in February this year.

In the report, Bogliolo stated that the LVMH deal – which was initially

expected to close in July 2020 – will proceed, saying, "I am confident that

Tiffany's best days remain ahead of us and I am excited we will be taking

that journey with LVMH by our side."

He also addressed delays in international regulatory clearance,

confirming that authorities in both Russia and Mexico had approved the

acquisition of Tiffany's subsidiaries in those territories. South Korea's

Korea Fair Trade Commission cleared the takeover to proceed on 12 June.

As previously reported, Australia's Foreign Investment ReviewBoard

(FIRB) was initially expected to approve the takeover in April, however due

to changes in the regulatory framework, its review deadline was extended.

On 6 July, Tiffany & Co. informed the US Securities & Exchange

Commission that FIRB had cleared the acquisition to proceed; however,

the company's filing noted that "additional regulatory clearances" and

"other customary closing conditions" were yet to be finalised.
---
Peter W Beck has been passionately committed to the

jewellery industry for 45 years.

Please be assured that we are still here and we will continue to provide

you with the world class products and services that you rely on.

We stand beside you through this tough time and beyond.

OUR TEAM IS HERE TO SUPPORT YOU:

Toll Free 1800 888 585 | Email customerservice@pwbeck.com.au

14 Duncan Court, Ottoway Park, SA, 5013 Australia

Toll Free 1800 888 585 | Email customerservice@pwbeck.com.au | Web www.pwbeck.com.au
---
Defendant in Melbourne Gold Company

robbery granted bail

Magistrate Ross Maxted has granted bail to Karl Kachami, a defendant in the

$3.9 million Melbourne Gold Company robbery.

Karl Kachami, one of the defendants

in the $3.9 million robbery of Collins

Street gold dealer Melbourne Gold

Company (MGC), has been granted

bail, while fellow defendant Daniel

Ede remains in custody.

At a bail hearing on 15 June,

Kachami's legal representative,

Philip Dunn QC, described the 27

April heist as a "comedy of errors"

and said that his client made a "very

silly decision" due to the financial

and psychological pressure of the

COVID-19 pandemic.

"The planning appeared

to be sophisticated,

including the secretion of

cash and the bullion in a

very remote location"

– Ross Maxted, magistrate

He also asserted that Kachami, 48,

had fully cooperated with police by

leading them to a rural property

in Gippsland, where a significant

portion of the stolen material was

buried.

In addition, Melbourne Magistrates'

Court heard that Kachami returned

more than $340,000 which had been

stashed at his investment property

in the Melbourne suburb of Fitzroy.

Police allege Kachami planned

the robbery with Ede, 37, who

was an employee of MGC. During

the course of the heist, Kachami

appeared to hold Ede at gunpoint as

he emptied the business' safes of

gold bullion, jewellery, and cash.

However, CCTV footage revealed

that the weapon was unloaded, and

police said that Ede appeared to be

guiding Kachami using his eyes and

hand movements.

Police also alleged that Ede was

seen in Gippsland in the days

following the robbery.

Dunn argued that Kachami should

be released in order to undergo

treatment for diabetes and to care

for his three young children.

While agreeing to release Kachami,

magistrate Ross Maxted rejected the

"comedy of errors" characterisation,

with The Age quoting him as

saying, "The planning appeared

to be sophisticated, including the

secretion of cash and the bullion in a

very remote location which was only

known to both of them, but which

could only be accessed on locked

private property."

Maxted reportedly said that Kachami

was "highly intelligent" and "a man

prepared to take considerable risks

and involve, potentially, others in

them."

Kachami was ordered to surrender

his passport, remain in Victoria,

and contact police daily. His family

provided a $550,000 surety.

Meanwhile, Maxted denied bail to

Ede on the grounds that he may

seek to recover more than $330,000

in stolen cash that remains missing.

Ede was arrested on 12 May, but

has consistently denied involvement

in the robbery. He has been charged

with perjury relating to statements

made to police after the heist'.

A big socially distanced hug from all

the Coeur de Lion team in Australia

and Germany!

Timesupply

jewellery + watches

p +61 (0)8 8221 5580

sales@timesupply.com.au

exclusive distributor AU & NZ
---
10 Years Ago

Time Machine: July 2010

A snapshot of the industry events making headlines this time 10 years ago in Jeweller.

Historic Headlines

4 CIBJO updates precious metal rules

4 Worldwide pearl alert over mislabelling

4 Nationwide conference breaks records

4 ATO helps jewellers rate their performance

4 GAA plans major changes

A lesson for jewellers

STILL RELEVANT 10 YEARS ON

Getting Emotional:

Charm bracelets, particularly ones

where the charms are easily replaced,

can also grow with the customer: the

little girl who got her charm bracelet

while she was still at school can

alter a couple of beads and turn it

into a subtle piece that she can later

wear in the workplace.

READ ALL HEADLINES IN FULL ON

JEWELLERMAGAZINE.COM

A lengthy legal dispute involving a Victorian

jeweller falsely accused of switching a diamond

in a customer's ring during a repair has been

dismissed by the Victorian Civil and Administrative

Tribunal (VCAT) after almost five years.

The diamond was first assessed – unmounted – in

1997. In 2005, the diamond ring was taken to the

jeweller for a repair. Upon its return, the customer

accused the jeweller of switching the diamond.

The customer then had valuations performed by

different graders, both qualified and unqualified,

which varied greatly as the stone was still mounted

in the ring. A final assessment of the stone, unset

from the ring, showed the diamond to be the

exact diameter and weight as the original 1997

record, leading VCAT to dismiss the claim.

The case demonstrates the importance of

keeping accurate records, unmounting and

weighing stones in front of customers, and

sending diamonds for valuation before and

after repairs.

Michael Hill's new stores

Michael Hill may have closed jewellery stores in

the US last week but the company is set to open

15 new stores in Australia and New Zealand.

The company's chief executive officer Mike

Parsell told Jeweller that although he was not

happy that the company was forced to close the

eight US stores, they could be considered part of

the cost to test the US market to establish if the

Michael Hill business model could work there.

Parsell added that he was confident in the nine

remaining stores and stressed that the US

closures would not impact the company's core

markets of Australia and New Zealand.

July 2010

ON THE COVER Bulova

Editors' Desk

4Unconventional: "Are recessions

necessarily bad? I'm not sure they

are. Recessions are an essential part

of capitalism – natural by-products

of the boom and bust cycles seen in

open markets.

They ultimately reinforce and

strengthen an economy over the long

haul, much in the same way that a tree

grows stronger after a good pruning."

Soapbox

4So-Called "Sales" Skills: "Stores

have become like supermarkets

– albeit very glittery and sparkly

supermarkets – where the obejctive

is to 'turn around' the sale in

minimum time and get the money

in the till 'next'.

More and more, retailers expect

products to sell themselves and,

unless the customer comes in

knowing pretty much what they want,

the retailer almost feels imposed to

have to spend some time with them."

– John Papaioannou, managing director

Time Essentials

Cost-cutting Aussies still

love jewellery

Sales of jewellery, watches, and clocks rose

10.3 per cent during the first three months

of 2010, according to the latest edition of

CommSec's Economic Insights report.

Spending in various other indsutries decreased

during the same period – tools and equipment

was down 6.7 per cent, while air travel (4.4),

gambling (2.5) and cigarettes (0.8) all suffered.

Even essential goods and services were down

against jewellery. The report could not offer any

explanation of the large increase, writing only,

"Interstingly, Aussie consumers have been

lashing out on some 'little luxuries'."

Tag's $6 million dilemma

Tag Heuer management has gone into damage

control, attempting to plug a $6 million hole

created after Angus & Coote (A&C) "sacked"

the watchmaker following a controversial

decision to close all Melbourne CBD stockist

accounts except one.

The strategy coincided with the opening of the

Tag flagship store on Collins St, and directly

affected The Hour Glass, Saleras, and Monards.

It is understood that Tag was caught by

surprise when A&C decided to remove the

brand from all its Australian and New Zealand

stores. More surprises followed when A&C

embarked on a national advertising campaign

offering discounts – as high as 40 per cent

– on Tag watches.

24 | July 2020
---
From our inventory, to yours...

BECOME AN OFFICIAL

STOCKIST

Due to an increase in enquiries from retail customers,

we are upgrading the online presence of our stockist

function on our website. It's another way O'Neils Affiliated

are trying to keep the Australian Jewellery industry

vibrant and busy in the face of overseas and online sales.

Please visit www.oagems.com

or call our friendly team on 03 9654 5200

for more information.
---
While the Coronavirus has had a devastating impact

on the industry, we have been able to focus on

strengthening our internal infrastructure to provide you

with better service and a greater business advantage.

B 2 B B U S I N E S S P O R TA L

You can check new arrivals, availability of

stock, delivery status and place orders in

one easy place.

O N L I N E I NTE G R AT I O N

Upload hundreds of products to your

website with one click. No more manually

entered items.

D R O P S HIP P I N G

Double your stock holding without any of

the costs of carrying the stock. We pick, we

pack and we deliver for you.

V I R T U A L M E E T I N G S

Virtual meetings allow us to meet you safely

wih more samples on hand. Plus, our sales

staff don't take up space in your store.

B R A N D U P A T E S

MASER ATI

G EO RG INI

OUI & M E

M ORELL ATO

MAU RICE L ACROIX

This January we

launched the Maserati

watch range. This

premium Italian Lifestyle

Collection is the epitome

of quality and style.

Since taking over

Georgini in April last

year, Georgini has

grown by an incredible

67% in the quarter

leading up to Christmas.

We are set to launch

popular French brand

'Oui & Me', a well-priced,

feminine watche brand

with floral and pastel

motifs. Available August.

Next month, we are

relaunching Morellato

Watch Straps, including

the ever popular 'Easy

Click' and 'Green'

Collections.

We re-launched the premium

Swiss brand Maurice Lacroix

into Australia and New

Zealand in late 2019. Since

this time, the new Aikon

Sports Automatics have

proven to be best sellers.

26 | July 2020

WWW.W E S T E N D C O LLE C T I O N . C O M . A U
---
INSIDE

My Store

Erik Runyan Jewelers

VANCOUVER, WASHINGTON, USA with Erik Runyan, owner • SPACE COMPLETED 2017

4Who is the target market?

Our previous store was a proper 1980s fine

jewellery store: brass track lights, oak cases, and

mirrors everywhere! The staff and myself wore

suits and dresses.

As I looked to the future, the culture was getting

more casual and Millennials were the group leading

the way. Our new store is a much more relaxed

environment. Business is mostly done at a desk with

coffee or beer being served. Short of my daughter's

wedding, I have not worn a suit in three years!

4Which features encourage sales?

Connecting the dots between store ambience,

consumer behaviour, and closing sales, the highest

sales volume in the store lay in the hands of our

"silent salesperson," the Joseph Asher Diamond

Selling Machine. This interactive showcase

attracts, educates, and closes diamond sales by

overcoming the hurdles that hinder guys from

buying gifts of fine jewellery.

Shopping for jewellery has become a much

more intimate experience. Many of our guests

make appointments and custom design is often

incorporated into the process. Loose diamonds,

bridal, custom design and estate jewellery are the

drivers of our small, independent store.

4What is the store design's 'wow factor'?

We have a very classic, vintage feel. This is provided

by the turn-of-the-century cases and surrounding

details. The store's century-old roots provide

volumes of novelties to admire. With the current and

fourth-generation family owner being a licensed

sea captain, a nautical feel is also undeniable. The

beautiful wood canoe chandelier sets the tone for all

things sea-worthy!

July 2020 | 27
---
Ready

Get

Polish your gemstone

knowledge online

From lapis lazuli and coloured diamonds to

synthetic moissanite and zebra rock, brush up

on your gemstone knowledge in the downtime.

The GAA has over 14 years of gemmology

articles freely available to read online

on Jewellermagazine.com.

Learn About Gemstones with

the GAA on Jewellermagazine.com

ADELAIDE BRISBANE HOBART MELBOURNE PERTH SYDNEY

Passionately educating the industry, gem enthusiasts

and consumers about gemstones

learn@gem.org.au | 1300 436 338 | www.gem.org.au
---
REVIEW

Gems

The green fire of Peridot

L to R: Peridot rough; peridot and diamond collier, Sotheby's;

Dreamcatcher peridot earrings, Temple St Clair

Forming deep within the Earth's mantle,

peridot is no stranger to heat and pressure.

This green mineral may also be of extraterrestrial

origin, transported within

meteorites from the depths of the universe,

impacting the Earth in rare, cataclysmic

events.

Peridot is a member of the olivine group of

minerals that form an isomorphous series

of magnesium-iron silicates. The two endmembers

of the series are the magnesiumrich

forsterite and the iron-rich fayalite.

Peridot is the gem-quality variety of olivine

and its colour ranges from green, greenishyellow,

yellowish-green, greenish-brown

and brown, depending on its chemical

composition.

Pure green gemstones are rare and most

peridot exhibits a yellowish undertone.

The intensity of peridot's green hue is

determined by the varying amount of iron in

its composition; iron influences a yellowbrown

tone within the gemstone while

traces of chromium and nickel – replacing

iron and magnesium – are said to give

peridot a bright-green colour.

Pallasite meteorites have expanded the

horizons of the study of peridot to the far

reaches of the galaxy.

Pallasites are one kind of stony-iron

meteorite that contain abundant crystalline

olivine, sometimes of gem-quality peridot.

"Mining is said to have begun around 300bc,

indicating that Cleopatra's famous emerald

collection may in fact have been peridot."

The crystals are generally small and, due

to the high iron content of the surrounding

iron-nickel matrix, are typically yellowybrown

in colour.

Some pallasitic peridot specimens are

higher in carat weight and present an

attractive green colour favourable for

faceted gemstones.

Pallasitic peridot usually contains

characteristic inclusions that separate it

from terrestrial peridot but the origin of

clean gemstones may require chemical

analysis.

Affordable and beautiful, peridot can be free

of eye-visible inclusions, particularly those

in smaller calibrated sizes.

Prices rise for gemstones greater than

10mm, particularly those with vivid-green

colour. Although larger gemstones can

present a high clarity, small and black

chromite crystals are characteristic of

Earth-formed peridot as are reflective, discshaped

'lily-pad' inclusions.

Gemstones that are lighter and less

intense in colour see a dramatic drop in

value regardless of their size, as do those

that present eye-visible inclusions. The

finest examples of peridot are unearthed

in Myanmar and Pakistan with Arizona and

Peridot

Origin uncertain,

believed to be Anglo-

Norman pedoretes

Colour: Pure green to

yellowish green

Found in: China,

Myanmar, Pakistan,

Tanzania, Vietnam,

United States

Mohs Hardness: 6.5–7

Class: Silicate

Lustre: Vitreous

Formula: Mg 2

SiO 4

China producing more reliable commercial

quantities.

Admired since the dawn of civilisation, early

records indicate the Ancient Egyptians

mined a beautiful green gemstone from the

island in the Red Sea called Topazios.

The island, now known as St John's Island,

or Zabargad, remains to this day the oldest

and longest-known source of gem-quality

peridot.

Mining is said to have begun around 300BC,

indicating that Cleopatra's famous emerald

collection may in fact have been peridot!

A gemstone always associated with light,

the Egyptians called peridot the "gem of the

sun", believing it to protect its owner from

"terrors of the night".

Fashioned into a variety of shapes and cuts,

faceted gemstones show a doubling of the

back facets – an optical property caused by

high birefringence and a diagnostic feature

of peridot.

Carvings, beads and cabochons are also

not uncommon although these forms don't

capture peridot's dispersive nature.

Now the most beautiful samples of peridot

come from the border area between

Pakistan and Afghanistan and the gemstone

is also found in Myanmar, China, the US,

Africa, Australia and Vietnam.

July 2020 | 29
---
THINK

BIG!

Unmissable Experiences

When TWO shows are better than one

September is timed to deliver the Golden Quarter, retailers

busiest and most profitable time of the year. For the first

time, the Spring Gift & Lifestyle Fair will run next door to

the International Jewellery & Watch Fair this September.

jewelleryfair.com.au

INTERNATIONAL

J E W ELLERY & WATCH FAIR

ICC Sydney Exhibition Centre

Darling Harbour

Organised by

September 12 – 14, 2020 Est. 1990

September 12 – 15, 2020
---
STATE OF THE INDUSTRY

Chains through the Decade

STATE OF THE

INDUSTRY REPORT

AN IN-DEPTH REPORT OF AUSTRALIA'S JEWELLERY CHAIN STORES OVER A DECADE

RESEARCH FEATURE

CHAIN

REACTIONS

There is little doubt the past 10 years have led to

significant change in the Australian jewellery

landscape – yet analysis of the data by Jeweller

shows a number of surprising trends and stories.

TOPICS

The demise of fashion jewellery chains

Fine jewellery demonstrates unexpected resilience

Mid-sized jewellery chains have mixed results

Some small chains drop off the chain list

IN FOCUS

ZOOMING OUT History Lesson: twists and turns

ZOOMING IN Pandora: past the peak?

HILLS & VALLEYS Key moments for Michael Hill

July 2020 | 31
---
BACKGROUND

STATE OF THE INDUSTRY

REPORT EXPLAINED

The first detailed analysis of the Australian jewellery industry was

published in 2003. It examined, and measured, the number of

jewellery stores in the major shopping centres in each state and,

interestingly, found that jewellers accounted for a 'standard' five per

cent of all specialty stores in major shopping centres.

The research also surveyed the number of jewellery chains and

compared their store count by state with state population data.

In the following years, Jeweller conducted ad hoc research and in

2007 we published a more comprehensive analysis of chain stores.

At the time, there were around 1,000 stores listed, however a need

emerged to refine the research by better defining store types and

product categories.

This process culminated in the 2010 State of the Industry Report,

published in December that year.

The 68-page 2010 report offered a definition of – and differentiation

between – independent jewellery businesses, fashion and fine

jewellery stores, chain stores, brand-only and flagship stores, and

finally jewellery kiosks.

Unsurprisingly, the jewellery industry has continued to evolve to the

extent that, in some ways, it's a little like going 'back to the future';

the industry appears to be evolving full circle, back to its roots.

That is, independent jewellers are increasingly focusing on high-value

items – often custom-made jewellery for specific clients – along with

repairs and remodels.

In part, it's a crucial move to differentiate from easily purchased,

low-value/low-priced items sold on the internet.

At the same time, a notable change from previous reports is

manufacturers altering their distribution models, becoming de facto

retail operations that compete with independent jewellers.

What began as high-profile watch and jewellery brands establishing

'Flagship' stores – purported to assist independent stockists – has,

in some cases, morphed into full-on competition.

As the industry changes in the coming years, there may be a

need to re-evaluate the definitions used in future State of the

Industry Reports.

Jeweller endeavours to maintain definitions where they are

appropriate and relevant to the current trading environment, and

to enable simple comparison with data in previous reports.

32 | July 2020
---
Chains through the decade | STATE OF THE INDUSTRY

CHAIN REACTIONS

Australian jewellery retailing has undergone significant evolution over the past

decade, but, surprisingly, the changes are very different to what was expected when

Jeweller published its last State of the Industry Report in 2010.

A

decade on from Jeweller's first State of

the Industry Report, the jewellery retail

industry – mirroring the broader retail

sector – has undergone momentous change. Yet

over the past 10 years, fine jewellery chain stores

have remained relatively resilient, at least in

terms of store numbers.

However, the same cannot be said for the fashion

jewellery category!

There were 21 fine jewellery chain store 'brands' in 2010,

operating a total of 977 stores nationally. On a Like-By-Like

basis, by 2020 that number had declined by 118 stores to 859,

representing a 12 per cent reduction in total store count.

That contraction could be considered small when compared

with the performance of other consumer categories.

Some fine jewellery chains – such as Prouds and Michael Hill

– managed to increase overall store numbers, while others

marginally decreased.

Only two 'names' entirely disappeared from the list: Blue

Spirit, a lesser-known small franchise, which operated six

stores in 2010, and the high-profile Thomas Jewellers, with

nine stores.

James Thomas founded Thomas Jewellers in 1896 in

Ballarat. After 121 years of operation, the Thomas family

decided to close its iconic Bourke Street Mall store in

Melbourne in October 2017, as well as the Warnambool,

Wagga Wagga, Albury, Shepparton, Bendigo, Ballarat and

Geelong stores.

In contrast, of the seven fashion jewellery chains listed in the

State of the Industry Report (SOIR) 10 years ago, only one

remains – six closed their physical stores.

The proverbial 'last man standing', Lovisa, has grown from 35

locations in Australia to 140 over the past decade, following

the liquidation and closure of major competitors and smaller

fashion jewellery chains alike – including its sister chain Diva.

The 'downfall' of the six fashion jewellery chains means

that of the 378 stores that were operating in 2010, 343 no

longer exist.

Demise of fashion chains

For the purpose of research and a report, it is necessary

to create definitions in order to accurately measure and

compare results across categories and over time.

Therefore, a 'chain' is defined as a group of five or more

BY THE NUMBERS

Chain Insights

In this report, a 'chain'

is defined as a group of

five or more jewellery

stores trading under

the one (brand) name,

with one ownership

entity – a person or

company –

co-ordinating buying

and marketing

activities across the

group. It could include a

franchise operation.

859

fine jewellery

chain stores

remain open as

at July 2020

343

of 378 fashion

jewellery chain

stores have closed

since 2010

50%

chains in

Australia are

owned and / or

controlled by New

Zealand entities

jewellery stores trading under the one (brand) name, with

one ownership entity – a person or company – co-ordinating

buying and marketing activities across the group. It could

include a franchise operation.

In addition, Jeweller notes that a chain store usually has

central management and standardised business methods

and practices and will purchase product from both local

suppliers and/or import its own product.

In 2020, Lovisa is the largest fashion jewellery chain

operating in Australia. The ASX-listed BB Retail Capital,

founded by retail entrepreneur Brett Blundy, owns it.

TABLE 1: FASHION CHAINS STORE COUNT 2020 VS 2010

Chain 2010 2020 Variance

Diva 176 0 -176

Equip Accessories 104 0 -104

Lovisa 35 140 105

Magnolia Silver 22 0 -22

Butterfly Silver 20 0 -20

Bijoux 11 0 -11

Myka 10 0 -10

TOTAL 378 140 -238

Of the 7 chains in 2010, 6 collapsed and/or closed their physical stores

to move online. Of the 378 fashion jewellery stores in 2010, 343 closed.

Lovisa's current store count is 140; however, an article

published by Jeweller in May 2014 detailing the closure

of Lovisa's 176-store sister chain Diva – also owned by

BB Retail Capital – noted that Lovisa had 158 stores

across Australia.

Therefore, even though Lovisa has had an impressive

increase of 105 stores since 2010, it has rationalised

its store count over the past few years by closing at

least 18 outlets.

The demise of Diva is interesting. It was launched in 2003

by husband and wife team Colette and Mark Hayman, and

within two years it had expanded to 83 stores. It was sold

to BB Retail Capital in 2005.

By 2007, a further 72 stores had been opened, bringing

to 131 the total retail outlets in Australia.

Diva operated a further 369 stores overseas, primarily

targeting teenage girls, while Lovisa promoted itself as

being able to "fill the void for high quality, fashion forward

and directional jewellery."

In 2010, and after a three-year absence from the industry

July 2020 | 33
---
STATE OF THE INDUSTRY | Chains through the decade

2020

STORE COUNT

Top 5

Largest Fine

Jewellery

Chains

due to a non-compete clause in the sale of

Diva to BB Retail Capital, Colette Hayman

launched a new fashion jewellery and

accessories store, eponymously named

Colette Accessories.

The first Colette Accessories store opened

in Sydney's CBD and, at the time, Hayman

boasted that they would have 120 stores

within three years. By 2014, the store count

had reached 102 across Australia, with a

further 18 overseas.

In contrast, of the seven fashion

jewellery chains listed in the State

of the Industry Report (SOIR) 10

years ago, only one remains – six

closed their physical stores...

The 'downfall' of the six fashion

jewellery chains means that of the

378 stores that were operating in

2010, 343 no longer exist.

However in February, the company – which

had been renamed Colette By Colette

Hayman – was placed into administration.

At the time of publication, its 99

Australian stores, along with 41 New

Zealand stores, remained in the hands

of Deloitte Restructuring Services as the

administrators attempted to re-capitalise

or sell the business.

Diva and Colette are not the only large

fashion jewellery chains to have found

the going tough over the past decade.

Other closures

Butterfly Silver, a fashion jewellery

business established in 2002, operated 20

stores in 2010. It collapsed in March 2018

closing all locations. However, Hoskings

subsequently acquired the e-commerce

business butterflysilver.com.au.

Equip Accessories, which featured in the

2010 SOIR with 104 stores, was liquidated

in 2017. It had expanded to 110 Australian

stores, all of which were closed.

The other three fashion chains that didn't

survive the decade with bricks and mortar

locations were Magnolia Silver, Bijoux,

and Myka.

In total, and along with Butterfly Silver,

they represented 63 store closures.

Magnolia Silver and Bijoux now operate

as online-only businesses.

On the other hand, Silvershop, which

was founded in 1999, has now expanded

to seven stores in Queensland making it

a small chain.

This collapse of 343 fashion jewellery

stores, along with Colette's 99 stores

currently being in the hands of

administrators, leads to the question:

why has the retail landscape changed so

drastically over the past decade for the

lower end of the market?

The answer likely lies in more strenuous

competition from online incumbents

and new entrants, given that low-margin,

high-volume fashion jewellery is more

suited to internet sales than higher-value,

low-volume fine jewellery.

Further, and more importantly, the

44 additional

stores since 2010

12 additional

stores since 2010

11 fewer stores

since 2010

43 fewer stores

since 2010

19 fewer stores

since 2010

TABLE 2: FINE JEWELLERY CHAINS'

STORE COUNT 2020 VS 2010

Chain 2010 2020 Variance

Prouds 217 261 44

Michael Hill 144 156 12

Angus & Coote 133 122 -11

Goldmark 119 76 -43

Wallace Bishop 57 38 -19

Zamels 100 37 -63

Shiels 31 36 5

Mazzucchelli's 25 30 5

Bevilles 29 24 -5

Salera's 21 20 -1

Hoskings 17 16 -1

Gregory 16 15 -1

Graham's 7 6 -1

Regency 6 6 0

Anthonys 8 5 -3

Hardy Brothers 7 5 -2

Pascoe* 9 3 -6

Goldsmith* 9 2 -7

Dia Oro* 7 1 -6

Blue Spirit # 6 0 -6

Thomas # 9 0 -9

TOTAL 977 859 -118

On a like-for-like basis there has been 12% reduction

in store numbers the past 10 years

* No longer chain. # Stores closed

CHART 1: CHAIN DOMINANCE BETWEEN 2003 - 2020

2003

2003

2007

2007

2010

2010

2020

2020

0 250 500 750 1000 1250

0 250 500 750 1000 125

34 | July 2020
---
Chains through the decade | STATE OF THE INDUSTRY

2020

STORE COUNT

Top 5

Resilient

Chains

continual increase in shopping centre

tenancy costs – particularly persquare-metre

rents – has resulted in an

unsustainable business model, especially

when 'rent' includes a percentage of sales.

This structure further reduces the margin

on already low-margin items.

The collapse of 343 fashion

jewellery stores, along with

Colette's 99 stores currently being

in the hands of administrators,

leads to the question: why has

the retail landscape changed so

drastically over the past decade

for the lower end of the market?

Fine jewellery chains' resilience

If one considers the long list of apparel and

accessories chains that have collapsed

over the past five years – including Roger

David, Marcs, Ed Harry, Rhodes & Beckett,

Bardot, and Jeanswest, among others – as

well as international chains which have

withdrawn from the Australian market, such

as Topshop, Esprit, Jigsaw, and Karen Millen,

fine chains have been surprisingly resilient.

Michael Hill Australia has expanded

throughout the past decade, with 12 more

stores in 2020 (156) than it had in 2010 (144).

However, those figures belie the fact that the

company went through major upheaval when

it exited the US market in 2018, closing nine

stores.

5 additional stores

since 2010

5 additional stores

since 2010

No store closures

since 2010

Only one fewer

store since 2010

Only one fewer

store since 2010

At that time, the Australian store count

had reached 172, which means that since

2010, when its store count was 144, it

opened as many as 28 stores to February

2018 – yet in the ensuing period it has

closed 16 stores (see chart page 40).

Michael Hill experienced a number of

other ups and downs. The ASX-listed

company decided to expand its 'brand'

offering by establishing a new retail chain

in 2014 called Emma & Roe – named

after founder Sir Michael Hill's daughter

Emma and his wife's maiden name, Roe.

The new stores attempted to specialise

in 'demi-fine' charms, bracelets,

necklaces, earrings and stackable rings.

The concept was trialled for 18 months,

beginning in five Queensland stores

in 2013 under the Captured Moments

brand. After receiving "encouraging

results", the company opened its first

Emma & Roe concept store in Mackay,

Queensland, in April 2014.

Even though the number of Emma &

Roe stores quickly increased, the venture

ultimately proved unsuccessful. By June

2018 then-CEO Phil Taylor announced

the closure of all 36 stores.

The 'big boy' of the Australian jewellery

industry, James Pascoe Ltd (JPL), the

owner of Prouds, Goldmark and Angus

& Coote, remains the largest group, as

it was in 2010. Since then it has had a

net loss of only 10 stores, or 2 per cent,

declining from 469 to 459.

While the result is impressive, like

Michael Hill, the company has

rationalised its store mix and footprint

TABLE 3: FINE & FASHION JEWELLERY

CHAINS' STORE COUNT 2020

Chain

Stores

Prouds 261

Michael Hill 156

Lovisa 140

Pandora # 125

Angus & Coote 122

Colette* 99

Goldmark 76

Wallace Bishop 38

Zamels 37

Shiels 36

Mazzucchelli's 30

Bevilles 24

Salera's 20

Hoskings 16

Gregory 15

Silver Shop 7

Graham's 6

Regency 6

Anthonys 5

Hardy Brothers 5

TOTAL 1224

# Pandora was not included on the Chain Store list in

2010 as it was defined as a 'brand-only' store while

* Colette did not exist as a chain in 2010 however, it

is now under administration

Prouds

Angus & Coote

CHART 2: PROUDS, ANGUS & COOTE AND GOLDMARK STORE GROWTH SINCE 2003

Goldmark

PROUDS STORES

Stores

300

200

100

0

2003 2007 2010 2020

ANGUS & COOTE STORES

Stores

150

100

50

0

2003 2007 2010 2020

Stores

150

100

50

0

2003 2007 2010 2020

The above charts show the growth of the three James Pascoe Ltd (JPL) chains stores. It should be noted that Angus & Coote and Goldmark were not part of JPL in 2003, which acquired the

ASX-listed Angus & Coote in a reverse takeover deal for $76 million in 2007.

GOLDMARK STORES

July 2020 | 35
---
STATE OF THE INDUSTRY | Chains through the decade

IN SUMM A RY

History

across Australia. Prouds increased its presence by an

impressive 44 stores since 2010 (from 217 to 261), yet 43

Goldmark stores were closed (falling from 119 to 76) during

the same period while 11 Angus & Coote stores got the chop.

Myles Norman, general manager JPL, confirmed that some

of the Angus & Coote and Goldmark 'closures' were stores

that were converted to, and re-branded as, Prouds.

Decline of Zamels

However, the story is not as positive when it comes to The

Jewellery Group, which owns Zamels and Mazzuchelli's.

In 2010 Zamels was Australia's third-largest jewellery chain

with 100 retail stores; however, by June 2020, a whopping

63 Zamels stores had closed. During the same period The

Jewellery Group also closed two single store 'brands',

Vivien's and Budgens.

In 2003 we asked:

are there too many

jewellery stores in

the major shopping

centre?

After extensive

research we found:

71

The number of

major shopping

centres in capital

cities

On a brighter note, Mazzucchelli's had increased from 25

stores in 2010 to 30 in 2020, most of which are new locations,

with one Zamels store (Chadstone, in Melbourne) being

converted to Mazzucchelli's. As a result, The Jewellery Group

is now less than half the size it was in 2010, operating 60

stores, down from 127 (see chart 3).

Many of the problems facing Zamels can be traced to the

2007 sale of the 53-year-old family business to Quadrant

Private Equity. At the time, speculation valued the deal at

between $75 million and $100 million.

CHART 3: THE JEWELLERY GROUP

150

Zamels

TABLE 4: FINE & FASHION CHAINS BY OWNERSHIP

Chain Owner/Group Stores

Prouds

261

Angus & Coote James Pascoe

122

Group

Total

459

12,561

The number of

specialty stores

in the 71 centres

Stores

100

50

0

2003 2007 2010 2017 2020

Goldmark 76

Michael Hill Michael Hill 156 156

Lovisa BB Retail Capital 140 140

Pandora Pandora 125 125

Colette* Colette 99 99

Zamels

The Jewellery Group

37

67

Mazzucchelli's 30

667

The number of

jewellery and

watch stores

Stores

30

20

10

Mazzuchelli's

Wallace Bishop

38

Wallace Bishop

Hardy Brothers 5

Shiels

36

Transworld Enterprises

Graham's 6

Bevilles Bevilles 24 24

Salera's Salera's 20 20

Hoskings Hoskings 16 16

Gregory Gregory 15 15

Silver Shop Silver Shop 7 7

Regency Regency 6 6

Anthonys Anthonys 5 5

43

42

TOTAL 1224 1224

The above chart shows the updated chain store count as at June 2020.

Note that a 'chain' is defined as 5 or more stores. *Colette is under

administration.

5.3%

Jewellery stores

as a percentage

of all stores

16%

The percentage

of overall retail

sales at shopping

centres

0

2007 2010 2020

With a total of 67 stores, The Jewellery Group is half the size it was in 2010.

However, when the takeover was completed, industry sources

suggested the final sale was closer to $48 million – a figure

that many believed was still excessive.

Five years later, that assessment was seemingly proved

correct when Quadrant sold The Jewellery Group to one of

the world's largest jewellery manufacturers: Mumbai-based

M Suresh Group DMCC.

In November 2017, Jeweller reported: "In a stunning

depreciation, Quadrant is tipped to be offloading the group

for less than $20 million – a loss of around $30 million in

just over four years."

At the time of the second sale, industry pundits questioned

the logic of an Indian jewellery manufacturer operating

CONTINUED ON PAGE 38

36 | July 2020
---
300

200

Chains through the decade | STATE OF THE INDUSTRY

100

ZOOMING OUT

A HISTORY LESSON:

TWISTS & TURNS

0

CHART 4.1:

300

Pascoes Group Chart

2003 2007 2010 2020

Angus & Coote Goldmark Prouds

While the New Zealand based James Pascoe Ltd (JPL)

represents the largest retail footprint across Australia –

controlling Prouds, Angus & Coote and Goldmark chains –

that wasn't always the case.

As previously noted, the 2010 State of the Industry Report

(SOIR) listed JPL with a combined total of 469 stores across

its three chains, falling to 459 this year.

The accompanying chart shows the growth of the three chains

since 2003, but it should be recognised that JPL acquired

Angus & Coote (A&C) and Goldmark in 2007 in a $76 million

deal. The acquisition included three other jewellery chains

which were part of A&C and which no longer operate.

A&C was established in 1895 and was listed on the Australian

Stock Exchange (ASX) in 1952. At the time of the JPL takeover

– which required approval from the Australian Competition

and Consumer Commission (ACCC) – A&C operated the

Edments, Dunklings and Amies chain, as well as Goldmark.

At the time of Jeweller's first chain store research and

analysis in 2003, A&C operated 254 stores (Goldmark 114,

Amies 34, Dunklings 26, Edments 25, A&C 55) and according

to research firm IBISworld, the company had 12 per cent of

the jewellery and watch store business.

The deal was controversial not only because it required

ACCC approval, but also because it was a 'reverse takeover'

– named for when a smaller company attempts to acquire

a larger company.

JPL announced the takeover move in January 2007 when it

had around 174 Prouds stores in Australia and when the

ASX-listed A&C accounted for around 246 stores.

In addition, Prouds was only the third-largest group at the time

of the reverse takeover; Kleins, a fashion jewellery franchise,

was the second-largest chain/group, with 182 stores.

In another interesting twist, reminiscent of recent history, in

May 2008 Kleins was placed into receivership after collapsing

with $20 million in debt. Two months later the company was

liquidated after administrator James Stewart, of Ferrier

Hodgson, said he was being forced to close the business.

"Despite 46 expressions of interest and eight indicative

offers being received, once parties proceeded to due diligence

it was clear that no-one was confident about returning the

business to profitability, considering the risks and financial

commitment required," Stewart said.

In November 2008 Prouds went on to re-brand Amies in

Queensland, Dunklings in Victoria and Edments in South

Australia and Western Australia as Angus & Coote stores,

which helps explain the increase from 41 stores in 2007

to 133 in 2010, and finally 122 this year.

And in one final twist, of the 1,224 chain stores across

Australia in 2020, 50 per cent are owned and 'controlled' by

the Kiwis: James Pascoe Ltd and Michael Hill International.

200

100

0

Pascoes Group Chart

CHART 4.2: Angus & Coote Goldmark ABOVE JAMES Prouds PASCOE

LIMITED STORES BY BRAND

500

The above chart shows the growth of the

three James Pascoe Ltd (JPL) chains

stores over the past 17 years. It should be

400

noted that Angus & Coote and Goldmark

were not part of JPL in 2003; they were

acquired in 2007 in a reverse takeover

300

deal of Angus & Coote.

200

100

0

2003 2007 2010 2020

'03 '07 '10 '20

Total Stores

LEFT JPL TOTAL STORES

The combined total of stores for

the three James Pascoe Ltd chains

since 2003.

2003

CHART 4.3:

2007 2010 2020

Australian chains with New Zealand ownership (By Brand)

10%

Chain by Brand

Stores

ANGUS & COOTE

122 STORES

Angus & Coote (JPL) 122

Goldmark (JPL) 76

Prouds (JPL) 261

Michael Hill (MHI) 156

Other 609

TOTAL 1224

OTHER

50%

609 STORES

NZ-OWNED in % 50%

Australian chains with New Zealand ownership (By MICHAEL Group) HILL

13%

156 STORES

Chain by Group

Stores

James Pascoe (JPL) 459

Michael Hill (MHI) 156

Other 609

TOTAL 1224

NZ-OWNED in % 50%

OTHER

50%

609 STORES

JPL

38%

459 STORES

MHI

13%

156 STORES

PROUDS

21%

261 STORES

GOLDMARK

6%

76 STORES

ABOVE The pie charts show the number of New Zealand owned/controlled jewellery chains

trading in Australia by brand name and by group owned. They account for 50 per cent of stores.

July 2020 | 37
---
STATE OF THE INDUSTRY | Chains through the decade

CHART 5:

Wallace Bishop

Bevilles

Salera's

60

40

30

Stores

40

20

Stores

30

20

10

Stores

20

10

0

2003 2007 2010 2020

0

2003 2007 2010 2020

0

2007 2010 2020

The above charts show the store count changes for Wallace Bishop, Bevilles and Salera's based on Jeweller's previous reports.

an Australian-based retail chain, which

then accounted for 102 Zamels and 27

Mazzucchelli's stores.

Zamels had also encountered problems

with its brand image in 2012 when it was

fined $250,000 by the Federal Court after

being found guilty of misleading consumers

about the savings to be made during an

extensive sales period.

Unfortunately for The Jewellery Group,

it was the second time that Zamels had

been targeted by the Australian Competition

and Consumer Commission (ACCC) over

two-price – also known as 'was-now' –

advertising.

In 2006 the ACCC launched legal

proceedings against the then-family owned

Zamels in regard to its 2005 Christmas

catalogue. The Federal Court found

that Zamels had not sold the items at a

strikethrough (was) price for a reasonable

period prior to the sale.

This ACCC double-whammy might also have

affected the Zamels' business model which

was based around 'was-now' advertising;

its retail marketing and pricing strategies

were changed and which, ultimately, could

have impacted trading levels.

Mid-sized chains up and down

The mid-sized retail chains present an

interesting scenario, with developments

that might have seemed unexpected a

decade ago.

celebrated its centenary. At the time, CEO

Stuart Bishop – the grandson of founder

Wallace Bishop – told Jeweller that the

retailer had overcome many obstacles over

the years, including two World Wars, the

Great Depression, economic downturns

and the Global Financial Crisis of 2008.

"We have tackled and embraced the rise of

the shopping centre during the 20th Century

and of course more recently, the internet

revolution," Bishop added.

However, despite the business' long

history of resilience, it is fair to say that

management didn't expect to see anything

like the coronavirus pandemic that has

caused a worldwide economic crisis.

Still, Bishop told Jeweller: "Our Wallace

Bishop stores remained open during

COVID-19 by implementing strict health

and safety procedures, while our Hardy

Brothers boutiques were temporarily

closed in response to COVID-19 but

have now resumed trading."

Bishop confirmed that the current store

count of 38 Wallace Bishop and five Hardy

Brothers stores was the same as in the

pre-COVID-19 period, adding, "There are no

plans to close any stores in the foreseeable

future. We continue to review our store

footprint, which is 'business as usual' for

the Wallace Bishop Group.

"Any store closures over the past 12 months

were due to 'end of lease'."

OBITUA RY

Death of

fashion the

past decade

176 stores closed

104 stores closed

22 stores closed

(Online only)

Transworld's second 'brand', Grahams

Jewellers, closed two stores, down from

eight in 2010 to six in 2020. However,

according to Toby Bensimon, managing

director of Transworld Enterprises, one

more Grahams store is scheduled to

close because "it's not the right location".

Rise and fall – and rise

Even more intriguing are the fortunes

of Bevilles Jewellers. Once a bastion of

Melbourne fine jewellery retailing, it was

founded in 1934 by Leo and Rae Beville and

has been in the hands of three generations

of their family since, with granddaughter

Michelle now CEO.

It first expanded outside of Victoria in

2003 when it opened its first NSW store at

Parramatta. Today its store count stands

at 24, compared with 29 in 2010. While that

figure indicates a loss of only five stores,

the story is more complex – one that is both

negative and positive.

While the recent history of

Bevilles is tumultuous, its current

position perhaps indicates the

resilience of its management...

[After] entering administration,

the business was subsequently

rebuilt, bringing its store count

back to 24.

In 2010, Wallace Bishop was Australia's

sixth-largest fine jewellery brand, with

57 stores. It also operated seven Hardy

Brothers stores after acquiring the iconic

brand in 1997.

With a combined total of 64 group stores,

Wallace Bishop was the fourth largest group

after JPL (469 stores), Michael Hill (144) and

The Jewellery Group (127).

The high-profile Queensland retailer has

since closed 19 stores as well as two Hardy

Brothers stores.

In 2017, the proud family business

While Wallace Bishop's store count reduced

by 33 per cent, South Australia-based Shiels

Jewellers managed to expand over the past

decade with a major move into Queensland,

where it opened seven stores.

In 2010 Shiels, owned by Transworld

Enterprises, was the seventh-largest retail

chain and 10 years later it has expanded

from 31 stores to 36.

Interestingly, it has reduced its West

Australian store count by five (17 to 12),

while South Australia, where the company

is based, increased by one (14 to 15).

20 stores closed

(Online only)

11 stores closed

(Online only)

Not only does Bevilles operate fewer

stores today than it did in 2010, over the

ensuing years two stores were closed and,

in April 2014, the chain entered voluntary

administration.

As a result, Bevilles' store count was

forcibly reduced; 11 stores closed, bringing

to 16 the number of stores across Victoria,

NSW and South Australia.

However, the business was subsequently

CONTINUED ON PAGE 41

38 | July 2020
---
Chains through the decade | STATE OF THE INDUSTRY

ZOOMING IN

PANDORA: PAST THE PEAK?

While the accompanying fine jewellery chain store

analysis does not include Pandora, its store count

has been included in the 2020 Chain Store table.

The company and brand was defined as a 'brandonly'

chain in the 2010 State of the Industry Report

(SOIR) – rather than a fine jewellery chain.

The distinction is important because Pandora was,

and remains, both a supplier to the wider jewellery

market and a prominent retailer of its own brand.

For this reason, the 2010 SOIR listed Pandora as a

'brand-only' operator, which was defined as "one,

or more, fine or fashion jewellery stores that sells

and markets its own brand of jewellery and/or

watches.

It is usually a vertical-market operation, does not

utilise local suppliers, and stores are often owned

and operated by the proprietor of the brand or

under license via franchise agreements."

Since 2010 the Pandora 'Concept' (brand-only)

stores – many of which are operated by franchisees

– have increased from 41 to 125. However, a

number of the stores have closed in recent times.

Pandora Australia refused to divulge the figure,

but it is rumoured to be approximately five.

Traditional jewellers once frowned upon Pandora

jewellery as a cheap fashion product; however the

line between fashion and fine jewellery is often

subjective and it was blurred when Pandora's

designs began using gold and diamonds.

Further, the dismissive 'fashion' tag flew in the

face of Pandora's successful distribution model,

and which best demonstrates the evolution of the

brand and the industry. That is, by around 2010

Pandora was sold by more than 700 independent

jewellery stockists.

Following a six-year run of meteoric growth, the

company began closing accounts in Australia and

New Zealand; during 2011 alone, more than 100

stockists had their accounts closed as Pandora

entered a "new business phase in Australasia".

The news struck the industry hard, but more was

to come.

In 2012, Pandora Australia announced a further

100 stockists would be closed while at the same

time pushing its own franchise model.

Pandora was, and remains, both

a supplier to the wider jewellery

market and a prominent retailer

of its own brand.

The table below shows that from a peak of more

than 700 Australian independent stockists, the

brand is supported by only 124 stores today. In

other words, Pandora maintains only 18 per cent

of its independent consumer distribution points

as it did at its peak.

Adding the Pandora franchise stores, that figure

reaches around 35 per cent.

In fairness, much of the decline has been at

the company's choice; however, the way it has

managed itself over recent years caused many

jewellers to quit the brand – with some making

the decision for Pandora.

Reasons for no longer stocking Pandora have

included what many saw as excessive and unfair

trading terms and conditions, along with being

treated as 'second-class citizens' compared to

the franchise operators.

For example, the increased number of forced

deliveries per year gave retailers little choice in

their own stock levels. Combined with minimum

quantities on each item (i.e. pack sizes of three-ofkind),

independent stockists were prevented from

matching stock purchases with sales, resulting in

ever-increasing stock levels.

The over-stocking problem increased to such

an extent that, in August 2019, the company took

the extraordinary step of buying back jewellery

from stockists for smelting. However, even

the buy-back program was saddled with strict

conditions, including that retailers would be

charged a handling fee.

The retailers' decision to stop stocking Pandora

may have been well-founded, given that over the

past three to four years, Pandora sales have

been declining – to the extent that in 2019, the

company announced an international 're-launch'

of the brand.

Less than two years after announcing that it

would focus on its company-owned and franchise

stores, thereby closing thousands more wholesale

accounts from its independent jewellery retailers,

Pandora Jewelry CEO Alexander Lacik declared in

February this year that that may have been a poor

decision.

Lacik, who joined Pandora in April 2019 from

outside the jewellery industry, believes the

company might have lost "a lot of new customers"

and may need to refocus on distribution to

independent jewellery stores – the very

businesses that it once discarded.

2020 Points of Sale NSW VIC QLD WA SA TAS ACT NT Total

Pandora Concept Store 42 28 26 17 6 2 3 1 125

Pandora Stockist 45 33 31 4 7 1 0 3 124

TOTAL POINTS OF SALE 87 61 57 21 13 3 3 4 249

50

Pandora Pandora

Pandora

No. of stockists 2010 700

No. of stockists 2020 124

800

Stockists 10 v 20

Decline 576

Percentage decline 82%

No. of stockists 2010 700

Points of Sale in 2020 249

Decline 451

Points of Sale 2020

800

Percentage decline 64%

Stores & Stockists

40 40

30

30

20

20

10

10

0

0

Stores & Stockists

50

40

30

20

NSW VIC QLD WA SA TAS ACT NT

NSW 10 VIC QLD WA SA TAS ACT NT

2010 2020 2010 2020

ABOVE Table and chart compares the number of Pandora Concept (brand-only) stores

ABOVE Shows how the number of Pandora stockists has reduced since

and Pandora independent stockists by state.

2010 compared to the increase in Pandora Concept (brand-only) stores,

0

NSW VIC QLD WA SA TAS

noting that the number of independent stockists has declined by 82%

ACT NT

Number of Stockists

600

400

200

0

Number of Stockists

600

400

200

0

July 2020 | 39
---
STATE OF THE INDUSTRY | Chains through the decade

A GLANCE THROUGH 2003 - 2020

CHAIN SNAPSHOT: STORE COUNTS

The charts below detail the changes in store count across a number of well-known fine and fashion jewellery chains over time.

These changes reflect factors such as the evolving nature of the retail environment, individual business decisions including the

re-branding of 'sister' chains, and macroeconomic factors such as the Global Financial Crisis.

Michael Hill

Zamels

Mazzuchelli's

200

150

30

Stores

150

100

50

Stores

100

50

Stores

20

10

0

2003 2007 2010 2018 2020

0

2003 2007 2010 2017 2020

0

2007 2010 2020

Wallace Bishop

Bevilles

Salera's

60

40

30

Stores

40

20

Stores

30

20

10

Stores

20

10

0

2003 2007 2010 2020

0

2003 2007 2010 2020

0

2007 2010 2020

Bevilles Shiels

Gregory

Hoskings

40

20

20

30

15

15

Stores

20

10

Stores

10

5

Stores

10

5

0

2003 2007 2010 2020

0

2003 2007 2010 2020

0

2007 2010 2020

Lovisa

Diva

Equip Accessories

200

200

150

Stores

150

100

50

0

2010 2014 2020

Stores

150

100

50

0

2007 2010 2020

Stores

100

50

0 0

0

2007 2010 2017 2020

40 | July 2020
---
HILLS AND VALLEYS

KEY MOMENTS FOR

MICHAEL HILL

It's been a topsy-turvy decade for Michael Hill

International. Following the opening of his first

store in 1979 in the New Zealand town of

Whangarei, jeweller Michael Hill became well

known for unique designs and utilised highimpact

advertising to elevate the business to

national prominence.

The company grew steadily, and by 1987 it had

10 stores and was listed on the New Zealand

Stock Exchange (NZX). At the same time, the

company expanded into Australia, opening

four stores in Brisbane over four weeks.

In 2002, the company opened five stores in

Canada and six years later made inroads into

the US market by acquiring and re-branding

17 stores from Whitehall Jewelers.

In January 2011, and the age of 72, founder

Michael Hill was granted a knighthood in

New Zealand's New Year Honours List.

After a long and illustrious career, Sir Michael

retired as his namesake company's chairman

in November 2015 and the following year

Michael Hill International (MHI) was listed on

the Australian Stock Exchange (ASX).

At the time, 60 per cent of its stores were in

Australia and more than 80 per cent of MHI's

revenue and profits were generated outside of

New Zealand.

The company began trading on 7 July 2016 at $1.15

per share. At the time of publication its share price

was $AU0.32 on the ASX and $NZ0.34 on the NZX.

The company's 2019 Annual Report recorded a

total of 306 stores; 168 stores in Australia (dropping

to 156 by July 2020), 52 in New Zealand and 86 in

Canada. It reported revenue of $569 million and

post-tax profit of $16.5 million.

In October 2016 the Hill family trust, Hoglett

Hamlet, sold 10 per cent of its stake – 16 million

shares – in MHI for $25.6 million. However, it

remains the company's largest shareholder,

owning 38 per cent of the company.

restructured and four months later a new

store was opened at Melbourne's Westfield

Fountain Gate.

Then, in December 2015, the chain opened

a new Melbourne CBD store, having exited

Bourke Street Mall in 2011 when it was

"outbid" by Swarosvki for the 'flagship'

location where it had been mall positioned

for more than a decade.

At the time, Michelle Beville said, "The

lease was up and we put in a bid to renew,

however the landlord decided to go out to

market after international interest [from

other retailers].

"International players have come to town

and they have the ability to pay fabulous

rent. The right rent moving forward [for

smaller companies] is difficult, due to these

international companies."

In October 2017, Indian jewellery company

Tara Jewels acquired a 49 per cent stake in

Bevilles, four years after forming a "strategic

alliance" with the Australian jewellery

retailer.

While the recent history of Bevilles is

tumultuous, its current position perhaps

indicates the resilience of its management;

after 'losing' the high-profile Bourke Street

Mall store and entering administration, the

business was subsequently rebuilt, bringing

its store count back to 24 – close to its peak

of 29 in 2010.

By anyone's reckoning, that's no mean feat.

Another Victorian-based chain has also

proved quite resilient over the past 10 years.

Salera's began 2010 with 21 stores – 15 in

Victoria and six in Queensland – increasing

to 23 the following year.

Alfredo Salera founded the business in 1953;

by June 2020, its store count was 20 – an

enviable and sustained record for a familyowned

and operated mid-sized chain.

Hoskings Jewellers has also proved

relatively robust. It made Jeweller's list in

2010 with 17 stores, and today the Victorianbased

jeweller still operates 16 outlets.

IN SUMM A RY

Insights

Fashion

jewellery chain

stores have

seen a massive

decline, due

to increased

competition

and occupancy

costs

Fine jewellery

chain stores

have remained

resilient, when

compared with

both fashion

jewellery and

the broader

discretionary

category

Fine and

fashion

jewellery

remain

differentiated

in the market

Large jewellery

groups have

maintained

control of

fine jewellery

chains

Lovisa has

become the

dominant

player in

fashion

jewellery, with

140 stores

and no major

competitors

The company also owns the Goldsmith

brand, which has been less fortunate;

seven stores were closed in the past 10

years, with its numbers falling from nine

to two.

With that said, three Goldsmith stores

were converted to Pandora 'Concept

stores'; Hoskings now operates six

Pandora stores in total (see page 40).

The 2010 SOIR also detailed that Hoskings

owned and operated four other jewellery

stores: three under the Sterns brand and

one Diamond House. These stores no

longer exist.

Once again, taking into account the demise

of many high profile and long-standing

retail businesses across the apparel

and fashion accessory categories, the

resilience of fine jewellers is impressive.

Other well-known names that have stood

the test of time include NSW's Gregory

Jewellers and Regency Jewellers. In

2010 Gregory Jewellers was listed as a

small-sized chain with 16 stores and

today it has 15.

While one Gregory store was technically

closed, it was converted to a Gucci store

operated by Gregorys.

Another small chain, Regency Jewellers,

which was founded in 1968, has also fared

well. It operated six stores throughout

regional NSW in 2010 and it still operates

the same number today.

The same cannot be said for the

Queensland based Anthonys Fine

Jewellers. It was listed with eight stores in

the 2010 SOIR, however today it has been

reduced to five across Brisbane. Owned

by Queensland Wholesalers, the company

also operated three Kings Jewellers stores

in 2010 – all of which have ceased trading.

While Anthonys, with five stores,

continues to be defined as a 'chain', the

same cannot be said for Brisbane-based

Pascoe Jewellers or Melbourne-based

Dio Oro Jewellers.

Both have suffered over the past 10 years,

with Pascoe having closed six stores (from

nine to three) and Dio Oro reducing its

store count from seven to one; therefore,

both businesses have been removed from

Jeweller's 'chain' store list, along with

Goldsmith, as mentioned previously.

While the wider Australian non-essential

(discretionary spend) retail industry has

suffered greatly in the past decade, it's

fair to say that many industry experts

had predicted bleaker times for fine

jewellery chains.

In the past decade only two names

disappeared altogether and, although

there has been a net loss of 118 stores,

from the original 978, 63 closures were

from Zamels alone.

Reviewing the past 10–15 years – the first

of Jeweller's analysis of jewellery chains

was published in 2003 – many jewellers

lamented the rise of, and competition

from, fashion jewellery.

It was viewed as 'cheap product', however,

this category has been impacted most by

changes in the retail sector.

To that end, fine jewellery retailers

have demonstrated an adaptability and

buoyancy over the past decade that

was not only unexpected, but should be

celebrated given the current times.

Editor's note: It should be recognised that

even though some jewellery websites remain

"live", this does not mean the business or its

bricks-and-mortar stores still operate.

The 2010 State of the Industry

Report also researched and analysed

Flagship and Brand-Only stores as

well as independent retail jewellery

stores and the buying groups. The

next instalment of the 2020 State of

the Industry Report will examine

Flagship and Brand-Only stores.

July 2020 | 41
---
# 1

in Australia

#3

in the World

Jeweller has always been recognised as the #1 trade

magazine in Australia.

Alexa.com, the global ranking system for analysing

website readership, ranks jewellermagazine.com well

above its industry competitors.

Better still, Feedspot, the independent content reading

service, ranks Jeweller #3 in the world. Of all B2B

jewellery publications, we rank just behind the US's

National Jeweler and the UK's Professional Jeweller in

Feedspot's "Top 10 Jewelry Magazines & Publications

To Follow in 2020".

It's Jeweller's commitment to excellence in reporting,

high-quality presentation and readership that sets us

apart. For these reasons during the economic crisis and

global pandemic Jeweller has decided to go fortnightly –

rather than monthly in these challenging times.

We aren't hibernating we're 'hypernating' to help

retailers and suppliers not only survive but thrive!

VOICE OF THE AUSTRALIAN JEWELLERY INDUSTRY
---
Chains through the decade | STATE OF THE INDUSTRY

LEFT As at June 2020

there were 20 fine

jewellery and fashion

jewellery chain stores

with 1,224 stores

nationally.

0 100 200 300

295%

increase in

James Pascoe Ltd

Australian store

count from

2003 to 2020

1,224

As at July 2020, there were

1,224 fine and fashion

jewellery chain stores

operating in Australia

90%

of fashion jewellery

chain stores that were

operating in 2010 had

closed by 2020, perhaps

due to rent increases and

online competition

50%

of Australian jewellery

chains are owned controlled

by New Zealand entities

Four fine jewellery chains

increased their store

count since 2010 through

expansion or re-branding:

Prouds, Michael Hill,

Shiels, and Mazzuchelli's

64%

decline in Pandora points

of sale (stockists and

concept stores) since 2010

78%

of fine jewellery chain

stores are controlled by

just three companies –

James Pascoe Ltd,

Michael Hill, and Pandora

12% 118 STORES

fine jewellery chain stores

have closed since 2010

4 February '20

Colette By Colette Hayman

– the last major fashion

jewellery competitor

to Lovisa – went into

voluntary administration

July 2020 | 43
---
Together

We're in this together. Worth and Douglas are

here to help, providing the quality, speed, and

service you've come to expect from us for over

60 years.

Your account manager will be reaching out to

discuss ways we can support you during these

unusual times.

WORTH & DOUGLAS LTD

(03) 9338 0091 / 1800 006 388

sales@worthdouglas.com.au

worthdouglas.com
---
BEST OF BUSINESS

Feature

Five methods for maximising

profits on all stock

Profit margin is a metric that should always be on a retailer's radar, and for good reason: it answers critical

questions about your business. FRANCESCA NICASIO reports.

A profit margin isn't just something

that retailers should measure; it's a

metric that retailers should strive to

continuously improve.

As author Doug Hall wrote, "If your profit

margins aren't rising, chances are your

company isn't thriving." To help do just

that, here are some pointers that can

enable retailers to widen their margins:

Lower the cogs

Take a closer look at all materials and

procedures required to create or source

your products and establish how these

materials can be purchased for less

without compromising the quality.

Is it necessary to order larger

quantities? Are there any middlemen or

administrative expenses that can be cut

from the process?

Consider these things carefully and

then take action accordingly. Let's

say a retailer needs to increase order

quantities for a particular item to lower

its price.

In this case, the retailer should first look

at inventory data and determine if he can

afford to order certain items in bulk.

If not, would it be possible to consolidate

orders with other items or team

with other purchasers to increase

buying power?

This is something that large retailers

have been doing for quite some time now.

A few years ago, for example, Walmart

sought out co-purchasers for raw

materials so the chain could consolidate

purchases and get more buying clout.

Explore options and run them by

suppliers to see if better deals can be

negotiated. If suppliers won't budge,

don't be afraid to check out other

suppliers to find out if they can offer

more favourable terms.

Make sure existing suppliers are aware of

this though, as they might end up offering

better rates.

Increase prices

Setting prices at a higher level enables

retailers to make more money on each

sale, thus increasing margins and

improving the bottom line; however,

retailers can baulk at the prospect of

Do you want to

sell to shoppers

who would take

their business

elsewhere just

because they

could get an

item for less,

or would you

rather attract

customers

who don't base

their purchase

decisions solely

on price

increasing their prices out of fear that

they'll lose customers.

Pricing decisions depend on each

company's products, margins and

customers. The best thing to do is to look

into your own business, run the numbers

and figure out your pricing sweet spot.

On top of considering basic pricing

components like costs and margins, look

at external factors such as competitor

pricing, the state of the economy and the

price sensitivity of target customers.

Also take the time to consider what types

of customers you want to attract. Do

you want to sell to shoppers who would

take their business elsewhere just

because they could get an item for less,

or would you rather attract customers

who don't base their purchase decisions

solely on price?

It's surprising to find that the majority

of your regular customers may actually

belong to the latter group – a study

by Defaqto found that 55 per cent of

consumers would pay more for a better

customer experience.

July 2020 | 45
---
Best of Business | METHODS FOR MAXIMISING PROFIT ON ALL STOCK

Taking all these things into consideration,

a price increase can be calculated and

tested on a few select products. Retailers

can then gauge customer reaction and

sales from there.

Also consider implementing creative

or psychological tactics when coming

up with prices in order to make them

more appealing. Tiered pricing is one

effective strategy.

In order to combat cheaper knock-offs,

one US shoe retailer, Footzyfolds, decided

to revamp its prices – but not in the

way one might think. Instead of lowering

prices across the board, Footzyfolds

introduced a high-end category for

its products.

With the new pricing format, it lowered

the price of its everyday products to $20

a pair and introduced a new 'Luxe'

category for $30 a pair.

Owner Sarah Caplan told the New York

Times that the move helped increase

revenue dramatically.

"We actually have had the most interest

in our higher-priced shoes," she said,

adding that the business reported a

100 per cent increase in revenue after

launching the high-end line in the

summer of 2010.

The way to communicate new prices

is just as important as the prices

themselves, so put thought into how these

messages are relayed to customers. Give

shoppers a heads up prior to any price

hike; let them know it's happening and

how it's going to benefit them.

Also, be sure to communicate

differentiating factors as well as value in

service. Justify higher prices by telling

customers why the store is different or

better than the competition.

Ensure customers are aware of it however

this is demonstrated.

The right price increase could improve a

store's bottom line significantly enough

to offset any losses from shoppers who

decide not to buy from you. Additionally,

having fewer customers helps lower

operating expenses while freeing up

staff to increase service quality at the

same time.

Reduce expenses with automation

Automation can do wonders for

productivity as well as the bottom line.

By putting repetitive activities on

autopilot, retailers can reduce the time,

manpower and operating expenses

required to run a business.

Are there any cumbersome activities

that are eating up the time of your staff

members? Take note and then look for

solutions that can take care of them

automatically.

For instance, to save time and operating

expenses, I know of one menswear store

that automated the task of transferring

sales data to accounting software.

Rather than manually plugging the

numbers into the program, the owner

integrated his point-of-sale system with

accounting software and got the two tools

talking to each other so that information

was automatically transferred from one

program to the next.

The result: he has been able to free up

time so he and his staff could devote

more energy to helping customers. He

estimates that the automated system in

his store 'saves' 40 to 80 hours a week.

This doesn't just apply to data entry.

These days, there's an app for most of the

boring administrative tasks.

Optimise supplier relationships

Earlier in this article, I mentioned

negotiating better contracts with

suppliers to reduce the costs of goods

and widen margins. Consider building

stronger relationships with suppliers.

Ask if there's anything that can be done to

make things easier or more cost-effective

for them so they can fulfil orders in a

more efficient way.

Strengthen relationships with suppliers

and determine how you can work better

together. Doing this can help you identify

ways to reduce product costs and

BOOST THE

BOTTOM

LINE

Maximise

margins

Reduce

expenses by

optimising the

supply chain

Improve

efficiency

Focus on

servicing

customers –

use apps and

software for

other tasks

Perfect

pricing

Set prices

higher or

introduce a

tiered system

to maximise

every sale

Differentiate

discounts

Tailor special

offers to each

customer –

don't offer

blanket

discounts

operating expenses. At the very least, it

should improve workflow and productivity.

Personalise your offers

Another effective way to improve margins

is to offer tailored discounts. Remember,

not all customers are wired the same

way; some people may need a discount

incentive to convert while others don't

really require a lot of convincing.

Identify how big of a discount is necessary

to convert each customer. Case in point:

Online bicycle retailer BikeBerry.com

sought the help of a big data company to

analyse customer behaviour and gather

intel on the past purchases of customers,

their browsing histories and more.

The store got to know its customers

and was able figure out the most costeffective

way to convert each one.

BikeBerry then created a series of email

campaigns with five different discount

offers tailored to each individual, including

free shipping, 5 per cent, 10 per cent, 15

per cent or $30 off new products.

The campaigns ran for two months and

the business not only increased sales

within that period but also widened its

profit margins by not offering discounts

to customers who would convert at a

lower threshold.

Instead of offering blanket discounts,

go through the purchase histories of

customers and personalise offers based

on their behaviour and preferences.

Doing so won't just increase the

chances of conversion; it'll also help

you maximise margins.

A retailer doesn't always have to

make drastic changes to a business to

significantly improve the bottom line.

As this article has shown, sometimes

a simple tweak in pricing or a phone

call to a supplier can pave the way for

wider margins.

FRANCESCA NICASIO is a retail

expert from Vend, a POS, inventory and

customer loyalty software for merchants.

Visit: vendhq.com/examples

July 2020 | 47
---
BEST OF BUSINESS

Selling

Blind spots that kill business growth

The things that retailers don't do can play an important role in increasing sales and improving their businesses.

IAN ALTMAN reports on how to identify and avoid potential pitfalls.

One of the most common questions

I get asked when speaking at events is,

"What can I do to grow our business?"

You might think that I immediately jump

into issues about sales training

or messaging.

Though it's possible to achieve minor

improvements with sales tactics or

messaging alone, I have realised that

the larger issue is activities that harm

business growth.

Retailers are constantly looking to

improve their businesses but they're

not always aware of the blind spots

that can kill sales growth.

Businesses can improve dramatically

if they get their messages and marketing

mix right but they can also improve

if they just avoid a few small potential

pitfalls that stand between them

and success.

Blind Spot 1: Customer experience

The easiest way to grow is often the most

overlooked element.

What percentage of expenses do retailers

allocate to sales? How about marketing?

How about customer service and

retention?

In most retail businesses, service and

retention suffer from benign neglect.

In fact, digital marketing advisory firm

Convince And Convert recently reported

that less than 2 per cent of every dollar

spent on marketing is spent on customer

service and retention.

Blind Spot 2: Attract with focus

When retailers are struggling, they

often move to increase sales activity

or volume.

If a salesperson converts one in 40

prospects each week, then he or she

might think the answer is to speak with

more prospects – if they speak with 60

potential customers, there'll be more

conversions, right?

It's not likely.

If the message is weak, increasing the

number of people who hear that message

won't result in more sales. Instead,

Businesses

can improve

dramatically if

they get their

messages and

marketing

mix right but

they can also

improve

if they just avoid

a few small

potential pitfalls

retailers need to think about what their

sales staff can do to attract the right

potential customers to the business.

This often means narrowing the focus,

not broadening it. Ultimately, this

includes ignoring those potential clients

who are not a good fit for the business.

Sales staff need to focus on the situation

a customer might be facing and be

empathetic toward that situation. Ask

what can be done via marketing that

would attract these customers to

the business.

If a car made an odd, clicking sound

every time it turned right, the owner

might first turn to Google for information

and search 'right turn clicking sound'.

This is because people search by

describing the problem they are trying

to solve; however, on most websites,

retailers talk about what businesses do

rather than why customers need them.

Marcus Sheridan, CEO of TheSales

Lion.com, teaches a philosophy:

"They ask. You answer. Be the best

48 | July 2020
---
FOCUS

POINTS

Put your

customers

first

Invest in

service and

retention to

improve sales

Think

like your

customer

Focus your

marketing on

solving your

customers'

problem and

Align

sales and

marketing

Make all teams

aware of your

strategy

teacher in the world at whatever it is that

you do."

To quickly attract the right customers, retailers

have to build trust by sharing ideas.

Blind Spot 3: The 'real' finish line

Imagine, for a moment, that a store attracts

all the right customers and makes the sales.

Is that thefinish line? Did the store "win

the race"?

Making sales is only the first step.

If a customer leaves with a purchase that

wasn't exactly what they wanted, they'll blame

the store.

These disgruntled customers can become

toxic clients who can suck the life out of any

business. What this means is that all retailers

must focus on ensuring their sales teams can

deliver results.

In an interview with John Jantsch on the

Grow My Revenue business podcast, Jantsch

discussed the importance of recognising that

a sale is not complete until the client achieves

the results they were expecting.

Imagine how a customer would react if

sales staff asked them what it would take

for them to feel their visit was a success rather

than whether or not they're going to buy

the product.

Blind Spot 4: Lack of alignment

Even the most skilled companies can overlook

the fourth blind spot: when one functional

department decides to impact how a store does

business and the other departments struggle to

get on board.

For example, marketing aims to attract the

'right' type of customer to the business but

then the sales team focuses only upon the sale.

In another scenario, perhaps marketing and

sales both do well but the back office lacks

a plan to ensure customer success. Without

proper buy-in and alignment, companies can

struggle for years despite good intentions.

Retailers that can align all of these areas

will achieve dramatic results and those who

know the blind spots can avoid some of the

roadblocks to growing their businesses.

IAN ALTMAN is the CEO of Grow My

Revenue and an advisor and speaker

on sales and business development.

Visit: growmyrevenue.com

LED UVC Steriliser to destroy

germs, viruses and bacteria.

Use on phones, pens,

jewellery & more.

LED UVC Steriliser to destroy

germs, LED UVC viruses Steriliser and to bacteria. destroy

germs, Use on viruses phones, and pens, bacteria.

Use jewellery on phones, & more. pens,

jewellery & more.

$179+ GST GST

$179+ GST

$179+ GST

Sanitising cycle only takes

A

3

Sanitising

minutes, and

cycle

an

only

audible

takes

3 minutes, voice tells and you an when audible

A Sanitising cycle only takes

A Sanitising cycle only takes

sanitisation 3 voice minutes, tells and you is an complete. when audible

sanitisation 3 minutes, voice tells and you is an complete.

when audible

sanitisation

voice tells

is

you

complete.

when

sanitisation is complete.

Contact (02) 9417 0177

Contact (02) 9417 0177

Contact (02) 9417 0177

Contact (02) 9417 0177
---
BUSINESS

Management

Tips for keeping your staff motivated

Everyone knows staff motivation leads to success. DOUG FLEENER says what might not be so obvious is that

motivation can't be taught and rather needs to be encouraged.

Years ago, I had an incredibly talented

retail associate working for me. He

was smart, charming, a fast learner

and one of the best salespeople I ever

met. Unfortunately, there was one

major problem: he was lazy, doing only

enough to get by.

I spent an incredible amount of time

and energy trying to motivate him.

I could sometimes get a bump in his

performance but he invariably slid

back into mediocrity.

What I didn't understand at the

time is that the ability to motivate

others is a myth. I know that sounds

like leadership blasphemy, but I'm

convinced you can't motivate the

unmotivated.

Motivation is the desire or willingness

of someone to do something, and the

desire to work with customers has to

come from within.

The willingness to proactively engage

and sell to customers has to be

something a person wants to do;

you can't successfully motivate

people to do something if they just

don't want to do it.

The role of financial incentives

Doesn't money motivate people?

A study by Edward Deci, a psychologist

at Rochester University, found that

students offered cash prizes to solve

puzzles were less likely to continue

working on them after payments

had been made.

Deci's work helped clarify the

relationship between intrinsic and

extrinsic motivation – doing things

because you like doing them or doing

them because you want a reward.

This is why hiring the right person is

so important.

Offering a motivated person more

money could result in higher

performance but it will have little to

no effect on the unmotivated.

If you pay a mediocre employee more,

all you will have is a highly-paid

mediocre employee.

Motivation is

the desire or

willingness

of someone to

do something,

and the desire

to work with

customers has

to come from

within

Get the most out of your staff

Instead of trying to motivate people,

the key is to inspire the motivated and

remove the unmotivated. Here's how:

Make work fun – one of my favourite

sayings is, "You can't ask people to give

service with a smile until you give them

something to smile about."

The best leaders have the ability to

make each day a great experience for

their team.

Make each day challenging – working

in retail is like the movie Groundhog

Day: every day can be the same day

over and over.

Good leaders challenge their

employees to try new things and to

strive to improve on what they weren't

so good at yesterday.

Be constant and consistent with staff

development – motivated people

want to learn; they want to grow.

A development plan doesn't have to

be complicated, but it does need to be

constant and consistent.

50 | July 2020
---
Recognise performance – never

underestimate the importance of

specific recognition.

Staff want to contribute to a store's

success and they especially appreciate it

when their effort is called out.

Create a strong sense of team – good

teams bring out the best in each member,

provide mutual support and bring purpose

to each other's work.

A group of people isn't a team; a group

of people committed to a common cause

and enabling each other's success is.

Provide incentives – incentives like

prizes are a great way to inspire motivated

staff, but remember that it's as important

to focus on and reward the right

behaviour as it is to achieve the

desired results.

Empower and simplify – give staff

responsibilities. Let them 'own' tasks.

Show you trust them. Make their work

easy. Oversee it all from a distance. Step

in to guide when required and always

reward success.

Have standards – one of the fastest

ways to demotivate a motivated

employee is to fail to hold everyone

accountable for business standards

and expectations.

Most people will rise to what's

expected of them but they'll also

lower themselves to match the level of

accountability set for others.

Give staff a voice – motivated employees

want to contribute and be a part of the

future. They have good ideas and would

like to share them.

MOTIVATE

& INSPIRE

Identify which

employees can

be motivated

and which

should be

removed

Create a fun,

challenging

environment

for employees

to thrive

Actively reward

and develop

employees with

recognition

Create a

culture of

accountability

They feel inspired when they can bring

ideas up with their manager or owner,

and they get an extra lift when that idea is

successfully put into practice.

Remove the unmotivated – an

unmotivated person who doesn't meet the

acceptable level of performance will drag

the entire team down.

Motivated employees resent it when the

management team accepts and even

enables poor performance.

Moving underperformers out will actually

inspire motivated employees and improve

the customer experience and results

– which is after all the main goal.

DOUG FLEENER is president and

managing partner of Sixth Star

Consulting. Visit: dougfleener.com

We are

here to

help fulfil

your ideas

We are here to help you fulfil your ideas. As a

customer-focused Australian business, we aim

to service the needs of the retail and wholesale

jewellery industry by helping to centralise the

development of innovative products and concepts.

For our existing branded products, we offer

packaging, instore displays, care cards and coop

advertising alongside an active social media

campaign to supplement the story of the brand.

We are

here to

make your

job easier

It's been challenging, but lockdown has been a

helpful time to review the way we present products

on our selling platforms.

To help ensure your online showcase look beautiful

online, we have compiled our product images,

marketing material and logos for your use. Contact

us today for immediate access.

Also offering credit facilities, resizing and repairs,

warranties, customised manufacturing and nextday

delivery.

OUR BRANDS

03 9555 9344

SALES@PFJ.COM.AU

WWW.PFJ.COM.AU
---
BEST OF BUSINESS

Marketing & PR

A guide to keeping sales and marketing simple

When considering sales and marketing, businesses can unlock significant benefits and increase sales by

concentrating on the basics. THOMAS YOUNG reports.

The most successful sales and

marketing approaches are based on

common-sense and there is genius in

their subtle simplicity.

These approaches may first appear

obvious and easy to implement, as if

they are simply common knowledge;

however, common sense is not always

so common.

Here is a collection of marketing and

sales principles considered basic but

often ignored by businesses.

Let the market lead

It is very common for entrepreneurs

or established businesses to approach

their markets with an idea, product or

service they believe will be successful.

They may have conducted extensive

market research, consulted with

focus groups and sampled sections

of the public to amass data that

appears to give them the green light,

only to find that their idea, service or

product fails to take flight.

Market research is a measuring stick,

not the final outcome. As companies

develop new ideas, they must make

these ideas flexible to market changes

by following the leads of their target

markets.

How often do companies attempt to

push a product onto their customers

for little success?

Give away some secrets

Competitive advantage is a critical

component of marketing and sales

success. Yet, many companies keep

their competitive advantage a secret.

They do this out of the fear that

competitors will steal these ideas and

take away their market share.

In fact, the opposite is true. A clearly

stated competitive advantage increases

market share and drives more

customers to a business.

Operational secrets are one thing

but the benefits that separate one

business from its competitors must

be shared with customers if they are

to understand them.

For example, if one were looking for

an office cleaner, wouldn't it be nice

A clearly stated

competitive

advantage

increases

market share

and drives more

customers to

a business...

If customers

don't know

the features

and benefits of

the business,

they're unlikely

to choose it

to know what makes one cleaning

company better than another?

Now, the cleaning company owner

might be thinking, "If we give away

the secrets that make us a great

cleaning company, our competition

will steal those secrets and put us

out of business."

On the contrary, if customers don't

know the features and benefits of the

business, they're unlikely to choose it.

Closer to home, if a store excels at

jewellery repairs and remodelling then

it should boast about this service. Tell

customers why the business is so good

at repairs.

The rewards a business gains from

sharing its competitive advantage

overwhelms any minor gains that

might flow to competitors.

Love those customers

It is so hard to acquire, foster and

retain loyal customers in today's

competitive markets that businesses

should never take them for granted.

Treat every customer like gold and

52 | July 2020
---
MARKETING

CHECKLIST

remove any obstacle that might deter a

consumer from doing business with the store.

my

dreams

Use market

research to

identify product

or service

niches

Promote

your point of

difference to

consumers

Make your

business

accessible

to potential

customers

I have known business owners who do not even

want to place their phone numbers on their

websites because they don't feel they have time

to answer calls.

This is an example of a hurdle that customers

have to jump in order to contact those

businesses.

Why would a business make it difficult for a

potential customer to make contact?

Don't let operational issues make it hard for

customers to shop.

Have a passion for customers and make an

extra effort to understand how they think and

why they buy.

bravery

good

luck

vitality

Give your

marketing

strategy enough

time to bear fruit

It's about people

The people who implement a business'

marketing plans are the real key to that

business' success.

direction

These people must develop the skills needed to

understand customers and keep the company

moving in the direction of meeting targetmarket

needs.

Teamwork is critical to the success of any

marketing plan as everyone in the business

usually sees themselves as marketing

professionals.

my

family

This includes not only making things easier

for the customer but also making operations

easier for the company.

Marketing takes time

Never give up. Marketing takes time and

managers who are committed to the project

will succeed as long as they give customers

what they want. Remember the infamous line,

"If you build it, they will come."

Now make some modifications: "If you build it,

they will come… but only if you tell them where

to go and ensure you can service them."

Be confident. Ask for help when necessary and

keep focus on meeting the needs of prospects

and customers.

In this way, businesses that can implement

common-sense sales and marketing that are

not so common will soon be on the road to

higher levels of success.

THOMAS YOUNG is CEO of Intuitive

Websites. He has more than 25 years'

marketing and sales experience.

Visit: intuitivewebsites.com

Offer:

FREE SHIPPING

on orders over AUD$300 until 31 st July

As we continue to face uncertain times, we want to reach out

with wishes of love, hope and strength and remind you that Stow

Lockets remains committed to supporting our valued retailers.

Stow Lockets can be carefully stylised, creating a sentimental

heirloom jewellery piece for your customers.

One which will be cherished forever.

sales@stowlockets.co.nz | +64 7 281 1509

stowlockets | #preciousstories | stowlockets.com
---
BEST OF BUSINESS

Logged On

How to create outstanding blog content

It can be tough and time-consuming to generate fresh, original content for websites and blogs that will engage your

readers without being repetitive. BETH WALKER shares strategies that can help the process.

One of the hardest things about running

a blog for your company or website is

trying to come up with good topics for

your articles, especially when you don't

have much time.

The instinct may be to skip publishing

but that's not best because frequency

matters when it comes to blogs.

By utilising these five essential actions,

you can create outstanding blog content

consistently and still stick to your

publishing schedule.

Crappy first draft

American novelist Anne Lamott is famous

for promoting bad first drafts.

Her point is that you just need to get

something on paper.

"Writers write" is a quote I hear or

read at least once a day because it is a

crucial device that writers use to remind

themselves that their job is to, well, write.

My first drafts often take on an outline

form – I'll consider the title and keywords

I need to target and, as I research, I'll pull

out the ideas I want to highlight.

Once I determine the sections and

flow, I can start in the middle of an

article even when the introduction isn't

coming together.

The point of the crappy first draft is to get

some words written.

You may delete them all later, but at least

you'll have started!

Walk away

After you get something down, walk a

way. This might seem counterproductive,

but I promise that it works.

When writer's block strikes, I'll

sometimes take an actual walk. Getting

outside and doing something active

seems to be a perfect method for

inspiring new perspective and thoughts.

Use tools

While no tool is perfect, automated

grammar software program Grammarly

is my go-to tool so that everything I

write is checked by a second set of 'eyes'

before I hit publish.

The free version of the tool is helpful

tool to catch spelling, punctuation and

My first drafts

often take on

an outline form

– I'll consider

the title and

keywords I need

to target and,

as I research,

I'll pull out the

ideas I want

to highlight

grammar mistakes, but the paid version

goes even further.

For example, Grammarly often highlights

that my drafts are "wordy". This isn't

surprising to me, but it is a gentle

reminder for me to edit my work to

improve clarity.

However, I don't turn Grammarly on when

writing my first or second drafts.

I'll turn it on once I'm on my final review

so that I can consider any suggestions

and edit accordingly. After this, I do one

final read-through before sending my

content to a proofreader.

Use a proofreader

As writers, we can find ourselves feeling

defensive about the editing process, but

the reality is that developing outstanding

content requires editing.

Even when you have a great handle

on your audience, it's still important

to make sure that your ideas are

communicated clearly.

Remember that you've been focusing

on your article for several hours or even

54 | July 2020
---
THE WRITE

STUFF

1. Plan in advance

the topics and

deadlines for your

blog and website

posts, either

quarterly or yearly

2. Change up the

structure of your

writing process

– start with an

outline, rather

than trying to

write from scratch

3. Automate your

editing with

software programs

or browser

extensions

4. Let someone

else read what

you've written

before you upload,

ideally a paid

proofreader

5. Don't

overcomplicate

your writing –

ensure your posts

use relevant

keywords and are

not too 'wordy'

days at this point and have probably read

it through at least four times; it's possible

you are not being as clear as you think.

Proofreaders are also great because they

can tell you when you have complicated

an explanation of a particular topic –

perhaps you are using five sentences

when only three are needed.

A great proofreader will provide

suggestions that clarify your content

without substituting their voice or

perspective for yours.

Consider all suggestions and always keep

the end goal in mind: you're creating

outstanding content for your reader.

Create a content calendar

The best way to stay on track when writing

consistently is with a content calendar.

There are many benefits of having a

calendar, but my favourite is that you

only need to brainstorm subjects once

– as opposed to every time you sit down

to write.

With my personal blog, I plotted out a

year-long content calendar with titles

and subjects in January.

This might sound like an overwhelming

task, but I publish eight times a month

so I only needed to come up with 60 titles

and plot out the publishing dates.

When you work ahead, you give yourself

flexibility if life circumstances happen

to inspire new content; I have found that

prepared titles can be easily postponed

for the future, perhaps even the next time

I develop my content calendar.

Thinking about all of your blog articles in

one go might not work for everyone, but

I suggest you think further ahead than a

few weeks – quarterly calendars are the

ones I encounter most often.

By taking the time to brainstorm

keywords, titles and subjects, you can

jump into that 'crappy first draft' easily

and with a little bit of inspiration.

We Are

Your Workshop

Your local service for all of your

manufacturing needs

FREE RHODIUM PLATING ON ALL

• Custom Makes

• Repairs & Remodelling

• Large & Small Setting

• Resizing

BETH WALKER writes for US-based SMA

Marketing, which specialises in digital

marketing strategies for businesses.

Visit: smamarketing.net
---
My Bench

Matthew Alexander Crooks

Matthew Alexander Jeweller, Brisbane QLD

Age 29 • Years in Trade 9 • Training TAFE • First job Peter Gordon Jeweller Other Qualifications Certificate III in Business Management

SIGNATURE PIECE

AMARYLLIS BROOCH

APPRENTICESHIP PIECE

This was the first piece I made and designed myself, which is

why it still means a lot to me. It is named Amaryllis, which means

"to sparkle" in Greek and refers to a flower in the lily family.

The design took about a month to make, as each petal was

comprised of individual segments, which were fit together like

a puzzle and soldered. For the centre cluster I upturned an

amethyst and surrounded it with yellow gold and peridots to

create the bud of the flower.

This design, at the time, really stretched my skills but it was

really enjoyable and taught me a lot moving forward.

4FAVOURITE GEMSTONE My favourite stone is

an opal, as every piece is different, and it adds

to the uniqueness of a custom design. There's

nothing better than seeing the fire in a high-quality

opal!

4FAVOURITE METAL Platinum is definitely my

favourite metal because of its malleability, high

melting point and ability to be easily fused. I also

appreciate the durability, colour and added weight

that it brings to a high-quality design.

4FAVOURITE TOOL Meiji EMZ-5 microscope.

Who doesn't love seeing intricate components

under high magnification?

4BEST NEW TOOL DISCOVERY I do love my laser

welder.

4BEST PART OF THE JOB The entire creation

process from start to finish: meeting with

customers, creating a unique design, handmaking

a piece and seeing the customer's reaction

when they open the box. I feel privileged to be able

to do so.

4WORST PART OF THE JOB Waiting for a piece of

jewellery in the pickle.

4BEST TIP FROM A JEWELLER During my

apprenticeship, my boss instilled a belief in me

to trust in my expertise and strive to build my

problem-solving ability. When making a piece,

before my boss would answer a question, I was

asked what I thought. This lesson is important for

custom handmade designs, as you are constantly

problem solving.

This one lesson has not only greatly shaped the

way I run my business but is also one of the

greatest life lessons I've learnt to date!

4BEST TIP TO A JEWELLER Work hard to keep

hand-manufacturing skills alive. A willingness to

work together and cherish these skills will go a

long way to building the industry and culture within

Australia. This can only benefit those passionate

about the trade and its future.

4BIGGEST HEALTH CONCERN ON THE BENCH

Protecting my vision would be number one – I

need to be able to see the finer points of a piece.

But anything I can do health and safety wise is

important.

4LOVE JEWELLERY BECAUSE It has a deep but

varied meaning to so many people. A custom piece

is a creative outlet for both the jeweller and the

client. If made well it can be passed down through

generations as a representation of the past and a

historical artefact.

56 | July 2020
---
OPINION

Soapbox

Jewellers should heed these

pearls of wisdom

There are numerous opportunities for jewellers in the pearl category, particularly in

providing care and maintenance services for strands and jewellery, writes JUNE MANN.

Have you thought of offering "pearl

services"? With the current economic

situation due to COVID-19, customers

may be less inclined to spend money

on new jewellery. But have you thought

of providing pearl care information to

customers, and services to "refresh"

customers' pearl jewellery?

A lot of people have been sorting through

their house during lockdown, and they

may have come across some strands

of pearls.

Jewellers know that pearls need to be

much more carefully handled and cleaned

than other precious gemstones to keep

them in good condition.

Pearls do not 'like' light, heat or

excessively high or low humidity; metals

and other materials can scratch them

as pearls are generally rated 2.5-4.5 on

Mohs' scale; and even perspiration can

damage a pearl's delicate nacre.

Each time a pearl is worn, it needs

to be wiped gently with a very soft

cloth afterwards.

Do your customers know that? Maybe not!

I keep seeing pearls that have been

damaged through years of 'abuse',

including my own very old strand of

pearls which have been subjected to

everything from perfumes to shower

gel – and even hair-perming solution.

This strand was left powdery white by

my years neglect – mind you, this was

years ago, and before I developed my

interest in pearls!

For mild damage, jewellers can use

special cloths that will clean and refresh

the pearls. They are inexpensive and

quite effective. However, for more serious

damage, machinery may be necessary.

My damaged strand was too far gone to

refresh with the cloth, but was brought

back to life thanks to the re-polishing

machine from Pearl Science Laboratory in

Japan – and some dogged determination

on my side.

The result was quite impressive, however,

prevention is better than cure.

Jewellers could run pearl care workshops

for customers, online or in-store, as well

as offering 'spruce-up' services.

Restringing is another service you can

offer. You might think restringing pearls

is difficult, and I agree; doing the knotted

finish well is not easy at all and it requires

rather a lot of practice to get right.

You also need to do it regularly maintain

the skill.

However, there is a perfectly viable,

easy and long-lasting alternative that

produces a good result, and that is to

use a stainless steel, flexible bead

stringing wire (7x7 is preferable due to

its superior flexibility), tiny silicone

cushions, and click-in-place or screw-in

crimps – which look much better than

crimps you squash.

You could also replace the clasps with

something more fancy or user-friendly

while you re-string them too.

New clasps with fancy designs can really

bring a strand of pearls to life. Not only

that, but they also enable people who

struggle with small spring-ring clasps to

put the necklace on themselves.

With the right tools – which you probably

already have – parts and instructions,

almost anyone can learn to re-strand

pearls with wire in less than a day.

Another advantage is that good quality

stainless steel wires are very hardwearing

and simply won't snap like

silk threads, especially when they are

Nylon coated.

The finished necklaces have a different

I keep seeing

pearls that have

been damaged

through years

of 'abuse',

including my

own very old

strand of

pearls which

have been

subjected to

everything

from perfumes

to shower gel

– and even

hair-perming

solution

look from using a thread-and-knotted

finish. n no way am I knocking the knotted

finish, however re-stringing with wire is

something you could easily offer in your

store, and it does not take a huge amount

of practice.

I am advocating it as something you

could do to gain a revenue stream

when the sales may be down due to the

economic situation.

Expanding from that, once you can

re-string pearls with wire, your options

also expand.

Combining a strand of pearls with other

types of beads is easy, and you could

even create a 'new' bracelet and necklace

set from the customer's existing strand of

pearls by adding different types of beads.

So, to summarise, while the sale of new

jewellery may be down, you could quite

easily offer the following services:

• Pearl care workshops online or

in-store;

• Pearl cleaning and refreshing

services;

• Pearl restringing services, with or

without clasp replacement;

• Creation of new pieces using the

customer's existing pearls, with

some additional beads/parts.

Hopefully, by offering helpful services,

you will retain customers.

Then when the economy improves,

your customers will choose your store

to buy their new pieces – pearls and

otherwise!

Name: June Mann

Company: Pearl Specialists

Position: Director

Location: Queensland, and Europe

Years in Industry: 6

58 | July 2020
---
Love isn't cancelled,

it's stronger than ever.

Our new 'Momentum' partnership provides

the necessary tools to help steer our jewellers

through this crisis with grace and gusto.

We stand together, and hold our community

close to our hearts.

The time is now… we choose love!

Discover the difference today.

Sound like we are made for you?

That's because we are…

Josh Zarb - CEO

0448 416 070

josh@jewellerscollective.com

jewellerscollective.com

#independentjewellerscollective
---
SAMS GROUP

SAMS GROUP

SAMS GROUP

AUSTRALIA

AUSTRALIA

AUSTRALIA

Access one one of of the the largest inventories of of Argyle Argyle Pink Pink Diamonds Diamonds in Australia in Australia

All

All

SGA

SGA

Argyle

Argyle

pink

pink

diamonds

diamonds

are

are

cut

cut

&

&

polished

polished

by

by

Argyle

Argyle

with

with

Argyle

Argyle

Certificares

Certificares

& Lot

&

Numbers.

Lot Numbers.

Whether you are after a tender stone for investment, a few melee to complete

Whether you are after a tender stone for investment, a few melee to complete

a custom design or just a single pink diamond, we can make it happen.

a custom design or just a single pink diamond, we can make it happen.

Access one of the largest inventories of Argyle Pink Diamonds in Australia

All SGA Argyle pink diamonds are cut & polished by Argyle with Argyle Certificares & Lot Numbers.

Whether you are after a tender stone for investment, a few melee to complete

a custom design or just a single pink diamond, we can make it happen.

TENDER STONES SINGLE STONES MATCHED PAIRS CALIBRATED MELEE LINES

TENDER STONES SINGLE STONES MATCHED PAIRS CALIBRATED MELEE LINES

T: 02 9290 2199 F: 02 9262 1630 E: Pink@samsgroup.com.au W: Samsgroup.com.au

T: 02 9290 2199 F: 02 9262 1630 E: Pink@samsgroup.com.au W: Samsgroup.com.au
---
Access one of the largest inventories of Argyle Pink Diam

All SGA Argyle pink diamonds are cut & polished by Argyle with Argyl

Whether you are after a tender stone for investment, a few

a custom design or just a single pink diamond, we can m

TENDER STONES SINGLE STONES MATCHED PAIR

Access one of the

largest inventories of

T: 02 9290 2199 F: 02 9262 1630 E: Pink@samsgroup.com.au

Argyle Pink Diamonds

in Australia

All SGA Argyle Pink Diamonds are cut and polished by

Argyle with Argyle Certificares and Lot Numbers.

Whether you are after a tender stone for investment, a

few melee to complete a custom design or just a single

pink diamond, we can make it happen.