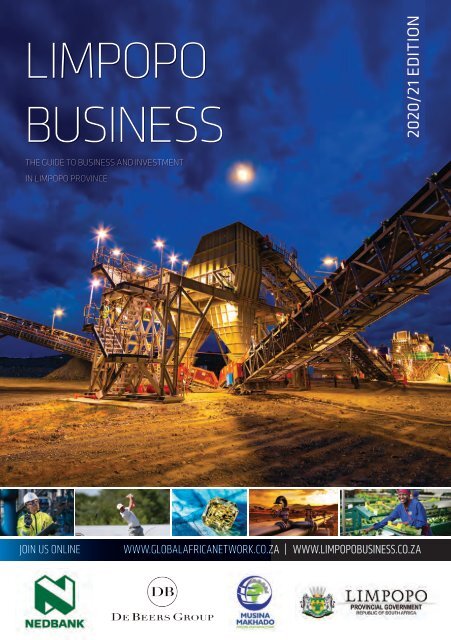 Limpopo Business 2020/21 edition
The 2020/21 edition of Limpopo Business is the 12th issue of this essential publication that, since its launch in 2007, has established itself as the premier business and investment guide for the Limpopo Province. Limpopo has been attracting significant investments in the mining sector in recent years and the green light for the creation of the Musina-Makhado Special Economic Zone in the province's far north has attracted several billion dollars. A metallurgical and energy cluster will inaugurate the SEZ, after which investments in agri-processing, logistics and manufacturing are expected to follow. In addition to the regular articles providing insight into each of the key economic sectors of the province, there are special features on transport and logistics, and specific plans that are in place to promote manufacturing in Limpopo. News related to mining, agriculture, tourism, construction and property, water, education and development finance is carried in overviews of the main economic sectors.
The 2020/21 edition of Limpopo Business is the 12th issue of this essential publication that, since its launch in 2007, has established itself as the premier business and investment guide for the Limpopo Province.

Limpopo has been attracting significant investments in the mining sector in recent years and the green light for the creation of the Musina-Makhado Special Economic Zone in the province's far north has attracted several billion dollars. A metallurgical and energy cluster will inaugurate the SEZ, after which investments in agri-processing, logistics and manufacturing are expected to follow. In addition to the regular articles providing insight into each of the key economic sectors of the province, there are special features on transport and logistics, and specific plans that are in place to promote manufacturing in Limpopo. News related to mining, agriculture, tourism, construction and property, water, education and development finance is carried in overviews of the main economic sectors.
SHOW MORE
SHOW LESS
You also want an ePaper? Increase the reach of your titles
YUMPU automatically turns print PDFs into web optimized ePapers that Google loves.
LIMPOPO

BUSINESS

2020/21 EDITION

THE GUIDE TO BUSINESS AND INVESTMENT

IN LIMPOPO PROVINCE

JOIN US ONLINE WWW.GLOBALAFRICANETWORK.CO.ZA | WWW.LIMPOPOBUSINESS.CO.ZA
---
Free Access to Selected Education Sites

Edu Tickets - Add on Microsoft Office bundles

BYOB / Device Options: Get a selection of devices @

amazing prices

Connect U Platform: Access to zero rated resources

like eSchool

05

06 01

ConnectU

Platform

Service

Promise

Education

URL

(Bundles &

Tarrifs)

Edu Tickets:

Microsoft

Office 365

A1

02

NXT Level: Access to preferential rates for entertainment

social & education data usage tickets / applications

Service Promise: Microsoft support, 135 / 1940

04

NXT level

benefits

BYOD/

Devices

Options

03

Traditional WAN Hybrid WAN SD WAN

Branch

Internet

Branch

Branch

Policy

Control

SD WAN

Self

Serve

MPLS

Dedicated

Internet Access

Internet

Cloud

Connect

Internet

Cloud

Connect

MPLS

MPLS

Data Centres

Data Centres

Router

APM, Firewall

SD-WAN

Data Centres

Based on MPLS with centralised internet

and Cloud services

Greater use of internet, transport,

increased complexity

Application aware dynamic network

connecting the enterprise and Cloud

business
---
CONTENTS

CONTENTS

Limpopo Business 2020/21 Edition

Introduction

Foreword 6

A unique guide to business and investment in Limpopo.

Message from the Premier of Limpopo 7

The Honourable Chupu Stanley Mathabatha discusses the

flagship Musina-Makhado Special Economic Zone project.

Special features

Regional overview of Limpopo 8

Limpopo is looking to new mining projects, increased

agri-processing capacity and a metallurgical complex

at the new Musina-Makhado Special Economic Zone

to drive the economy in the wake of Covid-19.

Transport is entering a new era 12

Polokwane is rolling out a new public transportation system.

Boosting manufacturing is a

key priority for Limpopo 24

Special Economic Zones and industrial parks

are being built to provide infrastructure.

Economic sectors

Agriculture 38

Marula is Limpopo's super fruit.

Mining 40

Industry analysts and miners are looking at new uses for PGMs.

Construction and property 50

LEDA runs training for artisans in the building sector.

LIMPOPO BUSINESS 2020/21

2
---
Africa Biomass Company

Buy your own Bandit wood chipper

or hire us to deal with your biomass

Your caring family trading as world leaders in the wood chipping industry.

WP CHIPPER HIRE & SALES trading Bandit the only logical choice for wood chippers in

as Africa Biomass Company (ABC) Africa, which are now fitted on SABS-approved trailers.

is a wood chipping company that For more information on the Bandit, see page 11

provides wood recycling services,

supplying biomass according to specification. ABC understands wood recycling

ABC is one of the best go-to wood chipper

equipment sales and services agents.

With a comprehensive understanding of the operational

challenges of wood recycling Slogan in South Africa,

Company

Wood chipper services

ABC has established state-of-the-art facilities to service,

repair and rebuild wood chipper equipment of

• Agricultural: orchard / vineyard recycling and any brand and size. ABC's facilities are operated by a

mulch spreading

A small selection of Bandit wood chippers remarkable (from left to team right): Model of very 75XP Engine; experienced Model 65XP and PTO suitably

• Biomass for generation

Company

of heat and the or Intimidator electricity 12XPC. qualified engineers, technicians and artisans.

Slogan

• Site clearing and preparation

An equally remarkable team of field-service

• River rehabilitation in riparian zones

technicians deliver repairs, maintenance and parts

Africa Biomass Company is the authorised dealer Become an owner of a Bandit chipper

• Workshop, field services, parts and spares to clients' sites to optimise uptime and efficiency.

for Bandit Industries in Southern Africa.

All existing and new customers are welcome

• Operator training services: SETA-certified

ABC has built up a substantial fleet of Bandit to contact us if they want to become the

• Manufacturing workshop wood chippers for use by the company The most as part experienced

owner of the top-class range of Bandit

of our wood recycling services, but ABC also

biomass producer equipment. in Bandit Africa Industries have delivered

offers a whole range of Bandit wood chippers successful recycling solutions to basically

The X-factor in wood chippers to clients who want to invest in the Bandit range. every corner of the planet.

Bandit chippers are designed Dimensional with quality, wood chips are produced by the removal

ABC is the authorised dealer for Bandit production wood and chippers longevity in mind. of alien Hand-fed invasive A trees commitment in riparian to zones, support previously

chippers are mounted on custom-built, SABSapproved

trailers. Owning a Bandit wood Africa Biomass Company is fully equipped

in Africa. Bandit combines first-world technology and deemed as impossible. ABC, however, now has

experience with third-world functionality. chipper will always This makes put you in the front knowledge seat of and and stocked technology to service and to get repair the any job Bandit

reliable wood chipping operations.

machine anywhere in South Africa. We own

done. These wood chips are then used

In many cases, the Bandit wood chipper sets a fully-equipped parts warehouse (650m²),

the benchmark for other brands in the wood in agri-industrial manufacturing applications department as as well a greener

alternative services to ensure to coal that for parts either are always heat readily or

as field

chipping industry. We are ready to supply the

right Bandit wood chipping solution with advice available and our own, as well as our clients'

electricity production.

and aftercare to your doorstep. All existing and Bandit wood chippers are not out of commission

new customers are welcome to contact us to longer than they have to be.

become the owner of Bandit equipment. Geographical www.abc.co.za footprint

ABC is located in Worcester (Western

Cape), Kirkwood (Eastern Cape),

Nelspruit (Mpumalanga) and Upington

(Northern Cape).

We operate in all nine provinces in

South Africa and also across the

borders into Sub-Saharan Africa, including

Namibia, Botswana, Zimbabwe,

Mozambique, Zambia, Malawi,

Tanzania, Kenya and Nigeria. ■

9 WESTERN CAPE BUSINESS 2020

www.abc.co.za
---
CONTENTS

Energy 51

The Musina-Makhado Special Economic Zone (SEZ)

will use and create large volumes of energy.

Water 52

Macadamia shells are filtering water for rural communities.

Tourism 54

International golf puts Limpopo on television screens.

Banking and financial services 56

Agricultural financing is in the spotlight.

Development finance and SMME support 58

Small-scale farmers are getting support

to connect to the value chain.

Education 60

The University of Limpopo celebrated 60 years in 2019.

References

Key sector contents 36

Overviews of the main economic sectors of Limpopo.

Index 64

Maps

Limpopo locator map. 11

ABOUT THE COVER:

The bulk sorter at the

Mogalakwena Platinum

Mine in the Bushveld

Complex. The mine is

located near the town

of Mokopane within

the Mogalakwena Local

Municipality, which is

part of the Waterberg

District Municipality. The

largest open-pit platinum

mine in the world, it was

established in 1993.

Photo: AngloAmerican.

LIMPOPO BUSINESS 2020/21

4
---
When the safety

of your workforce

and community

is a top priority

we're good together

With the new Temperature Screening

Solution, you can instantly detect and

identify individuals with high temperatures.

Through non-contact, thermographic CCTV cameras

and advanced analytics, protecting your workforce,

customers, students and general community has just

become a whole lot easier.

For more information on this solution,

email mtnbusiness.marketing@mtn.com

mtnbusiness.co.za

TBWA\HUNT\LASCARIS 925330

MTN Terms and Conditions apply. For full product Terms and Conditions, visit hikvision.co.za
---
FOREWORD

Limpopo Business

A unique guide to business and investment in Limpopo.

Credits

Publisher: Chris Whales

Publishing director:

Robert Arendse

Editor: John Young

Managing director: Clive During

Online editor: Christoff Scholtz

Art director: Brent Meder

Designer: Simon Lewis

Production: Lizel Olivier

Business development

manager: Shiko Diala

Ad sales: Gavin van der Merwe,

Sam Oliver, Jeremy Petersen

Gabriel Venter, Vanessa Wallace.

Administration & accounts:

Charlene Steynberg

and Natalie Koopman

Printing: FA Print

The 2020/21 edition of Limpopo Business is the 12th issue of

this highly successful publication that, since its launch in

2007, has established itself as the premier business and

investment guide for the Limpopo Province.

Limpopo has been attracting significant investments in the mining

sector in recent years and the green light for the creation of the

Musina-Makhado Special Economic Zone in the province's far north has

attracted several billion dollars. A metallurgical and energy cluster will

inaugurate the SEZ, after which investments in agri-processing, logistics

and manufacturing are expected to follow.

In addition to the regular articles providing insight into each of the

key economic sectors of the province, there are special features on

transport and logistics and specific plans that are in place to promote

manufacturing in Limpopo. News related to mining, agriculture, tourism,

construction and property, water, education and development finance

is carried in overviews of the main economic sectors.

To complement the extensive local, national and international

distribution of the print edition, the full content can also be viewed

online at www.limpopobusiness.co.za. Updated information on the

Limpopo is also available through our monthly e-newsletter, which

you can subscribe to online at www.gan.co.za, in addition to our

complementary business-to-business titles that cover all nine provinces,

our flagship South African Business title and the new addition to our list of

publications, African Business, which was launched in 2020. ■

Chris Whales

Publisher, Global Africa Network Media | Email: chris@gan.co.za

DISTRIBUTION

Limpopo Business is distributed internationally on outgoing

and incoming trade missions, through trade and investment

agencies; to foreign offices in South Africa's main trading

partners around the world; at top national and international

events; through the offices of foreign representatives in

South Africa; as well as nationally and regionally via chambers

of commerce, tourism offices, airport lounges, provincial

government departments, municipalities and companies.

Member of the Audit Bureau

of Circulations

PUBLISHED BY

Global Africa Network Media (Pty) Ltd

Company Registration No: 2004/004982/07

Directors: Clive During, Chris Whales

Physical address: 28 Main Road, Rondebosch 7700

Postal address: PO Box 292, Newlands 7701

Tel: +27 21 657 6200 | Fax: +27 21 674 6943

Email: info@gan.co.za | Website: www.gan.co.za

ISSN 1993-0119

COPYRIGHT | Limpopo Business is an independent

publication published by Global Africa Network Media (Pty)

Ltd. Full copyright to the publication vests with Global Africa

Network Media (Pty) Ltd. No part of the publication may be

reproduced in any form without the written permission of

Global Africa Network Media (Pty) Ltd.

PHOTO CREDITS | Pics courtesy African Bank, Amarula Festival, AngloAmerican,

Anglo Platinum, BiogasSA, Columbus Steel, Forestry SA, Great North Transport,

Housing Development Agency, Implats, Ivanhoe Mines, Kusini Water, Leeto la

Polokwane, Ludwig Sevenster/SA Forestry, Marula Festival, Minerals Council South

Africa, MMSEZ, SA Tourism, Shaun Roy/Sunshine Tour, Univen Innovative Growth

Company, University of Limpopo, Venetia Mine, VKB, Westfalia.

DISCLAIMER | While the publisher, Global Africa Network Media (Pty) Ltd, has used all reasonable efforts to ensure that the information contained in

Limpopo Business is accurate and up-to-date, the publishers make no representations as to the accuracy, quality, timeliness, or completeness of the information.

Global Africa Network will not accept responsibility for any loss or damage suffered as a result of the use of or any reliance placed on such information.

LIMPOPO BUSINESS 2020/21

6
---
MESSAGE

The Musina-Makhado Special Infras

Economic Zone is a flagship project

driver

develo

Limpopo Premier Chupu Stanley Mathabatha invites

private investors to work with the public sector in

building infrastructure and growing the economy.

Iwant to start by thanking Global Africa Network for sustaining the

publication of this important magazine, Limpopo Business. I also wish to join

in celebrating this 12th edition of what I consider a premier business and

investment guide for our beautiful Limpopo Province.

Indeed, Limpopo Business is an important partner in the continued

endeavour to market and position Limpopo as a leading and most attractive

business and investment destination.

This informative edition once again affords us an opportunity to take you

through the plentiful business and investment offerings of our province, from

Bela-Bela to Musina.

Through this publication, you will also learn about great private-public

partnership investments that are the pulse of our provincial economy.

As you will come to learn, Limpopo is home to a thriving mining sector,

tantalising tourism offerings and a limitless potential for the agricultural sector.

The construction industry is one of the booming sectors of the Limpopo

economy, the inherited legacy of an infrastructure backlog means that the

sector has a longer future. Investment in this sector is an investment in the

future. Limpopo Province has also moved to embrace the new digital economy

through competitive support infrastructure.

The Musina-Makhado Special Economic Zone (MMSEZ) remains our

flagship economic development project. Through this initiative, and through

partnerships with the private sector, we hope to stimulate economic growth,

create much-needed employment opportunities and reduce the ballooning

gap of inequality.

Business opportunities in this SEZ project are limitless. These opportunities

range from manufacturing, agroprocessing, automotives, steel, pharmaceutical,

logistics and many more.

What is even more tantalising is the fact that this project enjoys the

overwhelming support of our National Government.

As the Limpopo Provincial Government, we have placed this Musina-

Makhado SEZ Project at the apex of our priorities. We believe that the only

available option for us is to make this project a resounding success.

Limpopo is open for business! ■

MESSAGE

Limpopo Prem

priorities in we

already receivin

We

th

Ad

Premier Chupu

af

Stanley Mathabatha successful nation

general election

election which w

Chupu Stanley

Premier of Limp

7 LIMPOPO BUSINESS 2020/21 LIMPOPO BUSINE
---
SPECIAL FEATURE

A regional overview

of Limpopo

By John Young

Image: Implats

Limpopo is looking to new mining projects, increased agri-processing

capacity and a metallurgical complex at the new Musina-Makhado

Special Economic Zone to drive the economy in the wake of Covid-19.

The Limpopo tourism sector received

a boost in February 2020 when the

Armed Forces Day was held in and

around Polokwane, the provincial capital.

Fully booked signs went up from Mokopane to

Haenertsburg and tourism operators had reason

to expect a bumper year ahead.

Then on 5 March, the National Institute for

Communicable Diseases announced that the first

case of Covid-19 had been reported in South Africa.

Any hopes of maintaining the positive increase in

visitor numbers recorded in recent years had to be

put aside and the focus was on saving lives. In 2018

Limpopo received 2.2-million international visitors

in addition to 1.1-million domestic travellers.

Last year's regional overview referred to the

sector's "almost limitless potential" but most of that

will have to wait until the global pandemic is under

control. Nearly eight-million international tourists

visited the province between 2014 and 2018 and

more than 27-million South Africans visited some

part of Limpopo in the same period.

The combined land area of Limpopo's national,

provincial and private game and nature reserves

is 3.6-million hectares. It is possible that these

reserves will be able to receive visitors before other

parts of the tourism sector are opened up so there

is the possibility of some relief from that quarter.

According to the Premier's office, the tourism sector

employed about 22 400 people in 2018.

The absence of travellers in the wake of the

coronavirus epidemic is obviously going to have a

big impact on the Limpopo economy. Fortunately,

the province's other two big economic sectors,

mining and agriculture, are strong and both

of these sectors are the focus of public and

private investment. The provincial government is

putting considerable resources into agricultural

LIMPOPO BUSINESS 2020/21

8
---
SPECIAL FEATURE

infrastructure. This includes upgrading old

irrigation schemes and building new ones,

building a packhouse, investing in processing

equipment at a tomato paste factory and

constructing and supplying Farmer Production

Support Units around the province.

These all constitute attempts to bring smallscale

farmers into the value chain at a point where

more money can be made. Limpopo is home

to some of South Africa's largest commercial

agricultural enterprises who are drawn to the

fertile and varied soils that the province has to

offer. This is one of the reasons why Limpopo

punches above its weight in exports.

Potatoes are grown, together with 75% of

South Africa's mangoes and tomatoes; papayas

(65%); tea (36%); citrus, bananas and litchis (25%)

and 60% of the country's avocados. ZZ2 is one of

the country's largest agricultural companies. ZZ2

is most famous for the large quantity of tomatoes

and avocados produced but its product range is

also large: mangoes, onions, dates, cherries, apples,

pears, stone fruit, almonds and blueberries.

Agri-processing is strong elsewhere, with

Pioneer Foods, McCain, Granor Passi, Kanhym,

Westfalia and Enterprise Foods all prominent, but

this sector still has potential to grow.

The best performing subsector of South

African exports in recent years has been fruit and

nuts. Limpopo has been a major contributor to the

country's excellent export record: fruit and nuts

from the province's eastern regions are hugely

popular in international markets and Limpopo's

commercial farmers are extremely efficient.

and Competition (dtic) said that a consortium of

Chinese investors, Sino, had agreed to operate the

mineral beneficiation operations.

The initiative has already attracted other (local)

investors in the form of Eco-Industrial Solutions (EIS),

the private sector investor behind the Limpopo

Eco-Industrial Park (LEIP). LEIP aims to be an

integrated and industrial development comprising

five major industrial components that sets new

standards in sustainability. Set on 6 400ha of land,

the LEIP will include a nature reserve, two residential

estates and schools.

The Limpopo Economic Development Agency

(LEDA) is working with EIS to establish a petrochemical

cluster within the Musina-Makhado

SEZ. Another SEZ is intended for Tubatse in

eastern Limpopo. This project, together with an

industrial park designed to promote and enhance

opportunities related to the marula fruit and

the revitalisation of industrial parks at Seshego

and Nkowankowa, point to the centrality of

clusters and concentrated land use in provincial

economic planning.

LEDA, an agency of the Limpopo Department

of Economic Development, Environment and

Tourism (LEDET), is the primary driver of the

provincial government's drive to boost the

economy through investment.

Investment encouraged

In July 2016 the national cabinet approved the

Musina-Makhado Special Economic Zone (MMSEZ).

Located in the far north of Limpopo in the Vhembe

region, the SEZ is strategically located near the

border of Zimbabwe and on the Great North Road

which links South Africa to the broader Southern

African region. The location promotes the Trans-

Limpopo Spatial Development Initiative. Logistics

will be one of the key focus areas of the SEZ. Soon

after the announcement of the designation of the

SEZ, the National Department of Trade, Industry

Avocado packing factory. Image: Westfalia

9 LIMPOPO BUSINESS 2020/21
---
SPECIAL FEATURE

The mining sector continues to invest in

projects in Limpopo. The province has huge

reserves of coal, platinum, chromium, uranium

clay, nickel, cobalt, vanadium, limestone and

tin. Demand will always fluctuate, and the

commodities cycle has recently been very volatile,

but the world will always need minerals.

Limpopo's assets include the largest diamond

mine in South Africa (De Beers Venetia Mine), the

biggest copper mine in South Africa (Palabora

Mining Company), the biggest open-pit platinum

mine in the country and the biggest vermiculite

mine in the world. The province has 41% of South

Africa's platinum group metals (PGMs), 90% of South

Africa's red-granite resources and approximately

50% of the country's coal reserves. Antimony, a

strategic mineral found in large quantities in China,

is another of Limpopo's major assets.

According to the State of the Province Address

given by Premier Chupu Mathabatha in February

2020, mining employment decreased from

106 000 to 86 000 between the 4th quarter

of 2018 and the 4th quarter of 2019. This situation

was partially reversed in the early stages of

2020 as global demand for PGMs increased and

prices rose. The mining sector was less affected

by shutdowns due to the pandemic than some

other industries. The Premier further reported

that the province would be receiving a total

investment of R36.3-billion over the next five years

from mining activity.

The Provincial Government is in the process

of reassessing its industrial strategy, the main

thrust of which involves strengthening the drive

to promote clusters in the mining, agriculture

and tourism sectors. The other strategic thrust of

the planning initiative is to help prepare Limpopo

to exploit new sectors such as renewable energy

and the creative sector and to examine the

implications of the Fourth Industrial Revolution.

From left to right: Limpopo

Premier Representative, MEC

Thabo Mokone, Malcolm Boyd

from World Vision, Mxolisi Mgojo

(Exxaro Resources CEO), Andile

Sangqu (Executive head, Anglo

American South Africa) and

Dr Thulani Dlamini, CSIR CEO.

Image: Anglo American.

IMPACT CATALYST

Two of Limpopo's biggest companies,

South Africa's most respected research

institution, a global humanitarian aid

organisation and the Limpopo Provincial

Government have signed up to the

Impact Catalyst, which aims to drive socioeconomic

growth through collaboration.

The Impact Catalyst is part of Anglo

American's Collaborative Regional

Development programme, and the

launch in November 2019 was supported

by partners Exxaro Resources, the Council

for Scientific and Industrial Research

(CSIR), World Vision and the Provincial

Government.

With mining playing the role of a

foundational sector in the Limpopo economy, the Impact Catalyst is an

attempt to help communities build up other sectors of the economy

to take advantage of the opportunities related to mining.

Various initiatives to be supported relate to agri-processing, biofuels,

waste recycling, integrated game farming and community health.

Enterprise and supplier development programmes fall under the ambit

of the venture, as does integrative geo-spatial planning, as developed

by the CSIR. Integrated planning initiatives have the potential to bring

together business, government and other affected parties such as

NGOs, community and faith groups and academics.

LIMPOPO BUSINESS 2020/21

10
---
SPECIAL FEATURE

SPECIAL FEATURE

BANDIT – EXPERIENCE THE BEST OF BOTH WORLDS

Polokwane has good hotel and conferencing facilities.

Park Inn by Radisson Polokwane is the newest Thulamela Local Municipality, Vhembe District

Thohoyandou is the administrative centre of

First-world technology and quality combined SABS-approved roadworthy trailers built at Africa

with African simplicity. The main woodchipper Biomass Company in Worcester, South Africa.

hotel to open in the city. Nearby Moria attracts up to Municipality and the University of Venda. The Ivory

unit is manufactured by Bandit Industries, Inc. Engine-powered woodchippers are fitted

a million people every year, when the Zion Christian Route passes through the district. Other attractions

with 35-plus years' experience with Tier 3, South African standard, diesel or

Church celebrates Easter.

include an ancient baobab tree, the Dzata Ruins, the

in innovation and international petrol engines, depending on the woodchippers'

research. These units specification

Museum of the

or clients'

Drum,

preference.

the mystical

Electric

Lake

and

Fundudzi

Sekhukhune District

PTO

are shipped to options

and Nwanedi

are also

Provincial

available in

Park.

various Bandit models.

Government is the largest employer in South this southern Africa The add-ons are specifically handpicked to give

district, followed by agriculture and hunting. where they The vast Waterberg District

are you the best set-up and will provide you with a

majority of households are rural (94%) and fitted Groblersdal onto well-balanced The mining sector woodchipper is the largest that contributor will outperform to regional

GDP, other while chippers agriculture in Africa. is also significant. Several

is the district capital. The region's fertile lands produce most

maize, tobacco, peanuts, vegetables, sunflower seeds www.abc.co.za

towns in the district are in the mineral-rich Bushveld

and cotton on a large scale. Agriculture makes up 25% Igneous Complex.

of the economy. Burgersfort is an important town The district also features the riches of the

because of platinum mining.

Waterberg Coal Fields, iron ore (at Thabazimbi) and

Geography

The province is home to two universities, the

tin and platinum at Mookgophong. The town of

Mopani District

University of Venda and the University of Limpopo,

Lephalale is at the heart of the region's coal-mining

Limpopo covers about 10% of South Africa's land and seven Technical and Vocational Education and

Giyani

mass

is

and

the

is

administrative

home to about

capital

10% of

of

the

the

country's

district and

popis

and

Training

power-generation

(TVET) colleges.

sectors

The Turfloop

and is the

Graduate

site of

key ulation. to the local The economy. 2011 census The public recorded sector 5.4-million is one of Eskom's School of huge Business new is Medupi in Polokwane. power plant which is

the residents. largest employers The main and languages the key sectors of the are people agriculture

Limpopo and mining. are Mopani Sesotho, has Xitsonga an established and Tshivenda food man-

the The capital area around of Limpopo Mokopane Province. is one Located of the rich-

on

of under The construction. centrally situated city of Polokwane is

ufacturing but English industry, is widely in canned, used in business preserved and and government.

production The Limpopo and vegetable Province's juices. 125 Phalaborwa 754km² wheat, from the tobacco, high-density cotton, beef, population maize and of peanuts. greater

driedfruiest

the agricultural Great North zones Road in and South almost Africa, equidistant producing

is covers the gateway a remarkably to the Kruger diverse National geographical Park. It has and a The Johannesburg bubbling hot and springs the neighbouring of Warmbaths countries (Bela-Bela) of

good cultural airport landscape is a that tourism also hub. rich Palaborwa in minerals Mining and is Botswana, a popular Zambia, tourism destination, Zimbabwe and the Mozambique, district has

Company agricultural (PMC) products. is the major economic driving force many Polokwane's luxury golf upgraded estates. international The Legend airport Golf & plays Safari

in the The area. N1 State-owned highway is phosphate a key reason and for phosphoric the province's

producer important Foskor role is in another nation's major logistics employer. sector. The 18 holes Polokwane designed is the by province's a different main famous centre golfer, for ind- and

Resort an increasingly has the distinction important of regional having role. had each of its

acid

Marula It passes Festival through is held Limpopo in Phalaborwa from the every south year. to the an ustry, extra commerce, hole which education is very long and (360m) medical but services. also very

border A subtropical town of climate Musina and and fertile on to soils Zimbabwe combine and to high: The city requires is close a helicopter to big concentrations ride to get to of the mineral tee-off

make its neighbours greater Tzaneen in the very Southern productive African in Development

and Community vegetables. (SADC). Limpopo's The second busy N11 most highway pop-

industries reflect this diversity. ■

terms of point deposits 400m and up the to mountainside.

fertile agricultural lands. Its

fruit

ulous links city the has province a population to Botswana of 80 to 000. the The west Letaba and

Valley

Mpumalanga

produces

Province

a large proportion

to the east.

of South Africa's

mangoes,

Most

avocadoes

of South Africa's

and tomatoes.

logistics operators

Forty sawmills

have a

presence in the provincial capital city of Polokwane

operate in the area, drawing on the heavily forested

and logistics hubs have been established in

hills around the city.

that city and in Musina. The province has a

Vhembe sophisticated District rail network which Transnet Freight

Rail aims to further expand, primarily to haul the

The

province's

Vhembe

vast

District

reserves

borders

of coal away

Zimbabwe

to the coast

and

Botswana.

at Richards

The

Bay.

district's administrative capital is

Thohoyandou. Two of the Vhembe's largest engineering vast bushveld projects supports in

commercial the history and of game South farming Africa have and the recently district been has

considerable undertaken cultural in Limpopo: and historical the Medupi assets. power Game station farming

(at is a Lephalale growing subsector, in the far as west) is eco-tourism. and the De Beers' Hoop

Venetia Dam (in Mine, the situated south-east). just west of Musina, is South

Africa's largest diamond producer.

LIMPOPO BUSINESS 2018/19

11 LIMPOPO BUSINESS 2020/21

14
---
SPECIAL FEATURE

Transport is entering a new era

Polokwane is rolling out a new public transportation system.

Image: Leeto la Polokwane

With the City of Polokwane in the

final stages of preparation for

the introduction of the Leeto

la Polokwane public transport

system and the Special Economic Zone at Musina-

Makhado designed to become a logistics hub,

the Limpopo Province is set to take full advantage

of its strategic location.

Logistics is a vital feature of the Limpopo

economy for another reason – the province has

huge volumes of minerals and agricultural products

to be transported to markets. In addition to the N1

highway, the N11 is a primary road corridor and

there are nine provincial road corridors.

The building of the Musina-Makhado Special

Economic Zone (MMSEZ) will further boost

Limpopo's importance as a transport and logistics

hub. The official opening of the Musina Intermodal

Terminal near the Beit Bridge Border Post is

confirmation of Limpopo's status as a leader in

logistics. Located in the town of Musina on the

N1 highway leading to Zimbabwe, the terminal is

used to move cargo from road to rail.

Warehousing facilities on-site make for

loading efficiencies in the main cargoes such as

chrome, fertiliser, coal, fuel and citrus. Bulk and

containerised cargo are handled, with an annual

capacity of three-million tons per annum.

Major investments in transport infrastructure

are being made in Polokwane. SANRAL is building

a R640-million ring road and a bus rapid transport

system is being introduced. The scheme is called

Leeto la Polokwane. Within the province more

broadly, 22.6% of households in Limpopo use bus

transport and 45.8% use taxis (2013 Household

Travel Survey).

Apart from Polokwane and Musina, the towns

of Tzaneen, Lephalale and Burgersfort are important

in logistics. Roads Agency Limpopo (RAL),

of which the provincial government is the sole

shareholder, accounts for about a third of the

budget of the Limpopo Department of Public

Works, Roads and Infrastructure.

The South African National Road Agency

Limited (SANRAL) is involved in two major road

projects in support of the Musina-Makhado

SEZ. The N1 is to be re-routed and a new single

carriageway created in the Musina CBD. A bypass

into ZCC Moria has been completed.

The Polokwane International Airport (PIA) is

wholly owned by the provincial government and

run by the Gateway Airports Authority Ltd (GAAL),

an agency of the Limpopo Department Transport

and Community Safety.

SA Airlink caters mainly to the business market

and offers 21 flights to Johannesburg six days

a week. The airline also provides links between

Phalaborwa and Johannesburg, and between

Hoedspruit and Johannesburg and Cape Town.

Great North Transport falls under the Limpopo

Economic Development Agency (LEDA). The

company has more than 500 buses, covers about

36-million kilometres every year on 279 routes and

transports 37.6-million passengers.

An amount of R814-million was budgeted in

2020/21 to support the public transport industry,

including subsidies. ■

LIMPOPO BUSINESS 2020/21

12
---
Leeto la Polokwane opens new

opportunities for local businesses

Affordable transport set to transform the provincial capital.

Citizens of Polokwane and surrounding

areas are anticipating business growth,

employment opportunities and affordable

transportation as the city prepares

to launch an Integrated Public Transport System

(IPTS), Leeto la Polokwane.

Leeto la Polokwane is the city's road-based

public transport that will ease the movement of

people to all parts of the city quicker, ensuring

they have easy access to educational institutions,

healthcare facilities, and employment centres. The

system is set to provide a high-quality transport

service that is in line with the National Transport

Act, integrating the different forms of public

transport across the municipality.

This transportation system has an important

role in the development of a city and spurring

economic growth. Public transport is the

backbone of the economy as it allows workers to

travel to their workplaces daily.

LEETO LA POLOKWANE AIMS TO

• Reduce congestion on public roads

• Improve the road networks

• Create business opportunities

• Employment with focus on the

affected operators

It is becoming increasingly

clear that Leeto la

Polokwane is crucial to

socio-economic development

as it provides a

viable transport solution

for commuters, something

sorely lacking in the past.

As milestones are achieved

along the road to rolling out

the system, so economic

growth will follow. ■

Tel: + 27 15 290 2324

Email: leetolapolokwane@polokwane.gov.za

Website: www.leetolapolokwane.co.za

13 LIMPOPO BUSINESS 2020/21
---
FOCUS

Exciting public transport system

to be launched in 2020

Phased approach to be adopted for maximum safety.

The National Department of Transport visited the City of Polokwane to monitor the progress of the system.

Leeto la Polokwane's initial Phase 1A is

expected to go operational in 2020. Before

the actual operations, the system will

undergo trial operations to test the

effectiveness of the system while at the same time

training the drivers to efficiently run the buses.

The system trial period will be guided by the

Covid-19 regulations as tabled by the government.

Precautionary measures have been put in place

to ensure compliance with the Covid-19 Bus

Transport Operators Guidelines.

Phase 1A consists of two trunk extension

routes and two complementary routes which will

serve the Seshego, Flora Park and Westenburg

areas. The complete system will be characterised

by the dedicated bus lanes, smartcard payment

systems, bus stops, a control centre, one median

station, a layover facility, trunk extension routes

and complementary routes.

Construction of dedicated bus lanes along

Nelson Mandela Drive from Zebediela Street

to Seshego Circle has been completed. The

dedicated lanes will fast-track the arrival times for

passengers by separating the Leeto buses from

the normal traffic.

A median station and a bus depot are under

construction. The station will be situated in the

Central Business District (CBD) along General

Joubert Street between Thabo Mbeki and Grobler

Street. The bus depot which is situated in Zone 8

on New Era Drive Street in Seshego will house 36

Leeto la Polokwane buses for Phase 1A operations.

Both the Bus Depot and the Bus Station will not be

ready for Go-Live 2020.

In the meantime, operations will be on the

kerbside (the side of a road or pavement that is

nearer to the stop) and the buses will be operated

from the layover facility. The buses will not be

LIMPOPO BUSINESS 2020/21

14
---
FOCUS

picking up passengers during the trial period; the

aim of this period is to ensure drivers are being

trained appropriately.

The following elements will be functional

during Phase 1A Implementation:

• Trunk Extension TE4 which runs through Zone 1

and back into Nelson Mandela Street.

• Trunk Extension TE5b which runs from Nelson

Mandela Street onto Ditlou Street, Seshego B

section and back into Nelson Mandela Street.

• Complementary F1 which runs on Grobler,

Webster, Marshall and Thabo Mbeki Streets.

• Complementary F4b which runs on Grobler and

Nikkel Streets and circulates through Nirvana and

back into the CBD via Thabo Mbeki Street.

• The Control Centre, New Peter Mokaba Stadium.

• The layover facility located near Itsoseng Centre,

on the corner of Fluorspar and Silicon Streets.

Universal accessibility

Leeto la Polokwane was built in line with Universal

Access principles, to provide easy access to all

people with a variety of needs, giving equal

opportunity to have access to a safe, reliable and

quality transport service.

Features include the use of deployable

boarding bridges to allow passengers in

wheelchairs and mothers with baby strollers to

enter and exit the buses safely. The other features

are raised tactile (textured) paving, beeping alarms,

and voice announcements that guide people who

have reduced vision and who cannot read.

Another important aspect is infrastructure

for pedestrians and cyclists. About 18km of

Non-Motorised Transport (NMT) facilities have

been built which includes the walkways that are

dedicated to human-powered means of getting

around such as bicycles, skateboards, wheelchairs

and handcarts.

Cashless ticketing system

For commuters to get in the Leeto la Polokwane

buses, they will need to buy a Leeto Travel Card

that will be loaded with cash, allowing commuters

to plan and budget for trips. There will be no cash

handling between the drivers and the passengers.

The card will be available at local outlets, vendors

and spaza shops. Commuters will not be charged

for the first issue of the travel

card. However, should the

card be lost or damaged,

a replacement fee will be

charged. Commuters will

register their cards with their ID numbers so that

it can be blocked if it is lost, stolen or damaged.

The card has no expiry date and can be used

multiple times.

Control centre

The control centre, where all the operations for

Leeto la Polokwane will be monitored and coordinated,

is based at the New Peter Mokaba Stadium.

It is connected to the buses and the station through

the Intelligent Transport System (ITS), which updates

passengers with information through audios and

visual displays. All the buses and stations will be

monitored through CCTV cameras.

Urban traffic control (UTC)

As part of the preparations to launch the Phase

1A of the project, Leeto la Polokwane will install

and test new traffic signals. Known as the Urban

Traffic Control (UTC) system, it is a specialised form

of traffic management that coordinates traffic light

signals in a centralised location.

The following intersections along Nelson

Mandela Drive received new traffic signals in

November 2019:

• Madiba Park Street intersection.

• Maropeng intersection.

• Zebediela Street intersection.

15 LIMPOPO BUSINESS 2020/21
---
FOCUS

Leeto la Polokwane aims for safe

public transport rollout

Safety measures for Covid-19.

In response to the current Covid-19 pandemic

that has had an impact on every element of

society in South Africa, the Leeto la Polokwane

team has drafted measures to protect both its

personnel and commuters to ensure a safe journey

for everyone.

One of the critical measures is the reduction

of contact. It is challenging to reduce contact in a

transport environment, but all precautions should be

taken. The following measures as guided by Covid-19

Bus Transport Operators Guidelines May 2020 have

been adopted by Leeto la Polokwane and include:

• Meetings should be replaced with Zoom (or

similar) to limit contact between staff. If meetings

must take place, a meeting room for 10 people

should not have more than three people in the

room with a distance between each person

no less than 2m. The meeting room should be

disinfected after each meeting.

• Administration staff who can work from home

should do so between Levels 2-5.

• Customer service staff should be available to

passengers from behind perspex or glass screens.

• Security staff should be provided with full-screen

face masks and sanitiser spray.

• Drivers should have perspex or glass cabins

installed to protect them. If this is not

possible, rear boarding can be considered to

protect drivers.

• Automatic fare collection systems must be

operational to ensure a contactless system.

• Ticket booths should be cashless as far as

possible.

• Types of masks to be used should

be clarified to ensure people touch

their faces as little as possible. Masks

worn should adhere to the national

specifications. ■

Leeto la Polokwane uses an automated

fare collection systems to ensure a contactless

payment system that is safe for everyone

to use amid the Covid-19 epidemic

and beyond.

LIMPOPO BUSINESS 2020/21

16
---
Empowering the minibus

taxi industry and providing

efficient public transport

INTERVIEW

Polokwane Local Municipality's Transportation Services Director Malose Lamola outlines

the transition of the regional taxi industry to becoming a bus-operating company.

Three taxi associations have registered a

company which has signed agreements

with the City of Polokwane to provide bus

services on behalf of the city.

The Leeto la Polokwane project has been

planned in line with the 2007 Public Transport

Strategy and Action Plan, under the guidance of

the Department of Transport. One of the principles

in implementing Integrated Rapid Public Transport

Networks (IRPTNs) is that the incumbent public

transport operators should not compete with

the system to be implemented and should be

compensated for their loss of business.

In the case of Phase 1A of the Leeto la Polokwane

project, the Polokwane Municipality has been negotiating

and engaging with the Flora Park Pietersburg

Taxi Association (FPTA), the Seshego

Polokwane Taxi Association (SPTA) and the

Westenberg Taxi Association (WTA), all of which

are directly affected by the system footprint. The

process has been finalised between the two parties

in order to make way for the implementation of

Leeto la Polokwane Phase 1A.

Empowerment and training

One of the main aspects of this project is to

empower the minibus taxi industry and to assist

it to make the transition from providing informal

public transport services (unscheduled operations)

to the provision of scheduled services. As

part of the empowerment directive, which includes

a capacitation programme, the three affected

taxi associations have registered a Vehicle Operating

Company called Esilux (Pty) Ltd. This company

now has a full Board of Directors. The City of Polokwane

and Esilux have also concluded an interim

Vehicle Operating Company Agreement (VOCA).

The municipality has started rolling out suitable

training programmes to capacitate the Board of

Directors to run the company sustainably. Other

personnel that will be involved in the management

of the company, as well as the operation of the

Phase 1A of the Leeto la Polokwane system, will be

recruited for the operationalisation of the system.

Leeto la Polokwane is to be launched in the

2020/21 financial year. The

following milestones have been

reached since 2018:

• Execution of supplementary

market surveys for Phase 1A.

• Sign off on the supplementary

market surveys on Phase 1A.

• Operating licence verifica-tion

process for Phase 1A.

• Signed process agreement

on the Vehicle Operating

Company Agreement (VOCA).

• Signed process agreement on

the compensation for affected Malose Lamola

operators.

• Delivery of universally compliant 12-Metre Buses.

• Delivery of universally compliant 9-Metre Buses

• Draft Vehicle Operating Company Agreement

(three years).

• Negotiations on VOCA, legal document.

• Negotiations on VOCA, financial model

(commercial contract) and approval by council.

• Compensation negotiations for Phase 1A

finalisation.

• Signed vehicle removal agreement.

• Signed restraint of trade and compensation

agreement. ■

By Malose Lamola: Director, Transportation Services,

Polokwane Local Municipality.

17 LIMPOPO BUSINESS 2020/21
---
FOCUS

Special Economic Zones

can be transformative

Among the paucity of realistic intervention options, SEZs offer an opportunity to

attract investment and build manufacturing capacity.

Artistic impression. Credit: MMSEZ

Since the beginning of 2020, humanity was

thrown into a tinderbox of tension characterised

by anxiety, fear, frustration, agony,

pain, anger and hopelessness. Status and

class are unable to provide a shield to protect the

elite and privileged and the working class are as

hard-pressed as ever.

The game of numbers and statistics, globally

and nationally, has lost effect as daily shocks have

become an integral feature of the new normal. The

invisible enemy has struck again indiscriminately

across the globe, affecting all nationalities, races,

genders and classes. The fear of an imminent

apocalypse as a consequence of climate change

and natural disasters has been superseded by the

catastrophe of a novel pandemic.

A need to reinterpret the world

We have observed airplanes grounded

at airports across the globe, boats and

oil tankers stranded outside harbours,

the finest hotels deserted, and yet

hospitals are overflowing. Humanity

has entered a new paradigm.

Life as we know it has drastically changed. Economic

engines across global metropolises have taken an

involuntary break and social distance separates

families and prevents general human contact. One

of the most quoted phrases by Karl Marx from his

seminal work Thesis Eleven is "philosophers have

hitherto only interpreted the world in various ways,

the point is to change it". Perhaps the time has

come for modern philosophers to reinterpret the

world concomitant with the process of changing it.

Global economic meltdown

Some economic commentators have asserted that

the impact of Covid-19 on the world economy

may be worse than the 1929 Great Depression and

the 2009 Global Financial Crisis. According to

Golding and Muggah (2020), it is estimated

that the Covid-19 crisis will lead to losses

exceeding $9-trillion or 10% of global

GDP. As for the African continent, UNECA

estimates that the continent's growth is

expected to drop from 3.2% to 1.8%. It also

estimates a 48% decline in employment.

The time for planning for a repackaged

LIMPOPO BUSINESS 2020/21

18
---
MMSEZ

SPECIAL FEATURE

A world of game-changing opportunities

What is Musina-Makhado Special Economic Zone (MMSEZ)?

The Musina-Makhado SEZ is a flagship initiative of the Limpopo

Provincial Government implemented through the Musina-Makhado

SEZ SOC in partnership with a Chinese Operator, Shenzhen Hoi

Mor Resources Holding Company Ltd. The MMSEZ as an economic

development tool aims to promote national economic growth

and exports by using support measures in order to attract targeted

foreign and domestic investments, research and development

(R&D) and technology transfer.

Where is the MMSEZ located?

The Musina-Makhado SEZ is located in the vicinity of the Beit

Bridge Border Post which is one of the busiest ports of entry in SA

and an undisputable gateway to the South African Development

Community (SADC) countries. The MMSEZ has the potential to

become an inland intermodal terminal, facilitated by its anchor

along the North-South Corridor, and directly connecting to the

country's major ports through both N1 road and the Johannesburg-

Musina railway line, for the trans-shipment of sea cargo and

manufactured goods to inland destinations and the SADC markets.

MUSINA-MAKHADO SEZ CLUSTERS

• Metallurgy (Minerals Beneficiation)

• Energy Generation

• Manufacturing

• Agro-Processing

• Logistics

WHAT ARE THE INCENTIVES FOR

INVESTING IN THE MMSEZ?

• Preferential corporate tax

• Building allowance and tax relief

• Employment tax incentive

• Customs-controlled area tax relief

• Rental space discounts

• Readily available infrastructure

• Sufficient land for greenfield projects

• Access to agricultural & mineral resources

• Easy access to the up-north (SADC) market

• Accessible logistics support for the

movement of goods

POTENTIAL INVESTMENT OPPORTUNITIES IN AND OUTSIDE THE MMSEZ

ENERGY &

METALLURGY

Power Plant

Steel Plant

Stainless Steel Plant

Coking Plant

Pig Iron Plant

Ferromanganese Plant

Ferrochrome Plant

Chrome Plating

Lime Plant

AGRO-PROCESSING

Food Processing Facility

Fresh Produce Handling

Canning Facility

Cotton Beneficiation

Timber Processing

LOGISTICS

Logistics Services

Warehousing

Distribution

Container Yard

Vehicle Distribution

Cold Storage

Bonded Warehouses

INFRASTRUCTURE

Construction Services

Engineering Services

Real Estate

Development

Retail Property

Hospitality Facilities

Building Materials

Manufacturing

and Supply

MANUFACTURING

Light Industries

Basic Assembly

Automotive Manufacturing

Electromechanical Operations

OE Manufacturing

Component Manufacturing

Fertilisers

Agro-chemicals

Petro-chemicals

ICT Solutions

Furniture Manufacturing

Packaging Services

CONTACTS

MUSINA-MAKHADO SEZ SOC

29 Market Street,

Polokwane,

Limpopo Province (RSA)

MS TSHAMAANO MAKUYA

MR RICHARD ZITHA

Stakeholder Relations Manager

Project Executive

Tel: +27(0) 15 295 5120

Tel: +27(0) 15 295 5120

Cell: +27 (0)67 411 9192

Cell: +27 (0)71 391 8188

Tshamaano.Makuya@lieda.co.za

19 LIMPOPO Richard.Zitha@lieda.co.za

BUSINESS 2020/21
---
FOCUS

modern "Marshal Plan" for the new economic

recovery plan is now. Post the 2009 global

economic meltdown, the South African economy

contracted by 1.8%. Countries need to recharge

and embark on a new trajectory of normalising life

and rebuilding their economies.

The pandemic disrupted many industries yet

created a window of opportunity for innovation and

alternative strategies. A country such as Saudi Arabia

will undoubtedly begin to think about economic

development beyond oil. Similarly, tourism-based

economies will be forced to think outside the box.

Countries endowed with natural resources such as

South Africa should consider strongly accelerating

the pace of industrialisation through the production

of value-added products for export.

Artistic impression. Credit: MMSEZ

Industrial activity through fiscal

and regulatory incentives

Among a plethora of potential economic recovery

strategies and a paucity of realistic interventions is

the phenomenon of Special Economic Zones (SEZs).

SEZs are geographically delimited areas wherein

governments facilitate industrial activity through

fiscal and regulatory incentives and infrastructure

support. SEZs can make important contributions to

growth and development by attracting investment,

creating jobs and boosting exports. They can build

forward and backward linkages and support global

value chain participation, industrial upgrading and

diversification (UNCTAD, 2019). Globally, there is a

boom of SEZs with over 5 400 operational in 147

countries and over 500 in the pipeline.

According to Bernard Hoekman, Director

International Trade Department World Bank,

China's astonishing economic growth can be

attributed to the use of Special Economic Zones.

One of the striking examples is the transformation

of Shenzhen, a former small fishing village in the

1970s, into today's city of over nine-million people,

an illustration of the effectiveness of the SEZ

model within the Chinese context.

Hoekman asserts that SEZs offer a potentially

valuable tool to overcome some of the existing

constraints to attracting investment and growing

exports for many African countries.

Accelerating the pace of industrialisation

The South African Industrial Policy Action Plan (IPAP)

recognises the SEZ programme as one of the critical

tools for accelerating industrialisation. As a result,

eight Special Economic Zones were designated

in six provinces as follows: Saldanha Bay (Western

Cape), Dube TradePort (KwaZulu-Natal), OR Tambo

(Gauteng), Coega (Eastern Cape), East London

(Eastern Cape), Richards Bay (KwaZulu-Natal),

Musina-Makhado (Limpopo) and Maluti-a-Phofung

(Free State). By 2019, the number of operational

investors in designated SEZs in the country increased

from 72 to 85, with a total investment value of over

R9-billion. The number of direct jobs created

currently stands at 13 561, but this is expected

to increase substantially as the new investments

come on-stream (dtic, 2019).

Growing industrial capacity has become a priority

for the South African government to grow the

economy. It is evident that the top four provinces

(Gauteng, KwaZulu-Natal, Western Cape and

Eastern Cape) enjoy the highest rate of industrial

activities while the others experience relatively low

manufacturing capacity (Stats SA). This is in contrast

with the other five provinces having a plentiful

endowment of primary resources such as minerals

and agricultural produce, which are supposed to be

the bedrock upon which industrialisation rests.

Limpopo's Musina-Makhado SEZ

Limpopo province has a competitive advantage

in mining, agriculture and tourism as the strategic

pillars. Among its rich mineral deposits are

platinum group metals (PGMs), iron ore, chrome,

coal, diamonds, antimony, phosphate, copper,

black granite, corundum, etc.

LIMPOPO BUSINESS 2020/21

20
---
FOCUS

The bulk of these resources are extracted and

exported to foreign markets as primary resources

which deprives the province of an important

opportunity to industrialise and develop. This is

indeed a lost opportunity to build local industrial

capacity, create much-needed employment

opportunities and grow the SMME sector.

Another lost opportunity has been within the

agricultural sector. Limpopo is well endowed with

agricultural resources, making it one of the key

regions to produce fruits, nuts, vegetables, cereals

and tea. Statistics from the Agricultural Business

Chamber South Africa indicate that Limpopo

accounts for approximately 19% of South Africa's

potatoes, 75% of mangoes, 65% of papayas, 36%

of tea, 25% of citrus, 60% of litchis, 60% of avocados

and 60% of its tomato production per

annum. This abundance of agricultural products

provides a great opportunity for agro-processing

and production of value-added products for

export markets.

The designation of the Musina Makhado

Special Economic Zone (MMSEZ) in 2016 heralded

a window of opportunity to turn the province's

fortunes around.

The SADC Industrialisation Strategy (2015-

2063) emphasises the pursuit of targeted and

selected industrial policies to create conditions

for higher rates of investment, especially in valueadding

manufacturing. The Strategy and Roadmap

for implementation focuses on three potential

growth paths for SADC economies namely, agroprocessing,

minerals beneficiation and downstream

processing; and enhanced and upgraded

participation in regional and global value chains.

The recently signed Africa Continental Free

Trade Agreement (AfCFTA), promises to redefine

trade relations among African states and beyond.

It is envisioned that it will create a single market

for goods and services across 55 countries. The

Musina-Makhado SEZ is well-positioned to play a

regional integration role in SADC and to take up

opportunities that are presented by the AfCFTA.

A vision for a futuristic Smart City

The MMSEZ as an economic development tool

aims to promote national economic growth

and exports by using support measures to

attract targeted foreign and

domestic investments, research

and development and technology

transfer. With an anchor

of investment pledges of about

R150-billion, the Musina-

Makhado SEZ will result in the

establishment of an energy and

metallurgical complex, a logistics hub, agroprocessing

centre, light-to-medium manufacturing

industries, SMME Incubation Centre, retail centres,

hotels, residential and community facilities.

All these investment opportunities will lay a

solid foundation for the envisioned futuristic Smart

City utilising the Internet of Things (IoT) anchored

on a comprehensive ICT infrastructure for the

realisation of a smart economy, smart governance,

smart environment, smart mobility, smart living

and smart people principles.

The location of this flagship programme

has been carefully chosen to meet the basic

requirements of a successful SEZ initiative.

Conclusion

The envisaged job-creation opportunities,

skills development, technology transfer, SMME

empowerment and the socio-economic

infrastructure development triggered by the

MMSEZ will make a significant impact on the

improvement of the quality of lives of many

people and contribute to the provincial and

national GDP.

In the midst of this unprecedented global

lockdown, we must afford ourselves an

opportunity to reimagine the future and wake

up from the dream. In the fullness of time, the

morning after the night before shall be upon us

and we dare not be found wanting. The time to

concurrently reinterpret the world and change it

has come and such a

task cannot be left to

philosophers alone.

Article by Lehlogonolo

Masoga, Chief Executive

Officer of Musina-

Makhado Special

Economic Zone.

21 LIMPOPO BUSINESS 2020/21
---
INTERVIEW

The Musina-Makhado Special

Economic Zone will host an

energy and metallurgical complex

CEO Lehlogonolo Masoga explains how the MMSEZ is ideally placed

to play a key role in regional integration.

Lehlogonolo Masoga

BIOGRAPHY

Lehlogonolo Masoga has more

than 19 years of experience as

an administrator and public

servant, most recently as

Deputy Speaker of the Limpopo

Provincial Legislature and MEC

for Roads and Transport. He

served on the Limpopo Youth

Commission. Lehlogonolo

holds three master's degrees:

Governance and Public

Leadership (Wits), Development

Studies (Limpopo) and an MSc

in Leadership and Change

(Leeds Beckett University, UK).

He has diplomas in human

resources and humanitarian

assistance and is currently a

registered PhD candidate in

Administration.

What locational advantages does the MMSEZ enjoy?

The Musina-Makhado SEZ is located in the vicinity of the Beit Bridge

Border Post which is one of the busiest ports of entry to South Africa

and a gateway to the South African Development Community

(SADC) countries. The MMSEZ has the potential to become an inland

intermodal terminal, facilitated by its anchoring position along the

North-South Corridor, and directly connecting to the country's major

ports through both N1 road and the Johannesburg-Musina railway line,

for the trans-shipment of sea cargo and manufactured goods. Musina

and Makhado municipalities are located in the Vhembe District.

What industries will be established at the SEZ?

An energy and metallurgical complex will include the following plants:

Coal Power, Coke, Ferrochrome, Ferromanganese, Pig Iron, Carbon

Steel, Stainless Steel, Lime, Silicon-Manganese, Metal Silicon and

Calcium Carbide. This will be complemented by the logistics hub, agroprocessing

centre, light-to-medium manufacturing industries, SMME

Incubation Centre, retail centres, hotels and residential amenities.

What is planned for the early phases?

The planning phase has been complex. A rigorous and diligent

planning process was undertaken which involved pre-feasibility,

feasibility, licence application, operator appointment, stakeholder

engagement, environmental impact assessment, clusters analysis,

internal and external infrastructure master planning, entity

corporatisation, etc. Despite the lengthy environmental impact

assessment process affecting the Energy and the Metallurgical Cluster

(South Site), we are confident that the light-to-medium industrial park,

to be located in the North Site of the SEZ, will be operational by the

end of 2021. Our infrastructure rollout plans are unfolding smoothly.

What are the longer-term plans for the SEZ?

The MMSEZ is an economic development tool which aims to promote

national economic growth and exports by using support measures in

order to attract targeted foreign and domestic investments, research

and development and technology transfer. We are looking forward

LIMPOPO BUSINESS 2020/21

22
---
INTERVIEW

exploring various innovative engineering options,

including cross-border water-transfer schemes.

Will construction of the SEZ infrastructure be

done by local companies?

Local empowerment is at the centre of the MMSEZ

business model. We are already at an advanced

stage of completing a comprehensive Enterprise

Development Strategy and the development of

an SMME Incubation Centre. Local enterprises

will undoubtedly enjoy preference in a variety of

opportunities throughout the project development

phases, including infrastructure roll-out.

Furnace. Credit: Anglo Platinum

to creating a minimum of 50 000 job opportunities

in the next 10 years through this initiative and to

turn around the economic fortunes of the Limpopo

Province. All these investment opportunities will lay

a solid foundation for the envisioned futuristic Smart

City and smart economy. When the High-Speed

Train between Johannesburg and Musina comes to

fruition, that will add impetus to the MMSEZ.

How is pollution being mitigated?

The MMSEZ SOC is committed to environmental

and biodiversity protection. We fully appreciate

and respect the Paris Agreement and our

country's commitment to ecological sustainable

development and are already taking all reasonable

measures to mitigate environmental concerns

such as global warming, pollution, biodiversity loss,

water scarcity and possible threats to food security.

Substantial research is being conducted to mitigate

such risks which will include the deployment of the

best carbon capture and storage (CCS) technology

to mitigate the greenhouse gas emissions.

Specialist studies on climate change and

pollution have been conducted to mitigate

potential negative impacts. With regard to water

scarcity, efforts are being made to avoid tapping

into the already stressed water resources by

With whom is the Limpopo Provincial Government

partnering in the creation of the SEZ?

Each SEZ project is regarded as a national asset

located in a particular province. Such national assets

are expected to attract foreign direct investment

and technology transfer. This model warrants public

and private partnerships at all levels. The Limpopo

Provincial Government has partnered with the

national government through the Department

of Trade, Industry and Competition (dtic), an

international operator from China, Vhembe District

and local municipalities, particularly Musina

and Makhado municipalities, and the business

fraternity to implement the MMSEZ.

Where does the SEZ fit in regional strategies?

The location of the Musina-Makhado Special Economic

Zone makes it an ideal regional integration

initiative. The SADC Industrialisation Strategy

(2015-2063) emphasises the pursuit of targeted

and selected industrial policies to create conditions

for higher rates of investment by the public and

private sectors to enable crucial sectors to

prosper, especially value-adding manufacturing.

The recently signed Africa Continental Free Trade

Agreement (AfCFTA), promises to

redefine trade relations among

African states and beyond. The

Musina-Makhado SEZ is well

positioned to play a regional

integration role in SADC and

to take up opportunities

that are presented by the

AfCFTA.

23 LIMPOPO BUSINESS 2020/21
---
SPECIAL FEATURE

Boosting manufacturing

is a key priority for Limpopo

Special Economic Zones and industrial parks are being built

to provide infrastructure.

Westfalia fruit warehouse. Credit: Westfalia

Getting more value for the minerals and

agricultural crops that are extracted

from the soil of Limpopo is a major goal

of economic planners. A key component

of the strategy to boost the value of the region's

products through manufacturing is to develop

Special Economic Zones (SEZs) and industrial parks.

Described as "major catalytic projects", the

Musina-Makhado SEZ (approved and forging

ahead), the Tubatse SEZ (proposed) and

several industrial parks (either being revived or

established) are central to the strategy to grow

Limpopo's manufacturing capacity. As of February

2020, Shaanxi CEI Investment Holdings had

committed to a $5-billion investment in a vanadium

and titanium smelter project at the Musina-

Makhado SEZ (MMSEZ) and a further $1.1-billion

had been pledged from other sources.

The focus of the first phase of the SEZ is on

energy and metallurgical processes but agriprocessing,

logistics and general manufacturing are

expected to follow in short order. An investment

conference targeting the northern side of the SEZ

was held in November 2019 and a South African

company has announced it will manufacture

products in the electric vehicle field, new energy

solar system products, energy storage systems and

high-density polyethylene water pipes.

Most of the planning for both sections of the

SEZ is complete and the Environmental Impact

Assessments (EIA) are nearly finished. Projections

for employment opportunities at the MMSEZ

have been revised upwards to 26 000.

The plans for the proposed Tubatse SEZ

have been amended and will be submitted to

national government in the course of 2020. The

SEZ in Tubatse will focus on the beneficiation of

platinum group metals (PGM) and mining-related

manufacturing. Phase one of the project would

see a 280ha site developed to accommodate a

mining suppliers park, light manufacturing, heavy

manufacturing, logistics, a solar energy cluster and

a PGM beneficiation cluster.

A good example of an attempt to derive

greater benefit from an agricultural product

is the plan to create a Marula Industrial Park.

The Marula Industrial Hub envisaged for the

Phalaborwa area will provide a platform to further

LIMPOPO BUSINESS 2020/21

24
---
Limpopo United

Business Forum

The Forum provides local bodies with a single voice to talk to government.

Limpopo United Business Forum (LUBF) is

an overarching organisation comprising 10

business and professional organisations in

Limpopo. LUBF represents a united voice

that advocates and lobbies for the interests and

aspirations of businesspeople in Limpopo.

Members

NAFCOC, Black Management Forum (BMF),

Businesswomen's Association (BWA), Progressive

Professionals Forum (PPF), South African Women in

Construction (SAWIC), Seshego Business Quorum,

Forum of Limpopo Entrepreneurs (FOLE), Small

Business Empowerment Unity (SBEU), Limpopo ICT

Forum and the African Farmers' Association of SA.

Objective

To collaborate and partner with public and private

organisations in promoting and advancing the

interests of members. LUBF further forms part

of the social compact comprising business,

government and civil society in order to grow the

economy of Limpopo, contribute to the creation of

jobs, reduce inequality and eradicate poverty.

Programme of action

Address challenges that affect small businesses.

These include access to information, access to

finance, access to markets and access to skills

development and training. Late payments by

government departments are a threat to the

survival of small businesses. LUBF is lobbying the

Provincial Treasury and the Limpopo Economic

Development, Environment and Tourism

Department (LEDET) to deal decisively with

departments that continuously disadvantage

small businesses. LUBF is looking forward to the

Public Procurement Bill which will create a better

legislative framework for local empowerment.

In responding to the challenges that are currently

facing SMMEs, LUBF has in the past two

PROFILE

months engaged with the Minister of Small

Business Development, Honorable Khumbudzo

Ntshaveni, MEC for LEDET, Honorable Thabo

Mokoni, CEO for Musina-Makhado SEZ, Lehlogonolo

Masoga, and the MEC for Public Works,

Honorable Dickson Masemola in his capacity as

the Chairperson of the Economic Transformation

Unit of the ANC in Limpopo.

Survival and opportunity

• Businesses are struggling due to the stagnant

economy, a situation that has now been

exacerbated by the unprecedented pandemic.

Limpopo has lower than average household

income and low ICT connectivity. Small

businesses have to continue creating jobs to save

the economy.

• LUBF has intensified its programme of action

and has recently engaged many relevant

stakeholders. The objective is to assist SMMEs to

gain access to Covid-19 relief programmes and

access business opportunities.

• Intervention is vital for the survival of businesses

but it is also true that the new economy presents

opportunities for small businesses to create new

jobs and maintain current ones.

• LUBF's role is therefore to ensure access to

available programmes and assist entrepreneurs to

take their space in the new normal of digitisation,

innovation and manufacturing.

• The leadership remain committed to uniting the

voice of business. ■

Contact details

Address: 1st Flr, Terminal Bldg, Polokwane Airport,

Gateway Drive, Polokwane Tel: +27 15 296 0654

Administrator: Abram Luruli Cell: 084 451 9923

Email: Lubfreception@gmail.com

Facebook: Limpopo United Business Forum-LUBF

25 LIMPOPO BUSINESS 2020/21
---
SPECIAL FEATURE

exploit the tasty marula fruit, which has a high

vitamin C content and is already produced as a

beer and a liqueur. The Limpopo Department of

Economic Development and Tourism (LEDET) is

encouraging research into the uses of marula and

the development of commercial products such as

cosmetics and jams. The University of Limpopo is

making good progress with a marula wine.

Facilities at the hub will include a centre for

research and processing facilities to create more

value from the raw product. Advisors will be

available to help small-scale farmers and SMMEs

enter the formal economy.

The Marula initiative is consistent with the

broader agricultural sector plans for Limpopo.

The provincial government has identified five

Agricultural Development Zones (ADZs) across

the province, including the Mopani District within

which the Marula Hub is located. Programmes

to increase productivity have been presented

to small-scale farmers. Small-scale producers

are receiving support in the form of irrigation

infrastructure, livestock infrastructure and other

production inputs.

The University of Venda has its own commercial

offshoot, the Univen Innovative Growth Company

(UIGC) which is solely owned by the university.

Services are offered to the public by a range of

consultants and trainers via five programmes,

including the Animal Production Programme,

the Farm Equipment Programme, the Univen

Commercial Unit and the Univen Consultancy Unit.

Targeted plans

The SEZ and industrial parks being promoted in

the province are conceptualised within a broader

framework. The Limpopo Development Plan (LDP)

targets three broad areas for improvement and

development: socio-economic, infrastructural and

institutional. Every department of the Limpopo

Provincial Government has targets within the LDP

which are translated into actionable programmes

to be implemented within time-frames.

The plan is supported by strategies relating

to a spatial investment framework in public

and private sector infrastructure, an integrated

public transport policy and policies on land

development.

Key elements of the Limpopo Development

Plan are: industrialisation (beneficiation of

mining and agricultural products and produce);

mining (local suppliers, improved training and

access to sector for entrepreneurs); infrastructure

development; agri-processing; SMME promotion

and ICT and the knowledge economy (establish a

WAN footprint).

The Limpopo Economic Development

Agency (LEDA) is the key driver of the provincial

government's drive to boost the economy

through investment. LEDA is an agency of LEDET.

LEDA's brief is to contribute to accelerated

industrialisation in Limpopo by stimulating and

diversifying the industrial base of the regional

economy. The focus is on high-impact projects

that will spark growth in a variety of sectors and

create employment opportunities.

Sawn timber. Image: Ludwig Sevenster/SA Forestry

Land, property and infrastructure develop-ment

(including business parks and industrial parks) are

vital components of the plan. As these targeted

areas grow, the infrastructure and associated

industries should act as a magnet for other

businesses and industries in the same sector, and

service industries.

Mining is currently the most important part

of the provincial economy. Recent platinum

mining developments on the eastern limb of the

Bushveld Complex have increased this effect but

global commodity prices have been uncertain in

recent years. One of the goals of the LDP is to see

more beneficiation from the mining sector, which

will support the goal of further industrialising the

province's economy. Related to this is an emphasis

on the goal of developing manufacturing capacity,

and this is where the role of SEZs is so important. ■

LIMPOPO BUSINESS 2020/21

26
---
Accelerating

empowerment erment through

and sound sustainable

and investments ents

and partnerships

ng

in mining

Services

Accelerating

empowerment through

sound and sustainable

investments

and partnerships

in mining

Services

Mining ineral and Beneficiation

Mining Mineral and Mineral Beneficiation Beneficiation

(coal and washing blending, (coal washing and blending, and blending,

egate concrete crushing aggregate and crushing screening)

and screening)

concrete aggregate crushing and screening)

Dr. Dr. John Mudau (CEO)

(CEO)

John.mudau@univen.ac.za

Commodities

Commodities

Coal and Concrete aggregates

crete Coal and aggregates

Concrete aggregates

Mr. Makhado Nengovhela (GM)

makhado.nengovhela@univen.ac.za

Cell: 071 616 0411

Mr. Mr. Makhado Nengovhela (GM) (GM)

makhado.nengovhela@univen.ac.za

Cell: 071 616 0411
---
PROFILE

Univen Innovative Growth Company

UIGC provides the University of Venda with an independent stream of income.

The Univen Innovative Growth Company (UIGC) Pty (Ltd) is

a company solely owned by the University of Venda. The

company has a robust database of professional consultants

and trainers who, respectively, provide quality services at

competitive rates and offer accredited short courses.

• UIGC GarCle has been

providing independent

cleaning and maintenance

services since 2017.

Vision

To contribute to the field of skills development for

South Africa and beyond and to be a sustainable

third-stream income for the University of Venda.

Mission

To offer critical client-based services through

short skills programmes, consultancy and

commercial ventures in a financially viable and

sustainable manner in pursuance of university

strategic objectives.

Mandate

UIGC is tasked with the responsibility to generate third-stream

income through the units. The UIGC units are:

• Univen Commercial Unit.

• Univen Consultancy Unit.

• Editing and Proofreading Unit (EPU).

• Statistics and Research Design Unit.

• Univen Centre for Continuing Education (UCCE).

In addition, the Univen Store sells university-related clothing such

as golf shirts and caps, there are programmes covering animal

production and farm equipment and five subsidiary companies

operate under the UGIC banner. The companies are:

• UIGC Securities, a security company registered with PSIRA. After

the university terminated the contract with the private security

company which was rendering security services, they partially

insourced all security staff members to UIGC in 2016.

• The UIGC Travel Agency started operating in 2017. It comprises two

travel consultants and a general manager who provide services to

Univen staff, government employees as well as the general public.

• Tshakhuma Barotta UIGC Farm

was launched in 2016 as a partnership

between UIGC and

the community with 49 fulltime

employees. Due to the

successful revitalisation of the

farm, the Tshakhuma Community

Trust has agreed to UIGC

increasing its shareholding.

• UIGC Mining: a partnership

created the Duisend-UIGC

Mining Consortium (DUMC)

which processes and crushes

aggregates from the mining

of waste rock at Sibanye

Stillwater's Baobab Platinum

Mine in the Lebowakgomo

area. ■

Contact details

Address: Univen Innovative Growth Company (UIGC),

University Road, Thohoyandou, Limpopo Province, 0950

Email: info@uigc.co.za | Tel: +27 15 962 8761

LIMPOPO BUSINESS 2020/21

28
---
Leadership and management

training are key

functions of the UIGC

FOCUS

The Univen Innovative Growth Company earns revenue while building local capacity.

One of the most important functions of

the Univen Innovative Growth Company

is to offer short courses and training.

This not only passes on skills and helps

local people who might not have had access

to education in the past, it earns money for the

institution which can then be deployed to help

students in need.

The training function is currently among the

best revenue earners in the UIGC stable, with

popular courses being offered and taken up by

adults keen to improve their qualifications. The

training division has also attracted funding from

the private and public sectors.

The local municipality has taken advantage

of training courses in finance for non-finance

managers, integrated development planning (IDP)

and Local Economic Development (LED).

UIGC venues are used as training sites for

students from both the University of Venda and

Vhembe TVET College. Profits generated from

UIGC enterprises are ploughed back to help

fund students attending the university, with

an emphasis on assisting those in the "missing

middle". A sum of R8-million was contributed by

UIGC in 2016 towards this cause.

A large number of courses are offered by

UGIC in a wide range of spheres, including local

government and environmental management.

Courses include:

• Public Service and Administration

By way of example, this popular course includes

units such as the Municipal Finance Management

Programme, Multi-Stakeholder Engagement

Processes, Local Government Citizen Participation,

Local Government Legislative Framework,

Local Government Ethics, Values and Integrity,

Community Development, Local Economic

Development, Policy Management, Implementation

and Analysis in the Public Sector and

Public Financial Management.

• General Management and Responsible

Leadership.

• Certificate for end-user computing.

• Environmental Management.

• Integrated Waste Management.

• Envirotrac (Environmental Manager's Certificate

of Competency).

• Catchment Management Strategy.

• Safety Management courses.

• Strategic Management.

• Supervisory course.

• Research Methodology.

• Supply Chain and

Logistics.

• Business Management

and Entrepreneurship.

• Education and Teacher

Development. ■

Contact details

Contact: Dr John Mudau, Chief Executive Officer

Email: John.mudau@univen.ac.za

Khathutshelo Ligege, Personal Assistant to CEO

Tel: + 27 15 962 8754 / 61

Email: Khathutshelo.ligege@univen.ac.za

29 LIMPOPO BUSINESS 2020/21
---
FOCUS

De Beers Venetia Mine

unveils a testing laboratory

Response to the Covid-19 pandemic is part of "Building Forever" commitment.

De Beers Venetia Mine has unveiled a

R10-million coronavirus (Covid-19) testing

laboratory that will be utilised to test

the mine's employees and contractors.

The laboratory will play a vital role in the diagnostic

testing process of Covid-19 for employees and contractors

and is expected to analyse at least 80 tests

per day with a 24-hour turnout time for results.

Operated by two technicians, the highthroughput

laboratory is fully equipped with a

Polymerase Chain Reaction (PCR) machine and

other vital equipment including among others

storage fridges, biosafety cabinet and centrifuges

Limpopo Health MEC Dr Phophi Ramathuba and

De Beers Group Managed Operations MD Mpumi

Zikalala unveil the testing lab in Musina

to increase testing capacity and analyse test

samples to help speed up diagnoses and curb the

spread of the virus.

If aligned to the Limpopo Department of

Health's testing strategy, the laboratory will also

analyse test samples from the Musina Hospital,

Louis Trichardt Memorial Hospital and Helena Franz

Hospital, which are the local health facilities

identified for screening positive Covid-19 patients

from Venetia and the communities surrounding

the mine.

Venetia Mine has also appointed three clinical

associates and provided vehicles to allow them

to conduct home-based responses as part of the

company's "WeCare" programme. The programme

encourages employees and contractors to protect

themselves from exposure and transmission of

Covid-19, as well as monitor and manage their

health should they test positive.

Mpumi Zikalala, Managing Director, De Beers

Group Managed Operations, said, "As a business,

our first and most important value is to Put

Safety First. We value the health and safety of our

people above all else and are equally committed

to delivering support to our host communities

throughout this difficult period. The PCR laboratory

is one element in our range of proactive response

measures to support the fight against this global

pandemic and through which we hope to increase

access to testing, not only for our employees,

but also communities in partnership with the

Department of Health."

Dr Phophi Ramathuba, Limpopo MEC of

Health, said, "We welcome this development as the

Department of Health as it will go a long way in

assisting us as government to deal with the current

testing backlog. We do appreciate every single

collaboration, especially the likes of this laboratory,

which not only will focus on testing employees at

Venetia Mine, but community members as well." ■

LIMPOPO BUSINESS 2020/21

30
---
Venetia Mine brings community

relief amid Covid-19 lockdown

"WeCare" programme delivers vital medical equipment.

FOCUS

Venetia Mine and the Departments of

Health and Social Development have

rallied around efforts to provide support

and relief to communities within the mine's

labour-sending areas of Musina and Blouberg.

The mine has donated necessities such as maize

meal, rice, oatmeal, tea, milk, canned foods and

hygiene products including sanitisers, to ensure

that those who are in hardship will have access to

sufficient food during the nationwide lockdown.

Medical equipment donated

Through the Anglo-American Foundation, Venetia

Mine is donating medical supplies to six clinics in

the Blouberg area, namely: Alldays, Ga-Kibi, De

Vrede, Kromhoek, Indermark and Taaibosch. These

clinics will each receive the following supplies over a

period of three months: N95 masks, surgical masks,

disposable gowns, examination gloves, surgical

gloves, paper towels, chlorhexidine solution,

goggles and chlorhexidine scrub.

They will also each receive the following onceoff

medical items: blood-gas machine and noncontact

thermometer. Hospitals and clinics will be

equipped with medical equipment and supplies to

support their efforts to prevent the spread of the

Covid-19 virus and for treatment.

More food parcels donated

In a continued effort to help ease the burden for

families during the Covid-19 pandemic, Venetia

Mine, through the disaster relief organisation Gift

of the Givers, has donated 1 000 food parcels to

communities in Musina and Blouberg.

The donation is part of the mine's response to

Covid-19, through which a total of R1.2-million will

be used to purchase and distribute food parcels to

indigent households over a period of three months.

Mayor of Musina Local Municipality, Mihloti

Muhlope, who accepted the food parcels on behalf

of the Musina community ahead of the door-todoor

deliveries, said the community was grateful

for Venetia Mine's efforts in helping fight food

insecurity during the lockdown.

"Government alone cannot win this difficult

war against hunger and starvation. We need

stakeholders like De Beers Venetia Mine and Gift

of the Givers Foundation to come on board.

As Musina Municipality, we are very humbled by

this donation," she said.

Coordinating the

deliveries of food parcels in

Blouberg, Local Economic

Development Manager

at the Blouberg Local

Municipality, Stanford

Moremi, alongside Mayor,

Solomon Pheedi, said,

"We would like to extend

our gratitude to Venetia

Mine for this initiative. This

food relief initiative has

certainly touched the lives

of many in our community

considering the devastating

Covid-19 impact on our

communities." ■

31 LIMPOPO BUSINESS 2020/21
---
ADVERTORIAL

see money differently

MONEY EXPERTS BRING

21ST CENTURY BANKING

TO ALL COMMUNITIES

At the heart of Nedbank's business

strategy is its belief that its

sustainability depends on its ability

to integrate into the communities in which it

operates.

Juliana Selemela, Regional Manager for

Retail Business Banking in Limpopo,

explains: 'Nedbank has continued to deliver

on its brand promise, which is to use our

financial expertise to do good for

individuals, families, businesses and

communities in which we operate. Our

client-centred strategy has enabled us to

reach out to our clients in time of need

during the Covid-19 national lockdown.'

The Nedbank Contact Centre and advanced

digital innovation, including the awardwinning

Nedbank Money app, enabled the

bank to continue serving clients in the

comfort of their homes. It brought

convenience to clients and helped them to

comply with lockdown regulations.

Selemela says that for small- and mediumsized

business clients, Nedbank continues to

deliver end-to-end solutions through a

dedicated business manager. 'Our business

managers are supported by a team of

'

Our client-centred strategy

has enabled us to reach out

to our clients in time of need

during the Covid-19 national

lockdown.

'

experts across the bank to deliver seamless

banking solutions. Our bigger-picture

business approach ensures that we are able

to take a holistic view of the business by

understanding the vision, cashflow cycle,

and transactional and capital expenditure

needs of the business. This way, we become

trusted advisors to the business owners who

strive to grow their business.'

If you are interested in taking your business

to its next level or need information about

Nedbank's specialised service offering,

please email Juliana Selemela at

JulianaSe@Nedbank.co.za or visit

www.nedbank.co.za.
---
ADVERTORIAL

see money differently

SOLUTIONS FOR SMALL

BUSINESS AIMED AT

CREATING JOBS AND

GROWING THE ECONOMY

Nedbank's Support Manager for Small

Business and Professionals for the

Limpopo Province, Peteke Mojela,

says that small businesses are the mainstay

of the economy and Nedbank provides

small-business owners with support that

goes beyond banking.

'Covid-19 has dealt entrepreneurs a major

blow and, naturally, they are overwhelmed

and anxious about the future of their

businesses. Nedbank is proud to be involved

in various ways to help mitigate the

economic impact of the crisis on this vital

sector. For example, BackaBusiness is an

innovative and relevant way in which people

can show their support for small businesses

to ensure their survival. Loyal customers,

family and friends, and society at large can

join the movement to pay now and redeem

a reward from the business owner once

trading resumes.'

'Beyond this Covid-19 relief, our experts are

available to provide all the support you need.

Nedbank offers simple, affordable banking

solutions and value-added services to get

and keep your business going,' says Mojela.

Initiatives such as our free-to-join

networking portal SimplyBiz.co.za, The

'

We provide our professional

clients with banking at their

fingertips, benefits that matter,

expert savings …

'

Essential Guide for Small-business Owners,

business registration services and free

small-business seminars are all geared to

support SMEs.

Mojela adds that Nedbank's Professional

Banking solution is built on five pillars. 'We

provide our professional clients with banking

at their fingertips, benefits that matter,

expert savings and investment advice and a

unique household banking approach, which

allows them and their families to finance

their dreams and growth.' 'With dedicated

relationship bankers, tailored financing

options and 24/7 service, the banking

experience we offer is seamless, enables our

clients' financial aspirations and is flexible to

grow as your needs grow,' says Mojela.

If you wish to tap into our small-business

expertise to reach your business goals, please

email Peteke Mojela at

PetekeM@Nedbank.co.za or visit

www.nedbank.co.za.
---
ADVERTORIAL

see money differently

SEEING THE BIGGER

PICTURE THROUGH THE

COVID-19 ENVIRONMENT

We are all aware of the individuals

and businesses that have been

adversely affected as a result of

the chaos caused by the Covid-19 pandemic.

Interest rates are at historical lows and

Nedbank's economic forecast for the next

12 to 18 months predicts a sharp downward

trend.

In this challenging economic environment, it

is more important than ever to manage and

invest funds optimally in relation to cash flow

needs. Cash flow is, without doubt, one of the

most critical components of success for any

business. In fact, according to a U.S. Bank

study, 82% of business failures can be

attributed to poor cash flow management.

That being said, every growing business

needs capital to invest in expansion – or to

pivot to remain relevant in the extreme

uncertainty we currently face. Every

business has unique cash requirements, so

how does a business owner ensure that

surplus cash is managed in a manner that

yields maximum returns in harmony with the

company's liquidity requirements?

Marcia Mathsa, Nedbank's Corporate Saver

and Investment Specialist for Limpopo, says

that Nedbank Business Banking is

'

Nedbank has made available a

raft of relief measures to benefit

clients across the bank.

'

committed to assisting its clients overcome

their financial obstacles and provide sound

financial advice in managing their funds.

'The pandemic and struggles of business

highlight the need for expert advice, and a

needs-based conversation with a Nedbank

business manager can result in optimal

financial solutions that make all the

difference,' says Mathsa.

The investment sector will continue to be

impacted for some time to come, but

Nedbank has made available a raft of relief

measures to benefit clients across the bank.

We will continue to partner with our clients

to provide expert advice on investments

during what is a most challenging period

not just for our country – but the world.

To find out more about how Nedbank can

partner with your organisation to grow a

greater South Africa, please email

Marcia Mathsa at MarciaMat@Nedbank.co.za

or visit www.nedbank.co.za/business.
---
ADVERTORIAL

see money differently

NEDBANK BUSINESS BANKING

AIMS TO SUPPORT ALL LIMPOPO

BUSINESS SECTORS

Innocent Mafahla, Provincial Manager for Business Banking

in the Limpopo Province, says that a deep commitment to

partnership is what underlies the team's personal and

professional values.

Our bigger-picture banking approach

enables us not only to provide you

with the banking solutions you need,

but also to give you a holistic view of how

our products are connected to create a

framework that yields maximum impact

across every facet of your business and

beyond. We know that success in business is

about partnerships, and that is why we put

the building of deep, lasting, value-adding

relationships at the centre of everything we

do. This means your goals are our goals,

your vision is our vision, and your success is

our success – while you rely on our

additional support that is most needed in

times of change and uncertainty.

The bank caters for all industries, but the

Limpopo team has many clients in the

franchising and agricultural sectors. 'The

banking products and services tailored

specifically for these sectors and designed

to achieve overall business efficiency,

profitability and sustainability make Nedbank

one of the most franchise-friendly banks in

South Africa and one of the market-leading

banks in the agricultural space,' says Mafahla.

Nedbank's highly competitive pricing is

structured to the needs and individual risk

'… Nedbank has developed innovative

funding solutions designed to support

farmers with sustainable farming

interventions …

'

profile and track record of each particular

franchise business. Products include

POS devices and Nedbank's POSPlus

management system, e-commerce solutions

and cash acceptance devices, aswellasa

broad spectrum of tailored financing options.

Nedbank understands that if the various

challenges faced by the agricultural sector

are not addressed, it will threaten economic

growth, food security, employment and

investment. To this end Nedbank has

developed innovative funding solutions

designed to support farmers with

sustainable farming interventions, ranging

from water efficiency mechanisms and

cutting-edge irrigation to renewableenergy

financing.

If you are interested in taking your business

to the next level, please email

Innocent Mafahla at

InnocentMa@nedbank.co.za or visit

www.nedbank.co.za/business.

Nedbank Ltd Reg No 1951/000009/06. Authorised financial

services and registered credit provider (NCRCP16).

SPO6016
---
OVERVIEW

Hot-air balloon in Limpopo. Pic: South African Tourism

LIMPOPO BUSINESS 2020/21

36
---
OVERVIEW

KEY SECTORS

Overviews of the main economic sectors of Limpopo

Agriculture 38

Mining 40

Construction and property 50

Energy 51

Water 52

Tourism 54

Banking and financial services 56

Development finance and SMME support 58

Education 60

37 LIMPOPO BUSINESS 2020/21
---
OVERVIEW

Agriculture

Marula is Limpopo's super fruit.

Marula wine tasting laboratory.

Image: University of Limpopo

A

festival, an industrial park, the source of a world-famous

liqueur and a centuries-old beer recipe – and now the fruit

of the marula tree is inspiring an associate professor at the

University of Limpopo to make a marula fruit wine.

The women of Limpopo have been making beer from marula

fruit for longer than records exist. They continue to make it in large

quantities every year in February at the time of the Marula Festival, a

major contribution to the arts and culture and tourism calendar. Distell

makes and distributes Amarula cream liqueur around the world.

The Limpopo Department of Economic Development and

Tourism (LEDET) wants to see the University of Limpopo doing

more research on the possible uses for the fruit, including jams

and cosmetics. To that end, a Marula Industrial Hub at Phalaborwa

is envisaged that will provide a platform to further exploit the tasty

marula fruit, which has a high vitamin C content and is much loved

by elephants. Facilities at the hub will include a centre for research

and processing facilities to create more value from the raw product.

Advisors will be available to help small-scale farmers and SMMEs

enter the formal economy.

One researcher already underway is Professor Kgabo Moganedi.

Drawing on time-honoured (and organic) fermentation processes,

Moganedi has created a clear alcoholic beverage and is reported

to be almost ready to scale up production. The project has received

Sector Insight

Farmer Production Support

Units are being rolled out.

funding from National Research

Foundation (NRF) under the

Indigenous Knowledge Systems

(IKS) and from the Technology

Innovation Agency (TIA).

Cotton growing is experiencing

a renewal in Limpopo,

and the Provincial Government's

programme for revitalising

irrigation schemes is helping. In

Ephraim Mogale Municipality

about 345 hectares of cotton

has been planted which will

benefit 74 small-scale farmers in

the area. The projected harvest

is 522 tons and an estimated 300

seasonal jobs are expected to

be created during the harvesting

period.

LIMPOPO BUSINESS 2020/21

38
---
OVERVIEW

Other schemes are at various

stages of development: 100ha

of land is being cleared for

cultivation at the Mogalatjane

Irrigation Scheme; 41ha has

been identified at Tswelopele

Irrigation Scheme in Fetakgomo

Tubatse Municipality; and agreements

are due to be signed at

Kolokotela and Setlaboswana

Irrigation Schemes.

The provincial government

sees the creation of infrastructure

to support agriculture as

part of its mandate. In the 2020

State of the Province Address,

Premier Chupu Mathabatha said

that two important projects

would be completed during

2020 (this was before the

Covid-19 epidemic):

• Matsika Pack House

• Upgrading of Norjax Canning

tomato paste processing facility.

More than 1 000 small-scale

farmers are being trained

annually to improve their skills

and to improve production.

Various Farmer Production

Support Units are due for

completion in 2020 and 2021.

These are situated at:

• Masala in Mopani

• Vleisboom in Sekhukhune

•Tshiombo in Vhembe

• Mapela in the Waterberg

Wide variety

The percentage contribution of

Limpopo agriculture to national

agriculture is 7.6% although its

contribution to provincial GDP

is just 2.3%. Agri-processing has

enormous potential to expand

in every subsector.

Limpopo's fruits and

vegetables form an important

part of South Africa's export basket and more than 45% of the annual

turnover of the Johannesburg Fresh Produce Market originates in the

fertile province.

Companies like ZZ2 are major contributors to the country's

annual production of 120 000 tons of avocados. Of the current crop,

about half is currently produced in two Limpopo regions, Letaba and

Tzaneen. Exports are rising exponentially. In response to this demand,

and the potential of the Chinese market, almost 1 000ha per year of

new land is being planted with avocados in South Africa.

The same amount of new macadamia planting is underway every

year, according to the Macadamias South Africa (SAMAC), adding to

the existing 19 000ha.

The other big sellers are mangoes and tomatoes. Limpopo

grows three-quarters of South Africa's mangoes and two-thirds of

its tomatoes. The Waterberg district

produces large quantities of red meat,

Capricorn has potatoes in abundance,

Vhembe in the north specialises in citrus

and subtropical fruits. Mopani has those

fruits too – and the Mopani worm. The

Sekhukhune region in the south-east

produces grain and the marula fruit that

goes into Amarula cream liqueur.

Westfalia is another huge enterprise,

part of the Hans Merensky Group, and

it is the world's largest avocado grower.

It also produces significant quantities

of mango, litchi, citrus and macadamia

and has three agri-processing plants in

the province. Greenway Farms supplies

about 45% of the fresh-market carrots

consumed in Southern Africa under the

Rugani brand.

The two most active agricultural

companies in Limpopo are NTKLA (with

its headquarters in Modimolle) and

Online Resources

Avocados harvested

Afgri, South Africa's biggest agricultural company, is headquartered

in Centurion (Gauteng). NTKLA is a shareholder in Venda Roller Mills

in Thohoyandou and operates 10 grain silos, 23 retail outlets, 28 flour

depots and one cold-storage facility. ■

Agro-Food Technology Station, Limpopo University: www.ul.ac.za

Citrus Growers Association: www.cga.co.za

Deciduous Fruit Producers Trust: www.dfpt.co.za

Limpopo Dept of Agriculture & Rural Development: www.lda.gov.za

Macadamias South Africa: www.samac.org.za

South African Subtropical Growers' Association: www.subtrop.net

39 LIMPOPO BUSINESS 2020/21
---
OVERVIEW

Mining

Industry analysts and miners are looking at new uses for PGMs.

Image: Implats

The mining sector in Limpopo lost nearly 20 000 jobs between

the fourth quarter of 2018 and the fourth quarter of 2019. A

key factor was the slump in the global price of platinum but a

later surge in the price of other platinum group metals (PGM)

such as palladium and rhodium offset this downturn.

The fact that the mining industry was allowed to continue to

operate through most of the lockdown that accompanied the

Covid-19 outbreak helped to bring some stability back to the sector.

In early 2020 rhodium rose to its highest price since 2008,

$8 200/oz, and palladium achieved a new record high of nearly

$2 150/oz. Some mining companies such as Ivanplats discovered

that several of the other minerals that are present in their mines

(gold, copper and nickel) were also surging in price, causing them to

investigate the possibility of ramping up operations at a faster pace.

Better prices led to companies such as Bushveld Minerals increasing

production. Figures for the company's Vametco vanadium mine in

2019 were comparable to volumes previously reached two years earlier

as they aimed to reach between 2 800 and 2 900 tons of vanadium for

the year. With the largest primary vanadium resource base in the world,

Bushveld's long-term goal is to produce 8 400/mtpa. The company

Sector Insight

BASF is developing an

auto catalyst that needs

less palladium.

runs its own processing and is

busy with a feasibility study on a

new mine at Mokopane.

Investments covering the

period to 2025 in the mining

sector in Limpopo totalling

more than R36-billion have been

announced. All but one of the

investments is in the Waterberg

region. These include:

• Modikwa mine (R1.6-billion),

African Rainbow Minerals, PGM,

Sekhukhune region.

• Lejaja mine (R4.2-billion), Lejaja

Coal (Resgen), coal.

LIMPOPO BUSINESS 2020/21

40
---
OVERVIEW

• Grootgeluk and Thabametsi

mines (R5.1-billion), Exxaro, coal.

• Lesego mine project (R5.4-

billion), Lesego Platinum, PGM.

• Platreef mine (R20-billion),

Ivanplats, PGM.

Other long-standing projects

include

• Venetia underground project

(about $2-billion to 2023), De

Beers Consolidated Mines, conversion

of an open-pit operation

to underground mining. The

mine is the largest producer of

diamonds in South Africa.

• Booysendal South mine

(R4.2-billion), Northam

Platinum, PGM.

The soils of Limpopo are rich

in platinum group metals, coal,

copper, diamonds, gold, iron ore,

nickel, rare earth minerals and tin.

Limpopo contributes 4% of coal

mining in South Africa, according

to the National Department of

Mineral Resources and Energy,

but it is likely that within the next

three decades, the province will

be supplying about half of South

Africa's coal. Limpopo's Waterberg

coal field is estimated to contain

about 75-billion tons of coal.

Exxaro's two coal mines in

the Waterberg represent threebillion

tons of Measured Coal

Resources and 1.8-billion tons

of Indicated Coal Resources.

This is where Exxaro operates its

giant Grootegeluk mine. Nine

plants serve a 4km-long and

120m-deep opencast mine on

a 1 200ha site. Originally intended

to supply the nearby power

plants, Exxaro is now eyeing the

export market with countries

such as Ethiopia, Egypt and

Pakistan potential markets. By

2023 Exxaro hopes to be producing 60-million tons of coal from its

sites in Limpopo and Mpumalanga. Its current annual production is

47-million tons.

MC Mining has started selling hard coking and thermal coal from

its Makhado coal project in the Soutpansberg coalfield. The mine is

36km north of the town of Makhado and 80km south-east of the Vele

Colliery. In 2019 the company signed an offtake agreement whereby

Arcelor Mittal will buy between 350 000 and 450 000 tons of hard

coking coal per annum.

Mineral beneficiation is a key component of the newly accredited

Musina-Makhado Special Economic Zone (SEZ) in the far north of

Limpopo and coal is needed for the making of steel. In 2018 nine

Chinese companies committed to investing more than $10-billion in

projects related to the zone's four main areas of activity: a coking plant,

a power plant, an alloy factory and the manufacture of steel.

The planned Tubatse Platinum SEZ will focus on mining, as its

name implies. According to the Limpopo Economic Development

Agency (LEDA), 17 new mines were established in the greater Tubatse/

Burgersfort/Steelport area between 2001 and 2016, and a further 22

new mines are planned.

The focus at Tubatse will be on the beneficiation of platinum

group metals, magnetite, vanadium and chrome. The other strong

mineral focus in the eastern part of the province is at Phalaborwa

where Palabora Copper, a subsidiary of Palabora Mining Company,

produces about 45 000 tons of copper annually, most of which is sold

domestically. It runs a smelter and a refinery and also mines magnetite,

vermiculite sulphuric acid, and nickel sulphate.

Projects and plans

Important as the coalfields of the Waterberg are, the area is clearly

not only about coal. A PGM project with enormous potential is also in

preparation in the Waterberg, on the Northern Limb of the Bushveld

Complex about 85km north of Mokopane.

Image: Implats

41 LIMPOPO BUSINESS 2020/21
---
OVERVIEW

Platinum Group Metals Ltd. is the operator of the Waterberg Project

but the joint venture (JV) includes Impala Platinum Holdings (Implats),

JOGMEC (Japan Oil, Gas and Metals National Corporation), Hanwa Co

(a Japanese trading company) and Mnombo Wethu Consultants (the

BEE partner). The shareholding agreement was amended somewhat

in February 2020 when Implats agreed to fund 100% of a new

implementation budget and work programme.

Implats also has an interest in two big operations on the eastern

limb of the Bushveld Igneous Complex. Marula (in which Implats

is a 73% shareholder) is in Limpopo province, about 50km north of

Burgersfort. South of the same town, in Mpumalanga, Implats (49%)

is in a joint venture with African Rainbow Minerals (ARM) at the Two

Rivers mine.

south of Thabazimbi. By building

a second furnace at the facility,

Northam is making provision for

reaching a goal of processing

one-million ounces of PGMs.

The cost of the expansion, which

was partly born by Heraeus, is

R900-million.

Heraeus South Africa has

offices in Gauteng and runs

a precious metal chemical

compounds production and

refinery site in Port Elizabeth.

Image: Anglo American

The Waterberg reserves and resources of PGMs are 63% palladium.

Mining Technology has previously reported that the developed mine

could produce as much as 744 000oz platinum, palladium, rhodium

and gold and 23Mlb of nickel and copper on an annual basis. This

would make it one of the biggest PGM mines in the world.

Impala Platinum has made a bid to add to its South African and

Zimbabwean assets through the purchase of Canadian mining firm,

North American Palladium. The bid for R11.4-billion would give Implats

a pure palladium mine and increase its geographical footprint.

The sale in late 2018 of Glencore's stake in the Mototolo PGM

mine and chrome plant marked the end of that company's foray into

platinum. The purchase of Glencore's 39% stake takes Amplats share in

the complex up to 89%, giving Amplats access to a further 130 000oz

of platinum and improving the prospects of working on the adjacent

Der Brochen. The deal was worth about R1.5-billion.

Eland mine, after being put on care and maintenance, was sold

in 2017 by Glencore to Northam for R175-million. In 2019 plans were

being put in place to reopen the mine because of higher prices for

rhodium. The company intends spending R300-million at Eland and

R1.5-billion at Booysendal.

Northam bought the Tumela block from Amplats and invested

heavily in a smelter expansion project at its Zondereinde mine just

The future of platinum

Two of South Africa's foremost

platinum mining companies

have joined forces to support

BASF in the development of an

automotive catalyst that uses

less palladium. The research

and development project is

backed by Sibanye-Stillwater

and Implats.

The German chemical group

has found a way to replace

some of the palladium and the

rhodium, both minerals that are

in short supply globally, with

platinum. Platinum is routinely

used in diesel engine catalysts,

but this latest adaptation

will significantly increase its

usefulness. The device is known

as the tri-metal catalyst.

LIMPOPO BUSINESS 2020/21

42
---
Mothena Shirley Matlala,

Mothena

Diesel Mechanic,

Shirley Matlala,

Diesel Platreef Mechanic, Project

Platreef Project

On June 13, 2020, Ivanhoe Mines' South African subsidiary,

Ivanplats, successfully completed the sinking of Shaft 1 to a final

On June 13, 2020, Ivanhoe Mines' South African subsidiary,

depth of 996 metres below surface, at the company's palladium,

Ivanplats, successfully completed the sinking of Shaft 1 to a final

depth

platinum,

of 996

nickel,

metres

copper,

below surface,

gold and

at the

rhodium

company's

Platreef

palladium,

mining

platinum,

licence, near

nickel,

Mokopane.

copper, gold and rhodium Platreef mining

licence, near Mokopane.

Ivanhoe is particularly pleased that the project remains 'Fall-of-

Ivanhoe

Ground'

is

incident

particularly

free

pleased

since shaft-sinking

that the project

operations

remains 'Fall-ofbegan

in

Ground'

July 2016,

incident

which

free

is a tribute

since shaft-sinking

to the excellent

operations

work by the

began

Platreef

in

July

Project

2016,

team

which

and

is

its

a tribute

South African

to the excellent

sinking contractor,

work by the

Moolmans.

Platreef

Project team and its South African sinking contractor, Moolmans.

The Platreef Project has long been recognized as one of

The

the

Platreef

world's

Project

largest

has

deposits

long

of

been

high-grade

recognized

platinum-group

as one of

the

metals,

world's

(PGMs)

largest

nickel

deposits

and copper.

of high-grade

With the sinking

platinum-group

of Shaft 1

metals, now complete, (PGMs) nickel Ivanplats and copper. is exploring With near-term the sinking development

of Shaft 1

now pathways complete, at Platreef. Ivanplats is exploring near-term development

pathways at Platreef.

We are confident that the project will, in time, become one of the

We world's are confident largest and that lowest-cost the project will, primary in time, producers become of one platinumgroup

largest metals and provide lowest-cost long-lasting primary producers and meaningful of platinum-

benefits

of the

world's

group to all metals of our and stakeholders, provide long-lasting including the and 20 meaningful local communities benefits −

to comprising all of our approximately stakeholders, including 150,000 local the 20 Mokopane local communities area residents −

comprising – that are our approximately equity partners. 150,000 local Mokopane area residents

– that are our equity partners.

Ivanhoe is not a conventional mining company. Our diverse team

Ivanhoe is building is not something a conventional different mining and company. exciting. Our We are diverse committed team

is to building discovering something and developing different and modern, exciting. leading-edge We are committed mines that

to provide discovering secure, and socio-environmentally developing modern, leading-edge responsible access mines to that key

provide raw materials secure, as socio-environmentally the world embraces an responsible electric future. access to key

raw materials as the world embraces an electric future.

Limpopo Business Journal - Platreef.indd 1

Limpopo Business Journal - Platreef.indd 1

2020-06-29 8:12:38 AM

2020-06-29 8:12:38 AM
---
OVERVIEW

Bushveld Minerals, meanwhile,

is exploring the potential

of vanadium redox flow batteries

(VRFB) where the focus is less

on powering vehicles and

more on creating stationary

energy platforms. The group

has companies in various

minerals, including coal, iron

and phosphate. The relevant

companies in this instance are

Bushveld Vanadium, which

mines and processes vanadium,

and Bushveld Energy, which is

focussed on the manufacture

of vanadium electrolyte and the

future potential of VRFB.

The fuel cell at the offices of

Minerals Council South Africa.

Finding new uses for

platinum group metals (PGM)

has been a focus of the industry

for some time. The head office

of the Minerals Council South

Africa is powered by 40 ounces

of platinum and natural gas,

a concrete symbol of the

industry's interest in this issue.

A fuel cell at the Johannesburg

site of the national mine owners'

association is South Africa and

Africa's first base load installation.

The slow moves towards

allowing South African mines

to power their own operations is another spur for mining companies

to explore power generation. The national energy plan, Integrated

Resources Plan 2019, allocates 2 000MW for energy storage and this

provides an opportunity for companies such as Bushveld Energy.

South Africa produces the majority of the world's platinum

(4.4-million ounces compared to six-million ounces by the rest of the

world). Only Russia (2.6-million ounces) produces more palladium than

South Africa but in rhodium South Africa is also number one: out of the

global supply of 746 000 ounces, South Africa's share is 621 000 ounces.

The Mapungbuwe Institute for Strategic Reflection (MISTRA) hosts

an annual PGM roundtable. Mining Weekly reported in December

2019 that the institute's latest report focuses on the potential for the

creation of a PGM exchange in South Africa. In other presentations

during the event, it was noted that while an exchange would not fix

the price, it would help to reduce volatility.

While there is broad agreement that the world needs to steer

away from minerals that pollute the environment, the supply

of minerals used in electric car manufacture (such as nickel

and cobalt) is also finite. Speaking at the 2019 Investing in

African Mining Indaba, Ford's head of Energy Storage Strategy

and Research, Ted J Miller, said that the motor industry was

"uncomfortable driving these commodities". He noted that

Ford has already reduced cobalt production by two-thirds, but

the challenge is scale.

In 2012 Anglo Platinum launched an underground

locomotive powered by a fuel cell. Platinum coating greatly

enhances the hydrogen absorption capacity of fuel cells. In

2016 Impala Platinum Refinery unveiled a fuel cell forklift and

a hydrogen refuelling station in Springs. The editor of Mining

Weekly, Martin Creamer, has published a series of articles and

editorials extolling the virtues of what he calls the "best of two

new carbon-reducing technology worlds".

Creamer notes that South Africa's abundant supplies of PGMs

and manganese ore can make the country a leader in battery electric

vehicles (BEV) and fuel cell electric vehicles (FCEV). He further points

to the work being done by Hydrogen South Africa (HySA) at three

universities and the Council for Scientific and Industrial Research (CSIR).

South Africa's good supplies of sunshine and wind make it ideally

suited to generate hydrogen and if the country could capture 25% of

the world market, it would be worth $600-million (Mining Weekly). ■

Online Resources

Mapungubwe Institute for Strategic Reflection: www.mistra.org.za

Minerals Council South Africa: www.mineralscouncil.org.za

Mining Qualifications Authority: www.mqa.org.za

Department of Mineral Resources and Energy: www.dmr.gov.za

Geological Society of South Africa: www.gssa.org.za

South African Institute of Mining and Metallurgy: www.saimm.co.za

LIMPOPO BUSINESS 2020/21

44
---
Focussed support

for communities

INTERVIEW

Venetia Mine General Manager Gerrie Nortje explains how a Community Response

Plan is coordinating efforts in water provision, food security, health and safety in

labour-sending areas.

Venetia Mine General

Manager, Gerrie Nortje

BIOGRAPHY

Gerrie Nortje began his career

with Anglo American in 1997

as a bursar studying Mining

Engineering. On completion of

his degree, he worked at various

Anglo American Thermal Coal

operations before becoming

Operations Manager at Xstrata.

He rejoined Anglo American as

Principal Mining Engineer and

transitioned into a Lead Open

Pit Mining role in 2014 as a

member of the Technical and

Sustainability team. At head

office he was involved with a

variety of projects across the

group's business units.

What is the Community Response Plan?

As a responsible corporate citizen and a long-term committed

partner in the communities where we operate, we, as Venetia Mine,

are actively and urgently supporting the efforts of the communities

in our labour-sending areas during the Covid 19 pandemic.

The Community Response Plan (CRP) helps us focus our efforts

in addressing the most urgent needs first, while ensuring that where

possible, projects benefit the communities over the longer term.

Some of the support we have provided includes:

• Provision of food: donation of food parcels to indigent households,

hospitals, homeless shelters and GBV centres.

• Water: the provision of water tanks, repair and maintenance of water

infrastructure and the upgrading of infrastructure to sustain the

supply of water to communities.

• Hospital and clinic support: providing much-needed personal

protective equipment (PPE) to hospitals and clinics, and providing

hospitals with medical equipment including two ventilators.

• Gender Based Violence: providing victim empowerment centres

with hygiene packs for victims, communication material and posters

and upgrading some of the facilities

• SMEs: remote support to small businesses in dealing with the impact

of the lockdown on their businesses and supporting them to apply

for government-funded support programmes.

• Testing facilities: making sure that our facilities are all available.

The CRP is a living plan that changes as we navigate through the

pandemic. Some of our contracting partners (Total and Sandvik) have

agreed to support a small farmer rural development programme

aimed at capacitating 500 small farmers in our host communities.

What has been the impact on the number of people who work

at the mine at any one time?

We started developing and implementing measures to protect our

employees and contractors since the pandemic became a public

concern and we continue to enhance and improve these controls.

Key to these measures is the education of our workforce on how the

virus spreads and equipping them with the right information to continuously

do the right things to protect themselves and others. A number

of things had to be considered as we started to ramp up production:

45 LIMPOPO BUSINESS 2020/21
---
INTERVIEW

• Employees that could work from home were

allowed to and our processes were aligned.

• Additional controls and measures were introduced

on the mine including social distancing measures

on busses, thermal scanning and continuous

sanitising of the workplace.

• A phased and controlled recall process was

introduced to bring back employees over a period

At Venetia Mine, we have put extensive safety,

health and hygiene measures in place to combat

the spread of the virus in the workplace and our

communities. These measures are not limited to

and include:

• A comprehensive risk assessment to identify areas

of potential exposure, including implementing

the required policies, procedures and controls.

Venetia Mine General Manager Gerrie Nortje with

De Beers Group Managed Operations Managing

Director Mpumi Zikalala and Limpopo Health

MEC Dr Phophi Ramathuba at the Venetia Mine

Testing Laboratory.

of four to six months.

• A new process was introduced with a telephonic

Covid-19 screening assessment before employees

were recalled.

• Shift arrangements and working schedules were

adjusted to ensure we maintain social distancing

requirements.

All these measures allowed us to recall more

than 70% of our workforce. We are continuing to

ramp up and have adjusted our measures.

What are some of the specific steps to ensure

the safety of staff?

Our employees are at the heart of our business and

we have taken decisive, wide-ranging measures

that are stringently applied to protect both the

health and well-being of them and their families.

• All our employees undergo a mandatory Covid-19

medical screening and induction session prior to

returning to work.

• Our Occupational Medical Practitioners assess and

approve all employees returning to work.

• All our employees have been issued with personal

thermometers for them to monitor their

own body temperatures as part of a daily selfassessment

process.

• The installation of Thermal Scanners at the

entrance of the mine and on our buses to ensure

that 100% of the employees' body temperatures

are assessed.

• We are continuously educating, training and

ensuring compliance to social distancing on site

and on our vehicles.

• Continuous sanitisation of biometric readers,

LIMPOPO BUSINESS 2020/21

46
---
handrails, workplaces and transport vehicles,

including the installation of UV lights to disinfect

areas within the mine.

• All our employees have been provided with

appropriate PPE and cloth masks.

• Regular Visible Felt Leadership to focus on

Covid-19 in addition to Safety, Health and

Environmental performance.

• A 24-hour call centre (on a toll-free number) for

employees to call if they are displaying any

Covid-19 symptoms or require any other relevant

information.

• Introduction of the WeCare programme for

employees, their direct dependants and a

community support programme through the

Limpopo Department of Health.

• Established and manage quarantine and isolation

facilities in the town of Musina.

Have you been able to get enough masks and

other protective gear?

Key to the CRP is supporting our host communities

and suppliers. We are very proud that through our

enterprise and supplier development programmes,

we have been able to support a number of

businesses. All our masks are manufactured locally

by Dithebele Clothing, a company

based in Bochum, a community

in the Blouberg Municipality. The

company is one of many that

has enjoyed good local sales and

is successfully acquiring clients

since it started participating

in our Enterprise and Supplier

Development programmes.

In addition, we have identified

and approached a few other local

suppliers manufacturing goodquality

masks to supply to some

of the schools we are supporting

through our CRP.

Since the start of the pandemic we have been

engaging with the local hospitals and the

Department of Health on a regular basis to

understand their challenges during this difficult

period and to understand how best we can

support them and thank them for the work they

are doing for all of us.

We have donated medical supplies and

equipment to hospitals and clinics in collaboration

with the Department of Health. In addition, the

Limpopo MEC of Health, Dr Phophi Ramathuba,

recently unveiled the Venetia Mine PCR Covid-19

Testing Laboratory in Musina. This laboratory will be

utilised to test the mine's employees, contractors

and all the associated contacts.

We are also in discussions with the Department

of Health to make the laboratory available for the

testing of community members through the local

hospitals. The laboratory will play a vital role in

the diagnostic testing process of Covid-19 and is

expected to analyse at least 80 tests per day with a

24-hour turnout time for results.

In addition to this, we have established

quarantine and isolation facilities for positive

cases and contacts and are providing them with

continuous healthcare support.

Is the mine providing support

in terms of clinics and local

hospitals?

Venetia Mine recognises the

significant role of the hospitals

and clinics in our communities.

Villagers in Simpson Village, Blouberg, with a water tank provided by the

De Beers water project.

47 LIMPOPO BUSINESS 2020/21
---
FOCUS

Weathering the Covid-19 pandemic

Medical preparedness and safety are priorities at the Marula Platinum mine.

As a member of the Implats Group, Marula supports the lockdown

measures taken by national government to reduce

the spread of the coronavirus and to mitigate the severe impact

on the lives and livelihoods of employees, host communities

and suppliers. Internal planning within the Group has focused

on securing operational resilience during the pandemic based on the

view that the virus will be a feature for some time and operating in a

"business as usual" environment will not be possible in the near term.

In addition, Implats has implemented and enforced several

measures to provide protection to employees, rolling out a number

of programmes across the group. Risk-based operating procedures

were introduced specifically aimed at reducing the risk

of viral infections in high-risk work areas and to vulnerable employee

categories. These steps include improved hygiene, restrictions on

the amount of work performed, social distancing while performing

work and while travelling to and from work, the provision

of additional personal protective equipment (PPE) and the

implementation of screening and testing procedures.

Stock levels of medical protective equipment and PPE were

increased and regular large-scale disinfection of workplaces

continues to be performed. A

meaningful increase in medical

care preparedness was also

undertaken through increasing

the capacity of internal medical

facilities and through the

coordinated collaboration with

industry peers, public/private

partnerships and both local and

regional medical institutions.

All employees are currently

screened using questionnaires,

thermo-scanning of

skin temperature, and if necessary,

core temperature screening,

before entering their

work areas. Employees with

abnormal temperatures are

isolated at dedicated areas

and then transported to

designated medical facilities

for diagnosis and, if necessary,

testing, quarantine and/or

hospitalisation.

Mogale Mashilane, Executive

Marula Operations, notes, "As the

pandemic progresses, we expect

to face increasing challenges

to our medical preparedness

and operational resilience. The

benefit of experience gained

by our team over the past

few months will prove vital to

successfully navigating the nearterm

operating environment and

mitigating the impact on our

employees and communities." ■

LIMPOPO BUSINESS 2020/21

48
---
ENRICHING LIVES

through our commitment to health

Medical Preparedness

High level of medical preparedness

across all operations including screening

and testing, isolation/quarantine facilities

and equipment

Education

Intense effort to educate and

prepare stakeholders for the

Covid-19 pandemic

Procedures

Risk-based operating

procedures to reduce

infections in high-risk areas

Marula is committed to the health, safety and

wellbeing of all our employees and continually

strives for zero harm in the workplace.

49 LIMPOPO BUSINESS 2020/21

CooleAd 18533
---
OVERVIEW

Construction and property

LEDA runs training for artisans in the building sector.

Sector Insight

More than 10 000 housing

units have been pledged

by provincial government.

Military veterans housing. Image: Housing Development Agency

The Provincial Government of Limpopo has built more than

320 000 houses since 1994. A budget of R3.9-billion has been

assigned by National Treasury for the Limpopo Academic

Hospital. Clinics are also being built, providing more work

opportunities in the construction sector. A start has been made on a

provincial theatre, with R15-million allocated to planning.

A commitment has been made to build 10 456 housing units by

the end of the 2020/21 financial year, a figure that includes a rollover

of nearly 4 000 from the previous year. This represents a further

opportunity for contractors in the construction sector.

The Enterprise Development and Finance Division of the Limpopo

Economic Development Agency (LEDA) offers loans to businesses in

the construction and property sector and runs specialised training in

vocational skills such as bricklaying, plastering, carpentry, plumbing,

electrical and welding.

The Risima Housing and Finance Corporation, another division

of LEDA, is helping citizens of the province to become homeowners.

Since 2014, Risima has assisted 1 037 beneficiaries with loans of up to

R1.5-million. The gap market – people who earn too much to qualify

for social (RDP) housing but don't earn enough to be granted bonds

– is a hot topic. Opportunities exist, but the risk profile is different. A

new association caters for this subsector, the South African Affordable

Residential Developers Association (SAARDA).

Online Resources

Black Business Council in Built Environment: www.bbcbe.org

Construction Industry Development Board: www.cidb.org.za

South African Affordable Residential Developers Association:

www.saarda.co.za

South African Property Owners Association: www.sapoa.org.za

Risima has introduced

the Finance Linked Individual

Subsidy Programme, for those

earning between R3 501 and

R15 000 per month. Risima and

the Department of Cooperative

Governance, Human Settlement

and Traditional Affairs

(COGHSTA) distribute grants to

cover a deposit or to make up

the shortfall between an asking

price and what the applicant

can afford.

A non-mortgaged financial

product assists government

employees to get a foot on

the property ladder. Risima

is also exploring cooperation

with mining houses such as

Exxaro, Amplats and Northam at

Thabazimbi.

Thavhani Mall is operating

in Thohoyandou in a bigger

development called Thavhani

City. The 27ha site will eventually

include an office park,

automotive-related businesses,

private healthcare, a library, an

information centre and a sports

stadium. Its anchor retail tenants

include Woolworths, Edgars, Pick

n Pay and SuperSpar.

The partners in the R1-billion

project are Thavhani Property

Investments, Vukile Property

Fund and Flanagan & Gerard

Property Development. ■

LIMPOPO BUSINESS 2020/21

50
---
Energy

The Musina-Makhado Special Economic Zone (SEZ) will use

and create large volumes of energy.

OVERVIEW

An Energy and Metallurgical Cluster is an important component

of the Special Economic Zone (SEZ) under construction

at Musina-Makhado in the far north of the province. A South

African company has announced that it will manufacture

new energy solar system products, energy storage systems and

high-density polyethylene water pipes at the SEZ.

The two local municipalities have been allocated R147-million

by provincial government for infrastructure upgrades, including

electricity. The National Department of Energy's Renewable Energy

Independent Power Producer Procurement Programme (REIPPPP) has

been successful so far. The three photovoltaic solar projects located in

Limpopo have a combined investment value of R3.6-billion.

A new public-private planning exercise, known as Impact Catalyst,

is working on focus areas which include biofuels and intends to

prepare the province to deal with the emergence of new sectors such

as renewable energy. The provincial government's Green

Economy Plan has identified solar and biomass as the main

kinds of renewable energy for Limpopo. With huge silicon

reserves in the province, there is also potential to produce

solar panels and solar chargers for cellphones.

Nine biogas digesters have been installed in the

Vhembe District to be controlled by young entrepreneurs

trained by the University of Venda. A group of 31 students

is studying Energy Management Systems as part of the

provincial plan.

The Mogalakwena Mine run by Anglo American

Platinum (Amplats) is a large energy user. The mine's

concentrator relies on constant and reliable electricity

supply. With energy comprising a significant portion

of costs and national utility Eskom experiencing

difficulties in terms of its debt and its ability to supply reliable

power, the mining company is investigating the installation of a

large solar PV project. In early 2019 the project was at the "request

for interest" stage. Anglo Platinum has pioneered an underground

mining locomotive powered by a fuel cell. Platinum coating

greatly enhances the hydrogen absorption capacity of fuel cells.

Online Resources

National Department of Minerals and Energy: www.energy.gov.za

South African Photovoltaic Industry Association: www.sapvia.co.za

Southern African Biofuels Association: www.saba.za.org

Sector Insight

New planning blueprint

includes biofuels.

Mining group Exxaro is sponsoring

the roll-out of alternative

energy near its remote Tshikondeni

mine east of Musina.

Implats is already using

natural gas to supply its refinery

in Springs. Phase one of the

project will see 20 Doosan

fuel cells generating 8MW of

Rural digester. Image: BiogasSA

power. The long-term goal is to

generate 22-30MW.

The huge Eskom project

at Medupi power station is

over budget and behind in

implementation. Three of the

plant's six units are operating

(although there have been many

problems). When the plant is

completed, the Lephalale area

will become a petrochemical

hub and energy complex. ■

51 LIMPOPO BUSINESS 2020/21
---
OVERVIEW

Water

Macadamia shells are filtering water for rural communities.

Sector Insight

Several large water schemes

are close to completion.

Mobile solar-powered water filtration system . Image: Kusini Water

ALimpopo entrepreneur has found a way to safely filter water

using macadamia shells. The brainchild of Murendeni Mafumo,

the idea was first put into action in 2018 and has been

used in schools and rural communities by Kusini Water.

Powered by solar power, the purification system uses a carbon

filter that is made from macadamia nut shells. With support from the

National Research Foundation and six reputable partners, including the

Innovation Hub and the Shuttleworth Foundation, the system seems

destined for widespread use.

The National Department of Science and Technology is piloting a

Point-of-Use (POU) project in Malatane village in the Capricorn District.

The project is part of the department's Innovation Partnership for

Rural Development Programme (IPRDP), which is supported by the

European Union. Limpopo has markedly different rainfall patterns

in its three main geographical regions: the escarpment (sub-humid

with annual rainfall of more than 700mm); semi-arid middle veld and

Highveld; and the arid and semi-arid Lowveld.

The province's rivers are under threat from the damaging effects of

the mining industry, power stations, chemicals used in agriculture and

from sewage treatment in catchment areas. Opportunities exist in this

sector for innovative solutions. Concern about drought conditions and

water quality under pressure from mines and industry has led to the

calling of a Provincial Water and Sanitation Summit.

Online Resources

Innovation Hub: www.theinnovationhub.com

National Department of Science and Technology: www.dst.gov.za

National Department of Water and Sanitation: www.dwa.gov.za

National Research Foundation: www.nrf.ac.za

The Water and Sanitation

Services branch of the Polokwane

Municipality operates five waterpurification

plants and three

sewage-purification plants. As

part of its Regional Water

Scheme programme, Polokwane

provides water to the residents

of the rural areas of Mothapo,

Mothiba and Makotopong.

The Capricorn District

Municipality funds a watertesting

laboratory on the campus

of the University of Limpopo.

Providing water to the

citizens of Limpopo has been a

fraught process for many years.

Schemes have come and gone

and many local councils have

not been up to the task. So it was

significant that Premier Chupu

Mathabatha announced the

following markers of progress in

his State of the Province Address

in February 2020: Polokwane Bulk

Water Scheme 100% complete;

Polokwane Regional Wastewater

Treatment Works 74%; Mametja-

Sekororo Bulk Water Supply 97%;

Nebo Bulk Water Supply 90%;

Moutse Water Treatment Works

90%; Malekana Water Treatment

Works 90%.

The completion of the De

Hoop Dam has provided goodquality

water for the first time

to many communities in the

eastern part of Limpopo. ■

LIMPOPO BUSINESS 2020/21

52
---
Venetia Mine eases water

shortage in Simson Village

Pumps, pipes, valves and reservoirs are boosting services.

FOCUS

Amid the Covid-19 pandemic, good has

come for the community of Simson Village,

which had previously struggled

with access to clean water. As an emergency

interim measure, Venetia Mine has installed

a 10 000-litre water tank with four additional taps

and then cleaned, repaired and recommissioned

the existing 100 000-litre reservoir, restoring access

to sustainable water supply for the community.

The initiative was in response to a plea from

the community as the damaged communal

reservoir full of debris had resulted in clogging

the water supply. Residents were also left with no

option but to retrieve and siphon water from the

top of the reservoir.

Ward 17 councillor in the Blouberg Local

Municipality, Dan Mojodo welcomed the

intervention and expressed great delight at finally

having access to a clean supply of water. "As a

community, we are very relieved and grateful

to Venetia Mine for stepping in to assist our

community in this very needy period and making

a difference in our lives. We appeal to the mine

to extend this great work to other vulnerable

communities in the Blouberg region in need of

support during this crucial period of the lockdown."

Other water projects currently underway in

Blouberg include the following:

The Taaibosch Groet Water Project

The Taaibosch community is one of many villages in

the Blouberg Municipal District that have massive

shortages of water. Venetia Mine has, as a result,

extended the current bulk water line to supply

water to the Taaibosch Clinic, Sebeelwa crèche,

the Taaibosch Community Hall and Taaibosch

Disability Centre. An estimated 1.7km pipeline

has been installed to ensure a sustainable supply

of water to these surrounding facilities.

The Kromhoek Village Water Project

The current infrastructure in the Kromhoek Village

is not sustainable to provide water to the community;

the current infrastructure is aged and worn out,

resulting in leakages and communities not being

able to access water. As a result, Venetia Mine has

repaired and restored one borehole, and has equipped

the other borehole with new infrastructure

to restore sustainable access and supply of water.

The Donker Hoek, Ga-Raditshaba Village

Water Project

The Donker Hoek community has a water source

but only 30% of the village has running water within

a radius of 200m from their home. The other 70% of

the community must fetch water from a communal

water standpipe – about 6km away from their

homes. As an intervention, Venetia Mine upgraded

the current borehole and installed an additional

90 000-litre reservoir. The mine has also extended

the current water reticulation (pipeline) to bring

water closer to communities – within a 200m radius

of their homes. ■

53 LIMPOPO BUSINESS 2020/21
---
OVERVIEW

Tourism

International golf puts Limpopo on television screens.

When golf's Sunshine Tour descended on Modimolle

in February, there was much more on offer than

R3.5-million in prize money for the Limpopo Championship.

Participants and followers were treated to

evenings of comedy and jazz and could buy a wide range of goods

from stalls set up at the Euphoria Golf and Lifestyle Estate; everything

from beads and books to locally-made gin. The fact that this tournament

is co-sanctioned by the European Challenge Tour increases

the potential for marketing to a large audience and will raise awareness

about the province as a golf destination.

Armed Forces Day was held in and around Polokwane in

February 2020. Events included displays of military equipment, a

career village for prospective recruits, arena events, a fun run and a

flypast. Accommodation was at a premium in the provincial capital

and the event proved a boost to local tourism. Armed Forces Day is

held annually in commemoration of the sinking of the SS Mendi on

21 February 1917, one of the worst tragedies of the First World War

(1914-1918) from a South African perspective.

Tourism is a key sector in the economy of Limpopo, and as such

is part of a new planning initiative called Impact Catalyst. In addition

to a broad examination of the sector, specific thematic areas of

focus include the game-farming sector, an important and lucrative

subsector of tourism. Wildlife farming and hunting generates

enormous amounts of money but South Africans who were

previously excluded by law still have limited access to this sector.

According to calculations done by a Professor in Tourism at the

University of the North West, Peet van der Merwe, trophy and biltong

hunters contributed a combined R13.6-billion to the South African

economy in the 2016/17 season. The number of direct jobs created

2020 Limpopo Championship. Pic: Shaun Roy/Sunshine Tour

Sector Insight

Armed Forces Day was held

in Limpopo in 2020.

in this period in Limpopo was

17 806 (The Conversation).

In 2018, the formal wildlife

auction turnover for the whole

of South Africa was R750-

million, as reported by Yolande

Groenewald in the Mail &

Guardian. A buffalo bull was

sold in 2016 for R178-million.

The Limpopo Department of

Economic Development and

Tourism (LEDET) aims to create

wider opportunities within

these sectors via its Wildlife

Transformation Policy.

A total of 3.3-million people

visited Limpopo in 2018, which

number included an increased

number of international tourists

(2.2-million). In terms of

domestic travel, Limpopo is the

most-visited province in South

Africa. According to the Premier's

office, the tourism sector

employs about 22 414 people.

The Limpopo Tourism

Agency (LTA) has six focus areas:

· Golf and game.

· Hunting and safari.

· Family and recreation.

· Special interest.

· Mega-conservation.

· Meetings, Incentives, Conference

and Events (MICE).

A new event on Limpopo's

calendar caused great

excitement in 2018 with the first

riding of the Tour de Limpopo,

LIMPOPO BUSINESS 2020/21

54
---
OVERVIEW

a four-day UCI Africa Tour 2.2

stage race which started and

finished in Polokwane, with a

stopover in Tzaneen. A range

of sponsors enthusiastically

endorsed the race, promoted

by the LTA. Hotel@Tzaneen and

Europcar South Africa were

sponsors and race officials were

provided with cars by Audi

Centre Polokwane. Another

kind of cycle race is the regular

Kremetart Cycle Race, a popular

family event that draws huge

numbers of entries.

Regular events are holding

their own as well: the annual

Limpopo Marula Festival in

Phalaborwa attracts more

than 20 000 participants and is

estimated to inject upwards of

R45-million into the provincial

economy. Several neighbouring

countries are well represented

in the crowds and 13 cooperatives

operating under

the Mukumbi Industries brand

normally brew about 12 000

litres of marula beverages for

the thirsty crowds. Other marula

products are also sold such as

nuts, body lotions, jam, cooking

oil and soap.

The Mapungubwe Festival

is growing in stature every year.

In addition to popular

musical performances,

crafters have an opportunity

to display their crafts and

generate good income

during the festivities.

Hotels and casinos

The 160-room Park Inn by

Radisson Polokwane has

opened in the provincial capital.

Located near the golf course

Game drive, Kruger National Park. Image: SA Tourism

and the Peter Mokaba Stadium, the hotel also has conference and

event facilities. Tsogo Sun runs the Garden Court Polokwane, which

has 180 rooms ranging from executive suites to family rooms.

The Protea Hotel group has two hotels in the province.

The Protea Hotel Landmark in Polokwane has 80 rooms and

six conference venues. Just outside the city is the Protea Hotel

Polokwane Ranch Resort where guests can walk with lions.

The hotel is on a 1 000-hectare nature conservancy and specialises

in weddings.

In Mokopane near the Waterberg mountains, the family-run The

Park Hotel Mokopane has 125 rooms and can cater for up to 400

conference delegates. The three-star hotel recently added 25 selfcatering

units.

The Fusion Boutique Hotel in the provincial capital offers fivestar

quality in 30 en-suite rooms and two exclusive suites.

Sun International runs the Meropa Casino and Entertainment

World near Polokwane. The Khoroni Hotel, Casino and Convention

Resort is in Thohoyandou. A three-star Peermont Metcourt Hotel is

in the same complex.

The newest casino licence was awarded to Peermont Global

Resorts for the official launch and operation of the Thaba Moshate

Casino, Hotel and Conference Centre in the Greater Tubatse Local

Munici-pality. There are 237 limited pay-out gambling machines

in the province, and licences of one sort or another generate more

than R50-million for the provincial government. ■

Online Resources

Confederation of Hunting Associations of South Africa:

www.chasa.co.za

Limpopo Tourism Authority: www.golimpopo.com

Marula Festival: www.limpopomarulafest.co.za

South African National Parks: www.sanparks.org

55 LIMPOPO BUSINESS 2020/21
---
OVERVIEW

Banking and financial services

Agricultural financing is in the spotlight.

Mechanised harvesting equipment. Image: VKB

The Provincial Government of Limpopo is in the process of

re-examining the agricultural sector to better use the value

chain and to expand agriprocessing in the province. One of

the aspects under discussion is the model used in financing

the sector and how partnerships are created. Related topics include

land availability and access.

The two most active agricultural companies in Limpopo are both

registered financial service providers. NTK, a subsidiary of the Free

State-based VKB, has access to lending for farmers and insurance

products. Afgri offers the same services under the brand Unigro, and

it has another service called Gro Capital Financial Services which

offers more sophisticated products such as trade finance.

South Africa's four big retail banks (Nedbank, Absa, Standard Bank

and First National Bank) have a solid presence in the major towns

in the province. Agriculture is an important focus area for banks

and so they have established specialised units such as Nedbank

Agribusiness. Focus areas for this unit are agronomy (grain, oil seeds,

sugar and cotton), livestock (including game farming), horticulture

(fruit and vegetables, for example), and secondary agriculture which

covers agricultural processing and storage.

The biggest news in South African banking is the issuing of new

licences, giving customers more choice. Most of these banks are

making banking more accessible and the previously unbanked sector

of society should now be in a better position to use banking services.

In 2017 Tyme Digital received a licence to run a bank. By early

2019, TymeBank was available in 500 Pick n Pay and Boxer stores and

Sector Insight

African Bank is offering new

and flexible products.

more than 50 000 customers

around South Africa had an

account. Tyme stands for

Take Your Money Everywhere

and refers to the fact that the

bank does not have a branch

network. The bank is targeting

the lower-income segment and

promises speedy transaction

and approval times.

Second to market among

the country's new banks was

Discovery Bank, which officially

launched in March 2019.

Discovery Bank applies the

behavioural model it uses in its

health business to reward good

financial behaviour.

The revitalised African

Bank, which was put under

curatorship in 2014 by the

Reserve Bank, is making a play

LIMPOPO BUSINESS 2020/21

56
---
OVERVIEW

for new customers with an

interesting offering that does

not rely so much on digital

wizardry as on presenting

the customer with enhanced

banking facilities.

African Bank has created

an account that allows up to

five additional accounts to be

created in the name of the main

account. Fees are only charged

for drawing cash or at the time

of a transaction. There are no

monthly fees for any of the

accounts which can be either

for saving or transactional. Each

user has his or her own card and

monies can be moved between

accounts, ideal for families.

Sanlam has entered two

partnerships in the insurance

market. African Rainbow Life

has launched life-cover policies

in the low- and middle-income

market, in association with

Sanlam and African Rainbow

Capital. Sanlam is also in a

venture with Capitec. In 2019,

Financial Mail quoted Capitec

CEO Gerrie Fourie saying that

the bank was selling 3 000

funeral policies a day.

The Limpopo Economic

Development Agency (LEDA)

intends establishing a local

life insurance company.

These initiatives aim to make

banking more accessible for

rural communities and to

make finance more readily

available to small and microsized

businesses. Trying to

integrate small business into the

mainstream economy is a major

goal of national and provincial

governments in South Africa.

VBS Mutual Bank, one of

three mutual banks in South

Africa, was placed under curatorship in 2018. The appointed curator

was not able to confirm all deposits. In the lead-up to the bank not

being able to meet its commitments municipalities had been making

deposits to the bank although these violated restrictions put in place

by the National Treasury. VBS began life as the Venda Building Society

in 1982. The Public Investment Corporation held 34% of equity.

To support entrepreneurial students, the University of Limpopo

has set up the Limpopo Student Seed Fund together with the SAB

Foundation. Support will be offered to businesses that promise to find

solutions to social problems such as unemployment and hunger.

Ubank is owned by a trust that is managed by the Chamber of

Mines and the National Union of Mineworkers (NUM). It has about

100 branches and a strong presence in Limpopo because of its strong

focus on the mining sector. Ubank has about half-a-million clients.

Banks are actively working to sign up more of the unbanked

population. Nedbank has Approve-it, which allows customers to

accept or reject an Internet transaction by cellphone. Nedbank also

has partnerships with shops such as Boxer Stores and Pick n Pay

where customers can have access to financial services in previously

unserviced areas.

Image: African Bank

Some of Nedbank's other innovations include Home Loans Online

Digital Channel and Market Edge, together with the Nedbank App

Suite. The Keyona Plus account includes funeral cover, a loan facility

and a method of transferring money. The Nedbank4me account is

tailored to the youth market. ■

Online Resources

Financial Sector Conduct Authority: www.fsca.co.za

National Credit Regulator: www.ncr.org.za

Office of the Auditor-General of South Africa: www.agsa.co.za

Public Investment Corporation: www.pic.gov.za

South African Institute for Chartered Accountants: www.saica.co.za

57 LIMPOPO BUSINESS 2020/21
---
OVERVIEW

Development finance and

SMME support

Small-scale farmers are getting support to connect to the value chain.

Large companies in Limpopo support new business ventures

by allocating service functions to local businesses and through

training and mentoring. All of the province's big mining concerns

have significant budgets set aside for procurement from

small businesses and work such as cleaning and transport is routinely

allocated to small, medium and micro-enterprises (SMMEs).

The Implats Group spent 36% of its procurement budget with

Limpopo companies in 2017/18. During the 2018 financial year, the

Marula Mine spent R101-million on goods and services purchased

from local companies in

the Sekhukhune District.

The Supplier Development

Programme of Implats

(pictured) aims to make

SMMEs more competitive and

offers accredited training and

mentoring.

De Beers Consolidated

Mines plays a big role in

the economy of northern

Limpopo through its Venetia

Mine. The company has

launched two business

incubators in local

Enterprise development. Image: Implats

municipalities, Blouberg

and Musina. The De Beers Zimele Venetia Mine Business Hub has

created more than 495 jobs since it was established to support

entrepreneurs through low-interest loans, mentorship, coaching and

skills development. Local procurement has given chances to 15 local

companies, in fields such as road maintenance, the canteen, small

civils work and the supply of tyres and batteries.

Anglo American Platinum has extended the contract with

Online Resources

Black Umbrellas: www.blackumbrellas.org

Industrial Development Corporation: www.idc.co.za

Limpopo Department of Economic Development, Environment

and Tourism: www.ledet.gov.za

Small Enterprise Development Agency: www.seda.org.za

Sector Insight

Over R100-million went to

local business from one

Implats mine.

Zizwe Batlase for the provision

of strip-mining services at

its Amandelbult Complex.

Zizwe Batlase is 51% owned

by the local community

of Baphalane through the

Baphalane Community Trust,

named Batlase. Since 2016,

Zizwe Batlase has been

providing employment, SMME

development, infrastructure

development and business

opportunities to local and small

businesses in the community.

Vodacom reports that

Limpopo has seen doubledigit

growth in smartphone

penetration, which undoubtedly

benefits SMMEs. An

investment by Vodacom's

Polokwane region of more than

R170-million in the network

in the 2019/20 financial year

helped small business in that

data speeds were increased and

3G and 4G network coverage

was increased.

The major banks all have

SMME offerings. Standard Bank

runs a Community Investment

Fund and Nedbank offers

an enterprise development

product for businesses with

turnovers up to R35-million. ■

LIMPOPO BUSINESS 2020/21

58
---
OVERVIEW

Education

The University of Limpopo celebrated 60 years in 2019.

The University of Limpopo celebrated a significant milestone

in September 2019, a 60th birthday. As part of the celebrations,

Dr Nkosazana Dlamini-Zuma was installed as the

university's first female Chancellor.

Early in 2020, the university received a gift in the form of a R480-

million loan from the Development Bank of Southern Africa (DBSA) for

the construction of a 3 500-bed student residence. Other contributions

will come from the Department of Higher Education and Training

and the National Treasury Budget Facility for Infrastructure. This is

the first phase of a longer-term project to provide 15 000 beds over

the next 15 years.

The University of Venda (UNIVEN) is making strides in the field

of waste-to-energy. The Green Technologies Promotion Drive draws

from the Department of Physics and the schools of Agriculture and

Environmental Sciences with support from the National Research

Foundation (NRF) and the Water Research Commission (WRC). One

of its goals is to develop the biogas market.

The Univen Innovative Growth Company offers professional

services to the outside world through four units which cover

areas such as statistics and design and editing. This not only

creates another revenue stream for the University of Venda

but links the academic institution to the commercial world.

The Sefako Makgatho Health Sciences University

(formerly part of Limpopo University) is now an

independent university in Gauteng Province. University

of South Africa (Unisa) has a regional support centre in

Polokwane and agencies at Makhado and Giyani.

The longstanding issue of school sanitation

infrastructure is being tackled aggressively. A commitment

was made in February 2020 that 515 schools in the province will

benefit from new or upgraded infrastructure this year. Some of the

funding for this programme comes from the Presidential School

Sanitation Infrastructure Grant.

A Coding and Robotic curriculum is to be introduced in 110

primary schools in the 2021 academic year. There are 15 secondary

schools in Limpopo offering Information Technology at Grade 12

Online Resources

Limpopo Department of Education: www.edu.limpopo.gov.za

National Education Collaboration Trust: www.nect.org.za

Turfloof Graduate School of Leadership: www.ul.ac.za

Sector Insight

Energy research is going

forward at the University

of Venda.

while 46 schools are offering

Computer Applications

Technology. During 2020,

a further 75 secondary and

32 primary schools are to be

provided with ICT equipment.

The School Nutrition

Programme in Limpopo feeds

pupils in 3 795 public schools

and the Scholar Transport

Programme is active in 380

schools. The No-Fee School

Policy applies to more than

UIGC graduation. Image: UIGC

1.6-million pupils and more than

231 000 children have been

enrolled at Early Childhood

Development (ECD) centres.

There are seven Technical

and Vocational Education

and Training (TVET) colleges

in Limpopo: Capricorn College,

Lephalale College, Mopani

East College, Mopani South

College, Sekhukhune College,

Vhembe College and Waterberg

College. ■

LIMPOPO BUSINESS 2020/21

60
---
PROFILE

University of Limpopo

Finding solutions for Africa.

The University of Limpopo

celebrated its 60th

anniversary in 2019.

With a strong history in

the struggle against apartheid,

the university counts among

its alumni the current Minister

of Finance Tito Mboweni and

President Cyril Ramaphosa.

Located in the rural township

of Mankweng in the Capricorn

District of the Limpopo

Province with an enrolment of

22 000 students, the university

plays a vital role in the region.

New hostels are being built

to accommodate increasing

demand and the university is

expanding its curriculum and

the scope of its research.

History

The University College of the

North was established in 1959

in terms of legislation which

aimed to create ethnicallybased

institutions. However,

the University of the North

became a centre of resistance to

apartheid. In 1972, Onkgopotse

Tiro sharply criticised Bantu

education in a graduation

speech. He was expelled and

later killed by a parcel bomb

while exiled in Botswana.

The University of Limpopo

is the result of a 2005 merger

between the former Medical

University of Southern Africa

and the University of the

North. In 2015 the University of

Limpopo became a standalone

institution with its own Faculty of Health Sciences, offering qualifications

in medicine, nursing, dietetics and nutrition, pharmacy,

optometry and medical sciences.

The 60th anniversary celebrations coincided with the inauguration

of the university's first female Chancellor, Dr Nkosazanza

Dlamini-Zuma. A qualified medical practitioner, she was the first

Minister of Health in post-apartheid South Africa and is currently

Minister of Cooperative Governance and Traditional Affairs.

Vision: To be a leading African university focused on the developmental

needs of its communities and epitomising academic

excellence and innovativeness.

Mission: A university which responds

actively to the development needs of

its students, staff and communities

through relevant and higher-quality

education and training, research and

community engagement, and in

partnership and collaboration with

its stakeholders.

Values: Accountability; Transparency; Integrity; Academic Freedom;

Excellence and Professionalism.

Faculties

Health Sciences Schools of Health Sciences and Medicine.

Humanities Schools of Languages and Communication Studies;

Education; Social Sciences.

Science and Agriculture Schools of Agricultural and Environmental

Sciences; Mathematical and Computer Sciences; Molecular and Life

Sciences; Physical and Mineral Science.

Management and Law Schools of Economics and Management;

Law; Accountancy; Turfloop Graduate School of Leadership ■

Contact details

Physical Address: C/O R71 Tzaneen Road and University Street,

Mankweng Township, Polokwane, Limpopo Province

Tel: +27 15 268 9111

Enrolment email: enrolment@ul.ac.za

Website: www.ul.ac.za

61
---
INTERVIEW

New research units are

finding new solutions

The Vice-Chancellor and Principal of the University of Limpopo

(UL), Professor Mahlo Mokgalong, commits the university to more

local engagement and building an international reputation.

Professor Mahlo Mokgalong

BIOGRAPHY

Professor Mokgalong's

speciality for his PhD (Zoology)

was Parasitology while his

MSc focused on Limnology.

While completing his PhD

he worked at the British

Museum of Natural History

and the Commonwealth

Institute of Parasitology

where he discovered his love

of research. He has been

Research Assistant, Senior

Lecturer, Deputy Dean and

Executive Dean of the Faculty

of Science and Agriculture.

He first enrolled at the

University of the North (as UL

then was) in 1972.

Congratulations on UL's 60th anniversary. Where to from here?

The next chapter beyond this 60-year feat will be the building and

sustaining of an international reputation. We have established

a portfolio of "Research, Innovation and Partnerships" to begin

positioning the university as a global player in knowledge generation.

We want to remain as the University of Limpopo for human and

environmental wellness, finding solutions for Africa. We are proud

to have several health-related programmes. We are, so far, the only

university to establish a medical school post-1994. We are also

participating in the Nelson Mandela-Fidel Castro programme. The

2018 cohort which we hosted secured a 100% pass.

Is this giving life to UL's motto "Finding solutions for Africa"?

We have established a unit called the Rural Development and

Innovation Hub (RDIH), which serves as the primary vehicle

for innovation and the institutionalisation of our scholarship of

engagement. Major projects such as the Faculty of Science and

Agriculture's "Science Centre", the Limpopo Agro-Food Technology

Station (LATS) and the Limpopo Co-Lab lead the way. Alongside

these highly visible flagships are a myriad transdisciplinary projects,

including Creative Waste Management, the Nguni Cattle Project,

University of Limpopo campus

LIMPOPO BUSINESS 2020/21

62
---
INTERVIEW

Epigenetics and the In-Utero Environment, Adopt

a School Projects, Space Week and Hydroponics.

Is the environment a concern for researchers?

We have various departments that participate

in environmental wellness. The Department of

Biodiversity researches on several issues, including

riverine health which relates to a system of inland

wetlands and deep-water habitats. They are also

studying the effects of pollution on the health of

aquatic life or fresh-water fish. We are succeeding in

our research to make sure that we use extracts from

indigenous plants as pesticides.

Is climate change on the UL agenda?

We host a Risk and Vulnerability Science Centre for

Limpopo Province. Here we gather data on climate

change and feed into the national atlas.

How is UL's collaboration with private and

public partners progressing in agriculture?

The Nguni Cattle Project is aimed at empowering

rural small-scale livestock farmers and serves as a

model for poverty reduction, promotion of economic

growth, engagement with and development of rural

communities. During 2019/20, the university further

developed and implemented a formal training

programme for emerging farmers to be trained in

relevant business management skills.

How do you help students adjust to university?

We realised that some students came to the university

underprepared, requiring additional assistance.

We introduced them to a foundation programme

in the sciences. The programme was conceived and

delivered without any grant from the government

and only survived through external funding. Donors

such as the European Union ensured that the

programme survived and delivered, and today, in

the form of an Extended Curriculum Programme

(ECP), it has become a tool to identify students with

potential, with everybody in the sector pushing in

the direction we took almost three decades ago.

How does UL contribute to community health?

We are not a rural university, but a responsive

university in a rural setting. Certain issues like

disease and the health of the population are often

neglected because they are not understood. For

the last 22 years, we have had a population health

study. There has been an increase in diabetes

among the rural

population.We

visit these households

annually and

conduct surveys.

What has been

the impact of

the DIMAMO

Population

Health Research

Big Walk

Centre?

We started in 2019 with a population of 40 000 and

now we are at 100 000 at Dikgale and Mamabolo

villages. We have included other communities as

well. Every year we collect data with the same group

of people to uncover any new developments. We

also try to improve the lives of the people and lobby

others to provide a solution.

What measures are in place on campus for

students with disabilities?

As a caring institution that recognises that students

with disabilities should enjoy the same rights as

any other student, we have put measures in place

to promote the quality of these students' education

and lives. A dedicated centre called the Reakgona

Disability Centre, which is armed with a host of

devices that help the disabled community, has

been splendidly making the university experience

liveable for students with disabilities.

What other assistance is there for students?

UL has introduced the Baditi Student Support

Programme where senior students groom new

students. The Sepedi name Baditi is derived from

the African initiation school tradition and refers to

graduates who train their successors. The mandate

is to look after and mentor new students who have

just enrolled so that they don't get lost or discouraged.

In addition, a programme targeted at female

academics, University of Limpopo Women's

Academic Solidarity Association (ULWASA),

encourages aspiring female researchers to gain

support from senior female academics.

63 LIMPOPO BUSINESS 2020/21
---
INDEX

INDEX

Africa Biomass Company (ABC) ............................................................................................................................3, 11

De Beers Group of Companies (Venetia Mine)............................................................30, 45-47, 53, OBC

Implats ......................................................................................................................................................................................... 48

Ivanhoe Mines......................................................................................................................................................................... 43

Leeta la Polokwane ......................................................................................................................................................13-17

Limpopo Office of the Premier ..................................................................................................................................... 7

Limpopo United Business Forum ............................................................................................................................. 25

MTN .................................................................................................................................................................................................. 5

Musina-Makhado Special Economic Zone (MMSEZ)............................................................................18-23

Nedbank .............................................................................................................................................................................32-35

SA Airlink....................................................................................................................................................................................IBC

Univen Innovative Growth Company (UIGC) ............................................................................................27-29

University of Limpopo ...............................................................................................................................................61-63

Vodacom............................................................................................................................................................................IFC, 59

LIMPOPO BUSINESS 2020/21

64
---
48274

More choices.

More opportunities.

More freedom.

47556

Fly Airlink, a proudly South African airline offering endless possibilities.

As the largest privately-owned regional feeder airline in southern

Africa, our independence offers even more freedom, as well as

the widest network and choice of flights.

Airlink is now operating under its own 4Z flight code, with an ontime

performance consistently at 95% and a fleet of +50 aircraft.

flyairlink.com @fly_airlink Fly Airlink
---
VENETIA

UNDERGROUND

PROJECT

The future of South African

diamond mining.

The new US$2 billion Venetia underground mine

ranks as the biggest single investment by De Beers

Group in the South African diamond industry.

Excavation work for the underground extension got

under way in 2013, the year De Beers celebrated

its 125th anniversary. Production is scheduled

to begin in 2022, climbing to full production in

2025. Over the course of its life, the underground

mine will treat about 132 million tonnes of ore

containing an estimated 94 million carats.

The underground project will extend

the life of Venetia mine to 2046,

securing the future for our

host communities.