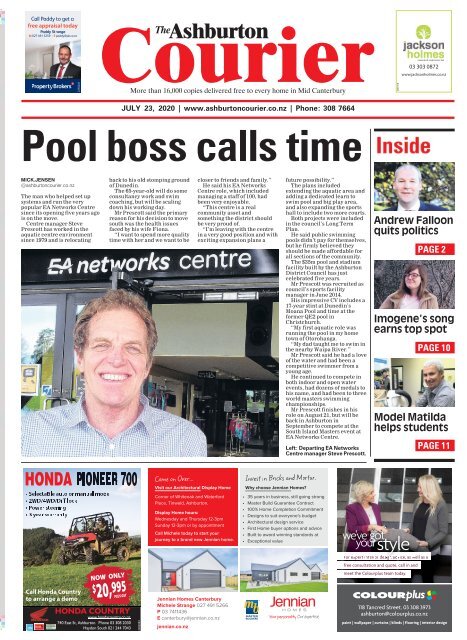 Ashburton Courier: July 23, 2020
Do you know the secret to free website traffic?
Use this trick to increase the number of new potential customers.
free appraisal today

03 3030872

www.jacksonholmes.co.nz

2292241

2281918

JULY 23, 2020 |www.ashburtoncourier.co.nz |Phone: 308 7664

Pool boss calls time

MICK.JENSEN

@ashburtoncourier.co.nz

The man who helped set up

systemsand run the very

popularEA NetworksCentre

sinceits opening five yearsago

is on the move.

Centre managerSteve

Prescott hasworked in the

aquatic centre environment

since1979and is relocating

back to his old stomping ground

of Dunedin.

The 65­year­old will do some

consultancywork and swim

coaching, but willbescaling

down his working day.

Mr Prescott said the primary

reasonfor his decision to move

south was the healthissues

faced by his wifeFiona.

''I want to spend more quality

time with her and we wanttobe

closer tofriends and family.''

He said his EA Networks

Centrerole,whichincluded

managing astaff of 100, had

been very enjoyable.

''This centre is areal

community asset and

something the districtshould

be very proudof.

''I'm leaving with thecentre

in avery good position and with

exciting expansion plansa

future possibility.''

The plans included

extending the aquatic areaand

addingadedicated learn to

swim pool and big playarea,

and alsoexpanding thesports

hall to include twomore courts.

Both projects were included

in the council's Long Term

Plan.

He said public swimming

pools didn't pay for themselves,

but he firmly believed they

should be made affordable for

all sectionsofthe community.

The $35m pool and stadium

facility built by theAshburton

District Council has just

celebrated five years.

Mr Prescottwas recruited as

council's sports facility

manager in June 2014.

His impressive CV includesa

17­year stint at Dunedin's

MoanaPool andtime at the

formerQE2pool in

Christchurch.

''My firstaquatic role was

running the pool in my home

town of Otorohanga.

''My dad taughtmetoswim in

the nearbyWaipaRiver.''

Mr Prescottsaid he hadalove

of the water andhad been a

competitiveswimmer from a

young age.

He continued to compete in

both indoor and open water

events, had dozens of medals to

his name, and had been to three

world mastersswimming

championships.

Mr Prescottfinishes in his

roleonAugust 21, butwill be

back in Ashburton in

September to compete at the

South Island Masterseventat

EA Networks Centre.

Left: Departing EA Networks

Centre manager Steve Prescott.

Andrew Falloon

quits politics

PAGE 2

Imogene's song

earns top spot

PAGE 10

Model Matilda

helps students

PAGE 11

HONDA PIONEER 700

• Selectable auto or manual mode

• 2WD/4WD/Diff lock

• Power steering

• 3 year warranty

Come on Over...

Visit our Architectural Display Home

Join us for the Grand opening of

Corner Jennian's of Whiteoak New Display and Waterford home

Place, Tinwald, Ashburton.

Display Home hours:

Wednesday and Thursday 12-3pm

Sunday 12-3pm or by appointment

Call Michele today to start your

journey to abrand new Jennian home.

Invest in Bricks and Mortar.

Why choose Jennian Homes?

• 35years in business, still going strong

• Master Build Guarantee Contract

• 100% Home Completion Commitment

• Designs to suit everyone's budget

• Architectural design service

• First Home buyer options and advice

• Built to award winning standards at

• Exceptional value

For expert interior design advice, as well as a

free consultation and quote, call in and

Call Honda Country

to arrange ademo

NOW ONLY

$20,995

PLUS GST

HONDA COUNTRY

www.hondacountry.co.nz

740 East St, Ashburton. Phone 03 308 2030

Haydon South 021 244 7043

2282084

Jennian Homes Canterbury

Michele Strange 027 491 5266

P 03 7411436

E canterbury@jennian.co.nz

jennian.co.nz

meet the Colourplus team today.

118 Tancred Street, 03 308 3973

ashburton@colourplus.co.nz

paint |wallpaper |curtains |blinds |flooring |interior design

*
---
NEWS

2 Ashburton Courier, July 23, 2020

www.ashburtoncourier.co.nz

BUSINESS OWNERS

Build customers,

sales and profits

with us ...

Over 16,065

copies delivered to

EVERYhome,farm,

RD and lifestyle

blocks in

MidCanterbury

news

Linda Clarke

Editor

308 7664

linda.clarke@ashburtoncourier.co.nz

Reporters

Mick Jensen

mick.jensen@ashburtoncourier.co.nz

Toni Williams

toni.williams@alliedpress.co.nz

advertising

Jann Thompson

Sales Manager

308 7664

027 587 6351

jann.thompson@ashburtoncourier.co.nz

Karen Gane

Sales Account Manager

308 7664

021 510 804

karen.gane@ashburtoncourier.co.nz

getintouch

Editorial

linda.clarke@ashburtoncourier.co.nz

Advertising

info@ashburtoncourier.co.nz

Production

murray.thompson@ashburtoncourier.co.nz

Accounts

accounts@alliedpress.co.nz

Distribution/Deliveries

mary.summerfield@ashburtoncourier.co.nz

Office

office@ashburtoncourier.co.nz

03 308 7664

199 Burnett Street,Ashburton

www.ashburtoncourier.co.nz

2292872

Rangitata MP quits after

sex­texting allegations

The National Party has begun to

search for areplacement candidate

in the Rangitata electorate after the

shock departureof MP Andrew

Falloon.

Mr Falloon quit politics on

Tuesday, after allegations he sent a

pornographic image, notofhimself,

to auniversity student.

Three more women cameforward

by the end of the day to say they had

alsoreceivedexplicitimages from

the 36­year­old.

National is advertising that

nominations for the selection of a

Rangitata candidate will be received

fromparty memberstoup midday on

July 29,which is nextWednesday.

Following the usual selection

process, acandidate should be

known by mid­August. The general

election will be held on September

19.

Staff at Mr Falloon's Ashburton

office have referred media inquiries

to National Party headquarters, but

it is known some partymembers met

WI's Doris marks 103 with cake

TONI.WILLIAMS

@ashburtoncourier.co.nz

You may be forgivenfor

thinking there is something

in the water for Netherby

Women'sInstitute's

members celebrating

significantbirthdaysthis

month.

Matriarch Doris Wakelin,

amember of Mid

Canterbury'sdistrict's WI

formore than 65 years, will

celebrate her 103rdbirthday

tomorrow surrounded by

family and friends.

AndDaphneNish and

Catherine Thomas have both

celebrated turning 80.

Themilestonesfor the

ladies were acknowledged

withcakeduring their WI

branchmeeting at the

AshburtonSenior Centre

last week. It was the

Netherby WI's first get

together sinceCovid­19

lockdown.

Mrs Wakelin, still living in

downtownAshburton, has

NOW IN STOCK ...Pee WeeThe Kiwi

PURCHASE any PEE WEE book

and receive FREE PEE WEE softtoy

Andrew Falloon has quit politics.

on Monday night following an

announcementbyMrFalloon that he

had ''made anumberofmistakes''

andwould be retiring as MP afterthe

been amember of the

Maronan WI,Willowby/

Eiffelton, Ashburton

District, Hampstead and

now Netherby WIs.

She joined in her mid­30s

and had enjoyed atime full

of friendships, fun and

continued learningfrom,

and withotherwomen,she

said on her birthday last

year.

Born in the family home in

Hampstead on July 24, 1917,

Mrs Wakelin wasthe eldest

daughter of six children and

had five children of her own;

asixth child died at birth.

Twice widowed, Mrs

Wakelin's husbandsGeorge

Bishop andWis Wakelin

died in 1975 and 1979

respectively.

Her celebration tomorrow,

while alow key affair,may

see Mrs Wakelin getafew

wellwishers; she has13

grandchildren,30great

grandchildren and 18 and

countinggreat,great

grandchildren.

Stories of the lovable NewZealand nativebird

wholikes to sharehis adventures

212 East Street,Ashburton. Phone 308 8309

election.

After being called for aface­to­face

with party leader Judith Collins, his

resignationtook effect immediately.

He said he had been receiving

counselling for mental health issues.

Mrs Collinssaid later he had lied

about apattern of behaviour, with

three more womencomingforward

to say they had received explicit

images.

She said whatFalloon had done

was ''despicable'', but he was ''still a

human being''.

His parents are also reported to be

shattered.

In Mid Canterbury, peopleare

struggling to reconcile events of the

past few days with the Mr Falloon's

previous hard work around the

district.

The Ashburton­born man won the

candidacy in 2017 from David

Anderson (Timaru) and Henry

Acland (Mt Peel). In the electionhe

won 19.994 votes, ahead of Labour's

Jo Luxton on 13,663.

Doris Wakelin, aWImember for more than 65 years,

will celebrate her 103rd birthday tomorrow

surrounded by family and friends. Photo supplied.

2290756
---
www.ashburtoncourier.co.nz

NEWS

Ashburton Courier, July 23, 2020

3

More comfy seats on road trips

Road trips are afact of life for

Ashburton College students

representing their school in

sport, academic and cultural

pursuits.

But thedrive to

Christchurch, or further

afield, got aboost from the

AshburtonTrust and Lion

Foundation, who donated

$89,000tothe college ­someof

which wasused to buy anew

12­seater minivan.

Thegreypeople­mover,

already emblazoned with the

school'slogo,isnow one of five

modern minivans used to move

students all over the South

Island.

Collegechief executive

Charlie Kellandsaid the

school was grateful for the

foundation funds, which were

put to good use. The

foundation had given$170,000

over the three previousyear.

Thecampusboss invited

Ashburton Trust members

Chantelle Quinnand Roger

Patersontosee how they had

spent themoney they had been

given.

''You guys have putalot into

the place and we wanted to say

thank you."

Thecollegefleetofminivans

are well­used andsometimes

in short supply as students

travel to Christchurchand

further afield to play sport and

attend cultural and academic

events.

It was ageographic fact that

the school, with1200students,

Road trip ... Ashburton Trust and Lion foundation funds have helped buy anew minivan for

Ashburton College students, including (front, from left) Grace Quinn, Sophie Adams, Poppy

Kilworth, (middle row, from left) Liam Sullivan and Kambell Stills, (back, from left) Jacob grey and

Henry Chapman.

neededtotravel to be part of

the wider South Island

secondary school networks.

Roger and Chantelle were

shown the Holyoake

auditorium, opened in October

1985, where moneyhad also

beenspent on asounddesk.

Chantelle, aBlueHouse

leader when she attended the

college from 1995­99,said she

well remembered musical and

drama productionsand other

events in the auditorium. The

seats in the 300­capacity

facility were reupholstered in

thepast few years with Lion

foundation money too.

Shealso rememberthe baby

grand piano bought back then

with donations fromthe

community,

In aYear 11 English class

taught by Sarah Lassen,

studentswere discussing exam

questions on abig TV screen,

one of afew bought with

foundation money. The

overhead projectors in some

classes areageingand glare

from windows does not always

makefor agreat presentation.

More and largerscreens would

be bought, and they were used

acrossthe curriculum from

social studies to dance.

IN BRIEF

MYCOPLASMA BOVIS

INTOTHIRDYEAR

It's been three years almosttothe

day sinceMycoplasmabovis was

detected in New Zealand.

More than250 propertieshave

beeninfected by the disease,with

all but fournow clearofit,

agriculture minister Damien

O'Connorsaid.Government and

industrypartners'gohard and early

approach to eradicate the disease

was paying off.

''It was estimated that allowing

the disease to spread could cause

$1.3 billion in economic losses in

the first10years alone, along with

substantial animal welfare issues

and serious ongoingchallengesfor

farmers havingtomanage the

diseasewithin their herds.''

COLLEGE BALLERS

CHALK UP WIN,LOSS

Ashburton College boys' basketball

team won athriller against

Christchurch Boys' High School on

Tuesday night in Canterbury

secondary schools McDonald's

Trophy.

Ashcoll held aslightlead into the

third quarter at Oxford Street

stadium,but the leadchanged

several timesall theway tothe final

minutewhenatimely bucket by

ThomasPattersongave the hosts a

small buffer. The boys wentonto

win 88-81.

The Ashcoll girls lost80-64 in the

earlier gameagainst Middleton

Grange,not quiteclosingthe gap

despite alate rally.

New Zealand's Quietest Heat Pump!

Units with Wi-Fi

from

$1995*unit only

MITSUBISHI

ELECTRIC

EcoCoreAPSeries HeatPumps

NewZealand's Quietest HeatPump!

Starting at an incredibly quiet 18dBA* on its lowest fan speed,the

AP25 indoor unit is New Zealand's quietest high wall heatpump ever.

It is ideal wherequietness matters most,inbedrooms even on the

coldest of winternights.

Wi-FiControl Built-in! NeverReturntoaCold Home Again

With Built-InWi-FiControl youcan pre-heatorcool aroom no matter

whereyou are. On the wayhome,running late,coming home early,or

even when you're in adifferentcountry, with Wi-FiControl

you'll alwaysarrive home to total comfort.

18dBA

• BUILT-IN •

CONTROL

12m

Talk to your localheatpump expertsJackyorDean today.

Call JackyorDean todayon308 9019 foryour FREE in-homeconsultation

2294305
---
NEWS

4 Ashburton Courier, July 23, 2020

www.ashburtoncourier.co.nz

Skydive plunge for SPCA

TONI.WILLIAMS

@ashburtoncourier.co.nz

Radioactive

Reviewed byRowena Hart

Radioactiveisincredible,atrue-storyofMarie Curie

and her Nobel Prize-winning work that changed

theworld.

Thefilm is based on the graphic novel''Radioactive:

Marie&Pierre Curie" by Lauren Redniss.

In the 1800s it wasn't easy for such women to be

accepted and recognised fortheir work.Every step

of the wayshe had do alot of begging to securethe

funding forher to carry on her research.

In WW1her XRay technology savedalot of lives.At

that time her eldest daughter was also ascientist

working alongside her mother.Latershe continued

the research and was also successful in the same

field.

Rosamund Pike wasexcellent in the role of Madame

Curie. Themakeupdepartmentsuredid agood job

as she became older.

We hadtokeepalertasthe storyflashed backwards

and forwards but it is abig subjectand oftenitwas

necessaryinorder to tell us the full story.

bookings ph 307 1230

www.regentcinema.co.nz

2289029

2281855

Skydiving thrillseekers Claudia

Cudmoreand her uncle Michael

Skevington are hopingtoleapout of a

perfectlygoodhelicopter. Butit's for

agoodcause.

It's part of theSPCA Jumptothe

Rescue 2020 fundraising event.

Claudia, 14, astudent at Ashburton

College,and Michael, afourth

generation cropping farmer, have

both wanted to parachute jump for

many years.

Michael's wife, Tessa, found the

jump online and signed him up.

Alesser manmay have beenwary

buthecouldn't be happier.

Notonly doesheget to fulfil a

lifelong goal but it had afeel good

factorattached; raising money for

SPCA.

It was similar for Claudia. Her

mother Karen is an SPCA foster

parent and volunteer andthe family

have amenagerie of animalsathome

including goats, chickens, cats, cows,

asheep, arabbit and afish, all in

needofsupport.

"I get to do what Iwanted and help

theanimals," she said.

Thefundraising has its downside

for the reserved duo–media

interviews andpublicity is neededto

fundraise enoughmoney to qualify

for askydive at Sumner Beach on

August1.

They needtoreach atarget of $775,

if they miss the targetthe money

raisedstill goes to theSPCA but no

jump.

Skydiving thrillseekers Claudia Cudmore and her uncle Michael Skevington

are planning on jumping out of ahelicopter in their efforts to raise money for

SPCA.

The jump was initially meant to

happen from aplane in Ashburton

but has moved to the Sumnerlocation

andout of ahelicopter.

They are notfazedbythe change. If

anything, Michael is more excited.

"I'd prefer to do it outofa

helicopter, it's different," he said.

The duo join fellow Ashburton

jumperAnna Tuffley whoisalso

fundraising for the jump, and

photographer Emmily Harmer, who

has securedher jump by reaching the

fundraising target.

Donations can be madebyentering

the fundraiser's name through the

website Jump to the Rescue 2020

everydayhero.com.

Grain store ruling under appeal

RedmondRetail is appealing a

decisionbythe Environment Court

preventing demolitionofthe old

Peter Cates' grain store on West

Street.

Redmonds had applied for the

buildingtoberemoved fromthe

AshburtonDistrict Council's heritage

list, so it could then be demolished.

The applicationwas opposed by

Heritage NZ and othersupporters of

the historicbuilding, and the court

ruleditshould stayonthe list.

Theappeal will nowbeheardby

the High CourtinChristchurch, with

afirst call on August 10.

Redmonds bought the building in

2015 but it is earthquake proneand

they say the costofbringingitupto

codeisabout $2.6 million.

Theoldest part of the building was

constructed in September1878 while

the ground floor was convertedto

office spacein1965.

Historic Places Mid Canterbury

chairperson Julie Luxton said

buildingsdid not have to be grandor

beautiful to be worthyofheritage

retention.

Shesaid people should ask what

importantstoriesthey told or how

theywere constructed.

''Today, no other building in our

townspeaks more about the grain

industryour county wasbuilt on than

Cates' grain store. And the 1880s

laminated beams and use of timberin

the building's interior are someofthe

last remaining examplesofthis type

of construction.

''Uniqueand interestingplaces

like thistell astory.''

MrsLuxtonsaid people should

thinkofthe shottower arcade in

Melbourne and The Tannery mall in

Christchurch.Christchurch's new

Riversidemarkets also attracted

people by replicating''theold feel''of

timber post and beam.

In Mid Canterbury, therewere

several comfortable,charming and

older character places, like The

Dubliner in Methven, the BrownPub

or the BluePub, Speights AleHouse

and the StaveleyStore, she said.

''Once aheritagebuilding is

demolished,no­one can comealong

and use it for anotherpurpose.it

takes courageand no small amount of

moneytorepurpose aheritage

building, but there are many

examples in our country,and even

more overseas.

''Historic Places Mid Canterbury

hopesthat one daythis willhappen to

Cates' grain store.''

It's our

Birday

JAGERMEISTER

1L

$

48 99 ea

THIS WEEK'SSPECIALS

SPECIALS

STOLEN DARK

RUM 1L

$

34 99 ea

STIHL 1L

$

33 99 ea

BEEFEATER PINK,

ABSOLUT FLAVOURS

JAMIESON 700ml

+COKE 1.5L

$

35 99 ea

GREY GOOSE

RANGE 700ml

$

63 99 ea

JIM BEAM 700ml

+COKE 1.5L

BUNDLE

$

34 99 ea

STEINLAGER

CLASSIC

330ml Bots 15s

$

26 99 ea

LION RED,WAIKATO

SPEIGHTS

330ml Bots 24s

$

34 99 ea

NEW

LONG WHITE 4.8%

320mls Cans Range

10pk incl.New Crisp

GiftRange

$

25 99 ea

JACK DANIEL'S 4.8%

&PARTTIME

RANGERS RANGE

6% 330ml Cans 10pks

$

23 99 ea

CODYS&KGB7%

250ml cans 12pk

$

19 99 ea

NEW

SEE INSTORE

FOR DETAILS

CODYSZERO

SUGAR 7%

250ml cans 12pk

LARIOS

ORIGINAL GNAL

1L

$

33 99 ea

TANQUERAY

1L

$

46 99 ea

JOHNNIE

WALKER RED

1L

JMBEAM JIM DEVIL'S CUT

1L

JACK DANIELS

&ELJIMADOR

&ELJMADOR

700ml Range

GORDONS G&T 7%

&GORDONS PNK PINK 4%

250ml Cans 12pk

CRUISER 5%

275ml Bots & 7%

250ml Cans 12pk

WOODSTOCK 7%

330ml Cans 6pk

JMBEAM JIM BEAM&

CANADIAN CLUB

4.8% 330ml Cans 18pk

$

39 99 ea

$

46 99 ea

$

39 99 ea

$

24 99 ea

$

21 99 ea

$

14 99 ea

$

33 99 ea

ASHBURTON

MSA

266 Havelock Street,Ashburton

Telephone 308 7149

www.ashburtonclub.co.nz

HOURS

Monday

Tuesday-Saturday

Sunday

10:00am -6:00pm

10:00am -8:00pm

10:00am -6:00pm

SPECIALS AVAILABLE

from July 9

to July 16

2294318
---
www.ashburtoncourier.co.nz

Ashburton Lakes bird count

NEWS

Ashburton Courier, July 23, 2020

5

MICK.JENSEN

@ashburtoncourier.co.nz

It wasabluebird day for bird

counters at the Ashburton

Lakes on Saturday with record

numbersrecorded.

Some 7100 birds were

countedinthe dozen or so

lakes in the Hakatere

Conservation Area, the highest

number ever recorded.

At Lake Heron on Saturdaywere Paul Sagar and TaylahGeddes.

The annual winter birdcount

has beenrunning since 1984

and information from it is

passed on to theDepartment of

Conservation.

Bird numbers were 4100 in

2019and 2017, 2900 in 2018 and

6200 in 2008.

Regularbird count volunteer

and AshburtonForest and Bird

member DonGeddes said

conditions were very good on

Saturday.

''It was abeautiful blue sky

day with no wind and with just

alittle bit of ice in the smaller

lakes.''

Mr Geddessaid the weather

did play its part in boosting

birdnumbers, but otherwise

the exact reasons for the high

count this year were not really

known.

There had been higher than

usual numbers of Canada

geese (1100), crested grebes

(31) New Zealandscaup (3500)

and coots (450) thanusual.

Other birds countedhad

included shags, ducks,gulls

PHOTOS: DON GEDDES

and wading birds.

''We saw two white herons

this year andusually we're

lucky to even see one, they're

very solitary birds.''

Mr Geddes said volunteers

counted in teams, spending two

to three hours in the beautiful

outdoors and would be back

next year.

STARTS FRIDAY

ANZscaup.

Crested grebes.

194 East Street,Ashburton. Phone 308 1819

www.steppingout.co.nz

2296890

at least

WINTER

Sale

LOUNGE

28-32 MooreStreet, Ashburton

Phone (03) 550 7000

LIMITED TIME ONLY

*T&C's apply.Participating stores only.Pleasesee

in-storefor moredetailsorgotola-z-boy.co.nz

2293037
---
NEWS

6 Ashburton Courier, July 23, 2020

Actor back in Ashburton

as special movie guest

There's abig Ashburton link to the

Kiwimovie ThisTown, which will

start screening at the Regent

CinemaonAugust 6.

The movie starsRobyn Malcolm,

who grewupinthe district;she

will be aspecialguestin

AshburtononAugust11and take

part in aquestion and answer

sessionfollowing the4pm

screening.

Robyn will be in town with

director David White; This Town

is the firstKiwi movie to be

released to cinemassince postlockdown.

Thefilm was originally

planned for release in April.

White wrote and also stars in the

film,which is acomedy about

love, murder and finding the one.

He plays Sean, charged but

acquitted of murdering hisfamily

and desperately seeking to return

to normallife.Robyn plays Pam,

the officerwho ledthe

investigationand who is

convincedthat Sean is aguilty

man walking free.

The actress is most famousfor

her roleasCheryl West in

Outrageous Fortune, which ran

for six seasons, but she has

workedacross film,television and

theatreinbothcomedies and

drama.

She says ThisTowniswell

worth thewait after lockdown and

agreat opportunity for New

Zealanders to support thelocal

Robyn Malcolm

DOCKS

BAR &SEAFOOD GRILL

IS OPEN!

film industry and see great Kiwi

comedy.

In the movie,Sean turns to

digitaldating as he tries to move

on and meets Casey, ayoung

womanwhose faith in his

innocence lendsnew force to his

struggle for an ordinarylife. Pam

keeps hoping she will find aclue

that will have Sean back in court.

Reviewers say the film charts

the sublimelyawkwardaftermath

of asmall town tragedy,and is a

touchingly twisted comedy about

what it meanstoreinvent yourself.

It was filmed on locationinthe

HawkesBay an funded by the New

Zealand Film Commission.

DOCKS is offeringavariety

of fresh fishand seafood dishes

Aspecial lunch offer is available to the Gold Card holders on

Fridays,Saturdays and Sundays 12 pm –2pm.

We look forward to seeing youatDOCKS!

DOCKS Bar &Seafood Grill

90-92 HarrisonStreet,Allenton, Ashburton

(oppositeAllentonShopping Mall). Tel03423 21 66

OPENING HOURS: Tuesday–Thursdayfrom5pm tilllate

(meal servicefrom5pm till 9pm)

Friday–Sundayfrom12pmtill late

(meal servicefrom12pmto2pm and from 5pmtill 9pm)

Monday–closed.

2297674

www.ashburtoncourier.co.nz

Checking the exhibits in the warm Staveley Museum are (from left) Ashburton Trust board

member Rob Harnett, Staveley Hall Society chairman Rob Withers and museum custodian

Alan Totty.

Museum's warm welcome

MICK.JENSEN

@ashburtoncourier.co.nz

Visitors can expect a

warmer welcomewhenthey

visit the Staveley Museum

this winterafteranupgrade

to the heatingsystem.

The museum, overseen by

the Staveley Hall Society,

received $7000from the

Ashburton Trust and Lion

Foundation regional grants

committee earlier in the

year.

It has usedthemoney to

buy aheat pumpand for

underfloor and ceiling

insulation.

Previously the museum

had an inefficientand old

night store andbroughtin

extra electric heaters when

needed,saidStaveley

Museum committee

chairman Alan Totty.

Thetrust had also

provided agrantthat funded

anew roof on the museum 10

years ago, he said.

The museum, formally

known as the Staveley

Historical and Geological

Centre, is open every

Sundayfrom 1pm until 3pm

and by appointment at other

times.

Mr Totty said it received a

steady stream of visitors

throughoutthe year and

The Staveley Museum is tucked away opposite the Staveley

Store and in building once part of Springburn School.

featuredanumber of

interesting exhibits,a

pictorial history of the area

andageologicalcollection

that had beenbuiltup

throughaproject at the

formerSpringburn School in

the1970s.

The museum building was

part of the original

Springburn School and had

been relocated on site in

1997.

Mr Totty, aknowledgeable

local history buff,said the

heating upgrade would

provideamoreeven

temperatureatthe venue

that was better for the

exhibits.

He saidthatduring

lockdownanew Staveley

Museum Facebook page had

been set up anditnow had

400members.

To visit the museum

outside of hours, contact

AlanTotty on 027 503 0708.

NO PARKS? STREETS CLOSED?

TOO HARD TO GET TO US?

Don'tworry ...we'll come to you!

Due to the current CBD upgrading, ongoing building projects

and lack ofparking, let us help you make your Health 2000

shopping experience, convenient and stress-free.

We're offering FREE delivery to homes within the town boundary.

Check out our digital magazine and just phone us on

308 1815 and place your order.

2290755 2265438

Mid/South CanterburyContinuous Spouting

TM

TM

TM

TM

Askabout our large capacityspouting for

commercial and farmbuildings

Residential –fascia, gutter and downpipes

Snowprotection our specialty

The Original

Spouting Specialists

Serving

Mid/South

Canterbury

for over

26 years

Your new spouting proudly installed by

Craig or Josh

John Tull ...providing outstandingservice,

afterinstallation care and pricing requirements!

Phonehim on 021 288 8290

Email: john@canterburycontinuous.co.nz

www.continuous.co.nz Freephone 0800 50 1993

2263153
---
Coming up at the AshburtonTrust Event Centre

Friends! The Musical Parody

The Shows Must Go On

SPECIAL - 2for one tickets if you book 20 or more

Friday 11th September 7-30pm

Tickets from $69.90 (fees apply)

Friends! isn't that just kick-you-in-the-crotch-spit-on-your-neck fantastic? The

Musical Parody follows the lives of six wacky 20-somethings and goes back in

time to celebrate and poke fun at some of their most iconic moments as they

navigate the pitfalls of work, life, and love in 1990's Manhattan.Friends! This is a

hilarious good-hearted romp through our favourite moments from the hit TV show

in an uncensored, hilarious, fast-paced, music-filled production. The fun begins on

an ordinary day at the corner coffee show, Central Perk, when acertain runaway

bride, with the signature hairstyle, stumbles into the lives of five other friends and

kicks the whole gang out of second gear.

Now it's your chance to be part of the next chapter in the Friends saga. It's the cliff

hanger episode. The one you don't want to miss!

Rock NPop 2020 –Solid Gold

Red Carpet event

Tuesday 29th September, 7:30pm

Tickets from $79.90

With astellar NZ cast, where some have returned from performing on the great

stages of the Westend and Broadway, The Show's Must Go On is aglittering

concert of musical theatre showstoppers.

This blockbusting two-hour show features favourite songs from the world's

greatest musicals in concert including The Phantom of the Opera, Chicago, The

Sound of Music, Mamma Mia, The Lion King, Wicked, Dear Evan Hansen, The

Book of Mormon ,The Greatest Showman and more, along of course with New

Zealand's favourite musical Les Misérables.

The amazing pleasure to your ears will only be matched with the feast for your

eyes, with spectacular backdrops coupled with exquisite lighting that portrays the

emotion and beauty of each piece.

The Abba Show

Red Carpet event

Friday 9th and 10th October 7-30pm

Tickets from $27 (fees apply)

Sunday 6th December 8pm

Adults $71.15, Child 12 &under $31.85 &Groups of 10+ $66.15

Featuring songs from legendarysong writers likeElton John, Billy Joel,The Beatles,

Queen, Pink,Totoand Cold Play,and performed by acast of 70 performers,RocknPop is a

tributetothe talent within our community, in supportofour performing arts venue.

Under the direction of Producer and Musical Director, Jo Castelow, DirectorRoger Farr

and Choreographer Jessie Thompson, RocknPop will be the perfect night out listening to

sound dripping harmonyinafull stage production that will shakeoffthe post lockdown

blues.

Funds raised will go towards an upgrade of the technical infrastructure, that will benefit

the communityinthe future.

Purchase aticket forone of the shows listed and

go into the draw to

WINDOUBLE PASSES

forTheTen Tenors, WorldofMusicalsand It's Only Rock'N'Roll Baby

valued at $450

Direct from Australia, the world's premier live ABBA tribute is back by popular

demand after asell-out mega NZ concert tour in 2018!

Far from being 'just another cover band" The ABBA Show is afull scale concert

production featuring more than 2hours of fun, energetic musical performances

with alive backing band, replica costumes, theatrical lighting and effects and all

the dancing anABBA fan can handle.

Starring incredibly detailed performances from internationally acclaimed

impersonators ABBAsolutley fABBAulous, The ABBA Show gives fans of all ages a

chance to re-live the ABBA concert experience, celebrate the music of ABBA and

dance the night away!

Youmustpurchase your tickets

before27/08/2020, winner will be

drawnonthe 28/08/2020.

*T &Capply

Book at our ticket office

03 307 2010 211A Wills Street, Ashburton 7700

admin@ateventcentre.co.nz

2291618
---
NEWS

8 Ashburton Courier, July 23, 2020

www.ashburtoncourier.co.nz

Hon AmyAdams

MP for Selwyn

03 344 0418

selwynoffice@parliament.govt.nz

amyadams.co.nz

MPAmyAdams

amyadamsMP

Authorised by

Amy Adams MP,

829 Main South

Road, Templeton,

Christchurch.

Ray's aprolific bird breeder

MICK.JENSEN

@ashburtoncourier.co.nz

Prolific canary breeder Ray Vincent

has awaitinglist for his birdsand

he'scurrently enjoying breeding

success with Gouldian finches.

The finch is acolourfulnative of

Australia and Ray alreadyhas 13

chicks with one breeding pair and

two other pairsnesting, with more

chicks expected.

''It'smyfirst year breeding with

them and they are abeautifully

coloured bird,and about as bigasmy

Red Factor canaries.''

The chicks will be sold, but only

after they have developedtheirfull

colourpotential.

Ray is aamemberofthe Ashburton

BirdClub andhas spent close to 60

years around birds of the feathered

kind.

Each season forthe last 10 years

he'sbred an average of 70 canary

chicks andsellsmost on after careful

nurturing.

His favourite canary variety

remains the robust, broad bodied

Norwich.

He also breeds Red Factorsand for

the last threeyears has bred the

skinnier,longer Yorkshire canary.

His aviariesalso contain finch

varieties, turksand bourkes.

''If you can breed livestock, you can

breed birds as well,''said Ray, whois

aformer farm worker.

Good breedingwas about wise bird

Ray Vincent casts awise breeder's eye over some of his birds.

management, good feedand breeding

withfit and healthy birds.

''My birds tell me when its timeto

breed.The femalesstarts collecting

more greens andstoreitfor nest

making, while the male birds fly

wildlyaroundthe cage in

anticipation.

''I'll pair when Ithink each bird is

ready andifitdoesn'tworkout and

they'refighting, it'stimetotry

another pairing.''

His birds getfreshly made softfood

every morning and eat avarietyof

seed.

There is beachsandinthe cages,

which offer saltand soft shell, and

thebirdsalsoget greens and chick

weed.

Ray is still weighing up what birds

he will put in the AshburtonBird

Club's sale day on August 8.

Theclub's bigannual showand

sale in June was canned because of

thecovid situation,soadecent

turnout is expected at the Tinwald

MemorialHall bird sale.

Thebird and accessory sale runs

from 9am until 2pm and everyone is

welcome.

New GrantRounds

2020/2021

Racecourse Road

plan progressing

Relatives sought

for Patching medal

Up to $10,000

Feb, April, July, August

Over $10,000

May, October

See website forclosing dates

and to makeanon-line application

www.comtrust.org.nz

To discuss any applications

Phone:

03 687 7360 or 0800672287

Email:

msccomtrust@xtra.co.nz

2251128

The first version of a

developmentand

infrastructure planfor

RacecourseRoad north

should be available in a

coupleofmonths.

The Ashburton District

Council engaged aplanning

and engineeringfirm last

yeartolook at how the area

could be developed with

roads,water, wastewater,

openspaces and other

utilities.

Landownersinthe area

had earlierbeen canvassed

about their long­term plans,

and some subdividing is

already under way.

Councilwrote to

landownersrecentlyand

said the development plan

wasprogressing and

residents would beupdated.

''While we havereceived

some draftinformationfrom

the consultants undertaking

the work, thishas yet to be

finalisedand reviewedby

our engineering team to

confirm that it is

operationally viable.''

Once council engineers

are satisfied, district

councillors willbebriefed

and asked to send the plan

for informal consultation.

Landownerswouldthen be

asked fortheir feedback.

Moreinformationonthe

planisexpected in two

months.

Whanganui resident

Paul Takarangi­

Gavaghan is trying to

track down relatives of

former Ashburton man

WG Patching in order to

pass on awar service

medal.

Patching was formerly

of 32 Short Street,

Ashburton and enlisted

in World War 1on

15/8/14. He arrived in

Egypt on 14/12/14 and

was killed in action in

the Dardanelles five

months later.

Mr Takarangi­

Gavaghan said he came

across the medal

recently when clearing

out his late mother­inlaw's

outhouses.

The medal has

Patching's name,

regiment and service

number (6/526)

inscribed on the edge.

He did not know how

it had ended up

Whanganui and was not

aware of any connection

with the Patching family

or Ashburton.

''I would like the

medal returned to any

remaining relative who

would appreciate it.''

Mr Takarangi­

Gavaghan can be

contacted by at paul.

gavaghan@gmail.com.

STOP SMOKING

IN ONE SESSION

LOSE WEIGHT

TURN OFF THE HUNGER SWITCH

ONE DAYONLY!

FREE RECORDING PROVIDED

One session, 90mins,walk

out anon-smoker-YES you

can! This is real, be there

and experience thepower of

hypnosis,the power of your

subconsciousmind.

session times

VIRTUAL GASTRIC BAND

WEIGHT LOSS PROGRAM

Youput weight on without

thinking it makes perfect sense

to lose it without thinking.

Weight Management programmes

taketimeand personal commitment

and should be used in conjunction

with ahealthydiet and exercise.

session

time

11AM OR 6:30 PM 1:30 PM

*This is not for entertainment or stage hypnosis.

Youwill not lose control or cluck like achicken. Hypnotherapy

is avery relaxed and enjoyable experience

www.owenpatterson.co.nz

WED JULY 29 TH

ASHBURTON

EVENT CENTRE

$150

Cash or internet bank transfer ONLY

or book through eventbrite

90 MIN SESSION

No EFTPOS or credit cards on theday.Cash sales

at thedoor.

Book on eventbrite now:

bit.ly/2Y3KtUZ
---
NEWS

Ashburton Courier, July 23, 2020

9

Let hot ashes

cool before

binning them

Mid Canterbury residents using

their log fires to keepthe

winter chills at bayare being

reminded to let their hot ashes

cool properlybefore binning

them, as they canignite and

start afire.

Hot ashes havebeen the

culprit in six wheelie bin fires

in the district alreadythis

winter,and Ashburton District

Council service delivery

manager Neil McCann says it's

critical that residents are only

putting cold ashes in the

rubbishbin.

''If the ashes haven't had

adequatetime to cool, theycan

smoulderinyour wheelie bin

and cause afire.

''Even if the ashes havebeen

cooling for acoupleofdays,

theycan still havehot coals or

embers that are just warm

enoughtolight up the other

rubbish in your bin.

''If yourbin catches alight,

the fire could also spread to

yourhouse.

''Please make sure the ashes

have properly cooled before

theygointhe bin.''

Hot ashes arebest stored in a

metalash container or metal

bucket to coolfor several days

before being bagged and placed

in the red rubbish bin.

Pouring water on theash can

alsohelptoput out any

smouldering coal and embers.

Council to address

Line Road safety

The Ashburton District

Council has plans to take out a

kink on Line Road, near the

Lauriston township, to make it

safer.

Councillors visited the siteof

the proposedrealignmenton

their recent tour of the district.

It has been the scene of at

least one fatalaccident.

Line Road currently kinks to

the north as it approaches

Lauriston and then kicks back

but the safety work will change

the road's alignment and make

it straight. The roadwill also

be lowered.

Council servicedelivery

manager Neil McCann saidthe

work was only in the draft

design stageatthe moment so

costswere not known.

''Thework is to address

safety as there have been

several crashes at the

location.''

The projectisintendedto

beginthis summer.

THE WHOLE

FAMILY CAN

ENTER, AND

EVERYONE

GETS A

TREAT!

BEINTOWIN

a$50Four SquareVoucherfor

thewhole familyandand aBic Kids

Colouring 12 Pack.Every entry

gets afreePamsWater 750ml

See full details in store

1924-2020

NAME:

PHONE:

YOUR

Please return your

completed entry to your local Four Square by Sunday 26th July for your chance to win

LOCAL

GIFT

CARD$50

1PER

STORE TO

BE WON

AVAILABLE

AT SELECTED

STORES

School bus rules

and signed speed

Well, we have afollow up on

the school bus "lore".

Acurly question came in

to me and Ijust did not see

the answer coming.

The question: "If Iam

driving in apassing bay and

approaching aschool bus

which is stoppedoff the

lanes on either side of the

road with its 20 sign lit, do I

need to slow to 20kph to pass

it?"

The answer is yes,all four

lanes must slowto20km/ to

keep our young people safe.

This is confirmed by Mark

Cooke,Pearsons Ashburton

Manager.

Think whatyou like, I

believe in safety first. Now,

what couldthe finebefor

exceeding 20km/h?Well, if the

same rulesapply as exceeding

the speed limit at road works,

then 40kphover the limitof

20km/h, that is any speedabove

60km/honany of the four lanes

could loosenyour hold on your

licence!

Imet abiker at Taste Café

who was on his way to the Bert

Munro and he confirmed he

lost his licence, travelling over

40km/h above the signed

speed, at road works south of

Ashburton.

The police officer at the

roadworks let him ridedown to

the BertMunro,but he had no

licence to return north.

Now, the knowledgeable

person with the curly question

did indeed slowto20km/hand

earned the ire of atruckie

following them. Horn blast!

This brings me to hazard

lights. Where is your switch in

your vehicle? Can you, in a

splitsecond press the hazard

button to warn vehicles

following you of some change

ahead?

More on hazard lights soon!

HotRoast

Pork Loin

Tulsi Express Meals for2

Pams Cooked Chicken Large

Famous Four Square Pizzas

www.foursquare.co.nz

facebook.com/FourSquareNZ

Specials available South Island only from Monday 13th July until Sunday 26th

July 2020 or while stocks last. Wine and beer available at stores with an off

licence. Wine and beer purchases restricted to persons aged 18 years old and over.
---
Family Notices

DEATHS DEATHS DEATHS DEATHS

BODY, ShirleyElizabeth

(nee Barr): 29.9.30 –18.7.20.

Peacefully at Methven

in the loving care of

the wonderful staff at

Methven House, aged

89 years. Dearly loved

wife ofClem (dec). Dearly

loved eldest daughter

of the late Bill and Berta

Barr. Sister and sisterin-law

of Audrey (dec),

Bernie and June (dec),

Juliet and Lindsay. Much

loved mum of Elizabeth

and Roger, Marion and

Roger, Alister and Janine.

Dearly lovedGrandmaand

Great grandma of Debra,

Ben, and Ruby; David,

Karin, Holly, James, and

Patrick; Laura, Hayden,

and Max; Katie, Simon,

Emma, and Hazel; Simon,

Alexandra, Charlotte, and

Emily; Markus, and Olie.

Messages to the Body

Family c/- P O Box 472,

Ashburton 7740. Shirley's

life will be celebrated

on Friday 24 July at the

Mt Hutt Memorial Hall,

Methven,

commencing

at 1.30pm. Followed by

private cremation at the

AshburtonCrematorium.

Paterson's

Ashburton

FDANZ

03 307 7433

CAMPBELL, Hester

Glenys (Glenys): Passed

away peacefully aged

89 on the 11 July 2020

at Rosebank Resthome

Ashburton. Dearly loved

wife of the late Ronald.

Much loved mother and

mother-in-lawofJudyand

Tommy Arnold (Hari Hari),

Diane and Gerard Hansen

(Sydney),John and Joanne

(Dromore), Andy and

Jackie (Hari Hari), Robyn

and Murray (Tasmania).

Treasured nana and

great nana to all of her

grandchildren and great

grandchildren. Survived

by her beloved sister

Clarice Gould (Temuka).

Special thanks to the

caring staff at Rosebank

Resthome Ashburton and

Dr.Wootton for all of their

loving care they showed

to mum. In accordance

with Glenys's wishes; a

private service has been

held. Messages to 21A

Cox Street, Ashburton.

Messages to TheCampbell

Family, c/- 21A Cox Street,

Ashburton.

Paterson's

Ashburton

FDANZ

03 3077433

COLLINS, Marjorie Joan:

22.11.32 –21.7.20:

Peacefully at Methven

House, aged 87 years.

Dearly lovedwifeofRobert

(Bob), loved mother and

mother-in-law of Bruce

and Elizabeth, Wayne

and Joy, and Alan. Loved

Gran of Stuart, and

Philip (Australia), and

Nan-nan of Christopher,

and Amanda, and her

10 great grandchildren.

Special thanks to the

staff at Methven House

for the care and support

of Marjorie over the past

months. Messages to

the Collins Family, c/- PO

Box 472, Ashburton 7740.

A service to celebrate

Marjorie's life will be held

at All Saints Anglican

Church, Chapman Street,

Methven, on Friday

July 24 commencing at

10.30am, followed by

private cremation at the

AshburtonCrematorium.

Paterson's

Ashburton

FDANZ

03 307 7433

CRIBB, Peter Richard: It

is with much sadness that

we announce the passing

of Pete (Cribby) on July

19, 2020 at Christchurch

Hospital.

A much loved son,

brother, uncle, mate, and

Dad of Rayne. A private

family servicewillbeheld,

followed byacelebration

of Pete's life with adrink

and asharing of memories

for family and friends

at the Tinwald Tavern,

103 Archibald Street,

Ashburton on Thursday,

July 23, from 2.00pm

onwards.

0800 2MEMORY

027 637 1229

GROUT Keith Stephen

(Santa); 22.4.1956 -

11.7.2020: Loved son of

Percy Grout (Tasmania),

Margaret Matthews

(deceased) Timaru.

Brother of Julie Barker,

Mike Grout, Alison Silke

and Jimmy Barry. Much

loved uncle of Gemma

MacDonald, Nathan

Lange, Kirsten Richardt,

Victoria Shrimpton,

Vincent Barker, Keeley

Barker , the late Curtis

Barker, Aaron Grout,

Jeremy Grout and Debi

Grout.Rest In Peace, sadly

missed. Messages to the

Grout Family, C/- PO Box

472, Ashburton7740.

Paterson's

Ashburton

FDANZ

03 307 7433

McBRIDE,Irene Elizabeth

(Betty) (nee Heseltine);

On July 20, 2020.

Passed away peacefully

at Rosebank Resthome,

Ashburton,inher91styear.

Dearly loved wife of the

late Percy Stewart and the

late Bruce McBride. Much

lovedmother and motherin-lawofJulie,Stewart,Liz

and Paul Wylie, and loved

gran of Kirsty; Danielle,

Stephen, Ty and loved

great gran of Maddox,

and Maverick; Liam,

and Xanthe, and Rose.

Messages to the McBride

Family c/- P O Box 472,

Ashburton7740. Aspecial

thank you tothe staff at

Rosebank for their loving

care of Betty. A service

to celebrate Betty's life

will be held in our Chapel,

cnr East and Cox Street,

Ashburton, on Thursday

23rd July commencing

at 11am, followed by

private cremation at the

AshburtonCrematorium.

Paterson's

Ashburton

FDANZ

03 307 7433

Birth notices listed by parents will continue to be

free in the Family Notices column. Theinitial death

noticelodged by afuneral directorwill be listed

without charge.Therewill be asmall charge of $15

forsubsequentnotices relatedtothe same death,

up to amaximum of 35 wordsand on aper-line

basis afterthat.

Thesame lowcharges apply to other family

notices,such as engagements,acknowledgements,

in memoriam notices and anniversaries.

Supporting the community

96 Tancred Street,Ashburton. Phone 307 8317

THOMSON Alexander

William (Alex), (Late 1Bn

K.O.S.B), Born Eyemouth,

Scotland. Passed away

on July 16th 2020 at

Ashburton, aged 92

years. Loved husband

of the late Daphne, and

loved father and fatherin-law

of Malcolm and

Louise (Melbourne), and

Ian and Felicity (Sydney).

Much loved grandfather

of Patrick and Jennifer

(Melbourne) and Letitia

(nee Thomson) and

Logan Smart: Fergus and

Pollyanna (Sydney), and

best friend of Rosemarie

and Greg Trudgeon.

Messages to the

Thomson family c/- PO

Box472, Ashburton7740.

Afuneral service for Alex

has been held.

Paterson's

Ashburton

FDANZ

03 3077433

ACKNOWLEDGEMENTS

GRIGG, Mary Eugenie,

Rachel, John (Jack),

Roger, Diane and families

wish to sincerely thank

everyone for the cards,

flowers, phone calls, love

and support following

the passing of our loved

mother, mother-in-law,

grandmother and great

grandmother. Ithas been

very much appreciated.

Please accept this as a

personal thank you and

acknowledgement.

LOW, Melva Elizabeth:

The family of the

late Melva wish to

acknowledge the many

expressions of sympathy

shown to us following our

sad loss.Please accept this

acknowledgment as an

expression of our deepest

gratitude.

IN MEMORIAM

MervynGlassey

14-1-39 -26-7-14

Always in our hearts

~Margaret and family

LREA2008

MCRE

NEWS

10 Ashburton Courier, July 23, 2020

Imogene wins at

Timaru rockquest

Ashburton College student

Imogene Felton has won thesolo/

duocategoryatthe Timaru

Smokefreerockquest

competition with her song

Midnight's Lullabye.

TheYear 11 student winsa

prize package fromthe Rockshop

and goes into thenational

selection pool for the event's live

national final.

Afirst time entrant, Imogene

describes her original

compositionas "a lullaby sungby

the trees,their leaves, the birds

and the wind."

"It was an awesome feeling

winning my first time entering.

I'm really excited to get writing

and have my shot atthe national

round," said the 15­year­old

performer.

"I think of my music as calm

and thoughtful. Abalance

between artistic andcatchy."

Conchord (Isa Creba and Lucy

Barge) from Mountainview High

School wassecondinthe solo/

duocategory.

Entriesfor theband category

Echo of memories by Michael Holland.

Family owned,

locally owned

22 MooreStreet,

Ashburton

0800 2636679

Ashburton College singer/

songwriter Imogene Felton.

(PHOTO SUPPLIED)

close tomorrow,with the winners

announced on August 7.

The top regional bands and

solo/duos submit new footage for

selection as finalists to playoff at

the Smokefreerockquest

national finalinAucklandon

September 12.

New exhibition to open

Anew exhibition featuring the

dream­likepaintings of

Christchurch­basedartist

Michael Holland is set to open at

Ashburton Art Gallery.

CalledEcho of Memories,the

exhibition featuresimaginative

and detailed works of land and

2289133

(PHOTO SUPPLIED)

seascapes.

Largely self­taught, theartist's

inspiration comesfrom master

such as Munch,Van Gogh,

Bruegel andKlimt.

EchoofMemories opens with

an artisttalk at 2pm on Sunday. It

runs until August 30.

Workshop

Printmaker Ben Reid

willhostaworkshop

at Short Street Studio

on August 15 and 16.

Forbookings email

Nel Davison at

ashsocart@gmail.

com.

Complete

Local Care

Since 1982
---
www.ashburtoncourier.co.nz

Matilda models real­life birth

NEWS

Ashburton Courier, July 23, 2020

11

TONI.WILLIAMS

@ashburtoncourier.co.nz

Agri Training is offering its state­of­theart

training cow Matilda to peopleinthe

dairy industrylooking to train staff ahead

of the calving season.

Made of skin­like rubber with apliable

plastic uterusinaplywood framing,

Matildahas been modelled in the form of

an anatomically correct cow. She alsohas

rubber teatswhich can be changed for teat

maintenance.

Agri Training training adviserWarner

Cottrellsaid she could be usedto

replicate the real experienceofbirthing a

calf as well offer practical hands­on teat

care.

Matilda is the only one of herkind in the

South Island;asimilarmodel was used by

veterinarians duringtheir training. She

has been with the trainingorganisation

for thepast couple of weeks.

''Matilda is alife­sized cowwho hasgot

the workability for people to comeand

learn to calve acow withoutthe

practicalities and pressure of alive

birth,''hesaid. Shehas alife­sized calf,

which canbepositioned inside thecow to

simulatereal calving situations, complete

withamniotic fluid.

The trainingexperience canhelp dairy

farm workers learn farm policy on calving

and when to call avet.

''It's an incredibly real experience,

when you putyour hand inside andyou

feel the presentation of acalf, the actual

process of birthing is just incrediblyreal.

You can set her in all sort of positionsand

it really does give you realistic

expectationonwhatitislike to calve a

Agri Training training adviser Warner Cottrell shows the right technique helping Matilda

during calving. Photo Toni Williams

cow and how to overcomeproblems.''

The agricultural trainingorganisation

is based at the former Winchmore

ResearchStation. It has alargeclassroom

for student trainingand office space.

Agricultural students, includingnew

entrants or long­timefarm workers,are

partofaapprenticeship programme and

work andlearn on farm.

''They all require somesortof

qualification to recognise their skills on

farm.''

Mr Cottrellsaid Matilda was available

for free to anyone wanting to give their

staff some hands­on trainingtopractise

all birthing scenarios ahead of thecalving

season and he encouraged people to make

contact.

Working out for local foodbanks

Atwo­week food drive by Curves

gym in Ashburton has resulted in

aweighty donation to Ashburton

foodbanks.

Curves owner Viv Williams

said women members coming

along to exercise had bought

about 250kg of non­perishable

food items, which were packed

up on bananaboxes to deliver to

the foodbanks.

Viv markedout arectangular

shape about 6metres x1metreon

the gym floor andmembers have

tried to fill it up with canned

goods, toiletries and cereals.

She saidmembers had their

own community and supported

each other as wellascombining

their efforts to help others in a

lessfortunate position.

''They supporteach other and

the community as well and they

have liked to see the pile

growing. It givesthem pleasure.''

The gym has undertaken

severalfood drives overthe past

decadebut the last one wasin

2014.

Viv said it was timely as some

peoplewere struggling postcovid.

Curves gym instructor Christine Pooke with some of the foodstuffs donated by members.

Craig Carr

Oakwood

purchases

Smallbone

trucks

South Island automotivedealer

Oakwood Motor Group has

agreed to purchase theIsuzu

Truck sales divisionof

Smallbone Mid and South

Canterbury and to continue

withits partnership with ACL

Smallbone serviceand parts in

both regions.

Oakwood is aSouth Island

wide group,owning the longestablished

Blackwells and

CookeHowlisondealerships.

Group managing director

JohnMarsh said the decision to

purchase the IsuzuMaster

Truck franchise was part of the

company's strategic plan for

developing its successful Isuzu

truck businessinthe South

Island.

'We are verypleased with the

acquisition of theTimaruand

Ashburtondealerships, which

complement our existing Isuzu

MasterDealerships in

Christchurch andDunedin.

''The purchase is also ashow

of confidence in the Mid and

South Canterbury economies

andthe excitingfuture for

Isuzu Trucks, whichhas been

NewZealand's number one

selling truck for 20 consecutive

years.'

Smallboneboard chairman

Craig Carr said the agreement

wouldensurethat theexisting

Isuzu truck customers from Mid

andSouth Canterburywould

continue to receivebest in class

sales support from thewide

network of staff available and

the world class service and

parts facilities ACL Smallbone

has created in both Ashburton

andTimaru.

Scania parts and servicewill

continue to be supplied by ACL

Smallbone and CookeHowlison

in their respective regions.

The changeofownership

takes place in August.

171ALFORD FOREST ROAD,ASHBURTON

0800 86 22 44

Chippers Generators Compactors Excavators Access Gear MotorVehicles

Trailers Forklifts PortableBuildings Toilets Mowers&More

2286693
---
Ashburton College

Individual Excellence in aSupportive Learning Environment

News

Issue 18

23 July 2020

DeputyPrincipal's Message

OpenNight–TonightThursday23July

This evening is agreat opportunity for families

and communitymembers to view theCollege.

There will be presentations inthe Auditorium

at 5:30pm and 6:15pm followed bystudent-led

tours, or youmay tour on your own. On the way,

call into the staffroom and have asausage from

the BBQ, ahot drink or juice, and check out the

retailers who will have electronicdevicesondisplay(remembering that

Ashburton College is aBYOD school (bring your owndevice), along with

aCollege uniformsupplier.

If youare unable to maketonight andwould likeatour of the College,

please phone the College Office (308 4193)

andmakeanappointmentfor one of the staff to showyou around.

Senior StudentReports

These are presently being written by Subject and Ako Teachers. They

willbepostedout in Week 3ofthis term (week starting 03 August).

Course Confirmation Evening –for 2021 Courses

This is being held on Tuesday 04August at the Hotel Ashburton from

6:00pm–8:00pm.

Theeveningprovides opportunityfor Year 9, 10,11and 12 students and

families to talk to staff about subjects they maylike to take in 2021.

AshColl Ball –Friday07August

The Ball Committee is being well led by Jacob Gray and Lucy Moore.

Despite the postponement, planning is on track to make this 2020

'Fabulous LasVegas'Ball fabulous! It is againbeingheld at the Ashburton

Trust EventCentreand we have Double Talk bandtoentertain the Ballgoers.

This is agreat communityevent and we will have tiered seating outside

the venue forfamilies,friends and public to sitand view our Year 12 and

13 students and partners arrive in an array ofvehicles, and walk down

the RedCarpet to theBall.

Iwouldlike to take this opportunitytothank everyone in thecommunity

whohas contributed to making the Ball happen this year.

ExaminationWeek:Monday31August –Friday04September

Examweek involves Year 11,12and 13 students.

There will be no classes for these students during this time, but

when studentsare at College,the sameexpectations forbehaviour and

uniformapplyaswhen normalclasses arerunning.

Atimetable will be emailed to families and students during Week 2of

this term. Theremay be sometime clashesbut we can work aroundthis.

Students shouldemail me (sh@ashcoll.school.nz) and

Iwill arrangeanalternativetime to sit the exam.

TheseCollege examsare important for 'derived grades'.

In the case of an unexpected event that results in students not being

able to sit the external exam at the end of the year, weuse the grades

from these examstoaward their final results.

If astudent gained an Achieved, this is the grade they will receive on

their Record of Learning. For full information, please refer tothe NCEA

booklet emailed out to families last term.

These examsare especiallyimportant for Year 11 students

so thattheycan experiencethe conditions theywill sit their

end-of-year external NCEA examinations under,before theyactuallydo.

Many students havenot had the experiencesitting in one place, in silence,

without getting out of their seatand writing for overanhour!

Term Three

Term Three islooking like avery busy term, fitting inthe regular items

along with many postponed events. Alongside these extra-curricular

events,students needtomaximise the time theyhaveinthe classroom

withonly 65 school days lefttill external exams!

Helen Shore-Taylor

DeputyPrincipal •TumuakiTuarua

Staff Farewell

Amanda Hewson

Good wishes were extended to Amanda at the conclusion of Term Two as

she concludedher part-time Social Studies teaching role currently,inorder

to uplifther parental leave entitlement.

Information

AshburtonCollege Course Confirmation Evening

Tuesday04August,6:00pm-8:00pm,

HotelAshburton

Setthis night asidetodiscuss and confirm subjectcourses for2021.

This eveningisforall our currentYear 9–12 students,

parentsand caregivers.

Further information will beadvised.

AshColl Way

Information

Transition Department–Events Update

Year 13 Testimonials

Each Year 13 student hasthe opportunitytoreceiveaTestimonial(ahistory

of their time atAshColl) at the end of the year.This process requires input

fromteachers as well as students.

Students arecurrently completinganAchievementStatementtowards

this,and itistobereturned tothe Transition Office by this Friday, 24 July,

forthe Testimonial process to continue.

TertiaryStudy Information

We are atthe time of year where students going to tertiary study in 2021

are gathering information, making decisions, and beginning application

processes,asfollows:

Universityand PolytechHalls of ResidenceApplications

Halls of Residence applications open online on Saturday 01 August.

Year 13 students have been given information on the application process,

including deadlines.

Course Planning for 2021

Universityliaison staff areinthe process of booking to visit AshColl this term

to help students plan their course of study for2021.

Datesknown so farare:

University of Canterbury – 12August

Victoria UniversityofWellington – 09 September

Auckland University – 09 September

2020 UniversityOpenDays–

Further Information is Available on their Websites

•Otago Universityand Otago Polytech –On-campus: Monday10August

•VictoriaUniversity

– On-campus: Friday 21 August

•CanterburyUniversity:

–On-campus: Thursday27August

•Auckland University

•Massey University

Andalso:

Wellington Campus

ManawatuCampus

Auckland Campus

•Waikato University

•AUT University

– On-campus: Saturday29August

– Virtual (online) Open Days

04 and05September

–Taster Day: 21 August

–Taster Day: 11 September

–Taster Day: 12 September

– Virtual (online) Open Days:

13 and 14 August

– On-campus: Saturday29August

Individual Excellence in aSupportive Learning Environment

OpenEvening Tonight

Thursday23July 2020, 5:30pm –7:30pm

TheAshColl Way

Quality Pride Respect

Futurestudents,parents/caregivers,whānau

and communitymembers are

warmly invited to attend our OpenEvening.

Aparticular welcome,and encouragementtoattend,

is extended to students who will be in Year 9in2021,

and family members

Duringthe evening youwill havethe opportunityto–

• Meet and talk with the Principal, staff and students.

• Hear and see whatthe College can offer your child and family.

• View our facilities,and Innovation and Subjectdisplays.

• Meet with BYOD Retailers -College is aBYODschool

(Bring Your OwnDevice)

• Enjoyasausage sizzle,coffee, tea, juiceinthe staffroom.

To make decisions readyfor Enrolment Week (27-31 July) –

Therewill be information available on:

0 Innovation and Traditional Classes.

0 Option Subjects for2021(Year 9students).

Option subjects: nine subjects to be taken from twelveavailable:

– Choose at least one from TheArts: Art, Drama, Music.

– Choose at least one from Languages: German, Japanese,Māori.

– Choose at least three from Technology: Agriculture,

Designand Visual Communication, Digital Information

Technology,Fabric Technology,Food and Nutrition,

HardMaterials Technology.

• Note: all Year 9students take English, Mathematics,

Physical Education and Health, Science, Social Studies.

• Additionallyavailable: English as an additional language for

students for whom English is asecond language.

Presentationsstart in the College Auditorium

at 5:30pm and6:15pm.

These arefollowedbyguidedtours of the College,

or youmay choose to self-tour by following the signs.

EVERYONE MOSTWELCOME

Care with Parking Outside College

When DroppingOffand Collecting Students

We understand vehiclemovements as parents and caregivers

drop-offand collect students at College.

Mayweplease ask though forcarewhen this is happening –

• Road safety is hugely important, and especially where there are alot

road users in asmall area.

• Please avoid parking on the yellow lines outside the Walnut Avenue

entrance.

• Please respectresidents'properties –avoid parking over drivewaysor

driving into their personal driveentrances.

• Remain aware thatthe College drivewayisnot suitable fordropping/

picking-up students from. This adds to congestion and compromises

safety.

We do ask,please,thatyou –

• Consider whereyou park.

• Park in alegal parking space, and have your child walk to whereyou are

parked.

• Park in the parallel parks across the road from the College.

• Or -theremay be spaceinthe shingled parking area on the west side of

the College.

We thank youfor your help,

andfor your courtesy to residents,

College students androad users.

RYDA(RotaryYouth Driver Awareness) –

Road Safety Day

This is acompulsoryattendance eventfor all Year 12 Students

Monday03August-Hotel Ashburton

Supported by the AshburtonDistrictCouncil

Road Safety Education and Regional Partners have

subsidised these workshops forschools.

Students aretomaketheir ownway to the venue,

with bus students to walk from the College to the venue.

Studentsmust arrive by 9:15am, forregistration.

Theday will finish at approximately 2:00pm-2:30pm.

Students arereleased afterthattime and arefreetogohome.

Bus students aretowalk back to College.

Programme:

This Road Safety Education Workshop Day isdesigned for 16-17 year old

students, asthey are learning to drive orare passengers in cars driven by

their peers.

Theday's programme challenges students to change howthey think about

road safety and to lay the foundation for safe road use throughout their

lives. The programme aims to increase an understanding of road safety,

including risk factors,and to equip them with the tools required to choose

behaviours which lead to saferoutcomes on New Zealand roads.

Statistics:

Data shows that male drivers in the15-19 year age group areapproximately

eight times more likely tocrash than male drivers in the lowest risk age

group (55-59 years); and female drivers aged 15-19 years approximately six

timesmorelikely to crash thanfemale drivers in the lowest risk group(45-49

year olds). For every fatality there are approximately another ten people

seriously injured. The implications of such outcomes aresignificant.

Appreciation

Lion Foundation –The Trust Ashburton

Averygratefulappreciation is given to the LionFoundation/The Trust

Ashburton for their generous grant funding, enabling the purchase

of equipmentwhich is enhancing manyaspects of school life, student

opportunity and community use.

On Tuesday 21July 2020 it was our pleasure tohost, at College, The

TrustAshburtonBoardMembers Roger Paterson and ChantelleQuinn.

In the latest funding round Ashburton College was privileged toreceive

significant funding, and atour of part ofthe College allowed the Trust

members to view the purchases, hear ofthe benefits from Management

and from students, and report this back to The Trust. Further continuing

the community funding approach, the money granted is often kept local

throughthe use of localcontractors.
---
Ashburton College

Individual Excellence in aSupportive Learning Environment

News

Issue 18

23 July 2020

Appreciation

Digital Mixing Console

First up on the tour wasavisit to theCollege Holyoake Auditorium, upstairs

in the lighting and sound area, to view the new Digital Mixing Console.

Theformer twelve-plus year-old sound system had well-reached its 'use by'

status,and waslimited in its capabilities.

Thepurchase of the new Digital Mixing Console has manybenefits,providing

a modern operating system for users, giving technical crew students

the opportunity todevelop their skills on more updated equipment and

offering audiences higher qualityproductions.

Deputy Principal, and experienced manager of lighting and sound and

of the tech crew, Ron Cresswell said that the acquisition of the upgraded

console is afuture-proofing outcome looking ten-fifteen years into the

future, which includes the abilitytotransfer it into the new AshColl build.

Funding from this source, in the previous two years, has supported

improved lighting and new upholstering for the seating, making life much

more comfortable foraudiences.

TheCollege Auditorium is used by both the College and wider community

groups for avariety ofpurposes, making this funding of real benefit to the

district.

TV Monitors Supporting ClassroomTeaching and Learning Options

TheCollege has invested over $100,000 in computers forstudentuse in the

last twoyears,and afurther $35,000 worthofcomputers has been ordered

forinstallation over the coming Christmas holidayperiod. These items have

been purchased in preferencetoupdating in-class monitors.

Currently there are data projectors in most classrooms and these are

gradually being replaced with Smart TVmonitors, which provide more

flexible usage options for teachers and students. Six screens and stands

purchased this time brings

the College's classroom

technology upgrade total

to around twelve across a

range of classrooms.

(Pictured right): Teacher

of English Sarah Lassen

with senior students on

Tuesday, showing one of

the TV Monitors in use,

and explaining its benefits.

Year 13 Leadership Camp

The College's annual Year 13 Leadership Camp provides development

opportunities forour aspiring College and futurecommunityleaders.

Funding supported costs of the January 2020 camp, where the College

trialled the use of an external training organisation, Horizons Unlimited, a

firmwhich specialises in facilitating youth leadership courses.

Sports Uniforms

This year the Boys'Rugby1st XV have anew uniformplaying strip,onshow

as they play inthe Crusaders'regional secondary schools'competition, the

UC Championship.

College operates anannual rotational replacement programme for our

sports teams'uniforms and this year wasthe turnofthe Boys'Rugby.

NewMini Van

Having asmall fleet ofCollege mini-vans on-site makes the provision of

student transport for numerous activities across the board, much easier.

Even with afleetoffive vans now, use is such thatCollege still,attimes, has

to look at rental options to caterfully forour needs at peak times.

Curriculum activities include travel for outdoor education; 'on farm'

agricultural training courses for our Agriculture and Horticulture

programmes; Drama and Music Theatre trips and similar. Our curriculum

includes field trips to Mt Cook (Geography), Kaikoura (Geography) and

Akaroa (History), amongst other visits to local businesses and events.

Weekly within the relevantseasons,our sports teams travel to Christchurch

(Hockey, Netball and Basketball), Timaru (Girls'Rugby, Football, Basketball)

and other destinations to participate in sports competitions. The vehicles

also support our Rowing teams who regularly travel to Lake Ruataniwha

for regattas, aswell as Golf and Tennis squads, Cricket and Rugby teams

participating in Canterbury- wide activities.

Additionally teams travel forChess Competitions (Christchurch and Timaru)

and Cultural activities including Debating (Christchurch), Kapa Haka, The

Big Sing,Rockquest and various music activities.

At College we encourage our students to be involved in activities but

naturally our location oftenrequires travel to eitherprovide competition or

attend organised events.The minivans are avital component ofour ability

to transport students to

these events, and we are

hugely appreciativeofthe

funding supportreceived.

Handing overthe keys

Arepresentativegroup

of students,fromthe

StudentExecutiveand

across some sporting

groups met with TheTrust

Members,and expressed

their appreciation.

(Pictured above right, lefttoright): HenryChapman (Head Boy),

Chantelle Quinn (BoardMember,The Trust Ashburton), PoppyKilworth

(Head Girl) receiving the keysofthe vanfromRogerPaterson

(BoardMember,The Trust Ashburton), Jacob Gray,Kambell Stills,

Liam Sullivan, Sophie Adams,Grace Quinn.

Congratulations

Pre-Season Game Success Continues forAshHutt Girls' 1st XV RugbyTeam

TheAshHutt Girls'1st XV playedtheir final pre-season game on Wednesday

01 July,against the Geraldine High School team.

Coach Vaughan Ward said thatthe away game to Geraldine provided some

challenges with team numbers due to sickness and work commitments,

and with the team thereforefielding just seventeen players.

The team did travel with twenty players, including one injured team

member and two players without age dispensation. It was important to

notethatfor twoofthe seventeen starting players this wastheir first game

of rugby.

Unfortunately Geraldine was also short onplayers, and unable to field a

full team of fifteen players, sothe match started with both teams fielding

thirteen players.

GraceBleach and Roi Makutu were named as Co-Captains.

Thefoothills weather provided the team with some cool,calm and dry(ish)

conditions, under lights on Field 2atthe Geraldine Rugby Club. Although

there was alack of player numbers on the field, this is reported ashaving

no real impactonthe game.

AshHutt started well, dominating possession early. Grace Bleach,

Megan Hurley and Madison Trusler-Clark again worked well as a

loose forward trio, providing exceptional go-forward ball and leadership

within their on-field roles. Distribution was controlled well from

#9 Caitlin Roberts in the first half, and newcomer Tokoono Pori in the

second, with the decision-making role of #10 again left toLauren Taylor

forthe game's entirety.

Tries to AshHutt were scored in quick succession in the first half,with a35-0

scoreathalf time.AshHutt players were then loaned to Geraldine to cover

injuries, and both AshHutt players, Chloe Guthrie and Rangi Makutu,

were applauded fortheir gamesmanship.

To be expected, Geraldine came out firing and wasthe first to scoreinthe

second half.Unfortunately however, thiswas all thatGeraldinecouldoffer

to the second half score. Successivetries came to AshHutt, albeit with some

resistancefromaninspired Geraldine side.

(Pictured right): AshHutt with their Geraldinecounterparts.

Tough Outings Continue forBoys' 1st XV Rugby MidCanterburyCombinedTeam

Manager Nikki Woods reported onthe team's home game on Saturday

04 July against astrong Christ's College team, in Round 3ofthe UC

Championship.

Nikki said the team had agreat first-half effort, showing real courage,for a

half-time scoreof28-5toChrist's College. Fitness levels let the team down

in the second half, with more mistakes creeping into the Mid Canterbury

team's playfor afinal outcome of 54-5 to the opposition.

TheMid CanterburyCombined team's tryscorerwas Charlie Brown.

(Pictured right):

Alex Roderick and

Pasi Hala on attack

with the ball for

MidCanterbury

Combined.

Coming Events

July

23 Open Night/Year8Subject Information Evening, at College,5:30pm

Aoraki Girls'Football Competition commences

24 1st XI Boys'Hockey,Christchurch

South CanterburyWinterBasketball Competition,

SouthernTrustEventsCentre, Timaru

25 Rugby–UC Round 6, Roncalli-Aoraki Combined v

MidCanterburyCombined,Timaru.

26 NZSS Shooting Championships,Round 1, Home Range

28 ACAD1TractorsDay,Year12ACADGroup1,AshburtonShowgrounds

Thomson/Whelan Basketball Trophy, AshburtonorChristchurch

29 Kiwi Maths Competition

Girls'1st XI Hockey vStAndrew's College 2nd XI, Christchurch

Supernet Netball Competition –StAndrew's College v

AshburtonCollege (Round 2), Christchurch.

Girls'1st XV Rugby–AshHuttGirls'vTimaru Girls'High School,

Ashburton(Round 2)

30 Junior Students'Ski Trip,MtHutt Skifield (second day08September,

students can go both days).

Some KeyForthcoming Dates

August

07 College Senior Ball,AshburtonTrust EventCentre, 8:00pm

31-04 Sept Year 11, 12, 13 College Exams

November

05 Year 13 Awards Ceremony, AshburtonTrustEvent Centre,7:00pm

10 Years 11 and 12 Prize-givings,EANetworksCentre, 7:00pm

16-09 Dec NCEA Exams

TryScorers and Kicking Outcomes

TryScorers were: GraceBleach –5;Madison Trusler-Clark –3;Roi Makutu

-1 plus 4conversions; Nesha Thompson –1;Laurelle Tahapehi –1;

Megan Hurley –1.

AshHutt kicking duties were undertaken by Roi Makutu with some

brilliant conversion attempts. Afurther individual performance from Roi

also deserves mention, as she exit-kicked from #13 from within College's

own22, chased,waitedfor the bounceinorder to regather the ball,caught

and ran animpressive 20metres to score, to close out the game………..

brilliant!

This outing led to a final scoreof68-5, to AshHutt Girls'1st XV.

Vaughan said thatthe team discipline and behaviour wasexceptional both

on and off the field.

Farewell

Sadly this was the team's last outing with Shaun Bovey as part ofthe

coaching group. The squad gave him afitting farewell, showing their

appreciation for his commitment tonot only Women's Rugby, but to Mid

Canterbury Rugbyalso.

Looking Ahead

Theteam continued to train fortwo hours everyMondayatthe Hampstead

RugbyGrounds during the holidays,toretain their early season momentum

and before facing Waitaki Girls'/St Kevin's yesterday atAlpine Stadium in

Timaru forthe firstcompetition game.

(Pictured above, back, left toright): Mid Canterbury Combined players

working hard to stay in possession of the ball - Tyler Tuirirangi,

Josh Dunlea, Pasi Hala. (Front, clockwise): Ben Middleton (on ground),

Toetu Touli, Aidan Bennett.

30 Tucker TrophySki and SnowboardCompetition, Mt Hutt Skifield.

Aoraki Girls'Football Competition.

31 Boys'1st XI Hockey vLincoln High School,Christchurch

South Canterbury Winter Basketball Competition,

SouthernTrustEventsCentre, Timaru

August

01 Rugby–UC Round 7, St Thomas of Canterbury

College vMid CanterburyCombined, Christchurch.

02 NZSS Shooting Championships (Triple S), Rounds 3, Home Range.

03 Road Safety Day, Year 12 students.

04 Thomson/Whelan Basketball Trophy, AshburtonorChristchurch

Course Confirmation Evening,6:00-8:00pm, Hotel Ashburton

05 Supernet Netball Competition –

AshburtonCollege AvCashmereHigh School, Christchurch

Girls'1st XI Hockey vChristchurch Girls'High School Red,

Christchurch

Term Dates2020 –Terms Two, Threeand startofTerm Four

Term Three Monday 20 July -Friday25September

Term Four Monday12October -Thursday 05 November (Year 13)

-Tuesday 10 November (Years11and 12)

-Thursday 03 December (Year 10)

-Friday04December(Year 9)

Term Dates2021 –

Term One Year leveldatestba -Friday09April

Term Two Tuesday 27 April - Friday02July

Term Three Monday 19 July -Friday24September

Term Four Monday11October -Friday10December –year levels tbc
---
14 Ashburton Courier, July 23, 2020

RURAL/LIFESTYLE

www.ashburtoncourier.co.nz

Big crowd, high prices at dog sale

TONI.WILLIAMS

@ashburtoncourier.co.nz

Valued farm tools of the canine

variety wentunder thehammer

in Mid Canterburylast week and

peoplefrom around the country

came to buy.

The top selling dog, atwo­year

heading bitch named Spring,

fetched $13,200.

She was touted as ahardrunning,

well­mannered

mainstay who workedreally

well under good command.

She also had experience with

sheep and cattle.

Spring was one of 38 dogs up

for saleinthe 64th PGG

Wrightson annual sheep and

cattle dogsale at the Mayfield

A&P Showgrounds.

The dogs, of varying ages and

stages, all got to show their stuff

to potential owners in atwominute

dummy sheep trial.

Among those out to buy were

NorthIsland farm manager

StruanCurrieand Grace Pettit,

of Kumeroa, near Palmerston

North.

The couple had driven down

to Mayfield especially for the

sale following the death of their

mainstay heading dogSparkie.

The six­year­old, who they

had owned since he was two,

had died the week earlier dueto

an injury. He wasone of afew

dogs used on the farm to move

stock around, butmost were

mature in age.

They were looking for one or

twofarm dogs to take home.

The couple are on a700

hectare sheep and beef farm

running 3000 ewes and around

150breeding cows.

One of their buys was Ted, a

four­year­old huntaway,who

took their attention as he wasa

younger version of their beardie

dogGus,aged 11.

Ted was touted as apowerful

huntaway in need of an

experienced stockman owner.

Also on site was North Otago

dogtrainer Stuart Barnes with

his children Eva, 11 and Max, 8,

and the Innesfamily, of Levels

Valley, near Timaru, who had

''come over for alook''.

The Barnes trio were

checking over dogs of interest

prior to the auction as Stuart

was on the lookout forany deals

to be had buying agood dog.

Mayfield dairy farm manager

Innes brothers Matthew, 8, and Tom, 6, of Levels Valley, get up

close to Rangi, asix month huntaway male.

Mayfield's Andrew McLeod and Warwick Bell, of Methven, enjoy a

day out at the annual sheep and cattle dog sale.

Andrew McLeod wasalso at the

sale. He had10huntaways and

an old heading dogonfarm, but

was on the lookoutfor ayounger

dog.

Mr McLeod, who manages a

1400 dairy cow herd, had

particular interest in three dogs

in the sale, acouple of twoyear

olds and athree year old but

noted there had been alot of

interest in the sale.

''The price mightput me off,''

he said.

On averagethe dogs soldfor

$4200; while thetop selling dog

went for $13,200,the next top

heading dog went for $9000 and

the top huntaway sold for $8500.

AuctioneerGreg Cook saidit

was aseller's market with some

''verygoodprices'' with buyers

from Southland to North Island.

The sale drew abig crowd and

saw arecord number of

registered buyers.

The good dogs werereally

sought after, he said.

Just one young pup was not

sold.

Ted takes the attention of Struan Currie, of Kumeroa.

Fraser McKenzie of Montalto with heading dog Ben.

Tim Turner of Fairlie with huntaway Rose.

We canassistinthe following:

Rotaryboomirrigators serviceand repairs

Dairyshedyardwork –gates, rails etc.

Trailer manufacturing and repairs

Full time workshop attendancefor

emergencyrepairss

Over countersales and courier deliveries

Chains,bearings

PK trailer repairs and maintenance

Wire rope supply and splicing

Alloyand stainless weldingng

Mainline repair

Pivotmechanicalmaintenance,

gear boxesand fencewalkers

General engineering

2284074

2290751

1993653

Phone 308 5903 weekdays l Email: agserve@xtra.co.nz

On call 7days: Doug: 027 282 2245, Matt (Tomo): 021 518 538

Nowat15Malcolm McDowell Drive
---
www.ashburtoncourier.co.nz

Specialist machinery for spuds

LINDA.CLARKE

@ashburtoncourier.co.nz

Takeagoodlookatyour

McDonald'sfries next timeyou

eat them, getting those

potatoes from paddock to plate

is amulti­milliondollar

processand Mid Canterbury

people playmajorroles.

Morefarmers in the district

aregrowing potatoes for

processing into chips andfries

andthat means more

specialised machinery is being

imported, assembled and put

to usepreparing the land,

sowing andharvestingthe

potatoes.

Ashburton firm Agserveis

providing further trainingto

stafftospecialise in the

assembly and repair of giant

potato machines imported

from Germany and the USA.

This is anew division to

complement thegrowing

irrigation department.

Agserve ownerDougSmith

trained as an aircraft fitter

machinist andnow usesthose

skills to set up specialised

computerhydraulicsonthe

importedmachines with the

assistance of landpowerNew

Zealand/Australiaand other

localhydraulics companies.

And if they break down in the

field, he and his staff of 12 can

fix the problem so themachine

is notdown for days whilea

spare partisair freighted in.

Doug grew up in afarming

family in Zimbabwesoithelps

Nigel Prattley (left) of Landpower and Doug Smith of Agserve

with ade­stoner needing assembly.

that he knows what the

machinesmust do.

De­stoners filterthe soil and

sift outstones andhardclods

so that the potatoes can grow

without deformities ­

especially important for the

longRussett Burbecksused in

McDonald's chips.

Cultivators form the raised

rowsand harvesters dig and

separate the potatoes,using

conveyorbelts operated from

computer systems in the

machine's cab.

It's been abit of alearning

curve, says Doug,but an

exciting one. The potato

equipment is imported by

agricultural machinery

specialists Landpower; some

has beendisassembled to fit

into shipping containers so the

Agserve crew putitback

together like amechanoset.

Themachines range in price

from several hundred

thousand dollarsto$1million.

Theharvesters begin working

in January, for earlycrops,

with the main potatoharvest

beginninginMarch.

Inthe past 10 years,

technology has taken the

harvestjob from alabourintensiveprocess

to one where

machinesdiggingsix rows at a

time can runfrom 4am until

midnightwithout stopping.

''The electronics and

hydraulics areamazing,'' Doug

said. ''Somehave twoorthree

computerworkingdifferent

functions. Drivers don't just

drive,they have to knowabout

computers as well as diagnose

if anything goes wrong.''

Asuper harvester called

Spudnik working on aMid

Canterbury farm was able to

harvest1000 tonnes of

potatoes aday.The potatoes

are sent to McCainsorTalley's

forprocessing; McCains

supplies McDonald's.

Landpower's Nigel Prattley

saidhis company valued the

expertise at Agserve.

He said the relationship

worked well because Agserve

hadengineering expertise to

set up and repair the imported

machines, meaning less

downtime for farmers and

others in the potato processing

chain.

RURAL/LIFESTYLE

Ashburton Courier, July 23, 2020

Plough

winners

15

Malcolm Taylor,ofPutaruru,

has beencrowned reversible

ploughingchampion after

winningthe New Zealand

PloughingChampionships in

Kirwee atthe weekend.

Taylor wonthe title

comfortablywith 407.5 points ­

10.5 points over champion

stalwartand current New

Zealand championBob

Mehrtens,ofTimaru, in second

place.

Thirdplace went to Ashley

Seatonwith 387.5 points.

The championship event was

due to be heldinTakapau

during April but was cancelled

due Covid­19 and eventually

rescheduled.

Itran at Kirwee on July 17

and 18, kicking off in damp

conditions.

As winner of thereversible

plough Taylorwillnow

represent NewZealand at the

WorldPloughing Competition

in Ireland next year.

He will attendwith Silver

PloughConventional winner

Ian Woolley, of Marlborough.

In the other championship

eventsOxford couple John and

Sharon Chynoweth won the

horse ploughingchampionship

and MidCanterbury's John

Boothand Jim Earlplaced

second.

Otagoploughman Murray

Grainger won the vintage

ploughing championshipover

Mid Canterbury's Colin Boon,

whoplaced second.

Is your farm consented?

It's timetocheck if youneed aland use consent.

Rulesinsomeparts of Canterbury have changed, and evenifyou didn't

need consent to farm in the past,you mayneed it now.

If your farming operation requires aconsent,then you'll need to act soon.

Visit the Environment Canterbury Farmers'Hub to find the rules

for your zone and how to apply for alanduse consent to farm.

ecan.govt.nz/farmers-hub
---
NEWS

16 Ashburton Courier, July 23, 2020

Stores welcome mats to beat CBD dirt

Mats to take care of muddyfeet have been

delivered to someAshburton businesses

whose shopfronts border work zones in

the CBD.

Business owners andretailers have

beenputting up with unavoidabledirt that

is resultingfrom atwo­year

transformation of thecentral business

area. The whole area will become amore

pedestrian­friendly environment with

one­way streets and angle parking.

Contractors Tru­Line Civil aredoing the

work for the AshburtonDistrict Council

and trying hard not to disruptbusinesses

and their customers. But it is abalancing

act involving street closures, water

shutdowns, night work andlots of digging.

Project manager Conor Redmond

delivered the first mats to businesses this

week andsaid he hoped it would cut down

the dirt being trekkedintostores.

The heavy duty mats will be picked up

and replaced weekly by CrestaClean;Tru­

LineCivil is picking up thetab for

cleaning.

Mr Redmond said contractors werealso

laying temporary asphalt on some

footpaths to reducedustand dirt.

HarcourtsonTancred Street was the

firsttoreceive amat andstaff were

pleased.Beautificationontheir street

should be finished mid­December.

Anew rain garden will be attheir front

door. It will take road run­off and water

fromthe kerb and filter it beforereleasing

Ashburton

July 9, 10, 13 &14

August13, 14,17&18

WELCOME BACK TO RACING AT

ASHBURTON RACEWAY

Saturday1st August

First race 11.48am

Free bookand entry

Feature thoroughbredmeeting

for the better horses

Thenormal is unchanged,great racing

and facilities,fine food and hospitality.

Fields available on

www.tab.co.nz from Wednesdaypm

Rob Glenie of CrestaClean (left) and CBD project manager Conor Redmond delivered

mats this week to Harcourts staff Natalie Harris (right) and Hannah Lloyd.

it into council's wastewater system. At

footpath level, it will look like araised

planter withseating.

Harcourts owner Tammy McDougall

said the new mat would be ahelp and it

was good to see the contractorsthinking

outsidethe squaretomake life easierfor

business owners. ''We know it is shortterm

pain for long­term gain.''

2293373

Next weektheMoore Street/Cass Street

intersection will be closed to through

traffic for periods on Wednesday,

Thursdayand Friday as contractors lay a

newconcrete stormwater pipe up Moore

Streettowards East Street.

CrestaCleanregional managerRob

Glenie said sixmats were delivered this

week as atrial.

Wellbeing focus for new

foothills community group

Residents along the MidCanterbury

foothillshave achance to voice issues

affecting their communities at the first

Wellbeing Opuke community

workshop,Whakapakari Opuke

(Strengthen Opuke).

Thefree interactive workshop,

limited to 70

people, is on

Monday night(July

27) in the Mt Hutt

Memorial Hall,

Methven from

7pm.

Wellbeing

Opuke community

connectorJess

Wilson saiditwas important peoplein

the Opuke area (from MountSomers to

MayfieldStaveley,Methven,Lauriston

and Rakaia)voiced wellbeingissues

which mattered most in their

communities so strategies could be

found.

Shesaid theworkshopplanned on

the nightwas abit different and would

involve people engaging and sharing

stories. But it would be fun,she said,

and agreat wayfor people tomeet

others.

The workshopwas alsoaway to

show others what Wellbeing Opuke

was trying to do. Theinformation

would help Wellbeing Opuke

prioritise community concerns for

action, plan for future workshops and

find strengths within thecommunity to

help with the issues.

"It's not justaquick fix, it's putting

thoughts into strategy."

Anditwas achancetoget "good

things happening in the community

with afocus on wellbeing," she said.

"We're going to be doing things, to

makechangesand have an impact."

Mrs Wilson,alife coach andformer

Head of Science

at Ashburton

College, said the

Wellbeing

Opuke project

had been

developed over

the past year by

around 10

people from a

range of organisations, agencies and

groups along the foothillsafter it was

recognised people in those

communities were facing challenges.

Thesteeringgroup wantedtohelp

in apreventive way; to keep people

safe rather than be the ambulance at

the bottom of thehill.

Mrs Wilson said peoplefrom within

the community had offeredtohelp the

workshop runsmoothly, and more

were sought for futuremeetings.

Theorganisation is seeking

Charitable Trust statusaspart of its

long termcommitment and aimsto

empower peopletohelp themselves.

It uses the five waystowellbeing

actions; the first being to connect with

other people.

People can register for freetickets

from Eventbrite, via theWellbeing

Opuke Facebookpage.

❛We're going to be doing

things, to makechanges

and have animpact.❜

—Community connectorJess Wilson

• Domestic electrical services

• New house wiring

• House rewiring &maintenance

www.ashburtoncourier.co.nz

Funding

boost

for locals

SUPPLIERS AND INSTALLERS OF LEADING BRANDS

Some $118,937has been

distributedtolocal groups by

the Ashburton Trustand Lion

Foundation regional grants

committee.

Ashburton Performing Arts

Theatre Trust receives $27,500

towardsupgradeofnetworking

and technical infrastructure

acrossall areasofthe

AshburtonTrust Event Centre.

HampsteadSchool gets

$38,000towardsthe purchase of

Osmo classroomkits, whichwill

enhance the teaching and

learning around digital

technology.

Lagmhor Community Society

receives$28,000 towards

building aplayground, while

Ashburton Mackenzie

Community Group gets $15,000

to help with annual rent and

supervisor salaries.

Otherfunding has gone to

Ashburton YouthHealth

Trust($7,500 for rent), Rakaia

Rugby Club($1576 fornew

playing jerseys) andAge

Concern Ashburton ($1361 for

hall hire, instructorsfees for

older persons'exercise

classes).

Mills new

chairman

of trust

Nathan Mills has been

confirmedastheboard

chairman of the Community

Trust of Mid &South

Canterbury.

He replaces David Forman in

the role.

Mr Millsco­founded

Ashburton­based Genesis

Private Equity Ltd in 2015 and

beforethat was asenior

commercial bankerbased in

Timaru.Waimateborn, he was

previously ajournalistwith

RadioNew Zealand National.

He is currentlychairman of

the YMCA'sButler StreetTrust.

Nathan Mills

• TV &Datawiring

• Solar installation

• HeatPumps

2298138

www.auricelectrical.co.nz

Call todayfor an obligation free quote

0800287 423

2291188
---
www.ashburtoncourier.co.nz

NEWS

Ashburton Courier, July 23, 2020

25

Busy school holidays on Mt Hutt

Numbers have beenvery good

on Mt Hutt over the school

holidays.

Mt Hutt skifield manager

James McKenzie said

attendance was up 30 per cent

compared with the same

periodin2019.

He said there was just one

closure day overthe holidays

and an impressive 3500 skiers

and snowboarders had enjoyed

the slopes on July 10.

It followed on fromsome

good numbersachievedin

June.

Regional school bookings

over the coming weekswere on

par with last year and there

was currently agood snow base

of between 55cmand 120cm on

the mountain.

Mr McKenzie said the

skifield had scrambled to fill

jobs post­lockdown and had

managed to do so, although it

was down afew instructors.

He said apopular moon ski

event held in Julywould be

repeated with asimilar event

planned on Mt HuttinAugust.

Athird of the ski season had

now gone and he was

optimistic the skifield would

be open until its scheduled

closure in October.

Mt Hutt has takenout the

title of New Zealand's best ski

resortfor the past five years at

the World Ski Awards.

Comedy gigs selling out, drawing big names

Comedy is goingdownastorm

with Mid Canterbury audiences

andsold out shows here are

beingnoticedbythose in the

industry.

The latestcomediantostep

up on stage will be PaulEgo,

who will top the bill at agig at

Hotel Ashburton on August 21.

The Billy TAward winner is a

familiar face on comedy

current affairs panel show 7

Days andisalso the voice of the

stickman in television

advertisements for Pak'nSave.

Paul Ego replacesfellow

comedian Brendhan

Lovegrove, who was originally

settoperformhere on July 31.

On the samebillisTinwald

School principal and rising

stand­upPeter Livingstone.

The gig is organised by

comedianand producer Bec

Sandys,who is theMCfor the

evening.

Ms Sandys said comedy was

going down wellwith local

audiences.

She had organised close to a

dozen shows in recentmonths

and all hadbeensell­outs.

The latest had seen Ben

Hurleyperform two showsat

the BluePub in Methventhat

''he had absolutely smashed''.

Hurley had seenthe

enthusiasm for comedyhere

and had been attracted to come,

she said.

His appearance had notgone

unnoticed by other well­known

comedians.

''Themore exposure and

supportfor shows, the bigger

the names we can attract,''said

Ms Sandys.

Ms Sandysisteaming up with

Sara Devcich for TheThrifty

ComedyTour. The tour

includes agig in her home town

of Methven.

Tickets for the Paul Ego show

areavailable from the Hotel

Ashburton reception and

online. Thosewho already have

tickets for Brendhan

Lovegrove, will automatically

have their ticketstransferred

across to the newgig.

Right: Comedy producer and

comedian Bec Sandys.

BOARDING AND DAY SCHOOL

FOR BOYS IN YEARS -

ü Curriculumspecifically designedfor boys

ü Small classsizes

ü Outstanding record of academic,sporting

andculturalexcellence

ü Multitude of sporting options

ü Dailyroutine that includesclassroom

learning,STEM,music lessons,arts

programme, robotics andpractical

woodwork

ü Modern purpose-built boardingfacility

with afamilyatmosphere

ü Full weekendboardingprogramme

Or contactustobook your ownpersonal tour at atimetosuit

Applicationsare invited from

boys currentlyinYear5and

Year 6tosit theAcademic

Scholarship Examinations

beingheldonMonday

3August2020 at Waihi

School,611 Temuka-Orari

Highway, Winchester,

SouthCanterbury

More information and

application forms are

available on ourwebsite

www.waihi.school.nz

or contactDebra on

03 687 8071 or

executive@waihi.school.nz
---
NEWS

26 Ashburton Courier, July 23, 2020

www.ashburtoncourier.co.nz

Story winners impress judges

Local writing talent has been recognised

throughalong­running story competition.

The AshburtonWriters' Group has shared its

member's love of writing through its short story

competition that has been running for 16 years.

The competition aims to inspire and

encourage budding youngwriters to submit

stories, and this year also included an adult

section for the first time.

Winners came together last week to receive

prizes at aspecial afternoon tea held in the

education room at the Ashburton Art Gallery

and Heritage Centre.

Netherby School pupil Ruby Bartlett won the

10 years and undersectionwith her story

called Henrick and Walter.

Lucy Cowie from Our Lady of theSnows

School was the winner of the 11­13 years

section, Gianna Butler from Ashburton

Christian School the14­18 years competition

and TeganClark the adultsectionwith her

story TheIdea.

''Judges have been blown away by the

standard of stories thisyear,'' Ashburton

Writers' Group vice­president Stacey

Broadbent.

She said there were alot of talented writers

in the districtand choosing the winners had

been difficult.

The inauguraladultssection hadattracted

11 entries.

Speaking at theawards' ceremony

Ashburton councillor Carolyn Cameron said

words, writing skills andstories were all

importantinsociety.

Writing competition winners (from left) Ruby Bartlett, Tegan Clark, Niamh Hawe, Lynda James, Sylvie France, Freya

Jemmett, Ashburton councillor Carolyn Cameron, Lucy Cowie and Gianna Butler.

Air quality much

improved across

Canterbury region

The Canterburyregion is still

tracking wellinterms of

improvedair quality

performance and Ashburton is

leadingthe waywith zero high

pollution nights so far this

winter.

Geraldine andWaimate also

havenohigh pollution nights,

while Timaru has recorded

four, Washdyke 12 and

Christchurch seven.

Themaximumhigh pollution

nights allowedin2020isthree

for Ashburton, Christchurch,

Timaru andWaimate, and just

one for Geraldine, Rangiora

and Washdyke.

From2021the targetfor each

airshed willbecome one or

fewer high pollution events per

calendaryear.

Dirty nights in all areasof

Canterburyhavedeclined

markedly over the last 15 years

because of the introduction of

low emitting log burners, an

increase in the use of heat

pumps andalso on education

andenforcementcentredon

cleaning the air.

In 2006there were28high

pollution nights in Ashburton.

Ahigh pollution dayiswhen

the averagelevel of PM10 over

24 hours exceeds 50 g/m3. The

highestconcentrationsusually

occur on cold, still evenings

duringwinter and the main

sourceofemissionsisfromthe

burning of wood or coalfor

home heating.

2297269

Radiator Repairs

We areexpertatrepairing all types of

automotiveradiators – FAST

ARTHUR

CATES

LIMITED

26 McNALLYSTREET,

RIVERSIDE INDUSTRIAL

PARK,ASHBURTON

TEL 308 5397

www.arthurcates.co.nz

2282228
---
www.ashburtoncourier.co.nz

NEWS

Ashburton Courier, July 23, 2020

27

Students learn skills on

leadership programme

The soon­to­be­restored and expanded Methodist church on

Baring Square East.

Methodistchurch

work starts soon

Work that will breathe new life

into BaringSquare'sMethodist

church will begin at the end of

August.

There have been no services

in the near 100­year­old church

for almost 10 years andsince

the 2010 Canterbury quake

damaged it.

The upcoming 12­month

build project will see the

church strengthened, repairs

carried outondamaged areas

andthe addition of anew

extension on the south side.

The projectwill cost

$3millionand will be funded

from earthquake insurance

money, thesale of churchland,

saleofotherbuildings andfrom

grants.

Churchleader Rev Heather

Kennedy said plans had been

adapted to suit atrimmed

budget.

The original churchfeatures

Spend a couple of hours

every Thursday delivering the

Ashburton Courier and Realty in

the Ashburton urban area.

Enjoy the fresh air, stay fit and

reap the health benefits!

would be retained, but the

extension would be modern

and would feature alot of glass.

Shesaid members of the

Methodistcongregation had

used the church hall after the

earthquake damage, but when

theground on which thehall sat

was bought by thecouncil,

members moved services to

Paterson's funeral chapel in

March 2019.

RevKennedysaidshe and

parishioners were excitedthat

theproject wasnow moving

forward.

Pews had already been

removedfrom the churchand

everything else would be

removedbythe end of the

month.

Asite dedication servicewill

be held at theBaring Square

East church at 11.30am on

August16and everyoneis

welcome.

Stay fit &earn $$$

at the same time

Phone Mary todayon308 7664

to get startedoremail

mary.summerfield@ashburtoncourier.co.nz

Forty five Year 8students from

10 schools have been learning

more about leadership at the

intensive Kick Start

programme.

Nowinits 21st year,the

Youth Institute programme is

run at the Ashburton

Racecourse by retiredteacher

Ray King, whohas been

involved since its inception.

Students learnand practise a

range of skills associated with

effective leadership, including

team building, public speaking,

communication, organisational

and financial.

Mr King said students were

nominated by schoolsbecause

of the attributes they had

alreadyshown in theschool

environment.

''KickStartshould have been

held in March andnearer the

startofthe school year, but the

covid situation put pay to that.''

Theweek longprogramme

started withanintroduction on

leadership, with students

hearing from Ashburton

Collegeheadboy Henry

Chapman and head girl Poppy

Kilworth on their roles.

Goal setting and whatit

means to be entrepreneurial

was the focus on day two.

Yesterday JanCochrane from

Sport Mid Canterburyspoke

about team building and Matt

Marshall on publicspeaking.

Today interview and

Ashburton College head girl Poppy Kilworth (in school uniform)

takes these students through atask that tests their

communication skills.

presentation skills will be

practised in the morning,

followed by real lifeinterviews

with local professionals and

business owners.

Tomorrow studentswill use

the skills learnt from the

programme for apresentation

HOME

LEISURE

Horncastle Arena,

21-23 August 2020

Exhibitors

Book now

Don't miss your opportunity to showcase your

business infront of 10,000+ qualified attendees

New exhibitor packages available

Contact Lisa now

lisa.lynch@starmedia.kiwi • Ph: 021 800 809

to parents, who areinvited

in formorningtea.

Mr King said it was

significantthatover the

years many of thehead boys

and girls addressingthe

school leaders had also been

through the programme.

2292702
---
www.ashburtoncourier.co.nz

NEWS

Ashburton Courier, July 23, 2020

29

9-hole golfers

brave the cold

AshburtonGolfClub 9­holers

Last weeksaw 13 teams of

players braving the frostto

play ahidden holes stableford

with atwist organised by Dick

Hansen.

After we finished and the

scores wereentered into the

computer, Dicksat downand

usedacomplexmathematical

formula on the scores for the

hidden holesto comeupwith

the winningteam.

Congratulationstothe lucky

winners,AnneFleming and

DickHansen whowon a

Netherby Pharmacy voucher.

Clubvouchers to the Team

thatPlayed the Most Golf ­

Tonee Hurley and Peter

Greening. The club voucher

luckydrawwas won by

Michael Smith and Lorraine

Hansen. Smith and Church

golf balls go to Janice Dunlop

and Colin Fleming for scoring

gobblers.

July23: Match play.The

weekafter, July 30: Round5

HeatherSmithTrophy,

stableford.

Altrusa International of

Ashburton

TheAltrusayearhas

officially started at last. At our

recent, belated Changeover

Dinnerthe themeofaPalette

of Coloursintroduced ournew

presidentKay Begg,nine

board members and officers

forthe comingAltrusan year.

We continuewith agreatly

increasedresponse for our

Books OnWheelsproject in

conjunction withthe

Ashburton Library. The

annual Fabric Bazaarhas

beenpostponed until April

nextyear. The six­weekly foot

clinic hasresumed, as has the

projectDaysfor Girls

providing sewn feminine

supplies for girls overseas.

Drivingfor DayCarehas

also recommenced. The Magic

Mumsproject has beenmoved

to September.

Several of our members

havealso been busyknitting

hats for newborns:

approximately 6000babies

are bornatChristchurch

Women's Hospital eachyear

(about16babiesevery 24

hours),and alittlewoollen hat

is placed on its head

immediately after birth.

These hats are much

appreciatedbyhospital staff

andnew mums.

Our membershave all

relished the chancesto

reconnect after theearlier

lockdown.

SPORTS DRAWS

RUGBY

The draw for Saturday:

Seniors – Luisetti Seeds Watters Cup

semi finals: Methven PWL v Hampstead,

Methven1, 2:30pm H Grant, C Kelland, M

Southby. Southern Stu Tarbotton v Rakaia,

Hinds1, 2:30pm K Faalogo, A McGirr, J

Robinson.

Senior B–Michael Duff Memorial Trophy:

Celtic Kelly's Café &Bar vCollegiate, Celtic1,

2:30pm Bruce Beckley Cup S Bennett. Mt

Somers v Methven, MtSomers1, 2:30pm N

Forbes. Rakaia vAllenton, Rakaia1, Venue

and Time tbc JO'Connor. Southern Wholesale

Seeds bye.

Senior Women: Lincoln University vCeltic

B's Barber, Lincoln Field2, 1:00pm.

Combined Colts: Lincoln v Methven/

Rakaia, Lincoln1,1:00pm Marie Prebbleton v

Celtic/Southern, Prebbleton Oval, 1:00pm.

1st XV UC Championship: Roncalli vMC

Combined, 12:00pm Roncalli1.

Under 18 Combined: MCRU Alps v

Waihora, Celtic2, 1:30pm PEverest.

Under 16 Combined: Saracens vMCRU

Plains, 1:00pm, Sbk2. Prebbleton v MCRU

Alps, Prebleton2, 1:00pm

Under 14.5 Combined: Prebbleton v

MCRU Alps, Prebbl2, 11:30am. MCRU Plains

vLeeston, Celtic3, 1:30pm GJopson.

Under 13, Grade Day at Celtic: Celtic v

Allenton, Celtic1, 12:30pm Club Referee.

Celtic/Rakaia v Southern/Tinwald, Celtic3,

12:00pm JRobinson. Collegiate vMethven,

Celtic2, 12:15pm Club Referee.

Under 11.5: Celtic White v Collegiate

Cates Grain &Seed, Celtic4, 1:15pm. Methven

Black v Methven White, Methven1A,

1:15pm L Bell. Rakaia v Hampstead,

Rakaia2A, 12:15pm. Southern vCeltic Green,

Hinds1A, 1:00pm.

Under 10: Allenton Trembath Construction

v Tinwald Ace Automotive, Allenton2a,

1:00pm. Methven Black v Methven White,

Methven4, 1:00pm. Methven Red v Hampstead,

Methven1B, 1:15pm. Rakaia vCeltic

White, Rakaia2B, 12:15pm. Southern vCeltic

Green, Hinds1B, 1:15pm.

Under 9: Allenton Engineering Solutions v

Celtic, Allenton3, 1:00pm. Rakaia vCollegiate/

Hampstead, Rakaia3A, 12:00pm. Southern v

Tinwald Moore Mechanical, Hinds3, 1:00pm.

Bye Methven

Under 8: Allenton Alpine View v Celtic

White, Allenton2b, 12:00pm. Methven/Mt

Somers vTinwald NZ Farmers Livestock, Mt

Somers2,1:30pm. Rakaia vCollegiate/Hampstead,

Rakaia3B, 12:00pm. Southern vCeltic

Green, Hinds4, 1:00pm. BYE Methven.

Under 7: Allenton Gold Young Electrical v

Methven, Allenton2a, 12:00pm. Allenton Auto

Maroon vCeltic, Allenton2b, 1:00pm. Methven/Mt

Somers vTinwald Skip 2itFlooring

Xtra O, Mt Somers2, 12:45pm. Rakaia v

Collegiate Ashburton Crane Hire, Rakaia4,

12:45pm. Southern Blue v Southern White,

Hinds2A 1:15pm. BYE Tinwald NZ Livestock

Black.

Under 6: Allenton Gold Plumbing Services

v Hampstead, Allenton1a, 1:00pm. Allenton

Maroon Sparrow Family v Celtic Green,

Allenton 1a, 12:15pm. Methven Black v

Methven White, Methven5, 1:15pm. Mt

Somers v Tinwald Canvas Orange, Mt

Somers2, 12:00pm. Rakaia vCollegiate Cranfield

Glass, Rakaia4, 12:00pm. Southern Blue

v Tinwald Alluvial Black, Hinds2B,1:15pm.

Southern Red v Celtic White, Hinds2A,

12:30pm. Southern White vTinwald Cranfield

Glass Blue, Hinds2B, 12:30pm.

HOCKEY

Small Sticks duty club: Tinwald

Friday 24 July Kiwi Sticks (Yr 5) 3.45 pm

Rakaia v Tinwald (Turf a) G Muir, J Muir

Allenton vWakanui Blue (Turf b) RKidd, R

Kidd 4.30 pm Methven vWakanui Black (Turf

a) RKidd, RKidd Tinwald Foothills (BYE) Kiwi

Sticks (Yr 6) Rakaia vMethven Black (Turf b)

GMuir, JMuir 5.15 pm Collegians D&Ev

Methven White (Turf a) DLaw, LEllis Tinwald

vWakanui (Turf b) JMuir, LCameron6.00 pm

Allenton vTinwald Foothills (Turf a) DLaw, L

Cameron

1st Grade Women 6.50 pm Hampstead

Blue vMethven (Hampstead, Wakanui) 8.00

pm Hampstead vWakanui (Hampstead Blue,

Methven)

Just Hockey SSL Div 1Boys Marist Park

@StBedes 5.50 pm Cashmere High School

1st XI vAshburton College 1st XI (Umpires

supplied]

Small Sticks duty club: Tinwald

Saturday 25 July Mini Sticks 10.15 am

Methven Yr 3 v Wakanui Black (Turf a)

Coaches Hampstead v Tinwald (Turf b)

Coaches Wakanui Blue vMethven Yr 4(Turf

c) Coaches Tinwald Foothills vAllenton (Turf

d) Coaches

Fun Sticks 11.00 am Draws made on the

day (Coaches)

Senior Women Ash NBS 1.00 pm

Wakanui vGeraldine (C Hastie, BGray)

Senior Men Ash NBS 2.40 pm Tainui v

Wakanui (C Watson, RTurnbull)

Sunday 26 July

2nd Grade Girls Ash NBS 1.40 pm

Wakanui vTemuka (Wakanui Snr Women x2)

Tim TA 2.05 pm Cambridge v Tinwald

(Umpires supplied)

1st Grade Men 4.00 pm Wakanui v

Allenton (Tinwald Black, Hampstead/

Wakanui) 5.25 pm Hampstead Lowcliffe v

Tinwald Orange (Wakanui, Allenton) 6.50 pm

Tinwald Black vHampstead/Wakanui (Hampstead

Lowcliffe, Tinwald Orange)

Monday 27 July: 2nd Grade Boys TIM TA

5.40 pm Geraldine v Allenton (Umpires

supplied) Ash NBS 6.15 pm Wakanui v

Mackenzie (SMoore, JGray)

Tuesday 28 July: Kwik Sticks (Yrs 7&8)

4.00 pm Allenton vTinwald Orange (M Wilson,

BGreer) 5.15 pm Wakanui Blue/Collegians v

Tinwald Foothills (L Ellis, GOates) 6.30 pm

Methven vWakanui Black (A Mitchell, Harry)

Wednesday 29 July: Just Hockey SSL Div

2Girls Nunweek Park 26.10 pm St Andrew's

College 2nd XI vAshburton College 1st XI

(Umpires supplied)

THE 2020 GENERALELECTION

AND REFERENDUMS

This year youcan vote

in tworeferendums.

Enrol.Vote. Be heard.

vote.nz

referendums.govt.nz

0800367656
---
SPORT

30 Ashburton Courier, July 23, 2020

www.ashburtoncourier.co.nz

Special round marks 125 years

If thewallsofthe Ashburton

Golf Club could talk,there'd be

plenty of storiesand laughter

about friendship and

competition.

Some of those storieswere

retold on Sundaywhenthe club

celebrated125 years.

Thecelebrations were lowkey

andincludedthe unveiling

of aspecial commemorative

plaque, around of golf

involving 60 players and time

for yarningafterwards.

Organiser Neil Macdonald

said about85peoplewerein

the clubrooms for speechesto

mark the day's play and125th

birthday, including life

members Jeanette Lovett and

Marion Marshall.

Jeff Williamson touched on

the club highlightsofthe past

25 years and board chair Chris

Robertson talked aboutalong

future.

Mr Robertsonsaid 125years

was amassive achievement,

built on the work ofsuccessive

generations who had the

wellbeing of the club in their

hearts.

He said the club had never

lost sight of goodold­fashioned

values likefriendship,

kindness, competition,respect

and laughter.

Acrowd of around 60 golfers played on Sunday to mark the club's 125th year. Photo supplied

The currentboard aimed to

build on theworkofprevious

administrations. ''In another

125 years, our club will still be

here andwewill have done our

part along the way.''

The club's 100­year history is

in acentennial bookand its

currentBrandon course is its

Multisporters save day

for annual Salmon Run

Entries are nowopenfor Rakaia

multisport event theJackson Holmes

Salmon Run.

The sixth annual event will be held

on October 17 at the Rakaia Domain.

The event run by the Rakaia Lions

has something for everyone whether

they are competitive, noncompetitive,

competing as

individualsorinateam.

All seven events start andfinishin

the domain. Theevents are atesting

multisport course(36km cycle, 14km

kayak,11.5km run), intermediate

grade mountain bike course (25km),

half marathon,long duathlon (35km

cycle and 14.6kmrun),shortduathlon

(25km cycle and 6km run), longrun/

walk (14.2km) and short run/walk

(6km).

Individual categories are

classified as junior (14­18), open

(19­45)and masters (46 plus).

All eventsstart and finishatthe

Rakaia Domain and most will take in

sections of the impressiveRakaia

riverbed.

Race maps will be confirmed after

winter,when river trackshavebeen

checked. Updated details regarding

health and safety and Covid­19

requirementswillalso be published

nearer raceday.

Registration andmore information

can be found on the website

thesalmonrun.nz.

fifth home. Thefirst golf course

was at the poundnear South

Street, then theshowgrounds,

followed by theracecourse and

then on the Tinwaldside of the

Ashburton River.

Theclub moved to Brandon

in 1953and has hosted many

major tournaments alongside

Action from the 2019 event.

weekly competitionsfor club

members.

The club is working

towards hosting the2021

interprovincial men's team

tournament in December

when the country's best

amateur golfers willcometo

town.

Netball

leaders

to clash

Withjust two games left in

roundoneofMid Canterbury

Netball's ACLpremier

competition, Hampstead Aand

CelticAareshaping up to be

the teams to beat.

Tonight,one of those teams

willbecome the clear

frontrunner,with the Cindy

Meadows coached Hampstead

Aand theAngela Leadley

coachedCeltic Aset to face off.

HampsteadA's talltimber at

bothends of the court, in the

form of shooter Alice

Eddington and defender

HannahSpence,alongwith the

speed of Kelsey Bewleyin the

mid­court hasmade them a

force to be reckonedwith so far

in 2020.

But Celtic Aisone of the most

consistent teams inrecent

seasons, also three from three

and heading intotonight's clash

off the back of astrong winover

MethvenAlast Thursdaynight.

United Asits in third,just

ahead of MethvenA–their

opposition intonight's middle

game.

The teams currently in the

dangerzone, with two games

left before promotion/

relegation, are Mt Somers and

last year's premier 1winners

CollegeA.Neither have awin to

their names yet,but again that

willchange tonight, with the

two sides set to play in the

8.15pm round.

Promotion/relegation games

awaitthe bottomteams in

premier 1and premier 2after

the last games of round oneon

July30.

At the moment, Southern A

and CelticBare shaping upas

the teams to beat in premier 2,

and areset to play each other

tonight,while CelticCand

College Batatthe lower end of

the table.

In the new premier 3grade,

United Band Hampstead U18A

are jointatthetop, andplay

eachother tonight, while in the

other gameAshburton College

Year10A will take on Southern

B, with Methven Shearmac

having the bye tonight.

ARE YOU KEEN

TO GET BEHIND

THE WHEEL?

Driven by local industryand taught by industryexperts,

this 30 week course provides amix of theoryand practical

experience. It'sbased in Timaru, at AraInstitute.

I'm lovingmyjob and

youdoget to see some

amazingplaces. If you're

leavingschool Idefinitely

recommendgivingitashot

– Will, past student

Freefees mayapply &the opportunityfor

paid work placements in local industry

APPLY NOW:

Coursestarts17August2020

Email today: Christine.jones@ara.ac.nz

The New Zealand Certificate inCommercial Road Transport (Heavy

Vehicle Operator) (Level 3)offers you the chance to gain the skills and

knowledge the transport and logistic sector desperately needs, and

we can connect you to employers with vacancies to fill.

Proudly supported by:
---
open

homes

view anyofour properties fromthe comfort of

your home in3D...becauseyou can!

Trevor Hurley Real Estate Ltd LREA 2008 -MREINZ

47A Aitken St

(E699)

28 Queens Dr (W702)

•Modern, large

townhouse

•Extra spacious living

•Indoor outdoor living

paramount

•Quality design&

privacy

•Easy carelandscaped

section

$PBN BIR

$469,000 -$499,000

Open Sat25July

11.30 -12.00pm

• Permanentmaterial,

renovatedproperty

•Doubleglazed

•Desirablelocation,

close to school,

shops &domain

•Spacious 723m²

section

•Parking front&rear

•Sunnynorth facing

aspect

Offers Over $419,000

Open Sat25July

11.00 -11.30am

3 2 2

3 1 1

76 Thomson St (T306)

•Permanentmaterial

home with log burner

&heatpump.

•Compliantwith the

current residential

tenancyact &tenants

who want to stay

•Warmand sunny

Offers Over $290 ,000

Open Sat25July

10.00 -10.30am

68 Cambridge St (T307)

• This permanent

material property is a

fantastic first home

•Large sleepout

with its own

heatpump

•Well heatedwith

heatpump,HRV and

double ceiling

insulation

$PBN BIR

$365,000 -$385,000

Open Sat 25 July

11.45 -12.15pm

First Home Buyers From 10% Deposit $251pw (Conditions apply)

3 1 1

First Home Buyers From 10% Deposit $302pw (Conditions apply)

3 1 2

11 TrentPl (LH070)

• Substantial,quality

home with stunning

waterfront views

•Well designed interior

with walk in pantry

•Superboutdoor

entertaining with

access to private

jetty&canals

$PBN BIR

$719,000 -$739,000

Open Sat25July

12.00 -12.30pm

98 George St (T302)

•Great property fora

firsthome buyer or

investor

•Open plan living.

•Private entertainers

deck

•Easy caresection

•Situated on the

Westside of Tinwald

in aquiet street

Offers Over $239,000

Open Sat25July

10.30 -11.00am

4 3 2

First Home Buyers From 10% Deposit $201pw (Conditions apply)

3 1 0

10 Argyle Pl (W698)

103 Forest Dr (M100)

•Magnificent homein

soughtafter location

•Large formal lounge,

open planliving areas

•Master with ensuite

•Three double

bedrooms plus office

•1294m² section

$PBNBIR

$550,000 -$580,000

Open Sat25July

11.15 -11.45am

• Don'tmissout on

this cracker first

home or holiday

home!

•Well positioned for

the sun

•Three bedrooms plus

en suitewith walk in

shower

•Private &secure

$PBN

Open Sat25July

10.00 -10.30am

4 2 2

First Home Buyers From 10%Deposit $310pw (Conditions apply)

3 2 1

Living TheDream

(H113)

•Doyou dream of

being beside the

seaside?

•Own your ownpiece

of paradise

•Suitable for

permanentresidence

or as aweekend

getaway

•Great investment

potential

•Viewing isamust!

Offers Over $135,000

Character&Charm

(W695)

•Modernised open

plan kitchen/dining,

large living area

•French doors into

spacious lounge

•Modernbathroom

with walkin shower

•Large bedrooms,

with Frenchdoors&

patios. Spa pool

$PBNBIR

$349,000 -$379,000

View By Appointment

2 1 0

First Home Buyers From 10% Deposit $293pw (Conditions apply)

Proud supporters of the HeartFoundation of NewZealand! Wedonatefromevery property sold!

4 1 2

Manager/Sales Consultant

Trevor Hurley

0275 435 799

Sales Consultant

Manu Otene

022 308 6885

Sales Consultant

Linda Cuthbertson

0274087965

Sales Consultant

Coming Soon!

Sales Consultant

Stephen Watson

027 433 9695

Sales Consultant

Julie Srhoy

021 354 885

Sales Consultant

Deborah Roberts

0210752180
---
SATURDAY 25TH JULY

147 McMurdo Street, Tinwald 10:00-10:30am 4 1 2 AHB22766

366A Burnett Street, Ashburton 10:00-10:30am 3 2 2 AHB22818

15 Millichamp Street, Ashburton 10:30-11:00am 2 1 2 AHB22767

75 Bridge Street, Ashburton 10:45-11:15am 2 1 2 AHB22813

100 Princes Street,Ashburton 11:00-11:30am 4 1 3 AHB22836

15 Cameron Street, Methven 11:00-11:30am 3 1 1 AHB22485

98 Pages Road, Ashburton 11:15-11:45am 4 2 2 AHB22698

119a Racecourse Road, Ashburton 11:30-12:00pm 4 2 2 AHB22588

86a Grey Street,Ashburton 12:00-12:30pm 3 1 1 AHB22839

11 Charlesworth Drive, Ashburton 12:00-12:30pm 3 2 2 AHB22839

8Ascot Place, Ashburton 12:00-12:30pm 3 1 1 AHB22712

59 Middle Road, Ashburton 12:45-1:15pm 2 1 2 AHB22842

17 GrayStreet, Hinds 1:00-1:30pm 2 1 2 AHB22728

157 Wilkins Road, Ashburton 1:30-2:00pm 4 2 6 AHB22748

7McElrea Place, Ashburton 3:00-3:30pm 3 1 1 AHB22732

SUNDAY 26TH JULY

Open Home

15 Millichamp Street, Ashburton

2 1 2

NO OPEN HOMES TODAY

If you're afirst home buyer or investor looking forthat

homely feel with good bones, then this property is well

worthyofanearly viewing.

With properties like this being snapped up so quickly, don't

wait forthe open home, contact me nowtoarrange a

viewing appointment.

-2Bedrooms PLUS (Hobbyroom, 3rd Bedroom orOffice)

-Open plan kitchen and living area

-Extra large double garage +ample off street parking

-Bathroom and separate toilet

-Compliant Log Burner. EasyCare Section

rwashburton.co.nz/AHB22767

Mid Canterbury Real Estate Limited Licensed (REAA 2008)

SetDateofSale

closing 3August 2020, at

3:00pm (unless sold prior)

View

Saturday10:30 -11:00am

Armand vander Eik

021 597 527

View our listings online at: rwashashburton.co.nz

Tender

10 Princes Street, Ashburton

TheASISWHEREISDwellingzoned Business C. Thebusiness

section ofthe District Plan contain the requirements for this

zone. Residential activity is permitted within the Business C

zone however as per rule 5.9.15 itisrestricted to first floor

level &above.

rwashburton.co.nz/AHB22843

Mid Canterbury Real Estate Limited Licensed (REAA 2008)

Tender

closing 31 July 2020

View

by appointment

3 1 1

Kim Miller

027 236 8627

Open Home

59 Middle Road, Ashburton

2 1 2

11 Charlesworth Drive, Ashburton

4 3 3

This home has plenty to admire including two double

bedrooms plus aspacious sun room which is currently used

as athird bedroom. Kitchen is modern and includes adishwasher,wall

oven, gas cook top and range hood. Also offers

alarge Modern Double Garage with auto door.

rwashburton.co.nz/AHB22842

Mid Canterbury Real Estate Limited Licensed (REAA 2008)

SetDateofSale

closing 25 July 2020, at

3:00pm(unless sold prior)

View

Saturday12:45 -1:15pm

Armand vander Eik

021 597 527

-Four double bedrooms plus office

-2Ensuites plus main bathroom with separate toilet

-Open plan Kitchen, Dining &Living plus Butlers Pantry

-Separate formal loungewith gas fire

-3Car Garaging. 1308m2 section (over2titles)

rwashburton.co.nz/AHB22611

Mid Canterbury Real Estate Limited Licensed (REAA 2008)

ForSale

$830,000

View

Saturday12:00 -12:30pm

Cheryl Fowler

027 461 2614

Jill Quaid

Manager

027 437 6755

RichardQuaid

Sales Consultant

027 454 4745

Kim Miller

Sales Consultant

027 236 8627

ChrissyMilne

Sales Consultant

027 290 6606

Margaret Feiss

Sales Consultant

021 751 009

ShirleyFitzgerald

Sales Consultant

027 220 1528

Denise McPherson

Sales Consultant

027 242 7677

Cheryl Fowler

Sales Consultant

027 461 2614

Armand vander Eik

Sales Consultant

021 597 527

Lynne Bridge

Sales Consultant

027 410 6216

Mike Grant ncre

Sales Consultant

021 272 0202

Mark Totty

Sales Consultant

021 664 113

BruceMcPherson

Sales Consultant

027 438 4250

JustinWaddell

Sales Consultant

027 437 1111

Jarrod Ross

Sales Consultant

027 259 4644

RogerBurdett

Sales Consultant

021 224 4214

96 TancredStreet, Ashburton 03 307 8317 Main Road,Tinwald 03 307 8317

rwashburton.co.nz

36 McMillan Street,Methven 03 303 3032
---
trusted

2020 GUIDE

trades &services

To book your spaceinthis guide,phone KarenGane 308 7664 or email karen.gane@ashburtoncourier.co.nz

Interior and Exterior Painting

2289510

FREE LEGAL HELP

Helpinperson by appointment

Thursday9.15am -1.45pm

Ph 0508 CANLAW

(0508 226 529) to makean

appointment.

Helpbyphone Infoline

03 371 3819 or 0508 226 529

215 Tancred Street,Ashburton

2291052

PROFESSIONAL

PORTRAIT AND

COMMERCIAL

PHOTOGRAPHER

PICTURE FRAMING

GALLERY &STUDIO NOWOPEN

179WEST STREET

027310 6521

emmily@emmilyharmer.co.nz

www.emmilyharmer.co.nz

2291084

RESIDENTIAL &

COMMERCIAL SPECIALISTS

Phone Quentin andPhilon

027 282 8908 or 027 2828909

Interior Plastering

Wallpapering

2291026

Need storage?

we CAN STORE it!

Lubes WOF

Allmechanical repairs

GODSELL

BRICKLAYING

Convenient, affordable

self storage solution

Phone 307 0213

•185 Alford Forest Road •behind

2291039

TRIANGLE

GARAGE LTD

Victoria Street,

TheTriangle,Ashburton

Phone: (03) 308 6772

2291183

•Houses

•Feature Walls

•Fences

•Blocklaying

Chris Godsell

027 274 2533

AH 308 7117

godsell@xtra.co.nz

2291204

2266285

Ashb

hbut

rton,R Rolles

leston

ton&Ch

Chrit

ist chu rch

•Paving •Irrigation •Lawns

•Planting •Fences •Pergolas

•Water features •Outdoor fires

•Raised planters •Decks

•Stonework•Brick &blockwork

•Artificial grass and more...

Email –Aaron@theoutdoorspace.co.nz

Phone0800 688 365 /021 542 402

www.theoutdoorspace.co.nz

2273646

115 Archibald Street,Tinwald,Ashburton

Phone /Fax: (03) 307 2354

Email tincanup@xtra.co.nz www.tinwaldcanvas.co.nz

2293200

ashburtoncranes2015@gmail.com

2291014

2297507

•

•

•

•New builds •Renovations

•All types of engineering

•Small or large projects

Rob021 124 4268 l Sam022 5428927

email: robsue@hotmail.co.nz

GREAT

RATES

PC Repairs, Set-up and Tutoring

Icome to youday or evening!

NewPCs

and Laptops

forsale

•PCRepairs/Sales •Networks/Servers

•Firewalls/Security •Spyware Clean-up •Training

20 YearsExperience Microso Cerfied Professional

NETWORKS FIREWALLS AND PCS LTD

Robin Johnstone 67 Aitken Street, Ashburton

P: 03 308 1440 C: 027 768 4058

robinbj@xtra.co.nz

2291109

WILSONS

WINDSCREENS

WE WELCOME ZEK

FROM WINSTONES

TO JOIN OUR TEAM

We areyour one stop glass shop for

AUTO and HOUSE

REPAIR or REPLACE 152 Wills Street,

"Your placeorours"

2291191

Restoration

2287935

03 308 0387

johnsons.panelpaint@gmail.com

Ashburton

Ph.308 8485

Modifications Repairs

Your Digital

TV Experts

• Aerial/Dish installations and repairs

• Prewirefor TV/Audio and controlsystems

• TV wall mounting • Cell phone aerials

• Home theatreinstallation

• Authorised SkyTVtechnician

Servicing

Ashburton Geraldine

Methven Rakaia

andeverywhereinbetween

ASHBURTON

TV &AUDIO

PH 308 7332 /027 277 1062

ashburtontvandaudioltd.co.nz

2293268
---
trusted

2020 GUIDE

trades &services

To book your spaceinthis guide,phone KarenGane 308 7664 or email karen.gane@ashburtoncourier.co.nz

We offer the following:

• Gutter and DownpipeCleaning • Weed Spraying

• Moss,Mouldand Lichen Spraying • Spider Proofing

• Gorse and BroomSpraying • FenceLineSpraying

• Chimney/Flue Cleaning $75 • Heat Pump Service$90

MENTION THIS AD WHEN BOOKING FOR A10% DISCOUNT

ON GUTTER AND DOWNPIPE CLEANING

Call Allan on 027 209 5026 an let us know howwecan help

"we clean to a

standard,

not aprice"

UNDER NEWAshburton

OWNERSHIP

Same exceptional CleaningServices

level of service

&quality cleaning

• regular full house cleans

• one off spring cleans

• farm houses

• builders cleans

•

2290907

100% LOCAL

03 307 2656

www.ashburtoncleaning.co.nz

2280970

We service and repair all makes and models

of sewing machines and overlockers

Your local Bernina

service team

John Robbie Rachel

OPEN 7DAYS9.30am -4.30pm

Main South Road, Tinwald Ashburton | Phone 307 6277

www.anniesquilts.co.nz

ALL THINGS CANVAS &PVC

*Awnings/Shade sails/Dropblinds*Auto seat covers &repairs

*Hay&bin covers *PVC covers &repairs

*Ute tonneau covers *Furnitureupholsteryrepairs

*Commercial

PHONE TRAVIS HOWDEN 027 922 4544

2291092

2293205

Solar powerwhenyou need it most

We are experts at installing solar

power systems for motorhomes.

• SOLAR PANELS • BATTERIES • DC MANAGEMENT

• CAMERAS • TV SATELLITE • PUMPS • REFRIGERATION

AAA

Solar

&SUN POWERPLUS

South Island

4McGregorLaneAshburton

03 307 4777 -027 4423103

ashsolarpower@xtra.co.nz

aasolarsouthisland.co.nz

NEATGARDENS

Does your garden need monthly

maintenancetokeep it tidy and

looking good through the seasons?

Or perhaps just need aone off tidy

or pruning completed?

We can help!

Allgarden wasteremoved

ContactCAROLYN Phone: 027 2675403 or 3082333

Email: cccolt@xtra.co.nz

2290923

2291098

Diamond Painters and

Decorators Ltd

Qualityinterior and exterior

painting and decorating

• Wall papering • Airless spraying

• Waterblasting • Residential and small commercial

• Roof painting • Freenoobligation quotes

Gutterguardinstallation and gutter cleaning

Phone Duncan 027 370 2453 l Jeanette 027 318 5055

email: diamondpaintersdecorators@gmail.com

VISIT OUR STORE AND GET A

TREATFOR YOUR PET

Always in stock:

• Birdaccessories,food &treats

• Rabbit and guinea pig food,bedding &treats

• Cat accessories,collars&treats

• Dog collars,leads,toys, accessories &treats

• Aquarian accessories &food

• Dog crates &cat crates

• Raw,fresh &frozenpet food

• All sorts of dried products

SPECIAL

3kg DogRolls

2for $12

HAVE CASH FOR PETFOOD COWS AND UNWANTED STOCK

"Come andsee our friendlystaffin-store today"

2291081

Forall your tyre requirements,

see the localexperts

•Wheel alignments

•Wheel balancing

197 Wills Street,Ashburton l www.neumannstyres.co.nz

Phone 03 308 6737 (24 hrs –after hours call out applies)

4WD Diesel &ElectricScissorlifts

Rough terrain and electric lifts available

On site collection or deliveryavailable

Nowat6Range 403 West Street St,Riverside

PO Box 60, Ashburton 7740

Phone: 03 308 8155

Mobile: 0273 529909

Email:sales@nee.kiwi.nz

Need help with BOOKKEEPINGor

ADMINISTRATIONSUPPORT?

Youdidn'tgointobusiness to do the

books, butwedid!

Let'shaveachatovercoffee andsee howIcan help

2291137

2291143

PETER TAYLOR

B

S

UILDER

LTD

FOR ALL YOUR BUILDING REQUIREMENTS

• New homes • Alterations • Light commercial • Farm buildings

• General maintenance • Paths • Tiling

Fully qualified licensed building practitioner

No job toosmall! Phone Peteron:

308 7133 or 027 220 8257

taylorbuilt@xtra.co.nz

2291139

2291153

Phone (03) 307 8996

027 312 5756 l 99 Archibald Street,Tinwald

2293215

Silvia Haddock 027 2169478

silvia@bradleyrural.co.nz l solutionsbusiness.co.nz

2291172

2291175

Thinking of Selling -Think 3D!

Trevor Hurley

0275 435 799

Manu Otene

022 308 6885

Linda Cuthbertson

0274087965

Stephen Watson

027 433 9695

Julie Srhoy

021 354 885

Deborah Roberts

0210752180
---
www.ashburtoncourier.co.nz

Balmacaan Saddle walk

offers beautiful views

CLASSIFIEDS

Ashburton Courier, July 23, 2020

35

FOR LEASE

AWESOME office space for

lease, rent or hire. Parklike

setting. Indoor and outdoor

areas. North West

town boundary. Must view.

Phone 0274 754 241

RENT ME!

This walk is arecommendation from the Mayfield

Ladies Walking Group, whose members are active

year­round in the foothills.

One of the great family day walks from Lake Camp

is to the Balmacaan Saddle and back.

The track begins at the east end of Lake Camp.

Follow the track to start with to Lake Emma. Cross

the Balmacaan River.

The track then splits with track to Balmacaan

follows an old 4WD track up the river. The track is

agentle climb to the bottom of the saddle. It takes

about two hours to get to the base of the saddle.

From the base of the saddle it's a30­minute steep

climb through rocks and matagouri to the top.

There isn't avery good track to the top, so you

need to pick your way to the saddle carefully.

But it is worth the effort where you get great views

of the Rangitata River and Ashburton catchment.

This track is suitable for all ages, though some

may find the saddle quite steep.

The track could be done all year round though you

may have snow to contend with in the winter

months.

If you are staying in abach at Lake Clearwater

this is agood track to fill in aday.

To get there, travel to Mt Somers and continue on

road to Lake Camp. Turn left at the start of the lake

and follow track to southeast corner where there is

an area for parking and signs pointing to Lake

Emma.

Mt Somers is agreat place to stop for an ice cream

after your hike.

Mayfieldladies on arecent walk to Balmacaan Saddle.

Ideal as an extra

bedroomoroffice.

Fully insulatedand

double glazed forwarmth.

Threeconvenientsizes:

Standard3.6m x2.4m,

Large 4.2m x2.4m

Xtra-large 4.8m x2.4m.

Visit our displaycabin

418WestStreet or callfor a

freebrochure.

www.justcabins.co.nz

2289121

0800 58 78 22

STORAGE and space leasing

for vehicles, motorbikes,

bicycles, boats,

motorhomes, caravans,

tractors, trucks, trailers and

containers. Indoor, outdoor

or under cover. Call Peter

027 333 3626.

STORAGE available, Ashburton.

Self storage, variety

of sizes. Phone Rainbow

Storage 03 307 0401.

STORAGE:Secure self storage

units available, long or

short term. Ashburton Storage

Facilities. Contact us

on 0274 362 636 or www.

ashburtonstoragefacilities.

co.nz

PETS

Challenge on for electrical apprentices

The call is outtoelectrical

apprenticesacrossNew Zealand

to be in to winthe 2020 Master

ElectriciansApprentice of the

Yearchallenge.

The19th annual challenge

kicksoff in Dunedin on

September29with the firstof11

regionalrounds being held

across the country andthe lastin

Whangarei on October30.

Competitorscan chooseto

compete in either the industrial

or the commercial/domestic

category,with thetop five of each

category battlingfor the supreme

awardatthe all­expenses­paid

finalsinWellington in

November.

The focusisonthe practical,

with competitors havingto

completefour modules at the

regional stage and five at the

final stage–reflectingthe varied

issuesanapprentice might face

on the job.

Interestinthe challenge has

grownsignificantly sinceitwas

launched19years ago, with 189

apprentices takingpartlast year,

double the number that

competedsevenyearsearlier.

MasterElectricianschief

executiveBernie McLaughlin

says competitors will be givena

guideline of whatthe modules

will contain two weeks before

their preliminaryevent, so that

they can prepare for it.

"As wellasagreat opportunity

forapprentices to demonstrate

theirtechnical skills,the

challenge is asignificant

showcaseofour bestup­andcomingtalent

to the broader

electricity sector,''hesaid.

Apprenticescan sign on for the

challenge via the Master

Electrician's websiteand the

deadlineisSeptember11.

The onlyprerequisites arethat

contestantsmust have acurrent

apprenticeship agreement and a

minimumofsix monthsbut no

more than 45 months on­the­job

experience.

Mobile

groomer now

servicing

Ashburton

Call nowtobooka

pamper foryour pooch

Ph 0800454 654

2293769

LOOKING to earn extra

money, even while you're

out walking? Delivery

people required. Phone

The Courier 308 7664.

Winter in The Alps

Your perfect escape is

closer than you think

Bed and Breakfast for 2only $263 per night*

Please quote code #ACMTCOOK

p. 03 435 1809 e. reservations@hermitage.co.nz

*terms &conditions apply
---
CLASSIFIEDS

36 Ashburton Courier, July 23, 2020

NevilleWilkins &TheViscounts

7pm

Saturday25thJuly, 7pm

THE JACKSON'SBISTROOPEN THUR &SAT EVENINGS

Courtesy van

runs every

Thursday, Friday

and Saturday

from 4pm

Join the RSA (the friendly club)

12-14 Cox Street, Ashburton. Phone 308 7175

Members, guests and affiliates all welcome

ENTERTAINMENT

BUSINESS OWNERS

Build customers,sales and

profits,with us ...

Over 16,065 copies delivered everyThursday

PRINT, ONLINE ANDMOBILE 24/7

CROSSWORD

QUICK PUZZLE NO. 8576

ACROSS

1. Whip (4)

7. Give in (9)

8. Hold (4)

9. Lampoon (4)

10. Tree (4)

11. Fee (4)

14. Sometimes (2,8)

16. Brainwave (6,4)

19. Fastened (4)

22. Journey (4)

24. Flower (4)

25. Secure (4)

26. Curse(5,4)

27. Metal (4)

DOWN

1. Fair (5)

2. Yet (5)

3. Bird (6)

4. Fault-finder (6)

5. Cut (4)

6. Strengthen (9)

12. Toobig (9)

13. Yearn (4)

15. Hit (4)

17. Cast (6)

18. Abandon (6)

20. Silly (5)

21. Fear (5)

23. Entreat (4)

CRYPTIC PUZZLE NO. 8576

ACROSS

1. Acted as though cheated (4). 7, What the knock-out

punch is to the aspiring title-winner? (5,4). 8. Figure no

German is spoken(4). 9. People naturally want to protect

her (4). 10. Look after for ashort time, then stop (4). 11.

Fatgirl with atiny head (4). 14.Quite self-possessed, but

not very friendly (6,4). 16. Clean -and you can say that

again! (10). 19. Used to be aquarter to before (4). 22.

Spring from the front (4). 24. Table sent back by A. Hill

(4). 25. Aclue in pencil (4). 26. Calm when one went

round to get (9).27. Alight "Phooey"is the return (4).

DOWN

1. At home, is he? (5). 2. Not any figure is tobeentered

for now (5). 3. Pull inand stop (6). 4. Being given time to

cope with it (6). 5. Offbeat, which doeshelp (4). 6. Reading

through again while on the ferry? (5,4). 12.Aspromised,

accepted less than one wasentitledto? (9). 13. With

an utter lack of heart, strangrly loyal (4). 15. They put off

going to work (4). 17.More than once,half of them had a

milk pudding(6). 18. More advisablefor someone taking

arisk (6).20. An incident before the openingnote (5).21.

Thebilingual senior (5). 23. Beer, not verycold (4).

2255675

SUDOKU

EASY No. 5228

4 8 1 5 3

8 6

3 9 2 6

9

7 4 2 9 8 1

2

4 6 9 7

5 3

7 4 2 3 5

Solution to previous Sudoku

Howto

solve

Sudoku!

Fill the grid

so thatevery

rowand every

3x3 square

contains the

digitals 1to9

TRADE &SERVICES

BUILDER - specialising in

home renovations and

repair work. We also do

decks, fences and retaining,

plastering and painting,

gardening, landscaping

and tree removal. Call

Gavin 021 267 1979

BUILDING and property

solutions. For your complete

alteration or renovation.

We project manage

the whole process. Home

and small commercial.

Qualified tradesmen.

Phone Kiwi Building &

Maintenance Ltd. Gary 308

4798, 027 207 1478 or

Cawte 027 418 7955.

CARPET cleaning. Powerful

equipment and fast drying.

Upholstery, mats and rugs.

Experienced owner/operator.

Phone John Cameron

at Supersucker. 027 435

1042 or 308 1677.

CARR'S Chimney Cleaning,

servicing Ashburton and

surrounding districts, $60

per chimney. Phone

Rodney on 03 324 2999

and leave amessage.

2 8 5 6 3 1 4 7 9

9 4 6 5 7 8 3 1 2

7 3 1 2 4 9 8 6 5

4 9 8 7 1 2 5 3 6

5 7 3 4 8 6 2 9 1

6 1 2 3 9 5 7 8 4

1 5 4 8 6 3 9 2 7

3 6 7 9 2 4 1 5 8

8 2 9 1 5 7 6 4 3

Solution to previous crossword

QUICK PUZZLE NO. 8575 -SOLUTIONS

Across -7,Without aword. 8, Chance. 9, Sister.10, Crystal.

12, Cause. 15, Hoard. 16, Portray.18, Flight. 20, Notice.

22, Well and truly.

Down -1,Hitherto. 2, Shun. 3, Numeral. 4, Pause. 5,

Constant. 6, Idle. 11,Struggle. 13, Scarcely.14, Tornado.

17, Steal. 19, Lawn. 21, Tart.

CRYPTIC PUZZLE NO. 8574 -SOLUTIONS

Across -6,Looking into. 7, Stop (rev.). 8, Stands up. 9,

Prised (anag.). 10, Tasted. 12, Madder.15, Mo-der-n. 17,

Follower.19, No-US. 20, Strong taste.

Down -1,Composed. 2, Miss-Ed. 3, Agh-a-St. 4, En-I-d.

5, Volume. 6, L-ater. 11, Su-Danes-e. 13, A-r-O-use. 14,

Row-I-ng. 15, M-erits. 16, Rouge. 18, Lark.

ContactJann Thompson 03 308 7664 jann.thompson@ashburtoncourier.co.nz

2292862

TRADE &SERVICES

CHIMNEY sweep - For a

professional service call

Dan McKerrow Chimney

Sweep and Repairs on 021

118 7580.

COMPUTER repairs, sales,

training, set up -wireless -

networks, spyware clean

up. On-site day or evening.

Low fees. Call Robin Johnstone,

Networks Firewalls

& PC's Ltd, 308 1440 or

027 768 4058.

CONCRETE pavers direct to

you - Best prices, many

sizes, textures and colours

- Paveco, 13 Robinson

Street, Industrial Estate.

DENTURES; Dr Peter

Rumping repairs existing

dentures and also provides

new dentures. Phone 027

220 9997.

ENGINEERING repairs, fabrication,

farm equipment

service and maintenance,

WOF repairs, machining

and welding. Odd jobs a

speciality. Mobile workshop.

Can collect. Phone

Malcolm 0274 754 241

TRADE &SERVICES

FLY control and spider

proofing. For all domestic

and industrial pest control

needs phone AJ Kerr at

Ashburton Pest Control on

03 308 8147 or 027 432

5447.

FURNITURE Removals. For

all your household removal

needs - urban, rural lifestyle,

office relocations -

call Nudges Furniture

Removals, phone 027 224

0609

GARDENING, mowing,

pruning, fertilising, projects

or general spruce ups? Call

Andrew at Spruce Gardens

to get the job done right.

027 765 2899 or 03 307 1693.

sprucegardens@xtra.co.nz

GUTTER cleaning. Book in a

clean now and tell me when

you want the job done. You

may have trees around.

Call Allan 027 209 5026

LEGAL work -Phone Peter

Ragg (Ashburton Law) for

house sales, purchases

and refinances. Will call at

home evenings for wills,

enduring powers of

attorney. Phone 308 0327.

LOCKSMITH/Door repairs.

Keys/locks, sliding and bifold

door roller repairs.

Mobile service. Call Doors

and More. Ph 027 516 7104

MENTORING for emotional

support, guidance, optimism,

goal setting, resilience.

Professional supervision.

Call Pete Young, 307

7582/027 280 0889; email

plyoung@xtra.co.nz; web:

peteyoung.co.nz

PAINTER for all your painting

needs. No job too small,

inside or outside. Professional

friendly service.

Phone Pete 03 308 1672 or

027 200 1619.

PAINTING wallpapering,

plastering - No job too

small. Interior, exterior.

Professional, prompt, competitive

service. Phone

Tony Sivier at Paint It Ashburton

on 021 878 794 or

307 7289.

PLASTERING

&COATINGS

Rockcote. Waterproofing.

Texture/Specialist

Coatings.

The Finishing Company

03 307 8870 2291355

PLUMBER. Repair or

replace; taps, shower

mixers, hot water cylinders,

basins, tubs, toilets, vanity

units, leaking pipes. Call

Pete Young, experienced

plumber 027 280 0889/307

7582

TINT-A-WINDOW, fade, UV

block, glare, heat control,

safety, security, privacy,

frosting films, solar protective

window films. Free

quotes, 20 years local service.

Phone 0800 368 468

now, Bill Breukelaar, www.

tintawindow.co.nz

TV Reception Specialists for

all your digital freeview

installations and repairs,

TV wall mounting, Smart

TV set-up, home theatre

installation. Call John at

Ashburton TV &Audio Ltd

03 308 7332 or 027 277

1062.

WINDSCREENS and house

glass. Qualified flat glass

glazier now in-house. Anything

glass, give us acall.

Your place or ours. Wilson

Windscreens, 152 Wills

Street, Ashburton. Phone

03 308 8485.

FRUIT &PRODUCE

POTATOES Nadine and

Agria. $1.20 per kilo, 10kg

bag $12.00. Phone 308

3195 or 027 531 9103. 81

Elizabeth Street.

www.ashburtoncourier.co.nz

AUTOMOTIVE SERVICES

QualityEuropean

Vehicle Servicing

•Advanced

Diagnostics

•Experienced

Technicians

•Collection/Delivery

'Free of Charge'

in Ashburton

Bruce McIlroy Limited

309MethvenHighway, Ashburton7776

Tel: 03 3087282•E:bruce.mcilroy@xtra.co.nz

MTAAPPROVED

Call us for a

FREE

QUOTE

2291219

16,065 COPIES EVERYWEEK

SITUATIONS VACANT

CASUAL STORE PERSON

Ashburton

1278047

Luisetti Seeds is asignificant provider of grain and

seedboth nationallyand internationally.

Opportunityhas arisenforaCasualStore Personat

our Ashburton site.

Keyresponsibilitieswill include:

• Assistingwith theintake anddispatchfunctions

includinggeneralyardduties

• Operating modern seed cleaning, treating and

mixing plants

• Opportunity to progress into a peramanent

positionfor the rightapplicant

You will have aproven history of: reliability and

punctuality, efficient time management skills,

working solo and inateam environment, being a

self-starter, able towork toadeadline, attention

to detail, working well under pressure and an

enthusiastic manner.

A willingness to work extended hours when

required and a friendly customer focused

personality would be desirable. Seed cleaning

experience, knowledge of agriculture and forklift

licencewould be an advantage butisnot essential.

On sitetrainingwill be provided.

Remuneration to reflect the applicants experience

and ability.

Applications should detail recent relevant

experience, qualifications and references.

Applications will be treated and viewed in

confidence. Please apply to:

Luisetti Seeds Ltd

PO Box77

Rangiora7440

Attention: KarenVan Staden

or admin@luisettiseeds.co.nz

Secretary/Office

Administrator

The Secretary /Office Administrator isprimarily the

first point ofcontact for all visitors and callers to

the school. Due to our current Secretary accepting

anew role this position has become available. This

is avaried sole charge position, you will provide an

efficient and confidential secretarial service tothe

Principal, Board and Staff while ensuring efficient

administrativeand financial systems aremaintained.

Thesuccessful applicantwill have aprovenabilityto

work collaboratively with others and awillingness to

learn, adapt and grown in this position.

Aminimum of 25 hours per week will be required,

hours will be negotiated with the successful

applicant but will be Monday toFriday during term

time with some flexibilitytoworkasrequired during

the school holidays.

If you think this position is for you please forward

your CV and acovering letter outlining whatyou can

offer Hinds School ,along with details regarding your

previous financialand administrativeexperienceto:

principal@hinds.school.nz

Applications close Friday 7th August, 2020.

2293021

2297488
---
www.ashburtoncourier.co.nz

SITUATIONS VACANT

CLASSIFIEDS

Ashburton Courier, July 23, 2020

37

Chief ExecutiveOfficer

STIMULATING&MULTIFACETED LEADERSHIP ROLE

DRIVE THE SUCCESSOFADIVERSEIRRIGATION

& WATER MANAGEMENT COMPANY

ASHBURTON BASED

Based in Ashburton, Barrhill Chertsey Irrigation (BCI) is a farmer owned co-operative company which owns

substantial infrastructure assets and delivers water to shareholders efficiently and reliably. Recognised as an

important infrastructure business within the mid-Canterbury farming network, BCI has a strong focus on being a

positive influence in the local community, particularly on leading the way in environmental management. BCI has

assets of $115 million and turnover of $17 million.

Reporting to the Board, the CEO will provide leadership to a core team of 6 direct and 6 indirect reports and work

closely with a number of key consultants and contractors to ensure the successful performance of BCI and the

reliable and efficient delivery of sustainable irrigation water. Responsibilities are broad and incorporate stakeholder,

environmental, engineering, asset, health & safety and financial management, in line with proactively growing the

business within an evolving regulatory landscape and ensuring the company's social licence to operate is maintained.

The technical capability to manage long term assets combined with an empathy for the environment and people in

the region is vital.

Applicants will be commercially astute, strategic thinkers and possess a proven track record of performance in a

CEO/senior leadership role, ideally from within a related industry. Strong relationship management, communication

and leadership skills are essential. The ability to add sustainable value to farmer shareholders and develop enduring

partnerships to benefit and grow the business will also be the key to success. This is an autonomous role in a

respected company where change and improvement are embraced.

Candidates can download the Candidate Briefing Information and apply online at www.sheffield.co.nz or email

cvchc@sheffield.co.nz quoting 7179AC. Closing Date: 9 August 2020. Contact: Mike Stenhouse on 027 442 8348

or Andrea Bankier on 03 353 4365.

Warehouse Coordinator

We are seeking someone to join our team in the Warehouse and Dispatch area. Our ideal

person is comfortable with variety, can prioritise and confidently work autonomously

with apositive attitude. Immediate start available!

It's afriendly team environment, with all our staff taking ahands-on approach to jump in

where necessary, soflexibility is amust.

The role centres around our warehouse store, so key responsibilities will include;

• Responsibility for onhand raw materials for our manufacturing process, including

stock control and ensuring the store ismaintained in atidy manner.

• Oversee the receipting of Inwards and dispatch ofOutwards goods deliveries,

including liaising with freight companies regarding deliveries.

This role is one with scope for growth, so there are some attributes we consider key

for the role;

• Experience with Logistics and Supply Chain Management is preferred.

• Good communication and organisational skills with the ability to work well both in a

team environment and alone as required.

• A high level ofself-motivation, with good initiative and apositive 'hands on' attitude.

• Comfortable with learning computerised systems and good working knowledge of

MS Office suite –Excel, is required for reporting.

• Anunderstanding of the textile manufacturing sector would be an advantage.

• Clean full driver's license, and aforklift license are amust.

• Physically fit –some lifting is required and your general day today work will keep

you busy!

Please Note: Due to this position being apermanent full time role you must beaNZ

Resident to apply for this.

Applications for this position close on Friday 14th August 2020.

Please email your full CV, 2employment references and 1referee totina@nzsock.co.nz

QUALIFIED SPRAY PAINTER

Afull time position has become available in our

Panel and Paintshop foraQualified Spray Painter.

Theposition requires

• Good work ethics

• Have ahigh standardindetail and finish

• Tobereliable

• The abilitytoworkunsupervised

• Toworkinateam and meet production deadlines

Please send resume and cover letter to

TheGeneral Manager

Bus and Truck Body Work Ltd

PO Box51, Ashburton7740

Phone Keith on 0274 274 007 or 307 0378

Email busandtruckbodywork@xtra.co.nz

2298220

CATERER

TheAshburtonGolfClub invites interested

persons to apply forthe position of self-employed

caterer. This includes providing cabinet food for

men's and women's club days,course bookings and

the option of catering forlarger tournaments.

Forfurther information, please contactthe club

on 03-308-6371 or email your CV to:

admin@ ashburtongolf.co.nz.

CARER required for lady in

wheelchair. Mornings - 4

hours, evenings -2hours.

Enquiries to 027 308 5565

HOME SERVICES

ROOF COATINGS: All roof

types, specializing in

Decramastic and Long Run

Iron, Coloursteel etc, steep

roofs not a problem. —

Spraymaster 027-433-7780.

2296909

2297752

WANTED TO BUY

METAL, heavy etc. Free

light-grade metal in-yard

dumping 9am-5pm weekdays

&9.30-11.30am Saturdays.

Ashburton Scrap

Metal Recyclers, 117 Alford

Forest Rd, (behind

PlaceMakers). Phone 03

308 8033 or 027 249 6625.

Media Consultant

Sales is in your bloodright? You'vegot that entrepreneurialspirit, adriveto

succeed andalwaysbeat the topofyourgame. Well,the game here is Media

and we'relookingfor ournexttopplayerfor ourAshburton office.

THEROLE:

The purpose of this role is to provide dynamic, audience-driven, multimedia

advertising solutions that utilise our full product range to clients. Our clients

understand the power of media isgrowing and they need you to educate

them and develop their media campaigns, tocollaboratively build knowledge

that results in smashing their goals out ofthe park and in turn increases NZME

revenue andposition in market.

RESPONSIBILTIES:

• Account Management and Growth: Provide campaign solutions for clients

utilising NZME'sfullproduct range.

• Personal Growth &Development: Take responsibility for on-going learning

andtake advantage of all opportunitiesonoffer, ensurethoroughknowledge

of NZMEproductsand platformsand increase knowledgeofmedia landscape

&NZbusinessmarkets.

• Self-Management:Knowyour business andprovide reporting and forecasting

as required, fully utilise CRM and comply with NZME business rules, be aselfstarter

who is consistently target driven andmotivatedtoachieve.

SKILLS &EXPERIENCE REQUIRED:

• Proven expertise in sales performance and new business development

with multiple examples ofsuccessfully planned and executed multimedia

campaigns that produced tangible results.

• Solid experience in a sales role (preferably in media) where innovation,

audiencefocus anddynamic relationships in salessolutions arecritical.

• Experience inlocal area/rural sales, contacts and links to the Ashburton

communityishighly desirable.

THEPERKS:

Weliveand breathe ourvalues to be: Connected, Curious andConfident, meaning

we tell it like it is,challenge the status quo, daretotry,constantly innovate and

expectsome fun along theway. Ourcultureisdiverse andinclusive; youcan be

yourself with us.Telluswhy you'reour next superstar via CV and cover letter to

danielle.torr@nzme.co.nzbyFriday31July.

Applicants must have NZ residencyoravalidworkpermit.

MEETINGS

Ashburton Speedway Association (Inc)

THE ANNUAL GENERAL MEETING

WILL BE HELD AT THE CLUBROOMS

SEAFIELD ROAD –ASHBURTON

on Sunday 26th July 2020, 2pm

--- Business ---

•President's report

•Presentation of life members

•Financial report

•Changes toconstitution

•Election of officers and committee

•Setting subscriptions and fees for coming year

•General business

Nominations for officers and committee

to be received by the

Secretary at ashspeedway@gmail.com

by the 19th July 2020

ANNUAL GENERAL MEETING

To be held at the AshburtonTrustTennis Centre,

Oak Grove, Ashburton

On Monday10th August 2020

at 7.30 pm

All welcome to attend

www.midcanterburytennis.co.nz

2296255

Ashburton

TrottingClub

Annual General

Meeting

Monday27July 2020

at 5pm

to be held in the

BoardRoom,

DavisonStand at

Ashburton

Racecourse

2297879

2294047

AshburtonDemons

Softball Club

AGM

Weds,July 29th, 2020, 7pm,

AshburtonClub &MSA,

Main Hall.

Nominations can be sent

to ashdemons@gmail.com

Everyone welcome

2290568

2298148

Ashburton

Fuchsia

Group

AGM

Tuesday, 4th August

1.45pm

at Rosebank

CommunityCentre.

LPG

REFILLS

Small LPG cylinders

Off Street Parking

Available

Arthur Cates Ltd

26 McNally Street

Ph 308 5397

Riverside Industrial Estate

2297441

MAKE money selling your

unwanted items. Up to 24

words for only $8. Can't get

better than that. The Courier.

SELL

243 Howa rifle plus suppressor

for sale, .22 rifle

plus scope for sale. Buyer

must have valid gun

license. Text 021 0274

0165

LPG REFILLS

9kg cylinders

$27.50

Askabout our

deliveryservice

Anysizecylinderfilled

17 Grey St,Ashburton

Phone 307 2707

2281802

2281955
---
CLASSIFIEDS

38 Ashburton Courier, July 23, 2020

HEALTH &BEAUTY

URGENT CARE CLINIC

WEEKEND DUTYDOCTORS

IN THE EVENT OF AN EMERGENCYPHONE 111

Forall othermedicalassistance outside of normal

hoursplease phone your generalpracticeteam,24/7,

to speak withahealth professional whowill giveyou

free health advice on what to do or where to go if you

need urgentcare.

If youdon't have aregular generalpractice, call any

GP team 24/7 forfreetelephone health advice.

All non-residents and visa holders please bring your

passporttoyour surgeryappointment.

New Zealanders'tobringsome form of ID.

TheAshburtonDutyPractice for ...

Saturday25th July is

Eastfield Health, 135 Tancred Street.

Consultations will be by appointmentonly.

To make an appointmentcall your regular GP 24/7.

Sunday26th July is

Tinwald Medical Centre, 33 Archibald Street

Consultations will be by appointmentonly.

To make an appointmentcall your regular GP 24/7.

Methven and Rakaia: Formedical attention on the

weekend and public holidays please telephone

MethvenMedical Centre on 03 302 8105

or Rakaia Medical Centre on 03 303 5002.

Details foraccessing the afterhours services will be

on the answer phone.

PHARMACIES

Wises Pharmacy,CountdownComplex,

East Street will be open on ...

Saturday from 9.00am until 1.00pm

Sunday from 10.00am until 1.00pm

At Geraldine: TheGeraldine Pharmacywill be open

normal trading hours during the week,and on

Saturdaymorning from 9.30am to 12.30pm.

Closed Sundays and Public Holidays

Forfree24hour Telephone Health Advice

Phone the healthline on 0800 611 116

Brought

toyouby

CountdownComplex, East Street, Ashburton

Phone: 03 308 6733 Fax: 03 308 6755

Feminine Health &Wellness Coach

• Reiki

• Massage

• Nutritionals

• Skin and Body Care

• Self Hypnosis

FOCUS Optometry - good

honest eye care, support

local. Phone 307 898 865.

Tancred Street, Ashburton.

www.nzfocusoptometry.co.

nz

FIREWOOD

DRY old man pine. 3or6m 3 ,

delivered to most of Mid

Canterbury. WINZ accredited.

Phone Rob 027 297

7563

DRYPINE

FOR SALE

$300per cord

delivered

within the town

boundaryand

Mayfield/Mt Somers

Phone Sue

021 162 4102

• Weight Management

Phoneortext 027 282 1585

DebraCurtin

Chiropractor

03 308 9516

Annie

2293733

www.ashburtonchiropractic.co.nz

2297803

2280808

GARDEN SUPPLIES

BRIDGE Street Nursery has

moved. Now trading as

Paul's Garden Nursery at

101 Harrison Street,

Allenton, Ashburton.

Entrance on Clark Street.

13 varieties of seed

potatoes and fresh free

range eggs available.

Phone Paul 0272 781 354.

Open 7days.

GARDENERS specials.

Sheep manure $5 bag. Pea

Straw $5 bale. Medium

square Linseed Straw $35

bale. Call Alan 027 496

7136 or Ian 027 286 3697

with your order. A Hinds

Lion's project.

PEA STRAW Medium straw

bales for sale $50 per bale.

Linseed medium squares

$50 per bale. ph

02040233792

ADVERTISEMENT makeover!

From before to after.

You'll notice the difference

with The Courier, 308 7664.

Peter Blacklow

Call in andtalktothe people who know ...

PETE'S

PICK

Full rangeofengineering supplies and accessories forall your repairs

&maintenance. Kerrick hot &coldwaterblasters&industrial vacuumcleaners.

Essetiwelders &accessories. Stockistsand distributors of Trailer Equipment.

Locally owned &operated family business for 67 years

ASHBURTON

South Street, Ashburton PHONE (03) 308-3147

Email office@blacklows.co.nz FREEPHONE 0800 452 522

Older tabbykitten

ready now.

Barn cats available.

Memberships nowdue

$10 per year.

New members welcome.

Tuesday-Saturday

9:30am -noon

Phone 308 4432 or

027 332 9286

2298129

Kindly sponsored by

Classified Deadline

Please note

Ourclassified deadlineis

4:30pm Tuesday

prior to Thursday

publication.

Phone 308 7664

Email: office@ashburtoncourier.co.nz

22980968

2294024

180216

PUBLIC NOTICE

K

DIESEL

HEATERS

Looking forheating solutions to

keep that workshop or farm shed

warm?

Please call in andcheck out the

extensiverange we have to meet

your requirements.

New Zealand National Party

Nominations for the selection of the

National Party Candidate for the

Rangitata Electorate atthe

2020 General Election will open

from Wednesday 22 July 2020 and

will be received from

National Party members by

National PartyHeadquarters up to

midday, Wednesday 29th July 2020

when nominations close.

Nomination forms and details

regarding procedures may be

obtained from:

KimberleyLittle

NZ National Party,

41 Pipitea Street,Thorndon, Wellington

P: 027 843 2089

E: kimberley.little@national.org.nz

We can supportyou and

your family to make

everyday count.

Allservices arefree.

www.ashburtoncourier.co.nz

Authorised by GHamilton,

41 Pipitea Street, Wellington

HospiceMid Canterbury

Dealing withalifelimiting illness?

Phone 307 8387 or 027 227 8387 email manager@hospicemc.nz

www.hospicemc.nz facebook hospicemidcanterbury

Tues 28th July at

St David's Church,

Allens Road.

9.30 am –Tea/Coffee

10.00 am –Speaker,

Frieda Looser -

UC historian

HistoryofTuahiwi –

settlementnear

Kaiapoi. 'The land,Iwi

and legacy'.

Visitors welcome -$5

2297747

HIRE

SCISSORLIFTS for hire.

4WD and slab lifts available

for daily or weekly hire.

Pickup or delivery. Phone

North End Engineering 308

8155 for abooking.

FIND money in your bank

account each week if you

become adelivery person.

The Courier 308 7664.

2298217

2262322

ASHBURTON Society of

Arts Winter Show, Short

Street Studio. On now,

Guest Jo Loughnan, and 16

local members exhibiting.

Weekends 11am - 4pm,

and Mondays and Wednesdays

when the sign is out,

until 2nd August.

OUR newspaper goes into all

RD's so why not advertise

with us! The Courier, best

read in town.

Thurs 23rd

10.00 David Copperfield

10.00 Radioactive

12.00 AllatSea

12.00 TheHigh Note

1.45 Rosie

2.10 Love Sarah

3.20 TheKing of StatenIsland

4.00 Trolls WorldTour

5.40 David Copperfield

5.45 Love Sarah

7.30 TheKing of StatenIsland

8.00 Radioactive

Fri24th

10.00 David Copperfield

10.00 Radioactive

12.00 AllatSea

12.00 TheHigh Note

1.45 Rosie

2.10 Love Sarah

3.20 TheKingofStatenIsland

4.00 Trolls WorldTour

5.40 David Copperfield

5.45 MilitaryWives

7.50 TheKingofStatenIsland

8.00 Radioactive

Sat25th

10.00

10.00

11.45

11.45

1.30

1.50

3.30

3.30

5.30

5.45

7.45

8.00

Sun 26th

10.00

11.45

1.00

2.00

3.00

3.45

5.45

7.15

7.45

10.00

10.00

12.00

12.00

1.45

2.10

3.20

4.00

5.40

5.45

7.30

8.00

EDUCATIONAL

Trolls WorldTour

RedShoes &the 7Dwarfs

Trolls WorldTour

David Copperfield

MilitaryWives

RedShoes &the 7Dwarfs

DavidCopperfield

Love Sarah

Radioactive

TheHigh Note

TheKingofStatenIsland

MilitaryWives

RedShoes &the 7Dwarfs

DavidCopperfield

MilitaryWives

RedShoes &the 7Dwarfs

Trolls WorldTour

Love Sarah

Radioactive

TheKingofStatenIsland

TheHighNote

Mon27th, Tues 28th

&Wed 29th

David Copperfield

Radioactive

AllatSea

TheHigh Note

Rosie

Love Sarah

TheKing of StatenIsland

Trolls WorldTour

David Copperfield

Love Sarah

TheKingofStatenIsland

Radioactive

PG

M

M

M

PG

M

R16

G

PG

M

R16

M

PG

M

M

M

PG

M

R16

G

PG

M

R16

M

G

G

G

PG

M

G

PG

M

M

M

R16

M

G

PG

M

G

G

M

M

R16

M

PG

M

M

M

PG

M

R16

G

PG

M

R16

M

NO COMPS

TheKing of StatenIsland,Military

Wives, ThePersonal Historyof

David Copperfield

ACUPRESSURE

CLINIC

Enhances your

body's own natural

self-healing

Pain relief/Speeds recovery

from illness, injury and surgery.

•Noneedles/safe for all ages

•Good-Health Maintenance

•Affordable/flexible hours

•Home visits on request

Janet Hayes

Ph 308 6951

registered practitioner

Forkliftand Dangerous GoodsCourses

NZTAApproved Course Provider,MITO&Competenz Assessor

Classes 2&4,Endorsements F&D

ForkliftF&OSH, Saturdays and other days as requested

Dangerous Goods Course,½day Mondaymornings

CommunityHouse,Ashburtonoryour work place

Forfurther information

Phone Christine 027 245 2563

2229804

SPACE available for next

weeks Courier -bequick!

Talk to us about your advertising

requirements. Phone

308 7664 or call into our

office at 199 Burnett Street,

Ashburton.

2291234
---
ASHBURTON

MASSIVE CLOTHING CLEARANCE

Great

selection

warm

winter

clothing

End of

lines

Seasonal

changes

In-store

specials

CALVING TIME

Clothing

specials

Firearms and

ammo

Lighting

WHITEBAIT SEASON

Netting

and catch

bags

Large

selection

in-store

Factory

seconds

Phone 03 308 5117 l 393 West St,Ashburton

2296416
---
QUALITY

USED VEHICLES

@

AFFORDABLE

PRICES

WARRANTIES AA APPRAISED FINANCE BIGGEST YARD BEST SELECTION TRADE-INS

2012 TOYOTA RAV4 LTD

2400 CC,

ABS, AIR CON, BODY KIT,

CLIMATE CONTROL,

74,000 KMS

2011 SUBARULEGACY WAGON 2.5I

2500CC,TWINAIR

BAGS,ABS,NEW CAMBELT,

REAR SPOILER,111,000 KMS

2013 NISSAN SYLPHYX

1800CC,AIR CON,

ABS, PUSHSTART,AUTO,

46,000 KMS

$15,995

$10,995

$11,995

HONDA NISSAN TOYOTA

2006 HONDA INSPIRE AVANZARE, 3000 cc,4door,abs,air con, cruise

control, climate control57,500 kms................................................... $9,995

2013 HONDA CR-V 24G, auto5door,ABS, cruise control, alloys,tow bar,

66,000 kms, 2400cc...................................................................................$22,995

2007 HONDA ELYSIONPRESTAGESZ, auto, petrol,7seater, 5door, ABS,

foglights,105,000 kms, 3500cc, alloys,cruise control, newstyres,and

loaded........................................................................................................... $11,995

2007 HONDA STEPWAGON G, 5door,8seater, ABS, air con, rear spoiler,

95,000 kms, 2000cc......................................................................................$8,995

2007 HONDA CR-V 4WDZX, 2400 cc,ABS, air con, climate control, sun

roof,auto....................................................................................................$11,995

MITSUBISHI

2016 MITSIBUSHIPAJEROSPORT VRX,2400cc, cruise control, reverse

sensors,tow bar,fully loaded .............................................................$34,995

SUZUKI

2007 SUZUKISX4 XG, 5door, petrol,ABS, air con, climate control, rear

spoiler,roof rails,alloys,97,200 kms, 1500 cc.....................................$8,495

2008 NISSANMICRA, 5speed,twin air bags,5door, ABS,

96,000kms ......................................................................................................... SOLD

2006 NISSANCUBE15M, 5door, petrol,air con, ABS, CD changer,42,300

kms, 1500cc.....................................................................................................$7,495

2014 NISSANLATIO B, auto, idling stop,twin air bags,ABS,4door, petrol,

air con, 31,100kms........................................................................................$9,995

2001 NISSANCUBE, 1300 cc,5door, auto, 136,000 kms........................$3,495

2007 NISSANSKYLINE 350 GT,3500 cc,auto, paddle shift, 18in alloys,

76,000 kms...................................................................................................$11,995

2013 NISSANBLUEBIRD, twin air bags,ABS, air con, 46,000 kms...$11,995

2013 NISSANSYLPHYX,1800cc, air con, ABS, push start, auto,

46,000 kms .............................................................................. $11,995

2006 NISSAN BLUEBIRD SYLPHY20S, 2000cc,ABS, air con, climate

control, 11,800kms.......................................................................................$9,995

SUBARU

2011 SUBARU FORRESTER,2000 cc,4WD,ABS, twin air bags,

97,000 kms.................................................................................................$11,995

2011 SUBARU LEGACYWAGON, 2.5i, 2500cc, ABS, new cam belt,rear

spoiler..........................................................................................................$10,995

2007 TOYOTA PRIUS STOURING, hybrid,alloys,reverse camera, air con,

rear spoiler,ABS, 1500cc, 36,000 kms..............................................$10,995

2007 TOYOTA BLADEG,5door,ABS, air con, body kit, rear spoiler,push

button start, 70,500 kms, 2400cc.........................................................$10,995

2009 TOYOTAESTIMAHYBRID X4WD, 5door,8seater, ABS, air con, auto,

rear spoiler,cruise control, 133,450 kms, 2400cc, alloys..............$14,995

2013 TOYOTA PRIUS L, 5door,ABS, air con, petrol,parking sensors, rear

spoiler,auto, 71,810 kms, 1800cc.........................................................$16,995

1999 TOYOTA RAV4,3door,petrol,ABS, air con, rear spoiler,

1800cc...............................................................................................................$7,995

2006 TOYOTARUSH G, 5door,petrol,ABS, air con, climatecontrol,rear

spoiler,59,500 kms, 1500cc....................................................................$11,995

2008 TOYOTA WISH XLIMITED, 5door,petrol,ABS, air con, auto, climate

control, 72,500 kms, 1800cc......................................................................$9,995

2012 TOYOTA RAV4 LTD, 2400cc,ABS, air con, body kit,

74,000 kms...................................................................................................$15,995

TRADE-IN SPECIALS

1992 FORD COURIER UTE, diesel flatdeck................................................. $3,995

2004FORD FOCUS, 5door,5spped............................................................. $2,995

1996NISSANSUNNY, 5speed........................................................................ $3,995

1995 NISSANPULSAR, auto, hatchback..................................................... $2,495

2008 TOYOTA WISH

1800CC,7SEATER,

TWIN AIR BAGS,ABS,

72,000KMS

2007 SUZUKI SX4

AUTO,ALLOYS, 2

BAGS,ABS,ROOF

RAILS,98,000KMS

2006 TOYOTA RUSH

AUTO,HIGH SEATS,

TWIN AIR BAGS,ABS,

59,000KMS

$9,995

$8,495

$10,995

Ph: 308 1396

Sellingnicecarstonicepeople!

ENQUIRE NOW

-about our range of rental vehicles

AUTOSLTD &RENTALS

470 West Street,

Ashburton

A/H Keith Drummond

0274 367 646

Family,Sports, School or Social Trips

We have 8, 10 &12seaterminivansavailable.

Cars and3trucksforsmall or bigloads alsoavailable.

2290866