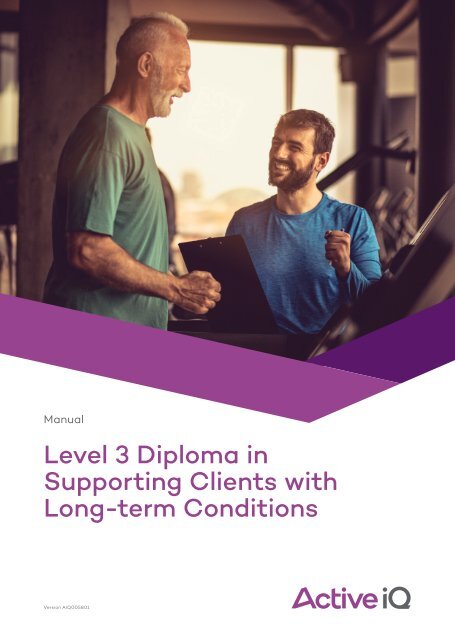 Active IQ Level 3 Diploma in Supporting Clients with Long-term Conditions (sample manual)
For more information, please visit https://activeiq.co.uk/qualifications/level-3/active-iq-level-3-diploma-in-supporting-clients-with-long-term-conditions
For more information, please visit https://activeiq.co.uk/qualifications/level-3/active-iq-level-3-diploma-in-supporting-clients-with-long-term-conditions
SHOW MORE
SHOW LESS
You also want an ePaper? Increase the reach of your titles
YUMPU automatically turns print PDFs into web optimized ePapers that Google loves.
Manual

Level 3 Diploma in

Supporting Clients with

Long-term Conditions

Version AIQ005801
---
The prevalence of long-term conditions

Section 1

The prevalence of long-term conditions

The prevalence of people living with long-term conditions (LTCs) is increasing, which is placing an ever-growing

burden on health care and society, with current policies and care frameworks considered unsustainable over the

coming years (NHS England, 2019).

PREVALENCE OF LONG-TERM CONDITIONS

AND THE SOCIOECONOMIC IMPACT

Long Term Conditions are those that cannot, at present, be cured, but people living

with these conditions can be supported to maintain a good quality of life.

People over aged 85 years are

more likely to be living with a long

term condition including fraility.

% of population in England

aged over 85 years

4.1 4.2 4.4 4.6

3.8

3.3

2.4 2.5 2.8

1971

1976

1981

1986

1991

1996

2001

2006

2011

People might be living with more than one

long term condition. Of the people who report

that they live with long term conditions;

24% have

two long term

conditions…

…and 20% more live

with three or more

long term conditions.

18%

of people

living with a long

term condition

smoke

People who smoke

are more likely to

have flare ups in

their condition

and more likely

to be admitted to

hospital.

People living with a long term condition

are less likely to be working than the

general population.

People living with a long term condition are more likely to use health and care

services. They account for:

More information about enhancing the quality of life for people living with long term conditions can be found at www.england.nhs.uk/house-of-care/

50%

of all GP

appointments

64%

of all hospital

outpatient

appointments

70%

of all hospital bed

days

The socioeconomic impact of LTCs

70%

of total health and

social care spend

72%

of the general

population are

in work

59%

of people with

long term

conditions are

in work

35%

of people

with a mental

health

condition are

in work

Figure 1.2: Prevalence of LTCs and the socioeconomic impact (NHS England, 2019)

Unsurprisingly, people living with LTCs make up a high proportion of those accessing health and social care services

in the UK. There are some astounding statistics regarding the cost of supporting people living with LTCs:

The health landscape

• For every £10 spent on health and social care, approximately £7 is spent on those living with LTCs.

• 50% of all GP appointments, 64% of outpatient appointments and 70% of all inpatient bed days

are for people living with LTCs.

• On average, it costs health and social care approximately £1,000 per year to support someone

who does not have an LTC. This figure rises to £8,000 for those living with three or more LTCs – an

eight-fold increase.

NICE (2015)

And from an economic perspective:

• Work absence due to sickness costs the UK economy an estimated £22 billion per year, and

although not all of this can be attributed to LTCs and an exact figure would be considered conjecture, it can

still be accepted that a considerable proportion will be directly related (The Work Foundation, 2016).

• For example, mental ill health, which sits under the LTC umbrella, cost the UK economy £25 billion*

in lost productivity in 2015, with 17.6 million working days

lost to mental illness (Oxford Economics, 2016).

*This figure includes the cost of those unable to join the workforce due to

mental ill health and those who have to reduce their working hours or leave

employment entirely to care for someone with a mental illness.

ACTIVITY

Research the most

recent statistics for the

prevalence of long-term

conditions and compare

these to global prevalence.

Copyright © 2019 Active IQ Ltd. Not for resale 71
---
The prevalence of lifestyle behaviours associated with long-term conditions

Section 2

Smoking

It is now commonly accepted that smoking is harmful to a person's health and can increase the risk of a range of

LTCs. However, this was not always the case – in the first half of the 19 th century, cigarettes were actually promoted

as a supplement to good health, as the images below show:

As Figure 2.5 shows, current statistics in the UK suggest that the number of adults smoking is decreasing every

year, with 19.8% (7.7 million) of the population smoking in 2011, reducing to 14.9% (6.1 million) in 2017 – this

equates to approximately 1.6 million fewer smokers.

30

UK, 2011 to 2017

The health landscape

20

10

0

2011

2012

2013

2014

2015

2016

2017

England

Wales

Scotland

Northern Ireland

United Kingdom

Figure 2.5: Proportion who were current smokers, all persons aged 18 years and over

(Annual Population Survey – Office for National Statistics)

Copyright © 2019 Active IQ Ltd. Not for resale 79
---
Section 3

Sociodemographic factors

The following infographic adds further detail to the three determinants of health identified above and includes some

other important factors that influence the health of an individual.

Income and social status

There is a linear relationship between

income and social status, and health

status – the more socially deprived,

the poorer the health status, and vice

versa. Higher incomes and social

status are linked to better health.

Education

Societies with better education are

more likely to have people living more

healthily, whereas lower education is

associated with poor health.

Physical environment

Safe water, clean air and healthy workplaces all

contribute to good health. Furthermore, people

in employment are healthier, particularly those

who have more control over their working

conditions.

Social support networks

Greater support from families,

friends and communities is linked to

better health. Culture, customs and

traditions, and the beliefs of the family

and community, all affect health.

Genetics and personal behaviour

Hereditary factors influence lifespan, healthiness

and the likelihood of developing certain illnesses.

Also, as already discussed, personal lifestyle

behaviours play a significant part in determining

health, e.g. physical activity levels, diet, etc.

Health care services

Societies that offer better health

care services have higher rates of

mortality and better health overall.

Gender

Men and women suffer

from different types of

diseases at different ages.

Figure 3.1: Factors that influence the health of an individual

86

Copyright © 2019 Active IQ Ltd. Not for resale
---
Behaviour change theories and techniques

Section 1

Maslow's hierarchy of

needs

In 1943, Maslow suggested that there

is a hierarchy of needs and that selfactualisation

sits at the top. Before

self-actualisation can be achieved, other

needs take priority and these must be

achieved first, as shown opposite.

Formal theory

Figure 1.4: Maslow's hierachy of needs

1. Cognitive evaluation theory (CET). This mini-theory is concerned with intrinsic motivation, defined as performing

an activity or behaviour for its own sake or enjoyment. In other words, the activity itself is rewarding and no other

reward is necessary. Spontaneous play is a good example of intrinsically motivated behaviour in children. For adults,

play may take on forms such as artistic, musical or literary creativity, or be demonstrated in sports or exploration.

CET focuses most on the basic needs for autonomy and competence, and how these are supported or thwarted to

generate or undermine intrinsic motivation (Deci, Koestner and Ryan, 1999).

2. Organismic integration theory (OIT). Extrinsic motivations are the subject of this mini-theory, although it is used

as a blanket term for any behaviour that is performed in order to achieve an outcome outside of the behaviour

itself. Extrinsic motivation is not a single entity, but takes many forms including external regulation, introjection,

identification and integration. The important difference between the different types of extrinsic motivation is the

degree to which a person internalises the motivation. The social environment is critical in determining the degree of

internalisation through the extent to which the basic needs of autonomy and relatedness are supported or thwarted.

OIT therefore addresses the extent to which a social environment fosters or inhibits internalisation of extrinsic

motivations (Ryan and Deci, 2000).

Behaviour change for clients with long-term conditions

Regulation Introjection Identification Integration

Figure 1.5: Relationship between extrinsic motivation and autonomy and relatedness in environment

Copyright © 2020 Active IQ Ltd. Not for resale 349
---
Behaviour change theories and techniques

Section 1

Motivators to behaviour change

A key component of motivational interviewing and other behaviour change techniques is a focus on the positive

and avoidance of negative talk. Fitness professionals should latch on to the reasons why an individual would like to

change their lifestyle behaviours for the better and use these to increase the amount of 'change talk'.

Motivators for people with long-term conditions include:

Being in less pain.

Being able to play

with their children.

Having more

energy and being

happier.

Improving

confidence and

self-esteem.

Living longer.

Having a better

social life.

Goal setting

Avoiding hospital

admissions or

having to go into a

care home.

Less reliance on

medication.

Avoiding surgery.

Figure 1.21: Examples of motivators to behaviour change in those with long-term conditions

Behaviour change for clients with long-term conditions

Goal setting has a pivotal role to play in successful behaviour change. There are strong links between goal setting

and developing self-efficacy. Goal setting is essential for the pacing of programme developments and progressions;

it also forms an important part of the review process and assists client motivation.

Goals are individual to each person and the nature of their long-term condition(s), but it is likely that they will include

one or more of the following for most clients:

• An improvement in overall health and quality of life.

• A reduction in pain.

• An improvement in ability to function.

• An adoption of suitable coping strategies.

• The use of strategies to prevent the development of chronicity.

• An increase in knowledge and understanding of symptoms. (CSP, 2006)

Goals and objectives need to be agreed in partnership with the client, and stated in a language the client can

understand.

The fitness professional should also not assume what the client wants. Instead they should explore the client's

wants and needs and steer them towards a more active, self-management approach to their condition.

Copyright © 2020 Active IQ Ltd. Not for resale 387
---
Section 2

Lifestyle advice and education

The guidelines cover a range of population groups, including under-5s, children and young people (5–18 years),

adults (19–64 years), older adults (65 years and over), pre and postnatal women and disabled adults. For the

purpose of this qualification, this section will focus on adults and older adults.

Figure 2.1: The current physical activity guidelines for people aged 19 and older

394

Copyright © 2020 Active IQ Ltd. Not for resale
---
Section 2: Monitoring and adapting physical activity programmes for clients with long-term conditions

Unit 5

Stages of monitoring

Monitoring progress includes reviews and checks that are made:

• Pre-session – before the session starts.

• Mid-session – during the exercise session.

• Post-session – at the end of the session, when exercise has finished.

Post-session checks

Post-session checks will focus on client recovery (heart rate, blood pressure,

etc) and gathering feedback from clients to inform future sessions. The exercise

referral instructor should discuss progress and developments with clients and

agree any necessary adjustments to the exercise programme for next time.

Post-session

checks

It may also be worthwhile using this time to advise clients of what they might

expect over the 24–48 hours following activity: muscle soreness, tightness,

fatigue, fluctuations in energy levels, etc.

Mid-session checks

During exercise and throughout the exercise session, ongoing

monitoring enables the exercise referral instructor to:

• Determine how well clients are coping with the exercise

programme.

• Check how clients are feeling about the exercise.

• Identify any changes in clients' response to exercise.

• Identify any changes that need to be made to the exercise

(regressions or progressions).

• Provide continuing help and support to clients.

Different methods of monitoring can be used during the session (e.g.

observation, questioning, RPE), which are discussed later in this unit.

Pre-session checks

Pre-exercise checks may include checking for:

• Contraindications that present, e.g. high blood

pressure or heart rate, or changes in condition

(unstable).

• Changes in the client's health status, e.g. new

symptoms, new medication or a deterioration of

an existing condition (this may be uncontrolled or

unstable).

• Specific condition checks, e.g. availability of

inhalers or checking pre-exercise blood sugar

levels.

• Confirmation of necessary medication – both

its availability and that the client has taken it at

the correct time prior to exercise, if appropriate.

Pre-session

checks

STEP 1

Mid-session

checks

STEP 2

STEP 3

Planning and adapting physical activity for clients with long-term conditions

Any clients presenting with unstable or uncontrolled

conditions or contraindications should be signposted

back to the GP for further checks prior to exercising.

Clients without appropriate medication should be

advised to defer exercise.

Figure 2.1: Session monitoring steps

Copyright © 2020 Active IQ Ltd. Not for resale 443