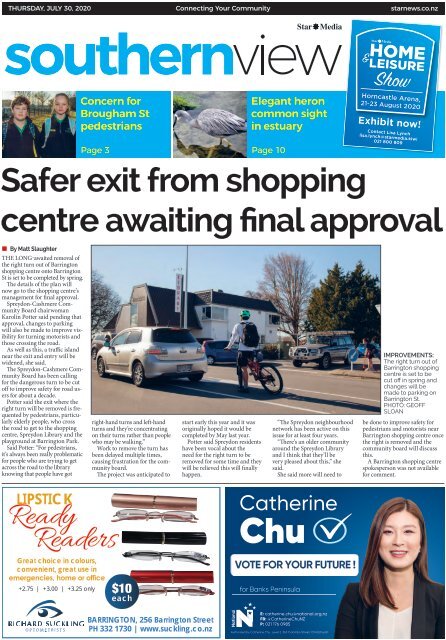 Southern View: July 30, 2020
You also want an ePaper? Increase the reach of your titles
YUMPU automatically turns print PDFs into web optimized ePapers that Google loves.
THURSDAY, JULY 30, 2020

Connecting Your Community

starnews.co.nz

HOME

LEISURE

Concern for

Brougham St

pedestrians

Page 3

Elegant heron

common sight

in estuary

Page 10

Horncastle Arena,

21-23 August 2020

Exhibit now!

Contact Lisa Lynch

lisa.lynch@starmedia.kiwi

021 800 809

Safer exit from shopping

centre awaiting final approval

• By Matt Slaughter

THE LONG-awaited removal of

the right turn out of Barrington

shopping centre onto Barrington

St is set to be completed by spring.

The details of the plan will

now go to the shopping centre's

management for final approval.

Spreydon-Cashmere Community

Board chairwoman

Karolin Potter said pending that

approval, changes to parking

will also be made to improve visibility

for turning motorists and

those crossing the road.

As well as this, a traffic island

near the exit and entry will be

widened, she said.

The Spreydon-Cashmere Community

Board has been calling

for the dangerous turn to be cut

off to improve safety for road users

for about a decade.

Potter said the exit where the

right turn will be removed is frequented

by pedestrians, particularly

elderly people, who cross

the road to get to the shopping

centre, Spreydon Library and the

playground at Barrington Park.

Said Potter: "For pedestrians,

it's always been really problematic

for people who are trying to get

across the road to the library

knowing that people have got

right-hand turns and left-hand

turns and they're concentrating

on their turns rather than people

who may be walking."

Work to remove the turn has

been delayed multiple times,

causing frustration for the community

board.

The project was anticipated to

start early this year and it was

originally hoped it would be

completed by May last year.

Potter said Spreydon residents

have been vocal about the

need for the right turn to be

removed for some time and they

will be relieved this will finally

happen.

"The Spreydon neighbourhood

network has been active on this

issue for at least four years.

"There's an older community

around the Spreydon Library

and I think that they'll be

very pleased about this," she

said.

She said more will need to

IMPROVEMENTS:

The right turn out of

Barrington shopping

centre is set to be

cut off in spring and

changes will be

made to parking on

Barrington St.

PHOTO: GEOFF

SLOAN ​

be done to improve safety for

pedestrians and motorists near

Barrington shopping centre once

the right is removed and the

community board will discuss

this.

A Barrington shopping centre

spokesperson was not available

for comment.

LIPSTICK

Ready

Readers

Catherine

Chu

Great choice in colours,

convenient, great use in

emergencies, home or office

+2.75 | +3.00 | +3.25 only

$10

each

VOTE FOR YOUR FUTURE !

for Banks Peninsula

BARRINGTON, 256 Barrington Street

PH 332 1730 | www.suckling.co.nz

E: catherine.chu@national.org.nz

FB: @CatherineChuNZ

P: 021 176 0985

Authorised by Catherine Chu, Level 2, 363 Colombo Street, Christchurch.
---
2 Thursday July 30 2020

Latest Canterbury news at starnews.co.nz

GENERAL INQUIRIES Ph 379 7100

CLASSIFIED ADVERTISING Ph 379 1100

Star Media, a division of Allied Press Ltd

PO Box 1467, Christchurch

starmedia.kiwi

NEWS

Bea Gooding

Ph: 021 911 576

bea.gooding@starmedia.kiwi

ADVERTISING

Mark Sinclair

Ph: 364 7461

mark.sinclair@starmedia.kiwi

Your local community news

delivered to 21,586 homes

within The Star each week.

Spreydon • Hoon Hay • Hillmorton • Cracroft

Cashmere • St Martins • Somerfield

Sydenham • Addington • Waltham • Opawa

Beckenham • Huntsbury • Woolston

what's on

this week

JP Clinics

Thursday, 10.30am-1.30pm, at

Spreydon, Tuesday, 10am-1pm, at

Halswell, South and Linwood

Halswell, Linwood, South and

Spreydon libraries

A justice of the peace will be available

to members of the community

to witness signatures and documents,

certify document copies, hear oaths,

declarations, affidavits or affirmations

as well as sign citizenship, sponsorship

or rates rebates applications.

This service is free.

Mahjong

Thursday, 1-3.30pm

Vincent Pl, Opawa

If you are interested in playing

mahjong, go along whether you are

a beginner or an advanced player.

Phone Noel at 322 8636 for more

information.

Knit 'n' Yarn

Thursday, 1-3pm, at Halswell, 1.30-

3.30pm, at South, and Wednesday,

10.30am-noon, at Linwood

Halswell, South and Linwood libraries

Take your knitting, crochet, stitching

or any other handcraft and enjoy

the company of others. Share skills

and be inspired.

Scrabble Club

Friday, 10am-noon, at Linwood,

Wednesday, 1.30-3.30pm, at

Halswell

Linwood Library, Te Hāpua: Halswell

Centre

If you have a way with words, go

Fresh Vegetables Year-round from a Small Backyard, Monday,

10-11am, South Library

Author and mentor Bill Brett will be speaking about how to save up to $2000

per year and pick fresh vegetables from your garden every week. Learn about

soil, feeding, watering and growing in containers. Suitable for beginners. Free,

no bookings required. ​​ ​

along and play Scrabble with one of

the groups. Some boards will be provided

but feel free to bring your own.

Creative writing on Sundays

Sunday, 1-3pm

Linwood Library

Writing group leader Jennifer will

work with group members to craft,

create and develop their own stories.

Take some pens or pencils, paper, or

a laptop. This class is free.

Not Just Cards – Social Games

Club

Monday, 2-4pm

South Library

Go along to play Scrabble, Upwords,

Chess and Cards. Free and no

bookings required.

Nib's Lost Partners Club

Tuesday, 10.30am

Sydenham Lounge, The Cashmere

Club

Are you losing, or have lost a partner

with dementia, Parkinson's and

SOUTHERN VIEW

other serious illnesses? Join others

going through a similar journey over

a hot beverage. Free. Phone 388 5903

for more information.

Technology Help Drop-In

Sessions

Tuesday, 2-3pm

Te Hāpua: Halswell Centre

Need help using your computer,

smartphone, or tablet? Take your

device to the drop-in sessions for

help with general computer and

internet queries. Free, no bookings

required.

Open Creative Time

Wednesday, 10-11.30am

Te Hāpua: Halswell Centre

Go along and get creative with design.

Make your own cards, T-shirts

and stickers, or learn about designing

for 3D printers to make stencils,

cookie cutters, name tags and more.

Free. Drop-in sessions for teenagers

and adults. Basic computer skills

required.

UNDER NEW MANAGEMENT

I was born in the deep south, Tuatapere, gateway to Fiordland.

I grew up among some stunning scenery but it wasn't really until I

travelled the world that I saw just how special it was.

WOOLSTON

Bumper to Bumper repairs

I am a Christchurch based, self-taught artist painting semi-abstract

landscapes that are earthy and textural. My paintings are inspired

by New Zealand landscape, particularly Central Otago, Mackenzie

Country and Canterbury.

My works are descriptive of landforms shaped by both natural

forces and man. Weathering, erosion and human activity lead to an

ever-changing terrain.

There is often a touch of both flora and water in my paintings that

allude to the idea of the land sustaining life.

The paintings have layers of colour and texture through

which I chisel, scrape, eliminate, add back and interact

with the painting to reveal the essence of a landscape.

Flowing Through

þ ALL MECHANICAL REPAIRS

Servicing. lubes, cambelts, tyres, exhausts,

suspension, batteries, water pumps, etc.

þ VTNZ WOF ON SITE

þ VTNZ CERTIFIED REPAIRER

þ COURTESY CAR AVAILABLE

BE IN TO

WIN

YOUR

SERVICE

Book in your vehicle for

a service and go into our

monthly draw to *WIN back

the cost of your service.

*Conditions apply

WOOLSTON AUTO SURGERY

693 FERRY RD | PH 03 384 9092

I hope painting our NZ landscape may encourage the

viewer to recognise the beauty of the land and to feel

responsibility for looking after it.

Capturing The Essence

SALE

STARTS NOW

Christine Maynard | Revealing Landscape

03 322 4548 | Easy Parking

17 Lillian Street, Halswell

Open Mon-Fri 9.30am - 5.00pm

Saturday 10.00am - 1.00pm

1 - 26 August 2020

littlerivergallery.com

Main Rd, Little River | 03 325 1944

art@littlerivergallery.com

LAYBUY WELCOME
---
SOUTHERN VIEW Latest Canterbury news at starnews.co.nz

Thursday July 30 2020 3

News

Pupils tackle road safety

• By Matt Slaughter

ADDINGTON SCHOOL pupils

Jacob Wilkins-Mclay and Tessa

Cook will take matters into their

own hands to try and improve

pedestrian safety on Brougham St.

Since late last year, the school's

board of trustees has been in

contact with the New Zealand

Transport Agency and city

council asking for 'school' signage

to be installed in the area

where pupils cross Brougham St,

in a bid to encourage motorists

to drive safer.

But board of trustees chairwoman

Jo Robertson said this

has not happened.

A city council spokeswoman

said Brougham St isn't a council

road and referred questions

about it to NZTA. However, it

did not respond to questions

before publication.

Jacob and Tessa, who are

in year 6, will meet with

Wigram MP Megan Woods

and the Spreydon-Cashmere

Community Board in September

to ask for pedestrian safety

measures to be improved near

the school.

One of the school's volunteers

has been working with the pupils

to research pedestrian safety issues

along Brougham St and help

them prepare for the meeting.

The speed limit along

Brougham St is 60km/h and

large trucks use it often.

Jacob said measures he wants

to raise as options at the meeting

include the installation of more

traffic islands.

Said Jacob: "I think this is a

good thing that should be done

because it's very dangerous and

kids have been hurt there, so it

needs to be better.

Tessa said one of her friends

was hit by a car when crossing

Brougham St to get to school

when a motorist ran a red

light.

She wants more to be done

BUSY:

Addington

School

pupils Jacob

Wilkins-

Mclay and

Tessa Cook

will attend a

meeting in

September to

discuss safety

concerns

for pupils

who cross

Brougham

St to get to

school.

PHOTO:

GEOFF

SLOAN

to encourage motorists to stop

at the traffic lights near the

Brougham St entrance.

"People should just, instead of

rushing over the robot [traffic

lights], just stop at it because it

was put there for a reason and it

isn't just there for show," Tessa

said.

Elvis follows

big Kiwi

names with

top award

A HAGLEY Community College

student won the solo/duo category

at the Canterbury Smokefreerockquest.

Elvis Arthur took out the

category, and KEI (Keira Jonkers),

of Burnside High School, was

runner-up.

They are now both in the national

selection pool for the Smokefreerockquest

live national final.

Arthur, 17 (full name Elvis

Arthur Nicolls), won with his song

Orange Peel And Rubble, which was

written about being ready to move

to a different place in the world.

"It's such a huge honour to have

been chosen for the next level in

[the Smokefreerockquest], it has

been the benchmark in my musical

journey," Arthur said.

Entries for the band category

closed last week and the winners

announced on August 7.

Along with the top three bands,

there will be the Musicianship

Award, Rockshop Electronic

Assisted Performance, Best Vocal,

APRA Lyrics Award, ZM Best

Song, and Smokefree Tangata

Beats. Winners will be announced

tomorrow.

THE 2020 GENERAL ELECTION

AND REFERENDUMS

This year you can vote

in two referendums.

Enrol. Vote. Be heard.

vote.nz

referendums.govt.nz

0800 36 76 56
---
4 Thursday July 30 2020

Latest Canterbury news at starnews.co.nz

SOUTHERN VIEW

News

Product to reduce plastic waste

• By Bea Gooding

AS MILLIONS of plastic bottles

make their way into landfills and

natural environments, six young

entrepreneurs have come up with

a bubbly way to tackle the issue.

The year 13 young enterprise

students at Villa Maria College

will soon release Eliminate – an

effervescent disinfectant tablet

for water bottles in a bid to encourage

families to reduce their

single-use plastic waste.

Charlotte Restieaux, of

Halswell, said the project, with

Hannah Shallcrass, Kaitlin

Willetts, Ella McHerron, of

Beckenham, and Ella Dolan, was

aimed at "busy people" who often

reached for single-use bottles

instead of cleaning the one they

already had.

"We realised a lot of us are

busy and we don't often have

enough time to properly clean

our drink bottles," she said.

"We recognised the issue of

single-use bottles and how convenient

it was to chuck it out and

get another one."

She said the process was simple

– by placing the tablet in a bottle

with water, which will "fizz" and

disinfect the inside, followed by

rinsing.

The homemade tablets

comprised of common bacteriakilling

cleaning agents including

PROJECT: (Rear, from left) – Kaitlin Willetts, Caroline Holder,

Charlotte Restieaux and Ella McHerron. (Front) – Ella Dolan and

Hannah Shallcrass.

hydrogen peroxide and baking

soda which will also be suitable

for reusable bottles.

Charlotte and her team believed

it will provide a convenient

way to clean on-the-go, reducing

the chances of purchasing a new

bottle.

Even though plastic bottles

could be recycled, at most, only

30 per cent of which was eventually

recycled in New Zealand.

With a portion of waste winding

up in waterways and beaches,

the group were committed to

donating 10 per cent of profits to

the Sustainable Coastlines charity.

Said Charlotte: "A lot of

When Quality is Desired...

7 Majestic Lane, Cashmere, Auction 13 Aug 2020 (Unless Sold Prior)

4 Bedrooms | 2 Bathrooms | 3 Toilets | 2 Living Rooms | 1 Study | 2 Car Garage | 2 Off Street Car Parks

Open Homes: Wednesdays 2:00pm - 2:30pm Saturdays and Sundays 2:15 pm - 2:45 pm - Listing no. BE193544

Your agent, Your home, Your future

LICENSED SALES CONSULTANT REAA 2008

...then this is the house that you should view. Beautifully renovated with a

quality finish throughout, including all new double glazing,

this home is truly direct from the pages of House & Garden. No detail has been

forgotten, even the laundry is a delight to see.

Location is key, in-zone and only a few minutes' walk to the highly desirable

Thorrington Primary School & Cashmere High School, the children's education

is secured.

Direct routes to the city make commuting a breeze and your weekend leisure is

catered for with the Port Hills and cafes only minutes away.

Four genuine double bedrooms plus a study give space for all, and the

excellent flow from the family room through to the formal lounge allow for

entertaining and comfortable family evening gatherings. A private outdoor

space for those summer barbecues leads directly off the family room.

An easy-care section is a bonus, and you could shut the front gates to create

your own private sanctuary.

An extra-large double garage will take your 4wd's with ease, plus there is

room for off street parking as well.

Call me now to view - this is a superb home just waiting for a new family to enjoy

P 027 777 0411

PHOTO: GEOFF SLOAN ​

single-use plastics end up on our

coastlines and the charity helps

clean up the beaches, so we felt

that our mission aligns with

theirs."

The project was part of the nationwide

Lion Foundation Young

Enterprise Scheme, which the

group took part in through the

school's business studies class.

"We want to make people

aware of the amount of plastics

going into our world and about

the major problems climate

change," said Charlotte.

Eliminate was now in

production, she said, which was

due to be released this week.

Wildlife to benefit from

glass clean-up in river

GLASS THOUGHT to have

been released from a waterside

walkway since the Canterbury

earthquakes could pose a threat

to recreational water users

and bird life, Avon-Heathcote

Estuary Ihutai Trust manager

Tanya Jenkins says.

Volunteers have removed

many kilograms of glass from

alongside the lower Heathcote/

Opawaho River but significant

deposits of the often small, but

still-sharp, rubbish remain just

below the surface, she said.

The glass appeared to have

come from under a riverside

path. The issue had been raised

with trust board members and

the next step was to talk with the

city council, she said.

"It is littered with tiny, little

pieces of glass. There is a lot in

an area that is used by families

and children, it could be a safety

issue, and birds can be easily

cut."

Another two big buckets of

glass, four bags of rubbish and

small pieces of plastic, were collected

from the area this month

by volunteers from neighbouring

Ferrymead business Chiptech.

The business has adopted a

100m stretch of the river as part

of the trust's drive to encourage

The revolution

in heat pumps

is here now!

nearby businesses to regularly

tend to the waterways that discharge

into the Avon-Heathcote

estuary.

Chiptech product manager

Abby Moore said the team

of eight was surprised at the

"phenomenal" amount of

glass found beside such a small

section of river just above the

bridge.

The worth of their work hit

home when Jenkins described

how a hector's dolphin died

nearby after a plastic bottle top

got stuck in its blow hole, and

how shags struggled to dive and

feed after ingesting polystyrene,

she said.

Chiptech staff would continue

to clean the stretch of riverside

once a month, she said.

Jenkins said Ferrymead

Mitre10 staff adoped the nearby

Charlesworth Wetland reserve a

few years ago, which had "made a

tremendous difference."

The trust was keen to hear

from other businesses interested

in adopting a section of

waterway. Jenkins will help with

their first clean-up, and provide

the equipment needed.

•Tanya Jenkins can be

contacted at info@estuary.

org.nz

The revolution in heat pumps is here now!

Say hello to Fujitsu's latest lifestyle range

HEAT PUMPS FROM $1999 inc GST INSTALLED!

The Fujitsu e3series

The brilliant

heat pumps from Fujitsu

e1 : efficiency

e2 : environment

e3 : economy

Website: www.pshc.co.nz

Finance available

FREE consultation from your local

Accredited Heat Pump Expert

Phone today: 03 381 6950

INSERT DEALER DETAILS HERE

2020

Heat Pumps

NEW ZEALAND'S FAVOURITE AIR ®

Conditions apply

Fujitsu's Catechin Filters are

approved by the Asthma and

Respiratory Foundation NZ's

Sensitive Choice ® programme.

Email: info@pshc.co.nz

FG1441

"Hiring Cameron to sell our home was by far the best decision we could've made

for selling our home. He's not just a face on a bus. His communication throughout

our campaign was excellent, as was his honest and professional advice. We were in

safe hands from the moment we signed him as our agent, right through to handing

over the keys. We were singing his praises prior to auction day and then, wow!

Auction day was fantastic and it was great to see him and the auction team work.

We'll be using Cameron and his Harcourts gold team again in the future. 10/10!"

- Mike & Diana -

148 HACKTHORNE ROAD, CASHMERE

CAMERON BAILEY

Phone or text 027 555 7079

No.1 Harcourts Canterbury 2012-2020

cameron.bailey@harcourts.co.nz

No.1 Harcourts New Zealand 2017-2020

Licensed Sales Consultant REAA 2008 www.cameronbailey.harcourts.co.nz

No.1 Harcourts International 2017-2020

Licensed Agent REAA 2008
---
SOUTHERN VIEW Latest Canterbury news at starnews.co.nz

Thursday July 30 2020 5

A walk along memory lane

See more from the The Star archive at https://canterburystories.nz/collections/archives/star

Avro 504K aircraft lined up outside the Wigram Aerodrome hangars in 1926.

An RNZAF student escaped injury after he 'nosed' his Harvard

when landing at Wigram in 1964.

Workmen

scaffolding

the stage

for the

Dire Straits

concert at

Lancaster

Park in

1986.

Site of the old brickworks due to become the Murray Aynsley

housing development on Port Hills Rd in 1973.

•More photos, page 6

Is it time to

make the

move?

Our modern Cashmere View

Retirement Village offers you

company and security while

living in an active, like-minded

community.

Open home | Sunday 2 August, 11am - 1pm

One bedroom units from $259,000 and two bedroom apartments from $405,000. All have:

• Modern kitchen with open plan lounge and dining room

• Fisher & Paykel appliances – fridge, single dishdrawer, cooktop, oven, rangehood,

washing machine and dryer

• Quality light fittings, drapes, floor coverings and heatpump

• 24-hour emergency alarm and on-site care home

1 bdrm

units

from

$259,000

Call Rochelle on (03) 373 8591 or 027 663 2806 | 72 Rose Street, Cashmere | www.bupa.co.nz/cashmere
---
6 Thursday July 30 2020

Latest Canterbury news at starnews.co.nz

SOUTHERN VIEW

• W.O.F • Servicing

• Repairs • Batteries

• Tyres • Clutch • Cambelt

• Diagnostic Equipment

YOUR LOCAL

AUTOMOTIVE SHOP

287 Hoon Hay Road

Christchurch

Open Mon-Fri

Ph. 982 0405

Email: hoonhayauto@gmail.com

Railway Station and Malt House at

Heathcote in the 1930s.

Meet Ruth

at the Te Hapua ¯ Halswell Centre Café

2-3pm Friday August 7

Usually second Friday of each month

A horse stands on land in 1977 which

became Hansen Park, a housing and

recreational development in Opawa.

Phone 03 376 4512

porthills.mp@parliament.govt.nz

State houses on Ferry Rd in 1976.

Tim Lawrence, Ross Frances, Robbie Rowlands, and Ross McDougall, all of

Oamaru, queue overnight in sleeping bags for tickets at Lancaster Park for the

1971 Canterbury v British and Irish Lions rugby test.

Woolston Village upgrade

for business

We're upgrading the Village to make it safer to walk, bike and drive.

Free customer parking off Portman Street and on-street parking on Glenroy Street.

The buses are running as usual. #LoveWoolstonShopLocal

Thank you for your patience. Please drive carefully.

Portman Street

Glenroy Street

St Johns Street

Oak Street

Ferry Road

For more information:

ccc.govt.nz/WoolstonVillage
---
SOUTHERN VIEW Latest Canterbury news at starnews.co.nz

Thursday [Edition July 30 datE] 2020 71

SCHOOL OPTIONS - early & middle years 2021

Emmanuel

Christian

School

2020 at Emmanuel

Christian School

has been one

where we have

continued to see

significant growth.

We have welcomed 50

new students to the school

seeing the roll increase from

208 to the 239 it is today.

To cater for this we have

just completed several new

classroom spaces, students

and staff have been excited

to move into these rooms

which give us the space we

need for now and into the

future. The support we have

had from present and past

parents and families of the

school to make this possible

has been a real blessing.

Welcome to Casebrook

Intermediate School

Year 7 & 8 students are a unique age

group that we specialise in educating.

Our staff and school resources are

all geared for this stage of personal

development and focus on providing as a

diverse range of learning opportunities to

create a rounded and engaged individual.

Our learning environment is supported

by a strong focus on our school values

of Respect (Whakaute), Excellence

(Panekiretanga) and Perseverance

(Hiringa). Through these 'REP' values

we develop within each student a sense

of self worth to realise their importance

as a member of our Casebrook

community.

Our school environment is one where

students are safe and have the confidence

to take risks with their learning. In

this way the students at Casebrook are

supported and encouraged to become

self-motived, independent learners.

We value the partnership between

home and school. Together we can

create an environment where we foster

feelings of pride and belonging. We are

sure you will enjoy being a part of our

community and would welcome the

opportunity to meet with you to discuss

your child's future at Casebrook.

2021 Enrolments are currently

open

for all year levels closing on

August 24 2020

We specialise in great

schooling for years 1 to 10

·

·

·

years 1 to 6 establishing strong

foundations

years 7 to 10 great preparation

for the senior years

well prepared for life beyond

the gate

Growing in Wisdom & Stature

Application closing date

for 2021 enrolments

at all year levels is:

Friday August 21, 2020

Limited places in Year 7 to 10

applications are invited

Working together with

families in the south west of

Christchurch. Our students

benefit from our specialist

teaching with emphasis on

pastoral care and our special

focus on personal character

development and learning.

For more information, contact us on: (03) 338 8153 or enrol@aidanfield.school.nz

or go to our website www.aidanfield.school.nz
---
82

Thursday [Edition datE] July 30 2020

Latest Canterbury news at starnews.co.nz

SCHOOL OPTIONS - early & middle years 2021

Heartfelt learning

at St Michael's

An independent school education is a programmes further develop your child's

precious gift and it doesn't have to break foundation. Specialist Art, Music and

the bank.

PE classes are enjoyed weekly. Many

St Michael's is your school at the heart pupils play musical instruments, and

of the city, where we've been nurturing the sing in one of our choirs. Stage Band and

children of Christchurch for 169 years. At Orchestra offer key first steps in ensemble

the heart of the St Michael's School family performance.

are the essential life values of Christian Our senior programme Parare advances

faith and good citizenship.

your child's Year 7&8 education outside the

Our small classes offer your child box, from financial literacy to outdoor ed,

outstanding specialist and individual leadership challenges to new sports, art and

attention. With twenty pupils per yeargroup,

your child has a sense of identity Our extended campus is spectacular: the

technologies.

and place at St Michael's.

Art Gallery and Museum, Central Library

Traditional foundations in English and and Town Hall, Hagley Park and Botanic

Maths are assured. This academic rigour Gardens are frequent haunts.

then underpins our wider curriculums in You and your child are warmly welcome

Science, History, Geography and languages. to discover our purposeful, wholehearted

IT literacy is taught, not assumed, and and inclusive prep school. Do drop in

computer use is measured. We like teaching on Open Day: Wednesday 5 August, or

and talking to our pupils!

contact registrar, Bec Hitchcock, to book

St Michael's cultural and sports'

your personal tour: 03 379-9790.

New Brighton Catholic School:

"A Hidden Gem"

New Brighton Catholic School is a full

(Year 0 - 8), faith-based primary school

set in the heart of New Brighton. The

school encourages children to reach

their potential spiritually, culturally,

personally and intellectually, in a caring

and positive environment. The Catholic

Special Character is woven in through

our Religious Education and Virtues

programme and strengthened by the

positive relationship with our Parish. A

dedicated and passionate staff bring to life

the Manaiakalani Cluster's vision of Learn,

Create, Share with an effective mix of online

and real time learning to meet the needs of

all our students. Our new learning block,

opening in 2021, will house brand new

classrooms with several break out spaces

for individualised learning. You're welcome

to visit or come join us, on our journey as

"One Community, Learning Together"

SOUTHERN VIEW

Courageous learners who

positivity influence the world

In 2019 Knights Stream School opened

it's doors to 89 children from year's 1 - 8

and now have over 200 students. Together

we have built a strong school community

atmosphere by creating a positive,

understanding and inclusive school

culture.

We are guided by our school values that

underpin everything we do at Knights

Stream School. Our core values are:

Caring, Courage, Creativity, Curiosity, and

Connectedness.

New Brighton Catholic School

(Mary Immaculate)

A state-integrated Catholic School

for Years 0 to 8

• A positive virtues-based culture

• Strong community involvement

• Diverse opportunities

• Supportive learning for all

• After School Care programmes available

Deb Daines, Principal,

welcomes all enquiries

(03) 388-7982 or office@nbc.school.nz

100 Lonsdale Street, New Brighton

One Community – Learning Together

Are you in the KSS School zone or thinking

of moving into our zone?

We'd like to invite you visit us so you can see

how Knights Steam School could meet your

child's needs.

Wednesday 19 August 9am - 11am

Wednesday 28 October 9am - 11am

1 Killarney Avenue, Halswell

Phone: 928 1050

RSVP: office@knightsstream.school.nz

www.knightsstream.school.nz

Accepting enrollments

for 2021

ST JOSEPH'S SCHOOL

PAPANUI

Te Kura o Hato Hohepa

Catholic Primary School

for girls and boys,

Primary and Intermediate.

Phone: 352 8779

www.stjopapa.school.nz

2021 enrolments close on

Friday 25th of September 2020

37 Cunningham Place, Halswell 8025

Phone: 03 322 8735

Email: admin@oaklands.school.nz

www.oaklands.school.nz

Community • Active thinking • Respect • Excellence
---
SOUTHERN VIEW Latest Canterbury news at starnews.co.nz

Thursday [Edition July 30 datE] 2020 93

SCHOOL OPTIONS - early & middle years 2021

Selwyn House - Where Girls Thrive

Selwyn House is an all girls' school for

Years 1 to 8, with a focus on developing

inquiring and empathetic minds and

building strong knowledge foundations so

that our students will face the future with

the skills and confidence to be empowered

global citizens.

We prepare our students for the

challenges and opportunities they will

encounter using the latest technological

tools within a creative and nurturing

environment. With access to the best

modern facilities and outstanding teachers,

our students learn to think creatively, work

collaboratively and to approach each new

challenge with a can-do attitude. They are

problem-solvers and powerful thinkers -

attributes that are needed and valued in the

future workforce.

A key ingredient of the education at

Selwyn House School is the International

Baccalaureate Primary Years Programme

(PYP), which is recognised globally as

a future-focused curriculum based on

intercultural understanding and respect.

The PYP focus is on the total growth

of the developing child, encompassing

intellectual, social, physical, emotional,

spiritual and cultural needs. We use

structured, purposeful inquiry as the

vehicle for learning, and our goal is to

develop an understanding in our students

that they can make a difference to their

world.

Selwyn House School has a culture of

academic achievement and consequently

our students perform significantly higher

than the international student cohort.

Learning in the core subjects of English,

Maths and Science is complemented by the

range of specialist subjects we

offer, including Mechatronics,

Robotics, Artificial Intelligence,

Performing Arts, Music, Physical

Education, Visual Art

and Spanish - each

taught by dedicated

specialist teachers

who are able to impart

their knowledge

and passion to our

students.

Small class sizes

ensure learning is

personalised and

teachers are able to build strong

connections with each child and

provide clear learning strategies

so that students are enabled to take control

of their learning, self-regulate, and develop

self-efficacy.

Choose Selwyn House to give your

daughter the education which will allow

her leadership and personal strengths to

blossom, and allow us to help her become a

confident and informed individual, eager to

take her part in the world.

Be Our Guest

At Selwyn House we are passionate

about sharing what makes this school

stand out from the crowd. Discover our

future-focused learning environment

for girls in Years 1–8, our nurturing

Boarding House and co-educational Preschool

at our next Open Day: 9am - 12pm

on Monday 19 October. Or contact us at

enrolments@selhouse.school.nz, phone:

(03) 355 7299 to arrange a personal tour

at any time. For more information, visit

selwynhouse.school.nz

phone (03) 355 7299 email office@selhouse.school.nz

WWW.SELWYNHOUSE.SCHOOL.NZ

OPEN DAY: MONDAY 19 OCTOBER

9AM TO NOON, 122 MERIVALE LANE, CHRISTCHURCH

An International

122 Merivale Lane, Merivale, Christchurch

Baccalaureate School
---
10 Thursday July 30 2020

Latest Canterbury news at starnews.co.nz

FOCUS ON HEALTH

1 in 2 people

deficient in B12

Emerging research has shown as many as 50% of older adults and

as many as 25% of younger adults are deficient in vitamin B12.

BIRDS OF THE ESTUARY

SOUTHERN VIEW

Scientists at Rush University Medical

Center found those most deficient

in vitamin B12 to have the smallest

brain mass and the lowest scores on

tests measuring short-term memory,

concentration and brain performance.

Another study showed that older people

with higher levels of B12 in their blood

have bigger, healthier brains and score

higher on cognitive tests than those with

lower levels. Yet another recent landmark

study showed that B12 supplementation

slows the accelerated rate of brain

shrinkage and declining cognitive

function. B12 is essential for energy

production, cell health, regulation of

mood and sleep cycles, nerve health and

repair, and prevention of homocysteine

a serious cardiovascular risk factor

that is known to cause damage and

plaque in the blood vessels. It can also

increase the chances of a stroke. Harvard

researchers found

a 34% decrease

risk of vision

loss in a study

of participants

aged 40+ who

supplemented with

B12. Another study

linked a higher risk of hearing loss in

subjects in their 60's who were low in B12.

The reason so many people lack B12

appears to be our body's ability to absorb

it declining with age as the digestive

system becomes less efficient. Anti-reflux

medication and other drugs further

reduce B12 absorption. The good news

is B12 in the form of Methylcobalamin

sublingual tablets that are dissolved in the

mouth and thru bypassing the digestive

tract have been shown to effectively raise

B12 levels in the body.

Further detailed information is

available from the Natural Health

Advisers at Marshall's Health & Natural

Therapy, 101 Seaview Road, New

Brighton, Phone: 388-5757 We are

always happy to help!

IS YOUR BRAIN SHRINKING?

Brain fog, forgetful, feeling old, low energy,

mood swings, difficulty sleeping, pins & needles,

numbness in legs

Up to 1 in 2 people may have a shrinking

brain due to a lack of vitamin B12.

Supplementation of methylcobalamin B12

has been shown to reduce the rate of

brain shrinkage & support memory & brain

function. B12 is also known to protect against

homocysteine a serious cardiovascular risk

factor that can also damage the hearing,

eyesight & affect the mood. B12 is essential

for energy, cell health & nerve function.

B12 SUPPORtS:

• Memory & Brain Performance

• Helps protect brain from

shrinking

• Energy & Recovery

• Nerve Function

• Vegetarian/Vegan's Diet

• Helps protect blood vessels

from damage

• Sleep

• Cellular Health & Repair

• Good Health

• Cardiovascular Health

See a

difference

in as little

as 48

hours!

SUPER PRICE OFFER

Superior Methylcobalamin B12

(High Absorption Sublingual Lozenges)

200 Lozenges

100 Lozenges

Only $ 32 .90

Only $ 59 .80

MAIL ORDER AVAILABLE

Bringing You the Best in Natural Health

MARSHALLS HEALTH & NATURAL THERAPY

CONSULTING - PRESCRIBING - DISPENSING - MANUFACTURING - MEDICAL HERBALISTS

101 SEAVIEW RD, NEW BRIGHTON • PH 03 388 5757 • Email: enquiry@marshallshealthshop.co.nz

- WE ARE ALWAYS HAPPY TO HELP! -

STALKING: You'll often see the white-faced heron standing motionless while

hunting.

Elegant white-faced

heron a common sight

A TALL and elegant bird,

the white-faced heron is

actually quite new to New

Zealand

This heron species

introduced themselves

in the 1940s and are now

commonly seen in our

estuary, McCormacks Bay,

Charlesworth Wetland,

Linwood canal, Bexley and

even on sports fields and

paddocks – but only

after heavy rain, as they

prefer to search for their

Tanya Jenkins is the manager of the Avon-Heathcote

Estuary Ihutai Trust, a non-profit organisation

formed in 2002 to protect one of New Zealand's

most important coastal wetlands. Each week she

introduces a new bird found in the estuary. Her

column aims to raise the understanding of the values

and uniqueness of the area.

food while wading in

shallow water.

They are awesome birds

to observe while they stand

patiently.

Without moving as

much as a feather, they

wait for prey to be within

sight to then at lightning

speed grab either a small

fish, crab, worm, mouse,

lizard or frog.

Lizards and frogs are

more common around the

estuary than most people

are aware of.

White-faced heron's

nest near our estuary

in the tops of pine

and macrocarpa trees

particularly favouring

South New Brighton

Park and the lower Avon

River.

How can we help these

birds thrive? Keep dogs

on the lead when walking

near the estuary as to not

disturb them while feeding

or resting.
---
SOUTHERN VIEW Latest Canterbury news at starnews.co.nz

Thursday July 30 2020 11

Classifieds Contact us today Phone our local team 03 379 1100

Car Parts

Trades & Services

Trades & Services

Trades & Services

Public Notices

TYRES Secondhand,

most szs from $30 - $70

fitted, Also batteries, 217

Waltham Road, 027 476

2404

Wanted To Buy

AAA Buying goods

quality furniture, beds,

stoves, washing machines,

fridge freezers. Same day

service. Selwyn Dealers.

Phone 980 5812 or 027

313 8156

TOOLS Garden,

garage, woodworking,

mechanical, engineering,

sawbenches, lathes, cash

buyer, ph 355-2045

ADD SOME

COLOUR

TO YOUR ADVERT!

Trades & Services

FOR ALL YOUR

★Garden Clean-ups

★Pruning

★Lawn Mowing

★Garden Maintenance

Call us today for a FREE quote

PH 0800 4 546 546

(0800 4 JIMJIM)

DRIVEWAYS

Exposed Aggregate

Stamped Concrete Plain

Concrete Resurfacing

Things we offer...

Competitive/affordable pricing

Attention to detail

Professional service

free quotes/insurance scopes

Cell 0278 145 848

www.drivecrete.co.nz

WINDOW TINTING

tintawindow

advanced film solutions

99% uv block

fade protection

heat control

reduce glare

25 Years Experience

privacy films

frosting designs

non-darkening films

Workmanship Guaranteed

Lifetime Warranties on Most Films

UV

block

Free Quotes Canterbury and Districts

03 365 3653 0800 368 468

AWSOM ROOFS

24/7

MOSS

TREATMENT

ROOFS $300

• Oamaru StOne

• Driveway

• PathS

• hOuSe

• General exterior

wash Down

• tidy up

Ph: 027 561 4629

Kevin

Trades & Services

BRICKLAYER

George Lockyer. Over

40 years bricklaying

experience.Uk trained.

Insurance work, EQC

repairs. Heritage

brickwork & stonework

a speciality. No job too

small. Governers Bay.

Home 329 9344. Cell

027 684 4046. E mail

georgelockyer@xtra.co.nz

CARPET LAYING

Exp. Repairs, uplifting,

relaying, restretching.

Phone John on 0800

003181, 027 240 7416

jflattery@xtra.co.nz

ELECTRICIAN

Prompt & reliable

registered electrician

with 24 years experience

for all residential and

commercial work, new

housing and switch board

replacements. Phone Chris

027 516 0669

PAINTING

Indoor / Outdoor, over 30

yrs exp, same day quotes,

ph Steve 021 255 7968

ROOFING REPAIRS

Fully qualified, over 40

yrs experience. Ph John

027 432-3822 or 351-

9147 email johnchmill@

outlook.com

STONEMASON, BRICK

& BLOCKLAYER,

Earthquake Repairs, Grind

Out & Repoint, River/

Oamaru stone, Schist,

Volcanic Rock, Paving,

all Alterations new & old,

Quality Workmanship,

visit www.featureworks.

co.nz or ph 027 601-3145

STUMP GRINDING

Best price guarantee Tony

0275 588 895

TILER/CARPENTER

35 years exp, no job

too small. Ph Ross 027

4311440.

T.V. SERVICE CENTRE

Repairs, tvs, microwaves,

audio amps, soundbars.

.Aerial & satellite

installations, kitsets, 480D

Moorhouse Ave, ph 03 379

1400

VHS VIDEO TAPES

& all camera tapes

converted to DVD or

USB. Video taping

special occasions, www.

grahamsvideo.co.nz ph 03

338-1655

HOME

LEISURE

Horncastle Arena,

21-23 August 2020

Exhibitors

Book now

Don't miss your opportunity to showcase your

business in front of 10,000+ qualified attendees

New exhibitor packages available

Contact Lisa now

lisa.lynch@starmedia.kiwi • Ph: 021 800 809
---
Advert: FCSV2807 Newspaper: Southern View

12 Thursday July 30 2020

Latest Canterbury news at starnews.co.nz

SOUTHERN VIEW

Shop online at

FreshChoiceYourWay.co.nz

or download the

FreshChoice app

NZ

GROWN

Country Fresh

Washed Potato

Range 2kg

NZ

GROWN

NZ

GROWN

$

5 00

bag

Fresh NZ Beef

Rump Roast

$

14 90

kg

Loose Red Kumara

$

4 50

kg

Barrington

City Market

Open 7am – 10pm, 7 days a week.

barrington.store.freshchoice.co.nz

Open 7am – 7pm, 7 days a week.

citymarket.store.freshchoice.co.nz

Prices apply from Monday 27th July to Sunday 2nd August 2020, or while stocks last at FreshChoice City Market & Barrington only. Limits may apply.

FreshChoiceNZ

OWNED &

OPERATED BY

LOCALS

FCSV2807