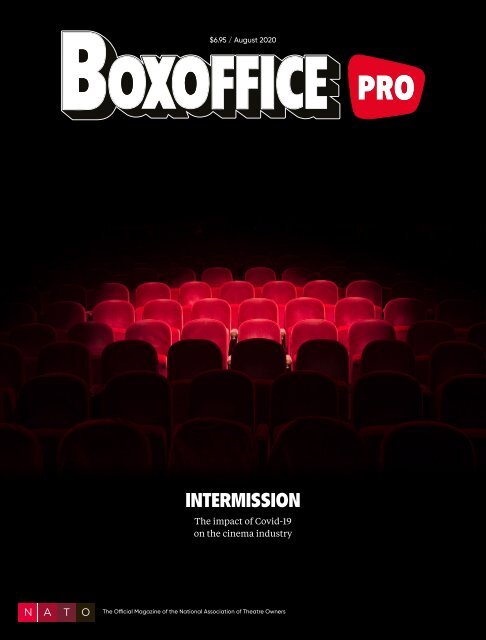 Boxoffice Pro - August 2020
The Official Magazine of the National Association of Theatre Owners
The Official Magazine of the National Association of Theatre Owners
SHOW MORE
SHOW LESS
Create successful ePaper yourself
Turn your PDF publications into a flip-book with our unique Google optimized e-Paper software.
$6.95 // <strong>August</strong> April <strong>2020</strong><br />
INTERMISSION<br />
The impact of Covid-19<br />
on the cinema industry<br />
The Official Magazine of the National Association of Theatre Owners
---
grow<br />
make<br />
customers happy<br />
your business<br />
©<strong>2020</strong> QSC, LLC all rights reserved. QSC, Q-SYS and the QSC logo are registered trademarks in the U.S. Patent and<br />
Trademark Office and other countries. All other trademarks remain the property of their respective owners.
---
We are the experts in developing and manufacturing<br />
compliant life safety venue luminaries for over 50 years.<br />
MOUNTAIN VIEW SHOWPLACE ICON<br />
Illuminaon<br />
San Antonio<br />
Soluons<br />
Centre - Mountain<br />
forTheaterand<br />
View, CA<br />
Auditorium Venues for50+ Years<br />
CEILING LIGHTS WALL SCONCE STEP AND AISLE SAFETY LIGHTING<br />
Engineering life safety illuminaon soluons for theater and auditorium venues for over 5 decades.<br />
Tivoli has maintained a customer-first approach, with quality products and uncompromising service<br />
delivered by our team, year aer year.<br />
www.tivolilighting.com • sales@tivoliusa.com
---
Contactless, easy to setup,<br />
and in every customer's<br />
pocket. Boost Ticketing is a<br />
great way for your theater<br />
to respond and adapt to<br />
the new normal.<br />
THE<br />
Visit us our website company.boxoffice.com<br />
or contact us at sales@boxoffice.com<br />
COMPANY<br />
WEBEDIA GROUP
---
April <strong>2020</strong><br />
03
---
Photo Credit: Dean Rogers. Courtesy Searchlight Pictures<br />
82<br />
What the Dickens!<br />
The Personal History<br />
of David Copperfield<br />
hits the big screen<br />
<strong>August</strong> <strong>2020</strong><br />
CONTENTS<br />
16<br />
Covid-19 & Cinemas<br />
A timeline of the first six<br />
months of the crisis<br />
48<br />
The Next Big Thing<br />
The origins of cinema<br />
entertainment centers in<br />
the United States<br />
62<br />
Drive-In Summer<br />
Drive-ins experience a<br />
renaissance as audiences<br />
return to theaters outdoors<br />
76<br />
The Sounds Of Silence<br />
Interview with the sound<br />
editors behind Paramount's<br />
A Quiet Place Part II<br />
April <strong>2020</strong><br />
05
---
CONTENTS<br />
INDUSTRY THEATER ON SCREEN<br />
12<br />
16<br />
30<br />
38<br />
NATO<br />
Bringing back the moviegoing<br />
experience<br />
Covid-19 & Cinemas<br />
A timeline of the first six months<br />
of the crisis<br />
Charity Spotlight<br />
A recap of industry-wide charity<br />
initiatives<br />
Guest Column<br />
Can cinemas win back audiences<br />
after Covid-19 shutdowns?<br />
48<br />
62<br />
70<br />
The Next Big Thing<br />
The origins of cinema entertainment<br />
centers in the United States<br />
Drive-In Summer<br />
Drive-ins experience a renaissance<br />
as audiences return to theaters<br />
outdoors—while keeping their<br />
distance<br />
Remembering Our<br />
Hometown Theaters<br />
<strong>Boxoffice</strong> <strong>Pro</strong> staff look back at<br />
their hometown movie theaters<br />
76<br />
82<br />
88<br />
96<br />
The Sounds Of Silence<br />
Interview with the sound editors<br />
behind Paramount's A Quiet Place<br />
Part II<br />
What the Dickens!<br />
The Personal History of David<br />
Copperfield hits the big screen<br />
Coming Attractions<br />
Upcoming wide releases<br />
Event Cinema<br />
Event cinema responds to the<br />
Covid-19 programming gaps<br />
40<br />
A Century in Exhibition<br />
The 1960s: The collapse of the<br />
studio system<br />
100<br />
Long-Range Forecast<br />
Tentatively Tenet: Forecasting<br />
future box office when no<br />
existing models apply<br />
105<br />
Booking Guide<br />
"Our coordinated efforts<br />
to get the public back into<br />
movie theaters will make the<br />
difference in our industry,<br />
which I am certain will return<br />
stronger than ever."<br />
p.12<br />
06 <strong>August</strong> <strong>2020</strong>
---
20<br />
AUG<br />
Whether building and equipping an<br />
entire theatre, diagnosing problems<br />
on your equipment or finding and<br />
installing the replacement parts you<br />
need, Sonic has the super powers to<br />
handle it all.<br />
THE TECH
---
BOXOFFICE MEDIA<br />
CEO<br />
Julien Marcel<br />
SVP Content Strategy<br />
Daniel Loría<br />
Creative Direction<br />
Chris Vickers & Craig Scott<br />
at She Was Only<br />
EVP Chief Administrative Officer<br />
Susan Rich<br />
VP Advertising<br />
Susan Uhrlass<br />
BOXOFFICE PRO<br />
EDITORIAL DIRECTOR<br />
Daniel Loría<br />
DEPUTY EDITOR<br />
Rebecca Pahle<br />
EXECUTIVE EDITOR<br />
Kevin Lally<br />
MANAGING EDITOR<br />
Laura Silver<br />
CHIEF ANALYST<br />
Shawn Robbins<br />
ANALYSTS<br />
Chris Eggertsen<br />
Jesse Rifkin<br />
EDITORIAL ASSISTANTS<br />
Vassiliki Malouchou<br />
Rachel Walkup<br />
ADVERTISING<br />
Susan Uhrlass<br />
63 Copps Hill Road<br />
Ridgefield, CT USA 06877<br />
susan@boxoffice.com<br />
SUBSCRIPTIONS<br />
<strong>Boxoffice</strong> <strong>Pro</strong><br />
P.O. Box 215<br />
Congers, NY 10920<br />
833-435-8093 (Toll-Free)<br />
845-450-5212 (Local)<br />
boxoffice@cambeywest.com<br />
CORPORATE<br />
Box Office Media LLC<br />
63 Copps Hill Road<br />
Ridgefield, CT USA 06877<br />
corporate@boxoffice.com<br />
<strong>Boxoffice</strong> <strong>Pro</strong> has served as the<br />
official publication of the National<br />
Association of Theatre Owners<br />
(NATO) since 2007. As part of this<br />
partnership, <strong>Boxoffice</strong> <strong>Pro</strong> is proud<br />
to feature exclusive columns from<br />
NATO while retaining full editorial<br />
freedom throughout its pages.<br />
As such, the views expressed in<br />
<strong>Boxoffice</strong> <strong>Pro</strong> neither reflect a stance<br />
nor endorsement from the National<br />
Association of Theatre Owners.<br />
Due to Covid-19, <strong>Boxoffice</strong> <strong>Pro</strong> will<br />
be adjusting its publishing schedule.<br />
For any further questions or updates<br />
regarding your subscription, please<br />
do not hesitate to contact our<br />
customer service department at<br />
boxoffice@cambeywest.com.<br />
DATABASE<br />
Diogo Hausen<br />
CONTRIBUTORS<br />
John Fithian<br />
Debbie Stanford-Kristiansen<br />
<strong>Boxoffice</strong> <strong>Pro</strong> (ISSN 0006-8527), Volume 156, Number 5, <strong>August</strong> <strong>2020</strong>. <strong>Boxoffice</strong> <strong>Pro</strong><br />
is published by Box Office Media LLC, 63 Copps Hill Road, Ridgefield, CT USA 06877.<br />
corporate@boxoffice.com. www.boxoffice.com. Basic annual subscription rate is $75.00.<br />
Periodicals postage paid at Beverly Hills, CA, and at additional mailing offices. POSTMASTER:<br />
Send all UAA to CFS. NON-POSTAL AND MILITARY FACILITIES: send address corrections to<br />
<strong>Boxoffice</strong> <strong>Pro</strong>, P.O. Box 215, Congers, NY 10920. © Copyright <strong>2020</strong>. Box Office Media LLC. All<br />
rights reserved. SUBSCRIPTIONS: <strong>Boxoffice</strong> <strong>Pro</strong>, P.O. Box 215, Congers, NY 10920 / boxoffice@<br />
cambeywest.com. 833-435-8093 (Toll-Free), 845-450-5212 (Local).<br />
Box Office <strong>Pro</strong> is a registered trademark of Box Office Media LLC.<br />
08 <strong>August</strong> <strong>2020</strong>
---
EXECUTIVE LETTER<br />
THE RETURN<br />
OF CINEMA<br />
After a brief hiatus from publication,<br />
we're happy to return in time to<br />
welcome cinemas back to business. As<br />
movie theaters around the world first<br />
began to close their doors in a global effort<br />
to curb the spread of Covid-19, we made<br />
the decision to suspend publication of<br />
BOXOFFICE PRO until most screens in<br />
the United States were back online. The<br />
wait was longer than any of us wanted or<br />
expected, but we kept busy throughout our<br />
respective stay-at-home orders by working<br />
on our digital platforms. From providing<br />
breaking news on our website and social<br />
media channels to launching new initiatives<br />
like The <strong>Boxoffice</strong> Podcast and our<br />
<strong>Boxoffice</strong> LIVE Sessions webinar series,<br />
our team adapted to the circumstances<br />
and has provided daily and up-to-the-minute<br />
coverage of every development in this<br />
crisis. Some of that work is highlighted in<br />
the following pages, in particular with our<br />
timeline of how cinemas have coped with<br />
the impact of Covid-19 so far. Finally, after<br />
months of stops and starts, we are happy<br />
to make our way back to your homes and<br />
offices with our magazine—just as cinemas<br />
around the world get ready to host<br />
new Hollywood releases on their screens.<br />
If we've learned anything from the past<br />
five months, it's the value of expecting<br />
the unexpected and the importance<br />
of flexibility. This quality is especially<br />
relevant when it comes to our upcoming<br />
publication schedule: While we will<br />
continue to work around the clock on our<br />
digital platforms, we will not immediately<br />
return to monthly issues of the magazine.<br />
You can expect our next issue, for example,<br />
in December, when we'll celebrate the<br />
100-year anniversary of this magazine.<br />
We will continue adjusting our frequency<br />
of publication according to the latest<br />
developments in the industry and in<br />
close collaboration with our advertising<br />
partners. To our subscribers, rest assured<br />
that we are working with our circulation<br />
department to ensure that all remaining<br />
issues in your subscription—including<br />
those we skipped due to the pandemic—<br />
are honored through the coming months.<br />
As much as we hoped that this return<br />
issue would mark the end of the Covid-19<br />
crisis, it's clear to us now that we'll have to<br />
learn how to deal with this situation—and<br />
its ripple effects across our industry—for<br />
the foreseeable future. It's too early to<br />
forecast a resolution, let alone a time<br />
frame, but we are firmly committed to documenting<br />
this historic period and helping<br />
cinemas stay unified and informed. Like<br />
everyone else in theatrical exhibition, we<br />
are fully cognizant of the scope of this<br />
crisis—but also of the power that we have<br />
as an industry to work together toward a<br />
recovery from the biggest threat cinemas<br />
have faced in their existence. We're all in<br />
this together, and we thank you again for<br />
your continued support and resilience.<br />
Julien Marcel<br />
Chief Executive Officer, The <strong>Boxoffice</strong> Company<br />
Publisher, <strong>Boxoffice</strong> <strong>Pro</strong><br />
<strong>August</strong> <strong>2020</strong><br />
09
---
Comfortable is the<br />
new profitable.<br />
When customers sit, relax, and stay, they eat, drink, and spend.<br />
Interested in padding your bottom line? Give us a call!<br />
www.proctorco.com | | sales@proctorco.com<br />
800-221-3699
---
NATO 12 | Covid-19 16 | Charity Spotlight 30 | A Century In Exhibition 40<br />
INDUSTRY<br />
Vogue Theatre. Manistee, Michigan.<br />
From closures in China in January to release date shifts<br />
in June, a look back at the first six months of the crisis.<br />
Covid-19 & Cinemas, p. 16<br />
<strong>August</strong> <strong>2020</strong><br />
11
---
Industry NATO<br />
BRINGING<br />
BACK THE<br />
MOVIEGOING<br />
EXPERIENCE<br />
It is great to be back in the<br />
pages of <strong>Boxoffice</strong> <strong>Pro</strong> after<br />
a brief hiatus. We thought<br />
it would be best to use this<br />
space to summarize the work<br />
we've been doing to help our<br />
industry rebound from the<br />
worst crisis it has ever faced.<br />
BY NATO STAFF<br />
Government Relations<br />
Since the start of the global pandemic,<br />
NATO has been working tirelessly to<br />
assist theater owners in staying solvent.<br />
As Congress began to contemplate relief<br />
legislation in mid-March, we immediately<br />
moved to retain robust representation<br />
on Capitol Hill and worked assiduously<br />
to ensure that theaters would be eligible<br />
for assistance programs. Congress passed<br />
the CARES Act at the end of March,<br />
which included mandates for several<br />
loan programs: the Paycheck <strong>Pro</strong>tection<br />
<strong>Pro</strong>gram (PPP) and Emergency Injury<br />
Disaster Loans (EIDL) and grants through<br />
the Small Business Administration<br />
(SBA), and $454 billion for the Treasury<br />
Department to set up loans and loan<br />
guarantee programs. The legislation<br />
also included a significant expansion<br />
of unemployment insurance eligibility<br />
criteria and a $600 weekly supplement for<br />
individuals on unemployment.<br />
The PPP loan program is a forgivable<br />
loan that, as enacted, would allow<br />
borrowers to borrow up to 2.5 months<br />
of their average 2019 payroll amount<br />
to spend on a number of eligible<br />
expenses, with up to 100 percent<br />
forgiveness depending on salary and<br />
head-count maintenance requirements.<br />
However, in subsequent regulation, the<br />
SBA and Treasury made significant<br />
modifications to the program, including<br />
a requirement that 75 percent of any<br />
forgivable amount be spent on payroll,<br />
regardless of whether a borrower met<br />
the "safe harbor" provisions of the PPP<br />
as described in the CARES Act. NATO<br />
worked to communicate these changes<br />
to members, while also pushing Congress<br />
to revise the terms to reflect the original<br />
intent and flexibility. Due to aggressive<br />
lobbying by NATO, the PPP was modified<br />
by subsequent legislation to allow for<br />
greater flexibility in spending the loan<br />
(reducing the payroll spend to 60 percent);<br />
allowing for a significant increase in the<br />
forgiveness period (from 8 weeks to 24<br />
weeks); and extending the maturity period<br />
to five years for new loans, among other<br />
fixes. NATO will continue to lobby for PPP<br />
modifications including higher loan caps<br />
and/or the ability for borrowers to take on<br />
multiple loans.<br />
The CARES Act also allocated<br />
$454 billion for large and midsize<br />
companies via loans and loan guarantees<br />
administered by the Treasury Department<br />
and the Federal Reserve. However,<br />
currently the only program that has been<br />
implemented is the Main Street Lending<br />
Facility (MSLF), which uses a small<br />
portion of the allocated funds toward<br />
loans for small and midsize businesses.<br />
As of early July, the MSLF was still not<br />
fully operational, and many lenders have<br />
expressed concerns about the program.<br />
Exhibitors specifically have also shared<br />
concerns about EBITDA caps that are<br />
prohibitively low. We will continue to<br />
share information as it becomes available<br />
and to lobby for more flexible uses of the<br />
Treasury funds, particularly for shuttered<br />
industries such as movie theaters.<br />
Given the duration of the pandemic,<br />
Congress recognized that more assistance is<br />
needed. In June, the House passed further<br />
Covid relief legislation called the HEROES<br />
Act, and the Senate is expected to respond<br />
with a different bill at the end of July or<br />
beginning of <strong>August</strong>. Potential proposals<br />
in the forthcoming legislation include:<br />
additional loan options for businesses<br />
that have not received adequate relief; a<br />
limited liability shield for businesses that<br />
reopen; tax credits for personal protective<br />
equipment; either an extension of the<br />
pandemic unemployment assistance or<br />
a rehiring bonus; and direct assistance<br />
for families and individuals. NATO will<br />
continue to lobby aggressively for the needs<br />
of all exhibitors to help our members stay<br />
solvent and survive this period.<br />
12 <strong>August</strong> <strong>2020</strong>
---
Cinema Reopening Operations<br />
Earlier this year, even before movie<br />
theaters were shut down by government<br />
mandate, NATO members were taking<br />
steps to mitigate the risk of exposure<br />
to the coronavirus. As awareness of the<br />
pandemic spread, theater owners were<br />
making sure that recommended health<br />
and hygiene practices (frequent hand<br />
washing, staying home if ill, etc.) were<br />
being followed by staff; that cleaning<br />
and sanitization practices were stepped<br />
up; that physical distancing was<br />
implemented; and that showtimes were<br />
adjusted to accommodate enhanced<br />
cleaning between screenings.<br />
When theater closures were mandated,<br />
theater owners and their teams explored<br />
additional health and safety measures<br />
and made plans to reopen their cinemas<br />
with robust precautions in place to protect<br />
employees and guests from exposure<br />
to Covid-19. To help members with this<br />
effort, NATO invited operations leaders,<br />
representing 11 NATO-member companies,<br />
to come together as NATO's Cinema<br />
Reopening Operations Task Force.<br />
Recognizing that health and safety<br />
issues are always company-by-company,<br />
location-by-location decisions, the<br />
working group did not attempt to make<br />
industry-wide recommendations or<br />
suggest one specific model. Rather,<br />
the group guided the development of<br />
resources that identify issues for individual<br />
companies to contemplate as they make<br />
their reopening plans. With the input<br />
and support of the working group, NATO<br />
held two webinars that focused on the<br />
operational considerations of reopening<br />
cinemas and published a Covid-19 cinema<br />
reopening considerations document and<br />
an accompanying preopening planningstage<br />
checklist, which were shared with<br />
all NATO members. These resources<br />
address cleaning and sanitizing, employee<br />
health and personal hygiene, and physical<br />
distancing, as well as food and beverage<br />
operations, and were well received by<br />
NATO members.<br />
NATO members have used these<br />
resources, in combination with guidance<br />
from the Centers for Disease Control and<br />
Prevention, Johns Hopkins University,<br />
and other sources, to develop operational<br />
plans and protocols that have, in many<br />
cases, helped local governments have<br />
confidence to authorize reopenings in<br />
their jurisdictions. Additionally, NATO<br />
member companies have been nimble<br />
and responsive to new information and<br />
evolving guidance from federal, state,<br />
and local authorities. Some plans have<br />
been revised as more is learned about<br />
the efficacy of specific protocols and as<br />
moviegoers' expectations and comfort<br />
with various protocols evolve.<br />
Communications and Marketing<br />
NATO's communications team began<br />
preparing for the pandemic in January. As<br />
reports of a growing coronavirus epidemic<br />
in China began to circulate, we began<br />
research into updating NATO's "Preparing<br />
for a Flu Pandemic," first developed in<br />
2009 in response to the N1H1 outbreak.<br />
The document, along with NATO's "Crisis<br />
Management Handbook" was distributed<br />
to members at the end of January. As the<br />
pandemic intensified and spread, NATO<br />
was heavily engaged with the press on<br />
managing perceptions of the imminent<br />
threat to the industry, particularly leading<br />
up to CinemaCon.<br />
With the WHO declaring a global<br />
pandemic in mid-March, NATO canceled<br />
CinemaCon, and most movie theater<br />
companies began closing their doors.<br />
NATO released a statement noting the<br />
responsible actions of theater owners<br />
and expressing optimism for the future<br />
of the industry. NATO's communication<br />
strategy shifted to support of lobbying for<br />
federal aid to movie theaters and other<br />
industries and employees affected by the<br />
nationwide shutdown. We commissioned<br />
and placed a powerful opinion piece by<br />
Christopher Nolan in The Washington Post<br />
on the importance of movie theaters to our<br />
economy and culture.<br />
Throughout the shutdown, we have<br />
continued to press the importance of aid<br />
for the industry, its underlying strength<br />
when things return to normal, and its<br />
responsible and rational approach to<br />
reopening safely in thousands of media<br />
outlets around the world. To support<br />
this messaging, we have encouraged and<br />
facilitated the participation of theater<br />
owners of all sizes to tell their stories<br />
directly. These efforts are ongoing.<br />
NATO has also established a Media<br />
Relations/Research Task Force to<br />
share and aid in communications by<br />
members to their local press and patrons.<br />
In coordination with the Reopening<br />
Operations Task Force, it has encouraged<br />
the development of direct and clear<br />
communication of safety and sanitation<br />
protocols that consumer research has<br />
shown will be most effective in reassuring<br />
the public that theaters are reopening<br />
responsibly and safely.<br />
NATO has also been engaged in a crossindustry<br />
effort with the major studios<br />
and other partners to create a reopening<br />
marketing campaign that celebrates<br />
the magic of moviegoing. That effort is<br />
ongoing and contingent on the broad<br />
opening of the industry nationwide—<br />
indeed worldwide—and the return of<br />
wide-release films.<br />
Membership Services<br />
Since the cancellation of CinemaCon <strong>2020</strong><br />
and the onset of the Covid-19 pandemic,<br />
NATO's membership services have<br />
shifted toward several key topics. The first<br />
NATO Membership<br />
Companies Screens Sites<br />
Domestic 735 35,189 3,656<br />
U.S. Territories 3 43 42<br />
Canadian 30 2,435 273<br />
International 78 30,963 4,069<br />
Total 846 68,930 8,040<br />
NATO member<br />
companies represent<br />
almost 69,000 screens<br />
in 100 countries on six<br />
continents. The table<br />
to the left indicates the<br />
membership composition<br />
as of July 1, <strong>2020</strong>.<br />
<strong>August</strong> <strong>2020</strong><br />
13
---
Industry NATO<br />
involved tracking studio activity and their<br />
possible programming timetables. Another<br />
important issue is U.S. legislation and<br />
policy movement regarding how businesses<br />
and their employees stay solvent until they<br />
can open back up. This included funding<br />
and advocating programs within the<br />
industry to assist cinema employees. Next,<br />
NATO observed support for moviegoing<br />
and analyzed how to get people back into<br />
cinemas when the time comes through a<br />
strategic public relations campaign. Finally,<br />
NATO needed to examine reopening<br />
operation procedures, as cinemas would<br />
prepare to welcome patrons again.<br />
NATO's weekly State of the Industry<br />
webinar broadcasts every Thursday<br />
afternoon (Washington, D.C. time)<br />
to more than 400 member-company<br />
personnel around the world. As<br />
circumstances change rapidly in this<br />
current environment, the need to relay<br />
information on a timely basis remains<br />
a high priority. In addition to the SOTI<br />
webinars, NATO offers webinars on many<br />
of the topics mentioned above, including<br />
specific federal loan programs, P.R.<br />
advice, and shared reopening experiences<br />
from an operations standpoint. The<br />
webinar and tele-video platform has<br />
become a staple for businesses during the<br />
pandemic, and NATO intends to continue<br />
to provide much valuable information to<br />
its members throughout this ordeal.<br />
NATO staff have been working<br />
diligently on behalf of all cinemas to<br />
ensure that they have an industry to<br />
return to once cinemas fully reopen. We<br />
understand that cinema owners have<br />
anxiety, frustration, and concern about<br />
the future of the exhibition industry. The<br />
past few months have been full of stressful<br />
situations and difficult decisions. Our<br />
members have found value in NATO's<br />
website posts, daily article updates,<br />
weekly webinars, and regular reports on<br />
developments within the industry. Thank<br />
you for your constant support, and we look<br />
forward to working with you this year.<br />
Dues Hiatus<br />
The month of July marks the beginning<br />
of NATO's fiscal year. For the <strong>2020</strong>–21<br />
fiscal year, the NATO Executive Board<br />
authorized a one-time dues-free year<br />
of membership through June 30, 2021.<br />
Any cinema that has yet to join<br />
NATO, please contact David Binet<br />
(db@natodc.com) to take advantage of<br />
the current offer. During this period of<br />
uncertainty and great challenge, NATO<br />
proudly represents our members and all<br />
cinemas in the fight for the return of the<br />
exhibition industry.<br />
Employee Relief <strong>Pro</strong>grams<br />
Several hundred thousand movie theater<br />
employees all across the world were<br />
furloughed when theaters were forced to<br />
close. In the U.S., the Will Rogers Motion<br />
Picture Pioneers Foundation (WRMPPF)<br />
stepped up immediately to provide<br />
financial aid to those most in need. With<br />
$1.2 million in funding from Will Rogers'<br />
reserves, and a $1 million contribution<br />
from NATO, phase 1 of the Will Rogers<br />
Covid-19 Emergency Grant <strong>Pro</strong>gram<br />
provided an immediate $300 grant to<br />
7,300 furloughed employees in the U.S.<br />
A comparable grant program was<br />
launched by the Canadian Picture<br />
Pioneers (CPP) to provide financial relief<br />
to furloughed employees in Canada,<br />
and NATO supported that effort with a<br />
contribution of $100,000 CAD.<br />
Our hats are off to our friends at<br />
WRMPPF and CPP for undertaking and<br />
managing these important programs<br />
that gave a much-needed financial lift to<br />
industry employees negatively affected by<br />
the closures.<br />
WRMPPF has now moved to phase 2 of<br />
its Covid-19 relief program, which offers<br />
assistance on a more individualized basis,<br />
similar to its ongoing assistance program.<br />
The fundraising for phase 2 was given a<br />
nice boost by Lionsgate, as the company<br />
donated the proceeds of its Lionsgate Live!<br />
movie screenings to Will Rogers.<br />
NATO Events<br />
The cancellation of CinemaCon <strong>2020</strong> was<br />
another disappointment earlier this year.<br />
As we look ahead to better times, we are<br />
looking forward to gathering, virtually<br />
or in person, at the Beverly Hilton this<br />
October, for NATO's Fall Meetings. Stay<br />
tuned for more details. At the same<br />
time, we are already working hard on<br />
new plans to celebrate to 10th edition of<br />
CinemaCon, scheduled for April 26–29,<br />
2021, at Caesars Palace.<br />
Global Cinema Federation<br />
In April, the Global Cinema Federation<br />
released a statement on its commitment to<br />
ensuring the survival of cinemas through<br />
the Covid-19 crisis. Over these last few<br />
months, the GCF executive committee<br />
has held several virtual meetings to<br />
continue to share updates on industry<br />
developments, including reopenings and<br />
back-to-the-cinema campaign ideas. The<br />
GCF has communicated with studios<br />
about the commitment to reopening safely<br />
in time for wide releases of upcoming<br />
films. The GCF has also worked on<br />
collecting information from theater<br />
owners operating in territories around<br />
the world about the impact of Covid-19<br />
on our industry. Chairman Alejandro<br />
Ramírez Magaña addressed the virtual<br />
CineEurope crowd on June 17 with an<br />
industry message from the Global Cinema<br />
Federation. In his address he said, "We<br />
must demonstrate our resilience, which is<br />
what has always made us a solid, united,<br />
and successful industry. Our coordinated<br />
efforts to get the public back into movie<br />
theaters will make the difference in our<br />
industry, which I am certain will return<br />
stronger than ever."<br />
We must demonstrate our<br />
resilience, which is what<br />
has always made us a solid,<br />
united, and successful<br />
industry. Our coordinated<br />
efforts to get the public<br />
back into movie theaters<br />
will make the difference<br />
in our industry, which I am<br />
certain will return stronger<br />
than ever.<br />
14 <strong>August</strong> <strong>2020</strong>
---
<strong>August</strong> <strong>2020</strong><br />
15
---
INDUSTRY COVID-19 & CINEMAS<br />
COVID-19<br />
& CINEMAS<br />
BY DANIEL LORIA<br />
JAN 23<br />
Cinemas in China are<br />
ordered to close on the eve<br />
of the country's Lunar New<br />
Year holiday, one of the<br />
busiest moviegoing periods<br />
of the year.<br />
THE FIRST<br />
SIX MONTHS<br />
OF THE CRISIS<br />
FEB<br />
16 <strong>August</strong> <strong>2020</strong>
---
FEB 23<br />
Cinemas in northern<br />
Italy, which account for<br />
approximately 48 percent of<br />
the country's screens, begin<br />
to close as the region becomes<br />
the first site outside Asia<br />
to experience an outbreak<br />
of Covid-19 cases. The<br />
government orders the rest of<br />
the country's cinemas to cease<br />
operations on March 8.<br />
FEB 12<br />
Mobile World Conference,<br />
the world's largest mobile<br />
phone convention, cancels<br />
its <strong>2020</strong> event, intended to be<br />
held in Barcelona. It becomes<br />
the first major convention<br />
and trade show in <strong>2020</strong> to<br />
abandon its plans.<br />
MAR<br />
MAR 04<br />
No Time to Die, the latest entry in the James Bond<br />
franchise, becomes the first major studio release to be<br />
delayed due to Covid-19. The film, originally scheduled<br />
to premiere in London on March 31 before opening<br />
in the U.S. on April 10, is pushed back to November.<br />
Every other studio title on the schedule will follow suit<br />
in subsequent weeks, with some titles like Universal's<br />
F9 (the ninth entry in The Fast & The Furious<br />
franchise) postponed by over a year to spring 2021.<br />
Photo Credit: Nicola Dove. © <strong>2020</strong> DANJAQ LLC AND MGM<br />
<strong>August</strong> <strong>2020</strong><br />
17
---
INDUSTRY COVID-19 & CINEMAS<br />
MAR 06<br />
The city of Austin, Texas,<br />
cancels South by Southwest,<br />
making it the first major film<br />
festival to be canceled due to<br />
the escalating health crisis.<br />
MAR 12<br />
Cinemas in the Czech<br />
Republic, Estonia, Greece,<br />
Kosovo, Poland, and Romania<br />
suspend operations under<br />
government orders. Denmark's<br />
cinemas close by mutual<br />
agreement on this date, ahead<br />
of government orders.<br />
"While local<br />
outbreaks vary<br />
widely in severity,<br />
the global<br />
circumstances<br />
make it impossible<br />
for us to mount<br />
the show that our<br />
attendees have<br />
come to expect."<br />
—NATO<br />
MAR 11<br />
CinemaCon, the annual<br />
convention of the National<br />
Association of Theatre Owners,<br />
cancels its <strong>2020</strong> edition.<br />
Earlier that day, news broke<br />
that Tom Hanks and his wife,<br />
Rita Wilson, had contracted<br />
Covid-19 in Australia during<br />
the production of a film. Hours<br />
before NATO's announcement,<br />
the NBA suspended the<br />
basketball season after one of<br />
its players tested positive.<br />
MAR 13<br />
AMC and Malco Theatres become the<br />
first major circuits in North America to<br />
announce restricted capacity measures,<br />
limiting admissions in each auditorium<br />
to 50 percent. By the end of the day,<br />
similar capacity measures are instituted<br />
in other circuits and independent cinemas<br />
throughout the country. In New York City,<br />
where a cluster of cases begins to spread,<br />
art houses and repertory theaters like<br />
Anthology Film Archives, Film at Lincoln<br />
Center, and Nitehawk Cinema announce a<br />
suspension of their programming.<br />
Image courtesy Cinemark<br />
18 <strong>August</strong> <strong>2020</strong>
---
MAR 14<br />
Cinemas in Belgium, France, Latvia, Norway, and<br />
Spain suspend operations under government orders.<br />
Cinemas in Germany begin closing by region, going<br />
completely dark by March 18.<br />
Alamo Drafthouse closes its New York City and Yonkers<br />
locations following news of an uptick in cases in the<br />
New York City region. Eighteen of the North American<br />
market's top 25 circuits are confirmed to be operating<br />
under restricted capacity measures.<br />
CMX Cinemas announces its intent to acquire dine-in<br />
circuit Star Cinema Grill, which operates 10 locations<br />
in Texas, with an additional site in development.<br />
MAR 17<br />
The top five circuits in North America<br />
go dark as Cinemark and Marcus Theatres<br />
announce the temporary closure of<br />
their locations.<br />
The top cinema circuits in Brazil begin to<br />
suspend operations. Over 90 percent of<br />
the country's screens go dark by March 20.<br />
Image courtesy Cinemark<br />
Image courtesy Star Cinema Grill<br />
MAR 15<br />
Covid-19 hits the domestic box office.<br />
Friday figures signal trouble as an initial<br />
sample of 22 holdover titles report a sharp<br />
65 percent Friday-to-Friday drop. The<br />
weekend ends with a cumulative market<br />
total of $53.6 million, the lowest tally since<br />
September 2000.<br />
MAR 16<br />
The mayors of New York City and Los<br />
Angeles, the highest-earning U.S. box<br />
office markets, order cinemas in their<br />
respective cities to close. By the end of the<br />
day, top circuits in North America such as<br />
AMC, Regal, Cineplex, Harkins, Showcase,<br />
Landmark Cinemas of Canada, Alamo<br />
Drafthouse, Bow Tie, and Caribbean<br />
Cinemas announce they will begin closing<br />
all their locations until further notice.<br />
Cinemas in Argentina suspend operations<br />
under government orders.<br />
The Cannes Film Festival decides to<br />
abandon its original festival dates for<br />
<strong>2020</strong> in mid-May, one of only a handful<br />
of times the festival has been forced to<br />
adjust its dates.<br />
Image courtesy Disney/Pixar<br />
<strong>August</strong> <strong>2020</strong><br />
19
---
INDUSTRY COVID-19 & CINEMAS<br />
"We tried to come up<br />
with a solution that<br />
could both rescue<br />
our particular release<br />
during this time and<br />
also create a revenue<br />
stream for the lost<br />
income for our partner<br />
theaters."<br />
—Richard Lorber,<br />
CEO, Kino Lorber<br />
MAR 19<br />
Kino Lorber launches Kino Marquee, a<br />
"Virtual Theatrical" streaming service with<br />
a business model that shares revenue from<br />
premium video on demand (PVOD) rentals<br />
with participating exhibitors. Within a<br />
week, more than 150 theaters across the<br />
country embrace the concept as a means<br />
to continue programming and establish a<br />
new revenue stream during closures. The<br />
first title to launch under Kino Marquee is<br />
Brazilian director Kleber Mendonça Filho's<br />
Bacurau, whose domestic theatrical run<br />
was interrupted by Covid-19.<br />
Photo Credit: Victor Jucá, courtesy Kino Lorber<br />
MAR 25<br />
Mexico's two principal<br />
cinema chains—Cinépolis<br />
and Cinemex—suspend<br />
operations at all their<br />
locations in the country.<br />
MAR 18<br />
With movie theaters across the<br />
country closed, NATO urges<br />
Congress to move quickly on<br />
aid to help the approximately<br />
150,000 employees affected<br />
by the crisis. The trade<br />
association announces a<br />
$1 million donation from its<br />
reserve to aid cinema staff out<br />
of work due to the closures.<br />
MAR 23<br />
CineEurope <strong>2020</strong>, the<br />
convention of UNIC, the trade<br />
association for European<br />
cinemas, reschedules its annual<br />
convention in Barcelona from<br />
June to <strong>August</strong>.<br />
MAR 20<br />
Cinemas in the United<br />
Kingdom suspend operations<br />
under government orders,<br />
though most major circuits<br />
began suspending operations<br />
as early as March 17.<br />
MAR 26<br />
A bipartisan deal passes in<br />
Congress to provide partial<br />
economic relief for cinemas<br />
affected by the crisis.<br />
Cinemas in Russia<br />
suspend operations under<br />
government order.<br />
20 <strong>August</strong> <strong>2020</strong>
---
MAR 30<br />
NATO and the Will Rogers Pioneers<br />
Assistance Fund (PAF) partner to create<br />
an emergency fund for cinema workers<br />
affected by furloughs and layoffs during<br />
the pandemic. An initial $2.4 million is<br />
poured into the fund intended to provide<br />
financial assistance to movie theater<br />
employees facing economic hardship.<br />
The Criterion Collection and Janus<br />
Films launch the Art-House America<br />
Campaign, a relief fund to help art house<br />
and independent theaters affected by<br />
the health crisis. When the campaign<br />
ends several months later, it has raised a<br />
total of $842,088.<br />
APR 13<br />
Lionsgate partners with<br />
Fandango and NATO to launch<br />
Lionsgate Live!, a weekly<br />
series on YouTube that live<br />
streams top titles from the<br />
studio's catalogue as part of a<br />
fundraising effort benefiting<br />
the Will Rogers Motion Picture<br />
Pioneers Foundation. Held<br />
on Friday evenings over four<br />
weeks, the campaign raises<br />
more than $200,000 during<br />
its run.<br />
MAR 31<br />
Cinemas begin to offer takeout<br />
concessions to help mitigate the<br />
financial fallout from closures. From<br />
popcorn curbside pickup orders to<br />
dine-in theaters offering takeout and<br />
delivery services, cinemas engage<br />
patrons on social media channels to<br />
promote concessions orders.<br />
MAR 28<br />
CJ CGV, the leading circuit in South<br />
Korea, temporarily closes approximately<br />
one-third of its locations in the country.<br />
Toho, the largest exhibition circuit in<br />
Japan, begins to close locations in Tokyo<br />
and surrounding areas.<br />
APR<br />
<strong>August</strong> <strong>2020</strong><br />
21
---
INDUSTRY COVID-19 & CINEMAS<br />
APR 21<br />
IFC Films announces the<br />
creation of the Indie Theater<br />
Revival <strong>Pro</strong>ject, making 200<br />
of its catalogue titles available<br />
theatrically for participating<br />
cinemas upon their return<br />
to business.<br />
APR 25<br />
CMX Cinemas, the eighth-largest circuit in North<br />
American, files for Chapter 11 bankruptcy and<br />
abandons its planned acquisition of Texas-based<br />
dine-in circuit Star Cinema Grill.<br />
Image courtesy CMX Cinemas<br />
APR 28<br />
The governor of Texas allows<br />
the state's stay-at-home order<br />
to expire, allowing cinemas to<br />
reopen as early as May 1.<br />
APR 20<br />
CJ CGV, South Korea's leading exhibition circuit,<br />
launches a trial of "contact-free" locations designed<br />
to minimize face-to-face interactions. The program<br />
features ticketing kiosks, encourages mobile purchases,<br />
and incorporates concessions pickup lockers.<br />
Only a month after closure announcements, the state<br />
of Georgia announces it will allow movie theaters to<br />
reopen beginning on April 27.<br />
APR 26<br />
CJ CGV resumes operations in<br />
the locations it had closed in<br />
South Korea in late March.<br />
Image courtesy CJ CGV<br />
22 <strong>August</strong> <strong>2020</strong>
---
APR 30<br />
Alamo Drafthouse founder<br />
Tim League steps down as the<br />
CEO of the Texas-based dinein<br />
circuit. He is succeeded by<br />
Shelli Taylor, who becomes the<br />
first woman to head a top-15<br />
circuit in North America since<br />
February 2018.<br />
Image courtesy Alamo Drafthouse<br />
MAY 02<br />
Texas-based circuits EVO<br />
Entertainment and Santikos<br />
Entertainment become the<br />
first cinemas in the United<br />
States to lead the reopening<br />
effort. The circuits open their<br />
doors with revamped social<br />
distancing and sanitation<br />
guidelines, as well as a<br />
restricted admissions capacity<br />
per auditorium.<br />
Image courtesy EVO Entertainment<br />
APR 29<br />
After abandoning plans for the theatrical release<br />
of Trolls World Tour in favor of a PVOD rollout,<br />
NBCUniversal CEO Jeff Shell boasts to The Wall Street<br />
Journal about the title's success in home entertainment<br />
platforms. In the interview, the executive suggests<br />
future Universal titles will observe a similar<br />
simultaneous release model, therefore abandoning a<br />
theatrical exclusivity window. In a heated response,<br />
AMC Theatres CEO Adam Aron rebukes the studio's<br />
statements and vows to drop Universal titles from its<br />
circuit—the largest in North America—once it reopens.<br />
Photo Credit: DreamWorks Animation LLC<br />
MAY<br />
<strong>August</strong> <strong>2020</strong><br />
23
---
INDUSTRY COVID-19 & CINEMAS<br />
"Having guests in<br />
our theaters also<br />
allows our teams<br />
to implement our<br />
enhanced cleaning<br />
and disinfecting<br />
protocols. You may<br />
even see our CEO<br />
helping out if you<br />
book an event!"<br />
—Annelise Holyoak,<br />
Cinépolis Luxury<br />
Cinemas<br />
MAY 08<br />
Texas-based cinema<br />
entertainment centers from<br />
Cinergy and dine-in chain Star<br />
Cinema Grill become the latest<br />
circuits to resume operations<br />
in the state.<br />
Image courtesy Cinergy<br />
MAY 05<br />
With circuits in Texas<br />
beginning to reopen, Cinépolis<br />
Luxury Cinemas subsidiary<br />
Moviehouse & Eatery adopts an<br />
alternative strategy: opening<br />
its doors by appointment only<br />
through heavily discounted<br />
private auditorium rentals.<br />
Other circuits adopt a similar<br />
practice, using private rentals<br />
as a "soft reopen" strategy. The<br />
concept finds success around<br />
the world—from independents<br />
like Atlanta's Plaza Theater to<br />
circuits like Utah's Megaplex<br />
Theatres, Sweden's Svenska<br />
Bio, and Novo Cinemas in the<br />
United Arab Emirates.<br />
MAY 07<br />
Alamo Drafthouse launches<br />
an in-house VOD platform,<br />
becoming the second major<br />
circuit in North America to<br />
establish a streaming presence.<br />
AMC Theatres had previously<br />
launched its own VOD channel<br />
in October 2019.<br />
MAY 12<br />
CineEurope <strong>2020</strong> is canceled<br />
outright after originally being<br />
rescheduled for <strong>August</strong>. UNIC's<br />
annual convention becomes<br />
the first major exhibition<br />
conference to go digital with a<br />
live digital event celebrated on<br />
June 17 and 18.<br />
Cinemas in Norway are<br />
permitted to reopen.<br />
Image courtesy Alamo Drafthouse<br />
24 <strong>August</strong> <strong>2020</strong>
---
MAY 15<br />
Drive-in cinemas see a resurgence as a viable alternative<br />
to closed cinemas throughout the country. Major circuits<br />
such as Marcus Theatres, B&B Theatres, Malco Theatres,<br />
and Showcase Cinemas begin reopening their first<br />
locations in the United States by welcoming cars into the<br />
lots of their outdoor screens.<br />
Cinemas in Germany are permitted to reopen, depending<br />
on regional statutes and restrictions, in a tiered<br />
reopening effort expected to be completed by June 30.<br />
MAY 25<br />
Cinemas in Spain are allowed<br />
to resume operations in a<br />
tiered reopening effort by<br />
region, with those located<br />
inside shopping malls<br />
scheduled to start on June 8.<br />
Most cinemas in the country<br />
will reopen by late June.<br />
Toho, Japan's largest exhibition circuit, resumes<br />
operations at select locations throughout the country.<br />
Image courtesy IFC Films<br />
MAY 18<br />
ShowBiz Cinemas begins its reopening<br />
effort, with select locations in Texas and<br />
Oklahoma resuming operations.<br />
The National Association of<br />
Concessionaires cancels the <strong>2020</strong><br />
edition of its expo and trade show,<br />
originally scheduled for July 28–31 in<br />
Orlando, Florida.<br />
MAY 21<br />
Anticipation mounts upon news of<br />
reopening dates for major circuits, fueled<br />
by rampant speculation from the trade<br />
press and Wall Street analysts. The industry<br />
sets its sights on July 17 as the closest thing<br />
to a national reopening date, pinning<br />
its hopes on the Warner Bros. release of<br />
Christopher Nolan's Tenet as the first new<br />
major studio release following the closures.<br />
After weeks of doubts about its summer<br />
release, a new trailer for Tenet premieres on<br />
the online video game platform Fortnite.<br />
A crucial detail doesn't go unnoticed: the<br />
new trailer doesn't mention a release date.<br />
Cinemas in Denmark are permitted<br />
to reopen.<br />
Image courtesy ShowBiz Cinemas<br />
<strong>August</strong> <strong>2020</strong><br />
25
---
INDUSTRY COVID-19 & CINEMAS<br />
MAY 29<br />
France sets June 22 as the<br />
national reopening date for<br />
the country's cinemas.<br />
Netflix partners with<br />
American Cinematheque, a<br />
nonprofit arts organization,<br />
to acquire Los Angeles's<br />
iconic Egyptian Theatre, a<br />
movie palace dating to 1922.<br />
The remaining NATO regional<br />
conventions on the schedule—<br />
Rocky Mountain, ShowSouth,<br />
CinéShow, and Geneva—<br />
cancel their <strong>2020</strong> events.<br />
JUN 01<br />
Belgium-based multinational circuit<br />
Kinepolis reopens all 18 of its cinemas<br />
in the Netherlands under restricted<br />
admissions capacity. Subsequent<br />
territories are scheduled to return in<br />
stages, beginning with Spain on June 5<br />
and followed by Switzerland (June 6),<br />
Luxembourg (June 17), France (June 22),<br />
Spain (June 26), and Belgium (July 1).<br />
Image courtesy Kinepolis<br />
JUN 09<br />
California lays out guidelines<br />
for a return to cinemas as<br />
early as June 12.<br />
MAY 28<br />
Reading International<br />
begins its reopening effort<br />
in New Zealand, fully<br />
resuming operations in<br />
the country by June 4. The<br />
circuit sets reopening dates<br />
for its Australian locations<br />
beginning on June 11.<br />
JUN 12<br />
In a Friday evening news dump, Warner Bros. reveals<br />
it will be moving Tenet from its original release date of<br />
July 17 to July 31. The move ignites a wave of schedule<br />
changes from major studios across the industry.<br />
Disney's live-action Mulan becomes the next major<br />
studio release on the schedule, dated for July 24.<br />
JUN<br />
U.K.-based multinational circuit Cineworld abandons<br />
its planned acquisition of Cineplex, the largest cinema<br />
chain in Canada. The deal, originally announced<br />
in December 2019, would have made Cineworld the<br />
world's largest cinema circuit with over 11,200 screens<br />
in markets that include the United States, Canada,<br />
the United Kingdom and Ireland, the Czech Republic,<br />
Slovakia, Hungary, Bulgaria, Romania, and Israel.<br />
26 <strong>August</strong> <strong>2020</strong>
---
"This announcement<br />
prompted an intense and<br />
immediate outcry from our<br />
customers, and it is clear<br />
from this response that we<br />
did not go far enough on<br />
the usage of masks."<br />
—Adam Aron,<br />
CEO, AMC Theatres<br />
JUN 15<br />
Cinemas in Italy are permitted<br />
to reopen.<br />
Malco Theatres begins a tiered<br />
reopening effort with plans to<br />
have its full circuit operational<br />
by mid-July.<br />
JUN 18<br />
AMC Theatres announces a phased reopening of its<br />
U.S. cinemas, with most locations open by July 15.<br />
The circuit encounters strong public backlash to its<br />
decision to "strongly encourage" face masks in theaters<br />
in areas that don't require them. Though the same<br />
policy is shared by most major circuits around the<br />
world, AMC's stance becomes a national talking point<br />
for cinema reopening policies. The circuit revises the<br />
controversial policy a day later, requiring face masks<br />
for all patrons in the United States.<br />
Utah's Megaplex Theatres begins to resume<br />
operations with the first tier of openings in the state.<br />
Image courtesy Megaplex Theatres<br />
JUN 19<br />
Cinemark, Marcus Theatres,<br />
and Studio Movie Grill begin a<br />
tiered reopening effort at their<br />
respective locations. Original<br />
plans have Cinemark entering<br />
the final phase of reopenings<br />
on the weekend of July 10.<br />
JUN 16<br />
Cineworld and its U.S. subsidiary, Regal<br />
Cinemas, announce a phased reopening<br />
effort scheduled to begin on July 10. Regal<br />
plans to have its fleet of theaters in the<br />
United States open by July 24.<br />
Image courtesy Cineworld<br />
<strong>August</strong> <strong>2020</strong><br />
27
---
INDUSTRY COVID-19 & CINEMAS<br />
JUN 25<br />
The United States records the highest single-day<br />
increase of new Covid-19 cases to date, pausing the<br />
reopening efforts in several states. In response to the<br />
uptick in cases, the governor of New York removes<br />
cinemas from the list of approved businesses in the<br />
state's phase 4 reopening plans despite its progress in<br />
overcoming its initial surge of cases.<br />
JUN 22<br />
Cinemas in France are permitted<br />
to reopen.<br />
Showcase Cinemas, a subsidiary<br />
of National Amusements and<br />
part of the Viacom media<br />
empire, becomes the third major<br />
circuit to launch a VOD platform,<br />
ShowcaseNOW.<br />
Another late-evening press release from Warner Bros.<br />
signals further delays for Christopher Nolan's Tenet.<br />
Originally intended as the title to begin welcoming<br />
audiences back to cinemas on July 17, the film is<br />
pushed back to an <strong>August</strong> 12 release.<br />
Omniplex Cinemas, the largest theater chain in<br />
Ireland, announces it will begin to resume operations<br />
on July 3 under a phased reopening effort.<br />
JUN 23<br />
Fandango, the leading digital ticketing<br />
aggregator in the United States, launches<br />
a comprehensive theater reopening<br />
program on its platform. Its initial<br />
offerings include the detailed health and<br />
cleaning policies of more than 100 movie<br />
chains, seating maps broken down by<br />
social distancing requirements, and filterbased<br />
searches to help moviegoers locate<br />
which theaters near them are currently<br />
open, among other features. Digital<br />
ticketing and mobile concessions ordering<br />
are expected to become major features of<br />
the global reopening effort.<br />
Image courtesy Fandango<br />
JUN 26<br />
Following Warner Bros.' lead,<br />
Disney further delays the<br />
theatrical release of Mulan<br />
from July 24 to <strong>August</strong> 21.<br />
Cinemas return in Canada<br />
with leading circuits Cineplex<br />
and Landmark opening<br />
select locations in Alberta.<br />
Both circuits plan to ramp up<br />
reopenings across the country<br />
through July 3.<br />
Photo Credit: Film Frame. © 2019 Disney<br />
Enterprises Inc. All Rights Reserved<br />
28 <strong>August</strong> <strong>2020</strong>
---
ART HOUSE MOVIE THEATERS<br />
TACKLE COVID-19<br />
JUN 29<br />
AMC Theatres pushes back its reopening<br />
in the United States. The circuit announces<br />
revised plans to open approximately<br />
450 domestic locations on July 30 and<br />
approximately 150 remaining locations<br />
the following week. The circuit plans a<br />
full global reopening of its theaters in 14<br />
countries by early <strong>August</strong>.<br />
Cinemas in Greece are permitted to reopen.<br />
Image courtesy AMC Theatres<br />
With theatrical exhibition worldwide ground to a near<br />
halt, independent and art house cinemas got creative,<br />
coming up with innovative tactics for programming and<br />
keeping in touch with their communities.<br />
FilmScene<br />
Iowa City, Iowa<br />
FilmScene took to social media during the shutdown<br />
to keep its relationship with homebound patrons going<br />
strong. Online initiatives included craft how-tos, catchups<br />
with staff, and a #FilmSceneStealer challenge—<br />
inviting patrons to re-create their favorite film scenes from<br />
the comfort of their homes.<br />
Grand Avenue Theater<br />
Belton, Texas<br />
Connections with distributors let Texas's Grand Avenue<br />
Theater sell "Grocery Essentials" via its website for<br />
curbside pickup. <strong>Pro</strong>ducts include staples like eggs, rice,<br />
toilet paper … and, of course, popcorn.<br />
Next Act Cinema<br />
Pikesville, Maryland<br />
Rain—or, for that matter, a closed theater—didn't stop<br />
Maryland's Next Act Cinema from celebrating Juneteenth<br />
with a virtual party, complete with comedians, music, and<br />
activism. (And face masks.)<br />
JUN 30<br />
Cineworld and its U.S. subsidiary, Regal<br />
Cinemas, along with Cinemark, delay their<br />
respective reopening dates. Cineworld<br />
and Regal, originally scheduled to open<br />
in the U.K. and U.S. on July 10, now plan<br />
to resume operations three weeks later,<br />
on July 31. Cinemark, which began its<br />
domestic reopening effort with select<br />
locations around Dallas on June 19, had<br />
planned to have all U.S. theaters open by<br />
July 10. Under the new plan, additional<br />
Cinemark locations will instead open on<br />
July 24, with the remaining sites resuming<br />
operations in subsequent weeks.<br />
Row House Cinema<br />
Pittsburgh<br />
Pittsburgh's Row House Cinema took the virtual<br />
theatrical model one step further by spearheading the<br />
creation of its own film: the Quarantine Cat Film Festival.<br />
Independent cinemas nationwide put out the call to<br />
entry, inviting anyone sitting bored on their couch to get<br />
up and take a cute video of their cat. Row House pored<br />
(purred?) through all the entries, edited the chosen few<br />
together, and released the finished film to virtual cinemas<br />
across the U.S.<br />
Roxie Theater<br />
San Francisco<br />
The Roxie in San Francisco hosted its very own Mixtapein-Place<br />
film festival, inviting aspiring filmmakers from<br />
the Bay Area and beyond to submit short (three minutes<br />
or less) films made while sheltering in place. Genres: any.<br />
Exterior shots: not allowed.<br />
Spectacle Theater<br />
Brooklyn, New York<br />
When Brooklyn's Spectacle Theater closed, the volunteerrun<br />
cinema swiftly pivoted to Twitch, streaming movies<br />
(heavy emphasis on horror and obscure rarities) for free<br />
to audiences via the popular live-streaming platform.<br />
The programming was varied, and so was the audience:<br />
"I've seen a lot of people tuning in from overseas who<br />
absolutely could not have ever made it to a Spectacle<br />
screening," programmer Zachary Fleming told <strong>Boxoffice</strong><br />
<strong>Pro</strong>. "A few people from London and Hong Kong and<br />
Australia tuning in for things [and] being like, 'Oh, I'm<br />
gonna head out to work now. Thanks for the movie.'"<br />
<strong>August</strong> <strong>2020</strong><br />
29
---
INDUSTRY CHARITY SPOTLIGHT<br />
CHARITY SPOTLIGHT<br />
Golden Link<br />
In June, in-cinema merchandise manufacturer<br />
Golden Link announced that it<br />
would donate 10 percent of proceeds from<br />
a new line of safety products designed<br />
exclusively for cinemas—including the<br />
children's Justice League masks—to<br />
Variety – the Children's Charity. "At Golden<br />
Link, we have been looking for an opportunity<br />
to increase our participation with<br />
charities through our work with cinemas,"<br />
said Golden Link president Jeff Waaland<br />
in a statement. "With the current situation,<br />
this seemed like the perfect time to take<br />
action. Not only are these masks providing<br />
protection, but each one sold will help less<br />
fortunate children."<br />
Showcase Cinemas Pay Tribute<br />
As moviegoers across the United States<br />
sheltered in place inside their homes,<br />
millions of essential workers kept us going.<br />
Showcase Cinemas paid tribute to those<br />
everyday heroes with its "Superheroes<br />
Photo courtesy Golden Link<br />
Aren't Just in Movies" social media campaign,<br />
launched in April.<br />
The campaign invited customers to<br />
share a photo or video of themselves<br />
dressed as their favorite superhero. "In<br />
these challenging times, we have seen that<br />
superheroes aren't just in movies. That's<br />
why we are asking our Showcase fans to<br />
show their support for the everyday heroes<br />
in their lives by sharing a pic dressed as<br />
your favorite movie hero," said Mark Malinowski,<br />
vice president of global marketing<br />
at Showcase Cinemas. "We'll be using the<br />
submissions to create a special pre-show<br />
trailer that will run in Showcase Cinemas<br />
locations nationwide once we open."<br />
Santikos Entertainment<br />
On March 25, Santikos Entertainment<br />
launched an "employee food bank," distributing<br />
over 700 free meals to employees<br />
and local first responders. They also<br />
partnered with a local food distributor to<br />
create a curbside "grocery store," where<br />
employees could purchase food at<br />
cost. Both initiatives remained active<br />
until Santikos theaters reopened. The<br />
John L. Santikos Charitable Foundation<br />
also donated $1 million to the Covid-19<br />
Response Fund.<br />
Paradise Theatre<br />
When Toronto's Paradise Theatre launched<br />
its "virtual cinema," they decided to pay<br />
it forward. With every ticket bought for<br />
one of its streaming releases, the Paradise<br />
donated a pair of tickets to frontline workers,<br />
good for when the theater reopens.<br />
The Paradise was inspired by the Jam Jar<br />
Cinema Local Heroes Campaign, which<br />
raised money to distribute free tickets to<br />
frontline workers in the U.K.<br />
"When the necessity of social distancing<br />
comes to a close, Paradise will have what<br />
we've been missing: the opportunity to<br />
enjoy the company of others, delighting in<br />
a shared experience, outside of work. And<br />
who deserves that more than the people<br />
Photo Courtesy Paradise Theatre<br />
30 <strong>August</strong> <strong>2020</strong>
---
on the front lines of today's crisis? We're<br />
excited to give back to those working so<br />
hard to protect Torontonians by treating<br />
them to a great night out," said Sonya<br />
William, Paradise Theatres' director of<br />
communications.<br />
so hard on the front lines of this pandemic,"<br />
said Luis Olloqui, CEO, Cinépolis<br />
Luxury Cinemas. "At the same time, this<br />
program will help support our employees<br />
while we eagerly await the reopening of<br />
our theaters."<br />
Cinépolis<br />
Cinépolis Luxury Cinemas, the U.S. arm<br />
of Mexico's multinational exhibition giant<br />
Cinépolis, launched a campaign in April to<br />
donate tickets to nurses and help its employees<br />
affected by the Covid-19 shutdown.<br />
In honor of Nurses Week, the circuit<br />
donated two tickets to nurses at hospitals<br />
near its locations (like the happy recipient<br />
above) with the purchase of every $50<br />
e-gift card sold through its website. The<br />
campaign ran from April 20 to May 5;<br />
funds raised went to support furloughed<br />
Cinépolis staff.<br />
"We're extremely grateful for our health<br />
care workers, and we'd like to give back to<br />
the nurses at our local hospitals working<br />
Photo Courtesy Cinépolis<br />
Megaplex Theatres<br />
This past spring, Megaplex Theatres took<br />
part in a week-long food drive organized<br />
by its parent company, the Larry H. Miller<br />
Group of Companies (LHM Group). The<br />
campaign, called "Driven to Assist,"<br />
offered a free large tub of fresh popcorn in<br />
exchange for a donation of nonperishable<br />
food at any Megaplex location.<br />
"One of our guiding principles at the<br />
Larry H. Miller Group of Companies is<br />
to 'go about doing good until there is too<br />
much good in the world,'" said Gail Miller,<br />
owner and chair of LHM Group. "I am<br />
impressed with Utahns' willingness to<br />
collaborate and to serve others. Together,<br />
we can help fulfill a critical need for the<br />
Utah Food Bank and its partners."<br />
Studio Movie Grill<br />
As they approached reopening, Texasbased<br />
drive-in chain Studio Movie<br />
Grill launched its One Story Fund,<br />
directing 10 percent of ticket, food,<br />
and beverage proceeds from opening<br />
weekend (June 19–21) to team members<br />
in need. Under its Food to Go program,<br />
10 percent of proceeds from curbside<br />
concessions pickup were similarly<br />
donated to furloughed SMG employees.<br />
In late summer/early autumn, SMG<br />
will be supporting local library reading<br />
programs as well as offering free tickets<br />
to participants in an American Red Cross<br />
blood drive.<br />
Atlas Atlantic Cinema<br />
Atlas Atlantic Cinema in Atlantic, Iowa,<br />
raised $2,000 in April for its local food<br />
bank with a "popcorn pop-up" sale. The<br />
sale, which was promoted with a single<br />
Facebook post, ended up drawing so many<br />
people that some waited for over an hour<br />
to receive their bucket. But according to<br />
co-owners Jacob and Rylea Anderson,<br />
no one raised a fuss. Instead, the spirit<br />
of generosity was in full flower. "There<br />
[were] a lot of people that were paying it<br />
forward," said Jacob Anderson. "That was<br />
really fun to see. You know, they'd buy<br />
a bucket for the next car, and [that car<br />
would] do it in return."<br />
Photo Courtesy Atlas Atlantic Cinema<br />
<strong>August</strong> <strong>2020</strong><br />
31
---
INDUSTRY CHARITY SPOTLIGHT<br />
CHARITY SPOTLIGHT<br />
VARIETY<br />
A shutdown of theaters didn't mean a<br />
shutdown of good works for Variety – the<br />
Children's Charity and its various chapters.<br />
Below are just some of Variety's efforts to<br />
help at-need children and their families<br />
over the past four months.<br />
1. Detroit and Southern California<br />
With schools closed, Variety of Detroit<br />
donated food to children and families<br />
in need through its Variety Feeds Kids<br />
program. The Variety Boys & Girls Club of<br />
Boyle Heights, a beneficiary of Variety of<br />
Southern California, also distributed daily<br />
meals to 300 local club members.<br />
2. St. Louis<br />
Due to the Covid-19 pandemic, Variety<br />
of St. Louis changed its annual summer<br />
camp format to a free Virtual Adventure<br />
Camp. St. Louis–area kids and teens with<br />
disabilities (ages 4–20) created crafts,<br />
played games, took virtual field trips,<br />
made friends, and much more, all from<br />
the safety of their homes.<br />
3. Wisconsin<br />
Variety of Wisconsin shipped free art<br />
supplies to local families and took to<br />
YouTube to share a for-all-abilities painting<br />
tutorial led by world-renowned artist<br />
Walfrido Garcia.<br />
4. Variety of the Desert<br />
Variety of the Desert partnered with FIND<br />
Food Bank to distribute 5,000 meals at a<br />
mobile distribution site serving children<br />
and families in the Coachella Valley of<br />
California. In addition to meals, children<br />
could pick up a literacy bag filled with<br />
books, bookmarks, pencils, and other<br />
reading incentives, courtesy of Young<br />
Variety of the Desert.<br />
5. Illinois<br />
Variety of Illinois brought its Variety<br />
Sunshine Coach van to help safely<br />
celebrate local children on their birthdays.<br />
The outside of the van is decorated<br />
specifically for each child, and the<br />
birthday boy/girl receives a little surprise.<br />
Variety of Illinois gives a big thank you to<br />
their friends at Kernel Season's for helping<br />
celebrate their Variety kids!<br />
6. Manitoba<br />
Since closures began due to Covid-19,<br />
Variety of Manitoba has funded more than<br />
417 hours of virtual therapy sessions for 51<br />
children living with special needs. Services<br />
include speech therapy, occupational<br />
therapy, ABA therapy, and music therapy.<br />
7. Iowa<br />
Variety of Iowa and the Principal Charity<br />
Classic have proudly come together to<br />
provide a $35,000 grant to the Food Bank of<br />
Iowa. Support for Iowa's children is more important<br />
now than ever before, and this grant<br />
will provide approximately 140,000 meals<br />
to hungry children and families. The Young<br />
Variety of Iowa board also volunteered at the<br />
Food Bank of Iowa to help pack and organize<br />
food. In total, they packed 288 boxes of<br />
product equaling 5,285 pounds of food. If<br />
you are a young professional between the<br />
ages of 21 and 35 who would like to help<br />
children in need in your local community,<br />
please find your local Young Variety chapter<br />
at usvariety.org/young-variety.<br />
Greater Kansas City<br />
Each year, Variety of Greater Kansas City<br />
pays tribute to Variety's entertainment<br />
industry heritage with The Variety Show.<br />
This year, Variety KC held the Virtual<br />
Variety Show hosted by KCTV 5. Watch<br />
the show and enjoy some inspiration at<br />
https://varietykc.org/show/.<br />
Founded in 1927 by a group of<br />
theater owners and showmen<br />
in Pittsburgh, Pennsylvania,<br />
for nearly 100 years Variety<br />
– the Children's Charity has<br />
provided invaluable assistance<br />
to children who are sick,<br />
disadvantaged, or live with<br />
disabilities and other special<br />
needs.<br />
Variety – the Children's Charity<br />
currently has a network of 42<br />
offices in 13 countries.<br />
To submit events for future coverage,<br />
email numbers@boxoffice.com<br />
32 <strong>August</strong> <strong>2020</strong>
---
1. Detroit and Southern California<br />
2. St. Louis<br />
3. Wisconsin 4. Variety of the Desert<br />
5. Illinois<br />
Images courtesy Variety – the Children's Charity<br />
6. Manitoba<br />
7. Iowa<br />
<strong>August</strong> <strong>2020</strong><br />
33
---
INDUSTRY CHARITY SPOTLIGHT<br />
Though the amount of<br />
each individual donation<br />
has gone down during the<br />
Covid-19 crisis, the number<br />
of donations has gone up—<br />
indicating people's desire to<br />
contribute to a cause even as<br />
their means to do so becomes<br />
more precarious.<br />
STEPPING<br />
UP<br />
Will Rogers Motion Picture<br />
Pioneers Foundation helps the<br />
exhibition community make it<br />
through Covid-19<br />
BY REBECCA PAHLE<br />
For more than 80 years, the Will<br />
Rogers Motion Picture Pioneers Foundation—founded<br />
in 1939 in memory of its<br />
movie star namesake, who died in a plane<br />
crash four years earlier—has been providing<br />
assistance to those in need within the<br />
film exhibition community through their<br />
Pioneers Assistance Fund. With Covid-19<br />
putting that community more in need than<br />
ever before, Will Rogers stepped up.<br />
On March 30 Will Rogers announced<br />
the creation of a Covid-19 Emergency<br />
Grant, designed to provide financial<br />
assistance to theater workers laid off or<br />
furloughed as a result of the pandemic.<br />
"When the theater closures took place,<br />
it was instinct for us to jump in and<br />
help," explains executive director Todd<br />
Vradenburg. NATO kicked in a cool<br />
million, matched by $1.4 million from Will<br />
Rogers's reserves—"and just like that, we<br />
had $2.4 million available to create our<br />
Phase 1 Emergency Fund to help theater<br />
employees who were furloughed without<br />
pay." By late June, Will Rogers had sent<br />
a combined $2.4 million to 7,728 people,<br />
with applications still being accepted and<br />
grants still being sent out as of press time.<br />
The mission of Will Rogers's Covid-19<br />
Emergency Grant is simple, says Vradenburg:<br />
"It was important to us to show<br />
theater workers we care about them."<br />
Roughly 75 percent of those applications<br />
came in within the first week of the<br />
grant going live—leading to a busy spring<br />
and summer (putting it mildly) for Will<br />
Rogers's six-person "small and mighty"<br />
staff, says director of development Christina<br />
Blumer. Will Rogers's mission, and<br />
the sheer scope of the need that sprang up<br />
in the weeks after the shutdown, required<br />
collaboration and communication across<br />
various facets of the entertainment industry.<br />
To do its work, Will Rogers drew upon<br />
the assistance of NATO, which in addition<br />
to its initial donation helped get the word<br />
out among its members, as well as theater<br />
HR departments that verified employment<br />
so grants could be sent out.<br />
Vradenburg is quick to note that Will<br />
Rogers is far from the only group that<br />
stepped up to help the exhibition community.<br />
Other initiatives include Art-House<br />
America and fundraisers specific to theater<br />
34 <strong>August</strong> <strong>2020</strong>
---
workers in New York and Chicago; NATO<br />
of California/Nevada set up its own $1.25<br />
million relief fund; and individual exhibitors<br />
contributed via "their own assistance<br />
programs. AMC has AMC Cares, Regal<br />
has the Regal Foundation, Cinemark has<br />
Cinemark Cares, Marcus has an assistance<br />
program for their employees. That's been<br />
a big help. We're not doing this all alone.<br />
We may have a big chunk of it, but many<br />
exhibitors are also kicking in [and] helping<br />
their employees."<br />
Among the most visible supporters of<br />
Will Rogers is Lionsgate, which hosted a<br />
four-week streaming series launched by<br />
Jamie Lee Curtis. Called Lionsgate Live!,<br />
the series paired films (The Hunger Games,<br />
Dirty Dancing, La La Land, and John Wick)<br />
with special guest stars as well as a call to<br />
action to donate to Will Rogers. "We think<br />
it's a brilliant promotion," says Vradenburg.<br />
"From the first phone call we received<br />
describing it to what actually ended up<br />
being put together—how they packaged<br />
it and got celebrities to do on-camera<br />
messages—it's really, really smart."<br />
Lionsgate Live!'s first screening, of The<br />
Hunger Games, netted over 10,000 viewers<br />
and donations from over 350 people.<br />
Most of those were "donors we never had<br />
before," says Vradenburg. "They now know<br />
about this charity, and they support it. So<br />
hopefully we bring them into the family a<br />
little bit." By the end of week four, Lionsgate<br />
Live! had netted a grand total of over<br />
$200,000 for the Will Rogers coffers. Other<br />
companies in the film industry rallied to<br />
support Will Rogers as well. Popcornopolis<br />
donated a portion of proceeds tied to<br />
Lionsgate Live! screenings, and Kernel<br />
Season's, Influx Worldwide, Malco Theatres,<br />
and Film Row hosted third-party<br />
fundraisers. Sony Corporation and Sony<br />
Pictures Entertainment dipped into their<br />
Sony Global Relief Fund for Covid-19 and<br />
donated $1 million.<br />
"As a national charity goes, we're a<br />
smaller organization," says Blumer—so<br />
something like Lionsgate Live!, which<br />
gets the word out about Will Rogers to<br />
thousands of people, is a huge benefit to<br />
the organization in both the short and<br />
long terms. "To see the type of traffic that<br />
we received on social media—and the<br />
comments and the interactions and the<br />
tags—it's unlike anything we've ever seen<br />
even during a large event, like [Will Rogers's<br />
annual] Pioneer Dinner or something<br />
that would generally have a lot of media<br />
around it. The social media interaction<br />
that we had was unprecedented, I would<br />
say. As well as the number of donors." In<br />
general, explains Vradenburg, though the<br />
amount of each individual donation has<br />
gone down during the Covid-19 crisis, the<br />
number of donations has gone up—indicating<br />
people's desire to contribute<br />
to a cause even as their means to do so<br />
becomes more precarious.<br />
Weeks into the crisis, as applications<br />
began to die down, Will Rogers shifted to<br />
Phase 2 of the Pioneers Assistance Fund's<br />
Covid-19 Emergency Grant. Due to the<br />
sheer number of people in need, Vradenburg<br />
explains, it was all but impossible for<br />
Phase 1 to take any specific circumstances<br />
into account when issuing grants. Phase<br />
2, however, is based on factors like health<br />
care expenses or unemployment status. As<br />
of press time, Will Rogers was still in Phase<br />
2 of its Covid-19 Emergency Grant. That<br />
phase "will continue until circumstances<br />
change," says Blumer. "There are no plans<br />
to end the Emergency Grant program.<br />
Helping people pay for COBRA and health<br />
care continues to be the top need."<br />
Phase 2 of Will Rogers's Covid-19 response,<br />
Vradenburg notes, looks an awful<br />
lot like their regular assistance program.<br />
Will Rogers's normal operations—both<br />
the Pioneers Assistance Fund and Brave<br />
Beginnings, which sends money to hospitals<br />
so they can buy equipment to help<br />
premature babies—are still going strong,<br />
since "that money was raised in 2019 and<br />
was already in the budget," Vradenburg<br />
says. "We will likely see a decrease in our<br />
activity/spending in 2021," since reserves<br />
will be depleted and many of the fundraising<br />
efforts they normally rely on—like golf<br />
tournaments and the Pioneer of the Year<br />
dinner—are currently impossible, with<br />
exhibitors not in a position to donate. All<br />
the same, assures Vradenburg, "we'll do<br />
something to keep those programs going<br />
in 2021, because we're not ready to let<br />
them go dormant."<br />
The Will Rogers Motion Picture<br />
Pioneers Foundation, like the exhibition<br />
industry itself, will continue moving<br />
on—and continue being absolutely<br />
essential—even after the current crisis<br />
calms down. Therein lies the silver lining,<br />
say Vradenburg and Blumer. Many people<br />
knew the work of the Will Rogers Foundation<br />
but few had a direct, immediate<br />
need for assistance. Blumer likens it to<br />
the unemployment system: "So many<br />
more people now are fully aware of what<br />
they do and how it works and what the<br />
application process looks like, because<br />
they need it." The same is true with Will<br />
Rogers. As Phase 2 applications come in,<br />
social workers have flagged those from<br />
people dealing with "accident, illness, or<br />
injury—in addition to Covid-19 employment<br />
issues," explains Blumer. As a result,<br />
several dozen people who are eligible for<br />
assistance from the Pioneers Assistance<br />
Fund but only applied because of the<br />
Covid-19 Emergency Grant have begun to<br />
receive help.<br />
"The bottom line is, they get it now,"<br />
says Vradenburg. Awareness of Will<br />
Rogers and its mission has increased, and<br />
they plan to keep that momentum going.<br />
"Once the dust settles on this Covid-19<br />
crisis, we'll come out with [additional]<br />
messages about who we are and how you<br />
can support us and why it's important<br />
that the Pioneers Assistance Fund is<br />
always here for people"—ready to tackle<br />
the unprecedented financial challenges<br />
the industry will still be recovering from.<br />
"A good number of people found us who<br />
probably needed us before this pandemic<br />
hit. And thank goodness that they found<br />
us, because we should be able to give them<br />
some help and get them through a rough<br />
patch. That's what we're all about."<br />
<strong>August</strong> <strong>2020</strong><br />
35
---
INDUSTRY CHARITY SPOTLIGHT<br />
LOLLIPOP THEATER<br />
NETWORK WON'T LET<br />
COVID-19 SLOW IT DOWN<br />
BY REBECCA PAHLE<br />
Photo courtesy Lollipop Theater Network<br />
Since 2002, it's been the mission<br />
of the Lollipop Theater Network to<br />
brighten the lives of hospitalized children.<br />
Aided by a board of directors packed<br />
with film industry executives—including<br />
Carolyn Blackwood, COO at Warner Bros.;<br />
Chris Aronson, president of theatrical<br />
distribution at Paramount; and Jack<br />
Kline, former president and CEO of Christie—for<br />
nearly two decades Lollipop has<br />
brought film screenings and film stars to<br />
L.A.-area hospitals, enabling children with<br />
life-threatening illnesses to experience the<br />
magic of the movies.<br />
In March, everything changed.<br />
Hospitals closed to outside visitors.<br />
Lollipop closed its offices and postponed<br />
its annual Superhero Walk, the keystone<br />
event among Lollipop's yearly fundraising<br />
activities. And Lollipop—with its three<br />
full-time staff members—looked at the<br />
typical number of events it hosts—and<br />
tripled it.<br />
The ramping-up wasn't planned, says<br />
co-founder and executive director Evelyn<br />
Iocolano. Rather, it was a natural response<br />
to an increased need paired with a shift<br />
in how Lollipop operates—away from<br />
in-person events toward digital ones,<br />
where actors, artists, and other industry<br />
professionals interact with hospitalized or<br />
outpatient children via Zoom.<br />
When coronavirus hit the country in<br />
March, recalls Iocolano, social media<br />
was filled with frantic requests for things<br />
to do. Movies to watch, bread to bake,<br />
hobbies to learn—anything to cope with<br />
the quarantine—not just to fill time but<br />
also to help stave off anxieties about<br />
the future. "In a really scary time, they<br />
were looking for things to distract them.<br />
… It made me think: This is what we've<br />
been doing for 20 years. These kids that<br />
are in hospitals, [even] when there's<br />
no pandemic, they're fighting for their<br />
lives because of cancer, leukemia, heart<br />
disease, kidney transplants. They are<br />
dealing with that fear, that confinement<br />
and isolation and uncertainty."<br />
All this was made worse by the coronavirus,<br />
which cut off much of the kids'<br />
connection with the outside world and<br />
cut down on opportunities to keep them<br />
engaged. And so, days before Los Angeles<br />
issued its stay-at-home order, Lollipop<br />
put together its first digital one-on-one<br />
session, connecting a patient at USC<br />
Medical Center with an animation artist<br />
from DreamWorks. "When we finished<br />
36 <strong>August</strong> <strong>2020</strong>
---
The internet is filled with<br />
video content for children,<br />
but it's knowing the person<br />
at the other end of the Zoom<br />
call "actually sees you" ...<br />
that is at the heart of what<br />
Lollipop provides.<br />
Photo courtesy Lollipop Theater Network<br />
that call, we were like, 'there's something<br />
there," recalls Iocolano. "I always thought<br />
in-person was the only way to do it, because<br />
it was real. It was more effective. But<br />
these [digital] visits are just as effective, if<br />
not more so."<br />
Logistically, digital visits are less<br />
challenging: Celebrity visitors don't need<br />
to find time in their schedules for the long<br />
drive to the hospital, and if they're not up<br />
on their immunizations it doesn't much<br />
matter. Lollipop's geographical reach<br />
has been widened; since the pandemic<br />
hit, Lollipop has expanded its visits to<br />
28 hospitals. (Screenings, notes Iocolano,<br />
have been provided nationwide since<br />
Lollipop's inception.)<br />
Between March 20 and June 22, Lollipop<br />
hosted over 50 Zoom sessions—typically<br />
between four and seven a week—ranging<br />
from one-on-one chats to story times to<br />
drawing lessons with professional illustrators.<br />
(Emmy-winner Debbie Allen even<br />
helped Lollipop launch a weekly dance<br />
session for health care workers.) In the first<br />
weeks of the pandemic, most of Lollipop's<br />
sessions were one-on-one; by late June<br />
they had shifted to mostly group sessions,<br />
which can reach over 200 children apiece.<br />
One of those group sessions was a mid-May<br />
screening of Scoob!, followed by a virtual<br />
visit with cast members and complete<br />
with swag provided by Warner Bros. Since<br />
that event, says Iocolano, multiple cast<br />
members have reached out to ask how they<br />
can do more visits.<br />
"It's a win-win for everyone," she says.<br />
"I think the guests really feel that they're<br />
able to give back in a time where they're<br />
confined to their houses, and they're<br />
trying to figure out, 'How can I help this<br />
situation?' This is a way for them to do it<br />
from home. They can really see the impact,<br />
and the kids are really enjoying meeting<br />
these people that they never would meet<br />
and being able to actually talk to them,<br />
engage with them." It's that interactive<br />
part that's "magic" for the kids. The<br />
internet is filled with video content for<br />
children, but it's knowing the person at<br />
the other end of the Zoom call "actually<br />
sees you," she says, that is at the heart of<br />
what Lollipop provides.<br />
"These kids are stuck in hospitals. They<br />
don't have that daily interaction. They just<br />
have their family—who loves them, but it's<br />
nice to see other people, and it's nice to be<br />
acknowledged. That's what these sessions<br />
have been enabling us to do around the<br />
country." Important, too, is that the<br />
children attending these group events<br />
can see "other kids in their same situation.<br />
That's another part of it: that they're not<br />
alone. There are other people struggling.<br />
But when we do these sessions, all of that<br />
disappears, and they just become kids.<br />
They giggle and they laugh and they say<br />
silly things." ("What's your favorite food?"<br />
and "What's your favorite animal?" are<br />
probably not common interview questions<br />
for the actors Lollipop works with.)<br />
"The ramping-up process was not an<br />
intention," says Iocolano. "You focus, you<br />
move forward, and it happens. It's hard to<br />
say no when you see the effect it has." And<br />
the effect that it will continue to have—<br />
even as theaters come back, children's<br />
wards at hospitals won't be open to outside<br />
visitors due to the immunocompromised<br />
status of their patients. Thus, Lollipop's<br />
virtual efforts will move on, even once<br />
their in-person events come back. Lollipop<br />
also plans to expand its fundraising<br />
efforts, looking outside the film industry<br />
for donors. "This community will always<br />
support us however they can, but there<br />
are a lot of people who want to be involved<br />
with this industry [and] who want to help."<br />
Over the next few years, as companies<br />
and industries attempt to bounce back<br />
from the economic impact of Covid-19,<br />
Lollipop will rely on individual donors—"whether<br />
it's the smaller amounts<br />
that add up, or the higher net worth<br />
individuals who want to give back and see<br />
a difference"—to keep it going strong. "I'm<br />
really hopeful that it's going to be OK. I<br />
believe in what we do so much, and I think<br />
what's happened over the past few months<br />
has made me believe in it even stronger. I<br />
can't imagine other people wouldn't want<br />
to support it."<br />
<strong>August</strong> <strong>2020</strong><br />
37
---
Industry GUEST COLUMN<br />
CAN CINEMAS<br />
WIN BACK<br />
AUDIENCES<br />
AFTER COVID-19<br />
SHUTDOWNS?<br />
Homebound moviegoers flock<br />
to streaming solutions—but<br />
don't count movie theaters out<br />
BY DEBBIE STANFORD-KRISTIANSEN,<br />
CEO, NOVO CINEMAS<br />
The worldwide closure of cinemas<br />
in the wake of the global battle<br />
against the spread of coronavirus and<br />
the confinement of millions around<br />
the world to their homes has led to<br />
an unprecedented increase in the use<br />
of streaming services. The enormous<br />
appetite for streaming content among<br />
homebound audiences has led some<br />
to question whether cinemagoing will<br />
be a thing of the past once Covid-19<br />
is consigned to history. At Elan<br />
Entertainment, owner of Novo Cinemas,<br />
we believe the answer to that question<br />
is an empathetic no, and we point to<br />
lessons from the past, when the survival of<br />
moviegoing was also subject to debate.<br />
The fact is that cinemas and<br />
moviegoing have proven over the years to<br />
be nothing short of super-resilient. When<br />
TV first arrived in peoples' homes, many<br />
predicted that the days of the big screen<br />
were over. They were proved wrong. Later<br />
came videos and DVDs—and again the<br />
doom-mongers were at work, predicting<br />
the demise of the movie theater. Yet again,<br />
however, news of cinema's supposed<br />
death proved greatly exaggerated.<br />
Not that the cinema industry ignored<br />
these threats! The industry was aware,<br />
and concerned, about them. What did<br />
change was that the cinema sector upped<br />
its game, luring audiences out of their<br />
homes with vastly improved services<br />
and investments in delivering a more<br />
compelling experience. In came bigger<br />
and more luxurious seating; foyers, which<br />
turned into social meeting points for<br />
friends to share a drink or meal selected<br />
from wider and more exciting menus; the<br />
immersive Imax experience and a much<br />
faster supply chain bringing blockbusters<br />
to market worldwide immediately upon a<br />
film's release.<br />
Now comes the supposed threat of<br />
streaming services. Again, we are not<br />
ignoring the impact of streaming—<br />
figures show that, worldwide, over just<br />
one weekend of the Covid-19 shutdown,<br />
streaming-service subscriptions jumped<br />
13 percent. Streaming is popular, and the<br />
cinema industry must continue to invest<br />
and innovate to maintain and build on its<br />
own popularity.<br />
Streaming popularity, however, doesn't<br />
mean people will be less inclined to go<br />
to cinema once the crisis is over. In fact,<br />
a recent study from EY's Quantitative<br />
Economics and Statistics Group (QUEST)<br />
found that people who go to movies also<br />
more frequently watch streaming content<br />
than those who go to cinemas less often.<br />
The study found, for instance, that<br />
those who visited a cinema nine times or<br />
more over the past year consumed more<br />
streaming content than those who visited<br />
only once or twice over the same period.<br />
Those who saw nine or more movies at<br />
the cinema averaged 11 hours of weekly<br />
streaming compared to the seven hours<br />
of streaming reported on average by<br />
those who went to the movies just once or<br />
twice. This leads us to think that the two<br />
entertainment forms are complementary,<br />
rather than competitive.<br />
Cinema will survive, indeed thrive,<br />
in the post Covid-19 era as people look<br />
to make the most of the freedom and<br />
opportunity to get out and socialize.<br />
Cinemas are great places for families<br />
and groups of friends to enjoy immersive<br />
big-screen experiences together. The EY<br />
Quest survey confirmed cinemagoing as<br />
a favorite among teenagers. Those who<br />
responded to the survey and were between<br />
the ages of 13 and 17 reported going to<br />
an average of 7.3 movies a year while<br />
consuming 9.2 hours of streaming content<br />
each week—the highest of any age group.<br />
Post-crisis, those much-anticipated<br />
movie releases that were put on hold will<br />
flood into cinemas, creating a worldwide<br />
rebound film fest. Crowd pullers that<br />
had their release dates postponed will<br />
be back. These include the latest Bond<br />
movie, No Time to Die, which has had its<br />
release pushed back to November; the<br />
animated comedy Peter Rabbit 2: The<br />
Runaway, initially planned for a spring<br />
release and will now hit our screens at the<br />
end of <strong>August</strong>; and the ninth installment<br />
of the The Fast & the Furious franchise,<br />
which will now be released in April 2021.<br />
But it's not just superb movies that<br />
audiences can look forward to and that<br />
will keep bookings buoyant—it's the<br />
continuously evolving cinemagoing<br />
experience that will soon take another<br />
leap forward, leveraging the latest<br />
technological developments such as<br />
artificial intelligence, virtual reality,<br />
and the arrival of 4-D theaters. Ultracomfortable<br />
bespoke cinema experiences<br />
will be the norm, making a visit to the<br />
movies an even greater time out and an<br />
engaging social experience that streaming<br />
just can't replicate. The experience will<br />
also likely benefit from the introduction of<br />
38 <strong>August</strong> <strong>2020</strong>
---
Photos courtesy Novo Cinemas<br />
complementary attractions like e-sports<br />
and gaming, with their appeal to younger<br />
audiences.<br />
At Elan Entertainment, we are<br />
confident of a post-Covid-19 cinema<br />
resurgence. Novo Cinemas has been<br />
delivering a great time out to Persian<br />
Gulf audiences since 2014, and we have<br />
experience to call on. We have pushed<br />
boundaries, pioneered change, and<br />
consistently striven for the new and next<br />
big thing—and this modus operandi<br />
will continue. We have introduced<br />
evolutionary technologies throughout<br />
the Middle East and North Africa (MENA)<br />
region. Our guests choose from 2-D, 3-D,<br />
4-D, and Imax with laser; benefit from<br />
online booking, e-kiosks, and the first<br />
cinema-dedicated mobile app; and enjoy<br />
luxury seating and the latest food and<br />
beverage trends.<br />
After Covid-19, theaters will be<br />
destinations not just for the latest<br />
international blockbusters but also<br />
"Streaming is popular, and<br />
the cinema industry must<br />
continue to invest and<br />
innovate to maintain and<br />
build on its own popularity."<br />
for regional premieres and preview<br />
screenings, as well as alternative content<br />
such as live boxing, cricket and football<br />
matches, performing arts masterpieces,<br />
and a wide range of stunning Imax<br />
documentary films. Evolution and<br />
innovation were hallmarks of the<br />
cinemagoing experience before we had<br />
ever heard of the coronavirus. They are<br />
values that will characterize the post-<br />
Covid era as well. Streaming is here to<br />
stay—but the credits are far from rolling<br />
on the cinema experience.<br />
<strong>August</strong> <strong>2020</strong><br />
39
---
INDUSTRY A CENTURY IN EXHIBITION<br />
'<br />
60<br />
s<br />
A CENTURY<br />
IN EXHIBITION<br />
1960s: The collapse of the<br />
studio system<br />
BY VASSILIKI MALOUCHOU<br />
<strong>2020</strong> marks the 100th anniversary of<br />
the founding of <strong>Boxoffice</strong> <strong>Pro</strong>. Though<br />
the publication you hold in your hands<br />
has had different owners, headquarters,<br />
and even names—it was founded in<br />
Kansas City by 18-year-old Ben Shlyen<br />
as The Reel Journal, then called <strong>Boxoffice</strong><br />
in 1933, and more recently <strong>Boxoffice</strong><br />
<strong>Pro</strong>—it has always remained committed<br />
to theatrical exhibition.<br />
From the 1920s to the <strong>2020</strong>s, <strong>Boxoffice</strong><br />
<strong>Pro</strong> has always had one goal: to provide<br />
knowledge and insight to those who bring<br />
movies to the public. Radio, TV, home<br />
video, and streaming have all been perceived<br />
as threats to the theatrical exhibition<br />
industry over the years, but movie<br />
theaters are still here—and so are we.<br />
We at <strong>Boxoffice</strong> <strong>Pro</strong> are devotees<br />
of the exhibition industry, so we couldn't<br />
resist the excuse of a centennial to<br />
explore our archives. What we found was<br />
not just the story of a magazine, but the<br />
story of an industry—the debates, the<br />
innovations, the concerns, and above<br />
all the beloved movies. We'll share<br />
our findings in our year-long series,<br />
A Century in Exhibition.<br />
40 <strong>August</strong> <strong>2020</strong>
---
The studio system that thrived<br />
during Hollywood's Golden Age died<br />
in the 1960s. Challenges in the form of pay<br />
TV, antitrust legislation, low admissions,<br />
and censorship had worn down the studios<br />
in the previous decade. But the 1960s<br />
brought a new challenge that proved too<br />
difficult to overcome: a society in turmoil.<br />
Classic westerns, patriotic war movies,<br />
family musicals, and biblical epics were<br />
receiving an increasingly tepid reception<br />
at the box office. Unable to comprehend<br />
the tastes of their young audience<br />
during the time of the Vietnam War, the<br />
civil rights movement, and the growing<br />
counterculture, studios were ever more<br />
disconnected from their patrons. There<br />
was one question that veteran studio<br />
executives were no longer able to answer:<br />
What was an American film supposed<br />
to be? As studio films floundered and<br />
aging studio executives lost control of<br />
the industry, foreign and art house films<br />
filled the gap, influencing a generation of<br />
American filmmakers who ushered in the<br />
era of New Hollywood.<br />
Until the 1960s, the industry had<br />
never truly confronted its own racism. In<br />
<strong>Boxoffice</strong> <strong>Pro</strong>, so-called Negro theaters<br />
were rarely mentioned. From the 1920s<br />
to the 1950s, the magazine published just<br />
one advertisement for a Black-led movie.<br />
One of the ways in which the exhibition<br />
community was forced to come to terms<br />
with the question of race in the 1960s was<br />
the desegregation of movie theaters.<br />
Until the middle of the decade, most<br />
Southern cities practiced segregation in<br />
their movie theaters, either by segregating<br />
individual cinemas—with designated<br />
balconies for Black audiences—or by<br />
having separate cinemas for Black and<br />
white audiences. Black-only theaters,<br />
which were run by African American<br />
managers but often owned by whites,<br />
were less numerous than their white-only<br />
counterparts and mostly ran second- or<br />
third-run films. Some cities, like Charlotte<br />
and Chapel Hill, North Carolina, had no<br />
theaters for Black audiences at all.<br />
As the civil rights movement progressed,<br />
picketing campaigns, mostly led<br />
by students in urban areas of the South,<br />
paved the way for the desegregation of<br />
movie theaters. Major circuits operated by<br />
Loew's (later Loews), RKO, and Warner—<br />
although desegregated in the North—were<br />
targeted by protestors for policies in<br />
their Southern locations. <strong>Boxoffice</strong> <strong>Pro</strong><br />
documented one of the largest student-led<br />
desegregation campaigns, which saw<br />
approximately 1,500 students march in<br />
Atlanta in February 1961. According to the<br />
magazine, most of Atlanta's downtown<br />
movie houses began desegregating in<br />
May 1962 by permitting a small number of<br />
African Americans to attend each showing<br />
for a trial period of a handful of weeks, a<br />
strategy used by many Southern theaters<br />
before integrating completely.<br />
In May 1963, Attorney General Robert<br />
Kennedy praised exhibitors for moving<br />
forward with voluntary integration when<br />
he invited influential exhibitors to the<br />
White House, seeking to persuade them to<br />
support President Johnson's civil rights<br />
legislation. The idea was that voluntary<br />
desegregation of movie theaters, highly<br />
visible hubs in both Black and white<br />
communities, could spill over to other<br />
businesses. <strong>Boxoffice</strong> <strong>Pro</strong> founder and<br />
editor Ben Shlyen commented on the<br />
meeting: "From a humanistic, economic<br />
and political viewpoint, it is seen that<br />
the change called for must be made." He<br />
added, however, that it could not "be done<br />
on a wholesale basis" due to the potential<br />
for violent outbreaks. "The threat of<br />
legislation to force integration is not the<br />
way to bring about the change called for<br />
by the times and conditions," he argued.<br />
Overall, the matter of desegregation was<br />
not frequently discussed by the magazine's<br />
writers. But the publication chose<br />
to publish a letter by a Southern movie<br />
manager in 1963, who wrote: "[The manager]<br />
hears it plenty when he might play a<br />
movie appealing mainly to children, such<br />
as a Walt Disney film. He gets calls from<br />
mothers wanting to know if his theater is<br />
integrated, and if it is, the mother will not<br />
send her child."<br />
Contrary to what Shlyen thought,<br />
legislation proved the only way to force<br />
compliance. The end of legal segregation<br />
came in July of 1964 with the Civil Rights<br />
Act, and the Congress of Racial Equity<br />
found that all theaters were abiding by the<br />
law that same month.<br />
The civil rights movement also<br />
brought the (still ongoing) question of<br />
minority representation to the attention<br />
of Hollywood. The success of Sidney<br />
Poitier personified the controversy over<br />
the inclusion of African Americans both<br />
on and behind the camera. In 1964, Poitier<br />
became the first Black actor to win an<br />
Academy Award for Best Actor for his role<br />
<strong>August</strong> <strong>2020</strong><br />
41
---
INDUSTRY A CENTURY IN EXHIBITION<br />
in Lilies of the Field. Writes journalist and<br />
author Mark Harris in his book Pictures at<br />
a Revolution, Poitier was worried that his<br />
win would only lead to complacency, as the<br />
industry would busy itself with self-congratulation<br />
instead of working toward<br />
additional progress. Poitier's fears proved<br />
correct: he did not get another offer for a<br />
year after winning the Academy Award.<br />
But the actor was also internally<br />
conflicted over the kind of parts he was<br />
playing. Was portraying one-dimensional<br />
Black characters a necessary sacrifice to<br />
open the way for more actors of color in<br />
Hollywood? Some civil rights activists<br />
were indeed condemning the portrayal<br />
of African Americans on the silver screen.<br />
The NAACP led discussions with major<br />
studios to ensure progress on the issues of<br />
job access and on-screen representation.<br />
Other groups, including women and<br />
Latinx communities, began protesting as<br />
well. A 1962 <strong>Boxoffice</strong> <strong>Pro</strong> article reported<br />
that leaders of indigenous peoples<br />
in New Mexico had been "long frustrated<br />
over [their] treatment" in American film<br />
and were planning to open their own<br />
production companies. After the 1968<br />
assassination of Dr. Martin Luther King<br />
Jr., a coalition of industry stars including<br />
Poitier, Marlon Brando, Paul Newman, and<br />
Candice Bergen created a nonprofit group<br />
to produce films on racial and social issues.<br />
The proceeds were to go to the Southern<br />
Christian Leadership Conference.<br />
Poitier became the top box office draw<br />
of 1967 with the interracial romantic<br />
comedy Guess Who's Coming to Dinner<br />
(which became Columbia's biggest success<br />
to date), To Sir, With Love, and the Oscar-winning<br />
In the Heat of the Night. The<br />
success of these films proved two things:<br />
Black moviegoers could be a lucrative audience,<br />
and films about and starring Black<br />
people could play in the South. Exhibitors<br />
did not accept these truths without resistance.<br />
Some theaters edited moments, like<br />
Poitier and Katharine Houghton's kiss in<br />
Guess Who's Coming to Dinner, out of their<br />
prints. More alarmingly, the KKK picketed,<br />
and even considered planning attacks on,<br />
theaters that played these films.<br />
The new social context created by the<br />
civil rights movement and the counterculture<br />
revolution produced an appetite<br />
among younger audiences for films that<br />
spoke to the reality of the decade. The<br />
catastrophic flops of expensive films<br />
like Cleopatra (1963) and Doctor Dolittle<br />
(1967) proved the desire for something<br />
new. In 1952, the Supreme Court had ruled<br />
that Roberto Rossellini's The Miracle, a<br />
controversial film that drew criticism from<br />
the Catholic Church, was an artistic work<br />
protected under the First Amendment.<br />
With that decision, the threat of government<br />
censorship was eliminated, opening<br />
the gates for a wave of foreign films that<br />
Black-only theaters, which<br />
were run by African American<br />
managers but often owned<br />
by whites, were less numerous<br />
than their white-only<br />
counterparts and mostly ran<br />
second- or third-run films.<br />
Some cities, like Charlotte and<br />
Chapel Hill, North Carolina,<br />
had no theaters for Black<br />
audiences at all.<br />
42 <strong>August</strong> <strong>2020</strong>
---
gave young moviegoers what they were<br />
looking for. These films defied taboos and<br />
censorship and embraced an experimental<br />
approach to filmmaking. Among them<br />
were movies hailing from swinging London,<br />
which exported the Bond franchise<br />
and Beatles films—and stars like Sean<br />
Connery, Michael Caine, and Vanessa<br />
Redgrave—to North American audiences.<br />
The French New Wave introduced young<br />
urban intellectual audiences to Truffaut,<br />
Godard, Brigitte Bardot, and Alain Delon.<br />
Italian films propelled Antonioni, Fellini,<br />
Sophia Loren, Marcello Mastroianni, and<br />
Gina Lollobrigida to fame.<br />
The foreign craze was evident in the<br />
pages of <strong>Boxoffice</strong> <strong>Pro</strong>. Coverage of<br />
foreign film festivals boomed, as did<br />
editorial by foreign correspondents<br />
and columns like "Tokyo Report" and<br />
"London Report." In fact, one anonymous<br />
writer reported in 1961 that 70 out of 176<br />
pictures released by 10 companies in the<br />
U.S. between November 1960 and <strong>August</strong><br />
1961 were foreign. By February 1964,<br />
Twentieth-Century-Fox, MGM, Columbia,<br />
and United Artists were leading importers<br />
of foreign films. Smaller players like<br />
Embassy and Janus Films, which imported<br />
the work of Ingmar Bergman, steadily<br />
became more prominent.<br />
It was the first time in Hollywood's<br />
history that stars and films competed with<br />
their international counterparts. And<br />
Hollywood was scared. A writer summed<br />
up the situation in <strong>August</strong> 1961: "The<br />
foreign invasion appears to be creeping<br />
up on the American production industry<br />
and, in time, may equal it or surpass it.<br />
And from all indications, U.S. companies<br />
will increase their imports in the coming<br />
years. While the top pictures still come out<br />
of Hollywood, the quantity is diminishing."<br />
The artistic merit of foreign films was often<br />
recognized in the magazine with positive<br />
reviews and the honor of <strong>Boxoffice</strong> <strong>Pro</strong>'s<br />
Blue Ribbon Award, but Shlyen always<br />
encouraged Hollywood to regain its<br />
dominant position.<br />
Art house and specialty theaters thrived<br />
thanks to the influx of foreign films. Leonard<br />
Lightstone, executive vice president at<br />
Embassy, said in 1963 that specialty theaters<br />
were "mushrooming" and becoming<br />
more profitable as foreign films cut costs<br />
and became more flexible in their release<br />
strategies than first-run product. In 1960,<br />
Irving M. Levin, divisional director at San<br />
Francisco Theatres, attributed the proliferation<br />
of foreign films to their universal<br />
appeal and to "the inevitable maturing<br />
of film audiences as the country's level of<br />
education and appreciation broadens."<br />
Independent cinemas, like the Bleecker<br />
Street Cinema in Greenwich Village, began<br />
showcasing international films. In April<br />
1967, Shlyen urged exhibitors to "drop the<br />
notion that they must have 'big box office<br />
The new social context<br />
created by the civil<br />
rights movement and the<br />
counterculture revolution<br />
produced an appetite<br />
among younger audiences<br />
for films that spoke to the<br />
reality of the decade.<br />
<strong>August</strong> <strong>2020</strong><br />
43
---
INDUSTRY A CENTURY IN EXHIBITION<br />
In 1960, New York became<br />
the first state to establish the<br />
classification "Adult Only"<br />
for moviegoers above 18,<br />
sparking similar bills in other<br />
local legislatures.<br />
product or nothing'" and give smaller<br />
films a chance. Shlyen's plea came at a<br />
time of declining attendance and frequent<br />
closures of downtown movie houses as<br />
white audiences fled to the suburbs. Some<br />
also found in foreign and art house films<br />
the only way to fight TV. Independent<br />
filmmaker Leonard Hirschfield was reported<br />
saying in 1967, "Today the personal<br />
films are 'most important' because people<br />
can see the factory stuff on television."<br />
Foreign and art house films were<br />
catalysts for the end of censorship and<br />
the revision of the <strong>Pro</strong>duction Code.<br />
Michelangelo Antonioni's Blow-Up, which<br />
featured full-frontal female nudity, did<br />
not receive the <strong>Pro</strong>duction Code seal and<br />
was condemned by the National Legion<br />
of Decency. MGM distributed Blow-Up<br />
anyway through its shell company,<br />
Premier <strong>Pro</strong>ductions. Grossing about<br />
$20 million, the film dealt a huge blow to<br />
puritanical attitudes. Foreign films had<br />
effectively created a double standard. As<br />
more theaters showed films without the<br />
<strong>Pro</strong>duction Code seal, nudity became<br />
even more prevalent on-screen, raising<br />
questions about whether children and<br />
families were being driven away. But as<br />
the negative effects of censorship on<br />
creativity—not to mention the box office—<br />
became increasingly apparent, calls for<br />
an age-based classification system, which<br />
would give parents control over what their<br />
children could see, started to gain traction.<br />
In 1960, New York became the first state<br />
to establish the classification "Adult Only"<br />
for moviegoers above 18, sparking similar<br />
bills in other local legislatures.<br />
Six years later, Jack Valenti became<br />
the third president of the MPAA. Valenti<br />
was preoccupied with censorship and the<br />
rising insurrection of Code-challenging<br />
filmmakers from the beginning of his<br />
tenure. In his first few weeks in office,<br />
he revised the Code to include the label<br />
"Suggested for Mature Audiences" on<br />
advertising posters. Shlyen welcomed the<br />
revision and praised Valenti's "Herculean<br />
feat" for "giving the industry and the<br />
public a Code of Self-Regulation from<br />
which any benefits can be derived, not the<br />
least of which is the better image that so<br />
much is spoken of and which can be the<br />
means for increasing attendance as well<br />
as to revive the custom of multitudes of<br />
lost patrons."<br />
But foreign films were no longer the<br />
only problem. A year before Valenti's<br />
hiring, Sidney Lumet's The Pawnbroker<br />
was approved by the Code despite its<br />
nudity on the grounds of the "high<br />
quality" of the film. The decision created<br />
a loophole: Nudity was tolerable for "good"<br />
films, but not for ordinary ones. Mike<br />
Nichols's Who's Afraid of Virginia Woolf?,<br />
which broke barriers with its strong language,<br />
finished what The Pawnbroker had<br />
44 <strong>August</strong> <strong>2020</strong>
---
started. The National Legion of Decency,<br />
supposedly influenced by Jacqueline<br />
Kennedy, gave the film an endorsement of<br />
"acceptable for adults with reservations."<br />
Jack Warner released it in 1966 with a<br />
warning that the film was for adults only<br />
and provided individual contracts for<br />
theaters to sign, pledging that they would<br />
not admit any minors. Valenti was forced<br />
to approve the film with a "Suggested for<br />
mature audiences" label.<br />
This became the first step toward<br />
the establishment of the new MPAA<br />
voluntary classification system, enacted<br />
in 1968. Movies were rated G (Suggested<br />
for general audiences), M (Suggested for<br />
mature audiences), R (Persons under 16<br />
not admitted unless accompanied by an<br />
adult), or X (Persons under 16 not admitted).<br />
Valenti declared in <strong>Boxoffice</strong> <strong>Pro</strong><br />
that "the creative filmmaker ought to be<br />
free to make movies for a variety of tastes<br />
and audiences, with a sensitive concern<br />
for children. That's what this voluntary<br />
film rating plan does—assures freedom of<br />
the screen and at the same time gives full<br />
information to parents so that children<br />
are restricted from certain movies whose<br />
theme, content and treatment might be<br />
beyond their understanding."<br />
The MPAA and the International Film<br />
Importers and Distributors of America<br />
(IFIDA) were to monitor the ratings<br />
system with the newly formed National<br />
Association of Theatre Owners (NATO).<br />
After calling for a united exhibitor front<br />
for decades, Ben Shlyen's wishes became<br />
reality with the birth of NATO on January<br />
1, 1966. <strong>Boxoffice</strong> <strong>Pro</strong> followed its inception<br />
closely. In April 1964, the Allied States<br />
Association of Motion Picture Exhibitors<br />
and the Theatre Owners of America agreed<br />
on a merger, talks for which had begun<br />
over a decade before. The challenges<br />
and changes of the 1960s brought an end<br />
to the ideological differences that had<br />
divided the two major exhibitor groups. In<br />
addition to enforcing ratings, in its early<br />
days NATO organized defenses against the<br />
industry's greatest threats. It campaigned<br />
against the FCC for the regulation of<br />
pay TV, instituted a "movie month" with<br />
discounted prices, and pushed for more<br />
research on patron behavior.<br />
The final nail in the coffin of the studio<br />
system came in 1967. That year, the<br />
Academy Award nominees were four films<br />
representing the new standard of antiestablishment,<br />
more inclusive filmmaking—Bonnie<br />
& Clyde, The Graduate, Guess<br />
Who's Coming to Dinner, and In the Heat<br />
of the Night—as well as Fox flop Doctor<br />
Dolittle, a film that epitomized the studios'<br />
disconnect from the current culture. The<br />
success of these new types of films was<br />
indisputable. Influenced by European<br />
New Wave cinema, young directors who<br />
had trained in theater and TV like Sidney<br />
Lumet, Arthur Penn, Mike Nichols, Sam<br />
Peckinpah, and John Frankenheimer were<br />
not afraid to take on taboo subjects and<br />
resist the status quo.<br />
While indies like Easy Rider and The<br />
Wild Angels were thriving, the Big Five<br />
were collapsing. Walt Disney had died<br />
suddenly at 55 in 1965, Paramount was<br />
sold to Gulf and Western Industries in<br />
1966, and Warner Bros. sold a third of<br />
its shares to Seven Arts in 1967. MGM<br />
was sold to a Nevada casino millionaire,<br />
Kirk Kerkorian, in 1969. Even United<br />
Artists and Columbia, which had been<br />
taking more risks with independent films,<br />
were shaken. United Artists became a<br />
subsidiary of an insurance company,<br />
Transamerica Corporation, and there were<br />
rumors about a French bank taking over<br />
Columbia. The only Old Hollywood mogul<br />
left was Darryl Zanuck, who remained at<br />
the head of Twentieth-Century-Fox. By<br />
the close of the decade, the golden age of<br />
studios had ended and New Hollywood<br />
was ascendant.<br />
<strong>August</strong> <strong>2020</strong><br />
45
---
THE FEATURES YOU NEED.<br />
THE OPTIONS YOU WANT.<br />
THE COMPANY YOU TRUST.<br />
When it comes to concessions,<br />
it comes from Cretors.<br />
Only Cretors combines five generations of industry leadership with more than<br />
130 years of forward-thinking innovations. Backed by our industrial manufacturing<br />
R&D for global snack food giants, we bring revolutionary products to the<br />
concessions marketplace, time and again. Whether it's an industry-changing<br />
safety feature, a long-sought-after option or a customizable machine made<br />
for the way you sell anywhere in the world, there's no limit to our ingenuity.<br />
Made in America, loved world-round!<br />
Contact Shelly Olesen at 847.616.6901 or visit www.cretors.com
---
Trends 48 | Drive-In Summer 62 | Hometown Theaters 70<br />
THEATER<br />
"It is obvious that the high degree of pent-up demand for<br />
the theatrical experience and need to get out of the house<br />
has exploded, resulting in huge drive-in attendance."<br />
Drive-In Summer, p. 62<br />
<strong>August</strong> <strong>2020</strong><br />
47
---
THEATER TRENDS<br />
THE NEXT<br />
BIG<br />
The reopening effort in the United States<br />
started in Texas, as cinema entertainment<br />
centers—known for having larger sites<br />
that can more easily accommodate social<br />
distancing measures—were among the first<br />
circuits to resume operations. boxoffice<br />
pro takes a look at the origins of the cinema<br />
entertainment center (CEC) trend, one<br />
of the hottest innovations in U.S. exhibition<br />
before the Covid-19 pandemic took hold.<br />
BY DANIEL LORIA, KEVIN LALLY, AND<br />
REBECCA PAHLE<br />
48<br />
<strong>August</strong> <strong>2020</strong>
---
THING<br />
<strong>August</strong> <strong>2020</strong> 49
---
THEATER TRENDS<br />
The late 1990s and early 2000s were<br />
a formative time for the dine-in<br />
theater concept in the United States.<br />
Theaters that offered expanded<br />
concessions, a full kitchen, and waiter<br />
service existed—but not at the scale to<br />
be considered a significant part of the<br />
exhibition market. That started to change<br />
at the turn of the 21st century; Alamo<br />
Drafthouse was founded in 1997, and Studio<br />
Movie Grill launched in 2000. It was around<br />
that time that Jeff Benson, then an auditor<br />
manager at Deloitte, decided to open his<br />
first dine-in movie theater with his wife,<br />
Jamie. Together, the couple developed the<br />
concept that would become Movie Tavern,<br />
launching the brand's first location in Fort<br />
Worth, Texas, in 2001.<br />
The Bensons sold their interest in<br />
Movie Tavern in 2008. By that time, Movie<br />
Tavern had grown to nearly 100 screens in<br />
five states. The couple was confident that<br />
the dine-in space, by then well established<br />
in Texas, would continue to proliferate<br />
across the country, but they had their<br />
sights trained on something else.<br />
"It was right after we sold Movie Tavern<br />
in 2008 that I started thinking there had<br />
to be something else other than dine-in<br />
theaters. Back then everybody was starting<br />
to get into the dine-in trend. I wanted<br />
to find a new niche," says Jeff Benson.<br />
Within a year of the Movie Tavern sale, the<br />
Bensons launched Cinergy Entertainment<br />
Group, pioneering their own approach<br />
to what we know today as the cinema<br />
entertainment center (CEC).<br />
A cinema entertainment center is a<br />
general classification that describes any<br />
cinema that incorporates additional experiential<br />
elements—arcades, bowling, laser<br />
tag, virtual reality—into the same complex.<br />
While many cinemas already incorporate<br />
some of these elements, CECs stand out as<br />
large-scale complexes designed to become<br />
out-of-home entertainment hubs.<br />
Cinergy's first CEC opened in 2009 at a<br />
preexisting building built on spec by the<br />
city of Copperas Cove, in central Texas. "It<br />
had never been occupied in six and a half<br />
years. It was just sitting there, an empty<br />
shell, bigger than what I wanted for my<br />
first eight screens," says Benson. "That<br />
was really the impetus: I bought a building<br />
that was too big and had to figure out<br />
something to do with the space."<br />
That same year, Cineplex, Canada's<br />
leading exhibition circuit, opened its first<br />
Xscape Entertainment Centre. The concept<br />
enhances a cinema's arcade area to<br />
emphasize the latest video and interactive<br />
games, an ideal attraction for groups and<br />
private parties. Cineplex currently counts<br />
38 Xscape locations in its circuit. These<br />
early concepts from Cinergy and Cineplex<br />
bring to mind family entertainment<br />
centers, like the kid-focused Chuck<br />
E. Cheese or the adult-skewing Dave<br />
& Buster's. Benson cites the latter as a<br />
particular influence in launching Cinergy.<br />
"We had hired several former Dave &<br />
Buster's executives at Movie Tavern, and I<br />
would often ask them about that business,"<br />
he says.<br />
Benson also cites Neil Hupfauer,<br />
founder of Main Event Entertainment,<br />
another Dallas company, as an inspiration<br />
in developing Cinergy's first location.<br />
"Before Main Event you had these cruddy<br />
old arcades and smoky bowling alleys. Neil<br />
was the first guy to revitalize that entire<br />
concept. We started talking over lunch,<br />
and that's how we came to have our first<br />
cinema entertainment center." (Hupfauer<br />
served as Cinergy's interim president and<br />
COO from 2015 to 2017.)<br />
A similar movement was simultaneously<br />
taking place at the other end of the<br />
world. South Korea's CJ CGV opened its<br />
first multiplex in 1998, helping drive a new<br />
era of moviegoing in its home market. By<br />
2010, the emergence of new technologies<br />
and increased prominence of home-entertainment<br />
platforms pushed the circuit's<br />
executives to reconsider their growth<br />
strategy for the future. They began to see<br />
the strength of their circuit not in the films<br />
it programmed but in the out-of-home<br />
entertainment experience it offered.<br />
In a keynote address delivered at<br />
CinemaCon 2018, CJ CGV's CEO, Jung Seo,<br />
explained why the circuit started to shift<br />
its focus away from principally marketing<br />
studio titles and more into branding CJ CGV<br />
as an entertainment venue. "If that's how<br />
we define ourselves," as a place for people to<br />
go watch a movie, "then we will constantly<br />
be under the threat of being replaced by<br />
other channels for watching movies or other<br />
forms of entertainment," he said. "Rather,<br />
the value of CGV is to provide our customers<br />
the most attractive place in which to have a<br />
communal social experience."<br />
The result was the creation of a new<br />
concept for its cinemas. "Several years ago<br />
we decided to redefine ourselves from being<br />
a multiplex to being a 'cultureplex,'" said<br />
Previous spread:<br />
Guests at Cinergy<br />
Entertainment Group (top,<br />
bowling) and Cineplex<br />
(bottom left and right,<br />
arcade) CEC locations can<br />
enjoy a wide variety of<br />
attractions along with their<br />
movies. Images courtesy<br />
Cinergy Entertainment<br />
Group and Cineplex<br />
Left: The lobby of CGV's<br />
cultureplex, whose motto is<br />
"Evolving Beyond Movies,"<br />
courtesy CJ CGV<br />
Right, above: The bar and<br />
bowling areas at ShowBiz<br />
Cinemas, courtesy the<br />
exhibitor<br />
50 <strong>August</strong> <strong>2020</strong>
---
Coming to America<br />
"We envision that the CGV<br />
cultureplex concept has great<br />
potential when entering the U.S.<br />
Although CGV currently operates<br />
only two theaters with 11 screens<br />
in Los Angeles and Buena Park,<br />
California, CGV was able to<br />
introduce innovative cinematic<br />
technologies—4DX and ScreenX—<br />
for the first time in the market."<br />
—Sunghae Hong, Marketing<br />
Manager, CGV America<br />
Seo. "For us, being a 'cultureplex' means<br />
to be a cultural playground, where people<br />
can gather to experience all different types<br />
of culture, from film, music, performances,<br />
games, food, drinks, and so on."<br />
CJ CGV opened its first cultureplex<br />
location in South Korea, CGV Chungdam, in<br />
2011. The concept has grown alongside the<br />
circuit's global expansion; today there are<br />
more than 580 cultureplex locations in eight<br />
countries around the world. The company's<br />
cinema technology arm, CJ 4DPlex, offers<br />
experiential innovations that can be<br />
integrated into cinemas, such as immersive<br />
seating (4DX), panoramic screens (ScreenX),<br />
and virtual reality (4DX VR), to other major<br />
circuits around the world.<br />
Back in the United States, third-generation<br />
exhibition veteran Kevin Mitchell<br />
was similarly looking at ways to expand<br />
the scope of what cinemas could offer<br />
their patrons. "We first started toying<br />
with the idea of adding an entertainment<br />
component that would help us get away<br />
from being a completely product-driven<br />
business when I started [ShowBiz Cinemas]<br />
in 2007," says Mitchell, who serves<br />
as the circuit's CEO. Mitchell was interested<br />
in adding another profit center to his<br />
new circuit but was wary of "just slapping<br />
a bowling alley onto a movie theater."<br />
"We spent a lot of time at the drawing<br />
board pioneering a manageable and<br />
consistently profitable entertainment<br />
destination that incorporated bowling,<br />
arcade gaming, movie auditoriums, a full<br />
bar, and our food and beverage concept<br />
into a unique and cohesive experience for<br />
our customers," he says. The process was<br />
delayed as the real estate market slowly<br />
recovered from the 2008 recession; it took<br />
time to convince banks and development<br />
partners to invest in innovation in what<br />
was already a mature industry. ShowBiz's<br />
first Bowling, Movies and More! was<br />
unveiled in Baytown, Texas, in 2015. The<br />
circuit expects to have at least six cinema<br />
entertainment centers in its fleet by the<br />
end of <strong>2020</strong>, with plans to open multiple<br />
additional locations in the coming years.<br />
As with cinema dining in the previous<br />
decade, Texas became a hotbed of<br />
innovation when it came to cinema<br />
entertainment centers throughout the<br />
2010s. Santikos Entertainment, which<br />
operates nine theaters in the San Antonio<br />
area, leveraged its own in-house real estate<br />
team to find and develop the ideal location<br />
for its first CEC. That site, Santikos Casa<br />
Blanca, opened in June 2016 and incorporates<br />
16 lanes of bowling, an arcade, sports<br />
bar, and café. Santikos recently announced<br />
plans to open another CEC in what will be<br />
its 11th San Antonio location.<br />
Evo Entertainment, the brainchild of<br />
Mitchell Roberts, another Texas executive<br />
with deep multigenerational roots in<br />
the industry, opened its first CEC in<br />
November 2014. Located in Kyle, Texas,<br />
the 70,000-square-foot complex houses 11<br />
screens, 14 bowling lanes, a 3,500-squarefoot<br />
game arcade, a bar and grill, and<br />
spaces for parties and corporate events.<br />
Today, Evo has six Texas locations, with<br />
a seventh, in southwest San Antonio (its<br />
largest at 80,000 square feet), scheduled to<br />
open in January 2021.<br />
Its CEC in Schertz, Texas, which opened<br />
<strong>August</strong> <strong>2020</strong><br />
51
---
THEATER TRENDS<br />
in March 2019, boasts an outdoor patio<br />
with fire pits and oversized TV screens.<br />
"The goal has always been to turn our<br />
facilities into social destinations where,<br />
whether it's going to a movie or going to<br />
the family-entertainment-center side,<br />
people are just escaping their daily lives<br />
to hang out and be social. And what better<br />
place to do that in central Texas than<br />
outside on a patio?" Roberts says.<br />
"The beautiful thing about Texas<br />
is that it is such an innovative state<br />
when it comes to our industry," he says.<br />
"Texas [can be seen] as the birthplace of<br />
dine-in cinema, one of the birthplaces<br />
of the hybrid model. We have a lot of<br />
great operators—and a lot of saturation<br />
in markets with innovative concepts. I<br />
don't want to say it would be easier to<br />
operate outside of Texas, because I don't<br />
think that's the case, but it would be very<br />
beneficial to get outside and see what<br />
the hybrid model can do in markets that<br />
haven't seen it yet."<br />
Despite justifiable Texas pride, the CEC<br />
concept has been introduced in new parts<br />
of the United States in recent years. B&B<br />
Theatres had its first internal discussions<br />
about adding a CEC to its circuit as early<br />
as 2013. "There would be conversations<br />
where our CFO said, 'Look, theaters are<br />
our core competency. Why would we want<br />
to go into a business that we do not have<br />
a core competency in?' I didn't have the<br />
data. At that point my argument was, we<br />
just should!" says Dennis McIntire, B&B's<br />
executive director of development and<br />
construction. "I will tell you right now,<br />
I was right and he was wrong—and I'd<br />
really like for that to get into the article.<br />
If you only quote me once in this story,<br />
'I was right; he was wrong.' It took a lot<br />
of conversations to bring everybody on<br />
board." [Editor's Note: As someone who<br />
is frequently on the losing end of similar<br />
conversations with a CFO, I have obliged<br />
Mr. McIntire's request.]<br />
B&B was right to be cautious. Opening<br />
a cinema entertainment center requires<br />
additional investments in time, space,<br />
money, training, and maintenance—on<br />
top of the already straining demands of<br />
operating a cinema. "You need training<br />
programs, manuals, books, procedures,<br />
and processes for everything in the<br />
building," says Cinergy's Benson. "There<br />
are different little sub-businesses within<br />
the business. That means having individual<br />
standard operating procedures for<br />
running the ropes course, the ax throwing,<br />
the game room and redemption store, for<br />
running a bar—and, of course, for having<br />
a restaurant. We had to learn all these<br />
different little sub-industries, besides the<br />
food and beverage component. It took<br />
time and a whole lot of money."<br />
B&B's McIntire sat down with the different<br />
vendors that would be involved in<br />
running a CEC to get a better understanding<br />
of the numbers behind the business.<br />
Ultimately, with the right numbers and<br />
the support of the executive team and<br />
developer, the circuit decided to commit<br />
to opening its first CEC in its new Ankeny,<br />
Iowa location in 2018. The success of that<br />
52 <strong>August</strong> <strong>2020</strong>
---
site was proof of concept for B&B Theatres;<br />
the circuit has already announced plans to<br />
add CEC locations to new builds in Kansas<br />
City, Missouri, and Red Oak, Texas, in the<br />
coming months.<br />
Committing to the CEC concept<br />
requires a great deal of space and a certain<br />
amount of flexibility. While a regular cinema<br />
can be housed in a building of around<br />
40,000 square feet, CECs often require<br />
twice as much space to be viable entertainment<br />
destinations. Finding a building big<br />
enough to accommodate entertainment<br />
attractions isn't enough; its location is also<br />
crucial to the concept's success. "You can't<br />
just build this in the middle of a field. You<br />
want the development to come in around<br />
you," says McIntire. "If you're working<br />
with a developer who's just looking to fill<br />
80,000 square feet in a second-tier strip<br />
center, that probably won't work. This is a<br />
very expensive building, and if you don't<br />
have the people in the market to support<br />
it, then it doesn't matter if you build a<br />
cathedral. If there are no parishioners,<br />
there's nobody coming to church."<br />
"We're looking for high-income, but<br />
not too high-income," says B&B Theatres<br />
executive vice president Brock Bagby<br />
about his circuit's ideal demographic for<br />
CECs. "We're targeting young families in<br />
fast-growing markets with continuous<br />
growth. We're excited about those markets<br />
that are on the edge of a major city and are<br />
exploding. You see that a lot all over the<br />
nation, towns that are an hour from downtown,<br />
but they're exploding and building<br />
thousands and thousands of new homes.<br />
That's all driven by young families with<br />
disposable income—not necessarily the '1<br />
percent,' who don't go out to the movies as<br />
much. Kind of upper middle class; that's<br />
your target demographic.<br />
"It's similar to Topgolf's approach.<br />
There's only so many in any given market,"<br />
Bagby adds, referring to the trendy entertainment<br />
venues that combine a modified<br />
golf driving range with an adult-orientated<br />
lounge. "We're looking at a second site in<br />
Des Moines, but we don't feel like there's<br />
room for a third or fourth site. Topgolf did<br />
the same thing in Miami. They only have<br />
two locations there. You can definitely<br />
overdo it. You need to know each market.<br />
Because you're not just building another<br />
movie theater; you're building something<br />
that you want people to drive to from an<br />
hour away."<br />
Once a location is secured, its layout<br />
You Are Here<br />
"When we're relatively busy,<br />
there'll be a concierge who is just<br />
off the front door. So if anybody<br />
looks lost, if anybody needs help,<br />
we can take care of it right there.<br />
I've been into some of these<br />
where you wander in the building<br />
and you don't know what you're<br />
supposed to do; there's no clear<br />
place to buy a ticket; there's<br />
nobody there to help you. That's<br />
really off-putting to customers."<br />
—Dennis McIntire, Executive<br />
Director of Development and<br />
Construction, B&B Theatres<br />
Left: A patio with fire<br />
pits beckons visitors<br />
to Evo Entertainment's<br />
Schertz, Texas location.<br />
Image courtesy<br />
Evo Entertainment and<br />
5G Studios<br />
Below: The game<br />
room at B&B's Ankeny,<br />
Iowa complex. Image<br />
courtesy B&B Theatres<br />
plays an outsize role in its eventual earnings,<br />
says Cinergy's Benson. "People-flow<br />
within the building is critical. In a movie<br />
theater, you come in, you hit the concession<br />
stand or stop by the bathroom on the<br />
way to the auditorium, you leave. With<br />
cinema entertainment centers, you need<br />
to set them up where people can get to the<br />
game room, find the bowling, and stop by<br />
the bar on their way in or out of the auditorium.<br />
I've got some that are laid out wrong<br />
and others that are laid out right, and the<br />
percentages of revenue between the two<br />
are radically different from each other."<br />
"We learned a lot from our Casa Blanca<br />
location. There are things we would have<br />
done differently there," says Andrew<br />
Brooks, executive director of marketing<br />
and sales at Santikos. The circuit applied<br />
the lessons from its first location in planning<br />
for its second CEC, Santikos Cibolo,<br />
which opened in May 2019. "We moved<br />
some things around, switched some games<br />
to different spots, and it's been fantastic.<br />
We have a virtual reality area that we can<br />
expand as it grows—or move out if we<br />
need to. We have a 4,000-square-foot,<br />
two-level laser tag that's been amazingly<br />
successful as we gain traction in team<br />
building and corporate events. We designed<br />
those spaces, keeping in mind that<br />
if they weren't succeeding or working out,<br />
we could change them into an auditorium<br />
or something else."<br />
Once a building is laid out, operators<br />
customize their own CEC by selecting<br />
attractions to supplement the movie<br />
theater portion of the building. It takes<br />
diligence to ensure each part of the building<br />
<strong>August</strong> <strong>2020</strong><br />
53
---
THEATER TRENDS<br />
COMING<br />
ATTRACTIONS<br />
Highlights from Cinema<br />
Entertainment Centers<br />
Arcade<br />
Paper tickets are no longer<br />
required at 21st-century<br />
arcades, where patrons<br />
can win prizes by<br />
redeeming their (digital,<br />
card-based) spoils.<br />
Ax Throwing<br />
It might seem like an<br />
insurance headache, but<br />
this trendy attraction is<br />
low-tech, low-cost, and<br />
popular with patrons.<br />
Bowling<br />
Aside from the movies<br />
themselves, bowling is the<br />
bread and butter of the<br />
CEC concept.<br />
Bumper Cars<br />
You'll never be part of<br />
Dom Toretto's family, but<br />
CEC patrons who want a<br />
little bit of that fast and<br />
furious action can try their<br />
hand at bumper cars.<br />
Glow Golf<br />
How do you make golf<br />
more glam? Turn off the<br />
lights and turn up the<br />
neon. All four of FatCats'<br />
CEC locations offer glow<br />
golf—pirate-themed or<br />
space-themed, depending<br />
on the city.<br />
Escape Rooms<br />
This on-trend attraction<br />
prizes teamwork and<br />
puzzle-solving as<br />
groups work together<br />
to solve the mystery of<br />
the escape room.<br />
Laser Tag<br />
Santikos's second CEC<br />
location, in Cibolo, Texas,<br />
offers Lasertron laser tag<br />
for children and adults<br />
who want a little friendly<br />
competition.<br />
Mini Golf<br />
The classics are classics<br />
for a reason, and mini golf<br />
is still a hit among CEC<br />
patrons.<br />
Karaoke<br />
South Korea loves its<br />
karaoke rooms, a fact that<br />
is well proven at CJ CGV's<br />
cultureplex model.<br />
Pickleball<br />
With one CEC location<br />
under its belt, B&B<br />
Theatres is planning<br />
to move outdoors—at<br />
least partially—for its<br />
future locations. One of<br />
the attractions will be<br />
pickleball, a racquet sport<br />
that combines elements<br />
of tennis, badminton, and<br />
ping-pong.<br />
Rock Climbing<br />
Work off the calories you<br />
consumed with all that<br />
movie theater popcorn<br />
(no judgment) with Strike<br />
+ Reel's rock climbing<br />
wall, 24 feet high and lit<br />
by LED lights.<br />
Ropes Course<br />
Strap on a harness and<br />
get your Spider-Man on<br />
(minus web-shooters)<br />
at Strike + Reel's ropes<br />
course, suspended 20 feet<br />
above the arcade floor.<br />
Virtual Reality<br />
Virtual reality experiences<br />
from companies like The<br />
Void—which has provided<br />
Cineplex's The Rec Room<br />
with some of its most<br />
popular attractions—can<br />
put guests inside the<br />
world of a number of<br />
blockbuster movies.<br />
is performing to expectations. Cinergy has<br />
kept a close eye on what to incorporate in<br />
its CECs in its 11 years in the sector, always<br />
careful to be flexible and innovative so<br />
nothing inside the building goes stale.<br />
"Back when we started it was all about<br />
bowling, which is still popular, and laser tag,<br />
which we're moving on from," says Benson.<br />
"Today you have ax throwing, giant arcade<br />
games, and escape rooms—attractions that<br />
weren't around even five years ago."<br />
Benson brings up escape rooms as<br />
an example of a fad that can suddenly<br />
emerge, only to become saturated and<br />
go out of fashion just as quickly as it<br />
came. "Five or six years ago escape<br />
rooms barely existed in this country. At<br />
this point, I wonder if escape rooms<br />
haven't already run their course—we are<br />
thinking about not including them going<br />
forward," he says. "At some point it gets<br />
saturated. Movie theaters are hard to<br />
replicate—they're big and expensive—but<br />
an escape room or ax-throwing business,<br />
they come and go. They can open up in<br />
a retail shop with three or four thousand<br />
square feet on a three-year lease, make<br />
their money while it's popular, and leave<br />
when it starts to wane. That's why we need<br />
to continually reprogram our locations<br />
with the latest and greatest concepts;<br />
you never know when three escape-room<br />
places could open around the corner from<br />
you. Before you know it, everybody's<br />
escape-roomed out [and] your revenue<br />
goes down. That's a lot of square footage<br />
dedicated to something that doesn't make<br />
much money anymore. We need to keep<br />
up with all the amusement options out<br />
there to figure out which ones are the best<br />
and how long they might last."<br />
Kevin Mitchell from ShowBiz Cinemas<br />
recognized that challenge in developing<br />
his circuit's CEC concept, which is why<br />
he decided to focus on getting the basics<br />
of the building right. "While there are<br />
countless trendy attractions that can<br />
be incorporated into an entertainment<br />
center, we've drilled down our focus to<br />
boutique bowling, movies, arcade games,<br />
prize redemption, and food and beverage<br />
concepts," he says. "We've found this<br />
allows us to be really good in those areas<br />
without being solely dependent on a<br />
studio release schedule, and it also allows<br />
us to be a dominating destination zone<br />
for entertainment while maintaining a<br />
manageable footprint that is a good fit for<br />
a variety of markets."<br />
Right: The Yard<br />
gaming area (top) and<br />
the Three10 restaurant<br />
at Cineplex's Rec<br />
Room. Image courtesy<br />
Cineplex<br />
54 <strong>August</strong> <strong>2020</strong>
---
Although arcades have been a regular<br />
feature of cinema lobbies for decades,<br />
operating a full-scale game zone with a<br />
redemption center presents a host of new<br />
challenges to operators coming from a<br />
traditional theater background. "In an<br />
arcade, you can have 40 games, and 22 of<br />
them will have some type of mechanism<br />
or play-action where the customer is<br />
throwing, rolling, kicking—doing<br />
something to the machine. It's going to<br />
break down," says B&B's McIntire. "The<br />
balls are going to end up in the wrong spot.<br />
The same applies to bowling: you've got a<br />
15-pound ball rolling 25 miles an hour at<br />
10 projectiles. Something's going to break.<br />
That was our biggest mindset that we had<br />
to get over, that this was going to require a<br />
lot more attention per square foot than any<br />
Ready Player One<br />
"People speak with their dollars.<br />
We know which games are our best<br />
and worst earners, a lot like tracking<br />
the box office. We know what's<br />
performing and what we need to<br />
replace. Every six months, [when] we<br />
do our game purchases, we're going<br />
to move out the lowest 10 games<br />
and bring in 10 new games."<br />
—Jeff Benson, CEO, Cinergy<br />
Entertainment<br />
of our theaters," he says.<br />
Sarah Van Lange, Cineplex's executive<br />
director of communications, says one<br />
of the biggest challenges of operating an<br />
arcade at a CEC is "finding the right combination<br />
of games that will continue to<br />
excite our guests every time they visit our<br />
theaters. Fortunately, we have a team of<br />
experts who not only keep up on trends in<br />
amusement gaming but understand which<br />
games will appeal to which demographics,<br />
creating that perfect mix of the latest<br />
high-tech and classic, nostalgia-filled<br />
games," she says.<br />
Based on the success of its Xscape<br />
concept, Cineplex has incorporated new,<br />
branded locations into its circuit. These<br />
include Playdium, targeted to younger<br />
crowds, where approximately two-thirds<br />
of the complex is dedicated to the latest<br />
amusement games, bowling, and virtual<br />
reality, with the other third offering a range<br />
of on-the-go bites and handcrafted dishes.<br />
Cineplex plans to open 10 to 15 Playdium<br />
locations in midsize communities<br />
throughout Canada this year. The company<br />
also has eight locations of The Rec Room,<br />
family entertainment centers (FEC) without<br />
cinemas that offer food, live entertainment,<br />
amusement gaming, and feature attractions<br />
under one roof.<br />
This past November, Cineplex<br />
announced yet another concept, its<br />
most wide-ranging yet: Junxion. Anne<br />
Fitzgerald, the circuit's chief legal officer,<br />
describes the concept as "a cross between<br />
the Rec Room experience and the<br />
theater experience, having both in the<br />
same building."<br />
"Junxion guests will have their pick of<br />
exciting programming and events, including<br />
live music, trivia nights, game nights,<br />
outdoor screenings of movies and live TV<br />
events, and more," adds Van Lange. The<br />
complex will also feature an arcade with<br />
new and classic video and redemption<br />
games, virtual reality experiences, and a<br />
food hall including an indoor food truck<br />
and a bar selling wine and craft beer.<br />
Cinemas will remain an integral part of<br />
the Junxion concept, including Cineplex's<br />
UltraAVX premium screens and food and<br />
drink service as viewers relax in their<br />
recliner seats."<br />
Cineplex plans to roll out the Junxion<br />
concept in Canada in the coming years.<br />
"We will leverage retrofits of our existing<br />
theater network as well as new locations,<br />
including at Kildonan Place in Winnipeg,<br />
<strong>August</strong> <strong>2020</strong><br />
55
---
THEATER TRENDS<br />
Virtual Reality<br />
Cineplex is part owner of the<br />
virtual reality provider VRstudios,<br />
and Van Lange says these "hugely<br />
popular" experiences "allow guests<br />
to completely immerse themselves<br />
into new worlds—whether they are<br />
playing as individuals in ATOM<br />
pods, or playing with their friends<br />
as a group in the VRcade area.<br />
One of the most popular offerings<br />
at The Rec Room is the hyperreality<br />
experience, The Void, which<br />
immerses guests in an environment<br />
that includes sight, sound, touch,<br />
smell, and motion."<br />
Manitoba, and the first Junxion location<br />
at Erin Mills Town Centre in Mississauga,<br />
Ontario," says Van Lange.<br />
By adding a cinema component to<br />
its already popular Rec Room concept,<br />
Cineplex's Junxion idea acknowledges the<br />
drawing power movie theaters retain in<br />
attracting patrons to a CEC. Evo's Roberts<br />
confirms that the biggest draw at his circuit<br />
continues to be new releases. "People<br />
are still coming in to see movies," he says,<br />
"but as we've continued to improve and<br />
learn the FEC side, we see a significant<br />
amount of traffic that comes from that, too.<br />
They really feed each other."<br />
The success of film programming has<br />
inspired some traditional FEC operators to<br />
add cinemas to their buildings, approaching<br />
the CEC concept from the other end<br />
of the spectrum. FatCats Entertainment<br />
opened its first FEC in Salt Lake City in<br />
<strong>August</strong> 2001, offering bowling, miniature<br />
glow golf, an arcade, and a bar and grill.<br />
Similar locations followed in <strong>Pro</strong>vo, Utah<br />
(2002); Ogden, Utah (2007); and Westminster,<br />
Colorado (2010).<br />
Business predictably boomed or slowed<br />
depending on the weather. "We had a<br />
pretty profitable business six or seven<br />
months of the year, but during the summer<br />
months, we were giving back most of the<br />
profits that we made during the periods of<br />
time when the weather wasn't great," says<br />
co-founder David Rutter.<br />
That's when FatCats decided to try its<br />
hand at exhibition. In 2010, the company<br />
opened its first cinema in its complex in<br />
Rexburg, Idaho, a renovation of an existing<br />
site. "There was definitely a learning curve<br />
when it came to the intricacies of booking<br />
films, determining the right size and how<br />
many auditoriums, how many seats to<br />
make it work in the most efficient way,"<br />
says Rutter.<br />
That seasonal trend was reversed at the<br />
company's Gilbert, Arizona location—its<br />
second location to incorporate a cinema—<br />
where the summer heat drives people to<br />
air-conditioned indoor spaces. "We had a<br />
lot of people coming who had no idea about<br />
[the theater]," says Rutter. "It took time to<br />
build that business up. Thank heavens for<br />
Star Wars that winter, in December of 2015.<br />
Most of the other theaters were full and<br />
people realized, 'I can't get into my normal<br />
theater, but I guess there's a theater over<br />
here, so we'll go check this place out.' That's<br />
when the business began to grow."<br />
56 <strong>August</strong> <strong>2020</strong>
---
Right: The bowling<br />
alley (top) and games<br />
arcade at FatCats.<br />
Image courtesy FatCats<br />
Entertainment<br />
Left, below: Virtual<br />
reality shooters at a<br />
Cinergy CEC. Image<br />
courtesy Cinergy<br />
Entertainment<br />
Since then, FatCats has added cinemas<br />
to its new locations in Saratoga Springs,<br />
Utah, and Mesa, Arizona—and has plans<br />
to make its upcoming location in Queen<br />
Creek, Arizona, a CEC as well.<br />
"The movies really drive [business].<br />
That's the beauty of it; Hollywood spends<br />
millions of dollars promoting films, and<br />
we're a place where people can come to<br />
experience that," says Rutter. He has<br />
observed that once they're in the building,<br />
patrons are more willing to spend additional<br />
money on the other entertainment<br />
attractions on hand. Evo's Mitchell<br />
Roberts has the data to back up that assertion:<br />
"We see an average of about three<br />
and a half hours per visit compared to the<br />
traditional cinemas, where we're seeing<br />
anywhere between an hour and a half to<br />
two hours. People stick around longer."<br />
A lot more space translates into the<br />
need for a lot more employees. Yet just<br />
because CEC locations are (at least) twice<br />
as big as regular movie theaters, it doesn't<br />
mean that simply doubling the staff will<br />
suffice. Mark Moore, CEO of Entertainment<br />
<strong>Pro</strong>perties Group, which runs both traditional<br />
FEC brands and a new CEC project<br />
under the Strike + Reel banner in Texas, is<br />
unequivocal about the hardest part of the<br />
business. "The biggest challenge is staffing<br />
a 90,000-square-foot venue," he says. "A<br />
facility this large has to have an extensive<br />
management team in place."<br />
B&B's Brock Bagby cites staffing as<br />
the most unexpected element in his own<br />
circuit's incursion into the sector. "We've<br />
been very surprised at how challenging<br />
it is," he says. "The amount of payroll ...<br />
you have to staff bowling, the arcade, the<br />
restaurant. [At a regular theater] it's just<br />
tickets and concessions. Now we've got<br />
two full kitchens: one for the theaters, one<br />
for the restaurant. The staffing is more<br />
than double a traditional theater. And the<br />
operations to run these things are just huge.<br />
You're running three or four businesses<br />
in one. It's a lot more work than we ever<br />
anticipated, but it's exciting. … We have 10<br />
managers in our Ankeny location. Ten!"<br />
B&B Theaters went as far as creating a<br />
dedicated team whose sole job is opening<br />
its CEC locations. The circuit has plans to<br />
add five more CECs (which it calls "Luxury<br />
Entertainment Centers") to its fleet of<br />
cinemas in the coming years. "We're<br />
taking it a step further with a ropes course,<br />
karaoke rooms, escape rooms, and then<br />
we have an outdoor component that we're<br />
working on," says Brock Bagby.<br />
Cinergy, a circuit that exclusively<br />
hosts CECs, counts on a corporate office<br />
of 35 executives to oversee operations for<br />
its five existing locations. "That's a big<br />
corporate overhead for just five theaters,<br />
but we're set up to go out and add<br />
probably 10 more over the next few years<br />
without having to add too many more<br />
people," says Jeff Benson.<br />
Since the trend is still in its relatively<br />
early stages, the potential for nationwide<br />
expansion is vast. Like the dine-in,<br />
recliner, PLF, and VIP auditorium trends<br />
that have come before, the CEC may be<br />
seen as a gimmick today but could quickly<br />
proliferate across the market if the business<br />
model remains strong. Rutter, from FatCats<br />
<strong>August</strong> <strong>2020</strong><br />
57
---
THEATER TRENDS<br />
Entertainment, emphasizes the profitability<br />
of attractions that don't carry sustained<br />
costs. "Our profit margin isn't as high on<br />
food as it is on, say, bowling or miniature<br />
golf—those kinds of things where you don't<br />
have an inherent cost of goods that you've<br />
got to pay," he says.<br />
Other factors, such as the rise of the<br />
experience economy—where out-of-home<br />
experiences are considered more valuable<br />
than home-entertainment platforms—or<br />
the increased availability of retail space<br />
as consumers shift their buying habits<br />
online, could become catalysts in the rise<br />
of cinema entertainment centers in the<br />
domestic market.<br />
For an exhibitor like Cinergy, the CEC<br />
concept represents an ideal growth strategy<br />
in today's era of industry consolidation<br />
among studios and exhibitors—but only<br />
if you use the right tactics. "You want to<br />
maximize gross margin," says Benson.<br />
"Let's face it, we don't make a lot of money<br />
on the movies—we need to split that with<br />
the studios. If someone is going to spend<br />
$10 at my place, where do I want them to<br />
spend it? We focus on the areas we know<br />
can make the most money, and that to me<br />
is where a lot of mistakes are being made<br />
when people say they're seeing marginal<br />
results from this business. It's not that the<br />
entertainment concepts are wrong. It's<br />
likely that the building's layout has a lot to<br />
do with its performance."<br />
For Cinergy, CECs have been successful<br />
because the concept is consistently<br />
updated and refined; passing fads are<br />
avoided. That sort of big-picture approach<br />
stands in stark contrast to the day-to-day<br />
operations of a traditional movie theater,<br />
where a cyclical release calendar requires<br />
less hands-on attention by management.<br />
"That's the thing about movies: They<br />
reprogram themselves every week. It's<br />
always fresh," says Benson. "You reinvest<br />
in regular theaters with new technologies<br />
like digital projectors and recliners, but<br />
the content changes every week. That's not<br />
the case in an entertainment center. You<br />
need to continually reinvest and update<br />
the other half of your building, the half<br />
without a movie theater, to make sure your<br />
revenue isn't declining each year."<br />
If tackled correctly, cinema entertainment<br />
centers can help distinguish a<br />
circuit's identity and help define its brand<br />
as a unique out-of-home-entertainment<br />
destination. For a circuit like ShowBiz<br />
Cinema Entertainment Centers<br />
and the Experience Economy<br />
"[On social media] we highlight<br />
what we call the Evo experience,<br />
or the evolution of entertainment.<br />
It's really just people having fun in<br />
the numerous ways that they can,<br />
because what we're all about is<br />
making memories. That's pretty easy<br />
to show, people having fun and<br />
creating memories. That's primarily<br />
how we promote. Beyond that, we<br />
rely on word of mouth: 'Come and<br />
have a great time and share with<br />
your friends—Hey, you should really<br />
check this place out!'"<br />
—Mitchell Roberts, CEO, Evo<br />
Entertainment<br />
58 <strong>August</strong> <strong>2020</strong>
---
Cinemas, which operates both traditional<br />
theaters and CECs, it represents a great<br />
opportunity in the coming decade. "We've<br />
had great success with our Bowling, Movies<br />
and More! concept since opening our<br />
first location. We are finding new ways to<br />
improve it with each new facility we build,"<br />
says Mitchell. "These buildings are expensive<br />
to build and very labor intensive, and<br />
we continue to look for ways to improve in<br />
those areas without sacrificing quality."<br />
Around 56 percent of the ShowBiz<br />
circuit incorporates entertainment<br />
components that its traditional theaters<br />
don't offer. ShowBiz is introducing its CEC<br />
concept to the renovation of its Waxahachie,<br />
Texas location—and will bring<br />
Bowling, Movies and More! to a new site<br />
in Idaho Falls, Idaho, scheduled to open in<br />
December. By the end of <strong>2020</strong>, it expects<br />
cinema entertainment centers to comprise<br />
70 percent of its total footprint.<br />
"As we continue to grow, our Bowling,<br />
Movies and More! entertainment-center<br />
concept is driving the entire ShowBiz<br />
brand," he adds. "We've been very pleased<br />
with the success of this concept, and all<br />
of our new builds going forward will be<br />
with our signature entertainment-center<br />
concept. We're in rapid growth mode right<br />
now and will be opening multiple [CEC]<br />
locations across the country annually."<br />
For a circuit like Cinergy, refining<br />
and perfecting the CEC concept is a<br />
long-term commitment—not only to its<br />
customers, but to staying a step ahead of<br />
its competitors. In December, the circuit<br />
announced its Amarillo, Texas location<br />
(opened in 2018) had been honored as the<br />
world's top family entertainment center at<br />
the annual convention of the International<br />
Association of Amusement Parks and<br />
Attractions (IAAPA). More than 120 judges<br />
participated in selecting the winner from<br />
among IAAPA's 5,300 members, representing<br />
over 100 countries.<br />
As the trend continues to grow beyond<br />
Texas, Benson is more determined than<br />
ever to continue thriving in the business.<br />
"It's still early. You're seeing larger circuits<br />
like B&B Theatres building some of these<br />
centers, but most big circuits haven't<br />
delved into it deeply yet," he says. "What<br />
you see now is similar to what was going<br />
on in the early days of dine-in, where you<br />
have the smaller independents that are<br />
more flexible with their business models<br />
taking the risk and adopting these concepts.<br />
I think you're going to see a whole<br />
lot more of them. I wish I could say we're<br />
the only ones doing this. We know we<br />
aren't, and that's OK. We want to pick our<br />
locations strategically and build as many<br />
as we can, as fast as we can."<br />
THE EXHIBITORS<br />
HAVE THEIR SAY<br />
So You Want to Open Your Own<br />
Cinema Entertainment Center?<br />
"Don't start a new company without having<br />
some form of existing cash flow, for starters.<br />
We made a lot of mistakes starting off and<br />
will more than likely make a few more along<br />
the way, but the key is to minimize those<br />
mistakes and learn from all of them. If you<br />
are not making mistakes, then you are<br />
probably not taking risks. My dad taught me<br />
long ago that sometimes you have to climb<br />
out on that limb, because that is where the<br />
fruit is."<br />
—Kevin Mitchell, President & CEO, ShowBiz<br />
Cinemas<br />
"Listen to the experts. One of the first<br />
things we did when we decided we were<br />
going to do this was engage a consultant<br />
in the FEC industry. We know theaters, and<br />
it drives us crazy when people get into the<br />
theater businesses saying, 'Well, how hard<br />
can it be?' When you slow down and you<br />
bring in somebody with the expertise, listen<br />
to them. We come with 95 years of theater<br />
experience, and I can tell you that there<br />
were times when it was unspoken, but<br />
we thought, 'Oh, we know how to do that<br />
better than they do.' And those were the<br />
things that ended up biting us."<br />
—Dennis McIntire, Executive Director of<br />
Development and Construction, B&B<br />
Theatres<br />
"A lot of it is Basic Management 101.<br />
You've got to have the right people in the<br />
right places—and we didn't, not at first.<br />
We ended up having to spend a lot to get<br />
the right management team, which we<br />
now have."<br />
—Jeff Benson, CEO, Cinergy Entertainment<br />
"As with any new entertainment<br />
venture, there will be growing pains.<br />
Communication and positivity with your<br />
team are key to keep the focus on the big<br />
picture while knocking out the punch list<br />
one item at a time. Don't forget that the<br />
goal is to provide fun for your guests and<br />
have fun while doing it."<br />
—Mark Moore, CEO, Entertainment <strong>Pro</strong>perties<br />
Group<br />
Left: Young basketball<br />
hotshots at B&B's Ankeny,<br />
Iowa location. Image<br />
courtesy B&B Theatres<br />
<strong>August</strong> <strong>2020</strong><br />
59
---
THEATER INTERMISSION<br />
INTERMISSION<br />
Independent movie theater<br />
marquees during the pause<br />
The Loft Cinema, Photo by Tim Fuller<br />
North Park Theatre<br />
The World Theatre (at Night), Photo by Bryce Jensen<br />
60 <strong>August</strong> <strong>2020</strong>
---
Music Box, Photo by Ari Neiditz<br />
Coolidge Corner Theatre<br />
Hollywood Theatre Portland, Photo by Dan Halsted<br />
Plaza Theatre, Photo by CJ Swank<br />
Colonial Theatre, Photo by LuAnn Roth<br />
The Frida Cinema, Image courtesy of The Frida Cinema<br />
<strong>August</strong> <strong>2020</strong><br />
61
---
Theater DRIVE-IN SUMMER<br />
DRIVE-IN<br />
SUMMER<br />
With movie theaters forced to close their<br />
doors, the drive-in once again became the<br />
main attraction for summer movie audiences<br />
BY CHRIS EGGERTSEN<br />
62 <strong>August</strong> <strong>2020</strong>
---
Photo courtesy IFC Films<br />
As people around the world became<br />
better acquainted with their living<br />
rooms, those who ventured outside did<br />
so by adhering to the two most important<br />
words of the pandemic: social distancing.<br />
Drive-in cinemas emerged as one of the<br />
few outdoor entertainment options where<br />
people could confidently congregate<br />
while maintaining a safe distance. With<br />
approximately 330 drive-in locations in<br />
the United States, those with existing<br />
lots opened their doors as soon as they<br />
could, while others took creative routes to<br />
welcome back audiences. In this anthology<br />
of our digital coverage, we look at how the<br />
moviegoing summer of <strong>2020</strong> brought about<br />
the resurgence of drive-in culture.<br />
<strong>August</strong> <strong>2020</strong><br />
63
---
Theater DRIVE-IN SUMMER<br />
PARKING LOT CINEMA<br />
Originally published on May 7, <strong>2020</strong><br />
With most U.S. theaters shuttered due to<br />
the novel coronavirus pandemic, some<br />
exhibitors have devised innovative<br />
solutions to keep their businesses afloat<br />
during the shutdown. For some, like the<br />
Florida-based chain Epic Theatres, those<br />
solutions have included temporary—and<br />
often highly improvised—conversions to<br />
the once-voguish drive-in format.<br />
"We pulled an old screen out of storage<br />
and built a frame from PVC pipe, [then]<br />
hung the screen over the side of our<br />
largest auditorium wall," says Epic<br />
Theatres co-owner and I.T. director<br />
Weegee DeMarsh, who, along with his<br />
brother and co-owner, Joe DeMarsh,<br />
opened a pop-up drive-in at Epic's Deltona<br />
location on March 20. Though they were<br />
later forced to remove the screen due to<br />
forecasted summer rains, the DeMarshes<br />
didn't let that stop them. In a decidedly<br />
makeshift but highly effective solution,<br />
they proceeded to paint the auditorium<br />
wall white. "That has worked out nicely,"<br />
says Weegee. So nicely, in fact, that Epic<br />
has since duplicated the formula at its<br />
Clermont and St. <strong>August</strong>ine locations.<br />
Though drive-in conversions remain<br />
exceedingly rare—indeed, many U.S.<br />
states won't allow them during the<br />
pandemic—their implementation<br />
has become increasingly common<br />
as struggling theaters scramble for<br />
ways to generate revenue amid the<br />
unprecedented shutdown.<br />
That said, pop-up drive-ins (as they<br />
have come to be known) aren't a feasible<br />
solution for every theater. In addition<br />
to the often-insurmountable financial<br />
costs involved, there are logistical<br />
considerations to account for. As<br />
Entertainment Supply & Technologies'<br />
vice president of technology sales Scott<br />
McCallum tells <strong>Boxoffice</strong> <strong>Pro</strong>, the close<br />
proximity of many theaters to shopping<br />
centers and other businesses that use<br />
bright, automatic security lights after dark<br />
can make operating these ad hoc drive-ins<br />
an all but impossible challenge.<br />
"Light and outdoor movies are not fans<br />
of one another," says McCallum, who is<br />
currently assisting a number of theaters<br />
with drive-in conversions. "And that<br />
becomes a challenge if you're a theater in<br />
a shopping mall. You know, you've got all<br />
the ambient light around. Or if you're next<br />
to a car dealership or whatnot. Traditional<br />
drive-ins have been in remote areas on the<br />
outskirts of town."<br />
For theaters looking to hire out<br />
companies like Entertainment Supply<br />
& Technologies for their drive-in<br />
conversions, the cost can be prohibitive.<br />
The FM broadcast equipment required<br />
to play sound through hundreds of car<br />
speakers can run between $5,000 and<br />
$10,000, says McCallum. Add a projector<br />
into the mix, and you're out another<br />
$6,000 to $7,000. For those who request<br />
the full package—including proper<br />
screens, metal frames, servers, sanitary<br />
products, and more—the cost could run<br />
anywhere between $50,000 and $100,00<br />
at the high end, according to informal<br />
estimates provided by McCallum and<br />
Alex Younger, CEO of cinema solutions<br />
company CES+.<br />
In the event a theater decides to move<br />
forward with a conversion, time can also<br />
become an issue, says Younger, who as of<br />
last week had sent out 11 pop-up drive-in<br />
proposals to theaters in both the U.S. and<br />
Latin America.<br />
"Some of these factories, they're closed<br />
too, so it [becomes] a supply chain game<br />
where, what can we count on from the<br />
vendors?" says Younger. "It's difficult to<br />
move and operate. We've run into those<br />
hiccups where [suppliers say], 'Oh, I don't<br />
have product.'"<br />
With theaters looking at a potential<br />
delay of weeks, if not months, due<br />
to supply chain issues, cinemas—<br />
particularly those operating in colder<br />
64 <strong>August</strong> <strong>2020</strong>
---
climates—may already be running out of<br />
time, says Younger. "In some cases," he<br />
adds, "we [may have] to develop our own<br />
equipment to sell to them."<br />
Even once a conversion is completed<br />
successfully, there are other issues to<br />
contend with. During a pandemic, safety<br />
is paramount, and each drive-in is forced<br />
to follow guidelines set down by state and<br />
local officials. Eric Hansen, a consultant<br />
who has assisted with makeshift, low-cost<br />
drive-in conversions at Aspen Cinemas in<br />
Evanston, Wyoming, and Water Gardens<br />
Cinema in Pleasant Grove, Utah (both of<br />
which cost in the $2,000–$3,000 range),<br />
says regulations can often be strict.<br />
"When we first announced this thing, we<br />
wanted to make sure that we had all of those<br />
things kind of ironed out," says Hansen,<br />
who notes that each of the two theaters he<br />
works with typically dedicates "one or two"<br />
employees to parking lot supervision. "If<br />
you go to the Evanston [theater's] website,<br />
they have a drive-in information page that's<br />
dedicated to all of the rules. We are pretty<br />
strict with all that. You know, you have to<br />
stay in your car. You can't get in the bed of<br />
your truck, you can't open the hatches of<br />
your vehicle, things like that."<br />
These restrictions can make allimportant<br />
concession sales into<br />
something of an ordeal. Hansen notes<br />
that while both the Evanston and Pleasant<br />
Grove drive-ins have set up concession<br />
systems via an online store—through<br />
which customers can place orders for<br />
snacks before texting a dedicated phone<br />
number to indicate where they're parked—<br />
food deliveries (handed out driver-side by<br />
employees outfitted in masks and gloves)<br />
can take a long time to get to customers.<br />
That can lead to some frustration on the<br />
part of both customers and employees.<br />
"On our busy days, it takes a little bit<br />
longer because of the logistics behind<br />
it all," says Hansen, who pauses before<br />
continuing dryly: "We'll be grateful when<br />
we don't have to do that anymore, let's put<br />
it that way. It's kind of a pain."<br />
Another significant issue to consider<br />
is how best to provide bathrooms for<br />
customers in a time of physical-distancing<br />
mandates. While both Hansen and the<br />
DeMarshes tell <strong>Boxoffice</strong> <strong>Pro</strong> they're<br />
offering access to their theaters' indoor<br />
bathrooms during screenings, only one<br />
group or individual is allowed in at a time,<br />
and six feet of space is mandated between<br />
each person or group waiting in line. That<br />
can result in longer wait times for facilities.<br />
Parking lot sizes are also an important<br />
factor to consider for theaters mulling<br />
a conversion. Some, like all three Epic<br />
Theatres locations, can accommodate<br />
only small crowds (the Deltona and<br />
St. <strong>August</strong>ine locations fit only 113 and<br />
75 cars, respectively). Others, like EVO<br />
Entertainment Group's locations in<br />
both Schertz and Kyle, Texas (both of<br />
which reopened indoor operations with a<br />
limited capacity on Monday, May 4, while<br />
continuing to operate their pop-up driveins),<br />
get more bang for their buck; the<br />
Schertz location alone has managed to<br />
accommodate nearly 1,600 vehicles for a<br />
single showing.<br />
Despite the logistical hurdles, once<br />
installed, the concept has been taking<br />
hold in many communities—not only<br />
providing out-of-home entertainment<br />
for the quarantined populous, but<br />
allowing theaters to keep employees on<br />
staff. (Hansen tells us the Evanston and<br />
Pleasant Grove theaters have actually<br />
hired extra staff to deal with the extra,<br />
pandemic-compounded burdens that<br />
stem from the drive-in format.) Several<br />
of EVO's drive-in screenings have been<br />
complete sellouts, leading the company<br />
to ponder keeping them in operation even<br />
once the pandemic has subsided.<br />
"We see the EVO drive-in concept<br />
as becoming a regular component of<br />
our alternative programming, even<br />
after the environment shifts back to<br />
normalcy," says EVO Entertainment<br />
Group CEO Mitchell Roberts, who says<br />
the only outside equipment the company<br />
purchased for their conversions were FM<br />
transmitters (everything else was either<br />
custom made or came from in-house).<br />
"However, our primary focus will be<br />
reopening our in-venue experiences and<br />
implementing our new operating plans<br />
with enhanced safety measures."<br />
As Roberts indicates, these conversions<br />
may not be the future of moviegoing<br />
in the U.S., but drive-ins (both pop-up<br />
and traditional) are in higher demand<br />
than they have been in decades—and<br />
they could stick around beyond the<br />
scope of the pandemic, particularly if<br />
fears of contagion continue to linger.<br />
As McCallum notes, drive-ins showing<br />
retro content licensed from the studios—<br />
popular titles include such films as<br />
Back to the Future, Jurassic Park, Harry<br />
Potter, Jaws, and Grease—can also offer a<br />
nostalgic pull for some, adding an extra<br />
layer to the experience.<br />
"I think people will remember when<br />
they were kids going to the drive-ins," he<br />
says. Still, in his estimation, the format's<br />
appeal will remain limited if studios'<br />
theatrical release slates remain empty<br />
throughout the summer season—and<br />
perhaps even beyond that.<br />
"If there's no blockbuster content<br />
available to draw the crowds in this summer,<br />
if it's pushed off till the fall or to the<br />
holidays, that doesn't help," says McCallum.<br />
"Retro [movies are] nostalgic and fun, but<br />
they need the Star Wars or the Wonder<br />
Womans. That draws people into drive-ins<br />
just like it does into the regular theaters."<br />
Left, top and bottom:<br />
Texas-based Evo<br />
Entertainment hosts a<br />
drive-in evening in the<br />
parking lot of one of its<br />
locations. Photo courtesy<br />
Evo Entertainment.<br />
Despite the logistical<br />
hurdles, once installed, the<br />
concept has been taking<br />
hold in many communities—<br />
not only providing out-ofhome<br />
entertainment for the<br />
quarantined populous, but<br />
allowing theaters to keep<br />
employees on staff.<br />
<strong>August</strong> <strong>2020</strong><br />
65
---
Theater DRIVE-IN SUMMER<br />
Left: The B&B Twin Drive-<br />
In in Independence,<br />
Missouri. Photo courtesy<br />
B&B Theatres<br />
Right: The Showcase<br />
Drive-In at Patriot<br />
Place in Foxborough,<br />
Massachusetts (top),<br />
photo courtesy Showcase<br />
Cinemas. The Malco<br />
Summer Drive-In in<br />
Memphis, Tennessee,<br />
photo courtesy Malco<br />
Theatres<br />
MAJOR CIRCUITS<br />
EMBRACE THE DRIVE-IN<br />
AS THEY TRANSITION<br />
INTO REOPENING<br />
Originally published on June 24, <strong>2020</strong><br />
On May 30, Showcase Cinemas opened<br />
a "pop-up" drive-in theater at its<br />
Patriot Place location in Foxborough,<br />
Massachusetts, with a screening of Steven<br />
Spielberg's 1981 classic Raiders of the Lost<br />
Ark. The sold-out event—which doubled<br />
as a fundraiser for the local Foxboro Food<br />
Pantry—amounted to a full-circle moment<br />
for the exhibitor, which was one of the first<br />
chains to embrace the drive-in concept<br />
beginning in the late 1930s.<br />
"It's interesting that Showcase is<br />
starting out with a drive-in as part of our<br />
reopening, because it's part of our DNA<br />
and our history," says Mark Malinowski,<br />
Showcase's vice president of global<br />
marketing. In addition to establishing one<br />
of the country's first drive-ins—the nowdefunct<br />
Sunrise Drive-In on Long Island,<br />
which opened in 1938 with a screening<br />
of the Jimmy Durante musical Start<br />
Cheering—several of its current hardtop<br />
locations, including Legacy Place in<br />
Dedham, Massachusetts, and the Cinema<br />
de Lux in Revere, Massachusetts, were<br />
originally launched as drive-in venues.<br />
The current resurgence of the drive-in<br />
format is a phenomenon that would have<br />
been inconceivable just a few months<br />
ago. But with the coronavirus continuing<br />
to circulate widely in the U.S. more than<br />
three months into the pandemic, and<br />
with the majority of hard-top theaters<br />
remaining shuttered, drive-ins remain the<br />
only moviegoing option in many areas<br />
of the country. That reality is about to<br />
change, however—and for major chains<br />
now prepping for a reopening of their<br />
indoor locations for the first time since<br />
mid-March, "pop-up" drive-ins are being<br />
viewed as a transitional step, allowing<br />
them to test out safety protocols before<br />
top-tier studio releases including Mulan,<br />
Tenet, and Bill & Ted Face the Music are<br />
unleashed in theaters.<br />
Marcus Theatres has been dabbling<br />
in the "parking lot cinema" concept<br />
even more extensively than Showcase.<br />
The country's fourth-largest exhibitor<br />
currently operates pop-up drive-ins at<br />
five locations: Elgin in Illinois, Majestic of<br />
Brookfield and South Shore in Wisconsin,<br />
Pickerington in Ohio, and Twin Creek in<br />
Nebraska. Marcus CEO and president (and<br />
current NATO vice chairman) Rolando<br />
Rodriguez says that one of the first of<br />
these to open, Twin Creek in the town of<br />
Bellevue, saw sellouts in its first 10 days of<br />
operation—a turnout he believes speaks<br />
to a "pent-up" demand from moviegoers<br />
who have been barred from entering<br />
their local multiplexes for months. "I<br />
think people are ready to go back to some<br />
level of normalcy," he says. "And I feel<br />
confident that we're going to be providing<br />
that as an industry."<br />
When asked to list some of the<br />
challenges of operating these pop-up<br />
locations—each of which took roughly a<br />
week to set up—Rodriguez employed the<br />
more optimistic phrase "key learnings" to<br />
discuss the inevitable logistical hurdles<br />
that came with the process. Among them:<br />
dealing with the "ingress and egress" of<br />
vehicles into and out of the parking lot;<br />
ensuring all cars are parked 15 minutes<br />
before showtime to avoid disturbances<br />
from latecomers; and effectively educating<br />
guests on how to preorder tickets and<br />
concessions online.<br />
More importantly for Rodriguez, the<br />
pop-ups have given Marcus Theatres<br />
the opportunity to test out many of the<br />
health and safety protocols the company<br />
has been developing over the last several<br />
months. "[We want] to make sure that<br />
when we reopen our regular theaters, a lot<br />
of these plans that we've been working on<br />
will be not only good plans, but executable<br />
plans," he says. Though there are certain<br />
components of the new guidelines that<br />
can only be tested indoors, a number of<br />
procedures—including the use of masks,<br />
social distancing markers, placement of<br />
sanitation stations and the concessions<br />
66 <strong>August</strong> <strong>2020</strong>
---
preordering system—have been put into<br />
practice at the drive-ins, allowing the<br />
company to conduct a trial run before it<br />
executes a full-scale reopening.<br />
Showcase, too, used its single popup<br />
drive-in as a run-through for the<br />
company's "Be Showcase Safe" initiative,<br />
which includes a new ticketing and<br />
concessions preorder function on its<br />
website and app to facilitate no-contact<br />
payments. "This was our first time<br />
testing it out, kicking the tires on it," says<br />
Malinowski, "and it worked really well."<br />
Large chains are also testing health<br />
and safety protocols at traditional<br />
drive-ins. B&B Theatres, which operates<br />
drive-in theaters in the towns of Moberly<br />
and Independence, Missouri, has put<br />
social distancing measures in place at<br />
its two outdoor locations, eliminated<br />
cash transactions, and reduced contact<br />
between guests and employees at<br />
the box office and concession areas.<br />
Malco Theatres has employed similar<br />
measures at its Summer Drive-In theater<br />
in Memphis, including limiting guest<br />
capacity to 50 percent.<br />
Representatives for Marcus, Malco,<br />
B&B, and Showcase all claim that<br />
attendance has been strong at both their<br />
pop-up and traditional drive-ins, though<br />
just how eager moviegoers are to return<br />
to hard-top locations—even once brandnew<br />
blockbuster titles begin populating<br />
multiplexes—remains an open question.<br />
Some people we spoke to pushed back on<br />
the idea that audiences will require much<br />
of an incentive to return at all.<br />
"I don't think it is a matter of easing<br />
movie fans back into coming to the<br />
movies," Malco Theatres' senior vice<br />
president of film and marketing Jeff<br />
Kaufman told <strong>Boxoffice</strong> <strong>Pro</strong> via email.<br />
"It is obvious that the high degree of pentup<br />
demand for the theatrical experience<br />
and need to get out of the house has<br />
exploded, resulting in huge drive-in<br />
attendance. People still love movies, and<br />
we are grateful they are putting their<br />
money where their fandom is."<br />
Those sentiments were echoed by<br />
B&B Theatres director of publicity Paul<br />
Farnsworth, who added, "While our drivein<br />
operations did provide us the means<br />
of presenting the public with some of our<br />
revised cleaning and social distancing<br />
protocols, I'm not sure that our guests<br />
will need an 'easing back in' outside of<br />
the parameters established by local and<br />
"It is obvious that the high<br />
degree of pent-up demand<br />
for the theatrical experience<br />
and need to get out of<br />
the house has exploded,<br />
resulting in huge drive-in<br />
attendance."<br />
regional health authorities. In other words,<br />
we feel and hope that our guests will<br />
come back to cinemas once cinemas are<br />
reopened and won't require much in the<br />
way of re-acclimation."<br />
Rodriguez was more measured when<br />
asked whether drive-ins are a way of<br />
mitigating anxieties for guests who may<br />
be nervous about returning to indoor<br />
locations—not to mention a reminder of<br />
the value of moviegoing for those who<br />
have been relegated to watching films at<br />
home for the past several months.<br />
"Think about this—our industry has<br />
been pretty much shut down now for<br />
almost three months," he says. "So for<br />
us, it was an important aspect to keep<br />
connected with our guests and the<br />
importance and the fun of moviegoing<br />
and entertainment value associated with<br />
it." To accommodate guests who aren't<br />
yet comfortable watching movies in an<br />
indoor theater, he adds, the company is<br />
considering keeping its pop-up driveins<br />
operational even once its hard-top<br />
locations open for business.<br />
Of course, reopening plans for<br />
exhibitors across the country are highly<br />
dependent upon major studios providing<br />
new content—and with only a few highprofile<br />
films slated for release over the<br />
next several months, all eyes are on<br />
Disney (Mulan), Warner Bros. (Tenet),<br />
and others to follow through on those<br />
plans. All exhibitor representatives<br />
interviewed for this story expressed<br />
confidence that the studios will keep<br />
their remaining summer releases on<br />
the calendar, but if coronavirus cases<br />
begin to spike in a substantial way—a<br />
phenomenon already being observed in<br />
states like Arizona, Texas, and Florida—<br />
reopening plans could be further delayed<br />
in some areas.<br />
"Let's hope to God that that does<br />
not happen—not just for the sake<br />
of our industry but the sake of our<br />
country," says Rodriguez, who didn't<br />
rule out the possibility of opening more<br />
pop-up drive-in locations if indoor<br />
reopening plans get pushed back in<br />
some communities. And if they do?<br />
"Obviously, there are different ways to<br />
provide that entertainment experience<br />
during difficult times," Rodriguez adds.<br />
"What you've seen is we can be creative<br />
and certainly adapt to whatever those<br />
situations might become."<br />
<strong>August</strong> <strong>2020</strong><br />
67
---
Theater DRIVE-IN SUMMER<br />
PROGRAMMING: HOW<br />
IFC FILMS' THE WRETCHED<br />
BECAME A SLEEPER HIT<br />
ON THE DRIVE-IN CIRCUIT<br />
Originally published on June 18, <strong>2020</strong><br />
In an unprecedented spring season that<br />
saw the shuttering of hard-top theaters, a<br />
release slate emptied of major studio films,<br />
and the improbable resurgence of driveins,<br />
an unlikely hit emerged: IFC Films'<br />
The Wretched, a low-budget horror film<br />
about a young boy who is terrorized by a<br />
thousand-year-old witch. Through the<br />
end of its seventh weekend, the creature<br />
feature had brought in a cool $1.37 million,<br />
mainly from outdoor theaters, making<br />
it arguably the first drive-in hit of the<br />
modern era.<br />
"Horror films in general have such<br />
a long history of being at the drivein,"<br />
Jasper Basch, director of sales and<br />
distribution at IFC Films, tells <strong>Boxoffice</strong><br />
<strong>Pro</strong>. "This is just a continuation of a triedand-true<br />
tradition."<br />
A lack of competition didn't hurt. When<br />
the major studios cleared their theatrical<br />
slates during the spring months due to<br />
"Cinemas are there for<br />
every type of film, every<br />
type of genre, but I think<br />
drive-ins specifically<br />
imply the popcorn movie<br />
that everybody can go<br />
see together and have a<br />
good time."<br />
Covid-19, it created a fertile landscape for<br />
an indie title like The Wretched to break<br />
through. The film's largely positive critical<br />
reception (74% on Rotten Tomatoes) and<br />
strong word of mouth also played a role in<br />
its popularity. "I think a lot of [the success]<br />
has to do with the film itself," Basch adds.<br />
"A good movie is always going to find its<br />
audience—I'm a true believer about that."<br />
Needless to say, The Wretched directors<br />
Drew and Brett Pierce couldn't have<br />
predicted that their film would be released<br />
in the middle of a pandemic—nor that it<br />
would lend itself so well to a format they<br />
never expected to screen it in.<br />
"We didn't realize that we were making<br />
the perfect drive-in movie," says Drew,<br />
who co-directed one previous feature with<br />
Brett—the 2011 zombie film Deadheads.<br />
By the brothers' own admission, The<br />
Wretched isn't "art house" horror. Rather,<br />
it's a fun, old-fashioned creature feature<br />
that falls squarely within the tradition of<br />
drive-in hits of yore.<br />
"I think drive-ins are associated with<br />
escapism and a good time," says Brett.<br />
"Cinemas are there for every type of film,<br />
every type of genre, but I think drive-ins<br />
specifically imply the popcorn movie that<br />
68 <strong>August</strong> <strong>2020</strong>
---
everybody can go see together and have a<br />
good time."<br />
The Pierces do admit to one drawback<br />
of the drive-in format: The audio, mixed<br />
in 7.1 by sound designer Eliot Connors,<br />
gets lost when it's played over a standard<br />
car stereo. But that's just one downside<br />
among many advantages, including<br />
the ability of the directors—who have<br />
watched the film multiple times at Los<br />
Angeles–area drive-ins—to hear the<br />
audience's feedback in real time, just by<br />
rolling down their windows.<br />
"We love hearing random people react<br />
to the movie," says Drew, who adds that in<br />
pre-Covid times, "usually we [would] go<br />
hide out in the bathroom, because that's<br />
where people say what they really think of<br />
[the movie]."<br />
For IFC, The Wretched has allowed<br />
the independent distributor to forge<br />
relationships with drive-in owners that<br />
Basch hopes will pay further dividends<br />
down the line. "All the [drive-ins] we're in<br />
are new customers to IFC, and we had to<br />
build those relationships," he says, noting<br />
that drive-ins typically don't program new,<br />
independent releases.<br />
If nothing else, The Wretched's sleeper<br />
success proves that even in the bleakest of<br />
times, audiences remain hungry for the<br />
theatrical experience. "When the virus<br />
started becoming more of an actuality, I<br />
think there were a lot of questions as to<br />
what the future would look like," Basch<br />
says. "The thought of grossing a million<br />
dollars theatrically, that's nothing I would<br />
have ever been able to predict."<br />
Far left: The Wretched,<br />
an IFC Films release.<br />
Photo courtesy IFC Films<br />
Left: The Galaxy Drive-<br />
In Theater in Ennis, Texas<br />
(top). Additional stills<br />
from The Wretched, an<br />
IFC Films release. Photos<br />
courtesy IFC Films<br />
<strong>August</strong> <strong>2020</strong><br />
69
---
Theater HOMETOWN THEATERS<br />
REMEMBERING OUR<br />
HOMETOWN THEATERS<br />
Movie theaters aren't just places to watch movies—<br />
they're also places to form relationships, spend time with<br />
family, or just escape from the world for a few hours.<br />
They're as much a part of our lives as they are a meeting<br />
place in our communities. As theaters around the world<br />
begin to reopen, the staff of <strong>Boxoffice</strong> <strong>Pro</strong> share<br />
memories of their own hometown movie theaters.<br />
Daniel Loría, Editorial Director<br />
Cinemark 12 Plaza Boulevares<br />
[Today: Cinemex Boulevares Querétaro]<br />
Querétaro, Mexico<br />
The first multiplex opened in my<br />
hometown in 1996. There must have been<br />
fewer than a handful of twin cinemas<br />
operating in Querétaro before Cinemark<br />
opened that multiplex: a brand-new<br />
12-screen facility, one of their first outside<br />
the United States.<br />
That movie theater changed something<br />
in the city. Back then, our soccer team<br />
was either out of business or in the second<br />
division, and there wasn't much else to<br />
do. And everything about that theater<br />
was unique and innovative at the time,<br />
from the lobby to the concessions stand<br />
and auditoriums—it was the only cinema<br />
in town that didn't have intermissions.<br />
I'd go with my friends midweek (2-for-1<br />
admission) and with my family on the<br />
weekend. Sometimes I'd end up seeing the<br />
same movie twice in the same week.<br />
The first movie I saw there was<br />
Dracula: Dead and Loving It, starring<br />
Leslie Nielsen. I also remember watching<br />
That Thing You Do! with a friend who later<br />
started his own band in middle school;<br />
Jack, and thinking it was so bad that the<br />
rest of the director's movies probably<br />
sucked, too; buying a commemorative<br />
soda cup for Independence Day on<br />
opening night; Mars Attacks, Mission:<br />
Impossible, The Rock … I must have seen<br />
"Every time I return the city<br />
looks less familiar; I can't<br />
help but remember it the<br />
way it was during our last<br />
year living there."<br />
every studio title exported to Mexico<br />
between the summers of '96 and '97 in that<br />
theater. I'd ride my bike to the newsstand<br />
near my house and buy the latest issues of<br />
Cine Premiere and Cinemanía to find out<br />
about the coming releases. My romance<br />
with moviegoing began in that theater.<br />
The multiplex opened around the<br />
same time that Carrefour unveiled the<br />
city's first large-scale supermarket; I was<br />
11 years old, and all of a sudden there were<br />
foreign companies investing in Querétaro,<br />
and introducing modern retail concepts.<br />
The great novella Las batallas en el<br />
desierto by José Emilio Pacheco touches<br />
on the theme of a rapidly changing<br />
Mexico and how modernization brings<br />
a simultaneous sense of excitement<br />
and nostalgic anxiety. We moved out of<br />
Querétaro in the fall of 1997. Every time<br />
I return the city looks less familiar; I<br />
can't help but remember it the way it was<br />
during our last year living there.<br />
Despite all the changes to the city, that<br />
movie theater is still there. Cinemark sold<br />
its Mexico locations to Cinemex back in<br />
2012, and while the branding is different, a<br />
lot of the structural details remain. When<br />
my parents moved back to Querétaro, they<br />
moved to a house six blocks from the<br />
cinema. I still visit it, not to see a movie<br />
but mostly to reassure myself it's still there.<br />
On a recent trip, a security guard spotted<br />
me taking some pictures of the lobby and<br />
sternly asked what I was doing. I couldn't<br />
come up with a succinct explanation.<br />
70 <strong>August</strong> <strong>2020</strong>
---
<strong>August</strong> <strong>2020</strong><br />
71
---
Theater HOMETOWN THEATERS<br />
Rebecca Pahle, Deputy Editor<br />
Palace Stadium 12<br />
and Movies at the Lake<br />
Cornelius, North Carolina<br />
The Movies @ Birkdale<br />
[Today: Regal Birkdale & RPX]<br />
Huntersville, North Carolina<br />
For the last 12 years of my life, I've lived<br />
in New York. It's a city with no shortage<br />
of movie theaters, even though they all<br />
happen to be closed for the moment. When<br />
the Covid crisis is over, I know that I—along<br />
with many, many other people—will count<br />
going to the movies among my very first<br />
activities. I may not know what movies will<br />
be playing whenever the marquees light<br />
up again, but I'm already dreaming of the<br />
concessions I'm going to get. The thought<br />
of popcorn at the IFC Center, tater tots<br />
and cheese at the Nitehawk, and a boozy<br />
milkshake at Alamo Drafthouse's Brooklyn<br />
location is getting me through some tough<br />
times. (Look, I never claimed "healthy" to<br />
be among the attributes I look for in movie<br />
theater concessions.)<br />
Before I lived in New York, I grew up<br />
in Charlotte, North Carolina—first the<br />
city itself and then, from middle school<br />
through college, in the town of Cornelius,<br />
about 20 minutes north. My fondest<br />
moviegoing memories from childhood are<br />
tied to details of the theatrical experience.<br />
At 7, feeling scandalized when my aunt<br />
snuck Burger King Whoppers into the<br />
theater when she took us to see Hook. At<br />
8, getting to Aladdin so close to showtime<br />
that my family and I had to sit in the front<br />
row, but being so transfixed by the movie<br />
that I didn't even notice the crick in my<br />
neck. Lining up for midnight screenings<br />
of Star Wars and Lord of the Rings; the<br />
excitement I felt in my stomach was very<br />
real but not quite enough to keep me from<br />
gobbling down handfuls of popcorn.<br />
The theaters I went to were typical<br />
suburban multiplexes of the closing years<br />
of the 20th century. They didn't have<br />
premium large-format screens, recliners,<br />
or dine-in menus. Looking back, they<br />
weren't particularly "special." One of<br />
them had a party room that I hardly saw<br />
anyone use; another may have had a claw<br />
machine. But they felt special to me. They<br />
gave me a treat, a solace, a way to bond<br />
with my family. They introduced me to my<br />
love of movies and set me on the career<br />
path I still travel today.<br />
"When we lose theaters,<br />
we don't just lose bricks and<br />
metal. We don't just lose<br />
movies. We lose memory,<br />
spirit, and family. We lose<br />
a second home."<br />
They are also, for the most part, closed.<br />
The first theater that felt like it was truly<br />
mine was called Movies at the Lake. It<br />
opened its doors, and a shopping center<br />
built up around it. Now that area is bustling<br />
and built-up, but Movies at the Lake isn't<br />
there. It closed in 2004 and became a<br />
Nascar store (hey, North Carolina).<br />
Then there was Palace Stadium 12,<br />
which, for a reason I was never quite able<br />
to figure out, was decorated to look like an<br />
Egyptian temple. It closed suddenly after<br />
three years and stood abandoned for over<br />
a decade until a church moved in. (They<br />
did not keep the decorations.) Movies @<br />
Birkdale—now Regal Birkdale & RPX—<br />
opened when I was a junior in high school,<br />
just in time for me to see Moulin Rouge<br />
there four times. (Musical geeks circa the<br />
early 2000s know what's up.)<br />
Traveling back home from New York<br />
to see my family, I would make a point<br />
of going back to Birkdale if I could.<br />
Christmas afternoon, in particular, was<br />
a designated movie time for the Pahle<br />
household. But driving past Movies at<br />
the Lake and the Palace always made me<br />
sad. Their familiar façades said "movie<br />
theater," but they lacked the magic that<br />
had made them so much more than mere<br />
buildings. When we lose theaters, we don't<br />
just lose bricks and metal. We don't just<br />
lose movies. We lose memory, spirit, and<br />
family. We lose a second home.<br />
Shawn Robbins, Chief Analyst<br />
Carmike Highland<br />
[Today: AMC Classic Highland 12]<br />
Cookeville, Tennessee<br />
AMC Dine-In Thoroughbred 20<br />
Franklin, Tennessee<br />
My earliest days of moviegoing took place<br />
at Carmike's Highland in Cookeville,<br />
Tennessee, which grew from four to 10<br />
to 12 screens as I grew up. It's the theater<br />
my father took me to as a kid, and the<br />
one my friends and I congregated at<br />
regularly throughout high school and<br />
college, creating the foundation for my<br />
obsession with cinema. Having lived closer<br />
to Nashville for over a decade now, I tend<br />
to consider the AMC Thoroughbred in<br />
Franklin my home base. My wife and I will<br />
venture out to other Nashville-area venues,<br />
like Regal's Opry Mills location, to check<br />
out its largest-in-the-area Imax screen or<br />
meet family and friends, but I've seen more<br />
films at the Thoroughbred than anywhere<br />
72 <strong>August</strong> <strong>2020</strong>
---
else. Their Dolby Cinema auditorium<br />
provides one of the flat-out best theatrical<br />
experiences in this part of the country.<br />
Kevin Lally, Executive Editor<br />
Clairidge Theatre<br />
[Today: Bow Tie Clairidge Cinemas]<br />
and the Wellmont Theatre<br />
Montclair, New Jersey<br />
Fox Theatre and Oritani Theatre<br />
Hackensack, New Jersey<br />
Growing up in Bergen County, New<br />
Jersey, one of the most densely populated<br />
counties in the nation, I never realized<br />
how good I had it as a young moviegoer.<br />
It was a short bus ride to New York City's<br />
Radio City Music Hall, the fabled art deco<br />
entertainment showplace, where your ticket<br />
often got you both a movie and a stage<br />
show. (My first movie there: That Darn Cat!<br />
starring Hayley Mills and Dean Jones.)<br />
But Bergen County also had its own<br />
wonderful movie palaces. In those days<br />
of exclusive road show engagements that<br />
could last for months, even a year, the<br />
movie mecca was Montclair, New Jersey,<br />
with its two huge movie palaces, the<br />
Clairidge and the Wellmont, both opened<br />
in 1922. It was in Montclair—a half-hour<br />
drive from my hometown of Dumont—<br />
that I saw the Oscar-winning musicals My<br />
Fair Lady and The Sound of Music before<br />
they finally branched out to more towns.<br />
Today, the Wellmont is a live-performance<br />
venue, and the Clairidge is a six-plex<br />
operated by Bow Tie Cinemas.<br />
The next tier down in my area of Bergen<br />
County was Hackensack. That town with<br />
the odd name boasted not one but two<br />
bona fide movie palaces, the Fox and the<br />
Oritani, right across from each other on<br />
Main Street. Named for a local Indian<br />
chief, the Oritani opened on May 6, 1926,<br />
with a double bill of Lady Windermere's<br />
Fan and Nobody's Business, according to<br />
the invaluable website Cinema Treasures.<br />
Five years later, the art deco Fox debuted<br />
with Jackie Coogan in Huckleberry Finn.<br />
The Fox held more than 2,200 seats, the<br />
Oritani 1,800, and both were beautiful,<br />
ornate temples from a bygone age. I saw<br />
many movies there—the most indelible is<br />
watching Stanley Kramer's all-star comedy<br />
extravaganza It's a Mad, Mad, Mad, Mad<br />
World on the Oritani's huge screen at age 11<br />
and laughing so hysterically at the brutal<br />
fire escape climax my parents almost took<br />
me out of the theater.<br />
"I never realized how good I<br />
had it as a young moviegoer.<br />
It was a short bus ride to New<br />
York City's Radio City Music<br />
Hall, the fabled art deco<br />
entertainment showplace,<br />
where your ticket often got<br />
you both a movie and a<br />
stage show."<br />
Sadly, these two New Jersey gems are no<br />
more. According to Cinema Treasures, the<br />
Fox's last first-run film was Jaws 2 in 1980,<br />
and it was torn down in 1998. The Oritani's<br />
auditorium was demolished in 1985.<br />
My hometown, Dumont, did not<br />
have its own movie theater. The closest<br />
was in neighboring Bergenfield: the<br />
Palace, which seemed an inapt name<br />
after enjoying the wonders of the Fox and<br />
the Oritani. There I saw many a Disney<br />
cartoon and live-action comedy. In<br />
retrospect, the onetime Spanish Baroque<br />
vaudeville house probably was a palace<br />
by current standards; today it's a fivescreen<br />
theater, formerly owned by Bow Tie<br />
Cinemas and now independently operated.<br />
Jesse Rifkin, Analyst<br />
AMC Georgetown 14<br />
Washington, D.C.<br />
I perform every Friday and Saturday night<br />
at a piano bar in the Georgetown area<br />
of Washington, D.C. Only a few hundred<br />
feet away is the AMC Georgetown, where<br />
I attend a movie almost every Friday or<br />
Saturday night, two or three hours before<br />
my gig. Since it's located in one of the<br />
nicer areas of the nation's capital, there's<br />
always the possibility of running into a<br />
major political figure. There was always<br />
a small but possible chance I might run<br />
into Dick Cheney when I saw Vice there, or<br />
Ruth Bader Ginsburg when I saw On the<br />
Basis of Sex. I mean, I didn't. But there was<br />
still the chance.<br />
Chris Eggertsen, Analyst<br />
Century 8<br />
[Today: Cinemark Century Cinema 16]<br />
Mountain View, California<br />
I grew up in Ventura, California, about<br />
an hour north of L.A. Many of my most<br />
formative moviegoing experiences were<br />
at the Century 8 (it would eventually<br />
expand and be known as Century Cinema<br />
16 under Cinemark), a pink palace of a<br />
multiplex that has since shut down and<br />
been taken over by a church (!). I worked<br />
there over the summer between my junior<br />
and senior years of high school and spent<br />
many long nights scooping popcorn<br />
into bags, pulling questionable items<br />
out of cup holders, and being accosted<br />
by customers who were livid over the<br />
concession prices. Oh, what I wouldn't do<br />
to have those days back!<br />
<strong>August</strong> <strong>2020</strong><br />
73
---
PREMIUM<br />
PROJECTION<br />
SCREENS<br />
FOR 2D & 3D APPLICATIONS<br />
Reflecting every detail with<br />
clarity and precision<br />
<strong>Pro</strong>ud manufacturer of Highwhite Screens<br />
with RealD®️ Precision White️ Screen<br />
Technology since 2013. Now available to<br />
all our clients worldwide!<br />
PREMIUM HGA SILVER SCREENS | NORTHVIEW HORIZON<br />
WHITE GAIN SCREENS | FOLDABLE 3D SCREENS<br />
www.strongmdi.com | 1 877 755-3795 | info@strongmdi.com
---
Filmmaker Interview 76 | Coming Attractions 88 | Long-Range Forecast 100 | Booking Guide 105<br />
ON SCREEN<br />
Photo credit: Dean Rogers. Courtesy Searchlight Pictures<br />
"I've always been a huge Dickens fan. I reread the book<br />
about 10 years ago, and I was struck by how absolutely<br />
contemporary it felt. It felt so modern."<br />
The Personal History of David Copperfield, p. 82<br />
<strong>August</strong> <strong>2020</strong><br />
75
---
On Screen FILMMAKER INTERVIEW<br />
THE SOUNDS<br />
OF SILENCE<br />
A Quiet Place Part II sound<br />
editors speak up<br />
BY JESSE RIFKIN<br />
76 <strong>August</strong> <strong>2020</strong>
---
At the end of the day, it's about the<br />
relationships you have." Fandango's vice<br />
president of domestic ticketing, Melissa<br />
Heller, says relationships are key to<br />
every facet of what she does—her own<br />
relationships with mentors and other<br />
industry professionals in addition to the<br />
relationships Fandango itself cultivates<br />
with exhibitors, studios, and of course the<br />
all-important moviegoer.<br />
Heller grew up in a "tiny, tiny town in<br />
Northern California," where the closest<br />
theater—Coast Cinemas in Fort Bragg, still<br />
in operation—was an hour away. From<br />
the beginning, going to the movies was "a<br />
big deal. … When we got the opportunity<br />
to do it, it was one of those life-changing<br />
miracle moments." (An early moviegoing<br />
experience that's stuck with Heller: going<br />
to the Coast with her best friend to see<br />
Babe.) "Sharing those movie moments<br />
with my best friend, enjoying candy, and<br />
feeling like we were there on that farm<br />
with a talking pig … does life get any better<br />
than that?" No, it does not.<br />
While Heller has always known the<br />
magic of moviegoing, she "stumbled<br />
into" the job of providing that magic for<br />
other people. In college, Heller studied<br />
business and economics, which took her<br />
to a job at Quantum Loyalty Solutions. A<br />
"rewards and incentives firm," Quantum<br />
Loyalty Solutions partnered with studios,<br />
exhibitors, and outside companies to<br />
offer "Hollywood Movie Money" to<br />
consumers. Fandango, looking to beef up<br />
its own promotions operations, acquired<br />
Quantum in 2015, rebranding the service<br />
as Fandango Rewards. "At the time, there<br />
was an ask to relocate to Los Angeles<br />
and join the core exhibitor relations and<br />
ticketing commerce team," recalls Heller.<br />
"I couldn't pass up the opportunity. It was<br />
a personal and professional challenge—<br />
an opportunity to grow and learn from<br />
incredible people. So, despite my fears of<br />
L.A. traffic, I decided to move. And [now]<br />
I'm here to stay."<br />
One of those "incredible people"<br />
Heller learned from was Fandango's<br />
chief commercial officer and executive<br />
vice president Kevin Shepela. "Since the<br />
day I started at Fandango, Kevin always<br />
challenged me to think more broadly,<br />
to look at strategy and align decisions<br />
accordingly, to ask questions, to think<br />
bigger. He supported me doubling down<br />
and getting my MBA along the way, no<br />
matter what it took. All in support of me as<br />
a person first, and an employee second."<br />
While Heller has benefited from<br />
structured mentorship programs, she cites<br />
informal mentorship as the thing that's<br />
helped her professional growth the most.<br />
"It's just seeing how people work with each<br />
other: 'Oh, wow, that's how she responded<br />
to a really hard question. That's what I<br />
want to do the next time I'm in a position<br />
like that.' Or: 'That was a really unique way<br />
to tackle that problem.' Just really being<br />
able to learn, and not sit at your desk with<br />
your headphones on, answering emails. It's<br />
really about absorbing the people around<br />
you. Inside [Fandango], outside, all over the<br />
industry. It's actively listening and figuring<br />
out what your style is, not mimicking<br />
someone else."<br />
One of these informal mentors was<br />
Heller's mother, who, as a co-owner of<br />
a construction company, "excelled in a<br />
heavily male-dominated industry, keeping<br />
her focus on creating houses that became<br />
homes and meeting every challenge along<br />
the way. She is an advocate for women in<br />
her industry, and it is empowering to see<br />
her help showcase others. She showed me<br />
how a rising tide lifts all boats." Fandango<br />
embodies that spirit, Heller explains,<br />
through their chapter of TechWomen, an<br />
initiative geared toward supporting the<br />
next generation of women working in<br />
STEM (science, technology, engineering,<br />
and mathematics) fields. Fandango's<br />
TechWomen chapter, founded by director<br />
of project management Shanit DeLuca<br />
and director of software engineering Rema<br />
Morgan-Aluko, provides professional<br />
development for the women of Fandango.<br />
"It is exhilarating to see progress on this<br />
level. I'm hopeful for the future."<br />
As for what the future holds for digital<br />
ticketing in general, it's hard to say, if not<br />
impossible, and "that's the fun challenge"<br />
for Heller. The growth of digital ticketing<br />
has been both massive and relatively<br />
rapid; Heller recalls that the year she<br />
joined Quantum Loyalty Solutions, 2007,<br />
was the year the first iPhone came out.<br />
<strong>August</strong> <strong>2020</strong><br />
77
---
On Screen FILMMAKER INTERVIEW<br />
Behind Simon and Garfunkel, the<br />
second most famous duo associated<br />
with "the sounds of silence" may be Erik<br />
Aadahl and Ethan Van der Ryn. The sound<br />
editors sculpted the auditory environment<br />
of 2018's breakout horror-drama A Quiet<br />
Place, about a family of four attempting to<br />
silently survive a world overrun by blind<br />
predatory creatures with acute hearing.<br />
The pair earned an Academy Award<br />
nomination for Best Sound Editing for<br />
their work.<br />
The duo returns for director John<br />
Krasinski's sequel, A Quiet Place Part II.<br />
A Quiet Place, more than perhaps any<br />
other film in recent memory, elicited<br />
nearly total silence in the theater.<br />
Moviegoers wouldn't so much as<br />
open their soda bottles. Did you keep<br />
that in mind when doing the sound<br />
design?<br />
Ethan Van der Ryn: It was a question in<br />
our minds the whole time, when we were<br />
mixing and designing the sound during<br />
the original: Would people be able to stay<br />
quiet enough for the film to actually work?<br />
If people are making too much sound,<br />
they're going to obliterate the story and<br />
the experience, which requires people to<br />
be completely silent. It was an experiment,<br />
in a way, whether or not that could work.<br />
Fortunately, it did.<br />
Erik Aadahl: Our goal was really to make<br />
the audience an active participant in the<br />
movie, putting the audience in the shoes<br />
of the character. When Emily Blunt's<br />
character, Evelyn, is holding her breath,<br />
trying not to make a noise, ideally we'd<br />
have the audience do the exact same thing.<br />
We didn't really know if the whole thing<br />
would work until we premiered it at South<br />
by Southwest. A packed auditorium and<br />
the audience just went with it. They were<br />
holding their breath until the very end.<br />
It was such a vindication for this crazy<br />
experiment.<br />
What was similar or different about<br />
working on the sequel versus the<br />
original?<br />
Van der Ryn: In the first one, we were<br />
setting up this whole universe where<br />
creatures have taken control of the earth.<br />
78 <strong>August</strong> <strong>2020</strong>
---
Left: Evelyn (Emily<br />
Blunt) and Marcus<br />
(Noah Jupe) in A Quiet<br />
Place Part II<br />
All images:<br />
Jonny Cournoyer,<br />
© Paramount Pictures,<br />
All Rights Reserved<br />
Humanity has had to adapt to be able to<br />
survive, by staying silent. We worked on<br />
creating and setting up all the rules of this<br />
whole universe. Obviously, with this one,<br />
because it's a direct continuation of the<br />
story, we have this established set of rules<br />
in which to start playing. We don't have<br />
to start from the ground up to create the<br />
universe. It's been created, so we can just<br />
take off from there.<br />
Aadahl: The last film was so successful,<br />
we feel like we caught lightning in a bottle.<br />
So the challenge is how do we top it? How<br />
do we take it even further? Not just repeat<br />
ourselves, but create a new experience<br />
that's going to be even more effective. That<br />
was the challenge for everybody involved<br />
with the film, not just for us in sound<br />
design, but [director] John [Krasinski] and<br />
the incredible cast.<br />
So how did you try to top it?<br />
Aadahl: If the first film was more<br />
intimate, this film definitely expands<br />
beyond the borders of the farm and the<br />
homestead. We're exploring the world a<br />
little bit more. [The trailer opens with the<br />
family speeding down a street as dozens<br />
around flee on foot, already showing<br />
more people in one scene than the first<br />
film did in total.] The first film opens a<br />
certain time after the invasion, but in this<br />
[film] we get a glimpse of day one. That<br />
was pretty fun to work on. Our challenge<br />
as a sound designer is, how do we expand<br />
upon the vocabulary and behavior of these<br />
creatures, go deeper with it? There were<br />
a lot more moments where we could play<br />
with that tension.<br />
What was the hardest individual<br />
sound to create?<br />
Van der Ryn: With the first film, we<br />
had to invent the creature sounds from<br />
scratch—something nobody had ever<br />
heard before, reverse engineering their<br />
biology. Knowing that they use sound to<br />
navigate the world, that they're blind, we<br />
developed their palette of sound based on<br />
other living creatures that have a similar<br />
use of sound to navigate the world. For<br />
example, animals with echolocation or<br />
sonar. It was quite an experiment, going<br />
through and trying things, playing with<br />
sounds of dolphins and whales and<br />
bats. All of them use a similar clicking<br />
to reflect objects in their environment,<br />
so through sound they can paint a<br />
three-dimensional map. Eventually, we<br />
stumbled upon a stun gun, which had<br />
this really creepy alien feel. It was an<br />
electric Taser, essentially, that became<br />
the spine of our echolocation sound.<br />
"When Emily Blunt's<br />
character, Evelyn, is holding<br />
her breath, trying not to<br />
make a noise, ideally we'd<br />
have the audience do the<br />
exact same thing."<br />
<strong>August</strong> <strong>2020</strong><br />
79
---
On Screen FILMMAKER INTERVIEW<br />
Above: Regan<br />
(Millicent Simmonds),<br />
Marcus (Noah Jupe),<br />
and Evelyn (Emily<br />
Blunt) brave the<br />
unknown in A Quiet<br />
Place Part II<br />
Right: Director John<br />
Krasinski, Noah Jupe,<br />
and Emily Blunt on<br />
the set of Paramount<br />
Pictures' A Quiet Place<br />
Part II<br />
"One of the unique things<br />
we experienced with the<br />
first A Quiet Place was that<br />
it really brought back the<br />
idea of cinemagoing as a<br />
communal experience."<br />
Van der Ryn: We were playing around<br />
with this stun gun, trying to use it on<br />
different props that we had lying around<br />
our studio. There were some grapes sitting<br />
on a table in the kitchen. We tried it<br />
against the grapes and got the best sound.<br />
Grapes have a thin skin and fleshy interior,<br />
similar to humans. So that ended up being<br />
what we used. We just stumbled into that<br />
by accident. That's why this is a great job!<br />
Play is required.<br />
What's the strangest thing you've<br />
ever done to create a sound in a<br />
movie?<br />
Aadahl: I was working with Ethan on<br />
the first Transformers. We'd had a late<br />
night and I pulled into my driveway at<br />
home. I stepped out of the car and a<br />
garden hose was lying out. I stepped on it<br />
in such a way that the liquid in the hose<br />
made a gurgly sound. It almost sounded<br />
like a creature. I grabbed the garden<br />
hose, pulled it inside into the bathtub,<br />
started recording it, and those became<br />
the splatty vocals for Bumblebee in all<br />
the Transformers movies. If your ears are<br />
open, magic can happen.<br />
How did the sound team work<br />
with Marco Beltrami on the score?<br />
[Beltrami, who also scored the first<br />
film, is a two-time Academy Award<br />
nominee for The Hurt Locker and the<br />
3:10 to Yuma remake.]<br />
Van der Ryn: We love working with<br />
Marco. He just has such a big-picture,<br />
holistic sense of the film. He's very<br />
gracious with not just where to play music,<br />
but where not to play music, so we can<br />
get really, really quiet, make the audience<br />
lean in and hold their breath. He's doing<br />
a gorgeous job expanding on the musical<br />
themes of the first film.<br />
There's a beautiful scene in the first<br />
film where Lee and Evelyn slow dance<br />
to the song Harvest Moon by Neil<br />
Young, listening through earbuds<br />
so they won't attract the creatures.<br />
Whose decision was that—yours, the<br />
music supervisor's, Krasinski's?<br />
Van der Ryn: That's John Krasinski, all<br />
the way. He wrote that into the script,<br />
specifically to be that song. He talked<br />
about it a little bit with us. The song was<br />
80 <strong>August</strong> <strong>2020</strong>
---
expensive, but it was important to him<br />
that it be that song specifically. It was<br />
worth securing the rights to use it and<br />
paying the money. For a lower-budget film<br />
to spend that kind of money on one song<br />
was obviously a pretty big deal.<br />
Aadahl: That song has special<br />
significance for him and his wife, Emily.<br />
That's a scene that's based on their reallife<br />
relationship.<br />
Between the two of you, you've<br />
won or been nominated for multiple<br />
awards, including the Oscars. [The<br />
pair has been nominated jointly for<br />
Transformers: Dark of the Moon, Argo,<br />
and the first A Quiet Place]. What's<br />
your best awards show story?<br />
Van der Ryn: My favorite awards<br />
experience was at the BAFTA Awards<br />
[in Britain]. I took my mom. As we were<br />
walking to the ball afterwards, all the<br />
photographers there started calling out,<br />
"Dame Judi! Dame Judi!" They thought<br />
my mom was Dame Judi Dench. So she<br />
started posing!<br />
Aadahl: Before the Oscars, there's<br />
the nominees' luncheon. As my date, I<br />
brought my godmother. She lives in<br />
Washington state; she has nothing to do<br />
with Hollywood. We were standing next<br />
to Glenn Close, who's her favorite actress<br />
of all time. She was just freaking out on<br />
me. "Can I take a picture?" It was fun to<br />
experience it through her eyes.<br />
Why is it important to see A Quiet<br />
Place Part II in a cinema?<br />
Van der Ryn: One of the unique things<br />
we experienced with the first A Quiet Place<br />
was that it really brought back the idea of<br />
cinemagoing as a communal experience.<br />
It became such an interactive experience,<br />
where audiences were required to be<br />
completely silent in order for the movie to<br />
work. Hundreds of people were gathered<br />
together in this temple of cinema, being<br />
hushed, not talking. That's such a special<br />
experience to have in this age of streaming.<br />
Aadahl: We got a lot of feedback after<br />
the first film, people mentioning that<br />
after they saw it in a theater, after the<br />
end credits, they heard the world in a<br />
completely new way. The sounds of traffic,<br />
the city. They were almost overwhelmed<br />
with the reality of sound in the world after<br />
having gone through this experience of<br />
A Quiet Place. I think it would be a very<br />
different experience to watch it on Bluray<br />
in your home, when there might be a<br />
washing machine going.<br />
AT THE MOVIES<br />
With Erik Aadahl and<br />
Ethan Van der Ryn<br />
What is your all-time favorite moviegoing<br />
memory or experience?<br />
Aadahl: I grew up in the Bay Area. My<br />
parents took me to my very first movie when<br />
I was about 5 or 6 years old. It was E.T. on<br />
a big, beautiful 70-millimeter screen. That<br />
was the first movie I ever saw in a theater. I<br />
still remember that feeling of "Whoa!" This<br />
big theater, that giant screen. The movie<br />
moved me so much. I was crying when E.T.<br />
was dying. My parents were concerned that<br />
maybe they should take me out of there,<br />
but I refused. "No, I have to stay and see this<br />
film!" It really had a profound and powerful<br />
effect on me. It's probably one of the reasons<br />
I fell in love with cinema and went into it.<br />
Van der Ryn: It was the [1971] Nicolas Roeg<br />
movie Walkabout, which I saw when I was<br />
probably about 7 years old. It just really<br />
engaged me in a way that I had never<br />
experienced before, in any other form. It<br />
took me on this incredible journey that<br />
involved these two kids, an older sister and<br />
her younger brother, who was probably<br />
about 7, so I could relate completely to him.<br />
They're on this journey across the Australian<br />
outback. For most of the movie, there's<br />
no talking. It's a completely cinematic<br />
experience that you can't have in any other<br />
way, where you're taken on this journey of<br />
sight and sound.<br />
What's your favorite snack at the movie<br />
theater concession stand?<br />
Aadahl: I'm a popcorn guy. Lightly buttered<br />
and lightly salted.<br />
Van der Ryn: Of course, in a movie like A<br />
Quiet Place Part II, you have to be careful<br />
with the crunching, or the audience might<br />
turn on you.<br />
Aadahl: Junior Mints might work better.<br />
Van der Ryn: Or gummy bears.<br />
Something soft.<br />
<strong>August</strong> <strong>2020</strong><br />
81
---
ON SCREEN FILMMAKER INTERVIEW<br />
WHAT<br />
THE<br />
DICKENS!<br />
The Personal History of David<br />
Copperfield heads to the cinemas<br />
BY REBECCA PAHLE<br />
Director Armando Iannucci returns to the big<br />
screen, following 2017's The Death of Stalin<br />
and 2009's Oscar-nominated In the Loop, with The<br />
Personal History of David Copperfield. The Charles<br />
Dickens adaptation—which tells the tale of a young<br />
man (Dev Patel) suffering through numerous changes<br />
in fortune in 19th-century England—had its debut at<br />
the Toronto International Film Festival in September<br />
2019. A U.K. release came in January <strong>2020</strong>, and a<br />
North American bow was scheduled for May. And<br />
then … we don't need to tell you what happened.<br />
Luckily for fans of witty, colorful costume dramas,<br />
The Personal History of David Copperfield is still<br />
heading to theaters—this time on <strong>August</strong> 14, courtesy<br />
of Searchlight Pictures. In advance of the film's foray<br />
into newly opened cinemas, Iannucci took the time to<br />
speak to <strong>Boxoffice</strong> <strong>Pro</strong>.<br />
The following conversation was conducted on<br />
June 26. It has been edited for length and clarity.<br />
Right: Dev Patel stars<br />
in The Personal History<br />
of David Copperfield.<br />
Image courtesy<br />
Searchlight Pictures<br />
82 <strong>August</strong> <strong>2020</strong>
---
<strong>August</strong> <strong>2020</strong><br />
83
---
ON SCREEN FILMMAKER INTERVIEW<br />
Before we start, I have to thank<br />
you. The Personal History of David<br />
Copperfield was the last film I saw<br />
on the big screen before everything<br />
stopped.<br />
Before the end times.<br />
Yes! It was a really good note to end<br />
on. Since then, some films have been<br />
going straight to VOD instead of<br />
theaters—was that ever a possibility<br />
for David Copperfield?<br />
Well, we talked about it. The fundamental<br />
issue was that no one knew what was<br />
going to happen. Obviously, everyone's<br />
concerned. Uppermost, really, was safety.<br />
The May release, perfectly understandably,<br />
was deferred. And we just kept talking<br />
about dates. I think everyone knew that<br />
I, particularly, didn't want to go into<br />
theaters when it still felt too raw and<br />
too fresh. The <strong>August</strong> date stands at the<br />
moment, but if things change—film isn't<br />
as important as stopping this pandemic<br />
and making sure everyone is safe. I'm<br />
pleased that we've got a date. But I know<br />
that everyone's going to keep reviewing it<br />
and making sure that it's all safe.<br />
Avenue 5, your sci-fi comedy<br />
television series [in which a group of<br />
tourists are stranded on a spaceship],<br />
finished its first season on HBO in<br />
March. What else have you been up<br />
to during quarantine?<br />
Fortunately, we've been writing season<br />
two of Avenue 5. I miss the fun of having<br />
everyone in the room and bouncing<br />
ideas off each other. We've had to do that<br />
remotely, and it sort of works, but it just<br />
feels a bit odd. Avenue 5 is about lots of<br />
people trapped in a situation they can't<br />
get out of, with no real leaders. So it's a bit<br />
painfully close to home. But I'm glad I've<br />
had something to fill my days with, because<br />
I sympathize with anyone who's just been<br />
stuck at home, unable to work. That sense<br />
of lack of structure can be quite interesting<br />
and useful for a week or so. But by the time<br />
you get to week 11, 12, 13, 14, you really<br />
want to get out and run about on a windy<br />
hill with a kite [a favored activity of The<br />
Personal History of David Copperfield's Mr.<br />
Dick, played by Avenue 5 star Hugh Laurie].<br />
84 <strong>August</strong> <strong>2020</strong>
---
"I've always been a<br />
huge Dickens fan.<br />
I reread the book<br />
about 10 years ago,<br />
and I was struck<br />
by how absolutely<br />
contemporary it felt.<br />
It felt so modern."<br />
Left: Paul Whitehouse,<br />
Daisy May Cooper,<br />
Tilda Swinton, and<br />
Hugh Laurie (and—<br />
per the sign behind<br />
them—absolutely<br />
no donkeys). Image<br />
courtesy Searchlight<br />
Pictures<br />
Right: Tilda Swinton<br />
(top), Dev Patel,<br />
Rosalind Eleazar, and<br />
Hugh Laurie step into<br />
the past. Photo Credit:<br />
Dean Rogers. Courtesy<br />
Searchlight Pictures<br />
Speaking of the timeliness of Avenue<br />
5, I saw David Copperfield twice:<br />
once before everything shut down<br />
and once well after. In the second<br />
viewing, the issues of class conflict<br />
that crop up throughout the story<br />
had a bigger impact on me.<br />
That's why I wanted to make the film! I've<br />
always been a huge Dickens fan. I reread<br />
the book about 10 years ago, and I was<br />
struck by how absolutely contemporary<br />
it felt. It felt so modern. It also had, in Mr.<br />
Dick, a really honest and open discussion<br />
of mental illness and the burdens it brings.<br />
And, yes, wealth and poverty existing side<br />
by side in the street. And this kind of—I<br />
suppose the modern expression would be<br />
status anxiety, imposter syndrome, that<br />
whole thing of, do I fit in? Do I belong?<br />
Have I made the right friends? What do<br />
they think of me? Have I made the right<br />
life decisions? The whole book is about a<br />
search for identity.<br />
David goes from fortune to fortune<br />
and household to household, being given<br />
different names by people. He's trying to<br />
work out who he is. And it's only when he<br />
realizes he's a writer, that he has to write<br />
his memory and his experience down, that<br />
[he realizes] who he is. So it's a deeply<br />
modern, contemporary book. That was<br />
my gut feeling, turning it into a movie. I<br />
didn't want to do a modern version of it. I<br />
wanted to set it very much in its time. But<br />
I wanted people in the theater to feel that<br />
at any point they could just stand up and<br />
walk into it and feel a part of it, feel that<br />
they connected with the people in the film.<br />
<strong>August</strong> <strong>2020</strong><br />
85
---
ON SCREEN FILMMAKER INTERVIEW<br />
Right: Director<br />
Armando Iannucci,<br />
Peter Capaldi as the<br />
wily Mr. Micawber<br />
(center), and Dev Patel<br />
in the title role. Image<br />
courtesy Searchlight<br />
Pictures<br />
Below: Hugh Laurie as<br />
Mr. Dick, pondering<br />
kites and/or the<br />
lopped-off head of<br />
King Charles. Image<br />
courtesy Searchlight<br />
Pictures<br />
Uriah Heep [a servant who takes<br />
advantage of people on his way up<br />
the social ladder] is an interesting<br />
character. He does awful things, but<br />
when he says he doesn't want to bow<br />
and scrape to people just because<br />
he happens to have been born into a<br />
different class—he's not wrong.<br />
Yes! And I think it's right that you feel<br />
a little sorry for him. At times, I think<br />
David is a little bit unreasonably cruel<br />
to him, in order to remain friends with<br />
Steerforth [his upper-class friend, played<br />
by Aneurin Barnard] and so on. And<br />
that's what I took from reading the<br />
book. Dev and I and Ben [Whishaw, who<br />
plays Uriah], we discussed that actually<br />
[Uriah] is about the same age as David,<br />
and they started off with roughly similar<br />
circumstances. So it's almost like he is<br />
a mirror image of David. Or he's what<br />
David might have become if he had taken<br />
a slightly different path or decided to<br />
advance himself a different way. He's<br />
there as a kind of warning to David.<br />
I've always been fascinated by heroes<br />
and villains who are not a hundred<br />
percent heroic or a hundred percent<br />
villainous. That ambiguity, that sense of,<br />
that could be me. The vulnerability in it.<br />
I think that's far more interesting than a<br />
two-dimensional, "this is good and this<br />
is bad." That was very much a conscious<br />
decision that we wanted to keep. I think it<br />
becomes all the more unnerving because<br />
of it. [Uriah's behavior isn't] a grotesque<br />
caricature based on very base, animalistic<br />
instinct. There's a survival instinct that's<br />
gone a little bit the wrong way.<br />
Watching the other characters be<br />
cruel to him is really uncomfortable.<br />
That's what Dickens does in quite a few<br />
of his books. The opening lines of this<br />
film and the book are, "Whether I turn<br />
out to be the hero of this story ..." There's<br />
a question mark. And Dickens is very<br />
interested in making the hero vulnerable.<br />
In Great Expectations, the hero becomes<br />
the snob. He looks down on people<br />
who have less money than him. Great<br />
Expectations was a later novel, but you can<br />
see that in David Copperfield.<br />
The childhood scenes in Copperfield<br />
are based very much on Dickens's own<br />
childhood. But he kept that quiet. He<br />
didn't tell people it was based on him,<br />
because he was ashamed. That sense<br />
of trying to hide from other people's<br />
opinions is all there. And therefore, we<br />
wanted David to make jokes at the expense<br />
of the people who've been looking after<br />
him. To do impressions of Mr. Wickfield<br />
[played by Benedict Wong] for the other<br />
people in the school. None of us are<br />
perfect, and all of us try and play to the<br />
crowd in order to get approval.<br />
Like you said, he has impostor<br />
syndrome and he's trying to fit in.<br />
Dev and I spoke about it when I asked him<br />
to be David. He talked about the fact that<br />
he came from an immigrant Indian family,<br />
but born in Britain. Similarly, I'm from<br />
an Italian immigrant family, but born in<br />
Britain. In the 19th century, whether you<br />
are in or whether you are out is based on<br />
wealth and money and class, whereas<br />
86 <strong>August</strong> <strong>2020</strong>
---
today, identity's determined by a host<br />
of other things as well. What job you do.<br />
Ethnicity. All these questions.<br />
Having a racially diverse cast helps<br />
with modernizing the story without<br />
straight-up making a modern version.<br />
It wasn't part of a deliberate—the only<br />
person I could think of to play David<br />
was Dev. As an actor, as a performer,<br />
as a presence, he embodied David<br />
Copperfield and all that I want to portray<br />
about David: his optimism, his energy,<br />
his sense of humor, the pathos. He's in<br />
every scene. He's the heart of the film.<br />
You have to do impressions. You have<br />
to do slapstick. You have to do romance.<br />
You have to do tragedy. You have to do<br />
poverty. Everything. I could only think<br />
of Dev. When Dev said yes, I was relieved,<br />
because I didn't have a plan B. But I also<br />
thought, that's how I must cast everyone.<br />
Find the actor who best contains the<br />
spirit of that character, irrespective of<br />
what their background is or what acting<br />
tradition they're in. Because in fact,<br />
when you analyze it, the whole film is<br />
about community and friendship. It's<br />
about loving those who are your friends<br />
and being friends with those that you<br />
love. People of all sorts of different<br />
backgrounds, caring for each other<br />
because they're part of a community.<br />
You've done both film and TV.<br />
How do you decide which medium<br />
fits a particular project? Because,<br />
obviously, there have been a ton of<br />
limited-series adaptations of Dickens.<br />
[David Copperfield is] actually such a<br />
poetic, lyrical book—it's a book about<br />
language and imagination and memory<br />
and how memory plays tricks on you and<br />
[how] things that you remember, when<br />
you revisit them, are actually different.<br />
I felt this had to be a film, because I<br />
had to have a sense of structure, and<br />
you had to experience it as a life being<br />
lived. And I think you can only do that in<br />
one continuous viewing rather than in<br />
episodic viewing.<br />
And also, I want it to be in the cinemas.<br />
It's a big canvas, a big stage. It has so many<br />
speaking parts and so many characters in<br />
such a big, colorful world. To me, it always<br />
felt like a film. It is also an 800-page book.<br />
So the challenge was in coming up with<br />
an adaptation that fulfills that criteria of<br />
having a beginning, a middle, and an end.<br />
And that kind of drive-through narrative,<br />
a thematic development that really keeps<br />
propelling you forward. So that was the<br />
difficult part in terms of the script. And<br />
that was about being true to the spirit<br />
of the book, but not feeling absolutely<br />
over-reverential about the plot. We've<br />
changed the story lines of various people.<br />
We've got rid of certain characters. We've<br />
compressed certain characters into one.<br />
This is a film that I want people to come<br />
to feeling they don't have to read the book.<br />
They don't need to know anything about<br />
Dickens or the period or anything. I want<br />
people to feel fully immersed in this film<br />
from start to finish.<br />
You've been passionate about the<br />
need to help cultural institutions that<br />
are in very real trouble right now.<br />
I'm wondering how you feel about<br />
the exhibition community in the U.K.,<br />
specifically independent and art<br />
house theaters.<br />
One of the reasons I'm pleased that<br />
we now have a date in the U.S. is—<br />
Searchlight was telling me that a lot of<br />
the independent theaters were very keen<br />
to have the film as one of their first films<br />
on reopening, because they need to get<br />
people back in. The larger cinema chains,<br />
I think, can cope temporarily with slightly<br />
reduced numbers, but the art house<br />
theaters need continuous custom.<br />
In the U.K., it's live theater, live music,<br />
live-performance venues that I'm really<br />
worried about, because they are going<br />
to be the very, very last ones to open up.<br />
For sound, scientific reasons. But for that<br />
reason, they are the ones that are going to<br />
need the support. Because if there's one<br />
thing people have really come to value<br />
during this lockdown, it's the arts. It's you<br />
streaming Netflix, it's you downloading<br />
a movie, it's you reading a book. It's that<br />
sense of the creative output that we have<br />
so long taken for granted. But it's helped<br />
get us through this, and it's helped sustain<br />
us mentally and emotionally. It would<br />
be a terrible tragic end to the situation,<br />
if when we all open up, the creative<br />
industries have died around us. Because<br />
they're what helped get us through our<br />
moments of isolation.<br />
"It would be a terrible tragic<br />
end to the situation, if when<br />
we all open up, the creative<br />
industries have died around<br />
us. Because they're what<br />
helped get us through our<br />
moments of isolation."<br />
<strong>August</strong> <strong>2020</strong><br />
87
---
ON SCREEN COMING ATTRACTIONS<br />
COMING<br />
ATTRACTIONS<br />
Following the pause caused by Covid-19,<br />
studios and distributors have realigned<br />
upcoming release dates through 2021<br />
Release dates are accurate as of July 6. For the latest<br />
schedule, visit www.boxofficepro.com/release-calendar.<br />
TENET<br />
<strong>August</strong> 12 / Warner Bros.<br />
An action-epic evolving from the world of<br />
international espionage.<br />
Cast: John David Washington, Robert Pattinson,<br />
Elizabeth Debicki<br />
Director: Christopher Nolan<br />
Rating: PG-13 Running Time: TBD<br />
Premium Formats: Imax<br />
Melinda Sue Gordon. © <strong>2020</strong> Warner Bros. Entertainment Inc. All Rights Reserved<br />
88 <strong>August</strong> <strong>2020</strong>
---
Linda Kallerus. © <strong>2020</strong> CTMG Inc. All Rights Reserved<br />
THE BROKEN HEARTS GALLERY<br />
<strong>August</strong> 07 / Sony<br />
This film follows the always-unique Lucy, a<br />
20-something art gallery assistant living in New<br />
York City, who also happens to be an emotional<br />
hoarder. After she gets dumped by her latest<br />
boyfriend, Lucy is inspired to create the Broken<br />
Hearts Gallery, a pop-up space for the items love<br />
has left behind. Word of the gallery spreads,<br />
encouraging a movement and a fresh start for all the<br />
romantics out there, including Lucy herself.<br />
Cast: Geraldine Viswanathan, Dacre Montgomery,<br />
Utkarsh Ambudkar<br />
Director: Natalie Krinsky<br />
Rating: PG-13 Running Time: 108 Min.<br />
THE BURNT ORANGE<br />
HERESY<br />
<strong>August</strong> 07 / Sony Pictures Classics<br />
Jose Haro. Courtesy Sony Pictures Classics<br />
Art critic James Figueras has fallen from<br />
grace, spending his days in Milan lecturing<br />
witless tourists about art history. An<br />
opportunity strikes when a wealthy art<br />
dealer asks him to steal a painting from a<br />
legendary reclusive artist. Soon, James's<br />
greed and ambition get the better of him,<br />
and he finds himself caught in a web of his<br />
own making.<br />
Cast: Elizabeth Debicki, Donald Sutherland,<br />
Claes Bang<br />
Director: Giuseppe Capotondi<br />
Rating: R Running Time: 98 Min.<br />
<strong>August</strong> <strong>2020</strong><br />
89
---
ON SCREEN COMING ATTRACTIONS<br />
THE PERSONAL HISTORY<br />
OF DAVID COPPERFIELD<br />
<strong>August</strong> 14 / Searchlight Pictures<br />
From birth to infancy, from adolescence to adulthood,<br />
the good-hearted David Copperfield is surrounded<br />
by kindness, wickedness, poverty, and wealth, as he<br />
meets an array of remarkable characters in Victorian<br />
England. As David sets out to be a writer, in his quest<br />
for family, friendship, romance, and status, the story<br />
of his life is the most seductive tale of all.<br />
Cast: Dev Patel, Tilda Swinton, Ben Whishaw<br />
Director: Armando Iannucci<br />
Rating: PG Running Time: 116 Min.<br />
Image courtesy Searchlight Pictures<br />
GREENLAND<br />
<strong>August</strong> 14 / STX Entertainment<br />
A family fights for survival as a planet-killing comet<br />
races to Earth. John Garrity, his estranged wife Allison,<br />
and young son Nathan make a perilous journey to their<br />
only hope for sanctuary. Amid the terrifying events,<br />
the Garritys experience the best and worst in humanity<br />
while they battle the increasing panic and lawlessness<br />
surrounding them.<br />
Cast: Morena Baccarin, Gerard Butler, David Denman<br />
Director: Ric Roman Waugh<br />
Rating: PG-13 Running Time: TBD<br />
Image courtesy STX Films<br />
FATIMA<br />
<strong>August</strong> 14 / Picturehouse<br />
A drama about the power of faith, Fatima tells the<br />
story of a 10-year-old shepherd and her two young<br />
cousins in Fátima, Portugal, who report seeing visions<br />
of the Virgin Mary. Their revelations inspire believers<br />
but anger officials of both the Church and the secular<br />
government, who try to force them to recant their<br />
story. As word of their prophecy spreads, tens of<br />
thousands of religious pilgrims flock to the site in<br />
hopes of witnessing a miracle.<br />
Cast: Joaquim de Almeida, Goran Višnjić, Stephanie Gil, Lúcia<br />
Moniz, Sônia Braga, Harvey Keitel<br />
Director: Marco Pontecorvo<br />
Rating: PG-13 Running Time: 113 Min.<br />
Claudio Iannone. © <strong>2020</strong> Picturehouse<br />
90 <strong>August</strong> <strong>2020</strong>
---
ANTEBELLUM<br />
<strong>August</strong> 21 / Lionsgate<br />
Successful author Veronica Henley finds herself<br />
trapped in a horrifying reality and must uncover the<br />
mind-bending mystery before it's too late.<br />
Cast: Janelle Monáe, Eric Lange, Jena Malone<br />
Directors: Gerard Bush, Christopher Renz<br />
Rating: TBD Running Time: 105 Min.<br />
MULAN<br />
<strong>August</strong> 21 / Disney<br />
A fearless young woman risks everything for<br />
her family and her country to become one of<br />
the greatest warriors China has ever known.<br />
When the emperor of China issues a decree<br />
that one man per family must serve in the<br />
imperial army to defend the country from<br />
northern invaders, Hua Mulan, the eldest<br />
daughter of an honored warrior, steps in to<br />
take the place of her ailing father. Masquerading<br />
as a man, Hua Jun, she is tested every<br />
step of the way and must harness her inner<br />
strength and embrace her true potential.<br />
Cast: Liu Yifei, Donnie Yen, Jason Scott Lee<br />
Director: Niki Caro<br />
Rating: PG-13<br />
Running Time: 115 Min.<br />
Image courtesy Walt Disney Studios<br />
Matt Kennedy. Courtesy Lionsgate<br />
<strong>August</strong> <strong>2020</strong><br />
91
---
ON SCREEN COMING ATTRACTIONS<br />
BILL & TED FACE THE MUSIC<br />
<strong>August</strong> 28 / United Artists Releasing<br />
Yet to fulfill their rock-and-roll destiny, the now<br />
middle-aged best friends set out on a new adventure<br />
when a visitor from the future warns them that only<br />
their song can save life as we know it. Along the way,<br />
they will be helped by their daughters, a new batch of<br />
historical figures, and a few music legends to seek the<br />
song that will set their world right and bring harmony<br />
in the universe.<br />
Cast: Keanu Reeves, Alex Winter, Samara Weaving<br />
Director: Dean Parisot<br />
Rating: TBD Running Time: TBD<br />
Patti Perret. Courtesy Orion Pictures<br />
THE NEW MUTANTS<br />
<strong>August</strong> 28 / 20th Century Studios<br />
An original horror-thriller set in an isolated hospital<br />
where a group of young mutants is being held for<br />
psychiatric monitoring. When strange occurrences<br />
begin to take place, both their new mutant abilities<br />
and their friendships will be tested as they battle to<br />
try and make it out alive.<br />
Cast: Anya Taylor-Joy, Maisie Williams, Charlie Heaton<br />
Director: Josh Boone<br />
Rating: PG-13 Running Time: TBD<br />
Image courtesy 20th Century Studios<br />
A QUIET PLACE PART II<br />
September 4 / Paramount Pictures<br />
Following the deadly events at home, the Abbott<br />
family must now face the terrors of the outside world<br />
as they continue their fight for survival in silence.<br />
Forced to venture into the unknown, they quickly<br />
realize that the creatures that hunt by sound are not<br />
the only threats that lurk beyond the sand path.<br />
Cast: Emily Blunt, Cillian Murphy, Millicent Simmonds<br />
Director: John Krasinski<br />
Rating: PG-13<br />
Running Time: 97 Min.<br />
Premium Formats: Imax<br />
Jonny Cournoyer. © Paramount Pictures. All Rights Reserved.<br />
92 <strong>August</strong> <strong>2020</strong>
---
THE KING'S MAN<br />
September 18 / 20th Century Studios<br />
As a collection of history's worst tyrants and<br />
criminal masterminds gathers to plot a war to<br />
wipe out millions, one man must race against<br />
time to stop them. Discover the origins of the<br />
very first independent intelligence agency.<br />
Cast: Ralph Fiennes, Gemma Arterton, Rhys Ifans<br />
Director: Matthew Vaughn<br />
Rating: TBD Running Time: TBD<br />
Premium Formats: Imax<br />
Peter Mountain. Courtesy 20th Century Studios<br />
<strong>August</strong> <strong>2020</strong> 93
---
ON SCREEN COMING ATTRACTIONS<br />
WONDER WOMAN 1984<br />
October 2 / Warner Bros.<br />
Fast forward to the 1980s as Wonder Woman's next<br />
big-screen adventure finds her facing an all-new foe:<br />
The Cheetah.<br />
Cast: Gal Gadot, Chris Pine, Kristen Wiig<br />
Director: Patty Jenkins<br />
Rating: TBD Running Time: TBD<br />
Premium Formats: Imax/3D<br />
Clay Enos. © 2018 Warner Bros. Entertainment Inc.<br />
THE FRENCH DISPATCH<br />
October 16 / Searchlight Pictures<br />
The French Dispatch brings to life a collection of<br />
stories from the final issue of an American magazine<br />
published in a fictional 20th-century French city.<br />
Cast: Timothée Chalamet, Saoirse Ronan, Cecile de France<br />
Director: Wes Anderson<br />
Rating: R Running Time: 108 Min.<br />
Image courtesy Searchlight Pictures<br />
MONSTER HUNTER<br />
April 23, 2021 / Sony Pictures / Screen Gems<br />
Behind our world, there is another: a world of dangerous<br />
and powerful monsters that rule their domain<br />
with deadly ferocity. When Lt. Artemis and her loyal<br />
soldiers are transported from our world to the new<br />
world, the unflappable lieutenant receives the shock<br />
of her life. In her desperate battle for survival against<br />
enemies with incredible powers and unstoppable,<br />
terrifying attacks, Artemis will team up with a mysterious<br />
man who has found a way to fight back.<br />
Cast: Mila Jovovich, Meagan Good, Diego Boneta<br />
Director: Paul W.S. Anderson<br />
Rating: PG-13 Running Time: TBD<br />
Coco Van Oppens Photography. © CONSTANTIN FILM <strong>Pro</strong>duktion Services GmbH<br />
94 <strong>August</strong> <strong>2020</strong>
---
THEATRE ARCHITECTS<br />
& ENGINEERS<br />
OFFICE LOCATIONS:<br />
GRAND RAPIDS<br />
PHOENIX<br />
TRAVERSE CITY<br />
www.paradigmae.com<br />
616.785.5656<br />
RTS<br />
<strong>August</strong> <strong>2020</strong><br />
95
---
On Screen EVENT CINEMA<br />
THE MAIN<br />
EVENT<br />
Event cinema responds to the<br />
Covid-19 programming gaps<br />
BY REBECCA PAHLE<br />
With cinemas beginning to open<br />
up worldwide, content is on<br />
everyone's mind. Whether they're<br />
screening repertory titles or independent<br />
films on the drive-in circuit, theaters<br />
have had to think differently about their<br />
approach to programming—and that's<br />
unlikely to change over the coming<br />
weeks, even as new releases from major<br />
studios plan to boost cinemas with new<br />
blockbuster hopefuls.<br />
Event cinema has long given exhibitors<br />
the ability to diversify their content<br />
offerings, to program screenings of<br />
opera, theater, concerts, special-interest<br />
documentaries, and more in between<br />
typical first-run content. Even as<br />
big-budget Hollywood films return to<br />
theaters—albeit with still-shifting release<br />
dates—event cinema could prove to be<br />
a valuable tool for exhibitors looking to<br />
draw sofa-bound moviegoers back into the<br />
theater with the promise of something new.<br />
Still, the world of event cinema has<br />
experienced its own setbacks caused<br />
by the Covid-19 pandemic. With much<br />
uncertainty still in the air about how<br />
the exhibition landscape will look in the<br />
coming months, <strong>Boxoffice</strong> <strong>Pro</strong> spoke<br />
with a number of event cinema experts<br />
about the possibilities and limitations<br />
they currently face.<br />
Event cinema providers, like other<br />
distributors, were left with a slate full<br />
of programming and nowhere to put it<br />
once it became clear that the exhibition<br />
landscape was likely to undergo a neartotal<br />
shutdown. As a result, many of these<br />
providers have shuffled programming<br />
96 <strong>August</strong> <strong>2020</strong>
---
intended for the first half of <strong>2020</strong> down<br />
the calendar, where they could end up<br />
being a lucrative draw for moviegoers<br />
unable to attend spectator sports or live<br />
performance.<br />
Large live concerts, for example, are a<br />
no-go for now. Says Bernadette McCabe,<br />
executive vice president of CineLife<br />
Entertainment, which has its Artists Den<br />
concert series still in the works: "With<br />
something like a concert, there won't be<br />
bands touring this summer. So that will be<br />
an interesting opportunity for a consumer<br />
to see that in a movie theater versus in an<br />
arena." McCabe cites CineLife's screenings<br />
of Comédie-Française as a substitute for<br />
live theater, which "isn't really available<br />
right now. So if somebody would like to<br />
see beautiful, high-quality productions<br />
from the French stage, they could go to a<br />
local movie theater and see something."<br />
A mix of CineLife's already-released<br />
content and programming, which would<br />
have hit theaters in the first half of <strong>2020</strong>—<br />
including Rigoletto on the Lake, Celebrating<br />
the Sopranos, and a selection of four LGBT<br />
repertory titles originally scheduled for<br />
Pride Month—will now come out later<br />
in the year. All upcoming content, says<br />
McCabe, will be available for exhibitors to<br />
book over a larger-than-normal window of<br />
time—as much as 10 weeks, depending on<br />
the title—in recognition of exhibitors' need<br />
for flexibility as they gradually resume<br />
typical operations.<br />
Fathom Events is bringing some<br />
of its older content back to theaters in<br />
North America, where the distributor's<br />
"welcome back" programming has been<br />
designed to fill a 30-day window. Says<br />
head of marketing Letha Steffey, "We have<br />
some faith-based-type films for Mondays;<br />
Tuesday, anime; Wednesday, classic films;<br />
Thursday, girls' night out. We've built this<br />
welcome back program to support the<br />
exhibitors when they do open up, whether<br />
they have five theaters—as we heard from<br />
Cinemark for that week starting June<br />
19—or 500 theaters. This welcome back<br />
program is really built for flexibility, such<br />
that they can choose the titles that they<br />
want to play and the times of day."<br />
That flexibility is especially vital<br />
given what's sure to be an inconsistent,<br />
country-by-country global reopening and<br />
the unpredictability of a potential second<br />
wave of shutdowns. In South Korea, for<br />
example, the cinema industry has not<br />
had the total, prolonged shutdown faced<br />
by much of the rest of the world. At the<br />
same time, box office plummeted during<br />
the spring months due in part to a lack<br />
of content. In April and May, Trafalgar<br />
Releasing brought three 2019 releases—<br />
The King and I: From the London<br />
Palladium, Josh Groban's Bridges from<br />
Madison Square Garden, and Metallica:<br />
S&M²—to theaters in Korea, where<br />
they had never before been released.<br />
While the films perhaps didn't do as<br />
well as they would have under "normal<br />
circumstances," says Trafalgar CEO Marc<br />
Allenby, all three films "attracted an<br />
audience. They weren't eye-watering. But<br />
I think in the case of Metallica, it was the<br />
largest event film in Korea that month,<br />
and both Josh Groban and the King and I<br />
still performed well."<br />
Left: Metallica: S&M 2 ,<br />
image courtesy<br />
Trafalgar Releasing<br />
Right: Celebrating<br />
the Sopranos, photo<br />
courtesy CineLife<br />
Entertainment<br />
<strong>August</strong> <strong>2020</strong><br />
97
---
On Screen EVENT CINEMA<br />
In effect, the challenge<br />
event cinema faces<br />
here is the same<br />
challenge faced by the<br />
wider film industry—a<br />
lack of new content<br />
ready to go into<br />
socially distanced<br />
production.<br />
At the same time, the shifting landscape<br />
of global exhibition will likely lead to<br />
some changes down the line for event<br />
cinema distribution, says Allenby. Event<br />
cinema is largely based on the concept of<br />
appointment viewing—selling a film as a<br />
one-time-only event, released at the same<br />
time globally (where possible, taking things<br />
like local holidays and regulations into<br />
account), with no guarantee that it will<br />
ever hit theaters again. Moving forward,<br />
there will have to be "greater elasticity"<br />
if countries go into a second lockdown,<br />
Allenby says. "From my perspective, we<br />
spent the last 10 years building up the<br />
global event model where [on] one night,<br />
same time, local time zone adjusted, an<br />
event happens and everybody's unified.<br />
I think whilst that approach still stands,<br />
we're going to have to accept there's going<br />
to be variance. At short notice, countries<br />
may well be having to opt out of releases or<br />
postpone releases. And so we will need to<br />
have more flex in the model."<br />
Fathom Events is embracing change<br />
in its own way, by using the period of<br />
the shutdown to reevaluate its preshow<br />
strategy as a whole, developing<br />
content designed to contribute to<br />
patrons' theatrical experience "from the<br />
moment that they sit in the theater chair."<br />
Fathom's Steffey continues, "Across<br />
the board, we've been really diving<br />
into things that perhaps prior to this<br />
pandemic [we] really hadn't had the time<br />
[to focus on]. … This is a chance for us<br />
to take a step back and then determine,<br />
how can we really look at optimizing our<br />
core business and our go-to-market?" In<br />
addition to its pre-show, Fathom has also<br />
begun conducting its own research into<br />
consumer preferences and launched a<br />
redesigned mobile site.<br />
CineLife, Trafalgar, and Fathom all<br />
plan to make announcements in the<br />
coming weeks as to what will be on their<br />
slates for the back half of <strong>2020</strong>. But in<br />
the longer term, a challenge looms: the<br />
struggle to create new content, as many<br />
of the live cultural events that make up<br />
so much of the event cinema landscape<br />
are on hold. The Metropolitan Opera, for<br />
example, has canceled its fall season, and<br />
it's hard to imagine the gigantic concerts<br />
from K-pop band BTS, which have proven<br />
so profitable for event cinema, taking<br />
place any time soon.<br />
In effect, the challenge event cinema<br />
faces here is the same challenge faced by<br />
the wider film industry—a lack of new<br />
content ready to go into socially distanced<br />
production. "Certainly," notes McCabe,<br />
"acquiring content over the next 12 months<br />
is going to be a different landscape than it<br />
was six months ago."<br />
Here, Allenby believes that event<br />
cinema distributors are better positioned<br />
than typical studios because "the risk<br />
is slightly more contained." Event<br />
cinema's demand-through-scarcity<br />
model—reaching out to fans of a niche<br />
subject, rather than one with more general<br />
appeal—means that fewer ticket sales are<br />
needed in order to be deemed successful.<br />
And, with its smaller marketing budgets<br />
and quick turnaround time, event cinema<br />
is more nimble than its traditional<br />
counterparts; new product, whatever<br />
it is and whenever it takes place, can<br />
conceivably find itself in theaters in a<br />
matter of weeks after completion.<br />
As for what that content will be—it<br />
doesn't appear that anyone, at this point,<br />
is trying to reinvent the wheel. The types<br />
of event cinema releases will be much the<br />
same as they were before, but distributors<br />
will be looking at unique ways to work<br />
with exhibitors to get them to the public—<br />
whether that's increased flexibility in<br />
scheduling or a new pre-show.<br />
To help fill a gap in content, Trafalgar is<br />
looking into staging theatrical productions<br />
in the U.K. in mostly empty theaters,<br />
"without an audience or with a socially<br />
distanced audience, essentially primarily<br />
for cinema and potential downstream postcinema.<br />
… If you haven't got a full paying<br />
audience in there, there probably is enough<br />
flexibility with the right planning to put<br />
shows on and capture them," says Allenby.<br />
The worlds of event cinema and musical<br />
theater alike, he notes, are "looking at<br />
creative solutions to how we can continue<br />
some level of business during this period,"<br />
keeping the two industries "bubbling away,<br />
at least, whilst things normalize. I'm not<br />
trying to be overly or blindly optimistic, but<br />
I do think there are still great opportunities<br />
out there."<br />
Above: Ghost, part of<br />
Fathom Events' TCM Big<br />
Screen Classics series<br />
for <strong>2020</strong>. Image courtesy<br />
Fathom Events<br />
98 <strong>August</strong> <strong>2020</strong>
---
SAVE TIME<br />
SAVE MONEY<br />
Stadium Savers delivers the highest quality riser systems<br />
in the industry; ensuring project success by providing a<br />
tiered seating system that is time and cost conscious. For<br />
more information call our headquarters at 616-785-5598<br />
or visit us at www.stadiumsavers.com.<br />
Like us on<br />
Change with the Changing Times<br />
#UpgradeTo<br />
info@galalitescreens.com<br />
www.galalitescreens.com<br />
<strong>August</strong> <strong>2020</strong><br />
99
---
On Screen LONG-RANGE FORECAST<br />
TENTATIVELY<br />
TENET<br />
Forecasting future box office when<br />
no existing models apply<br />
BY SHAWN ROBBINS<br />
100 <strong>August</strong> <strong>2020</strong>
---
Photo Credit: Melinda Sue Gordon. <strong>2020</strong> Warner Bros. Entertainment Inc. All Rights Reserved.<br />
Image courtesy Walt Disney Studios<br />
Left: John David<br />
Washington (left) and<br />
Robert Pattinson in<br />
Warner Bros. Pictures'<br />
action epic Tenet<br />
Right: Liu Yifei as<br />
the title character<br />
in Disney's liveaction<br />
Mulan<br />
After shifting from its original July 17<br />
release in North America to a planned<br />
July 31 opening, Christopher Nolan's<br />
Tenet—the film unofficially recognized as<br />
the first major studio title in the return to<br />
cinemas—is now scheduled for an <strong>August</strong><br />
12 rollout. The move resulted in a cascade<br />
of other changes, notably Disney's Mulan<br />
being pushed to an <strong>August</strong> 21 release.<br />
Due to the nature of the world we live in<br />
right now, and the needs of our magazine's<br />
publishing schedule, there's no guarantee<br />
of that specific news remaining relevant or<br />
accurate by the time you read this. This is<br />
the current, however temporary, reality of<br />
the global movie market. Forecasting, of<br />
course, includes expecting the unexpected.<br />
Even under normal circumstances in<br />
ordinary times, studios shuffle release<br />
dates and announce new titles. We're<br />
simply accustomed to those changes<br />
occurring months and years in advance—<br />
not weeks.<br />
As of the end of June, the earliest<br />
theater owners can expect new, high-profile<br />
Hollywood product to arrive is the middle<br />
of <strong>August</strong>. As of the end of June, also, new<br />
Covid-19 outbreaks in different parts of the<br />
United States are resulting in fresh concern<br />
that the virus will continue to wreak havoc<br />
on everyone's plans for months to come.<br />
Even after nearly a full half year's worth<br />
of consistent disruption, we're still in the<br />
middle of the fight and the ambiguity.<br />
The good news is that reports from<br />
several reliable outlets indicate that<br />
multiple Covid-19 vaccine trials are<br />
making progress and offering the world<br />
some light at the end of this long tunnel.<br />
They may not arrive until at least next<br />
year, but that doesn't mean theaters<br />
can't reopen safely before then, as other<br />
industries have, by following the proper<br />
health guidelines, nor does it mean there<br />
aren't a significant number of moviegoers<br />
already eager to return and see new<br />
films on the big screen, provided the<br />
environments are safe in which to do so.<br />
All of this is crucial context to keep<br />
in mind when planning for the current<br />
release schedule. The best case scenario<br />
is that we'll all be preparing to see Tenet<br />
and Mulan in theaters this <strong>August</strong>. Or, by<br />
the time you're reading this, more delays<br />
might have occurred. If the mid- to latesummer<br />
fight against the virus doesn't<br />
improve significantly, and quickly, we<br />
should prepare for these and other films<br />
to be pushed further down the calendar all<br />
over again. Possibly multiple times.<br />
There is even an unfortunate, but realistic,<br />
possibility that new releases and theatrical<br />
reopenings may not occur on a large scale<br />
until the fourth quarter of <strong>2020</strong> or later.<br />
To reiterate, this is the current reality<br />
of the global market. Nothing is assured<br />
until it happens, and all scenarios must be<br />
planned for. Even when reopenings do take<br />
effect, we must continue to expect abnormal<br />
consumer behaviors. Films will not be<br />
performing in typical box office patterns;<br />
instead they will likely trend toward longer<br />
runs and post-release holds than we've seen<br />
in many years—if not decades.<br />
Granted, films like Tenet, Mulan,<br />
Wonder Woman 1984, and A Quiet Place<br />
Part II will still have their target young to<br />
young adult audiences and fan bases to<br />
<strong>August</strong> <strong>2020</strong><br />
101
---
On Screen LONG-RANGE FORECAST<br />
draw from on opening weekends. Those<br />
demographics, built-in audiences, and<br />
similar releases will be crucial in the<br />
recovery process as we expect less frequent<br />
moviegoers to wait out the early weeks<br />
of theatrical reopenings and await word<br />
of mouth, not just on the movies but on<br />
the experience itself and how theaters are<br />
enforcing social distancing and engaging<br />
in other visible health-focused protocols.<br />
As of the end of the second quarter,<br />
<strong>2020</strong>'s domestic box office has registered<br />
around $1.8 billion from current releases,<br />
down approximately 68 percent from the<br />
same point one year ago. That year-toyear<br />
percentage decrease will likely reach<br />
75 percent by the end of July's reporting<br />
period. For context, 2019 delivered<br />
$11.35 billion overall, the second highest<br />
domestic performance of all time—though<br />
that is hardly a fair comparison given the<br />
status quo in <strong>2020</strong>.<br />
Current models—those based on the<br />
assumption that Tenet, Mulan, A Quiet<br />
Place Part II, Wonder Woman 1984, and<br />
the bulk of <strong>2020</strong>'s remaining releases will<br />
meet their tentative target dates—suggest<br />
a wide range of outcomes for how the<br />
year might end up. Four billion dollars<br />
had been a reasonable target in early<br />
summer, which would represent a 65<br />
percent decline, but July will no longer<br />
benefit from major new releases as once<br />
expected. Still, a steady stream of major<br />
titles in the final quarter of the year could<br />
help alleviate the fact that summer movie<br />
season is now a wash for this year.<br />
November, in particular, has solid<br />
potential. In a near best case scenario, AMC<br />
and other chains are expecting to be able to<br />
Photo Credit: Clay Enos. Courtesy Warner Bros. Entertainment<br />
Frequent and infrequent<br />
moviegoers alike will have<br />
been stuck at home for<br />
many months, emptying<br />
their streaming queues and<br />
itching to enjoy communal<br />
experiences again.<br />
Below: Gal Gadot as<br />
Wonder Woman in<br />
Warner Bros. Pictures'<br />
action-adventure<br />
Wonder Woman 1984<br />
achieve 80 percent capacity by the time<br />
films like Black Widow, No Time to Die, and<br />
Soul are released. This, of course, assumes<br />
the fight against Covid-19 doesn't take any<br />
more negative turns in the coming months.<br />
In December, last year's combination of<br />
Star Wars: The Rise of Skywalker, Frozen II,<br />
and Jumanji: The Next Level will be hard to<br />
duplicate, but Top Gun: Maverick and Dune<br />
(though the latter is certainly a candidate<br />
to be delayed) should provide a strong<br />
foundation alongside other releases.<br />
If all this comes to pass, a target<br />
domestic box office between $3 billion and<br />
$4 billion for <strong>2020</strong> is achievable, but far<br />
from guaranteed. Studios and exhibitors,<br />
even upon reopening, will have to remain<br />
flexible until such time as outbreaks are<br />
under control and/or a vaccine is ready<br />
for wide distribution. If the fight in the<br />
coming months trends upward in a major<br />
way, that benefit could be felt before<br />
year's end. If not, the recovery process will<br />
almost certainly extend into 2021— a year<br />
with a slate offering promise in some areas,<br />
but weak spots in others, as many of the<br />
titles that presented question marks for<br />
<strong>2020</strong> now reside on 2021's calendar.<br />
In short, the speculative challenge of<br />
box office forecasting has never been as<br />
complex as it is right now.<br />
The good news, again, is that we<br />
can expect the idea of moviegoing to<br />
be reinvigorated with a fresh sense of<br />
enthusiasm on the other side of this<br />
pandemic. Frequent and infrequent<br />
moviegoers alike will have been stuck at<br />
home for many months, emptying their<br />
streaming queues and itching to enjoy<br />
communal experiences again. Absence<br />
makes the heart grow fonder, after all.<br />
The theatrical experience is naturally<br />
one that can meet that desire, and the<br />
unprecedented events of this year may<br />
arguably result in inflated demand for<br />
films of many varieties as the basic human<br />
urge for escapism only intensifies.<br />
When exactly that moment arrives<br />
is beyond the calculation of any single<br />
model at this time. Moviegoing habits<br />
depend heavily on the sentiment of<br />
patrons, something that is in flux every<br />
day and variable by community, due to<br />
the staggered and inconsistent response<br />
to this virus. We're all living, reacting, and<br />
adapting to this temporary "new normal,"<br />
and the operative word for our industry—<br />
and passionate movie fans—right now is<br />
just that: temporary.<br />
102 <strong>August</strong> <strong>2020</strong>
---
It's Easy to Go Green with PCI!<br />
Environmentally Friendly Paper Straws and 100% Biodegrable Leak <strong>Pro</strong>of Popcorn Bags<br />
PCI is committed to manufacturing a variety of products for your eco friendly packaging needs.<br />
Contact us to see how we can be your green packaging partner.<br />
TM<br />
Manufactured in the USA<br />
9832 EVERGREEN INDUSTRIAL DRIVE | ST. LOUIS, MO 63123 | WWW.PACKAGINGCONCEPTSINC.COM | 314.329.9700 TEL | info@packagingconceptsic.com<br />
DIGITAL SIGNAGE<br />
Integrated Digital Signage,<br />
Concession Signs, Lobby &<br />
Directional Signs, Custom Graphics<br />
MOBILE APP &<br />
WEBSITES<br />
Web Management, Website<br />
Design and <strong>Pro</strong>gramming,<br />
Online Ticket Purchasing,<br />
Mobile App Development,<br />
Mobile Ticketing Sales<br />
INTERNET TICKETING<br />
Online Ticket Sales with Theatre Branded Interface<br />
Your Complete Theatre<br />
Management Solution<br />
Starts Here!<br />
TICKETING & CONCESSION<br />
POINT-OF-SALE<br />
Touch Screen Ticketing,<br />
Concession Point-of-Sale,<br />
Two-in-One Terminals, Kiosk Sales<br />
& Redemptions, Assigned Seating<br />
BACK OFFICE<br />
MANAGEMENT<br />
Show Scheduling, Inventory,<br />
Cash Control, Remote Access,<br />
Labor Management,<br />
Real-Time Corporate Reports<br />
GIFT CARDS & LOYALTY<br />
PROGRAMS<br />
Gift Cards, Virtual Gift Card<br />
Sales, Customer Rewards<br />
888-988-4470 Sales<br />
FILM RENTAL MANAGEMENT<br />
Automatically Calculate Weekly Film Rental, Create<br />
Payment Vouchers, Settle Films & Manage Credits<br />
NETWORK &<br />
IT SERVICES<br />
Network Support, Hardware<br />
Monitoring, Phone & Surveillance<br />
System Support, ISP Monitoring,<br />
Security & Antivirus<br />
RetrieverSolutionsInc.com
---
Contactless, easy to setup,<br />
and in every customer's<br />
pocket. Boost Ticketing is a<br />
great way for your theater<br />
to respond and adapt to<br />
the new normal.<br />
Visit us our website company.boxoffice.com<br />
or contact us at sales@boxoffice.com<br />
THE<br />
COMPANY<br />
W EBEDIA GROUP
---
ON SCREEN BOOKING GUIDE<br />
BOOKING<br />
GUIDE<br />
Release calendar for theatrical<br />
distribution in North America<br />
Release dates are accurate as of 7/6. For the latest<br />
schedule, visit www.boxofficepro.com/release-calendar<br />
101 STUDIOS<br />
THE WAR WITH GRANDPA<br />
Fri, 9/18/20 WIDE<br />
Stars: Robert De Niro, Uma Thurman<br />
Director: Tim Hill<br />
Rating: PG<br />
Genre: Com/Fam<br />
20TH CENTURY STUDIOS<br />
310-369-1000<br />
212-556-2400<br />
EMPTY MAN<br />
Fri, 8/7/20 WIDE<br />
Rating: NR<br />
Genre: Cri/Dra/Hor<br />
THE NEW MUTANTS<br />
Fri, 8/28/20 WIDE<br />
Stars: Anya Taylor-Joy, Maisie<br />
Williams<br />
Director: Josh Boone<br />
Rating: PG-13<br />
Genre: Act/Hor/SF<br />
Dolby Vis/Atmos<br />
THE KING'S MAN<br />
Fri, 9/18/20 WIDE<br />
Stars: Ralph Fiennes, Gemma<br />
Arterton<br />
Director: Matthew Vaughn<br />
Rating: NR<br />
Genre: Act/Adv<br />
Specs: IMAX<br />
DEATH ON THE NILE<br />
Fri, 10/9/20 WIDE<br />
Stars: Tom Bateman, Annette<br />
Bening<br />
Director: Kenneth Branagh<br />
Rating: NR<br />
Genre: Cri/Dra/Mys<br />
DEEP WATER<br />
Fri, 11/13/20 WIDE<br />
Stars: Ana de Armas, Ben Affleck<br />
Director: Adrian Lyne<br />
Rating: NR<br />
Genre: Thr<br />
The King's Man<br />
Fri, 9/18/20 WIDE<br />
FREE GUY<br />
Fri, 12/11/20 WIDE<br />
Stars: Ryan Reynolds<br />
Director: Shawn Levy<br />
Rating: NR<br />
Genre: Com/Act<br />
WEST SIDE STORY<br />
Fri, 12/18/20 WIDE<br />
Stars: Ansel Elgort, Rachel Zegler<br />
Director: Steven Spielberg<br />
Rating: NR<br />
Genre: Mus<br />
THE LAST DUEL<br />
Fri, 12/25/20 LTD<br />
Stars: Matt Damon, Ben Affleck<br />
Director: Ridley Scott<br />
Rating: NR<br />
Genre: Dra<br />
EVERYBODY'S TALKING ABOUT<br />
JAMIE<br />
Fri, 1/22/21 WIDE<br />
Rating: NR<br />
Genre: Dra/Mus<br />
BOB'S BURGERS<br />
Fri, 4/9/21 LTD<br />
Stars: H. Jon Benjamin, Kristen<br />
Schaal<br />
Rating: NR<br />
Genre: Ani<br />
RON'S GONE WRONG<br />
Fri, 4/23/21 LTD<br />
Rating: NR<br />
Genre: Ani<br />
UNTITLED 20TH CENTURY 2021<br />
Fri, 8/13/21 LTD<br />
Rating: NR<br />
AMAZON STUDIOS<br />
SOUND OF METAL<br />
Fri, 8/14/20 LTD<br />
Stars: Riz Ahmed, Olivia Cooke<br />
Director: Darius Marder<br />
Rating: R<br />
Genre: Dra<br />
BLUE FOX ENTERTAINMENT<br />
William Gruenberg<br />
william@bluefoxentertainment.com<br />
SAMSAM<br />
Fri, 8/7/20 LTD<br />
Stars: Isaac Lobé-Lebel, Lior<br />
Chabbat<br />
Director: Tanguy de Kermel<br />
Rating: NR<br />
Genre: Ani<br />
Photo Credit: Peter Mountain<br />
<strong>August</strong> <strong>2020</strong><br />
105
---
ON SCREEN BOOKING GUIDE<br />
LAST NIGHT IN SOHO<br />
Fri, 4/23/21 LTD<br />
Stars: Anya Taylor-Joy, Thomasin<br />
Harcourt McKenzie<br />
Director: Edgar Wright<br />
Rating: NR<br />
Genre: Hor/Thr<br />
Specs: Dolby Vis/Atmos<br />
FREESTYLE RELEASING<br />
310-277-3500<br />
Ask for Distribution<br />
2 HEARTS<br />
Fri, 9/11/20 WIDE<br />
Stars: Jacob Elordi, Adan Canto<br />
Director: Lance Hool<br />
Rating: PG-13<br />
Genre: Rom/Dra<br />
Black Widow<br />
Fri, 11/6/20 WIDE<br />
BLEECKER STREET<br />
THE SECRETS WE KEEP<br />
Wed, 9/16/20 LTD<br />
Stars: Noomi Rapace, Joel<br />
Kinnaman<br />
Director: Yuval Adler<br />
Rating: NR<br />
Genre: Dra<br />
DISNEY<br />
818-560-1000<br />
Ask for Distribution<br />
BLACK WIDOW<br />
Fri, 11/6/20 WIDE<br />
Stars: Scarlett Johansson, David<br />
Harbour<br />
Director: Cate Shortland<br />
Rating: NR<br />
Genre: Act/Adv<br />
Specs: 3D<br />
SOUL<br />
Fri, 11/20/20 WIDE<br />
Stars: Jamie Foxx, Tina Fey<br />
Director: Pete Docter<br />
Rating: NR<br />
Genre: Ani<br />
Specs: 3D/Dolby Vis/Atmos<br />
THE ETERNALS<br />
Fri, 2/12/21 WIDE<br />
Stars: Richard Madden, Angelina<br />
Jolie<br />
Director: Chloé Zhao<br />
Rating: NR<br />
Genre: Act/Adv/SF<br />
RAYA AND THE LAST DRAGON<br />
Fri, 3/12/21 WIDE<br />
Stars: Awkwafina, Cassie Steele<br />
Director: Paul Briggs, Dean Wellins<br />
Rating: NR<br />
Genre: Ani<br />
Specs: 3D<br />
SHANG-CHI AND THE LEGEND OF<br />
THE TEN RINGS<br />
Fri, 5/7/21 WIDE<br />
Stars: Simu Liu, Awkwafina<br />
Director: Destin Daniel Cretton<br />
Rating: NR<br />
Genre: Act/Adv/Fan<br />
CRUELLA<br />
Fri, 5/28/21 WIDE<br />
Stars: Emma Stone<br />
Rating: NR<br />
Genre: Com<br />
UNTITLED PIXAR ANIMATION 2021<br />
Fri, 6/18/21 WIDE<br />
Rating: NR<br />
Genre: Ani<br />
JUNGLE CRUISE<br />
Fri, 7/30/21 WIDE<br />
Stars: Dwayne Johnson, Emily Blunt<br />
Director: Jaume Collet-Serra<br />
Rating: NR<br />
Genre: Act/Adv<br />
Specs: Dolby Vis/Atmos<br />
THE BEATLES: GET BACK<br />
Fri, 8/27/21 WIDE<br />
Director: Peter Jackson<br />
Rating: NR<br />
Genre: Doc<br />
DOCTOR STRANGE IN THE<br />
MULTIVERSE OF MADNESS<br />
Fri, 3/25/22 WIDE<br />
Stars: Benedict Cumberbatch<br />
Director: Sam Raimi<br />
Rating: NR<br />
Genre: SF/Fan/Adv<br />
FOCUS FEATURES<br />
LET HIM GO<br />
Fri, 8/21/20 WIDE<br />
Stars: Kevin Costner, Diane Lane<br />
Director: Thomas Bezucha<br />
Rating: NR<br />
Genre: Thr<br />
KAJILLIONAIRE<br />
Fri, 9/18/20 WIDE<br />
Stars: Evan Rachel Wood, Gina<br />
Rodriguez<br />
Director: Miranda July<br />
Rating: NR<br />
Genre: Com<br />
COME PLAY<br />
Fri, 10/30/20 WIDE<br />
Stars: Gillian Jacobs, John Gallagher<br />
Jr.<br />
Director: Jacob Chase<br />
Rating: PG-13<br />
Genre: Hor<br />
Photo Credit: Matt Kennedy<br />
UNTITLED TOM MCCARTHY<br />
PROJECT<br />
Fri, 11/6/20 LTD<br />
Stars: Matt Damon, Abigail Breslin<br />
Director: Tom McCarthy<br />
Rating: NR<br />
Genre: Thr<br />
GREENWICH ENTERTAINMENT<br />
CREEM: AMERICA'S ONLY<br />
ROCK 'N' ROLL MAGAZINE<br />
Fri, 8/7/20 LTD<br />
Director: Scott Crawford<br />
Rating: NR<br />
Genre: Doc<br />
DESERT ONE<br />
Fri, 8/21/20 LTD<br />
Director: Barbara Kopple<br />
Rating: NR<br />
Genre: Doc<br />
IFC FILMS<br />
bookings@ifcfilms.com<br />
MADE IN ITALY<br />
Fri, 8/7/20 LTD<br />
Stars: Liam Neeson, Lindsay Duncan<br />
Director: James D'Arcy<br />
Rating: NR<br />
Genre: Dra<br />
SPUTNIK<br />
Fri, 8/14/20 LTD<br />
Stars: Oksana Akinshina, Fyodor<br />
Bondarchuk<br />
Director: Egor Abramenko<br />
Rating: NR<br />
Genre: SF<br />
TESLA<br />
Fri, 8/21/20 LTD<br />
Stars: Ethan Hawke, Eve Hewson<br />
Director: Michael Almereyda<br />
Rating: NR<br />
Genre: Dra<br />
CENTIGRADE<br />
Fri, 8/28/20 LTD<br />
Stars: Vincent Piazza, Genesis<br />
Rodriguez<br />
Director: Brendan Walsh<br />
Rating: NR<br />
Genre: Thr<br />
106 <strong>August</strong> <strong>2020</strong>
---
THE NEST<br />
Fri, 9/18/20 LTD<br />
Stars: Jude Law, Carrie Coon<br />
Director: Sean Durkin<br />
Rating: NR<br />
Genre: Dra<br />
VOYAGERS<br />
Fri, 11/25/20 WIDE<br />
Stars: Tye Sheridan, Lily-Rose Depp<br />
Director: Neil Burger<br />
Rating: NR<br />
Genre: SF/Thr<br />
LIONSGATE<br />
310-309-8400<br />
ANTEBELLUM<br />
Fri, 8/21/20 WIDE<br />
Stars: Janelle Monáe<br />
Director: Gerard Bush, Christopher<br />
Renz<br />
Rating: NR<br />
Genre: Thr<br />
THE COURIER<br />
Fri, 8/28/20 WIDE<br />
Stars: Benedict Cumberbatch<br />
Director: Dominic Cooke<br />
Rating: PG-13<br />
Genre: Dra<br />
FATALE<br />
Fri, 10/30/20 WIDE<br />
Stars: Hilary Swank, Michael Ealy<br />
Director: Deon Taylor<br />
Rating: NR<br />
Genre: Sus<br />
THE DEVIL'S LIGHT<br />
Fri, 1/8/21 WIDE<br />
Director: Daniel Stamm<br />
Rating: NR<br />
Genre: Hor<br />
CHAOS WALKING<br />
Fri, 1/22/21 WIDE<br />
Stars: Tom Holland, Daisy Ridley<br />
Director: Doug Liman<br />
Rating: NR<br />
Genre: Adv/SF<br />
THE UNBEARABLE WEIGHT OF<br />
MASSIVE TALENT<br />
Fri, 3/19/21 WIDE<br />
Stars: Nicolas Cage<br />
Director: Tom Gormican<br />
Rating: NR<br />
Genre: Act/Com<br />
THE ASSET<br />
Fri, 4/23/21 WIDE<br />
Stars: Maggie Q, Samuel L. Jackson<br />
Director: Martin Campbell<br />
Rating: NR<br />
Genre: Act/Thr<br />
Antebellum<br />
Fri, 8/21/20 WIDE<br />
SPIRAL<br />
Fri, 5/21/21 WIDE<br />
Stars: Chris Rock, Samuel L. Jackson<br />
Director: Darren Lynn Bousman<br />
Rating: NR<br />
Genre: Hor<br />
BARB AND STAR GO TO<br />
VISTA DEL MAR<br />
Fri, 7/16/21 WIDE<br />
Stars: Kristen Wiig, Annie Mumolo<br />
Director: Josh Greenbaum<br />
Rating: NR<br />
Genre: Com<br />
Photo Credit: Matt Kennedy<br />
THE HITMAN'S WIFE'S BODYGUARD<br />
Fri, 8/20/21 WIDE<br />
Stars: Ryan Reynolds, Samuel L.<br />
Jackson<br />
Director: Patrick Hughes<br />
Rating: NR<br />
Genre: Act/Com<br />
AMERICAN UNDERDOG: THE KURT<br />
WARNER STORY<br />
Fri, 12/10/21 WIDE<br />
Director: Jon Erwin, Andrew Erwin<br />
Rating: NR<br />
Genre: Dra<br />
<strong>August</strong> <strong>2020</strong><br />
107
---
ON SCREEN BOOKING GUIDE<br />
JOHN WICK: CHAPTER 4<br />
Fri, 5/27/22 WIDE<br />
Rating: NR<br />
Genre: Act<br />
MAGNOLIA PICTURES<br />
212-379-9704<br />
Neal Block<br />
nblock@magpictures.com<br />
OUT STEALING HORSES<br />
Fri, 8/7/20 LTD<br />
Stars: Stellan Skarsgård, Bjørn<br />
Floberg<br />
Director: Hans Petter Moland<br />
Rating: NR<br />
Genre: Dra<br />
ABOUT ENDLESSNESS<br />
Fri, 9/18/20 LTD<br />
Stars: Jane-Ege Ferling , Martin<br />
Serner<br />
Director: Roy Andersson<br />
Rating: NR<br />
Genre: Dra<br />
ALONE<br />
Fri, 9/18/20 LTD<br />
Stars: Jules Willcox, Marc Menchaca<br />
Director: John Hyams<br />
Rating: NR<br />
Genre: Thr<br />
PARAMOUNT<br />
323-956-5000<br />
A QUIET PLACE PART II<br />
Fri, 9/4/20 WIDE<br />
Stars: Emily Blunt, Cillian Murphy<br />
Director: John Krasinski<br />
Rating: PG-13<br />
Genre: Hor<br />
SNAKE EYES<br />
Fri, 10/23/20 WIDE<br />
Stars: Henry Golding, Andrew Koj<br />
Director: Robert Schwentke<br />
Rating: NR<br />
Genre: Act/Adv<br />
CLIFFORD THE BIG RED DOG<br />
Fri, 11/13/20 WIDE<br />
Rating: NR<br />
Genre: Fam<br />
COMING 2 AMERICA<br />
Fri, 12/18/20 WIDE<br />
Rating: NR<br />
Genre: Com<br />
TOP GUN: MAVERICK<br />
Wed, 12/23/20 WIDE<br />
Stars: Tom Cruise, Miles Teller<br />
Director: Joseph Kosinski<br />
Rating: NR<br />
Genre: Act/Adv<br />
Specs: IMAX/Dolby Vis/Atmos<br />
RUMBLE<br />
Fri, 1/29/21 WIDE<br />
Stars: Will Arnett, Terry Crews<br />
Director: Hamish Grieve<br />
Rating: NR<br />
Genre: Ani<br />
MONSTER PROBLEMS<br />
Fri, 2/12/21 WIDE<br />
Stars: Dylan O'Brien<br />
Director: Michael Matthews<br />
Rating: NR<br />
Genre: Adv<br />
TOM CLANCY'S WITHOUT REMORSE<br />
Fri, 2/16/21 WIDE<br />
Rating: NR<br />
Genre: Thr<br />
UNTITLED PARANORMAL ACTIVITY<br />
MOVIE<br />
Fri, 3/19/21 WIDE<br />
Rating: NR<br />
Genre: Hor<br />
INFINITE<br />
Fri, 5/28/21 WIDE<br />
Rating: NR<br />
Genre: SF<br />
MICRONAUTS<br />
Fri, 6/4/21 WIDE<br />
Rating: NR<br />
Genre: Act<br />
JACKASS<br />
Fri, 7/2/21 WIDE<br />
Rating: NR<br />
Genre: Com<br />
THE TOMORROW WAR<br />
Fri, 7/23/21 WIDE<br />
Stars: Yvonne Strahovski, Chris Pratt<br />
Director: Chris McKay<br />
Rating: NR<br />
Genre: Act/SF<br />
PAW PATROL<br />
Fri, 8/20/21 WIDE<br />
Rating: NR<br />
Genre: Ani<br />
ROADSIDE ATTRACTIONS<br />
323-882-8490<br />
WORDS ON BATHROOM WALLS<br />
Fri, 7/31/20 LTD<br />
Stars: Charlie Plummer, Andy Garcia<br />
Director: Thor Freudenthal<br />
Rating: PG-13<br />
Genre: Dra<br />
THE GLORIAS<br />
Fri, 9/25/20 LTD<br />
Stars: Alicia Vikander, Julianne<br />
Moore<br />
Director: Julie Taymor<br />
Rating: NR<br />
Genre: Dr<br />
SEARCHLIGHT PICTURES<br />
212-556-2400<br />
THE PERSONAL HISTORY OF<br />
DAVID COPPERFIELD<br />
Fri, 8/14/20 LTD<br />
Stars: Dev Patel, Peter Capaldi<br />
Director: Armando Innucci<br />
Rating: PG<br />
Genre: Com<br />
THE FRENCH DISPATCH<br />
Fri, 10/16/20 LTD<br />
Stars: Timothée Chalamet, Saoirse<br />
Ronan<br />
Director: Wes Anderson<br />
Rating: R<br />
Genre: Com<br />
SONY<br />
212-833-8500<br />
THE BROKEN HEARTS GALLERY<br />
Fri, 8/7/20 WIDE<br />
Stars: Geraldine Viswanathan,<br />
Dacre Montgomery<br />
Director: Natalie Krinsky<br />
Rating: PG-13<br />
Genre: Rom/Com<br />
The Personal History<br />
of David Copperfield<br />
Fri, 8/14/20 LTD<br />
Photo Courtesy Searchlight Pictures<br />
CONNECTED<br />
Fri, 10/23/20 WIDE<br />
Stars: Abbi Jacobson, Danny<br />
McBride<br />
Director: Mike Rianda<br />
Rating: NR<br />
Genre: Ani<br />
HAPPIEST SEASON<br />
Fri, 11/25/20 WIDE<br />
Stars: Kristen Stewart, Mackenzie<br />
Davis<br />
Director: Clea DuVall<br />
Rating: NR<br />
Genre: Rom/Com/Hol<br />
108 <strong>August</strong> <strong>2020</strong>
---
Top Gun: Maverick<br />
Wed, 12/23/20 WIDE<br />
Scott Garfield. © 2019 Paramount Pictures Corporation. All rights reserved.<br />
<strong>August</strong> <strong>2020</strong><br />
109
---
ON SCREEN BOOKING GUIDE<br />
Courtesy of Warner Bros. Pictures<br />
RESPECT<br />
Fri, 12/25/20 WIDE<br />
Stars: Jennifer Hudson, Forest<br />
Whitaker<br />
Director: Liesl Tommy<br />
Rating: NR<br />
Genre: Dra/Mus<br />
UNTITLED GUY RITCHIE<br />
Fri, 1/15/21 WIDE<br />
Director: Guy Ritchie<br />
Rating: NR<br />
DOG<br />
Fri, 2/12/21 WIDE<br />
Stars: Channing Tatum<br />
Reid Carolin<br />
Rating: NR<br />
Genre: Com<br />
The Burnt Orange Heresy<br />
Fri, 8/7/20 LTD<br />
ESCAPE ROOM 2<br />
Wed, 12/30/20 WIDE<br />
Director: Adam Robitel<br />
Rating: NR<br />
Genre: Hor/Thr<br />
PETER RABBIT 2: THE RUNAWAY<br />
Fri, 1/15/21 WIDE<br />
Stars: James Corden, Rose Byrne<br />
Director: Will Gluck<br />
Rating: PG<br />
Genre: Ani<br />
CINDERELLA<br />
Fri, 2/5/21 WIDE<br />
Rating: NR<br />
Genre: Fan<br />
GHOSTBUSTERS: AFTERLIFE<br />
Fri, 3/5/21 WIDE<br />
Stars: Carrie Coon, Finn Wolfhard<br />
Director: Jason Reitman<br />
Rating: NR<br />
Genre: Hor/Com/SF<br />
MORBIUS<br />
Fri, 3/19/21 WIDE<br />
Stars: Jared Leto, Matt Smith<br />
Director: Daniel Espinosa<br />
Rating: NR<br />
Genre: Act/Thr/SF<br />
FATHERHOOD<br />
Fri, 4/2/21 WIDE<br />
Stars: Kevin Hart, Melody Hurd<br />
Director: Paul Weitz<br />
Rating: NR<br />
Genre: Dra<br />
MONSTER HUNTER<br />
Fri, 4/23/21 WIDE<br />
Stars: Milla Jovovich, Tony Jaa<br />
Director: Paul W.S. Anderson<br />
Rating: NR<br />
Genre: Act/Fan<br />
VIVO<br />
Fri, 6/4/21 WIDE<br />
Rating: NR<br />
Genre: Ani<br />
VENOM: LET THERE BE CARNAGE<br />
Fri, 6/25/21 WIDE<br />
Stars: Tom Hardy, Woody Harrelson<br />
Director: Andy Serkis<br />
Rating: NR<br />
Genre: Act/SF<br />
UNCHARTED<br />
Fri, 7/16/21 WIDE<br />
Stars: Tom Holland, Mark Wahlberg<br />
Rating: NR<br />
Genre: Act/Adv<br />
HOTEL TRANSYLVANIA 4<br />
Fri, 8/6/21 WIDE<br />
Rating: NR<br />
Genre: Ani/Com<br />
MAN FROM TORONTO<br />
Fri, 9/17/21 WIDE<br />
Rating: NR<br />
Genre: Act/Com<br />
SONY PICTURES CLASSICS<br />
Tom Prassis<br />
212-833-4981<br />
THE BURNT ORANGE HERESY<br />
Fri, 8/7/20 LTD<br />
THE FATHER<br />
Fri, 11/20/20 LTD<br />
Rating: NR<br />
Genre: Dra<br />
STX ENTERTAINMENT<br />
310-742-2300<br />
GREENLAND<br />
Fri, 8/14/20 WIDE<br />
Stars: Gerard Butler, Morena Baccarin<br />
Director: Ric Roman Waugh<br />
Rating: PG-13<br />
Genre: Thr<br />
UNITED ARTISTS RELEASING<br />
310-724-5678<br />
Ask for Distribution<br />
BILL & TED FACE THE MUSIC<br />
Fri, 8/28/20 WIDE<br />
Stars: Keanu Reeves, Alex Winter<br />
Director: Dean Parisot<br />
Rating: NR<br />
Genre: Com/Adv<br />
NO TIME TO DIE<br />
Wed, 11/20/20 WIDE<br />
Stars: Daniel Craig, Rami Malek<br />
Director: Cary Joji Fukunaga<br />
Rating: NR<br />
Genre: Act/Thr<br />
Specs: IMAX<br />
SAMARITAN<br />
Fri, 6/4/21 WIDE<br />
Stars: Sylvester Stallone<br />
Director: Julius Avery<br />
Rating: NR<br />
Genre: Act/Thr<br />
UNTITLED RUSSO BROTHERS<br />
FAMILY FILM<br />
Fri, 8/13/21 WIDE<br />
Rating: NR<br />
Genre: Fam<br />
UNIVERSAL<br />
818-777-1000<br />
CANDYMAN<br />
Fri, 10/16/20 WIDE<br />
Stars: Yahya Abdul-Mateen II,<br />
Teyonah Parris<br />
Director: Nia DaCosta<br />
Rating: NR<br />
Genre: Hor<br />
UNTITLED UNIVERSAL EVENT<br />
COMEDY<br />
Fri, 10/23/20 WIDE<br />
Rating: NR<br />
Genre: Com<br />
UNTITLED UNIVERSAL EVENT FILM<br />
<strong>2020</strong><br />
Fri, 11/13/20 WIDE<br />
Rating: NR<br />
UNTITLED AMBLIN PROJECT<br />
Fri, 11/20/20 WIDE<br />
Director: Joel Crawford<br />
Rating: NR<br />
THE CROODS 2<br />
Fri, 12/23/20 WIDE<br />
Rating: NR<br />
Genre: Ani<br />
NEWS OF THE WORLD<br />
Fri, 12/25/20 WIDE<br />
Stars: Tom Hanks<br />
Director: Paul Greengrass<br />
Rating: NR<br />
Genre: Dra<br />
110 <strong>August</strong> <strong>2020</strong>
---
UNTITLED BLUMHOUSE<br />
PRODUCTIONS<br />
Fri, 1/8/21 WIDE<br />
Rating: NR<br />
Genre: Hor<br />
355<br />
Fri, 1/15/21 WIDE<br />
Stars: Jessica Chastain, Lupita Nyong'o<br />
Director: Simon Kinberg<br />
Rating: NR<br />
Genre: Thr<br />
UNTITLED UNIVERSAL ROMANTIC<br />
COMEDY<br />
Fri, 2/12/21 WIDE<br />
Rating: NR<br />
Genre: Rom/Com<br />
UNTITLED UNIVERSAL EVENT FILM 1<br />
Fri, 3/5/21 WIDE<br />
Rating: NR<br />
THE BOSS BABY 2<br />
Fri, 3/26/21 WIDE<br />
Rating: NR<br />
Genre: Ani<br />
F9<br />
Fri, 4/2/21 WIDE<br />
Stars: Vin Diesel, Charlize Theron<br />
Director: Justin Lin<br />
Rating: NR<br />
Genre: Act/Adv<br />
Specs: IMAX/Dolby Vis/Atmos<br />
NOBODY<br />
Fri, 2/19/21 WIDE<br />
Stars: Bob Odenkirk<br />
Director: Ilya Naishuller<br />
Rating: NR<br />
Genre: Act/Thr<br />
BIOS<br />
Fri, 4/16/21 WIDE<br />
Stars: Tom Hanks<br />
Director: Miguel Sapochnik<br />
Rating: NR<br />
Genre: SF<br />
UNTITLED SPIRIT RIDING FREE FILM<br />
Fri, 5/14/21 WIDE<br />
Rating: NR<br />
Genre: Ani<br />
JURASSIC WORLD: DOMINION<br />
Fri, 6/11/21 WIDE<br />
Rating: NR<br />
Genre: Act/Adv<br />
MINIONS: THE RISE OF GRU<br />
Fri, 7/2/21 WIDE<br />
Stars: Steve Carell, Taraji P. Henson<br />
Director: Kyle Balda<br />
Rating: NR<br />
Genre: Ani<br />
UNTITLED M. NIGHT SHYAMALAN<br />
THRILLER<br />
Fri, 7/23/21 WIDE<br />
Director: M. Night Shyamalan<br />
Rating: NR<br />
Genre: Thr<br />
UNTITLED BLUMHOUSE<br />
PRODUCTIONS<br />
Fri, 8/13/21 WIDE<br />
Rating: NR<br />
Genre: Hor<br />
HALLOWEEN KILLS<br />
Fri, 10/15/21 WIDE<br />
Director: David Gordon Green<br />
Rating: NR<br />
Genre: Hor<br />
WARNER BROS.<br />
818-977-1850<br />
TENET<br />
Fri, 8/12/20 WIDE<br />
Stars: John David Washington,<br />
Robert Pattinson<br />
Director: Christopher Nolan<br />
Rating: NR<br />
Genre: Act/Thr<br />
THE CONJURING: THE DEVIL MADE<br />
ME DO IT<br />
Fri, 9/11/20 WIDE<br />
Stars: Patrick Wilson, Vera Farmiga<br />
Director: Michael Chaves<br />
Rating: NR<br />
Genre: Hor<br />
Specs: Dolby Vis/Atmos<br />
WONDER WOMAN 1984<br />
Fri, 10/2/20 WIDE<br />
Stars: Gal Gadot, Kristen Wiig<br />
Director: Patty Jenkins<br />
Rating: NR<br />
Genre: Act/Adv/Fan<br />
Specs: IMAX/3D/Dolby Vis/Atmos<br />
DUNE<br />
Fri, 12/18/20 WIDE<br />
Stars: Timothée Chalamet, Rebecca<br />
Ferguson<br />
Director: Denis Villeneuve<br />
Rating: NR<br />
Genre: SF<br />
MORTAL KOMBAT<br />
Fri, 1/15/21 WIDE<br />
Rating: NR<br />
Genre: Act<br />
THE LITTLE THINGS<br />
Fri, 1/29/21 WIDE<br />
Rating: NR<br />
Genre: Thr<br />
TOM & JERRY<br />
Fri, 3/5/21 WIDE<br />
Rating: NR<br />
Genre: Ani<br />
THE MANY SAINTS OF NEWARK<br />
Fri, 3/12/21 WIDE<br />
Rating: NR<br />
Genre: Dra/Cri<br />
TOMB RAIDER 2<br />
Fri, 3/19/21 WIDE<br />
Rating: NR<br />
Genre: Act/Adv<br />
REMINISCENCE<br />
Fri, 4/16/21 WIDE<br />
Rating: NR<br />
GODZILLA VS KONG<br />
Fri, 5/21/21 WIDE<br />
Stars: Millie Bobby Brown, Eiza<br />
González<br />
Director: Adam Wingard<br />
Rating: PG-13<br />
Genre: SF/Act<br />
Specs: IMAX/3D/Dolby Vis/Atmos<br />
UNTITLED NEW LINE HORROR FILM<br />
Fri, 6/4/21 WIDE<br />
Rating: NR<br />
Genre: Hor<br />
IN THE HEIGHTS<br />
Fri, 6/18/21 WIDE<br />
Stars: Anthony Ramos, Corey<br />
Hawkins<br />
Director: Jon M. Chu<br />
Rating: NR<br />
Genre: Mus/Rom/Dra<br />
SPACE JAM: A NEW LEGACY<br />
Fri, 7/16/21 WIDE<br />
Rating: NR<br />
Genre: Ani/Com<br />
THE SUICIDE SQUAD<br />
Fri, 8/6/21 WIDE<br />
Stars: Margot Robbie, Taika Waititi<br />
Director: James Gunn<br />
Rating: NR<br />
Genre: Act<br />
KING RICHARD<br />
Fri, 11/19/21 WIDE<br />
Rating: NR<br />
Genre: Dra/Bio<br />
Tenet<br />
Fri, 8/12/20 WIDE<br />
<strong>August</strong> <strong>2020</strong><br />
111
---
MARKETPLACE<br />
Our Sponsors<br />
Advertiser<br />
Page<br />
Cardinal Sound 112<br />
Cinionic<br />
BC<br />
Cretors 46<br />
Enpar Audio 107<br />
Galalite Screens 99<br />
Gold Medal <strong>Pro</strong>ducts 15<br />
Kernel Seasons 4<br />
MOC 8<br />
Odell's/Ventura Foods 112<br />
Omniterm 15<br />
Paradigm 95<br />
PCI 103<br />
<strong>Pro</strong>ctor Companies 10<br />
QSC<br />
IFC<br />
Ready Theater Systems 95<br />
Retriever Systems 103<br />
Sensible Cinema 112<br />
Sonic Equipment 7<br />
ADVERTISE<br />
THE IN THE<br />
DECEMBER<br />
ISSUE OF<br />
Stadium Savers 99<br />
Strong MDI 74<br />
Telescopic Seating Systems<br />
IBC<br />
The <strong>Boxoffice</strong> Company 2/3 | 104<br />
Tivoli Lighting 1<br />
Reserve your space by<br />
October 23<br />
Call or Email to book<br />
space today!<br />
Susan Uhrlass<br />
susan@boxoffice.com<br />
310-876-9090<br />
112 <strong>August</strong> <strong>2020</strong>
---
your imagination<br />
our inspiration<br />
Cinionic cinema solutions<br />
Cinema is about so much more than a picture on<br />
a screen. It's about creating an experience that<br />
feels real. Cinionic develops solutions to help<br />
you achieve this. With laser projection, services,<br />
immersive audio, media players, and much more.<br />
Your imagination. Our inspiration.<br />
Discover more at www.cinionic.com<br />
m ipsum