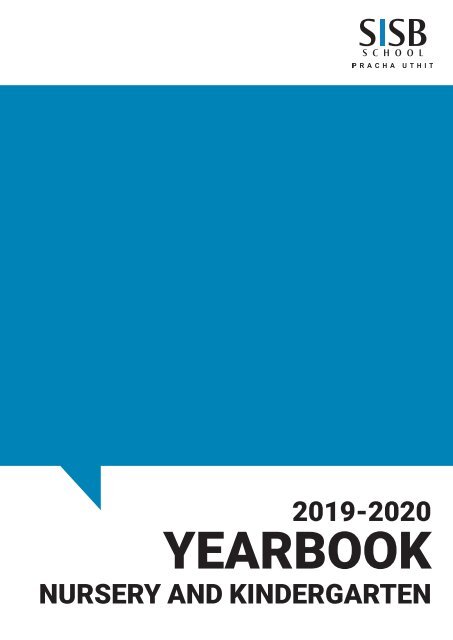 Nursery and Kindergarten Yearbook AY 2019-2020 (Pracha Uthit campus)
Singapore International School of Bangkok| Pracha Uthit Campus
Singapore International School of Bangkok| Pracha Uthit Campus
SHOW MORE
SHOW LESS
Create successful ePaper yourself
Turn your PDF publications into a flip-book with our unique Google optimized e-Paper software.
2019-2020

YEARBOOK

NURSERY AND KINDERGARTEN
---
ABOUT SISB PRACHA UTHIT

OUR ACCREDITATION PARTNERS

Council of International Schools (CIS)

In June 2011, SISB received its highest honour yet: accreditation by

the Council of International Schools (CIS).

ONESQA

In 2010, SISB was fully accredited by the Office for National Education

Standards and Quality Assessment (ONESQA) under the Private

Education Act of Thailand.

CIE

In July 2011, the school was approved as a certified centre to conduct

IGCSE "O" and "A" levels exams (University of Cambridge, London).

SISB is also a Cambridge certified centre for Primary and Secondary

Checkpoint Exams.

SEAB

In December 2006, SISB was granted a licence by the Singapore

Examinations and Assessment Board (SEAB) to conduct the

International Primary School Examination (IPSLE) for graduating

Primary 6 students in the four core subjects: English, Chinese,

Mathematics and Science.

The Duke of Edinburgh's International Award

SISB holds the Basic Independent Award Center Licence to conduct

The Duke of Edinburgh's International Award Schmem, the world's

leading youth achievement award programme.

East Asia Regional Concil of Schools

The East Asia Regional Council of Schools (EARCOS) in an

organisation of 156 member schools in East Asia with a combined

total of more than 100,000 pre-K to 12th grade students. SISB was

granthed full membership in EARCOS in October 2016.

ISAT

International Schools Association of Thailand (ISAT) acts as the

unified voice for international education in Thailand and as a center

for collective action on behalf of its membership. SISB has been a

member of the International Schools Association of Thailand since

2001.

Hanban

SISB is certified by the Ministry of Education of China as a Hanban

centre to conduct Chinese proficiency testing for students.

4

NURSERY AND KINDERGARTEN
---
PRACHA UTHIT YEARBOOK 2019-2020
---
ABOUT SISB PRACHA UTHIT

▪ SCHOOL STORY

The Singapore International School of Bangkok

(SISB) is a leading international school in

Thailand, with 4 campuses in Bangkok and 1

campus in Chiangmai.

Established in 2001, SISB uses the worldrenowned

Singapore curriculum for the

teaching of English, Mathematics, Science and

Chinese in the primary sections.

Students are nurtured in a tri-lingual

environment where English, Chinese and

Thai languages are taught. They also receive

an excellent foundation in Mathematics and

Science.

SISB provides high-quality holistic education

for its students, from NK to grade 12, to

develop them to their fullest potential.

Students can choose to take the international

Primary School Leaving Examinations (iPSLE)

and Cambridge Checkpoint tests in Primary

School. The Sixth Form school students can

take the iGCSE, followed by Cambridge A and

AS level examinations. Alternatively, Grade 11

and 12 students can choose to pursue an IB

education from 2020 onwards.

Pracha Uthit campus was officially opened

on 7th June 2012 with a ceremony presided

by Her Royal Highness Princess Maha Chakri

Sirindhorn. The campus features well-equipped

classrooms, a library, science and computer

laboratories, a multi-purpose hall, basketball

court, swimming pool and playgrounds.

In 2016, the extension to Pracha Uthit campus

was completed. The extension includes the

Secondary and Sixth Form School complex

which caters for 850 students, facilities such

as a two-storey indoor Sports Complex, a

25-metre competition-standard swimming

pool, a Creative Arts and Media Centre with a

407-seat auditorium, film studio, editing suite,

digital studio, rehearsal studio, as well as

boarding facilities that can accommodate up

to 336 students.

6

NURSERY AND KINDERGARTEN
---
▪ SCHOOL PHILOSOPHY

We believe that students are unique individuals endowed with special talents and have the

desire to succeed, and that every student is important, and every parent a partner.

▪ SCHOOL VISION

Every student will aspire to be a Scholar, a Leader and a Global Citizen.

▪ SCHOOL MOTTO

Spirit of Excellence

▪ SCHOOL MISSION

To be a World-Class School that provides the students with holistic education to make the

world a better place.

▪ SCHOOL INSTRUCTIONAL GOALS & OBJECTIVES

We believe that the spirit of these goals and objectives will mould the values, attitudes and

actions of all stakeholders and will enable students to confront and address the multiplicity

of problems and challenges which come from living in an ever-changing and diverse world.

We aim to offer quality programmes:

● We provide a conducive and safe learning environment that is intercultural, international

multilingual and challenging for effective learning and teaching.

● We aspire to having our students become academically able, critical thinkers, life-long

learners and global citizens in a learning environment which is intercultural, international

and multilingual in its outlook, and rigorous, creative and nurturing in its approach.

● We nurture our students to attain a level of competency in three languages, and to equip

them with information technology and life skills necessary to successfully access tertiary

education in universities of their choice throughout the world.

● We promote a healthy lifestyle through co-curricular and extra-curricular activities.

● We ensure professional development for all our staff, and commit to working with parents

and other stakeholders to build a strong and close-knit community.

▪ SCHOOL CORPORATE VALUES

● Independence

● Responsibility

● Respect

● Resilience
---
8 NURSERY AND KINDERGARTEN
---
BOARD

CHAIRMAN'S

MESSAGE

This has been an extraordinary year for many reasons.

This was the year that revealed how fragile the world can

be when faced with global crises such as COVID-19.

This was the year that showed how vulnerable the school

can be to forces that are beyond our control.

But this was also the year that reassured me that no matter

what challenges there may be, SISB is capable of rising

up to it, and say, "this will not beat us".

From enduring the possibility of COVID-19 infections,

to ensuring that our students continue their education

through Home-Based Learning, our entire community of

students, parents and staff has done exceptionally well.

However, the threat of COVID-19 is far from being a thing

of the past. We will still need to be careful, and adapt to

what many are terming as the "new normal". I am confident

that SISB will continue to do well, regardless of the

circumstances.

Despite the apparent difficulties, we have every reason to

be optimistic about our future.

Many of our Secondary-Sixth Form students have received

offers from acclaimed universities from around the world.

Armed with the solid foundation that an education in SISB

has provided them, they are well-placed to achieve success

no matter where or what they choose to pursue.

SISB Pracha Uthit will offer the International Baccalaureate

Diploma Programme (IBDP) from August, in addition

to Cambridge International AS & A Levels. The IBDP provides

our students with more options, and will definitely

help them get into top universities and achieve success in

their future careers.

Our campuses in Thonburi and Chiangmai have also started

their Secondary sections, in line with our belief to provide

a through-train education pathway for our students.

To cater for this expansion, SISB Thonburi will begin the

construction of a new phase very soon, providing modern

facilities such as a new academic block, and other amenities

that blend nature and design. Our students will have a

very conducive environment to learn in.

Please have faith that we are ready and able to overcome

the challenges that lie before us. I urge you to stand together

with my team and I, and we will make sure that our

days ahead are bright and full of possibilities.

Kelvin Koh

Chairman of the School Governing Boards

PRACHA UTHIT YEARBOOK 2019-2020 9
---
HEAD OF SCHOOL

MESSAGE

Following the above, SISB schools swung into action

seeking to achieve our Mission and Vision. Induction

programmes were mounted for staff and students

at all levels. All-staff training focused on operationalising

the Child Protection Policy as well as in using

effective strategies for learning and teaching. The

NK, Primary and Sixth Form sections continued with

their distinctive in offering the best education, activities

and programmes to their charges ranging from

Corporate Social Responsibility projects, residential

programmes, local and overseas educational projects

besides effective classroom teaching and extra

and co - curricular activities. We were able to work

concertedly to successfully meet the CIS pre-evaluation

exercise, achieved our IBDP authorization as

an IB World School, secured outstanding Cambridge

IGCSE and "AS/A Level" results and to implement a

Virtual Open House with great accolades.

Dr. Ong Teck Chin

SISB began the school year in August 2019 with our usual

staff gathering for all SISB units at our School auditorium

in the Pracha Uthit campus when our CEO, Kelvin

Koh addressed and challenged all staff to continue

working together as in the past, so that SISB will continue

to make its mark on our students in all sections of our

schools. We are to maintain the high standards we have

set for our students and ourselves in their learning and

in our teaching and in all school matters and activities.

HOS shared with the audience the theme for the year

"Towards the Mark of Excellence" which is in tandem of

what our CEO has desired for SISB as an integral part of

a public listed company.

The academic year 2019/ 2020 is definitely a milestone

in the history of SISB.The most unforgettable

being the COVID 19 pandemic. In spite of the initial

surprises and the demands the pandemic has placed

on us, we are proud to say that SISB has tackled the

pandemic, its challenges and demands in our stride.

This world wide pandemic has challenged us to rethink

the many things that we have taken for granted,

our lives, our health, our families, our education

and our day to day living which have been all along

smooth sailing. Right from its onset, SISB was able

to band together, united as "One SISB" to speedily

develop strategies for Online Learning and teaching

including examinations which were applauded by

Bangkok Post as one of the best amongst Bangkok

schools. Our successes can be attributed to the

combined effort, co-operation and unity in mind of

all in SISB, well demonstrated by the Corporate, Operation,

Academic, Security, Nursing, Admission and

Administrative staff with the shared aim of doing our

best for all concerned. On this note, I would like to

extend my congratulations and heartfelt appreciation

to all staff.

With the above, we look forward to the new academic

year with optimism as we attempt to "Soar on

Wings like Eagles" which is the theme for our new

academic year.

10 NURSERY AND KINDERGARTEN
---
PRINCIPAL OF

NK SECTION

MESSAGE

"Education is the passport to the future, for tomorrow belongs

to those who prepare for it today." - Malcolm X

Schools have a duty to provide education to students to

teach them to walk into the future equipped with ​the most

powerful tool in the world, knowledge. With this tool, every

child will be able to embrace and adapt to change and

surge forward with strength in light of all challenges.

This is the role of SISB educators, to provide the best education

we can, preparing our students to be future scholars,

leaders and most of all global citizens. As a Principal,

Executive Principal, NK and Head of School, I dream to see

my students become successful in their lives, as individuals

who will continuously seek knowledge independently

to excel, live their lives respecting others and themselves,

being responsible contributing adults and develop resilience

to challenges, building character and strength.

Life is not predictable, nor does it come with guarantees.

Circumstances may force us time and time again to rethink

our ways of life, our values, our contribution to our

world and others as it has with the COVID 19 pandemic

that has rocked the world. We had to take a 360 degree

view of ourselves and make the necessary changes in order

to continue as people of the world. We now not only

know, but have proof that only together, we can make this

world a better place and that is what we will teach our children

everyday.

Today, I can say that I am proud of all my students, those

who are still with us and those who have moved on. They

carry a little part of my efforts and are the product of what

SISB has to give. This journey can never be successful

without the partnership of our parents and our community.

By entrusting their children to SISB and leaders of SISB,

like me, parents have given me the honour to work hard

everyday to ensure that the children are learning in a happy

environment and are safe.

Ms. Narisa Lertnamwongwan

One again, we promise to never stay stagnant and to always

strive for the best for our students. We will explore

and embrace the best practices to ensure that we provide

the best education for our students. We are sure that together

with the parents, we will take SISB to new heights

in the education world and our children will be the best

they can be.

PRACHA UTHIT YEARBOOK 2019-2020 11
---
NURSERY

KINDERG

AND
---
ARTEN
---
NURSERY 1

14

NURSERY AND KINDERGARTEN
---
N1 Prep

Ing

Jerng

Pauline

Chula

Dean

My dearest Pre-N students You were the youngest Students in my group and you did a fantastic job! You

were brave and you explored our activities with curiosity of devoted adventurers. It was fun and privilege

to teach you last year. And I was absolutely delighted to see you during our Well-being online sessions.

You can stay assured that I will remember you and I will miss you: I love you all. And I believe that you

will do very well in N1! Well done, everybody!

Adriana Borowiecka

Homeroom Teacher

Mary Ann Angel Repollo Pacis

Teacher Assistant

Rujee Yeerong

Teacher Assistant

Oranicha Sangwattanarat

Teacher Assistant

PRACHA UTHIT YEARBOOK 2019-2020 15
---
NURSERY 1

Dear N1 Love, thank you for making my life in N1 so much brighter. We passed through our challenges from the start,

it was difficult for you to be separated from your parents. Then, we passed through this virtual learning and we made it

fun learning together. Please remember that I treat each of you as my child. I will remember the time we spent together

and I will keep it in my heart forever. Please come back to visit me. I am just here for you! I Love you all N1 Love and I

will miss you.

Joy Capinpuyan Roble

Homeroom Teacher

Pornthip Wilas

Teacher Assistant

Jonalyn Tago Sabicido

Teacher Assistant

Melcel Bacalla

Teacher Assistant

16

NURSERY AND KINDERGARTEN
---
N1 LOVE

Ailyn

Ava

Beary

Cael

Dami

Irin

Isaac

Lion

Milin

Nana

Order

Paul

Pina

Sann

Tao Tao

Tasha

Thames

Yingkhun

Yuri

PRACHA UTHIT YEARBOOK 2019-2020 17
---
NURSERY 1

My beloved N1 Joy, thank you for a wonderful year together. You worked hard and kept trying even when we had to

learn how to learn online. You all showed your teachers what big boys and girls you have grown up to be. It made me so

proud to see how you took on new challenges and always tried until you succeeded. I am grateful for the time we spent

together. Good luck with N2 next year, I know you will continue to do amazing things.

Anke Danielle Beyleveld

Homeroom Teacher

Mercy Abenojar

Teacher Assistant

Cecille Tandog Silverio

Teacher Assistant

Nittaya Planechuen

Teacher Assistant

18

NURSERY AND KINDERGARTEN
---
N1 JOY

Albert

Beyond

Joey

Justin

Ken

Kwan

Maya

Mimi

Mira

Narna

Niw Niw

Olivia

Panda

Pearl

Prima

Proud

Q

Richie

TuTu

Yai-Luck

PRACHA UTHIT YEARBOOK 2019-2020 19
---
NURSERY 1

My lovely N1 Peace Students, I was very lucky to teach you. You were all like my private suns, shining brightly, being so

clever and warm. Every one of you will hold a piece of my heart forever. I am very proud I had the opportunity to show

you some wonderful things, and you showed me great things too. I love you and I will miss you.

Adriana Borowiecka

Homeroom Teacher

Mary Ann Angel Repollo Pacis

Teacher Assistant

Rujee Yeerong

Teacher Assistant

Oranicha Sangwattanarat

Teacher Assistant

20

NURSERY AND KINDERGARTEN
---
N1 PEACE

Allgood

Bella

Cassie

Duo Duo

Gracie

Jana

Jin

Julie

Nitcha

Paulpan

Pippa

Pleum

Yang Yang

Ying Ying

PRACHA UTHIT YEARBOOK 2019-2020 21
---
NURSERY 2

Dear N2 Love, this has been a rather interesting and challenging year for all of us. I am however still so fortunate to have

had such a smart, vibrant, caring and fun class of N2 students this year!

My wish for you going into K1 next year is to continue living, learning and growing just as you are!

Alexandra Leigh Bolze

Homeroom Teacher

Arunee Harnprakon

Teacher Assistant

Rose Ann S. Revillas

Teacher Assistant

22

NURSERY AND KINDERGARTEN
---
N2 LOVE

Airi

Andy

Cubic

Ely

Grace

Hugo

Huining

Iris

Kris

Kuang

P

Prime

Qu Qu

Rux

Seigi

Shasha

Taro

Thun

PRACHA UTHIT YEARBOOK 2019-2020 23
---
NURSERY 2

This has been a year with many challenges, but as an educator I am extremely lucky to have had this group of students.

The friendships and relationships that were formed were crucial in creating such an amazing classroom environment.

Teacher Leo along with Teacher Jubjang and Teacher Ann are going to remember N2 Joy of 2019-2020 forever, thank

you for all the memories N2 Joy.

Leonard Coertse Batt

Homeroom Teacher

Rachel Ann Rico

Teacher Assistant

Sirintra Amanpong

Teacher Assistant

24

NURSERY AND KINDERGARTEN
---
N2 JOY

Achi

Ai

Awind

Bene

Emma

Hannes

IP

Lahja

Moji

Pan

Paul

Potter

Sei

Tycoon

Vida

Yuneeze

Zhen Zhen

PRACHA UTHIT YEARBOOK 2019-2020 25
---
NURSERY 2

Dear N2P 2019-2020, I know I have been *just* your teacher, but we spent a good time together and change is never

easy. I hope you'll remember me. I hope my discipline made you stronger. I hope my kindness made you feel safe. I

hope my classroom was a place where you learned many things and made many friends; I hope it was a place you

genuinely like to be. While I'm a little sad to say goodbye, I'll think of you succeeding where you're at. I'll think of how

you've grown and how you'll continue to do so. And I'll not only think of how much you've learned but also how much

you've taught me.

Lukiah Tamusuza Nalwadda

Homeroom Teacher

Marites Clemente Arcilla

Teacher Assistant

Pornsinee Sriwiset

Teacher Assistant

26

NURSERY AND KINDERGARTEN
---
N2 PEACE

Aimi

Anpan

Antta

Azhley

Viva

Fungfun

Gangding

Heson

Lowell

Meetham

Nicha

Peak

Preme

Radhar

Ran Ran

Seven

Snow

Spencer

PRACHA UTHIT YEARBOOK 2019-2020 27
---
NURSERY 2

My precious N2 Hope. What a challenging year it was for you! We started with a lot of new students in the class, many

who could not speak or understand any English. Then, from having one teacher in Term 1, a different teacher in Term 2

(after I gave birth and went on maternity leave) and a completely different way of learning in Term 3 - there have been so

many changes that you've had to adapt to! But each one of you has made me super proud! You have just adjusted with

such ease and resilience. I am amazed to see your growth and strength. I will miss your gorgeous smiles so much, my

boys and girls. I have learnt a lot from you this year and I will treasure all the fun memories we've made together. I wish

you all the best for your next academic year.

Keep shining! Big hugs from me.

Wilma Corlene Grobler

Homeroom Teacher

Dama Fae Castillo

Teacher Assistant

Napassanan Siripatpanya

Teacher Assistant

28

NURSERY AND KINDERGARTEN
---
N2 HOPE

Alice

Angel

Ani

Benson

Gaoxing

Hope

Ikk

Janish

Jill

Kang

Latte

Peare

Summer

Ter

Tudjin

Wansuk

Winner

PRACHA UTHIT YEARBOOK 2019-2020 29
---
NURSERY 2

Dear N2 Faith,

It has been an absolute honour and a privilege to watch you all grow this year.

I have been blessed to be your teacher and I've come to love you all, so I can't believe this is the end.

Remember all the fun times we had and I will treasure all the memories we had together in N2 Faith.

As you continue your journey to K1, never forget to keep learning, to keep having fun but most of all to love each other.

I am so proud of you all. I will miss each and every one of you. Don't forget me!

Good Luck N2 Faith!

Lots of Love and big hugs.

Sien Mei Tsang

Homeroom Teacher / Coordinator of N2

Mary Grace Tamayo Benatero

Teacher Assistant

Sumitra Khianborisut

Teacher Assistant

30

NURSERY AND KINDERGARTEN
---
N2 FAITH

Anna

Beppu

Cooper

Fucheng

Michelle

Nam

Nirin

Pailin

Pancake

Prim

Qiyi

Sky

Sueakaao

Ta

Ta Ta

Theo

Tisha

PRACHA UTHIT YEARBOOK 2019-2020 31
---
KINDERGARTEN 1

Dear K1Love!

At the start of the school year we didn't know each other well and some of us were even new to the school. You all tried

your very best to make sure that everyone felt welcome in class.

Teacher Cherry and I loved being your teachers this unusual school year and we want you to know that you are very

dear to us. We noticed that you even cared for one another when we started teaching online so the name K1Love suits

you well!

Each one of you has learned new skills in K1 and we have seen much improvement. Enjoy learning new things in K2!

Keep wondering, be open-minded and throw kindness around like confetti!

Don't forget to stop by the K1Love classroom

Annet Huizing

Homeroom Teacher

Cherry mae Josol

Teacher Assistant

32

NURSERY AND KINDERGARTEN
---
K1 LOVE

Adi

Alwin

Betty

Bung

Claire

Gail

Gege

Jin

Jingyi

Kaci

Lyn

May

Miya

Nara

Pluem

Pok

Quinn

Tanruk

Tutu

Yuuta

PRACHA UTHIT YEARBOOK 2019-2020 33
---
KINDERGARTEN 1

Dear K1 Joy,

I'm very content for having the privilege of being your homeroom teacher this year. I saw you learn, make friends, have

fun and become more confident and independent. You made me feel loved, welcome, and I hope you felt the same in

our classroom. This year definitely passed fast and I wish we had more time to spend together. Keep showing your

future teachers how awesome you can be.

You will forever have a special place in my sweetest memories.

Elizabeth Monteiro

Homeroom Teacher

Christine Antonio Marcon

Teacher Assistant

34

NURSERY AND KINDERGARTEN
---
K1 JOY

Ana

Constance

Dale

Dyno

Fuji

Kati

Kitty

Korbua

Magnus Lucas

Megan

Mook

Nene

Penny

Ploen

Preme

Proud

Tara

Tigger

Tul

Wawa

PRACHA UTHIT YEARBOOK 2019-2020 35
---
KINDERGARTEN 1

Dear K1 Peace,

What an exciting year we've had together! Each and every one of you have grown so much this year and showed resilience

and determination in the face of new challenges. You have shown everyone how open-minded and caring you

could be during our PBL units, special events, performances and even when we moved to home-based learning. I am

proud of everyone for your hard work and being such shining superstars. It was a wonderful year teaching you and I

wish you the best of luck in K2! I hope that your futures shine as bright and strong as you do each day.

Thank you for being a part of the K1 Peace family.

Meeca Stenson

Homeroom Teacher & Coordinator of K1

Joanne Lizardo Abrigo

Teacher Assistant

36

NURSERY AND KINDERGARTEN
---
K1 PEACE

Alex

Aya

Carrey

Chang Chang

DuDu

Geda

Jeva

Kaokla

Mango

Maya

Nave

Panna

Pearl

Poom

Prim

Putter

Thames

Theelyn

Tonmai

Xuanxuan

PRACHA UTHIT YEARBOOK 2019-2020 37
---
KINDERGARTEN 1

Dear K1 Hope!

Well done! You have all been amazing and have done so well this year! I am very proud of all of you. You have all tried

so hard. It has been a pleasure to teach you and I will always remember the fun time we had.

I wish you all a very bright future and I hope your dreams come true!

Best of luck for the next step - I know you will have an amazing time in K2!

Jonathan Paton Deller

Homeroom Teacher

Edralyn Veja Fetalino

Teacher Assistant

38

NURSERY AND KINDERGARTEN
---
K1 HOPE

An An

Ava

Charn

Cuddlepie

Jana

Ji

Kawin

Momo

Mumu

Nana

Paulpoon

Pingping

Pran

Punno

Remi

Runa

Sunny

Tigger

Tin Tin

PRACHA UTHIT YEARBOOK 2019-2020 39
---
KINDERGARTEN 1

What a fantastic year in K1 Faith! It has been a pleasure teaching all of you this year and I have loved watching you grow

into wonderful K1 students throughout the year. We have learned so much throughout this year, whether it be in the

classroom or through our online lessons.

I am so proud of all your hard work in K1 and have seen so much improvement in each and everyone of you. I wish you

all the best moving into K2 and I know you will all succeed and continue to grow!

Caley Dawn Steinert

Homeroom Teacher

Love Shieka Palmones Diadid

Teacher Assistant

40

NURSERY AND KINDERGARTEN
---
K1 FAITH

Amy

Austin

Boongmui

Dana

Didi

Emma

Gwethan

Happy

Lanna

Matthew

Mimi

Phil

Pin Pin

Preme

Qian Qian

Tin

Tommy

Visa

Wesley

Win

PRACHA UTHIT YEARBOOK 2019-2020 41
---
KINDERGARTEN 2

To my dearest K2 Love students,

Although we've only spent a few months together, I will always cherish you deep in my heart. It was a wonderful opportunity

to teach you and to see how you have grown into more confident and independent students. You have shown

kindness and respect to your classmates and your teachers and that made me so proud of you. I will miss you a lot, but

I wish you all a wonderful new year ahead in P1. Grow, blossom and don't be afraid to take risks. Love you all!

Aletta Johanna Van Der Vyver

Homeroom Teacher

Ivy Lou Palomases

Teacher Assistant

42

NURSERY AND KINDERGARTEN
---
K2 LOVE

Bambi

Elsa

Freya

Jacob

Jinjin

Ken

Kimmie

Kun

Lin Lin

Mhuey-Lhee

Nendo

Nisa

Ploen

Timmy

Tin

Victoria

Wen Wen

Yi Yi

Zi Zi

PRACHA UTHIT YEARBOOK 2019-2020 43
---
KINDERGARTEN 2

To the students in K2 Joy, Well done! You have had an amazing year of learning, growing, building special friendships

and making wonderful memories. Each and everyone of you brought something special into the classroom and for that

I am so grateful. I treasure the time I have had with you and I am proud of you for what you have achieved when you tried

your best. I wish you the best of luck in the future, I know you will all continue to shine in your own ways, just like you do.

Adrienne Weidner

Homeroom Teacher

Catherine Salanadan

Teacher Assistant

44

NURSERY AND KINDERGARTEN
---
K2 JOY

Beam

Bhuping

Byte

Chuenjai

Earn Earn

Ernie

Ik

Iri

Jowa

Meeproud

Nita

Ocean

Ploy

Proud

Quinnie

Tutor

Vich

Daniel

PRACHA UTHIT YEARBOOK 2019-2020 45
---
KINDERGARTEN 2

K2P, this was one of best years I've had as a teacher. We did so much this year and you learned so much. I'm proud

of the way you all worked during the lockdown. Your hard work and sense of humor was a constant inspiration to me,

making me work harder and try to do more creative things. Your enthusiasm was an inspiration to me and I thank you

for always trusting me to lead you right. I hope you never lose your enthusiasm for school and life. Good luck next year

and have a good summer. I'll miss you next year.

Matthew Ralph Dickun

Homeroom Teacher

Emma Lou Andrada Lechoncito

Teacher Assistant

46

NURSERY AND KINDERGARTEN
---
K2 PEACE

Boston

Chai

Gena

Harbour

Carol

Kate

Kimtoong

Leeong

Lucky

Ming Ming

Miyuu

Nara

Pichcha

Prem

Proud

Titan

Wawa

Wynn

PRACHA UTHIT YEARBOOK 2019-2020 47
---
KINDERGARTEN 2

To our incredible, funny, smart, caring, happy, adventurous K2 Hope kids! Teacher Corina and I are thankful for the year

we had together with you in K2 Hope; we will miss you all very much. Thank you for making it so much fun. Always

remember how talented you are and the amazing things you can do. Have lots of fun in P1!

Thomas Alexander Emery

Homeroom Teacher

Maria Corina Naneth Reyes Japon

Teacher Assistant

48

NURSERY AND KINDERGARTEN
---
K2 HOPE

Ah Fong

Gorbua

Guy

Jair

Janis

Java

Joakim

Keane

Migale

Milin

Mita

Ploen

Pok

Ray

Sugar

Titan

Yindee

Yi Yi

Yuki

Zen Zen

PRACHA UTHIT YEARBOOK 2019-2020 49
---
KINDERGARTEN 2

To my dear K2 Faith,

I have loved seeing your hard work, your dedication, your kindness and your fun-loving spirit as we spent this year

together. You were a joy to be around and I loved being your teacher. Thanks for being a gem of a class. I know great

adventures are in store for each and every one of you. Remember, always be kind and that you are strong and capable.

Work hard at whatever you do, and you can do anything! All the best in P1!

Lindsay Thompson

Homeroom Teacher

Rosanna Tigrera

Co-Homeroom Teacher

What an amazing experience it has been for me to be your teacher. I knew from the first day we were going to have a

great time together. Each of you have such great hearts and personalities that I will not forget. I have enjoyed watching

you learn, explore and play, and you have inspired me to be a better teacher.

Keep being respectful, responsible and keep always trying your best. You have a bright future and I know you will continue

to succeed in whatever you do. Congratulations and good luck!

Shelanie Ramirez Trinidad

Teacher Assistant

50

NURSERY AND KINDERGARTEN
---
K2 FAITH

Dina

Elle

Jean

Korn

Linglong

Margie

Nada

Navin

Ongsa

Papim

Pleng

Proud

Pun

Sky

Summer

Thena

Xiao Long

Yuqi

PRACHA UTHIT YEARBOOK 2019-2020 51
---
KINDERGARTEN 2

To my graceful, K2 Grace 2019-2020 class. You have been a wonderful class throughout the year. Your hardwork, dedication,

enthusiasm and love will be missed as you move on to P1. You were a hard nut to break with a lot of work we

did together in class every morning. Thank you for the spirit of love and unity with a purpose as we shared our short year

together. Your jokes and compliments made our day and we always looked forward to coming to school. You will be

missed dearly and cherished forever in our hearts. Congratulations as you graduate to a new class, P1. It was an honor

to be your homeroom teacher.Remember to keep the motto, united we stand, divided we fall. Cheers!

Prisca Lilian Agola

Homeroom Teacher

Shairel Aquino Martin

Teacher Assistant

52

NURSERY AND KINDERGARTEN
---
K2 GRACE

Anna

Cooper

Ethan

Ginn

Grace

Harvey

Ting Ting

Kate

Tommy

Noan

Irene

Jayde

Jena

Nami

Note

Oli

Oliver

Preem

Prompt

Ryu

PRACHA UTHIT YEARBOOK 2019-2020 53
---
KINDERGARTEN 2

Hello K2 Smile children! Congratulations on your graduation. Thank you for making my best year guys! Everyone in K2

Smile class has made Teacher Lisa smile and enjoy everyday. I hope you carry happy and fun memories to your future

class in the primary year. Teacher Lisa is proud of you all and I know that you all worked your hardest to elevate your

learning!

You are big boys and girls now! Teacher Lisa is looking forward to seeing my smart and sensible students in their primary

year. Wish you all the best in your primary years.

Thank you for being my students and Teacher Lisa feels lucky to be your teacher. Teacher Lisa will miss you all.

Lisa Chung

Homeroom Teacher

Rochelle Joy Belonio Ahiwe

Teacher Assistant

54

NURSERY AND KINDERGARTEN
---
K2 SMILE

Allexter

Ethan

Gorn

Hayden

Ichi

Irene

Kaopan

Kavin

Lita

Minnie

Natha

Pancake

Phing

Pinya

Rolex

Sea

Titan

PRACHA UTHIT YEARBOOK 2019-2020 55
---
KINDERGARTEN 2

Dearest K2 Courage friends, congratulations on your graduation! You have all worked so hard and grown so much this

year and throughout your journey through NK. I am so proud of all the resilience and courage you have shown this year.

I am so lucky I get to teach such a friendly group of young learners. I'll never forget our fun morning circle games, adventures

on the playground, or the huge pile of books and clothes we raised for We Give, We Share.

Thank you for a great year, K2 Courage! You are all wonderful and special in your own way, and I'm excited to see you

all take your talents to Primary!

Thomas Jay Scholberg

Homeroom Teacher

Erma Nunez Valeriano

Teacher Assistant

56

NURSERY AND KINDERGARTEN
---
K2 COURAGE

Ames

Bena

Brighton

Duo Duo

Idea

Ing

Jean

Jeven

Jida

Kan

Ke Ke

Luis

Pete

Reina

Timmy

Trin

Tung Tung

Yuan Yuan

Lucas

PRACHA UTHIT YEARBOOK 2019-2020 57
---
ACTIV
---
ITIES
---
ACTIVITIES

60 NURSERY AND KINDERGARTEN
---
PRACHA UTHIT YEARBOOK 2019-2020 61
---
62 NURSERY AND KINDERGARTEN
---
PRACHA UTHIT YEARBOOK 2019-2020 63
---
64 NURSERY AND KINDERGARTEN
---
PRACHA UTHIT YEARBOOK 2019-2020 65
---
Autograph

66 NURSERY AND KINDERGARTEN
---
Autograph

PRACHA UTHIT YEARBOOK 2019-2020 67
---
sisb.ac.th

SINGAPORE INTERNATIONAL SCHOOL OF BANGKOK

498/11 Soi Ramkhamhaeng 39 (Tepleela 1), Wangthonglang, Wangthonglang, Bangkok 10310 Thailand

Tel: +66 (0)2 158 9191 Fax: +66 (0)2 158 9192

Email: info@sisb.ac.th

SINGAPORE INTERNATIONAL SCHOOL CHIANGMAI

10 Hussadhisawee Road, Tambon Sripoom, Amphoe Muang, Chiangmai 50200 Thailand

Tel: +66 (0)90 892 3888 | +66 (0)90 893 2888

Email: info.chiangmai@sisb.ac.th

SINGAPORE INTERNATIONAL SCHOOL EKKAMAI

154 Soi Ekkamai 14, Sukhumvit 63, Klongton Nua, Wattana, Bangkok 10110 Thailand

Tel: +66 (0)2 714 4099 Fax: +66 (0)2 391 6017

Email: info.ekkamai@sisb.ac.th

SINGAPORE INTERNATIONAL SCHOOL SUVARNABHUMI

4/5 Moo 5, Namdaeng - Bangplee Road, Bangkaew, Bangplee, Samutprakarn 10540 Thailand

Tel: +66 (0)2 710 2211 Fax: +66 (0)2 710 2156

Email: info.suvarnabhumi@sisb.ac.th

SINGAPORE INTERNATIONAL SCHOOL THONBURI

Ratchamontri Road, Bang Ramat, Taling Chan, Bangkok 10170 Thailand

Tel: +66 (0)81 620 6113

Email: info.thonburi@sisb.ac.th