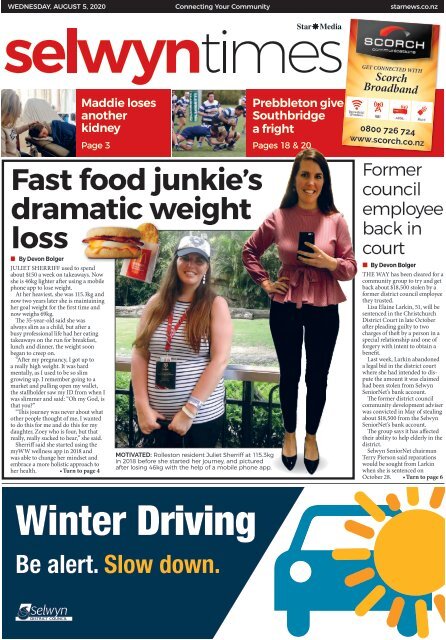 Selwyn Times: August 05, 2020
You also want an ePaper? Increase the reach of your titles
YUMPU automatically turns print PDFs into web optimized ePapers that Google loves.
WEDNESDAY, AUGUST 5, 2020

Connecting Your Community

starnews.co.nz

Maddie loses

another

kidney

Page 3

Fast food junkie's

dramatic weight

loss

• By Devon Bolger

JULIET SHERRIFF used to spend

about $150 a week on takeaways. Now

she is 46kg lighter after using a mobile

phone app to lose weight.

At her heaviest, she was 115.3kg and

now two years later she is maintaining

her goal weight for the first time and

now weighs 69kg.

The 35-year-old said she was

always slim as a child, but after a

busy professional life had her eating

takeaways on the run for breakfast,

lunch and dinner, the weight soon

began to creep on.

"After my pregnancy, I got up to

a really high weight. It was hard

mentally, as I used to be so slim

growing up. I remember going to a

market and pulling open my wallet,

the stallholder saw my ID from when I

was slimmer and said: "Oh my God, is

that you?"

"This journey was never about what

other people thought of me, I wanted

to do this for me and do this for my

daughter, Zoey who is four, but that

really, really sucked to hear," she said.

Sherriff said she started using the

myWW wellness app in 2018 and

was able to change her mindset and

embrace a more holistic approach to

her health. • Turn to page 4

MOTIVATED: Rolleston resident Juliet Sherriff at 115.3kg

in 2018 before she started her journey, and pictured

after losing 46kg with the help of a mobile phone app. ​

Prebbleton give

Southbridge

a fright

Pages 18 & 20

GET CONNECTED WITH

Scorch

Broadband

0800 726 724

www.scorch.co.nz

Former

council

employee

back in

court

• By Devon Bolger

THE WAY has been cleared for a

community group to try and get

back about $18,500 stolen by a

former district council employee

they trusted.

Lisa Elaine Larkin, 51, will be

sentenced in the Christchurch

District Court in late October

after pleading guilty to two

charges of theft by a person in a

special relationship and one of

forgery with intent to obtain a

benefit.

Last week, Larkin abandoned

a legal bid in the district court

where she had intended to dispute

the amount it was claimed

had been stolen from Selwyn

SeniorNet's bank account.

The former district council

community development adviser

was convicted in May of stealing

about $18,500 from the Selwyn

SeniorNet's bank account.

The group says it has affected

their ability to help elderly in the

district.

Selwyn SeniorNet chairman

Terry Pierson said reparations

would be sought from Larkin

when she is sentenced on

October 28. • Turn to page 6

Winter Driving

Be alert. Slow down.
---
2 Wednesday August 5 2020

Latest Canterbury news at starnews.co.nz

from the editor's desk

SELWYN TIMES

GENERAL INQUIRIES Ph 379 7100

CLASSIFIED ADVERTISING Ph 379 1100

Star Media, a division of Allied Press Ltd

PO Box 1467, Christchurch

starmedia.kiwi

IF YOU want to know what

too much fast food does to

you, look at page 1.

But if you don't want to

know what too much fast

food can do to you, don't

look at page 1.

Juliet Sherriff was a fast

food junkie and she paid

the price, not only the

$150 it cost her a week to

feed the habit but also in

kilos.

Now the Rolleston woman

is a shadow of her former

self, shedding 46kg off her

once 115.3kg frame. That's a

great effort.

Juliet has put her

transformation down to a

weight loss app.

Losing weight is mind

over matter in many cases,

combined with decreasing

consumption and increasing

exercise.

So go easy on those hunger

buster combos.

– Barry Clarke

NEWS

Devon Bolger

Ph: 021 914 742

devon.bolger@starmedia.kiwi

ADVERTISING

Lynette Evans

Ph: 364 7434

lynette.evans@starmedia.kiwi

news

Mullets to go for good cause

The Motor Neurone Disease Association will benefit from an event

where a group will have their mullets cut off as a fundraiser.

Page 12

The best-read local newspaper,

delivered to 20,622 homes

every week.

Ladbrooks • Tai Tapu • Leeston • Lincoln

Southbridge • Prebbleton • Halswell

Rolleston • Templeton • Burnham • Kirwee

West Melton • Darfield • Arthur's Pass

community events

Open garden day

Go along to the Terrace Station open garden day on Sunday from 11am to

3pm. Stroll in the 15ha of woodlands and then enjoy a picnic lunch. Milnes

Rd, Hororata.

Page 23

@ The Laboratory

17 West Belt

Lincoln

Buy your tickets online

or from the bar

apollo.thelaboratory.co.nz

"Exclusive"

Ravelli ULEB Wood Pellet Fires

Book to dine at

the Lab before or

after ph 3253006

15 comfy seats - Private Hire available

Cheap $10 Tuesdays

Gift Vouchers available

Kiwi Comedys Heart Warming Mid-life Crisis Fresh & Funny Dickens

Irish Feel Good

One for the Kids

Tuesday, 4 August

11:00 AM Where'd You Go, Bernadette

1:10 PM ABump Along the Way

3:10 PM Greed

5:15 PM Personal History of David

Copperfield

7:40 PM Shirley

Thursday, 6 August

M 11:00 AM This Town

M 1:00 PM Love Sarah

R13 3:00 PM ABump Along the Way

PG 5:00 PM Where'd You Go, Bernadette

M

7:15 PM Personal History of David

Copperfield

M

M

M

M

PG

Saturday, 8 August

10:00 AM Trolls World Tour

12:00 PM Love Sarah

2:00 PM Red Shoes and the Seven Dwarfs

3:55 PM Military Wives

6:10 PM This Town

8:00 PM Where'd You Go, Bernadette

G

M

G

M

M

M

Wednesday, 5 August

10:30 AM Mums &Bubs -

Where'd You Go, Bernadette

1:00 PM Personal History of David

Copperfield

3:20 PM ABump Along the Way

5:20 PM Where'd You Go, Bernadette

7:25 PM Radioactive

M

PG

M

M

M

Friday, 7 August

11:00 AM Where'd You Go, Bernadette

1:10 PM ABump Along the Way

3:05 PM Personal History of David

Copperfield

5:30 PM This Town

7:25 PM Military Wives

M

M

PG

M

M

Sunday, 9 August

10:30 AM Private Hire

12:40 PM Personal History of David

PG

Copperfield

3:00 PM Trolls World Tour

G

5:00 PM This Town

M

7:00 PM Military Wives M

Pellet and Wood Fire Specialists

472 Blenheim Road

Sockburn

Phone: 03 343 1651

Open 8:30am - 5pm

Sat 10am - 1pm

www.heatstore.co.nz

Celebrating our diversity

18–24 October

CultureFest

Sunday 18 October, 10am–4pm

Lincoln Event Centre and Domain

Expressions of Interest

Cultural performers | Activities | Ethnic food vendors

Register by 28 August:

selwyn.govt.nz/cultureweek
---
SELWYN TIMES Latest Canterbury news at starnews.co.nz

Wednesday August 5 2020 3

News

Maddie recovering

after removal of second transplanted kidney

• By Devon Bolger

WEST MELTON teenager

Maddie Collins has had her

second transplanted kidney

removed after her body rejected

it.

The 16-year-old is now reliant

on dialysis to keep her alive.

She has

been battling

the

kidney

disease,

nephrotic

syndrome

for several

years.

Sarah

Manson-Collins

Maddie's

mother,

Sarah

Manson-Collins, said the kidney,

which was transplanted in

2018, was removed on July 28

following a steady decline in its

function.

"She has really improved with

the kidney gone, we don't have

any temperatures anymore.

We just have the pain from the

surgery. I think it was the best

decision," she said.

Manson-Collins said Maddie

now has to continue with fivehour

hemodialysis sessions three

times a week for the next month.

"We can't use her peritoneal

dialysis tube for another month

because shes had surgery.

"It is a better treatment

because she can just hook

herself up overnight and

sleep while it's happening and

disconnect herself from it in the

morning."

The best way forward for

Maddie now is to have a period

of stability on overnight dialysis

before the search for another

transplant begins again, she said.

comedy night

REJECTION:

Maddie

Collins has

lost her

second

transplanted

kidney.

(Left) – Sister

Georgia

visits

Maddie in

hospital.

"This will allow her to regain

some life and wellness. She has

made the NZ dressage youth

camp as a mounted rider in

September so that's a goal for her

to work towards."

Although it will be difficult to

find another kidney match for

[ R18 ]

Ben Hurley

Jarred Fell

Alan McElroy

The Fan Brigade

saturday 17 october in lincoln

www.liveinlincoln.nz tickets on sale now

Maddie, the family still has

hope.

"We have a new paired exchange

programme between

New Zealand and Australia

now. There is starting to be more

awareness around people being

donors so as long as we can keep

pushing that message then we

have hope."

Maddie received what was

termed a 'miracle' second kidney

transplant in 2018 after being

told there was only a two per

cent chance of finding a match in

New Zealand.

The first was donated six years

ago by her father Adam but her

body rejected it as well.

There have been a series of

ups and downs since the transplant.

In December last year the

declining function of the kidney

became clear through blood tests

showing high creatinine levels.

The family didn't expect to be

able to find the second kidney

match and were planning a trip

to The John Hopkins Hospital in

Baltimore, United States, to find

one when they were notified an

organ had been found.

Hon Amy Adams

MP for Selwyn

Selwyn Office

829 Main South Road

Templeton, Christchurch 8042

03 344 0418

selwynoffice@parliament.govt.nz

Authorised by Amy Adams MP, 829 Main

South Road, Templeton, Christchurch.

WOF

Only $50

• Courtesy cars • oil changes • tyres & batteries

• Brake & clutch repairs • transmission flush service

• Full mechanical repairs • Petrol & diesel servicing

FitzgeRald MotoRs

PHONE 03 349 7813

Unit 8,193 Waterloo Road, Hornby

(6 doors down from our old site)

INFORMATION WANTED

A reward is offered for information

leading to an arrest regarding the

theft and damage to a blue Subaru

LSB 969 on 25 July from a property

on East Maddison's Road, Rolleston.

Please contact the Rolleston Police

on 03-347 9248 if you have any

information, which may lead to the

recovery of personal items from

the car and/or to the prosecution

of the people responsible.

BEFORE

AFTER

We're Here

to Help You

Hear, Selwyn

Call 03 390 2332

Shop 40 Rolleston Square,

9 Masefield Drive, Rolleston

Rolleston | Darfield | Leeston | Lincoln

Brenna Sincock Hearing is your

local audiology expert. We'll help

you with all your hearing needs -

we even have a dedicated ear wax

removal nurse. Switch your care

to our team and receive special

discounts on wax removal services!

Local Selwyn Audiology
---
4 Wednesday August 5 2020

Latest Canterbury news at starnews.co.nz

SELWYN TIMES

News

Arrests after

gate thefts

• By Devon Bolger

POLICE HAVE made a major

breakthrough over farm gate

thefts in the district, arresting a

man and a woman from Oxford.

A police patrol stopped a vehicle

in the Darfield area about 3.30am

last Wednesday which led to the

arrest of a 37-year-old woman

and a 38-year-old man. A large

number of stolen farm gates were

found on their property, said

Senior Sergeant Harker.

He said the gates were being

sold on social media.

The arrested pair will face a

number of charges in the Christchurch

District Court on August 24.

"It was the great work of

Constable Hamish Caird of the

Darfield Police that led to these

arrests."

Police were patrolling the area

specifically looking for those

responsible for the gate thefts.

Harker said anyone who has

had gates stolen but have not

reported it should phone the Darfield

Police.

There have been about 20-30

incidents of gates and fencing being

stolen across Selwyn over the

last few weeks.

This includes seven incidents

over one weekend.

Expansion of mine delayed

"Bathurst Coal Ltd has

• A detailed map of the

suspended its application to water bodies and surface water

allow time for them to respond. features on the site and the

It has agreed to supply this results of any water quality and

information by August 31." ecological monitoring of them

The hearing, which was that has occurred, particularly

supposed to be held in

any monitoring that has

September, will now be later in occurred on the Canterbury

the year, the spokeswoman said. Mudfish, Kōwaro, in the affected

The requested information catchments.

is on a variety of issues, this

includes:

• By Devon Bolger

THE EXPANSION of a coal

mine in the Malvern Hills

has been delayed after more

information was requested for

the resource consent.

Bathurst Coal Ltd has applied

to expand its opencast mine,

known as Canterbury Coal

Mine, at Bush Gully Rd, near

Coalgate, by 18ha.

An Environment Canterbury

spokeswoman said they

have made a request for

more information to better

understand the adverse effects of

the proposal.

'Never about what other people thought of me'

• From page 1

"The biggest shift for me was

a programme where I was in

charge. You can eat pasta, you

can drink wine, you can have

the dessert and you can still be

healthy."

Her biggest vice used to be

McDonald's, Sherriff said

"My favourite was a Hunger

Buster Combo, or Bacon & Egg

McMuffin with hash browns.

Now I haven't had McDonald's

for two-and-a-half years. I was

also always buying chips and

• The effects of capturing,

storing and using water for dust

mitigation on the hydrology of

Tara Stream and Waianiwaniwa

River.

CONTROVERSIAL:

Environment Canterbury

has made a request for

more information on a bid

to expand a Malvern Hills

mine.

other snacks

wearing only

from the supermarket.

keeping to

black and

"Our food

myself. I was

budget has

sick of being

halved. We

a hermit, and

probably now

I stopped

only have takeaways

once every

I loved. Some-

doing things

three months." Juliet Sherriff before and after. thing had to

When she was

change."

sitting at 115.3kg, there was The myWW wellness app was

not much joy left in life for her created by the company which

anymore.

was rebranded from Weight

"I was getting out of bed, Watchers in 2018.

Steven Moe

stevenmoe@parryfield.com

Rolleston Lawyers

We are proud to be open in Rolleston

servicing all of Selwyn.

We handle a full range of legal issues from conveyancing to

company matters, employment issues, family matters and disputes.

We are located at 68 Rolleston Drive (near Countdown).

Please contact us to arrange a time to meet.

PauL owenS

paulowens@parryfield.com

CoRa GRanGeR

coragranger@parryfield.com

68 Rolleston Drive Phone 03 348 8480 www.parryfield.com

Need funding for your

Creative Communities

Selwyn can help!

Funding is available to groups or individuals with

community-based creative projects that promote

arts or culture in Selwyn.

Applications for this funding round close at 5pm,

Friday 28 August.

Visit www.selwyn.govt.nz/artsfunding for more

information and to apply.

project?
---
SELWYN TIMES Latest Canterbury news at starnews.co.nz

Wednesday August 5 2020 5

School options open for consultation

• By Devon Bolger

A SECOND Rolleston College

campus or entirely new school

are the options being considered

for future secondary school

education in the area.

The Canterbury National

Education Growth Plan 2030

predicts the area's current high

school could reach its capacity of

1800 students by 2027/28. It currently

has 976 students.

It is anticipated an additional

600-800 secondary-aged students

will require access to a

local state school in the area by

2030.

It comes as the Ministry of

Education releases proposed

new primary school zones for

Rolleston.

The community will get a

chance to have their say on the

amendments.

"This will minimise the risk

of overcrowding at each school,

as well as determining the

enrolment scheme boundaries

for the new school in East

Rolleston when it opens in

2022," it said in the consultation

document.

Public consultation is also

under way, through D & G Consulting,

on the options to ensure

future high-schoolers are catered

for in the area.

One of the options being

considered is a second Rolleston

College campus on a different

site.

"This second campus

would have the same

board of trustees and

management team. There

would also be a single vision

and identity for the

school," the consultation

document says.

Different ways this option

could work are also

being considered including

students being separated into

junior and senior campuses.

Rolleston College principal

Rachel Skelton said she supports

the idea of a second campus.

"A second campus would allow

Rachel

Skelton

cohesion and avoid our town

being divided into two separate

zones.

"There are a number of

possibilities for the community

to consider in

terms of what that could

look like."

The search area for a

potential site is in the

south of Rolleston, about

1.5-2km from the college.

A Ministry of Education

spokeswoman said

it was unable to provide detail on

the sites being considered at this

stage, so as not to prejudice or

disadvantage our ability to carry

out commercial negotiations.

The other option being

PLAN: Options

for additional

high school

facilities in

Rolleston

include a second

campus of the

current school or

an entirely new

one.

considered by the ministry is a

completely new high school.

"It would have its own

identity, own governance and

own uniform. The design of

such a school would be

developed with input from the

community."

​Public meetings have been

planned at Clearview School

on August 10 and 11, 7-8pm to

gather further feedback on the

issues.

•You can have your say

through the online survey

which will be available

until August 24 at www.

surveymoney.com/r/

RollestonSurvey

The proposed school

zones for 2021 include

•Lemonwood Grove

School – 164 Dunns

Crossing Rd to Selwyn

Rd, Selwyn Rd from

Lincoln Rolleston Rd to

Weedons Rd including

addresses on the western

side of Weedons Rd from

Selwyn Rd.

•Clearview School –

Lowes Rd until East

Maddisons Rd, the

western side of Weedons

Rd to Levi Rd and

Brendean Drive to

Weedons Rd

•West Rolleston School

– The southern side of

Main South Rd to Dunns

Crossing Rd, Rolleston

Drive to Main South Rd

and Brookside Rd to

Rolleston Drive.

•Rolleston School – The

southern side of Main

South Rd to 81 Main

South Rd, the western

side of Weedons Rd to

the Southern Motorway

and the northern side of

Levi Rd to Weedons Rd
---
6 Wednesday August 5 2020

Latest Canterbury news at starnews.co.nz

SELWYN TIMES

Do you snore?

Always tired?

You may be at risk of sleep apnoea.

Wilsons Barrington Pharmacy

are making a difference to

their community by offering a

game changing sleep apnoea

service to reach the 80% of

undiagnosed obstructive sleep

apnoea (OSA) sufferers in

New Zealand.

There are a number of symptoms

that could be a sign of OSA,

including choking or gasping

for air at night, loud persistent

snoring, frequent visits to the

bathroom & waking up tired.

Left untreated these can lead

to long term health

consequences such as Type 2

diabetes, high blood pressure,

obesity and depression.

Fortunately it is now easy to get

diagnosed for OSA with Wilsons'

Pharmacy Sleep Services program.

People can now simply walk into

their pharmacy and get tested for

OSA straight away.

The overnight home sleep test

allows a person to sleep in the

comfort of their own bed. No doctor

referral is required. The results of

the home sleep test are assessed

by a sleep physician and provided

7-10 days later. If a person's results

show they have OSA they can begin

a 4 week trial of CPAP therapy.

If you think you're at risk of sleep

apnoea contact Wilsons Barrington

Pharmacy today to book a home

sleep test.

News

Only one signature was

required to make

withdrawal from bank

•From page 1

"It has had a real affect. It

means we haven't been able

to expand our teaching materials

or other resources,"

he said.

"We used to own all of

the computers we use but

today if the person hasn't

got a computer then we are

in trouble. We just don't

have the funds to go and

buy new equipment."

The group, which is run

by volunteers, teaches

people over the age of 50

about technology and how

to use it.

Pierson said part of the

money stolen came from a

$7000 term deposit.

"One day she [Larkin]

said she could get a much

better return for our term

deposit by shifting it from

BNZ to Kiwibank. We said

well if you think you can

get a better return then go

ahead. Little did we know it

would last two days before

being transferred out of the

new account."

Terry Pierson ​

Other money stolen was

funding given to the group

by the Federation of New

Zealand SeniorNet Societies.

"Every term we submit

an attendance register of

those that have been in

and the hours they have

worked. It adds up over a

term, we put something

like 50 hours in.

"The federation then

pays us back $1.25 an hour

per person. Little did we

know Lisa had changed the

account with the federation

from our usual BNZ

account to the Kiwibank

one."

Pierson said the Kiwibank

account was set up

with two signatories but

only one was required to

make a withdrawal.

Pierson said Larkin's

deception began to unravel

when the district council

called questioning Prezzy

cards associated with the

group.

"We said: 'What Prezzy

cards?' It turns out some

of our funds had been converted

into the cards.

"They started to dig

and of course that put our

antennas up and we started

backtracking on what the

hell was going on. We were

lucky to have a fantastic

police officer who investigated

everything very

thoroughly."

Larkin would not answer

questions when contacted

by the Selwyn Times until

she had spoken to her

lawyer.

NEW

COMPETITIVE

DIESEL

RATES

"

This is a great opportunity to see if CPAP is for you and to

feel the benefits in terms of less fatigue, snoring and more

refreshing sleep. We can monitor your progress remotely

and our pharmacy will offer ongoing support and advice. I'm

really excited to provide this service and we really hope to

improve access to affordable sleep services in Christchurch.

Ken Sheat, Wilsons Barrington Pharmacist

"

Wilsons Barrington Pharmacy

256 Barrington Street,

Spreydon, Christchurch

Phone

03-3223156

Diesel pumped directly

into your home tank

$ 50

Home Sleep

Test Voucher

Available online, visit

pharmacysleepservices.com.au

Our tankers are based in Christchurch to service all

your home heating needs quickly and efficiently.

BONUS

PLUS

Call us today for your

FREE comparison quote.

0800 44 00 14

We're offering discounted pricing.

By becoming an RD Petroleum customer you're

eligible for further value-added benefits.
---
SELWYN TIMES Latest Canterbury news at starnews.co.nz

Wednesday August 5 2020 7

Committee

Get your Tickets Now

SELLING FAST

www.selwynsounds.co.nz

responds to pool closure claims

• By Devon Bolger

THE COMMITTEE responsible

for running the Halkett Pool

is rejecting claims that poor

management led to it breaching

pool water safety standards.

Last week Selwyn Times reported

the district council voted

to close the pool for the season as

well as consider permanent closure

under the Long Term Plan.

It is due to health and safety

concerns at the pool which

includes having 11 days in a row

of non-compliant water readings

in January.

A spokeswoman for the

Halkett Community Centre

Committee said: "Up until two

years ago we had no issues with

our pool, at which time the

council employed a new aquatic

centre manager and all of our issues

have started since then."

The spokeswoman said the

district council installed a new

chemical dispenser two years ago

without consultation or notification.

"We were advised by the

aquatic manager that we were

REJECTED: The Halkett Pool has been closed due to health and safety concerns but the

committee which manages it has said that it is not their fault. ​

not to control or alter the new

dispenser as they would take

care of this and adjust as and if

required. They started our pump

and controller at the beginning

of our season and incorrectly set

the chlorine level at zero themselves."

Active Selwyn manager James

Richmond said the committee

was in fact allowed to control the

dispenser.

"Operating it is part of the

day to day running of the pools,

done by the pool committees.

The controller committees are

informed that if there are issues

with the dispenser they are to

follow the supplied Pool Water

Risk Management Plan or contact

staff. Neither occurred in

this case.

"A staff member did turn on

the pool filtration and added

chlorine to the water at the

Halkett Pool last year, but did

not modify the controller as it requires

the chlorine to have been

in the pool for 24 hours first."

One of the issues the district

council had with the committee

was that it had no members present

at a pool operations course

last year.

The committee spokeswoman

said: "We were not advised that

more than one person could

attend this course and due to

unforeseen last minute work

commitments at a busy time of

the year the committee member

could not attend, however, offered

to attend another course.

"Why did the council not run

this course earlier in the year

rather than leaving it till last minute

when pools were due to open?"

Richmond refutes this saying

all of the committees were

informed of the course five and a

half weeks beforehand and multiple

spaces were available.

"We did not receive a response

from the Halkett committee

until over a month later, after we

had sent them a reminder. Other

pool committees had already

booked, with one sending five

members to attend the course."

6 MARCH

LINCOLN

2021

3 CG EVENTS presents

LIVE IN LINCOLN

JON STEVENS

THE

NOISEWORKS

+INXS COLLECTION

STAN WALKER

JORDAN LUCK BAND

ANNIE CRUMMER

JASON KERRISON OPSHOP • THE LADY KILLERS

RODNEY FISHER GOODSHIRT • CHE FU SUPERGROOVE

NATHAN KING + ANDY LYNCH ZED

AUTOMATIC 80's

THE REMNANTS OF HELLO SAILOR

Tickets On Sale Now

www.selwynsounds.co.nz

The Fan

Brigade

Ben

Hurley

comedy night [ R18 ]

5 t h ANNIVERSARY SPECIAL

saturday 17 october in lincoln ONLY $44+BF

tickets on sale now www.liveinlincoln.nz

BRIDGESTONE LINCOLN

Jarred

Fell

Alan

McElroy

CRATE & BARREL LEESTON
---
8 Wednesday August 5 2020

Latest Canterbury news at starnews.co.nz

SELWYN TIMES

HEAT PUMP

SALE NOW ON!

Amazin' winter Specials!!

News

90%

SubSidy

Warmer KiWi HomeS

Programme

*Eligibility criteria apply

MEARES WILLIAMS

LAWYERS

ROLLESTON OFFICE

78 Rolleston Drive, Rolleston

• We will offer you the best quality brands and

option of heat pump for your home/business

• Providing Heat Pump solutions for over 18 years to Cantabrians

• We personally guarantee all our products & installs for 5 years

(providing annual maintenance has been completed)

Phone us today for your free consultation & quote

41A SHAKESPEARE RD, WALTHAM

PHONE 03 366 0525

www.enviromaster.co.nz

"A local team for local people"

10 Years in Selwyn

Richard Gray

Kate Warren

Anita Molloy-Roberts

Belinda Ferguson

Emma-Jane Moore

W: www.meareswilliams.co.nz

T: (03) 374 2547

E: reception

@meareswilliams.co.nz

Offices also located at:

43 Gerald Street, Lincoln

225 Papanui Road, Christchurch

Land could be set aside

for reserve in Lincoln

LAND NEAR the old

Lincoln Country Club

site has been set aside

and could become a

community reserve.

The district council was

considering subdividing

and selling the land around

and opposite the old club

on Millpond Lane, adjacent

to the LII River.

It had proposed subdividing

it into seven lots.

However, taking into

account feedback from the

community, it has agreed

to put five lots up for sale

on the northern side of the

property.

A district council spokesman

said the remaining two

lots will be considered for a

possible future reserve.

A report on the matter

will be presented to district

councillors at a later date.

KEEP WAR M THIS

WINTER WITH OUR HOT DEALS

PROJECT:

Lot numbers

six and

seven on

Millpond

Lane have

been set

aside by

the district

council for

a potential

future

reserve.

The next steps for the

project include appointing

real estate agents to sell the

five lots.

"Documentation is being

prepared to issue to real

estate agents for the sale of

the sections."

The work is a part of a

plan for the district council

to sell some of its residential

sections over the next

three months.

$12.99

EACH

Jim Beam / CC (inc Zero)

4.8% 440ml 4pk cans

Midori 275ml 4pk bottles

$14.99

EACH

Woodstock 330ml (inc zero)

7% 6pk cans

$18.99

EACH

Jack Daniels & Cola

6pk bottles / 8pk 330ml cans

Southern Comfort

10pk 375ml cans

$18.99

EACH

Woodstock

5% 330ml (incl zero) 10 pk cans

NEW

P RO D U C T

$21.99

E AC H

TUI HARD SODA

10pk 330ml cans

$21.99

EACH

Blackheart

Wild Moose

12pk 5% bottle &

7% can ranges

$21.99

EACH

Cruiser

12pk cans range

$21.99

EACH

Jim Beam & Cola/CC

(incl zero) 4.8% 10pk cans

Jim Beam Gold 7% 8pk cans

$25.99

EACH

$31.99

EACH

$9.99

EACH

$9.99

EACH

$12.99

EACH

$13.99

EACH

$15.99

EACH

Smirnoff Seltzer

5% 250ml 12pk cans

$32.99

EACH

$24.99

EACH

$34.99

EACH

Long White

10pk bottles range

$36.99

EACH

$29.99

EACH

Cody's 7% cans

Woodstock 5% bottles

all 18pks

$38.99

EACH

Woodstock

7% 250ml 18pk cans

$38.99

EACH

Jacobs Creek

(ex Sparkling range)

Five Flax range

Wolf Blass

Yellow Label Range

$39.99

EACH

$46.99

EACH

$12.99

EACH

Villa Maria Private Bin

range (ex PN / Syrah)

Arrogant Frog range

Da Luca Prosecco

$53.99

EACH

$62.99

EACH

Wither Hills range

(ex PN, Syrah& Merlot)

$19.99

EACH

Taylors Estate range

$23.99

EACH

Ivanov/Seagers

1L

Gordons Pink 700ml

Gordons & Smirnoff 1L

Old Crow 1L

Teachers 1L

Sauza Gold 700ml

Grants 1L

Jack Daniels

(lncl Honey & Fire)

El Jimador range (Ex Anejo)

Old Forester all 700ml

Absolut 1L

Beefeater 1L

Jim Beam 1.125

JB Devils Cut & JB Black 1L

Makers Mark 700mls

Haku Vodka

700ml

JB Double Oak 1L

Roku Gin 700ml

The Glenlivet

12yr

700ml

Kingfisher

12pk bottles

Somersby

12pk bottle range

$23.99

EACH

$24.99

EACH

$24.99

EACH

$24.99

EACH

$27.99

EACH

$36.99

EACH

$42.99

EACH

TWO FOR

$58.00

Tui/Export Gold/DB Draught

15pk bottles

398 HIGH STREET, RANGIORA

03 313 7207

1275 MAIN NORTH ROAD, BRIDGEND

03 323 8833

585 SPRINGS RD, PREBBLETON

03 349 6031

Monteiths Batch Brewed & Cider

12pk range

Heineken

12pk bottles

Peroni

12pk bottles

Export 33

15pk bottles

Lion Red, Waikato, Speights

Gold or Summit or Low Carb

24pk bottles

Stella / Steinlager Pure

24pk bottles

Available from 1st to 31st August 2020 • Specials only available whilst stocks last • At participating stores only

114 RAILWAY TERRACE, RAKAIA

03 302 7973

45 SOUTH TERRACE, DARFIELD

03 317 9499

1147 WEST COAST RD, WEST MELTON

03 347 8460

670 MAIN SOUTH RD, ISLINGTON

03 349 7337

69 MAIN ST, FAIRLIE

03 685 8061

118 LE CREN ST, TIMARU

03 684 3566

21 ALDWINS ROAD, LINWOOD

03 982 1753

9 PARNWELL ST, BURWOOD

03 383 2564

495 PAPANUI RD, PAPANUI

03 260 2380

65 VICTORIA ST, CBD

03 260 1155

KEEP CALM

K N O W

Y O U R

I M

L

I T

100% NZ

OWNED AND

OPERATED

thirstyliquor.co.nz

Haagen

24pk bottles

ASK ABOUT

LOYALTY CARD

BENEFITS &

GIFT VOUCHERS
---
SELWYN TIMES Latest Canterbury news at starnews.co.nz

Wednesday August 5 2020 9

How do you live the life you've always wanted?

There are many things to consider when

making the decision to move into a lifestyle

village. Everyone has different requirements,

whether it be a true community atmosphere

with an inclusive social scene, or be situated

in a new suburb where everything you need is

close by, or well-designed quality home which

supports and caters to all aging requirements..

Whatever your fancy, it's rather easy to see

Woodcroft Estate as your new home. "Our

residents are better off in every way," says

Manor Group CEO Adam Yates. "Here, they

enjoy a warm, safe and relaxing environment

within a friendly community, while the onsite

manager looks after any concerns or

maintenance issues. "All those jobs you had

to do to maintain your old house are taken

care of by the village staff.. "They manage any

repairs and maintenance to your home, looking

after the gardens and lawn mowing, providing

security, lighting and even washing windows."

But there is something even more special

about Woodcroft Estate.

A model of home ownership that

benefits you more

"Our residents are better off financially"

says Adam. "Our Next Generation model is

designed to be much fairer than traditional

models, allowing residents to receive the

capital gain when the unit is sold, less a small

fee. Our aim is to free our residents from

their worries, while residents get the financial

freedom that comes from retaining and

building on their equity."

The Next Generation Model gives you

options, enabling you to gift your chosen

charity or leave a legacy to your grandchildren

– contributing to their education, or

even their first home!

Life is for living

For those who have already made the move

to Woodcroft Estate – talk revolves excitedly

around the brand new Pavilion. Providing

a dynamic new social hub – there is much

discussion of quiz nights, dances, live music

and of course all kinds of exercise and craft

classes. Outside a new BBQ area will be just

the ticket for gathering in the sunshine.

At Woodcroft Estate – you become an integral

part of village life – contributing in ways you

WOODCROFT ESTATE

A retirement village with a difference

never thought possible in a lifestyle estate.

Woodcroft Estate residents have never

been happier – residing comfortably in the

fast growing and vibrant new township of

Rolleston – where a library and community

centre are close by. There is a swimming

pool and two medical centres, as well as two

supermarkets. There are even hearing and eye

specialists! Plenty of cafes to meet friends,

and delicious bakeries for that morning tea –

everything you need to feel right at home.

You will find

Woodcroft Estate

at 34 Kendon Drive in

Rolleston's Levi Park.

Enquire today and we

can arrange a time to

show you around.

Bradbury Ave

Kendon Dr

Beech Ln

Pine Pl Silk Pl

Strauss Dr

Woodcroft Estate Open Days

August 20th and 21st

Village Tours and viewing all day

Thursday and all morning on Friday

Showhome open from 9am – or call

Corrine for your tour.

34 Kendon Drive, Levi Park, Rolleston | 03 421 7796 or 021 292 1141 | www.woodcroftestate.co.nz
---
RANCE 10 Wednesday CLEARANCE August 5 2020 CLEARANCE Latest Canterbury CLEARANCE news at starnews.co.nz CLEARANCE CLEARANCE SELWYN CLEARAN TIMES

RANCE CLEARANCE CLEARANCE CLEARANCE CLEARANCE CLEARANCE CLEARAN

E CLEARANCE CLEARANCE CLEARANCE CLEARANCE CLEARANCE CLEARANCE CLE

ARANCE

FLOOR

CLEARANCE CLEARANCE CLEARANCE

STOCK

CLEARANCE CLEARANCE CLEARAN

ARANCE CLEARANCE CLEARANCE CLEARANCE CLEARANCE CLEARANCE CLEARAN

ARANCE CLEARANCE CLEARANCE CLEARANCE CLEARANCE CLEARANCE CLEARAN

RANCE CLEARANCE CLEARANCE CLEARANCE CLEARANCE CLEARANCE CLEARAN

ARANCE CLEARANCE CLEARANCE CLEARANCE CLEARANCE CLEARANCE CLEARAN

RANCE CLEARANCE CLEARANCE CLEARANCE CLEARANCE CLEARANCE CLEARAN

RANCE CLEARANCE CLEARANCE CLEARANCE CLEARANCE CLEARANCE CLEARAN

E CLEARANCE CLEARANCE CLEARANCE CLEARANCE CLEARANCE CLEARANCE CLE

ARANCE CLEARANCE CLEARANCE CLEARANCE CLEARANCE CLEARANCE CLEARAN

ARANCE CLEARANCE CLEARANCE CLEARANCE CLEARANCE CLEARANCE CLEARAN

THE MAPLE BEDROOM

COLLECTION

C L E A R A N C E

PLUS LOADS OF ITEMS PRICED TO CLEAR INSTORE!

CLEARANCE CLEARANCE CLEARANCE CLEARANCE

$179

$569

$749

$599

BEDSIDE CABINET

6 DRAWER TALLBOY

BUNK

QUEEN BED FRAME

CHRISTCHURCH OWNED & OPERATED | LARGEST FURNITURE STORE IN CHRISTCHURCH

CLEARANCE $599

THE ELM COLLECTION

BRASS COFFEE TABLE

CLEARANCE

$949

CLEARANCE

$499

CLEARANCE

$89

BUFFET

DINING TABLE

DINING CHAIR

ALSO AVAILABLE

IN HAY

CLEARANCE $149

CLEARANCE

$1999

FEN COFFEE TABLE

ALANI 2 RECLINER + R + R

3 RECLINER + 1R + 1R ALSO AVAILABLE

CLEARANCE $49

FEN 62CM

BARSTOOL

SINGLE SIZE FROM

CLEARANCE

COMET

MATTRESS

$169

FIND US IN THE OLD TARGET BUILDING

ON THE CORNER OF BLENHEIM & CURLETTS ROAD, SOCKBURN

BOTANICAFURNITURE.co.nz 0800 268 264
---
SELWYN TIMES Latest Canterbury news at starnews.co.nz

Wednesday August 5 2020 11

SCHOOLS

Ladbrooks School visited

Avonhead School last week for

this year's Chess Power Regional

Tournament.

The competition saw nearly 100

students and pupils from schools

across Canterbury battle each other

for the coveted top spot.

Regional event winners will

have the chance to compete at

the Chess Power Teams Nationals

later this year.

PHOTOS: GEOFF SLOAN

favourite fashion store

Logan

McCarthy,

year 8,

Ladbrooks

School.

Ollie Mackle, year 7,

Ladbrooks School.

How to invest

when interest

rates are

so low

Martin Hawes, Authorised Financial Adviser and Chair of the Summer Investment Committee

Whether it's building funds as you near retirement, or generating

income in retirement, we believe that the key is to take an

investment, rather than a savings, approach.

Join Martin Hawes as he outlines how to adopt an investment

approach in a COVID-19 world and explains the KiwiSaver

opportunities that now exist for those over 65.

Joining Martin will be Authorised Financial Advisers from Forsyth

Barr Christchurch who will be on hand to answer any questions.

Rolleston:

Lincoln:

Christchurch:

5.30pm

Tuesday, 25 August

at Rolleston College,

631 Rolleston Road,

Rolleston

5.30pm

Wednesday, 26 August

at Lincoln Events Centre,

15 Meijer Drive,

Lincoln

12.30pm and 5.30pm

Thursday, 27 August

at Riccarton House,

16 Kahu Road,

Riccarton

Light refreshments provided. Register by Friday 21st August by visiting

www.summer.co.nz/seminars or call Ella Falkner on 03 363 1412.

www.vivalamoda.co.nz

Like us on

Facebook

The Summer KiwiSaver Scheme is managed by Forsyth Barr

Investment Management Ltd. You can obtain the Scheme's

product disclosure statement and further information about the

Scheme on our website at www.summer.co.nz, from one of our

offices, or by calling us on 0800 11 55 66. Disclosure Statements

are available from Martin Hawes and your Forsyth Barr Authorised

Financial Adviser, on request and free of charge.

KW6252-05 (130X180) - July 2020

Shop 12, Rolleston Square, Rolleston. Phone 347 1151
---
12 Wednesday August 5 2020

Latest Canterbury news at starnews.co.nz

SELWYN TIMES

News

Successful

AGM for

hospital group

THE FRIENDS of Ellesmere

Hospital's annual general

meeting was a success with local

and regional health experts in

attendance.

The meeting was held at the

Leeston Community Centre with

special guests including Win

MacDonald who is the rural hospitals

manager for the Canterbury

District Health Board and a number

of district councillors.

Group member Geoff Lill said:

"Councillor Grant Miller spoke

on behalf of the district council

and talked about the renewed

focus of the council on supporting

healthcare in the community.''

The guest speaker was Mike

Hobbs who was, until his recent

retirement, the local GP in Leeston

for more than 40 years.

"He spoke of his close association

with the hospital as superintendent,

the importance of the hospital

services to our local community,

and some of the changes he had

seen over his time there."

•For information on the

Friends of Ellesmere

Hospital group, phone

Robyn Casey 021 818 912,

Sandra Robertson 021 146

8844, or Geoff Lill 027 263

7435.

A GROUP from the Malvern

area are shaving their mullets

to raise money for the Motor

Neurone Disease Association

New Zealand.

Johnny Barnard, Finn Jacobs,

Tobi Moore, Ryan Thomas,

Todd Thomas, Cole Atutolu,

Jack Barnes, William Wilson

and Dylan Duffy are participating

in a shave-off event at the

Kirwee Rugby Club on Saturday.

Motor neurone disease causes

the death of nerve cells (neurones)

that control the muscles

enabling movement, speech,

swallowing and breathing. With

no nerves to activate them, these

muscles gradually weaken and

waste away.

Tobi came up with the initial

idea in memory of his, and

cousin Johnny's, uncle George

Redmond who succumbed to

the disease earlier this year.

Finn was also interested in

participating as he lost his great

grandmother to MND as well.

The group is hoping to raise

between $5000 and $10,000.

"In memory of George Redmond

we invite the community

to help us raise funds to assist

those around the country battling

this incurable disease,"

organisers Jan Thomas and

Vanessa Moore said.

At present the group has

raised $4500.

"The group has numerous

WORTHY

CAUSE:

Finn

Jacobs,

Ryan

Thomas,

Dylan

Duffy, Tobi

Moore,

Cole

Atutolu,

Todd

Thomas

and

Johnny

Barnard

are giving

up their

mullets. ​

Mullets to go for good cause

family members coming to

help with the shave-off.

Rumour has it All Black Jack

Goodhue will come along as

well but we're pretty sure if he

does, he won't be shaving his

mullet off."

To join the group and have

your mullet shaved, you must

either obtain more than $50 of

individual sponsorship prior to

the event, or offer your mullet

up for auction on the day.

•A collection bucket will

be in place on the day. To

donate raffle or auction

prizes phone 027 254

4934. You can also donate

via internet banking to

38 9005 0959334 00.

Probus clubs

milestones

TWO ROLLESTON Probus

clubs have celebrated significant

milestones.

The Rolleston Combined club

recognised 15 years providing fun

and friendship to retirees.

A special morning tea was held

to mark the occasion.

Said Probus South Pacific New

Zealand representative Margaret

Drake: "Members were happy to

be meeting again after several

months of observing lockdown

restrictions. Several charter members

were in attendance."

The Rolleston Central Club

celebrated its first birthday a

fortnight ago. A morning tea

was followed by an entertaining

and informative talk by the chief

executive of Christchurch Casino

Brett Anderson.

Meeting and contact details:

Malvern/Darfield – 10am first

Monday at Darfield Recreation

Centre – Janet 318 8996.

West Melton – 1.30pm fourth

Monday at West Melton Community

Hall – Adrienne 318 1897

Rolleston Combined – 9.45am

second Tuesday at Rolleston Community

Centre – Val 347 7397

Rolleston Central – 10am third

Tuesday at Rolleston Community

Centre – Jill 347 8464

Ellesmere/Lincoln – meets 10am

first Monday at Lincoln Events

Centre – Liz 325 3087

What , s the proposed

age to buy cannabis?

Know before you vote

Authorised by the Secretary for Justice

TOWARDS YOUR

WIN $1000

LOUVRE ROOF

Request a FREE

measure and quote

from HomePlus and

go into the draw to

win $1000 towards

your louvre roof.

Flexible outdoor

areas are the best

way to squeeze out

more outside living.

The ability to open

and close screens

or louvres offers you

protection from all

types of weather.

*Promotion closes 31 August 2020.

Measured, made

and installed by our

team of experts.

5 year warranty.

88 Gasson St, Sydenham | 03 379 3740 | www.homeplus.co.nz
---
SELWYN TIMES Latest Canterbury news at starnews.co.nz

Wednesday August 5 2020 13

CHRISTCHURCH

OWNED & OPERATED

Nouveau

Powerboard

4 Outlet with

4 USB charge

ports. Surge

protect

319745

RRP

Nouveau

7pc Dining

Setting

Table H: 750mm

W: 1600mm

D: 900mm

Nouveau

Umbrella

Pulse

Black + Decker

Number 8

Sensor Light $ Flat Fan Heater Duct Tape

35pk 1.8kw

3pk

Twin Pack Exterior

wall light

H:23.5cm

W:9.1cm

L: 9.1cm

349839

RRP $

34 98

RRP RRP

$

19

!78057

(336882 + 6x336889)

349235

$

1199

$

49 98 $

49 98

$

1,699 $

129

$

29

Aluminium 2.7m

Blue

337273

RRP RRP $

39 98

48mm x 50m

247419

$

79

RRP

Hitachi

Multi Tool $

249

Split Line

Trimmer 22cc

297060

$

29 99 Hornby Only

$

499

LIMITED TIME ONLY. STOCK WILL VARY BETWEEN STORES.

Mitre 10 MEGA Hornby Mitre 10 MEGA Papanui

Ph: 03 349 8497 Ph: 03 359 5443

*if you find the product cheaper from another Mitre 10 store or

*if you find a lower price on an identical

Mitre 10 website we will match that price. Excludes trade and

stocked product locally we will beat it by 15% special quotes, stock liqidations and commerical quanities. The

in-store price may be lower than that advertised.
---
14 Wednesday August 5 2020

Latest Canterbury news at starnews.co.nz

SELWYN TIMES

at 3 Vernon DriVe, LincoLn

Proud to be

in Lincoln

Liquorland Lincoln is a specialist liquor retailer. Open for just two and a half

years, the store is proudly owned and operated by Sacha and Tom Fougere.

"Our puppy, Lincoln, is the newest member of our family and he loves coming to

work and greeting everyone in the shop," says Sacha. "He is also pretty popular

on our Facebook page!"

As a franchised Kiwi owned business, Liquorland Lincoln has fantastic

regular promotions, a friendly, welcoming environment, and a passionate,

knowledgeable team on hand to help with buying decisions.

Another big plus for customers is the opportunity to get Fly Buys points or to

earn Airpoints Dollars. And with Liquorland being a participant in the Fly Buys

rewards program, customers can also enjoy redeeming points for liquor rewards.

"We have a huge range of products instore, and new products arriving weekly. But if

you are looking for something special, let us know and we will try and track it down

for you.

At Liquorland Lincoln we love helping people. With a great range of beers, wines, and

spirits we are here for all your needs, with delivery options available too. So come and

see our friendly staff for all your alcohol needs, or just for a bit of a chat and a cuddle

with the puppy".

For more information or to shop online with our "Click and Collect" service,

check out: www.liquorland.co.nz

Whiskey

Evening

12th August,

$40 per person

Ph 03 321 7265

We Cook

Open 7 days 11am – 8pm

Delivery available for

Springston and Lincoln

Come in and try Lincoln's

New style of Takeaway

$5 Value

Everyday

Open public holidays

No surcharge

D3 Sports Kit Giveaway

for a lucky team!!

Valued at over $150!!

Follow us on Facebook

to find out how to win!

Same day care guaranteed

if contacted before 3pm

Open Mon-Fri 9am-6pm

www.wecarehealth.co.nz

Call: (03) 325 2446

Open 7 Days 9am-6pm

+ Late Nights

Thursday & Friday

By appointment or walk in.

Phone 03 321 7979

"Your Local Gym"

75% OFF joining fee

when you join this August.

Plus Fitness Lincoln,

call 03 321 7006 or email

lincoln@plusfitness.co.nz

www.plusfitness.co.nz/

gyms/lincoln/

Proudly serving

Lincoln locals

Open 7 Days:

Mon-Fri 7am-4pm

& Sat/Sun 8am-4pm

Physio and more

Ph 03 325 2039

Book online:

motushealth.co.nz

Unreal Deal!!

Bell's Scotch Whisky and

Stil Vodka $34.99 each

Come see us for these plus

heaps of great deals and exciting

new products instore.

www.liquorland.co.nz

Unit 4 For Lease - 114m² for lease. Last unit available. Suitable health related tenant - dentist, optometrist, audiology, travel agency or real estate agent. Call Mike – 027 570 7674

So much more on offer at 3 Vernon Drive, Lincoln
---
SELWYN TIMES Latest Canterbury news at starnews.co.nz

Wednesday August 5 2020 15

BACKYARD CRITTERS

Mike Bowie is an ecologist who specialises in entomology

(insects and other invertebrates). Each week he introduces a

new species found in his backyard at Lincoln. His column aims

to raise public awareness of biodiversity, the variety of living

things around us. Check out the full list of invertebrates found

at www.inaturalist.org/projects/backyard-biodiversity-bugs-in-my-lincolnsection

Wood-boring insect will

attack native species

HOUSEHOLD borer,

woodworm, or the

common furniture beetle

are all common names for

Anobium punctatum.

This wood-boring insect

is found in untreated

timbers and particularly in

older houses or furniture

in temperate parts of the

world including New

Zealand.

Adults are brown in

colour, vary from 2.5 to

5mm in length and have a

monk-like hood over their

head.

The creamy white

C-shaped larval stage

is the one that does the

damage by boring an

extensive network of

holes for two to five years

depending on temperature

and humidity.

Their presence is often

detected by the 1-1.5mm

diameter exit holes or the

piles of fine wood dust or

DAMAGE: Borer can make an extensive network

of holes in timber.

frass under the infected

wood.

In New Zealand the

borer prefers sapwood

but attacks a large range

of exotic and native

species, more commonly

in radiata pine, kahikatea

and rimu.

Adults emerge between

October and January but

peak in December.

PROMOTION DATES: 27/07/20 - 09/08/20

TERMS AND CONDITIONS: *Buy any 2 x 600ml Coca-Cola range and go in the draw to win an Instax Mini Camera pack. One to be won in each participating store.

Pack includes Instax Mini 9 Camera and Instax Mini Film 20 Pack valued at $119. Four Square South Island stores only.

T&Cs provided by Four Square South Island - available at www.foursquare.co.nz

Pascall Confectionery

150-180g

$

1 99 ea

Puhoi Valley

Yoghurt 450g

$

4 99 ea

Upcoming

Edge Connector Visits

Experience what Selwyn Libraries has to offer on your doorstep! Pop down

and join a programme, browse the latest selection of books and magazines,

or place one on hold and we'll bring it to you.

The Peoples Wine

750ml

$

12 99 ea

Mac's Ale

4-6 Pack 330ml Bottles

$

13 49 ea

Date Time Location Programme

Fri 7 Aug

Rakaia Huts

9.30–11.30am Diamond Art

Community Room

Southbridge Hall

1.30–2:30pm

Device Drop-in and eResources

Car Park

Mon 10 Aug 10am–2pm Glenroy Hall Garment Patternmaking

Tue 11 Aug 1–3pm Windwhistle School Device Drop-in and eResources

Sat 15 Aug 10am–12pm

West Melton

Shopping Centre

Cubing Club

Wed 19 Aug 1.30–4pm Burnham Hub

Beeswax Wraps and Candle

Making

Wed 26 Aug 10am–12pm Kirwee Bowling

Club

Virtual Reality

1–3pm Greendale School Device Drop-in and eResources

Thu 27 Aug 12.30–3.30pm Glentunnel Hall Device Drop-in and eResources

Like to get in touch? Call us on (03) 347 2871 or email

libraries@selwynlibraries.co.nz and let us know how we can help.

Half leg

sizes

for greater

convenience

Fresh NZ Quality

Mark Half Lamb

Leg Roast

$

14 99 kg

www.foursquare.co.nz

Pams Fresh

Potatoes

2.5kg Prepack

Product of

New Zealand

$

5 49 pk

facebook.com/FourSquareNZ

selwynlibraries.co.nz

STAFFORD STREET

Specials available South Island only from Monday 27th July until Sunday 9th

August 2020 or while stocks last. Wine and beer available at stores with an off

licence. Wine and beer purchases restricted to persons aged 18 years old and over.
---
16

Wednesday August 5 2020

Latest Canterbury news at starnews.co.nz

Selwyn Times

Week of celebrating

Selwyn's diversity

Celebrations of Selwyn's cultural diversity will expand this year with CultureFest kicking off a

week of new events.

The ever popular CultureFest, which draws thousands of people each year, will mark the start of

the new Culture Week from 18–24 October.

has been increasing demand for and interest expressed in workshops and displays that

showcase traditional sports, dancing and music of different cultures. The Council and Lincoln

University, who have partnered previously to deliver CultureFest, with a range of other cultural

groups and clubs, have worked together to set up this new week.

The success of CultureFest and the workshops that have taken place as well as the interest

we have been receiving, suggest there is space in the community for a bigger celebration, that

supports strong community club and group participation , Council Group Manager Community

Services and Facilities Denise Kidd says.

"Having Culture Week allows us to build on the huge success of CultureFest, offering

opportunities to grow our knowledge of the many different, vibrant cultures that make up our

people here in Selwyn. It's an opportunity for people who haven't been able to take part in

CultureFest, as well as giving popular workshops a chance to go deeper and give people a

richer flavour of their heritage."

The Council is now taking expressions of interest from people wanting to be involved in

CultureFest and the wider Culture Week. Any individual, club or group interested in performing

on stage or being a stallholder at CultureFest, or running a workshop, during Culture Week can

find a form at selwyn.govt.nz/cultureweek.

Dog registration discount extended

Dog registrations are due and the time to get a discount on your registration has been extended.

The 2020/21 registration period began on 1 July and the fee discount period has been extended from

31 July to Monday 10 August.

All dog owners should have received a registration form by email or post. If you haven't received yours

please contact the Council or call into any Council service centre.

Payment can be made via a payment link when the form is emailed, by

internet banking, or at the Council's Rolleston offices or the service centres

in Leeston, Darfield or Lincoln. Alternatively, you may use the prepaid return

envelope provided with your registration form.

If paid by 10 August 2020, the discounted registration fee applicable is:

· $10 Administration/Owner fee

· $35 for each dog owned by the same person and held at the same locality.

Payment after 10 August 2020 the full registration fee applicable is:

· $15 Administration/Owner fee

· $45 for each dog owned by the same person and held at the same locality

Need funding for your

project?

Creative Communities

Selwyn can help!

Funding is available to groups or individuals

with community-based creative projects

that promote arts or culture in Selwyn.

Applications for this funding round close at

5pm, Friday 28 August.

Visit www.selwyn.govt.nz/artsfunding for

more information and to apply.

Rates accounts and

payment options

Rates invoices for the period 1 July 2020 to 30 September

2020 should have arrived in your letterboxes or inboxes.

You can check out the changes in your rates, by visiting

selwyn.govt.nz/rates and clicking on property search.

If you pay by direct debit you will receive information on

your new direct debit in a separate letter. If you're on direct

debit then, as long as you have sufficient funds in your bank

account to cover the payments on the due dates, you will not

be charged penalties.

For ratepayers not on a direct debit, rates are payable in four

instalments – 15 September, 15 December, 15 March and 15

June. Penalties are charged on instalments not paid in full by

the due dates and there is a further penalty if rates are not

paid by 30 June.

Your rates invoice details the rates assessed for your

property for both the Council and Environment Canterbury.

The Council assesses a general rate, based on your

property's capital value, district-wide targeted rates, plus

other targeted rates based on where you live, or the services

you receive. We also act as agent for the collection of

Environment Canterbury rates within Selwyn district.

The average rates increase for the 2020/21 year is 1.6%,

however this will vary for individual properties. Rates take

account of capital values, as well any changes to your

property, for example if you have built a house on your

section, or if you have changed your wheelie bins.

Ratepayers affected by the COVID-19 pandemic can

apply for a rates payment extension, which is available for

2020/21 rates.

For more information about rates, including forms, payment

options and extensions, visit selwyn.govt.nz/rates or phone

0800 SELWYN (735 996).

Apply for a

rates rebate

Ratepayers who are on a low income and who pay rates

on the property they live in may be eligible for a rates

rebate.

If your gross household income to 31 March 2020 was

$26,150 or less, and you pay rates on the property where

you live, you may qualify for a rebate. If your income was

more than this, you may still be eligible, depending on the

total cost of your rates and the number of dependents in

your family.

To find out if you are eligible for a rates rebate, and to

download forms, visit ratesrebates.govt.nz. Forms are

also available from Council service centres.

If you received a rates rebate last year you will

automatically be sent an application form.

To apply, you will need to provide accurate details and

copies of your gross income, and that of any partner/

spouse/joint homeowner who lives with you, for the tax

year ended 31 March 2020.

You can apply for your rebate at any Council service centre.

Rolleston – Selwyn District Council

2 Norman Kirk Drive

Monday to Friday 8.30am to 5pm (no appointment

necessary)

Darfield Library and Service Centre Phone 03 318 7780

to book an appointment: Wednesdays 10am–12pm,

Thursdays 1–3pm

Leeston Library and Service Centre Phone 03 347 2871 to

book an appointment: Mondays 2–3pm, Fridays 11am–

12pm

Lincoln Library and Service Centre Phone 03 347 2876 to

book an appointment: Wednesdays 10–12pm, Tuesdays

1–3pm

Council Call

Selwyn District Council

Norman Kirk Drive, Rolleston

Ph 0800 SELWYN (735 996)

Rolleston Library

Rolleston Drive, Rolleston

Ph 347 2880

Darfield Library & Service Centre

1 South Terrace, Darfield

Ph 318 8338 or 347 2780

CC050820
---
Selwyn Times Wednesday August 5 2020

Latest Canterbury news at starnews.co.nz

17

Notices

APPLY NOW FOR TERTIARY

SCHOLARHIP

Applications are open for the

Selwyn Secondary School

Student's Tertiary Scholarships.

These are open to students

who have achieved outstanding

success in academic,

sports, cultural, arts, social

responsibility or other

areas, either at school or in

their community. Students

who have also overcome

barriers or hardships to

achieve are encouraged to

apply. Applications close 30

September 2020.

For application forms and

details contact your school

or visit: selwyn.govt.nz/

tertiaryscholarships

DISCONTINUANCE OF A

STOCKWATER RACE

The Council is consulting on a

proposal to close the following

stockwater races in September

2020.

3km of race through five

properties on Waikimihia Road,

Tramway Road and Heslerton

Road.

3.2km of race through six

properties on Wabys Road and

Crossgates Road

Meetings

Public Forums: Council,

Community Board and local

committee meetings are open

to the public. Time is available at

the start of meetings for people

to speak on matters of concern.

Please notify Therese Davel or

Bernadette Ryan if you wish to

speak at the Council meeting at

least five days before the meeting.

Township, Hall and Reserve

Committees: To list or make

changes to meeting details, email

meeting.changes@selwyn.govt.nz

or phone 347 2800 or 318 8338

by 9am Wednesday the week

before publication.

COUNCIL & COMMUNITY

BOARD

Audit and Risk Subcommittee*

Wed 5 August 9.30am

Rolleston Council Offices

Council*

Wed 12 August 1pm

Rolleston Council Offices

*These meetings will also be

livestreamed via the Council

Sharing the road

on Tennyson

A shared cycle and car lane has been introduced

on Tennyson Street, Rolleston, at the Tennyson

Street and Lowes Road intersection. The shared

lane, marked by a share arrow or sharrow, is for

left-turning traffic and for all cyclists travelling

on Tennyson Street. Sharrows indicate a shared

road space and let drivers know that cyclists have

access to the entire lane if necessary, to avoid

other hazards. Shared lanes have been used

successfully around New Zealand since 2012.

ON THE

ROADS

On the roads

Submission forms and further

details on the proposed closure

can be found at selwyn.govt.

nz/wrclosure, or at the Council

headquarters in Rolleston.

Submissions close on 21 August

2020. Proposal under the Local

Government Act 2002.

SUPPORTING YOUNG

ADULTS WITH DISABILITIES

Selwyn Launch Group, which

supports young adults with

disabilities living in Selwyn,

is holding an information on

Tuesday 11 August, 7pm

at Waitaha School meeting

room, 12 Lemonwood

Drive, Faringdon, Rolleston.

Come along and hear what

is happening in regards to

transition, work experience,

opportunities, WINZ information

and support groups. Any

parents and caregivers who are

interested in developing new

facilities in Selwyn are welcome.

RSVP by Friday 7 August to

Sandra Gilmour 0212328069 or

Shelley Waters 0210460482

DOG MICROCHIPPING

This free monthly service is

available on Friday 14 August at

the following places:

· Lincoln Library 9–9.30am

· Leeston Library 10.15–10.45am

website and YouTube Channel.

DISTRICT COMMITTEE

MEETINGS

Doyleston Community

Committee

Wed 5 August 7.30pm

Osborne Park

Dunsandel Community

Committee

Mon 17 August 7.30pm

Dunsandel Community

Committee

Hororata Reserve

Management Committee

Wed 5 August 7.30pm

Hororata Hall

Kimberley Reserve and Hall

Committee

Tue 11 August 7.30pm

Kimberley Hall

Kirwee Community Committee

Mon 17 August 7.30pm

Kirwee Community Hall

Kirwee Recreation Reserve

Management Committee

Mon 10 August 7.30pm

· Darfield Library 11.30am–12pm

· Rolleston Council offices

12.45–1.15pm

If your dog was first registered

after 30 June 2006 and is not a

working dog, the law requires

him or her to be microchipped.

Please note:

· All clinics last for half an hour.

· The Rolleston venue is in

Norman Kirk Drive. All others

are libraries.

· Microchipping will not take

place if wet.

If you have any questions

regarding microchipping, please

contract Tracey Wheeler on

0800 SELWYN (735 996).

IS THIS YOUR RAM?

This ram was found in the

Lincoln area around two weeks

ago. If you are the owner

please contact the Council's

Animal Control Team as soon

as possible on 0800 SELWYN

(735 996).

Sports Pavilion, Kirwee

Recreation Reserve

Lincoln Community Committee

Mon 10 August 7pm, Fitzgerald

Room, Lincoln Event Centre

Little Rakaia Huts Advisory

Committee

Mon 17 August 7pm

Rakaia Huts Camping Ground

community room

Rolleston Reserve Management

Committee – Triennial Meeting

Mon 17 August 7.30pm

Rolleston Community Centre

Sheffield/Waddington

Community Centre

Thu 20 August 7.30pm

Sheffield Hall

Tai Tapu Library Inc. AGM

Wed 12 August 7.45pm

Tai Tapu Library – following the

committee meeting at 7pm

Weedons Reserve Board

Committee

Mon 10 August 7pm

Weedons Community Centre

Bealey Road is closed for soak hole construction. Maintenance is being carried out on

Woolshed Road. Traffic management is in place.

Trents Road is closed heading south east away from Springs Road while upgrades are

made to the sewer system.

Selwyn Events

THURSDAY

6

AUGUST

FRIDAY

7

AUGUST

SATURDAY

8

AUGUST

SUNDAY

9

AUGUST

SATURDAY

15

AUGUST

SATURDAY

15

AUGUST

Teen Book Club

Rolleston Library, 5–6pm

Share your latest reading adventures

and hear what others are reading, see

the new books that have arrived at the

library, and have a snack. For anyone

aged 12–18 years.

Storytimes

Darfield Library, 10–10.30am

Enjoy the magic of stories, activities

and songs with our preschool

Storytimes sessions. Share the joy of

reading and make new friends. Aimed

at children aged 3–5 years. Free.

Bath bombs

Leeston Library, 1–2pm

A fun workshop for adults, teaching

you how to make all natural, veganfriendly

bath bombs tailored to

your favourite scents. Bookings

essential. Book or view more dates at

selwynlibraries.co.nz.

Discovery Time

Lincoln Library, 1.30–3pm

Come along to our weekly sessions

with fun activities and experiments.

Each month will focus on either

science, technology, engineering,

art or maths. You will learn how to

grow crystals, make slime, construct

marshmallow bridges, and more. No

booking required.

Dive-in Movie – Sing (2016)

Selwyn Aquatic Centre, 5.30pm

Bring your friends and family along

and dive in to enjoy this fun, familyfriendly

musical hit.

Sewing Repair Café

The Lincoln Pantry, 1pm-4pm

Run by Lincoln Envirotown, an

opportunity to bring along your

clothing repairs. There will be a

number of expert seamstresses to

help mend your clothes for you. Free.

For information on listing a community event visit

selwyn.govt.nz/councilcall

Leeston Library & Service Centre

19 Messines Street, Leeston

Ph 347 2871

Lincoln Library & Service Centre

Gerald Street, Lincoln

Ph 347 2876

0800 SELWYN

www.selwyn.govt.nz

SelwynDistrictCouncil
---
18 Wednesday August 5 2020

Latest Canterbury news at starnews.co.nz

JOIN US NOW!

See website for details

NEW BALANCE

Selected women's

hoodies $70 each or 2 for

$100. While stocks last

MONS ROYALE

Half price accessories.

Selected styles. While

stocks last

BENDON

Clearout sale. Prices from

just $10. Selected styles.

While stocks last

ANDREA BIANI

Men's clearance

footwear. RRP was

$99.95 to $199.95. Now

from $69.00. T&Cs apply

HALLENSTEINS

$59.99 Suit Jackets.

$29.99 Suit Pants. $49.99

Shoes. Selected styles.

While stocks last

Southbridge gets a

fright from Prebbleton

PREBBLETON signalled it

could be the giant killer in

the Coleman Shield when

they went down narrowly

to competition pace-setter

Southbridge 20-23 at

Prebbleton on Saturday.

Southbridge has swept

all before it this season,

winning seven from seven.

But on Saturday Prebbleton

played above themselves,

exposing a few chinks in

the Southbridge armour on

the way.

In other matches Waihora

thrashed West Melton

38-0, Darfield accounted

for Springston 34-14 and

Lincoln beat Hornby 38-22,

which remains winless.

This weekend Prebbleton

should get a guide to their

fortunes for the rest of

the season against the

second best team in the

competition, Waihora,

while in other matches

SPORT

SELWYN TIMES

Darfield v West Melton,

Hornby v Springston,

Lincoln v Rolleston.

Southbridge, bye.

Points standings:

Southbridge, 33,

Darfield, 26, Waihora,

25, Prebbleton, 21, West

Melton, 20, Lincoln, 11,

Springston, 6, Hornby, 0.

•More photos, page 20

Sign up to Smart Deals & be in the monthly draw for a $100 Dress-Smart gift card!

Open 10am-5pm, 7 Days 03 349 5750

CHRISTCHURCH 409 Main South Road, Hornby

www.dress-smart.co.nz

Prebbleton's Steven Lees-Goodwin is tackled by Thomas Ballantyne,

Shannon Donald and Jarred Adams.

'Wrap up warm and get down

to 'BEST' for some cool deals...

Fuji

Tween Loft Bed

Bar Stool

$

1139

$

179

Finn Chair

$

949

Brompton Display

Palliser

$

1229

Rocker

$

979

New Yorker Entertainment Unit

$

1099

Flores

$

219

$

379

Madison Chair 4 Colours

Milano

Eleanor

$

1319

Breuer

Dinning

Chair

$

659

$

529

Oslo

$

359

Flow Sideboard

www.bestfurniture.co.nz

$

269

Nordik

Dropleaf Table

$

579

$

1469

Radius Desk

$

559

140 Brighton Mall Tel. 388 9128 OPEN 7 DAYS
---
SELWYN TIMES Latest Canterbury news at starnews.co.nz

Wednesday August 5 2020 19

RURAL | LIFESTYLE | RESIDENTIAL

If you want the best,

contact 'The Canterbury Team!'

SOLD

SOLD

SOLD

SOLD

West Melton

Springston

West Melton

Tai Tapu

SOLD

SOLD

SOLD

SOLD

Darfield

West Melton

West Melton

Rolleston

SOLD

SOLD

SOLD

SOLD

Leeston

Rakaia

Kirwee

Tai Tapu

UNDER OFFER UNDER OFFER UNDER OFFER UNDER OFFER

Kirwee

Darfield

Darfield

Charing Cross

We've been busy selling in your neighbourhood.

We need more properties – call us for a free no obligation appraisal of your property.

Athol Earl

027 437 6298

Peter Crean

027 434 4002

Sam Davidson

027 488 8269

Karen Hennessy

027 967 0186

Min Cookson

027 249 5417

Rob McGregor

021 334 469

Cath Henderson

021 137 9931

John Davison

027 436 4464

Ron Ferguson

027 498 6256

Mark Terry

027 572 2559

Austen Russell

027 441 7055

Looking for a change, join the successful team.

PGG Wrightson Real Estate Limited, licensed under REAA 2008

Helping grow the country
---
20 Wednesday August 5 2020

Latest Canterbury news at starnews.co.nz

SELWYN TIMES

Southbridge's Hamish Maw leaps high.

Isileli Fine

storms

through

Brodie

Thomas

and

Mathew

Rogers.

Tom Brand puts in a solid burst.

Southbridge's Jack Dawson scores.

hot

ULEBs are

Metro Ultra Insert

Pyroclassic Mini

and Pyro IV

Woodsman

Serene

Metro

Ultra

See our range of

these ultra Low

emission Burners

on our website and

take a Virtual Tour of our

showroom online at :

www.simplyheat.co.nz

These burners comply with the

strictest clean air regulations

so you can cosy up to a wood

fire in comfort.

Justin Driver prepares to off-load.

METRO ULTRA

InSERT

Fits existing masonry

fireplace and chimney.

nEW

Daryl Lamborn has the try line in his reach

and scores.

PHOTOS: KAREN CASEY

When the latest Ultra Low Emission Burners

are here, Simply Heat will have them.

PYROCLASSIC MInI

And PYRO IV

Inside colour: flame red

Exterior colours: 200+

WOOdSMAn

SEREnE

Latest in the range.

Come and see us, our showroom

has all the latest heating solutions

nEW

METRO FITS FInE

right where any old

woodburner did.

95 Byron Street, Sydenham,

opposite Clip 'N Climb

Call today 03 365 3685

www.simplyheat.co.nz

facebook.com/simplyheat

GAssoN sT

Moorhouse Ave

CArLYLe sT

BYroN sT

BrIsBANe ST

WALThAM rD overBrIDGe
---
SELWYN TIMES Latest Canterbury news at starnews.co.nz

Wednesday August 5 2020 21

Love the

Freedom

Ready to relax in a worry free home?

Summerset homes are warm, modern and designed

with everything you could need for the perfect

retirement lifestyle.

There's no need to worry about maintenance and upkeep.

You have the freedom to choose if you want to make your

garden your own, or if you'd prefer us to take care of it.

Like to holiday? Lock up and leave your home, knowing

everything is safe while you enjoy your next adventure.

It's all about living the life you choose.

Think Summerset living sounds like you? Visit any of our

three Christchurch villages during our Open Weekend,

Saturday 8 and Sunday 9 August, from 10am till 3pm.

We'd love to take you on a tour of our beautiful villages and

show homes. We have plans and pricing available to view

and we're sure you'll meet some of our wonderful residents

along the way!

Christchurch

Open Weekend

Saturday 8 August

Sunday 9 August

10am - 3pm

Summerset at Avonhead

120 Hawthornden Road,

Avonhead

Summerset on Cavendish

147 Cavendish Road,

Casebrook

Summerset at Wigram

135 Awatea Road,

Wigram

To order your free information pack, call

0800 SUMMER (786 637) or visit summerset.co.nz

SUM2288_FP
---
22 Wednesday August 5 2020

Latest Canterbury news at starnews.co.nz

SELWYN TIMES

WINTER

SALE

now on!

ALL MATTRESSES

ON SALE

Beds fit for a king!

Paris Bedroom Range

NOW ON SALE

Atlantic King Bed

Calais King Bed

Dallas King Bed – Blush

NOW

$

899

NOW

$

899

NOW

$

349

Bruna Dining Table

NOW

Luxurious

tufted velvet...

$

399

NOW

$

99

Dante Velvet

Barstool

Faux marble top – Get

'the loOk' for lesS!

Lisbon Ottoman

NOW

$

299

Shop

Online

Nationwide

Delivery

Finance

Options

MORE SAVINGS + SUPER DEALS IN STORE. WINTER SALE ENDS 17.8.20.

Come & check out

our new STORE!

targetfurniture.co.nz

250 Moorhouse Road, Christchurch

Ph: 0800 TARGET (0800 827438)

Offers and product prices advertised here expire 17/8/20.

Sale excludes Manchester and Accessories.
---
SELWYN TIMES Latest Canterbury news at starnews.co.nz

Wednesday August 5 2020 23

Email devon.bolger@starmedia.kiwi

by 5pm each Wednesday

Lincoln Rotary Open Night

Lincoln on Tuesday, 5.45pm

Are you interested in joining

the local rotary club? Do you want

to extend your social or business

network? Do you wish to learn

more about a variety of important

topics? Or, are you just curious

to know what rotary is all about?

If you answered 'yes' to any of

the above questions, go along to

this open night. Phone David on

029 999 8330 or email secretary.

lincolnrotary@gmail.com.

Selwyn Practising Artists

Group

Darfield on Tuesday, 7pm

This is the inaugural meeting

of a newly established group

for practicing artists who live,

work or play in the district. It is

a chance to meet and to provide

encouragement, inspiration,

information and connection to

one another by discussing works

in progress, techniques, inspiration

as well as practical matters such

as exhibiting, working with

galleries and promotion. RSVP

to selwynpracticingartists@gmail.

com.

Te Huanui Art Gallery

Device Drop In

Lincoln on Friday, 10am-noon,

Darfield on Friday, 1.30-3.30pm,

Leeston on Friday, 2-4pm and

Rolleston on Tuesday, noon-1pm

Head along to the informal

support groups to help familiarise

yourself with your digital device.

Whether it's a tablet or mobile

phone, someone will be able to

help you with the basics.

Lincoln, Darfield, Leeston and

Rolleston libraries

Virtual Reality Drop-In

Sessions

Darfield and Lincoln on

Thursday 3.30-5.30pm

The libraries have some

awesome new tech to check out.

Kayak with the penguins in

Antarctica, fly to the international

space station and experience

zero-gravity, complete our Beat

Saber challenge, or even tour Anne

Frank's house. Don't miss these

sessions to test out the new VR

headsets. Suitable for ages 13 and

over.

Darfield and Lincoln libraries

JP Clinics

Rolleston on Monday, noon-1pm

and Thursday, 11am-noon, Lincoln

on Tuesday, 10am-1pm, Darfield

on Wednesday, 11.30am-12.30pm

A justice of the peace will

be available to members of the

community to witness signatures

and document as well as sign

citizenship, sponsorship or rates

rebates applications.

Darfield, Lincoln and Rolleston

libraries

Go along to the Terrace Station open garden day on Sunday from 11am-3pm. Take a stroll

in the 15ha of woodlands with 150-year-old trees. The hutch showcases historic farming

and gardening tools, and 19th-century domestic items. Children will be given printed

suggestions for self-guided activities. Take a picnic to enjoy on the lawns. Woodland plants

will be for sale. The $5 entry fee goes to the Terrace Station Charitable Trust, children are

free. No eftpos. Signposts from Hororata roundabout. Please leave dogs at home. Milnes

Rd, Hororata.

Baby Sensory

Lincoln on Wednesday 9.30-10am,

and Rolleston on Friday 9.30-10am

Go along and share interactive

songs, stories, sensory boards

and bubbles. These sessions are

designed to help cultivate early

language and literacy, and support

the development of motor skills

from birth to 1 year. Free, weekly

sessions, term-time only.

Lincoln and Rolleston libraries

Rhymetimes

Rolleston on Wednesday, 9.30-

10am, Lincoln on Tuesday and

Friday, 9.30-10am

Stories, songs, rhymes

and bubbles make up this

Rhymetimes session, which is

designed to assist with early

language development. Aimed at

children aged one to three. Free,

weekly sessions, term-time only.

Rolleston and Lincoln libraries

Markets

Rolleston Farmers Market:

Sunday, 9am-12.30pm, 96

Rolleston Drive

Darfield Market: Saturday,

9am-1pm, opposite Challenge

Darfield, South Tce.

Market@254: Saturday,

9.30am-1pm, rain or shine,

254 Lawford Rd, West Melton.

Lincoln Farmers and Craft

Market: Saturday, 10am-1pm,

Gerald St.

Running groups

Rolleston Road Runners:

Thursday registration from

6.15pm for a 6.30pm start.

3km, 6km and 9km options in

Foster Park, next to the gravel

car park.

Lincoln Road Runners:

Tuesday registration from

5.40pm for a 6pm start. 3km

or 6km options. Starts outside

Coffee Culture on Gerald St.

Malvern Road Runners:

Tuesday registration from

5.45pm for a 6pm start. 1.8km,

3km and 6km options. Meet at

McHughs Plantation.

Ellesmere Road Runners:

Wednesday registration from

5.45pm, starts at 6pm. 3km or

6km walk or run. Starts from

Leeston Physiotherapy.

Foster Park Run: Saturday

from 7.50am. Free weekly timed

5km run, jog or walk. Register at

www.parkrun.co.nz/foster and

don't forget your barcode. Foster

Park, Rolleston.

ADVERTORIAL

FOCUS FOR

FUTURE

The Focus for Future -

Selwyn Environmental Film

Competition was 'launched'

in May for those who might

want to start thinking about

their production as we

experienced various levels

of lockdown. At the time we

thought that we may even be

looking at a "zoom" awards

evening. We are very happy

that with New Zealand's rapid

return to normality, it looks

as if we will be again enjoying

the Oscar like awards evening

in September.

Logan Edwards receives the 2019 Kea Trophy

on behalf of his production team from

Courtney Sheat from the Rata Foundation

Invitations were sent out to schools and to others who might be interested in making

a short film about their environmental concerns. In the past we have seen some

amazingly creative and thought provoking productions and tremendous effort made by

people of all ages to showcase their ideas about our world.

There is still plenty of time left to plan and produce a film. People are also welcome to

enter films they have previously made as long as they fit the criteria.

In the past, the Awards Evening has always been an exciting event. Young and old

enjoy watching all the short films before hearing from the judges. All film makers are

presented with worthwhile prizes and there are special prizes for different categories,

and for the winners of the Kea Trophy.

All details of the competition, previous entries and the Awards' Night

in September, can be found on Eventbrite, or Lincoln Envirotown's

Facebook Page. Please see advertisement in this issue.

S E L W Y N E N V I R O N M E N T A L

S H O R T

FILM COMPETITION

FOCUS FOR FUTURE

Into Film?

Passionate about the Environment?

Make a short film (5 mins max) that

will stimulate those who view it into

taking action!

M O R E I N F O

EVENTBRITE

FACEBOOK

03 423 0445

D E A D L I N E

AUGUST

31

2020
---
24 Wednesday August 5 2020

Latest Canterbury news at starnews.co.nz

SELWYN TIMES

Tasty Bites

Chicken drumsticks are hard to beat

This recipe is a healthier

way to make chicken

drumsticks taste

delicious – they are

marinated in buttermilk

and garlic for 24 hours

before roasting. This

ensures the chicken

tenderises and gets

infused with delicious

flavours

Buttermilk roast

chicken with garlic

6 servings

Ingredients

2 cup buttermilk

2 tbsp olive oil

10 garlic cloves, minced

1 cup fresh parsley, minced

1 tsp salt

1 tsp black pepper, freshly ground

12 chicken drumsticks

Directions

Combine buttermilk, olive

oil, minced garlic, minced fresh

parsley, salt and black pepper in a

small bowl and whisk really well.

Place chicken drumsticks in

60

a large freezer bag, pour %

the

buttermilk marinade over the

chicken and distribute evenly over

all chicken drumsticks. Squeeze as

much air out of the freezer bag as

FLAVOURFUL: Buttermilk roast chicken with garlic. Sticky sweet chilli drumsticks.

possible and seal the bag.

Refrigerate the marinated

chicken for 24 hours.

After your chicken has been

marinated, preheat oven to

200 deg C. Place chicken in

a medium-sized casserole

dish – and pour all of the

marinade on top and around

the chicken. Roast for 30-45min

(depending on your oven), until

chicken juices run clear and the

drumsticks are browned and

scorched in spots.

If needed, grill for about

5-10min to get more color.

Serve immediately, use the

sauce from the pan.

Sticky sweet chilli

drumsticks

4 servings

Ingredients

¼ cup sweet chilli sauce

3 tbsp sweet soy sauce

1 tbsp garlic, minced

½ tbsp ginger, minced

½ tbsp onion powder

½ tbsp smokey paprika

1 tsp salt

1 tsp pepper

1.5kg chicken drumsticks

To Serve

Bok Choy

Rice

Directions

Preheat oven to 180 deg C and

line a baking tray with baking

paper.

Mix the marinade ingredients

together in a bowl.

Pour over the drumsticks and

massage all over.

Place the chicken drumsticks

onto the lined tray. Pour over any

excess marinade.

Bake in the oven for 45-

50min or until the outside of the

drumsticks are caramelised and

cooked through. Remove and let

cool slightly.

Lightly saute the bok choy in a

pan with a little sesame oil. Serve

immediately with rice.

Smooth-Air

Ventilation Equipment Suppliers

totrade

retail

Adapt your home to

YOUR IDEA

OF COMFORT

&

Ducted Heatpump zone control

www.airtouch.co.nz

'Famous for their roasts!'

SENIORS SPECIAL

Two courses: $

23

Soup/Roast or Roast/Dessert

Special available lunch only

Monday - Saturday 12pm - 2.30pm

Conditions apply

FAMILY FRIENDLY

Kid's Special

Two courses

Great Kids menu plus

designated play area.

$

13

RESTAURANT & CAFÉ

Open daily from 6.30am - Breakfast, Lunch & Dinner

The

RACECOURSE HOTEL

& Motorlodge

118 Racecourse Rd, Sockburn,

Christchurch. Ph 03 342 7150

www.racecoursehotel.co.nz

Adapt your home to

YOUR IDEA

OF COMFORT

OFF

60 23º

% OFF

75 %

80 % 50 %

100 21º

%

60 % OFF

100 %

18º 80 % 50 22º

%

OFF

75 20º

%

Adjust the airflow around your home in 5% increments so everyone enjoys their own comfort zone.

Adjust the airflow around your home in 5% increments so everyone enjoys their own comfort zone.

0800 SMOOTH

(0800 766 684)

sales@smooth-air.co.nz

264 Annex Rd

Riccarton

Christchurch

03 343 6184

SMART

INTEGRATIONS

INTELLIGENT &

WITHOUT WASTAGE

INTELLIGENT &

WASTAGE

WITHOUT WASTAGE

INTELLIGENT

& WITHOUT

Save money on

your power bill

Monday - Friday

7.30am - 5pm

www.smooth-air.co.nz

03 349 5050

"DENTURES

IN A DAY!"

Call now

for details

New Dentures > Relines > Repairs >

6 Brynley Street, Hornby, Christchurch

www.betterdenture.co.nz
---
SELWYN TIMES Latest Canterbury news at starnews.co.nz

Wednesday August 5 2020 25

Gardening

It's not too early to plan for summer

DEPENDING ON the weather

in a particular year, August

can either feel like the depth of

winter or the first hint of spring.

Flowering annuals, camellias,

rhododendrons and cherry trees

brighten up gardens in this cold

month. It's an excellent time for

planning your summer garden.

Fruit trees

Harvest time for citrus coming

in warm, sheltered sites; late

mandarins, lemons, limes, navel

oranges and grapefruit.

Spray pip and stone fruit trees

with a final application of a

copper compound before new

season growth appears. This will

also help prevent the outbreak of

fungal diseases in spring.

Feijoas can be 'thinned out'

now. These trees respond to careful

pruning so they will produce

more regular crops each year.

Named variety feijoas eg Apollo

are cutting grown, producing a

more open, large bush.

The traditional seedling grown

feijoas are very dense growth

habit. Remove any inward growing

branches and where branches

overlap. Maintain the ultimate

height of the feijoas at 2.5-3m

to allow for easier care of the

tree while ensuring more than

LANDSCAPING

Call Aaron &

the team today!

For the Outdoor

Space of your

Dreams...

Paving, Irrigation,

Lawns, Planting,

Fences, Pergolas,

Water-features,

Outdoor fires,

Raised Vege beds,

Decks, Artificial

grass & more...

Phone: 03 347 4422

or 021 542 402

Email: Aaron@theoutdoorspace.co.nz

www.theoutdoorspace.co.nz

COLOURFUL: Some bulbs will be coming into flower during August. Look for a vibrant

display come spring.

enough fruit develops.

Bulbs

Depending on the weather

conditions, some bulbs will be

preparing to flower. Daffodils,

hyacinths, muscari and lachenalias

all regularly flower in

August.

Take note of the best performing

varieties in your garden as

you might want to plant additional

bulbs or lift and divide

these bulbs later in the season

Flowering annuals

Winter flowering annuals will

STOP BIRDS

hail, leaves, snow & vermin from

blocking & damaging your spouting

Quality materials: BHP Colorbond steel mesh with

unique patented louvre will even keep out pine needles.

Will not rust or sag with age or load. 10 year warranty,

range of colours.

Proven in Australia & New Zealand over the last 15 years.

FOR SAFE, PURE DRINKING

WATER FROM YOUR ROOF.

NOW AVAILABLE: STAINLESS STEEL

MICO MESH

Call Rohan anytime Mon-Sat for a

no-obligation assessment & quote

03 982 8850 0800 486532

www.gumleaf.co.nz

still be flowering prolifically,

especially cinerarias which are at

their absolute best in late winter.

Make last plantings of winter

flowering annuals that will continue

flowering well into spring

including alyssum, calendulas,

cornflower, hollyhock, larkspur,

lobelia, nemesia, pansies, snapdragons,

stock, sweetpeas, violas

and wallflowers.

Roses

This is the final winter month

for planting new season roses.

Towards the end of the month,

new growth will begin appearing

on roses in warmer areas. It's

still too early to apply fertiliser,

however, fresh compost can be

applied around existing plants.

Vege patch

Where the soil is not too wet

and can be worked to a fine tilth

(very fine texture), sow seeds of

beetroot, carrots, onions, radish

and spinach.

Towards the end of the month,

you can begin sowing seeds of

summer vegetables in seed raising

trays that are in glasshouses

or a sheltered porch.

This includes beans, cucumber,

Garden

In the

with intelligro

Bring on SPRING

The daylight hours are getting slightly

longer which means the warmer,

sunnier months aren't too far away.

Preparation is key this month. Here are

a few things you can do

• Dig through compost of existing

gardens to give them a boost

• Decide what veggies you want to

grow

• Pick your location and what you will

plant in e.g. raised bed, patch, Vegepod

• Get your growing mix – the quality

of your mix determines the quality of

plants you get

Not sure where to start?

We are here to help!

lettuce, peppers, and tomatoes.

Always use fresh, good quality

seed mix. It provides all the nutrients

growing seedlings need.

Strawberries

Young plants are now in active

growth. As tempting as it is to

leave them, remove any early

flowers as they will not form edible

fruit.

A light mulch of pea straw or

finely crushed bark helps reduce

the impact of heavy downpours

of rain and keeps the young

plants 'clean' and healthy.

Ornamental trees and

shrubs

Azaleas, camellias, daphnes,

early rhododendrons and flowering

cherry trees along with other

winter flowering species are all at

their best in August.

Garden centres are well

stocked right now with new

specimens, so it's an excellent

time to purchase.

Lawns

A quiet month in lawn care with

little grass growth in August.

Note areas that have become

excessively wet during winter.

Aim to install additional

drainage over summer months.

Intelligro Veggie

Gardening 101

Thursday 20th Aug 6.30-8pm

Next up for our Intelligro Workshops is Veggie

Gardening 101. If you are wanting to learn some

tips and tricks from Kelly, one of our awesome

team members, then this one is for you.

We will cover some of the basics to get you

started, and have a Q&A session so you can get

your questions answered.

Head to our website to buy your tickets online.

Limited seats so get in quick!

Need a delivery?

We can get both bulk and bagged products

direct to your door. No lifting, no hassles,

no waiting for hubby to go and get it…

Quick. Easy. Effective

Current opening hours:

Monday – Saturday: 8am – 5pm

Sunday: 9am – 4pm

261 Manion Road, Weedons

P: 03 347 9012 | E: info@igro.co.nz

Check out our Facebook page for upcoming events, specials and promotions!

Online shopping is available at www.igro.co.nz

Click and collect available through our website www.igro.co.nz

Need a delivery of bulk goods? Give us a call 03 3479012
---
26 Wednesday August 5 2020

Latest Canterbury news at starnews.co.nz

SELWYN RURAL LIFE

SELWYN TIMES

Ride-on electric

mowing a reality

Pure education is a big part of the job

for Bruce Scott from Mean Green Mowers

and that makes sense when introducing

new technology to the market place.

"People often have the image of a small

mower with a power cord hanging out the

side, and the odd jaw does drop when I

tell them we have mowers with a 74 inch

(1.88m) deck that can mow for up to eight

hours continuously."

Uptake of the Mean Green brand has

been encouraging in New Zealand, with

mowers operating from Kerikeri to

Invercargill. Most large contractors have

a machine, as do many councils. One

contractor uses a couple of Mean Green

machines to mow Lincoln University

where low-noise operation is really

appreciated.

"I mow our lifestyle property in Tai Tapu

with a Nemesis 48 inch machine, and I

always tell my partner I'm off to mow the

lawns. She can't hear the mower operating

from inside, so if I disappear I want to

avoid accusations that I slipped off down

to the pub," says Bruce.

The mowers operate at less than half

the noise levels of petrol mowers so you

won't bother the neighbours mowing on a

Sunday morning.

Imported from the United States Mean

Green mowers are extremely well built

and have plenty of instant mowing power

available at the flick of a switch

When considering the purchase of an

electric mower, Bruce says it is important

to have a close look at the numbers. A

petrol machine could cost up to $16,250

over a 10-year period on fuel alone. So

this number needs to be added to the

purchase price of a standard mower to

compare apples with apples and it is an

even wider gap when taking into account

the low maintenance requirements of

electric machines.

"Everyone's situation is different so I

encourage clients to call for a chat. And,

pop up and see a machine, we're just in

Tai Tapu."

For more information contact Bruce

either by phone on 027 223 0054 or

email him at bruce@meangreenmowers.

co.nz. The Mean Green Mowers website

is www.meangreenmowers.co.nz.

Firewood & Coal

CHECK OUT OUR

NEW PRODUCTS

• Screened soil

• Forest Mulch

• Bark Mulch 10/25mm

• Bark Nuggets 10/20mm

• Premium Organic Compost

WE ALSO STOCK

• Coal – 20 kg bags or 500kg bulk bags

• Firewood - pick up or deliver (delivery

charges apply)

• Paparoa Red Rock available in three

grades: -4mm, 12.25mm and 25mm

plus

• Railway Sleepers - 2.1m lengths

• WINZ Quotes available

• EFTPOS available

ONLY closed

statutory days

over XMAS and

NEW YEARS

Direct to the public

Landscape Products

417 Creyke Road, Darfield | Phone 03 975 4502

Open Monday to Friday 6am-6pm, Saturday 8am-1pm

or after hours by appointment
---
SELWYN TIMES Latest Canterbury news at starnews.co.nz

Wednesday August 5 2020 27

SELWYN RURAL LIFE

Farm vehicle maintenance saves

Farm vehicles can get a hard life,

being driven around the paddocks and

over rough roads. With so much work

to be done on the farm their regular

maintenance can get overlooked.

The effect of ignoring regular motor

vehicle servicing is more serious issues

can arise, resulting in costly repairs, which

might otherwise have been avoided. A

reliable vehicle also means you're not

stranded on a country road or the back

paddocks of the farm.

Vehicle servicing should be carried out

every 5,000-10,000 kilometres, whether

a newer or older model, and by a reliable

and competent specialist in automotive

repairs. Regular servicing ensures a

vehicle is roadworthy between Warrant

of Fitness checks. This is important no

matter what the age of the vehicle, as even

new vehicles can breakdown.

Simon, Hayden and Vince at Rolleston

Diesel & Petrols take care of a lot of farm

utes, 4WD's, farm bikes and the odd

tractor, as well as the family car. They have

considerable experience and expertise in

automotive servicing and repairs.

"Two problems we regularly see

occurring, is vehicle maintenance being

overlooked and where the farm's fuel

supply has become contaminated. This

can lead to poor vehicle performance,

black smoke belching out, high fuel

usage and potential breakdowns," advises

Simon, owner of Rolleston Diesel &

Petrols.

If you are having problems with any of

your vehicles, it may well be worth having

a chat to one of the team at Rolleston

Diesel & Petrols. They are only too keen

to help. You can be assured they will

offer honest advice on the state of your

motor vehicle. Whether there is a noise

coming from under the bonnet, a smell of

oil, tyres looking suspiciously worn, or a

battery which is slow to start, sorting any

problem early may avoid being without

the vehicle for a period of time, as well

as the cost of any necessary repairs. It

will also help ensure the vehicle is safe to

drive.

Rolleston Diesel & Petrols is wellequipped

with sophisticated diagnostic

equipment, and they only use reliable

quality components, oils and original

specifically manufactured equipment

parts.

"I believe in regular vehicle maintenance

and carrying out proper repairs, using

parts which will last," says Simon.

Whether a ute, 4WD, car, van, light

commercial (up to 12 ton), motorhome,

bus, motorcycle, jet ski, boat, horse

float or ride-on lawnmower, the team at

Rolleston Diesel & Petrols will service and

repair it, as well as take care of any WOF

checks when due.

As a member of the Motor Trade

Association you are assured quality

workmanship at this locally owned and

operated business where locals look after

the people of Selwyn.

You will find Rolleston Diesel & Petrols

at 839 Jones Road in Rolleston. To

call them phone 03 347 7110 or email:

simon@rollestondieselandpetrols.co.nz.

You might also like to check out their

website: www.rollestondieselandpetrols.

nz.

3 TRUCKS

3 CARS

3 LUBES

3 SERVICING

3 FLEET WORK

3 BOATS

3 DIESEL INJECTOR &

PUMP SERVICING

3 ENGINE TUNING

Mon-Fri 7am-5pm

Sat 8am-12pm (WOFs only)

3 BRAKES

3 MAXXIS TYRES

3 WHEEL

ALIGNMENTS

3 BATTERIES

3 WOFs

3 CAMBELTS

AND MUCH MORE!

839 Jones Road, Rolleston P.O. Box 16 Rolleston

Phone Simon on 347 7110 or Mobile 027 272 9213

Selwyn Auto

ALL YOUR MOTORING NEEDS

› WOF's › Diagnostics

› Repairs › Servicing

› Batteries › Tyres

› Courtesy Cars Available

Now Open &

Fully Staffed

Phone 329 5841 | 132 Leeston Road, Springston

www.selwynauto.com | office@selwynauto.com

WHY GO ELECTRIC?

Better for your health

Quiet

Cheap to Operate

Powerful

Finance Now Available!

Normal credit criteria applies

1. Check your budget for a comparable

petrol machine

2. Add up to $16,250 for petrol over

machine life*

3. Compare petrol costs versus a finance

package (if required)

4. Add in the benefits listed above

5. Make an informed purchase decision

*Depends on model and hours of operation

The Nemesis 48-inch Ride-on

Battery good for 2.5 hours of mowing

(equivalent to 2 hectares)

Please view our website for the full

product range boasting models with

up to 8-hours of continuous mow time

Enjoy your wEEkEnds

Please pop up and see us in Tai Tapu

Call Bruce @ 027 223 0054 for more info or email bruce@meangreenmowers.co.nz

www.meangreenmowers.co.nz
---
28 Wednesday August 5 2020

Latest Canterbury news at starnews.co.nz

SELWYN RURAL LIFE

SELWYN TIMES

Canterbury Fonterra's

best big site

In its 14th year the Fonterra Best

Site Cups celebrate the best in

manufacturing.

Canterbury is now home to Fonterra's

best big Site following the 'Oscars of

Manufacturing', Fonterra's best site

cup awards. Darfield picked up the

hotly contested award ahead of the 25

other Fonterra

manufacturing sites

throughout the

country.

Darfield site is

starting to ramp

back up after winter

shut so it was great

for the teams to come together, virtually

this year, to celebrate the year that's been.

The site had a great year making

progress against their goals. One of those

is the target set by the Co-op last year to

reduce water use by 30% by 2030.

Harriet Van Genne-Knape, General

Manager of operations at Darfield says,

"We are very proud of this result and

the awesome recognition for our entire

Darfield team. Everything came together

quite nicely in FY20 for us. We had

a clear vision, strategy, set ourselves

ambitious targets and we passionately

worked hard on these every day.

"I think the key to our success is that

we strongly believed that we could do it

and that we followed the Darfield way of

doing things which is sometimes a little

bit different. We are always focussed on

how we could do things better, and all of

you have worked tirelessly over a number

of years to be rewarded with this result."

Fonterra's Darfield site employs

more than 280 people from around

Canterbury, all of them work to turn

Fonterra farmers milk into milk powder

and cream cheese that ends up in more

than 40 markets around the world.

Fonterra's manufacturing sites employ

close to 7,000 people throughout

the country in a range of roles from

factory processors to tanker operators,

food safety and quality experts and

environmental managers, all of them

working to turn farmers milk into

products that end up in more than 140

countries around the world.

Canterbury

Timber & Hardware

Timber Wood Fuel Pellets

20kg Bag for $12.50

Call in today for your free quote!

NEW ENTRANCE: 167 Manion Road, Rolleston

Jason Pester P 03 347 7465 F 03 347 7032 E jason@cthl.co.nz

Mon-Fri: 7am-5pm Saturday: 8am-12pm

Canterbury

C T H Timber & Hardware

We are here

Diesel Blower Heaters

• An industrial diesel powered blower heater, which is

ideal for warming a large area.

• Clean burning technology and diesel economy allow it

to operate for up to 14 hours on a single tank.

• Designed especially to keep operation noise to an

absolute minimum.

• Plug the heater into a standard three

pin plug power point and turn the

thermostat to the desired heat setting

and the burner starts automatically

and will continue operation until

it reaches the preset heat setting,

automatically turning itself off

and on as required to maintain the

temperature.

• A truly powerful, versatile and

economical heater.

special

offer

$100 off

the advertised price

OR Buy 2 & get

$150 off

each heateR

30 kW - $795.00 gSt incl

50 kW - $895.00 gSt incl

Tuatara Machinery Ltd • 291 Weedons Ross Road

Tel. 03 347 4956 • Mob. 0274 770 070

www.tuataraatv.com • Email: info@tuataraatv.com

Canterbury Ltd

• Quotations for water system designs and water testing

• Pipes, valves, fittings sales

• Filtration supply and installation

• Pump service, repairs and maintenance

• Bore flush and development

• Bore pump sales, servicing and maintenance

• We also sell, service and repair most pump

brands including sewage pumps

551 Halswell Junction Road

0800 GRUNDFOS / 0800 478 633

DAIRY MEAL

FROM $40 PER TONNE!

CALL STEW 0274622529

For sales and service or

after hours service call

Jason 021 649 944

or Mike 021 560 044

www.pumps-filters.co.nz

- Made fresh on farm.

- Custom blended.

- Can supply and add extra proteins

or Micro-ingredients.

- Plus, we can help with sucking

problems from blocked auger

tubes!

WWW.FEEDMIX.CO.NZ
---
Find your way to the edge of the world with the new Discovery Sport. Packed with exciting

SELWYN TIMES Latest Canterbury news at starnews.co.nz

Wednesday August 5 2020 29

Feisty yet frugal Volvo station wagon

VOLVO HAS HAD a long and

notable motorsport heritage.

I became familiar with some

of that during my many visits to

Wellington to watch the Nissan

Mobil 500 street race in the late

80s and early 90s. While the

Volvo T5 wagon looked a little

out of place on the race track,

it certainly had speed, and it

clocked up much success globally,

especially in European touring

car championship races.

The T5 had a square, boxy

shape that earned it the nickname

Swedish taxi, but the point is it

was amazingly successful, and

when I first drove it in road going

form in 2004 I was blown away

with its power and performance.

Since then Volvo has marketed

many fine wagons and has

impressed with its power plants,

feisty engines which also double

as being frugal.

Enter 2020 and another Volvo

wagon has landed – the V60 T8

R-Design, another very quick

station wagon, yet also amazes

with its 2l/100km combined cycle

fuel usage claim.

That's down to hybrid

technology, today's V60 has a

turbocharged and supercharged

four-cylinder petrol engine. The

1969cc unit develops a hearty

246kW and 430Nm, if that's not

enough, add into the equation

a rear-mounted electric engine

which adds 65kW and 240Nm,

it's no surprise then the V60 is

swift when the accelerator is

given a nudge.

Volvo claims a 4.5sec standstill

to 100km/h acceleration time,

that's quick, and what's more,

the V60 feels fast, it is fully

responsive and delivers in a fluid,

decisive manner, typical of both

turbocharging and supercharging

techniques.

While its performance is every

bit as exciting as its predecessors,

it must be remembered that

hybrid technology is there for

a reason, and in this age where

caring for the environment has

become a major priority, the V60

also addresses that with plug-in

electric storage capability. The

system isn't as generous as you

would get from a fully electric

vehicle, but it definitely has

purpose.

Volvo also claims and electric

range of around 30-40km,

which would satisfy for a daily

commute; however, there's no

driver-selectable EV mode,

what happens is that the V60

VOLVO V60 T8: Hybrid system allows up to 30km of

motoring on one charge.

will happily run all the time on

electric power only, but if you

are forceful with the throttle the

engine will burst into life and give

you immediate acceleration.

I was determined to allow

the V60 to work electrically for my

commute, it does so willingly, but

there were a couple of times when

keeping pace with traffic meant

petrol power cut in, however, the

end result is that massive fuel

savings can be achieved.

During my time in the

evaluation car the fuel usage

displays were listing between

3-4l/100km with 2.2l/100km

showing instantaneously at

100km/h, the engine turning

over well below 2000rpm in

eighth gear. Yes, the V60 has

a traditional torque converter

gearbox and, as you would

expect in a luxury car, the

transition of ratios is almost

seamless.

You need no special technique

to drive the V60, it is very

orthodox and is built with

the sophistication we have

come to expect from this great

Scandinavian car maker. It also

gets a five-star safety rating, no

surprises there, Volvo is sold

universally as being one of the

world's safest car manufacturers.

I've made no secret over the years

of my affection for the traditional

station wagon, and the V60 really

appeals to me. In practical terms,

the rear cargo section can hold

up to 529-litres and loading it is

far from a chore, the ride height

is at an easy level for lifting the

groceries out of the supermarket

trolley and into the vehicle. That

load space doesn't compromise the

rear seating area either, the V60 is

comfortable and spacious.

On the road it is quiet and

extremely comfortable, the spring

and damper rates are biased

towards comfort, which is no

surprise, the V60 is a true touring

• Price – Volvo V60 T8,

$121,400

• Dimensions – Length,

4761mm; width, 1850mm;

height, 1427mm

• Configuration – Fourcylinder,

four-wheel-drive,

1969cc, 246kW, 430Nm,

eight-speed automatic

• Performance –

0-100km/h, 4.5sec

• Fuel usage – 2l/100km

car and it needs to cocoon the

occupants.

It gets a load of kit for its

$114,900 price tag (evaluation

car $121,400). The controls are

laid out for ease of use, many

functions are operated through a

large central touch screen display,

which is very intuitive.

Two Star Media employees

drive Volvos. I'm always being

reminded of the safety criteria

which influenced the decision

to buy into the brand. Nothing

has changed, Volvo has set the

benchmark in this area, and

when you are inside the car you

feel that quality build.

The V60 is a remarkable car

in terms of what it represents, its

speed puts it most definitely in

the performance car category, but

it is also a thrifty fuel miser. Add

in the wagon effect and you've got

many cars in one.

That's just as you would expect

from Volvo, it is something just

that little bit different all round,

but spectacular nonetheless.

THE NEW LAND ROVER DEFENDER

WORKING REMOTELY

THE NEW DISCOVERY SPORT

CONFIDENT IN

ALL CONDITIONS

AVAILABLE NOW. BOOK A TEST DRIVE.

The new Land Rover Defender relishes challenges and doesn't care much for impossibilities. With permanent

all-wheel-drive and world-first configurable Terrain Response technology, it has the capability to push boundaries

even further. Tested in every condition, in every environment, and on every surface you might encounter, it

always comes out the other side, ready for the next challenge. Defender. An icon in a category of one.

Yours from $89,900 plus on-road costs. *

Archibalds

38 Tuam Street, Christchurch

021 907 961 - Darren Griffith

archibalds.co.nz/newdefender

*Terms and conditions apply. Price shown relates to Defender 110 and is the Maximum Retail Price (MRP). The standard scheduled 5 Year servicing is included (different terms and conditions apply to different models). Contact Archibalds for more details or visit archibalds.co.nz/newdefender.

Image contains optional extras and is not representative of MRP price.

THE MOST VERSATILE AND COMPACT SUV
---
30 Wednesday August 5 2020

Latest Canterbury news at starnews.co.nz

Animals Livestock/

Supplies

Experienced

Mobile Sheep

Shearer

No Job Too Big or

Too Small! Can do

drenching and trim

hooves. Over 35 yrs

experience.

Please contact

John 027 568 6218

Boating Accessories

& Equipment

BOAT

SERVICING

& REPAIRS

Mercruiser & Volvo

New Parts,

Repairs & Sales

Phone 027 433 7431

Cars Wanted

CARS Wanted under

$5000. Tim Koller Motor

Company

380 Ferry Road. Ph 390

1717

Classifieds Contact us today Phone our local team 03 379 1100

Classic Cars & Motorcycles

Towing

For safe, damage free

car transportation

call Ashley's Tow Taxi

Special care for special cars

ASHLEY'S TOW TAXI

Breakdown & Relocation

0800 TOW TAXI • 0800 869 8294

Firewood

Macrocarpa Sleepers

200x100

Ideal for

landscaping

1-5m

We cut to

length

SHELTERBELT TRIMMING

Boundary

Trimming

Call Tony Dempsey

Phone 03 325 3256

Mobile 0274 323 943

Firewood

DRY Old Man Pine 6

cubic mtrs. $575. Could

be a delivery fee. Ph 027

2977 563

Gardening

& Supplies

ellesmere

lions

Pea straw

now available

DELIVERING NOW

Small bales $6

Medium squares

(equivalent of

10 small bales)

$50

Contact

alex Hayward

03 324 4094

Phone

SUPPLIES LIMITED 021 325 661

653 21 Ellesmere Manion Road, Road, Rolleston Lincoln

www.macrocarpasupplies.co.nz

www.macrocarpasupplies.co.nz

Heating

Log Fires

Pellet Fires

Heat Pumps

Sales

Service

Installations

Free Quotes

03 343 1651

472 Blenheim Rd

www.heatstore.co.nz

Memoriam

McLaughlin, Elva Mae:

Elva passed away peacefully

on 18th April, 2020. For

those who wish, you are

invited to join the family at

the Dunsandel Cemetery

on 8th August at 2pm to

pay personal respects,

for quiet contemplation

and for placing of flowers.

Following this Elva's family

invites friends and family

to share an afternoon

tea remembering and

celebrating our treasured

Mum's life from 3pm at

the Dunsandel Hotel. Bring

along any photos, stories

and reminiscences about

her life, the Dunsandel

Players, Brown's Grocery

Store, The Old Church Shop

and other Dunsandel icons.

Select Services

Specialising in:

Driveways

Outdoor Areas

Patios, Pathways,

Residential

& Commercial Floors

Professional Advice

Free Quotes

Frank McWatt

03 423 9344

027 274 0342

allwaysconcrete@gmail.com

www.allwaysconcrete.nz

ADD SOME

COLOUR

TO YOUR ADVERT!

Select Services

Water Blasting

Steam Cleaning

Industrial

Commercial

Residential

Silos Barns Farm

Machinery etc

Hi level Dust removal

Free Quotes

20 years experience

Contact Gerry

021 740 428

Hydroseeding and Lawn Specialists

Hydroseeding | Lawn Preparation | Landscaping

• Site clearing

• Erosion and dust control

• Irrigation

Select Services

Wanted To Buy

Materials to deck

out a mancave from

Memorabilia, retro things

of any kind including

furniture or just

cool things of interest. Ph

or txt 021861732

LoCaLLy oWned

& oPerated

• Posthole boring

• Commercial & residential

• No job too small

We offer free quotes for the Canterbury

region, so feel free to call us today!

Phone: 347 4000 Mobile: 027 456 7777

Email: zac@canterburylawns.co.nz

Website: www.canterburylawns.co.nz

DRIVEWAYS

HARRIS

BULLDOZING LIMITED

• Driveways

• Car Parks

• Lifestyle Blocks

• Site Clearing

& General

Earthmoving

Mark 021 345 571

or Paul 021 705 996

Email harrisbull@xtra.co.nz

www.harrisbulldozing.co.nz

All Work Guaranteed

Please phone for a free quote

Trades & Services

ADD SOME

COLOUR

TO YOUR ADVERT!

• Irrigation • Drainage • Driveways

• Auger Hole Drilling

• Land Clearing & Development

• Culvert Installation • Construction Site Works

• Tree & Hedge Removal • Concrete Breaker

Phone Mike: 027 272 8058 OR 03 324 4323 A/H

g.m.contracting@xtra.co.nz

www.gmcontracting.co.nz

• Driveways

• Trenching

• Section Clearing

• Demolition

• Tree/Stump Removal

• Truck/Digger Hire

• Post Driving

• Section/Lifestyle Block Development

C O N T R A C T I N G

Phone: 329 7165 or 027 616 1761

To Let

RENT ME!

Ideal as an extra

bedroom or office.

no bond required

Fully insulated and double glazed for warmth.

Three convenient sizes from $70 a week:

Standard 3.6m x 2.4m

Large 4.2m x 2.4m | Xtra-large 4.8m x 2.4m

Visit our website

www.justcabins.co.nz

for display cabin locations

www.justcabins.co.nz

Tours

Day Trips

Mt Cook Day Trip Saturday 18th July $55pp

Two passes Arthurs /Lewis Saturday 15th August $45pp

Tours

Hokianga Cape Reinga Bay of Islands 8 Days includes

flights home pick up $2250 pp twin share. Early bird

discount $75pp bookings for before 20th July

Central South Island Pukaki Downs Station Morven

Hills Mt Aspiring 8 Days $1795 pp twin share

Xmas Tour 4 Days

Tasmania 12 days including flights

$4,900 pp twin share

Taranaki Garden Festival Tour

Call Reid Tours 0800 446 886

Email: reidtours@xtra.co.nz www.reidtours.com

DECORATORS

Driveways

SWAINS

KIWI KERB

(Since 2005)

Over 22 Years Experience

Quality

Workmanship

• Driveways

• Kerb &

Channel

• Garden Edging

Trades & Services

New Paint • Repaints

Wallpapering • Fences

Feature Walls

Floor & Roof Painting

Spray Painting

Light Commercial

Restoring Timber

* Finance available (T's & C's apply)

Selwyn based but service the whole of Canterbury

www.andertondecorators.co.nz

www.facebook.com/andertondecorators

027 724 6846 027 PAINTIN

Freephone: 0800 081 400

swainskiwikerb@gmail.com

SELWYN TIMES

Trades & Services

LifestyLe

BLock

fencing

new fencing, post driving,

repairs, maintenence.

Quality workmanship

& advice.

Phone Allan 021 049 6151

allan@agrifencenz.com

Facebook: agrifencenz

Selwyn

Accounting

Ltd

For all your

Accounting &

Tax Needs

03 741 1783

027 332 8086

brian@

selwynaccounting.co.nz

Bellamy's

Furniture

Furniture made to

order and restoration

by tradesman with

35yrs experience.

PH Stephen

021 073 2624

UDI PAINTING &

DECORATING

For all painting and

decorating services.

Fully Qualified

• Interior &

Exterior Painting

• Wallpapering

• Plastering

• Roof Painting

Quality Services

FREE QUOTES

Contact Udi Aale

Ph. 021 074 2075

BUTCHER

SERVICE

Watkins Home Kill

Processing Beef, Pigs,

Sheep, Deer & Fish.

Smoking Bacon, Ham

and small goods.

Mobile slaughter service.

124 Burdons Road

Burnham

Phone Tim 347 6693
---
SELWYN TIMES Wednesday August 5 2020 31

Classifieds Contact us today Phone our local team 03 379 1100

Advanced Service,

Advanced Upholstery

Auto & Marine Upholstery

• Auto restoration

• Boat upholstery

• Caravan & motorhome

squabs & awnings

Trades & Services

• Authorized agents for Cvana awning

• Machine, truck & ute

covers

• Farms Covers

• & Much More!

3967 West Coast Road (between Waddington & Darfield)

Mon to Fri 8am to 5pm • Sat 9am to 12pm

Ph 03 318 7378 www.advancedupholstery.co.nz

No job to big or small.

Supply carpet, underlay and garage carpet.

Experienced in installing second hand carpet.

Carpet samples.

Free measure and quote!

Call David 0272319931

www.davidfarmercarpetlayer.co.nz

Tyre Servicing

All tyres & tyre servicing at home or work

Pricing options to suit your needs

Mobile Tyreland Christchurch

03 3895005 or hamish.gerard@mobiletyreland.co.nz

Excavations

• Driveways

• Car Parks

• Site Cleaning

• Demolition

• Farm Tracks

• Drain Cleaning

• Stump & Hedge

Removal

• Ashpalt Concrete

Wide range

oF TruckS

• Tennis Courts &

Swimming Pools

• Chip Seal Driveways

• Diggers – 2 Ton

up to 20 Ton

• Excavators

• Bobcat & Drilling

• For Posthole &

Fence hole

For a Free Quote

on your next project

Phone Steve on 021 338 247

or 325 7922

Re Roofing

Roof Repairs

Spouting

Approved Age Concern provider

Over 30 years experience

Licensed Building Practitioner

N A BARRELL

ROOFING LTD

Ph: 0275 389 415

Email: nabroofing@xtra.co.nz

Free

QuoTe

GLAZING

TWISTY GLASS &

GLAZING LTD

• Mirrors • Pet Door Specialists

• Splashbacks • All Broken Windows

THE CAT DOOR MAN

Phone Cushla or Darren Twist

027 352 6225

Trades & Services

D & H Autos

wanted

Vehicles, 4x4,

motorbikes

Not running, rusty, damaged,

unfinished projects, deceased

estates. Any make from 1920s

to 1990s. We pay top dollars.

For friendly service phone

Harry 021 550 038

GARAGE DOORS

The Genuine

Custom Made Garage

Door Professionals

0800 661 366

info@custommade.co.nz

Auckland, Christchurch, Wanaka

www.custommade.co.nz

landscaping

You can have your gardens, trees,

shrubs, plants and lawns maintained to look their best

all year round, for a great price.

Residential & Commercial Landscaping

• Maintenance • Pruning • Reconstruction & Rejuvenation

• Rental Property and Commercial Maintenance

• Pre-Sale Tidy-Ups

New Home Landscaping

Lawns • Gardens • Decks • Paving • Water Features

• Quality • Value for money • Experienced • Punctual

• Professional • Flexible • Knowledgeable • Reliable

Call Ross Legg - 027 222 0388

Email ross@revivelandscaping.co.nz

www.revivelandscaping.co.nz

WINDOW TINTING

tintawindow

advanced film solutions

99% uv block

fade protection

heat control

reduce glare

25 Years Experience

privacy films

frosting designs

non-darkening films

Workmanship Guaranteed

Lifetime Warranties on Most Films

UV

block

Landscape

Construction and

Garden Maintenance

Free Quotes Canterbury and Districts

03 365 3653 0800 368 468

DISCONTINUANCE OF

A STOCKWATER RACE

Ellesmere Scheme

The Selwyn District Council, in accordance with the special consultative

procedure as outlined in the Local Government Act 2002 advises their intention to

discontinue the stockwater race(s):

· 3km of race through five properties on Heslerton Road.

· 3.2km of race through six properties on Crossgates Road

This discontinuance will be effective in September 2020, subject to the

consultation process.

a. Submissions close on Friday 21 August 2020. Submission forms are available

on the Council website (at the link below) or at the Rolleston Council offices.

b. Submitters may be heard in support of their submission on Wednesday 26

August 2020.

c. A map showing the section of stockwater race to be closed is available on the

Council website (at the link below).

Further details of the water race closures advertised and process for water race

closures can be found on the Council website at: selwyn.govt.nz/wrclosure or can

be viewed at Council HQ in Rolleston.

Any questions regarding the above closure please contact Council on

0800 SELWYN (735 996).

selwyn.govt.nz

Trades & Services

AWSOM ROOFS

24/7

MOSS

TREATMENT

ROOFS $300

• Oamaru StOne

• Driveway

• PathS

• hOuSe

• General exterior

wash Down

• tidy up

Ph: 027 561 4629

Kevin

ACE HIGH

PLUMBING

All Plumbing

Gasfitting

Drainlaying

Blocked Drains

Log Fires,

Wetbacks

Gas Hotwater

Phone

021 454 864

Trades & Services

BATHROOM TILER

wet area waterproofing,

underfloor heating, soap

boxes, old to new, for best

results, call Devon on 021

375-888 or 03 329 5511

Trades & Services

Public Notice

BUILDER QUALIFIED

Decks, T & G Flooring,

Villa Restoring, New

Homes, Weatherboards.

Free Quotes. Bennet &

Sons Ltd Sam 027 496-

9362 or Tony 027 224-

0374

CARPENTER

HANDYMAN

Small Job Specialists,

Carpentry, Repairs,

Decking & Maintenance,

40 years experience, no

job too small, Ph Warren

03 322-1103 or 027 697-

8541

LANDSCAPING

Paving, Lawns, Irrigation,

Decking, Fencing.

Kanga & small digger

services. Check out Squire

Landscaping on facebook.

FREE QUOTES. Ph

Arthur 347-8796, 027

220-7014 Edwin 027 220-

7154

POWER CABLE

Our Cable or yours,

phone-fibre-water installs,

COC supplied, trenching

and cable locatingservice,

owner operator

FREE quote ph

Gerard 0272379742

RJB PLUMBING

Renovations, New Houses,

Hot Water Cylinders,

Kitchens Bathroom

Upgrades, Laundries,

General Maintenance ,

Water Filters. Phone Mark

0278690026

STUMP GRINDING

Best price guarantee Tony

0275 588 895

TILING

Flooring - Splashbacks -

Wall incl tile removal, reg

master tiler, ph Dave 027

334 4125

WINDOW CLEANING

Brown & White Ltd.

Family owned since 2001.

Ph Paul 027 229 3534

WINDOW CLEANING

Brown & White Ltd.

Family owned since 2001.

Ph Paul 027 229 3534

Tuition

Fleur Harris (PhD)

Speech-Language Therapist

Lincoln

40 years' experience

Extensive knowledge

Well-Qualified

W: nzwordtrees.com

Parents, if you are concerned about your child's

speech or language development, contact me.

You will feel relief to talk about it.

Phone calls and email advice no charge.

P: 027 498 8355 E: info@nzwordtrees.com

Fleur Harris (PhD)

Language-Literacy Specialist

for Under-five year olds

Lincoln

40 years' experience

Extensive knowledge

Well-Qualified

W: nzwordtrees.com

Parents, you will love giving your child the best

start for school. Learn how to do this in a casual,

fun, play-based way. Arrange a meeting with me,

to discuss only your child. I can talk with you about

what to "teach" and how to do it.

Or come to one of my different workshops.

You will love seeing your child learning.

P: 027 498 8355 E: info@nzwordtrees.com

CAR REMOVALS

$$CASH PAID$$

CARS, VANS, UTES

& 4X4 WANTED

NZ OWNED

AND

OPERATED

FOR

24 YEARS

We use world class vehicle

depollution systems

0800 8200 600

www.pickapart.co.nz
---
32 Wednesday August 5 2020

Latest Canterbury news at starnews.co.nz

SELWYN TIMES
---
SELWYN TIMES Latest Canterbury news at starnews.co.nz

Wednesday August 5 2020 33

Authorised by Dianna Lacy, 160 Willis Street, Wellington.

Hello

I'm Reuben Davidson and it's my privilege to be your Labour candidate for Selwyn.

I am asking for your support to elect me as your Member of Parliament to be Selwyn's voice

in Wellington.

Canterbury born and bred and proud of it — over the past twenty years I've worked hard as a

producer in television and more recently as a Community Board Member for Banks Peninsula.

Now I want to work hard for you.

Our nation's response to COVID-19 has been outstanding but there are still challenges ahead.

Together our team of five million can work to recover and rebuild for a smarter, safer even better

New Zealand. With the leadership of Jacinda Ardern, Labour has the plan to protect local families

and jobs by backing our businesses and supporting our local industries.

As your candidate I am keen to hear from you. I'm in the electorate and available to catch up

anytime or meet you at one of our street corner meetings. Please don't hesitate to get in touch.

Thank you

Reuben Davidson

Labour Party candidate for Selwyn

Reuben Davidson

for Selwyn
---
34 Wednesday August 5 2020

Latest Canterbury news at starnews.co.nz

SELWYN TIMES

Labour in Selwyn

Supporting Farmers

Our farming sector drives our local and

national economy. Labour created the

Primary Sector Council, a group

of farming, agribusiness and export

leaders to represent the needs of this

vital industry. Recently they have

launched Te Taiao, a world leading

initiative that bridges the gap between

protecting our environment and

growing our rural economy.

The initiative's aim is that the industry

can work as one to make best use of

our resources and sustain our

prosperity, ensuring skilled jobs

for our local Selwyn economy.

Keeping People Working

The Wage Subsidy Scheme is part of

our government's response to the

immediate and mid-term challenges

presented by COVID-19.

Businesses in Canterbury have reported

the Wage Subsidy having the highest

positive impact, enabling them to keep

people in work.

The uptake across Canterbury and

Selwyn has been high, and has allowed

many local small businesses to continue

trading through challenging times.

Boosting Connectivity

The rural communities of Selwyn

need better broadband connectivity.

In Government, Labour has made it a

priority to upgrade mobile towers in

places like Southbridge and Windwhistle

that have high numbers of school-age

children living in households without

internet access.

COVID-19 has shown us the importance

of being digitally connected, allowing

people to work and learn from home and

eliminating our black spots for essential

services.

Gebbies Valley was recently the 100th

4G Cell Tower site in this scheme. The

second phase of our plan will continue to

boost connectivity across remote rural

areas like Selwyn.

Reuben Davidson for Selwyn
---
SELWYN TIMES Latest Canterbury news at starnews.co.nz

Wednesday August 5 2020 35

Authorised by Dianna Lacy, 160 Willis Street, Wellington.

Funding Darfield Fire Station

A recent funding boost of $1 million will

fast-track construction of the Darfield

Fire Station expansion.

This important local investment will bring

urban and rural services together and

provide a co-located hub for fire and

emergency response services in Darfield

for the surrounding areas.

This is a direct investment into an

important local lifeline and continues

work in keeping our community safe.

Empowering our Community

The Resource Management Act (RMA)

is the framework legislation to guide local

Councils on rules for resource use and

environmental controls.

Selwyn has recently been in the news with

regards to the new Roydon Quarry near

homes in Templeton, and the toxic waste

treatment plant on Prebbleton's doorstep.

Under the National government, the

community was locked out of decisions

and had their views ignored. Labour is

working to reinstate this fundamental

community voice into decisions that

affect you. Our team are committed

to repealing and replacing the RMA

to ensure greater local community

involvement to deliver better

environmental outcomes.

Investing in our Future

Investing in Research and Development

is vital to maintain our position as world

leaders in innovative and sustainable

farming practice.

I'm really proud that we've recently made

a $45 million investment into a fit-forfuture

scientific research facility at Ag

Research in Lincoln. The build will be a

boost to the Selwyn economy, a future

asset for Lincoln and provide a centre of

excellence for land-based science and

farming research.

It is vital that we back our brightest

thinking to ensure our primary industries

can innovate and thrive in Selwyn.

Let's keep moving
---
36 Wednesday August 5 2020

Latest Canterbury news at starnews.co.nz

SELWYN TIMES

Authorised by Dianna Lacy, 160 Willis Street, Wellington.

I care deeply about people. I am born and bred in Canterbury surrounded by a large supportive family, and received

an excellent education enabling me to work in a job I love.

I've worked my way up the ranks of television production in New Zealand, starting with making coffee. I've

production-managed lifestyle and magazine shows for Television New Zealand and worked as a Creator and

Series Producer for New Zealand's largest children's production company — always with an eye to increasing

opportunities for business and jobs in Canterbury.

As an elected Community Board member for Banks Peninsula (which until recently overlapped Selwyn) I value how

much our local rural communities contribute to the national economy and have seen how they can be best served

and supported.

It would be my honour to serve you as the Labour MP for Selwyn.

Your vote matters — choose two ticks for Labour to keep Selwyn moving forward.

reuben.davidson@labour.org.nz

labour.org.nz/reubendavidson

/reubendavidsonlabour

/reubendavidsonselwyn2020

Let's keep

moving
---
THe BeST PRoPeRTieS AcRoSS

THe SeLWYn DiSTRicT

INSIDE

PUBLiSHeD eVeRY WeDneSDAY

Week commencing WeDneSDAY, 5TH AUgUST, 2020

A Spacious, Family Delight!

Bedrooms: 4 Living: 2 Bathrooms: 2 Garages: 2

This spacious and roomy 4 Bedroom home has so

much to offer.

The well-appointed kitchen is part of the open plan

living and dining areas where there is access onto

the expansive deck and backyard. The adjoining

lounge with pellet fire has external access also.

The bedrooms are spacious with built-in robes

including the Master with full en-suite and walk-in

robe.

This property is fully fenced and is located in a quiet

cul-de-sac within walking distance to the local

shops, schools and cafes.

Call me for an appointment to view or pop in and

say Hi at the open home.

Address: 30 Darcy Street, Leeston

Listing ID: LEU77140

Price: $549,000

Penny Dadson-Clausen

Contact:

Mobile: 027 895 5943

Email: pennyd@pb.co.nz

Open Home: Sunday 9 August 1:00-1:30pm

SECTIONS ARE SELLING FALCON FAST

... get your claws in

Choose from our wide range of titled and newly released Rolleston sections

SALES OFFICE AND SHOW HOME VILLAGE

OpEN 12 - 4pM WEDNESDAy - SuNDAy

email: enquiries@yoursection.nz or call 03 741 1340

MORE SECTIONS JUST RELEASED!

yoursection.nz

Residential sections, Big Range, Canterbury Wide
---
2

Property Brokers Limited Licensed under the Real Estate Agents Act 2008 6 Tennyson Street Rolleston rolleston@pb.co.nz 03 929 0306

Space Galore and Room for the In-Laws

Selwyn,

Proud to

be here

OPEN HOME

Looking to buy, sell, invest or

have your property managed?

Give us a call at Property Brokers

Selwyn, or pop in to talk to one

of the team today!

WEB ID DFL77116

GREENDALE

1415 Coaltrack Road

A lifestyle gem thats an absolute jewel in dual living

where two detached properties on a sprawling one

hectare holding delivers all the freedom of country living

only 10 minutes from Darfield township. Sure to thrill

with views to the Alps and Port Hills. A sensational

opportunity to quit the city and come to the country

where the kids can let rip on the dirt bikes, keep a sheep

or pony or two with chook run, rustic man-cave, 3x2m

glasshouse, vege beds and garden sheds. Call Amy or

Shar for further details

VIEW Sunday 9 Aug 2.30 - 3.00pm

Shar Simon

Mobile 027 555 0654

shar@pb.co.nz

Amy Jones

Mobile 021 077 9945

amy.jones@pb.co.nz

$839,000

4

1

2

PB Selwyn

E selwyn@pb.co.nz

P 03 929 0306

Be part of provincial

New Zealand's

premium real estate

auction event!

Go Auction is an excellent opportunity

to get a premium for your property

with our hugely discounted

marketing packages. Limited spaces

are available, don't miss out.

Spring 2020

To find out more about GO Auction,

call us today on 0800 367 5267

or go to pb.co.nz/goauction

pb.co.nz
---
3

Get your home noticed

It takes more than good photography to help sell a

home. You'll want your home to look attractive and

appealing for a potential home buyer so check out

these following tips to get your home ready for

real estate photography and open homes...

• First impressions count: Clear away shoes, coats and other items to make your

front entrance look clean and welcoming.

• Create natural light: Open all curtains and/or blinds; turn on lights for open

home days.

• Keep it clean: A clean house and well cared for section will be far more

appealing to a buyer; get rid of cobwebs; shine the taps; polish the windows and

doorknobs; wash and vacuum the floors.

• Stay fresh: Don't allow stale cooking and living smells to linger – open windows

daily, display a vase of sweet smelling flowers, and if need be an occasional spray

with a can of air freshener. Don't burn incense as the buyer may wonder what you

are trying to cover up.

• De-clutter every room: This is the most important. Clean counters, tables,

coffee tables and wall units. Clutter really attracts the eye and takes away from the

beauty of the home.

• Kitchen/Dining: Remove all unnecessary items; keep the benches clean and

clear; remove all used tea towels and dishcloths; use flowers to brighten up the

dining table.

• Bathroom: We all have clutter in the bathroom – toothbrushes, creams,

toothpaste etc. Before the photographer arrives (or potential buyers) put all the

clutter into a small box, which can easily be stored out of sight. Place clean colour

co-ordinated towels, neatly folded, onto the towel rail.

• Bedroom: Use colour coordinated bedcovers and linen; plump up your pillows;

straighten the valance; put all clothing and person items out of sight.

• Office: It's often hard to keep this room perfectly tidy but try to keep it as orderly

as possible.

• Keep corners free of clutter: This helps make a room look bigger and therefore

more spacious.

• Make your room look bigger: rearrange furniture to create more floor space.

• Add colour: If your house is neutral in colour, try adding small touches of colour

with fresh flowers. Another quick color fix is to use cushions but don't go overboard.

Red works well against neutral backgrounds as do bright blues and greens. Just

remember to keep it minimal, pick one colour per room, and it will work.

• Move toys out of living areas: Keep them in the rumpus room or the children's

bedrooms.

• Boxes or small storage units: Stack them in one area or the spare bedroom.

Better not to take a picture of the spare bedroom than have boxes or storage

boxes in each room. Better yet – stack them against one wall and this way the

photographer can avoid that wall when taking the picture.

• Check your cords, cables and wires: Tuck and hide those cords away or simply

unplug them.

• Keep pets out of sight: Prospective buyers don't want pets leaping at them

or they may be even allergic to pet hair, so keep them out of sight or away for

photography and open home days.

• Clean up your section and garage: Keep lawns mowed, gardens weeded, hoses

and wheelbarrow stored out of sight; take excess rubbish to the tip; and arrange your

garage to look as spacious and orderly as possible.

Don't burn incense as the buyer may wonder

what you are trying to cover up.

52 Beaumont Drive,

Rolleston

At last! A 299m 2 home in

central Rolleston with four

bedrooms, + one study/

bedroom, separate office,

three bathrooms, separate

laundry, spacious kitchen/

dining and separate lounge

on just under 700m 2 and only

five years old.

If that doesn't grab your

attention the value on offer

here certainly will.

Price: $695,000

Call Joe for more information 021 324 529

joe.brankin@mikepero.com/RX2434083

West Melton, Darfield, Hororata,

Kirwee, Coalgate, Rolleston

Unique marketing options

Proven top quality results

We're your locals

546 Homebush Road,

Courtenay

Live the rural dream!

Fabulous views and only a

five min drive to Darfield or

Kirwee,

Six approx 1.000Ha sections

with power and water to the

boundary $250,000 each.

Sections 1,3 and 6 already

sold, section 2 under offer,

sections 4 and 5 still available.

Act quickly to secure your

piece of paradise.

Call Joe for more information 021 324 529

joe.brankin@mikepero.com/RX1554712

Mike Pero Real Estate Ltd Licensed REAA (2008)
---
4

New Zealanders

Zealanders • • by

Voted

Voted

2018-2020 •

★

2018-2020

2018-2020

★

Real Estate Sales

Four Seasons Realty 2017 Ltd | Licensed Agent REAA 2008

Contributor to realestate.co.nz

harcourts.co.nz

Your home for local property
---
5

Hornby

Office

Rolleston

Office

Your local &

most trusted

real estate

team

Lincoln

Office

★

Zealanders

Zealanders ¥ ¥

New by

2018-2020 ★

Voted

Voted ¥

2018-2020

2018-2020

Real Estate Sales

LIVING LOCAL, SELLING LOCAL

Properties wanted in all price ranges for residential & lifestyle.

Harcourts Four Seasons Realty has a formidable presence in the Selwyn

district with 40+ sales consultants working out of three offices.

Contact your local and most trusted real estate experts to help you with your next move.

We've got you covered.

Your local offices

Hornby Office

03 349 9919

hornby@harcourts.co.nz

395 Main South Road, Hornby

Lincoln Office

03 662 9933

lincoln@harcourts.co.nz

6 Gerald Street, Lincoln

Rolleston Office

03 347 4711

rolleston@harcourts.co.nz

Unit 13, 70 Rolleston Drive, Rolleston

Your home for local property

Four Seasons Realty 2017 Ltd | Licensed Agent REAA 2008

Four Seasons Realty
---
6

NEW LISTING

FINAL NOTICE

Boundary lines are indicative only

Darfield 1/572 McLaughlins Road

Halswell 60A Whincops Road

Family home, room to roam!

Wonderful 4.2460ha lifestyle block and immaculate

266sqm family home with landscaped gardens. Built

in 2014, this contemporary family home has four

double bedrooms (master with ensuite), family

bathroom and separate toilet. Spacious kitchen with

modern appliances, walk-in pantry and generous

bench and cupboard space. Open plan dining/living

and separate lounge. North-facing aspect, double

glazing, heat pump and diesel fire. Study/office and

separate laundry. Sun-drenched patio/BBQ area. Fivebay

shed with power and one lockable bay. One

paddock and cattle yards. Note: Plus GST, if any.

bayleys.co.nz/5512727

4 2 2 2

Price by Negotiation

View Sun 2-2.30pm or by appointment

Jo McIntosh 027 384 4279

jo.mcintosh@bayleys.co.nz

Craig Blackburn 027 489 7225

craig.blackburn@bayleys.co.nz

WHALAN AND PARTNERS LTD, BAYLEYS, LICENSED REAA 2008

Quality home on 2.16ha with

Residential zoning

Mere moments from the thriving communities within

Halswell, this 2.16ha offers convenience and

'Residential' zoning (allowing for potential

development of up to 15 homes/ha) that will be highly

appealing to investors and developers. The 269sqm

approx home is a mix of traditional design and

contemporary construction. Adding appeal is the dual

access, two three-bay sheds, paddocks, town supply

water and septic as well as an on-site well for stock

water. Don't miss out!

bayleys.co.nz/5512602

4 2 2 3

Deadline Sale (unless sold prior)

1pm, Wed 12 Aug 2020

View Sun 12-12.30pm

Chris Jones 027 220 5043

chris.jones@bayleys.co.nz

Sam Sidey 027 346 3500

sam.sidey@bayleys.co.nz

WHALAN AND PARTNERS LTD, BAYLEYS, LICENSED REAA 2008

NEW LISTING

Boundary lines are indicative only

Hororata 2143 Bealey Road

Lincoln 34, 35 and 36 Farm Lane

Perfectly presented lifestyle

4 2 2 1

Purchase one, two or all three

3 1 1 1

Now at an easy-care lifestyle stage this magnificent

2.97ha (subject to survey) setting, combined with the

warm sun-drenched home, ensures the perfect living

environment. An extremely attractive home with a

wrap-around veranda enhances the enjoyment of the

surrounds. With renovations and refurbishments

throughout. Complemented perfectly by the vast

range of farm buildings. This wonderful location

provides fantastic access to all the things outdoor

enthusiasts dream about.

bayleys.co.nz/5512771

Deadline Sale (unless sold prior)

12pm, Thu 27 Aug 2020

3 Deans Ave, Chch

View by appointment

Ben Turner 027 530 1400

ben.turner@bayleys.co.nz

Craig Blackburn 027 489 7225

craig.blackburn@bayleys.co.nz

WHALAN AND PARTNERS LTD, BAYLEYS, LICENSED REAA 2008

• Each property is individually priced at $419,000

• Exclusive development or investment opportunity

• Presentable 1940s, character homes situated on

Freehold sections starting from 1,320sqm.

• Each property has been re-wired with two heat

pumps and floor and ceiling insulation

• Zoned for Ararira Springs Primary, Lincoln Primary

School and Lincoln High School. Living 1 A3 zoning

• Prime location opposite Lincoln University, short

stroll into the Lincoln township and approximately

20-minute commute into the city centre

bayleys.co.nz/5511211

Asking Price $419,000

View 12.45-1.15pm Sun 9 Aug

or by appointment

Nathan Collett 027 826 1535

nathan.collett@bayleys.co.nz

Chris Jones 027 220 5043

chris.jones@bayleys.co.nz

WHALAN AND PARTNERS LTD, BAYLEYS, LICENSED REAA 2008

bayleys.co.nz
---
7

ALTOGETHER

LOCAL

Ben Turner

027 530 1400

Chris Jones

027 220 5043

Jo McIntosh

027 384 4279

Kevin Jenkins

027 577 4232

ALTOGETHER STRONGER

Our brand has been part of the fabric of New Zealand since 1973,

when Pam, Graham and John Bayley began working from their

family home in Pakuranga. A locally owned and operated

New Zealand business with 88 offices breathing life and jobs into

our towns and cities. Up and down New Zealand, our origins are

deeply rooted in the local community.

Selling your property? Contact your local Bayleys expert.

Adrienne Goodeve

021 977 877

Bianca Davidson

027 322 9055

Craig Blackburn

027 489 7225

Emma Groom

027 555 1075

Bayleys Darfield 03 975 4559

Bayleys Leeston 03 375 4700

Evan Marshall

027 221 0910

Haley Smith

027 341 3846

Nathan Collett

027 826 1535

Nick Wilson

021 917 047

bayleys.co.nz

WHALAN & PARTNERS LTD, BAYLEYS, LICENSED UNDER THE REA ACT 2008

Sam Sidey

027 346 3500

Sandy Butterick

027 417 2639

Suzy McPherson

027 695 0519

Tim Dyer

027 495 0979

Urszula Bedggood

027 338 7889

Residential / Commercial / Rural / Lifestyle

HOME

LEISURE

Horncastle Arena,

21-23 August 2020

Be inspired

with thousands of ideas

under one roof

+

Be in to

Win

tHis cAr

worth $26,000

FREE ENTRY

Friday | Saturday | Sunday

10.00am - 5.00pm

Valid for two people with this coupon only
---
8
---
9
---
10

Why wait for Spring?

Below are a small selection of homes we have

SOLD since returning from lockdown...

Another

SOLD

Another

SOLD

Another

SOLD

Another

SOLD

Another

SOLD

1 Corriedale Lane, West Melton

10 Woodville Street, Leeston

107 East Maddisons Road, Springston

112 Days Road, Springston

13 Kingsdowne Drive, West Melton

Another

SOLD

Another

SOLD

Another

SOLD

Another

SOLD

Another

SOLD

14 Grace Way, Rolleston

8c Renoir Drive, Rolleston

17 Donatello Drive, Rolleston

16a Wedgewood Row, Rolleston

18 Gracia Avenue, Rolleston

Another

SOLD

Another

SOLD

Another

SOLD

Another

SOLD

Another

SOLD

18 William Deans Drive, Prebbleton

19 Dunlop Crescent, Rolleston

19 Liddington Drive, Rolleston

2 Berners Way, Rolleston

3 Julia Close, Rolleston

Another

SOLD

Another

SOLD

Another

SOLD

Another

SOLD

Another

SOLD

2 Salisbury Drive, Rolleston

22 Charles Major Road, Rolleston

23B Jozecom Way, Rolleston

27 Cassidy Avenue, Lincoln

27 Silver Peaks Drive, West Melton

Another

SOLD

Another

SOLD

Another

SOLD

Another

SOLD

Another

SOLD

29 Payne Court, Lincoln

3 De Renzie Place, Kirwee

3 Milton Court, Rolleston

3 Rotherham Drive, West Melton

23 Lawrence Drive, Rolleston

Another

SOLD

Another

SOLD

Another

SOLD

Another

SOLD

Another

SOLD

30 Navy Loop, Rolleston

30 Reuben Avenue, Rolleston

31 Ledbury Drive, Rolleston

31 Rolleston Drive, Rolleston

33 Westview Crescent, West Melton

Another

SOLD

Another

SOLD

Another

SOLD

Another

SOLD

Another

SOLD

364 Two Chain Road, Burnham

37 Othello Drive, Rolleston

380 Halkett Road, West Melton

3B Dynes Road, Rolleston

4 Hulme Lane, Rolleston

Another

SOLD

Another

SOLD

Another

SOLD

Another

SOLD

Another

SOLD

79 Charlbury Drive, Rolleston

46 Genesis Drive, West Melton

1045 Goulds Road, Rolleston

57 Gerald Street, Lincoln

58 Moore Street, Rolleston

Another

SOLD

62 Rossington Drive, West Melton

Why sell with us?

Another

SOLD

45 Tobollie Drive, Rolleston

• We have the largest buyer pool in Selwyn

• We handle over 300 enquiries/viewings every week

• We offer extremely competitive selling fees

Another

SOLD

7 Eversham Drive, Rolleston

Another

SOLD

8/1135 Goulds Road, Rolleston

Another

SOLD

Lot 5,6,7,8, 11, 12, 13, 16, 17, 20

and 21 Olivefields, Rolleston

We need more homes to satisfy our waiting buyers needs,

a selection of their requirements are on the opposite page.

If you are considering, or serious about selling, the time is NOW!!

Ray White Rolleston 347 9988 | Ray White West Melton 347 9933 | Ray White Lincoln 325 7299

www.rwtownandlifestyle.co.nz Ray White Town & Lifestyle Real Estate Limited Licensed (REAA 2008)
---
11

Due to continued success as Selwyn's leading

Real Estate team, we need more homes to

satisfy these genuine waiting buyers.

Please, if you can help, call us today!

West Melton/Weedons

Established 4ha lifestyle property

3-4 bedroom home

Price $800,000 - $1,000,000

Contact

Frank Dowle 027 528 0480

frank.dowle@raywhite.com

West Melton Village

3-4 bedroom home

Prefer established area and grounds

Price $650,000 - $750,000

Contact

Frank Dowle 027 528 0480

frank.dowle@raywhite.com

Lincoln

4 bedrooms, 2 bathrooms

2 living areas

Minimum 200m2 floor area

Price early $600,000's

Contact

Trina Rea 027 424 6901

trina.rea@raywhite.com

Lincoln

3 bedrooms

1-2 living areas

2 bathrooms

Price mid $500,000's - $600,000

Contact

Trina Rea 027 424 6901

trina.rea@raywhite.com

West Melton

4 bedrooms

2 living areas

Price up to $750,000

Contact

Glenda Crawford 027 309 0115

glenda.crawford@raywhite.com

West Melton

4 bedrooms, 2 car garaging

Space for more vehicles

Price up to $700,000

Contact

Glenda Crawford 027 309 0115

glenda.crawford@raywhite.com

West Melton

3-4 bedrooms

3+ car garaging

Section 900m2 plus

Price up to $900,000

Contact

Sarah Booth 027 527 8258

sarah.booth@raywhite.com

Rolleston & Surrounds

Large family home

Section 1200m2 + or small acreage

Price up to $850,000

Contact

Sarah Booth 027 527 8258

sarah.booth@raywhite.com

West Melton

5 bedrooms or 4 plus a study

Reserve outlook preferable

Price $750,000 - $800,000

Contact

Melanie Elliott 027 635 2643

melanie.elliott@raywhite.com

Rolleston/Halswell/Lincoln

3-4 bedrooms, 2 bathrooms

1 living/dining room

Good size section, post earthquake

Price around $530,000

Contact

Kate Cameron 027 688 8057

kate.cameron@raywhite.com

Rolleston

4 bedrooms, 2 bathrooms, 2 living

Newer or recently updated

Section 1000m2 plus

Price $700,000 - $750,000

Contact

Kate Cameron 027 688 8057

kate.cameron@raywhite.com

Prebbleton/Lincoln/ West

Melton/Rolleston

4 bedroom, 2 bathrooms, 2 living

2 car garaging, good storage

Price $750,000 - $850,000

Contact

Kate Cameron 027 688 8057

kate.cameron@raywhite.com

Rolleston

4 bedrooms, 2 bathrooms

Section 700m2 plus

Price $500,000 - $550,000

Contact

Dwayne Bloomfield 021 163 9874

dwayne.bloomfield@raywhite.com

Rolleston

4 bedrooms, 2 bathrooms

3-4 car garaging

Newer home

Price up to $750,000

Contact

Dwayne Bloomfield 021 163 9874

dwayne.bloomfield@raywhite.com

Rolleston

4 bedrooms, 2 bathrooms

Double glazed

2- 3 car garaging

Mid - high $500,000's

Contact

Leisa Webster 027 722 5537

leisa.webster@raywhite.com

Rolleston

3 bedrooms

1 bathroom

Low - mid $400,000's

Contact

Leisa Webster 027 722 5537

leisa.webster@raywhite.com

Rolleston

3 bedrooms, 2 bathrooms

Double garage

Section 400m2 - 600m2

Price $470,000 - $500,000

Contact

Mandie Ashwell 027 552 4478

mandie.ashwell@raywhite.com

Rolleston

4 bedrooms

2 bathrooms

Triple garage plus extra parking

Price up to $600,000

Contact

Mandie Ashwell 027 552 4478

mandie.ashwell@raywhite.com

Rolleston

4 bedrooms

2 bathrooms

Section 500m2 - 800m2

Price up to $575,000

Contact

Mandie Ashwell 027 552 4478

mandie.ashwell@raywhite.com

Selwyn Area

3 bedrooms, 2 car garaging

First home buyers

Section 400m2 - 500m2

Price $400,000 - $500,000

Contact

Lorraine Gardiner 021 207 6661

lorraine.gardiner@raywhite.com

Are you considering selling? Do you have a property that matches one of these descriptions?

Contact us now for a no obligation appraisal

If you want to get SOLD, call us TODAY

Ray White Rolleston 347 9988 | Ray White West Melton 347 9933 | Ray White Lincoln 325 7299

rwtownandlifestyle.co.nz

Ray White Town & Lifestyle Real Estate Limited Licensed (REAA 2008)
---
12

Snuggle down

When it comes to home heating, 'bang

for your buck' is essential and part of

this is ensuring your home is adequately

insulated. Did you know that a 2% gap

in insulation can result in a 20% heat

loss? This can make a huge difference to

the comfort of your home.

Insulation works by slowing heat

loss from your home, enclosing it in a

thermal envelope. This is why around

40% of heat is lost through the ceiling in

the average uninsulated home.

In addition to insulation, simple

measures, such as using thermal

curtains and sealing gaps and cracks,

will eliminate draughts and prevent

warm air escaping where it shouldn't.

It also pays to remember that heating

a room to a moderate constant

temperature is much more efficient than

a fluctuating heat.

Designed to not only be practical and

functional but to enhance the décor

of your home, there is a home-heating

option for every home, and everyone.

GAS FIRES

Providing fast, convenient and

easily regulated heat, gas can bring

a moderate-size room to a warm,

comfortable temperature in about 10-15

minutes. Glass-fronted gas fireplaces

are significantly more efficient than

open-fronted ones, and as gas fires

are cleaner than wood-burning fires

they are favoured in clean-air areas,

making this a popular heating option in

Christchurch.

Like other heating options, most

modern gas fires have a timer facility.

HEAT PUMPS

Heat pumps come in a variety of

options: high-wall, floor consoles,

slimline, quiet ... the list goes on,

ensuring there is a design, size and

placement to suit your needs.

Be smart about your energy use and

ensure you have the right size heat pump

for your space. If you pick one that is

too small, it will have to work hard all

the time, and will use more power than

necessary. A unit that is the right size

should heat your space in 5-15 minutes.

DUCTED AIR CONDITIONING

Ducted air conditioning systems work

exactly the same way as a high-wall heat

pump, in that there is an indoor unit

and an outdoor unit, and by passing a

refrigerant between them they transfer

heat (or cooling) into a room.

Unlike the high-wall system, where

the indoor unit is visible, the ducted

indoor unit is hidden away in the ceiling

space and uses flexible ducts to pass the

heat from room to room through vents

in the ceiling, wall or floor.

CENTRAL HEATING

Growing in popularity in New Zealand,

warm-water central heating is the

even distribution of heat throughout

the home from a central point or heat

source. Warm water is distributed via a

network of pipes connected to radiators

in each room, or looped under the floor

for underfloor heating. Releasing a gentle

heat, no water is actually consumed,

ensuring this is the ultimate in efficiency.

HEAT RECOVERY SYSTEM

Home heating isn't just about keeping

the house warm; it's also about

maintaining a healthy home. In the

summer months we are able to throw

open the windows to air the house, an

option not available in cooler weather,

meaning condensation is often an

unhealthy side effect of winter. The

installation of an effective heat-recovery

or ventilation system can help solve

this problem, thereby working towards

creating a warmer, drier and, above all,

healthier living environment.

WOOD BURNERS

When used properly, wood burners

are a great and economical option,

especially if you have access to free or

cheap firewood. You do, however, need

to ensure your fire is clean-air approved,

especially in Canterbury. When buying

a wood fire, consider efficiency rating,

clean burn, emission levels and size.

PELLET BURNERS

Pellet fires have come a long way in

recent years and most are now available

as free-standing or inbuilt, offering a

wider variety when it comes to selecting

the right look for your space.

There are many benefits to a pellet

burner as they offer all the warmth and

luxury of a flame without the hassle of

cutting, carrying and storing firewood.

Made from sawmill waste, the pellets are

carbon-neutral and burn cleanly.

One of the biggest limitations is the

initial cost, with the price of buying and

installing a pellet burner greater than

that of a conventional wood burner. The

burner also relies on electricity so won't

work during a power cut.

REAL ESTATE SPECIALISTS

62 Normanby Street, Rakaia 139 Infinity Drive, Pegasus

DEADLINE SALE OFFERS OvER $459,000

"BREAKFAST AT TIFFANY'S"

**All offers to be presented 5pm, 20th August (unless sold prior)

Classic Style all the way!! A classic 1950's original dwelling that has been re-modelled using the architects

Chilton & Mayne, this is the ultimate get-away crib to indulge in a little R&R! Finish up after a long week's

work - throw in your fishing rod, books and the dog and head down to this beautiful home in the heart of

Salmon Country. Also working well as an Air B&B, about 45 minutes' drive to the airport this north facing,

mono-pitched linea board house has space for the Ford Mercury coup in the garage! And behind the third

garage door, is a lined and double-glazed space just ready and waiting to be made into a hip studio.

We are cooking with gas here, warm and cosy with under tiled heating in the bathroom and an open plan

kitchen lounge area that can have you snuggled up at one end watching tv, or sitting up at the window

seats handing through the salad bowls to the BBQ Master!

This one is worth the drive for a visit! Open Homes are on the weekend or give Elyse or Mike a call to

arrange a private viewing.

Infinitely Appealing!

**All offers to be presented 5pm, 19th August (unless sold prior)

Currently tenanted until November 2020 & delivering contemporary comfort in the delightful enclave

of Pegasus, this four-bedroom home offers an effortless lifestyle on the outskirts of the city. Built by

Mike Greer Homes this property has been designed with low maintenance living in mind and offers

four bedrooms with two bathrooms. The inviting open plan living area rightfully earns its place at the

heart of the home, with the eye-pleasing kitchen ideally equipped with quality Smeg appliances. A

sliding door leads you outdoors to the back of the property where which is also accessed via Roimata

Lane – essentially giving you two street frontages! With an internal access double garage, a heat pump

and underfloor heating in the kitchen and bathrooms, this is an inviting package for both investors and

home purchasers. We anticipate high interest, contact Mike or Lindsay today for more information.

68 Rolleston Drive, Rolleston

0800 645 346

www.oneagencyres.co.nz

Mike Goatley

027 249 5561

Elyse Campbell

021 187 6217

Ajay Sharma

020 405 27218

Lindsay Welch

027 577 0216

Nicola Curtis

Administrator

Julz Sibbe

Administrator

Real Estate Specialists Ltd Licenced REAA (2008)
---
13

Now is the perfect time

to buy and sell property

If you're looking for real estate, location

and value are everything. Now is the

perfect time to get into the Christchurch

and Canterbury property market.

Great value for money, better

transport connections, and an easing

in lending restrictions all spell for a

bright future for the city and region,

says Harcourts Four Seasons franchise

owner James Twiss.

"We are really excited that our markets

are active and attractive. The value

opportunity is just outstanding."

The city and region are a great place

to live, work, and play, with beaches,

forests, and mountains and ski-fields all

within easy reach, as well as a dynamic

urban centre.

Canterbury and Christchurch are a stable

real estate market, offering excellent

buying opportunities—for both new

and established homes—compared with

Auckland and Wellington.

The current market is attracting Kiwis

returning home from overseas, as well

as local buyers keen to find good value

property, and Auckland investors.

Investment in better transport

will benefit the entire region. The

Northern Corridor, which includes the

Cranford Basin bypass, will bring the

city closer to town.

"Kaiapoi is extremely good value, even

now, and will form part of the city," says

Twiss. "Subdivision land is available,

new buildings are good value, but also

established property, and three and four

bedrooms are well within reach."

The Southern Motorway extension will

likewise benefit Rolleston and Lincoln,

to the south of Christchurch. Rolleston

is predicted to grow by another 5,000

people in the next six years.

"Access to jobs in the city and Lyttelton

make these locations unbelievably good

value. It's good firm ground, postearthquake

build."

It's now got easier to buy a new house,

thanks to a change in the lending rules.

LVR (Loan to Value Restrictions) are down

to 70 to 80 per cent. "That has created an

even better opportunity for first home

buyers and those looking for good buying

opportunities."

A shortage of rentals benefits vendors

and investors. "We have seen quite

a few Auckland buyers coming into

town," says Twiss. "Average Auckland

properties are $1 million. You can access

10 per cent of that for investment. You

have got the ability to buy a decent

rental property."

Twiss says buyers can have confidence

in the Harcourts brand, which has

been Reader's Digest's

most trusted brand

for the eighth year

running. Harcourts

Four Seasons has over

30 years' experience in

Christchurch real estate.

"We say we've got you

covered. Four Seasons

are your local office. We

live local, we support our

local communities, we sell

local and we understand

the local and Canterbury

market. We can attract the

most buyers and therefore

get the most for people's

properties."

Harcourts Four Seasons

is the largest real estate

business in Selwyn and

the Waimakariri, with

over 90 sales consultants

operating eight branches:

in Rolleston, Lincoln,

Hornby, Belfast, The

Palms, Kaiapoi, Rangiora,

and Hanmer Springs.

The company also has international

reach. With a trend for ex-pat Kiwis

showing an interest in returning home,

Harcourts has the international network

to help make the transaction smoother.

To check out the team and what's

available now, see:

harcourtsfourseasons.co.nz.

Accelerating success.

Reach more people - better results faster.

colliers.co.nz
---
2

14

[Edition datE]

Your guide to Show Homes & New Sections

in the Selwyn District

Showhome a candidate for

Master Builders' Award

A new showhome in Rolleston by

Clark Bros Construction, is set to

impress judges in this year's Master

Builders' Awards. It has certainly

been impressing those who have been

visiting the home.

Clark Bros Construction was

established in 2014 by brothers,

Jarryd and Shannon Clark who take a

hands-on approach to their business,

working with clients and managing

each project, to ensure a smooth and

timely build.

Jarryd says quality is an essential

ingredient and this is evident in their

showhome at The Borough. The

267sqm, 4-bedroom home impresses

from the moment

you walk through the

door. Its warmth begs

you to linger.

A cathedral ceiling

gives the separate

lounge something

extra. A swing glass

door connects this

room to the kitchen,

dining and living

space. A double

sided gas fire serves

both lounge and

living areas, adding

ambience while

ensuring cosy living. A box seat

directly under the fire on the kitchen

side, offers a charming spot to relax,

or sit and chat with those in the

kitchen.

From the large living room, double

stacking sliders open onto a large

north-facing hardwood deck, making

the home perfect for a family or when

entertaining. Large windows ensure a

bright sunny home year round.

The kitchen is generous both in

size and cupboard space. A walk-in

butler's pantry is tucked in behind.

This has a sink and space for a wide

refrigerator. Not often seen, is the

switching of the sink and cooktop.

A new showhome

in Rolleston

by Clark Bros

Construction, is

set to impress

judges in this

year's Master

Builders' Awards.

The latter, an induction hob is

mounted in the centre island with

built-in rangehood overhead. There

is a built-in dishwasher and quality

Electrolux appliances. In the lounge

and kitchen, there are solar remote

controlled opening Velux skylights

with fitted blinds.

One passes through a wide study

nook when accessing the hallway

from the living zone; an area which

might easily serve as a home office.

All bedrooms in the home are

doubles. The master bedroom has

a larger than usual walk-in robe

with fitted cabinetry. There is also a

luxurious, roomy ensuite with doublebowl

wood hanging

vanity, generous

fully tiled shower

and separated toilet.

Lighting illuminates

a tiled feature wall in

the shower itself.

Both bathrooms

have underfloor

heating. The main

bathroom has a

hanging wood vanity

with white bowl,

freestanding black

and white bath with

tiled feature wall and

fully tiled shower. There is also a small

washbasin in the separate toilet.

Built-in joinery with space for

under-bench washer and dryer can

be found in the separate laundry,

along with ample storage in the large

walk-in storeroom (in the hall) and

attic storage trusses in the 6.5x6 metre

garage.

The home's external cladding is a

fully vented plaster panel system with

cedar and classic stone features. The

roof has long-run corrugated iron.

Clark Bros Construction's The

Borough showhome is open Saturdays

and Sundays, 11am until 4pm, at 50

Lanner Drive, Rolleston.

Show homes

the ultimate way to shop around

Across the selwyn district, we are blessed with an

extensive array of very good quality show homes.

Building companies build show homes

to demonstrate their workmanship,

display innovative design ideas and

present a snapshot into a new and

luxurious lifestyle, featuring all the

latest in materials, fittings and fixtures.

A show home can inspire you in a way

nothing else can. You can absorb the

ambiance they present and admire the

innovative techniques, new materials

and technology.

You can ask questions, take notes

and compare. You can see at a glance

features you would love to emulate or

would avoid when building your home.

Best of all, you ;will see the building

companies' attention to detail.

Show homes are the perfect way to get

a good idea of pricing, discover good

quality and value, learn about superior

use of space, future-proofing, ongoing

maintenance and long-term returns.

So what are you waiting for? Check

out our maps, grab a notepad and

pencil and begin the exciting project of

building your own home.
---
A large, quality home sited in a private and established

5021m 2 park-like se ting in the sought after Claremont

Estate on the boundary of Christchurch City.

The home features four bedr oms (master with

en suite and walk-in robe), open-plan kitchen, dining

and living along with formal dining, lounge and

conservatory. Great ind or outd or flow to a large

sheltered deck set in sprawling lawns and easy care

gardens with automated watering. Triple car garaging,

security gates, ducted heating, solar energy and

security system are just a few of the many extras on

offer with this property. There is a separate standalone

spacious office/studio that gives options for

those who require a dedicated work from home space

or alternatively, r om for a dependant relative.

Set amongst other quality homes on larger sections,

this property maintains a semi-rural f el whilst being

a short, easy commute into the city or ou to Ro leston.

Selwyn Times

Auction (unless sold prior)

Thursday 19 October, 2pm

411 Blenheim Road

www.pggwre.co.nz/DAR26164

Karen Hennessy

Contact:

Phone: 03 341 4301

Mobile: 027 967 0186

karen.he ne sy@p gwrightson.co.nz

W ek commencing Tuesday, 3Rd ocToBeR 2017

As always, this builder has finished his latest new build to

perfection, incorporating a l the 'must haves' and more for

the discerning buyer. Situated on a 12 0m 2 section, with

an established backdrop, the substantial 315m 2 fl or plan

provides the ultimate in family living options. The su ny &

spacious open plan living r om boasts a designer kitchen

with 90cms oven, stone bench tops & a walk in pantry,

together with define dining, living & study spaces that

The formal lounge als opens to the landscaped garden

& has a boxed high stud ceiling with sound speakers. A l 4

bedr oms are fabulously proportioned qu en sized r oms,

with the master suite providing the perfect parents' retreat

featuring an amazing dre sing r om with fu l wardrobe

system, a ditional storage & a beautiful tiled ensuite with

double tiled shower, fr estanding bath & twin vanities. The

family bathr om is equa ly elegant with a tiled shower &

twin vanities. Cosy up in front of the log burner, k ep your

toes warm with the under tile heating in the bathr oms &

k ep c ol or warm, as required, a the push of a bu ton with

2 heat pumps.

The home's practical layout also includes a walk-in linen

r om, a substantial separate laundry, a tic storage with

la der a ce s and last, but certainly not least, hugely sought

after 4 car garaging. From the moment you a proach this

premium property, you wi l a preciate what a privilege it

would be to be able to ca l it 'home'.

www.flemington.co.nz

15

Brand new 'show stopper' with 4 car garaging

DeaDline Sale:

Closing 4pm on Monday

11th June 2018

(unless sold prior)

rwro leston.co.nz/RLL23148

Town & Lifestyle Real Estate Ltd

Licensed (REAA 2 08) - West Melton

Sarah Booth

Contact:

Mobile: 027 527 8258

Brendan 'Big Red' Shefford

Contact:

Mobile: 027 224 4733

Lincoln - 03 325 7299

Ro leston - 03 347 9988

West Melton - 03 347 9933

W ek commencing WeDneSDAY, 23RD mAY 2018

Town & Lifestyle Real Estate Ltd

Licensed (REAA 2 08)

THe BeST PRoPeRTieS AcRo S

this Week's

12.00pm – 12.30pm

12.15pm – 1.00pm

11.00am – 11.30pm

12.00pm – 12.30pm

12.00pm – 12.45pm

1.00pm – 1.30pm

1.15pm – 1.45pm

3.00pm – 3.30pm

11.00am – 11.30am

11.00am – 11.30pm

11.00am – 11.30am

11.00am – 11.30am

11.00am – 12.00pm

11.45am – 12.15pm

12.00pm – 12.30pm

12.00pm – 12.30pm

thursday 6th aug

23 Kingsdowne Drive, West Melton

Harcourts Four Seasons Realty

2 Apple Orchard Lane, Yaldhurst

Harcourts Four Seasons Realty

saturday 8th aug

4 Graycliffe Street, Halswell

Ray White Lincoln

10 Sterling Drive, Prebbleton

Ray White Lincoln

23 Kingsdowne Drive, West Melton

Harcourts Four Seasons Realty

6 Camrose Place, Ilam

Harcourts Four Seasons Realty

12 Crowder Street, Lincoln

Ray White Rolleston

2 Apple Orchard Lane, Yaldhurst

Harcourts Four Seasons Realty

sunday 9th aug

19 Maurice Street, Lincoln

Ray White Lincoln

12 Meadows Drive, Rolleston

Ray White Rolleston

136C Brookside Road, Rolleston

Ray White Rolleston

116 Broadlands Drive, Rolleston

Property Brokers

39 Bradbury Ave, Rolleston

Property Brokers

6 Camrose Place, Ilam

Harcourts Four Seasons Realty

2 Liddington Drive, Rolleston

Property Brokers

39 Hungerford Drive, Rolleston

Ray White Rolleston

12.00pm – 12.30pm

12.15pm – 12.45pm

12.15pm – 1.00pm

12.30pm – 1.00pm

12.30pm – 1.00pm

12.45pm – 1.15pm

1.00pm – 1.30pm

1.00pm – 1.30pm

1.00pm – 1.30pm

1.00pm – 1.30pm

1.00pm – 1.30pm

1.00pm – 1.30pm

1.00pm – 1.30pm

1.00pm – 1.30pm

1.00pm – 1.30pm

1.00pm – 1.30pm

1.00pm – 1.45pm

1.00pm – 1.45pm

1.15pm – 1.45pm

1.15pm – 1.45pm

1.15pm – 1.45pm

88 Brookside Road, Rolleston

Ray White Rolleston

782 Selwyn Road, Rolleston

Ray White Rolleston

2 Apple Orchard Lane, Yaldhurst

Harcourts Four Seasons Realty

153A High Street, Southbridge

Harcourts Four Seasons Realty

7 Henley Close, Rolleston

Ray White West Melton

34, 35 and 36 Farm Lane, Lincoln

Bayleys Canterbury

15 Genoa Avenue, Rolleston

Harcourts Four Seasons Realty

3 Quartz Drive, Rolleston

Harcourts Four Seasons Realty

478 Hoskyns Road, West Melton

Matson & Allan Rolleston

11 Rossington Drive, West Melton

Matson & Allan Rolleston

30 Darcy Street, Leeston

Property Brokers

1 Lignite Drive, Rolleston

Property Brokers

84 Carnaveron Drive, Lincoln

Ray White Rolleston

40B Beaumont Drive, Rolleston

Ray White Rolleston

107 Renoir Drive, Rolleston

Ray White Rolleston

39 Farthing Drive, Prebbleton

Bayleys Canterbury

89 Durey Road, Lincoln

Ray White West Melton

83 Faringdon Boulevard, Rolleston

Harcourts Four Seasons Realty

300 Perymans Road, Tai Tapu

Bayleys Canterbury

67 Tauhinu Avenue, Lincoln

Bayleys Canterbury

13 Tobollie Drive, Rolleston

Ray White Rolleston

1.45pm – 2.15pm

2.00pm – 2.30pm

2.00pm – 2.30pm

2.00pm – 2.30pm

2.00pm – 2.30pm

2.00pm – 2.45pm

2.00pm – 3.00pm

2.15pm – 2.45pm

2.15pm – 2.45pm

2.15pm – 2.45pm

2.30pm – 3.00pm

2.30pm – 3.00pm

2.30pm – 3.00pm

2.30pm – 3.00pm

2.30pm – 3.00pm

2.45pm – 3.15pm

3.00pm – 3.30pm

3.15pm – 3.45pm

3.15pm – 3.45pm

3.30pm – 4.00pm

3.30pm – 4.00pm

133A Brookside Road, Rolleston

Matson & Allan Rolleston

37 Falcon Road, Rolleston

Ray White Rolleston

13 Northmoor Boulevard, Rolleston

Ray White Rolleston

1/572 McLaughlins Road, Darfield

Bayleys Canterbury

62 Dryden Avenue, Rolleston

Harcourts Four Seasons Realty

36 Aberdeen Road, Prebbleton

Harcourts Four Seasons Realty

39 Bradbury Ave, Rolleston

Property Brokers

12 Bellbird Lane, Rolleston

Ray White Lincoln

19 Full Moon Lane, Rolleston

Ray White Rolleston

13 Bridge Street, Southbridge

Property Brokers

1415 Coaltrack Road, Greendale

Property Brokers

2373 Bealey Road, Hororata

Ray White Rolleston

34 Whitehorn Drive, Lincoln

Ray White Lincoln

123 Tennyson Street, Rolleston

Ray White Rolleston

1/1135 Goulds Road, Rolleston

Matson & Allan Rolleston

8 Tobollie Drive, Rolleston

Ray White Rolleston

21 Lignite Drive, Rolleston

Ray White Rolleston

6 Shadbolt Lane, Rolleston

Ray White Rolleston

93 Kemble Drive, Rolleston

Matson & Allan Rolleston

164 Karanga Road, Dunsandel

Ray White Rolleston

49 Stonebrook Drive, Rolleston

Ray White Rolleston

12.00pm – 12.30pm

12.00pm – 12.30pm

12.00pm – 12.30pm

12.00pm – 12.30pm

12.00pm – 12.30pm

22A Moore Street, Rolleston

Ray White Rolleston

20 Siltstone Street, Rolleston

Ray White West Melton

25 Toorak Avenue, Avonhead

Ray White Lincoln

12 billington Drive, halswell

Property Brokers

48 Blakes Road, Prebbleton

Harcourts Four Seasons Realty

1.15pm – 1.45pm

1.30pm – 2.00pm

1.30pm – 2.00pm

1.30pm – 2.00pm

1.30pm – 2.30pm

20 Shona Lane, West Melton

Ray White West Melton

40 Bavaria Drive, Rolleston

Ray White Rolleston

65 Crozier Drive, Kirwee

Ray White Rolleston

14 Bellina Place, Broomfield

Ray White Rolleston

75 Cowans Road, Leeston

Bayleys Canterbury

CHECK OUT THE SELWYN

TIMES PROPERTY DIRECTORY

EVERY WEDNESDAY FOR THE

BEST OF PROPERTY IN

THE SELWYN DISTRICT

For full details of all

Open Homes, please

contact the Real

Estate companies

RAY WHITE

Rolleston 03 347 9988

www.rwrolleston.co.nz

West Melton 03 347 9933

www.rwwestmelton.co.nz

Lincoln 03 325 7299

www.rwlincoln.co.nz

PROPERTY BROKERS

www.propertybrokers.co.nz

Rolleston 03 929 0306

Darfield 03 975 4506

Leeston 03 929 0306

Lincoln 03 595 6954

HARCOURTS

www.fourseasons.harcourts.co.nz

Harcourts Hornby 03 349 9919

Harcourts Rolleston 03 347 4711

Harcourts Lincoln 03 662 9933

MATSON & ALLAN

www.marealestate.co.nz

Rolleston 03 347 9949

Darfield 03 318 8204

Leeston 03 324 3704

BAYLEYS CANTERBURY www.bayleys.co.nz 03 375 4700

PUBLiSHeD eVeRY WeDneSDAY

THe SeLWYn DiSTRicT

INSIDE

Quality Home, Private Setting, Sought After Location

extend through sliding d ors to a large deck & covered 'al

fresco' entertaining area.

63 Rossington Drive, West Melton Open Home: Sunday 2.00pm - 2.30pm

EVERY WEDNESDAY inside Selwyn Times

Address: 19 Devine Drive, Templeton Open Home: Sunday 8 & 15 October, 1pm - 1.45pm

Get the power

of three offices

working for you

Your section hunt

starts here

New Falcon's Landing sales office open, 17 Branthwaite Drive, Ro leston,

Ray White Rolleston,

Lincoln & West Melton

Sales - Property Management - Loan Market

Residential - Lifestyle - Commercial

Thursdays, Fridays and Sundays from 1-3pm. Come, visit and share in our vision

for Ro leston. Or ca l us anytime 03 741 1340. Email enquiries@yoursection.nz

Get your messages into homes throughout

the Selwyn District.

Delivered to every home & rural letterbox

(also available at selected pick up points).

For full information on placing your

advertising call:

Lynette Evans

Ph 021 222 7831 | email: lynette.evans@starmedia.kiwi

Printed on

high impact

Gloss!

Selwyn Times dedicated to getting you outstanding results & making our district a better place to live.
---
16

M-A

MATSON & ALLAN

REAL ESTATE LIMITED

'The

Selwyn

Experts'

Residential

Lifestyle

Rural Property

Licensed REAA2008

NEW LISTING

OPEN HOME

NEW LISTING

OPEN HOME

ROLLESTON - 1/1135 Goulds Road

PEACEFUL HAVEN IN A SUPERB SETTING

ROLLESTON - 133A Brookside Road

RISE ABOVE IN QUALITY

• Superb 3919m 2 (approx.) established and private section

• Four double bedrooms

• Master bedroom with ensuite

• Tw o separate living areas

• Large functional and chic kitchen

• Log burner and two heat pumps

• Separate laundry

• I n ground swimming pool

• Enviable location

• I n zone for Clearview Primary School

• Walking distance to Rolleston College

• Close to all amenities

Deadline Sale: All offers to be presented on or

before 4pm Wednesday 26 August 2020

(Unless Sold Prior)

Viewing: Sun 2.30 – 3.00pm

View: www.marealestate.co.nz/MA0756

Jackie Derrick

027 636 3576

jackie@marealestate.co.nz

• Exceptional design and build

• Generous 230sqm (approx.) floor plan

• Three double bedrooms (large sizes)

• Over sized master bedroom with decadent ensuite

• Two separate living areas

• Stunning kitchen with reputable appliances

• Quality fixtures and fittings throughout

• Luxurious main bathroom

• Separate laundry

• Oversized garage with good parking options

• Automatic gates

• Fantastic central location

• Wonderful outdoor entertaining area

• Private and secure easy care section

Viewing: Sun 1.45 – 2.15pm

Price: $685,000

View: www.marealestate.co.nz/MA0757

Jackie Derrick

027 636 3576

jackie@marealestate.co.nz

NEW LISTING

OPEN HOME

OPEN HOME

WEST MELTON - 11 Rossington Drive

ROOM FOR EVERYONE ON 2000SQM

ROLLESTON - 93 Kemble Drive

BRAND SPANKING NEW!

• 329m 2 (approx.) five bedroom home

• 2000m 2 (approx.) landscaped section

• North-facing outdoor entertainment area

• 2.7 stud throughout

• Safe and secure neighbourhood

• 3 car garage plus attic space

• Separate lounge

• Various heating options

Viewing: Sun 1.00 – 1.30pm

Price: Neg Over $999,000

View: www.marealestate.co.nz/MA0753

Andrew Taylor

0274 355 930

andrew@marealestate.co.nz

• Brand new 170sqm (approx.) home

• Wonderful street appeal

• Large open plan living area

• Modern kitchen with walk in pantry

• Three double bedrooms

• Master suite with ensuite and walk in robe

• Good internal storage

• Low maintenance easy care section

• North facing outdoor entertaining area

• Desirable location

Viewing: Sun 3.15 – 3.45pm

Price: Neg Over $515,000

View: www.marealestate.co.nz/MA0748

Jackie Derrick

027 636 3576

jackie@marealestate.co.nz

OPEN HOME

ROLLESTON - 155 Lowes Road

1000M 2 LOT IN CENTRAL ROLLESTON

WEST MELTON - 478 Hoskyns Road

ROOM FOR THE EXTENDED FAMILY OR INDEPENDENT FAMILY MEMBER

• Located in the heart of Rolleston

• Superbly sheltered from the easterly wind this

• 1000m2 (approx.) Lot

• Ideal location for your dream home

• Short walk to Clear View School, Aquatic Centre &

Foster Park

• You couldn't get a better location

• Easy access to Christchurch via soon to be completed

Southern Motorway

Viewing: By Appointment

Price: $245,000

View: www.marealestate.co.nz/MA0737

Andrew Taylor

0274 355 930

andrew@marealestate.co.nz

• 4 Hectares (approx.)

• Two road frontages

• Main home - (270m 2 approx.) four double bedroom

family home

• Second home - modern two bedrooms

• Established shelter belts and mature garden setting

• Close proximity to the thriving Rolleston Township and

all its amenities

Viewing: Sun 1.00 – 1.30pm

Price: Neg Over $1,100,000

View: www.marealestate.co.nz/MA0702

Chris Flanagan

027 433 4657

chris@marealestate.co.nz

ROLLESTON PH: 03 347 9949 LEESTON PH: 03 324 3704 DARFIELD PH: 03 318 8204 www.marealestate.co.nz

Chris Flanagan

027 433 4657

Andrew Taylor

027 435 5930

Jackie Derrick

027 636 3576

Jo Barrett

021 859 006

Stephan Knowler

027 229 9522

Cameron McRae

027 769 6696

Paul Robinson

021 277 2690

Bronwyn van der Pol

022 073 7757