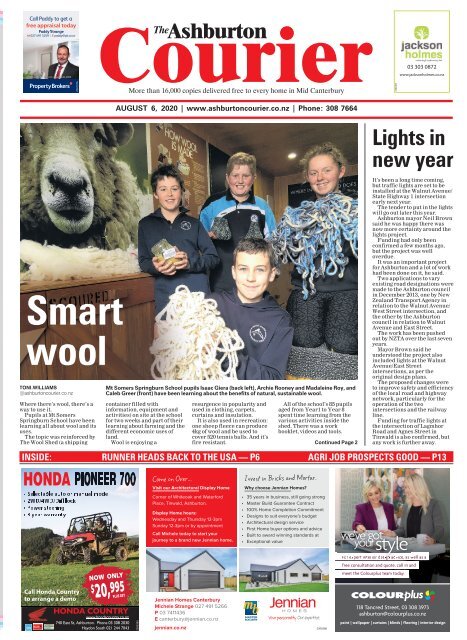 Ashburton Courier: August 06, 2020
You also want an ePaper? Increase the reach of your titles
YUMPU automatically turns print PDFs into web optimized ePapers that Google loves.
free appraisal today

03 303 0872

www.jacksonholmes.co.nz

2301576

2300283

AUGUST 6, 2020 |www.ashburtoncourier.co.nz |Phone: 308 7664

Smart

wool

TONI.WILLIAMS

@ashburtoncourier.co.nz

Where there's wool, there's a

way to use it.

Pupils at Mt Somers

Springburn School have been

learning all about wooland its

uses.

The topic was reinforced by

The Wool Shed(ashipping

Mt Somers Springburn School pupils Isaac Giera (back left), Archie Rooney andMadaleine Roy, and

Caleb Greer (front) have beenlearning about the benefits of natural, sustainable wool.

container filled with

information,equipment and

activities)onsite at the school

for two weeks and part of their

learning about farming and the

different economic uses of

land.

Woolisenjoying a

resurgence in popularity and

used in clothing, carpets,

curtains and insulation.

It is also used in recreation:

one sheep fleece can produce

4kg of wooland be used to

cover 520 tennis balls. And it's

fire resistant.

All of the school's 85 pupils

aged from Year1toYear 8

spent time learningfrom the

variousactivities inside the

shed. There was awork

booklet, videos and tools.

Continued Page 2

Lights in

new year

It's been alongtime coming,

buttrafficlights are set to be

installed at the WalnutAvenue/

StateHighway 1intersection

earlynext year.

Thetender to put in the lights

will go out later this year.

Ashburtonmayor Neil Brown

said he washappytherewas

now more certainty around the

lights project.

Funding hadonlybeen

confirmedafew months ago,

but the project was well

overdue.

It was an important project

for Ashburtonand alot of work

had beendoneonit, he said.

Twoapplications to vary

existing road designations were

madetothe Ashburton council

in December 2013, one by New

ZealandTransport Agency in

relationtothe Walnut Avenue/

WestStreet intersection, and

theother by the Ashburton

councilinrelation to Walnut

Avenue and East Street.

Thework has been pushed

out by NZTA overthe last seven

years.

MayorBrown said he

understood the projectalso

included lights at the Walnut

Avenue/East Street

intersections,asper the

originaldesignplans.

Theproposed changes were

to improve safetyand efficiency

of the local road and highway

network,particularly forthe

operation of the two

intersections and therailway

line.

Funding for trafficlights at

the intersectionofLagmhor

Roadand Agnes Streetin

Tinwald is alsoconfirmed, but

any workisfurther away.

INSIDE: RUNNER HEADS BACK TO THE USA —P6 AGRI JOB PROSPECTS GOOD —P13

HONDA PIONEER 700

• Selectable auto or manual mode

• 2WD/4WD/Diff lock

• Power steering

• 3 year warranty

Come on Over...

Visit our Architectural Display Home

Join us for the Grand opening of

Corner Jennian's of Whiteoak New Display and Waterford home

Place, Tinwald, Ashburton.

Display Home hours:

Wednesday and Thursday 12-3pm

Sunday 12-3pm or by appointment

Call Michele today to start your

journey to abrand new Jennian home.

Invest in Bricks and Mortar.

Why choose Jennian Homes?

• 35years in business, still going strong

• Master Build Guarantee Contract

• 100% Home Completion Commitment

• Designs to suit everyone's budget

• Architectural design service

• First Home buyer options and advice

• Built to award winning standards at

• Exceptional value

For expert interior design advice, as well as a

free consultation and quote, call in and

Call Honda Country

to arrange ademo

NOW ONLY

$20,995

PLUS GST

HONDA COUNTRY

www.hondacountry.co.nz

740 East St, Ashburton. Phone 03 308 2030

Haydon South 021 244 7043

2300395

Jennian Homes Canterbury

Michele Strange 027 491 5266

P 03 7411436

E canterbury@jennian.co.nz

jennian.co.nz

2300286

meet the Colourplus team today.

118 Tancred Street, 03 308 3973

ashburton@colourplus.co.nz

paint |wallpaper |curtains |blinds |flooring |interior design

*
---
NEWS

2 Ashburton Courier, August 6, 2020

www.ashburtoncourier.co.nz

BUSINESS OWNERS

Build customers,

sales and profits

with us ...

Over 16,065

copies delivered to

EVERYhome,farm,

RD and lifestyle

blocks in

MidCanterbury

news

Linda Clarke

Editor

308 7664

linda.clarke@ashburtoncourier.co.nz

Reporters

Mick Jensen

mick.jensen@ashburtoncourier.co.nz

Toni Williams

toni.williams@alliedpress.co.nz

advertising

Jann Thompson

Sales Manager

308 7664

027 587 6351

jann.thompson@ashburtoncourier.co.nz

Karen Gane

Sales Account Manager

308 7664

021 510 804

karen.gane@ashburtoncourier.co.nz

getintouch

Editorial

linda.clarke@ashburtoncourier.co.nz

Advertising

info@ashburtoncourier.co.nz

Production

murray.thompson@ashburtoncourier.co.nz

Accounts

accounts@alliedpress.co.nz

Distribution/Deliveries

mary.summerfield@ashburtoncourier.co.nz

Office

office@ashburtoncourier.co.nz

03 308 7664

199 Burnett Street,Ashburton

www.ashburtoncourier.co.nz

2300919

Good yarn spun for students

From Page 1

The Wool Shed is sponsored by PGG

Wrightson and provides pupils

hands­on learning, including taking

raw wool, carding it (removing the

knots with acomb) and spinning it

with adrop spindle to make yarn

(loose strands of wool twisted

together as astronger fibre).

Afew Mt Somers pupils also spent

time with PGG Wrightson wool buyer

Doug McKay who visited the school to

talk about wool.

Among those pupils were

Madaleine Roy, 12, Archie Rooney,

12, Caleb Greer, 11, and Isaac Giera,

10.

They learned about the different

breeds of sheep and how their wool

was used for different things.

There was room for alot of crosssubject

learning with science, social

science, reading, mathematics and

science technology just afew of the

learnings.

Romney sheep wool was often used

to make carpet or curtains and

Merino sheep wool was popularly

used for clothing; it was softer on the

skin than other rougher wools.

Wool was also used in pillows,

duvets and insulation and didn't burn

until really hot temperatures.

It is also used in the aviation

industry with interior trimmings and

sound proofing, clothing such as

socks and nightware, uniforms for

military, fire and police personnel,

medical care with dressings and

bandages, and in PPE.

Madaleine and her Year 8

Wonderful wool ... Mt Somers Springburn School Year 4and 5pupils showthe

different stages of wool. Photo ToniWilliams

classmates chose to dye the wool

using natural products such as

beetroot, onion, walnuts, coffee and

gorse flowers as natural white wool is

easy to dye.

Wool is also waterproof and full of

lanolin which is good for cracked

skin.

The children also learned about

export destinations for New Zealand

This Farming Life

by Tim Saunders

Beautifully written description of the harsh realities and the joyous moments

of farm life, from awriterwhose farmhas been in the same family forfive

generations.

Farmer TimSaunders manages to incorporatesome writing into his days,

and

herehedescribes his lifethrough the seasons: Summer,shearing,

slaughter, crop harvest,conservation; Autumn, floods,trading stock,

drenching,dagging; Winter,maizeharvest,lambing; and Spring,docking,

pet sheep,weaning.

It'satough lifeand through his powerful,poignantwriting Timtells

of his connection to the land,why he lovesfarming,how he's also

conflictedbyitand whatitisthatkeeps him tethered to thatplace

Getyour copy now!

212 East Street,Ashburton. t

Phone 308 8309

wool. China took 49.9 per cent of the

wool exported, followed by United

Kingdom (eight per cent) and Italy

(7.6 per cent).

And how aBanks Peninsula

farming couple had changed their

farm practice from cross bred sheep

to aclothing range producing merino

wool jerseys initially for schools to

fill aneed in the market.

Las Vegas glitz for college ball

AshburtonCollegestudent

Brianna Williams is among

hundreds of senior students

looking forward to tomorrow

night's annual school ball.

The Year13dance student will

joinaround 400 Year 12 and 13

students for anight of glamand

glitz at the AshburtonTrustEvent

Centre, complete with ared carpet

entrance.

It is Brianna's secondand final

ball while sheisastudent at the

college, andone she is looking

forward to attending.

The ball, themed Fabulous Las

Vegas, will see theschool ball

committee ­madeupof10students

led by Year 13 students Jacob Gray

Left: Brianna Williams checks out

donated ball gowns.

and LucyMoore­deckout theevent

centre in red, blackand goldwith a

stylish casino­styleset up.

The band DoubleTalk,from

Timaru,will provide live

entertainment.

The college has more than 40 ball

gowns andanumber of suits to lend

students,which havebeen donated by

members of the college community;

some ball tickets have also been

donated by college parents.

There have alsobeen hair

appointments for students donated by

Ashburton hairdressersDNA

Hairdressing,Capelli HairDesign

and ShearDimensions.

Wills Street willbetemporarily

closedfor the ball,toallow students

to arrive in stylishvehicles of their

choice. Members of the public will be

cheering them on as they arrive.

2300960
---
www.ashburtoncourier.co.nz

Burnetts work stories wanted

TONI.WILLIAMS

@ashburtoncourier.co.nz

Former staff of Burnetts

transport and motor company,

their partnersand clientsare

beingurged to registerfor a

Burnetts Catch Up laterthis

year.

Thecatch up, at the

Ashburton Racecourse on

September 5, is being

organised by ahandfulof

peoplekeen to hear, and

share,the workers'stories. It

is aBYO event,which costs $5,

with afternoon tea supplied.

Jane Naish, Maurice Wotton

and Carol Muckle say it's a

reunion that has been talked

about and neededtohappen

while peoplewere still around

who could remember the days

working at the old Burnetts

yards.

They want to hearfrom

peoplewho worked at the

company, started by Bob

Burnett in 1927, andwas one of

Mid Canterbury's biggest

employers in its time; in its

heyday nearly 300staffwere

employed and thecompany

had morethan100 vehicles.

Thecompanyoffered arange

of transport services including

carting of goods, aworkshop

and transport depot,petrol

pumps, earthmoving with

bulldozers, scrapers, loaders

and other heavymachinery.

In his time owner Bob

Burnett also owned acoal

mine andahighcountry

Arestored International 3070 Burnetts Motors cattle truck and trailer on show at the Ashburton A&P

Showgrounds last year.

station. He remained a

company director during

severalownership changes

until his retirementin1981, at

age 72.

Mrs Naish said morethan

100 people had already

registeredincludingAdrienne

Francis, the daughter of Bob

Burnett.

However, she thought it was

unlikely the 20­or­so people

who had registered from

Australia would be able to

attenddue to Covid­19.

Thepandemic had already

caused the date to be

rescheduled from mid­July

andorganisers were keen for it

to go ahead as there were afew

older crew looking forward to

it.

Thetrio have spent the past

fewmonthstrying to track

people downand collate

photographs of the time to

show at the catch up.They are

also collecting stories–no

matter how small ­and are

keentohear from people

working in any of theyardsand

who they workedwithand

whatthey did at the time.

We want the workers'

stories, Mrs Naish said.

Anyone wanting to register,

or who has astory to tell, or

photographs from any of the

Burnetts operations in any of

the yards,orsocialevents,that

can be loaned for copyingorbe

emailed can contact Mrs Naish

via tonyjanenaish@gmail.com

or by phone on 3082272 and

leave amessage.

NEWS

Ashburton Courier, August 6, 2020

3

Pushfor

tracer app

posters

Ashburton businesses will be

among thousands around the

country tobeurged to put up

scan­and­trace posters forthe

Government's Covid­19 tracer

app.

Health minister Chris

Hipkinsiswriting to all local

authorities, including the

Ashburton District Council and

mayor Neil Brown, asking them

to makesuretheir own

facilities haveposters.State

services are expected to have

the posters and business

leaders will also be contacted.

The uptake on Ashburton's

EastStreet is currently low,

withjust threebusinesses in

one block displayingposters

with QR codes that people

using theapp can scan with

their phone. The app helps

peoplekeep adigital record of

their movements in the event

contacttracing is needed.

Mr Hipkinssaid Kiwis could

not afford to have covid fatigue

and constant vigilance was

needed.

''Displaying and scanning the

QR codes is asmall act in the

fight againstcovid,'' he said.

He said councils should make

suretheir economic

developmentpeople were

activelyencouragingtheir local

businesses to have QR codes.

At Tuesday, there werejust

627,900registered app users.

End of Season–RURALFIRE CLEARANCE

FR300

BONUS

FLUE

KIT

BOSCASPIRIT 550

BONUS

FLUE

KIT

FR400

BONUS

FLUE

KIT

WET

BACK

COOK

TOP

ClearancePrice

ONLY

$1595

with flue kit

WEEKLYFROM$10.74

ClearancePrice

ONLY

$1895

with flue kit

COOK

TOP

ClearancePrice

ONLY

$1995

with flue kit

WEEKLYFROM$12.70 WEEKLY FROM $13.35

• Softglide ash draw

• 8mm cooktop

• 15year fireboxwarranty

16kW

• Build-inash pan

• Removableorfixedhandles

• Hearthoptions

19kW

• Softglide ash draw

• 8mm cooktop

• 15year fireboxwarranty

Rural use only –Rakaia -Methven-Hinds or 2+hectares

20kW

2300716
---
NEWS

4 Ashburton Courier, August 6, 2020

www.ashburtoncourier.co.nz

LETTERS TO THE EDITOR

Meat the Need

The Ashburton St VincentdePaul Society

wishestoexpress on behalfofall ourclients

who receivefoodparcels, theirmost grateful

thanksfor the meat donatedbythe Meat the

Need charity.

The meat received adds such great value to

thefood parcels delivered, enabling so many

families to produce qualitymeals for their

families. Manyofour clients havechildrenwho

needprotein in theirdiet to helpthemtogrow

and learn. Weare so thankful for all the meat

donated by ourlocalfarmers to help those in

our districtwho are struggling at this time.

The wonderful support from our farming

community isgratefully appreciated.Thank

you all so much.

­Michael Hanham,Presidentofthe

Ashburton ConferenceofStVincentdePaul

Society

Election coverage

On July 30 an article was in yourpaperabout

therotaryclub'scandidateseveningonAugust

26. Youchose to put aphoto of an election

billboard within the article.The billboard was

of Judith Collinsand Gerry Brownlee andit

included thewords "partyvote National".I

believeyou have crossedthe line.

­Marilyn Gilchrist

Thestorywas awrap of the many things

political that had happened in aweek and the

photo intended to illustrate National had no local

candidateatthe time­oronits hoardings.We

havenobias ­LindaClarke, editor.

Where'dYou Go

Bernadette

Reviewed by Rowena Hart

MariaSemple wrotethe book andhereitiswith

Kate Blanchett playing Bernadette.

Averydifferentrole forKate, and she nails it!

Bernadette was an acclaimed and admired

architect. But she totally goes to pieces when

her awardwinning building is demolished by an

arrogantTVStar.

She removesherself from societyand despiteher

supportive family becomes bitter and twisted

and then an old colleague turns up and says ...

"youare atotal mess when youare not creating!"

And offshe goes with her family in pursuit with

AMAZING results.

WowWow Wow. Ican't tell you any more ...it is

best if youjust go and see whathappens ...!

Don'tmissit...it is awe inspiring.

bookings ph 307 1230

www.regentcinema.co.nz

2300351

International

Beer Month

Catching up ... Chrissy Milne, MaxineChapman, Lynette Cameron, Pam Wiltshire,Blue Thomas, Helen Hands,Maxine

Hooper, Ali Robinson and Wendy Tobin recall stories and memoriesfrom their days working at the FlashAsh.

FlashAsh staff toast years of experience

BlueThomas has clocked up 40 years

workingatthe Hotel Ashburton,

commonly known as the FlashAsh in

the days of old.

Andlastweek he was joined by at

least eight former FlashAsh crew

who got together in the Turf Bar for a

long overdue catch up.

It was aluncheon filled with

storytelling, memories and laughter,

along with the odd tipple or two as

$20m boost gives council options

A$20 milliongovernment

contributiontoAshburton's new

libraryand civiccentrewill give the

AshburtonDistrict Councilachance

to progress otherprojects,including

future development at the EA

Networks Centre.

Ashburton mayorNeilBrown said

councilhad intended to borrow the

full amount forthe new $51.6mcivic

centre butwas now spending$20m

less ­thatmoneycouldbeused to

further stimulate the local economy

by bringing forwardother projects in

its long­term plan.

Council is also still waiting to hear

if its second bridge project will

attract governmentfunds as a

stimulusproject.

''Wewere obviously borrowing the

whole amount forthe civic building.

THIS WEEK'SSPECIALS

SPECIALS

ESTRELLADAMM

330mlBots 12s

&HAAGEN

330ml Bots 15s

$

21 99 ea

BUDWEISER

330ml Bots 12pk

OR BECKS

330ml Bots 12pk

$

20 99 ea

HEINEKEN

330ml Bots 15s

$

29 99 ea

they recalledother workmates, and

theantics ofworkinginthe hospo

industry with manylate nights.

Organiser HelenHands worked at

thehotelfor 34 years and was keen

foragroup catch up, even if it was a

lunch at her home.

However the plan changed as more

people were keen toattend.

When The Courier arrived the

groupwas at nine with more still

This gives us choicesand we still

want to stimulate the economy, but

wisely.''

Oneofthe projectsinthe long­term

plan was to developplayingfieldsat

the EA NetworksCentre; an

extension to the stadium is also in the

plan.

Mr Brown said council was thrilled

with the Governmentmoney and

construction of the civic building

wouldcreate up to 500 jobs.

"Twenty milliondollars covers

more than athird of the project costs

whichisasignificant saving for our

community. We commend the

Government for investing in our

regionand helpingtodeliver

importantinfrastructure for our

people."

Thelibrary is being designed as a

ASAHI SUPER DRY

&PERONIMASTRO

AZZURRO

330ml Bots 12pk

$

23 99 ea

KINGFISHER

STRONG 500ml

3 FOR

$

10

CARLSBERG

330ml Bots 24s

$

39 99 ea

SOI &TIGER

CRYSTAL

330mlBots 12s

$

22 99 ea

expected. Among those attending was

realtorChrissy Milne who was hotel

manager for 10 years andRiding for

the Disabled stalwart MaxineHooper

who worked at the hotel for around 25

years.

Between the group therewas

around 250 years of hospitality

experience working throughout the

restaurant, bars, kitchen,reception,

housekeeping and bottle store.

modernfacility, with spacefor a

children's discoverycentre, teen

space, lounge andstudyareas, audio

and video recordingstudio, androom

forasmall performance area with

tiered seating.

Detailed designs areinthe process

of being finalised, withtenders outin

September.Construction at the

Baring Square Eastsite expected to

start aroundNovember.

Mr Brown said if construction

progressed to plan,the newbuilding

would be readyfor use in September

2022.

The buildingwillutilise

environmentally sustainable

elementsand–in what is believed to

be afirstfor the country–will also

incorporate aheritage building

(Pioneer Hall) into the facility.

STEINLAGER

CLASSIC

330ml Bots 18s

$

30 99 ea

LION RED,WAIKATO

SPEIGHTS

330ml Bots 24s

$

23 99 ea

DB DRAUGHT,

EXPORTGOLD &EXTRA

LOWCARB,TUEPA

LOWCARB,TUI EIPA

330ml Bots 24s

$

34 99 ea

EXPORT33

330mlBots 24s

MALFY GN GIN

RANGE 700ml

SEAGERS &

IVANOV 1L

JAMESON 1L

&CHVAS &CHIVAS 12YO

700ml

JMBEAM&

JIM CANADIAN CLUB

1L

JACK DANIEL'S EL'S&

COLA 330ml 4.8%

8pk OR SOUTHERN

COMFORT 4.5% 375ml 10pk

NEW

CODYSZERO

7% 250ml Cans 12pk

STONELEIGH WHITES,

RED &LIGHTER &LGHTER RANGE

330ml Bots 24s

$

41 99 ea

$

51 99 ea

$

32 99 ea

$

49 99 ea

$

40 99 ea

$

18 99 ea

$

19 99 ea

$

12 99 ea

ASHBURTON

MSA

266 Havelock Street,Ashburton

Telephone 308 7149

www.ashburtonclub.co.nz

HOURS

Monday

Tuesday-Thursday

Friday&Saturday

Sunday

10:00am -6:00pm

10:00am -8:00pm

10:00am -9:00pm

10:00am -6:00pm

SPECIALS AVAILABLE

from August 6

to August 13

2300666
---
www.ashburtoncourier.co.nz

NEWS

Ashburton Courier, August 6, 2020

Aircraft here for

World War 2day

AshburtonAirportwill be abuzz

withWorldWar2 nostalgia on

August 20 when anumber of

aircraft from the era are

expected to fly in.

As well as the world's only

airworthyAvro Anson MK1

bomber andaRussian fighter

Yak, Russell Brodie's Tiger

Moth from Rangitata Island will

be dropping in, as well as a

replicaSpitfire and possiblya

Mustang.

AshburtonAviationMuseum

5

president WarrenJanettsaid

somemembers would be

wearing appropriateperiod

clothing andthe impressive

museumwould be showcased.

Asausage sizzle willrun at

the morning­only event, which

gets under wayfrom 9am.

Mr Janett said there had been

interest from people wanting

flights in the Yak and Avro

Ansons and their detailshad

been passed to flight

organisers.

Trying out the new equipment are Ashburton District Council open spaces team members Laetitia

Smart (left) and Bernize Butters.

Exercise equipment in

Newadultexercise equipment

has been installed in the

AshburtonDomain.

Eight exercise stations,

somewith dual purpose

workouts, have been set up in

the main playground area.

They replaceold,out­ofdate

equipmentthat is seldom

usedand is also scattered far

Citizens group meeting

The Ashburton Citizens

Association has resumed

regular meetings after acovidenforced

break.

The group held its annual

general meeting recently,

electing Greer Ricketts to the

chair, and is looking for more

members.

Cr Diane Rawlinson, who

was involved with the group

prior to being elected to

council, said it was easier to

attract new members when

ratepayers had something to

challenge council about. In

her day it was over the

heritage centre and the

second bridge.

''In times when council is

annoying everyone is when a

citizens group gets going and

pulls together. Iamnot saying

we are doing agood job but we

Heritage grant

for Mill House

The owners of historicMillHouse at

Ashford Village have received $30,000

from the HeritageEQUIPprogramme for

strengthening work.

The building hasundergone recent

renovations, but requires further bracing

work to reach structuralstrength

requirements.

Mill House was recognised withalocal

blueheritage plaque, unveiled lastyear,

which marks itssignificancetothe

community.

Mill House is owned by Richard and

ElizabethAshford and has beeninthe

family for50years.

Mrs Ashford saidshe was appreciative

of the heritage grant.

It would go some way towards the

completion of structuralstrengthening

work on the 112­year­old building.

That work would ensurethe longevity

of the building andwould preserve it for

otherstoenjoy for the next100 years.

and wide in the large green

space.

The new sturdyequipment

has been bolteddown on to

concrete pads and offers a

range of exercise disciplines.

Thereisamuscle buster that

will testarm strength,spin

bike, cross trainer and

equipment for leg raises, sit

are not getting resistance like

in the years when we formed

and fought some pretty big

battles.''

Cr Rawlinson stood for

council in 2016 after her

involvement with the citizens

association and the Bridge

Action Group. She was

secretary and then chair for

three years.

The citizens group invited

Ashburton Hospital manager

Bernie Marra to speak at the

AGM and she said the hospital

was planning for an exciting

future, involving telehealth

specialist appointments and

more rural medicine

education.

The citizens association's

aims are to identify issues of

significance in the district and

encourage public discussion.

PROSTATE

CANCER

SUPPORTGROUP

ups and vertical bar presses.

The equipmentcomes in at a

cost of $76,200 andhas been

set up in the playground to

enableadultstoexercise

while also watching children

play.

Some of theequipment is

suitable foruse by older

children.

An established supportgroup in

Ashburtonfor men and their families

who areliving with adiagnosis and

treatmentfor prostate cancer.

Partners arealso welcome to attend

CO-ORDINATOR: Doug Collie 027 510 0556

WHEN:

Tuesday, 11th August at 3pm

WHERE: Ashburton

Mackenzie Centre,122 Kermode St,Ashburton

Email: ashburton@prostate.org.nz

Formoreinformation call 0800 477 678

Organised by the Prostate Cancer Foundation of NZ

www.prostate.org.nz

2301620

Rangitata Island's Russell Brodie and his Tiger Moth will be among

those at the Ashburton airfield on August 20.

Firearms owners invited to

air concerns at gun march

Mid Canterbury firearms

owners are being invitedto

march again on Saturday to

highlight their concerns about

the effect of newfirearms

legislation.

Spokesman BobMcDonald

said the group would meet at

the RSAat10am andwalk along

EastStreet to Moore Street,

before doubling backalong

WestStreet to agrassy area

opposite the AshburtonArt

Galleryand HeritageCentre.

Joining the gathering willbe

Council of LicensedFirearms

Owners spokespersonand now

ACT candidatefor Rongotai

NicoleMcKee.

She said the ArmsLegislation

Billpunished firearmsowners

by changinglicencerules that

hadworked perfectly well until

afew years ago. ''Thelicence

rules worked, butitappears

thatpolice didn't apply them

correctly to the Christchurch

shooter. The new rules will only

be as good as the people

applyingthem.''

Mr McDonald is asport pistol

shooter and said law­abiding

firearm owners were

concerned about theimpact of

someofthe gun laws imposed

after Christchurch'smosque

DOCKS

BAR &SEAFOOD GRILL

DOCKS areoffering a

varietyoffresh fish

and seafood dishes

Aspecial lunch offer is available to the Gold

Card holders on Fridays,Saturdays and

Sundays 12 pm –2pm.

(Menu depends on fresh daily catch).

killings over ayear ago.

He said the lawsrequired all

firearmstoberegisteredbut

there wasplenty of potential for

mistakes to be madewhen

recording long and complex

serialnumbers of guns. That

wouldmakethe tracking of

firearmsuseless.

He saidrecreational shooters

were concernedgovernment

was still forging ahead with

registrationofindividual

firearms.

''It is such an arduous task

and open to error. If you write

down aserialnumberwrong, it

will be irrelevant.''

We look forward to seeing youatDOCKS!

90-92 Harrison Street,Allenton, Ashburton

(oppositeAllentonShopping Mall). Tel03423 21 66

OPENING HOURS: Tuesday–Thursdayfrom5pmtill late

(meal servicefrom5pmtill 9pm)

Friday–Sunday from 12 pm till late

(meal servicefrom12pmto2pmand from 5pmtill 9pm)

Monday–closed.

2300532
---
NEWS

6 Ashburton Courier, August 6, 2020

www.ashburtoncourier.co.nz

Once­over for council projects

AshburtonDistrict Councillors

have beenspending time

touring Ashburton, visiting

places that have croppedupon

their decision­making agendas

recently or will do in the

future.

This week, they donned hiviz

vests andwalkedaround

the CBD with senior staff,

checking outhow work is

progressing on the $15 million

inner townbeautification

project.

Theupgrade has atwo­year

timeframe and startedat Cass

Street in January,with

contractors digginguproads

and footpaths to lay new pipes

for water, wastewater and

other services.Some of those

footpathsare now sporting

new and permanent asphalt

layers, with rain gardens and

other features beingcreated

alongside.

Burnett and Tancred streets

are movingtoone­way traffic

with motoristsbeing asked to

bealert to the changes.

In abus drivenbyCrLeen

Braam last week,councillors

toured theRiverside

Industrial Estate and stopped

off at ACL'snew headquarters.

Other spots of interest

includedthe EA Networks

Centreand the Chinese garden

settlement on Allens Road.

At the Ashburton Domain

they weregreeted by staff, who

pointedout thenew adult

fitnessequipment installed

Ashburton District Councillors and senior staff check out future garden features on Cass Street.

near the children's

playground.The domain is in

the spotlight next week, with

more than 100 submissions

received on along­term

development plan which

proposesmoving the

AshburtonBowling Club to be

heard.

Once council adopts the

development plan, staff will

review some of themain

playground equipment. The

Runner returns to

US to race, study

TaongaMbambo is makinggood

strides with his studies and running

and has just returned to start his

second yearat university in the USA.

Theformer Ashburton College

student, atalented middleand long

distance runner, won an athleticsand

academic scholarship to La Salle

University in Philadelphia last year.

His first year of studies was cut

shortbythe coronavirus outbreak and

he returned home in March to

complete them online.

Taonga's academic performance

and running prowess have both been

notedby collegeofficials and he has

returned to America with aspring in

his stride.

''I feel goodabout going back and

gettingintomystudies andrunning.''

He said he was young, fit and

healthy and not unduly botheredby

the Covid­19 situation.

His sophomore(secondyear) would

featureamix of online and in­person

lectures, butthere would be no

competitive runningfor afew more

months.

''Sporting competitions will be

reassessed in September, so I'llhave

to see what happens then.''

Taonga, 19,isstudying for afouryear

businessmanagementdegree

and is both atrack and cross country

runner.

Since returning home in March he

has been staying fit and pounding the

streets of Ashburtontobuild up his

distance work.

''I've been running around 70 miles

(112km) aweekand I'mfeelinggood.''

Taongasaid he suffered astress

fracturelast October,but had

recovered well aftersomegood

treatment andwas back running

within six weeks.

Part­timework in Ashburtonover

the last few weeks has helpedfund

somenew runningfootwear, and half

adozen pairs were crammed into his

suitcase ahead of his departure

earlierthis week.

bigthreedrawcardsfor any

playground are slides, swings

andsee­saws.

Some $209,000 has been

earmarked for the playground

equipment improvement.

Council staff are also making

improvements to the domain

pond edging, withhard and

soft edgings.

Councillors were shown the

site of aplannednew domain

hub(on landcurrently

occupied by the bowling club)

as well as alternative sites

closerto the playground and

the paddling pool.

After lunch the councillors

inspected theart galleryand

museum building, which is

being repaired to stop leaks.

They also sawfirsthandthe

pollution from endangered

black­billed gulls, who have

hunkered downover winterat

the nearbydomain pond.

Taonga Mbambo has returned to his studies in the

USA.

IN BRIEF

ICE RINK

Ice skatingatStaveleyislooking

increasingly unlikely this winter with

mild conditions beingreported by

thoselooking afterthe Staveley Ice

Skating and Curling Rinks.

''Wehave those warmtemps

hanging aroundthatwedon't like

whenitcomes to skating.Each

seasonwerequire four inchesto

openthe rinksfor people to enjoy.

At this stageit's not looking goodas

we continue to seemild conditions,''

theirlatest Facebook postsays.

They encouragepeople to keep

any eye on theirpage forupdates.

CANDIDATE MEETING

The National Party's finalcandidate

selectionmeetingwill be in

Ashburton on Sunday, afterthe last

of three meet-the-nominee

meetings in the electorate.The

partyisfinding anew candidate for

Rangitata afterMPAndrew

Falloon's shock resignation.

DEMENTIATALK

PrincesCourtLifecare is planning

its nextdementia talk on August 19.

Facility manager LorraineBryanwill

be talkingaroundawiderangeof

topics, includingneeds assessment

processes, dementiacare, respite

care and managing the transition

from homeinto care.

She said people couldask

questions and chataboutthe

challengesolder people andtheir

family members faced whendealing

with dementia. The dementia

support group meets monthly at

Princes Court.The August 19

meetingwill begin at 2pm.

CRASH INQUIRIES

Ashburton policeare making

inquiries afterseparate crashes

about 100m apart on Saturday

night.

Two carscollided on Walnut

Avenue,nearthe Derlen Storage

building, about 10.45pm and then a

single car crashedoff EastStreet,

opposite the Mobil garage,about

2.30am.

Policesaid the occupants of the

EastStreet vehicle fled the scene

but inquiries were ongoing.

CANCER BREAKFAST

The Cancer Society is hosting a

Daffodil Day breakfast to helpraise

fundsfor their annual DaffodilDay

event.

The breakfastfundraiserwill be

run in twosittings; at 7am and

8.30am, at Columbus Coffee on

Friday, August21-the week before

Daffodil Day.

On offer are fourbreakfast

options; muesli servedwith berry

compoteand yoghurt; hotcakesand

bacon;salmon andbeetrootbagel;

or poachedeggs on toast with

bacon.

Tickets cost $25each, available

from the AshburtonCancerSociety.

171ALFORD FOREST ROAD,ASHBURTON

0800 86 22 44

Chippers Generators Compactors Excavators Access Gear MotorVehicles

Trailers Forklifts PortableBuildings Toilets Mowers&More

2286699
---
www.ashburtoncourier.co.nz

Make it click, save your life

TONI.WILLIAMS

@ashburtoncourier.co.nz

The seatbelt is one of themost

important safety features of a

modern vehicle, saysdriver

safety tutorJonny Kirkpatrick.

But it'sonly effective if it's

beingused and beingworn

correctly;sittingacross the

shoulder/sternumand across

the hips.

These are the strongest

points of the body and will help

reduceinjuryontherestofthe

body in an accident,especially

ahigh speed accident, of

which the impactis"insanely

violent", he said.

Mr Kirkpatrick, of ProActive

Driver­ayouth driver

education trust ­was one of six

specialist tutors taking

AshburtonCollege Year12

studentsthrough various

aspects of road safety

education duringthe Rotary

Youth Driver Awareness

programme at the Hotel

Ashburton this week.

"Make it click, just like the

ads say.It's hands downthe

most important safety feature

by alongshot," he said.

"You're nothelping yourself,

if you're notwearing it."

It is also lesseffectiveifit's

defective(with nicks or cuts)or

twisted when worn; both ways

reduce its strength by up to 50

per cent.

It's meant to restrain you

againstthe seat and keep you

in the seat.

It won't do thatifit's notfull

strength.

Mr Kirkpatrick spoke about

the safety features of modern

vehiclesand the benefits of

ANCAP safety ratings of four

and above; thehigher number

Station open day

The Terrace Station CharitableTrust is

holding thefirst of its spring open days this

Sunday.

The Hororatastation's 15ha gardensare a

mass of snowdropsand people will be able to

stroll thegroundsand bring apicnictoenjoy

onthe lawns of the historic homestead, home

to Kate andRichard Foster.

In September, therewill be violets and

primroses forvisitors to enjoy, then in

Octoberand Novemberdaffodils,bluebells

and more willbeblooming.

The gardens are openonSundayfrom 11am

to 3pm.Entry is $5,children are free.

ProActive Driver tutor Jonny Kirkpatrick makes sure Ashburton College Year 12 student Matty

Cornish­Madden has the seatbelt in the right position for best safety.

PHOTO TONI WILLIAMS

the better and meant multiple

airbags(eight to 12) covering

driver andpassengers.

There was also anti­lock

braking systems(ABS brakes)

to prevent thevehicle sliding

or slipping, crumple zonesin

modern cars designedtotake

the impactofacrash, and

autonomousemergency

braking,electronic stability

control and sideintrusion

bars.

"Insurancewill buy anew

car, not anew you," he said.

He also demonstrated ­using

thedrivingskills of Bob in a

Suzuki Swift ­the stopping

distance of avehicledriving at

30km/h andhow when driving

www.auricelectrical.co.nz

at doublethe speed, it

quadrupled the stopping

distance even withafull

assortment of brakingsystems.

He said thefunction of

vehiclesafety featureswas

primarily to protect drivers

from having an accident, and

secondarily to protect those in

the vehicleduring an accident.

NEWS

Ashburton Courier, August 6, 2020

Access resolution on Lochlea extension

Lochlea extension developers

andneighbours havereached

agreement on roadaccess to the

new gated community, but

tensions remain overother

aspectsofthe project.

LesBriggs, whodeveloped

the Lochlearetirement village

off Charlesworth Drive,is

buildinga39­homeextension

off nearby PrimrosePlace but

neighbours wereunhappy

about an increase of traffic and

asked theAshburton District

Counciltomake accessoff

Allens Road.

Both parties agreed last week

that the mainaccess to the

extensionwouldbeoff Allens

Road, though there would be a

smalleraccess off Primrose

Place. The development will

haveclose links with the main

village facility.

Neighbours remain

concernedatthe ground level

of the extension, which theysay

will put the newhomes1.3m

higher than theirs. They are

still tryingtofind an acceptable

resolution with Mr Briggs.

Approvalfor the original

staged Lochlea subdivision was

grantedbycouncil in 2008and

further consent to develop the

parcel of landat146 Allens

Road was granted in February.

Workstarted, then stopped,

after council staffissued the

developeralist of 16 matters of

concern.

Neighbours thenraised

concernsoftheir own about

stormwater overland flow, the

overall height of the

development on boundaries

andconstruction effects,

especiallyrelating to pile

driving for the proposed

retaining walls.

Council staff areworking

through the issues with both

parties.

Errol Kingsbury,

representingthe neighbours,

told councillors last week that

therewas no objection to a

secondary entrance of 4m off

Primrose Place. Therewill be

signs at both gates saying

''residents only''.

Council then dedicated

reserve landatthe end of

Primrose Placeasalegal road;

the 4m widthdoes not include

footpaths,kerband chanelling.

Mr Kingsbury saidthe

neighbours werenot against

private enterprise or progress,

but hadbeenangry about not

beingkeptfullyinformed about

the development. The resource

consent application lodged last

year wasgranted non­notified.

''Welearned afterwork

started there werevery

significant ground level

changes, which could cause

major floods on our sections.''

He wrotetomayor Neil

Brown and meetings with the

developer and council staff

followed, and many of their

concernswerealleviated.

Neighbours had since agreed

thattherewouldbeminimal

traffic through Primrose Place,

it would be quicker for

emergency services if theywere

needed andthe extension

would providefootpaths for

walking, as there were

currentlynoneonAllens Road.

SurveyorChris Hopper from

Davis Olgivie hasbeen working

withBriggs Investments on the

project and he said the design

had been throughmany

iterations,taking on board

neighbours'comments.

• Domestic electrical services

• New house wiring

• House rewiring &maintenance

SUPPLIERS AND INSTALLERS OF LEADING BRANDS

• TV &Datawiring

• Solar installation

• HeatPumps

Call todayfor an obligation free quote

0800287 423

7

Mardi gras

festivity in

September

More than 70 stall­holders will

take partinanew mardi gras

event in theplace of Boulevard

Daythis year.

BoulevardDay organisers

decided nottogoahead with

the annual event on September

28because of uncertainties

createdby covid, butAshburton

woman Carol Johns says there

is support forsome kind of

gathering and has organised a

mardi gras.

It willtake place on East

Street, which will be closedto

traffic and stallholders willline

the road. Ashburton retailers

will keep their shop doorsopen

and some have booked street

space;otherstall­holders

would sell food andhand­made

items, like bespokedog collars

and horse gear.

Community groupshad also

beengiven free space.

Carolhas beenbusy pulling

the event together overthe past

three weeks andsaid there was

support for aevent that helped

the community feellike was

returning to normal.

She said Bookarama was

continuing, with its opening

day on September 28,and

peoplenow had two reasons to

visitAshburton thatday. It is

also South Canterbury

anniversaryday.

Carolhas tapped into some of

the stallholders whocome to

Ashburton forWaitangi on East,

an event that runsalongside the

Multi­Cultural Bite.

''This is just whatAshburton

needs, aday where we can get

backtosome sort of normal and

bring lifeinto thetown.''

He said the retirement

villageextension wouldhave

its main entranceoff Allens

Roadand its physical address

wouldbeAllens Road. The

Primrose Placeaccessgave

residentsaccess to Lochlea

village and itsamenities.

Mr Briggssaid the original

Lochlea development wason

15ha of landhebought11years

ago; it was splitinto 67 private

sections,111 retirement

houses, 19 apartments andan

80­bedhospital. Some 39

retirement units would be built

in the newextension.

He said those residents

needed easy accessto facilities

in the main villageand that the

developmentwould provide

employment andmorehousing

for retired people at atimethat

was notconducive to

construction projects.

2291188
---
NEWS

8 Ashburton Courier, August 6, 2020

Still no word on

highway barriers

Ashburton mayor Neil Brown is

disappointed thatthere has been

no feedbackfrom NZTAafter

consultationonSH1 safetywork

between Dunsandeland

Ashburton.

Speaking at Tuesday's

Ashburton District Road Safety

Co­ordinatingCommittee

meeting, Mr Brown said anumber

of people had voiced their

oppositiontothe proposed

installationofmedianbarriers

during consultation in 2018.

NZTA neededtotake the next

step and inform thecommunity of

''what had made the cut'' andthe

reasoning behind it.

''Otherwise it's just not

consultationasIseeit,'' he said.

TheDunsandel to Ashburton

road is consideredahigh risk

road and 13 peoplehave died and

49 been seriously injured in

crashes between 2007 and 2016.

Original draft optionsto

improve safety on the highway

includedinstallingaflexibleroad

safetybarrier downthe middleof

the road, adding turnaround

areas at regular intervals to give

peopleplaces to move around

safely, changing some

intersections so there is no right

turn in or out of roadsoff the

highway and reviewing speed.

Median barriers are proposed

from Synlait to the Rakaia Bridge

and will thenproceedagain from

the southernsideofRakaiafor a

Plastic welding

We repair all types of plastic products

andequipment.

•Water tanks •Calf feeders •FuelTanks

•Car bumpers •Cab roofs

Mid/South CanterburyContinuous Spouting

TM

TM

TM

TM

Askabout our large capacityspouting for

commercial and farmbuildings

Residential –fascia, gutter and downpipes

Snowprotection our specialty

Mayor Neil Brown

few kilometres towards

Pendarves under phase one of the

project,said John Keenanfrom

NZTA .

Eventually,there could be

barriers all the way to Ashburton

throughthe capitalproject.

He said asmallroundaboutwas

proposedatthe junction with

South Belt Road that would help

slowtrafficdown.

NZTAprincipaladviser

relationship road safetyDavid

Scarlet told the committee that a

speed review through the Rakaia

township was still very much on

the cards.

He hoped it would happenin

the future, buttherewas no

timeline on it.

ARTHUR

CATES

LIMITED

26 McNALLYSTREET,

RIVERSIDE INDUSTRIAL

PARK,ASHBURTON

TEL 308 5397

www.arthurcates.co.nz

The Original

Spouting Specialists

Serving

Mid/South

Canterbury

for over

26 years

Your new spouting proudly installed by

Craig or Josh

John Tull ...providingoutstandingservice,

afterinstallation care and pricing requirements!

Phone him on 021 288 8290

Email: john@canterburycontinuous.co.nz

www.continuous.co.nz Freephone 0800 50 1993

2300192

2263153

www.ashburtoncourier.co.nz

Looking at live marketsonthe Australian Stock Exchange are Year 12 economicsstudents

(back row from left) Harry Trumper,Sam Holland, Emma Scammell, investmentadviser

Michelle Parkin,Ged Wall, Ben Simons and (frontfrom left) Olivia Lill and Drew Porter.

Students play sharemarket

MICK.JENSEN

@ashburtoncourier.co.nz

Economics students at

AshburtonCollege are

learningaboutstocks, shares

and market forces by playing

the SharemarketGame.

Teamsinthe Year 12 class

will receive avirtual $50,000

to invest over a10­week

period in companies listed

on the AustralianStock

Exchange.

Thegameoffersaclose to

reallife share trading

experiencebecause the

prices theybuy andsell at

are the sameprices as they

would get in the live market.

Investment adviser

MichelleParkin from

Forsyth Barr's Ashburton

office is volunteering her

time to explainthe

intricacies of the

stockmarket and to direct

andencourage students as

theyexploreit.

Her introductory session

lastweek covered somekey

concepts of investing,

including the historyofstock

markets, how primary and

secondary marketswork,the

role of the stock exchange

andconstructingaportfolio.

The secondsession will

focus on selectingashort list

of companies forinvestment.

AshburtonCollege

economics teacher Kirsty

Moffett said the sharemarket

game wouldhelpstudents

developtheirknowledge of

stocks and shares and help

themdiscoverthe

importance of wise

investment decisions.

They would gain a

knowledge of how supply and

demandinfluenced share

prices and also the roleof

analystsand sharebrokers.

Thestudents were looking

forward to further sessions

withMrs Parkin, and

researching and finalising

the companiestheywanted

to investin.

Mt Somers church hits 120 years

St Aidan'sChurch in Mt Somers

will celebrate its 120­year

anniversaryataservice on

September 6.

Theonlyoperating church in

Mt Somers, St Aidan's received

an exterior spruce up in 2016.

Much of the cost of building

the church andnearby vicarage,

now aprivate home, was funded

by generous local Alfred

Edward Peache, whoowned

and ran MtSomers Station from

1884­1905. Amemoriallychgate

from the 1920s welcomes

visitorsfrom one side andthe

churchsitspartially hidden

amongtrees that include totara,

hawthorn andoak.

Morning teawill be served

after the 10am servicemarking

120 yearsofthe church.

The memorial lychgate at St Aidan's Church.

Film festival nets $2k for Bite Nite

Music,food, sport and people

will combine at Ashburton

Youth Council's Bite Nite:

Reimagined event in

October.

Hip­hop artist Rei is the

headline act andthe

entertainment programme

alsoincludesthe Kadodo

African Drummersand

Dancersand Wishlistt.

Bite Nite:Reimagined will

be an indoor and outdoor

event thisyear and will be

held at EA Networks Centre

on October 2.

Anumber of food vendors

will be representedand the

stadium inflatables setup.

The evening will also

showcase local netball,

basketball and futsal.

Running from 5.30pm until

8.30pm, ticketscost $10 for

anyone over 16, $5 for

children and $20 for families.

Tickets areavailable from

Ashburton District Council

andNelson Building Society.

The Mountain Film

Festival, held onAugust1,

and afundraiser for Bite

Nite:Reimagined, raised

$2000.

The festival featuredfilms

about hiking thePacific

Crest trail inthe USA and

whitewaterrafting in the

Andes.

Youth council chair Kavan

Faoagali said therewas a

great turnout for thefestival

and the community was able

to view some unique

experiences.
---
NEWS

Ashburton Courier, August 6, 2020

9

VOLUNTEER OF THE MONTH

Tania's agoodseed

Volunteering Mid &South

Canterbury and the Hotel

Ashburton Volunteer of the

Month, Tania King is sowing

seeds of knowledge that will one

day grow.

For nearly 10 years Tania has

volunteeredwith S.E.E.D.S ­

Sharing Everyday Experiences

and Drawing on Skills.

These skills and experiences

could be anything from toddler

tantrums, children not sleeping,

budgeting,shopping, gardening,

cooking and all things neededto

raise afamily.

S.E.E.D.S volunteers work

withfamilieswith children

under 10 years oldon aweekly

basis,for two to three hours,

coveringthe needs and goals the

familyinquestion has identified.

Tania can have between oneto

three families to work with over

aweek depending on her other

commitments.

Tania is thefirstmember of

her family to volunteer.

She began volunteering in her

earlytwenties visitingan

elderlypersonthrough

Presbyterian Support.

She said it was arewarding

experience and the learning and

sharingwas mutual between

Tania andthe person she

visited.

It's asimilar experience with

S.E.E.D.Ssometimesthe family

willteach Tania something new.

She likes to learn andthinks

it's importanttokeep learning.

Tania foundher realpassion

on her second taste of

volunteering with young

mother's basedatHollyHouse,

in Christchurch.

Sheisquick to admit shegets

alot out of the volunteering and

alot of joy to be gained from

volunteering.

Tania gotinvolved withS.E.E.

D.S shortly after movingto

Ashburtonand beingnew and

notknowinganyone

volunteering wasagreat way to

meetpeople, get outinto the

community,have adult company

Valued volunteer Tania King

andthe role is flexiblesoallows

hertodoother things including

herjob.

ForTaniaplanting the seeds

knowing that some will quickly

grow andothers will take a

while butthey too willgrowis

herrewardfor volunteering.

"Everyone should volunteer,"

saysTania, evenifit's justan

hour aweek.

"Volunteeringisso important

these daystokeeppeople

connectedespecially with all

thetechnologypeopleare using

andsoaren'talwaysconnecting

as we have in the past, it feels so

good to volunteer,'' shesaid.

Some of the families she

workswith are scared to take

thefirst steporhold back

because they don't know where

to startsoTania helps provide

somemotivation andwalk the

journey with them forawhile.

Taniaisalso avolunteer

member of the White Ribbon

committee. White Ribbon

promotesthe message that

domesticabuse is not okay.

Nominationformsfor

volunteer of the monthare

available by contacting

Volunteering Mid&South

Canterbury, CommunityHouse,

44 Cass Street Ashburton, ph

3081237 ext240 or email

volmidcant@gmail.com or pick

up acopy at Four Squarein

Rakaia.

Plunket association ended

Mid CanterburyPlunket

has farewelled long

serving staff member Anna

Radford.

MrsRadford is endinga

21­year association with

Plunket.

Shestarted as a

volunteer on aPlunket

committee after thebirth

of her first child and for

thelast 13 years has beena

paid administrator and a

familiar, smiling face at

reception.

For anumber of those 13

yearsshe also coordinatedPlunket's

car

seat rental programme,

helping families rent and

fit car seats correctly in

their vehicles.

When Plunket stopped

its car seatoperationin

Ashburton at theendof

2016, Mrs Radford filled

thevoid and started her

own service.Thatservice

will nowstop.

Mrs Radford said she would

missher association with

Plunket.

Shewould miss seeing the

mums and babiesand alsothe

colleagues andvolunteers she

had worked alongside.

Anna Radford has finished up with Mid

Canterbury Plunket.

Anna Radford was farewelled

on Friday at amorning tea.

She will work full time at local

businessNZBioGrains, a

company she has worked parttimefor

for thelast couple of

years.

PROMOTION DATES: 27/07/20-09/08/20

TERMS AND CONDITIONS: *Buy any 2x600ml Coca-Cola range and go in the draw to win an Instax Mini Camera pack. One to be won in each participating store.

Pack includes Instax Mini 9Camera and Instax Mini Film 20 Pack valuedat$119. Four Square South Island stores only.

T&Cs provided by Four Square South Island -available at www.foursquare.co.nz

Pascall Confectionery

150-180g

$ 1

99 ea

Half leg

sizes

for greater

convenience

Fresh NZ Quality

MarkHalfLamb

Leg Roast

The PeoplesWine

750ml

$

12 99 ea

Fresh NZ Quality $

14 99

kg

Puhoi Valley

Yoghurt 450g

Mac's Ale

4-6 Pack 330ml Bottles

www.foursquare.co.nz

$ 4 99 ea

$ 13 49 ea

Pams Fresh

Potatoes

2.5kgPrepack

Product of

New Zealand

$

5 49 pk

facebook.com/FourSquareNZ

Specials available South Island onlyfromMonday 27thJuly until Sunday 9th

August 2020orwhile stocks last.Wineand beeravailable at storeswith an off

licence.Wine andbeerpurchases restricted to persons aged 18 years oldand over.
---
Family Notices

NEWS

10 Ashburton Courier, August 6, 2020

BIRTHS

DEATHS

DEATHS

IN MEMORIAM

ACKNOWLEDGEMENT

WILSON - Riley and

Rachel (nee Curd) are

delightedtoannouncethe

safe arrival of Heidi Zita

born23rdJuly.

DEATHS

MERRIN, Bruce: Passed

away peacefully at

Rosebank on 27.7.20,

aged 94 years. Dearly

loved husband of the late

Kay (Kathleen). Much

loved and respected

father of Ken, the late

Roger, Lee and Jill. Loved

father-in-law of Diane,

Kathy and Christina.

Loved grandfather of

Brent, Amanda and Lisa.

Loved great grandfather

of Kaleb, Olivia, Trace,

Charlotte, William, Lewis

and Thomas. Will be

sadly missed by his family.

Many thanks to the girls

at Rosebank for the love

and care shown to Dad

over the last 3½years. At

Bruce's request a private

cremation has been held.

Messages to the Merrin

Family, 4 Wilkin Street,

Ashburton7700.

Paterson's

Ashburton

FDANZ

03 307 7433

ORSBORN,

Noel

Raymond (Ozy) (Reg. No.

42826 RNZEME): On July

31st 2020, at Ashburton,

aged 70 years. Dearly loved

and treasured soulmate

of Kim. Loved father and

father-in-law of John

and Rakhee (Auckland),

David (Auckland), Joseph

and Summer (Auckland).

Special grandad and Pop

of all his grandchildren.

Lovedbrother and brotherin-law

of Marilyn and

Bruce Russell (Tauranga),

Wendy and Raymond

Suttie (Ashburton), Janice

and Bruce Chudleigh

(Ashburton) and very

much loved uncle and

greatuncle of all his nieces

and nephews. Loved

stepfather of Andrea and

Sean Ellison (Queenstown),

Robert and Tammy Maisey

(Ashburton). Messages to

the Orsborn Family, c/- PO

Box 472 Ashburton 7740.

A service to celebrate

Noel's life has been held.

Paterson's

Ashburton

FDANZ

03 3077433

TAVENDALE, Lynley Kay;

9 March 1946 – 31 July

2020

Surrounded by her much

loved family, peacefully

at home. Cherished and

loved wife and confidant

of John her husband of 53

years. Mum and motherin-law

ofMark and Anna

Tavendale, Maria and

David Harford, James and

Zoe Tavendale, Sarah and

Glenn Fastier. Respected

and loved Nana of James,

Jessica and William

Tavendale; Matthew,

Timothy, Henrietta

and Benjamin Harford;

Gretal, Lewis and Marika

Tavendale; Frederick,

Stella, Baxter and Heidi

Fastier. John and the

family wish to welcome

you tojoin them attheir

family home, Matamua

Farm, 39Tavendale Road,

Winchmore onFriday 7th

August 2020 at 1pm to

celebrateLynley's life.

Paterson's

Ashburton

FDANZ

03 307 7433

TEMPLETON, Shelagh Mary

(nee Brereton), on August

1st, 2020 at Coldstream

Lifecare, Ashburton,

aged 96 years. Dearly

loved wife of the late

John (2015). Much loved

mother and mother in

law ofJennifer and Gary

Cook, and Bill and Wendy

(Christchurch). Treasured

Grannie of Rachel and

Graham, Julie, Tim and

Ellen, and delighted great

Grannie of Benjamin;

and Sarah. Loved aunty

of all her nieces and

nephews. Messages to the

Templeton family c/- PO

Box 472, Ashburton 7740.

Aservice for Shelagh will

be held at our chapel,

cnr East & Cox Streets,

Ashburton onWednesday

5 August commencing

at 11,00am.

Followed by

interment atthe Methven

Cemetery.

Paterson's

Ashburton

FDANZ

03 3077433

WAAKA, Carol Marie, on

July 30, 2020.Passed away

peacefully at Christchurch,

aged 78 years. Loved wife

of the late Charlie. Loving

mother and mother-inlaw

ofDavid and Sandra,

Richard and Yvonne, the

late Shirley, Rangi and

Vicky, Michael and Chrissy

and Manu. Treasured

Nana And great nana of

her Mokopuna. Messages

to the Waaka family c/-

POBox 472, Ashburton

740. ARequiem Mass to

celebrate Carols' life has

been held.

Paterson's

Ashburton

FDANZ

03 3077433

WARD, Susan Francis

(nee Christey): Passed

away peacefully at St

John of God Hospital in

Perth on the 30th July

2020, after acourageous

battle. Beloved wife of

Terry, aged 57 years.

LoveddaughterofHubert

(deceased) and Nancy

Christey. Loved sister

of Mary, Jane (O'Reilly),

Helen (Hartnett), Pauline,

Lois (Eaton) and Brigid

(Molloy). Devoted

Aunty of all her nieces

and nephews and great

nieces. Messages to the

Ward Family, c/- PO Box

472, Ashburton 7740.

Funeral details to follow.

Rest in peace.

Paterson's

Ashburton

FDANZ

03 3077433

WARD, Susan Francis

(nee Christey): Passed

away peacefully on 30 July

2020. Dearly loved sister

and sister-in-law ofBrigid

and Brendon Molloy.

Treasured aunt of Aden,

Casey and the late Jamie.

Rest in peacemybeautiful

sister.

Hart, Elizabeth Jane (Jane)

18.07.1936 –27.07.2013

Hart, PenelopeJane(Penny)

22.10.1960 –28.07.2019

In loving memory ofour

dear mum and sister

Though your smiles have

gone forever

Andyour hands we cannot

touch

We havesomany

memories

Of the ones we lovedso

much

Your memoryisour

keepsake

With which we'llnever part

God has youinhis keeping

We haveyou in our hearts

May the winds of heaven

blowsoftly

Andwhisper in your ear

Howmuchwelove and

miss you

Andwish that youwere

here

Thinking of youbothdaily

~Chris &Mary-Jean,

Anthony&Kirsty, Michelle

&Andrew andfamilies.

Birth notices listed

by parents will

continue to be free

in the Family Notices

column.

Theinitial death

noticelodged by a

funeral directorwill

be listed without

charge.Therewill

be asmall charge of

$15 forsubsequent

notices relatedto

the same death, up

to amaximum of 35

wordsand on aperline

basis afterthat.

Thesame low

charges apply

to other family

notices,such as

engagements,

acknowledgments,

in memoriam notices

and anniversaries.

Family Notices

Enquiries phone

Jann, KarenorMaryon308 7664

or call into 199 BurnettStreet.

Supporting the community

MACPHERSON, Ian

Robert (Bob): On behalf

of Margaret, Pauline,

Andrew,Chris and families

and me, I wish to say

a sincere thank you to

family,friends,neighbours

and former neighbours in

Coldstream/Hinds,Albury/

Fairlie and Ashburton, who

have visited, phoned, sent

cards and flowers, written

letters and brought us

food at the time of Bob's

sudden death after his

shortillness.

We wish to acknowledge

the medical professionals

in Oncology Ward 23 at

Christchurch Hospital,

Ward One Ashburton

Hospital, District Nurses

and our wonderful doctors

and nurses and office staff

at Tinwald Medical Centre

who supported Bob and

me.

To Bob's family, many

thanks for your love and

caring support. It is truly

appreciated.

To my siblings and your

families, thank you for

being therefor me.

To the extended O'Reilly

Clann, you gave Bob

and me so much

companionship and new

interests over the last 15

months. Who would have

thought we would have

been travelling to various

harness race meetings and

having so much fun with

'Joey'?

Father Denis Nolan, your

beautiful prayer service

for Bob was 'perfect' for

Bob's farewell. Thank you

for your ongoing spiritual

care.

Paterson's Funeral

Services, your guidance

at this difficult time of

restrictions was much

appreciated. Also, thank

you for arranging for

Roger Scammell's services.

This wasawesome.

Yours sincerely

Rosalie Macpherson

96 Tancred Street,Ashburton. Phone 307 8317

LREA2008

MCRE

Community Trust chairman NathanMills.

Huge demand

for trust funds

There's been ahigh demand for fundingand

$552,300 wasdistributed by the Community

Trust of Midand SouthCanterburyinits latest

funding round.

Demand for funding outweighedthe amount

available by 3:1.

Some26health, communityand recreational

groups have benefittedfrom the main roundof

funding for applications over $10,000.

Recipients include theCanterbury West

Coast Air Rescue Trust ($75,000), HospiceMid

Canterbury Trust($15,000) and CancerSociety

Canterbury­West CoastDivision ($7500).

YMCA South and Mid Canterburyreceives

$30,000 towards theResiliencyToolkit

Programme thatisrun in schoolsand Ronald

McDonald Housegets $10,000 perannum for

threeyears for accommodation subsidiesfor

Mid and South Canterbury families.

Thereis$15,000for the HakatereMulti

CulturalCouncil Inc (formerly MidCanterbury

NewcomersNetwork)tosupportnewcomers

and migrants throughexisting activities,

$16,000 for HakatereMaori Komiti to help fund

the positionofHakatereMaraeco­ordinator

and $9000for WairekaCroquet Club for the

purchaseofalawnmower.

CommunityTrust Mid and South Canterbury

chairman Nathan Mills saidhis board was

aware thataccessingfunding was one of the

biggest challenges thatnot­for­profit

organisations faced in aCovid­19 environment.

The trusthas also suffered investment losses,

but had reservesinplace for ''rainy days'' such

as now.

It wascommitted to continue funding

communitygroups so theywere abletodeliver

their vitalservices to the regionespeciallyin

times of highneed,said Mr Mills.

Thetrustwould maintain its support for notfor­profit

organisations for theupcoming

2020/21funding year.

Family owned,

locally owned

22 MooreStreet,

Ashburton

0800 2636679

2289133

Complete

Local Care

Since 1982
---
NEWS

Ashburton Courier, August 6, 2020

11

The importance

of mahinga kai

Duringour June zone

committeemeeting,

Environment Canterbury

tangata whenua facilitator

Brad Waldon­Gibbons

sharedapresentation on the

CWMS mahinga kai targets

and goals for our water zone.

Mahinga kai can be

difficulttoexplain in simple

English. Ioften think of

mahinga kai as the

resources that Maori

traditionallyhad accessto–

like the fish in our lakes.

While that's an important

part of the story,it's not the

whole picture.

What is mahinga kai?

Brad shared with us the

definition of mahinga kai

from the Environment

Canterbury websiteand

pointed out how much

overlap there is with our

understanding of

biodiversity.

Both definitions are

concerned with habitats, the

diversityofspecies within

them and the relationships

between species in these

habitats.

Mahinga kai goesalot

further –itisaholistic

approach to natural

resources and their

sustainable use to sustain

life.

Where is mahinga kai in

our region?

It's stillarelatively new

concepttomany non­Maori

in Ashburton.Inthe

neighbouring Selwyn­

Waihorazone, mahinga kai

targetswere built into land

use consents for farming, but

not in our zone.

Many sites, especially the

rivers,their catchments

among the hills, and the

high­country lakes, were all

visitedperiodically by Maori

to practise mahingakai –

collecting resources and

stayingfor short periods.

What does it meanfor us?

In our region, we are

working with localrunanga

towards severalmahinga kai

targets. By 2025, the goal is

to have at risk species and

protection zones identified,

and at leastfive sites

restored and protected in

recognition of theirstatus as

wahi taonga (significant

sites).

That means runangawill

have guaranteed access for

mahinga kai and resource

gathering.

My family has along

history in the Ashburton

region, and the more Ilearn

aboutwhat mahinga kai is,

and how it is important to

NgaiTahu, the more Irealise

how similar it is to alot of

our own beliefs about

stewardshipofour land.

We may not talk about

theseconceptsinthe same

words, but the values behind

the words are similar. As I

understand it, the core of

thesevalues is to ensure that

our children, grandchildren

and futuregenerations can

continuetolive off and

prosper from this land.

This means ensuringthat

environmental and

economic outcomes work

together, not in opposition to

each other.

Students policing new

rules around recycling

MICK.JENSEN

@ashburtoncourier.co.nz

Seniormembers of

Ashburton Borough School's

environment group,The

Borough Greenies, are on a

mission to make sure pupils,

staff and schoolfamilies are

familiar with and follow new

recycling rules introduced in

the district this week.

Maddie Page and Bella

Dawson, both Year8

students, believe good

recycling stems from

education, repeat good

practice and aclear

understanding of the rules.

Maddie has compiled a

slide show that has been

sharedwith classes at

Borough on whatcan and

can't be recycled.

It highlights the new rules

introduced in the district

from August 1.

Onlyrigid hard plastics

numbered 1, 2and 5can now

go in the yellow bins, said

Maddie.

''Soft plastics numbered 3,

4, 6or7have to go in the red

rubbish bins, alongwith

unnumbered plasticsand

soft plastics that your can

easily scrunch in your hand.''

All plastic lids must go out

in the rubbish, but clean

paper,magazines,

cardboard,aluminiumtins

and cans can continue to be

recycled as they were

previously.

Maddie said she expected

the volume in the red

rubbish bins to go up

Bella Dawson (left) and Maddie Page, both 12, withamix of

items that canand can't go in the yellow binsunder the new

district recycling rules.

because of the increase in

softplastics.

That was not good for the

landfill and was abig

concern,she said.

Bella said she expected

recycling changes to take a

little bit of time to filter

through to everyone in the

community.

''Peopleneed to know what

theycan recycleand then get

into those good habits,but

there might be abit of

confusionatfirst.

''As individuals we all

need to do the rightthing and

to take responsibility.''

Bella said her school's

large co­mingled yellow skip

would be monitoredover the

next few weeks to ensure the

rules were understood and

followed by students and

parentsalike.

Both Maddie and Bella

believed too much plastic

was used in society and that

there was too much

packaging, and the wrong

materials often used for

packaging.

The BoroughGreenies

currently number 40.

They are led by longservingteacher

John Hooper

who helps and encourages

them to extendtheir

knowledgearound

environment issues.

Senior students take on

leadership roles and help

younger members

understand the importance

of recycling food scraps,

growingfruit and vegetables

and the slogan Reduce,

Reuse,Recycle.
---
12 Ashburton Courier, August 6, 2020

ADVERTISING FEATURE

www.ashburtoncourier.co.nz

RuralServices/Supplies

Removal of slinkies will cost

TONI.WILLIAMS

@ashburtoncourier.co.nz

Farmers have been notified

there will be costs associated

with removing slinkiesand calf

carcasses from farms,

following afall in international

marketprices.

The value of the carcasses,

primarily used for pelts, was

not covered in the collection

and processing of them.

Federated FarmersMid

Canterbury provincial

president David Clark said it

was even unlikely there was

going to be aserviceatall to

collectthem.

"There's acost and a

question markabout whether

there'seven going to be

collections this year," he said,

with international markets

''just fallingtopieces'' withthe

upheaval of covid.

"It's just another knock­on

effect of the disruptionand

upheaval in the world

currently."

It was likely mostfarmers

would compost their own

slinkies (lambs), but there

were someorganisationsgoing

to collect calves and send them

to landfillorfarmers could

compost them down with

sawdust, he said.

"Numbers will vary on farm,

casualty stockobviously you

try to keep to aminimum but it

is areality," he said.

Boviseradication hascome at asignificant emotional, financial

andpersonal impact to farmers.

He said bobby calves also

had very little value, but

FederatedFarmershoped

farmerswould take along term

view in supportingthe bobby

calf trade so the markets were

kept openfor when the world

recovered and values

recovered.

"This is just aone year blip,"

he said.

He encouraged farmers to

follow best practice (disposing

of any slinkies) and, where

possible, continuetosupport

the bobby calf market with

Dairyshed yard work including topand backing gates

Rotaryboom irrigatorrepairs and service, including

wirerope &splicing

Mainline installation and repairs

Anyother general engineering/fabricationrequirements

Bale feeder –calf feeders Standardorcustom-made

Phone 308 5903 weekdays l Email: agserve@xtra.co.nz

On call 7days:Doug: 027 282 2245, Matt (Tomo): 021 518 538

15 Malcolm McDowell Avenue, Ashburton

their surplus calves if they

have no market for rearing

calves into the beef industry.

In other news, Mycoplasma

bovis eradication was making

good progress, on the face of

the numbers being made

public, he said.

It has beenthree yearssince

the disease was first identified

in New Zealandand the 10

year eradicationresponse was

well underway.

The latest figures from MPI

showed 250 total confirmed

cases; with just three active

2300731

(two in the North Islandand

one in the South Island), 28

notice of directions

nationwide and 172 active

surveillanceproperties.

Mr Clark said he was

"cautious but optimistic'' the

response to the disease was

making good progress but

mindful it had left atrail of

destruction in its path.

"It is anasty disease so the

decision was made to go down

the eradication path.

"However that (eradication)

has comeat significant,

emotional, financial and

personal cost to the farmers

who wereimpacted.

"And in some cases those

costshave been unreasonably

high."

There werestill cases –well

overdue ­that have not had

claims settled,including those

in Mid Canterbury.

"That is wholly unacceptable

at any level, (they) should have

beensorted out.''

The impact on individual

farmers has been far higher

than it needed to be, he said.

"The process of MPI to begin

with was disgraceful. Massive

progress was made in sorting

thosesystems out but it has left

atrail of destructionalong the

way and Ifind it hard to

celebrate the victory against

boviswhen Iknow of people

still going through the pain of

the process."

Alliance Group visit

Methven is one of the

venues on Alliance

Group's annualroadshow

programme starting on

September 22.

Some 23 meetings will

be heldaround the South

Island, with the Mt Hutt

Memorial Hall hosting a

meeting at 1.30pm on

October1.

The roadshow is an

opportunity for the cooperative's

farmer

shareholders and other

farmerstohear first­hand

from directors and senior

managers and also to

provide feedback.

Those attending will

receive an updateonthe

co­operative's

performance, progress on

strategy and details on

futureplans.

Allianceisowned by

around4000 farmer

shareholders .

It exports lamb, beef,

venisonand co­products

to customers in more than

65 countries.

IN BRIEF

WOOL PETITION

Clintonsheepand beeffarmer

Amy Blaikie has been

''absolutelyblownaway''by

theresponseto herwool

petition. Mrs Blaikie launched

an online petition in June

calling on theHouse of

Representatives to ensureall

publiclyfunded buildings and

KiwiBuild homes were built or

refurbished with New Zealand

wool carpet and insulation.

It drew 15,069 signatures and

thisweekshe presented her

petitiontomembers of

Parliament in front of the

Beehive, in Wellington.

Mrs Blaikiewasjoined by

her husband Victor, their

children, and supporters to

givethe petition to New

Zealand First list MPand

Lawrence farmer Mark

Patterson; they were also

joined by New Zealand First

leaderWinston Peters.

RMACHANGES

SOUGHT

Changestothe Resource

Management Act (RMA) need

to deliver reduced compliance

costs for farmers, increase

efficiency andimprove

environmentaloutcomes, says

DairyNZ.

DairyNZ chief executive Dr

Tim Mackle is calling on

politicalpartiestowork

quickly on achieving

meaningfulreform in thenext

term of office.

He said acomprehensive

reform of theRMA is long

overdue and would be a

positive step notonly for

farmers,but allNew

Zealanders.

"TheRMAhas become too

unpredictable andinefficient

forapplicants.

''Farmers will be keen to see

this reformdeliveraprocess

which is faster, simpler and

lesscostly," said Dr Mackle.

"Potentially replacing the

RMA withtwo separate pieces

of legislation for environment

and planning makes alot of

sense.''

2301725
---
www.ashburtoncourier.co.nz

ADVERTISING FEATURE

Ashburton Courier, August 6, 2020

13

RuralServices/Supplies

Job prospectsgood

for new agri students

TONI.WILLIAMS

@ashburtoncourier.co.nz

Agri Training has been

running atwo­week rural

retraining course for people

wanting skills to workinthe

ruralworkforce.

It's the firstintake of its

kind ­fundedand run ­bythe

Mid Canterbury­based

agricultural training

providerand designed to

fast­track people into rural

jobs with practical farmwork

lessons to help fillsome

of the hundreds of rural

vacancies across the

industry.

And there is already alist

of people applying for the

next course.

Project manager Trina

Moore saidall the course

trainees had one thingin

common ­transferable skills

­which saw them selected

out of the more than650

applicants to the course.

Most had lost their jobs as

aresult of Covid­19, many

were looking for acomplete

career changeand all were

keen to get enough farm

experience to gettheir foot

in the door of the rural

industry.

"We have local businesses

desperately needing staff

and aprogramme that has

attracted trainees from

various backgrounds and

with ages up to 60 yearsold,''

she said.

"We have aseismic oil

vessel captain, ahairdresser,

ex­police officer and cafe

owner, and these people are

not justlocalCantabrians,

they come fromasfar north

as Auckland and as far south

as Invercargill.''

Agri Training ran afree

introductoryonline taster

course which drew ahuge

response but through

interviews and selection it

was whittled down to 27.

"Our ultimate outcomeis

to place every personwho

has completed the training

in work. Weare 110 per cent

behind finding job

opportunities for our

graduates,'' she said.

TutorJeff Taylor­Hurst, of CompliancePartners, gives

instructionsonworking at height to trainees during an Agri

Training rural retrainingcourse at Winchmore. PHOTO TONI WILLIAMS.

It included setting up

interviews with businesses

to working with recruitment

specialists Agstaff and

New ZealandDairy

Careers.

Hannah Bennett, 25, of

Christchurch, is apainter

working part­time in the

construction industry but

waskeen to swap city life for

full­time work with arural

outlook.

She said it had beena

lifelong dream to work on a

farm, especially asheep

farm.

She hadstarted working as

apainter in the construction

industry straight from school

and saidthere had been a

realbarrier to gaining

employment on afarm with

no experience behind her.

Prior to the course the

most common options for

people to get ajobon afarm,

were to grow up on afarmor

to marry afarmer.

She said the course had

proved an eyeopener and

given hersomegreat insights

­with practical skills ­touse

in the industry. She was

hopeful of ajob offer at the

end of the course.

Fellow trainee Nathan

Eggleton saw new avenues of

employment opening up with

the course than he initially

thought.

"There's so many more

layerstothis thanI

anticipated, new avenues

that Ican build on withmy

current skills. It's not just for

jobs on farm, Ican lookat

something likesales through

seed and crop.

''It's like covid shut one

door and opened another,"

he said.

Ms Moore said all of the

candidates were seeking

employment and had found

their way to the training

provider.

''We'd ideally like to be

able to work with the

MinistryofSocial

Development to get more

people in training andmore

people outinto work.''

She said the farming

industrymay be even more

reliant on locallyretrained

people as changes to the

currentimmigration system,

based on skill­band,will see

an increase to the wage bills

of farmers employing

migrant workers.

"Wealready have five

trainees offered employment

with multiple othersinvited

for interviews,'' she said.

Safety first ... Farm motorbike and quad bike safety was covered during the

practical on­farm training sessions.

Purpose.Environment.

Partnership.Innovation.

Excellence.

• DairyNZ accreditedEffluent

Pond Design andConstruction

• Pond Constructionand

Irrigation Development

• Hedgeand StumpRemoval

• Farm Conversions

PARK UP

Come on down andmeetJoshfromDeWalt

Come and check out his brand new

trailer loaded full of DeWalt demo tools

Thursday, August 13 –10am-2pm

34 Robinson Street,Riverside

Industrial Park,Ashburton. Phone 308 6415

• DairyTracks–

Lime or Gravel

• PumpHire

• Wellsand Galleries

• Bulk Earthworks

• Subdivisions

• Site Works

• Tree Shear

• Transportation

2302115

2300539

2301422

Dairy Refrigeration

DESIGN INSTALLATION SERVICE

Servicing Mid Canterbury for over 80 years

REFRIGERATION /AIR CONDITIONING /ELECTRICAL CONTRACTORS

Compliant Cooling Solutions

•Milk Silo Refrigeration

•Pre Cooler Design

•Conventional Refrigeration •Hot Water Recovery

•Water Chilling

•Boost Systems

•Glycol systems

• Electronic Valves

Qualified and experienced engineers offer options for dairy

farm refrigeration and process cooling

From standard refrigeration to complete cooling solutions giving

water conservation and effluent efficiency

Service Like No Other

Phone 308 7182

On call 021 597 517

211/D Alford Forest Road www.stewartandholland.co.nz
---
PIONEER 1000

$26,495

PLUS GST

• 1000ccengine

• DCT 6speed transmission

• Electric powersteering

• Independentfront and rear

suspension

• 900kg towing capacity

• High/Low sub transmission

• Four-wheel disc brakes

• 200 hour serviceintervals

PIONEER 700 PIONEER 500

$20,995

PLUS GST

$16,795

PLUS GST

• 700ccliquid-cooled single-cylinder engine • Power steering

• Honda automatic transmission and manual option.

• 700kgtowing capacity • Fuel injection • Tilt bed

• 2WD/4WD and diff lock • Extended 3year warranty

• 500ccliquid-cooled single-cylinder engine

•Compact50-inch width •TraxLok selectable 2WD/4WD

•Honda automatic transmission •Paddle shifters

•500kgtowing capacity•Independentrear suspension (IRS)

See us for all HONDA POWER EQUIPMENT requirements

HONDA COUNTRY

www.hondacountry.co.nz

740 East St, Ashburton. Phone 03 308 2030 l Haydon South 021 244 7043

2301523
---
www.ashburtoncourier.co.nz

TOP sees small partner role

TOP leader GeoffSimmons says his

party'spoliciesongene­editing may

appealtoMid Canterbury farmers

trying to reduce nitrateleaching and

carbon emissions.

Gene­editingoffers afast way of

developing newplantvarieties that

can cope with pests or climate change.

Technology could playabig partin

protecting the district's drinking

water andhave ahealthier

environment,MrSimmons said.

The leader wasinAshburtonaspart

of aroadshow spreading the world

aboutThe OpportunitiesParty (TOP).

About30peopleheard him speak at

the WalnutAvenue pavilion.

Mr Simmons grew up in Northland

and is now an economist in

Wellington.

He saidvoters were tired of the

''sameold,same old'' andthe coming

election was important.''Weare about

the splasharound cash on abig scale

and we need to make sure we are

doing it right. The effectswilllast the

next two to three decades.''

Pollslastweekhad Labour in a

comfortable lead, buttheywouldneed

partiestowork with.

Mr Simmons said voters neededto

look at minority partiesto partner

with Labour and TOP wasagreat

choice ''to keep them honest''.

Protecting water fromnitrate

leaching andpollution was abig issue

aroundthe country.''We have to use

technology like gene­editing to reduce

nitrate leaching andgreenhouse gas

emissions, andpeopleneed to know it

is not old schooltechnology ... it is

tweaking existinggenes.

''We need to investinhelping

The Opportunities Party leader Geoff Simmons says this election is very

important as the country recovers from the pandemic.

farmers find alternative land uses that

will helpreduce thenitrogenload.''

TOP was foundedbyGarethMorgan

in 2016 and the party polled 2.5 per

centofvotes in the2017election. ''He

is not involved any more andnow it is

amovement. He has handeditoverto

the members.''

The party has 20 candidates

standing forthe 2020 election, but

none in theRangitata electorate.

''We will have abig focus on doing

what works and we willworkwith

National or Labour.''

Mr Simmons said he hoped this

electionwould be the start of amore

matureMMP model involving more

parties working collaboratively.''

TOP is also proposing aUniversal

Basic Income of $250 per weekfor all

adult Kiwis, no questions asked. This

would be paid for by atax reform

including a33per cent flat incometax.

Other policiesare around affordable

housing andrents andhelp for small

businesses.

NEWS

Ashburton Courier, August 6, 2020

15

Tummy bug

sparks alert

Mid Canterbury GPsare reminding people

about good handwashing and cleaning

practices as ahighly contagious viral

tummy bug sweeps through the district.

LauristonSchool closed for two days due

to the virus, whichcauseddiarrhoea and

vomiting; 55 childrenwere awayonasingle

day,morethan half the role.

GPsspokespersonDrEmmaAndrew said

similar tummy bugs circulated every year

and preventive measures were important to

avoiditspreading; good handwashing and

cleaning practiceswere vital.

She said people whocaughtthe bug

should not return to work or school until 48

hours after the last vomitordiarrhoea, as

they may still be contagious.

''The elderly andvery youngare

particularly vulnerable as their bodies are

less abletocopewith the fluid and

electrolyte loss thatcomeswith severe

vomitingand diarrhoea.''

Parents of children in swim lessons at the

EA Networks Centre and general pool users

wereremindedtostay outofthe water for

48 hoursiftheyhad the bug.The Methven

Netball Club also cancelledpractices.

CanterburyDistrictHealth Board

medicalofficer of health Dr Cheryl Brunton

said the bug did not appear to be norovirus.

''We suspectthatthis was an outbreak of

viralgastroenteritis. Norovirus is the most

commonvirusimplicated in outbreaks like

this.Wedonot yet have any labtest results

confirming thatnorovirusisthe cause of

this outbreak.

''Viralgastroenteritis is highly infectious

and this outbreak is atimely reminder of

why it is important for people to stay home

from workorschoolifthey areunwell.''

Dairy farmer new interim

president of Hearing NZ

Theona Blom

Rakaia dairyfarmerTheona

Blom will becomethe

interim president of

Hearing NewZealandafter

the announcement by

currentpresident Tony

Rush that he intends to step

downfromthe role from

September 15 because of

healthreasons.

Rush has been president

of Hearing New Zealandfor

threeand ahalf years.

Theona Blom wasa

qualified accountant and

business analyst in her

native South Africa and

volunteered four years ago

to be treasurerof the

Christchurch Hearing

Association as ameans of

givingback to her adopted

community. Shortly

afterwards shewas elected

to theHearingNew Zealand

board as aSouth Island

representative.

MrsBlom will be interim

president until the annual

meeting in May 2021.

More information gathered in

search for war medal family

Wanganui resident Paul

Takarangi­Gavaghanhas

found out more about former

Ashburton residentWG

Patching,whose war medal

heistryingtopass on to a

Patching family member.

Patching waskilledin

action in the Dardanelles in

1915.

Since running thestory in

Ashburton Courier last

month Mr Takarangi­

Gavaghan hasreceived an

email from aman whose

aunt was aclose friendof

Patching's sister Winnie.

Winnie lived for many

years in the Patching family

home, andher brother's last

registered address, at 32

Short Street ,ahouse that

stillstands today.

The email saidayoungWG

Patchingworked in his

father's saddlery business on

West Street, which is today

occupied by Emmily Harmer

Photography, butonce bore

the Patching name.

''I have foundatreasure

trove of references to the

Patchingfamily online. WG

was oneofthreebrothers

who enlisted.

''Another,WalterJames

wasawarded the Military

Medal and spent some time

at the Brokenhurst War

Hospitalinthe UK andthe

thirdbrother, Ibelieve,was

Charles.''

He had accessed thewill

of Patching senior, William,

and it showedWinnie as

receiving ahandsome

inheritance, including the

righttolive in the family

home, which shedid as a

spinster.

Ashburton Museum has

also passed on Patching

familygenealogical

information.

Mr Takarangi­Gavaghan

said it had been awonderful

experience searching the

records, buthecouldstill

not work out how the medal

had ended in Whanganui,

and he wasstill no closer

getting in contact witha

Patchingfamily member.

Asecond email he

received recommended the

Medals ReunitedNew

Zealand website run by Ian

Martyn.

Martyn, aretired NZ army

captainreunites lost, found

and stolen medalswith

family members.

Let'stalk:

Dementia.

Lorraine, Princes Court Lifecare

(Specialised Dementia Care)

Concerned that you or

aloved one are showing

signs of dementia?

Come along to our FREE 'Let's talk' afternoon

at Princes Court Lifecare, where we'll cover

topics such as:

•The first signs ofdementia

•How to cope with anxiety in loved ones with dementia

•How the Needs Assessment system works

19

AUG

Princes Court Lifecare

Wednesday 19 August, 2pm

Princes Court Lifecare

58 Princes Street Netherby, Ashburton

Call Lorraine (03) 308 0302

heritagelifecare.co.nz

HLCASHCOUQP0031
---
Ashburton College

Individual Excellence in aSupportive Learning Environment

News

Issue 20

6August 2020

DeputyPrincipal Message

Term ThreeManagementfor all at College

Sometimes life islike living in apressure cooker

and Term Threeisthatplace.

For our senior students this is a time for

planning,resilienceand the need to keep an eye

on personal well-being.Weare hurtling towards

that time of year when things can seem to

become unmanageable forsome,and especially

forour seniors.

Careful planning and monitoring of progress arevital to survival.All staff

are watching student progress towards NCEA at all levels and offering

supportand guidancewherever thatisneeded.

We areverymindfulthatthis canbethe timewhen some young people

start toworry that they won't make it. Often achat with their Ako

teacher or subject teacher can provide the reassurance that they need.

It is timely aswell, totake acheck on personal well-being and health

in respect oflifestyle and diet and to make sure that, over the next few

weeks,our young people pacethemselves accordingly.

Procrastination is abeast that can beat the best of us, and an honest

awareness of the dangers and if they apply to you, are often all it takes

to make sure that itisnot our downfall. Itreally is strange how the

educational clock seems to tick faster at this time of the year.

OpenEvening

We had an amazing Open Evening recently, the night when current

Year 8students and their family and whānau visit College to see what

is on offer.Faculties had displays of work and staff available to whet the

appetiteofour next group of people looking to attend College.

The turnout, especially to the first session, was amazing, with some

families having to sit on the steps of the Auditorium. Thanks to all those

whocame and of course ahuge thanks to all College staff who made the

nightasuccess.This is another of those occasions thatcan only happen

with the dedication of everyone on staff at College.Itwas agreat night

forall.

Enrolment Process at College

Last week saw uscoming to the end ofthe enrolment process for new

students.All such students and family members meet face-to-facewith

amember of College staff to discuss their transition into secondary

education. Thewhole process takes anumber of days and runs well into

the evening forsome.

The support ofthe College Office staff, with some here until 8:00pm,

is commendable indeed and it takes them days to input all of the

information that isgathered during that time. Certainly, the young

people Ihave met have been stunning. Welook forward toanother

amazing Year 9cohortnextyear.

College Senior Students'Ball

By the time you read this, the College Ball will only be aday away. It

has the promise of being anight toremember for all. The hype and

expectations run high onceagain and the senior students who have led

this have done agreat job.

Each year DeputyPrincipal Helen Shore-Taylor takes on the onerous task

of overseeing this and shows enthusiasm and dedication in helping to

make it asuccess.

RYDA(Road Safety)Day

Monday ofthis week saw our Year 12 students at the Hotel Ashburton

forthe annual RYDA day.

This is wherestudents spend the dayconsidering road safety, especially

around driving well and responsibly. They get to participate in six

differentworkshops thatcover all aspects of driving safely.

It has been agreat day inthe past, ofgreat value to all students, and

with the cost of this being shouldered by AshburtonDistrictCouncil. We

would like to thank them onceagain fortheir support.

In Summary

We plan the journey at the start and negotiate the roadblocks as they

arrive. After what wehave experienced this year, now is possibly the

time forsome re-navigation to make surethatweare stillgoing to arrive

at the destination on time.

Ron Cresswell

DeputyPrincipal •TumuakiTuarua

Information

Lip Sync 2020!

Theeverpopular Lip Sync will hit the College Auditorium stage

this year -onTuesday18August,7:00pm.

Students will compete either

individually or in groupsin

Juniorand Seniorsections,

beforethe hotly-contested

HouseFest.

TheStudentExecutive will

thentake on the lip-syncing

teachers to roundoffthe

evening's entertainment.

Tickets: $5:00. Available from the College Office -

03 308 4193 or info@ashcoll.school.nz

Information

Class PhotoOrders–Now Available forOrder

Ako Class photographs were taken recently, and are now available

fororder.

Viewing Photos

Parents/caregivers can view photos on the Photoshots website:

www.photoshots.co.nz

Viewing is password protected. The password and instructions have

been emailed to parents/caregivers, and are available to view in your

child's Akoclassroom, or from the College Office.

On-line viewing is available foralimited periodonly.

Photographs arepresentedonanA4sheet,laminated, with the photo

at the topand the students'names belowthe photograph.

HowtoOrder

Payment istobemade through the Ashburton College Office, as

follows:

• Collect anorder envelope from the College Office, and complete the

order section on theback of theenvelope.

0 Enclose$14.00cash (correct change is appreciated) OR

0 Cheque (made out to Photoshots Ltd NOT Ashburton College)

OR

0 Online payments toAshburton College account (mark payment

clearlywith studentname and 'Photos').

• Ifthere ismore than one student per family ordering, please put

all orders on one envelope, clearly marked.

• The envelope youfill in is also used to returnthe photoin, so please do

not seal the envelope at the timeofordering.

Please note: Orders close 9:00am, Wednesday12August 2020

Transition Department–EventsUpdate

TertiaryStudy Information

We are atthe time ofyear where students going to tertiary study in 2021

are gathering information, making decisions, and beginning application

processes,asfollows:

Universityand PolytechHalls of ResidenceApplications

HallsofResidenceapplications arenowopen online.

Course Planning for 2021

Universityliaisonstaff areinthe processofbooking to visit AshColl thisterm

to help students plantheir course of study for2021.

Datesknown so farare:

UniversityofCanterbury – 12August

Victoria UniversityofWellington – 09 September

Auckland University – 09September

Lincoln University – 09September

Otago University – 16September

2020UniversityOpen Days –

Further Information is AvailableontheirWebsites

•OtagoUniversityand Otago Polytech –On-campus:Monday 10 August

•VictoriaUniversity

–On-campus:Friday21August

•CanterburyUniversity

–On-campus:Thursday 27 August

•AucklandUniversity

–On-campus:Saturday29August

•MasseyUniversity

–Virtual(online) OpenDays

04 and05September

Andalso:

WellingtonCampus

ManawatuCampus

Auckland Campus

•WaikatoUniversity

•AUT University

–TasterDay:21August

–TasterDay:11September

–TasterDay:12September

–Virtual(online) OpenDays:

13 and 14 August

–On-campus:Saturday29August

Care with ParkingOutside College

When Dropping Off and Collecting Students

We understandvehicle movements as parents and caregivers

drop-offand collectstudentsatCollege.

Mayweplease ask though forcarewhen this is happening –

• Road safety is hugely important, and especially where there are alot

road users in asmall area.

• Please avoid parking on the yellow lines outside the Walnut Avenue

entrance.

• Please respectresidents'properties –avoid parking over drivewaysor

driving into their personal driveentrances.

• Remain aware thatthe College drivewayisnot suitable fordropping/

picking-up students from. This adds to congestion and compromises

safety.

We do ask,please,thatyou –

• Consider whereyou park.

• Park in alegal parking space, and have your child walk to whereyou are

parked.

• Park in the parallel parks across the road from the College.

• Or -there maybespace in the shingled parking area on the west side of

the College.

We thank youfor your help,

andfor your courtesy to residents,

College students androad users.

Events

Jandals FiafiaNightatUniversityof

Canterbury(UC)

Eleven students from Ashburton College travelled to the University of

Canterburytoattend the Jandals Fiafia eventheld on Wednesday29July.

Attended by students from

several schools, parents and

university students, College

teacher Liz Carrick said this

was afun night. There were

anumber of performances

and some words ofwisdom

from parents, UC students

and former students who

arenow trained teachers.

Theexperiencegave agreat insightintowhatopportunities areavailableat

UC forour Pasifikastudents.

An additional bonus of the evening was meeting up with College

former students: Uatifoti Saofai (Deputy Head Girl 2018) who is in her

second year studying for aBachelor of Commerce; and younger sister

Lupepe Saofai, in her first year studying for aBachelor of Arts majoring in

History and Geography; and Hannah (Faith) Falealili Aiono in her first year

studying English and Sociology.

(Pictured above,back row lefttoright): RonAroni, Salatielu Iakopo,Isileli Ula

(partly obscured),Easterlin Faamausili.

(Middle row, left to right): Estee Aiolupotea, Revival Tuvale,

Alex Gabriel,Luvepa Falealili, Mark Gabriel.

(Front, left to right): Mahina Pongia, former students: Uatifoti Saofai,

Hannah (Faith) Falealili Aiono,Lupepe Saofai.

Connecting Real WorldExperienceto

ScienceLearning

ScienceteacherHeena Shah advises that theYear 12 Scienceclass is working

towards their Education for Sustainability NCEA Standard. This standard

requires studentstoinvestigate physical andbiological factors withinariver

system. They are also required todiscuss the interactions between these

physical and biological factors andthenhuman activity impact on the river

system.

The standard requires students to gather data aswell asresearch these

aspects.

Twotimeslots wereundertaken in relation to this Standard. Thefirst wason

Friday24July at the Wakanui Stream,Argyle Park,wherestudents were able

to action the practical water testing component. This was made available

via the Waterwatch–Wai Kaitiaki Education programme with the students

having an opportunitytouse scientific gear and methodstocollectrelevant

data.

One of the objectives of Waterwatch is to provide schools and community

groups with the expertise andequipmenttostudytheir local waterways.

On Monday 27July speakersfrom ECan and the Forest andBird Protection

Society added to the learning programme. Donna Field from ECan

explained the physical factors, braided river systems and details on river

flow;while EdithSmith outlined the importanceofbiodiversityand habitat

forour endangered birds.

(Pictured above left, lefttoright):

la Cabalse,Zedrick Agreda and

John Miles Esponja testing waterfor

nitrate andphosphate content.

(Above right, clockwise from front left):

GabbyNaylor, Teacher of Science

Heena Shah, Chloe Guthrie

and Tegan Boathseparating

invertebratesfromthe watersample.

(Right, lefttoright): Noah Clement,

Jayden Butler and Ryan Cox

collecting living organisms/

invertebratesfromthe creek water.
---
Ashburton College

Individual Excellence in aSupportive Learning Environment

News

Issue 20

6August 2020

Congratulations

CanterburyPowerlifting Championships –

Successes and NewRecord

College Year 13 students Ngakau Howell and Henry Chapman are inthe

business of successfully lifting heavy weights!

In the second week of the recent student holiday break both competed in

the Canterbury Championships one day event. Divisions are categorised

by both weight and age, with both Ngakau and Henry contesting the

Under 83kg Sub-Junior category, competing in three lifts throughout the day.

Qualification forNational Championships

Aclear purpose of the Canterbury event was toqualify for the National

Championships, scheduled in Christchurch over four days. The category

Ngakau andHenry will competein, is on 07 October.

Both achieved this goal via their following results, including Ngakau

eclipsingthe CanterburyRecord –

• Ngakau's lifttotalswere: Dead Lift–235kg; Bench Press –90kg;

• Henry'slifttotals were:

Squat–145kg.

Dead Lift–220 kg; Bench Press –95kg;

Squat–155kg.

Although both Ngakau and Henry lifted the same total weight of470kg,

Ngakau wasweighed in at less than Henry and wasable to claimvictory.

Ngakau's Dead Lift total has broken the existing Canterbury record in this

category. Ngakau said that he is awaiting confirmation that his lift against

his registration timeframe with the organisation has him eligible for the

record.

To qualify for the National Championships lifters must achieve atotal

of 400kg over the three lifts. Both Ngakau and Henry have significantly

cleared this first requirement, and Ngakau says he has his sightsset on the

Under 83kg Sub-Junior CategoryNational Dead Lifttotal of 240kg, 5kg more

than his currentlift.

Needless to say, strength training forboth is continuing–for Henry at Snap

Fitness andfor Ngakauatthe EA NetworksCentre.

(Pictured below): Ngakau in the

squatlift.

(Pictured right):

Henrylifting in the

squatcategory.

(Pictured below,

leftand right):

Ngakau Howell and

HenryChapman with

their certificates.

(Pictured below): Ngakau's recordbreaking

Dead Lifteffort.

SuperNet CompetitionCommencesfor

College ANetballTeam

Another post-COVID competition is underway and, at the time of

publishing this newsletter, the College A Netball team's involvement

in the Christchurch-based top eight secondary schools' SuperNet

Competition has recommenced.

Manager Sue Dudley summarises how the first two weeks have

gone for Coach Kaye Kennedy and team members Sophie Adams,

Alex Bateman, Taylah Burrowes, RubyGray, Samantha Jerao,PoppyKilworth,

Cassidy Mann, Milli Sullivan, Hayley Tallentire, Riley Tindall and

Penina Vaaelua.

Sue outlined this season as arebuilding year for the team, noting the

importance ofgiving the younger players as much court time as possible

giventhey aregoing to be the core of the team next year.

Overall, the team is just thrilled to be back playing netball and to have the

opportunitytoplayinthe local MidCanterburyNetball competition and in

SuperNet in Christchurch.

Week 1–22 JulyvChristchurchGirls'High School

Astrong first half by AshburtonCollege broughtabout ahalf-timescore of

16-15 to AshColl, with the girls creating ten turnovers in the first half and

converting seven of those into goals.

Hayley Tallentire shot superbly throughout the whole game and was

equally supportedbyPoppyKilworth atthe defensiveend.

Changes were made in the second half to give the new players to the team

the experienceofplayingthis level of netball.Each playerstepped up to the

challenge and matched the intensityonthe court.

Thefinal scorewas 28-37 to Christchurch Girls' High School.

Week 2–29 JulyvSt Andrew'sCollege

Again, the team started strongly and were only down 8-12 after the first

quarter. HoweverStAndrew's gotaroll-on in the second and thirdquarters

to take the lead out to 20-40.

It was great to see Ashburton College finish strongly, only losing the last

quarter8-9, with the final scorebeing 28-49 to St Andrew's College.

Once again, all players got on court against the very slick St Andrew's team.

Mia Pearson (Ashburton College A team member from last year) is playing

forStAndrew's College so therewas abit of friendly rivalryonthe court!

Sue said that, again, it wasgreat to seethe younger players stepping up and

our senior players acting as such positiverole models.

WETA Workshops RisingStars Award

Year 10 student MoMeehan was recently selected asone of the Top

20 finalists for the above award, in the Earth Guardians Character

Design Competition. From this number, ten are selected asfinalists,

determined by popular vote.

With voting having closed at 3:00pm on Monday, Mo now awaits the

outcome of the popular vote.

This competition is open to New Zealand secondary school students aged

15-19 years as at 06 July this year. The shortlist of the Top20submissions

was made byindustry judges Paul Tobin, Art Director atWeta Workshop

and Tanya Marriott, programme leader of Concept Design atthe Massey

UniversityWellington School of Design.

Mo, who loves art, worked on most of this during lockdown. She used

markers for the colouring, gel pens for highlights, putting in thin black

pen outlines. Deciding on the topic came from art work where she was

practising drawing wings,which she wantedtoincludeinthis artwork. She

said she likes drawing characters with fireand,asthe work progressed,she

ended up with afire and wind character.

Descriptorwith ArtWork

Applicants were required to include adescription with their artwork, which

Mo said took awhile as she put together the rightwords.Her artworkand

descriptor arebelow:

Konohanasakuya

My wind/fire guardian is inspired by both the

Japanese and Jewish creation stories.

In the Jewish tradition the Creator is both loving,

and afearsome judge. The Creator is not able to

be seen, and is only experienced through the veil of

smoke, wind and fire-this imageryreminds me of

volcanoes!

As the Creator's name can not be spoken, I

have blended this creation story with the Japanese deity ofvolcanoes…

Konohanasakuya. Her work is to prevent volcanoes from erupting, but it is a

difficult job to pacify avolcano!

Konohanasakuyaisawind and firedruid,she guardsthe earth using the power

of wind and fire. Oneofthe first things younoticeabout her is her smile.Isher

smile happy, or agrimace? It is both, to reflectthe twosides of her nature.

Thetop half of her clothing and the softness of her flowing long hair showthe

gentleside of her nature. Her gentle wind and home fires warms the earthlings

and the earth, inspiring the earthlings through warmth, happiness and joy, to

care for the earth. Thered and orange reflectpassion and love.

But note the bottom half of her clothes. Her steel mesh skirt isheld secure by

adouble belt, flanked by thick strips of heavy leather, and weighted down by

sharp blades.You canimagine the blades whip and slash across your face when

she unleashes her fury with fire and wind. When Konohanasakuya unleashes

her fury, the earthlings canfeel the destructiveforce of her nature-she literally

erupts! The brown and grey are natural colours, reflecting the earth and rock;

and the wind cannot be seen.

Thefieryhalo hasnoend or beginning,reflecting her infinitenature.

Tucker TrophySki andSnowboardCompetition

This annual competition was held onThursday 30 July at Mt Hutt

Skifield in windy but warm conditions.

Teacher-in-charge Karen McKenzie said that racing got underway around

11:30am and thatamere0.18 seconds separated the sibling rivalrybetween

Myaand Kayne Johnston. Mya'scombined runs totalled 1.06.83 and Kayne's

combined runs 1.07.01!

While Year 11 Mya had the edge over her brother in the first race, Year 9

Kayne had the slightly better time in the second race. Between them,

however, the Johnston's were seven seconds clear of 3rd place-getter

Parker Bradfordon1.14.44.

Todd White (1.41.31) took out the snowboarding competition title from

Mac Burdett, on1.43.13 in 2nd place with only 1.82 secs separating these

two.

Many thanks were given tostaff members Michael Clark, Mike Pearce,

RonCarlsonand Helen Shore-Taylor forhelping out on the day.

Topthreeplace-getter results were:

Skiing

Overall 1st MyaJohnston; 2nd Kayne Johnston; 3rdParkerBradford.

Males 1st Kayne Johnston; 2nd Parker Bradford; 3rdFlynnMackenzie.

Females 1st MyaJohnston; 2nd Honor Bradford; 3rdMac Burdett.

Snowboarding

1st Todd White; 2nd MacBurdett; 3rdJack Wood.

Coming Events

(Pictured above,

leftand right):

Kayne Johnston and

MyaJohnston in hot pursuit of

each other's fastest time.

(Pictured left): Snowboard

Champion Todd White.

August

06-07 11OUE Hike,Pinnacles Hutt.

07 College Ball,AshburtonTrustEvent Centre

Boys'1st XI Hockey,Christchurch

South Canterbury Winter Basketball Competition,

SouthernTrustEventsCentre, Timaru

08 Rugby–UC Round 8, Timaru Boys'High School v

MidCanterburyCombined,Timaru

09 Equestrian One DayEvent,Christchurch

Aoraki Trap Shooting,Timaru ClayTarget Club

Aoraki Basketball Championships,SouthernTrust Events Centre,

Timaru

Aoraki Squash Championships,Timaru

10 Debating 1, St Andrew's College,Christchurch

Dunedin TertiaryOpen Day, Dunedin, 5:00am-9:00pm

11 Year 13 Agriculturevisit to South Island Seeds

Aoraki SecondarySchools Boys'Badminton, Timaru

Thomson/Whelan Basketball Trophy, AshburtonorChristchurch

12 CanterburyUniversityCourse Planning visit

Senior Blood Drive

Girls'1st XI Hockey,Christchurch

Girls'1st XV Rugby–Geraldine vAshHutt,Geraldine (Round 4)

Supernet –VillaMaria vAshburtonCollege,Christchurch (Round 4)

Some KeyForthcoming Dates

August

07 College Senior Ball,AshburtonTrust EventCentre, 8:00pm

31-04 Sept Year 11, 12, 13 College Exams

November

05 Year 13 Awards Ceremony, AshburtonTrustEvent Centre, 7:00pm

10 Years 11 and 12 Prize-givings,EANetworksCentre, 7:00pm

16-09 Dec NCEA Exams

Term Dates2020 –Terms Two, Threeand startofTerm Four

Term Three Monday 20 July -Friday25September

Term Four Monday12October -Thursday 05 November (Year 13)

-Tuesday 10 November (Years 11 and 12)

-Thursday 03 December (Year 10)

-Friday04December(Year 9)

Term Dates2021 –

Term One Year leveldatestba -Friday09April

Term Two Tuesday 27 April - Friday02July

Term Three Monday 19 July -Friday24September

Term Four Monday11October -Friday10December –year levels tbc
---
Supporting the community

96 Tancred Street,Ashburton.

Phone 3078317

LREA2008

MCRE

OH BABY!

Let

MidCanterbury

know about your

newarrival...

...inthe Courier's monthly

Baby Page completely free of charge.

Simply post or email aphotoofthe new

arrival along with the birth details to:

office@ashburtoncourier.co.nz.

Photos forSeptember3to

be received by 12 noon

Tuesday

September 1

Rachel and Riley Wilson have welcomed

the arrivalofababygirl.

HeidiZetaWilson, weighing 2505grams,

wasbornonJuly 23, 2020.

We are taking enrolments

from 4months to 6years.

For further information

phone 308 0380 or call in to see us at

174-176 Chalmers Avenue, Ashburton

2299874

ASHBURTON

KINDERGARTENS

Ashburton Kindergartens are agroup of well established, not

for profit, professional kindergartens based in the Ashburton

community, offering pre-school education for 3&4year olds.

OUR VISION

•Every child has the right to participate in high quality early childhood

education

•Kindergartens are centres of excellence and innovation

•Our goals can best be achieved through collaborative relationships at all

Levels

•Kindergarten is responsive to the cultural and language aspirations of

families

NZ KINDERGARTENS ARE 100%

• about children, families and whanau

•committed to quality early childhood education

•qualified and registered workforce

•community based •not-for-profit •home grown •Kiwi owned

Asmall homely centre,

with anature based philosophy.

Stephanie Hansen Amanda Moore

Centre Directors

7Roxburgh Place Tinwald Ashburton

phone 03 307 0420 twpreschool@gmail.com

Play is work

and work is fun

Where Children Learn

ENROL NOW -2YEAR OLDS WELCOME

Contact: Kindergarten

Association Manager

Ph: 308 3779

Email: association@ashkindy.co.nz

www.ashburtonkindergarten.org.nz

2299877

2299873
---
www.ashburtoncourier.co.nz

Garden fete to rescue St John

NEWS

Ashburton Courier, August 6, 2020

19

St JohnAshburtonis

organising agarden feteinthe

magnificentgroundsofRakaia

Gardens later this year.

Thefete,onOctober15, will

see more than 50 stalls on site,

sellingitems such as food,

clothing jewellery, beauty

products and household and

giftware, plusentertainment.

St John runanumber of

community health initiativesalong

with the ambulance

service in the district ­and a

number of fundraising

projects are planned to boost

the coffers, including thelarge

garden fete.

St John Ashburtonexecutive

officer Elaine Vallendersaid

StJohnAshburtonwas

approached by stalwart

supporters Sueand Ted

Rollinson who offered the use

of their gardensfor agarden

walk.

It has since developed into a

garden fete.

"Sue and Ted have always

beengreat supporters of St

John andthey wanted to once

again help us out.

"This garden tour has now

growninto afete, complete

with more than 50 stalls,

including foodstalls, and

entertainment, as wellasthe

opportunity to stroll through

St John Ashburton will host agarden fete in the grounds of Sue

and Ted Rollinson's Rakaia Gardens.

PHOTO SUPPLIED.

the six acres of mature

gardens."

"We are also lucky to have

local chef and caterer,

ChantelleQuinn, on board

with acooking

demonstration." Chantelle was

aMasterchef contestant afew

years ago.

The stallholders aremostly

Full house for online banking tips

Canterbury basedbut there

arealso vendors travelling

from as farsouth as

Invercargill and as far north as

Dannevirke.

They cover children and

women's clothing and

accessories,baby gear, garden

supplies,furniture andgarden

art, plants, ceramics, stained

glass, beauty products, eco

products, food and wine,

flowers, household and

giftware, jewellery and

woodenproducts.

"We are also thrilled to have

the support of theRakaia

Lions Club andthe Hotel

Ashburton," she said.

Tickets, costing$15,will be

availablefrom mid­August and

will be available at avariety of

outlets in Ashburton,Rakaia,

Methven,Mayfield, Geraldine

and Timaru,aswellasonline.

Ticketswill be $20 per

person on the day.

The organisationisfacing

significantfinancial

challengesthis financialyear

(July 1toJune 30, 2021) and

any boost in financial support

will be welcome.

St John chief executive

officer Peter Bradley has said

up to $30million of cost

savingswereneeded to offset

an increasinglylarge deficit

throughout the organisation,

created in part by Covid­19.

"Our long­standing funding

issues have been welldocumented

and, combined

with the financialimpact of

Covid­19, we are now forced to

undergo asignificant

programme of cost

reductions," he said.

Opera on

Ashburtonraised and

internationallyacclaimed tenor

Simon O'Neill willperform

alongsideother top opera

performers at aconcert at The

Pianovenue in Christchurch on

Saturday.

Mr O'Neill is set to curate the

Opera in The Cityprogramme

and will perform alongside

sopranoNatasha Wilson,

baritoneEdward Laurenson and

mezzo sopranoKristinDarragh.

David Kelly is on piano.

The musicalselectionincludes

pieces from Handel, Mozart,

Gounod, Bernstein and

Sondheim.

Tickets are available from the

website nzopera.com.

Hamish Hutton

ACT party

candidate

North Canterbury based

Hamish Huttonhas been

confirmedastheACT Party

candidatefor theRangitata

electorate.

The 46­year­old has spent his

career helping marketand

build businesses and brandsin

the technology andagriculture

sectors.

He lives in Leithfield,but

grewuponafarm in

Windwhistle that is still farmed

byhis father.

After astint in London, Mr

Hutton was involvedin

marketing theTaitbrand in the

USA and later worked for

Fonterra.

He is stillinvolved in

software marketing andisalso

helping farmers getoff the grid

with solar, and runsanonline

retail businesswith his wife.

''I am passionate aboutthis

great country we livein, butI

believe there is more potential

to make it an incredible place

to live.''

Mr Hutton said he believed

more needed to be done to

support small business.

''We need to makelife easier

for small business ownersand I

have concerns that will not

happen under the current

government.''

Mr Hutton said he had

followed theACT party for a

while andafriend who had

stood for the party in the Port

Hills hadintroduced him to the

many talentedpeople in it.

He said the election would be

a''good learning experience''.

Every chair in the building was in use for SeniorNet's special session on how to get to grips

with internet banking. Organiser John Burn said 98 people came along to the Sinclair Centre

for the event, which was aimed at helping older people think about and move to internet

banking once cheques were no longer in use. SeniorNet meets regularly and covers arange

of technology in commonplace use, like supermarket scanners and paywave.

iHeart Radio

Tune on the netand

listen to it anytime, anywhere.

FOR LOCALS,FAMILIES AND FRIENDS.

YOUCAN NOW

SNAP CHAT

WITH HOOPS!

2300471

2298152
---
NEWS

20 Ashburton Courier, August 6, 2020

www.ashburtoncourier.co.nz

Primary runners blast around course

Mid Canterbury's top crosscountry

primary school runners

took to the field during the

annual cross country event at

the Ashburton A&P

Showgrounds.

Up to 200 pupils were

involved last week, running in

overcast conditions on awet

grass course and supported by

family, friends and their school

peers.

Mid Canterbury Primary

Schools Sports Association

sports co­ordinator Natalie

Shaw said the race line­up was

made up of the winners from

school heats. Mid Canterbury

has around 22 primary/

intermediate level schools in

its district.

Pupils in Year 5and 6ran a

shorter 2km race and Year 7

and 8pupils ran a3km race.

Mrs Shaw said some of the

pupils completed the race in

times under 15 minutes.

''It's very competitive, this is

the best of the best.''

Both age groups had to

navigate around acrosscountry

course set up at in the

showgrounds across flat, with

hills, obstacles to jump and

twists and turns. Each lap of the

course was one kilometre.

Mrs Shaw said the top three

from each age group qualified

to compete at primary

championship event at

Halswell, in Christchurch on

August 12, although

placegetters from Ashburton

Intermediate School would

enter the intermediate

championship, in Canterbury.

Mrs Shaw was thankful for

the support of school

communities as well as the

Ashburton Harriers running

club, especially members Joe

Ford and John Speedy who

spent many hours prior to the

event setting up the track and

then marshalling during the

races.

Results:

Year 5­(girls): Lyn­Mari

Steenkamp, ACS; Annalise

King, MPS; Addie Griffiths,

Longbeach; (boys) Noah

Holland, Tinwald; Campbell

Copland, Rakaia; Conor

McGrath, MPS.

Year 6­(girls) Sophie Lampe,

Hinds; Jasmine Chalke, MPS;

Sylvie Tranco, MTSS; (boys)

Amwolf Artz, St Josephs, Josh

Gilbert, Allenton; Elliot

Markillie, MPS.

Year 7­(girls): Blaze France,

MTSS; Layla Ward, AIS; Lucy

Pearce, AIS; (boys) Ollie

Jackways, Dorie; Kalym

Chalmers, AIS; Harry Trott,

AIS.

Year 8­(girls): Mikayla

Marshall MHC; Maddy

Marshall, AIS; Ruby Williams,

AIS; (boys) Harrison Doak, AIS;

Archie McKerrow, MHC; Noah

Monson, MHC.

Runners from Year 5to8competed in the annual primary school

sports association cross­country event.

Combined girls' XV has eyes on final's prize

It's been astop­start season for

theMid Canterburycombined

girlsXVbut youwouldn't know

it from their performances on

field.

The side, which is a

combination of Ashburton

College and Mount Hutt

College players, beat Timaru

Girls37­30atCeltic lastweek

in the second round of the

secondary school contest.They

lost by just one point 41­42 the

week earliertoStKevin's/

Waitaki Girls.

Co­captainGrace Bleach, a

Year 13 student withplans to

become avet, said their

competition had been reduced

to just one round because of

covid but the girls remained

committed.

Training had begun early in

the year, butwas then

interrupted bylockdown and

gathering restrictions. The

combined side will meet

Craighead nextintheirschool

competition.

Grace said the girlswere

grateful to their sponsorsand

supporters, including Emma

Summerfield from Plains

Power.

Emmasaid women's rugby

was increasinglypopularand

she had enjoyedbeingpartof

the rugbycommunity and

helping sponsor theteam.

MidCanterbury Rugby is

runningaseries of Sunday

sessionsfor under 11 and13

girls wanting to playthe game.

Nicole Purdom will be running

skillsessionsonSeptember6,

13 and 20 for those interested.

Co­captains Grace Bleach (left) and Roi Makutu (right) with their

main sponsor and supporter Emma Summerfield.

Celtic B

earns big

promotion

Celticwill havetwo teams in

Mid Canterbury Netball's top

competition,following

promotionand relegation

gamesonTuesdaynight.

CelticBwas top of the

premier 2grade andwent on to

beatMtSomers43­27; Celtic

now takes Mt Somers'place in

the premier 1competition and

Mt Somers dropstopremier2.

United Bwastop of premier3

and beat College B35­18 to earn

promotion to premier2.College

Bmoves down to premier3.

Unbeateninthe firstfull

round, Hampsteadstarts as

favourite for the premier 1title.

What , s the proposed

age to buy cannabis?

Know before youvote

Authorisedbythe Secretary forJustice
---
www.ashburtoncourier.co.nz

SPORTS DRAWS

Ashburton Courier, August 6, 2020

21

RUGBY

The draw for Saturday:

Senior B-2nd Grade Cup semi finals:

Methven vMtSomers, Methven1,2:30pm N

Forbes, A McGirr, CMarshall. Allenton v

Celtic, Allenton1, 2:30pm S Bennett, G

Jopson RGlenie.

Senior women: HSOB v Celtic B's

Barber, 2:45pm, Bob Deans Field1.

Combined Colts: Methven/Rakaia v

Lincoln, Methven1, 12:45pm H Grant.

Springston Rugby v Celtic/Southern

EuroAgri/NPD, Springston 1:00pm.

1st XV UC Championship: Timaru Boys

vMCCombined, Timaru High, 12:00pm.

Under 18 Combined: MCRU ALPS v

Rolleston, Tinwald1, 2:15pm JO'Connor.

Under 16Combined: Waihora vMCRU

Plains, Lincoln, 12:30pm. MCRU Alps v

Dunsandel, Tinwald1, 1:00pm CKelland.

Under 14.5 Combined: MCRU Plains v

Rolleston, Tinwald2, 2:00pm J Robinson.

Leeston v MCRU Alps, Dunsandel

Domain2, 12:30pm.

Under 13: Methven v Allenton Smallbones,

Methven2, 1:00pm Club. Southern/

Tinwald Howden AG v Celtic, Tinwald2,

12:45pm Club. Collegiate Ross Leadley

Building abye.

Under 11.5: Collegiate Cates Grain &

Seed v Methven Black, Collegiate1A,

12:15pm. Hampstead vCeltic White, Hampstead1A,

1:15pm. Rakaia vCeltic Green,

Rakaia1A, 12:30pm. Southern Coleman Ag

vMethven White, Hinds3, 12:30pm.

Under 10: Celtic Green vCeltic White,

Celtic1B, 1:00pm. Hampstead v Allenton,

Hampstead1B, 1:15pm. Rakaia vMethven

White, Rakaia1B, 12:30pm. Southern Four

Seasons Treecare v Methven Red,

Hinds1A, 12:30pm. Tinwald Ace Automotive

vMethven Black, Tinwald3, 1:15pm.

Under 9:Collegiate/Hampstead Regent

Cinema v Celtic, Collegiate2, 1:15pm.

Rakaia v Allenton Engineering Solutions,

Rakaia2A, 1:00pm. Tinwald Moore

Mechanical vMethven, Tinwald3, 12:15pm.

Southern Hayden McKenzie Contracting a

bye.

Under 8:Celtic Green vAllenton Alpine

View, Allenton 1A, 1:00pm. Collegiate/

Hampstead v Celtic White, Collegiate2,

12:15pm. Rakaia vSouthern BuschJoinery,

Rakaia2B, 1:00pm. Tinwald Gluyas Nissan

vMethven, Tinwald4, 1:00pm. Bye Methven/Mt

Somers.

Under 7: Allenton Auto Maroon v

Methven/Mt Somers, Allenton2, 1:15pm.

Collegiate Ashburton CraneHire vSouthern

Riverlea Agg White, Collegiate3, 1:00pm.

Rakaia v Allenton Gold Young Electrical,

Rakaia2A, 12:15pm. Tinwald NZ Livestocks

Black vMethven, Tinwald4, 12:15pm. Tinwald

Skip-2-it Flooring Xtra OrangevCeltic,

Tinwald1A, 12:00pm. Southern Blue James

Doyle Contracting bye.

Under 6: Allenton Gold Ashburton Pluming

Services vSouthern Blue Matt Wakelin

Contr, Allenton3, 1:15pm. Allenton Maroon

Sparrow Family vSouthern Red Harcourts

Ashburton, Allenton3, 12:30pm. Collegiate

Cranfield Glass vHampstead, Collegiate3,

12:15pm. Mt Somers vMethven White, Mt

Somers, 12:30pm. Rakaia vCeltic White,

Rakaia2B, 12:15pm. Tinwald Alluvial Black

vCeltic Green, Tinwald1B, 12:00pm. Tinwald

Cranfield Glass Blue vMethven Black,

Tinwald 2B, 12:00pm. Tinwald Canvas

Orange v Southern Agspread White, Tinwald2A,

12:00pm.

HOCKEY

The Mid Canterbury Hockey Association

draw for August 7-12 -

Small sticks duty club: Tinwald

Friday 7August, Kiwi Sticks (Yr 5) 3.45

pm Rakaia Yr 5vTinwald Foothills (Turf a)

HKidd, GMuir. Wakanui Blue vWakanui

Black (Turf b) RKidd, SGeeson. 4.30 pm

Tinwald Yr 5vMethven (Turf a) HKidd, S

Geeson. Tinwald Yr 6vAllenton (Turf b) R

Kidd, GMuir. Allenton Yr5(BYE).

Kiwi Sticks (Yr 6) 5.15 pm Collegians D

&EvTinwald Foothills (Turf a) LEllis, D

Law. Wakani vMethven Black (Turf b) J

Elllis, J Muir. 6.00 pm Methven White v

Rakaia Yr 6(Turf a) DLaw, JMuir.

1st Grade Women, 6.50 pm Hampstead

vMethven (Wakanui, Hampstead Blue).

Just Hockey SSL Div 1 Boys, Marist

Park @StBedes 5.50 pm St Bedes College

2nd XI vAshburton College 1st XI (Umpires

supplied).

Small sticks duty club: Tinwald

Saturday 8August, Mini Sticks, 10.15

am Methven Yr 3vMethven Yr 4(Turf a)

Coaches. Tinwald v Allenton (Turf b)

Coaches. Wakanui Black vTinwald Foothills

(Turf c) Coaches. Hampstead v Wakanui

Blue (Turf d) Coaches.

Fun Sticks, 11.00 am Draws made on

the day (Coaches).

Senior Women, Ash NBS 1.00 pm

Wakanui vCambridge (H Young, CHastie).

Senior Men, Ash NBS 2.40 pm Wakanui

vCambridge (C Watson, MMarshall).

Sunday 9August, 2nd Grade Girls, Ash

NBS 1.40 pm Tinwald v Roncalli 2nd XI

(Umpires tba). Tim TA 2.05 pm Geraldine v

Wakanui (Umpires supplied)

1st Grade Men, 4.00 pm Tinwald

Orange v Wakanui (Hampstead/Wakanui,

Hampstead Lowcliffe). 5.25 pm Tinwald

Black v Allenton (Tinwald Orange,

Wakanui). 6.50 pm Hampstead/Wakanui v

Hampstead Lowcliffe (Tinwald Black, Allenton).

Monday 10 August, 2nd Grade Boys,

Tim AE 5.40 pm Allenton vStKevin's 1st XI

(Umpires supplied). Ash NBS 6.15 pm

Wakanui vGeraldine (S Moore, JGray)

1st Grade Women, 7.30 pm Wakanui v

Hampstead Blue (Hampstead, Methven).

Tuesday 11 August, Kwik Sticks (Yrs 7

&8) 4.00 pm Wakanui Blue/Collegians v

Wakanui Black (L Ellis, BGreer). 5.15 pm

Tinwald Orange vMethven (M Wilson, G

Oates). 6.30 pm Tinwald Foothills vAllenton

(A Mitchell, MAmos).

Wednesday 12 August, Just Hockey

SSL Div 2Girls Nunweek Park 26.10 pm

Villa Maria College 3rd XI v Ashburton

College 1st XI (Umpires supplied).

Connetics SSP Boys 6.45 pm Timaru

Boys High School 1st XI vChrist's College

1st XI (Umpires supplied).

Info sessionfor would-benurses

SouthCanterburyresidents considering

acareerinnursingare invitedtoattenda

free informationsession at Ara Institute

of Canterbury's Timaru campus in

August.

Ara teaches the Bachelor ofNursing -

athree-year programme -inTimaru.

The information session will give an

overview of thequalificationand explain

howAra's free dailybus service between

Oamaru, Timaru and Ashburton makes

it possible for residents across South

Canterbury to study at the Timaru

campus.

The session will also include a tour

of Ara's clinical practice suite which

replicates areal health care facility and

features amannequin with asimulated

voice,heartbeat andbreathingsounds.

Gail Foster, Ara's Timaru nursing coordinator,

says nursing isanexcellent

career choice for many reasons. "It's

a highly rewarding profession with a

multitude of areas you can work and

specialise in. And as anurse you never

stop learning and developing your

practice."

Individuals who don't meet the entry

requirements forthe Bachelor of Nursing

can learn about Ara's six-month prehealth

preparation course, immediately

afterthe nursinginformation session.

The session takes place at Ara'sTimaru

campus on Wednesday 19 August at

5.30pm, followed by the Pre-Health

session at6.15pm. For further details

andtoregister,visit ara.ac.nz.

2300443
---
www.ashburtoncourier.co.nz

CLUB NEWS

Ashburton Courier, August 6, 2020

23

ASHBURTON U3A

Howfittingit wasto have a

historian as the first post

covid ­19 guest speaker.

Starting withakarakia,

historian Friedalooser took

us all on ajourney back to the

so called musketwars from

around 1800to1840and the

massarrival of europeans.

Frieda is awell­known

historian whohas spoken to

ourU3A in seminar sessions

on thehistory of chocolate

andsalt.

We allgainedanew

appreciation ofthe

devastatingimpact that the

arrival of Europeanmusket

power hadonchangingthe

faceofinter­tribalwarfare

andrelationships.Nothingin

NZ hasbeen thesameever

since.

Unlikethe NewZealand

wars of the 1860s, the musket

wars were fought across both

Islands beginning with

rivalry between the northern

iwiNgapuhiand Ngati

Whatuaand theneed to

obtain muskets. In 1815,one

musket apparently cost about

150 basketsofpotatoesor

eight pigs,which had risen to

200 sacks and15pigs in 1820!

Butofcourse history is never

thissimple!

The story of Tuahiwi was

central to revengeful warfare

betweenNgati Toa and Ngai

Tahu. Just like global

conflicts of thepast, the

consequencesofTe

Rauparahasraidsare still

felttoday.Apparently, the

first muskets were fairly

useless.

We learntthatthe early

missionariesplayedan

importantroleinchanging

the wayconflict was resolved

andthiswas bestexemplified

by Te Rauparahsson

Tamahanawhose manais

still respectedtoday as aman

whowalked in twocultures.

TheKaiapoi Pa remainsa

significant historical siteas

the spiritualhomeofNgai

Tahuwith Tuahiwi at its base

for tradeand socialisation.

This period of history is

alsofundamental to learning

aboutNew Zealand history

whichisnow enshrined in

newsocial studiesand

history curricula in schools.

ASHBURTON

COMBINED

FRIENDSHIP CLUB

President Andrew welcomed

agood musterofmembers to

ourJulymeeting, thefirst for

fourmonthsdue to covid.

OurfirstspeakerwasSandi

Woods, executiveofficer of

the AdvanceAshburton

CommunityFoundation. She

outlined the history of

CommunityFoundations, the

first was setupinCleveland,

USAbackin1914.

Thereare 17 community

foundations in NewZealand,

the AdvanceAshburton

CommunityFoundation was

set up in 2003atthe

instigationofthe lateNeil

Sinclair.

It is the second oldestin

NZ.AdvanceAshburton

CommunityFoundation is a

registered trust which is set

up to encourage and enable

personalgivingfor the

benefit of worthwhile

community organisationsand

causes.

Advance Ashburtonhas

threemain activities: Raising

funds from donations and

legacies, investingthe funds

to retain the capital and

generateincome,providing

grants and scholarshipsto

the local community from

this income.

AdvanceAshburton funds

projects that can make a

difference andeffect change.

Decisionsaremadebylocal

peoplewith localknowledge.

Our second speaker was

Craig Carr, managing

directorofCarrfields. His

father startedbycarting

small bales of hay afterwork,

thenprogressed to baling

round bales and was oneof

the first to introducebig

squarebalerswhich leadto

the establishment of a

successful contracting

business.

He farmed through the

tough 1980sand bought the

Mayfield garage to support

his contractingbusiness.He

got into thefarm machinery

business in the 1990s, which

complementedthe

contractingbusiness.

In the late 1990s, Carrs

boughtaseedcleaning

business and suggested that

son Craig workthere for a

yeartobuild up fundsfor

university. Craig nevergot to

universitybut spent10years

upgrading andcomputerising

the business.

Meanwhile the contracting

business grew,supplying

thousands of big bales of

wheat strawtoMeadow

Mushroomsand the feed

millingbusiness through the

old Winslow Lucerne factory

suppliedmixes for feedlot

cattle.

Eventually theseed

cleaning and feedmill

businesses were sold.In 2014

the Carrs gotthe opportunity

to purchaseElders Livestock.

Thiswas rebranded as

Carrfieldsand is thesecond

largestlivestock businessin

the country.Carrfields also

operate agrain andseed

business and awool business.

Theyare developing ahemp

fibrebusinessand are setting

up specialist plant in

Christchurch to process

hempfibre.

Theyoperate the only

independent woolspinning

plant leftinAustralasia

makinghighend products

thatendsupasupholsteryin

privatejetsand the firstclass

sectionofplanes.

The challenge with wool is

to identifyend useswhich

generate addedvalueby

creatinghigh returns.The

machinery business

continueswith branches

acrossNew Zealand.

Craig told an inspirational

storyofthe growth of the

business from one manand a

hay baler to asignificantNew

Zealand­wide agribusiness

employing around 500

people.

ASHBURTON

WOODWORKERS

DaveStrong welcomed15

memberstothe July meeting,

wherehe mentionedthe

coming A&P Show,

encouragingmembers to

enter in the woodturning

sectionand thattheyplanto

havealathe in actionduring

the event.

Wellknown turnerNeil

Joynt,from Tokaroa, who has

awealth of practicalturning

knowledge willbetouringthe

South Island doing workshop

exhibitions at various clubs.

He will visitChristchurch

and Timaru duringAugust.

Show andTell:

Dave Strong: 2beech burr

bowls.

ChrisThompson: spalted

mountbeechjewellery

drawer.

FrankLuxton: anylon soft

shackle usedfor towingout a

stuck vehicle.

KevinChallis:abeech,yew

vase.

John Millichamp: 2large

beechburr bowls.

Wim Melchers: acotinus or

smoketree bowl.

MervPeck showed us how

to useatexture/spiralling

tooltogive abowl,vase an

ornate finish.The selection

of woodiscritical, ash,

sycamore, beech, yewarethe

preferred woods as they

easiertocreate apattern on.

Thetool alsoworks wellon

endgrainwhencreating

coasters.

Dependingupon which

wheel you useinteresting

patternscan be created. And

if youhave the flairthe lined

pattern can be filled with a

varietyof colours.Thistool

can haveavariety of different

usesfor an endless designed

patterns. Thanks Merv.

ASHBURTON MSA

PETANQUE CLUB

We continuetoget good turn

outs on clubdays,and we

have finished playing

catchup on clubtournaments

playingthe lastthree doubles

competitions.

The Mixed DrawnDoubles

waswon by JohnnyWright

andNeville Bensdorp

earningthemselves22points

and4wins.Agreateffort.

Runners upwereBernice

Laird andRichard Browne.

TheUnder 70's eventwas

wonbyChristine Carrand

JonathanCrum, earning

themselves 11 points and3

wins, andRunners up were

Adair Jones and Bernice

Laird.

The70and over event was

wonbyBetty King and

JohnnyWright earning

themselves 27 points and3

wins, andRunners up were

Mavis Thompson andColin

Jones.

Wemustcongratulatethe

winners andrunners up who

did so well and were a

mixtureofexperienced and

newer player, oneofthe

advantages of drawingteams.

Awelldonetoall whotook

part, because without then

there wouldnot be a

competition.

Wehad six players take

partinthe BastilleDay

TournamentinChristchurch

on July19. Jan Guilford,

JonathanCrumand Neville

Bensdorpall finishedinthe

top eight.

OnSaturdayweare hosting

the CanterburyDoubles with

16 verygood teams

participating,and on Sunday

we arehostingthe

CanterburySingles with 22

players takingpart. Agood

portion of players for both

these events arefromour

own club which is really

pleasing.

There will be somegood

games to watch if you have

somesparetime do comeand

joinus.

Long­term volunteers (from left) Eleanor Weir (25 years), Betty Wilson

(15 years) and Lynne Curd (five years).

Blind and low vision

groupofferssupport

It's been averyunusual year for

everyone because of Covid­19 and

Blindand Low Vision New

Zealand (BLVNZ) is no different.

With therecentname change to

more accurately represent the

membership, others with low

visionmay be eligibletobenefit

fromBlind andLow Vision NZ's

guidance and equipment, together

with local committee social

activities and support.

The Ashburton branch

membership stands at 78.

Membershaveenjoyed seven

lunch meetings and six outings

overthe year.

The outings were long­standing

afternoonsgiven for the 71st time

by both Ashburton Rotary and

Tinwald Red Cross. Hinds WI put

on lunch andentertainment in

August and in October there was a

cuppa at theWeirs' at Lake Hood.

The Christmas party was held at

The Stables and in early2020 the

WilliamsonsatConiston hosted a

barbecue.

The two annual collections, Red

PuppyAppeal in March and Blind

Week in October, were well

supported.

The organisation appreciates

support fromAdvance Ashburton,

Ashburton Taxis, Hinds WI,

Methven's volunteer drivers and

Stay fit &earn $$$

at the same time

Spend a couple of hours

every Thursday delivering the

Ashburton Courier and Realty in

the Ashburton urban area.

Enjoy the fresh air, stay fit and

reap the health benefits!

Phone Mary todayon308 7664

to get startedoremail

mary.summerfield@ashburtoncourier.co.nz

2292702

Retiring committee member

Judith Hughes served for 22

years.

Mr Colin Watson, MSAClub,

Pakeke Lions, Rotary Club of

Ashburton, Waireka Croquet Club,

private donors and the Plains at

Tinwald.

BLVNZAshburton Community

Committee chairman Dennis

Swaney can be contacted on 0272

221281 and secretary Eleanor

Weir on 3026914.
---
NEWS

24 Ashburton Courier, August 6, 2020

www.ashburtoncourier.co.nz

Teams tested in

science challenge

Mid Canterbury studentshave

combined elementsof

engineering and science and

havebeen testedatthe EPro8

Challenge.

Held in the Ashburton

IntermediateSchool, teams

from Years 5/6 and Year 7/8

tackled challenges involving

teamwork, practicalskills,

logical thinkingand some

mathematical calculations.

On MondayYear5/6 teams

chose to either crafttheir own

miniarollercoaster, developa

multi­faceted crazyparty

contraption, supermarket

trolley racerorwork on a

challenge featuring elements

behind the legend of Maui

capturing the sun.

EPro8 Challengeevent

manager KelvinThiele said

teams hadchosenone

challenge, workedagainst the

clock and gained points as they

completed stages of their

project.

The inter­school competition

wasdesigned to give students a

funand rewarding

introduction to science and

engineering.

Right: The Lauriston School

team of Tom McCambridge,

James Irwin, Toby Maw and

Kaiah Brodie demonstrate their

rollercoaster work in progress.

Canal fishing ban in winter of 2021

Jarrod Bedford releases a

10.9kg rainbow trout caught at

the upper Tekapo canal in June

this year. Photo Rhys Adams

MidCanterbury anglers who

visit Tekapo will be banned

from theupper half of the canal

next winter,for thegood of the

world famousfishery.

TheCentralSouth Island

Fish andGame Council will put

aprecautionary closure on the

canal fishery, upstreamofSH8,

for three monthsfromJune1,

2021. It followsanger concern

over the sustainability of the

trophy trout fishery.

Council chair Dr Andrew

Simpson said there had been a

dramatic rise of anglers

targeting therainbow trout

spawning run in the Tekapo

canal in wintertime overthe

pastfourfishing seasons.

''The council has takena

conservation­minded approach

towardanglers' concern that

there is too much pressureon

the spawning population anda

diminished fishing experience.

''The winter spawning season

closure of the upper partofthe

Tekapo canal will enable

spawning to occur unaffected

by fishingand allow thecouncil

to continue to carryout

researchinto the canal

fishery'ssustainability andits

value to anglers.''

Fish andGameofficerRhys

Adams said the immense

increase in popularity of

fishing in the spawningmonths

had required are­thinkoflongheld

canal management

principles.

He said it was previously

thought thatspawning in the

canal wasnot amajor

contributortotroutpopulation

but now.''In the face of

uncertaintyand increased

angling usage,wecan't rule out

that spawning within the canal

could now makeameaningful

contribution to trout

recruitment in the canal.''

The lower part of Tekapo

canal andotherMackenzie

canals are open year­round.

Be part of provincial

New Zealand's

premium real estate

auction event!

Spring 2020

Go Auction is an excellent opportunity

to get apremium for your property

with our hugely discounted marketing

packages. Limited spaces are available,

don't miss out.

To find out more about GO Auction,

call us today on0800 367 5267

pb.co.nz/goauction

*Terms and conditions apply |Property Brokers Licensed REAA 2008
---
SATURDAY 8THAUGUST

15 Millichamp Street, Ashburton 9:45-10:15am 2 1 2 AHB22767

147 McMurdo Street, Tinwald 10:00-10:30am 4 1 2 AHB22766

70 Melcombe Street,Tinwald 10:00-10:30am 3 1 2 AHB22811

100 Princes Street,Ashburton 11:00-11:30am 4 1 3 AHB22836

5PratleyCrescent, Ashburton 11:15-11:45am 3 1 2 AHB22838

11 Charlesworth Drive, Ashburton 11:30-12:00pm 4 3 3 AHB22611

119a Racecourse Road, Ashburton 11:30-12:00pm 4 2 2 AHB22588

7McElrea Place, Ashburton 11:30-12:00pm 3 1 1 AHB22732

4Oxford Street, Methven 12:00-12:30pm 3 1 1 AHB00000

157 Wilkins Road, Ashburton 1:00-1:30pm 4 2 6 AHB22748

SUNDAY 9THAUGUST

98 Pages Road, Ashburton 11:15-11:45am 4 2 2 AHB22698

86a Grey Street,Ashburton 1:00-1:30pm 3 2 2 AHB22839

Open Home

5Pratley Crescent, Ashburton

3 1 1

If you're aFirst Home Buyerthen Here'syourLatest and

Possibly BEST chance topurchaseyour First Home.

With 3bedrooms and constructed with the ever so popular

Red Brick cladding and Including aSuper Double Garage, this

property is Certain to Be Popular.

Don'twait foranOpen Home, Enquire Now, to get aHead

Start on the Rest of the very Deep Local Buyerpool.

As you'll be well Aware, the Market isNot slowing down and

your Best Chancewill be to Get InEarly. Nestled nicely in

acul-de-sac, there's room forthe family to playand so very

handy to the local schools.

SetDateofSale

closing 8August 2020, at

3:00pm (unless sold prior)

View

Saturday11:15 -11:45am

Armand vander Eik

021 597 527

rwashburton.co.nz/AHB22838

Mid CanterburyReal Estate Limited Licensed (REAA 2008)

Open Home

View our listings online at: rwashashburton.co.nz

11 Charlesworth Drive, Ashburton

*Four double bedrooms plus office, 3Walk-in-Wardrobes

*2Ensuites plus main bathroom with separate toilet

*Open plan Kitchen, Dining &Living plus Butlers Pantry

*Separate formal loungewith gas fire

*3Car Garaging, 1308m2 section (over2titles)

ForSale

$830,000

View

Saturday11:30 -12:00pm

4 3 3

Jarrod Ross

027 259 4644

rwashburton.co.nz/AHB22611

Mid Canterbury Real Estate Limited Licensed (REAA 2008)

Open Home

65 Northpark Road, Ashburton

5 3 8

100 Princes Street, Ashburton

4 1 3

*Indoor heated swimming pool

*5Double bedrooms, 3bathrooms plus office

*Great sheds plus room forapony

*10Car fully insulatedworkshop

*1.2 hectares with subdivision potential

ForSale

$1,420,000

View

by appointment

BruceMcPherson

027 438 4250

*4bedroom family home

*Open plan kitchen, dining through double sliders tothe

lounge, Compliant log burner installed 2018

*Double garage plus separate single garagewith workshop

and woodshed on 1012 sqm section

ForSale

Price onapplication

View

Saturday11:00 -11:30am

BruceMcPherson

027 438 4250

Denise McPherson

027 242 7677

rwashburton.co.nz/AHB22682

Mid Canterbury Real Estate Limited Licensed (REAA 2008)

rwashburton.co.nz/AHB22836

Mid Canterbury Real Estate Limited Licensed (REAA 2008)

Jill Quaid

Manager

027 437 6755

Kim Miller

Sales Consultant

027 236 8627

ChrissyMilne

Sales Consultant

027 236 8627

Cheryl Fowler

Sales Consultant

027 461 2614

Margaret Feiss

Sales Consultant

021 751 009

ShirleyFitzgerald

Sales Consultant

027 220 1528

Denise McPherson

Sales Consultant

027 242 7677

Janene McDowell

Property Manager

027 287 3388

Armand vander Eik

Sales Consultant

021 597 527

Lynne Bridge

Sales Consultant

027 410 6216

Mike Grant ncre

Sales Consultant

021 272 0202

Mark Totty

Sales Consultant

021 664 113

BruceMcPherson

Sales Consultant

027 438 4250

JustinWaddell

Sales Consultant

027 437 1111

Jarrod Ross

Sales Consultant

027 259 4644

Carey VonLubke

Property Manager

027 697 6948

96 TancredStreet, Ashburton 03 307 8317 Main Road,Tinwald 03 307 8317

rwashburton.co.nz

36 McMillan Street,Methven 03 303 3032
---
trusted

2020 GUIDE

trades &services

To book your spaceinthis guide,phone KarenGane 308 7664 or email karen.gane@ashburtoncourier.co.nz

Need storage?

we CAN STORE it!

Convenient, affordable

self storage solution

Phone 307 0213

•185 Alford Forest Road •behind

2291039

FREE LEGAL HELP

Helpinperson by appointment

Thursday9.15am -1.45pm

Ph 0508 CANLAW

(0508 226 529) to makean

appointment.

Helpbyphone Infoline

03 371 3819 or 0508 226 529

215 Tancred Street,Ashburton

2291052

PROFESSIONAL

PORTRAIT AND

COMMERCIAL

PHOTOGRAPHER

PICTURE FRAMING

GALLERY &STUDIO NOWOPEN

179WEST STREET

027310 6521

emmily@emmilyharmer.co.nz

www.emmilyharmer.co.nz

2291084

RESIDENTIAL &

COMMERCIAL SPECIALISTS

Phone Quentin andPhil on

027 282 8908 or 027 2828909

Interior and Exterior Painting

Interior Plastering

Wallpapering

2291026

Lubes WOF

Allmechanical repairs

GODSELL

BRICKLAYING

TRIANGLE

GARAGE LTD

Victoria Street,

TheTriangle,Ashburton

Phone: (03) 308 6772

2291183

•Houses

•Feature Walls

•Fences

•Blocklaying

Chris Godsell

027 274 2533

AH 308 7117

godsell@xtra.co.nz

2291204

2266285

2289510

2291175

Forall your tyre requirements,

see the localexperts

•Wheel alignments

•Wheel balancing

197 Wills Street,Ashburton l www.neumannstyres.co.nz

Phone 03 308 6737 (24 hrs –after hours call out applies)

2291137

WILSONS

WINDSCREENS

WE WELCOME ZEK

FROM WINSTONES

TO JOIN OUR TEAM

We areyour one stop glass shop for

AUTO and HOUSE

REPAIR or REPLACE 152 Wills Street,

"Your placeorours"

2291191

Ashburton

Ph.308 8485

Diamond Painters and

Decorators Ltd

Qualityinterior and exterior

painting and decorating

• Wall papering • Airless spraying

• Waterblasting • Residential and small commercial

• Roof painting • Freenoobligation quotes

Gutterguardinstallation and gutter cleaning

Phone Duncan 027 370 2453 l Jeanette 027 318 5055

email: diamondpaintersdecorators@gmail.com

2291081

GREAT

RATES

NewPCs

and Laptops

forsale

PETER TAYLOR

B

S

UILDER

LTD

FOR ALL YOUR BUILDING REQUIREMENTS

• New homes • Alterations • Light commercial • Farm buildings

• General maintenance • Paths • Tiling

Fully qualified licensed building practitioner

No job toosmall! Phone Peteron:

308 7133 or 027 220 8257

taylorbuilt@xtra.co.nz

2291139

Solar powerwhenyou need it most

We are experts at installing solar

power systems for motorhomes.

• SOLAR PANELS • BATTERIES • DC MANAGEMENT

• CAMERAS • TV SATELLITE • PUMPS • REFRIGERATION

AAA

Solar

&SUN POWERPLUS

South Island

4McGregorLaneAshburton

03 307 4777 -027 4423103

ashsolarpower@xtra.co.nz

aasolarsouthisland.co.nz

2290923

PC Repairs, Set-up and Tutoring

Icome to youday or evening!

•PCRepairs/Sales •Networks/Servers

•Firewalls/Security •Spyware Clean-up •Training

20 YearsExperience Microso Cerfied Professional

NETWORKS FIREWALLS AND PCS LTD

Robin Johnstone 67 Aitken Street, Ashburton

P: 03 308 1440 C: 027 768 4058

robinbj@xtra.co.nz

2291109

Restoration

Modifications Repairs

2287935

16 Cass Street,Ashburton l 03 308 0387

johnsons.panelpaint@gmail.com

115 Archibald Street,Tinwald,Ashburton

Phone /Fax: (03) 307 2354

Email tincanup@xtra.co.nz www.tinwaldcanvas.co.nz

2293200
---
trusted

2020 GUIDE

trades &services

To book your spaceinthis guide,phone KarenGane 308 7664 or email karen.gane@ashburtoncourier.co.nz

"we clean to a

standard,

not aprice"

Ashb

hbut

rton,R Rolles

leston

ton&Ch

Chrit

ist chu rch

•Paving •Irrigation •Lawns

•Planting •Fences •Pergolas

•Water features •Outdoor fires

•Raised planters •Decks

•Stonework•Brick &blockwork

•Artificialgrass and more...

Email –Aaron@theoutdoorspace.co.nz

Phone0800 688 365 /021 542 402

www.theoutdoorspace.co.nz

2299882

UNDER NEWAshburton

OWNERSHIP

Same exceptional CleaningServices

level of service

&quality cleaning

• regular full house cleans

• one off spring cleans

• farm houses

• builders cleans

•

100% LOCAL

03 307 2656

www.ashburtoncleaning.co.nz

2300233

ashburtoncranes2015@gmail.com

ALL THINGS CANVAS &PVC

*Awnings/Shade sails/Dropblinds*Auto seat covers &repairs

*Hay &bin covers *PVC covers &repairs

*Ute tonneau covers *Furnitureupholsteryrepairs

*Commercial

PHONE TRAVIS HOWDEN 027 922 4544

2291014

2291092

Your Digital

TV Experts

• Aerial/Dish installations and repairs

• Prewirefor TV/Audio and controlsystems

• TV wall mounting • Cell phone aerials

• Home theatreinstallation

• Authorised SkyTVtechnician

Servicing

Ashburton Geraldine

Methven Rakaia

andeverywhereinbetween

ASHBURTON

TV &AUDIO

PH 308 7332 /027 277 1062

ashburtontvandaudioltd.co.nz

2300244

We service and repair all makes and models

of sewing machines and overlockers

VISIT OUR STORE AND GET A

TREATFOR YOUR PET

Always in stock:

• Birdaccessories,food &treats

• Rabbit and guinea pig food,bedding &treats

• Cat accessories,collars&treats

• Dog collars,leads,toys, accessories &treats

• Aquarian accessories &food

• Dog crates &cat crates

• Raw,fresh &frozenpet food

• All sorts of dried products

SPECIAL

3kg DogRolls

2for $12

HAVE CASH FOR PETFOOD COWS AND UNWANTED STOCK

"Come andsee our friendlystaffin-store today"

Phone (03) 307 8996

027 312 5756 l 99 Archibald Street,Tinwald

2291153

2293215

4WD Diesel &ElectricScissorlifts

Rough terrain and electric lifts available

On site collection or deliveryavailable

Nowat6Range 403 West Street St,Riverside

PO Box 60, Ashburton 7740

Phone: 03 308 8155

Mobile: 0273 529909

Email:sales@nee.kiwi.nz

NEAT GARDENS

Does your garden need monthly

maintenancetokeep it tidy and

looking good through the seasons?

Or perhaps just need aone off tidy

or pruning completed?

We can help!

Allgarden wasteremoved

ContactCAROLYN Phone: 027 2675403 or 3082333

Email: cccolt@xtra.co.nz

FOR ALL YOUR ADVERTISING

REQUIREMENTS, GIVE

Jann or Karen acallon

308 7664

2291143

2291098

2297507

Your local Bernina

service team

•

•

•

John Robbie Rachel

OPEN 7DAYS9.30am -4.30pm

Main South Road, Tinwald Ashburton | Phone 307 6277

www.anniesquilts.co.nz

•New builds •Renovations

•All types of engineering

•Small or large projects

Rob021 124 4268 l Sam022 5428927

email: robsue@hotmail.co.nz

We offer the following:

• Gutter and DownpipeCleaning • Weed Spraying

• Moss,Mouldand Lichen Spraying • Spider Proofing

• Gorse and BroomSpraying • FenceLineSpraying

• Chimney/Flue Cleaning $75 • Heat Pump Service$90

MENTION THIS AD WHEN BOOKING FOR A10% DISCOUNT

ON GUTTER AND DOWNPIPE CLEANING

Call Allan on 027 209 5026 an let us know howwecan help

2293205

2290907

Thinking of Selling -Think 3D!

Trevor Hurley

0275 435 799

Manu Otene

022 308 6885

Linda Cuthbertson

0274087965

Stephen Watson

027 433 9695

Julie Srhoy

021 354 885

Deborah Roberts

0210752180
---
CLASSIFIEDS

28 Ashburton Courier, August 6, 2020

CROSSWORD

ENTERTAINMENT

BUSINESS OWNERS

Build customers,sales and

profits,with us ...

Over 16,065 copies delivered everyThursday

PRINT, ONLINE ANDMOBILE 24/7

QUICK PUZZLE NO. 8578

ACROSS

1. Greeting (4,9)

8. Correct (5)

9. Prisoner (7)

10. Vocalist(6)

11. Live (6)

12. Break (5)

14. Weight (5)

18. Oppose (6)

20. Sour (6)

23. Disgusting(7)

24. Intended (5)

25. Golf round (8,5)

DOWN

1. Loud (6)

2. Musical instrument

(5)

3. Ingenuous(7)

4. Nail (4)

5. Scope (5)

6. View (7)

7. Spice (6)

13. Absent (7)

15. Victory (7)

16. Country (6)

17. Jars (6)

19. Brief(5)

21. Path (5)

22. Bequeath (4)

CRYPTIC PUZZLE NO. 8578

ACROSS

1. "Did the barber use shears to trim your hair"? (7,6). 8.

Something really nice you prescribe for (5). 9. Well, the

American agents init are acomplete fabrication (7). 10.

Punishmentfor helpingacriminalonthe run? (6). 11.Tried

to wanderonto the street (6). 12. Adifferentone round by

the river (5). 14. The driver gets it in and out (5). 18. A

stone upturned by the animals (6). 20. Before the snow,

having to be quick (6). 23. In the big picture, about to

forefeitthe trophy (5-2). 24. Ayoung thing and unimportant(5).25.

Are theyworth more thangolden handshakes?

(7,6).

DOWN

1. Like thattune that'sbugging you? (6). 2. Thetendency

is toturn right and stop (5). 3. Batting and nervous but

great (7). 4. Note the outfit hasn't been paid for (4). 5.

Backwiththe soldierwithin an hour(5). 6. Thinner, but a

very good sound (7). 7. It'simmature, you know.Ittakes

timeto sink in (6). 13. Lamb,too,cooked as game(7).15.

Am in the clear,anyhow, sweetie (7).16. From springto

amonthback,atintervals(6).17. Saves so hard it'ssilly!

(6). 19. The firm is in the red? Quite the contrary, Ibelieve(5).

21. Goesdownto"Kitchen Fixture" (5). 22. Ran

from the heartless"16 Down"(4).

SUDOKU

MEDIUM No. 5229

5 9 6

7 6

3 9

1 7 2

7 2 5 4 1 9 6

5 2 1

2 7

3 8

3 4 2

Solution to previous Sudoku

Howto

solve

Sudoku!

Fill the grid

so thatevery

rowand every

3x3 square

contains the

digitals 1to9

4 6 8 1 9 7 2 5 3

2 5 7 3 8 4 6 9 1

1 3 9 5 2 6 7 4 8

6 9 2 8 4 1 5 3 7

3 7 4 2 5 9 8 1 6

5 8 1 6 7 3 4 2 9

8 1 3 4 6 5 9 7 2

9 2 5 7 3 8 1 6 4

7 4 6 9 1 2 3 8 5

Solution to previous crossword

QUICK PUZZLE NO. 8577 -SOLUTIONS

Across -1,Shoulder. 6,Sack. 8, Aria. 9, Valuable. 10,

Chair. 11, Gender. 13, Salmon. 15, Opiate. 17, Sprawl.

19, Pansy.22, Proposal. 23, Idea. 24, Anon. 25, Sorcerer.

Down -2,Harsh. 3, Uranium. 4, Dove. 5, Religion. 6,

Spain. 7, Collect. 12, Analysis. 14, Aspirin. 16, Imagine.

18, Aspen. 20, Sieve. 21, Slur.

CRYPTIC PUZZLE NO. 8577 -SOLUTIONS

Across -1,Fore-cast. 6, Come. 8, En-I-d.9,A-Dora-bly.

10, Grown (groan). 11, En-TA-il. 13, Mur-der (rev.). 15,

Docked. 17, Edward (anag.). 19, Sally.22, B-right-en. 23,

T-one. 24, So-me. 25, Reserved.

Down -2,Own-er.3,End-owed. 4, Ad-am. 5, Twoheads.

6, Char-t. 7, Mal-ais-e. 12, Preda-tor. 14, Under-go. 16,

Charte-r.18,A-r(O)gue. 20, Lance. 21, Ants (anag.).

ContactJann Thompson 03 308 7664 jann.thompson@ashburtoncourier.co.nz

RENT ME!

FOR LEASE

2292865

AWESOME office space for

lease, rent or hire. Parklike

setting. Indoor and outdoor

areas. North West

town boundary. Must view.

Phone 0274 754 241

www.ashburtoncourier.co.nz

Creative Communities

Scheme -Committee

Members

TheAshburton District Council administers theCreativeCommunitiesScheme

on behalf of Creative New Zealand and weare looking for advocates and

committeememberstoserve forathree year term.

The vacancies on the committee have arisen due to the end of term ofthe

incumbentswho haveservedthe local arts community well.

Expressions of interest arebeing sought from people whohavethe necessary

skills to continue this valued contribution.

For more information onwhat it takes tobeamember ofthe committee

please contact the Councilon3077700 or to submit your letter expressing your

interest visit our website at www.ashburtondc.govt.nz

Postal applications canbeaddressedto:

CreativeCommunitiesSchemeAssessment

Committee

C/- Ashburton District Council

PO Box94

Ashburton

Applications close on Sunday,16

August 2020.

SITUATIONS VACANT

www.ashburtondc.govt.nz/careers

Property

MaintenanceOfficer

If youareajack of alltrades…and canmaster morethan one,thisvaried role

youwillsuityou perfectly.

Whether you are performing basic property maintenance duties yourself or

using your knowledge tooversee trades people, it is important that you can

effectively and efficiently manageyour day.

It'salso essential that youare able to work and communicatewith arangeof

people as youwillbeperforming ad hoc, after hours or scheduled maintenance

work in Council buildings including the Administration Building, Museum,

Library and ElderlyPersons Housing.

Withthe right attitude, basic computerabilities and generalskills in arangeof

trades, this position could be yours.

To find out more about these

vacancies and what the Ashburton

District Council has to offer you-visit

our website.

Applications close Friday, 21 August

2020.

Sunday, August 9th @2:30pm

AshburtonClub &MSA

266 Havelock St, Ashburton.

Phone 308 7149

www.ashburtonclub.co.nzw

2299148

Ideal as an extra

bedroomoroffice.

Fully insulatedand

double glazed forwarmth.

Threeconvenientsizes:

Standard3.6m x2.4m,

Large 4.2m x2.4m

Xtra-large 4.8m x2.4m.

Visit our displaycabin

418WestStreet or callfor a

freebrochure.

www.justcabins.co.nz

2289121

0800 58 78 22

STORAGE and space leasing

for vehicles, motorbikes,

bicycles, boats,

motorhomes, caravans,

tractors, trucks, trailers and

containers. Indoor, outdoor

or under cover. Call Peter

027 333 3626.

STORAGE available, Ashburton.

Self storage, variety

of sizes. Phone Rainbow

Storage 03 307 0401.

STORAGE:Secure self storage

units available, long or

short term. Ashburton Storage

Facilities. Contact us

on 0274 362 636 or www.

ashburtonstoragefacilities.

co.nz

PARTS &ACCESSORIES

BOOT Tray for sale. Will fit

Ford Focus 2012 onwards.

Ph 027 390 0225

www.ashburtondc.govt.nz/careers

GARDEN SUPPLIES

MUSHROOM COMPOST

Nowisthe time to dig in our topqualitymushroom

compost to your vegetable garden. Ideal to replenish nutrients

used by previous crops and improvethe soil structure.

It also adds beneficial micro-organisms to thetired soil.

$50 per cubic metreor$10 bag.

Freedelivery within town boundary.

Open 6daysaweek at our Tinwald yard,

208 Maronan Road. Phone 021 129 8936 or 03 308 3331

MAKE money selling your

unwanted items. Up to 24

words for only $8. Can't get

better than that. The Courier.

2299919

ARE you struggling to make

ends meet? Need extra

money? Why not sell your

unwanted items in The

Courier! Everything helps.

BRIDGE Street Nursery has

moved. Now trading as

Paul's Garden Nursery at

101 Harrison Street,

Allenton, Ashburton.

Entrance on Clark Street.

13 varieties of seed

potatoes and fresh free

range eggs available.

Phone Paul 0272 781 354.

Open 7days.

GARDENERS specials.

Sheep manure $5 bag.

Medium square Linseed

Straw $35 bale. Call Alan

027 496 7136 or Ian 027

286 3697 with your order. A

Hinds Lion's project.
---
ASHBURTON

SITUATION VACANT

Hunting and Fishing stores throughout the

countryhavebeen market leaders in their field for

many years now. Ashburton Hunting and Fishing

is no exception.

We have afull time position available forthe right

candidate in our busy sports store.

The successful applicant will have abroad base

knowledge of our products including of course,

hunting and fishing, camping, tramping, diving

and clothing and be active in these outdoor

pursuits. They will have excellent people skills

and be able to communicate with awide variety

of age groups. A retail background would be

an advantage and full training will be given. A

willingness to satisfy our customers needs is

essential as we pride ourselves on our service.

If you are interested in joining agreat team and

working environment, we invite you to send your

handwritten application outlining past experience

and current CV to;

TheManager

AshburtonHunting and Fishing

PO Box181

Ashburton7740

Applications close on 14 August 2020.

Family Works–Counsellor

32 hours -negotiable

The Counsellor role is focused on supporting

children and their family /whanāu who are facing

complex challenges. The aim is to enable positive

strategies and practical support for children and

parents, who will benefit from strengths based

intervention; to improve their well-being and

contribute tolong term positive outcomes. This

role will require collaborative and/or partnered

responses in order to facilitate good outcomes with

our clients; while working in the community or

based at our Ashburtonoffice.

We wish toappoint acaring and compassionate

staff member who holds arelevant professional

qualification/registration; or is working towards

registration. At Presbyterian Supportweofferasafe

and supportiveworking team environment. Therole

offers stimulating, challenging, rewarding work, an

opportunitytocontributetostrengthening families

and the community.

The job description and application form are

available on the PSUSI website or confidential

enquiries welcomed by phoning Suz Hutchinson

at 03 2616907. Applications close on 13th Aug

at 5pm, please email your application form, cover

letter and CV to sarah.cawston@psusi.org.nz

SITUATIONS VACANT

2301230

Loveour store? Join our team!

We arelookingfor aparttimesales assistanttojoin

our team at the AshfordCraft shop in Ashburton.

We arelooking forsomeone passionate about

all things wool craftand exceptional customer

service.

Youwill need to have excellentcommunication

skills,agood level of computer literacy, be flexible

and self-motivated.

Retail and wool craftexperiencepreferred,but all

training will be provided.

10 -15hours per week including aweekend day.

Please submit your CV to:

Nicola Bota

AshfordCraft Shop

427 West Street

Ashburton

sales@ashfordcraftshop.co.nz

2301421

2301682

16,065 COPIES EVERYWEEK

1278047

CASUAL STORE PERSON

Ashburton

Luisetti Seeds is asignificant provider of grain and

seedboth nationallyandinternationally.

Opportunityhas arisenfor aCasual StorePerson at

our Ashburtonsite.

Keyresponsibilitieswill include:

• Assisting withthe intake anddispatchfunctions

includinggeneralyardduties

• Operating modern seed cleaning, treating and

mixing plants

• Opportunity to progress into a peramanent

positionfor the rightapplicant

You will have aproven history of: reliability and

punctuality, efficient time management skills,

working solo and inateam environment, being a

self-starter, able towork toadeadline, attention

to detail, working well under pressure and an

enthusiastic manner.

A willingness to work extended hours when

required and a friendly customer focused

personality would be desirable. Seed cleaning

experience, knowledge of agriculture and forklift

licencewould be an advantage butisnot essential.

On sitetrainingwill be provided.

Remuneration to reflect the applicants experience

and ability.

Applications should detail recent relevant

experience, qualifications and references.

Applications will be treated and viewed in

confidence. Please apply to:

Luisetti Seeds Ltd

PO Box77

Rangiora7440

Attention: KarenVan Staden

or admin@luisettiseeds.co.nz

TRADE &SERVICES

ALTERATIONS. Sewing,

mending and trouser hemming,

curtain alterations

and curtain making. Call

Michelle on 027 352 7248.

BUILDER - specialising in

home renovations and

repair work. We also do

decks, fences and retaining,

plastering and painting,

gardening, landscaping

and tree removal. Call

Gavin 021 267 1979

BUILDING and property

solutions. For your complete

alteration or renovation.

We project manage

the whole process. Home

and small commercial.

Qualified tradesmen.

Phone Kiwi Building &

Maintenance Ltd. Ph Cawte

027 418 7955 or Gary 308

4798, 027 207 1478.

CARR'S Chimney Cleaning,

servicing Ashburton and

surrounding districts, $60

per chimney. Phone

Rodney on 03 324 2999

and leave amessage.

COMPUTER repairs, sales,

training, set up -wireless -

networks, spyware clean

up. On-site day or evening.

Low fees. Call Robin Johnstone,

Networks Firewalls

& PC's Ltd, 308 1440 or

027 768 4058.

CONCRETE pavers direct to

you - Best prices, many

sizes, textures and colours

- Paveco, 13 Robinson

Street, Industrial Estate.

CONCRETE Services -

Driveways, paths, patios,

mowing edging. Decorative

concrete specialist, 30

years servicing Canterbury.

Free quotes. No job too big

or small. Phone Paul 021

152 1966

ENGINEERING repairs, fabrication,

farm equipment

service and maintenance,

WOF repairs, machining

and welding. Odd jobs a

speciality. Mobile workshop.

Can collect. Phone

Malcolm 0274 754 241

2293021

DENTURES; Dr Peter

Rumping repairs existing

dentures and also provides

new dentures. Phone 027

220 9997.

FLY control and spider

proofing. For all domestic

and industrial pest control

needs phone AJ Kerr at

Ashburton Pest Control on

03 308 8147 or 027 432

5447.

LAWN Mowing. No job too

small. Call Les Smith, From

The Ground Up, for a

competitve quote. Ph 027

840 0201 or 03 308 1500

FURNITURE Removals. For

all your household removal

needs - urban, rural lifestyle,

office relocations -

call Nudges Furniture

Removals, phone 027 224

0609

CARPET cleaning. Powerful GARDENING, mowing,

equipment and fast drying. pruning, fertilising, projects

Upholstery, mats and rugs. or general spruce ups? Call

Experienced owner/operator.

Phone John Cameron to get the job done right.

Andrew at Spruce Gardens

at Supersucker. 027 435 027 765 2899 or 03 307 1693.

1042 or 308 1677.

sprucegardens@xtra.co.nz

GUTTER cleaning. Book in a

clean now and tell me when

you want the job done. You

may have trees around.

Call Allan 027 209 5026

INTERIOR

PLASTERING

New or existing,

level 4finish, full skim

plaster or repairs

The Finishing Company

03 307 8870 2291359

LEGAL work -Phone Peter

Ragg (Ashburton Law) for

house sales, purchases

and refinances. Will call at

home evenings for wills,

enduring powers of

attorney. Phone 308 0327.

LOCKSMITH/Door repairs.

Keys/locks, sliding and bifold

door roller repairs.

Mobile service. Call Doors

and More. Ph 027 516 7104

MENTORING for emotional

support, guidance, optimism,

goal setting, resilience.

Professional supervision.

Call Pete Young, 307

7582/027 280 0889; email

plyoung@xtra.co.nz; web:

peteyoung.co.nz

TRADE &SERVICES

PAINTER for all your painting

needs. No job too small,

inside or outside. Professional

friendly service.

Phone Pete 03 308 1672 or

027 200 1619.

PAINTING wallpapering,

plastering - No job too

small. Interior, exterior.

Professional, prompt, competitive

service. Phone

Tony Sivier at Paint It Ashburton

on 021 878 794 or

307 7289.

PLUMBER. Repair or

replace; taps, shower

mixers, hot water cylinders,

basins, tubs, toilets, vanity

units, leaking pipes. Call

Pete Young, experienced

plumber 027 280 0889/307

7582

TINT-A-WINDOW, fade, UV

block, glare, heat control,

safety, security, privacy,

frosting films, solar protective

window films. Free

quotes, 20 years local service.

Phone 0800 368 468

now, Bill Breukelaar, www.

tintawindow.co.nz

CONSISTENT,RELIABLE

COMMERCIAL AND DOMESTIC

WINDOW &CARPET CLEANING

Competitivepricing

PensionerRates available

Professional, friendly service,

happycustomers

We coverTimaru, Oamaru,

Ashburton, Geraldine &Temuka

"Efficient,reliable &professional"

Ronald vanKoot 022 318 6936

www.timarucleaners.co.nz

Drier. Cleaner. Healthier.

24/7 mobile service for

all your carpetcleaning,

upholstery cleaningand

flood restoraon needs.

Timaru 03 684 6102

Ashburton 03 308 8932

WINDSCREENS and house

glass. Qualified flat glass

glazier now in-house. Anything

glass, give us acall.

Your place or ours. Wilson

Windscreens, 152 Wills

Street, Ashburton. Phone

03 308 8485.

TRAVEL

BUBBLE BUSTER

HOSTED TOURS

West Coast Tranz Alpine 5

days ex Christchurch, Bay of

Islands 5days Heritage Tour,

Great Barrier Island 4days,

Chatham Islands 8 days,

Taranaki, Central North

Island, ex Auckland. Ph 0800

309 196. www.nztours.nz.

Email: steve@nztours.nz

BECKLEYCOACHLINES

PROGRAMME

Itineraries for

STAYHERMITAGE

MT COOK

AKAROA TOURS

available now.

TRIP TO THE

COUNTRY

Sunday16thAugust

depart9.30am

Forbookings phone

308 7646 or

027 249 1827

2298473

2301183

2302165

AGM

Saturday22nd

August,3:30pm

@the centre

4SeafieldRoad

Subs due $10

All welcome.

QualityEuropean

Vehicle Servicing

•Advanced

Diagnostics

•Experienced

Technicians

MEETINGS

MID CANTERBURYLADIES FRIENDSHIP CLUB

Advise all members thatour next meeting will be

held in the GalleryRoom, AshburtonHotel on

12 August at 9.45am.

This meeting will include agood speaker

and morning tea.

Entranceisvia main hotel door.

All welcome

2302219

ASHBURTON Horticultural

Society AGM, Monday 24th

August at 7.30pm Domain

Pavilion, Walnut Avenue.

New members welcome.

HAKATERE Maori Komiti

AGM will be held Monday

10th August at 6pm at

Hakatere Marae. All members

and all interested are

welcome to attend.

SELL

COUCH 2200cm long,

cream/fawn fabric. Very

comfy. Excellent condition.

$300. Ph 03 307 4600 or

029 772 4461

LPG

REFILLS

Small LPG cylinders

Off Street Parking

Available

Arthur Cates Ltd

26 McNally Street

Ph 308 5397

Riverside Industrial Estate

LPG REFILLS

9kg cylinders

$27.50

Askaboutour

deliveryservice

Anysizecylinder filled

17 Grey St,Ashburton

Phone 307 2707

2300187

2300293

EDUCATIONAL

AUTOMOTIVE SERVICES

•Collection/Delivery

'Free of Charge'

in Ashburton

Bruce McIlroy Limited

309MethvenHighway, Ashburton 7776

Tel: 03 3087282 •E:bruce.mcilroy@xtra.co.nz

MTAAPPROVED

FIREWOOD

SCREENED SLAB

FIREWOOD

FIREWOOD

SLABWOOD

3cordgreen

$330

1cordgreen

$110

1cordscreened

$140 cord

OFFCUTS

$140 cord

C.O.D.intown

Adams Sawmill

Malcolm McDowell Rd

Phone

308-3595

DRYPINE

FORSALE

$300 per cord

delivered

within the town

boundaryand

Mayfield/MtSomers

Phone Sue

021 162 4102

Call us for a

FREE

QUOTE

2300979

2302580

2297803

DRY old man pine. 6 m 3

$575. Delivered to most of

Mid Canterbury. WINZ

accredited. Phone Rob 027

297 7563

FRUIT &PRODUCE

POTATOES Nadine and

Agria. $1.00 per kilo, 10kg

bag $10.00. Seed potatoes

$2.50 per kilo. Phone 308

3195 or 027 531 9103. 81

Elizabeth Street.

Forkliftand Dangerous GoodsCourses

NZTAApproved Course Provider,MITO&Competenz Assessor

Classes 2&4,Endorsements F&D

ForkliftF&OSH, Saturdays and other days as requested

Dangerous Goods Course,½day Mondaymornings

CommunityHouse,Ashburtonoryour work place

Forfurther information

Phone Christine 027 245 2563

2301554

2291237
---
HEALTH &BEAUTY

URGENT CARE CLINIC

WEEKEND DUTYDOCTORS

IN THE EVENT OF AN EMERGENCYPHONE 111

Forall othermedicalassistance outside of normal

hoursplease phone your generalpracticeteam,24/7,

to speak withahealth professional whowill giveyou

free health advice on what to do or where to go if you

need urgentcare.

If youdon't have aregular generalpractice, call any

GP team 24/7 forfreetelephone health advice.

All non-residents and visa holders please bring your

passporttoyour surgeryappointment.

New Zealanders'tobringsome form of ID.

TheAshburtonDutyPractice for ...

Saturday8th August is

Tinwald Medical Centre,33Archibald Street.

Consultations will be by appointmentonly.

To make an appointmentcallyour regular GP 24/7.

Sunday9th August is

MooreStreet Medical Centre, MooreStreet.

Consultations will be by appointmentonly.

To make an appointmentcallyour regular GP 24/7.

Methven and Rakaia: Formedical attention on the

weekend and public holidays please telephone

MethvenMedical Centre on 03 302 8105

or Rakaia Medical Centre on 03 303 5002.

Details foraccessing the afterhours services will be

on the answer phone.

PHARMACIES

Wises Pharmacy,CountdownComplex,

East Street will be open on ...

Saturday from 9.00am until 1.00pm

Sunday from 10.00am until 1.00pm

At Geraldine: TheGeraldine Pharmacywill be open

normal trading hours during the week,and on

Saturdaymorning from 9.30am to 12.30pm.

Closed Sundays and Public Holidays

Forfree24hour Telephone Health Advice

Phone the healthline on 0800 611 116

Brought

toyouby

CountdownComplex, East Street, Ashburton

Phone: 03 308 6733 Fax: 03 308 6755

Peter Blacklow

Full range of engineeringsuppliesand accessories forall your repairs

&maintenance. Kerrickhot &cold waterblasters &industrialvacuum cleaners.

Essetiwelders &accessories. Stockists and distributors of TrailerEquipment.

Free learners licencecourse

• New to thedistrict?

• Liverurally?

• Needadriver's licence?

We canhelp you!

TheMid Canterbury Rural Driver Licencing Scheme

arerunning another free Learner's LicenceCourse.

This free course is open to adult newcomersinrural

MidCanterburyand willtake placeinAshburton

beginning Tuesday1st September from 11am –

1pm. We can assist with transportand child care

where needed.

On gaining alearner's licencewewillbegin

working towardsarestrictedlicenceortoconvert

your international licence. Spaces arelimited so get

in quick.

To register,please contact

Wendy Hewitt,Rural Licencing Coordinator

Phone 03 308 1395ext 228 or 027 611 3301

ASHBURTON

South Street, Ashburton PHONE (03) 308-3147

Email office@blacklows.co.nz FREEPHONE 0800 452 522

2299978

PUBLIC NOTICE

TradeZone is proud to be supporting Blue September.

PETE'S

PICK

Locally owned &operated family business for 67 years

XCEL ARC

CHAOS AUTOMATIC

WELDING HELMET

Unique Kiwiana graphics.

CHAOS

$155.65+GST

(formerly SPCA)

Friendly 4year old

black catneeding a

new home.

Barncatsavailable.

Food donations arewelcome and

greatly appreciated.

Kindly sponsored by

Adrienne Patterson

Ph308 4432

180216

2300157

Thurs 6th

10.00 This Town

10.00 MilitaryWives

11.45 Where'dYou Go Bernadette

12.00 TheSecret -DaretoDream

1.45 MilitaryWives

1.50 Radioactive

3.50 Where'dYou Go Bernadette

4.00 Unhinged

6.00 This Town

6.10 TheSecret -DaretoDream

7.50 MilitaryWives

8.10 Unhinged

M

M

M

PG

M

M

M

R16

M

PG

M

R16

Fri7th

10.00 TheSecret -DaretoDream PG

10.00 MilitaryWives

11.50 This Town

M

M

12.00 Where'dYou Go Bernadette M

1.30

2.15

Unhinged

Radioactive

R16

M

3.05

5.00

TheSecret -DaretoDream PG

Where'dYou Go Bernadette M

5.00

7.00

7.00

MilitaryWives

This Town

Unhinged

M

M

R16

Sat8th &Sun 9th

10.00 Trolls WorldTour

10.00 RedShoes &the 7Dwarfs

11.45 TheSecret -DaretoDream

11.50 This Town

1.40 MilitaryWives

2.00 Trolls WorldTour

3.50 Unhinged

3.50 Where'dYou Go Bernadette

5.55 MilitaryWives

6.15 TheSecret -DaretoDream

8.10 This Town

8.15 Unhinged

Mon10th, Tues 11th

&Wed 12th

10.00

10.00

11.45

12.00

1.45

2.00

4.00

4.10

6.10

6.15

8.10

8.15

This Town

MilitaryWives

Where'dYou Go Bernadette

M

TheSecret -DaretoDream PG

MilitaryWives M

Unhinged

R16

This Town

M

Where'dYou Go Bernadette M

TheSecret -DaretoDream

MilitaryWives

Unhinged

This Town

G

G

PG

M

M

G

R16

M

M

PG

M

R16

M

M

PG

M

R16

M

NO COMPS

MilitaryWives,

TheSecret -DaretoDream, This

Town, Unhinged,Where'dYou Go

Bernadette

DebraCurtin

Chiropractor

03 308 9516

www.ashburtonchiropractic.co.nz

Feminine Health &Wellness Coach

• Reiki

• Massage

• Nutritionals

• Skin and Body Care

• Self Hypnosis

FOCUS Optometry - good

honest eye care, support

local. Phone 307 8988. 65

Tancred Street, Ashburton.

www.nzfocusoptometry.co.

nz

SPACE available for next

weeks Courier -bequick!

Talk to us about your advertising

requirements. Phone

308 7664 or call into our

office at 199 Burnett Street,

Ashburton.

PETS

Mobile

groomer now

servicing

Ashburton

Call nowtobooka

pamper foryour pooch

Ph 0800454 654

• Weight Management

Phoneortext 027 282 1585

2300289

Annie

HOME SERVICES

2300234

2293733

XERO

BOOKKEEPING ,

GST &OFFICE

ADMINISTRATION

Virtual and onsite administration

services offered on a

contract basis. Aspecialist at

implementing new office systems

for farmers, homebased

businesses, or sole

traders. Available for one-off

or contract assignments.

Phone Rochelle 0272011316

www.needagirlfriday.com

ROOF COATINGS: All roof

types, specializing in

Decramastic and Long Run

Iron, Coloursteel etc, steep

roofs not a problem. —

Spraymaster 027-433-7780.

GARAGE SALES

SATURDAY 8th August.

Outdoor furniture, desks,

headboards, jigsaw

puzzles, household goods.

Country Place, 8am-11am

2262328

Classified Deadline

Please note

Ourclassified deadlineis

4:30pm Tuesday

prior to Thursday

publication.

Phone 308 7664

Email: office@ashburtoncourier.co.nz

HospiceMid Canterbury

Dealing

with alife

limiting

illness?

We can help with:

2294024

•Sittingand companionship

•Counselling and bereavement

support

•Biographywriting

•Massage,reiki and reflexology

•Activityand support

programmes

Phone 307 8387 or 027 227 8387

email manager@hospicemc.nz www.hospicemc.nz

Allservices

arefree

MooreStreetMedical Centre

We areaware that some newresidents of the

Ashburtondistrict arehaving difficulty

enrollinginaMedical Centre.

Ourbooks will be open over wintertoenrol new

eligiblepatients. Ourdoctors andstaffoperate a

comprehensive family orientatedpractice forall

membersofthe community.

To enrolcontactreception ph 03 3083066

2298670

Allfamilies of prospectiveNew Entrants to

Tinwald School from

September 2020 to June 2021 areinvited to an

Information Meeting

on Thursday20thAugust at 9:30 am

in the Tinwald School hall.

Allwelcome!

Forcateringpurposes please RSVP

by phone on 308 4555

Chertsey Reserve Board

The purposeofthe meeting is to elect up to sevenresidents

to fillthe vacancies on theReserveBoard.

The Boardwill meetimmediately following theTriennial

Meeting and appoint memberstothe positionsof

Chairman, Secretaryand Treasurer.

Date: 12/08/2020

Venue: ChertseyHall

Time: 7:00pm

ALL RESIDENTSWELCOME.

HamishRiach

Chief ExecutiveOfficer

Ashburton District Council

ashburtondc.govt.nz

2301529

WANTED TO BUY

METAL, heavy etc. Free

light-grade metal in-yard

dumping 9am-5pm weekdays

&9.30-11.30am Saturdays.

Ashburton Scrap

Metal Recyclers, 117 Alford

Forest Rd, (behind

PlaceMakers). Phone 03

308 8033 or 027 249 6625.

HIRE

SCISSORLIFTS for hire.

4WD and slab lifts available

for daily or weekly hire.

Pickup or delivery. Phone

North End Engineering 308

8155 for abooking.
---
We have everything for your home

Dining tables

20%

OFF

20%

OFF

20%

OFF

Old Elm Stockholm Cross

Chairs

Seddon Ranfurly Frankie Zoe

Lounge Suites

Ana

Ascot

Lounge suites custom-made to your sizeand fabric choice

Talk to our designteam about your needs

Amanda

Kelli

Lois

Shelley

Louis

2294118
---
QUALITY USED VEHICLES

@AFFORDABLE PRICES

WARRANTIESAA APPRAISEDFINANCEBIGGEST YARDBEST SELECTIONTRADE-INS

2014 NISSAN SYLPHY X

Auto,1800 cc,air con,

ABS,cam chain, 49,000 kms

$10,995

2012 TOYOTA VITZ F

1300 cc,air con, ABS,climate

control, 19,000 kms

$11,995

2011 SUBARUFORESTER 2.0 XS

2000cc, air con, climate control,

ABS, diesel,twin air bags,

4X4, push button start,

safetyfeatures galore

$11,995

2013 TOYOTA AQUA G

Hybrid,auto, 1500 cc,ABS, air con,

cam chain

$10,995

2015 SUBARUIMPREZA 1.6i

2WD,1600cc, sport, ABS,

air con, cam chain 26,000 kms

$11,995

HONDA NISSAN TOYOTA

2006 HONDAINSPIRE AVANZARE, 3000 cc,4door,abs,air con,

cruise control, climate control57,500kms........................ $9,995

2013 HONDACR-V24G, auto5door,ABS, cruise control,

alloys,tow bar, 66,000 kms, 2400cc..................................... $22,995

2007 HONDAELYSIONPRESTAGESZ, auto, petrol,7seater, 5door,

ABS, foglights,105,000 kms, 3500cc, alloys,cruisecontrol,news

tyres, and loaded.............................................................................. SOLD

2007 HONDASTEPWAGON G, 5door,8seater, ABS, air con, rear

spoiler,95,000 kms, 2000cc....................................................... $8,995

2007 HONDACR-V 4WDZX, 2400 cc,ABS, air con, climate control,

sun roof,auto.............................................................................$11,995

SUZUKI

2007 SUZUKISX4 XG, 5door,petrol,ABS, air con, climate control,

rear spoiler,roof rails,alloys,97,200kms,1500 cc................ SOLD

SUBARU

2011 SUBARUFORRESTER,2000 cc,4WD,ABS, twin air bags,

97,000 kms..................................................................................$11,995

2011 SUBARULEGACYWAGON, 2.5i, 2500 cc,ABS, new cam belt,

rear spoiler ..................................................................................$10,995

2015 SUBARUIMPREZA, 1.6i, 1600 cc,sport wagon, ABS, cam

chain, air con..............................................................................$11,995

2015 SUBARUIMPREZA, 1.6i, 1600 cc station wagon, ABS, air con,

rear spoiler, 5000kms ..............................................................$12,995

2006 NISSANCUBE 15M, 5door,petrol,air con, ABS, CD changer,

42,300 kms, 1500cc....................................................................... $7,495

2014 NISSANLATIO B, auto, idlingstop, twin air bags,ABS,4door,

petrol,air con, 31,100kms.......................................................... $9,995

2001 NISSANCUBE, 1300 cc,5door,auto, 136,000 kms......... $3,495

2007 NISSANSKYLINE 350 GT,3500cc, auto, paddle shift, 18in

alloys,76,000 kms.......................................................................$11,995

2013 NISSANBLUEBIRD, twin air bags,ABS, air con, 46,000 kms .....

$11,995

2013 NISSANSYLPHYX,1800cc, air con, ABS, push start, auto,

46,000 kms .................................................................. $11,995

2006 NISSAN BLUEBIRD SYLPHY20S, 2000cc,ABS, air con, climate

control, 11,800kms ....................................................................... $9,995

BMW

2007 BMW X5, 3000 cc,deisel,ABS, twin air bags,parking sensors,

cruise control, 4X4 ........................................................................ $9,995

TRADE-INSPECIALS

1992 FORD COURIER UTE, diesel flatdeck................................. $3,995

2004 FORD FOCUS, 5door,5spped............................................. $2,995

1995 NISSAN PULSAR, auto, hatchback..................................... $2,495

2007 TOYOTA PRIUSSTOURING, hybrid,alloys,reverse camera,

air con, rear spoiler,ABS, 1500cc, 36,000kms................$10,995

2007 TOYOTA BLADE G, 5door,ABS, air con, body kit, rear spoiler,

push button start, 70,500 kms, 2400cc...............................$10,995

2009 TOYOTA ESTIMAHYBRIDX4WD, 5door,8seater, ABS, air

con, auto, rear spoiler,cruise control, 133,450 kms, 2400cc,

alloys................................................................................................$14,995

2013 TOYOTA PRIUSL,5door,ABS, air con, petrol,parking sensors,

rear spoiler,auto, 71,810 kms, 1800cc.................................$16,995

1999 TOYOTA RAV4,3door,petrol, ABS, air con, rear spoiler,

1800cc............................................................................................... $7,995

2006 TOYOTA RUSH G, 5door,petrol, ABS, air con, climate control,

rear spoiler,59,500 kms, 1500cc............................................$11,995

2008 TOYOTA WISH XLIMITED, 5door,petrol, ABS, air con, auto,

climate control, 72,500 kms, 1800cc...................................... $9,995

2012 TOYOTA RAV4 LTD, 2400cc, ABS,air con, body kit,

74,000 kms.......................................................................................... SOLD

2012 TOYOTA VITZF,1300cc, hatchback,air con, ABS, climate

control..........................................................................................$11,995

2013 TOYOTA AQUAG,1500cc,ABS,Air control, twin airbags,

cam chain....................................................................................$10,995

MITSUBISHI

2016 MITSIBUSHIPAJEROSPORT VRX,2400cc, cruise control,

reverse sensors, tow bar, fully loaded ...............................$34,995

Ph: 308 1396

Selling nice cars to nice people!

ENQUIRE NOW

-about our range of rental vehicles

AUTOSLTD &RENTALS

470 West Street,

Ashburton

A/H Keith Drummond

0274 367 646

Family,Sports, School or Social Trips

We have 8, 10 &12seaterminivansavailable.

Cars and3trucksforsmall or bigloads alsoavailable.

2300151