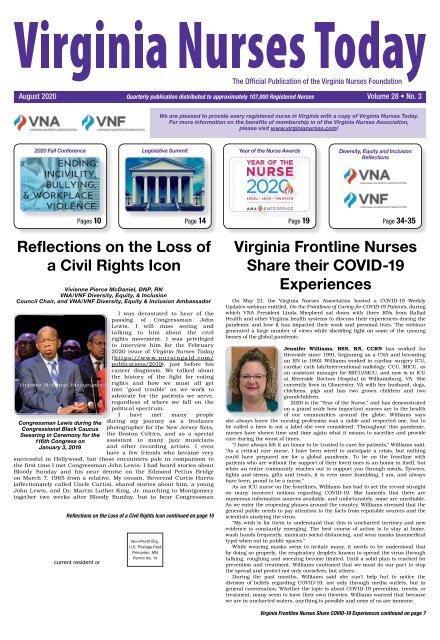 Virginia Nurses Today - August 2020
Create successful ePaper yourself
Turn your PDF publications into a flip-book with our unique Google optimized e-Paper software.
The Official Publication of the Virginia Nurses Foundation

August 2020 Quarterly publication distributed to approximately 107,000 Registered Nurses

Volume 28 • No. 3

We are pleased to provide every registered nurse in Virginia with a copy of Virginia Nurses Today.

For more information on the benefits of membership in of the Virginia Nurses Association,

please visit www.virginianurses.com!

2020 Fall Conference Legislative Summit

Year of the Nurse Awards

Diversity, Equity and Inclusion

Reflections

Pages 10 Page 14

Page 19

Page 34-35

Reflections on the Loss of

a Civil Rights Icon

Vivienne Pierce McDaniel, DNP, RN

VNA/VNF Diversity, Equity, & Inclusion

Council Chair, and VNA/VNF Diversity, Equity & Inclusion Ambassador

Congressman Lewis during the

Congressional Black Caucus

Swearing in Ceremony for the

116th Congress on

January 3, 2019

current resident or

I was devastated to hear of the

passing of Congressman John

Lewis. I will miss seeing and

talking to him about the civil

rights movement. I was privileged

to interview him for the February

2020 issue of Virginia Nurses Today

( https://www.nursingald.com/

publications/2019), just before his

cancer diagnosis. We talked about

the history of the fight for voting

rights and how we must all get

into "good trouble" as we work to

advocate for the patients we serve,

regardless of where we fall on the

political spectrum.

I have met many people

during my journey as a freelance

photographer for the New Jersey Nets,

the Boston Celtics, and as a special

assistant to many jazz musicians

and other recording artists. I even

have a few friends who became very

successful in Hollywood, but those encounters pale in comparison to

the first time I met Congressman John Lewis. I had heard stories about

Bloody Sunday and his near demise on the Edmond Pettus Bridge

on March 7, 1965 from a relative. My cousin, Reverend Curtis Harris

(affectionately called Uncle Curtis), shared stories about him, a young

John Lewis, and Dr. Martin Luther King, Jr. marching to Montgomery

together two weeks after Bloody Sunday, but to hear Congressman

Reflections on the Loss of a Civil Rights Icon continued on page 15

Non-Profit Org.

U.S. Postage Paid

Princeton, MN

Permit No. 14

Virginia Frontline Nurses

Share their COVID-19

Experiences

On May 21, the Virginia Nurses Association hosted a COVID-19 Weekly

Updates webinar entitled, On the Frontlines of Caring for COVID-19 Patients, during

which VNA President Linda Shepherd sat down with three RNs from Ballad

Health and other Virginia health systems to discuss their experiences during the

pandemic and how it has impacted their work and personal lives. The webinar

generated a large number of views while shedding light on some of the unsung

heroes of the global pandemic.

Jennifer Williams, BSN, RN, CCRN has worked for

Riverside since 1991, beginning as a CNA and becoming

an RN in 1993. Williams worked in cardiac surgery ICU,

cardiac cath lab/interventional radiology, CCU, MICU, as

an assistant manager for MICU/SICU, and now is in ICU

at Riverside Doctors Hospital in Williamsburg, VA. She

currently lives in Gloucester, VA with her husband, dogs,

chickens, pigs and has two grown children and two

grandchildren.

2020 is the "Year of the Nurse," and has demonstrated

on a grand scale how important nurses are to the health

of our communities around the globe. Williams says

she always knew the nursing profession was a noble and respected one, but to

be called a hero is not a label she ever considered. Throughout this pandemic,

nurses have shown time and time again what it means to sacrifice and provide

care during the worst of times.

"I have always felt it an honor to be trusted to care for patients," Williams said.

"As a critical care nurse, I have been wired to anticipate a crisis, but nothing

could have prepared me for a global pandemic. To be on the frontline with

patients who are without the support of their loved ones is an honor in itself, but

when an entire community reaches out to support you through meals, flyovers,

lights and sirens, gifts and treats, it is even more humbling. I am, and always

have been, proud to be a nurse."

As an ICU nurse on the frontlines, Williams has had to set the record straight

on many incorrect notions regarding COVID-19. She laments that there are

numerous information sources available, and unfortunately, some are unreliable.

As we enter the reopening phases around the country, Williams stressed that the

general public needs to pay attention to the facts from reputable sources and the

scientists studying the virus.

"My wish is for them to understand that this is uncharted territory and new

evidence is constantly emerging. The best course of action is to stay at home,

wash hands frequently, maintain social distancing, and wear masks (nonmedical

type) when out in public spaces."

While wearing masks seem to irritate many, it needs to be understood that

by doing so properly, the respiratory droplets known to spread the virus through

talking, coughing and sneezing become limited. Until a solid plan is reached for

prevention and treatment, Williams cautioned that we must do our part to stop

the spread and protect not only ourselves, but others.

During the past months, Williams said she can't help but to notice the

division of beliefs regarding COVID-19, not only through media outlets, but in

general conversation. Whether the topic is about COVID-19 prevention, trends, or

treatment, many seem to have their own theories. Williams warned that because

we are in uncharted waters, anything is possible and none of us are immune.

Virginia Frontline Nurses Share COVID-19 Experiences continued on page 7
---
Page 2 | August, September, October 2020

VNF President's Message

Virginia Nurses Today | www.VirginiaNurses.com

Exploring Support for Covid-19

Frontline Nurses and Beyond

To say these are difficult and trying times for

everyone is an understatement, especially for those

in all roles and aspects of healthcare delivery

environments. Nurses have been on the frontlines of

the COVID-19 pandemic and have been recognized

as critical and essential partners in bringing care

to patients in acute care settings and residents

in long term care housing. The Virginia Nurses

Foundation has worked to respond to some of the

challenges frontline nurses have experienced in

their work settings, seeking possible programs and

partnerships in providing peer-to-peer support to

nurses experiencing mental health challenges. This

is an arena that would be a focus of the Mental

Health Roundtable, but a result of the COVID-19

pandemic has been the suspension of Mental Health

Roundtable meetings. However, it has not limited

the work of the foundation in an effort to pursue

exploration of support programs.

There are several options being discussed with

CCA, a national human resources consulting firm

out of New York that has been ahead of the power

curve in providing targeted COVID-19 resources

to healthcare professionals. We are currently

partnering with CCA to offer five webinars aimed at

helping nurses diffuse stress and build resilience.

Each webinar will address topics including

secondary stress and compassion fatigue, coping

with health concerns as a healthcare professional,

and practicing self-care for caregivers. While the

PowerPoint presentation for each webinar will be the

same, each session will feature unique conversations

incorporating what participants share throughout.

Participants are welcome to attend once or multiple

times, as desired. These webinars will be held from

noon - 1:00 p.m. each

Thursday in August, plus

September 3. To register for

these webinars, go to our

Terris Kennedy,

PhD, RN

event calendar at virginianurses.com/events/event_

list.asp.

We are also exploring options with CCA as well

as the Medical Society of Virginia for developing a

peer-to-peer program for nurses in crisis who wish to

reach out for help and guidance.

This is a work in progress, and we will continue

to explore the possibility considering cost and

availability, as well as legislation to remove liability

exposure for those participating in the program.

This is a time when we are reaching out to

other organizations and agencies to explore what

might already be operational and effective. For

example, we're promoting "Nurses Together: Join

a Conversation," a program of the Emergency

Nurses Association supported by ANA. There is

also a screening program for nurses at risk of

suicide, along with a a virtual training program

for nurses who would then work with VNF on the

implementation of the cognitive-behavioral skills

building program, "MindBodyStrong."

The need for viable, effective programs to

provide assistance and support to frontline nurses

experiencing multiple challenges, highly stressful

environments, and limited time to recover from

the stress is obvious and needed. The CCA/VNF

webinars in August are a start, but it is essential

that frontline staff be encouraged to pursue help and

assistance during these times of stress without fear

of stigma or repercussions.

is the official publication of the Virginia Nurses

Foundation: 2819 N. Parham Road, Suite 230,

Richmond, Virginia 23294, VNF's affiliate, the

Virginia Nurses Association, is a constituent of

the American Nurses Association.

www.VirginiaNurses.com

admin@virginianurses.com

Phone: 804-282-1808

The opinions contained herein are those of the

individual authors and do not necessarily

reflect the views of the Foundation.

Virginia Nurses Today reserves the

right to edit all materials to its style

and space requirements and to

clarify presentations.

VNF Mission Statement

To support the advancement of nursing

through recognition, research, and

innovation.

VNT Staff

Janet Wall, Editor-in-Chief

Kristin Jimison, Director of Engagement

Elle Buck, Managing Editor

Virginia Nurses Today is published quarterly

every February, May, August and November

by the Arthur L. Davis Publishing Agency,

Inc.

Copyright © 2020, ISSN #1084-4740

Subscriber rates are available, 804-282-

1808.

For advertising rates and information, please

contact Arthur L. Davis Publishing Agency,

Inc., PO Box 216, Cedar Falls, Iowa 50613.

(800) 626-4081, sales@aldpub.com.

VNF and the Arthur L. Davis Publishing

Agency, Inc. reserve the right to reject any

advertisement. Responsibility for errors in

advertising is limited to corrections in the

next issue or refund of price of advertisement.

Acceptance of advertising does not imply

endorsement or approval by the Virginia

Nurses Foundation of the products advertised,

the advertisers or the claims made. Rejection

of an advertisement does not imply that a

product offered for advertising is without

merit, or that the manufacturer lacks

integrity, or that this association disapproves

of the product or its use. VNF and the Arthur

L. Davis Publishing Agency, Inc. shall not be

held liable for any consequences resulting

from purchase or use of advertisers' products.

Articles appearing in this publication express

the opinions of the authors; they do not

necessarily reflect views of the staff, board, or

membership of VNF, or those of the national

or local chapters.
---
www.VirginiaNurses.com | Virginia Nurses Today August, September, October 2020 | Page 3

President's Message

COVID-19 Response: A Leadership Perspective

Pandemics have occurred throughout history

with each bringing their own challenges as a "new"

disease with unknown nuances that must be

identified and addressed. COVID-19 is no different.

From the initial onset of this pandemic, people

around the globe have watched with anticipation

and anxiety as the numbers related to COVID-19

grew worldwide. We faced significant challenges

relating to how to prepare for the pandemic

given ongoing changes in CDC guidance and

best practices. These large scale issues created

apprehension among medical communities as they

attempted to prepare for their first PUI (persons

under investigation) and positive COVID-19 cases.

Recently, nursing leaders from across Virginia

shared their challenges and successes in

preparing for the first phase of the pandemic in the

commonwealth through VNA's COVID-19 Weekly

Updates webinar series. They also provided updates

on the ongoing operational changes established

to protect and engage patients, patient families,

and nursing personnel as well as their plans

for a second wave. These individuals included

Deb Zimmermann, DNP, RN, NEA-BC, FAAN,

Chief Nurse Executive with VCU Health; Melody

Dickerson, MSN, RN, CPHQ, Chief Nursing Officer

with Virginia Hospital Center, and Linda Shepherd,

MBA, BSN, RN, Chief Nursing Officer with Ballad

Health Johnston Memorial Hospital.

The overwhelming challenge out of the gate

for each leader centered around dealing with

the unknown. As command centers were put

into operation, no one truly knew what to expect

relative to: anticipated volumes since other patient

populations would still require care; how swiftly

surges would occur once PUIs / positive COVID-19

patients were identified; what the human resource

demands would look like; if the required PPE would

be available and accessible; what community

support would be required; how the acute care

facilities could partner with other entities to provide

a more comprehensive approach to the pandemic;

and what treatments would prove to be effective for

this patient population; among other questions.

Resoundingly, the leaders and their organizations

turned to their colleagues on the west coast to gain

insight into their successes and challenges since,

at the time, these entities were dealing with the

pandemic first-hand. Many of these conversations

began in January 2020 and continued as the

leaders and their teams were challenged to establish

plans for their respective organizations.

Learning the lessons shared by medical

communities in the midst of COVID-19 and utilizing

the principles of emergency management helped

the leadership teams to begin preparing for the

inevitable while basing decisions on worst case

scenarios and engaging in staff innovation. Each

leader shared how their organization designated

and expanded bed capacity, including negative

pressure room availability, to house anticipated

PUIs and positive cases. Others pulled from the

lessons they learned during Ebola and created

hot and cold zones adjacent to COVID-designated

rooms. Innovation also took the forefront as

these organizations worked to establish drivethrough

testing sites to alleviate emergency room

overcrowding and conserve some PPE elements

while trying to actively identify PUIs and positive

patients. In-house testing was also established at

several of the organizations to provide expeditious

identification of PUI / positive cases, a transition

from receiving results in days to mere hours.

Nurses also utilized extension tubing which allowed

IV pumps to be managed outside PUI/ positive

patient rooms and bunded care to minimize

exposure of other team members and conserve

PPE. Spotters were also put into place to monitor

donning and doffing of PPE to protect staff and

patients. As PPE usage increased and the ability

to replenish supplies in some parts of the state

declined, the reprocessing and sterilization of N95

masks was investigated and initiated once there was

an established comfort level among nursing staff

in utilizing these items. Other initiatives included

further partnering with the health department and

community and organizational leaders in prisons,

public housing, and other peripheral entities as

a means to create targeted strategies to leverage

resources to address and possibly minimize

community spread.

Sufficient human resources also were, and

continue to be, an ongoing need to source additional

bed capacity and allow for creative nursing models,

which provide safe, high quality care to the patient.

To expand the need for nurses, most facilities

engaged in multiple strategies including the use

of contract labor and redeployment of nursing

personnel from areas experiencing lower volumes

or where services were suspended as a result of the

pandemic. Redeployed nurses were assigned to areas

of previous competency as appropriate, providing

Bachelor of Science

in Nursing (RN to BSN)

[6

For practicing RNs who

wish to obtain their BSN

Finish in 5 semesters

part-time

Financial aid available

for those who qualify

Among the state's

most economically

priced programs

them with abbreviated

classes and time on the

unit/s, allowing these

nurses to acclimate to

their designated areas in

advance of deployment.

Other strategies included:

Linda Shepherd,

MBA, BSN, RN

the establishment of internal float pools made up

of redeployed nurse resources, use of clinical ladder

nurses where the ladder aligned with skill set

designations, and the utilization of multiple forms of

President's Message continued on page 6

Clinical Nurse

Leader (MSN)

For RNs with their BSN who wish

to become advanced practitioners

✓

Accreditations & Certifications:

Two starts per year

(Jan., Aug.)

Online format with

two clinical courses

Part-time curriculum

for busy RNs

Certified by SCH EV to operate in Virginia,

accredited by ABHES & approved by NC-SARA.
---
Page 4 | August, September, October 2020

Virginia Nurses Today | www.VirginiaNurses.com

CEO Reflections

Identifying Common Denominators

It's easy to forget to exhale these days. The

list of problems we as individuals are challenged

with, as well as those our country faces, can be

overwhelming: an unrelenting pandemic, civil

strife, racial disparities and health inequities,

the approaching elections, the economy, the utter

emotional and physical exhaustion of nurses waiting

for the public to throw them a lifeline… to show their

appreciation for this most trusted profession by

following the guidance of the scientific community

with a reverence for the better good. It's easy to feel

that everything is out of our control these days.

Out of chaos comes opportunity, so let's each

take stock and consider how we individually and

as a whole want to emerge from all of this. What do

you want your personal narrative to be when asked

years from now, "Tell me what happened in 2020?"

Perhaps the first step each of us can take is

to focus on listening to others with different life

experiences than our own. It's important that we

not simply spout what we hear. The onus is on each

of us to research issues, listen - really listen -- to

people who have opposing viewpoints or differing

life experiences, and seek to understand the "why"

behind those views. Only then can we begin to have

meaningful discourse, identify common ground, and

effect positive change.

I'm reminded of the story of the West-Eastern

Divan Orchestra. It was formed by conductor Daniel

Barenboim and the late Palestinian scholar Edward

Said in 1999 and is composed of Israelis and

Palestinians. An unlikely pairing, yet with time they

have been able to coalesce around their common

denominator, music, and build from there.

As Barenboim shared in an article in The

Guardian, describing the aim of this award-winning

orchestra, "The Divan was conceived as a project

against ignorance. A project against the fact that

it is absolutely essential

for people to get to know

the other, to understand

what the other thinks and

feels, without necessarily Janet Wall

agreeing with it. I'm not

trying to convert the Arab members of the Divan

to the Israeli point of view, and [I'm] not trying to

convince the Israelis to the Arab point of view. But I

want to ...create a platform where the two sides can

disagree and not resort to knives."

No matter the issue, I believe the Divan Orchestra

reminds us of the value of listening… of identifying

those common denominators.

At the end of the day, and regardless of all of our

differences, we all want the same things: health,

happiness, peace, and love. We cannot achieve any of

these if we first do not take the time to actively listen

and learn from the experience of others.

Come join our caring team of professionals in a Five Star

rated, CARF accredited community, located in the beautiful

Shenandoah Valley. We offer a competitive salary and benefits

package, sign on bonuses and excellent resident to staff ratios,

and are currently recruiting for CNA, LPN and RN positions.

For more information and to apply,

please visit our website at www.svwc.org

VNA's Annual Legislative Receptions

are Going Virtual!

In order to ensure your health and safety, VNA

will be holding their free legislative receptions in a

virtual format this year. Our legislative receptions

will still occur during their usual time frame in the

months of October and November. Attendees will

receive their chapter's legislative guide, a copy of

VNA's public policy platform, and be able to virtually

meet with legislators in their area. Legislators will

be segmented by VNA chapters and further broken

down into smaller groups to allow for adequate Q&A

time.

To find a legislative reception with your

legislators, visit our events calendar at

virginianurses.com/events/event_list.asp.

VNA members can expect to receive an email in

the coming months with the dates and registration

links for the receptions. This information will also

be posted to VNA's Facebook page, www.facebook.

com/vanurses. For questions about VNA's legislative

receptions, please contact VNA Communications

Coordinator Elle Buck at ebuck@virginianurses.com.

NURSES MONTH

SPOTLIGHT
---
Page 6 | August, September, October 2020

President's Message continued from page 3

team nursing. Rapid onboarding processes were also established for education

and competency demonstrations.

Communication to assist in navigating the pandemic on an ongoing basis

was key to success. Communication was dispersed through multiple platforms.

Many held town halls to provide information on proposed actions and to obtain

staff input as leadership wanted to gain insights from their team members and

make them part of the decision-making process. Other organizations dispersed

electronic communications daily to provide updates on established changes.

Team boards were established where staff could post questions and obtain a

response while purposeful rounding on team members was performed daily by

the administrative staff to understand the issues and concerns of their teams.

The number of PUI and positive cases were tracked and communicated daily

as well as the number of deaths associated with the virus while individuals

being discharged were celebrated in conversations as well as in person. Many

nursing groups took it upon themselves to meet and propose ideas to leadership

regarding changes to nursing practice to improve on efficiencies. Many

expressed the desire to engage in research related to the pandemic while others

such as wound care nurses, recognized the need to address skin breakdown

related to the use of PPE by identifying a product that could be utilized to heal

as well as prevent skin integrity disruption. Ongoing two-way communication

was and remains essential. Existing department silos were also removed as

communication around the pandemic impacted nearly every department, forcing

teams to work more closely than they ever had before.

A huge focal area for each of the leaders was the safety of the patient and the

physical and mental well-being of their teams. Ongoing PPE supply availability

and conservation of these supplies through specific strategic initiatives was key

in the current and ongoing protection of nurses and other personnel. Education

about team-based care models was provided so nurses would understand how

to most effectively deploy these models for their organizations. Intubation boxes

were also put into place. The segregation of patient care areas and waiting

rooms was established within emergency departments and other areas of the

facilities. Decisions were made to place all PUI and positive cases in negative

pressure rooms, even though the evidence did not require this. Provisions for

housing were made for patient families so they could be near their loved ones.

Correspondingly, housing arrangements were made for nursing personnel

caring for PUI / positive patients as a means to protect their family members.

The list goes on as other multiple means were implemented to provide high

quality care while protecting nursing staff.

In addition to physical safety, the mental health and well-being of nurses and

other care providers served to be, and still remains, challenging. The care of

PUI and positive COVID-19 populations is highly demanding. The care is then

further complicated by the fact that nurses have, and continue to, stand in for

visitors and keep families and patients connected. Furthermore, nurses are

often the individuals who are with patients as they pass, using technology in

an attempt to provide closure to family members at the time of death. Making

resources readily available to nurses such as Employee Assistance Programs

(EAPs), availability of psychological services, counselors, and pastoral services

Virginia Nurses Today | www.VirginiaNurses.com

through private sector partnerships and associations was identified as a need

early on by each leader. Other support systems provided programs such as

"Healing Gardens," a phone line nurses can call to express their feelings and

concerns to support teams. All leaders focused on the resilience of nurses as

well as the stigma associated with seeking help and the need to destigmatize

such actions as a means to promote sound mental health.

According to the nursing leaders, other challenges varied among

organizations, although PPE availability was number one for each facility. In

the Richmond area, the greatest challenge was identified among the Hispanic

population, which may defer from seeking care due to immigration status. In

northern Virginia, turnover in nursing personnel related to refusal to care for

PUI or positive patients was identified as highly problematic. Specific equipment

needs were also identified throughout the process with plans to rectify these

needs in the near future. In southwest Virginia, challenges included lack of

nursing resources pre-COVID that are now compounded as well as ventilator

needs. Collectively, the recognition of the publics' fatigue related to social

distancing, compliance with face mask use, and hand hygiene diligence

continues to place the medical community, as well as our local communities,

at risk. Correspondingly, northern Virginia identified specific success relative

to their implementation of rapid testing for all admitted patients as multiple

asymptomatic patients were identified through this process and the appropriate

care of these patients was then instituted to protect the staff as well as other

patients. Southwest Virginia recognized successes in partnering with local

companies to produce facial shields and masks as well as partnering with other

community groups targeted at minimizing community spread. VCU's greatest

success was cited as community collaborations.

Collectively, all the nurse leaders echoed the outpouring of appreciation

to their nursing teams for their diligence, hard work, and ongoing pursuit of

patient care. From the tears shed at the time of death of a patient to the shouts

of jubilation at the discharge of a COVID positive patient, to the long hours and

tireless shifts, to the nurses who stepped up to the plate and out of the box, and

to the other healthcare workers who supported the efforts of the team, a huge,

humble "thank you" is owed as they transitioned plans into successful actions.

As we now enter a second wave, the success encountered in phase 1 and

the lessons learned along the way lend confidence as we move into subsequent

phases. There is a need to make data based decisions relative to human

resources, PPE, and other supply resources while also recognizing the ongoing

need to keep nurses prepared and confident. This is not the first pandemic nor

will it be our last. Building upon lessons learned and planning for the future are

key as we all move forward.

NURSES MONTH

SPOTLIGHT

ADVANCE. LEAD. SERVE.

}}

RN-BSN (online)

}}

MSN (hybrid)

oo

oo

oo

Family Nurse Practitioner

Leadership/Education

Psychiatric Mental Health Nurse Practitioner

Post-graduate certificates also available in the above

listed specializations.

bluefield.edu/school-of-nursing

Under investigation

by the Virginia

Board of Nursing?

Eileen is a nurse and an attorney

and is here to help you with

licensing issues, investigations,

and disciplinary matters before

the Virginia Board of Nursing.

ETalamante@goodmanallen.com

(804) 565-3526

goodmanallen.com

DEDICATED TO SERVING THE LEGAL NEEDS OF VIRGINIA NURSES.
---
www.VirginiaNurses.com | Virginia Nurses Today August, September, October 2020 | Page 7

Virginia Frontline Nurses Share COVID-19 Experiences continued from page 1

"This virus is indiscriminate and invades without warning," Williams said.

"My hope is that this will be taken seriously to avoid further unnecessary deaths.

Unless you are on the frontline to witness this battle and its path of destruction,

it is incomprehensible and hopefully only once in a lifetime. Without a doubt, the

most difficult aspect has to be the vulnerability we all face every day, that we

show up for our shifts. Could it be the day for exposure, leaving me or a family

member to become another tally mark or statistic?"

Williams shared that earlier in the year, she endured a mandatory quarantine

for 14 days due to in-hospital COVID-19 exposure. Fortunately, she and her

coworkers were able to return to work and care for the patients in their ICU. On

her return to work, there were several COVID-19 positive patients. Three of these

patients became critically ill at the same time, and all were intubated within

twelve hours of each other. Because Riverside is a smaller facility, two of the

patients needed to be transferred to a higher level of care, leaving the third in

Williams' unit. This patient had endured the typical COVID-19 course: admission

due to shortness of breath complicated by worsening respiratory failure and

increased oxygen requirements. He stayed in the ICU for more than three weeks,

suffering multiple acute episodes, including a few near death incidents.

"Caring for a patient like that is made more complicated when the family is

unable to be present due to visitation limitations," Williams explained. "It is then

that the nurse not only cares for the patient, but becomes the liaison/lifeline to

the family, communicating over the phone several times per shift."

During those weeks, nearly the entire ICU staff became close to the patient's

wife and, in turn, became emotionally invested in his care and recovery.

Eventually, he was weaned off of the ventilator but remained critically ill. Being

unaware of his surroundings for many days was frustrating for the family and

created questions of whether a full recovery would occur. This patient finally

emerged to a conscious state and was able to communicate his needs, but also

remained dependent on rigid physical therapy. Staff went the extra mile to make

connections to his family happen, such as wheeling him to the window so they

could see him or connecting via FaceTime so they could see and hear each other,

as well as taking him outside to meet at a social distance.

"What a grand celebration it was for our ICU team, as well as most of our

hospital team members, to give loving recognition when this patient was being

discharged to a rehabilitation facility. This moment of survival will forever remain

in my memories and in my heart, defining what it means to be a nurse," Williams

recalled.

When asked how she mentally navigates these kinds of experiences, Williams

explained that moral resilience is a trait that must be learned and is important

in overcoming challenging times. Many critical care nurses face distress at some

point in their career, but with the support of administration, coworkers, family

and community, this resilience is achievable.

"Having worked with the acutely ill population for more than 20 years, I have

faced numerous moral and ethical dilemmas, making COVID-19 simply another

challenge, albeit a tremendous one," Williams said.

Williams emphasized that nurses should realize that self-care is of utmost

importance, as they cannot care for others if they do not care for themselves.

Whether this is through online or workplace support, families, friends, or

coworkers, nurses need to reach out to any outlet available.

"Personally, utilizing these outlets and believing that I have done my best to

provide care despite the outcome gets me through these tough times, along with

a little humor! I know that keeping myself educated on this new disease and its

course as it unfolds and sharing this knowledge and experiences with others can

only prove useful," Williams explained.

She ensures her mind stays healthy through hobbies such as painting,

gardening and crafting, all of which have played an integral part to her own

self-care. However, the most important lesson she has learned has been to focus

on what is truly important: "Being somewhat forced to stay at home when not

working has helped me to do a "reset" and connect with my immediate family on a

new level, and for that, I am grateful."

The pandemic has certainly underscored how vital nurses are in healthcare

and is bound to change the nursing profession in multiple ways.

"To show up and 'to care for others as we would care for those we love'

(Riverside Health System's mission) during these times takes dedication,

compassion and courage, prompting the media to portray the nursing profession

as frontline heroes," Williams noted. "On the flip side, the same media has

exposed and exaggerated the ugly truth by focusing on the PPE and staffing

shortages in the United States."

Williams explained that she is uncertain about what to think of nursing in

the future. Is the nursing shortage going to grow exponentially due the truthful

tales and stories of nurses who have paid the ultimate sacrifice by unselfishly

taking a risk to care for others? Or, will prospective nursing students see the

Virginia Frontline Nurses Share COVID-19 Experiences continued on page 8

NURSES MONTH

SPOTLIGHT
---
Page 8 | August, September, October 2020

COVID-19 Experiences continued from page 7

career as exciting, stable, full of opportunity and

rewarding? Williams believes that answer will most

likely be a "wait and see." In either situation, she

thinks that nurses will need heightened support

from the government in the form of a reevaluation of

healthcare in its entirety and a focus on increased

prevention, protection, compensation, retention and

equality.

Throughout this difficult time, Williams finds the

following quote from American Association of Critical

Care Nurses President Megan Brunson to be a

shining light for the nursing profession: "Unstoppable

is knowing if we get knocked down, we get up again.

We are nurses. We cannot be stopped from doing

what's right for our patient."

"We are truly an admirable professional group

of which I am honored to be a part of," Williams

concluded.

Christine Aubry, BSN, RN​ is

a Clinical Nurse II​at VCU

Health where she started in

June of 2016 as a float care

partner for supplemental

staffing. Aubry graduated as

a double major from VCU in

May of 2018 with a bachelor's

in nursing and psychology.

She started in June of 2018

on progressive care medicine

and has been a nurse for two

years. Aubry challenged the clinical ladder and

became a Clinical II nurse this past fall. Since then,

she has been trained as a charge/resource nurse, has

been a preceptor to new grad nurses and nursing

students, and has joined her unit's Shared

Governance Committee. Aubry was recently accepted

to VCU's Family Nurse Practitioner program and will

start this fall.​

Aubry explained that as a nurse, many things

about her practice are always changing and this has

been true especially during COVID times. As new

information has come out, nurses have had to adapt

to changing policies, procedures, and expectations

while remaining flexible throughout the past months.

"VCU has been transparent and communicative

regarding PPE shortages and reuse and I have really

appreciated their efforts regarding that," Aubry said.

"I know other nurses in other hospitals throughout

the country have not been as lucky."

She explained that VCU is reusing airborne masks

for COVID positive patients but only after they have

been sanitized using UV light technology. VCU has

also started extending the use of their droplet masks

in non COVID positive rooms with the use of a face

shield, which is then discarded at the end of the

shift. ​Aubry mentioned that COVID has completely

changed the way her unit runs. They have now found

a new normal, but at first it was very overwhelming

as they saw huge changes in the way they practice,

communicate with patients, patient families, and

other staff members.

In preparation for patients, her unit's patient doors

were changed from solid wood to ones with large

windows. There were specialty signs that were placed

on the doors to alert staff on what PPE is required

to safely enter rooms. They have staff members who

are door monitors stationed outside rooms to ensure

all staff are appropriately donning and doffing PPE.

Aubry also pointed out that staff have been asked to

cluster care in order to decrease potential exposure

to COVID positive individuals and conserve PPE. This

means that patients are alone for long periods of time,

often unable to communicate with family and have

limited communication with staff.

"We have seen more delirium in patients who are

COVID positive and I suspect this is one contributing

factor," Aubry noted. "My unit is a medicine stepdown

unit and we have accepted a lot of patients

who were intubated and sedated in the ICU for

extended periods of time. Many of these patients

have never been sick or in the hospital, and they now

find themselves debilitated, unable to walk or feed

themselves, go to the bathroom independently, alone,

and without family to support them in the hospital." ​

Aubry recalled having two patients from the same

family test positive for COVID-19 who were admitted

to her unit within a week of each other whom she

both cared for. Three of their other family members

Virginia Nurses Today | www.VirginiaNurses.com

had been sick with COVID and two had died from it

a week previously. The first patient remained stable

throughout her stay, never required oxygen, was

ambulatory, and not feverish. She was discharged

home about six days later. Her brother was the other

patient admitted to the ICU at Aubry's hospital. He

was immediately intubated and sedated. Once he was

extubated, he was transferred to her floor to continue

his care and rehab while he was medically unstable.

Unfortunately, he passed away while on Aubry's floor

due to complications from pulmonary embolisms that

were discovered while he was in the ICU. This family

had been devastated from COVID with so many

family members dying from the disease in such a

close timespan.

"It shocked me how different members of the same

family had different reactions to this illness," Aubry

said. "My heart breaks for the remaining family

members left to deal with recovering from COVID

while planning multiple funerals for their deceased

family."​

Aubry noted that the Richmond community has

been incredibly supportive during this time. Her

hospital has received letters of support from staff

from other units, families of staff, patients, and other

community members. Food donations kept staff fed

during hard shifts and supported local Richmond

businesses during this hard time. Donated masks

kept staff safe outside the patients' rooms, at the

nurses station, and in the hallways. Headbands to

secure masks and alleviate sore ears, lotion for dry

hands, and skincare wipes were also donated.

"I have also been well supported by my personal

community," Aubry said. "Family and friends have

sent letters of encouragement and thanks as well as

gift cards to restaurants and businesses to keep my

spirits up."​

Aubry hopes that the pandemic will encourage

nurses to be more empowered to advocate for their

profession as they have great power as a community to

make meaningful changes and requests for protection

equipment. She urges people to continue to follow

guidelines to stay at home and wear masks in public.

As a nurse, it is incredibly disheartening for her to see

large groups of people gathering in public spaces and

hearing some talk about COVID being fake.
---
www.VirginiaNurses.com | Virginia Nurses Today August, September, October 2020 | Page 9

"This is a very real pandemic that has affected communities and families in

vastly different ways," Aubry cautioned. "Just because you or your family and

friends haven't been personally affected, doesn't mean this isn't real."​

On the bright side, Aubry mentioned how impressed she is with how the

nursing profession has risen to the occasion to educate and serve the public

during these unprecedented times.

"We have advocated for our patients, ourselves and our coworkers on the

frontlines to ensure that we are caring for our patients and ourselves in the best,

safest way," Aubry concluded.

Carolyn Garcia, RN, works at Hanover Health

Department as a public health nurse supervisor. She

has an associate's degree in registered nursing from

Germanna Community College and a bachelor's degree

in business from Walsh University in North Canton,

Ohio. Garcia worked 13 years for Geico as a telephone

claims adjuster before deciding to change her career to

nursing in 2012. She graduated in December 2013 and

worked as a registered nurse for Spotsylvania Regional

Medical Center and Childhelp before getting into the

public health field. Garcia worked at Fredericksburg

Health Department for 4 ½ years as the immunization

coordinator before advancing her career to supervision at Hanover Health

Department.

Garcia explained that her interaction with COVID-19 hasn't left her with

one particular story to share, but rather an entire collection of experiences

with people. As a public health nurse, she is notified of any positive COVID-19

cases. Part of Garcia's job is to contact the case positive person immediately

to capture data and information for future analysis by the Center for Disease

Control (CDC). Garcia noted that she has spoken to so many nice, kind and

generous people on the phone. There were times when she had people who

cried knowing they were positive because they were fearful of their family

members contracting COVID-19. Many people had numerous questions, others

were kind enough to thank Garcia for what she was doing, and there were

many people who were just nice to chat with.

"I even have a few people who continue to contact me with other questions

or issues that I can help them with," Garcia explained. "So, in the midst of all

the fear, I think it was a positive for all to feel a connection with one another."

Keeping up with ever changing guidance that the medical field has received

regarding COVID-19 proved difficult for Garcia at first. At times, information

seemed to conflict and not make sense to her. It was a challenge for Garcia to

set aside her opinions about how she would handle a certain situation versus

what the experts were advising.

Something Garcia noticed early on while COVID cases were being

investigated was that people who were symptomatic and tested positive were

complaining of a loss of taste and smell. The message that was out in the

media and online was focusing on cough, shortness of breath and fever as the

primary symptoms, and while they may have been for a lot of people, those

who were managing their illness at home complained they were not able to

provide details about other symptoms that they were suffering from. Garcia

explained that a lot of people thought they were suffering from seasonal

allergies and learned later that those symptoms were actually caused by

COVID-19.

During this stressful time of working overtime and weekends, it is

important and helpful for Garcia to take the time to decompress and clear her

head in order to start the next day fresh. Meditation and exercise became her

stress relievers and regenerators and helped her in tremendous ways.

"For me, I had to step back and learn self-awareness to do my job to the

best ability and to be sure that I was advising people of what was appropriate,"

Garica said.

Due to the media's great job supporting and offering appreciation to

first responders and healthcare professionals who were taking care of the

sick, Garcia thinks a future with an increase of people starting careers in

healthcare is something positive that will come from the pandemic. She

also has hopes that COVID-19 will open the doors for using telemedicine

more frequently. While some patients may find telemedicine impersonal, it is

extremely convenient to the patient when dealing with minor issues. Going

forward with COVID-19, Garcia believes nurses will continue to handle

patients in the office differently.

"I can see the health profession focusing on protecting their staff," Garcia

said. "There were so many instances where offices and clinics had to shut

down because of a staff member testing positive and exposing their co-workers

who had to quarantine for 14 days."

Like most places, Garcia's office was forced to reduce face-to-face interaction

when COVID-19 struck and was forced to invent creative ways to care for

patients while protecting the health of their staff at the same time. While most

facilities have changed their interactions with patients, the use of telemedicine

and other innovations has allowed for Garcia to continue to care for her

patients in the same manner she would have if she had been face to face with

them.

"It will be interesting to see the lessons that we learn regarding this virus,"

Garcia said. "Hopefully we won't have to experience another pandemic like this

for a very long time, but I just think about how the medical profession will look

back on this time to glean insights on how to better prepare for the future."

It goes without saying that each and every nurse deserves a huge and

humble thank you. The world certainly wouldn't make it through this

pandemic without them. VNA will continue to feature different COVID-19

narratives in Virginia Nurses Today. If you or someone you know has a

unique story that can be shared, please reach out to VNA Communications

Coordinator Elle Buck at ebuck@virginianurses.com. We also encourage you

to submit a friend, colleague, or family member to our COVID-19 specific

Healthcare Heroes campaign. Submissions can be made at: https://tinyurl.

com/VNAHealthcareHeroes.

To watch the VNA COVID-19 Weekly Updates webinar On the Frontlines

of Caring for COVID-19 Patients, go to https://virginianurses.com/page/On-

DemandContinuingEducation. COVID-19 and mental health specific resources

for nurses are also available on our website, www.virginianurses.com.

It takes the best people to

myPotential at home is doing something fantastic! We are creating an amazing, genuine, and caring culture.

Would you like to be a part of our We CARE team? We value our team members and strive to ensure they

experience the same genuine CARE that we provide to our customers. Our team members embody the word

CARE in every way—from serving seniors and families to interactions with one another.

Our home care and home health Virginia clients are served in the following counties: Winchester, Clarke,

Frederick, Shenandoah, Warren and Augusta. Our Maryland clients are served in Montgomery County.

Registered Nurse (PRN) • Licensed Practical Nurse (PRN) • Certified Nursing Assistant (FT &

PRN) • Care Partner or Personal Care Aide (PRN) • Home Health Social Worker (PRN)

• Physical Therapy Assistant (PRN) • Speech Therapist (PRN)

EEO employer.

If you are interested in applying for a position, go to careers-nationallutheran.icims.com

A pivotal moment approaching on November 3, and whichever side of the

political aisle we each fall on, it's crucial that we educate ourselves on the issues

and vote. And whatever the outcome of the election, we each need to give great

thought to how we will put our best foot forward and work to heal the divides of

this country. For information on the candidates, nursing priorities, and how to

get involved with the candidates' campaigns, visit NursesVote.org.
---
Ending Bullying, Incivility,

Workplace Violence

&

SEPTEMBER 23 & THURSDAY, SEPTEMBER 24

WEDNESDAY,

$79 $99

Page 10 | August, September, October 2020

Virginia Nurses Today | www.VirginiaNurses.com

C O N T I N U I N G E D U C A T I O N I N F O R M A T I O N

P R I C I N G
---
C O N F E R E N C E P R O G R A M

W E D 9 . 2 3 T H U R S 9 . 2 4

www.VirginiaNurses.com | Virginia Nurses Today August, September, October 2020 | Page 11

C O N C U R R E N T P R E S E N T E R S
---
Page 12 | August, September, October 2020

Virginia Nurses Today | www.VirginiaNurses.com

A Look Back at Nurses Month

Riverside:

UVA Health:

This year the American Nurses Association (ANA)

extended the traditional National Nurses Week to

an entire month of recognition in May. Every year,

VNA creates a webpage with a variety of resources

for nurses. This years' webpage featured a 17-page

discount guide, National Nurses Week history,

Florence Nightingale birthday resources, shareable

social media graphics and more!

VNA also created a Nurses Month Spotlight to

highlight some of the amazing nurses who make a

difference in the Virginia community. You can read

all of the Nurses Month Spotlight articles that we

posted on our social media at https://tinyurl.com/20

20VNANursesMonthSpotlights.

Enjoy these photos of Nurses Month celebrations

throughout the commonwealth and be sure to check

out the profiles of featured nurses!
---
www.VirginiaNurses.com | Virginia Nurses Today August, September, October 2020 | Page 13

Virginia Hospital Center:

NURSES MONTH

SPOTLIGHT

NURSES MONTH

SPOTLIGHT
---
Page 14 | August, September, October 2020

LIVE INTERACTIVE WEBINARS

Emotional First Aid: Managing

Stress and Emotional Distress

during (and after) COVID-19

Virginia Nurses Today | www.VirginiaNurses.com

2 0 2 0

T U E S D A Y , N O V E M B E R 1 0

The Virginia Nurses Foundation, in

collaboration with CCA, a human resources

consulting firm, is offering five free webinars

to help nurses diffuse stress and build

resilience.

LEGISLATIVE SUMMIT

Topics covered during each webinar will

include:

• Stress management and resilience

• Secondary stress and compassion fatigue

• Coping with health concerns as a

healthcare professional

• Practicing self-care for caregivers

While the PowerPoint is the same in each

of the five sessions offered, each interactive

webinar will feature unique conversations

incorporating what participants share

throughout. Participants are welcome to attend

once or multiple times, as desired.

Mark your calendars! These webinars will be

held from noon - 1:00 p.m. on August 6, 13, 20,

27, and September 3.

Register at

https://virginianurses.com/

events/event_list.asp.

NursingALD.com

can point you right to that perfect

NURSING JOB!

NursingALD.com

Free to Nurses

Privacy Assured

Easy to Use

E-mailed Job Leads

NURSES MONTH

SPOTLIGHT
---
www.VirginiaNurses.com | Virginia Nurses Today August, September, October 2020 | Page 15

Reflections on the Loss of a Civil Rights Icon continued

from page 1

PRROGGRRAAAM AAAGGENDAAA

John Lewis recount that day personally, was

my greatest and most memorable experience.

I have had the pleasure of being in his

company and listening to him share stories

about his imprisonments (40 at last count), his

sit-ins including one on the floor of Congress

for gun control, and his Boy from Troy (a name

bestowed on him by Dr. Martin Luther King)

adventures. The man who was often late to

his appointments, because he would stop to

give a hug, take a picture, or to acknowledge

an ordinary person, will be missed, but he will

always be remembered for his extraordinary

and selfless acts to ensure diversity, equity,

and inclusivity.

As nurses and as citizens, we can all honor

the work and legacy of Congressman Lewis by

exercising our right to vote in each and every

election. Please take a moment to read our

interview and after you're finished, check to

make sure you're registered to vote at https://

www.vote.org/am-i-registered-to-vote/ before

the upcoming November election.

Remember, 1 in 80 Virginians is a registered

nurse, and we have a powerful voice as nurses

in the voting booth!

Dr. McDaniel, and cousin, Paulette Rush after

the 116th Swearing in Ceremony chatting

with Congressman Lewis about his connection

to our family

Why We Need Nurses in

Elected Office

As a nurse, you have an incredible opportunity

to influence the future of your profession in Virginia

through legislative advocacy. In a recent survey

of members, legislative advocacy was identified

as one of the top benefits of membership, and yet

there are only two nurses currently serving in the

Virginia General Assembly!! Nurses are the largest

healthcare profession in the world and for 18 years

in a row, they have also been voted the most trusted

profession. There are more than 110,000 nurses in

the Commonwealth of Virginia, making about 1 in

80 Virginians a registered nurse!

Nurses need to lean on years of the public's trust

and become involved in health and healthcare policy

making decisions on the local, state, and national

level. There is no one better than a nurse to ensure

the best interests of patients and that our profession

is represented in policy development. Nurses have

already mastered the valuable skill of connecting

with people from every walk of life during difficult

times, and running for office is the next logical step.

Any frustrations nurses feel with the profession

and the healthcare industry can be channeled into

advocating for positive change.

The lack of knowledge that policymakers and

politicians have directly affects patients, nurses,

the healthcare environment, and legislation that is

passed. If nurses are not part of the conversation

and continue to have others speak for them, they

are ultimately going to be left behind in a field where

they should be front and center. 1

There are 110,000 reasons to become involved

with Virginia legislative advocacy and we're here to

help. If you are interested in running for office, visit

https://www.elections.virginia.gov/candidatepacinfo/.

To start your advocacy journey, or if you have

advocacy related questions, visit our website, www.

virginianurses.com. If you are unable to run for

office but would still like to be an advocate for the

nursing profession, make sure you are registered to

vote. You can check your voter registration status at

https://vote.elections.virginia.gov/VoterInformation.

You can also join VNA at the General Assembly

session every year to help us represent nurses and

the nursing profession! Learn more about our VNA

Lobby Days at https://virginianurses.com/page/

LobbyDays. You can also sign up for VNA Action

Alerts by texting TAKEACTION 84483 to receive text

and email alerts on Virginia politics and legislation

related to nursing.

Let your voice be heard!

References

¹ How Can We Be Prepared for the Next Healthcare

Crisis?. Sharon Pearce, MSN, CRNA. 2020.

John Lewis (far left front row kneeling) and

Rev. Curtis Harris (far right standing) in 1965 two

weeks after Bloody Sunday

Photo Courtesy of Rev. Curtis Harris
---
Page 16 | August, September, October 2020

Continuing Education

Virginia Nurses Today | www.VirginiaNurses.com

How Can We Ethically Care for Our Patients with Pain?

Disclosures

• Nurses can earn one nursing contact

hour for reading How Can We Ethically

Care for Our Patients with Pain.

Participants must also complete the

continuing education post-test found at:

https://virginianurses.com/page/On-

DemandContinuingEducation

• This continuing education activity

is FREE for members and $15 for

nonmembers!

• The Virginia Nurses Association is

accredited as a provider of nursing

continuing professional development

by the American Nurses Credentialing

Center's Commission on Accreditation.

• No individual in a position to control

content for this activity has any relevant

financial relationships to declare.

• Contact hours will be awarded for this

activity until August 15, 2023.

Phyllis Whitehead, PhD, APRN/CNS,

ACHPN, RN-BC, FNAP

Bio:

Dr. Phyllis Whitehead

is a clinical ethicist and

clinical nurse specialist

with the Carilion Roanoke

Memorial

Hospital

Palliative Care Service

and associate professor at

the Virginia Tech Carilion

School of Medicine.

She initiated the Moral

Distress Consult Service

at CRMH. She is certified

in pain management and is an advanced practice

hospice and palliative care nurse. Dr. Whitehead

has done numerous presentations on pain and

symptom management, opioid induced sedation,

moral distress, and patients' end of life preferences

locally, regionally, nationally and internationally.

Her research interests include moral distress

and improving communication with seriously ill

patients. She is a board member of the National

Association of Clinical Nurse Specialists, co-lead of

the Virginia Nurses Foundation's Action Coalition,

and member of the VNF Board of Trustees. She

was also a member of the ANA Moral Resilience

Advisory Committee, and is a founding member

and board member of the Virginia Association of

Clinical Nurse Specialists. Dr. Whitehead was

selected for Governor Ralph Northam's Policy

Council on Opioid and Substance Abuse this

year. In 2020 she was elected as a distinguished

practitioner fellow in the National Academy of

Practice in Nursing. She is a graduate of Radford

University where she earned her BSN and MSN and

earned her doctorate degree at Virginia Tech.

I am often asked, how can I safely and

effectively care for my patients with acute and/

or chronic pain? There is a fear that we may

unintentionally cause harm to our patients if we

administer opioids that result in addiction and

contribute to the opioid crisis. Both the American

Nurses Association's (ANA) Code of Ethics for

Nurses with Interpretive Statements and American

Society for Pain Management Nursing's (ASPMN)

2019 Pain Position Statements 1 have documents

that should guide our nursing pain management

practice. Nurses in all settings and specialties

care for patients who are in pain. An important

question is, do we know and apply best practice

principles in caring for patients with pain?

Historical Perspective: How Did We Get Here?

Improvements in recognizing, assessing and

treating pain significantly increased during the

last decade of the 20th century. Although some of

these efforts from that time have been perceived

negatively, when introduced they were considered

pioneering and crucial. In 1998, the Veterans

Health Administration adopted "Pain as the 5th

Vital Sign" as the slogan for their initiative to

improve the management of pain for all veterans. 2

We must remember the intention of these efforts

was to increase the awareness, diagnosis and

treatment of pain, not to increase opioid use. As

the increased focus on recognizing and assessing

pain was gaining attention, pharmaceutical

companies were working to improve analgesic

preparations and little attention was dedicated

to the ethical principles of beneficence and

maleficence with increased reliance upon

pharmacological interventions. Although we "can"

prescribe an opioid, we must consider whether we

should if there are other appropriate modalities

available. Please keep in mind that how payers

reimburse for therapies and interventions

determines how physicians and other providers

prescribe. For example, payers cover opioids but

not non-pharmacological interventions such as

massage, guided imagery, and physical therapy

(limited coverage at best).

During the last five years, the pain

management specialty has faced multiple

challenges and changes related to the opioid

crisis. In many instances the pendulum swung

too far in the direction with renewed opioid

phobia. An unintentional consequence is a

dying patient being unable to receive necessary

opioid medications. It has been appalling to see

handwritten signs on primary and urgent care

offices stating, "We do NOT prescribe opioids."

Opioids are a necessary class of medications that

should be accessible to appropriate patients using

evidence-based principles.

Many of the negative consequences may be

the result of using the term opioid crisis rather

than the more accurate term opioid misuse/

abuse crisis. Opioids did not create the crisis,

but rather, it is the misuse and abuse of them

which led to this point. Although mis-prescribing

of opioids has played a role in the opioid crisis,

an evolving illicit drug market is causing an

increasing number of deaths as a result of

overdoses. Most recently, opioid-related deaths

from synthetic opioids have risen from 3,100

deaths in 2013 to more than 19,400 in 2016. The

rapid rise of heroin and illicit fentanyl overdose in

the United States is related to prescription opioid

abuse; 45% of individuals who use heroin report

their first opioid exposure to be a prescription

opioid analgesic, and more importantly, not

necessarily prescribed to them. 1 It is imperative

for nurses at all practice levels and settings to

possess the fundamental historical knowledge

and skills to effectively identify and intervene with

individuals who are at risk for Opioid Use Disorder

(OUD) and to properly advocate for our patients.

The Hospital Consumer Assessment of

Healthcare Providers and Systems (HCAHPS)

questions historically asked patients how satisfied

they were with their pain management. These

questions pressured hospitals and prescribers to

increase the use of opioids as opposed to evidencebased

interventions that include both opioids,

nonopioids and nonpharmacological interventions.

Today these HCAHPS questions have been replaced

with the more appropriate pain management

questions such as "During this hospital stay, how

often did hospital staff talk with you about how

much pain you had?" and "During this hospital

stay, how often did hospital staff talk with you

about how to treat your pain?" 3

Additionally, during the last several years

nurses have increasingly been performing quality

improvement projects to enhance how we assess

and manage pain. Although self-report remains

an important aspect of nursing pain assessment,

it is not nor should it be the only basis upon

which pain medications are administered. Instead,

instruments are needed to focus on patients'

functionality, not solely on how patients selfreport

pain intensity scores. Nurses have begun to

evaluate the reliability, validity and effectiveness

of using the Clinically Aligned Pain Assessment

(CAPA) tool to holistically assess pain as more

than just an intensity score. 4 This is a promising

instrument. Please check it out if you are

unfamiliar with it.

Nurses must remain dedicated to pursuing safe

and effective pain management care, education

and advocacy for our patients who suffer with

pain management acutely and chronically.

Multimodal analgesia must be integrated into

effective pain management interventions. Ongoing

nursing research is needed as well to explore the

role of various cognitive behavioral interventions,

relaxation therapies, meditation, spirituality,

movement, and energy work among other options.

Additional research is needed to more fully

understand how patients living with substance

use disorders (SUD) and acute and/or chronic

pain can have their pain best managed and

quality of life improved. 4

As nurses, we must never forget that pain is a

subjective and distressing experience associated

with actual or potential tissue damage, with

sensory, emotional, cognitive, and social

components. 2 Presently, we do not have tools

that can determine when patients are or are not

experiencing pain. Although researchers continue

to seek physiological measures to evaluate pain,

no valid and reliable objective test currently

exists to measure pain.

It is important to understand that the

hierarchy of pain assessment has changed. The

first step is now to be aware of potential causes

of pain. The most common painful experiences

in healthcare settings are iatrogenic. Preventing

iatrogenic pain from needle procedures, wound

care, diagnostic tests, and even repositioning,

requires clinician awareness and interventions

before these painful events. It is important to be

proactive in anticipating pain in known painful

conditions and experiences before soliciting

a patient's self-report of pain or identifying

behavioral responses to the pain. Improving

functionality is key to effective pain management.

Nurses need to understand these strategies and

work towards integration of non-pharmacological

interventions into their practice in order to

minimize the use of opioids and other controlled

substances.

Another positive effect is the acknowledgement

of the necessity to proactively assess and

identify patients who are at risk for OUD 1 and

work towards minimizing risk of misuse and

abuse. This is another opportunity for improved

understanding and implementation of evidence

based instruments and how we care and view our

patients living with pain.

Ethical Considerations in Caring for Patients

in Pain

The ethical principles of beneficence (the duty

to benefit another) and nonmaleficence (the

duty to do no harm) oblige nurses to provide

pain management and comfort to all patients,

including vulnerable individuals such as those

who are unable to speak for themselves and living

with SUD and OUD. 5 Providing comparable and

high quality care to patients who are vulnerable

is required by the principle of justice (the equal

or comparative treatment of individuals). Respect

for human dignity, the first principle in the Code

of Ethics for Nurses (American Nurses Association,

2015), directs nurses to provide and advocate

for humane and appropriate care. Based on

the principle of justice, patient care is given

with compassion, unrestricted by consideration

of personal attributes, economic status, or

the nature of the health problem. This can be

challenging at times, especially when caring for

demanding patients.

In alignment with these ethical tenets, the

International Association for the Study of Pain

(IASP) initiated the Declaration of Montreal at

the International Pain Summit, a statement

acknowledging access to pain management as a

fundamental human right endorsed by 64 IASP

Chapters, the World Health Organization and

many other organizations and individuals. 6

The declaration acknowledges the importance

for individuals who are experiencing pain to

receive evidence-based, appropriate pain-relieving

treatment. 7 Concerns about the opioid crisis

have created hesitancy that may affect treatment

decisions despite the status of pain assessment

as fundamental to effective and evidence-based

treatment.
---
www.VirginiaNurses.com | Virginia Nurses Today August, September, October 2020 | Page 17

In 2018, the American Nurses Association

affirmed the ethical responsibility to provide

clinically excellent care to address patients' pain

with assessment and reassessment being key

to informing treatment decisions (ANA, 2018).

Pain should be routinely assessed, reassessed,

and documented to facilitate treatment and

communication among all healthcare clinicians.

The requirement to provide effective and

appropriate pain and symptom management

is paramount. While vital signs (e.g., changes

in heart rate, blood pressure, respiratory

rate) may be important for identifying adverse

effects of severe pain, 8 vital signs are not valid

for discriminating pain from other sources of

distress. 1 Correlation of vital sign changes with

behaviors and self-reports of pain has been weak

or absent. 8

Each patient should be evaluated regularly

using methods of pain assessment that have been

identified as significant and appropriate for the

population to which they belong. Nurses have

a moral, ethical, and professional obligation to

advocate for all patients in their care, particularly

those who are vulnerable to undertreatment.

Be sure to read the upcoming ethics article in

our November publication!

The next article in our ethics series will

examine the challenges and opportunities of

caring for patients with chronic pain. Can you

imagine having persistent pain every moment

of your day and night? How can you sleep, work,

or function if you can't get comfortable? Patients

with persistent pain are challenging and to be

honest, I always take a deep breath when I learn

that one of my patients suffers from it. In the

upcoming article we will take a look at which

ethical principles provide guidance in caring for

these patients.

References

1. Herr K, Coyne PJ, Ely E, Gélinas C, Manworren RCB.

ASPMN 2019 Position Statement: Pain Assessment in

the Patient Unable to Self-Report. Pain Manag Nurs.

2019;20:402-403. doi:10.1016/j.pmn.2019.07.007

2. Wilson M. Revisiting Pain Assessments amid the

Opioid Crisis. Pain Manag Nurs. 2019;20(5):399-401.

doi:10.1016/j.pmn.2019.10.002

3. American Hospital Association.

4. Quinlan-Colwell A. The Times They are a Changing!

Pain Manag Nurs. 2019;20(6):517-518. doi:10.1016/j.

pmn.2019.10.003

5. Ashkenazy S, DeKeyser Ganz F. The Differentiation

Between Pain and Discomfort: A Concept Analysis of

Discomfort. Pain Manag Nurs. 2019;20(6):556-562.

doi:10.1016/j.pmn.2019.05.003

6. Madaus SM, Lim LS. Teaching Pain Management

in Interprofessional Medical Education: A Review of

Three Portal of Geriatric Online Education Modules.

J Am Geriatr Soc. 2016;64(10):2122-2125. doi:10.1111/

jgs.14309

7. Wolters Kluwer (Firm), International Association for

the Study of Pain. Pain Reports. http://journals.lww.

com/painrpts/Pages/default.aspx. Accessed July 29,

2017.

8. Herr K, Coyne PJ, Ely E, Gélinas C, Manworren

RCB. Pain Assessment in the Patient Unable to

Self-Report: Clinical Practice Recommendations

in Support of the ASPMN 2019 Position Statement.

Pain Manag Nurs. 2019;20(5):404-417. doi:10.1016/j.

pmn.2019.07.005
---
Page 18 | August, September, October 2020

Virginia Nurses Today | www.VirginiaNurses.com

CVS MinuteClinic Nurse Practitioners Talk COVID-19 and Nursing

Marie Kaufmann

MSN, FNP, AMSN

Many COVID-19 narratives focus solely on hospital settings, and nurses

know that the pandemic has impacted all practice settings. VNA recently

reached out to two CVS MinuteClinic nurse practitioners to hear about how the

pandemic has affected their personal and professional lives. MinuteClinic is a

division of CVS Health that provides retail clinic services with more than 1,100

locations in 33 states. Read on to hear what these nurses had to say.

Marie Kaufmann, MSN, FNP, AMSN has been in healthcare for 10 years,

practicing as a registered nurse for six years, and as a nurse practitioner for the

past year. In her nursing career she has worked in various settings including

dialysis, rehab and an observation unit. Kaufmann has worn various hats as a

staff nurse, admissions nurse, and a nursing supervisor. She is excited to now

be a nurse practitioner and to continue to learn and grow in her nursing career.

"I have always been very proud to be a nurse," notes Kauffmann. "Nothing

makes me happier than seeing the dedication, love, and empathy shown by

my colleagues throughout the world. COVID-19 has opened the doors for

us to no longer be constrained by state or even country borders, but to be a

profession that makes itself known around the world as the face of strength and

compassion in remarkable times."

Most of Kauffmann's experiences with COVID-19 have been with patients who

are scared and are having difficulty finding healthcare. She is incredibly happy

that the doors at MinuteClinic have been open during this time to be able to

continue serving the community. As doctors offices begin to reopen, she notes

that she is excited to be able to shift her focus to overseeing several COVID

testing sites. In the early days of the pandemic, it was extremely frustrating for

NURSES MONTH

SPOTLIGHT

Britton Balzhiser

MSN, FNP-C

her to not be able to get the testing she wanted for her patients. Now she's proud

to be part of bringing quick and easy testing to the community!

While most nurses who enter the profession see it more as a calling than a

career, that doesn't mean it can't be incredibly difficult to manage sometimes.

Nurse burnout was a front and center issue before the pandemic and now

more than ever, there's a serious push to make sure nurses are taking care of

themselves and maintaining a work/life balance.

"I maintain my moral resilience by remembering that the best way to take

care of others is to take care of myself first," Kauffmann said. "I take time

everyday to have a quiet moment to calm my mind and breathe. Sometimes this

is 15 minutes of yoga, sometimes it's a 15-minute walk outside, and sometimes

it's just standing in a hot shower at the end of a long day, taking deep breaths

and letting it go. I also make a point to face my fears and anxieties. A lot of

times as nurses we like to suppress our emotions so that we can keep going.

This is very unhealthy and those emotions tend to leak out in other parts of our

lives when we least expect them. If you find yourself bottling up your emotions,

it's time to find someone to talk to. Many companies offer access to free therapy

sessions and it is 100% worth it."

COVID-19 brought to the forefront the very real mental trauma that nurses

and health professionals can experience as a result of their work. The day in,

day out stress of being so close to danger and risking one's own health and

those that are closest to them takes a heavy toll. The lack of control nurses have

over their own environment was clear as they witnessed colleagues being put

into unsafe situations with a lack of personal protective equipment.

"I think the events of the past few months will help nurses push to have a

stronger voice in healthcare, workplaces, and within communities," Kauffmann

said. "Nurses' services are invaluable, they are proud of the work they do, and

should have a leading part in shaping healthcare."

Accurate information regarding COVID-19 has been difficult for some to

discern with so many states taking different approaches to quarantines and the

24 hour news cycle constantly spitting out information.

"Things will start being less restrictive, but we should not throw away the

lessons learned. As flu season approaches and colds start popping up in the

fall, the importance of staying home if you're feeling sick can not be emphasized

enough," Kauffman stressed. "Continued good hand washing is going to be a top

priority in keeping our communities safe. We may even start seeing masks out

more regularly in the public setting, especially during flu and cold season. We

will not go back to the pre- COVID-19 normal, but we will see a new normal that

will help keep our society healthier."

Kauffmann finished by stating, "despite COVID-19 bringing the world to its

knees, nurses are going to be there to carry the world forward to a healthier

tomorrow with a smile on their faces."

Britton Balzhiser, MSN, FNP-C has worked as a nurse practitioner with CVS

MinuteClinic for four years. She currently treats walk-in patients with a variety

of illnesses and oversees several drive-thru COVID-19 testing sites.

"I have always loved being a nurse, but witnessing the strength and resilience

of my colleagues during this pandemic has reinforced my immense pride for my

chosen profession," Balzhiser said. "Whether in the ICU or in a small walk-in

clinic, we have all done our part to keep our patients healthy and I am honored

to work alongside my fellow nurses."

Nurses are a close-knit group and Balzhiser says working through COVID-19

has further strengthened the bond she has with her colleagues. They support

each other, whether through providing assistance with a heavy workload, or

just lending an ear to listen. "I don't know what I would do without my nursing

family," Balzhiser admitted.

One of her key roles as a nurse practitioner is to be a reassuring presence for

her patients in times of uncertainty and distress. After an unexpected exposure

to COVID-19, she found herself in the reverse position as a patient, anxious for

what her own test results would show. Balzhiser said this experience gave her a

new viewpoint and a renewed empathy for the fear and worry that her patients

encounter.

COVID-19 has brought a new type of public awareness and appreciation for

the vital role that nurses and nurse practitioners play in the healthcare system.

Many state governments have created emergency action plans which expand

the NP scope of practice and highlight the essential services provided by the

profession. Balzhiser says the pandemic has also led to innovative strategies

aimed at reducing infection risks while continuing to provide essential patient

care, something that is particularly seen with the expansion of telemedicine like

MinuteClinic's e-visits.

"States are beginning to reduce restrictions but this does not mean that

COVID-19 has been defeated," Balzhiser cautioned. "COVID-19 doesn't care

about your political views or that you are tired of being in quarantine. It is

not going to go away just because the pandemic is old news. We must all unite

together if we are to ever see an end to the virus. The only way we can truly

contain this virus is to remain vigilant in our precautions, continue to wear

masks in public, wash hands frequently, stay home when ill and maintain

recommended social distancing."

Balzhiser believes that all nurses followed a calling to help people when they

entered the profession. "Even though our training technically prepared us for

a pandemic, living and working through the reality of COVID-19 is frightening

and quite different from a theoretical concept. I am so impressed with how we

as nurses and NPs have all risen to the challenge presented by this virus. We

continue to choose to go into work each day despite the very real risks we now

face."

Every nurse deserves a huge and humble thank you. VNA will continue

to feature different COVID-19 narratives in Virginia Nurses Today. If you or

someone you know has a unique story that can be shared, please reach out to

VNA Communications Coordinator Elle Buck at ebuck@virginianurses.com.

We also encourage you to submit a friend, colleague, or family member to our

COVID-19 specific Healthcare Heroes campaign. Submissions can be made at:

https://tinyurl.com/VNAHealthcareHeroes.
---
www.VirginiaNurses.com | Virginia Nurses Today August, September, October 2020 | Page 19

Mental Health Help for Nurses

Webpage is Live

No amount of experience could have fully prepared healthcare providers

for practicing during this pandemic. During this unprecedented time,

we know that nurses may have increased needs related to ensuring their

mental health and wellness. VNA and ANA have gathered resources to offer

suggestions on self-care, because it's essential that nurses pause and take a

moment for their well-being.

The American Nurses Association recently created a committee to explore

mental health in nursing. The Healthy Nurse Healthy Nation Strength

Through Resiliency Committee 2020 examines, develops, and collects

mental health resources for nurses, including those for suicide prevention.

The Strength Through Resiliency Committee is comprised of a Work Group

and Review Committee. The committee was convened in late 2019 and began

meeting in January, 2020. It is composed of mental health subject matter

experts, invested nurses, and ANA support staff.

Available Mental Health Resources:

• National Suicide Prevention Lifeline

• How to Survive the Pandemic with An Unbroken Spirit - Actions to Take

Right Now to Stay Strong and Focused

• A Comprehensive Approach to Preventing Suicide: The Role of Law,

Policy, and Social Determinants of Health

• Healthy Nurse Healthy Nation mental health tips and strategies

• ANA COVID-19 Resource Center - Mental Health and Well-being

• 5 Action Steps for Helping Someone in Emotional Pain - Handout

• And more!

Visit the Mental Health Help for Nurses webpage at https://virginianurses.

com/page/MentalHealthHelpforNurses. If you would like to suggest resources

for this webpage, please contact VNA Communications Coordinator Elle Buck

at ebuck@virginianurses.com.

2020 Year of the Nurse Awards

With your health and safety in mind, the Virginia Nurses Foundation will be

shifting their Annual Gala to an hour-long virtual celebration this December. All

VNA members will receive an email once a date has been selected. Nonmembers

can check our event calendar at https://virginianurses.com/events/event_list.

asp for Gala updates.

This year's Gala awards will be an extension of our annual VNF Leadership

Excellence awards, which were created to honor outstanding nurses throughout

the commonwealth who have made exceptional contributions to the nursing

profession. During 2020 - the Year of the Nurse, nurses have been essential

to fighting the COVID-19 pandemic in so many ways. They have been on the

frontlines of providing care to the sick, working to keep their communities safe,

and providing support with innovative ideas and compassion.

Our 2020 Year of the Nurse Awards will focus on recognizing the

contributions of 20 registered nurses from throughout Virginia during the

COVID-19 pandemic. All nurses are eligible for nomination.

Nurses who have made a difference during the pandemic can be nominated

by their peers or a community for a variety of different reasons. We are looking

for morale boosters, well-being ambassadors, nursing innovators, community

contributors, and frontline heroes, just to name a few!

Award Criteria

Year of the Nurse Awards are based on the premise that during the COVID-19

pandemic, the nominee enhanced the image of professional nursing and rose

to the unprecedented challenges facing the nursing profession with compassion

and respect.

To be eligible, in addition to any criteria listed in the category descriptions,

the nominee must:

• Be licensed as an RN in the Commonwealth of Virginia

• Be employed in the Commonwealth of Virginia

Nominees do not have to be frontline care providers. We welcome nominations

of exceptional nurses who have provided care and compassion across all areas

of practice and specialities.

Nomination Instructions

Nominations are invited from nurses and friends of nursing across the

commonwealth. All nominations MUST BE submitted via our online portal and

should include the following:

• Completed online form

• Supporting narrative that addresses criteria (500 word maximum)

• One letter of support (Should be written by someone other than person

submitting narrative)

• Nominee's curriculum vitae or resume

To nominate a nurse, go to https://tinyurl.com/2020VNFAwards.

Nominations Deadline

The nomination period closes on September 30 at 11:59 pm. Finalists will be

notified by the end of September.

Awards Selection and Presentation

The VNF Leadership Awards selection committee will conduct a review of all

nominations received. Award winners will receive a special "Gala in a Box" to

celebrate at home, and families, colleagues, and press will be invited to a Virtual

Gala on December 5 at 7 pm, where we will share short video stories of each

winner.

Questions?

Contact Elle Buck at ebuck@virginianurses.com.
---
Page 20 | August, September, October 2020

Virginia Nurses Today | www.VirginiaNurses.com

VNF's Nurse Leadership Academy to Launch in Fall 2021

The Nurse Leadership Academy is a leadership

development program for new and emerging

nurse leaders across all healthcare settings.

Fellows will learn foundational leadership skills

and demonstrate these skills through an applied

leadership project within their organization. As a

result of the pandemic, the program launch has

been delayed until October 2021 in Richmond.

The first six months of this year-long program

will be dedicated to live didactic sessions and

webinars focused on five concepts: Fundamentals

of Effective Leadership, Organizational Culture,

Facilitating a High Reliability Environment,

Influencing Change: Driving Outcomes through

Strategic Action, and No Margin No Mission:

Examining the Finances of Healthcare. Fellows

will then have an additional six months to develop

an applied leadership project with support from

their individually identified mentor. Checkin

points with program leadership and peers

will be convened through a virtual community,

and the program will culminate at 12 months

with presentations from fellows on their applied

leadership projects. The Virginia Nurses

Foundation is excited to bring this program to

new and emerging Virginia nurse leaders in

collaboration with the Virginia Nurses Association.

Desired Outcome

Fellows will learn foundational leadership

skills and demonstrate this through successful

completion of an applied leadership project within

their organization.

Structure

• Months 1-5:

- 5 Live didactic sessions and additional

webinars

- Fellows will:

• identify a leadership mentor

• identify an organization-approved

applied leadership project that will

demonstrate a positive impact on

their organization and showcase their

leadership acumen

• complete a leadership assessment

to gain feedback on their personal

leadership style

• Months 6-12:

- Fellows will complete an applied leadership

project

- A virtual community will be provided for

additional coaching opportunities with

program leadership and peer-to-peer

engagement

• Month 12:

- Fellows will present a formal presentation

on their applied leadership project

Curriculum

• October 13, 2021: Fundamentals of Effective

Leadership

• November 4, 2021: Organizational Culture

• December 2, 2021: Facilitating a High

Reliability Environment

• February 24, 2022: Influencing Change:

Driving Outcomes through Strategic Action

• March 24, 2022: No Margin No Mission-

Examining the Finances of Healthcare

• Final Program: Applied Leadership Project

Cost

Single registration: $1,295 per registrant

Group registration (If your employer will

be paying for 3 or more registrants from your

organization) : $1,195 per registrant

Sign up to be notified when registration opens

for the Nurse Leadership Academy https://tinyurl.

com/VNFNLA. Questions can be sent to VNA/VNF

CEO Janet Wall at jwall@virginiianurses.com.

The Nightingale Legacy Fund

VNF's Nightingale Legacy Fund, which supports

the development of the Nurse Leadership Academy,

also pays tribute to nursing leaders who have

made a difference. As a contributor, you will have

the opportunity to recognize those nurses who

paved the way for you, and whose leadership

has advanced the profession of nursing; all

while supporting this very important initiative.

The nurse leader you recognize will receive an

email letting them know you wanted to say

thank you! Please consider contributing to the

Nightingale Legacy Fund at https://tinyurl.com/

VNFNightingaleLegacyFund.

Lauren Goodloe Nursing Scholarship

VNF also developed a scholarship for the Nurse

Leadership Academy to honor the life and legacy

of Dr. Lauren Goodloe and her commitment

to nursing and nursing education in Virginia.

Dr. Goodloe served as president of the Virginia

Nurses Association while working as a respected

faculty member and assistant dean for clinical

operations and associate professor at VCU's

School of Nursing, all while fighting a valiant

battle with cancer. Please take this opportunity

to put your stamp on the future by making a

contribution for up-and-coming nurse leaders.

Contributions can be made at https://tinyurl.com/

LaurenGoodloeScholarship.

NLA Steering Committee Members

The Virginia Nurses Foundation would like to

recognize the leadership and members of the NLA

Steering Committee for their hard work, innovative

thinking, and dedication toward creating an

unparalleled leadership program for nurses

throughout the commonwealth.

• Terris Kennedy, PhD, RN, President, Virginia

Nurses Foundation

• Linda Shepherd, MBA, BSN, RN, President,

Virginia Nurses Association

• Lindsey Cardwell, MSN, RN, NPD-BC

• Jaime Carroll, MHA, BSN, RN

• Mary Dixon, MSN, RN, NEA-BC

• Jayne Davey, MSN, RN, NPD-BC, CNN

• Jay Douglas, MSM, RN, CSAC, FRE

• Elizabeth Friberg, DNP, RNDonna Hahn,

DNP, RN, NEA-BC

• Terri Haller, MSN, MBA, NEA-BC, FAAN

• Ronnette Langhorne, MS, RN

• Nellie League, MSN, BSN, RN, NE-BC

• Nancy Littlefield, DNP, RN, FACHE

• Trula Minton, MS, RN

• April Payne, LNHA

• Meg Scheaffel, BSN, RN, MBS-MHA

• Jeannine Uzel, RN, MSN

• Janet Wall, MS

• Deb Zimmermann, DNP, RN, NEA-BC

Visit nursingALD.com today!

Search job listings

in all 50 states, and filter by location and credentials.

Browse our online database

of articles and content.

Find events

for nursing professionals in your area.

Your always-on resource for nursing jobs,

research, and events.
---
www.VirginiaNurses.com | Virginia Nurses Today August, September, October 2020 | Page 21

Community Health Nursing – A Value to Our Communities

Kate Clark, DNP, RN, PHNA-BC

Assistant Professor of Nursing, Eastern

Mennonite University

Jessica Knight, BSN, RN

Nursing Supervisor, Child Health Partnership

Home visiting has been a foundational skill of

public health nurses for centuries. In fact, nursing

as a profession has its roots in primarily home-based

services. Nurses like Florence Nightingale, Bessie

Hawes, Lillian Wald and Mary Breckinridge designed

public health nursing programs to meet families where

they lived, providing basic nursing care and health

education. Healthcare has become more centralized

within clinics and office settings, and the emphasis

of home-visiting programs has lessened. Over time,

cuts to public health programs and the pull of higher

pay for nurses within acute care settings have

caused many to forget or undervalue the significant

impact that home visiting nursing programs have

on the health of communities. However, today with

the COVID-19 pandemic impacting communities

throughout Virginia, home visiting has never been

more important.

Home visiting nurtures a particular set of nursing

skills. Home visiting nurses are excellent at developing

deep trust and partnership with the families they

work with. In the home setting, the power dynamic

that can often complicate the nurse-client relationship

shifts because the nurse is functioning within the

family's home. In addition, home visits provide unique

opportunities for nursing assessment. Nurses often

engage with children and observe family dynamics.

The home environment and broader neighborhood/

community can also contribute to a fuller understanding

of the health and health education needs of the family.

Nurses can be a lifeline for parents who feel isolated at

home with small children. They provide encouragement,

support and empowerment to vulnerable families. This

ability to holistically, deeply understand a family's

strengths and needs from multiple perspectives allows

home visiting nurses to create tailored interventions and

health teaching for families.

Home visiting programs are often most impactful

among vulnerable patient populations. Low-income

households, single-parent families, minority groups,

and immigrants or refugees face many barriers

accessing preventative healthcare services in the U.S.

Home visiting programs remove barriers to care for

these families like transportation, inflexible work

schedules, lack of childcare and the general complexity

of navigating a disjointed U.S. healthcare system.

COVID-19 has intensified and exposed these barriers

and made home visiting, even if it is done virtually,

vital to providing ongoing nursing care, education and

support to vulnerable populations.

The current pandemic has highlighted the

link between the home, community environment,

socioeconomic status and the impact those have on

the health of families and communities. Families,

particularly low-income and non-English speaking,

need to have clear, consistent information on how

best to prevent the spread of COVID-19. While public

health messaging is important, home visiting nurses

are well positioned to provide this vital information

in a way that families can understand and act upon.

COVID-19 prevention is mostly about understanding

and mitigating risk for exposure. Nurses can

partner with families to explore their particular life

circumstances, including living situation, employment

status, neighborhood environment, etc. and help

families make informed choices about how to minimize

their risk of contracting or spreading COVID-19.

In addition, home visiting nurses can help families

navigate additional challenges they may face related

to sudden unemployment, school closures and lack of

summer childcare and the increased stress and strain

on families living through uncertain times.

Beyond the need for education related to COVID-19,

there is an ongoing need for general health prevention

and promotion interventions and education. At a time

when individuals and families may be hesitant to go

to their primary care provider's office or to seek care

at the local emergency room, home visiting nurses can

provide important guidance on how to best promote

the health of the family. The following real life story

from the CHIP home visiting program, Child Health

Partnership, illustrates the value of community health

nursing during the pandemic.

When all the forms, assessments, screenings, and

tools are stripped away, the foundation of community

health nursing is the relationship a nurse builds with

his/her patient. The COVID-19 pandemic of 2020

has illuminated this more than ever. Susan was a

primigravida in her early 20s when she first met her

community health nurse in January 2020. She was

due to deliver her first child within a few months. As

COVID-19 took hold in the United States and began

to spread across the country, Susan turned to her

community health nurse for guidance - is it safe to

attend prenatal appointments? Is it safe to go outside?

Will I be able to deliver my baby at a hospital? Will

I be separated from my baby at birth if I'm sick?

Thanks in part to regular virtual home visits with her

community health nurse (completed via video chat),

Susan delivered a healthy baby girl in late March

2020. Shortly after birth, Susan's community health

team identified the need for more support and began

checking in with her weekly via video chat. This

increased follow-up helped her nurse identify signs of

postpartum depression, which the nurse explained

to Susan and relayed to her medical doctor. Susan

received a diagnosis of postpartum depression and

successfully started treatment shortly thereafter. In

a time when many of the resources that new parents

rely on to help navigate the early months of newborn

life were forced to halt services and close their doors

due to the pandemic, Susan was able to continue to

reach out to her community health nurse virtually for

support in everything from infant feeding patterns and

sleep schedules to finding support for her own mental

health and wellbeing. Without access to this critical

support, it is likely that Susan's baby would have had

a much more difficult start to life. Susan's nurse is

quoted as saying, "We have watched this mom move

from survival mode into a space where she is now

making plans for the future." This was all done during

a time when most of us found it difficult to think about

the future.

This is what community health is all about,

building relationships to support the well-being of

children and families. Healthy children in healthy

homes make for a healthier community.

NURSES MONTH

SPOTLIGHT

NURSES MONTH

SPOTLIGHT
---
Page 22 | August, September, October 2020

ULTRASOUND PIVS

Virginia Nurses Today | www.VirginiaNurses.com

Patrick Hill, DNP

Stephen Ankiel, RN

Lisa Milam, DNP

Virginia Commonwealth University Health System

Background

Intravenous (IV) therapy is one of the most frequent

types of treatment in the inpatient setting (Soifer,

Borzak, Edlin, & Weinstein, 1998), with up to 90% of

patients having peripheral intravenous access (PIV)

(Brown, 2004). Aside from discomfort related to the

disease process, insertion of PIVs are often considered

by patients to be the most distressing experience of

hospital stays (Stephens, O'Brian, Casey, et al, 1982).

The discomfort associated with PIV insertion may

lead to increased anxiety and physical responses to

future attempts to obtain access (Kennedy, Luhmann,

& Zempsky, 2008). This pain and anxiety can be a

contributing factor in patient dissatisfaction.

Although there may be several methods to reduce

discomfort secondary to PIV insertion (Hosseinabadi,

Biranvand, Pournia, & Anbari, 2015), minimizing

attempts is ideal, but this may not be feasible with

all patient populations. Notwithstanding the fact

that patients who are difficult to obtain vascular

access, and thus undergo more PIV attempts, the

literature reflects that there is no consensus on what

constitutes the difficult access patient population

(Partovi-Deilami, Nielson, Moller, Nesheim, &

Jorgensen, 2016). One study in the United States

found that patient populations with diabetes,

intravenous drug abuse, and sickle cell disease were

predisposed to be difficult for placing PIVs, whereas

renal failure and increased body mass index were

not significant factors (Fields, Piela, Au, & Ku, 2014).

However, Lapostelle, et al. (2007) found body mass

index to be a significant factor.

There is a substantial body of evidence supporting

the use of ultrasound (US) for vascular access. The

use of US has been shown to reduce complications

and has been used in practice for more than 30

years (Lamperti, et al., 2012). The evidence shows

that the utilization of US to guide PIV insertion

takes less time than traditional methods of insertion

(Egan, et al., 2013). Studies also show that US

guided PIV insertion has increased success rate

(89%), as opposed to the traditional method (55%)

(Constantino, Parlkh, Satz, & Fojtik, 2005). This

decrease of attempts at IV access has been shown

to lead to improved patient satisfaction (Bauman,

Evaluation of Methods for Ultrasound Guided

Peripheral Intravenous Catheter Insertion

Braude, & Crandall, 2009), and patients actually

preferred the US methods to traditional methods of

IV insertion because it was faster and required less

attempts (Schoenfeld, Shokoohi, & Boniface, 2011).

Using US can also reduce time by as much as 50%

to 75% (Partovi-Deilami, Nielson, Moller, Nesheim,

& Jorgensen, 2016). The success of cannulation on

the first attempt often averages 77 seconds (Keyes,

Frazee, Snoey, Simon, & Christy, 1999). The use of US

guided PIV insertion can also reduce the use of more

risky central venous catheter insertion (CVC) (Gregg,

Murthi, Sisley, Stein, & Scalea, 2010), although there

have been instances of US guided PIV insertion when

patient situation dictates that CVCs would be more

appropriate (Egan, et al., 2013), such as with certain

medications, for example vasopressors or long term

antibiotic treatments. Although US guidance is most

useful when veins cannot be visualized or palpated,

(Liu, Alsaawi, & Bjornsson, 2014), the chance of

success is eliminated with veins greater than 16 mm

deep and less than 3 mm in diameter (Panebianco,

et al., 2009). Panebianco (2009) also found that

increased vein size was a factor in success of vein

cannulation.

The traditional method of vein cannulation may be

defined as using palpation or visualizing the vessel

for venipuncture, usually accompanied by a form of

dilation with either a tourniquet or blood pressure

cuff inflation. The utilization of US has been shown

to be beneficial, however there are differing methods

of insertion, each with their possible advantages.

The short axis gives a cross sectional view of the

vessel, see Figure 1. The short axis method has

the advantage of visualization of the catheter tip

puncturing the vessel wall, but does not show the

length of catheter in the vessel. The long axis gives

a longitudinal view of the vessel, see Figure 2. The

long axis method of insertion may have the advantage

of visualizing a length of the vein for valves,

calcifications, or whether the vessel is tortuous, but

has the disadvantage of not showing if the tract of

catheter is lateral to the vessel during insertion.

Review of Literature

A review of the available literature to ascertain

the best methods of enhancing success of PIV

insertion with US guidance was conducted using

CINHAL, Pubmed, Google Scholar, and Ovid Medline

databases. The literature was first searched for

optimum methods of vein dilation using the search

terms: vein dilation, tourniquet, blood pressure cuff,

IV, and intravenous access. Three studies were found,

but the results were inconclusive. All of the studies

found that the use of blood pressure cuff inflation

dilates veins to a greater size (Mahler, et al., 2011),

inflated the cuff to above diastolic pressure, and did

not use this in a study of difficult access patients but

rather studied healthy volunteers.

Kule, Hang and Bahl (2013), after inflation of

the blood pressure cuff to 150 mm Hg, found the

significant increase of peripheral vein size and

decreased compressibility compared to one or two

tourniquets, but did not attempt vein cannulation

and studied healthy volunteers. The only study

that was conducted on actual patients (Nelson,

Jeanmonod, and Jeanmonod, 2014), compared the

use of tourniquet to blood pressure cuff inflated to

150mm Hg. They concluded that the tourniquet had

advantage over blood pressure cuff due to patient

discomfort of cuff inflation to that pressure. They

also reported that the cuff obstructed the site of PIV

insertion.

Using the same databases, the literature was then

searched using the keywords: ultrasound approach,

long axis, long plane, longitudinal axis, short axis,

short plane, and peripheral intravenous access using

the separator AND and OR. Four articles were found.

Fuzier, Rouge, and Pierre (2016) report that the long

axis gives the advantage of visualizing the needle

as it courses into the vessel, but may be difficult to

align, and little difference was found between the

long and short axis approach. A review by Gao, et al.

(2016) concluded that there was insufficient evidence

to determine a difference in success rate between the

long and short axis approach. Mahler, et al. (2010)

found that there was no statistical difference between

long and short axis approach, but that short axis may

have less insertion time. The operators in this study

had considerable experience in both approaches, but

mostly used the short axis method, and the study

population was healthy volunteers. Panebianco, et al.

(2009), found no significant difference between long

and short axis, but left the orientation to the choice of

the operators rather than randomization.

Study Question

From the literature available, there is no evidence

on how inflation of the blood pressure cuff to above

diastolic pressure for patients with difficult venous

access compares to a tourniquet. There is also no

conclusive evidence on the comparison of long axis to

short axis orientation of the US for needle approach

for venipuncture.

Due to this lack of definitive evidence on methods

to ensure success with US guided PIV insertion, two

research questions become relevant.

1. In difficult access adult patients, is a blood

pressure cuff inflated to above diastolic

pressure more effective for vein cannulation

than tourniquet?

2. In difficult access patients, does long axis

approach versus short axis result in more

successful vein cannulations?

Methods

Study Design

A prospective, randomized, non-blinded study

comparing long axis to short axis approach for US

guided PIV insertion. The study also compared

tourniquet to blood pressure cuff inflated to above

diastolic pressure. The patients' method of PIV

insertion was chosen by a predetermined random

order by an Excel random number generator in order

of presentation. All members of the research team

performing the procedure were intensive care nurses

of similar levels of ultrasound training, IV insertion

skill, and experience.

Figure 1.

Short axis approach and cannulated vessel.

Figure 2.

Long axis approach and cannulated vessel.

Setting and Sample

A convenience sample of patients, N=64, with

difficult access needing US guided PIV insertion

in an urban academic hospital medical Intensive

Care Unit. For the purposes of this study, difficult

access patients were defined as any patient needing

peripheral access, but not central access, who

have had two unsuccessful attempts by traditional

landmark methods of PIV insertion.

Ultrasound PIVs continued on page 26
---
Page 24 | August, September, October 2020

Virginia Nurses Today | www.VirginiaNurses.com

Welcome to Our New & Returning VNA Members!

Abban, Arvis

Abdella, Nura

Abell, Candice

Abutin-Sims, Mariecarr

Ackerman, Shanna

Acquaye Kessie, Louisa

Acree, Amanda

Adams, Isabella

Al Saadi, Zeina

Alasi, Olutosin

Alberts, Ashley-Rose

Aliyu, Sainfer

Allen, Luke

Allen, Stephanie

Allen, Hannah

Allin, Abigail

Allmon, Heather

Altman, Michelle

Amaya Romero, Ruben

Amlalo, Celestina

Anderson, Katharine

Anderson, Denise

Ani, Christina

Ankeney, Kelly

Antario, Lauren

Aponte, Damaris

Aquino-Matos, Monica

Arama, Alfred

Archie, Betty

Arias, Yahaira

Armstrong, Lacey

Arnold, Fatima

Ash, Courtney

Asiedu, Doris

Aube, Melissa

Auston, Melinda

Avery, Ashley

Awusaku, Chinenye

Ayles, Emily

Ayvazian, Jemma

Azenabor, Lilian

Bader, Emily

Badgley, Robin

Bajwa, Gurpreet

Baker, Joanne

Balentine, Courtney

Balli, Deedra

Balog, Kirsten

Bankole, Ayomide

Barcus, Kimberly

Barksdale, Lolitha

Barnes, Reba

Barolo, Cristine

Barron, Patricia

Barruel Ian

Basco, Jennifer

Basir-Balla, Nasr

Bass, Amy

Bauer, Catherine

Beach, Teresa

Beaumont, Rachel

Beck, Erin

Becoat, Shirley

Behner, Jessica

Beljano, Divino

Bell, Joseph

Belt, Kanisha

Ben-Agu, Catherine

Berger, Amber

Bessette, Lisa

Betts, Parrisha

Bezinaru, Alina

Bidwell, Alice

Bishop, Ashley

Bisulca, Heather

Blakeney, Keshia

Blevins, Alysia

Bloodworth, Josephine

Blount-Sears, Sirena

Bobbitt, Brittany

Bobcombe, Ingrid

Boggs, Dusta

Bohnsack, Emily

Boinest, Abagail

Bolden, Candice

Bonniwell, Christina

Boone, Elizabeth

Borton, Alexandra

Bosher, Alfreda

Bostic, Oretha

Boston, Tamika

Boutte, Donna

Bowman, Cheryl

Bowman, William

Boysworth, Shannon

Branham, Taylor

Brewer, Teresa

Bridenstine, Marian

Britton, Kathleen

Brookfield, Shelby

Brooks, Annette

Brown, Dana

Brown, Amy

Brown, Antoria

Brown, Tiara

Brown, Tiara

Brown, Kia

Brown, Elizabeth

Brown, Elizabeth

Brown, Trudy

Brown, Beatrice

Browne, Lavern

Brunke, Lynn

Buckles, Kimberly

Bulmer, Brandon

Burch Jr, Darrell

Burgess, Amber

Burke, Catherine

Burton, Olivia

Burton, Jalik

Butler, Shavona

Butler, Isabel

Cabanez, Cecilia

Cabauatan, Julius Ceazar

Calloway, Patricia

Calloway, Yvonne

Calvin, Nerissa

Cameron, Leigh-Ann

Camp, Stephanie

Campbell, Melissa

Campbell, Todd

Campbell, Nakpangia

Capilitan, Maria

Carlson, Jinju

Carpenter, Sherrie

Carson, Sabrina

Carter, Charlotte

Carter, Jamie

Carter, Pennie

Cattigan, Anne

Cazares, Melissa

Chamberlain, Aims

Chandler, John

Chauca, Stephanie

Cheatham, Carolyn

Chen, Liana

Chevalier, Paula

Christenson, Heather

Christy, Linda

Cimino, Tensi

Coger, Wallesia

Cohoon, Barbara

Coiley, Marian

Coldwell, Louise

Coleman, Lakeia

Coleman, Denise

Coles, Keisha

Collins, Cathleen

Collins, Amy

Concklin, Fran

Coney, Stephanie

Cook, Cameron

Cooper, Kaitlyn

Cooper, Kristina

Cooper, Dianna

Cooper, Kristy

Cooper, Christopher

Cooper, Sonia

Cordrey, Elizabeth

Cotterman-Schall, Jamie

Cotton, Christina

Couto, Verna

Cowper, Ann

Cox, Cheryse

Crabtree, Haley

Craft, Heather

Craft, Angela

Cramer, William

Crawford, Brian

Crewe, Crystal

Crigger, Andrea

Crippen, Janay

Croson, Tiffany

Crowder, Caitlin

Cuajunco, Mary Nes

Cuffee, Shenika

Cure, Suzanne

Curtis, Lisa

Cypress, Lamelia

Dalgado, Nympha

Dalton, Susan

Dame, Margaret

Danforth, Marie

Dashiell, Kimberly

Davis, Teresa

Davis, Kristen

Dawes, Agnes

Dawley, Lisa

Dean, Barbara

Debrango, Deborah

De'Braux, Shaunelle

Decker, Corissa

Decoster, Donald

Decourcey, Shannon

Deisher, Brittany

Deller, Brenda

Depriest-Fizer, Marla

Deters, Brandi

Dhillon, Madeline

Dichoso, Jennypher

Dickerson, Tracey

Dierberger, Megan

Ding, Han

Dinh, Christa

Diprosperis, Becky

Dix, Emily

Dixon, Kimberlynn

Dodd, Kimberly

Doherty, Denise

Doku, Gifty

Dolinger, Terrisa

Domenick, Julia

Donnelly, Jennifer

Doppelheuer, Erin

Dozier, Pamela

Drever, Carol

Droog, Robin

Drummond, Julie

Dubose, Yolonda

Duncan, Lorena

Dunham, Kristin

Duru, Simone

Ealy, Angela

Easter, Wendy

Edge, Erica

Edwards, Sheryl

Edwards, Keith

Ehizokhale, Ibha

Elebo, Alexander

Eley, Heather

Eley, Marye

Eli, Monique

Ella, Andrea

Eseh, Martha

Ezell, Reshonda

Fakulujo, Adekemi

Fant, Lakrista

Feltmeyer, Jeanette

Fenton, Shawnee

Ferber, Stephanie

Ferrer, Mercedes

Fields, Cameron

Finch, Paul

Findley, Stephanie

Fiorillo, Falon

Fleming, Sharon

Flood, Brian

Flores, Zenaida

Flores, Alexander

Fluellen, Michol

Fly, Adam

Flynn, Valeria

Fofanah, Sheriff

Foote, Lisa

Ford, Caroline

Fraley, Johnny

Frederick, Shelby

Frers, Anne

Frey II, Bruce

Galloway, Brandi

Gallups, Shawn

Garbee, Tammy

Garcia, Sofia Peach

Garner, Ai

Gathathi, Charles

Gayton, Beth

Gee, Marketa

Geminiano, Ira Nadine

Gendron-Trainer, Nicole

George, Anu

George, Jessy

Geringer, Alena

Ghoneim, Kerniba

Gibbs, Mark

Gibson, Christen

Gilbert, Brittany

Glorioso, Jason

Glover, Lamesha

Gomez Mejia, Hillary

Goodwin, Belinda

Gotsios, Elizabeth

Graham, Briana

Granteed, Erica

Graves, Courtney

Gray, Christen

Gray, Christina

Gray, Lakeisha

Green, Alexandria

Green, Derithia

Greene, Shenequwa

Griffin, Benita

Grimes, Jeffrey

Grooms, Tisha

Gunning, Kelly

Gyampoh, Julia

Hale-Pate, Wilma

Hall, Tawanda

Hambleton, Susan

Hamilton, Sarah

Hamlett, Denise

Hamlette, Antonio

Hancock, Jessica

Hanrahan, Katie

Harge, Jasmine

Hargrave, Crystal

Harper, Penny

Harper, Keri

Harris, Philomena

Harris, Shimere

Harris, Nailah

Harris, Sandy

Harrison-Greenhill, Donna

Hart, Renee

Harvey, Louise

Harvey, Mavis

Hawkins, Carla

Hayden, Heather

Hayman, Lakeisha

Hazelgren, Linda

Hazlett, Debra

Hebron, Jacqueline

Hendricks, Brandy

Henry, Molly

Herbaugh, Alicia

Herbert, Princess

Herrera, Casey

Hewartson, Sydney

Hill, Shanmeka

Hingston, Patrick

Hogan, Sarah

Holland, Darnell

Holland, Spring

Holley, Karen

Holloway, Deborah

Holloway, Shayla

Horton, John

Howery, Brandon

Hughey, Thressa

Hunter, Alisha

Huynh, Christine

Ibasan, Greg Allen

Ibe, Adaobi

Ilacqua, Tara

Ingram, Shekinah

Irizarry, Diane

Jackson, Nicole

Jackson-Polk, Trecia

Jacobs, Jennifer

James, Mala

James, Janet

James, Shiquita

Jefferies, Melissa

Jenkins, Molly

Jenkins, Arin

Jennings, Ambria

Jennison, Kaelin

John, Lisa Maria

Johns, Wilton

Johnson, Lyn

Johnson, Angie

Johnson, Georgiana

Johnson, Troi

Johnson, Beth

Johnson, Jeffrey

Johnson, Jeremy

Johnson, Sloane

Johnson-Banks, Carletta

Jones, Christal

Jones, Robin

Jones, Angela

Jones, Jessica

Jones, Maya

Jones, Kelsey

Jones-Shenjobi, Nicole

Joseph, Brenda

Journey, Jennifer

Joyner, Alfredtina

Justice, Kandice

Kahasay, Senait

Kamara, Beverly

Kasap, Trisha

Kauffman, Jennifer

Kearns, Adrianne

Keith, Deborah

Kelley, Kristen

Kemp, David

Kendrick, Renee

Kennedy, Erica

Kerr, Barbara

Khetle, Sandesh

Kilhefner, Hannah J.

Kim, Jenny

Kim, Gloria

Kimbrough, Tonya

Kingery, Patricia

Klemick, Tanya

Klimkowski, Sarah

Knowlton, Anne

Koduah-Agbo, Ellen

Kogel, Mary

Kopis, Sharon

Korankye, Hannah

Kowahl, Terri

Krajewski, Kim

Kreul, Hallie

Kubick, Lisa

Kuppler-Lee, Lisa

Kurrus, Annette

Kusi, Eric

Kwayisi, Samuel

Lacombe, Hannah

Lamb, Tara

Lambert, Christy

Lamptey, Iris

Lane, Charlene

Lane, Bernajo

Langhans, Erynn

Lanier, Sara

Lantz, Tara

Laplante, Teresa

Large, Krystol

LaRue Smith, Custer

Lass, Ann

Lasse, Latrice

Lattimore, Andrea

Lawal, Erica

Lawrence, Cynthia

Lebron, Dacia

Lecik, Carolyn

Lecznar, Christoph

Lee, Soojeong

Lee, Sonya

Lee, Chiante

Lepage, Priscilla

Leshock, Olivia

Lester, Pre'Toria

Lewis, Sarah

Lewis, Taylor

Lexima, Mizellore

Liggins, Tara

Lilly, Ashleigh

Lipscomb, April

Little, Megan

Lockhart, Stephanie

Long, Kristina

Loving, Jeannie

Lovo, Jaqueline

Lucas, Joy

Mabaya, Raissa

Macdowell, Megan

Macklin, Jessica

Madison, Ann

Madze Fotso, Marie Berthe

Magnan, Joy

Maguire, Jahala

Manhertz, Sophia

Mann, Victoria

Maradiegue, Ann

Maranzano, Jennifer

Marasigan, Cora

March, Andrea

Marks-Boone, Kiewanda

Marshall, Stephanie

Martin, Reisha

Martin, Karen

Martin, Denitra

Mason, Teresa

Massey, Melissa

Matthews, Holli

Mattis, Lori

Mayo, Indeia

Mayo, Kitteria

Mays, Kenya

Mazzio, Diana

McAdams, Andrea

McCaffrey, Sara

McCamey, Danielle

McCarthy, Maura

McClanahan, Donna

McClarigan, Cynthia

McCleese, Amanda

McCoy, Tinika

McCoy, Jordan

McCoy, Harriet

McDaniel, Marissa

McDaniel, Sheila

McDaniel, Latisha

McFather, Rosemarie

McGarry, Lynda

McGuire, Carshawa

McHugh-Wilber, Elizabeth

McKenna, Elizabeth

McMahon, Andrea

McMillan, Alisa

McNear, Susannah

McNiff, Colleen

McQuail, Sherry

Mease, Cynthia

Menjivar, Victoria

Mensah, Annie

Menster, Megan

Midgett, Senece

Milburn, Michelle

Miles, Debra

Miller, Lee

Miller, Gabrielle

Miller, Marnie

Miller, Michelle

Mills, Victoria

Miltier, Piers

Minor, Margarita

Monney, Chisonan

Monterrosa, Jade

Moore, Jontel

Moore, Lori

Morris, Amanda

Morris, Jennifer

Morris, Evalyn

Morris, Tiffany

Morris, Ashley

Mort, Tiffany

Moss, Jeannine

Mulford, Marie

Mullins, Amber

Mullins, Tiffany

Mullins, Valerie

Munford, Mildred

Munoz, Melissa

Murphy, Audrey

Murphy, Colin

Myers, Joleen

Myers, Dana

Nahigian, Courtney

Naseem, Sadiya

Ndege, Irene

Ndifor, Emmaculate

Neas, Cecilia

Nebb, Kelly

Newton, Ashley

Ngwu, Amarachi

Nicholson, Florence

Nicholson, Letitia

Niederer, Joshua

Nixon, Megan

Nixon-Thibou, Sharina

Nnodim, Ngozi

Nock, Paulette

Nombo, Lucy

Norfleet, Luann

Norkeveck, Crystal

Norris, Nicole

Nowlin, Sonja

Ntiganzwa, Francoise

Nwachukwu, Olachi

Nyuydine, Seraphine

O Buckley, Paula

Odimgbe, Francisca

Oh, Hyunjong

Okafor, Patricia

Olyniec, Valarie

Omari-Yeboah, Josephine

Orrell, Angela

Orth, Cecilia

Osborne, Lasherr'E

Otey, Amber

Otieno, Collins

Ouko Thompson, Mophin

Overstreet, Courtney

Oylear, Zoi

Pachhai, Sharada

Pang, Elaine

Paran, Marian

Parawan, Angela Eden

Parizek, Zawadi

Park, Theresa

Parker, Ewelina

Parker, Rhonda

Patch, Robin

Patton, Kara

Paulette, Suzanne

Pearce, Carly

Pearson, Barbara

Peck Williams, Marcia

Pendleton, Laura

Pendleton, Lisa

Percoco, Gina

Perry, Karen

Perry, Kisha

Peterkin, Omari

Peterson, Larissa

Petrop, Jade

Petty, Sheena

Pfister, Laura

Phillips, Jan

Pickeral, Patricia

Pickering, Elizabeth

Pierce, Shannnon

Pigford, Shannon

Pittman, Jessica

Plaise, Jennifer

Polk, Chrishonda

Polson, Susan
---
www.VirginiaNurses.com | Virginia Nurses Today August, September, October 2020 | Page 25

Popadiuk, Melissa

Pope, Michelle

Potter, Kayla

Powell, Theresa

Powers, Joyce

Price, Brooke

Price, Kristin

Price, Tyra

Prieto-Conrad, Ruth

Proffitt, Michelle

Pugh, Julia

Punter, Elizabeth

Puterbaugh, Erin

Quash, Trevia

Quass-Ferdinand, Laura

Quaye, Emelia

Queen, Misty

Quintanilla, Fanny

Radford, Meagan

Raja, Marissa

Ralls, Heather

Ramos, Morgan

Ramsay-Dasent, Dawn

Rapipong, Jojo

Rawlings, Rasheen

Rawls, Virginia

Rebert, Kelsey

Redwood, Megan

Reed, Angela

Reed, Melessia

Reed, Julius

Reed, Britany

Reist, Rose Mary

Reubens, Rachel

Reynoso, Carla

Rhea, Abigail

Ribeiro, Larisse

Rice, Patricia

Rice, Jacqueline

Richardson, Donna

Richardson, Angela

Richardson, Tina

Riddle, Brandi

Riedl, Sophie

Riley, Amber

Riley, Sharon

Riley IV, Henry

Rimmer, Ariel

Ro, Rebecca

Roberson, Timikial

Roberto, Ann Marie

Roberts, Kendra Wren

Robinson, Angela

Robinson, Leslie

Rodriguez, Marliz

Rodriguez, Marilyn

Rogers, Tracey

Rosario, Jacquelin

Ross, Nancy

Ross, Emily

Rowley, Hannah

Roy, Janice

Royster, Barbara

Rush, Leigh Ann

Russell, Margaret

Ryan, Margo

Sailor, Tia

Sanchez, Marita

Sanders, Jasmine

Sanders, Jennifer

Sarpong, Everlove

Savinsky, Sharon

Scaife, Asia

Scatterday, Elizabeth

Schafer, Jane

Schlegel, Cristen

Schnell, Kristen

Schueneman, Anne

Scott, Suzanne

Scott, Charlotte

Seals, India

Seldon, Lisa

Setnor, Janet

Sharma, Anita

Sharma, Sunyana

Sharp, Melody

Sheeks, Olivia

Shelton, Sherdina

Shenk, Tanya

Shepherd, Joan

Shifflett, Teresa

Sikes, Keely

Simons, Claudia

Simpson, Melinda

Sims, Henrietta

Singleton, Cassandra

Skube, Anne

Slagle, Mary

Smith, Sheena

Smith, Tia

Smith, Kimberly

Smith, Laina

Smith, Judith

Smith, Anna

Smith, Jerica

Smith-Stokes, Tiffany

Smullen, Kay

Snead, Chelsea

Soleymani, Maryam

Soloway, Mihaela

Soto, Soledad

Speller, Paula

Spellman, Denise

Sprouse, Jessa

St. Clair, Melissa

Stearns, Briana

Steele, Misty

Steffensmeier, Christa

Steffey, Leslie

Steiner, Christy

Stephens, Rebecca

Stowes, Sharee

Stroud, Kelsey

Stroud, Jasmin

Subuloye, Enoho

Sullivan, Jennifer

Sunil, Soumya

Sutton, Tiffany

Sweany, Jaclyn

Swearer, Jessica

Sweeney, Denise

Talkington, Casey

Tambo, Rejoice

Taylor, Sherry

Taylor, Roslyn

Taylor, Sahar

Tele, Jennifer

Tenaglia, Holly

Tenorio, Maran

Tetu, Shadae

Thapa, Grace

Thigpen, Cyndy

Thompson, Melissa

Thompson, Rahmesha

Thompson, Helen

Thompson, Kathleen

Thompson, Amber

Thorburn, John

Thorpe, Kristie

Tilahun, Yayine

Tingue, Andrew

Tinsley II, Larry

Tobar, Maria

Tobin, Lisa

Tompkins, Sherry

Torre, Samantha

Torres, Khadijah

Torres, Virginia

Triplett, Candace

Truss, Leah

Tunsarawut, Pacharaporn

Turner, Emily

Turner, Kiera

Twyman, Terry

Uchida, Kenjilyn

Upchurch, Shavonnah

Uzoeri, Christy

Vanover, Samantha

Vargas, Michael

Vargas, Gelianne

Vaughan, Saprina

Wagner, Allison

Walker, Rochelle

Walker, Tomisha

Walker, Cecelia

Walker, Catherine

Wall, Katherine

Wall, Yvette

Wallace, Pertina

Walls, Debbie

Walton, Dishanna

Ward, Natasha

Washington, Laurie

Washington, Tiffany

Watkins, Penny

Watkins, Faith

Watterson, Michael

Watts, Lisa

Watts, Elizabeth

Webb, Erica

Wehelie, Fatima

Wells, Christine

Welly, Jayme

Wentzel, Karen

West, Rebecca

Weston, Janelle

Wethington, Nadine

Wheeler, Jessica

White, Shannon

White, Jesseca

White, Katrina

Whiteaker, Kimberly

Whitfield, Tanaja

Whitlock, Breanna

Wilamowski, Jill

Williams, Phyllis

Williams, Vanita

Williams, Lakeii

Williams, Habibah

Williams, Krystal

Williams, Yvonne

Williams, Karen

Williams, Ebony

Williams Whitehead, Brenda

Willis, Sheri

Willis, Margaret

Wilson, April

Wilson, Gloria

Windland, Margaret

Winstead, Daneal

Winston, Shatema

Wolf, Jill

Wood, Amy

Wood, Rachel

Wood, Jennifer

Woolston, Asja

Wooten, Frankie

Wright, Ashanti

Wszolek, Gloria

Wynn, Octavia

Yoo, Joshua

York, Kelly

Young, Mary

Younger, Shelley

Yousuf, Murriam

Zastrow, Tina
---
Page 26 | August, September, October 2020

Ultrasound PIVs continued from page 22

Protection of Human Subjects

Approval was granted by the Institutional Review

Board (IRB HM20010119) and verbal informed

consent was obtained as this study does not

involve collection of any patient information and

the interventions did not deviate from established

standards of patient care.

Data Analysis

The time and number of attempts or failure

with the blood pressure cuff versus tourniquet was

analyzed via Excel software with additional steps

utilizing the Mann-Whitney U test to compare the

mean difference for statistical significance. The time

and number of attempts were also analyzed using

an independent T test for the long versus short axis

approach.

Materials

The catheter used for vein cannulation was the

BD Angiocath, 1.1 x 48mm (20 gauge 1.88inch).

Vein dilation was accomplished by use of Owens

Minor non-latex nitrile tourniquets, manufacturer

number TRN184 or Critikon Soft-Cuf blood pressure

cuffs of appropriate length for the patient's arm. The

ultrasound equipment used was the Fujifilm SonoSite

X-Porte System.

Procedures

When patients had two failed attempts at

traditional peripheral vein cannulation, the research

team was notified. Peripheral IV insertion was

attempted by researchers utilizing US guidance via

the single operator method of holding the US probe in

one hand and inserting the IV catheter with the other.

Assigned methods of cuff versus tourniquet and

long axis versus short axis were pre-randomized by

the Microsoft Excel random number generator. Cuff

versus tourniquet and long axis versus short axis

were written on index cards and sealed in envelopes.

When the patient agreed to participate in the study by

giving verbal consent, the sealed envelope was opened

revealing the methods to be used.

Virginia Nurses Today | www.VirginiaNurses.com

The blood pressure cuff group used the appropriate

size blood pressure cuff, with venipuncture mode on

the ICU monitor. This inflates the cuff to 10 mmHg

above the diastolic pressure, depending on the last

blood pressure measurement taken. Due to the short

period of time, the cuff remains inflated in this mode

for 60 seconds and a hemostat was used to clamp the

tubing attaching the cuff to the monitor to ensure

sufficient time of inflation for IV insertion.

After the IV insertion, the operator recorded the

axis used, vein dilation method, number of attempts,

failed attempts, and time in seconds on the index

card and returned it to the principal investigator of

this study for analysis.

Results

A total of 64 patients participated in the study

and were grouped into 4 groups, consisting of 15 in

the cuff and long axis group, 15 in the tourniquet

long axis group, 19 in the cuff short axis group, and

15 in the tourniquet short axis group. They ranged

in age from 24 to 88 years. The participants were

47% female with the remainder being male. These

were all intensive care unit patients with diagnoses

ranging from septic shock, to exacerbation of COPD,

status asthmaticus, sickle cell disease, with multiple

comorbidities. The BMI of each individual patient

was not recorded as the literature has not supported

BMI to be of significant contribution to difficult

intravenous access.

The total attempts with cuff versus tourniquet,

n=64, including failure and re-attempt with another

method and the rate of failure of the patients in the

cuff group was analyzed. There were 9 failures of the

cuff group which were subsequently successful with

the utilization of a tourniquet as a rescue method.

An independent samples T test was conducted

to compare the time required to insert by use of

tourniquet and blood pressure cuff condition. There

was not any significant difference in the scores of

time for the tourniquet (M=54.1) and blood pressure

cuff (M=73.03), conditions t (67),=1.19, p=0.23. A

Mann-Whitney U test indicated that the success rate

of the tourniquet (Mdn=45.5) was greater than for the

cuff (Mdn=34), U=648, p
---
www.VirginiaNurses.com | Virginia Nurses Today August, September, October 2020 | Page 27

into the vessel. This may be overcome by sliding the

probe proximally to the patient, as the needle tip is

inserted into the lumen, however the investigators

did point out that it is easy to lose the needle tip in

this fashion. The weakness identified in the long axis

insertion was identified as inability to determine if

the needle tip is in the center of the vessel wall. This

problem has been identified by the investigators as

both the vessel and the catheter can be seen on the

ultrasound screen, making it difficult to ascertain

if the vein is in front of or behind the IV catheter.

However, the long axis is superior to actually visualize

the catheter in the vessel lumen when insertion is

successful.

One strength of the study was that the investigators

were highly experienced ICU nurses who were well

trained in the use of ultrasound as well as highly

experienced in PIV insertion. They all had similar

levels of expertise, therefore the study findings were

not skewed by unequal levels of skill of the operators.

Although it was not possible to blind the operators

for obvious reasons, another strength of the study

is that it was the only one of its kind that was

randomized.

This study did present new evidence on the

subject, as previous studies were inconclusive. There

have been previous investigations utilizing phantom

models or healthy volunteers, however this study

used actual patient populations. This is the first

study to examine patient populations in the methods

of venous dilation for actual IV insertion.

The results of this study were promising, however

the main limitation is that it was conducted in an

inner city academic medical center intensive care

unit by experienced nurses who had been trained

in ultrasound techniques, and was therefore limited

to a single site. Further limitations include that

all patients received the same type of intravenous

catheter and the same type of ultrasound machine.

Further research is needed to determine if similar

results can be found in other patient populations and

environments utilizing different types of catheters, as

well as ultrasound machines.

Conclusion

Based on the findings of the study, the investigators

recommend identifying the vessel with the short axis

and evaluating the vessel for appropriate length and

linearity. This is recommended to avoid insertion

failures related to tortuous vessels. Valves within the

vein, which make peripheral IV insertion difficult, may

also be easier to see when the vessel is visualized in

the long axis method.

It may be beneficial to proceed with insertion in

the short axis method until the needle tip begins

to puncture the vessel wall, then switch to long axis

to complete the cannulation of the vessel lumen,

however this has not been studied. This combination

approach may allow for more definitive identification

of puncturing the vessel wall in the center, which can

then be used to visualize the insertion of the catheter

into the lumen in real time. This offers the advantages

of both approaches as well as the additional advantage

of a final confirmation of proper placement.

Bibliography

Bauman, M., Braude, D., & Crandall, C. (2009). Ultrasoundguidance

vs. standard technique in difficult access

patients by ED technicians. American Journal of

Emergency Medicine, 27(2).

Brown, D. (2004). Local anesthesia for vein cannulation.

Journal of Infusion Nursing, 27(2).

Constantino, T., Parlkh, A., Satz, W., & Fojtik, J. (2005).

Ultrasound guided peripheral intravenous access

versus traditional approaches in patients with difficult

intravenous access. Annals of Emergency Medicine, 46(5).

Egan, G., Healy, D., O'Neill, H., Clarke-Moloney, M., Grace,

P., & Walsh, S. (2013). Ultrasound guidance for difficult

peripheral venous access: Systematic review and metaanalysis.

Emergency Medicine Journal, 30.

Fields, J., Piela, N., Au, A., & Ku, B. (2014). Risk factors

associated with difficult venous access in adult ED

patients. American Journal of Emergency Medicine, 32.

Fuzier, R., Rouge, P., & Pierre, S. (2016). Abords veineux

peripheriues echoguides. Presse Medicale, 45(2).

Gao, Y., Yan, J., Ma, J., Liu, X., Dong, J., Sun, F., . . . Li,

J. (2016). Effects of long axis in plane vs short axis out

of plane techniques during ultrasound guided vascular

access. American Journal of Emergency Medicine, 34.

Gregg, S., Murthi, S., Sisley, A., Stein, D., & Scalea, T.

(2010). Ultrasound guided peripheral intravenous access

in the intensive care unit. Journal of Critical Care, 25.

Hosseinabadi, R., Biranvand, S., Pournia, Y., & Anbari, K.

(2015). The effect of accupressure on pain and anxiety

caused by venipuncture. Journal of Infusion Nursing,

38(6).

Kennedy, R., Luhmann, J., & Zempsky, W. (2008). Clinical

implications of unmanaged needle insertion pain and

distress in children. Pediatrics, 122(S3).

Keyes, L., Frazee, B., Snoey, E., Simon, B., & Christy, D.

(1999). Ultrasound guided brachial and basilic vein

cannulation in emergency department patients with

difficult access. Annals of Emergency Medicine, 34(6).

Kule, A., Hang, B., & Bahl, A. (2013). Preventing the collapse

of a peripheral vein during cannulation: An evaluation of

various tourniquet techniques on vein compressibility.

Journal of Emergenct Medicine, 46(5).

Lamperti, M., Bodenham, A., Pittiruti, M., Blaivas, M.,

Augoustides, J., Elbarbary, M., . . . Verghese, S. (2012).

International evidence based recommendations on

ultrasound guided vascular access. Intensive Care

Medicine, 38.

Lapostelle, F., Catineau, J., Garrigue, J., & et al. (2007).

Prospective evaluation of peripheral venous access

difficulty in emergency care. Intensive Care Medicine,

33(8).

Liu, Y., Alsaawi, A., & Bjornsson, H. (2014). Ultrasound

guided peripheral venous access: A systematic review

of randomized controlled trials. European Journal of

Emergency Medicine, 21(1).

Mahler, S., Massey, G., Meskill, L., Wang, H., & Arnold, T.

(2011). Can we make the basillic vein larger? Maneuvers

to facilitate ultrasound guided peripher intravenous

access: A prospective cross sectional study. International

Journal of Emergency Medicine, 4(53).

Nelson, D., Jeanmonod, R., & Jeanmonod, D. (2014).

Randomized trial of tourniquet vs blood pressure cuff

for target vein dilation in ultrasound guided peripheral

intravenous access. American Journal of Emergency

Medicine, 32.

Panebianco, N., Fredette, J., Szyld, D., Sagalyn, E., Pines,

J., & Dean, A. (2009). What you see (sonographically)

is what you get: Vein and patient characteristics

associated with successful ultrasound guided peripheral

intravenous placement in patients with difficult access.

Academy of Emergency Medicine, 16(12).

Partovi-Deilami, K., Nielson, J., Moller, A., Nesheim, S.,

& Jorgensen, V. (2016). Effect of ultrasound guided

placement of difficult to place venous catheters: A

prospective study of a training program for nurse

anesthetists. AANA Journal, 84(2).

Schoenfeld, E., Shokoohi, H., & Boniface, K. (2011).

Ultrasound-guided peripheral intravenous access in the

emergency department: Patient-centered servey. Western

Journal of Emergency Medicine, 12(4).

Soifer, N., Borzak, S., Edlin, B., & Weinstein, R. (1998).

Prevention of peripheral venous catheter complications

with an intravenous therapy team. Arcgives of Internal

Medicine, 158.

Stephens, R., O'Brian, M., Casey , S., & et al. (1982).

Intradermal lidocaine: Does it have a role in setting up a

drip. Irish Journal of Medical Science, 151.
---
Page 28 | August, September, October 2020

Virginia Nurses Today | www.VirginiaNurses.com

Advances in Nursing During World War II

Sarah M. Gilbert, PhD, RN, GCNS-BC

Samuel D. Lee, BA

The World Health Organization

designated 2020 as the Year of the Nurse

and Midwife as a tribute to the 200th

anniversary of Florence Nightingale's

birth. 2020 also marks 75 years since

the end of World War II. Military nurses

were part of a large medical machine

that not only saved lives but also

participated in research on new drugs

and treatments, which would impact

civilian and military care in the future.

Specialties were also established or

became more valued during the conflict.

Specialty Practice

Shortages of nurse anesthetists

during World War II precipitated a

military training program producing at

least 2,000 qualified nurse anesthetists

(Ray & Desai, 2015). The use of newer

anesthetic medications such as ethyl

chloride, thiopental sodium, and ethylene

in addition to ether and nitrous oxide

enabled nurse anesthetists to utilize

multiple anesthetics depending on wound type. The use of spinal anesthesia

and local nerve blocks also saw increased use by nurse anesthetists after

training by anesthesiologists. Additionally, intravenous administration of

anesthetic agents became the preferred method of induction.

The first cadre of flight nurses experienced a shortened and pointed

introduction to flight nursing that included "first aid, medical and surgical

care of patients en route by air, loading and unloading patients from the

planes, and chemical warfare" (Barger, 2013, p. 42). Subsequent groups of

nurses received more detailed education to include "aeromedical nursing,

physiology, classification of patients, air evacuation records, operations and

logistics, tropical and arctic medicine, tactics of air evacuation, special studies,

sanitation, and hygiene" (Barger, 2013, p. 44). In 1943, Elsie Ott successfully

completed a six day, multi-stage journey to the U.S. from Pakistan. Ott

reported multiple problems, solutions, and successes throughout the trip to

her superiors. These concerns were addressed in a letter sent to Air Transport

Command officials and subsequently implemented, officially creating flight

nurse specialization (Barger, 2013).

Psychiatric nursing was in its infancy as a practice specialty in 1940 and

nurses were heavily recruited to serve in wards overseas that were overwhelmed

NURSES MONTH

SPOTLIGHT

with "psychiatric casualties" (Silverstein,

2008, p. 721). Nurses in these hospitals

assisted with interventional therapies

and the aftercare required to assure

recovery. Hildegarde Peplau joined

the Army Nurse Corps (ANC) after

completing extensive education on

neuropsychiatry in the U.S. and Great

Britain. Her background and education

on neuropsychiatry and her belief in

psychoanalytic therapy slowly changed

the landscape of nursing care and

treatment of psychiatric illnesses. She

implemented "walking and talking"

with the patients singularly or in

groups (Silverstein, 2008, p. 726) and

subsequently, developed a theoretical

framework for psychiatric nursing

practice (Smith, 2018).

Specialty Units

Introduction of field hospitals near

the front lines expedited the intensive

interventions needed for soldiers'

survival. Due to advanced weaponry,

severe thoracic and abdominal injuries

were prevalent (Brown, 2015). Volume

replacement using whole blood transfusions proved to be the best treatment

for shock wounds. In 1943, it was recommended by the Surgical Consultant in

the North African Theater of Operation (NATOUSA) that a system to secure and

transport whole blood to field hospitals be implemented immediately (Hardaway,

2004).

Shock Wards (SW) for intensive treatment of life threatening injuries were

created and placed near crucial medical and diagnostic services: operating tent,

surgical wards, and x-ray department. The SW was kept warm (80° F), quiet,

well ventilated, and smoking was not allowed. Nurses and specially trained

enlisted men staffed the eight bed ward, worked 12 hour shifts, and were on

call to respond to incoming casualties. One nurse and one enlisted man cared

for four critical patients. The ward was prepared by the nurse, who set out

equipment and placed hot water bottles in the cots. The enlisted man also had

preparation duties and was trained to give injections, take blood pressures and

pulses, and recognize changes in the patient's status. For critically ill patients,

vital signs were taken every 15 minutes, morphine was given for pain, and

detailed records were completed. The surgeon was notified by the nurse when

the patient was stable for surgery (Setzler, 1944, Brown, 2015).

Most evacuation hospitals also had an Emergency Admitting Ward (EAW)

which was located near the operating tent and x-ray department. Like the SW,

casualties arrived by ambulance to the EAW where "each soldier, no matter

lightly injured, is assigned to a bed" (Setzler, 1944, p. 937). Each patient's vital

signs were measured and recorded then the patient was examined by a surgeon.

The most critically injured were taken to surgery first and then transferred

to another hospital ward for recovery. The EAW was staffed by six nurses and

six enlisted men, working 12 hour shifts (or more), caring for 25-30 patients.

Nurses for these specialty units were trained in the classroom and then

precepted by a more experienced nurse (Setzler, 1944, Brown, 2015).

The 300th General Hospital was a research site for penicillin testing and

administered over five billion units in the first year. This hospital also developed

the first 'recovery room' after post-surgical wards, who admitted up to 120

patients a day, overwhelmed the nurses, enlisted men and nurse anesthetists,

who were transporting patients to and from the wards. This post-operative

unit was staffed by one of the surgical nurses and two corpsmen and could

accommodate fifteen to twenty patients. There were very few supplies and no

vital signs or records were kept (Breakiron, 1995).

Conclusion

Nurses who volunteered with the armed services were seeking to 'do their

part' but also to see the world. What they did was elevate nursing to a profession

through their courage, bravery, stamina, and ingenuity. They served around

the world, laid the foundation for psychiatric nursing, flight nursing, critical

care/trauma nursing, and emergency nursing. Certified registered nurse

anesthetists advanced their practice through participation in new methods and

drugs for induction. Their service showed the value of nursing as an integral

part of the armed forces hospital system in times of conflict and crises. Their

sacrifices made it possible for nursing to advance as a profession. They were the

foundation of modern nursing.

References

Barger, J. (2013). Beyond the call of duty : Army flight nursing in world war ii. Retrieved

from https://ebookcentral.proquest.com ISBN-13: 978-1606351543.

Breakiron, M. (1995). A Salute to the Nurses of World War II. AORN Journal, 62(5), 710-

722. doi: 10.1016/s0001-2092(06)63523-0

Brown, W. (2015). Nursing in the 8th evacuation hospital, 1942-1945. U. S. Army

Medical Department Journal. https://www.cs.amedd.army.mil/FileDownloadpublic.

aspx?docid=6cae702a-664e-4cdb- 9897-516b6dc436bf

Hardaway, R. (2004). Wound shock: a history of its study and treatment by military

surgeons. Military Medicine. 169. 265-269.

Ray, W. T. & Desai, S. P. (2016). The history of the nurse anesthesia profession. Journal of

Clinical Anesthesia. 30. 51-58. doi.org/10.1016/j.jclinane.2015.11.005o

Setzler, L. (1944). A shock ward in the ETO. American Journal of Nursing. 44(10). 935-937.

https://wwwjstor.org/stable/2416769.

Silverstein, C. M. (2008). From the front lines to the home front: A history of the

development of psychiatric nursing in the U.S. during the World War II era. Issues in

Mental Health Nursing, 29(7), 719-737. doi:10.1080/01612840802129087.

Smith, K. (2018). Different places, different ideas: Reimagining practice in American

psychiatric nursing after World War II. Nursing History Review. 26. 17-47. doi.

org/10.1891/1062-8061.26.17.
---
www.VirginiaNurses.com | Virginia Nurses Today August, September, October 2020 | Page 29

NURSES MONTH

SPOTLIGHT

NURSES MONTH

SPOTLIGHT

Here's What You Missed at VNA's Spring Conference,

Cultivating a Happy Work Environment

VNA Commissioner on Nursing Education

Catherine Cox, PhD, RN, CEN, CNE, Alumnus

CCRN, George Washington University

Kudos to VNA for pivoting

to a virtual 2020 Spring

Conference given Governor

Northam's temporary stay

at home order due to novel

coronavirus (COVID-19).

I believe that those who

attended the synchronous

Cultivating a Happy Work

Environment conference on

May 27 were skeptical as

to how it would all work out

(me included), but soon discovered that it was just

as engaging as a face-to-face event. We were able to

interact with all of the speakers by asking questions

throughout each session as well as answer topical

survey questions throughout the day. VNA also

hosted a virtual sponsor and exhibit hall, whereby

exhibitors and sponsors were able to highlight their

products. Additionally, all registered attendees

received links to the live webinar in order to view

the recording in its entirety - at their own pace

and on their own time - through VNA's CE library,

receiving up to six contact hours for participation

in the conference after completing the conference

evaluation.

Julian Lute kicked off the conference with his

"Building a Great Workplace with a High-Trust

Culture Blueprint" presentation, during which he

underscored that people want to trust who they

work for, take pride in what they do, and enjoy the

people they work with. Also, the best leaders should

be trustworthy, transparent, and collaborative

whereas employees want to be informed, be free to

ask questions, and feel supported. Lastly, employees

will go out of their way to get the job done if they

look forward to going to work as well as take pride in

where they work.

Next, Marian Altman talked with us about

"Creating and Sustaining a Healthy Work

Environment" per the American Association of

Critical-Care Nurses (AACN). AACN shared that

the healthiest work environments integrate six

standards: 1) Skilled Communication, 2) True

Collaboration, 3) Effective Decision Making, 4)

Appropriate Staffing, 5) Meaningful Recognition,

and 6) Authentic Leadership. AACN's Assessment

Tool is free to use and can be accessed via this link:

https://www.aacn.org/nursing-excellence/healthywork-environments.

Dr. Altman concluded with a

five-item "to-do" list: 1) Start with a self-assessment,

2) Try some new techniques (e.g., compliment a coworker

every day, never be a silent witness, be a

team player, speak your truth, and/or ask someone

you do not know to share a meal), 3) Assess the

culture on your unit, 4) Create an action plan, and

5) Stay the course.

After the lunch break, we got to experience

the "Best Practice Short Podium and Idea Pitch

Sessions" during which we learned what other

healthcare organizations across the commonwealth

have implemented within their organizations

to create a happy work environment. I was so

impressed with the work my peers are doing to

make their work environments happy, whether it's

taking time to breathe (stop and pause), increasing

resiliency in nurse managers and team members,

practicing self-care, and/or saying "thank you" when

receiving constructive advice.

The day ended with Eileen O'Grady offering "A

Master Class on Human Flourishing" where we

discovered the science of human flourishing and

what we know about cultivating personal well-being.

We explored extreme self-care strategies including

the difference between self-care and selfishness, how

to deal with difficult others, prevent burnout, and

build resiliency. Dr. O'Grady is such an inspirational

speaker and her strategies were such a great way to

end an amazing day.

In conclusion, by now our members know that

the VNA Fall Conference (September 23-24, 2020)

as well as the VNA Legislative Summit (November

10, 2020) will be presented virtually. I hope you

plan to join us for both events, knowing that VNA

will deliver world-class professional development

opportunities at a price-point that works within your

budget.

To register for VNA's 2020 Fall Conference,

Ending Bullying, Incivility, & Workplace

Violence, go to https://virginianurses.com/page/

FallConferenceRegistration. For more information

on VNA's Legislative Summit, visit https://

virginianurses.com/page/LegislativeSummit.

The Village at Orchard Ridge is creating an amazing, genuine and caring culture team.

join our We CARE team!

Now hiring for:

RNs - FT 8 hr day shift, FT 12 hr night shift & PRN • LPNs - PRN

• CNAs - FT, PT and PRN • CMA (PRN) • MDS/QAPI Manager (FT)

Our full time team members enjoy:

Generous PTO plan • Medical, Dental, Vision insurance • 403(b) with

discretionary employer match

Now offering a Sign-On Bonus for all nursing positions!!!

If you are interested in applying for a position, go to

careers-nationallutheran.icims.com

EOE
---
Page 30 | August, September, October 2020

NURSES MONTH

SPOTLIGHT

Virginia Nurses Today | www.VirginiaNurses.com

NURSES MONTH

SPOTLIGHT
---
www.VirginiaNurses.com | Virginia Nurses Today August, September, October 2020 | Page 31

Cabin Fever in Older Adults

Alecia Thomas

Without a doubt, the COVID-19 pandemic has

drastically changed our daily lives. Everyone is

trying to adapt to a new definition of normal by

adhering to social distancing guidelines and stay

at home or safer at home orders from government

officials. The overall goal of these guidelines is

to protect the health and safety of the public

by decreasing the spread of COVID-19. While

eradicating this novel virus is top priority, it is

also important to note the negative mental and

physical health effects that home isolation can

produce in the older population. Many elderly

patients might say that they have cabin fever or

simply say they feel lonely due to lack of social

contact with family and friends. A research

review conducted by Hawkley and Capitaio (2015)

revealed that loneliness in adults 50 years of age

and older is strongly linked to depression, poor

sleep quality, poor health outcomes, cognitive

decline, and mortality. The numerous health

complications associated with loneliness can

amount to astronomical Medicare treatment costs

equating to more than six billion dollars yearly

(Anderson & Thayer, 2018). Alternatively, older

adults that regularly interact with others and are

a part of a social network are more likely to live a

longer and purpose-driven life (National Institutes

of Health, 2019).

What is cabin fever?

Despite the name, cabin fever has nothing to

do with having an actual fever, instead it is the

feeling of loneliness caused by staying indoors

for an extended period. For example, a person

might experience cabin fever during severe

weather, illness, or a pandemic. The lack of social

interaction and outdoor activities can cause

irritability, stress, and/or heighten the feelings of

depression and anxiety (Hartwell-Walker, 2020).

Even though cabin fever is not a recognized

mental disorder in the Diagnostic and Statistical

Manual of Mental Disorders, it is still important to

acknowledge it and offer various coping methods

to combat cabin fever from spiraling into a state of

depression.

How is loneliness measured?

One of the most well-known and utilized tools

for measuring loneliness is the University of

California-Los Angeles (UCLA) Loneliness Scale,

which effectively measures loneliness in older

adults (Ausin et al., 2018; Velarde-Mayol et al.,

2015). The scale is comprised of 20 questions

that measure an individual's perception of

lonesomeness by ranking each question from 1

to 4. Questions are answered by a rating of 1

for never, 2 for rarely, 3 for sometimes, and 4 for

often. Examples of questions on the loneliness

scale are: "how often do you feel unhappy doing

so many things alone and how often do you feel

completely alone" (AARP, 2010). The total score of

the questionnaire can range from 20 through 80;

a score of 25 or greater indicates loneliness (AARP,

2010).

Combating cabin fever

As everyone adapts to a new sense of normalcy,

there are many things older adults can do to

prevent cabin fever from affecting their mental and

physical well-being. Technology makes it simple to

click a button to transform the loneliness of home

quarantine into a live and interactive video call

with one or multiple individuals. Regular group

activities, such as church meetings or exercise

classes can still take place through video meetings

apps, such as Zoom or Google Meet. Also, social

media platforms like Facebook make it easy to stay

engaged and entertained.

Other options to thwart the feelings of cabin

fever:

- Gardening is research-proven to have a

positive impact on overall health (Soga,

Gaston, & Yamaura, 2016).

- Staying active by walking the dog, jogging, or

running

- Stimulating your brain cells by reading,

doing puzzles, or learning something new

- Being creative and trying do-it-yourself

projects at home

References

AARP. (2010). How Lonely Are You? Retrieved from:

https://www.aarp.org/personal-growth/transitions/

info-09-2010/How-Lonely-are-You.html

Anderson ,G.O. & Thayer, C. (2018). Loneliness and

Social Connections: A national survey of adults 45

and older. Received from: https://www.aarp.org/

research/topics/life/info-2018/loneliness-socialconnections.html

Ausín, B., Muñoz, M., Martín, T., Pérez-Santos, E.,

& Castellanos, M.Á. (2017). Confirmatory factor

analysis of the Revised UCLA Loneliness Scale

(UCLA LS-R) in individuals over 65. Aging & Mental

Health, 23(3), 345_351. doi:10.1080/13607863.2017.1

423036

Hartwell-Walker, M. (2020). Coping with cabin fever.

Retrieved from: https://psychcentral.com/lib/copingwith-cabin-fever/

Western State Hospital

We're Hiring!

Opportunities available for RNs,

LPNs, & Psychiatric Nursing Assistants

• Psychiatric acute admissions units

• Psychiatric longer term units

• Med/Psych unit

Conveniently located in the Shenandoah

Valley, WSH affiliates with 9 Schools of

Nursing and major universities.

Hawkley, L.C. & Capitanio, J.P. (2015). Perceived social

isolation, evolutionary fitness and health outcomes:

A lifespan approach. Philosophical Transactions of

the Royal Society B, 370 (1699), 1-12. https://doi.

org/10.1098/rstb.2014.0114

National Institute of Health. (2019). Social isolation,

loneliness in older people pose health risks. Received

from https://www.nia.nih.gov/news/social-isolationloneliness-older-people-pose-health-risks

Velarde-Mayol, C., Fragua-Gil., S, & García-de-Cecilia,

J.M. 2016. Validation of the UCLA loneliness scale

in an elderly population that live alone. Semergen,

42(3),177_183. doi:10.1016/j.semerg.2015.05.017

Soga, M., Gaston, K. J., & Yamaura, Y. (2016). Gardening

is beneficial for health: A meta-analysis. Preventive

medicine reports, 5, 92-99. https://doi.org/10.1016/j.

pmedr.2016.11.007

Nursing at Western State Hospital

Offers Excellent Benefits Including:

• Up to $7500 RN Sign On Bonus for New Hires

• $2000 LPN sign on bonus

• $1000 CNA sign on bonus

• Eligibility for Federal Loan

Repayment Programs

• Moving/Relocation Expenses

Reimbursement will be considered

• Unique Clinical Care Opportunities

• Ongoing Training Opportunities

• Educational Assistance

• Comprehensive Healthcare Benefits

• Group & Optional Life Insurance

• VRS Retirement Benefits

• Flexible Spending Account

• Paid Holidays, Vacation, Sick Leave

• Short & Long Term Disability Benefits

• State Employee Discounts

To submit your credentials for a career enhancing position, simply...

Visit https://virginiajobs.peopleadmin.com/

Western State Hospital : State psychiatric hospital licensed and operated

by the Virginia Department of Behavioral Health and Developmental Services.
---
Page 32 | August, September, October 2020

NURSES MONTH

SPOTLIGHT

Virginia Nurses Today | www.VirginiaNurses.com

NURSES MONTH

SPOTLIGHT

VIRGINIA DEPARTMENT

OF CORRECTIONS

VADOC Nurses are top tier professionals with extensive

nursing knowledge and clinical skill sets. Our nurses are

exposed weekly to the following clinical nursing skills:

• Chronic and Acute Care

• Emergency/Trauma

• Medical Clinic +

Infirmary Care

• Public Health & Education

• Psychiatric + Behavioral Health

• OB/Women's Health

• Geriatric and Long Term Care

• Palliative Care

BENEFITS

• Student Loan Assistance • Federal Student Loan

Forgiveness Program • Education Assistance Program

• VRS Retirement Planning • 401(a) • 12 Paid Holidays

• Short & Long Term Disability • Flexible Spending Program

• Health Benefits • Group Life Insurance Plans

• Annual Leave • Family and Medical Leave • Sick Leave

APPLY ONLINE TODAY!

vadoc.virginia.gov/job-opportunities

Have questions or would like to request more information about

a specific nursing position?

Send all inquiries to: Health-Recruitment@vadoc.virginia.gov

WE'RE HIRING!

VADOC is recruiting full-time and hourly

RNs & LPNs statewide.

Shift choices of 8, 10, or 12 hours:

DAYS OR NIGHTS!

*Multiple Facilities*

Connect and Follow VADOC

Virginia Department of Corrections

@VADOC

@vadoc_recruitment
---
www.VirginiaNurses.com | Virginia Nurses Today August, September, October 2020 | Page 33

Practical Tips for Moral Resilience

Phyllis Whitehead, PhD, APRN/CNS,

ACHPN, RN-BC, FNAP

Clinical Ethicist; Clinical Nurse Specialist Palliative Medicine/Pain

Management

During these times of COVID-19, nurses and other clinicians throughout

the world are faced with many ethical dilemmas such as PPE shortages,

limited COVID-19 testing, and staffing challenges. Such situations can lead

to moral distress, which is defined as "the experience of being seriously

compromised as a moral agent in practicing in accordance with accepted

professional values and standards," (Varcoe, et al., p. 488). Moral distress

occurs when we feel that we cannot do the perceived right action resulting

in our moral integrity being compromised (Hamric, 2007; Hamric, 2012).

Moral distress results in significant physical and emotional stress, which

contributes to feelings of loss of integrity and dissatisfaction with the work

environment (Jameton, 1993). Research demonstrates that moral distress

may contribute to staff leaving the work setting and profession. It can affect

relationships with patients and coworkers and the quality, quantity, and

cost of care.

Moral resilience is the important ability of nurses to cultivate a sense

of well-being and growth in response to moral and ethical challenges they

face in their stressful and rapid-paced work environments (Holtz, Heinze,

Rushton, 2018; Rushton, 2016). Nurses, organizations, and nurse leaders

need to foster the moral resilience within themselves and among their

staffs. One strategy is a Moral Distress Consultation Service. During a

Moral Distress Consult, trained facilitators provide a 45-60 minute session

in an open, safe forum to address issues related to any situation causing

moral distress - end-of-life care, cultural issues, communication, treatment

choices, etc. - or ways to prevent moral distress by dealing with power or

personality conflicts based on issues of concern on the unit. The facilitator

works with the staff to develop action plans for decreasing moral distress

on the unit or service.

Many professional nursing organizations provide helpful information

and tools to support healthy work environments. The following resources

may provide valuable support to nurses seeking to cultivate a healthier

workplace for their unit:

• Healthy Work Environment (American Nurses Association): https://

www.nursingworld.org/practice-policy/work-environment/

• Healthy Practice Environment Advocacy Guide (Academy of Medical-

Surgical Nurses): https://www.amsn.org/practice-resources/healthypractice-environment

Coming Soon!

We're thrilled to announce the launch

of a brand-new VNA website!

Loaded with tools, resources, and

education, our new website will launch

in late summer, so be

sure to bookmark

www.virginianurses.com!

• Healthy Work Environments (American Association of Critical Care

Nurses): https://www.aacn.org/nursing-excellence/healthy-workenvironments

• Healthy Perioperative Practice Environment: Patient & Workplace

Safety (Association of perioperative Registered Nurses): https://www.

aorn.org/guidelines/clinical-resources/position-statements

• Healthy Work Environment in the Emergency Care Setting

(Emergency Nurses Association): https://www.ena.org/docs/defaultsource/resource-library/practice-resources/position-statements/

healthyworkenvironment.pdf?sfvrsn=a4170683_14

For more information about moral distress, moral resilience, and Moral

Distress Consult Services, contact Phyllis Whitehead at pbwhitehead@

carilionclinic.org.

Strategies to consider when you experience an ethically and/or morally

challenging situation:

• Get the whole story. Encourage others to do so as well

- Speak up. Encourage dialogue

- If seen as risky, that's the first problem to tackle

• Focus on the ethical dimensions of care

- What we ought to do?

- Which obligation is primary?

- What are the goals of care? Have they changed? Do they need to

change?

• Debrief Situations with a goal of preventing the recurrence of a similar

case

- What could we have done differently?

- How can we anticipate next time?

- Include entire interprofessional team

• Interprofessional education on moral distress

- Nurture the expectation of collaboration

• Target unit/service practices that improve communication:

- Interprofessional rounds

- Unit/service conferences

- Family meetings

• Develop Proactive Systems & Processes

- Early, frequent, consistent communication with patients and

families

- Clear articulation of health team goals

- Team speaks with one voice

• Develop institutional resources that are:

- Available

- Known

- Santioned

• Develop policies/guidelines encouraging team collaboration, ethics

consultation, provider continuity

• Identify the moral distress sources operating in your unit/division/

service and target interventions there

- Then, extend to the organization if the problems are systemgenerated

• Initiate Ethics and/or Moral Distress Consults

- To reduce moral distress levels among staff

- To provide an interprofessional avenue for frank discussion and

problem solving in morally distressing situations

- To assist staff in developing strategies to address barriers to highquality

patient care

- To empower staff to raise concerns

• Identify your ethical/moral distress

- Providing inadequate or harmful pain management

- EOL futile care challenges

- Poor teamwork and challenging communication issues

• Work on strategies to improve your teamwork and communication.

(Holtz, 2018; Rushton, 2016; Varcoe, 2012; Whitehead, 2015)

References

Hamric, A.B., Blackhall, L.J. (2007). Nurse-physician perspectives on the care of

dying patients in intensive care units: collaboration, moral distress, and ethical

climate. Crit Care Med, 35, 422-429.

Hamric, A.B., Borchers, C.T. & Epstein, E.G. (2012). Development and testing of an

instrument to measure moral distress in healthcare professionals. AJOB Primary

Research, 2, 1-9.

Holtz H, Heinze K, & Rushton C. (2018). Interprofessionals' definitions of moral

resilience. Journal of Clinical Nursing. 27(3-4):488-494. doi: 10.1111/jocn.13989.

Jameton, A. (1993). Dilemmas of moral distress: moral responsibility and nursing

practice. AWHONNS Clin Issues Perinat Womens Health Nurs, 4(4), 542-551.

Rushton, C.H. & Carse, A. (2016). Towards a new narrative of moral distress:

Realizing the potential of resilience. The Journal of Clinical Ethics, 27(3), 214-218.

Varcoe C., Pauly B., Webster G., & Storch J. (2012). Moral distress: tensions as

springboards for action. HEC Forum, 24(1), 51-62.2.

Whitehead, P.B., Herbertson, R.K., Hamric, A.B., Epstein, E.G., & Fisher, J.M. (2015).

Moral distress among healthcare professionals: Report of an institution-wide

survey. Journal of Nursing Scholarship, 47(2), 117-125.
---
Page 34 | August, September, October 2020

Nurses care for all patients, regardless of their race,

age, religion, gender, or other status. The Code of Ethics

for Nurses obligates us to advocate for our patients

and communities and speak up against racism,

discrimination and injustice.

We must expect the same level of care from the

authorities. We demand justice for George Floyd,

Ahmaud Arbery, and Breonna Taylor, and an end to the

deaths of Black people and other racial minorities at the

hands of those who are meant to protect them.

As nurses, we see the devastating effects of racism in

our communities. Systemic racism is a very real public

health crisis, and the COVID-19 pandemic has only added

to the stress and health inequity in Black communities

and other communities of color where higher rates of

infection and deaths are being experienced.

Virginia Nurses Today | www.VirginiaNurses.com

VNA and VNF Statement on Systemic

Racism and Health Inequity

Included in this issue of VNT are reflections from

Black nurses on the racism they have faced throughout

their nursing career and their hopes for ways we can

move forward toward change.

We as nurses have a responsibility during this time

to use our trusted voices to call for change. We also

encourage all nurses to listen and learn as we work to

address the issues that lead to so many needless deaths

in Black communities and communities of color.

To help further this work, we are removing the

paywall from our continuing education on health

inequity, beginning with Social Determinants of Health:

The Zip Code is the Most Important Number on the

Patient's Chart and Advocating for Health Equity.

We also would like to invite all nurses to join us on

August 26 at 12 pm for our latest COVID-19 virtual

webinar, A Focus on Health Equity in the Midst of the

Pandemic. Our featured speaker will be Dr. Janice

Underwood, Chief Diversity, Equity, and Inclusion

Officer, Office of Governor Ralph S. Northam. During

this program, you will learn how COVID-19 is impacting

our vulnerable populations across the commonwealth,

what measures Virginia is taking to support these

populations, and how Virginia nurses can help make an

impact and provide equitable care to all.

Additionally, The Virginia Nurses Foundation is

offering five free webinars to help nurses in Virginia

diffuse stress and build resilience during these

challenging and unprecedented times. Topics covered

during the webinars will include: stress management

and resilience, secondary stress and compassion

fatigue, coping with health concerns as a healthcare

professional, and practicing self-care for caregivers.

More information can be found at https://tinyurl.com/

vnfstresswebinars.

We will post other relevant continuing education

resources, articles, and action steps to our social media

and website each Thursday, which is our weekly day of

focus on health inequity and health justice.

We must also continue to encourage our

communities to continue to stay vigilant in the fight

against COVID-19. It is vital that all Virginians continue

to wear masks in public settings and practice social

distancing and adequate handwashing to prevent the

spread of COVID-19, including while exercising their

first amendment right to assemble.

If you would like more information on how to get

involved with VNA's Diversity, Equity, and Inclusion

Council, please contact Kristin Jimison at kjimison@

virginianurses.com

My Journey as a

Black Nurse

Frances E. Montague, DNP, RN-BC, GNP

Having been born before

the era of the Civil Rights Act,

I know what discrimination

is. I grew up in rural Virginia

approximately 45 minutes

west of Richmond and less

than 30 minutes east of

Prince Edward County. Before

I started elementary school,

I had some idea of racial

discrimination. I did not

totally understand, but I knew

people affected by the closure of public schools in Prince

Edward County to avoid integration. The schools in my

own county, Amelia, did not reach full integration until

1969, with the first fully integrated graduating class 50

years ago in 1970.

Fast forward to the spring of 1970, and I am applying

to nursing programs. My first desire was to attend

a hospital-based nursing program. So, I went about

making applications. I received a letter from Johnston

Willis Hospital to come for an entrance exam. The

results of my test, as I was informed by a letter from the

school, indicated that I should enter a licensed practical

nurse (LPN) program. They included information on how

to apply. Yes, it crushed my spirits and all I could think

was I did not want to be an LPN and did not want to

go to LPN school. At that time, the Black nurses I knew

were either LPN's or nurses' aides. The Black registered

nurses I had seen were working at the all Black hospital

in Richmond. I knew there was more available for us,

but needed to determine how to obtain the 'more'. After

being strongly encouraged by my mother, I rejected

their offer of the LPN program. Later, I understood that

each year the white hospital schools of nursing had a

quorum of one or two Black students per class. Many

of my nursing friends in my early career had been the

one student in their class and one of three or four in the

entire program. I will never know if I did not qualify or if

the token student(s) had been chosen.

I then applied to Norfolk State University and

there obtained an associate degree in nursing. Upon

graduation, I was able to obtain a job at my firstchoice

facility. The experience was wonderful as the

facility had an eight-week nurse internship program.

In my first year I had little to no opportunity for charge

nurse responsibility. There was a young white nurse

working the evening shift by request. She had gained

employment a few weeks later than I had. On weekends
---
www.VirginiaNurses.com | Virginia Nurses Today August, September, October 2020 | Page 35

she worked the day shift as the charge nurse. I was doing well on my job according

to my evaluations during my probationary period. However, at the end of my first

year, which determined if I would be promoted, my evaluation shocked me. The

written portion did not reflect what I had been told and the check off portion was all

average. It said I excelled at nothing. I reminded my head nurse that she had made

no indication that my work was only average. I had been told I was doing well. The

explanation was, I had not been in the charge nurse role and had not been evaluated

in my leadership abilities. Do I need to say the conversation ended in a conference

with the supervisor and a rewriting of my evaluation?

Growing up in rural Virginia, I was introduced to the throws of segregation. I

know what it means to wait in the colored waiting room in the white doctor's office,

which was the only one in our county. I have used the colored toilets with the chipped

and rust-stained toilet bowls and sinks. I cannot remember drinking from the colored

water fountain but I do remember them being located in the dark hall near the toilet.

As I have lived and moved around, I have faced racial discrimination in different

manners. I lived in a very small town in a southwestern state where the Black

population was 7%. In reading a book about the town, the story says Blacks were

driven out of town in fear for their lives when a white deputy sheriff was killed by a

"half-witted Negro" in a bad crap game. As there was no organized or fair law and

order, the Negroes were told not to let the sun go down on them in that town. The

next morning, there was not a single Black person left in town. This story was told

with relevance and pride by some of the citizens. There were no attempts to hide the

dislike of people who were not native to that county. That included race, ethnicity,

and any one further north than the adjoining county. It held very true for the older

people in town.

As a nurse, I have faced situations of patients asking for the nurse while I am

providing care for them with my name tag that clearly included RN. I have had

patients send for the charge nurse and refused to talk to me when I arrived. I have

been told by patients that they did not want me to provide their care and there

was one incident when I was the only licensed nurse on duty and I had to stand

by the bedside while a white nursing assistant physically handed the patient the

medications that I had prepared. The patient refused to take them from me. Today,

I would have to write 'refused' and the patient would have been without medications.

The refusal was because of the color of my skin.

In my fifty wonderful years of working with patients on many levels, in many

facilities, and of many races, ethnic backgrounds, creeds, and cultures, I have faced

racist remarks and behaviors. Not one of these deterred me from being a registered

nurse, a nurse practitioner, a nurse educator, prepared at the doctoral level. If

anything, it propelled me forward.

In the Midst of a Walk

Sandra Olanitori, MS, RN

As a member of ANA/VNA, I took part in the opportunity

that was offered to all members to reserve a room at any

Hilton Hotel during the COVID-19 pandemic in the United

States to "get away." I reserved a room at a Hilton Hotel in

Washington, D.C. from May 31 to June 4 of this year. The

incident involving Mr. George Floyd happened some days

before. During this time in D.C., you could see writings such

as "Black Lives Matter" on statues, buildings and signs that

many people were carrying. As my grandson and I were

walking to get food from the local eating spots, we were

in the midst of a walk involving many people with signs

and chanting "Black Lives Matter," "Justice for All," "Stop

Racism," "Stop Modern Day Lynching," and "Stop Police Brutality." All of these signs

made me reflect back on the discrimination, racial injustices, biases and prejudices

that I have faced in my life growing up and in my professional career as a registered

nurse because of the color of my skin.

During this walk to get food, I stopped and leaned against a building and closed

my eyes; I could see what I have faced in my lifetime. I said to myself that these acts

have never left. History and the mindset of this country is just repeating itself. Some

of the things in my reflection are:

• I asked a nursing supervisor who was white for the night shift nurse's aide

position because I wanted to go to nursing school. She told me she would grant

the request, but that I will never make it and will come crawling back to her to

ask for the day shift again.

• One day I was working at the medication cart in full uniform including the

nurse's cap, mixing meds to put in an IV solution. The white doctor came to me

and said, "where is the nurse, I need some assistance."

• Many times at the nurse's station I could hear white doctors say, "I do not want

a Negro or colored nurse to take care of my patients; they cannot think."

This is the tip of the iceberg. There are many more stories that I can remember.

But the question is, "How did I survive in my profession?" I thought about the Black

nurses that came before me and they survived. They survived with integrity, grit,

perseverance and a love for the profession. They did it and I can do this. It was hard

and it is still hard.

The following are other strategies I used for survival:

• The Black nurses worked together to form organizations such as Chi Eta Phi

Sorority, Inc. and the Black Nurses Association to provide and improve the

health of Black Americans nationwide. Black nurses gave their all to their

patients and careers. Many times this was done without any recognition. The

first Black woman to become a judge was the Honorable Jane Bolin. During

her time, she stated, "Those gains we have made were never graciously and

generously granted. We had to fight every inch of the way." I followed this

woman's work and professional ethics and I have enjoyed my profession to the

fullest despite the obstacles I have faced.

• I have to constantly pray and ask my God for help every day to continue my

journey in being a registered nurse.

Think about this: the first Black woman to receive an international pilot's license

was Bessie Coleman. During her time, she stated, "The air is the only place free from

prejudices. I, as the nurse of today, want to see the same thing on land. When is it

coming?"

Reflections on Diversity, Equity,

and Inclusion

Karen Faison, PhD, APRN-BC, CNE

My perception of diversity, equity and inclusion is based

upon my experiences as a youth growing up in segregated

Washington, DC in the 1950s and '60s. During that time,

my neighborhood and public schools were Black. The

grocery stores and other businesses we frequented were run

by Caucasians and were located in our segregated Black

community. All of my healthcare was delivered by Black

health professionals. I had access to Freedmen's Hospital,

where I was born, which is now Howard University Hospital.

My grandmother completed practical nursing school

in Washington, DC. Her graduation picture shows a class

of Black ladies surrounded by white faculty. Again, that

was the 1950's. The picture is consistent with what we know as the early challenges

within nursing education: too few Black faculty to teach Black nurses to deliver

nursing services to Black patients.

My desire to become a nurse was developed in high school. I attended a

historically Black college/university and began my professional journey with my first

staff nurse position located in Georgia. There, I noted I was one of only a few Black

RNs in the entire hospital. Later, I would transition to other hospitals in southern

states where I remember I was one of a few Black RNs. When I advanced to graduate

school to become a nurse practitioner, I was the only Black RN in my concentration.

Frequently in the clinical setting, I would be the only Black healthcare provider.

As time went on, I thought we were getting better and including more Black

students in nursing. However, today there is definitely a lack of Black nurses. The

patients will greatly benefit from Black nurses who are more sensitive to the needs

and cultural influences of the Black patient. There is also a need for Black nurses

on boards and in educational settings. As a representative of the community, we can

bring a varied perception on issues facing our community. This has become very

evident during the pandemic where many people of color have an adverse outcome.

Nursing education, a social determinant of health, underscores the need for

diversity in the profession. A pipeline for students to consider nursing as a profession

should begin in middle school. This should continue into high school in order to

prepare students for the rigor of nursing school. The percentage of Black nursing

students are on the decline; while the percentage of Black communities with chronic

diseases and poor outcomes is on the rise.

The nursing profession can make a concerted effort to diversify the profession to

include minorities and people of color. This will assist in addressing a more equitable

workforce that is sensitive to the needs and cultural differences within communities.

Being inclusive will strengthen the healthcare workforce. Professional goals related to

diversity, equity and inclusivity are long overdue. The time is now as we move forward

in this era of social justice and the "Year of the Nurse and Nurse Midwife." Nursing

must be a part of the conversation.

NURSES MONTH

SPOTLIGHT