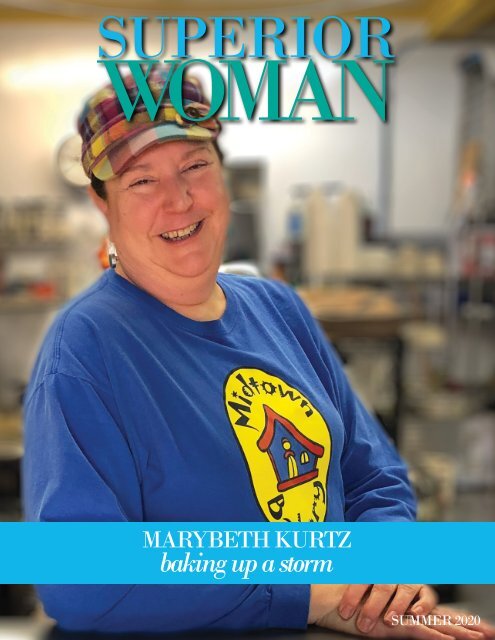 Superior Woman--Summer 2020--Final Edition
Superior Woman Summer 2020 is a publication about women living, working and playing in the Upper Peninsula of Michigan.
Superior Woman Summer 2020 is a publication about women living, working and playing in the Upper Peninsula of Michigan.
SHOW MORE
SHOW LESS
Create successful ePaper yourself
Turn your PDF publications into a flip-book with our unique Google optimized e-Paper software.
MARYBETH KURTZ

baking up a storm

SUMMER 2020
---
We Give Back

10% of All Purchases

Donated to Nonprofits in Michigan

www.43DegreesNorthGifts.com
---
VOLUME 1, NUMBER 1 SUMMER 2020

Superior Woman is published quarterly by The Write Company,

511 La Salle Blvd., Port Huron, MI 48060. Circulation 5,000.

Co-Editors & Publishers:

Patti Samar

Marquette Senior High School 1981

Northern Michigan University: B.S. 1985 & M.A. 1989

Dale Hemmila

Negaunee High School 1968

Northern Michigan University: B.S. 1973

Advertising, questions, comments or story ideas:

Email Patti Samar at pjsamar@aol.com

Mission:

Superior Woman is the premiere publication

for women living, working and playing

in the Upper Peninsula of Michigan.

Its stories and features are written and designed

to be inspriational, motivational and encouraging.

www.SuperiorWoman.Net

© Superior Woman is the property

of Patti Samar of The Write Company

The Write Company is a writing, graphic design

and marketing consultation firm.

View our online portfolio at: www.TheWriteCompany.net

ADVERTISE

IN SUPERIOR WOMAN!

The ad deadline for the next issue

of Superior Woman is October 1, 2020.

CONTENT

3 From the Editors

4 Marybeth Kurtz

8 Roxanne Daust

12 Stacey Willey & Jackie Bessner

16 Sandra Arsenault

20 Stacy Welling Haughey

24 Lorrie Hayes

Prices:

Business Card Ad: $125/issue

Quarter Page: $250/issue

Half Page: $500/issue

Full Page: $1,000/issue

Advertorial: $1,500/issue

For more information, contact:

Patti Samar

810-300-2176 • pjsamar@aol.com

Dale Hemmila

906-204-8111 • dalehemmila@gmail.com

www.TheWriteCompany.net

2 SUMMER 2020 SUPERIORWOMAN.NET
---
CO-EDITORS/PUBLISHERS

PATTI SAMAR & DALE HEMMILA

FROM THE EDITORS

SSoooo…welcome to Superior Woman 2.0: the Digital Magazine Edition!

Two years ago, my husband and I began SuperiorWoman.Net in an effort to see if there was any interest in sharing

women's stories in the Upper Peninsula. Both of us are Yoopers – I'm a Marquette Senior High School graduate, he is a

Negaunee High School graduate, and both of us are Northern Michigan University graduates – but we currently live in

Port Huron, where, for the past nine years, I have published a regional women's magazine called Blue Water Woman.

Because my husband is retired (and I am not), and he has a background in media and journalism (among other

prolific skills), he became the chief storyteller for Superior Woman. He was making regular trips to the U.P. to visit family

and friends, so he scheduled interviews with interesting women, mostly in the Marquette area.

Once he returned home and wrote the stories, he handed them over to me and I planted

them on the SuperiorWoman.Net website as a part of the blog. Over the course of the past

two years of doing that, we have watched the number of subscribers to the blog grow, as well

as the stats related to how many people were clicking and reading the stories.

Yoopers, it seemed, wanted to read more stories about the incredible women living in the

U.P. And why wouldn't they?

Creation of an online magazine…

Therefore, we are excited about taking SuperiorWoman.Net to the next level, moving

the stories beyond just a simple blog post. We have created a full-fledged digital magazine,

complete with a flipbook that allows readers to turn the pages and click on embedded links

within the stories and advertisements.

Speaking of advertisements…

In this issue, you will find advertisements for tee shirts, hoodies, coffee mugs, wine

tumblers, beer steins, face masks (oh so 2020!) and other items designed by, well, me, as a

part of my business, Blue Water Publishing. All of these items can be purchased by visiting

www.43DegreesNorthGifts.com.

As a bonus: My online shop donates 10 percent of profits to five Michigan nonprofits,

including the Marquette Women's Center and U.P.A.W.S. of Marquette County.

Does your business need to reach the women's market?

In this issue, we invite businesses in Superiorland that wish to reach the women's market

to join us on this Superior Journey. If it makes sense for your business to reach our target

market of women, aged 35 to 65+, in the heart of Superiorland, then please contact one of us,

below, for more information about advertising in a future issue. You can also find advertising

information on our website at www.SuperiorWoman.Net.

About this issue…

My husband last visited the U.P. in February before the COVID 19 pandemic hit. He interviewed four women and

we posted one story on the blog before the pandemic and then we decided to hold onto the other stories until the world

felt more stable. The end result was the decision to create this digital magazine. We've included two additional stories

that were placed on our blog in the past year.

All told, there are seven Superior Women featured in this issue, and we are already planning the Fall issue, and I am

so excited about some of the names I am seeing on Dale's "potential story ideas" list. We are also very open to accepting

recommendations for stories, so please do not hesitate to email either one of us if you know a Superior Woman with a

compelling story who would be willing to share her story with our readers.

Most of all, thank you. Thank you for taking the time to read this publication. Your support means more to us than

you can ever know.

We look forward to spending even more time in the U.P. in the coming year as we ramp up our storytelling

adventures and meet even more spectacularly special and Superior Women.

Peace,

Patti Samar

Co-Editor & Publisher

Superior Woman

pjsamar@aol.com

Dale Hemmila

Co-Editor & Publisher

Superior Woman

dalehemmila@gmail.com

SUMMER 2020 SUPERIORWOMAN.NET 3
---
4 SUMMER 2020 SUPERIORWOMAN.NET

MARYBETH KURTZ
---
BAKING

up a storm

BY DALE HEMMILA

Editor's Note: The story, below, was filed just before the COVID 19 pandemic hit hard. Subsequently, the business was

shuttered for two months. Back online now, the owner says she is happy to be back and pleased to see her regular customers ("at

least what you can see above the mask"). Business, she says, has been good, even without indoor seating. The outdoor garden

and sidewalk seating has been very popular. A $10,000 grant from the Michigan Economic Development Corporation helped

pay the rent, utilities and payroll during the shutdown. Now that the business is back up and running pandemic-style, owner

Marybeth Kurtz says "I have been very lucky." Superior Woman wanted to present the original pre-pandemic story of this

business and business owner with the hope that more normal times will be in our future soon.

IIn the middle of the main street, in a small Upper Peninsula mining

town, sits a bright blue building that stands out among the drab

stone and brick structures that occupy the remaining blocks. Its bright

façade almost compels you to step inside and check it out. Once

inside, the sights and smells of a small-town bakery/restaurant lets you

know you have found a hometown treasure for the senses, including,

ultimately, your sense of taste.

The bright blue building houses Midtown Bakery & Café in

downtown Negaunee, Michigan, and over the past two decades it has

become well-known for its made-from-scratch baked goods, and its

soul- pleasing homemade soups and sandwiches. Operated by owner

Marybeth Kurtz, and staffed by a loyal group of longtime employees,

Midtown has become a destination for the discerning epicurean in

Michigan's central Upper Peninsula.

Actually, "discerning epicurean" is probably not the market

demographic Kurtz and her then-husband envisioned when they

opened the shop 24 years ago. But, over that generational time

period, the shop has developed a very loyal and discriminating

following.

That following might get a whole lot bigger very soon. Kurtz

recently participated, as part of a two-person team, on the Food

Network's "Winner Cake All" program. Teaming up with local baker

Joe Heck, who received the original invitation from the network and

enlisted Kurtz as his teammate, the pair faced off against three other

two-person teams. After surviving the elimination round, they were

given six hours to come up with a "Broadway Princess Party Cake,"

working against the final two other teams.

"We had to create a cake for the client and the client wanted

chocolate and peanut butter," she said. "So we used my Mom's

Chocolate Cake and Joe had a peanut butter frosting recipe."

Unfortunately, the judges chose a different cake as the winner.

"They loved the cake, not necessarily the way it looked, but they

loved the cake and we just had fun," she said. "Once we saw the

episode it was like, oh, yeah, we did pretty good. Our goal was to go

and represent the U.P. and have a good time."

From Retail to Baked Goods

Originally opened as an antique shop, the bakery end of Kurtz's

business came along six months later. After six years, the antiques

were "pushed out" and soups, salads and sandwiches were added. As

their reputation grew, catering events, whether that be in the form of

delivering sandwiches to the local iron ore mines, or catering dinners

for various customers, became what Kurtz calls a "pretty good chunk"

of the business.

Kurtz, now the sole owner of the shop, is a transplant from the

Detroit area, but there are no big city airs among the mismatched

tables and chairs that seat about 50 patrons, and which, on most

days at lunch time, are fully occupied. The atmosphere can only be

described as hometown casual.

"Most people think of it as home," she said on a recent Friday

afternoon as she laughed with some of the regulars. "We'll joke around

with people and tell them if you need anything, either holler loud or

SUMMER 2020 SUPERIORWOMAN.NET 5
---
get up and get it yourself. People like coming here. It's not pretentious,

and it is a little weird, with all the different tables and chairs."

Making her point, she gestures to the largest table and chairs.

It was the dining set in the home in which she grew up. It now

accommodates some of the regular group visitors.

"We have quite a few standing reservations," she said. "There's a

group of guys that come in the first Monday of every month. There's a

group of women that come in the last Thursday of every month."

"'68," hollers someone from the staff.

"Yeah, class of '68," Kurtz said with a laugh. "So I'm very grateful.

As someone who is not from around here, it took a while to get that

people are so tight, but now I can't imagine living anywhere else."

Hands-On Management

As a bakery owner, you might imagine that Kurtz is in early in

the morning baking up a storm, but that's not usually the case. She

says a typical day would have her arriving by mid-morning from her

apartment above the shop. That doesn't mean the place is idle, as she

notes her baker begins at 6 a.m. and her manager opens the shop at

8 a.m. Baking continues throughout the day, and when Kurtz joins

in, she is just one of the crew, waiting tables, taking orders, making

deliveries, and doing whatever needs to be done.

"I don't spend a lot of time sitting in my office eating bon-bons," she

laughed.

"Thank God I have a wonderful staff; I'm very lucky," she said,

referring to her nine-person team. "I don't have turnover, so I am very

lucky. I go on vacations, and I don't think about work. I know it's in

good hands."

Kurtz grew up in the metropolitan Detroit area. She earned a

"

Our banana cake is a family recipe, and our

baker is super-talented and likes to create new

recipes and try new things.

"

Family recipes, like our most popular cake,

is Mom's Chocolate Cake, which is my

grandmother's recipe.

$20.90

Pick Your Poison

Bearded Yooper Surf Co. Beverage Containers

$17.90

43DegreesNorthGifts.com

ness.

6 SUMMER 2020 SUPERIORWOMAN.NET
---
commercial art degree from Macomb Community College. She

worked for the Chuck Muer restaurants in downstate Michigan, which

was a small chain of fine dining establishments that eventually were

shuttered or sold following Muer's death. As regional pastry chef for

about 10 years for those facilities, she received some of those recipes as

part of her severance pay when the last restaurant she was working at

closed. But they aren't the only proprietary recipes in use at her shop.

"Family recipes, like our most popular cake, is Mom's Chocolate

Cake, which is my grandmother's recipe; our banana cake is a family

recipe, and our baker is super-talented and likes to create new recipes

and try new things," Kurtz said.

Enjoying the Ride

With her Food Network-brush-with-cake-fame behind her, Kurtz

is satisfied to be back where she is, in Negaunee, working nearly every

day (her shop is closed on Sundays) and greeting her customers.

"I'm grateful that (business) is steady all year round," she said. "In the

wintertime, I get all the locals, and in the summer, they are all out to

camp, so then I get all the tourists. We get a lot of people that we are

on their route. They come up for their summer vacation, and we are

one of the stops they have to make."

No matter what the season, however, it's that downhome feeling once

inside the Midtown Café that just works.

"One of the best sounds of owning your own business is hearing

people laughing, enjoying their time here, and having fun," she said. "I

know my customers, and my customers know me, so I'm content, I'm

very lucky."

www.facebook.com/MidtownBakeryCafe

"

One of the best sounds of owning your own

business is hearing people laughing, enjoying

their time here, and having fun.

I know my customers, and my customers know

"

me, so I'm content. I'm very lucky.

46.5° North

Da U.P., Eh?

Tees. Hoodies.Gifts.

Other Colors Available

Lake Superior

Unsalted ~ Shark Free

Women's/Men's Tees ~ Hoodies

Other Colors Available

www.43DegreesNorthGifts.com

www.43DegreesNorthGifts.com

SUMMER 2020 SUPERIORWOMAN.NET 7
---
8 SUMMER 2020 SUPERIORWOMAN.NET

ROXANNE DAUST
---
DECISION

maker

BY DALE HEMMILA

IIn life, the decisions you make may not seem momentous at the

time, but when looking back, you can sometimes pinpoint reallife

game-changers. That seems to be the case for Roxanne Daust,

currently chairman, president and chief executive officer of Range

Bank, an independent community bank with nine locations in

Michigan's Upper Peninsula, and in Green Bay, Wisconsin.

For Daust, that type of decision came early in her working career

and began a process that ultimately led her to the top leadership

position of a 133-year-old banking icon in the Upper Peninsula.

"I was working as a 20-year-old waitress at the Villa Capri

(restaurant)," she recalled recently while discussing her path in the

banking world. "I had the opportunity to be a teller (at another

banking institution) and I had to question whether it was worthwhile,

because with the money they were paying, I could barely afford to

live off of, with a child; I was a single mom. So, I did decide that it

made sense to take that bank telling job, because what's your future as

a single mother waitress? So I started off as a teller and worked (there)

for 10 years in a couple of different departments."

Her life-changing decision has now come full circle. The Lake

Superior Community Partnership (LSCP) has named Daust the

recipient of the 2020 LSCP Distinguished Service Award. She was

recognized at the organization's annual dinner in March.

"I am excited that Roxanne has been chosen as our Distinguished

Service Award winner," said Amy Clickner, LSCP chief executive

officer. "She has excelled in her career and in her community. She is

a role model for our future leaders. As for the LSCP, she serves in a

leadership role and has helped set up the organization for continued

success. Over the many years of working together, I am honored to

also call her a friend."

The path to Daust's success and high achievement in the banking

industry was not necessarily a straight line. During her first decade

working in the banking industry, Daust finished off an accounting

and computer information systems degree at Northern Michigan

University, and her career path continued in a little different direction.

She actually ended up leaving the banking industry and went to work

at an accounting firm for a couple of years.

"I learned a lot, because I did a lot of auditing of banks and credit

unions," she said. "I feel like it was a good two years; I liked the

experience because I learned a lot."

Ultimately, the required travel during auditing assignments led

Daust to return to banking full-time as a better career choice.

"I had seen an ad for a cashier position at First National Bank of

Negaunee (which would ultimately become Range Bank) and I didn't

even know what a cashier was at the time; it's kind of an old name for

the accounting person."

She got the job and continued to move up in her career over the

next 20 years, first as chief financial officer position, then becoming

executive vice president, and finally taking over as president in early

2018. She was promoted to chairman and CEO six months later,

when her predecessor, Ken Palmer, retired.

She credits Palmer with helping her make the moves that lead to her

current leadership position.

"Ken Palmer was a really great mentor to me," she said. "He always

pushed me to do more and believed in me. He asked me if I wanted

to apply for the executive vice president position, and the first time, I

said no. I was happy where I was at. But as I grew more confident, I

felt that, yeah, I can do this job.

"And then we knew that this was the path that I was kind of on,

in training to take over for Ken, when he retired. Ken did a good

job of backing off on his role for the last year, so there weren't really a

lot of surprises. I knew what I was in for, and it was a pretty natural

progression, but there is a lot of burden because the buck stops here.

The additional pressure is knowing that, ultimately, the decisionmaking,

along with the board, is up to me."

SUMMER 2020 SUPERIORWOMAN.NET 9
---
As in any business where leadership at the top changes, the new

leader tends to reshape the business to reflect his or her vision. For

Daust, that meant making some cultural changes.

"We have made a ton of changes, and it all comes down to the

fact that I am very focused on people," she explained. "I formed a

leadership team, which we never had before. We have a really strong

leadership team, and I collaborate with them, and we make decisions

together. It's not just me sitting at the top, telling people what to do; it's

more of a collaboration of what's best for the bank. "

So, with her people-focused approach, Daust has instituted short

employee surveys to obtain opinions about working at the bank, and

then getting together with all the employees in small group meetings so

staff can share ideas to improve the banking experience.

Daust believes that businesses need to keep up with competition in

order to move forward. During her first couple of years as CEO, Daust

and her team have provided the leadership to address the challenges of

banking in the 21st century.

To help keep the bank on this path, Daust brought in a consultant

to help improve services to both retail and business clients, to provide

employee training, and to provide marketing assistance.

"One of our key focuses at the bank is making sure that we have

the technology that customers need to do business with us," she said.

"Which means they don't have to come to the bank very often, so we

need to provide the products and services they need (online)."

But even with new technology and online competition, she also

hasn't lost sight of the people aspect of her industry.

"With community banking services, that's always going to be the

key," she said. "I mean, when you have a problem, or you have a

question, we answer our phones, we answer your question, you can

come into one of our offices. We're never going to get away from

"

We have a really strong leadership team

and I collaborate with them.

We make decisions together.

It's a collaboration of what is best

for the bank.

"

Pick Your Poison

Superior Woman Beverage Containers

43DegreesNorthGifts.com

10 SUMMER 2020 SUPERIORWOMAN.NET
---
customer service being our differentiator, but we also need to have the

technology that customers demand."

Meanwhile, sitting at the top of a regional banking operation, it is

not lost on Daust that she is a woman in what has traditionally been a

position filled by a man in most of the banking world.

"When I'm sitting in a room of bankers, I'm definitely in the

minority," she said. "But when we're in that room, I don't think of

myself as a woman; it's more about getting stuff done and working

together."

She does note, however, that seeing more women in leadership

roles in what were, at one time, considered mostly a male domain, is

inspiring.

"I think it's a great time for women to be in business, but it hasn't

always been that way. It's good to see progress, and I see all the women

across the U.P. that have gained higher level positions, and that's been

good to see."

As for her own skills that lead her to her current role?

"I don't give up," she said. "I kind of have, 'I get it done attitude,'

where there's a way to figure out a solution to any issue that comes up.

It's just getting the right people in the room, and working hard, and

not giving up."

Daust has carried that attitude outside of her bank office into

volunteer positions with organizations such as The Marquette

Ambassadors and the Lake Superior Community Partnership (LSCP).

As for Daust, as a woman leader in the business world, she has advice

for young women who aspire to something similar.

"Do things that make you feel uncomfortable," she said. "Because

you learn and you can be proud of yourself. You can learn that you

can do things that you never thought you could do. If you don't try,

you will never know."

www.rangebank.com

"

Do things that make you feel

uncomfortable because you learn

and you can be proud of yourself.

You can learn that you can do things

that you never thought you could do.

"

If you don't try, you will never know.

Superior Woman

Women's & Men's Tees & Hoodies

Other Colors Available

43DegreesNorthGifts.com

SUMMER 2020 SUPERIORWOMAN.NET 11
---
STACEY WILLEY & JACKIE BESSNER

12 SUMMER 2020 SUPERIORWOMAN.NET
---
LASER

focused

BY DALE HEMMILA

Editor's Note: The story below was filed just before the COVID 19 pandemic hit hard. Subsequently,

the business involved has been impacted by the storefront closure, while online sales have continued.

Although summer trade shows were canceled, wholesale orders have begun to pick up and they saw an

uptick in sales after federal stimulus checks were distributed. Superior Woman wanted to present the

original pre-pandemic story of how this business partnership began with the hope that more normal times

will be in our future soon.

Two women, a business, and a plan: that's inspiration right there. So,

it shouldn't be a big surprise that their business is called Be Inspired UP.

The women are Jackie Bessner and Stacey Willey, their shop is a

small storefront in downtown Ishpeming, Michigan, but their business

is much bigger than that.

The shop is filled primarily with laser-cut jewelry. Most of those are

Bessner's designs and they feature images related to Michigan's Upper

Peninsula, with an eye toward the natural beauty outdoor activities.

The shop also features the books written by local authors that are

part of Willey's book publishing business. With some additional local

art on sale, and a few other odds and ends related to the 906 area code,

there is a lot to take in once you step inside.

But that is not the only place to find their unique items. With a

presence on Shopify and Etsy, they reach a much larger audience,

and their own website features 24 pages of unique earrings, pendants,

bracelets and a whole lot more.

Recently Superior Woman met with Willey and Bessner to learn a

little more about their inspiration:

So, how did this business come about?

SW: I opened the gift shop and I still run the book-publishing part,

and I'm still pretty busy with that. This location has been open about

two years. Jackie, a couple of years ago, started her own jewelry line

business. So she approached me about helping her with this stainless

steel line of Be Inspired jewelry.

JB: I had my own little jewelry line and I would do a craft show

here and there and some gift shops started reaching out asking can you

make us some things, but it got to be too much. Getting up at 5 a.m.

to package jewelry, making jewelry, working again after I got home

from my regular 8 to 5 job, so I built a website, I did Etsy, I built a

Shopify site, and realized this could be something, but I don't have the

time to dedicate. I needed help.

You kind of found each other then?

JB: Stacey did jewelry and I got to chit-chatting with her one day. I

was at the point where I either needed to sell it or bring on a business

partner who has a vested interest in it.

SW: At one point, Jackie really broached it as looking for rental space.

JB: I was looking for rental space to get it out of my house. I just

knew Stacey sold jewelry and she filled the other piece from the

graphic art point that I needed help with, as well. So I approached

her and at first, she said, 'Well, maybe I'll help you a little bit,' and I

showed her what I was doing, and what the potential was, and she

said, yeah, and here we are.

And how is all of that going?

SW: Organically, I think things have fallen into place.

JB: This is a 'labor of love,' is a good way to put it, because the

amount of hours it takes to get where we're at, if someone would have

told me how much labor I would put in without any monetary value,

most people would say, no thanks.

SW: Neither one of us is getting a salary at this point.

JB: It's dumbfounding how much work it is, but we're at a pivoting

point right now, and I think it could be a successful business.

SUMMER 2020 SUPERIORWOMAN.NET 13
---
A lot of your products are U.P.-based, but you also

have expanded, right?

JB: The U.P. is limiting so that's why I've branched out designing

the kayak, the skiis and even the full Great Lakes.

SW: As far as our online orders, we get orders from all over; it's not

just the U.P. We've even shipped to Finland. We've had to get a little

bit out of the box of the U.P. You have to push it; you have to push the

reach. You can't just build it and they will come.

So, there is a lot more to this than just the designing?

JB: Our goal was to build it, and work as hard as we can to afford to

bring in staff so they can do the filling of orders. We're still working on

the infrastructure and the website, but the designing is the fun part.

SW: The designing is a lot of fun.

JB: And we keep coming up with different designs. Stacey will

message me and say, "What do you think of this design?"

SW: I had my own jewelry that I was doing prior to Jackie, using

gemstones and wire wrapping, that kind of thing, too.

Beyond a business partnership, this appears to offer

some creative satisfaction as well?

SW: I do what I do because I love it. I love my job. I feel like I have

been totally blessed to be able to help people with the creative process. I

love doing what I do.

JB: I've always been crafty in some capacity; this just kind of had its

natural progression into another realm, and it took off. But in order

to bring it to the next level, I realized it wasn't going to happen unless I

partnered with someone else who had the same creative end drive that

I have.

" "

To shop for Jackie & Stacey's

original artwork and jewelry, visit:

www.beinspiredup.com

Wake U.P., Eh?

Other Yooper Designs Available

Save Face

We Give Back to the Community

$4 from each face mask purchase donated to local nonprofits

$4 from the purchase of each mask sold

will be divided between these local nonprofits:

Marquette Women's Center

U.P.A.W.S.

Thank you for helping us support the community!

www.43DegreesNorthGifts.com

www.43DegreesNorthGifts.com

14 SUMMER 2020 SUPERIORWOMAN.NET
---
So, how has this partnership worked out?

JB: I think it's phenomenal. We work really well together. We each

bring differences, we work together, I think it's worked really well.

SW: It's kind of just naturally fallen into place. The things that she

has been able to do at home, on the computer, have naturally kind of

fallen to her responsibility, as far as the day-to-day responsibility, that

kind of falls to me, and if I don't have a book to design, then I can help

with the website, too.

How nice is it to see people enjoy what you create?

JB: It's really exciting to see somebody with your jewelry on, or have

someone tell me that they wore one of our glass pieces on a trip to

France and received all these compliments. It's something Stacey and I

built together, and it feels good that somebody is enjoying it.

That's the kind of inspiration any business partnership can

appreciate.

Superior Woman

Women's & Men's Tees & Hoodies

Other Colors Available

43DegreesNorthGifts.com

SUMMER 2020 SUPERIORWOMAN.NET 15
---
16 SUMMER 2020 SUPERIORWOMAN.NET

SANDRA ARSENAULT
---
GOSSARD

girls

BY DALE HEMMILA

Editor's Note: The story below was filed just before the COVID-19 pandemic hit hard. Some

planned outreach and celebrations related to the Gossard Company's 100th anniversary in Ishpeming,

and the same anniversary of the first national election where women could vote, were put on hold, due

to COVID-19. The hope is those events will be able to be held in 2021. Nonetheless, the story of the

Gossard and especially the women who worked there is still compelling and Superior Woman wants to

continue to honor their legacy and tell the story of the Gossard, the women who worked there and one

woman's efforts to make sure we remember it all.

When you think of Superior Women, you should consider the

hundreds of women who kept a garment factory humming in

Ishpeming, Michigan, for decades. Now, one Superior Woman

is making sure their legacy, and the history that's included, isn't

forgotten.

The factory was owned by the H.W. Gossard Company, and

the hundreds of women were those who worked there from 1920

to 1976. The Superior Woman maintaining that legacy is Sandra

Arsenault, who, with husband Paul, owns the historic Gossard

Building in downtown Ishpeming.

In 2020, the year in which women will celebrate the 100th

anniversary of the ratification of the 19th amendment, is also the

100th anniversary of the first Ishpeming "Gossard Girls," when the

factory opened in 1920.

In honor of that 100th anniversary, Arsenault and her husband,

Paul, are planning to create a much larger tribute, with displays

encompassing nearly the entire building.

"There's going to be a lot more information in the building," she

said. "All three floors are going to have more information about their

picnics, they had bowling teams, baseball teams and their cafeteria."

In addition, there will be an expanded display relating to the employee

strike of 1949.

"The story I want to tell, is to focus on the women," Arsenault said.

"In 1920 women were allowed to vote, and all along women have

grown. At the time that the Gossard was here, there were no females in

management. Now we have women who run for president, we have

women CEOs, we have businesses that are run by women.

"Now, people come into the building, and they take pictures, and

that's what I want them to do, and I think they will be really excited

when they see what Paul and I have in store. (They) will be able to go

through the building and read about the items (on display)."

To capture that history and recognize the work of the people of

the Gossard, Arsenault has researched the history of the Ishpeming

operations, salvaged much of the equipment, photos, samples and

other items left behind when the facility closed, and reached out to

the more than 1,000 employees and their families in order to build an

historical display on the Gossard building's first floor.

"My first goal is a tribute to the women," Arsenault said recently

while discussing her project. "Their legacy should be told."

The Gossard facility in Ishpeming came about when the Chicagobased

manufacturer of women's undergarments was looking to add

a facility large enough to accomplish the piece-work nature of their

garment assembly in a location that featured a ready workforce.

Following a recruitment visit to Chicago from a representative of the

SUMMER 2020 SUPERIORWOMAN.NET 17
---
ADVERTISEMENT FOR GOSSARD UNDERGARMENTS

City of Ishpeming, the Gossard Company sent their own agents to

review the potential site and staffing possibilities. What they found was

a three-story, 12,000 square foot building that would fit well with their

manufacturing process. A bonus was finding that there was an eager

and available employee base.

"The two reasons that they came, was that they had the building,

and they knew they would have the workforce because of the mines

up here," Arsenault said. "The men (miners) were married, and had

daughters, and that's kind of what sweetened the pot to come to

Ishpeming."

It was those wives and daughters that became the bulk of the

workforce for the company. More than 1,000 of them worked at

the Gossard over the years. Some were long-term employees, some

were short-term employees who may have worked for a while before

getting married, having children, or moving away. At its peak in 1950,

the facility employed 680 people. Eighty-five percent of them were

women, many of whom walked out of high school and directly into

factory employment.

Their job was to sew different pieces of corsets and brassieres to

manufacture the final foundation products the company sold. The

more you sewed, the more money you made.

"

They came because they knew they would have

the workforce because of the mines up here.

The miners were married, and had daughters,

and that's what sweetened the pot to come

to Ishpeming.

"

18 SUMMER 2020 SUPERIORWOMAN.NET
---
WOMEN HARD AT WORK AT THE GOSSARD FACTORY IN ISHPEMING

"It all was piece work, and if you were liked by your supervisor, they

would give you the pieces that you could sew faster making more

money," Arsenault said.

That money usually averaged out to minimum wage, beginning in

the 1920s at about 35 cents an hour, ranging to about a dollar an hour

following union affiliation and a four-month strike in 1949. By the

time the factory closed in 1976, minimum wage was about $2.30/hour.

Long before the more common two-income families of today, the

Gossard provided that opportunity to their employees.

"They really had a big impact on economics in the city," Arsenault

said. "The paychecks the women took home stayed local."

And over the years, that was a lot of paychecks and a lot of women.

Arsenault has more than a thousand names in what she calls her

"bible" and she continues to add names as family members provide

information about their relatives who were employed by the Gossard.

"Every time I put something out on Facebook looking for

information, I get more and more people saying 'grandma worked

there' or 'my great aunt,' and the way we've gotten these names is by

people coming in to see if their relative is on the wall," Arsenault said.

That's because once she has an employee's name, she adds a

nameplate on the tribute wall. The plates appear on salvaged metal

patterns that were used to make the garments the factory produced.

(Full disclosure, the tribute wall contains the names of several of this

writer's family members, including my grandmother's name, as she

was employed by the Gossard Company for many years.)

It might be hard to imagine now, but during its heyday, the Gossard

was a hub of activity. Women, many of whom walked to town, would

begin the workday at 7 a.m. For years, the Gossard maintained its

own chef and cafeteria to provide a "full noon meal," and by quitting

time at 4 p.m., hundreds of "Gossard Girls" spilled out of the building

and onto the surrounding streets. Much of this is captured in photos

and memorabilia on Arsenault's tribute wall.

"And I want to do it with the whole building; I want it to be a time

capsule," she said. "Kids don't know what piece work is, they don't

understand an assembly line. This building has such a rich history, and

it was home to many women, and it's about the women; this is a labor

of love for me. It's like I know these women, and I just want to share

their lives."

To add to her story, Arsenault said she is looking for artifacts, stories and

yes, the names of more women who may have a Gossard connection.

To learn more about the Gossard factory in Ishpeming, visit

www.oldgossard.com.

SUMMER 2020 SUPERIORWOMAN.NET 19
---
20 SUMMER 2020 SUPERIORWOMAN.NET

STACY WELLING HAUGHEY
---
FAMILY

tradition

BY DALE HEMMILA

Editor's Note: Earlier in 2019 we shared the story of Stacy Welling Haughey, as the first female to serve as the

Upper Peninsula Regional Coordinator for the Michigan Department of Natural Resources. We thought Stacy

was quite accomplished in her role and apparently the Michigan United Conservation Clubs (MUCC) agreed,

as later in the year Haughey was presented with the MUCC's 2019 Unsung Hero Award for her work as an

"integral connector of U.P. stakeholders, bringing understanding and two-way communication to the people of the

U.P." Superior Woman was glad we were able to recognize Welling Haughey's accomplishments then and wanted

to re-publish her story in this edition of the magazine. Congratulations, Stacy!

Stacy Welling Haughey grew up immersed in the natural resources that

surrounded her childhood home in the Upper Peninsula, learning how to

fish and hunt.

The Welling family had always been engaged with the great outdoors.

So much so, that her grandfather, Gerald Welling, was a conservation

officer with the Michigan Department of Natural Resources.

And then, he was killed by a poacher.

Gerald Welling was on duty, patrolling for illegal bear hunting activity in

Menominee County, when he was killed by poachers in 1972.

That event changed Welling Haughey's family unit, and, though she

was not yet born when that tragedy took place, it became a part of family

lore that made an impact on her life.

"I was the kid on the playground defending the DNR," she said. "If

anyone said anything bad about the officers, I was the one supporting

them.

"I wanted to be a conservation officer," she said, pointing back to when

she was kid.

Though she initially followed a different career path, she ultimately

took a job that certainly would have made her grandfather proud: since

2008, Welling Haughey has served as the Upper Peninsula Regional

Coordinator for the Michigan DNR.

An Upper Peninsula native, Welling Haughey graduated from North

Central High School in the southern U.P. She went on to earn two

degrees from Northern Michigan University: a bachelor's degree in

business management, and a master's degree in public administration.

Following a stint in development and community relations for OSF

St. Francis Hospital in Escanaba, she moved into public service, first as

Governor Jennifer Granholm's Northern Michigan Representative. She

was then tapped to be deputy chief of staff for U.S. Representative Bart

Stupak, working out of the Congressman's Washington D.C. office.

"That was such a good growth experience," she said recently as she

reflected on some previous career activities. "I got to work for someone I

respected, and for the district, and I got exposure as to how government

works."

After coming back home to Michigan to work on the Congressman's

2008 re-election campaign, Welling Haughey felt a strong pull to return

to her roots.

"I loved being home, I loved being with family, and I knew I had to

figure out a way to stick around," she said.

That "way" popped up when the DNR regional coordinator position

was posted in October of 2008.

"I looked at that and said, 'Wow, this would be a great opportunity,'"

she recalled.

She knew, based on her family's experience in losing her grandfather,

that working for the DNR wasn't "just a job."

It was a calling.

As it turned out, her wish to be part of the DNR was fulfilled when she

was hired by then-Michigan DNR Director Rebecca Humphries, but at

first it seemed to come with the caveat of, "be careful what you wish for."

As the first woman — and an outsider — in the top DNR position in

the U.P., did not initially sit well with longtime observers of the agency.

"It was not easy," she said. "I came from the outside, and on paper it

looked like I landed from Capitol Hill."

Among the comments she recalled hearing were: "unqualified," "political

hack," "this girl is coming from D.C.; what does she know?"

While she came to the job with excellent professional credentials, she

faced several challenges. First, she was new to the department, which had

typically filled position from within. Second, she faced questions about

her knowledge related to the state's natural resources and field work. And

third, her gender was a sea change in that position.

Early in her tenure, she sat down with a veteran outdoor reporter, and

she recalled their initial exchange.

Reporter: "You're the first woman in this job, how does it feel to be a

woman in this job hired by a woman?"

Welling Haughey: "Well, I never considered that, but how would that

be different if I was a man hired by a man. Would you still ask that?"

SUMMER 2020 SUPERIORWOMAN.NET 21
---
Reporter: "I never thought of that."

Welling Haughey: "No, I didn't think you would."

While the critics continued, Welling Haughey understood what they

seemed most concerned about.

"They wanted to know what my resource background was," she said.

"(They were asking) 'Can she bait a hook? Can she gut a deer?'"

To that end, she put together a photo collage on paper, handwritten at

the top, "Welling's Resume," which showed her fishing as a youngster;

on a successful pheasant hunt as a teen; as a proud adult showing off the

camp buck pole; and more. She promptly printed 100 copies and handed

them to those interested in her outdoor background.

"It was kind of a conversation starter," she explained. "They needed to

see that I had been in the field. There were a lot of questions I wanted to

answer. I wanted people to know me, not just what they thought (they

knew)."

Ultimately, she was able to get past the criticism.

"I definitely had my guard up for a long time; it was a challenge," she

said. "I'm very thankful I had a great network of amazing family and

amazing friends. They just kept pushing me to not give up."

That has allowed her to spend the last decade doing the work she was

hired to do.

Welling Haughey pointed out that part of that work included a change

in the position, which once ran all of the DNR operations in the U.P.

When she accepted the job, the position was changed and became more

stakeholder-oriented, reporting up to the state DNR Director.

"I'm not telling the fisheries biologist what to stock, or the forester how

much cedar to harvest," she said.

Instead, as a representative of each division of the department, with 10

sections that range from fisheries, mining, real estate and more, she finds

herself more in the customer service business.

"I coordinate and try to keep things running smoothly," she said. "I

"

They wanted to know what

my resource background was.

'Can she bait a hook?'

'Can she gut a deer?'

They needed to see that I had been

in the field.

"

Snag a Bag

Our Weekender Bags Make Great Gifts

www.43DegreesNorthGifts.com

22 SUMMER 2020 SUPERIORWOMAN.NET
---
want to be the U.P. point of contact if there's an issue. I might not have the

answer, but I usually know who does. I try to connect the dots."

Much of her work includes being the DNR liaison on the U.P.'s two,

20-member citizen's advisory councils. The councils provide local input

to the DNR on programs and policies, and identify areas where the

department can be more effective and responsive.

The citizen's advisory councils came on-line in 2008, the same year

Welling Haughey was hired. And while she may have questioned her

own hiring, once telling then-DNR director Humphries they might have

been the only two people in Michigan who thought her hiring was a good

idea, the woman who hired her didn't question the move.

"I wanted someone to be my eyes and ears in the U.P. and tell me the

unvarnished truth about what the community felt, both good and bad,"

Humphries said recently from her South Carolina office where she is

CEO of the National Wild Turkey Federation. "Stacy does that in a

very professional way. She's shown her worth over and over again, and it's

worked out very well."

And it has apparently worked well for Welling Haughey.

"I love being able to solve challenges," she said. "I have a passion for the

U.P. I feel like an advocate for the U.P."

Meanwhile, since landing with the DNR, Welling Haughey has added

two new job titles in her life: "wife" to her husband, Jared, and "mother"

to two daughters.

While juggling DNR responsibilities across the entire U.P., like most

working mothers, it is the job at home that keeps her focused.

"Being a parent is the best thing I have ever been a part of," she said. "It's

fun and it's crazy. We have an amazing network, and family is a godsend.

My mom helps out two days a week, and my husband is very supportive.

We approach all of it as a team and our girls are priority number one. I

love what I do, I am passionate about my job, but family comes first."

I love being able to solve challenges.

I have a passion for the U.P.;

"I

"

feel like an advocate for the U.P.

46.5° North

Da U.P., Eh?

Tees. Hoodies.Gifts.

Other Colors Available

Lake Superior

Unsalted ~ Shark Free

Women's/Men's Tees ~ Hoodies

Other Colors Available

www.43DegreesNorthGifts.com

www.43DegreesNorthGifts.com

SUMMER 2020 SUPERIORWOMAN.NET 23
---
LORRIE HAYES

24 SUMMER 2020 SUPERIORWOMAN.NET
---
SINGING

the blues

BY DALE HEMMILA

Editor's Note: Earlier last year we wrote about Lorrie Hayes and her singing

career, including her inclusion in the Flat Broke Blues Band. Since then the

COVID-19 pandemic created some setbacks for the band as they weren't able

to perform for nearly six months. The band, and Lorrie, are back on stage these

days, though the venues are outdoors and involve proper social distancing. As

she noted, recently lost gigs have happened to all musicians these past few months,

but she said: "We will prevail." We think Lorrie's story is worth republishing

now as she truly embodies the spirit and will that make her a Superior Woman.

When Lorrie Hayes is singing the Blues, she is in a happy place.

That is understandable because Hayes is the lead singer of the Marquette, Michigan-based Flat Broke

Blues Band, one of the more prolific, and longest lasting, live entertainment bands in Michigan's Upper

Peninsula.

And while she hasn't been singing the Blues all the time, Hayes has been performing most of her life.

"Music has driven my life," she said recently from her office at the screen printing shop she owns in

Marquette. "My first solo was at age five. At about seven, I made a deal with God: 'If I can be a singer,

I will let people know about you.'"

As a youngster, she would sing with her mother, who regularly performed at weddings and funerals.

"I sang with her every day," she said. "That helped me develop a vibrato, and it made my voice

somewhat more sophisticated."

In addition to helping her mother rehearse, there was also some fantasy time.

"I sang with a hair brush (as a mic)," she said with a laugh. "And I had a lip-sync group at about (age)

10 called 'The Paulettes.' We had dance moves and were inspired by TV shows. And I watched music

from Elvis and the Stones. Whether (or not) I believed I would have a music career, it was my love—I

just did it."

Though music was her passion, she took a more practical route and studied art in college, eventually

SUMMER 2020 SUPERIORWOMAN.NET 25
---
"

I like to sing songs that are telling stories,

something I've experienced. You get more

emotion from that.

It's not making perfect music; it's how we make

you feel.

We just want to make you feel good.

"

(PHOTO

earning a master of fine arts degree in art education at Northern

Michigan University in Marquette.

"I wanted to be educated," Hayes said of her choice of studies, "and I

loved art. It was between art and music."

And while art is still a big part of her life, it is music where Hayes has

made a more significant mark.

That began with singing, over a long period of time, with different

groups, beginning in her early 20s, before the Flat Broke Blues Band

came along.

With a couple of decades of performing experience behind her,

Hayes and her bandmates performed their first gig in 2001 as a benefit

for the American Red Cross following the 9/11 attacks in New York

City.

The band probably didn't realize it at the time, but they would still be

making music nearly two decades later.

"That, my friend, is unheard of," Hayes said. Given her previous

experience, she would know that there are challenges to keeping a band

together.

"We all have lives, homes, children," she explained. "Sometimes the

motivation isn't the same."

So what has kept the current group of five together for 18 years?

"It's an equal partnership," she said. "We are (like) five CEOs sitting

down at the table figuring things out. We all take possession, and have

an equal work load, and equal reimbursement. It's like a family. We

respect each other, we know each other well. There are marriages that

don't last this long. This is very rewarding. "

Just as with marriages and other relationships, it helps to keep things

exciting and fresh, and a large part of the way the Flat Broke Blues

Band does that can be found in the way they approach their creative

process together.

"What has helped (us) is writing music and doing our own CDs,"

she said, adding that more than half of the music they play is written

by the band members.

And in the end, it is all about the music they like to play and where

they play it.

26 SUMMER 2020 SUPERIORWOMAN.NET

SUPPLIED BY LORRIE HAYES)

"I like to sing songs that are telling stories, something I've

experienced," she said. "You get more emotion from that. It's not

making perfect music; it's how we make you feel. We just want to

make you feel good."

The band is in high demand throughout the Upper Peninsula, and

they will play nearly any venue.

"We love festivals," Hayes said. "Private parties, we're always trying

out different bars. Most towns have a music series, and we like to play

those."

And for Hayes, the thrill of performing never goes away.

"It's an excitement," she said. "If we have a Friday night gig, I start

getting revved up on Wednesday."

Along with vocals, she is also known for her play on the harmonica.

Self-taught, the turns she takes on the harmonica add to the special

sound of the band.

"It's not a common thing that a woman plays the harmonica," she

said. "(But) having that adds to the authenticity of the Blues. (The

band) hasn't told me to stop yet, so I must be doing okay."

That authentic sound has been captured so far on two CDs, and

she said the band is planning to put together another one soon. The

band's music can be found online at the CDBaby website store.

Looking back on the deal she made with God as a youngster, Hayes

said it feels like it worked out pretty well.

"I'm so blessed, I'm so lucky," Hayes said. "Whenever new doors

open and new opportunities come, I always feel it's God's direction,

and that he has his hand on me continually. I still pray for his help and

I get it. It was a lovely deal from a once lovely child, but it has been

working for a long time. And I'm grateful."

That deal is going to have to last a lot longer because Hayes is not

planning to quit singing anytime soon.

"When I leave this earth, there's going to be some gigs on the

calendar." she predicted. "Someone's going to have to call and say

'Lorrie's not going to make it.'"

For more information about the band, visit their website:

www.flatbrokeblues.com
---
"We are your out-sourced Marketing Department."

CALL TODAY TO SCHEDULE

YOUR FREE MARKETING CONSULTATION
---
YOUR AD HERE

Does your business need to reach Superior Women?

• Women control more than 60% of all wealth in the United States

• Women make about 85 percent of household purchasing decisions,

with heavy influence in more than 90% of new home purchases and more.

• Women make 90% of the healthcare decisions in a household.

• Women make 65% of new car purchase decisions.

• Approximately 40% of U.S. working women now out-earn their husbands.

Give your business a presence where Superior Women can be found.

To advertise in a future issue of Superior Woman, contact us today!

Patti Samar

Co-Editor. Publisher

pjsamar@aol.com

810.300.2176

www.SuperiorWoman.Net

Dale Hemmila

Co-Editor. Publisher

dalehemmila@gmail.com

906.204.8111

www.SuperiorWoman.Net