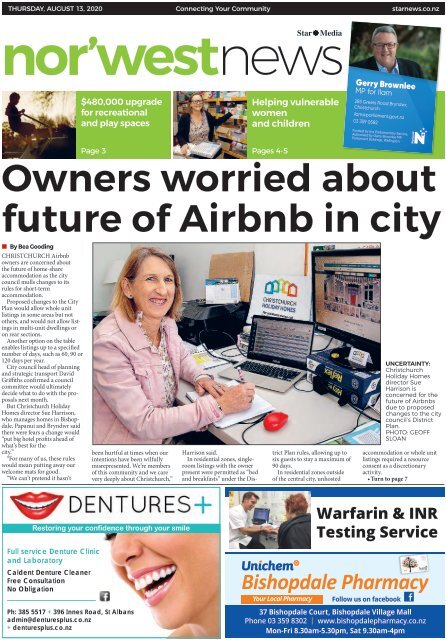 Nor'West News: August 13, 2020
You also want an ePaper? Increase the reach of your titles
YUMPU automatically turns print PDFs into web optimized ePapers that Google loves.
THURSDAY, AUGUST 13, 2020

Connecting Your Community

starnews.co.nz

$480,000 upgrade

for recreational

and play spaces

Helping vulnerable

women

and children

Gerry Brownlee

MP for Ilam

283 Greers Road Bryndwr,

Christchurch

ilam@parliament.govt.nz

03 359 0582

Funded by the Parliamentary Service.

Authorised by Gerry Brownlee MP,

Parliament Buildings, Wellington.

Page 3 Pages 4-5

Owners worried about

future of Airbnb in city

• By Bea Gooding

CHRISTCHURCH Airbnb

owners are concerned about

the future of home-share

accommodation as the city

council mulls changes to its

rules for short-term

accommodation.

Proposed changes to the City

Plan would allow whole unit

listings in some areas but not

others, and would not allow listings

in multi-unit dwellings or

on rear sections.

Another option on the table

enables listings up to a specified

number of days, such as 60, 90 or

120 days per year.

City council head of planning

and strategic transport David

Griffiths confirmed a council

committee would ultimately

decide what to do with the proposals

next month.

But Christchurch Holiday

Homes director Sue Harrison,

who manages homes in Bishopdale,

Papanui and Bryndwr said

there were fears a change would

"put big hotel profits ahead of

what's best for the

city."

"For many of us, these rules

would mean putting away our

welcome mats for good.

"We can't pretend it hasn't

been hurtful at times when our

intentions have been wilfully

misrepresented. We're members

of this community and we care

very deeply about Christchurch,"

Harrison said.

In residential zones, singleroom

listings with the owner

present were permitted as "bed

and breakfasts" under the District

Plan rules, allowing up to

six guests to stay a maximum of

90 days.

In residential zones outside

of the central city, unhosted

UNCERTAINTY:

Christchurch

Holiday Homes

director Sue

Harrison is

concerned for the

future of Airbnbs

due to proposed

changes to the city

council's District

Plan.

PHOTO: GEOFF

SLOAN

accommodation or whole unit

listings required a resource

consent as a discretionary

activity.

• Turn to page 7

Restoring your confidence through your smile

Full service Denture Clinic

and Laboratory

Caldent Denture Cleaner

Free Consultation

No Obligation

Ph: 385 5517 + 396 Innes Road, St Albans

admin@denturesplus.co.nz

+ denturesplus.co.nz

Warfarin & INR

Testing Service

Bishopdale Pharmacy

Your Local Pharmacy

Follow us on facebook

37 Bishopdale Court, Bishopdale Village Mall

Phone 03 359 8302 | www.bishopdalepharmacy.co.nz

Mon-Fri 8.30am-5.30pm, Sat 9.30am-4pm
---
2 Thursday August 13 2020

Latest Canterbury news at starnews.co.nz

GENERAL INQUIRIES Ph 379 7100

CLASSIFIED ADVERTISING Ph 379 1100

Star Media, a division of Allied Press Ltd

PO Box 1467, Christchurch

starmedia.kiwi

NEWS

Bea Gooding

Ph: 021 911 576

bea.gooding@starmedia.kiwi

ADVERTISING

Monique Maynard

Ph: 021 372 481

monique.maynard@starmedia.kiwi

Your local community news

delivered to 28,748 homes

within The Star each week.

Harewood • Burnside • Bishopdale • Bryndwr

Fendalton • Merivale • St Albans • Mairehau

Papanui • Casebrook • Redwood • Styx Mill

Regents Park • Northwood • Belfast • Strowan

what's on

this week

Wā Pēpi: Babytimes

Thursday, 10.30-11am

Shirley and Fendalton libraries

Encourage learning through language.

Babytimes is an interactive

programme including music, movement,

rhymes and a story. Recommended

for under two-year-olds. No

bookings required.

Citizens Advice Bureau

Thursday, 11am-5pm, Friday, 11am-

5pm, Tuesday, 2-5pm, Wednesday,

11am-5pm

Fendalton Library

Citizens Advice Bureau provides

free and confidential advice. They

take the time to listen and equip you

with the information, options and

support that fit your needs. Phone 941

7923 for more information.

Knit 'n' Yarn

Thursday, 2-3.30pm, at Fendalton,

Wednesday, 1-2.30pm, at Redwood

Fendalton and Redwood libraries

Take your knitting, crochet or other

craft projects and have fun with a

social group. Free, drop-in event.

The Zone @ Shirley

Thursday, 4-5pm

Shirley Library

Go along and get to know other

like-minded teenagers. Go headto-head

on the PlayStation, mix

music with GarageBand, get creative

with green screen or play classic

board games. Suitable for ages 12

to 19-years-old. Free, no booking

required.

GenConnect, Tuesday, 12.15-12.45pm, Papanui Library

If you have questions about your smartphone or tablet, ask an expert for

advice. Free, no bookings required. ​

Card Club

Friday, 1.30-3.30pm

Shirley Library

This weekly card club will be held

every Friday. Go along and join the

fun. Free, no bookings required.

Mahjong Group

Saturday, 1-3.30pm, at Shirley,

Monday, 1-4pm, at Papanui

Shirley and Papanui libraries

Go along to the free event if you are

interested in playing or learning about

Mahjong.

JP Clinic

Saturday, 10am-noon, at

Fendalton, Tuesday, 10am-1pm, at

Shirley and Papanui, Wednesday,

10am-1pm, at Bishopdale

Bishopdale, Fendalton and Shirley

libraries

A justice of the peace will be available

to witness signatures

and documents, certify document

copies, hear oaths, declarations, affidavits

or affirmations, as well as sign

NOR'WEST NEWS

citizenship or rates rebates applications.

Rummikub

Monday, 1-3pm

Bishopdale Library

Join in on the fun and discover

how to play Rummikub, an exciting

strategy game for all ages. Free, no

bookings required.

Reading to Dogs

Tuesday, 3.30-4.30pm

Shirley Library

A relaxed, non-threatening event

designed to encourage children to

practise reading skills and develop a

love for reading. Phone 941 7923 to

register.

Scrabble Club

Wednesday, 1.30-3.30pm

Shirley Library

Play Scrabble with a friendly group.

All materials supplied. Head along

when you can. Free, no bookings

required.

"Hiring Cameron to sell our home was by far the best decision we could've made

for selling our home. He's not just a face on a bus. His communication throughout

our campaign was excellent, as was his honest and professional advice. We were in

safe hands from the moment we signed him as our agent, right through to handing

over the keys. We were singing his praises prior to auction day and then, wow!

Auction day was fantastic and it was great to see him and the auction team work.

We'll be using Cameron and his Harcourts gold team again in the future. 10/10!"

- Mike & Diana -

148 HACKTHORNE ROAD, CASHMERE

CAMERON BAILEY

Phone or text 027 555 7079

No.1 Harcourts Canterbury 2012-2020

cameron.bailey@harcourts.co.nz

No.1 Harcourts New Zealand 2017-2020

Licensed Sales Consultant REAA 2008 www.cameronbailey.harcourts.co.nz

No.1 Harcourts International 2017-2020

Licensed Agent REAA 2008
---
NOR'WEST NEWS Latest Canterbury news at starnews.co.nz

Thursday August 13 2020 3

News

Upgrades for play spaces

• By Louis Day

ALMOST HALF a million

dollars is set to be spent on

recreational areas across the area.

Bishopdale Park skate park,

Armitage Reserve play space and

Annandale Park play space will

all receive renewals after their

landscape plans were approved

last week.

This will

see the city

council pour

a total of

$480,000 into

improving the

standard of

these facilities.

David

Cartwright

The majority

of the money,

$340,000, will

be put towards Bishopdale Park's

skate park as it nears the end of

its lifespan.

The newly-approved design

includes a 1.65m hipped quarter

pipe with a corner pocket, several

hips with a banked extension,

a double-sided pole jam, and a

mini ramp, with work on the site

set to commence in February.

Both the pyramid and round

rail elements will also be made

higher.

Installed in the late 1980s, it

was originally an asphalt roller

skating area, with the addition of

skate park elements in 1996.

Design elements for the new

skate area follow community

feedback at the Bishopdale Skate

Jam, along with wider consultation.

The majority of submissions

on the upgrade supported the

improvements.

Fendalton-Waimairi-Harewood

Community Board chairman

David Cartwright believed

that the mix of new elements

will appeal to beginners and

intermediate-level skaters.

"Skateboarding is firmly

entrenched in the suburban

landscape and we need to keep

pace with the demand for fresh

elements and new challenges,"

he said.

"Much like the skaters, we

need to remain agile and bring

renewed energy to a popular

public space.

"The present site is ripe for

renewal – and a quarter pipe."

Meanwhile, the play space on

Armitage Reserve will also see

$78,000 put towards it.

This money will go towards

a "space shuttle spinner," three

new swings, retention of the

existing large slide, a picnic table

and a new asphalt footpath.

Community feedback showed

a strong support for more swings

to be included in the landscape

UPGRADE:

The

Bishopdale

Park skate

park has

been given

the green

light for a

$340,000

renewal.

PHOTO:

NEWSLINE

plan as well as deep concern over

the proposal to remove the existing

slide, which the city council

decided to leave in its place in the

end.

The city council is aiming to

begin work on the site late this

year.

A further $62,000 is also set to

be spent on the play space within

Annandale Park.

Work on the park, which the

city council is again hoping to

begin towards the end of this

year, will include the installation

of two swings, a mulberry bush

carousel, a "dinosaur rocker,"

a slide, three new trees and a

picnic table.

Sports gear

initiative

spreads

• By Bea Gooding

A SPORTS gear initiative has

been experiencing high demand

since its establishment four years

ago, and now it is now spreading

further afield.

The Give Gear Get Great initiative

collects donations of unused

sports equipment and shoes,

which is then recycled back into

the community at local events or

through a collection system.

It originally began in the

Spreydon-Cashmere Community

Board area in 2016, eventually

spreading to the Halswell-Hornby-Riccarton

area, and were now

looking to set up collection points

in the Papanui-Innes area to benefit

more families.

Spreydon-Cashmere Community

Board chairwoman Karolin

Potter was the mastermind

behind the idea and said demand

had skyrocketed since it started.

"We can't meet demand, but

we've been delighted by the success

of Give Gear Get Great," she said.

Ten wheelie bins to collect the

gear were ready to be rolled out

into the area once the city council

finalised with community groups

who were interested in delivering

this initiative and hosting a bin.

Downsize into

our beautiful

boutique

village

Our boutique Parklands Retirement

Village offers you company and

security while living in an active,

likeminded community.

Open home | Sunday 16 August, 11am - 1pm

One bedroom apartments from $337,000 and two bedroom from $381,000. All have:

• Modern kitchen with open plan lounge and dining room

• Fisher & Paykel appliances – fridge, single dishdrawer, cooktop, oven, rangehood,

washing machine and dryer

• Quality light fittings, drapes, floor coverings and heatpump

• 24-hour emergency alarm and on-site care home

1 bdrm

apartments

from

$337,000

Call Lynda on (03) 926 3062 or 027 702 9619 | 429 Papanui Road, Papanui | www.bupa.co.nz/parklands
---
4 Thursday August 13 2020

Latest Canterbury news at starnews.co.nz

NOR'WEST NEWS

News

'Aunties' helping vulnerable women

Neighbourhood

groups, organisations

and charities play

an important part in

keeping communities

supported in a

number of ways. The

Christchurch Aunties

chairwoman Heather

Milne speaks to Bea

Gooding about how

they help vulnerable

women and children

experiencing family

violence

Walk me through what

services The Christchurch

Aunties provide and how it

came to be what it is today.

We're a network of 4000

people who provide practical

support and donations for

women and children in

Christchurch, Selwyn District,

and Waimakariri District, who

have experienced family violence

and vulnerability. We work with

staff at about 11 organisations

(such as women's refuges), who

tell us what they need for their

clients, then we get it to them by

mobilising our network.

We regularly provide toiletries,

SUPPORT: The Christchurch Aunties founder Heather Milne, who provides crucial

assistance for women and children experiencing family violence. PHOTO: GEOFF SLOAN

security items and emergency

trips funding. When women

are setting up new homes after

relocating, we provide new or

quality second-hand furniture

and bedding. Sourcing and

donating baby gear is another

area that we excel at.

In addition to those regular

requests, we sometimes receive

client-specific donation requests

such as gadgets and weighted

blankets for children with

behavioural or communication

issues, quality sports gear,

birthday cakes, and vouchers for

local attractions.

The Christchurch Aunties

started in 2014 when Jackie Clark

in Auckland (who founded The

Aunties movement up there) put

me in touch with a woman who

was moving to Christchurch for

her safety.

It became apparent that

there were many people in the

community who wanted to

help, and that there was a way

to harness social media and

business connections to get

results. This was a time when I

also realised how much learning

I had (and still have) to do about

family violence, discrimination,

and unconscious bias.

In 2017, I gathered a group

of people around me to be the

board of The Christchurch

Aunties. We set the wheels in

motion with systems, policy,

communications, and finally,

charitable status earlier this year.

It's been an amazing journey so

far.

What does it mean to be an

"auntie?"

Anyone, anywhere can be

an "auntie.'' The only rules are

that you need to be kind, and

not judge people. That last bit

is striking because it's human

nature to judge – we're all guilty

of it. We have Christchurch

Aunties who regularly donate

toiletries and new bedding.

Others have set up regular

payments into our account. We

have a team of volunteers who

get hands-on and help us move

things, do administrative tasks,

mend furniture, test electrical

gear, and tidy our storage.

There are also hundreds of

Christchurch aunties who share

information about us and get

us in touch with other donors.

All of this support is part of the

giant jigsaw that makes it so

successful.
---
NOR'WEST NEWS Latest Canterbury news at starnews.co.nz

Thursday August 13 2020 5

and children experiencing violence

Why is an organisation like

The Christchurch Aunties

important for the community?

The immediate importance

of The Christchurch Aunties

is that we relieve the mental

load for women and children

experiencing family violence

and vulnerability, and we also

relieve the mental load of the staff

who are caring for them. Our

donations go towards keeping

people warm, safe, and feeling

valued.

Another important role

we have is to cultivate the

nurturing and generous side

of the Canterbury community

that we've seen so much of in

the past 10 years. People really

want to help and learn, but don't

always know how. So we gently

introduce people to the concept

of volunteering and support, and

how to donate effectively so that

recipients feel respected.

What are the major issues

currently impacting those who

you serve, and why?

The issue that we've seen

recently impacting families is

Covid-19 and the lockdown.

This situation became like a

pressure cooker of social isolation

and financial stress for many.

Children were home from school

and saw the violence happening.

Solo parents struggled to get

supplies as they couldn't leave

their children at home, but

also couldn't take them to the

supermarket.

In the days before level 4,

we frantically gave out all our

supplies of toiletries, activities,

and fuel/supermarket vouchers

to organisations – not knowing

when we'd be able to supply them

again.

Luckily we were granted

essential status, but the increased

demand for basic donations

of toiletries, security gear, and

vouchers have continued.

Canterbury has functioned

with a post-traumatic stress

disorder faultline running under

us since 2010. So although the

lockdown was the catalyst for

recent spikes in family violence,

there has been an increase for

some time.

The social workers and support

staff who we see working with

the clients and families have dealt

with the increase for so long,

that I think it's become the 'new

normal'. They do an incredible

job.

IMPACT:

Christchurch

Youth

Council

co-ordinator

Kate

Burgess (left)

helps The

Christchurch

Aunties

founder

Heather

Milne deliver

jackets to

families in

need.

What are some

misconceptions about family

violence and vulnerability that

the average person may not

know about? Why is this the

case?

There is a very common

assumption that family violence

happens to people in other

neighbourhoods and to other

families. A very mistaken belief

is that family violence is only

experienced by people who are

struggling financially. For a long

time, family violence wasn't

talked about in New Zealand, so

I think a lot of misconceptions

sprung up simply from ignorance

– and humans are reluctant to

change their thought patterns.

There are Christchurch aunties

out there who have experienced

violence and vulnerability in

the past or have supported their

family or friends through the

system. These people are from

diverse backgrounds and cultures.

They are from all walks of life.

Moving forward, how can

organisations and society better

support those experiencing

these hardships and the

reduction of harm within

homes? And why?

As a society, we can't make

any real impact until we stop

and listen. I urge people to get

educated on family violence and

poverty in New Zealand. Be

open-minded and learn about

your unconscious bias. Listen to

those who speak from experience

– they know more than you

do on this subject. It's okay to

change the way you think about

things. Your behaviour with

these simple steps will inspire

others, including children. Know

who to contact for advice and

support when someone you know

comes to you angry or hurt.

There are a whole lot of great

people out there who can help.

6 MARCH

LINCOLN

2021

3 CG EVENTS presents

LIVE IN LINCOLN

JON STEVENS

THE

NOISEWORKS

+INXS COLLECTION

STAN WALKER

JORDAN LUCK BAND

ANNIE CRUMMER

JASON KERRISON OPSHOP • THE LADY KILLERS

RODNEY FISHER GOODSHIRT • CHE FU SUPERGROOVE

NATHAN KING + ANDY LYNCH ZED

AUTOMATIC 80's

THE REMNANTS OF HELLO SAILOR

Tickets On Sale Now

www.selwynsounds.co.nz

The Fan

Brigade

Ben

Hurley

comedy night [ R18 ]

5 t h ANNIVERSARY SPECIAL

saturday 17 october in lincoln ONLY $44+BF

tickets on sale now www.liveinlincoln.nz

BRIDGESTONE LINCOLN

Jarred

Fell

Alan

McElroy

CRATE & BARREL LEESTON
---
6 Thursday August 13 2020

Latest Canterbury news at starnews.co.nz

NOR'WEST NEWS

HARCOURTS GOLD

FOR REVENUE PER SALES CONSULTANT

2013-2020

MEET OUR

TOP 10 PERFORMERS

HARCOURTS GOLD TOP CONSULTANTS FOR JULY 2020

1

2

3

4

5

CAMERON BAILEY

PAPANUI

MICHELLE FU

PAPANUI

MARK O'LOUGHLIN

REDWOOD

MARY TURNBULL

PAPANUI

CHANTALE JOHNSON

PARKLANDS

6

7

8

9

10

CALEB GRIFFIOEN

PARKLANDS

ASH SUTHERLAND TODD

PAPANUI

SANDRA O'BRIEN

PAPANUI

MILENA BARTLETT

PARKLANDS

GEETA ROSE

PAPANUI

When your brand includes the top Harcourts

office out of 900 around the world in addition

to the top franchise in New Zealand for

income per sales consultant, it's clear that

you've got an extraordinary team.

So for these consultants to earn the position of one of the top ten real estate sales

consultants at Harcourts gold is truly a remarkable achievement.

They are phenomenally good at what they do; skilled, highly trained and dedicated

to delivering exceptional results for property owners. I am extremely proud to work

with these real estate professionals.

JOHN MCFADDEN BUSINESS OWNER HARCOURTS GOLD

JOHN MCFADDEN

BUSINESS OWNER/

MANAGING DIRECTOR

LYNETTE MCFADDEN

BUSINESS OWNER

CHRIS KENNEDY

GENERAL MANAGER/

BUSINESS OWNER

Left to right: KYLE SUTHERLAND EXECUTIVE MANAGER, ANNA MCKENZIE OPERATIONS MANAGER,

MARGARET DANZER SALES MANAGER (REDWOOD), NIKILA CREAGH SALES MANAGER (PARKLANDS/NEW

BRIGHTON), DOUG SOPER LIAISON MANAGER

Contact us today!

gpm@harcourtsgold.co.nz

(03) 352 6454

Do you

own a

rental

property?

Are you

looking to

rent?

PAPANUI 352 6166 | INTERNATIONAL DIVISION (+64) 3 662 9811 | REDWOOD 352 0352

PARKLANDS & NEW BRIGHTON 383 0406 | GOLD PROPERTY MANAGEMENT 352 6454

www.homes4sale.co.nz GOLD REAL ESTATE GROUP LTD LICENSED AGENT REAA 2008
---
NOR'WEST NEWS Latest Canterbury news at starnews.co.nz

Thursday August 13 2020 7

News

Antarctic spirit encapsulated

A GROUP of year 7 and 8 pupils

from Papanui's St Joseph's

School have become the first

to graduate from the inaugural

International Antarctic Centre

online learning programme.

A number of pupils gained an

excellence for their efforts in the

10-week academy.

Said International Antarctic

Centre education manager Miranda

Satterthwaite: "We were

impressed with how thoroughly

the students adapted to receiving

online instruction and how

they could apply their learning

– from building Antarctic-bases

to understanding the intention

behind the Antarctic Treaty to

the increasing issue of tourism –

to the in-centre exploration that

marked the final assessment.

"Lockdown was a test for

us all, but the students of St

Joseph's truly handled their

challenge with the mettle of

Antarctic explorers before

them."

St Joseph's School deputy

principal Marietjie Verweij said

they considered themselves

very lucky that the pupils had

been set-up for digital learning

and were ready to discover and

extend their learning just as the

Antarctic Academy programme

was ready to launch.

ADVENTURE: (From left) – International Antarctic Centre's

education manager Miranda Satterthwaite and Hagglund

driver Phurenje Sherpa with pupils Claudia Vivian,

Molly Maynard, George Robertson, Ryan Cooke and Carter

Devlin, and St Joseph's School deputy principal Marietjie

Verweij.

"We just couldn't believe how

it all worked out, given how

unexpected and how disruptive

the nine weeks could otherwise

have been for our students and

teachers," she said.

The school had a special

assembly held to honour the

academy graduates and to

welcome the start of the school's

contribution to Wild in Art's

community sculpture and charity

programme raising funds

for Cholmondeley Children's

Home.

Satterthwaite said the International

Antarctic Centre's

academy is enjoying strong

demand for its in-centre and

online programmes and has

plans to further this as schools

understand the significance of

Antarctic studies and how it

meets curriculum and social

needs so thoroughly.

"Science, geography, history,

biology, engineering are all met,

but one thing that undeniably

provides the most positive

impact on well-being is meeting

one of our real-life rescue

penguins."

Proposals not supported

• From page 1

Policies to restrict non-residential

activities in residential zones

made consent more difficult to

obtain.

Said Harrison: "We don't support

discriminating between

hosted and unhosted short-term

rentals. Whether a host is present

or not doesn't form a sound basis

for regulation as there's many

variables involved to police this."

Airbnb owners did not support

the proposals due to the growing

need for self-catering homes for

groups and families that many

motels, hotels and hostels did not

cater for.

They have outlined their

concerns to community boards

across the city.

They favoured the option

which removed restrictions on

whole unit listings and treated

home-share accommodation as a

residential activity.

"This option allows for

better regulation by registering

homes. All other options leave

you with an impossible compliance

issue.

"If you restrict self-contained

homes, visitors will limit their

time in Christchurch," Harrison

said.

They supported a nationwide

approach to regulations which

did not "geographically distort

the market," and a mandatory

code of conduct for owners,

managers and guests enforceable

under a three-strike rule.

AirDNA data shows Christchurch

hosts earned about $50

million between August 2018 and

2019.

It is estimated about 250,000

guests were hosted last year.

Griffiths said some regulations

could be approached from a

nationwide perspective.

"A nationwide code of practice

would be possible for short-term

accommodation, but would require

agreement of all listing platform

providers, council and other

regulatory agencies," he said.

"However, a nationwide code

of practice could not be the only

regulatory mechanism in spite of

this being a preferred option. City

council has responsibilities under

the Building Act, Resource Management

Act and other legislation

that the code may not address.''

The Government could also

issue objectives and policies to

ensure a consistent approach to

managing the issue, such as the

use of land and its effects that all

councils must enforce.

The city council will present

a report to the Urban Development

and Transport Committee

outlining recommendations on

a preferred option including

whether or not to notify changes

to the District Plan next month.

'CEREC' & cosmetic dentistry

Wisdom tooth removal

Painless, high quality dentistry

Sedation dentistry

Experienced, conscientious team

Experienced hygienists

OPEN SATURDAYS

355 9380

144 Cranford Street

www.stalbansdentalcentre.co.nz

Jayz Kutz

Jessika, previously @

Canterbury Cutz

Mondays

New Brighton Barber Shop

55 Hawke St, New Brighton

Tuesdays, Thursdays, Fridays

Fred Daisy Hair and Body

2 Leacroft St, Bishopdale

Unisex Hairdressing

0225 601 060

Celebrating End of

Roadworks Special

Nicky Wagner

National List MP

I'd like to acknowledge everyone

that I have worked with over the

last 15 years.

Christchurch is a great city –

I have enjoyed being your MP.

Thank you for your support –

Kia Kaha

922 Colombo Street, Central Christchurch

PO Box 21359, Christchurch 8143

chch.office@parliament.govt.nz

03 365 8297

nickywagner.co.nz

Authorised by Nicky Wagner MP,

Parliament Buildings, Wellington.

Homemade French toast stick.

Soaked in vanilla egg with grilled

pears and candied walnuts

OPEN 7 DAYS - 34 on site car parks!

Corner of Innes Road & Cranford Street, St Albans

Phone 03 355 6921 | /kiddscakes

Order online at www.kiddscakes.co.nz
---
8 Thursday August 13 2020

Latest Canterbury news at starnews.co.nz

NOR'WEST NEWS

More than just skin deep.

We care deeply for our clients; your experience

and results are our number one priority.

We have created a sacred space that feels

warm and caring. When you leave, we know

that you'll feel amazing, glowing from the

inside out.

Think of us as your Skin Coaches, we love

skin and know how often it can change,

what worked yesterday won't always work

tomorrow! We also know most skin issues are

caused by a constant over stripping of the

skin's barrier, which leads to many sensitivities

and an accelerated ageing process. Lisa, our

Skin & IPL Specialist, places a high emphasis

on bringing the skin back to optimal health,

through education on skin products and skin

revision treatments.

Indulge your Skin: We offer a complete

collection of bespoke high performance Skin

treatment solutions for exceptional results

every time.

Indulge your Mind: Pamper Packages, Spa

Experience / Body Treatments and Massage

sessions that allow you totally unwind and relax.

Indulge your Body: IPL & Waxing Hair

Removal Services, Lash and Brow Services

and Spray Tanning

Established in 2010, indulge yourself with

complete assurance today.

We would love to welcome new

clients with a FREE $25 gift voucher

to put towards any of our premium

beauty or facial services. (limited time offer)

Mouth-watering gourmet

pie maker & baker

Owner and pie maker extraordinaire, Delwyn Lanauze, spent years

in the Chatham Islands which brought out her resourcefulness

and stimulated the creativity that Delwyn brings to her

homemade goods.

"There is something really special about creating, cooking and

caring for your community" Delwyn says. "What we serve at

Mrs Dentons café & delicatessen is what I've been cooking at

home, cooking for my family, forever!"

While you will always find speciality gourmet pies, such as

Chatham Island blue cod, leek and parsley, and scallop pies in the

range, the sky is the limit when it comes to Delwyn's culinary combinations.

Steak and Kidney, BBQ beef, bacon and cheese are favourites too.

The cafes takeaway cabinets are full of Delwyn's delious baking including scones,

muffins, slices, cinnamon buns & sandwiches as well as take home meals and gluten free,

vegetarian frittatas. A range of homemade chutneys are available as well as Chatham

Island raw honey – treat yourself today.

Winter hours: Mon – Sat 9am – 2pm

168a Kendal Ave (Memorial Ave end) 357 4516 /MrsDentons

Pure Indulgence

HOURS:

Tuesday: 10am - 8pm

Wednesday: 10am - 5pm

Thursday: 10am - 8pm

Friday: 10am - 5pm

Saturday: 10am - 3pm

Sunday/Monday: Closed

www.pureindulgencebeautytherapy.co.nz

TEXT ONLY:

027 342 3509

ADDRESS:

168 Kendal Ave

Burnside

EMAIL:

info@pureindulgencebeautytherapy.co.nz

MODERN

WORKSHOP

OFFERS OLD

FASHIONED SERVICE

2020 has seen some big changes for MD

Automotive, including a new name and

improved workshop and facilities, but one

thing that remains consistent is the high level

of service and expertise they have always

been known for.

Formally, Allan's Tyre & Auto, MD Automotive

is a fully MTA Authorised workshop,

offering a full range of mechanical repairs.

From Warrants of Fitness, servicing, wheel

alignments and tyre fitting through to

cambelts, brakes and CV joints, suspension,

shocks and steering.

Pre-purchase inspections are also available so

you can buy your next car with confidence.

While MD Automotive are the only

independent workshop in Christchurch

specialising in Mitsubishi's, their qualified

automotive mechanics will service most

makes and models and have over 20 years'

experience between them. Experienced in all

Mitsubishi models (Pajero, Triton, Challenger,

Colt, Galant, Diamante, Lancer, Evolutions,

L300), they can also service all late model

Mistubishi's with common rail diesel.

The workshop refit is nearing completion,

so don't hesitate to book your pride and joy

in today. Loan cars are offered, subject to

availability and for those small jobs there are

plenty of options in our block to treat yourself

at the same time.

on

Kendal

Ave

Expert hairdressing and a

friendly place to gather…

Hairdresser Paula Page sees Aroha Salon

as more than just a hairdressing business

– it's also a warm, friendly gathering place

for people in the community, she says.

Paula opened Aroha Salon in October

2019, having had many years of

experience in the industry both with her

previous salon, Clipotec, in Riccarton

Road, and on the Chatham Islands.

Drawing on her expertise and experience,

Paula provides a professional and helpful

service covering all facets of hairdressing,

and catering for all ages and personal

styles. "Whoever walks through the door,

my aim is to meet everyone's needs,"

she says.

Paula uses the environmentally friendly

product range, LuminArt, made in

Australia and provides protection and

conditioning for the hair with its natural

organic ingredients.

Aroha Salon has an opportunity for an

experienced hairdresser to rent a chair.

Give Paula a call to discuss today.

MD AUTOMOTIVE (Formally Allan's Tyre & Auto)

Open Mon – Fri 8am – 5pm & Sat 8.30am – 1pm

164 Kendal Ave Ph 358 9399 @MDAutomotive164

Ph 357 0002

162a Kendal Ave, Burnside (Memorial Ave end)

Opening Hours

Tuesday to Friday 9am-5pm, Saturday 10am-1pm

Late night Thursday or by appointment
---
NOR'WEST NEWS Latest Canterbury news at starnews.co.nz

Thursday August 13 2020 9

Your Local Views

Civic participation encouraged

LAST MONTH our

Waipapa/Papanui-Innes

Community Board

signed off our 2020-2022

Community Board Plan.

THis sets out our

vision and priorities, and

we will use it over the

next two years to guide

our decisions and our

advocacy on behalf of our

communities.

The plan identifies four

main priorities, the first

being to improve and

support community facilities

and amenity in the

Papanui-Innes area. We

understand that a cohesive,

resilient and happy community

needs places to

meet, socialise and learn,

to be active and to connect.

The need to support our

vulnerable communities is

something we hear about

often, and this has also

become a priority in this

plan.

We are lucky in Papanui-

Innes to have some amazing

groups working hard

to make our communities

better for all, and we want

to continue to support

them, particularly in

targeting youth, the elderly

and those who are socially

isolated.

We are aware that most

From the board

Emma Norrish, chair

Waipapa/Papanui-Innes Community Board

residents in our board area

rarely engage with us or

the city council, and we

want to change that. By

making encouraging civic

participation a priority

for the next two years, we

want to ensure that our local

community is educated

about what is happening

and can feel heard.

We want to grow our

community networks,

encourage communityled

projects, get people

involved in our decisionmaking,

and make our

meetings more accessible.

Our final priority is to

endorse and encourage a

functioning and safe traffic

network that supports a

connected community. We

are committed to putting

AWARENESS:

The board

will continue

to engage

about the

downstream

impacts of

the Northern

Corridor.

community safety at the

forefront of all our transport

recommendations and

decisions, so that people

can travel in, around and

through our communities

safely, using any mode of

transport.

We are especially aware

of the downstream impacts

of the Christchurch Northern

Corridor and of the

increased development in

Papanui, and will continue

to engage with those communities.

We look forward to

working with you over the

next two years to bring

this vision to life, and to

ensure the Papanui-Innes

area continues to be a great

place for everyone to live,

work and play.

THE 2020 GENERAL ELECTION

AND REFERENDUMS

Enrol by 16 August

to make voting

quick and easy.

Do it online with your

NZ driver licence or

passport at vote.nz

0800 36 76 56
---
10 Thursday August 13 2020

Latest Canterbury news at starnews.co.nz

NOR'WEST NEWS

PROPERTY NEWS

Destined for real estate

If there was one word to describe Ray

White real estate agent Brent Rushworth,

it would be enthusiastic. This man loves

his job and loves the company he works

for.

Brent's career in real estate began when

he joined Ray White Bishopdale in 2017.

Prior to that he had run the New Zealand

branch of an Australian optical supply

company for 11 years, and when the New

Zealand operation was closed following

a buy-out, he was head-hunted to join a

similar company.

After a year with them, Brent decided it

was time for a complete change.

"My wife and I were keen on real

estate," Brent says. "We had bought, sold

and built houses, so I knew that's what I

wanted to do. I wanted to design my own

destiny, so while I was still working at

my last job I studied for my Real Estate

Diploma through Open Polytech in the

evenings.

"I knew Barry Ellis (owner of Ray

White Strowan and Bishopdale) through

rugby, we met for a coffee one day and he

invited me to come on board."

Although it was a "steep learning

curve" for Brent when he started, he

is now an area expert in the NorWest,

particularly in Casebrook and

Bishopdale. In the three years since he

joined Ray White Bishopdale, he has

become a well-known face in the area

through signage and letterbox drops,

which has helped him become highly

successful in selling real estate. So much

so, that this year he has achieved Ray

White Premier Status.

"This is based on sales calculated on

the Gross Commission Index, as well as

customer feedback," he explains. "Every

time we sell a property, both the vendor

and the purchaser are asked to complete

a survey and give us an NPS score out of

10."

The presentation of his Premier Status

will take place in September.

"Being successful in the real estate

business is about the relationships

we build with our clients. Everyone's

situation is different, so we need to be

empathetic, make the process as stress

free as possible, and help people achieve

their dreams," Brent says.

"We have a saying in the office, and

that's 'clients for life'. So, people come

back to us whenever they want to sell a

property, and they refer us to family and

friends."

Brent describes Ray White Bishopdale

as a "fantastic company to work for".

"There's so much support and

encouragement – they want to see you

succeed."

The family values represented by the

Ray White company, which was founded

in Australia in 1902 by Ray White and is

a fourth-generation family business, are

mirrored with Barry and Karen Ellis, he

says.

"It's the same values – you become part

of the family, and that's important to me.

I like the culture here, too – having goals

to achieve. The team environment is very

important."

Brent's wife Jayne has joined Ray White

Bishopdale as his PA, taking care of

administration and calling clients. She

is currently studying for her Real Estate

Diploma and once she achieves that, she

and Brent will join forces as a real estate

team.

Real estate is a demanding industry,

so it's important to keep a balance

with family life and taking time out to

recharge the batteries, Brent says.

He and Jayne have three sons, 20, 17

and 12, and as a family they are actively

Brent Rushworth and his wife Jayne.

involved in rugby, skiing, and surfing.

They live locally in Casebook, and

Brent has been club captain of the local

Merivale Papanui Rugby Football Club

and currently coaches the junior team.

He also provides sponsorship support

to the rugby club, the local bowling club

and Casebrook Intermediate.

Enthusiastic in every aspect of his life,

Brent makes sure he always provides the

best possible service for his clients. If you

are thinking about your next move in

property, Brent can be contacted on

021 451 177.

What's your

property

worth?

Get a market valuation in 60 minutes,

call 0800 YELLOW

Ray White Bishopdale & Strowan

0800 YELLOW (0800 935 569)

rwbishopdale.co.nz | rwstrowan.co.nz

Inline Realty Limited (Licensed REAA 2008)

Proudly owned by

Karen Ellis

021 519 275

Barry Ellis

021 519 274
---
NOR'WEST NEWS Latest Canterbury news at starnews.co.nz

Thursday August 13 2020 11

A walk along memory lane

See more from the The Star archive at https://canterburystories.nz/collections/archives/star

A man cycles through a flooded Harewood Rd with golf

clubs in tow in 1983.

Traffic officer Peter Buzzard at the intersection of Riccarton and Hagley Aves

outside Christchurch Hospital in 1984.

Queue of cars at a service station on the cnr

of Clyde Rd and Memorial Ave in 1979. They

are queuing due to fuel shortages.

Senior traffic instructor GR

Marriner escorts Fiona and

Richard Revely across Main

North Rd in 1979.

Students with a new Mairehau High School bus in 1974. The bus was

converted from a truck by staff and students.

JOIN US NOW!

See website for details

KEEN

Take an additional 20% off

the lowest marked price

storewide. T&Cs apply

UNDER ARMOUR

Hoodies and Joggers 2 for

$160.T&Cs apply

HALLENSTEINS

$59.99 Suit Jackets.

$29.99 Suit Pants. $49.99

Shoes. Selected styles,

while stocks last

Put your Best

Foot Forward

with the BEST!

We assess, diagnose and treat

foot, ankle, knee and leg conditions

Papanui Foot Clinic offers a broad range of services and

solutions by some of Christchurch's leading podiatry experts

CALL TODAY FOR AN APPOINTMENT

352 6400

• Ian Graham • Anna Brown • Tim Sander, QSM

CONVERSE

Buy one item of footwear

and get 50% off additional

pairs. T&Cs apply

STYLES MAY DIFFER TO IMAGE SHOWN

COTTON ON KIDS

30% off RRP on winter

clothing. Up to 50% off

sale items

Sign up to Smart Deals & be in the monthly draw for a $100 Dress-Smart gift card!

Open 10am-5pm, 7 Days 03 349 5750

CHRISTCHURCH 409 Main South Road, Hornby

www.dress-smart.co.nz

Ph: 352 6400 | 448 Papanui Road (opp BP Petrol station)

E: reception@papanuifootclinic.co.nz
---
12 Thursday August 13 2020

Latest Canterbury news at starnews.co.nz

REAL ESTATE

NOR'WEST NEWS

11 Catkins Lane, Mairehau 4 2 2 1 2 2

www.harcourts.co.nz | Listing #PI64835

Loaded With Extras!

Exceptional quality and comfort, you will find the

property instantly appealing. From the moment

you arrive, you will see you are under no illusion

something very special lies ahead. You will

notice the meticulous level of attention with

this home's design and contemporary interior

which sets this spacious four bedroom 233m 2

home apart from others in the area. Positioned

in a tranquil setting in a private lane surrounded

by executive homes where each home reflects

pride of ownership.

The home itself has been superbly configured

to allow for effortless flow between expansive

living areas which radiate to the hub of the

home to a stylish designer kitchen with a butler's

pantry, granite bench tops and quality stainless

steel appliances, there are many added extras

to help you with your everyday living or simply

gather your friends and family around as there

is plenty of room to just sit and chat in the large

open plan living - enjoying the gas fire. Attached

to the living area is a study nook giving you the

opportunity to still be part of conversations at

home without being separated, it offers built in

cabinets for your convenience so that all your

paperwork can be tidily tucked away. Outdoor

living has been well catered for on 558m 2 with

private courtyards located directly off the

dining/living area allowing entertaining a breeze

or maybe pop a spa in under the gazebo area

that has been positioned nicely off the master

bedroom.

Auction: Thursday 20th August 2020 from

10:00am (unless sold prior)

Gold Auction Rooms, 471 Papanui Road

Viewing: Wed. 12 Aug 12:00pm - 12:45pm

Saturdays 12:00pm - 12:45pm

Sundays 12:00pm - 12:45pm

Sharon Trumper

Licensed Sales Consultant REAA 2008

Harcourts Papanui

027 474 3626

03 352 6166

sharon.trumper@harcourtsgold.co.nz

Okay, so this year – this most unusual of years –

it's all about home.

Staying home, enjoying your very own backyard

or that beautiful expanse we know as our entire

countryside here in New Zealand.

Holidays, breaks, refreshers, little weekends

away are all to be enjoyed within our own

boundaries and borders.

Unlike other years, it's about discovering or

rediscovering what many Kiwis take for granted.

Large, green open spaces, public galleries and

museums (that unlike those in many cities

around the world are free to visit), and rivers,

lakes and mountains within driving distance for

most.

I can vividly remember being on a European trip

with my family when the guide asked where we

came from. After listening to our response, a long

pause occurred, then a rather loud, disapproving

Gaelic sniff. "Noo Zeeland, zee end of zee earth."

And at the time I thought it was, having taken 30

hours to arrive at our destination, but today that

very isolation feels like a blessing. It's easy to

see why so many are also taking time to reinvest

some love and attention in their own properties

due to staying home rather than traveling, and

businesses such as landscapers, renovation

builders and interior designers are seeing the

benefits of that change.

If a staycation is currently on your radar and

you want to take the time to focus on your own

home, here are some options that might give

you some satisfaction, add value … or both.

First, Declutter

Nail that garage first. Get rid of all the stuff that's

broken, outdated or no longer useful.

If it's still functional but of no use to you, give it

away, recycle or dispose of it in a method that's

environmentally mindful, if possible.

I personally use the garage as a bit of a dumping

ground, much to the frustration of my husband,

but I also love the feeling of nailing an area that's

long needed a tidy-up.

Once you've done that, move inside and see

if you can improve your surroundings and

wellbeing by editing some of the stuff that fills

your space.

Gentle Changes

With these two areas decluttered, let's go for

some interior changes.

Move furniture, move art, have some fun and

enjoy the changes.

Edit, and what you don't edit, use. Nothing

needs to occupy a precious space where items

are relegated as being 'just for good'.

Use everything you have, no matter its value or

composition, and have fun.

Your family space should convey a feeling of

warmth, wellbeing and welcome.

Step Outside

During the lockdown period, I remember

watching people in Spain and thinking, what

must it be like not being permitted to go outside?

This is where so many of us are fortunate. No

matter your home's size, your property address,

whether you're in a large residence or a compact

unit, try to make the most of the outdoors. Your

outdoors. Follow the sun (if there is any!) and

give thanks that although we might not be able

to travel the world, you'd travel the world to find

what we have in our own backyard.

It seems that not only myself but others have

had a chance to stop chasing everything that

appears greener somewhere else, instead

appreciating what's been in front of our noses

the whole time. Home.

Here's to your home and mine, and here's to a

staycation.

Lynette McFadden

Harcourts gold Business Owner

lynette.mcfadden@harcourtsgold.co.za

Considering

a career with

the best in the

real estate

industry?

Speak

to any of

our leadership

team today

to find out

more!

JOHN MCFADDEN

Business Owner

Managing Director

027 432 4554

LYNETTE MCFADDEN

Business Owner

027 432 0447

CHRIS KENNEDY

Business Owner

General Manager

027 433 5828

CAMERON BAILEY

Business Owner/Harcourts Canterbury

& NZ's No.1 Sales Consultant

027 555 7079

PAPANUI 352 6166 | INTERNATIONAL DIVISION (+64) 3 662 9811 | REDWOOD 352 0352

PARKLANDS & NEW BRIGHTON 383 0406 | GOLD PROPERTY MANAGEMENT 352 6454

GOLD REAL ESTATE GROUP LTD LICENSED AGENT REAA 2008 A MEMBER OF THE HARCOURTS GROUP

www.homes4sale.co.nz
---
NOR'WEST NEWS Latest Canterbury news at starnews.co.nz

Thursday August 13 2020 13

Specialists advise a vehicle

check as winter sets in

Winter weather can present a range of tricky driving

conditions for motorists – from wet, slippery roads and heavy

frosts to fog and driving rain. That's why it is important to make

sure your vehicle is in tip-top shape and ready to deal with these

hazards.

The team at Roses Auto Electrical in Cranford Street

recommends checking that your lights and windscreen wipers

are in working order, and to ensure your vehicle will start on

cold mornings they offer free battery and alternator and starter

tests, and free battery fitting.

Their well-equipped workshop includes specialised diagnostic

equipment designed to find any faults with vehicles' electronics,

air bags or ABS braking system, which the qualified and

experienced auto electrical specialists will repair quickly and

efficiently.

Roses Auto Electrical provides full electrical services for all

makes and models of European, Japanese and light commercial

vehicles. Any time a warning light flashes up on the dashboard,

they advise calling into their workshop to have it checked out.

Roses Auto Electrical has been in business for more than 20

years, and the workshop team are constantly updating their

knowledge with industry training, as well as having the latest

state-of-the-art equipment in the workshop.

The customer comes first for the friendly, professional team

at Roses Auto Electrical, and motorists having their vehicle

serviced there can have confidence in its performance and

safety, especially in cold weather when driving is often more

hazardous.

Roses Auto Electrical is located at 518 Cranford Street,

Papanui. Phone 352 5090 to book in for service or repairs,

or visit their website www.roseselectrical.co.nz for more

information.

PARKER

AUTOMOTIVE

All Automotive Repairs and

Servicing including 4WD

Suspension Brakes & Cambelts

WOF, Tyres, Batteries

23B Birmingham Drive,

Middleton

Ph 03 982 4268

Mobile: 027 331 0382

Email: parkerauto89@outlook.com

SPECIALISTS IN

• Repairs

• Overhauls

• Rebuilds

• Radiators

• Oil Coolers

AUTOMOTIVE PROFESSIONALS

vonhead

utomotive

A A

free

6 months roadside assist

with any vehicle servicing

• automatic transmission

flushing service

• Wof • tune-ups • suspension

• batteries • neW tyres • oil &

lube service • courtesy cars

• full mechanical repairs

oPen 6 days (sat until 1pm)

126 racecourse road

Ph 342 7123 or 027 495 6600

Christchurch Radiators

& Airconditioning Specialists

• Petrol Tanks

• Car Heaters

• Classics

• Vintage

• Racing Cars etc

64 Buchan St, Sydenham | Ph (03) 366 0181

Roses Auto Electrical in Cranford St

offer free battery, alternator, starter

tests, and free battery fitting.

s

m

a

r

t

mall

edium

• Panel beating

• Spray painting

Fast

turnaround

utomotive

epair

echniques

Smart repairS (NZ) Limited

automotive refinishers

272 Lichfield St (Fitzgerald Ave end)

Ph 377-0409

European

Car Owners

NEW DIAGNOSTIC EQUIPMENT!

We can identify ANY electrical

fault & reduce repair work

with our NEW European Car

Specific Diagnostic Equipment

ROSES

AUTO ELECTRICAL

Enquiries welcome

CH 352 5090

Your LoCAL

TYrE SPECIALIST

New & Quality Used Second-hand Tyres

Alloy Wheels

Replacement Rims

Puncture Repairs

8c Birmingham Drive,

Middleton

www.jcmdirect.co.nz

343 0099 or 027 22 63 805

Proud to support Hornby Hockey Club
---
14

Thursday August 13 2020

Latest Canterbury news at starnews.co.nz

NOR'WEST NEWS

Be inspired with thousands of ideas under one roof!

HOME

LEISURE

Horncastle Arena,

21-23 August 2020

BE IN TO

WIN

THIS

ELECTRIC CAR

worth $26,000

• Innovative Outdoor Living Area

• Free, Informative Seminars

• Show-only Specials

• New Leisure Zone

• Taste Zone

• Eco Zone

+More!

FREE ENTRY

Friday | Saturday | Sunday

10.00am - 5.00pm

Valid for two people with this coupon only
---
NOR'WEST NEWS Latest Canterbury news at starnews.co.nz

Thursday August 13 2020 15

Classifieds Contact us today Phone our local team 03 379 1100

Trades & Services

concrete & paving

• Driveways

• Earthquake repairs

• New Home Specialists

• Patios & Paths

tel: 0508 873 7483

email: sales@affordableconcrete.co.nz

www.affordableconcrete.co.nz

PLUMBER

NEED A PLUMBER

Call us now for fast friendly service.

Get your problems sorted out

quick smart - on time!!

Phone for a

FREE

quote now.

Phone 03 377 1280 | Mobile 021 898 380

Caravans, Motorhomes

& Traliers

CARAVAN WANTED.

4-5 berth,UK type,

dont mind repairs

.Ph 027 3679737

CARAVAN WANTED.

4-5 berth,UK type, dont

mind repairs .Ph 027

3679737

CARAVAN

We can sell your caravan

on your behalf in our busy

yard at 512 Blenheim

Road. Affordable

Caravans

Ph 03 348 6614

CARAVAN WANTED

Uk type, Ph 027 2495571

Community Events

ALCOHOLICS

ANONYMOUS, If you

want to have a drink that's

your business. If you want

to stop, we can help. Phone

0800 229-6757

Trades & Services

BLOCKED

DRAINS?

• Video inspection

• Waterblasting

• liquid Waste

pH: 03 365 7960

24 hours // 7 days

info@h20jet.co.nz

www.h20jet.co.nz

Trades & Services

AWSOM ROOFS

24/7

MOSS

TREATMENT

ROOFS $300

• Oamaru StOne

• Driveway

• PathS

• hOuSe

• General exterior

wash Down

• tidy up

Ph: 027 561 4629

Kevin

Electrician

Registered Master

Electrician

• No Callout or Travel

Fees

• Reasonable Rates

Domestic

Commercial

Industrial

• Installations,

Repairs, Maintenance

Free Quotes & Advice

Phone Tom

0274 355 496

or 347 9252

E tomx2@xtra.co.nz

Trades & Services

BATHROOM

RenOvATiOns

complete service from

start to finish, free quotes,

ph Dave 027 334 4125

CARPeT LAYinG

Exp. Repairs, uplifting,

relaying, restretching.

Phone John on 0800

003181, 027 240 7416

jflattery@xtra.co.nz

eLeCTRiCiAn

Hickey Electrical.

Reasonable rates, no

call out charge. www.

electricnz.com

Ph Jason 021 260 3426

PAinTeR QuALified

local professional, int/

Ext,roofs,wallpaller, call

or text Corban 027 846

5035

PAinTeR

New, older homes,

interior, exterior. We stand

by Canterbury. Ph Wayne

0272 743 541, 385-4348

sHOe RePAiRs

Belfast engraving. Shoe

repairs, key cutting &

engraving. (10 yrs exp)683

Main North Rd, ph 027

3113423

sTuMP GRindinG

Best price guarantee Tony

0275 588 895

TiLinG

Flooring - Splashbacks -

Wall incl tile removal, reg

master tiler, ph Dave 027

334 4125

vHs videO TAPes

& all camera tapes

converted to DVD or

USB. Video taping

special occasions, www.

grahamsvideo.co.nz ph 03

338-1655

Trades & Services

one stop shop

TRADESMEN

AVAILABLE

Tiler, Carpenter,

electrician, plumbers.

Contact Jimmy Bell

0211221487

Wanted To Buy

AAA Buying goods

quality furniture, beds,

stoves, washing machines,

fridge freezers. Same day

service. Selwyn Dealers.

Phone 980 5812 or 027

313 8156

TOOLS Garden,

garage, woodworking,

mechanical, engineering,

sawbenches, lathes, cash

buyer, ph 355-2045

Public Notices

Situations Vacant

WE NEED YOU

Bishopdale Community Preschool

is looking for a retired builder / handyman to do a

variety of fixing and repair jobs, when and as required.

Contact Sarah 359 7606 or

reception@bishipdalepreschool.co.nz

ADVERTISE YOUR BUSINESS HERE

Phone for further details

(03) 379 1100
---
16 Thursday August 13 2020

Latest Canterbury news at starnews.co.nz

NOR'WEST NEWS

Think 70 is the new 50.

Just because your hair might be grey,

doesn't mean your life needs to be.

Today's 70 year olds are the healthiest, strongest,

and most mentally agile history has ever known.

So Summerset Retirement Villages are designed

for the active lifestyles of the youngest "oldies"

there's ever been. Think this sounds like you or

someone you love?

To find out about our three Christchurch villages,

visit summerset.co.nz or call 0800 SUMMER

SUM2307_FP