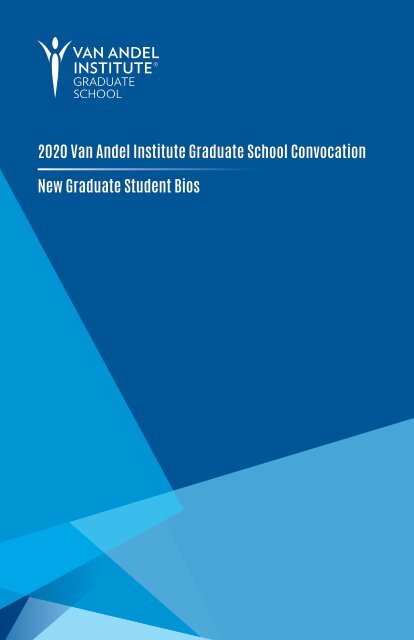 2020 Convocation: New Graduate Student Bios
These are the new student biosketches to accompany the 2020 Van Andel Institute Graduate School Convocation.
These are the new student biosketches to accompany the 2020 Van Andel Institute Graduate School Convocation.
SHOW MORE
SHOW LESS
Create successful ePaper yourself
Turn your PDF publications into a flip-book with our unique Google optimized e-Paper software.
2020 Van Andel Institute Graduate School Convocation

New Graduate Student Bios
---
Elshaimaa Ali, while a Fulbright scholar from Egypt, earned a master's degree in

applied genomics at University of Connecticut and has a bachelor's degree in molecular

biology from Alexandria University, Egypt. She most recently worked in a research lab

in the University of Connecticut's Department of Pharmaceutical Sciences where they

in vivo and in vitro molecular epigenetics

studies. Elshaimaa is interested in epigenetics and how histone marks are important

not only for DNA folding, but also for how chromatin remodelers work. Her career

goals are to be a highly educated professor and researcher in the lab. In her free time,

to Arabic and English, she knows a little German, Spanish, French and Korean.

Lauren Duimstra earned a bachelor's degree in biochemistry from the University of

Michigan and is excited to continue her academic journey. As part of her studies, she

participated in industry-sponsored, student-led research in materials science. This

research, though immensely educational, was not the research in which Lauren was

interested. For that reason, she changed course and decided to pursue the biomedical

sciences. This led her to Van Andel Institute, where she had the opportunity to intern

in the laboratory of Dr. Russell Jones. This opportunity was critical in narrowing down

Lauren's research interests and led her to tailor her academic path. In pursuing a

graduate degree, she hopes to participate in the research that enhances the already

cleverly designed immunogenic and metabolic properties of the body to resolve health

issues related to both genetic and infectious illnesses.

Ellen Griggs most recently worked at VAI in the lab of Dr. Heidi Lempradl as a senior

research technician/lab manager. Ellen graduated from the University of Michigan in

2012 with a Bachelor of Science degree and has since been working in various research

environments. Before joining VAI, she had primarily been involved with large animal

projects; however, within the past year she has been re-introduced to the wet lab

setting. She recently led a project investigating genes associated with autism spectrum

disorder.

Lauren Harmon is a self-declared bioinformatics nerd! She earned a bachelor's

degree in bioinformatics from Brigham Young University. Lauren has a passion for

research and participated in mentored research for all four years at BYU. Her research

bias to phylogenetics systematics. She also worked as a research intern for two

summers at the Max Planck Institute for Chemical Ecology. Lauren collaborated with

other researchers to analyze candidate genes that are involved in root microbiome

recruitment. She is excited to begin her studies at VAI in the fall and plans to study

neurodegenerative diseases using bioinformatics and statistics techniques. Her

long-term goal is to continue bioinformatics research in academia. When Lauren is not

doing research, she is most likely playing racquetball, hiking or experimenting with a

new recipe.
---
Vanessa Howland graduated from the University of California, Santa Cruz

with a bachelor's degree in biological sciences. She most recently worked as an

undergraduate researcher in the Smith Lab in the department of Microbiology and

Environmental Toxicology at UCSC. The Smith Lab investigates the cognitive deficits

caused by developmental manganese (Mn) exposure and assessing the efficacy of

methylphenidate (Ritalin) in alleviating Mn-caused attentional dysfunction. Vanessa's

work in the lab focused on investigating Mn-induced changes in gene transcript levels

of key PFC catecholaminergic system proteins TH, D2 and DAT in an animal model.

Her research interests lie in the fields of neuroscience and epigenetics. Vanessa is

passionate about neurodegenerative diseases such as Parkinson's disease and how

epigenetic mechanisms contribute to them.

Mitch McDonald graduated from Grand Valley State University in 2013 with a

bachelor's degree in biomedical sciences. He returned to GVSU part-time in fall 2018

to pursue a master's degree in biomedical engineering. He has been in a consistent

research position at VAI since fall 2010, working during his undergraduate degree

as an intern for Dr. Brian Haab. Upon graduating, Mitch was a research technician

for Dr. Bart Williams for six years and most recently worked part-time with Dr. Heidi

Lempradl. He has a wide range of experience including microarrays and glycans,

typical biochemical assays, cell signaling, rodent and Drosophila models of disease

and many others. Mitch's research interests currently include metabolism and its role

in cell signaling and disease progression, and he would like to get more involved with

bioinformatics.

Andrea Parham is a two-time graduate of Michigan State University — first in 2008

with a bachelor's degree in microbiology, and then in 2016 with a master's degree

in pharmacology and toxicology. Her work experience includes academic research in

molecular pathogenesis and molecular ecology, drug screening for illicit substances

and prescription medications using ELISA, and more than 10 years of active duty

service with the Michigan Army National Guard. Andrea gained an interest in the

effects and treatment of traumatic brain injury (TBI) through both her academic studies

and military service. While studying TBI, she became fascinated with neuroscience,

neurodegenerative diseases and neuroinflammation. She is thrilled at the opportunity

to continue studies in these areas while at Van Andel Institute Graduate School.