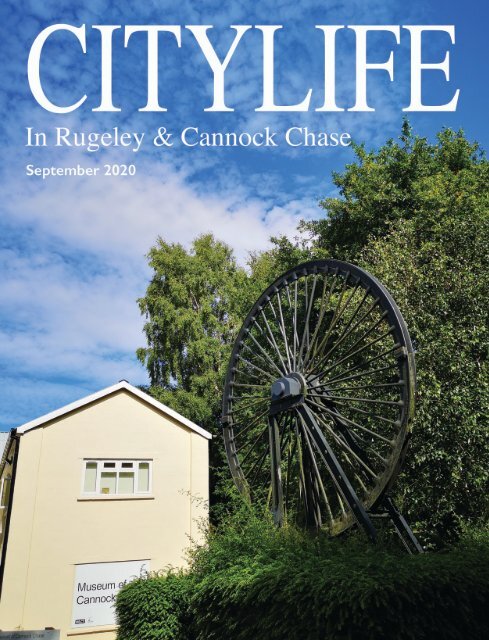 Citylife in Rugeley and Cannock Chase September 2020
We've got everything you need to keep you up to date in our September edition, which is jam-packed full of the usual mix of local news, history features, recipes, competitions and photographs from across the Rugeley and Cannock Chase areas - the perfect accompaniment to an Indian Summer!
We've got everything you need to keep you up to date in our September edition, which is jam-packed full of the usual mix of local news, history features, recipes, competitions and photographs from across the Rugeley and Cannock Chase areas - the perfect accompaniment to an Indian Summer!
SHOW MORE
SHOW LESS
You also want an ePaper? Increase the reach of your titles
YUMPU automatically turns print PDFs into web optimized ePapers that Google loves.
3
---
Welcome to

CITYLIFE

Welcome to CITYLIFE in Rugeley & Cannock Chase, a

monthly magazine bringing you our pick of the area's news,

events and stories. Each month CITYLIFE in Rugeley &

Cannock Chase is delivered to 11,000 businesses and

homes in Rugeley, Cannock Chase, Heath Hayes,

Ravenhill, Etchinghill, Slitting Mill, Armitage,

Handsacre, Colton, Hamstall Ridware, completely

free of charge; bringing you the best that the area has

to offer.

Each issue features heritage stories exploring the rich

history of our area, plus competitions, interviews and the

latest in fashion and style.

Got a story or charity event you want to share with our

readership? Think you've snapped an image that captures

the spirit of the region? We want to hear from you!

CITYLIFE Contacts

Editor - Kristen Lackajis 07885 380632

kristencitylife@gmail.com

Features - Jono Oates 07785 757201 jonocitylife@gmail.com

Advertising -

Steve Brown 07740 166497 stevebrowncitylife@gmail.com

Rebecca Hill 07970 513144 rebeccahillcitylife@gmail.com

Inside...

6 Local News

What's happening in and around the area

.............................

14 Shooting Mayhem

Harry Thornton recounts a past incident

.............................

20 Old Views of Abbots Bromley

A look at the historical village in postcards

.............................

22 Tastes of the Season

Simon Smith brings you a new recipe

.............................

30 A Window on the Past

From the Market Place to Crossley Stone

Production - Helen Smith 07967 154187

helencitylife@gmail.com

Citylife In Lichfield Ltd

PO Box 7126 LICHFIELD WS14 4JS

CITYLIFE in Lichfield and CITYLIFE in Rugeley magazines

are not connected to any other publication or publisher, and are

wholly owned by CITYLIFE in Lichfield Ltd.

Citylife In Lichfield

www.citylifeinlichfieldltd.co.uk

Citylife in Lichfield Ltd does not endorse any business or organisation

appearing in these pages, and the publication of any advertisement,

editorial, event listing or advertising editorial does not constitute an

endorsement by Citylife in Lichfield Ltd.

Your Local Magazine

Front cover courtesy of Jono Oates
---
Sell Your Home with Sellers

Rock Guidance

Founded in 2020, Sellers Rock Ltd is a consulting

agency that helps property sellers, such as yourself, to

maximise the value of your property.

As a result of witnessing many homeowners struggle to

get the best value for their property, Victoria Smith

decided to combine her passion for real estate with her

sales experience in the industry and create a truly

bespoke service tailored to support sellers.

The agency's expert guidance will enable you to select

selling options with confidence, overcome potential

obstacles before they arise and increase the value of your

property.

Sellers Rock works by delivering a clear roadmap to

help you secure a buyer, whilst maximising your assets

and minimising impediments to ensure you achieve the

best price possible for your property, within your

individual constraints.

First of all, Sellers Rock will work with you to get the

highest possible valuation for your property from estate

agents. Including helping you maximise your home's

saleability potential by making minor changes so it appeals

to the widest possible audience. Secondly, help you decide

on the perfect selling method for you and your home, be

it online, local estate agent, or even going it alone and

selling privately. Finally, provide support throughout the

sales process.

Victoria and her team are dedicated to helping you sell

your home, for the best possible price, with the minimum

amount of fuss and disruption. Find out more at

www.sellersrock.co.uk or call Victoria on 01543 307806.

5
---
LOCAL NEWS

6

Otters Return to

Cannock Waterways

Cannock Chase Countryside Service staff have

found evidence of otters using a water course

in Cannock.

Staff will continue to monitor their progress on

this tributary and are currently discussing

projects which could contribute to their

further dispersal through the town and into the

local nature reserves.

Cannock Chase Council Countryside Service

manages 19 sites covering over 260 hectares

(640 acres) of land that caters for in excess of

one million visitors a year. The majority of these

sites are of high nature conservation value, with

many of the sites being recognised for their

national importance for wildlife.

For more information, find Cannock Chase

Council Countryside Service on Facebook.

.......................................................................................

TV Appearance for

Mining Memorial

Andy de Comyn, Mike Mellor and

Len Price being interviewed

The National Miners' Memorial project was the

subject of a piece on BBC Midlands Today

recently when members of Chase Arts for

Public Spaces (CHAPS) went along to the

National Memorial Arboretum to be

interviewed about the project and how they are

giving the fundraising a boost.

The memorial will have 22 bronze panels

depicting the history of coal mining. Artist Andy

de Comyn has given his permission for each

panel to be offered for sponsorship and each

sponsor will be recognised in a book to be

produced giving details of the memorial as well

as receiving a plaster cast of their panel.

The opportunity to be part of this long overdue

tribute to the work of all who laboured in the

industry, including those who fought in both

World Wars, is being offered at a cost of £2,500

per panel. Anyone interested or wanting more

details can telephone 07583 655199 or message

through the Facebook page

www.facebook.com/ChaseArtsForPublicSpaces,

where donations can also be given through

JustGiving.

.......................................................................................

Eat Out to Help Out

Until the 31st August, local restaurants, pubs

and eateries are offering a 50% discount on

food and non-alcoholic drinks up to the value

of £10 per person, in order to help boost the

food and beverage industry following the

Covid-19 pandemic.

The Government scheme operates on a

Monday, Tuesday and Wednesday and

participants do not need a voucher in order to

claim a discount as it will be automatically

applied to the bill.

A list of participating establishments in the

area can be found on the Gov.uk website at

www. gov.uk/eat-out-to-help-out.

.......................................................................................

Ceri's Challenge!

This is Ceridwen,

favourably known as

Ceri. On September

1st of this year Ceri

will be celebrating

her 106th birthday

and Horse Fair Care

Home needs your

help! The staff wish

to try and get 106

birthday cards sent

to Ceri for her

birthday (one for every year of her life). If the

number of cards goes beyond this - even better!

Ceri doesn't think that the challenge can be

completed but with your help her birthday

could be the best one yet!

Ceri was born in South Wales and worked as a

primary school teacher for many years. She has

a wonderful sense of humour and loves music

and singing in Welsh. Ceri is very proud of her

family and given the strange times we are all

facing it would mean the world to all if her

birthday could be made extra special.

If you would like to send Ceri a birthday card

you can either post it to: Horse Fair Care

Home, Horse Fair, Rugeley, Staffs, WS15 2EL. Or

there is a 'postbox' outside the main entrance

of the care home if you wish to drop it off.

.......................................................................................

Museum Project

Captures Lockdown

Memories

Cllr Victoria Wilson and Joanna Terry

from the County's archive services

People are being invited to share their stories

and donate items to help create a lasting record

of the Covid-19 pandemic in a new project.

'Lockdown Memories' hopes to collect and

document materials to help retell the story of

Coronavirus and how it affected the lives of

people in the county.

Staffordshire Archives & Heritage Service is

particularly interested in letters, photographs,

drawings, paintings or objects relating to

people's experiences. The materials will be used

in future publications, research projects,

exhibitions or websites.

People interested in the project are being asked

to complete a short survey at

www.staffordshire.gov.uk/lockdownmemories.

Please quote

when responding

to adverts
---
7
---
LOCAL NEWS

8

High Sheriff Cycles

for Charity

In the first week of

August Charlie Bagot

Jewitt, the High Sheriff

of Staffordshire,

embarked on a 300-

mile cycle ride around

his 'bailiwick' (the

county

of

Staffordshire) in aid of

the Community

Foundation

for

Staffordshire, seeking

to raise funds and support the Foundation in

their mission to strengthen communities across

the county.

The trip also helped highlight the wonders of

Staffordshire as a staycation destination and, as

part of his ride, the High Sheriff stopped off at

several well-known jewels in the county's

crown, including Lichfield Cathedral, where he

was met by the Dean of Lichfield, the Very Rev'd

Adrian Dorber and the Mayor of Lichfield, Cllr

Deborah Baker.

The cycle tour also passed through Chillington,

Kinver Edge, Mucklestone, Basford Hall,

Hartington and Uttoxeter, before the finish-line

at Blithfield Hall.

So far, more than £500 has been raised and

donations can still be made at

www.justgiving.com/fundraising/charles-bagotjewitt1.

.......................................................................................

Local Schoogirl Raises

Money for Hospice

A nine-year-old schoolgirl

who really made her

lockdown count by

raising £1,310 for St Giles

Hospice is calling on kids

across the region to take

part in its new Mini Miles

4 St Giles challenge.

Determined Evie Deeley,

from Armitage, signed up

for Miles 4 St Giles this

spring and walked, ran,

skipped and did

cartwheels over 64.8

miles in one month to

raise money for the

hospice, which cares for

patients and their families

living with a terminal illness.

Evie Deeley

celebrates the end

of her Miles 4 St

Giles challenge

Now St Giles has launched a children's summer

holiday version of the virtual event, offering kids

a challenge that will keep them active and give

them the chance to make a real difference to

local people by raising money for the hospice at

the same time.

Evie's mum Liz Whalley said that when the

Croft Primary School pupil set her sights on the

Miles 4 St Giles 30-mile target in April she

quickly decided she wanted to double it – and

even refused to ride her bike as that would

make clocking up the miles too easy.

Evie's great grandma, Margaret Whalley,

received respite care at St Giles 18 years ago

and her step-mum works at the hospice, so Evie

already knew of the good work done there and

jumped at the chance to take part.

For more information about Mini Miles 4 St

Giles, visit www.stgileshospice.com/minimiles.

.......................................................................................

Register to Vote

Local residents are being reminded to make

sure their electoral registration details are up

to date in the annual canvass.

With District; County Council; and Police, Fire

& Crime Commissioner elections taking place

in Cannock Chase in May 2021, this is an

important opportunity for residents to make

sure they can take part.

The annual canvass ensures that the Council

can keep the electoral register up to date,

identifying any residents who are not registered

so that they can be encouraged to do so.

People who have moved recently are

particularly encouraged to look out for the

Council's voter registration communications

and check the details. Research by the Electoral

Commission indicates that recent home

movers are far less likely to be registered than

those who have lived at the same address for a

long time. Across Great Britain, 92% of people

who have been at their property for more than

sixteen years will be registered, compared to

36% of people who have lived at an address for

less than one year.

There's lots of helpful information about

registering to vote on the website

www.electoralcommission.org.uk/i-am-a/voter.

Any residents who have any questions can

contact their local registration team by email at

electionsoffice@cannockchasedc.gov.uk or by

calling 01543 464457.

.......................................................................................

Council Supports

Pavement Licences

Cannock Chase councillors have responded to

new legislation from Government for a

pavement licensing scheme, by voting

unanimously to support it at a recent council

meeting. The scheme allows businesses selling

food and drink to place tables and chairs and

associated furniture outside of their premises.

Furthermore, councillors agreed to make the

`pavement licences` free of charge to successful

applicants. Other local authorities have decided

to charge businesses £100 for a licence, the

maximum amount allowed by Government.

The scheme is part of the Business and Planning

Act 2020. It authorises councils and delegated

officers to introduce the scheme in their

localities and administer all applications made

including setting up appropriate policies and

procedures.

The pavement licences will be a temporary

measure which will see all issued licences

expiring on 30th September 2021.

.......................................................................................

Get Creative with Your

Local Library

People of all

ages are invited

to take part in a

s u m m e r

programme of

c r e a t i v e

a c t i v i t i e s

organised by

Staffordshire's

libraries service.

The resources

are designed to get people interested in the

arts, help them learn new skills and connect

with others in library spaces, online or at home.

There are two programmes, 'Creative

Explorers' for children and young people and

'Createspace' for adults.

'Creative Explorers' is led by professional

artists and will encourage children to

experiment with a range of creative arts. Each

session links in with a library theme which kicks

off with this year's Summer Reading Challenge

'Silly Squad'. Different activities are posted

every Monday morning on the Libraries

Facebook page with children invited to share

their creations in an online gallery.

'Createspace' is an online resource with

activities to help encourage adults to be

creative in their everyday life and to improve

mental wellbeing. New activities are posted

every Friday on

www.facebook.com/groups/StaffordshireCreate

Space and the group has over 80 members.

Find out more at

wwwstaffslibrariesculture.wordpress.com.

Please quote

when responding

to adverts
---
Rugeley to get

ShopAppy

.........................

At a meeting of Rugeley Town Council on 4th August 2020, it was

agreed to support and promote the introduction of a ShopAppy

scheme for Rugeley retailers and services. ShopAppy is a new

way for local retailers to sell their products and services online.

ShopAppy provides an online shop window where customers can

browse, buy and collect or arrange home delivery and is now

available in over 100 areas in the UK. It is offering 12 months

free subscription for all retailers and services in Rugeley

and is being run in conjunction with VISA.

The cost of the subscriptions for the first 12 months is

being met by the Greater Birmingham and Solihull Local

Enterprise Partnership (GBSLEP).

With £1 in every £3 being spent online in the UK since

lockdown, ShopAppy believes it is important there are

alternatives that encourage local spending and support local

retailers.

Dr Jackie Mulligan, Founder of ShopAppy.com said: "We are

delighted to be working in Rugeley and to be partnering with

the Council, local businesses and the Greater Birmingham and

Solihull Local Enterprise Partnership on this launch of the

ShopAppy.com platform in the area.

"With our recently announced partnership with VISA

helping us to provide support to more small businesses across

the UK, we are certain that this will provide a real and tangible benefit

to Rugeley businesses and communities - helping them to support each

other for a faster local economic and community recovery."

Local retailers will benefit from:

• Their own online website profile with images, opening times,

information and contact details.

• The ability to list unlimited products or services for sale, to order or

to book.

• Ecommerce capability with click or collect or delivery options.

• Full ShopAppy training videos and support.

• Local marketing campaigns.

• FREE service and support for 12 months.

Look out for the flyer coming through your doors for how to get

more involved. Alternatively contact the Town Clerk via email at

clerk@rugeleytowncouncil.gov.uk for more information.

9
---
10

Robert French

This bottle of The Macallan 25th anniversary

fetched £2,700 with Richard Winterton

Auctioneers last year.

Whisky Galore!

...............................

By Robert French, Richard Winterton Auctioneers

There's nothing quite like a dram – and as this most surreal of

years draws towards autumn, whisky will once again affirm its

place as the ultimate winter warmer for grown-ups.

But what about that rarer tipple where one might wisely be advised to

look rather than taste?

If you believe some of the reports in the press, up to a quarter of us

are drinking more alcohol during lockdown, while alcohol sales in general

have risen by nearly a third.

Yet with the value of whisky increasing year-on-year – rare whisky

prices have risen by over 400 per cent in the last decade – should we be

drinking it or investing in it?

The answer is, of course, that it depends on the bottle in question. The

most expensive bottle ever sold was The Macallan 1926, a 60-year-old

cask 263 and one of only 40 bottles ever produced.

It sold at auction last year for £1.5m – meaning that one shot will cost

you the same as a 2020 Porsche!

Small wonder that wealth reports show whisky tops the Luxury

Investment Index.

So, could you have a whisky windfall hiding away unopened in the back

of the drinks cupboard?

Whisky to watch out for includes Scottish single malts such as The

Macallan, Clynelish, Ardbeg, Glenlugie, Brora, Bowmore and Ben Wyvis –

a bottle of The Macallan 25th anniversary fetched £2,700 with Richard

Winterton Auctioneers last year and we sold a bottle of Bowmore

Bicentenary 1779-1979 Islay single malt for £2,600 in our online-only

Fine Arts auction in April.

Also highly collectable is unusual whisky such as Loch Dhu aka 'The

Black Whisky'. Very different to the golden tones classically associated

with Scotch, this very distinctive single malt gets its signature colour

from maturing in double-charred casks. It regularly sells at auction for

£200.

Other ones to collect include whisky from distilleries no longer

producing – so-called 'silent' or 'lost' distilleries such as Glen Mhor, St

A bottle of Bowmore Bicentenary single malt

sold for £2,600 in April.

Loch Dhu gets its signature

colour from maturing in

double-charred casks.

Magdalene and Ladyburn.

Two such lost distilleries, Brora and Port Ellen, were due to reopen

this year; Port Ellen has already confirmed this has now been put back

to 2021.

Nevertheless, whenever they do come back, we expect demand for

their new products to be very high indeed.

We've found ourselves firmly footed north of the border today talking

Scottish whisky but there is of course a whole world of whiskey out

there, ranging from Irish to American bourbon, which is made from corn

mash whilst Scotch is made from malted barley.

Bourbon, incidentally, is booming – despite a 25 per cent tariff on

imports, it's estimated that one in 12 bottles of whisky sold in the UK is

American whiskey with Jack Daniels still being number one. Other

popular brands include Stagg, Old Forester, Benheim and Woodford

Reserve.

I must also mention Japanese whisky, which has its own proud heritage

and traditions offering innovative and complex flavours garnering huge

respect and credibility in the whisky world from distilleries such as

Yamazaki, Hibiki and Nikka.

Of course, much of this article focusses on aged whisky but it's worth

noting that whisky only matures in the cask – once it is bottled it will

taste exactly the same, provided it has been stored correctly, even after

many, many years.

This is a point highlighted by recent news that a bottle of Scotch

recovered from the wreck of the SS Politician – which sunk in 1941 and

inspired Compton Mackenzie's novel Whisky Galore and subsequent

films – was set to fetch £15,000 at auction.

The cargo ship which ran aground off the coast of Eriskay was filled

with over 20,000 cases of whisky, much of which was 'rescued' by

islanders, who clearly felt more kinship with whisky than marine salvage

laws!

This bottle in question, however, is one of five legally recovered by

divers in 1987. Talk about wetting one's whistle – oh to try a dram of

that!

Robert French offers free valuations of wine, whisky, port or other spirits –

email rob@richardwinterton with photos for a virtual estimate or call 01543

251081 to book a Covid-secure valuation appointment.

The Lichfield Auction Centre's specialist sale on Monday, September 28

includes a Wine & Whisky section. For details, visit

www.richardwinterton.co.uk.
---
An Even

Bigger Heart!

.........................

Keeren's Kardz and Gifts from the H❤rt are now

bigger and better than ever in Brewery Street

Shopping Centre, Rugeley, following expansion.

Established for more than six years, there's now even

more greetings cards to choose from, such as comical

cards from Cherry Orchard Publishing, or words of

sentiment from Words-N-Wishes, plus everything in

between!

The range of gifts available include beautiful

ornamental items from Nobile Glass, and candles and

burners from Wax Lyrical, as well as lots of other

suppliers to ensure that you get that special something

for that special someone!

Nothing is too much trouble and if Keeren's Kardz or

Gifts from the H❤rt haven't got something in stock that

you require, they will endeavour to get it for you.

A Hub for

Artisan Produce

.........................

As 'Midlanders', we are

very lucky to have a

variety of food

producers right here on our

doorstep, including farmers,

cheesemakers, butchers and

more, all using local ingredients

to create fresh, homemade

Ruth Redgate with Theo Pathitis

products. But getting to all

these small businesses can be

hard work.

In 2018, artisan baker Ruth Redgate launched the Mercia

Food Hub. Her aim was to make it easier for the

community to find small producers by bringing all goods

together at one weekly collection point. From humble

beginnings, the Hub has grown to nearly 30 producers with

more than 100 products available weekly.

When lockdown forced many businesses to close and

supermarkets saw huge queues and empty shelves, the Hub

saw a 900% increase in customers in just one week.

Working tirelessly, Ruth and her team continued to deliver

orders direct to customers – an invaluable service when

many vulnerable people had no other option to find basics

such as fresh vegetables, milk and eggs.

11
---
Charlie Evans

Young People

Tend to German

War Graves

.........................

Young people from across Staffordshire have been tending to the war

graves at the German Military Cemetery on Cannock Chase.

Ben Tapper, Cllr Mark Sutton, Emmie Tapper, Kath Perry,

Charlie Evans, Millie Could & Megan Crutchley.

The exchange marks a 58-year partnership between the German War

Graves Commission in Bremen and Staffordshire County Council.

The young people would normally be joined by teenagers from

Germany, however because of Coronavirus travel restrictions it hasn't

been possible this year.

Organised by Staffordshire Council of Voluntary Youth Services

(SCVYS), the six young people spent Wednesday 29th July cleaning and

tidying the graves at the cemetery before joining the Chairman of

Staffordshire County Council for a small service of remembrance.

The group also took part in video calls with young people in Germany

who have been tending to graves in Bremen.

Over the years, the exchange has given young people the chance to

build new friendships, learn more about the history of the World Wars,

and be involved in projects that concentrate on the theme of peace and

reconciliation.

Charlie Evans, aged 18 from Hednesford took part in the activities.

She said: "This is a fantastic project that gives us a chance to remember

the fallen and come together in unification and reconciliation.

"The project allows beautiful friendships and connections to form, to

ensure the past will not be created again. I am so thankful to SCVYS for

the opportunity that they provide on this camp every year and it shows

the resilience of the project that we are still able to come together

12

despite the barriers faced by the pandemic."

Mark Sutton, cabinet member for Children and Young People at

Staffordshire County council said: "Young people have been visiting

Staffordshire from Germany as part of this amazing friendship for almost

sixty years now.

"It's really sad that this year, because of Coronavirus, the young people

were not able to meet up and get together in person. But they were still

determined to mark the event and through the wonders of modern

technology they were able to join up virtually."

Phil Pusey, Chief Executive of SCVYS said: "I am delighted that working

with our German friends we have been able to use a mixture of digital

technology and small scale gatherings to bring young people from both

countries together to achieve many of the camp objectives in a safe way.

"Marking this annual event has been important in sustaining our

longstanding international youth partnership."

The German Military Cemetery on Cannock Chase is the only

German cemetery in the country and lies next to the Commonwealth

graves on Cannock Chase.
---
Here at Just Granite Ltd, we pride ourselves on being the experts for any worktop needs you may have.

Be it a beautiful bespoke and unique kitchen worktop, a bar, bathroom or even a barbecue area, we have

an extensive in-house range ready to be chosen by you! We stock a varied range, in a variety of materials,

such as our own competitively priced quartz, granite, marble and porcelain, as well as all the top brands

from around the world.

There really is no reason to go anywhere else!

Win a Stone Number for Your House

Just Granite takes great pride in offering its customers full

support, from the initial quotation right through to installation,

with all products being covered under a guarantee and offering

additional maintenance packages where suitable.

With the largest variety of natural stones in the Midlands, the

solid slabs are kept on-site and are available for viewing from

9am-5pm on Monday to Friday, and 9am-12.30pm on Saturday.

Located at The Stone Works, Pillaton Hall Farm, Penkridge,

ST19 5RZ.

We've got a bespoke Stone House Number (in

the colour of your choice) to give away! To be

in with a chance of winning this magnificent

prize, simply answer the following question

correctly:

What material does Just

Granite supply?

a) Stone

b) Wood

c) Metal

To enter, just send your name, contact

details and answer to Just Granite

Competition at

competitioncitylife@gmail.com or post

your entry to Citylife in Lichfield Ltd, PO

Box 7126, Lichfield WS14 4JS by the closing date of 20th September 2020.

One entry per household. Multiple entries will be disqualified. No cash

equivalent. Please note you must be 18 or over to enter. All entrants'

information is processed in line with GDPR Data Protection Regulations and

our Privacy Policy (available at citylifeinlichfieldltd.co.uk). Full t&cs on page 34.

13
---
Shooting

Mayhem at

Rugeley and

Hednesford

By Harry Thornton, a member of

The Landor (local history) Society

.........................

After moving from Brewood to the Springs Farm at Brereton in

1900, Mr George Plant and his grown-up son soon acquired an

unhappy relationship with the local police which came to a head

in January 1901 outside the Black Horse Inn in Upper Brook Street at

Rugeley where Mr Plant Snr. was asked by a nearby policeman why he

was carrying a shotgun. He said he had been shooting birds but then

began complaining about the police ordering him out of a pub at

Brereton the previous evening. By then local police Inspector

Whitehurst was approaching on the other side of the road and his

appearance caused Plant to become extremely agitated and, after an

exchange of words, he levelled the gun at the Inspector, who by then had

reached Pascoe's shop, opposite the Black Horse, and shot the Inspector

causing serious injuries to his head and chest. The horrified constable

attempted to seize the gun but in the ensuing excitement Plant made a

getaway.

Still carrying the gun, Mr Plant ran along Rugeley's Horse Fair where

he met his son who had a horse which his father grabbed and rode off

towards Brereton where he fired his gun at the front door of the village

policeman. He then rode over the Chase, by which time police

throughout the locality had been alerted and a policeman at Hazel Slade

discovered Mr Plant had abandoned his horse and was on his way to the

Cross Keys Inn at Hednesford but on arriving with other constables it

was found he had left only minutes earlier.

A further search traced Mr Plant to the Old Cannock Road at

Hednesford where, as the pursuing police got closer, Plant turned round

and threatened the nearest constable with the gun saying he would

shoot if he went another yard nearer. Undeterred, the police continued

to follow Plant who shouted "stand back or I'll shoot you" but

immediately afterwards put the gun to his own head and pulled the

trigger, inflicting terrible injuries from which he died.

Meanwhile Inspector Whitehurst was found to be bleeding profusely

from the shoulder and head and, with no ambulance available, a shutter

from Mr Pascoe's shop was used on top of a truck to convey the injured

Inspector to Rugeley Hospital where eventually he made a recovery. At

the inquest on Mr Plant, held at the Globe Inn at Hednesford, a verdict

of suicide was recorded. He was buried in Lapley churchyard, near

Brewood, but without any church service.

The Black Horse and Pacoe's shop as seen from Brook Square

Rugeley &

District Lions

Club

.........................

By Peter Fielding

Following the slight easing of restrictions, members of the club

recently joined the Rugeley Litter Pickers one Sunday morning in

July to tidy up parts of the town. A pleasant morning was had

although unfortunately we were denied the tea and cakes afterwards!

PC Fewtrell House at Brereton where George Plant shot at the door

It is a shame that

we still have to

litter pick as some

people continue

to fail to take their

rubbish home

with them or use

litter bins

provided.

Just a quick

reminder that we

are still looking for

volunteers to join

Rugeley & District

(left-right) Lions John Morgan, President Deb Coburn,

Peter Fielding and Jane Stevenson

Lions Club and Rugeley Rotary Club on our Christmas Float starting

on 7th December. To register your interest please contact us via

Facebook (Lions Club or Rotary Club). Alternatively send a message to

our email address at randdlions@hotmail.com.

14
---
15
---
Cannock

Soroptimists

By Trish Mellor

.........................

Cannock Soroptimists joined their friendship link club in

Melbourne, Australia this week… by Zoom!

Soroptimist International Cannock and Melbourne

branches usually keep in touch with each other by email,

sending messages and sharing newsletters, but his week they

all attended the same meeting via Zoom. It was 9.30am here

in the UK and 6.30pm in Australia - and how marvellous it was to put

faces to some of the names!

Nine Cannock members joined the meeting and listened to speaker,

Josephine Beer, who works for the department of Health and Human

Services in Victoria. She described how, at the start of the worldwide

pandemic, she had been given the task to lead the work of handling the

situation regarding all those returning to Victoria from overseas. The

'returners' had to be taken from either the airport or seaport to a hotel

where they were quarantined for 14 days. Josephine set up a team of

120 people who contacted everyone in the hotels on day three of their

quarantine and again on day nine, working to a specially prepared

agenda. All of the team were all trained to question appropriately, to

employ empathy, and to be able to recognise any mental health issues. In

the early days (March and April) they were making 1,000 phone calls

every day and making follow up referrals from 20% of those calls.

Celebrating Art

and Nature

Digitally

.........................

This August Staffordshire Wildlife Trust is celebrating art and

nature with a special digital WildArt Exhibition on the 26th

August 2020.

The artwork will be displayed on its Wildchild Festival blog and will

be taking over the Staffordshire Wildlife Trust family activities Facebook

page for the day with exciting insights into the artwork.

All of the work exhibited has been created through collaborations

with artists and young people in Staffordshire.

Collaborations include:

-Giant sculptures by Rob Turner, inspired by drawings that children

have sent in from the call out on Facebook.

-Festival flags by Gwenllian Spink, designed with a Beaver group in

Newscastle-under-Lyme -'Once upon a time…' a story walk created by

Members of SI Cannock attend SI Melbourne meeting on Zoom

Sally Cole, also a Soroptimist, then told of the arduous journey she

and her husband had to get home to Australia when they found

themselves stranded in Lima, Peru, as borders closed suddenly and the

pandemic spread around the world. They were forced to quarantine as

their travel arrangements were constantly cancelled and guidance

changed. Finally, after five and a half weeks in enforced lockdown, they

arrived home via a series of circuitous and very expensive flights, with

little food and water, to reach Melbourne on a military aircraft. To say

they were glad to get home is an understatement!

This meeting brought the message home very clearly that the

situation we are all going through is the same the world over.

Find out more at www.sigbi.org/cannock-and-district, or on

Facebook at www.facebook.com/SICannock.

Louise Bland with

soundbites sent in by

families

in

Staffordshire.

-Digital Artwork

created by a group of

young artists and

environmentalists that

have been meeting

virtually through

lockdown with artist

Niki Colclough.

This exhibition has

been made possible

with funding from the

Arts Council England.

Katie Shipley, People Engagement Manager said: "The Arts Council

England funding is for our next Wildchild Festival that was due to be

held on the 26th August 2020 and now sadly cannot go ahead.

"We hope that families can still enjoy the artwork they have helped

us to create during this alternative exhibition.

"The festival has been postponed until next year where all of the

artwork will be on display in real life!"

Take a trip to the family activities Facebook page at

www.facebook.com/swtactivities or the Wildchild Festival Blog at

www.staffs-wildlife.org.uk/WildChildFestivalblog on the 26th

August to see the artwork.

16
---
17
---
A Bathroom Dream Come True!

...........................................................

Just Bathrooms & Panels in Rugeley has

moved to a new showroom, upgrading

from a small space to a large 3,500

square foot unit on the popular Trent

Valley Trading Estate.

With more than 15 years' worth of

experience in the industry under his belt,

founder Tony and the dedicated team have

taken their business one step further –

from supplying trade-only to opening to the

public, and are able to help and advise on a

wide range of custom-made supplies to

ensure that your bathroom stands out from

the crowd!

The firm's primary product is the supply

of bathroom panels, which have gained

widespread popularity and become a

growing trend over the last few years.

Rather than having tiled bathroom walls, the

specially designed purpose-built acrylic

panels are not only low maintenance and

easy to keep clean, but they come in such a

varied array of colours, patterns and styles,

that your bathroom is sure to become a

talking point!

Unique, colourful and quirky, the panels

feature designs such as palm tree fronds,

flamingos, or even a serene beach scene so

you can lie in a hot bath whilst gazing at the

ocean!

But that's not all that Just Bathrooms &

Panels provides. Tony and the team can offer

a full bathroom renovation package,

including flooring, ceiling and wall coverings,

shower and wet room enclosures, and even

the bathroom suite itself. Plus, working with

a range of local fitters, Just Bathrooms &

Panels can recommend the best tradesmen

in the area to help create your dream

bathroom. With top-quality brand names

within the industry, such as Tavistock, K Vit

Bathroom Products, Lakes Showers,

MultiPanel, Showerwall, Nuance Bushboard

Panels and Worktops and Wetwall Panels.

There also a range of waterproof Flooring

including Malmo, Krono and Faus, and SPC

Flooring, so you are bound to find exactly

what you're looking for to add a little

colour and individuality to your interior.

Plus, the acrylic panels also make great

splashbacks for kitchen sinks, so you can

add some colour and contrast throughout

your entire home!

Visit Tony and the team at Just

Bathrooms & Panels, Unit 16 Trent

Valley Trading Estate, Rugeley, WS15

2HQ or visit www.justpanels.co.uk.

18
---
19
---
Old Views of Abbots Bromley

..............................................

The setting of the Horn Dance is in the quaint village

of Abbots Bromley, which can trace its history back

to the Norman Conquest of 1066.

These vintage postcards show the Horn Dancers at

Blithfield Hall, the ancestral home of the Bagot family.

The original hall was built in the 14th century and is

home to a famous breed of goat, the Bagot Goat!

The aerial photograph portrays the layout of the

village taken from the tower of St Nicholas' Church in

the 1930s and shows that the village has not changed

dramatically in the last 100 hundred years.

The postcard of the Market Cross, or more accurately

the Butter Cross, has the Goat's Head Inn in the

background. The inn was built in the 17th century and is

named after the Bagot breed of goat.

The Church of St Nicholas' was originally built in the

14th century and is the resting home of the reindeer

horns of the Abbots Bromley Horn Dance.

Aerial view of Abbots Bromley from St Nicholas' Church,

date unknown

Abbots Bromley Market Cross c1930s Abbots Bromley Horn Dancers, 1919

Abbots Bromley Horn Dance, date unknown

St Nicholas' Church, Church Lane

20

*Postcards courtesy of Jono's Tourism.
---
A Curious Custom

CANCELLED

............................

On Monday 7th September 2020 one of the country's most curious, and

traditional, folk dances would have taken place in Staffordshire – the

Abbots Bromley Horn Dance. Due to the Covid-19 situation this very

traditional event has, unfortunately, been cancelled for this year. Our feature

writer, Jono Oates, looks at the near 800-year history of the 'dance of the

antlers'.

Each year, on the first Monday after the first Sunday after 4th September,

a rather bizarrely-dressed ensemble of people, some carrying ancient deer

antlers, parade around the picturesque village of Abbots Bromley while

performing a flamboyant folk dance. This is the historic Abbots Bromley

Horn Dance, reputed to be the oldest folk dance in Britain and a

quintessential slice of English heritage and custom.

It isn't exactly clear when the dance was first performed but it's thought

that it was at the Barthelmy Fair, held to celebrate St Bartholomew's Day in

1226. It's believed that the original dances were held during the time of the

winter solstice and possibly even on Christmas Day or New Year's Day but

the current ceremony has been performed on Wakes Monday for several

hundred years. During the First World War the Horn Dance was suspended,

as many local traditional dances and customs were, but other than that, it is

believed that the dance has been carried out, in its current format, for more

than 400 years –that is, until 2020, when it has been cancelled for only the

second time in its history.

The group of dancers consists of 12 people, six of whom carry the heavy

antlers, and the others who are made up of Maid Marian (in true panto-style,

played by a man), a boy carrying a bow and arrow, a jester or fool, a hobbyhorse,

a boy carrying a triangle and a musician playing an accordion. The 12

dancers have traditionally been played by men and boys but, in more recent

times, the roles of the triangle player and bowman have also been played by

girls. For many years the dancers were mainly made up of members of two

Abbots Bromley families, Adey and Bentley, however the dancers today

come from the local area, although spectators have sometimes been given

the opportunity to take part!

The antlers, three pairs painted black and three pairs painted white, are

reindeer horns. One of these horns was carbon-dated in the 1970s whilst

being repaired and was found to date back to the 11th century. Reindeers

are thought to have died out in Britain by the 11th century so the antlers

may well have been imported from Scandinavia.

The ceremony starts at 8am at St Nicholas Church in the village

which is where the antlers are kept. The dancers then perform on

the village green before travelling around the local area, including a

visit at midday to Blithfield Hall, the Grade I ancestral home of the

Bagot family. Here, the dancers perform in the Hall's gardens while

visitors watch from the vantage point of a 'ha-ha.' After calling in at

several local pubs during the afternoon the troupe returns to the

village green at 8pm where the antlers are returned to the safety of

the church.

In 2019 a series of Royal Mail postage stamps, with the collective

title of 'Curious Customs', was issued and the Abbots Bromley Horn

Dance was selected as one of eight traditional, and unusual, customs.

It may have been cancelled for only the second time in its 800-

year-old history but hopefully the Abbots Bromley Horn Dance will

return to the village in 2021 when visitors and locals alike will, once

again, be able to enjoy the ancient tradition of the 'dance of the

antlers'.

For more information on the tradition please visit the

Horn Dance website at

www.abbotsbromley.com/horn_dance.

Sources: The British Newspaper Archive;

www.abbotsbromleynostalgia.co.uk.

21
---
Tastes of the Season

September is upon us and with that all the

fruits you have grown over the previous

months whilst being incarcerated.

The apples and pears will be falling in many

gardens and I know many people give them

away to friends and neighbours as we always

seem to have too many to eat ourselves. You

can, of course, peel chop and freeze them or

cook, purée and then freeze them for later

use.

Baked apple is a dish favoured by some.

Generally these are done with cooking apples

but work just as well with eating apples if they

are cooked for longer at a lower temperature.

It's important to remove the core and get rid

of all the pips as these can put people off. To

fill the centre I use sultanas, muscovado sugar,

cinnamon and some butter. I then put some

cider in the bottom of the baking dish and

cover with tin foil to stop the sultanas burning.

Autumn Dishes

By Simon Smith

An apple compote made with peeled diced

apples, sugar cinnamon and orange zest gently

cooked will enhance any breakfast table and

can also be made with pears. This also makes a

great filling for pancakes and to jazz it up for a

dinner party pudding add a dash of Grand

Marnier. You can also turn it into apple sauce

by whizzing it in a food processor and adding

some finely diced sage. Keep in a jar in the

fridge to extend shelf life and it's perfect with

pork.

Cabbage, Potato and Brie Pie

1 x savoy cabbage

4ozs cooked Jersey Royal potatoes cut into

quarters

4ozs brie

1 x sheet puff pastry

1/2pt Béchamel sauce (or cheese sauce)

Nutmeg

Salt

Pepper

Egg wash

Method

Take the outer green leaves from the cabbage

and blanche in boiling water for 30 seconds,

22

drop into iced water to stop them cooking.

Finely slice the rest of the cabbage and repeat

the process.

Drain all the cabbage leaves so there is no

water left as this will make the pie soggy.

Mix the sliced cabbage and potatoes with just

enough béchamel to bind it, season with

nutmeg, salt and pepper.

Roll out the sheet of pastry and lay the largest

green cabbage leaves on it to protect the

pastry from going soggy. Put the sliced brie on

first and then place the rest of the cabbage

mix down the middle and roll together like a

beef wellington using the egg wash to stick the

overlap together.

Brush the top with egg wash for a nice shine.

Baked in a preheated oven at 200 degrees for

15 minutes.

This dish is lovely served hot but also makes a

nice buffet centrepiece. You can also mix some

smoked bacon lardons in for extra flavour.

Simon Smith runs a catering business from

his production kitchen in Lichfield, providing

bespoke private dinners plus wedding,

corporate and event catering. Simon also

undertakes cookery demonstrations around

the country and with local businesses such as

Arthur Price and Tippers. During the summer

months Simon works for private clients both

on superyachts and in villas in St Tropez and

Europe. If you are looking for catering or a

day of cookery skills go to www.simonsmithchef.com

*Please take extra care when preparing and

handling hot foodstuffs. Go to

www.food.gov.uk for further details.
---
Local

Independent

Funeral Home

.........................

Durrant Funeral Services, based in Rugeley, was

established by Neil and Tracy Durrant in 2019,

following Neil's decision to set up his own

funeral service after a long career working for a large

regional funeral director. Aided by his wife Tracy, the

couple understand that personal service is more

important and caring for families at a time of loss

means supporting them like they were part of their

own family.

Neil started his career in 1981, working for a small

family funeral director as a trainee and was

encouraged to gain qualifications in funeral directing

and embalming, which he had by the age of 20.

Following the takeover of this business, Neil

progressed to become a funeral director and senior

funeral director, working throughout the Midlands.

Tracy came into the funeral profession in 2015,

following a career as a teaching assistant and has

carried over her transferable skills to her new

profession by caring for the loved ones of the grieving

families, offering advice and support to them when

arranging funerals.

Aware of 'funeral poverty' as highlighted in the

news, Durrant can provide funeral packages to suit all

budgets, from direct cremation through to horse

drawn funerals.

Durrant Funeral Services provides a service where

you see the same people all the way through the

funeral arrangements. From the initial call, right till

they leave your side after the funeral service.

However, Neil and Tracy don't want the relationship

to end there and are always able to provide support

and guidance following the funeral. Clients are

welcome to call in, chat over a cup of tea and put the

world to rights, should they need to.

To Advertise

please contact

Rebecca

07970 513144

or

Steve

07740 166497

23
---
Advertising Feature

J HOWELL &

DAUGHTERS

FUNERAL DIRECTORS LICHFIELD

LICHFIELD'S LONGEST ESTABLISHED INDEPENDENT,

FAMILY RUN FUNERAL DIRECTORS.

SECOND GENERATION BUSINESS HERE TO ASSIST YOU

AND YOUR FAMILY.

24 hours a day

We are proud to be Lichfield's longest established family run funeral directors offering a wide range of

choices to suit all requirements. Horse drawn hearse, non religious ceremonies, floral tributes and

memorials are but a few of the services we offer.

Pre-paid funeral plans are also available.

For a truly personal service please call

01543 255776

Private Chapel of Rest 116 Netherstowe,

Lichfield, Staffs. WS13 6TS

24
---
25
---
A Doggie

Day Out!

...............................

My Month in

Parliament

By Amanda Milling MP

.........................

On Sunday 9th August, Happy Pooch

Walking Brigade took to Marquis

Drive Visitor Centre on Cannock

Chase for a dog walk in order to raise money

for Rugeley Welfare for Dogs.

There were several regular walkers, as well

as a few new members to the group, and

overall a total of £60 was raised.

Rugeley Welfare for Dogs was set up by

Ruth and Pauline and is dedicated to

rehoming dogs in the area, as well as helping

those in less fortunate positions with funding

for their pooches.

To find out more about Happy Pooch

Walking Brigade visit Facebook at

www.facebook.com/FrostysWalkingBrigade.

For further information about Rugeley

Welfare for Dogs visit

www.rugeleywelfarefordogs.co.uk or contact

Ruth on 07900 090993.

With Parliament being

in recess it means I

can spend more time

here in Cannock Chase. With

lockdown measures gradually

being eased it is great that I can

now get out and about again,

supporting our local high

streets, visiting businesses and meeting with

community groups. Like many people, I was relieved

to have my first post lockdown haircut (muchneeded),

drink in a pub and meal in a restaurant!

While I have been out and about, it has been

amazing to see all the measures that local businesses

have put in place to enable them to open back up,

whilst protecting staff and customers.

Like everyone, I have had to adapt to a different

way of working and over the last few months I have

held many online surgeries, a format that has proved

very popular. Over recent weeks the casework I

have been dealing with has moved away from Covid-

19 and towards matters I would have typically seen

before the pandemic. While many feel the world is

returning to normal, we do have to remain alert –

regularly washing our hands, using face coverings

and keeping our distance.

During lockdown I was in constant contact with

local authorities and the police to ensure that

residents remain safe. In recent weeks, Staffordshire

Police have been very busy, with arrests being made

in relation to illegal raves and officers appealing for

witnesses after Rugeley's Green Lane play area was

vandalised.

My constituency office is back open to visitors but

on an appointment-only basis, so please ensure you

make an appointment if you are planning on visiting.

If you have any issues you need my help with, please

email me on amanda.milling.mp@parliament.uk, call

01543 877142 or visit

www.amandamilling.com/contact and I can arrange

an appointment. I hope that I may see you when I'm

out and about in the coming weeks.

Stay safe and stay alert.

26
---
Something Old,

Something New

By Allen Brown

........................

An ever popular service we offer here at Allen Brown

Jewellery is our remodelling service, where we can

transform your older pieces of jewellery into

something you can wear and enjoy, remodelled to a new

design to suit your taste.

Over the last few years this has been a growing part of

our business, helping people carry forward all the sentiment

of inherited jewellery into new stylish pieces that can be

worn, but knowing it is made from old jewellery that was

much loved.

We are helping many customers take existing family

heirloom pieces and aid in carrying the sentiment forward

to the next generation. By carefully separating existing

pieces, we transform their metals and stones into new

individually designed pieces. It is a good way of recycling

material and reusing whilst keeping all the sentiment of the

old pieces.

Often it's hard to visualise what we can do with old

pieces of jewellery. We have lots of before and after

examples to show what we are able to do and we will guide

you along the process whilst showing you what is possible.

In addition, our upstairs viewing gallery, also gives our

customers the chance to view first hand, pieces of jewellery

being created in our onsite workshop by our talented team.

We are always happy to advise people who bring in their

jewellery and we can help to explore the possibilities of

what can be created.

A customer will visit our jewellery gallery with inherited

jewellery and we can discuss with them the possibilities and

the type of jewellery they would like from the remodelling

process.

For the entire process, from the customer walking in the

door of our jewellery gallery to collection of final item, it

typically takes between 6-8 weeks, 2/3 for the drawing

creation and around 6 for the making depending on the

work involved in the remodelling process.

You can rely on our talented jewellery designers to

create unusual and unique jewellery items to your

requirements with attention to detail and high quality

individualised and a truly personal service.

If you have some jewellery that you would like

remodelling please feel free to visit our jewellery gallery

located at Heart of the Country, Swinfen, Lichfield, WS14

9QR.

We are open Tuesday to Sunday 10am – 5pm.

Alternatively please call us to discuss further on 01543 481

948 or visit www.allenbrownjewellery.co.uk/remodelling

where you can find a video which shows Allen explaining

the whole process of our remodelling service.

27
---
Cannock

Women's Institute

.........................

By Jill Gooch

As group meetings in person are still off the cards, our last

monthly meeting was again on Zoom with our guest, Glynis

Myles, leading us in 'signing' a song using sign language. Glynis

demonstrated and explained the sign movements, then played the song

"You Raise Me Up." With us all muted on Zoom, we were able to sing

loudly (and maybe out of tune!) without anyone else hearing and signed

our movements to the words. As it was a fairly slow song we did rather

well! We thoroughly enjoyed ourselves, and agreed it was an excellent

activity for our virtual meeting.

Through our local links, a gift of

lace bobbins and a craft cushion

were offered to any interested

members. Norma, a relative of

Colton WI member Polly has had

to give up her lifelong hobby of

lacemaking due to ill health, and

very kindly instructed Polly to find

a new home for the bobbins. Step

in 'the network': and our member

Clare. Clare is an ardent crafter

who had taught herself crotchet

last year, and after watching the

Nonnas' lacemaking at their

doorsteps, whilst she was living in

Italy, decided she had the

Clare with bobbins

inclination to give it a go. We wait

expectantly to see her first

tablecloth!

A Review of

Plastic-Free July

.........................

By Nicola Lynes

In the August issue of Citylife I

explained how I was taking part in

Plastic-Free July on behalf of

Transforming the Trent Valley Landscape

Partnership Scheme (we are funded by

the National Lottery Heritage Fund). I

made daily posts on the TTTV social media pages with tips to reduce

plastic living; talking about food, toilet rolls, toothbrushes, coffee, refill

stores, growing food and much more (you can find them all on the TTTV

pages).

So now that July is over, what did I learn from 31 days of plastic-free living?

Firstly, it is impossible to go completely 'plastic-free'. Plastic has

changed the world and is embedded into everything – the laptop I'm

typing on, the frame of the office chair I'm sitting on, the pen I use to

28

Jill delivering ear savers to Cannock Hospital

Following our request on Facebook for 'ear savers' (for mask wearers)

we are still receiving kind donations from local people and further afield,

such as Burntwood, Bishop's Wood and Burton upon Trent. These were

delivered to NHS Cannock Hospital to delighted frontline workers.

National Federation have given us the title of Community Champions

with our star member Meena being featured in WI Life Magazine. We are

so proud to be able to help in our community in whatever way we can!

The committee are having discussions about having our monthly

meeting being in person at our Community Hall: if we feel it is too soon

or impractical, then we will stick to Zoom. This month's competition is

"My Claim to Fame", so we are expecting tales of a brush with celebrity,

Royalty, or even appearing on television!

Our WI meetings are on the second Thursday of the month 10.30am

at St Luke's Church Centre, Cannock. Visitors are always welcome to

come and join us for refreshments and a chat- but not for a while – wait

for the all clear! Follow us on Facebook for updates at

www.thewi.org.uk/staffordshire www.facebook.com/oakleafstlukes.

name a few things. However, the focus of

Plastic-Free July was to specifically highlight

"single use" plastics, and how they can be

avoided.

After completing a plastic audit for one

week, I noticed that my main offenders were

food packaging – meat trays, cheese wrappers,

fruit and vegetables. I think some of this is due

to the response to COVID-19, I noticed less

loose fruit and vegetables in the supermarket

while we all got used to a 'new normal'. Part of

our household waste is also down to

maintaining a harmonious relationship with my

partner, I have imposed some plastic-free

swaps upon him but life is all about compromise and he does not want

to give up bacon!

I was encouraged with how much people engaged with the daily posts,

there is a huge enthusiasm among residents in the Trent Valley to reduce

their plastic use and to support each other to do so. TTTV will be

continuing to tackle single use plastic in the landscape, through litter

picks and campaigns with local community groups. We hope to see you

there!

Find out more about TTTV and Nicola's work at

www.thetrentvalley.org.uk.
---
Cannock Market Square 1917

The Clock Tower

of Cannock

By Jono Oates

...........................

The Clock Tower of Cannock takes up a central point in the

Market Square and has stood in its imposing position for 85

years, but the provision of the clock for the people of

Cannock was due entirely to the generosity of a local shopkeeper –

Henry Benton.

In May 1935 a meeting of the Cannock Urban Council took place,

presided over by Mr Arthur Hampton. At the meeting the committee

recommended a proposal for the erection of a new clock tower on the

Market Square at an estimated cost of £622 and that the executors of the

estate of the late Mr Henry Benton had approved the expenditure.

Henry Benton had been born in Offley Hay, Eccleshall, in 1864 to his

parents William, a cordwainer, and Eliza. By 1888 he was a butcher and

living in premises on the Market Place, High Green, in Cannock. In 1897

Benton was advertising 'The Roast Beef of Old England' on sale at his

shop, as well as selling mutton, pork, pork pies and sausages. He continued

in the shop until January 1923 when he passed away, aged just 59. The

obituary in the Cannock Chase Courier said that Henry had been of a

'retiring disposition' and that he was a quiet and generous worker. The

funeral took place at the Wesleyan Church and his body was interred at

Cannock Cemetery.

After he passed away, as part of his will, Henry left a sum of £1,000 to

provide a clock tower and a drinking water fountain in the Market Place

at Cannock as well as providing the money to install public toilets in

Cannock Park. Henry also left £600 to the Union Methodist Church

whom he had supported during his time in the area.

The provision of Henry Benton's will stated that the installation of the

clock tower and drinking fountain could not commence until after his

wife, Elizabeth, had passed away, so the monies remained in a charitable

trust, administrated by the Urban Council and the executors, for nearly

12 years. When Elizabeth's health started to fail at the beginning of 1935

the Urban Council spoke to the executors of Henry's will and they all

agreed that the funds should be released so that work could start on the

tower with a view that Elizabeth would be able to see the fruits of her

husband's legacy before she passed away. Elizabeth died on 15th April

1935, aged 77, and twelve years after her husband had died. During the

First World War she had volunteered to help the Cannock Soldiers' Club

and had regularly visited the Military Camps on Cannock Chase, two to

Cannock Market Square 1930s

Cannock Town Centre c1970's

three times a week, to provide the soldiers with additional clothing and

food.

The clock tower was not completed until October 1935 so,

unfortunately, Elizabeth did not get to see the monument that her

husband had funded in all its glory. The tower was placed in the centre of

a large roundabout, as vehicular traffic had not been prohibited in the

town centre at that time, and stood 21½ feet tall. It was constructed of

grey granite and the clock had four faces so that it could be seen from all

angles of the square, plus it was powered by electricity. The official

ceremony took place on 24th October, when Mr AJW Bate (who had

been nominated by Henry Benton as a codicil in his will) carried out the

unveiling of the tower.

Councillor Arthur Hampton, chairman of the Urban Council, accepted

the gift on behalf of the people of Cannock from Mr H Arch and Mr I

Berrisford, the trustees of the donated funds. They also presented him

with a cheque for £1,000 (the agreed amount that Benton had specified

in his will) to cover the cost of the tower, the drinking fountain, and the

pubic toilets. In his speech Arthur Hampton praised the kindness of Mr

and Mr Benton, for their long association and dedication to the town and

he expressed the wish that others would follow in their footsteps to

provide amenities for the people of Cannock.

Today the Clock Tower still stands as a beacon looking out over the

market square and, 85 years after it was installed, it still provides the time

of day to the people of Cannock – and that legacy is all down to the

community spirit of Henry Benton.

Source: The British Newspaper Archive; www.cannockchasedc.gov.uk

29
---
1 2

A Window on the Past

From the Market Place

to Crossley Stone

Bow Street, running from Market Square to Sheep Fair, was

probably so named as it is the shape of a drawn bowstring.

The shape became less obvious when the road was bisected

by the construction of the Elmore Lane extension prior to

the pedestrianisation of the town centre in the 1980s. At

one time the Tithe Barn stood where Bow Street bears left.

1. Where Market Square becomes Bow Street c. 1985.

2. Although this postcard is entitled "Bow Street" it actually

shows Market Square c. 1937, when Paris House (extreme left)

was Cox and Gosling's drapery. Next door is Devall's house

furnishing shop, which supplied almost anything for the home

from pianos to deck chairs. Opposite, behind the blinds, is

Wighams Stores.

3. A close-up of Wigham's Stores c. 1924. This grocer and

provision merchant moved to Market Square from Horse Fair.

Later the premises were occupied by Marriots grocery and

more recently by Wolseley Carpets.

4. No 7 Market Place has been, at various dates from the late

19th century, a milliners, a rick-cloth maker and seedsman, and

the British and Colonial Meat Co. This photo shows a float in a

Hospital Saturday Carnival Parade c. 1930, when no 7 was

Brassington's butchers shop. Later the Co-op ran their fish and

greengrocery departments from the premises and by the mid-

1980s it was the Co-op Travel Bureau.

5. When the Star Inn was demolished its licence was

transferred to The Comet on Springfield Estate.

6. Looking along Bow Street towards Crossley Stone in the

mid-1980s from near Taylors Lane. The sign on the yellowish

building on the right reads "Squires". This was formerly The

White Horse Inn and afterwards became Olly's Bar.

7. The Crossley Stone end of Bow Street in the early 20th

century. The houses on the left have been demolished. On the

right is the part of Crossley Stone House that became the

Comrades' Club.

8. The Royal British Legion Club and headquarters of the

Rugeley Branch at the Sheep Fair end of Bow Street, built on

the site of the pound for stray animals.

The Landor (local history) Society is a focus for those who wish to learn more

about the history of Rugeley and its surrounding parishes. It was founded in 1953

and was named in honour of Walter Noble Landor, local and county historian,

who became the Society's first President. More information is available at

www.landor-localhistorysociety-rugeley.btck.co.uk

30
---
3

4

5

6

7

8

31
---
Step by Step

By Jo Howell

.......................

32

In the wonderful musical Barnum,

there is a very rousing song called

'One Brick at a Time' which has the

following lines:

The brawn, the brain, the courage and the

heart,

The strength to bend the strongest bar,

The will to reach the farthest star,

It's just a case of learning how to start.

And as the song progresses, you start tapping your foot

to the very addictive beat and realise that the key

message in the song is about just getting started. It's about

taking that first important step and, in this case, watching

something grow. But for me, you can adapt the same

principal to our current après lockdown situation.

As each week passes and more of the life we once

recognised starts to return, I have started challenging

myself to add a 'new normal' to try and get back to well,

normal. Last month I wrote about F.O.G.O (fear of going

out) but now, just four weeks later, I am less fearful of

going out and more fascinated to test the water.

Shopping

Last weekend I ventured to Stafford with the intention

of heading to the one shop I needed to exchange

something in. And then I was coming straight home. But

the sun was shining, I wasn't in a rush and on impulse I

decided to have a meander and a mooch in M&S,

Waterstones and Boots. Mask on, credit card itching in

my purse and a sudden sense of freedom, I was off and

doing a pretty normal Saturday afternoon activity.

Eating Out

And just a few days later, I met with a colleague (so nice

to see them in person and not on the screen!) for a

socially distanced curry. Oh boy, it was totally worth the

five month wait! I sanitised my hands on the way in,

followed the waiter to the table from a safe distance and

thoroughly enjoyed a meal cooked by someone else.

Restaurants have got it all very well organised, they want

our business and I am certainly happy to give it them.

The Gym

Whist I have enjoyed participating in many different

activities at home, I am also keen to get back to my

favourite class at the local gym. Well, I say keen – it's more

of a 'must do' rather than a 'want to'. But from what I've

read, like restaurants, it seems organised, clean and ready

for us to realise that all those biscuits at the start of

lockdown really weren't the best idea after all. So, this

week's 'normal' challenge is a morning spinning class and

a swimming lane booked for one evening.

And if you're thinking about stepping back to your old

routine, just take it one day at a time. Ease yourself back

into your favourite activities, try something old/new this

week and before you know it, lockdown will just be

something written about in history books. All you need to

do is take a brick and place it on the ground…

Read more of Jo Howell's work on her blog

www.justanaveragejo.blog.
---
Digging for Gold in

Staffordshire

By Adrian Rathbone, Associate Director of

Hansons Auctioneers

.........................

It has recently been reported in the world press that gold prices have

hit a record high.

It is a well-known fact that in uncertain economic times, investors put

their money into tangible assets, and in particular gold, (as well as silver

and other precious metals). With continued fears over spikes in Covid-

19 cases and the resulting economic damage, gold prices surged by 30%

this year and experts predict this trend to continue into September and

beyond. It is seen as a 'safe bet' against falling currency. This is very good

news for those looking to sell – the time is now to strike whilst prices

are at a record high.

It was therefore fitting to see a solid gold cigarette case discovered at

a recent valuation day at Hansons Bishton Hall. Kate Bliss, a familiar face

on TV antiques programmes, discovered the case and comments on the

find.

"The vendor had inherited it and had kept it in a drawer for many

years. Dating from the reign of George VI and hallmarked for Chester

1938, the Art Deco case weighs an impressive 101 grams. It would

certainly have been owned in its day by a very fashionable person.

Although smoking is obviously no

longer in vogue, there is a wealth of

collectors for related accessories. It

will more than likely be bought for its

gold value."

The case carries a pre-sale estimate

of £1,600-1,800 and is being offered in

Hansons Country House Fine Art

Auction at Bishton Hall on 8th

October. Further entries of gold, silver,

jewellery, antiques and collectables are

being invited for inclusion in this

international auction.

Wondering about the value of your

jewellery, gold or silver? In this ever-changing market it is more

important than ever to keep up to date.

Valuation Days with Kate Bliss:

For clients considering selling, Kate Bliss holds free valuation days at

Bishton Hall once a month on a Thursday. The events are free, safe and

with social distancing measures in place. Forth coming dates with Kate

- Thursday 20th August, 17th September & 15th October and 19th

November from 10 am to 3 pm

General valuations for all manner of antiques and collectables are held

every Wednesday 5 pm to 7 pm and Thursdays 10 am to 4 pm. Free

home visits can be arranged for large/multiple items or estate clearance

advice.

For further information, please contact Adrian Rathbone

at Hansons Auctioneers on 01889 882397 or email

arathbone@hansonsauctioneers.co.uk.

33
---
Designer Village

to Open in Spring

................................

Construction is continuing on the new West Midlands Designer

Outlet, situated in Cannock, with a new launch date confirmed.

The £160 million McArthur Glen development was originally

scheduled to open this autumn however the Covid-19 pandemic saw

work halted for several months and the opening of the site pushed back

to spring 2021. With more than 1,000 jobs expected to be created in the

local area, the site is hoping to bring fresh new footfall to Cannock and

its surrounds.

Elevating the designer outlet experience and shaping the concept of

destination shopping, McArthurGlen is Europe's leading owner,

developer and manager of designer outlets. Home to the most soughtafter

luxury, designer and high street brands, we offer our visitors yearround

savings of up to 60% in the UK.

The pioneer of designer outlet shopping in Europe, McArthurGlen

opened its first centre near Manchester in 1995 and our portfolio now

comprises 25 centres in 10 countries across Europe and Canada.

McArthurGlen Designer Outlet West Midlands will become the

Group's seventh centre in the UK.

This exciting development is a joint venture between McArthurGlen,

Aviva Investors on behalf of Aviva Life and Pensions, The Richardson

Family and U+I Group Plc.

Competition and Prize Draw - Terms and Conditions

1.Entrant's details will be held and processed in line with Citylife in Lichfield Ltd's Privacy Policy, which in turn adheres to

GDPR Data Protection legislation. For a copy of our Privacy Policy please email josscitylife@gmail.com

2.By entering the prize draw/competition, you agree to the terms and conditions stated.

3.The closing date is stated on each individual prize draw or competition.

4.Entrants' details will be securely held by Citylife in Lichfield Ltd in accordance with our Privacy Policy. Details will be

held only until the closing date of the competition. After this date entrants' details will be securely destroyed/deleted.

Winners' contact details will be securely stored only until the winner has been informed of their win/prize. After this

details will be securely deleted/destroyed.

5.Entrants' details will never be shared with any third party. The only exception to this is the name (and if the prize is to

be posted) address of Competition/Prize Draw winners that will be communicated to the competition partner to allow

winners to securely claim their prize, after which all details will be securely destroyed. The initial and surname of winners

will be printed in our magazines – no other details will be published.

6.By entering the competition/prize draw, entrants agree to Citylife in Lichfield Ltd using or publishing materials provided

by the entrants (but not address or contact details apart from initial and surname) in any of their publications and online.

7.Citylife in Lichfield Ltd accepts no responsibility for any breach of copyright or breach of any other legislation entailed

by entrants in their creation or submission of materials.

8.Only one entry per prize draw/competition, per reader.

9.Except in the case of cash prizes, no cash equivalent will be offered and the prize is non-transferable.

10.All prizes are subject to availability and the prize suppliers' terms and conditions.

11.No purchase necessary.

12.Prize draws and competitions are only open to UK residents aged 18 years or over (unless otherwise stated).

13.Competitions and prize draws may not be entered by any employee of individual associated with any employee,

34

agent or third party of Citylife in Lichfield Ltd.

14.Winners will be selected at random in the case of applicable prize draws and competitions, or by an independent

judge in the case of photographic/art competitions from all entries received.

15.Winners will be notified by Citylife in Lichfield up to 28 days after the closing date of the competition/prize draw by the

contact details provided by the entrant.

16.A list of the surnames and county of residence of the winners will be available by writing to Citylife in Lichfield Ltd no

earlier than six weeks after the competition closing date.

17.When the prize draw/competition winner has been selected, this decision is final and no correspondence will be

entered into.

18.Citylife in Lichfield Ltd accepts no responsibility for the prize being lost, damaged or delayed in transit. When the prize

is provided by a third party, Citylife in Lichfield Ltd accepts no responsibility for any change to the prize, or for the quality

of the prize provided.

19.Competitions may be amended or withdrawn at any time.

20.By entering the competition or prize draw, you agree to having your name, (photograph, where stated) and city or

county of residence published in any of Citylife in Lichfield's publications and online.

21.Unless otherwise stated, the promoter is Citylife in Lichfield Ltd, PO Box 7126, Lichfield, WS14 4JS.

22. Citylife in Lichfield Ltd do not express any warranty or endorsement of any competition prize, information, service or

product provided in connection with a competition by printing or otherwise publicising any competition.

23.To the full extent of the law, Citylife in Lichfield Ltd shall not be liable for any loss, claim, punitive, indirect, incidental

or consequential damages of any kind incurred as a result of entering this prize draw or competition.

24.By submitting photos, text or artworks as part of competition/prize draw entries you agree that you own these photos

text or artworks, that it is your original work to which you own all rights to distribute, and that your entry is accurate,

moral and legal.
---
MAGAZINE

DISTRIBUTORS

WANTED

Earn extra money

delivering magazines in

Lichfield, Rugeley &

Heath Hayes.

Must be over 16

Call Marie 07548 682576

35