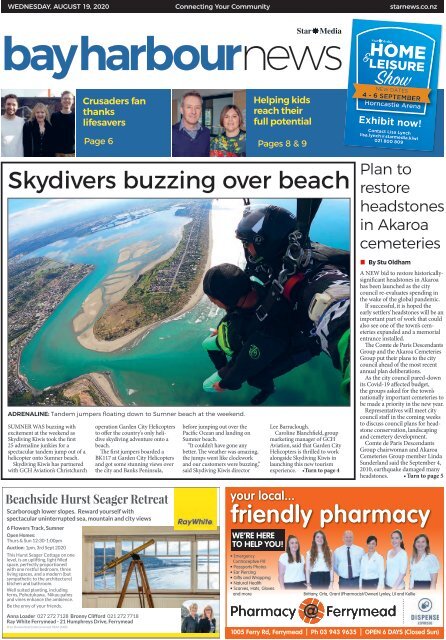 Bay Harbour: August 19, 2020
Create successful ePaper yourself
Turn your PDF publications into a flip-book with our unique Google optimized e-Paper software.
WEDNESDAY, AUGUST 19, 2020

Connecting Your Community

starnews.co.nz

HOME

LEISURE

Crusaders fan

thanks

lifesavers

Page 6

Helping kids

reach their

full potential

Pages 8 & 9

NEW DATES

4 - 6 SEPTEMBER

Horncastle Arena

Exhibit now!

Contact Lisa Lynch

lisa.lynch@starmedia.kiwi

021 800 809

Skydivers buzzing over beach

Plan to

restore

headstones

in Akaroa

cemeteries

ADRENALINE: Tandem jumpers floating down to Sumner beach at the weekend.

SUMNER WAS buzzing with

excitement at the weekend as

Skydiving Kiwis took the first

25 adrenaline junkies for a

spectacular tandem jump out of a

helicopter onto Sumner beach.

Skydiving Kiwis has partnered

with GCH Aviation's Christchurch

operation Garden City Helicopters

to offer the country's only helidive

skydiving adventure onto a

beach.

The first jumpers boarded a

BK117 at Garden City Helicopters

and got some stunning views over

the city and Banks Peninsula,

before jumping out over the

Pacific Ocean and landing on

Sumner beach.

"It couldn't have gone any

better. The weather was amazing,

the jumps went like clockwork

and our customers were buzzing,"

said Skydiving Kiwis director

Lee Barraclough.

Caroline Blanchfield, group

marketing manager of GCH

Aviation, said that Garden City

Helicopters is thrilled to work

alongside Skydiving Kiwis in

launching this new tourism

experience. •Turn to page 4

• By Stu Oldham

A NEW bid to restore historicallysignificant

headstones in Akaroa

has been launched as the city

council re-evaluates spending in

the wake of the global pandemic.

If successful, it is hoped the

early settlers' headstones will be an

important part of work that could

also see one of the town's cemeteries

expanded and a memorial

entrance installed.

The Comte de Paris Descendants

Group and the Akaroa Cemeteries

Group put their plans to the city

council ahead of the most recent

annual plan deliberations.

As the city council pared-down

its Covid-19 affected budget,

the groups asked for the town's

nationally important cemeteries to

be made a priority in the new year.

Representatives will meet city

council staff in the coming weeks

to discuss council plans for headstone

conservation, landscaping

and cemetery development.

Comte de Paris Descendants

Group chairwoman and Akaroa

Cemeteries Group member Linda

Sunderland said the September 4,

2010, earthquake damaged many

headstones. • Turn to page 5

Beachside Hurst Seager Retreat

Scarborough lower slopes. Reward yourself with

spectacular uninterrupted sea, mountain and city views

6 Flowers Track, Sumner

Open Homes:

Thurs & Sun 12:30-1:00pm

Auction: 1pm, 3rd Sept 2020

This Hurst Seager Cottage on one

level, is an uplifting, light filled

space, perfectly proportioned

with one restful bedroom, three

living spaces, and a modern (but

sympathetic to the architecture)

kitchen and bathroom.

Well suited planting, including

ferns, Pohutukawa, Nikau palms

and vines enhance the ambience.

Be the envy of your friends.

Anna Loader 027 272 7128 Bronny Clifford 021 272 7718

Ray White Ferrymead - 21 Humphreys Drive, Ferrymead

Prier Manson Real Estate (Licensed REAA 2008)

your local...

friendly pharmacy

WE'RE HERE

TO HELP YOU!

• Emergency

Contraceptive Pill

• Passports Photos

• Ear Piercing

• Gifts and Wrapping

• Natural Health

• Scarves, Hats, Gloves

and more

Brittany, Orla, Grant (Pharmacist/Owner) Lynley, Lil and Kellie

1005 Ferry Rd, Ferrymead | Ph 03 943 9635 | OPEN 6 DAYS (Closed Sun)
---
PAGE 2 Wednesday August 19 2020

BAY HARBOUR

Latest Canterbury news at starnews.co.nz

News

GENERAL INQUIRIES Ph 379 7100

CLASSIFIED ADVERTISING Ph 379 1100

Star Media, a division of Allied Press Ltd

PO Box 1467, Christchurch

starmedia.kiwi

NEWS

Stu Oldham

Ph: 021 586 174

stu.oldham@alliedpress.co.nz

ADVERTISING

Jo-Anne Fuller

Ph: 364 7425

jo.fuller@starmedia.kiwi

Rob Davison

Ph: 021 225 8584

rob.davison@starmedia.kiwi

The best-read local newspaper,

delivered to 10,514 homes every week.

Brookhaven • Heathcote • Ferrymead

Redcliffs • Mt Pleasant • Sumner • Lyttelton

Diamond Harbour • Governors Bay • Akaroa

Church bell ready to ring

• By Devon Bolger

THE BELL will again ring out on the

grounds of the St Saviour's at Holy

Trinity Church, in Lyttelton, after

$150,000 was raised for a new one.

The new bell tower is now complete

following five years of fundraising by

the church.

It has been named 'The Mariners'

Bell Tower' in memory of Captain

John Cleaver who died in 2013 and

was a long-time community member,

and other seafarers who have helped

shape Lyttelton.

The original bell and the bell tower

roof were rescued when the Holy

Trinity Church building was demolished

after being badly damaged in

the February 22, 2011, earthquake.

Said Mark Penn, who is part of the

vestry: "We approached a number of

individuals who generously dug into

their pockets and came up with a very

significant chunk of the money.

"Six well-established organisations

also helped by donating money.

"After the quake, John Cleaver was

very keen on keeping as much as the

old church as possible. He spent many

months going down to the church

during the demolition and ensuring

anything that could be saved was

saved."

Penn said they are very happy to see

the bell tower restored.

"The tower itself is capped with

what I call the witch's hat which was

FINISHED: Bell ringer Stewart Henry with the St Saviour's at Holy

Trinity Church's new bell tower which was completed after five

years of fundraising.

PHOTO: GEOFF SLOAN

on the old bell tower of the original

church.

"The bell inside is the pilgrim's bell

which came out from England during

the first days of colonisation."

Following the demolition of the

Holy Trinity Church, the wooden St

Saviour's church was relocated onto

the site from Cathedral Grammar

School.

It had also been damaged in the

earthquake and the school donated

it back to the Lyttelton parish to be

relocated and restored.

PUBLIC

MEETING

Monday, 24 August 7:30 – 8:45pm

Doors open at 7:15pm for refreshments

FREE – No need to book

How clean is our

estuary water?

Scientist report finding

from a recent estuary

water quality research

Speakers:

Dr Lesley Bolton- Ritchie

(Environment Canterbury)

Dr Bruce Dudley (NIWA)

Richard Measures (NIWA)

Venue: Mount Pleasant

Community Centre

3 McCormacks Bay Road

For more information contact: info@estuary.org.nz

Sick of late night tenant phone calls and being on call 24/7?

Tenants not paying their rent on time?

Can't find a tenant for your vacant property?

We are local experts with

Canterbury-wide knowledge

providing professional Property

Management services with a

personal approach

Katrina Green

Operations Manager

027 606 0030

Let us take the stress out of owning a rental property.

Contact us for a free no obligation chat today.

Care &

Compassion

We pride ourselves on the

very highest level of service

If you are thinking about the future,

we can help you explore pre-payment

and pre-planning options. Contact us

for a Free Information Pack.

Call us about our next

Funeral Information Seminar

Ray White Morris & Co Property Management Limited

03 331 6755 morrispm.nz@raywhite.com

canterburypm.co.nz

Mark Glanville

Manager &

Funeral Director

(03) 379 0196 | www.simplicity.co.nz

Mike Chandler

Funeral Director

Ray Hastie

Property Manager

027 448 8225

Morris & Co Property Management - Professional Property Management Services with a Personal Approach.

Nick Allwright

Funeral Director

Proud members

of FDANZ.
---
Wednesday August 19 2020

Latest Canterbury news at starnews.co.nz

BAY HARBOUR

PAGE 3

News

In Brief

Questions over recreation site safety

WASTEWATER FEEDBACK

• By Matt Slaughter

THE SAFETY of a $1.19 million

park which will be developed on

the old Redcliffs School site has

been questioned.

The construction of the recreation

reserve, Te Papa Kura Redcliffs

Park on Main Rd, Redcliffs

begins this month and is set for

completion by late this year or

early next year.

It will include two junior

sports fields, the existing playground

facilities, paths and space

for future public gatherings.

Redcliffs

School moved

to a new

campus on

Beachville Rd,

Redcliffs in

June.

Said

Darrell

Latham

Linwood-Central-Heathcote

Community

Board member

Darrell Latham: "I'm very happy

that Redcliffs School is on its new

site and absolutely 100 per cent

celebrate the school being back

in the community. However, I

find it somewhat ironic that it

was never considered safe for a

school to be there, but it's going

to be considered safe for the site

to be used for sports activities

DEVELOPMENT: The plan to transform the former Redcliffs

School site into a park for sport and recreation has led to

questions around how safe this will be.

PHOTO: GEOFF SLOAN ​

for children and for the community,"

said Latham.

Redcliffs School principal Rose

McInerney said the decision for

the school not to return to the

site was not because it was ruled

as unsafe.

She said it was actually because

of the disruption another

earthquake could cause to pupil's

education if the cliffs behind it

had to be assessed again.

"The geotechnical engineering

from that site actually came back

that there was a one in a million

life risk.

"We believe that site was

absolutely safe to return to, and

Rose

McInerney

so I think for

those reasons

it would be absolutely

perfect

to be a park as

well," she said.

Said Latham:

"As long as

the correct

mitigation

measures are

implemented to ensure the safety

of the public and children that

use the park, then that's fine

from my perspective, and my

understanding is that they're

going to put in the required

fencing to ensure that that

becomes a reality."

City council head of parks

Andrew Rutledge said the reason

why the site is considered safe for

a park is that "the psychosocial

implications of children

attending a school at the site do

not apply to park use, due to the

lower risk profile for park use

activity.

"The hazardous area below the

cliff is fenced off. Areas where

people are likely to gather and

linger are planned away from the

hazardous area.

"Various assessments were

undertaken at the time of the

land swap and the site was

considered safe for park use,"

Rutledge said.

Feedback on the city council's

options for treated wastewater

from Akaroa closes on Sunday.

The city council has put

forward four options. One is

to continue discharging the

treated wastewater into the

harbour and the other three

are to use the highly treated

wastewater to irrigate new

areas of native trees at various

sites on Banks Peninsula.

Information outlining the

options is available online at ccc.

govt.nz/haveyoursay. Printed

booklets can be picked up at any

council service centre or library.

Submissions can be made

online or by filling out the form

at the back of the booklet and

posting it. Contact details need

to be included – anonymous

submissions are not accepted.

CORRECTION

A publishing error meant the

Ferrymead Night Markets were

incorrectly included in the

events listings last week. The

Ferrymead Night Market runs

4pm-6pm the first Saturday of

each month.

Resene DIY Card special!

Catherine

Chu

VOTE FOR YOUR FUTURE !

for Banks Peninsula

E: catherine.chu@national.org.nz

FB: @CatherineChuNZ

P: 021 176 0985

Authorised by Catherine Chu, Level 2, 363 Colombo Street, Christchurch.

Come in and see us today at

your local Resene ColorShop!

Addington, Ferrymead,

Hornby, Lichfield St,

Northwood, Rangiora,

Shirley, Tower Junction

Winter Market Update

As the country makes it's way past Matariki and toward

the summer again there is continued fresh buyer demand

for homes, helped by record low mortgage rates.

Thinking of selling but unsure of your home's current

value or want general market advice?

Then call Chris today for the latest market tips

and a free property appraisal.

03 322 4548 | Easy Parking

17 Lillian Street, Halswell

Open Mon-Fri 9.30am - 5.00pm

Saturday 10.00am - 1.00pm

LAYBY WELCOME

or shop online at shop.resene.co.nz

Discounts off the normal retail price from 12 August – 7 September 2020.

Valid only with cash/credit card/EFTPOS purchases and Resene DIY Card.

Not available in conjunction with account sales, promotional vouchers/

coupons or other offers. Excludes trade, ECS and Crown products and

PaintWise levy. Sign up for a free Resene DIY Card at your Resene ColorShop

or participating reseller. Offer applies to 10 litre Resene premium paints,

primers/sealers, wood stains and 60-80ml testpots only.

Licensed Sales Consultant REAA 2008

GRENADIER

Chris Moores

Harcourts Grenadier Ferrymead, 1020 Ferry Road

P: 03 384 7950 | M: 027 588 4440

E: chris.moores@harcourts.co.nz
---
PAGE 4 Wednesday August 19 2020

BAY HARBOUR

Latest Canterbury news at starnews.co.nz

ews

EXPERIENCE: Clear skies provided great views as skydivers weaved their way down to

Sumner beach.

Positive impact on local business

•From page 1

"This is a totally new product

for Christchurch and especially

right now it's great to be bringing a

totally new tourism experience to

the market," says Blanchfield.

The first weekend immediately

showed the positive impact the

new operation will have on local

business, as every jumper had a

large support crew, scouring the

skies to spot the helicopter at 10,000

feet and cheering as the parachutes

were landing on the well-marked 20

x 20m landing zone.

Locals also got caught up in

the excitement, as other visitors

stopped to join the helicopter

spotting on the beach.

Barraclough and his partner

are Sumner residents and they

hope their operation will become

another treasured asset to

Christchurch's surfing and outdoor

adventure spot.

"It is our aim for tandem

skydivers to experience Sumner

differently, for residents to share

in the excitement that skydiving

creates, but also for other

businesses to benefit from the

visitors we bring into Sumner,"

Barraclough said.
---
Deans Ave Ave

Rolleston Ave

Wednesday August 19 2020

Latest Canterbury news at starnews.co.nz

BAY HARBOUR

PAGE 5

News

40 headstones need to be repaired

• From page 1

The groups identified 40 needing work

soon after the earthquake.

The city council initially proposed

tackling up to 13 restorations, which was

reduced to six in 2018.

That work had yet to start, so the groups

proposed four heritage headstones should

be restored this financial year. It was hoped

two could be fixed by early next year.

Sunderland said the headstones of

Christian Jacob Waeckerle and Marie Eteveneaux,

and of Eli and Anette Bouriaud,

should be in the first tranche of restorations.

Waeckerle and Eteveneaux arrived in

Akaroa in 1840 on the Comte de Paris.

They married and Waeckerle was Akaroa's

mayor from 1878 to 1880. They are buried

in the Anglican Cemetery.

Anette and Eli Bouriaud also arrived on

the settler ship. Their substantial home is a

landmark on Rue Grehan, one of the earliest

French streets. They are buried in the

Catholic Cemetery.

Sunderland hoped the headstones could

be restored by March, in time to belatedly

celebrate the anniversary of the arrival of

the French settler ship Comte de Paris.

The 180th-anniversary celebrations were

scheduled to take place last weekend, but

were postponed due to Covid-19 alert

level 2 restrictions, she said.

It was hoped a memorial entrance

commemorating the region's early settlers

would be installed at the top of the Catholic

Cemetery ahead of the commemoration.

Sunderland said the cemeteries were a

DAMAGE: A bid to restore the

headstones of Christian Jacob

Waeckerle and Marie Eteveneaux,

and Eli and Anette Bouriaud

(right), to their former glory is

under way.

heritage drawcard and, crucially, an important,

inter-generational link to the Akaroa

community's past.

The groups hoped this link would be reinforced

if the city council mapped out plots

on adjacent land offered by the Catholic

Church for burials of all denominations.

A 2016 city council report suggested the

cemeteries were approaching capacity and

future burials may be shifted from Akaroa

to Duvauchelle Cemetery.

Beauty and

tragedy in

cemeteries

THERE IS beauty and tragedy in the

Akaroa cemeteries.

The beauty is in headstones, carefully

carved and intricately designed. With the

towering plinths, they suggest hard-won

prosperity in the newly-settled town.

The tragedy is in the descriptions etched

into stone, and the stories that surface

when their backgrounds are explored.

The Friends of the Akaroa Museum has

been working to photograph the headstones

and record the associated biographical

details.

The work is being shared on the find a

grave section of the ancestry.com website.

Linda Sunderland has so far photographed

the headstones up to 1880, and

Patsy Turner is working on the biographies.

Sunderland said many children's

names featured on the 42 headstones

recorded so far.

One boy died when accidentally dragged

behind his father's horse. Horse-related

accidents were numerous among the early

settlers, as were drownings.

Infectious diseases were also noted,

particularly diphtheria.

She hoped the work would further

contribute to local, national and family

histories, while reinforcing the historic

value of – and the need to preserve – the

cemeteries.

"We tend to forget that there is often

more accessible history in headstones than

there is in buildings," she said.

"They are a wonderful link to our past."

Heading to

Christchurch

Hospital?

DEANS

AVE

CAR PARK

HOSPITAL

SHUTTLE

Deans Ave

CAR PARK

Plan your trip

From August 24 2020, Canterbury

DHB's free Hospital Shuttle will run

from the new Deans Ave Car RICCARTON Park.

With 200 dedicated patient parks, a sealed surface and

covered stop, the new car park on Deans Ave is available

for patients and visitors seven days a week.

Shuttles run from 7.15am – 8.30pm Monday to Friday,

11am – 8pm weekends. They leave the car park every 15

minutes and stop at both the main hospital reception and

at Outpatients before returning to the Deans Ave Car Park.

Journey time is around 15 minutes and is free of charge.

Riccarton Rd

Shuttle route to

Christchuch Hospital

and Christchurch

Outpatients

Hagley Oval

Christchurch

Botanic Gardens

Ōtākaro/Avon River

Riccarton Ave

Learn more at cdhb.health.nz/parking for full details or call 0800 555 300.

DEANS AVE

CAR PARK

B le nheim Rd

South Hagley Park

Moorhouse Ave

Selwyn St

Hagley Ave

Railway

ln Rd Hagley Ave

St Asaph St

Metro

Sports

Facility

Antigua Street
---
PAGE 6 Wednesday August 19 2020

BAY HARBOUR

Latest Canterbury news at starnews.co.nz

News

Crusaders fan thanks lifesavers

• By Matt Slaughter

JACQUI TURNBULL was

waiting in the line to watch the

Crusaders play the Blues with

her family last month.

The next thing she remembers

is darkness.

The 55-year-old had collapsed

after an asthma attack and if it

wasn't for three doctors behind

her in the line, St John paramedics,

police and security staff,

Turnbull said she would be dead.

Said Turnbull: "We had parked

down on Lyttelton St and I was

walking quite fast because I

didn't want Jack, my little grandson

to miss out on seeing the

horses going around."

She didn't have her inhaler

with her and when she got to the

gate and her family members

were getting tickets Turnbull was

feeling faint and decided to sit on

a nearby grass verge.

"That was the last thing I

remember," she said.

St John ambulance staff came

to her aid and started doing cardiopulmonary

resuscitation but

she was not breathing.

That's when doctors Tom

Brown, David Lyons-Ewing and

Rob Cole who were standing behind

her, stepped in and inserted

a tube into Turnbull's mouth to

HEROES: Jacqui Turnbull with Tom Brown (left) and Rob

Cole, the doctors who saved her life.

PHOTO: MATT SLAUGHTER ​

"If they hadn't have been

there, I was a goner."

– Jacqui Turnbull

help her start breathing again.

"The doctors were actually

ICU doctors, it was so crazy, and

they just finished their shift to go

to the game.

"If they hadn't have been there,

I was a goner," she said.

The three doctors then left

Turnbull in the hands of ambulance

staff.

Said Turnbull: "The ambulance

apparently worked on me for 20

minutes or so before they even

left the stadium."

TITLE-WINNERS: After suffering a life-threatening asthma

attack at the Crusaders v Blues game last month, Jacqui

Turnbull received tickets to watch the red and blacks beat

the Highlanders on August 8.

PHOTO: GETTY

She was transported to the intensive

care unit at Christchurch

Hospital.

Turnbull's family was told she

may suffer brain damage, but

miraculously, she recovered and

was discharged two days after

her asthma attack.

Crusaders staff heard

Turnbull's story and invited

her, her daughter Jess Blomeley

and Blomeley's friend Sophie

Thompson to the team's training

in the lead-up to the Highlanders

clash, where she met with

Brown, police and security staff

who helped her, and coach Scott

Robertson.

Said Turnbull: "Tom [Brown]

the young doctor had actually

come in to see me when I was in

the ward, it must have been Monday

morning, so I had actually

met him prior to this. But because

I was so spaced out, just saying

thank you didn't even cut it.

"It was really cool to be able to

go back there a few weeks later

and meet up with everybody and

it was very overwhelming."

Meanwhile, Turnbull and her

family got free tickets to see the

Crusaders beat the Highlanders

on August 9 and said she will

never be caught without her

inhaler again.

PRESENT S

PRESENT S

PRESENT S

You can't beat fresh seafood

Dish of the day

Creamy sundried tomato penne pasta with fresh mussels, green

beans, spinach and topped with grilled garlic butter Scampi.

And try our new addition to the menu...

Citrus Salmon

Grilled salmon with a orange

citrus sauce, served on a

kumara & caper rosti, topped

with a sweet orange salsa,

served with steamed seasonable

greens and grilled cherry tomatoes. (GF,DF) $34

Tuesday to Sunday - Lunch & Dinner • Saturday & Sunday - Breakfast

0,000 in cash prizes to be won!

Lorem

$10,000 in cash prizes to be won!

$10,000 in cash prizes to be won!

Lorem

sum dolor sit amet, ipsum consectetuer dolor dolor sit amet, sit amet, adipiscing consectetuer adipiscing elit, sed adipiscing diam elit, sed nonummy diam elit, sed nonummy diam nibh nibh euismod nonummy tincidt

ut laoreet Performances dolore unt unt Live ut magna ut laoreet Performances dolore aliquam @ dolore The magna erat magna Geraldine aliquam @ volutpat. The aliquam @ erat Geraldine The Ut volutpat. erat wisi domain, Geraldine volutpat. enim Ut wisi domain, ad enim minim south Ut ad wisi domain, minim south veniam, enim canterbury

veniam, ad quis minim south quis veniam, canterbury quis

nibh euismod tincid-

Live

nostrud exerci nostrud tation nostrud exerci ullamcorper exerci tation ullamcorper tation suscipit ullamcorper suscipit lobortis lobortis suscipit lobortis

nisl

14

ut aliquip

November

nisl ex

14

ut ea nisl aliquip commodo 14

ut aliquip ex

November

ea commodo consequat. ex ea

2020

commodo consequat. Duis

2020

consequat. Duis

2020

Duis

autem vel eum autem iriure autem vel dolor eum vel iriure in eum hendrerit dolor iriure in hendrerit dolor in vulpu in hendrerit in vulpu in vulpu

We welcome We welcome We applications welcome from applications from groups, from duos

groups, duos

or solo artists. or solo or We artists. solo encourage We artists. We everyone encourage who

everyone who

has song has writing song has writing and song instrumental and writing and talents instrumental to to talents to

consider consider entering, consider entering, but you entering, but need you need but to be you to be need to be

available available to perform available to perform live to at perform live the at Festival the live at on the on Festival on

Saturday Saturday 14 th November Saturday 14 th November 142020.

th November 2020. 2020.

We will select We acts will to select perform We acts will select to with perform the acts chance with to the perform chance of winning with of winning the the chance first the first prize of prize winning of of the first prize of

$5,000, 2nd prize $5,000, $3,000, 2nd $5,000, prize 3rd $3,000, prize 2nd prize of 3rd $1,000 prize $3,000, of or $1,000 People's 3rd prize or People's Choice of $1,000 Choice $1,000 or $1,000 People's Choice $1,000

1) Entry Forms 1) must Entry be Forms 1) received Entry must Forms be received by 31st must August`2020.

by be 31st received August`2020. by 31st August`2020.

2) We will select 2) We finalists will 2) select from We finalists will all select of from the all finalists Acts of the who from Acts apply who all of apply to the perform to Acts perform who live live apply at at to perform live at

the 'Battle of the 'Battle Sounds'. of the the 'Battle Sounds'. of the Sounds'.

3) The competition 3) The competition will 3) take The place competition will take on place Saturday will on take Saturday 14th place November 14th on Saturday 10am 10am 14th – – November 10am –

15 Nov 122020

- - 15 15 Nov 20203pm.

3pm. 3pm.

4) Acts may 4) perform Acts may 4) their perform Acts own may material their perform own material covers. their or own covers. material or covers.

5) The Act finishing 5) The Act in 5) first finishing The place Act in first will finishing place perform will in first perform a song place a of song will their of perform their choice choice a song of their choice

www.geraldinefestival.co.nz following the following prize giving. the following prize giving. the prize giving.

6) It is in your 6) interests It is 6) your to It interests encourage is your to encourage interests your fans to your encourage to fans come to come along your along to fans the to to the final come final to to along to the final to

vote for you, vote so spread for you, vote the so spread for word you, the to so your word spread on-line to your the on-line following. word following. to your on-line following.

Fishermans Wharf

39 Norwich Quay, Lyttelton

Wednesday - Sunday 12pm – 8pm

Phone: 03 328 7530 fishermanswharf.nz

Discover Christchurch's

best pet accommodation

• Daycare - all breeds

• Long stay/short stay

Call now to book in your fur baby,

inspections welcome anytime!

pply: gldarts@xtra.co.nz Apply: gldarts@xtra.co.nz by 31st by 31st August by 31st 2020 August 2020

271 Dyers Road | Phone 384 1297 | www.alameda.nz
---
Wednesday August 19 2020

Latest Canterbury news at starnews.co.nz

BAY HARBOUR

PAGE 7

GeT yoUr

SPrING CLeaNING

STarTed earLy!

CLeaNING eSSeNTIaLS

TIdy UP INSIde!

Browns

Selleys

Cyclone

Shoe Box H: 140mm, Nouveau

$3 98 $4 98 $4 98 $9 90 each

$21

Dustpan and brush set

200mm

Brush and pan set in assorted

colours.

324289

Oven Clean Aerosol 350g

White Foam

Fast 4 minute power clean.

Cuts through tough baked on

grease and grime.

371580

Glass Cleaner 750 ml

light blue

Great for fast, easy streak-free

cleaning.

Removes tough

grease and

ClosetMaid

Cube Fabric Drawer

Material drawers with a one

handle design.

Convenient for storing hobbies,

toys media and office supplies.

341895

W: 230mm, D: 334mm

Ideal storage solution for your

shoes.

Ventilation holes allows for air

circulation.

351434

Fabric Storage

Ottoman (38cm)

Storage space inside.

Assemble in seconds.

Folds flat when not in use.

334485

grime on glass.

224358

2 for

$25

$12 99 $16 98

Spick n Span

Simple Green

30 Seconds

Ledge

Elfa

Nouveau

All Purpose Microfibre All purpose cleaner Spray & walk away

Floating Shelves 3 in 1 Utility Door & Wall Rack Single Door

cloths 5 pack

750ml

shower cleaner 1L

Cubeline set

Kit

Cupboard

Absorbent and durable.

Readily biodegradable.

Spray overnight then rinse off.

Stylish. Modern. Easy to install. Install on the back

H: 1800mm,

Rinse and reuse.

Use on all washable

Stops mould growth.

Great for utilising wall space. of a door.

W: 400mm,

Machine washable.

surfaces.

238307

347919

Space saving.

D: 415mm

287648

Non toxic,

non hazardous.

243753

Easy to install.

309106

Three fixed

shelves.

Great storage in

small spaces.

246977

Was $99

$6 19 $7 98 $7 98 $58 93 $74 25 $161

Drain Clean

Liquid Drain Clean 1

litre

For use in kitchen and

bathroom.

For blocked or

slow running drains.

325217

Armor All

Wash and Wax 1 litre

Safe for all paint surfaces.

pH neutral.

234574

Nouveau

2 in 1 Extendable

Microfibre Mop

Durable but flexible design

2 in 1 mop. Telescopic handle

for extended reach. Suitable for

dry or wet cleaning .

240601

$10

Stop for a

coffee

at our

Free Parking

Plenty of Seating

Winter Warmer

Menu

Great Coffee

Food Made Onsite

Mitre 10 MEGA Ferrymead

1005 Ferry Road. Christchurch

Phone: 366 6306

Find us at: /MEGAFerrymead

Opening Hours:

Monday–Friday:

7am–7pm

Saturday. Sunday & Public Holidays:

8am–6pm

www.mitre10.co.nz/local/MegaFerrymead

Ferrymead
---
PAGE 8 Wednesday August 19 2020

BAY HARBOUR

Latest Canterbury news at starnews.co.nz

News

Helping Canterbury kids reach their

A myriad of groups

help keep our

community moving.

Reporter Bea Gooding

speaks to the Graeme

Dingle Foundation

Canterbury manager

Chris Davis about how

its programmes help

children build resilience

and important life skills

Could you tell me about the

Graeme Dingle Foundation?

Graeme Dingle Foundation

Canterbury has been supporting

young people in our community

through the delivery of positive

child and youth development

programmes since 2002. We

work with communities,

predominantly in areas with

high levels of social deprivation,

to provide life-changing

opportunities for young people.

To date, we have delivered our

programmes to 33,042 young

people across Canterbury.

Our vision is to empower

our young people by providing

them with the tools to overcome

any obstacles that may come

their way. Our programmes

are currently benefitting over

3700 young people every week

in 22 schools across Canterbury

of which 2592 students are in

Christchurch specifically. These

programmes build lifelong

skills, positive relationships

and qualities such as integrity,

respect and resilience that will

last the students a lifetime.

What kind of programmes

are available?

Graeme Dingle Foundation

Canterbury runs three

programmes, Kiwi Can, Stars

and Project K. Kiwi Can is the

primary school programme.

The students attend a Kiwi

Can session each week and

learn core values and life skills

through games and activities.

Stars is a year 9 peer mentoring

programme. Year 12 and year

EMPOWERING

YOUNG: Chris

Davis of the

Graeme Dingle

Foundation

is providing

children

with tools

to overcome

obstacles.

PHOTO: GEOFF

SLOAN

13 students are trained to run

mentoring classes once a week for

year 9s. The students learn about

bullying, social media, positive

relationships, teamwork and

respecting each other. Project K

is a 21-day wilderness expedition

for year 10 students. The students

are taken 200 km away from

school into the Southern Alps

and then hike, camp and cycle

their way back to school. Project

K is a journey of self-discovery.

I understand the programme

has experienced an increased

demand recently. Why has this

been the case?

The last few years have been

very difficult for young people

in Christchurch, more so than

in other parts of Aotearoa. The

psychosocial impacts of the

earthquakes are still lingering,

with parts of East Christchurch

remaining uninhabitable due

to the earthquake-ravaged "red

zone."

More recently, these same

young people have had to deal

with the horror forced upon them

by an act of terrorism, right on

their doorstep. Now they are faced

with Covid-19, with the "new

normal" that this brings and with

likely job losses impacting their

home lives – the mental health

and well-being of these families

may be negatively impacted,

adversely affecting many young

people across these communities.

Census 2018 statistics across

the communities we work in a

paint a sobering picture, with

nearly a quarter of all school

leavers not gaining qualifications

and a NEET rate (Not in

Employment, Education and/or

Training) of above 15 per cent.

Christchurch

STORES

Downsizing? Decluttering?

Please help support local St John activities by donating good quality pre-loved clothing,

jewellery, homeware, furniture and books to one of your local St John Christchurch stores.

We welcome donations dropped of at either:

272 Lincoln Road, Addington or 180 Durham Street South, City

or please call 027 304 7821 to book a donation collection.
---
Wednesday August 19 2020

Latest Canterbury news at starnews.co.nz

BAY HARBOUR

PAGE 9

full potential

What kind of issues have

been impacting school children

recently? And how has the

programme helped them

overcome these barriers?

School principals ask for the

Graeme Dingle Foundation

programmes to come into their

schools because we provide

positive youth development that

complements and extends the

positive behaviour for learning

work that schools are already

doing for their students.

"Many of [our] students lack

the privilege of being immersed

in and surrounded by positive

role models in their life. The Kiwi

Can programme has provided the

opportunity for our kids to learn,

practice and demonstrate the

implementation of values into their

everyday actions and behaviours.

I can confidentially say that the

programme will undoubtedly have

long term benefits for our students

and their ability to positively

contribute to our community." –

Janeane Reid, principal of Te

Waka Unua School.

What are the common

barriers that hold children

back from reaching their full

potential in life?

It is always so important to

remember that not all childhoods

are created equal. Some kids

have a tough start and it can

hold them back. Big factors

are poverty, family instability

with lots of moving house and

changing schools, lack of good

housing and hunger. Our goal as

an organisation is to help those

kids to know that, no matter

what their start is in life, what

they have inside is strong enough

to overcome any obstacle.

Why is an organisation like

this important for Canterbury

kids?

I think a school principal can

answer this better than I can:

"Kiwi Can has a positive impact

on the students at Bamford

School. Through the programme,

senior students have become more

confident and have developed the

ability to take risks in front of their

peers without being embarrassed.

Furthermore, they have learnt

valuable lessons about resilience,

honesty, integrity and leadership

through fun and engaging

activities," – Shona Hewlett,

principal of Ngutuawa School.

What advice would you

give parents and educators to

instil positivity, resilience and

confidence in kids, and why?

The teachers and principals

BUILDING RESILIENCE: Demand for programmes at the Graham Dingle Foundation is

soaring, with many more schools coming on board in recent weeks.

PHOTO: GEOFF SLOAN

we meet and work with are

fantastic and are all working

really hard on behalf of

Canterbury's youth.

Graeme Dingle Foundation

Canterbury's role is to provide a

set time each week where

the students can really focus on

learning about respect, positive

relationships, resilience and

integrity.

These positive values are of

course also being learned about

during regular class time and at

home.

Our foundation's role is to

focus strongly on these topics

in a whole-class format every

week. The students get a chance

to play games that model positive

behaviours and to carefully

consider and discuss their values

and actions.

Our classes are a chance to

talk about values regularly with

young people and our school

leaders model good values and

behaviours.

Kids become what they see and

hear.

POWER VINYASA YOGA

Many people find Apollo's Power Vinyasa practice to be effective in

relieving and preventing back pain and tension-related types of pain.

yoga pose of the month

Standing forward bend is a great counter pose

to relieve tightness in the back of your body

caused by running, cycling, sitting and so forth

and relieves compression and pain in your back.

It is also a good pose to relax tension from your

shoulders, neck and jaw. Standing forward bend

creates a relaxed state of mind.

STANDING

FORWARD

BEND

• Stand with your feet parallel at hip width.

Evenly spread your weight through the length

and breadth of your feet.

• Bend your knees a little. Fold your upper body

down towards the floor from your hips. Avoid

rounding your back as much as possible.

• Do not bounce or try to force your body to

bend deeply. Relax gently and gradually into

greater depth.

• Set the palms of your hands at the back of

your Achilles tendons or calves. Draw your

elbows towards one another behind your legs.

• Draw your shoulder blades away from your

ears. Relax your neck and allow your head to

hang free.

• As you progress, shift the weight of your hips

forward and stack your hips over your ankles.

Press the backs of your thighs towards the

back of your room.

• Relax your jaw and soften the features of your

face.

• Breathe calmly through your nose for 5-10

breaths then slowly return to standing on an

inhale.

Apollo Power Yoga

• Ferrymead Studio - 23 Humphreys Drive • Central City Studio - 46 Salisbury Street

Telephone 021 055 1884 or 027 227 2026

for more info visit www.apollopoweryoga.com
---
PAGE 10 Wednesday August 19 2020

BAY HARBOUR

Latest Canterbury news at starnews.co.nz

X-Trail Demonstrator

Sales Event

Ti 4

RRP $54,990+orc

SPECIAL

PRICE

$46,990

CHRISTCHURCH NISSAN, 321 Moorhouse Avenue, Christchurch

Ph: 03 595 6820

www.christchurchnissan.co.nz

4

RRP $48,990+orc

SPECIAL

PRICE $41,990

christchurchnissan.co.nz

Rental Fleet

RENTAL COMPANY CLEAR ANCE

SAVE THOUSANDS ON THESE LATE MODEL LOW MILEAGE VEHICLES

MITSUBISHI MIRAGE XLS

5-Star ANCAP Safety | Integrated

Audio and Air Conditioning

15" Alloy Wheels

$12,990

MITSUBISHI ECLPISE CROSS XLS

5-Star ANCAP Safety | Forward

Collision Mitigation | Lane Departure

Warning | Smartphone Link Display

Audio System

$24,990

MITSUBISHI OUTLANDER 4WD VRX

5 star safety rating with 7 airbags | Rear

view camera Touchscreen infotainment

with Bluetooth connectivity Electronic

traction control | Central locking

$34,990

*Vehicle supply is limited and colour choice cannot be guaranteed. Vehicle images are for display purposes only.. Finance criteria, terms and conditions apply.

CHRISTCHURCH MITSUBISHI

386 Moorhouse Avenue,Christchurch | 03 379 0588 | christchurchmitsubishi.co.nz
---
Wednesday August 19 2020

• By Bea Gooding

INCREASING demand

for free legal services due

to Covid-19 has prompted

the Government to provide

significant funding to

community law centres

across the country.

Community Law Canterbury

is among dozens

to benefit from a $3.47

million funding boost over

three years – in addition

to the almost $8 million in

funding that was already

announced in Budget 2020.

The increase will add

$1.2 million to community

law services in the current

financial year.

Said Community Law

Canterbury board chairman

Jeremy Finn: "We're

delighted to get it in recognition

of the huge, unmet

demand that will continue

to increase post-Covid-19.

"But we also know that

demand is at full capacity

now, so we would expect

the funding will allow us

to increase our staffing and

retain experienced lawyers."

He said the majority of

issues clients have faced

recently involved employment,

changing work conditions,

family law matters,

immigration, finances and

Government's funding boost.

tenancy issues.

The extra funding comes

at a time when Community

Law Centres around

the country have been

experiencing a significant

decline in donations because

of Covid-19.

The Canterbury facility

will receive their share of

about $120,000 a year for

the next few years.

The extra funding was

important to retain and

increase staff levels to allow

for higher volumes of casework

work to be completed,

and for part-time staff to

move into full-time roles.

This was especially the

case in Canterbury.

"Our staff have great

Latest Canterbury news at starnews.co.nz

News

Boost for law centre

CRUCIAL: (From left to right) – Jane Jarman,

Adriana Damasceno and Katrina Fitzgerald

of Community Law Canterbury welcome the

experience and have been

working hard to support

high-need clients," he said.

"Christchurch clients

have high needs, especially

in the aftermath of the

earthquakes, mosque attack

and now Covid-19."

Said Sue Moroney,

Community Law Centres

o Aoteaora chief executive:

"Increased funding will help

community law centres to

help the increasing number

of people affected by the

impact of the pandemic

response."

Each year, CLCs complete

about 50,000 cases

and provide law-related

education to about 25,000

people.

WHITEBAITERS

WEEK

Pams Fries 1kg

$

2 99 ea

Pams Finest

Cookies 300g

BAY HARBOUR

PAGE 11

$

3 69 ea

Eta Ripple

Cut Chips 150g

ANY

2 FOR

$

3 49 Speight's

Gold Medal Ale

12 Pack 330ml Bottles

$

19 99 ea

Tracey McLellan

for Banks Peninsula

Get in touch:

027 227 3969 /traceymclellanlabour

tracey.mclellan@labour.org.nz @traceymclellan

BE IN TO

WIN

a

$50

GIFT CARD

Fabulous

Nectarines

600g Prepack

Product of USA

$

5 99 pk

Fresh NZ

Skinless Chicken

Breast Fillets

www.foursquare.co.nz

$

12 99 kg

facebook.com/FourSquareNZ

www.labour.org.nz

Authorised by Dianna Lacy, 160 Willis Street, Wellington

STAFFORD STREET

Specials available South Island only from Monday 10th August until Sunday 23rd

August 2020 or while stocks last. Wine and beer available at stores with an off

licence. Wine and beer purchases restricted to persons aged 18 years old and over.
---
PAGE 12 Wednesday August 19 2020

BAY HARBOUR

Latest Canterbury news at starnews.co.nz

GREAT WINTER

READS INSTORE

NOW!

NEW RELEASES

Too Much and Never Enough

by Mary trump

The extraordinary inside story from Donald Trump's only niece of the factors

that helped make the US president into the world's most dangerous man

Mary Trump spent much of her childhood in her grandparents' large, imposing

house in New York, where Donald and his four siblings grew up. She describes

a nightmare of traumas, destructive relationships and a tragic combination of

neglect and abuse.

Magnolia Table, Volume 2

by Joanna Gaines

Following the launch of her #1 New York Times bestselling cookbook, Magnolia

Table, and seeing her family's own sacred dishes being served at other families'

tables across the country, Joanna Gaines gained a deeper commitment to the

value of food being shared.

Magnolia Table, Volume 2 is filled with 145 new recipes from Joanna Gaines'

own home that she shares with husband Chip and their five kids, and from the

couple's restaurant, Magnolia Table; Silos Baking Co; and

new coffee shop, Magnolia Press.

In the Jaws of the Dragon

How China Is Taking Over NZ

by ron asher

China Inc., the business arm of China's repressive dictatorship, is trying to

take over the world by grabbing key sectors of various countries' economies

as part of its strategic plan for global control of the world's resources. China's

rapid arms build-up suggests that it is preparing to back its ever increasing

demands on other countries with force.China chose New Zealand as the first

Western country with which to have a free trade agreement, which is more

about colonising and dominating our economy than about free trade.

This book should be read by every New Zealander since it affects the

future prospects of the country in respect of economic welfare, sovereignty

and national security. It is a case of getting a grip on the situation now or

sleepwalking to a situation where New Zealanders will finish up as lowly paid

serfs in the land that was built by the sweat and toil of the pioneers.

Searching for Charlie

by tom scott

Charles Upham was the most highly decorated soldier in the Commonwealth

forces of WWII, and could arguably be called the bravest soldier of the war.

An unassuming stock worker/ valuer at the beginning of the war, he stormed

through Crete and the Western Desert amazing and confounding his comrades

with his exploits. He won two Victoria Crosses (the only combat soldier ever to

do so) and in the opinion of his superiors deserved many more. Captured, he

became an escape artist and ended his war in the famous Colditz POW camp.

Shy and reluctant to take credit for his actions, he deflected all praise onto his

soldiers and was described as "distraught" that he had been honoured. He

then farmed in North Canterbury until his death in 1994, avoiding the limelight

wherever possible. There has been one previous biography, "Mark of the Lion"

published in 1962, which was a major bestseller and sells to this day

Taking the Punches

by Mike edwards

A story of the cut-throat world of promoting in New Zealand boxing, from the

1960s to the modern era, as told by legendary trainer and promoter Mike

Edwards. 'Who would want to be a boxing promoter? It's like being on a

treadmill you can't get off, as you forever chase the elusive pot of gold at the

end of the rainbow.'

Taking the Punches is legendary trainer and promoter Mike Edwards' story,

from an Otahuhu gym in the 1960s through to the height of modern era. It's a

world of showmen, superstars, larger-than-life characters, brawlers, shysters,

fraudsters and out-and-out criminals. Anyone who is anyone in the story of New

Zealand boxing has worked with (or against) Mike, including Tuna Scanlan,

Kevin Barry, Lance Revill, David Tua, Monty Betham Snr, Paul Murdoch and

Joseph Parker, to name but a few.

RIPLEY'S BELIEVE IT OR NOT

BEYOND THE BIZARRE

Normally $49.99

NoW JUST

$19.99

1000 PIECE CHRISTCURCH

JIGSAW PUZZLE

SPECIal

$14.99

1005 Ferry rd

Ph 384 2063

CLOSED SUNDAY

while stocks last (see instore for terms and conditions)

We Wish

you Well and

hope to see you

all soon!

Barry & kerry
---
Wednesday August 19 2020

Latest Canterbury news at starnews.co.nz

BAY HARBOUR

PAGE 13

Your Local Views

Get behind Redcliffs Four Square

MP Ruth

Dyson writes

about the

new Four

Square

supermarket

in Redcliffs

CHANGES are

always challenging.

During the lockdown, I heard

many comments from people

about the value of our "essential

workers" and how much more

they were appreciated. Of course,

all those who work in our health

system were high on the list. But

so were others, less obvious but

very important.

They included our shop workers

who kept us supplied with

our groceries but also worked

exceptionally hard to ensure that

we shopped in safety. At the local

Redcliffs New World, as I stood

in the social distanced queue,

many people noted the staff's

attention to sanitation and how

friendly they were to people who

were sometimes impatient but

who were also anxious about the

Covid-19 situation.

So when the announcement

came that New World Redcliffs

was to be no longer and was being

replaced by Four Square, and

that some of these valued staff

would not have their jobs, there

was understandably a negative

community response.

So I want to put in a big

plug for our new Four Square

supermarket. I remember very

soon after the February 22, 2011,

quakes when the supermarket

was destroyed, Foodstuffs was

very hesitant about rebuilding.

I argued strongly for the

supermarket to come back but

understood that even prior to the

earthquakes, the viability of the

business was not strong.

That situation has, sadly, not

changed. What has changed is

our shopping habits and the

local New World was not sustainable.

Foodstuffs could have taken

the call to just quit the area

completely. But they remain

committed to serving the local

community so took the tough

call to change to Four Square. It

has been a very tough time for

everyone but especially for the

workforce.

We all need to get behind this

CHANGE:

Heath de

Garnham

is the

operator

of the

Redcliffs

Four

Square.

local business if it is going to

survive. No-one would want to

see it fail so, now more than ever,

it's time to put our money where

our mouth is and watch this

supermarket flourish.

Top: Vanessa Forsyth

with Craig Hawtin at the

checkout. Above: Sam

Timbrell and Ben Davie

select from the shelves.

PHOTOS: GEOFF SLOAN

DENIS O'ROURKE

Candidate, Banks Peninsula

Resident of Port Hills for 50 years

Ex-Christchurch City Councillor (15 years) and New

Zealand First MP (6years). Long career in law, business,

and serving on boards of Crown agencies.

My vision for New Zealand:

•Clean, healthy and supportive environment.

•Disciplined, fair, and caring community.

•Prosperous, inclusive and resilient economy.

My Priorities:

•GST off all staple food to help low income families.

•Environmental sustainability, especially water, waste and

recycling – current chairperson of the Central Plains Water Trust

and former chairman of the Recovered Materials Foundation.

•Practical consensus based climate change policies.

•Housing assistance for first home buyers and second-chancers

into home ownership.

•Government investment in new employment rich sustainable

industries, the arts film and entertainment, and especially in new

technology industries.

•Strong border security with all returnees paying their fair share.

•Stronger regional economies through the Provincial Growth

Fund.

•Targeted government assistance for the development of small

and medium businesses.

•An immigration policy strictly targeted to genuine labour and

skills shortages.

•Always looking after the elderly and all vulnerable groups.

Authorised by E Witehira

251E Rawhiti Road, Hikurangi, Auckland.
---
PAGE 14 Wednesday August 19 2020

BAY HARBOUR

Latest Canterbury news at starnews.co.nz

News

Challenging disability through creative arts

• By Bea Gooding

Redcliffs Fine Wine & Spirits

AUGUST SPECIALS

$34 99

$3999

$64 99

$2399

$1999

OPTIMISTIC: Jolt Dance founder Lyn Cotton and dancer Carl Te Tone Huia were meant to

perform their original works in London this year, but it was postponed due to Covid-19.

PHOTO: GEOFF SLOAN

CANTABRIANS will soon be

treated to a performance which

challenges perspectives about

dance and disability in the

creative arts industry.

Representatives from Jolt

Dance company were due to

showcase their work at performance

art theatre Lyric Hammersmith

in London during

May but it was cancelled due to

Covid-19.

Jolt founder Lyn Cotton is

feeling optimistic in spite of the

growing uncertainty in the coming

months.

"We're looking at it positively

and view it as a postponement,

we still want to show London

what New Zealand is capable of,"

she said.

"We're not angry about it, this

is a time of patience and reflection

and it's given us an opportunity

to look at the work again in

more depth."

Including Cotton, Jolt dancers

and tutors Carl Huia, Aleasha

Seaward, Rochelle Waters and

Renee Ryan were meant to spend

a week in London to take part in

Amici Dance Theatre Company's

40th-anniversary celebrations

and raised $10,000 to do so.

Amici is also an inclusive

dance company and invited the

team to present two original

works, discuss their achievements

and host teaching sessions.

They Call Me Sam is a short

film that chronicled life with

down syndrome and challenges

attitudes about having a disability.

Takiwatanga is a performance

$ 46 99

$2299

$2599

which is shaped by Huia's Māori

culture and his lived experience

of autism.

The word "takiwatanga" is

used to describe autism and

means "in his or her own time

and space."

Cotton met Amici founder

$34 99

Wolfgang Strange in 1995, and

after spending a few years under

his wing, she was inspired to

open her own dance studio with

a similar concept of breaking

barriers within the disability

community.

"Wolfgang was my teacher for

One Size Fits All

Available in any amount from $20.

Purchase from the Centre Management Office

Monday to Friday and online.

Redeemable at Dress-Smart stores nationwide

Visit www.dress-smart .co.nz for terms & conditions

three years, and when I came

back to NZ I set up my own Jolt

classes and it grew from there,"

she said.

"We take what the dancers

give us which shapes our work –

it's not just about participation,

it's about excellence and for

people with disabilities to have

their voices heard."

Not only do they offer dance

classes, teaching and choreography

training was also available

which leads to industry level

pathways through performance

and leadership.

Jolt's "Move" programme is

the country's only teacher training

programme for people with

disabilities, taking their work

into mainstream schools to teach

non-disabled children.

Said Cotton: "All peer pressure

starts to drop away when they

come together and dance. It's

okay to be different.

"The bar was set low for what

people with disabilities can

achieve, and now they're playing

catch up because they've been

denied that opportunity for so

long."

Jolt Dance celebrates their 20th

anniversary next year and has

since grown to more than 150

dancers.

They will plan to showcase

their original works in

Christchurch in October.

$12 99

$20

$1299

99

1/87 Main Road, Redcliffs ● Phone 03 260 0433

OPEN DAILY ● Offers expire 31 August 2020

GIFT IDEA

Open 10am-5pm, 7 Days 03 349 5750

CHRISTCHURCH 409 Main South Road, Hornby

www.dress-smart.co.nz
---
Wednesday August 19 2020

Latest Canterbury news at starnews.co.nz

BAY HARBOUR

PAGE 15

Wine

Class borne out in a long-stemmed glass

• By Mark Henderson

EXPECTATIONS are a funny

thing.

Naturally, I try to avoid them

when I'm tasting, as they could

cloud one's judgement and

impartiality.

I know the identity of the wines

in a tasting, but they are always

masked and in random order: this

is dubbed "single blind tasting".

My regular tasting duo

of Collins and McLaren are

informed of the wine style and

vintage spread, but know neither

the identities nor order in which

they are served: this is "double

blind tasting".

The average price of today's

wines created an expectation of

class, which was borne out in the

glass.

2018 Chard Farm The Tiger

Central Otago Pinot Noir

Price: $81

Rating: Excellent/outstanding

Beguiling nose showing

subtlety and elegance, mixing

strawberry, raspberry, perfume,

savoury nuances and wild herb/

lavender notes.

Juicy, sappy, power without

weight, sweet fruit courses

through this aligned with herbal

notes and savoury qualities.

Builds in texture and richness.

Lovely integration and balance, a

real charmer.

www.chardfarm.co.nz

2018 Chard Farm Mason

Vineyard Central Otago

Pinot Noir

Price: $81

Rating: Very good to excellent

Subtle nose with sweet berry

compote, wood smoke, perfume

and schisty notes. Darker fruits, a

hint of cough lolly, perhaps whole

bunch ferment stalk notes and

chewy tannins.

Flavoursome, developing a

bittersweet element and sweet 'n'

sour interplay on the long finish.

This is showing its youthfully

brash side for now.

www.chardfarm.co.nz

2016 Pegasus Bay Prima

Donna Pinot Noir

Price: $100

Rating: Excellent to

outstanding

Appealing nose, darker

register to the fruit, plum,

tamarillo, bonfire embers,

building in fragrance. Richly

fruited, mouth-filling, this is

clearly a ripe and powerful wine,

yet it doesn't stray into excess.

Some chalky/fruit pith and

zesty acid interplay brings lovely

liveliness to the texture. A fresh,

tangy note hangs on the long

finish. Delightful.

www.pegasusbay.com

2018 Quartz Reef Bendigo

Single Ferment Pinot Noir

Price: $85

Rating: Excellent

A nose of intrigue, balsamic/

umami influences shift to

perfume and dusty stones,

raspberry with time.

Richly fruited entry, loganberry,

mixed berries, cinnamon and

spices lead, evolving to savoury

notes and fresh, sour cherry

on the long close. Weight but

no excess, growing in richness

and integration, adding earthy

touches. Lots of interest.

www.quartzreef.co.nz

2018 Chard Farm Viper

Vineyard Central Otago

Pinot Noir

Price: $81

Rating: Excellent

Subtle yet attractively expressed

nose of berryfruit, rhubarb,

perfume and savoury notes,

kid leather perhaps. Somewhat

enigmatic, starting subtly, spices

and wisps of balsamic giving way

to sweet fruit as this blossoms

in the glass, showing deceptive

power and structure. Crisp acidity

keeps this lively with a lifted, tart

note on the long finish.

www.chardfarm.co.nz

2014 Misha's Vineyard

Verismo Central Otago

Pinot Noir

Price: $75

Rating: Very good to excellent

Notably fragrant nose with

additions of stewed fruits,

balsamic notes, anise and dusty

stones.

A boldness to the palate,

leading with spice and savoury

notes, a little tilled earth,

mushroom and forest floor/

funkiness building with aeration.

Already round and supple,

this bottle-aged release can be

enjoyed now.

www.mishasvineyard.com

ALTOGETHER

LOCAL

Our brand has been part of the fabric of New Zealand since 1973,

when Pam, Graham and John Bayley began working from their family

home in Pakuranga. A locally owned and operated New Zealand business

with 88 offices breathing life and jobs into our towns and cities. Up and

down New Zealand, our origins are deeply rooted in the local community.

Selling your property? Contact your local Bayleys expert.

Ben Turner

027 530 1400

Evan Marshall

027 221 0910

Chris Mangels

021 725 350

Rob Berry

027 432 0739

Tracey Nixon

027 688 5969

Bayleys Akaroa 03 375 4700

Bayleys Diamond Harbour 03 329 4855

Bayleys Ferrymead 03 595 2844

bayleys.co.nz

WHALAN & PARTNERS LTD, BAYLEYS, LICENSED UNDER THE REA ACT 2008

Lynette Hughan

027 485 8027

Peter Hughan

027 485 8380

Alex Fort

027 421 6016

David Archibald

027 436 9130

Marilyn Still

027 229 8769

Residential / Commercial / Rural / Lifestyle

What would the

criteria be for

assisted dying?

Know before you vote

Authorised by the Secretary for Justice
---
PAGE WESTERN 16 NEWS

BAY HARBOUR

Latest Canterbury news at starnews.co.nz

Wednesday August 19 2020

[Edition datE] 27

keep it local

and support businesses in your community

Discover the secrets of relaxation,

well-being and beauty at Body Care

SPRING is just around the corner, so

now is the perfect time to start beauty

treatments to ensure you are summer

ready. Body Care Beauty & Massage

Therapy has an array of treatments and

services to help achieve this goal.

Located in Redcliffs, Body Care is

a warm and inviting boutique facility

dedicated to delivering the finest of salon

treatments, beauty and massage therapy.

"We tend to cover up in colder months

and cut back on beauty routines, but

it's actually the best time to replenish

and revitalise the skin," said Tina Day,

Body Care owner/operator. "At Body

Care our most important consideration

is 'you'. I am committed to the upmost

standards of service and focus on

identifying your individual needs and

delivering personalised treatments that

ensure you get the most out of your salon

experience."

Facial treatments on offer include Face

Mapping Skin Analysis, Peels, Microzone

Express, Diamond Microdermabrasion,

Celluma pro LED light therapy, and

Microneedling.

"Microneedling has become one of my

most requested treatments. I've recently

changed to Amiea Med EXCEED and

have been receiving excellent feedback

from clients about the results", said Tina.

"Due to popularity I've extended our

Microneedling Winter Special to

the end of September, that's $50 off

treatment."

EXCEED Microneedling is a Collagen

building therapy. The FDA approved

device is clinically proven to increase

natural Collagen formation, promote

rejuvenation and improvement of

skin texture, visibly reduce fine lines

and wrinkles, treat acne scarring, and

normalise skin structure.

Tina trained at the Aoraki Polytechnic

qualifying with Distinction and is

internationally certified. She has received

numerous awards for excellence and

has a passion for beauty therapy and

completely committed to ensuring all

her clients receive an outstanding level of

service.

"I attend regular training and seminars

to ensure I consistently deliver high

standards of customer care."

Other treatments on offer: For hands

and feet - manicures and pedicures and

for the body there is a range of massage

options including Aromatherapy and

Swedish techniques.

For general upkeep Tina also offers

waxing, eye and eyebrow tinting, brow

shape and lash lift, and spray tanning

services.

For ultimate pampering, Body Care has

a decadent array of Day Spa Treatments

available to treat yourself or spoil

someone special.

Share the Body Care experience.

Body Care have Gift Vouchers. Why

not surprise Dad with a Body Care Gift

Voucher this Father's Day?

"I exercise integrity, discretion and

sincere desire to give everyone the best

treatment experience."

Discover the secrets of relaxation,

wellbeing and beauty at Body Care. Talk

to and let her show you how easy it is to

be good to yourself.

Body Care Beauty & Massage, 89

Main Road, Redcliffs. Phone 03 384

4729. www.redcliffsbodycare.co.nz

Your local professional

FOR ALL YOUR

PLUMBING,

GAS &

DRAINAGE

• Bathroom repairs

• Renovations

• Leaks

• Blocked drains

• Gas and drainage

KeeP New ZealaNders worKiNg!

BUY NZ MADE SHOES

Kids from $115

Adults from $195

Lyttelton

Framing

Four good reasons to use us

to frame your artwork:

1. Know how - UK qualified

conservation framer

2. Experience - We have been

established now for eighteen years

3. Guarantee - All work guaranteed

4. Price - Very competitive prices

Carol and Chris

Phone 376 5322 or email

chcheast@laserplumbing.co.nz

47c Garlands Road, Woolston Phone 389 3431

www.thefootwearfactory.co.nz

Contact Malcolm Ph 328-7350

32 London St, Lyttelton

Mon-Fri 9am-5pm, Sat 9am-1pm

$50 OFF

(Due to popularity, offer extended

until 30-September 2020)

FDA approved amiea med EXCEED

MICRONEEDLING

(Collagen Building Therapy. Normally $300)

Delivering tranquil and

relaxed treatments,

beauty and massage

therapy in a warm and

inviting atmosphere

EXCEED by amiea med is a medical microneedling

device clinically proven to increase natural Collagen

formation, promote rejuvenation and improvement

of skin texture, visibly reduce fine lines & wrinkles,

treat acne scarring, and normalise the skin structure.

89b Main Road, Redcliffs

Phone 03 384 4729

www.redcliffsbodycare.co.nz

Innovative designer, creator,

skilled craftsman and repairer

of fine jewellery

Lyttelton Studio, 8 London St

Phone 025 486 2855

www.julianharding.co.nz

Advertising enquiries Jo Fuller | Ph: 027 458 8590 | jo.fuller@starmedia.kiwi
---
Wednesday August 19 2020

Latest Canterbury news at starnews.co.nz

BAY HARBOUR

PAGE 17

BUY

NOW

ONE-OFF SPECIAL! TWO BEDROOM VILLAS

From $299,900*

(were $359,900 - save up to $60,000)

PLUS! Move in and pay no weekly village fees for 2020.

COMING SPRING 2020

8 new 2-bedroom villas also at

Thorrington Village

Secure your villa now

STUDIOS / CARE SUITES

*Thorrington Villa Special runs until

31/8/2020 or earlier if all

allocated villas sold.

Villa must be under contract by this date.

It's better than we could

have imagined. We've got

a beautiful garden outlook,

fantastic facilities, access to

daily meals, and the Nurse's

Wellbeing Clinic.

What we offer:

• Nestled in the attractive "Beckenham Loop"

• Weekly fees are fixed for life

• Award-winning gardens

• Maximum RVA certification achieved

• Resident day trips & overnight tours

• Free weekly Wellness Clinics

• Nutritious meals available daily in our dining room or delivered to your villa

• Make new friends, feel supported and safe

• We are 100% non-profit & locally owned

• Rest home & dementia care at Thorrington with hospital care

available at Archer Village

• Our full-time care service offers either Standard Rooms with no

additional daily room fee or a Premium Care Suite with

additional daily room fee

51 Birdwood Ave, Beckenham

For inquiries: Sue (Sales Manager)

M: 021 902 626 W: 03 943 6006 E: sue@archer.org.nz www.archer.org.nz

DON'T DELAY!
---
PAGE 18 BAY HARBOUR

Latest Canterbury news at starnews.co.nz

Wednesday August 19 2020

Tasty Bites

Hashing up a breakfast of champions

Corned beef/silverside

isn't everyone's cup

of tea and it's often

a textural thing. But

leftover corned beef

makes for an amazing

fry-up the next day,

which crisps it up nicely.

In fact, forget leftovers,

these recipes are worth

cooking corned beef for

by themselves

Corned beef hash

8 servings

Ingredients

3 tbsp butter

3 cups potatoes, diced

1 cup red capsicum, chopped

½ cup onion, chopped

500g corned beef, cooked/cubed

1 tbsp Italian seasoning

4 eggs

¼ tsp salt (optional, as corned

beef is already salty)

¼ tsp pepper

Pinch chilli flakes (optional)

Directions

Preheat oven to 200 deg C. In a

medium sized oven-proof skillet,

melt butter then add

diced potatoes. Cook 5-7min,

until the potatoes are tender and

slightly crispy. Add capsicum and

onions, and cook 4-6min until

tender.

Add the corned beef and cook

until warmed and slightly brown.

Crack the eggs on top of the

hash. Place the skillet in the oven

and bake for 8-10min until eggs

are set. Season with salt, pepper

and pinch of chilli flakes.

Corned beef hash

breakfast cakes

10 servings

Ingredients

1.2kg Desiree potatoes, whole,

unpeeled

350g corned beef, roughly

chopped

2 tbsp wholegrain mustard

¼ cup finely chopped chives

2 eggs, lightly beaten

1 cup plain flour

2 tbsp olive oil

1 tbsp butter, melted

Fruit chutney, to serve

Directions

Boil potatoes for 25-30min or

until tender. Drain. Cool for 10min.

Roughly smash potatoes (so that

they are still chunky). Set aside for

30min to cool completely.

Add beef, mustard, chives, eggs,

and salt and pepper to potato.

Stir until combined. Place flour

into a separate bowl. Using ¼

cupful of mixture at a time, shape

potato mixture into 8cm patties.

Refrigerate for 2hr or until firm.

Lightly coat patties in flour.

Preheat a non-stick pan over

medium heat. Combine oil and

butter in pan. When sizzling,

add patties. Cook for 3-4min

each side or until golden.

Serve with chutney.

Family Owned & Operated

RetiRement Village

Apartment for sale

Priced from $215,000

1 bedroom

Inquiries to Mark 021 328 100

Get In touch:

437 Armagh Street,

Linwood, Christchurch 8011

Call Jess for care bed inquiries.

General Inquiries:

(03) 982 2165

HEAT PUMP

SALE NOW ON!

Amazin' winter Specials!!

90%

SubSidy

Warmer KiWi HomeS

Programme

*Eligibility criteria apply

• We will offer you the best quality brands and

option of heat pump for your home/business

• Providing Heat Pump solutions for over 18 years to Cantabrians

• We personally guarantee all our products & installs for 5 years

(providing annual maintenance has been completed)

Phone us today for your free consultation & quote

Proudly supported by Star Media

41A SHAKESPEARE RD, WALTHAM

PHONE 03 366 0525

www.enviromaster.co.nz

"A local team for local people"
---
Wednesday August 19 2020

Latest Canterbury news at starnews.co.nz

BAY HARBOUR

PAGE 19

BIRDS OF THE ESTUARY

Tanya Jenkins is the manager of the Avon-Heathcote Estuary

Ihutai Trust, a non-profit organisation formed in 2002 to protect

one of New Zealand's most important coastal wetlands. Each

week she introduces a new bird found in the estuary. Her

column aims to raise the understanding of the values and

uniqueness of the area.

To hear a bellbird is a privilege

WHAT A privilege it is

when you hear a bellbird at

your home.

For me in town, that is an

irregular event but if you

live near the estuary/on or

near the Port Hills you may

be lucky enough to regularly

see bellbirds in your

garden.

Explorer Captain Cook

described its song "like

small bells exquisitely

tuned". Well described

I thought and hence its

name.

The bellbird is endemic to

NZ and found throughout

the country. Unfortunately

numbers declined when

native forest were cleared

for farmland and predators

were introduced.

However, the bellbird

managed to adapt somewhat

to this change of its

native habitat and can now

be seen in native as well as

in exotic forests and even

urban parks.

Better still, in areas where

predator control is in place

numbers are steadily increasing

again. With many

homeowners around our

estuary brave enough to

trap predators we can hear

an increase in the bellbird

numbers again.

The bellbird is a honey

eater but will also eat

insects and fruit and plays

a very important ecological

role by the pollinating

native vegetation flowers

but also by dispersing the

native fruit seeds.

An important role for

this tiny bird with the male

weighing a mere 34gm

and the female only 27gm.

Laying three to four eggs,

the female will incubate the

eggs by herself but the feeding

duties of the chicks is

ADAPTABLE:

The bellbird

sings 'like

small bells

exquisitely

tuned.'

PHOTO: CLIVE

COLLINS

shared by both parents.

Predator control around

the estuary is undertaken

by the city council but we

can all help by placing rat

and/or possum traps in

our gardens to support

this. Planting native trees

on your section like the

kowhai will also assist in

bringing the bellbird to

your garden.

The Department of

Conservation website has a

list of recommended native

trees and scrubs to plant

on your section to attract

the bellbird and other

bird species. Worth an

investigation.

UNDER NEW MANAGEMENT

WOOLSTON

Bumper to Bumper repairs

þ ALL MECHANICAL REPAIRS

Servicing. lubes, cambelts, tyres, exhausts,

suspension, batteries, water pumps, etc.

þ VTNZ WOF ON SITE

þ VTNZ CERTIFIED REPAIRER

þ COURTESY CAR AVAILABLE

BE IN TO

WIN

YOUR

SERVICE

Book in your vehicle for

a service and go into our

monthly draw to *WIN back

the cost of your service.

*Conditions apply

WOOLSTON AUTO SURGERY

693 FERRY RD | PH 03 384 9092
---
PAGE 20 Wednesday August 19 2020

BAY HARBOUR

Latest Canterbury news at starnews.co.nz

We're making roOm for some fresh new loOks...

DOZENS OF SUPER DEALS ON SALE – IN STORE & ONLINE.

NOW ON!

Riley Queen Bed

WAS $

999

NOW

$

799

CLARKE

RECLINERS

ON SALE!

Recliner

NOW

$

549

Charlie Angular Chaise Sofa

WAS $

2199

NOW

$

1899

3 Seater

Recliner

NOW

$

1199

SUPER DEAL!

Bahamas Trundler

Bed Set

WAS $

897

SUPER DEAL!

Paris Dining Table – W190

WAS $

999

NOW

$

698

NOW

$

699

Dante Velvet

Barstool

WAS $

159

Plus new styles just landed!

New colOurs!

NOW

$

129

Parklane White

Bedroom Range

Fresh new styles

have landed for Rugs,

cushions & throws!

ON SALE!

Shop

Online

Nationwide

Delivery

Finance

Options

SPRING CLEAN STOREWIDE SALE ENDS 07.09.20.

Come & check out

our new STORE!

targetfurniture.co.nz

250 Moorhouse Road, Christchurch

Ph: 0800 TARGET (0800 827438)

Offers and product prices advertised here expire 7/9/20.

Sale excludes Manchester and Accessories.
---
Wednesday August 19 2020

REAL ESTATE

An Architectural Journey

63 Santa Maria Avenue, Mt Pleasant

Auction 12pm, Thu 3 Sep 2020 (unless sold prior)

4 bedrooms | 2 living rooms | 2 bathrooms

Listing Number: 5512837 Open Homes: View Sun 1-1.45pm, Wed 5.30-6pm

Latest Canterbury news at starnews.co.nz

BAY HARBOUR

PAGE 21

This wonderful home designed by wellrenowned

local architect John Chaplin, has

been a love affair and their home of over 40

years.

This young couple's dream was for a

perfect site with enticing views for a family

home. An amazing vision for this new home

began in the late 1970s, with changes in

the 1980s, then an extensive alteration and

landscape design in the 2000s. The final

stage post-earthquake in 2015.

So many interesting features, seductive

angles, light filled spaces, a well thought

about and much loved home over a series of

half levels, with endless options.

Generous living areas flow into outdoor

garden spaces, decks and boardwalks. The

main deck, a magnificent structure to enjoy

the sunrises, sunsets and everchanging views

of the estuary and across Pegasus Bay.

The perfect home for entertaining, with a

sensational private and sheltered courtyard

garden, well planted and designed for a

wonderful experience both night and day.

Sitting proudly on the hill, among the tree

tops, this is a complete artistic package and a

timeless design.

See you at the open homes or for a

private viewing or more information

contact Marilyn Still of Bayleys

Ferrymead (Licensed Agent REAA 2008)

on 027 229 8769.

Be inspired

HOME

LEISURE

NEW DATES

4 - 6 SEPTEMBER

Horncastle Arena

with thousands of ideas

under one roof

be in to

Win

tHis

eLeCtRiC CAR

worth $26,000

HOME

LEISURE

Horncastle Arena,

4-6 september 2020

FREE ENTRY

Friday | Saturday | Sunday

10.00am - 5.00pm

Valid for two people with this coupon only
---
PAGE 22 Wednesday August 19 2020

BAY HARBOUR

Latest Canterbury news at starnews.co.nz

Vibrant Veloster joins long line of coupes

I KNOW LIFE often means

disappointments but it will take

me a bit of time to get over missing

out on a drive of Hyundai's new i30

N fastback – a high-performance

car based around its hot-hatch

stablemate.

See, the turbocharged 2-litre

manual was a casualty of the

coronavirus level 4 lockdown, I was

due to have it within that period

but it has since been seconded to

duties in other parts of the country.

That aside, the other Hyundai

models I was scheduled into have

arrived, and a week with the latest

generation Hyundai Veloster

almost made up for not stepping

into the i30 N.

The Veloster has been around

since 2012, and has just undergone

a major transformation. Saying

that, the one element that makes

the Veloster stand out from the

crowd hasn't been changed. What

appears to be a traditional twodoor

coupe is actually a three-door.

Yes, there are two doors on the

passenger side and just one on the

driver's side.

The concept was first introduced

with safety in mind, the rationale

being that when children are seated

in the rear they can only exit from

the footpath side of the vehicle,

egress to the road is denied. Bear in

mind, too, that the Veloster is only

a four-seater.

Some might say the design of

the Veloster is outlandish, I'd say

it is bold yet trendy, it is fresh and

with an aggressive body and with

vivid colours to choose from,

the Veloster certainly makes a

statement. The evaluation car was

finished in a matte gun metal grey,

it drew a lot of attention during the

time it was in my care.

The Veloster arrives with two

engine options – a 2-litre naturally

aspirated unit that develops

110kW. Or else there is a 1.6-litre

turbocharged option – the 150kW

engine that powers several other

Hyundai and Kia models.

The evaluation car was the

latter, and it is an engine I'm quite

familiar with, it is no outright

powerhouse like the engine in the

i30 N, but it is a feisty little unit and

stands out for its honesty and fussfree

behaviour. Although it must

be said there is genuine exhaust

sound, there's a constant throb

under load and an enticing crackle

between gears.

When the Veloster first

appeared, it was Hyundai's first

full-production vehicle with a

dual clutch gearbox; that type of

transmission is still used, although

it now gets seven gears that can

be manipulated through steering

wheel-mounted paddle shifters.

In terms of driving, DCT units

can be treated much like a normal

STYLISH: The Hyundai Veloster is characterised by a short,

squat rear quarter.

HYUNDAI VELOSTER: Bold wheels add to its aggressive looks.

automatic transmission, the big

difference is that in itself it works

like a manual but without a manual

clutch and, of course, there's no

power-robbing characteristics

of traditional torque converter

system.

The result is a quick shifting unit

that doesn't load the engine, power

is clean, and with a strong torque

figure (265Nm) and available low,

and all of the way between 1500

to 4500rpm, the Veloster turbo is

a quick-reacting car which is no

slouch against the stopwatch.

It will lunge to 100km/h in

7.5sec, which will satisfy those

who are happy with moderate

performance, but for me the

big surprise is the mid-speed

performance, it will scorch through

a highway overtake (80-120km/h)

in 4.2sec, made possible through

solid turbo boost and quickshifting

ratios which are ideal

for the wide cross-section of our

driving styles and journeys.

On the subject of figures,

the Veloster turbo is rated by

Hyundai with a 7.1-litre per

100km combined cycle fuel usage

average. At 100km/h I recorded an

instantaneous readout of 5l/100km

with the engine working over freely

at 2000rpm.

I guess if you explore the

turbo boost frequently it will be

hard to match Hyundai's claim,

• Price – Hyundai Veloster,

$52,990

• Dimensions – Length,

4250mm; width,

1800mm; height, 1409mm

• Configuration – Fourcylinder,

front-wheeldrive,

1591cc, 150kW,

265Nm, seven-speed dual

clutch automatic.

• Performance –

0-100km/h, 7.5sec

• Fuel usage – 7.1l/100km

and with just a 50-litre fuel tank

you need to be mindful fill-ups

may come around quicker than

expected.

Nevertheless, I enjoyed the

power and strength of that wee

engine, it is delightful and provides

the fun factor when you feel the

need for a quick burst, taking into

account that several drive modes

allow the driver to choose how the

car behaves, from economical to

sport.

In terms of handling, the

Veloster feels sharp up front with

definite turn-in. Sport specification

Michelin tyres (225/40 x 18in)

have high-grip properties and

combined with a fully independent

suspension the car feels well

attached to the road.

Ride quality isn't jeopardised by

a definite firming of the dampers

and springs and at just 1.4m tall

gravitational movement in a corner

needn't be considered.

The Veloster turbo is only

available in one fully-specced

level – Limited. It is loaded with

goodies such as full leather, heated

and cooled seats, heated steering

wheel, head-up display, satellite

navigation, keyless entry and

ignition, and all the other bells and

whistles that make up Hyundai's

top level trim spec. It also gets a full

safety suite of technologies.

Hyundai has had a long

history of producing two-door

coupes, even though you could

argue the Veloster is essentially a

three-door. When I first started

writing about cars in 1988, one of

the first I drove was the Scoupe,

Hyundai's first sporty car, that

transformed into what Hyundai

called simply Coupe around 1996,

the Tiburon followed, then in 2012

the Veloster first landed in New

Zealand.

That history has served

Hyundai well, the Veloster is a

beautifully-made car and one

which is both fun and exciting. It

dares to be different with its styling,

but that is part of its appeal, if you

want to stand out in a crowd, at

$52,990 ($45,990 non-turbo), it's a

relatively affordable way to make a

statement.
---
TUESDAY, MARCH 24, 2020

WEDNESDAY, MARCH 25, 2020

Connecting Your Community

South New Brighton School pupil Jacob McMillan enjoying the foam pit at Christchurch School of

Gymnastics, which opened its doors to pupils while the school was closed due to fire damage.

•Story, more photos, page 5

PHOTO: GEOFF SLOAN

lending for buying, building or renovating your new home

Refinancing home loans to get best possible interest rates

available and a structure to suit your goal

Lending for purchase of rental and investment properties

Business lending

A service that is totally mobile and at NO COST to you

www.stephaniemurray.mortgage

MichelleLindsayMortgageAdvisor

Connecting Your Community

Michelle lindsay

Mortgage advisor

Phone 021 346 265

starnews.co.nz

• By Louis Day

IT COULD be a while until

the eastern suburbs start to

see Lianne Dalziel's campaign

aspirations for the area come to

fruition.

During October's local body

elections, Ms Dalziel identified

repairs to the eastern part of the

city's footpaths, pipes and roads

as one of her main priorities for

this term.

"We need a fully integrated

programme of works for the

east, I have loosely called this

the eastern alliance, which

would essentially be an alliance

of contractors who can take

the whole area bit by bit and

systematically get the work

done," she said during the

campaign.

But chief executive Dawn

Baxendale said any request to

pursue a specific project in the

east would have to be agreed

upon by council.

City councillors are yet to pass

on any guidance to staff around

this, she said.

•Turn to page 5

per blind

starnews.co.nz

Restore your oiled CEDAR BLINDS with our re-oiling service.

Rejuvenate your lacquered CEDAR BLINDS

High-tech Cleaning

We clean and repair all types of blinds –

• By Jess Gibson

What's in store for

Venetians, Cedar, Verticals, Roller, Hollands,

Romans and Pleated – with environmentally

RESOURCE consent has been SAVE

the property market

friendly cleaning products.

granted for a major commercial

in 2020?

Temperature Controlled Drying

and residential development in

Re-oiling & Rejuvenating

Lyttelton.

Read the full article at

Fabric Blinds - such as Austrian and

Collett's Corner, a three-storey

teamgriff.co.nz

Roman

complex, is now a step closer to

Same Day Pick Up & Drop Off

WE ARE OPEN being built on Oxford St after

We offer a same-day, pick up and drop

Mon - Fri Christchurch City Council

off service for most types of blinds.

8.00am to 5.00pm approved the consent application

Bookings are required.

from Ohu Development - the

Convenient Location

group behind the project.

We are located at 47 Mandeville St, ***NEW LOCATION***

The project is being funded by

Riccarton (next to Window Treatments Ph 377 0770,

Caleb Griffioen 0276 370 231

the first crowdfunding campaign

NZ Ltd), parking available onsite

47 Mandeville St, Riccarton

under taken in New Zealand for a

www.blindcare.co.nz

Christchurch

commercial development.

However, before work starts on

the complex, Ohu Development

will need to raise between

$800,000 and $1.4 million in its

second round of crowdfunding,

which is planned to start on

PHOTO: GEOFF SLOAN April 2.

The public will decide whether

DEDICATED: Dave Bryce is passionate about gardening as it is sustainable and promotes healthy eating.

or not the second crowdfunding

bid will go ahead on that date.

• By Jess Gibson

the chairman of Redcliffs/Te Features and was one of seven At the moment, edible

In a survey by Ohu

WITH MORE than 100 edible

Rae Kura Eco Village Group, recognised in the Residential items in Mr Bryce's garden

Development, people can

species in his garden, Dave

was successful at the Linwood- House Category.

include pumpkins, courgettes,

choose whether they think the

Bryce would give any vegetable

Central-Heathcote Edible

The awards were presented to beans, lettuce, rhubarb, celery,

crowdfunding campaign should

shop a run for its money. Garden Awards.

Mr Bryce at a ceremony held at tomatoes, berries, nuts and continue, or should be paused

Which is why the Mt

He received a special

the Matuku Takotako: Sumner herbs among others.

until the Covid-19 outbreak is

Pleasant resident, who is also award for Best Sustainability Centre earlier this month.

• Turn to page 6

brought under control.

TUESDAY, MARCH 24, 2020

Connecting Your Community

Page 3 Page 5

WEDNESDAY, MARCH 25, 2020

GIRL BOSS: Julia Holmes wants to be a geneticist after high school, and feels the GirlBoss Advantage programme will help

her achieve her dreams.

PHOTO: GEOFF SLOAN

• By Bea Gooding

for biology, and from a young Julia is one of 25 young were often male-dominated,

age has always been interested women chosen around the with particular focus on science,

technology, engineering

FIFTEEN-YEAR-OLD Julia in how things worked, often country to participate in the

Holmes is on a mission to taking things apart just to put GirlBoss Advantage programme

next month, designed She was shocked to hear the

and maths.

make a difference in the world. them back together.

The year 11 St Margaret's That passion has landed her to mentor the female leaders news from her mother.

College student has a passion the opportunity of her dreams. of tomorrow in industries that • Turn to page 6

www.dimocksenergy.co.nz sales@dimocks.net.nz

Connecting Your Community

Restore your oiled CEDAR BLINDS with our re-oiling service.

Rejuvenate your lacquered CEDAR BLINDS

High-tech Cleaning

We clean and repair all types of blinds –

Venetians, Cedar, Verticals, Roller, Hollands,

Romans and Pleated – with environmentally

friendly cleaning products.

Temperature Controlled Drying

Re-oiling & Rejuvenating

Fabric Blinds - such as Austrian and

Roman

Same Day Pick Up & Drop Off

We offer a same-day, pick up and drop

off service for most types of blinds.

Bookings are required.

Convenient Location

We are located at 47 Mandeville St,

Riccarton (next to Window Treatments

NZ Ltd), parking available onsite

www.blindcare.co.nz

Do you have trouble

hearing and need a

• Open 5 days a week •

hearing test? Your • Late night appointments (these fill fast!) •

local hearing expert, • FREE adjustments for ACC funded clients •

Brenna Sincock, is

• Fully funded ACC options •

here to help you get • Hearing aids in all price brackets •

your best hearing.

Call (03) 390 2332

Shop 40 Rolleston Square, 9 Masefield Dr, Rolleston 7614

Rolleston | Darfield | Leeston | Lincoln

Local Selwyn Audiology

283 Greers Road Bryndwr,

Christchurch

Funded by the Parliamentary Service.

Authorised by Ge ry Brownl e MP,

Parliament Buildings, We lington.

starnews.co.nz

RESIDENTS MOST affected by

the new Northern Motorway are

relieved to hear the Christchurch

Northern Corridor opening has

been delayed by six months.

The CNC was due to open in

the middle of this year, but last

week the New

Zealand Transport

Agency

announced more

time was needed

to complete the

$290m motorway.

The original

scope of the

project has been Mark Wilson

extended to include

a third southbound lane on

the Waimakariri River bridge and

a clip-on cycleway.

St Albans resident Mark Wilson

said the community are "somewhat

thankful" for the delay.

"The community will be somewhat

thankful for a reprieve of the

effects of this motorway for six

months, but it's still there. Until

decisions are made to put our

community first, then there is no

relief," he said.

•Turn to page 6

per blind

WE ARE OPEN

Mon - Fri

8.00am to 5.00pm

***NEW LOCATION***

Ph 377 0770,

47 Mandeville St, Riccarton

Christchurch

GIRL BOSS: Julia Holmes wants to be a geneticist after high school, and feels the GirlBoss Advantage programme will help

her achieve her dreams.

PHOTO: GEOFF SLOAN

• By Bea Gooding

from a young age has always Julia is one of 25 young industries that were oten maledominated,

with particular

been interested in how things women chosen around the

WEST MELTON'S Julia worked, oten taking things country to participate in focus on science, technology,

Holmes is on a mission to apart just to put them back the GirlBoss Advantage engineering and maths.

make a difference in the world. together.

programme next month,

She was shocked to hear the

The fifteen-year-old has That passion has landed her designed to mentor the

news from her mother.

a passion for biology, and the opportunity of her dreams. female leaders of tomorrow in • Turn to page 5

At The Laboratory

17 West Belt

Lincoln

Take in an

ice cream or

a drink

Cheap Tuesdays $10 Any Film, Any Time

TUESDAY, MARCH 24, 2020

starnews.co.nz

TUESDAY, MARCH 24, 2020

Connecting Your Community

Connecting Your Community

GIRL BOSS: Julia Holmes wants to be a geneticist after high school, and feels the GirlBoss Advantage programme will help

her achieve her dreams.

PHOTO: GEOFF SLOAN

• By Bea Gooding

for biology, and from a young Julia is one of 25 young were often male-dominated,

age has always been interested women chosen around the with particular focus on science,

technology, engineering

FIFTEEN-YEAR-OLD Julia in how things worked, often country to participate in the

Holmes is on a mission to taking things apart just to put GirlBoss Advantage programme

next month, designed She was shocked to hear the

and maths.

make a difference in the world. them back together.

The year 11 St Margaret's That passion has landed her to mentor the female leaders news from her mother.

College student has a passion the opportunity of her dreams. of tomorrow in industries that • Turn to page 7

• By Matt Slaughter

SPREYDON residents are

• By Devon Bolger

preparing to help members of

their community if they are

ANY DECISION on helping people

forced to self-isolate because of

who may struggle to pay their rates

Covid-19.

will come from the Government,

Expressions of interest sought Spreydon to Neighbourhood

the district council says.

rent covered and open space

Network

in

Facebook group admin

Said district

Sonya Hodder got behind the

council the above chief proposed centre based

idea after one of its members

executive in I Zone David Park Rolleston.

posted asking if residents are

Ward: "(We) will

willing to support people who

be guided On site by facilities will include

are self-isolating

the following:

by dropping off

government

D Security Fence, Swipe food card, and Gate other supplies. D Dump Station On Site

policy and

Entrance

Said Mrs Hodder: D Trickle "One of Feed the

guidelines in

Power

D CCTV Camera ladies who is in Dthe Office group works

relation to fifnancial

assistance

Rental Charges

And Toilet Complex

D Wash Down Facility for the Red Cross Dand Affordable she's like

David Ward

an emergency person, you know,

for ratepayers.

she goes out with the four-wheeldrive

and that, and she came up

It is likely to be a national

Reply to: rvstoragecentre@gmail.com

decision."

with the idea and so I agreed that

Mr Ward said it is still too early

we should use our Facebook page

to tell exactly what assistance the

as an avenue if anybody does

community will need.

need help.

"It's very early days and I

"I'm not sure how needed that

think that we are just looking

it will be because most of the supermarkets

are providing online

at how we respond to the virus.

For us, it's about responsiveness

delivery and things like that but

to the central government

it's just hard to know how it's going

to pan out.

guidelines, the safety of staff

and the safety of our communities."

"I just think they [people] just

need to let us know what they

It follows calls from

need and we'll do our best to

Christchurch city councillors to

help," she said.

stop rates increases in response

Mrs Hodder said there is no

to the Covid-19 crisis.

need to panic but it is important

• Turn to page 3

those who can help do their bit if

Buy your tickets online

or from the bar

apollo.thelaboratory.co.nz

Dine a the

Lab before

or after

Another Chance UK Feel Good Classic Cinema Jane Austin Comedy Historical Drama Family Fun

Tuesday, 24 March

Thursday, 26 March

Saturday, 28 March

11:00 AM The Gentlemen

R16 11:00 AM Little Women G 10:30 AM The Big Trip PG

1:10 PM Parasite

R13 1:35 PM Jojo Rabbit M 12:10 PM Parasite R13

3:40 PM The Invisible Man R16 3:40 PM Parasite R13 2:40 PM Emma

PG

6:05 PM Emma

PG 6:10 PM Radioactive M 5:10 PM The Gentlemen R16

8:30 PM All at Sea

M 8:20 PM All at Sea M 7:30 PM All at Sea M

Wednesday, 25 March

Friday, 27 March

Sunday, 29 March

10:30 AM Mums and Bubs, All at Sea M 11:00 AM Emma PG 10:30 AM Emma

PG

12:40 PM Emma

PG 1:25 PM Radioactive M 1:00 PM The Big Trip PG

3:10 PM The Gentlemen

R16 3:45 PM The Big Trip PG 2:45 PM All at Sea M

5:30 PM 1917

R13 5:30 PM All at Sea M 4:30 PM Little Women G

7:40 PM The Invisible Man R16 7:20 PM Emma PG 7:10 PM Radioactive M

the worst happens.

"I just think anything to help

our community, that's what we

[the Spreydon Neighbourhood

283 Greers Road Bryndwr,

Christchurch

starnews.co.nz

• By Georgia O'Connor-Harding

THE earthquake-damaged

former Sockburn Service Centre

could finally be demolished in

July – if the funding needed is

obtained.

It comes as the

Halswell-Hornby-Riccarton

Community

Board has written

in its draft

submission to

the city council's

Annual Plan

Mike Mora

2019-2020,

requesting the city council addresses

the budget gap so the

buildings can be removed as soon

as possible.

Board chairman Mike Mora

said the final submission is yet to

be completed but it was likely the

demolition of the site would be

requested.

The former service centre, on

Main South Rd, has been a source

of tension for years with residents

unhappy with the state of the site.

•Turn to 5

Restore your oiled CEDAR BLINDS with our re-oiling service.

Rejuvenate your lacquered CEDAR BLINDS

High-tech Cleaning

We clean and repair all types of blinds –

Venetians, Cedar, Verticals, Roller, Hollands,

Romans and Pleated – with environmentally

friendly cleaning products.

Temperature Controlled Drying

Re-oiling & Rejuvenating

Fabric Blinds - such as Austrian and

Roman

Same Day Pick Up & Drop Off

WE ARE OPEN

We offer a same-day, pick up and drop

Mon - Fri

off service for most types of blinds.

8.00am to 5.00pm

Bookings are required.

Convenient Location

We are located at 47 Mandeville St, ***NEW LOCATION***

Riccarton (next to Window Treatments Ph 377 0770,

NZ Ltd), parking available onsite

47 Mandeville St, Riccarton

www.blindcare.co.nz

Christchurch

Network] are about, that's why

we exist.

"We've got to look after each

other. I guess it's going to get

per blind

Restore your oiled CEDAR BLINDS with our re-oiling service.

Rejuvenate your lacquered CEDAR BLINDS

High-tech Cleaning

We clean and repair all types of blinds –

Venetians, Cedar, Verticals, Roller, Hollands,

Romans and Pleated – with environmentally

friendly cleaning products.

Temperature Controlled Drying

Re-oiling & Rejuvenating

Fabric Blinds - such as Austrian and

Roman

Same Day Pick Up & Drop Off

WE ARE OPEN

We offer a same-day, pick up and drop

Mon - Fri

off service for most types of blinds.

8.00am to 5.00pm

Bookings are required.

Convenient Location

We are located at 47 Mandeville St, ***NEW LOCATION***

Riccarton (next to Window Treatments Ph 377 0770,

NZ Ltd), parking available onsite

47 Mandeville St, Riccarton

www.blindcare.co.nz

Christchurch

per blind

starnews.co.nz

SUPPORT: Sonya

Hodder says

the Spreydon

Neighbourhood

Network will help

residents if they

have to selfisolate

because

of Covid-19.

PHOTO: GEOFF

SLOAN

• HAVE YOUR

SAY: Tell us

what you're

doing to help

your community

prepare for

Covid-19? Email

matt.slaughter@

starmedia.kiwi.

tricky if the supermarkets stop aged not to actually go there if

working and things like that, and they're sick, but to phone in and

the doctors, it's hard for them as things like that," she said.

well. People need to be encour-

•Turn to page 6

78 Barrington Street,

Somerfield

03 337 0422

Small batch made from scratch, Coffee to go!

Wednesday August 19 2020

Latest Canterbury news at starnews.co.nz

BAY HARBOUR

PAGE 23

Classifieds Contact us today Phone our local team 03 379 1100

Public Notices

Awa-Iti Domain – Little River

– Reserve Reclassification

Pursuant to section 24 of the Reserves Act 1977, Christchurch City

Council notifies its intention to reclassify part of the reserve described

in the Schedule below from the existing purpose to the purpose set

out in that Schedule.

The reasons for the reclassification proposed are included in the

Schedule below.

Schedule -

Part Reserve to be reclassified local purpose (community building)

reserve

• Awa-iti Domain, 2,500m² of Lot 1 Deposited Plan 423920, current

classification: recreation reserve. Reason for reclassification:

enable community use of the Coronation Library

Any person wishing to object to the proposal may do so in writing

addressed to:

Christchurch City Council, PO Box 73014, Christchurch 8154,

Attention: Dan Egerton

No later than 5:00pm on 18 September 2020

Alternatively, objections may be emailed to:

dan.egerton@ccc.govt.nz

Should any person wish to discuss the proposal,

they may contact Dan Egerton on: (03) 941-8999

Cars Wanted

CARS Wanted under

$5000. Tim Koller Motor

Company, 380 Ferry Road.

Ph 390 1717

Funeral Directors

Tuition

PIANO LESSONS

Catherine Bracegirdle

DipABRSM ATCL AIRMT

12 Ridgeway Pl, Richmond Hill, Sumner

PH. 021 044 5102

www.pianoandtheory.co.nz

catherine.bracegirdle@gmail.com

To Let

RENT ME!

Ideal as an extra

bedroom or office.

no bond required

Fully insulated and double glazed for warmth.

Three convenient sizes from $70 a week:

Standard 3.6m x 2.4m

Large 4.2m x 2.4m | Xtra-large 4.8m x 2.4m

Visit our website

www.justcabins.co.nz

for display cabin locations

Childcare &

Domestic Help

EXPERIENCED home

help for the elderly.

Sumner and surrounding

area. Ph 021 326 400

Jenny.

EXPERIENCED home

help for the elderly.

Sumner and surrounding

area. Ph 021 326 400

Jenny.

Trades & Services

HARBOURSIDE

FIRES

CHIMNEY

SWEEPING

Logburners –

Pellet – ULEB

Installations

Maintenance

Bird Protection

www.justcabins.co.nz

Trades & Services

CONCRETE CUTTING

Affordable Concrete

Cutting with Quality, and

removal work. Free quote.

No job to small. Phone 027

442-2219, Fax 359-6052

a/h 359- 4605

ELECTRICIAN

Andrew Martin Electrical.

25 years experience.

Specialize in home

renovations, repairs and

maintenance. Call Andrew

0274 331 183

ELECTRICIAN

JMP Electrical.

Experienced & registered..

Expert in all home

electrical repairs &

maintenance. Call James

027 4401715

Trades & Services

AWSOM ROOFS

24/7

MOSS

TREATMENT

ROOFS $300

• Oamaru StOne

• Driveway

• PathS

• hOuSe

• General exterior

wash Down

• tidy up

Ph: 027 561 4629

Kevin

BUILDER

AVAILABLE

LPB, 35 years exp

Extensions,

Renovations,

Bathrooms,

Maintenance.

Phone Darrell

0274 955 688

HANDYMAN

& RENOVATIONS

Call Mt Pleasant Home

Maintenance 022 475

8227

HOME MAINTENANCE

Preparation for sale -

repairs & tidying, gib

repairs, plastering,

painting, renovations

& kitchen installations

& resurfacing, general

maintenance & more. Ph

Greg on 022 475 8227

WINDOW TINTING

tintawindow

advanced film solutions

99% uv block

fade protection

heat control

reduce glare

25 Years Experience

Trades & Services

privacy films

frosting designs

non-darkening films

Workmanship Guaranteed

Lifetime Warranties on Most Films

UV

block

Free Quotes Canterbury and Districts

03 365 3653 0800 368 468

Atkinson Construction Ltd

• Local qualified licensed builder

• Over 30 years experience

• Building alterations

• Maintenance

• No job too big or small

Dean: 021 480 093

atkinsonconstruction@xtra.co.nz

STONEMASON

BRICK

&

BLOCKLAYER,

Earthquake Repairs, Grind

Out & Repoint, River/

Oamaru stone, Schist,

Volcanic Rock, Paving,

all Alterations new & old,

Quality Workmanship,

visit www.featureworks.

Landscape

and Garden

Services

Need help with

your garden?

We provide a quality

service for all your

Garden Maintenance

(hedges, lawns,

line trimming, weeding)

and Landscaping needs,

(fencing, paths, drives,

retaining and earthworks).

Gardening

co.nz or ph 027 601-3145

Wanted To Buy

Keep

& Supplies

connected

direct

AAA Buying goods

STONEMASON

GARDENER Need your

cremation

quality furniture, beds,

ELECTRICIAN

PAINTING SERVICES Featurework, walls,

home or commercial garden

Phone Duane

$2,000 GSt inclusive

stoves, washing machines,

Hickey Electrical. Mature, reliable, paving, drystone walls, &

(includes committal) tidied up or renovated

027 428 9026

fridge freezers. Same day

Reasonable rates, no conscientious & repairs. Reasonable rates.

0800 27 28 29 or require long term

328 9990

service. Selwyn Dealers.

www.mainland

Keeping the home

call out charge. www. experienced, reasonable Keeping the locals happy

crematorium.co.nz

assistance. Phone Ruth 326 Phone 980 5812 or 027 fires burning electricnz.com Ph Jason rates, no job too small! for over 20 years. Ph Tim

6663 or 021 272 0303 313 8156

021 260 3426

Call Ron 027 434-1400 Williams 027 714 5402

Ph 021 272 0303

Circulation 93,000 starnews.co.nz

Thursday, March 19, 2020

Digital

editions

available on

your screen

24/7

• By Louis Day

CALLS HAVE been made to

stop rates increases in response

to the Covid-19 crisis.

City councillors James Gough,

Sam MacDonald, Catherine

Chu, Phil Mauger, Aaron Keown

and James Daniels have sent a

letter to Mayor Lianne Dalziel

asking her to lead a conversation

as to how a zero per cent rates

increase could be achieved this

year.

The city council is proposing

an average rates increase of 4.65

per cent across all ratepayers in

this year's Draft Annual Plan

which is currently under public

consultation until April 5 and

will be finalised before July 1.

The 2018-2028 Long Term

Plan also predicts a 50 per cent

rates increase over 10 years.

Said Cr MacDonald: "In

the current environment it's

clear business as usual is not

appropriate and the council

needs to look at how we enable

this 12-month rates increase

freeze to occur, it's crucial for

the economic confidence of our

city."

Ms Dalziel said the las thing

the city council needed was for

someone to hi the panic button.

"Calm heads must and will

prevail," she said.

"Our residents and businesses

will be depending on us to

make adjustments, and we will,

however, we will need advice

on the impacts on all aspects of

Vaping rules

in CDHB

spotlight

the council's budget, which is

not entirely funded by rates, and

the consequences that will flow

from decisions we make.

"The Annual Plan is not

signed off for three months so

we have time to ge this advice.

A the same time, the council

is meeting with our economic

development agency, ChristchurchNZ,

the Canterbury Employers'

Chamber of Commerce

and other key players so we are

best prepared for the economic

challenges that lie ahead."

City council chief executive

Dawn Baxendale did not rule a

zero rates rise out.

"We're considering a series of

options in light of the extraor-

– page 4

dinary circumstances related to

Covid-19. We will discuss these

options with elected members

as we develop the Annual Plan,"

she said.

The push from city councillors

for a freeze on rates rises comes

shortly after Minister of Finance

Grant Robertson announced

a $12.1 billion package to aid

the economy in response to the

Covid-19 pandemic.

The biggest boost is $5.1

billion towards wage subsidies

for affected businesses in all

sectors and regions.

•Tips for weathering virus, p3

•Mayor's column, p9

•From the editor's desk, p10

Parent's

frightening

journey

Covid-19 prompts call for

zero per cent rates increase

Councillor takes

Davids heads

matters into

community board

his own hands

advocating body

Page 3 Page 6

Foam fun follows fire

The local news

destination

for Cantabrians

Eastern

suburbs

repairs

could take

a while

Ro ler Blinds cleaned

from as li tle as $22

Views on

cricket nets

sought

Julia's on

a mission

to make a

difference

Lively group

celebrate

St Patrick's Day

ACTION: Six city councillors including

Catherine Chu, Sam MacDonald (top right),

James Daniels (above left) and Aaron

Keown have called on Mayor Lianne Dalziel

to lead a conversation on how to achieve a

zero per cent rates increase this year.

Ph 377 0034

– pages 6 & 7

Gerry Brownlee

MP for Ilam

ilam@parliament.govt.nz

03 359 0582

Motorway

opening

delay

brings

relief

Ro ler Blinds cleaned

from as li tle as $22

No review

A message

over

of love, unity

multi-storey

and prayers

house

for peace

Page 3 Page 7

Julia's on

a mission

to make a

difference

Gerry Brownlee

MP for Ilam

ilam@parliament.govt.nz

03 359 0582

Funded by the Parliamentary Service.

Authorised by Ge ry Brownl e MP,

Parliament Buildings, We lington.

Bid to

secure

funding to

demolish

service

centre

Readers respond

Chance to

Helpless to

Victorious

Delay in

Market day

to supermarket

farewell Holden

stop property

captain stoked

making mall

goes green at

rebranding

in style

flooding

with cup win

exit safer

Cashmere HS

Page 8

Page 17

Page 3

Page 10

Page 3

Page 11

Consent

Rates

granted Julia's on

decision

BLINDS...Cleaned, Repaired & Restored... for Collett's

BLINDS...Cleaned, Repaired & Restored...

those who

BLINDS...Cleaned,

are self-isolating

Repaired & Restored...

Limited a mission

to come

stock

R V STORAGE CENTRE

Corner plan

from Govt

Fujitsu 6kw to heat make pumpsa

Boats, Caravans,

Motorhomes

$ 350

Buy Now.

difference

Keep warm

+ Healthy

Award for green-fingered Bryce

Looking for a mortgage broker?

The local news

destination

for Cantabrians

Hear Better,

Live Better

GET CONNECTED WITH

Scorch

Broadband

0800 726 724

www.scorch.co.nz

Ro ler Blinds cleaned

from as li tle as $22

The local news

destination

for Cantabrians

Preparation starts to support

BLINDS...Cleaned, Repaired & Restored...

Ro ler Blinds cleaned

from as li tle as $22

Place your orders now

I Spy Food

www.starmedia.kiwi/digital-editions
---
PAGE 24 Wednesday August 19 2020

BAY HARBOUR

Latest Canterbury news at starnews.co.nz

EVERYTHING

ON

S A L E

ALSO

AVAILABLE IN

THE FLOW COLLECTION

BUFFET

TABLE

$1459

ONLY

ONLY

$1499

ONLY $429

HALL

TABLE

RACHET SOFA BED

ONLY

$749

POP UP TRUNDLER SET

FROM $699

DINING

TABLE

$389

BENCH SEAT

ONLY

THE CYPRESS

COLLECTION

FINANCE OPTIONS AVAILABLE INSTORE!

A RANGE OF MATTRESSES AVAILABLE

SUMMIT

QUEEN $ 1359

KING $ 1549

SUPER KING $ 1699

ONLY

$329

ONLY

$859

ONLY

BEDSIDE TALLBOY HEADBOARD

$439

ASCENT

QUEEN $ 999

KING $ 1049

SUPER KING $ 1099

PLUS MANY MORE

OPTIONS INSTORE

OR ONLINE

ONLY

$2299

FROM

$339

FLINT 3+2 ELECTRIC RECLINER SUITE

DRAWER BASE UNITS

VARIOUS SIZES AVAILABLE

FIND US IN THE OLD TARGET BUILDING

ON THE CORNER OF BLENHEIM & CURLETTS ROAD, SOCKBURN

BOTANICAFURNITURE.co.nz 0800 268 264
---
Wednesday August 19 2020

Latest Canterbury news at starnews.co.nz

BAY HARBOUR

PAGE 25

Craig Prier

THE MARKET WRAP

With Spring just around the corner now is a

great time to get your property appraised.

In fact, sometimes it's best not to wait. With

record numbers turning up to open homes,

literally dozens of pre-approved buyers

on our books and genuine competition in

the marketplace, you might be surprised at

what your property could sell for!

An up to date market appraisal will cost you

nothing, they're on the house!

Call any one of our team today…

Ray White Ferrymead

Ready When You Are!

Phone (03) 3844 179 | Email prier.manson@raywhite.com | rwferrymead.co.nz | /RayWhiteFerrymead Prier Manson Ltd. (Licensed REAA 2008)
---
PAGE 26 Wednesday August 19 2020

BAY HARBOUR

Latest Canterbury news at starnews.co.nz

Options Aplenty by the Beach

24 Stoke Street, Sumner 4 bedrooms, 3 bathrooms, 2 living, 1 study, 1 dining, 2 off street parks

Countless opportunities exist at this grand, character-rich residence occupying

a substantial 1025m² approx site only a block from Sumner Beach. Those with

an eye for opportunity will appreciate the immense development potential.

Zoned residential medium density and set on two titles, the possibility for

buyers to construct multiple dwellings or a multi-level complex is presented.

The unique arrangement and sheer size of the section will also draw the

attention of investors and developers.

This expansive four-bedroom home has served as a magnificent family

residence, and the fine finishes throughout will draw those who value classic

yet contemporary style.

A superb Palazzo kitchen forms the social centre of the open plan area where

bi-fold doors invite you to entertain on the hardwood deck or the generously

proportioned lawn.

Also situated downstairs is a formal lounge, the first of the bedrooms and two

of the bathrooms.

The first floor enjoys an excellent outlook over the Scarborough hinterland and

hosts an office, sunroom, third bathroom and the remaining three bedrooms.

Re-roofing, re-wiring and re-plumbing coupled with extensive heating

solutions, ensures comfort and peace of mind. A further benefit is considerable

off-street parking that complements the garage.

Constructed in the late 19th century, the home was originally organised as

three separate flats. Investment-focused buyers could revert to the previous

configuration with ease, particularly as the property also contains two

kitchenettes.

From here, you can embrace the Sumner lifestyle, with the beach, cafes, bars

and schooling all a leisurely walk away and the sound of the surf superb.

Uniquely appealing in every respect, this property will attract a wide range of

buyers, and commands your earliest viewing.

No.1 Sales Consultants 2017-2020

Simon & Paula Standeven

Auction Sunday 6 September at 11am,

on-site (unless sold prior)

Open Homes: Sat & Sun 12.00pm - 12.45pm

View walk through video and Floorplan at

rwferrymead.co.nz OPA25127

Simon and Paula Standeven

M. 0274 304 691

E. thestandevens@raywhite.com

Paula & Simon Standeven

Jan Edlin Pip Sutton

Eddie Spry

Marie Malone Elenor Corston

Anna Loader & Bronny Clifford
---
Wednesday August 19 2020

Latest Canterbury news at starnews.co.nz

BAY HARBOUR

PAGE 27

UNDER

CONTRACT

Ray White Ferrymead are proud to welcome Yvette Wright

to our team, specialising in Lyttelton and the bays

Yvette Wright • 0204 172 1510 • yvette.wright@raywhite.com

Prier Manson Limited (Licensed REAA 2008)

It's All About the Views

1/24 Cornwall Road, Lyttelton

This elevated contemporary three bedroom, two

bathroom home is well positioned and privately tucked

away in the sunny spot of Cornwall Road in the heart

of the village. This home represents good harbour

living with stunning views. Wander down the hill to the

amazing vibe of the bustling village, this is lifestyle living

at its best, walking tracks and other leisure pursuits,

Saturday markets, fabulous eateries and bespoke shops,

why would you want to live anywhere else?

3 bedrooms

2 bathrooms

2 car garage

Listing no. OPA25123

Yvette Wright

M. 0204 172 1510

E. yvette.wright@raywhite.com

Build Your Dream

1 & 6 Oxenhope Road, Sumner

Overlooking the beautiful views of Sumner

Village, the beach and the rural landscape

across to Scarborough Hill these sites offer an

outstanding opportunity to develop the perfect

family home.

1 Oxenhope Road adjoins a small reserve

area developed as part of the subdivision and

features an already completed formed and

sealed access.

Be quick, don't miss the opportunity to secure

one of the last remaining available sites on

Richmond Hill.

1 Oxenhope Rd

1,228sqm, Formed accessway

Listing no. OPA25092

6 Oxenhope Rd

856sqm

Listing no. OPA25093

Priced to sell at $250,000 each

Eleanor Corston

M. 0274 352 415

E. eleanor.corston@raywhite.com

Mat Clayton Yvette Wright

Kurt Polson

Bev Prout Rod Cross James Shepherd Gretta Ulmer Mark Gardner
---
PAGE 28 Wednesday August 19 2020

BAY HARBOUR

Latest Canterbury news at starnews.co.nz

Bespoke Luxe, Richmond Hills Finest

6 Whiterock Lane, Richmond Hill

On the pinnacle of Richmond Hill, this

wonderous contemporary family home has

been developed to the highest standard. It

offers a plethora of outdoor living spaces, flat

grassy areas and uninterrupted views that are

ever-changing. Situated next door to a reserve

which gives you maximum privacy and space.

This property is certainly unique and offers a

wonderful opportunity to enjoy the lifestyle

that Sumner offers. With superior finishing's

including electric blinds, panoramic vistas, and

flat outdoor areas this is a home that you need

to view to truly appreciate.

Auction 6th September 2020

2:30 pm Onsite (unless sold prior)

Open homes

Thurs, Sat & Sun

2:00 pm - 2:45 pm

Eddie Spry

M. 021 156 5884

E. eddie.spry@raywhite.com

Loans made

simple.

No Plan B Must be sold!

113 Main Rd, Redcliffs

First Home Buyers

Investors

Refinancing

697m2 of prime waterfront section available in Redcliffs priced

sharp at $749,000. Settled among some of Christchurch's most

desirable properties and enjoying spectacular views along the

sweep of Moncks Bay to the glistening waters of The Pacific

Ocean. The opportunity to build your grand design along the

waterfront is now a possibility. Imagine yachts on the weekend

with a rainbow of colour. Ships on the horizon let you dream and

wonder about far-away places, and winter sunrises leave you

simply mesmerized. 113 Main Road is not just a magical location

- It's a way of life! Our owners have begun the building process.

Land remediation is complete. Concept plans by local architect

Bruce Banbury are available.

Land Size 697m2 (more or less)

Priced at $749,000

Eddie Spry

M. 021 156 5884

E. eddie.spry@raywhite.com

My service comes

at no cost to you.

Antonia McAtamney,Mortgage Adviser

021 469 244

antonia.mca@loanmarket.co.nz

loanmarket.co.nz/antonia-mcatamney

Ray White Ferrymead

Ready When You Are!

Phone (03) 3844 179 | Email prier.manson@raywhite.com | rwferrymead.co.nz | /RayWhiteFerrymead Prier Manson Ltd. (Licensed REAA 2008)