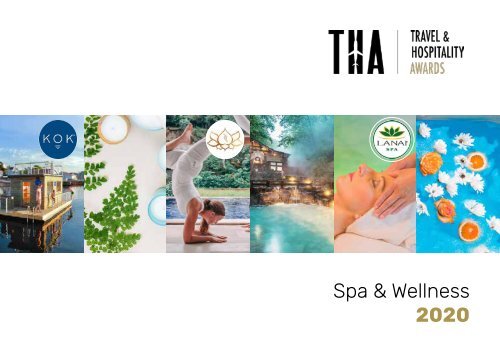 Travel & Hospitality Awards | Spa & Wellness 2020 | www.thawards.com
Create successful ePaper yourself
Turn your PDF publications into a flip-book with our unique Google optimized e-Paper software.
Spa & Wellness

2020
---
Blooming

Lotus Yoga

Experience one of the most unique, affordable and intimate Bali yoga teacher

training courses, yoga retreats and meditation retreats Ubud has to offer.

https://www.blooming-lotus-yoga.com/

Tel +62 21 29553600

admin@blooming-lotus-yoga.com
---
Sponsor and

Partners
---
TEAM

CEO

Robert Bruce

EDITOR-IN-CHIEF

Katherine Lozell

ART DIRECTOR

Marcs Bacera

DIRECTOR OF SALES

Stanley Lucas

Contents

EDITORIAL LIAISON MANAGER

David Hyde

DIRECTOR OF MARKETING

Azim Aftab

SENIOR WRITERS

Tasmai Dave

Jacqui Irvine

Joseph Wilton

SENIOR DESIGNERS

Antoine Jackson

Hafiz Arslan

AWARDS MANAGERS

Brian Anson

Adam Cole

Zach Ford

Peter Clement

Alice Smith

Joyce Lee

RESEARCHERS

Jerald Jaime

Mukul Rehman

CONTRIBUTING WRITERS

Tracy Morgan

Aisha Ahmed

Criteria 6

Impact on hospitality 8

Wellness Holiday 12

Wellness Holiday 14

Costa Rica 16

The Blue Spa and Suites 18

Czech Republic 20

Original Beer Spa 22

Japan 24

Boudoir Day Spa 26

Nigeria 28

Biyou Spa 30

Portugal 32

Til Spa 36

Castanheiro Boutique Hotel 36

Bali Spa 38

Thailand 40

Jumeirah Luxury Spa 42

by Warichsaraporn Pariebsom 42

Traditional Wellness 44

A Traditional Approach to Wellness 46

Yoga 48

Blooming Lotus Yoga 52

Freemyme 56

Thai Massage – A Global Sensation 60

Sabai Spa Peru 66

Lanai Thai Massage and Green Spa 68

Sauna and Steam Rooms – Six Superb Reasons to Enter 70

Kok Oslo 74

Meditation 76

Innovative Wellness 78

Trends for the next Decade 80

The Holistic Approach 84

Holistic Wellness 86

NatuneHeal - Holistic Wellness & BioEnergy Therapy Centre 90

4 5
---
SERVICE EXCELLENCE ONLINE FEEDBACK CERTIFICATION & EXPERIENCE STYLE AND DESIGN SUSTAINABILITY AND ECO-FRIENDLINESS MARKETING

The single most important criteria as this

sets the tone and, in some cases, forms

the foundation for the chance of any future

business. Being friendly, open, professional,

patient and caring are all conducive to good

customer service. Staff and owners alike must

set this tone from even before a customer

walks through the door on mediums such as

the telephone, email and social media.

It's not just customer service that is measured,

it's also service between businesses and here

at TH awards we always make a note of our

interaction between winners as reference point

for the future should a company be nominated

again.

Being one of the few global independent award

programs online feedback is key marker for our

due diligence. We use a variety of platforms

such as google, Facebook, Linkedin, booking.

com and Tripadvisor, normally going back up

to 12 months to help us establish an in-house

score.

Questions need to be answered such are these

reviews consistently spread in terms of content,

across platforms and date/time? The reason for

any bad reviews?

This criterion is a test of suitability in terms of the

practitioner. In an ideal world the individual(s)

running the treatment or practice should be

both experienced and have all the relevant

certification. However, with many emerging

wellness trends certification may not be easy

to come by or be non-existent, so we need

to consider experience. On the other hand,

individuals starting out may lack experience

but have all the necessary certifications. For us

it's important to consider the context and find

a balance.

It is no question that the overall style and

design of a place play an important part in

selecting our award winner. Simply put, first

impressions count, and nothing makes a better

first impression than an aesthetically appealing

setting. We're certainly not partial to a period

piece of architecture – but whether we're

judging a relaxing spa or a nature focused yoga

retreat, the checklist remains the same. We

consider factors such as architectural features,

eco-friendly materials, use of spaces, décor

and how the look of the property fits in relation

to the brand.

The health of the planet is one of the single

biggest issues of our generation and it's

important for nominee's understand this and

attempt to do their bit. Practices such as energy

conservation, a recycling program, energy

efficient products, sustainable work policies

and locally sourced natural materials are all key

markers that we consider.

In the modern age, a business cannot rely on

word of mouth alone to get their message out

into the world. Social media has become a vital

part of everyday life, we like to see companies

that go the extra mile to engage potential

guests as well as those who visit regularly.

Attractive and user-friendly websites, engaging

social media accounts, brand management

and informative content provide the basis for

judging a company's use of marketing.

Criteria

6 7
---
Impact on hospitality

The travel industry in 2020 has been

gravely impacted by the arrival

of Covid-19, and how we all operate

will likely change drastically, at least

until the potential arrival of a vaccine.

Not just because of the imposed

restrictions but the oncoming social

changes that will change the way we

all live. Consumers will be faced with all

new considerations for travel putting

their trust in the systems and measures

the industry establishes to protect

against further spreading of the virus.

A faith which many may not have,

particularly among older travellers

with greater health fears. The industry

must adapt as attitudes and trends

change with people getting more

accustom to social distancing measures.

"The Greatest Wealth

is Health"

Airports with their densely packed queues of people

passing through security checkpoints and waiting in

terminals will need to establish new systems to keep

their passengers and staff safe. Infrared thermometers,

facemasks and distance markers are already becoming

commonplace. New sanitation measures are being

introduced and staff are keeping passengers separated

wherever possible. Advanced testing is also being

discussed which could form part of a health passports

approving passengers for travel.

Airlines should also be considering how they are going

to operate under the new conditions. Will we start to see

aircraft redesigns for separation and increased personal

space? Concepts are floating around for screens

separating passengers and new seating arrangements.

For the time being, the reduced passenger capacity has

allowed for the separation of mask wearing passengers

with empty seats.

8 9
---
The wellness industry will be subject

to all new cleaning standards with

major hotel brands already establishing

new guidelines on health, hygiene and

safety. All of which should be put on

full display to inspire confidence in

those staying at the property and to

avoid any potentially detrimental trip

advisor scores. This will of course

add to the already significant and

time-consuming cost of cleaning.

Service providers will also facing

new difficulties. There is now an

issue with capacity in popular tourist

locations if crowds are to continue to

be avoided. Those Instagram hotspots

with large groups waiting their turn

to take a photograph in front of the

key attractions they came to see, are

places where social distancing will be

hard to enforce. Tour companies will

likely be putting reduced crowding as

a priority going forward.

10 11
---
Wellness Holiday

12 13
---
Wellness holidays, like spa holidays,

offer pampering and indulgence

but take this to another level with a

greater focus on an individual's health

both physically and mentally.

The current trend and awareness of the

importance of mental and physical health

has meant that wellness holidays have

become increasingly popular. Wellness

retreats and camps have cropped up all

over the world with some focusing on

specific exercises such as yoga or fitness

and others focused around a broader

range of exercises and health practices.

Wellness holidays can be tailored to focus

on general problems such as stress and

anxiety or specific physical ailments such

as weight loss and detoxification. Fitness

training, dieting, massages, yoga, lifestyle

management, pamper treatments, Pilates,

cultural excursions and so much more fall

under the wellness holiday umbrella. It's

commonly agreed that a wellness holiday

should always be tailored to an individual's

need.

Here are a few of our tips to get the most out of

your wellness holiday

- Plan Ahead

- Get Plenty of Sleep

- Practice Self-control

- Prioritise Yourself

- Set your Expectations

- Embrace the Change Post Holiday

We have narrowed down our list of destination for

a wellness holiday to these super destinations;

Costa Rica, Czech Republic, Japan, Nigeria,

Portugal and Thailand.

14 15
---
Costa Rica

One of the most biodiverse countries

in the world, Costa Rica has recently

emerged as a wellness holiday hotspot.

The increasing popularity of eco retreats

and nature holidays combined with the

relaxed way of life and warm weather

means, Costa Rica is the perfect tropical

wellness destination.

Yoga

Yoga is one of the most popular wellness

exercises in the world and retreats offer a

superb opportunity to revel in the benefits

of Yoga for weeks on end. The natural

beauty of Costa Rica means it's perfectly

suited to host retreats. In Costa Rica you

can practice yoga outdoors, on the beach,

in the forests and in the shadow of the

mountains. Free time at yoga retreats

is commonly used to learn more about

the history of yoga and spend time with

likeminded enthusiasts. Most retreats can

arrange accommodation, airport transfers,

activities and meals meaning less stress

in planning and booking.

Surf Camps

Costa Rica boasts miles of beautiful sandy beaches which

attract surfers and water sports enthusiasts from all over

the world. Surf camps are extremely popular, they're great

for beginners or experienced surfers with an array of

courses available. Surf camps are a great place to meet

new friends. Simililary with Yoga retreats accommodation,

transfers and meals can be arranged ahead of time.

A recent trend is the combination of yoga and surf retreats.

The two exercises complement each other in terms of the

benefits for the mind and body. Places like Believe Surf and

Yoga in Santa Teresa and Oshiis Surf and Yoga in Puerto

Viejo de Talamanca Holiday Rentals offer both.

Spas

Those interested in a pampered spa experience won't be

disappointed, Costa Rica is home to many stunning eco

Spa's. Many of the Eco spa's offer the treatments and

benefits you'd expect out in the rainforests but with the

added caveat of being eco-friendly and sustainable in

the use of products. Blue Spa and Suites, profiled on the

next page, is a great place to get your fill of excellent spa

treatments in Costa Rica.

16 17
---
La Fortuna, Alajuela, Costa Rica Tel +506 8310 5246 www.thebluecr.com

The Blue Spa

and Suites

Costa Rica | Private Spa

The Blue Spa and Wellness centre is a natural beauty centre located in La

Fortuna de San Carlos, a beautiful Cost Rican town northwest of San José.

The centre is a tranquil paradise that activates your senses as you immerse

yourself in your treatment of choice. Surrounded by abundant nature and hot

springs, your comfort and well-being here are guaranteed. The staff at Blue Spa

and Wellness Centre are fully trained and dedicated to pampering and offering

guests unforgettable sensory services, experiences and ultimate relaxation.

The Spa uses an exclusive range of

the luxury Costa Rican skin care brand

Biosfera, with a focus on natural

products containing local indigenous

ingredients. Choose from a wide variety

of treatments including manicures,

pedicures, sensory massages including

couples' massage as well as different

types of tanning sessions.

Experience the true meaning of feeling

and looking good, and the inner peace

that comes with taking care of your

physical and emotional health.

18 19
---
Czech Republic

You'd expect the Czech Republic's

inclusion on this list solely because

the country is home to several world class

rural wellness retreats. And while this

did play a key part in our thinking it was

actually the advent of the countries beer

spas that clinched its place.

Prague, the capital of the Czech Republic,

has a reputation for good quality and

affordable beer. The Czechs are amongst

some of the biggest beer drinkers in the

world and now they also like to bathe

in it as well. Beers spas are a unique

experience and not one to be missed,

especially for those interested in a short

European wellness break.

When at a beer spa you essentially just

relax in a wooden bathtub full of beer

while enjoying an unlimited supply of

beer usually from your own personal tap.

The actual beer used in the bath is more

of a concoction of the ingredients used in

the beer brewing process. It hasn't been

brewed and there is no alcoholic content,

so it's not recommended that you drink

the beer in the tub.

There is more to the beer spas than

just relaxing in a tub. Once you've

finished you can opt for a rest on a

warm bed of straw to promote the

absorption of all the vitamins and

extracts from the bath, a massage

with beer-based products or even

just to continue to relax and drink the

beer on tap.

Bathing in beer does offer some

therapeutic benefits for the mind

and body. Soaking in beer improves

blood circulation, relieves muscle

pain, unclogs pores and exfoliates

the skin, conditions hair and reduces

stress.

We recommend you visit the Original

beer spa, a travel and hospitality

award winner, that operate in two

location in Prague.

20 21
---
Žitná 658/9,

110 00 Nové Město, Czechia

Tel +420 252 544 849

www.beerspa.com

Original Beer Spa

Czech Republic | Spa

A

holiday to Prague wouldn't be complete without a stop at the very first,

original Beer SPA, that can be found in two popular locations. This is a

unique experience that will definitely produce some unforgettable memories!

This unusual relaxation spa procedure is based on the exclusive use of natural

ingredients, materials, and classic Czech medical treatments. Upon entering the

fully private chamber, sink inside the hand-made, thousand-litre, whirlpool royal

oak tubs filled with the natural extracts used to brew Czech Krušovice® beer.

And while you relax in the hops and barley soak, you have unlimited access to

beer draft for the duration of the experience.

The soak contains high hop oil content,

which contributes to overall vitality

and helps open up skin pores. The high

dose vitamin B and active enzymes in

brewer's yeast, inject vitality and health

into the skin. This amazing concoction

stimulates metabolism, helps remove

harmful substances from the body and

eases fatigue and stress - no wonder it

has long been a symbol of longevity and

immunity.

Following the soak, you can continue

your relaxation journey by getting in

a traditional hop sauna in an original

barrel-shaped unit. Then spend your

final few moments relaxing laying down

on a special bed of hay!

There is no need for guests to bring

anything with them. The spa provides

everything from cotton towels and

sheets to linen blankets and basswood

slippers. Following your treatment,

your skin will be left looking and feeling

nourished and rejuvenated.

22 23
---
Japan

Japan is one of Asia's top wellness

destinations. Japanese people have

one of the longest life expectancies in the

world and this is partly down to emphasis on

wellness and health. Nurturing and mindful

activities are woven into everyday life, there

is a great focus on stress reduction, fitness,

spirituality and nutrition. Here are 5 ways

you can experience some of the wellness

practices for yourself;

Visit an Onsen

Onsen is the Japanese name for a volcanic

hot spring where you can experience the

therapeutic powers of mineral infused hot

water. These are ingrained in Japanese way

of life and can be found in every region of the

country.

Take a Forest Bath

Confusingly this practice doesn't involve any

water or bathing. Instead it's used to describe

time spent appreciating a forest for health

reasons. It's been shown to reduce stress,

boost immune system and enhance mental

health.

Marvel at

Imperfections

Kintsugi, is the Japanese

art of repairing broken

pottery with lacquer

and then dusting the

cracks with gold to

create an even more

beautiful and valuable

piece than before. The

concept is deeply rooted

in the inner wellness and

balance of our lives. You

should accept flaws and

celebrate imperfections

as it's what makes you

who you are.

Experience Zen in a Japanese Garden

Japanese gardens are among the best in the world and contain an element of zen.

The best come complete with a babbling brook, a bridge over a pond and minimalistic

landscaping. These are the perfect place for meditation, introspection and enlightenment.

Visit a Day Spa

Tokyo has a day spa scene to rival any city in the world. There are hundreds of Spas spread

out all over the city and you won't find it too difficult finding a place to suit your needs. We

recommend travel and hospitality award winner Boudoir Tokyo profiled on the next page.

24 25
---
101 Maison kawai, 2-25-3 Jingumae,

Shibuya-ku, Tokyo 150-0001, Japan

Tel +81 3 4520 5033

www.boudoirtokyo.com

Boudoir Day Spa

Japan | Spa

In the heart of Tokyo's extravagant Harajuku district, slighly hidden away

from the hustle and bustle of the city lies Boudoir, one of Tokyo's most

famous Beauty Salons. With a design that is reminiscent of intimate cabaretstyle

venues, Boudoir draws you in immediately with its intimate, inviting vibe.

Lavishly decorated with heavy drapes and golden-rimmed wall mirrors and with

deep- red dominating the palette, Boudoir offers spacious treatment rooms and

a wide choice of beauty treatments.

Tehy offer a selection of 4 incredible facial treatments guaranteed to invigorate

and replenish tired and aging skin. The famous Guinot Hydradermie Lift 'a facial

work-out' targets fine lines and wrinkles with the use of micro-currents to tone

facial muscles. The treatment is completed with an extraordinary Vitamin C

firming mask alongside Vitamins E an F with marine collagen which tightens the

face vertically and horizontally, leaving you with a youthful aura.

The popular Hydraclean consists of

heated electrode use to soften the pores

and simultaneously penetrates the Salic

acid-based gels deep into the skin to

deeply cleanse and rejuvenate your skin.

With a huge selection of Waxing

treatments, both men and women can

enjoy smooth, hair-free skin for at least

3 to 4 weeks, with finer hair growing

back after each session. Having proudly

introduced Brazilian Waxing to Tokyo

back in 1999, they of course offer this

popular treatment too.

Completely transform your nails and

replenish your hands in just one hour

by choosing their Shellac manicure

treatment. No chips, no touch-ups, no

fading: just beautiful looking nails that

last for 2 weeks. If you look at your feet

and don't like what you see, why not

treat yourself to their signature Shellac

pedicure and leave your toenails looking

gorgeous for about 4 weeks.

26 27
---
Nigeria

For most Nigeria may be a surprise

inclusion on this list. The country

itself doesn't make the list of top five

most visited African countries let alone

the world. However, once you scratch

the surface you realise Nigeria is the

hidden gem of the wellness holiday

scene.

Whether you are looking for a serene

and rejuvenating massage session, a

fitness centre or are visiting for medical

tourism, there are numerous luxurious

& boutique spas, yoga camps, gyms,

hospitals and pharmacies in all regions

of the country.

Nigeria offers countless health and

beauty options. One such fantastic

option is travel and hospitality award

winner Biyou Spa (profiled on the next

page), where you'll find all your needs

taken care of. They offer numerous

packages, treatments and even an onsite

health bistro.

Biyou Spa is a women's only establishment so if you are in Lagos and

need a place that also caters to men then look no further than the luxury

Wheatbaker hotel. The hotel is home to a high-quality spa that offers a

range of high-quality therapies.

A big draw with Nigeria is the prices. In general, it's an inexpensive country

to visit and is ideal for those looking for value from their wellness holiday.

28 29
---
Justice G.B.A Coker Estate,

off IPM Avenue,Alausa Lagos, Nigeria

Tel +234 706 605 7813

www.biyouspa.com

Biyou Spa

Nigeria | Spa

Biyou spa was founded by Joyce Adenike Busari, who is an accomplished

UK CIBTAC certified esthetician and holistic nutritional coach with 15

years experience in the beauty and wellness industry, the spa is strategically

located at Justice Coker Estate off CIPM Avenue, Alausa, Ikeja Lagos and is an

exclusive Women Only Health and Beauty spa that offers a holistic, natural and

alternative approach to weight loss, nutrition and skincare, focusing on positive

reconnection to your inner and outer beauty, using only the finest in naturally

sourced,plant-derived products.

Biyou Spa is made up of highly experienced and professional beauty therapists,

medical aestheticians and holistic nutritionists, whose aim is to meet skincare

and weightloss challenges using the power of nutrition and professional botanical

products to care for our guests from the inside out, which gives excellent results

at all times. All treatments are tailored to meet any individual need, so no two

treatments are alike.

They house the best cosmeceutical brand and

their own indigenous brand "BLAK" a skincare

body line created by their managing director.

They have an excellent and well established

operating systems and procedures to give each of

their guests an unforgettable experience.

Biyou Spa….Love You, Accept You, Be you.

Our Services

Massage: Swedish massage, Deep tissue

massage, Pregnancy massage, Aromatherapy,

Slimming massage.

Facial treatment: Deep cleansing facial, Enzyme

peels, Microdermabrasion, Microneedling

Body Scrub: Coffee scrub, AHA brightening

scrub, Moroccan scrub.

Hair Removal: Hot/cold wax, sugar wax

Weight loss Program: They offer several types

of weight loss services using different advanced

technology such as Faradic, ultrasonic cavitation

device, G5 Mechanical massage, Heat diathermy

device and steam/sauna.

Regardless of your choice, Biyou Spa looks to

exceed expectations and provide excellent

service.

30 31
---
Portugal

Portugal is one of the world's premier

wellness destinations. The country

boasts an excellent climate, sandy

beaches, beautiful nature reserves, hot

springs, an exciting culinary scene, luxury

spas, surf & boot camps, yoga retreats,

and a laidback atmosphere. There are very

few places in the world that can match

Portugal when it comes to wellness

breaks. Indeed, the famed coastal region

of Algarve is a popular retreat for athletes

looking to recover and reenergise during

the closed season.

Although it was difficult, we've managed

to select four things you should do on

your next wellness retreat to Portugal.

Toughen up at a boot camp

Holiday bootcamps have grown in popularity over

the last 10 years. They're basically holiday retreats

that offer an effective way to get into shape and

lose weight. Camps can range anywhere from a

few days to a month and offer regular exercise

classes and personal training. Most offer nutrition

plans and can arrange accommodation. There

are several to choose from, but we recommend

Prestige bootcamp in Algarve that offer an added

juice detoxing programme.

Bathe in a Hot Springs

Found mainly in central Portugal, the

mineral rich hot springs are a treat. Many

are part of wider establishments meaning

you can expect high-level safety,

specialised therapeutic treatments and

qualified personnel.

Enjoy the Healthy Mediterranean Cuisine

Portugal's cuisine is nutritious and varied. Its primarily

Mediterranean which is one of the healthiest diets in the world.

As you'd expect with a coastal country the seafood is a speciality,

but you'll also find a diet rich in fresh fruit, nuts, vegetables and

olive oil. As with any country there are number of fast food and

processed food establishments, so we recommend going for the

local traditional places.

32 33
---
Visit a Boutique Spa

Portugal is home to

hundreds of spas; many are

part of bigger luxury resorts.

We however recommend

checking out the smaller

more charming boutique

establishments. Til Spa,

part of the Castanheiro

boutique hotel in Madeira, is

a fantastic option for those

interested in innovative,

nature focused and ecofriendly

treatments. Those

looking for a good quality

and traditional experience

should look no further than

Bali Spa. Both properties are

Travel and Hospitality Award

winners and profiled on the

following pages.

Portugal

Til Spa

34 35
---
Castanheiro Boutique Hotel,

Funchal, Madeira 9000-081 Portugal

Tel +351 969 149 279

www.castanheiroboutiquehotel.com

Til Spa

Castanheiro Boutique Hotel

Portugal | Spa

THE ONLY SPA IN MADEIRA WITH ORGANIC SEAWEED TREATMENTS BY VOYA

Til Spa is unique in Madeira with organic Voya treatments, wraps with

biological algae and beauty treatments with all the power of the plant universe

in its purest form and in complete harmony with nature.

Its signature treatment TIL LUXURY is a sensory journey through Madeira island

and Funchal, including the Unesco heritage Laurissilva forest.

In a wonderful world of sensations, aromas and touches come into Til Spa and

immerse yourself in the "deep" ocean, walk through Laurissilva with aromas

full of fennel and eucalyptus, feel the land permeating your skin thanks to our

treatments with clay and basalt stones.

In Til Spa Castanheiro Hotel Boutique

you can enjoy unforgettable and

sensory experiences through Voya face

and body treatments based on certified

organic algae, relaxation massages

with aromatherapy, exfoliations, wraps,

scents like sandalwood for men, mud

therapy, massages for children and

young people, in a world of choices.

An indoor swimming pool with

hydrotherapy circuit, two massage

cabins, a sauna, a Turkish bath and a

relaxation room complete the offer of

pure relaxation.

They do not use plastics, only wood

materials.

TIL SPA is at CASTANHEIRO BOUTIQUE

HOTEL is in the heart of an historic

zone, alongside the Palace of Jesuits,

this four star hotel arose from an

innovative concept blending design,

detailed architectural restoration and a

welcoming atmosphere. With 81 rooms,

it boasts a lap pool where guests will

enjoy panoramic views overlooking the

Bay of Funchal, two steps away from the

main shops, museums, restaurants and

36 bars in the city.

37
---
Edifício Vera Sol Unit F, Avenida da Liberdade,

Albufeira 8200-002, Algarve, Portugal

Tel +351 289 588 259

www.albufeirabalispa.com

Bali Spa

Portugal | The Award for Excellence in Service

The Bali Spa in Algarve promises an exceptional experience, in a private,

personal and welcoming atmosphere. The exclusive treatments at Bali spa

have been perfected in some of the highest-class hotel SPAs in Dubai, including

the 7- star Burj Al Arab.

The spa offers an array of unique beauty treatments that target the face and

eyes. Beauty treatments include cleansing, toning, mask and moisturising. They

deeply purify the skin, leaving it refreshed and invigorated. All clients have free

access to a complimentary steam bath prior to the actual treatment and are

invited to relax on the tranquil balcony following, before they return to the rest

of their day.

There is a wide choice of massage

treatments that help with relaxing the

body and unlocking deeper layers of

relaxation. Massage treatments are great

for stress relief, reducing muscular aches

and pains and contributing to overall

well-being. Therapists can tailor-make

treatments to suit your needs.

If you are celebrating something special,

opt for one of the luxurious wellness

treatments on offer, including the

signature couple's special massage or the

deluxe Balinese experience complete with

a luxury body wrap, deep tissue massage

and facial.

A perfect way to top off a massage is with

an exquisite treatment for hands, feet and

nails. Bali spa offers a complete range

of mani-pedi choices for those finishing

touches. It's no wonder it has recently

won the award for excellence in service!.

38 39
---
Thailand

Thailand is one of the most popular

tourist destinations in the world. The

country routinely appears on top 10 lists

for highest visited countries. The diverse

landscape and warm weather combined

with affordability means it's no surprise that

wellness breaks are a common reason to

visit. There are several different aspects to

a wellness holiday, the country is home to

impressive luxurious spa resorts, boutique

local spas, tourist medical centres, fitness

camps, yoga sanctuaries, detox retreats

and historic meditation centres.

A common practice for those visiting

Thailand on a wellness break is to stay

in speciality centres. These are unique

experiences and come in many forms. One

can find yoga sanctuaries, detox and fitness

retreats and unique to Thailand, Muay

Thai Camps. These places offer a great

opportunity to really immerse yourself with

your chosen activity and meet like-minded

people. A big benefit is that the centres can

arrange accommodation, tailored meals,

transfers, visits to local attractions and

outside activities.

Thailand boasts hundreds of luxury spa resorts and pamper

spas. The high-quality service, on site accommodation and

affordability means most people will visit multiple times for a

spa break. Thai massages are renowned the world over and

are not to be missed. One fantastic option is the Jumeirah

Luxury Spa in Pattaya, a travel and hospitality award winner.

Another great option is the secluded and luxurious Sri

Panwa resort home to the world class Cool Spa.

40 41
---
384/155 Moo 12 , Regent Soi 2

Phra Tamnak, Pattaya City, 20150, Thailand

Tel +66633469698

www.jlsluxuryspa.com

Jumeirah Luxury Spa

by Warichsaraporn Pariebsom

Thailand | Spa

We all have more than enough reason to

want to visit the Jumeirah Luxury Spa

once in a while to indulge our senses.

Sometimes the daily routine can be

unbearable and the JLS spa treatments

is the perfect opportunithy to wash that

away. It is a place where all you have to

do is relax and will be treated like royalty

by their team of World-Class Experts.

Time to let yourself be spoiled!

Jumeirah Luxury Spa live a breathe caring for people and the enviroment,

their belife is in preventative and curative health care through their Spa &

wellness facility. They only use hand picks organic grown products ingredients

and with that are strongly againstagainst animal testing.

JLS is an intimate exclusive luxury organics day spa, Its team has experience

from around all over the world. Plus a family heritage of massage techniques

that makes them unique. JLS is located at a beautiful garden with big trees,

next to the Palace. It is one minuite away from the sea and by the very peaceful

locations of Big Buddha Hill Attractions and Pattaya's view point on Khao Phra

Tamnak Road. (Palace Road)

Near By Places

– Pattaya view point

– Pattaya Park

– The Sky Gallery

– Big Buddha

– Bali Hai Peir

42

Its services start with a convenient pickup from your hotel, and you will arrive

in style at the JLS spa for the full memorable massage experience. Enjoy a full

range of facilities, including spacious quiet relaxation areas, a swimming pool,

steam room and Infrared Sauna with lights therapies.

43

Facility

– Swimming Pool

– Steam Room

– Infrared Sauna Lights Therapies

– Spacious Relaxation Area
---
Traditional

Wellness

44 45
---
A Traditional

Approach to Wellness

A

traditional approach to wellness is

one that relies on using knowledge

and practices developed within various

societies before the era of modern

medicine. In its essence traditional

wellness stands in contrast with modern

scientific medicine. Some methods might

contradict the science on how the human

body works and others haven't been

tested or can be explained by science.

With this being said; some traditional

methods have been shown by science

to be beneficial. Use of sauna and steam

rooms have a positive impact on skin

health, plant-based diets are strongly

associated with longevity, yoga has been

shown to fight chronic pain, traditional

massages combat muscle soreness and

a recent Harvard study demonstrated the

positive impact of mindfulness meditation

on the brain. Some modern medicine

is based on plant phytochemicals that

have been used in traditional wellness

practices.

Part of the interest and

popularity in wellness in

general is the mental health

benefit. So even if a traditional

practice doesn't have much

scientific standing it may still be

effective in that it can act as an

opportunity to "switch off" and

reduce stress.

Popular traditional

wellness practices include;

- Meditation

- Sand Therapy

- Acupuncture

- Cupping

- Yoga

- Sauna and Steam Rooms

- Thai and Balinese Massages

- Ayurveda

- Chinese Herbology

46 47
---
Yoga

Yoga is probably the single most popular

activity when it comes to wellness. Yoga,

in all its various styles and poses, is renowned

the world over for its wide range of benefits.

The attraction in part is also down to the fact

that you don't have to be a yogi or expert to

reap the benefits, all you need is a bit of space

and the right attitude. Yoga is for everyone.

The History

The history of yoga can be traced back over

5000 years to Northern India. Yoga was first

mentioned in ancient sacred texts known as

the rig Veda, although the exact meaning and

definition of yoga wasn't quite clear back then.

The first systematic presentation of yoga

was defined by Patanjali's Yoga-Sutras. This

text led the way for the practice of yoga to

be split into eight parts also known as the

"eight limbed path", a guide to the steps and

stages to obtaining Samadhi or enlightenment.

Patanjali's Yoga-Sutra influence is still present

today in most modern styles of yoga and many

credit Patanjali as the father of modern Yoga.

Centuries later yoga was further developed to focus more on the physical body

as the means to achieve enlightenment. This led to the creation of Tantra yoga,

a sort of revamping of the ancient Vedic spiritual practices. Tantra yoga uses

techniques to cleanse the mind and body. The techniques are what we primarily

think of when it comes to yoga known as Hatha yoga.

In the first half of the 20th Century Yoga schools began to open all over India

and the works of yogis T. Krishnamacharya and Swami Sivananda were strongly

promoted. Krishnamacharya is considered by many to be one of the most

influential yoga teachers of the 20th century and a pioneer of modern Hatha

yoga. Yoga began it's rise in global popularity in the latter half of the 20th century

when Indra Devi opened a yoga studio in Hollywood in the late 1940's.

48 49
---
The Benefits

The goal of yoga is spiritual enlightenment, awareness and

liberation. On the way to achieving this however one can enjoy

numerous physical and mental health benefits. These include;

- Stress Reduction – Research has shown that regularly

practicing yoga can decrease the secretion of cortisol, the

hormone primarily responsible for stress.

- Positive Mood – On the flip side to reducing stress, doing

yoga can result in increased levels of serotonin, the hormone

responsible for putting you in a happier state of mind. It is

said that just 15 minutes of yoga a day can change your brain

chemistry and put you in a better mood.

- Increased Energy – Regular yoga practice will awaken the

main energy centres (Chakras) in your body and certain

poses encourage effective energy circulation

- Improved Flexibility and Core Strength – Regular yoga

practice will stretch, strengthen and tone your muscles.

- Better Breathing – Deep calm breaths are an essential part

of yoga practice. Techniques (called Pranayama) focus on

breathing slowly from the pit of your stomach to the top of

your lungs. The result is increased lung capacity and more

tidal volume.

Improved Heart Health – Studies have shown that regular yoga

sessions may lower blood pressure, slow the progression of heart

disease, lower cholesterol and reduce several risk factors for heart

disease. Stress is one of the contributors to heart disease and as

mentioned above yoga can reduce stress.

We recommend taking up yoga in combination with other healthy

lifestyle factors such as diet to really benefit from improved heart

health.

50 51
---
Br. Mawang Kaja, Lodtunduh,

Ubud, Gianyar, Bali 80571, Indonesia

Tel +62 21 29553600

www.blooming-lotus-yoga.com

Blooming Lotus Yoga

Indonesia | Yoga School

Blooming Lotus Yoga has been an established global leader in yoga training

for over 10 years. This world-class yoga center offers a spiritual and

holistic approach to yoga that integrates the mystical and authentic yoga of the

Vedic tradition with contemporary research into body/mind dynamics to meet

the needs of modern yoga students. With thousands of students worldwide,

Blooming Lotus Yoga offers ongoing yoga retreats, yoga teachers training

certification courses and silent meditation retreats on the beautiful island of Bali,

Indonesia.

The founders of the yoga school, Lily Goncalves and Ramananda Mayi, have

spent decades studying and practicing yoga and meditation in the ashrams and

monasteries of India, and carefully select and train the schools new generation

of teachers so that they may share the wisdom of yoga with authenticity and

expertise.

Whether you are a beginner who

wants to develop a strong foundation

in asana, an intermediate student that

wishes to deepen your practice, or

someone who is ready to teach yoga

to others, Blooming Lotus Yoga offers

unparalleled training in the sacred arts

of asana, breathwork and meditation,

with remarkably skilled teachers in an

idyllic, tropical paradise.

Set in a majestic location just 15

minutes south of Ubud, Southeast

Asia largest yoga hub, the fully

equipped yoga resort has in-house

accommodations in 8 luxury villas

with 13 rooms, an organic and vegan

restaurant, and a spa for holistic

healing treatments.

Their popularity and world-wide

appeal developed due to their unique

and innovative approach to yoga

training that is grounded in tradition

yet adapted to the modern age so that

students may have the best of both

worlds. They focus on empowering

students with the essential principles

of the hatha, vinyasa and restorative/

yin styles of yoga asana, as well as

teach workshops where you can learn

advanced body/mind strategies to live

a healthier and more balanced life.

If you're looking for a nurturing

sanctuary where you can practice

yoga with like-minded souls on a

journey towards better health and

self-discovery Blooming Lotus Yoga is

a perfect choice for your next wellness

destination.

The idyllic location, luxurious

accommodations, healthy food,

holistic spa and expert guidance make

it easy for everyone to learn and teach

the noble art of yoga and meditation

so that they may live more inspired,

compassionate & enlightened lives.

52 53
---
Ramananda Mayi

Author of "The Way of Oneness"

and "Awakening the Bliss of Being,"

Ramananda has inspired the

awakening of the spiritual heart of

thousands of students through the

wisdom of traditions of Yoga, Tantra &

Vedanta. A natural-born mystic, he is

the founder of Blooming Lotus Yoga

and Bali's yoga lifestyle magazine Bliss!

Bridging the gap between the wisdom

of the ancient sages with the modern

age, Ramananda is an advocate of

selfless service, devotion, meditation

and contemplation as a means of

promoting world peace. He currently

spends most of his time in his jungle

hermitage in Bali or in the ashrams

of South India and emerges out only

twice a year to teach intensive yoga

training courses and silent meditation

retreats at Blooming Lotus Yoga.

Ramananda Mayi Interview

1. Tell us a little bit about yourself

After spending many years traveling through

India learning from various masters of yoga

and meditation, I was guided to Bali where

the profoundly spiritual culture of this island

welcomed me with open arms. I now teach

yoga & meditation to help others find inner

peace & greater balance in their lives.

2. What led you to open Blooming Lotus

Yoga?

My soul-mate Lily and I founded Blooming

Lotus Yoga with the intention of sharing the

ancient wisdom of yoga in the modern age in

a simple and easy to understand way. Our aim

is to empower every person that comes to us

to learn asana, breathwork, meditation & yogic

philosophy as a means to purify the body/mind

so that the remembrance of their own Divinity

may awaken.

3. Who is attracted to your yoga center?

Blooming Lotus Yoga attracts yoga lovers from around the world.

Our yoga retreats are for both beginner and intermediate students

that wish to deepen their practice, while the yoga teacher training

courses are more for intermediate or advanced students that wish

to share the gift of yoga with others.

4. Where did the name Blooming Lotus Yoga come from?

The lotus flower is an ancient symbol of enlightenment and

represents the opening of the human heart to its fullest potential.

In our spiritual and holistic approach to yoga, postures are just the

beginning of a journey towards self-discovery that ultimately leads

to the development of wisdom and compassion for all living beings.

5. The Yoga Retreats caught our judges' attention. What was

the idea behind them?

The yoga retreats were designed to help students develop the

skills they need to practice yoga with confidence on their own once

their retreat is over. In the yoga retreats, we share transformative

techniques that can help students develop mastery over the body

and mind so that they can live healthier and happier lives.

54 55
---
Tagliaferro Business Centre, Ground floor,

14 High Street, Tas-Sliema SLM1551, Malta

www.freemyme.com

Freemyme

Malta | Yoga School

Freemyme is an exciting health and wellness studio on the island of Malta,

which offer a range of fitness activities both in person and online via

Zoom. By downloading the innovative Freemyme app, customers can view the

timetable and book sessions, view ongoing promotions, as well as view the

studio's location and contact information. The app also provides links to the

studio's social platforms.

Customers are spoiled for choice when it comes to fitness classes. There are

body sculpting and HIIT sessions, Pilates and different styles of Yoga classes, all

bookable online.

For those customers too busy to prepare

healthy and delicious calorie-counted

lunches and dinners, Freemymeal is

just the perfect added bonus. Freshly

prepared lunch and dinner with either

low or high-calorie content delivered

to your door. With a choice of Balanced

and Vegetarian dishes and the option of

1 week or 4 week sign-up, eating healthy

has never been more convenient. And as

a gift, Freemymeal subscribers get to train

with the studio for free!

Freemyme has generated not only a

reputation for having the best workouts

and most popular yoga practice on

the island but also a strong sense of

community and welcoming atmosphere,

which can only be built from genuine

belief and passion

Due to the current pandemic restrictions,

all classes take place online via Zoom. With

a daily, weekly or monthly pass, customers

can have access to ALL online classes

from the comfort of their own home.

56 57
---
Tell us a little bit about yourself

We are two business partners with very different

backgrounds, we met more than 10 years ago and built

a very strong friendship which we believe has been the

key to be able to work together.

Barbara's background is in marketing, in fact, she has

been working in the past 10 years as Marketing Director

for several multinational companies. She is also super

passionate about sport, fitness, and in particular, yoga,

which lead her to become a yoga instructor and teach

both at freemyme and online.

Tony has a background in tech and events. When

Barbara decided it was the perfect place to make her

dreams come true and create the ultimate fitness

studio, the only partner she had in mind was his superskilled

friend. Today the manage the most innovative

fitness studio in Malta, with over 20 classes per day,

and more than 2,000 active customers.

What led you to open Freemyme?

Definitely friendship, and the strong belief that they

could create the best fitness experience in Malta,

thanks to a mix of fitness, marketing, and business

expertise.

Who would you say is your

target market?

Our target market is anyone, at any

age, who is willing to create and

maintain a healthy lifestyle, filled

with movement, good vibes, and

surrounded by a community that

shares the same values. It might

take time to find your own recipe to

become the best version of yourself

and our aim is to be a support for

anyone willing to take this path.

Where did the name Freemyme come from?

We believe that when you are in control of your wellbeing

and of your health and it becomes your lifestyle you are free,

and freedom is our highest achievement in life. Our aim is to

help more and more in finding the lifestyle that is perfect for

them and that can allow them to find maximum freedom and

satisfaction in life

The Freemymeal caught our judges' attention.

What was the idea behind it?

Food and diet play a major role in anyone's health,

and we decided to adopt the same approach that was

successful with exercise to diet: we make everything

ready for our customers. With freemymeal you can

order your meal plan, and every day we deliver at

your door healthy, delicious meals that are calorie

counted… So that training and dieting become easy,

super fun, and above all super effective.

58 59
---
Thai Massage

A Global Sensation

Thai massage is a global sensation; in 2019

it was added to the UNESCO cultural

heritage of humanity list and is extremely

popular with many people all over the world.

Practitioners and centres specialising in Thai

are amongst the most common nominees for

the travel and hospitality awards and come

from all corners of the globe. Indeed, winners

profiled in this chapter come from far afield as

Peru, Germany and Canada.

A Thai massage is a traditional practice

originating from Thailand and is said to

be thousands of years old. Thai massage

combines acupressure, Indian Ayurvedic

principles and assisted yoga poses. Unlike

traditional western, Swedish or shiatsu

massage techniques where an individual is to

lie on a bed, in a Thai massage the receiver

lies on the floor and actively participates in

the massage. Normally in a variety of yogalike

positions combined with deep static and

rhythmic pressures. Sessions can last up to

two hours and may include pulling fingers,

toes, ears, cracking knuckles and walking on

the recipients back.

It is recommended that after a Thai massage you rest and drink plenty of water. Even though you may feel relaxed, muscles

have been worked, stretched and prodded. There are no guidelines on how often you should have a Thai massage.

60 61
---
Benefits of a Thai Massage

– Easing of Muscle and Joint Pain – The use of pressure,

stretching and kneading on the body helps release

muscle tension, enhance range of movement on joints

and alleviate muscle spasms.

– Improved Blood Circulation – The use of stretches in

Thai massage means it promotes the circulation of

blood which can have a host of health benefits such

as efficient organ functioning and boosted immune

system.

– Increased Energy – Research has shown that Thai

massage can increase people's energy levels. Thai

massage is based on the notion of energy lines and

that tight muscles cause blockages within these lines.

You can open or unblock energy lines by physically

stimulating the muscles.

– Reduced Stress – Thai massage has been found to

reduce stress. The release of muscle and nerve tension

result in a heightened sense of wellbeing and optimum

relaxation.

– Customisable Therapy – If someone wishes, they can

work with a therapist on a specific area of the body. A

well trained and professional practitioner can focus on

areas with increased intensity or lighter touches.

A Thai massage can be taken one

step further with the use of Luk

Pra Kob or Thai Herbal compress.

Luk Pra Kob is the pressing of a

herbal ball on the body for the

purpose relieving muscular pain

and exfoliating the skin. The herbal

ball is made up of a blend of herbs

which are wrapped in unbleached

cotton and heated in a steamer. The

hot compress is then applied to the

body, the heat releases essential

oils of the medicinal herbs inside

the ball, allowing them to penetrate

the skin. It is recommended not to

shower for a few hours after the

treatment in order to fully maximise

the benefits of the herbal oils.

62 63
---
201, 4851 Westwinds Dr NE,

Calgary, AB T3J 4L4, Canada

Tel +1 403 483 2715

http://www.siamsabai.ca

Sabai Thai

Healing Spa

Canada | Thai Spa

Sabai Thai Healing Spa are a family-owned spa with genuine roots and

masterful training from their home of Thailand. They are the only spa in

Calgary that uses the 'Herbal Ball Compress', which are made 100% from organic

herbs. Offering authentic Thai Massages and Acupuncture treatments in a zenlike

ambiance for the client to achieve a relaxing experience. They have won the

2020 Top Choice Awards for Best Message Therapy Clinic in Calgary! Their goal is

to continue providing massages that are tailored to suit their client's preference.

Services range from 60 minutes to 2 hours, but guests are more than welcome

to stay longer and enjoy a cup of soothing herbal tea after their treatment. They

are a customer-orientated clinic and they strive to bring to you the best healing

massage. Visiting them will leave you with your optimism recharged.

64

65
---
Centro Comercial El Polo 2 Segundo Piso,

El Polo 670, Santiago de Surco 15023, Peru

Tel +51 986 681 863

www.sabaispaperu.com

Sabai Spa Peru

Peru | The Award for Excellence in Treatments

As you step into the warm, inviting salon of Sabai Spa in Lima, you are

instantly transported to the Land of Smiles itself. Exquisite Thai scents and

authentic relaxing Thai music fill the air as you are greeted and offered a cup

of delicious tea as is customary in traditional Thai massage parlours. Once you

choose your treatment, your Thai masseuse will give your feet a much-deserved

bath before ushering you to the massage room.

The traditional Thai massage is unlike most standard European forms of

bodywork. It is cultivated and protected by the Kingdom of Thailand through the

famous Wat Pho temple in Bangkok when the system was first established in

1782. All massage therapists at Sabai are trained in this method. This ancestral

healing technique combines digipresion and assisted yoga positions that aim to

relieve muscle pain and tension and improve blood circulation. Thai massage will

certainly leave you relaxed, calm and invigorated at the same time!

Foot Reflexology massage is another

highly popular type widely famous in

Thailand. The technique stimulates

specific pressure points in the feet and

legs that directly connect to other parts of

the body helping to detoxify and to reduce

tension and fatigue.

Other divine options include the Head

and Shoulder massage as well as the Hot

Compress massage with Thai medicinal

herbs in the compress, heated with steam,

that helps your tense muscles to relax.

The Spa also offers specialised massages

for seniors and runners who need relief.

66 67
---
Bierpohlweg 159, 32425

Minden Germany

Tel +49 571 43435

www.lanai-spa.de

Lanai Thai Massage

and Green Spa

Germany | Eco-Friendly Spa

Experience incredible wellness with all your senses at Lanai Nature Thai

Massage Spa. At Lanai, you will receive professional treatments in a

stunning setting with incomparable ambience. It is surrounded by nature and

lush greenery and this enhances the calming experience of your treatment of

choice.

Lanai has been providing expert Thai massage treatments for 3 decades. Thai

massage works by gently stretching tendons, ligaments and muscles in a way

that allows the body to completely relax. The targeted Thai massage grips

also improve the flow of energy in the body. Headaches, fatigue and similar

complaints can be significantly alleviated. Blockages are released and overall

well-being is restored.

At Lanai you can also try a therapeutic

steam bath that strengthens the immune

system, stabilizes the heart and circulation

and regulates the skin's water balance.

The aromatic steam clears the airways

and strengthens breathing.

Experience our state-of-the-art Whirlpool

treatment. Hydrotherapy has long been

used with great success. The pleasant

hydromassage has a demonstrably

positive effect on your overall well-being

due to the combination of water and heat.

Gentle floating in the water has shown

to relieve joints, spine and ligaments and

helps reduce pain and inflammation.

Due to the current world pandemic, we

have taken strict measures in line with

the German Health authorities. We use

professional cleaning and disinfecting

equipment on a daily basis so customers

can rest assured that our hygiene

standards are nothing less than perfect.

68 69
---
Sauna and Steam Rooms

Six Superb Reasons to Enter

Both Saunas and steam rooms are

built on the concept of using heat

to encourage wellness.

For thousands of years sauna's and

steam rooms, they have been utilised by

mankind for their health benefits. 3000

years ago, Mayans used sweat houses to

recover and help cure ailments. Japanese

bathhouses have a rich history of using

natural hot spring steam baths to help

the sick. Traditional Turkish steam rooms,

more commonly known as hammams, are

famous for using a moisture filled heat

and a post soak body scrub. A Finnish

sauna is the most recognisable type of

and uses dry heat. Finnish Saunas have

wooden interiors, temperature controls

and include rocks that absorb and give off

heat.

An alternative, more modern option is an

infrared sauna. This kind of sauna uses

infrared lamps to warm your body directly

instead of heating the air around you.

To take the sauna experience one step further,

Kok Oslo (a travel and hospitality award winner),

offer a unique floating sauna experience where

you can follow up soaking in the heat with a

cold Fjord bath.

Whichever way you look at it the use of saunas

and steam rooms are clearly valued. If these

aren't part of your usual wellness routine here

are six reasons why you should consider adding

it in.

A "Healthy Sweat" – Cleansing the Skin

Deep sweating induced in a sauna or steam room cleanses the skin.

Sweating flushes out toxins through pores and rinses bacteria out

of the epidermal layer. This improves the capillary circulation while

giving the skin a softer look.

Burn Calories

The sweating process requires a notable amount of energy and you

will burn more calories in a sauna or steam room than you would

sitting anywhere at room temperature. However, this should only be

considered as one of many weight losses tools in your arsenal.

Historical Significance

Not an obvious reason, but it's worth thinking about when you

consider some of the great civilisations who value heat as a

treatment. In addition to those mentioned above Romans, Greeks,

Victorians and the Indus Valley civilisation were big on steam

baths. Native Americans used hot vaper baths to treat illnesses and

Hanjeungmak, a Korean sauna, is found to have been invented in the

15th century. The rich history does make you think they were all on

to something.

70 71
---
Muscle relaxation and

recovery

There are three ways using a

Sauna and steam room can aid

muscle relaxation and recovery.

The first is that the heat causes

your body temperature to rise

which in turn causes blood

vessels to dilate and increase

blood circulation. The increased

blood flow speeds up the body's

natural healing processes.

The second is that the heat

causes your body to release

endorphins which have a

mild "tranquilising effect" and

minimise joint pain and soreness.

The third way is that the sweating

releases a toxin known as lactic

acid thus promoting muscle

relaxation.

Relieve Stress

Bathing in a sauna and steam room has been

shown to reduce cortisol levels and simulate the

production of Serotonin. Cortisol is a hormone

released when were stressed and high levels can

lead to several health issues whereas serotonin is

known as the "happy hormone" and makes us feel

good.

Socialise

Saunas and steam rooms are generally considered

private areas for personal relaxation and solitude.

However, they can easily be utilised as a social

activity, shared with family and friends. The

environment is the perfect place to have a quite

intimate conversation.

72 73
---
Norway Tel +47 934 00 522 https://www.kokoslo.no

Kok Oslo

Norway | Sauna

Kok is a unique sauna company located in Langkaia in downtown Oslo, on

the west side of Bjørvika. Unlike the more traditional experience, Kok offers

customers the opportunity to enjoy the revitalizing combination of steaming

sauna and refreshing fjord baths all year round- on one of their floating boats!

The sauna boats are wood-fired with efficient and clean burning wood stoves

and have large windows that let in a lot of light. While immersed in bliss, guests

can enjoy stunning views of the Fjord and Oslo Opera House

Kok consists of 5 sauna boats so guests are spoilt for choice. Arriving at Langkaia,

one of the pleasant sauna masters welcomes guests onto the floating boat.

Before boarding the boat, there are changing rooms and locker facilities where

guests can store their belongings.

The sauna master, who is also a trained

lifeguard, is the boss of the boat and is

there to be helpful and ensure guest

safety is the top priority. During the

experience, guests have the opportunity

to leave their troubles behind, sit back,

relax and enjoy the tranquillity in this

small urban bubble. The sauna masters

are great photographers and always on

hand to take Insta-worthy snaps of this

unforgettable experience.

Some guests prefer booking single

seats, while others choose to rent the

whole boat privately. For an ultra-special

experience, Kok recommends the fjord

cruises: various tours among the islands

in the Oslo fjord before anchoring in a

bay for a refreshing dip in the sea.

74 75
---
Meditation

Meditation is the practice of using a technique to train

attention and awareness so one can achieve a mentally

clear, stable and emotionally calm state. Meditation can reduce

stress, anxiety and depression as well as increase self-peace,

perception and wellbeing.

A 2017 meta-analysis on the effects of meditation found that

practices had a small to medium influence on self-reported

and observable outcomes relating empathy, compassion and

prosocial behaviours.

The most common way people meditate is to sit down usually on

the floor, in a quite place, close eyes and relax breathing. Once

in this position there are few different types of meditation you

can undertake. Love-Kindness or Metta meditation is used to

cultivate an attitude of love and kindness towards everything

including sources of stress. Mindful meditation is a form of

meditation that urges one to remain aware and present in the

moment. The goal of transcendental meditation is to breathe

slowly and rise above a person's current state of being.

Finally, Kundalini yoga is an active form of meditation that blends

movement with deep breathing. This can improve physical

strength, reduce pain and improve mental wellbeing.

There are numerous other forms of meditation, if you wish to

find out more check out https://www.mindful.org/category/

meditation/

BLUE CINQ POINT Bld.C-B1,

5-3-18 Minami Aoyama, Minato-ku, Tokyo

Medicha

Meditation×Art×Japanese

Tea

Japan | Holistic Spa

Tel +81 03-3287-5519

LDetox orem Ipsum your mind and body at Medicha, a meditation studio for the modern age

located in Tokyo's Minato City. Unlike anything you have experienced before, this

is a unique style of meditation which combines art and Japanese tea as well as audiovisual

means to detox your whole being by giving all your senses a luxury treatment.

This exclusive 80-minute program consists of 4 stages each designed to take place in a

different room. During the first 2 stages, you alternate between a minimalist, bright room

and a dark space that is wrapped in a starry sky. While immersing yourself in sound and

lighting, release your five senses by putting aside your thoughts and emotions to prepare

a mindful self for the next stage

Stage 3 is the main guided meditation carried out in a bamboo dome. Learn to build inner

skills and reflect while enjoying calming scents. During the final stage, treat yourself to a

cup of tea in a modern tea room, with utensils and surroundings crafted by local artists.

During this time, gather and integrate the vivid emotions and thoughts you felt during

the program.

www.medicha-jp.com

76

77
---
Innovative

Wellness

78 79
---
Trends for the

next Decade

The wellness industry is one that's always

striving to innovate and move forward. In

today's health conscious and technologically

advanced world, the next big thing isn't too far

away. This represents an amazing opportunity

to help the world and make financial gain. It may

well be that the next big innovation is already

here and is waiting to be "discovered". Yoga

for example had been around for thousands of

years before being rediscovered in the second

half of the 20th century.

With this in mind, we pick out some of the current

wellness practices we believe will flourish over

the next decade.

Cryotherapy

This is a technique where the body, or part of the

body, is exposed to extremely cold temperatures

for a short time and it's most effective when

used regularly. The benefits of cryotherapy

include reduced nerve irritation and migraine

symptoms, endorphin release to help mood and

improved antioxidant levels which can reduce

certain disease risk and treat inflammation.

Cryotherapy is new so the full benefits and risks

are not understood. Traditionally cryotherapy

has been popular with professional athletes,

but centres are cropping in many major cities

making the therapy more accessible.

Plant Based Diets

A plant-based diet is one that consists of eating

mostly or entirely foods derived from plants.

Plant based diets have been associated with

longevity, reduced risk of disease, lower blood

pressure, normal BMI and lower cholesterol. In

recent times the number of plant-based eaters

and high-profile proponents of the diet has

increased. As has the production and sales of

meat free alternative to popular foods.

Keep in mind however simply cutting out or

down on animal products isn't enough you still

need to be cautious of plant based "junk food",

processed sugars and vitamin deficiencies.

We expect the number of plant-based eater

to only increase especially when you consider

the environmental, sustainability and ethical

benefits of adopting such a practice.

80 81
---
Cannabidoil | CBD

Cannabidiol (CBD) is a naturally

occurring cannabinoid derived from

the cannabis plant. THC, the chemical

responsible for the stoned or high

feeling associated with cannabis,

isn't present in CBD meaning its use

is purely wellbeing related. The use

of CBD has really taken off in recent

times, owing it's rise in popularity,

in part, to the legality of cannabis in

certain states of America. Its use is

only expected to increase as many

more states and European countries

legalise cannabis.

CBD can be taken as an oil droplet,

in a capsule, edibles, vapours and

skincare products. Benefits of CBD

consumption are pain relief, reduced

anxiety and depression, cancer

symptom alleviation and improved

brain health. Like Cryotherapy the use

of CBD is new, and we still have a lot

to learn.

The Four Day Work Week

Currently the norm for a work week is Monday to Friday, 9am to 5pm

and although some companies offer flexible work hours, five-day

work weeks are still standard. Four-day work weeks however are

the future, studies have shown that working four days a week lead

to a decrease in stress and increase in overall work satisfaction

as well increased productivity and reduced environmental cost

despite working the same number of hours.

LED Light Therapy

LED light therapy or light emitting diode therapy is a form of skincare

treatments that uses blue and red wavelengths of light. Blue is used for

acne treatment while red is for anti-aging. LED's do not contain ultraviolet

rays so are perfectly safe for regular use.

LED light therapy has been shown to help treat acne, reduce inflammation

and promote anti-aging affects. It's suitable for all skin tones and results

can be observed from just a single session.

LED light therapy is a tool we expect to be used increasingly by beauticians

and aesthetic skin treatment centres.

82 83
---
The Holistic

Approach

84 85
---
Holistic health, often confused with alternative

medicine, is a way of life rather than a set of

treatments and therapies to heal specific ailments

and issues. The approach is centred around the

person as a whole and their interaction with their

environment.

Holism is the theory that part of the whole cannot

be understood or even exist independently

without reference to the whole itself. Essentially

the whole is great than the sum of its parts.

This can be applied to many disciplines and has

been used in understanding human wellness for

centuries. Principles of holism were practiced

by Hippocrates in ancient Greece, early Islamic

age approaches to health focused on combining

spiritual health with biological medicine, both

traditional Ayurveda and Chinese medicines

emphasise the importance of a whole.

Today there are five key components to holistic

wellness that when treated individually come

together for holistic wellness on a deeper level

allowing for more healthy and joyful way of living.

These are physical, emotional, intellectual, social

and spiritual health.

Physical

This is what most people think

of when it comes to health.

It's important because issues

with physical health, unlike the

other components, are normally

accurately measured and

tracked meaning problems can

be addressed directly through

specialists. Physical exercise,

sleep and nutrition all play a part

in the quality of physical health.

Intellectual

Intellectual health refers to

our cognitive abilities and how

our brains function. This varies

greatly from person to person and

depends on interest, what may

be intellectual stimulation for one

individual may bore another. The

focus is on being regularly engaged

on a cognitive level, this doesn't

necessarily have to come from a

book or lecture as you may think.

Learning a new skill, engaging in

an immersive conversation with

someone different, watching a

documentary and visiting a new

place are all conducive to good

intellectual health.

86 87
---
Emotional

Traditionally emotional health

has always been overlooked

in favour of physical health. In

today's world however, with

the increasing significance

of mental health, the ability

to engage in emotional selfregulation

is considered vital.

Often our emotional state

can often affect our physical

health and the health of

those around us. Emotional

self-regulation allows us

to recognise, identify and

define our emotions and their

triggers. Common ways you

can support your emotional

health is to seek out therapy,

practice mindfulness,

meditation, stress reduction

habits and by using a journal

to understand your thoughts

& feelings.

Social

This refers to the state

of one's personal social

network. Deep connections

with family, friends and

community have often

shown to be key to one's

happiness. A strong social

network gives us a sense

of belonging and we as

humans are social beings,

looking to engage in

positive social interactions.

Toxic relationships have

been shown to harmfully

effect both physical and

emotional health. You can

improve your social health

by making time for the

people you connect with,

get involved with local

community and not being

afraid to walk away negative

relationships.

Spiritual

This is the most difficult to define and varies the most. For one

person this could mean their connection with god and prayer,

to another it may be a weekly visit with a spiritual medium,

to someone else it could be regular practice of yoga and

meditation. Spiritual health should focus on how you connect

with your inner soul and the world around you.

88 89
---
Level 1/287 Tinakori Road,

Thorndon, Wellington 6011, New Zealand

NatuneHeal - Holistic

Wellness & BioEnergy

Therapy Centre

New Zealand | Holistic Health and Spa Centre

Tel +64 4-471 2347

NatuneHeal Holistic Wellness & BioEnergy Therapy Centre was

founded in 2018 with an enlightened vision in mind: to offer unmatched

Holistic Health & Spa Services using a combination of modern and ancient

traditional techniques. Their enthusiasm and scientific approach has enabled

them to design customised solutions with negligible side effects. By merging

Eastern & Western approaches, they want to achieve the best health outcome

for many that suffer from modern chronic "dis-eases", including stress.

They are pioneers that make a sustained effort to understand the true causes

of dis-ease, rather than temporarily masking its symptoms. Everything in their

Centre (e.g. physical layout and decoration, atmosphere, customer interaction,

services) has been designed to reduce stress and create an ambience of peace

for your utmost relaxation and true healing.

www.natuneheal.com

At NatuneHeal, they have moved from a

purely biochemical focus to a combined

one that incorporates BioEnergy Medicine,

so that they can assist you to fully restore

your natural harmonic resonance. Their

methods include Traditional Chinese

Medicine, Ayurveda, Bioenergy Scanning,

Biofeedback Resonance, Flotation and

Ozone Therapy, Quantum Energy Healing,

Sound Therapy, and Vibrational Medicine.

When a higher and healthier bio-frequency

is re-established in a detoxified, nutritious

and microbially balanced body, stress

dissipates, and illness either does not

manifest or may be completely resolved.

At their modern, personal, private and

discreet health oasis, Dr. Weller and

his professional team of therapists are

enthusiastically awaiting to take you and

your loved ones back to full health and

vitality.

Visit them for a guaranteed improvement

in your health and healing without

frontiers.

90 91
---
Kok Oslo

An invigorating hot sauna followed by a dip in the cool water of the Oslo Fjord.

Made possible by KOK Oslo's stunning boats. Panoramic sea views, wood fired

saunas and a unique experience. What more could you want?

https://koknorge.no/en/home/

Tel +47 934 00 522

post@koknorge.no

92 93
---
thawards.com