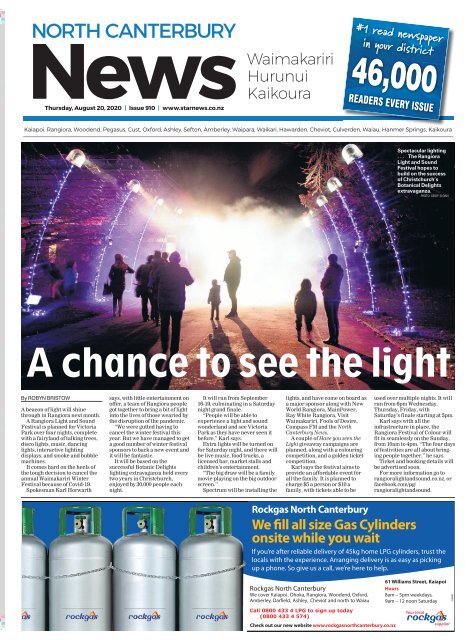 North Canterbury News: August 20, 2020
You also want an ePaper? Increase the reach of your titles
YUMPU automatically turns print PDFs into web optimized ePapers that Google loves.
#1 read newspaper

in your district

#1 read newspaper

in your district

46,000

Thursday,August20, 2020 | Issue910 | www.starnews.co.nz

READERS EVERY ISSUE

Spectacular lighting

... The Rangiora

Light and Sound

Festival hopes to

build on the success

of Christchurch's

Botanical Delights

extravaganza.

PHOTO: GEOFF SLOAN

Achance to see the light

By ROBYN BRISTOW

Abeacon of light will shine

through in Rangiora nextmonth.

ARangioraLight and Sound

Festival is planned for Victoria

Parkover fournights,complete

withafairylandoftalking trees,

disco lights, music,dancing

lights, interactive lighting

displays, and smokeand bubble

machines.

It comeshard on theheelsof

the tough decision to cancel the

annual Waimakariri Winter

Festival because of Covid­19.

Spokesman KarlHorwarth

says, with littleentertainment on

offer, ateam of Rangiora people

got togethertobring abit of light

into the lives of those weariedby

the disruption of the pandemic.

''We were gutted having to

cancel thewinterfestival this

year. But we havemanaged to get

agood numberofwinter festival

sponsors to back anew event and

it will be fantastic.

It willbebased on the

successful Botanic Delights

lighting extravaganza heldevery

two yearsinChristchurch,

enjoyedby30,000people each

night.

It will run from September

16­19,culminating in aSaturday

night grandfinale.

''People will be able to

experience alightand sound

wonderland and see Victoria

Park as they have never seenit

before,'' Karl says.

Extra lights will be turned on

for Saturday night,and there will

be live music,foodtrucks, a

licensed bar,market stalls and

children's entertainment.

''The big draw willbeafamily

movie playingonthe big outdoor

screen.''

Spectrum will be installing the

lights, and have come on board as

amajor sponsoralong with New

WorldRangiora, MainPower,

Ray White Rangiora, Visit

Waimakariri, Fools of Desire,

Compass FM andthe North

Canterbury News.

AcoupleofHave you seenthe

Light giveaway campaigns are

planned,along with acolouring

competition, and agolden ticket

competition.

Karl says the festival aims to

provide an affordable event for

all the family. It is plannedto

charge $5 apersonor$10 a

family, withtickets able to be

used over multiple nights.Itwill

run from 6pm Wednesday,

Thursday,Friday, with

Saturday's finalestarting at 5pm.

Karl says withall the

infrastructure in place,the

Rangiora Festival of Colour will

fit in seamlesslyonthe Sunday,

from 10am to 4pm. ''The four days

of festivities are allabout bringing

people together,'' he says.

Ticket and booking details will

be advertised soon.

For more information go to

rangioralightandsound.co.nz, or

facebook.com/pg/

rangioralightandsound.

Rockgas NorthCanterbury

We fill all sizeGas Cylinders

onsite while youwait

If you're afterreliabledeliveryof45kghome LPG cylinders,trust the

locals with the experience. Arranging deliveryisaseasyaspicking

up aphone.Sogive us acall,we're heretohelp.

61 Williams Street,Kaiapoi

Hours

8am –5pm weekdays,

9am –12noonSaturday

2286893

Check out our newwebsite www.rockgasnorthcanterbury.co.nz
---
NEWS

2 North Canterbury News, August 20, 2020

There's

neverbeen

abetter

time to

support

local

news

Robyn Bristow

Managing Editor

027 312 1581

robyn.bristow

@ncnews.co.nz

Reporters

Neil Clarkson, David Hill,

Shelley Topp.

advertising

advertising

DaynaBurton

Sales Co-ordinator

027 312 0089

dayna.burton

@ncnews.co.nz

getintouch

Editorial touch

www starnews co nz

The

North

Canterbury

News features

local business

and news

everyweek

Amanda Keys Advertising

027 536 6224

amanda.keys@ncnews.co.nz

Claire Oxnam Advertising

021 560 386

claire.oxnam@ncnews.co.nz

Kerryn Clark Advertising

021 586 138

kerryn.clark@ncnews.co.nz

info@ncnews.co.nz

Advertising

sales@ncnews.co.nz

Graphic Design

heather.hood@ncnews.co.nz

Distribution/Deliveries

03 314 8335

Amberley: 03 314 8335

119 Carters Road, Amberley

Rangiora: 03 313 2840

77-83 High Street, Rangiora

Christchurch: 03 364 7460

www.starnews.co.nz

2305590

The best view at the domain

Showing initiative ... Enterprising fans with access to acherry­picker had afine view of the

North Canterbury LuisettiSeeds rugby grand final between Glenmark­Cheviot and Kaiapoi at the

Omihi Domain last Saturday. Level 2restrictions meant the match, won by Glenmark­Cheviot

32­24, was played without spectators. Threefans met all Covid­19 requirements by hoisting the

cherry­picker above the boundary hedge in aneighbour's paddock to watch the spectacle. Full

match coverage, page 31.

PHOTO: PETERWILLIAMS

Council cancels book sale

Apopularbooksalehas been cancelled by

the HurunuiDistrict Council as thecouncil

reintroduces Covid­19 level 2protocols.

The council decided to cancelthe Friends

of the Library's booksaleatthelibrary, as it

was expected to draw morethan100 people.

Mayor Marie Black saysithas beenpostponed,untilfurthernotice,

butwillbeback.

She saysthe council will remaincautious

and vigilant in itsfightagainst thevirusand

cancelany other events expected to draw

morethan100 people.

"TheGovernment is taking aprecautionary

approach andwhile some may feel

frustration at therise in alert level,itis

important forustoremain calm" she says.

''Weare working to reduce the risk, andwe

haveshownthat we can unite against the

virus before."

The Former

Greta Valley

Tavern

is...

Under New Management

Mrs Black saysthe council is makingsureit

is operatingassafely as possible andhas

measures to respond to any alert level.

''We have reintroducedlevel2safety

protocols andask allvisitors to maintain

social distancing, sanitise, and usethe Covid­

19 tracerapp,orour provided methods, to

sign in forcontact tracing wherever

possible.''

Residents can callthe council if they are

experiencing hardshipbecauseofthe change

in alertlevel.

Meanwhile, most council facilitiesremain

open to the public, includingtransfer

stations, playgrounds, librariesand service

centres.

The latest nationwide updatesregarding

Covid­19and information alert levelscan be

foundonline at Covid­19.govt.nz.

Open: Wednesday -Sunday 12pm -late

• Lunch • Dinner • Catering • Functions

9Tavern Drive, Greta Valley Ph: 03 314 3517

E: thelocal.greta@yahoo.com M: 020 4116 4774

ADVERTISING

YOUR

BUSINESS?

1914343

Forum

planned

By DAVIDHILL

Provision of social services in

ruralcommunities willbethe

focusofanelection forumon

September30.

Social ServicesWaimakariri

(SSW)ishosting an online

webinar with election

candidates next Wednesday,

with the focus on local social

issues.

SSW facilitator Nicki Carter

says the forum will follow a

differentformat to most

election meetings,with the

localspeakers informing the

politicians of localissues,

before the candidates are

invited to respond.

''We are goingtohear from

speakers fromthe four main

sectors,givingfive minutes

each —families with children,

youth, older persons and the

disabilitysector.

''Andthen we will launch

into the questions.''

Candidates fromLabour,

National,the Greens, New

Zealand First and the New

Conservativeswill thenbe

invited to respondtoquestions

around social sector funding,

operatinginthe post­Covid

environment and service

provisioninrural areas.

''There are particular issues

around funding for social

services in rural communities.

For example, thereisno

communitysocialworker

basedinthe Hurunui district,''

Nickisays.

''TheCovid environment has

highlighted that we cannot

continuetorelyon

philanthropic funders to

provide services which are the

responsibilityofcentral

government.''

If there is time, candidates

will be invited to givetheir

viewsonthe cannabis and end

of life referendums.

The decision to hold the

forumonlinewas made after

the lockdown, and Nickisays it

has proven to be the right one

giventhe Covid19uncertainty.

People can tune in to watch

the forum liveat3pm on

September30onYouTube at

youtu.be/ahg70WrlGS8. It can

be watched lateratthe same

address.

Thursday,August2,2018 | Issue 808 | www.ncnews.co.nz

Delivered to more homes

in North Canterbury and

Kaikoura regions than any

other publication.

The best read paper in

North Canterbury!

For contact details see page 2
---
NEWS

North Canterbury News, August 20, 2020

3

TAXRETURNS

Debra Jowsey

Karla Kilner

Tax &Accounting

Consultants

since 1984

Overwhelmed? Confused? With the recent IRD

changes to tax returns, GST returns, rental returns

and pay day filing A-Plus Accounting is here to help.

Give us acall. Friendly,knowledgable staff.

A-Plus Accounting

☎ 03 314 9480

2293781

Sad parkvisit... Waimakariri District Mayor DanGordon, left, with KeithHarris, of Rangiora, and ECancouncillor GrantEdge, of Fernside, during

ameeting at the sitewhere 500 trees were recently felled in the Ashley Rakahuri RegionalPark near Rangiora.

PHOTO: SHELLEY TOPP

Councillor angered by tree felling

By SHELLEY TOPP

AFernside­based councillor

with EnvironmentCanterbury

is angrythat the regional

council felled500 trees in

Rangiora'sAshleyRakahuri

RegionalPark without

consultation.

The trees werefelledlast

monthbyECan'sriver

engineeringteam during flood

mitigationwork, without

consultation with the

community, the district

council, the Rangiora­Ashley

CommunityBoard,the

WaimakaririWater Zone

Committee, or ECan

councillors.

The loss of the trees sparked

an outcry from the community.

''I want to share my absolute

angerwith the community at

the loss of these trees which

haveprovided awell­liked

shaded woodlandlandscape

and recreational facility for a

verylong time,'' Cr Grant Edge

said.

''There has beenaterrible

breakdownincommunication

channelsbetween the regional

counciland the districtcouncil

and the community.''

Thiswas not how the new

democratically elected

environment council,under

chairwoman Jenny Hughey

and new chief executive Dr

Stefanie Rixecker,wanted to

work, Cr Edge said.

''What has happenedhere is

not following the strategic

pathway of the new council.''

He planstoseekareview of

the procedure leadingupto

the removal of the trees to

ensurebetter outcomes in the

future.

Waimakariri District Mayor

Dan Gordon has also

expressed disappointment that

the trees were felled without

consultation.

He wants amoratorium

preventing further tree­felling

at the park in order''to work

through issues of concern''. He

also plans to meet ECan

officials within the nexttwo

weeks to discussthe issue,

specifically to determine if

opportunities exist for

replanting, how the community

might be involved with that,

and how the messleft by the

tree­fellingwill be cleaned up.

''We can'tstop what has

happened to the trees but we

must learnfrom it and do

betterinthe future,'' Mr

Gordon said.

Rangiora residentKeith

Harris, who has written to

Environment Minister David

Parker about the issue, has

called the removal of thetrees

''vandalism''. He has also been

invited to attend the meeting.

Waimakariri WaterZone

Committee chairman Michael

Blackwell, of Kaiapoi, said he

was ''bitterly disappointed''

overthe loss of the trees.

''There has been alack of

consultation, with the end

result thatnobody in the

community has had an

opportunitytoshare their

voice.

''There has to be some kind

of middleground, and

consultation with the Water

ZoneCommittee is an

important link in that process.''

FREE FLUE KIT

–last weeks

Save up to $849 on selected

Metro fires

See our range of

ULEB fires in store

–can be installed

ANYWHERE in

Canterbury.

We can arrange

consent and

installation taking

away Seeusnowtoarrange allofthe you FREE, NO OBLIGATION

hassle. quote to have your log firefully installed, including

obtaining council consent. FINANCE AVAILBLE.

Call us nowfor a free,

no obligation quote

360 FlaxtonRoad, Rangiora

Ph 03 3135563

www.kingsmowersheating.co.nz

2305513

Holloway to fill council seat

Mary Holloway has been

elected to the Hurunui

District Council, replacing

Jason Fletcher, who resigned

earlier thisyear.

Mary, the chairwoman of

the HanmerSprings

Community Board,won the

Westward seatinabyelection

from Jeffrey Walker

by 778 votes to 397.

Maryishumbledbythe

support and is mindful she

willbeserving the whole of

the Hurunui District.

''I am North Canterbury

bornand bred,and aware of

the district's rural and

farmingneeds," she said.

"I appreciate the

opportunity to make sure our

local voiceisheard.

''Local government remains

astrong and important pillar

of the New Zealand

governance model and Ilook

forward to standingstrongly

for this principle."

Aby­election will nowbe

heldtoreplace the

extraordinaryvacancyonthe

Community board created by

Mary's new position.

Mary Holloway

There's neverbeeneen

abetter time to

support local.

Help our local economy recover in these difficult times

and support our local advertisers by shopping local.

The North CanterburyNews features local businesses

and news everyweek.

If you're abusiness owner and want to

find out how we can help you

-send us an email on info@ncnews.co.nznz
---
2095268

KAIKOURA RESIDENTS

–NEED ASURVEYOR?

Surveying |Engineering |Planning |Subdivisions

Topographical Surveys |Resource Management

Land Development |Civil Engineering |Project

Management |Building &Construction Setout

Kaiapoi Lodge

Residential Care

Nursing Home, Hospital and

Respite

Person Centred Care,

Carethat'sbuilt

around you

6Cass Street,Kaiapoi

Ph 03 327 7235

Mark O'Connor is available

for free, no obligation

consultations at the PGG

Wrightson Kaikoura office

Wednesday fortnightly.

Appointments required.

PHONE MARK 021 558 100

0800 802 4546 |Email: mark@bonisch.nz

The Widest

Music Variety

Tune in nowtolisten on

104.9 for North Canterbury

103.7 for Hanmer Springs

andKaikoura

2111416

NEWS

4 North Canterbury News, August 20, 2020

Mel'svision for Maori success

By DAVID HILL

ANorth Canterbury educator says there

needs to be arethink around how to

encourage Maori educational

achievement.

Maori are the youngest and fastestgrowing

demographic. Population

projections suggest more than one

million New Zealanders will identify as

Maori by 2038,and will represent more

than afifthofthe working­age

population, TuahiwiSchool principal

Mel Taite­Pitama says.

In contrast, New Zealand's pakeha

population is ageing and will represent

the highest proportion of over­65s.

Mel has been invitedtoaddress the

uLearnConference in Hamilton in

October and has been published in New

Zealand and international educational

magazinesonthe subjectofMaori

educationalachievement.

''In Maori culturewehave aproverb,

'the kumara doesn't talkabout its own

sweetness', but Ithink Maori need to

celebrate our achievements and North

Canterbury needstocelebrate what we

have here.''

Last week, in her roleasAra Institute

of Canterbury deputy chairwoman, Mel

spoke to 900 academic staff at the launch

of Ara's new framework for Maori

achievement.

''It'salot of pressuretodo something

like that because you'vegot to get it right.

If we don'twewill have aserious

problem in this country,'' she says.

''Maori have traditionally filled bluecollarjobs,

but withour rapidlychanging

technologyand automation, those jobs

won't exist in the future, so we have got to

get young Maori aimingfor higher­paid

jobs.

''Whatweneed to understandisthat

the growth in the workforce is going to be

predominantly young Maori, particularly

in regions like NorthCanterbury.''

Ahigh achiever herself, Mel is happy to

been seenasarole model for young

Maori women.

Last yearshe won the Maori or Pasifika

governanceleaderaward at the New

Zealand Women in Governance Awards.

She alsohas her own business,

Looking to the future ... Tuahiwi School principal Mel Taite­Pitama says Maori are the

youngest and fastest­growing demographic in New Zealand.

PHOTO: SUPPLIED

Tuahiwi Education Ltd, and is studying

for amasters degree in Maori and

indigenous leadership.

''I can't go to the supermarketwithout

someone recognising me, but if I'm that

Maori woman that people can relateto, I

can live withthat.

''I have avery supportive whanau and

Idon'thave young childrenany more, but

Idowork long hours.''

Nine Rangiora race meetings for season

The Rangiora HarnessRacing Club has

been allocated nineracemeetings for the

2020/21 season.

They will be held on Friday, November

6—four days before the New Zealand

TrottingCup —followedbyWednesday,

November 18, Sunday, December 20, for

the Christmas at the Races meeting, with

six meetings scheduled for nextyear.The

2021 datesare Sunday, January 3;

Saturday,February20; Sunday, April18,

for the Rangiora Classic; Sunday, April

25, for the Anzac Day meeting; Sunday,

May 9; and Sunday,May 23.

Club president Greg Wright says he is

''delighted to have both afull complement

of meetings and most in the spring/

summer seasons''.

TheNovember 6meetingwill be the

first meeting at Rangiora Raceway since

racingstalled under Covid­19 restrictions

earlier this year, withthe club holding

only three of its scheduled10meetings

lastseason.

What would the

criteria be for

assisted dying?

Know before youvote

Authorisedbythe Secretary forJustice
---
NEWS

North Canterbury News, August 20, 2020

Kanuka stand to be used in wastewater trial

By ROBYN BRISTOW

Planting pines on land bought

by the Hurunui District Council

in Hanmer Springs, where it

intends to spray treated sewage

and wastewater for irrigation,

has some residents bristling.

Residents say it is agreat

opportunity for the council to

plant natives on the 50­hectare

block at the corner of River

Road and Leslie Pass Road.

However, the council's chief

operations officer, Dan Harris,

says the decision to plant

radiata pines for nutrient

management was based on

available science when land

options were considered

during the resource consent

stage.

There were also significant

differences in operating costs

between exotic plantation

forestry and other options.

However, he says residents'

opposition to the pines has

been taken on board and the

council will use asevenhectare

block of kanuka on the

land as atest area to gather

information on how natives

perform under irrigation.

This could lead to natives

being planted when the pines

are harvested.

Mr Harris says astudy is

needed to understand why the

kanuka stand is thriving in the

area, being the only stand of its

type on that side of the Hanmer

Springs basin.

One resident said on alocal

Facebook page that the block

provided awonderful

opportunity to plant native

trees and create abird

sanctuary. Deer were excluded

because of deer fencing, while

other pests could be trapped to

ensure it was predator­free.

''Unfortunately, the council

has decided to plant pine trees.

The large amount of water will

ensure these trees will grow so

fast they will need to be

harvested every 15 years, to

prevent toppling due to wind,

but will be too weak to be used

for building, and will probably

blow over earlier.

''A qualified ecologist has

offered his services free­ofcharge

to design aplanting and

nutrient­uptake plan, but the

council has refused.

''Pine trees should be planted

around the boundary as they

would grow quickly and not

require watering, and would

protect the young natives

growing inside from the wind,''

the Facebook post says.

Environmental reports

suggest that, left unplanted and

appropriately maintained, the

heavily modified regrowth of

kanuka would respond well to

watering, Mr Harris says.

He says the council is

committed to not only

undertaking restoration of the

area, but also monitoring

nutrient uptake by the kanuka

using test bores to improve the

science on native planting.

If successful, the large scale

trial will support future

applications for native

plantings in wastewater

disposal zones, and may lead to

expansion of native plantings

after rotation of the exotic

planting at the Hanmer Springs

site, he says.

At present, under an existing

consent, Hanmer Springs

sewage is treated, with the

resulting wastewater

discharged in the Chatterton

River.

Work began in 2014­2015 to

move to aland­based discharge

for the town's treated

wastewater. Several options

around Hanmer Springs were

investigated by the council and

community board. Eventually,

the River Rd site was bought,

consent sought, and granted.

''It has been along journey,

with initial investigations

dating back to 2007, 2008, when

we got an extension to our

existing resource consent,'' Mr

Harris says.

''We are aiming to have it

operating, all going well, by the

end of September.''

5

Irrigation trial ... Akanuka stand

similar to this will be part of atrial

near Hanmer Springs to determine

how natives perform under

irrigation using wastewaster

derived from sewage. PHOTO:FILE

NEED FUNDING

FOR ALOCAL

ARTS PROJECT?

Assistance is available for groups and

individuals who are keen to provide

arts and cultural activities in the

Waimakariri District from the Creative

Communities New Zealand Scheme.

The next Creative Communities round will close

Monday 21September 2020, for events or

activities that take place between 1November

2020 and 1November 2021.

The Application Form and Guide for Applicants is

available from Council Service Centres and Libraries

or from the Council website at waimakariri.govt.nz

Readyfor

Spring?

Save time&hassle

–let us service your

homes irrigation

systembefore

you'll need it.

Get your home/lifestyle blocks

irrigation plan drawnupnow for

free –all we need is ascaled plan!

MEN NEED DOCTORS TOO

When was the last time you or the man in your life

had ahealth check?

AMen's Wellness Check is agreat way to meet a

new Doctor and annually to help keep your health

on track.

Letustake care of you...

Forall your

irrigation,

pumping, and

waterfiltration

See the team at

308FlaxtonRoad

Phone 03 3130408

simon@tiw.co.nz

www.tiw.co.nz

2298456

Wellness Checks $110

2300219Men's

230021 2 9

If youhaveany questions please contact the administrator,

KarenLivingstone Phone03311 8901 or 0800 965468

Email karen.livingstone@wmk.govt.nz

Minutes from Kaiapoi, Rangiora and Northwood

9/42 Silverstream Boulevard, Kaiapoi 7630 |03-595 1489

www.silverstreammedicalcentre.co.nz
---
OPINION

6 North Canterbury News, August 20, 2020

Waimakariri

Focus from Dan Gordon, Mayor

District well prepared

for Covid'scurve balls

It'sfair to say thatit'sunwelcomenews

that Covid­19has re­emerged in New

Zealand, anddisappointing to be backat

alert level2.

However, the country has donethis

before and ourdistrict is prepared.

During times likethisitisimportantto

be kind, accommodating,and awarethat

your neighbours andfriends maybe

responding differently thanyou.

Ihavebeenimpressed by whatIhave

seen over theweekend,how retailers

have respondedandhow accepting and

understanding everyoneisbeing.

The council is makingsure that weare

operating as safelyaspossible at this

level, so visitors to facilities and venues

will noticecontact­tracingmeasures,

sanitisationand distancing protocols

areinplace.

Mostcouncil facilitiesremainopen at

alertlevel2,including playgrounds,

skateparks anddog parks.Service

centres,libraries,transferstations and

aquatic centresalso remain open,

although someservicesmay notbe

availablewhere they cannotbe

deliveredsafely (for example, where

physical distancingcannot be

maintained).

Community facilitiessuch as halls and

meeting rooms remainopen to existing

bookings, with safetyprotocolsinplace.

Fulldetails on whatfacilitiesand

servicesare available, includingthe

safety measures put in place, are

availableatwaimakariri.govt.nz/covid19

or phone(0800) 965468. Information

aboutnationaland regionalchangesto

alertlevels canbefoundat

covid19.govt.nz.Check thesesites for the

latest updates.

Ashley River tree removal

Ihavefielded many queries from

residents aboutthe removaloftrees

fromthe Ashley River.

Thisarea is the responsibility of

Environment Canterbury (ECan).

Our councilwasn'tadvised or

consulted on the treeremoval.

Iamdisappointed thatno­onefrom

theRangiora­Ashley Community Board

or ourGreenspace Team wasnotified.

We would haveexpected thereto be a

lotmorecommunication and

❛We would have expected

there to be alot more

communication and

consultation with the

community about such a

substantial tree felling in this

popular recreation area.❜

consultationwith thecommunityabout

suchasubstantialtreefellinginthis

popular recreationarea.

If there are trees that are adangerto

people then of courseIwouldsupport

their removal, butnot the removal of

healthy trees thatprovidealovely

recreationspot for locals.

Thiswas an area of significant natural

beauty that Iand many otherlocals

enjoyed.

Isharethe community'sconcern that

thisareaisnow goneand Idon'taccept

thatthere was ajustifiable case put

forward fortheir removal.

Unfortunately, wecan't changewhat

has happenedwith thetrees butwhat I

can do is discuss this matter with ECan.

Ihavewrittento and metwith the

chair andnew chiefexecutive of ECan,

and bothour local ECan councillors.

Theyhaveagreed to meetwith me

along with concerned residents to

discuss concerns.

What is important is howwe learn

fromthis and seethat protocols are put

in placetohave better communication

withthe community and discuss their

plans for the area, includingreplanting,

reinstatement ofthe fitnessequipment

thatwas installed by the communityand

seeking the community's input on their

plans.

Ihavealsoasked for amoratoriumon

further tree removaluntil we have this

meeting,andthereisbetter

communicationand consultation with

the community on any future plans.

Iwelcomecontact from anyonewho

needs assistance or has an issue that

theymay want to discuss. Emailmeat

mayor@wmk.govt.nz or phone(021)

906 437.

Some cannabis views

not based on facts

Dear Editor,

Everyone is entitled to their opinion

and Istrongly believe in free speech.

Unfortunately, people's letters of

personal opinions that have no facts

about cannabis are misleading the

public.

The government proposes very strict

rules with cannabis. It will not be

permitted to be used in public places,

parks etc, the same as alcohol —a$500

offence. Please read the government's

Cannabis Legalisation and Control

Manifesto at the referendums' website

for all the hard facts.

The public needs to know some facts

and history about the cannabis plant.

It is amulti­purpose plant —

medicinal, fibre and seed oil for food.

Here's the history of cannabis in

brief.

It is recorded to have been used

thousands of years ago in India and

China as amedicine and was

renowned for its strong, tough fibre.

Later, when trading started, its fibre

was used to make rope.

Every sailing ship afloat in the 16th,

17th and 18th centuries were rigged

with hemp ropes, until sails were

replaced by steam power.

The cannabis fibre industry then

looked for other products to make. It

was in the 1920s that they started to

make paper.

Cannabis use was never an issue in

our society until 1930 when it was

demonised by aUnited States

chemical company, not because it was

bad for us, but because the cannabis

fibre was abig threat to the wood

papermaking industry that relied

totally on chemicals to break down the

wood fibre.

Cannabis fibre doesn't need

chemicals to break it down.

They did amassive demonising

campaign against cannabis publicly

across the US and even made an anticannabis

propaganda movie to

brainwash the public called Reefer

Madness.

Eventually, US authorities passed a

law and made cannabis illegal. They

pushed the rest of the Western world

to follow, all based on alie about its

harm.

Since then, 90 years later, it has cost

the world's taxpayers hundreds of

billions of dollars policing it. It costs

New Zealand $200 million ayear.

There has been the senseless

locking up of millions of people in

LETTERS TO THE EDITOR

jails, destructive police raids and

even executions in some countries.

How absurd is this when no­one has

ever died from using natural cannabis.

There has been intensive research

done in the last 20 years on the

medicinal properties of cannabis.

According to research, CBD oil is

nothing but miraculous —shrinking

brain tumours and curing melanoma

lesions and other cancers.

And, according to research, THC oil

is found to be very effective in dealing

with stress, acute pain, long term,

insomnia and depression, without

side­effects.

This referendum is not about

personal bias about cannabis, it is

about the overall benefits for our

country, with the government taking

control and making it ahealth issue

and not crime.

Let's be intelligent please!

S. Earl

Hurunui resident

Bank hours

Dear Editor,

Iwrite to you concerning the trading

hours kept by the Westpac branch in

Kaiapoi.

The trading hours and trading days

have been cut at Westpac Kaiapoi, in

the process causing inconvenience,

irritation and frustration.

The trading hours have been

shortened to 2pm from 4.30pm

Monday, Wednesday and Friday, with

no trading on Tuesday or Thursday.

This causes customers to go to

either the city or Rangiora if they

cannot get to this branch during its

hours and days of trade.

This in turn creates resentment.

What happens to elderly customers

without access to internet banking or

transport?

Why have the old trading days and

hours been removed from the branch

window if the current trading days and

hours are supposed to be temporary?

Is this away to eventually use

reduced trading hours as an excuse to

close another Westpac branch?

Call me cynical. We shall wait and

see.

Yours,

John Moody

McALPINES MITRE 10 MEGA RANGIORA -OCEAN WATCH

This

Week

Sun

Fishing

Guide

Moon

Wind

Swell

Pegasus Bay

Tide Chart

3

2

1

Ok

Thursday Friday Saturday Sunday Monday Tuesday Wednesday

Aug 20 Aug 21 Aug 22 Aug 23 Aug 24 Aug 25 Aug 26

Rise 7:15am

Set 5:49pm

Best

Times

1:01am

1:28pm

Ok

Rise 7:13am

Set 5:51pm

Best

Times

1:55am

2:21pm

Ok

Rise 7:12am

Set 5:52pm

Best

Times

2:47am

3:13pm

Ok

Rise 7:10am

Set 5:53pm

Best

Times

Rise 7:08am

Set 5:54pm

Rise 7:07am

Set 5:55pm

Rise 7:05am

Set 5:56pm

Rise 8:09am

Rise 8:40am

Rise 9:08am

Rise 9:35am

Rise 10:04am

Set 12:02am

Set 1:16am

Set 6:57pm

Set 8:14pm

Set 9:30pm

Set 10:46pm

Rise 10:35am

Rise 11:11am

Moderate Neasing

Light Wbecoming

Moderate E

Strong Eeasing Light Ebecoming Light SW turning

to light E

Light W

moderate E

strengthening

to moderate SE

moderate SW

N

E0.7 mincreasing

E1.4 m E1.3 m E0.9 m

to 1.2 m E1.7 m E1.6 m E1.1 m

3 6 9 NOON 3 6 9 3 6 9 NOON 3 6 9 3 6 9 NOON 3 6 9 3 6 9 NOON 3 6 9 3 6 9 NOON 3 6 9 3 6 9 NOON 3 6 9 3 6 9 NOON 3 6 9

3:39am

4:05pm

Ok

Best

Times

4:30am

4:56pm

Ok

Best

Times

5:23am

5:50pm

Good

Best

Times

6:17am

6:44pm

0

Highs Lows Highs Lows Highs Lows Highs Lows Highs Lows Highs Lows Highs Lows

Waimakariri 5:06am 2.4 11:21am 0.4 5:59am 2.5

6:54am 2.5 12:42am 0.3 7:50am 2.5 1:34am 0.3 8:46am 2.5 2:29am 0.3 9:43am 2.5 3:25am 0.4 10:40am 2.5 4:22am 0.4

Mouth

5:32pm 2.6 11:51pm 0.3 6:24pm 2.6 12:13pm 0.3 7:18pm 2.6 1:06pm 0.3 8:14pm 2.5 2:00pm 0.3 9:11pm 2.5 2:56pm 0.4 10:09pm 2.4 3:55pm 0.4 11:07pm 2.3 4:57pm 0.5

Amberley 5:06am 2.4 11:21am 0.4 5:59am 2.5

6:54am 2.5 12:42am 0.3 7:50am 2.5 1:34am 0.3 8:46am 2.5 2:29am 0.3 9:43am 2.5 3:25am 0.4 10:40am 2.5 4:22am 0.4

Beach

5:32pm 2.6 11:51pm 0.3 6:24pm 2.6 12:13pm 0.3 7:18pm 2.6 1:06pm 0.3 8:14pm 2.5 2:00pm 0.3 9:11pm 2.5 2:56pm 0.4 10:09pm 2.4 3:55pm 0.4 11:07pm 2.3 4:57pm 0.5

5:15am 2.4 11:30am 0.4 6:08am 2.5 12:00am 0.3 7:03am 2.5 12:51am 0.3 7:59am 2.5 1:43am 0.3 8:55am 2.5 2:38am 0.3 9:52am 2.5 3:34am 0.4 10:49am 2.5 4:31am 0.4

Motunau 5:41pm 2.6

6:33pm 2.6 12:22pm 0.3 7:27pm 2.6 1:15pm 0.3 8:23pm 2.5 2:09pm 0.3 9:20pm 2.5 3:05pm 0.4 10:18pm 2.4 4:04pm 0.4 11:16pm 2.3 5:06pm 0.5

5:17am 2.4 11:32am 0.4 6:10am 2.5 12:02am 0.3 7:05am 2.5 12:53am 0.3 8:01am 2.5 1:45am 0.3 8:57am 2.5 2:40am 0.3 9:54am 2.5 3:36am 0.4 10:51am 2.5 4:33am 0.4

Gore Bay 5:43pm 2.6

6:35pm 2.6 12:24pm 0.3 7:29pm 2.6 1:17pm 0.3 8:25pm 2.5 2:11pm 0.3 9:22pm 2.5 3:07pm 0.4 10:20pm 2.4 4:06pm 0.4 11:18pm 2.3 5:08pm 0.5

5:11am 1.8 11:20am 0.3 6:04am 1.8

6:58am 1.9 12:47am 0.3 7:54am 1.9 1:41am 0.3 8:50am 1.9 2:37am 0.3 9:48am 1.9 3:33am 0.3 10:47am 1.9 4:30am 0.3

Kaikoura 5:37pm 2.0 11:54pm 0.3 6:30pm 2.0 12:13pm 0.3 7:24pm 2.0 1:08pm 0.2 8:21pm 2.0 2:05pm 0.2 9:19pm 1.9 3:04pm 0.3 10:18pm 1.8 4:04pm 0.3 11:17pm 1.8 5:06pm 0.3

*Not for navigational purposes. Wind and swell are based on apoint off Gore Bay. Maori Fishing Guide by Bill Hohepa. www.ofu.co.nz www.tidespy.com Graphic supplied by OceanFun Publishing Ltd.

2118223
---
Hurunui Garden Festival

29th October

to

1stNovember

A bounty of gardens to admire and inspire, will

be on showinthe Hurunuidistrict thisSpring.

The Hurunui Garden Fesval has 17 gardens

on offer, two self-driven tours offthe beaten

track and garden-basedeventstoeducateand

entertain.

It runs from Thursday, October 29 toSunday,

November 1. Visitors wanng to aend have

unl September 6totake advantage of early

bird specials.

Launched in 2018 by agroup of keen local

garden owners tohelp the Hurunui district

recover from the impact ofthe devastang

earthquake ofNovember 2016, the fesval

has become apopular event. Many visitors

makeitalong weekendsotheycan enjoythe

manyaraconsthe district has on offer.

HurunuiGardenFesval Incorporated (HGF),is

commied to invesng back in itscommunity.

The commiee will give astudent,graduang

fromaHurunuisecondaryschool,ascholarship

to the value of $2000 towards study in

horculture at their choice of University or

Instute ofTechnology, on the occasion of

HGF makingareasonable profit.

Seventeen gardens, five of them new to

the event, feature on this year's fesval

programme. They are in six clusters and

garden owners willbereadytogreet youand

share their stories of how they have created

their gardens.

Anew tour, Mysteries of the Waipara Gorge,

complete with iron sculptures, concreons

and moa bones, has been introduced, while

the Hidden Gems from the Lowry Hills tothe

Sea,makes its return.

If youwouldyou like to donatetothe Hurunui

Garden Fesval scholarship fund you can do

via atransfertoour bankaccountlistedbelow

- Account name: Hurunui Garden Fesval

Incorporated.

Accountnumber:02-1278-0028459-00.

Bank name:BNZ.

Entryis$10 per garden,children under18free.

Tickets for the tours are $95 per person and

includes morning tea, lunch and aernoon

tea.

Tickets available now from

hurunuigardenfesval.com
---
NEWS

8 North Canterbury News, August 20, 2020

Park rangers

run sessions

Two Tuhaitara Coastal Park rangers

have been holding storytime talks at

Waimakariri Libraries this week to

celebrate Conservation Week.

They provided children and families

the chance to see one of the region's

rarest fish species during the talks.

Canterbury'smudfish,the kowaro,is

found in lowland waterways around

Oxfordand southtothe Waitaki River.

''They wereonce widespread on the

Canterbury Plains, in wetlands which

are now mostly drained,'' park general

manager Greg Brynes says.

The Department of Conservation

rankedthe mudfish as nationally

endangered in 2005.

Their biggest threatisdamage to their

habitat, mainly through drainage on

privateland.

The first storytime events were held at

the Rangiora and Oxfordlibraries last

Tuesday.One was alsoheld at the

Kaiapoi Library last Wednesday, and

another will be held at the Rangiora

Library this morning(Thursday, August

18) starting at 10am.

MASTER BUILDER

LocaltoNorth Canterbury.

CALL ARTHUR 027 2451601

arthur@robertsonbuilding.co.nz

www.robertsonbuilding.co.nz

BARNS/FARM BULDINGS•RIB RAFT FLOOR SYSTEM INSTALLATION

PROJECTMANAGEMENT•ADDITIONS•NEW HOMES

HOME MAINTENANCE•EQC REPAIRS•ALTERATIONS

FREE QUOTES

2021055

PRESENT S

Catlins win for Summerfield

By LINDSAY KERR

Rangiora's Matt

Summerfield celebrated

his 100th competitive rally

start with acomprehensive

victory in the recent Catlins

Rally.

Driving his newly

acquired Mitsubishi AP4

rally car, time was lost on

the first stage after aspin,

but he and new co­driver

Jared Christofferson

followed it up by winning

the remaining four stages

to etch out a38.8 second

advantage.

Victory in the Catlins

Rally had been in his sights

twice before, last year

being his closest attempt,

but it ended with his

Subaru Impreza off the

road.

The event, around of the

Mainland series, drew a

bumper field of 88 starters.

The Catlins win was the

second time Matt has won

the same event as his

father, Les, who also won in

2002 and 2004.

They have also shared

victories in the Canterbury

Rally.

Matt will reunite with

regular co­driver, sister

Nicole, for the remaining

events on this season's rally

calendar. This includes the

local Ashley Forest

Rallysprint, scheduled for

September 20 and 21.

Rallying pair ... Matt

Summerfield with his sister,

Nicole, who will be his codriver

for the rest of the

season.

PHOTOS: FILE

In action ... Matt

Summerfield attacks the

dipper on his way down the hill

during the 2019 Ashley Rally.

Unique species in wetland

Recent mapping of awetlandonMtFyffe

Farm,near Kaikoura,has revealed

unique plant speciesnot seen elsewhere

in the district.

The manuka­dominant wetland hosts

native vegetationincluding harakekeand

purei(sedges), and swampastelia,which

is uncommon on the eastcoast,

Environment Canterbury says.

The wetland borders the Ka Whata Tu

oRakihouia Conservation Park,managed

by the Department of Conservation.

It was first surveyed earlierinthe year,

before being mapped and recorded to

capture its true areaand ecologicalvalue.

The farm is owned by the Richardson

family, which received ImmediateSteps

biodiversityfunding of up to $18,000 to

fence 1.9 hectares of wetland.

Landowner PhilRichardson says

fencing thearea helpsprotectits

uniqueness.''Water collects thereand

then flows into Goldmine Creek. It's anobrainer

to protect it, really."

Planting and seeding the wetland

edges,plus weed and predator control,

will alsohelp create abooming

biodiversityhotspotonthe farm.

Phil manages the sheepand beeffarm

with his son, Josh, and bothare keento

protect the wetland. "With all the work

we have done on the farm with gorse and

old man's beard, these latest efforts are a

natural progression,''Phil says.

$10,000 in cash prizes to be won!

ipsum dolor sit amet consectetuer adipiscing elit sed diam nonummy nibh euismod tincidu

Live Performances @ The Geraldine domain, south canterbury

nostrud exerci tation ullamcorper suscipit lobortis

n

14 November 2020

a eum iriure dolor in hendrerit in vulpu

We welcome applications from groups, duos

or solo artists. Weencourage everyone who

has song writing and instrumental talents to

consider entering, but you need tobe

available to perform live atthe Festival on

Saturday 14 th November 2020.

We will select acts to perform with the chance ofwinning the first prize of

$5,000, 2nd prize $3,000, 3rd prize of$1,000 orPeople's Choice $1,000

12 -15Nov 2020

www.geraldinefestival.co.nz

1) Entry Forms must be received by31st August`2020.

2) We will select finalists from all of the Acts who apply to perform live at

the 'Battle ofthe Sounds'.

3) The competition will take place on Saturday 14th November 10am –

3pm.

4) Acts may perform their own material orcovers.

5) The Act finishing in first place will perform asong of their choice

following the prize giving.

6) It is in your interests to encourage your fans tocome along tothe final to

vote for you, sospread the word toyour on-line following.

Apply: gldarts@xtra.co.nz by 31st August 2020
---
Think

downsizing,

or same sizing.

Fancysomething alittlesmaller?Orabout thesame?

Summerset Retirement Villages offer the largest range of living

options from spacious villas, cosy cottages, apartments with

views, and super convenient serviced apartments. We can help

no matter what style ofliving you want to call home.

0800 SUMMER | summerset.co.nz

For up-to-date information on visiting our villages, go to summerset.co.nz/covid-19

SUM2307_FP
---
Deans Ave

Rolleston Ave

NEWS

10 North Canterbury News, August 20, 2020

Tales of Pegasus Town

Restoration work recognised ... Afunction at the Balmoral

Fire Lookout, held before Covid­19 restrictions, marked the

restoration of the historic lookout.

PHOTO: SUPPLIED

Help appreciated

The Hawarden Waikari

Lions, pivotal in getting the

Balmoralfirelookout

renovatedand restored, will

be recognised for its

contribution.

Unfortunately, plans to

present acertificate of

recognition to club

representative DaveHislop

during ConservationWeek

have been cancelled because

of Covid­19. However, he will

receive it during October's

officialopening.

It is not the only historic

building to benefit from

community support.

Dr SharonEnglish and

Robert Birks, working

through the New Zealand

ConservationFund, were

central to ensuring the Casey

Hut in Arthurs Pass National

Park,whichburnt down in

2015,was rebuilt thanksto

theirgenerous sponsorship.

Following the cancellation

of the officialCasey Hut

opening on August 22, a

virtual opening should be

readytoview on the

Department of Conservation

website this Saturday.

Without such support,

some hutswouldnot be

replaced. It is asimilarstory

with the Waiau Hut in the St

JamesConservation Area.

Thanks to support from

Robert, the new Waiau Hut

was opened in February

2018.Both Robert and

Sharon have alifelong

interestinNew Zealand's

back country and are

committed to encouraging

others to get outdoors.

More on Conservation

Week,page 12

By DAVID HILL

Just north of Christchurch and

up from Woodend,

Throw ahard right at the

circular bend,

On through the gateway six

totems defend,

And you'll come upon Pegasus

Town.

And so it begins, anew book by

proud ''Pegasusian'' Bob Nimmo,

Songs of the Pegasus Possums:

Tales, Taunts and Titillations

from Pegasus Town and the

Waimakariri District.

The book is filled with local

distractions, regional hot —and

not so hot —spots, seasonal

changes and silly tales from

Pegasus and beyond.

Many of the titillating tales

involve experiences

''accidentally or intentionally

shared'', though names have

been altered to ''protect the

guilty'', Bob says.

''But should readers recognise

themselves within these pages,

they can rejoice in the belief that

they are clearly very astute.

''Like dozens of little enclaves

up and down the country,

Pegasus has its own weird,

whimsical and wonderful

personalities who weave their

own particular fabric while

getting on with the living.''

In his own whimsical way, Bob

introduces readers to Trev, ''who

incarcerated himself in the local

toilet'', Pete ''the disillusioned

speedster'', and Merv and May

and the tale of the ''troublesome

jacuzzi''.

Even politics is not spared, as

the proposed Woodend bypass

and Covid­19 get the full

treatment in wit and song.

Bob describes himself as a

''writer and observer of 'hapless

humanity','' who lives in the

heart of Pegasus and is ''a loyal

follower of the local fashion —

whatever that is''.

And just remember:

If you meet aPegasusian

Or p'raps aPegasite,

Don't just gape and gawp and

gasp

Or run away in fright ...

For acopy of Bob Nimmo's

Songs of the Pegasus Possums:

Tales, Taunts and Titillations

from Pegasus Town and the

Waimakariri District,contact

bigtreemarketingnz@gmail.com,

move4bob@gmail.com, or phone

(021) 231 3017.

Kaikoura'swinter festival postponed

Kaikoura'sfirst everwinterfestival has been

postponed.

The decision was madetopostpone theevent

planned for thisweekend, because of the

Covid­19 alertlevel 2status, which bans

gatherings of more 100 people.

It willnow become aSpring Festival, with

October 2to4set as the date.

But Taranaki storytellers Erika&CoCo

Flash will still be in towntopresent their

children's RainbowStorytime in the Kaikoura

Library on Fridayat11am.

Rainbow Storytimeisaimedatchildren from

toddlers to intermediate age,readingbooks

about acceptance, diversity, inclusionand

being kind.

Heading to

Christchurch

Hospital?

DEANS

AVE

CAR PARK

HOSPITAL

SHUTTLE

Deans Ave

CAR PARK

Plan your trip

From August 24 2020, Canterbury

DHB's free Hospital Shuttle will run

from the new Deans Ave Car Park.

With 200 dedicated patient parks, asealed surface and

covered stop, the new car park on Deans Ave is available

for patients and visitors seven days aweek.

Riccarton Rd

Shuttle routeto

Christchuch Hospital

and Christchurch

Outpatients

HagleyOval

Christchurch

BotanicGardens

Ōtākaro/Avon River

Riccarton Ave

to

Shuttles run from 7.15am –8.30pm Monday toFriday,

11am –8pm weekends. They leave the car park every 15

minutes and stop atboth the main hospital reception and

at Outpatients before returning tothe Deans Ave Car Park.

DEANSAVE

CARPARK

South HagleyPark

Hagley Ave

St Asaph St

Antigua Street

Journey time isaround 15minutes and is free of charge.

Selwyn St

Metro

Sports

Facility

Learn more atcdhb.health.nz/parking for full details or call 0800 555 300.

Blenheim

Rd

Moorhouse Ave
---
Long lasting, precise steering and

outstanding grip. Innovative Goodyear

technology delivers optimumperformance

so you can enjoy the long journey ahead.

We will

match or better

any genuine

quote on tyres

in Canterbury–

Guaranteed!

(behind Mobile Car Wash)

Mon-Fri 7.30am-5.30pm. Sat 8.00am-2.00pm

2261664
---
Conservation Week 15 –23August 2020

Aclose-up of the vibrant scales ofthe Takitimu gecko. Photo: ©Rod Morris |www.rodmorris.co.nz

conservationweek.org.nz

Aplea to observe nature through fresh eyes

This Conservation Week people

are being urged to look at nature

through new eyes.

Many things are changing in our

world, but nature hasn't changed.

It is there,around us, every day.

As we work together to defeat

Covid­19, manypeopleare looking

at life and the world with a

differentperspective.

We havehad to changehow we

live,what we valueand what we

can do.

Student support ... Bailey Baker,

left,and Emma Warwick carry in

roofing ironfor abird­watchinghide.

Conservation Week provides the

perfect time for people to immerse

themselves in nature and embrace

whathas alwaysbeen there. Look,

listen,breatheand feel.

Taketime to explore your

relationshipwith natureand its

benefits —connecting with nature

is crucial to ourwellbeing and

long­term survival.

Takesome timetoimmerse

yourselfinnature during

Conservation Week.

Although thereare no face­tofaceevents

organised this year

because of Covid precautions,

please maketime to go for awalk

to your specialplace and thank

nature for still being there.

If you can't get out intoparks

and reserves, explore your

backyardand see how you can

makeyour immediate

environment more naturefriendly.

Plant or provide food for native

birds, monitor and trap predatory

pests, or pull out some invasive

weeds. To learn more, check out

the Get Involved ­Let nature in

pages on the Department of

Conservation website.

There are also some great

nature experiences on its digital

channels this year. Find out more

at conservationweek.org.nz.

Thanking helpers

Every year, Conservation Week

provides atimely opportunity to

thank,acknowledgeand celebrate

the fantastic work achieved by

supporters, volunteersand

partners.

Unfortunately,face­to­face

eventshave been cancelled

nationwide because of Covid­19

restrictions.

This year,atthe Christchurch

stakeholdersfunction planned for

Te Wheke Marae,three groups

and individuals from the North

Canterbury District weretohave

received specialmention and

accolades fromConservation

Minister Eugene Sage for their

outstanding contribution to

conservation.

While the event was cancelled,

there will be other celebrations

later in the year.

AshleyGorgeTrack and

Conservation Groupleaders Dave

Shelton and JohnBurton, the

driving forcesbehind this

spectacular education and

environmental project, were to

have received their

acknowledgement at the event

along with studentEmma

Warwick,representing the many

youth who immersedthemselves

in the initiative.

However, the department will

still partner with this grouptorun

apublic eventatAshleyGorge,

hopefully duringthe school

holidays, withguided walks and

displays to see the fantastic work

achieved by thishardworking

group.

Ashley projectvolunteers ... John Burton, left, and DaveShelton will

be recognised for their efforts.

MACRO NATURE PHOTO CONTEST

Amacro photographisa

close­up that captures the

detailofthe subject,enabling

peopletoappreciate what

they wouldn't normally notice.

You couldwin aCanon

cameraand accessoriesworth

more than $4500inthe

#NatureThroughNewEyes

Instagram competition.

To be in to win, take and

share amacro photo on

PHOTOS: FILE

Instagram showcasingNew

Zealand's naturebythe end of

Conservation Week on

Sunday, August 23.

You can takethis with a

cameraorasmartphone.

Uploadyour image to

Instagram using the hashtag

#NatureThroughNewEyes

and tag @docgovtnz. Go to

conservationweek.org.nzto

find out more.

Discoverawesome

KiwiGuardian

adventures nearby

www.kiwiguardians.co.nz

AshleyGorge

ŌtukaikinoWetlands

Arthur'sPass

NationalPark

PackhorseHut

Riccarton Bush

GodleyHead

Ōtamahua/Quail

Island

Travis Wetlands

Ōtepatotu

LittleRiver RailTrail

2305617

HE TIROHANGA

HOU KI TE TAIAO

NATURE THROUGH

NEW EYES

Conservation Week

15 –23August 2020

conservationweek.org.nz

Aclose-up of the iridescent patterns of the pāua shell.

Photo: Mike O'Neil ©TePapa

Find out more

www.doc.govt.nz
---
WHITEBAITERS

WEEK

NEWS

16 North Canterbury News, August 20, 2020

Long service ... John Wakelin checks on 18­year­old Belbrook Dynamic Vanessa EX5, who

is still milking twice aday.

PHOTO: SUPPLIED

Amooving taleof

dairyingsuccess

Pams Fries 1kg

$

2 99 ea

Eta Ripple

Cut Chips 150g

ANY

2FOR

PamsFinest

Cookies 300g

$

3 49 Speight's

GoldMedalAle

BE IN TO

a WIN

$50

$5 GIFT CARD

Fabulous

Nectarines

600gPrepack

Product of USA

$

5 99 pk

12 Pack 330ml Bottles$

19

FreshNZ

Skinless Chicken

Breast Fillets

$

3 69 ea

$

19 9

99 ea

$

12 99 kg

By DAVID HILL

Somethings just seem to get better with

age.

ANorth Canterbury cow hasbeen

classified ''excellent'' for afifth time at

the ripeold age of 18.

Belbrook Dynamic VanessaEX5, owned

by Belbrook Holsteins at Springbank,

nearRangiora, was the onlyHolstein­

Friesian in NewZealandtoreceivean

EX5 classificationin2019.

''She'snot thebiggest cowinthe world,

but shedoesher thing,''says Robbie

Wakelin, who farms withhis older

brother, John.

''This cowlooks about 10 years old. She

justkeepsploddingalongand goesalong

withthe restofthe herd and milkstwice

aday withthe othercows.''

JohnWakelin said he waselatedatthe

result.

"It's beentwo decades since we've had

acow classifyEX5.Thatwas Belbrook LD

Annabel EX5 in 2000.

"It's quite rare. Dairy cows work alot

harder thesedaysand don't often live long

enoughtomeet therequired criteria."

AHolstein­Friesian cowisnot eligible

to receive her first ''excellent''

classificationuntil shehas calvedatleast

three times.

But longevityincows is not unusual at

BelbrookHolsteins, with about70cowsin

theherdhaving passedthe age of 10,

Robbiesays.

''Ouroldestone was21yearsold as dad

hadallowedher to retire.

''Theoldest one that calved was19years

old.''

Vanessawas born in 2002and was the

oldestcow in the Wakelin's milkingherd

last season.

Herproductionpeaked at 513kilograms

of milksolids in 2013 and, alongthe way,

shehas produced 13 calves, including five

heifers.

''Usually peopleget rid of them when

they don't produceacalforstop

producing enoughmilk,but we tend to

keep them forthe genetics,soit'snot just

aboutthe milk,'' Robbiesays.

Cowfamilies areimportant to the

Wakelins andwhile Vanessahad been the

last cow of her familyline, she has

ensured the bloodlinecontinues.

Twoofher daughters, BelbrookTKO

Veronica EX2and Belbrook Talent

Victoria EX2,havebothbeen classified as

''excellent'' twice.

Youngestdaughter,Belbrook Bankroll

Viva VG88, who wasborn in 2016,

produced449 kgMSasatwo­year­old

heifer.

Twin granddaughters of Vanessaare set

to enter theherd this year.

www.foursquare.co.nz

facebook.com/FourSquareNZ

Specialsavailable South Island only from Monday 10th August untilSunday 23rd

August 2020 or while stocks last. Wine andbeeravailableatstoreswithanoff

licence.Wineand beer purchases restricted to personsaged 18 years old andover.

Enter now! Entries close Friday, 25 September

See malvernarts.org.nz/artweekfor further details &entry form
---
EVERYTHING

ON

SALE

ALSO

AVAILABLE IN

THE FLOW COLLECTION

BUFFET

TABLE

$1459

ONLY

ONLY

$1499

ONLY $429

HALL

TABLE

RACHETSOFABED

ONLY

$749

POP UP TRUNDLERSET

FROM $699

DINING

TABLE

$389

BENCH SEAT

ONLY

THE CYPRESS

COLLECTION

FINANCEOPTIONSAVAILABLEINSTORE!

ARANGE OF MATTRESSES AVAILABLE

SUMMIT

QUEEN $ 1359

KING $ 1549

SUPER KING $ 1699

ONLY

$329

ONLY

$859

ONLY

BEDSIDE TALLBOY HEADBOARD

$439

ASCENT

QUEEN $ 999

KING $ 1049

SUPER KING $ 1099

PLUS MANY MORE

OPTIONS INSTORE

OR ONLINE

ONLY

$

2299

FROM

$

339

FLINT 3+2 ELECTRICRECLINER SUITE

DRAWERBASEUNITS

VARIOUSSIZES AVAILABLE

FIND US IN THE OLD TARGET BUILDING

ON THE CORNER OF BLENHEIM &CURLETTSROAD, SOCKBURN

BOTANICAFURNITURE.CO.NZ 0800 268 264
---
House

and Home

We can help you

with:

•All property matters

•Relationship property

(separation and agreements)

•Commercial

(leases and agreements)

•Subdivisions

•Estates

•Trusts

•Wills

2257762v6

The Law4You

team ... From

left, office

manager

Simon Grey,

receptionist/

typist Noreen

Neale, director/

solicitor Justine

Grey, and legal

executive

Diane

Alderson.

PHOTO:SUPPLIED

HOME COMFORT

heat pumps HOME &airCOMFORT

conditioning

heat pumps &air conditioning

PROVEN -PERSONABLE

PROFESSIONAL

7Ashley Street, Rangiora | 03 310 6464

admin@law4you.co.nz | www.law4you.co.nz

Residential and Commercial

Installation, Repairs, Maintenance &Alterations

Services we offer for all door types:

New Garage doors: Sectional, Roller,Tilt&

Cedar

Partsand Maintenance

Door Upgrades

Supply and install automatic door openers for

sectional tilt &roller doors

Phone 027 207 6128 |03310 6577

hamish@abelgaragedoors.co.nz

www.abelgaragedoors.co.nz

2257749v1

Getadviceontrusts

If there is one thingLaw4You can attribute

to the last five years, it's change.Change

can be agood thing, but there havebeen

significantchanges for property lawyers.

There is now alabyrinthoflegislation to

work through on everyconveyancing

transaction, including the Anti Money

Laundering andCountering of Terrorism

legislation, OverseasInvestment Act

restrictions, not to mention the bright­line

considerations.

The firmhas seen its own changes and

now embraces anotherwith anew

frontline person, Noreen, joining the team,

replacing the youngest member, Paige,as

she embarks on universitystudies.

On the horizonlooms the new TrustsAct

2019. As the team at Law4You undertakes

alot of trustwork for clients, they are

gearing up forthe changes that lie ahead.

There has been significant commentary

about the changes the newact willbring

and how that impacts on trustsand the

value of retaining atrust.

Law4You maintains thereare still good

reasons to retain your trust, one being

property relationship protection.

Even with recentcases undermining

trusts,awell­maintained trustestablished

pre­relationship with pre­relationship

property kept separate with no contribution

from the non­ownerpartyinthe

relationship (or coupledwith acontracting­outagreement)

will afford protection.

Atrust, fromapractical view, can also be

useful in estate management and afford

protection fromFamily Protection Act

claims.

One wellpublicisedaspect of the new

act is the obligation on trustees to disclose

informationtothe beneficiaries. If yoursis

a''ma and pa''trust holding the family

home then, it is likely yourbeneficiaries

(usually your children) alreadyknow about

it and, provided you havemaintained the

trust and gifting programme sufficiently,

we suggest you give further consideration

before choosing to wind up your trustasso

many commentators are suggesting.

The best solution is to seek legal, and

potentially accounting,advice beforeyou

do anything.

Call the experts on 03 313 0531 or visit our heating showroom at

694 Lineside Road, Rangiora |www.ncec.co.nz

2251870v1

"Exclusive"

Ravelli ULEB Wood Pellet Fires

Allan Pethig

For all your electrical needs.

Residential &Commercial

Phone 03 313 7144 | 027 432 1534

2278923

Fax 03313 2144

rgrantelectrical@gmail.com

PO Box 69, Rangiora

www.rgrantelectrical.co.nz

Pellet and Wood Fire Specialists

472 Blenheim Road

Sockburn

Phone: 03 343 1651

Open 8:30am -5pm

Sat 10am -1pm

www.heatstore.co.nz
---
Jack Jr.

Seee the Good Sports.

Stylish, Well Equipped

for

$11,990

$62.32

Perweek

Superb Driving Hatch

for

$22,990

$117.45

Perweek

Fantastic Turbo Liftback

for

$24,990

$127.47

Perweek

SophisticatedLuxury Sedan

for

$24,990 $127.47

Per week

2017 Hyundai Accent 1.6 VVTI

1591cc with 64,742kms, Auto Tiptronic, 16" Alloys,

5Star ANCAP, 6Airbags, Air Con, Auto Lights,

AUX/USB/Bluetooth/CD Player, Chain Driven, ESC,

ISOFIX, Remote Central Locking, Traction Control.

2019 Kia Cerato LX

1999cc with 19,849kms, Auto Tiptronic, 6Airbags,

5Star ANCAP, Aero Body Kit, Alloys, ESC, Cruise,

Android Auto, Apple CarPlay, Blind Spot Monitoring,

R/Camera. Plus...Balance of New Car Warranty!

2018 Holden Commodore RS 2.0T

1998cc with 40,821kms, Auto Tiptronic, 6Airbags,

5Star ANCAP, Android Auto, Apple CarPlay, Cruise,

Auto Stop/Start, Emergency Brake Assist, ½Leather,

Rev.Camera. Plus...Balance of New Car Warranty!

2018 Hyundai Sonata Elite

Series 2 2359cc with 46,644kms, 5Star ANCAP,

Auto Tiptronic, Android Auto, Apple CarPlay, GPS/

NZ Sat Nav, Heated Leather Seats, Wireless Phone

Charging. Plus...Balance of New Car Warranty!

Favourite Kiwi Hatch

for

$16,990 $87.38

Perweek

Versatile Facelift 4WD

for

$31,990 $162.56

Perweek

Fully Optioned Crossover

for

$31,990

$162.56

Per week

Packed with Value &Flair

for

$18,990

$97.40

Perweek

2018 Toyota Corolla GX 1.8

1798cc with 47,745kms, Auto Tiptronic, 7Airbags,

5Star ANCAP, Air Con, AUX/USB/Bluetooth, Cruise,

ESC, ISOFIX, Reverse Camera, Traction Control, Trip

Computer. Plus...Balance of New Car Warranty!

2019 Nissan X-Trail ST4WD

2488cc with 16,479kms, Auto Tiptronic, 6Airbags,

5Star ANCAP, Air Con, Alloys, Bluetooth, Cruise,

ESC, Descent Control, ISOFIX, Rev.Camera, Traction

Control. Plus...Balance of New Car Warranty!

2019 Mitsubishi Outlander LS

7Seater 4WD 2360cc with 21,416kms, Auto,

5Star ANCAP, 7Airbags, Alloys, ESC, Android Auto,

Apple CarPlay, Bluetooth, Cruise, ISOFIX, Smart Key,

R/Camera. Plus...Balance of New Car Warranty!

2019 MG Zs Excite

1498cc with 13,281kms, Auto Tiptronic, 6Airbags,

A/C, Alloys, Apple Car Play, Auto Lights, AUX/USB/

Bluetooth, Cruise, Rev. Camera &Sensors, Synthetic

Leather. Plus...Balance of New Car Warranty!

Smart, Modern SUV

for

$17,990 $92.39

Perweek

Reliable &Luxurious

for

$38,990 $197.64

Perweek

Eye-Catching Hatch

for

$15,990

$82.37

Perweek

Modern,High Spec SUV

for

$29,990

$152.53

Per week

2017 Nissan Qashqai ST 2.0

1997cc with 97,930kms, Auto Tiptronic, Air Con,

5Star ANCAP, Alloys, AUX/USB/Bluetooth/CD,

ESC, Cruise, High Seating Position, Hill Start Assist,

ISOFIX, Reverse Camera, Traction Control.

2017 Kia Sorento EX7Seater

AWD 2199cc with 53,943kms, Auto Tiptronic,

Alloys, 5Star ANCAP, Bluetooth, CD, Cruise, Dual

Zone Climate, ESC, Hill Start Assist, ISOFIX,

Reverse Camera,Traction Control, Turbo Diesel.

2019 MG 3Core

1498cc with 10,337kms, Auto Tiptronic, 8Airbags,

Alloys, Apple CarPlay, Bluetooth, Emergency Brake

Assist, Cruise, Reverse Camera, ISOFIX, Traction

Control. Plus...Balance of New Car Warranty!

2019 Nissan Qashqai ST-L 2.0

1997cc with 18,308kms, Auto Tiptronic, 8Airbags,

360° View Camera, 5Star ANCAP, Bluetooth, Blind

Spot Monitoring, Half Leather Heated Seats, Cruise,

NZ Sat Nav. Plus...Balance of New Car Warranty!

Practical &Classy SUV

for

$24,990

$127.47

Per week

Sought After 4WD

for

$35,990

$182.60

Per week

Economical&Modern

for

$13,990 $72.34

Perweek

Spacious, Reliable7Seater

for

$39,990

$202.65

Perweek

2018 Kia Sportage LX Urban

1999cc with 48,310kms, 5Star ANCAP, 8Airbags,

Alloys, Android Auto, Apple CarPlay, Auto Tiptronic,

Bluetooth,Cruise, Hill Start Assist, Reverse Camera/

Sensors. Plus...Balance of New Car Warranty!

2018 Hyundai Santa Fe DM 2.2D

2199cc, 5Star ANCAP, 7Seater, 8Airbags, Alloys,

Auto Tiptronic, Android Auto, Apple Car Play, Cruise,

Bluetooth, Emergency Brake Assist, ESC, R/Camera,

Turbo Diesel. Plus...Balance of New Car Warranty!

Stadium Cars Rangiora 03 310 7940 | stadiumcars.co.nz

609 Lineside Road, Waimakariri, Rangiora OPEN 6DAYS

*Conditions apply. Not available with any other offer. Finance offer subject to credit and lending criteria. Finance calculation

based on 60 month term. No deposit with an annual fixed interest rate of10.95%, includes an establishment fee of$370.

See our website for full disclosure.

2018 Holden Barina LS

1598cc with 44,781kms, Auto Tiptronic, 6Airbags,

5Star ANCAP, Air Con, Alloys, Android Auto, Apple

CarPlay, Bluetooth, Cruise, ESC, ISOFIX, Traction

Control. Plus...Balance of New Car Warranty!

2018 Toyota Highlander GXL4WD

3456cc with 61,212kms, Auto Tiptronic, 9Airbags,

5Star ANCAP, Bluetooth, NZ Sat Nav, Cruise, Heated

Leather Seats, Parking Sensors, R/Camera, Traction

Control. Plus...Balance of New Car Warranty!
---
NEWS

20 North Canterbury News, August 20, 2020

Trampoline club has areal spring in its step

By DAVID HILL

International competitions might

be off limits, but Rangiora's

trampoline club has its own

trans­Tasman flavour.

Ice TrampolineSportsboasts

Australasia's top­ranked jumpers

in women's doublemini

trampoline, along with other

worldclass performers.

Bronwyn Dibb, aged 22, was

the silver medallistinthe

women's doublemini trampoline

at last year'sworld

championships, whileher teammate

Braida Thomas, 24, was the

top equal­ranked Australian,

finishing 14thinthe same event.

''She(Braida) is afriend of

mine and came overand did a

few training sessions with us and

just lovedthe culture of our

squadand the way we do

training, so she decided to move

here,'' Bronwyn says.

Bronwyn has been competing

Forward movement ... Amelia

Lacey, front,aged 4, attempts a

forwardroll during aRangiora

Gymnastics Club class.

in trampoline sinceshe was 9,

startinginChristchurchbefore

her coaches Nigel and Vicki

High risers ... Ice Trampoline Sportsclubmembers show off their skills.

Humphreys founded Ice

Trampoline Sports in Rangiora

12 years ago.

''I just love the sport. It's the

thrill of flipping out and flying

through the air and the culture of

the sport.

''I did gymnastics whenIwas

younger and it's the friends I

have made whichmakes it

special.

''This is one of thebest clubs in

New Zealand.''

The club boastedsix members

of the eight­strongNew Zealand

squadwhichcompeted in last

year's world championships, as

well as one Australian.

''We usually compete overseas

twiceayearatleast,but we

missed out altogether thisyear.

We were meanttogotoPortugal,

but hopefully we will be able to

compete overseas againnext

year,'' Bronwyn says.

Ice Trampoline Sports shares

the facilitiesinRangiora's

Edward Street withthe Rangiora

Gymnastics Club and the North

Canterbury Sportand

RecreationTrust'shead office.

Nigelsays having someofNew

Zealand'stop athletes was a

majoradvantage to the club,

whichprideditselfonhavinga

family­friendly atmosphere.

''Having the seniorathletes

really inspires the young ones

that they can have afuture in the

sportand they don't have to give

it up at age 16.

''Ourphilosophy for the

children is it's got to be fun and

we value the opportunitytoteach

thesechildren some valuable

skills.''

World class ... Rangiora's Bronwyn Dibb has enjoyed international

success in women's double mini trampoline.

PHOTO: DAVID HILL

Be inspired

HOME

LEISURE

NEW DATES

4 - 6 SEPTEMBER

Horncastle Arena

with thousands ofideas

under one roof

BE IN TO

WIN

THIS

ELECTRIC CAR

worth $26,000

HOME

LEISURE

Horncastle Arena,

4-6 September 2020

FREE ENTRY

Friday |Saturday |Sunday

10.00am -5.00pm

Valid for two people with this coupon only
---
Former addict to

speak in Rangiora

By DAVIDHILL

Apublicforum about

reducing drug harm is back

on,after beingaffected by

Covid­19 restrictions.

Drugs survivor and

motivational speaker Pat

Buckleywas duetospeakin

theWaimakariri districtin

March,but his visit was

cancelled as the country

moved into lockdown.

But with greater freedoms

allowed, Pat will now speak

at apublic forumnext Wednesday,

August26, from 7pm

in theRangioraTownHall.

Senior pupils at Kaiapoi

and Rangiora highschools,

RangioraNew LifeSchool

and Oxford Area School will

alsoget achance to hear

from Pat during his visit.

The visit is sponsored by

the Prevention of Alcohol

and Drug Harm Waimakariri

Steering Group.

Waimakariri District

Council safecommunity

facilitator Natalie Paterson

saysPatwilldiscuss actions

parents cantake,what

support is available, drug

trends, and tell­tale signs.

''I've had anumberof

differentconversations with

parents and Iwould

encourage as manyparents

as possibletocomealong.

''Sometimesparentscan

be blind­sided when they

2299409

❛Parentscan be

blind­sided when

they becomeaware

that their teenagers

have adrugs

problem.❜

become aware that their

teenagers have adrugs

problem,sobylearning

about the tell­tale signs, they

willknowwhattolook for.

''Youdon't havetobea

parent to come to the forum.

It is open to the general

publicand anyone who has

concerns or hasaninterest

inthe issuecan attend.''

Pat is aformer addictwho

foundedAmped4life.net.nz

tohelpcommunities fight

drug and alcohol abuse.

Representatives from

local drug and alcohol

support agencies will be at

the forums to offersupport.

''NorthCanterbury has

good support available for

those strugglingwithdrug

andalcohol addictions,

especially for young people,''

Nataliesays. ''Community

Wellbeing North Canterbury

has drug and alcohol

counsellors, and if aparent

wants to make areferral they

can do that.''

NEWS

North Canterbury News, August 20, 2020

21

Town smog levels breached

By SHELLEY TOPP

Air pollution standards have

been exceeded on four nights in

Rangiora and three nights in

Kaiapoi so far this winter.

These exceedances breach the

National Environmental

Standards for Air Quality

(NESAQ) regulations which are

set by the Ministry for the

Environment under the

Resource Management Act.

In Canterbury, Environment

Canterbury (ECan) does the

monitoring.

ECan's air quality science team

leader, Tim Mallet, said the

likely source of pollution in

Rangiora and Kaiapoi on those

nights was home fires.

However, the number of

exceedances has reduced

significantly in most airsheds in

recent years.

''For example, in the Rangiora

airshed in 2010 there were 13

nights of exceedances, compared

to 2019 when there were just two.

''The findings from our many

years of work with the

community has shown us that the

majority of people are doing the

right thing and have made the

changes needed, such as

upgrading non­compliant olderstyle

wood burners to lowemission

forms of home heating.''

ECan runs an annual regionwide

Warmer Cheaper campaign

during the winter, focusing on

better burning information and

advice. The campaign's website

is at warmercheaper.co.nz.

''Smoke in outdoor air can

come into homes, depending on

Smoke... ECanmonitorsair pollution in airsheds aroundCanterbury.

how ventilated they are,'' Tim

says.

The air quality regulations are

based on the health risks

associated with different

contaminants. Anational

environmental standard of 50

micrograms per cubic metre of

air has been set for PM10 (very

small particles found in dust and

smoke) for the 24­hour period

from midnight to midnight.

Air pollution is referred to as

PHOTO: FILE

''high'' when the daily

concentration is greater than 50

at any monitoring site within a

defined airshed.

This standard is usually

exceeded each year in

Canterbury airsheds.

The regulations also determine

the maximum allowable highpollution

nights per year for each

area.

In Rangiora, that number is

one while in Kaiapoi it is three.

HOW CAN YOU DRUG PROOF

YOUR CHILDREN?

Pat Buckley from Amped4life presents a

community forum that realistically and

graphically communicates the risks of Drug

and Alcohol use and abuse in our community.

● CURRENT DRUG TRENDS AND DANGERS

● HOW TO IDENTIFY THE TELL TALE SIGNS

● WHAT ACTION TO TAKE

● WHAT SUPPORT IS AVAILABLE

RANGIORA

(RANGIORA TOWN HALL)

26TH AUGUST 2020 7PM

Pat will be speaking to the senior students at Rangiora, Kaiapoi, Oxford and \Rangiora

New Life schools throughout the week.

Refreshments and light supper will follow Pat's presentation. This is afree event.

For more information about Pat see www.amped4life.net.nz

Brought to you by the Prevention of Alcohol and Drug Harm Waimakariri Steering Group.

FOR ENQUIRIES PHONE 0800 965 468
---
BREAK AWAY AND SUPPORT LOCAL

With international travel offthe table, Kiwis are being encouraged to

redirect their leisure dollars into local economies.

SURFING FOR FARMERS

The opportunity to get off the farm, learn to surf and have fun has proven

to be asimple but successful formula for agrowing number of farmers.

FEATURING

EDITION 2-2020

NEWS

22 North Canterbury News, August 20, 2020

Groups discuss social recovery

By DAVID HILL

In brief

Lost and found

The willingnessof

Waimakariri's community

organisationstocollaborate has

beenreinforced in thedistrict's

efforts to combat Covid­19.

Morethan60people

representing various

community groups recently

attended asocialrecovery

planning workshop at the

Woodend Community Centre.

WaimakaririDistrict Council

community teammanagerTessa

Sturley saysthe attendees

included representatives from

the social, community,

recreation,health, faith­based,

education, local and central

government, as wellasfunders,

youth,older persons and

migrant sectors.

''Waimakaririiswell

recognised forthe willingness of

local organisationsto

collaborateand to thinkoutside

the square to makesure people

are well supported and

connectedinto the lifeofthe

community,'' Tessa says.

''The workshopwas an

opportunity to celebrate what's

alreadyhappeninginour

community while

acknowledgingthatthereare

still somegaps.

''Itwas an energeticand

creativemorning with some

reallygooddiscussion.''

The intention of the workshop

was to inform localstakeholders

about the progress of Covid­19

social recovery,toreview the

evidence gatheredfrom the

various sectorsand to identify

Community planning ... Representatives of various community and elected leaders discuss social

recovery at aworkshop held in Woodend.

PHOTO:WAIMAKARIRIDISTRICT COUNCIL

any gaps.

Attendeesbrainstormed

solutionsand opportunities

which emerged from therecent

Social ServicesWaimakariri

surveys, including mental

healthand wellbeing, inclusion

in community, addiction and

family violence, accesstosport

and recreation, food

deprivation andpoverty,

unemployment and

empowerment, andsupport for

thearts and cultural activities.

''Peopleare reallyprepared

to do their part to worktogether

to make things happen andto

step outside their comfortzone,

andoutside theconfinesof

business as usual for the greater

good,''Tessa says.

Workshopparticipantswere

also mindfulthatsome people's

circumstanceshad changed

because of Covid­19,she says.

''We wanttomakesurethat

they are supported, encouraged

andempowered to engageand

that they havearealsenseof

hope and possibility.''

The following property has

beenreported as lost to North

Canterburypolicestations: A

black/gray Samsung S20 Ultra

cellphone,agold iPhone 7, a

black leather wallet, black

leather fold­up with5­6 keys, an

iPhone XR inablack

waterproof case, awhite Apple

iPhone 6, arose gold blue stone

ring, ablack pouch with a

Huawei P30 phone and Dortex

binoculars,and agold

engagement ring (opal

surrounded by diamonds).

Treefelling

An article in the August 13

edition of North Canterbury

News reports Waimakariri

Mayor Dan Gordon as accepting

Environment Canterbury's

reasoningbehindthe removal

of treesnearthe Ashley River.

Mr Gordon says while he

accepts ECanhas removed the

trees, he does not agreewith the

reasoning. ''If thereare trees

thatare adanger to people

then, of course, Iwouldsupport

their removal, but not the

removal of healthy trees. This

was an area of significant

natural beauty that Iand lots of

other locals enjoyed. Ishare the

community's concern thatthis

areaisnow gone andIdon't

accept that there was a

justifiable case for their

removal.''Any

misunderstanding caused by

thisisregretted.

CANTERBURY'S

TOPRURALTEAM

On the back of numerous recent sales, we have anumber of unsatisfied buyers still looking for

properties in the Canterbury region. If you are thinking ofselling and would like aconfidential

discussion, or amarket update, please give one of our team acall.

Your local Bayleys experts.

Kevin Jenkins

027 577 4232

Niki Bradley

027 607 2555

Ross Ditmer

027 482 2056

Our results speak for themselves.

$165 million

sold property value

119

sales

High Demand

for rural and lifestyle properties

Ben Turner

027 530 1400

Brook Yates

027 807 8093

Chris Jones

027 220 5043

Craig Blackburn

027 489 7225

Bayleys Canterbury Rural Sales January -June 2020. *For the period 1/1 to30/6/2020 based on confirmed date.

#1

Rural Real Estate

Brand in New Zealand

Chertsey

201ha

SOLD

Darfield

33ha

SOLD

Fairlie

141ha

SOLD

Flaxton

20ha

Dean Pugh

027 335 6303

Evan Marshall

027 221 0910

Fee Ensor

021 705 014

Georgie Robson

027 562 4100

SOLD

SOLD

SOLD

SOLD

SOLD

Hamish Lane

027 685 6204

Jack Pringle

027 533 4820

Jane Moody

027 455 0161

Joel Meikle

027 814 5208

Geraldine

53ha

Glentui

73ha

Hororata

72ha

Hororata 77ha Hororata 326ha

Lake Pearson

555ha

Loburn

48ha

SOLD

SOLD

SOLD

SOLD

SOLD

SOLD

SOLD

Loburn

223ha

Methven

55ha

Motunau

373ha

Motunau

543ha

Motunau

868ha

Oamaru

197ha

Oxford

40ha

John Bailey

027 893 0234

Jon McAuliffe

027 432 7769

Kerry Eyles

027 472 6780

Lance Farrant

027 228 2846

SOLD

SOLD

SOLD

SOLD

SOLD

SOLD

SOLD

Oxford

41ha

Pendarves

110ha

Pleasant Point

124ha

Sheffield

130ha

Temuka

161ha

Timaru

113ha

Waikari

731ha

Mark Parry

027 433 0350

Mark Pringle

027 433 3334

Mike Preston

027 430 7041

Peter Foley

021 754 737

OUT NOW

bayleys.co.nz/canterbury/rural

Canterbury Country

Collection Edition 02

116 OF CANTERBURYS FINEST RURAL &LIFESTYLE PROPERTIES

Bayleys Ashburton 03 307 7377

Bayleys Christchurch 03 375 4700

Bayleys Methven 03 303 3093

Bayleys Rangiora 03 311 8020

Bayleys Timaru 03 687 1227

bayleys.co.nz

Sam Sidey

027 346 3500

Sandy Butterick

027 417 2639

Simon Sharpin

027 631 8087

FEATURING

116

RURAL AND LIFESTYLE

PROPERTIES FOR SALE

WHALAN &PARTNERS LTD, BAYLEYS, LICENSED UNDER THE REA ACT 2008

Residential / Commercial / Rural / Lifestyle
---
We'remakingroOmforsomefreshnewloOks...

NOW ON!

DOZENS OF SUPER DEALS ON SALE –INSTORE &ONLINE.

Riley Queen Bed

WAS $ 999

NOW

$

799

CLARKE

RECLINERS

ON SALE!

Recliner

NOW

$

549

Charlie Angular Chaise Sofa

WAS $

2199

NOW

$

1899

3Seater

Recliner

NOW

$

1199

SUPER DEAL!

Bahamas Trundler

Bed Set

WAS $ 897

SUPER DEAL!

Paris Dining Table –W190

WAS $

999

NOW

$

698

NOW

$

699

Dante Velvet

Barstool

WAS $

159

PlusnewstylesjustlandeD!

NewcolOurs!

NOW

$

129

Parklane White

Bedroom Range

Freshnewstyles

havelandeDforRugs,

cushions&throws!

ON SALE!

Shop

Online

Nationwide

Delivery

Finance

Options

SPRING CLEAN STOREWIDE SALE ENDS 07.09.20.

Come&checkout

ournewSTORE!

targetfurniture.co.nz

250 Moorhouse Road,Christchurch

Ph: 0800 TARGET (0800 827438)

Offers and product prices advertised here expire 7/9/20.

Sale excludes Manchester and Accessories.
---
HANMER SPRINGS

24 North Canterbury News, August 20, 2020

Footrot Flats on stage

Murray Ball's Footrot Flats will be staged

in HanmerSprings next month.

AmuriPlayers are presenting the

production at the HanmerSprings

Memorial Hall from September16to19.

The show, written by RogerHall and

A.K. Grant,with music by Philip

Norman,isbeing directedbyHanmer

Springs local Grum Frith.

Tickets are $25,seniors $20, and

children$15. They are available from

Ula in HanmerSprings, and can be

ordered at the Red Post Cafeand Waiau

Hardware.Online orderscan be madeto

amuriplayers2020@gmail.com.

Bike race through station revived

The Molesworth Muster

Mountain BikeRace will

returninNovember after a

10­year hiatus.

The Hawarden Waikari

Lions Clubisstaging the race,

covering more than80km

through some of New

Zealand's mostspectacular

high country, on Saturday,

November 14.

Competitorswill race

through New Zealand's largest

working farm, following the

famousstockroute used for

more than acentury to muster

cattlefrom the station to

HanmerSprings.

It is an adventure from start

to finish.

Alocked gate means

competitorswill have to get to

the startbefore7pm on Friday

night,and camp overnight,

ready to start earlyonSaturday

morning.

The gateisatthe Clarence

River bridge/Accommodation

House,about 30 minutes from

HanmerSprings.

From this pointitisadrive

of around 56kmtothe start

location and campingarea.

There is also the optionof

takingashuttle bus from

HanmerSprings, or driving in

from Blenheim or Kaikoura.

The raceislimited to 300

riders, and competitors must

sign up beforehand. No entries

will be taken on the day.

Entries, which cost $120a

rider,close on Sunday,October

Spectacular scenery ... November's bike race will be throughone of New Zealand's best­known high

country stations.

31, or whenall places are

filled.

The entry fee covers aprepacked

lunchfor riders and all

fees for the Molesworth

Station,with asupporters'

musterers lunchavailable for

an extra$12.

Riders mustbeaged 16 and

over (or at the racedirector's

discretion).

There willbemedals and

trophies for the fastest bull/

cow,category winners, and the

laststraggler home. There will

alsobeastashofspot prizeson

offer.

Molesworth is aspectacular

and iconic high­county reserve

witharich farming history.

In New Zealand,the name

Molesworth evokesthe

nation's high­country farming

identity —musterersand

stockmen and their dogs

working livestock in vast

tussock landscapes.

The station seems isolated,

but it has along human

history.

For more information, visit

hawarden­waikari­lions.org.nz

website.

•Stop, Rest and Revive

•Exceptional Service

•Licensed

•Open 7Days

Monday -Thursday 8am –4pm

Friday -Sunday 8am –5pm

Stop in on your way to or from

Hanmer Springs and try our

tasty Treats!

Main Rd, Culverden

Ph 03 315 8492

2294615

Be in to

Be in to

Send us

aphoto of

your town sign.

Emailyour entryto:

Win!

kerryn.clark@ncnews.co.nz

by August31, 2020and go in

the draw to win a

$100 VOUCHER from

KAIKOURA

OXFORD

CULVERDEN

SEFTON

Ts&Csapply. TheNorth Canterbury Newsreserves the rightto

publish anyofthe photos.

The Widest Music Variety

Tune in nowtolistenon104.9 North Canterbury

and103.7 Hanmer Springs andKaikoura

Need aQuality Builder in Hanmer &Hurunui?

Full Builds, Extensions and Repairs

Jobs Large and Small

We are happy to help!

• Weunderstand the building conditions -and the rules and

regulations in Hurunui.

• Quality fittings and materials used on each and everyjob

• Wetake pride in getting the minor details RIGHT -soyou

• love the result

• Over 38 years experience -countless happy customers

• Full list of sub-contractors availableifneeded

• Wecan handle the whole project from starttofinish if that's

what you need

We have offices based in Rotherham and Kaikoura.

2304004

Contact us today for a

quote or to discuss

your next project

BGBeaven Builders

03 315 6346

www.hurunuibuilders.co.nz

wbeaven@amuri.net

BUILDING HOMES FOR LIFE

● Architectural homes our speciality

● Over 35 years experience

● Registered Master Builder

2305066

Dan McGuire

Amuri building

specialists ltd

Building with excellence

Get in touch with us today!

022 073 8948

info@amuribuilders.nz | www.amuribuilders.co.nz
---
Stitches on the front line

By ROBYN BRISTOW

Stitches, who rides on the

dashboard of the Amberley St

John ambulance, has awhole

school of admirers.

The teddy was named through

acompetition run by the

Amberley St John operational

volunteers at Amberley School.

Amberley station manager

Rachel Basher says naming their

mascot, and acolouring

competition run at the school,

were designed to show the

community the special work

done by St John volunteers.

While Covid­19 alert level 2

took atoll on some planned

activities, there was still ahuge

amount of enthusiasm from

pupils in the competition, with

talks and displays given by St

John volunteers.

Activities planned for children

included older children learning

CPR, aparamedic relay, using

equipment, and St John youth

teaching bandaging and first aid.

Social distancing put paid to

this, but volunteers visited

individual hubs and handed out

the colouring competition prizes.

Adefibrillator and response

bag were also shown to children,

who learnt how they worked.

Question time followed.

Sophie McDonald won the

naming of the teddy, and was

awarded the grand prize in front

of the whole school, gathered in

hubs on the hard courts.

She was taken for aride in the

ambulance around the school,

complete with flashing lights and

siren.

Winning name ... Sophie McDonald won the competition to name

Stitches.

PHOTO: SUPPLIED

Sophie took home her very own

teddy bear, while Stitches now

takes pride­of­place on the

ambulance dashboard.

The colouring competition

winners were:

Prep ­Lucah Simonetta; Year

0­1 ­Dougal Marshall; Year 2­4 ­

Greta Graham ;Year 5­6 ­Amber

Stanley; Year 7­8 ­Sophie

McDonald.

The Amberley Station is

managed by two volunteer

station managers, Rachel Basher

and Sam Wilson. There are about

adozen active volunteers at

present, with three recruits.

''We are very lucky in

Amberley as we are well

supported by the wider North

Canterbury volunteers, who

often come and join us crewing

Amberley 1,'' Rachel says.

Alot of hard work goes into

filling its volunteer roster to

provide the community with a

front­line resource.

''Our roster is filled most

evenings with volunteers who

selflessly give up their time.''

Anyone who wants to be part of

the Amberley St John team can

contact Rachel by email at

rachel.basher@stjohns.org.nz.

ASharp LeftTurn, by

MikeChunn

Thisisagrippingread

thatworksonseveral

levels. It'sthe slidingdoorstoryofsomeone

who might havebecome a

world­famous pop star

had he notsuffered from

asevere phobicdisorder.

Mudlarking: Lost and

Found on the River

Thames,byLaraMaiklem

For thousands of years

human beings have been

losing their possessions

and dumping their

rubbishinthe River

Thames, makingitthe

longest andmost varied

archaeological site in the

world.

Ketofor Life,byMark

Sisson

At theage of 66,ancestral

health movement leader

MarkSissonisstill in

peakathletic condition

and exceptional health.

He creditshis ketogenic

dietand complementary

lifestyle practices as the

reason.

These titlesare

availableinboth

Waimakariri and

Hurunuilibraries.Find

out moreabout recent

additionstothe library

collection by going to the

librarycatalogue at

waimakariri.kotui.org.nz

or hurunui.kotui.org.nz

or contact your local

library.

NEWS

North Canterbury News, August 20, 2020

25
---
ALLTECH EQUESTRIAN Advertising feature

26 North Canterbury News, August 20, 2020

Winning duo ...

Robert Dunn,

who won Harness

Racing New

Zealand's

2019­2020

trainers'

premiership for

the first time this

season, with his

son, John. They

run two stables,

with Robert

based in

Auckland and

John at Woodend

Beach. PHOTO:SUPPLIED

Matt Cassineri ... Alltech's areasales

manager.

Key to equine health

is proper nutrition

Nutrition is the basis for all equine

development. This is also true in most

species.

Get it wrong and your animal could

suffer and performance could be

seriously hindered.

Regardless of the breed or

discipline, ahorse must have agood

foundation on which to develop strong

bones and joints. Nutrition of the

growing horse has agreat impact on

this foundation.

Several nutrients are particularly

important in bone growth and

development.

Supply and balance of these

nutrients is key to optimising growth

and minimising nutritionally

associated orthopaedic problems.

Proper balance of sufficient nutrients

will help foals develop astrong

foundation.

LIFEFORCE is the cornerstone of

the Alltech equine product line,

benefiting horses at every stage of life,

whether they are breeding stock,

pleasure, or performance animals.

Combining Alltech's top proprietary

technologies, LIFEFORCE use is an

essential daily means of maintaining a

healthy horse. LIFEFORCE helps to

create ahealthy digestive

environment, promote nutrient

absorption, strengthen immune

function, and optimise performance.

Alltech's core mission is to improve

equine health and performance by

adding nutritional value to feed in a

natural way.

LIFEFORCE ... The key to better equine

nutrition.

Performance

To maintain fitness, strength, and

athletic ability, high performance

competition horses need to be fed the

correct balance of quality nutrients.

Feed costs and efficiency

In the current economic climate, we

need to do more with less. Feed

efficiency should therefore be

considered with more significance in

the equine industry. As feed

constitutes the largest cost factor, it is

especially important that the use of

available ingredients is maximised.

Gut integrity

Maintaining intestinal health is

important for horses to perform

optimally. An under­nourished or

unstable intestinal tract results in

poor digestion, increased exposure to

toxins and depressed defence

systems, which can lead to areduction

in nutrient absorption and increased

morbidity rates.

Selenium deficiency

Selenium is an essential trace

element that is an integral part of the

horse's antioxidant defence system

and is required for normal growth and

reproduction.

It is an immutable law in business

that words are words, explanations

are explanations, promises are

promises, but only performance is

reality.

To learn more, contact area sales

manager Matt Cassineri (027) 208 4606

or email matt.cassineri@alltech.com.

—Alltech (NZ) Limited

Dunn thrilled with win

By SHELLEY TOPP

Harness racing trainerRobert Dunn

attributes his first trainers' premiership

win to abig team of high­performing

horses, fantastic staffand owners,and

hard work.

The trainer ended lastseason on July 31

with 95 wins,14more than his closest

rivals, Rollestonpowerhouse trainers

Natalie Rasmussenand Mark Purdon, who

have won the premiership since 2014.

Robert begantraining in 1977and is

consistentlyone of New Zealand'sleading

trainerswith two stables, one in Auckland,

whereheisbased,and the other at

Woodend Beach,run by his eldest son,

John.Johnisalso aleading driver, and

finished third on lastseason's drivers'

premiership with 73 wins.

Robert was quicktopraise the help from

John.''I couldn'thave doneitwithout the

Standardbreds to be microchipped

Harness Racing New Zealand will

microchip foals thisseason as partofa

new identification process.

It was scheduled to begin at the startof

the newseason on August 1and will

comply with the Ministryfor Primary

Industries' requirements, issued last

November, thatall horses being exported

from New Zealandmust be

microchipped.

The procedure, which replacesfreeze

brandingfor the official identificationof

Standardbreds, will also improve

support Ihave had,'' he said. ''John and

(his wife)Jenna are doing afantastic job at

Woodend Beach.''

Jenna's father, Craig Edmonds, is there

too. ''Theyhave got the stabletickingalong

reallywell.''

It is abusy life, with10to12horses in

work at the Auckland stableand 40 to 50 at

Woodend Beach.

Robertsaid it was athrill to win the

premiership. It wasn't somethinghehad

chasedover the years but somethinghe

was proudtoachieve.

He rates superstarpacers Master

Musician (34 wins) and Mainland Banner

(22 wins) as the best horses he has trained

to date. ''They were standouts.''

For now, he is looking ahead and

already has five winners for this season,

and there is excitement in the stableabout

the two­year­olds bought earlierinthe

year at the national yearling sales.

traceabilityand the potential for

rehoming when horses retire.

HarnessRacingNew Zealand is in the

process of updatingits IT systems to allow

the microchip information to be stored.

Each microchipiscoded specifically

for Standardbredsand has aunique

15­digit code which, whenscanned,will

link to theorganisation's Infohorse

database.

The microchips are the same type used

globally by many other racing

jurisdictions.

LIFEFORCE

Multi-nutritional equine supplement

9

9

9

9

Specially formulated combinationproduct

Essential minerals, yeast and selenium

Daily solution aids overall digestive health,

supports immune function, optimises performance

Convenienttouse -all in one bag

For more information, contact your Alltech Area Sales Manager or call us.

Alltech (NZ) Limited

PO Box 69 170 |Glendene |Auckland 0645

newzealand@alltech.com | 0800 ALLTECH

alltech.com/newzealand

AlltechAP

THE

ORIGINAL

NOT THE

35

IMITATOR

EXPERIENCE

YEARS

EARTHWORKS LTD

TheLocal Earthworking Specialists

General Earthmoving

•Subdivision roading •Entranceways

• Driveways

•Excavations

•Horse Arenas •CountryLanes

•Hot bitumen Chip Sealing

•HoleDrilling (200mmto600mmAugers)

Bulk Shingle Supplies

•AP65

•Screened Soil

•RiverShingle

•AP40/AP20

Guaranteed Workmanship&CouncilCompliance

PhoneRobertMcAlister 0274340 315

03 313 2276 Rangioraor03314 9633 Amberley |Email: darwin99@xtra.co.nz

2272550
---
Advertising feature

EQUESTRIAN

North Canterbury News, August 20, 2020

27

Good horsemanship ... ''There is asolidconnection between the feetand the mindofahorse."

It'sessentialtoget

thefoundation right

Ben Longwell, who runs True WestHorsemanship,discusses the

languageofthe horse and how to use it.

Working with horses, as with anything,

gainsbetterresults throughbetter

understanding.

True horsemanship,which is applicable

no matter what your equinediscipline, is

aboutworking in asafe manner by

building trustand respectand studying the

way horses think and behave. It requires

comprehending many principles fromthe

perspective of the horse.

Theirown personal safety is ahorse's

main priority, ranking higher even than

eating. Everythingabout theirphysical

make­up is created for survival, from sharp

eyesight and hearing to their flightinstinct

that can be triggeredinafractionofa

second.Because safety is their first

priority and flight is the primarydefence

mechanism,there is asolid connection

between the feet and the mindofahorse.

In order to haveaworkingrelationship

builtontrust, we mustunderstand this

feet/mind connection and its relationship

to the equine's need for leadership.

Horses communicate through body

language, and the hierarchyofthe herd is

determined through this medium. This can

be as subtle as the twitch of an ear or as

forceful as adouble­barrelled kick—

whatever it takes to get the point across.

Humans can takeasignificantamount of

time and focus to learn how to

intentionallycommunicate this way. Many

people shortcut the process anduse tools

(flags,sticksorlead­rope twirling) rather

than actual bodylanguage, and in this way

neverreally grasp how effective it can be.

The terms Iuse to teach and describe

the conceptofbody language are Position,

Life and Space. Thesecan be difficult to

visualise through print,but Iwill offer a

shortdefinition here.

Theseprinciples are applicable both in

our groundworkand under saddle, the

main difference being the big changein

our position from ground to saddle.

Position has to do withwhere we are in

relation to the horse, takinginto account

where the balance pointisalongthe

shoulder that is natural to all herd

animals. On amore subtlenote, it includes

the directionweface when we are

consistent with wherewedirect our

intention.Itcan become an effectivepart

of ourcommunication.

Life,orenergy, couldbesummed up by

noise or movement thatwouldcause the

horse to want to make achangeinwhat he

is doing,whether that is to go or stop, move

left or right,orforward or back. It can

include verbal cues that are effectivewhen

used consistently. There is also tempo to

our Life,just as horses move withrhythm,

which can be asubtle and effectivepart of

our communication.

Space is primarily dealt with in our

groundwork and refers to our personal

space and how we use it to directthe horse

and stay safe ourselves. It works in

conjunction with Lifetohelp ahorse be

more awareofusand move away when

asked.Itisimportant to not eliminate our

space when asking the horse to move away.

We onlyhave so much Spacesoitiscrucial

we use it sparinglybut effectively.

As we becomemore fluent, we candirect

ahorse's feetinspecific ways, using

pressure and releasewith the proper

timingtoengage theirminds.

If we take the time and are willingto

changeour focus,wecan begintointeract

more with the mind, setting things up and

letting them find it, and the feet will follow.

This is abig piece of the puzzle that

shows them that theycan trustuswith

their mobility, which is the same as putting

their lives in our hands.

This foundational connection is vital to

all further training if you want ahorse to

be safe on the ground and under saddle.

Is your horse sore but you

can't pinpoint the problem?

Undertracking, stiff and not

reaching its full potential?

Then Equus Laser

Therapy isfor you...

Latest technology scanning and Laser treatment

give healthy, happy, painfree horses.

Equus Laser Therapy can be used to treat

all muscular skeletal injuries including:

muscle strain, sore backs, tendon and ligament injuries,

mud fever,bursitis, abcesses, bruised sole, arthritis, laminitis,

haematomas, splints, wounds, scars and much more.

Contact: Caroline Parker

Ph 03 313 7542 Mob0274 313754

Double Homozygous

(for Tobiano &Black)

5panel negative

AI Only LFG

1992717

Tru

• Horse&Ponyagistment

• DIYtofull livery available

• Jumping&dressagearena hire

• First classfacilities

JelfsRoad, WoodendBeach

www.birchbrookequestrian.co.nz

d.c.butt@xtra or 021 104 7289

Master

Plan

3yr old Dunskin Stallion

(Imp USA)

Registered APHA &PHANZ

www.truewesthorsemanship.com/tru

1915305

Forqualityservice &satisfaction.

If it's afencewe'll build it.

• Post & rail fencing

• Lifestyle block fencing

• Sheep & deer netting

• Farm conversions

• Equestrian fencing including

jumpsandpens

027 393 0263 Email dwyerfencing@gmail.com Find us on Facebook

2305376
---
Rental Fleet

RENTAL COMPANYCLEAR ANCE

SAVE THOUSANDSONTHESE LATE MODEL LOW MILEAGE VEHICLES

MITSUBISHIMIRAGE XLS

5-StarANCAP Safety |Integrated

Audio and Air Conditioning

15" AlloyWheels

$12,990

*Vehicle supply is limited and colour choice cannot be guaranteed. Vehicle images are for display purposes only.. Finance criteria, terms and conditions apply.

RANGIORA MITSUBISHI

321 High Street, Rangiora | 03 941 3175 | rangioramitsubishi.co.nz

SALES |SERVICE |FINANCE

RANGIORA NISSAN, 321 High Street, Rangiora

Ph: 03 941 3175

www.rangioranissan.co.nz

rangioranissan.co.nz
---
RURAL LIFE

North Canterbury News, August 20, 2020

29

Health check

... North

Canterburybased

pig vet

Dr Bruce

Welch says the

New Zealand

pork industry

is in good

health.

PHOTO: SUPPLIED

ADVERTORIAL

HOW MARVEL HEALTH

DELIVERS PREVENTIVE

MEDICINE

Bruce alynchpinin

helpingpig farms

By DAVID HILL

Pig veterinarian Dr Bruce Welch believes

New Zealand pigfarmersrate well when it

comestoanimalwelfare.

The North Canterbury­basedvet is one

of just three specialistpig vets in New

Zealand, serving clientsall roundthe

country.

"We are on the back foot as an industry.

The vast majorityofthe porkimportedinto

New Zealand comes from farmsthat don't

meet our animalwelfare requirements,

our environmental requirements or our

labour regulations,all of which help

reduce their production costs lower than

ours," Bruce says.

"Overall,wethink we are on prettygood

ground internationally, but we are striving

for continual improvement."

The pork industry has changed alot in 20

years, with about 61 percent of meat now

imported and very little exported.

Thereare around80largecommercial

pig operationsspreadaroundthe country,

with Bruceworkingwith many of them

more as amanagement consultant with a

focusonhousing,reproduction, nutrition,

disease eradication, and providing

support and training to farm workers.

"I very seldom dealwith asick pig, as it's

more about training staffon­farm and

advising them over thephone,"hesays.

"I focusonoverall animal welfare,

keeping diseases under control and

eliminating disease wherewecan, and

helping the farm to be more profitable."

Most farmvisitsare planned in advance,

Firewood &Coal

Coal

20 kg bags or 500kg bulk bags

Firewood

Pick up or deliver (delivery charges apply)

Free delivery toDarfield township when

3cubic metres or more is ordered.

Landscape Products

•Forest Mulch

•Bark Mulch

•Bark Nuggets (10/20mm)

•Premium Organic Compost

•Screened Soil

•Landscape Rocks

BIRCHFIELD

Energy &Resources

with Brucefollowing strict biosecurity

protocolsbetween farms to avoid

spreading diseases. He showers going in

and showersgoing out, as wellaschanging

clothes on entry.

"I visit mostfarms two to four times a

year for routine herd healthand advisory

visits, but Ivery seldom go to morethan

one farm in aday.''

Recentmedia coverage emphasisedthat

there is confusion betweensow crates

(gestationstalls), which havebeen banned

in New Zealand, and farrowingcrates,

which are usedfor sows with newborn

piglets to reduce piglet deaths and

improve their healthand welfare.

Around55to60% of sowsare kept

indoors and all of those use farrowing

crates, which Bruce describes as "a

maternity hospital bed".

"There's aperception that because

around40% of New Zealand's sows don't

use farrowingcratesthat they're not

needed, but that's misleading, because

they areinoutdoor farming systemswhich

are adifferent model with lower

investment costs, but higherpiglet death

rates than the indoor farms.

"When asow lactates, she is providing

milk to piglets 24 timesaday, or every

hour. Duringthat timeshe is totally

focused on her piglets, getting food and

water and getting as much rest as

possible.''

Alternative housingsystems to farrowing

cratesormaternity pens arebeing

investigated,but the farrowing crateisthe

best option available,Bruce says.

•Paparoa Red Rock available in

3grades

•Railway Sleepers (2.1 Lengths)

•Kindling Wood

•Unscreened Bark

Delivery fees apply.

417 Creyke Road, Darfield Eftpos now

Phone 03975 4502 available

Open MondaytoFriday 6am-6pm,

Saturday 8am-1pm or after hours by appointment

2282437

At Marvel Health,our focusis

on regenerative andpreventive

healthcare.Thewhole bodyscanwe

performprovides ourdoctors with a

comprehensivereportofapatient'sstate

of health.Itrevealshidden diseases and

their causes andour recommendations,

arebased on thedetailedinformation

from thescan.

The scan searchesfor theunderlying

causes of health problems, whether

infectionscausedbyviruses and

bacteria or heavymetal contamination

such as lead toxicity or food allergies.

Furthermore,itsearchesfor thecauses

of organdamagesuchasnarrowing of

thearteries, auto-immuneconditionsor

nutrientdeficiencies.

After studying thescanreports, our

doctorsmakepersonalisedand targeted

recommendations. During your 30

minutetele-consultation with the

doctor they recommendonlythe 3most

essentialcompounds that youneed to

kick-start your healingand stop pain and

discomfort.

We only recommendscience-based

naturalremedies that aresupportedby

published medical journals andtrialled

clinical studies.

The Marvel Health scan is unique

becauseitrecognisesand searches for

harmful environmental factors that

promotediseases. It checks thebodyfor

nutrientlevels, environmental toxins,

harmful electromagneticinfluences, food

sensitivities andpredisposition to genetic

disorders.

OurMarvelHealth doctorsassistants

spend30minutes with youexploring in

detailyourlifestyle,nutrition andother

environmental influences on your health

andtheyprepare adetailedreportwith

personalised recommendationsonthe

steps youneed to taketopreserveyour

health.

However, your healthcare continues even

after consultationswiththe doctor and

lifestyle specialist.Wefollow-uponyour

health andare theretoassistyou along

theway until youfeelbetter.
---
2276972

HOMEKILL

Butchery &meat

processing

313 0022

MEAT2U.NZ

Built to your budget!

RURAL LIFE

30 North Canterbury News, August 20, 2020

Modelling

... Jono and

Sarah Reed

model

hoodies and

beanies made

from Merino

wool.

PHOTO: SUPPLIED

-All types of fencing including:

-deer, sheep and cattle yards

-Retaining walls –Timber gates

-Full range of specialised equipment for farm fencing and

lifestyle blocks, offers you the complete land package.

Ashley: 0274 364 776 ah: 314 8541

e: A.Duckworth@xtra.co.nz

www.duckworthfencing.co.nz

Post &Rail Fencing -Looks great &

makes life easy for the Rural Lifestyler!

2272726

WE BUY

STANDING

TREES,

TALK TO US FOR

ANOOBLIGATION

QUOTE

Merino at heart of clothing line

By DAVID HILL

Faced with the realitiesofrural isolation,

Sarah Reed created her own clothingline.

The former nurse and mother of three

launched The Grumpy Merino line of

clothinginJune after alittlelockdown

soul­searching.

''Atthe end of CovidIwas at the point

where Ineededsomethingelse to focus on.

Ineeded anew identity,'' she says.

After launching awebsite, creating a

social media presence and planning popup

shops,Sarah has watched the orders

flowin.

''Life has got alot more intensive.I

probably didn'trealise that, but when

you're working on an online platform

you've got to be really active, so it takes a

lot of time. It's made life prettybusy, but

it'swhat Iwanted.''

Sarah farms at The Grampians,near

Culverden,with husband Jonoand his

parents,Graham and AnneReed, running

5500merino sheep and 400 head of angus

cattle.

The familywas already supplying

merino wool to Norwegian company

Devold,which is passionate about

traceability by labelling garments to

identify where the wool came from.

''The traceability factor is becoming

moreimportant to consumers and

sustainability is becoming abig factor,''

Sarah says.

''You want to weargarments that are

going to keep being made.

''Wool has such amazingpropertiesso

we just need to keep promoting it.''

Many of thegarments soldbyThe

Grumpy Merinoare labelled to say the

wool came from The Grampians.

''It depends on what's available at the

time.But it's all made from merino wool

from New Zealandgrowers,ifwecan.''

Living on the farm is aworld awayfrom

her career as anurse, where Sarah

worked in pediatrics.

Afterhavingthreechildren, the

commute was no longer practical.

''That's the good thing aboutthis job. It

worksinwithfamily life and it'sflexible,

and it's diversifyingoff our farm business.

''It's giving me my spot in our operation.

All we have to do is produceour wool and

send it off and then Iorder what Iwant.

''EssentiallyI'm the retailer for Devold

of Norway,while finishing our supply

chainfor our wool.''

Marrying into afarming family is never

easy,but Sarah saysruralwomen needto

find somethingtosink their teeth into.

''It's really hard with little kids and

beingisolated. You kind of lose yourself,

but you'vegot to get your swagger out.''

The Grumpy Merino is acombination of

The Grampians and Graham Reed's

nicknameofStumpy.

2257864

Call Tony

027 436 0338

Roger Hunter

Parts Manager

0275 071 022

DIRECT DRILL SPECIALS

12.5" (318mm) x 3mm

Plain Disc Blade

Designed to suit both the 4bolt &6bolt hub.

Suitable for:

DUNCAN RENOVATOR

drills MI-11353-L

2301305

$

33 95

+GST

1George Holmes Road, Rolleston

03 349 5975

Light &Heavy Transport Repairs &

Onsite Repairs and Maintenance

24 HOUR SERVICE THROUGHOUT NORTH CANTERBURY

Phone 03 313 6361 •0275 200 711

307 Flaxton Road, RANGIORA

brooktrucks@xtra.co.nz

12.5" (318mm) x 3mm

Fluted Turbo Disc Blade

Suitable for:

DUNCAN RENOVATOR

drills

MI-22035-L

Canterbury

2287801

$

33 95

+GST
---
SPORT

North Canterbury News, August 20, 2020

31

Final misses only one thing: Spectators

RUGBY

By LINDSAY KERR and

PETER WILLIAMS

Glenmark­Cheviotmade it three

in arow when the side took out

the NorthCanterbury rugby

Luisetti Seedsrugby grand final

on Saturday,beatinglong­time

rival Kaiapoi 32­24.

The hometeam, playing at a

perfect but sadly largely deserted

Omihi Domain, wentinasthe

favourite, having comfortably

beatenits rivals in the roundrobin

fixture.

However, at half time, that

favouritismhad largelyvanished,

with Kaiapoi holding a17­10

lead.

Kaiapoiopened the scoring

with aLanceTaylor penalty.

Glenmark­Cheviotimmediately

struckback in its first

opportunity on attack.This

resulted in atry to captainBen

Anderson,converted by the

reliableBrook Retallick.

Apart from the boot of

Retallick,who kept Glenmark in

contentionwithapenalty, the

rest of the first half belongedto

Kaiapoi. The river­town club

openedits try­scoringwitha

brilliant try to mid­fielder Dante

Love, who sold adummy to slip

through the combined side's

Silverware ... Glenmark captain

Ben Anderson receives the Alf

Hunnibel Trophy from Luisetti

Seeds representative Mark

Frampton.

Champions ... The victorious Glenmark­Cheviot side with the season's haul of silverware.

defence. Taylorduly converted.

TheKaiapoiscrum began to

gainascendancyand the strange

sight of aGlenmark packonthe

backfootemerged. This

dominance resulted in its

skipper Jacob Hurringscoring a

try fromthe base of the scrum

whenKaiapoi usheredits

opponents over the line.

Glenmark began the last40

minutesinpositive fashion when

Retallick foundroom to down the

blind side, takinghis side into an

attacking situation. After abuildup

involvingseveralphases,

halfback Jordy Grayslipped

through the Kaiapoi line to score.

Retallick duly convertedand the

scores were tied.

After spendingmore time on

attack, Retallick took Glenmark

intothe leadwith adropped goal

and,three minutes later, the

hard­workingJacob Vincent

muscled his way over theline

and the Glenmark advantagewas

out to 27­17.

However, the Kaiapoi dream

wasnot finished,with Kimeon

Reade gathering up aGlenmark

dropped pass to run 40m to score.

Taylor converted and the margin

narrowed to threepoints.

Fromthat point, and with five

minutesremaining, Glenmark­

Cheviot held its composure and

the ball.

With timeuponthe clock, Gus

Harrisonfound agap out wide to

score in the corner.

Glenmark's Anderson, along

with fellowloosieVincent, were

largelyresponsible for upping

the second­half teameffort,while

front rowerHayden O'Donnell

again made his presence feltwith

ball in hand and in mauling

situations. Retallick was avital

pivot and his boot was, as usual,

safe and accurate, while fullback

Alex Robson was asafe cog on

attackand defence.

The Kaiapoi frontrow of Luka

TooToo, RyanClark and Nathan

Cassidy Richards createdasolid

unit at scrum timeand the Smith

brothers, Chrisand Jarod,never

flinched from the hard work.

Taine Jacobs­Lawson and Dante

Love in the centres were

dangerous withany room

offered.

The result could havebeen so

different had Kaiapoikept its

first­half tempo,but clearly if the

side maintainsthe currentsquad,

its time will come again. A

naturally disappointedco­coach

Matt Newton summed up the

feeling of his team: ''They lifted

their gameinthe secondhalf and

Iwas surprisedthat we couldn't

find anything. Ourbench has

been big for us but it didn't

happentoday.

''The morechanges we made

the worse it got. Iguesswewere

abit lucky with Kimeon's try,

too.''

The Glenmark effortwas

typicalofsomany of its games

thisseason, wheresome of the

marginshave been narrow, but

its players know how to win.

''Weplay key guys in key

positions and they all play for

eachother,''co­coach Matt

Keane said.

Knowing how towin was

evident onceagain,particularly

in the second half, with ascrum

thathad gone backwards on

occasion in the first spell.

It was greattowin the

championshipagain, Glenmark

captain Andersonsaid.''Wehad

to shiftour thinkingathalf time

and improve themomentum.

''Our scrum was aconcern but

we just had to hang in. Iknew

they (Kaiapoi)would come hard

at us again after we got ahead.''

Glenmark­Cheviot's victory

maintained an unbeatenrun

since May 2018. Ohokawas its

only slip during this season.

The team silverware for the

seasonincludedthe Alf Hunnibel

Trophy for winning the grand

final and the DeansShield for

round­robinchallenges.Italso

earnedthe clubits 33rdNorth

Canterbury championship since

thecompetition began in 1905.

The Cameron Shieldfor the

round­robin contest was shared

with Kaiapoi.

WithCovid alert level2rules in

place, the sight of only ahandful

PHOTOS: LINDSAY KERR

of spectators was astrange

spectacle for such an occasion.

Memories of club grand finals

at theRangioraShow Grounds,

in particular, boreastark

contradiction when muchofthe

perimeter was lined with trucks

acting as grandstands and

clustersofsupporterssocialising

over barbecues.

At Omihithisyear,there was

the unusualsight of acherrypicker

on aneighbouring

property perched above the

hedgeatthe fence line, with the

occupants fully focused on the

rugby.

Scoreboard; Glenmark­Cheviot

32 (Ben Anderson, Jordy Gray,

JacobVincent, Gus Harrison,

tries; Brook Retallick 3

conversions, adropped goaland

1penalty.), Kaiapoi24(Dante

Love,Jacob Hurring,Kimeon

Reade, tries; LanceTaylor, 3

conversionsand apenalty.) Karl

Hancox referee.

Other results

The play­off for the plate final

resulted in Hurunui squeezing

outAshley31­28.Ashley,in

round­robin playearlierinthe

season,had been 26­19 winners.

The division 2grand final

bought more disappointmentfor

Kaiapoi, being outclassed by

Kaikoura 36­17.The game was

played at Kaiapoi.

what are you

waiting for?

8WEEK

"LIFE-CHANGER"

CHALLENGE

join the NCSRT's

8-week "Life-Changer"

Challenge today

Learnmoreabout the Challenge at our info sessions at RangioraFitness Centre:

3 pm Sunday 23 rd August & 8 pm Wednesday 26 th August

Talk to your localFitness Centre staff to findout moreorvisit...

www.sportstrust.org.nz

Ph: 03 975 5556

$30

Just pw

+membership

Special 8-week

memberships available

NORTH CANTERBURY

RUGBY SUB UNION

For all JAB draw information

and updates under level 2

restrictions, please keep

up to date with

North Canterbury Rugby

2285934
---
SPORT

32 North Canterbury News, August 20, 2020

Close matches in weekend play

HOCKEY

Canterbury junior hockey

competitions were affected

last weekend underthe Covid

level 2restrictions,but senior

hockeywas abletocontinueat

main venues.

All junior six­a­side hockey

wascancelled because of the

closure of several shared

facilities, but it is hoped there

will be enough unaffected

venuesavailable to

accommodate junior teams

this weekend.

Spectatorrestrictions were

put in place at turfs involved

in 11­a­side fixtures,but this

didn'taffectthe quality of play

or the support teamsenjoyed

in great weather.

The Rangiora HockeyClub's

seniorteamshad close games,

with four drawsand two

narrowlosses out of the nine

games played.

The Division 2and Division

3women bounced backfrom

losseslast weektosecurea

competitionpoint each in

draws withHornby and

University,respectively.

The Rangiora Hurunui midweek

women also ended their

match againstHSOB/Burnside

with adraw, as did the

Platinum Awomen.

The Division 1men's and

women's competitions have

split into the Top5and Bottom

4for each grade, with just over

amonth to go in the season.

In arepeatoflast week,the

Rangiora Division 1women

On the move ... Perri Stevenson, for the Rangiora Rascals Kwik Sticks girls' team, in action against

Harewood.

PHOTO: SUPPLIED

again lost 1­0 to Universityin

their Bottom 4clash.

Meanwhile, theRangiora

Division 1men almost upset

Hornbyintheir Top 5match.

RangioraAllsorts mid­week

men started well in their

bottom­of­the­table game

against Harewood, leading

early andcreating several

first­half chances, but

struggled to maintain intensity

in the second half, lettingin

several unanswered goals.

The biggestwin of the

weekend went to the Rangiora

Platinum Boys Ateam, which

scored17goalsfrom 10

different players against

Harewood.

At Kwik Sticks grade, the

results were split. The girls'

teams,Rascals, Rubys and

Rhinos, all lost, while the boys'

teams, Renegadesand

Rampage, chalked up wins.

Results

Division 1: Men: Rangiora CBK 3

(Lachlan Miller 1, Phil Kirk1,Liam

Gray 1) losttoHornby 4. MVP:

Lachlan Miller.

Women: Rangiora CBK0lostto

University of Canterbury Huns 1.

MVP: Kate Campbell.

Division 2: Women: Rangiora1

(Piper Wilson1)drew withHornby

Panthers 1. MVP: Shontay

Simpson.

Division3:Women:Rangiora3

(AmeliaPlimmer 1, MadisynFoster

2) drewwith universityAthenians

3. MVP: Deb Baggott.

Mid­week Open: Men: Rangiora

Allsorts1(MikeSmith 1) lostto

HarewoodRed 6.

Women: Rangiora Hurunui 0

drew withHSOB/Burnside 0. MVP:

KeighleyRobertson.

Platinum Men: RangioraA17

(BrodieSimpson 3, Bradley Turner

3, Sam Firth 2, Loock Odendall2,

Ricco Pepper­Edwards 2, Byron

Turner 1, Giles Witt1,Caleb

Orchard 1, HughSmith 1, Theovan

Dorp 1) beatHarewood 0. MVP:

Bradley Turner.

Women: Rangiora A1(Kaylee

McDonald1)drewwith Avon 1.

MVP: KaraCairns.RangioraB1

(Anna Withers 1) lost to Marist

Black 3. MVP: CassidyNew GK.

Kwik Sticks Girls: Rangiora

Rascals 0losttoHarewoodRed 1.

MVP: OliviaLander. Rangiora

Rubys 0lost to Hornby Wildcats 2.

MVP:Tilda Webster.

Rangiora Rhinos 0lost to Marist

Black 5. MVP: IsabelleGalbraith.

Kwik Sticks Boys: Rangiora

Renegades 4(OllieTaylor3, Allan

Jenkins 1) beat Medbury School

Black0.MVP:Luke Cherry.

Rangiora Rampage 3beat

Harewood Blue 0.

SPORTS RESULTS

Rangiora Bridge

Saturday,individual: N/S:FrancesMcDowall/

Judith Calder1,Laura Anderson/SueMcIlroy

2, Jeanette Chatterton/Veronica Hall3.

E/W:Margaret Pickering/Janice Pickering1,

RonaMaslowski/TomRose 2, JohnMcKenzie/

Janine Tyler 3.

Monday Rata Pairs: N/S:Heather Waldron/

Robin Hassall 1, Jeanette Chatterton/Gaynor

Hurford 2, Sue Solomons/JanRoose 3. E/W:

Nancy Harris/Linda Joyce1,David Rainey/Liz

Duke2,Jenny Hassall/Linda Hanham 3.

Monday Evening:N/S:GavinDunnett/Noel

Langdonand Shary Davis/MurrayDavisequal

1, OmVan Der Mespel/William Van Der

Mespel 3. E/W:GerrardMcRae/Kate

Whitehead1,MarilynElliet/AlisonHowie2,

Lindsay Sigglekow/LizCalder3.

AmberleyGolf

Ladies (Stableford): KatePercy 40 points,1;

Adele Wilshire 39pts2.

SeniorMen (Stableford): Roger Hornblow

38pts 1, Roger Hack 37pts2,GwynWilliams

and Dave vanTurnhout36pts,equal3.

Junior Men (Stableford): Dennis George 40pts

1, Bruce Mills 36pts 2, BrianFitzgerald and

PaulWylie, 35pts, equal 3.

9HoleLadies Stroke: ValCrooks 54 15 39, 1;

HeatherKemp601941, 2.

Men's Stroke: John Evans 48 14 34,1;Dave

Edwards 51 16 35,2.

Mid WeekMen (Stableford)BrianGill 40 1,

Kevin Kennedy,Murray Carson39pts equal2.

RangioraGolf

Midweek Men(Stableford): Peter Stuart481,

Des McKenzie 42 2, Jacobvan Petegem 42 (c/b)

3.

Fridayopen tournament(Stableford): John

Winsloe 40 1, Petervan Haut 40 2, Tony

Stephenson393.

Weekend Men (Stroke): Division 1: Chris

Peters711,Alisdair Reid722,Rocky

Marchioni723.Division 2: RaySoutham 66 1,

JohnBrocherie662,Mark Savill 67 3.

AmberleySmallbore Rifle

MQuigley 99.7,KQuigley 98.4,RHarper 96.1,

DQuigley95.4,IFrazer95.3,OMitchell93.2,

CRhodes 93.1, MParker 89.2, WParker 89.1,

Shoot, August 17: CRhodes 99.7,KBrown 99.6,

MParker 92.2,WParker 92.2, BParker 91.2, O

Mitchell 88.0, IFrazer 87.0.

One Size Fits All

Available inany amount from $20.

Purchase from the Centre Management Office

Monday to Friday and online.

Redeemable at Dress-Smart stores nationwide

Visit www.dress-smart .co.nz for terms &conditions

YOUBRING THE DREAM,

WE'LL BRING THE

PERFECT PATIOS -HOW

TO PREP FOR SPRING

To extend thealfrescodining seasonand

experience all-weather outdoorliving,

Stratco has arangeofoptions that can

be customdesigned to suit your needs.

Whetheryou choose an opening and

closing louvre,orafixed roof verandah,

youcan relax in the knowledgethat your

custom-made,stylish roof isbuilt to

withstand local conditions.

Contact Stratco today and let us

create your perfect outdoor space.

CHRISTCHURCH | 55 Hands Road | Ph: (03) 338 9063

stratco.co.nz

GIFT IDEA

Open 10am-5pm, 7Days 03 349 5750

CHRISTCHURCH 409 Main South Road, Hornby

www.dress-smart.co.nz
---
North CanterburyNews

PROPERTY

ABIG family opportunity

261 Loburn Kowai Road, Loburn

Families who crave space will be captivated by our subject property,asprawling home located just minutes from Rangiora

but aworld away from the hustle and bustle of modern life.

Inside, this sophisticated home with separate wings boasts five generously-proportioned bedrooms and two well-appointed

bathrooms. The sumptuous en-suite off the master comes complete with an indulgent spa bath, while superbly configured living

areas plus additional media room allow for both intimate family moments and large-scale gatherings.

Agenerous galley kitchen with quality appliances and large butler's pantry is an entertainers dream and without adoubt will be the

hub of the home with many memorable family moments created here.

Double-glazed and fully insulated, further comfort is provided by ducted heating systems, an log burner, and agas fire, while solar

panels complement the energy usage.

Outside, the fully-fenced grounds are asafe haven for kids and pets, while the private patio area is the perfect spot to relax and

unwind after along day in the awe of the glorious views. Triple internal access garaging and additional parking complete the appeal.

Families who love to get outdoors will be drawn to the nearby Mt Thomas, where an array of walking trails and cycling tracks allow

you to make the most of this very special part of the country.

There's great buying and acompelling lifestyle on offer here, and interest is sure to be high as aconsequence. Our vendors are

determined to achieve aresult with plans in action -contact me now for more information.

Price by negotiation

Viewing by appointment

For more information call

April Wellington 027 722 7354

april.wellington@tallpoppy.co.nz

Web ID: TPNC8126

www.tallpoppy.co.nz

Tall Poppy Real Estate

Licensed REAA 2008

2305982

April Wellington Sales Consultant

027 722 7354 |april.wellington@tallpoppy.co.nz
---
107 Sutherland Drive, Kaiapoi

Enquiries over $795,000

Distinguished Quality in Sovereign Palms

'Distinctive and simply stunning' accurately describes this new gorgeous 294m2

home. Built to the highest standard ofquality and executed by aregistered Master

Builder, who has paid special attention and thought to the luxury design which

makes itavery easy home to live in and enjoy.

Viewing: Sunday 2:00 -2:30pm

tallpoppy.co.nz/homes-for-sale Ref: TPNC8814

4 2 2 3 295 860

Michelle Facer

Sales Consultant

M 027 307 4530

E michelle.facer@tallpoppy.co.nz

12 Harakeke Way, Rangiora

Enquiries Over $549,000

Superb Family Living, Conveniently Located ...

Open Home Sunday 12 July

12.30-1.00pm

This beautifully appointed, double

glazed, sunny home is ready for anew

family. The work has all been done ...

Richard Green

Business Partner

M 0275 364 260

E richard.green@tallpoppy.co.nz

374 Tuahiwi Road, Tuahiwi

Deadline Private Treaty -Price guide

$565,000

The One Acre Dream

Here is your rare chance to own this

small lifestyle property located within

minutes of Rangiora's town boundary.

Recently refurbished with new kitchen,

bathroom, carpet and paint it is

picture perfect. Currently fenced with

one paddock for that pony or

whatever you fancy to enjoy the

country dream. Call Nancy today

Nancy Holmes AREINZ 3 2 1 2 140 4000

Business Partner &Sales Consultant

Viewing: Wednesday 5:00 -6:00pm &

M 027 282 8028

Saturday &Sunday 2:00 -3:00pm

P 03 327 5896

Ref: TPNC8775

E nancy.holmes@tallpoppy.co.nz tallpoppy.co.nz/homes-for-sale

51B Cam Road, Kaiapoi

Enquiries Over $355,000

The perfect Starter Home

Hey -First home buyers, your

opportunity awaits here with this tidy

stand-alone home, giving you the

chance to fulfil your dream of home

ownership. When the kids and family

pets arrive, they can run amok in this

small, secure, fully fenced section or

older folk can enjoy the peaceful north

facing setting. Check itout!

Nancy Holmes AREINZ 3 1 1 1 104

Business Partner &Sales Consultant

M 027 282 8028

Viewing: Sunday 1:00 -1:30pm

P 03 327 5896

Ref: TPNC8743

E nancy.holmes@tallpoppy.co.nz tallpoppy.co.nz/homes-for-sale

3/31 Percival Street, Rangiora

Enquiries Over $319,000

Investment or Retirement

If you are looking for atwo bedroom,

low maintenance property that has

had all the hard work done, look no

further. Great investment opportunity.

Richard Green

Business Partner

M 0275 364 260

E richard.green@tallpoppy.co.nz

Michelle Facer

Sales Consultant

M 027 307 4530

E michelle.facer@tallpoppy.co.nz

4 2 2 2 209 600

Viewing: Sunday 1:00 -1:30pm

Ref: TPNC8492

tallpoppy.co.nz/homes-for-sale

11 Denton Street, Amberley

Enquiries over $555,000

Stunning Family Home inAmberley

Presenting this remarkably private

home with stunning rural views, we are

delighted to offer you this gorgeous

four bedroom, two living area home.

Richard Green

Business Partner

M 0275 364 260

E richard.green@tallpoppy.co.nz

Michelle Facer

Sales Consultant

M 027 307 4530

E michelle.facer@tallpoppy.co.nz

2 1 1 1 70

Viewing: Sunday 3:00 -3:30pm

Ref: TPNC8626

tallpoppy.co.nz/homes-for-sale

48/3 Ashworths Road, Amberley

Enquiries Over $499,000

Simply Irresistible Lifestyle

Words just cannot describe how lovely

this gorgeous cottage is. The owner

has thought ofabsolutely everything

this an incredible lifestyle opportunity.

Richard Green

Business Partner

M 0275 364 260

E richard.green@tallpoppy.co.nz

Michelle Facer

Sales Consultant

M 027 307 4530

E michelle.facer@tallpoppy.co.nz

4 2 2 2 218 700

Viewing: Sunday 11:00 -11:30am

Ref: TPNC8753

tallpoppy.co.nz/homes-for-sale

Michelle Facer

Sales Consultant

M 027 307 4530

E michelle.facer@tallpoppy.co.nz

Richard Green

Business Partner

M 0275 364 260

E richard.green@tallpoppy.co.nz

2 1 1 3 65 3589

Viewing: Sunday 12:00 -12:30pm

Ref: TPNC8590

tallpoppy.co.nz/homes-for-sale

CALL THE AGENT FOR MORE INFORMATION

BULSARA T/A TALL POPPY LICENSED UNDER REAA 2008

tallpoppy.co.nz
---
North Canterbury

Oxford 84 Main Street

Rangiora 27A Newnham Street

Open Home

Open Home

Theromance of yesteryear

It's hard not to fall in love with this beautifully presented 1920s

character home superbly positionedonanexpansive 2023 m2 section

close to ahost of Oxford's convenient amenities. Inside, this appealing

home plays host to three double bedrooms (built in robes), office, a

separate modern kitchen andspacious, interconnecting living areas.

Leadlight windows and immaculately maintained period features

including Kauriwall panelling and fretwork, an ornatefireplace,

wooden floors and high ceilings allenrich the timeless appeal; awood

burner and heat pump help to maintain comfort.

3 1 2 2

Deadline Sale closes Tuesday 25th

August, 2020 at 5.00pm, (unless sold

prior)

View Sun 23 Aug 12.15 -12.45pm

Web pb.co.nz/RU77142

Di Moreira

M 027 848 8020

What an opportunity!

They don't come along like this every day. Three bedrooms, one

bathroom, separate laundry, separate single garage, offstreet parking,

open plan kitchen, dining loungearea, which gets the sun all day long.

Spacious deck and aback yard to either keep simple or create

something special. Perfect first home, perfect investment opportunity

or perfect for those downsizing. Located close to shops and transport.

Vendors seeking offersover $310,000

3 1 1 1

Deadline Sale closes Wednesday 26th

August, 2020 at 4.00pm, (unless sold

prior)

View Sun 23 Aug 1.00 -2.00pm

Web pb.co.nz/RU77135

Bev Wright

M 027 434 2486

Waikuku Beach 3McKenzie Place

Open Home

AUCTION

Spring 2020

Sandcastles andcountry walks

Whether you are afirst home buyer, investor, upsizer, downsizeror

someone who has always wanted to live by the sea, this home has

something on offer for everyone. Bathed in natural light, the home

features acombinationof3double bedrooms,agreat sized family

bathroom and another separate toilet. Awood burner and aheat

transfer system will ensure the home is warm and inviting all-yearround,

while thesun soaked open plan living means you'll be able to

cook and entertain forany occasion.The property is fully fenced,

perfectfor families and pet owners.

3 1 1 2

Deadline Sale closes Thursday 10th

September, 2020 at 2.00pm, (unless

sold prior)

View Sun 23 Aug 1.30 -2.30pm

Web pb.co.nz/RU77528

Sally Davies

M 027 359 5509

Be part of provincial NewZealand's

premiumrealestateauction event!

To find outmoreabout GO Auction, call us today

on 0800 3675267

Apremium-selling

experience.

pb.co.nz/goauction

Property BrokersLtd Licensed REAA 2008

Property Brokers Ltd Licensed REAA 2008 |pb.co.nz

Proudtobehere
---
What's happening in your

community…

All info onchanges to Council services and facilities can be found at waimakariri.govt.nz/covid19

Council Open for Business at Level 2

The majority of Council facilities remain open to

the public at Alert Level 2-including playgrounds,

skateparks and dog parks.

Service centres, libraries, transfer stations and

aquatic centres also remain open -although some

services may not resume where they cannot be

delivered safely (e.g. where physical distancing

cannot be maintained).

Community facilities like halls and meeting rooms

remain open to existing bookings –with safety

protocols inplace.

Full details on what facilities and services are

open, including the safety measures in place, are

available at waimakariri.govt.nz/covid19.

The Council is making sure that we are operating

as safely as possible at this alert level so visitors

to facilities and venues will notice contact tracing

measures, sanitisation and distancing protocols

will be in place.

Ashley River Tree Removal

The Council share the community's dismay over the

removal of the trees at the picturesque spot along

our riverbank. This awell used recreational area

by walkers, runners and cyclists and the removal

of this number of trees has changed the

environment considerably.

On behalf of the community, Mayor Dan Gordon

has written to Environment Canterbury reiterating

these concerns and has asked for ameeting with

concerned residents. While it won'tchange what

has happened it is an opportunity to learn from

the experience.

We would like more information about the future

development of the affected area including

replanting aswell as restoration of the tracks and

the fitness equipment.

Conservation Week

Since the COVID-19 lockdown, many of us slowed

down and looked at our lives and the world

differently. The Department of Conservation are

inviting you toenjoy afresh perspective onour

natural spaces and unique wildlife, and boost your

wellbeing by immersing yourself in nature.

Engage online, atactivities orevents, or by

exploring your own backyard to embrace what's

always been there; look, listen, breathe and feel.

You can join in here doc.govt.nz/news/events/

conservation-week/

This year library staff will be joined by rangers

from the Te Kōhaka oTūhaitara Trust, who

provide environmental education to many of

North Canterbury and Christchurch's primary and

secondary schools. Find out more at libraries.

waimakariri.govt.nz or search Waimakariri

Libraries on Facebook.

Community Service

Awards 2020

Nominations are Open

These awards are to recognise

our community volunteers

that go above and beyond.

Full criteria, details and nomination

forms are available now.

Youcan pick upanomination form from

one of Council's Service Centres and

Libraries at Rangiora, Kaiapoi and Oxford

and isalso onour website waimakariri.govt.

nz

Criteria

• Anyone who has carried out significant

voluntary services in the Waimakariri

District to: the arts, culture, education,

health, recreation, sport, welfare or youth.

• Must be nominated by two people of the

Waimakariri District.

This year's Community Service Awards

ceremony will be held in November.

Nominations close 5pm,

Friday 18 September 2020

Road Closure

Event:

Kaiapoi 10 Year Earthquake Celebrations

Organisers:

All Together Kaiapoi (Linda Dunbar)

Date: Friday 4September 2020

Time: 3pm –9pm

Roads involved: RavenQuay,Kaiapoi from

William StreettoBlack Street (approx.)

Traffic Management Company:

Wilsons Traffic Management

Detours: nil

HAS YOUR

EMPLOYMENT SITUATION

BEEN AFFECTED

BY COVID 19?

Come along to one ofour workshops

for information, support and advice

Oxford Jaycee Rooms

Thursday 27 August

Kaiapoi

Workingmen's Club:

Thursday 3September

Find out more &register:

waimakariri.govt.nz/workshops

Stay home

if you are sick

Wash &dry or

sanitise your hands

Rangiora RSA:

Thursday 17 September

All from 9am to 12.30pm

MORNING TEA

PROVIDED

Keep a1-metre

distance from others

Cough or sneeze

into your elbow

Help keep our

community safe
---
NEWS

North Canterbury News, August 20, 2020

37

Give usyour

feedback

Taranaki Reserve

Planting Day

Celebration ... Tuahiwi School pupils perform ahaka during last year'sNorth Canterbury Kapa Haka Festival.

PHOTO: FILE

Kapa haka festival to return

Help us plant 300 native seedlings

Where: Stop-bank off Kings Ave, WaikukuBeach

When: Saturday 22 August2020

9am –12pm

What:

Planting 300nativeseedlings

Please bringclothingfor all weathers,

hat, gloves, sturdyfootwear, spade and

water bottle.

By DAVID HILL

North Canterbury's popular kapa

haka festival is set to return in

November.

Tuahiwi School principal Mel

Taite­Pitama says she is pleased

with the response from local

schools, with the annual North

Canterbury Kapa Haka Festival

rescheduled for November 30

and December 1—two months

later than normal because of

Covid­19.

''Coming back after the

lockdown, we realised the

schools wouldn't have enough

time to train and coming back

after Covid, haka wasn't a

priority,'' she said.

While term four is busy,

especially for high school

students with exams, Mel is

confident the event will be a

success. ''We know this

celebration is very important in

North Canterbury ...and all of

the schools came back and said

'please don't cancel'.

''It gives people some hope and

some sense of normality, and it

gives children something to be

proud of.

''And for some of them, as

whanau, it's the first time they've

seen their children on stage and

for others it's the last time,'' she

said.

The Christchurch Kapa Haka

Festival has been cancelled, so

there has been plenty of interest

from city schools to participate.

The local festival was first held

about 15 years ago and is thought

to be one of the largest education

events in North Canterbury, with

several of the more than 30

schools each having more than

100 pupils taking part.

All of Tuahiwi School's 165

pupils will be involved.

''Kapa haka is something to be

celebrated and the good thing is

it's something that can be

celebrated by adiverse group of

people and not just Maori,'' Mel

said.

Once again, the event will be

held at the Ohoka Community

Centre, but anew venue may

need to be explored next year

because of the event's growing

popularity.

Have you signed up for

the Waimakariri District

Council Newsletter?

To join visit waimakariri.govt.nz

and scroll down until you see the

sign up button.

Regional park users being surveyed

Environment Canterbury's parks and forest team

has set up aparks user survey.

It aims to help the team manage ECan's large

areas of developed regional parks, mainly along

the banks of the Waimakariri and the Ashley/

Rakahuri rivers.

''As recreation is akey use of these areas, our

goal is to obtain information on how many

visitors we are getting into the parks, who is

using our parks, what activities they are engaging

in, what they like/dislike about the park, and

what they would like to see in the parks with

regards to recreation and leisure activities,''

parks and forests team leader James Page says.

This research was being done in two stages, in

June and August this year and in December and

January, to gauge any differences in user groups

during the summer and winter.

''The survey can be completed up until January

31, 2021 and we encourage as many people as

possible to respond,'' James says.

It can be found online at surveymonkey.com/

r/ecanparks.

Information gathered will be used to form longterm

development plans for regional parks, with

the aim of providing ausable space

accommodating awide range of visitors and

pursuits.

Workshops planned for jobseekers

Scan the QR code to take

you straight to sign up.

By DAVID HILL

Help is at hand for thosefacing

redundancyoracareer change

because of Covid­19.

The Waimakariri District

Council has joined with the

Ministry of Social Development

(MSD)toorganise three

workshops focusing on providing

information on re­employment

options, financial assistanceand

trainingopportunities.

Council community team

manager Tessa Sturleysays the

workshops are an opportunity to

demystifythe employment

supportsectorand to empower

people to getthrough what in

many cases is asignificant change

in circumstances.

"We are really happytopartner

with MSD to support these

workshops.

''Post­Covid is achallenging

time for our community and these

workshops will hopefully help

localbusinesses and affected

workers by providingsupport and

information."

The need for suchworkshops

was identified through the

development of the council's

Covid­19 recovery plan and the

success of workshopsheld by the

ministry earlierinthe year.

The workshops willinclude a

paneldiscussion and tipson

reframingfinances, selfemployment,

retraining and

volunteering as astepping stone

for employment.

"We don't have to define

ourselves by the paidwork we do,''

Tessasays of volunteering, which

can be astepping stone to ajob.

To find outmore and to register

for the workshops, which willbe

held in Oxford, Kaiapoi and

Rangiora, go to waimakariri.govt.

nz/workshops.

Alongsidethis, Waimakariri

libraries are alsooffering

workshops to help people write

CVs and preparefor job

interviews. See the library

website for details.
---
CLASSIFIEDS

38 North Canterbury News, August 20, 2020

ADVERTISING

YOUR

BUSINESS?

1914343

Thursday,August2,2018 | Issue 808 | www.ncnews.co.nz

Delivered to more homes

in North Canterbury and

Kaikoura regions than any

other publication.

The best read paper in

North Canterbury!

For contact details see page 2

Have you

heard

a story

you'd like

to share

withyour

district?

Shareit

with us!

Call our

Editor,

Robyn,

on

03 314 8325

and let

her know

what's

happening

in your

area.

Public Notices

Plan Change 2:

Mt Lyford Village

At its meeting on 25

June 2020, the Council

resolved to adopt Plan

Change 2tothe Hurunui

District Plan following

the completion of the

statutoryprocesses.

Plan change 2 relates

to the Mt Lyford Village

area and introduces a

new slope assessment

area; updates the fault

mapping; amends the

design standards for the

Village and updates the

relevant objective and

policies.

This plan change will

become operative on 27

August 2020.

The updated Hurunui

District Plan and

background information

can be viewed at

www.hurunui.govt.nz/PC2

Educational

2306512

TUITION available. Primary

and secondary to

NCEA level 3. Math, Literacy

and Science (NCEA).

Each student on an individually,

tailoured programme.

Kip McGrath

Rangiora has been serving

the local community for 30

years. Give us a call or

book your free assessment

online 03 313 3638 https:/

/www.kipmcgrath.co.nz/rangiora.

Public Notices

West Ward By-Election

DECLARATION OF RESULT

The finalresult forthe by-election that closed at middayonFriday14 August 2020 is:

West Ward (1 vacancy)

VotesReceived

HOLLOWAY,Mary 778

WALKER, Jeffrey Alan 397

INFORMALorBLANK VOTING PAPERS 3

MaryHOLLOWAYisdeclared elected.

The voterreturn was37.41%, being 1178 votes.

AnthonyMorton

Electoral Officer

PO Box3138, Christchurch 8140

www.hurunui.govt.nz 0800666 928

iro@electionz.com

FRIENDS OF RANGIORA HOSPITAL INC.

A. G. M.

The Annual General Meeting of the above society will

be held at the Health Hub

on Monday 31 August at 7.00pm.

This will be followed by the normal bi-monthly meeting.

All welcome

2302667

KAIAPOI CHRISTADELPHIANS

"The Key of Knowledge .."(Luke 11:52)

"GOOD NEWS"

What the Bible says about Jerusalem:

"And His (Christ's) feet shall stand in that day

upon the Mount of Olives, which is before

Jerusalem on the east..." Zechariah 14:4

Travel &Tours

DayTrips

TwopassesArthurs /Lewis

Saturday5th September $45pp

Pickup /Dropoff-Kaiapoi, Amberley, Woodend,

Rangiora, Oxford

Mt Cook DayTripSaturday12th September $55pp

Tours

HokiangaCape Reinga BayofIslands 8Days

includesflightshome pick up $2250pptwin share.

Central South Island Pukaki DownsStation Morven

Hills Mt Aspiring8Days $1795 pp twin share

Xmas Tour 4Days

Call Reid Tours 0800446 886

Email:reidtours@xtra.co.nz www.reidtours.com

2305207

TimeBank Waimakariri

AGM

7pm Monday 31 st August

Rangiora WarMemorial

Hall

followed byaGuest

Speakeron Economical

and Sustainable Living!

Supper and Spot Prize.

Members and Public

all welcome!

See our FB page for more

info/ upcoming events.

2304258

THE DARNLEY

CLUB

KAIAPOIDAYCENTRE

FORSENIOR'S INC

Day Care Centre

For The Elderly

AGM

FRIDAY

AUGUST 28, 2020

1.30PM

Darnley Room,

Kaiapoi Community

Centre,

24 Sewell St Kaiapoi

ALL WELCOME

2301624

Swannanoa Hall

AGM

Tuesday 1 st

September

7.30pm in the hall

All interested persons

welcome to attend

2306517

Public Notices

PUBLIC NOTICE OF

APPLICATION FOR

ON-LICENCE

SECTION 101, SALE

AND SUPPLY OF

ALCOHOL ACT 2012

Karfa Moroccan Cuisine

Limited has made

application to the District

Licensing Committee at

Rangiora for the renewal of

an On Licence in respect

of the premises situated at

124A High Street, Rangiora

known as Karfa Moroccan

Grill and Bar.

The general nature of the

business conducted (or to be

conducted) under the licence

is Restaurant.

The days on which and the

hours during which alcohol

is (or is intended to be)

sold under the licence are

Monday -Sunday Lunch time

11.30am - 2.30pm, Dinner

time 4.30pm -9.00pm.

The application may be

inspected during ordinary

office hours at the office

of the Waimakariri District

Licensing Committee at 215

High Street, Rangiora.

Any person who is entitled

to object and who wishes

to object to the issue of the

licence may, not later than

15 working days after the

date of the publication of this

notice, file anotice in writing

of the objection with the

Secretary of the Waimakariri

District Licensing Committee

at Private Bag 1005,

Rangiora.

No objection to the renewal

of alicence may be made

in relation to amatter other

than a matter specified in

section 131 of the sale and

supply of Alcohol Act 2012.

This is the second publication

of this notice. This notice

was first published on 13

August 2020.

2302323v2

Cars Wanted

CASH 4CARS

and 4WD'S

Phone

Automotive

Parts

03 313 7216

CARS, vans, 4WD's

wanted for dismantling or

repair. Phone 027 258

8366.

CARS WANTED under

$5000. Tim Koller Motor

Company, 380 Ferry Road.

Phone 03 390 1717.

CASH /CASH ! for any

unwanted vehicles, ph 03

347 9354 or 027 476 2404.

To Let

BRAND new house in

Oakfields, Amberley, 3

bdrms, double garage, 2

bathrooms. Close to all

services. Ph 027 348 6267.

Wanted To Rent

RETIRED gentlebloke

seeking single bedroom

cottage in quiet country

location within 30-40 mins

from Christchurch. Very

good references. Please

phone 020 4077 7307.

Pets

BICHON HOMESTAY

for smaller dogs. We look

after your dog in our home.

"No kennels". Phone today

03 314 6110.

Poultry

BROWN SHAVER P.O.L

pullets, order now, ready

late Sept. Pick up

Clarkville, $30 ph/text.

Phone 027 433 7720.

Livestock

HOMEKILL

Butchery &

meat processing

313 0022

MEAT2U.NZ

2276971

Gardening

GARDEN hedges cut to

perfection. Tree & arbor

work. Also spraying. Free

quotes. Ph 03 312 0668 or

021 111 4322.

LAWNS & GARDENS

Time to plan for Spring.

Lawns, gardening, section

tidys, hedges trimmed,

roses pruned. Call or text

Megan 021 337 489.

Firewood

BLUEGUM firewood

3m3, been split for 4

months, $250. Also some

Old Man Pine $220. Rangiora

and close surrounding

districts. Ph 027 453 9553.

Wanted To Buy

CARAVAN WANTED.

4-5 berth, UK type, don't

mind repairs. Please phone

027 367 9737.

CARAVAN WANTED.

UK type. Ph 027 249 5571.

MATERIALS to deck out

a mancave from Memorabilia,

retro things of any

kind including furniture or

just cool things of interest.

Ph or txt 021 861 732.

Personal

JUST ret single indep man

seeks a spunky zippy

50s-60s lady for company,

benefits outings etc. Pegasus

or surrounding area. Ph

027 659 4425.

Wanted To Buy

Vinyl Records Wanted

by collector/seller

• 7&12inch LP's,

happy to appraise.

• Also old guitars or amps

-working, broken.

• Retro toys, 60's 70's 80's

&hot wheels &

matchbox as well.

Call Paul 022-694-5445

Garage Sales

Trade&Services

ABEL &Prestige Chimney

Cleaning. Nth Cant owned

& operated. Covering all

areas from Waimak to Hanmer.

Professional, guaranteed,

service. Firebox

repairs, carry most parts. Ph

0800 661 244.

AFFORDABLE concrete

cutting with quality and

removal work. Free quotes.

No job too small. Ph 027

442 2219, Fax 03 359 6052

or A/H 03 359 4605.

BRIAN'S Tree Services.

Tree felling, topping,

shaping, firewood cut, rubbish

removed, stump grinding,

branch chipping.

Affordable rates. Phone 03

327 5505 or 021 124 4894.

BRICK &blocklaying. All

types of work undertaken,

repairs. Phone Hamish

0272 386 003 or 313 5678.

BUILDERS father &son

team. Amac Builders are

available to help you with

your building needs. High

standards, low overheads.

No job too small. Check us

out on fb. Amac Builders

Ltd. Ph 027 318 4400.

BUILDER available,

licensed, experienced,

looking for labour only

work in North Canterbury.

Phone 027 294 1423.

DIRTY TILES &Grout?

Professional tile cleaning,

tiled shower restorations,

mouldy silicone, shower

glass & we can even

recolour your old grout!

For all your tile and grout

issues call Grout Pro for a

free, no obligation quote.

Ph Darryl 0800 882 772.

2305625

KAIAPOI 1Ashby Grove,

Sat / Sun 22nd & 23rd

August, 8am. Near new

typewriter, camper gas

stove, good selection of

ladies clothing sizes 10-14,

tops, slacks, pullovers, t

shirts, blouses, many shoes,

some mens clothing, linen

&bedding and many more

items.

GEORGE St, King St end.

Rangiora. Garage-garden &

household goods. Signs out

9am -12.30 this Saturday

22nd August.

For Sale

CARAVAN... We can sell

your caravan on your

behalf in our busy yard at

512 Blenheim Road.

Affordable Caravans,

phone 03 348 6614.

200 LITRE steel drums,

$10 each. Ph 027 440 1230.

58,000 people live within our

circulation area. Just one ad in the

North Canterbury News will be read

by 46,000 of them every week!

Phone

03 314 8335

Source 2018 Nielsen Readership research all people 10+ NCN Circulation area
---
Trade&Services

CARPENTER / Painter

specialising in alterations &

renovations, repairs &

maintenance, 35 plus years,

experienced licenced

builder. Telephone Trevor

313 5013 or 027 431 1864.

METAL WORX. Flashing,

Sheetmetal Fabrication,

Wrought Iron,

Welding, Custom Trailers,

General Metalwork. No job

too big or too small. Ph 021

265 5428 or 03 314 6908.

Find us on facebook/

Glenmark Metal Worx.

glenmarkmetalworx.ltd@gmail.com.

PAINT & wallpaper

services. Wayne Bryant.

Exterior, interior. Qualified

tradesman. Free quotes. Ph

313 5337 or 027 654 4568.

PAINTER & Decorator.

25 + years experience.

Interior /exterior, roofs &

waterblasting. For a free

quote, please ph Steve 03

314 4620 or 027 477 1930.

PAINTER, qualified, local

professional. Int / Ext,

roofs, wallpaper. Call or

text Corban 027 846 5035.

PLASTIC WELDING

North Canterbury Specialist.

All plastic &fibreglass

repairs. Telephone James

021 180 5103.

POWER TOOLS repairs,

parts &sales for over 40

years. All main brands serviced.

Grossman Trade

Tools, 23 Watts Road,

Christchurch. Ph389 9230.

RANGIORA Rubbish

Removal and RRR skips.

Wheeliebins any frequency

and skips from 1.5 cube to

9cube. Skips and wheelie

bins for any use, rubbish,

greenwaste, building sites

or just cleanups. Give us a

phone call 313 6957 or for

skips 021 313 255.

2089195v2-4/4-S

Butchery

OxfordButchery

Shane and Leanne Frahm

We cankill&process yourstock

FourGenerations of Frahms

since 1957

Ph 312 4205

Oxford

Trade&Services

ROOFER All roof repairs,

roof painting, water blasting,

moss treatment,

repointing, gutter cleans &

snow straps. And more.

Free quotes. Phone Nathan

027 516 6609.

SCREEN PRINTING.

For all your printing

requirements. T-shirts,

Hoodies, Hi-Vis vests and

polos, Overalls, Caps etc.

Please phone Heather 03

313 0261 or email

heather.norstar@gmail.com.

SHEARER. Hap's Farm &

Lifestyle Services. Shearing,

crutching, drenching,

tailing, feet trimming &

health check. Trailer, generator

&mobile handpiece

available. Experienced,

reliable and honest. Ph 03

312 1214 or 021 267 4025.

Log Fires

Pellet Fires

Heat Pumps

Sales

Service

Installations

Free Quotes

03 343 1651

472 Blenheim Rd

www.heatstore.co.nz

1680439

Number one

old-fashioned bacon

&ham curing.

A/H 312 4709

CLASSIFIEDS, TRUSTED TRADES &PROFESSIONAL SERVICES

North Canterbury News, August 20, 2020

Trade&Services

STONEMASON, Brick

and Blocklayer. Earthquake

repairs, grind out and

repoint, River/Oamaru

stone, Schist, Volcanic

rock, paving, all alterations

- new and old. Quality

workmanship. Visit www.

featureworks.co.nz or ph

027 601 3145.

SUMMERFIELD

FENCING

IN YOUR AREA NOW.

Lifestyle or farm, sheep, cattle,

horse, all types of animals.

Fences, yards, sheds, arenas,

shelters, runs.

30+ years contract fencing.

Steve is available to help with

your design &planning.

Ph office03312 4747

2091848

WINDOW TINTING

99% uv block

fade protection

heat control

reduce glare

25 Years Experience

YOU

COULD

BE

HERE

Advertise

your business

in our Trades

and Services

Phone

Amanda Keys

on

03 313 2840

privacy films

frosting designs

non-darkening films

Workmanship Guaranteed

Lifetime Warranties on Most Films

UV

block

Trade&Services

VALUATION -

Specialising in North Canterbury.

Contact Geoff at

Maxwell Valuation. Phone

03 310 8541 or email

geoff@maxval.co.nz.

SEPTIC TANK

CLEANING

Bill's Liquid

Waste

You dump it...

Blair pumps it...

Blair Tavendale

Ph 03 314 9371

0275 379-694

tintawindow

advanced film solutions

Free Quotes Canterbury and Districts

03 365 3653 0800 368 468

2225862

Trade&Services

REMOVALISTS

2Men &agood

sized truck.

From $157 per hour

(incl gst).Kaiapoibased.

Call Gerard

027 668 3636

2225244

ANTHONY SYMONDS

Forall your painting &

plastering requirements

Local with 30 years

experience

All workmanship

Guaranteed.

Phone 021 344 023

2220615

Electrician

Domestic Commercial Industrial

Heatpumps and servicing

Contact Jeremy your local electrician

Ph: 027 385 4606 |E:info@conciseelectrical.co.nz

2302105

Chiropractic Services

Dr Carissa McGregor Chiropractor

Injury, accidents and maintenance

ACC Registered and Accredited

Monday-Thursday | 03 313 0350

Libi McKinnon Physiotherapy

privatephysio@xtra.co.nz

027 868 2574

ACC Registered Provider | Tuesday&Friday

Select Health

LOCKSMITH

Trade&Services

Pride &Quality Painting

&Decorating Services

20 yrs exp, fast and friendly

service. For all your painting

needs, phone: Martin 310

6187 or 021 128 9867

LANDSCAPES

Paving

Patio &Pathways

-New or Existing

Free Quotes

–Competitive Pricing

Blair Gibson

027 699 5815 03 313 7933

Mobile Locksmith

•Residential/Commercial

•KeysCut, Locks Rekeys

•Lock Installs & Repairs

•DigitalLocks & Padlocks

•Ranch Slider Deadlock & Bolts

•WindowCatches & Locks

•GarageDoor Locks

•House Alarms & Monitoring

•Rental Property Specialists

•Winz &Insurance Quotes

GOLD CARD OR CASH DISCOUNT

Further discount for Pensioners, no GST charged

10%OFF with mention of this ad

Phone: Marc03382 2501

Mob:027 2222220

www.keystonelocks.co.nz

51 Ashley Street, Rangiora

2227883

2253902

Electrician

39

Debra Jowsey &Karla Kilner

Ph 03314 9480

We help with all Taxreturns for the

salary &wage earner,self employed, rental,

business, farm,GST,pay dayfiling, rental returns

Construction &Concrete

All Construction & Concrete Work

•Driveways, patios &paths

•Bridges and Culverts

•Floors, foundations

•Sheds and buildings

•Dairy Sheds, Herd homes

•Silage pits, effluent ponds

•Excavation and cartage

•Precast concrete

•Insulated panels

Accountant

Appliance Repairs

•REGISTERED TECHNICIAN

•AUTHORISED LOCAL SERVICE

F&P, Bosch, Smeg,

ASKO, Ariston, LG,Classique,

Haier, Samsung and more....

Daryl Power

027 230 9401

concretepower@scorch.co.nz

www.concretepower.co.nz

AARON HARRIS

ELECTRICAL LTD

NEW HOUSES • ALTERATIONS

ELECTRICAL INSPECTIONS • SMART WIRING

SYSTEMS AND MORE...

M: 0275 543 958 E: aaron@ahel.co.nz

2287949

"For best resultsbesuretouseauthorised service"

NORTHCANTERBURY APPLIANCE SERVICES

Rangiora: 03 313 4420 Kaiapoi: 03 327 3810

Builder

1913020

2273277

2020478

2269236

Motorcycle Service &Repair

2305591

▶ Service ▶ Repairs ▶ Tyres ▶ Rental

▶ WOF arranged ▶ Quality work

▶ Affordable rates

South Pacific Motorcycle Services

- your LOCAL motorcycle service centre

Ph: 03 312 0066 |www.motorbiketours.co.nz

office@motorbiketours.co.nz

SERVICES

Engineering

For your Engineering needs

187d Ohoka Road, Kaiapoi

Phone 03 327 5246 |027 495 2821

toppeng@xtra.co.nz

Scaffolding

•Edge protection

•Working platform

Phone

0274 366 901

Plans for pricing

jas.rangiorascaffolding@xtra.co.nz

North Canterbury wide

1783878

Landscaping

STEWART CONTRACTING

Landscaping -Fencing

& Earthworks

ENJOYABLE STRESS FREE LANDSCAPING

03 313 9375 •027 369 3974

www.stewartcontracting.co.nz

contact@stewartcontracting.co.nz

Scrap Metal

CASH PAID FOR SCRAP

•Car Bodies •Scrap Steel•Specialists in Farm

Machinery•All non Ferrous

MAINLAND

METALS LTD

Ph (03)338 7000

Mike0274 818544 •Robbie0274818 027

Locally owned and operated

1902273

2136148

CAP 65

CAP 40

CAP 20

Shingle

SHINGLE SUPPLIES

Quarry Prices

DRAINAGE CHIP

from $40 per cube

from $23 per cube

from $25 per cube

from $30 per cube

all +gst

Plus all excavation and truck hire

house excavations, driveways, subdivisions

CONTRACTING

Ph: KEN 027 201 3302

Email: stress@xtra.co.nz

2009594
---
RangioraToyota

2015Yaris SX

•1.5LPetrolAuto, Alloys

•ReverseCameras

•Only 38,900kms

$

14,995

2010 Toyota Ractis

•1.5LPetrolAuto

•Climate Air,

•KeylessEntry &Start/Stop

$

10,995

2010 Toyota Wish

•1.8L Petrol, 7-seater

•Alloys

•Climate air

$

11,995

2010 Toyota Prius S

•1.8L Hybrid Petrol Auto

•Keyless,ClimateControl

•Only 78,100km

WAS$17,995

NOW $

14,995

Signature

CLASS

S

Ex-Demo 2019 CorollaSXSedan 2013Toyota Prius S

•1.8L Hybrid Petrol,

•1.8L Hybrid Petrol Auto

•Satnav,TSS

$ •Keyless

33,995

•Only 150kms

•5-door Hatch

$

17,995

Signature

CLASS

2016 Corolla GX Sedan

•1.8L PetrolAuto, Bluetooth

•ReverseCamera

•Done 63,500kms

$

17,995

2007 Toyota CamryGL

•2.4LPetrolAuto

•FM/AM &CDPlayer

•NZnew

$

6,995

2013Toyota Aqua

•1.5LHybrid PetrolAuto

•ParkingSensors

•Bluetooth

WAS$15,995

NOW $

14,995

2008 Corolla Blade

•2.4LPetrolAuto

•Alloyswheels

•Keyless Entry&Start

$

8,995

2017 Corolla GLX

•1.8L PetrolAuto, Alloys

•ReverseCamera NOW

•Done 46,750km

WAS$20,995

$

19,995

2018 Corolla GLX

•1.8L PetrolAuto, Bluetooth

•Done24,900km,Alloys NOW

•ReverseCamera

WAS$22,995

$

20,995

2018 Corolla GX

•2.0L PetrolAuto

•Satnav,Bluetooth

•Alloys, only 44,350kms

$

21,995 ,

2018CorollaGX

•1.8L PetrolAuto

•ReverseCam,CruiseControl

•Only 19,400km

$

21,490

2017 Corolla GLX

•1.8L PetrolAuto, Alloys

•TintedWindows

•Fog Lights

$

17,740

2015HondaJazzRS

•1.5LPetrolAuto, Satnav

•Alloys, ReverseCamera

• Only 30,300km

$

16,995

2018 Corolla GX

•2.0L PetrolAuto

•Satnav,Bluetooth

•Alloys, only 49,000kms

$

21,995

2018 Yaris G

•1.3LPetrolAuto, reverseCamera

•Bluetooth

•Only 37,600kms

$

15,995

2015CamryAtara S

•2.5LPetrolAuto, Alloys

•Bluetooth, ReverseCamera

•Done29,100km

$

22,995

2019 Toyota CHRLimited

•1.2LTurboPetrolAuto

•Alloys, Satnav,TSS,Camera

•Only 5,000km

$

34,995

2019 RAV4 AWDGXL

•2.5LPetrolAuto

•Toyota Safety Sense

•Satnav,only 17,350kms

$

37,995

2013RAV4 GX

•2.0L PetrolAuto, 2WD

•CruiseControl

•Bluetooth

$

19,995

2015LandCruiser PradoVX

•3.0L turbo diesel,

•7-seater, leather

•360° camera

$

47,995

2018 LandCruiser PradoGX

•2.8L Turbo Diesel Auto

•7-seater, 4WD

•Only 48,300km

$

51,995

2009 LandCruiser 200 Series

•4.5LTurbo-Diesel, V8

•8-seater, Satnav

•Climate Air

WAS$51,995

NOW $

45,995

2012LandCruiser VX200 Series

•4.5LTwinTurbo Diesel Auto

•Leather,Satnav

•Done 95,900km

$

77,995

2017 HighlanderLimited

•3.5LV6Petrol, Leather

•Sunroof,GPS

•Only 64,450kms

$

47,995

2017 Jeep Wrangler Sport

•3.6L Petrol Auto,ChangeableRoof

•ReverseCamera

•Only 13,350kms

2019 FortunerGXL

•2.8L Turbo Diesel Auto4WD

•Satnav,ReverseCamera

•Only 23,600

2019 Hiace ZR

•2.8L Turbo Diesel 6-SpeedManual

2015Hilux4x4 Single Cab

2015Ford Ranger XLT

•3.0L TurboDiesel Manual

$

•5-Door,Satnav

•3.2LTurbo Diesel Auto

$ •Roof Racking

48,995 •ReverseCamera,only250kms $ $ •Canopy &Liner

48,995

41,995

•Only58,650km

33,995

$

•Done 73,200km

36,995

Percival Street,Rangiora • Ph (03) 313-8186 any time • www.rangiora.toyota.co.nz

Signature

CLASS

2299412

FINANCE &INSURANCE AVAILABLE