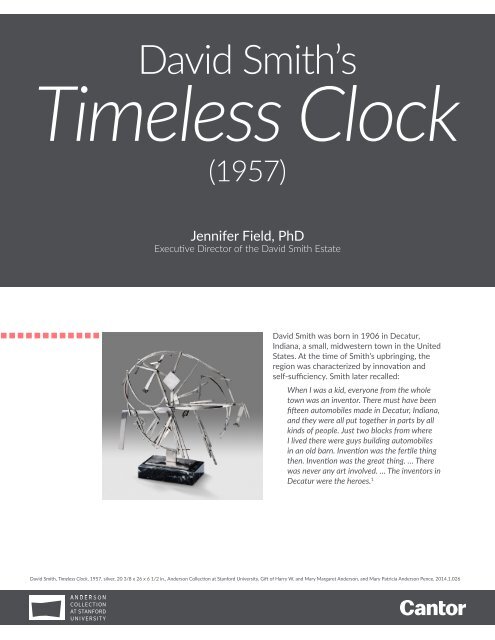 Learning Guide | David Smith's Timeless Clock
In Timeless Clock, Smith welded together silver rods of varying lengths and widths onto broken axes that transgress the rough perimeter of an open circle. The result is a complex arrangement of shard-like projections into space – like an exploded clock, perhaps, that can no longer tell time. Smith possessed a deep knowledge of the physical properties of his materials. His reasons for choosing silver, a relatively precious metal commonly associated with decoration, to make Timeless Clock are unknown, though Smith's younger daughter, Candida, has said that her father "loved the living glow" of silver. Jennifer Field, PhD Executive Director of the David Smith Estate
In Timeless Clock, Smith welded together silver rods of varying lengths and widths onto broken axes that transgress the rough perimeter of an open circle. The result is a complex arrangement of shard-like projections into space – like an exploded clock, perhaps, that can no longer tell time. Smith possessed a deep knowledge of the physical properties of his materials. His reasons for choosing silver, a relatively precious metal commonly associated with decoration, to make Timeless Clock are unknown, though Smith's younger daughter, Candida, has said that her father "loved the living glow" of silver.

Jennifer Field, PhD
Executive Director of the David Smith Estate
SHOW MORE
SHOW LESS
You also want an ePaper? Increase the reach of your titles
YUMPU automatically turns print PDFs into web optimized ePapers that Google loves.
David Smith's

Timeless Clock

(1957)

Jennifer Field, PhD

Executive Director of the David Smith Estate

■ ■ ■ ■ ■ ■ ■ ■ ■ ■ ■ ■

David Smith was born in 1906 in Decatur,

Indiana, a small, midwestern town in the United

States. At the time of Smith's upbringing, the

region was characterized by innovation and

self-sufficiency. Smith later recalled:

When I was a kid, everyone from the whole

town was an inventor. There must have been

fifteen automobiles made in Decatur, Indiana,

and they were all put together in parts by all

kinds of people. Just two blocks from where

I lived there were guys building automobiles

in an old barn. Invention was the fertile thing

then. Invention was the great thing. … There

was never any art involved. … The inventors in

Decatur were the heroes. 1

David Smith, Timeless Clock, 1957, silver, 20 3/8 x 26 x 6 1/2 in., Anderson Collection at Stanford University, Gift of Harry W. and Mary Margaret Anderson, and Mary Patricia Anderson Pence, 2014.1.026
---
■ ■ ■The sculpture

3

4

1

As an adult, Smith would apply his own practical experience

in mechanical labor to become the first artist in America to

radically redefine notions of sculpture – most famously by

welding together found utilitarian objects such as farm tools

and machine parts using a combination of advance planning

and improvisation, rather than through traditional methods of

casting or carving. Smith's work would help to define the New

York School generation of artists and influence the direction of

contemporary sculpture.

2

After working a number of jobs in the Midwest such as laying

telephone cable and doing assembly line work at a Studebaker

automobile factory, Smith moved to New York City in 1926

to study art. 2 Like many members of the New York School, he

studied at the Art Students League where, until 1931, he took

classes in painting with the Czech modernist Jan Matulka.

Matulka introduced Smith to Cubism and Constructivism and

to the work of Piet Mondrian and Wassily Kandinsky, among

other European artists. Smith's education was augmented by

the acquaintance of the well-connected artist and theorist John

Graham, who introduced Smith to painters Milton Avery, Stuart

Davis, Arshile Gorky, and Willem de Kooning.

5

sculptures gradually increased in size, Smith began arranging

them in the fields surrounding his home (Fig. 3).

6

In 1933, while perusing Graham's back copies of the journal

Cahiers d'Art, Smith discovered an example of Picasso's welded

sculpture (Fig. 1). 3 The method of welding together metal

elements validated for Smith the possibility of applying his own

skills in industrial work to the making of art. Though he would

retain a lifelong affinity with painters, Smith would later explain,

"When I saw that art was being made with material I knew and

could work, it appealed to me immediately. So from then on,

I was a sculptor." 4 Among his earliest works from this period

is Saw Head (1933; Fig. 2), which was made from a saw blade,

a small metal strainer, and metal rods and cylinders welded

together in the form of a classic bust.

In 1940 Smith permanently moved to the remote hamlet of

Bolton Landing in the Adirondack Mountains of New York

State. He built a studio for painting and drawing and a separate

workshop for making sculpture. A Guggenheim fellowship Smith

received in 1950 allowed him to focus full-time on artmaking

and launched his most productive decade to date. As his

Timeless Clock was made at Bolton Landing during a period of

particularly robust experimentation with scale and materials.

The sculpture belongs to a rare and small group of works that

Smith realized in silver in fall 1957 (Fig 4). Smith had worked

with silver before: in 1941–42 and 1956 when he made silver

jewelry, and again in 1954 when he produced two other

sculptures out of silver: Birthday (Harvard Art Museums) and

Egyptian Barnyard (Indianapolis Museum of Art). Both were

horizontal sculptures measuring about two feet across and

mounted on slender posts. The silver sculptures Smith made

in 1957 are more diverse in form, size, and treatment. Bird

(Harvard Art Museums) features an irregular, hammered

surface; Tower Eight (Nasher Sculpture Center) is a linear

constellation of silver rods; and Books and Apple (Harvard Art

Museums) and Lonesome Man (private collection) are proto-

Minimalist constructions of flat, geometric planes. As was his

common practice, Smith would document these works in his

sketchbook after they were completed (Fig. 5).

1. Pablo Picasso. Project for a Monument to Guillaume Apollinaire 1962 (enlarged version after 1928 original maquette). This is an enlargement of an earlier 1928 maquette that Smith would have

seen in Cahiers d'Art.

2. David Smith. Saw Head. 1933. Cast iron, steel, bronze, and paint, 18 1/2 by 12 by 8 1/4 in. (47 by 30.5 by 21 cm). The Estate of David Smith. Photo: Jerry Thompson. © 2020 The Estate of

David Smith / Licensed by VAGA at Artists Rights Society (ARS), NY

3. Sculpture group, Bolton Landing, NY, 1964. Photo: David Smith. © 2020 The Estate of David Smith / Licensed by VAGA at Artists Rights Society (ARS), NY

4. Photo of David Smith welding Timeless Clock in Ormonde Plater, "A Rugged Art Shapes Out of Iron," Knickerbocker News, October 12, 1957, B10–B11. © 2020 The Estate of David Smith / Licensed by

VAGA at Artists Rights Society (ARS), NY

5. David Smith, Sketchbook 53, p. 134, c.1957–62. Pen and ink on paper, 10 5/8 by 8 1/4 in. (27 by 21 cm). © 2020 The Estate of David Smith / Licensed by VAGA at Artists Rights Society (ARS), NY

2

3
---
In Timeless Clock, Smith welded together silver rods of varying lengths and widths onto broken axes

that transgress the rough perimeter of an open circle. The result is a complex arrangement of shard-like

projections into space – like an exploded clock, perhaps, that can no longer tell time. Smith possessed a

deep knowledge of the physical properties of his materials. His reasons for choosing silver, a relatively

precious metal commonly associated with decoration, to make Timeless Clock are unknown, though Smith's

younger daughter, Candida, has said that her father "loved the living glow" of silver. 5 In a letter to painter

Helen Frankenthaler dated October 1957, Smith mentions that he is in the process of making six silver

sculptures. 6 The previous year, Smith had begun his "Sentinels" series of sculpture, which incorporated

stainless steel polished with a mechanical grinder to give the surface a textured yet reflective sheen. It is

possible that Smith chose silver as a means of investigating this same reflective property. Smith would also

later point out that silver, like stainless steel but unlike most other metals, does not rust – a property that

lends itself particularly well to the evocation of timelessness.

6 7

vises and welding equipment." 8 Critic Hilton Kramer called it, "A machine shop in a landscape." 9

Timeless Clock was exhibited nearly as soon as it was made, in an exhibition at Widdifield

Gallery in New York City in October 1957 along with one other silver sculpture (possibly

Egyptian Barnyard) and fourteen gouaches. 10 Stuart Preston, reviewing the show for the New

York Times, likened Timeless Clock to a "calligraphic construction" that resembles "no single

thing in the visual world but [is] put together with the sort of formal logic and determinism that

we find in a piece of machinery. For example, though one work here that parodies the works of

a clock is of obviously no use in telling the time, it still looks able to make some more abstruse

calculation." 11

Despite the traceable likenesses of Timeless Clock to artistic precedents, the explosive nature

of the sculpture situates it firmly among the concerns of Smith's abstract expressionist peers.

Like the painters de Kooning, Jackson Pollock, and Mark Rothko, Smith processed, through his

early artwork, the fundamental tenets of the recent major European art movements: "the cubist

phenomenology of cognition of objects through a self-conscious reinvention of representation,"

curator Edward F. Fry has articulated, "and the surrealist phenomenology of mind through the

self-conscious exploration of the various modes of consciousness itself." 12 By the mid–1940s,

these formal and conceptual concerns combined with the existential anxiety of World War

II to impel artists toward styles that were at once deeply psychological and transcendentally

sublime. The importance to Smith of unbound space and the natural landscape inserts him

within that generation.

In the years leading up to the making of Timeless Clock, Smith had begun to outwardly

contemplate the relationship between time and process. Smith owned a copy of Yale professor

Henri Focillon's influential book The Life of Forms in Art, which had been translated into English

in 1942 by his student George Kubler. 13 At the root of Focillon's thesis lay the observation that

"Form … is a dynamic organization that brings into play the concrete texture of the world as the

sum of the body's reactions to that which surrounds it." 14 Writing on sculpture in 1952, Smith

would echo Focillon's ideas about the interdependence between object and observer:

The sculpture-work is a statement of my identity.

It is a part of my work stream,

related to my past works, the three or four in process, and the work yet to come.

In a sense it is never finished.

Only the essence is stated, the key presented to the beholder for further travel. 15

The early influences of Cubism and Constructivism that Smith absorbed in his student years remain evident

in Timeless Clock. The sculpture possesses an open geometry akin to Picasso's Project for a Monument to

Guillaume Apollinaire – a spatial organization that conveys volume and also characterizes the work of El

Lissitzky or Kasimir Malevich (e.g., Fig. 6). Timeless Clock also recalls Mondrian's "Pier and Ocean" series of

paintings which, like Smith's sculpture, are ringed by a circular boundary (e.g., Fig. 7). Smith addressed the

relationship of actual versus implied volume in a lecture in 1952 when he declared, "I want to be free from

mass and bulk and the solidity of sculpture. I want to deny form as such. I don't see any need to show that

a round thing is an earthly sphere or that it has weight and mass. … Sculpture has to soar much more than

it is." 7

Kubler would expand on Focillon's concepts in his own publication, The Shape of Time (1962),

which would become a key source for a new generation of Minimalist sculptors. While an

attempt to ascribe metaphorical meaning to Smith's work belies its full significance, in both

form and name Timeless Clock appears to acknowledge Smith's indebtedness to art of the past

as well as his conviction of the work of art's future relevance and its dependence on the viewer

– an approach that now speaks to artistic crosscurrents at the time.

Lastly, the organizational structure of Timeless Clock may be said to resemble machine parts like gears and

levers fitting together to animate a whole – a logic that would have been familiar to Smith from his factory

days. The inner workings of Smith's sculpture workshop itself were described by writer and curator Frank

O'Hara as a "very efficient factory set-up" with "a profusion of parts waiting to be assembled, of pulleys and

6. El Lissitzky, Study for a Poster, 1920. From a private collection.

7. Piet Mondrian, Pier and Ocean 5 (Sea and Starry Sky), 1915 dated 1914, charcoal and watercolor on paper, 34 5/8 x 44 in., The Museum of Modern Art New York, Mrs. Simon Guggenheim Fund,

34.1942

4

5
---
■ ■ ■

Works on paper

Timeless Clock provides an extraordinary opportunity to trace

Smith's creative process through various mediums. Smith

maintained a fluid practice of working out ideas in painting, drawing,

and sculpture, in addition to photography and poetry. In advance

of making Timeless Clock, he prepared at least two drawings in

which he worked out a form for the concept. "Drawings remain

the life force of the artist," Smith explained. "Especially this is

true for the sculptor, who, of necessity, works in media slow to

take realization." 16 By 1952, Smith was making 200 to 300 large

drawings per year, usually with Chinese ink that he mixed with egg

yolk to achieve a desired viscosity. Candida later recalled, "Drawing

could record ideas soaring through his mind more quickly than the

labors of sculpture. The process, more gentle, more reflective, was

often done late at night after dinner. I can remember waking to a

living room floor covered with drying drawings. It was a little like

Christmas morning… ." 17

Smith selected paper and brushes that could yield either loose,

calligraphic marks or thin lines that skip across the sheet.

Sometimes the drawings were studies for sculpture; at other times,

Smith stated, they were "atmospheres from which sculptural form

is unconsciously selected during the labor process of producing

form." 18 In the first of the drawings related to Timeless Clock,

produced the previous year, in 1956 (Fig. 8), the circular form of

the clock is schematic, the lines seemingly tentative, though the

sense of volume conveyed in the final work is already visible. By

the time Smith made the second drawing in April 1957 (Fig. 9), the

composition had been more assuredly worked out in clusters of

broad, inky strokes.

Given Smith's organic processes, it is impossible to know for certain

whether the idea for the sculpture preceded the drawings, or the

drawings generated the idea for the sculpture. However, a vision of

the sculpture – and possibly the medium in which he would execute

it – appears to have crystallized for Smith by mid-July 1957, when

he made an oil and tempera painting on paper that features two

sculptural formats (Fig. 10): "one with splintered lines that strive for

release from the pedestals," curator Trinkett Clark has noted, "the

other contained within circles or arcs. The top two forms refer to

earlier sculptures, Birthday, 1954 [done in silver], and Raven II, 1955,

and prefigure Bouquet of Concaves, 1959; the round images below

relate to Timeless Clock, 1957, Parrot's Circle, 1958, and Agricola XXI,

1959." 19 Of his interlacing processes, Smith himself explained: "My

sculpture and especially my drawings relate to my past works, the

three or four works in progress and to the visionary projection of

what the next sculptures are to be." 20

8

9

10

■ ■ ■

Photography

In the years immediately following the completion of Timeless Clock,

public perception of this work was largely determined by Smith himself in

the form of a photograph he took of the sculpture at his home in Bolton

Landing. Timeless Clock was exhibited in a number of important shows,

and Smith's photograph often illustrated reviews in the press. 21 Smith

produced two images of the work: one in black and white from a frontal

perspective (Fig. 11) and one in color from an oblique angle (Fig. 12), but

the black-and-white photo was chosen for publication.

Smith had incorporated photography as part of his artistic practice

beginning in the mid-1930s, when he experimented with doubleexposed

negatives and photo-collage – techniques that were favored

by the Surrealists and especially by Smith's fellow American, Man Ray.

By the late 1940s, Smith had recognized the power of reproduction

and assumed the role of primary photographer of his work. In taking

control of his own representation, Smith joined a lineage of artists who

photographed their own sculptures – notably, Auguste Rodin, Medardo

Rosso, Pablo Picasso, Henry Moore, and Constantin Brancusi. 22 Like the

sculptors before him, Smith rejected the "neutral, decontextualized"

photo studio in favor of dramatic angles and settings that destabilized

expectations of how sculpture is supposed to be represented and, by

extension, its role in the world. 23 He photographed his sculptures alone

or in family groups against the dramatic mountain landscape of Bolton

Landing, in all seasons. Sometimes he would haul sculptures in his

truck to the dock on nearby Lake George to photograph them on the

flat expanse of water. The sculptures appear to be living things at once

separate from, yet a part of, their ever-changing environment. 24

Smith's photographs of individual artworks are tightly cropped and

generally shot from a low angle so that even modest-sized sculptures

appear monumental in scale. In Smith's photograph of Timeless Clock, for

example, the sculpture is shown in silhouette against a cloudy sky, with

a thin, mountainous horizon along the bottom. The magnifying effect

leaves little room for consideration of the artist's presence, even though

Smith very carefully composed each frame.

Smith considered photographic reproduction "to act as first acquaintance" with his work, Sarah Hamill has

written. 25 "He sent his pictures to critics, curators, dealers, editors, and patrons, and his photographs were

published in countless magazines, newspapers, journals, and exhibition catalogues, albeit as anonymous

illustrations of his sculptures." 26 For artists of the New York School, the matter of publicity was a doubleedged

sword. In the late 1940s, some artists found that critical recognition came at the price of unwanted

personal scrutiny and even public humiliation from an audience which did not yet appreciate abstract art.

Dorothy Sieberling's unflattering exposé on Jackson Pollock, published in Life magazine in August 1949

and provocatively subtitled "Is He the Greatest Living Painter in the United States?" served for years as a

11

12

8. David Smith. ΔΣ C-7-1956 (Timeless Clock). 1956. Ink on paper, 29 3/4 by 43 in. (75.6 by 109.2 cm). The Estate of

David Smith. © 2020 The Estate of David Smith / Licensed by VAGA at Artists Rights Society (ARS), NY

9. David Smith. Timeless Clock. 1957. Ink on paper, 20 1/4 by 26 1/4 in. (51.4 by 66.7 cm). The Estate of David Smith.

© 2020 The Estate of David Smith / Licensed by VAGA at Artists Rights Society (ARS), NY

10. David Smith. Untitled. 1957. Oil and tempera on paper, 26 1/2 by 20 1/4 in. (67.3 by 51.4 cm). The Estate of David

Smith. © 2020 The Estate of David Smith / Licensed by VAGA at Artists Rights Society (ARS), NY

11. Timeless Clock. 1957. At Bolton Landing, NY. c. 1957. Photo: David Smith. © 2020 The Estate of David Smith / Licensed by VAGA at Artists Rights Society (ARS), NY

12. Timeless Clock. 1957. At Bolton Landing, NY. c. 1957. Photo: David Smith. © 2020 The Estate of David Smith / Licensed by VAGA at Artists Rights Society (ARS), NY

6

7
---
persistent reminder of the perils of success. Smith allowed photographers into his workspace; he even staged

a number of photographs of himself at work, in the process of welding. Whether or not it was Smith's intent, in

taking control of public images of his work and emphasizing the autonomy of the finished object, he preempted

initial associations of the work itself with the artist's persona.

After Smith's premature death in 1965, Timeless Clock appeared in a photograph accompanying a feature in

Vogue magazine on collector William S. Rubin's art-filled Manhattan apartment. 27 It is seen on the coffee table

of Rubin's living room, surrounded by paintings by Pollock, de Kooning, Rothko, Robert Motherwell, Adolph

Gottlieb, Clyfford Still, and Ad Reinhardt (Fig. 13). Rubin, who would later become chief curator of MoMA's

Painting and Sculpture department, had acquired the sculpture directly from the artist by 1962. He lent it to

important posthumous retrospectives at the Fogg Museum at Harvard (1966) and at the Guggenheim Museum

(1969).

Timeless Clock was sold by Rubin's brother, dealer Lawrence Rubin, in 1971 to Harry W. and Mary Margaret

Anderson, who donated it to the Anderson Collection at Stanford University in 2014.

■ ■ ■

Endnotes

1

David Smith, "Interview by Thomas B. Hess, 1964," in David Smith: Collected Writings, Lectures, and Interviews,

ed. Susan J. Cooke (Oakland, CA: University of California Press, 2018), 380.

2

"Between periods of trying to get an art education in three midwestern colleges," Smith once recalled, "I

worked as a telephone lineman, stringing cable, laying cable, potting lead for joints, etc. I used to dig holes

in the ground …. After four months in Department 346 at the Studebaker plant, alternating on a lathe, spot

welder, and milling machine, I was transferred to 348 on frame assembly. This was worked on a group plan,

payment made to 80 men in proportion to the completed frames which were riveted and assembled on an

oval conveyor track. It was necessary for each man to be able to handle at least six operations. Riveting,

drilling, stamping, etc., all fell into my duties." (Smith, handwritten notes, 1938–39, Sketchbook 4, in Cooke,

Collected Writings, 25.) Smith would advance his welding skills at the machinery at Terminal Iron Works on the

Brooklyn waterfront, after arranging to make sculpture there in 1933. In 1941–42 he would work as a welder

at American Locomotive Factory in Schenectady, New York.

3

According to Rosalind Krauss, Cahiers d'art reproduced a "variant" on the sculpture now known as Project for

a Monument to Guillaume Apollinaire (1962) in the collection of the Museum of Modern Art. See Rosalind E.

Krauss, Terminal Iron Works: The Sculpture of David Smith (Cambridge, MA: MIT Press, 1979), 16. The variant

was probably the 1928 maquette of the sculpture, now in the collection of the Musée Picasso Paris. It was

welded for Picasso by sculptor Julio González, whom Smith later credited.

4

David Smith, "Lecture, Skowhegan School of Painting and Sculpture, 1954," in Cooke, Collected Writings, 233.

"I belong with painters, in a sense," Smith later explained, "and all my early friends were painters because we

all studied together. … And I never conceived of myself as anything other than a painter because my work

came right through the raised surface, and color and objects applied to the surface. … Some of the greatest

contributions of sculpture to the twentieth century are by painters." (David Smith, "Interview by David

Sylvester, 1960," in Cooke, Collected Writings, 325.)

5

Candida Smith, email to author, June 22, 2020.

6

David Smith to Helen Frankenthaler, October 6, 1957. See Frankenthaler and Robert Motherwell material

about David Smith, 1953–65, Archives of American Art, Smithsonian Institution.

8

Frank O'Hara, "Art New York: Sculpting Master of Bolton Landing" (script prepared for recording by Channel

13/WNET on November 6, 1964, and airing on November 11 and 13, 1964, Frank O'Hara Papers, folder 24,

Archives, The Museum of Modern Art, New York), 12. Quoted in Carol S. Eliel, "Geometry in David Smith,"

in Eliel, Christopher Bedford, Alex Potts, David Smith, and Anne Middleton Wagner, David Smith: Cubes and

Anarchy (Los Angeles: Los Angeles County Museum of Art, 2011), exhibition catalog, 60.

9

Hilton Kramer, The Age of the Avant-Garde: An Art Chronicle of 1956–1972 (New York: Farrar, Straus and Giroux,

1973), 323. Quoted in Eliel, "Geometry in David Smith," 60.

10

Fairfield Porter, "Reviews and Previews: David Smith," Art News 56, no. 6 (October 1957): 16.

11

Stuart Preston, "Diverse Sculpture and Painting," New York Times, October 20, 1957.

12

Edward F. Fry and Miranda McClintic, David Smith: Painter, Sculptor, Draftsman (New York: George Braziller, in

association with the Hirshhorn Museum and Sculpture Garden, Smithsonian Institution, 1982), 20.

13

Cooke, Collected Writings, 212n2.

14

Jean Molino, introduction to "The Life of Forms in Art," by Henri Focillon, 1st paperback ed. (New York: Zone

Books, 1992), 17.

15

David Smith, "Who Is the Artist?, 1952," in Cooke, Collected Writings, 179.

16

David Smith, "Drawing, 1955," in Cooke, Collected Writings, 256.

17

Candida N. Smith, "The Fields of David Smith," in The Fields of David Smith, by Candida Smith, Irving Sandler,

and Jerry L. Thompson (New York: Thames and Hudson, 1999), 21.

18

David Smith, "Lecture, Portland Art Museum, 1953," in Cooke, Collected Writings, 185.

19

Trinkett Clark, The Drawings of David Smith (Washington, D.C.: International Exhibitions Foundation, 1985), 27.

I would argue that the top horizontal sculptures more closely resemble Smith's other 1954 sculpture in silver,

Egyptian Barnyard, over Birthday.

20

David Smith, "Lecture, Portland Art Museum," in Cooke, Collected Writings, 185.

21

See, e.g., Patricia Boyd Wilson, untitled review of a 1966 retrospective at the Fogg Art Museum, Christian

Science Monitor, October 29, 1966, "Home Forum" section, 8; and Miles A. Smith, "Smith's Sculpture

Linked to Painting," review of a 1969 retrospective at the Solomon R. Guggenheim Museum, Gleaner-

Journal (Henderson, KY), April 13, 1969, 11.

22

Sarah Hamill, David Smith in Two Dimensions: Photography and the Matter of Sculpture (Oakland: University of

California Press, 2015), 10.

23

Hamill, Two Dimensions, 11.

24

In explaining his attitude toward sculpture, Smith would quote Picasso: "A picture lives a life like a living

creature, undergoing the changes imposed on us by our own life from day to day." David Smith, "Who Is the

Artist?" in Cooke, Collected Writings, 179.

25

Hamill, Two Dimensions, 2.

26

Hamill, Two Dimensions.

27

"An Art Scholar's Loft: the New York Apartment of William Rubin," Vogue, March 15, 1967, 136–142, 154–155.

7

David Smith, "Lecture, Skowhegan," in Cooke, Collected Writings, 162.

13. Timeless Clock in Bill Rubin's apartment, on the coffee table: "An Art Scholar's Loft: the New York Apartment of William Rubin," Vogue, March 15, 1967, 136–142, 154–155

86

9