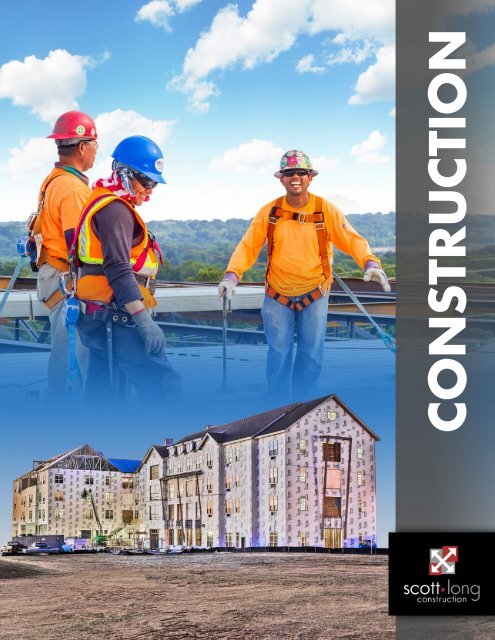 Scott-Long Construction General Brochure
You also want an ePaper? Increase the reach of your titles
YUMPU automatically turns print PDFs into web optimized ePapers that Google loves.
CONSTRUCTION
---
SINCE 1961

Scott-Long Construction has been one of

the most respected construction companies

in the DC area with a seasoned staff of more than 100 professionals. Originally

incorporated in 1961 as Bruce Scott Construction, the company's driving philosophy

centers on superior workmanship, competitive pricing, innovative technologies, and

most importantly, trust-based relationships with our clients.

CORPORATE PROFILE

Corporate Name

Scott-Long Construction, Inc

Corporate Headquarters 14420 Albemarle Point Place, Suite 250, Chantilly, VA 20151

Additional Locations 9520 Berger Road, Suite 307, Columbia, MD 21046

1755 North Sector Court, Winchester, VA 22601

Phone Number 703.802.7500

Website

Owner

www.scottlong.com

John Scott, President & CEO

Incorporation

April 10, 1978 / Virginia

Originally incorporated in 1961 as Bruce Scott Construction

Federal ID Number 54-1072809

State GC Licenses VA .......... 2701017730

MD .......... 15030989

DC ........... 410514000522

Affiliations

Associated Builders & Contractors (ABC) - Virginia

American Institute of Architects (AIA)

American Society for Healthcare Engineering (ASHE)

Virginia Society of Healthcare Engineers (VSHE)

American Hospital Association (AHA)

Certified Healthcare Constructor (CHC)

National Association of Church Business Administration (NACBA)

Average Revenue $85M

Banking Reference John Marshall Bank - Paul Bice, 703.779.4811

Bonding & Insurance Insurance Associates - Aldo Pasquariello, 703.352.6480
---
PRECONSTRUCTION

PLANNING WITH PRECISION

Our approach to Preconstruction is to build a partnership with you

and your design team, develop a plan which optimizes the project,

and work collaboratively to ensure that your goals are met. It is

imperative that we actively listen to you, our customer, to understand

your program, potential challenges, and confirm that the design meets

your requirements. Our focus during Preconstruction is to control

costs, maintain schedule, and ensure quality. We will engage with

the design professionals to review the documents, prepare detailed

estimates, evaluate logistical planning, and establish construction

schedules. We will also evaluate the proposed design to provide

a comparison to similar projects to ensure priorities are recognized

and to determine areas for potential value engineering for cost

savings. Our Preconstruction services have led to many successful

projects and repeat customers.

• Develop construction budgets

• Determine schedule needs

• Develop master schedules

• Define construction delivery options

• Prepare schematic design estimates

• Conduct constructability reviews

• Prepare phasing and sequencing studies

• Prepare cut-and-fill analyses
---
CONSTRUCTION

OPERATING WITH EXCELLENCE

Scott-Long's approach to construction is based on establishing a

clear plan during the preconstruction phase, executing our process

oriented project controls, and maintaining good communication

with all parties throughout the project. We employ talented project

managers and superintendents who form a cohesive team on

each project to properly address the administrative and technical

challenges of construction.

We foster strong working relationships with many of the area's finest

subcontractors relying on our reputation for treating others the way

we want to be treated. Our goal is to earn the trust of our customers,

promote mutually beneficial relationships, and secure the next project

from our clients. We do this by proactively researching and resolving issues while working in a

collaborative environment with subcontractors, suppliers, architects and engineers. We maintain orderly

work sites with a focus on the safety of our workers. Our commitment to safety has been recognized by

ABC with the STEP Platinum Award. We pride ourselves on quality with well over 100 distinguished

projects with industry awards.
---
HEALTHCARE
---
"Construction without obstruction" is one reason why Scott-Long is considered to be one of the leading

healthcare construction specialists in the Mid-Atlantic region. With over 2,000 completed healthcare projects

and ongoing work in over 25 hospitals, we possess a deep and intimate understanding of the complexity

and highly sensitive environments of healthcare facilities.
---
FAITH-BASED
---
"Building Faith." Two words that Scott-Long has been passionately bringing together for more than 100

faith-based projects in the region! We take pride in building projects that create a positive impact on the

community. Building facilities to support your mission can often be a long journey. Scott-Long is committed to

being a faithful partner and good stewards of your resources as we undertake this journey together.
---
EDUCATION
---
Scott-Long is committed to providing the building blocks for educators to shape and inspire minds for

tomorrow. When working with educational institutions, Scott-Long's highest priority is strictly enforced security

to ensure the safety of the students and faculty. Scott-Long also recognizes the strict schedule requirements of

educational facilities and has a consistent record of meeting completion deadlines to make sure the schools

open on time.
---
SENIOR CARE
---
Scott-Long is committed to building facilities offering the best care possible. As a thought leader in Senior

Care construction, we successfully build using the latest technologies to create a positive and fulfilling living

environment for seniors. Scott-Long has completed numerous Senior Care projects including independent

living, assisted living, skilled nursing, and hospice and palliative care facilities.
---
COMMUNITY
---
Projects that create a positive impact on the community are in a category of their own and require a diverse

understanding of construction and care. Scott-Long combines its extensive experience in healthcare, faith-based,

educational, and commercial building to make these projects a reality. Our community projects have featured

playgrounds to help promote healing for sick children, recovery facilities for wounded warriors returning from

action, and community centers to promote closer ties within neighborhoods.
---
COMMERCIAL
---
We strongly believe in operational excellence, actively engaging with our clients and design teams, and

treating others the way we would want to be treated. Adhering to these principles has helped us to become

the trusted construction partner and advisor for numerous businesses and organizations in the Washington DC

Metropolitan region. We recognize that delivering projects on schedule, with superior craftsmanship, and

within budget is paramount to the success of our clients' missions. We rely on proper planning, meticulous

execution of the work, and dependable communication to complete projects on time.
---
AWARDS & TESTIMONIALS

Scott-Long has

won over 100 awards

for the continued excellence of our

construction and safety programs.
---
THE CHILDREN'S INN AT NIH

Here's why we keep going back to Scott-Long: They are good people – they want to do the right

thing for the right reasons, they are exceedingly thoughtful about your time and resources, they

consistently come in at or below budget, and their workmanship and stewardship is exceptional.

They understand "family centered care" because that's the nature of their company's value set.

HOLY CROSS HOSPITAL

Kathy L. Russell

Former CEO

Scott-Long not only completed a quality project, but did so while facing difficult situations

such as the extremely aggressive schedule, as well as working in close proximity to an acute

patient population, while always paying astute attention to their needs such as infection control,

Interim Life Safety, and minimal noise. I am typically somewhat guarded in writing letters of

recommendation, however following my experience with you and your team, I am pleased to

recommend Scott-Long to anyone.

Tony Abernathy

Director, Plant Operations

PATRICK HENRY COLLEGE

All of our dealings with Scott-Long have been positive, engaging, cooperative, knowledgeable,

responsive, professional, competent, thorough, transparent, honest, fair, and of the highest

integrity. I unequivocally extend my highest recommendation for Scott-Long's consideration.

RAVENSWORTH BAPTIST CHURCH

Earl Hall

Vice President, Campus Services

I have been so impressed with your team. Each of them have shown a truly exceptional level of

effort on our behalf. They always display a positive attitude, and are always making efforts to

make sure that our project gets the very highest level of effort. Your team has always made us

feel that our project was the most important thing that they had to do. It has been a real joy to

work with them!

Beth Moffet

Chair of Renovation

ARAMARK

This is the third major project that I have had the pleasure to work with Scott-Long. I have

witnessed professionalism, commitment and an ability to shift gears to remain on task. They are

always mindful of budgets as well as regulatory agencies. Thank you for being such a strong

team!

Kristen King, MS

Corporate Director, Food Services & EVS
---
HEADQUARTERS

14420 Albemarle Point Place Suite 250

Chantilly, VA 20151

COLUMBIA

9520 Berger Road, Suite 307

Columbia, MD 21046

WINCHESTER

1755 North Sector Court

Winchester, VA 22601