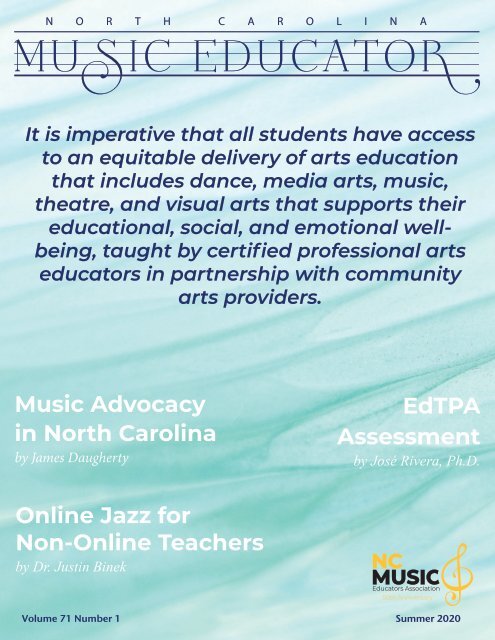 NCMEA Summer 2020
North Carolina Music Educators Association Summer 2020 journal
North Carolina Music Educators Association Summer 2020 journal
SHOW MORE
SHOW LESS
Do you know the secret to free website traffic?
Use this trick to increase the number of new potential customers.
N O R T H C A R O L I N A

MUSIC EDUCATOR

It is imperative that all students have access

to an equitable delivery of arts education

that includes dance, media arts, music,

theatre, and visual arts that supports their

educational, social, and emotional wellbeing,

taught by certified professional arts

educators in partnership with community

arts providers.

Music Advocacy

in North Carolina

by James Daugherty

EdTPA

Assessment

by José Rivera, Ph.D.

Online Jazz for

Non-Online Teachers

by Dr. Justin Binek

Volume 71 Number 1 Summer 2020

NORTH CAROLINA MUSIC EDUCATOR | 1
---
HOW BIG IS

YOUR SOUND?

FB-9000 SERIES

Yamaha Impact Drums give you the freedom to customize a wide range of setups

and performance applications. Their sensitivity, versatility and projection provide

all the power and control you need to perform at your best.

Visit Yamaha.io/impactdrums to learn more.

2 | NORTH CAROLINA MUSIC EDUCATOR
---
Making music for today and a lifetime.

UNC WILMINGTON

DEPARTMENT OF MUSIC

UNDERGRADUATE STUDY

BACHELOR OF MUSIC

IN MUSIC EDUCATION

for more information:

910.962.3415

uncwmus@uncw.edu

BACHELOR OF ARTS

IN MUSIC

• PERFORMANCE:

instrumental

piano

vocal

• JAZZ STUDIES

• MUSIC TECHNOLOGY

• GENERAL MUSIC

• MINORS

choral music

general music

jazz studies

2020 -21 AUDITIONS

Saturday, Dec. 5

Friday, Jan. 8

Saturday, Jan. 16

Saturday, Feb. 13

Saturday, Feb. 27

Saturday, March 20

AN EEO/AA INSTITUTION.

Questions regarding UNCW's Title IX compliance

should be directed to TitleIX@uncw.edu.

uncw.edu/music

NORTH CAROLINA MUSIC EDUCATOR | 1
---
N O R T H C A R O L I N A

MUSIC EDUCATOR

NCMEA Board Directory

NCMEA President's Message

Carol Earnhardt

NCMEA Executive Director's Message

Pat Hall

Letter to Superintendents

NCMEA Advocacy Statement

Music Advocacy in North Carolina

James Daugherty

Band Section

Enumerating the Importance of African

American Music Beyond the Moment

Elementary Choral Section

Middle School Choral Section

High School Choral Section

Orchestra

Online Jazz for Non-Online Teachers

Dr. Justin Binek

EdTPA: Helping Student Teachers Succeed

in Performance Ensemble Settings

José Rivera, Ph.D.

Art Education is Essential

4

6

8

9

10

12

16

17

18

21

22

24

28

29

33

A special thank you to all our advertisers who

support music educators and music education in

North Carolina.

Hayes School of Music

NAfME

UNC Charlotte

UNC Greensboro

UNC Wilmington

Yamaha

11

23, 25, 32

3

15, 25, Back Cover

1, 27

Inside Front Cover

Editorial: All editorial content should be sent to: Kimberly

Justen, Editor-in-Chief, at journal_editor@ncmea.net.

Advertising: Information requests and ad orders should

be directed to Kimberly Justen, Editor-in-Chief, at

journal_editor@ncmea.net.

North Carolina Music Educator is copyrighted. Reproduction

in any form is illegal without the express permission of the

editor.

Postmaster: Send address changes to: NC Music Educator, c/o

NCMEA, 883-C Washington Street, Raleigh, NC 27605.

Non-Profit 501(c)(3) Organization U.S. Postage Paid at Lubbock,

Texas. ISSN Number 0400-3332 EIN number

20-3325550

Moved Recently?

Notify NAfME of your change of address. By doing so, your NCMEA membership address is automatically

updated as well!

NAfME: www.nafme.org/login

2 | NORTH CAROLINA MUSIC EDUCATOR
---
Department of Music

music.uncc.edu

Welcomes

Sequina DuBose

Assistant Professor of

Classical and Contemporary Voice

Audrey Babcock

Assistant Professor of

Classical and Contemporary Voice

Shayna Stahl

Associate Director of Bands/

Director of Athletic Bands

Eric Millard

Assistant Professor of Trumpet

Bachelor of Music in: Composition | Jazz Studies | Instrumental or Vocal

Performance | Instrumental/General or Choral/General Music Education | Elective

Study in an Outside Field

Bachelor of Arts in Music | Undergraduate Certificate in Musical Theatre

Minor in Music Performance

NORTH CAROLINA MUSIC EDUCATOR | 3
---
Board of Directors

EXECUTIVE OFFICERS

SECTION CHAIRS

President: Carol Earnhardt*

Forsyth County

cearnhardt@ncmea.net

Immediate Past President:

Jazzmone Sutton*

Wake County

jsutton@ncmea.net

President-Elect: Johnathan Hamiel*

Forsyth County

jhamiel@ncmea.net

Recording Secretary:

Ruth Petersen*

Mecklenburg County

secretary@ncmea.net

Member-at-Large:

Lillie Allmond Harris*

Guilford County

member-at-large1@ncmea.net

Member-at-Large: Quincy Lundy*

Forsyth County

member-at-large2@ncmea.net

Band: Jason Barclift*

Guilford County

band_chair@ncmea.net

Band Section Delegate:

Alyssa Montgomery*

Wake County

band_delegate@ncmea.net

Collegiate NAfME: Molly Griffin*

Pitt County

collegiate_president@ncmea.net

Elementary: Dee Yoder*

Burke County

elementary_section@ncmea.net

High School Choral:

Bethany Jennings*

Gaston County

hschoral_chair@ncmea.net

Higher Education: Brett Nolker*

Guilford County

higher_education@ncmea.net

Jazz Education: Josh Cvijanovic*

Orange County

jazz_chair@ncmea.net

Jazz Section Delegate:

David Lail*

Mecklenburg County

jazz_delegate@ncmea.net

Middle School Choral:

Aaron Lafreniere*

Mecklenburg County

mschoral_chair@ncmea.net

Orchestra: Donald Walter*

Guilford County

orchestra_chair@ncmea.net

Orchestra Section Delegate:

Corrie Franklin*

Orange County

orchestra_delegate@ncmea.net

DISTRICT PRESIDENTS

District 1: Dawn Rockwell*

Beaufort County

district1@ncmea.net

District 2: Jeffrey Danielson*

Carteret County

district2@ncmea.net

District 3: Tonya Suggs*

Wake County

district3@ncmea.net

District 4: Tyler Harper*

Robeson County

district4@ncmea.net

District 5: Tonya Allison*

Forsyth County

district5@ncmea.net

District 6: Alice Pounders*

Lincoln County

district6@ncmea.net

District 7: Jonathan Chesson*

Burke County

district7@ncmea.net

District 8: James Phillips*

Henderson County

district8@ncmea.net

* Voting Member

Counties listed reflect the county taught in

4 | NORTH CAROLINA MUSIC EDUCATOR

advancing music education by promoting
---
COMMISSION & COMMITTEE CHAIRS

Exceptional Children & General

Music: Rue S. Lee-Holmes

Sampson County

exeptionalchildren_generalmusic@ncmea.net

Conference Chair: Barbara Geer

Forsyth County

conference_chair@ncmea.net

Asst. Conference Chair: Adam Joiner

Forsyth County

conference_assistant@ncmea.net

Mentoring: Windy Fullagar

Mecklenburg County

mentoring_program@ncmea.net

Multi-Cultural Awareness:

Jazzmone Sutton

Wake County

jsutton@ncmea.net

Music In Our Schools Month:

Angela Mangum

Granville County

miosm_chair@ncmea.net

Music Program Leaders:

Andrew Craft

Forsyth County

music_program_leader@ncmea.net

Research: Tim Nowak

Pitt County

research_chair@ncmea.net

Retired Membership: Libby Brown

Watauga County

retired_membership@ncmea.net

Student Activities:

Johnathan Hamiel

Forsyth County

jhamiel@ncmea.net

Teacher Education: Jose Rivera

Robeson County

teacher_education@ncmea.net

Technology Chair:

Howell "Howie" Ledford

Guilford County

technology_chair@ncmea.net

Tri-M: Jennifer Wells

Alamance County

tri-m@ncmea.net

Webmaster: Mark Healy

Wake County

mhealy@ncmea.net

Young Professionals: Lisa Qualls

Randolph County

young_professionals@ncmea.net

AWARDS, GRANTS

& SCHOLARSHIP CHAIRS

STANDING COMMITTEE CHAIRS

EX-OFFICIO MEMBERS

Awards: Lillie Allmond Harris

Guilford County

member-at-large1@ncmea.net

Mini Grant: Jazzmone Sutton

Wake County

jsutton@ncmea.net

Summer Professional

Development Grant: Jose Rivera

Robeson County

teacher_education@ncmea.net

Scholarships: Quincy Lundy

Mecklenburg County

member-at-large2@ncmea.net

883-C Washington Street

Raleigh, NC 27605

919-424-7008

www.ncmea.net

Executive Director: Pat Hall

pathall@ncmea.net

NCMEA OFFICE

Advocacy: James Daugherty

Davidson County

jdaugherty@ncmea.net

Constitution: Maribeth Yoder-White

Watauga County

constitution_committee@ncmea.net

Finance: Jazzmone Sutton

Wake County

jsutton@ncmea.net

Membership: Johnathan Hamiel

Forsyth County

jhamiel@ncmea.net

Publications: Kim Justen

journal_editor@ncmea.net

Communications Manager:

Mark Healy

Wake County

mhealy@ncmea.net

Collegiate NAfME Advisor:

Lisa Runner

Randolph County

collegiate_advisor@ncmea.net

Editor: Kim Justen

journal_editor@ncmea.net

Executive Director: Pat Hall

Wake County

pathall@ncmea.net

Historian: Dr. John Henry, Jr.

Guilford County

historian@ncmea.net

Music Industry Rep.: Adam Frank

Mecklenburg County

music_industry_rep@ncmea.net

Parlimentarian: Dave Albert

Wake County

parlimentarian@ncmea.net

NCDPI Rep.: Brandon Roeder

Granville County

brandon.roeder@dpi.nc.gov

the understanding and making of music by all

NORTH CAROLINA MUSIC EDUCATOR | 5
---
President's Message

Carol Earnhardt

Silver Lining Playlist

In the second week of March, the entire country entered the

twilight zone. I call it the twilight zone because COVID-19

transported us into an atmosphere of the unknown – a time

filled with fear, anxiety, and disbelief. Never in my lifetime did I

expect a pandemic event that would bring the world to its knees.

On March 9, I was at Wake Forest University rejoicing with

my students after their performance at Music Performance

Adjudications. By the next day, entire school systems were shut

down and NCMEA sponsored events came to a screeching halt. It

was evident I would need to quickly reinvent my role as a teacher.

We all felt that pain.

The learning curve from face-to-face instruction to remote

teaching was steep – for us and for our students. The absence of

the daily interaction with our students and the screeching halt to

music making was heartbreaking to say the least. As the weeks

progressed, we learned to connect with our students through

technology. We quickly adapted to an online world and developed

wonderful and effective lessons for our students.

I am writing this article in the middle of June. This week, I

watched my students walk across a graduation stage to be handed

their diplomas while their parents cheered from their car. Twilight

zone! I am now more comfortable with teaching online, but ache

to be back in the classroom with my kids. Disturbing questions

interrupt my thoughts throughout the day and sometimes wake me

up at night:

• What will school look like in the fall?

• Will I be able to adapt?

• How will I retain the students I have and recruit students

for the following school year?

• When will COVID-19 go away?

• When will things go back to normal?

In the middle of June, I don't have any answers. Perhaps, by

the time this article is published, the world will flip back upright.

Scientists are moving at warp speed. And, as new information is

discovered each day, predictions of when and how things will go

back to normal adjust according to new knowledge. I am a music

teacher – I have no control over these things. But, I do have control

over how I react to what is happening around me.

Winston Churchill once said, "A pessimist sees the difficulty

in every opportunity; an optimist sees the opportunity in

every difficulty." I would not call the COVID-19 pandemic an

opportunity, but throughout my life, I have tried to find the silver

lining in every experience. This experience was no exception.

When remote learning began, one of the first assignments I

gave my students was to develop a "Quarantine Playlist." Each

student listed one song that made them feel better about the

pandemic and about their isolation from their friends. Student

song selections were populated in a spreadsheet we shared

among class members. Students were then asked to listen to the

quarantine songs of their peers and respond with a shout-out to

two classmates whose music choice spoke to them. For the rest of

this article, I would like to share my "Silver Linings Playlist" with

you in hopes that we all can look at this experience with a fresh

perspective and realize our power to adapt to any situation in the

fall.

Be willing to take the first step, no matter how

small it is. Concentrate on the fact that you are

willing to learn. Absolute miracles will happen.

– Louise Hay

For a few years, I've kept a list on my phone of technology

resources I would like to learn and use in my classroom. Remote

learning offered me the chance to chip away at that old, dusty

list – and to learn technological platforms I'd never heard of

before. These tools were extremely useful during remote learning

but also prepared me with an arsenal of resources I can use to

enhance learning in a face-to-face environment. NAfME has long

advocated for teachers to focus on individual growth in addition to

group accomplishment.

As a high school chorus teacher with a choir that performs

multiple times a year, it was very difficult for me to find the time

and energy needed to devote to individual growth and assessment.

While I felt bad about my lack of attention to individual learning, I

convinced myself if the group sounded better, then all individuals

in the group experienced growth. I was wrong. At the beginning

of remote learning, when I began grading simple assignments, I

was amazed at the students who did not understand concepts I had

covered in class before the pandemic.

Remote learning required we reinvent ourselves as music

teachers. Bob Morrison, a school board member and arts advocate

from New Jersey recently shared, "What we are teaching is not

changing, it is only the How." The miracle of quarantine is that

6 | NORTH CAROLINA MUSIC EDUCATOR
---
we were all given time to learn things to help in this massive and

immediate transition. My use of technology to enhance individual

learning will continue long after online learning. I have found

tools that provide:

1. Resources to quickly assess student knowledge;

2. Interesting activities to supplement learning in the

classroom, and cover those standards I never had time to

teach;

3. Tutorials and practice for those students struggling with

certain concepts;

4. Lessons and assessments that are easily differentiated for

every student; and

5. Assignments and assessments that can be graded quickly

and present a more accurate picture of learning in my

classroom.

If you change the way you look at things, the

things you look at change.

– Dr. Wayne Dyer

Interestingly, one week before schools closed doors for inperson

learning, I had begun reading Scott Edgar's book, Music

Education and Social Emotional Learning: The Heart of Teaching

Music. The book inspired me to incorporate SEL (Social and

Emotional Learning) activities into my classroom – and remote

teaching provided a convenient vehicle to begin this commitment.

Throughout remote learning, my goal was to use the power of

music to help students discover and process their feelings about

the pandemic. Students who rarely spoke out in classroom

discussions poured their heart into these SEL assignments. I

was surprised by my students' honesty. Their responses revealed

a lot to me. In the classroom, my focus had been the effect of

each student on class music making. Now, through these SEL

assignments, I could see the effects of music making on the hearts

and minds of each student – and it was beautiful.

If you can't fly then run, if you can't run then

walk, if you can't walk then crawl, but whatever

you do, you have to keep moving forward.

– Martin Luther King Jr.

In March, all teachers were scrambling to adjust to an online

learning format. Perhaps no classrooms were more interrupted

than music classrooms. Concerts, MPAs, field trips, end of the year

traditions - they were all canceled. The traditional music classroom

was replaced with what felt like an alternate universe. It felt like

the rug had been pulled from under our feet. But, in a matter of

days, I saw a great collaborative effort designed to help everyone

stand again. Countless webinars and online meetings allowed

music teachers from around the world to collaborate and share

ideas. In one Zoom meeting I attended, there were chorus teachers

from twenty-five different states!

In the past few months, the leadership of NCMEA have been

most concerned with protecting music education for every North

Carolina student. In May, we began hearing of states who planned

to cut K-12 music classes for the following school year. Legislators

needed to understand that music could be taught in an online –

or any other modified – format. And, school leaders needed to

realize the importance of music education in the lives of students –

especially during this time of cultural upheaval.

MEA leaders throughout the country began to collaborate and

share ideas to advocate for music education. The results of these

interstate collaborations can be seen in two NCMEA documents

included in this journal (Letter to Superintendents and Principals,

page 9; Advocacy, page 10 ). Collaborations with other state leaders

were a tremendous help during this time. We are truly all in this

together.

Due to this pandemic, there are – and will be for many years –

budgetary concerns that greatly affect funding for education. The

Every Students Succeeds Act (ESSA) legislation secures music as a

part of a well rounded education. While music education is written

into national law as something valuable and necessary for every

child in the nation, we must be diligent in protecting and ensuring

access to music education for every child in North Carolina.

Now, more than ever, we all need to be advocates for music

education. We need to be a part of the discussions on how school

will continue in the midst of this pandemic. You can be assured the

leadership of NCMEA is working diligently to support you at the

state and national level. We need your help in supporting music

education at the "grassroots" level. We must keep moving forward.

Be thankful for what you have; you'll end up

having more. If you concentrate on what you

don't have, you will never, ever have enough.

– Oprah Winfrey

In my opinion, music teachers are the most flexible of all

educators. We are going to need that flexibility in the coming

months. We won't teach music like we always have. I am certain

our classrooms will look different this school year, and we will

all grieve the loss of the way things used to be. But, our chance to

shine is in how we adjust, grow, and bloom in this unprecedented

time. Voltaire once wrote: "Life is a shipwreck but we must not

forget to sing in the lifeboats." The support of our community, our

parents and students, our colleagues, and the leadership of NAfME

and NCMEA are the lifeboat in these turbulent waters. I hope we

can find the opportunity in this difficulty, and that we recognize

and remember the important lessons we are learning as we ride out

this storm.

NORTH CAROLINA MUSIC EDUCATOR | 7
---
Notes from the Executive Director

Pat Hall

Since the COVID-19 pandemic changed our personal and

professional lives, the NCMEA staff and board have been

working extremely hard to provide North Carolina music

educators with what may seem like an overabundance of teaching

resources. In early June, President Carol Earnhardt outlined a

vision of what schools might look like when they reopen in August.

NCMEA leadership also prepared a document: Examples of What

Music Might Look Like For Students Across North Carolina. Carol's

video and the document that can be shared with administrators

can be accessed on the NCMEA website.

On May 27, 2020, fifty-three national arts and education

organizations across the United States joined together in a

statement to support Arts Education as Essential for students

during the COVID-19 pandemic. A few days later, the North

Carolina Arts Education Leadership Coalition (AELC); Arts North

Carolina (Arts NC); North Carolina Arts Education Association

(NCAEA); North Carolina Dance Education Organization

(NCDEO); North Carolina Music Educators Association

(NCMEA); North Carolina Theatre Arts Educators (NCTAE); and

the North Carolina Theatre Conference met to create a unified

document: Recommendations for Arts Education as NC Reopens

Schools. The document was shared with school reopening task

forces on June 5.

NC Department of Public Instruction and the State Board

of Education released their reopening plan Lighting Our Way

Forward: North Carolina's Guidebook on Reopening Schools on

Thursday, June 11. Their guidance follows the StrongSchoolsNC

Public Health Toolkit (K-12) released by the governor's office

and NC Department of Health and Human Services. Schools are

required to create three plans depending on what restrictions are

necessary when school opens:

• Plan A: Minimal Social Distancing;

• Plan B: Moderate Social Distancing; and

• Plan C: Remote Learning Only.

The document lists health practices that are required and those

that are recommended. The recommended practices would be

tailored to each school/school district as appropriate.

The other big question is, what will our Professional

Development Conference look like this year? The conference

planning team will be meeting over the summer and hope to

have an announcement by August 1. If we are not able to meet

in person, we will pivot to providing virtual/online professional

development opportunities for members. And, we will extend the

50th Anniversary celebration through 2021. So stay tuned.

Speaking of the 50th

Anniversary, we were

thrilled to reveal the

new NCMEA logo. This

new logo was designed

to give NCMEA a more

contemporary look and be

adaptive in a variety of uses

such a digital, web, print and

even t-shirts. After our anniversary, the logo evolves in color and

use to highlight our teaching areas and programs.

NCMEA is extremely fortunate to be fiscally and operationally

healthy and will make it through this pandemic. We will continue

to provide these benefits and resources to our members:

• How to make the most of your career though professional

development programs;

• Be informed about the latest news affecting music

education programs;

• Help your students excel through local, state-wide and

national workshops and performance opportunities;

• Learn how to share the lasting value of music education

with your peers, administrators and elected officials.

Music education will prevail because we are all in this together!

courtesy of Daniel Briggs

8 | NORTH CAROLINA MUSIC EDUCATOR
---
June 8th, 2020

To North Carolina School Superintendents:

On behalf of the North Carolina Music Educators Association (NCMEA), thank you for your diligent work during this unprecedented time

regarding instruction for North Carolina students. The quick move to digital learning in March reflects the diligence and hard work of leaders

across our state. Now leaders are faced with making the complex and complicated decisions for instruction in the fall.

Music education has played an important role in these tumultuous times and will continue to do so for all students. The healing and unifying

power of all the arts has been evident as the COVID-19 pandemic swept the country. We have seen and heard it play out through works of art

on sidewalks, shared musical moments from porches, in plays and dance performances, and every other imaginable iteration of art making. As

you prepare plans for school reopening in the fall, we believe several factors pertaining specifically to music instruction warrant your careful

consideration.

Music instruction is essential to the social and emotional health of our state's students. The sense of community, awareness of and desire for the

welfare of others, and the interpersonal skills fostered in music classes are needed now more than ever. During this time of social and cultural

upheaval, it is essential that students continue to have access to the skills and space music making provides to explore, process, and express their

emotions and lived experiences in a safe and supportive environment. Social interaction and emotional health are enhanced by the ability to

express oneself creatively through music.

Music instruction increases student engagement and hope in school and beyond. A 2015 Gallup Poll of K–12 school district superintendents

identified student engagement and hope as critical elements for effective schools – even as important as graduation rates. Research from multiple

organizations demonstrates that student participation in the arts improves attendance, behavior, and academic performance. According to an

October 2018 Gallup Student Poll, students in art-rich schools with free/reduced lunch program participation of 75% or greater scored higher

than the overall mean on student engagement and hope. These students reported feeling cared for by the adults at their schools, being excited

for their own futures, holding a positive outlook on their employment prospects, and having confidence they can make a difference in the

world. Unlike most single grade or subject teachers who see students for one semester or year, music teachers have the unique privilege and

responsibility of building and nurturing relationships with the same students over multiple years of their development. These relationships and

the lessons learned through music will be critical in helping students adjust to their new reality and in keeping them engaged in learning.

Music instruction contributes to the development of students' creativity and capacities preparing them to enter and contribute to North

Carolina's creative economy. With its strong emphasis on team-building and self-reflection, music education is supremely suited to re-ignite

students' interest in learning through collaboration, while simultaneously fostering creativity, critical thinking, and communication. These skills

are recognized as the "4 Cs" – the most desirable skills needed in the 21st-century worker.

Music instruction is part of a well-rounded education for all students as understood and supported by federal and state policymakers. As defined

in ESSA, "music and the arts" are a part of a well-rounded education. Every state in the nation recognizes the importance of the arts as reflected

in rigorous PreK-12 state arts standards. Music is a part of a balanced education, providing North Carolina students with essential skills and

knowledge they need to be productive, college and career ready citizens. As noted in Arts Education for America's Students: A Shared Endeavor,

"An education without the arts is inadequate."

Music instruction can continue in an online, hybrid, or face-to-face environment. While virtual music instruction looks different from face-toface

music instruction, it is vital to maintain music programs during this pandemic. In a virtual or hybrid environment, students can progress

in their music education with meaningful instruction in the NC Essential Standards for Music. The document, Recommendations for Arts

Education as North Carolina Reopens Schools, provides helpful consideration for the safe administration of all arts programs in a face-to-face

environment.

I can assure you that the membership of NCMEA shares your concerns for the health and safety of students, teachers, administrators,

and support staff as we look toward resuming instruction in the fall. However, our unwavering commitment to providing a rich and varied

educational experience to North Carolina students should remain a priority. NCMEA is actively monitoring the latest information and guidance

from experts on the national level to develop guidance for the safe continuation of quality music instruction for students of North Carolina.

If our organization can be of any further assistance as you complete the difficult task of planning for reopening in the fall, please do not

hesitate to call on us.

Sincerely,

Carol Earnhardt

President, North Carolina Music Educators Association

NORTH CAROLINA MUSIC EDUCATOR | 9
---
NCMEA BELIEVES THAT MUSIC SHOULD

CONTINUE TO BE A PART OF THE EDUCATION

OF EVERY NORTH CAROLINA STUDENT

Many questions and valid concerns regarding the safety of students and teachers continue to surface

as they relate to the viability of music education in the immediate future due to the COVID-19 pandemic.

While teaching and learning may not be quite the same in our post-COVID-19 world, our state's

commitment to providing a rich and varied educational experience to the students in North Carolina

should remain the same. As enumerated in the Every Student Succeeds Act (ESSA), music education is

a part of a well-rounded education. During these tumultuous times, the benefits of music in a child's

education are more important than ever.

Music education supports the social and emotional well-being

of students, whether through distance learning or in person. Social

and Emotional Learning (SEL) is a critical component of human

learning. During this time of social and cultural upheaval, it is

essential that students continue to explore, process, and express

their emotions and lived experiences through music in a safe and

supportive environment. Social interaction and emotional health

are enhanced by the ability to express oneself creatively through

music.

Music education contributes to the development of students'

creativity and capacities, preparing them to enter and contribute

to North Carolina's creative economy. With its strong emphasis

on team-building and self-reflection, music education is

supremely suited to reignite students' interest in learning through

collaboration, while simultaneously fostering creativity, critical

thinking, and communication. These skills are recognized as

the 4 Cs – the most desirable skills needed in the 21st-century

worker.

Music education has a recognizable impact on student

engagement and attendance. Research from multiple

organizations demonstrates that student participation in the

arts improves attendance, behavior, and academic performance.

Unlike most single grade or subject teachers who see students for

one semester or year, music teachers have the unique privilege

and responsibility of building and nurturing relationships with

the same students over multiple years of their development.

These relationships and the lessons learned through music will

be critical in helping students adjust to their new reality and in

keeping them engaged in learning.

While virtual music education looks different from face-to-face

music instruction, it is vital to maintain music programs during

this pandemic. Music education standards, concepts, and skills

can be taught successfully in an online, hybrid, or other modified

format.

Examples of How Music Instruction Might

Look for Students across North Carolina

Virtual Instruction

Students will be able to progress in their music education with

meaningful instruction in the NC Essential Standards for Music.

Instruction could include:

• Being taught music standards through online platforms

such as Google, Canvas, Zoom, Teams, SmartMusic,

Sightreadingfactory.com, Musictheory.com, Quaver

Music, etc.

• Using their instruments/voices at home to practice and

develop individual music skills.

10 | NORTH CAROLINA MUSIC EDUCATOR
---
• Using the observational and written skills of aural/

visual, compare/contrast, and the evaluation of music

performances.

• Describing and writing about music.

• Interacting individually or collectively using video

conferencing apps to share musical ideas, thoughts,

practices, feelings, etc.

• Creating their own music.

• Collaborating with other students through the use of

video and audio recordings.

Hybrid Instruction

A combination of in-person and virtual instruction with

additional modifications that could include:

• The creation of smaller ensembles within larger existing

ensembles to create social distancing.

• Rotation of face-to-face instruction and creative use of

facilities in combination with online components.

MUSIC EDUCATION MUSIC INDUSTRY STUDIES MUSIC PERFORMANCE

• Teaching fundamentals as outlined in the North Carolina

Essential Standards in the socially distanced classroom.

The actual playing of instruments and singing can be

Posters.qxp_Color Wheel Poster copy 8/17/18 3:39 PM Page 1

accommodated with the recommendation from local

Health Departments.

• Reinforce fundamentals at home with instrument

practice/singing with remote learning guidelines and

structures.

NCMEA Members

The challenging situation for our return to the classroom is

twofold:

1. The safety/health of students and staff; and

2. The financial impact on schools.

NCMEA and NAfME will continue to communicate resources

and guidance for teachers. Watch your emails, social media, and

websites for regular updates.

What You Should Do Now

• Stay in touch with your students! Keep engaging them in

music however you can.

• Create a plan for recruitment and retention.

Posters.qxp_Color Wheel Poster copy 8/17/18 3:39 PM Page 1

MUSIC EDUCATION MUSIC INDUSTRY STUDIES MUSIC PERFORMANCE music.appstate.edu | 828.262.3020 MUSIC THERAPY

• Keep parents informed about what is happening and what

they can do to help.

• Stay in touch with administrators – be a part of

discussions for reopening.

• Contact your music vendors to see what resources are

available.

• Check out numerous professional development webinars

and resources offered by NCMEA and NAfME.

Posters.qxp_Color Wheel Poster copy 8/17/18 3:39 PM Page 1

MUSIC EDUCATION MUSIC INDUSTRY STUDIES MUSIC PERFORMANCE

MUSIC EDUCATION MUSIC INDUSTRY STUDIES MUSIC PERFORMANCE

Posters.qxp_Color Wheel Poster copy 8/17/18 3:39 PM Page 1

MUSIC THERAPY SACRED MUSIC THEORY & COMPOSITION

MUSIC EDUCATION

music.appstate.edu | 828.262.3020

MUSIC EDUCATION

MUSIC INDUSTRY STUDIES

MUSIC THERAPY SACRED MUSIC THEORY & COMPOSITION

MUSIC THERAPY SACRED MUSIC THEORY & COMPOSITION

music.appstate.edu | 828.262.3020

music.appstate.edu

828.262.3020

M

music.a

Posters.qxp_Color Wheel Poster copy 8/17/18 3:39 PM Page 1

NORTH CAROLINA MUSIC EDUCATOR | 11
---
Music Advocacy in

North Carolina

Where Are We Headed?

by James Daugherty

The Public School Forum of North Carolina shares, "In

1994, five school districts in low-wealth counties, along

with families, filed a lawsuit against the state (Leandro v.

State of North Carolina) arguing that their school districts did

not have enough money to provide an equal education for their

children, despite the fact that they taxed their residents higher

than average. Twenty-five years later, the Leandro case remains

one of the biggest education policy issues in North Carolina."

Hoke, Halifax, Robeson, Vance, and Cumberland, were among

the lowest funded in the state (www.ncforum.org/leandro/).

In an effort to meet the constitutional standards set by

the long-running Leandro case, WestEd, an independent

consultant directed by Judge David Lee, was charged to offer

recommendations to meet the mandates of Leandro by defining

how North Carolina might ensure all students in the state have

the opportunity for a sound basic education.

Shaping Our Future

The WestEd report and the action plan argue "the challenges

of meeting this responsibility have increased since the original

decision, and the state needs to significantly increase its

commitment and efforts to provide for the education of every

student. To do so, the state will need to strategically improve

and transform multiple components of the education system,

from ensuring an adequate supply of qualified teachers and

principals; to improving curriculum, instruction and assessment;

to more effectively addressing the needs of at-risk students and

the persistent gaps in achievement among groups of students.

A deep ongoing commitment and wise investments are vital to

building and maintaining the required capacity at the school,

district, regional, and state levels. The future of the state hangs in

the balance." WestEd, Learning Policy Institute, & Friday Institute

for Educational Innovation at North Carolina State University

(2019). Sound Basic Education for All: An Action Plan for North

Carolina. San Francisco, CA: WestEd, (p. 15).

NCMEA recently had the opportunity to offer public input

following the WestEd Study on key issues and challenges related

to North Carolina's education system and recommendations for

an action plan.

Many of the concerns articulated in the report resonate clearly

when NCMEA considers the issues of access, equity, inclusion,

and diversity in North Carolina's public schools. One of the

critical needs outlined in the report is our public schools' need

to direct resources, opportunities, and initiatives to economically

disadvantaged students.

NCMEA leadership consistently listens to members' concerns

about issues they feel contribute to the disparity of access to

music education within the state, particularly in low income and

Title I schools/areas. While one county may offer a variety of

music education options from grades K-12, a neighboring county

offers music to only secondary students or, in the worst cases,

music programs have been cut entirely.

As affirmed in the WestEd report, NCMEA wholeheartedly

agrees music education is, "of great value for students, helping

prepare them for college, careers, and civic life and helping them

acquire digital-age skills in the areas of critical problem solving,

communications, collaboration, and creative thinking" (WestEd,

p. 100). The lack of music education in poor counties and schools

is not acceptable, considering the well -researched benefits of

music study to young people.

In addition to music and the arts being a part of a wellrounded

education as defined in ESSA, recent research draws

significant connections to music and the arts and a student's

ability to confront social and emotional challenges, many of

which are magnified by the status of residing in a low-income

family. Through music and arts instruction, schools can cultivate

a nurturing, participatory, and equitable experience that supports

the social and emotional learning (SEL) needs of these lowincome

learners. Recent research supports that SEL skills are

most effective when embedded into the curriculum. We believe

12 | NORTH CAROLINA MUSIC EDUCATOR
---
these skills are more authentically experienced for our students

through music and arts education experiences. Music programs

underscore three SEL embedded techniques: group selfreflection,

emotional vocabulary building, and reflection with

SEL prompts.

By participating in the public response period to the WestEd

report, NCMEA advocated for music education by uplifting the

voice of music into the conversation regarding a sound basic

education for our students. To address the challenges outlined

by Leandro, as well as challenges all educators face in trying to

embrace inclusion, diversity, equity, and access, there must be

common language, understanding, and support. Having this

foundation is critical no matter the lens through which we view

the world. We must share our lenses with one another to better

understand and to better educate. Advocacy must be proactive

rather than reactive.

Maintaining Forward Momentum

NCMEA continues to advocate for a North Carolina high

school graduation requirement including a unit of credit in arts

education. When passed by the General Assembly, this legislation

will direct the State Board of Education to modify the state's

graduation requirements to include at least one unit of required

credit to be completed in an arts education course at any time

between grades six through twelve. This legislation was closer

than ever to passing this year, but slipped by when the governor

vetoed the budget bill. The ugly specter of music and the arts

being eliminated to fund other aspects of education lingers –

especially in economically disadvantaged school districts.

In these unusual and atypical times, we are in urgent need

of music advocates. Sharing the importance Congress placed

on music and the arts by enumerating them into the Every

Student Succeeds Act (ESSA) in 2015, with our communities

and leaders is critical right now. Advocating for the passage of

state and local legislation supporting the role of music in our

schools will ultimately strengthen the role of music education

in our schools while simultaneously offering protection from

elimination scenarios during very atypical times. Continuing to

broaden the footprint of music through legislation

will ultimately aid in the elimination of the

disparity of access to a well-rounded education

for all students. Regardless of socioeconomic

status or geographical location, all North

Carolina students should be provided the

enriching intellectual advantages offered only

by participation in music and the arts.

Another advocacy goal NCMEA gleaned from

the WestEd report is for North Carolina to provide

a qualified, well-prepared, and diverse teaching

staff in every school. The report recommends our

state increase the pipeline of diverse, well-prepared

teachers who enter through high retention pathways

and meet the needs of the state's public schools. It was

noted, North Carolina-trained teachers have the highest levels

of effectiveness and retention of any major pathway in the state.

North Carolina has excellent music education degree programs in

the UNC system as well as many private colleges and universities

in the state. This makes partnering with our higher education

peers even more critical.

WestEd also recommends North Carolina develop a system to

ensure all North Carolina teachers have continued professional

learning opportunities to improve and update their knowledge

and practices. The State Board of Education can look to NCMEA

and the other arts education professional associations (visual

arts, theater and dance) who already provide annual professional

development conferences in our disciplines.

NCMEA's three day in-service conference is attended by more

than 1,500 K–12 music educators, college students and higher

ed faculty in Winston-Salem each November. At the NCMEA

Professional Development Conference, and with student-events

throughout the year, NCMEA sponsors nationally recognized,

regional and North Carolina presenters who provide over 200

clinics and sessions in general music, band, jazz, choral and

orchestra education. In partnership with the North Carolina

Department of Public Instruction, conference attendees can earn

up to 20 hours of CEU credits for state licensure and National

Board Certification. Funding for professional development has

decreased in recent years so advocating to increase this funding

is essential. Arts education professional associations like NCMEA

are providing high-quality professional development at a very

reasonable cost.

NCMEA considered the recommendation that North Carolina

provide high-quality comprehensive mentoring and induction

support for novice teachers in their first three years of teaching

to increase both their effectiveness and their retention. The

State Board of Education can look to NCMEA and the other

arts education professional associations as partners in mentor

programs. NCMEA's Mentor Program develops teams that

consist of the new teacher, a second- or third-year teacher, and a

veteran teacher. NCMEA schedules a mentor retreat at the annual

professional development conference and sub pay for mentor/

mentee visits throughout the school year.

Initiatives - Where Are We Headed,

Especially During and After a Pandemic?

We know students and teachers are yearning

for NCMEA to help them where they are,

to value what they do, and to support

their music-making efforts in their own

communities. In developing current

advocacy initiatives, the socioeconomic

and political climate demands a focus on

leadership development (particularly leaders

working in/with underrepresented populations

and socioeconomic groups), with district presidents,

and to develop leaders who might not typically be

represented. Because national advocacy tools don't always

support work on the state or local level (and doesn't always

support advocacy within diverse populations), we continue to try

and reach our members where they are in their advocacy efforts.

We continue to support them through the development of our

own Advocacy Toolkit.

NORTH CAROLINA MUSIC EDUCATOR | 13
---
As all aspects of life and the economy recover from the

COVID-19 pandemic, it is imperative all members of NCMEA

use every tool and resource possible (including this toolkit)

in their communities to champion music as an essential tool

in returning life to a feeling of normal. NCMEA knows an

advocacy goal of ours must be helping cultivate leaders in our

field, understanding music leadership is going to look different

depending on where a teacher is located in the state.

Through conversations with NCMEA leadership, we've

learned some music teachers may feel their voice is not valued

because of their experience, background, or identity. To be strong

advocates, it is critical to purposefully listen to, motivate, and

support music teachers in their efforts to bring music into the

lives of their students where they are, no matter the circumstance.

Work must continue to build relationships with legislative

leaders so they recognize the value of music education in our

schools is of higher importance than political position. These

relationships are built so we can work proactively, not reactively.

Further, connecting and empowering all members to reach out

to leaders at the local, state, and national level no matter their

resources or situation will be a true measure of success.

To further address these initiatives, NCMEA plans to use

the research, findings, and

recommendations found in

NAfME's Cook Ross report

on NAfME's structure and

culture in the area of diversity,

equity, inclusion, and access.

In striving to be culturally

responsive, NCMEA will

utilize this resource to provide

music educators with resources

and opportunities to address

diversity, equity, access

and inclusion within music

education. The multicultural

committee will be reaching out

to other state MEAs and NAfME

for guidance and best practices

in supporting educators, as well

Advocacy Summit 2018

as using North Carolina educators and members as mentors in

this work.

In recent months, NCMEA has reaffirmed the importance of

facilitating an intentional focus on connecting music education

to the social and emotional needs of students. As we talk to

education partners across our state and nation, SEL is rapidly

becoming a center-point of all work supporting students no

matter their subject area. Work within North Carolina through

the Multi-Tiered System of Support (MTSS) framework has SEL

tenets embedded throughout. Connecting the value of music to

the value of SEL is a critical next step in advocacy efforts in order

to remind those outside the music education profession what it is

we do and why we are so imperative in the lives of students who

face a complex world full of new challenges.

Music lends a natural connection to SEL support and we

must break the obstacle of teacher understanding on how music

impacts SEL to help advocate for the placement of music in

curriculums now more than ever. As the recovery and healing

process from COVID-19 begins, the powerful connection of

music to healing must be made. NCMEA anticipates critical

budget decisions in the coming months as the world has

been turned upside down through this pandemic. We realize

advocating for music's supporting role in educating the wholechild

and the social-emotional needs of the whole-child will be a

significant reference point in keeping continued financial support

for music solidly in place.

Reflecting on North Carolina's Leandro decision has greatly

impacted and shaped NCMEA's advocacy goals and planning.

After the first-ever Advocacy Summit in 2018, many attendees

shared that other music educators would benefit greatly from

training similar to the summit. Recognizing the need to reach

more members, especially from underrepresented or remote areas

of the state, NCMEA is working to host district level advocacy

training similar to our Advocacy Summit. The vastness of North

Carolina's geography poses an obstacle to our educators in the

most needy communities being able to attend state level training.

By going directly to each district, obstacles such as travel

might be avoided, allowing

targeted support to members

with useful information tailored

to their communities. A goal

of NCMEA's committee work

is to provide music educators

with resources such as articles,

training, and webinars on topics

relating to working in and

supporting diverse populations,

inclusive practices in music

education and SEL as it relates

to music education.

In recent years, our

advocacy efforts have been

focused heavily on responding

to legislation with the potential

of a negative impact on music

education throughout the state. A great deal of resources and

effort have been spent reactively responding to this legislation.

Now that established, positive relationships have been built

among various legislators and educational stakeholders, we can

shift the focus to assisting members on a more local level.

Supporting advocacy training for our members where they

are, not making the training one size fits all, is an extremely

important mindset shift. The importance of recognizing the

need to reach more members, especially from underrepresented

or remote areas of the state cannot be stressed enough. In the

simplest sense, the fruition of advocacy efforts will be seen

through greater advocacy engagement from all demographics

of NCMEA membership. As NCMEA continues proactively

supporting music education for all students in North Carolina,

it is important to seek input from all stakeholders and training

members on their specific advocacy and culturally responsive

14 | NORTH CAROLINA MUSIC EDUCATOR
---
teaching needs. With this approach, NCMEA will be able to offer

targeted grassroots strategies, tools and resources to support

advocacy, and culturally responsive practices for members

within their classrooms and communities. After much thought

and "soul-searching" from NCMEA leadership and member

input, NCMEA leadership is impassioned and firmly believes the

addition of representation from underrepresented areas will be a

true measurement of success in moving forward.

The development of grassroots leaders within the districts

that can continue advocacy at the district level will be a hallmark

of our success in this effort. Members are the experts in their

communities and for lasting advocacy efforts to continue, those

experts must be supported with resources and training that

supports needs relevant to their work. It is a mission of NCMEA

to empower members to personalize their advocacy efforts in

order to implement strategies, information, and resources best

suited to support music making experiences for years to come.

With COVID-19 changing the entire way student educational

and social-emotional needs are met, the 2020 – 2021 school

year is sure to look and feel very different. A definite challenge

will be helping members navigate music education in unknown

circumstances and simply stay the course while focusing on highquality

music programs in North Carolina's schools. We must,

together, continue to be proactive and not merely reactive to what

is happening in the world in which we live and learn.

Teachers will be adjusting to the new norm of educating

and this may lead to little time for them to focus on advocacy;

therefore, advocacy must be viewed as a natural response, not

something labored to achieve. Upon adjusting to the new norm,

we also anticipate funding for education will be cut due to the

loss of revenue, which could lead to loss of program support

and/or programs altogether. Funding cuts will make advocating

for high quality and visible music programs more critical than

ever.

The "what ifs" of the pandemic are endless, and frankly, can

be overwhelming, but NCMEA is striving to be proactive and

flexible in thought and approach on how to support teachers. By

partnering with many other arts and education organizations

we will glean all we can from other state MEA's and NAfME

resources and advance the cause of music together.

Prof. Damien Crutcher

9 th & 10 th Grade Honor Band

Conductor, Detroit Community Concert Band,

CEO, Crescendo Detroit, & Wayne State University

Dr. Sarah McKoin

11 th & 12 th Grade Honor Band

Director of Bands

Texas Tech University

Prof. H. Robert Reynolds

Carolina Conductors Conference

Professor Emeritus, University of Michigan

and University of Southern California

NORTH CAROLINA MUSIC EDUCATOR | 15
---
Band

Jason Barclift, Chair

Greetings, friends! In this article, I would typically thank

the hosts for a wonderful All-State Band Clinic and

congratulate you on fantastic performances by your

students. I would like to thank Jeff Fuchs and his staff at UNC

for their preparations early in the semester. They are always so

welcoming and accommodating. I'd also like to thank all of the

chairpersons for the All-State auditions and clinics. The auditions

went smoothly and plans for the clinic were well underway.

Unfortunately, everything has been different since March.

Who'd have ever guessed COVID-19 would disrupt our lives this

much and for this long? Your NCBA State

Board had a difficult decision when they

chose to cancel the All-State Honors Band

Clinic this spring. By now, it all seems

obvious, but at the time it was a difficult

decision. I want to thank you for your

support through that time.

I hope you are all enjoying your

summer. I imagine even your summer

vacation looks different from the norm.

At this time, we still don't know what the

future holds; but by the time you read this, you

will know more than I do right now. What will school look like

in the fall? I sure hope those in charge remember how important

music education is to our students.

We need to stand together and communicate with our

legislators to make sure they don't forget about us. I can't say it

any better than Kathleen D. Sanz, past president of the National

Association for Music Education, "It is vitally important to

advocate for music and arts education now, as school districts

and states begin to undertake the challenging task of planning

the 2020 – 21 school year. We need to remind policymakers at

all levels, from state legislatures to school boards, that the arts

are part of a complete and well-rounded education that every

student, regardless of background, must receive."

While we do not know what the 2020 – 21 school year will

look like, I promise you, the NCBA State Board will make all

of our decisions based upon the safety and well-being of our

students. Moving forward, I continue to reflect on NCBA and

what our role needs to be during this time.

At this point, I see two main goals:

1. Provide an outlet for band directors across the state to

share ideas; and

2. Provide suitable replacements for All-District, MPA, and

Solo & Ensemble.

Learning from Each Other

I envision some sort of platform

to share lesson plans, activities, and

motivation strategies across the state.

With hundreds of band directors in

North Carolina, we need to support

one another. Let's face it, we all have

different strengths and we all need

the support of each other. Sharing our

individual creativity is a great way

to help prevent band directors from

feeling alone in all of this.

Event Replacement

I believe our organization provides a motivation and

encouragement to students through our various events. Ruth

Petersen has provided some great virtual ideas that I think we

need to seriously consider. In trying to remain optimistic, I have

thought "what if " we determine a method for every district to

have remote All-District auditions. And "what if " North Carolina

is open for business in May 2021. Wouldn't it be nice if we, as a

state, were prepared for an All-State Band?

Let's begin thinking outside the box for these events. If you

have ideas and/or technological talents for either of these goals,

please share them with your district chair who will then share

that information with the NCBA Executive Board.

Thanks again for all of your support!

16 | NORTH CAROLINA MUSIC EDUCATOR
---
Enumerating the Importance of African American

Music Beyond the Moment

A Call for Advocacy, Reflection, and Action – June 2020

In August 2019, NAfME endorsed a second bicameral

resolution to celebrate the musical contributions of African

Americans to United States culture and history. The resolution

highlights the importance of increasing African American students'

broad participation in music education, as well as recognizing June

as African American Music Appreciation Month.

While first decreed in the Carter administration as Black Music

Month, it was not until 2000 that the first congressional resolution

to officially commemorate African American music formally

established African American Music Appreciation Month.

As NCMEA celebrates our fiftieth anniversary, we want to

celebrate and recognize the significant milestones and struggles of

the African American music experience within North Carolina.

There is no question that the power of African American music has

defined the American experience and we also know from our own

beginnings that strong leadership from within African American

music associations paved the way for NCMEA to form. Great

leaders such as Theresa Claggett, Eloise Penn, and Emily Kelly

were disturbed by the professional isolation resulting from the

separateness inherent in the segregated system.

Through the intentional and forward thinking process of a

merger rather than integration of membership, it took nearly four

years to complete the dissolution and scrapping of the constitutions

of NCSMTA, NCBDA, and NCMEC as a scaffold for the new

constitution of NCMEA. This was difficult, but necessary work.

Recent events remind us of the legacy of these visionary leaders.

As Dr. Hortense R. Kerr, NCMEA's first president, shared, "We

have been rewarded for taking such a tremendous risk, for we have

lived to see the potential for a greater, richer, and healthier music

educators' organization."

In this same spirit, we want to uplift this music, their creators,

and the music educators that have inspired them. We want to

take this opportunity to especially celebrate the great works of

significant African American musicians from North Carolina such

as Maceo Parker, Etta Baker, Nina Simone, John Coltrane, and

countless others. The enumeration of African American Music

Month provides NCMEA an opportunity to reflect on how African

Americans have shaped our musical heritage and contributed to

music in enriching human life throughout our state and nation's

history.

While African American Music Month is a celebration, recent

unrest in our state and nation demonstrates the work of celebrating

the accomplishments of Black musicians must not be confined to

merely one moment in the calendar year. We must continuously

promote the work and music of these musicians, educators, and

students.

Society often celebrates and reaps the benefits of the

accomplishments of Black music and its people, and the

collective work of its communities, but it is equally important to

acknowledge the daily struggles of the Black American experience.

Through the teaching process music educators must actively

research and seek out information and pedagogy that promotes

Black music and works to dismantle harmful stereotypes and

unconscious bias within our teaching and interactions throughout

the year. If music educators have not researched the experiences

and struggles of Black musicians and communities as well as their

pedagogy and teaching process, the work and ultimate celebration

of Black music is not complete. Just as Dr. Kerr reiterated, it is

important to ensure the vast positive impacts of a people can be

continued for generations to come.

Recent studies by the U.S. Department of Education affirm,

"Teachers of color are positive role models for all students in

breaking down negative stereotypes and preparing students to live

and work in a multiracial society." NCMEA and NAfME believe

that having music teachers who both represent and are prepared to

respond to students' diverse creative interests will ensure African

American youth have a space in the classroom and the optimal

conditions to confidently pursue music.

Music is a great unifier, but unification does not uplift some and

relegate the marginalized to designated months or predetermined

expectations. As NCMEA navigates the uncomfortable work of

uprooting the unconscious bias within the association, individual

members are encouraged to equally reflect and respond. This work

is not easy and it must be done with purpose and intention.

As music educators often challenge students to stretch beyond

what they dream to be possible, teachers themselves must be

challenged to do the same. While the work continues throughout

local communities, the state, and the nation, NCMEA will continue

to seek experts in this field to provide more resources for members

in the coming future. Now is a wonderful time to research and

reflect so that NCMEA may move forward in shaping a better

music education landscape for all.

NORTH CAROLINA MUSIC EDUCATOR | 17
---
Elementary

Dee Yoder, Chair

There we were, going about our day to day life and then...

we weren't. Our world has been turned upside down and

backwards because of a virus. Who would have thought,

in this day and time, we would find ourselves here, with stay at

home orders from our governor, schools being taught virtually

and the craziness of trying to cope with most businesses

being closed? Each day we got up

and struggled with the changes, the

drastic ways almost every aspect of

our world was affected. Except our

constant – music.

It happened so fast. We began

scrambling to learn ways to try to

bring normalcy to our students when

nothing was normal, to engage them,

to learn how to teach from a distance

while keeping our heads high, as

well as finding ways to deal with the

social and emotional for them and

for our own families and selves. Like

musicians do, we will do it with a

song and a smile; through sadness or

celebration, we do it with music.

As the days turned to weeks, then months, and the end of

the school year came, I realized we needed each other more

than ever, to not feel alone and to share our stories of struggles,

failures and successes.

Each school system chose how to have music be a part of

our continuum. Many systems chose to do nothing or choice/

bingo boards that often included other subjects like PE,

Guidance, Media and Art. The question was equability and not to

overwhelm the students without considering the SEL that music

inherently brings. Other systems chose virtual learning using

platforms like SeeSaw and Google Classroom. If we didn't know

how to use these platforms or many more, we took webinars,

found Facebook groups to help learn how make them work in

the music classroom, or struggled. No matter what we were going

18 | NORTH CAROLINA MUSIC EDUCATOR

I began using Flipgrid

to allow my older students

to test for their Recorder

Karate belts and the younger

students were able to respond

to posted prompts. This

was a turning point in my

remote instruction. Student

participation increased and I

became excited about online

learning for the first time.

through or feeling, our hearts were hurting because we are music

teachers who missed bringing joy to our students.

I found it important to hear what others were doing. I

felt more alone in my school than ever. After reaching out to

others, I have their stories to share. I also want you to share

your stories and the impact they

had on your students and school

family. It is important to not feel

alone and to feel the warmth of

this community. Here are a few

mini-articles for you. Please feel

free to share your story with me

at elementary-section@ncmea.net

or on our facebook page, NCMEA

Elementary Section.

The Stories

Rick Sigler, District 5

I imagine most of us were

seeing the COVID-19 wave coming

and knew teaching music from

home would be one of the biggest

challenges of our careers, no matter

how many years we had under our

belts. COVID-19 has been an especially difficult challenge for

many of us, as we have the added issue of not being in the same

room with our kids, working as a group to create an art form that

is fundamentally built as ensembles. After all, distance learning

through online meeting apps cannot fully match being in the

same room, weaving our creation into something larger than it

could be on its own.

My focus on what to do came rather fast, especially after

speaking with my administrators and specialist team. Our school,

which has a predominantly low socioeconomic population,

would need to focus strongly on the classroom teaching,

primarily language arts and mathematics. I regularly advocate

for music education, though I know in this case, it was the right
---
thing to do. The students, parents, and teachers were dealing with

a new kind of challenge, with new stressors, new concerns, and

new issues ranging from online classrooms to which child uses

the computer at what time, if they have the technology at all.

My focus was going to be to focus on the experiential facet of

music education, the exploratory side, while limiting the theory.

I wanted to be a respite for my students – a chance to let them

experience the excitement of listening to and creating music

rather than focus on the intricacies of how it works. I wanted

music to be their escape, their play, their fun, all the while finding

ways for them to learn about our discipline in the process.

By focusing on music in this direction, I created music videos

for the children to sing with. I chose fun songs, relevant to what

they knew. I found online games for them to play with music

education in mind. I made sure they knew they were missed,

that they were important, and that they, too, were musicians, no

matter whether they were at home, in my class, or on a stage.

And though I had several lessons that included music theory,

it was done in such a way they would find a way to enjoy the

process rather than it be another exercise not unlike their normal

classwork. I wanted them to feel the joy of music each time they

logged on to do a lesson.

When we take to heart the ins and outs of what a child

should know by the end of their elementary career – no matter

their situation of financial stability, racial background, or viral

outbreak, we should ensure our students learn that music is

beautiful, and accessible to them in every way possible. Dr.

Tim Lautzenheiser writes, "The mission is to teach the mastery

of musical skills so our students can access quality music

and experience the joy of an ever-evolving sense of aesthetic

expression." In order to get them there, the joy of music should

always be the first thing we share.

Jana Winders, District 3

So, I come to you with a challenge. I would like you to write

down your thoughts of where you are, where you think we are

going, and how to do what we do without losing our minds!

I am the eternal optimist when it comes to teaching. Heading

into mid-March was an exciting time for my school. Our second

and third graders were set to perform their program, my Singing

Cardinals chorus was perfecting their spring concert, and we

were coming to the part of the year where lasting memories were

being made with fifth grade students who would be moving on to

middle school. On Friday, March 13 I hugged kids as they left for

the weekend, not knowing it would be the last time I would see

them for the 2019 – 20 school year.

The first two weeks out were a blur with uncertainty. My rural

school district focused on feeding our students and being the

eternal optimist, I prepared for our return to school. When North

Carolina schools received the news that we would be closed

until May 15, I was heartbroken. That return date would cancel

all of our spring concerts and I was worried about my students'

welfare. As our district transitioned into remote learning mode, I

struggled to find ways to feel connected to my students.

I teach at two rural schools and they chose to use Google

Classroom and Seesaw as their remote learning platforms. I

dutifully attended virtual professional development to learn how

to use online tools for remote learning, but honestly I became

more and more disenchanted with teaching music online. Many

of my students were struggling with remote learning either due to

unreliable internet service or lack of devices so the participation

was low. I realized my students were craving my personal

attention in these uncertain times more than anything else. That's

when I made it my mission to create opportunities to aid my

students' social and emotional well-being. I started making funny

videos with other teachers about what we missed about school.

These videos let our students know that we hadn't forgotten

them. Our district has not allowed any parades or drive by

visits of any kind, so these videos have reassured our students

we are thinking about them. Our electives team created LAMP

Week, which was a virtual spirit week where each day focused

on a different elective. I began using Flipgrid to allow my older

students to test for their Recorder Karate belts and the younger

students were able to respond to posted prompts. This was a

turning point in my remote instruction. Student participation

increased and I became excited about online learning for the

first time. As the school year closed I tried not to focus on what

was lost, but on the gratitude for the relationships that were

strengthened with families during this time.

I have no idea what next year will look like and the

uncertainty of that is frightening to me. Making music is a

communal activity. Students sing, dance, and play instruments

every week in my class. If these things are not allowed, my

teaching style will have to drastically change. However, I know

arts education is essential. I know providing a welcoming

environment for students to express themselves in is an integral

part of a well rounded education. Going into instruction for next

year may seem uncertain in terms of what it will physically look

like, but what our class provides for students will not change.

NORTH CAROLINA MUSIC EDUCATOR | 19
---
Jazzmone Sutton, District 3

Walking into this "remote learning" experience had me sitting

with a myriad of emotions. I was drowning in recommendations

of platforms, digital recordings, and How To Do Distance/

Remote Learning videos, podcasts, posts and Zoom meetings

with colleagues around the nation. Someone on a social media

group said it best, "It would take decades for us, and our

students, to use and learn from all the resources and ideas that

are presented to us." To say I was overwhelmed by a tidal wave of

change on a personal and professional level would have been an

understatement.

Early on in this remote learning

experience, a student sent me a

composition created in the Chrome

Music Lab platform. It wasn't perfect

or polished, but I was so glad they

were creating music and sharing it

with me. I asked him what the goal

of his composition was. His response

was the simplest and yet most

profound response I had gotten since

this all started:

"The goal of this music is

to make music. I love music."

Throughout this experience, I've

used his words to guide me back

to my purpose: to provide a music education that empowers

my students to make music where they are. Music making for

everyone means it must be genuine and meaningful to them.

As we prepare for a new school year that will undoubtedly

throw us some unprecedented circumstances, I continue to

work in concert with my students to create meaningful music

experiences that empower them to make music no matter where

they are.

Cheryl Lewis, District 8

I recently heard a presenter in a webinar say, "Education

means change." Doesn't that definition fit where we are as music

educators, teaching during a pandemic? In Buncombe County,

My experience

with distance learning has

been a time of personal

and professional growth,

particularly about using

technology as a tool to

facilitate learning. This has

made me more confident

in my ability to think about

teaching music in new ways.

music teachers have reached students in a variety of ways during

this time of virtual learning. Some have created their own

online classrooms and are posting activities through platforms

like Seesaw and Google Classroom. Others send assignments

to classroom teachers who then post online to students. Still

others are sharing activities with students on school websites and

sending paper packets home. Every community presents a unique

set of challenges in the way students' needs are being met.

My experience with distance learning has been a time of

personal and professional growth, particularly about using

technology as a tool to facilitate

learning. This has made me more

confident in my ability to think

about teaching music in new ways.

My specialist team at school and my

fellow elementary music educators

in Buncombe County have been a

source of strength for me during

this time. Online meeting time has

allowed us to share things that have

worked well, and ask for help as

we have navigated through all the

challenges with virtual learning.

I have learned it is okay to tell

students, "I am learning with you."

One unexpected benefit from

virtual learning is having the

opportunity to build and strengthen relationships with students.

As they shared their music with me each week, I was able to see

their individuality better than when I saw them in a large group

setting every six or seven days. Students have been creating and

singing melodic patterns, writing rhythm patterns and reading

them to me, improvising, and creating digital music. I've even

had students and parents singing through assignments together!

That is a special gift.

Nobody knows what the future is going to look like, but it is

nice to remember the silver linings from this time.

20 | NORTH CAROLINA MUSIC EDUCATOR
---
Middle School Choral

Aaron Lafreniere, Chair

Hello, my friends and colleagues. I'm not quite sure where

to begin. The last article I wrote for the spring journal

was written after the announcement of the closing of

school until May 15. Now, as I am writing this one, school was

closed for the remainder of the school year, a new calendar has

been released for next year, and reopening plans have yet to be

decided.

As teachers, we have been navigating the constant changes to

grading policies and teacher expectations since the lock down

began due to COVID-19. We have been forced to say goodbye

to our students in a way that is not traditional, while many

of us have found ways to make the end of year special for our

students. At my school, which services grades 6 – 12, our music

department created a graduation video for the eighth grade

students using our annual end-of-year song. For our seniors, we

took three days to visit their homes, gave them a yard sign and

sent them on to their next journey in our own special way.

Like all of you, I miss teaching, being in the classroom,

singing, being around my coworkers and students, and moments

like MPA, All-State Chorus, and our end-of-year concerts.

Honestly, I have not enjoyed being an online chorus teacher.

The best part about teaching is the connection we achieve when

creating music together and the accomplishment we all feel when

the concert is finished. I always close every class by saying "we

are a TEAM" and my students respond with, "Together, Everyone

Achieves More!" However, when not all of your students are

attending online class video calls or completing the assignments

you have worked hard to create, the feeling of togetherness and

teamwork feels lost.

Currently, there are concerns over what next year's calendar

will look like. My school system plans to start the school year

earlier and have five remote learning days. Even this could change

as we move further into the summer. What will next year look

like? Will I have to teach remotely? If so, for how long? What will

our concerts look like? Will we be able to have concerts at all? I

wish I had the answers to these questions.

With all of these unknowns, I find myself unsure of what to

share with you all. What did my classes do during quarantine?

As mentioned in my previous article, I incorporated Chorus

Karate. Each week, students completed a music theory test via

a Google Form and then performed a rhythmic exercise and a

melodic exercise in SmartMusic. I used the method book Habits

of a Successful Choral Musician, by Scott Rush, in SmartMusic

for the exercises aligned with Chorus Karate. In addition to the

assignments, I created a digital badge board to "gamify" the

classroom. Once a student completed the assignments necessary

to finish a belt, I awarded them the badge that corresponded to

that achievement. For example, a student completed all three

tasks to complete yellow belt, then I awarded a student the yellow

belt badge. I did this to create a sense of competition and spark

motivation for completing the assignments. All in all, I would

have to say I am pleased with the way this program worked out

for my classes. I will probably continue this in some form or

fashion, with or without remote instruction, next school year.

Another online tool I discovered during quarantine is

flippity.net. They have templates to turn a Google Sheet

into interactive activities, and offer a demo, instructions,

and a template of all of their activities. They have activities

recommended for online teaching such as a scavenger hunt.

I created one of these for treble clef note identification and

another for bass clef. The site has student study aids, like flash

cards and creating a timeline and teacher aids like a badge tracker

and a progress indicator. The site also offers other activities which

can be used in the physical classroom or attempted through a

video conference call, such as a quiz show and bingo. The site is

packed with activities, and I encourage you to check out. The best

part: it's all FREE!

It was so bizarre to have to go into my classroom after the

state shut down. It was like walking into a ghost town. The worst

part was packing up the classroom without the opportunity to say

goodbye to my students. It felt like unpacking for a trip I never

got to take. I am sure you all felt the same.

Whatever the future holds, I hope you enjoy your summer

break not worrying about teaching online, having a Zoom

class, grading work in Canvas, listening to takes in SmartMusic,

answering emails, etc. I hope the start of next school year,

whatever it looks like, goes smoothly for you. Until next time,

excelsior!

NORTH CAROLINA MUSIC EDUCATOR | 21
---
High School Choral

Bethany Jennings, Chair

I

continue to be rendered speechless regarding the last

three months. The whiplash pivot to remote teaching, a

virtual classroom, online lessons – both synchronous and

asynchronous, digital assessments, and all. the. grading. (that

we knew would not count in the end), was one heck of a roller

coaster ride. It will be impossible to forget the deluge of digital

information (junk?), 'freebies', and 'oh, you must try this!' that

left me with more of a digital hoard than a

curated digital plan for success. I wanted to

punch things with every new email taunting

"we're all in this together."

I also fell, unintentionally and

haphazardly, into the comparison trap with

other teachers. Like getting off any roller

coaster, I entered June dazed, confused, and

grossly nauseous. Toward the end of May, I

was fortunate to hit a small stride with my

students and thought I could see the light

at the end of the tunnel, but only recently

realized it is looking more like another train

– um, I mean roller coaster.

As I write, the fall months are about as

clear as a recently-changed freshman male

voice trying to sing middle C. Hopefully,

by the time you read this, plans will have

been articulated. When some semblance

of what the semester will look like and plans

are announced, the larger NCMEA and our High School Choral

section will pivot to try to provide support in the finer details.

Our NCMEA leadership has been tirelessly working since March

to advocate, inform, direct, build, and more, on our behalf.

"Proactive" would be an understatement. The work that has –

and is – currently being done is both extensive and intensive.

Unfortunately, their hard work is not always known or seen.

(Kind of like being a choral music educator, right?!). We are

fortunate to be a part of this organization.

The voice of one of my favorite mentors plays in my mind,

"Fail to plan, plan to fail." In my summer downtime, I try to zoom

out to get an honest look at the big picture of my choral program.

My thoughts tend to fall into the following four "R" categories.

Regardless of what the fall will look like, hopefully thinking

through and planning in these areas can provide some focus.

Relevancy

• How can my course material prove relevant within

a larger educational framework

(instructional strategies, lesson

planning, virtual classroom setup,

assessment strategies, etc.)?

• How do my curriculum objectives

and intended outcomes prove

relevant to all students?

• What are the ways in which I

can use my curriculum choices,

instructional delivery, and

communication norms to prove

relevant to students, parents, and

the larger school community?

• How can I stay relevant as a choral

director?

Rigor

• Should I take a hard look at my

'normal' curriculum to curate an

alternative or modified version for

the upcoming season?

• What are the most efficient, yet effective, strategies for

delivering instruction within my individual context?

• How can I hold students accountable for their learning

while balancing and mitigating the outside challenges

they will face?

• What elements of my curriculum can I effectively teach,

assess, and use for overlap within the other "R" categories?

22 | NORTH CAROLINA MUSIC EDUCATOR
---
Relationships

• Given these temporary circumstances, how will

relationship building/maintaining in my program look the

same or different?

• Given these temporary circumstances, what do my

students need to feel valued by me?

• What do my students need to feel valued within the larger

group without physically being together?

• What do my students need to feel seen and heard without

being physically seen or heard?

• How can I maintain relationships with returning students

and create relationships with new students?

Retention

Not only do I fear a loss of momentum within my program, I

fear the loss of actual singers when this season is over. Students

sign up for vocal music to sing, and to sing together! If that is not

possible, retention could be challenging. In case that happens,

turn to a teacher who has built a program from scratch for some

encouragement. Many of our colleagues have started programs

in brand new schools, in addition to the many teachers who have

inherited programs they had to resuscitate and rebuild. These

schools have thriving choral programs! Yes, starting from scratch

has its own challenges, but it can be done.

All of these considerations should be carefully examined

through the lens of your individual teaching context, with your

personal emotional, mental, physical, and spiritual well-being

and limitations in mind. The next few months will likely be hard,

but find your teaching people and plan to lean in and lean on.

(You know you're singing it.)

The current state of music making, choral music education,

and education as a whole might appear disheartening, but I

remain hopeful, positive, and almost excited, to witness and be a

part of the growth, innovation, and collective progress we will see

in our profession. I thank you in advance for your contribution

to our state, our NCMEA organization, and for your hard and

fast work on behalf of all students seeking refuge, belonging,

achievement, and joy in our choral music classrooms.

GEORGE N. PARKS

LEADERSHIP

IN MUSIC EDUCATION AWARD

The George N. Parks Award honors an

exemplary music educator who embodies

the characteristics and leadership that Mr.

Parks showed his students every day.

To nominate a music educator, visit

bit.ly/GeorgeParksAward.

Submit your nomination by September 9.

NORTH CAROLINA MUSIC EDUCATOR | 23
---
O

rchestra

Donald Walter, Chair

Please take care of your students and yourselves. Make sure

they have a safe place within their "music family." One of

the things I value most about school music making is the

creation of a community where students are safe to be themselves,

share themselves, express themselves. I challenge all of us to

make our programs more inclusive and less exclusive. As music

educators we have the opportunity to create school cultures that are

welcoming to all students. Let's make the most of that opportunity.

Online teaching is hard. Obvious, right? It's not the same as

face-to-face instruction. We miss the interactions with the kids.

All the things that make the day go by: the little jokes, foibles,

and quirks that make each orchestra class special. We miss the

comfortable rhythm and pace we established with our students

throughout the course of a year, and the many years we teach them.

For me, transitioning to online teaching was very much like

going through the five stages of grief. First was denial. I did my best

to keep everything the same as it was. But that

didn't work. There are huge equity and access

issues. Synchronous playing over the internet is

a chimera.

Then came anger. I got frustrated because

things weren't going to be the way I wanted

them to. No one seemed to have an answer that

just worked. Then came bargaining. If I could

only do X, then the kids would do Y, and it

would all be okay! Um... yeah... not.

I explored a multitude of online resources

to try to find a great solution. There are a

lot of amazing tools available, but too many

to choose from. Then came depression. The

realization that my students wouldn't get to

play at the new performing arts center or

participate in Jr. Western Region Orchestra.

Finally, there came acceptance. When I realized

the situation was what it was, and I had to

muddle through as best as I could. I want to

share what I developed with you. It's still a

work in progress and I appreciate constructive

feedback.

One of the things I enjoy about middle

school teaching is the use of method books.

24 | NORTH CAROLINA MUSIC EDUCATOR

Violins I

Vln. I

Vln. I

Vln. I

Vln. I

Vln. I

6

!

11

!

16

!

22

!

28

!

! " "

It may sound strange, but I appreciate that when you work out of

a method book, all the students get the chance to play melodies.

I also appreciate that a method book used well (not in order)

promotes continual technical development. I think constant

development gets kids hooked on solving new challenges.

That success leads students to excitement and a feeling of

accomplishment. I wanted a solo musical experience that could

create the same situation. The question was what could do that

while in quarantine? I found my solution in old time music/fiddle

tunes. I like teaching fiddle tunes because everyone gets to play the

melody. Even the bass players!

Teaching fiddle tunes comes with a word of warning: make

sure to do your research on the fiddle tunes you choose. Some

fiddle tunes have terrible racist histories and awful lyrics. Some of

these tunes are hiding in plain sight in the method books we use.

We owe it to our students to make sure we are not perpetuating

institutionalized racism by using "whitewashed" tunes.

Sample Fiddle Tune with Four Difficulty Levels

Rock the Cradle Joe Sample Lines

Beginner and Intermediate Line arranged by C. Mack

Proficient and Advanced line adapted from https://tunearch.org/wiki/Rock_the_Cradle_Joe_(1)

Beginner

D=90

# # # # # # # # # # # # # # # # # # # # $ # # # # # # # #

# # # # # # # # # # # # # # # # # #

Intermediate

# # # # # # # # # # # #

# # # # # #

#

# $ # # # # # # # # # # # # # # # # # # # #

Proficient

%

# # # # # # " # # # # # # # # # # # # # # # # # # # # # # # # # # # # # # #

# # # # # # # # # # # # # # # # # #

# # # # Advanced

# # # # # # # # # # # # # # # # # # # #

# # # # # # # # # # # # # # # # # # # # # # # # #
---
SAVE THE DATES for the Southeast Honors String

Festival and String Teachers Conference, January 22–24,

2021, hosted by the UNCG School of Music.

Join us for this intensive and exciting three-day event for

high school string students and middle and high school

orchestra directors.

Visit our website or call for more information. Online

submission of student applications and audition

recordings, as well as registration for teachers,

will be accepted beginning in November 2020.

For more information, call:

(800) 999-2869 or (336) 334-5299

Virtual Learning

Resources for Music Educators

NAfME Societies and Councils have compiled distance learning and professional development

resources from their own original teaching experiences, music educators in their school districts,

universities, communities, peers, or other trusted sources. Available to NAfME members at no

cost to help you keep teaching, learning, and making music through coronavirus disruptions.

Learn more at bit.ly/VirtualTeachingLearningMusicEd or visit nafme.org.

half-page print ads_8.5x5.5

NORTH CAROLINA MUSIC EDUCATOR | 25
---
Materials

I went through several permutations of my online fiddle unit

modules. At first, I had different tunes for each middle school

and high school class, but that was burning through material too

quickly. So instead of different tunes for each level, I settled on

having the same fiddle tune for all classes, arranged in four levels

of difficulty: beginner, intermediate, proficient and advanced. The

students were free to choose whichever level suited them.

I got the beginner lines from Dr. Christen Blanton Mack, the

director of the UNCG Old Time Ensemble and my daughter's

fiddle teacher. This level had simple rhythms, mostly following a

basic rhythmic pattern. To create the intermediate level, I consulted

with Mack to modify the beginner tunes by adding double stops

or varying the rhythms. I got the advanced version from the

Traditional Tune Archive, a website that has tunes posted under a

Creative Commons license. To make the proficient version, I would

simplify the advanced version, taking out double (or triple) stops.

I transposed most of the tunes into D or G to make them work

Pre-Upload Checklist

Complete this checklist before uploading your performance video.

Did you watch the sheet music video for your level?

Did you download the PDF of the music for your level?

Did you watch the walkthrough/demonstration video for your

instrument and level?

Did you look at the key signature to figure out which letters are

sharp (#) or flat (b)?

Can you name the letter name for each note?

Do you know which finger to use for each note?

If you play:

Violin or viola, do you know where fingers should touch or be

spaced apart (finger patterns)?

Cello, do you know which fingers you should use or extend to play

sharps (#) or flats (b)?

Bass, do you know when you should play 2nd finger or 4th finger,

and where to shift (if needed)?

Can you play the correct rhythms for each measure of the song?

Do you know which direction your bow should go for each note in

the entire song (up, down, slurs, etc.)?

Have you figured out the "roadmap" for this song? (Repeats, 1st and

2nd endings, etc.)

Is your instrument in tune?

Can you play this tune in tune?

Did you practice the hard measures until they became easy?

Can you play this tune all the way through without stopping or

"glitching"?

Have you watched your video to make sure it's the one you want to

submit?

Once you feel good about your answers to this checklist, upload

your video.

Thanks!

for the majority of instruments. In the illustration, you can see a

sample snippet of the various levels written out.

Delivery of instruction

To facilitate students' successful learning, I recorded video

walk-throughs of each part. These short, three-minute videos were

basically sight reading sessions where I played the tune, highlighted

tricky spots and provided guidance on how to overcome the

predicted problems. Also, I posted screencasts of my music

notation program playing the arrangements, so students could

follow along and create an aural image of how the music "should"

sound.

Further, I held live help sessions where students could play

their tunes for me. These sessions were not well attended! During

the course of instruction, I challenged the students to make a

recording better than mine to become the new model video.

You can view sample video resources at my school webpage:

www.gcsnc.com/Page/12585.

Evolution of assignments

I went through various types of assignments. For a while I had

the kids working on, and recording, four measures at a time. That

was a lot of grading and hard on the students who had to share

devices. So I changed to only requiring a recording of the whole

tune. At first, I used a numeric rubric to grade assignments (right).

Then I decided to have the kids grade themselves using a

checklist. I wanted to streamline the grading process as much as

possible. But I also wanted some interaction between the students

and myself. So, I had them copy and paste my comments into the

first question of their reflection checklist and then write a reaction

to my comment.

Post-Recording Reflection

Once your teacher has marked your recording complete, copy

their comments and fill out this quiz.

Paste the comments from your teacher here:

What is your reaction to your teacher's comments?

Did you enjoy working on this tune? Why or why not?

For the following questions, indicate whether each statement is

true or false.

I played with a strong, clear tone, free of squeaks or

crunchiness.

I played the correct letters (notes).

I played the song in tune.

I played the correct rhythms.

I performed the correct bow directions (down, up, slurs, etc.).

I played through the tune without stopping or restarting,

except when I had to turn the page or scroll the screen.

For the following question, answer in the text box below the

question.

Do you have any questions or final thoughts about this

assignment?

Thanks!

26 | NORTH CAROLINA MUSIC EDUCATOR
---
Conclusion

In the end, I had about 70%

participation in the fiddle unit. I had

the students complete a Fiddle Unit

Reflection at the end of the year. Most

of the comments were positive. Many

students expressed an appreciation

for getting to play something different

than our normal concert music.

They reported they liked being able

to choose their level of difficulty. I

enjoyed putting the materials together

and really liked seeing the students'

performance videos. For the final

Fiddle Portfolio, the students were

encouraged to add creativity to their

performances with props or dances.

I received some hilarious videos that

made teaching in quarantine a little

better.

Criteria

Ratings

Tone Superior 5 Excellent 4 Average 3 Good 2 Fair 1 Poor 0

Clear, strong sound free of

unintended noise

Pitch Superior 5 Excellent 4 Average 3 Good 2 Fair 1 Poor 0

Correct notes played in tune

Steady Pulse Superior 5 Excellent 4 Average 3 Good 2 Fair 1 Poor 0

Consistent forward motion that

you could tap your foot to in a

regular, even pattern

Rhythm Superior 5 Excellent 4 Average 3 Good 2 Fair 1 Poor 0

Notes played for the lengths

indicated in the written music

Articulation Superior 5 Excellent 4 Average 3 Good 2 Fair 1 Poor 0

Bow strokes played in

the correct direction and

appropriate style: legato,

tenuto, detache, staccato, etc.

Total Points

Teacher Comments

11TH ANNUAL DECEMBER 3 - 5

onor Band Festival

UNC WILMINGTON

Dominic Talanca conductor

uncw director of bands

Rodney Workman guest conductor

asheville high school · asheville

Contact Dominic Talanca

www.uncw.edu/music

talancad@uncw.edu

910.962.3391

NOMINATIONS DUE OCT. 7, 2020

www.uncw.edu

UNCW is an EEO/AA institution. Questions regarding UNCW's Title IX compliance should be directed to TitleIX@UNCW.edu.

Accommodations for disabilities may be requested by contacting the Department of Music at 910.962.3415 at least 5 days prior to the event..

NORTH CAROLINA MUSIC EDUCATOR | 27
---
Online Jazz Teaching for

Non-Online Teachers

by Dr. Justin Binek

Why am I qualified to write about this? Truth be told,

I'm honestly not. I am not an expert in online content

delivery in any way, shape, or form. But I leapt into it

head-first in early 2018, when my daughter was born a week into

the semester. Rather than trying to hire someone to fill my place on

a (very) short-term basis, my dean and I decided the best solution

was for me to work from home and teach remotely during this

time. So I'm coming at this from a place of someone who jumped

into online teaching and very quickly learned some things I hope

will be of service to those who now find themselves jumping into

the world of online teaching, whether they want to or not, and

whether or not they have any experience in it.

Jazz Improvisation

Depending on the size of the class, it's probably wisest to do

a blended approach. Unless every student has their computer

wired up via an ethernet cable and with everyone using mics

connected to an external interface, the lag is going to make it

impossible to have everyone play simultaneously. What you CAN

do is set up a group chat to demonstrate larger points at work,

then set up separate one-on-one sessions to listen to students

perform with play-alongs. In addition to tracks you yourself

can provide, consider using recordings from Jamey Aebersold,

PlayJazzNow.com, the Learn Jazz Standards YouTube channel, and

iReal Pro.

I know, I know. We all complain about the wonkiness of some

of the chord comping on iReal Pro, but in moments when we're all

scrambling to try and find the most effective ways to teach, being

able to quickly set up six choruses of "Lullaby of Birdland" in G

minor at mm=150, export it as an audio file, and send it to students

is a wonderful, wonderful thing.

Again, this is a time for creativity and flexibility. This can

also be a great time to have students dig into more transcription

projects, which can then be performed either one-on-one for the

instructor or over a broader group video platform. The name of

the course is Jazz Improvisation – it's a great opportunity to think

about improvisation in a much broader meaning of how we go

about our teaching!

Ensembles

A big source of discussion I've seen online has been centered

around, "How do we rehearse ensembles?" Eric Whitacre's Virtual

Choir notwithstanding, it's a logistical nightmare (and, for most

school groups, a virtual – pun intended – impossibility to set

up a synchronous online rehearsal). So, with that in mind, let's

talk strategy. The fundamental question everyone who directs

an ensemble at this point needs to ask themselves is this: are we

preparing for anything? My college has canceled all public activities

and performances through May 20 (the day before graduation).

For me to assign rep for my Funk Band to work on would be

creating busy work for the sake of creating busy work (and likely

breeding resentment among my students). However, my colleague

is planning

to take our

top vocal jazz

ensemble into

the studio to

record over the

summer, so

they do have

something

they are still

working

towards.

If your ensemble has canceled all remaining performances,

don't make your students learn music they will never perform.

Instead, look for projects that will still inform their performance

practice, such as guided listening reviews and score study/analysis.

Whatever the case, please don't make the students schedule a time

to perform their individual parts for you for a grade online. That's

just… I hate to use the word pointless, but I'm going to use it

anyway. That's just pointless.

If there is the possibility of performance later this semester, this

does change things, and will require some creativity. Addressing

the vocal side of things first: the easiest way to assist students in

their practicing is through the creation of part tracks. Many choral

directors are already in the habit of creating part tracks (and partminus

tracks) as learning aids, and this is extremely helpful for

assisting students in practicing remotely. One of the most useful

kinds of part tracks that can be generated is to enter parts in Finale

or Sibelius, and then generate separate MP3s that involve panning

everything to one side (I usually do hard left) except for one part.

This allows the student to practice their part in context with the

option to either hear or not hear their line. Arrangers like Kerry

Marsh, Matt Falker, and Jeremy Fox already provide part track

options for their charts upon purchase, and it's often a matter

of simply contacting other arrangers to see if they can quickly

generate the same.

If you DO happen to teach in a school that provides all students

with laptops or iPads (and specific software), there is the option

to have students record themselves into a common interface (like

GarageBand), which actually does give the students practice in the

art of remote recording. If the students don't have a decent USB

microphone or microphone interface, this exercise might not have

a whole lot of usefulness, aside from the experience of having done

so (which can be its own reward, of course).

For instrumental ensembles, the easiest thing is to provide

students with big band or combo reference recordings to practice

with at home (this also works on the vocal side as well, particularly

if a group is doing material from groups like the Real Group, New

York Voices, etc.). This can actually be an EXTREMELY useful

teaching tool. For instance, Basie-style swing can be one of the

hardest concepts to teach a jazz band – why not have them practice

playing along with the Basie Band? (Honestly, they should be doing

this anyway, but this provides an opportunity to make them get

into the habit of doing so.)

** This is only a selection of the entire document compiled by Dr. Binek. The

webinar can be found on the Jazz Education Network website (http://jazzednet.

org/resources/teaching-online/) and a full PDF of the supplemental handout is

available as well.

28 | NORTH CAROLINA MUSIC EDUCATOR
---
EdTPA Assessment:

Helping Student

Teachers Succeed

in Performance

Ensemble Settings

by José Rivera, Ph.D.

In 2019, North Carolina began requiring teacher candidates

(interns) seeking an initial teaching license to submit passing

scores on a nationally-normed and valid performance

assessment. Unlike traditional knowledge-based licensure exams

(e.g. Praxis II), performance assessments are often completed

in K – 12 classrooms and are designed to authentically assess

candidates' readiness to teach. The edTPA is an authentic

standardized classroom-based performance assessment tool showing

how prospective music teachers develop, and evaluating student

learning.

Teacher candidates in over 41 states participate in this assessment

as part of their teacher education programs or state assessments prior

to becoming teachers. North Carolina is among 12 states requiring

successful completion of edTPA assessment for teacher certification.

The edTPA is offered for 27 different subject areas or teaching levels,

but there is only one assessment for K – 12 Performing Arts. This

assessment provides teacher candidates opportunities to demonstrate

their music knowledge and to develop, implement, and reflect on

their teaching practice and student learning.

Evaluation Criteria

The evidence (artifacts and commentaries) teacher candidates

submit is evaluated based on five components of teaching practice:

• Planning (Task One)

• Instruction (Task Two)

• Assessment (Task Three)

• Analyzing Teaching

• Academic Language

Teacher-candidates need to provide evidence for the Planning,

Instruction, and Assessment components within the corresponding

tasks and will provide evidence for the Analyzing Teaching

component across all three tasks. In addition, they will provide

evidence for the Academic Language component in the Planning

task, as well as in the Instruction and/or Assessment tasks.

Parallels to National Teacher Certification

Many teachers in North Carolina are already acquainted with

the National Board for Professional Teaching Standards. Similar to

edTPA, the National Board Certification assessment uses multiple

measures of teacher performance, including classroom video,

student work sample analysis by the teacher, and written analysis

about their teaching practice. Unlike the National Board assessment,

there's no written exam and no testimonial about the professionalism

and leadership of the teacher outside of the classroom.

What are Student Teacher Requirements for

edTPA?

The centerpiece of the edTPA process is a portfolio that describes

and documents authentic practices from the candidate's teaching

experience during their internship semester. The portfolio integrates

several main tasks (Planning, Instruction, and Assessment).

Task One: Planning for Instruction and

Assessment

This task focuses on the teacher candidate's planning process

related to a learning segment of three to five consecutive lessons.

Cooperating teachers assist the teacher candidate in selecting a

class and providing contextual information; identifying the learning

segment to be planned, taught, and analyzed; collaboratively

deciding on the curriculum, content standards and objectives;

and reviewing the teacher candidate's lesson plans. Plans include

instructional strategies, learning tasks for diverse student needs,

formal and informal assessments, and instructional materials and

resources.

The teacher candidate's Task One responses to questions and

prompts are assessed in the following areas:

1. Planning for learning;

2. Planning to support varied student learning needs;

3. Using knowledge of students to inform teaching and

learning;

4. Identifying and supporting language demands; and

5. Planning assessments to monitor and support student

learning.

NORTH CAROLINA MUSIC EDUCATOR | 29
---
Supporting Teacher Candidates: Task One

Clinical teachers play an important role in the success of teacher

candidates (music interns). They bring a wealth of knowledge,

unique expertise, and diverse teaching experiences benefiting

teacher candidates' overall internship experience. Clinical Teachers

play a significant role supporting teacher candidates in the planning,

implementation, and assessment of instruction in the edTPA

assessment process:

• Share or collaboratively make plans for each music class/

ensemble with the teacher candidate.

• Assign or collaboratively select developmentally appropriate

repertoire or songs early in the semester.

• Assist teacher candidates to locate IEP's or 504 plans for

planning for students with learning, physical, emotional,

or intellectual exceptionalities (including gifted learners).

EdTPA requires teacher candidates to plan for instruction

accommodations or modifications of up to three students

from a class.

• Provide detailed feedback on the learning segment (three

to five lesson plans) before students begin the edTPA

assessment.

• Share/demonstrate "tried and true" instructional strategies

and effective assessment (formative and summative)

practices for individual, small, and large group settings.

• Discuss ways to teach depth of knowledge, progressive

development of student's musical skills, musical literacy

skills, throughout their learning segment. Lesson plans must

build on each other to help students create, perform, and/or

respond to music and to make connections to knowledge/

skills, contextual understandings, and artistic expressions.

• Cooperating teachers collaborate with candidates about

student performance strengths/weaknesses.

• Set dates to capture edTPA video (all of the lessons within the

learning segment should be recorded, even though only 20

minutes will be used.) Above all, plan time to recapture video

if things do not go according to plan!

Task Two: Instructing and Engaging Students

in Learning

The second task focuses on the teacher candidate's instructional

practice. Recording the candidate's interactions with students is a

required element of this edTPA task. The cooperating teacher applies

his/her knowledge of students and their families when assisting the

teacher candidate in selecting the class to be recorded and obtaining

parental permission. The teacher candidate must submit two

recorded (uninterrupted and unedited) clips totaling no more than

20 minutes demonstrating the candidate's interactions with students;

these clips may be from different classes.

Task Two responses to questions and prompts are assessed in the

following areas:

1. Learning environment;

2. Engaging students in learning;

3. Deepening student learning;

4. Subject-specific pedagogy; and

5. Analyzing teaching effectiveness.

How Can Clinical Teachers Support Teacher

Candidates: Task Two

• Begin the semester by setting/demonstrating your

instructional, classroom management, and organizations

systems or routines.

• Assist your teacher candidate in recording, either personally

or arranging for a colleague to do so, while the teacher

candidate focuses only on teaching.

• Provide daily feedback on teacher candidate's pacing, student

engagement, instructional practices/supports including

(modeling, scaffolding, sequencing, direct instruction,

breaking tasks into smaller tasks, quality of feedback,

chunking, prompting, student centered vs. teacher centered

activities, teach for transfer, rote to note or aural to visual,

and activities using several learning modes), and the use of

academic language.

• Assist teacher candidates by taking video clips of their

teaching early on. This is quite helpful!

Task Three: Assessing Student

Learning/Reflection

In Task Three, the teacher candidate assess student learning

through summative and formative assessment from the learning

segment. The cooperating teacher guides the teacher candidate in

defining the evaluation criteria, selecting work samples from three

students for qualitative and quantitative analysis – one student must

have a specific learning need – determining the feedback provided

to each of these students, and identifying evidence of student

understanding of targeted academic language to demonstrate the

impact of a candidate's teaching performance on student learning, all

centered around a single central focus.

The teacher candidate's Task Three responses to questions and

prompts are assessed in the following areas:

1. Analysis of student learning;

2. Providing feedback to guide further learning;

3. Student use of feedback;

4. Analyzing students' language use; and

5. Using assessment to inform instruction.

Supporting Teacher Candidates: Task Three

• Discuss ways to develop, implement, and gather data using

summative and formative assessment.

• Video record and assess the teacher candidate's use of

instructional feedback (is it immediate, specific, related to

the task, and does it encourage student participation?)

• Encourage teacher candidates to take time to keep a journal

to reflect on their daily experiences. They can include

reflections about daily instructional or behavioral goals,

habits, and general observations about teaching and learning.

• Remind teacher candidates to submit additional video

evidence of verbal feedback or samples of written feedback of

student assessment.

30 | NORTH CAROLINA MUSIC EDUCATOR
---
• Teacher-candidates and clinical teachers should plan an

assessment that makes sense in their classroom environment,

and supports the learning that is planned for students

before and after the edTPA experience. Ideally, the clinical

teacher assists teacher candidates in determining the skills or

knowledge to be assessed and the best assessment method.

Additional Ways to Support Teacher Candidates

• Remind teacher candidates to record themselves as often as

possible. This will provide additional video material to select

from before submitting the two video clips for edTPA.

• Remind students to plan for additional formative assessment

measures.

• Remind students to practice using academic language

and plan to elicit student's responses practicing the use of

academic language.

• Clinical teachers and teacher candidates can – and should –

arrange to review videos together to help check progress

and make adjustments as needed. Review them together

(rather than discussing the lesson from memory after its

conclusion); it is possible the teacher candidate will have a

different perspective on the lesson than the clinical teacher.

How Much Time does edTPA Take to Complete?

EdTPA only requires three to five hours of consecutive

instruction with one class. However, candidates spend a good deal of

time preparing for instruction, including:

• Completing a context for learning;

• Developing three to five lesson plans;

• Developing summative (i.e.,pre-and post-test) and formative

assessments tools; and

• Collecting parental permission for video clips.

Teacher candidates will also be writing commentary sections of

the portfolio (self-assessment, reflecting on their teaching practices

and student response). The key to success to edTPA relies on the

teacher candidate's preparation. Remember to ask for a copy of their

lesson plans and your instructional feedback (informal conferences).

EdTPA Terminology and Using "Academic

Language"

An important component of the edTPA assessment process is the

use of Academic Language, better known as "how musicians talk"

about musical terminology. Student teachers will be assessed on how

they incorporate academic language demands and language function

in their learning segment. Teacher-candidates are expected to

demonstrate ways students will use academic language in classroom

instruction. The following edTPA terms are commonly associated

with the use academic language.

Learning Objectives: How do learning objectives make

connections to knowledge/skills, contextual understanding, and

artistic expression?

Academic Language: What key music vocabulary terms or

concepts (words, phrases, or symbols) will you teach and how will

you teach students that vocabulary in the lesson?

Language Function: Considering students' language assets and

needs, what is one language function essential for students to learn

music knowledge within the segment's central focus? i.e. analyze,

perform, express, compare/contrast, describe, evaluate, explain,

identify, interpret)

Language Demands: function, vocabulary, discourse, and syntax.

Discourse: How students and teacher talk, write, and participate

in knowledge construction, using the structures of written and oral

language (writing responses, reviews, analyzing music structure).

Syntax: The rules for organizing words or symbols (music

notation, solfege) together into phrases, clauses, sentences, or visual

representations.

Additional Language Demands: Academic and specific musical

vocabulary and/or symbols; plus, at least one of the following: syntax

or discourse.

Language Supports: What specific instructional supports or

strategies (during and/or prior to the learning task) will be employed

to help students understand.

Performing Ensemble Settings and edTPA?

There are several factors clinical teachers and teacher candidates

might consider when selecting a particular performing ensemble for

edTPA completion:

• EdTPA requires teacher candidates to plan for instruction

accommodations or modifications of up to three students from

a class. Ensure the class selected for edTPA serves students with

learning, physical, emotional, or intellectual exceptionalities

(including gifted learners).

• Choose a class your teacher candidate is able to demonstrate

formative and summative assessment practices for individual, small,

and/or whole group settings.

Full Ensemble: The challenge of the large ensemble is to

engage the entire group. They must address pacing of the set of

lessons so all students remain engaged and provide appropriate

accommodations for students who require them. This highlights the

need for candidates to dialogue with their cooperating teacher and

reach agreement about how much new material or how many new

activities to introduce to the students. For large ensembles, teacher

candidates might consider any of the following for their central

focus: style, technique, composition/improvisation, or evaluation.

Sectionals: Many band or orchestra programs offer class periods

divided into instrumental sections (brass, woodwinds) or classes

with a combination of instruments in their daily schedule. However,

if the performing ensemble is too large, instrumental sections can be

pulled out to do any of the above with the one section.

Chamber Vocal or Instrumental Ensembles: This setting offers

opportunities for more student-directed learning. The teacher

candidate coaches a chamber ensemble with a central focus related

to the repertoire or context-specific techniques of chamber music.

Teacher candidates should not feel the need to reinvent the

wheel to make edTPA fit within their student teaching context, nor

feel pressured to give general music, music appreciation, or theory/

reading/writing lessons in a performance-based class. Through

careful planning, clear instruction, reflective evaluation, and support

from their clinical teacher and university supervisor, teacher

candidates can make edTPA work within any performing ensembles.

NORTH CAROLINA MUSIC EDUCATOR | 31
---
Other ways to help your student teacher

successfully complete edTPA

• As an experienced teacher, you likely make several decisions

every class period without even thinking about them.

However, edTPA requires candidates explain the reasoning

behind their decisions. The more candidates hear you justify

the choices you make in your teaching, the better idea they

will have about what good reflection looks like when they

themselves are teaching.

• Assist your teacher candidate in identifying students

with special needs (including students with IEPs, 504

plans, English language learners, struggling readers,

underperforming students or those with gaps in academic

knowledge, and/or gifted students).

• Assist teacher candidates in managing their time effectively.

Teacher-candidates will need help managing their time in

your classroom. In addition to creating the lesson plans,

recording video, and assessing, the candidate will be writing

extensive commentary responses explaining their teaching.

• Encourage your student teachers to video record themselves

teaching early in the semester (before they begin teaching

their edTPA learning segment). A trial run in which you help

teacher candidates record a lesson is also recommended. This

ensures there will be no technical issues on the actual day.

Resources

edTPA Getting Started at

www.edtpa.com/PageView.aspx?f=GEN_GettingStarted.html

edTPA Resource Library for Stakeholders at edTPA.aacte.org

Making Good Choices: A Support Guide for edTPA Candidates at

www.edtpa.com/Content/Docs/edTPAMGC.pdf

Making Good Choices State Specific Requirements at

www.edtpa.com/PageView.aspx?f=GEN_StateRequirements.html

Tips for Using Video to Improve Practice at

www.teachingchannel.org/videos/videotaping-tips-for-teachers

Understanding Language Demands for Performing Arts

www.tntech.edu/education/pdf/tk20/edtpa-al/edtpa-al-pfa.pdf

References

Bastian, Kevin. C., (2018) edTPA in North Carolina: Early Evidence on

Candidate Performance and Predictive Validity, Education Policy Initiatives at

Carolina

Bastian, K.C. Lys, D., & Yi, P. (2018). A framework for improvement: Analyzing

performance assessment scores for evidence-based teacher preparation program

reforms. Journal of Teacher Education.

Chapman, D. & Henninger, J. C. (March, 2016). Divergent perceptions:

Evaluating novices' evaluations of their work as teachers. Paper session

presented at the National Association for Music Education Music Research and

Teacher Education Conference, Atlanta, Georgia.

Kumar, A. B., & Meals, C, D., edTPA in an Ensemble Setting? It CAN be done!

Accessed May 28, 2020. www.google.com/h?q=edTPA+in+an+Ensemble+Settin

g%3F&oq=edTPA+in+an+Ensemble+Setting%3F&aqs=chrome.69i57j33l2.156

4j0j7&sourceid=chrome&ie=UTF-8

Sato, Mistilina. (2014) What Is the Underlying Conception of Teaching of the

edTPA?, Journal of Teacher Education, Vol. 65(5) 421–434.

Stanford Center for Assessment, Learning, and Equity. (2015). edTPA

Assessment Handbook: K-12 Performing Arts for Washington. Pearson.

Stanford Center for Assessment, Learning, and Equity. (2016). edTPA

Guidelines for Acceptable Candidate Support.

Free Curriculum Units for the

Music Responding Standards

Created through the Teaching with Primary Sources program of

the Library of Congress

Focused on helping educators connect to the Library of Congress's digitized archives, and helping teachers learn how

to incorporate primary sources into the classroom, NAfME has created curriculum units connected to the Library's vast

resources in music, including audio, video, still images, and sheet music files.

• Band: middle and high school

• Orchestra: middle and high school

• Chorus: middle and high school

• Music Theory and Composition: high school

• General Music: K, 2, 5, 8

Download the newest curriculum units for Kindergarten General Music and High School Music Theory/Composition,

along with Band, Orchestra, Chorus, and General Music, at bit.ly/LOCcurriculum.

nafme.org | 1-800-336-3768

32 | NORTH CAROLINA MUSIC EDUCATOR
---
Arts Education Is Essential

This statement of support for arts education has been reviewed and endorsed by the national organizations listed on pages two and three.

It is imperative that all students have access to an equitable delivery

of arts education that includes dance, media arts, music, theatre, and

visual arts that supports their educational, social, and emotional

well-being, taught by certified professional arts educators in

partnership with community arts providers.

Teaching and learning will never quite be the same in our post-COVID-19 world. However, our commitment to provide rich

and varied educational experiences remains unwavering. The arts have played an important role in these tumultuous times

and will continue to do so for all students, including the traditionally underrepresented, those with special needs, and from

low-income families. Here's why:

Arts education supports the social and emotional well-being of students, whether

through distance learning or in person.

Self-awareness, self-efficacy, self-management and perseverance, social awareness and relationship skills

are central to any arts education activity, no matter the age and ability of the student or the environment

in which the learning takes place. The arts, with their strong emphasis on team-building and self-reflection

are supremely suited to re-ignite students' interest in learning through collaboration, while simultaneously

fostering creativity, critical thinking, and communication.

Arts education nurtures the creation of a welcoming school environment where

students can express themselves in a safe and positive way.

Celebrating our ability to come together as educators and students is vital to creating a healthy and inclusive

school community. The arts, through a rich partnership among certified arts educators, teaching artists,

and community arts providers, play a valuable role in helping students and their families build and sustain

community and cultural connections.

Arts education is part of a well-rounded education for all students as understood and

supported by federal and state policymakers.

As defined in ESSA, "music and the arts" are part of a well-rounded education. Every state in the nation

recognizes the importance of the arts as reflected in rigorous PreK-12 state arts standards. Forty-six states

require an arts credit to receive a high school diploma, and 43 states have instructional requirements in the arts

for elementary and secondary schools. As noted in Arts Education for America's Students: A Shared Endeavor: "An

education without the arts is inadequate."

The healing and unifying power of the arts has been evident as the COVID-19 pandemic swept the country. We have

seen and heard it play out through works of art on sidewalks, shared musical moments from porches, in plays and dance

performances, and every other imaginable iteration of art making. As states and schools work through multiple challenges

in the years ahead, arts education must remain central to a well-rounded education and fully funded to support the wellbeing

of all students and the entire school community.

© 2020, SEADAE

Arts Education Is Essential

NORTH CAROLINA MUSIC EDUCATOR | 33
---
883-C Washington Street

Raleigh, NC 27605

Degree Programs

Bachelor of Arts

Bachelor of Music

Master of Music

Doctor of Musical Arts

Doctor of Philosophy in Music Education

Post-Baccalaureate Certificates

Post-Masters Certificate

For complete degree offerings, application information, and

audition requirements, please visit: vpa.uncg.edu/music/apply

NORTH CAROLINA MUSIC EDUCATOR | 34