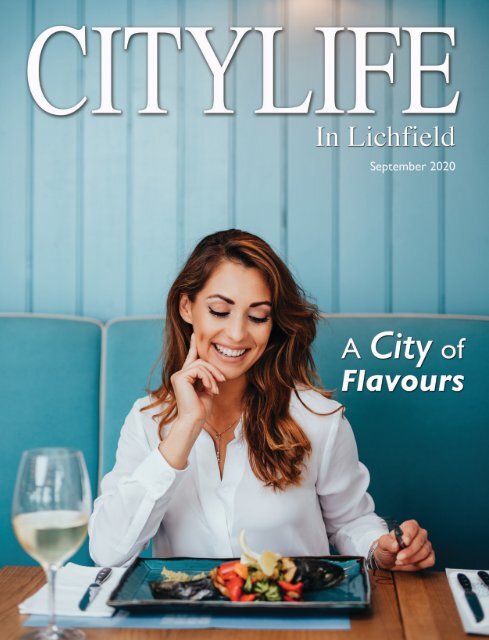 Citylife in Lichfield September 2020
Tasty Treats this Autumn! Our September edition will take you all the way through autumn across the lovely district of Lichfield and is packed with our usual mix of features, food reviews, recipes, articles, local news, history features, competitions and much, much more!
Tasty Treats this Autumn! Our September edition will take you all the way through autumn across the lovely district of Lichfield and is packed with our usual mix of features, food reviews, recipes, articles, local news, history features, competitions and much, much more!
SHOW MORE
SHOW LESS
Create successful ePaper yourself
Turn your PDF publications into a flip-book with our unique Google optimized e-Paper software.
3
---
Welcome to

CITYLIFE

Welcome to CITYLIFE in Lichfield, a monthly magazine

bringing you our pick of the city's news, events and stories.

Each month CITYLIFE in Lichfield is delivered to 18,000

businesses and homes in Lichfield, Kings Bromley, Fradley,

Alrewas, Hill Ridware, Whittington, Stonnall, Shenstone,

Little Aston, Hammerwich, Burntwood and Longdon,

completely free of charge; bringing you the best that the

city has to offer.

Each issue features heritage stories exploring the rich

history of our area, plus competitions, interviews and the

latest in fashion and style.

Got a story or charity event you want to share with our

readership? Think you've snapped an image that captures

the spirit of the city? We want to hear from you!

Our business is bringing you Lichfield's city life.

CITYLIFE Contacts

Editor - Kristen Lackajis 07885 380632

kristencitylife@gmail.com

Features - Jono Oates 07785 757201 jonocitylife@gmail.com

Advertising -

Steve Brown 07740 166497 stevebrowncitylife@gmail.com

Rebecca Hill 07970 513144 rebeccahillcitylife@gmail.com

Lorraine Hudson 078860 91933 lorrainecitylife@gmail.com

Production -

Helen Smith 07967 154187 helencitylife@gmail.com

Citylife In Lichfield Ltd

PO Box 7126 LICHFIELD WS14 4JS

CITYLIFE in Lichfield and CITYLIFE in Rugeley magazines

are not connected to any other publication or publisher, and are

wholly owned by CITYLIFE in Lichfield Ltd.

Citylife In Lichfield

www.citylifeinlichfieldltd.co.uk

Citylife in Lichfield Ltd does not endorse any business or organisation

appearing in these pages, and the publication of any advertisement,

editorial, event listing or advertising editorial does not constitute an

endorsement by Citylife in Lichfield Ltd.

Your Local Magazine

Inside...

6 Local News

What's happening in and around the area

.............................

13 A City of Flavours

Delicious dining in Lichfield

.............................

42 Anyone for Tennis?

Jono Oates explores Beacon Park's tennis

courts

.............................

46 Step by Step

Jo Howell on getting back to normality

following lockdown

From the Editor…

Hello and welcome to the September issue of Citylife in

Lichfield which, this month, celebrates the many fine restaurants

and eateries to present to you A City of Flavours!

It's great to see that lockdown has eased a little and that people

are able to get out and about more. With the Government's 'Eat

Out to Help Out' scheme running throughout August, we've

never seen the city so busy and bustling with life as people rally

to support their local eateries and help them get back on their

feet.

We're very lucky to be spoilt for choice in Lichfield when it

comes to eating out, and we've taken part in a lot of delicious

dining experiences from some of the best in the area, putting

together a veritable feast of information about what, where and

when to enjoy a meal in and around the city.

As your local community lifestyle magazine we're packed with

the same great news stories, history articles and fascinating

features to let you know what's going on in and around the area

this month.

Enjoy and Cheers Everyone!
---
5
---
LOCAL NEWS

Light It Red Campaign

Recently the UK live events industry came

together in solidarity to raise awareness of the

pandemic's devastating impact on the arts

sector.

Hundreds of venues including The Hub at St

Mary's and Lichfield Garrick Theatre were lit up

in red to symbolise the industry going into red

alert, and a final call to the Government to

support the arts in line with other industries.

A huge number of highly skilled people are

employed in event production, audio, lighting,

video, logistics, planning, transportation and

technology – more than 70% are freelancers.

Without these amazingly talented people there

will be no shows for artists to play.

.......................................................................................

Beacon Park Tennis

Courts Bounce Back!

For many years the tennis courts at Beacon

Park had been falling into disrepair and were on

the verge of being closed permanently, taking

away a facility used by more than 1,000 tennis

players, 200 netball players and the pupils at

Lichfield Cathedral School. In 2017 a group of

six friends, who met while playing tennis in

Beacon Park, came together to form a charity,

Beacon Park Tennis, with the stated ambition of

taking over the running of the courts and

redeveloping the site. Starting with zero funds

the group raised over £200,000 in just under

two years through local fundraising and support

from a number of partners: Lichfield District

Council; Lichfield Cathedral School; the Lawn

Tennis Association; Sport England and HS2. The

courts were completely refurbished to a very

6

Image courtesy of Robert Yardley

high quality during the summer and the courts

had a socially distanced official opening on

Monday 10th August. For more information

about Beacon Park Tennis, including annual

passes and booking a court, visit the website

www.beaconparktennis.org.

Find out more about the tennis courts in our

history feature on page 32.

.......................................................................................

TV Appearance for

Mining Memorial

Andy de Comyn, Mike Mellor and

Len Price being interviewed

The National Miners' Memorial project was the

subject of a piece on BBC Midlands Today

recently when members of Chase Arts for

Public Spaces (CHAPS) went along to the

National Memorial Arboretum to be

interviewed about the project and how they are

giving the fundraising a boost.

The memorial will have 22 bronze panels

depicting the history of coal mining. Artist Andy

de Comyn has given his permission for each

panel to be offered for sponsorship and each

sponsor will be recognised in a book to be

produced giving details of the memorial as well

as receiving a plaster cast of their panel.

The opportunity to be part of this long overdue

tribute to the work of all who laboured in the

industry, including those who fought in both

World Wars, is being offered at a cost of £2,500

per panel. Anyone interested or wanting more

details can telephone 07583 655199 or message

through the Facebook page

www.facebook.com/ChaseArtsForPublicSpaces,

where donations can also be given through

JustGiving.

.......................................................................................

Museum Project

Captures Lockdown

Memories

People are being invited to share their stories

and donate items to help create a lasting record

of the Covid-19 pandemic in a new project.

'Lockdown Memories' hopes to collect and

document materials to help retell the story of

Coronavirus and how it affected the lives of

people in the county.

Staffordshire Archives & Heritage Service is

particularly interested in letters, photographs,

drawings, paintings or objects relating to

people's experiences. The materials will be used

in future publications, research projects,

exhibitions or websites.

People interested in the project are being asked

to complete a short survey at

www.staffordshire.gov.uk/lockdownmemories.

Cllr Victoria Wilson and Joanna Terry

from the County's archive services

.......................................................................................

Makeover for

Lichfield's Outdoor

Gym

On a snowy January morning in 2011 local civic

dignitaries together with members of Lichfield

St Chad Rotary Club joined together to open

the newly installed Outdoor Gym donated to

the people of Lichfield.

During the intervening years the free gym

facilities have been widely used by the public

however when lockdown was introduced on

23rd March the gym was taken out of service

and fenced off. With restrictions now lifted, the

gym is once again open to the public.

On visiting the gym recently, a member of

Lichfield St Chad Rotary considered that the

equipment was looking tired and worn after

nine years of use. As a result, several members

of the Club, armed with cleaning materials,

spent time giving the gym equipment a

thorough clean-up and brought it back to its

original pristine condition.
---
7
---
LOCAL NEWS

8

Dance of a Thousand

Lights

An orchestra popular

with people in

Lichfield is playing a

major part in a

national event

involving the police,

fire and ambulance

services.

Emergency services'

teams across the UK

will be flashing their blue lights in celebration of

the brave men and women who respond to our

999 calls and who have been injured in the line

of duty.

The spectacular Dance of a Thousand Lights

event is Sunday September 27th at 8pm.

Members of the public are invited to join the

emergency services in lighting up the skies by

going outside and shining their phones and

torches during the spectacular event.

And in support, the British Police Symphony

Orchestra has released a film of a 'lockdown'

performance of Rick Wakeman's Dance of a

Thousand Lights.

The occasion is in support of PC David

Rathband's The Blue Lamp Foundation. The

orchestra, noted for appearances at Lichfield

Proms in Beacon Park, is joined in the film by

internationally acclaimed classical pianist

Benjamin Frith and massed choirs, providing the

perfect soundtrack to a visual spectacular.

The Foundation provides support for injured

fire, police and ambulance personnel. It was set

up by the late PC David Rathband, from

Stafford, after he was shot and injured on duty

with Northumbria Police in 2010.

The event will also commemorate National

Police Memorial Day. The BPSO film of Dance

of a Thousand Lights can be viewed at

www.youtube.com/watch?v=mfhjy_SuGXc.

.......................................................................................

Local

Schoogirl

Raises Money

for Hospice

A nine-year-old schoolgirl

who really made her

lockdown count by raising

£1,310 for St Giles Hospice

is calling on kids across the

region to take part in its

new Mini Miles 4 St Giles

challenge.

Determined Evie Deeley,

from Armitage, signed up

Richard Jenkinson

conducts the BPSO

Evie Deeley

celebrates the end

of her Miles 4 St

Giles challenge

for Miles 4 St Giles this spring and walked, ran,

skipped and did cartwheels over 64.8 miles in

one month to raise money for the hospice,

which cares for patients and their families living

with a terminal illness.

Now St Giles has launched a children's summer

holiday version of the virtual event, offering kids

a challenge that will keep them active and give

them the chance to make a real difference to

local people by raising money for the hospice at

the same time.

Evie's mum Liz Whalley said that when the

Croft Primary School pupil set her sights on the

Miles 4 St Giles 30-mile target in April she

quickly decided she wanted to double it – and

even refused to ride her bike as that would

make clocking up the miles too easy.

Evie's great grandma, Margaret Whalley,

received respite care at St Giles 18 years ago

and her step-mum works at the hospice, so Evie

already knew of the good work done there and

jumped at the chance to take part.

For more information about Mini Miles 4 St

Giles, visit www.stgileshospice.com/minimiles.

.......................................................................................

A Quacking Shot!

Local resident

Owen Coupland

recently spotted

these geese

practising social

distancing at

Stowe Pool,

Lichfield, and just

had to take a

photograph!

Have you got a

picture that you

think sums up

Lichfield? Email it to: kristencitylife@gmail.com.

.......................................................................................

Get Creative with Your

Local Library

People of all ages

are invited to

take part in a

s u m m e r

programme of

c r e a t i v e

a c t i v i t i e s

organised by

Staffordshire's

libraries service.

The resources are designed to get people

interested in the arts, help them learn new skills

and connect with others in library spaces,

online or at home.

There are two programmes, 'Creative

Explorers' for children and young people and

'Createspace' for adults.

'Creative Explorers' is led by professional

artists and will encourage children to

experiment with a range of creative arts. Each

session links in with a library theme which kicks

off with this year's Summer Reading Challenge

'Silly Squad'. Different activities are posted

every Monday morning on the Libraries

Facebook page with children invited to share

their creations in an online gallery.

'Createspace' is an online resource with

activities to help encourage adults to be

creative in their everyday life and to improve

mental wellbeing. New activities are posted

every Friday on

www.facebook.com/groups/StaffordshireCreate

Space and the group has over 80 members.

Find out more at

wwwstaffslibrariesculture.wordpress.com.

.......................................................................................

Local Athlete Cycles

from Land's End to

John O' Groats

Lichfield-based

elite athlete,

Sam Coxon,

undertook a

m a m m o t h

f i t n e s s

c h a l l e n g e

which saw him

cycle from Land's End to John O' Groats to

raise money for local charity The Stan Bowley

Trust.

Sam, a seasoned triathlete and ocean rowing

world record holder, has several successes

under his belt, including 10 half Ironmen, two

full Ironmen, four marathons and an Atlantic

Ocean 3,000 mile row. However, his latest feat

saw him and his dedicated team travelling

1,600km (994m) over six days and climbing

twice the height of Mount Everest!

Sam's team of fellow athletes included Martin

Mallott, Tom Penzer Adams, Harry Yates, Tash

Saxton, Tom Sutton and Dale Taylor. He was also

accompanied by a support crew consisting of

David Whitehouse and James Cooper who run

the Wilderfit YouTube channel and posted social

media updates throughout the epic journey.

The event, which took place between 20th-26th

August, also has a documentary film being made

about it. Further updates are available at

www.facebook.com/wilderfit and donations can

be made at

www.justgiving.com/fundraising/landsend-2-

john-ogroats.

.......................................................................................

Please mention

Citylife when

contacting

advertisers
---
Advertising Feature

Would you like to talk to a local Financial Adviser?

In these difficult times do you have the correct amount of life assurance or critical illness cover?

Do you know how much your pension will pay you when you retire or pay your loved ones when your gone?

Have you been putting off talking to a Financial Adviser? Would you like a free initial one hour online meeting from a local

professional?

How about speaking to me online using Skype or Zoom to see if I can help you?

Are you going to put off speaking to a professional or do you think you should do it now?

Call my Office in Shenstone on 0121 323 20707 or me direct on 07968 504805 to book your free online meeting.

I feel that effective Financial Planning is about knowing your Clients and them knowing about you. There is no one size fits all approach and

all Clients are unique with differing circumstances, needs and requirements.

If you become a client I will find out enough about you to provide you with effective financial planning. I will speak in clear terms and do

my best to try and help you achieve your

goals.

Usually you can visit our office in

Shenstone or I can visit you at home to

discuss your financial needs which could

include Pensions, Investments, Savings,

Protection and Inheritance Tax. At the

moment, given the current circumstances,

I can arrange a telephone call or online

meeting if you prefer. The first

appointment will be at my cost and there

is no obligation to proceed any further.

Any future costs will be explained and

agreed with you before any work is

carried out on your behalf.

As part of the process I will carry out a

full fact find of your circumstances and

discuss with you your priorities, where

you want to be financially in the future

and how I may be able to help you get

there.

I am a member of a fourteen strong

Financial Adviser team at Four Oaks

Financial Services and am supported by

in-house research, client liaison and

administration teams.

As an experienced and fully qualified

Financial Adviser I work with clients to

help them achieve their financial goals. My

clients are mainly in the Burntwood,

Lichfield, Cannock and greater

Wolverhampton areas, although I do have

clients much further afield.

At Four Oaks Financial Services we

advise our clients on a range of

investments and are very proud to have

their trust and confidence to do so.

It is often said that people deal with

people so please give me a call or drop

me an email. We can have a chat and can

take it from there if you wish.

I hope to hear from you soon.

Robin Place DipFA, CeLTCI,

MLIBF

Financial Adviser

0121 323 2070, 07968 504805

robin@fouroaksfs.com

9
---
LOCAL NEWS

Birmingham Road Site

Toilets Opened

The Chairman of Lichfield District Council,

Councillor Joe Powell (pictured centre), cut the

ribbon on two brand new toilets in Lichfield

city centre on 11th August.

The Healthmatic facilities offer two unisex

toilets, one of which has disabled access and a

baby changer. The toilets will be open every day

from 7am to 7pm.

The replacement toilets have been installed as

part of the council's Birmingham Road site

improvement project, which has seen Lichfield's

old police station and bus station buildings

demolished, the creation of extra coach parking,

as well as the bus station refreshed and

landscaped. It will also see a new long-stay car

park opening soon.

.......................................................................................

Council Protects Land

at Netherstowe

Following the recent unauthorised traveller

encampment on council-owned property at

Netherstowe, the City Council, in partnership

with Lichfield and Hatherton Canals

Restoration Trust (LHCRT) is utilising soil

excavated from the site of the former canal

along Tamworth Road to create an earth 'bund'

or mound along a portion of the grassed area

adjacent to Handel Walk.

Approximately 150 tonnes of soil were

transported to the site in mid-August and it is

being moulded into the shape of the bund,

which will then be seeded with a wildflower

mix on the southside and cosmetically

10

Image courtesy of Paul Marshall

landscaped with shrubs on the north side to

create an attractive gateway to the open space.

The council will also plant a feature Oak tree to

further enhance the site. The scheme was

designed by Landscape Architects from local

planning and environmental consultancy,

Pegasus Group.

A number of bollards are also due to be

installed, and together with the bund, it is hoped

that they will provide considerable protection

against any future unauthorised vehicular access

to the land.

.......................................................................................

LHCRT Addresses MPs

The director of

the Lichfield and

H a t h e r t o n

C a n a l s

R e s t o r a t i o n

Trust (LHCRT),

Peter Buck,

recently gave a

presentation to

a group of MPs

about the

benefits of canal

restoration as a

catalyst

for

Peter Buck of LHCRT

regeneration and

economic recovery from the effects of the

coronavirus lockdown.

The LHCRT engineering director told a video

meeting of the All-Party Parliamentary Group

for the Waterways about the Trust's aims and

achievements, including information about a

notable rise in visitor numbers during

lockdown, with up to 60 family groups per hour

over two sites at the peak.

Lockdown regulations had limited volunteer

action, but work parties had resumed in June

with appropriate Covid-19 precautions.

It was hoped that other groups – Queen's

Croft special school pupils, Scouts, Duke of

Edinburgh award students, construction and

bricklaying students from local colleges,

Waterway Recovery Group volunteers,

corporate volunteers – would resume their

activities over the coming months.

.......................................................................................

Stowe Fields Play

Area Unveiled

Lichfield District Council has launched its brand

new play area in Stowe Fields. Children are now

having fun playing on the equipment, including a

30m zip line, a basket swing, two slides, climbing

frames, wooden stilts, a spider's net, a fireman's

pole, a seesaw and more.

Now the play area has been installed, Stowe

Field's old junior play equipment, next to the

outdoor gym, will be removed after the

summer and the area re-landscaped to enhance

the view from Stowe Pool towards Lichfield

Cathedral.

The council is planning to formally open Stowe

Fields play area later in the year.

Find out more about visiting Stowe Pool and

Fields at www.lichfieldhistoricparks.co.uk.

.......................................................................................

Lichfield's Visitor

Information Centre

Reopens

On Monday 17th August, Lichfield District

Council reopened its Visitor Information

Centre, which is based in Lichfield Library in St

Mary's on the Market Square.

After closing when much of the country went

into lockdown due to the coronavirus

pandemic, the council is reopening its Visitor

Information Centre with a slightly reduced

service.

The team is on hand to help with visitor

enquiries, city maps and self-guided trails,

National Express tickets, coach parking tickets,

and tourism and events leaflets, which are

available on request as an extra precaution.

A number of measures have been put in place

to protect visitors and the team, including a

one-way route around the building, a

requirement to wear a face mask, social

distancing, hand sanitiser, protective screens,

and requesting that customers pay by card.

The Visitor Information Centre is open from

Monday to Saturday, between 9.30am and 4pm.

For more visitor information and to download

maps of the city and district, go to

www.visitlichfield.co.uk.

July/August Winners

Well done to A Thomas of

Whittington who has been

chosen as the winner of a

granite chopping board from

Just Granite of Penkridge.

C Hale of Lichfield was the

winner of two pizza kits from

Cafe Cigno in Burntwood -

well done!
---
11
---
Robert French

This bottle of The Macallan 25th anniversary

fetched £2,700 with Richard Winterton

Auctioneers last year.

Whisky Galore!

...............................

By Robert French, Richard Winterton Auctioneers

There's nothing quite like a dram – and as this most surreal of

years draws towards autumn, whisky will once again affirm its

place as the ultimate winter warmer for grown-ups.

But what about that rarer tipple where one might wisely be advised to

look rather than taste?

If you believe some of the reports in the press, up to a quarter of us

are drinking more alcohol during lockdown, while alcohol sales in general

have risen by nearly a third.

Yet with the value of whisky increasing year-on-year – rare whisky

prices have risen by over 400 per cent in the last decade – should we be

drinking it or investing in it?

The answer is, of course, that it depends on the bottle in question. The

most expensive bottle ever sold was The Macallan 1926, a 60-year-old

cask 263 and one of only 40 bottles ever produced.

It sold at auction last year for £1.5m – meaning that one shot will cost

you the same as a 2020 Porsche!

Small wonder that wealth reports show whisky tops the Luxury

Investment Index.

So, could you have a whisky windfall hiding away unopened in the back

of the drinks cupboard?

Whisky to watch out for includes Scottish single malts such as The

Macallan, Clynelish, Ardbeg, Glenlugie, Brora, Bowmore and Ben Wyvis –

a bottle of The Macallan 25th anniversary fetched £2,700 with Richard

Winterton Auctioneers last year and we sold a bottle of Bowmore

Bicentenary 1779-1979 Islay single malt for £2,600 in our online-only

Fine Arts auction in April.

Also highly collectable is unusual whisky such as Loch Dhu aka 'The

Black Whisky'. Very different to the golden tones classically associated

with Scotch, this very distinctive single malt gets its signature colour

from maturing in double-charred casks. It regularly sells at auction for

£200.

Other ones to collect include whisky from distilleries no longer

producing – so-called 'silent' or 'lost' distilleries such as Glen Mhor, St

12

A bottle of Bowmore Bicentenary single malt

sold for £2,600 in April.

Magdalene and Ladyburn.

Two such lost distilleries, Brora and Port Ellen, were due to reopen

this year; Port Ellen has already confirmed this has now been put back

to 2021.

Nevertheless, whenever they do come back, we expect demand for

their new products to be very high indeed.

We've found ourselves firmly footed north of the border today talking

Scottish whisky but there is of course a whole world of whiskey out

there, ranging from Irish to American bourbon, which is made from corn

mash whilst Scotch is made from malted barley.

Bourbon, incidentally, is booming – despite a 25 per cent tariff on

imports, it's estimated that one in 12 bottles of whisky sold in the UK is

American whiskey with Jack Daniels still being number one. Other

popular brands include Stagg, Old Forester, Benheim and Woodford

Reserve.

I must also mention Japanese whisky, which has its own proud heritage

and traditions offering innovative and complex flavours garnering huge

respect and credibility in the whisky world from distilleries such as

Yamazaki, Hibiki and Nikka.

Of course, much of this article focusses on aged whisky but it's worth

noting that whisky only matures in the cask – once it is bottled it will

taste exactly the same, provided it has been stored correctly, even after

many, many years.

This is a point highlighted by recent news that a bottle of Scotch

recovered from the wreck of the SS Politician – which sunk in 1941 and

inspired Compton Mackenzie's novel Whisky Galore and subsequent

films – was set to fetch £15,000 at auction.

The cargo ship which ran aground off the coast of Eriskay was filled

with over 20,000 cases of whisky, much of which was 'rescued' by

islanders, who clearly felt more kinship with whisky than marine salvage

laws!

This bottle in question, however, is one of five legally recovered by

divers in 1987. Talk about wetting one's whistle – oh to try a dram of

that!

Robert French offers free valuations of wine, whisky, port or other spirits –

email rob@richardwinterton with photos for a virtual estimate or call

01543 251081 to book a Covid-secure valuation appointment.

The Lichfield Auction Centre's specialist sale on Monday, September 28

includes a Wine & Whisky section. For details, visit

www.richardwinterton.co.uk.

See our advert on the back page.

Loch Dhu gets its signature

colour from maturing in

double-charred casks.
---
A City of

Flavours

When it comes to dining out,

Lichfield really does have it all.

There's a huge range of different

cuisines and cooking styles to choose from,

such as Thai, Mexican, Italian, Chinese,

Mediterranean, French, Asian, English… and

everything in between that you could

possibly want. There's also a varied range of

restaurant vibes in the city, with chilled out

dining, quick and easy fast food, or something

more along the fine dining experience –

whichever you prefer, you're still spoilt for

choice!

Flo-Rida Cocktail Courtesy of The Bureau

An assault on your senses, the flavours of passionfruit liqueur, Gin Ting, pineapple

juice, orange juice and lemonade,created by our very own Flo. Make your own

version by following the steps below.

Take...

37.5ml Gin Ting

12.5ml Passoa

25ml Orange Juice

75ml Pineapple Juice

Lemonade

Shake over ice then strain into a

coupe glass and top with a

strawberry.

We've featured just a handful of the many fine

eateries over the next few pages, and we've

enjoyed everything from burgers to

breakfasts, platters to prosecco, and soup to

sweets.

Feeling peckish?

Take a look at our dining reviews and whet

your appetite!

* Please note you must be 18 or

over to consume alcohol.

13
---
Waste Not, Want Not!

.............................................

Beginning life in April 2019 and operating

from a small cabin as a zero-waste

supplier of dried food and groceries,

home basics and body products, The Lichfield

Pantry, based at The Plant Plot Garden

Centre, has since gone from strength-tostrength.

Owner, Sam, wanted to address the issue of

plastic packaging and was concerned about the

amount of rubbish that the public throws away on

a daily basis. Her aim was simple – offer people a

plastic-free alternative to their favourite products,

with items being as locally sourced as possible and

keeping a low carbon footprint.

The business had a humble start, with a few

staple dried food items being available. However,

following the move to larger premises within the

same site, owner Sam incorporated freezers, many

more loose food products and bring-your-owncontainer

items too. But the story of success

doesn't end there…

The opportunity arose to take over the

café/bistro on-site at the garden centre, and Sam

saw the potential to realise her dream and create

a Zero Waste Farm Shop, along with a Deli and

Café, for her business.

Now, housed within a large, open plan space,

The Lichfield Pantry consists of a Café serving

breakfasts, lunches and light bites, plus tea, coffee

and cake; a well-stocked Deli, which is due to

open soon, will feature fresh olives, hummus,

peppers, dips, homemade Scotch eggs, fresh meats

and pickles, plus homemade cakes and scones; and

the new and improved Zero Waste Shop.

It couldn't be more simple to give zero waste

shopping a try. The shop is filled with an array of

loose pulses, pasta, rice, crisps, cereals and nuts,

and you simply take your own Tupperware

containers and fill them yourself! There are

several freezers packed with loose frozen items,

such as chips, vegetables, berries, pastries, pizza

dough and pasties – once again, you can take your

own containers and fill to your heart's content!

Not only does this mean you are not sending yet

more harmful plastic packaging to landfill or to the

oceans, it also works out cheaper as packaging on

products is expensive and carries a mark-up on

top of the price of your item.

And it doesn't just go for food either… at The

Lichfield Pantry you can take your own laundry

and beauty bottles and refill them with hand soap,

laundry detergent, fabric softener and washing up

liquid, or try one of the many handmade soap

tablets, shampoo bars or natural deodorants that

are available.

All home and cleaning products are fully-vegan,

animal cruelty-free, eco-friendly, contain no palm

oil and are as ethical as can be.

The Lichfield Pantry Zero Waste Farm Shop,

Café & Deli is open daily from 9am-5pm and can

be found at The Plant Plot Garden Centre,

Stafford Road, Lichfield, WS13 8JA. Alternatively

visit www.thelichfield pantry.co.uk

Dining Out - A City of Flavours
---
Dining Review

Breakfast Like a King

At The Lichfield Pantry

.............................................

Who doesn't love a good old fashioned Everything is locally sourced and, in keeping with

Full English to start the day? Well we The Lichfield Pantry's ethos, is as eco-friendly and

certainly do so we were delighted to ethically produced as can be. And it's all right there

be invited along to The Lichfield Pantry at The in the taste… the meaty sausages were rich and full

Plant Plot Garden Centre to sample what was of flavour, the bacon thick and juicy, whilst the eggs

on offer.

were golden and creamy… the perfect indulgence

Occupying the space that was formerly The on a blustery morning.

Potting Shed Café, The Lichfield Pantry has been It took quite a while to battle through this feast fit

refurbished to include not only a café serving an for the likes of Royalty, but being the warriors that

array of hot drinks, cakes, breakfasts and lunches, we are, we bravely fought through it and, with bellies

but also a zero waste farm shop and a delicatessen. bursting, declared it one of the best brekkies we've

It was fantastic to see such a hive of activity and we had in a while!

settled down to take a look at the new and exciting There's also a great selection of food for 'those

menu.

that lunch' including light bites as well as something

There's everything there that you could possibly more substantial. We loved the sound of the

imaginee for breakfast; from bacon paninis, and buttermilk chicken served on a brioche bun with

muffins; to all-butter croissants, waffles and pastries homemade coleslaw and chips; and the onion bhaji

(different varieties that change weekly); to the on sour dough flatbread with a chutney mayonnaise.

slightly healthier options of porridge, granola and A lot of the items on the menu will also be

fruit with yoghurt. However, being hungry (and still purchasable in the deli as it stocks a wide variety of

very much in 'eat-as-much-as-you-can-duringlockdown'

mode!) we plumped for two of the Full which are served with the lunchtime platters, so if

jams, chutneys and sauces, plus lots of cold meats

English breakfasts, and we were not disappointed in you've enjoyed what you ate, why not have a look

the least!

for it in the shop?

A large plate filled with all your breakfast There's ample seating at The Lichfield Pantry

favourites arrived before us shortly after ordering. including spaces outside in the garden village to

Locally sourced sausages and bacon were enjoy your food and drink – perfect for when the

accompanied by free range fried eggs, and a hash sun is shining. Plus, Sam and the team are also

brown, before being lovingly adorned with offering a takeaway service so you can enjoy the

mushrooms and a pot of beans, which was delicious food served in the comfort of your own

extremely useful for keeping the food warm while home.

you devoured it! All this, plus a side of hot, buttery Visit The Lichfield Pantry at The Plant Plot Garden

toast, went down a treat with a pot of tea and a latte Centre, Stafford Road, Lichfield, WS13 8JA.

coffee.

Dining Out - A City of Flavours
---
Dining Review

Sparkling Italian Brunch

.............................................

We've eaten at Café Prego several times in recent months

and so know that their food and quality of service is first

class – so when we heard that they were hosting an

Italian Brunch on a Saturday early in August we couldn't wait to

book a table, and we sent two willing and hungry participants to

indulge and enjoy! Jono Oates tells us more.

Café Prego is situated at the Creative Plants Garden Nursery at

Shenstone Woodend, a short drive from Shenstone village and roughly

half-way between Lichfield and Mere Green. The café has been open for

well over a year and after an enforced closure during lockdown is now

back fully open again, having introduced safe seating measures and having

all the Government approved guidelines in place.

The sun was definitely shining on this little slice of Italy as we arrived

on one of the hottest days of the summer accompanied by a cloudless

blue sky! The Café Prego team had planned for both outside and inside

seating so myself and my dining partner, Helen, were shown to our al

fresco table in the courtyard at the far side of the café, where we were

surrounded by green fields on one side and olive trees on the other –

very Mediterranean!

Within a few minutes a smiley waitress brought a loaded platter of

Italian delicacies to the table. It took quite a while to take it all in as the

platter board seemed to go on forever and was about the size of Lake

Garda! It was loaded with fine Italian cheeses, meats, olives, peppers,

breads, savoury biscuits, vegetables, salads, grapes, soups, dips and much

more! The only problem was – just where did we start?

We set to this task with Italian gusto but before we did our waitress

appeared with two super sparkly glasses of chilled Prosecco which, on a

hot day, was definitely just the ticket! Suitably refreshed we both eagerly

diced in to the platter and graciously agreed to start at either end and

work our way into the middle!

The minestrone soup was served in very cute little branded Café

Prego cups and was just the right amount to provide a taste of the pasta

and vegetable soup without being too filling, and it was perfect with a

slice of crusty ciabatta bread – and yes I did dunk my bread in!

The platter was a great way to experience lots of different dishes and

it was ideal finger food that could be picked up and nibbled on.

As we munched away in our pretty courtyard setting we could enjoy

the warm sunshine and the smell of the Italian trees and bushes that

surround the outside seating area and which the Garden Nursery

specialises in. Other than the contented murmurs of fellow diners it was

very quiet with just the noise of the birds in the trees and the flapping

of the canopies in the background – despite the fact that the Birmingham

Road is just a few metres away, the courtyard is securely sound-proofed

by the trees and you are not aware of the cars driving on the main road

– it is a very peaceful and relaxing place to enjoy your meal.

The platter was very filling and we were definitely satisfied, although

we could have added a tasty tiramisu to our brunch we decided to pass

and were very happy to receive a complimentary shot of chilled

limoncello instead, which refreshed the palate a treat!

As we happily meandered our way through the olive trees back to the

car park we met Café Prego owner Heather, who told us that most of

the food was imported directly from Italy, with the cheeses being

supplied by The Cheese Cavern in Lichfield – a lovely combination of

local and international cuisine.

Heather also told us that she is planning to put on more Italian Brunch

events and we highly recommend that you book in as soon as possible

due to its popularity.

'Buon appetito!'

Café Prego is at Creative Plants Nursery on the Birmingham Road,

Shenstone Woodend, Nr Lichfield WS14 0LB, opening times vary,

telephone 01543 481640 for information or visit

www.creativeplants.co.uk.

Dining Out - A City of Flavours
---
Dining Out - A City of Flavours
---
Dining Review

Perfect for Little Piggies!

................................................

The Pig (formerly The Pig and Truffle) is a well-established public house situated in a beautiful

historical building which dominates the bottom end of Tamworth Street. Now under new

ownership, the business has seen a full refurbishment and been rebranded as simply The Pig,

meaning it was the perfect opportunity for Citylife's Rebecca and her partner to pop in for a bite to

eat.

Seated in two comfy high backed arm chairs in the window, we looked out onto the bustling street (the

perfect place for a spot of people watching) and nibbled on some extra large pork scratchings with spiced

apple sauce as we perused the main menu and enjoyed a pint of real ale (from The Derby Brewing Company

– owners of The Pig) along with a pint of traditional-style cloudy cider.

To begin with we ordered a couple of items off the Beer Bites menu which, as the name suggests, features

tasty bite-sized morsels designed to whet the appetite and go down nicely with a pint of ale. We chose Mac

'n' Cheese Croquettes, which were quirky, tasty and came with a garlic mayonnaise to dip them into – I'd never

had macaroni cheese served like this and I have to say, it was a winner! We also sampled the Chicken and

Chorizo Bites with a smoky Bourbon chipotle glaze. This was very tasty, spicy and had a lovely flavour that is

ideal for whiskey lovers.

There's a great range of burgers on The Pig's menu, with both vegetarian and vegan options too. However

being a meat-eater I opted for 'The Pig Smoke' which consisted of a beef patty, smoked bacon, slow-cooked

pulled pork, cheese and a smoky bourbon and chipotle sauce. WOW! It was huge, it was juicy and it was

devilishly moreish!

My partner tried a dish called The Deep South from the Savoury Waffle menu - buttermilk fried chicken, pico

de galo, crispy onions and hot sauce piled onto homemade waffles! It was the perfect combination of sweet

and savoury, with a hot and spicy kick that was not too overpowering – definitely a dish that everyone should

try at least once!

Both having a sweet tooth, the desserts were just too tempting to resist and we opted to share a wafflebased

dish. The Biscoff Waffle with sea salt caramel, biscuit and vanilla ice cream was light but also had an

underlying richness from the caramel sauce which contrasted well with the crunchy biscuit topping and was

the perfect treat for sharers.

Whilst we were there we were invited to download the Derby Brewing Company mobile app which allows

diners to collect 10 loyalty points for every £1 spent, as well as receive tailored promotions based on your

interests, and unlock hidden rewards as you spend. You can also order and pay using the app too, which is great

if you're not a fan of queuing at the bar! We found it easy to navigate and a huge time-saver as well.

Find out more about The Pig, and take a look at the menu for yourself, by visiting

www.thepiglichfield.co.uk.

Dining Out - A City of Flavours
---
Tastes of the Season

Autumn Dishes

By Simon Smith

A lovely, hearty meal is called for as the nights

start drawing in. This dish is lovely served hot

but also makes a nice buffet centrepiece. You

can also mix some smoked bacon lardons in

for extra flavour.

Cabbage, Potato and Brie pie

1 x savoy cabbage

4ozs cooked Jersey Royal potatoes cut into

quarters

4ozs brie

1 x sheet puff pastry

1/2pt Béchamel sauce (or cheese sauce)

Nutmeg

Salt

Pepper

Egg wash

Method

Take the outer green leaves from the cabbage

and blanche in boiling water for 30 seconds,

drop into iced water to stop them cooking.

Finely slice the rest of the cabbage and repeat

the process.

Drain all the cabbage leaves so there is no

water left as this will make the pie soggy.

Mix the sliced cabbage and potatoes with just

enough béchamel to bind it, season with

nutmeg, salt and pepper.

Roll out the sheet of pastry and lay the largest

green cabbage leaves on it to protect the

pastry from going soggy. Put the sliced brie on

first and then place the rest of the cabbage

mix down the middle and roll together like a

beef wellington using the egg wash to stick the

overlap together.

Brush the top with egg wash for a nice shine.

Baked in a preheated oven at 200 degrees for

15 minutes.

Simon Smith runs a catering business from his

production kitchen in Lichfield, providing bespoke

private dinners plus wedding, corporate and event

catering. Simon also undertakes cookery

demonstrations around the country and with local

businesses such as Arthur Price and Tippers.

During the summer months Simon works for

private clients both on superyachts and in villas in

St Tropez and Europe. If you are looking for

catering or a day of cookery skills go to

www.simonsmith-chef.com

*Please take extra care when preparing and handling

hot foodstuffs. Go to www.food.gov.uk for further details.

Dining Out - A City of Flavours
---
Pom's

Kitchen &

Deli

.......................

Established in 2015, Pom's Kitchen is an

award-winning family business and is proud

to have already built a strong following of

loyal customers. Whether they are popping in

for breakfast, meeting friends for lunch, or just

visiting for coffee and cake, customers of Pom's

can always be assured of great food, a friendly

atmosphere and top-quality service from James

and the team.

Fresh local produce is very important at Pom's

Kitchen and the restaurant prides itself on serving

the very finest and freshest local ingredients

wherever possible.

This year has been a very different year for Pom's

Kitchen, as it has for many restaurants. But since

making a comeback and re-opening in July, the

company has been able to diversify and open up a

deli shop to run alongside its restaurant. It also

offers an online deli too, which features a click and

collect service, as well as same day delivery*,

meaning you can enjoy the best local produce in the

comfort of your own home with just a few clicks of

a button.

The deli shop sells a range of local and awardwinning

produce, from fresh vegetables, meats, eggs,

jams, chutneys, beer and many gluten-free and vegan

products, from the vast selection that Staffordshire

has to offer.

The restaurant's opening hours are Monday to

Sunday from 9am-4pm.

Full government guidelines are adhered to at all

times, including facemasks for staff and regular hand

sanitisation for the wellbeing and safety of all

customers and staff members.

Pop in and see the team at Pom's Kitchen & Deli

on Bird Street. Enjoy a coffee, a bite to eat, and

browse the deli products on offer. Alternatively,

take a look at the online deli shop at

www.pomskitchen.uk and enjoy a taste of Pom's at

home.

*orders must be placed before midday to qualify

for same day delivery. They must meet a minimum

order cost of £10 and are subject to a £3 flat-rate

delivery fee. Orders over £40 are delivered free of

charge.

Suppliers to Pom's Kitchen & Deli:

From Lichfield/ Staffordshire

Bore Street Bakery

Riley's Fruit & Vegetables

Russell's of Shenstone

Daltons Dairy

Hidden Street Food

Hearts Gin

Just Oils

Just Crisps

Perkins Wines & Spirits

Award-winning UK suppliers

Silver & Green

Mr Vikkis

Sauce Shop

Purity Brewing

Tony's Fairtrade Chocolate

Scarlet Mustard

Hawkshead Relish

Little Pasta Organic

10% OFF THE ONLINE DELI SHOP

USE CITY10 CODE WHEN

ORDERING

Dining Out - A City of Flavours
---
Dining Out - A City of Flavours
---
Dining Review

Gallic Charm and

Cocktails

..................

The Bureau Bar & Brasserie on Market Street opened just

before the enforced lockdown but, since reopening its doors

a few weeks ago, has already proved to be very popular with

the diners of Lichfield. Jono Oates popped along to get a flavour for

the place.

Located next to the Samuel Johnson Birthplace Museum, The Bureau

gives a nod to Lichfield's most famous son, and dictionary creator, with

the bar being named after a writing desk and with its feathered writing

quill logo.

Set over two floors The Bureau has lots of character and quirky

fixtures and fittings, with children's retro games and toys attached to the

walls and ceilings! The lower floor is the main eating area and bar, with

socially distanced seating, while the upper floor has two function rooms

which can be hired for meetings and events.

I settled into my chair with a view out onto Market Street and perused

the compact, but interesting, menu. Bearing in mind it is a brasserie my

eye was immediately caught by the French onion soup on the starters

section, it is wonderfully Gallic and a firm favourite of mine so seemed

the obvious choice. For my main course I opted for a fillet steak with all

the trimmings, another of my favourites as, in my opinion, there is nothing

better than a well-cooked juicy steak.

While I was waiting, I was offered a drink and I decided to be decadent

and ordered a cocktail. The Bureau has a wide selection of the 'usual

suspects' but also a number that have been specially created by the bar

staff so I opted for a Flo-Rida, created by... well… Flo! It was a very

colourful concoction, beautifully presented in an 'off-centre' glass and

filled with Gin Ting fruit gin, orange, pineapple juice, passionfruit liqueur

and lemonade. The Flo-Rida had a deliciously sweet taste to it, combining

all the fruit-filled ingredients which created a sunshine breakfast-style

drink – but with the added punch of the gin and liqueur it definitely

transported you to the beaches of the French Caribbean!

By the time I had finished my lush cocktail, my soup had arrived at the

table. A lovely filled bowl, with the steam gently rising, and the cheese

gradually melting into the soup. The soup is made from beef stock,

caramelised onions, sugar, flour, olive oil and butter and Swiss gruyere

cheese layered across it, which melts under the heat. The soup was lovely

and strong and with the toast, cheese and onions, it makes for a very

warming, and comforting, dish. As the autumnal evenings start to draw in,

this is the perfect starter to warm the cockles of any heart!

My main course, the 8oz fillet steak, was perfectly cooked to my liking

(medium to well done) and came with onion rings, hand cut chips, peas,

tomatoes, mushrooms and a peppercorn sauce. The steak was well done

all the way down to the centre with a slight hint of pinky-red, was full of

flavour and a beautiful cut of meat. The onion rings were lightly battered

and crispy (not the greasy deep-fried kind) and the chips were chunky

and satisfyingly biteable. The vegetables were all fresh and the peppercorn

sauce provided a touch of heat and spice to complement the steak

perfectly. I also chose a glass of Merlot to accompany my meal which was

smooth, easy to drink and left a nice finish on the palate.

This was a deeply satisfying meal, the food was beautifully cooked and

presented, and all set in a friendly, funky location and atmosphere, but it's

clear that the team also recognise the history, heritage and character of

this historic and charming building – something that is, of course, very

close to my heart too. For something a little bit different – in the

ambience, surroundings and with a great menu selection – I'd definitely

recommend that you book a table at The Bureau!

The Bureau Bar & Brasserie is at 34-36

Breadmarket Street, Lichfield, WS13 6LH.

Open 9am-11pm daily.

Telephone 01543 258246 to book a table.

Dining Out - A City of Flavours
---
Dining Out - A City of Flavours
---
Prosecco Review

Getting the

Skinny!

..................

It's the new Champagne – it's sparkling, it's refreshing and it's

affordable! What's more, I actually prefer the delicate flavour and

light fizz of Prosecco to the heavy, tight-bubbles of its French

counterpart. So when I was asked to partake in a review of local

company Simply Prosecco, I couldn't possibly refuse!

There's no denying it, Prosecco is everywhere right now. It's very

trendy and it's a popular choice of celebratory beverage for special

occasions… weddings, anniversaries, birthdays… in fact, anywhere that

requires a toast, you'll find flutes filled with Prosecco bubbles.

Here's the history bit… hailing from Italy, and dating back to the

sixteenth century, Prosecco is produced in a large area spanning nine

provinces and is named after a village called, you guessed it, Prosecco! The

Prosecco grape itself makes up 85% of the wine (the other 15% is

permitted to be comprised of different varieties), and it is always

sparkling or semi-sparkling. But why is it so popular all of a sudden? Well,

it is fermented in stainless steel tanks, making it more cost effective to

produce than Champagne and wine experts the world over have raved

about its improved flavour over the last decade.

This is where Simply Prosecco comes in. The Lichfield-based company,

run by Tracey and Joanne, boasts a mobile Prosecco bar (in the form of a

cute converted Piaggio van) which will attend your event and provide

your guests with Prosecco, beer and cocktails on tap! It's a great way to

ensure an endless flow of the

good stuff, as well as creating

a talking point amongst your

guests.

The company also offers

hampers on its website,

dedicated to providing you

with that perfect night in,

and this is what I was going

to try: The Movie Night

Package, consisting of a

bottle of fizz, a box of fine

chocolates and gourmet

popcorn. What made it even

more interesting, however,

was that I was going to be

trying Skinny Prosecco – same great taste, same great

sparkle – but with less calories! As an avid dieter eager to

watch the pounds following lockdown, this was music to my

ears.

Made from 100% Glera grape and coming from the Veneto

region of Northern Italy, the bottle, which had been chilling

for at least eight hours, popped with gusto and I poured a

lively flute of fizz, examining it carefully for differences to my

usual brand. It looked the same; crystal clear, pale in colour

and with streams of tiny bubbles effervescing gently. It was

light on the tongue, with an initial burst of sweetness which

gave way to a drier finish on the palette. In short –

absolutely beautiful and the ideal drink on a lovely warm

evening as it was refreshing and very clean-tasting. The fact

it contains just 0.25g of sugar per 125ml, and only 68

calories, made this gluten-free, vegan beverage all the more

enticing!

As the sun went down, I poured myself another flute of

my new favourite tipple, nibbled on the delicious salted

caramel chocolates from Artisan du Chocolat of London,

and tucked into the salted caramel popcorn from Joe &

Seph's (the hint of salt setting off the sweet tang of the

Prosecco perfectly). It's the ideal way to end a hectic

weekend and Skinny Prosecco could seriously be a game

changer! Salute!

To find out more about Simply Prosecco,

visit www.simplyprosecco.co.uk or find

them on Facebook at

www.facebook.com/simplyprosecco.

Dining Out - A City of Flavours
---
Dining Out - A City of Flavours
---
Coffee Culture

Treat yourself to a new set of coffee accessories to

delight your guests. These designer coffee cups and mugs

will look fantastic being served up as part of an

afternoon tea or ladies coffee morning.

Set of four mugs - £30

Set of four Espresso cups - £25.50

Set of four coffee cups - £30

All available from Needwood Living,

136 Main Street, Alrewas

01283 711272

www.needwoodliving.co.uk

International Interiors with

a Local Village Vibe

......................................

Needwood Living is a hidden gem located in

Alrewas and specialising in bespoke interior

design and luxury homeware pieces.

Since launching the business back in 2009, Jo

Raybould has grown Needwood Living from

strength-to-strength. Interiors have always been a

passion of Jo's and over the last 11 years she's

brought her expertise to local clients and customers

in the picturesque village of Alrewas and surrounding

areas.

Needwood Living's client base doesn't stop there.

Jo's extensive knowledge of interiors has scoped

across international countries such as Portugal,

Menorca, and the south of France, as well as beautiful

UK coastal locations such as Cornwall, Devon and

Wales.

As you walk into Needwood Living you'll be

greeted with a warm welcome by Alex who, within

the last two years, has taken the reigns of the

beautiful homeware collection in the vibrant shop. It

is an absolute 'go-to' for furniture, rugs, lamps and

lighting, art, mirrors, home fragrance, cushions,

throws, ladies clothing, leather goods and jewellery.

Hidden at the back of the shop is where everything

comes to life with Jo's Design Studio. Not only will

you be surrounded by the most beautiful samples of

fabrics, fixtures and fittings, but Jo will be on hand to

guide you every step of the way, recommending

brands from the likes of Zoffany, Sanderson, Morris,

Osborne & Little, Romo, Harlequin, Cole & Son, and

Mulberry Home. Her full interior design service

includes curtains, blinds, flooring, paint, wallpaper,

furniture and accessories.

Jo comment: "Both myself and Alex specialise in

sourcing individual items both for the shop and for

customers' homes. Our bespoke approach means we

are able to give our clients exactly what they are

looking for. Whether that's an entire living space redesign,

a particular curtain fabric, or simply a

gorgeous homeware product from the shop, we are

experts in recommending and designing schemes

sympathetically with their property, lifestyle and

budget."

Needwood Living also holds various shopping

events throughout the year, with a complimentary

glass of prosecco or two of course! It's a great

opportunity to visit the team and find out what's

available or treat yourself and your home to

something new!

Located at 136 Main Street in Alrewas with free

parking outside, Needwood Living is open Tuesday to

Friday 9am - 5pm, and Saturday 10am – 4pm (Design

Studio closed on Saturdays). Home design visit

appointments are available, please call 01283 711 272

for further details of this service. Or visit Facebook,

Instagram or www.needwoodliving.co.uk for more

information.

26
---
Sell Your Home with Sellers

Rock Guidance

Founded in 2020, Sellers Rock Ltd is a consulting

agency that helps property sellers, such as yourself, to

maximise the value of your property.

As a result of witnessing many homeowners struggle to

get the best value for their property, Victoria Smith

decided to combine her passion for real estate with her

sales experience in the industry and create a truly

bespoke service tailored to support sellers.

The agency's expert guidance will enable you to select

selling options with confidence, overcome potential

obstacles before they arise and increase the value of your

property.

Sellers Rock works by delivering a clear roadmap to

help you secure a buyer, whilst maximising your assets

and minimising impediments to ensure you achieve the

best price possible for your property, within your

individual constraints.

First of all, Sellers Rock will work with you to get the

highest possible valuation for your property from estate

agents. Including helping you maximise your home's

saleability potential by making minor changes so it appeals

to the widest possible audience. Secondly, help you decide

on the perfect selling method for you and your home, be

it online, local estate agent, or even going it alone and

selling privately. Finally, provide support throughout the

sales process.

Victoria and her team are dedicated to helping you sell

your home, for the best possible price, with the minimum

amount of fuss and disruption. Find out more at

www.sellersrock.co.uk or call Victoria on 01543 307806.

27
---
City of

Lichfield

Probus

Club

By Peter Hitchman

..................

We were looking forwad to reconvening

The City of

Lichfield Probus Club, Men's

and Ladies, with an informal social get

together, but having visited Rob at the

Club it became clear that the

restrictions of being two metres apart

and socially distancing meant we would

not be able to socialise. We will look to

hopefully re-arrange this in the autumn.

In the meantime, take care and stay safe.

September Birthday greetings to:

Annette Phillips (3rd), John Thurston

(5th) , Anne Wainwright (17th), Brenda

Craddock (18th) and Rene Patterson

(25th).

Exercising 'Oldies'

Raise £2,000 for

Charity

..................

When lockdown hit in March a group of over 60s, who

meet regularly in local community halls, set about

staying fit, despite the fact they were no longer able to

exercise together. Veteran fitness instructor, Mary Morris, decided

to set her members a fitness challenge. Every week they were

expected to walk in excess of 30 minutes on five days of the week

and then to take hold of their handweights and do a strength

programme 3-4 times a week. The strength session came to them

every week via a video lasting just 10 minutes. A total of 72

members took up the challenge and many of them exceeded it by

doing 'walking and workouts' every single day!

Mary says: "I work with the most vulnerable groups with regard to

Covid-19 as they are all over 60, with many of them in their 70s and even

80s. It was absolutely vital that they did not just become couch potatoes!

Setting the challenge gave them a real focus as they were expected to

report in either daily or weekly to say they had completed the task."

Stars were awarded for every walk or workout and Mary kept a

28

Greyhound Trust Hall Green

By Lauren Hirst

.............................................

Covid-19 has made us all re-evaluate our lives in so many

ways. Nationally, dog homing charities have reported a

huge increase in enquiries to adopt dogs now that people

are at home more, not holidaying aboard, and going out for

walks. Greyhound Trust Hall Green is no exception. Fortunately,

people have realised that retired greyhounds make excellent

pets with their gentle ways and not needing as much exercise as

one would expect - two 30-minute walks a day will do, though

most will enjoy longer walks too - they are called 35-miles per

hour couch potatoes after all!

So far this year we have homed over 100 greyhounds and we're

only half way through! If you are interested in adopting a hound,

please give us a ring on 0121 426 4810 and we are happy to have a chat about whether it is actually

the right time to adopt or whether work commitments will change in future.

As people are starting to return to work adoption may not be possible however much they thought

it might be. Hall Green's sponsor scheme might just be the thing instead. We have five sponsor

hounds, all of whom have some sort of additional need and to help them find a forever home, the

Trust helps with cost of looking after the dog. Sponsoring also is a great gift (if you're thinking about

Christmas already) for an animal lover in your life. For just £3 per month you will receive a welcome

letter and pack, Christmas and Valentine's cards, and a summer update from your chosen hound.

Because all the dogs live locally you could even arrange to come and meet your hound and his/her

carer.

Frazer, pictured here, doing his best bumble bee impression, lives in Tamworth with a family with

three children. Frazer had a series of strokes and we almost lost him but with the love and care of

his foster carers he was nursed back to health. Of course, they couldn't part with him and have now

adopted him but the Trust meets any ongoing health needs with help from his sponsors. To meet all

our sponsor hounds, visit our website and download a form at

www.greyhoundtrusthallgreen.org.uk/sponsor-a-greyhound.

running total to

increase their

motivation. Once the

stars started to add up

in great numbers Mary

thought there was an

opportunity here to

raise money for the

group's favourite

charity, St Giles. Every

star awarded earned

20p for the charity and

this had a positive

impact on the group's

motivation.

An amazing total of

£2000 was raised

demonstrating just how

much physical activity

was undertaken. It

equates to 10,000

walks and workouts!

Beth Richardson from St Giles with Jenny

Chesher, Lesley Cooke, Sally Dillon, Suzanne

Groom, Mary Morris and Jean Riggott.

"I am so proud of what my group has achieved," enthuses Mary. "Not

only are they as fit, or maybe even fitter, than they were before lockdown

but it has kept us going as a group, helping our mental fitness as well."

Small 'bubbles' of six people are now meeting to exercise twice a week

in Beacon Park as they try to return to a 'new normal' and as soon as

possible they will be back to their favourite sessions in the community

halls.
---
Here at Just Granite Ltd, we pride ourselves on being the experts for any worktop needs you may have.

Be it a beautiful bespoke and unique kitchen worktop, a bar, bathroom or even a barbecue area, we have

an extensive in-house range ready to be chosen by you! We stock a varied range, in a variety of materials,

such as our own competitively priced quartz, granite, marble and porcelain, as well as all the top brands

from around the world.

There really is no reason to go anywhere else!

Win a Stone Number for Your House

Just Granite takes great pride in offering its customers full

support, from the initial quotation right through to installation,

with all products being covered under a guarantee and offering

additional maintenance packages where suitable.

With the largest variety of natural stones in the Midlands, the

solid slabs are kept on-site and are available for viewing from

9am-5pm on Monday to Friday, and 9am-12.30pm on Saturday.

Located at The Stone Works, Pillaton Hall Farm, Penkridge,

ST19 5RZ.

We've got a bespoke Stone House Number (in

the colour of your choice) to give away! To be

in with a chance of winning this magnificent

prize, simply answer the following question

correctly:

What material does Just

Granite supply?

a) Stone

b) Wood

c) Metal

To enter, just send your name, contact

details and answer to Just Granite

Competition at

competitioncitylife@gmail.com or post

your entry to Citylife in Lichfield Ltd, PO

Box 7126, Lichfield WS14 4JS by the closing date of 20th September 2020.

One entry per household. Multiple entries will be disqualified. No cash

equivalent. Please note you must be 18 or over to enter. All entrants'

information is processed in line with GDPR Data Protection Regulations and

our Privacy Policy (available at citylifeinlichfieldltd.co.uk). Full t&cs on page 50.

29
---
High Sheriff

Cycles for Charity

.........................

In the first week of August Charlie Bagot

Jewitt, the High Sheriff of Staffordshire,

and a 'posse' of five other cyclists,

embarked on a 300-mile cycle ride around

his 'bailiwick' (the county of Staffordshire)

in aid of the Community Foundation for

Staffordshire, seeking to raise funds and

support the Foundation in their mission to

strengthen communities across the county.

The trip also helped highlight the wonders

of Staffordshire as a staycation destination and,

as part of his ride, the High Sheriff stopped off at several well-known

jewels in the county's crown, including Lichfield Cathedral, where he was

met by the Dean of Lichfield, the Very Rev'd Adrian Dorber and the

Mayor of Lichfield, Cllr Deborah Baker. The cycle tour also passed

through Chillington, Kinver Edge, Mucklestone, Basford Hall, Hartington

and Uttoxeter, before the finish-line at Blithfield Hall.

National Memorial Arboretum at

Alrewas and most recently Area Officer

for youth charity the Marine Society

and Sea Cadets.

The High Sheriff is the Queen's

representative in the County for all

matters relating to the Judiciary and the

maintenance of law and order. Much of

the High Sheriff's year is therefore spent

supporting and encouraging the

voluntary and statutory organisations

who work in this area plus the Crown

and Magistrates' Courts, the Police, Prison and Probation Services.

The Office of High Sheriff is the oldest continuous secular office under

the Crown and can be traced back more than 1,000 years to the reign of

the Saxon King 'Ethelred the Unready' (978-1016). High Sheriffs were

originally appointed to act as the sovereign's representative in their

county and they wielded great power sitting in judgement at trials and

were responsible for general law and order. They could raise the 'hue and

cry' in pursuit of criminals and keep the King's Peace by mobilising the

'posse', the full military might of the county.

Donations can still be made at www.justgiving.com/fundraising/charlesbagot-jewitt1.

Throughout the route Charlie has publicised 30 'Enjoy Staffordshire'

attractions (www.enjoystaffordshire.com) on social media. He has also

raised more than £3000 for the Staffordshire Community Foundation

which has helped a huge number of local organisations throughout the

Covid-19 Crisis.

Charlie, of Blithfield, near Rugeley, (54) enjoyed a 22-year career in the

Royal Navy before appointments including Chief Executive of the

Council

Encourages

Residents to

Recycle Right

........................

Through its shared waste service with Tamworth Borough

Council, Lichfield District Council is once again urging its

residents to 'recycle right' and waste less.

After a recent increase in loads being rejected by the recycling centre,

the council is reminding householders across the district to follow its

advice about what can and can't go in blue bins.

To support this, the council will be putting stickers on blue bins to

outline the materials that can be recycled and to ask residents not to bag

up recycling.

In the past the council has accepted recycling in clear bags, but from

now on the council will not collect any bagged up waste in blue bins. This

30

is because it has

been finding too

much contaminated

waste in bags once

opened.

The stickers also

remind households

that only the

following items can

go in blue bins:

• Paper, including

newspaper, writing

paper, envelopes

and magazines

• Cardboard

• Plastic bottles,

tubs and trays

• Glass jars and

bottles

• Cans and tins

• Aerosols

They also remind

residents that

recycling crews will continue to check blue bins, and cannot empty them

if they contain materials that cannot be recycled or any bagged waste.

To check what can and can't go in your blue bin, go to

www.lichfielddc.gov.uk/bluebins.
---
J HOWELL &

DAUGHTERS

FUNERAL DIRECTORS LICHFIELD

LICHFIELD'S LONGEST ESTABLISHED INDEPENDENT,

FAMILY RUN FUNERAL DIRECTORS.

SECOND GENERATION BUSINESS HERE TO ASSIST YOU

AND YOUR FAMILY.

24 hours a day

We are proud to be Lichfield's longest established family run funeral directors offering a wide range of

choices to suit all requirements. Horse drawn hearse, non religious ceremonies, floral tributes and

memorials are but a few of the services we offer.

Pre-paid funeral plans are also available.

For a truly personal service please call

01543 255776

Private Chapel of Rest 116 Netherstowe,

Lichfield, Staffs. WS13 6TS

31
---
Cannock Chase's Deer

Safety Initiative Begins

......................................

We all know and love it as a local Area of Outstanding Natural

Beauty, however there is a lot more that goes on behind the

scenes to ensure that the wildlife of Cannock Chase remains

protected.

The Cannock Chase Deer Safety Project has been set up by

Staffordshire County Council Ranger Service and is run by Project

Leader, Rob Taylor, along with a group of passionate volunteers interested

in helping, protecting and conserving the deer of Cannock Chase.

The campaign's aims and objectives are five-fold and include: helping to

reduce the number of deer/vehicle collisions at various black spots;

educating road users of the risks; easing pressure on the emergency

services who attend deer-related incidents; monitoring which deterrent

works best; and finally, helping to protect the fallow deer population.

The campaign kicks off in September, ready for the upcoming deer rut.

As the mornings and evenings become darker, this corresponds with the

rush hour traffic and deer/vehicle collisions are usually seen to increase

by 50% during this time, culminating in approximately 150 incidents in the

area each and every year.

With support and funding from local businesses and groups (including

Staffordshire Commissioner/People Power Fund; Hanson's Aggregates of

Pottal Pool; and The Friends of Cannock Chase) a number of high and

low tech deer deterrents have been sourced from Europe. The safety

project will be trailing three new types of deterrent as well as running

the virtual road fence along the A513 and sections of Penkridge Bank

Road, with a small stretch of red reflectors also being installed.

Volunteers from the project will be monitoring the various initiatives

to see how the deer react to the individual deterrents, and find out which

one is working most effectively.

Image showing how one of the reflectors works

The group will also be installing new safety signage and banners

warning road users of the higher risks of deer collisions in the autumn

and winter periods. Signage will also be installed highlighting the accident

black spots that involve deer, although any part of the road can be

affected.

Drivers are being asked to respect the advisory speed limit of 40mph

whilst travelling across Cannock Chase.

Nathan, Alastair, Zoe & Emily installing one of the new

generation deer reflectors.

Got a story or

charity event you

want to share with

our readership? Think

you've snapped an

image that captures

the spirit of the

region? We want to

hear from you!

Contact Citylife at

kristencitylife@gmail.com

32
---
33
---
A Bathroom Dream Come True!

...........................................................

Just Bathrooms & Panels in Rugeley has

moved to a new showroom, upgrading

from a small space to a large 3,500

square foot unit on the popular Trent

Valley Trading Estate.

With more than 15 years' worth of

experience in the industry under his belt,

founder Tony and the dedicated team have

taken their business one step further –

from supplying trade-only to opening to the

public, and are able to help and advise on a

wide range of custom-made supplies to

ensure that your bathroom stands out from

the crowd!

The firm's primary product is the supply

of bathroom panels, which have gained

widespread popularity and become a

growing trend over the last few years.

Rather than having tiled bathroom walls, the

specially designed purpose-built acrylic

panels are not only low maintenance and

easy to keep clean, but they come in such a

varied array of colours, patterns and styles,

that your bathroom is sure to become a

talking point!

Unique, colourful and quirky, the panels

feature designs such as palm tree fronds,

flamingos, or even a serene beach scene so

you can lie in a hot bath whilst gazing at the

ocean!

But that's not all that Just Bathrooms &

Panels provides. Tony and the team can offer

a full bathroom renovation package,

including flooring, ceiling and wall coverings,

shower and wet room enclosures, and even

the bathroom suite itself. Plus, working with

a range of local fitters, Just Bathrooms &

Panels can recommend the best tradesmen

in the area to help create your dream

bathroom. With top-quality brand names

within the industry, such as Tavistock, K Vit

Bathroom Products, Lakes Showers,

MultiPanel, Showerwall, Nuance Bushboard

Panels and Worktops and Wetwall Panels.

There also a range of waterproof Flooring

including Malmo, Krono and Faus, and SPC

Flooring, so you are bound to find exactly

what you're looking for to add a little

colour and individuality to your interior.

Plus, the acrylic panels also make great

splashbacks for kitchen sinks, so you can

add some colour and contrast throughout

your entire home!

Visit Tony and the team at Just

Bathrooms & Panels, Unit 16 Trent

Valley Trading Estate, Rugeley, WS15

2HQ or visit www.justpanels.co.uk.

34
---
35
---
Your Garden in

September

By Byron Lewis

We're at the start of a new

gardening season already - can

you believe it?! It's been a great

summer weather-wise, and many

summer bedding plants are

already starting to look a little

jaded. You can trim some back to

encourage fresh growth and

hopefully some late flowers, as

well as keeping up with the feed

- this should give them an extra

few weeks' life, but if they have seen better days you can always

replace them with autumn flowering options instead.

Autumn/Winter pansy & viola are the obvious choice - long

flowering in an array of colours, these have been the backbone of

late season displays for years. Also consider Wallflowers - 'Sugar

Rush' is a dwarf variety grown in packs as opposed to the

traditional bare-root wallflowers and will flower in the autumn

and the spring.

Other options are cyclamen, chrysanthemum, ivy, heuchera and

dwarf grasses. All give warm autumn colour and most of these

will survive more than one year - plant them out in your borders

once they have served their time in your planters and baskets.

Many later cottage garden plants are just coming into their own.

Try michelmas daisies (aster varieties) for a large show of daisylike

flowers from whites to pinks and blues. Japanese anemones

also have good autumn blooms, while rudbeckia and crocosmia

will continue the show through to October.

Spring flowering bulbs are now available - it's vital to plant them

in the next month or so to give the best show next year. If your

summer plants are still looking great, why not plant your bulbs in

some spare flower pots, then when you are ready to change the

display it can be done instantly! Try dwarf daffodil 'tete-a-tete'

and crocus for pots - these have shorter stems and won't be

damaged by any wind.

When buying bulbs, always go for the biggest - bigger bulbs mean

bigger blooms! To keep them flowering well, always use some

bonemeal when you plant bulbs - and feed them again after

flowering (a small handful each time is enough). Bonemeal is

essentially a root feed, and as bulbs are in effect a swollen root,

this is the ideal source of nutrients.

Byron Lewis runs Lichfield Garden Centre at Curborough

Countryside Centre, Watery Lane, Lichfield. Tel 01543

254306 or visit www.lichfieldgardencentre.co.uk.

36
---
37
---
The Garrick

Theatre

............................

The Covid-19 pandemic has affected many businesses and

organisations throughout Lichfield. The Garrick Theatre has

issued the following statement:

Lichfield Garrick has worked hard to bring world class theatre to the

city, giving audiences from Lichfield and surrounds the very best

entertainment right on their doorstep. However, the reality we currently

face is that the risk for large touring companies such as The Mousetrap, is

too great during this period. The producers of these large shows have

made the decision to postpone their tours. Therefore it is with a heavy

heart that Lichfield Garrick is postponing its autumn season shows in

September and October.

The impact of COVID-19 has been devastating for the theatre and live

entertainment industry, especially for charitable organisations like

Lichfield Garrick.

Following popular demand in the city and district, the Lichfield Garrick

opened for block buster cinema just before lock down struck. It is now

working on its autumn season so that it can continue to bring the best

new films, live event screenings and a huge variety of entertainment to

our city.

Lichfield Garrick generates 89% of its income from ticket sales, and the

ongoing loss of earned income is unsustainable. Since 16 March 2020,

Lichfield Garrick has been unable to operate. Whilst we welcome the

recently announced government support for the arts, and continued

support from our partners, it will not fully support the expected costs of

the theatre whilst the pandemic continues.

It is with great sadness that, as a result of the ongoing COVID-19

pandemic, Lichfield Garrick theatre has been forced to make cost savings,

including redundancy and short time working which impact 46% of

permanent roles.

Chief Executive Karen Foster commented:

"I am incredibly proud of our team of dedicated, committed, talented

individuals, and so it is with immense sadness that, in order to safeguard

the future of the theatre, I have no alternative but to make very difficult

and painful decisions regarding their future. With the loss of two more

months of shows, and the prospect of a still uncertain future beyond this,

I hope that reducing the team at this point will enable us to persevere

through this terrible period and emerge with a skilled workforce ready to

expand back to pre-covid activities.

"As a small, independent charity, the Lichfield Garrick needs the

support of its communities more than ever before to help us through this

period of enforced hibernation and to help retain the skilled and

experienced staff for the good of all our local audiences.

"To all of our much-missed patrons, please stay safe and help to

prevent the spread of coronavirus, so that we can meet again in your

local theatre, where I can assure you, we will be following the guidance

offered by Public Health England to keep our staff and public as safe as

possible.

"To my wonderful team, thank you for being so kind and supportive in

the face of the cuts which are sweeping through our industry nationally

and which have now impacted our lives locally."

Enormous challenges remain as we face an extended closure period for

our main house auditorium. We would like to thank our audiences who

have been so supportive and to remind everyone that the best way to

support our theatre right now is to purchase tickets for future

performances, join as a Friend or donate to Lichfield Garrick arts charity

via our website, so we can continue to make a difference to our audiences

and the many participants of our education and outreach programmes.

For affected shows, the box office team will be in touch to see if you

would like to move your ticket to the new dates, donate your ticket to

Lichfield Garrick arts charity or request a full refund.

We appreciate your support during this time.

We will meet again.

38
---
39
---
There's Hope for

2020 at Lichfield

Cathedral

................................

In recent years Lichfield Cathedral has

provided people from across the

region, the UK and overseas with an

exciting and creative programme of

events, art installations and interactive

exhibitions. In recognition, the

Museums & Heritage Awards have

shortlisted Lichfield Cathedral for the

Partnership of the Year Award,

acknowledging the unique partnership

with Artist in Residence, Peter Walker

including work by artistic collaboration

Luxmuralis for 'Journeys Through

Space, Light & Time' in 2019.

Throughout 2020 the Cathedral and

Artist in Residence have been creating

inspirational works to bring a message of

hope and making plans for the rest of 2020

and into 2021. The programme for 2020

has been designed to enable everyone to

enjoy safely their experience at Lichfield

Cathedral.

Over the August bank holiday weekend,

Lichfield Cathedral will have special

extended opening hours on Saturday 29th

and Monday 31st August. There will be

space to soak up the atmosphere in the

Cathedral and around the Close – there

are some lovely picnic spots if the weather

is good. On the evening of Saturday 29th

August, the Cathedral will be hosting a

'Cathedrals at Night' until 10.00pm – a

dedicated evening for reflection, prayer,

looking at the beauty of the building and

listening to ambient music.

Also, during August work will begin on

the clay model of what will become a 3m

bronze statue of St Chad by Peter Walker,

Sculptor. The statue is due to be installed in

March 2021 on the South East side of the

Close. Visitors will be able to see the artist

working on the statue in his studio on

selected days in September.

40

At the same time a living artwork will be

created around the statue called 'The Hope

Garden'. This will comprise 50,000 spring

flowers, which will be planted as a gift of

remembrance and hope to the city. The

flowers will bloom every year around St

Chad's Day, March 2nd, and in readiness for

Easter. This date also marks the anniversary

of the lockdown at the start of the

pandemic.

To coincide with All Saints and All Souls

Days (1st & 2nd November), beams of light

will be cast into the night sky in an

installation called 'Light of Hope'. The

beams will offer a symbol of hope shining

high into the sky, for all around to see.

All Saints Day, November 1st, celebrates

all the saints of God who have been

beacons of Christ's light through the ages -

people who have warmed and lit the world

with their faith and love. All Souls' Day,

November 2nd, is an occasion to

remember and give thanks for departed

friends and relatives - our love is a bridge

between life and death.

A new touring artwork by Peter Walker,

Sculptor, entitled 'The Leaves of the Trees'

will be installed in early November at

Lichfield Cathedral. Designed as a reflective

memorial to the pandemic, the installation

will give people an opportunity to reflect

on their own experiences during lockdown

and express their thoughts.

Lichfield Cathedral is also putting plans

in place to bring back two of the

Cathedral's most popular events: 'Poppy

Fields' and 'Imagine Peace'. The team at

Luxmuralis will combine the two shows

into one immersive experience at the

beginning of November. These plans will be

dependent on the government guidelines

leading up the event, as will the Cathedral's

plans to host the award-winning Cathedral

Illuminated before Christmas.

Luxmuralis by Peter Walker
---
41
---
Postcard image courtesy of Kate Gomez

Anyone for

Tennis?

By Jono Oates

............................

On August 16th 2020 the four tennis courts at Beacon

Park were officially opened, following a complete

refurbishment, after a fund of £200,000 was raised to

bring them up to a high-quality standard. The work was carried

out by a charitable group, Beacon Park Tennis, who had raised

the necessary funds to make the transformation of the courts

complete. The hard tennis courts were first played on in 1934

but the records, and a vintage postcard, show that lawn tennis

was being played in the grounds of Beacon Park as far back as

1905.

It was in June 1905 that a meeting of Lichfield City Council was

held at the Guildhall. One of the items on the agenda was a proposal

from the Lichfield Tradesmen's Association that public lawn tennis

courts be placed somewhere in the recreation grounds at Beacon

Park for use by 'citizens and visitors alike.' The Tradesmen's

Association said that the curator of the library and museum (now the

Registry Office for Staffordshire County Council) should: mow the

grass; mark out the courts; put up the nets and take charge of

racquets, balls and nets. Also, an hourly fee would be charged for the

participating tennis players from which the museum curator would

take 25% of the takings. Some councillors were unhappy that the

curator should take on the responsibility for the courts as well as the

museum. They were worried that if he was out collecting up tennis

racquets someone could nip into the museum and steal some of

Lichfield's most treasured items! The issue was resolved however and

later in the year the grass tennis courts were put up at the far side

of the museum gardens by the edge of the recreation grounds.

By 1911 Lichfield City Council were keen to encourage local

people to play both crown green bowling and lawn tennis in Beacon

Park, however there had been a considerable problem with both

playing areas as the land was sinking at quite an alarming rate, thus

causing slightly uneven playing surfaces! The grounds of the museum

gardens had been built on the site of a former pool, an extension of

Minster Pool, and had been reclaimed in the 1850s to build the

gardens, so it was prone to subsidence!

When the statue of Captain Edward Smith of the RMS Titanic was

unveiled in July 1914 the tennis courts were in the way so they

relocated to behind the statue in the recreation grounds. Fencing was

erected around the tennis courts in July 1923, the council paying local

ironmonger Mr HL Johnson £34 5s for the fixtures and fitting. The

grass courts were replaced by hard courts in May 1934 when players

were charged 1 shilling (25p now) for an hour's tennis for two or four

players.

Tennis tournaments were a regular annual feature and in June 1955

a large crowd gathered to watch the finals take place under a blazing

sun. There was an upset in the Ladies Final as the favourite, Mrs J

Brown (nee Baines) of Lichfield was beaten by Mrs M Stokes (Walsall)

2-6, 6-4, 6-3 in a 'stern three-setter' lasting an hour and a half.

Meanwhile the Men's Singles was taken by 19-year-old Brian Storr

from Tamworth, who was serving in the North Staffordshire

Regiment at Whittington Barracks, defeating J Yardley in a

comfortable two-setter. No tennis would have taken place in

December 1960 however as severe thunder and rainstorms left the

courts under four foot of water, flooding both them and the feet of

Captain Smith a few metres away!

The tennis courts at Beacon Park, which started as two simple

grass courts in 1905, have now been brought up to the standards of

the 21st century and the new investment has ensured that the courts

will be enjoyed by Lichfeldians for many more years to come – new

balls please!

Sources: The British Newspaper Archive; the Lichfield Discovered

Facebook page.

42
---
Something Old,

Something New

By Allen Brown

........................

An ever popular service we offer here at Allen Brown Jewellery is our remodelling

service, where we can transform your older pieces of jewellery into something you

can wear and enjoy, remodelled to a new design to suit your taste.

Over the last few years this has been a growing part of our business, helping people

carry forward all the sentiment of inherited jewellery into new stylish pieces that can be

worn, but knowing it is made from old jewellery that was much loved.

We are helping many customers take existing family heirloom pieces and aid in carrying

the sentiment forward to the next generation. By carefully separating existing pieces, we

transform their metals and stones into new individually designed pieces. It is a good way

of recycling material and reusing whilst keeping all the sentiment of the old pieces.

Often it's hard to visualise what we can do with old

pieces of jewellery. We have lots of before and after

examples to show what we are able to do and we will

guide you along the process whilst showing you what is

possible. In addition, our upstairs viewing gallery, also gives

our customers the chance to view first hand, pieces of

jewellery being created in our onsite workshop by our

talented team.

We are always happy to advise people who bring in their

jewellery and we can help to explore the possibilities of

what can be created.

A customer will visit our jewellery gallery with inherited

jewellery and we can discuss with them the possibilities

and the type of jewellery they would like from the

remodelling process.

For the entire process, from the customer walking in the

door of our jewellery gallery to collection of final item, it

typically takes between 6-8 weeks, 2/3 for the drawing

creation and around 6 for the making depending on the

work involved in the remodelling process.

You can rely on our talented jewellery designers to

create unusual and unique jewellery items to your

requirements with attention to detail and high quality

individualised and a truly personal service.

If you have some jewellery that you would like

remodelling please feel free to visit our jewellery gallery

located at Heart of the Country, Swinfen, Lichfield, WS14

9QR.

We are open Tuesday to Sunday 10am – 5pm.

Alternatively please call us to discuss further on 01543 481

948 or visit www.allenbrownjewellery.co.uk/remodelling

where you can find a video which shows Allen explaining

the whole process of our remodelling service.

43
---
Sheriff William Arthur Wood Beating the Bounds at Lea Grange in 1908

By Foot, Horse,

Carriage & Car

...........................

On Saturday 5th September 2020 a large group of horse

riders would have set off from the Lichfield Guildhall to

embark on one of Lichfield's most historic, and

respected, traditional customs, the Sheriff's Ride. However, the

Covid-19 pandemic has meant that this tradition, like many

others in 2020, will not take place as planned. Instead of a horse

the sheriff will travel round the 20-mile circuit in a car, with only

a driver and passenger, there will be no accompanying horses

and riders, and there will be no crowd of onlookers to welcome

the sheriff, and his entourage, back to Lichfield as they complete

the 'beating of the bounds.' Jono Oates takes a look at the

history of this iconic local event.

Lichfield is well known for its ancient customs and traditions with

the Sheriff's Ride being one of the most colourful and impressive, as

well as one that has been taking place since the middle of the 16th

century. In 1553, when King Edward VI was succeeded by Queen

Mary I, Lichfield was separated from Staffordshire and granted its

own status as a county, meaning that it was then able to appoint its

own sheriff. Queen Mary's Charter stipulated that the sheriff should

'perambulate the new County and City annually on the Nativity of

the Blessed Virgin Mary.' The sheriff would visit all of the boundary

markers of Lichfield to ensure that they were all well maintained and

this became the annual 'beating of the bounds.' Originally the sheriff

undertook the duty on foot but this took so long to complete that

eventually horses were employed so that it could be completed

within a single day. The original date for the ride was always fixed as

September 8th but, again, over the years this rule has been relaxed

and it now takes place on the Saturday nearest to, or after, the 8th of

September.

The first Sheriff of Lichfield to undertake this honour in 1553 was

Gregorie Stonynge, who owned the remains of the Franciscan Friary

building, later to become the Girls High School in the late 1920s and

home to Lichfield Library until 2018. In 1877 the sheriff was Thomas

Hull Hunt and the editor of the Staffordshire Advertiser described

the horses as being a mixture of 'weedy mounts' and 'fiery chargers',

and that some horses were so steady that they would not shy even

if they were met by 'a

waggon-load of monkeys

with their tails burnt off.'

With similarities to the

current year, in September

1914 Thomas Baxter was

the sheriff for the first ride

since the First World War

had commenced and,

although the ceremony

went ahead as usual, only

the sheriff and Under-sheriff

undertook the ride as there

was a severe shortage of

horses with so many of

them being used for military

purposes.

By the time of the Second

World War in September

1939, Councillor Frank

Halfpenny made history by

becoming the first sheriff to

undertake the ride carrying

a gas mask with him on his

horse. All the usual

Sheriff Michael Mullarkey in 2018

Frank Halfpenny.

(photo courtesy of Robert

Yardley).

festivities surrounding the ride, including the reception and

refreshments, were abandoned and the sheriff set off with only one

other rider, Mr Sam Ashley, rather than the customary 40 to 50.

Not every sheriff chooses to ride a horse and in 2018 Michael

Mullarkey, of Michael's Menswear on Market Street, completed the

course in a magnificent horse and carriage, evoking memories of

Lichfield's 18th century coaching past.

Due to Covid-19 Lichfield City Council chose not to elect a new

sheriff, or Mayor, for 2020 so the sheriff will again be Dr Daryl Brown

of Maple Hayes Dyslexia School, who, unlike last years, will 'beat the

bounds' in a car rather than sat on a horse. However, regardless of

the mode of transport – by foot, horse, carriage or car – the most

important thing is that this most historic Lichfield tradition is carried

out and that the Sheriff's Ride will set off on Saturday 5th September

for the 467th time in its history.

*Please note that this year's Sheriff's Ride is not a public event.

Sources: British Newspaper Archive; Lichfield City Council website

44
---
45
---
46

Helping you gain skills and

experience for your ideal career

Juniper Training is an Ofsted registered GOOD Independent Training Provider which offers free

courses, both in centre and online, focused on supporting students/apprentices to achieve the

skills, qualifications, knowledge and experience they need to progress in their chosen career.

A spokesman said: "Supporting over 2,000 students per year, we're confident we can help you

too. Offering a suitable pathway for all, one of which is to embark on taking up one of our amazing

apprenticeship opportunities. We are privileged to work alongside leading employers such as Local

Council Authorities, Accord Housing, Assa Abbloy, Greenhous, Marley and Swish Building Products;

and are also extremely proud to report that we have a 100 per cent pass rate across all of our

Apprenticeship provision. This reflects the high quality training you will receive.

"Our apprentices have the opportunity to learn new skills at the same time as earning a

competitive salary, in an environment they feel safe and comfortable within."

Apprentice, Ebony, stated: "I was nervous and excited for a new opportunity. I had never done

an apprenticeship before, but I would recommend it to others.

"I'm gaining valuable experience whilst in employment. I have been here for less than a year,

and already had the opportunity to progress in the Resourcing team."

Juniper Training also offers pre-apprenticeship pathways such as - 16-18 Vocational Pathway,

Study Programme or 16-24 Traineeships. All enable students to have access to a real life, quality

work experience placement working with a real employer; at the same time as accessing tutor-led

provisions in one of the modern training centres.

Due to current COVID-19 measures, our students have be able to access some of their learning

online, facilitated by their tutors, as we are now deliver remote learning to abide by government

rules and ensure that the safety of our students come first while learning with us.

The aim is for students to develop the required skillset, achieve relevant qualifications (including

English and Maths GCSE re-sits where necessary) and importantly the experience employers are

looking for in their workforce. These pathways support students to progress onto an apprenticeship,

into employment or further education.

Juniper is a credible alternative to going to college to sixth form. Visit the website

www.junipertraining.co.uk to enroll or to find out more information.

Step by Step

By Jo Howell

.......................

In the wonderful musical Barnum,

there is a very rousing song called

'One Brick at a Time' which has the

following lines:

The brawn, the brain, the courage and

the heart,

The strength to bend the strongest

bar,

The will to reach the farthest star,

It's just a case of learning how to

start.

And as the song progresses, you

start tapping your foot to the very addictive beat and realise

that the key message in the song is about just getting started.

It's about taking that first important step and, in this case,

watching something grow. But for me, you can adapt the same

principal to our current après lockdown situation.

As each week passes and more of the life we once

recognised starts to return, I have started challenging myself to

add a 'new normal' to try and get back to well, normal. Last

month I wrote about F.O.G.O (fear of going out) but now, just

four weeks later, I am less fearful of going out and more

fascinated to test the water.

Shopping

Last weekend I ventured to Stafford with the intention of

heading to the one shop I needed to exchange something in.

And then I was coming straight home. But the sun was shining,

I wasn't in a rush and on impulse I decided to have a meander

and a mooch in M&S, Waterstones and Boots. Mask on, credit

card itching in my purse and a sudden sense of freedom, I was

off and doing a pretty normal Saturday afternoon activity.

Eating Out

And just a few days later, I met with a colleague (so nice to

see them in person and not on the screen!) for a socially

distanced curry. Oh boy, it was totally worth the five month

wait! I sanitised my hands on the way in, followed the waiter to

the table from a safe distance and thoroughly enjoyed a meal

cooked by someone else. Restaurants have got it all very well

organised, they want our business and I am certainly happy to

give it them.

The Gym

Whist I have enjoyed participating in many different activities

at home, I am also keen to get back to my favourite class at the

local gym. Well, I say keen – it's more of a 'must do' rather than

a 'want to'. But from what I've read, like restaurants, it seems

organised, clean and ready for us to realise that all those

biscuits at the start of lockdown really weren't the best idea

after all. So, this week's 'normal' challenge is a morning spinning

class and a swimming lane booked for one evening.

And if you're thinking about stepping back to your old

routine, just take it one day at a time. Ease yourself back into

your favourite activities, try something old/new this week and

before you know it, lockdown will just be something written

about in history books. All you need to do is take a brick and

place it on the ground…

Read more of Jo Howell's work on her blog

www.justanaveragejo.blog.
---
Metal Box set to be

Scrapped is Antique

Treasure worth Thousands!

By Charles Hanson, Director of Hansons

Auctioneers

.........................

Ametal box set aside for scrap could fetch thousands of pounds at auction

after being spotted by an antiques expert.

Adrian Rathbone, associate director of Hansons Auctioneers, came across

the object during a routine home visit in Lichfield, Staffs, to value items

uncovered in lockdown – and immediately knew it could be highly valuable.

He said: "A client had requested a home visit for some general advice on

items they were clearing out after a good sort out during lockdown. Laid out

on the dining room were numerous tea sets and general china and glass.

Unfortunately, the tea wares and other items did not carry any notable value

but when the client pointed out a metal box described as scrap and destined

for the tip I couldn't believe my eyes.

"Among the old candlesticks and pewter wares was a small steel casket with

gold decoration. I knew immediately it could be something special, so took

it away to carry out research. The 15cm wide casket with hinged lid and

intricate gold surface decoration turned out to originate from North India and

dates from the 1850s. It is a type of ware known as Sialkhot Koftgari. As it has

a lock it's likely someone of great stature used it to hold their precious

jewellery."

The Indian casket has been valued at £2,000-£3,000 and will go under the

hammer in Hansons' October 8th

Country House Fine and

Decorative Arts Auction at Bishton

Hall, Staffordshire.

Adrian said: "Home visits like this

provide a safe, friendly and

informative service for clients. We

are all curious by nature to know

what items are, their history and

what they may be worth.

"Whether you are downsizing,

seeking advice on items you can no

longer accommodate or have

inherited or in the difficult position

of having to clear a property, I am

happy to help. Sometimes it is the items

we overlook that are worth the most."

Find out if you are sitting on a

fortune. Free home visits with a

specialist valuer to assess antiques,

books, art, silver, jewellery and more

can be made upon request.

Alternatively, free valuation days are

held at Bishton Hall, Bellamour Lane,

Wolseley Bridge, ST17 OXN, every

Monday, 10am-4pm, for books, maps

and prints and every Thursday, 10am-

4pm, for general antiques, silver,

watches, pictures and collectables.

Entries are invited for all Hansons'

future auctions including their October

The Indian casket has been valued

at £2,000-£3,000.

Adrian Rathbone, Hansons'

associate director, spotted the item.

8th Country House Fine and Decorative Arts Auction. For further information

please phone 01889 882397 or email enquiries@hansonsbishton.co.uk.

47
---
Burntwood Town

Council News

............................

VJ Day

Members of Burntwood Town Council and members of the public

commemorated the 75th Anniversary of VJ Day on 15th August outside

the Library at Sankey's Corner by raising the flag in recognition of all

those brave people who fought for freedom.

Seeking Community Representatives

A key aim of a Better Burntwood is the provision of increased

opportunities for the community to have a direct input into decisions that

affect the town. Planning and wider environmental issues are both matters

that can impact on the community and often generate a great deal of

comment.

Although Burntwood Town Council is not the local planning authority

it does have the statutory right to be consulted on planning applications

and the Neighbourhood Plan must be considered in any planning

decisions. It is also important that the Town Council can also offer a

Burntwood perspective in district and county wide strategic policies and

reviews.

To better inform its decision making the Town Council has set up a

Planning and Advisory Group. The purpose of the Group is to provide a

forum for the 'analysis and discussion' of planning issues. It is tasked with

gathering information and opinion on key matters such as the Local Plan

Review, the Community Infrastructure Levy and any emerging

infrastructure projects.

48

A Review of

Plastic-Free July

.........................

By Nicola Lynes

Idecided to take part in Plastic-

Free July on behalf of

Transforming the Trent Valley

Landscape Partnership Scheme (we

are funded by the National Lottery

Heritage Fund). I made daily posts

on the TTTV social media pages with tips to reduce plastic living; talking

about food, toilet rolls, toothbrushes, coffee, refill stores, growing food

and much more (you can find them all on the TTTV pages).

So now that July is over, what did I learn from 31 days of plastic-free living?

Firstly, it is impossible to go completely 'plastic-free'. Plastic has

changed the world and is embedded into everything – the laptop I'm

typing on, the frame of the office chair I'm sitting on, the pen I use to

name a few things. However, the focus of Plastic-Free July was to

specifically highlight "single use" plastics, and how they can be avoided.

The membership of the Group consists of six councillors and five

community representatives. These representatives must be nominated

from formally constituted groups to help ensure community

accountability. There will be one representative for each of the following

interests within the community: business, environment, community, older

people and younger people.

Invitations are now invited for these positions on the Planning Advisory

Group. Applicants will need to secure the nomination of their

organisation. Applications must be submitted by 30th September. See

website for an application form: www.burntwood-tc.gov.uk.

Better Burntwood Fund

The Town Council has launched this year's community grants scheme.

Re-named the Better Burntwood Fund the scheme is focused on helping

local groups respond to problems in the community caused by the

pandemic. Applications must be submitted by 30th September.

Information about the Better Burntwood Fund can be found on the Town

Council website at www.burntwood-tc.gov.uk.

After completing a plastic audit for

one week, I noticed that my main

offenders were food packaging – meat

trays, cheese wrappers, fruit and

vegetables. I think some of this is due to

the response to COVID-19, I noticed

less loose fruit and vegetables in the

supermarket while we all got used to a

'new normal'. Part of our household

waste is also down to maintaining a

harmonious relationship with my

partner, I have imposed some plasticfree

swaps upon him but life is all about

compromise and he does not want to

give up bacon!

I was encouraged with how much

people engaged with the daily posts,

there is a huge enthusiasm among

residents in the Trent Valley to reduce

their plastic use and to support each other to do so. TTTV will be

continuing to tackle single use plastic in the landscape, through litter

picks and campaigns with local community groups. We hope to see you

there!

Find out more about TTTV and Nicola's work at

www.thetrentvalley.org.uk.
---
49
---
Competition and Prize Draw Terms and Conditions

1.Entrants' details will be held and processed in line with Citylife in Lichfield Ltd's

Privacy Policy, which in turn adheres to GDPR Data Protection legislation. For a

copy of our Privacy Policy please email josscitylife@gmail.com

2.By entering the prize draw/competition, you agree to the terms and conditions

stated.

3.The closing date is stated on each individual prize draw or competition.

4.Entrants' details will be securely held by Citylife in Lichfield Ltd in accordance

with our Privacy Policy. Details will be held only until the closing date of the

competition. After this date entrants' details will be securely destroyed/deleted.

Winners' contact details will be securely stored only until the winner has been

informed of their win/prize. After this details will be securely deleted/destroyed.

5.Entrants' details will never be shared with any third party. The only exception to

this is the name (and if the prize is to be posted) address of Competition/Prize

Draw winners that will be communicated to the competition partner to allow

winners to securely claim their prize, after which all details will be securely

destroyed. The initial and surname of winners will be printed in our magazines –

no other details will be published.

6.By entering the competition/prize draw, entrants agree to Citylife in Lichfield Ltd

using or publishing materials provided by the entrants (but not address or contact

details apart from initial and surname) in any of their publications and online.

7.Citylife in Lichfield Ltd accepts no responsibility for any breach of copyright or

breach of any other legislation entailed by entrants in their creation or submission

of materials.

8.Only one entry per prize draw/competition, per reader.

9.Except in the case of cash prizes, no cash equivalent will be offered and the

prize is non-transferable.

10.All prizes are subject to availability and the prize suppliers' terms and

conditions.

11.No purchase necessary.

12.Prize draws and competitions are only open to UK residents aged 18 years or

over (unless otherwise stated).

13.Competitions and prize draws may not be entered by any employee of

individual associated with any employee, agent or third party of Citylife in Lichfield

Ltd.

14.Winners will be selected at random in the case of applicable prize draws and

competitions, or by an independent judge in the case of photographic/art

competitions from all entries received.

15.Winners will be notified by Citylife in Lichfield up to 28 days after the closing

date of the competition/prize draw by the contact details provided by the entrant.

16.A list of the surnames and county of residence of the winners will be available

by writing to Citylife in Lichfield Ltd no earlier than six weeks after the competition

closing date.

17.When the prize draw/competition winner has been selected, this decision is

final and no correspondence will be entered into.

18.Citylife in Lichfield Ltd accepts no responsibility for the prize being lost,

damaged or delayed in transit. When the prize is provided by a third party, Citylife

in Lichfield Ltd accepts no responsibility for any change to the prize, or for the

quality of the prize provided.

19.Competitions may be amended or withdrawn at any time.

20.By entering the competition or prize draw, you agree to having your name,

(photograph, where stated) and city or county of residence published in any of

Citylife in Lichfield's publications and online.

21.Unless otherwise stated, the promoter is Citylife in Lichfield Ltd, PO Box 7126,

Lichfield, WS14 4JS.

22. Citylife in Lichfield Ltd do not express any warranty or endorsement of any

competition prize, information, service or product provided in connection with a

competition by printing or otherwise publicising any competition.

23.To the full extent of the law, Citylife in Lichfield Ltd shall not be liable for any

loss, claim, punitive, indirect, incidental or consequential damages of any kind

incurred as a result of entering this prize draw or competition.

24.By submitting photos, text or artworks as part of competition/prize draw entries

you agree that you own these photos text or artworks, that it is your original work

to which you own all rights to distribute, and that your entry is accurate, moral and

legal.

50
---
51