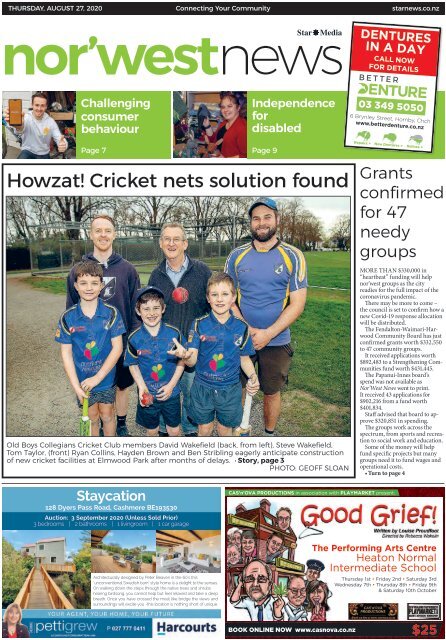 Nor'West News: August 27, 2020
You also want an ePaper? Increase the reach of your titles
YUMPU automatically turns print PDFs into web optimized ePapers that Google loves.
THURSDAY, AUGUST 27, 2020

Connecting Your Community

starnews.co.nz

dentures

in a day

call now

for details

Challenging

consumer

behaviour

Independence

for

disabled

03 349 5050

6 Brynley Street, Hornby, Chch

www.betterdenture.co.nz

Page 7 Page 9

Howzat! Cricket nets solution found

Old Boys Collegians Cricket Club members David Wakefield (back, from left), Steve Wakefield,

Tom Taylor, (front) Ryan Collins, Hayden Brown and Ben Stribling eagerly anticipate construction

of new cricket facilities at Elmwood Park after months of delays. • Story, page 3

PHOTO: GEOFF SLOAN

Repairs > New Dentures >

Relines >

Grants

confirmed

for 47

needy

groups

MORE THAN $330,000 in

"heartbeat" funding will help

nor'west groups as the city

readies for the full impact of the

coronavirus pandemic.

There may be more to come –

the council is set to confirm how a

new Covid-19 response allocation

will be distributed.

The Fendalton-Waimari-Harwood

Community Board has just

confirmed grants worth $332,550

to 47 community groups.

It received applications worth

$892,483 to a Strengthening Communities

fund worth $431,445.

The Papanui-Innes board's

spend was not available as

Nor'West News went to print.

It received 43 applications for

$902,216 from a fund worth

$401,834.

Staff advised that board to approve

$320,851 in spending.

The groups work across the

spectrum, from sports and recreation

to social work and education.

Some of the money will help

fund specific projects but many

groups need it to fund wages and

operational costs.

• Turn to page 4

Staycation

128 Dyers Pass Road, Cashmere BE193530

Auction: 3 September 2020 (Unless Sold Prior)

3 bedrooms | 2 bathrooms | 1 livingroom | 1 car garage

Architecturally designed by Peter Beaven in the 60's this

"unconventional Swedish barn" style home is a delight to the senses.

On walking down the steps through the native trees and shrubs

hearing birdsong, you cannot help but feel relaxed and take a deep

breath. Once you have crossed the moat like bridge the views and

surroundings will excite you -this location is nothing short of unique.

CAS'n'OVA PRODUCTIONS in association with PLAYMARKET present: Thursday 16th of April

Friday 17th of April

Saturday 18th of April

Wednesday 22nd of April

Thursday 23rd of April

Friday 24th of April

Saturday 25th of April

Thursday 16th of April

Friday 17th of April

Saturday 18th of April

Wednesday 22nd of April

Thursday 23rd of April

Friday 24th of April

Saturday 25th of April

The Performing Arts Centre

Heaton Normal

Intermediate School

Thursday 16th of April

Friday 17th of April

Thursday 1st • Friday 2nd Saturday • Saturday 18th of 3rd April

Wednesday 7th • Thursday Wednesday 8th • Friday 22nd of 9th April

& Saturday Thursday 10th 23rd October of April

Friday 24th of April

Saturday 25th of April

BOOK ONLINE NOW www.casnova.co.nz

$25
---
2 Thursday August 27 2020

Latest Canterbury news at starnews.co.nz

GENERAL INQUIRIES Ph 379 7100

CLASSIFIED ADVERTISING Ph 379 1100

Star Media, a division of Allied Press Ltd

PO Box 1467, Christchurch

starmedia.kiwi

NEWS

Bea Gooding

Ph: 021 911 576

bea.gooding@starmedia.kiwi

ADVERTISING

Monique Maynard

Ph: 021 372 481

monique.maynard@starmedia.kiwi

Your local community news

delivered to 28,748 homes

within The Star each week.

Harewood • Burnside • Bishopdale • Bryndwr

Fendalton • Merivale • St Albans • Mairehau

Papanui • Casebrook • Redwood • Styx Mill

Regents Park • Northwood • Belfast • Strowan

what's on

this week

Wā Pēpi: Babytimes

Thursday, 10.30-11am

Shirley and Fendalton libraries

Encourage learning through

language. Babytimes is an interactive

programme including music,

movement, rhymes and a story.

Recommended for under two-yearolds.

No bookings required.

Citizens Advice Bureau

Thursday, 11am-5pm, Friday, 11am-

5pm, Monday, 11am-5pm, Tuesday,

2-5pm, Wednesday, 11am-5pm

Fendalton Library

Citizens Advice Bureau provides

free and confidential advice. They take

the time to listen and equip you with

the information, options and support

that fit your needs. Phone 941 7923 for

more information.

Knit 'n' Yarn

Thursday, 2-3.30pm, at Fendalton,

Wednesday, 1-2.30pm, at Redwood

Fendalton and Redwood libraries

Take your knitting, crochet or other

craft projects and have fun with a

social group. This is a free, drop-in

event.

The Zone @ Shirley

Thursday, 4-5pm

Shirley Library

Go along and get to know other

like-minded teenagers. Go headto-head

on the PlayStation, mix

music with GarageBand, get creative

with green screen or play classic

board games. Suitable for ages 12

to 19-years-old. Free, no booking

required.

Upskilling Course, Wednesday, 9.30-11.30am, Shirley Library

Go along if you need to work towards your learner's driver licence

test and improve your reading, writing, maths, and computer

skills. Free for NZ residents and citizens. Phone 379 1916 to enrol. ​

Card Club

Friday, 1.30-3.30pm

Shirley Library

This weekly card club will be held

every Friday. Go along and join the

fun. Free, no bookings required.

Mahjong Group

Saturday, 1-3.30pm, at Shirley,

Monday, 1-4pm, at Papanui

Shirley and Papanui libraries

Go along to the free event if you are

interested in playing or learning about

Mahjong.

JP Clinic

Saturday, 10am-noon, at

Fendalton, Tuesday, 10am-1pm, at

Shirley and Papanui, Wednesday,

10am-1pm, at Bishopdale

Bishopdale, Fendalton and Shirley

libraries

A justice of the peace will be

available to witness signatures

and documents, certify document

copies, hear oaths, declarations,

NOR'WEST NEWS

affidavits or affirmations, as well

as sign citizenship or rates rebates

applications.

Reading to Dogs

Tuesday, 3.30-4.30pm

Shirley Library

A relaxed, non-threatening event

designed to encourage children to

practise reading skills and develop a

love for reading. Phone 941 7923 to

register.

GenConnect

Tuesday, 12.15-12.45pm

Papanui Library

If you have questions about your

smartphone or tablet, ask an expert

for advice. Free, no bookings required.

Scrabble Club

Wednesday, 1.30-3.30pm

Shirley Library

Play Scrabble with a friendly group.

All materials supplied. Head along

when you can. Free, no bookings

required.

NEW PRODUCT

Try our VEGAN pie

Are you

taking Warfarin?

At Unichem Bishopdale, we can

do INR tests in the pharmacy!

Ask us how we can help you

easily and conveniently manage

your warfarin and INR tests.

Baking fresh eachday since 1986

OPEN 7 DAYS - 34 on site car parks!

Corner of Innes Road & Cranford Street,

St Albans

Phone 03 355 6921 | /kiddscakes

Order online at www.kiddscakes.co.nz
---
NOR'WEST NEWS Latest Canterbury news at starnews.co.nz

Thursday August 27 2020 3

News

Cricket nets to meet safety concerns

• By Bea Gooding

MEMBERS OF the Old Boys

Collegians Cricket Club are

relieved their voices have been

heard following the approval

of replacement cricket nets at

Elmwood Park.

A number of

amendments

were made to

the controversial

proposal

after safety

concerns were

raised by

residents near

David

Wakefield

the area, along

with fears the

space would

turn into a "cricket park."

The 20-year ground lease –

four lanes covering 518 sq m –

was approved by the

Fendalton-Waimairi-Harewood

Community Board as the existing

nets were earthquake-damaged

and deemed unsafe.

Said club committee member

David Wakefield: "It's definitely

a bit of a relief, but at the same

time we're glad that we feel like

there's been a resolution struck

between residents who had concerns

with what was proposed."

The club raised $100,000

towards the facility's rebuild over

three years which will be available

for the public to use.

Changes to the proposal included

a compromise of soft nets

that can be retracted during the

off-season, halving in length, in

addition to a new pavilion that is

due to be built.

There was strong community

support for the new facility to go

ahead, with 361 out of 400 public

submissions in favour of the

amended proposal.

Key themes against the proposal

included the structure's

scale having "detrimental" effects

on the parks' amenity and

RELIEF: The

old cricket

nets at

Elmwood

Park will be

replaced.

They will

coincide

with a new

pavilion.

heritage value, and additional

park users outside the community

causing traffic and parking

issues.

"The existing nets already

take up too much of the park

as it is, and it's difficult to avoid

the balls. I feel it will adversely

affect the enjoyment of the park

by many," Lesley Airey said in a

submission opposing the plan.

Wakefield was satisfied the

safety concerns had been addressed.

"Definitely, our concerns

regarding safety were fundamentally

the reasons why we looked

to replace the current nets," he

said.

"[They] won't have to worry

about flying cricket balls."

Community board chairman

David Cartwright said the lease

best meets the needs of the club

and cricketers of all ages, while

also acknowledging community

concerns over its scale.

"The club has shown it has

taken local residents' concerns

about the size and scale of the

nets seriously. The proposal

they've come back with, for soft

nets that can be fully removed

during the off-season, helps address

these concerns," he said.

Elmwood Park has had "a long

association with cricket," he

added.

"The cricket club is an important

focal point for the local

community, with 92 per cent of

the club's junior members living

within a 5km radius of Elmwood

Park.

"The new enclosed nets will

make the park environment

safer, and will provide a secure

training facility for players, without

hampering other park users."

The nets will sit parallel to the

tennis courts on the eastern side

of the park away from neighbouring

homes.

The club was in the process

of securing building and

resource consents for them

and aim to complete the new

complex during coming cricket

season.

oN sAle Now!

Now only

$35.80

Plus $5 P&H per copy

AvAilAble from stAr mediA:

Level One, 359 Lincoln Road

Addington, Christchurch

Phone 379 7100

'CEREC' & cosmetic dentistry

Wisdom tooth removal

Painless, high quality dentistry

Sedation dentistry

Experienced, conscientious team

Experienced hygienists

OPEN SATURDAYS

355 9380

144 Cranford Street

www.stalbansdentalcentre.co.nz

Specializing in E-Cigarettes, Vaporizers and

smoking essentials. We have the highest

quality of E-Cigarettes and vaporizers for

both beginners and advanced vapers.

18B MAIN NORTH RD, PAPANUI | PH 354 6000 | WWW.SHOSHA.NZ

"After initially trying to sell my house through another company, I changed

to Cameron Bailey who achieved a sale at auction. I was impressed with

the communication and service I received from Cameron and his team.

In fact it was obvious from my dealings with Harcourts gold that there is

a great team culture throughout Harcourts gold as a whole, with many

people committed to achieving a good result."

- Jill -

26A PETERBOROUGH STREET, CHRISTCHURCH CENTRAL

CAMERON BAILEY

Phone or text 027 555 7079

No.1 Harcourts Canterbury 2012-2020

cameron.bailey@harcourts.co.nz

No.1 Harcourts New Zealand 2017-2020

Licensed Sales Consultant REAA 2008 www.cameronbailey.harcourts.co.nz

No.1 Harcourts International 2017-2020

Licensed Agent REAA 2008
---
4 Thursday August 27 2020

Latest Canterbury news at starnews.co.nz

NOR'WEST NEWS

News

Funds for support workers

• From page 1

The spend will help fund

youth and community

support workers through

to sports equipment

and development

officers.

Board chairman

David

Cartwright said

the "heartbeat"

funding would

keep many

groups going

through the new

financial year.

For many,

the cash was a

crucial safety net

that gave them the resource

and the confidence to apply

for significant funding

elsewhere.

The board focused on

proven performers to

ensure the community

would get more bang for

its buck. It was also keen

on groups becoming selfsufficient.

Across the city, Linwood-

Central-Heathcote board

chairwoman Alexandra

Davids said boards could

advocate for central government

spending on local

groups.

Cartwright said boards

David Cartwright

might have a role tapping

into central government

funding, or linking groups

and potential funders.

"It is all a

worthwhile

discussion," he

said.

The need for

adaptability and

self sufficiency

was particularly

important as the

city faced-down

the impacts of

the global pandemic,

which

was now testing

some social

services.

The board will soon learn

how much additional grant

money it will administer

as part of the city council's

overall Covid-19 response.

Cartwright said the

board wanted the total pot

of money available to all

boards to be divided on a

per-capita basis.

The board area included

many communities that

struggled before the pandemic

made many futures

uncertain, he said.

The likely allocation

might not be much – he

was "sure we and the other

boards could easily use all

of it on our own areas" –

but it will be welcomed, he

said.

BENEFITS: Funding grants have gone to sports

teams and community groups across north-west

Christchurch, including the Nomads United

football club.

The great boundary of calm at or on the distant

horizon, the place that is held in the mind is

beyond, always out of reach, untouchable. Te

Pātū-nui-o-aiō is the place of mists and time

the great navigators and travellers came from.

From the land we look back, look beyond to this

horizon and as we shift our eyes, we shift the

view or perspective.

Once again Little River Gallery is honoured to

host the trio of artists Robin Slow, Brian Flintoff

and Bob Bickerton. The three close friends work

collaboratively, inspiring one another in their

artistic endeavours. Slow's paintings are rich

stories of Whenua, Waka journeys to Aotearoa,

of Manu, Honu, Tohora and their Kaitiaki. Flintoff

is renowned for his musical instruments carved

from native timbers, bone and shell. His carvings

are inspired by the same stories that inform Slow's

work. Bickerton creates a contemplative visual and

aural catalogue of the combined outcomes using

his musical skills and those of Ariana Tikao, Holly

Tikao-Weir, Solomon Rahui.

Robin Slow

Brian Flintoff

Robin Slow | Brian Flintoff | Bob Bickerton

Te Pātū-nui-o-aiō

'the great boundary of calm on the distant horizon'

29 August – 23 September 2020

Main Rd, Little River | 03 325 1944

art@littlerivergallery.com
---
NOR'WEST NEWS Latest Canterbury news at starnews.co.nz

Thursday August 27 2020 5

Artwork earns student national prize

• By Bea Gooding

MADELINE HEAD'S passion

for the arts and protecting

the natural world helped her

win a national concept design

competition, judged by leading

experts in the field.

The year 11 Burnside High

School student's work was the

overall winner of the "Earth

Guardians" concept art competition,

run by the Massey University

College of Creative Arts

and prestigious design company

Weta Workshop.

The design also won the industry

selected ultimate concept artist

award, which took out the top

spot over 300 other submissions

made by young people across

New Zealand.

Said Madeline: "It was a very

big surprise, it was overwhelming

at first. I couldn't really

register it for a couple of days.

"It's really rewarding to win

something considering I might

not have had the highest skill

level as others."

Entrants submitted their interpretation

and background story

of an "earth guardian," creating

a character to defend the earth

using nature and elements to

inspire the design.

"Ykine" challenged views on

traditional earth guardians, with

the character representing the

SKILLS: Madeline Head was surprised to win a national concept design competition with Ykine.

invasion of "perfectly polished"

buildings and cities by bringing

nature into places where they

were not usually found.

Said Madeline: "Common representations

are often very mystical

and distant from humans

and how they interact with them.

They tend to have awe-inspiring

powers and protect natural areas

from humans.

"Ykine felt less majestic and

intimidating, and more equivalent

to a racoon digging through

the trash. This earth guardian

PHOTO: GEOFF SLOAN

has no drive to harm humans,

only to reclaim parts of urban

areas.

"It's an immature troublemaker,

picking indirect fights

and silent wars with those that

own the buildings and sites it

tries to plant seeds in."

The concept of defending the

earth could be interpreted in

other ways, such as protecting

it from outside threats or the

protection of the world's natural

state.

Madeline, 15, of Bryndwr, believed

this concept challenged human

existence in general, rather

than a focus on sustainability.

It was a reminder for humans

to actively pursuit keeping

nature alive instead pushing the

issue away.

"It's challenging human existence

in general, how we have

messed up the planet and how

much things have gone wrong.

Humans need to step back and

try not to do anything else,"

Madeline said.

"We don't have earth guardians,

so the issue is in our

hands."

The competition was in celebration

of a new concept design

course at Massey University and

gave students a taste of what to

expect in the professional world.

Madeline encouraged other

young people to try something

new, as they never know where it

will take them.

"There's absolutely no harm in

entering competitions, it's fun to

try to challenge yourself to look

at things differently."
---
6 Thursday August 27 2020

Latest Canterbury news at starnews.co.nz

NOR'WEST NEWS

Think

downsizing,

or same sizing.

Fancy something a little smaller? Or about the same?

Summerset Retirement Villages offer the largest range of living

options from spacious villas, cosy cottages, apartments with

views, and super convenient serviced apartments. We can help

no matter what style of living you want to call home.

0800 SUMMER | summerset.co.nz

For up-to-date information on visiting our villages, go to summerset.co.nz/covid-19

SUM2307_FP
---
NOR'WEST NEWS Latest Canterbury news at starnews.co.nz

Thursday August 27 2020 7

News

App to challenge consumer behaviour

• By Bea Gooding

"IMAGINE A platform where

you can rent everything as

opposed to buying brand new."

Toby Skilton's dream of developing

a renting and lending

app has come true in a matter of

months and launches next week

in a bid to challenge consumer

behaviour.

Mutu, founded by the Bryndwr

resident, launches in Canterbury

next week and will enable users

to acquire or lend items on a

temporary basis – anything from

paddleboards and bikes to do-ityourself

tools and camping gear,

to name a few.

"I couldn't be more excited.

This platform is a tool to reduce

waste and really solves a massive

issue we have in New Zealand

with overconsumption."

The launch comes at a time

when people were more conscious

of their spending and

were taking the time to explore

their backyard due to Covid-19.

"It encourages tourism and

trying something new while

saving money on our platform,"

he said.

"Cantabrians can spend that

money on cafes, accommodation

and amazing outdoor adventure

facilities right on our doorstep."

Skilton said the app and

website will also enable users

Selwyn House Pre-school has an

outstanding reputation in early

childhood education.

A co-educational Pre-school with a

unique programme influenced by the

world-renowned Reggio Emilia

approach, and the only pre-school in

the South Island that offers the

International Baccalaureate Programme,

this educational philosophy celebrates

the natural wonder and curiosity of

children and fosters a life-long love of

learning.

At Selwyn House Pre-school we respect

that young children are capable and

curious learners. Here your child can

experiment with new activities,

explore their creativity, develop and

communicate their own ideas. Our

hands-on and life activities support an

DREAM: Toby Skilton's new lending and borrowing app, Mutu, will enable users to acquire

the things they need without buying brand new, reducing the amount of items sent to

landfill.

PHOTO: GEOFF SLOAN

to make money by renting the

under-utilised items they own.

"It's also giving items destined

for the landfill an opportunity to

be repurposed and slows down

manufacturing," he said.

When he was travelling

Valuing Curiosity

at Selwyn House Pre-School

expanding awareness and respect for

other cultures and perspectives.

Our curriculum includes Music and

Drama sessions led by trained

specialists; a Transition to School

Programme: the Perceptual Motor

Programme that helps children develop

their perceptions of self and space

through movement; Spanish with a

dedicated Spanish teacher; our Learn to

Swim Programme in the onsite indoor

pool; and Digital Technologies where

children are introduced to coding,

mechatronics and robotics, using

Selwyn House School's vast technology

resources.

Our teachers believe in each child as a

capable individual with unlimited

potential, eager to contribute to the

world.

through Europe with his partner,

Elise, they discovered getting

access to gear was "incredibly

expensive and time-consuming,"

for activities they loved such as

camping, hiking, and surfing.

Having limited space to pack

JOIN US NOW!

the necessary gear was another

issue in its own, he said.

Their experiences couch-surfing

with locals on their travels

sparked the idea for the app.

Said Skilton: "My partner and

I – we're both into the outdoors –

See website for details

packed all of our stuff and went

to Europe for a year. We stayed

with locals with garages full of

stuff they hardly ever used, so we

wanted to access it.

"They felt a huge amount of joy

out of us using their gear."

Skilton has always had an

entrepreneurial drive, going to

sleep with "a million ideas at

once."

He was excited to see one of

his ideas turn into a reality, and

the team has now expanded

to seven, working together to

develop the app over the course

of 10 months.

So far more than 1500 people

have now signed up on to their

website in anticipation of the

app's launch, highlighting that

the platform will "solve a lot of

problems for a lot of people."

"Our vision is to completely

revolutionise how people view

ownership and to make sharing

cool and normal. We're confident

we'll get there," said Skilton.

"Encouraging behaviour

change comes with challenges,

so it's important in a platform

like ours to have precautions to

enable trust, such as star ratings,

review systems and policies for

damaged equipment."

• Mutu will launch on

Tuesday. For more

information, visit https://

www.mutu.co.nz/

NEW BALANCE

Father's Day Offers:

$20 off selected styles

BENDON

Half price deals.

Selected styles.

While stocks last

JUST BAGZ

Up to 50% off RRP

UNDER ARMOUR

30% off the lowest

marked price on

selected jackets.

T&Cs apply

ANDREA BIANI

Ladies last pairs from

$49.90. T&Cs apply

STYLES MAY DIFFER TO IMAGE SHOWN

We would love to show you first-hand what we can offer

your child, so please contact us today to make a time to visit:

phone (03) 355 7248; email preschool@selhouse.school.nz

122 Merivale Lane, Merivale, Christchurch

Sign up to Smart Deals & be in the monthly draw for a $100 Dress-Smart gift card!

Open 10am-5pm, 7 Days 03 349 5750

CHRISTCHURCH 409 Main South Road, Hornby

www.dress-smart.co.nz
---
8 Thursday August 27 2020

Latest Canterbury news at starnews.co.nz

NOR'WEST NEWS

PROPERTY NEWS

Two auctions achieve

strong results for vendors

Two properties went under the

hammer at the newly refurbished Ray

White Strowan premises last Wednesday,

with both attracting plenty of interest

from potential buyers.

The first was an 'as is where is' property

in Roker Street, Somerfield, which

was marketed and sold by agent Maria

Paterson of Ray White Strowan.

Over the three open home weekends

leading up to the auction, 90 groups had

viewed the 663sqm property, with 22

people attending the auction.

Describing the property as "homely

and comfortable", and one of very few 'as

is where is' properties available in this

condition, Maria expected the property

to attract a diverse range of buyers.

Bidding opened at $250,000. From then

on, an intensive round of bidding and

counterbidding from several attendees

saw the hammer finally fall at $440,000,

surprising many in the room.

The second property, located in

Crofton Road, Harewood, had been

owned by the same family for 50 years,

and was still in original condition.

Agent Brent Rushworth, from the Ray

White Bishopdale office, had shown

81 groups through the three-bedroom

property during the open homes, with 21

people attending the auction.

Bidding kicked off at $200,000, and

with bids and counterbids coming from

attendees and via phone the property

eventually sold for $431,000.

Barry Ellis, who owns the Ray White

Bishopdale and Ray White Strowan

offices, says as last week's auctions

showed, this is proving a popular and

successful way to sell in the current

Christchurch market, and with large

numbers of potential home buyers

coming on stream, the vendors that are

moving now are reaping the benefits.

"I think many homeowners in

Christchurch would be surprised to hear

of the prices being achieved right now,"

he says.

Co-owner Karen Ellis notes: "We're

seeing high levels of interest across all

of our properties. Anyone thinking

that the Christchurch auction market is

somewhere nearing its peak should think

again – we're seeing exceptional results

after exceptional results week-on-week –

it's just getting stronger.

"All-time low interest rates and an ease

in lending restrictions by the Reserve

Bank has created the stimulus the

property market needed, and confidence

in the long-term Canterbury market

seems to be strong among buyers, despite

the economic uncertainty that has swept

across the country.

"These kinds of under-the-hammer

sales continue to defy all of the negative

predictions that were around in March,"

Karen says.

98 Roker Street, Somerfield

If you are looking for advice on your

next real estate transaction, contact

Ray White Bishopdale & Strowan on

0800 YELLOW (935 569). 86 Crofton Road, Bishopdale

trust

Advice you can

Ray White Bishopdale & Strowan

0800 YELLOW (0800 935 569)

rwbishopdale.co.nz | rwstrowan.co.nz

Inline Realty Limited (Licensed REAA 2008)

Proudly owned by

Karen Ellis

021 519 275

Barry Ellis

021 519 274
---
NOR'WEST NEWS Latest Canterbury news at starnews.co.nz

Thursday August 27 2020 9

News

Craft studio gives disabled independence

Myriad groups help

keep our community

moving. Reporter

Bea Gooding speaks

to the Handmade

Studio manager Tori

Peden about how the

trust helps people

with disabilities gain

independence and skills

in the craft industry

Tell me a bit about the

Handmade Studio Trust and

how it came to be what it is

today.

Handmade Studio started in

the early 80s as a place disabled

people could go to be creative,

help build their skills and gain

independence. Over time, skills

have been perfected and new

opportunities have become

available. Our completed

garments are for sale in our

showroom and at The Tannery

in Wool Yarn and Fibre. We are

hoping to build relationships

with the fashion design schools

as our fabrics are handmade and

one of a kind. Many hours of

love and care go into each piece

that is made.

What items are made at the

studio?

Woollen garments are created

by our artisans using New

Zealand wool woven through

a loom and made into many

different design fabrics. Once

the fabric is complete our

volunteers turn the raw product

into garments such as jackets,

capes, ponchos, and shawls. Any

left-over fabric from this process

is made into soft toy kiwis,

rabbits, and bears. At different

times scarfs have been created

on the looms. Other crafts are

also made in the studio, and

currently, we are working on a

group project creating a handstitched

quilt, to be donated

to another local charity when

complete.

Why is a place like this

an important asset in

Christchurch?

Places such as Handmade

Studio provide more than just

a place to work, it gives a sense

of belonging. Many different

community organisations help

support different groups within

Christchurch. Elderly, disabled,

refugee, youth, and parenting,

all have special requirements

and without these organisations,

our community would be

fragmented and cold. A real

PRIDE: Handmade

Studio manager

Tori Peden (left)

and artisan Fiona

Berry believe

the craft studio

provides a sense

of belonging

for people with

disabilities.

PHOTOS: GEOFF

SLOAN

sense of belonging and purpose

helps someone get out of bed in

the morning, be somewhere, and

be part something.

What are the current

issues impacting people with

disabilities in the craft scene,

and why?

There are a couple of issues

facing all people in the craft

space, that is having outlets

to showcase their work, and

funding to be able to provide

space for artists. Our artisans

are special in that they have a

few extra hurdles to jump when

a comes to being an artist, but

they all do it with dignity and

passion. You ask all of them and

they will tell you they love what

do and they love having friends

around them. It is a bonus to see

their creation being turned into

a garment and then going to a

home to be worn with pride.

Funding at times can be hard

to secure for a lot of community

groups and ours is no exception.

Without the generous support of

funding providers, Handmade

Studio would not be available

for our artisans. We will keep

ticking along, this year like

every year we will continue

applying for grants and hoping

to get money to carry on doing

what we do. We are incredibly

grateful for the support and local

donations we receive; it does

make a real difference.

How can the community

better support people with

disabilities wanting to enter the

craft industry?

As we have all been reminded

lately to shop local but also be

okay with spending that little bit

more on something handmade

because each handmade item

not only has a story but has been

made with love by someone who

really treasures what they do.

Put your Best

Foot Forward

with the BEST!

We assess, diagnose and treat

foot, ankle, knee and leg conditions

Papanui Foot Clinic offers a broad range of services and

solutions by some of Christchurch's leading podiatry experts

CALL TODAY FOR AN APPOINTMENT

352 6400

• Ian Graham • Anna Brown • Tim Sander, QSM

Join McLeans

Island Golf Club

We offer a well presented and challenging course.

Full Membership

2020– 2021

$

795

ONLY

Other membership categories available.

Ph: 352 6400 | 448 Papanui Road (opp BP Petrol station)

E: reception@papanuifootclinic.co.nz

• Choice of 5 tee blocks to cater for all levels of golf.

• Great practice area and golf professional available.

• Friendly 'country' feel in the heart of the Northwest.

McLeans Island Golf Club Inc

www.mcleansislandgolf.co.nz Ph: 03 359 9768
---
10

Thursday August 27 2020

Latest Canterbury news at starnews.co.nz

NOR'WEST NEWS

Christchurch

STORES

Downsizing? Decluttering?

Please help support local St John activities

by donating good quality pre-loved clothing,

jewellery, homeware, furniture and books to

one of your local St John Christchurch stores.

We welcome donations dropped of at either:

272 Lincoln Road, Addington or 180 Durham Street South, City

or please call 027 304 7821 to book a donation collection.
---
NOR'WEST NEWS Latest Canterbury news at starnews.co.nz

Thursday August 27 2020 11

Classifieds Contact us today Phone our local team 03 379 1100

Caravans, Motorhomes

& Traliers

CARAVAN WANTED.

4-5 berth,UK type, dont

mind repairs .Ph 027

3679737

CARAVAN

We can sell your caravan

on your behalf in our busy

yard at 512 Blenheim

Road. Affordable

Caravans

Ph 03 348 6614

CARAVAN WANTED

Uk type, Ph 027 2495571

Community Events

ALCOHOLICS

ANONYMOUS, If you

want to have a drink that's

your business. If you want

to stop, we can help. Phone

0800 229-6757

Trades & Services

AWSOM ROOFS

24/7

MOSS

TREATMENT

ROOFS $300

• Oamaru StOne

• Driveway

• PathS

• hOuSe

• General exterior

wash Down

• tidy up

Ph: 027 561 4629

Kevin

Trades & Services

concrete & paving

• Driveways

• Earthquake repairs

• New Home Specialists

• Patios & Paths

tel: 0508 873 7483

email: sales@affordableconcrete.co.nz

www.affordableconcrete.co.nz

PLUMBER

NEED A PLUMBER

Call us now for fast friendly service.

Get your problems sorted out

quick smart - on time!!

Phone for a

FREE

quote now.

Phone 03 377 1280 | Mobile 021 898 380

Trades & Services

SCRAP METAL

Dominion Trading Co Ltd

• Scrap metal buyers

• Canterbury owned & operated

• Top prices paid $$$

• Open Saturday morning

Open Mon-Fri 8am – 4.30pm Sat. 8.30am-12.30pm

www.happyscrappy.co.nz

03 343 9993 333 Blenheim Rd

Trades & Services

Trades & Services

BATHROOM

ELECTRICIAN

Renovations, complete Hickey Electrical.

service from start to finish, Reasonable rates, no

free quotes, ph Dave 027

334 4125

BRICKLAYER

call out charge. www.

electricnz.com

Ph Jason 021 260 3426

George Lockyer. Over PAINTER QuALIfIEd

40 years bricklaying local professional, int/

experience.Uk trained. Ext,roofs,wallpaller, call

Insurance work, EQC

or text Corban 027 846

repairs. Heritage

5035

brickwork & stonework

PAINTER

a speciality. No job too

New, older homes,

small. Governers Bay.

interior, exterior. We stand

Home 329 9344. Cell

027 684 4046. E mail

by Canterbury. Ph Wayne

georgelockyer@xtra.co.nz

0272 743 541, 385-4348

CARPET LAYING ROOfING REPAIRS

Exp. Repairs, uplifting, Fully qualified, over 40

relaying, restretching. yrs experience. Ph John

Phone John on 0800 027 432-3822 or 351-

003181, 027 240 7416 9147 email johnchmill@

jflattery@xtra.co.nz outlook.com

Trades & Services

STONEMASON,

BRICK BLOCKLAYER

Earthquake Repairs, Grind

Out & Repoint, River/

Oamaru stone, Schist,

Volcanic Rock, Paving,

all Alterations new & old,

Quality Workmanship,

visit www.featureworks.

co.nz or ph 027 601-3145

STuMP GRINdING

Best price guarantee Tony

0275 588 895

TILING

Flooring - Splashbacks -

Wall incl tile removal, reg

master tiler, ph Dave 027

334 4125

VHS VIdEO TAPES

& all camera tapes

converted to DVD or

USB. Video taping

special occasions, www.

grahamsvideo.co.nz ph 03

338-1655

Wanted To Buy

AAA Buying goods

quality furniture, beds,

stoves, washing machines,

fridge freezers. Same day

service. Selwyn Dealers.

Phone 980 5812 or 027

313 8156

TOOLS Garden,

garage, woodworking,

mechanical, engineering,

sawbenches, lathes, cash

buyer, ph 355-2045

ADD SOME

COLOUR

TO YOUR ADVERT!

ADVERTISE YOUR BUSINESS HERE

Phone for further details

(03) 379 1100
---
12 Thursday August 27 2020

Latest Canterbury news at starnews.co.nz

NOR'WEST NEWS

fUN fOR EvERyONE

Step back in time

BURGERS | BEERS | PINBALL | RETRO GAMES | POOL | KARAOKE

Remember the music of the 70's,

80's and 90's? pinball machines,

video games – Space Invaders,

the Doghouse, Wizards,

Time out?

Arcadia brings back 'good oldfashioned

fun' to the city with the

finest selection of arcade games

and awesome pinball machines.

ARCADIA RETRo ARCADE & pINbALL EMpoRIA

204 barbadoes Street | www.arcadia.net.nz

Available for private functions, phone or text

027 536 1438 to book your event now!

Find us on Facebook

Good People

Good food

Good Times

Eight of the tidiest nine-foot pool

tables Christchurch has to offer...

tunes from the 70s through to the 90s, bar

service and an open kitchen, The Common

Room is a relaxed, fun night out for families,

first dates, friendly games, practice and those

with a competitive streak.

119 Riccarton Rd

www.thecommonroom.net.nz

hAppy

houR

6pm-8pm

eveRydAy

bECoME A

MEMbER

FoR SpECIAL

DEALS

CALLING ALL GAMERS

AND STREAMERS

Christchurch's latest games rooms offers multiple consoles including WII,

NES, SEGA, two virtual reality headsets and karaoke all set up ready for

your gaming party action. The Green Room has been created to host event

nights, such as gaming, singing and online tournaments.

Stay connected, meet other gamers, musicians and content creators.

119 Riccarton Rd (Above The Common Room) Book online: www.thegreenroom.net.nz