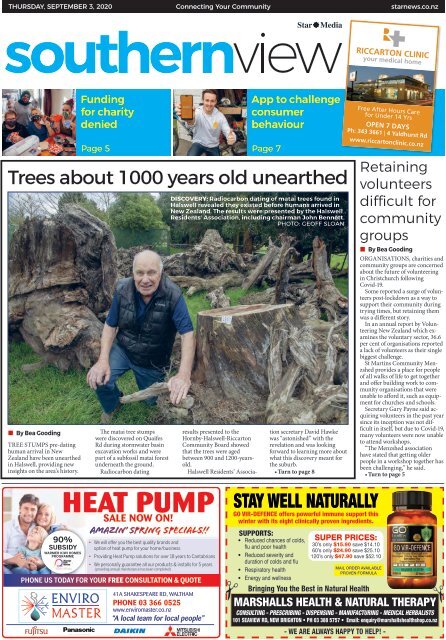 Southern View: September 03, 2020
Create successful ePaper yourself
Turn your PDF publications into a flip-book with our unique Google optimized e-Paper software.
THURSDAY, SEPTEMBER 3, 2020

Connecting Your Community

starnews.co.nz

Funding

for charity

denied

App to challenge

consumer

behaviour

Free After Hours Care

for Under 14 Yrs

OPEN 7 DAYS

Ph: 343 3661 | 4 Yaldhurst Rd

• By Bea Gooding

TREE STUMPS pre-dating

human arrival in New

Zealand have been unearthed

in Halswell, providing new

insights on the area's history.

Page 5

The matai tree stumps

were discovered on Quaifes

Rd during stormwater basin

excavation works and were

part of a subfossil matai forest

underneath the ground.

Radiocarbon dating

Page 7

Trees about 1000 years old unearthed

HEAT PUMP

SALE NOW ON!

Amazin' Spring Specials!!

90%

SubSidy

Warmer KiWi HomeS

Programme

*Eligibility criteria apply

• We will offer you the best quality brands and

option of heat pump for your home/business

• Providing Heat Pump solutions for over 18 years to Cantabrians

• We personally guarantee all our products & installs for 5 years

(providing annual maintenance has been completed)

Phone us today for your free consultation & quote

41A SHAKESPEARE RD, WALTHAM

PHONE 03 366 0525

www.enviromaster.co.nz

"A local team for local people"

DISCOVERY: Radiocarbon dating of matai trees found in

Halswell revealed they existed before humans arrived in

New Zealand. The results were presented by the Halswell

Residents' Association, including chairman John Bennett.

PHOTO: GEOFF SLOAN

results presented to the

Hornby-Halswell-Riccarton

Community Board showed

that the trees were aged

between 900 and 1200-yearsold.

Halswell Residents' Association

secretary David Hawke

was "astonished" with the

revelation and was looking

forward to learning more about

what this discovery meant for

the suburb.

• Turn to page 8

STAY WELL NATURALLY

GO VIR-DEFENCE offers powerful immune support this

winter with its eight clinically proven ingredients.

SUppORTS:

••

Reduced•chances•of•colds,•

flu•and•poor•health

••

Reduced•severity•and•

duration•of•colds•and•flu

••

Respiratory•health

••

Energy•and•wellness

SUPER PRICES:

30's only $15.90 save $14.10

60's only $24.90 save $25.10

120's only $47.90 save $52.10

- WE ARE ALWAYS HAPPY TO HELP! -

www.riccartonclinic.co.nz

Retaining

volunteers

difficult for

community

groups

• By Bea Gooding

ORGANISATIONS, charities and

community groups are concerned

about the future of volunteering

in Christchurch following

Covid-19.

Some reported a surge of volunteers

post-lockdown as a way to

support their community during

trying times, but retaining them

was a different story.

In an annual report by Volunteering

New Zealand which examines

the voluntary sector, 36.6

per cent of organisations reported

a lack of volunteers as their single

biggest challenge.

St Martins Community Menzshed

provides a place for people

of all walks of life to get together

and offer building work to community

organisations that were

unable to afford it, such as equipment

for churches and schools.

Secretary Gary Payne said acquiring

volunteers in the past year

since its inception was not difficult

in itself, but due to Covid-19,

many volunteers were now unable

to attend workshops.

"The Menzshed association

have stated that getting older

people in a workshop together has

been challenging," he said.

• Turn to page 5

MAIL ORDER AVAILABLE

PROVEN FORMULA

Bringing You the Best in Natural Health

MARSHALLS HEALTH & NATURAL THERAPY

CONSULTING - PRESCRIBING - DISPENSING - MANUFACTURING - MEDICAL HERBALISTS

101 SEAVIEW RD, NEW BRIGHTON • PH 03 388 5757 • Email: enquiry@marshallshealthshop.co.nz
---
2 Thursday September 3 2020

Latest Canterbury news at starnews.co.nz

what's on

this week

SOUTHERN VIEW

GENERAL INQUIRIES Ph 379 7100

CLASSIFIED ADVERTISING Ph 379 1100

Star Media, a division of Allied Press Ltd

PO Box 1467, Christchurch

starmedia.kiwi

NEWS

Bea Gooding

Ph: 021 911 576

bea.gooding@starmedia.kiwi

ADVERTISING

Mark Sinclair

Ph: 364 7461

mark.sinclair@starmedia.kiwi

Your local community news

delivered to 21,586 homes

within The Star each week.

Spreydon • Hoon Hay • Hillmorton • Cracroft

Cashmere • St Martins • Somerfield

Sydenham • Addington • Waltham • Opawa

Beckenham • Huntsbury • Woolston

JP Clinics

Thursday, 10.30am-1.30pm, at

Spreydon, Tuesday, 10am-1pm, at

Halswell, South and Linwood

Halswell, Linwood, South and

Spreydon libraries

A justice of the peace will be available

to members of the community

to witness signatures and documents,

certify document copies, hear oaths,

declarations, affidavits or affirmations

as well as sign citizenship, sponsorship

or rates rebates applications. This

service is free.

Mah Jong

Thursday, 1-3.30pm

Vincent Pl, Opawa

If you are interested in playing

Mah Jong, go along whether you are

a beginner or an advanced player.

Phone Noel at 322 8636 for more

information.

Knit 'n' Yarn

Thursday, 1-3pm, at Halswell, 1.30-

3.30pm, at South, and Wednesday,

10.30am-noon, at Linwood

Halswell, South and Linwood libraries

Take your knitting, crochet, stitching

or any other handcraft and enjoy

the company of others. Share skills

and be inspired.

Scrabble Club

Friday, 10am-noon, at Linwood,

Wednesday, 1.30-3.30pm, at

Halswell

Linwood Library, Te Hāpua: Halswell

Centre

If you have a way with words, go

The Great Stash Swap, Sunday, 11am-2pm, South Library.

Go along and swap your old crafting supplies with other like-minded

individuals. Take unwanted fabric, haberdashery, buttons, wool, lace, paint,

and more. ​

along and play Scrabble with one of

the groups. Some boards will be provided

but feel free to bring your own.

Creative Writing on Sundays

Sunday, 1-3pm

Linwood Library

Writing group leader Jennifer will

work with group members to craft,

create and develop their own stories.

Take some pens or pencils, paper, or a

laptop. This class is free.

Manga Club

Thursday, 4– 5:30pm

Tūranga

Enjoy all things manga? Want to

have a go drawing some, or just want

to chat? Then go along to the Manga

Club at Tūranga. Free, no bookings

required.

Citizens Advice Bureau

Tuesday, 11am-2pm

Linwood Library

Citizens Advice Bureau provides

free and confidential advice. They

take the time to listen and equip you

with the information, options and

support that fit your needs. Phone 941

7923 for more information.

Technology Help Drop-In

Sessions

Tuesday, 2-3pm

Te Hāpua: Halswell Centre

Need help using your computer,

smartphone, or tablet? Take your

device to the drop-in sessions for

help with general computer and

internet queries. Free, no bookings

required.

Open Creative Time

Wednesday, 10-11.30am

Te Hāpua: Halswell Centre

Go along and get creative with

design. Make your own cards, t-shirts

and stickers, or learn about designing

for 3D printers to make stencils,

cookie cutters, name tags and more.

Free. Drop-in sessions for teenagers

and adults. Basic computer skills

required.

Summer Toenails

Sorted

before

For all your

pre-loved spring

fashion, come

and see us!

✓ Designer brands

✓ Women's wear

✓ Men's wear

✓ Family clothing

✓ Formal wear

eftPoS only!

and

So much

more!

VISIT US AT ONE OF OUR

FANTASTIC

LOCATIONS! 310Am - 4pm, 7 dAyS A wEEk

Sydenham

39 Battersea Street

PaPanui

472 Cranford Street

hornby

94 Shands Road

Book your Nail Reconstruction

appointment today!

RiccaRton

37 Main South Road

RedcliffS

2 augusta Street

Nicky Wagner

National List MP

I'd like to acknowledge everyone

that I have worked with over the

last 15 years.

Christchurch is a great city –

I have enjoyed being your MP.

Thank you for your support –

Kia Kaha

922 Colombo Street, Central Christchurch

PO Box 21359, Christchurch 8143

chch.office@parliament.govt.nz

03 365 8297

nickywagner.co.nz

MaRSHlandS

427 Marshland Road

PH 348 7910 | www.feetfirst.co.nz

after

daRfield

darfield Pharmacy

Authorised by Nicky Wagner MP,

Parliament Buildings, Wellington.
---
SOUTHERN VIEW Latest Canterbury news at starnews.co.nz

Thursday September 3 2020 3

News

Secure future for historic hall

• By Matt Slaughter

THE FUTURE of the historic

Coronation Hall in Spreydon

is now certain.

Suburbs rugby and netball

clubs will lease the building

on Domain Tce from the city

council, which will repair

and reopen

it at a cost of

$580,000.

Spreydon-

Cashmere

Community

Andrew

Rutledge

Board

chairwoman

Karolin

Potter said

the future of the hall has been

uncertain since 2015 when a

motorcyclist crashed into and

fled the scene.

The bike caught fire causing

the building to ignite.

Said city council head of

parks Andrew Rutledge:

"Following an expression of

interest process the Suburbs

Rugby Football Club Inc was

approved as the preferred

applicant to lease Coronation

Hall as its home base and

clubrooms. Construction

funding becomes available

in July 2021, exact start date

will depend on contractor

methodology. Construction

is expected to take six to nine

months.

"Repairs include

replacement of the fire

damaged portion of the roof,

rewiring of the electrical

system, reconfiguration

of the toilets (including

installation of accessible toilet),

reconfiguration of kitchen,

and cosmetic repairs," he said.

Suburbs rugby and netball

clubs have been sharing

clubrooms with Kereru Sports

and Cultural Club down the

driveway from Coronation

Hall since the fire.

Club secretary Sarah Direen

said it is exciting to have

secured a new home for its

teams and the hall will be able

to used by other community

groups when it is repaired.

"It will obviously be our

rugby and netball clubrooms,

so we're excited about that.

But we're also really looking

forward to it having a

NEW

LEASE:

Coronation

Hall in

Spreydon

will be

leased to

Suburbs

rugby and

netball

clubs when

it is repaired ​

community feel and hosting

different groups from the

community and having it as a

meeting space."

Coronation Hall was

constructed under government

subsidy to commemorate the

coronation of George V in

1911.

In 1997 the hall was leased

as dedicated club rooms to the

Keruru Sports and Cultural

Club, who occupied the

building until the fire.

Try it, you'll love it!

Lunch Time Special

Chicken with chips

from $12

More specials instore

Saturday 5 th

September

Meet Megan

Woods, MP for

Wigram on a

corner in your

neighbourhood.

HILLMORTON

1pm

1.20pm

1.40pm

2pm

3pm

3.20pm

3.40pm

Bidwell Pl &

Warren Cres

Bean St &

Warren Cres

West-Watson Ave

& Harling Ave

Cardinal Dr &

Halswell Rd

HORNBY

Dufek Cres &

Springs Rd

Awatea Rd &

Dix St

Boston Ave &

Blankney St

If you would like to get in touch with

Megan please call 03 338 6347 or

email megan.woods@wigram.org.nz

New season styles

Arriving daily

351 Lincoln Road, Addington | Phone 03 925 9524

Lets groove with the veges

03 322 4548 | Easy Parking

17 Lillian Street, Halswell

Open Mon-Fri 9.30am - 5.00pm

Saturday 10.00am - 1.00pm

LAYBY WELCOME

Small batch made from scratch, Coffee to go!

I Spy Food 78 Barrington Street, Somerfield | Phone: 03 337 0422

Authorised by Dianna Lacy, 160 Willis Street, Wellington.
---
4 Thursday September 3 2020

Latest Canterbury news at starnews.co.nz

News

Traffic and safety measures treated with urgency

AN ADULT playground has

been pitched as the Spreydon-

Cashmere Community Board

plans for the next couple of

years.

In its new 2020-22 plan,

the board also commits to

advocating for a slew of planned

traffic and safety measures to be

finished as a matter of urgency.

They are underpinned by

community consultation which

found people wanted better

and more of such measures

in Huntsbury, Hoon Hay, St

Martins, Addington, Hillmorton

and Cashmere and Spreydon.

People also wanted more cycle

ways and linking extensions, but

were critical of the constraining

effects of their design on other

road users, especially on Sparks

Rd and Strickland St.

The board says it wants

traffic and safety work

completed for the intersection

of Cashmere, Hoon Hay and

Worselys Rds, and at the

Barrington Mall entrance onto

Barrington St.

Cycle lanes are identified as

important to support the use

of sustainable transport and to

provide safe routes to school for

young people.

The board plans to ask for an

extension to the proposed Nor

West Arc Cycle way west to

Westmorland, and will advocate

IN DEMAND: There are calls for more cycleways in

Spreydon-Cashmere but the contraining effects of the

Sparks Rd design (above) have received criticism.

for it to be finished earlier than

planned.

It will work with council staff

to investigate the inclusion of a

Heathcote River cycle route as

part of the city's cycle network

and will investigate and promote

low cost initiatives to increase

the safety and use of active

transport.

Improved road safety and

travel efficiency on Dyers Pass,

Hackthorne and Cashmere

roads has also been identified as

a priority.

The board will work with

council staff to identify issues,

including anti-social road behaviour,

and look at short-to-long

term solutions.

People told the board they supported

Hoon Hay Park enhancements,

and were keen to develop

more or all of the parks and

amenities across the area.

Toilets, changing room facilities

and sports storage at Hoon

Hay Park would be upgraded.

There was also support for

developing adult recreation

facilities, which the board says

indicates the need for further

SAFETY: An upgrade at the intersection of Hoon Hay,

Cashmere and Worsleys Rds is a priority.

feasibility work.

It will talk further with the

community about what is needed

at Hoon Hay Park and will

advocate for any rebuilding work

to be included in the council's

spending plan.

It will also talk more about

the potential for an adult playground.

If there is a need, it will

ask for a feasibility study and

work to establish where it could

be made.

The board also wants to work

with the community to support

the increased and future use of

90 Hoon Hay Rd as a community

centre.

It will also investigate the viability

of its continued use as a

centre into the future.

SOUTHERN VIEW

BY THE NUMBERS

Spreydon-Cashmere

Has 17,547 occupied

dwellings, 1197 unoccupied

47 per cent of people are

aged 30-64

83 per cent European,

9 per cent Maori, 10 per

cent Asian

20 per cent earn $30,001-

$50,000

Home to two libraries, 92

council parks; 67 local/

community parks, nine

sports parks and one

cemetery

18 schools

About 4400 businesses

employing 20,650 people

TE REPO MEWS

Boutique Subdivison for the over 60's

Stage Four

SELLING NOW!

1 2 3 4 5 6 7

2 1 2 1 1 1

Old Red Barn Road

24

Te Repo Mews

Te Repo Mews

16 17 18 19

25 26

23

15 14

22

21

20

13 12

27 28

Sold Available Coming soon

8

9

10

11

Halswell Road

• 113m² - 116m² townhouses.

• Te Repo Mews represents very

good value in the market place.

• Generous, sunny, open plan

living with an outlook to the

private road and surrounded

by quality homes and fabulous

neighbours, it has all the

ingredients for making life easy

and enjoyable.

• These are a must to view... you

will be impressed!

Price: $489,000

Address: Old Red Barn Road, Halswell.

View online: www.harcourts.co.nz ID# RG9095 & RG9097

Your home for local property

Four Seasons Realty 2017 Ltd | Licensed Agent REAA 2008

¥ ¥

Zealanders

Zealanders 2018-2020 H

New by

Voted

Voted ¥

2018-2020

2018-2020

H

Real Estate Sales

Phone or text for an appointment.

Linda Veitch

03 313 6158 | 027 512 9261

linda.veitch@harcourts.co.nz

Four Seasons Realty
---
SOUTHERN VIEW Latest Canterbury news at starnews.co.nz

Thursday September 3 2020 5

News

Funding for charity denied

• By Bea Gooding

VOLUNTEERS AT a charity

that provides crucial support to

those experiencing traumatic

events have resorted to selling

face masks to stay afloat.

NZ Gifts of Love and Strength

started selling handmade, affordable

face masks when their

application for Government

funding of $15,000 was declined

by the Community Organisation

Grants Scheme.

The charity's operational costs

are $17,000 per year.

Founder Vicki-Anne Parker

said they were not expecting the

full amount, but anything was

"better than nothing."

"It was gut-wrenching because

this is the second time it's happened

and we know we do a

damn good job," said Parker.

They work hand-in-hand with

other organisations, such as the

Red Cross providing refugees

with unique care packages upon

arrival.

Partnerships like this prevented

the organisation from

having their funding application

accepted.

"The excuse they gave us was

pretty sad. They told us we had

duplicated services because the

Government already provided

funding for the Red Cross, so

IMPACT: NZ Gifts of Love and Strength volunteers Lynette

Hill (left), Rafia Chaudry, founder Vicki-Anne Parker and

Jessica Campbell-Beardsell have sold hundreds of face

masks to get by after the charity's funding was denied.

they said we didn't need it," she

said.

Parker believed the funding

decline for the second time

highlighted issues within the

voluntary sector when it came to

accessing funding.

"We haven't been established

for two years so it's always

hard to get funding. Bigger

charities always get funding,"

she said.

"Lots of charities are also

being set up, but they're failing

because of it."

Selling face masks has made

"a huge impact" in many ways

as they have been inundated

with hundreds of orders, raising

nearly $2500.

"Former clients come back and

volunteer with us, so it shows

we're making a difference," she

said.

"One of the fathers from the

Vivian St fire lost his only child

and helped make face masks for

us to pay it forward."

Lack of young volunteers

• From page 1

"All we want to do is provide

a safe working space for people

who don't have a social circle

to come along and make new

friends while helping other community

organisations."

In the Volunteering NZ report,

involving 3000 people in the voluntary

sector across the

country, 35.8 per cent

of respondents noted

an ageing volunteer

workforce as a concern,

and a lack of younger

volunteers.

During the pandemic,

many vulnerable

volunteers, young and

old, were forced to

stop volunteering in

order to protect their

health, which further decreased

workforces.

Volunteering Canterbury strategy

and finance manager Alison

Marshall said many organisations

have had to "re-think" the way

they ran their volunteer programmes

since the lockdown.

"Lockdown, and then the impact

of different levels, has meant

that they have had to, for example,

factor in social distancing,

taking extra precautions where

their regular volunteer team includes

older adults or those who

may be vulnerable," she said.

Alison Marshall

"Re-thinking and re-organising

the way you do things is always

challenging, especially for organisations

that are already often

stretched and working around

tight time frames."

A "spike of interest" in people

wanting to volunteer in Canterbury

since the lockdown was put

down to the increased

sense of community

or a change in circumstances,

said Marshall.

But feelings of

uncertainty about

the future – as it was

highlighted postearthquakes

and now,

Covid-19 – reflected

people's readiness

to make long-term

commitments,

hindering recruitment rates.

"Many prospective volunteers

are seeking one-off, shorterterm

or episodic volunteering

opportunities," said Marshall.

"This can be a challenge as

it takes time and resources to

recruit, orientate and train

volunteers; something which is

limited for many.

"Volunteering can provide a

sense of focus and positiveness at

a time of uncertainty. Knowing

that you are making a positive

difference is really good for

people's mental health," she said.

Authentic

Thai Cuisine

•

SUNNY AND SPACIOUS

AVAILABLE

NOW

Feel right at home at

Bishop Selwyn Village

•RECENTLY REFURBISHED VILLAS

From

$10

Lunch Special Tuesday - Saturday

Lunch Tuesday – Saturday, 11am to 2pm

Dinner Monday - Sunday, 4.30pm to 9pm

HOON HAY THAI RESTAURANT

Open 7 Days • Lunch & Dinner • 9 Coppell Place • Phone 339 0320

Hi, I'm Lyn Purdon Village Manager at Bishop

Selwyn Village.

Our residents love living here and everyone

does feel like they're right at home.

We warmly invite you to come along to see

why Bishop Selwyn Village could be your

new home.

To make a socially distanced private

appointment please call me on

03 379 4044

350 Selwyn Street, Spreydon, T: 03 379 4044

E: bishopselwyn@ultimatecare.co.nz

www.ultimatecare.co.nz

STHV_2008
---
6 Thursday September 3 2020

Latest Canterbury news at starnews.co.nz

SOUTHERN VIEW

New church launching 13 September

Looking for a church?

Want to connect with GOD in a COVID world?

Anchor Charismatic Anglican Church meets on Sundays at Te Ara

Koropiko West Spreydon School, 2 Halswell Road, and if you're

exploring the big questions in life and wondering whether there are

answers that will give you security in these uncertain times, Anchor

is inviting you to its official launch: Sunday 13 September at 10.30am.

Anchor is keen to share the Good News with the community of

South-West Christchurch, and a light lunch will follow the service.

Why plant a new church?

"While I was on a Camino pilgrimage to Santiago, Spain in May 2018,

I believe God asked me to establish a new parish for charismatic

Anglicans within the new Church of Confessing Anglicans Aotearoa

New Zealand," says Vicar Rev. Andrew Allan-Johns, a charismatic

Anglican of long-standing. "The two key Bible verses in the calling

were Isaiah 40:3 'Prepare the way of the Lord, make his paths straight'

and Jeremiah 4:3 'break up your unploughed ground and do not sow

among thorns'."

What can you expect at a service?

"We're a church where everyone's welcome. Our focus is on inviting

people to meet Jesus and mentoring them to become true disciples

of Jesus, not just followers in the crowd. Now more than ever, people

need to know that God is in control and that they can put their hope

and trust in Jesus His son!"

Vicar Rev.

Andrew Allan-Johns

"Anchor meets at 10.30 am on Sundays

for worship, teaching and ministry in

the school Staff Room. Children worship

with their families, then go to a separate

programme during the teaching time.

Holy Communion is celebrated every

second Sunday."

Rev. Allan-Johns adds, "For Christians a

relationship with Jesus is crucial and the

best place to explore faith is in a small

group where you can ask questions in a

safe environment. We run an eight-week

Christianity Explored course, which is easy

to relate to and relevant to the issues we

all face."

Check out the official launch of Anchor Charismatic Anglican

Church on 13 September, or visit www.anchorchurches.org

and www.facebook.com/anchorchurchnz

Anchor Charismatic Church

Official Launch

Sunday, 13 September 2020 10.30am

Te Ara Koropiko West Spreydon School

Tēna koe

This is an invitation to a celebration of the official launch

of Anchor Charismatic Church!

Sunday, 13 September 2020 10.30am

Te Ara Koropiko West Spreydon School, corner Halswell

& Annex Roads (look out for the white and blue flags).

Parking on-site.

We'd love you to join us as we celebrate the launch

of Anchor in South-West Christchurch. As part of the

Church of Confessing Anglicans Aotearoa New Zealand

(CCAANZ) we're excited to be declaring and sharing the

good news of Jesus and getting to know our community.

A light lunch and refreshments will be served afterwards.

Jesus answered. "I am the

way and the truth and the

life. No one comes to the

Father except through me."

John 14:6 (NIV)

For more information

please email Vicar

Andrew Allan-Johns:

andrewallanjohns@gmail.com

@anchorchurchnz

www.anchorchurches.com
---
SOUTHERN VIEW Latest Canterbury news at starnews.co.nz

Thursday September 3 2020 7

News

App challenges consumer behaviour

• By Bea Gooding

"IMAGINE A platform where

you can rent everything as

opposed to buying brand new."

Toby Skilton's dream of developing

a renting and lending

app has come true in a matter of

months and launched last week

in a bid to challenge consumer

behaviour.

Mutu will enable users to

acquire or lend items on a temporary

basis – anything from

paddleboards and bikes to do-ityourself

tools and camping gear,

to name a few.

"I couldn't be more excited.

This platform is a tool to reduce

waste and really solves a massive

issue we have in New Zealand

with overconsumption."

The launch comes at a time

when people were more conscious

of their spending and

were taking the time to explore

their backyard due to Covid-19.

"It encourages tourism and

trying something new while

saving money on our platform,"

he said.

"Cantabrians can spend that

money on cafes, accommodation

and amazing outdoor adventure

facilities right on our doorstep."

Skilton said the app and

website will also enable users

to make money by renting the

under-utilised items they own.

The revolution

in heat pumps

is here now!

DREAM: Toby Skilton's new lending and borrowing app, Mutu, will enable users to acquire

the things they need without buying brand new, reducing the amount of items sent to

landfill.

PHOTO: GEOFF SLOAN

"It's also giving items destined

for the landfill an opportunity to

be repurposed and slows down

manufacturing," he said.

When he was travelling

through Europe with his partner,

The revolution in heat pumps is here now!

Say hello to Fujitsu's latest lifestyle range

HEAT PUMPS FROM $1999 inc GST INSTALLED!

The Fujitsu e3series

The brilliant

heat pumps from Fujitsu

e1 : efficiency

e2 : environment

e3 : economy

Website: www.pshc.co.nz

Finance available

FREE consultation from your local

Accredited Heat Pump Expert

Phone today: 03 381 6950

INSERT DEALER DETAILS HERE

2020

Heat Pumps

NEW ZEALAND'S FAVOURITE AIR ®

Elise, they discovered getting

access to gear was "incredibly

expensive and time-consuming,"

for activities they loved such as

camping, hiking, and surfing.

Having limited space to pack

Conditions apply

Fujitsu's Catechin Filters are

approved by the Asthma and

Respiratory Foundation NZ's

Sensitive Choice ® programme.

Email: info@pshc.co.nz

the necessary gear was another

issue in its own, he said.

Their experiences couchsurfing

with locals on their

travels sparked the idea for the

app.

Said Skilton: "My partner and

I – we're both into the outdoors –

packed all of our stuff and went

to Europe for a year. We stayed

with locals with garages full of

stuff they hardly ever used, so we

wanted to access it.

"They felt a huge amount of joy

out of us using their gear."

Skilton has always had an

entrepreneurial drive, going to

sleep with "a million ideas at

once."

He was excited to see one of

his ideas turn into a reality, and

the team has now expanded

to seven, working together to

develop the app over the course

of 10 months.

So far more than 1500

people have now signed up on

to the website highlighting that

the platform will "solve a lot of

problems for a lot of people."

"Our vision is to completely

revolutionise how people view

ownership and to make sharing

cool and normal. We're confident

we'll get there," said Skilton.

"Encouraging behaviour

change comes with challenges,

so it's important in a platform

like ours to have precautions to

enable trust, such as star ratings,

review systems and policies for

damaged equipment."

• For more information, visit

https://www.mutu.co.nz/

Your LoCAL

TYrE SPECIALIST

New & Quality Used Second-hand Tyres

Alloy Wheels

Replacement Rims

Puncture Repairs

8c Birmingham Drive,

Middleton

www.jcmdirect.co.nz

343 0099 or 027 22 63 805

Proud to support Hornby Hockey Club

FG1441

3 WEEK TRIAL FOR ONLY $ 19

• You have 24/7 access

• Come to all classes

• Have a consultation

• Get a fitness program

with a trainer

If you choose to stay, you receive an extra week FREE!

/concretehf

/concrete_health_and_fitness

OPEN 24/7

300 Colombo Street, Sydenham Ph: 332 2604 concretehf@gmail.com www.gymchristchurch.co.nz
---
8 Thursday September 3 2020

Latest Canterbury news at starnews.co.nz

HEALTH & AWARENESS

SOUTHERN VIEW

Joint pain: Do I have arthritis or

could it be mainly my muscles?

The team at Physical Sense in Sydenham

sees clients with a range of symptoms but

many of their middle-aged and senior clients

visit complaining of pain in one of their joints.

Physiotherapist Ietje van Stolk suggests

that a major part of the pain could be due

to muscle pain rather than simply arthritis.

"Even if an x-ray shows arthritis, the reason

for the pain may be the muscles around

the joint," she explains. The images show

how a muscle knot (the crosses) in a back

muscle can give hip pain (aches and pain

are the red areas in the drawings), a knot

in a muscle on the back of the shoulder

blade can give a deep pain in the front of

the shoulder and a muscle knot all the way

near the groin can give an ache in the knee

(especially at night in bed).

Ietje recalls one case where an 89 year

old client with severe arthritis who walked

with a stick, told her, "I will end up in

a wheelchair, I cannot put any weight

through my right leg due to pain in my hip

and buttock". "Within 4 treatments, she

was walking with her stick but without the

severe pain," says Ietje. "The arthritis was

one of the factors that made her muscles

spasm but the other was that older people

move less and the flexed position the hip

is in when we sit is particularly bad for

the hip." Ietje is happy with the fact that

although the client was 89 and could have

been "given up on" or told to live with the

pain, she made a difference to her health

and wellbeing.

The same lack of movement can be the

reason for your knee pain or your shoulder

pain and the same few treatments could

make a huge difference for you.

At Physical Sense, hands-on techniques

(massage and triggerpoint deactivation

techniques) are used to release the muscles.

The client also gets a home exercise

program designed to mobilize and stretch

the joint, strengthen the important core

muscles and increase general strength and

SHOULDER

PAIN

KNEE PAIN

(the crosses are the areas of the muscle spasms, the red areas is where the pain is felt)

balance. They teach a movement sequence

that stretches the joint in all directions

whilst the client is able to lie safely on their

bed, perfect for older or less mobile clients.

In many cases having the muscles

released and being taught how to maintain

it, is enough to stay on top of the problem.

HIP PAIN

If severe arthritis is the underlying cause,

some maintenance therapy may be

necessary, but that is often more affordable

and, for older patients, better tolerated

than surgery. After only one treatment you

should know that it will work for you. Call

and only pay $50 on that treament.

Physical Sense Gym and Physio is located at 300 Colombo Street, Sydenham. The Blue Line Bus stops in front of the

door and there is ample parking. To enquire about joint pain treatment, phone 377-2577 or visit www.triggerpoints.co.nz

SENIOR LIVING

The perfect lifestyle!

"It's all about location. Geraldine has

everything here for a wonderful, active

lifestyle; we're nestled in a fabulous

microclimate with easy access to parks

and river walks, and Geraldine township

is a vibrant community with art galleries,

boutique 020.qxp shopping 30/06/20 and 6:46 fantastic AM Page eateries, 1

with a never-ending schedule of music

festivals, fetes, exhibitions and shows."

If you've reached the point of wanting to

simplify your life, McKenzie Lifestyle Village

should be on your 'must-see' list.

NOW OPEN - One bedroom luxury

care suites. Offering independence with

MLV Villas 9x3 modern living July 2020.qxp 30/06/20 6:46 AM Page 1

discreet help on hand. McKenzie Lifestyle

Village also welcomes subsidised care

providers, Luxury care suites are designed

to provide Rest Home and Hospital Level

Care. Making a luxury care suite your ideal

forever home..

At the heart of the village is the Leisure

Centre - a central point for entertainment

and events, true resort style facilities. Too

often people tell us they wish they'd made

the decision to move here sooner, just do

it while you're still independent and you

can enjoy everything that we have to offer.

Whether you're more inclined to enjoy the

company of others, or prefer privacy and

solitude - you'll find your perfect lifestyle

here.

Could Geraldine be your place to call home?

Call today for more information on 0800 845 524

or mlv.org.nz.

Lifestyle Living

Modern Lifestyle Living

lined to enjoy the company of others,

itude, you'll Whether find you're your you're more perfect inclined more lifestyle to inclined enjoy the here. to company enjoy of the others, company of others,

or prefer privacy and solitude, and solitude, you'll find you'll your perfect find your lifestyle perfect here. lifestyle here.

Villas and Apartments available NOW.

Architecturally designed designed Villas and Villas Apartments and available Apartments NOW. available NOW.

33 Connolly Street, Geraldine

0800 845 524 33 Connolly or 03 693 Street, 8340 Geraldine

0800 sales@mlv.org.nz

845 524 03 693 8340

sales@mlv.org.nz

www.mlv.org.nz

www.mlv.org.nz

A C C R E D I T E D V I L L A G E O F T H E R V A

A C C R E D I T E D V I L L A G E O F T H E R V A
---
SOUTHERN VIEW Latest Canterbury news at starnews.co.nz

Thursday September [Edition 3 datE] 2020 93

SENIOR LIVING

Natural vision support

Bilberry and marigold are two natural

herbs with a long history in supporting the

health of the eyes and good vision.

During World War 2, British bomber

pilots reported improved night vision after a

nightly dose of bilberry jam before missions.

Subsequent research suggested that bilberry

extract may improve microcirculation

within the eye, with the most significant

effects found in people with impaired visual

acuity.

Bilberries contain powerful antioxidant

compounds called anthocyanins that may

play a major role in supporting eye health

and even in improving the vision.

One of the main causes of degenerative

eye diseases such as macular degeneration

relates to an increase in free radical activity

that damages healthy cells in the eyes. The

anthocyanins from the bilberry help reduce

this free radical damage that could lead to

serious eye disease.

Bilberry has also been shown to improve

oxygen and blood delivery to the eye,

important factors for maintaining eye

health.

Bilberry is commonly used to support

night vision and alleviate tired eyes,

eye strain and dry eyes. It is considered

beneficial for most eye conditions, including

cataracts, disorders of the retina, and to

prevent eye problems, especially in people

with diabetes or high blood pressure.

The retina is a thin layer of tissue at

the back of the eye that transforms light

information into neural signals for the brain

to see images.

The retina is very fragile and can be

damaged by bright light, especially blue

light. Computer monitors, cellphones,

electronic notebooks, televisions, LED and

fluorescent lighting all emit significant

amounts of blue light and may have long

term effects on the retina.

The carotenoid lutein, as found in marigold

flowers, is concentrated in the macula, the

functional centre of the retina. The macula

gives us the ability to see detail and provides

the best colour vision.

Lutein appears to be vital in protecting the

macula from blue light damage. Multiple

studies have shown that people with eye

diseases have much lower levels of lutein

in their eyes and that increasing intake

of lutein can reduce the risk of macular

degeneration, the leading cause of blindness

in older people.

One study of people in India, where

cataracts are a common problem found that

those with the highest blood levels of lutein

had a 41% lower risk of developing cataracts,

compared to those with the lowest levels.

"Marshall's Herbal Vision Manager"

provides nutritional support to your eyes,

with each capsule containing a high dose

extract of bilberry fruit and marigold

flowers. This natural herbal formula is ideal

to support keeping your eyes healthy.

Further information is available from

the natural health advisers at Marshall's

Health & Natural Therapy, 101 Seaview

Road, New Brighton, PH: (03)388-5757.

Would you

like to profile

and grow your

Business?

For feature advertising

please phone

Jenny Wright

03 364 7446 or 021 220 3484

jenny@starmedia.kiwi

A Leader in Healthcare Excellence for the Older Person

Brookhaven

Retirement Village

Woolston

Phone 03 384 5046

Albarosa Rest Home

Papanui

Phone 03 375 0727

For more information visit

www.goldenhealthcare.co.nz

Golden Age

Retirement Village

Papanui

Phone 03 375 0720

Hoon Hay Rest Home

Hoon Hay

Phone 03 379 7825

you can stop him

snoring with a

SNOREX

Why put up with a broken

night's sleep?

Ph 377-4318 or 027 682 1752

DENISE LIM

FOR A FREE INFO PACK

Camellia Court

Rest Home

Papanui

Phone 03 375 0722

Website: www.snorex.co.nz

Somerfield

Rest Home

Somerfield

Phone 03 332 5897

Hoon Hay House Dementia

Hoon Hay

Phone 03 335 0297

Natural VisioN

support

Marshall's Herbal VISION MANAGER contains

two high potency herbal extracts of Bilberry

& Marigold. These are both well known to

support normal eye function & promote

healthy vision. Bilberry contains powerful

antioxidants called anthocyanins that may

play a major role in supporting the health of

delicate eye tissues. Marigold is a source of

the carotenoid lutein. This compound has

been shown in multiple studies to be a vital

nutrient in eye health. Optimum levels of

lutein appear to offer significant protection

against serious eye disorders.

HERBAL VISION

MANAGER SUPPORTS:

• Eye health, repair &

maintenance

• Sharp clear vision

• Night vision & colour

perception

• Eye strain relief

• Tired eyes

• Dry eyes

• Blurry vision

• Protection from blue light

damage from computer

monitors, cellphones,

LCD television, LED &

fluorescent lighting

Bringing You the Best in Natural Health

MARSHALLS HEALTH & NATURAL THERAPY

CONSULTING - PRESCRIBING - DISPENSING - MANUFACTURING - MEDICAL HERBALISTS

101 SEAVIEW RD, NEW BRIGHTON • PH 03 388 5757 • Email: enquiry@marshallshealthshop.co.nz

- WE ARE ALWAYS HAPPY TO HELP! -

SUPER PRIcE

60 Capsules

only $28.90

120 Capsules

only $48.90

MAIL ORDER

AVAILABLE
---
10 Thursday September 3 2020

Latest Canterbury news at starnews.co.nz

SOUTHERN VIEW

News

Trees pre-date human

arrival in New Zealand

• By Bea Gooding

A NEW site dedicated for

community use may be

a possibility for Halswell

residents.

Surplus land on Quaifes

Rd owned by the city council

was due to be sold, but

the Halswell-Hornby-Riccarton

Community Board,

the Halswell Residents Association

and the Halswell

Community Project were

against the proposal.

The land was purchased

by the city council for a

UNEARTHED: A subfossil matai tree forest has

been discovered on Quaifes Rd, it is said to

reveal more about Halswell's history.

• From page 1

"We're absolutely astonished,

we talked to a number

of people who thought they

were only a couple hundred

years old, but they were

amazed that they're nearly

1000-years-old," he said.

"People really value

understanding and finding

out more about the place we

live in."

The trees were discovered

by Environment

Canterbury councillor

Craig Pauling, who noticed

similar stumps excavated at

the Longhurst subdivision

a few years ago which they

were unable to access.

Since the stumps on

Quaifes Rd were located on

city council property, they

granted the HRA $1800 to

get the trees radiocarbon

dated.

After discussions with

Canterbury University and

Lincoln University environmental

experts, Hawke

said it was likely that the

trees were killed after the

Waimakariri River flooded

the area before humans arrived

in NZ.

Hawke said the discovery

will add another dimension

to discussions of Halswell's

heritage.

"We're interested in

trying to broaden out the

narrative of heritage in

Halswell and extend that

discussion a bit," he said.

"Most people think

of Halswell's heritage of

the quarry and farming

activity, but people have

been living in this area for

hundreds of years.

"What this means is

stormwater retention and

detention basin which was

no longer required.

Community groups

believed there was now a

"rare" opportunity to use

the space for community

purposes.

Said HRA secretary

David Hawke: "We don't

want the land to be sold,

we just want a good range

of opportunities for people

to use community spaces

in Halswell."

Karen White, of the

Halswell Playcentre, told

that Halswell is built on

this amazing matai forest

literally under our feet. If

you think of a matai [tree],

the forest itself would have

hosted an enormous variety

of native animals."

The city council is determining

how the surplus

land on Quaifes Rd should

be used where the matai

trees were located.

Hawke hoped the city

council did not sell the land

in the hope of turning the

space into a community

hub of activity.

New community space mooted

BIRDS OF THE ESTUARY

the board that the area's

population continues

to increase and needed

new community spaces

because of this.

Said White: "There are

currently 12-plus subdivisions

under construction

in Halswell. There appears

to be no community

spaces allocated except for

playgrounds.''

A workshop will be

held in coming months

to inform the community

board about potential

options for the space.

Tanya Jenkins is the manager of the Avon-Heathcote Estuary Ihutai Trust,

a non-profit organisation formed in 2002 to protect one of New Zealand's

most important coastal wetlands. Each week she introduces a new bird

found in the estuary. Her column aims to raise the understanding of the

values and uniqueness of the area.

Vocal duck pairs for a lifetime

THE PARADISE duck,

or putangitangi, are a

colourful and very vocal

endemic waterfowl species

– and they are only found

in New Zealand.

Numbers of these birds

have drastically increased

since European settlement

as these ducks adapted well

to farmland and open areas

created by the colonists and

can now be found throughout

NZ.

The females are easily recognised

by their white heads

but also by the loud highpitched

shrieking noises they

make when constantly communicating

to the males.

Charming to know that

most paradise ducks pair

up for life; feeding, nesting,

flying together and protecting

their territory. It is only

during the moulting season

that they will team up with

other pairs as in larger

groups they feel safer from

predators.

Pairs build their nest

in long grass along our

streams, rivers and

estuary and the female

will incubate the some

nine eggs while the male

fiercely protects his family

from anyone or anything

coming near.
---
SOUTHERN VIEW Latest Canterbury news at starnews.co.nz

Thursday September 3 2020 11

Classifieds Contact us today Phone our local team 03 379 1100

Trades & Services

Trades & Services

Trades & Services

Trades & Services

Trades & Services

FOR ALL YOUR

★Garden Clean-ups

★Pruning

★Lawn Mowing

★Garden Maintenance

Call us today for a FREE quote

PH 0800 4 546 546

(0800 4 JIMJIM)

ROOF

PAINTING 24/7

Rope & harness

a speciality,

no scaffolding

required,

30 years of

breathtaking

experience.

FREE QUOTES

20% OFF other

roof quotes

Exterior staining,

exterior painting,

water blasting.

Moss and mould

treatment $300.

Phone Kevin

027 561 4629

BRICKLAYER

George Lockyer. Over

40 years bricklaying

experience.Uk trained.

Insurance work, EQC

repairs. Heritage

brickwork & stonework

a speciality. No job too

small. Governers Bay.

Home 329 9344. Cell

027 684 4046. E mail

georgelockyer@xtra.co.nz

CARPET LAYING

Exp. Repairs, uplifting,

relaying, restretching.

Phone John on 0800

003181, 027 240 7416

jflattery@xtra.co.nz

ELECTRICIAN

Prompt & reliable

registered electrician

with 24 years experience

for all residential and

commercial work, new

housing and switch board

replacements. Phone Chris

027 516 0669

PAINTING

Indoor / Outdoor, over 30

yrs exp, same day quotes,

ph Steve 021 255 7968

PAINTING

Indoor / Outdoor, over 30

yrs exp, same day quotes,

ph Steve 021 255 7968

PAINTER

New, older homes,

interior, exterior. We stand

by Canterbury. Ph Wayne

0272 743 541, 385-4348

ROOFING REPAIRS

Fully qualified, over 40

yrs experience. Ph John

027 432-3822 or 351-

9147 email johnchmill@

outlook.com

STONEMASON, BRICK

& BLOCKLAYER,

Earthquake Repairs, Grind

Out & Repoint, River/

Oamaru stone, Schist,

Volcanic Rock, Paving,

all Alterations new & old,

Quality Workmanship,

visit www.featureworks.

co.nz or ph 027 601-3145

STONEMASON

Featurework, walls,

paving, drystone walls, &

repairs. Reasonable rates.

Keeping the locals happy

for over 20 years.Ph Tim

Williams 027 714 5402

STUMP GRINDING

Best price guarantee Tony

0275 588 895

VHS VIDEO TAPES

& all camera tapes

converted to DVD or

USB. Video taping

special occasions, www.

grahamsvideo.co.nz ph 03

338-1655

Wanted To Buy

AAA Buying goods

quality furniture, beds,

stoves, washing machines,

fridge freezers. Same day

service. Selwyn Dealers.

Phone 980 5812 or 027

313 8156

TOOLS Garden,

garage, woodworking,

mechanical, engineering,

sawbenches, lathes,

cash buyer, ph 355-2045

TOOLS Garden,

garage, woodworking,

mechanical, engineering,

sawbenches, lathes, cash

buyer, ph 355-2045

Towing

For safe, damage free

car transportation

call Ashley's Tow Taxi

Special care for special cars

ASHLEY'S TOW TAXI

Breakdown & Relocation

0800 TOW TAXI • 0800 869 8294

WINDOW TINTING

tintawindow

advanced film solutions

99% uv block

fade protection

heat control

reduce glare

25 Years Experience

privacy films

frosting designs

non-darkening films

Workmanship Guaranteed

Lifetime Warranties on Most Films

UV

block

Free Quotes Canterbury and Districts

03 365 3653 0800 368 468

UNDER NEW MANAGEMENT

WOOLSTON

Bumper to Bumper repairs

þ ALL MECHANICAL REPAIRS

Servicing. lubes, cambelts, tyres, exhausts,

suspension, batteries, water pumps, etc.

þ VTNZ WOF ON SITE

þ VTNZ CERTIFIED REPAIRER

þ COURTESY CAR AVAILABLE

BE IN TO

WIN

YOUR

SERVICE

Book in your vehicle for

a service and go into our

monthly draw to *WIN back

the cost of your service.

*Conditions apply

WOOLSTON AUTO SURGERY

693 FERRY RD | PH 03 384 9092
---
Advert: FCSV0309 Newspaper: Southern View

12 Thursday September 3 2020

Latest Canterbury news at starnews.co.nz

SOUTHERN VIEW

Get Free Delivery *

when you shop online.

SEPTEMBER

Shop online at

FreshChoiceYourWay.co.nz

or download the

FreshChoice app

Cook Dad a roast this Sunday!

Nestlé Scorched

Almonds 240g

$

4 50

ea

Corona Extra

18 x 355ml Bottles

$

36 80

pk

Fresh NZ Lamb

Leg Roast

Large Hass Avocados

$

12 00

kg

$

2 00

ea

Brekkie in bed for Dad?

Barrington

City Market

Open 7am – 10pm, 7 days a week.

barrington.store.freshchoice.co.nz

Open 7am – 9pm, 7 days a week.

citymarket.store.freshchoice.co.nz

FreshChoiceNZ

Prices apply from Monday 31st August to Sunday 6th September 2020, or while stocks last at FreshChoice City Market & Barrington only. Limits may apply. *Offer only available at FreshChoice Barrington &

City Market until 14th September 2020. $100 spend excludes Tobacco and Delivery Fee before the discount. Order must consist of a standard grocery shop and can't contain only alcohol and/or tobacco.

OWNED &

OPERATED BY

LOCALS

FCSV0309