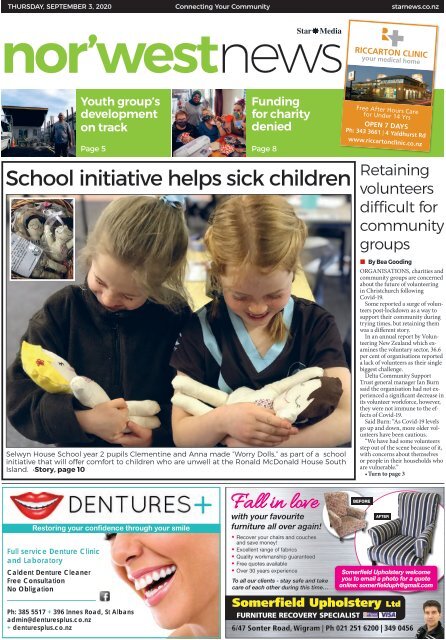 Nor'West News: September 03, 2020
Create successful ePaper yourself
Turn your PDF publications into a flip-book with our unique Google optimized e-Paper software.
THURSDAY, SEPTEMBER 3, 2020

Connecting Your Community

starnews.co.nz

Youth group's

development

on track

Funding

for charity

denied

Free After Hours Care

for Under 14 Yrs

OPEN 7 DAYS

Ph: 343 3661 | 4 Yaldhurst Rd

Page 5 Page 8

School initiative helps sick children

Selwyn House School year 2 pupils Clementine and Anna made "Worry Dolls," as part of a school

initiative that will offer comfort to children who are unwell at the Ronald McDonald House South

Island. •Story, page 10

www.riccartonclinic.co.nz

Retaining

volunteers

difficult for

community

groups

• By Bea Gooding

ORGANISATIONS, charities and

community groups are concerned

about the future of volunteering

in Christchurch following

Covid-19.

Some reported a surge of volunteers

post-lockdown as a way to

support their community during

trying times, but retaining them

was a different story.

In an annual report by Volunteering

New Zealand which examines

the voluntary sector, 36.6

per cent of organisations reported

a lack of volunteers as their single

biggest challenge.

Delta Community Support

Trust general manager Ian Burn

said the organisation had not experienced

a significant decrease in

its volunteer workforce, however,

they were not immune to the effects

of Covid-19.

Said Burn: "As Covid-19 levels

go up and down, more older volunteers

have been cautious.

"We have had some volunteers

step out of the scene because of it,

with concerns about themselves

or people in their households who

are vulnerable."

• Turn to page 3

Fall in love

before

Restoring your confidence through your smile

Full service Denture Clinic

and Laboratory

Caldent Denture Cleaner

Free Consultation

No Obligation

Ph: 385 5517 + 396 Innes Road, St Albans

admin@denturesplus.co.nz

+ denturesplus.co.nz

with your favourite

furniture all over again!

• Recover your chairs and couches

and save money!

• Excellent range of fabrics

• Quality workmanship guaranteed

• Free quotes available

• Over 30 years experience

To all our clients - stay safe and take

care of each other during this time…

after

Somerfield Upholstery welcome

you to email a photo for a quote

online: somerfielduph@gmail.com

Somerfield Upholstery Ltd

FURNITURE RECOVERY SPECIALIST

6/47 Sonter Road, Wigram | Ph 021 251 6200 | 349 0456
---
2 Thursday September 3 2020

Latest Canterbury news at starnews.co.nz

GENERAL INQUIRIES Ph 379 7100

CLASSIFIED ADVERTISING Ph 379 1100

Star Media, a division of Allied Press Ltd

PO Box 1467, Christchurch

starmedia.kiwi

what's on

this week

Wā Pēpi: Babytimes

Thursday, 10.30-11am

Shirley and Fendalton libraries

Encourage learning through

language. Babytimes is an interactive

programme including music, movement,

rhymes and a story. Recommended

for under two-year-olds. No

bookings required.

NOR'WEST NEWS

NEWS

Bea Gooding

Ph: 021 911 576

bea.gooding@starmedia.kiwi

ADVERTISING

Monique Maynard

Ph: 021 372 481

monique.maynard@starmedia.kiwi

Your local community news

delivered to 28,748 homes

within The Star each week.

Harewood • Burnside • Bishopdale • Bryndwr

Fendalton • Merivale • St Albans • Mairehau

Papanui • Casebrook • Redwood • Styx Mill

Regents Park • Northwood • Belfast • Strowan

Citizens Advice Bureau

Thursday, 11am-5pm, Friday,

11am-5pm, Monday, 11am-5pm,

Tuesday, 2-5pm, Wednesday,

11am-5pm

Fendalton Library

Citizens Advice Bureau provides

free and confidential advice. They

take the time to listen and equip you

with the information, options and

support that fit your needs. Phone

941 7923 for more information.

Knit 'n' Yarn

Thursday, 2-3.30pm, at Fendalton,

Wednesday, 1-2.30pm, at Redwood

Fendalton and Redwood libraries

Take your knitting, crochet or

other craft projects and have fun with

a social group. This is a free, drop-in

event.

The Zone @ Shirley

Thursday, 4-5pm

Shirley Library

Go along and get to know other

like-minded teenagers. Go headto-head

on the PlayStation, mix

music with GarageBand, get creative

with green screen or play classic

board games. Suitable for ages 12

The Great Library Seed and Plant Swap, Wednesday and Thursday,

all day, Ōrauwhata: Bishopdale Library and Community Centre. If you have

leftover plants and seeds, go along and share them with the community.

Vegetable, herb, flower and heritage seeds are welcome. ​

to 19-years-old. Free, no booking

required.

Mahjong Group

Saturday, 1-3.30pm, at Shirley,

Monday, 1-4pm, at Papanui

Shirley and Papanui libraries

Go along to the free event if you

are interested in playing or learning

about Mahjong.

JP Clinic

Saturday, 10am-noon, at

Fendalton, Tuesday, 10am-1pm, at

Shirley and Papanui, Wednesday,

10am-1pm, at Bishopdale

Bishopdale, Fendalton and Shirley

libraries

A justice of the peace will be

available to witness signatures

and documents, certify document

copies, hear oaths, declarations,

affidavits or affirmations, as well

as sign citizenship or rates rebates

applications.

Friends of the Library

Booktalk

Tuesday, 12.30-1.30pm

Fendalton Library

Rodney Laredo, author of To Hell

With Poverty, will be speaking about

his best-selling books. He will also be

speaking about his book, Informally

Royal, which follows the story of a

husband and wife photographic team

who recorded the British Royal Family

in private from the 1930s until

1966. Refreshments provided. Gold

coin admission.

Reading to Dogs

Tuesday, 3.30-4.30pm

Shirley Library

A relaxed, non-threatening

event designed to encourage

children to practice reading skills

and develop a love for reading.

Registration required. Phone 941

7923 to register.

Discover Christchurch's

best pet

accommodation

• Daycare - all breeds

• Long stay/short stay

Call now to

book in your

fur baby,

inspections

welcome

anytime!

ALAMEDA

KENNELS & CATTERY

271 Dyers Road | Ph 384 1297

www.alameda.nz

For all your

pre-loved spring

fashion, come

and see us!

✓ Designer brands

✓ Women's wear

✓ Men's wear

✓ Family clothing

✓ Formal wear

eftPoS only!

and

So much

more!

VISIT US AT ONE OF OUR

FANTASTIC

LOCATIONS! 310Am - 4pm, 7 dAyS A wEEk

Sydenham

39 Battersea Street

PaPanui

472 Cranford Street

hornby

94 Shands Road
---
NOR'WEST NEWS Latest Canterbury news at starnews.co.nz

Thursday September 3 2020 3

News

Lack of younger volunteers

• From page 1

During the lockdown, the

organisation was kept busy, with

its foodbank service experiencing

a 50 per cent increase in

demand, highlighting the need

to have more hands on deck.

"We always need more volunteers;

we don't have enough,"

said Burn.

In the Volunteering NZ report,

involving 3000 people in the voluntary

sector across the country,

35.8 per cent of respondents

noted an ageing volunteer workforce

as a concern, and a lack of

younger volunteers.

During the pandemic, many

vulnerable volunteers, young

and old, were forced to stop

volunteering in order to protect

their health, which further decreased

workforces.

Volunteering Canterbury

strategy and finance manager

Alison Marshall said many organisations

have had to "rethink"

the way they ran their

volunteer programmes since the

lockdown.

"Lockdown, and then the

impact of different levels, has

meant that they have had to, for

example, factor in social distancing,

taking extra precautions

where their regular volunteer

team includes older adults or

those who may be vulnerable,"

she said.

"Re-thinking and re-organising

the way you do things is

always challenging, especially

for organisations that are already

often stretched and working

around tight time frames."

A "spike of interest" in people

wanting to volunteer in Canterbury

since the lockdown was

put down to the increased sense

DECLINE:

Alison

Marshall

and Glenda

Martin say

a desire for

episodic

work affects

volunteer

rates in the

region.

PHOTO:

GEOFF

SLOAN

of community or a change in

circumstances, said Marshall.

But feelings of uncertainty

about the future – as it was

highlighted post-earthquakes

and now, Covid-19 – reflected

people's readiness to make longterm

commitments, hindering

recruitment rates.

"Many prospective volunteers

are seeking one-off, shorter-term

or episodic volunteering opportunities,"

said Marshall.

"This can be a challenge as

it takes time and resources to

recruit, orientate and train

volunteers; something which is

limited for many.

"Volunteering can provide a

sense of focus and positiveness at

a time of uncertainty. Knowing

that you are making a positive

difference is really good for people's

mental health,'' she said.

Cycleway

construction

under way

WORK ON the first two sections

of a $31.4 million cycleway

linking Papanui with southern

Christchurch has now started, the

city council has confirmed.

The route will be used by commuters

and students from 13

schools across the city.

It will connect to the Quarryman's

Trail, Little River Link,

South Express, Uni–Cycle and

Northern Line cycle routes once it

was completed.

The city council transport

planning and delivery manager

Lynette Ellis said the cycling network

was already having a major

effect on the city, making it safer

and easier for people to cycle.

"During the pandemic lockdown,

we clearly saw the positive

impact of less traffic on our streets

and environment," said Ellis.

"It will cover a busy and

populous area of Christchurch

that is projected to grow and

develop.

"The Nor'West Arc cycleway

will provide an alternative travel

option by providing easy access

to work sites, the University of

Canterbury and many primary,

intermediate and secondary

schools across this side of the

city.''

'CEREC' & cosmetic dentistry

Wisdom tooth removal

Painless, high quality dentistry

Sedation dentistry

Experienced, conscientious team

Experienced hygienists

OPEN SATURDAYS

355 9380

144 Cranford Street

www.stalbansdentalcentre.co.nz

massage

for dad

Treat your dad to a lovely relaxing destressing

30 minute back, neck, head

and shoulder massage for only $45

Euphoria

body & beauty clinic

Harewood Road, Bishopdale (inside the YMCA)

Phone 359 3445 | www.euphoriabodybeauty.com

HEAT PUMP

SALE NOW ON!

Amazin' Spring Specials!!

90%

SubSidy

Warmer KiWi HomeS

Programme

*Eligibility criteria apply

• We will offer you the best quality brands and

option of heat pump for your home/business

• Providing Heat Pump solutions for over 18 years to Cantabrians

• We personally guarantee all our products & installs for 5 years

(providing annual maintenance has been completed)

Phone us today for your free consultation & quote

41A SHAKESPEARE RD, WALTHAM

PHONE 03 366 0525

www.enviromaster.co.nz

"A local team for local people"

WE'RE OPEN!

Order your cake online today!

OPEN

7 DAYS

Contactless

Pick-Up

Click &

Collect

Edgeware | 205a Hills Road | Ph. 03 386 0222 | Hornby | 413 Main South Road | Ph. 03 925 9935

thecheesecakeshop.co.nz

Don't forget Dad this Father's Day!

SEPTEMBER 6 th
---
4 Thursday September 3 2020

Latest Canterbury news at starnews.co.nz

NOR'WEST NEWS

PROPERTY NEWS

Housing market booming

as spring arrives

The Nor'west property market remains extremely active

as we come to the end of winter and is showing no

signs of slowing down anytime soon. REINZ statistics

released for July show that 141 properties were sold in

the Nor'west area, with the median number of days to

sell sitting at just 30.

The highlight, though, says owner of Ray White

Bishopdale & Strowan Barry Ellis, was the median sale

price for July – up 9.3 per cent on the same period last

year, increasing from $485,000 in July 2019 to $530,000

in July 2020 for the area.

"The market we're working in now is hugely exciting,

there's a lot of activity and the momentum is continuing

as we come into spring," Barry says.

"The depth of the buyer pool is what's most exciting.

We are seeing a lot of activity from first-home buyers

and investors, but also families upgrading and upsizing

their homes, and a lot of Kiwis returning from overseas."

The agency has found auctions proving the best

method of sale in the current market, with two recently

sold properties stunning many hopeful buyers with their

final sale price.

The first, an 'as is, where is' at 98 Roker Street in

Somerfield, marketed and sold by Maria Paterson of

Ray White Strowan, sold for $448,000. The property

had more than 90 groups through the open home and

attracted more than 22 people to the auction, with more

than 13 bids placed.

"There was a lot of interest in this property, and

particularly as 'as is, where is' properties are becoming

scarcer in Christchurch. It was a great auction and the

vendors were extremely happy with the result," Maria

says.

Another property, marketed by

Brent Rushworth of Ray White

Bishopdale, sold at auction for

$431,000.

"The property was completely

original and was on the market for the

first time in 50 years so there is a lot

of modernising to be done by the new

owners," Brent says.

The 86 Crofton Road property had

81 groups through the open homes

and 21 people attended the auction

with 18 bids placed.

Co-owner of Ray White Bishopdale

& Strowan Karen Ellis says the

property market is booming and

auctions are proving an effective way

to get top dollar.

"With so many buyers in the

marketplace, auction is proving the

best way to achieve top dollar for your

property by creating competition

among the interested buyers. In the

last three months we have had 100

per cent of the properties we have taken to auction at

Ray White Bishopdale & Strowan sell on auction day,

achieving exceptional prices for our vendors," Karen

says.

"If you are thinking about selling, now is a great time.

You only have to look at the results we're seeing, and the

market statistics being released each month to realise it.

And with spring right on the doorstep, those property

owners that take hold of the current momentum will be

Barry Ellis - Owner Ray White

Bishopdale & Strowan - 021 519 274

rewarded.

Barry and Karen say, if you are curious to know what

your property could sell for, give them a call and they

will come and do a market valuation.

"It only takes 20 minutes, and you could be surprised

at the result."

For advice on your next real estate transaction,

contact Ray White Bishopdale & Strowan on 0800

YELLOW (935 569).

Nor'West

Market Snapshot

July 2020

Median Sale Price

$530,000

(+9.3%)

Compared to $485,000

in July 2019*

Total Number of Sales

141

Compared to 136

in July 2019*

Total Sales Value

$93m

(+16%)

Compared to $79m

in July 2019*

Median Days to Sell

30

(+3.6%) (-37%)

Compared to 44

in July 2019*

What's your property worth?

Call 0800 YELLOW to find out

*Statistics have been sourced from REINZ

Ray White Bishopdale & Strowan

0800 YELLOW (0800 935 569)

rwbishopdale.co.nz | rwstrowan.co.nz

Inline Realty Limited (Licensed REAA 2008)

Proudly owned by

Karen Ellis

021 519 275

Barry Ellis

021 519 274
---
NOR'WEST NEWS Latest Canterbury news at starnews.co.nz

Thursday September 3 2020 5

News

Youth group's new development on track

• By Bea Gooding

STUDENTS OF youth

organisation Te Ora Hou

Ōtautahi will soon have a

permanent place to call home

after years of working in cold

and damp conditions.

Site developments at the Papanui

campus have been under

way for a number of years to

replace the previous run-down

complex which was demolished

last year.

New additions included new

classrooms, a kitchen and cafe

area, a whānau room and a new

outdoor space complete with a

basketball hoop.

General manager Jono Campbell

said plans to redevelop the

space has been in the works since

2014.

"We're getting really excited.

It acknowledges our volunteers

who had to work in a space that

wasn't the flashest," he said.

"For years when we first started

running the old bungalow on

Sawyers Arms Rd, it was cold

and there were rats.

"Now, 20 years later, we have

our own buildings, land and

spaces for our whānau and rangatahi."

Redevelopments cost $4 million

overall and the organisation

was able to raise $3 million of

The revolution

in heat pumps

is here now!

The Fujitsu e3series

The brilliant

heat pumps from Fujitsu

e1 : efficiency

e2 : environment

e3 : economy

PROGRESS: Te Ora Hou Ōtautahi manager Jono Campbell

welcomes the campus' new facility, which is on track to be

completed early next year. ​

the required amount towards the

project as well as grants from the

city council, the Rata Foundation

and NZ Lotteries.

Te Ora Hou Ōtautahi provides

alternative education to young

people, mostly with Māori and

Pasifika backgrounds.

Its aim is to develop

inherent strengths in youth,

such as character and talents,

The revolution in heat pumps is here now!

Say hello to Fujitsu's latest lifestyle range

HEAT PUMPS FROM $1999 inc GST INSTALLED!

2020

within a safe and positive

environment, while addressing

potential problems that may be

significantly impacting a young

person's life.

Campbell said the Māori

and Pasifika population has

increased progressively over the

last 40 years, and having a new

facility was imperative in order

to support young people through

Conditions apply

ASSET: Students and youth workers test out the new

basketball court, which is part of the campus' site

developments.

the many issues they face today.

There were many anxieties and

pressures among youth, especially

in Canterbury, such as fewer

opportunities accessing sport,

the 2010 and 2011 earthquakes,

the impact of social media,

NCEA and now Covid-19.

"Having a site where young

people can actively participate is

crucial," said Campbell.

Nicky Wagner

National List MP

I'd like to acknowledge everyone

that I have worked with over the

last 15 years.

Christchurch is a great city –

I have enjoyed being your MP.

Thank you for your support –

Kia Kaha

"Kids just need a lot of fun. A

lot of it is allowing them to have

a voice – a constructive voice –

that adds to the community and

brings a sense of belonging and

ownership."

The Covid-19 pandemic slowed

construction progress down, but

Campbell said they still aimed to

have the complex completed by

early next year.

Website: www.pshc.co.nz

Finance available

FREE consultation from your local

Accredited Heat Pump Expert

Phone today: 03 381 6950

INSERT DEALER DETAILS HERE

Special Offer

NEW ZEALAND'S FAVOURITE AIR ®

FG1441

Heat Pumps

Fujitsu's Catechin Filters are

approved by the Asthma and

Respiratory Foundation NZ's

Sensitive Choice ® programme.

Email: info@pshc.co.nz

922 Colombo Street, Central Christchurch

PO Box 21359, Christchurch 8143

chch.office@parliament.govt.nz

03 365 8297

nickywagner.co.nz

Authorised by Nicky Wagner MP,

Parliament Buildings, Wellington.

2 MONTHS AT 50%

for new Under 2's enrolments

• Open Monday to Friday 7.30-5.45pm

• Reggio inspired programme

• Nutritious meals created daily on site

• 20 hours ECE available

• Healthy Heart Gold Award

*terms and conditions apply

• Four learning spaces to cater to

children's varying education and care

needs

• Growing Kiwi Gardeners Programme

• Playball and Pitter Patter Dance

Visit us anytime to chat about your family needs.

Come and meet Juliette and the team.

Phone: 03 351 1030

or 021 249 0609

Email: cm.blighs@ledu.co.nz

Website: www.lollipopseducare.co.nz

Blighs road
---
6

Thursday September 3 2020

Father's Day

Gifts in store

our price

$

39 99

our price

$

34 99

Searching For Charlie

By Tom Scott

An absorbing and fascinating read. The sort of book

you just can't put down. An unbelievable biography!

Latest Canterbury news at starnews.co.nz

News

Marshland Rd speed

reduction likely

IT MIGHT soon take

longer to drive one of the

busiest roads in north-west

Christchurch, ending

months of speculation

and completing a suite

of changes for the area's

roads.

Marshland Rd, from

near Main North Rd/Spencerville

Rd to Prestons Rd,

might soon have a 60km/h

speed limit. The current

speed limit for that stretch

of road is 70km/h.

If approved by the city

council, the plan would

add-to previous changes to

sections of the Marshland

Rd/Main North Rd corridor

where 70km/h and

80km/h limits dropped to

60km/h.

The council adopted

those changes last September,

but the decision to cut

the limit on the road south

of the railway line to Prestons

Rd was deferred.

The local community

boards asked for the deferral

under the weight of

submissions against the

plan, and the need to know

more about possible safety

improvements.

The Papanui-Innes and

Coastal Burwood community

boards recently met

and heard some improvements

would outstrip the

council's budget.

Traffic engineer Wayne

Anisy told the boards

signals and safety improvements

at the intersections

would "require funding

well-in-excess" of what was

available.

The road would need

to be widened to accommodate

median and side

barriers, which would

come at a significant cost.

Seal widening could costs

"millions," the boards were

told.

GUIDELINES: Marshland Rd, from near Main

North Rd/Spencerville Rd to Prestons Rd, might

soon have a 60km/h speed limit adding about

90sec to a journey.

Committing to such

improvements would also

create uncertainty as to

when any safety improvements

could be carried out,

Anisy advised.

Minor safety improvements,

such as vegetation

clearing, sight boards and

stop controls had been

carried out at some key

locations.

However, they had not

changed the overall risk

rating of the road, he said

in his report.

There were high-risk

intersections and roadside

hazards and some in the

area, including Ouruhia

School, had concerns about

road safety.

The safe and appropriate

speed assessment of

the road needed to meet

national guidelines is

60km/h, he said.

Keeping the current

speed limit at 70km/h

would "align with the majority

of feedback" received

when the changes were

NOR'WEST NEWS

mooted last year, he said.

Then, there were claims

the change would mean

slower traveling times

and lost productivity, and

increased congestion and

driver frustration.

Council research suggested

travel times might

drop by 90sec at most.

The boards were advised

this should be balanced

against the $5.07 million

social cost of a fatal crash,

or of a serious injury crash

($926,000).

They were also told congestion

was more directly

linked to traffic volume

and congestion at intersections,

and speeds were

much lower than the speed

limit during peak times.

The Christchurch

Northern Corridor

played a part – traffic

on Marshland Rd was

expected to grow 20 per

cent by 2026 on 2015

volumes, compared to

93 per cent without the

corridor.

style

noun

elegance and sophistication.

synonyms: flair, grace, poise,

polish, suaveness, urbanity,

chic, finesse, taste, class,

comfort, luxury, affluence,

wealth, opulence, lavishness.

Ph: 03 359 8207

E: bishopdalepostshop@gmail.com

Bishopdale Village Mall

Plenty of free parking!

MAGAZINE

STYLE.KIWI
---
NOR'WEST NEWS Latest Canterbury news at starnews.co.nz

Thursday September 3 2020 7

• By Bea Gooding

RESIDENTS WHO

have endured months of

significant roadworks in

St Albans, Edgeware and

Mairehau can now see an

end in sight.

A bulk of the work on

transport projects under

way to manage the downstream

effects of

the Christchurch

Northern Corridor

motorway will be

completed by mid-

October, says the

city council.

In the past six

months, roadworks

have dominated the

area, particularly on

Cranford St, with many

residents and school

children fearing for their

safety while crossing the

road due to drivers not

following 30km/h speed

limits.

Said St Albans resident

Mark Wilson: "It's all very

well to say that there's an end

in sight to the roadworks, but

what happens then?

When the roadworks

are finished, then the

traffic from the motorway

comes."

"We're getting pretty

tired of it."

Work on the corner of

Warrington St and Forfar

St may take longer, along

Mark Wilson

DISRUPTION:

Roadworks to

mitigate the

downstream

effects of the

Christchurch

Northern

Corridor have

been ongoing

in St Albans,

however, work

is nearing

completion.

PHOTO: GEOFF

SLOAN

Roadworks ease; safety

concerns remain

with work on Barbadoes

St to repair wastewater

pipes, but the city council

still aims to complete these

areas next month.

Construction started

in early February and

was originally due to be

completed by the middle of

this year.

"We know the high

volume of road

works has

caused frustrations

for those

who live, work

or travel through

St Albans,

Edgeware and

Mairehau but an

end is in sight,''

said Lynette Ellis, city

council transport planning

and delivery manager.

"By mid-October, our

contractors should have

the bulk of the projects

completed so there will be

significantly fewer active

road worksites in the area."

Ellis said over the next

two months the city

council will be working

on traffic-calming options

for some streets that are

expected to experience an

increase in traffic.

Measures were implemented

to address safety

concerns in recent months

due to the roadworks, such

as an active police presence

in the area to deter dangerous

driving and assistance

with school crossings.

Although unsafe behaviour

had decreased due

to these improvements,

Wilson believed the real issue

of increased traffic due

to the CNC motorway was

not being addressed.

Said Wilson, about the

improvements: "From my

perspective, it's another example

of an ambulance at

the bottom of the cliff, and

another knee-jerk reaction

without addressing the

problem."

A report will be

presented to the Papanui-

Innes Community Board

next month on how an

extra lane on Cranford St

should be used, such as a

public transport or cycle

lane which the community

lobbied for.

Wilson was not convinced

the city council

would favour this option

in spite of previous assumptions.

"From how I see it, we

are not going to get a

recommendation from

staff for public transport

prioritisation on the lanes,

and can expect a focus on

maximising traffic flow

through the suburb."

The CNC will be completed

by December this

year.

Bishopdale

Pharmacy

Your

Local

Pharmacy

Here for the community for over 55 years

Medication

Management

Service

Do you find yourself forgetting

to take your medication? Are

you taking medication that

you don't feel is working for

you? Do you know what you're

taking and why?

At Unichem Bishopdale

Pharmacy, we offer a service

called the Medication Use Review

(MUR). This service may be just

what you need to help you get

on top of your prescriptions and

help you get the most out of

your medication.

The main reason individuals take

medication is to improve quality

of life. However, if you are not

feeling well or taking multiple

medications, remembering to

take the right medications at

the right times can be difficult.

If medications aren't taken

properly, this can do more harm

than good.

A Medication Use Review

with Unichem Bishopdale

allows you to sit down with

your pharmacist, either in the

pharmacy or at your home. The

appointment takes about 30

minutes and you will leave with a

new understanding of how to get

the best out of your medicines.

During your appointment,

our pharmacists will create an

action plan. These plans differ

for every patient, but it may

include a timetable, blister

packs or an adjustment to your

prescriptions. Our pharmacists

will communicate directly with

health professionals involved in

your care where necessary. The

goal is to help you understand

your medication and make

taking it as stress free as

possible.

You may be eligible to receive

this service for FREE, so if this

sounds like something you

would benefit from, please

get in touch to check your

eligibility. Alternatively, our

pharmacists are always here

to answer any of your queries

in the pharmacy.

Bishopdale Pharmacy

www.bigbrothersbigsisters.org.nz

Follow us on facebook

37 Bishopdale Court, Bishopdale Village Mall

Phone 03 359 8302 | www.bishopdalepharmacy.co.nz

Mon-Fri 8.30am-5.30pm, Sat 9.30am-4pm
---
8

Thursday September 3 2020

News

Latest Canterbury news at starnews.co.nz

NOR'WEST NEWS

Funding for charity denied

• By Bea Gooding

VOLUNTEERS AT a charity

that provides crucial support to

those experiencing traumatic

events have resorted to selling

face masks to stay afloat.

NZ Gifts of Love and Strength

started selling handmade, affordable

face masks when their

application for Government

funding of $15,000 was declined

by the Community Organisation

Grants Scheme.

The charity's operational costs

are $17,000 per year.

Founder Vicki-Anne Parker

said they were not expecting the

full amount, but anything was

"better than nothing."

"It was gut-wrenching because

this is the second time it's happened

and we know we do a

damn good job," said Parker.

They work hand-in-hand with

other organisations, such as the

Red Cross providing refugees

with unique care packages upon

arrival.

Partnerships like this prevented

the organisation from

having their funding application

accepted.

"The excuse they gave us was

pretty sad. They told us we had

duplicated services because the

Government already provided

funding for the Red Cross, so

IMPACT: NZ Gifts of Love and Strength volunteers Lynette

Hill (left), Rafia Chaudry, founder Vicki-Anne Parker and

Jessica Campbell-Beardsell have sold hundreds of face

masks to get by after the charity's funding was denied.

they said we didn't need it," she because of it."

said.

Selling face masks has made

Parker believed the funding "a huge impact" in many ways

decline for the second time as they have been inundated

highlighted issues within the with hundreds of orders, raising

voluntary sector when it came to nearly $2500.

accessing funding.

"Former clients come back and

"We haven't been established volunteer with us, so it shows

for two years so it's always we're making a difference," she

hard to get funding. Bigger said.

charities always get funding," "One of the fathers from the

she said.

Vivian St fire lost his only child

"Lots of charities are also and helped make face masks for

being set up, but they're failing us to pay it forward."

Facelift for bowling club

A SHOT at hosting the world

championships for disabled

bowling presented both an

opportunity and a dilemma to

the Burnside Bowling Club.

The largest club in the South

Island was no stranger to hosting

prominent events – but they

needed to upgrade their toilet facilities

to cater for more disabled

players.

Club president Brenda Turner

said her club jumped at the

chance to host the 2020 Internation

Bowls for the Disabled

World Bowls Championships but

lacked the funding to upgrade

the club's facilities.

"The previous toilets were built

in 1975, so a facelift was well

overdue," she said.

"When we found out we had

to upgrade the toilet area, we

UPGRADE:

Burnside

Bowling Club

member

and former

New Zealand

representative

Snow Reardon

uses the newlyrefurbished

toilet facilities

which now

caters for

disabled players. ​

approached the council for a

grant, and Lisa Gregory from the

Fendalton-Waimairi-Harewood

Community Board governance

team guided us through to the

correct fund."

The club received $52,000 from

the city council's Capital Endowment

Fund towards building

their new accessible toilets.

While the championships

are now on hold due to the

Covid-19 pandemic, Turner

hoped the club, which began in

1963 and currently has around

240 members, will attract more

wheelchair users.

"It's a great outdoor sport, you

meet lots of great people so it's a

good social activity. You can be

as competitive as you want and

play as much you want – or just

come along for a chat," she said.

SUBSCRIPTIONS FREEPHONE

0800 77 77 10

Are you ready to grow?

Kiwi Gardener is your

practical guide to gardening

in New Zealand.

SUBSCRIBE FROM

$

20

WWW.GARDENER.KIWI

TAX RETURNS

Debra Jowsey

Karla Kilner

Tax & Accounting

Consultants

since 1984

Overwhelmed? Confused?

With the recent IRD changes to tax returns,

GST returns, rental returns and pay day filing

A-Plus Accounting is here to help.

Give us a call. Friendly, knowledgable staff.

A-Plus Accounting

☎ 03 382 3470

For everything

AUTO ELECTRIC

CARS • BOATS • TRUCKS

CARAVANS • TRAILERS • 4WDS

ELECTRIC & HYBRID VEHICLES

• Starter Motors

• Alternators

• Central

Locking

• electric

Windows

• ABS & Airbags

• Stereos/

Alarms

• Batteries

• tuneups

• engine

Management

Amazing

Auto USUALLy

AAE Electric SAMe DAy

ServiCe

65 Coleridge St, Sydenham

Phone 03 379 4250

www.amazingautoelectric.co.nz

TOUCHSTONE HOMES

explore a new way of living
---
NOR'WEST NEWS Latest Canterbury news at starnews.co.nz

Thursday September 3 2020 9

SPRING IN TO YOUR LOCAL FOR

NEW $EASON DEAL$

$15.99

EACH

Jim Beam Gold

CC Premium

7% 330ml 6pk cans

$19.99

EACH

Cody's

7% 250ml 12pk (incl zero)

$21.99

EACH

Woodstock

5% bottles & 250ml 7% cans

(incl zero) all 12pks

$21.99

EACH

Cruiser

12pk bottle range

$21.99

EACH

KGB

12pk bottle and can ranges

$22.99

EACH

ODD Company

10pk range

$23.99

EACH

Jim Beam Gold/

CC Premium

7% 250ml 12pk

DC 8pk all cans

$24.99

EACH

Woodstock Black

10pk cans

Jack Daniels & Cola

330ml, zero 375ml

Wild X Soda

10pk can ranges

$24.99

EACH

Long White

vodka/gin 10pk can range

$25.99

EACH

$29.99

EACH

Tui Bourbon/ Tui Vodka

Soda

7% 18pk range

$29.99

EACH

Billy Maverick

18pk cans

$34.99

EACH

Jim Beam / CC

18pk 330ml 4.8% cans

$12.99

EACH

$12.99

EACH

$15.99

EACH

$20.99

EACH

$17.99

EACH

$34.99

EACH

Stoneleigh Marlborough /

Lighter ranges

Waipara Hills

range

The Ned Range

(ex PN & Chardonnay)

$18.99

EACH

Pepperjack Range

Jules Taylor range

(ex PN)

Rua Central Otago PN

Omaras Country Cream

700ml

Blackheart 1L

NEW

P RO D U C T

$36.99

EACH

NEW

P RO D U C T

$46.99

EACH

$54.99

EACH

$64.99

EACH

Beefeater Pink/

Blood Orange

700ml

$35.99

EACH

Finlandia 1L

Southern Comfort 1L

Mt Gay Eclipse 700ml

3 FOR

$10.00

$36.99

EACH

Dewars 1L

$19.99

EACH

$39.99

EACH

Larios Rose / Citrus /

Larios 12

Russian Standard

Stolen Dark Rum

all 1L

Jim Beam 1.125

JB Devils Cut & JB Black 1L

Makers Mark 700ml

Chivas Extra 13yr 700ml

The Glenlivet Founders

Reserve 700ml

$21.99

EACH

$23.99

EACH

Makers Mark 1L

Bowmore 12yr 700ml

Toki Whisky 700ml

$24.99

EACH

Kingfisher Strong

7.2% 500ml cans

Somersby

10pk can range

Haagen

15pk bottles

Monteiths

12pk classic range

Lion Red, Speights, Waikato

or Summit 15pk bottles

$29.99

EACH

$36.99

EACH

$39.99

EACH

$39.99

EACH

HOT PRICE!

$32.99

EACH

Heineken

15pk bottles

Steinlager

18pk bottles

Tui/Export Gold/Extra Low

Carb/ DB Draught

24pk bottles

Export 33

24pk bottles

Carlsberg

24pk bottles

398 HIGH STREET, RANGIORA

03 313 7207

1275 MAIN NORTH ROAD, BRIDGEND

03 323 8833

585 SPRINGS RD, PREBBLETON

03 349 6031

114 RAILWAY TERRACE, RAKAIA

03 302 7973

Available from 1st to 30th September 2020 • Specials only available whilst stocks last • At participating stores only

45 SOUTH TERRACE, DARFIELD

03 317 9499

1147 WEST COAST RD, WEST MELTON

03 347 8460

670 MAIN SOUTH RD, ISLINGTON

03 349 7337

69 MAIN ST, FAIRLIE

03 685 8061

118 LE CREN ST, TIMARU

03 684 3566

21 ALDWINS ROAD, LINWOOD

03 982 1753

9 PARNWELL ST, BURWOOD

03 383 2564

495 PAPANUI RD, PAPANUI

100% NZ

65 VICTORIA ST, CBD

03 260 1155

OWNED AND

OPERATED

KEEP CALM

03 260 2380

thirstyliquor.co.nz

K N O W

FOLLOW US ON

SOCIAL MEDIA

Y O U R

I M

L

I T
---
10

Thursday September 3 2020

Latest Canterbury news at starnews.co.nz

News

Worry Dolls a special treat

CHILDREN staying at the

Ronald McDonald House

were gifted with a special

treat to help them get

through their troubles due

to an initiative by a group

of year 2 pupils.

The Selwyn House

School's unit of inquiry

topic for the pupils was

"Toys Through Time,"

and as part of the "taking

action" aspect of this

inquiry, the girls created

Worry Dolls for the young

children who are unwell at

the house.

Each doll was hand-sewn

and came in a gift bag with

the name of the girl who

made the doll and a special

message for the recipient.

"This Worry Doll was

made with love and

kindness especially for

you. So when you're feeling

tired or sick or yucky tell

your Worry Doll and know

that someone else in the

world is thinking of you

and sending you love and

aroha," the message reads.

Teacher Tara Hollings

said the idea was generated

by the pupils themselves.

"We were talking with

the pupils about their

favourite toy and what

COMFORT: Ronald McDonald House fundraising

manager Regan De Burgh accepts the Worry

Dolls from Selwyn House School year 2 pupil,

Mia.

made them so special,

cuddly, soft, snuggly," she

said.

"And then one little voice

piped up wondering how

it would feel if you didn't

have that when you were

really sick. That is how the

idea of the Worry Dolls

was created."

Ronald McDonald

House fundraising

manager, Regan De Burgh,

came to school to collect

the dolls and the last thing

the pupils did, as the dolls

were put into the car, was

to make a wish of wellness

NOR'WEST NEWS

and kindness to the

children in hospital.

"So much creativity and

love went into making

these dolls, from the pupils

and from the parents and

grandparents who gave

their time to sit alongside

the girls as they learnt to

sew," said Hollings.

"It was lovely to see how

proud the pupils were of

their finished products, but

the most rewarding part

was knowing that what

they had created was going

to help cheer up another

child."

Christchurch

STORES

Downsizing? Decluttering?

Please help support local St John activities

by donating good quality pre-loved clothing,

jewellery, homeware, furniture and books to

one of your local St John Christchurch stores.

We welcome donations dropped of at either:

272 Lincoln Road, Addington or 180 Durham Street South, City

or please call 027 304 7821 to book a donation collection.
---
NOR'WEST NEWS Latest Canterbury news at starnews.co.nz

Thursday September 3 2020 11

Your Local Views

Make the effort to recycle correctly

From the board

David Cartwright, chair

Fendalton-Waimairi-Harewood Community Board

RECENT developments in our

ward include the approval of two

community local playgrounds

upgrades, approving the leasing

application to the Old Boys

Cricket Club for new practice

nets in Elmwood Park plus the

premission to change the name

of the Avonhead Cemetery.

Almost every day in our media

we get reminders of many issues

that at times seem out of our

control, be it Covid levels, justice

sentencing or boy racers.

Earlier this year our

communities voiced their

concerns over rates increases;

callers to talk back radio

stations, letters to the editor and

social media posts all demanded

better spending of the rates

dollar – more accountability, less

duplication was asked for.

Many people in our

community feel powerless in

how to make a difference or

knew where to make a start.

It was around this time I read

a news article that indicated

almost $1m in city council

spending during the first six

months of 2020 was incurred

through residents incorrectly

disposing of rubbish in their

yellow recycling bins.

It went on to suggest that

Christchurch residents were

some of the worse offenders in

the country.

I was flabbergasted to hear

of the large volume of items

(general rubbish like food scraps,

unwashed tins and bottles)

being regularly thrown into our

recycling bins – this behaviour

results in truck load after truck

load of recyclable material

becoming contaminated and

then diverted to landfill at great

expense.

While I don't proclaim to be

prefect, I always try and make an

effort and have taken the time to

educate myself in the recycling

dos and don'ts, the differences

between soft and hard plastics,

the importance in removing

bottle tops from containers and

washing out tins.

Long term not only is this a

GET IT RIGHT: Disposing waste correctly will reduce the cost of recycling to ratepayers.

cost to our environment, but

results in wasted money from

the city council's budgets –

money that could be used to

repair the pot holes in our road

and footpaths or assist not-forprofits

organisations or lessen

the burden on ratepayers.

While the number might

not seem high in the grand

scale of the city council's budget,

it is a place where direct action

can be made quickly and

effectively by every resident in

Christchurch for the great good

of all.

It would be my hope that

when the next rubbish survey

and statistical information is

released that collectively we have

been able to have some impact

in reducing this waste in money,

time and effort.

For those people wanting to

make a difference information

can be found on the council

website.
---
12 Thursday September 3 2020

Latest Canterbury news at starnews.co.nz

HEALTH & AWARENESS

NOR'WEST NEWS

Joint pain: Do I have arthritis or

could it be mainly my muscles?

The team at Physical Sense in Sydenham

sees clients with a range of symptoms but

many of their middle-aged and senior clients

visit complaining of pain in one of their joints.

Physiotherapist Ietje van Stolk suggests

that a major part of the pain could be due

to muscle pain rather than simply arthritis.

"Even if an x-ray shows arthritis, the reason

for the pain may be the muscles around

the joint," she explains. The images show

how a muscle knot (the crosses) in a back

muscle can give hip pain (aches and pain

are the red areas in the drawings), a knot

in a muscle on the back of the shoulder

blade can give a deep pain in the front of

the shoulder and a muscle knot all the way

near the groin can give an ache in the knee

(especially at night in bed).

Ietje recalls one case where an 89 year

old client with severe arthritis who walked

with a stick, told her, "I will end up in

a wheelchair, I cannot put any weight

through my right leg due to pain in my hip

and buttock". "Within 4 treatments, she

was walking with her stick but without the

severe pain," says Ietje. "The arthritis was

one of the factors that made her muscles

spasm but the other was that older people

move less and the flexed position the hip

is in when we sit is particularly bad for

the hip." Ietje is happy with the fact that

although the client was 89 and could have

been "given up on" or told to live with the

pain, she made a difference to her health

and wellbeing.

The same lack of movement can be the

reason for your knee pain or your shoulder

pain and the same few treatments could

make a huge difference for you.

At Physical Sense, hands-on techniques

(massage and triggerpoint deactivation

techniques) are used to release the muscles.

The client also gets a home exercise

program designed to mobilize and stretch

the joint, strengthen the important core

muscles and increase general strength and

SHOULDER

PAIN

KNEE PAIN

(the crosses are the areas of the muscle spasms, the red areas is where the pain is felt)

balance. They teach a movement sequence

that stretches the joint in all directions

whilst the client is able to lie safely on their

bed, perfect for older or less mobile clients.

In many cases having the muscles

released and being taught how to maintain

it, is enough to stay on top of the problem.

HIP PAIN

If severe arthritis is the underlying cause,

some maintenance therapy may be

necessary, but that is often more affordable

and, for older patients, better tolerated

than surgery. After only one treatment you

should know that it will work for you. Call

and only pay $50 on that treament.

Physical Sense Gym and Physio is located at 300 Colombo Street, Sydenham. The Blue Line Bus stops in front of the

door and there is ample parking. To enquire about joint pain treatment, phone 377-2577 or visit www.triggerpoints.co.nz

SENIOR LIVING

The perfect lifestyle!

"It's all about location. Geraldine has

everything here for a wonderful, active

lifestyle; we're nestled in a fabulous

microclimate with easy access to parks

and river walks, and Geraldine township

is a vibrant community with art galleries,

boutique 020.qxp shopping 30/06/20 and 6:46 fantastic AM Page eateries, 1

with a never-ending schedule of music

festivals, fetes, exhibitions and shows."

If you've reached the point of wanting to

simplify your life, McKenzie Lifestyle Village

should be on your 'must-see' list.

NOW OPEN - One bedroom luxury

care suites. Offering independence with

MLV Villas 9x3 modern living July 2020.qxp 30/06/20 6:46 AM Page 1

discreet help on hand. McKenzie Lifestyle

Village also welcomes subsidised care

providers, Luxury care suites are designed

to provide Rest Home and Hospital Level

Care. Making a luxury care suite your ideal

forever home..

At the heart of the village is the Leisure

Centre - a central point for entertainment

and events, true resort style facilities. Too

often people tell us they wish they'd made

the decision to move here sooner, just do

it while you're still independent and you

can enjoy everything that we have to offer.

Whether you're more inclined to enjoy the

company of others, or prefer privacy and

solitude - you'll find your perfect lifestyle

here.

Could Geraldine be your place to call home?

Call today for more information on 0800 845 524

or mlv.org.nz.

Lifestyle Living

Modern Lifestyle Living

lined to enjoy the company of others,

itude, you'll Whether find you're your you're more perfect inclined more lifestyle to inclined enjoy the here. to company enjoy of the others, company of others,

or prefer privacy and solitude, and solitude, you'll find you'll your perfect find your lifestyle perfect here. lifestyle here.

Villas and Apartments available NOW.

Architecturally designed designed Villas and Villas Apartments and available Apartments NOW. available NOW.

33 Connolly Street, Geraldine

0800 845 524 33 Connolly or 03 693 Street, 8340 Geraldine

0800 sales@mlv.org.nz

845 524 03 693 8340

sales@mlv.org.nz

www.mlv.org.nz

www.mlv.org.nz

A C C R E D I T E D V I L L A G E O F T H E R V A

A C C R E D I T E D V I L L A G E O F T H E R V A
---
NOR'WEST NEWS Latest Canterbury news at starnews.co.nz

Thursday September [Edition 3 datE] 2020 133

SENIOR LIVING

Natural vision support

Bilberry and marigold are two natural

herbs with a long history in supporting the

health of the eyes and good vision.

During World War 2, British bomber

pilots reported improved night vision after a

nightly dose of bilberry jam before missions.

Subsequent research suggested that bilberry

extract may improve microcirculation

within the eye, with the most significant

effects found in people with impaired visual

acuity.

Bilberries contain powerful antioxidant

compounds called anthocyanins that may

play a major role in supporting eye health

and even in improving the vision.

One of the main causes of degenerative

eye diseases such as macular degeneration

relates to an increase in free radical activity

that damages healthy cells in the eyes. The

anthocyanins from the bilberry help reduce

this free radical damage that could lead to

serious eye disease.

Bilberry has also been shown to improve

oxygen and blood delivery to the eye,

important factors for maintaining eye

health.

Bilberry is commonly used to support

night vision and alleviate tired eyes,

eye strain and dry eyes. It is considered

beneficial for most eye conditions, including

cataracts, disorders of the retina, and to

prevent eye problems, especially in people

with diabetes or high blood pressure.

The retina is a thin layer of tissue at

the back of the eye that transforms light

information into neural signals for the brain

to see images.

The retina is very fragile and can be

damaged by bright light, especially blue

light. Computer monitors, cellphones,

electronic notebooks, televisions, LED and

fluorescent lighting all emit significant

amounts of blue light and may have long

term effects on the retina.

The carotenoid lutein, as found in marigold

flowers, is concentrated in the macula, the

functional centre of the retina. The macula

gives us the ability to see detail and provides

the best colour vision.

Lutein appears to be vital in protecting the

macula from blue light damage. Multiple

studies have shown that people with eye

diseases have much lower levels of lutein

in their eyes and that increasing intake

of lutein can reduce the risk of macular

degeneration, the leading cause of blindness

in older people.

One study of people in India, where

cataracts are a common problem found that

those with the highest blood levels of lutein

had a 41% lower risk of developing cataracts,

compared to those with the lowest levels.

"Marshall's Herbal Vision Manager"

provides nutritional support to your eyes,

with each capsule containing a high dose

extract of bilberry fruit and marigold

flowers. This natural herbal formula is ideal

to support keeping your eyes healthy.

Further information is available from

the natural health advisers at Marshall's

Health & Natural Therapy, 101 Seaview

Road, New Brighton, PH: (03)388-5757.

Would you

like to profile

and grow your

Business?

For feature advertising

please phone

Jenny Wright

03 364 7446 or 021 220 3484

jenny@starmedia.kiwi

A Leader in Healthcare Excellence for the Older Person

Brookhaven

Retirement Village

Woolston

Phone 03 384 5046

Albarosa Rest Home

Papanui

Phone 03 375 0727

For more information visit

www.goldenhealthcare.co.nz

Golden Age

Retirement Village

Papanui

Phone 03 375 0720

Hoon Hay Rest Home

Hoon Hay

Phone 03 379 7825

you can stop him

snoring with a

SNOREX

Why put up with a broken

night's sleep?

Ph 377-4318 or 027 682 1752

DENISE LIM

FOR A FREE INFO PACK

Camellia Court

Rest Home

Papanui

Phone 03 375 0722

Website: www.snorex.co.nz

Somerfield

Rest Home

Somerfield

Phone 03 332 5897

Hoon Hay House Dementia

Hoon Hay

Phone 03 335 0297

Natural VisioN

support

Marshall's Herbal VISION MANAGER contains

two high potency herbal extracts of Bilberry

& Marigold. These are both well known to

support normal eye function & promote

healthy vision. Bilberry contains powerful

antioxidants called anthocyanins that may

play a major role in supporting the health of

delicate eye tissues. Marigold is a source of

the carotenoid lutein. This compound has

been shown in multiple studies to be a vital

nutrient in eye health. Optimum levels of

lutein appear to offer significant protection

against serious eye disorders.

HERBAL VISION

MANAGER SUPPORTS:

• Eye health, repair &

maintenance

• Sharp clear vision

• Night vision & colour

perception

• Eye strain relief

• Tired eyes

• Dry eyes

• Blurry vision

• Protection from blue light

damage from computer

monitors, cellphones,

LCD television, LED &

fluorescent lighting

Bringing You the Best in Natural Health

MARSHALLS HEALTH & NATURAL THERAPY

CONSULTING - PRESCRIBING - DISPENSING - MANUFACTURING - MEDICAL HERBALISTS

101 SEAVIEW RD, NEW BRIGHTON • PH 03 388 5757 • Email: enquiry@marshallshealthshop.co.nz

- WE ARE ALWAYS HAPPY TO HELP! -

SUPER PRIcE

60 Capsules

only $28.90

120 Capsules

only $48.90

MAIL ORDER

AVAILABLE
---
14

Thursday September 3 2020

Latest Canterbury news at starnews.co.nz

NOR'WEST NEWS

The Mike

Hosking

Breakfast.

Christchurch

100.1 FM

6AM - 9AM WEEKDAYS

NEWSTALKZB.CO.NZ
---
NOR'WEST NEWS Latest Canterbury news at starnews.co.nz

Thursday September 3 2020 15

Classifieds Contact us today Phone our local team 03 379 1100

Church Notices

SMALL NON

DENOMINATIONAL

GROOUP. Meet to

read bible on Monday

afternoons.All welcome.

For more info phone

Veronica 960 7655 or 021

022 92613

Community Events

ALCOHOLICS

ANONYMOUS, If you

want to have a drink that's

your business. If you want

to stop, we can help. Phone

0800 229-6757

ALCOHOLICS

ANONYMOUS, If you

want to have a drink that's

your business. If you want

to stop, we can help. Phone

0800 229-6757

Trades & Services

concrete & paving

• Driveways

• Earthquake repairs

• New Home Specialists

• Patios & Paths

tel: 0508 873 7483

email: sales@affordableconcrete.co.nz

www.affordableconcrete.co.nz

DRIVEWAYS

Trades & Services

HALSWELL

GLASS & GLAZING 2017 LTD

THE PET DOOR SPECIALIST

• PET DOORS

• NEW GLAZING

• FRAMELESS SHOWERS

• MIRRORS

• INSURANCE CLAIMS

• RETRO GLAZING

• BALUSTRADING

ALL SUBURBS COVERED FOR

ALL YOUR GLAZING NEEDS

PHONE GAIL ON

322 7999 OR 021 CAT DOOR

(228 3667)

Exposed Aggregate

Stamped Concrete Plain

Concrete Resurfacing

Things we offer...

Competitive/affordable pricing

Attention to detail

Professional service

free quotes/insurance scopes

Cell 0278 145 848

www.drivecrete.co.nz

Trades & Services

house and garden

home

cleaning

gardening

services available

throughout

christchurch

your one stop shop for home services

www.anextrapairofhands.co.nz

info@anextrapairofhands.co.nz

Specializing in:

• Roof Painting

• Interior/exterior

residential

• Small commercial

painting

0800 535 355

PAINTERS

Painters and Decorators Ltd

Canterbury Owned and Operated

A husband and wife team

Noel 027-411-3596

kemp.painters@gmail.com

kemp painters and decorators

PLUMBER

NEED A PLUMBER

Call us now for fast friendly service.

Get your problems sorted out

quick smart - on time!!

Phone for a

FREE

quote now.

We offer

free quotes

Quality not

Quantity

Phone 03 377 1280 | Mobile 021 898 380

Trades & Services

ROOF

PAINTING 24/7

Rope & harness

a speciality,

no scaffolding

required,

30 years of

breathtaking

experience.

FREE QUOTES

20% OFF other

roof quotes

Exterior staining,

exterior painting,

water blasting.

Moss and mould

treatment $300.

Phone Kevin

027 561 4629

BATHROOM

RenOvATiOns

complete service from

start to finish, free quotes,

ph Dave 027 334 4125

BRiCKLAYeR

George Lockyer. Over

40 years bricklaying

experience.Uk trained.

Insurance work, EQC

repairs. Heritage

brickwork & stonework

a speciality. No job too

small. Governers Bay.

Home 329 9344. Cell

027 684 4046. E mail

georgelockyer@xtra.co.nz

CARPeT LAYinG

Exp. Repairs, uplifting,

relaying, restretching.

Phone John on 0800

003181, 027 240 7416

jflattery@xtra.co.nz

PAinTeR,QuALified

local professional, int/

Ext,roofs,wallpaller, call

or text Corban 027 846

5035

PAinTeR

New, older homes,

interior, exterior. We stand

by Canterbury. Ph Wayne

0272 743 541, 385-4348

ROOfinG RePAiRs

Fully qualified, over 40

yrs experience. Ph John

027 432-3822 or 351-

9147 email johnchmill@

outlook.com

sTOneMAsOn, BRiCK

& BLOCKLAYeR,

Earthquake Repairs, Grind

Out & Repoint, River/

Oamaru stone, Schist,

Volcanic Rock, Paving,

all Alterations new & old,

Quality Workmanship,

visit www.featureworks.

co.nz or ph 027 601-3145

Trades & Services

sTuMP GRindinG

Best price guarantee Tony

0275 588 895

TiLinG

Flooring - Splashbacks -

Wall incl tile removal, reg

master tiler, ph Dave 027

334 4125

vHs videO TAPes

& all camera tapes

converted to DVD or

USB. Video taping

special occasions, www.

grahamsvideo.co.nz ph 03

338-1655

Wanted To Buy

AAA Buying goods

quality furniture, beds,

stoves, washing machines,

fridge freezers. Same day

service. Selwyn Dealers.

Phone 980 5812 or 027

313 8156

TOOLS Garden,

garage, woodworking,

mechanical, engineering,

sawbenches, lathes,

cash buyer, ph 355-2045

TOOLS Garden,

garage, woodworking,

mechanical, engineering,

sawbenches, lathes, cash

buyer, ph 355-2045

WINDOW TINTING

tintawindow

advanced film solutions

99% uv block

fade protection

heat control

reduce glare

25 Years Experience

Trades & Services

privacy films

frosting designs

non-darkening films

Workmanship Guaranteed

Lifetime Warranties on Most Films

UV

block

Free Quotes Canterbury and Districts

03 365 3653 0800 368 468

3 issues $20 • 6 issues $39 • 11 issues $60

rugbynews.co.nz 0800 77 77 10
---
16 Thursday September 3 2020

Latest Canterbury news at starnews.co.nz

NOR'WEST NEWS

RAY WHITE PAPANUI NEWS

How to Keep Things Under Control When Buying Property

Home buyers this is some unusual

sounding advice, but don't worry, keep

reading until the end and it will all make

perfect sense.

When working with clients looking to

buy a property I often suggest they shop

considerably UNDER the budget they

have been pre-approved to by the bank.

Let me tell you why. For example if

you are pre-approved by the bank to

$450,000, don't look at houses you

hope are going to sell for that. Instead,

look at houses at a much lower price

bracket, such as the late $300,000s

range. This way you can confidently

shop for property in your actual budget

and not always miss out by a little to

another with $5,000 or $10,000 more

to spend than you.

Using this strategy you will be able

to comfortably afford the mortgage

and with your extra budget leftover

you can always add value and

improvements to a lesser value

property versus maxing yourself out

at the top of

your budget with

nothing to spare.

I told you it would

all make sense by

the end!

Happy house

shopping and

remember I'm only

a message away

if I can help in any

way with your real

estate journey.

Vanessa Golightly,

Business Owner

and Licensee Agent

Ray White Papanui

027 664 9292

"The happiest people don't have the best of everything, they make the best of everything"

Vanessa Golightly

Licensee Agent &

Business Owner

027 664 9292

Claire Morris

Licensee Agent &

Business Owner

027 662 4822

Healthy Homes | Heating Standards | It's Heating Up!

As we continue working towards

compliance with the Healthy Homes

standards, with statements required

by 1st December this year, and

compliance by 1st July 2021, we have

come across a real issue with the

heating requirements.

Tenancy Services have produced a

calculator which they have online if you

want to take a look. Essentially you

fill in the dimensions of the room with

some further information, like number

of windows, is it double glazed etc.

Once you have entered these details it

calculates the minimum KW of the heater

required to heat the main living room up

to the minimum of 18 degrees C.

This should be simple, right? Well

apparently not! There are two very

real problems here. 1. Because there

is no minimum heat standard in the

building code, some new homes (less

than 5 years old) are, when the online

calculator is used, not complying with

the Healthy Home Standard.

2. Professional, experienced and

qualified heat pump installers are

installing a heatpump using their own

calculations, and to the manufacturers

standards, and again these are

sometimes not measuring up!

Just Sold

There are a myriad of issues here.

Sometimes the calculator means that

a huge (commercial grade) heatpump

is required, but this will likely mean

that because it is installed outside the

guidelines of the manufacturer, that the

warranty won't apply. Plus of course, if

the heatpump is too large for the space,

it will not perform properly, and could

cost the tenants a lot in electricity.

So what do we do? Well that seems

to be the million dollar question. I

am working with heating specialists,

healthy homes companies and

legislation experts to see how we can

make this work for both tenants and

landlords. I have discovered that you

can install an extra heater (fixed to a

wall), up to a maximum of 1.5KW in

order to comply, but that will only help

in some cases. I will of course keep

working to come up with a solution, and

will keep you posted on that once I do.

In the meantime if you have any

questions, feel free to contact me.

Katrina Green,

Operations Manager

Property Management

027 606 0030

Stuart Morris

Licensee Agent

& Auctioneer

027 422 6395

Tracy Thomson

Licensee Salesperson

027 440 3035

Ashleigh Pattullo

Licensee Salesperson

027 865 9672

Bronwyn Corps

Administrator

Katrina Green

Operations Manager

Property Management

027 606 0030

Tania Ikin

Licensee Salesperson

022 509 2755

Olivia Hendry

Executive Assistant

Estelle Schuurman

Property Manager

Allie McConnell

Property Management

Assistant

Joy Coughlan

Mortgage Broker

027 223 3572

178 Sawyers Arms Road, Bishopdale

Tracy Thomson

Level 1, 7 Winston Avenue, Papanui

Phone (03) 352 0567 | rwpapanui.co.nz | /RayWhitePapanui Morris & Co Limited | Licenced REAA 2008