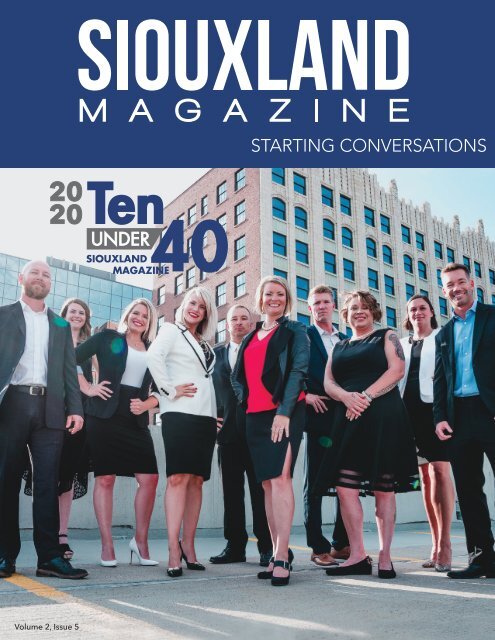 Siouxland Magazine - Volume 2 Issue 5
Create successful ePaper yourself
Turn your PDF publications into a flip-book with our unique Google optimized e-Paper software.
STARTING CONVERSATIONS

20

20

Volume 2, Issue 5
---
Move forward

with safe

treatment options.

Life is still about being in motion. If pain is holding you

back, treat it safely at CNOS. We offer virtual visits, and if

surgery is needed, the protection of a safe environment

with thorough screening processes. Feel good about

moving forward. And even better about your options.

CNOS.NET | 605-217-2667
---
Welcome to Siouxland Magazine

Owner, Stacie Anderson with 10 Under 40 Winners

It's in these pages we hope to educate

and inspire, even more importantly,

to create a community that thrives on

connecting with one another. At our

core, we all want to connect. When we

seek to understand, by listening more

intently, we find that our relationships

deepen and our community strengthens

as a result. With our appreciation for

the power of connection through

meaningful conversations, it only made

sense to name our business Empowering

Conversations.

Siouxland Magazine | 10 Under 40 / 3

It all starts with a conversation; with a desire to learn; to see things from another perspective; to

seek truth. The truth is, we have more in common than we have differences. Well, maybe it would

be more accurate to say, what brings us together is stronger than anything that divides us.

We would never want to marginalize our differences. We love the words of Audre Lorde,

"It is not our differences that divide us. It is our inability to recognize, accept, and celebrate

those differences." We are unique in vast and complicated ways. It's our hope that we can

come together with our unique strengths, perspectives and ideas to build a community with a

powerful narrative of "us."

Through this humble publication, we will start having conversations. This is an ambitious and

beautifully optimistic attempt to shine light on all the things that make our community strong,

but also discuss, in a productive and compassionate manner, the challenges we face.

We are doing our small part in building a cohesive community by creating conversations

that refocus our attention on our similarities. We are bringing people together; replacing

judgment with understanding. Perspective is powerful.

We want to hear from you. At Siouxland Magazine, we feel it is imperative to understand what

the community wants and needs. Share your vision and dreams for Siouxland.

We want you to lean into the conversation and participate in the discussion.

connect@empowering-conversations.com

or on Facebook @siouxlandmag

E m p o w e r i n g

Conversations, LLC

siouxlandmagazine.com
---
Converse

22

Celebrate the Wins.........................................................................................................21

2020's Top 10 Under 40..................................................................................................8

Balance

explore

Forgive with Action.................................................................................................................40

An Earth Education.................................................................................................................42

Ask the Therapist........................................................................................................................4 4

From Tiny Seeds............................................................................................................................46

Volunteering for Success in the Outdoors........................................49

"You are never too young to lead and you should never doubt your capacity to triumph

where others have not." – Kofin Annan
---
"We cannot always build the future for our youth, but we can

build the youth for the future." – Franklin D. Roosevelt

Inspire

Grow

Teachers Do More Than Deliver Content..............................22

Strong, Smart and Bold...................................................................................................24

Next to Nature.................................................................................................................................26

Meet the New Entrepreneurial Community

Navigator................................................................................................................................................28

The Future Looks Bright!.............................................................................................31

Building for the Future and Our Future Leaders..................33

Young Professionals Dedicated to Making a

Difference.................................................................................................................................................34

Leadership Skills Needed in Today's Environment............35

Sioux City Scoop – The New Normal................................................37

enjoy

Resilient Siouxland Restaurants...........................................................................50

The Age of Ageless Fashion...................................................................................52

Visit Le Mars, IA..............................................................................................................................54

At our core, we all want to connect. When we seek

to understand by listening more intently, we find that our

relationships deepen and our community strengthens as

a result. That's what our Siouxland Magazine is all about!

We can't wait to talk to you and truly connect with you and

your audience. If you're interested in learning more about

how to advertise with us, download the media kit on our

website at siouxlandmagazine.com. Always feel free to

reach out to us via phone, email or Facebook.

We promise to not disappoint. We're creating a magazine

you won't want to put down.

Want to be included in our November issue?

Contact us soon!

Deadline to reserve space is

September 14th!

Media Kit at siouxlandmagazine.com

JOIN US! You won't want to miss...

Siouxland Magazine's Facebook Lives

Monday @ 7:30 pm – Small Business Spotlight

Wednesday @ 7:30 pm – Nonprofit Spotlight

ON THE COVER

Photography by Britton Hacke Photography.
---
Rachel Thompson

Marketing Director

Goosmann Law Firm

Congratulations Rachel!

From the Goosmann Law Team

Siouxland Magazine's

2020 Top 10 Under 40

www.GoosmannLaw.com | (855) 843-4531

Celebrating Our Top Talent Team
---
Editors Note

It is always exciting to announce the new Top 10 Under 40 Winners!

The sheer number of deserving nominees really made the selection process

challenging for the judges. I can honestly say Siouxland is fortunate to have so

many talented young professionals.

But now to introduce this year's winners…

Siouxland Magazine | 10 Under 40 / 7

Britney Book

Pamela Coenen

Joe Knoepfler

Dustin Pratt

Rachel Thompson

Jeff Carlson

Stephanie Hirsch

Sarah Morgan

Nick Rol

Danielle Tott

Beyond celebrating these young professionals and

sharing their stories, it is important to help them get

even more traction in the great work that they're doing in

Siouxland. In the following pages, you'll find out how you

can support their efforts and get involved. I encourage

you to reach out to them. Share your thoughts and

ideas. Maybe there is an introduction you can make or

resources you can provide. Every little bit helps.

I'll be plugging each of them on our Facebook page

over the next several weeks. Consider sharing those

posts to help them and the work that they are doing get

even more exposure. Together, as a community, we can

go further.

Another way I'll be helping them build momentum is

by offering our winners space within the magazine over

the next year to continue the conversation with all of

you. Plus, soon there will be a designated place on the

Siouxland Magazine website too. It will be exciting to see

how it all unfolds.

I could not be more grateful to have so many outstanding

young people in our community that are dedicated to

making this world a better place to live in.

Congratulations to this year's winners!

Siouxland Magazine is owned and published by Empowering Conversations, LLC. All materials contained in this magazine (including text, content, and photographs)

are protected by United States copyright law and may not be reproduced, distributed, transmitted, displayed, published, broadcast or modified in any

way without the prior written consent of Empowering Conversations, LLC or in the case of third party materials, the owner of that content. You may not alter or

remove any trademark, copyright or other notice from copies of this content.
---
expand

collaborate

invest

Britney Book

Executive Director, Siouxland CARES About Substance Abuse

undergoing renovations; Pearl Street and Historic Fourth

Street districts are almost connected; small businesses are

opening and expanding; and Chris Larsen Park Riverfront

Development Project construction has commenced. With

the amount of progress we have seen in five years, I cannot

wait to see what the next ten years have in store!

What are you doing to make that happen?

Community involvement is one of the best ways to shape

the future of Siouxland. In my current roles, I have many

opportunities to empower youth leaders, support (and

grow!) small businesses, and provide input on great

community projects! Additionally, my past experiences

included advocating for young professionals as a Member,

Chair, Board Member and President of the Sioux City Growth

Organization. To any young professional reading this, I

highly encourage you to get involved in this organization!

What are you working on now?

I am grateful to serve as an Adult Advisor of the Sioux City

Mayor's Youth Commission. I'm also an Ambassador with

the Siouxland Chamber, Chair of the Siouxland Chamber

Small Business EXPO, and Steering Committee Member

of the Chris Larsen Park Riverfront Development Project.

These opportunities allow me to support our youth, small

businesses, and community projects.

What is your vision for the future?

My vision for the future is a stronger and brighter

Siouxland that continually invests in our young leaders,

small businesses, and community projects. To accomplish

this, we must first continue to build up our youth leaders so

that they will move away, experience new things, and then

bring their passion and excitement back to Siouxland!

Quality of life amenities are crucial. They can encompass a

vast array of items, including (but not limited to) our park

systems, arts and entertainment, community events and

activities, and community connectedness. I am genuinely

excited to see positive growth in our community in these

areas. The more we work to improve the Quality of Life

in Siouxland, the more attractive it will be to our existing

youth leaders (and future young professionals!).

What would you like to see happen in Siouxland?

I grew up in the Siouxland community, moved away,

and returned. Since returning, I've been impressed by

the vast growth and development that has happened in

and around Downtown Sioux City. Historic buildings are

How can people help you make that happen?

The future of our community lies in the hands of our youth

leaders. To see continued growth and innovation in our

community, we need to get our youth involved today.

The Sioux City Mayor's Youth Commission is a great place

to start! The youth learn how to make a positive impact

in their community; develop their leadership skills; and

participate in community service activities. I would also

encourage community members to view Siouxland

through the lens of a Mayor's Youth Commission member.

At every meeting, event and activity, I am blown away by

their vision, drive, and optimistic view of our community

and world as a whole. They impact the way I look at

Siouxland and I would highly encourage others to develop

a similar "we can do anything" mindset!

Volunteer Organizations

Sioux City Mayor's Youth Commission - Adult Advisor

Siouxland Chamber of Commerce - Ambassador

Small Business EXPO - Chair

Chris Larsen Park Riverfront Development Project -

Steering Committee Member

Source for Siouxland - Leadership Team Member

"If somebody offers you an amazing

opportunity but you are not sure you can

do it, say yes – then learn how to do it later."

– Richard Branson
---
succeed

contribute

develop

Jeff Carlson

Partner, The Arena

Business Owner, ReMax Preferred

What are you working on now?

The Arena started as a passion project that now feels

like a calling. Sioux City had taken a back seat to other

cities regarding the sports scene, programming options,

and facilities. Our mission is to provide the highest

character, most talented staff to youth in our region. It was

paramount to create a facility and environment rivaling

anything in the country. If you build it, they will come. But

if you build it right, they will come back. Our ownership

group, all Siouxland natives, includes Mike Hesse, Dustin

Cooper, and myself. We want to show the next generation

all dreams are possible, and possible right here. The We

Got Next Foundation, renamed The Arena Foundation,

was a huge piece of this overall vision. We use athletics as

a vehicle to uplift kids.

What is your vision for the future?

I am blessed to work with a variety of companies locally,

nationally and internationally including The Arena,

ReMax Preferred, Blue Ox, EPIC Consulting, The Arena

Foundation, Jackson & Partners, and Caicos Dream

Tours. These experiences offer a unique perspective

into other markets. Sioux City is on the verge of an epic

explosion. Therefore, my wife Rachel and I recently

purchased ReMax Preferred, along with Amy Kakacek

and Aaron Jones of ReMax Lakes Realty in Okoboji.

We will add a "Market Experience" to The Arena that

celebrates real estate and the beauty of our region from

Siouxland to Okoboji. This vehicle will give investors,

buyers, and sellers an opportunity to work with a team

that has significant experience in sales, marketing, and

commercial/residential development. At The Arena, and

all of our companies, we emphasize a culture of positivity

coupled with relentless work ethic.

What would you like to see happen in Siouxland?

Families check boxes when looking for a community

to live in. The Arena Sports Academy checks a box and

is a valuable amenity to our region. Economic impact

and an influx of capital is critical to growth. Players and

spectators by the tens of thousands have traveled to Sioux

City and competed in The Arena. Restaurants are up 25-

50 points every time we host an event, hotels sell out,

and retailers see surges in spending. This environment

escalates increased investment and overall atmosphere

in Siouxland. I'd like to see doors continue to open to

encourage creative ideas and entrepreneurism, and a

commitment from the public and private sector to not

only invest funds but lessen barriers to entry for the next

generation. Specifically, offering more platforms for youth

and families to thrive.

What are you doing to make that happen?

Dustin Cooper and I co-founded The Arena Foundation (We

Got Next) six years ago. 85 kids attended a free basketball

camp and a few received scholarships. In 2019, 1500 youth

participated in free programming. Our scholarships provide

school supplies, athletic equipment, funds to participate

in athletics, nutrition supplementation, and mentoring.

Combating childhood hunger is also a passion of ours. We

partnered with The Miracle League and will run operations

of Miracle League Park. We believe all kids deserve to be

surrounded by people that have a vested interest in them.

It is our mission to create an epicenter of athletics that rivals

any other metro area.

How can people help you make that happen?

Visit www.theareansiouxcity.com and inquire about The

Arena Foundation. 100% of our net proceeds and funds

raised go directly to youth. That is unique. If you are a

business owner or citizen that is inspired to uplift kids

through character education, athletics, mentoring, and

nutrition supplementation, there are a variety of ways for

you to contribute to the cause.

Volunteer Organizations

The Arena Foundation

Sunnybrook Community Church

The Miracle League

Morningside College Alumni

"All our dreams can come true, if we

have the courage to pursue them."

– Walt Disney
---
Siouxland Magazine | 10 Under 40 / 10

Pamela Coenen

Assistant Vice President\Insurance Agent, Securus Insurance Group

What would you like to see happen in Siouxland?

I would like to see a collaboration with the school systems

and civic groups/nonprofit organizations to help make all

this possible. This is how we keep our youth on the right

path and introduce them to the gratitude of giving and

being active in our community at a young age. If students

can be a part of helping create a welcoming community for

other new students, that would be beneficial. Making sure

everyone feels welcome and accepted is key.

What are you working on now?

COVID-19 has slowed or halted some things, but

through the creativity of several civic groups and other

organizations, we have found ways to stay safely active. As

a part of Leadership Dakota County Alumni, we created a

committee dedicated to raising funds for the completion

of the Interpretive Center located at Siouxland Freedom

Park. I serve on the Board of Directors for the South Sioux

City Area Chamber of Commerce and as an Ambassador.

We are working on our annual golf outing now, one of

our two main fundraisers. I also serve on the Board of

Directors for Heartland Counseling. We are working on

fundraisers and community events, such as our annual

Mental Health Awareness Walk. Going into my tenth

year volunteering with the South Sioux City Community

Schools, I am now serving on the Parent and Teacher

Organization. We fundraise and plan events for Cardinal

Elementary such as our annual Daddy/Daughter Dance,

Mommy/Son Dance, Cardinal Carnival and Homecoming

parades, amongst many other events.

What is your vision for the future?

I would love to see our younger generation become

more involved in the evolvement of their community. We

need their knowledge, insight, and opinions to make our

community a better place and ensure it's growth. Working

with young entrepreneurs, connecting them with mentors

and seeing their ideas come together, using old and new

ways, is always exciting to witness. When they start getting

involved at a young age, it helps them grow into young

professionals and helps create a positive lifestyle. We are

blessed with so much diversity within our community and

will only benefit through further collaboration and comingling

among all Siouxlanders. Let's embrace and use

it to our benefit in creating a welcoming community.

What are you doing to make that happen?

I am working closely with many civic groups, incorporating

youth and young leaders with our ongoing projects. We hold

many kid-friendly events so we can connect with them and see

what struggles they may be facing or what positive change

they would like to see in their community. It's about staying

connected and adapting to change when it is necessary. I

make sure they know their opinion is valued and could make

an impact within their community. Using their ideas and

implementing them when we are able is always beneficial

when our end goal is to always evolve. I am bilingual in both

Spanish and English, and I use that to my advantage when

trying to engage with others. Trying to incorporate everyone

within our community is important to me.

How can we help you make that happen?

If you or your organization has the time or resources to

help make this collaboration progress, I encourage you

to reach out to me, or someone with the same interests,

and help make that happen. It is our duty to help make our

community a better place to live and grow. I also encourage

parents to engage with their children in any opportunity to

volunteer. When they experience the gratitude of others

through a selfless act of their own, it changes them for the

better. It changes us all for the better.

Volunteer Organizations

South Sioux City Area Chamber of Commerce - Board of

Directors

Heartland Counseling - Board of Directors & Fundamental

Planning Committee

South Sioux City Area Chamber of Commerce Ambassadors

- Chairman

Dakota County Leadership – Alumni & Planning Committee

Siouxland Freedom Park - Planning Committee

Cardinal Festival - Co-Chair Planning Committee

Siouxland Earth Day - Planning Committee

Cardinal Elementary Parent/Teacher Organization

Sunnybrook Church - Saturday Serve Committee

"Carry out a random act of kindness,

with no expectation of reward, safe in

the knowledge that one day someone

might do the same for you."

– Princess Diana
---
Stephanie Hirsch, CFP®

Financial Advisor, Security National Investment Services

Mayor of Jackson, NE

What are you working on now?

Currently, I am a Teammates mentor in the South Sioux City

Community School District. I am also Mayor of Jackson,

NE where I am able to serve the community I grew up

in. In addition, I am Vice Chair for Leadership Dakota

County where we work to advance the skills of emerging

leaders and inspire them to serve their communities

and organizations. Alumni and board members of

Leadership Dakota County are also actively fundraising

to help complete the interior of the interpretive center

at Siouxland Freedom Park. More recently, I have joined

the Board of Directors for South Sioux City Chamber of

Commerce and Heartland Counseling Services.

What is your vision for the future?

My vision would be to connect the professional

community with younger generations to develop talent,

ignite passion, and increase engagement in Siouxland.

By creating these connections early on, it will help retain

the young talent we already have in our area, open up

a collaboration of ideas, and help young professionals

make a difference in Siouxland. We have great leadership

development programs in our community already such

as, Leadership Dakota County and Leadership Siouxland.

By taking this a step further, we can help emerging leaders

apply the knowledge they learn in these programs and

become more involved in the growth of our community.

top networking tools and being able to play the game

can be an all-important skill to have in the professional

community. Golf is a sport that teaches patience,

sportsmanship, honesty, and requires strategic thinking

when playing. It also provides physical and mental health

benefits. All characteristics that are important in life.

What are you doing to make that happen?

One way I am working to accomplish my vision is through

our leadership development programs we currently have

here in Siouxland. I am currently Vice Chair for Leadership

Dakota County and am pitching my vision to our board to

see how we can incorporate this into our current curriculum

or make it a stand alone program. Leadership Dakota

County is operated through the South Sioux City Chamber

of Commerce, of which I am also a board member. The

chamber would be a great start in identifying professional

individuals of all industries to mentor the budding leaders

in our local workforce and professions.

How can people help you make that happen?

In terms of community support for my vision, it would

involve local businesses identifying emerging leaders

within their organizations and encouraging them to

participate in leadership programs while also becoming

more involved in the Siouxland Community.

Volunteer Organizations

Teammates Mentoring Program – Mentor

Leadership Dakota County – Vice Chair

South Sioux City Chamber of Commerce – Member,

Board of Directors

Heartland Counseling Services – Member, Board of

Directors

"Ambition is the path to success.

Persistence is the vehicle you arrive in."

– Bill Bradley.

Siouxland Magazine | 10 Under 40 / 11

What would you like to see happen in Siouxland?

I would like to see a program that would provide free

golf lessons to young professionals. Golf is one of the

Securities and insurance products are offered through Cetera Investment Services LLC, member FINRA/SIPC. Advisory services offered through Cetera Investment Advisers

LLC. Neither Cetera Investment Services or Cetera Investment Advisers are affiliated with Security National Bank. Security National Financial Services, a Cetera program, is

not affiliated with Security National Bank. Investment products are: *Not FDIC insured *May go down in value *Not insured by any federal government agency *Not a deposit
---
Siouxland Magazine | 10 Under 40 / 12

Joe Knoepfler

Owner, Knoepfler Chevrolet

What are you working on now?

We are implementing programs intended to create a

culture of growth leading to a better, stronger community.

We provide several scholarship programs for our

employees, as well as the public in hopes this leads

to more opportunities personally and professionally.

In addition to education, I also believe the arts are an

important cornerstone of a community's culture. As

a founding board member of the Vangarde Arts and

the current President of Sculpt Siouxland, I continually

strive for artist opportunism within Siouxland. Together, I

believe the support of education and artistic expression

will add exponentially to the development culture within

our community.

What is your vision for the future?

More than a vision, I believe it is a psyche and one word

comes to mind, PRIDE...a community filled with people

who are proud to be a part of it. A lot of wonderful aspects

in our community are often overlooked, undiscovered,

or not celebrated enough. Let's celebrate our education

system. Our public and private schools provide an

exceptional educational experience for our community,

this is something to be proud of. We should be proud

of our stable economy, although we would all like to see

this expand – we are in a great spot. As other areas of our

country fluctuate drastically, we have been able to obtain

a sense of balance. Look at the unemployment rate (prior

to the pandemic) in Northwestern Iowa. It is remarkable.

Lastly, we are surrounded by great people with great

ethics. We come from a strong background of doing the

right thing, working hard for what is yours, and taking a

stance when it is appropriate. I was once hired for a job in

Florida with little experience just because I was from Iowa.

Their exact words were, "Oh, you're from Iowa, I already

know your work ethic".

What would you like to see happen in Siouxland?

It would be great for the community to continue to develop

a culture that supports local businesses and incentivizes

other companies to relocate or start up a new endeavor.

Although our local government has continued to roll out

funding and incentives, I believe this is bigger than what

our local commerce can tackle on its own. We need the

support of the state. Look at cities such as Fargo, Billings

and Sioux Falls. All these places had populations like the

Siouxland area 30 years ago. With a strong partnership

between the state and the amazing men and women that

head up our Economic Development, there is no reason

we cannot see the same influx of high quality jobs coupled

with talented, well educated, young professionals eager

to call Siouxland home.

What are you doing to make that happen?

Overall, I believe we are headed in the right direction.

Although this may sound strange, I think we need to brag

a little more to remind or teach people about what our

community has to offer us. I continue to encourage my

employees and community members to get out there,

discover their passion, make a difference and be a part of

something bigger than themselves. I couldn't be happier to

be back in the city I grew up in and I am proud to share my

story whenever I can.

How can people help you make that happen?

I would like to see companies and individuals continuing

to support personal and professional growth. There are

so many things to experience that are unique to this area.

Current residents and also people considering living in this

community need to know about them. By supporting the

long list of tenured local businesses and organizations, we

will foster an environment where prospective companies

are excited about putting roots down in our community.

In return, this attracts young, viable, well-educated

professionals to employ.

Volunteer Organizations

Sculpt Siouxland - President

GM Local Marketing Organization – President

Sioux City Growth Organization

VanGarde Arts

"Re-examine all that you have been told...

dismiss that which insults your soul."

– Walt Whitman
---
Sarah Morgan

Advancement Director, Camp High Hopes

give to an organization with a mission they are passionate

about. All nonprofits need a constant flow of new energy

and new ideas in the form of volunteers, board members,

supporters, and donors. We all may not have a thousand

dollars to give, but we all have a thousand ideas of things

we are passionate about. Turn your passion into action and

make a difference to a local non-profit. Through action,

you can truly make a difference in people's lives.

Siouxland Magazine | 10 Under 40 / 13

What are you working on now?

I am finding ways to better the lives of women and

those with disabilities in Siouxland. I love serving on the

Women Lead Change conference steering committee.

This allows me to have a part in bringing influential

speakers and leaders to town to ensure that local women

can attend conferences to receive leadership training,

networking opportunities, and continued education. I

also serve on the Board of Directors for the Junior League

of Siouxland, which works to better the lives of women

and the community through training and volunteering.

The Junior League is an amazing way to learn about the

community and its needs. I receive a lot of inspiration

from the campers at Camp High Hopes. I love connecting

individuals and businesses to the mission of camp to

provide life-changing camp programs to people with

special needs that deserve them the most!

What is your vision for the future?

I would love to see the Sioux City metro continue to grow

and evolve. We are not forgetting our past, but we are

shaking off the old cow-town stigmas and growing into a

unique community. I hope we continue to support locally

owned bars, restaurants, salons, shops and welcome in

more. I hope we continue to emphasize business and

economic development. We need to ensure the stability

and continuation of the non-profits in Siouxland that

are doing great work. I want to see more quality of life

enrichment opportunities in the form of new facilities,

events, and outdoor recreation. I hope we continue to

improve Siouxland by ensuring equality for all residents.

What would you like to see happen in Siouxland?

I would love to see more involvement in the many

amazing non-profits in the Siouxland area. I would

encourage those with a little time, talent, and treasure to

What are you doing to make that happen?

To ensure the continued growth and stability of the nonprofits

in Siouxland, I volunteer and serve on several boards.

I donate to the organizations I am passionate about. I keep

up with local news and attend community events. I provide

assistance, insight, and suggestions when asked. I serve on

the board of Siouxland Philanthropy, a group that provides

education and resources to non-profit development

professionals in the area. I like to know what is going on in

the community and work on improving it.

How can people help you make that happen?

Reach out to an organization you are passionate about

and ask how you can help. Buy a ticket to the nonprofit's

fundraiser you have been wanting to attend. Join the

mailing list. Make a donation. Learn about volunteer

opportunities. Attend open houses or other events. Follow

organizations on social media to keep up with their news.

Get involved to make your community a better place for

everyone.

Volunteer Organizations

Junior League of Sioux City – VP of Marketing

Women Lead Change Conference – Steering Committee

Siouxland Philanthropy – Board of Directors

"Those who are the happiest are those

who do the most for others."

– Booker T. Washington
---
Siouxland Magazine | 10 Under 40 / 14

Dustin Pratt

Portfolio Manager, Avalon Capital Group

How can people help you make that happen?

Entrepreneurship and economic development are a

passion of mine. If would be entrepreneurs and/or

existing business owners are interested in locating to the

Siouxland area, I would-be more than happy to discuss

advantages and opportunities in the region.

Volunteer Organizations

North Sioux City Economic Development Center –

Secretary/Board Member

McCook Lake Association – Treasurer/Board Member

Delta Sigma Pi business fraternity – District Director

Sioux City Growth Organization

What are you working on now?

Currently I'm actively involved in the North Sioux City

Economic Development Corporation (NSCEDC), the

McCook Lake Association (MLA), and the Sioux City

Growth Organization (SCGO). These are fantastic groups

helping to improve Siouxland from a variety of aspects. A

healthy community needs a strong economic, civil, and

social environment to prosper. These organizations have

been instrumental in that growth and I'm proud to be

part of their ongoing efforts.

What is your vision for the future?

Sioux City has done a fantastic job at improving its

environment for young professionals, but to me the

path forward involves building upon two key areas: 1)

improving the economic climate in Siouxland and 2)

improving downtown Sioux City. Strengthening these

two pieces further is key to retaining and recruiting young

professions. A strong young professionals community

needs career opportunities to advance and a fun and

safe downtown to build and strengthen relationships.

What would you like to see happen in Siouxland?

Continued economic growth in the region. Many young

professionals come to the area and are forced to leave

given limited career advancement. I think the area is

prime for some significant economic growth and I would

love to see this continue.

What are you doing to make that happen?

I currently sit on the NSCEDC board and have been

active in fostering economic development in the region.

Siouxland has the benefit of being in a Tri-state area and

I think there are tremendous opportunities for incoming

companies to benefit.

"Diligence is the mother of good luck."

– Ben Franklin
---
Nick Rol

Project Manager Electrical Construction, Thompson

What are you doing to make that happen?

At Launchpad, we are in the early stages of refreshing

the exhibits as we navigate new safety protocols due to

COVID-19. We are structuring and expanding on the long

history of agriculture and construction in the community.

Examples would be plumbing and wiring a house, digging

a hole with an excavator and how corn is grown and put

on your own table at home. We believe community history

is so important, so we will also be adding pieces about

the general history of Siouxland. With the vision and

addition of the new exhibits, children are going to be able

to experience even more hands-on learning about the

Siouxland Community.

Siouxland Magazine | 10 Under 40 / 15

What are you working on now?

Three years ago, I was asked to join the Board of Directors

at the Launchpad Children's Museum. I am currently

serving my 2nd year as the Vice President of the Board

and am so proud of what this organization has done for

the Siouxland Community. From the initial ideas and

construction of the museum, I have been connected

in some capacity. It has been an honor to help the

design team with the founder's concept of bringing this

museum to life, and with my profession at Thompson,

the museum has never been too far out of sight. I enjoy

being connected to such a great community organization

that promotes a fun, safe and educational experience for

families to bring their young ones to come have fun and

learn at the same time.

How can people help you make that happen?

As Launchpad enters its next cycle of growth, community

feedback will be crucial. As an organization, we want to

offer not only what we feel the community needs, but also

what it wants. We need to work collectively with business

leaders and organizations in the Siouxland area to provide

support to the museum as we continue to expand and

grow and be the best place for adults and children alike to

visit and learn new things.

Volunteer Organizations

National Electrical Contractors Association (NECA)

Launchpad

"You never get a second chance to

make a first good impression"

– Mr. Gaul, 6th grade Principle

What is your vision for the future?

I would love for Launchpad to be a self-sustainable, nonprofit

organization that stands out in the community. I want

it to be a place that kids want to visit over and over again

because there are always new and exciting programs and

exhibits to experience. I want Launchpad to be known

as THE hands-on playground in Siouxland to innovate,

experiment and be a fun experience each time it is visited.

What would you like to see happen in Siouxland?

With the help of new programs and exhibits, I would like

Launchpad to be one of the prime spots for education and

entertainment for local families and visitors alike. I would

like Launchpad to get the attention of families traveling

through Siouxland and be one of the top attractions for

visitors in downtown Sioux City.
---
Siouxland Magazine | 10 Under 40 / 16

Rachel Thompson

Marketing Director, Goosmann Law Firm

What are you working on now?

I remain involved in River-Cade by working on the Royalty

Committee to help raise funds for their scholarship

program and plan events associated with the Royalty

contest.

As a former River-Cade Queen, I am passionate about

helping young women in the Siouxland community and

giving back by providing mentoring opportunities that

were given to me throughout my college and River-Cade

experience. The Royalty contest and scholarship provides

mentorship and personal growth opportunities that

help enhance skills in public speaking, networking, and

professionalism while showing young women the value of

giving back to their community. This is all made possible

by the wonderful River-Cade volunteers and donors who

help keep this festival and contest in Siouxland for over

50 years.

Along with River-Cade, I have continued to stay connected

to Morningside College as an alumni volunteer. Every

year, I speak to classes or during events held on campus

to share my passion and experiences in business and

marketing. Life after college can be intimidating; I want

to make it less daunting for young professionals and

encourage them to make it an exciting time in their lives.

What is your vision for the future?

My vision for the future of Siouxland is the growth of young

professionals in the community. Young professionals are

paying attention to what a company stands for and their

"why." It is important that organizations prioritize creating

a diverse workforce that allows team members to grow

within their careers. Young professionals will range from

new college graduates to parents of growing children –

these are two different groups of people; however, both

want jobs with room for growth and a work environment

that appreciates its employees.

What would you like to see happen in Siouxland?

I am proud to be a Siouxlander and to have grown up here,

lived here, and work here. I know Sioux City has a bright

future and there are many people working extremely hard

to make big things happen for the city that will allow future

growth in jobs and tourism. I would love to continue

seeing our community improve through projects like

beautifying the riverfront, new housing developments,

and restoration of historic downtown buildings.

What are you doing to make that happen?

I lead Goosmann Law Firm's culture committee. Through

this committee, we find ways to continue creating a fun

and engaging work culture for employees that's worth

it and sharing ideas and plans on how we can help our

communities through volunteer opportunities and giving

back.

How can people help you make that happen?

I encourage people to find something you love in

Siouxland that you're passionate about and help that

cause. We need those in our community who care to

speak up and help take action to improve Siouxland. Vote,

volunteer, donate, participate, mentor, educate, and love

your neighbor. It doesn't matter how big or small. If every

person did something positive for Siouxland, together

we can make a huge impact for the people that live here,

work here, and visit.

Volunteer Organizations

River-Cade Royalty

Morningside College Alum

"I've learned that people will forget

what you said, people will forget what

you did, but people will never forget

how you made them feel."

– Maya Angelou
---
Danielle Tott

Director, Siouxland Soup Kitchen

What are you working on now?

I am currently working on finding a safe way to reopen

The Soup Kitchen for dine-in meals. I frequently find

myself grasping for words to adequately describe just

how much the dynamic has changed here at the kitchen

and in our community. I used to serve roughly 75 people

a night. Now I am serving 130 to 180 people. Three years

ago, I saw 12 kids a week, if it was a busy week. Now I see

40 or more children daily. There is also an abundance of

senior citizens utilizing the program that did not before.

I am striving to find an inclusive way to continue to serve

all these people with the doors open. I am also working

to expand Erik's closet, the free clothing, and toiletries

program that I started two years ago. I am trying to include

more things such as children's clothes, household items,

medicine, first aid, and more.

What is your vision for the future?

My vision for the future of Siouxland is a more supportive

social service system for the homeless and povertystricken

individuals in our area. I believe that poverty is

a direct result of a failing education system. I would like

to see programs in the schools as early as elementary

teaching our kids age appropriate financial lessons. As

a single mother who spent years working 2 and 3 jobs

to keep a roof over my children's heads, I understand all

too well that in low income households, parents are often

too busy working to survive, and important lessons that

should be learned at home often aren't. I would like to be

a part of instituting classes that teach basic financial and

life skills in our schools.

What are you doing to make that happen?

The Kitchen is currently in a transition phase. We will be

moving onto the Warming Shelter property and there are

hopes that Erik's Closet will be a stand alone program, with

its own building and volunteers. Once these goals happen,

I plan to reach out to local high schools and possibly boys

and girls' programs to mentor kids who may not have

the opportunity to gain management experience. The

road to being a Chef is not one well-led by school. It is

all about hands-on learning and I look forward to sharing

my knowledge with some of the underprivileged youth in

this area. As well as teaching the value of service to your

community and fellow humans.

How can people help you make that happen?

The community is crucial to everything I do, every single

day. The things most important to my goals are donations

and volunteers. Financial contributions will help with

our goal to move, build, and expand. Once ground is

broken, we will be looking for volunteers to help with

all forms of construction and moving. Another goal is to

eventually serve two meals a day, which require double

the volunteers I currently work with. Most importantly, it

is the little things that add up to success for this program.

Twenty-dollar donations, a case of water, leftover food

from a funeral, that is what keeps us running. The Soup

Kitchen has a Facebook page. Every like helps. It extends

our social media reach and allows a follower to stay in

tune with exactly what we are doing almost daily. I also

post lists of needs including volunteers, food items, and

more. https://www.facebook.com/siouxlandsoupkitchen/

Volunteer Organizations

Erik's Closet – Founder

Homeless - Advocate

"I like flaws and am most comfortable

around those who have them. I myself

am made entirely of flaws, stitched

together with good intentions."

– Augusten Burroughs

Siouxland Magazine | 10 Under 40 / 17
---
We are so excited for you!...

Congratulations, Joe! The value of a good business partner is great, the joy

that comes with that partner also being your brother is even greater!

Thanks for everything you do at work, in the community and every day.

- Ben Knoepfler, Partner

Congratulations, Joe! You are

an incredible leader. Your

lunch break advice will stick

with me forever...

"Take your lunch break, it's

important. It's often the only

time you truly have to

yourself, so do something for

you. You can love your work

family, you can love your

family at home, but you'll fall

short if you don't love and

prioritize yourself, too."

As someone who previously

chose to eat at my desk and

work through my lunch breaks,

I needed to hear that. Now, I

spend my "me breaks" doing

things I enjoy or using the

time to tackle things that are

easier to do without two kids

in tow. Those five hours a

week, 260 hours a year make

a tremendous difference in all

areas of my life.

-Sara Fay, Marketing Director

Congratulations, Joe!! I love working with you and the

entire Knoepfler family! You truly care about each and

every Knoepfler team member. You check in weekly,

if not daily, on me and my personal family. I so

appreciate that...you don't see that kind of attention

anywhere else. Again, congratulations...well deserved! -

Jennifer Norton, Assistant Office Manager

Congratulations, Joe! Well deserved honor!

Your commitment to the community and

our business is unimpeachable. Working

with you and your family is like "living a

dream". Great leadership and empathy

towards coworkers and all people in

general. Many prosperous years to follow.

- Rod Hamm, Service Director

Congratulations, Joseph! I cannot think of

a more deserving person (although I have

a feeling you'd humbly disagree. lol ) I am

proud to work for such a family oriented

business. It is very rare in this day and

age to find leadership that truly believes

that family should come first. I have

worked for this company for going on 13

years now, and have no doubt that I can

look forward to many more! Thanks for

being you!

- Nick Nava, Collision and Detail Manager

What a tremendous honor. Congratulations!

You care about people so much and it shows

in everything you do. Since you had the

brilliant idea to start the 12 Days of Giving

program years back, it's helped and inspired so

many people during the holidays. It's one of

the many things that makes me so proud to

work for Knoepfler Chevrolet.

- Mike McVay, Sales Manager

Congratulations, Joe. It feels great driving to

work every day when you work with a leader

who genuinely cares about you. What you and

the company accomplish on a yearly basis to

give back to the community is astounding. The

12 Days of Giving program you started is one

of the single most heartfelt things a company

in this community does. This community and

company are a better place because of you and

the way you genuinely care about everything.

Congratulations Joe! Well deserved!

- Jesse Johnson, Business Manager

Congratulations, Joe K! I'm so proud of you! You work so

hard for your employees and company. You deserve this

recognition! I have truly been blessed to be a part of the

Kchev employee family. I will never forget your generosity

when I was going to be unable to attend a very dear

friend's funeral because I did not have coverage for my

department. Somehow, you found out and YOU covered for

me! The smiles on his son's faces when I walked in made

me truly understand what a great family I work for.

Keep on doing what you do! It works!

- Renette Oehlerking, Business Development Manager

Congrats, Joe! Amazing honor. If you look

around the dealership, you will see people

who have been here 20, 30 even 40 years!

That says something about a company. It

says something about the leadership within

the company. You are not only a great

leader, but you build great leaders. I

appreciate your endless encouragement and

trust, especially as we tackled the 'sinking

ship' to return it to its former glory and

beyond. Sometimes, you believe in me more

than I do. I value your suggestions and I

continue to learn from you every day on

what makes a business great.

- Trisha James, Avis Manager & Accts. Rec.

Congratulations, Joe! I feel very lucky to have worked with 3 generations of Knoepflers now! Working at a family-owned dealership is a rarity these days.

You and your family's leadership makes me very proud and honored to be part of the Knoepfler Chevrolet team. I appreciate all you do to help me out,

especially during the holidays. Joe, you absolutely deserve this honor! - Carl Fosvik, Parts Manager
---
Be prepared.

Securus Insurance Group, Inc. is a locally owned and operated independent insurance agency that has

serviced northeast Nebraska, Siouxland, and its surrounding areas since 1982, with offices in Ponca, Nebraska

and now a bilingual office in South Sioux City, Nebraska.

As an independent insurance agency, Securus Insurance Group has the

capability to write with multiple insurance carriers to ensure that you

have the most affordable coverage that suits your needs. We write many

insurance products including auto, home, business, life, health, and

other personal lines insurance and we are licensed to write insurance in

the states of Nebraska, Iowa, and South Dakota.

We represent three of the top five personal lines insurance carriers in

the United States: Nationwide (Allied), Allstate, and Progressive. We

have also partnered with three brokers which allows us access to over

ten additional insurance companies.

South Sioux City

Pamela Coenen

712-389-8518

pam@securus.group

Sioux City

PJ Strawn

Brenda Charbonneau

Erin Loehr

712-233-2838

office@securus.group

Ponca

Brian Burrell

402-755-2221

brian@securus.group
---
Celebrate the Wins

By Tony Michaels

It is easy to take wins for granted sometimes. Yes,

I am a Husker football fan. I am guilty. Back in 1995, I just

assumed Nebraska would be dominant all the time. My

Hawkeye buddies at work remind me on a nearly daily

basis that's not the case.

With the benefit of some reflection and a few decades

of struggles, I have come to really savor the wins. This

revelation led me to a grandiose tenet in life: We do not

celebrate the wins nearly as much as we should.

Siouxland Magazine | Converse / 19 21

I was fortunate enough to be named to the inaugural

"Top 10 Under 40" by Siouxland Magazine back in 2012.

Because of that I was able to meet other members of the

2012 class and realized we all had varied backgrounds

and skillsets. Being the radio guy in the group, I joked

that I was included to bring down the annual average

salary of the group. If I were to meet you for a taco

lunch date, I'd be more than happy to tell you I chose a

career path motivated by love of being on-air in radio as

opposed to big paychecks. I just wanted to be "happy"

and live out my dream job. For the last 25 years, my job

has felt more like a hobby and would do it for free. (Make

sure my boss never reads this.) I know plenty of great

broadcasters under the age of 40, I just happened to

make that first list in 2012 because of the contributions

of many at Powell Broadcasting.

Powell Broadcasting proudly displayed this frame....then

I turned 40 and one week later it came crashing down!

Hope that isn't a bad omen.

Wins aren't always guaranteed. Pop the champagne and

spill the Gatorade!

Tony Michaels, KSUX morning show host with Candice Nash.

And one grateful dude. Serving KSUX listeners since 1997.

Photo Contributed by Powell Broadcasting

Paid advertisement.

Since that first class of 2012 was announced, I have

been fortunate enough to serve as an adjunct professor

at Morningside College in the Mass Communication

Department. Every semester I am blown away by the

talent and compassion of those students. Many of the

undergrads in my courses come from all over the world

to Sioux City. Luckily for our community, some stay in

our area after receiving their diploma. Siouxland is a

better place because of Morningside College, Briar

Cliff University and Western Iowa Tech. No doubt. We

benefit from these great hubs for professionalism and

entrepreneurial spirit. Day by day, the workforce and

non-profit agencies get better and better because

talented individuals like the ones featured in this issue

stay in Siouxland.

This leads me to my wish. If I had a magic wand, I would

love to have more alums of these lists find their happy in

Siouxland. About half of my class left the area. Showing a

spotlight on these individuals with Siouxland Magazine is

a tremendous way to CELEBRATE younger professionals

and the wins they produce. These individuals really

strengthen the area. If your workplace has a star under

the age of 40, please submit them for next year's issue….

or at least give them a Gatorade bath in the breakroom

and carry them into the parking lot like those Husker

football players did for Dr. Tom Osborne in 1995.
---
Inspire

Lessons learned from stories in our community.

South Sioux City Schools honor "Golden Apple" teachers annually at the South Sioux City Area Chamber of Commerce Annual

Banquet. One honoree each year earns a scholarship to Wayne State College masters' degree program.

Teachers Do More Than Deliver Content

By Dr. Cyndi Hanson

The INSPIRE section of this magazine is

intended to feature a regular human being

in our community. Someone who is pursuing their

passion, living life to the fullest and has persevered

through some kind of challenge or self-discovery. We all

need a reminder from time to time that each one of us has

an impact in this world. Telling our own individual story

can inspire someone else in ways we may not imagine

because we are just 'regular' people.

In some issues, the subject of that feature is obvious.

Other times it is a challenge due to timing, circumstances,

or reluctance. This issue, we wanted to feature someone

who is contributing toward the development of future

leaders and it seemed obvious – a teacher of the year.

And then came the challenge, the teacher we wanted to

feature declined the spotlight. His words of his declination

were simple and brief, "There are many other people in

the community who are far more deserving of attention

than I am." Those words could only have come from a

teacher.

So, the subject of the INSPIRE section this month is

unique. We have never done it before – we are featuring

an anonymous group of people. We are featuring people

who make a tremendous impact on our community and

our futures each day. We are featuring people who typically

embody the philosophy of 'it's not about me.' We are

featuring – TEACHERS.

As we begin a school year, following a year that was

completely disrupted, I think we have a little more

appreciation for teachers than we did before. I am among

countless parents who are thankful that we get to send our

children to professional educators again – and hoping they

can stay for the whole year!

Teachers do more than deliver content. As an educator

myself, I knew that, but in mid-April I APPRECIATED it more

than I ever had before. I had only one youngster to work

with in diagramming sentences, studying civil rights, and

introducing percentages. How in the world, do teachers

do this with 15, 20 or 30 youngsters in their room?! I was

struggling with just one. How do they manage the emotions

(and hormones) of teenagers and keep the focus on learning?

How do they manage the fidgets and short attention spans of

elementary students and teach them? Teachers are amazing.

Teachers do craft the future. They teach subject matter of

course. And they also teach kindness, respect, listening,

persistence, and patience. They model the importance

of asking questions, believing in the abilities of everyone,

being humble and serving with their whole heart. I hope

as you read this article you are remembering the teacher(s)
---
non-profit

community

family

small business

people

who made a difference in your life or that is making an

impact in a school system right now. That person is the

feature of this article.

Today, take some time to let that person know they are an

inspiration. You can do this in many ways. Write a thank

you note or make a phone call. Share your thoughts

and memories of a teacher on the Siouxland Magazine

Facebook page or your own social media page. Here

are a few thoughts from random Siouxlanders to get

you started.

"I don't know how she manages a room of 12

pre-teen girls and 4 pre-teen boys! I can barely

manage the emotions of one in my home. But

she does and they LOVE her. I've observed and

listened. I think it's because she listens, she

empathizes, she acknowledges their feelings

and then challenges them to see it from another

point of view. She has made an amazing impact

on my child!"

"I worked in IT for the school system. When

I first started, I was in his room working on

his computer one day... I was done fixing his

computer in about 20 minutes, but also gave

the hard drive an extra defrag just so I could

stay to hear the end of his lesson! His lectures

are the best."

Dr. Cyndi Hanson, Executive Director for Northeast

Community College's Extended Campus.

Photos Contributed By Lance Swanson, South Sioux City

Community Schools

"He is an amazing educator who is super

passionate about what he teaches. He cares for

his students' education and is always eager to

see us. Mr. Teacher made me enjoy American

government a lot more than I was planning to."

"He set high expectations for us and it started

with our appearance. Girls had to wear dresses

and panty hose, boys had to have their shirts

tucked in and pants pulled up. Occasionally

someone would try to walk in with their pants

bagging, and he'd yell "Put your britches on!

Respect yourself!" He knew that when we

put our outward self together with pride, it

automatically elevated our inward pride. That's

never left me."
---
Siouxland Magazine | Inspire /24

Girls proudly displaying their artwork.

Strong, Smart and Bold

By Dr. Cyndi Hanson

Siouxland Magazine had the opportunity to

connect with Mandy Engel-Cartie, Executive

Director of Girls Inc. of Sioux City.

Siouxland Magazine (SM): Your mission statement says

"Inspiring girls to be strong, smart and bold". Tell me more

about that. Why those adjectives?

Mandy Engel-Cartie (MEC): I love our mission statement

because it's not jargon and it truly describes what we do

each day for girls. To expand, we have specific outcomes

for each of those key words – strong, smart, and bold.

Girls enjoying some fresh air and a delicious snack.

Strong Outcomes

• improved body image

• prevention/knowledge of the dangers of

unhealthy choices

• increased level of physical activity

Smart Outcomes

• an improved outlook and performance in

school

• having set personal, educational, and

career goals

• an improved academic/school

performance, and

• having educational aspirations beyond

high school

Bold Outcomes

• see themselves as leaders

• demonstrate increased persistence and

resilience

• have positive relationship with adults

• stand up for themselves, others, fairness,

and their beliefs

• participate or have as a goal to participate

in civic responsibilities like voting, giving

back to the community, and being positive

change agents.
---
SM: So, you focus on the physical, intellectual, and

emotional growth of girls.

MEC: Our activities, programs, and pretty much

everything we plan for and implement springs from that

phrase.

SM: How long do most girls engage with Girls Inc? Is it

years or months?

MEC: Keep in mind that many of our girls must move

suddenly or frequently because of circumstances out

of their control, mostly related to economic deprivation.

Some are in foster care or out-of-home placement. Like

many youth-serving organizations, we struggle to keep

girls over the age 13. I believe our average (over the past

10 years) is 3 years of attendance. Also, some girls come

only in the summer or only during the school year for a

variety of reasons.

What is interesting to me is that anecdotally so many girls

tell us that they stopped attending because they had to

babysit siblings. They are expected to help their working

parents by providing free childcare. Even girls who are

currently members often say they must stay home from

school to care for a sibling who is too sick to attend

school.

SM: What do you hope is the result of each girls'

interactions with Girls Inc?

MEC: I hope every girl gains the knowledge, confidence,

and grit to pursue her best life, no matter what

circumstances she has faced or will face in her future. I

hope every girl knows she can make the world a better

place and has the tools she needs to take action. I hope

every girl maintains the resilience we work to instill with

her throughout her life. I hope each girl will grow up

knowing that she is special for her individuality, for what

she can do and for the person she is inside. I hope each

girl knows we care.

SM: The materials you provided mention "mutual respect

and high expectations" several times. What does that

mean? Why is it a focus?

MEC: Both empathy and respect are critical skills that all

children need to learn about and practice in a safe place.

Through instruction and example, we strive to show girls

that respecting themselves and others is the foundation

of making a positive difference each day – respecting

different opinions, different backgrounds, different ways

of doing things, and different abilities.

Setting high expectations simply means we believe

every girl can achieve her full potential and we challenge

our members to do that. Together, these can create an

environment where girls feel free to be themselves, to try,

to sometimes fail, to learn, and ultimately to succeed. We

are all about the growth mindset at Girls Inc.!

SM: Why Girls Only?

MEC: That's a common question. We all know that girls

can be under a lot of pressure in our society. Sadly,

competition is still encouraged between girls based

on who is prettiest and the most popular. An all-girls

space lets girls explore who they really are outside of

this dynamic. Girls have a safe space to talk about and

work through issues that they are dealing with like selfesteem,

their bodies and body image, puberty, sexuality,

and healthy relationships.

Research indicates that boys tend to dominate

programs designed for youth. Girls Inc. creates a unique

environment where girls can share their experiences,

practice many skills including leadership, and take part

in activities with other girls who share many of their

experiences and challenges, all with outstanding role

models in a safe environment.

SM: How does Girls Inc. impact the Siouxland area? Or

more bluntly – why should people care about the work

of Girls Inc.?

MEC: I'm so glad you asked! Our alums who have

come back to work for us during and after college tell

us that Girls Inc. helped shape their lives in a positive

way, especially through substance abuse prevention

and pregnancy prevention classes. They also site our

financial literacy programs as being very helpful as they

transitioned to adulthood.

SM: What are your greatest needs as an organization?

How can people help support Girls Inc.?

MEC: As with any nonprofit, financial resources are

always the greatest challenge, especially this year.

Because of Covid-19, we are shifting from after-school

only to an all-day, academically-based programs for

families who have enrolled their children in virtual-only

programs. It's an expensive, unbudgeted proposition,

but we believe it's the best way to help support our girls,

working families, the schools, and the community.

While the girls we serve are a very diverse group,

membership fees only account for roughly 10% of

operating costs. The remaining 90% must come from

donors, grants, and other unearned revenue.

There are other needs that arise from time to time and

the best way to keep abreast of those needs is to follow

us on Facebook or sign up on volunteersiouxland.org.

Girls Inc. of Sioux City

500 Main Street, Sioux City, IA 51102

Ph: 712.252.1088 | Twitter: @sioux_inc

FB: facebook.com/GirlsIncOfSiouxCity

Dr. Cyndi Hanson, Executive Director for Northeast

Community College's Extended Campus.

Photos Contributed By Mandy Engel Cartie.

Siouxland Magazine | inspire/25
---
Siouxland Magazine | Inspire /26

Jamie Vess, Owner of Next to Nature.

Next to Nature

By Dr. Cyndi Hanson

Nature is a word that conjures up a different

image for everyone who hears it. For some it is the

briskly driven snow on a blustery winter day; for others it

is chirping birds and rustling leaves in a secluded forest.

For Jamie Vess, the owner of Next to Nature, it is about

oneness and living naturally.

Jamie came to Siouxland with her husband a few years

ago. As someone who had devoted years to learning

the impacts of food on her body, Jamie was surprised to

discover there wasn't a natural food store in Sioux City.

City, and sometimes not online either. The commitment

to natural healing, led to establishing a supply of products

in January 2020.

"We began in two small office spaces in January, by April

– in the midst of the pandemic – we were growing rapidly

and pushed to expand our offerings." Said Vess. "We

knocked down a wall and expanded. Now I can work with

people one-on-one."

"We are not a full health store." She said. "Just the things

you need on a daily basis to be one with nature. It is stuff

you can have in your pantry to treat common ailments."

Jamie went on to explain, "My goal is to help others learn

about a lifestyle where we are more conscious of what we

turn to for treatment. We can utilize natural treatments like

herbs, teas and supplements to feel better, live better and

fight inflammation, symptoms of menopause or insomnia.

We don't have to put artificial things into us to feel better."

Vess's husband started his chiropractic clinic in Sioux City

in 2017. In line with his philosophy that natural healing can

relieve pain, recommendations for other natural remedies

was logical. He and Jamie would make recommendations

based upon their experience and research. And then they

noticed that people couldn't find the products in Sioux

Sneak peak inside the Next to Nature store.
---
That one-on-one interaction is something Vess is devoted

to. Her passion for helping people live close to nature

means she spends each day meeting, getting to know,

and helping people.

Products range from an incredible selection of herbal

teas and supplements for those who want to purify their

bodies, to ritual herbs for those seeking to connect to

nature, to body care and cleaning products for those who

want to reduce the toxicity of their living environments.

"It can be overwhelming to people who haven't been in a

health store before." She said. "There is so much to learn

and understand. I start with questions. What brought you

in today? How are you feeling? What are your goals?

What are your hobbies or interests? The more I know

about a person, the better I can recommend products

that will fit their needs."

Siouxland Magazine | inspire/27

People come for a lot of reasons. Sometimes it is an 'easy

fix' – an appropriate tea for someone who has trouble

falling asleep. Sometimes there are multiple issues that

require more intense interactions.

"I created a 16-page report for a person who was

struggling with a variety of issues that are all wrapped

together." Jamie said. "It helps to fully explain the impact

of eating, daily habits and our environment. I do research

as needed for these intense reports. I know from personal

experience how important understanding is to getting

healthy."

Explore the different stations within the store.

Visit Next to Nature at 4242 Gordon Drive

or at

www.NextToNatureHealth.com

Dr. Cyndi Hanson, Executive Director for Northeast

Community College's Extended Campus.

Photos Contributed By Next to Nature.

What Vess finds is that most clients start with one or two

easy steps – a supplement or tea – and then incorporate

more as they return. "As they come back, I slowly

introduce them to other parts of the store to increase

their natural focus."

When asked what surprises her clients most, she said,

"They are usually surprised how quickly they feel better

when they get the right vitamins and probiotics. They are

amazed at how quickly they have energy, sleep better

and so on."

The other thing that surprises people is the herb and tea

wall display in the store. "I did it all myself", Jamie said.

"I designed and selected the products. It is a personal

thing for me."

Looking to the future, Vess plans to continue adding

organic grocery items that are harder to find. There

are so many areas to do more natural things, that she

is constantly on the lookout. She also is quick to order

new products that clients inquire about to expand the

product line.

"There is a lot of education needed as to the extent of

how much can be done naturally," she said with quiet

confidence. "I want to help one person at a time."
---
grow

Don't fear failure. Embrace it. It's where the learning happens.

Stacy leading a Business Blender event in Correctionville.

Meet the New Entrepreneurial Community Navigator

By Stacy Orndorff

Entrepreneurs develop new and

improved products, services and

technology which have the ability

to change the way we live and

work. Their ideas and innovations

create new businesses, generate

jobs and wealth in the community,

improve the quality of life and

overall standard of living, and

contribute to a growing economy.

For entrepreneurs to bring new

ideas to life, they need a supportive

Stacy Orndorff

culture with access to business and technical assistance,

networking opportunities and capital resources.

Iowa's West Coast Initiative (IWCI) understands the

importance of creating a supportive culture and encouraging

entrepreneurial activity to fuel economic growth. For IWCI to

continue building the entrepreneurial ecosystem in northwest

Iowa and take their efforts to the next level, the group has

hired a full-time Entrepreneurial Community Navigator. This

new position will be funded for two years through a grant

IWCI received from the Iowa Economic Development

Authority's Entrepreneurial Investment Awards Program.

Stacy Orndorff, a local community builder and entrepreneur

herself, has been selected for the Entrepreneurial Community

Navigator position and she hit the ground running in

early August. Stacy will continue to cultivate the regional

entrepreneurial ecosystem by engaging with entrepreneurs,

connecting them to available resources and coordinating

regular programming and events. Continue reading to learn

more about Stacy!

Why you are a good fit for this position?

I am passionate about helping people make their business and

innovative ideas become a reality. I am frequently approached

by people who desperately want to start their own business

or businesses in their early stages seeking help with growth

strategies, customer acquisition, etc. I enjoy encouraging them,

connecting them with other entrepreneurs, mentors, and

resources. I have started multiple businesses in the past and

finally found myself succeeding with Heartland Coffee & Nosh,

so I've been on many sides of business ownerships including

successes and failures and feel that I can relate and also provide

valuable insight to other entrepreneurs. Additionally, I created

a program for Jr./Sr. High School to inspire entrepreneurship

and was able to pilot this program successfully for 2 years in my

hometown school district. I am excited to bring this program to

other school districts and build on the college-level program

that is already in place.

How have you been involved in the entrepreneurial

community in the past?

I started getting involved 4 years ago by attending First Friday

Coffee at Springboard Coworking, participating in Launch

Week, and completing Venture School. With my business, I have

been able to connect with other entrepreneurs by participating

in events sponsored by SCGO, IWCI, Downtown Partners, and

the Siouxland Chamber of Commerce. I also earned a spot in

the Dream Big Grow Here contest and won first place at the final

competition. I have also utilized the services provided by the

Small Business Development Center. All these things provide

such an important support system for entrepreneurs and I'm

excited to connect others to all of these great resources.
---
personal growth

leadership

determination

business development

influence

What appealed to you most about this role?

Honestly, everything listed in the job description was like reading my offseason

resume. I have been doing all these things for fun and in my spare

time and without pay. To be able to live out my passion for helping other

entrepreneurs AND get paid for it is a dream come true.

What do you hope to accomplish in this role?

First, I want to give hope to those who feel like starting their own business

is impossible and give encouragement to current business owners

who feel overwhelmed or alone by building an inclusive community

of entrepreneurs. Second, I want to inspire youth and young adults

to pursue entrepreneurship as a career opportunity. Last, I want to

develop and recruit a network of necessary support professionals for

entrepreneurs including specialized legal counsel, finance professionals,

venture capitalists, angel investors, and IT professionals.

What ideas do you have to make our regional entrepreneurial

community better?

I am excited to build on what has already been put in place by all of the

organizations in the area and multiply it by 10x. Fully executing some of

those things that were put in place by those working in other capacities I

will be able to devote more time. I am excited to build on Launch Week

and College Start-Up Games, find new ways to connect entrepreneurs

together, and bring start-up competitions to middle and high schools,

just to name a few. I'm never short on ideas, so after I've had time to assess

the needs of the community, I will definitely hit the ground running!

What initiatives will you take on to increase engagement and

grow our entrepreneurial community?

I plan to spend a lot of time building relationships with entrepreneurs,

listening to the needs they have, drawing them out of the woodwork,

and giving them a place to belong. I plan to create regular opportunities

for entrepreneurs to gather, network, and learn from each other. As I

implement the entrepreneurship efforts in local schools, I will be tapping

into community leaders and local business owners to create local

entrepreneurial systems throughout the region. I also look forward to

reaching beyond the region to pull in experts and motivators to grow

and inspire our entrepreneurial community.

How can people contact you?

I can be reached by email at stacy@simpco.org or by phone at 712-279-

6286. I look forward to connecting with you!

Iowa's West Coast Initiative (IWCI) is a collaboration between the economic

development organizations in Plymouth, Monona and Woodbury counties,

and includes the following organizations: City of Sioux City, Siouxland Interstate

Metropolitan Planning Council, Siouxland Economic Development Corporation,

The Siouxland Initiative, Le Mars Business Initiative Corporation, Woodbury

County, and Monona County. Learn more about IWCI at www.IAWestCoast.com.

Stacy Orndorff, the new Entrepreneurial Community Navigator.

Photos Contributed By Stacy Orndorff.

IAWESTCOAST.COM I 866.537.6052

Entrepreneurs and small business owners now have

access to an information specialist who can assist you

in finding solutions to your most pressing questions by

facilitating connections to the right people, data, and

resources.

IASOURCELINK.COM I 866.537.6052

IASourceLink is the premiere business resource in Iowa

for entrepreneurs and small business owners. Free

business webinars, expert advice, and a searchable

directory of organizations that assist Iowa businesses can

all be found on IASourceLink.

IOWASBDC.ORG I 712.274.6454

Do you need free, confidential and customized business

counseling? Contact SBDC for advice on developing a

successful business plan.

SIOUXLANDEDC.COM I 712.279.6430

Siouxland Economic Development Corporation offers

financial assistance programs and services to assist

small and medium sized businesses in getting started or

expanding.

MAKERSPACESIOUXCITY.ORG I 712.251.6050

MakerSpace Sioux City offers shared space for hobbyists,

inventors, artists and innovative people to come together

to create and teach through hands-on learning.

SPRINGBOARDCOWORKING.COM I 515.809.0052

Springboard Coworking offers shared office space in

downtown Sioux City for entrepreneurs that combines

the best elements of cafe culture with a productive,

functional, and affordable work environment.

ISUSTARTUPFACTORY.ORG I 515.294.7444

ISU Startup Factory is designed to help businesses bring

new products to the market and work with companies to

make them attractive to outside capital investors.

VENTURENETIOWA.COM I 515.471.1300

VentureNet Iowa connects ideas to resources,

management, and investors, to create jobs and build

businesses in Iowa. If you have a business idea in the

areas of Biosciences, Advanced Manufacturing, Value-

Added Ag, or Information Technology, you may qualify

for assistance through VentureNet Iowa.

Did you use one of these great resources? We

want to share your story! Visit our website at

siouxlandmagazine.com, fill out the form and connect

with us today!
---
Yesterday.

Today.

Tomorrow.

A Station for You.

A Station for Everyone.

Join the Conversation.

If Communication is Key,

Why Don't We Master It?

Clarify Your Message

Communicate with Confidence

Connect Through Conversation

Like us on Facebook @

Empowering Conversations LLC

Stacie Anderson

Owner of Empowering Conversations LLC & Siouxland Magazine

Certified John Maxwell Speaker, Trainer & Coach

Passionate about Leadership & Communication

Empowering Conversations LLC, proudly publishing Siouxland Magazine.
---
The Future Looks Bright!

By Todd Rausch

Today's Young Generations are the future. We are

facing this year, challenges that have not been faced for

a hundred years. This generation will be the generation

that my grandparent's generation was to me. They had

faced the Spanish Flu, the Depression, WWII, the Korean

War, and at my age Vietnam and the unrest of the 60's.

They became tough, frugal, and sacrificing. They were a

selfless generation that built America into the greatest

nation on earth. They went to the moon and created

medical marvels. They understood the cost of Freedom,

the cost of a good living, and the cost of having a better

future for their families.

Siouxland Magazine | Grow/31

I was fortunate to have known some of my Great

Grandparents who were born in the 1880s and 1890s.

One of my Grandpas was born in 1904 and the other

in 1913. My Grandmas were born in 1905 and 1915. I

was blessed to not only hear their stories from their own

lips, but to see them live lives of honor, faithfulness, and

humbleness.

Historically, these times seem to only happen every 4

or 5 generations. They can either make steel or break

glass. You either become tougher than your problems

or it breaks your life. This generation is the generation

to do that.

Where I am going with this is that the millennial

generation and younger are facing challenges I never

had to face coming up. We had our own challenges,

but not like this. This generation is being challenged to

either become like my Grandparents and become the

next greatest generation or become a bunch of weakwilled

people who can't rise above.

I believe most people in this generation will rise to

the challenge and produce the greatest generation

America has ever seen. Yes, there are those who are out

destroying and burning the very cities they live in. Yet,

the majority are doing something that doesn't make the

news very often.

They are quietly building a future. A future that includes

prosperity and peace for our nation and their families.

They are building a future the solves the challenges

they are facing. Social media is a great tool, but it is not

the be all end all of life. This generation is showing this

by staying connected but also building families which

are the bedrock of any society. They are also building

true community with their neighbors and friends. I saw

this demonstrated on the 4th of July. I think I was the

oldest person at a block party with about 40 people and

probably 15 were kids under 10 years old.

No matter what people see or hear on social media

or the news. The vast majority of this generation are

more than capable of rising above the challenges we are

facing. This is seen in the lives of the young entrepreneurs

that I work with daily. They have a vision and a dream worth

pursuing. They are taking risks and building value into their

lives and their communities. They are making a difference

and the world is better off because of what they are doing.

So, if you are older like me; let's not tear down this generation

by pointing out the bad things we see or hear. Let us build

them up by pointing out the good things we see and hear.

Encourage each other to succeed and overcome. Encourage

each other to love your neighbors and your country.

If you are part of the younger generations, focus on

something bigger than you. Focus on building a future

that includes a better world for your kids. Focus on peace,

prosperity, and the continuance of Freedom in America and

the rest of the world. Yes, take care of yourself and your

dreams. Just remember that it truly will be up to you to make

the world a better place than you found it. I know you can

do it and am confident that you will. My generation is here

to help. We want you to succeed. We want you to have what

we had only better. I hope I live to see what you make of this

wonderful country we live. I think it will be marvelous!

Todd Rausch, SBDC Regional Director at Western Iowa Tech

Community College. The SBDC is a Federally and State funded

agency that is designed to help entrepreneurs start, grow, and

eventually pass on their business. Your success is our mission.

Photo Credit Britton Hacke Photography.
---
downtownsiouxcity.com
---
Building for the Future and Our Future Leaders

By Grace Nordquist

Sioux City is home to many successful and

talented young professionals, as is revealed in

the competition for each year's Top 10 under 40.

This competitive list of applicable candidates brings new

and innovative ideas, passion, and drive to Siouxland.

Like most professionals, being involved, networking,

and keeping busy are a part of the daily grind. Despite

the busy lifestyle, many are still looking for places to live,

events to attend, and things to do among the bright lights

and night life of downtown Sioux City. Amid our current

pandemic, or lifestyle reset, downtown is changing and

growing to host whatever the future brings.

Downtown Partners is launching a brand-new video

series to give viewers the inside scoop into everything

downtown. The first in this series focuses our community's

need for affordable, market rate housing. Developers are

almost completed with several new living, working, and

lodging units. In a world where staycations and coming

home to be closer to family is trending, downtown is

prepared.

If you're curious as to what downtown living is all about,

this video series takes viewers inside all types of residential

living spaces downtown. It explores each type of unit, its

highlights, location, and building amenities. Bluebird

Flats, Copper Flats, and The Warrior Apartments are the

new residential spaces to the scene, with Historic Pearl

Street, the United Center, Virginia Square, the Williges

building, and 4th & Jackson condos all well established.

With units available for rent or for sale, and other buildings

Inside peak to Downtown living at Bluebird Flats.

full, downtown living offers a variety of options to fit just about

anyone looking to call downtown home.

Downtown Partner's Business Development Coordinator,

Grace, guides you through these videos with enthusiasm

(and maybe a few bloopers) that take you around for a look

inside downtown. Siouxland has been, and continues to be,

a welcoming environment for professionals, families, and

all generations. By keeping this energy, we will continue to

create a more vibrant Sioux City.

Contributed By Downtown Partners, a non-profit organization

that works with downtown stakeholders to create a

vibrant, expanding downtown. To learn more about Downtown

Partners and to stay up to date on downtown projects

and events, visit www.downtownsiouxcity.com.

Photo Credit Jennifer Morgan.

Siouxland Magazine | | Grow/33 / 39
---
Siouxland Magazine | Grow /34

Sioux City Growth Organization Board.

Young Professionals Dedicated to Making a Difference

By Emily Vondrak

For 18 years now, Sioux City Growth Organization

has been carrying out our mission of attracting,

developing, and retaining young professionals in

Siouxland by providing insight and opportunities

to help shape the future of our community. Our

organization carries out this mission by upholding our three

pillars of Networking, Volunteering, and Getting Involved.

We host and participate in a wide variety of events each

year, from nonprofit fundraisers and Chamber of Commerce

connects, to holding our own workshops for local college

students and happy hour networking each month. We want

our current and future members to learn more about all

the Siouxland community has to offer, and why they should

consider a future here, too.

We actively take part in continually improving Siouxland

through a wide array of initiatives. Our annual Innovation

Market has been providing resources for local

entrepreneurs for 10 years now. GO University allows us to

meet with college students around the area and share our

experiences, offer advice, and advocate for the community.

Projects like Sculpt Siouxland and our upcoming Downtown

mural allow us to invest in things that matter to us, like the

continued beautification of our cities.

SCGO not only helps young professionals to find a likeminded

community to network, volunteer, make friends,

and grow their careers, but it helps the community by

giving us a platform to work from on projects that matter,

while retaining our members in the area. We've created a

community of young professionals dedicated to making

a difference.

"Sioux City Growth Organization has impacted my life

in so many ways. I remember one of the first times I

learned about the organization was when I heard about

their entrepreneurial event, the Innovation Market. I love

thinking about businesses I would love to start or see in

our community, and after attending, I knew that this was a

group that was focused on community improvement. Since

that first meeting, I have met some of my best friends in this

organization, benefited from the professional networking,

and witnessed its ability to retain young professionals in our

community."

-Alex Watters, Sioux City Council Member

"When first joining SCGO I didn't realize the impact it

would have on my life. To be honest, I first viewed it as a

great opportunity to meet new people, network, and build

a resume. I didn't realize that during the last 3 years I would

have been introduced to some of my closest friends and

have the opportunities to learn different tools that allow

me to not only grow as a young professional, but overall

as a young woman. A job or career might lead you to a

certain city, but it's the friends and connections you make

along the way that keep you there. Sioux City, and the Sioux

City Growth Organization, is no different. My connections

through SCGO and the friends I have made are the reasons

why I love Sioux City and why I what to continue to educate

everyone about everything that Sioux City has to offer."

-Kalynn Sortino, MidAmerican, SCGO President

"SCGO's Innovation Market is great for Siouxland because

it helps businesses out with some startup capital and helps

promote the growth of new businesses in the area."

-Erik Martin, Owner, Marto Brewing

Interested in becoming a SCGO member? Anyone is

welcome- regardless of industry or age! Learn more about

how you can join our community and make a difference in

Siouxland by visiting our website at siouxcitygo.com or by

liking our page on Facebook.

Emily Vondrak, Marketing Board Chair for Sioux City

Growth Organization.

Photo Contributed By SCGO.
---
Leadership Skills Needed in Today's Environment

By Peggy Smith

"You gain strength, courage and confidence by every experience

in which you really stop to look fear in the face."

– Eleanor Roosevelt

How does one be an effective leader in a world

that has changed so significantly in 2020?

What skills do new and aspiring leaders, as well as

experienced and long-time leaders, need to concentrate

on?

I love the above quote from Eleanor Roosevelt since we

have all been dealing with uncertainty and loss of control

for months now – scary stuff indeed! Expecting life to get

back to normal is unrealistic; knowing and accepting

the need for constant reevaluation, readjustment and

realignment are key.

So perhaps young professionals just getting started in

their careers have an advantage – they are not caught in

the trap of "we've always done it this way" and "if it isn't

broke, don't fix it". Now is the time to do an overhaul of

the way we work, the way we communicate, the way we

treat others.

Reflecting on the most important leadership skills and

attributes to be successful today is something we should

all do. Here is my list –

• Collaboration. Now more than ever, none of us have

all the answers. We need each other – we need to

collectively problem solve. The last few months have

affected everyone in different ways and helped

people find new strengths. Let's use each other's

strengths to complement our own weaknesses.

• Communication. Remember when email was new

and one thing you learned was NOT TO USE ALL

CAPS AS IT MEANS YOU ARE YELLING AT ME? Now,

with remote working more commonplace, simple

email etiquette is even more important. Take care to

reread your emails before hitting send, reading them

as if you were the recipient not the sender.

is that your task is more important than the person

you are talking to. And use video – seeing someone

makes the discussion more personable and more

"real".

• Embrace change. Learn to appreciate, and even

look forward to change. After all, it is inevitable and

never ending. You do not have to like it, but you

need to understand it and accept it. This skill is not

an easy one – and requires constant attention to

become proficient at it!

• Stay informed. But, choose and limit your sources

of information carefully. Be sure you are receiving

credible information from diverse points of view

and not limiting yourself to only sources that "agree"

with your opinions or sources that are not vetted.

• Practice gratitude. Be grateful for the experiences,

good and bad, that are shaping you as a leader. Be

grateful to the people that are causing you to look

at things differently, causing you to reconsider and

change your perspective.

• Mentor and be mentored. We need each other

more than ever – and need to help others along the

way.

I am excited to see how leadership will change

and how the young professionals in Siouxland will

shape our community in positive ways we can only

imagine!

Peggy Smith, Executive Director of Leadership Siouxland,

a non-profit organization that has over 1000

graduates that are now making positive differences in

their community.

Siouxland Magazine | | Grow/35 / 39

• Multitasking is overrated. When meeting remotely

with a coworker, your boss, or your employee, do

not multitask. It is annoying to hear keystrokes while

having a one-on-one discussion. Plus, the impression

Leadership Siouxland develops diverse,

informed leaders who shape our community for today and tomorrow.
---
Siouxland Magazine | Grow /36

Britton Hacke Photography

On Facebook and @britton_hacke_photography on Instagram

Running a senior special now through August.

$50 off any booking.

Limited spots.
---
Sioux City Scoop – The New Normal

By Julie Schoenherr

As a small business

owner, I am learning the

relevance of the trending

terms 'we're living in

very fluid times' and 'the

new-normal'. Every aspect

of my business model has

become fluid. Everything was

changed and then changed

again. Not limited to my

business, but as a member of

City Council I have become

Julie Schoenherr familiar with even more of

this 'new-normal' verbiage:

flatten the curve, essential workers and social distancing.

Now even the word Zoom has new meaning to several

million working professionals.

Working professionals, also known as the elusive

young professional. Just who are they anyway? Young

professionals are out of school and are employed in

a professional or a white-collar occupation with an

age that ranges from 23-35 years old. They are highly

sought after. You can ask any business owner and they

with confirm that one of the greatest challenges of their

business is hiring and retaining young professionals for

long term employment.

How do we retain local graduates and attract top talent

to Siouxland?

new business that may offer other amenities attractive

to urban dwellers. We really are amid developing all

of the conveniences of urban living and within walking

or biking distance to potential employers new to our

area. The Entertainment and Historic Districts are well

established and growing along with our great Riverfront

that has just begun its reconstruction. Additionally,

Downtown is not the only area adding new living spaces.

The Sunnybrook area has grown exponentially in the last

several years. Development in the southern Leeds area

has also added multi-family housing. This is an exciting

time for our community as these developers invest in our

City housing.

Create new jobs; another very tall order. For nearly all

employers, the issue of a new location choice is driven

by labor. Will they be able to attract the white-collar skills

and trade skills needed to operate a new facility? Staffing

has become more critical than the perfect location for

the new building site. For years we have heard the ageold

adage location, location, location. We may need to

update that adage to amenities, amenities, amenities.

Recapping the near mandatory requirements of both the

employers and 'new-normal Pros'; ample and affordable

housing, quality-of-life amenities, good schools, sound

infrastructure, cultural opportunities, uncomplicated

transportation, restaurants and outdoor spaces. Keep

in mind that list is tops for both- employer/employees

looking for new locations. From the employer's

perspective, if a city can fill the checklist, the employer

can fill staffing requirements.

Siouxland Magazine | Grow/37

Attracting and retaining young professionals is one

tall order. However tall the order, our community is

preparing to do what we need to do to fill it. Young

professionals and even empty-nest professionals are

attracted to a 'new normal'; an employer located in a

city where quality-of-life amenities are prevalent. The

'new-normal Pro' is a professional less focused on big

houses, cars and living in suburban neighborhoods.

They are looking for smaller more compact housing

which includes lofts, apartments, and multi-family units.

Walkability, close-by neighborhood services, eateries

and entertainment all rank at the top of the pro's wish list.

Our job is to get out in front of them with a community

that screams 'we've got all of that and then some.'

I am excited to be involved with our City's growth both as

a small business owner and as a City Council Member. We

have much to look forward to. Becoming one of Iowa's

most sought-after cites is going to be our 'new-normal'.

Julie Schoenherr, Sioux City Council and owner of SoHo

American Kitchen & Bar.

Photo Credit Michel Rohner, Studio 712

We are well on our way to completing their newnormal

lifestyle check list. Developers are nearing the

completion of hundreds of apartments in our amazing

Downtown district and Virginia Square is finishing their

phase three mixed-use apartment complex. Some of

our great historical buildings have become some of

the absolute coolest apartments in the tri-state area.

Developers are wise to include mixed-use space to attract
---
Siouxland Magazine | Grow /38

Quality discount fuel

and tobacco, plus

grab n' go drinks,

snacks and hot food!

Join our Rewards Program

and save 5 cents off

every gallon of gas and

diesel! Fleet cards accepted!

Make your day better with Sweetwater Café's specialty

coffees, savory soups, delicious sandwiches, fresh salads,

and sweet baked goods!

Open M-F

7:30am-4:00pm

Sioux City:

Ho-Chunk Centre

Skywalk level

600 4th Street

712-224-4226

Winnebago:

Ho-Chunk Village

601 Buffalo Trail

402-983-9457

Sweetwatercafe.net

Emerson • Rosalie • Sloan • South Sioux City • Walthill • Winnebago

Ponyexpressstores.com

712-276-STEM

joint relief

WitHoUt

SUrGerY

SIOUXCITYSteMCellS.COM

learn more about stem cell treatments and find out how you can receive a

Free Consultation by visiting our website or calling now.
---
So, you are the CEO = Chief of EVERYTHING Officer?

By Linda K. Krei (ActionCOACH ExcelEDGE)

Really? Are you stuck here? Are you getting the

results you want? CEO should not mean Chief of

EVERYTHING Officer. Being the "Boss of Everything", or

acting as if you are, no matter what your title, can be

a burdensome space. There is an illusion that being

your own boss gives you autonomy, control of your

own schedule, unlimited earning potential, freedom,

and flexibility. Yet the reality is many of us experience

anything but that, de-energized from constantly

reacting and "putting out fires", or running and spinning

in place (like being on a hamster wheel) without making

progress on those things that matter.

In reality, "being the boss" means you report to

everyone. And, if we are honest with ourselves, many of

us are simply not good at being our own boss.

A key to being an effective leader at any level in any

human operating system, (including our Personal Family

relationship and in your Professional role) is recognizing

that you simply cannot do everything, so stop trying my

friends!

Instead, reframe your thinking as the

"Chief of What Really Matters".

1. Schedule time to think

It is incredibly easy to get caught up in the daily grind.

You end up tirelessly working in the business to get

stuff done yet neglect to work on the business to build

longevity. When was the last time you blocked out time

on your calendar just to think? A first step for you may

be scheduling time to strategize and work on your

business to help get out of reactive mode. Your priorities

will become surprisingly clear, as the busy-ness fades to

the background. Treat your business like your V.I.P. client

and give it the devoted time it deserves.

2. Be a ruthless self-critic of your own results

(not your intentions)

Whether in business or personal life, we tend to judge

others based on their actions and results, but we judge

ourselves based on our intentions. Do you see how

this can cause a problem when you are in charge? For

instance, you might intend to complete an important

task but end up pushing it aside to deal with some

"urgent" issue. Sure, you had good intentions, but the

vital task still did not get done, and your good reason is

simply an excuse.

How will you measure whether you WIN this week?

Define your winning result in advance, and schedule time

on your calendar to take proactive, priority-focused steps

toward it. Get one step closer to where you want to "BE".

And remember, if you do claim the title of Chief Executive

Officer, executing on a few things well, the "critical few"

instead of the massive many, will always take you further

than trying to keep up with "everything".

What is Your Personal Relationship with Time?

While a lot of people are frustrated with the way they are

managing time, each person's specific issues are different.

Buried under the demands and chaos are hints of individual

strengths and weaknesses, personality style and

preferences. Let's find your unique styles and sources of

energy and re-discover what brings you joy. Let's begin

the process of custom designing a solution that will be a

true match for who YOU are. Your relationship with time

comes under three areas:

• What's working and what's not

• Your time management preferences

• Your energy cycles and sources

Successful people increase the Value of their time, the truly

Valued currency, and in doing so it doesn't feel so finite.

So, Take Action with ActionCOACH! Simply go

to https://go.oncehub.com/lindakreiactioncoach

to schedule your complimentary Time Mastery

evaluation and assessment with Coach Linda Krei.

We'll get you off the "hamster wheel" and making

real progress with Real Results.

As an award winning,

globally recognized,

Certified Executive

Business Coach and

Facilitator, Linda would

love to help you take your

leadership to the next level.

Contact Coach Linda Today!

Siouxland Magazine | Grow/39

Are you "putting an oxygen mask" on everybody and

everything except yourself? Be sure to focus on your

own self-care, body, mind and spirit, which by the way is

NOT self-ish care!

Linda Krei, ActionCOACH Excel Edge

712.251.7189

E: lindakrei@actioncoach.com

ExcelEdge.Actioncoach.com
---
alance

Inside and out.

Forgive with Action

By Hali Benson

Forgiveness for many can be harder

than pulling teeth, when we think about

forgiveness what comes to mind is "they did

x, so why should I have to forgive them" --

and most frequently we could think that way

and go on living our lives without changing

our perception. Today, I want you to understand

a new perception of forgiveness and the quote

goes like this, "Unforgiveness is like drinking poison

yourself and waiting for the other person to die." It is

a slow, painful withering from the inside out and it is

detrimental to growth. I am here to tell you, there is a

process to forgiving and I will keep it short:

First, show up… come with a pen and paper and write

down the things that are bothering you. This could

be about yourself; it could be about someone else.

Make sure to write every emotion, feeling, context

and event that comes with the notion that you need

to forgive. When we allow ourselves to be vulnerable

and write down every detail then it is no longer in

our head festering and growing to be something

larger. After you are finished writing, walk away.

Give yourself a brief 5-10 minutes or even the next

day to notice your body as you release all that you

know to something other than your mind. Then, with

clear eyes, and a decluttered mind come back to that

journal and process the information. Find the lesson,

build courage to take responsibility for your actions

or lack thereof and speak to yourself a wholehearted

apology and if need be, reach out to the other.

And here is how it goes, an ancient Hawaiian word

called ho'oponopono meaning, "to make right" is the

example I am using to help you through this process.

To make something right means that you must let go

of the ego, CHOOSE to see the teaching, and ask for

forgiveness. Ho'oponopono is (1) I am sorry (2) Forgive

me (3) Thank you (4) I love you; so, there is essentially

four parts to this one practice. As an example: I'm

sorry Hali for mistreating you when I didn't honor

your highest Self, please forgive me as I learn today

that I cannot bear the weight of other's problems but

rather listen and release, thank you for embodying a

woman with grace and ease and a woman who can

be counted on, I love you. This practice is not meant

Hali Belly Breathing.

to be perfect, but rather about connection -- when we

seek forgiveness it is humbling, raw but utmost relieving.

It truly comes down to a choice.

Now, I did not say this would be an easy process, in fact,

this might cause you to tremble. But a heartfelt trembling

forgiveness is much better than a slow death of bitterness

and resentment. Much of our unforgiveness is habitual

or a pattern of not processing our emotions as they

come. If we have a body full of unprocessed emotions it

wreaks havoc on the body as a whole and eventually, we

have other underlying problems down the road such as:

short tempered, weakened immune system, unsettling

thoughts, or coping mechanisms. The good news is,

at any point in our life we can choose to stop the habit

and correct the course of our life. This all begins with

connection, with yourself and our loved ones.

Finally, be consistent with forgiveness. Know that it is not

a one and done practice, it is a daily responsibility that

we courageously choose and slowly over time it will get

easier because you are getting comfortable with the

discomfort. And if you do not have a daily practice of

solitude, enjoy the Belly Breath exercise I have provided

to begin your healing journey.
---
eathe

clarity

nutrition

flexibility

Belly Breath for Healing

Create a safe space by first clearing whatever space

you will use with a sage smudge, lighting candles,

putting on light music, and gathering blankets and

pillows for your comfort.

Lying comfortably on the ground or in your bed,

supported and warm, relax into your body.

Begin with natural breath, at which point you may feel

into where your hands want to be – perhaps next to

your body with palms facing up, perhaps one hand on

your belly and one on your heart.

Begin by inhaling deeply into your belly, then a

secondary deep inhale through your heart. This should

feel like you are flooding these areas with oxygen.

Bring your awareness to any thoughts or feelings that

come up, noting them, inviting them to flow freely.

Exhale out of your mouth, bringing awareness to

trusting in love and connection.

Moving in this way – belly, heart, mouth – repeat for

up to 30 minutes of active breathing, maximum,

followed by 15 of regular, relaxed breathing.

Be mindful to stop if you truly feel uncomfortable,

slow down when necessary, and tune in to your

body. Allow yourself to cry. Scream. Vocalize however

you need to. If messages – sentences, affirmations,

mantras – come up for you, repeat them silently out

loud as feels appropriate.

When you feel that you are finished, stay in a resting

Savasana position, and return to natural breath. You

may feel tingling, tightness in your hands, or a sense

of mild physical exhaustion. These are all temporary

and are signs that you have really moved some things

around.

Try coming to your sacred space 3 times a week to

feel into your body and become present.

Hali Benson, a certified Holistic Nutrition and Wellness Practitioner helping clients heal through nutrition, yoga and

spirituality. You can find her under the name of Blossom Services at https://blossom-services.webflow.io/.

Photo Contributed By Hali Benson.

Resources: https://www.laughteronlineuniversity.com/hooponopono-4-simple-steps/
---
Siouxland Magazine | Balance /42

An Earth Education

By Dr. Meghan Nelson

It's important to consult your physician or physical therapist

before beginning any new physical activity or exercises and

always listen to your body and respect any warnings you hear.

My husband and I were recently re-watching The

Revenant (2015), the story of one man's struggle

for survival after he was abandoned and left for

dead. In the film, there's a reminder that if you were to

only focus on the branches of a tree during a storm, you

might think the tree will fall, but if instead your awareness

is on the trunk, you'll see that the tree is strong and steady.

Like the tree, when our roots are strong, when we are

connected, we are a mighty creation.

To be grounded is to be aware and present, to be able

to keep things in perspective with equanimity. We

need this now more than ever, this ability to keep our

internal compass aligned to our soul's true north. Enter

grounding, or earthing. When the human body is in

bare contact with the earth, like when walking barefoot

through sand or lying flat in the grass to watch the clouds,

we are transformed. If you haven't tried this in a while,

here's your invitation.

Studies point to several health benefits including

improved muscle recovery and decreased tissue

damage and inflammation from grounding, in addition to

reducing sleep dysfunction, pain, and stress from cortisol

regulation. Recent studies illustrate cardiovascular

benefits of grounding as well. Grounding increases

the charge of red blood cells, which decreases blood

viscosity and clumping. How profound is it that we can

decrease cardiovascular disease and events like heart

attacks and strokes simply by connecting with Creation?

It's no wonder then that research also suggests that

grounding increases pleasant and positive moods.

Why are we all not taking large dosages of this earth

medicine? Many are, I'm sure. All the filled local, state and

national parks reveal how this pandemic has reshaped

the contours of both our personal and collective

experiences—reminding us that almost all the best things

happen outside and that in reconnecting with nature

we are re-envisioning that deepest part of ourselves.

What a gift and opportunity it has been to get out of

our office buildings, off airplanes, and back out into our

environment on our feet again!

Try these 3 yoga poses to ground down, to cultivate a

positive relationship with this island Earth. To experience

the maximum benefit, perform these poses on bare earth.

Savasana or Corpse Pose: Lie down. Be still. Do

nothing. Moments to learn, a lifetime to master.

Bridge Pose: Start by lying on your back with knees

bent and feet on the earth. Track your knees in the same

direction as your toes point and keep the knees steady

and strong. Lift your pelvis and sacrum up to the sky

as you draw knees away from hips with the strength

of hamstrings and quadriceps together. Feel yourself

bridge up from your roots to your heart.
---
Single Leg Bridge Pose: To increase demand on the

hip stabilizers and core muscles, extend one knee at a

time and keep the pelvis level and steady by drawing

core muscles in to stabilize.

One of the great wisdoms included in the Book of

Ecclesiastes is that the sun still rises and that Earth

endures forever. We cannot destroy this Earth, only our

capacity to live on it. There's no geographical cure. Our

destiny is inexorably bound to our planet's. Now, more

than ever, we are called to stewardship—healing this

Earth requires healing ourselves first. So, take off your

shoes and step outside. Our work begins.

By Dr. Meghan Nelson, a licensed physical therapist and

professional yoga therapist with a passion for using yoga

as medicine for optimal health, injury prevention, and

overall health and wellness. Meghan is co-owner of Lumin

Therapy, which provides integrative healing of the mind,

body, and spirit through the practice of physical therapy,

medical therapeutic yoga, and mindfulness.

Photo Credit Britton Hacke Photography.

Siouxland Magazine | Balance /43

Warrior II: Stand with a wide stance and point the

front foot toward the front of the mat/space and bend

into that knee while you keep your back leg and knee

extended and grounded toward the back of the mat/

space. Keep the hips open as the arms raise to shoulder

height with fingertips reaching in opposite directions.

The trunk is open and upright, spine neutral, over the

hips and pelvis. Stand strong and confident in the

present moment, aware of the past that's guided you

and the future you manifest.
---
Siouxland Magazine | Balance /44

Committing to development.

Ask the Therapist

By Jackie Paulson

Question: "How do I communicate with my partner

when we are fighting?"

Response: Conflict is a natural experience in any

relationship, especially ones that are committed and

long-term relationships and if we live with that person! I

invite you to first consider that conflict can be life giving

and regenerative in relationships. Disagreements and

challenges are opportunities to build trust and deeper

intimacy with the ones you love. I also would like to offer

the disclaimer that I am offering a general exploration to

what can be an incredibly unique and dynamic experience

for each couple or relationship. And to remember that

physical violence and/or abuse is a serious matter that

requires more than what is being offered in this article. I

have included a resource at the end of this article.

I want to point out a caveat to consider when approaching

hard conversations. TRUST. In Dr. John Gottman's, a

relationship expert, research on trust, he found that when

it came to trust, mutual payoff is important. That a partner,

for instance, will trust his/her partner more if they know that

their partner has their best interests at heart and are not

just only focused on his/her own benefits. If you are asking

someone to make changes that will dismantle some of the

power that they hold, there will need to be a buy in. And if

anything, help them see that ultimately by engaging in this

conversation with you, that albeit it being uncomfortable,

they may have some further perspective and intimacy with

you by having it. My hope is that you will find that your

relationships with your loved ones may be deepened by

Send Your

Questions to

the Therapist.

this experience; especially if both of you are willing to

come to the table with an open heart and allow yourself

to be influenced by one another.

In his further study of conflict and trust in couples, Gottman

addresses two states that couples (I invite you to broaden

this across all relationships) can begin exploring conflict

in. These two states are Positive and Negative Sentiment

Override, first developed by Robert Weiss in 1980.

Basically, this means, in what state am I approaching this

person that I might be in conflict with? Do I see them as

inherently good or inherently bad? It is important to find

ways to both hold others accountable, speak the truth

and appreciate the good in them as well. Especially when

it comes to our loved ones, remembering again to keep

our heart open to them while simultaneously staying

assertive with what we are trying to say. Having trust

supports the communication process, but we can also

begin to communicate even if trust is not there. Gottman

shares six steps that will support resolution in conflict and

healthy communication. These six steps include:

Softened Startup

1) Accept Softened Influence Startup

2) Make Accept Effective Influence Repairs During Conflict

3) De-escalate Make Effective Repairs During Conflict

Psychological Soothing of Self and Partner

4) De-escalate

Compromise

5) Psychological Soothing of Self and Partner

6) Compromise
---
Let's begin with Softening your Start-Up. Consider the

energy in which you are even approaching someone to

have this conversation. Specific ways you can approach

conversation with a "softened start up" is take your own

responsibility first. Let the person know that you are

doing this work, too. Other ways to engage in softened

startup include using "I statements", being polite and

being appreciative.

Second is to accept influence. This does not mean that

we have to agree with everything the other person is

saying, but we can be empathic and understanding as to

why someone might have the perspective they do.

Making effective repairs during conflict may mean

admitting when you do not know something, yet or when

you might have said something that wasn't exactly right.

It is ok to say that you need to do some further personal

reflection and come back to that point.

De-escalation means having the skills to be able to ride

the waves of conflict conversation. Make a commitment

to notice when the energy is rising and when you and/or

both parties will need to take a deep breath and come

back to center.

It is ok to take a break from the conversation and come

back. Self-soothing can be something that allows you to

become grounded back inside your body.

Finally, compromise. To me compromise is not only about

"giving in some to get some" but also about knowing when

you have come as far as you can in this moment with the

dialogue. It is about being willing to take it in stride and

commit to keep showing up to the conversation. There

may also be times in which the person you have been

trying to communicate with is not willing to engage in

healthy communication and conflict resolution with you.

It may be time to consider some boundaries around that

relationship. If this person is a partner or family member,

it may require you accessing further support from a

therapist to help you evaluate how to proceed with that

dialogue. It is possible that in these times, we may have

to separate from some to join with the greater cause.

You will not always get this right. Staying open and as

non-defensive as possible will be key in the success of

these conversations.

I hope this article has helped you begin to have these

conversations and invite you to reach out for support

from a professional if you need more specific guidance

on how to approach the feelings within your own heart

and the relationships in your own life.

Further, if you, or someone you know needs help

because of domestic abuse; please consider reaching

out to our local resource, Safe Space Siouxland. http://

safeplacesiouxland.org or 712-258-7233.

You can submit your "Question to the

Therapist" by visiting jackiepaulson.com and

send your question through the contact page.

Please put "Question to the Therapist" in the

subject line.

Jackie Paulson is a Licensed Mental

Health Counselor and Registered

500 Hour Yoga Instructor. She has

over a decade of experience in

the helping field and offers holistic

therapies that combine an east

meets west approach to therapy.

Jackie specializes in working

with adults who may be experiencing a wide array of

concerns; including, relationship difficulties, sexuality

and intimacy, depression and anxiety, trauma, grief

and loss, addiction, and other life transitions and

adjustments. Her training in mindfulness based stress

reduction, somatic work, existential theory and depth

psychology all enhance the investment of your time in

session with her.

Ultimately, Jackie offers a humanistic approach and

Her overall hope is to empower individuals to seek

and connect into their own deep and sacred wisdom

that resides within them. Jackie believes that each

person has an innate ability to heal themselves and

journey through any experience with the right support.

You can sit with Jackie in her therapy office located on

Historic 4th street in downtown Sioux City. She accepts

BC/BS and other private pay options.

Siouxland Magazine | Balance /45

Photo Credit Sarah Ann Photography.
---
explore

Get dirty.

New bud and fruit setting on the Delicata Squash.

From Tiny Seeds

By Pamela Luebke Mickelson

How many of you grew up on a farm or

remember your mom and dad's garden? As this

summer's heat is bearing down, I think about them

often. The seeds, the weeds, the bugs, the heat, the

rain, the memories and sharing the bounty. I'm sure our

10 under 40 have memories about someone special.

My Dad had a way of always being positive. He believed

in a tiny seed laying in the dirt. He always said to just

plant them and tell them to grow. That's what I do. I put

the seed in the ground and say, "Now grow!"

This spring my husband prepared the garden for

planting by putting up a fence to protect the young

plants. However, over half were bitten by the late

snow. Forgiving myself for being too anxious to get

everything planted, I planted seeds a second time.

Sprouts appeared, so I was happy.

New to our garden this year are Brussels sprouts, garlic,

and delicata squash. How do you know when they are

ready to harvest, how big do they get, what plants will

they grow best near? All questions I wished I could

ask Dad. Now I know the Brussels sprouts are way

too crowded with the butternut squash. So fun to see

the little sprouts appear and the long trails of squash

shoots reach out around the tomatoes and corn. Our

daughter Martha dried Delicata Squash seeds and

saved them for us to try. The little babies are so cute.

All of our garden spaces – vegetables and flowers –

fight the elements. Because of COVID19, we haven't

taken any trips, so we get to watch every phase of the

garden. Usually we have been on a spring driving trip

to a National Park, but by being home we are on top of

any bugs, weeds, and water. Thankfully, my husband

hates weeds, and keeps them at bay.

Rain and wind are very unpredictable during the

summer. I wonder about Dad's thoughts on this subject

more than any. He had acres of row crops in Arkansas –

mostly rice and soybeans. If it rained, praising the Lord

for blessings on Sundays at First Lutheran Church in

Little Rock was in order. But the wind was dangerous

and could knock down Dad's rice. Our little garden has

a few corn stalks blown down, but hardly anything to

fret over.

We've had a small bounty so far and we look forward

to more. Lettuce, onions, garlic, radishes, spinach, and

kale have been wonderful. The zucchini, cucumbers,

tomatoes, and eggplant are starting to produce. I know

everything will be delicious. It is definitely worth the

time and energy to have fresh vegetables on the table,
---
fresh air

get outside

protect

active

play

in the freezer, and share with others. Dad would have

had purple hull peas, okra, yellow squash, strawberries,

peaches, and pecans this time of year. Mom would have

made wilted lettuce, fried okra or eggplant, purple hull

peas with cornbread, strawberry jam and more for a

meal. Her recipe for frying eggplant and my zucchini

bread are shared with you.

On behalf of Up from the Earth, I'd like to congratulate

all of the 10 under 40 Class of 2020 for their community

work and individual successes. May you all know the

joy of having good mentors in your life as I did. Mine

happened to be wonderful parents, farmers and good

cooks who believed in tiny seeds and helping others.

Cooking station and notes:

• Heat yskillet with oil to a medium hot temp

• Line up the following close to the skillet: eggplant,

egg bowl, and cornmeal plate (add a little salt

and pepper to the cornmeal)

• Using a fork to grab a medallion, dredge it into

the egg first, then into the cornmeal, then into

the skillet. Your eggplant should sizzle around

the edges as soon as it hits the oil. If the grease

gets too hot and is burnt – throw it out and restart

the pan (voice of experience).

• Turn the eggplant over after (2 – 3 minutes).

• Serve immediately.

• Use the same recipe for okra, zucchini, and yellow

neck squash.

• If you are worried about calories, you can follow

a similar recipe and bake them.

Zucchini Bread

Prep time: 15 minutes

Cooking time: 1 hour

Yields 2 large loaves

Heat oven to 350 and prep two 5x8

bread pans with shortening and flour.

Delores's Southern Fried Eggplant

Prep time: 30 minutes

Cooking time: 15 minutes

Serves 2 – 3 people

1 egg (whipped lightly in a small bowl)

½ c. yellow cornmeal (in a pie pan)

salt and pepper

1 large fresh eggplant (about 6-8" long & 4" round)

or 6-8 skinny Japanese variety

Large iron skillet with ¼" cooking oil

Wash and cut eggplant into ½ inch slices, spread out

on wax paper, and generously salt. Allow to sweat for

20 – 30 minutes. Leave the peeling on for the best

flavor and use this process for any eggplant variety.

The salt sweat looks like little beads of water on top

of the eggplant and is key to allowing the eggplant

flavor to kick start.

Heat large skillet to a medium heat with about ¼" or

less of cooking oil.

3 eggs

1 cup vegetable oil

2 cups fresh grated zucchini with

peeling (those oversized ones are

perfect)

2 cups sugar

2 t. vanilla

2 cups flour

1 t. baking soda

1 t. baking powder

1 t. salt

1 T. cinnamon

optional: add 1 cup chopped nuts or raisins

Mix ingredients and pour into prepped pans and bake for

1 hour (check after 45 minutes). Let rest 30 minutes, then

slice and spread butter. Good frozen up to a month. You

can also shred and freeze the raw zucchini. The original

recipe was in a Holstein Lutheran Church cookbook.

Pamela Luebke Mickelson, a retired professor of Business from

Morningside College, a member of the leadership team for Up

From the Earth and Air Museum, and a Southern farm girl and

believes in seeds.

Photo Credit Pam Mickelson.
---
Siouxland Magazine | Explore / 48

This year the

Sioux City Farmers Market is

taking a new approach.

Stop.Shop.Go.

Stop at the market, shop for

local products, and go home.

Please exist the market as

quickly as possible.

Here are

9 Things To Remember

when stopping at the market

this year.

1. No Pets Please.

2. Wear A Mask.

3. Send One Person To Shop.

4. Stay 6 Feet Apart.

5. Use Hand Sanitizer Often.

6. Wash Hands Often.

7. Don't Touch Food or

Products.

8. Wash Produce.

9. Please Shop & Exit.

Plan your trip to the market by

making a list of products you need

and by watching our Facebook Page

to see what vendors will be at the

Market that day.

Reach out to vendors directly to see
---
Volunteering for Success in the Outdoors

By Olivia Parks

Volunteering outdoors is a great way to spend

your time helping your community and cleaning

up the Earth. Being lucky enough to have good

jobs, friendly neighborhoods, and loving families

results in the feeling of a secluded daily routine. Along

with Dorothy Pecaut Nature Center and Woodbury

County Conservation Board, there are many different

volunteer groups and organizations that will

appreciate everything you have to offer and help you

create new connections with people who have similar

interests. Give back and appreciate what you have

in your environment by volunteering at community

events, cleaning up after activities, and other local

opportunities in your neighborhood. Volunteers

protect the beautiful natural places we love and gain

the experience and expertise to help support the

missions of the locations they aide.

Siouxland Magazine | Explore / 49

Here in Siouxland, we have many different

opportunities to volunteer, and volunteers can provide

unique talents to those organizations in need. Even if it

feels difficult to find a place to volunteer that will share

your interest, there is a fit! The first step to starting your

volunteering path is to determine what you want to do

while volunteering and what skills you can provide to a

location. Next, try to identify where those desires and

skills are applicable. By reaching out to those different

groups you can set up opportunities with them that

support your interests and benefit the community and

organization. If you are not sure what opportunities

exist, a great resource is a group called Volunteer

Siouxland. Volunteer Siouxland is involved with many

different agencies found in the Siouxland area. You

can explore agencies and reach out through Volunteer

Siouxland's website at www.volunteersiouxland.com.

Volunteering can boost your mental health by

providing a healthy escape and building social support.

Volunteering provides escape from destructive

habits and increases motivation by providing a sense

of accomplishment and usefulness from sharing

your skills with others. Feelings of usefulness and

accomplishment reduce stress, fight depression,

increase confidence, and give a sense of purpose.

Whether volunteering with seniors, children, animals,

or natural disaster victims, doing what is needed

will expand your mind, perspective, and worldview

through growing your compassion for others. Humans

also have social needs. While getting out into your

community, you can volunteer at a location that would

cause you to meet many other like-minded people

who have similar interests to you. Meeting these

people through volunteering prevents feeling isolated

and ignites a passion for your efforts to help your

community.

We have one of the Nature Center's Junior Volunteers

helping campers with activities at the playscape.

The experience that is gained from volunteering provides

a great advantage when searching for a career. Not only

are you gaining more advanced skills, but you are also

gaining experiences that many companies are searching

for in new hires. Additionally, volunteering is a networking

opportunity. You will also interact with a new group of

people, whether it is staff or other volunteers, which

will expand your network and provides connections

to opportunities, mentors, and references that you can

look back on when job searching in the future. Finally,

volunteering will help you understand yourself. You will

learn more about your skills, accomplishments, interests,

and values, while also learning to be confident in yourself.

As you learn your strengths and build new skills, you will

create a foundation of career success and confidence in

your potential.

Siouxland has many opportunities to volunteer, and with

variety comes the opportunity to find the perfect fit for your

interest and skills. Volunteering increases mental health

through healthy escape and social ties. Volunteering is

also valuable because it creates frameworks for success by

building skills, networks, as well as igniting passions and

illuminating ways to make those passions careers. Best of

all, people of all ages can volunteer. Be sure to get involved,

get outside, and explore the opportunities available to you

in your community.

Olivia Parks, AmeriCorps 4-H Environmental Education

Naturalist, Dorothy Pecaut Nature Center.

Photo Contributed By Dorothy Pecaut Nature Center
---
enjoy

You only live once.

Wheelhouse Bar & Grill

Resilient Siouxland Restaurants

Siouxland restaurants and patrons rose to the COVID-19 challenge

By Kolby DeWitt

The COVID-19 pandemic hasn't left a single

aspect of life uninterrupted. The first event of its kind

in at least 100 years, humanity has yet again met a force

of nature that it has been compelled to bend to (at least

in the near and foreseeable term).

Perhaps the hardest hit sector is one close to me, and all

reading this column: the restaurant and service industries.

Iowa restaurants were given a mere two hours' notice

that they were to close at noon on Tuesday, March 17th.

Although expected at some point, many owners and

workers were taken by surprise at the announcement,

which came on the heels of the announcement of the

suspension of the school year. With the service and small

business economy already facing issues (i.e. workforce

shortage stemming from low unemployment, high food

prices, etc.), the pendulum swung even harder in the other

direction in the form of heightened health regulations, a

hindered supply chain, plummeting demand, and much

more.

However, Siouxland is often noted for her resiliency:

restaurants found many ways to survive. Establishments

whose business models that relied on heavier carryout

and delivery volumes were unwittingly insulated from

the worst of COVID-19. Milwaukee Weiner House, a

Siouxland stalwart, found success in selling "family packs,"

which allowed their faithful to purchase the ingredients

and enjoy Coney dogs and chili from the trappings of

self-quarantine.

Wheelhouse Bar and Grill switched to a carryout model,

and was also among the first restaurants to reopen. "The

public has been very supportive…We had a framework

in place to quickly accommodate carry-out and we

modified it as necessary. Since opening back up to 100%

capacity, the public and staff have been very responsible

about following recommendations," said Wheelhouse

Bar and Grill owner Dr. Ben Uhl. He continued "We are

almost back to expected normal business."

Sneaky's Chicken
---
have fun

entertainment

culture

gather

relax

Others took the initiative to remain open, but on a lesser

basis: Sneaky's Chicken, who's owner Dave Ferris was

mentioned and praised by Governor Kim Reynolds

during her May 12th press conference, reduced hours

and occasionally closed to adjust to the low volume.

"The last three months, without a doubt, have been the

most difficult of times I have endured in 45 years of being

in business!" exclaimed Ferris, who noted that Sneaky's

Chicken's adjustments were out of concern for the health

security of his valued customers.

Many eateries took the time close, take stock, and

accomplish other goals: The Golden Pheasant in

Remsen took time to continue to spruce up their

location, including reupholstering their booths. "When

the shutdown first happened, we had to change up our

operation to accommodate to-go orders. We have always

offered to-go, but not to this volume...we were able to

get a lot of things done that we were not able to do when

we first bought the place. We finished repainting the

dining rooms and even remodeled the bar," said Golden

Pheasant owner Tom Ahlers.

Navarette's on Highway 75 took time to conduct a deep

clean, and repaint areas. They continued to sell carryout

and "take and bake" platters, and were slow to reopen

widely out of abundance of caution for their employees.

Users of social media also rallied to patronize their

favorite restaurants to help them stay afloat during the

uncertain times: "Siouxland Local Eats is a Facebook

group designed to highlight local food in the Sioux

City area. Originally created to help restaurants survive

during the COVID-19 pandemic, Siouxland Local Eats

continues to serve as a place of discovery for those

looking for great local food and beverage options!"

said Andy Boesch in the description of Siouxland Local

Eats, as Administrator of a group boasting 23,579

members. Boesch added "I definitely would give credit

to our community! We provided a way to support local

restaurants and everyone showed up big time! (We)

couldn't have done it without everyone posting, sharing,

and most of all being intentional about supporting local."

To continue the theme of "taking stock" and changing,

this will be my final regular feature for Siouxland

Magazine's cuisine section. The opportunity to eat my

way across the region granted to me by owner/editor

Stacie Anderson (and previously by Susan Fey and Becca

Feauto) has been spectacular! I've had the privilege to

draft more than 20 articles about area titans (like Sneaky's

Chicken and SoHo) and others that I desperately wish had

hung on (such as House of Q and Charlie's). Siouxland

Magazine is as robust as ever, and I'm grateful to have

had a small role for the past 10 years and look forward to

its promising future!

Kolby Dewitt, writer for Siouxland Magazine since 2010,

who enjoys the delicious perks of writing about local food.

Photos Contributed By Individual Restaurants.
---
Siouxland Magazine | Enjoy /52

A La Mode's creatively colorful displays.

The Age of Ageless Fashion

By Erika Hanson

Q: I'm in my mid-40s, and wondering what sorts

of age-appropriate looks I should go for this fall?

– Lisa G.

Let's start with a proclamation: Age-appropriate is dead.

I am 46 years old. Ann B. Davis, who played Alice on the

Brady Bunch, was only 43 when the series began. And yet,

she was portrayed as the aging spinster, piling masks and

creams on her face at night in a desperate effort to remain

young-looking to further her undying efforts to snag a

husband.

I don't know about you, but I have exactly zero friends who

behave this way.

Register to

Appear in

Upcoming

Issue.

thing? Why bother with pants that require zipping when we

have elastic waists?

This fall looks different in more ways than we can count. But

it doesn't mean we can't treat ourselves to personal luxuries

that lift our spirits, no matter our age. There are a few trends

that I'm planning on leaving out of my autumn rotation. For

example – no strapless tops for me (when you wear them on

video calls, it looks like you're naked). But there are a few

key pieces that are

easy for anyone to

incorporate into their

wardrobe. And here

are a few local spots

to find them.

We are on the brink of the anti-aging execution. And

that's great news for females of all ages. Because whether

you're 20 or 70, it's a shift in the expectations that have

been placed on women for years. It means a new level

of freedom in expressing your true self through outward

appearance - whatever that means to you.

And what better time to experiment with your own personal

style than during the season that's traditionally ripe with

the most exciting fashion options of the year?

I'm talking about fall (of course). This year is, well, odd. Are

we ever going back to the office? Is back-to-school even a

Chocolate brown

appears to be the

quickest way to

update your look

with color and is a

shade that knows

no age limit. Deep

brown can be paired

with most other hues

in your wardrobe

and looks rich when

done in silky fabrics

and chunky textures.

Find a wide selection of shoes at

A La Mode.
---
Versona, located at Lakeport Commons in Sioux City,

has a great selection of chocolate brown tops, dresses,

and accessories that are versatile enough to take you

from end-of-summer to beginning-of-fall. Try it paired

with unexpected shades like light blue and pink, or more

traditional combos like ivory or camel.

Siouxland Magazine | Enjoy / 53

Patchwork is an emerging trend in 2020 Fall Fashion.

a geometric patterned t-shirt, or add to a tailored skirt, and

you'll have two more on-point looks to jazz up your season.

Fall colors and styles are everywhere at A La Mode.

Plaids that border on punk are hot right now, and I hit the

jackpot at Rue 21, located at Southern Hills Mall (by the

way - you don't have to be 21 to shop here). Check out the

killer selection of plaid pants in all color combinations, and

the cute little red and black plaid dress that can look casual

with sneaks, or dressy with a blazer. With a wide range of

sizes available, this is a great spot for playing with trends

without investing tons of cash. And if you think you're too

old for this look, channel your inner Debbie Harry (there is

no cooler 75-year-old on the planet).

Victorian-era looks were back on the Fall 2020 runways,

and what an amazing way to look posh from the waist

up for those non-stop video calls. Bohme at Sioux City's

Southern Hills Mall is the spot for Victorian blouses and

dresses that will add elegance to an at-home or in-office

workday. High necks, lace, and ruffled sleeves are details

to look for. For those of an age afraid to be mistaken for

the Queen of England – never fear. Just pair your frills with

jeans and simple accessories and rule your kingdom in

style.

Oversize blazers are still a big trend, and a fabulous way

to add a chic, undone feel to your look. Kohl's at Lakeport

Commons in Sioux City is like hitting the blazer jackpot.

There are so many colors and sizes to choose from that

you will have no problem finding one that's perfect for

you. A blazer can be paired with other trendy options to

give your wardrobe even more versatility. Throw one over

And check out patchwork for a fun boho variation to

otherwise standard wardrobe essentials. A La Mode at

Lakeport Commons is a locally owned boutique, and you

can find some great options here, including a fabulous

lightweight blue button-down with patchwork sides. Once

again, this is a look that can be incorporated into anyone's

wardrobe, regardless of age, and can be paired with

tailored staples or more casual pairings.

As the designer Marc Jacobs once said, "Clothes mean

nothing until someone lives in them." Real style is about

feeling like the most authentic version of yourself, feeling

comfortable in how your inner beauty is projected outward,

using fashion to instantly communicate who you are to the

rest of the world. And age has nothing to do with it.

Have a style challenge? Email Erika

at KingsFromAsh@gmail.com with a short

description (include a selfie if you'd like!)

and you could appear in an upcoming issue!

Erika Hansen, a lifelong Siouxland resident, model, mom,

and community volunteer. Curious about exploring the

connection between outward appearances and inner

power, Erika is passionate about making fashion fun, and

fostering a spirit of inclusion with no limits on age or body

type. You can find more of Erika's love of style, and her

modeling journey, on Instagram: @kings_from_ash.

Photo Credit Britton Hacke Photography.
---
Siouxland Magazine | Enjoy /54

LE MARS

Ice Cream Capital of the World

IOWA

(712) 546-6416

10 Central Avenue NE

Le Mars, IA 51031

www.claussensonline.com

urban-eclectic home décor

vintage nds nds • unique gifts

cards • • custom framing

jennifer scholten

manager

manager

15 central ave sw

15

le

central

mars, ia

ave

51031

sw

le mars, ia 51031

712.548.4447

jobasgifts@frontier.com

712.548.4447

jobasgifts@frontier.com

urban-eclectic home décor

vintage nds • unique gifts

cards • custom framing

urban-eclectic home décor

vintage nds • unique gifts

jennifer scholten

manager

jennifer scholten

15 central manager ave sw

le 15 mars, central ia ave 51031 sw

le mars, ia 51031

712.548.4447

jobasgifts@frontier.com

712.548.4447

jobasgifts@frontier.com

jobasdecor.com

cards • custom framing

The Willow Creek Campgrounds are completely

done! Starting in 2016 as part of the Community

Betterment Projects, Le Mars looked to restore

Municipal Park back to its glory days of the 1950's

and 60's and that included the campgrounds.

Work began that spring with the draining and

filling of the south pond for additional camping

space and has now more than doubled in capacity

and boasts 67 sites. Campers have access to

all the park facilities which includes the newly

renovated restrooms/showers, swimming beach,

3.6-acre spring fed pond, two floating docks, sand

volleyball, pickleball courts, playground, picnic

shelters and a 10-mile recreation trail. The DNR

has also stocked the pond so people can enjoy

fishing, but only as catch and release for now.

Another important part of the renovations was

the camp office/store which is located at the

west park entrance in a house that was used by

the park superintendent years ago. It is one of

several structures constructed by the WPA in

1937. It is now used by the onsite camp hosts

and has everything a camper might need like

firewood, bait, ice, candy, snacks, and fun items

for children - all from local vendors. Certain

100 Plymouth St West

Le Mars, IA 51031

712.541.6606

128 Central Ave SE | 712.546.4195

LeMarsBeautyCollege.com
---
Siouxland Magazine | Enjoy / 55

weekends throughout the summer you can enjoy

an outdoor movie projected on a giant inflatable

screen next to the firepit on the office lawn – just

bring your lawn chairs!

New this year is the addition of water "toys" for

rent. There are (6) single person kayaks, a 5-seat

paddle boat and a 3-seat paddle boat available

not only to our campers but also the public who

comes to enjoy the pond here at Willow Creek.

Also, this summer we were fortunate enough

to receive a donation of a life jacket station

and 40 life jackets from UnityPoint Health – St.

Luke's Emergency Department and St. Luke's

Children's Miracle Network of Sioux City. The life

jackets, which range from infant to adult sizes, are

available for anyone swimming at the park pond.

What are you

hungry for?

Order Online.

www.pspizzahouse.hungerrush.com

The Le Mars Municipal Park and Willow Creek

Campground was a booming and vibrant

recreation area for individuals and families

during the mid-century period and beyond. We

are so proud of the work that has been done to

bring it back to life. People traveled near and far,

and now do again, to enjoy this quaint historic

area along Willow Creek that Le Mars has to offer.

Shop the new online marketplace today at:

https://northwestiowa.shopwhereilive.com/

Additional businesses and products will

continue to be added, so stop back often.

ProLink

Julie Hurt ABR, CRS

REALTOR

Century 21 ProLink

41 Central Avenue NW

LeMars, IA. 51031

Cell: 712.540.7757

Office: 712.546.6833

Web: www.juliehurtc21.com

Licensed in Iowa