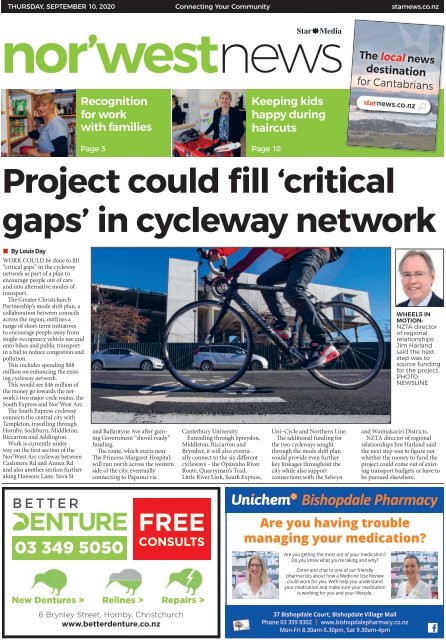 Nor'West News: September 10, 2020
You also want an ePaper? Increase the reach of your titles
YUMPU automatically turns print PDFs into web optimized ePapers that Google loves.
THURSDAY, SEPTEMBER 10, 2020

Connecting Your Community

starnews.co.nz

The local news

destination

for Cantabrians

Recognition

for work

with families

Keeping kids

happy during

haircuts

Page 3 Page 10

Project could fill 'critical

gaps' in cycleway network

• By Louis Day

WORK COULD be done to fill

"critical gaps" in the cycleway

network as part of a plan to

encourage people out of cars

and into alternative modes of

transport.

The Greater Christchurch

Partnership's mode shift plan, a

collaboration between councils

across the region, outlines a

range of short-term initiatives

to encourage people away from

single-occupancy vehicle use and

onto bikes and public transport

in a bid to reduce congestion and

pollution.

This includes spending $68

million on enhancing the existing

cycleway network.

This would see $46 million of

the money go towards the network's

two major cycle routes, the

South Express and Nor'West Arc.

The South Express cycleway

connects the central city with

Templeton, travelling through

Hornby, Sockburn, Middleton,

Riccarton and Addington.

Work is currently under

way on the first section of the

Nor'West Arc cycleway between

Cashmere Rd and Annex Rd

and also another section further

along Hansons Lane, Suva St

and Ballantyne Ave after gaining

Government "shovel-ready"

funding.

The route, which starts near

The Princess Margaret Hospital,

will run north across the western

side of the city, eventually

connecting to Papanui via

Canterbury University.

Extending through Spreydon,

Middleton, Riccarton and

Bryndwr, it will also eventually

connect to the six different

cycleways – the Ōpāwaho River

Route, Quarryman's Trail,

Little River Link, South Express,

Uni–Cycle and Northern Line.

The additional funding for

the two cycleways sought

through the mode shift plan

would provide even further

key linkages throughout the

city while also support

connections with the Selwyn

WHEELS IN

MOTION:

NZTA director

of regional

relationships

Jim Harland

said the next

step was to

source funding

for the project.

PHOTO:

NEWSLINE

and Waimakariri Districts.

NZTA director of regional

relationships Jim Harland said

the next step was to figure out

whether the money to fund the

project could come out of existing

transport budgets or have to

be pursued elsewhere.

03 349 5050

free

CONSULTS

Bishopdale Pharmacy

Are you having trouble

managing your medication?

Are you getting the most out of your medication?

Do you know what you're taking and why?

New Dentures > Relines > Repairs >

6 Brynley Street, Hornby, Christchurch

www.betterdenture.co.nz

Come and chat to one of our friendly

pharmacists about how a Medicine Use Review

could work for you. We'll help you understand

your medication and make sure your medication

is working for you and your lifestyle.

37 Bishopdale Court, Bishopdale Village Mall

Phone 03 359 8302 | www.bishopdalepharmacy.co.nz

Mon-Fri 8.30am-5.30pm, Sat 9.30am-4pm
---
2 Thursday September 10 2020

Latest Canterbury news at starnews.co.nz

what's on

this week

NOR'WEST NEWS

GENERAL INQUIRIES Ph 379 7100

CLASSIFIED ADVERTISING Ph 379 1100

Star Media, a division of Allied Press Ltd

PO Box 1467, Christchurch

starmedia.kiwi

NEWS

Bea Gooding

Ph: 021 911 576

bea.gooding@starmedia.kiwi

ADVERTISING

Monique Maynard

Ph: 021 372 481

monique.maynard@starmedia.kiwi

Your local community news

delivered to 28,748 homes

within The Star each week.

Harewood • Burnside • Bishopdale • Bryndwr

Fendalton • Merivale • St Albans • Mairehau

Papanui • Casebrook • Redwood • Styx Mill

Regents Park • Northwood • Belfast • Strowan

Wā Pēpi: Babytimes

Thursday, 10.30-11am

Shirley and Fendalton libraries

Encourage learning through

language. Babytimes is an interactive

programme including music, movement,

rhymes and a story. Recommended

for under two-year-olds. No

bookings required.

Citizens Advice Bureau

Thursday, 11am-5pm, Friday,

11am-5pm, Monday, 11am-5pm,

Tuesday, 2-5pm, Wednesday,

11am-5pm

Fendalton Library

Citizens Advice Bureau provides

free and confidential advice. They

take the time to listen and equip you

with the information, options and

support that fit your needs. Phone

941 7923 for more information.

Knit 'n' Yarn

Thursday, 2-3.30pm, at Fendalton,

Wednesday, 1-2.30pm, at Redwood

Fendalton and Redwood libraries

Take your knitting, crochet or

other craft projects and have fun with

a social group. This is a free, drop-in

event.

The Zone @ Shirley

Thursday, 4-5pm

Shirley Library

Go along and get to know other

like-minded teenagers. Go headto-head

on the PlayStation, mix

music with GarageBand, get creative

with green screen or play classic

Reading to Dogs, Tuesday, 3.30-4.30pm, Shirley Library. A relaxed, nonthreatening

event designed to encourage children to practice reading skills

and develop a love for reading. Registration required. Phone 941 7923 to

register.

board games. Suitable for ages 12

to 19-years-old. Free, no booking

required.

Cantabrian's Ceramics

Exhibition

Friday, Saturday, Sunday 10am-

4pm; Monday 10am-3pm

The Kiosk, Botanic Gardens

Potters showing best work, plus

bonzai, ikebana, floral arrangements

and sculpture.

JP Clinic

Saturday, 10am-noon, at

Fendalton, Tuesday, 10am-1pm, at

Shirley and Papanui, Wednesday,

10am-1pm, at Bishopdale

Bishopdale, Fendalton and Shirley

libraries

A justice of the peace will be

available to witness signatures

and documents, certify document

copies, hear oaths, declarations,

affidavits or affirmations, as well

as sign citizenship or rates rebates

applications.

GenConnect

Tuesday, 12.15-12.45pm

Papanui Library

If you have questions about your

smartphone or tablet, ask an expert

for advice. Free, no bookings required.

Upskilling Course

Wednesday, 9.30-11.30am

Shirley Library

Go along if you need to work

towards your learner driver's license

test and improve your reading, writing,

maths, and computer skills. Free

for NZ residents and citizens. Registration

required. Phone 379 1916 to

enrol.

Not-for-profit organisations can

send their What's On listings to

norwest@starmedia.kiwi

Purchase a

shower and

receive FREE

Enduroshield

coating

Team Bailey excelled at absolutely

everything.

You can't improve

on perfection!

- Jill Coupland -

10 MELTON PARK LANE WEST MELTON

Phone or text 027 555 7079

No.1 Harcourts Canterbury 2012-2020

cameron.bailey@harcourts.co.nz

No.1 Harcourts New Zealand 2017-2020

www.cameronbailey.harcourts.co.nz No.1 Harcourts International 2017-2020

Licensed Sales Consultant REAA 2008
---
NOR'WEST NEWS Latest Canterbury news at starnews.co.nz

Thursday September 10 2020 3

News

Recognition for work with families

• By Bea Gooding

JAN NOTTINGHAM'S passion

for supporting families of

young patients seeking medical

treatment in Christchurch has

been recognised.

The Ronald McDonald House

night supervisor has been

named as a finalist for the Westfield's

Local Heroes awards.

Each year, Westfield centres

across the country recognise

nominated role models for the

positive benefit their work has

on the community.

"It felt very humbling to have

the privilege of being one of the

finalists," said Nottingham.

"It's not even a job for me,

I'm doing something I love –

making a difference to families

coming through the door and

taking some of the weight off

their shoulders."

Nottingham lives at the RMH

full-time working night shifts,

making sure families felt at

home while staying at the house,

going above and beyond in doing

so.

Whether it was offering a

shoulder to cry on, providing

entertainment for children or

making sure guests had meals to

come back to after visiting their

child in hospital, she has been

a guaranteed source of comfort

since taking up the role in 2012.

Landing the job as a night

supervisor was a silver lining

after the February 22, 2011,

earthquake destroyed her home.

"I was one of many. I'm lucky

that mine has been all sorted as

lots of people are still struggling

with theirs long after the earthquakes,"

she said.

"My home-based business no

longer happened, but in hindsight,

as one door closed another

door opened for me.

"And that door was an amazing

door as it allowed me to take

a new journey into the next stage

of my life – being a part of people's

lives and giving back."

It was not always easy to

witness families in times of

distress, Nottingham said, but

the rewarding feeling of creating

a welcoming environment far

outweighed the challenges she

faced.

"Once I started, I knew there

was nothing telling me that

I'd made the wrong decision. I

believe I'm still going to be here

PASSION: Night

supervisor Jan

Nottingham,

of the Ronald

McDonald House

South Island, is

a finalist for this

year's Westfield

Local Heroes

awards.

PHOTO: GEOFF

SLOAN ​

until the day I can no longer do

this position."

If Nottingham is successful,

the Ronald McDonald House

South Island will receive a grant

of $10,000 as part of Westfield's

community recognition and

grants programme, which will

be used to upgrade the house's

education room.

•To view this year's

Westfield Local Heroes

finalists, visit

shorturl.at/atCER

FINALISTS:

• Bariz Shah, University

of Canterbury Muslim

Students Association:

For his advocation work

following the March 15

attacks.

• Daniel Eastwood, St

John of God Waipuna and

Te Rangatahi Tumanako

Trust:

For going above and

beyond to help young

men in prison challenge

themselves and face their

fears through his weekly

support group.

• Matt Brown, She Is Not

Your Rehab:

For starting the She Is Not

Your Rehab movement, to

end the cycle of domestic

and family violence by

encouraging men to deal

with their own experiences

of abuse, instead of taking

it out on their partners.

• Senior Constable

Bruce Ward, Blue Light

Christchurch:

For his work through the

Blue Light programme

that guides disadvantaged

youth onto a more positive

path in life through

mentoring and activities.

NEW PRODUCT

Try our

VEGAN PIE

Baking fresh eachday since 1986

OPEN 7 DAYS - 34 on site car parks!

Corner of Innes Rd & Cranford St, St Albans

Phone 03 355 6921 | /kiddscakes

Order online at www.kiddscakes.co.nz

'CEREC' & cosmetic dentistry

Wisdom tooth removal

Painless, high quality dentistry

Sedation dentistry

Experienced, conscientious team

Experienced hygienists

OPEN SATURDAYS

355 9380

144 Cranford Street

www.stalbansdentalcentre.co.nz

Specializing in E-Cigarettes, Vaporizers and

smoking essentials. We have the highest

quality of E-Cigarettes and vaporizers for

both beginners and advanced vapers.

18B MAIN NORTH RD, PAPANUI | PH 354 6000 | WWW.SHOSHA.NZ

Sadly we are closing the doors at PaperPlus Bush Inn store,

which means everything has to go. Keep up to date with our

Facebook page for our incredible closing down deals.

*Closing down sale excludes Lotto, Gift Cards, NZ Post Products, Magazines and any other

Agency Items. Discount not valid in conjunction with any other offer. ONLY REDEEMABLE AT

PAPER PLUS BUSH INN.

We're Closing

We're Closing

Down!

Down!

Everything must go

by end of October.

50%

OFF

BOOKS

Follow us on Facebook

@Paper Plus Bush Inn
---
4 Thursday September 10 2020

Latest Canterbury news at starnews.co.nz

ews

NOR'WEST NEWS

Students to shave heads for fundraiser

• By Bea Gooding

DOZENS OF high school

students will be shaving their

heads in solidarity with young

people facing cancer this

month.

More than 100 St Bede's

College students will be taking

part in a head-shave fundraiser

for CanTeen after their biennial

event Run for Life was cancelled

due to Covid-19.

The school participated in

CanTeen's Run for Life every

two years, where teams are

challenged to run 100km over

five days from eight different

locations across the South Island

back to Christchurch.

Event co-ordinator Rachel

Pitcaithly said not giving

back this year "didn't sit

comfortably" with the students,

but they did not want to let the

pandemic get in the way of their

efforts.

"It was really heartbreaking,

especially for the boys who were

waiting to do the run in their

senior year. It's something that's

become so special to our hearts,"

she said.

"It's a real character-builder,

the friendship and camaraderie

that comes out of it is quite

special."

The fundraiser was usually a

challenge many students looked

forward to, pushing themselves

to run at least 25km per day.

During the previous event in

2018, students raised $160,000,

which was donated to CanTeen

– a charity that supports young

people aged between 13 to

24-years old come to grips with

the emotional and practical toll

of cancer.

Pitcaithly said continuing the

initiative this year was important

for many students because of the

impact the disease had on their

lives.

They aimed to raise $30,000

towards the cause.

"We all know someone

affected by cancer – we know

of students with cancer or who

lost their parents while at school.

It could be any one of us," she

said.

It will be no ordinary lunch

break at St Bede's as the school

transforms into a barbershop for

the day, with family members

and CanTeen staff in charge of

the razors.

The students were feeling

determined, but "nervous," to

lose their locks, especially with

the school's upcoming formal,

but valued the fact that this was

already a reality for many people

SOLIDARITY:

More than

100 St Bede's

College

students will

be shaving

their heads

to raise

money for

cancer charity

CanTeen.

with the disease.

"They'll learn about their

inner strength, valuing

something others lose and gives

our boys an honest view on life

and what's important," said

Pitcaithly.

•Donations can be

made at https://canteen.

everydayhero.com/nz/

team-st-bede-s-collegeheadshave
---
NOR'WEST NEWS Latest Canterbury news at starnews.co.nz

Thursday September 10 2020 5

$10k for school sport gear

• By Bea Gooding

MAIREHAU HIGH School will

soon benefit from a significant

funding boost to increase

sports participation among its

students.

Granted by the New Zealand

Community Trust, the school

will receive $10,000 towards the

cost of new sports equipment.

The school was in the process

of upgrading its gymnasium

which is due to be completed in

two year's time, therefore new

equipment such as basketball

backboards and other gear

to promote its physical and

outdoor education programmes

was needed.

Said acting principal Siobhan

Murphy: "We're extremely

excited and grateful to be able to

purchase much-needed sports

gear. Without their generosity,

this wouldn't have been possible.

"Kids don't often have the

equipment at home and during

the lockdown, they weren't able

to access sport, like attending

after school sports. So we're

wanting to build this up again as

there's been a bit of reluctance."

The NZCT awards grants

to groups and organisations

across the country with a focus

on sporting needs, such as

uniforms, travel costs, salaries,

equipment or facility upgrades.

GRATEFUL: Students of Mairehau High School will soon

benefit from a $10,000 grant in order to boost sport

participation at the school. ​

Securing funding at the school

towards its sports programmes

was spearheaded by health and

education learning team leader

Kyla Boocock.

Murphy said her persistence

and enthusiasm for giving sport

the visibility it needed in order

to boost student participation

was imperative in overcoming

funding obstacles over the last

two years.

"Sports equipment is not

always viewed as a priority like

computers or library books,

or that it's not perceived to be

directly related to academic

achievement," she said.

"But by being able to run

around and interact with other

kids, it improves academic

results as it benefits their overall

emotional and physical wellbeing."

Gymnast returns from injury

to take championship

LILY Bainbridge has bounced

back from an injury-hit 2019 to

star when competitive artistic

gymnastics finally got under way

in the sport's new Christchurch

home.

The New Zealand representative

claimed the junior international

section of the Canterbury artistic

gymnastics championships with

a score of 43.25 at her home club

last weekend.

Bainbridge, 14, was pleased to

just be competing again at the

new Christchurch School of

Gymnastics at QE II Park, even

if restrictions meant athletes

were limited to one spectator

each.

"Competing again was a relief,

I was proud to do my full programme.

I had a horrible year in

2019, getting injured in June so I

missed the nationals in October,"

she said.

"Getting my skills back was

extra special."

An abbreviated season continues

when the national gymnastics

artistic super series starts on September

20 at Affinity Gymnastics

in Rolleston. It ends on October

3-4 at the Christchurch School of

Gymnastics.

Canterbury Artistic Gymnastics

Championships results:

All around

Step 3 unders – Ingrid Roy (Christchurch

School of Gymnastics) 36.833, 1;

Melina Panapa (CSG) 36.825, 2; Emily

Arndt (CSG) 36.80, 3.

Step 3 overs – Brodie Lepper

(Rangiora) 37.008, 1; Laura McKenzie

(Rangiora) 36.975, 2; Clara-Jane Long

(CSG) 36.642, 3.

Step 4 unders – Chane Botha (Affinity

Gymnastics) 36.10, 1; Isabel

Prescott (Affinity) 35.875, 2; Aaliyah

Delhanty (CSG) 35.525, 3.

Step 4 overs – Emma Bungard (Affinity)

37.70, 1; Chloe Williams (CSG)

37.60, 2; Harriet Thorpe (Rangiora)

36.20, 3.

Step 5 unders – Elizabeth Litt (CSG)

36.45, 1; Kyla Cowles (CSG) 36.375, 2;

Ella Thomas (CSG) 36.15, 3.

Step 5 overs – Sophia Hastie (CSG)

36.90, 1; Dayna Bennett (Rangiora)

36.225, 2; Alice Hector (Affinity) 35.55, 3.

Step 6 – Lily McLeod (Affinity)

36.917, 1; Olivia Meyer (CSG) 36.90, 2;

Caitlin Moore (Affinity) 36.333, 3.

Step 7 – Cara Southam (CSG) 44.60,

1; Lulu Pearse (CSG) 43.25, 2; Elise

Didierjean (CSG) 42.70, 3.

Step 8 – Eva Duncan (CSG) 45.725,

1; Eva Hyde (CSG) 42.10, 2; Masha

Indioukov (CSG) 41.35, 3.

Step 9 – Grace Northern (CSG)

43.25, 1.

Junior international – Lily Bainbridge

(CSG) 42.75.

Men's challenge 6 – Cole Stevens

(CSG) 10.133, 9.00, 10.40, 10.933, 10.80,

10.067 1st all around 61.333.

Challenge 4 – Thomas Hunter (CSG)

2 RG 8.933, 3 PB 8.533, 1 HB 8.267;

Shea Newby (Rangiora) 1 FX 10.367,

1 RG 9.70, 1 Vt 10.667, 1 PB 10.367;

Takoda Kaiser (Rangiora) 2 FX 9.833, 3

VT 10.40, 2 PB 8.733; Hamish Inwood

(CSG) 3 RG 8.667, 2 VT 10.433; Lucas

Henderson (Rangiora) 3 FX 9.567.

Redwood Early Childhood Centre

Changes to 'Free' hours

To meet the changing needs of our community

following Covid 19,

We are happy to offer some changes in the way we

offer 20 hours free until the end of 2020.

• For new enrolments we are offering the 20

hours ECE from 2.5 years

• For children 3 years and older we are offering

up to 24 hours (within agreed hours, incl max

of 6 hours per day)

We have spaces available in both our preschool

and nursery and welcome you to take a look around

our heart centred environment with a focus on

relationships, small group sizes and quality ratios.

339 Main North Road, Redwood

Mon - Fri 8.00am - 4.30pm

www.recc.co.nz

recc@xtra.co.nz

Phone Nadine (centre manager)

on (03) 3525 722

Morrison Avenue Bowling

Club Celebrates 61 Years

Since its inception in 1959, the

Club's two natural greens have been

simply named number 1 and 2

green. However, at the recent AGM

President Ray Blyth announced

that from the start of the 2020/2021

season, they would be named after

two Life Members, John Ferguson

and Alan Hughes.

These two long standing

members have served the club over

many years, both being former

Presidents and Greenkeepers. This

is a fitting recognition for the many

years of service to the club from

these two Life Members along with

their wives Wilma Ferguson and

Joyce Hughes.

The Morrison Avenue Bowling

Club is a friendly, community

'Have a Go'

Public Open Day

based facility in Papanui with 2

excellent natural greens and a well

equipped club house. The club

can offer a range of membership

options that allow members to use

our facilities in both summer and

winter. Lawn bowls is a game for all

ages and abilities and we welcome

people new to bowls to the club,

with coaching available and plenty

of encouragement.

To start the new season, the

club situated at 30 Morrison

Avenue is holding a free public

Open Day and BBQ on Sunday

13 September 2020 starting at

1.00pm. This is a chance to try

your hand at lawn bowls and have

a look round our grounds and

facilities.

'Have a go'

Public open Day

We offer discounted membership fees to

Sunday players 13 th September new to 1 to the 4pm sport (wet or of fine) bowling.

For more information please email: secretary@bowlsus.co.nz

or phone Ray Blyth: 03 352 7690 or 021 0271 6795

30 Morrison Avenue, Papanui

All are welcome and for further

information check our website

bowlsrus.co.nz or phone Ray Blyth

352 7690 - 021 02716795

Sunday 13th September 1.00-4.00pm (wet or fine)

30 Morrison avenue,

Papanui

• Please wear flat soled shoes

• Bowls and coaching will be provided

• Bring the family for a free

sausage sizzle
---
6 Thursday September 10 2020

Latest Canterbury news at starnews.co.nz

NOR'WEST NEWS

Ray White BS...

Bishopdale & Strowan

Even though there's a B & an S in our name,

there's no real estate BS in what we do!

Ray White Bishopdale & Strowan

0800 YELLOW (0800 935 569)

rwbishopdale.co.nz | rwstrowan.co.nz

Inline Realty Limited (Licensed REAA 2008)

Proudly owned by

Karen Ellis

021 519 275

Barry Ellis

021 519 274
---
NOR'WEST NEWS Latest Canterbury news at starnews.co.nz

Thursday September 10 2020 7

Your Local Views

Roadworks nearing completion

From the board

Emma Norrish, chair

Waipapa/Papanui-Innes Community Board

RESIDENTS OF St Albans,

Edgeware and Mairehau

will be pleased to know that

the numerous roadworks

throughout the suburbs are

nearing completion.

The majority of the work sites

should be finished by mid-October,

with some areas completed

even earlier than that.

We know the impact these

works have had on residents,

businesses and commuters over

the past few months, and we

appreciate the patience shown by

the majority of you throughout

the works.

Unfortunately, there was

always going to be some

disruption and stress involved

when undertaking such a

large number of works in close

proximity, in the short time

frame required, but rest assured

that the end is in sight, and the

local community should come

out the other side with safer

pedestrian and cycle routes,

less rat-running and a network

which gets extra traffic through

the suburbs safely.

There is also good news for

Papanui residents and users of

Main North Rd, with the bus

priority lane improvements project

due to be completed in the

coming weeks.

The new lights are operating

at the Grassmere St intersection,

and soon buses will be using the

new lanes which will make their

travel times more reliable.

Around the corner on Langdons

Rd we are aware of the

traffic issues being caused by the

new Northlink development, and

the effect the increased traffic is

having on the whole area from

Greers Rd through to Northlands

Mall.

Our board is working proactively

with the developers of the

new complex, as well as with

city council staff to determine

what can be done to alleviate

the safety concerns we know

the community has, and we will

keep you updated on this moving

forward.

It's great to have this development

happening in our area (I

know I love having Rebel Sport

and Kmart closer to home), but

it cannot come at a cost to our

community's safety.

If you have any issues (trafficrelated

or otherwise) which

you would like to bring to our

attention, please do not hesitate

to contact us, or come and speak

in the public forum at one of our

meetings.

END IN SIGHT:

The Main North Rd

bus priority lane

improvements are

due to be completed

in the coming

weeks. Residents in

St Albans, Edgeware

and Mairehau can

also expect road

works to be finished

by mid-October.

What is

Falun Gong?

JOIN US NOW!

See website for details

F

alun Gong, or Falun Dafa, is an

ancient Chinese spiritual discipline

for mind and body. it was introduced

to the public by Mr Li Hongzhi in 1992.

it consists of moral teachings and five gentle exercises

that have brought improved health and wellbeing to more

than 100 million people around the world.

At the core of the practice are the principles

ICEBREAKER

End of season sale.

50% - 70% off RRP

storewide

TAROCASH

All denim & dress

pants $39.99 each

or 2 for $70

Truthfulness Compassion Forbearance

Zhen Shan Ren

These universal principles guide the elevation of heart

and mind.

The exercises can be learnt free of

charge at practise sites around the

world or online at falundafa.org

ANDREA BIANI

Men's clearance

footwear. RRP from

$99.95 to $189.95.

Now from $69.95.

T&Cs apply

RIP CURL

Take a further 20% off

Mountain Wear

(excludes kids)

Many who practise Falun Gong

experience life-changing improvements

to their physical and mental health.

The range of experiences are endless,

and everyone who practises Falun Gong

has a story to tell. Just ask!

Free SeSSionS:

Mon - Fri (subject to weather) 11am-2pm Near Victoria lake, opp Hagley Golf Course.

Saturdays (subject to weather) 11am-2pm Near Bridge of Remembrance

For more information phone Lilly on 021 205 3743

Sign up to Smart Deals & be in the monthly draw for a $100 Dress-Smart gift card!

Open 10am-5pm, 7 Days 03 349 5750

CHRISTCHURCH 409 Main South Road, Hornby

www.dress-smart.co.nz

BENDON

$25 bras and $15

briefs. Selected styles.

While stocks last
---
8

Thursday September 10 2020

NUMBER ONE SUPPLIER

TO THE NZ JET BOATING

COMMUNITY FOR OVER

50 YEARS

Latest Canterbury news at starnews.co.nz

NOR'WEST NEWS

2

• Part Boats & Hulls

• Turn Key Packages

• New Jet Units

• Custom Fabrication

• Expert Advice

SERVICING

• Spare Parts Retailer

• Jet Unit Refurbishment

• Engine Tune-Ups

• Insurance Repairs

• Impellor Reconditioning

WEEK ONE

DATE / GAME WHERE RESULT

FRiDAy 11 SEpTEMbER

North Harbour v Canterbury

North Harbour

WEEK TWO

DATE / GAME WHERE RESULT

FRiDAy 18 SEpTEMbER

Tasman v Northland

Blenheim

Peter Tonkin

03 962 0505

peter.tonkin@hamjet.co.nz

For everything

AUTO ELECTRIC

CARS • BOATS • TRUCKS

CARAVANS • TRAILERS • 4WDS

ELECTRIC & HYBRID VEHICLES

• Starter Motors

• Alternators

• Central

Locking

• electric

Windows

• ABS & Airbags

• Stereos/

Alarms

• Batteries

• tuneups

• engine

Management

SATURDAy 12 SEpTEMbER

Waikato v Wellington

Otago v Auckland

Counties Manukau v Tasman

SUNDAy 13 SEpTEMbER

Northland v Manawatu

Taranaki v Bay of Plenty

Southland v Hawke's Bay

WEEK FivE

Hamilton

Dunedin

Pukekohe

Whangarei

Inglewood

Invercargill

DATE / GAME WHERE RESULT

FRiDAy 9 OCTObER

Manawatu v Canterbury

Palmerston North

SATURDAy 19 SEpTEMbER

Waikato v North Harbour

Canterbury v Taranaki

Bay of Plenty v Southland

SUNDAy 20 SEpTEMbER

Hawke's Bay v Counties Manukau

Manawatu v Otago

Auckland v Wellington

WEEK Six

DATE / GAME WHERE RESULT

FRiDAy 16 OCTObER

Hawke's Bay v Northland

Hamilton

Christchurch

Rotorua

Napier

Palmerston North

Auckland

Napier

Amazing

Auto USUALLy

AAE Electric SAMe DAy

ServiCe

65 Coleridge St, Sydenham

Phone 03 379 4250

www.amazingautoelectric.co.nz

SATURDAy 10 OCTObER

Taranaki v Auckland

Wellington v Otago

Waikato v Counties Manukau

SUNDAy 11 OCTObER

North Harbour v Hawke's Bay

Tasman v Bay of Plenty

Northland v Southland

Inglewood

Wellington

Hamilton

North Harbour

Nelson

Whangarei

SATURDAy 17 OCTObER

Manawatu v Bay of Plenty

Auckland v Tasman

Southland v Taranaki

SUNDAy 18 OCTObER

Canterbury v Waikato

Otago v Counties Manukau

Wellington v North Harbour

TBC

Auckland

Invercargill

Christchurch

Dunedin

Wellington

Hilux, Hiace

and

everytHing

in between

WEEK NiNE

DATE / GAME WHERE RESULT

FRiDAy 6 NOvEMbER

Southland v Otago

SATURDAy 7 NOvEMbER

Auckland v Northland

North Harbour v Counties Manukau

Tasman v Canterbury

Invercargill

Auckland

North Harbour

Blenheim

WEEK TEN

DATE / GAME WHERE RESULT

FRiDAy 13 NOvEMbER

Counties Manukau v Southland

SATURDAy 14 NOvEMbER

Northland v Waikato

Otago v Tasman

Wellington v Manawatu

Pukekohe

TBC

Dunedin

Wellington

68 Falsgrave Street, Woolston

W: nzvanspares.co.nz

E: nzvanspares@hotmail.com

Ph: 03 379 3932 / 0508 698 267

SUNDAy 8 NOvEMbER

Waikato v Bay of Plenty

Hawke's Bay v Wellington

Manawatu v Taranaki

Hamilton

Napier

TBC

SUNDAy 15 NOvEMbER

Bay of Plenty v North Harbour

Taranaki v Hawke's Bay

Canterbury v Auckland

Tauranga

Inglewood

Christchurch

need a new roof?

PICTURE FRAMING

SPECIALISTS

We have the perfect frame for you!

We can replace your old concrete

tile, deco tile or old corrugate roof.

We can also complete

asbestos removal.

for 2020 - 2021

season meeting

dates check out

www.woodfordglen.co.nz

Free measure

and quote.

For a quality

job contact us.

the place to be

this summer!

Needing your watch or clock repaired?

Ilam Watchmakers

163 ShandS road, hornby

Ph: 03 349 8439 | www.roofline.co.nz

Season passes & more available at our online store now

www.woodfordglen.co.nz

129 North Avon Road, ChCh | Ph (03) 385-1515

6 Main North Road | Ph 352 7594

Open Mon-Fri 9am-5pm

www.artworkspictureframing.co.nz

207 Waimairi Road, Ilam, Christchurch 8041

P: 357 1002 | www.ilam-watchmakers.co.nz
---
NOR'WEST NEWS Thursday September 10 2020

Latest Canterbury news at starnews.co.nz

9

020

WEEK THREE

GAME

DATE / GAME WHERE RESULT

FRiDAy 25 SEpTEMbER

Wellington v Bay of Plenty

SATURDAy 26 SEpTEMbER

Tasman v Waikato

Southland v North Harbour

Hawke's Bay v Canterbury

Wellington

Nelson

Invercargill

Napier

SCHEDULE

WEEK FOUR

DATE / GAME WHERE RESULT

FRiDAy 2 OCTObER

Bay of Plenty v Auckland

SATURDAy 3 OCTObER

Counties Manukau v Manawatu

Northland v Taranaki

Canterbury v Wellington

Rotorua

Pukekohe

Whangarei

Christchurch

Open Mon-Fri 8-4.30 Sat 8-12

CA$H FOR SCRAP

FoR

• Car Parts

• Mag Wheels

• Aluminium

Windows

• Machinery

• Brass Tapware

• Aluminium Cans

• Hot Water Cylinders

• Copper Pipes

• Radiators

• Lead Scraps

• Batteries

• PVC Wires

• Stainless Steel

Pipes & Sinks

& much more...

SkiP SeRViCe AVAiLABLe

Christchurch Branch

57 Lunns Road (Landscape Lane)

Phone: (03) 348 0609

SUNDAy 27 SEpTEMbER

Auckland v Manawatu

Taranaki v Otago

Counties Manukau v Northland

Auckland

Inglewood

Pukekohe

SUNDAy 4 OCTObER

North Harbour v Tasman

Southland v Waikato

Otago v Hawke's Bay

North Harbour

Invercargill

Dunedin

MUSGROVES

WEEK SEvEN

DATE / GAME WHERE RESULT

WEEK EiGHT

DATE / GAME WHERE RESULT

FRiDAy 23 OCTObER

Otago v Northland

SATURDAy 24 OCTObER

Bay of Plenty v Canterbury

Hawke's Bay v Manawatu

North Harbour v Auckland

SUNDAy 25 OCTObER

Tasman v Southland

Counties Manukau v Wellington

Waikato v Taranaki

Dunedin

Tauranga

Napier

North Harbour

Nelson

Pukekohe

Hamilton

WEEK ELEvEN SEMi FiNALS

DATE / GAME WHERE RESULT

FRiDAy 20 NOvEMbER

Mitre 10 Cup Semi Final 1

WEEK TWELvE FiNALS

DATE / GAME WHERE RESULT

FRiDAy 27 NOvEMbER

Mitre 10 Cup Championship Final

Go safer with

HAREWOOD VEHICLE

INSPECTION CENTRE

Motor Vehicle Licensing • Registration / Plates

Change of Ownership • Road User Charges

YOUR ONE STOP WARRANT SHOP

*Special conditions apply

Airport

Habitat for

Humanity

ReStore

HAREWOOD VEHICLE

INSPECTION CENTRE

580 Wairakei Rd, Christchurch

Ph 357 0911

Hours: Mon - Fri 8.00 - 5pm & Sat 8.00 - 4.00

Wairakei Rd

Russley Rd

WE ARE

HERE

Holt Place

Woolridge Rd

FRiDAy 30 OCTObER

Canterbury v Otago

SATURDAy 31 OCTObER

Wellington v Tasman

Northland v North Harbour

Auckland v Waikato

SUNDAy 1 NOvEMbER

Manawatu v Southland

Bay of Plenty v Hawke's Bay

Taranaki v Counties Manukau

Christchurch

TBC

Whangarei

Auckland

TBC

Tauranga

Inglewood

DATE / GAME WHERE RESULT

SATURDAy 21 NOvEMbER

Mitre 10 Cup Semi Final 2

Mitre 10 Cup Semi Final 3

Mitre 10 Cup Semi Final 4

DATE / GAME WHERE RESULT

SATURDAy 28 NOvEMbER

Mitre 10 Cup Premiership Final

DEAL WITH YOUR LOCAL DEALER

No need to travel into town

• Very experienced, importing since 1987

• After sales workshop facility

• Over 80 vehicles in stock

and under cover

• All vehicles fully complied and put

through a 164 point safely

compliance check

• From Sedans and People Movers to

SUVs and Commercials we have a

vehicle to suit your needs, and if not we

are happy to source it for you

Unit 6/37 Foremans Road, Hornby

www.waynetimms.co.nz

All stock inside a warehouse so viewings at weekends by

simply a phone call. On road costs included in price.

Ph Wayne - Bus (03) 349 2480 • Cell 027 432 3367

enjoy your journey

with caltex hornby

gas up with us today!

dog wash

atM | coFFee | lpg swappa bottle

Mini superMarKet | Firewood

trailer hire | Forecourt serVice

touch Free carwash

locally owned & operated

427 Main south rd

ph 349 2407

www.caltexhornby.co.nz

"less waste,

more purpose!"

Buyers and Sellers of

Recycled and New Building Materials

3 Musgrove Close, Christchurch

(off Wigram Road)

Phone 03 322 7922 or 0508 468 747

www.musgroves.co.nz

MAKE IT ALL ADD UP.

• Business advice

• Tax advice

• Tax returns

• Business planning

• Rental property accounts

•Annual, monthly or

weekly service

Your local freindly accounting professional

Nisar Nisar Kaskar Kaskar

B.Com, Associate Chartered Accountant

(Member B.Com, of Chartered Associate Accountants Chartered of Aus, Accountan NZ)

(Member of Chartered Accountants of Aus, NZ

027 438 0443 M

nisar@fcawigram.co.nz 027 438 0443 E

www.fcawigram.co.nz

nisar@fcawigram.co.nz

W

www.fcawigram.co.nz

FIRST CLASS ACCOUNTS WIGRAM

14 BOUMA STREET, HALSWELL, CHRISTCHURCH 8025

Firewood &

landscape

supplies

we supply & deliver

FIRST CLASS ACCOUNTS WIGRAM

14 BOUMA STREET, HALSWELL, CHRISTCHURCH 8025

Open 7 days Mon-Sat 7am-5pm Sun 8am-4pm

4 Parkhouse Rd, Sockburn

Phone: 03 341 5688

www.gardenmakers.co.nz

M

E

W
---
10

News

Keeping kids happy while cutting their hair

• By Bea Gooding

Thursday September 10 2020

A NEW salon dedicated

especially for children's haircuts

aims to take the "shear havoc"

out of the ordeal, especially for

parents.

Decked with styling chairs

shaped like sports cars and fire

engines, Shear Havoc, which

opened last month, also caters to

the needs and requirements of

sensory children.

Owner and stylist Wendy Randall

knew the anxiety that came

with a child's first few haircuts,

which was why she adopted an

individual approach to promote

inclusivity, such as lowering music

volumes and dimming lights.

"I used to live in Kapiti and

the children's hair salons there

were doing well. Then I moved to

Christchurch 18 months ago and

thought the city needed something

similar," she said.

"For me, it's important for

every child to feel comfortable

coming in. They're different,

they're individuals so we can't

have a one size fits all approach."

While most adults found haircuts

to be a therapeutic process,

it was often distressing for young

children, which was why Randall

opened a space where kids felt

comfortable and at ease.

"Lots of kids don't like having

their heads touched or are scared

ACCESSIBILITY: Owner

and stylist Wendy Randall

recently opened a new

salon, Shear Havoc, in a bid

to take the stress out of

children's haircuts.

PHOTO: GEOFF SLOAN ​

Put your Best

Foot Forward

with the BEST!

We assess, diagnose and treat

foot, ankle, knee and leg conditions

Papanui Foot Clinic offers a broad range of services and

solutions by some of Christchurch's leading podiatry experts

CALL TODAY FOR AN APPOINTMENT

352 6400

• Ian Graham • Anna Brown • Tim Sander, QSM

Latest Canterbury news at starnews.co.nz

of water, and normal salons can

be quite noisy with lots of people

around, so it can be distressing,"

she said.

"Having distractions like fun

chairs and iPads to watch videos

on has definitely made the experience

less stressful and endurable

for families.

"We also have test-drive appointments

where kids can come

in and meet stylists or have a

look around before they come

back again for their haircut to

help them deal with any anxiety."

The salon had an abundance of

natural light to promote a warm

and fun atmosphere, with plenty

of space for kids to move around

and a play area filled with toys

and colouring-in activities.

Parents could also get their

haircut during their child's appointment.

Randall said it has been "quite

busy" in the weeks following

opening day and felt a sense of

The revolution

in heat pumps

is here now!

The Fujitsu e3series

The brilliant

heat pumps from Fujitsu

e1 : efficiency

e2 : environment

e3 : economy

NOR'WEST NEWS

pride due to the positive feedback.

"Kids are coming in and

enjoying themselves which has

clearly made it easier for parents,"

she said.

"It's been reassuring to hear

that feedback because it means

that I was right with my idea."

The revolution in heat pumps is here now!

Say hello to Fujitsu's latest lifestyle range

HEAT PUMPS FROM $1999 inc GST INSTALLED!

Website: www.pshc.co.nz

Finance available

FREE consultation from your local

Accredited Heat Pump Expert

Phone today: 03 381 6950

INSERT DEALER DETAILS HERE

FG1441

2020

Heat Pumps

NEW ZEALAND'S FAVOURITE AIR ®

Conditions apply

Fujitsu's Catechin Filters are

approved by the Asthma and

Respiratory Foundation NZ's

Sensitive Choice ® programme.

Email: info@pshc.co.nz

Ph: 352 6400 | 448 Papanui Road (opp BP Petrol station)

E: reception@papanuifootclinic.co.nz

www.bigbrothersbigsisters.org.nz
---
NOR'WEST NEWS Latest Canterbury news at starnews.co.nz

Thursday September 10 2020 11

HARCOURTS GOLD

FOR REVENUE PER SALES CONSULTANT

2013-2020

MEET OUR

TOP 10 PERFORMERS

HARCOURTS GOLD TOP CONSULTANTS FOR AUGUST 2020

1

2

3

4

5

CAMERON BAILEY

PAPANUI

MARY TURNBULL

PAPANUI

MARK O'LOUGHLIN

REDWOOD

MICHELLE FU

PAPANUI

BELINDA DUNSTER

PAPANUI

6

7

8

9

10

DEB CROSBY

PAPANUI

MARK WANG

PAPANUI

ROB ILOTT

REDWOOD

ASH SUTHERLAND TODD

PAPANUI

SANDRA O'BRIEN

PAPANUI

When your brand includes the top Harcourts

office out of 900 around the world in addition

to the top franchise in New Zealand for

income per sales consultant, it's clear that

you've got an extraordinary team.

So for these consultants to earn the position of one of the top ten real estate sales

consultants at Harcourts gold is truly a remarkable achievement.

They are phenomenally good at what they do; skilled, highly trained and dedicated

to delivering exceptional results for property owners. I am extremely proud to work

with these real estate professionals.

JOHN MCFADDEN BUSINESS OWNER HARCOURTS GOLD

JOHN MCFADDEN

BUSINESS OWNER/

MANAGING DIRECTOR

LYNETTE MCFADDEN

BUSINESS OWNER

CHRIS KENNEDY

BUSINESS OWNER/

GENERAL MANAGER

Left to right: KYLE SUTHERLAND EXECUTIVE MANAGER, ANNA MCKENZIE OPERATIONS MANAGER,

MARGARET DANZER SALES MANAGER (REDWOOD), NIKILA CREAGH SALES MANAGER (PARKLANDS/NEW

BRIGHTON), DOUG SOPER LIAISON MANAGER

A FAMILY PASS TO SEE

THE HECTOR'S DOLPHINS!

School holidays are fast approaching, so we would like to give a family pass for an 'Akaroa Dolphins' Cruise to one lucky family! (Pass will be valid til the end of 2020.)

Family pass is for two adults and two children up to the age of 15. Competition ends 5pm 23rd September 2020. Winner will be contacted Simply enter on our website:

by phone shortly after and the prize will be emailed to them as a gift voucher. See 'Akaroa Dolphins' T's & C's on their website.

www.homes4sale.co.nz

PAPANUI 352 6166 | INTERNATIONAL DIVISION (+64) 3 662 9811 | REDWOOD 352 0352

PARKLANDS & NEW BRIGHTON 383 0406 | GOLD PROPERTY MANAGEMENT 352 6454

www.homes4sale.co.nz GOLD REAL ESTATE GROUP LTD LICENSED AGENT REAA 2008
---
12 Thursday September 10 2020

Latest Canterbury news at starnews.co.nz

News

Dressing and

empowering women

A myriad of

groups help keep

our community

moving. Reporter

Bea Gooding

speaks to Dress

for Success

Christchurch

executive manager

Ginnie Rhodes

about how the

charity helps

women prepare

for the workforce

Could you tell me a bit

about what Dress for

Success is and how it

came to be what it is

today?

Dress for Success is

a global not-for-profit

organisation that

empowers women.

Dress for Christchurch

has been operating in

Canterbury for 17 years.

Our local vision is:

Empowering women –

providing women in need

within our community

with the guidance,

support, tools and

confidence to pursue their

employment goals and

shape their own financial

future.

Since starting operations

in 1997, Dress for Success

Worldwide has expanded

to almost 150 cities in 25

countries and has helped

more than 1.2 million

women work towards selfsufficiency.

Each affiliate focuses

its programmes on their

own community needs. In

Christchurch we have the

Dressing Programme, and

Careers Centre which runs

job search and retention

seminars, resilience

programmes and one on

one careers coaching and

job search.

What issues are women

currently facing while

entering the workforce,

and why?

The women we support

are so varied including

those on low or no income,

challenging domestic

situation, mental health

challenges, never worked

before, immigrants, young

women, transgender

women and women reentering

life after prison.

One of the biggest issues

is a lack of confidence and

self-esteem, which is one

of our main focuses and

the aim of the Dressing

Programme is to help

this. It takes a very short

time for women to feel

less confident about

their abilities, often

IMPACT: Executive manager Ginny Rhodes, of

charity Dress for Success, who empower women

with the tools they need as they enter the

workforce.

PHOTO: GEOFF SLOAN ​

not recognising the

transferable skills they

have developed alongside

professional skills and

knowledge.

Lack of job searching

'know-how' in this rapidly

changing world. CVs,

cover letters, online

applications, how to

effectively use social media

profiles and platforms.

Juggling families

is always up there

for women, finding

part-time employment

and employers who

have flexible working

arrangements. One of the

plus sides of Covid-19 is

the ability to work from a

home base.

Why is an organisation

like this important in

Christchurch?

We are the only

organisation in Canterbury

supporting women in need

in this way, the Dressing

Programme particularly is

unique to our organisation.

We see over 400 women

per annum so we know

there is a real need in the

community. The women

are referred by more than

40 referral organisations

across Canterbury.

We also support women

in "one-off" situations like

attending a court case or

other significant events.

Last year we dressed a

mother of four in an outfit

for her graduation.

How has Dress for

Success impacted women

in order for them to

thrive in the workplace

and beyond?

Women who come

for a dressing or careers

appointment can vary

in age from 16-years-old

to 70-years-old, we work

to support and empower

women by providing

NOR'WEST NEWS

not only clothing for job

search preparation but

also other tools and skills

needed to succeed. We

provide ongoing support

once in employment

through our "Women in

Work"' retention seminars

and mentoring.

Here are some

comments from previous

clients:

"I would say I'm over the

moon. Confidence levels

really high after being

attired property. Great

staff, good advice and

some different styles that I

wouldn't normally choose

for myself. Very happy and

huge thanks to you all."

"You have no idea how

positive and amazing

impact you have on me.

Thank you all. You girls

made me feel like a

woman again, I was

lacking in confidence but

you helped me believe I am

worth it."

"Lovely experience and

attention. I felt important.

Lovely ladies thank you

very much."

In what ways can

communities support

Dress for Success to help

women reach their full

potential, and why?

As an organisation

that is community

funded we do require

funds to operate,

other organisations or

communities can support

us by raising funds for us,

individual and corporate

donations are also greatly

valued. We also rely on

"in-kind" donations of

make-up, good quality

clothing, shoes handbags

and jewellery.

The Facebook page and

website explains more

about us and how to

donate.
---
NOR'WEST NEWS Latest Canterbury news at starnews.co.nz

Thursday September 10 2020 13

REAL ESTATE

An unparalleled lifestyle in 5 magical 3 2 1 Moncks 2 4 Bay

16 Beverley Street, Merivale www.harcourts.co.nz | Listing #PI65399

242 Cool, Main Contemporary Road, Redcliffs ... yet Classic! - "As-Is, Where-Is"

Auction: Thoughtfully Thursday, designed with an 14 eye March to the 2019 Unless Sold Prior

effortless indoor and outdoor living that

4 bedrooms | 2 bathrooms | 3 living rooms | 1 office/study | 2 car-garage | 2 off-street parks | Listing Number SM0166

contemporary lifestyles demand, this stunning 2

Treasured year old home by two (completed generations September and offering 2018) is Moncks Bay incorporating from Shag Rock

a truly now available once in for a the lifetime first time opportunity, for the discerning this and right along the Pegasus Bay coastline.

tantalizing buyer looking home for upon the a best 2853m2 of understated section This property can potentially be subdivided

which furthers your options and adds

enjoys sophistication an overwhelming a home. tranquil setting and

is presented Clad in Linea to to the fit seamlessly market on with an the uninsured character another element of interest for buyers.

"as-is, homes where-is" of this basis. sought-after neighbourhood, Ensconced in a private lane that sits across

Situated packs in the high-spec tightly modern held locale features of magical for low

from the waterfront, this property is also

Moncks maintenance Bay, this and property peace of makes mind. a memorable positioned to enjoy the area's celebrated

first impression and was constructed in the microclimate and is located within easy reach

Inside, spacious open-plan living includes a

1960s but has naturally received extensive of the beaches, boating facilities, Barnett

well-appointed kitchen with bespoke joinery,

modern enhancements including a Bruce Park and the amenities in both Redcliffs and

engineered stone counters and scullery,

Banbury architectural renovation in 2004. Sumner.

timber-floored dining, adjoining family room

Resort-style serenity is provided by the With floors needing repiling and being sold

and additional lounge that can be closed-off

colourful Clivias as well as the established uninsured, deemed uneconomical to repair,

if required. All living spaces flow to beautifully

greenery and palms trees that border the this unique "as-is, where-is" opportunity is a

landscaped outdoor areas for relaxing and

swimming and spa pool, with the outstanding real game changer with the feel good factor

entertaining. The palatial upstairs master

views and majestic cliff face backdrop only and is guaranteed to attract attention. Your

bedroom includes WIR and en suite, while a

escalating the property's visual appeal. earliest viewing is advised.

second bedroom with en suite (downstairs)

Spacious living areas are complemented Open Homes: Wednesdays, Saturdays

would be an ideal guest suite or master

by the sizeable Kwila deck, water feature and School, Sundays St Albans 1:00pm School, - 1:45pm. Heaton, Boys' High and Auction: Thursday 17th September 2020

and

alternative.

idyllic alfresco

Three more

surroundings

double bedrooms

which Girls' See you High, at and the open is strolling homes distance or for (or a private a oneminute

drive) or for to Merivale more information Village two minutes' contact

from 10:00am (unless sold prior)

have

share

previously

a family bathroom,

hosted a wedding

and there's

and

a separate

could viewing

Gold Auction Rooms, 471 Papanui Road

powder room for guests.

Harcourts Papanui

continue to be the scene of many memorable

Alison drive to Carter Victoria of Street. Harcourts Homes of Grenadier

this calibre

occasions. Set on 708 sqm in one of the city's most desirable Ferrymead/Sumner don't wait - contact the (Licensed agent today Agent to REAA register Viewing: Saturdays 11:30am - 12:30pm

Skylights, streets, this the superb superb home use is zoned of for timber, Elmwood a

2008) your interest. on 384 7950 or mobile 0274 318 960.

Sundays 11:30am - 12:30pm

contemporary colour scheme and the

magnificent stone fireplaces create an

incredibly inviting ambience indoors where

you'll find four double bedrooms, two

bathrooms and a relaxing sunroom area that

comes complete with a spa bath.

With an expansive lawn area and the

picturesque garden at the rear of the property

both epitomise peace and privacy and offer

access up to the top of the section where

you can sit and admire the ocean vistas over

INchallenging

Thriving

Times

Hands up, that's right, hands up if this year has

been one of the most challenging you've ever

experienced. I've got my hand up, have you?

We live, as we all know, in uncertain times.

There's a daily bombardment of change

all around us. So, no matter what your

occupation or vocation, it's worth thinking

about how to manage your levels of wellbeing

and optimism as we continue travelling through

2020.

Here are some of the tips that have helped me

move forward personally and professionally

whilst dealing with feelings of vulnerability.

Structure

Often the first thing to go in times of stress, but

it's important to maintain habits that help rather

than hinder and structure provides that. Sleep,

great food and exercise (whether in large or small

doses) helps, especially for your mental health,

and I know of many who reestablished regular

exercise habits during our initial lockdown

period. If you are one of these people, I hope

that like me you've been able to keep it up.

Lighten Up

Humour works, especially in the form of a good

belly laugh, and I can assure you that if you watch

too much television, particularly the news, you'll

notice how easy it is to lose not only your sense

of humour but your sense of hope.

Spend time with mates and family who want to

lift your spirits, not dampen them.

Surround yourself with positive people. This goes

without saying at one level but sometimes it's a

big ask. Seek out, especially, people who focus

on solutions rather than problems … better still,

try to be that person.

Rather than say "I can't do it," try "how can we get

this done?"

Language is such a powerful element and when

applied in a positive manner, that power is

magnified.

Let Go

Finally, let stuff go, and try not to personalize

every little slight. Everyone, yes everyone, is going

through their own unique set of challenges and

although we're constantly reminded to be kind,

it's a new world we're all learning to navigate.

So how about it? Do your best, wear a smile and

push forward.

The Market

But before I sign off, let's talk about the market.

Contrary to what various experts said during and

immediately after our initial lockdown period,

Geeta Rose

Licensed Sales Consultant REAA 2008

0275106499 or 03 3526166

geeta.rose@harcourtsgold.co.nz

the market hasn't slumped and nor have prices

dropped.

In fact, it's been – to reference a well-known

movie title – fast and furious! With considerable

numbers of sales, even surpassing the number

of sales at the same time last year, and some

equally exceptional prices. There's a palpable

urgency in the marketplace, whether it's to be

sold before our elections or to purchase and

settle whilst interest rates are so low.

The big questions are: how long will it last, what

changes are ahead and how does that translate

for all the parties that are active in the market?

We can be certain that we will find out in time

and, whatever happens, I'll be doing my best to

remain calm, constructive and optimistic.

Spring is here (at last), so let's enjoy it!

Lynette McFadden

Harcourts gold Business Owner

lynette.mcfadden@harcourtsgold.co.nz

A FAMILY PASS TO SEE

THE HECTOR'S DOLPHINS!

School holidays are fast approaching, so we would like to give a family pass for an 'Akaroa Dolphins' Cruise to one lucky family! (Pass will be valid til the end of 2020.)

Family pass is for two adults and two children up to the age of 15. Competition ends 5pm 23rd September 2020. Winner will be contacted by phone shortly after and the prize will

be emailed to them as a gift voucher. See 'Akaroa Dolphins' T's & C's on their website.

Simply enter on our website:

www.homes4sale.co.nz

PAPANUI 352 6166 | INTERNATIONAL DIVISION (+64) 3 662 9811 | REDWOOD 352 0352

PARKLANDS & NEW BRIGHTON 383 0406 | GOLD PROPERTY MANAGEMENT 352 6454

GOLD REAL ESTATE GROUP LTD LICENSED AGENT REAA 2008 A MEMBER OF THE HARCOURTS GROUP

www.homes4sale.co.nz
---
14 Thursday September 10 2020

Latest Canterbury news at starnews.co.nz

AUTOMOTIVE PROFESSIONALS

NOR'WEST NEWS

Solutions for your radiator and

air conditioning needs found

at Christchurch Radiators

Your vehicle is an important asset to your

family and helps keep your schedule on

task, so making sure your automobile is

operating safely and at its best is important.

Being aware of car sounds and liquid

measurements is very helpful with the

maintenance of your vehicle. If you

notice your car overheating or if your air

conditioning is not working, chances are

your car radiator or air conditioning system

is on the blink.

If this is the case and your car radiator is

not operating the way it should be, it can

have serious consequences, because your

radiator is an essential part of keeping your

car safe and operational on the road.

When you have questions about your

radiator or air conditioning systems, look

no further than Christchurch Radiators

located on Buchan Street in Waltham.

The owner, operator of Christchurch

Radiators is Chris and he has been servicing

both radiators and air conditioning systems

for decades. His shop has the reputation for

high quality service, and he is considered

an expert in his field delivering high-quality

vonhead

utomotive

A A

free

6 months roadside assist

with any vehicle servicing

• automatic transmission

flushing service

• Wof • tune-ups • suspension

• batteries • neW tyres • oil &

lube service • courtesy cars

• full mechanical repairs

oPen 6 days (sat until 1pm)

126 racecourse road

Ph 342 7123 or 027 495 6600

results for each and every client.

Drop by their Christchurch shop at 64

Buchan Street, Waltham to explore their

range of services, or you can call to book

your car in for a repair and service.

Christchurch Radiators is well known in

the Christchurch region having been here

since the 1950's. You can count on them to

be able to repair, supply new (all makes and

models), or install and modify radiators to

your requirements. They can fit your car

out with the perfect radiator for all kinds of

cars – guaranteed, suited to your needs and

budget – even if that involves a replacement

radiator. They will help with your antifreeze

and radiator fluids.

Air conditioning solutions are another

one of their specialties. If your air condition

system isn't working, give the team a call to

ask questions and come up with a solution.

Give them a call today to ask a question,

or make an appointment, they are always

happy to help.

Call 0800 450 045 for a free quote or

to have your questions answered by

Christchurch Radiators.

s

m

a

r

t

mall

edium

• Panel beating

• Spray painting

Your LoCAL

TYrE SPECIALIST

New & Quality Used Second-hand Tyres

Alloy Wheels

Replacement Rims

Puncture Repairs

8c Birmingham Drive,

Middleton

www.jcmdirect.co.nz

343 0099 or 027 22 63 805

Proud to support Hornby Hockey Club

Fast

turnaround

utomotive

epair

echniques

Smart repairS (NZ) Limited

automotive refinishers

272 Lichfield St (Fitzgerald Ave end)

Ph 377-0409

European

Car Owners

NEW DIAGNOSTIC EQUIPMENT!

We can identify ANY electrical

fault & reduce repair work

with our NEW European Car

Specific Diagnostic Equipment

ROSES

AUTO ELECTRICAL

Enquiries welcome

CH 352 5090

SPECIALISTS IN

• Repairs

• Overhauls

• Rebuilds

• Radiators

• Oil Coolers

• Petrol Tanks

• Car Heaters

• Classics

• Vintage

• Racing Cars etc

PARKER

AUTOMOTIVE

All Automotive Repairs and

Servicing including 4WD

Suspension Brakes & Cambelts

WOF, Tyres, Batteries

23B Birmingham Drive,

Middleton

Ph 03 982 4268

Mobile: 027 331 0382

Email: parkerauto89@outlook.com

Christchurch Radiators

& Airconditioning Specialists

64 Buchan St, Sydenham | Ph (03) 366 0181
---
NOR'WEST NEWS Latest Canterbury news at starnews.co.nz

Thursday September 10 2020 15

Classifieds Contact us today Phone our local team 03 379 1100

Caravans, Motorhomes

& Traliers

JAYCO Hawk pop top,

very good cond, can sleep

7. $14,500. Ph 381 5747

Community Events

ALCOHOLICS

ANONYMOUS, If you

want to have a drink that's

your business. If you want

to stop, we can help. Phone

0800 229-6757

Wanted To Buy

AAA Buying goods

quality furniture, beds,

stoves, washing machines,

fridge freezers. Same day

service. Selwyn Dealers.

Phone 980 5812 or 027

313 8156

AAA Buying goods

quality furniture, beds,

stoves, washing machines,

fridge freezers. Same day

service. Selwyn Dealers.

Phone 980 5812 or 027

313 8156

TOOLS Garden,

garage, woodworking,

mechanical, engineering,

sawbenches, lathes, cash

buyer, ph 355-2045

Trades & Services

BLOCKED

DRAINS?

• Video inspection

• Waterblasting

• liquid Waste

pH: 03 365 7960

24 hours // 7 days

info@h20jet.co.nz

www.h20jet.co.nz

& Property Maintenance

Paving

Patio - Pathways

New or Existing

Free Quotes -

Competitive Pricing

Blair Gibson

027 699 5815

Trades & Services

ROOF

PAINTING 24/7

Rope & harness

a speciality,

no scaffolding

required,

30 years of

breathtaking

experience.

FREE QUOTES

20% OFF other

roof quotes

Exterior staining,

exterior painting,

water blasting.

Moss and mould

treatment $300.

Phone Kevin

027 561 4629

BATHROOM

Renovations, complete

service from start to finish,

free quotes, ph Dave 027

334 4125

BRICKLAYER

George Lockyer. Over

40 years bricklaying

experience. UK trained.

Insurance work, EQC

repairs. Heritage

brickwork & stonework

a speciality. No job too

small. Governers Bay.

Home 329 9344. Cell

027 684 4046. E mail

georgelockyer@xtra.co.nz

CARPET LAYING

Exp. Repairs, uplifting,

relaying, restretching.

Phone John on 0800

003181, 027 240 7416

jflattery@xtra.co.nz

Trades & Services

ELECTRICIAN

Hickey Electrical.

Reasonable rates, no

call out charge. www.

electricnz.com Ph Jason

021 260 3426

PAINTER, QuALIfIEd

local professional, int/ Ext,

roofs, wallpaller, call or

text Corban 027 846 5035

PAINTER

New, older homes,

interior, exterior. We stand

by Canterbury. Ph Wayne

0272 743 541, 385-4348

ROOfING REPAIRS

Fully qualified, over 40

yrs experience. Ph John

027 432-3822 or 351-

9147 email johnchmill@

outlook.com

STONEMASON

BRICK

&

BLOCKLAYER,

Earthquake Repairs, Grind

Out & Repoint, River/

Oamaru stone, Schist,

Volcanic Rock, Paving,

all Alterations new & old,

Quality Workmanship,

visit www.featureworks.

co.nz or ph 027 601-3145

STuMP GRINdING

Best price guarantee Tony

0275 588 895

TILING

Flooring - Splashbacks -

Wall incl tile removal, reg

master tiler, ph Dave 027

334 4125

VHS VIdEO TAPES

& all camera tapes

converted to DVD or

USB. Video taping

special occasions, www.

grahamsvideo.co.nz ph 03

338-1655

Trades & Services

concrete & paving

• Driveways

• Earthquake repairs

• New Home Specialists

• Patios & Paths

tel: 0508 873 7483

email: sales@affordableconcrete.co.nz

www.affordableconcrete.co.nz

PLUMBER

NEED A PLUMBER

Call us now for fast friendly service.

Get your problems sorted out

quick smart - on time!!

Phone for a

FREE

quote now.

Phone 03 377 1280 | Mobile 021 898 380

ADVERTISE YOUR BUSINESS HERE

Phone for further details

(03) 379 1100

WISEMAN E-TYPE | RALPH WATSON'S BSA SPECIAL | LEON WITTE | FLEETWOOD MUSTANG | SCHLUMPF COLLECTION

JUL-AUG 2020

ISSUE 90

RALPH WATSON: A SPECIAL ENGINEER & HIS BSA SPECIAL

MACAU GP TRIUMPH SPITFIRE | MAX RUTHERFORD | BARRY KEEN & BEGG | GRANT WALKER | FORD CAPRI | MISS VICTORIOUS: JACK NAZER'S VAUXHALL VICTOR | A FALCON FROM GISBORNE

JULY-AUGUST 2020

WINGED WARRIOR

Christchurch

STORES

Downsizing? Decluttering?

Please help support local St John activities by donating good quality pre-loved clothing,

THE SCOTT WISEMAN E-TYPE JAGUAR

jewellery, homeware, furniture Stunning and Kiwi-built books Tribute to one Car of your local St John Christchurch stores.

$9.95

KIWI RACERS: THE JOHNSTON FORMULA FORDS | LEON WITTE:

A CLASSIC MOTORING LIFE | THE FLEETWOOD MUSTANG

GRANT WALKER: RACE MECHANIC & CHAMPION RACING DRIVER

A VISIT TO THE SCHLUMPF COLLECTION $9.95

MISS VICTORIOUS: JACK NAZER'S VAUXHALL VICTOR | DON ELVY'S CHEV-POWERED CAPRI

SEP-OCT 2020

ISSUE 91

MAX RUTHERFORD: FROM PADDOCK TO PODIUM

MACAU GRAND PRIX SPITFIRE

We welcome donations dropped of at either:

272 Lincoln Road, Addington or 180 Durham Street South, City

or please call 027 304 7821 to book a donation collection.

BARRY KEEN: GEORGE BEGG'S ORIGINAL DRIVER

PRE-1960 RACING | NEW COLUMN: FROM THE COMMENTARY BOX

SEPTEMBER-OCTOBER 2020

NEVER

MISS AN

ISSUE

SUBSCRIBE

FROM $49

Subscribe:

classicdriver.co.nz

0800 624 295
---
16 Thursday September 10 2020

Latest Canterbury news at starnews.co.nz

NOR'WEST NEWS

PASSION FUELS

Success

Congratulations to our Top 20

Consultants for August 2020

It's an unquestionable truth – the success of our

clients is directly tied to the success of our people.

We are inspired every day by our clients' stories

and it's why we love doing what we do.

Congratulations to our top performers for their

passion and dedication, their unique expertise and

exemplary service.

TOP

2

3

4

RICHARD DAWSON

Ilam 2

LIZ O'NEILL

Merivale

MICKY LIMMER

St Albans

CHRIS CAMPBELL

Merivale

5

6

7

8

JENNI ROLTON

St Albans

CINDY-LEE SINCLAIR

Merivale

PAUL NICHOLS

Fendalton

JAN MORLEY

Fendalton

9

10

11

12

CORINA GREY

Ilam

PETER HAMPTON

St Albans

GRACE COPELAND

Ilam

MARC HANNINGTON

Merivale

13

14

15

16

SIMON WATSON

Ilam 2

LESLEY FALCONER

Merivale

NERINA HIGGINS

Ilam 2

OKSANA IVANOVSKA

Ilam 2

17

18

19

20

JO MANSBRIDGE

Merivale

LENA MERCER

Merivale

FIONA NANKIVELL

Fendalton

LUCY ZHOU

Ilam 2

Contact one of our top performers today:

FENDALTON

03 355 6116

ILAM

03 351 6556

ILAM 2

03 351 3002

MERIVALE

03 355 6677

ST ALBANS

03 377 0377

holmwood.co.nz
---
NOR'WEST NEWS Latest Canterbury news at starnews.co.nz

Thursday September 10 2020 17

Think 70 is the new 50.

Just because your hair might be grey, doesn't mean

your life needs to be.

Today's 70 year olds are the healthiest, strongest, and most mentally

agile history has ever known. So Summerset Retirement Villages

are designed for the active lifestyles of the youngest "oldies" there's

ever been. Think this sounds like you or someone you love?

To find out more about our three Christchurch

villages, visit summerset.co.nz

For up-to-date information on visiting our villages, go to summerset.co.nz/covid-19

SUM2425_FCW_FC1
---
18 Thursday September 10 2020

Latest Canterbury news at starnews.co.nz

NOR'WEST NEWS

Summerset at Avonhead

120 Hawthornden Road, Avonhead

Nestled in the beautiful suburb of Avonhead, our newest Christchurch

village has a range of brand new homes available now from just $510,000!*

Our homes are warm, modern and designed with everything you could

need for the perfect retirement lifestyle. Want to find out more about

Summerset at Avonhead? Give Anne or Grace a call today on 03 357 3202.

Brand new homes available from just $510,000!*

Summerset on Cavendish

147 Cavendish Road, Casebrook

As well as our stunning new 2 and 3 bedroom villas, our full continuum

of care is available, including some of the largest serviced apartments on

market available now from just $315,000!* Our serviced apartments offer the

best of both worlds, independent living with support on hand. It's all about

living the life you choose, without the worry of everyday home upkeep. Also

available are our memory care apartments for secure rest home dementia

care. Think this sounds like you or someone you love? Get in touch with

Deborah or Jude today on 03 741 3340.

Serviced apartments available from just $315,000!*

Summerset at Wigram

135 Awatea Road, Wigram

Summerset at Wigram's homes are warm, modern and designed for a low

maintenance lifestyle. And our vibrant village offers a range of social events

and facilities for you to enjoy. So, you can continue to live the life you choose

in a warm and friendly community where you'll feel completely at home.

Get in touch with Daniel today on 03 741 0870 to find out more about the

homes we have available. You'll need to be quick to secure yours, they're

selling fast!*

Only a few homes left in this popular village!

To find out about our three Christchurch villages, visit summerset.co.nz

*Licence to occupy.
---
NOR'WEST NEWS Latest Canterbury news at starnews.co.nz

Thursday September 10 2020 19

Love the Summerset life

Love the Choice

At Summerset, you'll find a wide range of homes

specifically designed for the over 70s. Choose from

one of our stylish, modern, purpose-built homes, then

make it your own. All our homes are designed with

accessibility as a priority.

Love the Community

At Summerset, you can continue to live the life you

choose with the added peace of mind of living in

a warm and friendly community where you'll feel

completely at home.

As a Summerset resident, you'll enjoy all the benefits

of being part of a thriving community including

easy access to village facilities, events, activities and

community spaces. And there's support on hand should

you need it in the future.

Love the Confidence

At a Summerset village you can live fully independently

or, should you need it, you can receive support and

care in your own home or apartment, or in our fully

certified care centre. So, if your needs change, you can

be confident you'll get the support you need without

having to leave the village.

As a Summerset resident, you'll have access to a range

of community facilities, including;

Divine Café

Exercise room

Communal vegetable

gardens

Residents' bar

All-weather bowling green

Residents' workshop

Hair and beauty salon

Swimming pool and/or

spa pool

Regular visits from

health practitioners

For your free information pack visit summerset.co.nz

SUM2425_FCW_DPS
---
20 Thursday September 10 2020

Latest Canterbury news at starnews.co.nz

NOR'WEST NEWS

Love the Summerset Life

Ready to relax in a worry free home?

Summerset homes are warm, modern and designed with everything you

could need for the perfect retirement lifestyle.

There's no need to worry about maintenance and upkeep. You have the

freedom to choose if you want to make your garden your own, or if you'd

prefer us to take care of it.

Like to holiday? Lock up and leave your home, knowing everything is safe

while you enjoy your next adventure.

It's all about living the life you choose.

Think Summerset sounds like you? Get in touch with our friendly and

professional teams today, there's three stunning Christchurch villages to

choose from, each offering their own unique outlooks and lifestyle.

We're sure we've got a home that's right for you.

Summerset

at Avonhead

120 Hawthornden Road, Avonhead

03 357 3202

Summerset

on Cavendish

147 Cavendish Road, Casebrook

03 741 3340

Summerset

at Wigram

135 Awatea Road, Wigram

03 741 0870

To find out more about Summerset,

visit summerset.co.nz

SUM2425_FCW_FC4