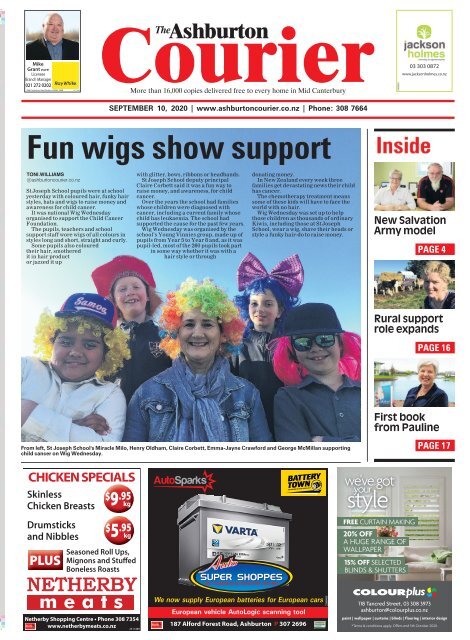 Ashburton Courier: September 10, 2020
You also want an ePaper? Increase the reach of your titles
YUMPU automatically turns print PDFs into web optimized ePapers that Google loves.
Mike

Grant ncre

Licensee

Branch Manager

021 272 0202

MidCanterburyReal EstateLtd REAA 2008

2271682

2300283

03 303 0872

www.jacksonholmes.co.nz

SEPTEMBER 10, 2020 |www.ashburtoncourier.co.nz |Phone: 308 7664

Fun wigs show support

TONI.WILLIAMS

@ashburtoncourier.co.nz

St Joseph Schoolpupils were at school

yesterday with coloured hair, funky hair

styles, hats and wigstoraise money and

awareness for childcancer.

Itwas national Wig Wednesday

organised to support theChild Cancer

Foundation.

The pupils, teachers and school

support staff wore wigsofall colours in

styleslong and short, straight and curly.

Some pupils alsocoloured

their hair,smothered

it in hair product

or jazzeditup

with glitter, bows, ribbons or headbands.

St Joseph School deputy principal

Claire Corbett said it was afun way to

raise money, and awareness,for child

cancer.

Over the years the school had families

whose children were diagnosed with

cancer, including acurrent family whose

child hasleukaemia. The school had

supported the cause for the past few years.

Wig Wednesday was organised by the

school's Young Vinnies group,made up of

pupils fromYear 5toYear 8and, as it was

pupil­led, most of the 260 pupils took part

in some way whether it was witha

hair style or through

donatingmoney.

In New Zealand every weekthree

families get devastating newstheirchild

hascancer.

The chemotherapy treatment means

some of these kids will have to face the

world with no hair.

Wig Wednesday was set uptohelp

those children as thousandsofordinary

Kiwis, including those at St Joseph

School, wear awig, shave their heads or

style afunky hair­do to raise money.

New Salvation

Army model

PAGE 4

Rural support

role expands

PAGE 16

First book

from Pauline

From left, St Joseph School's Miracle Milo, Henry Oldham,Claire Corbett,Emma­Jayne Crawford and George McMillan supporting

child cancer on Wig Wednesday.

PAGE 17

CHICKEN SPECIALS

Skinless

Chicken Breasts

Drumsticks

and Nibbles

PLUS

$9 .95

kg

$5 .95

kg

Seasoned Roll Ups,

Mignons and Stuffed

Boneless Roasts

NETHERBY

meats

Netherby Shopping Centre •Phone 308 7354

www.netherbymeats.co.nz

2311489

NZ'S PREMIUM AUTOMOTIVE CENTRES

We now supply European batteries for European cars

European vehicle AutoLogic scanning tool

187 Alford Forest Road,Ashburton P 307 2696

2288485

FREE CURTAIN MAKING

20% OFF

AHUGE RANGEOF

WALLPAPER

15% OFF SELECTED

BLINDS&SHUTTERS

118 Tancred Street, 03 308 3973

ashburton@colourplus.co.nz

paint |wallpaper |curtains |blinds |flooring |interior design

*Terms &conditions apply.Offers end 5th October 2020.

*
---
NEWS

2 Ashburton Courier, September 10, 2020

www.ashburtoncourier.co.nz

BUSINESS OWNERS

Build customers,

sales and profits

with us ...

Keep watchonhospital,

warnsretiring doctor

Over 16,065

copies delivered to

EVERYhome,farm,

RD and lifestyle

blocks in

MidCanterbury

news

Linda Clarke

Editor

308 7664

linda.clarke@ashburtoncourier.co.nz

Reporters

Mick Jensen

mick.jensen@ashburtoncourier.co.nz

Toni Williams

toni.williams@alliedpress.co.nz

advertising

Jann Thompson

Sales Manager

308 7664

027 587 6351

jann.thompson@ashburtoncourier.co.nz

Karen Gane

Sales Account Manager

308 7664

021 510 804

karen.gane@ashburtoncourier.co.nz

getintouch

Editorial

linda.clarke@ashburtoncourier.co.nz

Advertising

info@ashburtoncourier.co.nz

Production

murray.thompson@ashburtoncourier.co.nz

Accounts

accounts@alliedpress.co.nz

Distribution/Deliveries

mary.summerfield@ashburtoncourier.co.nz

Office

office@ashburtoncourier.co.nz

03 308 7664

199 Burnett Street,Ashburton

www.ashburtoncourier.co.nz

2300919

TONI.WILLIAMS

@ashburtoncourier.co.nz

Dr Chris Ryan has officially hung up

his stethoscope andleft his

Ashburton medical practice.

Dr Ryan,65, is planning to ''sit in

thesun'' at Lincoln in his retirement.

He spentthe past 31 years as GP at

Moore StreetMedicalCentre.

He moved to Ashburtonwith his

wife, Mairead andtwo young

childreninthe late1980s after

finding life in Wellington not to his

liking.

''When you haveayoung family

your priorities changealot. City life

doesn't have thesame attraction as it

usedtohave and you'rethinking

more of schools and space,and flat

land to kick aball around,'' he said.

''Ashburton's aprosperoustown,

although it was going through avery

hard time then, schooling was good,

housing was very reasonable.

''Itseemedavery goodpackage and

Ifound it wasbetterthan Iexpected.

Ifound it very pleasant.''

There have been somehighs and

lows with many changesinthe

community in the past30years.

''WhenIcame it wasprobably the

whitest place in the country butnow

it's very cosmopolitan and I've found

that quite interesting and enjoyable

really.''

''It's very much like Wellington

with people mixing together more.I

think that's veryexcitingand

stimulating.''

However recruiting younger GPs to

thearea was anongoingissue as well

as getting accesstospecialist medical

care.

It wasgetting harder to get patients

in need access to see specialists, or in

for surgery, especially those in real

need, he said.

While on­call commitments had

Dr Chris Ryan

eased there was still feweryoung

doctors wantingtocommit to a

community practice,with many not

ready to set down roots.

He said the loss of specialist

medical care in thedistrict and the

downgrading of Ashburton Hospital

was aconcern.

''We lost quite abit when we lost

our specialists. You're gettingletters

back from bureaucracysaying

(patients) don't meet criteria ... and

someofthem are pretty well crippled

or in agony.There justisn'tthe

attempt to getthem in.''

He said there was often no clear

way to go forward with acase.

''Once upon atime you could senda

letter to aseniorcolleague andit

wouldbeconsidered and they had an

obligation to reply to you. The public

OFF

174 Burnett Street Ashburton |Phone 308 5269 |www.redmonds.co.nz

health service haslargely shrugged

its shouldersonthat really.

''The district healthboard is now

blaming having to getthings done in

the privatesector with specialists.

''Toalarge extent(those specialists

have) felt disenfranchised with alack

of medicalleadership and so they

have decided you can't do the job

withoutussoyou'll have to do it on

our terms, with the patient being lost

in the middle really.''

Dr Ryansaid it was importantMid

Cantabrians kept awatch on what

washappening with the Canterbury

District HealthBoard.

''There has been lots of money

overspent but not much of it in

Ashburton. It's very much akneejerk

reaction in the city too, as Ifound

from myone term on the hospital

board, to cutoff theperiphery from

the facilities. Ithink if peoplevalue

whatthey are getting now they should

watch it carefully.''

He believed there was alot of staff

employed over the years but theyhad

not been used efficiently.

''There have been alot of contracts

signed in Christchurch but withnot

with agreat deal of patient benefit.''

Thedebtincurred at the district

health board was not all to do with

earthquake recovery,hesaid.

''I've been very lucky to work in the

timeIhave, and there has stillbeen a

sense of doctor/patient relationship

going ... I've had somemarvellous

patients which has made mylife very

satisfying.

''You hear nowmedical centres

seeminglywant to stop patients from

seeingthe doctor.''

There was lessdoctorcontinuity

which resulted in aloss of personal

service.

''I've often thought Iwas the last

family grocer and the supermarkets

are taking over,''hesaid.

CBD work plan changed to help retailers

Ashburton retailers arepleased

contractors revampingthe CBDhave

alteredtheirwork scheduletomakeit

easier for Christmas shoppers.

Retailers were worried timing of

thework on Tancred Street would

affect trading andbusiness owners

Chris Redmond,Richard Wilson and

BobMcDonald met with Ashburton

District Council seniorstaff to find a

compromise.

The work on TancredStreetwas to

have startedatCass Street and

worked towardsEast Street.Now

contractors have agreed to alter their

scheduletostartatEastStreet early

next monthand work towards Cass

Street.

That section ofTancred Street,at

least to the pedestrian crossing, will

be completebyDecember.

Mr McDonald saiditwas agood

outcome forretailers andshoppers.

Customers would be able to enjoya

new Tancred Street, with East Street

and BurnettStreet largely untouched.

Theshoppingprecinctwouldbea

more welcoming place leadingupto

Christmasand while thechanges

would notsuiteveryone,they would

benefit themajority, he said.

''While it makes more sense for

them to work from theCassStreet

end,weappreciate themchanging

their scheduletoaccommodate CBD

businesses.''

2311477
---
www.ashburtoncourier.co.nz

Neighbours

rebuff rural

tourism plan

LINDA.CLARKE

@ashburtoncourier.co.nz

NEWS

Ashburton Courier, September 10, 2020

Festiveforest to spreadcheer

Aforest of Christmas trees will

spring up in the Ashburton

Trust Event Centre at the start

of December.

The artificial trees are part of

asparkly plan by theAshburton

County LionsClub to start the

festiveseasonwith some

community cheer and members

are hoping people will join

them.

The club is encouraging

schools, groups,businesses and

individualstopay $10 for a

space to erect their own treeat

the event centreand decorate

it; the trees will be judged and

Left: Mark your calendars for

the Ashburton County Lions

Club's festive forest event say

members (from left) Marie

McAnulty, Sue Green, Margaret

Kerr and Lynette Lovett.

Ashburton's

prizes awarded.

Thefestive forest willthen be

open to thepublic to enjoy.

Club spokesperson Marie

McAnulty said each tree had a

space about 1.5m square and

only artificialtrees were

allowed.Decorationscould

follow any theme within the

Christmas vibe.

Thetrees will be set up on the

stage at the eventcentre. ''We

also hopetohavesome stalls

with Christmas goods for sale in

the foyer.'' Entry to see the

treesafterjudging will cost $2.

There will be rafflesand food

and drink for sale too.

Thetrees will be at the event

centre on December 3, 4and5.

Set­up will be on the morning of

December 3, with judging

between 12pmand 1pm;public

viewing will follow.There are

3

plans for alaser light showon

the eveningofDecember4.

Marie said the project was

notafundraising event though

anyprofit would go to theclub's

charities in the community. The

Ashburton men's Lions Clubis

alsohelping.

She said the club wasgetting

the word out aboutthe event

early so peoplehad plentyof

timetoenter andorganise

decorations.Retailers for the

stall space were also being

sought.

Marie said the club just

wantedtogenerate some

feelings of wellbeing as the

district recoveredfrom

lockdown and ongoingcovid

pressures.

She hopedschools andresthomeresidentswould

be

amongthose to visitthe display.

specialists

Farmers Corner and neighbourson

Longbeach Roadairedcontrasting views at a

hearing this week over aproposeddistrict

plan change thatcould pavethe wayfor the

tourist retail centre to expand.

Onesaid it would be like building afood

processingplantindowntownAshburton.

Independentplanning commissioner

PatriciaHartehas adjournedthe hearingof

an application by Farmers Cornerfor the

AshburtonDistrict Counciltochangethe

tourist spot's landdesignationfromruralBto

ruraltourism. MsHartewill send her

recommendationtocouncil after weighing up

all sides.

Agreen light from her would allow

Farmers Corner to thenseek consent to build

accommodationand afunction hub on 21ha

at Longbeach Road,alongside its existing

retail complex.

OwnerPeterHuang wants to provide more

thanashop­and­go facility and in the future

would like to build silo accommodation and

offerruralexperiencesthere and via other

MidCanterbury tourismoperators.

Neighbours objected to the plan change,

citing lossofviews, trafficdanger,

wastewaterand noise concerns.

They say abiggercomplex would be out of

kilter in the ruralBenvironment.

DairyfarmerDavidGeddes wasagainst the

planchange,saying the accommodation

would be better in Ashburtontown, where

there were the roads andservicestodeal

increased traffic and people.

He saidallowingthe plan change would be

like allowingafoodprocessing plant to be

built in downtown Tancred Street.

Farmers Cornerstarted life in town, butthe

business grew and visiting tourist buses

cloggedthe streets around Baring Square.It

moved to Longbeach Road.

Thelawyer for the company, Pru Steven,

said the districtplan did not protect views

but the applicants were willingtolimitthe

height of buildings in the identified

viewshafts of neighboursto5m.

Ted Wood saidhecouldnot seehow the

Farmers Corner plan change would

contribute to the district's economyas

claimed. Taiwanese visitors arrived by bus

and shopped on siteand most of whatthey

bought was not locally­made.

The most affected neighbours areSteve

and KarenClements, who built theirhouse to

takeinviewsofMtPeel and theSouthern

Alps. They are also concernedabouttheir

drinkingwaterbeingcontaminated by

increasedwastewater from amore populated

Farmers Corner.

Any wastewater systemwouldneed consent

from EnvironmentCanterbury.

43''SMART TV

QA 65''QLED TV

• Dual tuner reception with satell and UHF for

qualityreception

• Smart connectivitywith full browser

• Tableorwall mountcapability

• H570 W970 D48

Was$899

$

799

$5.53weekly

• QLED panel forultimate picturequality

• Smartconnectivitywith full webbrowser

• Dual tuner forUHF or satellitereception

• H835 W1450

Was$5999

$

3798

$25.13weekly

55''QLED TV

75''LED TV

• QLED panel forthe best picturequality

• Smart connectivitywith full webbrowser

• Dual tuner forUHF or satellitereception

• H725 W1250D70

Was$3499

$

2996

$5.53 weekly

• 4KUHD forgreat picturequality

• Smart connectivitywith full webbrowser

• Dual tuner forsatelliteand UHF reception

• H1048 W1693

Was$4499

$

3799

$25.14 weekly

2311575
---
NEWS

4 Ashburton Courier, September 10, 2020

MCB, parade

changes ahead

Construction and upgrading work in

Ashburton's CBD meanschangesfor this

year'sSanta Parade andnext year's Multi­

CulturalBite.

Ashburton District Councilstaff have met

with organisersofthe Multi­CulturalBite to

find an alternative venue for 2021 and 2022 as

BaringSquare East is out of actionbecauseof

constructionofcouncil's new library and civic

building. The Santa parade's usual route may

also be changebecauseofstreet workinthe

CBD.

Otherevents in theplanning stage, covid

willing, includethe NightofLightsFestival.

Big Mike - TRUE2U

To Sell your Property

at its Premium Potential Price

2304222

Call "Big Mike" forthe Right Advice

021 272 0202 mike.grant@raywhite.com

MidCanterburyRealEstate Licensed REAA (2008)

TheNew Mutants

ReviewedbyRowenaHart

The movie started with abang as it looks like the

worldisexploding.

One girl wakes up where four young mutants are

being held in an isolated hospital for psychiatric

monitoring. Dr. Cecilia Reyes tells the teenagers

they areadanger both to themselves and to society

as awhole.They each have aspecialpower andshe

wantstoteach them howtouse them.

But thereissomething untoward goingon...they

arecaptive.

The kids are plagued by hallucinations and

flashbacks, and their new mutant abilities –and

their friendships –will be tested as they battle to

trytomakeitout alive.

It is super scary ...took two 12year olds and they

lovedit...Idid too!

Thecast of 5teenagers were,each one so different

and all stunning actors.

Allroundgreat entertainment!

bookings ph 307 1230

www.regentcinema.co.nz

Check

these

out!

2307210

THIS WEEK'SSPECIALS

SPECIALS

TANQUERAY

1L

$

47 99 ea

MONTEITHS

BATCHBREW

330ml Bots12s

$

25 99 ea

JIM BEAMWHITE

1.125L

$

46 99 ea

ASAHI SUPER DRY

&PERONINASTRONASTRO AZZURRO

330ml Bots 18s

$

34 99 ea

SOL &TIGER

CRYSTAL

330mlBots 12s

$

22 99 ea

CHIVAS EXTRA&

GLENLIVETFOUNDERS

RESERVE 700ml

$

56 99 ea

www.ashburtoncourier.co.nz

Sallies take holistic approach

MICK.JENSEN

@ashburtoncourier.co.nz

TheSalvation Army is

taking anew holistic

approachto helping those

in need in Ashburtonand

hasbrought all of its

servicesunder one roof.

Thecommunity foodbank

hasrecently shiftedfrom

theFamilyStoreonCass

Street and into themain

SalvationArmycomplex

further down theroad.

Themoveallows the

Family Store to expand,

andbringsthe foodbank

into ahub thatincludes

socialserviceslike

counsellingand budgeting,

andalsothe driver

mentoring programme.

Thecommunity foodbank

hasbeen renamed the

Ashburton Community

Ministries People'sPantry

andinsteadofhanding out

food parcels, anew

approachwillsee clients

givenshopping credits and

thechance to choose the

items they want.

Ashburton Salvation

Army manager Major Mike

Allwrightsaid thenew hub

operated through aholistic

model thatsupported

physical, emotional,

spiritualand social

wellbeing.

It was easy to give outa

food parcel, he said, butit

took time to build

relationships andtohelp

people on anew path of

improvedwellbeing.

''The SalvationArmy

wants to make adifference

andthis is along term

approachthat we know can

help.''

Ashburton Salvation Army manager Major Mike Allwright and community ministries coordinator

Judith Beaumont have helped set up the systems for the new holistic

approach, but are now both heading for retirement.

He said letting people

choosetheir own food

itemsempowered them

and combined with advice

and support on savvy

shopping, basic menusand

budgeting, wasproven to

work.

If people kept coming

backitshowed they needed

more than just food

support.

''Visitingfor thefirst or

second time shows people

needsome help, but by the

thirdvisit it is becoming

clearthat somethingbigger

is going on.

''By thefourth visit it is

timetoengage andtodo

JACK DANIEL'S OLD NO.7

1L &WOODFORD RESERVE

DISTILLERS SELECT 700ml

$

53 99 ea

more, he said.

He said the holistic

approach worked at other

Salvation Army sitesand

now was the righttime for

Ashburton. People also

neededtotaketheir own

responsibility and to

accept the need for help

and change.

The new People's Pantry

will be open Monday,

Wednesday andFriday

mornings only.

The new one­stopshop

for serviceswill mark the

end ofanera for Mr

Allwright and long­time

community ministriescoordinator

Judith

STEINLAGER

CLASSIC

330ml Bots 15s

$

26 99 ea

HEINEKEN

330ml Bots 12s

$

24 99 ea

Beaumont, whoare both

retiring from the Salvation

Army.

Mr Allwrighthas clocked

up 32 years with the

organisation, the last three

in Ashburton, and finishes

at theend of theyear.Mrs

Beaumont, whofinishes up

tomorrow after 15 years,

hasbeensynonymouswith

the foodbank.

Mr Allwrightsaidthe

pair were leaving agood

team in Ashburton andnew

peoplecoming in would

ensurethe SalvationArmy

continued to make a

positive impactonpeople's

lives.

Russell leaves community legacy

Russell Anstiss.

Ashburton identity and

community stalwart Russell

Anstiss,afounding member

of the stationery cooperative

PaperPlusin

1983, andits first chairman,

passed away this week at

home surrounded by

family.

He was awarded the

Queen's Service Medal in

2010 for his work in the

community whichincluded

along association with the

Ashburton Hearing

Association. He was its

president for many years

and alife member.

He was also instrumental

in convincing the branchto

partner with other

community groups to build

the Senior Centre, which

opened in 2001.

Mr Anstiss wasapast

chairman of the Performing

Arts Centre Trust and

played akey role in the

fundraising effort behind

the building of the

Ashburton Trust Event

Centre.

He was also amemberof

Ashburton Plains Rotary

and active member of the

Savage Club for many years.

LION RED,WAIKATO

SPEIGHTS

330ml Bots 24s

$

34 99 ea

EXPORT33

330mlBots 15s

$

28 99 ea

DB DRAUGHT,

EXPORTGOLD

&TUEPA &TUI EIPA

330mlBots 15s

$

24 99 ea

CORUBA DARK

OR GOLD 1L

$

39 99 ea

STOLEN DARK

RUM 1L

$

35 99 ea

SMIRNOFF

SELTZER RANGE

5% 250ml Cans 12pk

$

24 99 ea

CRUISER 5%275ml

Bots & 7% 250ml

Cans 12pk

$

21 99 ea

GRAHAMNORTON

–SAUV, SAUV,ROSE,SHRAZ

ROSE,SHIRAZ

$

13 99 ea

THE NED –SAUV,

PGRIS, ROSE

$

14 99 ea

ASHBURTON

MSA

266 Havelock Street,Ashburton

Telephone 308 7149

www.ashburtonclub.co.nz

HOURS

Monday

Tuesday-Thursday

Friday&Saturday

Sunday

10:00am -6:00pm

10:00am -8:00pm

10:00am -9:00pm

10:00am -6:00pm

SPECIALS AVAILABLE

from September 10

to September 17

2311419
---
www.ashburtoncourier.co.nz

NEWS

Ashburton Courier, September 10, 2020

5

Busy sorting for Bookarama

Thesorting effort hasbegun,

andall going well, this year's

Bookaramawillbeasbig and

busier as ever.

Organisers, Ashburton

Rotary Club, are preparing and

planning to manage the event

under the currentlevel2

restrictions, butare hoping for

areturn to level1by the

opening day on September 28.

Eventconvener David Mead

said it was full steamahead

with sortingbooks andother

items.

Rotary memberswere

steadily working their way

through 1200 banana boxes of

donated books.

Mr Mead said the opening

day and finalmorningof

Bookaramawere usually the

busiesttimes,and numbers

wereoftenupwards of 100.

''Under thecurrent

restrictions we willhaveto

count andmanage numbers

through thedoor.''

Mr Meadsaid thequalityof

books andotherdonations

seemed to improve every year.

The event was theclub's

biggest fundraiser and

something the community

looked forwardto.

Bookarama hadraised well

over$1millionoverthe years

andprofitswentbacktothe

community, he said.

Sortedbooks, CD's, puzzles,

records,magazinesand other

itemswill be moved to the

sports hall fromSeptember19.

Boxes donationboxesare

located at NewWorld, all three

RuralCostores,ZEnergy

Tinwald, Mobil,Community

HouseMid Canterbury,

AllentonAutoCentre,Caltex,

PGGMethven, Cafe Time in

Tinwald, Evolution Vetsand

FrameCoinNetherby.

Bookaramarunsfrom

September 28 until October 3

and will includetwo late

nights.

Helping with the book sorting effort are (from left) David Mead, Brian Cameron, Ted Wood and Roger

Scott.

LAST CHANCE

Pre-Registered Holden's

***Deliverykm's***

READYTODRIVE AWAY

Contactus

today!

$6,990

2009 Ford Focus Hatch

1.6L, auto, air conditioning, air bags, CD player, NZ new,

remote central locking, traction control .

$12,990

2013 Honda Jazz

1.3L, auto, 23,000km, air conditioning, air bags, CD

player, central locking, cruise control, NZnew

$13,990

2015 Kia Rio EX

1.4L, auto, 50,500km, air conditioning, Bluetooth, cruise

control, NZ new, parking sensors, remote locking,

$26,990

2014 Holden Colorado 7LTZ 4x4

2.8L diesel, auto, "on behalf", 7seater, shift on the fly

4WD, Bluetooth, cruise control, rear view camera

2020 Holden Equinox LTZ-V AWD

2.0L Turbo, 9speed Auto, Only 40km, All wheel drive, Dual

Sunroof, 360 degree camera, Wireless phone charging,

Heated front &rear seats. NEW RRP $57,990 +ORC

$43,490 –DRIVE AWAY

Also available in "Darkmoon Blue" or "Son of aGun Grey"

Includes the Balance of Holden Complete Care:

• 3 Year/100,000km FREE Scheduled Servicing

• 3 year Warrant of Fitness

• 3 Year/100,000km Warranty

• 3 Year AA roadside assist

• Terms and conditions apply

$34,990

2011 Toyota FJ Cruiser 4x4

4.0L, auto, 4WD, air conditioning, air bags, central

locking, cruise control, tow bar, reverse camera

$41,990

2016 Holden Trailblazer LTZ 4x4

2.8L diesel, auto, 47,430km, 4WD, 7seater, Apple

CarPlay/Android Auto, front heated seats, leather seats

Richard

027 889 3870

Shane

027 669 5656

$32,990

2016 Holden Colorado LS Space Cab 4WD

2.8L diesel, manual, 47,470km, 4WD, flatdeck, air

$41,990

conditioning, air bags, Bluetooth, central locking

2017 Holden Colorado LTZ Crew Cab 4WD

2.8L diesel, auto, 47,790km, 4WD, lockable hard lid, Apple

CarPlay/Android Auto, remote start, climate control

WARRANT OF

FITNESS

CHECK

+

EXPRESS

SERVICE

ONLY

$

199INC GST

*Terms and conditions apply

ASHBURTON: Main South Road, Tinwald \ 03307 9028 \ Facebook: SmallboneAshburton

Mon -Fri: 8am -5pm \Sat: 9am -12noon

smallbone.co.nz

2311463
---
NEWS

6 Ashburton Courier, September 10, 2020

www.ashburtoncourier.co.nz

New home for Hospice MC

2311814

Ashburton

October

14, 15, 16, 19, 20, 21

GREAT

RATES

PC Repairs, Set-up and Tutoring

Icome to youday or evening!

•PCRepairs/Sales •Networks/Servers

•Firewalls/Security •Spyware Clean-up •Training

20 YearsExperience Microso Cerfied Professional

NETWORKS FIREWALLS AND PCS LTD

Robin Johnstone 67 Aitken Street, Ashburton

P: 03 308 1440 C: 027 768 4058

robinbj@xtra.co.nz

Advertising thatworks!

NewPCs

and Laptops

forsale

Talk to Jann or Karentoday

about ways youcan reach

potential customers or

advertising with that

special difference-professional servicewith asmile.

Phone: 308 7664

office@ashburtoncourier.co.nz • 199 Burnett St, Ashburton

CLEARANCE SALE

1WEEK ONLY –192 EASTSTREET

(next to Stepping Out)

Starts Friday11September

Shoes•Boots •Accessories

Open daily 10am-4pm

and11am-3pm Sunday

EFTPOS AVAILABLE

3% surcharge on credit cards

194 East Street,Ashburton. Phone 308 1819

www.steppingout.co.nz

2312172

2281999

HospiceMid Canterburyhas taken a

big leapoffaith and bought the

former Sealy Street MedicalCentre

rooms.

The medical centre movedtoanew

building in the Eastfieldprecinct in

July and Hospice Mid Canterbury

Trust saw an opportunity to raise its

profile andprovide aspecial, private

placefor those needing its services.

The trust has boughtthe former

medical rooms on the cornerofSealy

and HavelockStreets,subject to

raisingthe required funds.Itwill

apply for grants and rely on the work

of its fabulousfundraising team to

reach the target required.

Trustee JaneWright said hospice

wasfortunate the vendors had

generously agreed to an extended

settlement period to allow the funds

to be raised. The trust would lease

thebuilding in the interim andaims

to move there in the next two months.

"This is avery excitingstep for us.

Owning the property will enable us to

establish awelcoming, homely, fitfor­purpose

environment for our

clients andvisitors, andtodevelop a

wider range of supports and

activities. It will enable us to involve

thewider community in avariety of

ways and will be awonderful

community­owned asset.''

Hospice general managerDebbie

Mackle said the 1920s bungalowwas

ideal,asithad threeroad frontages,

wheelchair access andoff­street

parking. It wasprivateand would

provideplenty of office space, as well

as rooms for exercise, therapy and

Hospice Mid Canterbury general manager Debbie Mackle (left) and volunteer

services manager Belinda Brand can't wait to be in the new hospice

headquarters, the former Sealy Street Medical Centre.

counselling; its gardens were

therapeutic too.

She saiditwas also invitingasa

drop­in spot for people or families on

their books.

Somehospice services and

programmesare on hold because of

Alert Level 2restrictions, but hospice

patients andtheir familiescan still

access help.

Debbie said thevilla's warm,

family feelingwas the ideal fitfor

hospice,where people were dealing

with life­limitingand terminal

illnesses.

Thehospice trust has also recently

welcomed Anne­Marie Allenasa

trustee.

Anne­Marie is an active member of

the community, is aJustice of the

Peace and farmswith her husband,

Chris.

Take atour, make aconnection

AshburtonDistrict Councilis

partnering with Mid Canterbury

NewcomersNetwork for Welcoming

Week, acollaboration aimed at

helping newcomers feel more at

homeinMid Canterbury.

Welcoming Weekwill featurea

series of mini­tours of the district's

culturalfacilitiesand runs from

September14­19.

Theguided tours will include Base

Youth Centre, AshburtonPublic

Library,Ashburton Museum,EA

Networks Centre, Sport Canterbury,

AshburtonDomainand Hakatere

Marae.

As part of the tours, locals will be

Scouts' bright sales pitch

Tinwald ScoutGroup has

beensellinghigh quality lily

bulbsand lanternsat

AshburtonFarmers' Market

to raisefunds for new LED

lights in the scoutden.

Scouts andcubs have been

manning the morning­only

stall for the past coupleof

weeks and the last of the

bulbswill be sold this

Saturday.

Funds raised will be used

to refit thedimly­lit scout

den with newLED lights and

with other ongoing scout

costs.

Theexport qualitylily

bulbscost $2.50 each and

have been beengenerously

donated by BakkerBulbs.

The practical lanterns have

also been donated and cost

$5.

Tinwald Scout Group

chairman James Storey said

the scouts had missed out on

two opportunitiesto

fundraise because of the

cancellation of Wheels Week

and had neededtolook at

encouragedtomeetand welcome

newcomers.

AshburtonDistrict MayorNeil

Brown says the district hasbeen

working hard to help newcomers feel

moreacceptedand celebratedin

theirnew community, and

Welcoming Week will be another

great opportunity to do so.

''Newcomers are important

members of our community, often

bringing new perspectivesand skills

thatenrichusall.

''Wewant to make surethat those

whoare new here get achance to see

and experience therangeofcultural

and sporting facilitiesthat are

Selling bulbs and lanterns at Saturday's market were Kinsey

Storey, Lachlan Storey, Jack Tate and Lucy Tate.

alternative options.

The bulb sellinghad gone

very well and lantern selling

would continuefor awhile

longer.

Unfortunately two scout

camps had alreadybeen

cancelled this year because

availablesothat theycan enjoythem,

get involved and perhapsmake new

connections too.''

Newcomers and locals areinvited

to joininthe Welcoming Week

activities at the official opening at

10am on September14atBase Youth

Centre on Burnett Street.

Attendees will be welcomed with a

powhiri and morning tea before

beingtakenonatour of the CBD

hostedbythe Mid Canterbury

Newcomers Network.

Peopleare encouragedtoregister

for the freeevents whichcan be

foundonthe council website

(ashburtondc.govt.nz.).

of covid and it was hoped that

acamp here in November

and another at Staveley in

January wouldgoahead.

The Tinwald Scout Group

has 16 cubs and 14 scouts.

To order lanterns contact

Abby Storey on 021239 5211.
---
Get your

outdoors sorted

was $86

now

$

Guardian

75panel

Aluminium Perimeter Panel

Durablepowder-coated finish.

Will not rust.

2400 x1200mm.10year warranty.

202722

was92.99

now$

80

Guardian

Flat TopPoolGate

Suitable foruse with pool fencing.

Aluminium with powder-coat

finish.

975 x1200mm.

10year warranty.

202717

panel

$

4

Guardian

Post Caps

Designed to fit

Guardian aluminium fencing

in ground and flanged posts.

50 x50mm.

10 year warranty.

202730

58

pack

$

831

per lineal metre

Tongue & Groove

Retaining Wall timber

H4 treated Radiata. Interlocking timber

forlandscaping projects. 200 x 50mm.

635829

was$11.98

now

$

10

Garden Highlights

Medium Riverstones

Long-lasting and hardwearing.

15 litre.

342742

each

$

2

Firth

Walkway Pavers

Ideal fordriveways

and parking areas.

230 x190 x50mmthick.

278930

13

each

$

5each

FencePalings

H3.2 treated

rough

sawn

Radiata.

25 x150mm

x1.8m.

635026

12

$

97

37each

Macrocarpa Sleepers

Ideal

forcreating landscaping

featuresaroundyour home.

H: 20

00mm, W: 100mm,

L: 2.1m.

635960

$

11

Dricon

HandiCreteGeneral

Purpose Concrete

Perfectfor DIT-ers,simply add water

and mix. Formulated to reach 20MPa

after 28 days.25kg.

361989

$

12

Dricon

RapidSet

Fast SetConcrete

Sets in 15 minutes.

Formulated to reach 20MPaafter

28 days.25kg.

361992

98

each

98

each

was$21

now$

18

Cirtex

SurePavePavers

Plastic cellular paving grid for

reinforcing grass or gravel

whereapermeable surface is

required.

Black.816 x612mm.

223192

each

20 % off all

12V Garden

Lights

Mitre10MEGA ASHBURTON

West Street, Ashburton

PHONE 03 308 5119

Offervalid till Sunday4th October or

while stocks last.

OPENING HOURS

Monday-Friday7am till 6pm

Saturday8am -6pm

Sunday&Public Holidays 8am -5pm
---
Family Notices

NEWS

8 Ashburton Courier, September 10, 2020

BIRTHS DEATHS DEATHS DEATHS

BRAMLEY: Lance and

Hannah are pleased to

announce the safe arrival of

Charlotte Hannah Jane, 9lb

1oz, on 1July 2020. Alittle

sisterfor Graceand Rose.

Abig thank you tomidwives;

Hannah Bowden, Tess

Clark and Carine Reimink

and all the wonderful staff

at Christchurch Women's

Hospital and Ashburton

Maternity.

DEATHS

ANSTISS, William RUSSELL

- QSM: Peacefully at home

surrounded by family on

Sunday, September 6th, 2020.

Loved husband and best

friend of Olive. Dearly loved

father and father-in-law of

Suzanne and George Malouf

(NSW), Tracey and StuartNeill

(Culverden), and Philip and

Tracy (Auckland). Adored

Grandad of Caitlin, and Jonty;

Erica and Tom, Sinead and

Tom, Danielle and Logan;

Hayley,and Daniel.

Respected friend of Rebecca,

and Sara Farr and their

families. Loved brother and

uncle of the late Graeme,

Maureen, and Marilyn and

their families.

Messages to: The Anstiss

family, c/- P.O Box 6035,

Ashburton7742.

Funeral details to be advised.

0800 2MEMORY

027 637 1229

FLEMING, Thelma Doreen

(neé Thomas): Peacefully

at McKenzie Healthcare,

Geraldine on September 5,

2020 in her 86th year.

Loved wife of the late

Noel Fleming, and the late

Lester Couper. Dearly loved

mother and mother-in-law

of Alwyn and James Friend

(Temuka), Michele McMullen

(deceased), and Andrew

Couper (Oamaru). A loved

grandmother of her 10

grandchildren and 10 greatgrandchildren.

Messages to: 454 Factory

Road,RD26, Temuka7986.

Aprivate cremation has been

held.

0800 2MEMORY

027 637 1229

ACKNOWLEDGEMENT

COLLINS, Marjorie Joan:

Bob and family would

sincerely like to thank all

those who sent messages

and cards and attended the

funeral of Marjorie, aloved

wife, mother, grandmother

and great-grandmother.

Special thanks to the staff at

MethvenHouse fortheir care

of Marjorie during her stay. As

manyaddresses areunknown

please accept this as a

personal acknowledgement.

Supporting the

community

96 Tancred Street,Ashburton.

LREA2008

Phone 307 8317

MCRE

HEWSON, Patricia

Georgenia Margaret (Pat):

at home in Christchurch on

September 5, 2020. Much

loved mother and motherin-law

ofIan and Kim Hamill,

Jason and Teresa Hamill,

Adrian Hewson, Edred

Hewson, and Anthony and

Sarah Hewson. Loved by

all her grandchildren and

extended family. Messages

to: PO Box 57, Ashburton

7740.

Patwill by lying in rest at 105

Princes St, Ashburton from

Wednesday9am.

Please feel free to visit and

spend some time with Pat.

If youhaveafavouritephoto

of you and Pat please bring

it along to add to the photo

board.

The funeral service will be

held at 105 Princes Street,

Ashburton on Friday, 11

September at 1.00pm

followed byinterment atthe

AshburtonCemetery.

0800 2MEMORY

027 637 1229

McCABE, Margaret Teresa

(nee Gaffaney). 17.11.1932

- 3.9.2020. Passed away

peacefully at Highfield

Lifecare. Wife of the late

Patrick Michael. Mother of

the late Maryanne Wood.

Mother in law ofEric. Nana

of Nicola and James. Greatnana

of Liam and Brooklyn. A

servicefor Margaret washeld

on Tuesday 8th September

2020 at Betts Funeral

Services, 33 North Street,

Timaru, at 11:00am. In lieu

of flowers, donations to the

Stroke Foundation would be

appreciated.

WELCH Shirley, on

September 6, 2020.

Passed away peacefully, at

Ashburton. Dearly loved wife

of John. Much loved mother

and mother-in-law ofDavid

and Karina (Nelson), Sue and

the late Ant Newton, and

the late Karen, and Warwick

McCarthy. Loved Nana of

Bevan, Robert, andKatie; and

Brooke. Loved great-Nana

of Izzy, Aston, and Xander.

Messages to the Welch family,

c/- POBox 472, Ashburton.

Shirley's wish was for a

privatecremation.

Paterson's

Ashburton

FDANZ

03 307 7433

IN MEMORIAM

OAKLEY,BeverleyEleanor:

23-12-1934 –11-09-2017

Passed away three years ago.

Loving memories of you

todayand always.

Foreverinour hearts,Always

in our thoughts.

Your loving family; husband

Murray, sons Allan, Warren,

David and Peter, their wives,

partners and families.

ROYSTON, Pauline Mary:

Passed away 20 years ago on

7September 2000.

Always remembered and

fondly loved by Francis,

Michael,Amy,John,Christine,

her eight grand-children and

all her friends.

Anna, Sonia and Sandi were all smiles as they prepared to board the

plane under the control of pilot Robin Corbett.

Magic day formums

Nine women, all mothers of

children withspecialneeds,

enjoyed aday of experiencesand

pampering organised by the

members of theAltrusa Clubof

Ashburton.

Plans for theMagic Mums day,

which hasbeen held on aregular

basis by theAltrusa Clubover

more than 20 years, were allin

place for Marchbut covid

lockdownrequired postponement

until asafer time.

Unfortunately thismeant that

the original 12 mums who had

been chosen were not all able to

participate on theday butluckily

didn't miss out on the lavish gift

baskets presented at the end of

the day.

Mums weretreated to flights

overthe Ashburtondistrict,

pilotedbyRobin,the husband of

one of theAltrusans.Phones were

excitedly producedandcalls

made to families to alertthem

that their mumswould shortly be

flying over their houses.

After amorningspent

participating in variousactivities

and relaxing awayfrom their

normal responsibilities,the

mums were taken to Bellissimo

foranafternoon of pampering

beforebeingdriven around

Ashburton by the local HotRod

Clubwho enjoyed being able to

show off their special vehicles to

their admiring passengers.

Dinner at theLake House

included entertainment by Peter

Livingstone,whichcaused much

hilarity for themums andAltrusa

members.

Perhaps more importantly, not

only did the mums go home with

thememoriesofthe new

experiences they had enjoyed

they also had new connections

andfriendshipsand the support

of peoplewho know intimately

what each other is facingintheir

day­to­daylives.

TheAltrusa members love

putting on thisMagic Mums day

andeach year are overwhelmed

by thegratitude shown by these

special women for this respite

from their normal busy lives, and

in turn theythank those

businesses and individualswho

give timeand resources.

Complete

Local Care

Since 1982

Masks keep chairlifts full

Masks will enable Mt Huttand

other skifields to once again

load chairlifts to their full

potential for the rest of the

season, thanks to achange in

regulations.

Previously skifields had

neededtospreadout andlimit

numbersonthe chairlifts for

socialdistancing in AlertLevel

2.

That created queuing issues

at some skifields and on busy

days.

If all thepeople are wearing

masks, lifts are nowallowed to

be fully loaded, said Mt Hutt

skifield manager James

McKenzie.

There'sbeen good

attendances this season on Mt

Hutt, despite the limitations of

covid,and there was adecent

amount of snow.

Mt Hutt has acurrent base of

between 57cm and189cm.

Family owned,

locally owned

22 MooreStreet,

Ashburton

0800 2636679

Skiers with masks heading for the chairlifts at Mt Hutt.

PHOTO SUPPLIED.

2289133

Security snaps

The Ashburton District Councilwill install

security cameras in theAshburtonDomain

to try to identify vandalswho have been

damagingtoiletsnear the paddling pool

and picnics grounds. One cubicle in the

new toilet block wasset alight recently.

CCTVwill also be installed at thenew

toiletsatthe Rakaia salmon site.
---
PEOPLE

WHO MEAN

BUSINESS

PROTECT YOUR HOUSE FROM

RATS AND MICE THIS WINTER

A.J Kerr

•Rodent control

•Compliancechecks

•Monthlychecks available

•Residentialand commercial

Don'tdelay call AJ today

Fully qualified &registered

Pest Control Technician

Call A.J 308 8147 or 0274 325 447

Locally

Owned&

Operated

2301791

For your complete

Build, Alteration or Renovation

QUALIFIED TRADESMEN

(Licensed Building Practitioners)

Cawte Whiting 027-418-7955

Gary Whiting 027-207-1478 (03) 308-4798

whitingfamily@xtra.co.nz

2289645

NEW SENIORS

SPRING MENU

$

20 for 2courses

Available 7days aweek

11:30am -2pm

We can also home deliver

Phone 307 8887

2311615

4WD Diesel &

Electric Scissorlifts

Rough terrain

and electric lifts

available

On site

collection

or delivery

available

6Range Street,Riverside

PO Box60,

Ashburton7740

Phone: 03 308 8155

Mobile: 0273 529 909

Email: sales@nee.kiwi.nz

2309331

Spruce

Gardens

Forfreequotes contactAndrew

027 765 2899 or03307 307 1693

sprucegardens@xtra.co.nz

2309350

Is yourgarden

screaming for

attention?

Forall your gardening needs

We offer the personaltouch

•Mowing•Pruning •Flowerbed Preparation

•Fertilisation •Service&Advice& •Professional attention

Forqualified,experienced &reliable

serviceand advice

LOCALLY

OWNED AND

INDEPENDENTLY

OPERATED

Andrew Williams-Freeman
---
NEWS

10 Ashburton Courier, September 10, 2020

Unspent funds questioned

Charli McBride and daughter Millie, eight months, with National

leader Judith Collins.

AshburtonDistrict Council

has agreed to carry over

millions of unspent funds

from the 2019/20 yearinto the

2020/21 Annual Plan, but

questionshave been raised

about why so manyprojects

requirecarry over budgets.

Mayor Neil Brownasked

whatsystems wereinplace to

ensure there wasless carry

overneeded in thefuture.

Councillor Stuart Wilson

suggested councilcould be

moreflexible withits roading

funds and insteaduse them to

do other work in the current

yearratherthan carry

everythingover.

Carryover relates to

committed projects that are

under contract or part­way

through, and alsorequired

projectswhereno

commitment exists,and there

issome discretion allowed.

Council chief executive

HamishRiachsaid theyear

had beendifficult for council

and ''notanormalyearfor

getting stuff done''.

Council had operated at

capacityand hadstruggled to

deliver aquantityofwork. It

had doneits best to get as far

through the works

programme as possible, but

was ''notpreparedtowaste

money in order to just tick

boxes''.

The yearahead was alsoset

to be challenging and now

included the Three Waters

projects. Covid­19 hadplayed

its part in delaying some

projects, including the CBD

renewal project thatnow had

asizeable carry overbudget,

but therewere ahost of other

complications.

Council was overoptimistic

withcapital projects,but

budgets were set early and

carry overs areality, he said.

Mums, babies give

feedback to Collins

LINDA.CLARKE

@ashburtoncourier.co.nz

Methven woman Lydia Broadbelt

saysbecoming anew mum last

year was atough job.

Daughter Sophie has just

turned one but she criedalot in

the early months because of

undiagnosed reflux.Now that is

under control, she andLydia are

much happier.

Ms Broadbelt was one of the

half adozen Mid Canterbury

mumswho met with National

leader Judith Collinslastweek

when the party announced its

first 1000 days policy aimed at

helping parents and babies.

Mrs Collinssaid partofthe

policy was a$3000 payment to

newmumsthat they could spend

on servicesand support they

might need in those criticalfirst

1000daysofdevelopment.

Ms Broadbelt, wholivesona

farmwith partner AndrewHart,

said she wouldhave used sucha

payment to access aspecialist to

help findthe cause of Sophie's

crying earlier.

She saidthe friendship and

adviceofother mothers at The

Stork Network, where National's

policy was revealed on aflying

visit to Ashburton, had also

helpedher deal with post natal

depression.

''WhenSophie wassix weeks

old Istarted coming here.Itwas

abreath of fresh air. (Founder)

Zalie (Doyle) was incredible.''

Charli McBridewas another

mum whochattedwith Mrs

Collins.She said herthird child

Millie, noweightmonths old, was

bornprematurelyand the family

would also haveput the $3000

entitlement to gooduse.

Smiling Millie became astar

forthe cameras when she

grabbed Mrs Collins' finger and

putininher mouth.The party

leader,who spent aboutanhour

at TheStork Network's Allenton

rooms, said shewell

remembered teething.

Parents at The Stork Network

wereamong those to give

feedback to National MP Louise

Upstonayear agowhen shewas

promotingamembers billto

ensure birthing mothers

received three days in hospital

after the birth of their baby. That

is also part of National'spolicy.

Mrs Collinssaid the$3000

entitlement would give mums

anddadsthe ability to pay for

servicesand supportthey might

need in those critical first 1000

days of development. Those

servicesmight include things

like specialist breastfeeding

advice,post­natal stays or

sleepingclinicassistance.

Thefirst 1000dayspolicyisa

seven­part $226millionplan,

callingfor greater and more

targeted spendingtocreate

better human and economic

returns in the longrun.

"Studieshaveshown that

countries thatfailtoinvest in the

wellbeing of women and children

during this crucialtime will

sufferworse economic results in

thefuture.''

2300474
---
NEWS

Ashburton Courier, September 10, 2020

11

Annie runs her race

despite cancellation

MICK.JENSEN

@ashburtoncourier

MEAT

Ashburton social worker and

yoga instructor Annie Hunt

trained hard for six months for

the Great Naseby Water Race,

but when the event was canned

three weeks ago because of covid­

19, she decided thatshe still had

to run it.

Shetook to the start line alone

on Friday at 8am and some 28

hours 51 minutes later crossed

the finish line to complete the 100

mile (160km) ultra marathon

distance.

Anniecompleted the 80km

Naseby race last year andwas

determined to enjoy the

splendour of the mountains and

foresttracks again.

Unlike last year's race, her

recovery this year has been

nothingshort of miraculous and

she was back was giving yoga

classesinAshburton on Monday.

''Ican't explain howgood my

body feels ­I'm just astounded by

my recovery.

''Last year Iwas hobbling

around like mostrunners after

the race, but not this year.''

Anniesays she was not

prepared to not run the gruelling

Naseby challenge.

Shehad put in countless hours

of day and night running and had

aloyal support crew who

encouraged her.

Great Naseby Water Race race

organiser Jamie Sinclair had

marked out the course forher

and acouple of other runners and

he had come to support and run

part of theracewith her, which

wasamazing.

Shesaidthe endurance

running community were special

people, as was the Naseby

community.

Annie, who is 58 and a

grandmother of seven, only

discovered she could runfour

years ago.

Shehas completed anumber of

half marathons, marathons and

other races since.

Shesaysthe key forher with

running is ''to get your mind to

accept it'' and to havethe courage

to stepuptothe start line.

''I'm lazy by nature andI'm far

frombeing asuperwoman.

''Idon't like pain andIgo slow

and soulful andthe speed just

happens.''

Annie'straining took in both

Annie Hunt does the hard yards

in the Great Naseby Water Race

and below, enjoys asnack break.

PHOTOS SUPPLIED.

urban and rural MidCanterbury,

as well runs in the hills near

Geraldine and at Mt Peel.

Training was often combined

with actual races, as she built up

her distance work.

Threeweeks before theNaseby

100 miler, she sat downwithher

support crew of Jenny Ashton,

and Jane andTommo Thomson,

and compiledapackage of her

requirements for each 40km leg

of the race.

Thepackage included the

usual food andhydration

requirements and also items like

anewly charged watch,head

lamp, hand torch and magnesium

tablets.

Annie completed circuits of the

10km course and tackled tricky

terrain that included snow and

ice.

Shewas hit by hail at one stage,

but relentlessly kept going.

Thenext race on herradar is a

half marathon at the South Island

Masters in Timaru in October,

followed by the Queenstown half

marathon on November 22.

Half leg

sizes

for greater

convenience

Fresh NZ Quality Mark

Half Lamb Leg Roast

NEW

PRODUCT

ON NOW

$ 14 99

kg

Hellers Fresh Sunday

Roast or the Godfather

Sausges 6 Pack, Available at selected stores

Just Juice

FruitJuice

1 Litre

ANY

2FOR

Fresh NZ Skinless

ChickenBreastFillets$

12 99 kg

Fresh NZ Quality

Mark Beef Mince 500g

$ 7 99 ea

Whittaker'sBlock

3 99 Chocolate 250g

$

$

4 79

ea

Mid/South CanterburyContinuous Spouting

TM

TM

TM

TM

Askabout our large capacityspouting for

commercial and farmbuildings

Residential –fascia, gutter and downpipes

Snowprotection our specialty

The Original

Spouting Specialists

Serving

Mid/South

Canterbury

for over

26 years

Your new spouting proudly installed by

Craig or Josh

John Tull ...providingoutstandingservice,

afterinstallation care and pricing requirements!

Phonehim on 021 288 8290

Email: john@canterburycontinuous.co.nz

www.continuous.co.nz Freephone 0800 50 1993

2263153

YOUR VERY OWN CRICKET WICK

CHILLY BINTHIS SPRING!

SEE INSTORE FORMORE INFO

ET C

buya

mackenzie pie

&bein to

win

This

Swanndri

Oilskin Vest

www.foursquare.co.nz

SEE INSTORE

FORMORE INFO

facebook.com/FourSquareNZ

Specials availableSouthIslandonly from Monday7th SeptemberuntilSunday 20th

September2020orwhilestocks last.Wineand beer available at stores withanoff

licence.Wineand beer purchases restricted to personsaged 18 years old and over.
---
Ashburton College

Individual Excellence in aSupportive Learning Environment

News

Issue 25

10 Septembr 2020

Message From ThePrincipal

AkoInterviews

Today weare hosting our second Ako interviews

for the year. This involves interviews with the

learner, their Akoteacher and their whānau.

The focus isonbuilding relationships between

the three, monitoring both academic and pastoral

progress andsettingfuture career goals.

Iwould like to thank all those whānau who made

appointments to attend,asthese interviewshaveproventheir worthon

previous occasions and today'smeetings shouldreinforcethe benefits.

SubjectTeacher Interviews forSenior Students –Now Cancelled

Please notethatthese have, regretfully,had to be cancelled due to

remaining at COVIDLevel 2. Tuesday15September will be anormal

school day.

If you have concerns please contact your child's Ako orsubject teacher

in thefirst instance, by email is best as afirst contact.

Winter SportsCodes –AorakiSportsAwards

Ourwintersports codes have been busy with local competitions which

are now drawing to aconclusion. Unlike previous years, there isno

representativesportavailableinmost codes.

With this in mind, the Aoraki Sports Awards, which are normally a

highlight for our secondary school sporting codes, will not be taking

placebecause athletes have not had the opportunitytocompeteatthe

toplevel. This is areal shame forthose individuals and teams who have

achieved highly this year.

However, students who have gained New Zealand Honours will be

recognised,and College has students in this category.

Ateam Iwould like to acknowledge the feats ofisour Smallbore

Rifle Shooting team. For the last two years they have been national

champions and are highly placed to repeat their top ranking this year.

We have been blessed to have shooters of the calibreofShania Harrison-

Lee who is currently the top-ranked New Zealand female secondary

school shooter. This isateam which has competed outstandingly well

over anumber of years.

Once again, I have got around many of our sports teams and I am always

impressed with the demeanour and efforts of our competitors. Iwould

like to thank all those parents and supporters who have been involved

with our winter teams throughout this season. We can only offer the

huge number of teams across multiple codes because of the level of

communitysupportweenjoy.

Iwould also like to acknowledge our Sports Director, Darion Gray,for her

calm and efficientorganisation thatenables all our sports activities and,

especially this year,for managing the multiple changes.

College PropertyUpgrade

In termsofour new build,the MinistryofEducation has acknowledged

thatthis will occur in twostages. The first stage will be planning for1350

students and the second stage forapeak roll of 1600.

As part ofthe first stage build, key areas such as the Staffroom and the

Library will be built to accommodate the maximum number. Once the

positioning of the classroom blocks has been finalised we will sharethis

with our community.

Ross Preece

Principal •Tumuaki

Information

Parent-Teacher-StudentInterviews for

Year 11-13 Students: Tuesday15September

Pleasenote: this daywill onlyoperate if weare at COVID Level1.

On Tuesday 15 September parent-teacher-student interviews are

scheduled at theHotel Ashburton, from 2:30pm-8:00pm.

This is an opportunity to meet with individual subject teachers and itis

especially recommended that you catch upinany subjects which your

child maybefinding moredifficult.

College will closeat1:20pmon thisday (no Period5classes).

CANCELLED -DUE TO COVID LEVEL 2

Normal classtimetable forall students

Transition Department–EventsUpdate

TertiaryStudy Information

We are atthe time ofyear where students going to tertiary study in 2021

are gathering information, making decisions, and completing application

processes,asfollows:

Universityand PolytechHalls of Residence Applications

Halls ofResidence applications are open online, and should have been

completed by now to allowtimefor areferenceto be completed, as partof

the application process.

Course Planning for 2021

University liaison staff are visiting College this term to help students plan

theircourseofstudyfor 2021.

The Remaining Date is:

Otago University – 16September

Remaining2020UniversityOpenDays

The current COVID conditions have resulted in amendments to Open Day

information previously publicised.

Please go to the websites forthe latest updates:

•CanterburyUniversity

www.canterbury.ac.nz

•Auckland University

www.auckland.ac.nz

•MasseyUniversity

www.massey.ac.nz

•AUT University

www.aut.ac.nz

Information

Please notethatall events aresubjecttoany COVID restrictions which

mayberelevant atthe time.These implications areadvisedassoonas

is possible.

Studylink TertiaryEvening:

Information on StudentLoans and Allowances

Monday14September 2020, 7:00pm College Staffroom

This is an eveningfor Year 13 students and their parents/caregivers to hear

information about student loans and allowances for tertiary study next

year,accommodation costs and various deadlines.

We are very fortunate to have staff from Studylink attend and be able to

answer your questions first-hand.

RSVP required:

Information forms have been emailed,orare available from the

TransitionOfficeorthe College Office.

Please return aform so thatweknownumbers attending.

These should have been returned by yesterday,

Wednesday09September.

Year 9AcademicScholarships

Criteria and application forms arenow available from your child's school.

TheClosing Date forapplications is

Friday06November 2020, 3:30pm.

Theacademicexaminations willbeheldatAshburton College

on Monday16Novemberfrom9:00am–11:15am.

Enquiriesand applicationstobemade to SheenaTyrrell,

ManagementAdministrator,

Email: ts@ashcoll.school.nz

Phone:308 4193, extension 812; 027 247 8003.

Please notethattheseScholarships are

Academic ExcellenceScholarships.

Annual College Music Evening

Setaside this nighttoenjoyour annual festival of music,which always

showcases amazing student talent.

Ashburton College Music Evening 2020

Thursday24September,7:00pm,

AshburtonCollege Auditorium,

Tickets $8.00 –doorsales only (eftpos available)

This year the House Fest component has had to be taken out of the

programmebut,intrue House spirit,students who audition will gain House

points. Naturally,aswith all events,this issubject to the COVID restrictions

as they areonthatnight.

Congratulations

The Triple SCompetition is an annual New Zealand Secondary Schools'

Shooting Championship. Itisapostal shoot competition and, atthe time

of writing this newsletter, three of four rounds had been completed, with

competition forthe topspotshotting up. Round 4had to be completed by

last Sunday, 06 September.

With some information provided by Shania Harrison-Lee

MovementintoFirst Place

Ashburton College had wonderful Round Three results which put the

Ateam into first place by2points, with atotal of 392.19 points, placing

us just ahead of Palmerston North Girls' High School who we have been

battling forthe topspotduring the prior tworounds.

College Team 1 Members are – Shania Harrison-Lee (Master Grade

Shooter), Emma Smith (A Grade Shooter), Charlotte McKenzie (B Grade

Shooter), Jack Jones (C Grade Shooter), Jack McIntosh (C Grade Shooter).

Oursecond team is alsoholding their owninthe middleofthe pack of the

thirteen teams at place seven, which is awesome to see as it is filled with first

and second-year shooters who arestill being shown the ropes of secondary

school competitions.

College Team 2Membersare –

Bronston Cudmore, Bree Greer,Tane Moore,

Sama Sooialo,Madi Tourle

(all DGrade Shooters).

Individual Entry-Claudia Cudmore

(D Grade Shooter).

Honourable Mentions

Other honourable mentions are

CharlotteMcKenzie (pictured right) who,

afterRound Three, is sitting at the topofBGrade

with a292.13, just 1.02 above the next person,

Nathan Allison from Cambridge High School.

Acknowledgement

StudentLibrarians and LibraryVolunteers

The Ashburton College Library, Te Whare Pukapuka Matauranga, has a

marvellous team of studentlibrariansand volunteers.

Anne Williams, Teacher Librarian and eDean, said that every year

approximately twenty five students volunteer to become student librarians

at Ashburton College. The students apply for the positions and train for a

term, before being assessed and

earning their 'Librarian' badge.

Their role involves working

at intervals or lunchtimes to

help the Librarians with tasks

such as issuing and returning

items, helping other students,

answering library-based queries,

shelving books and items and

helping with displays.

(Pictured right): HenryGoodes

shelving books.

Alongside this team our Library

staff is also fortunate to be

supportedbysixteen Year 13

volunteers.Thesestudents give

up oneoftheir study times each

week to run the libraryfront desk.

This is agreat experienceand

away to give back to the College

communitytheyhavebeen partof

forfour years.

OurStudentLibrarians and

Volunteersareaninvaluablepart

of the libraryteam.

(Pictured left): StudentLibrarian

Hannah Kuipers at the Issue

Desk organising apile of books

to return.

(Pictured below, leftand right):

LaurraineAperocho and

Yvangeline Radan, Year 13

Volunteers,shelving books on the

Returns Trolley.

Those involved in 2020 are:

Student Librarians: Emily Annear, Ethan Annear, Irish Bernarte,

Rachel Clement, Rebekah Clement, Miar Diab, Jessalene Eclipse, Ines

Forster Lobato de Faria, Olivia Fox, Emily Greer, Hannah Kuipers, Hayley

Luxton, Rona Malabuyoc, Iela Mangubat, Harrison McKee, Lara Shierlaw,

ElianeVinculado,Shasha Watagedara, Paige Williams.

Library Volunteers: Laurraine Aperocho, Anna Bennett, Irish Bernarte,

Chloe Blake, Crystal Brown, Nadine Cabanatan,Joshua Cameron-Neighbour,

Hayley Dickson, Klara Harrison, Lily Lyu, Rona Malabuyoc, Lottie Norton,

Yvangeline Radan,Zoila Suyat, Winonalei Tupa, AmyZhen.

TightCompetition within NewZealandTriple STargetShooting2020 Competition

Anything can happen with the final

double card(20 shot card as opposed

to a10shot cardinthe firstthree

rounds) to be shot beforeSunday06

September,asall grades areclose at

the topand thereare three school

teams all with achanceoftaking out

the 2020 title.

Shania Harrison-Lee (pictured right)

is in atight tussle also,with only

three points separating the topthree

individual shooters –Stephanie

McNair from Palmerston North Girls'

High School and Abby Pierce from

Cambridge High School.

Madi Tourle (pictured left), who is aYear

9student, is sitting second in her grade

(D), with ascore of 288.13, only 1point

behind the first placed shooter.

As can be seen there are tight scores

all over the Leaderboard, from team

results to graded individuals, so the

final results will be very interesting to

see in just over aweek.
---
Ashburton College

Individual Excellence in aSupportive Learning Environment

News

Issue 25

10 September 2020

Congratulations

MidCanterburyCombined Boys'First XV Rugby-Four NewCaps following Home Game

Final Home Game

College's final home game of the UC Competition season was played last

Saturday, 05 September,onthe College grounds in superbweather.

Coach Shane Enrightreportedthattherewas agood hakaand alarge crowd

gathered along Belt Road to support the home team against the strong

St Bede's College side. StBede's started strongly, scoring within afew

minutes to lead 5-0, followedbyarepeattopush out to a10-0lead.

Afterthis,Collegeentered the game and from agood scrum allowedroom

to attack on the blindside with stand-out Captain Michael Hennings

setting up Isi Ula for atry, with new half-back for the rest of the season,

Charlie Brown, making the conversion to bring the scoreto7-15.

Aspell of 'ball-watching'cost the team however, allowing St Bede's simple

tries from kick-offs to push away in the last fifteen minutes of the first half.

Also in the first half, the team lost hard-running and hard-hitting second

five-eight Mark Gabriel to aknee injury. Shane said 'this wasareal shame'

as Mark had come into good form late in the season. George Penjueli also

collected a'good smack'onthe left eye, having toleave the field toget it

attended to,but returning to finish off well.

Some good rugby was played inthe second half and an outstanding try

of the day, using the draw and pass, byMichael Hennings. Michael also

just missed asecond tryafter abreakaway 40 metre run, but wascut down

about 5metres out.

Richie Fuluasou, who had returned from injuryonly acouple of weeks ago,

collected ahuge hit and was knocked out, and given the Blue Card from

referee, bringing his season to the end. Welook forward tohim coming

back next season to work to be areal leader of the 2021 forwardpack.

Year 11 Fononga Lisala, also returning from aknee injury, hit abrilliantgap

from agreat pass and headed over the tryline.

The team worked hard for the last eight minutes trying to score the Bonus

Tryfor aBonus Pointwhich would have allowedthe team to draw level with

Roncalli Collegeonthe points table.However,despitecrossing the line,the

ball had been knocked on and the trywas notallowed.

Three tries and nineteen points against aTop 4Team in the competition,

contained much thatwas positive, despiteStBede's scoreof62points.

Theinjured players from this weekend have to nowjoin the team's walking

wounded list of SamRee,AlexRoderick,AlexBarnabyand BenMiddleton.

Playerofthe DayAward

This award was earned byIsi Ula, on Saturday.

CollegeAthletics and Swimming Champions ReceiveCertificates

As we all know, this has been the year of delays. College was fortunate to

have been able to hold the Athletics Finals and Swimming Championships

at their scheduled times on 27 Februaryand 11 March.

Thesubsequentlockdown precluded the presentation of certificates, as has

thelimited number of assemblies able to be held sincethen.

However, at House Assemblies just over amonth ago Grade Champions

were able to be presentedtheir awards.

AthleticsChampions were –

Last week of theseason

The team now heads into the last week of the season this week, with two

training runs Tuesday and Thursday, and then on the road early Friday

morning to Blenheim to play Marlborough Boys'High School for the final

game of this season.

It is planned to fill the bench with some of the Under 16 players again

for next weekend and many thanks were given to Millar Newlands,

Devon Flannery and Pedro Collins for their great attitudes and for helping

outthis past weekend.

Appreciation

Abig thank is also given toMOTUS Physiotherapy, Abi and Bridget, for

their work over the season in keeping the boys on the paddock where

possible,and also forgetting them back onto the field.

Mid CanterburyCombinedSchools'Rugby -Four NewCaps

Thecriteriafor gaining acap requires players to have playedatleasttwelve

games in one season, or at least fifteen over twoseasons,for the UC 1st XV

side.

(Pictured above, left toright): Josh Dunlea (Maverick), Thomas Patterson

(Charlie), Charlie Brown(Spongebob) from Mt HuttCollege and Toetu Touli

(Ghost).

Mid CanterburyConnections with UC Competition andStBede'sCollege

It was interesting to note awrite-up by St Bede's in which their Mid

Canterbury rugby connections were outlined. This reads like a'did-youknow':

St Bede's has had four students who went onto become Bishop of the

Christchurch Diocese,two of whom came from Ashburtontobeboarders at

the College: Bishop Basil Meeking and Bishop John Cunneen.

Swimming Champions were –

St Bede's rugby has also been the beneficiary through families such as the

Hanhams, Connells, Hanrahans, McCloys, Gormans, McCraes, O'Sullivans,

Richards,Kilworths and Catherwoods,toname but afew.

Of the two schools it was, however, Ashburton College that first had

astudent selected into the New Zealand Schools' Rugby team, being

Ken Rogers in 1979. St Bede's had to wait foranother twoyears beforeittoo

could claim the same honour, and that was due to aboy from Ashburton.

Dean Kilworth was aboarder at St Bede's when selected into the New

Zealand Schools'team in 1981. Dean wasdescribed as astrong left-winger

with adevastating side step, and capable of outstanding individual tries

while also being agoalkicker. Dean went on to score28tries in twoseasons

in the St Bede's 1st XV.

Dean's younger brother, Scott, was also a notable athlete and midfielder

who was selected into the New Zealand Under 17 team in 1982 and was a

key partofthe champion StBede's 1st XVs of thatera.

Andyet athirdKilworthbrother,Jason, was to follow and playhis wayinto

national age grade rugbyteamswhilst at St Bede's.In1985 Jason wasone of

three St Bede's students who made the South Island Under 16 team to play

the North Island Under 16 team in the annual fixture, and was then one of

the two'Bedeans'tobeselected inthe New Zealand Under 16 squad that

year.The following year (1986) Jason alone made the New Zealand Under

17 team thattoured Australia.

St Bede's said thatthey remain very proud of its MidCanterburyBedeans.

AshburtonCollege'sHistoryinthe UC RugbyCompetition

Founded in 1965, Ashburton College competed in the first Press Cup

competition (as it wasthen known) playing through until 2001, when poor

results and high costs forced their withdrawal from this competition. The

team re-entered the competition in 2011.

TopYear

In 2013 theywon eightgames on course to ahistory-breaking season,

including the South Island Co-ed school title and third place at the

Co-edNational Championship.

2020

Also notable isthat, in 2020, the strong St Bede's and Mid Canterbury

connection has been maintained via the presenceofSt Bede's Head Coach

Dwayne Prendergast (ex-Ashburton), with his playing and coaching record

there.

Coming Events

Alterations due toCOVID changes will be advised directly toeach group as

relevant.

September

11 CanterburySchools'Golf Matchplay, Christchurch

Year 11 Outdoor Education hike,MtThomas,Oxford

South Canterbury Winter Basketball Competition,

SouthernTrustEventsCentre, Timaru

Boys'1st XI Hockey,Christchurch

(Pictured above,back row,lefttoright): Matthew Pearce

(Under 16 Boys'JointChampion), Regan Lilley (Under 14

Boys), Matthew Hopkins (Under 16 Boys'JointChampion),

Kyle Cabangun (Under 19 Boys'JointChampion),

Flynn Mackenzie (Under 19 Boys'JointChampion).

(Front row,lefttoright): Lusungu Mbambo (Under 16 Girls),

Angel Spooner (Under 14 Girls), PoppyKilworth (Under 19

Girls), LauraWinchester(Under 15 Girls).

(Insertright): Chris Angus (Under 16 Boys).

Term Dates2020–TermsTwo,Three and start of Term Four

Term Three Monday20July -Friday25September

Term Four Monday12October -Thursday05November (Year 13)

-Tuesday10November (Years11and 12)

-Thursday03December (Year 10)

-Friday04December (Year 9)

Term Dates2021 –Pleasenotethese areupdated.

Term One Thursday04February(Years 9and 13)

Friday 05 February (Years10and 12)

Tuesday09February (Year 11 - Friday16April

Term Two Monday03May - Friday09July

Term Three Monday26July - Friday01October

Term Four Monday18October - Thursday 28 October (Year 13)

- Tuesday 02 November (Years 11/12)

- Thursday 09 December (Year 10)

- Friday10December (Year 9)

(Pictured above,back row,lefttoright):

Hannah Joyce(Year 9Girls'Champion),

IzaccCarr(Year 9Boys),

Blake Farr (Year 12/13 Boys),

Victoria Binnie

(Year 12/13 Girls'JointChampion).

(Front row,leftand right):

Hannah King (Year 10 Girls),

Caendal Harris(Year 11 Girls).

(Inserts,right, toptobottom):

PoppyKilworth

(Year 12/13 Girls'JointChampion),

Cody Robin (Year 11 Boys'Champion),

Logan Scammell (Year 10 Boys).

Information

LipSync 2020–Under Changed Format

Previously scheduled for Tuesday 18August, the changing COVID

requirements createdpostponement.

However, Lip Sync will still go ahead but in video format.

Entries closed at 6:00pmlast Sunday, 06 September,placed through House

Executives,thus keeping the House points system flourishing.

We will update regarding results oncethese come to hand.

The ever-competitive Staff vs Student Executive challenge has, regretfully,

had to be taken out of the programme this year.

12 Rugby–UC Round 12 Marlborough Boys'College v

MidCanterburyCombined (Marlborough)

15 Thomson/Whelan Basketball Trophy, AshburtonorChristchurch

16 AGS1TractorsDay2,Year12ACADGroup 1, AshburtonShowgrounds

Y10 Smart$ presentation, Auditorium

Otago UniversityCourse Planning

Year 9SMASHED presentation, Auditorium

SuperNet semi-finals,Christchurch

Girls'1st XI Hockey,Christchurch

16-18 12 Outdoor Education Bike trip,West Coast

17 Aoraki Girls'FootballvOpihi, Opihi

18 Year 12 Sciencetrip, Antarctic Centre

Boys'1st XI Hockey,Christchurch

South Canterbury Winter Basketball Competition, Southern Trust

Events Centre, Timaru

19 SISS Skiand SnowboardChampionships,Cardrona

19-20 National Cross-Country, Taranaki

20 Aoraki SecondarySchoolsMountainBike Competition,

HerbertForest

21 Level1Day tramp,Peel Forest

21-25 TopArt Road Show

22 11PED Hike,Peel Forest

9Y Innovation class trip,AshburtonRiver Track

ACAD1 Animal Handling Day2,Yr12 ACAD Group 1,

AshburtonShowgrounds

Thomson/Whelan Basketball Trophy, AshburtonorChristchurch

23 ACAD2 Animal Handling Day2,Y12 ACAD Group 1,

AshburtonShowgrounds

SuperNet finals,Christchurch

Girls'1st XI Hockey,Christchurch

24 Music Evening,Auditorium, 7:00pm

Some KeyForthcoming Dates

November

05 Year 13 Graduation Ceremony,

AshburtonTrustEvent Centre,7:00pm

10 Years 11 and 12 Prize-givings,EANetworksCentre, 7:00pm

16-09 Dec NCEA Exams
---
14 Ashburton Courier, September 10, 2020

ADVERTISING FEATURE

www.ashburtoncourier.co.nz

Home show

forced to

cancel due

to covid

HOME &GARDEN

The Star MediaHomeand Leisure Showrecentlyrescheduledfor

last weekend ­has

beencancelled.

Always acrowdpleaser, the show wasset to

be thelargest event organised by Star Media to

date.

However after being postponed several

times, Star Media hasbeen reluctantly left with

no choice but to cancel duetothe enforced

extensionofthe nationwideCovid­19 level2

restrictions.

No further postponement dates were

available.

Home and Leisure Show event managerLisa

Lynch said''many local businessesrely on the

showtogeneratesalesleads''.

''Althoughweorganise the showitis all about

the exhibitors, and without their supportwe

wouldn't be able to bring the public thousands

of ideas and inspirationunderone roof,''she

said.

''It is important we supportour local

businesses during this time, so we are working

on ideastoshowcaseour exhibitorsinother

waysnow that the show is cancelled.''

TheStar Media team will nowlook to the

future to bring Canterburyanexcitingshowin

2021.

• Additions and Renovations • All types of maintenance

• Commercial and Farm buildings • New Housing

STOP BIRDS

leaves, hail and vermin from blocking

and damaging your spouting

Qualitymaterials: BHP Colorbond steel mesh

with unique patented louvrewill even keep

out pine needles.Will not rust or sag with age

or load.10year warranty,range of colours

Proven in Australia &New Zealand

over the last 15 years.

FOR SAFE, PURE DRINKING WATER

FROM YOUR ROOF.

NOWAVAILABLE:STAINLESS STEELMICRO MESH

Call Rohan anytime Mon-Sat for

ano-obligation assesssment&quote

0800 486532 03 982 8850

www.gumleaf.co.nz

2288489

2289249

Roses should be pruned by now or you risk late and disappointingblooms.

Fine spring days ahead

Vegetables

Take advantage of fine spring days

to sow vegetables.

Frequent hoeing and loosening of

surface soil helps all crops, letting air

and warmth into the upper layers of

the soil.

Use spring cabbages soon, or they

will run to seed. Cut the largest heads

first. Once ahead has been cut, the

plant should be removed and

composted, or it will continue to

draw nutrients from the soil.

Sow lettuce regularly from now on,

afew at atime, to keep aregular

supply. The best lettuce plants are

those sown where they are to mature.

Thin the seedlings so those left to

mature will produce ahighly

developed root system. Liquid

manure helps give good leaves.

Rhubarb will be starting to sprout,

but leave the early stalks to mature

and water the bed well in dry

weather.

Watch any early potatoes pushing

through the surface in areas where

frosts might still occur. Cover with

pea straw or hoe up soil over them

and, when they become strong,

mound them up. Main­crop potatoes

can be sown in districts that usually

experience dry summers.

Thin autumn­sown onions and

weed the bed when soil conditions

allow.

Flowers

Plant pansies and violas. Regularly

remove faded flowers and seed pods

to prolong the flowering displays, a

practice also invaluable with other

annuals and perennials, such as

dahlias, sweet peas, asters, roses and

calendulas.

Dahlias left in the soil during

winter can be lifted and divided for

replanting. Lift clumps of tubers with

afork and, with asharp knife, remove

individual tubers, ensuring each has

2289205

Sow lettuceregularly from now on, afew at atime, to ensure aregularsupply.

alarge piece of stem with asturdy

growth bud attached. Before

replanting, add plenty of compost or

well­rotted stable manure. Add lime,

at the rate of 100g per sq m, and

replant tubers with the bud about

5cm below the surface.

Plants suitable for damp spots in

the garden include astilbe, globe

flower (Trollius), Himalayan blue

poppy (Meconopsis), perennial

phlox, primulas, japonica, leopard's

bane (Doronicum), Anemone

japonica, lily of the valley, Solomon's

seal, hellebores and penstemons.

Roses should have been pruned by

now. If not, this should be done as

soon as possible or flowering will be

late and blooms disappointing.

When bulbs grown in pots for

indoor or patio displays have

finished their flowering, plant them

in acorner of the garden to

recuperate.

It will probably take ayear or two

before they will flower properly

again.

Fruit

The season for planting tomatoes

under glass is almost here. Unless

you have aheated glasshouse or a

sunny conservatory that stays warm

overnight, do not be in ahurry to put

in tomatoes. They are asubtropical

plant from lowland South America,

cultivated for at least 1500 years.

Modern tomatoes come in two

types: bush (determinate) and

indeterminate. Determinate

varieties are bred to grow to a

compact height, usually about 1.5m.

They stop growing when fruit sets on

the terminal or top bud, ripen all

their crop at or near the same time,

then die.

Indeterminate tomatoes are vines

that continue growing throughout the

season and include many of the

small­fruited varieties.

If buying plants, look for sturdy

specimens about as tall as they are

broad and with mid­ to dark­green

leaves.

If tomatoes are grown in the

ground, fresh soil or tomato mix is

needed every year, so growing them

in pots or heavy black plastic bags is

more economical. Set plants about

1m apart and water sparingly until

they are well­established.
---
www.ashburtoncourier.co.nz

ADVERTISING FEATURE

Ashburton Courier, September 10, 2020

15

HOME &GARDEN

Bee ahero during bee aware month

New Zealand's beekeepers are

calling on Kiwis to 'Bee a

Hero' during September, as

the country celebrates Bee

Aware Month.

Bee Aware Month is an

annual educational campaign

organised by Apiculture New

Zealand and supported by bee

lovers across New Zealand.

Apiculture New Zealand chief

executive officer Karin Kos

said there are two key goals of

the campaign.

"We want to lift awareness of

the critical importance of bees

to New Zealand's

environment, food chain and

economy, and teach Kiwis

some simple actions that

everyone can take to improve

bee health."

Ms Kos says green­fingered

Kiwis can help bees by

growing bee­friendly plants in

their gardens, while nongardeners

can also do their bit.

"Mowing your lawns less

often is one really simple

thing that can make a

difference for bees. Weeds

like clover and dandelions are great food for bees."

Ms Kos also encouraged Kiwis to support everyday

bee heroes: the nations beekeepers.

"Since the advent of varroa, beekeepers' have

become essential to the survival of honey bees. Our

beekeepers work hard to care for and protect our bees.

Buying local honey, especially some of our beautiful

native varieties like rewarewa or kamahi, or other bee

Avoid garden sprays, select bee­friendly products or follow spray safe rules.

products is agreat way to back our beekeepers and

their bees," she said. Another important thing

everyone can do is to take care with garden sprays. She

recommended avoiding garden sprays, selecting beefriendly

products or following the spray safe rules.

"Spray only in the early morning and evening when

bees are less active; never spray when flowers are in

bloom and always read instructions carefully before

Ancient matai tree stumps found

Treestumps pre­dating human arrivalin

New Zealand have been unearthedin

Halswell, providing newinsights on the

area'shistory.

The matai treestumps were discovered by

Ecan councillor Craig PaulingonQuaifes Rd

in Christchurch during stormwaterbasin

excavation works andwere partofa

subfossil matai forest underneath the

ground.

Radiocarbon dating results showed them

to be between 900 and 1200­years­old.

They were initially thought to be just afew

hundredyears old.

Mowing lawns less often is asimple way to help bees.

spraying," she said.

The Environmental Protection Authority (EPA) is a

key supporter of Bee Aware Month. EPA sets the rules

around when, how and where insecticides can be used.

EPA Hazardous Substances and New Organisms

Group acting­general manager Clark Ehlers said

insecticides play an important role in food production,

but some are harmful to pollinators, such as moths,

birds and bees. ''Bee Aware Month is agreat time for

people to ensure they're following label instructions

when using chemicals, or using alternative pest

control methods, to keep our pollinators safe.''

Throughout Bee Aware Month, Apiculture New

Zealand and its supporters and sponsors will be

sharing bee facts, running competitions and, where

possible, organising community events.

New Zealanders can find out more by visiting www.

beeawarenz.co.nz by following the Bee Aware Month

Facebook or Instagram pages.

Transformyour kitchen

with aunique designjust foryou

"Freemeasure&quoteinyour home"

606 East Street,Ashburton. P: 307 7131 l www.kitchenexpress.co.nz

Open9am to 5pm Monday-Friday; 9.30am-12.30pm Saturday

The Renovation Experts

From the ground up–Interior and exterior

New builds

Renovations

2309934

2311495

Commercial

Plan consultations

Interiors byVivienne 86 Belt Road, Ashburton 027 444 7633 •www.viviennejames.co.nz

2311870
---
RURAL/LIFESTYLE

16 Ashburton Courier, September 10, 2020

www.ashburtoncourier.co.nz

Frances expands helping role

TONI.WILLIAMS

@ashburtoncourier.co.nz

Mayfield dairy farmer Frances

Beeston has beenappointed

thenew Rural SupportTrust

(RST)Mid Canterbury coordinator.

The RSTuses local, rural

people familiarwith issuesto

help othersinall kinds of

situations get through their

current challenges.

She has beensettlinginto

therole, which has been

revamped sincethe

resignation of formerRST Mid

CanterburymanagerJudy

Skevington.

Ms Beeston,who is RST Mid

CanterburyMycoplasmabovis

(Mbovis) response coordinator,

will take over

manning the trust's free phone

alongwith fellowMbovis

responseteam members

Wendy Hewitt, Marie

McAnulty and Sophie Shearer.

They willworkonaroster

system,whichwill ensure the

position is sustainable and

available for thedistrict's

ruralcommunity into the

future. The 0800 telephone

number(0800 787254)is

manned 24/7.

Everyone has things going on

in their livessohavingateam

on board to man thephones as

neededisvitaltoits success

and the health of those

manning it, Ms Beeston said.

The team has already been

trained as Ministry for Primary

Industries (MPI) facilitators

through their Mbovisrole, Ms

Beeston said.

Next year MPI was looking at

Mbovis in the district being

more managed rather than in

needofresponse.While there

hadbeenafew hits in bulk

milk testing, most of thetesting

Rural Support Trust (RST) Mid Canterbury co­ordinator Frances Beeston.

was picking up cases in the

North Island.

"It's quietened down heaps,

which is really good,"she said.

Ms Beeston grew up with

dairy farming; her parents are

Annette and Bryan Beeston.

Even they admit farming

today had changed since they

were involvedwith more

compliance needed, more

recording and more

paperwork, Ms Beeston said.

Her farm, CamelotDairy

Farm,spans 260 hectares on

Anama StationRoad.

It supplies Fonterra Milk

Company, milking 750 cows, a

mixof Blumoon Holsteins and

BrownSwiss through a60­bail

rotary.

And runsasplit calving,

which happenstwice ayear.

"I have an awesome farm

manager (Erin McLaren),"Ms

Beeston said, whoalong witha

team of five workthe farm.

Thefarm team gave Ms

Beeston confidence to carry

out off­farmdutiesinher roles

for RST and MPI, as well as

caring for sonDeclan, now one

year old.

Ms Beeston said thenewly

formed RSTteam will take

over the rolealreadyfully

trained and ableto"carry on

the good work done by Judy

duringthe past threeyears",

she said.

They are also lookingtouse

ruralprofessionals to identify

issues and areas of need and

are planningGoodYarn

workshops and events to

benefit rural communitiesin

specific need.

It would give RST extra eyes

andearsonthe ground.

RST Mid Canterbury are

booked to attend the

Ashburton A& PShow on

October 30 and 31. They will be

in the safetyvillage marquee

running competitions as well

as be available for achat.

International motivational

speaker Tony Christiansen,

wholost his legs aged nine in a

horrific train accident,will

speakatthe Hinds Hall on

November 16 andthere are

alsoplans for aGoodYarn

trainingworkshop before the

endof theyear and acomedy

eveninginthe rural areas.

Canty farmers seek water word with Parker

MidCanterbury'sDavid Clark

is amongCanterbury

Federated Farmerspresidents

whosaynew National

EnvironmentStandard(NES)

forFreshwaterrules could

derail progress already made

on improvingwater qualityin

thedistrict.

It'sanissue they aretaking

directly to environment

ministerDavid Parker.

FederatedFarmersNorth

Canterbury president Cam

Henderson, speaking on behalf

of Mr Clark,Jason Grant (South

Canterbury) and JaredRoss

(North Otago),saidthe rules

came in overrules

Environment Canterbury

already have in place.

Theyinclude limits on land

use intensification,set controls

on intensive winter grazing,

and limitsthe useofsynthetic

nitrogen fertiliser.

Federated Farmershas been

consistently raising issues with

theworkability of the

regulations.

Theorganisation'sSouthland

province went as far as calling

foraboycottonconsents

relatedtowinter grazing.

''Weagree thatanumberof

thenew rules arenot workable.

Butmore than that, in

Canterburythe NES is simply

notneeded. Not because we

don't haveintensive farming

butbecause our current

regionalplan already deals

with improvingwater quality in

amuch more targeted and

effective way.''

TheCanterbury Federated

Farmers presidents planto

write to MrParker.

IN BRIEF

DAIRYNZ DIRECTORS

Three candidates have been

nominated for two positions on the

DairyNZ board ofdirectors andfrom

September 21, levypaying dairy

farmers canvote for their preferred

candidates.

DairyNZ's board consists of five

farmer-elected directors and three

board-appointeddirectors. This

year,farmer-elected directors Colin

Glassand Jim van derPoel are both

retiring by rotation. Both menare

seeking re-electionwhile Cole

Groves,ofAshburton, is also

seeking election.

The successful candidates willbe

announced at DairyNZ's annual

meeting in AshburtononOctober

21.

OVERSEER UPDATES

Farmerscan now assesspotential

impact and investment of plantain,

usingOverseerFM. It haspositive

effects on milk production and

reducingnitrate leaching.

Since the comprehensive

research programmeForagesfor

Reduced Nitrate Leaching(FRNL),

plantain has been includedin

OverseerFMasapasture type on

pastoral and cut andcarry blocks.

"For thefirst time,farmers

considering sowing plantain can

compareestimates of their farm's

nitrogen lossesbeforeinvesting

time andmoney," saysDrCaroline

Read, chief executiveofOverseer.

RED MEAT EXPORTS

Australia,the US, the UK andKorea

were thebrightlights for New

Zealand's red meatexports in July,

according to an analysis by the

MeatIndustry Association. Overall

exports to Australia leapt by 58 per

cent compared to the same period

last year.

The overall value of exportstothe

United Statesroseby56 per cent

alongside a39per cent increase to

Koreaand a35per centjump tothe

UK. Chinaremained the largest

market, accountingfor 31 percent

of exports during July, withavalue

of $209.7 million.

FOODAND FIBRE

Anew Foodand Fibre Centre of

Vocational Excellence (CoVE) will

provide an industry-led approachto

practical education for the primary

sector.

The consortium is acollaboration

involving54organisationsacross

the entire food and fibresectorand

chair Jeremy Baker saidthe CoVE

was expectedtobuild skills in the

industry for asustainable future.

Maxiroll

THAT'S HOW WE ROLL

#1 Selling roller in the UK

•60mm CRMO4v-steel shafts with

rubber suspended bearings

•Hydraulic cracker board with

parallelogram eliminates lumping

in fields.

•Hydraulic weight distribution

system provides 100% even

compaction of soil.

•Comes in working widths from

5.3m-12.3m

Ultimate seedbed prep

The high capacity Rollomaximum isaprecise seed

bed cultivator with built-in front and rear rollers. The

combination of rollers and cultivator tines regularly

achieves aseed bed in asingle pass with the change to

and from transport is done hydraulically from astationary

position roller.

Comes in working widths from 6.2m –12.4m.

CALL US

ABOUT

DEMO

MODELS

Rollomaximum

Call Alastair Robertson | 027 435 2642

AMBERLEY |LEESTON |ASHBURTON |TIMARU |OAMARU

www.cochranes.co.nz
---
www.ashburtoncourier.co.nz

NEWS

Ashburton Courier, September 10, 2020

17

Rangitata

Electorate

Offices

Continuing to support locals

alongside caretaker MP

MattDoocey.

139 Stafford Street, Timaru

03 683 1386

81 Harrison Street, Ashburton

03 308 7510

rangitatamp@parliament.govt.nz

Authorised by Matt Doocey MP

for Waimakariri, Level 1,Conway

Lane, Rangiora.

Bar raised for college award

Under new criteriaYear

11 andYear12students at

AshburtonCollegewill

need to reach the required

levelinfive outofsix

subjectsinorderto

receive an Application

andEffortAward from the

school.

Thecriteria comesinto

affect this year andisseen

as away of raising the bar

and also alogistical stepto

shorten prizegiving

ceremonies,says college

principal Ross Preece.

Mr Preecesaid

previously students

neededtoachieve in three

outofsix subjects to

receive theaward.

The thinking now was

that wastoo easyto

achieve.

Under the old criteria

somestudentshad

received anApplication

andEffortAward,but had

gone on to fail NCEA Level

1, said Mr Preece.

Another changeatthe

schoolisanew combined

prize givingceremony for

Year 11 and Year 12

pupils.

''Previouslyeach

separate ceremonywent

on for90minutes andnow

we are aiming to combine

both into atwo hour

event,''saidMrPreece.

He saidthe new criteria

would seefewer students

recognisedatthe

ceremony.

Theschool estimateda

reduction of around 15 per

centcompared withlast

year.

Thechanges had been

decided by the senior

leadership team and

wouldstill acknowledge

student achievement, he

said.

Thecombined awards

ceremony will be held at

7pm on November 10 at EA

NetworksCentre.

Thereare maximum

numbersallowedof900.

Theschool estimates

therecould be 350pupils

attending, from total Year

11/12numbers ofaround

450, plusfamily members.

Ross Preece

New GrantRounds

2020/2021

Up to $10,000

Feb, April, July, August

Over $10,000

May, October

See website forclosing dates

and to makeanon-line application

www.comtrust.org.nz

To discuss any applications

Phone:

03 687 7360 or 0800672287

Email:

msccomtrust@xtra.co.nz

THE GOODNESS

OF GARLIC

FREE

GIFT

+

ASHBURTON

The Arcade

(03) 308 1815

h2k11@xtra.co.nz

SAVE

$5

EARN 49

REWARD POINTS

120s NOW

$48 90

was $53.90

GET AFREENUTRA-LIFE KYOLIC

AGED GARLIC EXTRACT 30s

when you buy the 120s, while stocks last.

SUPPORT TO KEEP

ACTIVE AND HEALTHY

EARN UP TO 55

REWARD POINTS

60s NOW

$23 92

was $29.90

120s NOW

$39 92

was $49.90

180s NOW

$55 12

was $68.90

www.Health2OOO.co.nz

Follow Health2OOOGroup on:

2251128

The Community Trust

of Mid and South Canterbury Inc

32nd ANNUAL

PUBLIC MEETING

Valetta Room, Ashburton Hotel,

Ashburton

Monday 12 October 2020

at 10.30 AM

Guest Speaker

John Milligan

CEO,Foodbank Aotearoa NZ

RSVP by 7October

office@comtrust.org.nz

Or freephone 0800 672 287

To viewthe Annual Report &Annual

Financial Report 2019-2020 visit

www.comtrust.org.nz

Take together to supportyour

jointhealth

+

this spring.

EARN UP TO 56

REWARD POINTS

100s NOW

$23 92

was $29.90

200s NOW

$39 92

was $49.90

300s NOW

$55 92

was $69.90

Offer ends 31st October 2020 or while stocks last. Always read the label

and take as directed. Lighthouse Health Distributors Limited, Hamilton.

Vitaco Health (NZ) Limited, Auckland.

2312583

Newly published author Pauline Roberts.

Pauline's book on

grief tribute to son

MICK.JENSEN

@ashburtoncourier.co.nz

Lake Hood resident Pauline

Roberts has penned her first

published book. It's atributeto

her late son andaguide to help

others find joy in their life aftera

loss.

Called Whole Hearted Grief,

the book is acandid reflection of

her own journey and painful loss,

but also offers advice and helpful

practices to come outthe other

side.

Theauthor, who has a

background as agrief and loss

counsellor, is now acoach and

mentor, and has always enjoyed

writing.

''Writing andpaintingare my

happy places.

''I write poetry,fiction and

keep journalsand I've always

wanted to have abook

published.''

Shewas encouraged on the

book journey by fellow Ashburton

Writers Groupmember Stacey

Broadbent andthe inspiration for

her book is herson's tragic death

three years ago.

Thebook was written full time

in just threemonths and hasbeen

aform of therapy for Pauline.

Thewhite heron on thefront

cover is from one of her own

paintings and asymbol she

believes bringsher closer to the

spirit world.

''Thereisnoroad map to grief,

but grief will walk beside you

while you follow yourself home,

in your own time and in your own

way,'' saidPauline.

Herlateson Adam was

diagnosed with Huntington's

disease at aged 14, but had been

full of the joys of life andliving

happily in Christchurch when he

died in ahorrific burn accident in

2017.

He was just 29 and his death

left abig void in Pauline's life,

andinthe lives of otherswho

knew him.

''Everyone suffers grief in their

life andgetting through it canbe

very tough.

''I didn't want to just tell

another tragic story. My aim with

thebook is to share my

experiences and emotions in a

way that reminds peoplethat

there is joy still to come in life

after loss.''

Feedback from those who have

read thebook has been very

positive andthe first print run

has sold out.

Pauline said hermother and

sister had both lost sons, one had

been 18 and theother 24.

''Mum told told me that if she

had the read the book 40 years

agoitwouldhavehelped her deal

betterwiththe lossofher son.''

Grief was unstoppable and

moving through it took time and

effort.

Heradvice to others is take one

small step at atime ''in the

direction of reclaiming joy''.

Wholehearted Grief by Pauline

Roberts is available throughthe

author'sFacebook page.
---
SPORT

18 Ashburton Courier, September 10, 2020

Mid Canterbury striker Millar McLauchlan (centre) scored twice in the 3­2 defeat.

PHOTO: DOUG BOVETT.

Millar scorestwoin defeat

MidCanterbury United's

seniorteam lost aclose game

3­2 against WaimakUtd at

AshburtonDomainon

Saturday.

The home team scored first

after 10 minutesfollowing a

nice through pass and cool

finishfrom young attacker

Millar McLauchlan.

An equaliser followed a

few minutes later, before

McLauchlan bagged his

secondwith abrave header,

nippinginjustahead of the

advancinggoalkeeper.

Waimak were thestronger

side in thesecondhalf and

scoredtwo goals to take all

three points.

Mid Canterbury United

will playStAlbans Shirley

FC at St Albans Park on

Saturday.

Netballers retain shield

Mid Canterbury Netball's

senior rep team retained the

Hanan Shield at the weekend

after winsover South

Canterbury and NorthOtago

at the EA NetworksCentre in

Ashburton.

Alice Eddington was in

devastating form against

South Canterbury in the first

game, shooting 59 from 60

attempts in Mid Canterbury's

73­42 win.

SouthCanterbury then beat

North Otago 62.45, settingup

what the hosts likely thought

would be an easy win over

North Otago.

But theywere mistaken and

at one stage in the second

quarter trailed by 12 goals. It

wasn't until the final quarter

Mid Canterbury found its

earlierrhythm and finished

with a59­52 win, retaining the

shield they won last year.

Covid restrictionsmeant no

spectators wereallowed at

the games, which were

livestreamed.

SPORTS DRAWS

RUGBY

The draw for September 12:

Buller v Agstaff Mid Canterbury,

Away, KFaalogo.

1st XV UC Championship, NZ King

Salmon MBC v MC Combined, Marlborough

Boys College, 12pm.

Under 18 Combined final: Prebbleton

vMCRU Alps, Prebbleton, 1pm.

Under 14 MCRUfinal(Wednesday 9th

September): MCRU Plains v MCRU

ALPS, Celtic 3, 5:45pm J Robinson, S

Bennett, AMcGirr.

Under 16 Finals MCRU (Wednesday

9th September): MCRU PLAINS vMCRU

ALPS, Celtic 1, 7:30pm H Grant, J

O'Connor, NForbes.

Under 13 (Friday 11th September):

Allenton Smallbones v Celtic, Celtic1,

6:00pm.Methven vCollegiate Ross Leadley

Building, Methven, 6:30pm. Bye

Southern/Tinwald Howden Ag.

Under 11.5: Celtic Green vMethven

Black, Celtic1A, 1:15pm. Celtic White v

Methven White, Celtic1B, 1:15pm. Collegiate

Cates Grain & Seed v Rakaia,

Collegiate1A, 1pm. Hampstead vSouthern

Coleman Ag, Hampstead1A,

12:30pm.

Under 10: Allenton Trembath Construction

v Methven Black, Allenton2,

1:00pm. Celtic Green v Methven Red,

Celtic1A, 12:00pm. Celtic White vMethven

White, Celtic1B, 12:00pm. Hampstead

vSouthern Four SeasonsTreecare,

Hampstead1B, 12:30pm. Tinwald Ace

Automotive vRakaia, Tinwald3, 1:15pm.

Under 9: Celtic vMethven, Celtic2A,

1:15pm. Collegiate/Hampstead Regent

Cinema v Southern Hayden McKenzie

Contracting, Collegiate2, 12pm. Tinwald

Moore Mechanical v Rakaia, Tinwald4,

1:15pm. Allenton Engineering Solutions v

Southern Busch Joinery Under 8, Allenton3,

12pm.

Under 8: Allenton Alpine View v

Tinwald Gluyas Nissan, Allenton3, 1pm.

Celtic Green v Methven, Celtic3A,

1:15pm. Celtic White v Methven/Mt

Somers, Celtic3B, 1:15pm. Collegiate/

Hampstead v Rakaia, Collegiate1A,

12:00pm.Southern BuschJoinery vAllenton

Engineering Solutions Under 9, Allenton3,

12:00pm.

Under 7: Allenton Gold Young Electrical

vSouthern White Riverlea Ag, Allenton2,

12:00pm. Allenton Auto Maroon v

Southern Blue James Doyle Contracting,

Allenton1A, 12:00pm.Celtic vMethven/Mt

Somers, Celtic2A, 12:00pm. Tinwald

Black NZ Livestock's v Rakaia, Tinwald1A,1:00pm.

Tinwald Orange Skip 2it

Flooring v Collegiate Ashburton Crane

Hire, Tinwald1B, 1:00pm. Bye Methven.

Under 6: Allenton Gold Ashburton

Plumbing Services vRakaia, Allenton1A,

1:00pm. Allenton Maroon Sparrow Family

vSouthern White Agspread, Allenton1B,

12:00pm. Celtic Green v Hampstead,

Celtic3A, 12:00pm. Celtic White vMethven

Black, Celtic3B, 12:00pm. Collegiate

CranfieldGlass vSouthernRed Harcourts

Ashburton, Collegiate3, 12:00pm. Tinwald

Alluvial Black v Mt Somers, Tinwald3,

12:00pm. Tinwald Cranfield Glass

Blue v Southern Blue Matt Wakelin

Contracting, Tinwald1A, 12:00pm. Tinwald

Canvas Orange vMethven White,

Tinwald1B, 12:00pm

HOCKEY

Mid Canterbury Hockey Association

draw September 11to 16

Mid Canterbury Hockey NBS Turf is

currently operating under Level 2Covid-

19 restrictions - please ensure you are

familiar with &comply with the guidelines

as currently advertisedonthe Mid Canterbury

Hockey website: www.mchockey.co.

nz/Covid-19

Small Sticks duty club: Methven

Friday 11September Kiwi Sticks (Yr

5) 3.45 pm Rakaia Yr 5vAllenton Yr 5

(Turf a) S Greeson, H Kidd Methven v

WakanuiBlue (Turfb)GMuir,RKidd4.30

pm Wakanui Black v Tinwald Foothills

(Turf b) SGreeson, MMarshall Tinwald

(BYE) Kiwi Sticks (Yr 6) 4.30 pm Tinwald

vWakanui (Turf a)GMuir -LMarshall, H

Kidd 5.15 pm Collegians D&EvMethven

White (Turf a) MMarshall, LLansdown

Rakaia Yr 6vMethven Black (Turf b)J

Ellis, LMarshall 6.00 pmAllenton Yr 6v

Tinwald Foothills (Turf a) J Ellis, L

Lansdown

1st Grade Women 6.50 pmA1vA4

(Hampstead, Hampstead Blue) 8.00 pm

A3 vA2(Methven, Wakanui)

Just Hockey SSL Div 1Boys Marist

Park@St Bedes7.10 pm Cashmere High

School 1st XI vAshburton College 1st XI

(Umpires supplied)

Small Sticks duty :Methven

Saturday 12 September Mini Sticks

10.15 amMethven Yr 3vWakanui Black

(Turf a) Coaches Hampstead vTinwald

(Turf b)Coaches Wakanui Blue vMethven

Yr 4 (Turf c) Coaches Tinwald

Foothills vAllenton (Turf d) Coaches Fun

Sticks 11.00 amDraws made on the day

Coaches

Senior Women Wakanui (BYE)

Senior Men Wakanui (BYE)

Sunday 13 September 2nd Grade

Girls Tim TA 12.50 pm Tinwald vRoncalli

1st XI (Umpires supplied) Tim TA 2.40 pm

CambridgevWakanui (Umpiressupplied)

1st Grade Men 4.00 pm Hampstead/

Wakanui vHampstead Lowcliffe (Tinwald

Orange, Wakanui) 5.25 pm Tinwald Black

vAllenton (Hampstead/Wakanui, Hampstead

Lowcliffe)

6.50 pmTinwald Orange vWakanui

(Tinwald Black, Allenton)

Monday 14 September 2nd Grade

Boys Draw unknown

Tuesday 15 Sept Kwik Sticks (Yrs 7&

8) 4.00 pm Wakanui Blue/Collegians v

Wakanui Black (L Ellis, BGreer) 5.15 pm

Tinwald Foothills vAllenton (M Wilson, G

Oates) 6.30 pm Tinwald Orange vMethven

(A Mitchell, MAmos).
---
www.ashburtoncourier.co.nz

Methven bowlers at nationals

Methvenbowlers Jeff Nowell

and Rob Fensomwon the world

pairs qualifying match in the

Professional Bowls Association

(PBA) finals dayatDunedin

Bowls Stadium.

ThePBA has six centres

nationwide, in Dunedin,

Invercargill,Hamilton, Hastings,

New Plymouth and Wellington.

TheMidCanterbury duotook

on Ray Webster and Russell

Dawe, bothofDunedin, on

August23and wonbothsets to

claim the victoryinfront of

thousands of online spectators.

''Itwas ahigh quality game

with all players playing great

bowls, but we managed to come

out on top 9­4, 6­5,'' Fensom said.

Covid restrictions may have

limited the numbersofphysical

spectators to 100 but the final

was livestreamed by Bowls

Dunedin and had more than 2000

views from spectators

nationwide, as well as from

Australia,Papua NewGuinea,

England and South Africa.

It is still availableonline for

peoplewanting to watch the

game.

Nowell and Fensomhave

played doubles intermittently

together for thepast eight years.

Theyplayed competition to get

to the PBA playoffs and wontheir

firstthree section play games a

few weeks ago, where they beat

top ranking Dunedin team of

current Blackjack Andrew Kelly,

teamed up withAndrew McLean

in atightly contested 7­6, 6­6

semi­final.

Methven bowlers Jeff Nowell (left) and Rob Fensom are heading to

Auckland next month to play in the Professional Bowls Association

national finals.

PHOTO SUPPLIED

The Methven duo were

understandably ''very happyto

have won'' and it meantthey

returned to Dunedin for finals

play, Fensom said.

Nowelland Fensom will head

to Auckland next month to play

in the national final, expected to

take place on October 9and 10.

''By winningwehave now

qualified to head up to Auckland

on October 9and 10 to play

against last seasons open pairs

champions, RayMartin and

CalebHope (of Wellington),''

Fensom said.

He believed they would be

their toughest competition but

was lookingforward to the

challenge.

Oneloss andyou areout, but

three wins and they will qualifier

to representNew Zealand at the

world final in England,

scheduled for early 2021, he said.

''The event is knock out so we

willneed to win three games to

take thetitle withthe endprize

being atriptoPotters in

England to play in the World

Pairs Finalsnextyear.

''It would be ahuge

achievement if we could get

there, butweare both really

lookingforward to the

challenge,and in the short set

format thatweplay,anything is

possible.''

SPORT

Ashburton Courier, September 10, 2020

SPORTS RESULTS

ASHBURTON 9 HOLE

GOLF

We set out to do better than the pro

Matt Davis recently, playing an Irish

stableford, and we did it! The winners

were Maryanne Urquhart 47, Jenny Matthews

43, Hughie Murchie 42, Tonee

Hurley 41, Janice Dunlop 40 and Sam

Prince 40. Chris Anderson, Laurence

Hanrahan snr and Antony White all

scored 39. Laurence Hanrahan snr also

scored atwo.

Last week, we played a stableford

sponsored by Flowers @the Gate by

Tone'e and the winners were: Maryanne

Urquhart, 21; Denise O'Halloran, 20; and

three players scored 19, Tonee Hurley,

Murray Lister and Robynne Nicoll.

Maryanne Urquhart also won two Smith &

Church balls for gobblers. One of the

gobblers was an amazing long shot from

the fairway.

Results of the stableford competition

on Saturday: Harvey Bakehouse winner

Antony White 20; Richard Hansen 20;

Elaine King 20; Chris Anderson 19;

Murray Lister 18; Hughie Murchie, by alot

from other scores on 18. Chris Anderson

scored atwo.

On September10, the semi-finals of

the 9hole championships will be played

by Sam Prince, Antony White, Stewart

Bennett, Peter Woods, Tonee Hurley,

Kate White, Robynne Nicoll and Helen

Argyle. And the Sega cup: Peter Stechman,.

Andre Van Rooyen, Dick Hansen,

Peter Greening, Janice Dunlop and Joy

Nicholas. The rest of us will play astroke

round sponsored by Accountantz. On

September 17, mixed play will be sponsored

by Netherby Pharmacy.

CYCLING

Mid Canterbury Social Wheelers winter

series training ride No 11, 26 riders:

First Monique Brake 25m 15s. 2nd Don

Sutton 25m 15s. 3rd Shona McGrath 27m

26s. 4th Ross Templeton 25m 17s, 5th

Don Morrison 25m 18s, 6th Emma

Hudson 25m 19s, 7th Rachel Reid 27m

30s, 8th Tim Craig 27m 31s, 9th Liz Wylie

31m 32s, 10th Matt Donald 23m 15s 4f/t,

11th Mark Summerfield 23m 15s 5f/t, 12th

Larry Neal 23m 16s 6f/t, 13th Michael

Gallagher 23m 18s 7f/t, 14th Gerrard

Morrison 23m 19s 8f/t, 15th Nick Grijns

19

24m 09s, 16th Matt Marshall 24m 11s,

17th Ross Proctor 32m 16s, 18th Tony

Ward 22m 59s F/T, 19th Brad Hudson

23m 00s 2f/t. 20th Michael Templeton

23m 00s 3f/t, 21st John Uden 26m 26s,

22nd Paul Chapman 25m 46s, 23rd Brian

Ellis 29m 00s, 24th Ron Kennedy 30m

00s, 25th Nigel Leary 31m 01s, 26th Brent

Hudson 31m 52s.

Tinwald Cycling U17 Development

20. 8km, Open Handicap: First Logan

McKnight 18m 40.38s. 2nd Charlotte Neal

18m 48.06s. 3rd Zoe Nicholls 16m

10.63s. 4th Konrad Artz 16m 11.08s. 5th

Tineke Artz 16m 51.67s. 6th Eliza

McKenzie 16m 53.15s. 7th Oli Nicholls

15m 05.09s F/T, 8th Amwolf Artz 15m

25.27s 2f/t. 9th Ryan Gallagher 15m

25.84s 3f/t.

End of series prize giving points: A

Grade TT, Amwolf Artz 91, Ryan Gallagher

83, Oli Nicholls 19, Daniel Gould

12, Austin Earl 8, Jack Templeton 6.

Open, Amwolf Artz 82, Ryan Gallagher

74, Oli Nicholls 16, Daniel Gould 10.

Overall points: Amwolf Artz 173, Ryan

Gallagher 157, Oli Nicholls 35, Daniel

Gould 22, Austin Earl 8, Jack Templeton

6.

B Grade TT, Konrad Artz 79, Zoe

Nicholls 57, Sara Gould 7, Alex Kenure

Blackler 7. Open, Konrad Artz 92, Zoe

Nicholls 62, Sara Gould 16. Overall

points: Konrad Artz 171, Zoe Nicholls

119, Sara Gould 23, Alex Kenure Blackler

7.

CGrade TT: Tineke Artz 77, Charlotte

Neal 42, Logan McKnight 35, Eliza

McKenzie 35, Tegan Marriott 4. Open,

Charlotte Neal 81, Tineke Artz 78, Logan

McKnight 58, Eliza McKenzie 26, Tegan

Marriott 12. Overall points, Tineke Artz

152, Charlotte Neal 123, Logan McKnight

93, Eliza McKenzie 26, Tegan Marriott 16.

Cups: Rakaia Sports A Grade,

Amwolf Artz. James Cup B Grade,

Konrad Artz .LCBushell Cup CGrade,

Tineke Artz.

Overall points: 1st Tower Trophy

Amwolf Artz 173pts, 2nd Tower Trophy

Konrad Artz 171pts, 3rd Tower Trophy

Ryan Gallagher 157pts. Girls Challenge

Trophy Tineke Artz 152pts.

LOCAL LISTENING

Peter Mac l 1pm to 6pm

2304059

Waireka acknowledges

last year's champions

Waireka Croquet Club prize

winners for the 2019/2020

season missed their end of

season presentation because

of Covid­19, but were

recognised on the opening

day of the new season.

Trophy winners were:

Pat Burgess Tray handicap

singles: Handicap 0­7, Bill

Allnutt, Handicap 8­16,

Bruce Leath.

Resource Tray Graded

Singles 9Hoop Handicap:

4­8, Brian Goodwin, 9­16

Colin Lamb.

Silver Badge: Advanced

Grade ­6­2, Sue Lamb,

SeniorGrade 3­5 Bev Blair,

Intermediate Grade 6­8

Phyllis Reith, Primary Grade

9­16 Lyn Jones.

Waireka Club

Championship: Advanced

Grade ­6­4, Bill Allnutt,

Intermediate Grade, 5­9, Rod

Webb, Novice Grade 10­16,

David Galvin.

Association Croquet:

Johnny Jaine Cup

Handicap Singles: Reece

McCorkindale. McLeary Cup

Handicap singles (Junior):

Reece McCorkindale.

Alexander/Tull Trophy, Best

Break BGrade: Gail

Benseman. Reg Coombes

Trophy, Best Break CGrade:

Reece McCorkindale.

Morrison Tray BGrade

Championship: Carolyn

Fordyce. Silver Button B

Grade: Carolyn Fordyce.

171ALFORD FOREST ROAD,ASHBURTON

0800 86 22 44

Chippers Generators Compactors Excavators Access Gear MotorVehicles

Trailers Forklifts PortableBuildings Toilets Mowers&More

2286691
---
FREE

Seedlingkit

&sticker

withevery $ 40 youspend

COLLECT

all 24

Promotion runs from 7September until 18 Oct 2020 or while stocks last.You willreceiveone LittleGardenseedling kit

forevery eligible purchase of $40(exclusions apply)inone transaction instoreoronline at anyNew World store.

Visit newworld.co.nz forT&Cs.
---
Build with peace

of mind...

Asolid reputation for top quality homes...

Experienced locals...

Jennian Homes have been building

in the larger Canterbury region

for more than 20 years. Part of a

Nationwide Franchise company,

Jennian Homes isaregistered

Master Builder and provides a10-

year Master Build Guarantee and

a36month maintenance warranty.

These guarantees ensure you have

the complete peace ofmind not only

during your build, but well after your

home is handed over.

Why choose us?

• Design and Build

• House and Land Packages

• Fixed Price and Fast Completion

• Industry Leading Finance

• Turn Key Opportunities

Display Home open to view at

Whiteoak Grove...

There's never been abetter time to invest in bricks and mortar

and we're here to help in any way we can. We have arange of

fantastic House and Land packages in the Ashburton area, so

why not get in touch and find out more.

Call Michele today to see what

Jennian Homes has to offer.

Contact:

Michele Strange

M 027 491 5266

E michele.strange@jennian.co.nz

Display Home

CornerofWhiteoak Grove and Waterford Place,Oaklea

Open for viewing:

Wednesday and Thursday 12-3pm

Saturday and Sunday 12-3pm

All other days by appointment.

Jennian Homes Canterbury

212 Main South Road, Hornby

P 03 741 1436

E canterbury@jennian.co.nz

jennian.co.nz

Contact us to find out more!
---
NEWS

22 Ashburton Courier, September 10, 2020

Gardeners could bloom in covid

LINDA.CLARKE

@ashburtoncourier.co.nz

Growing your own vegetables could follow

bakingand sewing as anew skill in covid

times.

Ashburton HorticulturalSociety

president Joy Jaine says growingflowers

and vegetables is therapy for the souland

good for the wallet.

And aspin­off of more gardeners could

bring more people to the horticultural

society's monthly meetings, where there is

awealth of experiencenew growers can

tap into.

Member numbers need aboost with just

14 mostly retired folk attending meetings

of the society, which has been around for

about 130 years.

Joy said the lackofpeople powermeant

the society wouldnot run its annual

gardencompetition in the new year. The

group had hoped that its new competition

formatlast year, whenhundreds of homeownersreceived

certificates for their

good work, would attract afew more

members. But not so.

''It's abig job for asmall number of

people.''

Joy has enjoyed veges and flowers from

her own garden for all her life. The

Christchurch nursemarried Mid

Canterbury farmer JeffreyJaine in 1963

and moved to Carew. Jeffrey used to pick

up his mother and travel the long shingle

road that was Maronan Road to attend

horticultural society meetings.

Joy camefrom afamily of gardeners and

grew up when mosthouseholdsgrew their

own veges. It was apassionshared by the

coupleuntil Jeffrey's death in 2016.

Joy Jaine still enjoys growing her ownvegetables.

Joy still puts in potatoesand grows other

veges at her Tinwaldhome, which

featuresmature shrubs, trees and potted

containers of colourful flowers.

The horticultural society runs

competitions thatare part of its monthly

meetings, and while it's not compulsoryto

enter, there's agood rivalry for who has

grown the best veges and bloomsand Joy

has some silverware.

''You don't have to enter, you can just

come along and have asocial time.''

She says it doesn't cost alot to grow

broccoli, cabbage or courgettesand

starter packs could be bought cheaply

from The Warehouse.

The club also has tripstogardens of

interestto keeps its members inspired.

www.ashburtoncourier.co.nz

Council

declines

requests

Ashburton District Council has

declinedthe postponement of

developmentcontributions on

two newbuilds in the district.

Anapplication was received

by SCMT Ltdto postpone

contributions levies of

$11,392.17 (GSTexclusive) on a

developmentat39Tancred

Street. The development is fora

new gym facility with abuilding

consent valueof$500,000.

Asecond request was

receivedfor aresidential

developmentat25Memorial

Crescent,Methven. Theproject

has abuild consent cost of

$350,000 and development

contributions of $6929.

Councilbusiness support

group manager Paul Braketold

councillors at the Audit Risk

and Finance Committee

meeting it was unusual to

receive requests for

developmentcontribution

postponements. Therehad

been three so this year, but he

could notremember any before

that.

Council policy does not allow

for postponement of fees, and

requests areheard on acaseby­case

basis and decidedby

councillors, not council staff. A

certificate of compliance is not

issued until it is paid.
---
24 Ashburton Courier, September 10, 2020

ADVERTISING FEATURE

www.ashburtoncourier.co.nz

engagement and

wedding ring specialists...

eddings

Weddings

ROBILLIARDS

SHOWCASE JEWELLERS

The Arcade, Ashburton - Ph 308 5521

The Men's

Specialist

2312512

From this moment,

we will never be apart

Musicplayed abig role in the wedding

of Mid Canterbury musiciansNikita

and SimonChristensenthisyear.

Thecouple, engaged sinceMarch

2019, were married at Stonebridge in

GeraldineonFebruary 29.

They had fellow musicians perform

their favourite pieces including Adam

Wilson (of Doppler) whohad the

honour of singing From thisMoment

(by Shania Twain) as Nikitawalked up

the aisle.

Twelve­year­old Savena Fagalima

the daughterofone of Nikita's

bridesmaid's, sang Sailboats(by

Brooke Fraser) while thenewlywed

couplesigned the wedding register.

Christchurch band Corner Sound

entertainedduringthe wedding dance

and Nikita sang asong she wrote for

her father, Craig, following his sudden

death in 2012.

Her song wascalledRainbow and

was performed in place of the

traditional father­daughter dance.

Herdad's wedding ring wasalso

attached to her weddingbouquet.

In keeping with the something

borrowed, something blue, Nikitaalso

wore abluegarter given to her by her

mother, Jo.

Nikita and Simon,always the

performers,tookdance lessons from

LifeDance Academy dancers Madi

andAnna fortheirfirst dance as

marriedcouple.

It wasa''cool dance''toYou'remy

Best Friend by Queen, Nikita says,

anditstill brings asmile to her face.

Nikita saysJustineatStonebridge,

afamily­owned andoperated

wedding and eventsvenue, helped

makethe day go smoothly,asdid the

weather.Itrainedinthe morningand

stopped in timefor the3pm

ceremony.

Nikita wore awhite,elegant

sleevelessdress whichshe loved at

first sight.

And despite beingencouragedto

try other dresses, it wasthe oneshe

kept going backtoit.

Hersix bridesmaids, including

step­daughter Emma­Lily,were

dressed in emerald green dresses.

Thebouquetsweremadeupof

mostly whiteflowers.

NIKITA AND SIMON CHRISTENSEN

Nikita and Simon Christensen and beloved family dogs, which were part of the

ceremony.

UniqueCreations

Ready to wear,hireand

made to measure

Book an appointmentorjust pop in forachat

03 308 5771 •East Street Ashburton

www.sparrows.co.nz

Looking foracomplete

Heritage Venue to hold your

Hire the quaint Waterton Church and Function Room

–which comfortably holds up to 80 persons, inthe

privacy ofthe Museum Complex complete with offstreet

Parking.

In our Village,find endless photoopportunities and add

the unique experienceofHeritage Rail Travel by hiring

atrain to entertain attendees.

For further information, or to arrange aviewing of

our facilities,contactus.

62 Maronan Rd,Tinwald.

Phone 308 9600

info@plainsrailway.co.nz

www.plainsrailway.co.nz

2312539

Ashburton's

only on-site

jeweller

163 Tancred Street

Ashburton

Phone 307 6663

www.uniquejewellery.co.nz

2312373
---
www.ashburtoncourier.co.nz

ADVERTISING FEATURE

Ashburton Courier, September 10, 2020

25

eddings

Weddings

Weddings

Bespoke touches perfect

Simon Christensen wore abespoke

outfit, put together with help from

Richard at Sparrows.

Simon was after aspecific look for

himself andhis fourgroomsmen.

While he hadasuit/blazer jacket

andhat, he and thegroomsmen also

wore braces and bow ties.

The couple gave gifts to their

wedding party; personalised

buttonholes for thegroomsmen and

earringsfor the bridesmaids.

The couple also included beloved

family pets, alabrador and bichonchihuahua

in theceremony.

Photographs, taken by a

professional photographer, were

taken around theextensive

Stonebridgegrounds,Nikita's hair

was done by friends andMinxstylists,

Brittany andTash, and her makeup by

Chelsea, of Chelsea Ellis Makeup

Artist.

CelebrantShayneCockburn, who

was aneighbourtoNikita'sfamily in

Mayfield when she was growing up,

NIKITA AND SIMON CHRISTENSEN

performed the ceremonyservice.

It was awesometohaveher, Nikita

says.

Nikita chose to use freshlycut

foliageand flowers for the table and

venue decorations, which were

placed aroundthe venue by the

Stonebridge team.

It not only reduced thecost but it

gave the venue more of apersonalised

setting.

The couple also chose to have a

memory table to honour loved ones

who had died, including grandparents

andNikita's dad.

The wedding ceremony took place

from­mid afternoon andthe couple,

andtheir 146guests had the grounds

to enjoy.While afew guestswere

unable to make it from Australia they

didhaveaguest whotravelled

specially from Scotland.

Nikita and Simon tookafew

minutesduring the day to spend alone

together walkingthe grounds after the

officialparts of theceremony, which

was advisedbyafriend.Itgave them

amoment, duringafull­onday, to just

be together andNikita saysshe would

recommendthat to others planning

their wedding day.

Thecelebrations continued into the

early hours of the nextday.

Theirwedding breakfast wasasit

down buffetfeast, chosen by Karen

(mother of the groom), andwas

perfectlyfinished withdessert and

chocolate wedding cake. Father of the

groom,Dave, played asupporting

role.

Nikita says the cakewas

personalisedwithminiature

figurines of Nikita (on guitar)and

Simon (on drums).

''Itwas perfect. Iwouldn't change a

thing,'' Nikita said.

The cake was personalised with miniature

figurines of the bride and groom.

"Openeveryday...earlytill late"

www.flowersatthegate.co.nz

77 Racecourse Road,Ashburton 027 313 0615

#weloveflowers

2312679

Simon was after aspecific look for himself and his four groomsmen and

sought the help and advice of Richard Wilson from Sparrows,

Ashburton. Simon and his groomsman all wore matching and stylish

braces and bow ties.

PHOTOS SUPPLIED

2311876

WendyPMillichamp

•Floral Design

•Weddings

•Displays

•Functions

Phone: 03 303 9743

Mobile: 027 459 1277

Email: wendy.p.millichamp@gmail.com

www.lilyfields.co.nz/floral

your

cake...

your

Talk to

us about your

personalised cake

Main South Rd, Tinwald, Ph: 308 5774

2312537

We go that extra mile to ensure that you are

100% satisfied with all your function liquor

requirements and non alcoholic drinks.

Glassware, a chiller trailer and other

requirements can be arranged with our

friendly staff.

Ashburton MSA Liquor Centre

Havelock Street, Ashburton.

Phone 308 7149. www.ashburtonclub.co.nz

OPEN 7DAYS. OPEN TO THE PUBLIC

Alpine Florist

Methven

Wedding Bouquets

Buttonholes

Corsages

Flower Crowns

Table &Venue decoration

03 302 8832

www.alpineflorist.co.nz

2312546

2268366-S
---
NEWS

26 Ashburton Courier, September 10, 2020

www.ashburtoncourier.co.nz

CLUBS NEWS

Ashburton Dahlia Circle

The dahlia circleisnow

coming out of winterrecess

andready foranew growing

season.

The mild winterhas been

kind to thedahlia tubers and

they havewintered over well.

Planting new tubers should

be set out in alayerofpotting

mixtoencouragegrowth to

start. Once the soil is drypop

them inthe garden.Staking is

necessary for support, don't

plant too deep.

It is greatto have sucha

keen activegroupwith

secretary Alison Donald

sending out the new

programmetotake us

through theseason. Tuesday

September 15 is amini

daffodilshow, we encourage

everyone to pop some

daffodils in individual

bottles as on theschedule

classes. The venue is the

Tinwald Memorial Hall with

the supper room door open at

6.30forstaging, followed by

the meeting a7.30pm.

New members and visitors

are very welcome.

For information contact

Joyce3083294/02102458001

MSA Outdoor Bowling Club

With our winter bowls

trophies all engraved and

mats rolled up, we now turn

our interesttothe outside

greenforthe summerseason.

Trophy winners forthe

winter bowlsseasonwere­

Harry Greenaway Trophy: T.

Inwood, D. Muir, D.

Prendergast.Kennedy

Trophy: T. Inwood,M.

Skilling,D.Prendergast.

BruceWeir Trophy: J.

Moffatt,M.Skilling, T.

Pearce.

Welldone thankstoall

bowlersfor your support

throughout the winter

season.

Saturday September 12

sees our openingday witha

1pmopening followedbya

mini tournamentand social

hour.Membersare requested

to wear whites and club

shirts.

Also bring afriend anda

plate for afternoon tea. New

members most welcome.

Friday September18at

12.30pm,

Skip2ItFlooringXtra triples

will be our firstcompetition

dayfollowed by ourannual

Peters CupTournament on

Sunday September 20 witha

9.30am start.

Members are encouraged

to get names on thenotice

board to enter clubs fours

and triples championship

teams as these competitions

will drawn teams thisseason.

The section will be running

theraffles at Burnett Street

over the next three weeks

(September 11­26) your

support will be appreciated.

Finally abig thankyou to our

greenkeeperTonyfor his

effortsthe greenislookingin

greatconditionfor the

coming busy season.Good

bowling!

AltrusaInternational of

Ashburton

Despite these uncertain

times, community activities

continue with the Altrusa

members.Afterbeing

postponedinMarch on

account of lockdown, we

finallyentertained our Magic

Mumslast Saturday, when we

spent aday pampering 11

localmothers whohave

children needing special

help.

They received personal

grooming, baskets of donated

goodies, alunch, aflight over

Ashburtoninasmall plane

flown by amember's

husband, andagrand dinner

at night at alocal restaurant.

Members have put together

colourful A4 laminated and

bound scrap books in

different themes, which will

be givenfor dementia

patients.

Septemberbeing Literacy

month, the Literacy

Committee of Altrusahas put

together adisplayatthe

AshburtonPublic Library to

highlight literacy inthe

community.There will be a

garage sale at thebeginning

of October, held at a

member'sgarageinElizabeth

Street.We have had 26

appreciativeclientsatthe

FootClinic, all masked and

sanitised; and on a

fortnightly basis, have

delivered 36 bagsofbooks to

grateful readerswith Books

on Wheels inconjunction

with the AshburtonLibrary.

Ashburton Airport will be abuzz this weekend when aRussian

fighter Yak3 touches down.

Fighter plane here

The Russian fighter Yak3

plane, scheduledtobehere last

month, willbeatAshburton

Airport this weekendoffering

thrill seekers aonce­ina­lifetime

opportunity.

It will also be agreat viewing

chance for plane spotters.

The plane,called Full Noise,

will arrive on Saturdayaround

11am andleaveonSunday.Itis

here as part of SouthernCross

Barnstormers touring event.

The Yak 3fighter is offering

20­minuteflights for $2300.

AshburtonAviationMuseum

presidentWarrenJanett said

the weather forecast wasgood

for flying thisweekend andit

suitedthe pilottocome. The

Avro Anson alsoscheduled to

come last month wasunable to

makeitthis weekend.

Mr Janettsaid the Yak 3

experience offers flyers ahigh

energyadrenaline rush in one

of the best fighters of World

War 2.

He washopefulother World

War 2aircraft fromthe district,

as well as the DC3, wouldalso

beonthe airport grounds this

weekend.

Theaviationmuseumwill

also be open andmembers will

have asausagesizzle operating.

Anyonekeentobook aflight

canvisit fighterflights.co.nz

Proud tosponsor the

RotaryClub of Ashburton's

BOOKARAMA2020

Monday28th September –

Saturday3rd October

SportsHall,Tancred Street,Ashburton

Rodger Letham

Rural Sales Consultant

M 027 433 3436

P 03 307 9176

E rodger@pb.co.nz

rodgerrural.co.nz

pb.co.nz

Property Brokers Ltd Licensed REAA 2008

2308799
---
New agri adviser role

Aspecialist agriculture

portfolio adviserhas been

appointedtoworkalongside

industry groups and to

identify funding

opportunities that would

helpfuture­proofthe Mid

and South Canterbury's agrisector.

RichardFitzgeraldhas

been appointed to the

position and began his role

in August at the Ashburton

District Council.

The18month role is fully

funded through the

Government's Provincial

Growth Fund(PGF) and will

assistlocal industry to select

projects that would be

suitable for provincial

growthfunding.

Council chief executive

Hamish Riach says the

positionisanimportant

opportunity to enhance the

region's largest economic

contributorfor the benefit of

the whole community.

''It'sarealpleasureto

haveRichard joinusinthis

newrole. He has many years'

experience servingon

several local boards andis

veryfamiliar with our

district's primary sector,

having been afarmerand

consultanthimself.

''Throughthis role, he will

be abletoprovide the link

between those organisations

Richard Fitzgerald.

andproducers to helpfoster

moreresilient businesses.''

Mr Fitzgerald says he is

very excitedtobeappointed

to the role.

''Our regionisareal

leader in agri­innovation

andthere are somevery

switched­on producersand

businesses that could really

benefit from government

funding to gettheir projects

off the ground.

''This position will help to

ensure the region continues

to fosterinnovative and

sustainable practices that

bolster thecommunity,and

I'm thrilledtoplayapartin

strengtheningour local agrisectorfor

the future.''

In mid2019, the PGF

identifiedagapinfunding

applicationsfrom the

regions. Funding was then

set aside foraportfolio

adviser to help identifythese

projects across Canterbury.

Agriculture,forestry, fishing

andmanufacturing

comprised 37.5 percentof

theAshburton district's GDP

in 2019.

In additiontohis newrole,

Richard Fitzgerald is onthe

board of trustees of Mt Hutt

College and Wellbeing

Opuke Executive.Heisalso

adirectorofElectricity

Ashburton Limited.

DOYOUNEED

INSECTORSECURITY

SCREENS?

Davidwillbecoming to Ashburton

on Thursday 17 t h September. Please

contactthe officetobookafree

measureand quote forthese or forany

otherproductsinthe HomePlusrange.

88 Gasson St,Sydenham |03379 3740 |www.homeplus.co.nz

NEWS

Ashburton Courier, September 10, 2020

27

Survey feedback

helps council plan

We are now approaching the end

of whatisavery important

opportunity to influencethe

futureofour districtand Iwant to

encourage as many peopleas

possible to get in and make their

voice countwhilethey can.

The council's Our Place, Our

Plan survey will close next

Friday, September 18. Ashort

onlinesurvey asksyou what you

thinkismost important for our

district, withthe answersbeing

used to help the council put

together its 2021­31 Long Term

Plan.

Through the Long TermPlan,

the council decides what projects

and activities it willfund and how

they willbefunded,sobeingable

to put your ideas and priorities

forward before the plan is even

drafted is afantastic opportunity.

The surveybuilds uponwhat

our community told us was

important threeyears ago and

asks if you think these priorities

are still as important,orifyou

think thereare other things the

council shouldfocus on.

In 2018, those top priorities

were roading, community safety,

environment, towncentre

development, second bridge,

business development,EA

Networks Centre development

and new entertainmentcentres.

Since that time, some of these

projects and activities have been

actioned or progressed such as

the currently under way

Ashburton CBD revitalisation,

increasedeffortonbusiness

developmentwith the

appointment of our economic

developmentmanager,

supporting the Safer

Communities Programme,

upgrading the towncentre CCTV

camerasand the work on the

business case for the second

urban bridge.

Three years is alsoalotoftime

for our district's needs to change

and for people to reassesswhat

they thinkismost important for

our future.

When we first conducted this

survey for the 2018­28Long Term

Plan, we received over2500

responses over the course of

three surveys.

It would be fantastic to reach

this number again or even exceed

it! The more people who tell us

what theythink,the more

informationcouncil will havein

front of it to helpinform its

decisions.

Thank you to those who have

alreadycompleted the survey and

shared their ideas. Why not ask

your neighbours, family and

friends to do the survey too?

You can complete the survey at

itsourplace.com until 5pm,

September 18.

An opportunity to influencethe

direction of our district like this

doesn'tcome around everyday.

Be countedand help shape our

future.

Community invited to

planting day at reserve

The community is invited to

celebrateanew wetlandarea

and to lendahand with planting

at Harris ScientificReserve this

Sunday.

The annual planting day is

organised by the Ashburton

Community Conservation Trust.

Thoseattending are asked to

meet at 9.30amand to bring

gloves,sturdyfootwear anda

spade if they have one.

They will be told aplan for the

day,have ahealth and safety

briefing and then aplanting

demonstration.

Carex, shrubs and tussocks

will then be planted.

Located on Lovetts Road, the

Harris Scientific Reserve is

hometoone of thelast stands of

dryland kanukatrees in

Canterbury. The site is avisage

of years gone by, where kanuka

treesgrew in thick clusters along

the open plains.

Lovetts Road is 8km from

Tinwald along MaronanRoad.
---
NEWS

28 Ashburton Courier, September 10, 2020

Farmer connections ahit with Wiggins

TONI.WILLIAMS

@ashburtoncourier.co.nz

Craig Wiggins puts his head

above the parapet, but only for

acause.

He likestohelpfarmers, and

facilitate help.

He is apublic figure working

as an MC, columnist,

videographer, sports

commentator, horse trainer

and farmer.

Andinhis spare timeheisa

ruralhealth advocate and

farmer wellbeing champion.

He putshis ability to connect

with otherstogood use.

ThereisaFarmer First rural

health caravan ­set up with

Rakaia GP Dr Sue Fowlie ­

which put a''rock in the water

and created some pretty big

splashes'', Craig said.

It highlighted agap in rural

health and was away to getaGP

to farm events and normalise

regular health checksfor

farmers.

Thecaravan is parked up at

ruralevents nationwide to

encourage farmers to pop in for

acheck.

It was purchased, refitted and

backed with support of Feilding

couple Dean and Cushla

Williamson, and is expected in

the long­term to be placed

under ownership of the

Saleyards Silhouette Charitable

Trust.

''We know thatmanyfarmers

often put other priorities ahead

of regular health checks ... many

farmers have limited accessto

health services and many face

social isolation.''

There is also the annual

Farming Family Day at the

Races events, his work as

facilitator, workplace

engagements and an online

ruralforum every Thursday

night, called Whatever with

Wiggi.

The online Zoom sessions

started during the nationwide

Covid­19 lockdownasaway to

connectwith other farmers.

In early March Craig, 52, had a

whiteboard and diary full of

engagements through until late­

July. Then the country went into

lockdown.

''For thefirst time in my life,I

had nowhere (I had to be). AndI

thought, Iwon't be the only

one.''

ThefirstZoom session 15

people turned up, through word

of mouth.

''It has morphedintoareal

support network, and acurrent

affairs network,'' he said.

Therehave been guest

speakers: the first was Sir David

Fagan, but there has been

Hamish Marr, politicians

including David Bennett and

Barbara Kuriger, and Damien

O'Connor has fronted twice, the

latest to speak about freshwater

policy and 90 people logged in.

They have covered arange of

Left: Craig Wiggins finds

working with horses agreat

stress reliever.

topics including migrant

workers, road user taxes,

sharemilking issues, and

glyphosate use andall under

Chatham House Rules to allow

free discussion.

Some of thediscussion topics

have made it intomainstream

media and to Parliament.

''Whatever with Wiggi is just a

facilitator to let people have

voice,'' Craig said. ''It's opened

lines of communication and lets

people know what's going on.''

Post lockdownthe groupis

still going strong andhas grown

to more than 710 group

members.

Not everyone is on at the same

time, but there is talk about

adding asecond weeklysession.

Members are stretched from

Kerikeri to Invercargill and

over arange of industries, from

farmers to decision­makers and

media.

Craig said his activities would

not be possible without the

support of wife, Annabelle.

He grew up on asheep and

beef farm in Raetihi, near Mt

Ruapehu in the North Island.

Hisgrandparents were

farmers, andhis parents Neil

and Jenibought aneigbouring

property before taking over the

family farm. Neil died youngat

aged 53 and Craig eventually

bought some of his mother's

share in the 303 hectare

property.

He met Annabelle on the

rodeo circuit –she is a

competitive barrel racer andhe

was acommentator–and while

they lived together in the North

Island for awhile, they

eventually made the decision to

move south.

It was Annabelle'shome

district; her parents were at the

Rakaia Gorge.

They both liked Methven and

bought a30hectare property on

Methven Dromore Road, north

of Ashburton, in 2007.

On the farm theyhave quite a

few horses used forclerking or

barrel racing. Their daughters

Genevieve, 8, andLilly, 5, also

have ponies.

They farm yearling cattle and

grow pak choy for seed.

"It works. Istill feel like I'm a

little bit of afarmer," he said.

Craig's work, whether

commentating rodeo,jet

sprinting or agricultural events

hasincluded worknationwide

as well as overseas in Canada

and Australia so there was alot

of travel –upto85flights ayear

–soaMidCanterbury based was

ideal.

Not only isitagreat place for

their familybut Annabelle's

parents live at Staveley, along

the foothills, and Craig's

mother,Jeni, has moved to

Ashburton.

Four years agoCraig was

approached by horse trainers

Ricky andJudyMay to clerk the

course at Methven races. The

work has grown to doing 40­plus

days of clerking with extra race

meets at Addington, Ashburton

and Rangiora.

Andheloves it.

''It's really good fun. Being on

ahorse is my stress relief," he

said.

Another is whipping up

dishes in the kitchen, including

anything he catches or hunts.

Leavea

lasting

legacy to the

community

you love

With September being Wills month it's a

timely reminder of the importance ofhaving

an up to date will.

If you're considering leaving agift to the

community in your will, contact Sandi at

Advance Ashburton to enquire how your gift

can support the causes you love, forever.

Advance Ashburton Community Foundation

–where your gift stays local, goes further

and lasts forever.

027 577 5875

advanceashburton.org.nz
---
OPEN HOME

Saturday10:00am -10:30am

Sunday1:00pm -1:30pm

86a Grey Street,Ashburton

4 2 8

Looking foranexecutive townhouse in the heart of Ashburton, handy to all the amenities our lovely town has to offer

then look no further the Grey Street.

Comprising of three double bedrooms, master with ensuite and walk in robe. Open plan west facing

living, with lovelyflow to the outdoors. Astylish entertainers kitchen allows forthe budding master cheftofeel completely

at home herewhilst being part of the action in the open plan living, dining area.

Storage iswell considered in the home, complimented by the double garagewith internal access. This property is new

and ready forits first owner. Amust view to take in all on offer at this impressive home.

FOR SALE

$591,000

AHB22869

OPEN HOME

Saturday11:00am-11:30am

47 CatherwoodAvenue, Ashburton 4 2 8 Cawton Grove Sections, Stage1

*Three spacious upstairs bedrooms

*Large modernised kitchen with spacious dining room

*Spaciouswest facing living spacewith log fire

*Single internal access garage

*Compliant log fire (CCC 2013). Home built in 1976

*EQC claim assignment CLM/2010/033374 &CLM/2011/140958

(cash settlement of$5115.05)

Split level home on west side of town.This 3bedroom home isideal

forbig families. All the bedrooms are onthe top level with abalcony

attached to two ofthem.Spacious living room which is separate from

the kitchen/dining area.Garage can be used as rumpus/games room.

Cawton Grove isaprestigious newresidential subdivision located on

Tarbottons Road West sideTinwald just ashort drive into the town

centre. Breathe in the fresh country air and take advantage ofthe

superb golf course, school, lake and extensive recreational reserves, pool and

shopping centre -all inyourneighbourhood. If you are

looking foranewhome for your familyinalocation focused on

communityvalues, qualityopen spaces and outstanding facilities,

Cawton Grove isthe place for you. Living in Cawton Grove will provideyou

and your family with asense of freedom away from the rush of town living.

Share incommunity activities and get toknowyourneighbour's, and enjoy

the wide range ofnearbyrecreational activities.

FOR SALE

$449,000

AHB22869

FOR SALE

From $157,000

AHB21092

rw.ashburton.co.nz

Ray White Ashburton 03 307 8317 96 Tancred St, PO Box 443, Ashburton 7700, New Zealand

Mid Canterbury Real Estate Limited Licensed REAA (2008)

Jarrod Ross

027 259 4644

jarrod.ross@raywhite.com
---
SATURDAY 12TH SEPTEMBER

15 Millichamp Street, Ashburton 9:45-10:15am 2 1 2 AHB22767

86a Grey Street,Ashburton 10:00-10:30am 3 2 2 AHB22839

10 Princes Street,Ashburton 10:00-10:30am 3 1 1 AHB22843

34 Brucefield Avenue, Ashburton 10:15-10:45am 2 1 2 AHB22858

17 Millibrook Place, Tinwald 10:30-11:00am 3 2 6 AHB22888

15 Reighton Drive,Ashburton 11:00-11:30am 4 2 2 AHB22763

63 Cambridge Street, Ashburton 11:15-11:45am 3 1 0 AHB22893

119a Racecourse Road, Ashburton 11:30-12:00pm 4 2 2 AHB22588

73 McMurdo Street,Tinwald 11:45-12:15pm 2 1 0 AHB22748

118 Belt Road, Ashburton 12:00-12:30pm 3 1 2 AHB22890

374 Burnett Street, Ashburton 12:00-12:30pm 2 1 2 AHB22815

5PratleyCrescent, Ashburton 12:45-1:15pm 3 1 2 AHB22838

1Westpark Close, Ashburton 1:00-2:00pm 4 2 2 AHB22895

SUNDAY 13TH SEPTEMBER

719 Boundary Road, Ashburton 1:00-2:00pm 3 2 6 AHB22897

Open Home

17 Millibrook Place, Tinwald

Idyllic and Irresistible, this beautiful 3bedroom home

offersyou so much.

Not toforget the SIX carGARAGING !!

Set amongst quality homes, in adesirable, peaceful subdivision,

you'll be super impressed with this home which

is presented stunningly. Ifyou need abundant garaging

and off street parking then this home is sure totick your

requirements. You're certain to love the summer time

here with amassive wrap around deck which beckons

the sun nearly all daylong and aPergola situated to give

you alittle shade and aplace forrelaxation.

rwashburton.co.nz/AHB22888

Mid CanterburyReal Estate Limited Licensed (REAA2008)

SetDateofSale

closing 21 September2020,

at 3:00pm (unless sold prior)

View

Saturday10:00 -10:30am

3 2 6

Armand vander Eik

021 597 527

View our listings online at: rwashashburton.co.nz

Open Home

15 Reighton Drive, Ashburton

Just wow! Itismypleasure topresent this home to theAshburton

market. Thereisalot of home and alot ofextrashere

in this wonderfully updated renovated home located inone

of Ashburtonsmostdesired addresses. Asecureprivateback

yard that is ideal for family to play and agood flow through

to the dual lounge dining areas and kitchen

rwashburton.co.nz/AHB22763

Mid Canterbury Real Estate Limited Licensed (REAA 2008)

SetDate of Sale

closing 24 September2020,

at 4:00pm(unless sold prior)

View

Saturday11:00 -11:30am

4 2 2

Lynne Bridge

027 410 6216

150 Racecourse Road, Ashburton

4 2 8

99 Walnut Avenue, Ashburton

4 2 2

*4bedrooms, master with WIR and ensuite

*Modern open plan living with separate lounge through

double sliders

*2separate lockup garages totalling 198 sqm (approx) plus

studio with toilet and shower

rwashburton.co.nz/AHB22860

Mid Canterbury Real Estate Limited Licensed (REAA 2008)

ForSale

$950,000

View

by appointment only

BruceMcPherson

027 438 4250

Denise McPherson

027 242 7677

This home is cleverly postioned to maximise the potential

of the double section while carefully concealing itself to the

surrounding outstanding natural landscape. Yes, thats right

there are two individually titled sections that for this parcel

ofland, which means forthe savvy purchaser there isscope

forfuture options.

rwashburton.co.nz/AHB22802

Mid Canterbury Real Estate Limited Licensed (REAA 2008)

ForSale

$890,000

View

by appointment

Kim Miller

027 236 8627

Kim Miller

Sales Consultant

027 236 8627

Denise Russell

Sales Consultant

0274 329 717

ChrissyMilne

Sales Consultant

027 236 8627

Cheryl Fowler

Sales Consultant

027 461 2614

Margaret Feiss

Sales Consultant

021 751 009

ShirleyFitzgerald

Sales Consultant

027 220 1528

Denise McPherson

Sales Consultant

027 242 7677

Janene McDowell

PropertyManager

027 287 3388

Armand vander Eik

Sales Consultant

021 597 527

Lynne Bridge

Sales Consultant

027 410 6216

Mike Grant ncre

Sales Consultant

021 272 0202

Mark Totty

Sales Consultant

021 664 113

BruceMcPherson

Sales Consultant

027 438 4250

JustinWaddell

Sales Consultant

027 437 1111

Jarrod Ross

Sales Consultant

027 259 4644

Carey VonLubke

PropertyManager

027 697 6948

96 TancredStreet, Ashburton 03 307 8317 Main Road,Tinwald 03 307 8317

rwashburton.co.nz

36 McMillan Street,Methven 03 303 3032
---
Hospital's first rooftop landing

NEWS

Ashburton Courier, September 10, 2020

31

Stay fit &earn $$$

at the same time

Spend a couple of hours

every Thursday delivering the

Ashburton Courier and Realty in

the Ashburton urban area.

Enjoy the fresh air, stay fit and

reap the health benefits!

Ashburton's Murney family were the first people to land at Christchurch Hospital's new

rooftop helipad last week, though the circumstances were very different from the last time

they made the journey. Helipad supporter Willie Murney bid at afundraising auction for the

right to be the first user. The family have been big supporters since Willie's mum Kate Murney

was airlifted to Christchurch in December 2013 critically ill with acute septicemia. The Maia

Health Foundation raised $2 million for the helipad project.

Sweet tips at beekeeping workshop

Local beekeeper Kasia Chapman­

Labecka will share her knowledge

and interest of bees at aMid

Canterbury TimeBank Learning

Exchange workshop this Sunday.

The 90­minute session will

include atour of her hives and setup,

and will offer an insight into the

live of bees and the honey­making

process.

Those attending are asked to

bring asmall lidded jar to take home

asample.

The bee workshop costs 1.5

credits for members and $15 for

non­members.

It runs from 2pm and the venue

will be advised to ticket holders.

Bookings can be made through the

mctimebank.nz website or by

emailing to

coordinator@mctimebank.nz.

Sailing club keen for members

Ashburton Sailing Club

members arekeen to passon

their love ofthe watertothe

nextgenerationofyachties.

They will be parked up in

the Mitre 10 Megacar park

complexnext weekend

(September19), from 9amto

2pm, to promote their club's

learn­to­sail programme and

the model clubgatherings at

Lake Hood.

Not onlywill they have a

couple of their yachts,likely

abeginners solidly built

Optimist yacht or aNew

Zealand­class Piccolo model,

on site in the car park but

theywill also haveafewof

the impressivemodels

sailboats­some of which are

up to one metrelong ­onsite

for publicviewing too.

Therewill also be a

sausage sizzlefor members

of the publictopurchase

supportingthe club, and

members will be available to

answer any questions people

mayhave aboutthe

upcoming programme.

The learn­to­sail

programme andmodel club

sessions run during terms

oneand fourofthe school

year.

Phone Mary todayon308 7664

to get startedoremail

mary.summerfield@ashburtoncourier.co.nz

2292702

Business owners

Build customers,sales

and profits,with us ...

Print,OnlineandMobile24/7

Over

16,065

copies

delivered

every

Thursday

Arundel

Orari Bridge

Geraldine

Staveley

MountSomers

Alford Forest

Valetta

Mayfield

77

Ruapuna

77 1

Ealing

Ashburton

Forks

Moranan Maronan

Hinds

Lowcliffe

Methven

Winchmore

1

Willowby

Lauriston

Ashburton

1

Wakanui

Chertsey

Rakaia

Helpfrom Hinds School

ContactJann Thompson 03 308 7664 jann.thompson@ashburtoncourier.co.nz

Hinds School raised $1000 for the Cancer Society's Daffodil Day appeal last week. Students

from Piwakawaka class organised and ran the day of activities. Pictured at the Cancer

Society's Ashburton office are Hinds students Emily, Shikayla and Islabelle with teacher

Amanda Ferguson.

Advertising that works!

Talk to Jann or Karen todayaboutwaysyou can

reach potential customers or advertising with thatspecial

difference-professional servicewith asmile.

Phone: 308 7664

199 BurnettSt, Ashburton

2279478
---
CLASSIFIEDS

32 Ashburton Courier, September 10, 2020

200HP Tractor and driver

available for work. Plowing,

discing etc. Mid-Canterbury

area. Phone Shane 027

703 2020

ALTERATIONS. Sewing,

mending and trouser hemming,

curtain alterations

and curtain making. Call

Michelle on 027 352 7248.

BUILDER - specialising in

home renovations and

repair work. We also do

decks, fences and retaining,

plastering and painting,

gardening, landscaping

and tree removal. Call

Gavin 021 267 1979

BUILDING and property

solutions. For your complete

alteration or renovation.

We project manage

the whole process. Home

and small commercial.

Qualified tradesmen.

Phone Kiwi Building &

Maintenance Ltd. Ph Cawte

027 418 7955 or Gary 308

4798, 027 207 1478.

CARPET 2You -For all your

flooring needs. Supplier

and installer of carpet and

vinyl, re-stretch and repair,

carpet cleaning. Phone

Mike Gill 0274 914 210

CARPET cleaning. Powerful

equipment and fast drying.

Upholstery, mats and rugs.

Experienced owner/operator.

Phone John Cameron

at Supersucker. 027 435

1042 or 308 1677.

CHIMNEY Sweep. It's time to

start thinking about it.

Camera inspection carried

out and full inspection

checklist is left for you. Call

Allan 027 209 5026

COMPUTER Problems? For

prompt reliable computer

servicing and laser engraving,

contact Kelvin, KJB

Systems Ltd, 4 Ascot

Place, Ashburton. Phone

308 8989. SuperGold discount

card accepted.

COMPUTER repairs, sales,

training, set up -wireless -

networks, spyware clean

up. On-site day or evening.

Great rates. Call Robin

Johnstone, Networks

Firewalls & PC's Ltd, 308

1440 or 027 768 4058.

CONCRETE pavers direct to

you - Best prices, many

sizes, textures and colours

- Paveco, 13 Robinson

Street, Industrial Estate.

CONCRETE Services -

Driveways, paths, patios,

mowing edging. Decorative

Concrete specialist 30

years servicing Canterbury.

Free quotes. No job too big

or small. Phone Paul 021

152 1966

Being in business

and not advertising

is likewaving in the

dark....

....youy

know you're therebut

no-one else does!

Don't be leftinthe dark,

TheCourierNewspaper

has the key to your event,

productor

business advertising.

Phone Jann or Karen on (03) 308 7664

Email: office@ashburtoncourier.co.nz

TRADE &SERVICES

2313260

DEMOLITION Commercial,

Industrial, Residential. Also

country wide farm buildings

and houses. No charge for

farmers. Phone 027 4052

391

DENTURES; Dr Peter

Rumping repairs existing

dentures and also provides

new dentures. Phone 027

220 9997

ENGINEERING repairs, fabrication,

farm equipment

service and maintenance,

WOF repairs, machining

and welding. Odd jobs a

speciality. Mobile workshop.

Can collect. Phone

Malcolm 0274 754 241

FLY control and spider

proofing. For all domestic

and industrial pest control

needs phone AJ Kerr at

Ashburton Pest Control on

03 308 8147 or 027 432

5447.

LAWN Mowing. No job too

small. Call Les Smith, From

The Ground Up, for a

competitve quote. Ph 027

840 0201 or 03 308 1500

FURNITURE Removals. For

all your household removal

needs - urban, rural lifestyle,

office relocations -

call Nudges Furniture

Removals, phone 027 224

0609

GARDENING, mowing,

pruning, fertilising, projects

or general spruce ups? Call

Andrew at Spruce Gardens

to get the job done right.

027 765 2899 or 03 307 1693.

sprucegardens@xtra.co.nz

LOCKSMITH/Door repairs.

Keys/locks, sliding and bifold

door roller repairs.

Mobile service. Call Nigel at

Doors and More. Ph 027

516 7104

FACTORY SPRAY LACQUER

A NEW LOOK

that lasts!

Existing kitchens, doors,

furniture &appliances

The Finishing Company

03 307 8870 2291357

HIRE

SCISSORLIFTS for hire.

4WD and slab lifts available

for daily or weekly hire.

Pickup or delivery. Phone

North End Engineering 308

8155 for abooking.

GARDEN SUPPLIES

GARDENERS specials.

Sheep manure $6 bag. Pea

straw $5 bale. Medium

square Linseed Straw $35

bale. Call Alan 027 496

7136 or Ian 027 286 3697

with your order. A Hinds

Lion's project.

JORDAN'S NURSERY

Rhododendrons. 91 Pye

Road The Downs Geraldine.

Wednesday to Saturday

10am to 4 pm or by

arrangement. phone 03

6938332 0274311815

SELL

LPG

REFILLS

Small LPG cylinders

Off Street Parking

Available

Arthur Cates Ltd

26 McNally Street

Ph 308 5397

Riverside Industrial Estate

SELL

LPG REFILLS

9kg cylinders

$27.50

Askaboutour

deliveryservice

Anysizecylinder filled

17 Grey St,Ashburton

Phone 307 2707

Drier. Cleaner. Healthier.

24/7 mobile service for

all your carpetcleaning,

upholstery cleaningand

flood restoraon needs.

ashburtoncranes2015@gmail.com

2300187

2300293

TRADE &SERVICES

PAINTER for all your painting

needs. No job too small,

inside or outside. Professional

friendly service.

Phone Pete 03 308 1672 or

027 200 1619.

SUN Control Window Tinting:

Privacy, UV, glare, heat

control for homes, offices

and cars. Phone Craig

Rogers 307 6347, member

Master Tinters NZ. www.

windowtinter.co.nz

TINT-A-WINDOW, fade, UV

block, glare, heat control,

safety, security, privacy,

frosting films, solar protective

window films. Free

quotes, 20 years local service.

Phone 0800 368 468

now, Bill Breukelaar, www.

tintawindow.co.nz

Timaru 03684 6102

Ashburton 03 308 8932

2301183

2288454

FIREWOOD

DRY old man pine. 6 m 3

$550. Delivered to most of

Mid Canterbury. WINZ

accredited. Phone Rob 027

297 7563

DRYPINE

FOR SALE

$300per cord

delivered

within the town

boundaryand

Mayfield/Mt Somers

Phone Sue

021 162 4102

FIREWOOD

SLABWOOD

3cordgreen

2305693

SCREENED SLAB

FIREWOOD

$330

1cordgreen

$110

1cordscreened

$140 cord

OFFCUTS

$140 cord

C.O.D.intown

Adams Sawmill

Malcolm McDowell Rd

Phone

308-3595

2302580

FRUIT &PRODUCE

POTATOES Nadine, Red

King and Agria. $1.00 per

kilo, 10kg bag $10.00.

Seed potatoes $2.50 per

kilo. Phone 308 3195 or

027 531 9103. 81 Elizabeth

Street.

SITUATIONS VACANT

FOR LEASE

AWESOME office space for

lease, rent or hire. Parklike

setting. Indoor and outdoor

areas. North West

town boundary. Must view.

Phone 0274 754 241

RENT ME!

Ideal as an extra

bedroomoroffice.

Fully insulatedand

double glazed forwarmth.

Threeconvenientsizes:

Standard3.6m x2.4m,

Large 4.2m x2.4m

Xtra-large 4.8m x2.4m.

Visit our displaycabin

418WestStreet or callfor a

freebrochure.

www.justcabins.co.nz

0800 58 78 22

PivotTechnician

Due toincreased workload afull-time opportunity

has arisen for a Pivot Technician to join our

innovativeand experienced team.

Applicant must have agood work ethic, apositive

attitude and ahigh attention to detail. Skills or

experienceshould include:

• Fulldriver'slicence

• Diagnosticand problem-solving ability

• Provenbackground in amaintenance, mechanical

or engineering type role

• High level of communication and interpersonal

skills

• Hydraulic and electrical experiencewould also be

desirable

If this sounds like you, if you want achallenge, if

you want tobeapart of aforward thinking and

positive team culture with room to move up the

ladder please apply to admin@rainer.co.nz or phone

033079049.

Applicants for this position should have

NZ residencyoravalid NZ work visa.

2289121

STORAGE and space leasing

for vehicles, motorbikes,

bicycles, boats,

motorhomes, caravans,

tractors, trucks, trailers and

containers. Indoor, outdoor

or under cover. Call Peter

027 333 3626.

STORAGE available, Ashburton.

Self storage, variety

of sizes. Phone Rainbow

Storage 03 307 0401

STORAGE:Secure self storage

units available, long or

short term. Ashburton Storage

Facilities. Contact us

on 0274 362 636 or www.

ashburtonstoragefacilities.

co.nz

Every Home

EveryWeek -that's

Phone 308 7664

199 Burnett Street

Ashburton

GARDEN SUPPLIES

2279675

MUSHROOM COMPOST

Nowisthe time to dig in our topqualitymushroom

compost to your vegetable garden. Ideal to replenish nutrients

used by previous crops and improvethe soil structure.

It also adds beneficial micro-organisms to thetired soil.

$50 per cubic metreor$10 bag.

Freedelivery within town boundary.

Open 6daysaweek at our Tinwald yard,

208 Maronan Road. Phone 021 129 8936 or 03 308 3331

2299919

2311843

www.ashburtoncourier.co.nz

SITUATIONS VACANT

ServiceCoordinator

Ashburton

Permanent

Part-time (25 hours perweek)

CCS Disability Action iscommitted to including all

people within our communities; we highly value

diversityand promotedifference. We areseeking a

like-minded person towork inour Mid Canterbury

Area alongside disabled people as their Service

Coordinator. This role is based in Ashburton.

This role offers you an exciting opportunity to

use and develop your service coordination skills

within the Mid Canterbury Community. Our work

is undertaken alongside disabled people, their

family/whanau,and the localcommunity.

CCS Disability Action builds our work around

three core documents; UN Convention of the

Rights of Persons with Disabilities, Te Tiriti o

Waitangi and the NZ Disability Strategy. Wework

within aHuman Rights framework and are anEEO

employer meaning we make accommodation and

openly encourage people with lived experience of

disabilitytoapply.

To be appointedthe successful candidate will have:

• Anunderstanding of working with Families,

Youth and Adult and the ways to support

people to continue to grow and develop

• Working knowledge of the Social Model of

Disability, including person directed planning

and communitydevelopment practices.

• Astrong commitmenttoprovidingquality

supportand outcomes to disabled peopleand

their families.

• Awillingness to be flexible and seek

opportunities to work in innovativeways

If you are passionate about supporting people

to live independently and engage in their local

community, we want to hear from you. Please

contactour Business Supportteam(03)365 5661 or

email Southern.Recruitment@ccsDisabilityAction.

org.nz or drop into the Ashburton Branch at 44

Cass Street,Ashburton, foranapplicationpack.We

arecommitted to ensuring our application process

is accessible to everyone, please let us know if you

requireanalternativemethod of application.

Applications close:

Monday 21stSeptember 2020,5pm.

2312553

Field ServiceTechnician

Due toincreased workload afull-time opportunity

has arisen for aField Service Technician to join our

innovativeand experienced team.

Applicant must have agood work ethic, apositive

attitude and ahigh attention to detail. Skills or

experienceshould include:

• Mig and stick welding skills

• Full driver's licence

• Diagnostic and problem-solving ability

• Provenbackground in amaintenance, mechanical

or engineering type role

• High level of communication and interpersonal

skills

• Pump knowledge or understanding abonus

If this sounds like you, if you want achallenge, if

you want tobeapart ofaforward thinking and

positive team culture with room to move up the

ladder please apply to admin@rainer.co.nz or phone

033079049.

Applicants forthis positionshouldhave

NZ residencyoravalid NZ work visa.

MOTORCYCLES

ORNSBY Motorcycle Training.

CBTA licensing and

training (Ashburton). Ride

Forever courses in Ashburton

and Geraldine. Call

0508ORNSBY(0508 676

729) for more info or visit

motorcycletraining.co.nz

2311844

CARAVANS &TRAILERS

CARAVAN wanted. NZ

made, family size. Anything

considered. Also wanted

drumset and snare drum.

Please Ph 03 308 5193 or

027 204 9709

FOR Sale. Dometic 6' x 4'

metal trailer. Model -

'Hands'. Phone 308 6007
---
www.ashburtoncourier.co.nz

ENTERTAINMENT

CLASSIFIEDS

Ashburton Courier, September 10, 2020

PUBLIC NOTICE

33

BUSINESS OWNERS

Build customers,sales and

profits,with us ...

Over 16,065 copies delivered everyThursday

PRINT, ONLINE AND MOBILE 24/7

CROSSWORD

QUICK PUZZLE NO. 8583

ACROSS

1. Touching (8)

6. Trial (4)

8. Hood (4)

9. Gift (8)

10. Wander (5)

11. Come out (6)

13. Frank(6)

15. Surly (6)

17. Ripe (6)

19. Devour (5)

22. Abuse (8)

23. One(4)

24. Expensive (4)

25. Parasol(8)

DOWN

2. Approximately (5)

3. Country (7)

4. Neat (4)

5. Meet (8)

6. Name (5)

7. Makeshift (4-3)

12. Sloth (8)

14. Greed (7)

16. Ill-mannered (7)

18. Speak (5)

20. Cooked (5)

21. Gun (4)

CRYPTIC PUZZLE NO.8583

ACROSS

1. Summons one posts on behalf of (5,3). 6. Pry open to

get atool (4). 8. State of affairs you leave behind you (4).

9. Give the pen to (8). 10. To dismantle the engine, get out

of gear (5). 11.Dries out by mid-September and you move

into (6). 13. Something to eat on board? (6). 15. Turn over

again! (6). 17. The guard brought back is coloured and

inexperienced (6). 19. Very good, in brief (5). 22. Must it

be drunk from porcelain only? (5,3). 23. It has a50'sring

to it, too (4). 24. She gets in my hair,ma! (4). 25. ARussian

worker and he'swearing uniform (8).

DOWN

2. Take from by right? (5). 3. Be scornful of French spies,

anyway (7). 4. Toss acoin for the drink? (4). 5. Writer

who'staken again to drink (8). 6. Is curious about the said

award (5). 7. The dog, dear, doesn't have adish (7). 12.

Edits about aquarter and tries to change totally (8). 14.

Be aware of what'sbeing said about the girl (7). 16. Spray

on, for the big occasion (7). 18. She turns to give an inclination

of the head (5). 20. Therefore the fellow captured

is amemeber (5). 21. Just afine! (4).

SUDOKU

EASY No. 5234

1 2

1 5 8 9 3

9 6 1

6 8 3

5 3 7 2

4 3 5

6 2 3

4 9 8 2 3

8 1

Solution to previous Sudoku

Howto

solve

Sudoku!

Fill the grid

so thatevery

rowand every

3x3 square

contains the

digitals 1to9

2 5 9 8 4 1 6 3 7

8 4 6 7 3 5 9 1 2

1 7 3 9 2 6 5 4 8

3 2 8 4 5 7 1 6 9

4 1 5 6 9 2 7 8 3

9 6 7 1 8 3 4 2 5

7 9 1 3 6 8 2 5 4

6 3 2 5 7 4 8 9 1

5 8 4 2 1 9 3 7 6

Solution to previous crossword

QUICK PUZZLE NO. 8582 -SOLUTIONS

Across -1,Side. 7,Succulent. 8, Aunt. 9, Flee. 10, Peel.

11, Damp. 14, Intimidate. 16, Strengthen. 19, Tend. 22,

Area. 24, Oval. 25, Stun. 26, Stalemate. 27, Safe.

Down -1,Staid. 2, Denim. 3, Pullet. 4, Scream. 5, Slip. 6,

Entertain. 12, Austerity. 13, Pine. 15, Dint. 17, Gloomy.

18, Hearth. 20, Extra. 21, Dunce. 23, Ally.

CRYPTIC PUZZLE NO. 8582 -SOLUTIONS

Across -1,Play. 7, Applauded. 8, (de)Unit(noc) (rev.). 9,

P-L-an. 10, The-N. 11,D-rat. 14, A-do-Les-cent. 16, Flying-boat.

19, Sure. 22, S-car.24, O-miT.25, Bass. 26, Determ-ine.

27, Well.

Down -1,Pound. 2, (Guy)An-it-a. 3, A-poll-O. 4, Glance.

5, Mutt. 6, Demeanour (anag.). 12, Reflected. 13, T-axi(me).

15, Cuts. 17, (i)Gloo-my. 18, Orient. 20, Us-age.

21, Easel. 23, Reed (rev.).

2308448

ContactJann Thompson 03 308 7664 jann.thompson@ashburtoncourier.co.nz

2309561

NewZealand Army Band Live–UNCLASSIFIED

Friday 18th September 7-30pm

Join the New Zealand Army Band in Concert

for amemorable evening of music. This variety

concert will feature world class vocal and

instrumental soloists and include Big Band,

Classical and Brass Band music for all ages.

Adults $25 /Senior $20 /Child under 18 $10

Family 2Adults &2Children $60 (fees apply)

Rock nPop 2020 –Solid Gold

Friday 9th +Saturday 10th October 7:30pm

With acast of over 70 and musical numbers

from Elton John, Billy Joel, Toto, Cold Play,

Pink and Queen this is agreat way to shake

off the lockdown blues. Producer and Musical

Director Jo Castelow, Director Roger Farr and

Choreographer Jessie Thomson have created

asound dripping harmony.

Tickets from $27.00 (fees apply)

BOOK

NOW

TheShowsMust Go On

Tuesday 29th September 7-30pm

Featuring an all-star cast of New Zealand

voices from the international stage with a

toe-tapping song list including The Phantom

of the Opera, Les Misérables, The Greatest

Showman, We Will Rock Youplus more. With

stunning backdrops, this is sure to delight.

TheABBAShow

Sunday 6th December 8pm

Direct from Australia this full scale production

will feature more than 2hours of fun,

energetic musical performances with alive

backing band, replica costumes, theatrical

lighting and effects. The ABBA show gives

fans of all ages achance to re-live the ABBA

concert experience.

Adult $71.15 /Child 12 &under $31.85 /

Groups 10+ $66.15pp (fees apply)

For more information

www.ateventcentre.co.nz

Adults $89.90 Senior or Groups of 6+ $79.90 (fees apply)

03 3072010 211A Wills Street, Ashburton 7700 admin@ateventcentre.co.nz *Service fees apply

GARAGE SALES

GARAGE Sale. Saturday 12

September from 10am

onwards. Flat 3, 169 South

Street, Ashburton.

GARAGE Sale; Saturday 12

September from 9am -

1pm, 136 Wakanui Road.

Household, clothing, outdoor

living, gym equipment,

electrical and much more.

HEALTH &BEAUTY

MENTORING. For emotional

support, guidance, optimism,

goal setting, resilience.

Professional supervision,

call Pete Young, 307

7582/027 280 0889; email

plyoung@xtra.co.nz; web:

peteyoung.co.nz.

HEALTH &BEAUTY

FEMININE Health & Wellness

Coach. Relax, unwind

with massage or Reiki.

Empower with tools for selfhypnosis,

weight management,

anxiety, meditation.

Phone/text 027 282 1585.

FOCUS Optometry - good

honest eye care, support

local. Phone 307 8988.

www.nzfocusoptometry.co.

nz, 65 Tancred Street, Ashburton.
---
CLASSIFIEDS

34 Ashburton Courier, September 10, 2020

ACard

On 27thAugust Iceasedmedical practice at

Moore Street.

Iwould like to thankall my patients fortheir

supportofthe practice over thelast31years.

It has been aprivilegeand apleasuretohave

been your GP –Ihavebeenveryfortunate.

Iwish youall thebestfor thefuture, andtrust

Moore Street Medical Centre will continue to

strive forthe highest standardsofaccess and

care.

With kind regardsand gratitude

Chris Ryan

ASHBURTONRIVER WEED

CONTROL

Environment Canterbury is conductingaerial and

ground-based spraying to controlweedgrowthinthe

Hakatere /AshburtonRiverbed.

Theoperationbegins on7September, andwillcontinue

untilFebruary 2021 in an area betweenState Highway72

and therivermouth.

Weed controlinthe riverbedisimportant forflood

protectionand to protect bird nestinghabitats.

It is not arisk to humanoranimal health.

Please contact

Environment

Canterbury with

anyqueries:

0800 324636

HEALTH &BEAUTY

URGENT CARE CLINIC

WEEKEND DUTYDOCTORS

IN THE EVENT OF AN EMERGENCYPHONE 111

Forall othermedicalassistance outside of normal

hoursplease phone your generalpracticeteam,24/7,

to speak withahealth professional whowill giveyou

free health advice on what to do or where to go if you

need urgentcare.

If youdon't have aregular generalpractice, call any

GP team 24/7 forfreetelephone health advice.

All non-residents and visa holders please bring your

passporttoyour surgeryappointment.

New Zealanders'tobringsome form of ID.

TheAshburtonDutyPractice for ...

Saturday12th September is

Eastfield Health, 135 Tancred Street.

Consultations will be by appointmentonly.

To make an appointmentcall your regular GP 24/7.

Sunday13th September is

AshburtonHealth First,308 Havelock Street.

Consultations will be by appointmentonly.

To make an appointmentcallyour regular GP 24/7.

Methven and Rakaia: Formedical attention on the

weekend and public holidays please telephone

MethvenMedical Centre on 03 302 8105

or Rakaia Medical Centre on 03 303 5002.

Details foraccessing the afterhoursservices will be

on the answer phone.

PHARMACIES

Wises Pharmacy,CountdownComplex,

East Street will be open on ...

Saturday from 9.00am until 1.00pm

Sunday from 10.00am until 1.00pm

At Geraldine: TheGeraldine Pharmacywill be open

normal trading hours during the week,and on

Saturdaymorning from 9.30am to 12.30pm.

Closed Sundays and Public Holidays

Forfree24hour Telephone Health Advice

Phone the healthline on 0800 611 116

Brought

toyouby

CountdownComplex, East Street, Ashburton

Phone: 03 308 6733 Fax: 03 308 6755

2311230

Expressions of interest

arenow open forCoaches

and Management for:

•Senior Men •SeniorWomen

•SeniorB

ContactMark O'Grady,

027839 9105

forfurther information.

Email applications to

admin@ashburtonceltic.co.nz

Closing date Monday14th

September 2020.

2312146

MEETINGS

ASHBURTON

FANCIERS SOCIETY

Annual General

Meeting

Tuesday,

September 22nd,

at 8pm

Tinwald Memorial Hall

Presentationofbalance

sheet and annual report

Electionofofficers

Generalbusiness

Followedbysupper

All members welcome

HEALTH &BEAUTY

PUBLIC NOTICE

AndreGrob

Chiropractor

Tues 9am-5pm

03 308 9516

www.ashburtonchiropractic.co.nz

2312235

NOTICE OFAGM

The 36th ANNUAL GENERAL MEETING

of the Ashburton Art Gallery Inc

will be held at the

Ashburton Art Gallery

on Thursday 17th September 2020

at 5:30pm.

Guest speaker, photographer Mizuho Nishioka

will join us for an Artist Talk.

All welcome.

Ashburton Art Gallery, 327 West Street

2300235

WHAT better place for a

public notice than Ashburton's

The Courier! Simply

clip the form for a run-on

advert like this or telephone

us on 308 7664 if you

require adisplay advertisement.

MEETINGS

AGM

of the

AshburtonRailway &

Preservation Society

will be held on

Tuesday22nd

September 2020, 8pm

in the on-site

Function Room

62 MaronanRoad,

Tinwald.

All welcome.

2312451

2311421

to

Jill Quigley

WINNER of our

DoublePass Show Tickets

valued at $450

www.ateventcentre.co.nz l 03 307 2010

ASHBURTON

INTERMEDIATE SCHOOL

OPEN EVENING

We welcome all parents/caregivers and

prospectivepupils for2021tojoin us on our

Open NightonTuesday22September,2020

This givesanopportunitytosee whatour school

has to offer as well as the chancetomeet the

Principal,staff and other members of

the school community.

Please meet in the School Hall at 7:00pm

to be welcomed.

HOME SERVICES

ROOF COATINGS: All roof

types, specializing in

Decramastic and Long Run

Iron, Coloursteel etc, steep

roofs not a problem. —

Spraymaster 027-433-7780.

www.ashburtoncourier.co.nz

2312882

2310716

PERSONAL

Thurs 10th

10.00 MilitaryWives

10.00 Fatima

12.00 AfterWeConnected

12.00 TheNew Mutants

2.00 Fatima

2.00 23 Walks

4.00 Savage

4.00 Bill and TedFacethe Music

5.40 Tenet

6.00 23 Walks

8.00 AfterWeConnected

8.15 Savage

Fri11th

10.00 23 Walks

10.00 Fatima

11.50 Tenet

12.00 Savage

1.50

2.30

4.00

4.15

5.40

6.10

8.00

8.15

MilitaryWives

TheNew Mutants

Bill and TedFacethe Music

AfterWeConnected

Tenet

TheNew Mutants

AfterWeConnected

Savage

Sat12th

10.00 Trolls WorldTour

10.00 RedShoes &the 7Dwarfs

11.35 Billand TedFacethe Music

11.45 23 Walks

1.10 TheNew Mutants

1.45 Fatima

2.50 AfterWeConnected

4.00 Billand TedFacethe Music

4.40 This Town

5.40 Tenet

6.15 TheNew Mutants

8.00 AfterWeConnected

8.15 Savage

M

M

M

R16

M

M

PG

M

M

M

M

R16

G

G

PG

M

M

M

M

PG

M

M

M

M

R16

Sun 13th

10.00 Trolls WorldTour G

10.00 RedShoes &the 7Dwarfs G

11.40 Fatima

M

11.45 Bill and TedFacethe Music PG

1.30

1.40

3.40

Tenet

AfterWeConnected

Savage

M

M

R16

4.10 Bill and TedFacethe Music PG

5.30

6.00

8.00

8.15

Tenet

AfterWeConnected

Savage

TheNew Mutants

M

M

R16

M

Mon14th, Tues 15th

&Wed 16th

10.20 This Town

10.30 Fatima

12.00 Savage

12.30 MilitaryWives

1.50

2.30

4.00

4.15

5.40

6.10

8.00

8.15

23 Walks

TheNew Mutants

Bill and TedFacethe Music

AfterWeConnected

Tenet

TheNew Mutants

AfterWeConnected

Savage

M

M

M

M

M

M

R16

PG

M

M

M

R16

M

M

R16

M

M

M

PG

MMMM

R16

NO COMPS

AfterWeConnected, Bill and Ted

Face the Music,Fatima,

TheNew Mutants,Savage

COLLECTING now: Quality

secondhand furniture,

household, garden, workshop

items (No TV's/Computers).

Ashburton Pakeke

Lions Charity Market. February

2021. Ron 3085660,

John 3076229, Trevor

3072629

HOSPICE Mid Canterbury.

Dealing with alife limiting

illness? Contact us to see

how we can support you.

Phone 307 8387 or 027 227

8387.

Ashburton

FanciersSociety

PoultryAucon

11th October 2020

Entries Close

26th September

Writefor selling

Schedule to:

BGlassey

No 4RD,Ashburton, 7774

or go to our website

2312227

Ladies 40+

Read Sammyjo's story

privatearrangements.co.nz

2310689
---
Your

ONE STOP SHOP

for

FARM MACHINERY

When it comes to your farm machinery

parts, Palmer Agri Parts Direct Ltd has all the

knowledge,equipmentand suppliers needed to

get it done and get it right.

The agricultural engineering business operatesout

of 34 Robinson Street in the Riverside Industrial

Park, Ashburton and can manufacture and repair

almost anyon-farmmachinery.

Palmer's manufacuture a massive range of

cultivation and ploughing points and parts for

New Zealand and European implements - from

your common Clough or Duncan grubber to

your Sunflower cultivator and Kverneland, Kuhn,

Dowdeswell or Lemken ploughs.

We stock many plough parts, shares and points,

chisel plough parts, s tines, bale forks, plough

conversion kits, mouldboards, dale plough shares,

plough sharerebuilds,ploughnuts and bolts.

We also manufacture and supply combine crop

lifters, knives, fingers, mower and chopper blades,

From our Robinson Street yard, we have the space

and gear to make up, not only one single part, but

thousands if needed.

As New Zealand's sole agent and distributor of

Spaldings UK European agricultural parts and

accessories and importers of Spaldings Flatlift

Subsoilers, Palmer Agri Parts Direct Ltd can offer

clients almost any part required for any earthengaging

machine.

Spaldings are Europe's leading distributor of

agricultural replacement parts for soil and crop

engaging machinery.

We also undertake general engineering and

maintenance and repair work, stock Bare Coand

Sparex tractor parts and accessories, PTO shafts

and safety covers along with manufacturing

and stocking feeders, bird scarers, and much,

much more.

$

379 $

869 $1149 $

499

Bossweld X-Series ST 181X

MMAand DC LiftTIG Welder

Bossweld X-Series MST 188X

MIG/Stick/TIG Inverter Welder

Bossweld X-Series MST 248X

MIG/Stick/TIG Inverter Welder

Weldsafe40amp Inverter

Plasma Cutter

34 Robinson Street,Riverside Industrial Park,Ashburton. Phone 308 6509

34 Robinson Street,Riverside Industrial Park,Ashburton. Phone 308 6509

2294186
---
INCLUDING

FROM$99

GST

ONLY