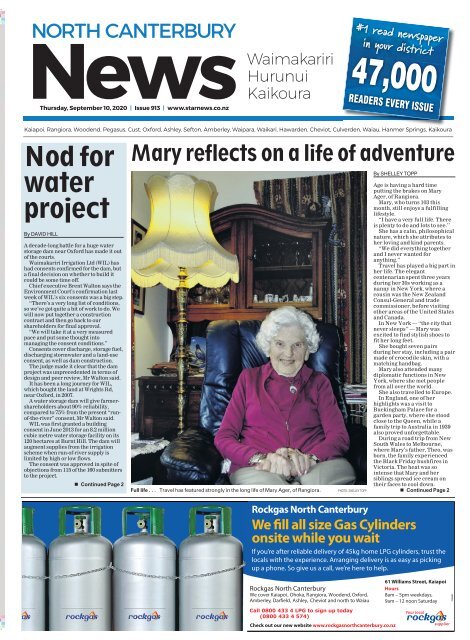 North Canterbury News: September 10, 2020
Create successful ePaper yourself
Turn your PDF publications into a flip-book with our unique Google optimized e-Paper software.
#1 read newspaper

in your district

#1 read newspaper

in your district

47,000

Thursday,September 10,2020 | Issue913 | www.starnews.co.nz

READERS EVERY ISSUE

Nod for

water

project

By DAVID HILL

Adecade­longbattlefor ahuge water

storage dam near Oxford has made it out

of the courts.

Waimakariri Irrigation Ltd (WIL)has

had consentsconfirmed for the dam, but

afinal decision on whether to buildit

couldbesome time off.

Chiefexecutive Brent Waltonsays the

Environment Court's confirmation last

week of WIL's six consents was abig step.

''There'savery long list of conditions,

so we've got quite abit of work to do. We

will now put together aconstruction

contractand then go back to our

shareholders for finalapproval.

''We willtake it at avery measured

pace and put somethoughtinto

managing the consent conditions.''

Consents cover discharge,storagefuel,

discharging stormwater and aland­use

consent,aswell as dam construction.

The judge made it clear that the dam

project was unprecedented interms of

design and peer review,MrWaltonsaid.

It has been along journey for WIL,

whichbought the land at Wrights Rd,

near Oxford, in 2007.

Awater storagedam will givefarmershareholders

about 90% reliability,

compared to 75% from the present ''runof­the­river''

consent, Mr Walton said.

WIL was firstgrantedabuilding

consent in June 2013for an 8.2 million

cubicmetrewater storage facility on its

120 hectares at Burnt Hill. The dam will

augment supplies fromthe irrigation

scheme whenrun­of­river supplyis

limited by high or low flows.

The consentwas approved in spiteof

objections from 115 of the 160submitters

to the project.

Continued Page 2

Mary reflects on alife of adventure

Full life ... Travel has featured strongly in the long life of Mary Ager, of Rangiora.

PHOTO: SHELLEY TOPP

By SHELLEY TOPP

Age is having ahard time

putting the brakes on Mary

Ager, of Rangiora.

Mary, who turns 103 this

month, still enjoys afulfilling

lifestyle.

''I have avery full life. There

is plenty to do and lots to see.''

She has acalm, philosophical

nature, which she attributes to

her loving and kind parents.

''We did everything together

and Inever wanted for

anything.''

Travel has played abig part in

her life. The elegant

centenarian spent three years

during her 30s working as a

nanny in New York, where a

cousin was the New Zealand

Consul­General and trade

commissioner, before visiting

other areas of the United States

and Canada.

In New York —''the city that

never sleeps'' —Mary was

excited to find stylish shoes to

fit her long feet.

She bought seven pairs

during her stay, including apair

made of crocodile skin, with a

matching handbag.

Mary also attended many

diplomatic functions in New

York, where she met people

from all over the world.

She also travelled to Europe.

In England, one of her

highlights was avisit to

Buckingham Palace for a

garden party, where she stood

close to the Queen, while a

family trip to Australia in 1939

also proved unforgettable.

During aroad trip from New

South Wales to Melbourne,

where Mary's father, Theo, was

born, the family experienced

the Black Friday bushfires in

Victoria. The heat was so

intense that Mary and her

siblings spread ice cream on

their faces to cool down.

Continued Page 2

Rockgas NorthCanterbury

We fill all sizeGas Cylinders

onsite while youwait

If you're afterreliabledeliveryof45kghome LPG cylinders,trust the

locals with the experience. Arranging deliveryisaseasyaspicking

up aphone.Sogive us acall,we're heretohelp.

61 Williams Street,Kaiapoi

Hours

8am –5pm weekdays,

9am –12noonSaturday

2286893

Check out our newwebsite www.rockgasnorthcanterbury.co.nz
---
NEWS

2 The North Canterbury News, September 10, 2020

There's

neverbeen

abetter

time to

support

local

news

news

Robyn Bristow

Managing Editor

027 312 1581

robyn.bristow

@ncnews.co.nz

Reporters

Neil Clarkson, David Hill,

Shelley Topp.

a

sing

advertising

DaynaBurton

Sales Co-ordinator

027 312 0089

dayna.burton

@ncnews.co.nz

getintouch

Editorial touch

www starnews co nz

The

North

Canterbury

News features

local business

and news

everyweek

AmandaKeys Advertising

027 536 6224

amanda.keys@ncnews.co.nz

Kerryn Clark Advertising

021 586 138

kerryn.clark@ncnews.co.nz

info@ncnews.co.nz

Advertising

sales@ncnews.co.nz

Graphic Design

heather.hood@ncnews.co.nz

Distribution/Deliveries

03 314 8335

Amberley: 03 314 8335

119 Carters Road, Amberley

Rangiora: 03 313 2840

77-83 High Street, Rangiora

Christchurch: 03 364 7460

www.starnews.co.nz

Station'sfuture unclear

By SHELLEY TOPP

The future of the Rangiora

PoliceStation building is

uncertain because of

earthquake damage.

The buildingat309 High

Streetwas closed last

September after concerns

were raised about its safety

duringrefurbishment

work. Initially, repairs

were planned but

considerationisnow being

given to demolishingthe

building as amore

economic option.

''No decision hasbeen

made yet,''saidInspector

Peter Cooper,the New

Zealand PoliceCanterbury

Rural Area Commander.

''We're lookingatoptions.''

They include long­term

planning for acontinued

policepresence in the

town. ''We are not leaving

town in any shape or form.''

Rangiora police have

Car-park building on hold

Acar­parkbuilding proposed by the

Waimakariri District Council in

Rangiora's Blake Street area has been

put on hold.

The decisionwas made during the

council'sannual plan discussion earlier

this year.

''Council opted to put any decisionmaking

about the BlakeStreetcarparking

building on hold, and in

conjunction with the TownCentre

Strategy review,asked staff to develop a

RangioraTown Centre ParkingStrategy

which considered theshort, medium and

long­term parkingchallenges and

opportunities, and provided options for

catering for the forecast growth,'' the

council'sbusiness and centresmanager,

Simon Hart, said.

''The rationale for this was to ensure

council could consider all of the potential

parking challengesacross the town, and

all of the options for addressingthese,

before committingalarge amount of

Looking

to buy or

sell?

Aaron Clark

Residential &Lifestyle Sales Consultant

M 027 873 5121

P 03 313 8022

E aaronc@pb.co.nz

fundingtoany one project.''

The aim is to get the parking strategyto

the council in time for the upcomingLong

Term Plan discussions,sothat

appropriate funding for suitable projects

can be included in the draft document,

which will go out for public consultation

early next year.

The council has acquired some

additional property next to the existing

Blake Street car park to allow for future

growth in parking provision at the site.

The recently adoptedRangioraTown

Centre Strategy signalledapotential

parking provision increase in theorder of

600 to 800 car parks across the Rangiora

town centre during the next 25 to 30 years.

''The Blake Street car park is centrally

located, and future­proofing the ability to

expandparkingprovision in this area

could provide for some of that additional

capacity requirement,and would allow

continued support of the core retailing

area in High Street,'' Mr Hart said.

Dam approved, with conditions

From Page1

Alocalresidents group, theEyre

Community Environmental Safety

Society (ECESS) thenappealedtothe

EnvironmentCourt.

SpokeswomanCatherineBallinger

saysher group is proud of what it has

achieved,withexperts givingtheir time

to ensureECESS wasable to put up the

strongest possiblechallenge.

''ECESS managed to change alot of

thingsand the conditions have made the

dam proposalalot safer than it

otherwisewould havebeen.''

Improvementsincludestrengthening

thewalldesign with ahigher­grade

Future uncertain ... The vacant Rangiora Police Station.

been working from

temporarypremises at 200

King Street since moving

out of High Street.

However, it is not

considered an ideal

alternative and other

options are being explored

in the town while a

decision is made aboutthe

old building.

Meanwhile, the public is

encouraged to use the

Kaiapoi station at 149

Williams Street if avisitto

the policeisneeded.

lining,and warning systems have

changed.Anevacuationplan is still

being workedonand thisremains a

concern for ECESS.

''Wewereneveropposed to water

storage. Our concern wasalwaysabout

public safety. We believe it is much

cheaper for farmers to putintheir own

ponds,'' shesays.

Aconcern for ECESS was how

conditions would be enforced, so Ms

Ballinger welcomed the requirement for

acommunity liaison group.

While she would have preferredno

dam,MsBallingerwonders if the

conditions will makeitunaffordable.

Call Aaron today for

your chance to WIN

gift vouchers to the value

of $450 from

Appraise &list your property

and you're in the draw!

T's &C's apply. Offer ends 30 September 2020

Questions

over future

By ROBYN BRISTOW

The futurework of the Hurunui Waiau

Zone committeeremains up in the air.

AspecialHurunuiDistrict Council

meeting last week acknowledgedthe

hard work of the committeeover 10

years, but called for apause in

determining away forward.

Meanwhile,the zonecommittee will

continuetodeliveronthe Canterbury

WaterManagement Strategy (CWMS),

whilecouncil officers bring apaper to

the October meeting on future options.

Cr LyndaMurchison called for the

report and moved that the September

''refresh'' of the committeebeput on

hold untilthe pathwas clear.

The committeehad done afine job

over the past10years, but future water

developments, and government

funding being madeavailable, would

alterthe picture.

MayorMarie Black said

compatibility, and the developmentof

astrong well­connected zone

committee focused on local action,

should be the outcome of any potential

change.

Mary saw

the world

From Page 1

The rough sea voyagehome to New

Zealand also provedunforgettable with

many peopleonboard, including Mary's

mother, Grace,becoming sea sick.

Mary was born on September 15, 1917

in Wairoa, where her father, an

architect, designed the Wairoa Freezing

Worksand became manager of the

business before the familymoved from

Hawke's Bay to Christchurch in 1926.

Acoupleofyears later the family

shifted to Rangiora, where Theo became

manager of the Farmers Trading

Company department store. He was also

deputy Mayor of Rangiora for atime.

Mary attendedRangiora High School

and later became aboarder at St

Margaret's College in Christchurch,

before eventually joining her father

working for the Farmers, twice, for a

totalof35years.

She retiredat60tolook after her

mother.

Mary has also been an avid community

worker throughouther life,supporting

the North Canterbury Soroptomists,

Probus (nowknown as Friendship New

Zealand),the Rangiora Museum, and

Rangiora Lions.

She has outlived hertwo brothers and

asister, who died suddenly of an

unknown cause when aged just six.

She has never married. ''I was engaged

once but my fiancé died duringthe war,''

she says.

Mary has two nieces, anephew,five

great­nephews and agreat­niece.

STOP BIRDS

hail, leaves, snow &vermin from

blocking &damaging your spouting

Quality materials: BHP Colorbond steel mesh with unique

patented louvre will even keep out pine needles. Will not rust or

sag with age or load. 10 year warranty,range of colours.

Proven in Australia &New Zealand over the last 15 years.

FOR SAFE, PURE DRINKING WATER

FROM YOUR ROOF.

NOW AVAILABLE: STAINLESS STEEL MICRO MESH

Call Rohan anytime Mon-Sat for

ano-obligation assessment &quote

03 982 8850 0800 486 532 www.gumleaf.co.nz

1637376
---
NEWS

North Canterbury News, September 10, 2020

3

Covid challenges in staging show

By DAVID HILL

Local drama students are

soldiering on despite the

uncertainty of Covid­19.

The Hartley School of

Performing Arts remains on

track for awhole­school

production of The Lion, The

Witch and The Wardrobe in

the Rangiora Town Hall

from September 30 to

October 3tomark its 25th

anniversary.

School director Dale

Hartley­Brown says she is

determined for the

production to go ahead for

the benefit of students, but

acknowledges it will be

viable only if the region

returns to alert level 1in

time.

''The bottom line is we are

due to pack into the town

hall on September 19, but we

won't be able to if we are not

going to be at level 1intime

for the show.''

The production is

expected to cost at least

$15,000, with around half of

the money already spent, to

cover the cost of materials

for costumes, paying staff

and the cost of hiring the

venue.

With acast of more than

200, rehearsals have to be

carefully managed scene­byscene

because of social

distancing, meaning afull

dress rehearsal is

impossible at level 2.

Because of the

restrictions around

rehearsals, class items have

Good versus evil ... Aslan, played by Sian Hassan, right, confronts the Ice Queen, played by

Michelle O'Brien, in the Hartley School of Performing Arts production of The Lion, The Witch and

The Wardrobe.

PHOTO: SUPPLIED

been recorded and

uploaded online so students

can practise at home.

''If we lose aweek we need

to know that they can

continue to practice,'' Dale

says.

The Lion, The Witch and

The Wardrobe was originally

going to be the school's

senior production in July,

followed by ajunior show in

October.

The script was written by

former student Rebekah Au,

while Kitty Jamison is the

show's director.

Kitty was assistant

director for last year's

senior production and

played Wendy in the 2016

production of Peter Pan.

Carissa Brant is the

choreographer, assisted by

Rachael McInnes, who was

meant to be this year's

junior show choreographer.

Joshua Lees was going to

direct the junior show, but

will be the stage manager

instead, while Rachel Long

is the vocal coach.

''They've all been so

supportive and loyal. They

Mia'shair to be cut for charity

By SHELLEY TOPP

Ashley schoolgirl Mia Commons is having her

long golden locks shaved off to support her

favourite teacher, who has breast cancer.

When Mia, aged 8, heard that her Year 2

Ashley Primary School teacher Amanda Papps,

who now teaches at Rangiora's Te Matauru

School, had been diagnosed with breast

cancer, she was saddened and wanted to do

something to help.

She told her mother, Natasha Commons, that

she wanted to have her head shaved to raise

money to support the Breast Cancer

Foundation New Zealand.

At first, Natasha thought Mia might cool on

the concept but she kept insisting it was

something she really wanted to do.

The foundation established afundraising

page for Mia —takeaction.org.nz/page/

miasheadshaveforbreastcancer —about three

weeks ago and she has already raised more

than $1200.

Mia's head will be shaved, with Amanda by

her side, at the Ashley School, in front of all the

pupils and teachers, at 2.30pm on Friday

October 30, the first day of the foundation's

annual Pink Ribbon Street Appeal.

Amanda said Mia's gesture was pretty

amazing. ''She has abig heart.''

Mia's locks will go to Freedom Hair Wigs and

will be made into awig.

The money for the hair will also go to the

foundation.

know the risk I'm taking and

they've offered that if we

can't do the show, they will

do aconcert to raise some

funds,'' Dale says.

Six shows of The Lion, The

Witch and The Wardrobe are

scheduled, with daily 2pm

shows from Wednesday,

September 30, to Saturday,

October 3, and evening

shows from 7.30pm on the

Thursday and Friday.

Tickets are on sale at

Town Hall Cinemas for $15

each or $55 for afamily of

four, plus abooking fee.

Mia Commons

2310682

Caring for North Canterbury

Dr John Dehn

Full Mole Checks

using Dermoscopy

Surgical Management

and Aftercare

Comprehensive, Affordable, Convenient

Ph 03 9204060

52 Pegasus Main Street,Pegasus 7612

www.pegasusmedicalcentre.co.nz

HOUSE

WASHING

Experts!

AFTER

Services Include:

0800101216

washrite.co.nz

Southern Cross

Affiliated Provider

For selected services

BEFORE

• House washing

• Roof Washing

• Moss and Mould Removal

• Driveway &Concrete

Cleaning

• Deck &Fence Cleaning

• Gutter Cleaning

• Spider proofing

FreeQuotes

1890742

Come andHaveYour Say

with Stuart Smith MP for Kaikoura

Tuesday15 th September

9:00am—10:00am

Ashley Rugby Clubrooms, 154 Loburn-Whiterock Rock, Loburn

10:30am—11:30am

Ashley Hotel/Pub, 24Canterbury Street, Ashley

12:00pm—1:00pm

Pukeko Junction Café, 458 Ashworths Road, Leithfield

BruceHoban,yourlocal and experienced

ruralreal estateprofessional!

Considering amove this spring?

Contact Bruce for aconfidential chat,about

howhecan achievearesult for you!

2:00pm—3:00pm

Fossil Point Café, 1Valley Road, Greta Valley

3:30pm—4:30pm

Pams Café and Gifts, 8Weka Pass Road, Waikari

Authorised by StuartSmith MP,

Parliament Buildings, Wellington.

M 027 5888889|Ebhoban@pggwrightson.co.nz

www.pggwre.co.nz

PGG Wrightson Real EstateLimited,licensed under the REAA2008.

Helping grow the country
---
NEWS

4 The North Canterbury News, September 10, 2020

LAWNMASTERESTATE ESTATE SPECIAL

2095268

Was $849

Now $749

Check

Out These

Features:

• NZ Made

• Ball Bearing Wheels

ESTATEECO READYSTART

• Ready Start Engines (no priming)

• Quality Alloy Chassis with LIFETIME Warranty

• 4Year Engine Warranty

• Oiled &Fully Assembled

*Excludes the Estate 400

Kaiapoi Lodge

Residential Care

Nursing Home, Hospital and

Respite

Person Centred Care,

Carethat'sbuilt

around you

6Cass Street,Kaiapoi

Ph 03 327 7235

Save $100 on the

Lawnmaster

Estate range *

360 FlaxtonRoad,Rangiora

Ph 03 313 5563

www.kingsmowersheating.co.nz

2307841

2187722

Jared sports new look

By DAVID HILL

Principal Jared Kelly accepted

the challengeand endureda

close shave lastThursday.

PegasusBay School

challenged itscommunity to

raise $2000 for theCancer

Societyaspartofthe annual

Daffodil Day campaign, with

Mr Kelly promisingthe biggest

donor couldshavehis head

and beardifthe target was

reached.

A"yellow mufti day"was

heldonFriday, August 28,

raisingawhopping $903and

the donationskept pouring in.

"Usually ourmufti­day

fundraisers raise around $400

to $500, so hittingour $2000

target is an awesomeeffort,''

Mr Kelly said of thefinal

result.

''Wehave hadour fairshare

of cancer battles withinour

community,soIguess this one

is particularlyclose to people's

hearts.''

School mumand Bespoke

Hairstyling owner Dayna Bavis

lined up to assistthe biggest

donor, EllaLatham, to giveMr

Kelly hisnew look, whichwas

cheered on by the whole

school.

Amidcalls to "shave offhis

eye brows" and"give him a

mohawk", the newhaircut was

completed witheyebrows

intact.

Mr Kelly thanked the

children and staff fortheir

generous contributionstosuch

aworthy cause.

Off it comes ... Dayna Bavis takes off the last of Jared Kelly's hair.

Hairy ... The old look.

Smooth ... The new look.

Helpers

sought

by group

Keep Rangiora

Beautiful is calling for

volunteers to help

during national cleanup

week.

The clean­up is held

annually by KeepNew

ZealandBeautiful.

Lastyear,morethan

52,000 volunteers

picked up507,400kg of

litternationwide.

Thisyear's campaign

started on September 7

andwill end on the

13th.

In Rangiora,

Rangiora Beautiful

volunteers planto

meet at theMillton

Avenue Park picnic

area, near theAshley

Rakahuri River bridge,

this Saturday,

September 12,for a

clean­upinthe area

from9am to noon.

Social distancing

will be observedand

volunteers are asked to

bringtheir own

gardening gloves,a

bucket anda

biodegradable bagfor

rubbish.

All rubbish will be

loaded on atrailer and

sorted todetermine if

anything canbe

recycled. The rest will

be dumped.

Full ServiceDepartment on site

REMINDER

Youmusthaveyour WoFrenewed

by 11.59pm, 10 October 2020.

Bridgestone tyres

Warrants

Wheel alignments

Batteries

Antifreeze

Holden genuine parts

Workshop: Michael03314 0131 (Amberley)Brian 03 3144477(Waikari)

Motorcycle Service: Anton 03 3140134 BridgestoneTyres: Ash 03 314 0137

MarkhamStreet,Amberley |Karaka Road, Waikari

www.arthurburke.co.nz

Suzuki genuine parts

Full motorcycle workshop

On farm motorcycle servicing

Brakeand clutch repairs

Good range of ACDelcoparts

Carmats and accessories

ARTHUR BURKELTD

Established 1935

2310591
---
Coffin up the cash in fundraiser

By DAVID HILL

The Rangiora MenzShed has

come up with somenovel

ways of raising cash.

Members have been making

coffins and park benches to

sell,whileagiant garage sale

and sausage sizzle willbe

held at the Rangiora

Showgrounds Pavilion and a

car bootsale in the car park

on Saturday, October 10, in a

bid to boost its coffers.

''We don't makealot of

moneyout of them, but it all

helps,'' menz shedchairman

SteveMackay says of the

coffins. ''We've just put coffins

up on our Facebook pageand

it's just gone ballistic.

''We've got to build anew

shed so we are goingtogofor

funding, and we want to buy

some moreequipment.''

Coffins usuallysell for more

than $1000, but the public can

buy unvarnished coffins from

the menz shed for $450and

finish themthemselves, Steve

says.

The menz shediskeen to

hear from any business or

community groupwhich

wantstorun astallatthe

garage sale.

Araffle with 500 tickets and

15 prizes is also on sale for$5

aticket and will be drawnby

Fundraiser ... Rangiora Menz Shed members, from left, chairman Steve Mackay, Merv Laws and

Peter Satterthwaite pose with one of the coffins volunteers have been making.

PHOTO: DAVID HILL

MayorDan Gordon on the

day.

The group has about40

members and meets on

Tuesdays,Wednesdaysand

Thursdaysfrom9am to 12pm.

Members work on arange

of projects, including horse

jumpsfor the Rangiora

Showgrounds and other

initiatives for local

community organisations.

''The Northern A&P

Association committee

supplies the timber and we do

the work. It'sacommunity

thing anditworks well,'' Steve

says. ''Wetry to do outwork

and we prefer people to bring

it in here.''

For moreinformation,

follow the Rangiora Menz

ShedonFacebook.ContactJP

on (021) 862 602 to buy acoffin

or Steve on (027)909 0240to

bookastall for the garage

sale.

Food drive to help families in need

Bayleys' Cansfor aCause, a

food­drive partnership with

CommunityWellbeing North

Canterbury Trust,ishelping

local families strugglingwith

the impact of Covid­19.

Hurunui Mayor Marie Black

and membersofher

community team lastweek

took deliveryofacar­load of

donated food fromHurunuibased

Bayleys'agent Julie

Graham.

"The Hurunui has been hit

hard, withcumulative stresses

of drought, earthquake and

now Covid," Mrs Black says.

"More than 50 boxes of food

are going out to local families

every week rightnow, so we're

very grateful for the generous

donations peoplehave made to

this Bayleys North Canterbury

food initiative."

Julie,who has livedin

Cheviot for more than27years,

Taking delivery ... From left, Bayleys agent Julie Graham, Hurunui

council community team member Roger Hornblow, Mayor Marie

Black, and community team leader Rhea Duffy.

PHOTO: SUPPLIED

says she hates to think people

are havingtochoosebetween

feeding theirfamilyorpaying

the bills. "It feels reallygood to

be able to do something to help

my own community."

Meanwhile, the Ashgrove

Primary School in Rangiora

heldasausage sizzletohelp

the cause.Instead of agold

coindonation, children were

invited to bring acan of food to

donate to Bayleys.

Julie andfellow agent

Tracey Doody came up with

the fundraiser at the school

where Tracey's two children

spent their primary years.

Ashgrove principal

ChristineChadwick saidthe

school council backedthe

initiative. Atotal of 500 cans

weredonated on the day.

BayleysNorthCanterbury

has been running the food

drive since August. Donations

of cans and non­perishable

foodmay be left at Bayleys'

Rangioraand Hanmer Springs

offices.Collection can be

arranged by phoning (03) 311

8020.

NEWS

The North Canterbury News, September 10, 2020

In brief

2310970

5

New home for arts group

The NEST Arts Collective has anew

permanent home, in The Sheds

complex, behind Bax and Berg, on the

main street of Amberley. ''The space is

rustic and cool —one where we don't

have to be afraid of dropping paint on

the floor, where we have the freedom

to funkify it and make it our own,'' says

one of the collective's founding

members, Belinda Osgood. ''It is

essentially alarge blank canvas and it

is going to make agreat home for

NEST's various activities. We are

really excited aboutthe new space.''

Petition handed over

Waimakariri Mayor Dan Gordon and

Rangiora­Ashley Community Board

chairman Jim Gerard were presented

with apetition last Thursday by

Rangiora residentsopposing aquarry

proposed for Rangiora Racecourse.

The petition gathered more than 4000

signatures. Jill Robinson and Marilyn

Davison both organised the hard­copy

part of the petition, after the online

version was established by Tracey

Dimmock­Rump. The petition will be

formally received at the council

meeting on October 6. The council is

seeking more informationfrom

Taggart Earthmoving Ltd, which filed

the resource consent application.

Durham Health

Cosmetic Clinic

Dr Peter Aspell specialising in

Cosmetic Medicine and Medical

skin treatments.

•Botulinum (Botox)

•Dermal Fillers

•Radiofrequency Surgery

•SkinPen Microneedling for fine lines,

scarring and skin rejuvination

•Prescription Cosmetic Creams

"Aging is afact of life.

Looking your age doesn't have to be"

www.durhamhealth.co.nz

Phone: 03 313 4659

15 Durham Street Rangiora

Celebrating

Success

CongratulationsPeterCrean forwinning

the No 1rural agent inNew Zealand

awardfor 2020!

Listwith Petertoday if youwantresults

thatcount.

PeterCrean Ruraland Lifestyle Sales

M 027 434 4002|pcrean@pggwrightson.co.nz

www.pggwre.co.nz

PGG WrightsonReal EstateLimited, licensed under the REAA2008

Helping grow the country
---
ELECTION 2020

6 The North Canterbury News, September 10, 2020

Electorates home to

diverse communities

By ROBYN BRISTOW

The Waimakaririand Kaikoura

electorates are diverse. Both have large

urban centres,and in the case of

Waimakariri, two Christchurch suburban

populations.But both are also hometo

large farms,wineriesand vineyards,

lifestyle blocks, ruralresidential

properties, and smalltowns.

Bothare held by National, and the

National party vote in both electorates

were well ahead of other parties in 2017.

Waimakariri

The Waimakariri electorate's northern

and southernboundaries are largely

definedbythe Ashley/Rakahuri River in

the north,the Waimakariri River in the

south and the Puketeraki Range to the

west. It spills acrossthe Waimakariri River

to include the Christchurch Citysuburbs of

Casebrook and Belfast.

The main rural towns are Oxford, Cust,

Rangiora, Woodend,Kaiapoi, the new

community of Pegasus, and Belfast.

The winning candidate in the 2017

election, National'sMatt Doocey, captured

57.6% of the 39,334 valid electorate votes

for candidates in the seat. The seathad

been been won in 2014byDoocey, with a

margin of 2506. He increased his majority

in 2017to10,766.

The National Party also captured a

majority (53.6%)ofparty votesin

Waimakariri, down 3.9 percentage points

on its party­vote share in 2014.

Turnout(totalvotescast as aproportion

of enrolled electors)in2017 was 83.6%.

The Waimakariri district, which is a

large part of the electorate, is one of New

Zealand's most popularplaces to live, and

continues to grow as people seek alifestyle

outside Christchurch,but within

commuting distance of the city.

It has alsoprovided asafe havenfor

many exiting Christchurch after the 2010

and2011 quakes.

In June lastyear there were about 62,800

peopleliving in Waimakariri district. It is

oneofStatisticsNew Zealand's top three

projectedpopulationgrowth areas (for the

2013­2043 period), thirdbehindSelwyn

andthe Queenstown LakesDistrict.

Candidates:

New Conservative: Leighton Baker

(ContestedEpsomin2017), No 1onthe list;

ACT: JamesDavies;

National:Matthew Doocey, sittingMP,

31st on the partylist;

ONE: Nikita McCausland;

SocialCredit:Lawrence McIsaac;

Labour: Dan Rosewarne, (Contestedthe

electoratein2017),56th on the list.

OPINION

McALPINES MITRE 10 MEGA RANGIORA -OCEAN WATCH

This

Week

Sun

Fishing

Guide

Moon

Wind

Swell

Pegasus Bay

Tide Chart

3

2

1

Ok

Thursday Friday Saturday Sunday Monday Tuesday Wednesday

Sep 10 Sep 11 Sep 12 Sep 13 Sep 14 Sep 15 Sep 16

Rise 6:39am

Set 6:12pm

Best

Times

5:47am

6:11pm

Rise12:58am

Set 10:30am

Moderate Seasing

to light SW

Ok

Rise 6:38am

Set 6:13pm

Best

Times

6:36am

7:02pm

Rise 2:00am

Set 11:09am

Moderate S

easing

ELECTORATE PROFILES

Note: Nominationsinall seats remain

open untilSeptember 19.

Kaikoura

The Kaikouraelectoratesprawls across

the north­easternSouthIsland, from Cook

Strait in the north to the Ashley/Rakahuri

River in thesouth.

At more than 21,000square kilometres, it

is NewZealand's fourth­largestgeneral

electorate by area.

Its main towns are Blenheim and

Kaikoura. Other townsincludePicton,

Havelock, Cheviot, Hanmer Springs,

Culverden,Amberley, Sefton, and Ashley.

The electorate boundaries werenot

changedinany recent boundaryreviews.

Blenheim is the largestpopulatedarea

in boththe electorate and theMarlborough

region.Itisthe country's 17th main urban

area, with 26,400 people.

Its surroundingareaiswell known as

the centre of New Zealand's wineindustry

and it enjoysone of New Zealand's

sunniest climates, with hot, relatively dry

summersand cool,crisp winters.

The electorate also takes in the Waipara

Valley wine region, an increasingly

popularwinegrowing areawith many

award­winning vintages beingproduced.

It alsoencompasses someofNew

Zealand's most spectacular tourist spots,

from the Marlborough Soundssouth to

Hanmer Springs and Kaikoura.

National has heldthe seat since its

establishment in 1996.

It is currentlyrepresented by National's

Stuart Smith, who won the seat with a

margin of 10,553in2017. National also won

the largest share of Kaikoura's votes–53%

to Labour's 29%.

Kaikoura tends to have ahigh voter

turnoutcompared withthe restofthe

country, with 83% of enrolled people

voting.

Candidates:

NZ First: Jamie Arbuckle (Contested

electorate in 2017);

ACT: Richard Evans(Contested

electorate in 2017);

Labour: MattFlight,78th on the list;

New Conservative: David Greenslade

(Contestedelectoratein2017);

Social Credit: John McCaskey,

(Contestedelectoratein2017);

Green: RichardMcCubbin, (Contested

electorate in 2017);

ONE: Don Moore;

Outdoors:Darlene Morgan;

National:Stuart Smith (Sitting MP) 32nd

on party list.

Ok

Rise 6:36am

Set 6:14pm

Best

Times

7:29am

7:56pm

Rise 2:59am

Set 11:58am

Light Nturning

W

Ok

Rise 6:34am

Set 6:15pm

Best

Times

Rise 3:55am

Set 12:55pm

Light Wbecoming

fresh NW

Rise 6:32am

Set 6:16pm

Strong NW

Rise 6:30am

Set 6:17pm

Best 10:17am

Times 10:45pm

Rise 5:27am

Set 3:14pm

Near gale NW

turning W

Rise 6:29am

Set 6:19pm

Best 11:13am

Times 11:40pm

Rise 6:04am

Set 4:31pm

Moderate SW

strengthening

E0.5 mturning SE 0.6 mturning SE 0.8 mturning

S0.9 m S1.2 m SE 0.6 m

SE

S

W

S1.1 m

3 6 9 NOON 3 6 9 3 6 9 NOON 3 6 9 3 6 9 NOON 3 6 9 3 6 9 NOON 3 6 9 3 6 9 NOON 3 6 9 3 6 9 NOON 3 6 9 3 6 9 NOON 3 6 9

8:24am

8:52pm

Fair

Best

Times

Waimakariri

Focus from Dan Gordon, Mayor

Adistrict blooms

Last Fridaymarked 10 years since we were

all rudely awakened by amajor

earthquake thatsignificantly changed

Kaiapoi,Pines Beach and Kairaki, as well

as the wider district, forever.

This was adefining moment in our

history and the impactofthis event has

been felt eversince—and not just with

aftershocks.

Much has happened in those10years

and Iamproud of the way our community

rallied and helped to rebuild. Today,it's

worthreflecting on the factthat our

recoveryistestimony to the spirit and

strength of you all.

The council had arole in rebuilding and

I'm also proud to have been partofthe

team led by David Ayers (thenmayor) and

the chief executive Jim Palmer, who

provided astrong direction for recovery

that focused on peopleand put community

first.

They were supported by aunited

council, which came together to identify

and deliver solutions thatwould provide

new facilitiesand upgrades,not onlyin

Kaiapoi but acrossthe district. We spoke to

the communityindepthand developed a

plan that reflected what the community

wanted.

Sincethen, we've been working hard to

rebuild town centres,support businesses

9:21am

9:49pm

Rise 4:44am

Set 2:01pm

Good

Good

to recover and attract investment. We've

also been delivering on the outcomes in

the Waimakariri Residential Red Zone

Recovery Plan.

This includes building new facilities

such as parks and reserves,walking and

cyclingtracks, aBMX track,dog park,

restoringalowland forest,aswell as

allocating mixed­use business areas and

the infrastructurethatservicesthem all.

If you haven't visited the regeneration

land in Kaiapoi recently, Iencourage you

to do so. It's outstanding the progress that

has been made here.

Work continues, with projects such as

softball fieldsand mahinga kai areas to be

developed, as wellasthe shovel­ready

project to reduce the impact of flooding on

urbanand rural areas of Kaiapoi,toname

afew.

Unfortunately, the event to mark this

anniversary has been postponed because

of Covid­19 and will now take placeon

Friday, September 25.

It will be agreatcommunity eventand

will give everyone an opportunity to see

just how far we have come in the last 10

years.

I'm sure,onsuch an important

milestone,all residents willtake amoment

to reflectonour journey as acommunity

and just how far we've come together.

No safeguards with bill

Dear Editor,

In response to Dr Frank Kueppers,

(The Case for Euthanasia, North

Canterbury News,September3), the End

of Life Choice Act will put many of us in

danger.

Nothing in thisact guarantees the

protection required for vulnerable

people, including the disabled, elderly,

depressed oranxious, and those who feel

themselves to be aburden or under

financial pressure.

The international evidence, contrary

to what Dr Kueppers says, backs these

concerns, whichexplains why so few

countries have made any changes to the

law around this issue.

Does Dr Kueppers know that one­third

of all euthanasia deaths in the Flemish

region of Belgium aredone without

explicit request? Many elderly people

are fearful of going to see adoctor or

going into rest homes.

And, as adoctor, he would know that

LETTER TO THE EDITOR

diagnosis and prognosis are based on

probability, not certainty.

My mother, after being diagnosed with

cancer, was given only weeks to live. She

lived for another 3years.

The act we are voting for relies on a

diagnosis that aperson suffers from a

terminal illness likelytoend his or her

life within six months.

This bill is flawed. There are no

safeguards to elder abuse, coercion,

misdiagnosis,and aslippery slope

(Belgiumextended ''assisted suicide'' to

children in 2002).

Contrary to public misunderstanding,

there is alreadyreasonable choice in that

life support or optional treatment can be

legally refused, and full pain relief is

available even if it shortens life.

Yours,

J. Goulding

0

Highs Lows Highs Lows Highs Lows Highs Lows Highs Lows Highs Lows Highs Lows

Waimakariri 10:24am 2.1 4:10am 0.8 11:11am 2.1 4:57am 0.8

5:45am 0.7 12:26am 2.1 6:34am 0.7 1:15am 2.1 7:24am 0.6 2:06am 2.2 8:15am 0.5 2:56am 2.3 9:09am 0.5

Mouth

10:48pm 2.0 4:39pm 0.8 11:36pm 2.0 5:31pm 0.8 12:01pm 2.2 6:22pm 0.8 12:51pm 2.2 7:12pm 0.7 1:43pm 2.3 8:01pm 0.6 2:33pm 2.4 8:50pm 0.5 3:24pm 2.5 9:40pm 0.4

Amberley 10:24am 2.1 4:10am 0.8 11:11am 2.1 4:57am 0.8

5:45am 0.7 12:26am 2.1 6:34am 0.7 1:15am 2.1 7:24am 0.6 2:06am 2.2 8:15am 0.5 2:56am 2.3 9:09am 0.5

Beach

10:48pm 2.0 4:39pm 0.8 11:36pm 2.0 5:31pm 0.8 12:01pm 2.2 6:22pm 0.8 12:51pm 2.2 7:12pm 0.7 1:43pm 2.3 8:01pm 0.6 2:33pm 2.4 8:50pm 0.5 3:24pm 2.5 9:40pm 0.4

10:33am 2.1 4:19am 0.8 11:20am 2.1 5:06am 0.8

5:54am 0.7 12:35am 2.1 6:43am 0.7 1:24am 2.1 7:33am 0.6 2:15am 2.2 8:24am 0.5 3:05am 2.3 9:18am 0.5

Motunau 10:57pm 2.0 4:48pm 0.8 11:45pm 2.0 5:40pm 0.8 12:10pm 2.2 6:31pm 0.8 1:00pm 2.2 7:21pm 0.7 1:52pm 2.3 8:10pm 0.6 2:42pm 2.4 8:59pm 0.5 3:33pm 2.5 9:49pm 0.4

10:35am 2.1 4:21am 0.8 11:22am 2.1 5:08am 0.8

5:56am 0.7 12:37am 2.1 6:45am 0.7 1:26am 2.1 7:35am 0.6 2:17am 2.2 8:26am 0.5 3:07am 2.3 9:20am 0.5

Gore Bay 10:59pm 2.0 4:50pm 0.8 11:47pm 2.0 5:42pm 0.8 12:12pm 2.2 6:33pm 0.8 1:02pm 2.2 7:23pm 0.7 1:54pm 2.3 8:12pm 0.6 2:44pm 2.4 9:01pm 0.5 3:35pm 2.5 9:51pm 0.4

10:35am 1.6 4:22am 0.6 11:22am 1.7 5:07am 0.6

5:53am 0.6 12:35am 1.6 6:40am 0.5 1:22am 1.6 7:28am 0.5 2:10am 1.7 8:18am 0.4 3:00am 1.7 9:10am 0.4

Kaikoura 11:01pm 1.6 4:52pm 0.6 11:48pm 1.6 5:41pm 0.6 12:10pm 1.7 6:30pm 0.6 12:59pm 1.7 7:18pm 0.5 1:48pm 1.8 8:06pm 0.5 2:38pm 1.9 8:54pm 0.4 3:28pm 1.9 9:44pm 0.3

*Not for navigational purposes. Wind and swell are based on apoint off Gore Bay. Maori Fishing Guide by Bill Hohepa. www.ofu.co.nz www.tidespy.com Graphic supplied by OceanFun Publishing Ltd.

2118223
---
ELECTION 2020

The North Canterbury News, September 10, 2020

Seymour'srole as sole MP may change soon

Act New Zealand leader David Seymour talks to Mike

Houlahan about his party, and his hopes that he will no

longer be his party'ssole MP in Parliament.

Being aone­man bandin

Parliament can haveits

advantages —beingAct New

Zealand's sole MP meansDavid

Seymour's allottedoffice is a

spacious room near the

Parliamentary Library, one once

usedbyRichard Seddon.

On the other hand, beingalone

MP forsix years has seenMr

Seymourcarry aheavy workload,

especiallywhen stewarding

through theEnd of LifeChoice

Act to the point where it willbe

voted on in areferendum

alongside the general election.

On current polling,that heavy

workload could bring a

parliamentaryrewardfor Mr

Seymour, as Actisseemingly on

the verge of returningmore than

asingle MP for the first timein

nineyears.

''We pollfor the reasons why

people support Act and certainly

poorperformance by National is

the third or fourth most popular

reason,'' Mr Seymour said.

The popular reasons are

speaking sense,partypolicies,

and the viewitholdsother

parties accountable. ''Those are

thethings that showup, so clearly

someofthe support is becauseof

National,but less than people

might think.''

Theother boost to Act's

fortunes has been the End of Life

Choice debate.

While the legislation was a

Member's Bill, Mr Seymour

LEADER PROFILE

believed his close affiliation with

the review wouldnot distract

votersfrom supporting his party.

''It'sthe most popular issue

that Act has ever championed so

I'mnot too worried about being

associated with that, but

certainly Iwill vigorouslydefend

any misinformation about the

referendum. If Iamtalking about

that issue then Idon't think that

will hurt Act, but Ialso haveto

consider Epsom.''

Retaining Mr Seymour's

Epsomelectorate, Act's lifeline

into Parliament for adecade,

means he might not be as visible

aroundNew Zealandasother

party leaders.

''Every vote counts,'' he says.

''And one thing for sure is that the

South Island is one of our best

sources of members.''

Firearmsreform has been a

fraught issue in the South Island

for two reasons—the fact the

Christchurch terrorattack

perpetrator lived in Dunedin for

some time,and the extensive use

of gunsinthe south, bothfor

leisure and pest control.

Act, aparty withits originsin

economic policy, seems an

unlikely advocate forgun owners'

rights, but Mr Seymour explains

his recent alliance with the gun

lobby —Nicole McKee fromthe

Council of LicencedFirearms

Owners is rankedthird on the

party list —asafairness issue.

''I personally am not afirearms

guy.Igotofirearmsclubsand I

say 'look,I'm not agun guy, I'm a

latte guy from Parnell','' Mr

Seymour said.

''But what Idolikeisthe rule

of law, due process,and treating

people with basic respect and

dignity ...Idon't think those

people were treatedwith respect

and dignity, and Idon'tthink they

are unreasonablepeople.

''Most of them are salt­of­theearth

people,good people,who

are mystified. They are just as

horrified as the next personby

what happenedinChristchurch,

probably moresobecausethey

have abit of aconnectionina

sense,and they feelthey are

being punished for it.''

Mr Seymourbelieves another

boost to Act's fortunes has been

its rigorous questioning of the

Government's Covid­19 response.

Mr Seymour, aforensic

questioneronthe epidemic

response committee, continued

that scrutiny whenParliament

resumed after lockdown.

7

''They sawAct providing a

consistent,constructive voice,

providing criticismwhere

necessary and helpful advice

where possible,'' he said.

''Ifyou lookatthe language we

wereusinginlate April, when we

saidthat we should be emphasising

safe activitiesnot essential

activities, the Government

actually adopted that language

fourweeks later in its Budget.

''Now today we talk about

public health, we talk about the

debttrap, we talk about seizing

the opportunityofbeing an

island nation on apandemic

planet, we continue tooffer that

critique.

''We'venever gone after the

Government and said'you'reall

useless'. We have acknowledged

thatthis is adifficult situation for

any government to face.''

Unsurprisingly, Mr Seymour

believed Covid­19 —both the

health responseand the

economic recovery —would be

the dominant election issue.

''Peoplefundamentally want to

knowwhat is the planfor

recovery. Idon't think they have

seenthat fromthe Government

and they know that staying

locked up from the rest of the

world and borrowingmoney is

not asustainable solution —it's a

comfortable solutionbut its not a

sustainablesolution.

''I think the winner of this

election will be the party that can

showaclear plantorecover,

keeppeople's jobs,and ideally

growout abit and ultimately pay

for the considerableamountof

debtthat is beingstacked up.''

There's neverbeen

abetter time to

support local.

Help our local economy recover in these difficult

times and supportour local advertisers by shopping

local.

The North CanterburyNews features local

businesses and news everyweek.

If you're abusiness owner and want to

find out how we can help you

-send us an email on info@ncnews.co.nz

Checking in

on your bin…

We're doing recycling bin

checks across the District to

make sure they have the right

items going into them.

The Widest Music Variety

Check your letterbox for an

information pack about your

bin check and how to recycle

the right way.

rethinkrubbish.co.nz

Tune in nowtolistenon104.9 North Canterbury

and103.7 Hanmer Springs andKaikoura
---
Hi North Canterbury,

Hi North Canterbury

From our AMI store on High Street,our team

have enjoyedbeing part of your community,

and this isn't going to change.

Youmay have heard AMI has closed most

of our retail stores across the country.

But we're not going anywhere.

We believe it's not the bricks and mortar

that make arelationship, but the people.

So,weintend for all our North Canterbury

Get 20% off travel insurance

to Australia with code AMI20

Personal Insurance Consultants to continue

working for AMI, supporting our customers

over the phone and online. Just give us

acall and we'll support you with all your

insurance needs, the same as we

always have.

The reason for this change reflects the

ways many ofour customerschoose to

interact withus. Over the last fewyears,

we've seen adecline in visits to our stores

with more ofyou engaging with us online

or over the phone. So,wealso see this as an

opportunity to improve anddevelop new

online services to be therefor youwhen

you need us.

If you need support with your insuranceor

using our online services, we'reheretohelp.

Give us acall on0800 100 200 or email the

team at info@ami.co.nz.

Your AMI Team

ami.co.nz
---
Proudlysupporting the Nort hCanterbur yCommun ity

RANGIORA FESTIVAL OF LIGHT &SOUND

The North Canterbury News, September 10, 2020

Rangiora lights extravaganza set to shine

By ROBYN BRISTOW

Organisers of theRangiora

Festival of Light andSound in

Victoria Parkare still hoping to

brightenuppeople's lives and

light up Rangiorafrom

September16to 19.

However, it willdepend on the

Covid­19 alert level dropping to

1, meaning atweak to

Wednesday's openingnight to

limit accessto100 visitors at a

time.

The remaining nights would go

ahead as normal, but if thelevel

is heldat2, the back­up dates

willbeSeptember23to26.

''Ifneither dateispossible, we

willsimply reschedulethe event

as soon as level1is announced

—most likelywith seven days'

notice,''spokesmanKarl

Horwarthsays.

''Weare hoping that the

currentsuccessincombating the

virus means thatwewill be able

to reschedule sometime in

October.

''Webelievethat level 1isnot

far awayand that there is ahuge

publicappetitefor eventsas

soon as level 1isannounced.

''Idonotwant to postpone

unless we have to and, if we do,

we want to reschedule as quickly

as possible,''Karlsays.

Theevent is basedonthe

popularBotanic Delights

FestivalinChristchurch,and is

aimedatliftingspirits for people

wearied by the disruption of

Covid­19.

Over four nights,Victoria Park

will be afairyland of talking

trees, disco lights, music,

dancing lights, interactive

lighting displays, andsmoke and

bubble machines.

It all culminates in aspecial

Saturdaynight grand finale, with

afamily movieonabig screen,

light displays, musicfromlocal

bands, and aspecial appearance

by theRangiora Brass Band.

There willbefood,drinks,

attractionsand alicensed bar.

Spectrum will be installing the

lights,and the companyhas

comeonboardasamajor

sponsor, along withNew World

Rangiora,MainPower, Ray

White Rangiora,Visit

Waimakariri, FoolsofDesire

cafe, Compass FM and the North

Canterbury News.

Music,foodtrucks,and some

additional light installations

havebeenconfirmed, and the

MainPower NorthCanterbury

Lightsphoto competition has

beenlaunched.

The MainPower photocontest

is open to anyonewho wouldlike

to showtheir appreciationfor

places in NorthCanterbury, with

afocusonwhatmakes the region

suchagreat placetolive, using

"NorthCanterburyLights" as

inspiration.

Entriesmust be submitted via

email by noononSeptember16

to rangioralightandsound@

gmail.com.

There is ayouth and adult

category, so entrants should

state if theyare under 16.

Finalistswill havetheir work

showcased in the North

Canterbury News.

The newspaper willhost a

goldenticket competition.Itwill

be inserted in apaper available

fromNew WorldRangioraon

Thursday, September 17. The

personwho finds agoldstarin

an editionpickedupfromthe

supermarketwill wina$200

voucher from Fools of Desire cafe

and afamily passtothe festival.

Festival tickets are $5 aperson

or $10afamily, with tickets able

to be usedover multiple nights.

It will run from6pm on

Wednesday,Thursday, and

Friday, withSaturday'sfinale

from5pm.

''Thefourdaysoffestivities

are aboutbringing people

together,'' Karl says.

With allthe infrastructurein

place, theRangiora Festival of

Colour will fitinseamlesslyon

Sunday,from10am to 4pm.

For learn more, go to

rangioralightandsound.co.nz or

facebook.com/pg/

rangioralightandsound.

9

All the colours of the rainbow ...

Scenes from the Botanic Delights

Festival in Christchurch, on which

the Rangiora Light and Sound

Festival is based.

PHOTO:SUPPLIED

Rangiora

Light

&SOUND

Festival

16 th -19 th SEPTEMBER Victoria park

Saturday, the grand finale!

See all the lights turned on andenjoy

afamilymovie on the big screen, food,

drink, attractions, and alicensed bar!

Just $5 entry, $10 per family.

Limited

Numbers, Get

Your Tickets

Now

Experience alight&sound

wonderland! Victoria Park as you

have never seen it before. Over 4

nights, come and see afairyland

of talking trees, disco lights,

music, dancing lights, interactive

lightingdisplays,smokeand bubble

machines! Then on Saturday

the outdoor movie!

rangioralightandsound.co.nz

104.9 Wa im akar iri

103.7 Hu runui
---
Professionals

in North Canterbury

Experienced Podiatrist;

New to Rangiora

Australiantrained

...

Podiatrist Erin

Marsden helps

clients across

North

Canterbury.

YOUR TIME IS

LIMITED SO DON'T

WASTE IT

2301753v1

022 1726 049

www.northcanterburypodiatry.co.nz

03 314 7640 info@sasl.co.nz

5Beach Rd, Amberley

Providing proactive accounting

solutions to North Canterbury

Businesses.

Contact Ben Shore or

TsarinaDellow forafree

consultation on yourtax

and accounting needs.

2298662v1

Erin steps up to help

As aself­confessed ''shoe nerd'',itwas not

surprising that ErinMarsden chose

podiatry for acareer.

Erin has been apodiatrist since 2005

and last January opened her own business,

NorthCanterbury Podiatry, in Rangiora.

She alsoservices Oxford and Amberley.

In Rangiora, she has rooms upstairsin

the Gables Arcade, where there is alift for

clients. Sheisopen on Tuesdays,

Thursdays, and every secondSaturday.

In Oxford, she works fromthe new

business hub at 4Rata Street, and is

available everyWednesday, and every

second Saturday.

She is alsoavailable at the Amberley

Medical Centre every second Monday.

Erin was born in Kalbarri,north of

Perth. She moved to New Zealand in May

2010,toalifestyle block at BurntHill,near

Oxford, withher Kiwihusband Dan,who

was born in Christchurch.

They have two young daughters,soErin

worksschool hours,apart from Tuesdays

and every secondSaturday.

She trainedinAustralia, graduating

from the Curtin UniversityofTechnology

in Perth,and laterworkedinboth the

publicand privatehealthcare systems,

including the high riskfeet, paediatrics

and biomechanics sectors.

''Whenthe nexttown is 400km away,you

need to be able to treat whateverwalks in

the door,'' she says.

Beforeopening her own business,Erin

workedfor otherpodiatrists in Riccarton.

She is ACC and War Veterans registered,

as well as Pegasus Health andWaitaha

Primary Health Care­registered for

eligible people with diabetes.

Earlier this year, she was avolunteer

podiatrist at the Weet­Bix Kids'

Tryathalon in Christchurch.

Akeen runner, Erinhas also competed

in several Canterbury running events in

the lastfew years, including theHellers

Pegasus Fun Run,the Mandeville and

Christchurch MudRunsand

Christchurch's gruelling stair­climbing

event,the StadiumChallenge, in 2017.

2302329

Contact Prosser Quirke Accountants

Chartered Accountants &BusinessAdvisors

6Blake Street, Rangiora

Ph 313 7824

team@prosser-quirke.co.nz

2299722v1

WELCOMING

NEW PATIENTS

The caring and professional

health care team for you

and your family

237 High Street

Rangiora

Ph: 313 7877

Over 135 yearsof

Beautiful

Funerals

2301633v1

Kaiapoi 118 Williams Street |Christchurch 15-19 London Street

03 327 7499 |www.johnrhind.co.nz
---
EVERYTHING

FINAL WEEK!

ON

SALE

ONLY

$1299

BRASS DINING TABLE

$119 ONLY

ONLY

$1599

ONLY

$1394

CLYDE CHAIR

AVAILABLE IN 6COLOURS

MANATEE CORNER

ADAIR 3+2 SEATER

THE SARDINIA

COLLECTION

ONLY

$

589

FROM

$

619

ONLY

$

489

ONLY

$

979

COFFEETABLE

TABLE

HALL TABLE

BUFFET

THE ELM

COLLECTION

ONLY

ROCKER

$349

ONLY

$269

ONLY

$836

ONLY

$899

ALSO

AVAILABLE

IN

BEDSIDE

LOWBOY

6DRAWERTALLBOY

12

MONTHS

INTEREST FREE

PAYMENT HOLIDAY

AVAILABLE NOW

TERMS &CONDITIONS APPLY

SEE OUR WEBSITE FOR MORE DETAILS

FIND US IN THE OLD TARGET BUILDING

ON THE CORNER OF BLENHEIM &CURLETTSROAD, SOCKBURN

BOTANICAFURNITURE.CO.NZ 0800 268 264
---
NEWS

12 North Canterbury News, September 10, 2020

MEAT

Half leg

sizes

for greater

convenience

Fresh NZ Quality $ 14 99

kg

Fresh NZ Quality

MarkHalf Lamb

Leg Roast

NEW

PRODUCT

Hellers Fresh Sunday Roast

or the Godfather Sausges 6 Pack,

Available at selected stores

YOURVERY OWN CRICKETWICK

CHILLY BINTHIS SPRING!

SEE INSTORE FORMORE INFO

ET C

Just Juice

Fruit Juice

1Litre

ON NOW

Fresh NZ Skinless

ChickenBreast

Fillets

$

12 99 kg

Fresh NZ Quality

MarkBeef Mince 500g $ 7 99

ea

Whittaker's

Block

Chocolatee

ANY

2FOR

250g

$

3 99 $

4 79 ea

buya

mackenzie pie

&bein to

win

www.foursquare.co.nz

This

Swanndri

Oilskin Vest

SEE

INSTORE

FORMORE

INFO

Campaigning ... National Party leader Judith Collins chats to Waimakariri MP Matt Doocey

before speaking to party members at the Rangiora RSA last Friday.

PHOTO: DAVID HILL

Campaign stop in

Rangiora for Collins

By DAVID HILL

Judith Collinsvisited Rangiora on Friday,

as the regionremembered the first of the

Canterbury earthquakes 10 yearsago.

The National Party leader was aCabinet

Minister during the quake sequence which

beganonSeptember 4, 2010.

''I well remember the senseofrelief that

the worst was over, but actually the worst

was stilltocome,''she said.

Ms Collins remembers arriving in

Christchurch on herbirthday, February

24, two days after the February 2011quake.

''It's funny how we rememberthese

things, but Ialso knowthat everything has

grownsodifferentlyand strongly since the

earthquakes and it's been areally tough

time for alot of people.

''Every Cantabrian Iknow really hates

beingtold how resilient they are, because

they've justhad to keep on going.

''So Iknow it's had ahuge effect on

people's lives,theirmental health and

physical health,and what people thought

they would be doing 10 yearson.''

But Ms Collins was impressed withhow

much North Canterbury has grown in the

last 10 years.

The growthunderscored the importance

of building infrastructure projects suchas

the WoodendBypass, the SkewBridge

near Silverstream and the Wheelsto

Waipara cycleway, which will alsohelp the

region to recoverfrom Covid­19 downturn,

she said.

''Thelevel 3lockdown that Auckland

had for two and ahalf weeks costNew

Zealand 400 jobs —250 in Aucklandand

150 aroundthe restofcountry.''

She acknowledged the challenge for any

government of making decisions basedon

conflictingadvice from epidemiologists,

economists and otherexperts.

''If we are privileged to lead thenext

government,wewill set up apublichealth

meeting to bring together not onlypublic

health experts, but also people from

business, trade unions,iwi and small

business in particular, so that we can get a

proper senseofhow muchthis is costing us

and how we can do it better.''

Mental health is one of the challenges

arising from Covid­19, and Ms Collins says

National will be announcinganew policy

soon,inwhat is Waimakariri MP Matt

Doocey's portfolio.

''I'mpersonally very committed to this.

We'veseen agrowthinmentalhealth

issues in termsofpeople who are suffering

alot of anxietyand otherramifications,

and Iknow Matt has ahuge commitment to

this area as well.

''Mental health issues can strike

anybody at any time, and it's really

important that we makesure we havethe

rightmeasures in place and the right help

available.''

Show in Rangiora canned

Covid­19 has claimed another major

North Canterbury event.

The Northern (Rangiora) A&P

Association committee decided last

week to cancel its 2020 show,

scheduled for October 23­24.

''The committee decided the

financial risk was too great given we

are unsure what level we will be at

come show day,'' secretary Julia

Dockerill said.

''We thank everyone for the ongoing

support of the association and the

LOST AND FOUND

show and we are looking forward to

putting on afabulous show in 2021.''

This decision follows the

cancellation in May of the New

Zealand Agricultural Show, due to be

held in November, and several

autumn shows earlier in the year,

including Hawarden and Oxford.

Entrants are encouraged to get in

touch to arrange arefund of entry fees.

Those who registered for atrade, craft

or food site will be contacted. To learn

more, email info@rangiorashow.co.nz

facebook.com/FourSquareNZ

Specialsavailable South Island only from Monday 7thSeptember until Sunday 20th

September 2020 or whilestocks last. Wine andbeeravailable at stores with an off

licence.Wineand beerpurchasesrestricted to personsaged 18 years old andover.

Thefollowing propertyhas been

reportedaslosttoNorth Canterbury

police:

Ablack iPhone in aflipcase,agreen

iPhone,aSamsung J1 cellphone,ablack

SamsungJ5inablack case, ablack

iPhone 11 in ablack Lifeproofcase with

green trim,ablack leather wallet, aplain

metal car key/black house key/bottle

openerfrom Iceland, aHondakey and

ring withabrown fishinglure on it along

with ablackkey andsilver key, andan

oldblack wallet.

Thefollowing propertyiswaiting to be

claimed:Ascooter withadark pink deck/

pink front wheeland agrey backwheel.
---
Think70isthe new50.

Just because your hair mightbegrey,

doesn'tmeanyourlifeneeds to be.

Today's 70year olds are the healthiest, strongest,

and most mentally agile history has ever known. So

Summerset Retirement Villages are designed for

the active lifestyles ofthe youngest "oldies" there's

ever been. Think this sounds like you or someone

you love?

To find outmoreabout ourthree Christchurch

villages,visit summerset.co.nz

For up-to-date information on visiting our villages, gotosummerset.co.nz/covid-19

SUM2425_FP
---
Machine proves to be aripper

By ROBYN BRISTOW

The first banded dotterel

eggshave beenlaidonthe

Ashley­Rakahuri river, and,

after spending the winter

aroundAuckland, wrybills

are backsortingout their

territories.

Their returnsignals aplea

fromthe Ashley­Rakahuri

Rivercaregrouptostayout of

the riverbed andgivethe

birds achancetoraise their

chicks.

All riverbedbirds nest on

the ground,wherenestsand

chicksare hard to see and

can be readily disturbed,so

measuresare taken to

minimisedisturbance.

The group hasalready

beenbusy preparingfor the

new nesting season, blocking

off more than 30 access tracks

withconcreteblocks last

week.

Group memberGrant

Davey saysbefore thebirds

return, alot of timeisput in

blocking the accessways.

''Wehaveanagreement

withthe Combined 4WDclub,

thataccess is restricted

during the breeding season

(SeptembertoFebruary).

Theyare quite happy with

that."

Signs identifyingrare­bird

nesting areas are also

deployed in abid to stop

Helping the birds ... Lachlan Shaw alongside the undercutter/ripper developed by Cresslands

Contracting Ltd for clearing weeds from the Ashley­Rakahuri riverbed.

PHOTO: SUPPLIED

peoplegoing intothe

riverbed.

Mr Davey sayspeople

shouldbeparticularly

vigilant if thealarmcalls of

birds areheard, or theyare

showing signsofdistress.

Thespreadofweeds, such

as lupins, gorseand broom

continues to be amajor

problem, as the birdsmust

have cleanshingle on which

to nest.

Groupchairman Nick

Ledgard saysweeds are

cleared in August frommore

than 30 hectares,using a

tractor­mounted undercutter/

ripper developedbylocal

engineeringfirm, Cresslands

Contracting Ltd.

''It is working well, and

next year could be deployed

on otherbraided rivers.''

NEWS

The North Canterbury News, September 10, 2020

17

Funds aimed

at Covid issues

By ROBYN BRISTOW

The Hurunui MayoralFund will be opened

up to help people in the community

suffering hardship because of the Covid­19

pandemic.

Just over $35,000remainsinthe fund,

made up of donations to help the Hurunui

community afterthe November 2016

earthquake.

Atotal of $223,895 was donated, with

$188,385allocated to date. Chieffinancial

officer Jason Beck told the council last week

that some donationsand grantsreceived had

been taggedtospecific purposes, and

allocations made reflected those intentions.

But, recently,the need to help peoplepull

through the effects of the earthquakes had

reduced.

''More recently, there has been two

allocations totalling $13,000topromote

events to supportthe community in dealing

with the effectsofthe Covid­19 lockdown. As

aresult, the purpose of the fund,although at

the discretion of the mayor, perhaps needs

to be flexible to reacttothe other events that

the district faces,'' he said.

MayorMarie Black said she wouldlike to

thinkthere could be funds made available in

the post­Covid world.

The funds had previously been allocated

by asmallgroup of councillors and the

mayor, shesaid, with an emphasis on the

wellbeing of individuals in the community.

This willcontinue, despite reservations by

some councillors concerned that donations

had been made specifically to help during

the earthquake.

ADVERTISEMENT

Specsavers Rangiora

celebrates another

year looking after

the community

Spend

andsave

Locally owned and operated, Specsavers

Rangiora has been dedicated tocaring

for the eye health ofRangiora for now

four years.

Store co-owners Jenny White and May

Young have apassion for customer

service, community connections and

providing best value and cutting-edge

eye care.

With the new normal setting in, and

people's daily routines changing due to

the recent COVID-19 restrictions, May

has noticed an increase in digital eye

strain in patients and warns that

increased screen time could explain it.

"Everyone is using computers and

smart phones constantly for work and

pleasure and may add up to 10 hours

or more screen time per day."said May.

"Our eyes aren't meant to be fixed on a

single object that long and it's likely to

have anegative effect on our eye health."

Digital eye strain can cause dry or

irritated eyes, lead to blurred vision,

difficulty focusing, sensitivity tolight,

eye fatigue, headaches and difficulty

reading small print.

"One tip toprevent and reduce digital

eye strain istouse the 20-20-20 rule.

Every 20minutes, shift your eyes to

look at an object atleast 20metres

away, for atleast 20 seconds.

But, if you are experiencing symptoms

that you're concerned about,

Irecommend that you get your eyes

checked by an optometrist." May added.

Specsavers Rangiora includes anOCT

advanced 3Deye scan as part of every

comprehensive eye test at no extra cost.

"Optical Coherence Tomography orOCT

is the next generation of eye health care

and helps our optometrists detect serious

eye diseases including glaucoma, macular

degeneration and other retinal changes."

said May.

Specsavers Rangiora is now testing

seven days aweek and welcomes

outside prescriptions. Book online at

www.specsavers.co.nz, call 03 313 1590

or visit the team atthe Farmers

Rangiora Building onHigh Street.

Specsavers Rangiora

151-183 High St (Farmers building)

Tel313 1590

Book an eye test online

$

50 off

from the $299 range

$

75 off

from the $369 range

$

100 off

from the $459 range

In store only. Single vision lenses only. Lens upgrades available at an extra cost. Both pairs must have same prescription. Final price is based on price of higher value pair and any lens upgrades. Use with other offers restricted.

Valid from 1st September -13th September 2020.
---
SALE

EXTENDED!

NOW ENDS 28.9.20.

ALL TIPAZ

ON SALE!

ALLBEDROOM ON SALE

Ramsey Single/Single Bunk

WAS $ 1299

NOW

$

999

Paris Tallboy

WAS $

899

NOW

$

699

SUPER DEAL!

SUPER DEAL!

SUPER DEAL!

Paris Bedside

WAS $

349

NOW

$

279

ALL LOUNGE ON SALE

Grenada

Queen Mattress

NOW $

599

ALL INDUSTRIAL

ON SALE!

Regan Sofa Bed

WAS $

999

NOW

$

799

SUPER DEAL!

ON SALE!

ALLDINING ON SALE

BuyNZMAde!

Eames Dining Table Veno Ext Table -W120 Bruna Dining Table Carson Dining Table –W160

$

119 $

299 $

599 $

319

Customise

yourdinINg

setTing!

Choose your table.

Choose your chairs.

Eames

Fabric Chair

$

95

Veno

Chair

$

95

Duvall

Fabric Chair

$

125

Tulsa

Chair

$

80

Vintage

Dining Chair

Jersey

Dining Chair

$

85 $

70

Carson

Chair

$

85

Shop

Online

Nationwide

Delivery

Finance

Options

DOZENS OF SUPER DEALS IN STORE &ONLINE. SALE NOW ENDS 28.09.20.

Come&checkout

ournewSTORE!

targetfurniture.co.nz

250 Moorhouse Ave, Christchurch

Ph: 0800 TARGET (0800 827438)

Offers and product prices advertised here expire 28/9/20.

Sale excludes Manchester and Accessories.
---
OXFORD

FARMERS MARKET

2312077

EverySunday 9am–12noon

Support and enjoy your local market

BIG PLANT SALE

Sunday Oct 21, 9.00 -12.00,

fundraiser for volunteer first

responders.

Lots of bargains!

You can donate too, on the

day or contact

info@oxfordfarmersmarket.co.nz

www.oxfordfarmersmarket.co.nz

OXFORD &CUST

The North Canterbury News, September 10, 2020

Bowen Therapy

Bowen Technique

Gentle effective bodywork

Your One Stop

Pie Shop

•Over 25 varieties of

Award winning pies

to choose from

•All products made

the traditional kiwi

way using the finest

locally sourced

ingredients.

19

Staying connected is critical, says Thomas

By DAVID HILL

Thomas Robsonsays what makes Oxford

''sogreat'' is the communitysupport.

The Oxford CommunityTrust

chairman and Oxford­Ohoka Community

Board deputychairman says the town's

close­knit community groups are

continuing to reachout to those in need.

''There's definitelymore people

requiring help and the biggestthing is

the stigma around that,'' Thomas says.

''It's important that we do everything

we can to support the community trust

and the initiatives they are running, and

to have thoseservices available for

people in need.''

It is, he says,important to be open and

kind to peoplewho need those services

and to try to reduce thatstigma.

''In terms of the community we are

pretty resilient, but Ithinkcommunity

groups are going to struggle and the

council and community boardswill have

aresponsibility to supportthese groups

as muchaspossible.''

One of the keys to gettingthrough as a

community is for people to stay

connected, Thomas says.

''I think there'salot to be saidfor

people stayingpositive and staying

engagedintheir communities and

having an open mind.''

Social isolation is aconstant

challenge, especially among the elderly,

and the fearand uncertaintycreated by

Covid­19 is adding to the risk.

Loneliness can lead to depression and

other health problems, and ''that's

exacerbated in asmall community or a

rural community'', Thomassays.

Community organisations are also

facing the reality thatmost of the

volunteer pool, the over­60s, are the most

vulnerable to Covid­19.

Whilemany people were losing their

jobs,the rural sector faced labour

shortages, particularly among

contractors, and it was no easy fix as

many of these jobs are highly skilled.

''In the Waimakariri we are lucky that

we don't rely on tourism, but we are

facing askilled labour shortage in the

ruralsector and alot of those jobs

require two to three years of training, so

it's not something thatyou can change

quickly,'' Thomas says.

He wonders if part of the problem is a

disconnect in the education system,

wheremany studentsare encouraged to

go on to university instead of considering

atrade or goinginto agriculture.

''Perhaps thereneeds to be more

flexibility around skills training and I

Gallery to mark 10 years

The Arts in Oxford Gallery is

celebrating its tenth anniversary this

month with aweekend of activities,

including an exhibition by Philip

Trusttum.

The Christchurch artist, one of New

Zealand's most celebrated

contemporary painters and the Oxford

Arts Trust's patron, will also give atalk

and create acollaborative artwork

during anniversary events.

Celebrations will begin for the public

on Saturday, September 26, with a

creative panel and forum to discuss the

value of arts and culture in the North

Canterbury region.

Afterwards, Philip will give atalk and

create acollaborative artwork with his

audience to officially launch his new

exhibition.

Registrations are essential for

Saturday's events because of seating

capacity and Covid­19 restrictions (send

an email artsinoxfordgallery@

gmail.com).

Then, on Sunday, the Arts in Oxford

Gallery will be open to the public for a

Makers' Day from 10am to 4pm, with all

creatives welcome. It will be achance to

learn, share and interact with local

artists.

Oxford Arts Trust chairwoman Areta

Wilkinson says it is grateful to Creative

New Zealand for granting funding for its

revitalisation project, aimed at

increasing community engagement.

What Have We Got Here will be

installed at the Arts in Oxford Gallery

from Friday, September 18, until

Sunday November 8.

PARENTS

Do you haveason ason or daughter

interested inhorse riding?

✭ Courses everyweekend.

✭ 2, 5&7daySchool Holiday courses.

✭ Private lessons available

Monday toFriday

✭ One day /one night $90 child

✭ Opportunity to compete on our horses.

✭ ½day lessons and treks available.

2264064

711Island Rd View Hill, OXFORD 7495

03 312-4309 www.kowhai.co.nz

think we need to allow young peopleto

self­evaluate moreand reallyconsider

their options.

''I think there'sabig gap at the moment

in terms of rural contracting and trades

training, and if you look at the situation,

Ican't see the border opening up for

anothertwo or three years.''

ACCOUNTANCY

T ASK FORCE

L I M I T E D

2311183

OxfordsOldest

Accountancy Firm

Forall your Accounting

Business Budgets and Cashflows

to help manage your business

• Rental Experience / Lifestyle Properties

Specialists

• Advice on Cloud Accounting Systems

To save your time.

• Business Start Ups Advice

Dave Trayner, 9ABay Road, OXFORD

Phn 03-312-4878

Email :atfoxford@outlook.com

Sunday 4 th October 2020

9.00am to 2.00pm

in and around the

Oxford Township

An extravaganza of new, recycled, second

hand, vintage, treasures, odds &ends

PLUS local business sales tables

Venue Maps will be available on the day from 9am to

11am at Pearson Park Oval, offDohrmans Road, off

Bay Road, or you can sign up to receive one by email

greatoxfordgaragesale@gmail.com.

After 11am by Pine Tree, Main Street Oxford

Facebook: Great Oxford Garage Sale Trail

Coin donation appreciated for map

www.oxfordnewzealand.co.nz

2312148

Community support ... Thomas Robson

says Oxford is holding up to the pressures

of Covid­19.

PHOTO: DAVID HILL

2164858

NEED APLUMBER?

Call us nowfor

fast friendly service.

Getyour problems sortedout

quick smart—on time!!

Phone foryour FREE quotenow.

Specialising in

NewHousess

Special Rates

Available on Fittings

Reg Prof. Bowtech Pract

Johanna Lettink

Oxford Clinic ph 312 1316

ph 021 269 0371

flexible times,

20years professional experience

Phone 03 312 1280

Mobile 021 898380

Open 7days aweek.

Mon -Fri 6.30am -4pm, Sat &Sun 7am -4pm

YOUR ONE STOP HARDWARE STORE

100's ofproducts for the handyman or

handywoman

Yates Seeds and Sprays, Seed Potatoes and

Yams, Fertilisers &GardenProducts

GardenTools -LPG Refills

FencingRequirements -Power Tools

Nuts, Bolts &Nails -LawnMower Parts

Open Mon –Fri 7am –5.30pm. Sat 9am –1pm

(noLPG refill Sat)

Does your feeding out equipment

need an overhaul?

From silage feedout wagons to pitchforks...

Let us help you with all your engineeringprojects

from repairstowelding and designtocustommade

products

will get you sorted.

03 312-4521

82 HIGH STREET, OXFORD

email: admin@womersleys.co.nz

www.womersleys.co.nz

1962004-2.11-K

2223192

2266193
---
NEWS

20 The North Canterbury News, September 10, 2020

Soft spots in Covid

recovery forecast

By DAVID HILL

Covid­19 recovery dominated the

earlypart of last week'sWaimakariri

District Council meeting.

Business and centres manager

SimonHart provided arecovery

update, while councillorsbackeda

plan to develop a''food­secure

district''atits meeting in the

Ruataniwha KaiapoiCivicCentre.

Whilethe economic outlookfor

Waimakariri was looking positive for

now, many economists were still

forecasting asignificantsoftening of

the economy, Mr Hart said.

''We are mindful that while the

economy is tracking well, there are

some industries thatare struggling.

''Some economists arestillsaying

therewill be asecondwave after the

election, and athird wave whenthe

impacts of borrowing start to setin.''

In areport to themeeting,

community team managerTessa

Sturley saidSatisfy Food Rescue

had been granted$690,000from the

Ministry of Social Development's

food securecommunities fund to

develop afood security project.

Councillorsapproved afurther

$24,600 from the Covid­19 recovery

fund to assist withemploying a

community development worker to

assist withestablishing the project

for an initialsix­month appointment.

Food security was identified as a

''significant gap'' by the Food Bank

and Budgeting Collaboration,which

was established during the

lockdown, and by SocialServices

Waimakariri's Covid­19 surveys, Ms

Sturley told councillors.

MayorDan Gordonsays it is

essential thatsupport be made

available for those at risk in the

community.

''We are in an uncertain

environment. Retailsalesare strong,

consentsare holding up and,

anecdotally, thingsare really

positive, but at the end of the day we

are waiting to see what happens

when the wagesubsidy runs out.''

Councillors approvedaKaiapoi­

Tuahiwi Community Board

recommendation for council staff to

conduct further investigations into

the proposed Kaiapoi cycleway after

concernswere raised by Peraki

Street residents.

The cycleway wouldlink the town

with Christchurch oncethe New

Zealand Transport Agency's new

clip­on cycle lane addedonthe

eastern side of the State Highway1

motorway bridge opens later this

year.

The council is building acycle

connection from the bridge, running

alongthe western side of Main North

Road through to the Vickery Street/

Williams Street intersection.

It had been proposed to continue

the cycleway along PerakiStreet to

access the centre of Kaiapoi, or the

MafekingFootbridge, to connect to

the PasschendaeleMemorial Path

through to Rangiora.

The additional consultation

meansthe timeframe is now

uncertain, but staff hope to be ableto

completethe projectbymid next

year.

Age catches up with Lionesses

By DAVID HILL

The Rangiora District Lioness Club is set to

call it aday after more than 30 years.

The club plans to disband and disperse its

funds later in the year as the realities of an

ageing membership takes it toll.

''It was ahuge decision to disband, but we

had alot of information so we made awellinformed

decision,'' president Anne Thorne

says.

''I think some of the ladies will gravitate

towards the (Rangiora) Lions.

''A lot of our ladies are over 80, so they're

feeling they want to help.

''The mind is willing, but the body's not,''

she says.

Members may continue to meet as asocial

group, secretary Rachel Bloomfield says.

''They still want to meet socially, which is

Offering hope

... Rangiora

Lionesses

secretary

Rachel

Bloomfield,

left, and

president

Anne Thorne

sort through

offerings as

part of the

Handbags of

Hope appeal at

Compass FM

last week.

PHOTO: DAVID HILL

important at that age and we still have an

active craft group that meets and does some

knitting for the community.''

The pair were at Compass FM last week

sorting through offerings as part of their

regular Handbags of Hope appeal, which

benefits the Community Wellbeing North

Canterbury Trust, the Oxford Community

Trust and the Hope Community Trust.

The Lionesses recently presented grants

of between $2000 and $10,000 to 16 schools

in the Rangiora and Kaiapoi areas for

pupils from families who have suffered

hardship because of Covid­19.

''We've had some amazing feedback from

the schools and it's going towards anything

from school breakfasts to school uniforms,

or activities where the principal has felt

there is aneed and they have been so

grateful,'' Rachel says.

Ride-on electric

mowing areality

"People often have the image of

asmall mower with apower cord

hanging out the side, and the odd

jaw does drop when Itell them

we have mowers with a74inch

(1.88m) deck that can mow for up

to eight hours continuously," says

Bruce from Mean Green Mowers.

Uptake of the Mean Green brand

has been encouraging in New

Zealand, with mowers operating

from Kerikeri to Invercargill.

The mowers operate at less than

half the noise levels ofpetrol

mowers so you won't bother the

neighbours mowing on aSunday

morning. "It's very rewarding

when clients mention how much

they enjoy the low noise levels and

lack of fumes," says Bruce.

Imported from the United States

Mean Green Mowers are extremely

well built, powerful and light (no

heavy combustion engines).

When considering the purchase of

an electric mower, Bruce says it

is important to have aclose look

at the numbers. With no petrol or

diesel costs, and maintenancewise

no oil or fuel filters and

The74Inch (1.88m) EVO

belts tochange, going electric can

reduce outgoings significantly –

particularly for commercial clients.

"Everyone's situation is different

so Iencourage clients tocall for a

chat. Ride-on electric mowing is

now areality."

For more information contact

Bruce either by phone on

027 223 0054 or email him at

bruce@meangreenmowers.co.nz

The Mean Green Mowers website is

www.meangreenmowers.co.nz

The Electric Smile

Better for

your health

Quiet

Cheapto

Operate

Powerful

Please review

ourwebsite

forthe full

product range

Finance Now Available!

Normalcredit criteria

applies

Call Bruceon027 223 0054 formoreinfo

or email bruce@meangreenmowers.co.nz

www.meangreenmowers.co.nz
---
FREE

Seedling kit

&sticker

with every $ 40 youspend

COLLECT

all 24

Promotion runs from 7September until 18 Oct 2020 or while stocks last.You willreceiveone LittleGardenseedling kit

forevery eligible purchase of $40(exclusions apply)inone transaction instoreoronline at anyNew World store.

Visit newworld.co.nz forT&Cs.
---
Kaikoura eyes

abusy future

By DAVID HILL

Kaikourabusinessesare

feeling optimisticinthe face of

uncertainty.

Encounter Kaikoura

business manager Lynette

Buurman says her company

had been inundated by

enquiries since it reopened last

monthafter quake repairs.

''We are facing new

challenges as it'sadifferent

market. Swimming in the ocean

in winter doesn't attract

business, so we needto

approach it differently.

''I think the weekendsare a

lot busier than the weekdays,

whichisnot surprising given

the market, but the uncertainty

is the big thing.''

Encounter Kaikoura had

welcomed the government's

support package, but

Auckland's temporaryreturnto

alertlevel3had ''really

knocked our confidence in the

business community'',she says.

''With the encouragement of

government for people to move

around the country,ithas been

ahuge boost for businesses.

But Auckland is ahuge market,

so it has aflow­on effect.''

Kaikoura operatorsand

retailersappreciated the

support from NorthCanterbury

and Christchurch families, she

says.

Mrs Buurmanispart of the

Kaikoura Marine Development

Governance Group overseeing

the Wakatu Quay redevelopment,

which received $9.88

million from the Provincial

GrowthFund. It is an exciting

project for the town.

''It'sadiverse group of

peoplewho are working really

well together. It's exciting to

see thedemolition underway

and now we are workingonthe

concept and design.

''There is alot of history of

commercialfishingand

recreational fishing in the area,

so it's areal focalpoint.It's

about understanding what

peopleexpect and how we get

that to work together.''

Kaikoura photographer and

business owner Andrew

Spencer sayshehas been busy

in recentmonths as businesses

look to refresh theirimage.

The presentbusiness

environment ''feelslike along

winter'',although therewas

some optimism after abusierthan­usual

July school break.

''People are looking forward

to spring and it has been pretty

positive up until now.

Hopefullywecan get enough

momentum from the key

operators, which the rest of the

businesses can feedoff.

''It does feel like along

winter, but people seem to be

getting through it quite well.

But it will be from now when

we expect to startgettingbusy

that theimpact willbefelt.''

NEWS

North Canterbury News, September 10, 2020

23

All hands on deck ... Volunteers at the Honda Forest planting day in Kaiapoi last Saturday morning, from

left, Waimakariri District Council ecologist Kate Steel, council regeneration project manager Duncan

Roxborough, Kaiapoi­Tuahiwi Community Board chairwoman Chris Greengrass and Rangiora residents Mary

and Iain MacLeod.

PHOTO:SHELLEY TOPP

Forest asymbol of rebirth

By SHELLEY TOPP

Aplanting day at Kaiapoi's

HondaForestlast Saturday

providedareminderof

September4,2010,when the

town suffered extensive

earthquake damage.

The day was apoignant

reminderofhow far the region

had come,WaimakaririDistrict

Council Greenspace manager

GrantMacLeod said.

''Tenyearsonweare stillhere,

and the land is healing.''

It was the third plantingday

heldthis year at the new forest,

which is on red­zoned land

known as the Regeneration

Kaiapoi East area.

Seven thousandforest plants

havealready been put in since

the first planting day in May last

year, with volunteers adding 649

morelast Saturday.

The forestisacollaboration

between the council andthe

Honda motorcompany, which

has sponsoredabout 12,500

seedlings for the forest

development thatwill cover 3.2

hectares surrounding the

wetlands of the Beswick

Stormwater Management area.

The forest will include

podocarp species such as

kahikatea, NewZealand's tallest

tree. It grows to aheight of 60

metres or more and can live for

several hundred years.

Planting of the forest is

expected to end in 2023.

Switch thingS up

BOURBON

MONTH

September 2020

1.125LITRE

HOT

$

44

DEAL!

99

this spring

2 for

$

45

Single Pack

$25.99

GORDON'S G&T

12 x250ml Cans, 7%

GORDON'S PINK GIN

&SODA

12 x250ml Cans, 4%

CORUBA&COLA

12 x250ml Cans, 7%

SMIRNOFF SELTZER

Range

12 x250ml Cans, 5%

IncludesSmirnoff Seltzer

Natural Lime, Passion Fruit,

Raspberry Rosé

2 for

$

40

Single Bottle

$21.99

HOTDEAL!

$

44

99

HOT DEAL!

$ 3499

each

75%

less carbs

2 for

$

25

Single Pack

$14.99

MAC'S Range

6x330mlBottles

6x330mlCans

FICKLE

MISTRESS

CENTRAL

OTAGO

Pinot Noir

750ml

2 for

$

25

Single Bottle

$14.99

JIM

BEAM

White

Label

1.125Litre

BOMBAY

SAPPHIRE

1Litre

SPEIGHT'S SUMMIT ULTRA LOW CARB LAGER, SPEIGHT'S

SUMMIT,SPEIGHT'S GMA, LION RED or WAIKATO DRAUGHT,

24 x330ml Bottles

WITHER

HILLS

Range

750ml

Excludes

PinotNoir

Shop local with

AMBERLEY,BARRINGTON,BELFAST,BRIGHTON, BURNSIDE, COLOMBOST, EDGEWARE, ELMWOOD,FERRYMEAD,

HALSWELL, HANMERSPRINGS, HORNBY,ILAM, KAIAPOI,LEESTON,LINCOLN, OXFORD,PAPANUI, PEGASUS, SEASIDE

Offersend close of trade 13th September 2020,while stockslast.Available at participating stores only.Multi Deal only available in store. Varietals may vary by store. Limits may apply.

Wholesale (other liquor retail banners)not supplied.Terms and conditions may apply.Available 31st August -13th September 2020 inclusive. Please see www.superliquor.co.nz fordetails.

superliquor.co.nz

SUP1887_C12
---
RURAL LIFE —SPRAYING

24 The North Canterbury News, September 10, 2020

Efforts to tackle velvetleaf are paying off

Farmers are being called on to keep an

eye out for velvetleaf as the warmer

months approach.

Velvetleaf is abroad­leafed weed that

grows 1m to 2.5m tall. It features butteryyellow

flowers.

This aggressive cropping weed is

among the world's worst. It competes

with crops for nutrients, space and

water, and its seeds can persist on farms

for decades, even surviving digestion

and silage.

Crop rotation and suitable herbicide

combinations have been identified to

use in the fight against velvetleaf in a

range of crops throughout New Zealand.

Landowners and rural contractors

should look around gateways and the

first three or four rows of crops for signs

of velvetleaf.

With velvetleaf plants being found at

only ahandful of the known South

Island locations, the hard work of many

in attempting to prevent it from

becoming widespread in New Zealand

may be paying off.

Acollaborative effort between

regional councils, industry groups and

the Ministry for Primary Industries, as

well as the assistance of many land

owners across the country, has helped in

removing the weed and stopping its

further spread across the country.

Velvetleaf plants were found on only

three Canterbury properties during the

2018/19 season, while none was reported

in Otago and Southland.

This is promising news, considering

that about 1000 properties spread across

Canterbury, Otago and Southland were

put at risk of velvetleaf via

contaminated seed planted in 2015.

Velvetleaf is also present in the North

WEED SPRAYING

•Gorse &Broom

•Industrial Yards

•Lifestyle Blocks

•Horse Paddocks

•Horse Arenas

•Training Tracks

Island, mainly in Auckland and Waikato.

Continued surveillance is crucial to

control, as the seeds can survive in the

soil for up to 50 years.

New climate modelling shows that

velvetleaf could occur in more places

across New Zealand then initially

thought.

The last three years of research have

improved understanding on how best to

control velvetleaf and stop it spreading.

This research includes herbicide

trials, experimenting with methods to

reduce seed numbers, and other control

methods such as crop rotation.

The main concern in New Zealand to

date is with maize crops, where the

weed can be difficult to detect and

control.

To limit the effect of velvetleaf in

maize crops, researchers looked at

adding cereals and ryegrass to the

rotation, to provide acouple of years of

easier identification and management

of the weed.

AgResearch weed scientist Dr Trevor

James suggested that acereal rotation

harvested before Christmas, followed by

aryegrass crop, will allow any velvetleaf

plants that emerge over the summer to

be easily spotted and pulled up or

sprayed.

AgResearch has trialled several crop

rotations involving barley, triticale, and

maize.

In arecent study by AgResearch, the

software package CLIMEX was used to

construct a''climate niche'' model for

velvetleaf based on the global

occurrences of naturalised populations

of the species.

The model was used to map the

potential distribution of the weed in

•Mowing &Topping

•General Vegetation

Control

New Zealand and found that velvetleaf

could encompass virtually the entire

country apart from Mount Taranaki and

Ruapehu, and the Southern Alps and

West Coast.

The analysis shows the importance of

continuing the efforts to keep velvetleaf

contained to its current locations.

Anyone who suspects they have found

velvetleaf can report new finds to 0800

80 99 66. —Biosecurity NZ

Aggressive weed ... Affected farmers

have got on top of velvetleaf, but vigilance

is needed.

PHOTO: FILE

Locally Owned

and Operated

2203815-12/9

Godfrey Pest Management Limited

Registered Chemical Applicator R1550

Contact: WAYNE GODFREY P: 027 232 6791 E: wayne@godfrey.net.nz

For all your Progibb, Liquid urea and General

spraying requirements.

•2xSelf Propelled 24m •4xLandcruisers 15m

Richard Cater 0274 420 187

Aly Youngman 027 583 2007

2309612

Want to reach 47,000 readers

every week? Talk to us today to

find out how we can help you.

Phone 03 314 8335

or email info@ncnews.co.nz

Source 2018 Nielsen Readership research all people 10+ NCN Circulation area
---
RURAL LIFE —SPRAYING

The North Canterbury News, September 10, 2020

Robotics technology is making its mark

By MARK ROSS,

chief executive of Agcarm

25

Taking flight ... The sky is the limitfor drone

farm technology.

GRAPHIC: GETTY IMAGES

From weeding and spraying crops to

taking care of cattle, digital technology

is making its mark on agriculture.

Self­driven vehicles are picking and

grading fruit as well as detecting and

pollinating flowers. Now, the latest

technology involves detecting and

managing disease —helping farmers to

become more productive and

sustainable.

Modern agricultural machines take

away some of the more time­consuming

tasks and help to protect crops from

disease, with exact doses and targeted

applications of products.

In the past decade, there has been an

unprecedented growth in precision

farming, with about 80% of new farm

equipment using it. This advanced

digital precision technology can help

farmers to use land efficiently and

maximise harvests, while reducing costs

and workloads.

Robotic technology makes it possible

to detect the precise location of weeds

or disease and spray only the affected

area. That means lower costs, lower

environmental impact and amore

abundant harvest.

Farmers using advanced digital

precision technology report reducing

herbicide use by 10% and diesel by 20%.

Thanks to digital connectivity, smart

farm equipment can provide farmers

with field­specific information from

cloud­based farm management

software. Sensors collect data from a

distance to evaluate soil and crop health

and identify the presence of pests or

diseases.

Agricultural drone technology has

been improving in recent years. Drones

allow farmers to constantly monitor

crop and livestock conditions —often

more reliably than manual inspections.

Drones mainly capture images and

provide data, but they also monitor

crops from planting to harvest, helping

farmers to react faster to threats such as

weeds, insects and fungi.

This data is processed and translated

into information on plant health and

pest infestations. Data can then be

entered into smart machinery to adjust

the amount of pesticide used for afield.

This saves time and improves the

application of variable input rates in

real time.

Drones can also be used to apply

pesticides. Aerial spraying in Japan and

China is done by drones. In Europe, they

are used to distribute biological agents

such as wasp eggs.

The potential for drones is sky­high.

Water­resistant drones can monitor any

type of crop, in any geographical area, in

any weather.

They can also get higher­quality and

more precise images in real time as they

fly below the clouds and have high photo

resolution —far superior to satellites,

which take pictures only once aweek or

month and don't work well when it's

cloudy.

The use of agricultural drones will

grow significantly in the coming years as

they offer awide range of applications

that improve precision farming.

Certification options for sprayers

Growsafe, which aims for safe,

responsible, and effective use of

agrichemicals, recommends that all staff

using agrichemicals attend aGrowsafe

basic course, and at least one person

from each workplace hold aGrowsafe

standard certificate.

Agrichemical users

There are requirements for training

and/or certification. The ''decision tree''

for agrichemical users on Growsafe's

website will help identify the

appropriate Growsafe certificate for you

and the staff at your workplace.

Contractors

If you are spraying for hire or reward,

there are additional requirements for

training and certification. The Growsafe

decision tree for contractors will help

identify the appropriate Growsafe

course.

Approved handler/certified handler

The approved handler certificate has

been replaced by the certified handler

certificate. This is now required only if

you use class 6.1A or Bsubstances, such

as Paraquat or Counter 20G. You will

need the appropriate Growsafe

certificate as well as the certified

handler certificate.

Regional plans

In addition to national requirements

set out in Growsafe's decision trees,

there are occasionally extra training and

certification needs in regional plans.

Certificates

Basic:

No prerequisites.

Recommended for first­time

agrichemical users and those who are

operating under supervision.

Covers practical, task­related

knowledge and skills with afocus on

personal safety.

Standard:

Prerequisite is the Growsafe basic

course or equivalent knowledge plus one

season's spraying.

Recommended for agrichemical users

working with little or no supervision,

those with responsibility for aworkplace

where agrichemicals are used, and those

managing or supervising users.

Covers safe and responsible use of

agrichemicals, risk management, and an

understanding of regulatory and market

requirements. Can be used as evidence

towards WorkSafe's Certified Handler

certificate (for class 6.1A and B

substances).

Higher level specialist certificates:

Details of these can be found on the

growsafe.co.nz website. —Growsafe

Agcarm is the industry association for

companies that manufacture and

distribute crop protection and animal

health products.

Lifestyle Agricultural

Specialists predominately

cater for lifestyle blocks

doing the smaller jobs

the larger operator

can't do but also doing

industrial yards and alot

of other hand gun work.

• Horse arenas

• Race tracks

• Fence lines

• Driveways

• Weed control in paddocks

• Gorse and broom

• Industrial yards

• Liquid fertiliser

Phone 027 2666 116

ben@lifestyleagri.com

For all your

Spraying &Fertiliser& Requirements

Proof ofplacement mapping

p Hide Spraying Ltd

Registered Chemical Applicators

Established 1947

Ph Andrew 027 437 2006

or 03 313 5278

or Graham 027 433 3786

or 03 313 7723

www.hidespraying.co.nz

Growsafe

Approved

handler

2202683

2310466
---
Rental Fleet

RENTAL COMPANYCLEAR ANCE

SAVE THOUSANDSONTHESE LATE MODEL LOW MILEAGE VEHICLES

MITSUBISHI MIRAGE XLS

5-StarANCAP Safety |Integrated

Audio and Air Conditioning

15" AlloyWheels

$12,990

MITSUBISHI ECLIPSE CROSS XLS

5-StarANCAP Safety |Forward

Collision Mitigation |Lane Departure

Warning |Smartphone Link Display

Audio System

$24,990

MITSUBISHI OUTLANDER 4WD VRX

5starsafety rating with 7airbags |Rear

view camera Touchscreen infotainment

with Bluetooth connectivity Electronic

traction control |Central locking

$34,990

*Vehicle supply is limited and colourchoice cannot be guaranteed. Vehicle images are fordisplay purposes only.. Finance criteria, terms and conditions apply.

RANGIORA MITSUBISHI

321 High Street, Rangiora | 03941 3175 | rangioramitsubishi.co.nz

SALES |SERVICE |FINANCE

RANGIORA NISSAN, 321 High Street, Rangiora

Ph: 03 941 3175

www.rangioranissan.co.nz

rangioranissan.co.nz
---
RURAL LIFE

The North Canterbury News, September 10, 2020

27

Community gets behind A&P association

By DAVID HILL

The Canterbury A&P Association's

future is looking more secure thanks to

generous support from the community.

Nearly $100,000 has been raised by the

association's Show Saviour campaign,

launched after the committee made the

Covid­19­related decision to cancel the

2020 New Zealand Agricultural Show.

"We were overwhelmed by the

support and encouragement shown for

the campaign,'' event director Geoff

Bone said.

"I know for many it was hard to

comprehend why adecision had to be

taken so early, but for an association

with such afragile history, progressing

was arisk we just could not take.

"The love shown by our community

has shown that preserving the future

was the right call to make."

While the show has been cancelled,

the various section committees are

planning their own events, including the

dog trials (held last month), equestrian,

shearing, the boar competition, the beef

and dairy cattle and junior stock

judging, alpaca and New Zealand

aromatic wine competitions.

While these events will be closed to

the public, the association is working

with ChristchurchNZ to bring the

Hazlett Farmyard to central

Christchurch on Show Day, November

13, to allow city folk to get up close to

farm animals.

"The Hazlett Farmyard is one of the

highlights for our urban visitors, giving

them achance to get ahands­on

experience with farmyard animals and

learn from those who work with them

daily," Mr Bone says.

"It was only right that if we were

looking to put on events for our

exhibitor community, that we looked to

do alittle something for our visitors,

too."

Pet lambs ... Young and oldenjoyedgetting

up closeand personal with the young animals

in theHazlett Farmyard at lastyear'sNew

Zealand Agricultural Show.

PHOTO: FILE

FARMBIKE SPECIALISTS

Servicing North Canterbury for over 25yrs!

•Sales, Servicing &

Parts

•All Makes &Models

•Qualified Motorcycle

Engineers

(NCME, TRADECERT)

•Electrical &Mechanical

fault testing

•Quality 2nd Hand Bikes

&UTV's

•Repairs &Dismantling

•Insurance Repairs

2177981

163 Stokes Road, Balcairn

Ph (03) 312 9844 or 027 205 5724 (AH)

farmbikesnc@orcon.net.nz

www.farmbikeservices.co.nz

2286247v1

•Land Clearing

•Road maintenance/

Construction

•General Cartage

•Driveways/ house

sites

•Tree trimming and

removal

• Excavators from

2to30ton

• Bulldozer -20ton

• Tip trucks from

5to45ton GVM

• Wheel Loaders -

Bucket and forks

• Transporter -can

cart up to 15 ton

We have been Contracting in Canterbury for 35 years

For anoobligation estimate

or quote, contact -

Tony Brand 0274 360 338

Tony Rossiter 0272 080 312

Office 03 313 8224

RangioraToyota

2015LandCruiser PradoVX

•3.0L turbo diesel,

•7-seater, leather

•360° camera

$

47,995

2018 LandCruiser PradoGX

•2.8L Turbo Diesel Auto

•7-seater, 4WD

•Only 48,300km

$

51,995

2009 LandCruiser 200 Seri

es

•4.5LTurbo-Diesel, V8

•8-seater, Satnav

•Climate Air ,

WAS$51,995

NOW $

49,995

2018 Toyota PradoGX

•2.8L Turbo Diesel, 7-Seater

•ReverseCamera

•Done 42,900km

$

51,995

2019 HiluxSR5 4WD

•2.8L Turbo Diesel, Satnav

•ReverseCamera

•Done 33,750km

$

47,995

2017 HiluxSRPrerunner

•2.8L Turbo Diesel Manual

•ReverseCamera, Bluetooth

•Tonneau

$

29,995

Signature

CLASS

2019 FortunerGXL

•2.8L Turbo Diesel Auto4WD

•Satnav,ReverseCamera

•Only 23,600

$

48,995

2019 019HiaceZR

•2.8L Turbo Diesel 6-SpeedManual

•5-Door,Satnav

•ReverseCamera,only 250kms

$

41,995

2015Hilux4x4 Single Cab

•3.0L TurboDiesel Manual

•Roof Racking

•Only 58,650km

$

30,995

2016 HiluxSRPrerunner

•2.8L Turbo Diesel, Alloys

•ReverseCamera

•Done 93,900km $

30,995

Percival Street,Rangiora • Ph (03) 313-8186 anytime • www.rangiora.toyota.co.nz

FINANCE &INSURANCE AVAILABLE

2306659
---
RURAL LIFE

28 The North Canterbury News, September 10, 2020

Agents in equestrian venture

The launch of Canterbury Equestrian

Property is adeliberate movetouse the

local knowledge and equestrian

connections of Richard and Sue

Woerlee, atop Harcourts rural lifestyle

sales duo who live and ride in North

Canterbury.

The pair bring aspecialist focus to the

region's rising equine property market.

''Weknow whatitwas like tryingto

findthe right property for the horses as

wellasafamily, because we faced it

ourselves whenwemovedhere in 2006,''

Richard says.

Adedicated website and Facebook

page, Canterbury Equestrian Property,

has been established, and its

Richard and Sue Woerlee

predominantly socialmedia presence

will be supported by print advertising.

Sue, adressage rider,says North

Canterbury offers plenty of solutions for

keen riderslooking to settle in thearea.

YOU BRING THEDREAM,

WE'LLBRING THE

YOUR OUTDOOR LIFESTYLE

Experience the best ofoutdoor living with a

Stratco Outback ® Verandah, Louvre orCarport.

Open your home to the outside and create a

space that can be enjoyed throughout the year.

UnderaStratcoOutbackyou areprotected from

theelements, expanding your possibilities for

entertaining, storage, an all-weather play area for

kids or simply enjoying your garden.

CHRISTCHURCH

Ph: (03) 338 9063 55 Hands Rd, Christchurch NZ 8024

www.stratco.co.nz

"Nothingbeats the strength, good looks

and low maintenance of steel"

Family affair ... Charlie and Erin Douglas­Clifford enjoy raising their children George, aged

7, and Lilly, 4, on the family farm, Stonyhurst,inNorth Canterbury. PHOTO: SUPPLIED

Agenerational effort

By DAVID HILL

Farming for the environmentisaway of

life at Stonyhurst in North Canterbury.

The Douglas­Cliffordfamily has been

farming at Stonyhurst,near Greta Valley,

since1850 and is focusedonsustainability

so the next generation can continueto

farm.

''My kids are the seventh generation and

that's the ethosofhow we farm,'' Charlie

Douglas­Clifford said.

''We are the custodians of the landfor

the next generation. We try to keepitasa

reasonably robust systemthat the land can

manage, and so we can navigate the

environmental challenges.''

Mr Douglas­Clifford recently joined

ToituEnvirocare's new farmcarbon

certification programme,which has been

designed to help New Zealandfarmers

take advantage of market opportunities for

sustainable products.

''We werejust in the right place at the

righttime and it'sanother thing we can do

to measurewhat we are doing and we have

some accreditationtogowith it,''hesaid.

''It means you havetokeep your

information up to date and be preparedto

go with it, but you'vegot nothing to lose.''

Joining theprogramme allowed farmers

to get ahead of the game, with carbon

emissions management and certification

2309605

HOMEKILL

&Wild Game

Meat Processing

313 0022

MEAT2U.NZ

set to become astandard requirement, Mr

Douglas­Clifford said.

"It willbecome part and parcel of what

we do. It will be an expectation from the

market and consumers."

The Stonyhurst sheep,beef and deer

farm won the supreme titleatthe

CanterburyBallance Farm Environment

Awards in 2017.

''We are fortunate that we won it when

we did,'' Mr Douglas­Clifford said.

''I've been involved in judgingthe last

couple of years and the standard of the

candidates and the understanding of

wherethey are at withtheirenvironmental

reportingisincreasing.

''Thechallenge is bringing the restofthe

industry up to the same place.''

Mr Douglas­Clifford was responsiblefor

the day­to­dayoperation, but his father

John and uncle Peter were still very much

involved in the farm.

The seventhgenerationalsolive on the

farm,asMrDouglas­Clifford and his wife,

Erin,have two children,George,aged 7,

and Lilly,4.

Stonyhurst was settled by Charles

Clifford in 1850 to supply settlersin

Christchurch. Today, the familyfarms

nearly 3000hectares with around 10,000

Merino­cross ewes,400 headofcattle and

up to 400 hinds.

HIGH COUNTRY FENCING

HILL COUNTRY SPECIALIST -

Dozer and Digger

RURAL

STOCK YARDS

EARTHWORKS

WE STAND

BY OUR

WORK

GEOFF ROGERS

021 640 748

www.highcountryfencing.co.nz

2209036

Maxiroll

THAT'S HOW WE ROLL

#1 Selling roller in the UK

•60mm CRMO4v-steel shafts with

rubber suspended bearings

•Hydraulic cracker board with

parallelogram eliminates lumping

•Hydraulic weight distribution

system provides 100% even

•Comes in working widths from

Ultimate seedbed prep

The high capacity Rollomaximum isaprecise seed

combination of rollers and cultivator tines regularly

achieves aseed bed inasingle pass with the change to

and from transport is done hydraulically from astationary

CALL US

ABOUT

DEMO

MODELS

Rollomaximum

Call Alastair Robertson | 027 435 2642

AMBERLEY |LEESTON |ASHBURTON |TIMARU |OAMARU

www.cochranes.co.nz
---
LOCALS

SUPPORTING

LOCALS

Summer is coming ...

and we need your help

We areseeking applications from outgoing,friendlyand enthusiastic peopletojoin

our team and have the following Seasonal Fixed-Term positionsavailable:

InwardsGoods

Team Member

Mon-Fri |40hours

•Mustbephysically fit and strong

•Will be required to lift andcarry heavy products allday

•Workaspartofateam

•Beabletothink proactively

•Workhardand smart

•Mustbecustomer focused

Retail Salesand Retail

SalesSupportTeam

Members

Weekendworkrequired

Up to 40 hours

•Mustbecustomer focused

•Working insideand outside

•Mustbephysically fit and strong

•Will be required to climb ladders and uselifting equipment

•Will be required to pick,carry,assembleand deliver heavy

products

•Workaspartofateam

•Beabletothink proactively

•Workhardand smart

Garden Products

Team Member

Weekend work required

Up to 40 hours

•Mustbecustomer focused

•Working inside and outside

•Mustbephysically fitand strong

•Will be required to climb ladders and use lifting equipment

•Workaspartofateam

•Beabletothink proactively

•Workhardand smart

Customer Service

Checkout Team Members

Weekendworkrequired

Up to 40 hours

•Must be customer focused

•Working insideand outside

•Must be physicallyfitand strong

•Will be required to collecttrolleys

•Will be required to assist customerswith purchases to their vehicles

•Workaspartofateam

•Beabletothink proactively

•Workhardand smart

McAlpines haveanactivedrug&alcohol policyinplace,apre-employmentdrugtestand medical will be required.

If anyofthesepositions sound likeyou,sendyour application andCVto:

SeasonalFixed Term Roles

McAlpines Mitre10Mega, PO Box1003, Rangiora7440

Or email michellef@mcalpines.co.nz

PLEASESPECIFY WHICH POSITION YOUARE APPLYING FOR

McAlpines Mitre10havebeen onsite hereat1SouthbrookRoad for45years

Here now and for the future –investing in our community.

2311734-10/9-b

100% LOCALLYOWNED&OPERATED
---
SPORT AND ACTIVITIES

30 The North Canterbury News, September 10, 2020

SPORTS RESULTS

Rock'n'Wheels

Rock'n'Wheels may go

ahead on Sunday,

September 27, depending

on the Covid­19 alert­level

announcement next week.

Organisers hope it will be

third time lucky for all

those keen to attend the

10th anniversary of the

event at the Amberley

Domain, from 8am to 4pm.

Memorable music

An afternoon of musical

moments at St

Bartholomew's Church on

September 27 will include

an organ recital from the

Chaperone Trio —six hands

at the piano —and Sharon

Russell, acountry and

western exponent. The

entertainment starts at 3pm

at 23 Cass Street. Cost: $10

an adult, $25 for afamily of

two adults and up to three

children. Tickets include

afternoon tea. They are

available from the Kaiapoi

I­Site (cash only) or online

from trybooking.com until

the end of September 24.

Admission is by ticket only.

It is an Anglican Parish of

Kaiapoi event supported by

Waimakariri District and

Creative Communities NZ.

Book fair

Abook fair will be held at

the St Bartholomew's

Church Hall, 23 Cass Street,

Kaiapoi, on Friday,

September 25 and

Saturday, September 26,

from 9am to 6pm. Books are

$2 each or six for $10. Tea

and coffee available.

Donations of good quality

books, CDs, DVDs and

jigsaws are most welcome.

Please, no tapes. Donated

goods can be left at the

church hall. Contact

Norman Clark on 327 5552

or Ray Maw on 327 6404.

Funds raised will go toward

maintenance of St Bartholomew's

Church and hall.

Creative Junk

Christchurch's popular

group Creative Junk will

run akids' workshop at the

TimeBank Hurunui

Repurpose &Repair Expo

on Saturday, September 26,

12.30pm to 4.30pm, at the

Amberley Domain.

Participants will make a

colourful rainstick (a sound

instrument) out of recycled

materials. The expo will

bring people together to

share skills and ideas about

how to look after, and

transform objects and

materials, to save

resources and reduce

waste. Helpers at arepair

hub will offer basic repair,

sharpening and mending

services, for tools,

machinery, bikes, clothes,

jewellery etc. Entry: $5 per

person; kids free.

Refreshments included. (A

small gift for the workshop

appreciated). Facebook:

Time­Bank Hurunui.

Contact: (03) 314 3406, (027)

524 7332, or email

tbhlearningexchange@

gmail.com.

Support ... NPD is backing the Amberley Rugby Club. Theclub's

under­12 sideispictured.

PHOTO: SUPPLIED

NPD backs rugby club

Fuel retailer NPD has

signed atwo­year

sponsorship deal withthe

Amberley Rugby Club to

support its 130 players.

The firm recently opened

its Amberleysite at 155

Carters Road,pledgingits

support to thecommunity.

SarahEsler, whose three

childrenplay for the club,

says thisyear's sponsorship

is beingused to buy 100

hoodies for players 13 years

and under.Itwill also help

reduce subscription prices.

''What we want to do is be

able to providethe kidswith

everythingsothat they're

readytoplay without the

cost of having to pay for a

uniform. We're asmall club

so NPD's support is really

amazing for us andmakesa

tangible difference to what

we can do to help our

players.''

NPD chief executive

BarrySheridan said

sponsoring the club was a

way the company couldgive

back.

Strong showing by Rangiora

Rangiora High School lost

15­20 to Christchurch Boys'

High School last Saturday in

atense and physical rugby

encounter at Rangiora.

The early stages belonged

to Rangiora, with the second

half abrutal battle up front,

coupled with enterprising

back play by both sides.

Trailing by 5near the end,

Rangiora put up asuperb

fight, nearly scoring atry on

full­time.

Waimakariri Gorge Women's Golf

Third championship QualifyingRound:

18 Holes:Silver:BThompson 95,N

Weavers 95. BronzeI:LSteele 98, LScott

99. Bronze II: PRivers 107, MRobertson

108, Ida Beets­Huchshorn 110, JDeans

111.

9Holes:TCraig53, FNimmo 58, SKing

58, HChamberlain 64.

AmberleyClub Championship

qualifying round2

Ladies: Senior: Lyn Robertson;

Intermediate: Judy Brown; Junior:Jan

Morgan.

Best nett: SharonMarsh 73, 1; Barbara

Scott 75, 2.

Men's Senior: DeanWilliams;

Intermediate: SteveHartley; Junior:

Robin Denby; Presidents:Bruce Mills.

Best Nett: Darryl Smith67, 1; David

Rowell68, 2; GrantDunlop and Brian

Fitzgerald 70, 4th equal; Ash Genet71, 5.

9Hole Stroke Ladies:Val Crooks 38 nett,

1; Men:MikeCarpenter35, 1; Owen

Patchett 36, 2.

Mid Week Men's Stableford: NeilRhynd

39pts 1; JohnWigley 38,2;RogerKeith,

and Bruce Mills 36, equal 3.

Mid Week Ladies LGU:Judy Brown 66

nett, 1; Jan Bishop, KatePercy70, equal2,

71.

Rangiora Golf

LadiesLGU: Div 1: Gross: Jo Kent 82 nett

1, BiddyBowring 68, 2; Bev Craigie 72, 3.

Div 2: Gross:Rhonda Warwick 94 nett, 1;

Sonia Reed 72, 2; Mary Harris73, 3, Gaye

Edwards 74, 4.

Div 3: Gross:Belinda Walkyier 100 Nett,

1; Lynley Earl 68, 2; Sandy Hood703;

Debra Ambler 71, 4.

Midweek Men,stroke: Derek Dunn 69, 1;

DennisBennett 70, 2; Tony Burgess 70

(c/b),3.

Fridaymixed open, stableford: Mel

Bonner45, 1; Roger Dunn40, 2; Harry

Osborne 40, 3.

Weekend Men, stroke: Ron Chisnall66, 1;

TrevorNewble68, 2; Anthony Cox 69, 3.

We have the

perfect heating

and cooling

solution for

your home

We supply, install, maintain

and repair all major

brands of commercial air

conditioning, ventilation

and refrigeration.

Plus domestic and swimming

pool heat pumps.

FREE QUOTES

FAST INSTALLATION

66 YEARSTRADING

8Marylands Place, Middleton

P: 03 338 6200

E: office@piersons.co.nz

www.piersons.co.nz

EXPERTISE | INNOVATION | SERVICE | SAFETY
---
Rangiora Toyota

Percival St, Rangiora

(03) 313-8186

www.rangiora.toyota.co.nz

Teams in hunt for finals spots

HOCKEY

With only one or two weeksleft

in the regular season,Rangiora

HockeyClub teams will be

hunting for more wins to

propelthem into finals

contention.

The RangioraCBK Division

1men's team has astrong

chancetoclaim thirdonthe

table,but hasn't beenhelped

by acoupleofweekendsoff

because of tournaments and

bye rounds.

The Division 1womenwill

be looking to avoidthe wooden

spoon this season as the side

roundsout the bottom­four

playoffs, withgames against

the top andbottom teams in

their pool.The Division 2

women come off abye, with a

chanceofleap­froggingupthe

table from fifth to third if they

can win againstSouthern

Unitedthis weekend.

The Division 3men will wrap

up poolplay in secondspot but

will playtop­of­the­table

SouthernUnitedside this

weekend in what shouldbea

prelude to the final laterinthe

month.

The Division 3womenplay a

double­header thisweekend to

catch up on deferred games.

However withthesegames

being againstthe two leading

teams in the competition, the

side will need to workhard to

claim any points fromthem in

order to secure fourthplace.

The mid­week Men'sand

Women's teams have

contrastingfortunes. Astringof

good resultssees the Rangiora­

Hurunuiwomen'steam climb

to secondonthe Division 2

ladder, with acomfortable run

to the finals. However, the

Allsorts mid­week men will be

playing to avoid the wooden

spoon in Division 2after

comingupagainst strong

University teams in their final

two gamesofpool play.

All of Rangiora's Platinum

teamsare in good shape

heading intothe finals with the

girls'teams vying for third and

fourthspotsand the boys'

teams sitting in second and

third place in the Platinum

Division 2grade.

On the ball ... Kaitlyn Pullar, in green, from the Rangiora Rockets Ministicks Girls team in action

against the Harewood Lizards.

PHOTO: SUPPLIED

In the juniorcompetition,

the RangioraRenegades Kwik

Sticks boys' team played its

best game of the season against

second­placedHSOB/

Burnside, claiming adeserved

5­3 win.

The RangioraRocketswere

3­1 down late in the second

half, beforeaquick­firethree

goals in the last three minutes

turneddefeat into victory

against ateam to which it

narrowly lost just weeks ago.

Results

Division 1Men: Rangiora

CBK, bye.

Women: Rangiora CBK 3

(Macy Neale2,Sue Shearer 1)

lost to Marist 4. MVP: Claudia

Petrie.

Division 2Women:

Rangiora, bye.

Division 3Men: Rangiora 5

(Mike Roberts3,Rik Roberts 1,

Stephen Kutyn1)beat

UniversityofCanterbury

Apache 1.

Women: Rangiora, bye.

Mid Week Open Men:

Rangiora Allsorts0lost to

UniversityofCanterbury

Wizards 2.

Women: Rangiora Hurunui4

(Keighley Robertson 2, Viki

Holland 1, LouMones­Cazon 1)

beat SouthernUnited1.MVP:

AnnaArmstrong.

PlatinumMen: Rangiora A7

(Brodie Simpson 3, Patrick

Green 1, Ricco Pepper­

Edwards 1, Caleb Orchard 1,

Loock Odendall 1) beat

Rangiora B1.MVP: Loock

Odendall.

RangioraB1(James Clark 1)

losttoRangiora A7.

PlatinumWomen: Rangiora

A0lost to SouthernUnited 2.

MVP:Katelyn Winn.

RangioraB4(Meg Habgood

2, CaitlynDanko 1, Brooke

Cooper 1) beatHinemoa­

Kaiapoi Tawa 0. MVP: Sasha

Smith.

Kwik Sticks Girls: Rangiora

Rascals 0lost to Southern

United 1. MVP:Sophia George.

Rangiora Rubys 3(Sophie

McDonald 1, PJ MacIntosh 1,

Samara Van Wyk 1) beat

Malvern KwikSticks 1. MVP:

PJ MacIntosh.

Rangiora Rhinos 0drew with

St Margaret'sCollege Green 0.

MVP: LillieWilson.

Kwik Sticks Boys: Rangiora

Renegades 5(Harrison Forbes

3, Thomas Hutchison1,Ollie

Taylor 1) beat HSOB/Burnside

Rangers 3. MVP: Cody Harkess.

Rangiora Rampage4(Matt

Corey2,Henry Webb 2) lost to

Hornby Vipers 6. MVP: Matt

Corey.

Kiwi Sticks Girls:Rangiora

Raiders 4(Imogen, Amelia,

Laura)lost to Harewood 7.

MVP: Imogen.

Rangiora Rainbows 9(Ruby

Taylor4,Kayleigh Sweeney 2,

Tallulah Kennet­Ditfort 2,

SophieCartwright 1) beat

HSOB/BurnsideMonkeys 0.

MVP: Tallulah Kennet­Ditfort.

RangioraRebels6beat

Hinemoa­Kaiapoi Pohutakawa

(friendlygame acrossgrades).

MVP: Rose West.

Rangiora RoadRunners 1

drew withWaikirikiri kakis 1.

Kiwi Sticks Boys: Rangiora

Rogueswon by default over

MaristRebels.

Rangiora Rangers 1lost to

MaristInvaders 2.

Mini Sticks Girls: Rangiora

Rabbits 9(Catherine McKellow

4, AdeleFerguson 2, Emma

McKellow 2, AimeeDunlop1)

defeatedCarlton Redcliffs

Dolphins 0.MVP: Emma

McKellow.

Rangiora Rockets 4(Arlette

Newman, Shaylee Eastmond,

Kaitlyn Pullar)beat Harewood

Lizards 3. MVP:EmmaDyndul

and ShayleeEastmond.

Mini Sticks Boys: Rangiora

Roadsters 0lost to Harewood

Heros 11. MVP: TJ Iona.

WHATEVER TYRES YOU NEED WE'VE GOT NORTH CANTERBURY COVERED

From In-Store toonthe Farm, we have

all your tyre needs covered. No job too BIG or Small.

Proudly supportingsport

in North Canterbury

NORTH CANTERBURY

RUGBY SUB UNION DRAW

12 th September 2020

UoC Championship

2.45pm Rangiora HS 1st XV vLincoln Combined.

ChchMetroU18 -Section 2

1.00pm RHS2nd XV.

Seewww.sporty.co.nz/drawsresultsstandings

ChchMetroU18 -Section 3

1.00pm Kaiapoi U18 vCBHS,Kai Oval.

Ellesmere/NorthCant/Mid CantCombined U18

1.00pm WaihoravOxford,Tai Tapu 1.

Metro U16Girls

vKaiapoi.See www.sporty.co.nz/drawsresultsstandings

Metro U14-Section 1

11.00amKaiapoi U15vRHS U15 Gold,Kai Oval.

Metro U14-Section 3

vAshleyU14.

Seewww.sporty.co.nz/drawsresultsstandings

Mike Greer Homes NorthCanterburyLtd -Under 13

TBA

MikeGreer Homes NorthCanterburyLtd -U12

10.00am Saracens vWoodend, Sbk 1. 9.30am Ashley

Blue vKaiapoi, Lob Lwr 1.11.30am Ashley Green v

Oxford, Lob Lwr 1.

MikeGreer Homes NorthCanterburyLtd U11

11.00am Ashley Green vSaracens Blue, Lob Jnr 3.

11.00am Ashley Blue vKaiapoi, Lob Jnr 6. 10.00am

Oxford RedvWoodend, Ox Jnr5.

GameofThree Halves

9.30am Ohoka vSaracens Red, Mand Jnr4.

10.15amOxford Black vSaracensRed, Mand Jnr4.

11.00amOhoka vOxfordBlack, MandJnr 4.

MikeGreer Homes NorthCanterburyLtd U10

12.15pm Kaiapoi vAshley Green, Kai Jnr 3. 12.30pm

Ohoka Red vSaracens Red, Mand 2a. 12.15pm Ashley

Blue vWoodend, Lob Jnr 6.12.30pm Ohoka Black v

SaracensBlue,Mand 3a.

Mike Greer HomesNorth Canterbury LtdU9

10.00am Ohoka RedvSaracensBlue, Mand 2a. 11.00am

Ohoka Black vSaracensRed,Mand 3a.

Games of ThreeHalves

9.30amKaiapoiBlue vAshley, Kai Jnr3.

10.15amKaiapoi Blue vKaiapoi Gold, Kai Jnr 3.

11.00amKaiapoi Gold vAshley,Kai Jnr 3.

MikeGreer HomesNorth Canterbury LtdU8

9.30am Ashley Green v Saracens Red, Lob Jnr 6.

9.30amAshleyBluevOxford Black, Lob Jnr 3. 10.00am

Ohoka Black vKaiapoi, Mand 1a. 11.30am Ohoka Red v

Woodend, Mand Jnr 5. 11.00am Amberley vSaracens

Blue, AmbJnr 3.

MikeGreer HomesNorth CanterburyLtd U7

11.00amAshleyGreenvSaracensRed, Lob5a. 10.50am

Ohoka Green vWoodend, Mand Jnr 6.11.20am Ohoka

Black vKaiapoi, Mand Jnr7.

Games of ThreeHalves

11.15am Ashley Blue vOhoka Red, LobJnr 2b.

11.45am OhokaRed vSaracensBlue,Lob Jnr2a.

12.15pm Ashley Blue vSaracensBlue, LobJnr 2b.

Mike Greer HomesNorth CanterburyLtd U6

9.30am Ohoka Black vWoodend Green, Mand Jnr 6.

9.30amAshley GreenvKaiapoi,Lob 4a. 10.00am Ohoka

RedvWoodendBlack,Mand Jnr 7. 9.30amAshley Gold v

Saracens Red, Lob 5a.10.30am Ashley White vSaracens

Blue, Lob4b.

Games ofThreeHalves

9.45amAshley BluevOxford Black,Lob Jnr2a.

10.15amOhoka GreenvOxfordBlack,Lob Jnr 2b.

10.45am Ashley Blue vOhoka Green, LobJnr 2a.

2286610

www.tyregeneral.co.nz 0800 226 324

Tyre General Rangiora -346A Flaxton Road Phone: 03 310 6666 Email: rangiora@tyregeneral.co.nz

Tyre General Amberley -Courage Road Phone: 03 314 9168 Email: amberley@tyregeneral.co.nz

For all draw information

and updates please keep

up to date with

North Canterbury Rugby

2285934
---
North CanterburyNews

PROPERTY

Over 60's unit -simply delightful

8/26 Victoria Street, Rangiora

Lovely 2 bedroom unit that has been designed with the over 60's in mind.

Everything in the kitchen is at your fingertips and is open plan to the sunny and

spacious.

The wonderful compact garden is easily accessed from the lounge. The master

bedroom is spacious with a good wardrobe, and the bathroom has a heated

non-slip floor and large walk in shower. A separate laundry and single attached

garage rounds off this wonderful property.

Don't miss it, come and have alook.

Deadline Sale -The vendors are asking for offers over $340,000.

Deadline Sale

closes Wednesday 30 September

2020 at 4.00pm unless sold prior

Open Home

Sun 13 Sept 1.00pm to 2.00pm

For more information contact:

Bev Wright

027 434 2486

Property Brokers Ltd

Website ID #RU77643

Arealchange in

real estate.

The Property Brokers and Farmlands partnership means

great things forprovincial real estate*

Together our combinedstrengths complement

eachother to createbiggernetworks, more

buyers andbetterresults.

For more informationcall0800367 5263

orvisit pb.co.nz/together

Proudtobetogether

2306657

*Farmlands will continue to administer its property management portfolioand its West Coast real estatesites, pendingCommerce Commission clearance.

Property BrokersLtd Licensed REAA 2008
---
North Canterbury

Eyrewell 2199 South Eyre Road

Open Home

AUCTION

Spring 2020

Be part of provincial NewZealand's

premiumrealestateauction event!

• Excellent opportunity to getapremiumprice andanunconditionalsale

• Plusahugely discounted marketingpackage that includes$1500

worthofFREEadvertising

• Limited spaces,don't miss out

Apremium-selling

experience.

pb.co.nz/goauction

Eyrewell Forest 599 Downs Road

To find outmoreabout

GO Auction, call us today

on 03 3138022

Open Home

Motivated Vendor

Only eleven years old, this property has an excellent kitchen, openplan

living, separate lounge, two outstanding bathrooms, two heat pumps

and Contessa log-burner with wetback. Separate double garage with

an attached office, giving four car garaging. Free draining soil, private

with established shelter on four sides.

Kaiapoi 7Cosgrove Road

3 2 2 4

For Sale $720,000

View Sun 13 Sep 11.30 -12.15pm

Web pb.co.nz/RL76076

Maurice Newell

M 027 240 1718

Hamish Anderson

M 027 678 8888

Open Home

Twodwellings and workshop

This beautifully designed three bedroom, two bathroom home is near

new. One wing contains themaster bedroom with an ensuite and walk

in wardrobe. Another wing has two bedrooms and the main bathroom.

There are two living area's with an open plan kitchen living and a

separate lounge. The log-burner has awetback andthere is aheat

pump as well. ABelling stove and AEGdishwasher are typical of the

quality of the chattels and fit out. The garage is alargesingle with an

adjoining separate laundry and mudroom. Extra accommodation is

available in theone bedroom flat adjoining the shed.

4 3 3 1

For Sale By Negotiation

View Sun 13 Sep 2.15 -3.00pm

Web pb.co.nz/RL76179

MauriceNewell

M 027 240 1718

Hamish Anderson

M 027 678 8888

An UnexpectedSurprise!

Superbly positioned in an ever-popular and inherently practical

location, this quality home will draw interest from both astute

investors seeking aquality addition to their portfolios, and firsthome

buyers looking to establish themselves on the property ladder.

Repainted and with new carpet throughout, this two bedroomhome

has adelightful feel to it. Set for all seasons, the ceiling hasrecently

been insulated, double glazing and anew bathroom installed andthe

heat pump willkeepeveryone as snug as abug. Outside, the

established fully fenced grounds halfshare in 1037 sqm) play ...

2 1 1 2

Deadline Sale closes Tuesday 22nd

September, 2020 at 2.00pm, (unless

sold prior)

View Sun 13 Sep 1.00 -1.30pm

Web pb.co.nz/RU77878

Leigh Miller

M 021 308 202

Property Brokers Ltd Licensed REAA 2008 |pb.co.nz

Proudtobehere
---
Four Seasons Realty

Zealanders

New by

¥Voted

¥Voted

2018-2020

2018-2020

★

★

¥2018-2020

Real Estate Sales

AUCTION

harcourtsfourseasons.co.nz

Your home forlocal property.
---
Making

connections ...

Ministry of Social

Development senior

work broker

MichelleBecks, left,

and Enterprise

NorthCanterbury

general manager

Heather Warwick

have joined forces

to helpkeep North

Canterbury working.

PHOTO: DAVIDHILL

Akeen focus on jobs

By DAVID HILL

Localbusinesses are encouraged to

connect with Enterprise North

Canterbury (ENC)before considering

redundancies.

ENC joined forces with the Ministry of

Social Development(MSD)inJuneto

help keep NorthCanterbury working,

with senior work broker Michelle Becks

now working from ENC's Kaiapoi base.

''In the past we'vehad crisesinNorth

Canterbury with the earthquakes and

we partnered with MSD to get through

thoseevents,soweapproachedMSD to

partner withthem again,'' ENC chief

executive Heather Warwick said.

''We wanted to be able to support our

businesses aroundredundancies and

thoselooking to employ staff. We want to

be the ambulanceatthe top of the cliff

rather than at the bottom.''

Michelle lives in Kaiapoi and has

been with the ministry for 15 years, the

last fivebased in Rangiora.

MSD'sfocus in the Covid­19 era is on

recruitment, redundancysupportand

redeployment, she says.

Michelle is available to talkdirectly to

NorthCanterbury businesses considering

their options or looking to recruit.

''We are asking before they make any

decisions that they givemeacall,''

Michelle says. ''I'mhappytogoout and

have achat with them,and we can offer

assistancewith recruitment.

''Priority number one is to retainstaff

and we can discusswhat options are

available.''

Whilemany businessesare facing

uncertain times, otherbusinessesare

growing and there are good numbers of

low skilled and high skilled vacancies,

Michelle says.

ENC'swebsite has information

available for job seekers and employers

at northcanterbury.co.nz/covid­

19/employment­opportunities/.

Fundraiser in

fourth year

Volunteer first respondersinOxford

willbenefitfrom amarket­day plant

salenext month.

The Oxford Farmers Market is

holding its annualplant sale on

Sunday, October 11, and is seeking

donationsofplantsfrom plant

nurseriesand individuals.

Lastyear it raised $1300 for

volunteer first respondersatthe local

St Johnand the Volunteer Fire

Brigade.

It is the fourth year the salehas been

held.

Donations from the public will be

gratefully received on the day, which

willrun from 9am to 12.30pm.

NEWS

The North Canterbury News, September 10, 2020

Pegasus Fields! "Gateway to Fine Living"

7outstanding 4hectare (10 acre) lifestyle bare

land blocks. Perfectly located close to the beach,

2kms above state highway and easy commute to

Rangiora, Christchurch and Christchurch Airport.

Well fenced and beautifully presented range of

excellent building sites on versatile Wakanui silt

loam soils and commanding exquisite rural views

to Mt Grey.

158 Ashbys Road, Sefton, Waimakariri

Open home Saturday &Sunday 1-2pm

35

Support appreciated ... St John first

responderMel Brooker, right, receivesfunds

raised at lastyear'splant sale frommarket

manager Kathi Knowler.

PHOTO: SUPPLIED

$289,000 (GST inclusive)

Russell Clifford

Licensed Real Estate Agent

D: 03 2817510

M: 027 4343122

E russell@prof.co.nz

www.prof.co.nz

REAL

ESTATE BRAND

#1RURAL

IN NEW ZEALAND

$165 million

sold property value

Our results speak for themselves.

119

sales

High Demand

for rural and lifestyle properties

Bayleys Canterbury Rural Sales January -June 2020. *For the period 1/1 to30/6/2020 based onconfirmed date.

If you are considering selling please contact your prefered agent:

Kevin Jenkins

027 577 4232

Jane Moody

027 455 0161

Niki Bradley

027 607 2555

Joel Meikle

027 814 5208

Ross Ditmer

027 482 2056

John Bailey

027 893 0234

Ben Turner

027 530 1400

Jon McAuliffe

027 432 7769

WHALAN &PARTNERS LTD, BAYLEYS, LICENSED UNDER THE REA ACT 2008

Brook Yates

027 807 8093

Kerry Eyles

027 472 6780

Chris Jones

027 220 5043

Lance Farrant

027 228 2846

Craig Blackburn

027 489 7225

Mark Parry

027 433 0350

Dean Pugh

027 335 6303

Mark Pringle

027 433 3334

Evan Marshall

027 221 0910

Mike Preston

027 430 7041

Fee Ensor

021 705 014

Peter Foley

021 754 737

Georgie Robson

027 562 4100

Sam Sidey

027 346 3500

Hamish Lane

027 685 6204

Sandy Butterick

027 417 2639

Jack Pringle

027 533 4820

Simon Sharpin

027 631 8087

Bayleys Ashburton 03 307 7377

Bayleys Christchurch 03 375 4700

Bayleys Darfield 03 975 4559

Bayleys Methven 03 303 3093

Bayleys Rangiora 03 311 8020

Bayleys Timaru 03 687 1227

bayleys.co.nz
---
What's happening in your

community…

Night Detours on SH1 Southbound

The Christchurch Northern Corridor Team are

installing large overheard support structures for

new road signage during the night onSH1 near the

Waimakariri Bridge.

This involves lane and full road closures between

10pm and 5am through toTuesday 6October,

affecting Tram Road traffic. Find the full night

work schedule and project update atnzta.govt.nz/

projects/christchurch-motorways

Thieves Target Gardens

Council were disappointed to learn of the the of

plants from the garden beds constructed onOxford

Road. This is the second time that these beds have

been targeted and plants stolen.

Grant MacLeod, Greenspace Manager says, "The

idea behind installing these beds is to beautify the

entrance to Rangiora and to have plants stolen is

incredibly frustrating and costly to ratepayers."

The new garden beds are between Westpark

Boulevard and Charles Upham Drive and were

designed toenhance the area around the new

footpath and kerb and channel on Oxford Road.

While we know that local residents may be

disappointed, we don't think that this will be planted

out again due to increased costs.

The Council note that from time to time we do get

thes like this and would encourage the public to

report any suspicious behaviour.

Repairs to Skew Bridge complete

Thanks to everyone for your patience as we repaired

Skew Bridge. We're pleased to say repairs are now

complete and the bridge is open again totwo-lane

traffic.

Rangiora Service Centre Repairs

Underway

Repair work at the Rangiora Service Centre building

has started and this will see anumber of staff move

to temporary locations around the town centre

while work is completed.

Earlier this year, the Council received information

which suggested parts of the upper floor area of

the building was susceptible to earthquake damage

due to the type of flooring used during the 1990s

building extension.

While repairs are underway the public still have full

access toCustomer Services.

The project will be completed infour stages and the

first was completed at the weekend. Contractors

installed abeam in the Council Chambers to

strengthen this space so that staff can use this as

temporary offices.

Other staff will be housed inleased and will rotate

through these spaces for the length ofthe project,

which is due to be completed by May.

The scope of this project has been significantly

reduced with only the necessary repairs and

upgrades being completed. The budget reflects this

with the project costs now ataround $2.5m down

from $4.3m previously estimated.

Twoproperties have been leased for upto12

months and one more permanently to allow for

planned growth.

Have you signed up for

the Waimakariri District

Council Newsletter?

To join visit waimakariri.govt.nz and scroll

down until you see the sign up button.

Community Service

Awards 2020

Nominations are Open

These awards are torecognise

our community volunteers

that goabove and beyond.

Full criteria, details and nomination

forms are available now.

Youcan pick upanomination form from

one of Council's Service Centres and

Libraries at Rangiora, Kaiapoi and

Oxford and isalso on our website

waimakariri.govt.nz

Criteria

• Anyone who has carried out significant

voluntary services in the Waimakariri

District to: the arts, culture, education,

health, recreation, sport, welfare or youth.

• Must be nominated by two people of the

Waimakariri District.

This year's Community Service Awards

ceremony will be held in November.

Nominations close 5pm,

Friday 18 September 2020

Checking in

on your bin…

We're doing

recycling bin checks

across the District to

make sure they have

the right items going

into them.

Check your letterbox for

an information pack about

your bin check and how to

recyclethe right way.

FRI

25

SEP

5–8pm

Raven Quay

Kaiapoi

rethinkrubbish.co.nz

FREE

FESTIVAL

To Acknowledge 10 Years from The Earthquakes

Join us for Fun, Food &Fireworks

Food &Market Stalls +

Roving Entertainers +

Outdoor Screen Slide show

reflecting on 10yrs +

LIVE BAND

THE ALLIN DRIVE BAND

PROUDLY SPONSORED BY

AllTogetherKaiapoi acknowledgeand thank

those thathavesupportedthis event...

Visit Waimakariri, Waimakariri Creative Communities NZ, Harcourts,

Misco Joinery, Blackwell's Kaiapoi, Silverstream, Smith Crane &Construction,

Waimakariri Arts Trust, Waimakariri District Council, Kaiapoi Club,

Wilsons Traffic Management, Kaiapoi -Tuahiwi Community Board, Larsen

Sign Studio, Acropolis, Wentworth Carrying, Paper Plus, Corcoran French

For more information visit:

AllTogetherKaiapoi
---
Give usyour

feedback

Roadside Spraying

Public Notice

Chemical contol

of vegetation

Residents of the Waimakariri District

are advised that our vegetation control

contractor (Sicon Ltd) is to commence

roadside spraying in all areas in

September 2020. The chemical used

is aglyphosate base (Roundup). This

operation will continue intermittently

when required and weather permitting,

through to April 2021.

If any resident has any legitimate concern

with this operation, they should contact

the Waimakariri District Council customer

services team.

Carl Grabowski

Roading Operations Team Leader

Place used

masks and gloves

in the rubbish.

Single-use masks and gloves

unfortunately can't be recycled.

Cut the mask ties and make sure

they go in arubbish bin instead.

rethinkrubbish.co.nz

Teams head south

Kaiapoi North School's senior

basketball teams are heading

to aSouth Island tournament

after adisrupted season.

The school's Year 7/8 boys'

and girls' teams were to

compete at the AIMS Games in

Tauranga next month, but they

were cancelled over Covid­19.

Instead, the teams will go to

Oamaru during the

September/October school

holidays for the South Island

tournament, normally held in

July.

Principal Jason Miles says it

is disappointing to miss the

AIMS Games, with the school

only sending teams every two

years.

But the school has had a

dominant season, with both

Year 7/8 teams and the Year

5/6 girls' team winning their

YOU

COULD

BE

HERE

$$$

Amalgamated Scrap Metal

Ltd. Specialists in farm

machineryand farm clean

ups, old vehicles etc.

100% locally owned.

Ph 0800 030 712 or

027 695 0480.

2312759

Advertise

your business

in our Trades

and Services

Phone

Amanda Keys

on

03 313 2840

Cars Wanted

CASH 4CARS

and 4WD'S

Phone

Automotive

Parts

03 313 7216

CARS, vans, 4WD's

wanted for dismantling or

repair. Phone 027 258

8366.

CASH /CASH ! for any

unwanted vehicles, ph 03

347 9354 or 027 476 2404.

Wanted To Buy

OLDER style tractor with

afront end loader bucket.

Phone 03 319 5756 Peter

Kerr.

BUYING estate type old

china, crystal, collectables,

vases. Ph 027 350 3963, or

313 1878.

GOOSE EGGS for craft

purposes. Please phone

Helen 03 313 1557.

Pets

For Sale

200 LITRE steel drums,

$10 each. Ph 027 440 1230.

CANON Ink Jet printer and

flat bed scanner $50. Phone

313 7563.

HONEY 4kg bucket

cooking honey, $30 special.

Available at Gracebrook,

Amberley. Telephone 03

314 7076.

Situations Vacant

RELIABLE PERSON

REQUIRED

If you are adog-loving person who

can turn your hand to everything from

dog caregiving /kennel management

to office work, with apositive &cheery

attitude we may be interested in you.

Part-time. Some additional weekend

work may be required.

Written references. Clean driving

licence & helpful attitude essential,

initiative and experience managing

multiple dogs helpful.

Email your application to

R.DeBoyer@xtra.co.nz

NEWS AND CLASSIFIEDS

North Canterbury News, September 10, 2020

local competitions, and the

Year 5/6 boys finishing fourth.

The Year 7/8 competitions

were dominated by North

Canterbury teams, with

Ashgrove School finishing

second in the girls'

competition, and the Loburn

School boys' also runners­up.

''The school has had astrong

basketball programme for

many years due to the

leadership and organisation

of teacher Megan Gilmore.''

Mr Miles says it is rewarding

to see so many former pupils

continuing to enjoy basketball

after they leave the school.

''Many current and former

students represent North

Canterbury, and former

students have also gone as far

as gaining scholarships at

American universities.''

Rotary ClubofRangiora

Charitable Trust

ALEX MURRAY

EDUCATION AWARD 2020

The Rotary Club of Rangiora awards agrant each

year inmemory of aformer member, Alex Murray,

to assist ayoung person about to leave school to

undertake further training at an education centre,

polytechnic or university.

The grant, to a value of $5000, will be awarded

to ayoung person living in either the Waimakariri

or Hurunui Districts. The grant is to assist with

course costs and/or study materials (excluding

accommodation costs) over the first two years of

tertiarystudy.

We are calling for applications for this grant for study

to becommenced in 2021.

The application form may be obtained by emailing

ayers.david@xtra.co.nz.

Applications will close on Thursday 8th October

2020.

2312601

Wanted To Rent

BICHON HOMESTAY RETIRED gentlebloke

for smaller dogs. We look seeking single bedroom

after your dog in our home. cottage in quiet country

"No kennels". Phone today location up to 40 mins

03 314 6110.

away from Christchurch.

Very good references.

Telephone 020 4077 7307.

Gardening

WANTED! Are you

having agarden clean up?

Looking for small tussocks

and flax's for North Canterbury

BMX Club in Rangiora

to beautify our track

and grounds. Please phone

Kerryn 021 288 4848 to

organise collection. Please

do not drop any at the track.

2311260

Public Notices

Situations Vacant

MEET the Electoral

Candidates at Balcairn

Hall, Tuesday 15th September

2020 - 7pm. We

have invited the following

four candidates who represent

their incumbent party

to meet the good people

here at the southern boundary

of our electoral area:-

Greens Richard McCubbin,

Labour Matt Flight,

National Stuart Smith, NZ

First Jamie Arbuckle. This

is your chance to ask your

questions and raise any

concerns. Written questions

for the candidates can be

submitted at the meeting

but we would prefer written

submissions ahead of time

emailed to the Society's

Secretary

via

balcairnpublichall@gmail.com.

During the light supper

there will be an opportunity

to mingle and talk to the

candidates. Gold coin

donation would be appreciated.

Please monitor our

Facebook page/email for

advice of the need for swift

cancellation.

37

VINEYARD &OLIVE GROVE WORKER

We have a fixed-term position available

through to April 2021, for an energetic,

physically fit worker on our family, organic

vineyard &olive grove in the Waipara Valley.

The successful applicant will need proven

ability in working outdoors in challenging

conditions. This will be a 32 hour/week

position. Experience would be an advantage

but not essential.

Please apply with CV &covering letter to:

info@terraceedge.co.nz

2312425

OFFICE ADMINISTRATOR

Our wonderful office lady is

retiring after 12 years.

We are abusy Kaiapoi garage

looking for ateam player with

acan do attitude. This is afull

time position.

In the first instance please

contact Brigitte on 027 249 1703

2312536

Experienced Restaurant Manager

for Indian Restaurant in Kaiapoi

Full Time 30-35 hours per week

Must have Duty Manager Certificate

At least 2years experience as Restaurant

Manager

Please apply with your CV to

eat@tikkatalk.nz

Applications close Thursday 24 th September 2020

Delta Utility Services is seeking an

Environmental Construction Worker to join

our team in Kaikoura.

The role involves a variety of grounds

maintenance, weedspray operations, and

mowing for our main customers in the area.

The successful applicant will have experience,

understand health and safety best practice,

enjoy working outdoors in all weather, and

have aclean class 1license. All equipment

provided.

Apply now!

Applications close 21 September, 2020.

Email your CV to careers@thinkdelta.co.nz.

Public Notices

MEMORABLE

MUSICAL MOMENTS

Concert3,3pm

27 September

St Bartholomew's

Church, 23 Cass St,

Kaiapoi

with an organ recital,

Chaperone Trio, six

hands at one piano

&Sharon Russell,

country&western.

Adult $10, Family $25 (2

adults, up to 3children).

Includes afternoon tea.

Tickets from

Kaiapoi I-Site (cash only)

or online from

www.trybooking.com

until end 24 September.

Admission by ticket only.

2311190

An Anglican Parish of

Kaiapoi event.

2312432

2311581
---
CLASSIFIEDS

38 The North Canterbury News, September 10, 2020

Public Notices

Notification of Weight and Speed Limits on Bridges

HeavyMotor Vehicle Regulations 1974, Regulation 11

NOTICE is hereby given that pursuant to regulation 11(3) of the Heavy Motor Vehicle Regulations 1974, the Hurunui

District Council has fixed the following maximum weight and speed limits for heavy motor vehicles and combinations

including aheavy motor vehicle on the bridges describedhereunder:

Limits

Name of Road Name of Bridge Maximum Gross Weight Maximum Speed

weight onany (maximum sum Limit km/hr

one axle of axle weights)

Tekoa Rd Island Hills 3500kg Gross. 10km/hr

One vehicle at a

time on bridge

Tekoa Rd Mandamus 20km/hr

LowryPeaks Rd Palmside 10km/hr

Woodbank Rd Woodbank (Rogerson) 90% Class 1 30km/hr

InlandRd Conway 44000kg Gross.

One heavy vehicle

at atime on bridge

Tophouse Rd St James 1500kg 2500kg

Mendip Rd Mendip Hills 90% Class 1 10km/hr

Blythe Rd Lower Hurunui Swing One heavy vehicle

at atime on bridge

Cat Hill Rd Hydes 44000kg Gross

Mount Palm Track Mt Palm 10km/hr

Nonoti Rd Nonoti Overbridge 10km/hr

Brodies Rd Grey Burn 50% Class1 10km/hr

Holleth Hills Rd Holleth Hills 10km/hr

Berriedale Rd Morris 10km/hr

Cotswold Rd Cotswold 10km/hr

MacDonald Downs Rd MacDonald Downs 10km/hr

Megowans Rd Megowans 80% Class 1

Kilmarnock Rd Deans Bridge Closed

Stonyhurst Rd Meehans 10km/hr

Stag and Spey Rd Herds 10km/hr

Balmoral Station Rd Davidsons 70% Class 1

Attention is drawn to the applicable penalties and infringement fees set out in Schedule 1A or Part 3ofSchedule 1B of

the Land Transport(Offences and Penalties) Regulations 1999, which apply to infringements of these limits.

September 2020

Dan Harris

Chief Operations Officer

Hurunui District Council

2311009

North Canterbury Dive Club

2020 AGM

Proposed Temporary Road Closure

2020 Lone Star Canterbury Rally

Stages 2, 3, 4, 5&6

The Hurunui District Council has received an application

from Autosport Car Club Inc. requesting the temporary

closure of various roads across the Hurunui District.

This closure is requested to safely runthe 2020 Lone Star

CanterburyRally forone dayonSunday 20 October 2020.

Roads affected are listed below. Partial or full closure of

these roads may occur for short periods, please refer to

our website for full details. www.hurunui.govt.nz

RamPaddock Rd

Sinclair Rd

MacDonald Downs Rd

Blythe Rd

Broxton Rd

StonyhurstRd

Kaiwara Rd

Onepunga Rd

Eggleston Rd

Berriedale Rd

Leamington Rd

BrodiesRd

Kaiwara West Rd

Happy Valley Rd

Objections to all or partofthe proposed closures will need

to be lodged with council by

Mid-day,Wednesday 16 September 2020

email:

post:

to be held at

at Mandeville Tavern,

99 Raven Quay, Kaiapoi on the

28 th September at 7.30pm

All existing and new members welcome.

Enquiries 027 560 6902

2312410

info@hurunui.govt.nz

Hurunui District Council,

PO Box 13

Amberley 7441

This closure is proposed under paragraph 11(e) of the Tenth

Schedule of the Local Government Act 1974. The proposed

closure will apply to all vehicular traffic with the exception of

emergency services vehicles.

2312551

THE ROTARY

BOOK FAIR

FRIDAY 2ND &

SATURDAY 3RD

OCTOBER 2020

PHONE

RANGIORA BOROUGH

SCHOOL HALL

HELP USTODOTHIS AGAIN BY

DONATING BOOKS, MAGAZINES,

DVDS, CDS, PUZZLES, RECORDS.

IF YOU HAVE BOOKS

ETC TO DONATE WECAN

COLLECT THEM.

027 472 4439

DROP BOXES ARE AVAILABLE

AT: Z RANGIORA

RANGIORA NEW WORLD.

Rangiora Charitable Trust

Personal

Ladies 40+

Read Sammyjo's story

privatearrangements.co.nz

2310684

Public Notices

PUBLIC NOTICE OF

APPLICATION FOR ON

LICENCE

SECTION 101, SALE

AND SUPPLY OF

ALCOHOL ACT2012

Holco Holdings Ltd has

made application to the

District Licensing Committee

at Rangiora for the issue of

an On Licence in respect of

the premises situated at 37

High Street, Rangiora or the

Tavern Sports Bar known as

Mainstreet Sports Bar.

The general nature of the

business conducted (or to

be conducted) under the

licence is Tavern.

The days on which and the

hours during which alcohol

is (or is intended to be)

sold under the licence are

Monday to Thursday 8am

-11pm, Friday &Saturday

8am -1am, Sunday 8am -

11pm.

The application may be

inspected during ordinary

office hours at the office

of the Waimakariri District

Licensing Committee at 215

High Street, Rangiora.

Any person who is entitled

to object and who wishes

to object to the issue of

the licence may, not later

than 15working days after

the date of the publication

of this notice, file anotice

in writing of the objection

with the Secretary of

the Waimakariri District

Licensing Committee at

Private Bag 1005, Rangiora.

No objection to the renewal

of alicence may bemade

in relation to amatter other

than amatter specified in

section 131 ofthe Sale and

Supply of Alcohol Act 2012.

This is the second

publication of this notice.

This notice was first

published on 3rd September

2020. 2310757v2

Public Notices

PUBLIC NOTICE OF

APPLICATION FOR

ON-LICENCE

SECTION 101, SALE

AND SUPPLY OF

ALCOHOL ACT 2012

Demir Ltd has made

application to the District

Licensing Committee at

Rangiora for the renewal

of an On Licence in

respect of the premises

situated at 220 High

Street, Rangiora or the

Restaurant known as The

Ottoman.

The general nature of the

business conducted (or

to be conducted) under

the licence is Turkish

Restaurant.

The days on which and

the hours during which

alcohol is (or is intended to

be) sold under the licence

are Monday to Sunday

10.30am to 9.30pm.

The application may be

inspected during ordinary

office hours at the office

of the Waimakariri District

Licensing Committee at

215 High Street, Rangiora.

Any person who is entitled

to object and who wishes

to object to the issue of

the licence may, not later

than 15 working days after

the date of the publication

of this notice, file anotice

in writing of the objection

with the Secretary of

the Waimakariri District

Licensing Committee

at Private Bag 1005,

Rangiora.

No objection to the

renewal of alicence may

be made in relation to a

matter other than amatter

specified in section 131

of the Sale and Supply of

Alcohol Act 2012.This is

the first publication of this

notice.

2311582v1

Kaiapoi Christadelphians

"The Key of Knowledge .."(Luke 11:52)

REPENTANCE AND

BAPTISM ARE ESSENTIAL

FOR SALVATION

The Bible presents hope for afuture life. But firstly,

there are steps to lead us to God and anew way

of life. An understanding of God's will, achange

in our way of life, leading to baptism are critical to

be saved. The book of Mark 16:16 states 'He that

believes and is baptized shall be saved, and he that

believes not shall be condemned'

Today is the day to choose where we stand.

All welcome -

Sunday 13th September,7.00pm

Kaiapoi Community Centre, Sewell Street

Contact phone 03 352 5453

Website: bibletruthandprophecy

Entertainment

TRADITIONAL Dutch

Music Concert, at the

Balcairn Hall, 4 Ashby

Road, Balcairn, Sunday

27th September 2pm, tickets

$10 adult, $5 student

from Blackwells Kaiapoi,

Artisan Rangiora, Sally

Macs Amberley. Limited

door sales / Dutch afternoon

tea. Internet bookings,

updates and enquiries to

deb.vink406@gmail.com.

Educational

2312417

TUITION available. Primary

and secondary to

NCEA level 3. Math, Literacy

and Science (NCEA).

Each student on an individually,

tailoured programme.

Kip McGrath

Rangiora has been serving

the local community for 30

years. Give us a call or

book your free assessment

online 03 313 3638 https:/

/www.kipmcgrath.co.nz/rangiora.

Public Notices

PUBLIC NOTICE OF

APPLICATION FOR

ON-LICENCE

SECTION 101, SALE

AND SUPPLY OF

ALCOHOL ACT 2012

JCapers Limited has made

application to the District

Licensing Committee at

Rangiora for the renewal of

an On Licence in respect of

the premises situated at 56

Fletchers Road, Loburn or

the Restaurant known as

Lemongrass.

The general nature of the

business conducted (or to

be conducted) under the

licence is Restaurant /Cafe.

The days on which and the

hours during which alcohol

is (or is intended to be) sold

under the licence are 1 st

May -31 st August Mon -Wed

9am -8pm, Thurs -Sun 9am

-10pm then 1 st September to

30 th April 9am -10pm.

The application may be

inspected during ordinary

office hours at the office

of the Waimakariri District

Licensing Committee at 215

High Street, Rangiora.

Any person who is entitled

to object and who wishes

to object to the issue of the

licence may, not later than

15 working days after the

date of the publication of this

notice, file anotice in writing

of the objection with the

Secretary of the Waimakariri

District Licensing Committee

at Private Bag 1005,

Rangiora.

No objection to the renewal

of alicence may be made

in relation to amatter other

than a matter specified in

section 131 of the Sale and

Supply of Alcohol Act 2012.

This is the second publication

of this notice. This notice

was first published on 3rd

September 2020.

2309629v2

Trade&Services

ABEL &Prestige Chimney

Cleaning. Nth Cant owned

& operated. Covering all

areas from Waimak to Hanmer.

Professional, guaranteed,

service. Firebox

repairs, carry most parts. Ph

0800 661 244.

AFFORDABLE

cutting with quality and

removal work. Free quotes.

No job too small. Ph 027

442 2219, Fax 03 359 6052

or A/H 03 359 4605.

BRIAN'S Tree Services.

Tree felling, topping,

shaping, firewood cut, rubbish

removed, stump grinding,

branch chipping.

Affordable rates. Phone 03

327 5505 or 021 124 4894.

BRICK &blocklaying. All

types of work undertaken,

repairs. Phone Hamish

0272 386 003 or 313 5678.

BUILDERS father &son

team. Amac Builders are

available to help you with

your building needs. High

standards, low overheads.

No job too small. Check us

out on fb. Amac Builders

Ltd. Ph 027 318 4400.

CARPENTER / Painter

specialising in alterations &

renovations, repairs &

maintenance, 35 plus years,

experienced

builder. Telephone Trevor

313 5013 or 027 431 1864.

DIRTY TILES &Grout?

Professional tile cleaning,

tiled shower restorations,

mouldy silicone, shower

glass & we can even

recolour your old grout!

For all your tile and grout

issues call Grout Pro for a

free, no obligation quote.

Ph Darryl 0800 882 772.

Livestock

HOMEKILL

&Wild Game

Meat Processing

313 0022

2309602MEAT2U.NZ

WANTED

CULL COWS

Injured –ok

0272-63-28-28

2310154

Trade&Services

DRESSMAKING Bev's

Sew Good Services. For all

your alterations, repairs,

dressmaking, curtains.

Phone 327 5535.

DECORATORS

Lilybrook Decorators. Now

semi-retired looking for

those odd jobs. Phone

Gordon 027 430 2938.

METAL WORX. Flashing,

Sheetmetal Fabrication,

Wrought Iron,

Welding, Custom Trailers,

General Metalwork. No job

too big or too small. Ph 021

265 5428 or 03 314 6908.

Find us on facebook/

Glenmark Metal Worx.

glenmarkmetalworx.ltd@gmail.com.

POWER TOOLS repairs,

parts &sales for over 40

years. All main brands serviced.

Grossman Trade

Tools, 23 Watts Road,

Christchurch. Ph 389 9230.

PAINTER, qualified, local

professional. Int / Ext,

roofs, wallpaper. Call or

text Corban 027 846 5035.

PAINTER & Decorator.

25 + years experience.

Interior /exterior, roofs &

waterblasting. For a free

quote, please ph Steve 03

314 4620 or 027 477 1930.

PAINT & wallpaper

services. Wayne Bryant.

Exterior, interior. Qualified

tradesman. Free quotes. Ph

313 5337 or 027 654 4568.

PLASTIC WELDING

North Canterbury Specialist.

All plastic &fibreglass

repairs. Telephone James

021 180 5103.

RANGIORA Rubbish

Removal and RRR skips.

Wheelie bins any frequency

and skips from 1.5 cube to

9cube. Skips and wheelie

concrete bins for any use, rubbish,

greenwaste, building sites

or just cleanups. Give us a

phone call 313 6957 or for

skips 021 313 255.

ROOFER All roof repairs,

roof painting, water blasting,

moss treatment,

repointing, gutter cleans &

snow straps. And more.

Free quotes. Phone Nathan

027 516 6609.

SHEEP SHEARING -

mobile. Fast, friendly, professional

service. 25 years

exp. Shearing, drenching,

hoof trimming etc. Call

Shaun 021 204 1274.

SHEEP SHEARING,

drenching, feet trimming.

For Lifestyle blocks. Call

Stu 027 315 6916.

SCREEN PRINTING.

For all your printing

requirements. T-shirts,

Hoodies, Hi-Vis vests and

polos, Overalls, Caps etc.

licenced Please phone Heather 03

313 0261 or email

heather.norstar@gmail.com.

STONEMASON, Brick

and Blocklayer. Earthquake

repairs, grind out and

repoint, River/Oamaru

stone, Schist, Volcanic

rock, paving, all alterations

- new and old. Quality

workmanship. Visit www.

featureworks.co.nz or ph

027 601 3145.
---
Trade&Services

SHEARER. Hap'sFarm &

Lifestyle Services. Shearing,

crutching, drenching,

tailing, feet trimming &

health check. Trailer, generator

&mobile handpiece

available. Experienced,

reliable and honest. Ph 03

312 1214 or 021 267 4025.

PAINTERS

Reg Tradesman

Interior,exterior.

North Canterbury Painters

specialising in decorating for

over 65 at adiscount rate.

Free quotes.

Covering Nth Canty,Oxford,

Kaiapoi, Rangiora, Amberley.

Rob 03 327 7899

or 027 432 3520 2227597

ANTHONY SYMONDS

Forall your painting &

plastering requirements

Local with 30 years

experience

All workmanship

Guaranteed.

Phone 021 344 023

2220615

Trade&Services

VALUATION -

Specialising in North Canterbury.

Contact Geoff at

Maxwell Valuation. Phone

03 310 8541 or email

geoff@maxval.co.nz.

SUMMERFIELD

FENCING

IN YOUR AREA NOW.

Lifestyle or farm, sheep, cattle,

horse, all types of animals.

Fences, yards, sheds, arenas,

shelters, runs.

30+ years contract fencing.

Steve is available to help with

your design &planning.

Ph office03312 4747

Automotive &Recovery

2091848

SEPTIC TANK

CLEANING

Bill's Liquid

Waste

You dump it...

Blair pumps it...

Blair Tavendale

Ph 03 314 9371

0275 379-694

2225862

CLASSIFIEDS, TRUSTED TRADES &PROFESSIONAL SERVICES

The North Canterbury News, September 10, 2020

Trade&Services

Pride &Quality Painting

&Decorating Services

20 yrs exp, fast and friendly

service. For all your painting

needs, phone: Martin 310

6187 or 021 128 9867

REMOVALISTS

2Men &agood

sized truck.

From $157 per hour

(incl gst).Kaiapoibased.

Call Gerard

027 668 3636

2225244

LANDSCAPES

Paving

Patio &Pathways

-New or Existing

Free Quotes

–Competitive Pricing

Blair Gibson

027 699 5815 03 313 7933

2253902

Builder

Trade&Services

Log Fires

Pellet Fires

Heat Pumps

Sales

Service

Installations

Free Quotes

03 343 1651

472 Blenheim Rd

www.heatstore.co.nz

Trade &Services

WINDOW TINTING

tintawindow

advanced film solutions

99% uv block

fade protection

heat control

reduce glare

25 Years Experience

privacy films

frosting designs

non-darkening films

Workmanship Guaranteed

Lifetime Warranties on Most Films

UV

block

Free Quotes Canterbury and Districts

03 365 3653 0800 368 468

Builder

Accountant

DENTURE CLINIC

39

Debra Jowsey &Karla Kilner

Ph 03314 9480

We help with all Taxreturns for the

salary &wage earner,self employed, rental,

business, farm,GST,pay dayfiling, rental returns

2287949

2070788

• WOF Cars &Trailers

• Vehicle Servicing &

Repairs

• Tyres &Punctures

• Jump Starts

•

Towing &Salvage

• Courtesy Car Available

Ph Aaron Rowlands

0272 588 366

13 Stone Eyre Place,

Swannanoa

Eftpos available Mon –Fri 8am –5pm, Sat 9am –1pm

Contact Jamie for

your free quote:

027 2754099

info@jgbuild.co.nz

North Canterbury

owned &operated

Renovation specialists

New homes, alterations

&farm buildings

2309608

RANGIORA

DENTURE CLINIC

Garry WMechen

Registered Clinical DentalTechncian

Phone (03) 313-9192

Butchery

OxfordButchery

Shane and Leanne Frahm

We cankill&process yourstock

FourGenerations of Frahms

since 1957

Ph 312 4205

Oxford

1680439

Number one

old-fashioned bacon

&ham curing.

A/H 312 4709

Computer Repairs

Bruce Evans

131 Ohoka Road

Kaiapoi

03 327 3111

021 293 6331

compucare@xtra.co.nz

www.compucare.co.nz

Computer Repairs &upgrades

Prompt professional services

2276525v2

Virus &malware removal

New &UsedPC's4Sale

Construction &Concrete

All Construction & Concrete Work

•Driveways, patios &paths

•Bridges and Culverts

•Floors, foundations

•Sheds and buildings

•Dairy Sheds, Herd homes

•Silage pits, effluent ponds

•Excavation and cartage

•Precast concrete

•Insulated panels

Daryl Power

027 230 9401

concretepower@scorch.co.nz

www.concretepower.co.nz

2273277

38a Ashley Street, Rangiora

NEW N W DENTURES D ES

*RELINE * *REPAIRS

* I S

HOURS

8.30am -12noon

- Monday to Friday

FREE E CONSULTATION O

AND ADVICE

A V C

For a/h repairs

phone (03) 310-3044

Electrician

Electrician

Scaffolding

2089195v2-4/4-S

Electrician

AARON HARRIS

ELECTRICAL LTD

NEW HOUSES • ALTERATIONS

ELECTRICAL INSPECTIONS • SMART WIRING

SYSTEMS AND MORE...

M: 0275 543 958 E: aaron@ahel.co.nz

Scrap Metal

CASH PAID FOR SCRAP

•Car Bodies •Scrap Steel•Specialists in Farm

Machinery•All non Ferrous

MAINLAND

METALS LTD

Ph (03)338 7000

Mike0274 818544 •Robbie 0274 818 027

Locally owned and operated

1902273

2020478

Allan Pethig

For all your electrical needs. Residential &Commercial

Phone 03 313 7144

027 432 1534

Fax 03 313 2144

rgrantelectrical@gmail.com

PO Box 69, Rangiora

Motorcycle Service &Repair

2305591

▶ Service ▶ Repairs ▶ Tyres ▶ Rental

▶ WOF arranged ▶ Quality work

▶ Affordable rates

South Pacific Motorcycle Services

- your LOCAL motorcycle service centre

Ph: 03 312 0066 |www.motorbiketours.co.nz

office@motorbiketours.co.nz

SERVICES

Domestic Commercial Industrial

Heatpumps and servicing

Contact Jeremy your local electrician

Ph: 027 385 4606 |E:info@conciseelectrical.co.nz

2302105

Plumbing

For all

general

aspects of

plumbing

Discounts for over

65 years old

Fast friendly service

All work guaranteed

Aaron McCartney

Certifying Plumber

Cell 027 366 9091

A/H 03 310 2137

Free Call:

0508 44EVER

EMAIL:

plumber_27@yahoo.com

2172994

Water Blasting

ENVIROTEC

Waterblasting Ltd

Servicing Canterbury

Commercial &Residential

SPRINGTIME

Get cleanedupfor

the summer

months, getrid of

the winter grime.

W

FREE QUOTES

0800 SITECLEAN

(0800 748 325)

Mobile 0274 369 187

2197694

•Edge protection

•Working platform

Phone

0274 366 901

Plans for pricing

jas.rangiorascaffolding@xtra.co.nz

North Canterbury wide

1783878

Windows & Doors

WINDOW MARKET PLACE

• New & Used

• Timber & Aluminium

• Windows & Doors

8am-5pm Weekdays

8am-2pm Saturday

215 Waltham Rd, Sydenham

Ph (03) 379 6159 info@windowmarket.co.nz

Fax (03) 962 1012 www.windowmarket.co.nz

ncn1242200aa
---
TRUST YOUR

LOCAL EXPERTS

We've totally got you coveredwith awide

range of farmbuildings, garages, sheds,barns,

commercial buildings and more.

"Enquire for a FREE on-site

visit & build quote!"

Visit us at Totalspan North Canterbury

127 Main North Road, Woodend.

Email: northcanterbury@totalspan.co.nz

0800TOTALSPAN TOTALSPAN.CO.NZ