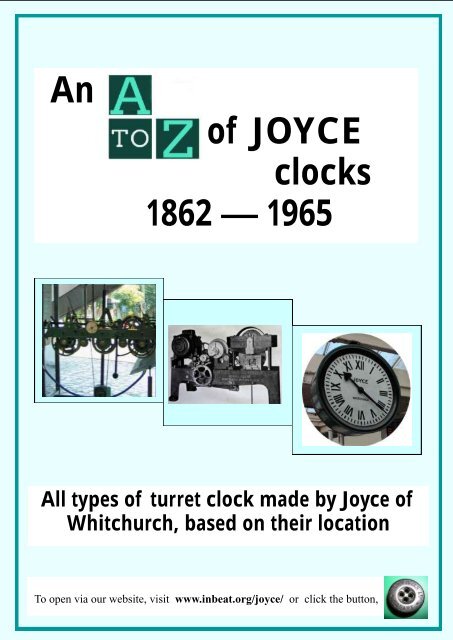 An A to Z of Joyce clocks 1862-1965
You also want an ePaper? Increase the reach of your titles
YUMPU automatically turns print PDFs into web optimized ePapers that Google loves.
An

of JOYCE

clocks

1862 — 1965

All types of turret clock made by Joyce of

Whitchurch, based on their location

To open via our website, visit www.inbeat.org/joyce/ or click the button,
---
Ascot Racecourse 1896 – 2004

The Bell Tower, Perth, Australia 2010 -

This large three train clock with double three legged gravity

escapement was installed at Ascot in 1896. It was auto-wound

with a single motor in 1962, which the units above replaced in

1992. In 2002 the grandstand was demolished and the clock was

sold. It is now at The Bell Tower, Swan River, Perth, W Australia,
---
Bowell Patent Continuous Motion Clock 1930s

Stable building, Private House, Shropshire 1933

This clock was made under licence from George Bennett Bowel the patentee. It combined

electrical and mechanical operation and was designed to be very accurate. It had a double three

legged gravity escapement, which, unusually had no fly. Most of the production was exported to

Canada, but two were installed in the UK, only one of which has survived. This however has had

all the Bowel components removed and is now driven by two motors
---
Carnforth Railway Station 1895

The movement

cupboard

The single train clock with pinwheel escapement is housed in the

green cupboard seen in the top picture left. The clock is fitted

with an extra wheel which reduces the need for a tall weight drop.

For a number of years the movement, dial and hands were lost

after being replaced with an electric movement, but by a miracle

were found again and reinstalled.
---
St Mary's, Dudleston, Shropshire 1865/6

St Mary's, Dudleston has a two train clock with a small single four legged gravity escapement. It was

given to the church by a local family in 1866, when it cost £100, see below left. The single four

legged gravity escapement clocks were made in large numbers in single, two and three train versions,

from late 1863 and throughout the 1870s and 1880s.
---
St Mary's, Earls Barton, Northamptonshire 1879

This clock had been superseded by an electric clock when we visited a few years ago. The Joyce

clock had been kept safely in its cupboard and so remained in original condition.

This church is a rare example of an Anglo-Saxon

building dating back to the late tenth century.

Below: a close up of the escapement.
---
St Peter's, Farndon, Cheshire 1874

As the plaque below shows, the clock was gifted to the church by Emma Barnston on the day of

her marriage. Her family had a long history in Cheshire and were significant landowners in the

area around Farndon. Their home, Crewe Hall was in the hamlet of Crewe-by-Farndon. The

clock is of the two train, single four legged gravity type.
---
All Saints', Gobowen, Shropshire 1948/9

This was the last large three train, full quarter chiming clock made by JB Joyce & Co. Ltd. It was

made by Tom Briscoe, uncle of Paul Fraser. It has a pinwheel escapement, although a double

three legged gravity option would have been available.
---
Holyhead Railway Station & Harbour,

This clock was made in 1880. The cast iron tower

was originally located almost adjacent to the harbour,

as seen in the photo at the bottom of the page. The

railway platforms were just out of shot to the left.

At some time in the mid to late 20th century, the

clock was removed and discarded outdoors in a

remote part of the site. 1990 brought a re-modelling

of the station and harbour complex and the tower

and clock were repaired and re-sited on the station

approach. The position on a mini-roundabout meant

that its former configuration had to be altered. What

had been a meteorological panel became the

entrance door for access to the clock (seen right) as

the old door could no longer be used as ladder

access would be unsafe so close to traffic.

The single four legged gravity timepiece with short

weight drop remains hand wound and is cared for by

Stena Line who now owns the site.
---
St John's, Ightfield, Shropshire 1866

Ightfield is a small village south of Whitchurch with a beautiful Grade ll* listed church in the

perpendicular style which dates back to the 14th century. Despite its small size, the church has a

full three train movement with ting tang chiming and single four legged gravity escapement.
---
Joyce factory clock 1902

The Joyce Factory timepiece - a single train, double three legged gravity escapement clock. This

was the first clock to be auto-wound by the company - the design was by Paul Fraser. When the

factory closed, the clock remained in place and the new owners, auctioneer Trevanion & Dean

have had it built into the rostrum where it is hand wound and on view to visitors.
---
St Paul's, Knowbury, Shropshire 1888

The church has one of the last

clocks with a single four legged

gravity escapements to be made. We

saw none dated 1889 or later

although there were a few where the

dates were illegible.

When photographed this clock was

'resting' awaiting a visit to Joyce's

for an overhaul.
---
St Trillo's, Llandrillo-yn-Edernion,

Merionethshire 1878

This early two train clock with pinwheel escapement is of the style adopted about ten years

later; it lacks the decorative cut out detail seen on all the later pinwheel supports. Both clock

and dial were in beautiful condition when we visited. This small village has border-hopped

and is now in Denbighshire.
---
Hovis Showroom, Macclesfield 1937

Hovis the baker had a presence in Macclesfield from 1886 when the company set up in Union Mill

on the side of the Macclesfield Canal.. This building, which houses this clock is almost adjacent to

the mill and was built in 1937 for the Hovis Van Division where the company's vans were finished in

the Hovis livery and were also serviced on site. Since the company left, the building has had several

owners. The clock is a pinwheel timepiece with only a six foot weight drop.

We are

grateful to

Barry

Corbishley.

For the clock

photos.
---
St Mary's, Nantwich, Cheshire 1892

Records are scanty, but it is believed there were two clocks in the church dating back to 1661 and

1763. This large three train clock which chimes Cambridge quarters has a double three legged

gravity escapement.. A plaque on the clock records that it was supplied by John Palin of Nantwich

and set going at Easter 1892. A brief look at the 1891 census on Ancestry revealed that JP was a

sixty year old watchmaker, glass and china dealer in the town. The clock is wound twice weekly.
---
Christ Church, Oxford 1889

This large two train clock which strikes on the Great Tom bell, weighs 6 tons, 4½ cwt. The clock

was converted by Smith of Derby to be driven by electric motors, so its original escapement had

been removed. Its date suggests that it was probably a double three legged gravity from the

outset, but we have found nothing to confirm this. A third motor drove the traditional 'curfew

toll' which strikes 101 times (one toll for each of the 101 original students) at 9.05pm (9.05pm

GMT, 9pm Oxford time), to warn students the college gates are about to be closed for the night.

This heavy frame style was used when clocks had to strike on very large bells (as at Worcester).
---
Palé Hall, near Bala, Gwynedd 1871

Palé Hall was once the country home of Scottish engineer Henry Robertson who made a fortune

developing many of the railways in Wales and the border counties. The beautiful country house

is now a hotel. The clock is ting tang chiming, with a single four legged gravity escapement which

drives four dials. It has been fitted with a night silencing unit for the benefit of light sleeping

guests.
---
St Andrew's, Quatt, Shropshire 1873

(We haven't visited yet!)

This church has been on our list for a visit for a very long time. It has a Joyce clock which is

believed to date from c. 1873 so it will most likely be a two or three train clock with a single four

legged escapement. A person named Miss Carr gifted the clock to the church in memory of a

family member.
---
Ruthin Castle, Ruthin, Denbighshire 1853

(This clock is outside of our date range, but was too individual to miss)

This two train clock is one of the experimental clocks with pinwheel escapements made by

Thomas Joyce in the 1850s. It was made during the same year as the last of the double frame

clocks was made (for Coalbrookdale) and the first small single three legged gravity escapement

clock was made (for the Savings Bank, Chester). None of the other experimental pinwheels

resembles this one. When we visited, the clock was not operational but it appeared to be complete.
---
St Dominic's Convent, Stone, Staffordshire 1862

This three train clock which chimes ting tang quarters is one of the small three legged gravity

escapement clocks which James Joyce made after the death of Thomas Joyce in 1861. Several were

made including those for churches at Overton-on-Dee, Wrockwardine Wood, Menai Bridge,

Montford and Milton Malsor. The last were made in 1863, which was the year when the first four

legged gravity escapement clocks appeared.
---
St Chad's, Tushingham near Whitchurch 1863

We believe this two train clock in St Chad's, Tushingham and one of the same date in the stable

block of a country house were the first single four legged gravity escapement clocks to be made.

Both are near to Whitchurch where James Joyce(2) would have been able to attend to any

potential problems with the new escapement. This format proved very successful and was used

on single, two and three train clocks, large and small, for twenty years, until superseded by the

double three leg and pinwheel formats.
---
Victoria Institute, Worcester 1882

Now at Worcester Museum & Art Gallery

This four legged gravity timepiece

was awaiting refurbishment for

display when we visited. It was

made for Canon Richard Cattley

for his home where it drove one

dial on the exterior for public

view and two inside, one of which

had a specially made dial by the

Royal Porcelain Works, Worcester.

In his will the Canon left the

clock to the Victoria Institute

which is now a museum and art

gallery.
---
Worcester Cathedral 1869

A plaque in the clock case records it was made by James and John Barnet Joyce in 1869. The clock

has a very large three train, Westminster chiming mechanism with a double three legged gravity

escapement. It is the earliest clock with this feature as this format was not routinely used by

Joyce's for another twenty years. It drives a slave dial in the ringing chamber and another in the

North Transept, but, like many cathedrals, there was never an external dial.
---
St Deiniol's, Hawarden, Flintshire Oct 1854

(Like Ruthin Castle this clock is also outside our

time-frame but could not be missed.)

The clock at St Deiniol's, Hawarden is one of a small group of experimental pinwheels made by

Joyce's in the 1850s. We have not seen another of this same design, but other trial examples were

found at: Ruthin Castle, Denbighshire, 1852; Stanton-upon-Hine Heath, Shropshire, 1854; and

Bronnington, Shropshire, 1859.
---
St Mary & St David, Y Fflint, Sir Y Fflint 1869

(or Flint, Flintshire in English)

This three train, ting

tang chiming clock with

a four legged gravity

escapement was autowound

many years ago.

It drives just one dial.
---
Hope Bowdler, Shropshire 1964

The First and the Last ....

It is not known whether

there was an earlier clock in

this old church tower, but

the clock illustrated dates

back to 1964 when it was

gifted to the church by Mary

Ellen and Fanny Jones as a

memorial to their family.

This clock was the first to be

made by Joyce's which was

intended to be auto-wound

from the outset at the

request of the two ladies. It

has a pinwheel escapement

and an auto-wind system

based on the one designed

by Paul Fraser and trialled on

the factory clock in

Whitchurch.

This clock was the last clock

to be made by Joyce's at the

Whitchurch factory. The

following year the business

was bought by Smith of

Derby and from then on the

role of the Whitchurch work

-force was to repair and

service the clocks in their

area and to work on heritage

clocks.
---
All the clocks in this booklet feature IN GREATER DETAIL in our book JOYCE of

WHITCHGURCH Clockmakers 1690-1965. There is also the family genealogy and

histories of each of the family's clockmakers and of the company. The major part of the

book is a photographic record of over 150 of their turret clocks; our aim was to

photograph examples of each of the different models made by the company, but not all,

as we would have had to visit between one and two thousand clocks! (The exact number

was never recorded.)

Hardback book 670 pages Over 1,500 illustrations, mostly in colour.

SPECIAL PRICE until 31/12/20: £40 post free (normally £48 + £6.50 postage = £54.50)

To buy the book at the discounted price, email us on steveanddarlah@inbeat.org

Tell us you have read the booklet, and we will send you payment details.

To see sample pages of the book visit www.inbeat.org/joyce/