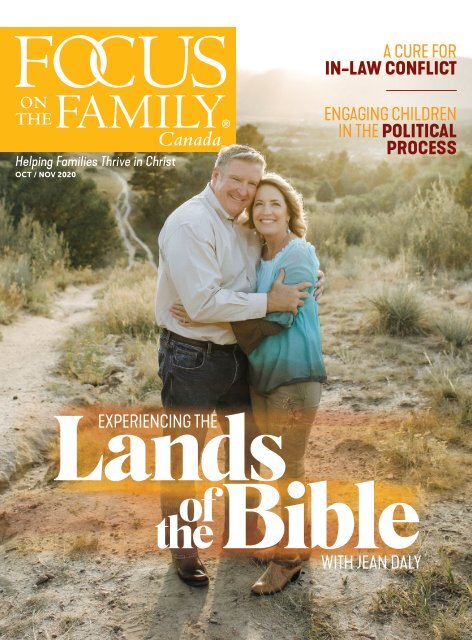 Focus on the Family Magazine - October/November 2020
It can be a struggle to raise a family while balancing your work life, social life and relationships. Focus on the Family magazine is here to help! Each complimentary issue delivers fresh, practical Biblical guidance on family and life topics. Every issue comes packed with relevant advice to build up your kids, strengthen your marriage, navigate entertainment and culture, and handle common challenges you may face in your marriage and parenting journeys. Plus you'll find seasonal advice ranging from back-to-school activities to date night tips for you and your spouse.
It can be a struggle to raise a family while balancing your work life, social life and relationships. Focus on the Family magazine is here to help! Each complimentary issue delivers fresh, practical Biblical guidance on family and life topics.

Every issue comes packed with relevant advice to build up your kids, strengthen your marriage, navigate entertainment and culture, and handle common challenges you may face in your marriage and parenting journeys. Plus you'll find seasonal advice ranging from back-to-school activities to date night tips for you and your spouse.
SHOW MORE
SHOW LESS
You also want an ePaper? Increase the reach of your titles
YUMPU automatically turns print PDFs into web optimized ePapers that Google loves.
A CURE FOR

IN-LAW CONFLICT

Helping Families Thrive in Christ

OCT / NOV 2020

Canada

ENGAGING CHILDREN

IN THE POLITICAL

PROCESS

Lands

EXPERIENCING THE

Bible

of

the

WITH JEAN DALY
---
TAKE

FOCUS

WHEREVER LIFE

TAKES YOU

Cherish Your Spouse

video series

Bestselling marriage author and pastor Gary Thomas wants to help you take

your relationship to the next level! In this free, five-part video series, he will

The show ong>Focusong> you how to on support, the adore, Family showcase App and protect gathers your spouse. our

trusted Watch as Gary guidance describes practical and ways support to cherish your together spouse: by paying in

attention to them, going to them first, supporting, encouraging rather than

one place criticizing, to help and avoiding your contempt. family thrive.

Cherishing is something we need to be intentional about doing – even if we do it

To strengthen imperfectly! your marriage. The result will be a happier, more fulfilling relationship in marriage.

To equip you in raising your kids.

To bring your family closer to Christ. SIGN UP TODAY! from the App Store or Google Play

Because the seasons of your life are always moving

forward, we're here to come alongside you with

encouragement and resources every step of the way.

ong>Focusong>OnTheFamily.ca/Cherish

Download the Free App
---
October / November

Contents

Couples

13 FUN, FOOD AND FINDS

Try this fun idea for connecting

with your spouse

by Lori Zenker

14 POACHED EGGS AND BROCCOLI

Unexpected ways to be thankful

for your husband

by Harriet E. Michael

16 A CURE FOR IN-LAW CONFLICT

Learn how to defuse family friction

during the holiday season

by Ginger Kolbaba

18 AFTER THE SHOCK

Restoring trust in light of your

spouse's pornography addiction

by Joann Condie and Geremy F. Keeton

23 FACING THE GIANTS

IN YOUR MARRIAGE

When relationship problems seem

insurmountable, have the courage

to defeat them together

by Dr. Greg Smalley

24 ABUSED KIDS AND

WOUNDED HORSES

How one couple worked together

to fulfill a dream of caring for both

by Benjamin Hawkins

Faith & Inspiration

27 ENOUGH LIGHT FOR EACH STEP

Spiritual insights from ong>Focusong> on the

Family leadership

by Ken Windebank

28 THAT THE WORLD MAY KNOW:

BRINGING THE BIBLE TO LIFE

This groundbreaking video series

visits the lands of the Bible to reveal

more about God's Word

by Scott Johnson

33 EXPERIENCING THE

LANDS OF THE BIBLE

My journey in the Judean Desert

has taught me to read Scripture

in a new way

by Jean Daly

In Every

Issue

4 DALY A LETTER FOCUS FROM THE PRESIDENT

5 HACKS & FACTS

12 MEDIA

15 46 PRODUCTS MY THRIVING & RESOURCES

FAMILY

46 MY THRIVING FAMILY

Kids & Teens

35 SIMPLE GESTURES MAKE

ALL THE DIFFERENCE

Supporting foster or adoptive

families is easier than you think

by Jill Keller

40 ENGAGING CHILDREN IN

THE POLITICAL PROCESS

Help your kids understand how

voting influences their future

by Jeff Johnston

42 WHEN KIDS CHANGE THEIR MINDS

Trusting God when children decide

to live with the other parent

by Tez Brooks

44 LETTING GO OF HOLIDAY

EXPECTATIONS

Sometimes the best way to

celebrate Thanksgiving isn't

the traditional way

by Jill Savage

FLAFFY / STOCK.ADOBE.COM

October / November 2020 FOCUS ON THE FAMILY 3
---
daly A LETTER focus FROM THE PRESIDENT

Jim Daly Terence is the Rolston president is

president of ong>Focusong> of on ong>Focusong> the on Family the

and host Family of the Canada ong>Focusong>

on the Family broadcast.

His blog is available at

JimDalyBlog.com.

ong>Focusong> on the Family is a

donor-supported ministry,

and your contribution makes

a difference in the U.S. and

throughout the world.

ong>Focusong>OnTheFamily.com/

Donation

diving deeper

lessons into the in Word

of the God desert

I HAVE CAN YOU REMEMBER EVER learned IT like something it was

yesterday: new about standing a section in of the Scripture heat and that dust

of became a desert an with "aha" a moment group of for weary you? explorers.

light But bulb this suddenly wasn't just went any off desert—it in your head was

As if a

and Israel's you Judean saw with wilderness, new eyes where how God Jesus actually

walked wanted and was you to tested. read His those words verses? came

to Understanding life a new way historical as Ray Vander cultural Laan,

our context guide of for the this Bible excursion, is a crucial helped way for us us to

comprehend understand Scripture why we're in reading its cultural what and we're

reading, historical and context. what God intended when he

inspired It was an those experience words. my wife, Jean, and I will never forget.

In If fact, you've never can read heard Jean's of Ray perspective Vander Laan, on our you'll 2016 be trip learning

more on page about 33. him This and is the his perfect video series occasion That to the reflect World on May

to

Israel

Know that journey in this because issue of the November magazine. marks As a the historian 25th anniversary

of the well-versed first release in of the That culture the World and traditions May Know, of Ray's the time

and Bible

teacher

award-winning when the Bible was series written, of videos he and provides study ample materials opportunity that illuminate

for those the "aha" pages moments. of Scripture through visits to locations

throughout Seventeen the years Middle ago, East, my wife, Asia Joyce, and Europe. and I had the privilege

If you of joining never get Ray the on opportunity a tour that took visit us Jerusalem, through the Rome

historic Thessaloniki, locations That of the seven World churches May Know that is the were next recorded best

thing the to book being of there. Revelation. Thousands What of we individuals, thought might churches be an and

Bible interesting study sightseeing groups have trip been ended transformed up being as an a result insightful of Ray's

experience teaching through I'll always these treasure. dynamic I videos was given and the study gift materials. of seeing

ong>Focusong> the Scriptures has been in honored a whole to new partner light. with Ray these past 25

years I remember in bringing one That day the when World we May visited Know temple to audiences. ruins where

individuals And That and the World families May would Know travel isn't the great only distances thing we're to simply

receive in this a few issue. words November that might is National shape their Adoption future Month, or give

celebrating

and them we've wisdom got a for great life. article I was convicted page 35 of about how supporting

often I take the

Word adoptive of God families for granted. as they live After out all, Scripture's I don't have reminder to travel that days

"religion and weeks that – is I have pure and it within undefiled arm's before reach God every the day! Father is

this: In to this visit difficult orphans season and we've widows all in been their walking affliction, through, and to I

hope keep oneself you are unstained encouraged from to create the world" for yourself (James an 1:27). opportunity

I see to learn God's more faithfulness of who to our ong>Focusong> God is, on and the Family who he evident wants us in to

the be. The ministry best way we've to accomplished get to know him through is through That the World pages of

May Scripture, Know, and our the adoption best way and to foster read Scripture care efforts is with and dozens our eyes

of open other to the initiatives. context I in hope which that it you was and written your – family and it's can always look

easier back over to do the so past with months the guidance and find of someone encouraging like evidence Ray. of

His faithfulness to you as well!

Terence Rolston

Jim Daly

FOTF / CA CARY / DAVID BATES PIECHNIK

president Jim Daly

chief operating officer Ken Windebank

president Jim Daly

publisher Steve Johnson

chief operating officer Ken Windebank

editorial director Sheila Seifert

publisher Steve Johnson

managing editor Andrea Gutierrez

focus canada president Terence Rolston

copy chief Scott DeNicola

editorial director Sheila Seifert

contributing editors Ginger Kolbaba, Vance

managing editor Andrea Gutierrez

Fry, Marianne Hering, Jennifer Lonas and

copy chief Scott DeNicola

Jeff Masching

contributing editors Ginger Kolbaba,

art director Brian Mellema

Vance Fry, Marianne Hering, Jennifer

designer Anneka Jack

Lonas and Jeff Masching

cover Jen Lints

art director Brian Mellema

media publishing director Kevin Shirin

designer Anneka Jack

editorial assistant Kat Bittner

cover Jen Lints

print production Gail Wise

media publishing director Kevin Shirin

circulation Sandy Grivy

editorial assistant Kat Bittner

print production Gail Wise

Thank you!

circulation Sandy Grivy

ong>Focusong> on the Family provides this magazine and

other resources through the generosity of friends

Thank like you. ong>Focusong>OnTheFamily.com/Donation

you!

ong>Focusong> on the Family provides this magazine and

For a subscription, go to ong>Focusong>OnTheFamily.

other resources through the generosity of friends

com/Subscribe.

like you. ong>Focusong>OnTheFamily.ca/donate

For ong>Focusong> a subscription, the Family magazine go to ong>Focusong>OnTheFamily.ca/

October/November 2020,

Vol. 5, No. 5 ISSN 2471-5921, © 2020 ong>Focusong> on the Family.

magazine.

All rights reserved. Published by ong>Focusong> on the Family,

a nonprofit organization recognized for tax-deductible

giving ong>Focusong> on by the the Family federal magazine government. October/November ong>Focusong> on the Family 2020, is

a Vol. federally 5, No. 5 registered ISSN 2471-5921, trademark © 2020 of ong>Focusong> on the Family.

To All notify rights reserved. us of an address Published change by ong>Focusong> or to on contact the Family, ong>Focusong>

on a nonprofit the Family: organization 800-232-6459; recognized 8605 Explorer for tax-deductible Dr.,

Colorado giving by the Springs, federal CO government. 80920-1051; ong>Focusong> on the Family is

HELP@focusonthefamily.com.

a federally registered trademark of ong>Focusong> on the Family.

Scripture To notify us quotations, of an address unless change otherwise or to indicated, contact ong>Focusong> are

from on the the Family: Holy Bible, 800-232-6459; English Standard 8605 Explorer Version Dr., ® (ESV ® ).

Copyright Colorado Springs, © 2001 by CO Crossway, 80920-1051; a publishing ministry

of HELP@focusonthefamily.com.

Good News Publishers. All rights reserved. ESV Text

Edition: Scripture 2016. quotations, unless otherwise indicated, are

IMPORTANT from the Holy NOTICE! Bible, English By submitting Standard letters Version and ® (ESV other

® ).

Copyright materials, you © 2001 agree by 1) Crossway, they become a publishing the property ministry of

of ong>Focusong> Good on News the Family Publishers. and will All not rights be reserved. returned; ESV 2) ong>Focusong> Text

Edition: the Family, 2016. its assigns and licensees, have been

IMPORTANT granted the nonexclusive NOTICE! By submitting right to use letters and/or and other

materials, reproduce you the agree materials 1) they in any become manner the for property any of

ong>Focusong> purpose. on Our the Family agreement and will is made not be in returned; Colorado 2) and ong>Focusong>

controlled the Family, by Colorado its assigns law. and licensees, have been

granted Send author the nonexclusive submissions to right to use and/or

reproduce ong>Focusong>MagSubmissions@family.org.

the materials in any manner for any

purpose. Our agreement is made in Colorado and

REPRINT PERMISSION:

controlled by Colorado law.

ong>Focusong>OnTheFamily.com/Permissions

Send author submissions to

Website references do not constitute blanket endorsement

or complete agreement by ong>Focusong> on the Family

ong>Focusong>MagSubmissions@family.org.

with REPRINT information PERMISSION: or resources offered at or through

ong>Focusong>OnTheFamily.com/Permissions

those sites.

Website Return undeliverable references do Canadian not constitute addresses blanket to: endorsement

ong>Focusong> or on complete the Family, agreement 19946 80A by Avenue, ong>Focusong> on Langley, the Family BC

with V2Y 0J8; information 800-661-9800; or resources info@fotf.ca; offered at or through

those GST# 10684 sites. 5969 RT0001

Return Printed undeliverable in the U.S.A. Paper Canadian manufactured addresses by to: a mill that

ong>Focusong> practices on the sustainable Family, 19946 forestry. 80A Avenue, Langley, BC

V2Y 0J8; 800-661-9800; info@fotf.ca;

GST# 10684 5969 RT0001

Printed in the U.S.A. Paper manufactured by a mill that

practices sustainable forestry.

4

FOCUS ON THE FAMILY

October / November 2020
---
Hacks & Facts

CLEVER IDEAS FOR SMARTER PARENTING

THE COLORS OF

THANKSGIVING

ISTOCK.COM / PHOTOGUNS; (PLACE MAT) FOTF / BRIAN MELLEMA

GATHER YOUR FAMILY TOGETHER

to color this Thanksgiving place mat for your

get-together.

Download this free place mat by visiting

ong>Focusong>OnTheFamily.com/Magazine.

ong>Focusong>OnTheFamily.ca/Autumn.

October / November 2020 FOCUS ON THE FAMILY 5
---
HACKS & FACTS / GRATITUDE

ABCs of

Gratitude

My family plays the Gratitude

Alphabet game. As a group, we

start with the letter A. Each person

must come up with something

he or she is thankful for that begins

with that letter. For example, A can

represent apples or adventures.

Then we move on to the next letter.

Sometimes we vote on whose

response is the most creative, heartfelt

or funny. This helps the kids

think carefully before they answer.

—Jessica Carey

Highs and Lows

Help Your Kids

Fix Their Toys

We teach our kids how to repair

toys that are broken and sew pillows

or stuffed animals that are torn. We

also clean items such as bath toys

that have collected grimy deposits

instead of buying new ones. My

kids have a lot more pride in and

appreciation for their toys and other

belongings when they have a story

about how they helped fix them. For

example, when the wallpaper inside

my daughter's dollhouse started to

peel, we had so much fun coming

up with ideas for decorations and

furniture. She loves playing with her

dollhouse even more now because

she helped repair it.

—Emily Yang

The Bible tells us 60

times to give thanks

or be thankful.

source: BibleGateway

Our family was recently robbed

while on vacation. We had nothing

but our wallets, a stroller and

one another. Waiting for our flight

home, we played a game called

High-Low, with each person taking

a turn to give high and low experiences

from the day. Over the next

few weeks, we replayed the game.

The kids' expressions of thankfulness

became more genuine

because they were now paired with

their expression of fear: "I'm mad at

the bad guys for taking my favorite

Christmas pj's, but I'm glad I have a

warm bed to sleep in tonight."

—Stephanie Monroe

Thankfulness

Journal

My wife and I asked our 7-year-old

son to keep a thankfulness journal

last Thanksgiving. Each day he

writes down one thing—large or

small—for which he is grateful.

Since he began doing this, we have

seen him express much more gratitude

to us and to his younger

siblings. It's a project he has continued

with throughout the year.

—David Cox

YURA YAREMA / STOCK.ADOBE.COM

6

FOCUS ON THE FAMILY

October / November 2020
---
Stones of

Remembrance

Over the years, we have taught our

children about how God told His

people to create memorials out of

stones to remind them of His faithfulness

(Joshua 4:1-7). These stones

of remembrance become the centerpiece

of our kitchen table. Our

kids write memories and dates on

stones to remind us to be grateful,

even for simple things.

Our children often write a

friend's name on a stone as a way

to honor friendships. Our rock

memories range from the toddler

years to the teen years. (We

move the rocks from the table to

the kids' bedrooms after a month

or so.) They have been a creative

way for our family to remember

God's faithfulness.

—Chimene Shipley Dupler

Mac 'n' Cheese

Thank-You

When my twin boys were preschoolers,

I would serve them

spoonfuls of macaroni and cheese,

saying, "Thank you, Mommy, for

the mac and cheese." I didn't

need to thank myself for lunch,

of course, but I wanted to model

manners for my sons. Children

need vocabulary to articulate

gratefulness. Choose one or

two phrases to guide your children

in gratitude. Eventually, they

will express thankfulness independently,

as my 11-year-old

twins (who still love mac and

cheese) did yesterday.

—Valerie Griffin

Opening

Your Home

Recently we opened up our home

and started inviting foster kids to

some of our family activities, such

as movie night or s'mores night.

This has provided a reprieve from

the load of loss and trauma that

foster kids often feel, and it has

lightened the load for foster parents,

too. Through playdates and

donated items (shoes, clothes and

toys), our daughter is learning to be

thankful for our many blessings.

—Kara Young

The Glad Game

In a classic children's book, Eleanor

H. Porter tells the story of a girl

named Pollyanna who finds the

good in any situation by using the

Glad game. We started using this

in our home. The rule is that no

matter what happens, you have to

find something to be glad about. If

my sons begin to grumble about

helping me clean the kitchen, I

start the Glad game. I might start

off with "I'm glad we have running

water and don't have to walk to a

river." My son might say, "I'm glad

we have a dishwasher." His twin

might add, "I'm glad I have family

to help me."

—Katie Ely

People who

intentionally

recall reasons to

be grateful are

healthier (and

sleep better).

source: Journal of Health

Psychology

A Grateful

Challenge

Each family member picks one

thing he or she is grateful for, such

as friends, good weather, a warm

house or even hand sanitizer.

During our evening devotion, each

person then shares with the group

his or her gratitude through a craft,

painting, drawing or role-playing.

This activity focuses our minds on

being grateful instead of worrying

about all the scary happenings in

the world.

—Susan Olubunmi

October / November 2020 FOCUS ON THE FAMILY 7
---
HACKS & FACTS / SIBLINGS

Taking a Break From Bickering

My two youngest children were born 18 months apart. During their preschool

years, they bickered a lot. One day in the car, to stop my children

from bickering, I said, "Robert, look out your window," and "Kristin, look

out of yours!"

To my surprise, it worked! They grew interested in what was going

past their respective windows and were given the needed break from

each other. Eventually, I would tell them it was OK to look at each other

again, and they were fine.

—Harriet E. Michael

Training Kids to Be Friends

My husband and I trained our daughters to be friends by

following these three steps:

1. ong>Focusong>ing on the positive qualities of their relationship.

If one did something thoughtful for the other, it was

announced and praised.

2. Teaching them to ask before borrowing something

and to respect each other's privacy.

3. Treating them as equals, not favoring one over the

other.

—Jennifer S. Shiakallis

Squelch the Belch

In my house, a burp elicits the response,

"What do you say?" All of the kids know

the answer: "Excuse me."

To help my kids not be rude or make

a cutting comment to their siblings, I

give them the same response: "What

do you say?"

The first time I did this, confusion

spread across my son's face.

My son insisted, "But I didn't burp."

I told him that the words we speak

to our siblings come from the overflow

of what's in our hearts (Luke 6:45).

It's hard to contain what's in our hearts.

Burps are pretty disgusting, and so

are hurtful words. My kids understood

the point and are reminded of it again

every time they have to say "Excuse

me" to each other.

—Jared Hottenstein

Respectfully Communicating

Teaching my tweens how to communicate respectfully started

with us, their parents. For example, if I asked my daughter to do

something extra for me when she was swamped with homework,

she could say, "May I add more information?" Then she could tell

me about the extra homework she had or why she couldn't do

what I asked at that moment.

I also taught my kids to use similar respectful comments when

communicating with each other. Obviously, it's unrealistic to

expect children to never argue and always communicate like polite

adults, but it's a valuable life lesson to help them use civil language

and reason together with mutual respect.

—Tannis Oliveri

STOCKSY.COM / JESSE CHAMBERLIN

8

FOCUS ON THE FAMILY

October / November 2020
---
SIBLINGS / HACKS & FACTS

Clothing Squabbles

The two tween girls in my home are the same size.

Sharing clothes has become the norm, but sometimes

they borrow each other's clothes without asking. So

I've established a few rules: Clothing received as a gift

or purchased with their own money does not have to

be shared. Hand-me-down clothing and shoes, however,

can be shared.

Should one sister want to wear something that

belongs to the other, she must present an equal

clothing exchange option to her sister. After wearing

the item once, the borrower must put the item into

her sister's hamper without being reminded. They

understand that ruining an item, even by accident,

requires replacing it.

Should either girl struggle to follow these rules,

our daughters must take a break from sharing

until they agree once again to the family clothing

guidelines.

—Kelly D. McManus

Encouragement Rocks

One day, a friend gave us a jar of rocks with a fruit

of the Spirit (Galatians 5:22-23) written on each rock.

After dinner, we passed the jar around the table. Each

person chose a rock and shared how a family member

had demonstrated the positive character quality

written on it. This exercise shows our triplets how to

encourage one another.

—Linsey Driskill

Siblings Bearing

Snacks

Sometimes it feels like I'm raising an army

of young children. Instead of constantly

running snacks and milk to them, I ask an

older sibling to bring them snacks. The

chosen food "messenger" learns how to

be the giver of good things, and the food

helps create positive feelings between

brothers and sisters.

—Rachel Meeks

Settling Arguments

Two of my boys enjoyed playing together but would

often end up fighting. When they were 5 and 8, I

started telling them to go to their beds, since they

shared a bedroom. They weren't allowed to get off of

their beds until they had worked out their argument.

This kept my boys at a safe distance and yet close

enough to talk when they were ready. Desiring a

quick end to their sequestered time motivated them

to work out their differences. The process also helped

them learn how to listen to each other.

—Lana Newton

October / November 2020 FOCUS ON THE FAMILY 9
---
HACKS & FACTS / SELF-CONTROL

Sweet Treat

Tokens

At breakfast each morning, I give

each child an index card stating that

he or she is entitled to a snack. A

child can earn an additional snack

token by demonstrating healthy

eating habits, such as eating a full

supper. I give a bonus token to a

child who hasn't whined for additional

treats. My kids can choose a

treat or two in exchange for their

tokens. (I watch the inventory to

keep everyone honest.)

I try to include myself in this

exercise so my kids have a good

example. It's difficult to cheat. My

children can hear when I open the

freezer door for a late-night icecream

snack, even when they're

in bed!

—Jeff Welch

Bag It & Tag It

Wiser Food Choices

My husband and I teach our daughter principles of good

nutrition. Sweets and unhealthy snacks are brought out

only for special occasions, but healthy food options are

easily accessible. When our daughter turned 8, we allowed

her more freedom to choose her own foods at birthday

parties or school trips. She got a few tummy aches, but

the experience has helped her make wiser food choices.

—Nicki Ladene

2 days

How long it takes a child to

actively burn off the calories

he or she consumes from

candy in late October.

source: Business Insider, 2019

My son once hid three ice-cream

sandwiches in a bag of frozen broccoli

because he didn't want to share

them. To prevent our children from

having access to large quantities of

snacks, my wife and I now divide

big packages of chips, cookies or

pretzels into small serving-sized

baggies and label them for each

child. It teaches our kids what an

appropriate serving size looks like.

Our bag-it and tag-it solution

allows us to pair healthier snack

options with treats. Instead of letting

celery wilt in the vegetable

drawer, tag-team it with some peanut

butter. That way the kids are

more likely to eat it and enjoy it.

—Jared Hottenstein

ISTOCK.COM / PEOPLEIMAGES; (PEANUTS) DULE694 / STOCK.ADOBE.COM

10

FOCUS ON THE FAMILY

October / November 2020
---
SPECIAL NEEDS / HACKS & FACTS

worshiping their own way

Helping kids with special needs engage with God

BY SARA R. WARD

MY SON'S GENETIC DISEASE contributed

to the challenges he had participating in devotions

and church. He couldn't sing or talk, and he couldn't

attend Sunday school because of the risk of infection.

But he loved his Bible picture book, and his eyes lit up

whenever he saw the cover.

When it comes to parenting children with special

needs, understanding how they engage with God

means we can encourage their faith by giving them

opportunities to worship according to their abilities

and preferences.

Adapting to their needs

Small adjustments can make a big difference in a

child's ability to connect with God. A child with hearing

loss or visual impairment may need large pictures,

a front-row seat or a sensory object to touch while

sitting with you at church. For a child who enjoys

music but is nonverbal, a Velcro hand strap with bells

or a shaker allows her to actively participate in worship

songs at home.

Creating an environment where your child thrives

is also important for helping him engage with God.

If your child likes movement during singing, provide

space for dancing or waving streamers to songs.

For some children, a quiet space fosters a better

atmosphere for connection. If a child prefers silence,

find ways to incorporate worship into a nature walk,

pointing out the beauty of God's creation and thanking

Him for every good gift.

Bringing the Bible to life

Adding sensory objects that are found in a Bible story

can help make the story a more interactive experience

for a child with special needs. When telling the

story of Jesus walking on water, for example, you can

use a phone app to play the sound of crashing waves.

That can help children imagine the story more vividly.

Because scents and tastes can provide powerful

connections in the brain, incorporating natural aromas

and foods mentioned in Scripture can help bring

stories to life. Enjoying fresh bread fits with the story

of the Last Supper. And smelling perfume during the

story of the woman who washed Jesus' feet (Luke

7:36-38) can help our children experience the Bible

in a new way.

Even when we wonder whether what we're doing

is working, we can pray for God's Word to penetrate

young hearts, knowing that He is the Author and

Perfecter of our children's faith.

Sara R. Ward is a mother to three children and the author of Made for

Hope: Discovering unexpected gifts in brokenness.

FOTF / ANNEKA JACK

October / November 2020 FOCUS ON THE FAMILY 11
---
MEDIA / PLUGGED IN

UPCOMING

REVIEWS

For reviews of these and other

titles, visit PluggedIn.com, PluggedIn.ca, ong>Focusong>

on the Family's media review and

discernment website.

SOUL

Will Pixar's

spiritual journey

take your kids on

a wrong turn?

Scheduled release:

Nov. 20

"THE MANDALORIAN,"

SEASON 2

Parents may wonder if the Force will be

a big factor in this Disney+ smash hit.

Scheduled release: October

BLACK WIDOW

How much violence can families

expect with Natasha's return to

the big screen?

Scheduled release: Nov. 6

How can I help my kids navigate

all the strange spiritual content

on TV?

There's no shortage of occultand

satanic-themed shows

these days, some of which

are particularly dark. Among them

are "Good Witch," "The Worst Witch,"

"Lucifer," "Good Omens" and "Chilling

Adventures of Sabrina." In season 3 of

that show, one of two versions of Sabrina

became the queen of hell, while another

character found herself pregnant with

Satan's baby. Yikes!

Certainly, many Christian parents

wouldn't include these types of shows

on the family-fave watchlist, but what

if your kids express interest in them?

Maybe their curiosity has been piqued

by friends who enjoy these tales of conjured

spells and supernatural powers.

Open dialogue is key to helping your

children apply biblical discernment

when they consider these shows. Help

them understand that treating the occult

as entertainment can confuse their

understanding of the real spiritual battle

that Scripture says is raging around us

(Ephesians 6:12).

Ask your kids whether these shows

ever acknowledge God as the ultimate

power, or if the heroes and heroines

obtain their supernatural abilities from

other sources. Similarly, the plots usually

involve conflict between good and evil,

but direct your kids to John 14:6 and ask,

"Do the stories ever focus on Jesus as 'the

way, and the truth, and the life'?"

As parents, we can help our children

understand that occult themes aren't

just fodder for teen-focused, supernatural

soap operas. Rather, they distort our

perspective about the unseen spiritual

reality and undermine biblical truth.

—Adam Holz, director of Plugged In

FROM TOP: LUCASFILM LTD, DISNEY / PIXAR, MARVEL

12

FOCUS ON THE FAMILY

October / November 2020
---
Couples

FOTF / ANNEKA JACK

fun, food

and finds

try this fun idea for

connecting with

your spouse

—Lori Zenker

morning date? •

WE WERE DIRT POOR when we got married. We furnished

our apartment from castoffs we found on the curb or

bought cheaply at garage sales. To this day, we still drive around

town bright and early on Saturdays, starting in the spring and

continuing through fall, hunting for treasures for our home, to

give to others or to resell. Afterward, we stop for coffee or lunch

at our local farmers market, and then go home and look through

all of our finds.

It has become a game to see who can find the best deal. A

bouncy castle for $5. A beautiful clock for $1. We have a lot of

fun meeting people and laughing over the crazy things we find.

Some items jump-start memories from our past. "See this old

couch? We had the exact one when I was a kid!" Or "Remember

how our first baby loved this toy?" Just this week, my husband

turned to me and said, "Look what I found for you!" It was a perfect

lamp for the top of my piano, only $3.

My husband recently told our kids that our best date night is

actually Saturday morning. Now that's what I call a good date!

Take the challenge

Check the newspaper or online classifieds for a list of garage

sales in your neighborhood. Consider buying a surprise gift for

your spouse as you peruse sales. Ask each other these questions

while on the date or shortly thereafter:

• What was your best find of the day? How does that compare to

what you treasure most in life?

• What was the silliest item you found today? What silly aspect of

our relationship makes you smile?

• What was the best part about starting our day off with an early

OctOber / NOvember 2020 FOCUS ON THE FAMILY 13
---
cOuPlES / GRATITUDE

poached eggs

and broccoli

Unexpected ways to be thankful

for your husband

BY HARRIET E. MICHAEL

MY HUSBAND, JOHN, likes

to make poached eggs for breakfast

and have steamed broccoli for a

midmorning snack. Both foods have

a pungent smell that wafts through

the house.

If I choose to focus on how I have

to find ways to freshen the air in the

house, I could get really annoyed.

Instead, I choose to be thankful that

I have a husband who cooks his own

breakfast and enjoys eating healthy.

And that switch in perspective helps

me feel thankful for my spouse—

and my marriage.

For me, that's the secret to having

a good marriage. It isn't about trying

to make your marriage great. It's

about being thankful for the marriage

you have.

A different perspective

The problem with trying to make a

marriage great is that the focus is

on looking at what's wrong so we

can "fix" it. We don't like a certain

habit, such as our spouse being perpetually

late, so we set our sights on

changing our spouse. But we should

work on changing ourselves so we

respond differently, even when we

find ourselves late through no fault

of our own. Once we get a handle

on how to do that, we may believe

our marriage will get better—at

least until the next annoying habit

invades our facade of contentment.

My "good marriage" approach, on

the other hand, starts by adopting a

different viewpoint when it comes

to a spouse's small, but annoying,

habits—a viewpoint that focuses on

gratitude for what we already have.

Being thankful encourages us to look

at what's good and right in the marriage.

So if you can find a reason to

be thankful, then do it.

Of course, you can't be thankful

for every fault your spouse has. Just

as your spouse won't be thankful

for some of yours. The point isn't to

avoid a root issue (infidelity, pornography,

etc.) and pretend you have

a "good" marriage because you're

not willing to confront problems.

But when faced with personality

differences, if you are actively looking

for things to be thankful for in

your marriage, you might be surprised

at how many you find.

Little gifts

Many years ago, a woman in a Bible

study I attended said something

that has stuck with me all these

CHOOSING GRATITUDE

Author Nancy Leigh DeMoss offers

suggestions for living a life based on

thankfulness.

ong>Focusong>OnTheFamily.com/Thankfulness

ong>Focusong>OnTheFamily.ca/Store

FOTF / ANNEKA JACK

14

FOCUS ON THE FAMILY

OctOber / NOvember 2020
---
PRODucTS & RESOuRcES

Your generosity helps us develop life-changing,

faith-based resources. Please consider including

a donation with your purchase.

LISTEN NOW!

Listen to our broadcast as Brad

and Marilyn Rhoads, cofounders

of Grace Marriage, offer insights

into strengthening the marriage

you have.

ong>Focusong>OnTheFamily.com/Grace

ong>Focusong>OnTheFamily.ca/Radio

years. She said her car was in the shop, so all they

had to rely on was her husband's nice car and her

teenage son's old car. She explained that her husband

loved his car, so she assumed she'd drive her

son's car to work. But her husband gave her his

car. She said, "In giving me his car and being willing

to drive the old, rusty one, my husband died to

his pride, desire for convenience and comfort so I

would have something good."

I came home from the study with a new perspective.

I began to see all the ways my husband

"dies" daily for me and has through the years—

offering me the only remaining portion of dessert,

letting me choose the Friday night movie or visiting

my parents instead of his for the holidays.

Basically, any of his efforts to put me first.

Thinking of these filled me with thankfulness.

There's just not much room in my heart for criticism

or complaint if I'm actively looking for ways I

am thankful for my spouse.

Fall is here, and my thoughts turn to

Thanksgiving, that holiday when we focus on all

we have to be grateful for. I offer one more reason

to learn to be thankful: Marriages grow stronger

and life gets sweeter when we start exercising gratitude

for our spouse. •

Harriet e. michael is a book author, a freelance article writer and

a grateful wife.

NEW

NEW

ADVENTURES IN ODYSSEY

NO. 69: BEST KEPT SECRETS

Wondering what happened to morrie

rydell's plans for the kids in Odyssey?

Sit tight—all will be revealed, and

your questions will be answered!

then, Jules' mother arrives to take

her back to california . . . for good.

What will become of Jules, her

newfound musical career and all of

her Odyssey friends?

9 LIES THAT WILL DESTROY

YOUR MARRIAGE

bY rObert PAUL AND

Dr. GreG SmALLeY

marriage experts robert Paul and Greg

Smalley identify the lies our culture

promotes about marriage and how

those lies can destroy the bonds

between a husband and wife. they

also offer truths that can strengthen

marriages and even save the most

troubled relationships. Includes tests

for self-assessment.

SWEPT INTO THE SEA

bY cHrIS brAcK AND SHeILA SeIFert

Patrick and beth travel back to the

first century. On a grain ship in the

mediterranean Sea, the cousins meet

Paul, a prisoner headed to rome for

trial. When a storm threatens to tear

their ship apart, Paul has a revelation

from God. the apostle says everyone

on the ship will be saved . . . if they stick

together. but Paul's words don't make

sense. How will God keep His promise?

Get the ong>Focusong> on the Family

Broadcast app today at

FOCUSONTHEFAMILY.CA/MOBILE

Find these and other great products at

Store.ong>Focusong>OnTheFamily.com.

OctOber / NOvember 2020 FOCUS ON THE FAMILY 15
---
cOuPlES / CONFLICT

a cure for

in-law conflict

scenarios:

"MY SON NEVER had a problem with that until . . ." Though

Ella's mother-in-law didn't finish the sentence, Ella was only too

aware that she came after the "until."

LILLY'S MOTHER-IN-LAW often dropped by unannounced.

One day she came over while Lilly was cleaning for a party

that evening. Lilly felt overwhelmed and stressed, and

afterward, she complained to her husband, who didn't

understand the problem.

Learn how to defuse family friction

during the holiday season

BY GINGER KOLBABA

Parent-in-Law Problems

When you said "I do," you gained a

whole new set of relatives. Conflict may

arise between you and your in-laws as

extended families adjust to new normals.

Here are some tips:

Communicate. Your parents-in-law

can't read your mind. So with kindness,

explain how you feel when they imply

that you're the problem. Often they'll

understand. If they don't, it's time to find

a solution with your spouse.

Stand united. It's important that a couple

sets their own family boundaries,

such as, "Before dropping by, please

phone or text." When it's necessary to

communicate a boundary to in-laws,

usually it's better if a spouse presents it

to his or her own parents.

Allow different opinions. Your in-laws

may freely share their opinions, but

unsolicited comments can create conflict.

It can help to think of your in-laws'

opinions as just being different from

yours—not right or wrong. Remember,

you don't have to agree with their opinions

or change to accommodate them.

JOY AND STEVE WERE GRATEFUL that Joy's parents loved

spending time with their three children. But Steve dreaded the

continual parenting tips that Joy's dad gave him. "It feels like he

thinks I'm doing everything wrong," Steve complained.

If an in-law appears to be mentally mentally

unstable or coercive or coercive in his in or his her or

her relationships, consider consider talking talking to a

unstable

counselor. to a counselor. ong>Focusong> ong>Focusong> on the on Family the Family offers

a Canada one-time, offers complimentary a one-time, complimentartation

from consultation a Christian from perspective. a Christian

consul-

To perspective. reach a licensed To reach or our pastoral team counselor,

registered call 855-771-HELP counselors, call (4357) 1-800-

of

weekdays 661-9800 between weekdays 6 between a.m. and 8 a.m. p.m.

and Mountain 4 p.m. time. Pacific time.

FOTF / BRIAN MELLEMA

16

FOCUS ON THE FAMILY

OctOber / NOvember 2020
---
scenarios:

CONFLICT / cOuPlES

Kid-in-Law Discord

When our children grow up and marry,

we hope they'll choose someone they

love—and someone we like. Even

when they do, this means change for

all involved. So when conflicts arise,

remember that this is a time of transition.

Be patient as you adjust to the new

normal of family relationships. Here are

some tips:

Keep it positive. It's OK to address frustrations

with a kid-in-law, but state your

concerns without name-calling, guilt

playing or character bashing. Don't escalate

the conflict by making demands or

giving ultimatums.

If you've spoken your piece and

nothing changes, it's time to hold your

tongue. Pray about the situation. Then

continue to give your kid-in-law grace

and show respect where you can.

Respect decisions. Although you may be

disappointed with where your childrenin-law

want to spend their time, you need

to respect their choices. Your children's

allegiance now falls to their spouses—not

you. Though you might hope they'll take

into consideration your desire to spend

time with them, you have to remember

that you and your spouse made your own

way when you were married. So respect

your kids' decisions, even if their choices

disappoint you.

SHERILYN'S HEART SANK as she spoke to her son. "You've

missed almost every holiday with us since you've been married.

Surely Rosa can miss one Thanksgiving with her family."

"Yeah, Mom, but it's really important to her."

It's really important to us, too, Sherilyn thought. She had

reached out to Rosa to express how much she enjoyed her presence

and wanted to share a holiday with her, but Rosa didn't

seem interested.

MATTHEW AND HIS WIFE, Emmy, didn't like the way their

son-in-law barely looked up from his phone whenever they

were together. When they mentioned it, the conversation

didn't go well.

ANN WAS A WIDOW and enjoyed visiting with her daughter,

but her son-in-law constantly dominated the conversation,

talking about whatever currently outraged him. Sometimes,

Ann just wanted to catch up on what was going on in their lives.

HOW YOU RESPOND may set a precedent

for how your future interactions will look. So "if possible,

so far as it depends on you, live peaceably with all"

(Romans 12:18). This is especially true as it relates to

in-laws. It's always best to remember that your in-laws

play a significant role in your spouse's or child's life.

Approaching a conflict with metaphorical guns

blazing isn't going to win any battles. That means

you may need to refrain from speaking at times. And

when you do need to speak, before you say anything,

ask yourself, Will my words honor who this person is?

Being kind in your interactions will help you get along

as you develop your new normal together. •

Ginger Kolbaba is a speaker and bestselling author.

OctOber / NOvember 2020 FOCUS ON THE FAMILY 17
---
cOuPlES / REBUILDING TRUST

18

FOCUS ON THE FAMILY

OctOber / NOvember 2020
---
REBUILDING TRUST / cOuPlES

restoring trust in light of your

spouse's pornography addiction

BY JOANN CONDIE AND GEREMY F. KEETON

ISTOCK.COM / SHAPECHARGE

KAYLEE* RAN HER ARM

ACROSS HER HUSBAND'S

SIDE OF THE BED and wasn't

surprised to find it empty at 3:15

a.m. For many years her husband,

Jackson, struggled with insomnia,

and he often read or played internet

games until he was sleepy enough

to come back to bed. Whenever she

stirred awake to check on him, he

usually urged her to go back to bed

so at least one of them could get a

full night's sleep.

On this particular night, Kaylee

got up to search for her husband.

She didn't find Jackson reading

in his chair in the family room.

Instead, she saw a sliver of light

under his office door—the light of

his computer.

Without knocking, she quietly

entered the room. Jackson's back

was to the door. Kaylee had a full

view of his computer. The sexual

images she saw on his computer

screen shocked and sickened her.

"Jackson!" she gasped.

Instantly he hit the close button,

whirled around and shouted, "Why

are you sneaking up on me?"

Kaylee whispered, "I only wanted

to see if you were OK."

She closed the door—angry,

stunned and emotionally dazed. >>>

OctOber / NOvember 2020 FOCUS ON THE FAMILY 19
---
cOuPlES / REBUILDING TRUST

The road to healing

Healing a marriage after the damage

of a pornography addiction

is no simple matter. By design, a

healthy marriage requires faithful

commitment from both parties.

The same goes for healing a broken

marriage—both spouses must

take specific steps to restore their

relationship.

If you've discovered your spouse is

looking at pornography or has been

sexually impure in other ways, you

may feel as if the floor has dropped

out from beneath your feet. On

the surface, you may be functioning

pretty well—intact marriage,

healthy children, steady job and

busy family life. Perhaps no one

would suspect that your household

has been devastated by the impact

of such actions. But the truth is that

your stability has been shaken, and

you are scrambling to hold everything

together.

WE'RE HERE TO HELP

Seeing your

spouse's heart

A second couple, Randy and Marcia,

sought counseling for Randy's battle

with pornography addiction.

"I told her I was sorry, and I

meant it." Randy gave Marcia a

sheepish look, and then turned to

the therapist. "It's been months

since I looked at pornography.

We've attended these sessions for

weeks now. How much longer is

this going to take?"

"It will take as long as it needs to

take," said the therapist. "But the

more you pressure Marcia to trust

you, the more difficult it will be for

her. You have to see things from her

perspective. Your long-term behavior

cut her to the core. You've got

to patiently and humbly follow a

recovery plan that shows heart-level

transformation and new, sincere

relational skills, not merely a brief

behavior change."

We can guide you as you take your first steps toward recovery. ong>Focusong> on the Family

offers canada a one-time, offers a one-time, complimentary complimentary consultation consultation from a christian from a christian perspective. perspective. to

to reach reach a licensed our team or of pastoral registered counselor, counselors, call 855-771-HeLP call 1-800-661-9800 (4357) weekdays between

68 a.m. and 84 p.m. mountain Pacific time, time or or email email us us at help@fotf.ca.

at help@ong>Focusong>OntheFamily.com.

The therapist gestured toward

Marcia. "If she is to have a fighting

chance to heal, you will have

to establish accountability and

get the support of a trusted men's

group along with our couples'

counseling. It's not safe for her to

completely move on until she experiences

a long-term trajectory of

your behavior change."

Marcia folded her arms and nodded.

The therapist's gaze shifted in

her direction.

"As for you, Marcia," she said, "as

far as I can tell, Randy is beginning

the path of repentance and healing.

At some point you, too, have a

choice. Your job is to hold goodwill

in the journey and rightly evaluate

his 'trust deposits.' You need to

fairly recognize what is occurring

in your husband's life and acknowledge

it, if in fact he is making true

and sincere investments."

Rebuilding

trust takes time

Trust is fluid, like a river. It flows

based on how consistently it's fed.

It takes daily input to keep trust at

a healthy level. When a spouse discloses

a pornography issue, trust

ISTOCK.COM / JACOBLUND

20

FOCUS ON THE FAMILY

OctOber / NOvember 2020
---
REBUILDING TRUST / cOuPlES

dries up. To fill it again, the individual

must show trustworthiness

dries through up. observable To fill it again, actions. the individual

The good must news show is trustworthiness

that just as a

through water source observable can transform actions. a dry

creek The into good a news flowing is that stream, just restoring

trust source through can transform heart-invested a dry

as a

water

actions creek into will a eventually flowing stream, help build restoring

thriving trust through relationship. heart-invested Over time,

a

actions you and will your eventually mate will help experience build

a moments thriving of relationship. relief and refreshment.

Over time,

you But it and takes your more mate than will just experience a few

moments weeks for that of relief trust and to be refreshment.

replenished.

it takes Most more often, than it takes just a a number few

But

of weeks years for of that steady trust growth to be for replenished.

to Most reach often, the point it takes where a number a full

a marriage

and of years unwavering of steady trust growth is in for place.

marriage

to this reach happens, the point it's the where result a full of

When

and consistent unwavering accountability trust is in and place. sharing

heart this to happens, heart through it's the many result of

When

consistent transparent accountability conversations. and sharing

heart to heart through many

It transparent takes two conversations.

Both of these couples had to learn

It that takes neither two spouse could expect

Both the other of these spouse couples to do had all the to learn work

to that heal neither their spouse marriage. could They expect were

going the other to have spouse to work to do in all tandem the work for

their to heal relationship their marriage. to be They restored. were

going In these to have stories, work the in husband's tandem for

their responsibility relationship was to be initiate restored. actions

of In trust, these to stories, live in a the trustworthy husband's

way and to assure his wife that his

behavior really had changed. This

included a variety of actions that

ensured fidelity and proved longterm

responsibility commitment was to initiate recovery. actions

of For trust, instance, to live in many a trustworthy recovery

groups way and assist to assure individuals his wife in that developing

behavior a list really of boundaries had changed. and This overt

his

safety included plans a variety to help of them actions battle that

ensured temptation. fidelity They and agree proved to abide longterm

these commitment specific points to and recovery. check in

by

with For their instance, counselor many and recovery supportive

members assist individuals their circle. in If devel-

they

groups

oping slip up a or list experience of boundaries intense and temptation,

safety plans they discuss to help it them with battle their

overt

temptation. recovery partners They agree and decide to abide how by

these to better specific respond points the and future. check This in

journey with their to counselor restoring trust and supportive

happen members overnight. in their circle. If they

does not

slip up or experience intense temptation,

they trust discuss it with their

Build

through recovery partners action and decide how

With to better your respond input, your in the husband future. can This

journey learn which to restoring actions are trust most does meaningful

happen to overnight.

you and help build your

not

trust. These might include your husband

making trust a quick phone call

Build

through or sending a action selfie that proves his

With whereabouts. your input, It may your be husband holding can

to learn computer which actions or phone are restrictions

most meaningful

a time. to you Other and steps help build might your be

for

downgrading trust. These might technology, include deleting your

LISTEN NOW!

Hear LISTEN the recovery NOW! story of a

husband couple Hear making who the recovery faced a quick the story challenge phone of a

call couple of or pornography sending who faced a selfie and the that invested challenge proves in

recovering together.

his whereabouts. of pornography It and may invested be holding

ong>Focusong>OnTheFamily.com/

recovering together.

to computer or phone restrictions

ong>Focusong>OnTheFamily.ca/Radio

FreedomFromPornography

for a time. Other steps might be

downgrading technology, deleting

problematic social media accounts,

cutting off or minimizing risky relationships

or even changing jobs.

Typically, the struggler needs help

and support in learning these steps

and courageously taking them.

We typically recommend that

wives insist on these nonnegotiable

trust-building actions for recovery

to begin: Your husband offers full

transparency with his digital devices

and social media; he seeks male

support and accountability and he

seeks professional counseling.

For you as the wife, your responsibility

is to be willing to receive

and accept your husband's

trust-building efforts. Do so without

gullibility or turning a blind

eye. But acknowledge if he is making

true and sincere investments in

OctOber / NOvember 2020 FOCUS ON THE FAMILY 21
---
NEW FROM

FOCUS

I feel betrayed!

Now what?

In Aftershock, an experienced

counselor and a therapist

share hope—and a practical

recovery plan—based on

biblical principles and leading

clinical wisdom. Find strength

as you confront infidelity and

deal with betrayal.

You can heal.

You can recover.

After the shock, what's next?

This guide from experienced

counsellors will help women

who have discovered their

husband's struggle with

pornography take positive,

biblically informed steps that

help them find healing for

themself, their husband and

their marriage.

ong>Focusong>OnTheFamily.com/aftershock

Order online at

© 2020 ong>Focusong> on the Family

Shop.ong>Focusong>OnTheFamily.ca

or call 1.800.661.9800

TM

your marriage. Even if his record is

imperfect, you can be assured that

your relationship is important to

him if he is sincere and consistent

in following through with his recovery

plan as soon as struggles arise.

Moving toward

reconciliation

If you are not open to forgiveness

or reconciliation, your spouse's

work in earning your trust will not

be meaningful to you. Likewise,

if you don't take care of yourself

physically, emotionally and spiritually,

you will be unable to recognize

or receive even your mate's best

efforts of reconciliation. You will

not have the energy to see the

changes in behavior. At that point,

both of you will be more likely to

give up on your marriage.

Of course, you've been through

a lot. You will need time to process

your pain and loss before you can

expect to reconcile. But when you

are ready to move toward recovery,

your steps should include nourishing

your spiritual life, working

with a professional counselor, taking

care of your physical needs and

seeking the help of a specialized

support group.

You're facing a difficult but potentially

rewarding road ahead. With

patience, the process of rebuilding

trust is doable. As a couple matures

through recovery, they often witness

each other's hard work and dedication

to repair the relationship, and in

turn experience hope. Restoration of

a marriage is truly possible—perhaps

even building a relationship better

than it was before! •

*Names have been changed to protect

identities.

Joann condie is a retired counseling

professional and served as a licensed

professional counselor at ong>Focusong> on the

Family. Geremy F. Keeton is a marriage and

family therapist at ong>Focusong> on the Family. this

article is adapted from their book, Aftershock:

Overcoming his secret life with pornography,

a plan for recovery, a ong>Focusong> on the Family

resource published by tyndale House

Publishers. copyright © 2020 ong>Focusong> on the

Family. All rights reserved.

FREEDOM NO PORN FROM

MARRIAGE PORNOGRAPHY PODCAST

Whether In this six-part you have video struggled series, Nick with

pornography Stumbo and his or have wife, been Michelle, hurt

share by your honestly spouse's about addiction, his cycle this of

slip-up, series hosted confession by Dr. and Greg promise, and

Erin and Smalley explain what will help eventually you start led a

journey Nick to toward find freedom healing from and his find

freedom pornography in God's addiction. grace.

ong>Focusong>OnTheFamily.com/NPM

ong>Focusong>OnTheFamily.ca/

FreedomFromPornography

ISTOCK.COM / GPOINTSTUDIO
---
DIFFERENCES / cOuPlES

facing the giants

in your marriage

When relationship problems

seem insurmountable, have

the courage to defeat them

together

BY DR. GREG SMALLEY

FOTF / BRIAN MELLEMA

FOTF / BRIAN MELLEMA

LEAH AND BRANDON

LEAH AND BRANDON

couldn't have been more different.

couldn't She was a have wild been extrovert. more different. He, a

solid She was introvert. a wild extrovert. They seemed He, a

solid pretty introvert. unlikely pair, They and seemed you'd a be

pretty forgiven unlikely if you thought pair, and they you'd had be

nothing forgiven in if you common. thought they had

nothing They might've in common. assumed so, too—

until They they might've talked assumed to each other. so, too— That

first until conversation they talked to proved each other. how alike That

they first conversation were in many proved other respects, how alike

and they it were didn't in take many long other for respects, the pair

and to become it didn't inseparable take long for and the eventually

to become marry. inseparable and eventu-

pair

ally But marry. it was a matter of time before

their But differences it was a matter caused of time some before problems.

differences In year three caused of their some marriage, prob-

their

they lems. started In year fighting three of and their seldom marriage,

saw they eye started to eye. fighting "All our and differences,"

seldom

Leah saw eye said, to "felt eye. "All like our major differences," issues for

Leah us—highlighting said, "felt like the major flaws issues we saw for in

each us—highlighting other. We weren't the flaws meeting we saw each in

other each other. halfway We on weren't anything, meeting and each I

often other felt halfway like I on picked anything, the wrong and I person.

. felt . . Still, like I I knew picked God the was wrong telling per-

often

me son. to . . hang . Still, in I knew there." God was telling

me to hang in there."

For more about tackling giants

Fight in your marriage, for your see marriage

Greg's full

When article relationship ong>Focusong>OnTheFamily.com/

problems feel

MarriageGiants.

Fight for your marriage

When insurmountable, relationship it problems can require feel the

courage insurmountable, of David. it No can one require believed the in

courage the young of shepherd. David. No And one yet believed David in

the stood young before shepherd. Goliath, And armed yet with David only

a stood simple before sling Goliath, and five armed smooth with stones. only

a simple Giants sling can appear and five in smooth all shapes stones.

and Giants sizes: can from appear infidelity all to shapes in-laws;

and from sizes: pornography from infidelity to pride. to in-laws; Fighting

from for your pornography marriage is to hard. pride. You Fighting and

your for your spouse marriage might is need hard. to You overcome and

your years spouse of unhealthy might relationship need to overcome patterns.

of Well-intended unhealthy relationship people might pat-

years

terns. be giving Well-intended you or your people spouse might bad

advice. be giving Facing you or these your giants spouse requires bad

advice. courage—radical Facing these courage. giants requires

courage—radical Why? Marriage courage. requires vulnerability.

Why? To Marriage work through requires challenges, vulnerability.

you have To to work give through your spouse challenges, access

you to the have most to vulnerable give your spouse part of access you—

your to the heart. most That vulnerable leaves part you open of you— to

your hurt. heart. But it also That opens leaves you to open healing to

and hurt. reconciliation.

But it also opens you to healing

and reconciliation.

Don't lose heart

Don't lose heart

It took Leah and Brandon years to

create It took a Leah marriage and Brandon they both years love. to

They create went a marriage to counseling. they both They love. were

They deeply went committed to counseling. to each They other were and

deeply dependent committed on God. to It each wasn't other one and shot

dependent on God. It wasn't one shot

but a constant peppering of love and

effort. but a constant And in the peppering end, the of giant love fell. and

effort. "But Greg," And in you the end, say, "how the giant long fell. do I

keep "But fighting Greg," you for my say, marriage?"

"how long do I

keep I'm fighting not suggesting for my marriage?"

that you stay in

an I'm abusive not suggesting marriage, that but for you all stay others,

an abusive ask God marriage, how long but He for wants all oth-

you

in

ers, to keep ask God fighting. how long He wants you

to Leah keep says, fighting. "Marriage is work, but

the Leah work says, is worth "Marriage it. . . . is The work, best but

things the work are is worth fighting it. . . . The for." best

things Dr. Greg are Smalley worth is the fighting vice president for." of

marriage and Family Formation at ong>Focusong>

•

Dr. Greg Smalley is the vice president of

on marriage the Family. and Family He is the Formation co-author at ong>Focusong> of

Reconnected: the Family. He Moving is the from co-author roommates of to

soulmates Reconnected: in your Moving marriage from and roommates Fight Your to Way

soulmates to a Better in Marriage. your marriage and Fight Your Way

to For a Better more Marriage. about tackling giants in

your For more marriage, about see tackling Greg's giants full article in your

marriage, see Greg's full article

FIGHT YOUR WAY TO

FIGHT A BETTER YOUR MARRIAGE WAY TO

A BETTER MARRIAGE

Conflict is inevitable in marriage.

This Conflict free, is seven-part inevitable video in marriage. series

This can free, help seven-part you turn conflict video series into

something can help you that turn can conflict strengthen into

your something bond. ong>Focusong>OnTheFamily.ca/

that can strengthen

your bond. FightYourWay

Visit ong>Focusong>OnTheFamily.

com/BetterMarriage.

OctOber / NOvember 2020 FOCUS ON THE FAMILY 23
---
cOuPlES / SUPPORTING A DREAM

abused

kids and

wounded

horses

How one couple

worked together

to fulfill a dream

of caring for both

BY BENJAMIN HAWKINS

PHOTOS BY REBECCA CAIN

KIM TSCHIRRET'S DREAM

to help hurting children grew from

her own childhood pain and her love

for a horse. Her father was an alcoholic,

and he would often abuse his

wife and children emotionally and

verbally. But Kim found one safe

place, one outlet for processing her

confusion and hurt. She loved to

spend time riding and grooming her

American Saddlebred horse, Country.

"There was a bond and a connection

that we had," she says. "The

barn was my haven. It was the place

where I didn't get yelled at, where my

life wasn't turned upside down."

As God would have it, Kim's love

for Country prompted her, in 2010,

to begin Hope Reins, an equine

therapy ranch that aims to help

children who have suffered abuse

and other forms of trauma and

pain. During the past decade, the

ranch has offered 30,000 individual

therapy sessions, at no cost, to

hurting children.

'I believe in you'

Years before, Kim moved to Chicago

to start a business career. There

she met and married her husband,

Mike. As their family began to grow,

24

FOCUS ON THE FAMILY

OctOber / NOvember 2020
---
SUPPORTING A DREAM / cOuPlES

mike and Kim tschirret

Kim put her career aside to care for

their two children.

In 2007, her church hosted a ladies'

retreat, where one of the teachers

asked a question that would transform

Kim's life: "What is something

that you used to love to do that you

don't do anymore?"

Kim's mind went immediately

to her childhood horse. Soon after

the retreat, she enrolled in riding

lessons. Mike supported her

new passion and noticed how it

refreshed her. But Kim felt there was

something more that God wanted

to do with her love for horses.

While looking for books on "Jesus

and horses," she found Hope Rising by

Kim Meeder. The book told the stories

of abused horses and hurting

children who helped one another find

healing. During the week that followed,

she read the book twice. One

night as she read, Mike found Kim in

tears. Kim says, "I knew right then that

was what the Lord wanted me to do."

Eventually, Kim was able to share

with Mike her vision to help hurting

children be comforted by God's love

and compassion, a dream motivated

by 2 Corinthians 1:3-4. But even

as she described her dream, she

began to wonder whether she could

achieve it. After all, they didn't have

money to start the ministry, or pay

the childcare costs for their two kids.

"Mike," she asked, "is this crazy?"

"Slow down and take a breath," he

replied. "We obviously have a lot to

figure out, but let's try to take it one

step at a time for now, OK? You want

this. You can do this. So we will figure

it out. I believe in you."

'My encourager'

During the ministry's early years,

Mike did everything he could to

help Kim flourish in her calling.

And though he has never discovered

a personal connection with horses,

he has always enjoyed visiting the

ranch. He especially loved watching

Kim groom Selah. A reddish-brown

horse with a long white patch on her

muzzle, Selah had survived the cruelty

of her former owner. Selah was

also a Saddlebred, just like Kim's

childhood horse, Country.

"Mike was my No. 1 encourager,"

Kim says. "He also helped me a lot

with the kids—picking them up

from school, helping with dinner. .

. . In those formative years of Hope

Reins, I couldn't have done it without

his support."

From the beginning, Hope Reins

resided on a 20-acre plot, leased

from a local church for only $1 per

month. But they had only pastureland,

an outdoor arena, a portable

toilet and a 12-by-12-foot shed with

one lightbulb to serve as a welcome

center. Moreover, the waiting list of

children wanting to come to Hope

Reins exceeded the ranch's capacity.

So in 2015, as the demand for ministry

increased and the lease on their

land was coming to a close, Kim felt

they needed to relocate.

A new home

for Hope Reins

When the couple first stepped onto a

33-acre ranch outside Raleigh, North

Carolina, Kim and Mike wondered

why they had even bothered to visit.

Granted, the property was beautiful,

complete with a 4,000-square-foot

log cabin and two ponds. But it was

priced at $4 million, and at that time,

Hope Reins had only a $300,000

annual budget.

Then as the price of the ranch

came down, Hope Reins bid $1 million

for the property, requesting a

six-month due diligence period for

raising funds. To their surprise, the

offer was accepted. Then, only two

hours later, the U.S. Department of

Agriculture offered Hope Reins a $1

million, 40-year loan for purchasing

the ranch. The loan is being paid off

through the support of the ministry's

generous donors. >>>

OctOber / NOvember 2020 FOCUS ON THE FAMILY 25
---
cOuPlES / SUPPORTING A DREAM

twinkle and Avolina

LISTEN NOW!

Listen to a ong>Focusong> on the Family

broadcast where Kim Meeder

shares how hurting kids have

started to heal after being paired

with abused horses.

ong>Focusong>OnTheFamily.com/Horses

ong>Focusong>OnTheFamily.ca/Radio

A horse named Twinkle

Having watched God bring comfort

to children through the horses at

Hope Reins for more than a decade,

Mike and Kim stand in awe.

"We have seen kids' lives completely

transformed," Kim says.

"Kids themselves have said, 'I

wouldn't be alive if it weren't for

Hope Reins.' It's very humbling . . .

to know what God is doing."

For example, Kim recalls the connection

between Twinkle, a brown

micro miniature horse with a sandy

mane and white spots, and Avolina,

a young girl with curly black hair.

Both horse and girl had lived

through horrors. By age 4, Avolina

had faced starvation and physical

abuse, and she watched helplessly as

a family member beat and drowned

her little brother in a bathtub. After

being rescued and adopted by a

police officer, Avolina came to Hope

Reins. There she met Twinkle, who'd

been rescued out of a junkyard from

starvation and ill treatment.

When Avolina saw Twinkle for the

first time, the tiny horse still couldn't

walk. Sympathizing with Twinkle's

pain, Avolina sought to comfort her.

As a result, Avolina slowly found

healing for her own hurts.

Alongside days of sunshine and

blessing, Kim and Mike have seen

days of sadness and rain. On April 13,

2020, Twinkle passed away. But this

tiny horse left a legacy of courage for

the children who have known her.

"Even living in her pain, she had

a purpose," Kim says. "She showed

people what it looks like, even

though you're hurting, to continue

walking in hope." •

benjamin Hawkins is a freelance writer and

associate editor of The Pathway, the news

journal of the missouri baptist convention.

26

FOCUS ON THE FAMILY

OctOber / NOvember 2020
---
Faith & Inspiration

enough light

for each step

Spiritual insights from ong>Focusong>

on the Family leadership

BY KEN WINDEBANK

"Therefore do not be anxious

about tomorrow, for tomorrow

will be anxious for itself. Sufficient

for the day is its own trouble."

—Matthew 6:34

Ken Windebank and a new friend in the Holy Land

COURTESY OF KEN WINDEBANK

WHAT CAUSES YOU TO

FEEL WEARY? Perhaps it's the

overall struggles of this past year. A

personal economic pinch as the

nation struggles to recover from

COVID-19. A lost job. A lost business.

Lost relationships. Grief.

After 26 years of working at ong>Focusong>

on the Family, I've heard repeatedly

that we serve at the pleasure of the

Lord—that the resources He gives

us are what we need in order to

accomplish the work He has for us

in that season. This truth has always

resonated with me. Yet at times, the

shortfall between our budget and

our donations causes weariness to

creep into my heart.

But God got my attention through

one of Ray Vander Laan's devotions.

Ray began by sharing how the Bible

compares life to a walk.

God desires that we walk on the

path of righteousness. After reading

Psalm 119:105, "Your word is a lamp

to my feet and a light to my path,"

Ray held up a first-century lamp.

He explained that this lamp would

have given a person walking at night

enough light for little more than the

next step. He noted the psalmist

wasn't asking God to light his path

for many miles down the road; he

trusted God to give him just enough

light for the next step.

These words were the reminder I

needed. In all areas of our lives, no

matter where you are or the struggles

you're facing, run to God for His

provision for today, and don't worry

about next week or next month.

There will always be ups and

downs along the way (everyone and

every ministry face this). But no matter

what we experience today, our

job is to plan and prepare as best we

can, remain faithful in carrying out

our calling each day and trust that

God will reveal the light we need—

one step at a time. •

Ken Windebank is the chief operating officer

at ong>Focusong> on the Family. He and his wife, tina,

have been married for 32 years. they have five

grown children and two daughters-in-law.

LIVING IN THE

MASTER'S LIVING IN PLAN THE

MASTER'S PLAN

Your family will love these 30

Your family family devotions will love from these Ray 30

family Vander devotions Laan featuring from Ray original Vander

Laan art from featuring the bestselling original art That from

the the World bestselling May Know That the film World series.

Visit May ong>Focusong>OnTheFamily.com/

Know film series. Visit

ong>Focusong>OnTheFamily.ca/Store.

MastersPlan.

OctOber / NOvember 2020 FOCUS ON THE FAMILY 27
---
FaITH & INSPIRaTION / BIBLE LITERACY

Bringing the Bible to Life

This groundbreaking

video series visits the

lands of the Bible to

reveal more about

God's Word

BY SCOTT JOHNSON

ISTOCK.COM / CHARDAY PENN

28

FOCUS ON THE FAMILY

OctOber / NOvember 2020
---
BIBLE LITERACY / FaITH & INSPIRaTION

ray vander Laan teaching on an excursion

overlooking the Parthenon in Greece

THE ANCIENT LAND of Israel

is a testimony. An evidence . . . of the

greatness of what God did in that

country. A testimony to the truth of

the words that we find in the pages of

the Bible.

Those were the introductory

words of a groundbreaking video

series that debuted in the summer

of 1995—and continues today. It's

a series that takes viewers to the

locations and settings we read

about in Scripture, offering contextual

insights into how the people of

Bible times experienced and understood

what we may have read—and

perhaps skipped over—hundreds

of times.

This long-running video series,

hosted by a gifted communicator

and teacher named Ray Vander Laan,

is called That the World May Know.

More than we recognize

When Ray was obtaining his

Master of Divinity degree in the

mid-1970s, he had the opportunity

to study in Israel.

"When I got to the Middle East

and looked at the Bible the way

Hebrew people do," he says, "it

struck me there were insights, additional

nuances and meanings that

are not easily seen from a Western

FOTF STAFF

1995 1996 1996 1997

OctOber / NOvember 2020 FOCUS ON THE FAMILY 29
---
FaITH & INSPIRaTION / BIBLE LITERACY

Filming a tour in Athens, Greece, for

volume No. 15, A Clash of Kingdoms

Filming a tour near the Sea of Galilee,

for volume No. 14, The Mission of Jesus

The Bible Comes Alive

"What I have enjoyed most about

the That the World May Know

series is the connectedness

and explanation of the historical

time period and what was

going on with the spread of

Christianity. When you understand

the culture of the day, the

Bible becomes so much clearer."

—Vaughan

FOTF STAFF

1999 2005 2006 2009

30

FOCUS ON THE FAMILY

OctOber / NOvember 2020
---
BIBLE LITERACY / FaITH & INSPIRaTION

point of view. It isn't that we have

it wrong or can't understand it. It's

that there's even more than we

might recognize."

As Ray embarked on a 45-yearsand-counting

career as a Bible

teacher, he continued to bolster

and inform his Christian faith

through graduate and doctoral

studies at some of the largest Jewish

universities in the world, along with

extensive research into rabbinical

tradition. He also began leading

excursions to the Middle East.

In 1993, Ray led a tour that

included ong>Focusong> on the Family supporters

and the ministry's founder,

Dr. James Dobson. The impact of

that experience led to a revolutionary

idea: ong>Focusong> would send a film

crew on one of Ray's tours to document

his teaching.

When that first video was

released in 1995, viewer response

was unprecedented. Twenty-five

years later, 16 volumes of the series

have been released, and several

associated resources are currently

in development. Over the years

"RVL" (as he's affectionately nicknamed)

has since guided more than

10,000 people on excursions to the

lands of the Bible. Millions more

have viewed video tours via That

the World May Know.

Throw your stone

"The title for the series comes from a

phrase I noticed in David's confrontation

with Goliath," Ray says. "David

said [paraphrasing 1 Samuel 17:46]:

'I'm going to throw this stone that the

world may know there is a God in

Israel.' And I thought that idea captures

the essence of the biblical story.

"David, a teenager at the time, simply

did what he had become good

at doing as a shepherd—throwing

rocks. So I challenge my students:

'Throw your stone. God has gifted

you in something. You throw the

stone that He has entrusted to you.

You don't do it so the world may

know about you. You do it that the

world may know what God is like.'

And I think that's a great way of

thinking about our role—to live that

the world may know. God saves people

and tells us to become His living

picture of what it looks like when He

is in charge of our lives."

A recurring theme throughout

That the World May Know is the

Jewish concept of shalom—God's

peace, completeness and order amid

chaos. "The way you shape a culture,"

Ray says, "is by living out the

message of shalom in your marriage,

in your family, in your business, in

your recreation. And as others see it,

they're drawn to God."

Placed for influence

As Westerners, many of us don't

really have a good grasp on the geography

of the Bible.

"Geographically speaking," Ray

says, "if you recognize that Israel

was the land bridge that linked

world empires, then you understand

the concept that God put

His people at a specific spot on

the stage of history. It was the one

place where they would be in constant

contact with the world around

them." Ray suggests this was God's

way of conveying an important

message to His people: "I'm putting

you where everyone will know you

and see you, because I want you to

live out your godliness before the

rest of the world."

"Peter says it this way [paraphrasing

1 Peter 2:12]: 'Live such good lives

before your pagan neighbors, that

though they may accuse you of doing

wrong, they will see your good deeds

and give glory to our Father in heaven.'

That only happens if your neighbors

can actually see how you live."

Another theme throughout the

Bible—and the series—is the desert.

That theme became very personal

for Ray during a health crisis in 2005.

"I felt like I was in a desert," he says.

"Then I realized that God's people

were born in the desert. >>>

2009 2010 2010 2011

OctOber / NOvember 2020 FOCUS ON THE FAMILY 31
---
FaITH & INSPIRaTION / BIBLE LITERACY

ray sharing insights on an

excursion to capernaum

A Date With God

"My husband and I own all of the

That the World May Know DVD sets.

We have watched them countless

times. God has used these videos to

help us weather job loss, health crises,

relationship/emotional struggles

and spiritual droughts. Each episode

has taught us and buoyed us in such a

deep way."

—Cheri

Abraham and Moses were desert

men. David and Jesus spent time in

the desert. And it dawned on me that

in the desert, I can't make it myself.

There's no water. There's no bread.

There's no shade. And so I turn to the

only possible solution: God. That's

what the desert does. It drives people

into the arms of God."

Changing times, a timeless

message

The first volume of That the World

May Know was released a quarter

century ago on VHS videocassette—the

dominant format of the

day—and the Leader's Kit included

pictures printed on transparencies

(for use with an overhead projector!)

to enhance group discussion.

Obviously, a lot has changed

since then. Today, all 16 volumes of

That the World May Know are available

on DVD, and the series' website,

ThatTheWorldMayKnow.com,

offers each episode through streaming

and digital download—along

with an extended library of audio

clips, supplemental articles and

encyclopedia entries providing

additional lesson support. Three

of the more recent video volumes

have been translated into Spanish

and are now available digitally at

ParaQueElMundoSepa.com.

Join the story

Ray Vander Laan's forte is providing

contextual background to familiar

biblical passages. He often offers a

metaphor: "If you look into a room

through a certain window often

enough, you get to know that room

pretty well. But if there's a second

window, and you look into the same

room from another angle—nothing

has changed in the room, but you

might notice something different.

The Bible, Ray says, is not simply

the source of our doctrinal truth.

It's a story set in a Jewish context

from history. "The more you know

about the time and place, the more

vivid the story becomes. The better

you understand the story in its setting,

the more it invites you in to say,

'Become part of this.' Don't just know

the story—join it." •

Scott Johnson is a senior writer in the ministry

values division at ong>Focusong> on the Family.

FOTF STAFF

2015 2016 2017 2018

32

FOCUS ON THE FAMILY

OctOber / NOvember 2020
---
THAT THE WORLD MAY KNOW / FaITH & INSPIRaTION

Experiencing the

Lands of the Bible

my journey in the Judean Desert

has taught me to read Scripture

in a new way

BY JEAN DALY

JEN LINTS / ISTOCK.COM / PATTADIS WALARPUT

I CAN ATTEST FROM

PERSONAL EXPERIENCE:

It is hot in the Judean Desert!

Jim and I first met Ray Vander

Laan back in the mid-1990s when

ong>Focusong> on the Family began producing

That the World May Know.

As new videos in the series were

released, each became a favorite

in the Daly household. Jim and

I would use these lessons for devotional

times with our sons, Trent and

Troy. Even as middle schoolers, our

sons watched the video sessions and

grasped many of the concepts.

For years, Ray kept inviting us

to experience one of his excursions

firsthand. He would mention

it every time Jim interviewed him

for the ong>Focusong> on the Family broadcast.

But there was always some type

of schedule conflict. Finally, in 2016,

Jim and I were able to go to Israel

with one of Ray's groups. The trip

was truly life impacting. And it was

challenging—the 14 days included

110 miles of hiking!

There is nothing quite like hearing

Ray teach on the murmuring

Israelites who were wandering in

the desert, when you've been hiking

for hours in that same hot desert

and murmuring a bit to yourself. You

don't just hear the message—you

feel it.

It is extraordinary and moving

to look down into what may

well have been the apostle Peter's

house, where Jesus healed many;

to stand in the actual valley where

David picked up rocks from the

dry riverbed to face Goliath; or to

be immersed in the River Jordan

where John baptized Jesus. It's so

humbling to stand in a garden that

may be Gethsemane, listening to

Ray teach about the night of Jesus'

betrayal—hearing again how He

prayed alone while Peter, James and

John were supposed to keep watch

but slept. You stand there and can

almost see the scene being described.

You feel these moments. It brings the

Bible to life.

You sit—tired, hot and thirsty—

under a small broom tree that

provides just a bit of relief from the

heat of the desert. Ray teaches on

Psalm 121:5, which says, "The Lord

OctOber / NOvember 2020 FOCUS ON THE FAMILY 33
---
Transform Your

Understanding

of Scripture

With Ray Vander Laan

Journey to biblical locations

with the DVD series

That the World May Know.

Join renowned teacher

Cultures in Conflict (#16)

and takes historian you Athens Ray Vander

Laan Corinth as he to guides

consider how

Paul presented the gospel in

Greco-Roman you through the cultures lands

that

of valued the Bible. wealth, In each

status

and pleasure-seeking

lesson, above Vander all else. Laan

Great

illuminates lessons for the sharing historical,

Christ

in today's world!

geographical, and cultural

context of the sacred

Scriptures. You and your

small group will see God's

Word with fresh eyes!

is your shade on your right hand."

The metaphor of the desert and the

shade comes to life as Ray compares

them to the hard and painful

aspects of life and God's provision.

The shade from the broom tree is

minimal; it's not the vast shade of an

oak tree, but it provides just enough

relief for us to continue our journey.

On another day, as you're crossing

the desert as the Israelites did—tired,

hot and thirsty once again—you

stop at a very small tuft of greenery

that looks like a tiny patch of

weeds growing through the sand.

Ray astounds you with the insight

that this is the "green pastures" that

David writes about in Psalm 23. As

Westerners, we imagine the green

pastures as lush, beautiful and pastoral

. . . but Ray says that this isn't

what David was experiencing. The

green pastures of Psalm 23 are small

tufts of grass between scattered

rocks. Under the shepherd's guidance,

the sheep move from tuft to

tuft, finding just enough to sustain

them through their journey each

day. Seeing this illustrates that God

doesn't generally give us more than

what we need, or even what we

think we need. He wants us to trust

that He will give us just enough in

each moment.

Of course, I realize that many people

simply can't go on a tour with

Ray Vander Laan. It's physically

demanding; it's costly. And I don't

know what travel restrictions might

be in place when you read this.

The next best thing is watching

the That the World May Know series

right at home. Ray's rich knowledge

of Jewish customs and teachings, as

well as his understanding of the original

Hebrew and Greek languages,

illuminates passages of Scripture

in fresh ways. Every teaching in the

series shows us something new about

God and clarifies the Scriptures in

ways that we would not fully understand

without the background to

bring up a line Ray provides.

I am so excited about Ray's

in-depth teaching that I want to

share it with everyone. I pray That

the World May Know impacts your

family as it has mine. •

Jean Daly co-authored The Best Year of Your

Marriage with her husband, Jim.

Jim and Jean Daly on their trip

to Israel with ray vander Laan

©2020 ong>Focusong> on the Family

ThatTheWorldMayKnow.com

ꢀꢁꢂꢃꢁ ꢀꢄꢅꢆꢄꢃ ꢇꢈ

ꢀꢁꢂꢃ.ꢄꢂꢅꢆꢀꢂꢇꢈꢁꢉꢄꢊꢋꢌꢍꢎ.ꢅꢊ

ꢀꢁ ꢉꢇꢅꢅ 1.800.661.9800

COURTESY OF JIM AND JEAN DALY
---
Kids & Teens

Jill, mike, Sebastian, riley and robert

Supporting foster or adoptive

families is easier than you think

BY JILL KELLER

PHOTOS BY SARA HUGGARD

OctOber / NOvember 2020 FOCUS ON THE FAMILY 35
---
THE EMAIL FROM OUR SOCIAL WORKER came on a chilly

November afternoon. Three young siblings were in need of a home: two

boys, ages 3 and 2, and a 10-month-old girl. The state of Wisconsin was looking

for a foster family who was open to adoption. Would Mike and I consider

taking them in?

At the time, we were certified foster parents and had been on the waiting

list for birth moms making adoption plans. But there hadn't been a match

yet. I remember mentioning to our social worker that we would consider a set

of younger siblings already in foster care. "Maybe twins, or even three kids, if

there was a special situation."

She remembered my comment.

Mike and I read the message several times, praying about it before sending

off a quick note. A few days later, three little ones were sleeping under our roof.

Headfirst, we dove into the world of foster care.

As I look back at what helped us through this time, I realize that simple gestures

from a community of friends, family and neighbors breathed life into

our weary souls as we embarked on becoming parents of foster children. If

you know someone who has recently fostered children or adopted children

from foster care, here are a few ways you can reach out.

36

FOCUS ON THE FAMILY

OctOber / NOvember 2020
---
FOSTER-CARE ADOPTION KIDS & TEENS

Just ask us

This step may seem too easy, but it's often overlooked.

Every family is different, and what may

be helpful for one family might not be needed for

another. So ask foster families how you can be a

blessing during their time of transition.

We had one weekend to prepare our house for

three toddlers. They arrived with a medium-sized

duffel bag of clothing—and that's it. I cried when

I unpacked it. Most of the clothing was the wrong

size, and certainly not appropriate for a Wisconsin

winter. Both boys kept stumbling because their

shoes were way too big.

But before long, generous friends gave us bags

of hand-me-down clothes and toys. These things

truly ministered to my heart and blessed our family.

A neighbor who had adopted and fostered

children dropped by to ask if she could pick up

something special for the kids from town. Our

energetic 3-year-old's eyes lit up. "Fidget spinner?"

he suggested.

I might have said a picture book or a pack of

sidewalk chalk, but that simple little toy brought

so much joy to our little guy's heart. I was so glad

someone just asked.

Help us feel . . . normal?

We were the third set of caregivers for these kids,

and there were clear markers of childhood trauma.

We didn't really get a honeymoon period—more

like honeymoon moments of giggles and hugs. But

there was also lots of kicking and screaming from

our kids just . . . adjusting to life within a stable

and structured family.

Needless to say, scheduling family pictures

wasn't really on our to-do list. Most days that list

was "survive until bedtime." One of our neighbors

has a photography business. She offered to give us

a free formal photo session on the day we adopted

our children. We now have some fantastic photos

of our family, thanks to this wonderful gift.

One of my favorite bring-me-to-tears memories

is when a friend spent several days with me. One

night, she asked how she could help me. "What

would you be doing right now if I wasn't here?" she

wanted to know.

I answered, "Mopping the floor." So she mopped

my kitchen and dining room floor. She served me

in a way I will never forget.

It's that little bit of extra care that gives me

energy to press on in the tough moments. Simple

OctOber / NOvember 2020 FOCUS ON THE FAMILY 37
---
gestures such as texting a compliment, a word of

encouragement, an uplifting Scripture. Praying for

us. Shipping a gift to our home. Coffee, chocolate

or Cool Ranch Doritos. These things refresh my

soul and give me a jolt of strength for the day.

Be there for backup

I'm so grateful for my children's Sunday school

and friends and family who sit with the kids so I

can join the worship team. I need that space, the

time to worship and remember that I, too, am a

child of God.

When my parents or my in-laws come over, they

read books with the kids, sing, feed them, help get

shoes and mittens on, zip coats and give lots of hugs.

Our friends play with the kids, take them on nature

walks while I try to catch up on laundry or cleaning,

or any of a thousand other things on my list.

The month after the kids arrived, the flu bug hit

our house. Thankfully, they avoided it, but it was

crazy trying to keep them quiet so Mike could rest.

Then I got sick, and we had to call for backup.

Mike's sister agreed to take the boys. They had

much more fun there, which included three cousins

to play with. Mike and I just kept our baby girl,

who was still napping twice a day—a schedule

Mike and I shared until we felt better.

Respect our limitations

I'm by nature a peacemaker, maybe even a bit of

a perfectionist. I want to make people happy by

showing up and doing a great job. But I have limitations.

And saying yes to all the activities and

opportunities available to me often means saying

a definite no to my family, and to caring for myself

and my marriage. Sometimes the best gift you

can give to your favorite foster or adoptive parent

is time to recharge. And when I return—from

the basement, from the grocery store, from a walk,

from just sitting in the car by myself—I appreciate

visitors. Just ask. Conversely, I am grateful to all

those who respect my "no thanks" and my "not

this time," yet are still kind and supportive.

Lend a listening ear

After becoming a foster mom, I soon realized that

I was experiencing not only a huge life change,

but also secondary trauma, as I empathized with

the children in my home. My heart broke as I read

through sterile court documents and learned

more about their life experiences.

I truly appreciated people who could answer

questions instead of trying to offer their opinions

about the foster care system or parenting or use

our story as ammunition for their cause. I wish I
---
FOSTER-CARE ADOPTION / KIDS & TEENS

Learn For more more about resources helping about foster foster and adoptive adoption:

families ong>Focusong>OnTheFamily.com/Foster-Care.

In canada: WaitingToBelong.ca.

Grandparents, cousins, our siblings, friends, pastor

and pastors wife, our Lutheran Social Services social

worker on the Keller's adoption day.

had prioritized this need earlier on, while we were

new to the fostering world. Going to a therapist or

regularly meeting with friends who have a gift for

listening and prayer would have really helped me.

Today, post adoption, I serve at church alongside

a mighty woman who has already raised eight

children. She still pours her life out for six foster

children in her home. I love our "counseling" sessions

in the church nursery.

Be an encouragement

Words have such power to create life in our children,

and in us. Even as we walk through difficult

circumstances, we need others to help us fix our

eyes, and our words, on the goal: children who

grow into healthy adults.

It's natural, I think, for people to notice and

focus on the negative. It takes real effort to focus

on the positive. When people commend Mike and

me for specific ways they see us growing in godly

parenting, I feel empowered to carry on.

Busy parents are always grateful for those who

take the time to build them up. Adoptive parents

are no different. I've long thought that there is a

sort of reward waiting for adoptive families, when

patience and endurance and waiting on the Lord

bring us to a point where everything seems normal.

Or perhaps that reward is when we realize what

has been true all along—that we are a real family. •

Jill Keller is a freelance writer who lives in Wisconsin with her

husband and three children.

LISTEN NOW!

Cecil Stokes, a successful TV producer and

director, discusses the joys and challenges of

adopting from foster care.

ong>Focusong>OnTheFamily.com/FosterAdoption

ong>Focusong>OnTheFamily.ca/Radio

OctOber / NOvember 2020 FOCUS ON THE FAMILY 39
---
ENGaGING cHIlDREN

IN THE POlITIcal

PROcESS

Help your kids understand how

voting influences their future

BY JEFF JOHNSTON

ANDREW BECKWITH, the

president of the Massachusetts

Family Institute, recognizes that

many Christians would rather not

engage in politics. They simply

want to go about their lives with as

little government interference as

possible. But, he says emphatically,

"We do not have that luxury."

Do your tax dollars pay for

abortions? Is recreational marijuana

easily available to children

and teens in your city? Is a boy

crushing school records on your

daughter's track team? The political

process impacts so many areas

of our lives that we all need to care

about it, including our children.

Andrew explains, "We need

to make sure our children

understand where laws and policies

are coming from and how they

can dramatically affect their daily

lives." He and his organization

work to protect life, freedom, marriage

and parental rights. Because

of his advocacy position, Andrew

is acutely aware of how cultural

and political issues affect families

and children.

FOTF / ANNEKA JACK

40

FOCUS ON THE FAMILY

OctOber / NOvember 2020
---
VOTING / KIDS & TEENS

Talk with your kids

To help his own children understand

Talk cultural with and political your kids issues, Andrew

To engages help his in ongoing own children conversations understand

cultural with them. and "I political do the same issues, thing Andrew my

engages grandfather, in ongoing who was conversations

very politically

astute, with them. did with "I do me: the I same talk to thing them my

about grandfather, politics," who he was says. very "I think politically

astute, parents did should with have me: I conversations

talk to them

about with their politics," kids on he political says. "I think topics, all

parents because should they're have definitely conversations hearing

about with their them kids from on contrary political sources topics,

outside because they're home." definitely hearing

about Andrew them also from includes contrary his sources children

outside in political the activities home." and events.

Andrew also includes his children

Understand in political activities what's and events:

"We've important participated in programs like

TeenPact, Domestic a policy youth expert citizenship Meridian and

Baldacci leadership feels program, that parents and we've need gone to

to share political their political rallies at values the Statehouse. with their

We've children. also Meridian's prayed outside parents an cared abortion

clinic. about On politics—and the night of their 2016

deeply

election, passion rubbed I let my off eldest on her. two She stay says, up

"My until parents very late, always filling made in maps politics I had

printed as they kept track of the

Electoral College results."

Understand what's

important

Kids'

magazines

from ong>Focusong>

Domestic policy expert Meridian

Baldacci feels that parents need

to share their political values with

their children. Meridian's parents

cared deeply about politics—and

their passion rubbed off on her. She

says, "My parents always made politics

exciting. Election night was like

the Super Bowl. We could stay up all

night if we wanted to, and we always

had plenty of snacks. As we got older,

we would track specific races, too."

Ages

3-7

Always

fun,

exciting. Election night was like the

Super Bowl. We could stay up all

night Like if Andrew, we wanted Meridian's to, and we parents always

talked had plenty about of the snacks. issues As at we home. got older, She

says, we would "My parents track specific helped races, me grow too."

an Like interest Andrew, in politics Meridian's and policy parents simply

by having about the open issues conversations.

home. She

talked

Politics says, "My wasn't parents a topic helped just me for grow adults

or an a interest private opinion. politics It and was policy somethinply

by worth having discussing!"

open conversations.

sim-

Politics Now Meridian wasn't a topic wants just to for help adults others.

or a One private of the opinion. ways she's It was doing something

is worth through discussing!" her work as the pol-

that

icy and communications strategist

for Making Family Policy a difference

Alliance. This nonprofit

many organization in her generation, works in states

Like

across Meridian the wants country to make to promote a positive laws

difference and policies in that the lives protect of others life, support by

offering marriage them and truth families, and and compassion. safeguard

23-year-old freedoms. says, "There are a lot

The

of hurting people in this world. Girls

Making who unexpectedly a difference find themselves

Like pregnant. many Parents in her generation,

who feel like they

can't Meridian stop wants the wrong to make things a positive the school

difference is teaching in their kids. lives People of others young by

offering them truth and compassion.

The 23-year-old says, "There are a lot

of hurting people in this world. Girls

who unexpectedly find themselves

always

pregnant. Parents who feel like they

can't stop the wrong things the school

is teaching their kids. People young

and old who wonder if they were

born in the wrong body. That's serious

stuff, and it requires a serious and

compassionate answer."

Although Christians can address

these situations through nonpolitical

means, there are political components

to each. The more that parents

and kids talk about relevant issues,

the better equipped they'll be to

faith-affirming,

7.75 in x 3.5 in

Ages

8-12

and old who wonder if they were

born in the wrong body. That's serious

understand stuff, which it requires bills and serious laws and

compassionate will hurt or help answer." the people they

want Although to serve. Christians can address

these One situations thing that through inspires nonpolitical

Andrew

means, is young there people are who political want to components

difference. to each. He The says, more "I have that been parents

make

a

and greatly kids encouraged talk about by relevant speaking issues,

the to groups better of equipped young people they'll here be to in

Massachusetts understand which who bills are passionate

will about hurt or our help state the government, people they and

and laws

I want see great to serve. hope in these potential

future One political thing that leaders." inspires Andrew

is young The upcoming people who November want to elections make

are difference. an excellent He opportunity says, "I have for been us

greatly to influence encouraged the future by speaking by voting. But

they're to groups also of a young means people for engaging here our

children Massachusetts in the political who are passionate

they about learn our how state politics government, is connected and

process. As

I to see their great world, hope we in have these an potential opportunity

future to political pass along leaders." our values to the

next generation.

•

Jeff Johnston is an issues • analyst for

Jeff ong>Focusong> Johnston on the Family. is an issues analyst for

ong>Focusong> on the Family.

The Daily Citizen's "Election

2020" page has links to

voter registration resources,

as well as articles about

ballot initiatives, reasons to

vote and ideas for engaging

your children in the election

process.

ong>Focusong>OnTheFamily.com/

Election2020

Teen

girls

always

a great gift!

Order or renew online at Shop.ong>Focusong>OnTheFamily.ca/Magazines or call

1.800.661.9800

OctOber / NOvember 2020 FOCUS ON THE FAMILY 41
---
KIDS & TEENS / GRACE AND FORGIVENESS

WHeN

kids

change

minds

tHeIr

FOTF / ANNEKA JACK

trusting God when children decide

to live with the other parent

BY TEZ BROOKS

WHEN CHRISTINE AND I GOT MARRIED,

she already loved my teen daughter, Sarah. Although

Sarah lived with my ex-wife, she and Christine spent

plenty of time with each other.

But just a few weeks after Christine and I returned

from our honeymoon, we were faced with a challenge.

Sarah dropped out of school, and my ex-wife asked

if Christine and I could offer a more structured home

where Sarah could start fresh. My wife and I agreed to

take her in.

Sarah was a gem, putting up with new rules and

expectations. She agreed to everything, even though I

wasn't easy on her, and she lost much of the freedom

she had been used to. Christine poured herself into

helping Sarah thrive as a home-schooled teen. She even

took a monthlong work sabbatical to jump-start our

daughter's academic excellence. In the year that Sarah

lived with us, we saw her grow.

During this time, we thought Sarah was happy. But

it was all a facade. It turned out we had a very troubled

teen to deal with. When she had the option of going

back to live with her mom four states away, Sarah was

able to push an eject button on her relationship with us.

And she did, though we weren't sure why. Nothing had

happened to warrant an abrupt exit. Without a goodbye,

she was gone, back to her old life with my ex-wife.

42

FOCUS ON THE FAMILY

OctOber / NOvember 2020
---
Supporting each other

For months, various stages of grief

enveloped Christine and me. We

sought help from the Lord and each

other in dealing with disappointment

in ourselves and Sarah.

Christine struggled with denial,

saying, "Surely she wouldn't abandon

us. Perhaps she's just wanting

to spend more time with her

mother before returning." Knowing

Sarah's flighty history and lack of

commitment and loyalty to relationships,

I helped talk Christine

through these patterns that had

become so predictable.

Even as I helped her, Christine

was an understanding ear for me

to vent my frustration to, yet she

consistently exhibited unwavering

grace and love toward my daughter.

It moved me toward forgiveness.

Forgiving Sarah for the ungratefulness

we felt from her despite all we'd

done to help. We'd upended our lives

to make her feel welcome, and she

left without any explanation.

Discouragement can distort our

perspective. Sometimes kids just

need time to grow up. Maybe we

do, too. Many times, in the midst

of my bitterness, Christine suggested

we stop and pray. The Holy

Spirit convicted me to speak words

of affirmation about my daughter,

replacing complaints with gratefulness

for the time we had with Sarah.

Trusting God

The situation was no longer in our

control. All we could do was trust

God's sovereignty, and in time,

He showed us the bigger picture.

ong>Focusong>ing on what went right and the

good that God accomplished during

Sarah's stay nurtured acceptance in

us so we could move on.

We chose not to second-guess our

decisions, but instead we relaxed,

knowing that her abrupt departure

hadn't surprised God. We trusted Him.

The experience eventually helped us

form better boundaries and expectations

for our other children.

A few years later, Sarah reached

adulthood and apologized for leaving

so abruptly, thanking Christine and

me for all we had done to help her.

She acknowledged the love and sacrifice

and recalled happy moments

with us, including some of her favorite

memories of being with Christine.

Sarah and I agree that although it was

difficult, we nevertheless treasure the

time we had together.

Today, Sarah is a woman in her

mid-30s, and our relationship is

wonderfully sweet. It's a joy to make

new memories together and see her

interact with her teenage half sisters.

Our faith and reliance on each

other kept Christine and me going.

The journey felt long, and there was

no guarantee that time invested in

Sarah would have a return for us.

But as we continued to trust God,

we saw His hand guiding our family.

Through this experience, we learned

that God is bigger than all of the

messes life throws at us, and knowing

this has brought us comfort. •

tez brooks is the author of

The Single Dad Detour.

Help your

kids learn to

consider others

You've been teaching your

kids to safeguard the health of

others through their personal

choices and actions. Our latest

lesson, on Consideration, helps

kids learn how to safeguard

others' feelings too.

Check it out for Bible stories and

activities that encourage kids to

• think about how their

words and actions

impact others

• stop teasing and

provoking others

• adopt an others-centred

outlook.

Download the

Consideration lesson

for FREE at

KidsOfIntegrity.com
---
letting go of

Holiday

Expectations

Sometimes the best way to celebrate

thanksgiving isn't the traditional way

BY JILL SAVAGE

SEVERAL YEARS AGO,

my husband and I didn't spend

Thanksgiving with a single one of

our five adult children. Did it feel

odd? Yes. Was it best for everyone?

We think so.

Our oldest daughter and her husband

alternate holidays with his

family and our family. That year

Thanksgiving was with his family. Our

oldest son was living in California,

and coming home for Thanksgiving

wasn't in his budget. Our middle

daughter, her husband and our

granddaughter were already expected

at two different Thanksgiving gatherings

on his side of the family. Our

second youngest spent the holiday

with friends. And our youngest and

his then-fiancée would have been

happy to join us, but we gave them

the freedom to enjoy the day fully

with her family.

I love the holidays, but I don't love

them more than I love my family.

I love traditions, but I don't love them

more than the people I share those

traditions with. That Thanksgiving

I realized that the most loving thing

I could do was give our kids the

freedom to make their plans and

be grateful for whatever new ways

we could connect. I've found this

required me to let go of two things:

traditions and opinions. Doing so has

increased connection, expanded my

ability to love and grown my gratitude.

Relieving tradition

pressures

Traditions and customs are a valuable

part of family life. But I never want to

ruin their significance because they

don't happen exactly when or how

they "always have before." To make

sure we still celebrate what's behind

the tradition, our family tries to do a

holiday audit in which we reevaluate

what works for everybody and how

we can get the best enjoyment and

connection with one another.

When a dear friend did a holiday

audit, she discovered that half

of the traditions she stressed over

weren't important to her family. So

she simplified her holiday schedule

and menu.

My family and I enjoy celebrating

Thanksgiving together, but when

I did an audit, I realized there was

nothing special about the fourth

Thursday in November, other than

it being considered a national holiday.

I realized we can celebrate

Thanksgiving whenever it works for

our family.

One year, our son Evan came

home from Australia for my mom's

80th birthday. We gathered all our

kids and their families the Thursday

night before her birthday to have

our family's Thanksgiving celebration

. . . in September! Because I let

go of expecting the tradition to look

the same every year, I had such a

ISTOCK.COM / FORTYFORKS

44

FOCUS ON THE FAMILY

OctOber / NOvember 2020
---
grateful heart for the time we were

able to spend together, and I enjoyed

it just as much!

No opinions necessary

Letting go of traditions has been

important, but letting go of opinions

during our get-togethers has been a

game changer for me. Let's face it, our

adult kids have their own styles, their

own likes and dislikes, and their own

beliefs and ideas. As they launch into

their own lives, it becomes easy to

want to play the "I didn't raise you this

way" card. I've learned that "keep it

shut" is my best approach these days.

• Don't like my son's beard?

Keep it shut.

• Don't care for my daughter's hair

color? Keep it shut.

• Don't agree with my child's parenting

style? As long as my grandkids aren't

in danger, keep it shut.

• Don't like the job he has?

Keep it shut.

• Don't like how she's handling her

money? Keep it shut.

So what do we do instead of saying

something? We pray! God is far more

powerful than you or me. He has the

ability to change our kids from the

inside out. Of course, His timing is not

our timing, and His ways are not our

ways. We have to trust that He loves us

and our kids more than we can imagine.

That's why we pray, not say.

If I want to say something, I

affirm my kids, which grows my

grateful heart and moves my eyes

from who they aren't to who they

are. I might say:

"You're a man of integrity. I love

how you handled that situation with

your daughter."

"You showed wisdom and tact.

That problem with your co-worker

was tricky."

"You are an incredible artist. I'm

amazed at the beautiful things

you create."

"You are so thoughtful. Thank you

for paying attention to the details of

my life and giving me such a meaningful

gift."

Want to give your adult kids a

beautiful gift in the upcoming holiday

season? Let go of traditions and

opinions. You will enjoy your time

together even more, and everyone

involved will be grateful for the gift

you've given them. •

Jill Savage is a speaker and author. Her recent

book is Empty Nest, Full Life.

LISTEN NOW!

LISTEN NOW!

Listen as Michele Howe helps

Listen as Michele Howe helps

parents transition into the emptynest

years and maintain good

parents transition into the emptynest

years and maintain good

relationships with their adult kids.

relationships with their adult kids.

ong>Focusong>OnTheFamily.com/

ong>Focusong>OnTheFamily.ca/Radio

EmptyNest

OctOber / NOvember 2020 FOCUS ON THE FAMILY 45
---
KIDS & TEENS / MY THRIVING FAMILY

chores

chores

chores

chores

chores

chores

chores

Jordan, 5

Jordan is always a little helper and wanted

to help change the tires, too.

—Caroline from British Columbia

Tess, 2

tess loves to pick apples from our tree

and feed them to our horses.

—Marianne from Ontario

Alex, 3

my son putting away clean silverware. It's

just one of several chores he does to help.

—Lauren from Colorado

Your kids could be in ong>Focusong> on the Family magazine!

email photos* of your child's visit to a pumpkin patch or activities he or

she did during the shelter-at-home restrictions. (Put "pumpkin patch" or

"shelter at home" in the subject line.) Send to ong>Focusong>magazine@family.org.

info@fotf.ca.

* Largest photo possible—professional photos not accepted

46

FOCUS ON THE FAMILY

OctOber / NOvember 2020
---
New and thrilling for kids

from odyssey

Vol. 26 in the series

Patrick and Beth find themselves

on a grain ship caught in a

powerful Mediterranean storm.

A prisoner named Paul assures

them they will all be saved,

but how can he be so sure?

Hardcover Ages 7+

Album 69 – Long-held secrets come

to light when the mastermind behind

recent mysterious events in Odyssey

is finally revealed! Jules' mom arrives

too, intent on taking Jules back to

California. 2 CDs Ages 8+

Vol. 5 in the series

As Regis Blackgaard continues

his pursuit of unbridled power,

Whit and Connie are caught

up in a dangerous mystery and

must make difficult choices

to save Whit's End. Hardcover

Ages 10+

See the full Odyssey collection and

more ideas for Christmas gifts at

Shop.ong>Focusong>OnTheFamily.ca
---
ong>Focusong> on the Family

8605 Explorer Dr.

Colorado Springs, CO 80920

ELECTRONIC SERVICE REQUESTED

Non Profit Org.

U.S. Postage

PAID

ong>Focusong> on

the Family

FOTF1020

a VIBRaNT MaRRIaGE.

RESIlIENT KIDS,

GROuNDED WITH

a lOVE FOR JESuS

YOU CAN DO IT. WE CAN HELP.

For more than 40 years, our

award-winning broadcast has been

heard across the nation and around

the world, helping families thrive.

LISTEN. WATCH. SUBSCRIBE.

We're with you!

ISTOCK.COM / SKYNESHER

FAVORITE BROADCASTS

"Loving the Story of Your Marriage"

with brad and marilyn rhoads

"Transforming Your Relationship

with Your In-Laws"

with Deb DeArmond and Jenny coffey

"Trusting God With Your Adult Child"

with Jodie berndt

"Authentic Christianity:

Counting the Cost"

with ray vander Laan

POPULAR BROADCAST

"Discovering God's Freedom

From Pornography"

with Nick and michelle Stumbo

"Bringing Hope and Healing

Through Rescued Horses"

with Kim meeder

"DISCOVERING THE TRUTH

ABOUT MY IDENTITY"

Jackie Hill Perry shares her story of her former

struggles with homosexuality and how

"Combating the Lies that

Can Destroy Your Marriage"

"Boone and Me: A Foster

Adoption Story"

she's come to know and experience God's

with Dr. Greg Smalley and bob Paul

with cecil Stokes

love and grace.

ong>Focusong>OnTheFamily.com/Identity

Find faith-inspiring Christmas ong>Focusong>OnTheFamily.com/Listen

gifts for everyone on your list at

SHOP.FOCUSONTHEFAMILY.CA