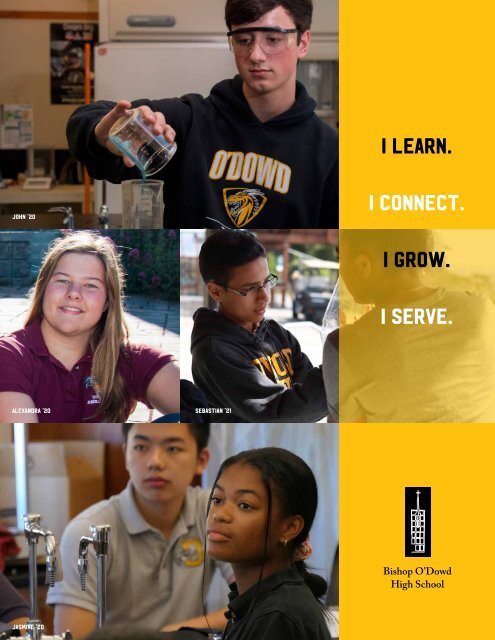 Create successful ePaper yourself
Turn your PDF publications into a flip-book with our unique Google optimized e-Paper software.
I Learn.

I connect.

I Grow.

I serve.

Bishop O'Dowd

High School
---
Dear Prospective Families

Thank you for your interest in O'Dowd in this most unusual year! As a Catholic,

college preparatory community, O'Dowd lives by the words of Pope Francis,

"We can only build the future by everyone standing together...everything is

connected, and we need to restore our connections to a healthy state." Our

charism, the statement of our spiritual personality, challenges us to create a

culture characterized by a deep sense of belonging with the Divine, with our

environment, with ourselves, and with one another. At O'Dowd we are enlivened

by and take delight in educating students to create a more just, joyful, sustainable

world.

With a richly diverse community of 1,220 students, we are just the right

size for students to find new friendships and enjoy extraordinary academic

and co-curricular programs that challenge and support their growth. When

students leave O'Dowd, they are prepared for college and beyond - equipped

intellectually, emotionally, and ethically to positively impact a rapidly changing

world.

At O'Dowd you will find joy through:

• Broad and deep academic programs that strengthen your intellect,

character, resilience, and spiritual wisdom.

• Authentically diverse community that broadens your perspectives, socialemotional

intelligence, creativity, and self-confidence for a rapidly changing

world.

• Unmatched focus on sustainability and social justice that nurtures kinship

with creation and a rich understanding of the interconnectedness of all life.

• Robust selection of excellent co-curricular programs including athletics,

campus ministry, debate, and performing and visual arts that cultivate

friendship, teamwork, creativity, and courage.

• Exceptional student support and counseling that provide you with

guidance and encourage independence and self-confidence for college and

beyond.

• A loving, joyful, inclusive community that finds God in all persons and

things.

In the Bay Area, there are many choices of excellent schools. Each year at

O'Dowd - even in this year of unprecedented change and challenge in the

world - we find deep joy in the many ways our spirited students, teachers, and staff

dive into our shared journey with full hearts, developing lives of success, purpose,

and contribution to the common good.

We encourage you to connect with members of our community to learn more

about specific programs, and we look forward to getting to know you and

discovering together if O'Dowd is the right fit for your family.

James Childs, M.A, M.Ed.

President

Christopher Smart, Ed.D.

Principal
---
Selecting the right high school for you is

a very important decision. The next four

years are essential for your self-discovery

and academic growth. The community

you choose to join and how you decide to

embrace this time will form the foundation

of the person you will become in and

beyond college.

With 1,220 students and a supportive,

talented, diverse community, O'Dowd

is a place where students develop

lifelong friendships and enjoy an array of

extraordinary programs that are essential to

self-discovery, spiritual growth, and future

lives of success, faith, and purpose.

Finding God In all things

calls us to

• Community in Diversity

• Strength of Character

• Academic Excellence

• KINSHIP with Creation

• Social Justice

• Joy

Guided by our charism, O'Dowd equips

students to create positive change within

themselves and their communities, helping

to build a more just, joyful, and sustainable

world.
---
support your

transformative

experience

Deep and broad curriculum emphasizes

academic excellence, critical thinking, and

personal and spiritual growth. Exceptional

experiences in arts, athletics, and service to

1community round out the experience.
---
Academic excellence

with just the right

degree of challenge

All students are expected to grow

and excel at O'Dowd. If it's academic

challenge you are seeking, with more

than 30 honors and AP classes and

a large cohort of advanced students,

you'll find your edge.

Authentic diversity

Our diverse school community

fosters the social and academic

intelligence and self-confidence you

need to thrive.

3

4

critically, communicate well,

and expand your worldview

With deep immersion in English writing and literature, World

Languages, and a culturally resonant Social Studies program, our

graduates often say they are "over-prepared" for college. You'll

develop your worldview and learn to communicate effectively.

Put your skills to the test by going out for the acclaimed O'Dowd

Debate or Mock Trial Team.
---
5Big fish, just the

right-sized pond

With big school programs and choice,

you'll find plenty to explore while still

being seen. The average class size is

26 and with abundant opportunities

to join a club, participate in a sport,

perform in a play, and much more,

you'll find your place at O'Dowd.

6

We value sustainability

Anchored by the Center for Environmental

Studies (CES) and the adjacent four-acre

Living Lab, the sustainability program

is integrated throughout the curriculum,

culture, and community.

7

How you learn

We use a range of teaching styles,

tools, and formats for a dynamic

learning experience including

state-of-the-art technology,

project-based learning, seminars,

lectures, and options for online

courses.
---
8

You lead the way

With our student-centered approach, leadership opportunities abound through

student body and class officer positions, athletic leadership on teams, and

National Honor Society and Campus Ministry roles. Apply to be a Dragon

Ambassador or Senior Philanthropy Officer, or help lead a retreat.
---
9From freshman teams

to varsity sports

With more than 50 teams at the

freshman, JV and varsity level in 16

sports, over 700 student-athletes

participate each year. In fact, close to

70% of freshmen take a turn on the field,

court, track or in the pool. And each year

a number of O'Dowd seniors go on to

play college sports, with more than 20

student-athletes receiving scholarships.

10

Develop a fluent

STEM practice

Whether through Math classes that

challenge you to be a confident,

independent problem solver or Science

classes where you can think and work

in a lab environment, our programs

help you explore, discover, integrate,

and apply STEM principles to solve

real-world problems.
---
11

You

are supported

Counseling, Student Health & Wellness and

Parent Education programs help you and

your family manage the demands of a college

preparatory environment. College counseling

and career exploration help you choose wisely for

your future.

12

Mighty Student-Athlete

Dragons

O'Dowd has been consistently ranked in the

top five of nearly 200 North Coast Section

independent and public schools for academic

and athletic excellence. In 2016, O'Dowd

achieved the #1 ranking and was awarded the

Elmer Brown Award.

Baseball

Basketball

Cheerleading

Cross Country

Football

Golf

Lacrosse

Rugby

Soccer

Softball

Swimming

Tennis

Track & Field

Volleyball

Water Polo
---
Explore and deepen your arts focus

Hundreds of O'Dowd students take different levels of painting, drawing, sculpting,

and computer art. Upper division AP art students produce an optional portfolio of

their work. Award-winning musicals, an orchestra, jazz bands, and a community art

13show provide showcase opportunities for your work.
---
Retreats take place for each class and

are invitations to personal reflection

and transformation. The junior year

Kairos experience is a rite of passage

and defining experience remembered

by many O'Dowd alumni.

14

15

Where can I get food?

We've got you covered. The Dragon's Bar,

Dragon's Lair and the main cafe serve a wide

array of choices, with fresh, seasonal, organic,

and locally sourced ingredients.

Classic high

school traditions

O'Dowd experiences include: Spirit

Week, homecoming, Friday night football,

proms, elections, talent shows, school-wide

assemblies, and prayer opportunities. These

events complement the most sought after

elements of Catholic education with the

best of high school traditions.

16
---
17

Dress code? Yes!

Figuring out what to wear in the

morning is easy at O'Dowd! Our

dress code includes logo polos and

outerwear with guidelines for other

attire.

18

Joy & Diversity

in Community

This is what you'll feel at

O'Dowd. These elements of our

charism are a way of being that

we share and cultivate.
---
Learning outside the classroom

Participate in one of our seminal, small-group educational travel study trips with a focus on science,

the Holocaust, and civic engagement, or engage in entrepreneurial events and much more.

19
---
20

In service of social justice

The Catholic tenet of "action in service of social justice" means you'll commit 100 hours

or more of service with vital organizations that bring you in touch with humanity. Many

graduates say their service projects were among their defining experiences at O'Dowd.
---
Academic support

Inclusive and professional,

student support services include

drop-in tutoring, SMART

sessions, study hall, support for

student athletes, peer tutoring,

and much more.

21

teachers

and mentors

O'Dowd's faculty are chosen

both for their credentials

and for their passion and

commitment to teaching,

giving students room to

think for themselves.

22
---
Room to grow

Like a small college, our twenty-acre

campus includes expansive San Francisco

23Bay views and facilities.

state-of-the-art Center

for Sustainability

four-acre Living Lab

two gyms

fields

track

training and weight rooms

theater

art and music facilities

Eight Science Labs

chapel

tech and academic

support centers

fully resourced library

and much more
---
Our 14,000+ alumni do well and do good in their professional and

personal lives. Upon graduation, you become a part of an alumni network

that fosters an ethos of excellence, innovation, and service.

24

25

Get into the college

O'Dowd graduates choose to attend

colleges and universities that fit their

values, needs, goals, and dreams.

*Stats based on 2018, 2019, and 2020 matriculations.
---
Expand your worldview,

hone your moral compass

and academic prowess,

develop your athletic abilities,

delve more deeply into your

interests, and

establish lifelong community.

Discover for yourself how O'Dowd can

help you grow academically, personally,

and spiritually, and create positive

change.

• Participate in an information

session and tour

• Meet our students

• Speak with our teachers and

administrators

• Ask questions

• Peruse our website

Contact us today.

• Visit bishopodowd.org

• Email admissions@bishopodowd.org

• Call (510) 553-8631
---
Printed on 100% recycled FSC Certified

Acid Free paper using non-toxic inks.
---
"My favorite part about O'Dowd is the ambitious nature of

the community. Whether it was through athletics, academics,

or clubs, the energy from my peers motivated me to do

my best. In addition, there are so many things to become

involved with at O'Dowd. Don't be afraid to look around,

find something of interest to you, and dive in."

"Ever since I entered the doors of O'Dowd I have been

challenged to become the best version of myself, especially

through my academics and art courses. I am allowed to

explore my identity and express myself comfortably. In taking

courses such as Advanced Spanish 2 and Honors English,

I am able to push myself to learn from mistakes with a

growth mindset."

"O'Dowd welcomes creativity, diversity, and ingenuity. I am

able to discover new qualities and interests within myself

that I was not expecting from high school. I become a

better version of myself every day from the classroom to the

basketball court, to deepening my relationship with God."

"Through O'Dowd, I have been able to discover and pursue

my passions in both science and service. My AP Biology class

constantly challenged and improved my scientific and critical

thinking skills. The service-learning projects have given me

opportunities to form connections with people in vulnerable

populations—great people I wouldn't have met otherwise."

"Coming from a small school where I did not feel like I

belonged, O'Dowd has an amazing community that is

welcoming to every student."

"O'Dowd has provided me with the essential tools to explore

my curiosities in STEM and the arts. O'Dowd's supportive

teachers and classmates help me to thrive academically by

contributing to a healthy learning environment where we

work to overcome challenges together. Clubs such as the

Latinos Unidos, the Dragon Ambassadors, and sports teams

have allowed me to embrace my leadership potential and

discover my personal passions."

Bishop O'Dowd High School

A Catholic College Preparatory School

9500 Stearns Ave., Oakland, CA 94605

Finding God in All Things

Accredited by the Western Catholic Education Association

and the Western Association of Schools and Colleges