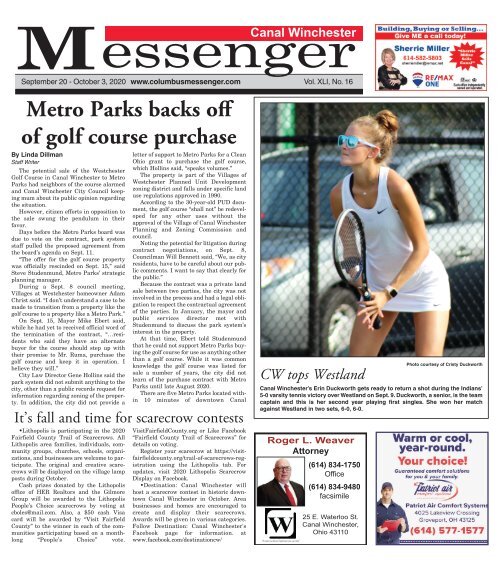 Canal Winchester Messenger - September 20th, 2020
Create successful ePaper yourself
Turn your PDF publications into a flip-book with our unique Google optimized e-Paper software.
Messenger

Canal Winchester

September 20 - October 3, 2020 www.columbusmessenger.com Vol. XLI, No. 16

Metro Parks backs off

of golf course purchase

By Linda Dillman

Staff Writer

The potential sale of the Westchester

Golf Course in Canal Winchester to Metro

Parks had neighbors of the course alarmed

and Canal Winchester City Council keeping

mum about its public opinion regarding

the situation.

However, citizen efforts in opposition to

the sale swung the pendulum in their

favor.

Days before the Metro Parks board was

due to vote on the contract, park system

staff pulled the proposed agreement from

the board's agenda on Sept. 11.

"The offer for the golf course property

was officially rescinded on Sept. 15," said

Steve Studenmund, Metro Parks' strategic

planning manager.

During a Sept. 8 council meeting,

Villages at Westchester homeowner Adam

Christ said. "I don't understand a case to be

made to transition from a property like the

golf course to a property like a Metro Park."

On Sept. 15, Mayor Mike Ebert said,

while he had yet to received official word of

the termination of the contract, "…residents

who said they have an alternate

buyer for the course should step up with

their promise to Mr. Ruma, purchase the

golf course and keep it in operation. I

believe they will."

City Law Director Gene Hollins said the

park system did not submit anything to the

city, other than a public records request for

information regarding zoning of the property.

In addition, the city did not provide a

letter of support to Metro Parks for a Clean

Ohio grant to purchase the golf course,

which Hollins said, "speaks volumes."

The property is part of the Villages of

Westchester Planned Unit Development

zoning district and falls under specific land

use regulations approved in 1990.

According to the 30-year-old PUD document,

the golf course "shall not" be redeveloped

for any other uses without the

approval of the Village of Canal Winchester

Planning and Zoning Commission and

council.

Noting the potential for litigation during

contract negotiations, on Sept. 8,

Councilman Will Bennett said, "We, as city

residents, have to be careful about our public

comments. I want to say that clearly for

the public."

Because the contract was a private land

sale between two parties, the city was not

involved in the process and had a legal obligation

to respect the contractual agreement

of the parties. In January, the mayor and

public services director met with

Studenmund to discuss the park system's

interest in the property.

At that time, Ebert told Studenmund

that he could not support Metro Parks buying

the golf course for use as anything other

than a golf course. While it was common

knowledge the golf course was listed for

sale a number of years, the city did not

learn of the purchase contract with Metro

Parks until late August 2020.

There are five Metro Parks located within

10 minutes of downtown Canal

It's fall and time for scarecrow contests

•Lithopolis is participating in the 2020

Fairfield County Trail of Scarecrows. All

Lithopolis area families, individuals, community

groups, churches, schools, organizations,

and businesses are welcome to participate.

The original and creative scarecrows

will be displayed on the village lamp

posts during October.

Cash prizes donated by the Lithopolis

office of HER Realtors and the Gilmore

Group will be awarded to the Lithopolis

People's Choice scarecrows by voting at

cboles@mail.com. Also, a $50 cash Visa

card will be awarded by "Visit Fairfield

County" to the winner in each of the communities

participating based on a monthlong

"People's Choice" vote.

VisitFairfieldCounty.org or Like Facebook

"Fairfield County Trail of Scarecrows" for

details on voting.

Register your scarecrow at https://visitfairfieldcounty.org/trail-of-scarecrows-registration

using the Lithopolis tab. For

updates, visit 2020 Lithopolis Scarecrow

Display on Facebook.

•Destination: Canal Winchester will

host a scarecrow contest in historic downtown

Canal Winchester in October. Area

businesses and homes are encouraged to

create and display their scarecrows.

Awards will be given in various categories.

Follow Destination: Canal Winchester's

Facebook page for information. at

www.facebook.com/destinationcw/

CW tops Westland

Roger L. Weaver

Attorney

"A name you know, Experience you can trust"

(614) 834-1750

Office

(614) 834-9480

facsimile

25 E. Waterloo St.

Canal Winchester,

Ohio 43110

Photo courtesy of Cristy Duckworth

Canal Winchester's Erin Duckworth gets ready to return a shot during the Indians'

5-0 varsity tennis victory over Westland on Sept. 9. Duckworth, a senior, is the team

captain and this is her second year playing first singles. She won her match

against Westland in two sets, 6-0, 6-0.
---
PAGE 2 - MESSENGER - September 20, 2020

www.columbusmessenger.com

Voters to decide on ADAMH levy in November

By Christine Bryant

Staff Writer

Franklin County voters will decide this fall whether to

approve a tax levy that will help fund drug and mental

health services in the community.

The 5-year, 2.85 mill Alcohol, Drug and Mental Health

Board of Franklin County (ADAMH) levy includes a

renewal of the current 2.2 mill property tax levy that

expires in December 2021. It also includes a .65 mill

increase, with collection beginning in 2022.

The need for drug and mental health services has never

been greater, says Mackenzie Betts, senior community

relations manager with ADAMH.

More than 71 percent of ADAMH resources come from

the current 2.2 mill property tax levy that is set to expire

next year. The levy millage for ADAMH has not increased

in nearly 30 years, while the number of people seeking

help has grown dramatically, rising 72 percent since 2014.

On top of this, ADAMH is projecting a $14 million operating

deficit due to the rising need for mental health services

and the current opioid epidemic.

"ADAMH partners work with more than 30 non-profit

agencies to provide behavioral health services to the community

in the areas of treatment, crisis, housing, prevention,

recovery support and family support," Betts said. "In

2019, ADAMH and its partners served more than 135,000

people."

Approximately 85 percent of the new millage will be initially

designated to maintain current service levels, she

said.

"Potential new investments include enhanced investments

in school-based prevention and suicide prevention,

additional addiction treatment programs and a new crisis

center," Betts said.

Other new investments will be based on a community

needs assessment currently being conducted, she said.

Referred to as Issue 24 on the November ballot, the levy

would cost homeowners in Franklin County an additional

$1.90 per month, or $22.75 per year, per $100,000 home

property value, if passed.

The funds are critically important, Betts says, especially

as Franklin County is projected to grow by nearly 8%

over the next 10 years - a potential of more than 100,000

new residents.

Approximately 85 percent of individuals who receive

support from ADAMH live below the federal poverty

level.

"In addition to providing mental health and

addiction treatment services to individuals who

may not have private health insurance, Medicaid or

Medicare coverage, ADAMH supports services that

are available to any Franklin County resident,"

Betts said.

These include crisis services such as the 24/7 Adult

Crisis Line through Netcare, the 24/7 Youth Crisis Line

through Nationwide Children's Hospital and the Suicide

Prevention hotline through North Central Mental Health.

ADAMH also funds prevention services in every public

school district in Franklin County. These services teach

youth the risks of substance use and connect at-risk students

with ongoing mental health treatment before a crisis

emerges.

According to ADAMH, suicide deaths in Ohio have

increased by 45 percent over the last decade.

The organization also has been working to reduce stigma

and disparate treatment for African Americans and

people of color, Betts said.

"National data suggests that minority populations are

often misdiagnosed, over-medicated and over-hospitalized

that often costs systems of care more money," she said.

The community needs assessment the organization has

launched includes a component that analyzes racial disparities

and inequities. ADAMH is also working to retain

a more diverse workforce within the behavioral health

field, she says.

"ADAMH will continue to develop, promote and support

cultural initiatives within the ADAMH system of care and

provide cultural competency training for ADAMH provider

staff," Betts said. "ADAMH funds a number of programs to

address these important aspects of how services are provided

to minority residents, including immigrants and

refugees, in our community."

For more information on Issue 24, go to adamhlevy.com.

CW hydrant flushing

Canal Winchester's Division of Water will flush fire

hydrants between 8 a.m. and 3:30 p.m., Monday —

Friday, from Sept. 21 — Oct. 9.

The water department offers tips for residents

when crews are flushing hydrants in your area:

•If you see a hydrant being flushed on your street,

avoid running tap water, washing machines or dishwashers

until flushing in your area is complete.

•If you see hydrant flushing crews working, please

drive carefully and treat them like any other road construction

crew.

During or immediately following hydrant flushing,

tap water may appear discolored. Although a slight

discoloration may last for a few hours, it does not affect

the taste or quality of the water. This discoloration

only affects the appearance of the water and poses no

health threat.

Should you notice discoloration or other side effects

from hydrant flushing, the water department suggests

the following:

•If you encounter discolored water, shut your water

off and wait several minutes. After waiting, check the

clarity by running cold water for a few minutes to

allow new water to flow into your pipes. If the water is

still discolored, wait a few minutes and check again. In

some cases, it may be a few hours before the water is

completely clear.

•Avoid washing laundry during scheduled flushing

hours. After hydrants in your area have been flushed,

wait until water runs clear from your tap, then begin

with a load of dark laundry before doing lights or

whites.

•If water pressure or volume seems low, check your

faucet screens for trapped particles.

For information contact Canal Winchester's

Division of Water at 614-837-5623 or 614 837-7716.

Punt, Pass, & Kick

A Punt, Pass, & Kick competition will be held in

Groveport Park, 7370 Groveport Road, on Oct. 3.

Check in time is 12:15 p.m. and the competition starts

at 1 p.m. Cost is $5 per person. There will be separate

divisions for boys and girls ages 8-15.

Young athletes will be allowed three punts, passes

and kicks. The top measurement in each area will be

counted to give participant a cumulative total. Scoring

is based on distance and accuracy, from where the ball

first makes contact with the ground (bounces and rolls

do not count). Measurements will be rounded to the

nearest inch. A person's final score is the total of the

three events. In the event of a tie, each tied participant

will compete again in head-to-head competition.

Cleats and gloves may not be worn. Only soft-soled

shoes (no bare feet). This is only a local competition

and is not affiliated with any other organization.

Winners will not be advancing to sectional or state

competition.

Face coverings must be worn except when actively

engaged in punting, passing, or kicking. Practice safe

social distancing.

For information contact Juli Pintz, recreation coordinator

at jpintz@groveport.org or call 614-836-1000,

ext. 1513.

Obetz hydrant flushing

The Obetz Utilities Department will conduct its

annual fire hydrant flushing from Sept. 21-25.

Flushing will occur between 9 a.m. and 4 p.m.

Obetz income tax revenue

According to village of Obetz officials, the town's

income tax revenues are up 8.1 percent over last year

through May.
---
www.columbusmessenger.com

SWACO Kids Corner

Many studies have shown that children

form habits by the time they're 9 or 10

years old. While it's important to teach

manners, healthy eating and personal

responsibility, it's also a smart idea to

teach kids why and how to care for the

environment. The earlier they start recycling

and engaging in other sustainability

practices, the more likely they are to carry

those habits into adulthood.

To encourage at-home learning,

SWACO has created a page on its website

just for kids between the ages of 6 and 12

years old. It's called "Kids Corner," and it

features four online games designed to

teach children how to reduce, reuse and

recycle. According to SWACO, the organization

vetted the games carefully to ensure

they're fun, educational, age appropriate,

easy to play and relevant to Franklin

County's recycling program. The games:

• Steel Driver — Kids help clean up the

PAID ADVERTISING

"Save More Than Food"

Food waste is a complex issue that impacts the

health of our community, economy, and environment

in ways many people don't realize. That's

why SWACO and more than 150 partners in the

Central Ohio Food Waste Initiative teamed up to

create and launch "Save More Than Food, Make

a Difference," a consumer education campaign

aimed at cutting food waste - in homes, schools,

restaurants and businesses - in half by 2030.

Each day, central Ohio residents and businesses

throw out a million pounds of food. Food waste

is the largest portion of the waste stream and

accounts for 15 percent of all material in the

Franklin County Sanitary Landfill. That's food

that could be feeding hungry people or returned to

the earth in the form of a nutrient-rich soil

enhancement.

In addition to being the top material thrown

out each day, food waste also presents one of the

city by collecting recyclable materials

made of steel and adding them to the recycling

truck.

• Litter Critters — Four little critters

teach kids to sort materials into four categories:

recyclables, compost, electronic

waste and landfill waste.

• Recycle Roundup — Kids help Gus the

gorilla clean up a park by sorting the trash

people left behind into three categories:

trash, recyclables and compost.

• Recycle City — This game encourages

kids to visit different parts of a fictional

city to see how people and businesses

reduce, recycle and reuse waste.

Kids can play the games alone or with

their parents. SWACO's hope is that once

kids learn about recycling, they'll adopt the

practice, and recycling will become just

another part of families' daily routines.

For more information or to check out

Kids Corner, visit SWACO.org.

best opportunities to increase Franklin County's

diversion rate and reach 75 percent by 2032, a

goal set by SWACO in 2017.

In 2018, SWACO convened non-profit, education,

government and business entities to work

together to reduce food waste in central Ohio.

Calling itself the Central Ohio Food Waste

Initiative, the group published the Central Ohio

Food Waste Action Plan in May 2019 with the

ultimate goal to cut food waste in half by 2030.

When food goes to waste, so does all of the

time, money and resources that went into producing

it. Wasted food accounts for an estimated

$106 million in economic loss in central Ohio. In

addition, 22 million gallons of gas and 41 billion

gallons of water are used every year to grow and

transport food that never gets eaten.

For information visit

SaveMoreThanFood.org.

September 20, 2020 - MESSENGER - PAGE 3
---
PAGE 4 - MESSENGER - September 20, 2020

Letters policy

The SOUTH MESSENGER welcomes

letters to the editor. Letters cannot be

libelous. Letters that do not have a signature,

address, and telephone number, or are

signed with a pseudonym, will be rejected.

PLEASE BE BRIEF AND TO THE

POINT. The Messenger reserves the right

to edit or refuse publication of any letter for

any reason. Opinions expressed in the letters

are not necessarily the views of the

Messenger. Mail letters to: SOUTH MES-

SENGER, 3500 Sullivant Avenue,

Columbus, OH 43204; or email

eastside@columbusmessenger.com.

Keep tabs on the news in Canal

Winchester and Hamilton Twp.

Look for South Messenger on

Become a fan!

eastside

Messenger

(Distribution: 16,822)

Rick Palsgrove................................South Editor

eastside@ columbusmessenger.com

Published every other Sunday by

The Columbus Messenger Co.

3500 Sullivant Ave., Columbus, Ohio 43204-1887

(614) 272-5422

www.columbusmessenger.com

entertainment

Romantic comedy offers warmth and humor

The opening act of "The Broken Hearts

Gallery" unspools as if it were a setup for a

horror film: After a night of heavy drinking

that culminates in a public embarrassment,

an emotional young woman steps

into an idling vehicle she believes to be her

ordered ride. Rather than listen to the

male driver as he repeatedly tells her she

entered the wrong car, she tells him to shut

up, launches into her sob story and

demands to be taken home so she can be

comforted by her supportive roommates. As

he takes her to her destination, allegedly,

she receives a text from the actual driver of

the actual car she was supposed to claim.

Realizing her error, she looks at the wrong

driver as he glances into the rearview mirror,

they make eye contact, and she gives a

small scream.

"The Broken Hearts Gallery," however,

is not a horror movie, though it does point

out quite capably the danger of the situation

through witty banter and barbed comments.

Instead, this is a new romantic comedy

and the interaction between the two

strangers is something they like to call a

"meet cute" but with a more potentially

endangering edge.

The contrivance of its opening could put

some off of this film immediately but that

The Reel Deal

would be a mistake —

not as big as getting

into a cute stranger's

car, but a mistake

nonetheless. Despite

its starting point, this

is a film that is full of

charm, humor and

genuine warmth; it's

kind of the equivalent

of a comforting blanket

that is a little

frayed around the

corners.

Dedra

Cordle

In the film, Geraldine Viswanathan, the

scene stealer from "Blockers" (2018) and

"Miracle Workers" (2019), plays Lucy

Gulliver, the emotional young woman who

gets into a stranger's car and whose breakdown

propels him to do her bidding. When

her day started off, she was employed as an

assistant at an art gallery, dating a fabulous

and sophisticated older man named

Max (Utkarsh Ambudkar) and ready to

impress the notable curator Eva Woolf

(Bernadette Peters) at an exhibit later that

night. When it ends, however, she is without

a job, without a boyfriend and driving

around New York City with a mysterious

stranger and a growing headache to boot.

After wallowing in self-pity for several

weeks, she is encouraged by her roommates,

the lawyer Amanda (Molly Gordon)

and the "stay at home model" Nadine

(Phillipa Soo), to move on with her life, or

at least get in the shower. They also tell

her that she needs to get rid of the trinkets

she collected from her relationship with

Max, all potential triggers for her despite

them being odd things like ties and keys.

(Her collections are a plot thread throughout

the film).

While doing so, or at least trying to, she

runs into Max and his new flame and is

saved from another publicly embarrassing

scene by Nick (Dacre Montgomery), the

handsome stranger who safely got her

home. Feeling some sort of connection to

this man, Lucy follows him to an abandoned

hotel (she is sometimes full of bad

ideas) that he is struggling to rehab and

falls in love. Not with him, of course, or at

least not so soon, but with the potential of

the hotel. She is struck by an idea and runs

it by him: allow her space to run an exhibit

for purged relationship items, or a broken

hearts gallery, and she will help him raise

enough funds to finish his money pit of a

project.

Desperate for any spark to breathe new

life into his dream hotel, he relents and the

two form a partnership which slowly

becomes a friendship. And because this is a

romantic comedy, you know what follows

after but with some twists along the path

toward eternal happiness.

Teetering on the verge of being too

cutesy at times, what balances this film is

the performances from all of the actors but

most notably the charming Viswanathan

and Montgomery. They make a great pair

and have such revolving chemistry that

they really sell their characters transition

from strangers to business partners to

friends to something more.

The one thing that will likely keep people

away from this film is that it is only

being released in theaters at this time. I'm

not advocating that people rush out to see

this — it would be a great stay-at-home

movie — but I feel pretty confident that the

theaters won't be packed for this film as it

has barely received any advertising. Still,

it's up to you to decide your comfort level at

the theaters, but if you should ever stumble

across this film in the future, be sure to

give it a chance. Its warmth and deft

humor could provide a bit of light if you

ever need a nice escape.

Grade: B

Dedra Cordle is a Messenger staff writer

and columnist.

Local drop-off recycling

CW Recycles, a local recycling drop-off

program is offered on the first and third

Saturdays of each month from 9 a.m to

noon in the parking lot of

Winchester/Indian Trail Elementary

Schools, 6767 and 6865 Gender Road,

Canal Winchester.

Participants are asked to sort items into

two categories prior to drop-off.

•Cardboard or any packaging that

when torn is brown.

•Aluminum, white paper/packages,

plastic up to recycle symbol 6.

•No glass.

To comply with recommended state and

district guidelines, all guests must remain

in their vehicles, volunteers will be on

hand to remove recyclable items.

Change in court election

The Democratic candidate in the following

judicial race has changed.

The candidates that will appear on the

Nov. 3 ballot in this race are now:

•Courts of Common Pleas Probate (vote

for one): Jeff Mackey (Democrat); and

Robert G. Montgomery (Republican).

Visit vote.franklincountyohio.gov for

information.

Obetz police

detective catches thief

According to the Obetz Police, the

department's detective caught the person

who had been breaking into cars this summer

in the village.
---
www.columbusmessenger.com

Active Lifestyles

Senior Centers

•Canal Winchester Senior Center, 22 S.

Trine St. Call 837-8276.

•Groveport Senior Center, 7370

Groveport Road. Call 836-1000.

Central Ohio Area Agency on Aging

(COAAA) is a local resource that helps older

adults and individuals with disabilities remain

independent and safe in their homes. With the

assistance of area providers, COAAA connects

people to long-term care services that help with

daily living including personal care, home-delivered

meals, transportation, homemaking, adult

day services, emergency response systems, and

minor home modification. COAAA can help

address the concerns and needs of caregivers,

those who help loved ones with health needs.

COAAA staff can advise caregivers on senior

housing, professional in-home help, and respite

care that provides temporary relief to caregivers.

Senior Transportation

•Canal Winchester Human Services Van,

to register, call 837-8276.

•Groveport senior transportation provides

transportation for senior and disabled

residents of the city of Groveport.

For information call 836-7433.

PAID ADVERTISING

A Connection to Care and

Independence

COAAA is here to assist individuals during

and after the health crisis by finding services and

supports that enable individuals to live independently.

If residents need help at home or if one

needs information about services and resources

for their loved ones, COAAA can be reached by

phone at 800-589-7277 Monday through Friday

from 8 a.m. to 5 p.m.

For more information about COAAA, visit

www.coaaa.org. COAAA manages services for

10,500 people and funds services for another

25,000 older adults in eight counties: Delaware,

Fairfield, Fayette, Franklin, Licking, Madison,

Pickaway, and Union.

September 20, 2020 - MESSENGER - PAGE 5

A bi-monthly feature celebrating our

community's senior citizens

Planning a vacation? Just not sure how to go

about it?

What you need is a full service travel agency

that can take all the guesswork and confusion out

of planning your trip whether it's a cruise, a

European vacation, a tour of the National Parks,

or an all-inclusive resort. Mermaid Travel is the

PAID ADVERTISING

Take a trip

one you should contact!

We also specialize in senior citizen trips and,

if you have special needs, we can help.

Contact Sally Sutter, Mermaid Travel at 740-

407-2157, sally@mermaidtravel.tours, and website:

mermaidtravel.tours
---
PAGE 6 - MESSENGER - September 20, 2020

Fran is a petite

3-year-old gray

tabby who likes

to follow you

around. She

loves being the

center of attention

and is

eager to find her

forever home.

Fran is spayed,

microchipped

and up to date

on vaccines.

She is up for adoption through Colony Cats

and Dogs.

FYI: www.colonycats.org

My Fairy Lady is a 1-

year-old orange tabby

who was left behind

when her owner

moved. She is a little

shy at first but gets

more playful and trusting

in time. My Fair

Lady is spayed,

microchipped and up

to date on vaccines. Fill

out the Colony Cats

online adoption application

if you'd like to

meet or adopt her.

FYI: www.colonycats.org

pets of the week

Jade a senior boxer

lady looking for a

retirement home to

spend the rest of her

days. Jade is an

easy-going gal that

loves going on walks

but also loves cuddling

when she's

tired. She participates

in daily playgroups

with dogs but hasn't done well in the

past living with other dogs. She will need to

be the only dog in the home or an adopter

willing to do very slow intros with their resident

dog. Make an appointment with the

Franklin County Dog Shelter to meet this

sweet gal.

FYI: www.franklincountydogs.com

Cody is a naturally

playful, curious, and

trusting boy. He loves to

go out for daily walks

and loves to cuddle

with his people. Cody is

a deaf dog. Just like

other dogs, deaf dogs

learn hand commands

and tricks. While they will never have the

same recall skills as a hearing dog, they are

just as trainable and obedient and make great

pets. Cody is available for adoption at the

Franklin County Dog Shelter.

FYI: www.franklincountydogs.com

Active Lifestyles

www.columbusmessenger.com

Remembering Antonia Carroll

Antonia "Toni" Carroll was the first Director

of the Franklin County Office on Aging and

retired in 2017 after 33 rewarding years.

When state funding for the predecessor of

Senior Options was halted, she and a brave band

of supporters spearheaded an effort to create a

new program funded by a property tax levy and

became what we now call Senior Options. This

new program innovatively met in-home service

needs through partnerships with for profit and

nonprofit entities and educational and human

services agencies. Under her leadership that levy

successfully passed six times and grew from a

client base of 3,000 to over 8,000. Through an

agreement with the Ohio Department of Job and

The Franklin County Commissioners

announced the appointment of Orvell

Johns as the new director to oversee the

Office on Aging. Johns took over the position,

which pays $99,840 annually.

"Office on Aging is one of the most

important agencies in the county," said

board of commissioners president John

O'Grady. "It's a big job that requires strong

leadership, and we have every confidence

in Orvell."

Johns brings a proven track record of

experience in state and county government

leading executives and senior staff to

achieve organizational success. His solid

background and experience in finance,

Family Services, Adult Protective Services was

added in 1999 and expanded the agency's reach

to protect and assist the most vulnerable members

of our community.

Toni was a pioneer in the aging field and

served as a mentor, teacher and friend to many.

She tirelessly advocated for the rights of older

adults to age in place with dignity. Known for

her quick wit and sense of humor she was also

respected for her wisdom and leadership skills.

The aging profession has lost a crusader whose

indelible imprint will not be forgotten.

A celebration of life is planned for October

and details will be shared soon.

Orvell Johns leads Office on Aging

human resources, and information technology

is reflected in his most recent position

as the Director for the Franklin County

Court of Common Pleas, Domestic

Relations and Juvenile Branches from

2014 to 2019. Other posts he has held

include Director of the Center for Public

Investment Management at the State

Treasurer's office, Lead Banker for government

and public sector banking at J.P.

Morgan Chase and Assistant Deputy

Director with the Ohio Department of

Administrative Services, Equal

Opportunity Division between 2010 and

2014.
---
www.columbusmessenger.com

Active Lifestyles

September 20, 2020 - MESSENGER - PAGE 7
---
PAGE 8 - MESSENGER - September 20, 2020

New trash contract for

Madison Township

Our Pictorial Past

www.columbusmessenger.com

Plus, OPWC grant for

road work projects

By Linda Dillman

Staff Writer

Madison Township residents will see a

slight bump in the cost to dispose of their

trash following approval by the township

trustees of a new five-year solid waste collection

contract with Local Waste Services

through the Solid Waste Authority of

Central Ohio bid process.

The current contract expires on Dec. 31

and is base priced at $18.54 a month. The

new contract is $19.99 a month, which

includes a 60 cents per month billing fee

for the duration of the contract, and runs

from Jan. 1, 2021 to Dec. 31, 2025.

"I think we need to get it locked in," said

Trustee Chairman John Pritchard. "With

the little extra we're paying, it's best to get

it locked in."

There is a discount for senior citizens

and for residents needing a 95-gallon tote,

the rental cost is an additional $3 per

month.

A separate recycling processing contract

for the same period, also through the

SWACO bid process, was approved with

Rumpke during the Sept. 15 meeting.

Road work

The trustees held a public hearing on

round 35 of the Ohio Public Works

Commission Application process.

Superintendent Dave Watkins said the

application is due Sept. 30 and includes a

$312,805 full depth road reclamation of 56-

year-old Glenfield Street, which is in deteriorating

condition, and a two-inch $94,878

asphalt restoration of 52-year-old deteriorating

streets in the Harriet Addition.

"We need lots of roads fixed in Madison

Township," said Pritchard.

The total application is for $450,370,

which includes design and $25,000 in engineering

provided by Franklin County.

Madison Township's 25 percent share

would be approximately $113,000 with

$105,000 funded through a loan.

Watkins said the township received

OPWC funding in rounds 32 and 34.

"If we get this one, it'll be two years in a

row," said Watkins.

East Waterloo Street

Photo courtesy of the CW Area Historical Society

This is a 1910 view of Canal Winchester's East Waterloo Street looking east from

Trine Street.

www.columbusmessenger.com
---
www.columbusmessenger.com

w

Messenger photos by

Pat Donahue

Rangers

fall

Hamilton Township

Ranger Avery

Jones (left) wins

this battle for the

ball with Groveport

Madison's Jasmine

Hylton but

Groveport

Madison went on to

win the war taking

a 6-0 win over the

Rangers in a girls

varsity soccer

game on Sept. 10.

Hamilton Township

goalie Emily

Fahner (right)

sends the ball

down field during a

Sept. 10 girls varsity

soccer match up

with Groveport

Madison.

September 20, 2020 - MESSENGER - PAGE 9

2020 - MESSENGER - PAGE 9

CLASSIFIED ADS

Deadlines: Groveport and West editions, Wednesdays at 5 p.m., • South, Grove City, Madison editions, Tuesdays at 5 p.m.

All editions by phone, Tuesdays at 5 p.m. • Service Directory, Tuesdays at 5 p.m.

xInformation

xPublic Notices

SCORE A TOUCHDOWN

SEPTEMBER GIVEAWAY

Place a prepaid classified line ad in our paper

during the month of SEPTEMBER and be registered

to win a $50 Gift Card from

The Columbus Messenger Newspapers.

All ads received by mail, in person, e-mail or phone

will be included in the drawing.

Drawing will be held September 30th, 2020

and the winner will be notified and published

in our October 4th, 2020 issue .

GOOD LUCK

TO EVERYONE!!

Information

PUBLIC NOTICE

SURPLUS AUCTION

By Resolution, Madison Township, Franklin County, Ohio will

list surplus items via online auctions through Govdeals.com.

During the online auctions the following will be offered from

8:00 pm. October 4, 2020 through 8:00 p.m. October 18,

2020:

2007 Ford Taurus ($1,000.00 minimum)

Complete auction details can be accessed on the Govdeals

website at Govdeals.com

All inquiries and questions must go through Govdeals.com

For complete description and step by step instructions on

how to find these items on the auction site please visit:

www.madisontownship.org, click on Administration and

then Auctions.

PUBLIC NOTICE

SURPLUS AUCTION

By Resolution, Madison Township, Franklin County, Ohio will

list surplus items via online auctions through Govdeals.com.

During the online auctions the following will be offered from

8:00 pm. October 4, 2020 through 8:00 p.m. October 18, 2020:

1999 Chevrolet C7500 Dump Truck ($1,000.00 reserve)

10 ft. Bonnell Snow Plow ($500.00 reserve)

Tailgate salt spreader

24 inch Toro Snow Blower

Complete auction details can be accessed on the Govdeals

website at Govdeals.com

All inquiries and questions must go through Govdeals.com

For complete description and step by step instructions on

how to find these items on the auction site please visit:

www.madisontownship.org, click on Administration and then

Auctions.

Public Notices
---
PAGE 10 - MESSENGER - September 20, 2020

www.columbusmessenger.com

CLASSIFIED ADS

Deadlines: Groveport and West editions, Wednesdays at 5 p.m., • South, Grove City, Madison editions, Tuesdays at 5 p.m.

All editions by phone, Tuesdays at 5 p.m. • Service Directory, Tuesdays at 5 p.m.

xEmployment

Southeast Healthcare is seeking the following positions:

Engagement Specialists and Recovery Guides to promote recovery in adults with severe mental illness

and/or drug or alcohol dependency. Qualified applicant will have a lived experience with the recovery process.

Residential Specialist - Full and Part-time, weekend, positions available Full and Part-time, weekend,

positions available to engage with house residents to teach daily living skills and monitor residents/house

safety on an ongoing basis. HS diploma/GED required.

Outreach Coordinator – Overdose Response Team - Outreach Coordinators are a part of a county-wide

response team responding directly to Emergency Departments for opioid addiction crisis. Full-time, 2nd shift

(2pm-10pm), available.

Pharmacy Technician - Assist the Pharmacist in the processing and filling of medication orders in a fast-paced

environment. The successful candidate will be a Certified Pharmacy Technician with Retail experience.

RN - Our nursing staff provide care to adults with severe and persistent mental illness. The nurse provides

health assessments, monitors vitals, administers medications, and works in coordination with the team Case

Managers, Therapists and Nurse Practitioner to work with our patients on their recovery and wellness goals.

The successful candidate will have an RN license, Primary Care and recent blood draw experience.

Outreach Coordinator will partner with local emergency departments and engage with patients following

an overdose. The Outreach Coordinator engages with patients to coordinate referrals to immediate detox,

addiction treatment programs, primary medical care and other needed services. Monday through Friday 2-10

pm. AA/BA, CDCA required.

Security Guard - Seeking an energetic Courier/Security Guard to provide support services throughout our

downtown facility. We provide care to adults with severe and persistent mental illness. HS diploma/GED,

excellent computer skills, attention to detail, and the ability to lift up to 50 pounds required. Valid Ohio

driver's license with no more than 2 points required. 1st shift position available.

We only hire non-smokers.

We offer many great benefits, including health, dental, vision, 401(k), paid parking, mileage reimbursement,

education reimbursement and generous paid time off.

For a full list of opportunities, go to https://southeasthc.org/employment

BE YOUR OWN BOSS!

INDEPENDENT

CONTRACTORS

WANTED

If you have a reliable car and would like to

earn extra money, then why not deliver?

• Deliver 1 or 2 days a week

• Flexible delivery hours

• Work close to home - often in or

near your neighborhood

CONTACT US

1-888-837-4342

www.thebag.com

• Deliver 7 days a week

• Delivery before dawn

• Work close to home - often in or

near your neighborhood

CONTACT US

614-461-8585

www.dispatch.com/delivery

ASSOCIATION ADS

READER

ADVISORY

The National Trade Association

we belong to has

purchased the following

classifieds. Determining

the value of their service

or product is advised by

this publication. In order

to avoid misunderstandings,

some advertisers do

not offer "employment"

but rather supply the

readers with manuals, directories

and other materials

designed to help

their clients establish mail

order selling and other

ASSOCIATION ADS

businesses at home. Under

NO circumstance

should you send any

money in advance or give

the client your checking,

license ID or credit card

numbers. Also beware of

ads that claim to guarantee

loans regardless of

credit and note that if a

credit repair company

does business only over

the phone it's illegal to request

any money before

delivering its service. All

funds are based in US

dollars. Toll Free numbers

may or may not

reach Canada. Please

check with the Better

Business Bureau 614-

486-6336 or the Ohio Attorney

General's Consumer

Protection Section

614-466-4986 for more

information on the company

you are seeking to

do business with.

Employment

NOW HIRING!

Local High Volume Pharmacy

Immediate 2nd & 3rd shift

positions available for

Pharmacy Clerks and Technicians.

Looking for energetic associates

in a fast pace environment.

$13.00 Eff. Rate

Please apply at:

jobs.kroger.com

Use Zip Code 43217

Must be 18 years of age & have high school diploma or GED.

Call 614-333-5012 for more details.

HOME HEALTH AIDES

$13.00-$20.00 per hour

Performance Bonus and

Paid Time Off after 1 Year.

One year experience working for an employer

in caregiver role is preffered.

To apply, please visit

visitingangels.com/galloway

or text/call "career" to

614-80-ANGEL (802-6435)

ASSOCIATION ADS

[CARS/TRUCKS

WANTED!!!]

All Makes/Models 2002-

2019! Any Condition. Running

or Not. Competitive

Offer! Free Towing! We

are Nationwide! Call Now:

1-888-368-1016

VIAGRA & CIALIS! 60

pills for $99. 100 pills for

$150 FREE shipping.

Money back guaranteed!

1-844-596-4376

GENERIC VIAGRA and

CIALIS! 100 Pills $99.00

FREE Shipping! 100%

guaranteed. 24/7 CALL

NOW! 888-889-5515

AUTOMOTIVE

Get cash for your used

or junk cars today. We

buy all cars, trucks &

SUVs. Free pick up. Call

888-368-1016

Need IRS Relief $10K -

$125K+ Get Fresh Start

or Forgiveness Call 1-

877-378-1182 Monday

through Friday 7AM-5PM

PST

ASSOCIATION ADS

Wants to purchase minerals

and other oil and gas

interests. Send details to

P.O. Box 13557, Denver,

CO. 80201

Cross Country Moving,

Long distance Moving

Company, out of state

move $799 Long Distance

Movers. Get Free

quote on your Long distance

move 1-844-452-

1706

DENTAL INSURANCE

from Physicians Mutual

Insurance Company.

Coverage for (350+) procedures.

Real dental insurance-NOT

just a discount

plan. (Don't wait!)

Call Now! Get your

FREE Dental Information

Kit with all the details! 1-

877-308-2834 . www.

dental50plus.com/cadnet

#6258

WANTED

SW CITY SCHOOLS

SCHOOL BUS DRIVERS

The South-Western City School

District is currently hiring drivers

for the 2020-2021 school year

$16.55/HR

Available positions are for substitute drivers

that can develop into "Regular" positions with

benefits. Interested individuals should submit

an application on our website at swcsd.us.

Follow the employment link. Applicants should

have an excellent driving record and must

submit to drug, alcohol, and background

screening. A high school diploma or equivalent

is required.

EOE

SEARCHING

for More Qualified Employees?

October 18 th , 2020

Deadline: October 9 th , 2020 At 2pm

Special employment Section Featuring:

Job Openings

Job Fairs

Full and Part Time Employment

Seasonal Job Opportunities and more

ALL ADS ARE IN FULL COLOR. Contact us by phone or online to discuss special

advertising rates that are available for this section as well as combination rate

discounts for advertising in multiple coverage areas.

Westside • Southwest • Eastside • Southeast • Madison

ASSOCIATION ADS

Recently Diagnosed

w/Lung Cancer or Mesothelioma?

Exposed to

Asbestos Pre-1980 at

Work or Navy? You May

Be Entitled to a Signicant

Cash Award! Smoking

History Okay! Call 1-855-

591-0517

614-272-5422

Kathy@columbusmessenger.com

Doughenry@columbusmessenger.com

ASSOCIATION ADS

DISH Network $59.99 For

190 Channels. Add High

Speed Internet for ONLY

$19.95/month. Call Today

for $100 Gift Card! Best

Value & Technology.

FREE installation. Call 1-

855-837-9146 (some restrictions

apply)
---
www.columbusmessenger.com

xCome & Get It!

COME AND GET IT

Deadlines are Tuesdays by 5 pm.

Call For Publication Schedule 614-272-5422

Need to Get Rid of Something Fast - Advertise It Here For FREE!

FREE Garden Straw for gardens or bedding. Call for appointment for pickup.

Circle S Farms, 9015 London-Groveport Road, Grove City, 43123

Grove City - 614-878-7980

84 Blue Plastic Cafeteria Trays (12"x16"_)

77 Colorful Plastic Plates (7" diameter)

Items were used to feed children breakfast at a private school

that is no longer in business.

PH - Grove City - 614-836-5652

. Come and Get It! is a bi-weekly column that offers readers an opportunity to pass

along surplus building materials, furniture, electronic equipment, crafts, supplies,

appliances, plants or household goods to anybody who will come and get them - as

long as they're FREE. NO PETS! Just send us a brief note describing what you want to

get rid of, along with your name, address and phone number. Nonprofit organizations

are welcome to submit requests for donations of items.

Send information to The Columbus Messenger, Attention: Come and Get It, 3500

Sullivant Ave., Columbus, OH43204. Deadline is Tuesdays by 5 pm for following

Mondays publication. Messenger Newspapers is not responsible for any

complications that may occur. Please contact us when items are gone. 272-5422

Come & Get It!

xMisc. for Sale

ASSOCIATION ADS

IMPORTANT

NOTICE

The following states: CA,

CT, FL, IA, IL, IN, KY,

LA, MD, ME, MI, MN,

NE, NC, NH, OH, OK,

SC, SD, TX, VT and WA

requires seller of certain

business opportunities to

register with each state

before selling. Call to

verify lawful registration

before you buy.

REAL ESTATE for SALE

SELLING A FARM OR

HOUSE? Advertise it

here and neighboring

publications. We can

help you. Contact MACnet

MEDIA @ 800-450-

6631 or visit our site at

MACnetOnline. com

Misc. for Sale

ASSOCIATION ADS

CARS/TRUCKS WANT-

ED!!! All Makes/Models

2002-2019! Any Condition.

Running or Not. Top $$$

Paid! Free Towing! We're

Nationwide! Call Now: 1-

888-985-1806

SELL YOUR ANTIQUE

OR CLASSIC CAR.

Advertise with us. You

choose where you want

to advertise. 800-450-

6631 visit macnetonline.

com for details.

Two great new offers from

AT&T Wireless! Ask how

to get the Next Generation

Samsung Galaxy S10e

FREE. FREE IPhone with

AT&T's Buy one, Give

One. While supplies last!

CALL 1-866-565-8452 or

www.freephonesnow.com/

cadnet

ASSOCIATION ADS

Call Empire Today® to

schedule a FREE inhome

estimate on Carpeting

& Flooring. Call

Today! 1-855-404-2366

SERIOUSLY INJURED

in an AUTO ACCIDENT?

Let us fight for you! Our

network has recovered

millions for clients! Call

today for a FREE consultation!

1-888-409-1261

Stay in your home longer

with an American Standard

Walk-In Bathtub. Receive

up to $1,500 off,

including a free toilet,

and a lifetime warranty

on the tub and installation!

Call us at 1-855-

481-3969 or visit www.

walkintubquote.com/national

ASSOCIATION ADS

DIRECTV - Switch and

Save! $39.99/month. Select

All-Included Package.

155 Channels.

1000s of Shows.Movies

On Demand. FREE Genie

HD DVR Upgrade.

Premium movie channels.

FREE for 3 mos!

Call 1-855-781-1565

HEARING AIDS!! Buy

one/get one FREE! Highquality

rechargeable

Nano hearing aids priced

90% less than competitors.

Nearly invisible! 45-

day money back guarantee!

855-619-0190

APPLIANCES

Air Conditioners New,

Scratch & Dent, Friedrich

Model KCM18A30A

18,000 BTU Reg. Price

$1,400, Now Only $400

Call for Delivered Price

Slate Rd. Supply 717-

445-5222

DISH TV $59.99 FOR 190

Channels + $14.95 High

Speed Internet. Free Installation,

Smart HD DVR

Included, Free Voice Remote.

Some restrictions

apply. Call 1-855-270-

5098

DATED SALES

FREE

Garage Sale

Signs

When You Stop By

Our Office At:

3500 Sullivant Ave.

And Place Your

DATED SALE AD

Four Family Yard Sale

Oct. 2-4, 10am - ?

Reynoldsburg/256 area

on Donwick Dr. in Slate

Ridge Subdiv. BIG, BIG

Sale with Holiday Decor,

Furniture, Kids/Women's

Apparel & MISC.

WANT TO BUY

WANTS TO Purchase

minerals and other oil &

gas interests. Send details

to: P.O. Box 13557,

Denver, CO 80201

We Buy Junk Cars &

Trucks. Highest Prices

Paid. 614-395-8775

WE BUY JUNK CARS

Call anytime 614-774-6797

We Buy Cars & Trucks

$300-$3000.614-308-2626

FINANCIAL SERVICES

Debt Solutions Available

Call 614-270-1149

Business Debt Solutions

Call 614-270-1149

RENTALS

Half Double Hilltop

3 BR $900 mo, $900 dep.

Bill Weygandt Realtor

614-226-6767

VACATION RENTALS

Englewood, Florida

Palm Manor Resort

Within minutes of white

sand Gulf beaches,

world famous Tarpon

fishing, golf courses, restaurants/shopping,

Bush

Gardens. 2 BR 2 BA

condos with all ammenities,

weekly/monthly, visit

www.palmmanor.com

or call 1-800-848-8141

September 20, 2020 - MESSENGER - PAGE 11

xClassified Services

APPLIANCE REPAIR

Washer, Dryer, Stove &

Refrig. Repair 875-7588

AUTO SERVICE

Stop Getting

Ripped Off!

MIDLAND AUTO

AC EVAC DYE &

RECHARGE - $85.00

Seniors/Veterans -

$65.00

& all you other Auto

Service Needs!

614-278-9458/778-3864

A Rating BBB - 47 yrs,

American & Foreign Cars

BLACKTOP

SANTIAGO'S

Sealcoating & Services LLC

Quality Materials Used

Get it Done before the

Seasons Over!!

Driveway Seal & Repair!

Top Seal Cracks!

Residential & Commercial

Mulching, Edging & Clean-ups

"Ask for whatever you need."

BBB Accredited-Fully Insured

Call or text for Free Est.

614-649-1200

BLACKTOP SEALING

Driveways & Parking Lots

614-875-6971

CARPET CLEANING

DIRT BUSTERS

Any 5 areas plus sofa,

loveseat & chair $300.

Powerwash $99 to $200.

614-805-1084

Specializing in Pet Odors

CONCRETE

Buckeye City

Concrete & Excavating

* Concrete * Foundations

* Waterlines * Drains

*Catch Basins

614-749-2167

buckeyecityconcreteand

excavating@yahoo.com

AJ's Concrete,

Masonry

Good Work - Fair Prices

Block Foundations

Driveways • Sidewalks

Epoxy/Overlay Floors

Bonded-Ins. • Free Ests.

614-419-9932

ALL-CITY CUSTOM

CONCRETE

All Types Concrete Work

New or Tear Out-Replace

37 Yrs. Exp.

(614) 207-5430

Owner is On The Job!

EVANS

Complete Concrete.

Facebook Evansconcrete

(Schedule Now)

• Foundations • Additions

• Block • Driveways

• Patios • Sidewalks

• Colored & Stamped

(Free Estimates)

614-554-7457

Ins./Bonded • 32 Yrs. Exp.

Pour It Right, The First Time

10/11 A/M

10/11 A

10-25 A

CONCRETE

D.J. & DAD KIMMLE

CUSTOM CONCRETE

10-11

All Types E/SE

Free Estimates

All Work Guaranteed

614-206-0158

EDDIE MOORE

CONSTRUCTION

Quality Concrete Work

Lt. Hauling & Room Add.,

Block Work & Excavation

Stamp Patios,

Bsmt. Wall Restoration

35 Yrs Exp - Lic & Ins.

Free Ests. 614-871-3834

GUTTERS

Low Price-Great Service

5 & 6" Seamless gutters,

covers, siding, gutter clng.

Bill 614-306-4541

HAULING

DEAN'S HAULING

614-276-1958

HEATING

HEATING

Complete System Clean & Check

$49.95

Free Carbon

Monoxide Testing

Gas-Oil-Electric Heat/Pumps

All Makes • All Models

43 yrs exp. • Sr. Discount

614-351-9025

HOME

IMPROVEMENTS

SINCE 1973

Phil Bolon Contr.

Windows & Siding

Decks, Kitchens, Baths

Room Additions,

Flooring, Roofing

Bsmt Waterproofing

Deal With Small Non-Pressure Co.

47 Yrs. Exp. - Refs. Avail.

Lic.-Bond-Ins.

Free Est. - Financing Avail.

Member BBB Of Cent. OH

O.C.I.E.B. ID #24273

614-419-3977

or 614-863-9912

KLAUSMAN HOME

IMPROVEMENT

Siding-Windows-

Doors-Roofing-Soffit-

Fascia-Gutters-Trim

Earn FREE Seamless

Gutters with Siding Over

1000 Sq. Ft.

FREE Shutters with

Soffit & Trim

EPA Certified

Member of BBB

Financing Available

10-11

A/M

Over 20 yrs exp. • Free Est.

Licensed-Bonded-Insured

Owner & Operator

James 614-419-7500

4-11 A

9-27 A

HOME

IMPROVEMENTS

C&JHandyman

Services LLC

Minor Plumbing &

Electric

Install Hot Water Tanks,

Dishwashers & Disposals

Also Fencing &

Interior/Exterior Painting

Free Est. ~ 18 Yrs. Exp.

CDC/EPA Approved Guidelines

614-284-2100

HOME INSPECTIONS

Home Inspections

"Welcome Home"

Inspection Services

Licensed

InterNACHI/CPI

Certified

Free Estimates &

Discounts

Cell 614-316-9600

HOME

MAINTENANCE

JOE'S HOME MAINT.

Home Repairs, Roofing,

Siding, Gutters, Soffits,

Misc. Int. Repairs

Int. Painting

Call Joe 614-778-1460

37 Years Exp.

LAWN CARE

LET US MAINTAIN

YOUR LAWN & GARDEN

FOR YOU

Summer, Spring,

Winter or Fall

WE DO IT ALL!!!!

Lawn Cuts, Edging,

Trees & Shrubs, Garden,

Mulching, Hauling,

Garden Pond &

Home Maint.

Free Ests. Low Rates

$20 & Up

Kevin - 614-905-3117

MOVING

Aaron Allen Moving

Local Moving Since 1956

Bonded & Insured

614-299-6683, 263-0649

Celebrating 60 yrs in business

PAINTING

Painter Over 30 Yrs Exp.

Free Est. Reas Rates

Daniel 614-226-4221

A Job Well Done Again

A lic. General Contractor

Some Skilled Services

Incl: Painting • Stucco,

Repair•Carpentry•Exterior

Drainage & Home Maint.

Call Today! 614-235-1819

PLASTERING

DRYW

YWALL &

PLASTER

9/27

A&M

REPAIR

Textured Ceilings

614-551-6963

Residential/Commercial

BIA

Classified Services

9-27 A

CONCRETE

ALL IN ONE

PLUMBING LLC

"One Call Does It All"

$25 OFF LABOR

9/27

With This Ad

A

614-801-1508

All Major Credit Cards Accepted

All About Drains & Plumb.

Will snake any sm drain

$125 + tax. 614-778-2584

CHRIS'

PLUMBING

"Plumbing & Drain Professional

That You Can Count On"

24 Hrs., 7 Days/Week

No Overtime Charges

24 Yrs. Exp. in Plumbing &

Drain Cleaning Field

Call For A Free Phone Estimate

$100.00 For Any Small Drain

614-622-4482

30% OFF with AD

POWER WASHING

MRS. POWERWASH

Any house wash $149 + tax

Single deck $69 + tax

2 Tier deck $99 + tax

Best Wash In Town

Over 45,000 Washes

Ashley, 614-771-3892

ROOFING

Robinson roofing & repairs

30 yrs. exp. Lifetime Cols.

resident. Lic./bonded/Ins.

Reas rates. Member of

BBB. Dennis Robinson

614-330-3087, 732-3100

SEWING MACHINE

REPAIR

REPAIR all makes 24 hr.

service. Clean, oil, adjust

in your home. $39.95 all

work gtd. 614-890-5296

TOP SOIL

Alexander Hauling

Driveways topped w/new

limestone. We also deliver

Topsoil - sand - mulch.

Specializing in residential.

614-491-5460

Bobcat Service Avail.

TREE SERVICES

TROTT

TREE & LANDSCAPE

Tree Trimming

& Removal

10/11

A

Also Stump Removal

Free Est. - Fully Ins.

Call 614-235-3791

Cell 614-738-0682

Brewer & Sons Tree Service

• Tree Removal

• Tree Trimming 9-27

A&M

• Stump Grinding

• Bucket Truck Services

Best Prices • Same Day Service

614-878-2568

9/27 A/M
---
PAGE 12 - MESSENGER - September 20, 2020

MadisonTownship

Police statistics

August crime statistics from the

Madison Township Police: 44 assist/mutual

aid, 4 burglary, 31 domestic complaints, 26

suspicious persons, 22 suspicious cars, 17

larceny/thefts, 5 threats or harassment,

120 traffic stops, 13 vandalism, 1 robbery,

33 parking, 2 driving under the influence,

11 accidents with injuries, 1 rape, 3 fireworks

complaints, 1 fight 8 shots fired in

area, and 14 property damage accidents.

www.columbusmessenger.com

CW gets grant for trail connector

By Linda Dillman

Staff Writer

Canal Winchester is entering into an agreement with the Ohio

Department of Natural Resources for a nearly $1 million Clean

Ohio Trail Fund grant for the proposed McGill Park trail connector.

The total cost for the project is $901,656 with the 50-50 grant

providing $450,828 and local contributions picking up the other

half. Construction of the trail is scheduled for the first phase of

McGill Park.

The trail runs along Walnut Creek for 0.76 mile and continues

to the city's existing multi-use trail, serving as a connector

between the city's existing trail system in the James Kelly

Preserve at the covered bridge on the west end and the newly

developed McGill Park along Walnut Creek.

Legislation adopting the agreement, which provides for planning,

development, acquisition, construction and/or maintenance

of the project, was passed by Canal Winchester City Council under

emergency language Sept. 8.

Last January, Canal Winchester City Development Director

Lucas Haire said the city received notification of the grant after

applying for it the previous year.

"It (the trail) will give residents a place to participate in healthy

activities and interact with nature," said Haire. "It will expose residents

to a beautiful part of the city of Canal Winchester adjacent

to Walnut Creek. The trail will be an amenity that all residents of

Canal Winchester can use regardless of age or physical abilities.

We're excited to have this portion of the park complete early in the

development of McGill Park."

According to Haire, the grant affords the city the opportunity to

complete more of its planned improvements to McGill Park within

an expedited time frame, starting with the first phase, which

includes athletic fields, a playground, shelter houses, utilities, an

access drive and parking.

"The trail will connect to these amenities when complete,"

Haire said.

Farmers'

Market

The Canal

Winchester

Farmers' Market is

held every

Saturday from 9

a.m. to noon at the

Canal Winchester

Historical Complex

located at the corner

of Oak and

North High streets

through

September. For the

list of vendors that

will be attending

each Saturday,

check out the CW

Farmers' Market

Facebook page each

week. Masks and

social distancing

Messenger photos by

Linda Dillman

Rockin'

and rollin'

in

Stradley

Park

Treble Catz vocalist

and bass player

Steve Smith entertains

the crowds at

the second Canal

Winchester Music

in the Park concert

on Sept. 4.

The three-hour

musical event drew

people from

throughout the area

during the start to

the Labor Day

weekend.

Annalise Thomas

(left), a student at

Indian Trail

Elementary School,

along with her

brother,

Kherrington

Thomas (right),

who attends

Winchester Trail

Elementary School,

play by the fountain

in Stradley Park

during the Sept. 4

concert.