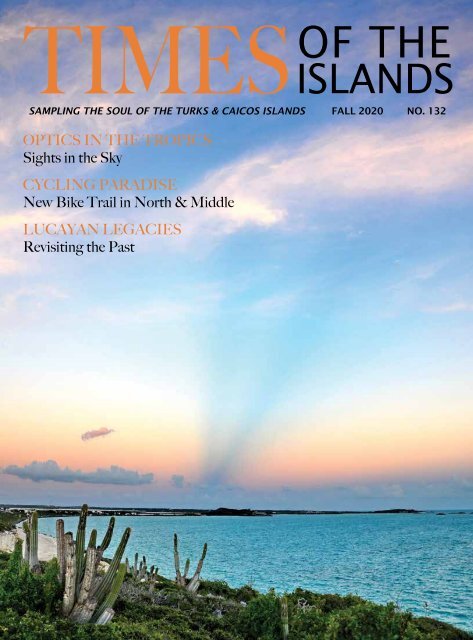 Times of the Islands Fall 2020
Presents the "soul of the Turks & Caicos Islands" with in-depth features about local people, culture, history, environment, businesses, resorts, restaurants and activities.
Presents the "soul of the Turks & Caicos Islands" with in-depth features about local people, culture, history, environment, businesses, resorts, restaurants and activities.
SHOW MORE
SHOW LESS
Create successful ePaper yourself
Turn your PDF publications into a flip-book with our unique Google optimized e-Paper software.
TIMES

SAMPLING THE SOUL OF THE TURKS & CAICOS ISLANDS FALL 2020 NO. 132

OPTICS IN THE TROPICS

Sights in the Sky

CYCLING PARADISE

New Bike Trail in North & Middle

LUCAYAN LEGACIES

Revisiting the Past

OF THE

ISLANDS
---
For Those Who Seek An

Exceptional Vacation Home & Lifestyle

We Are Available To Help You

Navigate The Real Estate Process

THE FINEST COLLECTION

Condominium | Home & Villa | Land | New Development

649.946.4474 | info@tcsothebysrealty.com | turksandcaicosSIR.com

Venture House, Grace Bay | Resort Locations: Grace Bay Club and The Palms

Each franchise is Independently Owned and Operated.
---
Enjoying A

Family Vacation

is one Thing...

WORRY-FREE

FUN & W

PROTECTING THE HEALTH & SAFETY OF OUR GUESTS IS EVERYTHING.

We know what you are asking yourself, "where is it safe for my family to go for a fun Caribbean vacation?" Well,

you'll be happy to know that the Platinum Protocol of Cleanliness has earned Beaches ® a 5-star rating with its

guests. Together with the extensive research from local health officials, the Center for Disease Control, and the World

Health Organization, Beaches has instituted advanced hygiene practices across 18 key touchpoints, including a

Triple-Check System that includes inspecting, cleaning, and sanitizing hard surfaces in common areas every 20

minutes, adding auto-dispensing hand sanitizing stations throughout the resort, using hospital-grade disinfectants,

electrostatic sprayers for advanced cleaning, UV-LED lighting equipment to inspect cleanliness, and air duct

sanitization for each room before every guest arrives. Beaches is so committed to providing strict compliance and

implementation of these safety protocols that we have created a dedicated Quality Inspection Team at each resort to

make sure all safety measures are adhered to – so you can enjoy a worry-free family vacation with 100% peace of mind.

For more information on our Platinum Protocol of Cleanliness, we invite you to visit https://www.beaches.com/cleanliness-protocols.

BEACHES.COM l 1-800-BEACHES l OR CALL YOUR TRAVEL ADVISOR

Beaches ® is a registered trademark. Unique Vacations, Inc. is an affiliate of Unique Travel Corp., the worldwide representative of Beaches Resorts.

@beachesresorts
---
contents

Departments

6 From the Editor

15 Getting to Know

Benjamin and Dr. Martin Luther King

By Diane Taylor ~ Artwork By Carol Kubie

20 Eye on the Sky

Optics in the Tropics

By Paul Wilkerson

22 Talking Taíno

They're Back!

By Bill Keegan, Betsy Carlson

& Michael Pateman

Images By Theodore Morris

81 About the Islands/TCI Map

85 Subscription Form

86 Where to Stay

88 Dining

90 Classified Ads

Features

48 Welcome Back!

How to Travel Gracefully During a Pandemic

By Jayne Baker

56 Cycling Paradise

Mapping the North & Middle Caicos Cycle Trail

By Jody Rathgeb

Green Pages

30 Sustainable Marine Management

By Dr. Julian A. Tyne, Marcin Gorny,

Lormeka Williams, Dr. Eric F. Salamanca,

Luc Clerveaux and Tara Pelembe

35 Flamingo Got Your Tongue?

Story & Photos By Carmen Hoyt

39 Sea Stars or Starfish?

By Melissa Heres ~

Photos By Anna Handte-Reinecker

44 A Tale of Two Islands

By Ben Farmer & Ewa Krzyszczyk, Ph.D.

Astrolabe

64 Lucayan Legacies

By Joanna Ostapkowicz ~

Images By Merald Clark ©

74 A Salty Mystery

By Jeffrey Dodge

4 www.timespub.tc

TIMES

OF THE

SAMPLING THE SOUL OF THE TURKS & CAICOS ISLANDS FALL 202 NO. 132

ISLANDS

On the Cover

Photographer Marta Morton was enjoying another spectacular

sunset on top of the ridge at Jim Hill, just by

Harbour Club Villas. She turned around to take a look

down the coastline and spotted this lovely scene—a

picture-perfect clump of Old Man Cacti and the pastel

colours of what she later learned were crepuscular rays

(see page 18).

For more of Marta's images, turn the pages of this issue

and visit www.harbourclubvillas.com.

MARTA MORTON–WWW.HARBOURCLUBVILLAS.COM
---
TurksAndCaicosProperty.com

Coral Sands - Steps from Grace Bay Beach

Major Price Improvement! Coral Sands was renovated in 2013 and features 2,242 sq. ft of interior living

space spread over two levels with three bedrooms, a master en-suite and two additional bathrooms.

The property is ideal for buyers looking for a family home and also developers seeking to build additional

villas on this large .93 of an acre prime site to meet the growing demand for vacation rental villas.

Milestone - Grace Bay Beachfront

US$1,250,000

New to Market! Villa Milestone is a beautifully appointed Grace Bay beachfront property situated

on a .70 of an acre lot located on Tranquility Lane in one of the best and highly sought after areas

of Providenciales, Turks and Caicos Islands. The villa is over 3,000 sq. ft. and currently operated a very

successful 4 bedroom (all with full en suite bathrooms) Turks and Caicos vacation rental property.

US$6,950,000

Bernadette Hunt

Cell ~ 649 231 4029 | Tel ~ 649 941 3361

Bernadette@TurksAndCaicosProperty.com

Bernadette has lived in the Turks and Caicos

Islands for over 21 years and witnessed the

development and transition of the islands

into a significant tourist destination. Based

on independent figures her gross transaction

numbers are unrivalled. Bernadette

has listings on Providenciales, Pine Cay,

Ambergris Cay, North and Middle Caicos

and is delighted to work with sellers and

buyers of homes, condos, commercial real

estate and vacant undeveloped sites.

Turks and Caicos Property is the leading

independent real estate firm in the Turks and

Caicos Islands with offices located at Ocean

Club West Resort and Ocean Club West

Plaza on the Grace Bay Road.

Bernadette's reputation and success has been

earned over time through her dedication,

enthusiasm and passion for real estate. Her

personal experience as having practiced law

in the islands for more than 10 years together

with owning and renovating a number of

properties means she is well-placed to advise

her customers and developers on what to

anticipate in the purchasing and construction

process.

Bernadette delights in working in the real

estate industry and her humor and energy

make her a pleasure to work with.

Windsong Penthouse - Grace Bay Beachfront

Major Price Improvement! This captivating Windsong Turks and Caicos penthouse is situated on coveted

Grace Bay Beach on the east corner of the resort. Suite 243 is a 4 bedroom deluxe condominium

totaling 4,826 sq. ft. with stylish interiors as well as being beautifully designed and furnished. The unit

features breathtaking beach and turquoise ocean views and a very spacious private rooftop terrance.

Please contact Bernadette if you would like

to find out more about owning real estate in

the Turks & Caicos Islands.

US$2,400,000
---
from the editor

MARTA MORTON–WWW.HARBOURCLUBVILLAS.COM

Our steadfast and talented "amateur" photographer Marta Morton captured these exquisite images of a hummingbird on her nest in a cactus.

Marta says that this precisely placed home was shared by two consecutive mother birds, with the new mama moving in and adding to the top

of the nest about a week after the original family flew off.

6 www.timespub.tc

Life Among Thorns

The saving grace of the early days of the COVID-19 pandemic was my naive belief that this would be THE unprecedented,

unimaginable event that would bring people together. We watched folks around the globe, from Italy to

New York to Turks & Caicos, step up in thanks and gratitude to the essential workers who put their lives on the line

every day. We remember the advertisements and public service announcements that urged people to stay at home,

and later, to wear masks and social distance—making personal sacrifices for the good of all. I was quite encouraged

that this catastrophe would erase the lines of division that seemed to be tatooed onto society. Then came the season

of protest sparked by George Floyd's death, and centuries of injustice and anger ignited like the wildfires burning in

the US West.

That event triggered a personal and poignant submission by long-time reader Diane Taylor, who, like me, found

the Turks & Caicos Islands to be a place where love and acceptance usurped skin color. It also makes especially pertinent

our two articles about the Lucayan Indians. As the Islands' first human settlers, they suffered the "short stick"

of injustice via disease and slavery brought about by the European explorers. Then, when history was written, the

"long stick" of misinformation diminished them as a people and society. I'm pleased that our "Talking Taíno" column

is returning, with each submission a step forward in declaring the truth about TCI's first folk.

So, the strange and disturbing year of 2020 continues . . . as we pray for worldwide healing in mind, body and

soul as the wheels of change—more like gears with sharp teeth—grind on.

Kathy Borsuk, Editor • timespub@tciway.tc • (649) 431-4788
---
Introducing the Boathouses

The Boathouses at South Bank will be conveniently

located on the marina waterfront with elevated

water views, most with a private dock keeping

your boat close at hand for when the ocean calls.

Cleverly designed to maximize space and light,

each is imbued with a warm, contemporary

aesthetic as a 1, 2 or 3 bedroom layout. Managed

by Grace Bay Resorts, the Boathouses will offer

the perfect balance of community, service, views

and space.

Prices starting from $795,000

Register interest today at livesouthbank.com

Developed by the

Windward Development Company

www.windward.tc

Brand partners:

Managed by:

For more information contact

Nina Siegenthaler at 649.231.0707

Joe Zahm at 649.231.6188

or email: nina@tcsothebysrealty.com
---
Everything's included

for everyone!

Now More Than Ever,

Cleanliness & Safety

Are Priority #1

Voted the World's

#1 Family Resorts

At Beaches ®

Resorts in Jamaica,

and Turks and Caicos, everyone

in the family can create their own

perfect day. For some, it's the whitesand

beaches and calm waters

featuring unlimited land and water

sports* including top equipment and

expert instruction. For others, it's the

awesome waterparks, multiple rounds

of golf*, fabulous restaurants and bars,

and non-stop entertainment. It's endless

fun and memories for Generation Everyone.

LAND AND WATER

SPORTS* INCLUDED

BEACHES

TURKS & CAICOS

SIGNATURE POOLS

TM/© 2020 Sesame Workshop
---
THE LARGEST

WATERPARKS

IN THE CARIBBEAN

The entire family is in for an adventure

at our Pirates Island Waterparks. Kids of

all ages will be laughing, splashing, and

having the time of their lives with up to

11 gigantic waterslides, the region's only

SurfStream ® Surf Simulator*, meandering

lazy rivers, and water fun for the tiniest

tots. It's all-inclusive, all the time,

anytime, all for Generation Everyone!

LAZY RIVER

WATERSLIDES

SURF SIMULATOR*

UP TO 21

RESTAURANTS

INCLUDED

Since Beaches was created for

everyone, our Master Chefs create

extraordinary cuisine for every taste.

Our culinary concierges can help with

any special requests and please even

the most finicky palates. Dine wherever

and whenever with gourmet regional

cuisines from around the world. From

casual, to upscale, it's all gourmet.

MORE QUALITY

INCLUSIONS

THAN ANYONE IN THE WORLD

Water Sports including Scuba Diving* • Caribbean's

Largest Waterparks with Huge Waterslides,

Surf Simulator* and Lazy River • 5-Star Global

Gourmet dining at up to 21 Restaurants per Resort

• Exclusive Caribbean Adventure with Sesame

Street ® • Xbox Play Lounges • Kids Camp & Teen

Programs • Unlimited Premium Liquors • Free*

Wedding • Family-Size Suites • English-trained

Butlers • Caribbean's Best Beaches • Tips, Taxes

& Beaches Transfers* Included • Free Resort-

Wide Wi-Fi • All-Inclusive. All the Time. Anytime.

UNIQUE SUITES

Jamaica • Turks & Caicos

BEACHES.COM • 1-800-BEACHES

or Call Your Travel Advisor

@beachesresorts

Voted World's Best 22 Years in a

Row at the World Travel Awards

*Visit www.beaches.com/disclaimers/timesoftheislandsfall2020

or call 1-800-BEACHES for important terms and conditions. Beaches ®

is a registered trademark. Unique Vacations, Inc. is an affiliate of

Unique Travel Corp., the worldwide representative of Beaches Resorts.
---
YOUR FAMILY

HAS BEEN AND

WILL ALWAYS BE

PRIORITY

#1

®

BEACHES

THE BRAND YOU CAN

TRUST

11

SUITE

CLEANING

TOUCH

POINTS

PHYSICAL

DISTANCING

PRACTICES

1

In-Room Bars &

Coffee/Tea Stations

2 All Closet Accessories

3 Air Duct

4 Hard Surfaces

5

Television &

All Electronics

6 UV-Led Light

WE'RE SAFEGUARDING YOUR HOME AWAY FROM HOME

PRIVATE

AIRPORT

TRANSFERS

NEW

AT-HOME

to

IN-ROOM

CHECK-IN

GUESTS CAN NOW

CHECK-IN ONLINE,

LETTING THEM SKIP

THE FRONT DESK AND

GO DIRECTLY TO

THEIR ROOM.

7 Bed Frame & Furniture

8

BEACHES ONLY USES

PRIVATE TRANSFERS FOR ALL GUESTS.

As part of the FIVE-STAR LUXURY EXPERIENCE,

Beaches guests are never left to fend for

themselves in crowded airports. Every guest is

given access to the private lounge reserved for

Beaches and Beaches guests only.

Placement Of

Anti-Bacterial Gels & Soaps

9 Carpeting And Floors

10 Soft Furnishings

11 Bedding & Mattresses

BATHROOM CLEANING TOUCH POINTS

9

Hand Sanitizers For All

1

Guests Upon Arrival

Placement Of Anti-Bacterial

2

Gels And Soaps

3 Floors

4 Electrical Aerosol Sprayers

5 Shower

6 UV-LED Light

7

SAFETY

TO EVERY CORNER OF THE RESORT

Tub

8 Air Duct

EXCLUSIVE

A

9 Hard Surfaces

that

I R P O R T

SPANS

PRIVATE

L O U N G E S

TEMPERATURE

CHECK

AT CHECK-IN

TEMPERATURES

EXCEEDING

99.5F/37.5C

WILL BE CONSIDERED

OUT OF RANGE.
---
LEADING THE INDUSTRY IN HEALTH AND SAFETY PROTOCOLS.

ALWAYS.

1 Arrival At Our Airport Lounges

2 Guest Transfers To Our Resorts

3 Food And Beverage Outlets

4 Housekeeping & Laundry

OUR

TOUCH POINT PRACTICE

5 Butler Elite Services

6 Maintenance

7 Resort Recreational Activities

8 Guest Rooms

9 Elevators

10 Swimming Pools & Whirlpools

11 Team Members Access Points

12 Fitness Centers

13 Bathrooms

14 Suppliers

15 All Public Resort & Beach Areas

16 Back Of House Areas

17 Red Lane ® Spa

18 HVAC Systems

safe

to slide

3X

TRIPLE

CHECK

SYSTEM

FOR CLEANING

AND

SANITIZATION

Prevention is the key to safeguarding the health of our

employees and guests. We long ago developed a sophisticated

approach to preventing the spread of illnesses at our resorts

under the guidance of medical professionals, the Centers

for Diseases Control and Prevention (CDC), World

Health Organization (WHO), and the local Ministries

of Health in each country we call home. We have

dedicated Quality Inspection Teams and environmental

health and safety managers at all of our resorts to make

sure every procedure is in place to protect every guest

and team member. That even extends to our supply chain.

Our resorts have always been equipped with full-service

medical stations staffed daily with a registered nurse

and 24/7 on-call medical personnel, but we've upgraded

these facilities to include the appropriate equipment and

supplies needed to address new protocols. So you can book

your clients' next stay with us knowing that Beaches has

always been the brand you can trust, and always will be.

BEACHES.COM l 1-800-BEACHES

Or Call Your Travel Advisor

@beachesresorts

Beaches ® is a registered trademark. Unique Vacations, Inc. is an affiliate of Unique Travel Corp., the worldwide representative of Beaches Resorts.
---
TIMES

MANAGING EDITOR

Kathy Borsuk

ADVERTISING MANAGER

Claire Parrish

CONTRIBUTING WRITERS

Jayne Baker, Kathy Borsuk, Dr. Betsy Carlson,

Luc Clerveaux, Jeffrey Dodge, Ben Farmer, Marcin Gorny,

Melissa Heres, Carmen Hoyt, Dr. Bill Keegan,

Dr. Ewa Krzyszczyk, Dr. Joanna Ostapkowicz, Claire Parrish,

Dr. Michael P. Pateman, Tara Pelembe, Jody Rathgeb,

Marjorie Sadler, Dr. Eric F. Salamanca, Diane Taylor,

Lisa Turnbow-Talbot, Dr. Julian A. Tyne,

Paul Wilkerson, Lormeka Williams.

CONTRIBUTING PHOTOGRAPHERS

Doug Camozzi–Caicos Cyclery, Ben Farmer, Kristen Grace,

Anna Handte-Reinecker, Melissa Heres, Carmen Hoyt,

Dr. Ewa Krzyszczyk, Carol Kubie, Melanie Lee-Brown,

Agile LeVin, Marta Morton, Paradise Photography,

Turks & Caicos National Museum,

Lisa Turnbow-Talbot, Dr. Julian A. Tyne, Paul Wilkerson.

CONTRIBUTING ARTISTS

James W. Brown, Merald Clark, Theodore Morris,

Wavey Line Publishing

PRINTING

PF Solutions, Miami, FL

OF THE

ISLANDS

Times of the Islands ISSN 1017-6853 is

published quarterly by Times Publications Ltd.

Copyright © 2020 by Times Publications Ltd. All rights reserved

under Universal and Pan American Copyright Conventions.

No part of this publication may be

reproduced without written permission.

Subscriptions $28/year; $32/year for

non-U.S. mailing addresses

Submissions We welcome submission of articles or photography, but

assume no responsibility for care and return of unsolicited material.

Return postage must accompany material if it is to be returned. In no

event shall any writer or photographer subject this magazine to any

claim for holding fees or damage charges on unsolicited material.

S A V E O V E R 5 0 %

O N Y O U R P O W E R B I L L

W I T H S O L A R E N E R G Y

Call us today for a renewable energy consultation

+1 649 332 1393 or +1 649 431 4242

While every care has been taken in the compilation and reproduction of

information contained herein to ensure correctness, such information is

subject to change without notice. The publisher accepts no

responsibility for such alterations or for typographical or other errors.

Business Office

Times Publications Ltd., P.O. Box 234,

Providenciales, Turks & Caicos Islands, BWI

Tel 649 431 4788

Advertising 649 431 7527

E-mail timespub@tciway.tc

Web www.timespub.tc

www.greenrevolutionltd.com

14 www.timespub.tc
---
getting to know

Carol Kubie painted this watercolor, "Boys on the Beach," in 1997 of Neville Missick and Benjamin Taylor. Carol and Diane Taylor worked

together at the Conch Farm in Providenciales and remain friends to this day.

CAROL KUBIE

Benjamin and

Dr. Martin Luther King

A dream of racial reconciliation.

By Diane Taylor

Let me tell you about my son Benjamin and Dr. Martin Luther King, and how I came to write the poem

on the next page. And also why I am bringing the poem to light after it has been lying dormant with a

collection of other poems in a bottom drawer for the past 37 years, accessible to my eyes only.

Times of the Islands Fall 2020 15
---
Most people come of age in their teens. I came of age

during the Civil Rights Era of the 1960s. I was well aware

of Dr. Martin Luther King's "I Have a Dream" speech when

in 1964, I grabbed the chance to march with many others

down Yonge Street in Toronto against segregation

in Selma, Alabama. Busloads of Canadians travelled to

Selma to encourage Black voter registration—which had

only recently become legal. It was my first year teaching.

I was 22 years old.

In his speech, Dr. King said he could see, "One day

when little black children would walk hand in hand with

little white children . . . " He was shot and killed in 1968.

In the early 1980s, I had the opportunity to live and

work on a conch farm in a primarily Black community on

a small island in the Turks & Caicos Islands. By then, I was

the mother of a one-year-old. It was pure joy for me to see

my little white child playing with little black children, living

out Martin Luther King's dream. In the Islands, there

was the chance to right the wrongs of the past, to live

life the way it should be lived, free from the prejudices

of race and colour. It was a chance for our children to

lead us to a brighter future, to rise from history's pain.

Everyone, black and white, loved Ben and I loved sharing

him.

I have a photo of little Ben playing in the sand with his

young friend Nevil Missick. They are both 3 1/2 years old.

The placid ocean is just a few feet away. They are both

on their knees, bodies energetically engaged in a fantastic

creation. Both have their weight on one arm Harbour while Club:Layout 1 8/17/16 10:16 AM Diane Page 1 Taylor

the other arm is madly pulling sand into a castle that

defies architectural logic, but is clearly amazing to them.

And they had to be fast, for the sun was almost down

on another perfect day and their mothers would soon be

taking them home.

Ben died not long after that photo. A Ben-less future

was unimaginable and unacceptable. Poems were a way

of connecting with his spirit and keeping him with me. I

shared them with family at the time, but not since. They

are too tender a part of me to be casually shared.

Then, George Floyd. After so many others. That's

why this is the right time and the right place for the boy

named Benjamin to emerge from the bottom drawer into

the light. a

Diane Taylor lived on Pine Cay for three years in the early

1980s. She now teaches memoir writing and has published

The Gift of Memoir: Show Up, Open Up, Write. She

is part of Spirit of the Hills Writers. For more information,

visit https://dianemtaylor.com.

16 www.timespub.tc

Harbour Club Villas

Turtle Tail Drive, Providenciales

Six one-bedroom villas.

Dive operators at our dock.

Bonefishing in the lake.

Fabulous beaches nearby.

Ideal for couples or groups.

Trip Advisor

Travellers' Choice

Awards Winner

For Martin Luther King

She had a dream

That one day

Her little blond boy

Would walk hand in hand

With little black children.

The dream came to pass.

They walked hand in hand,

Trekked island paths,

Built castles in the sand,

Ran Time into the ground.

But, it turns out it's Time,

Noncommittal and cold,

Does the running,

And Time runs out,

Into the costly cosmos.

Dr. King? That little blond boy—

Please take his hand in yours.

E: harbourclub@tciway.tc

T: 1 649 941 5748

See our website

for details.

www.HARBOURCLUBVILLAS.com
---
PROVEN IN PROVO

435' on Grace Bay Beach, a perennially acclaimed Caribbean destination.

30 years of construction development and hotel operations success.

A decade of travel industry awards and consistently high guest ratings.

10 years of strong ROI and very satisfied owners.

Where will you invest?

Windsong Resort Residences

Imaginative Phase II Resort Condominiums

Pre-Construction Pricing from $495K to $4.45M

_____________________________

1-649-946-3766 • Toll Free (US/Canada): 1-855-WINDSONG (946-3766)

Stubbs Road, Grace Bay • Providenciales, Turks and Caicos Islands

www.windsongresidences.com • realestate@windsongresort.com
---
MARTA MORTON–WWW.HARBOURCLUBVILLAS.COM
---
eye on the sky

Opposite page: Crepuscular rays can be seen throughout the year, late in the day towards sunset.

Above: This image of a sunbeam was captured by the author in front of Ocean Club West on Grace Bay, Providenciales.

PAUL WILKERSON

Optics in the Tropics

Awe-inspiring sights in the sky.

By Paul Wilkerson

Have you ever been outside on a late summer afternoon watching passing storms cruise by, only to see

rays of sunshine raining down in mesmerizing streaks of light on the turquoise water below? How about

staring at a towering cumulus cloud in the distance at sunset and being suddenly aware of a fan of brilliant

rays? Or perhaps you are looking at the sun just as it sets and you glimpse some sort of green light

in the moments just before the sun disappears? That all has to do with meteorological optics.

Times of the Islands Fall 2020 19
---
Meteorological optics are patterns in the sky that are

observable to the naked eye. Specifically, the interaction

of the visible light we see with water vapor and other

particulates in the atmosphere. Sun angle has to do with

the varying types of phenomena that we see in any given

scenario as well.

You will likely find that the majority of these optics

tend to occur when the sun is lower in the sky during

the mid-morning and late afternoon/early evening hours.

Lower sun angles allow for a longer stream of light to be

seen by the human eye. Think of it like a flashlight. When

a flashlight shines at an object that is close and at a 90º

angle to the flashlight, the light will be focused intensely

on that one spot with a short beam of light visible. Move

the flashlight double/triple the distance away, and turn

the object at a 45º angle to the flashlight and you will

discover more of the surface of the object is illuminated,

but with a softer focus, and a longer beam length that is

visible to the eye. It is in similar setups where we get to

see some of our coolest weather phenomena.

During our time in Oklahoma, we lived in a community

surrounded by winter wheat fields. We also sat in the

middle of "tornado alley," which meant thunderstorms

were a good bet on many days of the Spring and early

Summer. I remember being outside and watching these

behemoths swallow the rolling hills in their dark, foreboding

embrace. But on occasion, especially late in the

afternoon, I would be treated to a burst of light through

the darkness thanks to holes in the cloud deck around the

thunderstorm. These are sunbeams. Thanks to varying

amounts of water vapor in the atmosphere and the angle

of the sun and depending on the time of day, these rays

pour down on the landscape below with varying intensity

and beauty. They will appear quite wide at the base and

narrow toward the source they are focused through in

the cloud. When occurring late in the afternoon, these

beams fill a much larger area over the surface, providing

for a more spectacular effect. Be on the lookout for these

in the Turks & Caicos Islands, as we have seen these on

North Caicos during periods of thunderstorms.

More common throughout the Islands during the

year are crepuscular rays. The word "crepuscular" comes

from the Latin word crepusculum which means twilight.

As the Latin meaning implies, these rays tend to occur

late in the day before sunset while the sun is low on the

horizon. In order for these rays to be really noticeable,

there needs to be intermittent clouds between the viewer

and the sun. How dramatic the effect is will be based on

how close the clouds are to the observer. When clouds

are quite close, the effect occurs nearly overhead in

many cases and makes it harder to see/view. The best

optics occur when the clouds are well out to sea with

the sun setting behind them. This is the time rays can

be quite spectacular. As the sun hits these clouds, shadows

develop in the foreground of the cloud, blocking

out sections of light which allows for the appearance of

Spotting the elusive Green Flash as the sun sets over the ocean is a wonderous event.

MARTA MORTON–WWW.HARBOURCLUBVILLAS.COM

20 www.timespub.tc
---
Walkin May2017_Layout 1 5/28/17 5:45 PM Page 1

streaks, or rays of light. If the clouds are of a smooth

nature (stratus clouds), the effect is minimized, while

cumuliform clouds tend to have more peaks and valleys

at their tops, which maximizes the light/shadow contrast.

Further adding to this effect is the fact that sunlight is

traveling through a much larger section of air, where the

wavelengths of light are being scattered more diffusely,

resulting in more yellow and orange tones.

Folks in the Caribbean and other areas with shoreline

could be treated to another phenomenon that is quite

rare—the Green Flash. This is likely one of the most elusive

of all of the optics we see in the weather world. If

you have ever seen one, you are among the elite. The

green flash occurs both at sunrise as well as sunset. It

will always occur mere moments before the sun emerges

from the horizon, or right as the top of the sun disappears

beyond the horizon. It is important that the horizon

be nearly completely flat. That is why people with large

bodies of water to view across stand the greatest chance

of seeing this phenomenon.

This green flash occurs due to the refraction of sunlight

at sunset where the light is passing through a much

larger volume of atmosphere. The atmosphere bends the

sunlight passing through it, breaking it out into its different

colors, much like a prism. The different colors of

light refract differently based on their wavelengths. The

darker colors such as blue, green and violet are shorter

wavelengths and refract more strongly than orange, yellow

and red which are longer wavelengths. As blue and

violet light are scattered, the red, yellow and orange are

absorbed by the atmosphere. This leaves the green light

as the most visible light for mere seconds as the sun

disappears. When the sky is clear, there is little haze, and

good visibility, it is possible to see this wondrous event.

Have you experienced any of these phenomena on

your outings in the Islands? The next time you are taking

in a sunset on Grace Bay in Providenciales or Whitby

Beach on North Caicos, try to make it a point to watch

for the Green Flash or crepuscular rays. Break out your

camera and see if you can capture it. Cloud watching and

optical phenomenon-watching are activities that can be

enjoyed safely all year. Take the opportunity to enjoy

everything we have been gifted with in the heavens! a

DISTRIBUTOR DISTRIBUTOR FOR FOR EVINRUDE && MERCURY MERCURY

OUTBOARDS, PURSUIT WORLD CLASS CAT, CAT,

SUNDANCE AND BOSTON WHALER BOATS

Lures and Live Bait

Marine Hardware & Gear

Fishing Gear & Supplies

Marine Paints & Varnish

Marine Batteries

Sebago Docksiders

& Sperry Topsiders Shoes

BLUE

BLUE

HILLS

HILLS

ROAD

ROAD

PROVIDENCIALES

PROVIDENCIALES

TURKS

TURKS

& CAICOS

CAICOS

ISLANDS,

ISLANDS,

B.W.I.

B.W.I.

PHONE: 649-946-4411

FAX: 649-946-4945

Paul Wilkerson is an American meteorologist and tourist

who frequents the Turks & Caicos Islands. Along with

his wife and two daughters, the Wilkersons stay actively

engaged with Islanders throughout the year with his

Facebook page Turks and Caicos Islands Weather Info.

Times of the Islands Fall 2020 21
---
ORIGINAL ARTWORK BY THEODORE MORRIS
---
talking taíno

Opposite page and above: Artist Theodore Morris says, "While I cannot change history and right the wrongs that drove the Indians into extinction,

through my paintings I honor their memories and help set the record straight." This painting (original is one piece from left to right),

"The Beginning of the End," depicts the innocence of the native peoples of the Caribbean.

ORIGINAL ARTWORK BY THEODORE MORRIS

They're Back!

"Talking Taíno" authors return with a new take on an old tale.

Hopefully the announcement that we're back won't cause flashbacks to the Steven Spielberg film

"Poltergeist" (Fox/MGM, 1982). We are back, and this time we packed a suitcase. Between 2003 and 2007,

Bill and Betsy wrote 20 essays under the banner "Talking Taíno" for Times of the Islands, focusing on the

indigenous inhabitants of the Lucayan islands. The Lucayans were the first inhabitants of the Bahama

archipelago (living there from 1,400 to 500 years ago). Because the archipelago is today comprised of two

countries—The Commonwealth of the Bahamas and Turks & Caicos Islands—we follow the suggestion of

Commodore Tellis Bethel (Bahamas Defense Force) and refer to the Islands with an anglicized version of

their Spanish name, "Las Islas de Los Lucayos."

By Bill Keegan, Betsy Carlson and Michael Pateman

Times of the Islands Fall 2020 23
---
After conducting archaeological research here for

more than 40 years, we have a lot of stories to share.

We wrote the first set of essays knowing that many of

you share our passion for the Islands and the often-fascinating

stories of the natural world. Our trope was using

Taíno words recorded by the Spanish to view the Islands,

and all of their inhabitants, from a historic perspective.

The problem is that surprisingly few Taíno words survive,

and we eventually ran out of clever ideas for combining

language and history.

This time we have decided not to limit ourselves to

the Taíno lexicon. Sometimes what you don't say is more

important than what you do say. For centuries, the native

Caribbean was viewed only through the writings of the

Spanish invaders. Yet archaeologists soon realized that

the material evidence often did not match those depictions.

In related studies of the enslaved Africans who

were brought to the Americas, the field of Historical

Archaeology seeks to give voice to those who left no written

records—those described by historian Michael Craton

as the "invisible man."

Language, biology and comparisons with living peoples

provide important clues. However, it is the objects,

features, stains, chemical signatures and the ways these

are arranged in time and space that informs our detective

work. These are the tools that allow archaeologists to

write the past.

We hope to make this an interactive column. We will

not just report on research findings, but rather encourage

you to become active participants in the research

process. We have a number of new ideas. We want to

know what you think, so please send us your thoughts by

contacting Times of the Islands at timespub@tciway.tc.

As so often happens in the Islands, our latest project

began in the aftermath of Hurricane Joaquin, a Category

4 storm with sustained winds of 150 MPH, which parked

itself over Long Island (central Bahamas) for three days

at the beginning of October 2015. The results were devastating.

Surveying the damage to Lowe's Beach, local

residents Nick Constantakis with Nick and Anthony

Maillis found two skulls on the beach and evidence of

human bones protruding from the dune face. The human

remains were Lucayans, and the discovery was reported

to the Bahamas National Museum.

A year later Michael and Bill were sent to investigate.

The burial excavation that began in 2016 created its own

whirlwind. The absence of artifacts in association with the

burials led to new surveys, new sites, new excavations

and new questions. Much of what we found is unlike any-

Theodore Morris's painting, "The Fisherman," shows a tribal member

holding a sheepshead fish that he caught offshore of the

Dominican Republic.

thing we expected. We will share these results in future

issues.

The project had unanticipated consequences. Dr.

24 www.timespub.tc
---
Keith Tinker, then Director of The Bahamas Antiquities,

Monuments and Museum Corporation, arranged several

public lectures for us. He involved us in planning "The

Lucayan Experience," an outdoor exhibit at the Clifton

National Heritage Park in Nassau. We also created an

exhibit about the burial excavations for the Long Island

ORIGINAL ARTWORK BY THEODORE MORRIS

Times of the Islands Fall 2020 25
---
COURTESY TURKS & CAICOS NATIONAL MUSEUM

Dr. Michael Pateman is explaining the objects in the Lucayan Discovery Box suitcase with schoolchildren

at the Turks & Caicos National Museum's facility in Providenciales. The "hutia" stuffed animal (in

his hands) is a fan favorite.

Museum. But these were just events. The Bahamas

Ministry of Education (and the social sciences teachers)

had bigger plans.

Ms. Perelene Baker, Social Sciences Education Officer

for the Bahamas Ministry of Education (BME) invited us to

teacher workshops and asked us to update the curriculum

for the Lucayan component of the history curriculum.

The history component of the Bahamas Junior Certificate

Examination (BJCE) lists eight topics concerning "Arawak

Lifestyle" on which students are tested. The exams are

written and graded in England, and have received limited

local input. Thus, the long-held belief that the indigenous

Lucayans were socially and culturally identical

to the "Arawaks" (renamed Taínos in the 1980s) in the

Greater Antilles resulted in a very biased representation.

Early Spanish depictions of the indigenous inhabitants of

Cuba and Hispaniola (Haiti and the Dominican Republic)

came to represent life for the Lucayans, even if couched

as a more rural expression. Yet beginning with Shaun

Sullivan's pioneering archaeological research in the TCI

almost 50 years ago, a portrait has emerged of the distinctive

character of Lucayan lifeways. The Lucayans were

unique. Our essays will highlight their uniqueness. But

first, back to school.

We were shocked by how

outdated and often inaccurate

the educational resources

available to teachers are. For

example, it is well known

that the Lucayans flattened

their foreheads; perhaps to

enhance their beauty but certainly

as a permanent marker

of their identity. One book

illustrates this as an infant

with their skull being pressed

flat on a wood fulcrum that

looks like some kind of medieval

torture device. Yet, cranial

modification is usually accomplished

by tightly binding an

infant's head to a flat board

on the back of the skull with

the equivalent of a bandana.

About six months of binding

is sufficient to reshape the

arrangement of the six main

cranial bones before the skull

bones fuse. And with regard

to "Arawak recreation," no information, nothing, was discussed

in any of the classroom materials. (We'll correct

that in a future essay.)

Michael and Bill prepared a Teacher's Guide describing

Lucayan lifeways which the BME distributed to every

teacher, and which we carried into classrooms. Local

interest and enthusiasm was inspiring. We did classroom

visits and took students on Long Island to an archaeological

dig; four schoolteachers from S. C. Bootle Secondary

School in Coopers Town joined our team during fieldwork

on Abaco and 250 middle and high school students

attended a program on Grand Bahama. Additionally,

PowerPoint was used to assist with the redevelopment

of the Turks & Caicos history curriculum through the

Department of Education and integrated into the Turks

& Caicos National Museum's Heritage Quiz sponsored by

FortisTCI. We do these programs when we can, but the

goal is to build local capacity and expertise.

The piece de resistance came at the request of teachers

during a workshop in Nassau. A variety of Lucayan

artifacts were brought to the workshop to give the teachers

a hands-on experience. Not surprisingly, the teachers

wanted these for their classrooms. So, we assembled

a collection of about 50 Lucayan artifacts and modern

26 www.timespub.tc
---
eplicas and packed them in suitcases so they could

be transported safely and easily to schools across the

Islands. The untimely death of James Rowan, an archaeology

enthusiast with a house on Long Island, provided the

funding. His wife Susan adopted the project as her husband's

memorial fund, with which four "James B. Rowan

Lucayan Discovery Boxes" were produced. Currently,

three are in The Bahamas and one in the Turks & Caicos.

More are planned.

Artifacts recovered from archaeological excavations

in the Lucayan Islands and Greater Antilles were included

because they do more good in the schools than they do

in museum drawers. Shell tools, coral tools, stone axes

and clay pots help to illustrate what life was like without

metal tools. Replica cemís (representations of the spirits,

also spelled zemi) offer the starting point for discussing

beliefs in the spirit world. A bow drill, which is used

to make fire through friction, represents a "Lucayan fire

box" found in a cave on Crooked Island. (When one enthusiastic

student generated a thick plume of smoke at the

library on Grand Bahama, the librarian threatened to kick

us out.) Face paint can be made by grinding red bixa

seeds (a.k.a., annatto) in a wooden mortar.

But perhaps the most popular item is a stuffed animal.

Encountering live hutia in the wilds of Guantanamo

Bay, Cuba made us realize that the common description

for these indigenous rats—"cat-size rodent"—did not do

them justice. It turns out they sell a life-size stuffed animal

hutia at Guantanamo because they are so common

on the Navy base. Elsewhere in Cuba they are hunted and

eaten. Still, learning that Bahamian hutia (Geocapromys

ingrahami), which are now nearly extinct, were raised to

be eaten is often a shock. We'll spend some quality hutia

time in a future essay.

Maize (maíz in Taíno) and manioc (Manihot esculenta)

were staple crops, and the tools used to process

them stimulate discussion of gardens, recipes and food.

Cassava (casaba in Taíno) is the bread baked from manioc

after transforming the tubers into flour. Special preparation

techniques are required to make manioc edible—the

"bitter" tubers contain toxic cyanide. Manioc tubers were

peeled, grated and squeezed to remove the cyanide. Our

suitcase contains clamshell scrapers to peel the tubers

and a modern cheese grater to create the pulp. Each

suitcase also has an authentic "cassava squeezer" (called

metapi in the Guianas), although these were included

more for show than use. The squeezer is a basket tube

that is woven to constrict when pulled from both ends.

The poisonous juices are extracted by squeezing the

Times of the Islands Fall 2020 27
---
COURTESY KRISTEN GRACE, FLORIDA MUSEUM OF NATURAL HISTORY

The contents of a James B. Rowan Discovery Box includes about 50 different ancient artifacts and modern replicas. See if you can find the

cassava squeezer, stone axe, clamshell scrapers, coral tools, shell tools, bow drill, griddle, calabash and our beloved "hutia."

TWATIMES_Layout 1 2/16/17 7:49 AM Page 1

pulp. Authentic cassava squeezers like the ones in the

suitcases are rare and today are often made of plastic, but

their use can be demonstrated with children's "Chinese

finger traps." The diagonal weave pulls the ends closed

such that fingers are stuck until the tension is released.

It is far too easy to get squeezed into our own world

and focus only on personal projects. Fortunately, teachers

and students brought us back to reality. A lot has happened

since we last wrote "Talking Taíno." The time for

a sequel has arrived. In coming issues we'll explore new

topics and revisit some from the past. The Lucayans share

with you the same fragile islands. Learning from them is a

path that leads "Back to the Future" (Universal, 1985). a

Serving international & domestic clients in real estate, property development,

mortgages, corporate & commercial matters, immigration, & more.

TEL 649.946.4261 TMW@TMWLAW.TC WWW.TWAMARCELINWOLF.COM

Dr. Bill Keegan is Curator of Caribbean Archaeology at the

Florida Museum of Natural History (University of Florida);

Dr. Betsy Carlson is Senior Archaeologist at Southeastern

Archaeological Research (SEARCH, Inc.) in Jonesville, FL;

and Dr. Michael Pateman is former Director of the Turks

& Caicos National Museum and currently Curator/Lab

Director of the AEX Maritime Museum on Grand Bahama.

For more information, visit https://www.floridamuseum.ufl.edu/science/bahamian-discovery-boxes/.

28 www.timespub.tc
---
Building Your Vision, Delivering Excellence, and Exceeding Expectations -

Time After Time.

Projetech offers turnkey Construction Management and General Contracting

Services for Residential, Commercial and Hotel & Condominium Projects in the

Turks & Caicos Islands. Our depth of experience is unrivaled and our

commitment to quality shows in the hundreds of projects we've completed in the

Turks & Caicos since our beginnings in 1996.

E S T A B L I SHE D 1 9 9 6

C O N S TRUCTI O N M ANA G E M E N T & S E R V I C E S L T D

PO BOX 659 | PROJECT HOUSE | LEEWARD HIGHWAY | PROVIDENCIALES | TURKS & CAICOS ISLANDS

T: 649.941.3508 | F: 649.941.5824 | INFO@PROJETECH.TC | WWW.PROJETECH.TC |
---
green pages

Newsletter of the Department of Environment & Coastal Resources

Head office: Church Folly, Grand Turk, tel 649 946 2801 • fax 649 946 1895

• Astwood Street, South Caicos, tel 649 946 3306 • fax 946 3710

• National Environmental Centre, Lower Bight Road, Providenciales

Parks Division, tel 649 941 5122 • fax 649 946 4793

Fisheries Division, tel 649 946 4017 • fax 649 946 4793

email environment@gov.tc or dema.tci@gmail.com • web https://www.gov.tc/decr/

AGILE LEVIN

Little Water Cay, a protected area, is home to the endemic Turks & Caicos Rock Iguana and beautiful Half Moon Bay.

Sustainable Marine

Management

Marine Spatial Planning (MSP) tools for the Turks & Caicos Islands.

By Dr. Julian A. Tyne 1,2 , Marcin Gorny 1,2 , Lormeka Williams 2 , Dr. Eric F. Salamanca 2 ,

Luc Clerveaux 2 and Tara Pelembe 1

It is the striking sandy white beaches and exquisite turquoise blue water, with its rich marine biodiversity,

that attracts visitors wanting to experience the "Beautiful by Nature" Turks & Caicos Islands (TCI),

and supports a thriving tourism industry. As a small island nation, the TCI's marine environment is much

larger than that of its terrestrial, and the Islands' population has formed close links to the sea that have

been built up over generations.

1

South Atlantic Environmental Research Institute (SAERI)

2

Department of Environment and Coastal Resources (DECR)

30 www.timespub.tc
---
green pages newsletter of the department of environment & coastal resources

Habitat protection

Many, if not all, livelihoods in the TCI in some way are

highly dependent on the rich biodiversity and productivity

that the marine environment provides. Habitats such

as mangroves, coral reefs and seagrasses support important

nurseries for marine life, including important fisheries

species such as conch and lobster. These habitats also

provide coastal protection from hurricane-induced storm

surges.

However, human use of coastal and marine resources

of small island nations, such as the TCI, is placing growing—and

often conflicting—demands on the marine

environment. With the additional consequences of climate

change, the marine environment is under increasing

pressure that can threaten its health and the livelihoods

of those that depend upon it.

The Turks & Caicos Island Government (TCIG) has a

number of departments (e.g. DECR, Tourism Department,

Ports Authority, Police, Maritime and Shipping) that work

in the marine environment—some of whom have management

and/or enforcement functions. In addition,

non-governmental organisations and the private sector

also undertake activities in the marine space. The

Department of Environment & Coastal Resources (DECR)

is mandated to promote protection and sustainable utilization

of natural resources throughout the Turks & Caicos

Islands. Along this line, it is imperative to enhance the

strategic approach to address the challenges and issues

to ensure sustainable use of the marine resources.

Protected areas have been implemented as part of

the TCI strategic plan since the 1980s. Marine Protected

Areas (MPAs) were created to provide various levels of

protection and conservation for the natural capital of the

TCI. Specifically, it affords strategies for the management

of marine resources for the benefit of tourism, fishing

and boating.

This is the Marine Spatial Planning Flowchart for Phase 1 of the project.

©SOUTH ATLANTIC ENVIRONMENTAL RESEARCH INSTITUTE

Times of the Islands Fall 2020 31
---
green pages newsletter of the department of environment & coastal resources

This is the Marine Spatial Planning WebGIS showing the TCI protected areas, depth contours, seagrass distribution and much more. It is available

at https://www.gov.tc/decr/. Select "Programmes and Projects," "MSP Project," "Marine Spatial Planning Tool."

The TCI now has 35 protected areas consisting of:

11 National Parks, 11 Nature Reserves, 4 Sanctuaries

and 9 Areas of Historical Interest, all declared under

the TCI National Parks Ordinance—28 of which have a

marine component. With all of the different activities that

are taking place in the marine environment, it is now a

requirement to consider the marine space from a holistic

perspective.

Marine spatial planning

In order to help sustainably manage the TCI's marine environment

and its uses, a collaborative effort by the South

Atlantic Environmental Research Institute (SAERI), the

TCIG Department of Environment & Coastal Resources,

the UK's Joint Natural Conservation Committee (JNCC)

and Economics for the Environment (eftec) is underway

to develop Marine Spatial Planning (MSP) tools to feed

into long term planning and decision making.

As the name implies, MSP is spatial planning for the

ocean and is defined as "a public process of analysing

and allocating the spatial and temporal distribution of

human activities in marine areas to achieve ecological,

economic and social objectives that usually have been

specified through a political process." MSP is a stakeholder-driven,

science-based process to develop a strategic

plan for managing and protecting the marine environment,

addressing multiple and cumulative uses of the sea

and achieving ecological, economic and social objectives.

The spatial component of MSP involves the collection

and collation of multi-disciplinary data, in an accessible

format and at multiple scales, from a number of sources.

To house these data, an island-wide information management

system is being developed that will ensure all

data required to effectively manage and monitor the

TCI's marine environment is stored and accessible from

a central location. Once identified, data for the marine

environment will be collected, collated and loaded into

a central information management system and GIS database.

Using WebGIS, a GIS database interface that works

through a web browser, the spatial and temporal information

will be available online to the public at no cost. Data

will be overlaid and used to identify overlaps between

the marine environment and human uses and gaps in the

data that need to be filled.

Getting involved

Stakeholder engagement is central to the MSP process,

as it serves to improve understanding and involvement in

decision-making and governance which helps in the success

of MSP projects. Four "Setting the Scene" stakeholder

32 www.timespub.tc
---
green pages newsletter of the department of environment & coastal resources

Seagrass meadows around TCI stabilise the soft sediment substrate, provide food and habitat for marine life, maintain water quality, absorb

carbon and support local economies.

workshops, with over 50 participants, were held on South

Caicos, Grand Turk and Providenciales. The aim of these

workshops was to:

• Inform stakeholders of the existence of project and give

them background on the MSP process;

• Share MSP examples from other overseas territories, to

provide context for MSP in the TCI;

• Discuss and identify what the stakeholders consider to

be the important marine values of the TCI;

• Allow stakeholders to share their overview, expertise,

thoughts and vision for the MSP process in the TCI; and

• Discover what data was currently available for the

marine environment on TCI.

The workshop reports can be found at: https://www.

gov.tc/decr/projects/msp/reports.

top ten were chosen and fashioned into the following

vision statement for the MSP TCI project:

"Ensuring the marine and coastal environment and

resources are well managed, collaboratively and

equally, for sustainable development, safeguarding the

cultural heritage and providing education for future

generations while maintaining the clean, green and

pristine, beautiful by nature Turks & Caicos Islands."

The MSP vision statement is in support of the TCI

Constitution (2011) which states in section 18 that "The

government shall, in all their decisions, have due regard

to the need to foster and protect an environment that is

not harmful to the health or well-being of present and

future generations, while promoting justifiable economic

and social development."

JULIAN TYNE

Vision statement

Another output from the stakeholder workshops was

a vision statement for the MSP TCI project. Of the 74

words/phrases suggested by workshop participants, the

Coastal cultural values

Cultural identity is strongly associated with the ways

in which people interact with their coastal areas. A few

coastal areas may have "universal" or "outstanding"

Times of the Islands Fall 2020 33
---
green pages newsletter of the department of environment & coastal resources

JULIAN TYNE

Mangroves around TCI provide coastal protection from hurricane storm surge, absorb carbon and serve as valuable nursery habitats for the

rich biodiversity of marine life.

values, but almost all coastal areas will be valued in multiple

ways by those people who are closely associated

with them. Coastal Cultural Values are the nonmaterial

benefits people obtain from coastal areas through spiritual

enrichment, reflection, subsistence, recreation, and

aesthetic experiences. Most Coastal Cultural Values are

not directly observable in the physical landscape and are

consequently poorly integrated with management plans.

As part of the MSP project in TCI we aim to identify the

distribution of Coastal Cultural Values of the TCI and integrate

them into the management tools.

This work will contribute to TCIG commitments that

were established under the Environment Charters, TCI

Vision 2040, the National Tourism Strategy and Policy,

the National Disaster Management Plan and the National

Physical Sustainable Development Plan (in preparation).

The MSP project will fit within the TCI Environmental

Strategy (in preparation) that is also being coordinated

by the DECR with technical support from the UK's JNCC.

Moving forward, there will be continued stakeholder

engagement throughout the project for regular updates

on the MSP progress and to garner feedback and input

from stakeholders. The aim is that the MSP tools will show

the spatial distribution of the multiple and cumulative

uses of the sea, to further support the ecological, economic

and social objectives of the "Beautiful by Nature"

Turks & Caicos Islands. a

If you are interested in finding out more about the MSP

project in TCI, contact Dr. Julian A. Tyne at jtyne@saeri.

ac.fk or the DECR at environment@gov.tc.

This stingray is investigating the reef at Coral Gardens in

Providenciales. Coral reefs are some of the most diverse ecosystems

in the world, providing habitats for many marine organisms.

JULIAN TYNE

34 www.timespub.tc
---
green pages newsletter of the department of environment & coastal resources

These inch-long polka-dotted snails are quite common in the Turks & Caicos Islands.

Flamingo Got Your Tongue?

Let me tell you, nothing quiets a crowd faster than saying, "I love flamingo tongues!" Such an exclamation

is usually met with some sideways stares and confused looks. Flamingo tongues, in this case, refer not

to the lanky pink bird, but to a small marine snail that is often described as "cute" and "happy." Don't

believe me? Take a look for yourself.

The scoop on these small marine snails.

Story & Photos By Carmen Hoyt, Waterfront Assistant

The School for Field Studies Center for Marine Resource Studies, South Caicos

Times of the Islands Fall 2020 35
---
green pages newsletter of the department of environment & coastal resources

Flamingo tongues (Cyphoma gibbosum) are mollusks,

and they abide by the status quo set by phylum

Mollusca. Members of this phylum, for the most part, are

characterized by soft-bodied organisms protected by a

shell, which is secreted by a membrane-like body part

called the mantle. If you have one shell, like a snail, you

are a univalve, and if you have two, like a clam, a bivalve.

A few notable exceptions to this rule, however, are octopuses,

who have entirely lost the development of a shell

over time. Shell or not, these organisms still have a distinguishable

"head" region and a muscular "foot" they use to

move. Most mollusks, aside from bivalves, have a radula:

a small tooth-like structure that is used to scrape food.

Within the phylum Mollusca is the class Gastropoda.

Gastropods are univalve mollusks that we recognize as

snails (with a single shell) and slugs (without any shell),

and they represent about 80% of all mollusks. There are

more than 62,000 species of gastropods, and they have

evolved to fit every ecological corner of our planet. From

the deepest parts of the ocean to the tops of mountains,

they can be found in virtually any environment and serve

a host of purposes. A "Where's Waldo" of sorts, the hunt

for flamingo tongues sends you searching for an inchlong,

polka-dotted snail scattered around coral reefs

rather than for a man in a striped shirt. They are quite

common here in the Turks & Caicos Islands, and also

occupy a range of waters from North Carolina all the way

to northern Brazil.

The food of choice of flamingo tongues happens to

be the same as their preferred habitat: soft corals such

as sea fans or sea rods, members of the Plexauridae

family. Sea fans are wide, flexible planes of latticework

supported by a trunk of sorts that anchors it to the

ground. They overlap in their distribution with the flamingo

tongue, growing on reefs and rocky shorelines

with heavy wave action. They grow perpendicular to the

waves to provide the least amount of resistance and avoid

becoming detached. Purple sea fans (Gorgonia ventalina),

as their name suggests, are usually an alluring shade of

purple that gives underwater photographers the perfect

backdrop to the popular subject of choice. Flamingo

tongues decorate sea fans and sea rods like ornaments

on a Christmas tree, delicately hanging in place for all to

adore.

The food of choice of flamingo tongues happens to be the same as their preferred habitat: soft corals such as sea fans or sea rods.

36 www.timespub.tc
---
green pages newsletter of the department of environment & coastal resources

Flamingo tongues use their tooth-like radula to

scrape the top, living layer of the coral for food, but the

leftovers don't go to waste! After mating, female flamingo

tongues will lay several capsules of eggs, each with up to

300 embryos, in the structure of the coral host left bare

by grazing. This is likely because this region is free of

toxins that may otherwise hurt the eggs. The eggs hatch

after about 10 days and swim in the water column for an

indeterminate amount of time before they settle to the

corals and start the process over again, and the corals are

able to grow back if not too heavily grazed.

The flamingo tongue is a favorite of photographers

and recreational divers alike, but to most shellers they

are deceiving. Those delicate orange spots that line the

shell are actually part of the snail's body, the mantle,

rather than the shell. This is why finding flamingo tongue

shells can be rather disappointing, as they are usually

a plain cream or beige color. Their affinity for sea fans

and other soft corals has worked out to be advantageous:

the toxins the corals produce for defense are consumed

by the flamingo tongue and actually incorporated into

its own defense system. Its flashy patterning is a way of

warning off predators including hogfish, spiny lobsters

and some pufferfish. Besides just providing a warning

sign, the mantle acts as the lungs, exchanging carbon

dioxide for oxygen in the water.

Polka-dots may not be the only pattern you find.

Previously thought to be three different species, there are

a couple of other interesting but less common variations

of flamingo tongues: the fingerprint flamingo tongue

(C. signatum) and McGinty's flamingo tongue (C. mcgintyi).

The fingerprint flamingo tongue models an orange

and black striped pattern while the McGinty's flamingo

tongue has smaller, darker spots that contrast with a

whiter shell. A study conducted by Reijnen and van der

Meij from the Naturalis and Oxford University Museum

of Natural History in 2017 tested the genetics across

all three types and found that they are in fact the same

species, despite slim differences in patterning, color and

shape of their shells.

Everyone who encounters a flamingo tongue wants

to get the perfect photo. Luckily, subjects such as these

don't move much except for their flexible coral habitats.

See the sidebar on the next page for tips on shooting

photos underwater. Then, the next time you are met with

confused looks when mentioning the flamingo tongue,

The fingerprint flamingo tongue models an orange and black striped

pattern.

you can show off a few of your new photographs. a

For more information, contact SFS Center Director Heidi

Hertler, PhD at hhertler@fieldstudies.org.

Times of the Islands Fall 2020 37
---
green pages newsletter of the department of environment & coastal resources

Tips for photographing flamingo tongues

Floating in space

First and foremost, it is extremely important to practice

good buoyancy. This means being aware of your

position in the water column and not being too close

to the coral. Soft corals like sea fans and sea rods grow

up from reefs, so they are more susceptible to collision

with divers and snorkelers who are not paying attention

to the direction they are swimming. Touching the reef

is never a good idea for your safety and for the safety

of the animals that live there. Keeping careful track of

your movements and presence in the water around the

reef is the best way to prevent any unwanted interactions.

Ready for the close-up

Lastly, work the angles! Experiment. Try to find ways to

present the flamingo tongue as more than just a shell.

Perhaps part of its foot is showing, or maybe you are

able to capture it from the underside. Macro lenses are

your best bet with their tiny size, though many camera

settings will allow you to set a macro focus without

having to invest in additional equipment.

At the School for Field Studies' Center for Marine

Resource Studies on South Caicos, students are able to

get in their own practice behind the camera. Students

taking the PADI Advanced Open Water SCUBA course

Lights,

camera, action!

Look for flamingo

tongues that are

exposed to nice

lighting. They typically

live in depths

of up to 45 feet,

allowing for ample

light especially in

the

crystal-clear

waters of the Turks

& Caicos. You will

want to find one

that is not shielded

by corals or other

obstacles, so that

both the light and

your view is uninterrupted.

Proper

lighting is the best way to illuminate the beautiful patterning

of the flamingo tongue's mantle. Look for ones

that have settled on nice backgrounds. Bright purple

sea fans are often a crowd favorite, but soft corals with

interesting structures will also provide for a nice addition.

Beware of what is behind the corals. Is it reef?

Other divers? You don't want any distractions. If you

are lucky, you may find more than one specimen or

perhaps more than one type!

This close-up image of the flamingo tongue has captured part of its foot.

participate in five training dives. Two are required: a

deep training dive and a navigation dive. Otherwise, divers

are usually allowed to choose the remaining three.

At the center, we offer Underwater Photography as one

of those training dives, where students can experiment

with cameras and put some of these tips to use. a

Carmen Hoyt

38 www.timespub.tc
---
green pages newsletter of the department of environment & coastal resources

This brittle star, with its thin arms and distinct central disk, is seen moving across a sandy floor.

Sea Stars or Starfish?

The fascinating world of the echinoderm.

The name "echinoderm" might not bring much to your mind—perhaps unwelcomed trips to the dermatologist

or a whiff of echinacea. But by taking the word apart we learn that echino- translates to "something

prickly," while -derm is a Greek root that means "skin." So, what exactly are these prickly-skinned creatures?

By Melissa Heres, Waterfront Assistant, The School for Field Studies,

Center for Marine Resource Studies ~ Photos By Anna Handte-Reinecker

Times of the Islands Fall 2020 39
---
green pages newsletter of the department of environment & coastal resources

Above: A long-spined sea urchin (Diadema antillarum) is seen hiding in the crevices of a reef.

Bottom right: A slate pencil urchin (Eucidaris tribuloides) hides in a crevice in the reef.

Echinodermata is a phylum or grouping of organisms

with similar traits and genes. The traits that an organism

must possess to fall into the illustrious category

of Echinodermata are as follows: they usually have five

point radial symmetry, tube feet, a calcified skeleton and

a water vascular system, which acts almost as a hydraulic

system to move their tube feet. Having prickly skin isn't a

necessity to be considered an echinoderm. Interestingly,

these creatures don't have eyes or a brain, but they do

have an incredible ability to regenerate—sea stars in particular

are well known for losing an arm and re-growing it

within a year or so.

Echinoderms are divided into five smaller groupings,

called classes. These include Asteroidea (sea stars),

Ophiuroidea (brittle stars), Echinoidea (sea urchins and

sand dollars), Crinoidea (feather stars) and Holothuroidea

(sea cucumbers). Class by class, we can learn about the

lives of these incredible and often underappreciated

animals that are found right here in the Turks & Caicos

Islands.

40 www.timespub.tc
---
green pages newsletter of the department of environment & coastal resources

Echinoderm biology is truly, spectacularly weird.

Since echinoderms lack a head, they do not necessarily

have a front or back portion of their body. Echinoderms

do, however, have a bottom and top portion, called "oral"

(or mouth bearing) and "aboral" (non-mouth bearing),

respectively. The water vascular system mentioned earlier

consists of fluid filled canals that lead to the echinoderm's

tube feet. These work in a sort of hydraulic system, where

fluid is pumped into the tube foot via a one-way valve.

Echinoderms can possess as many as 2,000 of these

tube feet, and we know little about how the coordination

of all of these 2,000 contractions and retractions work in

their entirety. We do know that echinoderms use a duogland

adhesive system which allows their tube feet to

stick to the surface that they are walking on. The echinoderm's

tube feet secrete an adhesive to attach themselves

to whatever they're crawling on, and then secrete another

chemical that breaks this adhesion to detach their tube

feet from the substrate. Another unique characteristic

that echinoderms possess is a mutable connective tissue,

which allows them to alter the degree of stiffness of their

tissue, reverting from stiff to nearly liquid in a matter of

seconds.

Perhaps the most well known and loved of all the

echinoderms is the sea star, in the class Stelleroidea

and subclass Asteroidea. Sea stars—often misleadingly

termed starfish (even though they are invertebrates and

not fish) have a star-shaped body. Sea stars use their tube

feet, not their arms, to move around. Their main prey

includes small invertebrates such as sponges, worms,

bivalves or coral polyps, but sometimes these sea stars

prey upon small fish, and even other echinoderms! When

presented with a rather large meal, sea stars have an

interesting way of feeding: they can invert their stomach

out through their mouth and digest their prey externally!

Closely related to the sea stars are the brittle

stars, also in the class Stelleroidea but in the subclass

Ophiuroidea. These creatures are characterized by a

central disk with five slender arms extending outwards.

Some brittle stars are deposit feeders, meaning that they

ingest sand and filter out the organic bits to eat. Other

brittle stars are suspension feeders, meaning that they

filter food particles from the water. Yet other brittle stars

are carnivores or scavengers. Brittle stars are usually

found under rocks and crevices during the day, coming

out at night to feed.

Times of the Islands Fall 2020 41
---
green pages newsletter of the department of environment & coastal resources

Above: This West Indian sea egg (Tripneustes ventricosus) hides from predators in a patch of turtle grass.

Bottom left: A sea cucumber is covered with seagrass and algae, likely for camouflage.

The oldest known echinoderms are in the class

Crinoidea, also called crinoids. This class contains sea

lilies and feather stars, wherein sea lilies are stationary

and feather stars can move. Feather stars are able to

swim short distances by moving their arms, or "feathers,"

down forcefully in a beautiful display. All crinoids

are suspension feeders and use their arms and a series

of mucus-covered, tubular pinnules to catch their food.

Sea biscuits, sea urchins, and sand dollars all fall

within the class Echinoidea. This group of echinoderms

have spines that attach to their tests (their version of

skeletons) via ball and socket joints. Spines of echinoids

serve several purposes: usually for defense, gathering

food or bracing themselves when they get stuck in tight

crevices. Echinoids can be either regular, meaning that

they have a perfect, spherical shape, or irregular, meaning

that they have some degree of bilateral symmetry.

All sea urchins are regular, while heart urchins or sea

biscuits are irregular, displaying a more elongated body

shape and a distinct front and back part of their body.

42 www.timespub.tc
---
green pages newsletter of the department of environment & coastal resources

Last, but certainly not least, are the sea cucumbers,

which are in the class Holothuroidea. Sea cucumbers can

be thought of as elongated sea urchins, minus the spines.

Their tentacles, however, are modified tube feet that can

be outstretched from their mouth to capture food. Most

are suspension feeders that dig through the sand to find

bits of organic material.

Echinoderms spanning all of the classes have an

incredible ability to regenerate. Sea cucumbers, when

threatened, have the ability to expel their entire digestive

system! In order to do this, they liquify and rupture

the connective tissue holding their digestive system in

place. All of these body parts are eventually reformed.

Similarly, sea stars can also regenerate body parts. When

disturbed, these creatures can sever their limbs and eventually

regenerate them over time.

These amazing creatures can be seen all around the

waters of the TCI. Golden crinoids can often be seen hiding

in crevices of reefs. The cushion sea star is commonly

found in the flats, in shallow, predominantly sandy areas.

Brittle stars of all kinds can also be found, usually in the

crevices of corals or sponges. The giant basket star, a

kind of brittle star, is inconspicuous during the day, but

extends its long, thinly branched arms out at night to

feed. Sea urchins can be found among the reef, like the

long-spined urchin, or in predominantly sandy or mangrove

areas, like the West Indian sea egg. Heart urchins,

sand dollars and sea biscuits can all be found in shallow,

sandy areas. Sea cucumbers can be found in shallow

sandy patches or deeper reefs.

Students at the SFS Center for Marine Resource

Studies on South Caicos have the wonderful opportunity

to witness these amazing creatures in action on a weekly

basis. Sightings of such varied echinoderms as tessellated

cushion stars, ruby brittle stars, reef urchins and tiger tail

sea cucumbers are never in short supply. These creatures

have been spotted during recreational snorkels and dives,

field research exercises and extraordinary night dives

near the wall that leads down to the Columbus Passage

(Turks Head Passage). Taking time to snorkel or dive on

the beautiful reefs of the Turks & Caicos Islands is truly a

magical experience; take some time and explore them for

yourself and see how many echinoderms you can spot! a

For more information, contact SFS Center Director Heidi

Hertler, PhD at hhertler@fieldstudies.org.

A sea urchin test, or skeleton, is washed ashore.

Times of the Islands Fall 2020 43
---
green pages newsletter of the department of environment & coastal resources

EWA KRZYSZCZYK

This ocean surgeonfish, Acanthurus tractus, is infected by Black Spot Syndrome. The spots are collections of cysts caused by a tiny parasitic

worm.

A Tale of Two Islands

Black-spot syndrome in Bonaire and TCI.

By Ben Farmer and Ewa Krzyszczyk, Ph.D., The School for Field Studies,

Center for Marine Resource Studies

I first became fascinated by fish disease three years ago, at a research station on the small island of

Bonaire. Bonaire is a Dutch Caribbean island, approximately 58 kilometers north of the Venezuelan coastline,

where I completed a semester of education abroad. Completely surrounded by beautiful fringing

coral reefs, Bonaire has long been a destination for ocean-related tourism. In recent decades, Bonaire's

reefs have also been the subject of exciting scientific research. One such research project, conducted by

Dr. Franziska Elmer, focused on a specific fish disease, Black Spot Syndrome (BSS).

44 www.timespub.tc
---
green pages newsletter of the department of environment & coastal resources

These images show: a) An ocean surgeonfish infected by BSS. b) Cysts of the parasite, Scaphanocephalus expansus, infecting the fin rays of

a fish. c) A cyst taken from a fish. d) A microscope stained slide of S. expansus in the form it takes when infecting its intermediate host, in

this case the ocean surgeonfish. Note the wing-like structure. (Kohl et al. 2020)

IMAGE RETRIEVED FROM KOHL ET AL. 2019

The identity and distribution of marine parasitic diseases

have received little attention and yet are known

to have many deleterious consequences, such as affecting

the commercial value of fisheries and influencing

patterns of human health. Black Spot Syndrome (BSS)

has been observed on many reef fish throughout the

Caribbean, including bar jacks (Caranx ruber), redband

parrotfish (Sparisoma aurofrenatum) and ocean surgeonfish

(Acanthurus tractus).

BSS is a dermal disease that is characterized by black

blemishes on the scales and fin rays of a fish, which are

usually associated with the encysted stages (metacercariae)

of a trematode, or worm-like animal. Field surveys

conducted in Bonaire by Dr. Elmer and her colleagues

(2019) indicated that ocean surgeonfish had the highest

prevalence (% of individuals affected with BSS) and

severity (more than 11 spots per fish) of BSS, occurring

more at shallower depths (2 meters versus 18 meters)

and with a higher frequency throughout the years, from

1985 to 2017. Scouring the Internet for any images of

ocean surgeonfish with BSS, Dr. Elmer and her colleagues

(2019) found that BSS is more prevalent in the south of

the Caribbean (Bonaire and Curacao, 78%) than in the

north (Belize and Mexico 0–34%), confirming the findings

in Bernal et al's 2016 study.

Excitingly, a colleague of Dr. Elmer's, Zachory Kohl,

recently established that BSS in Bonaire is caused by

Scaphanocephalus expansus, a strange-looking trematode

that has wing-like expansions at its front. The

osprey (Pandion haliaetus) is considered S. expanus's

definitive host (final host) in many locations around

the world—Europe, Egypt, Asia, North America and the

Times of the Islands Fall 2020 45
---
green pages newsletter of the department of environment & coastal resources

BEN FARMER

The Shark Alley site on South Caicos is one of several sites surveyed for the BSS Directed Research project. An osprey nest is situated on top

of the rock face, in perfect range of the surgeonfish habitat below.

Canary Islands. However, until more is known about the

life cycle of S. expansus, the factors determining its distribution

(i.e. the Southern Caribbean has such dramatic

rates of infection) are uncertain. Though, it is possible

that the landscape of the Dutch Antilles supports a more

stable population of osprey, increasing the chances of

parasites taking a stronghold on the food web.

Black Spot Syndrome in the TCI

Two years after my research in Bonaire, I joined the

School for Field Studies Center for Marine Resources (SFS

CMRS) on South Caicos as a Waterfront Assistant. To my

excitement Dr. Elmer was also there as a professor of

Marine Ecology and continuing her research on BSS and

how it affects fish behavior. She is collaborating with

Dr. Ewa Krzyszczyk, the professor of Marine Resource

Management at SFS, who has a rich background in marine

mammal behavior and was well-suited to take over the

project. She says, "To be able to put my 15 years of

experience in marine mammal behavior and apply these

techniques to study the role of parasites in the evolution

of host life-history traits such as parasite-induced

alterations in host behavior and to get to teach under-

graduates students about this, it's so exciting."

So, what does behavior have to do with parasites?

Parasite-induced alterations in host behavior increase

the chance for parasite survival and transmission or

ensure the completion of its lifecycle. Some examples of

behavioral alterations include altered activity, changes

in habitat use, reduced fear response and altered olfactory

preferences. To dig into some of these possibilities,

Dr. Krzyszczyk developed a project where SFS students

documented the behavior (foraging, cleaning, traveling,

hiding) of ocean surgeonfish with different severity of

BSS (stage 0: no spots; stage 1: 1–4 spots; stage 2: 5–10

spots and stage 3: >11 spots).

The findings have been more complex than many of

the students suspected going into their research projects.

Trematode metacercariae tend to encyst on places that

are important for movement and cognition (e.g. fins). It

has been noted, anecdotally, that fish severely infected

by BSS, both in Bonaire and the TCI, are sluggish and

seemingly less "focused" on the tasks at hand. Given

these observations, students predicted that average

fish behavior states would change as stages of infection

progressed, making it more likely for the parasite to be

46 www.timespub.tc
---
green pages newsletter of the department of environment & coastal resources

transferred on to the osprey and finish

its life cycle in the bird's stomach. For

instance, a fish that is severely infected

by BSS may spend more of its time out

in the open on the reef, and generally

become easy prey for the osprey. So

far, the data has not supported these

predictions. However, the way that surgeonfish

behaved was affected by BSS

severity—foraging rate, or how many

bites the fish made per minute on the

reef bottom, changed significantly.

Why does the foraging rate of one

fish species matter? The answer lies in

the role of ocean surgeonfish, as well

as other species affected by BSS, in

the food chain. Surgeonfish are very

important herbivores, which means

that they play a role in keeping the level

of algae on coral reefs at safe levels.

If a disease such as BSS is changing

the behavior of fishes and potentially

reducing their population sizes, then

algae can begin to take over and cause

a drastic reduction in healthy corals on

the reef. Additionally, Dr. Krzyszczyk's

research found preliminary results suggesting

that surgeonfish infected by

BSS may gravitate toward reefs with

particular levels of coral structure. This

could leave reefs that would normally

have an ample supply of surgeonfish

without the herbivores they need.

Marine diseases (which can be caused by parasites,

viruses, bacteria and more) are important to understand

because of their potential widespread effect on ecological

communities across the world. There have been rising

mortalities due to marine diseases for decades, with disease

reports rising rapidly beginning around the 1980s.

Climate change and warming oceans are expected to

make most disease impacts more severe and frequent. In

particular, species that are critical to the food web such

as sea stars, sea urchins, corals and marine mammals

are suffering mass die-offs. While BSS does not directly

cause fishes to die off in such an extreme fashion, the

From top: SFS students perform a focal follow of an ocean surgeonfish in order to track its

behavior for 10 minutes. An SFS student lays out a transect to find out the level of structure

on the reef. It is possible that surgeonfish affected by BSS gravitate toward reefs with

particular levels of structure.

link between BSS and behavior is fascinating, and studying

that link will provide researchers a better overall

understanding of parasite-caused diseases.

I never would have guessed that a project I was

involved in while studying in Bonaire would continue two

years later in the Turks & Caicos Islands. Research has a

powerful way of bringing people together from all over

the world, and I am proud to have been a part of this

wonderful phenomenon while working at the School for

Field Studies. a

For more information, contact SFS Center Director Heidi

Hertler, PhD at hhertler@fieldstudies.org.

ANNA HANDTE-REINECKER

Times of the Islands Fall 2020 47
---
MARTA MORTON–WWW.HARBOURCLUBVILLAS.COM

48 www.timespub.tc
---
feature

COURTESY PROVIDENCIALES INTERNATIONAL AIRPORT

Opposite page: Travelers who have returned to TCI post-COVID are rewarded with near-empty beaches.

Above: The Providenciales International Airport reopened for tourists on July 22, 2020.

Welcome Back!

How to travel gracefully during a pandemic.

By Jayne Baker

As Caribbean nations start to loosen their border restrictions, the allure of near empty beaches and low

hotel occupancy is calling to (masked) travelers. For some, it's a return visit to a beloved home away from

home—perhaps an island destination they have been coming to for years. For others, they are happy to

visit new destinations that have been on their bucket lists.

Times of the Islands Fall 2020 49
---
One magical day not so long ago, our nation of the

Turks & Caicos Islands opened its doors to visitors again.

It felt exciting. We went to the airport to watch the first

plane welcomed back with water cannon fanfare and were

unexpectedly emotional. After months of feeling stagnant

and uncertain, this little bit of forward motion felt

healing, like something to celebrate, and we embraced it.

And truth be told, travelers have embraced it also.

Those who have jumped on those early post-closure

flights have been rewarded with near empty beaches,

uncrowded restaurants and plenty of last minute tour

availability. There is no better time to experience the

Caribbean—reminiscent of the "unspoiled" era of times

gone by.

The TCI Government's decision to close the country's

borders back on March 24, 2020 was made neither hastily

or easily; nor was the decision to open up again, four

months later, on July 22, 2020. As an island nation that

is dependent on the single industry of tourism, government

officials were aware that closing the Islands had

serious financial implications for the country and its residents.

But, mindful that our hospital capacity is limited

and watching the numbers of hospitalizations soar in the

neighboring United States (main source of our tourists),

the only prudent choice was to close things down before

the COVID-19 virus took hold here and threatened to

overwhelm local medical facilities.

The lockdown seemed dystopian at first to a nation

of people that take pride in the relaxed, easy-going manner

of the Caribbean culture. Beaches and marinas were

closed. A 24 hour curfew was imposed but for exercise

periods twice a day. Written exemptions were required

from government to have permission to be on the road

during curfew hours. While we had witnessed similar

shutdowns around the world, there was a sense of disbelief

that this new reality had reached our shores.

Gradually, over the four month period, restrictions

eased internally and, slowly but surely, the economic

gears of the Islands started to turn, albeit sluggishly.

The mood amongst island residents was a muddy blend

of unease and cautious optimism. If you were fortunate

enough to make a little income, you tried to put it back

into the economy by supporting other small businesses

on island. For instance, if you ran a tour that day, you

could perhaps add a take-out meal to your budget that

week to help support a restaurant. The Islands were doing

what they could to reconstruct the economy, one boat

trip or restaurant meal at a time. But there was one giant

Flamingo Divers

Boutique Diving Experience - Private charters - Sol Sister Canal Cruises

West Caicos - Northwest Point - Sandbore Channel - French Cay

Located in Southside Marina

(649) 333-3483

dive@flamingodivers.com solsister@flamingodivers.com www.flamingodivers.com

50 www.timespub.tc
---
uilding block missing—visitors. Without them, there was

little to no demand for taxi fares, hotel workers, restaurant

workers, excursions staff and all affiliated tourism

business employees.

Local businesses stepped up where they were able.

A hotel group donated ventilators. Others provided a

"staples program" for their workers, giving them a collection

of food and household supplies. Some organized

or worked with existing non-government organizations

to provide food bank services and hot meals to those

most affected. Like any small town, the community came

together where it could to help each other weather this

economic hurricane of sorts.

But through it all, a big question hung over peoples'

heads. Island residents needed a date—when would the

country open? When could we again start to count on

visitors to fill our taxis, hotels, restaurants, spas and tour

boats?

The decision to open was no doubt debated at length

in the halls of government during the period of closure.

During that time, officials moved to improve hospital

facilities to ensure extra beds were available and contingency

plans were in place. But, how to balance the

economic need to open the country with the best measures

and protocols to mitigate risk, while not making

it so prohibitive that it would discourage the return of

tourists all together? These were uncharted waters to navigate

and one can only imagine the discourse taking place

behind closed doors. Rumors swirled around the Islands

as to what the protocols would entail, and when (or if?)

the Turks & Caicos would actually open. TCI Government

kept their hand close, while no doubt keeping an eye

on other Caribbean nations' projected dates and entry

requirements.

When TCI Premier Hon. Sharlene Cartwright-Robinson

announced that the country would re-open on July 22,

there was a sense of relief and renewed purpose.

Visitors were at first required to upload a COVID-19

negative PCR test within three days of arrival (this was

quickly extended to a five-day window), and provide

proof of medical insurance to the TCI Assured Portal at

www.turksandcaicostourism.com to receive approval to

board a plane to TCI. While these requirements posed

challenges to potential visitors, it seemed an appropriate

best effort to try and safeguard the health of the country.

With a firm date on the horizon and entry requirements

and procedures in place, island businesses could

now focus on re-opening strategies and protocols to help

protect our visitors, our residents and our economy.

52 www.timespub.tc
---
But that doesn't mean anxiety disappeared. For

island business owners, economic concerns are still paramount

despite the TCI now being "open," and the way

forward is anything but clear and easy. Small businesses

have accrued debt for close to half of the year and have

likely used up any contingency funds. New realities like

reduced business, the possibility that borders could close

again, and concerns about the virus itself—all set against

the backdrop of a complete cessation of income during

some of our busiest months—makes the path ahead difficult

to navigate.

Needless to say, these "uncertain times" will be with

us for some time to come. The next six to eight months

will see most small businesses trying to "get back to

zero." A common opinion seems to be that, by March

2021, a full year after the shutdown, businesses hope to

be able to see the way forward more clearly. Until then

the new normal is simply learning how to get by, one day

at a time.

With all of that said, there is a spirit of optimism

beginning to permeate the country. Caribbean residents

are no stranger to weathering meteorological and economic

storms. There is a resiliency that runs through the

community here, buoyed up by the faith that "this too

Times of the Islands Fall 2020 53
---
The longest established legal practice

in the Turks & Caicos Islands

Real Estate Investments

& Property Development

Immigration, Residency

& Business Licensing

Company & Commercial Law

Trusts & Estate Planning

Banking & Insurance

1 Caribbean Place, P.O. Box 97

Leeward Highway, Providenciales

Turks & Caicos Islands, BWI

Ph: 649 946 4344 • Fax: 649 946 4564

E-Mail: dempsey@tciway.tc

Cockburn House, P.O. Box 70

Market Street, Grand Turk

Turks & Caicos Islands, BWI

Ph: 649 946 2245 • Fax: 649 946 2758

E-Mail: ffdlawco@tciway.tc

john redmond associates ltd.

architects & designers

construction consultants

project management

shall pass." There is a sense that things are beginning to

heal and as income starts to trickle in, it's a step in the

right direction.

Early feedback from visitors is that the TCI is taking

COVID-19 seriously. As hotels, restaurants and tourism

businesses seek to strike that balance between implementing

new health protocols while still providing the

first-class, luxury experience that Turks & Caicos is

known for, feedback from early tourists is overwhelmingly

positive. A look at TripAdvisor reviews shows that

so far, TCI businesses seem to be getting it right. Visitors

feel protected without feeling that their high-end vacation

experience is compromised. The hope is that visitors and

residents alike continue to adhere to protocols to help

protect the health of the country and the economy itself.

If you are reading this as a traveler, know this—as

small island nations start to reopen, they will receive visitors

with a grateful heart. Your arrival as a tourist is a

sign that we are beginning to herald in an era that at

least somewhat resembles the sense of normalcy we had

six months ago. You—the visitor—represent hope and a

sense of much-needed momentum. With that said, here

are a couple of tips on "How to travel gracefully during a

pandemic" and best support your favorite island destination

and their businesses:

• Please respect protocols at your destination. Recognize

that none of us love having to wear masks, not hug our

returning friends, hand-sanitize 76 times a day, and so

on. But remember that you will get on a plane in a week

or so and return to your home and medical facilities. If

COVID-19 hits the fan here, most island residents don't

have that option.

• If you're able to, consider budgeting some of your vacation

dollars to see where you can help. No amount is too

small. Maybe it's tipping your cab driver/waitstaff/guides

a little extra than you normally would, recognizing that

many are still working reduced hours as well as trying to

catch up on months of having no income at all. Or perhaps

it's finding out how to support local NGOs that are

helping to meet the needs of those that are food-insecure

during this time.

p.o.box 21, providenciales, turks & caicos is.

tel.: 9464440 cell: 2314569 email: redmond@tciway.tc

• There is no obligation to help out financially as listed

above. Know that island residents are happy to see you

and grateful for the fact that you got on a plane and chose

the Turks & Caicos Islands as your destination. Tourism

dollars being injected again into the economy is exactly

54 www.timespub.tc
---
what is needed. Everyone appreciates your business. Just

please don't be the tourist that looks for "deals and discounts"

from small business owners during these times.

It's understandable that everyone loves to save money

where they can, but please recognize that most people on

a tourism-driven island have literally had zero income for

close to half of the year. Asking a small business operator

to discount their product or service in order for you

to choose them over another operator is disheartening.

• This is just a general, non-COVID-related PSA: Please

interact with your island destination with courtesy and

the respect that you are a welcomed guest in their home.

While there is a sense of freedom in wearing just a swimsuit,

please notice that you will likely not see an island

resident walking through town or shopping in a bathing

suit. Run around all day long in a swimsuit at the beach

or pool, but as a general rule, if you're putting on a mask,

put on a cover-up/shirt and shoes too.

• Please take the same generosity of spirit home with you.

Support local, small businesses where you can. Respect

protocols. Help others in whichever way you are able to.

You'll feel better for it and the world will hopefully heal

more quickly.

At some point we will all look back on "these uncertain

times" and know that they are a storm we weathered

together, helping each other ride it out as best we could.

(Note: Entry requirements to Turks & Caicos are

likely to change and evolve over time. For the most

current information, visit the TCI Assured Portal at

www.turksandcaicostourism.com. a

Jayne Baker has been a full time Caribbean resident for

23 years, spending the last 20 years in Turks & Caicos.

She and her husband Mickey own and operate Flamingo

Divers, a boutique dive operation specializing in small

groups and personalized service. Jayne spends most of

her days underwater, but when she's on dry land you're

likely to find her engaged in creative writing pursuits or

with her head buried in a book.

Cays Winter Times 2018_Layout 1 11/14/18 10:30 AM Page 1

CAYS CONSTRUCTION CO LTD

A COMPLETE SERVICE.

Once you have purchased your land

...we take you all the way.

...TO THE KEYS TO YOUR NEW HOME.

We take care of the design,

the building approvals,

the construction management,

and the construction works.

Allow us to design and build your new home.

caysconstruction.com

caysconstruction@aol.com

Times of the Islands Fall 2020 55
---
COURTESY DOUG CAMOZZI—CAICOS CYCLERY
---
feature

Opposite page: Pedaling the causeway connecting North and Middle Caicos is an integral part of the new cycle trail.

Above: A stop at the spectacular natural wonder that is Mudjin Harbour in Middle Caicos is a chance to relax and refuel.

COURTESY DOUG CAMOZZI—CAICOS CYCLERY

Cycling Paradise

Mapping the North and Middle Caicos Cycle Trail.

By Jody Rathgeb

Everyone views "paradise" through a different lens, and people in the Turks & Caicos Islands are no

exception. Divers see the country as an underwater paradise; watersports enthusiasts see a windsurfing

paradise, a paddleboard paradise, a sailing paradise; and vacationers find paradise in lazy beach days

with a book and a cocktail.

Times of the Islands Fall 2020 57
---
PARADISE PHOTOGRAPHY

Jim Brown, who calls himself a "dedicated, nonracing

cyclist," has found a cycling paradise, particularly

on North and Middle Caicos. To help others enjoy that

paradise, he has put together a collaboration between

his own business and Caicos Cyclery on Providenciales

to create a website and map providing information on a

67-mile out-and-back trail on North and Middle Caicos.

Brown, proprietor of the newly-reopened Bottle

Creek Lodge on North Caicos, originally set out to make

a contribution to another website-in-the-making, writing

about cycling on the Islands. But "I wasn't satisfied with

it," he says. "What people really need is a map and some

guidance." He knew that Caicos Cyclery was occasionally

leading bike tours on the twin islands, so he reached out

to the business and found that "they were enthusiastic

about formalizing it." He credits the business' Kevin Yates

with good suggestions and assistance.

He set to work, drawing on such resources as Google

Earth maps and his own longtime associations with U.S.

and international cycle associations to design a three-fold

brochure with a map on one side and information on the

other, including safety guidelines and a signage explanation.

Yates has taken on the job of getting the map

printed and distributed. Brown has also put together a

website, CaicosCycleTrail.info, which gives fuller information,

including what each level of cyclist should expect

on the ride.

67 miles of beautiful

The trail, which runs from Sandy Point Marina on North

Caicos to Lorimers Landing on Middle Caicos, follows

public, paved roads. Turns are clearly marked on the

map, as well as points of interest, places to stop to refill

water bottles, and scenic spots. The full trail, out and

back, is 67 miles, but Brown notes that more casual riders

can use the map to create their own turn-around spots.

Kevin Yates and Doug Camozzi of Caicos Cyclery enjoy a day on the

Caicos Cycle Trail on North and Middle Caicos.

MELANIE LEE-BROWN

Jim Brown, mapper of the North and Middle Caicos Cycle Trail, is

ready for a ride at his part-time North Carolina home.

"Most of them will take a 45-mile route to Mudjin

Harbour and back," Brown says, noting that the shorter

route is the one that Caicos Cyclery has led on its past

tours. There are only a few uphill stretches, the longest

on the return trip coming off the causeway onto North

Caicos.

"North and Middle Caicos are perfect for cycling," he

says. "I've never lived in a more perfect place to go on a

casual cycling trip." One of the trail's best features is that

the prevailing winds come from the east, so "you have the

wind at your back" on the return.

All information on the Caicos Cycle Trail is currently

accessible online, with the printed map/information coming

soon. Brown also plans to paint Dan Henry arrows on

the trail's roads in December. These arrows (named for

their creator), a worldwide method to mark cycle tour-

58 www.timespub.tc
---
Ferry Fall 17_Layout 1 8/22/17 12:52 PM Page 1

ing routes that has been standardized by the League of

American Bicyclists, consist of a circle with a line pointing

in the direction the cyclist should take. They are placed at

all turns and intersections.

Because they are painted on the roads, Brown says,

"Car drivers never notice them, but cyclists can see them

easily." He is waiting until he is on North again and

receives permission to get the work done.

* *

Temporary suspension PROVO NORTH 12.30pm & 1.30pm Sept 1st to Oct 31st

*

Resumes Nov 1st

Collaborators in cycling

Brown's interest in creating the trail comes from a lifetime

immersed in cycling. His father was a cyclist and

created the Delaware Cycling Club (county name) in the

state of Indiana, where Brown grew up. He often rode with

the club and with his father in such events as a Century

(100 miles in one day) and Bike Centennial in 1976, a

2 1/2-month coast-to-coast tour covering 4,250 miles. He

went into racing after that, and worked his way through

college as a mechanic in a bike shop. ("Back when it was

possible to work your way through college," he says ruefully,

thinking of his now-college-age children.) Although

he no longer races, he remains an avid cyclist and follows

international racing closely.

He and his wife, Melanie, bought Bottle Creek Lodge

in 2016 and have spent years renovating the compound.

1 (649) 342-3180

North Caicos Island, TCI

BottleCreekLodge.com

BottleCreekLodge@gmail.com

Times of the Islands Fall 2020 59
---
Trail

Start

Sandy

Point

MILE

5

3

2

4

Whitby

6

5

1

Sandy Point

Marina

Kew

7

8

9

MILE

10

Major

Hill

10

11

12

13

Bottle

Creek

North Caicos

Island

14

MILE

15

15

Bottle Creek

16 Lodge

17

18

20

MILE

20 MILE

19

Conch Bar

25

Attractions

: Sandy Point Marina (Trail start)

5 : Flamingo Pond Overlook

17 : North/Middle Caicos Causeway

18 : Dragon Cay Overlook

19 : Indian Caves (on Airport Road)

: Lorimer's Landing (Trail turn-about)

Groceries (drinks & snacks)

4 : KJ's Grocery

9 : Nique's Grocery

9 : Liqour Plus

10 : Al's Grocery

12 : Tee's Grocery

13 : Dard's Grocery

Restaurants, Bar & Grills

1 : Green Island Grill

2 : Big Josh's Bar & Grill

3 : Barracuda Beach Bar & Grill

6 : Silver Palm Bistro

7 : Miss Bee's Restaurant

8 : Aquatic Restaurant & Bar

9 : My Dee's Restaurant

11 : ParrotIce Ice Cream

14 : Frank's Cafe

15 : Last Chance Bar & Grill

18 : Mudjin Bar & Grill

20 : Seaview Cafe

M

They reopened it as a guest house in February 2020, just

in time to close in March for the COVID-19 lockdown.

He says they will reopen, although actual planning is a

guessing game, as it is for most TCI businesses today.

The Browns divide their time between North Caicos and

North Carolina, where he runs a small microbiology lab

and is on the faculty at North Carolina State University.

Caicos Cyclery, located in Saltmills Plaza on

Providenciales, includes tours of North and Middle Caicos

along with its other bike tours and rentals, all of which

include locks, helmets and baskets for all participants.

Owner Doug Camozzi often accompanies the groups

that go to the sister islands. Rentals at the shop offer

a full line of bike types, from road and mountain bikes

60 www.timespub.tc
---
Caicos

Cycle Trail

Outbound arrows

Sandy point to Lorimers

MILE

30

Bambarra

Lorimers

Landing

MILE

Lorimers

33½

Inbound arrows

Lorimers to Sandy point

Trail turn-about

Caicos Cyclery is Providenciales' only "certified" bike

shop and dealers for Electra, TREK and SCOTT performance

bicycles. The COVID-19 closure of TCI's

borders for four months led to a major surge in

cycling—in the early days of lockdown, residents were

to leave home to exercise only in the early morning

and evening. Many former "non-cyclists" took to the

empty streets and enjoyed hours of peaceful rides.

Caicos Cyclery was THE place to go for bike repairs

and purchases.

Caicos Cyclery is located in The Saltmills, sharing

space with Big Al's for "Bike, Burgers and Beef." At

Caicos Cyclery, you can purchase or rent a new TREK

or SCOTT bike. For more information, call (649) 941

2453. a

iddle Caicos

Island

5 miles

© James W. Brown (2020) BottleCreekLodge@Gmail.com

Ortelius Education Edition

and hybrids to children's bikes and even tandems. On

the Caicos Cycle Trail website, those planning self-guided

tours will find lots of advance information on renting and

getting bikes to North Caicos, plus step-by-step directions

once they are on island.

Although only two businesses are the sponsors of the

Caicos Cycle Trail map, island neighbours and businesses

get plenty of exposure on it and the website. Cyclists are

offered many options for picking up snacks and water at

local groceries, or for stopping at bars and restaurants

for breaks. M&M Taxi is noted as a sag wagon—a support

vehicle for carrying spare parts and responding to minor

emergencies—and a list of emergency numbers assures

riders of help if they need it. The site also displays a bit

of the personality of its developer: Brown couldn't resist

putting in a few "in" jokes from the cycling world, such as

references to "hairy-legged" cyclists and "shaved leggers,"

and an upside-down "Is my bike okay?" that refers to a

dedicated cyclist's priority in an accident.

Accidents, however, are unlikely with such a thorough

and detailed guide. The Caicos Cycle Trail is less

about what might go wrong than what will go right: a

pleasant two-wheel tour that highlights the beauty and

friendliness of the twin islands. a

For more information, visit: www.CaicosCycleTrail.info;

www.CaicosCyclery.com; www.BottleCreekLodge.com.

Times of the Islands Fall 2020 61
---
Safety Rules of the Road

(The following is taken from the Caicos Cycle Trail

site. Information is adapted for the TCI and modified

from the league of American Bicyclists Rules of the

Road.)

Take care of yourself

Wear a helmet. Carry more water than you think

you'll need, and something to eat. Wear sunscreen

and have insect repellant with you.

Follow the law

Your safety depends on you. You have the same

rights and responsibilities as drivers. Obey traffic

signs. Ride with traffic on the left no more than two

abreast, as close to the left side of the road as is

reasonable.

Don't be a Yank

If you are an American, remember to ride on the left,

and be aware that you will always be looking in the

wrong direction for danger. Look both ways, and

check twice!

Ride ready

Check that your tires are properly inflated and brakes

are working. Carry a cell phone, tools and supplies to

change a tire (unless you have a sag wagon).

Be predictable

Make your intentions clear to everyone on the road.

Ride in a straight line and don't swerve. Signal turns.

Think ahead

Anticipate what drivers, pedestrians and other

cyclists will do next. Watch for overtaking and turning

vehicles. Look out for rocks, debris, potholes,

dogs, chickens, land crabs and other road hazards.

Be conspicuous

Ride where people can see you and wear bright clothing.

Make eye contact with others and don't ride off

the side of the road. a

62 www.timespub.tc
---
astrolabe

newsletter of the Turks & Caicos National Museum

Front Street, PO Box 188, Grand Turk, Turks & Caicos Islands, BWI TKCA 1ZZ

tel 649 247 2160/US incoming 786 220 1159 • email info@tcmuseum.org • web www.tcmuseum.org

Children learned how laundry used to be done at the National Museum's 2019 "Back in the Day" event. This celebration of the TCI's cultural

heritage is a prime example of the importance of community partnerships.

TURKS & CAICOS NATIONAL MUSEUM

Partnerships Must Continue

The global COVID-19 pandemic is forcing non-profit organizations around the world to re-evaluate their

operations. The work of museums is paramount in the preservation of history and culture and this

includes the Turks & Caicos National Museum. To keep our mission alive, we must continue to work

with both our local and international partners to expand fundraising and volunteer programs, develop

educational activities and search out additional research opportunities.

This theme of partnerships is illustrated in this edition of the Astrolabe. The feature article, "Lucayan

Legacies: Images of the Past" showcases how partnerships with organizations and individuals helped to

develop educational packages on the Lucayans for classrooms in the Turks & Caicos and The Bahamas.

"A Salty Mystery," by regular Astrolabe contributor Jeffrey Dodge, asks readers for help in deciphering

the enigma of why a used postcard was copied historically to create a new postcard.

Do you have a historic or cultural research question or article you would like to submit to the

Astrolabe? Contact us at info@tcmuseum.org. a

Dr. Michael P. Pateman, Ph.D., former Director, Turks & Caicos National Museum

Times of the Islands Fall 2020 63
---
astrolabe newsletter of the Turks & Caicos National Museum

In this illustration, "Cacique and Emissary," a Hispaniolan (Taíno) emissary presents a siba (stone celt) to the Lucayan cacique, who welcomes

him to his village with an entourage of family members ceremonially painted and attired in a rich variety of stone and shell ornaments (including

belts, naguas, necklaces and ear flares).

Lucayan Legacies

Images of the past.

By Joanna Ostapkowicz ~ Images By Merald Clark ©

In 2017 during a visit to the National Art Gallery of the Bahamas, I came across a temporary exhibit filled

with children's paintings focusing on island history, both past and present. At the very start of the exhibition

were several paintings showing Columbus laying claim to the islands for the Spanish crown, with

the local "Indians" (the Lucayans) looking passively on. There were no images "pre-Columbus," giving

the impression that the islands' history started with that fateful landfall on Guanahani (San Salvador) on

October 12, 1492. But what of the centuries of island life that preceded this event, with indigenous settlement

going back to AD 700?

64 www.timespub.tc
---
astrolabe newsletter of the Turks & Caicos National Museum

Depictions: past, present, future

The absence of this subject matter on the walls of the gallery

told its own story. And while the Columbus focus was

only a small part of a highly diverse and engaging reflection

on some of the histories as well as the issues facing

the islands today (tourism, pollution, etc.), it sowed the

seed of a venture that aimed to visually re-engage young

audiences with the Lucayans.

As part of project SIBA (Stone Interchanges in the

Bahamian Archipelago), in collaboration with the National

Museums of both The Bahamas and the Turks & Caicos

Islands and in consultation with the Bahamas Ministry of

Education, a package of educational resource materials

has been brought together for use in primary and secondary

schools on the islands. These include a set of 10 large

posters, featuring commissioned illustrations by artist

Merald Clark, alongside teacher's guides to the content.

The information is entirely flexible to the directions in

which current and future teaching modules develop.

The aim is to show the Lucayans within the context

of their own histories—not as backdrops to European history—and

to highlight the rich archaeological heritage of

the region. The artworks, which are inspired by the many

unique artefacts that have been recovered over the last

century, reflect the latest understandings of the archaeology

of the archipelago. They focus on various subjects,

from the skills needed to carve a canoe or weave a hammock,

to food production, to the social dynamics and

trade networks that linked the Lucayans to their southern

neighbours in Cuba and Hispaniola. These images are

intended as windows onto a Lucayan past, to spur imagination

and engagement in classrooms.

The background information to the content of these

illustrations took several years to complete. The journey

through the archaeology and history of the region,

through the many museums that held Lucayan collections,

and ultimately to the discussions about how to

bring these myriad aspects to "life," has been enormously

rewarding, and for me the highlight of the SIBA project.

Working with such a gifted artist—an anthropologist,

scientific illustrator and educator rolled into one—has

been both a privilege and pleasure. Over the course of

2019, e-mails would fly back and forth, sometimes a

dozen each day, as we worked out the themes and content.

I would send Merald photos of artefacts, and next

thing I knew they were captured within a remarkably realistic

scene. His depictions of the Lucayans are meticulous

in detail: critically, they are not depicted as placid, timid

shadows, but people who lived lives, who had their own

histories. That these illustrations are strikingly different

to what we might expect is because they debunk some

of the stereotypes that still persist about the Lucayans,

including the long-held assumption that they were a simple

people leading a simple life. Below, the illustrations

and some of the concepts behind them are explored in

six selected examples.

Envisioning the Lucayans: a reappraisal

Lucayan histories do not start with Columbus, yet it is his

words that have long defined our perceptions of them

as a "gentle, peaceful, and very simple people." (Colón,

1992) On that fateful date of October 12, 1492, after

laying claim to the island of Guanahani for the Spanish

crown with full pomp and ceremony, Columbus describes

his reception by the native inhabitants:

" . . . they came swimming to the vessels' boats . . .

[bringing] parrots, spun cotton in little balls, javelins,

and many other things; and they traded them to us

for . . . small glass beads and bells. In short, they

took everything and gave of what they had willingly;

but it seemed to me that they were a very poor people

in every way. They all go around naked, just as

their mothers bore them, the women too, although

I saw no more than one very young girl. All those

whom I saw were young men—for I saw no one of an

age greater than thirty years—very well made, with

very beautiful bodies and very pleasant features.

They have thick, short hair, almost like the hairs of a

horse's tail. They wear their hair cut above their eyebrows,

except for a portion in back which they wear

long and never cut. Some of them paint themselves

dark, but they are the color of the Canary Islanders,

neither black nor white. And some of them paint

themselves white, and some red, and some whatever

color they find. Some paint their faces and some their

bodies, some only their eyes or only their noses . . .

They are general of good height and have a fine bearing,

and they are well made." (Lardicci (ed), 1999)

The stereotype of naked, "primitive simplicity" (Colón,

1992) has remained largely unquestioned to this day. Less

Times of the Islands Fall 2020 65
---
astrolabe newsletter of the Turks & Caicos National Museum

referenced, perhaps because they were less sensationalistic,

are Columbus' comments on how the Lucayans were

"fluent in speech and intelligent" (he enslaved six for use

as translators) (Colón, 1992), and that they did actually

wear body ornaments, including cotton naguas (women's

skirts) and "capes," and gold and other ornaments—in

addition to the frequent use of body painting.

Indeed, Columbus' accounts of "naked" people continue

to blind perceptions of what constituted native dress

in the tropics. Seen through the prism of the European

gaze, long accustomed to shielding the body along conservative

religious and socially prescribed ways, it is not

hard to understand their initial shock to this different

aesthetic. To the Europeans, drenched (quite literally) in

their heavy, layered clothing, the contrast could not have

been starker.

A seismic shift was needed to comprehend that the

Lucayans followed their own set of socially prescribed

ways of dressing, less about modestly covering everything

over in order to shield the gaze, more about enhancing

and emphasising certain aspects of the body—the head,

neck, waist, arms and legs—that collectively made up the

social being once adorned. Here, when occasions warranted

it, cotton ornaments would wrap the upper arms

and waist in geometric weaves, multiple strands of shell

or stone beads—occasionally adorned with bone and

stone pendants—would interplay against body painting

in red, black or white, the ears may have been weighed

down with heavy flares, and the hair adorned with feathers

or cotton cords enhancing the high-domed shape

of the head, itself the product of cultural modification

during infancy.

The amount of body ornament used by the inhabitants

of the Lucayan archipelago has long been underestimated

and underappreciated. Adorning the body is a universal,

deep time practice—whether through physical alteration,

paint, beautifully crafted textiles, valuable stones or gold,

people have re-interpreted their bodies and their identities;

no less so the Lucayans. It is time to stop thinking

of them simply as "naked."

The illusion of a tropical idyll

Like Columbus, many modern visitors perceive life on

these islands as idyllic. But popular perceptions of a

tranquil paradise, with turquoise waters and pink sands,

quickly disappear during hurricane season. The wet summer

months bring intolerable levels of mosquitos and

other biting insects, while the waters have their own

share of dangers, including sharks and stingrays. Despite

being surrounded by water, many islands completely lack

easy access to drinking water—and life cannot be sustained

without this, particularly in such a hot, sub-tropical

climate.

These limestone islands typically have very shallow,

impoverished soils making agriculture a challenge; they

do not have hard stone such as basalt, flint or jadeite,

materials relied upon in the past to create axes and other

tools in order to cut down trees to make canoes, house

posts and food vessels, among other essentials. There is

nothing simple about dealing with such conditions.

The illustrations thus underscore the ways in which

the Lucayans adapted to these challenges, from seafaring

and fishing, to the production of root crops, to the connections

they maintained to their distant "homelands."

Realities

"Cassava and Mischief" shows the laborious process of

making the Lucayan staple, cassava bread—made from

bitter manioc (Manihot esculenta). In the right foreground,

large basketry containers hold manioc tubers,

scraped clean and ready for the grater board, which the

kneeling woman is working with. The resulting pulp is

passed to the standing woman, who packs it into a long

woven tube before hanging it from the wooden frame

beside her. She will pass the Y-shaped pole (currently tied

to the framework) through the tube's bottom loop; when

she presses down upon it, the tube tightens around the

manioc pulp, squeezing its poisonous juices out into the

ceramic bowls at her feet.

What is left is raw flour, which is ground and sifted

before being passed to the women cooking in the nearby

shelter. The flour is spread thinly over a griddle and

toasted on both sides before being put onto the thatched

rooftop to cool. A pair of parrots (guacamayas) and dogs

(aon) keep the women company as they work—both were

kept as pets by the Lucayans.

The "mischief" in the title refers to the two mischievous

boys who pester the women at their work until their

aunt gently admonishes them to behave. This scene

would have been a regular, potentially daily, occurrence,

from processing the manioc roots to making the fresh,

toasted bread, to the pleasant social interactions and dis-

66 www.timespub.tc
---
astrolabe newsletter of the Turks & Caicos National Museum

"Cassava and Mischief" shows the laborious process of making the Lucayan staple, cassava bread.

tractions that made light the work. Other crops would

have also been important—including maize, yams, sweet

potato, chili peppers, beans and gourds. Working the gardens,

gathering plants and hunting would have been daily

activities that absorbed much time.

Food from the land was complemented by that from

the sea. The Lucayans were skilled swimmers and divers,

and much of their food came from the surrounding

waters. The "Fisherfolk" illustration depicts three divers

in the water spearfishing in the sun-dappled shallows,

while two wait in the canoe at the water's surface for

the catch to come in. One diver has speared a parrotfish,

while another holds a conch aloft as he swims closer to

the canoe. The diver on the right faces out to the viewer,

reaching for the conch spotted among the turtle grass.

He holds in his hand a fishing harpoon, tipped with a

stingray spine. In the distance a curious turtle surveys the

scene, and a variety of fish, including grouper, snapper

and grunts, circle cautiously in the periphery.

Remains of these mammals, fish and shellfish have

been recovered from Lucayan archaeological sites and

were consumed as part of the local diet as grouper,

snapper and conch still are today. The scene, however,

is not as innocent as it first appears. It touches upon two

themes for students to explore further—the sensitivity of

natural resources to over-predation, then and now (e.g.,

overharvesting of conch is depleting stocks at an alarming

rate), and the fate of the Lucayans.

The Spanish enslaved the Lucayans specifically for

their diving skills, which were in high demand for the

pearl fisheries off the coast of Venezuela during the early

colonial period. They were forced to dive for pearls to

unsafe depths, with little rest and under dangerous conditions;

many died as a result. The underwater scene

therefore links two threads —showing traditional life and

hunting skills, and touching upon how these skills were

taken advantage of by the colonisers.

Artistry and craft: ceramics, cotton

When it came time to process the food—whether from

land or sea—containers would have been important for

storage and cooking, including basketry and ceramics.

While baskets do not survive in the archaeological record,

ceramic fragments (sherds) are commonly found, and

they provide a unique perspective on people's adaptation

to the Lucayan archipelago.

Times of the Islands Fall 2020 67
---
"The Fisherfolk" depicts three divers in the water spearfishing in the sun-dappled shallows,

while two wait in the canoe at the water's surface for the catch to come in.
---
astrolabe newsletter of the Turks & Caicos National Museum

"Palmetto Potters" shows some of the steps in making Palmetto Ware, as Lucayan ceramics are known. These ceramics first started appearing

ca. AD 800, and were still in use when Columbus arrived in the region.

The early settlers initially brought with them ceramics

from their homelands, but once permanently settled

on the islands they had to create ceramics using the

resources to hand, as shown in the illustration "Palmetto

Potters." Unlike the volcanic islands to the south, the

Lucayan archipelago had relatively poor clay sources:

the red local loams or clays found in swales, mangrove

swamps, inland lakes and ponds were used, together with

a burnt shell temper for added strength.

Palmetto Ware, as Lucayan ceramics are known,

are one of the key markers of native adaptation to the

islands. These ceramics first started appearing ca. AD

800 and were still in use when Columbus arrived in the

region. Some of the steps of manufacture are set out in

the illustration, showing, at left, the young girl kneading

together the shell temper and clay, while one woman

smooths a large coiled vessel and the other decorates

the rim of a semi-hardened vessel with the end of a reed,

creating what archaeologists call a "punctate" design. In

front of them is a series of characteristic vessel shapes,

including a flat griddle used to toast cassava. They will

all be imprinted on their bases by the woven pattern from

the mat they are resting on—another common element to

Lucayan pottery. In the background is a pile of firewood

ready for the next stage in the manufacturing process:

the firing of the ceramics in open, shallow pits requiring

a temperature of ca. 900ºC to harden the clay and make

the vessels useable.

Cotton was a trade commodity among the Lucayans

—they readily offered it to Columbus and his crew,

which means they had it in excess and viewed it as a

valuable, with the expectation that it was valued by oth-

70 www.timespub.tc
---
astrolabe newsletter of the Turks & Caicos National Museum

ers. This should not be surprising: it was on Long Island,

The Bahamas that the Spaniards first saw woven cotton

hammocks and people wearing cotton ornaments;

clearly, cotton was ubiquitous, and in regular use in the

region.

When Columbus travelled on to Cuba and Hispaniola,

he found hammocks and other woven goods were brought

out for exchange, and heavily beaded, ornate belts were

given to him as gifts (Ostapkowicz, 2013). It is likely

that cotton had a standard value across the region—recognised

by all indigenous groups as something useful

and esteemed. And while the Spanish recorded cotton

goods, they unfortunately did not record how they were

made. Given the size of hammocks, some type of loom

was likely used, and as no complete looms survive from

the pre-Columbian Caribbean, we must rely on evidence

In "The Weavers," an elder sits by the side of the bohio (house) weaving a hammock in the company of her granddaughter, who is spinning new

cotton twine. They'll need much more cotton to complete the hammock, particularly if strands get lost to the play of their pet parrot and dog.

Times of the Islands Fall 2020 71
---
astrolabe newsletter of the Turks & Caicos National Museum

"Beyond the Everyday" encourages a consideration of aspects of Lucayan culture that were an integral part of their lives: their histories and

beliefs.

from the surrounding regions, where looms have been

used for millennia, and continue to be used today.

The loom featured in "The Weavers" illustration is a

back-strap style common among the Arawak-speaking

groups of South America, and is often called the "Arawak

loom." Given that the Lucayans were Arawak speakers, it

seems appropriate (there is a different type of Caribbean

loom more commonly seen among the Carib-speakers,

such as the Kalinago of the Lesser Antilles), but whether

this was the version the Lucayans used is, at best, a guess.

The benefit of this style of loom is that it could be used

for a variety of weave sizes—from small cotton naguas

to hammocks—simply by adjusting the sizes of the warp

and wefts and/or the wooden framework. In this scene,

an elder sits by the side of the bohio (house) weaving a

hammock in the company of her granddaughter, who is

spinning new cotton twine, while the pet pup and parrot

are enjoying a bit of play with an unravelling spindle whorl.

Trade

Trade linked the many islands in the archipelago to each

other and to communities on Hispaniola and/or Cuba and

beyond. Evidence for the circulation of goods is recovered

at archaeological sites in the region—from imported

ceramics to exotic stone artefacts (celts, pendants and

beads). The Lucayans would trade their own goods in

return, including cotton and parrots, as mentioned in

Columbus' accounts, and quite possibly other perishables,

such as baskets, salt and salted fish or conch.

The small, perfectly made shell beads that are commonly

found at sites were likely made for export. The site

of Governor's Beach (GT-2), Grand Turk, for example, was

a shell bead production site, where thousands of beads

and bead-making scrap were recovered (Carlson, 1993).

People would likely barter in small exchanges between

neighbouring communities, but caciques (chiefs) or "big

men" may have controlled longer distance trade for desir-

72 www.timespub.tc
---
astrolabe newsletter of the Turks & Caicos National Museum

able objects such as gold and stone ornaments.

In the "Cacique and Emissary" illustration, a

Hispaniolan (Taíno) emissary presents a siba (stone

celt) to the Lucayan cacique, who welcomes him to his

village with an entourage of family members ceremonially

painted and attired in a rich variety of stone and

shell ornaments (including belts, naguas, necklaces and

ear flares). The emissary has come to offer in trade the

stone artefacts from his village, which are not available

in the Lucayan archipelago, for the small shell beads so

expertly made in the region. The ceremonial nature of

this exchange underscores that these inter-island connections

were not simply about accessing materials and

artefacts, but about the social connections that bound

people together in these long-distance networks.

Legends, stories, histories

"Beyond the Everyday" is perhaps the most immersive and

evocative of the illustrations, encouraging a consideration

of aspects of Lucayan culture that were an integral

part of their lives: their histories and beliefs. In the background,

a seated group listens to the cacique recount a

myth, while in the foreground, two young girls contemplate

the night sky. They can hear the story even where

they sit, and reflect on its meaning. Through the skillful

words of the orator, their familiar world—the village, gardens,

beach and forest—expands to fill with ancestors,

heroes, spirits and supernatural creatures. Whether an

origin story, recounting the first people's migration to

these islands, or a myth relating how the hawksbill turtle

acquired its beautiful shell patterns, the stories are

told and retold, and so remembered by the following

generations. There is much wisdom to these tales, useful

in teaching values and morals to each new generation,

while also keeping the elders, who heard (and recounted)

versions of each story innumerable times, involved and

entertained. Through listening to these stories, the girls

grow in awareness of their place within the community,

and in respect for the wider world—both physical and

supernatural—around them.

No Lucayan myths or histories were recorded in early

Spanish accounts, or otherwise passed down to us, so

we can never know the details of their stories. But it is

important to engage with these unknowns; it helps to

acknowledge the undoubtedly rich tapestry of their traditions.

They, like us, enjoyed a good story. But stories

and legends were not simply a pleasant distraction. They

reflected social mores and guided on correct conduct.

They built a community's identity and marked their place

in the world.

Prehistory as history

The unifying theme running throughout the illustrations

is that prehistory should also be viewed as history. In the

Lucayan archipelago, history does not start in 1492 with

Columbus simply because this is the first time a European

wrote about these islands; histories exist without being

written. Long before the arrival of Europeans, the people

who made the islands their home had their own sagas

—recounted and inherited by each subsequent generation.

These were not silent communities. Their histories

were their lived experiences—and those of the ancestors

before them—and the sites and artefacts that survive are

testimony to their skills in adapting to the unique environment

of the Lucayan archipelago. a

For more information about project SIBA, visit https://

siba.web.ox.ac.uk. The project is funded by the UK's Arts

and Humanities Research Council.

Sources

Colón, Fernando 1992. The Life of the Admiral

Christopher Columbus by His Son Ferdinand, Translated

by Benjamin Keen, pp 59–60, 64, Rutgers University

Press, New Brunswick.

Lardicci, Francesca (ed), 1999. Repertorium Columbianum:

Volume VI: A Synoptic Edition of the Log of Columbus's

First Voyage, p 48, Geoffrey Symcox, General Editor,

Brepols, Turnhout, Belgium.

Ostapkowicz, J., 2013. "Made….with admirable artistry":

the context, manufacture and history of a Taíno belt, The

Antiquairies Journal, 93:287-317.

Carlson, L. A., 1993. Strings of command: manufacture

and utilization of shell beads among the Taíno, MA thesis,

University of Florida, Gainesville.

Times of the Islands Fall 2020 73
---
astrolabe newsletter of the Turks & Caicos National Museum

This picture from the 1906 postcard illustrates how the circa 1875 steam-operated salt grinding mill on Grand Turk was structured.

A Salty Mystery

Why would anyone copy this old picture postcard?

By Jeffrey Dodge ~ Images Courtesy Jeffrey Dodge

Why, in the early 1920s, would someone on Grand Turk island want to copy a specific 1906 picture postcard

that was out of print and no longer obtainable? Was the picture on this 1906 postcard of special

interest to someone? Most likely. What was this "important" picture? It was a circa 1875 steam-operated

salt grinding plant on Grand Turk.

74 www.timespub.tc
---
astrolabe newsletter of the Turks & Caicos National Museum

The only explanation that makes sense is that someone,

perhaps a photographer but most likely someone

else, wanted multiple postcards made from a picture of

this salt grinding facility because he or she was somehow

associated with it.

Ground salt, known as fish salt, was important to the

salt industries on South Caicos, Grand Turk and Salt Cay

because it commanded a higher price than unprocessed

coarse salt. The reason? The fishermen and fish packers

in New England and Nova Scotia required it to preserve

fish.

in the 1906 postcard consisted of three parts—a building

to house the steam boiler and engine, a wooden hopper

shaped in the form of a shallow vee and a warehouse

where the ground salt was stored. The two buildings in

picture below were connected by the hopper.

The grinding process began by unloading coarse

salt from donkey carts onto the hopper. Two men on the

hopper would push and shovel the salt down an opening

where a crusher would grind it. The ground salt would fall

onto a conveyor belt that moved it to the warehouse for

storage prior to shipping.

Josiah A. Frith and Jeremiah D. Murphy formed the

firm of Frith and Murphy in 1873 and imported the first

steam machine for grinding salt to the Turks & Caicos

Islands in 1874—specifically, to South Caicos. Within a

year, two such steam grinding machines were operating

on Grand Turk. A few years later there were three steam

grinding facilities there and two on South Caicos. Steamoperated

salt grinding never reached Salt Cay. Instead,

Salt Cay turned to wind to power their salt grinding

machinery.

The steam-operated salt grinding installation pictured

This is an example (front and back) of the original machine-printed

1906 Grinding Salt postcard.

Times of the Islands Fall 2020 75
---
astrolabe newsletter of the Turks & Caicos National Museum

This is an example of the copy that was produced from the original

1906 postcard (front and back). The red arrow shows the black box

covering a previously used stamp on the original 1906 postcard.

Back to the postcard and the copies produced some

20 years after the original postcard was published.

Apparently, someone wanted postcards made of this specific

salt grinding facility. Who owned the one pictured in

the original postcard is unknown, but it is possible that

it was Harrow Murphy. Harrow Murphy died in 1910 so

perhaps one of his sons wanted to have this old postcard

copied. A more likely possibility, however, is that

Frith Bros. & Company, the managers of the Murphy salt

business after Harrow Murphy's death, wanted these

postcards to use for promotional purposes or to sell in

their store.

What makes this postcard copying process interesting

is that the postcard being copied had been used and

stamped, so the photographer had to cover the stamp

with something, probably black paper, before he photographed

it. You just can see the stamp perforations at the

bottom of the black box used to hide the stamp. After

the photographer took the photo of the 1906 postcard,

he printed multiple copies of it onto photographic paper

designed for postcards—the same size as a postcard

and with lines for the mailing address. Postcards printed

directly from a negative onto photographic paper sized

for use as postcards are known as real photo postcards

(RPPC).

There are three known examples of these postcard

copies and all were mailed from Grand Turk. One is postmarked

1925 and two were postmarked 1936.

I ask myself, why would anyone want this particular

image and use it to make multiple postcards in the 1920s?

Was it intended to promote fish salt to prospective buyers?

What makes this image so special to someone? Can

anyone reading this article help solve this mystery? If so,

contact Jeffrey Dodge at tinqua@aol.com. a

76 www.timespub.tc
---
astrolabe newsletter of the Turks & Caicos National Museum

Museum Matters

Making the best of idle time

Although there are not many positives that are a result

of the COVID-19 pandemic, it has given us time to work

on some of the projects that often get pushed to the

side for lack of time. We are staying busy at the Museum

working on some of these tasks.

We use software that is specially designed for museums

to track our collections, photographs, documents

and everything else that we store. We have items that

have been added to the application but may be missing

information, such as a photograph attached, correct

location or clear description. We also have items that

have been received but never added into our accession

software at all. This has been a project that we now

have time to do. This is extremely important for us

to know what we have, where it is and being able to

quickly respond to questions and requests.

great ideas that can be found on-line on sites that are

designed to let kids have fun and learn at the same

time.

Of course, there is always organization and clean-up

to be done. Additionally, we have used this time to

continue to work on refreshing some of our exhibits

(John Glenn) and further develop the new "People of the

Islands" exhibit.

We look forward to fully reopening the Museum and

seeing our supporters, visitors, schoolchildren and,

hopefully, you, again soon. The health and safety of

our visitors, staff and volunteers will remain our top

priority. As always, you can check out our newsletter,

website and Facebook page for updates and information.

a

Grand Turk garden clean-up

A small but mighty group of volunteers showed up on

August 1, 2020 to help with cleaning up the Grand Turk

Botanical Garden. Mother Nature assisted with Tropical

Storm Isaias—which came through two days earlier— by

removing dead leaves and branches from the trees and

bushes.

The Museum uses PastPerfect software to keep track of its extensive

collection.

The Museum receives emails on a regular basis

asking questions and requesting information. Often

these require research in order to provide the correct

response. Our small staff is usually unable to spend

the time needed, but the lockdown has enabled us to

spend more time on these requests. While we still may

not always be able to find the information requested,

we at least have the time to research and provide what

we can.

During the lockdown we were also able to spend

time researching crafts and activities for our Children's

Club and week-long summer camp. There are many

An enthusiastic Museum volunteer attacks dead branches and

leaves in the Grand Turk Botanical Garden.

Times of the Islands Fall 2020 77
---
astrolabe newsletter of the Turks & Caicos National Museum

Museum Matters

The Grand Turk Botanical Garden was established in

2011 with the assistance of the Carnival Corporation.

The garden includes both indigenous and non-indigenous

plants, trees and shrubs.

The volunteers agreed that we should start a Garden

Committee and decided we would meet on a regular

basis to keep the garden maintained.

Members of the newly formed Garden Committee work hard to keep

the lovely gardens maintained.

These are a few of the projects the Garden

Committee hopes to accomplish:

• The garden signs that identify each plant need to be

placed back to their appropriate spots. The signs were

removed after being knocked down during the 2017

hurricanes. They provide valuable educational information

for anyone visiting the garden.

• Create a community garden that includes growing

herbs and other plants to share within the community.

• Restore the old fireplace (that was previously in the

building) that used to be on the location.

Thank you to the volunteers for their hard work. If

you are interested in volunteering or would like more

information about the community garden, please contact

us at info@tcmuseum.org. a

Story & Photos By Lisa Turnbow-Talbot

78 www.timespub.tc
---
Building Your Vision

Creating Reality

Innovation

Design

Performance

Residential

Commercial

Remodeling

Grace Bay Court, Suite101

P.O. Box 762

Grace Bay, Providenciales

Turks & Caicos Islands, BWI

Tel: + (649) 431 2971

www.ho2group.com

Info@ho2group.com
---
If you ever hear island folk reference the "History Man," there's

a good chance they're talking about Herbert "Bertie" Sadler. He

spent most of his life in the Turks Islands, loved the country and

its people, and made recording its history his life's work.

He first came to Grand Turk in the 1950s as a young man from

the Jamaican civil service, with the title "Assistant Commissioner,

Competent Authority." During his career, he wore several hats in

service of the TCI Government including setting up and running

the Central Purchasing Unit, tasked with sourcing and developing

bulk food imports and shipping links during a difficult time.

What started as the "hobby" of researching and writing up

the TCI's history became a life-long passion. He had an aptitude

and enthusiasm for sleuthing down stories and records relevant

to the Islands and collected an impressive array of material from

multiple sources, including archives and museums he would

visit himself. His work and research is impressive in its accuracy,

depth and far-reaching scope, enhanced by his love of narrating

stories. He relished an audience, and people remember him as

a gifted raconteur. This is reflected in the style and character of

his book, which includes collections of historical curiosities, the unusual and different perspectives of the old

days, and how things were carried on. My reprint of his classic Turks Island Landfall includes graphic and other

improvements that don't alter the style of my father's work.

Marjorie Sadler

80 www.timespub.tc
---
about the Islands

Map provided courtesy Wavey Line Publishing. Their navigation charts and decorative and historic maps of the Turks & Caicos Islands, The

Bahamas, and Hispaniola are available in shops throughout the Islands. Visit www.amnautical.com.

Where we are

The Turks & Caicos Islands lie some 575 miles southeast

of Miami — approximately 1 1/2 hours flying time —

with The Bahamas about 30 miles to the northwest and

the Dominican Republic some 100 miles to the southeast.

The country consists of two island groups separated

by the 22-mile wide Columbus Passage. To the west are

the Caicos Islands: West Caicos, Providenciales, North

Caicos, Middle Caicos, East Caicos, and South Caicos. To

the east are the Turks Islands: Grand Turk and Salt Cay.

The Turks & Caicos total 166 square miles of land

area on eight islands and 40 small cays. The country's

population is approximately 43,000.

Getting here

There are international airports on Grand Turk,

Providenciales, and South Caicos, with domestic airports

on all of the islands except East Caicos.

TCI Assured is a quality assurance pre-travel program

and portal, to assist visitors and returning residents when

the country reopened its borders on July 22, 2020. The

TCI is now requiring a negative COVID-19 PCR test result

from a test taken within five days of travel. Children under

the age of 10 are not required to be tested. Additionally,

travelers must have medical/travel insurance that covers

medevac (insurance companies providing the prerequisite

insurance will be available on the portal), a completed

health screening questionnaire, and certification that they

have read and agreed to the privacy policy document.

Times of the Islands Fall 2020 81
---
These requirements must be completed and uploaded

to the TCI Assured portal, which is available on the TCI

Tourist Board website (www.turksandcaicostourism.

com), in advance of their arrival.

Once travelers register on the TCI Assured portal and

complete the requirements as outlined, a travel authorization

notification will be given. The TCI Assured travel

authorization should be presented at the time of check-in

to the appropriate airline; airlines will not be able to

board passengers without this authorization.

Language

English.

Time zone

Eastern Standard Time (EST)/Daylight Savings Time

observed.

Currency

The United States dollar. The Treasury also issues a Turks

& Caicos crown and quarter. Travellers cheques in U.S.

dollars are widely accepted and other currency can be

changed at local banks. American Express, VISA, and

MasterCard are welcomed at many locations.

Climate

The average year-round temperature is 83ºF (28ºC). The

hottest months are September and October, when the

temperature can reach 90 to 95ºF (33 to 35ºC). However,

the consistent easterly trade winds temper the heat and

keep life comfortable.

Casual resort and leisure wear is accepted attire for

daytime; light sweaters or jackets may be necessary on

some breezy evenings. It's wise to wear protective clothing

and a sunhat and use waterproof sunscreen when out

in the tropical sun.

Entry requirements

Passport. A valid onward or return ticket is also required.

Customs formalities

Visitors may bring in duty free for their own use one carton

of cigarettes or cigars, one bottle of liquor or wine,

and some perfume. The importation of all firearms including

those charged with compressed air without prior

approval in writing from the Commissioner of Police is

strictly forbidden. Spear guns, Hawaiian slings, controlled

drugs and pornography are also illegal.

Returning residents may bring in $400 worth of

merchandise per person duty free. A duty of 10% to

60% is charged on most imported goods along with a

7% customs processing fee and forms a major source of

government revenue.

Transportation

A valid driver's license from home is suitable when renting

vehicles. A government tax of 12% is levied on all

rental contracts. (Insurance is extra.) Driving is on the

left-hand side of the road, with traffic flow controlled by

round-abouts at major junctions. Please don't drink and

drive! Taxis and community cabs are abundant throughout

the Islands and many resorts offer shuttle service

between popular visitor areas. Scooter, motorcycle, and

bicycle rentals are also available.

82 www.timespub.tc
---
Telecommunications

FLOW Ltd. provides land lines and superfast broadband

Internet service. Mobile service is on a LTE 4G network,

including pre- and post-paid cellular phones. Most resorts

and some stores and restaurants offer wireless Internet

connection. Digicel operates mobile networks, with

a full suite of LTE 4G service. FLOW is the local carrier

for CDMA roaming on US networks such as Verizon and

Sprint. North American visitors with GSM cellular handsets

and wireless accounts with AT&T or Cingular can

arrange international roaming.

Electricity

FortisTCI supplies electricity at a frequency of 60HZ,

and either single phase or three phase at one of three

standard voltages for residential or commercial service.

FortisTCI continues to invest in a robust and resilient grid

to ensure the highest level of reliability to customers. The

company is integrating renewable energy into its grid and

provides options for customers to participate in two solar

energy programs.

Departure tax

US $60. It is typically included in your airline ticket cost.

Courier service

Delivery service is provided by FedEx, with offices on

Providenciales and Grand Turk, and DHL. UPS service is

limited to incoming delivery.

Postal service

The Post Office and Philatelic Bureau in Providenciales is

located downtown on Airport Road. In Grand Turk, the

Post Office and Philatelic Bureau are on Church Folly. The

Islands are known for their varied and colorful stamp

issues.

Media

Multi-channel satellite television is received from the U.S.

and Canada and transmitted via cable or over the air.

Local station WIV-TV broadcasts on Channel 4 and Island

EyeTV on Channel 5. People's Television offers 75 digitally

transmitted television stations, along with local news

and talk shows on Channel 8. There are also a number of

local radio stations, magazines, and newspapers.

Medical services

There are no endemic tropical diseases in TCI. There are

Food for Thought provides free daily

breakfast to government school students.

A donation of $300 will provide breakfast

to one child for a whole school year.

To donate or learn more please

email info@foodforthoughttci.com

or visit foodforthoughttci.com

Food for Thought Foundation Inc. (NP #102)

large, modern hospitals on Grand Turk and Providenciales.

Both hospitals offer a full range of services including:

24/7 emergency room, operating theaters, diagnostic

imaging, maternity suites, dialysis suites, blood bank,

physiotherapy, and dentistry.

In addition, several general practitioners operate in

the country, and there is a recompression chamber, along

with a number of private pharmacies.

Immigration

A resident's permit is required to live in the Islands. A

work permit and business license are also required to

work and/or establish a business. These are generally

granted to those offering skills, experience, and qualifications

not widely available on the Islands. Priority is given

to enterprises that will provide employment and training

for T&C Islanders.

Government/Legal system

TCI is a British Crown colony. There is a Queen-appointed

Governor, HE Nigel John Dakin. He presides over an executive

council formed by the elected local government.

Lady Sharlene Cartwright-Robinson is the country's first

woman premier, leading a majority People's Democratic

Times of the Islands Fall 2020 83
---
Movement (PDM) House of Assembly.

The legal system is based upon English Common

Law and administered by a resident Chief Justice, Chief

Magistrate, and Deputy Magistrates. Judges of the Court

of Appeal visit the Islands twice a year and there is a final

Right of Appeal to Her Majesty's Privy Council in London.

Taxes

There are currently no direct taxes on either income

or capital for individuals or companies. There are no

exchange controls. Indirect taxation comprises customs

duties and fees, stamp duty, taxes on accommodations,

restaurants, vehicle rentals, other services and gasoline,

as well as business license fees and departure taxes.

Economy

Historically, TCI's economy relied on the export of salt.

Currently, tourism, the offshore finance industry, and

fishing generate the most private sector income. The

Islands' main exports are lobster and conch. Practically

all consumer goods and foodstuffs are imported.

The Turks & Caicos Islands are recognised as an

important offshore financial centre, offering services

such as company formation, offshore insurance, banking,

trusts, limited partnerships, and limited life companies.

The Financial Services Commission regulates the industry

and spearheads the development of offshore legislation.

People

Citizens of the Turks & Caicos Islands are termed

"Belongers" and are primarily descendants of African

slaves who were brought to the Islands to work in the

salt ponds and cotton plantations. The country's large

expatriate population includes Canadians, Americans,

Brits and Europeans, along with Haitians, Jamaicans,

Dominicans, Bahamians, Indians, and Filipinos.

Churches

Churches are the center of community life and there

are many faiths represented in the Islands including:

Adventist, Anglican, Assembly of God, Baha'i, Baptist,

Catholic, Church of God, Episcopal, Jehovah's Witnesses,

Methodist and Pentecostal. Visitors are always welcome.

Pets

Incoming pets must have an import permit, veterinary

health certificate, vaccination certificate, and lab test

results to be submitted at the port of entry to obtain

clearance from the TCI Department of Agriculture, Animal

Health Services.

National symbols

The National Bird is the Brown pelican (Pelecanus occidentalis).

The National Plant is Island heather (Limonium

bahamense) found nowhere else in the world. The

National Tree is the Caribbean pine (Pinus caribaea var.

bahamensis). The National Costume consists of white cot-

84 www.timespub.tc
---
ton dresses tied at the waist for women and simple shirts

and loose pants for men, with straw hats. Colors representing

the various islands are displayed on the sleeves

and bases. The National Song is "This Land of Ours" by

the late Rev. E.C. Howell, PhD. Peas and Hominy (Grits)

with Dry Conch is revered as symbolic island fare.

Going green

TCI Waste Disposal Services currently offers recycling

services through weekly collection of recyclable aluminum,

glass, and plastic. Single-use plastic bags have been

banned country-wide as of May 1, 2019.

Recreation

Sporting activities are centered around the water. Visitors

can choose from deep-sea, reef, or bonefishing, sailing,

glass-bottom boat and semi-sub excursions, windsurfing,

waterskiing, parasailing, sea kayaking, snorkelling, scuba

diving, kiteboarding, stand up paddleboarding, and

beachcombing. Pristine reefs, abundant marine life, and

excellent visibility make TCI a world-class diving destination.

Tennis and golf—there is an 18 hole championship

course on Providenciales—are also popular.

The Islands are an ecotourist's paradise. Visitors can

enjoy unspoilt wilderness and native flora and fauna in 33

national parks, nature reserves, sanctuaries, and areas of

historical interest. The National Trust provides trail guides

to several hiking trails, as well as guided tours of major

historical sites. There is an excellent national museum on

Grand Turk, with an auxillary branch on Providenciales. A

scheduled ferry and a selection of tour operators make it

easy to take day trips to the outer islands.

Other land-based activities include bicycling, horseback

riding and football (soccer). Personal trainers are

available to motivate you, working out of several fitness

centres. You will also find a variety of spa and body treatment

services.

Nightlife includes local bands playing island music

at bars and restaurants and some nightclubs. There is

a casino on Providenciales, along with many electronic

gaming parlours. Stargazing is extraordinary!

Shoppers will find Caribbean paintings, T-shirts,

sports and beachwear, and locally made handicrafts,

including straw work and conch crafts. Duty free outlets

sell liquor, jewellery, watches, perfume, leather goods,

crystal, china, cameras, electronics, brand-name clothing

and accessories, along with Cuban cigars. a

subscription form

VISIT WWW.TIMESPUB.TC TO VIEW CURRENT ISSUE ON-LINE!

TIMES

OF THE

ISLANDS

SAMPLING THE SOUL OF THE TURKS & CAICOS ISLANDS

One year subscription

$28 U.S. addresses/$32 non-U.S. addresses

Name____________________________________________________________________

Date ____________________

Address__________________________________________________________________

City _____________________________________________________________________

State/Province____________________________________________________________

Country/Postal Code_____________________________________________________

E-mail address (not required)_____________________________________________

r New Subscription r Renewal

r U.S. Cheque/M.O. enclosed

Mail with payment to:

Times Publications Ltd., c/o Kathy Borsuk,

247 Holmes Ave., Clarendon Hills, IL 60514

Please allow 30 to 60 days for delivery of first issue.

Times of the Islands Fall 2020 85
---
where to stay

86 www.timespub.tc
---
where to stay

Times of the Islands Fall 2020 87
---
dining

88 www.timespub.tc
---
dining

Times of the Islands Fall 2020 89
---
classified ads

R E J O U V E N A N C E

SPA

15% off

Brazilian Waxing

Fast and painless with

the best waxing

technician

649-432-7546

House Call Available

www.rejouvenancespa.com

TC Safari_Layout 1 8/9/18 3:33 PM Page 1

Community Fellowship Centre

A Life-Changing Experience

Sunday Divine Worship 9 AM

Visitors Welcome!

Tel: 649.941.3484 • Web: cfctci.com

Vacation Villa Rentals

Joanne Phillips, Turks & Caicos Safari

www.tcsafari.com

Call: 1-904-491-1415

Email: tcsafari@tcsafari.com

Ocean Breeze_Layout 1 4/8/19 10:34 AM Page

D&Bswift_Layout

1

1 5/8/18 7:24 AM Page 1

Our cleaning solutions are made

from biodegradable materials that

aren't harmful to the environment.

Find our products throughout the

Turks & Caicos Islands.

FOR ALL YOUR

RELIABLE AND

AFFORDABLE

RENTAL NEEDS

Call 244-2526

or 241-5584

649-941-8438 and 649-241-4968

SCOOTER HOUSEHOLD AND BOBS_Layout COMMERCIAL CLEANING 1 8/8/18 PRODUCTS 10:57 AM Page GBC2017_Layout 1 2/16/17 9:10 AM Page 1

autorental@dnbautoparts.com

www.oceanbreezetci.com

We're here to

make your holiday

the island way...

DEPENDABLE VEHICLE HIRE

SERVICE OFFERED:

Provo & North-Middle Caicos

Office: 946-4684

Amos: 441-2667 (after hours)

Yan: 247-6755 (after hours)

Bob: 231-0262 (after hours)

scooterbobs@gmail.com

www.scooterbobstci.com

Grace Bay Road across from Regent Street

Fun Friendly People

Appreciating Your Business!

941-8500

www.gracebaycarrentals.com

90 www.timespub.tc
---
SUSTAINABLE

ENERGY

You Can

Count On

R-NETS: A roadmap for

TCI's energy future

Solar integration

to the FortisTCI grid

We're building partnerships to deliver a more sustainable

energy future for the Turks and Caicos Islands.

With the Resilient National Energy Transition

Strategy (R-NETS) serving as a roadmap, and with

new and ongoing investments in solar energy

generation, solar plus battery pilot project, and

an electric vehicle and charging station project,

FortisTCI is working every day to deliver resilient,

cost-effective and environmentally sustainable

energy, to fuel growth and development.

Solar + battery storage

pilot project

Electric vehicle

pilot project

www.fortistci.com | 649-946-4313 |
---
The Leading Private Bank in the Turks and Caicos Islands

Where values are growing

Wealth Management • Bonds/Fixed Income

Investment Strategies • Foreign Exchange

Stocks/Equities • Precious Metals

Fixed deposits/CD's • International Transfers

Turks & Caicos Banking Company Ltd.

The Regent Village, Unit H102, Grace Bay Road, Providenciales

Tel: +649 941 4994

Email: services@tcbc.tc • www.tcbc.tc

Regulated by the Financial Services Commission, Turks & Caicos Islands