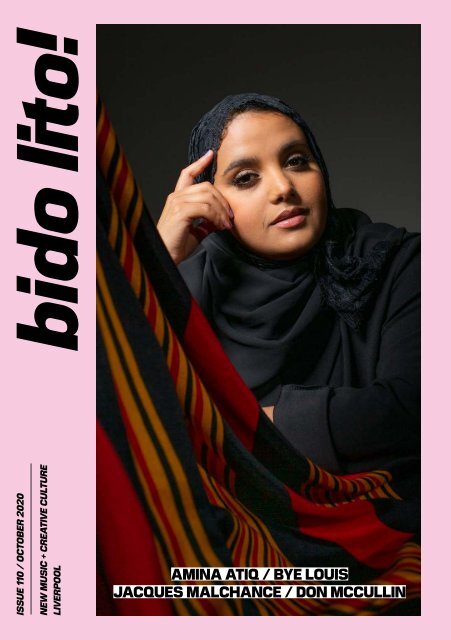 Issue 110 / October 2022
October 2020 issue of Bido Lito! magazine. Featuring: AMINA ATIQ, JACQUES MALCHANCE, BYE LOUIS, NUTRIBE, DON MCCULLIN, LINDA MCCARTNEY, IMPORTANCE OF SMALL VENUES, QUEEN YUE, OSTRICH, LCR PRIDE FOUNDATION and much more.
October 2020 issue of Bido Lito! magazine. Featuring: AMINA ATIQ, JACQUES MALCHANCE, BYE LOUIS, NUTRIBE, DON MCCULLIN, LINDA MCCARTNEY, IMPORTANCE OF SMALL VENUES, QUEEN YUE, OSTRICH, LCR PRIDE FOUNDATION and much more.
SHOW MORE
SHOW LESS
You also want an ePaper? Increase the reach of your titles
YUMPU automatically turns print PDFs into web optimized ePapers that Google loves.
ISSUE 110 / OCTOBER 2020

NEW MUSIC + CREATIVE CULTURE

LIVERPOOL

AMINA ATIQ / BYE LOUIS

JACQUES MALCHANCE / DON MCCULLIN
---
NEAR NORMAL

FUTURE YARD

PRESENTS

A SERIES OF LIMITED CAPACITY,

SOCIALLY-DISTANCED SHOWS

+ INCLUDING DIGITAL TICKET FOR LIVE STREAMED BROADCAST

SEATBELTS

EYESORE

& THE JINX

FUTURE YARD

BIRKENHEAD

BY THE SEA

75 ARGYLE STREET, BIRKENHEAD

VISIT FUTUREYARD.ORG
---
SUPPORT BIDO LITO!

WELCOME

TO OUR WORLD

BECOME A MEMBER!

Signing up to a Bido Lito! membership means

you are supporting the future of the magazine.

In these uncertain times this means a lot.

For £7 a month (less than half a coffee a week!)

you'll be contributing to the future of Bido

Lito! and, if you sign up now you'll get a FREE

limited edition illustration t-shirt, plus all this...

SIGN UP NOW

AND GET AN

ILLUSTRATION TEE!

BIDO LITO! MAGAZINE

DELIVERED EVERY MONTH

THE BIDO LITO! JOURNAL

EVERY DECEMBER

EXCLUSIVE

RECOMMENDATIONS

AND CONTENT

FREE ENTRY TO

BIDO LITO! EVENTS

JOIN THE COMMUNITY! BIDOLITO.CO.UK/MEMBERSHIP

Illustration by Hannah Blackman-Kurz
---
DIX

GOYA

BARLACH

PECHSTEIN

KOLLWITZ

SCHIELE

KOKOSCHKA

FELIXMÜLLER

PICASSO

MUELLER

DÜRER

MUNCH

BECKMANN

GERMAN

REVOLUTION

Expressionist prints

2 October 2020 to

28 February 2021

liverpoolmuseums.org.uk
---
40 SLATER STREET, LIVERPOOL. L1 4BX

THEMERCHANTLIVERPOOL.CO.UK
---
In Liverpool

2-year degrees

and 1-year diplomas

Last

places

available for

September

2020

Study in January, May or September

SAE Liverpool

38 Pall Mall

Liverpool

L3 6AL

03330 112 315

enquiries@sae.edu

sae.edu/gbr
---
New Music + Creative Culture

Liverpool

Issue 110 / October 2020

bidolito.co.uk

Second Floor

The Merchant

40-42 Slater Street

Liverpool L1 4BX

Founding Editor

Craig G Pennington - info@bidolito.co.uk

Founding Editor

Christopher Torpey - chris@bidolito.co.uk

Executive Publisher

Sam Turner - sam@bidolito.co.uk

Editor

Elliot Ryder - elliot@bidolito.co.uk

Intern

Danni King

Design

Mark McKellier - mark@andmark.co.uk

Branding

Thom Isom - hello@thomisom.com

Proofreader

Nathaniel Cramp

Cover Photography

Robin Clewley

Words

Elliot Ryder, Danni King, Sam Turner, Marnie Holleron-

Silk, Lily Blakeney-Edwards, Laura Brown, Will Whitby,

Mike Stanton, Mary Olive, Charly Reed, Paul Fitzgerald,

Leah Binns, Remy Greasley, Sam Batley, Emma Murray.

Photography, Illustration and Layout

Mark McKellier, Robin Clewley, Esmée Finlay, Michael

Driffill, Connor O'Mara, Eimear Kavanagh, Michael

Kirkham, Natalie Lissenden, Billy Vitch, Jacob

Davenport, Daniel De La Bastide, Chloe Brover, nil00,

Rob Battersby, Sam Batley, Sophie Green.

Distribution

Our magazine is distributed as far as possible through

pedal power, courtesy of our Bido Bikes. If you would

like to find out more, please email sam@bidolito.co.uk.

EDITORIAL

Back in March I was starting to worry about my hearing.

A couple of weeks before lockdown, following on from

a Friday night watching south London post-punks

Dry Cleaning at The Shipping Forecast, I was at the

Invisible Wind Factory to watch emo shoegazers DIIV. From

the moment the band's two guitarists stomped down on their

plethora of pedals, I knew it was going to be a tough night on

my ears.

It's hard to pinpoint when I first started to suffer from

tinnitus. It was perhaps watching post-hardcore outfit Title Fight

at Manchester's Star & Garter in 2011. It was there where I got

my first taste of ringing ears that lasted days after the event.

Since then, the level it's affected me has fluctuated. Often,

it's dictated by where I stand on the night, the type of music,

whether I remembered to wear ear plugs and also my levels of

stress. These days, it continually plays as the dull soundtrack to

silence – until further provoked.

Of those back-to-back gigs just before lockdown, I was

pretty untroubled by the angular riffs of Dry Cleaning. The ceiling

in The Shipping Forecast is low. If you stand to the back, there's

a healthy meat blanket of audience packed between two pillars

which help soak up the noise. For DIIV it was the polar opposite.

Stood midway towards the front, wave after wave of distortion

barrelled from the stage into the cavernous space, which

was healthily populated, but far from tightly packed. Opener

Horsehead was transfixing, with its lugubrious, clench-fisted

angst lurching forward from each guitar, but I could already hear

the raised tinnitus that I was going to wake up to. I watched on

for the rest of the set knowing most of the damage was already

done.

That show was the last I went to. Perhaps out of fear over

hearing damage, it may have been wise to take a break from

watching live music for a little while. But there was never an

intention to sit out for what has now been seven months. What's

FEATURES

transpired in that time has sadly removed the option of watching

live music, as we know it, from everyone's lives. Not just those in

need of a short break.

The ringing in my ears is still there. It rarely subsides beyond

a monotonous hum, as though my ears are clinging to memories

of the drones swirling around the Invisible Wind Factory. But

that memory is being stretched out far longer than was expected

of it. It remains difficult to know when it'll be replaced, which

gig can then be to blame for a new incessant ringing days after.

Right now, I'd take pretty much anything. That's if it meant being

able to watch live music with a healthy blanket of audience to

soak up the noise, the memories. But that incarnation of live

music is still some way off. I'll take solace, for now, in resting my

ears and investing in a better pair of earplugs.

Now that it's up and running, Future Yard might very well be

where I can put those very earplugs through their paces. Massive

congratulations to Craig, Chris, Cath and Hoggy for getting it up

and off the ground in the middle of a global pandemic. Judging

by the fullness of Craig's stupendous perm currently, it hasn't

been too stressful.

But with this good news comes an all too familiar tale.

At the time of going to print the sad news came through that

Constellations will be closing permanently. From hosting our

Liverpool Music City? event to Christmas quizzes and last year's

Bido100 celebrations, the Baltic Triangle hub has been a vital

venue to Bido Lito! and Liverpool's wider creative community.

Becky and the team have been passionate activists in protecting

the city's creative nightlight culture in the face of accelerating

development. The venue will be a sad loss, but we wish the team

all the best for future endeavours.

Elliot Ryder / @elliot_ryder

Editor

She Drew The Gun at Future Yard / Robin Clewley

Advertise

If you are interested in adverting in Bido Lito!, or finding

out about how we can work together, please email

sam@bidolito.co.uk.

Bido Lito! is a living wage employer. All our staff are

paid at least the living wage.

All contributions to Bido Lito! come from our city's

amazing creative community. If you would like to join

the fold visit bidolito.co.uk/contribute.

We are contributing one per cent of our advertising

revenue to WeForest.org to fund afforestation

projects around the world. This more than offsets our

carbon footprint and ensures there is less CO2 in the

atmosphere as a result of our existence.

11 / AMINA ATIQ

Through her poetry, performance and activism, Amina Atiq has

emerged as one of the most essential voices in Liverpool.

16 / PLAYING IN

In our second report with The University of Liverpool, we look at

responses relating to the alternative platforms for live music and

the effects of lockdown on levels of creativity.

18 / JACQUES MALCHANCE

Mike Stanton goes stargazing with the producer, DJ and promoter

to journey through the cosmos of his most recent release.

22 / DANCING IN THE DISTANCE

Mary Olive explores the essence of dancing and communality, an

integral aspect of our lives which is yet to return.

24 / BYE LOUIS

Just before lockdown, the multi-instrumentalist relinquished

control of his 2019 EP The Same Boy in order for it to take on a

new life.

26 / MAKING THE CASE FOR

SMALL SPACES

Following the recent closures of Sound and The Zanzibar, Charly

Reed underscores the importance of protecting and developing

more small venues.

30 / DON MCCULLIN

Ahead of a new retrospective at Tate Liverpool, Elliot Ryder

spoke to the photojournalist about his experiences of the city, his

depictions of conflict and his role as a chronicler.

REGULARS

The views expressed in Bido Lito! are those of the

respective contributors and do not necessarily

reflect the opinions of the magazine, its staff or the

publishers. All rights reserved.

8 / NEWS

10 / HOT PINK

28 / SPOTLIGHT

32 / PREVIEWS

34 / REVIEWS

38 / ARTISTIC LICENCE

39 / FINAL SAY
---
NEWS

'Harmonic Generator

Royal Liverpool Philharmonic Orchestra

As live music begins a slow return, Liverpool Philharmonic Hall

has announced it is reopening its doors in October. The iconic

venue is hosting a series of one-hour concerts by the ROYAL

PHILHARMONIC ORCHESTRA, with smaller orchestral forces

to accommodate for social distancing measures. The orchestra

kick things off on 1st October with a show featuring the music of

Beethoven, Arvo Pärt and Mozart. 12th October sees Roderick

Williams baritone and Christopher Glynn piano take centre-stage,

followed by Ensemble 10/10 on 22nd October. The Liverpool Wind

Collective feature on 24th October, with Liverpool Philharmonic

brass and percussion ensemble the following day, and the Royal

Liverpool Philharmonic Orchestra wrap things up at the end of the

month. Tickets are available now with each show limited to 240

seats. For those wanting to experience live classical from their living

room, Royal Liverpool Philharmonic On Demand provides a package

of performances with exclusive extra including behind the scenes

interviews.

Birkenhead of the game

it's all happening on Argyle Street. Not only has brand

new music hub Future Yard announced three more

socially distanced gigs in October (see Previews section)

but applications are open for a special skills programme

for local young people ran by the FY team. Those looking

to pursue a career creating live events can gain valuable

experience, skills and a qualification courtesy of the

SOUND CHECK programme. It consists of workshops

focusing on technical production and live music event

management, alongside opportunities to gain handson

experience and skills at live events, finishing with an

independent group project create a live music event.

Applications close on 28th September. futureyard.org/

soundcheck

Future Yard

How Bazaar

Open Door Centre charity have launched a new mental health initiative BAZAAR

to help people improve their wellbeing in what are straining times for minds across

the world. The CBT and mindfulness programme offers a new, dynamic approach

to tackling mental health issues in the format of eight weeks of hour-long sessions.

Each session looks to develop skills that disrupt negative thinking practices, which will

improve symptoms of both anxiety and depression. Bazaar is open to organisations

and businesses looking to support their staff and members, with tailored packages

available to suit all groups. All proceeds from the Bazaar programme will be going

directly to the Open Door Centre, in order to support their continuing work.

Angus And Us Only

Last month's feature artist JAMIE WEBSTER is amongst

the guitar slingers performing at the newest addition to

Dale Street's food and drink offer as The Angus Tap & Grind

announce a growing musical menu to accompany their

impressive range of beers and coffees. Webster and a host

of other artists will be playing the intimate venue after a

residency from Cast man JOHN POWER earlier this month

sold out in twenty seconds. Fine time. theangus.co

Avant Gardener

Andrea Ku

Bluecoat have announced L8 gardener and artist ANDREA KU as

their gardener in residence for Autumn 2020. The announcement

comes after Ku's recent collaboration with Bluecoat, which saw her

develop a series of nature-related blogs during lockdown against

the background of Frances Disley's Pattern Buffer exhibition. Many

projects have already been announced to take place during Ku's

residency, but most notably the creation of a map of accessible

and less-visited green spaces in Liverpool, which will be in print

and online. Ku will also be filming online tutorials from Bluecoat

garden where she'll be based, as well as holding in-person

distanced tutorials to give support and advice.

Calling Future Film Makers

Storyhouse in Chester have announced the details of this

year's BFI Academy course. Each year the British Film

Institute lead the course, aimed at young people who are

passionate about a career in the film industry. The intensive

short course spans just one week and explores the entire

industry, from filmmaking to the commercial and cultural

knowledge of film. The BFI Academy scheme offers an

opportunity to gain valuable work experience from industry

leaders and professionals in a competitive field, which

will enable candidates to increase their chances of being

recognised in the industry. The course is open to anyone

aged 16-19 who isn't studying at university, with no

immediate level of experience needed. storyhouse.com

BFI Academy course

8
---
A Keychange Is Gonna Come

Bido Lito! is among a number of local organisations

that have taken the KEYCHANGE PLEDGE to improve

gender representation in the music industry. The latest

round of inductees into the Keychange network join

300 festivals and organisations around the world

actively taking steps towards achieving gender balance

in the sector. Bido Lito! has pledged to ring fence 50

per cent of places on our Bylines writer workshops

programmes for female participants, as well as other

underrepresented groups. We have also vowed to

maintain our efforts to platform more female artists

and female-led projects in the pink pages and continue

to provide more opportunities to female contributors.

keychange.eu

Keychange Ambassador Corinne Bailey Rae

Now Open

With World Museum, Museum of Liverpool and the Maritime

Museum already open to the public, the remaining National

Museums Liverpool venues LADY LEVER ART GALLERY,

SUDLEY HOUSE and SEIZED! complete the set of galleries

open to visitors. From Wednesday 30th September Port

Sunlight's gallery, Lady Lever, will display a new exhibition of

German Revolution expressionist prints featuring pieces by

Picasso, Kollwitz and Munch. Home and Away, a show of oil

paintings from the collection of former Sudley House resident

George Holt opens on the same date in the Aigburth venue.

The Seized! gallery in the basement of the Maritime Museum

will also be back in action telling the story of smugglers and

contraband in partnership with HM Revenue & Customs.

liverpoolmuseums.org.uk

Edward Munch

Test Your Metal

Culture hub Metal, located at Edge Hill train station, has an illustrious recent

history of helping develop the craft of a wide gamut of local artists as well as

showcasing a fabulous array of national and international talent. As of October

they are focussing on developing a programme of support for early career

artists. The team specifically want to help those who have deferred studying

for their arts degree due to Covid or generally not looking to take a university

placement. The programme will be led by professional artists who will pass

on their practical skills and facilitate stimulating creative challenges along with

group sharings. Find out more information on Metal's New Artist Network

online. metalculture.com

Metal

Market Forces

Community asset GRANBY STREET MARKET is looking for

donations after a fire in September destroyed nearly all of their

equipment. The team are in need of £30,000 to replace the market's

infrastructure - including gazebos, tables, chairs and sound system

- in order to get the initiative going again. At the time of writing, the

GoFund me page had achieved almost 50% of the goal but need

help to hit the total before an early October deadline. Since growing

from a handful of tables in 2010 to a multifaceted community

enterprise, the market has become an important fixture to the L8

community and beyond. gofundme.com/f/granbymarket

Granby Street Market

Music Community Consultation

Event

Following a survey of Merseyside's musician community

in August, Bido Lito! and University of Liverpool's

PLAYING IN research project will continue with an online

consultation on Tuesday 27th October. Representatives

from all areas of Liverpool City Region's music industry

are invited to the Zoom event which aims to take a health

check of the sector. Focus group conversations looking at

how areas such as live music, education, tourism and artist

development will produce qualitative data to contribute

to a report which will inform LCR Music Board's path to

recovery. Interested parties can register for the event at

bidolito.co.uk/consultation.

Music Consulatation

NEWS 9
---
HOT PINK!

Our Hot Pink! playlist is your one-stop shop to find the newest, brightest and piping hot music pushing up

the mercury on Merseyside. Featuring the latest drops from artists in the region, the mix is regularly updated

with a smorgasbord of bangers from a plethora of genres reflecting the plurality of sounds emanating from

the recording studios across the area. Here's a selection of this month's additions to give you a taste.

Hannah's Little Sister

Bin Mouth

Heist Or Hit

Nearly two years after the release of their debut 20, it's a pleasure to welcome back raucous indie

poppers HANNAH'S LITTLE SISTER with this short stab of puerile exhortation. This wonky poppunk

riot features a cathartic crash of brash vocals that bring to mind early-00s chart botherers

The Ting Tings, but with much more to delve into and enjoy. Don't leave it so long next time,

please. (MHS)

Crapsons

Clotheslined by A Nun

Society Of Losers

With a genuine claim to most peculiar track of the month, Wirral punks CRAPSONS bring a real

adrenaline shot in this ecumenical hammer. The track stands up to flavours of the month Shame

and Life, but comes peppered with Leisure Peninsula humour and aided and abetted by The

Wildcard of labelmates Salt The Snail. This one will be a real crowd-pleaser when the duo (plus

one) get to perform live once again. (MHS)

Sara Wolff

Cotton Socks

Is SARA WOLFF carving out her own niche of 'knit-pop'? This moody and melancholy indie-folk

track follows her equally lovely ode Scarf Song in using woollen wear to derive love life analogies

with surrealism, poetic lyrics and dulcet tones. The sparing and simplistic instrumentation combine

to make this track a listening experience to keep you as warm as luxuriant autumnal undergarms.

(ST)

Novelty Island

Suddenly On Sea

Abbey House

This is an EP that doesn't concern itself with reality. Bouncing between influences from The Beach

Boys and Frank Sinatra ballads, the collection of tracks paints a picture of a surreal English seaside

town. Through absurd synth melodies and creator Tom McConnell's hypnotic vocals Suddenly On

Sea invites the listener to escape to a summer holiday that never was. Definitely one to check out.

(LBE)

François

Young N Dumb

Big beats and Auto-Tune aplenty with pop auteur Francois' latest offering. Young N Dumb is a

bedroom composition which deceptively meanders via lyrics lamenting lost youth while an arsenal

of processed beats keeps up the energy and has us yearning for ill-conceived nights on sticky

dancefloors. (ST)

Pixey

Just Move

Chess Club

One-woman pop hurricane Pixey continues her triumphant return with an expertly executed

exercise in synthesizing the best indie hooks of the last 30 years into a three-minute baggy banger.

Just Move could have had the Haçienda dancefloor bouncing in 1991 as it no doubt will for a

muddy Somerset field crowd in the not-to-distant future. (ST)

Yammerer

Boa Constrictor

Restless Bear

Those who are looking for Leonard Cohen-esque revelatory lyrics about life, love and the universe

should not look to this serpentine post-punk slab from the ever-electric YAMMERER. However,

those wanting a cathartic tonic of rollicking feedback squalls and wirey guitar licks building over a

pummelling rhythm section and JC's skeletal howls will be more than satisfied. (ST)

Terry Venomous

Sentient

Eggy Records

Slurring a croon like a lobotomised Mark E Smith over de rigueur lounge guitar lines, this debut

from the newest Eggy Records signee is a fine tone-setter for EP Video Game Dog Barking. 8 Bit

flourishes surface above a laid-back bedroom beat which will reanimate disenchanted fans of Mac

DeMarco. (ST)

Red Rum Club

Ballerino

Modern Sky UK

"It's time to move your feet," according to Red Rum Club in their newest catchy, feel-good single.

Complete with trademark trumpet flourishes and ear-worm chorus, Ballerino implores hands to

hold proseccos in the air and forget about any Covid cares. Let's hope it's prophetic. (ST)

Words: Marnie Holleron-Silk, Lily Blakeney-Edwards, Sam Turner

Follow Hot Pink! on Spotify: bit.ly/bidohotpink

Photography (from left to right): HLS (Beebo Boobin), Crapsons, Sara Wolff, Pixey (Zac Mahrouche)

10
---
ARE YOU

LISTENING?

Through her poetry, performance and activism, Amina Atiq has emerged as one of

the most essential voices in Liverpool. With a stature continuing to grow through a

range of ongoing commissions and projects, Laura Brown speaks to the artist/activist

about the expectations of identity and the radicalness of using your own voice.

FEATURE

11
---
AMINA

ATI Q

"I'm writing for

myself, for my

ancestors, my

sisters and my

children to say

'We do exist'"

AMINA ATIQ is in a reflective mood. On a Friday

morning, in this strange waiting room between life

being open and closed, she pauses and takes a

moment before she speaks.

"This is the battle," she says, her voice calm, measured, the lilt

of Scouse in her glottal stop.

"We are a generation born or emigrated to the UK with a

strong attachment to our home countries," she explains. "I'm

writing for myself, for my ancestors, my sisters and my children to

say, 'We do exist'."

To be Arab in Britain in 2020 is complicated. Loving Mohamed

Salah doesn't prove anyone knows a lot about modern Arab

culture as much as assuming every woman in the Middle East is

oppressed. As a female, Muslim, Yemeni Scouse poet, Amina is an

artist, but we also ask her to be a trailblazer. It's a lot to expect a

25-year-old to be.

As well as being a writer and performance artist, Amina is

also a facilitator and an activist. Award-winning for her work

on community engagement, she has featured on BBC Radio 5

Live, BBC Radio 6 Music, BBC Radio 4, Bitesize, Arab News, The

Independent and many more. She has campaigned with Change.

org, the Campaign Against the Arms Trade (CAAT) and Oxfam

since the war began in Yemen when she was 19. Over the past

six years, she has collaborated with artists and writers to connect

directly with Yemeni youth creatives to build a global community

outside Yemen and on the ground. In 2018 she was involved in

a project curated by local Yemeni American social entrepreneur

Hanan Ali Yahya in partnership with Arab American National

Museum. The project, Stories Never Told was of 24 Yemeni artists

across the world sharing their work as part of Yemen's crises and

renaissance.

Her recent work involves a poem commissioned for the

Yemen in Conflict project, part of a multimedia exhibition at the

Liverpool Arab Arts Festival, and a series of newly commissioned

'poemfilms' connecting Yemeni poets with filmmakers exploring

how the country's rich tradition of poetry and language can

be preserved and passed onto younger generations. Amina is

currently developing a spoken word monologue with DadaFest,

inviting the audience to a 1970s Yemeni-British household,

untangling what it means to belong.

If you have never heard Amina perform, she has the power

to spellbind an audience. Personal, honest, unapologetic, she can

connect with those listening to her like few can. She is unafraid

of speaking her truth. A poem, Shamin' on the Train, comes from

the incident on a train between Liverpool and London when she

was abused for speaking Arabic. The video she shared on social

media had thousands of likes and made national headlines, but it is

through her own poetry that she regains control of the story.

"You will hear a voice right behind you and it is muttering

hate/…when she practices her freedom of speech she is told to

leave this country/…why choose hate if you are unsure/ And if you

are unsure why don't you ask?" the poem recalls.

There is a responsibility that comes with being a trailblazer of

using one's voice and it can be challenging, she says.

"You're trying to tell the community, 'It's OK, I'll be the first to

do it', while [asking] the other side, 'Are you OK to accept me?'

12
---
FEATURE

13
---
14
---
It's a lot, and I think it's not just as Arab women, but as Arab artists and creatives," says Amina. We

don't want to have conversations about identity any more. It's so apparent that we have very clear

identities, we don't blend in with the crowd, we stick out. Our identity walks with us. We don't have

to claim it, we don't have to state it, it's there. Those who are very, very exposed or it's very apparent

where they come from, they're the ones who have to convince people they belong and that they're

British enough."

It's strange, Amina thinks, that, as an Arab woman wearing a hijab, for some audiences it was

putting on the Scouse accent in her performances that made her acceptable.

"How much do we have to integrate until we're accepted?" she replies. "Acceptance isn't an issue.

In human life you don't have to accept everything, but it's the idea of trying to convince people that

you exist, that your country exists."

Her accent itself has been shifted in her performance and work. Amina was through to the final

of the BBC Words First development scheme and she describes how, during a workshop, she began

to perform how she usually did, with an American accent. "What are you doing?" the facilitator asked,

"what's that voice?" When you search for spoken word poetry you'll often hear this mid-Atlantic,

slightly American style performance (let us not forget, plenty of bands have done the same thing,

singing in an American accent because they think that's what the audience wants). Why, he asked,

was she writing about Liverpool but not speaking in her own voice? Who was she trying to convince?

She was, as you'd imagine, mortified. But it was a turning point. In came her own voice, complete with

Scouse accent. Using your own voice can feel like a radical act.

There is a long line and tradition of radical female Arab poets and writers; from Iraq's Nazik

al-Malaika to Egypt's Nawal El Saadawi, women have a unique role in using their voices to articulate

societal change, whether it is happening or whether it is needed. When Amina meets other modern

Arab women poets, there is something that binds them to each other and their heritage. "We are

constantly convincing our readers that we exist," she outlines.

Poetry is well placed to do this. It conveys the language of protest, activism, emotion, charting

change as easily as the artist steps up to speak to a crowd. It demands a vulnerability that has to be

embedded with honesty. And proving that you exist, that you have to be seen, means you have to, at

some stage, recognise the way you're seen by others.

Let's not pretend honesty is anything other than hard. The perception loop of being an Arab in the

21st century is that you can find yourself fulfilling an outside expectation, of being the construct that

people expect you to be before you even show up, before you open your

mouth, and then that construct begins to inform how you see yourself.

Lockdown has had another huge impact on Amina for how she

sees herself and reflecting on her work. Explore the pictures of her

Culture Liverpool project, Lockdown, where she takes a series of pictures

capturing different aspects of her life during lockdown. She talks about

how it made her reconnect with her faith, her wellbeing and her health.

Like those of us who celebrated a birthday in the months of semiisolation,

she captures the sweet melancholy of being apart from people

you love – knowing that not marking the occasion feels like surrender. "I

wore my birthday outfit and painted my face," she tells me. "We danced,

FaceTiming my mother who is currently stuck in Yemen. A birthday I will

not forget."

Development is all part of being an artist as much as our identity. In

Amina's one woman show, Broken Biscuits, she talks about how, as an

immigrant writer, the words themselves that she is using are changing.

"It's interesting how subconsciously you come to believe the image

or perspective of those who tell you who you are, who you look like and

where you come from," she begins. "In my old work there's so many western clichés in there: 'I carry

my suitcase on my back'. I didn't carry my suitcase on my back, I came [to Britain] on a first-class

plane ticket."

The title, Broken Biscuits, comes from how she talks about her grandad who came to the UK in

the 1960s and set up his corner shop "selling broken biscuits, meat and bread" in the post-war era.

"When my grandad came, people were travelling from the UK to other places, especially after

the war, to grow their businesses. That's celebrated and seen as a good move. When I speak about

my grandad," she continues, "I've started to say I'm the granddaughter of an economic migrant and

businessman. My grandad was an economic immigrant, he wanted to make more money. If I were to

travel to France, to study French to start a business, I'm making certain choices to be successful. But

yet, if you're brown or black, or don't fit into the white majority, you're seen as…"

She tails off. Many see the Middle East from the outside. They see it as a red apple, but it isn't a

red apple, Amina says, it's an onion. It has layers and layers to be unpicked. So many of us are here

because of something violent, something unexplainable, something out of our hands that happened in

our homelands. Our Arab heritage, our communities are as layered as how we see ourselves.

"What confuses people of Arab identity is very, very complex. I don't even think the Arab

community even knows it yet. I don't think the Arab community has yet understood the confusion, the

trauma, in the 80s, things were transitioning in the Middle East," says Amina.

The history of Yemen, like the history of many countries, is complicated. It changes generation

by generation, so in a single household you can have three generations who were born at a time of

revolution. From a Yemen Arab Republic in the 60s, the Yemenite War in the 70s, and unification talks,

civil war in the 90s and revolution in the 00s. Even this removes depth, discussion, reflection. History

is never a single timeline. In Amina's family, her mum encountered one political upheaval, different

from that of her own mother, Amina's grandmother. Her father was born in Britain.

"My teenage life was born in the Arab spring and my sisters don't speak Arabic. Then you've got

Scouseness. It's this bowl of Scouse," she illustrates.

When she recognised those different generations in her British Yemeni household it became

a significant shift in the way she writes. Amina writes a lot about her mother and grandmother.

She sees herself documenting the small conversations at home that are then reflected in her work.

Amina's A Letter to my Mother encapsulates both the tension of the mother daughter relationship.

"For I do not want to live in regret

and when a thousand voices cheer me on

from the audience, perhaps the only

Voice

I really want to hear, is always you.

'You'll never understand me,' I slam the door

breaking your heart over and over again,

but my mother, she waits up all night waiting for the key to turn through the door

for our bones are made from Yemeni mould and when we fight, I sneak back into her chest

when she is not looking"

"What does home look like in a Yemeni household in Britain?" Amina asks. "I'm trying to

acknowledge that in different layers. My dad being born here provides a different layer with a strong

British identity, but I always look at him and think how surprising it is, how connected he is to Arab

culture. It's taught me about the strength of Yemen and Arab identity. My sisters, I recognise they

should speak Arabic so they can connect. I teach them out of love for Yemeni culture, in case they

forget it. That's why we should celebrate it. I strongly believe in Arab culture, with its different dialects,

different types of history, whether you speak French, broken Arabic."

Arab communities, the one I am in, the one Amina is in, struggle frequently to talk about their

British identities. I have never described myself as Arab British. My father, who was born in Palestine

and came to Britain in 1956, certainly didn't. Yet our identities were a blend. And in denying this

"My poetry should do

something, it should

move something,

it should change

minds, it should

challenge people"

aspect of ourselves, our British side, have we allowed others to step in and define what Britishness is?

Crucially, what our Britishness is?

"If you ask Yemeni people, 'How do you identify?' they say Yemeni. If you're Palestinian, it's

Palestinian. Would you ever say Yemeni British? No. But you live here, and you pay taxes here. The

Asian Britains I know are much more connected with their British identity. What does your Britishness

mean?"

We have a right to talk about our own identities and heritage, allowing them to be fluid and

figuring out how we want to talk about them. It is something that many on the left struggle with,

especially in Liverpool. How many of us say Scouse not English, for example? We are determined to

have the right to define what our identity is, perhaps rejecting one side of it because we don't like it,

or we don't feel it's ours. The risk there is that leaves our other identity, the one we don't like, getting

further and further away from us. Our identities are pulled into two different directions. Why can't we

be patriotic too, in our own complicated, mixed heritage, broken Arabic ways?

There's a poem of Amina's called Backbencher that was commissioned by Speaking Volumes.

"I saw my father cry for the first time

he cradled this city

in his arms

waiting to be loved

but all he knew this glory

does not belong

to people like him."

Patriotism is complicated when you feel like you might not be allowed to belong. And yet it feels

as though, if not everything is changing, then the grounds are shifting significantly. And with that it

feels like things might be up for grabs. Sometimes, it feels like everything we said 20 years ago has

been thrown in the air and we're waiting for it to fall to the ground. Amina herself is like someone who

is plucking those words out of the atmosphere around her and fitting them in a new shape, and a new

place. It's a process and it's having a profound impact on the work she is writing.

"I am the first person to put my hand up and say the work I used to write in the first five years

[were] the most clichéd things," she admits. "My western perspective sometimes hijacks my identity

and the one I want to connect with. I think it's a process of healing, of

getting to know yourself a little bit better every single day."

This is, she believes, part of the artistic process.

"You need to be reflective in poetry," she adds, "you need to be

in transition all the time. I see poetry as a moment, it's like taking a

photograph. It's very, very rare you'll ever get the same photograph. It's

got a different mood, tone, it's a moment. Tomorrow it'll be something

different. I've changed, it's not drastic but from that poem I wrote

yesterday my mood is different today. Writers and artists should do that.

Contradicting yourself is about the writer in you, there's some change

going on in your work. Any type of transition can sometimes overwhelm

you, you start to ask questions you've never asked before and you start to

answer them in a way you've never done before, so what you try to do is

put yourself all together. We're constantly renewing those questions."

And we return to activism and identity, of the expectation that we

have to be something, representing something, somewhere, someone.

"I used to separate Amina the activist and Amina the poet. What's

happening now is they're becoming intact. I thought poetry should heal,

sing a song, but I'm recognising my poetry should do something, it should move something, it should

change minds, it should challenge people," she asserts. "To do that I should bring topics to people and

shouldn't lie."

There is a phrase Amina uses frequently: "You can't separate the writer from the writing". Writing

about your heritage and exploring this battle of who you and where you come from is imperative and

there is more interest in it. Yet no battle comes without risk.

"A lot of brown/black activists talk about this, you're always going to be paranoid, you're thinking

I want to live as a normal human being, but when you confront a situation because you want it to be

better and they treat you differently you don't know whether it's because they don't like you or is it

because I challenged something? It's daunting."

The balance is always how you see yourself, how others perceive you, and in the arts this comes

with an added frisson. You want to control how you're seen, but any whiff of marketing or – shock!

– a business plan comes with it the question of authenticity. Artists have to make a living, have to

balance the books as much as the next self-employed creative. Artists always used to hide this side

of their work – better to be seen as the struggling artist than be accused of being a Tory – but no

more, says Amina.

"You are the business, you're self-employed," she explains. "I don't understand why someone

who has a shop can call themselves a business, but an artist can't see themselves as a business.

I think people are scared to start seeing themselves as a business because they think it will take

away from their authenticity. That work will take over your life. You can still create and do the admin

work."

Enthusiastically, as an 18-year-old, Amina would go to business networking meetings, figuring

out how she would have to make being an artist pay. Once, she sat in a workshop listening to a

writer who kept apologising for her writing. Why, she asked herself, do we keep apologising for

not just what we write, but the fact that we can? It needs to stop, she thought. We can't keep

constantly justifying this. Any artform, writing included, has its part in the world and art seeps into

commercial corners all the time. Why should it only be the artist that's apologising for that?

As a Young Associate for Curious Minds, taking a 12-month intensive training programme,

specialising in delivering Arts Awards, strategic development and supporting young artists find

their voice has deepened her interest. We need to inspire young people and young artists to think

that a career in the arts doesn't mean apologising for making money or, crucially, asking for it.

"It's allowed me to think more logically about my two-year goal, five-year goal. The idea is

not about giving up on your art, I've understood what I want to do with my art and what I want

to head towards," she replies. "The business mind has given me the freedom to do that. I always

championed this idea of leadership. The goal is to be an advocate for the creative world, but to do

that I have to have experienced the creative world in all formats, why people need it and what its

effective to build social cohesion."

Change is a constant. Amina sees herself as a changemaker. Probably the first Yemeni Muslim

woman in the city's art scene, she knows that many relate to her as a Scouser first and are

increasingly curious about her Yemeni heritage. She's forcing change and a shift. It takes courage

to both embrace change and to write about it. It is perhaps easy in the West to look to the East and

question how and why things are done from a perceived lofty position, but perhaps it is those who

have a foot in both camps to be able to plot a course to the future. Amina Atiq isn't waiting for you

to liberate her; she's already done it herself. !

Words: Laura Brown / @MsLaura_Brown

Photography: Robin Clewley / robinclewley.co.uk – shot at @vesselstudios

@AminaAtiqpoetry

Amina Atiq is a young associate at Curious Minds and currently a resident artist at Metal Culture

UK. Amina continues to work with activists and organisations calling for an end to the war in Yemen

and further global conflicts.

FEATURE

15
---
16

PLAYING IN
---
In this second report, detailing the findings of our musicians' survey carried out in partnership with The

University of Liverpool, we look at responses relating to the alternative platforms for live music and the

effects of lockdown on levels of creativity. The findings illustrate a willingness to adapt to new digitised

parameters, but a landscape where streaming is a financially viable rival to live shows is yet to materialise.

As lockdown shut the doors of music venues across

the city region, musicians turned to online streaming

as the new way of broadcasting their gigs to

audiences also confined to their homes. What

used to be packed out rooms cathartically singing along, with

crowdsurfers and pints of beer flying overhead, turned into

sitting at home watching all the action on a screen in the hope of

replicating some of the former experiences.

Bands and artists setting up intimately in their own homes

became the norm. Virtual promoters pushed the boundaries of

live possibilities with digital events to help curb the impact of a

festival summer that never happened.

As always, musicians soldiered on learning new skills and

innovating themselves to stream their artistic visions online.

Of the 175 respondents to this study's survey, 48 per cent of

those were involved in some type of live-streamed performance

during lockdown. The reaction from those involved was widely

positive, with 68 per cent of them seeing lockdown live streams

as beneficial to their development as a musician both creatively

and connecting to fans.

From our results (of which data ends at the start of August),

the artists asked took part in 506 virtual shows involving 402

performers and reached a collective 203,445 people online.

One major positive we saw was that the potential reach of an

online performance can often go far beyond the capacities of

conventional venues.

With the majority stuck at home, millions of people turned

to music to reconnect with the life they had before. Streaming

became a positive means for artists to build up fan numbers and

increase awareness of their music. Where once bands could

gain new fans from enthusiastic live slots and playlists to attach

themselves to keen ears, now the great wall of noise on social

media was a further incentivised platform.

The temporary transition to streaming gigs split opinion, as

some saw it as a crucial medium of connection with fans and

increasing listeners. One responded saying: "While not being

able to play in real life, it still gives people who are interested in

my music a chance to hear it in a live format. The internet offers

a much larger audience than a venue, so it's an opportunity for

more people to discover you."

For many, lockdown will have been characterised by learning

new skills in between Zoom pub quizzes, banana bread baking

and daily binges of Tiger King. For others, lockdown forced

people into being creative. Yet this wasn't a consistent feeling;

as always, the creative block can be hard to beat with around

a third (34 per cent) of respondents feeling uninspired during

lockdown. Alternatively, nearly half (46 per cent) of musicians

surveyed felt an increased inspiration as there was more time to

spend being creative.

These bursts and drives of motivation were seen to

fluctuate across the lockdown period. Some musicians were

initially impacted negatively as the sudden change to lifestyle

halted creativity with around 12 per cent finding the setback

hard to deal with. "I need a positive headspace to write, and

with so much negativity in the world right now, it damaged

my motivation to write new songs," one respondent said, with

another more optimistically adding: "I went out of my way to find

ways to be creative and to encourage those around me to do the

same."

The closure of practice spaces affected the ability for

musicians to work together as over half (53 per cent) were

completely locked out of practicing with their bandmates during

lockdown with an unfortunate sense of regression apparent in

those asked.

For musicians, live streaming offered a unique opportunity

to develop digital skills as 36 per cent of our respondents

learnt how to stream a live show, 12 per cent gained new

understanding of video production and, finally, 10 per cent went

deeper into their creativity focusing on painting and creative

writing.

To delve into the methods and digital platforms used, 76

per cent of respondents used Facebook, 40 per cent broadcast

on YouTube and 36 per cent streamed over Instagram Live.

The popularity and ease of working with these platforms was

highlighted by the musicians. Endlessly scrolling through memes

and corona hot takes from your uncles could be interrupted by a

band eager to connect with fans again.

With disruption comes innovation, but also collaboration.

With musicians having more free time due to furlough and

lack of real-life gig opportunities, 61 per cent of those asked

worked and collaborated with other musicians during lockdown.

But these collaborations didn't come without their drawbacks

as many preferred working in person. Large portions of the

musicians (88 per cent) preferred face to face discussions as it

was easier to gain instant feedback and bounce ideas between

people. They found a certain disconnectedness and loss from the

shared experience of practicing that isn't obtained with people

working online; 20 per cent described that the lack of direct reallife

collaboration completely inhibited their activities.

Ben Roberts was an organiser of Liverpool Digital Music

Festival which saw two live-stream events take place in

recent months. The first event took place in May and saw 100

Merseyside based artists performing from home. The second

took place over the August bank holiday weekend and saw

venues like the M&S Bank Arena open their doors to host artists

like Zuzu in a cavernous, empty auditorium to an audience in its

thousands watching from home.

"It's a pale stop-gap for

live performance which

is socially and culturally

important and cannot be

replicated online"

The project was born out of the lack of gigs taking place,

says Roberts, and an appetite from both fans and performers for

the return of live music in some capacity. Creating the second

event saw the production take place in venues across the city

which brought in new health and safety concerns as around

50 people working across four venues required its own robust

Covid-19 measures. Venue mapping, one-way systems, cleaning

down areas in between sets, PPE for staff and a track and trace

system were all in place – even without any fans in the building.

This level of organisation stresses the logistical difficulties that

Covid-19 has brought to the live music industry. "Live streaming

is so new and not a lot people were doing it last year," says

Roberts, "but people and venues are now seeing the value in

streaming. There is tremendous potential."

But as the sun came out, lockdown loosened and society

wanted to get back to the beer garden, the live streaming

revolution gained renewed competition from people wanting to

go outdoors.

For some fans, however, a live stream, although is nice to

watch and support, does not equate to the live experience. The

collective unison of a packed room brought together by a love

of music struggles to be replicated sitting on your sofa with

some cans looking at a screen. Although the innovation and new

fanbase gains were a positive, the overriding feeling from artists

towards online gigs was one of frustration. Performing in front of

people and playing live was seen as a fundamental need for both

fans and performers.

"It's a pale stop-gap for live performance which is socially

and culturally important and cannot be replicated online," one

respondent put simply. Another added: "While they can be OK

to watch, they don't have the atmosphere and magic of real live

performances." Another responded outlined how it felt like they

were just "providing content rather than me giving people an

experience".

More damningly, the financial viability of live streaming

becoming the new normal, for touring bands especially, is more

doubtful. Of all the live-streamed shows that the musicians in

the survey were involved in, only 16 of these musicians actually

got paid and they contributed to 118 of the 506 shows recorded.

Of these 16 musicians, only five of them got paid over £100 for

their performance as they took part in 24 shows. This means

that 81 per cent of musicians did not get paid for performing

a streamed set. These statistics reflect that only select and

established musicians have been benefitting from live streaming

shows, suggesting that the emerging acts are not getting paid

enough and are being left behind.

Drawing on findings from the last article in the series, we

saw that £1.75million was lost in performance revenue for

cancelled shows up to the beginning of August amongst the

artists asked. With very few gigs to the end of September and

onwards looking to go ahead, we estimate that figure to grow to

with a further £700,000 potentially being lost.

The live streams that our respondents were involved in as a

replacement for the lost shows brought total projected earnings

of only £68,000. The figure has potential to drop to a grim

£21,000 if you remove free gigs from the calculations and just

focus on the performers who actually got paid. This remains a

drop in the ocean compared to the money lost due to lack of live

opportunities with streaming shows only recouping 1.2-3.6 per

cent of the money lost.

"They are great for pushing monetised things like merch,

accepting donations in lieu of gig performance fees," one

respondent shared, "however there is no way to directly

monetise the live streams within the platforms themselves,

making income very uncertain."

Where the processes of a band or artist getting paid for

a live show vary from via agents or direct from promoters, the

payment systems for online performances are yet to be ironed

out and proven. Where the purchase of a gig ticket grants you

access into the room and a knowledge that the artists you're

seeing will be getting a portion of that fee, there is no one

"watching the door" for most live streams.

Pay-for-view live streams are a much harder sell in an age

of getting media online for free; the concept of paying to watch

a performance on a screen without leaving your house is a

tough sell. Even well-established artists are already proving

the hardship. Mercury Prize-nominated Laura Marling saw her

professionally produced live stream show at London's Union

Chapel garner 4,000 viewers from across the globe at £12 a

ticket. However, the show still failed to make financial returns

that would make this type of performance a viable solution going

forward.

There isn't one rule that fits all in the industry as with

different demographics and audiences comes different attitudes

to. Some smaller artists may see the greater potential reach of

streaming as enough to warrant not getting paid as much. In the

long run, however, that could have negative effects as it grants

the audience an expectation to get live music for free and for

artists to lose out.

As the lockdown hit, Sound City set up Guest House Live

which saw emerging and established artists perform streamed

gigs on a pay-for-view platform. Fans were able to buy tickets,

donate money to the artists directly, engage in a Q&A and

purchase unique merchandise created specifically for that show.

"We saw that streaming was going to be integral for artists,

but there had to be a way to monetise it. We felt it was really

important to us as a festival and an organisation that works

with so many artists that we address that," said Sound City MD,

Becky Ayres.

"The emerging artists who don't have a big profile but do

interact and have some dedicated fans have done really well

from it. We're trying to learn from those emerging artists that

have done well on the platform to see where and how we can

make that a level playing field for other artists," she added.

"We do believe that streaming performances are something

that fans should be paying for, whatever that amount might be.

Streamed gigs will never be the same as a real show, but it's

about giving the fan an experience that will engage them with

artists and ultimately create more of a relationship with them

which in turn will generate more income."

As the industry continues to adapt, the structuring and

potential of live stream events will no doubt flourish in the

coming months. Musicians will further evolve with limitations

leading to new, beneficial opportunities. For now, though,

Liverpool and the international music communities have to wait

for a potential vaccine to be created and distributed before the

doors of venues can reopen. It sadly remains a continually bleak

outlook for the future of live music, but it is reassuring to find

that the city region and its musicians are evolving and finding

ways to adapt to these enforced changes. !

Words: Will Whitby / @WillyWhitby

Lead researchers and data analysis: Richard Anderson and Dr

Mathew Flynn, University of Liverpool

Illustration: Esmée Finlay / @efinlayillustration

The next stage of this research will take place via a consultation

event led by Bido Lito!, University of Liverpool and other

musician support organisations on Tuesday 27th October via

Zoom. The event will consider the wider impacts across the

sector with venues, promoters, educators and other industry

professionals encouraged to take part.

To register head to bidolito.co.uk/consultation

FEATURE

17
---
18
---
JACQUES

MALCHANCE

Mike Stanton goes stargazing with the producer, DJ and promoter to journey through the cosmos of his

most recent release, joining the dots between constellations of influences along the way.

I've been aware of JACQUES MALCHANCE and Upitup

Records for a few years now. It's nearly impossible to be

part of the fabric of the electronic music scene in Liverpool

without crossing paths with the Upitup boys, Jacques and

Paolo Elmo. I, like many others, have enjoyed nights as guests of

these chaps and their merry band.

Jacques Malchance is a musical polymath; adept in so many

different disciplines it seems almost unfair. He is a classically

trained pianist, an electronic producer, a DJ, a radio show host,

label owner, promoter. He's an all-round lovely guy, too.

Having relocated from his home city of Rome to a pre-capital

of culture Liverpool in 2005, the intention was to stay a year and

take a music diploma at the Liverpool Institute for Performing

Arts. Fifteen years later and he is still here, has settled down and

is the proud father of two children

In that time Jacques' musical pedigree has risen, having

performed with amazing artists such as Broadcast, James Taylor

Quartet, Manu Delago, Luke Vibert and Mark Pritchard. Having

co-founded Upitup back in Italy in 2003 with fellow electronic

producer Isocore (Paolo), he has been recording and releasing

music steadily while hosting events, DJing and broadcasting on

Liverpool's independent radio station, Melodic Distraction.

As the current environment dictates, we meet virtually

through Zoom to talk about his latest haul of creative projects.

After a brief round of hellos, how you doings and messing with

settings, we're ready.

Jacques is very demonstrative, he talks quickly and

enthusiastically, gesticulating and punctuating his answers with

airy flourishes. His huge mane of hair has been chopped back,

but the beard and his twinkling eyes are still in evidence. There

are tangents and asides throughout the interview punctuated by

Jacques' infectious laugh and hugely

engaging character. It is impossible

not to be charmed by this most

companionable of men. The hour we

chat for flies by.

Jacques has fully integrated into

the Liverpool culture and is now a bone

fide adopted Scouser, very much one

of our own; transitioning from the man

who arrived on these shores as a green

20-year-old looking for adventure.

"My mum actually encouraged me [to

come to Liverpool]," he says, thinking

back to his days in Italy over 15 years

ago. "She found this course [at LIPA]. I

didn't know anything about Liverpool,

you know, like no contact whatsoever

and my mum thought this might be an exciting thing."

Jacques is honest in outlining that he didn't see himself

sticking around on the Mersey shores for the length of time he

has. But there was a subtle magnetism that drew him and so

many adopted Scousers to the city: "It's one of those places,"

he points out, "I'm not the only one because I've met so many

people that come for what they think is a short amount of time. I

don't know," he pauses and ponders with an abstract expression,

"It has got that weird time bubble, kind of warp thing. [Time]

flies. It doesn't stop. That's the thing, it actually speeds up."

In Liverpool, the majority of Jacques' projects gravitate

towards the electronic, club scene. But there is a subtle

underlayer of classical composition that forms the basis of his

musical exploration. Growing up, Jacques absorbed the music

his parents listened to. "Erik Satie, for sure, was one of the best

ones because I remember hearing Trois Gymnopédies like, really

young," he recalls. "Still today, it's an incredible piece of music,

pioneering in so many ways. I went on to do recitals of Satie and

similar stuff."

Along with a solid basis of passion and poise delivered

"Hearing Squarepusher

changed everything.

It was an instant

moment of 'whoa'"

by Jimi Hendrix and Pink Floyd's The Dark Side Of The Moon,

it was as a teenager where the most discernible influences of

Jacques productions took root. It was hearing Squarepusher

that flicked on a light in Jacques' head. "A brother of a friend of

mine played us it," he explains. "Before I even heard Come To

Daddy by Aphex Twin, I heard Tundra on Feed Me Weird Things

by Squarepusher. This changed everything. It was an instant

[moment] of 'whoa'."

As Jacques eludes to, Aphex Twin's Come To Daddy was an

essential record and made a strong impression. "I saw the video

late at night on MTV. Again, massively mind blown, like instantly."

Expanding his horizons followed. Having been grounded

in rock it was only natural he would seek out harder and

harder music, getting into bands like Korn and Slipknot and

exploring the early 2000s phenomenon nu metal. However,

through Squarepusher and Aphex Twin, beats held a particular

fascination, something Jacques would carry with him throughout

his musical career. "[On Come To Daddy] the beats were just

more than a nu metal band could do. It felt like the sound was

massive," Jacques recounts. "I've always been in bands, I've

always liked bands, you know, but there was definitely this kind

of love for electronic music that was so different. That was my

first introduction to it."

His musical tastes took time to flourish, firstly absorbing,

as Jacques puts it, "golden-era" (mid 90s) Warp Records and

Rephlex Records, discovering Autechre, Boards of Canada, Cylob

and Bogdan Raczynski. "I wasn't into house and techno at all

growing up, so yeah, that type of electronic music," he adds.

The urge to move beyond standard 120 bpm-like rhythms was

obviously strong. "It kind of felt like four-four at the time to me

was cheating," he considers. "Now, I tend to do mostly, well not

four-four, but you know, straight

beat kind of stuff." As time went

on, he discovered the joys of late

80s techno, electro and acid house.

"It still blows my mind," he says

passionately. "Most acid stuff I like is

from around 1988. It still seems like I

can't really beat that kind of rawness

and mad riffs."

As a DJ Jacques, is a true musical

democrat, playing a wide range of

genres including techno, electro,

acid, disco, funk, jungle and music

from beyond westernised genres; he

recently performed a set for Liverpool

Arab Arts Festival. Experience of

putting on the now famous Upitup

nights around the city has honed Jacques' instincts for what

works, which combinations engage and how artists and DJs can

create a night. "Upitup nights, you know, have always been quite

varied, I think in terms of line-up, there's always been room for

quite experimental, kind of odd, really non-danceable stuff," he

explains. "But that's also part of what we've always really loved. If

I have a really long DJ set it will never be the same type of music,"

he continues "My favourite type of night will start with ambient

and downtempo chill and then it picks up a bit and becomes

banging electro, techno and acid working its way up to jungle

and then end with a bang, sort of really heavy like gabber and

breakcore. I mean that, for me, is the ideal club night. That's what

keeps me interested and on the dancefloor all the time."

His latest release is Arpeologie, a beautiful and melodic trip

through ambient techno. Think Aphex Twin's Selected Ambient

Works 85-92 and you get the idea. The music spirals throughout

cascading waves of deep-groove-filled journeys. I had a brilliant

theory that it was titled Arpeologie because ARP synths were

used throughout, but it turns out I was wrong. "It was mainly

because there are a lot of arpeggiators in it, no ARPs were used,"

he says, bringing an end to my assumptions. "All of the sounds

are hardware with sequencers, but kind of limited in a way, that's

the thing with hardware, it's like a limitation that you set yourself

[to work with]."

Recorded and mastered in his home studio, Arpeologie

sounds lush with enough movement, patterns, textures and

depth to fill your head with all those lovely endorphin-lit pulses.

However, despite its release in May, the recordings are as much

as 10 years old. So how has it only just been released? Jacques

takes up the story.

"I was supporting Legowelt and he came up after me

afterwards to say how much he liked the set," he outlines.

Legowelt asked Jacques to record an album for his label at the

time, Strange Life Records, a small independent. "It was cool, he

was putting out amazing stuff, especially at that time. There was

Polysick, and DMX Krew. It was a really nice label."

After being set the task and deadline, the label then sadly

folded. "That was obviously a bit of a blow," Jacques concedes.

"He was cool about it, saying, 'I'm really sorry. I really love the

album. I really like it. Please send it to other labels and, you know,

good luck.' And that's how it became this wait."

Labels were showing the love but nothing came of it. "They

were always like, 'I really like it, but I'm not sure if it fits the

label', so that's been the story of it for years. It became this long

journey. Finally, I was like, 'No, fuck it', I'm going to put it out on

vinyl under Upitup later in the autumn."

The advent of Bandcamp Friday in May prompted Jacques to

release Arpeologie as a digital-only download with the intention

of a proper vinyl release later in the year. The reaction so far

has taken him by surprise, both in its number of plays and the

generosity of those purchasing it for higher than normal fees via

pay-what-you-feel. It's well worth the adulation it's receiving in

pockets of the internet.

Along with the release of the record, things remain busy

and exciting for Jacques. Juggling so many different projects and

interests must be exhausting but he seems happy and focused.

His and Paolo's Melodic Distraction show broadcasts every

month featuring Upitup acts plus a selection of the best music

in the area. These guys really know their stuff and the love just

pours out of the speakers.

Once the current crisis has passed and we all return to

some form of normality, live performance can return and these

nights can once again grace Liverpool. It's with great hope that

I'll bump into Jacques or Paolo and experience another one of

their magical nights. Maybe, somewhere down the line he'll even

achieve his dream of bringing Aphex Twin to Liverpool to play

at Upitup. It's a dream he views as "complicated", not to mention

finically challenging. "But you never know," he teasingly adds,

leaving us with a slither of hope – the kind that would pull us

through the long months ahead with no events on the horizon.

Yet, even without the events, Jacques and his productions

continue to embody the spirit and drive of Liverpool, contributing

to the rich cultural heritage of this great city. It's fair to say

Jacques Malchance and Upitup will be remembered for years to

come. And those nights with him behind the decks will resonate

with ageing ravers and keep us all warm in our twilight years. !

Words: Mike Stanton / @DepartmentEss

Photography: Michael Driffill / @Driffysphotos

Arpeologie is available now via Upitup records.

Special thanks to Bidston Observatory Artistic

Research Centre for providing access for photography.

For information on the centre's work and rates for

day visits and overnight stays for artistic projects

and development please visit bidstonobservatory.

org or email enquiries@bidstonobservatory.org

FEATURE

19
---
LIVERPOOL'S MOST FABULOUS LGBTQIA FESTIVAL RETURNS,

WITH AN ECLECTIC SELECTION OF DIGITAL AND LIVE EVENTS

UP

UP

'

EFOR

PEOPLE

FOR

'

E

PEOPLE

PUBLIC ART

SCREEN-PRINTING

FILM SCREENINGS

PODCASTS

DISCUSSIONS

AND CABARET

FEATURING:

Cheryl Martin, Ashleigh Owen,

Mooncup Theatre, EAT ME,

Queer Bodies, Transcend Theatre,

ROOT-ed Zine, Sophie Green

and many more.

FOR

CHANGE

FOR

CHANGE

WITH ARTIST

IN RESIDENCE

FOX FISHER

ART . ACTIVISM . ALLYSHIP

29 October - 15 November 2020

@LGBT.festival.liverpool

@HomotopiaFest

homotopia.net
---
Box office:

theatkinson.co.uk

01704 533 333

(Booking fees apply)

The Atkinson

Lord Street

Southport

PR8 1DB

Cats on

the Page

Free

Entry

12 September — 9 January 2021

Reacquaint yourself with the captivating

cats who come to life in books, manuscripts

and artworks. Featuring music by The Stray

Cats, The Cure and deadmau5.

Exhibition partner:
---
This year's August bank holiday carnival weekend was stripped of its usual freedom, colour and movement.

With a handful of live events filling the void in Liverpool, Mary Olive explores the essence of dancing and

communality, an integral aspect of our lives which is yet to return.

Fairy lights dance along wooden beams hanging

overhead. Green plants and hand gel fill tables as

bar staff begin to vogue while they serve drinks.

Laughter bubbles as friends rekindle, catching up after

quarantine in the fading summer sun. On the decks, current

selector PapuRaf plays a euphoric mix of afrobeat and dancehall

for the early birds bouncing steadily to the beat. All sat socially

distanced and six to a table, we are all so close yet so far from

the separation that's punctuated much of 2020.

24 Kitchen Street has changed since I was last here back

in February. The days of strangers' sweaty bodies dancing

together, packed beneath an enormous disco ball, feel a lifetime

ago. And yet, the sparkling excitement of a Kitchen Street gig

feels as bright as ever. Maybe even more so now, given the long

separation between live audience and live music. Anticipation

crackles in the spaces between separated people and bottles of

anti-bac. Tonight, the outdoor garden terrace at the Baltic Tringle

venue is hosting dancehall and hip-hop collective Nutribe, back

for their first live performance since March.

The love and joy within the audience is palpable. It feels like

remembering something I'd forgotten to miss. The feeling is not

easily defined. It lies somewhere between grounding and flying.

Strangers smiling, sharing singing, slightly swaying. Live music

feels sacred. The performance from Nutribe is rooted in collective

harmony. It is a work of art; an explosion of energy and light.

Speaking to one third of Nutribe, Sticky Dub, just after he steps

off stage, he reflects on the humbling satisfaction of performing

again. "The view from up [on stage]," he says, beaming with

happiness, "it was beautiful, man."

A room filled with people dancing together is a special

thing to be a part of. Impossible to replicate, each music event

is distinctly unique. It is a collision of causes and effects which

lead every single person to that exact moment. Decisions both

unconscious and conscious bring a collection of strangers

together to share in the healing that is experiencing live music

together. Tonight may have seen more controlled loss of

inhibitions, people keeping their distance and retaining space,

but it was an alluring refraction of

spirit raising compulsion we're drawn

to. But what exactly is it about music,

particularly sharing music with people,

that makes us crave shared movement

so intensely? Is it simply the social

pleasure of seeing friends and moving

to melodies, or do we share a deeper

connection to it?

Music and dance is embedded

within us, laced within our DNA,

no less than breathing or smiling.

We just feel music, and there is no

training or education needed to simply

understand it. People have been

dancing in groups since humanity

began, and still to this day music and

dance remain spiritually healing. Perhaps this is why we have

been missing it so intensely, and why we will continue to crave it

until it is safe once again to freely dance together.

Live music crystallises so much of this feeling for people.

It's the instigator, the dynamic force. The energy that exists

between performer and audience makes the music shared attain

"We are universally

bonded through

our need to love,

to be free and to

connect. Music

and dance is our

vehicle to do this"

a new level of power. It's living. Tonight's performers are well

versed in both roles as dancer and orchestrators of the dance.

"Whatever you're feeling, whatever you're thinking, you just

have to surrender to it in that moment in time," Nutribe's Onyx

shares. "I feel like freestyling [rapping] is very healing because

of that." When freestyling, all three members are at one with

the music, allowing lyrics and movement to flow out of them

as they perform. This is a spiritually

healing process for not only them

performing, but for the audience,

too, who are sharing this moment

of vulnerability and openness with

them.

While in conversation with the

trio, they bounce off one another yet

remain grounded in their originality

as individuals. "What we are in

the moment is what we reflect

in our music," Doopsman shares.

Remaining in constant motion means

that Nutribe are ever-changing,

flowing and growing as musicians

and as people. As a result, every

performance is a new experience for

both performer and audience member.

Influenced by Caribbean dancehall, throughout their

performance Nutribe celebrate sharing culture, music and art

with an entire room, something their manager Tekla tells me

about. "The interactions [they] have on stage, and the content of

the music, is all Caribbean."

22
---
Dancehall was born in Jamaica during the late 70s, famous

for its reggae influence, the genre is built upon fast rhythms and

regarded as one of the most versatile genres today. "You can't

understand [dancehall] just through observation. You have to

engage in it and feel the energy of it," says Tekla. Dance is an

incredibly important aspect of dancehall, and it is through the

celebration of dance where this music comes to life.

Nutribe not only have a flow to their words, but also their

bodies. Movement and dance is threaded within their music. All

three members of Nutribe, are trained contemporary and ballet

dancers and use dance as a means to express themselves. "It's

a slice of freedom," Stickydub says talking about performing

on stage. "You share that with the crowd. All the experiences

are just slices of freedom that you all feel together." Onyx adds:

"When you're in that dance with just those people, you're locked

in. You're not thinking about anything else."

Sharing music and dancing with others helps us to understand

ourselves deeply, passionately and openly. Music physically

stimulates our brain's reward centres creating a euphoric feeling.

Dance improves our intuition with our bodies, it reduces our

dementia risk and improves self-esteem and sexual health.

The relationship between bodily understanding and music is

shared by Go Off, Sis podcast host and model, Rachel Duncan.

She explains her relationship between the self and dancing,

specifically celebrating dancehall music. "Because I grew up in

Trinidad, dancehall and owning your sexuality has always been

something quite close to my heart," she tells me. "But beyond

sexuality and feeling sexual, listening to music makes me feel

in charge and empowered. Especially when I'm listening to a

woman playing dancehall."

Duncan is an ambassador for self-love, self-care and

self-expression. She lifts others through her example of lifting

herself. "It's like being in a euphoric state," she illustrates.

Duncan outlines how so much of her confidence stems from her

experiences with Caribbean carnival. "I feel like I'm in an out of

body experience. The music makes me feel like I can do whatever

I want. I just don't care. Everybody is just having so much fun

dancing together," she says. Dancing places us in a state of

transcendence, as we let go of control and let our bodies just

flow with a rhythm.

There is no such thing as a bad dancer, only people too

in control to let go. Dancing is for us all, it is pure, and it is

instinctual. "I love dancing in front of the mirror," Duncan laughs

freely, "that is my vibe!" Duncan shares how self-loving dancing

can be, as well as a shared experience, something we can

practice as a means to care for ourselves. Although we crave

collectively sharing music, perhaps there are other ways we can

access this feeling of euphoria. Perhaps dancing on our own, for

ourselves, for the enjoyment, is the balm for this itch.

A few days prior to Nutribe's performance, a slice of Carnival

arrived in Liverpool over August bank holiday weekend in a sea of

colours and music with LIME scheduling two consecutive parties

in two local venues. The promoters and party starters of LIME

collective bring dancehall and afrobeat to the city, quite literally

handing out fresh limes and tropical rhythms in unison. Although

the crowd are wrapped in jackets and hoodies, LIME brings the

Caribbean sunshine to the north. Here, a celebration of music,

dance and people takes place. A place where all bodies and

beings are accepted and welcomed.

Catching up with radio host and co-founder of LIME, Babylon

Fox, she reinforces the value of dance and self-expression through

the carnival and dancehall events. "[Lime] is about sharing a part

of me with other people," she explains. "I like to give a bit of myself

to the space." There is a specific beauty in creating a space where

in which people come together and dance. "Dancehall is never

aggressive," Babylon tells me. "[LIME] brings in such a nice mix of

people. It takes us back to that primal movement and rhythm; it

engages all of your senses."

LIME empowers, celebrating sexuality, self-expression and

connection to others. It is a space where in which everyone has

room to move freely, with respect and community woven into its

foundations. "I like looking after people," Babylon smiles, "I like

making sure everyone has a good time when they come to our

events."

As people, we are universally bonded through our need

to love, to be free and to connect. Music and dance is our

vehicle to do this. Whether it's accessed through organising

events, performing or simply just being a part of the dance,

music is a magic within humanity. Dancing reminds us we're

here to enjoy life, reconnecting us to our inner child and living

presently. We are born understanding music, and when we

dance, our bodies, spirit and self align in a way which can

never be exactly replicated. It is a fleeting, swelling moment of

complete joy to fully allow us to let go of ego and surrender to

the music.

The craving for live music and dancing is understandably

deep in the current moment. We have a primal need to share

music and to physically express our relationship with it. It is

written within us. The impact on our mental health can be

detrimental without it. Currently, we are living during a time

where we are told to fear strangers, to keep distance and

reduce human connection as much as possible. Ironically,

now is when we emotionally need each other the most. How

do we ensure we are connecting as people, sharing love and

engaging in a shared understanding of one existence, while

simultaneously abiding by strict social distancing regulations?

Perhaps music is the answer. We must embrace our

instinctual want for music, whether that be supporting local

artists at socially distanced events, dancing in our bedrooms

or filling our days with uplifting, euphoric symphonies.

Tonight's performance at Kitchen Street, as well as LIME's

colourful festival of rhythms and dancehall, gives us hope. It

gives us something to hold on to, while we continue to reach

out for one another. Hope that we will dance together again

one day. That we will experience those "slices of freedom"

again. And in the meantime, although the world may feel

unfair, unstable and even painful some days, we still have so

much to smile about. Listen to the musicians. Listen to the

events organisers, the radio hosts, and live-streaming DJs. Let

their music soothe you. Let it uplift you. For now, just let the

music play. !

Words: Mary Olive / @maryolivepoet

Photography: (Nutribe) Michael Kirkham / @MrKirks

FEATURE 23
---
24
---
BYE

LOUIS

Just before the months of lockdown, the multi-instrumentalist relinquished control of his 2019 EP The Same

Boy for it to take on a new life through a series of open source remixes. With the remix EP now released, Kieran

Callaghan considers the importance of ownership and the unique characteristics of every piece of music.

The Same Boy started its life as an idea straight after

my first gig, back in early 2018. I had sent Neil Grant

(Lo Five) some songs a few months earlier, and he

kindly gave me my first opportunity to perform them

at a really welcoming and friendly Emotion Wave night at 81

Renshaw Street.

Some of the songs I played that night were really old, as

was some of the equipment I was using. One song in particular

I wrote when I first got my sampler

in about 2006. It's developed a little

over time, but that song is basically

just a looped piano phrase with me

chanting about friendship over the top.

I still triggered that same loop I made

12 years before, and still chanted the

same words I came up with all those

years ago.

After the show, a then very new

friend, Sean Fearon (Foxen Cyn), asked

if I'd like to record some songs and

release them on what would become

the Emotion Wave label. Eighteen

months later, The Same Boy came out.

The record reflects the story of

that aforementioned old song. Regardless of which song I'm

thinking about, it's the journey that song has taken that feels

consistent. The songs more or less just appeared in my head at

some point in time, and if they made it to the record it means

that they didn't disappear. They transitioned into the physical

world through the recording process, I guess.

The Same Boy is personal on as many levels as I could make

it. I played every recorded part you can hear (except for one bit

on a balalaika that Sean insisted he had to play). I was there a

lot when Sean was mixing the record and then another friend,

Charlie Foy (produces as Lack – Cong Burn, Blank Mind, Livity

Sound), mastered it all.

I burned all 50 of the CDs in my then living room. My rabbit

friend ate one of the disc burners I used. I wrote on all of the

CD cases. Each CD case had a photo print and a negative of me

inside. I cut and pasted all the little bits you can find inside the

CD packs. I hand painted the posters for the launch event at the

Kazimier Stockroom with my partner Natalie.

The promotional work for the The Same Boy was like a form

of self-parody – I usually hate drawing attention to myself or

sharing pictures. I guess the whole thing is supposed to be a

piece of or a reflection of me – that was the only way any of this

could feel normal. I felt I should have the music wear its deep

personal feelings on its sleeve. To me, back then, it would feel

inauthentic any other way.

A year on from its release, The Same Boy took on a new,

"The remixes

represent a

comfortable loss

of ownership"

open source form, allowing producers to remould and remix the

recordings in whatever way they wanted to. The idea actually

came about through a discussion with Chris (of Bido Lito!

superfame). He mentioned a collection of remixes of Goat songs

(Run To Your Mama Remixes), and I started thinking about what

having my music remixed would feel like. Would I hate hearing

my music repurposed and mixed up and moved around? What

would it all mean to me?

I think, in a lot of ways, all songs

never really exist in their truest form

in the physical world, or beyond

the confines of the songwriter's (or

songwriters') head(s). All songs exist

as an idea that will never actually

come into physical existence. This

perfect rendition of the song is never

attainable. Whenever a song is

performed or recorded, it's always

just a version.

This idea really clicked in my

head a few years ago. The language

I find that I use to describe it kind of

comes from dub music, where there

are lots of different versions of songs

that are mixed by different producers. The songs are titled that

way. So you have stuff like 'King Tubby & Prince Jammy – Living

Version' and things like that. And so basically, to me, every song

you've ever heard is a version.

I also latched onto the idea of trying to let the songs go

completely, as an attempt to let the feelings that I have whenever

I perform them or think about them change into something else.

It's a strange experience revisiting the emotions that you attach to

a certain song every time you perform it, because you might have

moved away from that part of your life or whatever it was that

you were trying to better understand through writing the song.

With all of this in mind, I made it all as open as possible and

decided to put every part of every song from The Same Boy

into a publicly accessible Google Drive, and posted a link to it in

messages to friends, and my Instagram and Twitter feeds. I really

liked the idea that you could have a chain of reinterpretations

as well, so you could get more distance between the original

idea and a new piece of work. To get further than one stage

removed from my idea as part of this project, I asked my friend

Alice Lapworth (Wives' Tales) if she'd be interested in creating

something in response to one of the remixes.

When I asked her the question for the first time, I actually

didn't know what any of the remixes were going to sound like.

In the end, Alice was really into Steve Amadeo's strings-heavy

re-imagining of Between The Hedges and she came up with

this really singular, beautiful piece of visual work, Between

The Walls. I stayed away from every element of it as it came

together. It's wholly the work of Alice, Jack Ehlen (filming and

editing) and all of the performers on the day.

In many ways the remixes represent a comfortable loss of

ownership. I think the most important idea sparks either come

fully formed in one's own head, or fully unexpectedly as part of

a communal experience. I don't think music should be 'owned' in

a lot of ways, although I recognise the importance of ownership

when it comes to trying to make a living from music. But really,

these concepts aren't where the beauty of and interest in music

lie for me. I think it's all about the joy of the idea, and then where

that initial idea goes and how it changes and impacts differently

on different people. In quite a literal way, the same song sounds

different to different people. The idea of ownership seems so far

from what makes all of this so special.

The strangest thing about this process was hearing Steve

Amadeo's remix of Between The Hedges, which ended up being

the piece that was responded to by Alice. Every remix was

totally unguided, and beyond asking people if they would like

to be a part of this, I have had no hand in any of the production.

But Steve's version of Between The Hedges sounds closer to

the idea of this song that I have in my head than the version

that ended up on The Same Boy. It was initially written while

on a very long cycle through the countryside. I realised I was

surrounded by fields full of animals whose existence was

predicated on their slaughter for meat. Almost as a way of

working through how I felt about this fact that should be obvious

to me more often, I started repeating phrases and thoughts in

my head.

I heard very organic sounds in my head as well, and the words

and tune felt like they should be bellowed out, in a very raw way.

I kind of heard this idea as if it were in the style of The Incredible

String Band. And so Steve's reworking of the song for strings

– even though it isn't in the style of The Incredible String Band –

gets much closer to this original idea than my own version.

The whole project, truly, is not my work. And that's the point

of it, really. It's about what new things can be made from the old.

Personally, I can't imagine making work that isn't personal. But

this project has taught me a lot about the possibilities of new

things appearing in unexpected ways. With the current situation

where we can't be physically present together in most settings,

this way of working could become a lot more important. !

Words: Kieran Callaghan / @bye_louis

Photography: Connor O'Mara (left) & Natalie Lissenden (right)

Illustration: Eimear Kavanagh / eimear-art.co.uk

The Same Boy and A Different Boy are available now via

Emotion Wave

FEATURE

25
---
MAKING THE CASE

Following the recent closures of Sound, The Zanzibar, and now

Constelations, Charly Reed underscores the importance of protecting

and developing more small venues and their artistic communities.

Small venues across the UK have been struggling for many years. With the effects of the

current pandemic, this has become a crisis. In Liverpool alone, The Zanzibar, Sound and

Studio 2 have all closed in recent months, with Constelations recently added to the list.

Many others nationally, and locally, are in need of saving.

These venues were essential to my personal development as an artist, promoter and creative.

I played my first ever gig at The Zanzibar and regularly played Eggy Records' events at Sound

and promoted my own gigs there with Samurai Kip. What ties these venues together are the

communities that surround them and the social function these spaces provide. This can be

recognised by anyone entering a well-run small space; the palpable energy, the near tangible

creativity being manifested.

Small music venues form a sometimes forgotten section of our music ecosystem, yet they're

arguably the most important aspect. Without these spaces there would be no major acts to

headline large venues and festivals. Too often it's only the main stages and legendary venues that

seem to be highlighted in an artist's journey, but their first is just as important as their biggest.

Small venues are vital for new and upcoming acts to cut their teeth and organically build their

audience. They are the lifeblood of most music scenes and act as social spaces for the development

of artists, fellow creatives, events and communities. This social and cultural importance can often be

overlooked, but in the long term it is vital for a healthy and creative UK music industry.

Many people who use these spaces do value their social power and sense of community.

However, in the wider context of the UK music industry, local governance and financial issues

cannot be ignored. Venues such as 24 Kitchen Street remain under threat from overzealous

development. In many cases, such development has been approved by Liverpool City Council. But

it's not just the small venues feeling the strain. Even well-established venues are struggling for

money as funding for the arts is funnelled off and the economic climate worsens.

According to the Music Venue Trust, even though 140 grassroots music venues have been

taken off their critical list, over 400 are still at imminent risk of being closed permanently. The

government support package during the pandemic has proven insufficient to stop a number of

small venues going out of business. Manchester's Gorilla and Deaf Institute were saved when on

the brink, but the fate isn't the same for The Welly and Polar Bear in Hull. The pandemic was the

writing on the wall for the integral hub that Sound had become here in Liverpool.

Although Liverpool's music tourism industry brings in millions of pounds every year, very little

comes into grass roots music venues. In 'Developing a Liverpool City of Music Stratergy', Culture

Liverpool estimated that £200 million is gained by the Liverpool economy each year from music

related spending. However, only £3 million actually relates to grassroots shows. This squeeze

points to the vital issue of how our society is structured and how it views the arts. Monetary value is

promoted over social cohesion, community and creative output. Even though organisations like the

Music Venue Trust and Liverpool City Region Music Board are doing good work for small venues,

major players in the music industry often give too little support. The millions of pounds at the top

end of the industry remains with the biggest companies with little reinvestment in grassroots

venues.

Small venues are the foundation of UK music, and they're also integral to local scenes. Eggy

Records fostered a new phase of DIY music community from the tight confines of Sound Basement,

with the label's artists and extended bands playing their regular showcases – including an event

for the BBC Radio 6 Music Festival fringe. Sam Warren, co-founder of Eggy Records, says that

"without small music venues, the wider music industry as a whole would be in danger of collapsing.

Artists do not start off playing shows in larger venues, with larger bands, this just does not

happen".

Small venues provide performance and social spaces for acts to develop and are important

in defining the local cultural character. Liverpool is perhaps stuck in its 60s cultural character, not

appreciating the musical progression the city has made and the current scenes and movements that

are happening. This is hindering positive progression in the present and future for Liverpool and the

wider UK.

The performers and the audience are obviously the lifeblood of any venue. For a venue to work

these two groups have to be attracted to a venue and invest in it over time. This is what builds a

community around these spaces. It is not just the band up on stage or the sounds that come out of

the speakers that is important, it is everyone involved – from the audience to the photographers,

writers, bar staff, promoters and the cleaners afterwards. In small venues the performers enter and

leave through the same doors as everyone else and there is often no backstage. This makes the

performer feel part of the audience and vice versa. It also means the performers can be found in

the crowd watching other bands and sticking around after the show, leading to a greater sense of

connection and community.

In a previous article in Bido Lito!, Rebecca Frankland talked about the community that has

been created around the Wavertree Worldwide events held at Smithdown Social Club. This DIY

community brings lots of different people together to enjoy themselves and dance. Inspired by other

communities and spaces, such as London's Total Refreshment Centre, they have sought to create

their own south Liverpool version of a democratised party community. Audiences and performers

connect with the authenticity that they see in promoters and venues that care about what they're

doing, that care about the community they are creating. International DJs who have played at the

26
---
Wavertree Worldwide events have praised the no frills space and how they feel connected to the

audience. Even small things like security can make a difference to how people feel and perceive the

venue. At venues such as Sound and Smithdown Social Club, there was little security other than

the venue staff. These spaces are safe and open places to visit, which enhances their community

vibe.

Sound Basement was a good example of a venue which hosted a community of people who

came together to create something that people really cared about. This was a community of people

who hadn't come to listen to any one genre; there was an emphasis on creativity, good times and

dancing. Music genres are a hard thing to define and can mean different things to different people.

More important are the social groups that we create along with our listening. This means that the

social and community spaces these venues provide are invaluable. It is not just about what music

we like; it's the associated groups that can define us as people.

Emma Warren, music journalist and DJ, notes in her book Make Some

Space that "nightclubs are vastly underestimated as motors of social

change because of the social mixing that happens within them… we

underestimate them as places of personal transformation or even as a

coping mechanism to deal with the struggles of life. Dancing in the dark

is a human need". So much is covered in these three sentences. These

places give such a strong social connection between people that they

can affect social change. The power of being in a room and listening and

moving to music with others can change society and yourself. It breeds

tolerance, openness and communal values. This personal development

is also important as in these spaces people can gain comfort within their

identities. The last line of Warren's quote is a powerful statement. This

need and desire to listen to music, socialise and dance is an innate human

characteristic.

Some people feel the need to take matters into their own hands.

The promoters at Sound and Smithdown Social Club have often been

musicians and DJs who started off promoting to get the music they wanted to hear played, but

have progressed to running regular nights. This unseen hand guiding an event is underappreciated.

Without this planning, problem-solving and pushing, nights would be shaky, error prone, and

never even get off the ground. Promoters can have a big part in shaping what a venue is about.

Sound was known as the home of Eggy Records, and the Eggy showcase nights were often sold

out and filled with local and touring talent. Smithdown Social Club and Wavertree Worldwide have

become so synonymous that some people refer to them interchangeably. This power to craft the

creative image of the venue is a powerful tool and a role that needs more acknowledgment at the

grassroots level.

Another group of people who are important to venues but who rarely get mentioned are

wider creatives, those not in the binary on stage and audience roles. Lee Fleming, co-founder

"What is important

is not the physical

space itself, but

the people and

culture that are

occupying it"

of Wavertree Worldwide and Anti Social Jazz Club says that "small music venues are often

underestimated in their contribution to the community. Whether it's a purpose-built space or a back

room of the local pub, hosting underground and emerging popular culture is both necessary and

influential. Beyond the musicians who play there, these small venues also play host to communities

of fans, employees, volunteers, promoters and other enthusiasts".

These other creatives can play important functions in venues and scenes, and Liverpool's small

venues give as much support to these creatives as to the musicians and promoters. Photographers,

who are often at the heart of developing scenes, can hone their talents in these often challenging

spaces. Other artists will also be involved in designing posters, decorations, artwork and

merchandise, linking the music more closely with the wider arts. Without this wider community,

these very pages of Bido Lito! would not exist.

While Liverpool is home to so many interesting musicians,

creatives, promoters and audiences, there are lots of performance

spaces in bars, clubs and pubs which are not promoting original

music or trying to develop a sense of community. This weakness of

programming can be infuriating to musicians looking to develop their

own original sound, stifling creativity and damaging the progression

of the wider music scene. However, there are also venues positively

pushing music forward, with owners seeing the social and cultural

importance of their venue. These spaces are important for audiences

to come and have new cultural experiences and to nurture first time

performers and up and coming talent. The idea that putting on music is

an important public service can be overlooked by local government and

developers. Bringing people together and having the funding to do so

and engage local communities is vital for the health of our society.

As we lose more and more small venues, the damage to the

musical ecosystem is evident. Small venues provide a space for young,

new and leftfield artists to grow, express themselves and build their

musical culture. They provide safe spaces for audiences to experience new culture and connect

with like-minded fellow audience members and performers. These social spaces create something

unique and important. The venues are more than just the performers and audience; they are a

network of groups and individuals, who work together both in the limelight and behind the scenes

to make space for people to be themselves. We can make this community and social interaction

happen anywhere. What is important is not the physical space itself, but the people and culture

that are occupying it. This is where the future of Liverpool's musical heritage lies and it needs

protecting. !

Words: Charly Reed

Photography: Billy Vitch / @billy_vitch_rock_photography

FOR SMALL SPACES

FEATURE

27
---
SPOTLIGHT

"I'm challenging

gender equality

in today's music

industry by

entering into a

male-dominated

genre of drill"

QUEEN YUE

Embodying an historical Chinese

empress and recontextualising the

Silk Road, Queen Yue is here to

turn heads in UK drill.

QUEEN YUE has a clear goal: to make her mark on the UK

drill scene, and be the first scouse female to do so.

Yue's inspirations lean heavily on Chinese history and

philosophy, referencing an age and dynasty where equality was

at the forefront of culture. "Through my music I'm going back

in time to explore the characters on the Silk Roads during the

reign of the Wu Zetian, China's first female ruler and empress in

700AD," she explains. "Wu Zetian [presided over] a time in China

where females were equal to men," she adds. Drawing on this

inspiration, Yue is attempting to embody this historical context in

her own journey into drill, challenging the societal norms of the

male-dominated genre.

Extending these themes further in her music, an upcoming

EP centres on the Silk Road initiative from China and Europe,

and how the historical circumstances remain relevant today. Her

debut single, Silky Robes, explores how it would feel to be a

merchant on the Silk Road "and how this is alludes to the selling

of drugs and tales of violence that we experience through drill

personas in today's music". Silky Robes zeros in on those working

as contemporary 'merchants', while still remaining focused on

her fight for gender equality. The single mixes drill sensibilities

with Sino instrumentation, topped with a defining Scouse vocal

delivery.

While the influences of Chinese history and culture play a

pivotal role in her music, Queen Yue's influences don't stop there.

She cites Sean Paul and Talk Talk as early influences, being

some of the first singles and albums she ever owned. However,

Gwen Stefani is marked out as the significant driving force in

her early years. While Stefani remained a musical influence, she

also influenced Yue in terms of visual identity. Gwen Stefani's

Love. Angel. Music. Baby. was named after her Japanese back-up

dancers, chosen due to her own love of Harajuku and fashion.

Yue recognises the influence this had on her own identity, now

reflected in her chosen stage persona – an ode to her love of

Chinese culture and fashion. It's an alluring combination, both

in the historical context that props up the persona and how Yue

executes it as an artist.

Her love of music was apparent from an early age, and her

determination to succeed in the industry remains paramount. She

acknowledges how creating music enables her to further explore

identity. "It allows you to access experiences to act out your

desired identity and it's a great cathartic release when you're

actively creating music," she notes. Yue's admiration for music

looks past the usual reasonings, however, explaining how it

enables her to practice self-love, while enhancing confidence and

self-esteem, allowing us to see how music isn't just a getaway to

success and attention. Yet, just like every other artist she has her

individual dreams for her career. She notes desires to eventually

support local hip-hop artists such as Lee Scott or Tony Broke, but

"on a worldwide scale I'd just love to support Slime Dollaz, Yung

Nudy or Young Thug", she adds.

As she continues to make waves in the drill scene, unfazed

by any mainstream expectations, Queen Yue has her eyes set on

making it big, all the while knocking down any gender barriers

that stand in her way. With her unique identity, determined

attitude and signature sound – "a slimey mix of UK drill, trap,

trillwave and cloud rap" – it appears Queen Yue's found her forte.

Words: Danni King / @dannikingg

Photography: Jacob Davenport / @jacobdavs

Artwork design: Elliott Harosh / @leftyvisuals

@queenyue_

Silky Robes and Dojo are available now.

28
---
OSTRICH

Dipping into wonky, head nodding

pop, the five-piece strut out ready

to test neck muscles with their

charming groove.

"Music gives us a

creative outlet and

gets us away from

the day to day grind"

If you had to describe your music/style in a sentence, what

would you say?

Will M (vocals): 'Synth-easy speak-pop', but obviously that's

ludicrous. So it'll have to be a Pulp/Nick Cave/B-52's love child.

Have you always wanted to create music? How did you get into it?

Will M: I was a bit of a late bloomer. I only started writing music

from about 20. Before that I was quite happy being the rhythm

guitar man creeping about at the back of the stage

Leo (guitar): I used to make little demos and recordings in my

bedroom as a teenager, which taught me about production and

overall sound. I had a performance lecturer at uni who told me to

write parts to serve the song rather than to serve yourself.

Can you pinpoint a live gig or a piece of music that initially

inspired you?

Stuart (drums): Seeing Metronomy in 2015 set a high benchmark

for how tight and energetic a band can be live. It was a special

gig and they're a big influence on our music.

Do you have a favourite song or piece of music to perform?

What does it say about you?

Leo: I love playing Perfect Family. That was our first tune to come

out of nothing in a practice, almost by accident. It was amazing to

be in that room where a single note developed into a whole song.

What do you think is the overriding influence on your

songwriting: other art, emotions, current affairs – or a mixture

of all of these?

Will M: A lot of the songs have a sentimental quality about them,

I like to write about things that we all experience. They can be

quite abstract, though, and sometimes I don't really know what

the song's about until it's finished.

If you could support any artist in the future, who would it be?

Will B (bass): Yoko Ono. We'd probably get a decent crowd.

Lydia (sax/keys): Big Thief would be amazing. Adrianne Lenker's

voice does things to me.

Do you have a favourite venue you've performed in? If so, what

makes it special?

Stuart: Our last gig before lockdown was at Quarry. Great space,

amazing sound and really nice people running it.

Lydia: We went to Germany last year to play at a beer festival.

Not our best performance, but probably the coolest venue.

Will M: A special mention to The Zanzibar, too. We were

saddened to hear the news that it's closing down. It was vital for

new artists in the city.

Why is music important to you?

Will M: Music brought us all together as a group – we've been to

some lovely places and met lovely people. It gives us a creative

outlet and gets us away from the day to day grind, especially

when we gig. It gives you that freedom to express yourself and

let loose a little, and that's pretty special.

Photography: Danny De La Bastide / @danieldelabastide

facebook.com/ostrichband

Inside Out (Got No Doubt) and One Man Band are available now.

TORTURE AND THE

DESERT SPIDERS

Shaped by the sounds emitting from the Big Apple, Anna Kunz's

creative vessel is carving a fresh edge into Liverpool's DIY punk scene.

If you had to describe your music/style in a sentence, what

would you say?

Punk/garage rock 'n' roll deeply rooted in traditional melodic

songwriting.

Have you always wanted to create music? How did you get

into it?

I grew up surrounded by the New York rock scene, my mom

being one of the fundamental characters there in the 80s/90s

as a talent buyer/venue booker. Making music came out of a

necessity to express myself and then grew into something more

identifiable (by art/sound, etc) as I worked on different mediums

of art (be it graphic design, live performance, theatre, etc).

Can you pinpoint a live gig or a piece of music that initially

inspired you?

Paolo Nutini at the Troc in Philly – somewhere falling on the edge

of soul and gritty rock 'n' roll with a pop melodic twist, all while

holding the audience hostage in a 'moment'. It was something to

aspire to with certainty.

Do you have a favourite song or piece of music to perform?

What does it say about you?

When The Horse Will Run. The track was one of the first I wrote

without a band in mind, so it really can be played with just me

and a kick drum and people will still dance, which I like. The track

is derived from a poem I wrote about some past trauma and I

think it is really incredible to see people dance/fight in a mosh pit/

sing along to words that kinda haunted me for a while. It is a bit

beyond catharsis – I'd say it's some weird artistic release that I

can't quite describe.

What do you think is the overriding influence on your

songwriting: other art, emotions, current affairs – or a mixture

of all of these?

I just pull from whatever is around me. I like to spin stories

based on titbits of information or things I've heard. I think if I try

to write a song about what is happening in the world it will be

disingenuous, so instead I try to speak my own truth and write

using other peoples' words when necessary. I don't really write

to perform, or perform at all really; I just get onstage and am a

bit more present than usual. Stylistically, I am really influenced by

blues musicians because I've always had a fondness for honest

poetry and a good hook.

Do you have a favourite venue you've performed in? If so, what

makes it special?

Probably 24 Kitchen Street. Playing there was kinda my first

experience with something that felt like a DIY community in

Liverpool, but it was still really well put together. Great sound,

amazing space and it is so conducive to having a boogie or

throwing yer mates to the ground.

Why is music important to you?

For me, music has always been more of a necessity. I need it to

function. I used to say that some people feel natural speaking

and I felt natural singing – it is my first language. I consider

music to be the common ground between most people and

to be a fundamental medium for expression. With it, I can be

articulate and multi-dimensional in my responses. Without

it, I feel disadvantaged in conversation. I consider the writing

process to be somewhere between sacred and communal; it is

the point between sublime art-making and absolutely ridiculous

collaborative work.

Photography: Chloe Brover

tortureandthedesertspiders.bandcamp.com

Money is available from 26th September with the band's debut

EP, Field Recordings Of A Social Athlete, released in November.

SPOTLIGHT

29
---
PREVIEWS

Liverpool © Don McCullin

EXHIBITION

DON McCULLIN

Tate Liverpool – until 09/05

The North West of England has long been a point

of fascination. This isn't solely the case for its own

inhabitants, stirred in the dense melting pot of

cultures stretching across an Orion's belt of Liverpool,

Manchester and, eventually, Leeds. Many eyes looking in have

been equally attracted to its charming realism.

Of these outsiders, it's perhaps George Orwell's The Road

To Wigan Pier that pressed its nose closest to the glass in an

attempt to underpin a sense of 'northernness'. His account does

its best to paint a fair picture, with the Etonian slumming his

way from mill town to mill town in the mid 30s. But it's difficult

not feel a cold, thick layer of dirt on your hands as you turn

through pages punctuated by sooty skylines and slag heaps.

The landscape would appear uninhabitable if it wasn't for the

warmth of the people depicted.

30 years on from Orwell's account, the scene had begun

to change. It's one captured and displayed in acclaimed

photojournalist DON MCCULLIN's new retrospective showing at

Tate Liverpool.

In frequent trips up north, McCullin turned his camera

on a landscape no longer bearing a thick layer of soot, but

one covered ever more so in the darker colours of poverty. A

landscape where industry departed but its people remained. In a

career defined by pictures of war, his attention to social conflict

is no less compelling.

With the retrospective featuring a newly added collection

of images taken in Liverpool in the 60s and 70s, Elliot Ryder

spoke to the photojournalist about his experiences of the city, his

depictions of conflicts and his role as a chronicler.

As your retrospective heads north, there'll be specially

added section of photographs depicting industrial northern

locations, such as Liverpool and surrounding mill towns and

cities. A lot of your career has been a built on war reportage,

but what was your initial draw to documenting this side of

Britain in the 60s and 70s?

I've always had an interest in Liverpool. I went there many

years ago with Jonathan Miller, the playwright, and met the poet

Adrian Henri who was the key to so much of what we'd see

across the city. But I'd been coming to Liverpool long before the

60s and 70s.

When I was a 15-year-old boy

I worked on a train that would set

off from Euston Station and head to

Liverpool. I worked in the dining car,

washing up dishes. I'd sleep in Edge

Hill, where they had a dormitory. I'd

do the journey three or four times a

week.

The city has therefore always

been familiar to me. I felt I knew it.

I loved it there, really. Then, when I

returned in the 1960s with Jonathan

Miller, I never stopped coming back.

I met Adrian and he became a friend.

I really loved Adrian. He was the life

and soul of Huskisson Street, and

around that area, the Ye Cracke Pub and the Philharmonic. I was

amazed by the culture, so I returned frequently.

What were your first impressions of the city in an era

when the industry had declined and its former shipping wealth

had departed to the south? What was the main draw for what

you were wanting to capture?

I wanted to show Liverpool that it was once a great city. It

still is, of course, but it was once a great city based on its docks;

"I've learnt my way

through this life by

walking amongst the

truth of things, the

poverty, the pain of

people's unhappiness"

the liners that took people across the Atlantic. It was a very

important place. I wanted to show in a way, without disrespect,

the slight decline when those ships stopped departing from

Liverpool.

It was a very proud city, Liverpool. I found Liverpool people

to be challenging and uplifting, full of laughter and wit. It was

a city that was compelling, really. What drew me to it most of

all was how little it had changed.

You expect cities to grow, but there's

always been a divide between the

north and the south of England. The

lion's share of wealth and growth is

in the south. Liverpool in a way was a

backwater place, yet it had all of these

amazing people that were trying to

make the city go in a future direction. It

wasn't totally working, I don't think.

The thing that interested me was

the slum clearance programme, which

was a huge mistake. They flattened

them all, when they could have served

as the first houses young people

bought. It created a wilderness in the

Toxteth area, which looked more like I

was in Berlin after the war. It was a compelling image to see this

tragic landscape. And it wasn't helping Liverpool, because that

landscape stayed there for quite a while until it was redeveloped.

I haven't even seen that part of Liverpool ever since I took those

pictures.

Much of Liverpool's centre has had a capitalist makeover,

but in many ways Liverpool back then characterised the social

aspect of the conflicts you've become renowned for. A lot of

30
---
the poverty you captured in the north will have been echoed

in your own upbringing in Finsbury Park in north London, a

part of your life you regarded as an embarrassment given the

nature of your situation. When training your lens on scenes

further up north, was it somewhat easier to pick out these

subjects as you had a sense of solidarity with their situation?

I think what you're saying is quite interesting, really,

because when you come from a poorer background it doesn't

take you five seconds to recognise a group of people who

are living in that background. Even though I was learning my

photojournalistic photography, I didn't have to learn about life

and poverty – I grew up in it. In a way, I wasn't one of those

snotty-nosed southerners looking into the birdcage; I was fully

aware of the social differences in the country, and the class

levels which I detest. As I walked amongst Liverpool and felt

the warmth and the friendliness of the people, I slightly took

advantage of it, really. As a photographer, not everybody likes

you photographing them.

Do you think it's important for the documenter and social

narrator to have a sense of solidarity and shared experience

with their subject? Does it affect the authenticity of the

photograph in any way? For instance, The Last Resort, shot

in Merseyside by Martin Parr in the early 90s, was accused by

some of fetishization of the working class. Do you think the

level of agency is important for a photojournalist?

I'm very honest in what I do. I wouldn't want to do anything

dishonest that I would have to account for later on in life. My

work is in black and white. Martin does colour, which can take

away poverty in some respects. I don't want to cover anything

up. I work in black and white and I'm there to tell the truth.

There are no lies involved in the things I've shown, not only in

Liverpool. Some of the most wicked pictures in my exhibition

are pictures I've taken in Bradford, which [was] one of the most

impoverished cities in England. I don't pull my punches when I

photograph poverty. Mainly because I understand it.

To what extent do you think the photojournalist plays a

part in the shaping of a narrative? Would you regard yourself

as a mirror, or more of a narrator when shooting?

I saw myself as a chronicler. I chronicle the injustice of what

I see through my eyes and what I know through my personal

experience. I've learnt my way through this life by walking

amongst the truth of things, the poverty, the pain of people's

unhappiness. I see it and I recognise it. Not everybody does. A

lot of people would close their eyes to it and want to walk past

it. I will press the button on my camera and say, "This is not

right. This is not the way people should be living their lives, in

this squalor and poverty." I am no Sir Galahad, by the way. I'm no

knight in shining armour speaking up for the people, I'm not that

kind of person. I'm a person who journeys through life and sees

with his eyes and presses the button on the camera. That's what

I do. I'm not a hero.

It's important, nonetheless, to capture and show these

moments?

I've been doing it for years, and I'll tell you something, I've

only made the slightest bit of difference. I could probably come

up to the north and you will still find millions of people living

in unfair, unjust, deep and dark poverty. All those pictures I've

taken in the past haven't made much of a difference, if any at all.

Much of your iconic work focuses on military conflicts

and intra-state wars, and you've stated you're still affected by

some of the images you captured. How do the scenes of social

conflict compare to the stark realities of militarised violence in,

say, Vietnam?

In Vietnam and Cambodia, many were

farming people. People who had part of the

Cold War dumped on them. One million North

Vietnamese soldiers paid with their lives, and

another one million down in the South. War

had nothing to do with their culture. It was

dumped on them by the Americans, Russians

and Chinese. Sometimes, if you live a simple

life in the country, with a thatched house,

in the darkness of night and brightness

of dawn and you go out and exercise

your rice growing, it's a lot purer and a

simpler life than somebody trapped in a

city with thousands of other people, and

the squalor that goes with it. The two

cultures don't match up. At one moment

you have this paradise situation in

Vietnam and Cambodia, next thing

they know they've got people bombing

them, killing them, burning them and

their children. There's no comparison.

It's totally different environment. And

yet, as a photographer, I managed to

harness both of those situations and

funnel them through the lens of my

camera. And it can only be done

with a person behind that camera

who is emotionally tuned in to

these two wrongs.

Looking towards the

retrospective moving up north,

is it strange to see your work

in a gallery rather than in a

newspaper? Is it stranger to think of yourself as an artist, too?

It's always at the back of my mind: is it right to have these

photographs in an art gallery? Who are you, a photographer

or are you an artist? I totally disclaim myself as an artist. I am a

photographer and very happy with that title. But at the same

time, since I cannot get my work published to the degree it used

to be in The Sunday Times, there's no outlet for people like me

anymore. I'd put the pictures on the underground subways in

London if I had to, rather than let them rot away in their boxes

in my house. It's better to get the voice out there, even if it

means intruding into an art gallery.

How does the context of the photographs change

once on gallery walls? Is there then a greater emphasis

on aesthetic rather their socio-political content?

At Tate Britain, they had 180,000 people go through

my exhibition. Some of my friends went to see it and

they said you could have heard a pin drop in the most

crowded of spaces [pre-Covid]. One noted how the

silence in there said a lot about the exhibition and its

power; people were so moved by the awful things

they were seeing that they shouldn't be seeing. It's a

strange place to have that feeling, in famous gallery

like Tate Britain. I must have done something right.

As for more contemporary photojournalism,

what are your hopes for the medium? Is it able to

compete with the instantaneous live feeds and

videos on social media? For example, after the

explosion in Beirut, many people across the

world had already seen a multitude of images.

The word photojournalism is dead in a way.

Newspapers don't want that kind of image

in their newspapers anymore. Newspapers

aren't interested in the photographs that I did,

and other photographers like me. It's about

celebrity, it's about footballers. When [Harry

Maguire] did something wrong in Greece, it

got total saturation, because here's a guy

who earns £190,000 a week. [Apparently],

he's much more important than the poor

starving on the other side of the world,

being bombed at the same time.

Finally, Don, do you have any

concerns about the truth and

authenticity of photojournalism as

we move deeper into a digital era?

As media becomes less institutional

and more open source, does it open

the door to a world of post-truth

imagery?

I've done my best to tell the

truth and to go to places which

I know not many people want

to look at. But now 'fake news'

has upset the balance. It's made

people reconsider what they're

looking at, what they're reading in a newspaper. Is it true or

false? There are people who would say they believe nothing

they read in newspapers, and it would be wise to not believe

everything in newspapers, but a lot of it will be quite truthful.

It's a personal choice. It's a personal responsibility. It's up to you

to make that decision. I'm a photographer and not an orator. My

opinions don't count for much. My photography is my voice.

Words: Elliot Ryder / @elliot_ryder

Photography: © Don McCullin

Liverpool in the seventies © Don McCullin

Don McCullin retrospective is showing at Tate Liverpool until

21st May 2021. Visit tate.org.uk/whats-on/tate-liverpool for

tickets.

Liverpool 8, 1961 © Don McCullin

PREVIEWS

31
---
PREVIEWS

FESTIVAL

LIVERPOOL

IRISH FESTIVAL

Various venues + online – 15/10-25/10

Patrick Kielty

October sees the return of the annual LIVERPOOL IRISH FESTIVAL,

celebrating the connections between Liverpool and Ireland

through art, conversation, music, and history. This year the 10-day

festival will run a virtual programme headlined by Irish comedian

and TV presenter PATRICK KIELTY, who kicks things off by hosting the

discursive event Hard Histories, Positive Futures, in which he will interview

representatives from Northern Ireland's Commission for Victims and

Survivors.

Following on from this, award-winning CNN correspondent MIKE CHINOY

is discussing his new biography Are You With Me? Kevin Boyle and the Rise of

the Human Rights Movement. Focused upon co-founder of the Northern Ireland

Civil Rights Association Kevin Boyle, the biography explores Kevin's role in the

curation of the Good Friday Agreement, while delving into Northern Ireland's

Troubles and the legacies.

As always, music plays a large role in the make-up of the festival, and this

year sees independent Cork-based label Unemployable Promotions present a

showcase of their roster of artists. The event will provide a taster of the music

scene over in the Munster city and instigate a future exchange for talent in the

respective ports.

Despite the novel delivery of the majority of this years's festival programme,

exploring the city's Irish heritage continues to be a key aspect of the event, and

this year is no different. A walking tour of Scotland Road will take place, as well

as the South Liverpool Walk. A third tour, City of Hunger, City of Gold marks the

Irish Famine and will lead from the Irish Famine memorial at St Luke's Gardens

and finish at Central Library. These tour routes see walkers learn about Irish

history through churches, pubs, statues and architecture across the city.

Also original for the festival's 2020 edition, the Meet the Maker series seeks

to introduce online audiences to artists, creators and crafters of both Liverpool

and Irish heritage. The one-off online events are set to explore and celebrate

their art, through knowledge exchanges and Q&A sessions. The series will

feature the likes of biographer CARMEN CULLEN, musician TERRY CLARKE-

COYNE and historian GREG QUIERY, among others. liverpoolirishfestival.com

Unemployable Records

32
---
FESTIVAL

Homotopia

Various – 29/10-15/11

FILM

October Cinema Events

Picturehouse at FACT

Fox Fisher

The UK's longest running LGBTQIA arts and culture fest returns

at the end of October with a typically vibrant programme of

activity. Homotopia's artist in residence for the 2020 event is

polymath FOX FISHER. Fisher rose to fame via the C4 series My

Transexual Summer and played a huge role in making the trans

conversation mainstream. A key part of this year's Homotopia

will be assessing how that conversation is playing out and

progressing. Fisher will be coordinating and hosting a range of

activity throughout the two-week festival, including discursive

events, screen printing get togethers and more. There will also

be cabaret and much more to be announced.

Riz Ahmed's Mogul Mowgli is among the top choices for cinemagoers

this month now we're re-accustomed to attending the

big screen. The film, hailed by critics, tells the story of a British-

Pakistani rapper struck down by disease and is directed by the

highly-regarded Bassam Tariq. Also coming to Picturehouse

in October is the Jordan Peele-penned 'spiritual sequel' to the

original, Candyman, based on Liverpool author Clive Barker's

chilling novel. And if that's not enough to tickle your popcorn, the

studio responsible for fright fests Midsommar and Hereditary are

back for Halloween with St Maude.

GIG

A Lovely Word

Online – 01/10

The Singh Twins (2008)

Everyman Theatre are kicking off October with the return

of their monthly instalments of A Lovely Word, this time

showcased online. The poetry night will be presented in the

same format as the usual in-person version, but available to

stream via Zoom, Facebook Live and YouTube. This month sees

poet DEAN ATTA take the headline slot, alongside 20 open mic

performers. Atta is known for his prose on race, gender and

sexuality, alongside his regular column in Attitude magazine.

Open mic performers are allocated four-minute performance

slots, and sign-ups are available from 21st-25th September.

Dean Atta

EXHIBITION

The Making Of Liverpool

OUTPUT Gallery – 1/10-25/10

EXHIBITION

The Triumph of Art

The Atkinson, Southport – 09/10-12/12

OUTPUT Gallery is welcoming the work of local legends THE SINGH TWINS this October. The artists

are well-known for their extremely detailed work, centred around political and cultural issues in the

format of paintings, illustration and film. Their exhibition The Making Of Liverpool (2008) explores

800 years of the city's achievements and history. The 13-minute animation also explores one of

the duo's paintings, Liverpool 800: The Changing Face of Liverpool, which was originally unveiled

for Liverpool's 800th anniversary in 2007. The works feature narration by Mark McGann, animation

by Andy Cooper and track written and performed by Wirral artist Steve Mason. The exhibit can be

enjoyed during the gallery's new post-lockdown opening hours of Thurs-Sun 11-5pm.

New exhibition THE TRIUMPH OF ART is coming to The Atkinson in October. The showcase

celebrates the restoration of the painting The Triumph Of Art, which hasn't been exhibited

in over a century due to its poor condition. Artist Nicolas Pierre Loir painted the piece in the

1600s, which features classical figures of the visual arts paying homage to Jean-Baptiste

Colbert, a major patron of the arts. Highlights from The Atkinson's collection are also featured

throughout the exhibition, such as portraiture, sculpture, music and paintings which all reflect

the art forms presented in The Triumph of Art. The painting was able to be restored through

funding from the Chateau de Sceaux and The Art Society Southport.

GIGS

Near Normal

Future Yard, Birkenhead – 15-17/10

After raising the curtain with She Drew The Gun in September, the team at Future Yard have announced a run of

three more socially distanced live shows for October. Piping hot locals SEATBELTS (15th October), and EYESORE &

THE JINX (16th October) get things started at the Argyle Street venue before BY THE SEA make their triumphant

return on 17th October to give more cause for optimism amongst music fans either side of the water. With a

thoroughly specced out safe space, complete with 20 changes of clean air per hour and distanced pods for bubbled

groups and individuals, as well as host of other special measures, the shows are designed for the gig goer to relax in

the knowledge that the utmost is being done for their safety. So all that's left is to enjoy some of the cream of local

crop doing what they do best.

Seatbelts (@MrKirks)

GIG

Liverpool Disco Festival 8

Camp and Furnace – 31/10

FESTIVAL

Southport Comedy Festival

Victoria Park – 08/10-18/10

Liverpool Disco Festival are doing all in their funky powers to ensure the show

goes on having rescheduled and repurposed their Easter weekend event to this, a

huge Halloween jamboree featuring NYC disco deliverers ODYSSEY. With Covid

measures in place, a 3000 cap room is taking 1000 people and outdoor contingency

plans are ready to go. Odyssey will be playing a one hour set with a seven piece

band and ably supporting will be DJs MR SCRUFF, JOHN MORALES and more. If for

any reason this event cannot go ahead ticket holder are entitled to refund or rolling

over for admittance to LDF's Boxing Day event where the majority of the line-up

will be performing.

There's an all-star bill for this comedy extravaganza taking place in Southport's

Victoria Park. All taking place under a big top marquee, TV faces including

REGINALD D HUNTER, PAUL SINHA and RUSSELL KANE will be performing to

Sefton crowds ready for some belly laughs after what's been a largely unfunny

year. Organisers are doing their utmost to follow Covid-safe guidelines to protect

ticket holders and have thanked sponsors for ensuring this years event can go

ahead against pretty strong odds. Elsewhere on the bill there is ANDY PARSONS,

CARL HUTCHINSON and JO CAULFIELD for 10 days of big name comedy.

PREVIEWS

33
---
REVIEWS

Linda McCartney Retrospective

Walker Art Gallery – until 01/11

Paul McCartney often joked that he ruined the photographic career of his first

wife, Linda. OK, it wasn't his greatest joke – that disreputable honour must surely go

to The Frog Chorus – but that's mainly because it was true. Her marriage to the Beatle

certainly curtailed her time as a working music photographer.

In the few years leading up to meeting her husband in 1967, she'd attracted much

acclaim for her intimate, intuitive and personal images of the US rock scene. Images

characterised by their candidness, off the cuff moments, icons in their glittering ascent.

Dylan, Joplin, Zappa, the Stones and Aretha Franklin, to name but a few that were the

subjects of her lens.

She was the first woman to photograph a cover for Rolling Stone magazine, with a

portrait of Eric Clapton. Musicians fascinated her. She was house photographer for Bill

Graham's legendary Fillmore East venue in New York, stalking the musicians in their private

moments for a shot nobody else could get, a moment nobody else had noticed, with two

Nikons strapped across her shoulders like pistols. Ready.

What she might not have been ready for, certainly artistically, was the difference

marrying someone at the very epicentre of the 60s cultural bubble would bring. Within a

short time as their family grew, her work became more personal and she moved towards

capturing the beautiful mundanity of the things she loved. Family life, nature, animals and a

Beatle. She worked instinctively, revelling in passing moments and different perspectives, from

a car window on the inside of the Beatle bubble, or the freedom of exposed isolation, life away

from it all in the wiry mists and standing stones of their remote Scottish farm. Many of the finer

moments of this LINDA McCARTNEY Retrospective come from those perspectives.

The exhibition has received minor criticism in some quarters for being a little Paul-heavy, and

yes, it is. Let's face it, even Paul McCartney can be a bit Paul-heavy at times. He was her husband,

though. She loved him. She left all her belongings and archives to him, and so it's hardly surprising

that he does feature so prominently. The show is curated by the thumbs-up king together with their

daughters Mary and Stella. Some of the most interesting images feature them all.

In My Love, from 1978, we see an anonymous, everyday London street scene taken from the

back seat of a car, dated only by the London bus and the cars in view. As your gaze moves upwards

through the pink-blue sky in front, in the rear-view mirror we see an eye. The unmistakable eye of

the artist's husband. He seems to glow from the mirror, lit by some unseen light source, a reflection

perhaps of the setting sun. It is these moments, and her ability to play with the light through different

perspectives that bring such a perfect stillness to so much of her work.

An image of celebrity 60s model Twiggy strikes with the same sense of stillness. She sits alone,

staring at the floor, her arm draped across herself; she's introverted and defensive. She seems posed,

almost Renaissance-looking in a green top, the light falling across her head and shoulders casting

a shadow across her vacant stare. While she may seem lonely and sorry, she could just be drifting,

wondering. It is such a simply observed quiet moment, and the simplicity is just beautiful.

Linda McCartney enjoyed playing with colour and form, seeking new perspectives on the most mundane

daily life occurrences. Her 'sun printing' images, or cyanotypes, are a real highlight of this collection. Using

a technique developed in the 1840s in which the paper is brushed with a mineral solution, the image is

then developed by natural daylight rather than in a darkroom. This is some of the most striking work in the

exhibition. The process giving a textured, etched feel such as with Stella, taken in Arizona in 1994, where her

daughter's face is held in such intimate detail, the rich cyan colour enhancing the image, simultaneously stark

and graceful.

The photos of rock stars mingle with images of wild Scottish horses in the snow. Jimi Hendrix yawns.

Lennon looks mightily pissed off during the Abbey Road sessions. Janis Joplin celebrates another empty bottle

of Southern Comfort. Allen Ginsberg hypothesises at the kitchen table. Gilbert and George pose in a Victorian

backyard. A man on a Portuguese train in 1968 looks back from his seat, staring intently at the photographer. He

carries a fearful look, but seems attracted to the camera, or maybe to the artist. Maybe he just knows she's married

to a Beatle. These worlds were all part of Linda McCartney's world, and they represent the dichotomy both of her

subjects and every aspect of her life.

The shame of this exhibition is, of course, that our world today allows us such limited access to culture, and

while it is obviously no less a show because of smaller audiences, it's nonetheless a pity that this wonderful exhibition

won't attract anywhere near the numbers of something like Tate's Keith Haring show last summer. These images

could've been bringing that magical sense of stillness to far more people.

(Paul and Mary, Scotland 1969. © Paul McCartney)

Paul Fitzgerald / @NothingvilleM

"McCartney worked

instinctively, revelling in

passing moments and

different perspectives"

(Paul, Stella and James. Scotland, 1982. © Paul McCartney)

34
---
The Magic Tree

Online, FACT Liverpool

The Magic Tree, nil00

Commissioned by FACT as part of their online

programme The Living Planet, and designed by visual

artist NIL00, The Magic Tree is a digital artwork that aligns

the nebulousness of online space with the specificity

of memory grown from Liverpudlian soil. An image of a

widely-known and revered tree in Sefton Park is the work's

starting point, and visitors to the website are encouraged

to intervene in its outcome, uploading images that

permanently shift the work in a different direction. Each

image is analysed by an algorithm and its style is adapted

to the artwork; from this first interaction, and as the work

evolves, the tree itself is distorted beyond recognition yet

its presence scaffolds the images to come. Its significance

lies not in the outcome, but in the unpredictability of the

process and, for the visitor, the work equally satisfies a

desire for anonymity as it does for connection.

With galleries closed but parks open during lockdown,

nature became a predominant space of respite and,

similarly, digital art became a more significant connective

tool than ever before. On The Magic Tree's website, nil00

writes that they were compelled by the idea that the tree's

role as a meeting point, or a communicatory touchstone,

goes back generations. For local people, it is enmeshed

in a network of formed memories. In their description of

how the tree accommodates visitors by having branches

arranged like a staircase that then twist into seats at the

top, nil00 considers how the tree is emblematic of the

hospitality of the natural world. The work's interactive

qualities replicate this way in which nature yields to human

touch, signifying the tension between the natural world's

abundance and its human-induced scarcity. As much as

the tree is the foundation of the work, our engagement

with it is too; it prompts us to reflect inwards on our

own understanding of sustainability and conservation in

the digital era. During the Covid-19 lockdown, this has

acquired a certain sentimental edge, as the work feels

resonant with the coexistence of our connectivity and our

solitude in recent months. It also extends further back than

that, working with ideas of collective as well as personal

memory, to reveal nostalgia as something malleable and

distortive, that functions both communally and individually.

Although, as much as the work speaks to our

relationship with a dwindling natural world, The Magic

Tree feels in dialogue with contemporary debates around

the monuments in our city. The work's consideration of

the tree as a respected, almost statuesque, form allows

us to question the ideologies we are embedding into our

cityscape. It is overly simplistic to think of Liverpool as a

bubble of progressive thought; standing outside the Sefton

Park palm house is a statue of Christopher Columbus, with

an inscription labelling him as the discoverer of America

and the maker of Liverpool. The legacies of colonial Britain

are still heralded and given power in the form of these

monuments, and Liverpool's significant role in slavery

remains ingrained in street names and buildings. It is here

that the work's significance extends from the personal

to the political, and through The Magic Tree, we are

encouraged to think more intricately about our relationship

to the city itself.

Leah Binns

www.fact.co.uk/artwork/the-magic-tree

The Magic Tree, nil00

And Say The Animal Responded?

FACT, until 13/12

If there's a word to take away from this exhibition, it's

'biomimetic'. It means, according to FACT, "the imitation of

systems used in nature". It's fitting, as I could think of no word

closer to the common thread that runs through the work on

display at And Say The Animal Responded?

The artists, to integrate their animal muses into the exhibition

space, seem to have first integrated themselves into the space

of the animal. ARIEL GUZIK's Nereida is a prime example of this.

The object, Nereida, an instrument of sorts, is so clearly humanmade

that its function (to mimic the sound vibrations of whales

in an effort to communicate) is both so far-fetched and yet so

obvious. An animal couldn't have created this object, and it's

remarkable how we, using an object so alien to the animal, can

capture something so close to its true being.

Guzik's instrument is not the only machine in the room.

Sitting beside it is KAUI SHEN's Oh!m1gas, a piece I could

best visually describe as an intricacy of clear plastic tubes, tubs

and cameras, connected to two turntables. Inside, a colony of

leaf cutter ants reside, whose activities control the scratching

of the records on the turntables. In a way, the piece replicates

the scratching of ants, a method they use to communicate, but

translates it into a medium which we can receive, giving them a

form of musical expression, albeit an odd one.

The exhibition utilises audio and video masterfully. In the first

gallery, recordings from Nereida serve as the backdrop to three

video pieces, including a short film charting an expedition of

Nereida's younger brother, Holoturian.

Pan troglodytes ellioti and cousins, by AMALIA PICA and

RAFAEL ORETEGA, features a family of chimpanzees. It is a

short, looping clip, but it captures something dignified, almost

human, in the interaction of the chimps and the camera whose

sensors they have triggered.

DEMELZA KOOIJ's film, Wolves From Above, sits on the

floor in the corner of the room. The camera hovers above a pack

of wolves, whose curiosity and attention towards the drone

capturing them from above is sporadic, broken by bursts of

energy directed at each other. They are more animal, more hostile

than the chimps, sitting further down the spectrum which we

seem to place ourselves on top of.

Upstairs is dedicated to the digital work of ALEXANDRA

DAISY GINSBERG. The Substitute resurrects the extinct northern

white rhino. It spawns in an enclosure on screen, boxy and

pixelated, becoming more real as it understands the space it is

in. It exists for only a short period of time, before it disappears

once more. Machine Augeries resides in an adjacent room. The

10-minute sound installation is a sad conversation between the

birds increasingly estranged from our urban spaces, and a chorus

of artificial 'birds', who threaten to make the disappearance

of their natural counterparts all too easy, and perhaps even

unnoticed. It's certainly a piece that chimes with the quietness of

the early weeks of lockdown.

My worry was that FACT's commissioned artists would

answer the exhibition's titular question themselves. To my

enjoyment this was not the case. The exhibition is a metaexhibition

of sorts, with two levels of commission: first, the

mandate by FACT for the artist's to present a piece of work, and

then the artist's 'commissioning' of the animals, who answer the

question 'And Say The Animal Responded?' in their own way, via

the work of these artists.

Through biomimicry, the artists could provide the conditions

to allow the animals to do this: in none of the pieces did I feel that

the animals were spoken for, this exhibition is not a zoo, yet in all

they speak for themselves, in languages closest to their own.

Remy Greasley / @remygreasley

Alexandra Daisy Ginsberg, The Substitute (2019) / Rob Battersby)

REVIEWS

35
---
OUR

GLORIOUS

ROOFTOP

BAR

SHUFFLE

BOARD &

SHUFFLE

COURT!

ENGLISH

& AMERICAN

POOL TABLES

3 FULLY

STOCKED

BARS. AND

FOOD!

12 FULL

LENGTH

BOWLING

LANES

PING-PONG

AND BEER

PONG!

ALL THE

FOOTBALL,

ALWAYS

LIVE!

KARAOKE

BOOTHS &

WEEKLY LIVE

MUSIC!

@PINSSOCIALCLUB 0151 370 0000

DUKE STREET, LIVERPOOL
---
@bazaarmind

ADVERTISE

IN BIDO LITO!

! promote your brand, venue or

event to an engaged culturecentric

readership

! support an independent

publication

! get full support from a

dedicated team of

friendly staff

Go to bidolito.co.uk/advertise and get in touch today!
---
ARTISTIC

LICENCE

This month's selection of creative writing is by Sam Batley, a collection

of work characterised by self-inquisition and honesty.

My first experiences of poetry

were in school, although I paid

no attention to it. I felt pretty

detached and was shit at

concentrating. By year 10/11 I was quite cocky,

disruptive; a bit of a dickhead, basically. Poetry

and writing never felt like something that was

meant for me – something that only happened

in that class. Inside books. It was snobbish and

posh. Nothing landed. It was difficult to read,

and never seemed to make sense. None of it

was relatable. I grew up in a pit village in the

middle of Barnsley and Doncaster, it wasn't a

place inclusive of creative expression. I was a

product of my surroundings and the toxicity

of the masculine norm that surrounded me.

Poetry wasn't on the agenda.

The positive of my schooling was Mrs

Beevers, my English teacher in year 11.

She spoke to me about music an art and, in

hindsight, tried to make feel comfortable with

who I was, not what I was pretending to be.

She could see through the mask. She put me

on to A Certain Romance by Arctic Monkeys

who had only just come about. Sheffield was

close and their voices were like mine at the

time. I fuckin' loved it. She said that it were

poetry with music. An I suppose seed was

planted. It didn't have to be what I thought it

was.

Though the seed was planted at 16 it

didn't germinate 'til I was 23/24. My sister

Hannah was and is an amazing poet, an had

started sharing the stuff she had written with

me. It felt different, I could feel what she were

saying, and it landed in a completely different

way. Our Hannah said it always helped her to

get it out of her head and on to the page and

that I should have a go.

At this point I was in a real dark place.

My addiction was all over me, oblivious to

why I felt like I did. I'd worked myself into a

particularly bad spot and needed to get out

of what was surrounding me. Hannah took

me in for a while. One day before she went to

work she gave us a pad. So a had a go. I don't

really know where it came from. It was like

a mad release, all this anger and frustration

come flowing out. When she got back a read it

her, and cried for first time in years. I'd not felt

anything like it. So I carried on doing it.

Since coming to Liverpool for recovery

last year, I'd had a massive gap in writing,

punctuated by sporadic bursts of coke-fuelled

shite. Previous to the admittance I was fucked,

my writing served its purpose for where I was

at, but was full was of blame, anger, frustration

and second-hand self-hatred. I couldn't look at

myself. It was all pointing out. No one gave a

fuck as much as me, but I wasn't willing to do

fuck all about it.

Today I feel at ease with me, a care much

less about what I think and what folk think.

No one's arsed, really. Most of the angst has

dissipated through the internal work I've done

this year. Living in Damien John Kelly House, a

recovery living centre in Wavertree, has given

me an immense opportunity to reflect on why

all that angst was there in first place. To hone

in on who I am, drop the masks and say what I

want to say.

We're all a bit fucked whether ya like it or

not. So have a go, have fun with writing. We've

all got tales to tell – they won't tell themselves.

Words & Photography:

Sam Batley / @sambatley

NUMBER 15

Green lighter fluid and indigestion,

Too much sprayed weed,

Brings about lethargy.

Headaches for the walk home,

Eat all you can in the twilight.

Piss while you walk.

No one cares for the apathetic beside the pathetic.

Pull out the mattress from behind the 3 seater,

Set it down by the fire.

Wake up and put it back again.

Set it down,

Wake up,

Put it back again.

Set it down,

Wake up,

Put it back again.

Set it down,

Wake up,

Put.

It.

Back.

A-gain.

Weird arrangement,

Too fearful to move on.

Don't wana stay in.

Don't wana go out.

The tea tastes fucking shite,

You know I don't have sugar.

Three beds too small for 4 heads,

Adolescent pangs often turn red,

In the unfinished kitchen.

It's shit init…

Ye it is…

Time's a mystery how it drags like it does,

And speed up when it doesn't.

Too much time on young hands.

Too much.

The football's lost its leather.

The milk bottle's fed the cat.

The neighbour's not best pleased.

Fuck off back ya Dads.

CONVALESCENCE

Roast dinner for the chess champion in the burgundy corner.

No eggs for me, I've had enough.

Dog talk in the window sill.

Chicken wing decorated pavement.

Blasphemy,

Horrendous.

Were all phone bag heads.

Blue thumbed click bait.

The adverts lie all the time,

It's not your fault you feel insecure.

Wrist watch time piece,

Unaffordable in the pipe dream.

2 minutes full power,

Stir.

1 minute full power,

Serve.

Cheap.

Gaviscon.

Acid Bastard.

Licked lips,

Coldsaw complex,

Artex complexion.

Long sighted twat.

Shut the blinds or else they'll see,

How bad it really is.

Bare walls, bare chested.

Leave it all or take the fall,

Wet eyes in crushed velvet.

DUNGA

It sunk in like a frog down the throat of realisation.

Can't be me.

it is.

You seemed so much better last week,

Things change.

I woke up with my head still in bed,

An at end of day it were gone.

Whose coming pity party?

Me and I.

Orchestrate the pieces into place,

Manipulating hands unseen.

Pleasantries of a forgotten tongue.

Lap the finger and thumb.

Puppet master pulling the lines up, up, up.

Dangling in the tangle,

I'm not autonomous,

I'm not in control of the proper setting,

Behind the console of beaded eyes.

Smoke drifts in then out.

Breathing lungs,

Diaphragm split,

Bloody nosed.

Who me, who's me?

You've as much as him in the distant rear view,

All back slouched,

Glass eyed.

Purgatory's waiting room,

White plastic chair table arrangement.

Mannequin-esque.

Magnolia,

Motionless.

Carpets tired from countless feet,

Sat in front of ownerless bodies.

Black chuddy circles,

Rotten eggs from the paper mix,

Pull the lost colour together.

Who's he? He's you too.

Blind to my own deficiencies.

A malign witch.

Beg off Peter to pay Paul.

Hands in pockets,

Absolutely fuck all.

Living in the bit no one else sees.

38
---
SAY

THE FINAL

Ahead of International Pronouns Day, Emma Stewart from LCR Pride Foundation outlines the importance of

using the correct pronouns – a simple act key to self-determination and validation.

Has anyone ever got your name even just a little

bit wrong? Maybe your name is Stephen with

a 'ph' and someone emails you and calls you

Steven with a 'v'? Or you're mistakenly called

Anna by someone who misheard your name, Hannah,

in conversation. So, you correct them, and they correct

themselves and apologise – life goes on. No one asks why

it's so important to you that someone says your name

right. But you know the people going around calling you

Anna, especially within your hearing, makes you feel a

little bit uncomfortable because that name isn't your name.

Now apply the same logic to pronouns. It doesn't

sound hard does it? But why are pronouns so important?

Let's continue the example above. Every day you

must interact with someone who insists on calling you

the wrong name. They say, "But you look like an Anna to

me, and I don't really like to use the name Hannah, so I'm

going to continue to call you Anna."

Every day you're erased a little by that one person

who does not respect the way you choose to identify

yourself. Only pronouns hold so much more about a

person's identity within them. You can inadvertently out

someone, erase part of their history or make them feel

uncomfortable, unheard. That is the power of a single

word when we are talking about pronouns.

Before I go any further, I guess I should introduce

myself properly. My name is Emma, I identify as nonbinary

and my pronouns are they/ them.

My 'story' does not have a definite beginning. I didn't

wake up one day and realise the people calling me 'she'

made my skin feel too tight around my identity. I just knew

that it didn't fit any more. Like a T-shirt with a hole or a

worn pair of shoes, 'she' was not fit for purpose. So, at the

ripe old age of 33 (and a half) I found myself coming out

again.

The first time I came out of the closet it was to let my

family, friends and the world at large know I was a lesbian,

a part of me I had kept hidden for a long time. This time it

was to let people in my world see a new part of me, a part

I was just learning about as well.

I'll be honest, I was terrified.

Changing my pronouns publicly came with a lot of

internal and external challenges for me. If I'm non-binary,

can I still be a lesbian? Will I have to explain that to

people? What will my wife say? What about my family?

Does it really matter what people call me? Am I just

making a big fuss about nothing?

For me, it was pretty anticlimactic. I live in a privileged

place in society and have surrounded myself with

friends and family who are willing to learn new ways of

describing the world around them to make sure I have a

place in it. But it really is not that easy for so many people.

Official governmental data on non-binary and

trans people's lives in the UK is a disheartening read.

Non-binary and trans people come out at the bottom

in almost every category including life satisfaction,

safety, educational experience and health, according to

the national LGBT survey summary report. It's worth

mentioning as well that these statistics are from 2017 and since

then the reported levels of crime against trans and non-binary

people has risen by an estimated 81 per cent. People from

this community are also more likely to be kicked out of their

childhood homes, experience transphobia, violence and abuse. If

you throw race into the mix these statistics get infinitely worse.

And these are just the reported cases, the people we can count.

The coronavirus pandemic has seen people forced back into

the closet, into dangerous situations and places where their

identity is being further erased every day. But, Emma, what has

this got to do with pronouns? Surely calling someone the wrong

word has nothing to do with that? Except it does. Follow me

once more into the hypothetical land where someone refuses to

call you the right name.

Now, imagine it is not one person, but every person in

your life. You've asked them to change, to correct themselves,

but they stay firmly and vocally resolute that you might 'feel'

like a Hannah, but you look like an Anna and your body is

that of an Anna. This is where this world falls apart. Because

this isn't about a first name any more. It's about a word that

creates a space in the world for people. It's about respect, about

boundaries and about acknowledging that in this changing world

we have some solidarity and pride. It is about self-determination

and validation. Using the pronouns someone asks you to can be

"Using the

pronouns

someone asks

you to can be

life-changing"

life-changing, for them and for you.

In this world, the one I live in, I spend my life

correcting people, because it is important for me to use

my privilege to normalise my difference. And some days

you meet people who refuse, who tell me that there

are men, and there are women and that is all there is.

On days like that it is difficult, but I will always have

the argument, because if I do not then it could fall to

my trans and non-binary siblings with less privilege to

wield. On the good days, which can outnumber the bad,

I meet someone and tell them my

pronoun is 'they', and this person

doesn't look at me like I'm strange,

or insist that 'they is a plural and

not a singular', or ask why. They

just say, "OK. Sounds good. Thanks

for telling me. If I mess up, feel free

to correct me." The weight of all

those people misgendering and

mis-pronouning me is eased in that

moment. It will come back; it never

really disappears.

There is work being done to

normalise pronouns and avoid

this misgendering. In 2019,

activist Imogen Christie (she/her), of Liverpool Trans

Day of Visibility (TDoV), organised a campaign for

International Pronouns Day, which takes place this year

on Wednesday 21st October. Around 20 organisations

across the city region, including Merseyside Police,

LCR Pride Foundation and the Museum of Liverpool,

participated in working groups and utilised slides and

badges in their workplaces to allow people to clearly and

openly communicate their preferred pronouns. A film by

Thinking Film, commissioned to mark the day, received

70,000 hits in the first 24 hours it was published. All of

these small steps help trans and non-binary people to

feel safer and seen as people, supporting their right to

identify as they wish.

There are also some structural changes being made

to the way data is collected about gender by national

agencies. The Census, which is due to be conducted for

the whole of the UK in 2021, will for the first time have

open-ended questions regarding sex and gender.

But every person I correct and who uses the right

pronoun, every person that learns that gender isn't sex,

doesn't rely on the flesh on your chest or between your

legs, every person that learns about pronouns and their

power is another person that makes space in the world

for us and another person who will stand in solidarity. !

Respecting and normalising pronouns in five easy

steps:

1. Introduce yourself by your name and pronoun to

normalise the use of pronouns

2. If you're not sure of someone's pronouns, ask them

3. If you accidentally misgender someone, apologise and

continue using their correct pronoun

4. Don't use gendered language when speaking to

groups, replace "ladies and gentlemen" with "everyone", for

example

5. Put your pronouns on your email signature, social media

profiles and business cards

Words: Emma Stewart

Illustration: Sophie Green / sophie-green.com

lcrpride.co.uk/pronounsday

Emma Stewart is Finance and Administration Director for LCR

Pride Foundation and Administrator for Social Value UK.

THE FINAL SAY

39
---
CREAM & CIRCUS PRESENT

SAT 20TH MARCH 2021

LIVERPOOL

BRAMLEY MOORE DOCK

TICKETS ON SALE NOW