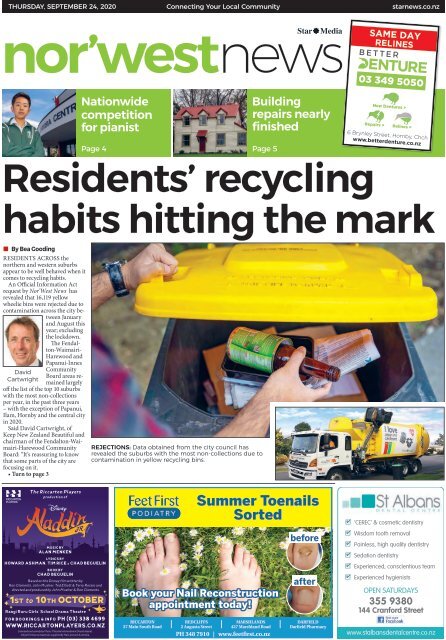 Nor'West News: September 24, 2020
Create successful ePaper yourself
Turn your PDF publications into a flip-book with our unique Google optimized e-Paper software.
THURSDAY, SEPTEMBER 24, 2020

Connecting Your Local Community

starnews.co.nz

SAME DAY

RELINES

03 349 5050

Nationwide

competition

for pianist

Page 4 Page 5

Building

repairs nearly

finished

New Dentures >

Repairs >

Relines >

6 Brynley Street, Hornby, Chch

www.betterdenture.co.nz

Residents' recycling

habits hitting the mark

• By Bea Gooding

RESIDENTS ACROSS the

northern and western suburbs

appear to be well behaved when it

comes to recycling habits.

An Official Information Act

request by Nor'West News has

revealed that 16,119 yellow

wheelie bins were rejected due to

contamination across the city between

January

and August this

year; excluding

the lockdown.

The Fendal-

ton-Waimairi-

Harewood and

Papanui-Innes

David

Cartwright

Community

Board areas remained

largely

off the list of the top 10 suburbs

with the most non-collections

per year, in the past three years

– with the exception of Papanui,

Ilam, Hornby and the central city

in 2020.

Said David Cartwright, of

Keep New Zealand Beautiful and

chairman of the Fendalton-Waimairi-Harewood

Community

Board: "It's reassuring to know

that some parts of the city are

focusing on it.

• Turn to page 3

REJECTIONS: Data obtained from the city council has

revealed the suburbs with the most non-collections due to

contamination in yellow recycling bins.

The Riccarton Players

production of

MUSIC BY

ALAN MENKEN

LYRICS BY

HOWARD ASHMAN, TIM RICE & CHAD BEGUELIN

BOOK BY

CHAD BEGUELIN

Based on the Disney film written by

Ron Clements, John Musker, Ted Elliott & Terry Rossio and

directed and produced by John Musker & Ron Clements

1st to 10th OCTOBER

Rangi Ruru Girls' School Drama Theatre

FOR BOOKINGS & INFO PH (03) 338 4699

WWW.RICCARTONPLAYERS.CO.NZ

Licensed exclusively by Music Theatre International (Australasia).

All performance materials supplied by Hal Leonard Australia.

RiccaRton

37 Main South Road

RedcliffS

2 augusta Street

Summer Toenails

Sorted

Book your Nail Reconstruction

appointment today!

MaRSHlandS

427 Marshland Road

PH 348 7910 | www.feetfirst.co.nz

before

after

daRfield

darfield Pharmacy

'CEREC' & cosmetic dentistry

Wisdom tooth removal

Painless, high quality dentistry

Sedation dentistry

Experienced, conscientious team

Experienced hygienists

OPEN SATURDAYS

355 9380

144 Cranford Street

www.stalbansdentalcentre.co.nz
---
2 Thursday September 24 2020

Latest Canterbury news at starnews.co.nz

what's on

this week

NOR'WEST NEWS

GENERAL INQUIRIES Ph 379 7100

CLASSIFIED ADVERTISING Ph 379 1100

Star Media, a division of Allied Press Ltd

PO Box 1467, Christchurch

starmedia.kiwi

NEWS

Bea Gooding

Ph: 021 911 576

bea.gooding@starmedia.kiwi

ADVERTISING

Monique Maynard

Ph: 021 372 481

monique.maynard@starmedia.kiwi

Your local community news

delivered to 28,748 homes

within The Star each week.

Harewood • Burnside • Bishopdale • Bryndwr

Fendalton • Merivale • St Albans • Mairehau

Papanui • Casebrook • Redwood • Styx Mill

Regents Park • Northwood • Belfast • Strowan

Wā Pēpi: Babytimes

Thursday, 10.30-11am

Shirley and Fendalton libraries

Encourage learning through language.

Babytimes is an interactive

programme including music, movement,

rhymes and a story. Recommended

for under two-year-olds. No

bookings required.

Citizens Advice Bureau

Thursday, 11am-5pm, Friday, 11am-

5pm, Monday, 11am-5pm, Tuesday,

2-5pm, Wednesday, 11am-5pm

Fendalton Library

Citizens Advice Bureau provides

free and confidential advice. They

take the time to listen and equip you

with the information, options and

support that fit your needs. Phone 351

7804 for more information.

The Zone @ Shirley

Thursday, 4-5pm

Shirley Library

Go along and get to know other

like-minded teenagers. Go headto-head

on the PlayStation, mix

music with GarageBand, get creative

with green screen or play classic

board games. Suitable for ages 12

to 19-years-old. Free, no booking

required.

Card Club

Friday, 1.30-3.30pm

Shirley Library

This weekly card club will be held

every Friday. Go along and join the

fun. Free, no bookings required.

Monster Bookmarks, Monday, Tuesday Wednesday, 10am-5pm,

Redwood Library. Never fold a corner in a book again. Go along and make

your own corner bookmark to keep your place. Free, no bookings required. ​

Mah-jong Group

Saturday, 1-3.30pm, at Shirley,

Monday, 1-4pm, at Papanui

Shirley and Papanui libraries

Go along to the free event if you are

interested in playing or learning about

Mah-jong.

JP Clinic

Saturday, 10am-noon, at

Fendalton, Tuesday, 10am-1pm, at

Shirley and Papanui, Wednesday,

10am-1pm, at Bishopdale

Bishopdale, Fendalton and Shirley

libraries

A justice of the peace will be available

to witness signatures and documents,

certify document copies, hear

oaths, declarations, affidavits or affirmations,

as well as sign citizenship

or rates rebates applications.

GenConnect

Tuesday, 12.15-12.45pm

Papanui Library

If you have questions about your

smartphone or tablet, ask an expert

for advice. Free, no bookings required.

Reading to Dogs

Tuesday, 3.30-4.30pm

Shirley Library

A relaxed, non-threatening

event designed to encourage

children to practise reading skills

and develop a love for reading.

Registration required. Phone 941 7923

to register.

Scrabble Club

Wednesday, 1.30-3.30pm

Shirley Library

Play Scrabble with a friendly group.

All materials supplied. Head along

when you can. Free, no bookings

required.

Not-for-profit organisations can

send their What's On listings to

norwest@starmedia.kiwi

Bishopdale Pharmacy

Are you having trouble

managing your medication?

ATTACK RISING DAMP

Are you getting the most out of your medication?

Do you know what you're taking and why?

Come and chat to one of our friendly

pharmacists about how a Medicine Use Review

could work for you. We'll help you understand

your medication and make sure your medication

is working for you and your lifestyle.

37 Bishopdale Court, Bishopdale Village Mall

Phone 03 359 8302 | www.bishopdalepharmacy.co.nz

Mon-Fri 8.30am-5.30pm, Sat 9.30am-4pm

T. 03 376 4608 E info@foamconcrete.nz

W. www.foamconcrete.nz

Special Offer

2 MONTHS AT 50%

for new Under 2's enrolments

• Open Monday to Friday 7.30-5.45pm

• Reggio inspired programme

• Nutritious meals created daily on site

• 20 hours ECE available

• Healthy Heart Gold Award

*terms and conditions apply

• Four learning spaces to cater to

children's varying education and care

needs

• Growing Kiwi Gardeners Programme

• Playball and Pitter Patter Dance

Visit us anytime to chat about your family needs.

Come and meet Juliette and the team.

Phone: 03 351 1030

or 021 249 0609

Email: cm.blighs@ledu.co.nz

Website: www.lollipopseducare.co.nz

Blighs road
---
NOR'WEST NEWS Latest Canterbury news at starnews.co.nz

Thursday September 24 2020 3

News

Offenders could lose bins

• From page 1

"This presents an opportunity

to start to teach people and to

look at how we are communicating

with those communities to

ensure messages do get through.

"We can get a clear message of

what is right to recycle and what

the best practices are at schools,

libraries, and community groups

like Rotary and Girl Guides."

Contaminated recycling bins

were more prevalent in Linwood,

Richmond, central city and Addington

per year since 2018.

However, residents in the

southern suburbs of Spreydon,

Somerfield, St Martins and

Opawa received the most gold

stars for recycling bin compliance

out of 30,961 awarded

across the city this year, between

January and August.

The top offending items found

in yellow wheelie bins in the last

three years were soft plastics,

plastic lids, food waste, dirty recycling

and tools and appliances.

Although fines were not issued,

the city council had the power to

remove bins after three repeated

offences. Removals have mostly

been in Linwood and the central

city, and more removal requests

were in progress in Aranui, New

Brighton and Woolston.

Cartwright said there were

many ways to encourage positive

The revolution

in heat pumps

is here now!

NASTY: Food waste and dirty recycling shouldn't be

placed in the yellow bin.

recycling behaviour, such as

improving education about the

different forms of plastic, reducing

how much was bought in the

first place, or placing more bins

in areas such as library car parks

"The bins around our parks

also don't offer the chance to

recycle, so this will be something

to put through towards the Long

Term Plan," he said.

The revolution in heat pumps is here now!

Say hello to Fujitsu's latest lifestyle range

HEAT PUMPS FROM $1999 inc GST INSTALLED!

The Fujitsu e3series

The brilliant

heat pumps from Fujitsu

e1 : efficiency

e2 : environment

e3 : economy

Website: www.pshc.co.nz

Finance available

FREE consultation from your local

Accredited Heat Pump Expert

Phone today: 03 381 6950

INSERT DEALER DETAILS HERE

2020

Heat Pumps

NEW ZEALAND'S FAVOURITE AIR ®

"If you don't recycle properly

it penalises all of us, the cost to

dump the waste is borne across

the whole city, so it's really important

that everyone does it."

"The city council declared a

climate emergency, so we should

be taking every active step to

ensure we're living the right way,

and not just talk the talk."

• Recycled junk, page 18

Conditions apply

Fujitsu's Catechin Filters are

approved by the Asthma and

Respiratory Foundation NZ's

Sensitive Choice ® programme.

Email: info@pshc.co.nz

Calls made for

bi-annual skip day

• By Louis Day

CALLS HAVE been made

for a bi-annual skip day to be

introduced in a bid to tackle an

increase of waste being left out on

the street.

The Fendalton-Waimairi-

Harewood Community Board

has noticed an increase in the

amount of unwanted household

goods being left on street berms

across the area.

In its submission to the city

council's Draft Waste Management

and Minimisation Plan

2020, it suggested a bi-annual

skip day be introduced.

"A skip day may help reduce

this, particularly if the timing

coincides with the end of the

university's academic year," the

submission reads.

The board also believes it

would be beneficial for the city

council to develop a database of

businesses and organisations that

can make use of unrecyclable and

non-compostable items such as

bottle tops, twist ties and milk

cartons to prevent residents simply

throwing waste away.

It suggested the database could

be made available to residents

through their rates bills, local

Your agent, Your home, Your future

LICENSED SALES CONSULTANT REAA 2008

P 027 777 0411

libraries and other council facilities.

Encouraging behaviours such

as more bulk buying and using

containers as opposed to packaging

are further suggestions made

by the board.

In addition to this, the board

has asked for the city council

to adopt a "lead by example"

approach and introduce a large

number of recycling bins across

the city.

It would also like to see more

education around appropriate

recycling practices be done

and has called for incentives to

encourage good recycling habits

and enforcement measures to be

undertaken against individuals

who "regularly abuse the system."

The city council's draft plan

looks to work towards the city

becoming a zero waste and circular

economy. While the board

supported the overall plan, it did

not think it went far enough in

striving to become a zero-waste

and circular economy.

It recommended the council

supported businesses in striving

towards a zero-waste and circular

economy while encouraging

them to use sustainable products.

City life at an affordable price

1/19 Hills Road, Edgeware

3 Bedrooms | 1 Bathrooms | 1 Garage | $420,000

Be quick, this property is priced to sell! Just on the cusp

of the four avenues this is an ideal investment property

or potential city pad for you. the three double bedrooms

and open plan living offer an abundance of space, plus an

internal access garage keeps your car or bikes safely away.

a good private courtyard is an ideal spot to sit in the

sun and enjoy a barbecue with friends. Call me now to

arrange a viewing - this is a fantastic chance to get on the

property ladder.

View: www.harcourts.co.nz/Be193572 RV 390,000.00

Open home: Saturday 19th September 1pm–2pm

Please be aware that this information may have been sourced

from rPnZ/ Property guru/ Land Information new Zealand/

Christchurch City Council/ Cera and we have not been able to

verify the accuracy.

FG1441

Sadly we are closing the doors at PaperPlus Bush Inn store,

which means everything has to go. Keep up to date with our

Facebook page for our incredible closing down deals.

*Closing down sale excludes Lotto, Gift Cards, NZ Post Products, Magazines and any other

Agency Items. Discount not valid in conjunction with any other offer. ONLY REDEEMABLE AT

PAPER PLUS BUSH INN.

We're Closing

We're Closing

Down!

Down!

Everything must go

by end of October.

Follow us on Facebook

@Paper Plus Bush Inn

50%

off gifts

PLUS

50% off books

25% off games

toys & puzzles
---
4 Thursday September 24 2020

Latest Canterbury news at starnews.co.nz

NOR'WEST NEWS

ews

Young pianist in nationwide competition

• By Gemma Lee

YEAR 10 student Roy Zhang

has been selected as one of

16 pianists to participate in

a nationwide classical piano

competition.

The NZ Junior Piano Competition

is a biennial national competition

for pre-tertiary pianists

in New Zealand, competing for a

total prize pool of over $4000.

NZJPC received over 40

entries this year from across the

country.

Only 16 pianists aged between

10 to 18 were selected as semifinalists,

including Roy.

"I was very surprised as this

was my first time entering a big

competition, but also extremely

glad to be progressing to the next

round," he said.

Roy is currently a year 10

student at Burnside High School

and began his musical journey at

4-years-old, learning piano from

Neville Baird.

Baird is a prominent figure in

the Christchurch music scene,

having taught talented pianists

including Lixin Zhang who won

both the junior and senior piano

competitions in 2016 and 2018

respectively.

Roy now receives lessons from

internationally renowned German

pianist, Michael Endres,

and also learns violin from Dr

Robert Tait.

Performing in public may

sound like a daunting task for

some, but it is a joy and thrill for

Roy.

He particularly enjoys accompanying

other musicians on

the piano and now accompanies

"Aurora Voice", one of the junior

choirs at his school known for

producing award-winning choral

ensembles.

The next few months will be a

busy but fruitful one for Roy. He

is due to sit his Grade 7 Violin

examination later this month,

before travelling to Auckland to

compete in the NZ Junior Piano

Competition in October.

EXCELLENCE: Burnside

High School student

Roy Zhang, year 10,

was chosen as a finalist

out of 40 people across

the country for the

New Zealand Piano

Competition.

Also in October, he will be

sitting his LTCL piano diploma,

which is equivalent in standard

to the final year recital of a university

undergraduate degree.

"I am looking forward to

meeting other young, talented

pianists who I can learn from,

and also improving my playing

during this packed week," said

Roy.

"I'm also very excited to meet

Richard Mapp and learn from

him in the masterclasses as well

as the Multi-Piano Open."

The NZ Junior Piano

Competition is presented by the

Lewis Eady Charitable Trust

and will take place on October 1

to 5 at Lewis Eady, the home of

Steinway pianos in New Zealand.

• For more information visit

www.lect.co.nz.

GROW YOUR CUSTOMERS

SALES & PROFITS WITH ME

I have been successfully working with local businesses,

offering advice and effective marketing solutions across

a range of media platforms for over 25 years.

CALL me today to personalise a

marketing plan to grow your business.

Phone Monique

DDI: 03 364 7474 Mobile: 021 372 481

Email: monique.maynard@starmedia.kiwi

Restoring your confidence through your smile

Full service Denture Clinic

and Laboratory

Caldent Denture Cleaner

Free Consultation

No Obligation

Ph: 385 5517 + 396 Innes Road, St Albans

admin@denturesplus.co.nz

+ denturesplus.co.nz

Cameron Bailey has created an extremely well-oiled

machine. His assistants Sam and Lisa, do a great job

freeing him up for what he does best:

getting maximum value for his clients.

Numbers don't lie, and it's plain to see after working with

Team Bailey why they're No.1!

- William Kiesanowski -

33A KOTARE STREET FENDALTON

Phone or text 027 555 7079

No.1 Harcourts Canterbury 2012-2020

cameron.bailey@harcourts.co.nz

No.1 Harcourts New Zealand 2017-2020

www.cameronbailey.harcourts.co.nz No.1 Harcourts International 2017-2020

Licensed Sales Consultant REAA 2008
---
NOR'WEST NEWS Latest Canterbury news at starnews.co.nz

Thursday September 24 2020 5

Historic building repairs nearing completion

• By Bea Gooding

A SIGNIFICANT piece of

history in Belfast has been

brought back to life after nearly

a decade.

The majority of earthquake

repairs at the Kapuatohe Dwelling

and Cottage on Main North

Rd are now complete, and the

community

will soon have

the opportunity

to see it for

themselves.

The buildings

had

to undergo

David

Cartwright

strengthening,

insulation

and wirings

works while

maintaining as much heritage as

possible during the last year due

to damage from the Canterbury

2010 and 2011 earthquakes.

Originally costing nearly

$400,000, the city council spent

$516,549 on the renovations

combined.

Said Fendalton-Waimairi-

Harewood Community Board

chairman David Cartwright:

"Christchurch has lots of heritage,

and nearly 10 years ago we

lost a great number of buildings

across the city.

"So it's fantastic to see these

HERITAGE: The restoration of Kapuatohe Dwelling and Cottage in Belfast is nearing

completion and will open later this year.

PHOTO: GEOFF SLOAN ​

buildings have been restored for

the generations ahead. It sets the

buildings on a good path for the

next 50 years.

"It's part of the fabric of what

makes Christchurch."

Specializing in E-Cigarettes, Vaporizers and

smoking essentials. We have the highest

quality of E-Cigarettes and vaporizers for

both beginners and advanced vapers.

The Kapuatohe Dwelling

served as a school house and was

originally built in 1877, a year

before Belfast School opened

behind it, and was occupied by

staff members until 1971.

The dwelling was historically

significant because of its association

with the development

of public schooling in New

Zealand, which established free

and compulsory schooling for all

children across the country.

The nearby crofter's cottage

was built in 1912 and the land

it was on was purchased by the

Waimairi District Council at the

time, along with the dwelling,

and was significant of its part in

the early development of Belfast.

The two sections later became

Kapuatohe Historic Reserve in

1979 for community purposes.

Once the repair works are

completed, both buildings will

be used as residential dwellings.

Cartwright said the space was

an important asset within the

Belfast community due to its

rich history which reinforced the

need to restore the buildings to

their former glory.

"I think it's important to

celebrate your past, regardless if

it's a marae, a stone building, an

old cottage or a monument," he

said.

"These buildings are on Main

North Rd and people will drive

past it every day but won't understand

what they are, so now

they'll have an opportunity to

take notice of it once it opens."

The community board was

now looking to hold an open

day later this year after the

celebration at the end of last

month was cancelled due to

Covid-19.

School holiday promotion

Lots of activity books and craft kits to have fun with

18B MAIN NORTH RD, PAPANUI | PH 354 6000 | WWW.SHOSHA.NZ

Ph: 03 359 8207

E: bishopdalepostshop@gmail.com

Bishopdale Village Mall

Plenty of free parking!

Grab your girlfriends, mum

or daughters for a great day out!

3 & 4 October, Horncastle Arena

Opening hours: Sat 10am - 5pm & Sun 10am - 4pm

2-for-1

tickets on

• Over 180 Exhibitors • Taste Zone • Artisan Craft Zone • Fashion & Beauty

• Health & Fitness • Thin Lizzy Makeup Lounge • NZ College of Massage Lounge

• Sparklewhite Teeth Lounge • Batch 10 Cocktail Lounge • Goodie Bags & much more!

Door sales $10 & kids under 12 free!

Find out more at womenslifestyleexpo.co.nz
---
6 Thursday September 24 2020

Latest Canterbury news at starnews.co.nz

NOR'WEST NEWS

ews

Books of early settler gifted to school

A SET OF The John Robert

Godley Memorial Trust's limited

edition book set, Godley Gifts,

featuring writings and artwork

by early Canterbury settler,

James Edward FitzGerald, has

been gifted to St Andrew's College.

FitzGerald's great-granddaughter,

Sue Blakely, presented

the set of three small books on

behalf of the Trust, at a special

chapel service last month.

"Godley Gifts is a magnificent

gift, and an important piece of

New Zealand history, which

expands our understanding of

Canterbury history, and ignites

our interest in the people who so

greatly influenced the founding

of colonial Christchurch," said

Rector Christine Leighton, who

accepted the gift on behalf of the

school.

Included in Godley Gifts is a

facsimile of FitzGerald's masterpiece,

Seadrift, regarded as New

Zealand's first fully illustrated

storybook written for a child.

The story is about a sailing vessel,

whose fictitious adventures

are told in word and watercolour.

The 64-page work was created

as a gift for "Little Arthur," the

young son of FitzGerald's great

friend, John Robert Godley, who

is considered the founder and

leader of early Canterbury.

RARE: The family of James Edward FitzGerald have gifted limited-edition books and

artworks by the Canterbury early settler to St Andrew's College. ​

FitzGerald's artwork remained

a family treasure for four generations

of the Godley family, while

in New Zealand no one knew it

existed.

That was until 2000, when

Haydn Rawstron MNZM, Trustee

of the John Robert Godley

Memorial Trust, organised

substantial events in England

to commemorate the 150th

anniversary of Canterbury's

founding.

Rawstron was invited to meet

the late Pamela Rice, a member

of the Godley family into whose

possession Seadrift had been

willed.

"We met in a simple coffee

shop, and Pamela pushed a large

battered brown envelope across a

Formica table. I couldn't believe

my eyes when I took out the

original manuscript of Seadrift,

which Pamela wanted to gift

back to New Zealand on behalf

of the Godley family," he said.

FitzGerald was the first person

ashore from the Charlotte Jane,

the first Canterbury Association

ship to arrive in the new settlement

in 1850. He had many key

roles in early Canterbury serving

as its first Superintendent.

He was also briefly the first

premier of New Zealand, the

first auditor-general, and was the

founder and editor of The Lyttelton

Times, and The Press.

The Godley Gifts three-volume

book set was published in 2007

in a limited edition of 100 sets.

The second and third books

of the trilogy include another

collection of 34 watercolours

painted by FitzGerald, which

depict early Canterbury

(FitzGerald's valedictory gift in

1852 to John Robert Godley),

and a series of essays by

David McPhail about the gifts

themselves, the original donor

and the original donees.

Blakely said it is meaningful

for the family to know that

FitzGerald's work continues to

be enjoyed outside the family

through Godley Gifts.

What is

Falun Gong?

F

alun Gong, or Falun Dafa, is an

ancient Chinese spiritual discipline

for mind and body. it was introduced

to the public by Mr Li Hongzhi in 1992.

it consists of moral teachings and five gentle exercises

that have brought improved health and wellbeing to more

than 100 million people around the world.

Christchurch's Newest Podiatry Clinic

NOW OPEN IN AVONHEAD

40 years

combined

experience

At the core of the practice are the principles

Truthfulness Compassion Forbearance

Zhen Shan Ren

BECAUSE YOUR FEET MATTER

Our Services Include:

These universal principles guide the elevation of heart

and mind.

The exercises can be learnt free of

charge at practise sites around the

world or online at falundafa.org

General Foot Care

Biomechanical

Orthotics

Many who practise Falun Gong

experience life-changing improvements

to their physical and mental health.

The range of experiences are endless,

and everyone who practises Falun Gong

has a story to tell. Just ask!

Free SeSSionS:

Mon - Fri (subject to weather) 11am-2pm Near Victoria lake, opp Hagley Golf Course.

Saturdays (subject to weather) 11am-2pm Near Bridge of Remembrance

For more information phone Lilly on 021 205 3743

Ingrown Toenails

ACC Registered

45 Merrin Street, Avonhead

Ph: 03 357 0155

E: info@footmatterspodiatry.co.nz

Book Online! No referral required.
---
NOR'WEST NEWS Latest Canterbury news at starnews.co.nz

Thursday September 24 2020 7

THE FUTURE. YOU'RE GOOD.

When you choose a Ryman village, you're

set. Our Peace of Mind Guarantees are

designed to protect you, so whatever

the future holds, we've got your back.

From independent and assisted living to

resthome, hospital and dementia care.

Our deferred management fee is

capped at 20% - one of the lowest

in the retirement sector.

Our base weekly fee of $119 is fixed

for the entire time you occupy your

townhouse or independent apartment*

*Some conditions apply

Having certainty inspires confidence. It's just

one of the ways we're pioneering a new way

of living for a new retirement generation.

A selection of refurbished one,

two & three-bedroom townhouses and

apartments are currently available.

Call for more details or to book a viewing:

DIANA ISAAC VILLAGE

1 Lady Isaac Way, Mairehau, 03 385 3518

NGAIO MARSH VILLAGE

95 Grants Road, Papanui, 03 354 6608

rymanhealthcare.co.nz

1492
---
8 Thursday September 24 2020

Latest Canterbury news at starnews.co.nz

NOR'WEST NEWS

Leaders in Learning

WINTER TOURNAMENT WEEK

After the disappointment of the

cancellation of the traditional national and

South Island Winter Sport Tournaments,

it was a real pleasure to see some of the

Burnside High School winter sport teams

compete in regional competitions over the

original Winter Tournament Week dates,

Monday 31 August - Friday 04 September.

and Year 9A teams both competed in

the SISS Junior Netball Championships

at the Hagley Netball Centre. They had

a wonderful two days of weather for this

tournament and gained some valuable

experience playing Netball at this level of

competition.

Left to Right:

Vy Prachaktam, Katrina Too

Our Badminton teams had a very

successful week with both the

Premier A Boys and Girls teams

winning the Canterbury Secondary

Schools Senior Badminton Team

Championships. The Badminton

success didn't stop there with the

Boys Junior Doubles Team also

winning the Canterbury Secondary

Schools Junior Championship.

This year, the Year 13 Drama class took on

the momentous challenge of Lord of the

Flies adapted by Nigel Williams as their

public performance production. The play

that started back in March, finally took

the stage on August the 19th & 20th and

due to two sold-out performances, a third

show was added to the 21st.

Both the Burnside High School Boys and

Girls 1st XI Hockey teams competed in

the South Island Premiership Hockey

Tournament here in Christchurch. The

standard of hockey at this tournament

was amazing, and the

level of sportsmanship

and skill displayed by our

teams was outstanding.

The Girls 1st XI placed

7th and the Boys 1st XI

placed 11th.

Sue Petrie

LORD OF THE FLIES

Tom Giddens

Our two Sport Climbing

teams had two fantastic

days at the Christchurch

YMCA Adventure

Centre, competing in the

South Island Secondary

Schools (SISS) Sport

Climbing Championships,

ultimately placing just

outside the top three in

the Mixed Competition.

The Netball Year 10A

Goal Attack Bella Moala,

Goal Shoot Paige Eder

The Netball A team and the Ice

Hockey team hit the road travelling to

tournaments in Timaru and Dunedin. The

Netball A team competed at the South

Island Experience Netball Tournament

in Timaru, and our Ice Hockey team

competed in Dunedin in the SISS Ice

Hockey Tournament. Both teams had

great tournament experiences and agree

that being able to compete with teams

from outside their normal competitions

was a real thrill, and the highlight of their

season.

What a way to finish. Many thanks go to

the team behind the dream that became

reality.

Noah Hartley Year 13

With all three nights sold out, the scene

was set and there was only the show to go.

With the accumulation of an amazing

ensemble cast, some spectacular student

directing, and a terrific tech crew, the

show went off without a hitch and despite

COVID-19's best efforts, the Year 13's got

their final dance on the mighty Aurora

Centre stage - and what a dance it was.

Office Hours 7am-5pm weekdays. Please telephone (03) 358 8383 for all enquiries. www.burnside.school.nz
---
NOR'WEST NEWS Latest Canterbury news at starnews.co.nz

Thursday September 24 2020 9

News

Ideas for community

centre sought

WHAT ARE your

aspirations for the site

of the former Shirley

Community Centre?

City officials want

people to share their ideas

for the open space even

though there is currently

no funding for a major site

overhaul.

Waipapa/Papanui Innes

Community Board chairwoman

Emma Norrish

said residents' suggestions

may inform consultation

on Christchurch's Long

Term Plan.

"Our community needs

a cohesive voice when

advocating for project

funding under the LTP,

and support for a revamp

of the Shirley site is on our

wish list," Norrish said.

"We want to know your

aspirations for the best

use of the open space at 10

Shirley Rd.

"We want to be sure that

we get this site right as we

know that the local landscape

has changed considerably

over the past few years.

"While we acknowledge

that short-term funding

for a major site overhaul

'Our community

needs a cohesive

voice when

advocating

for project

funding . . .

and support

for a revamp

of the

Shirley site

is on our

wish list.'

– Emma

Norrish

is off the

Christchurch City Council

agenda, we believe we can

still utilise this space in the

short term by considering

alternative funding and,

perhaps, even partnerships

to deliver a mutually beneficial

community use."

The installation of a

temporary modular pump

track has already revitalised

the reserve, offering

an active outdoor option

for young people, she said.

"The pump track is the

result of one young boy's

persistence in putting

together a petition calling

for the creation of a skate,

scooter and bike area.

"We believe that

his determination

illustrates the

role that local

residents can play

in shaping their

own communities.

"We want

to work

alongside

our residents

to find the

ideal use for

10 Shirley Rd

as we also

weigh up future planning

for the good of the wider

community."

The LTP sets the strategic

direction for the

council, outlining plans for

the next 10 years.

People can have their

say on the Shirley Rd

space, particularly offering

innovative ideas that do not

require the construction

of extensive built

infrastructure on the site.

•Submissions online

or via a form close on

October 12. The board

will consider the

findings in November.

Making beautiful wedding

cakes since 1986

OPEN 7 DAYS - 34 on site car parks!

Corner of Innes Road & Cranford Street, St Albans

Phone 03 355 6921 | /kiddscakes

Order online at www.kiddscakes.co.nz

For Sale

2 x 2 bedroom units

Close to Fendalton New World

Under construction – finished by Christmas

Call us today

to learn more

about these

fabulous units

DINING/LIVING

KITCHEN

BATH

BED 1 BED 2

2/90x45

SG8

LDY

D

A16

GARAGE

Phone 0800 888 426

To learn what your property is worth in the current

market. Call us for a no obligation consultation.

Cathy Falconer

Phone 027 660 1920

cathy.falconer@mikepero.com

Ian Falconer

Phone 027 849 0404

ian.falconer@mikepero.com

Mike Pero Real

Estate Ltd. Licensed

REAA (2008)
---
10 Thursday September 24 2020

Latest Canterbury news at starnews.co.nz

Aroha Salon celebrates

one year in Kendal Ave

In an unusually challenging year,

Paula Page has created a warm and

welcoming hair salon. Paula sees

Aroha as more than just a salon,

her customers enjoy the friendly

atmosphere, often popping in for a

chat.

Aroha Salon was opened October

2019 on Paula's return to Christchurch.

Born in the Chatham Islands, she still

runs her salon there regularly. She

also previously owned and operated

Clipotec in Riccarton Road.

Paula's expertise covers all aspects of

hairdressing, all ages and styles. She

takes the time to listen to your needs

and offers practical haircare advice

and styling tips. Paula's high standards

also extend to the cleanliness of the

salon with people often commenting

on the clean, fresh feel.

''

Ph 357 0002

162a Kendal Ave, Burnside (Memorial Ave end)

Opening Hours

Tuesday to Friday 9am-5pm, Saturday 9am-2pm

Late night Thursday or by appointment

Hair by Jeanette

With over 24 years' experience,

Jeanette has as much passion for hair,

fun, fashion, tone and colour as when

she first started.

After owning her own salon in Opawa

for over eleven years, Jeanette has

spent the last 5 years working in a salon

in Bishopdale Mall. She is now very

excited to be back working for herself,

just 5mins from her former location, at

Aroha Salon on Kendal Ave.

"I love working with clients, expressing

their personality through style and

My aim is that everyone walks

out of the salon feeling a million

dollars, knowing how to maintain

their style and provide great

value for money.

Paula loves the change of seasons,

believing everyone has a winter and

summer colour, now is great time play

with colour and style.

She uses LuminArt, an organic range

of environmentally friendly haircare

products which provide protection

and conditioning against the harsh

New Zealand sun. Paula has recently

discovered Bra Liz, an exciting

straightening product, which can also

be used for part perms.

Paula is pleased to welcome

Jeanette and they look

forward to seeing

you soon.

''

Friendly

Faces

Great Places

colour. Sharing

their excitement

when they see how

amazing a great hairstyle

can make you look and feel and

one that they can recreate at home

with not too much fuss," says Jeanette.

"Everyone deserves great hair and at a

maintainable price".

So, if you are after a fresh look or just a

freshen up, call in to see Jeanette and

Paula today, or phone 357 0002 for an

appointment.

Jeanette looks forward

to welcoming regular

and new clients to

her friendly, fun, fresh

location Aroha Salon,

Memorial Ave end of

Kendal Ave.

Home baking

prepared with love

NOR'WEST NEWS

"There is something really special about creating, cooking

and caring for your community" Delwyn says. "What we serve

at Mrs Dentons café & delicatessen is what I've been cooking at

home, cooking for my family, forever!"

Living for many years in the Chatham Islands taught Mrs Dentons owner Delwyn

Lanauze resourcefulness and stimulated the creativity that she is renowned for.

While you will always find speciality gourmet pies, such as Chatham Island blue cod,

leek and parsley, Scallop pie, Mussel, tomato & garlic in the range, the sky is the limit

when it comes to Delwyn's culinary combinations.

Steak and Kidney, BBQ beef, bacon and cheese and Fairlie pies are favourites too.

Delwyn's talents extend into the takeaway cabinets which are full of delicious baking

including scones, muffins, slices, cinnamon buns & sandwiches as well as take home

meals and gluten free, vegetarian frittatas.

A range of homemade chutneys and Chatham Island raw honey are also available.

Treat your taste buds today.

Hours: Mon – Sat 9am – 2pm

168a Kendal Ave (Memorial Ave end) 357 4516 /MrsDentons

2020 has seen some big changes

for MD Automotive, a new name and

improved workshop and facilities, but

one thing that remains the same is the

high level of service and expertise they

are known for.

Formally, Allan's Tyre & Auto, MD

Automotive is a fully MTA Authorised

workshop, offering a full range of

mechanical repairs. From WOF's

servicing, wheel alignments & tyre fitting

through to cambelts, brakes and CV

joints, suspension, shocks and steering.

GETTING YOU

SAFELY BACK

ON THE ROAD

Pre-purchase inspections are also

available so you can buy your next car

with confidence.

While MD Automotive are Christchurch's

only independent workshop specialising

in Mitsubishi's, Mike and Dirk along with

their mechanics will service most makes

and models.

With over 20 years experience between

them and five loan cars available, MD

Automotive look forward to getting you

back on the road quickly and safely.

Ph 357 0002

162a Kendal Ave, Burnside (Memorial Ave end)

Opening Hours

Tuesday to Friday 9am-5pm, Saturday 9am-2pm

Late night Thursday or by appointment

(Formally Allan's Tyre & Auto)

Open Mon – Fri 8am – 5pm & Sat 8.30am – 1pm

164 Kendal Ave. Ph 358 9399 @MDAutomotive164
---
NOR'WEST NEWS Latest Canterbury news at starnews.co.nz

Thursday September 24 2020 11

The little pharmacy

... with the big heart

What a year 2020 has turned out to be.

Thank you to our wonderful customers

for supporting local we are truly

honoured to be part of the Burnside

community. Our team; Georgia, Maddy,

Kim, Elena and Rosella provide a

professional but personal approach to

your health and wellbeing.

We know that nothing is more

important than the health of you and

your family. Managing medicines and

health conditions can be overwhelming

and here at Kendal Pharmacy we

understand that. If you or someone you

know are struggling with medicines;

if you don't know why you are taking

your medicines or aren't feeling like

your medicines are doing what they

should, we can help! Come in and have

a chat and ask us if you qualify for a

free medicine review with our friendly

pharmacists, Georgia or Elena.

Kendal

Pharmacy

64 Kendal Avenue, Burnside.

Phone: 03 358 8714

Hours: Monday, Wednesday, Friday 9am – 5.30pm

Tuesday, Thursday 9am – 6pm

Love your

money

Our retail superstar Kim has filled the

shop with beautiful gifts and with free

gift wrapping and NZ Post services we

are your one-stop shop!

With parking always available at the

door, it's easy to collect prescriptions,

get free health advice or ask the experts

about natural health supplements.

Find us on facebook

@kendalpharmacy

The local for locals

Family run Little Brown Jug offers a cosy

atmosphere and friendly service and

wonderful locals.

Add great food, 18 gaming machines,

a TAB pool table and what more could

you ask for.

LBJ is a popular spot for locals, a handy

location for sports teams and a great

night out.

Regular events include karaoke nights,

live entertainment, happy hours, meat

raffles every Thursday and Friday from

4pm and Saturday from 3pm, open pool

table from 6pm Thursday nights, plus

great blackboard menu specials.

Follow Little Brown Jug on Facebook to

see what is happening this week.

Friendly

Faces

Great Places

Great $15 Lunches are now on the

menu Tuesday-Friday.

Come in for the food, where a warm

welcome and cold beer await.

As part of the community Little Brown

Jug is happy to consider sponsorships,

so come and have a chat to us today.

Little Brown Jug

290 Wairakei Road. Ph 359 5950

These days, it's all too easy to feel like a generic number

when talking with banks. Kim Laurenson at Mylend

understands, and she makes sure that her clients are always

treated as individuals with independent financial needs.

Kim is here to ensure that arranging

your finance is as stress-free as

possible. Completely impartial

and independent, she will talk you

through your options to help you

make a sensible and informed

decision – no matter what your

circumstances are.

Kim has longstanding relationships

with all the banks across NZ and she

can negotiate on your behalf to get

the very best deal for you – better

still, the banks pay for this service

and it's free for the customer.

Whether it's your first house

purchase, debt consolidation, or if

you are considering refinancing, Kim

emphasises that it's "your money and

your home, and you should always be in

control. Knowledge is always powerful".

Mylend helps you with every

part of this process –

and at a time that

is convenient to

you.

Kim explains that with interest rates as

low as 2.49% fixed for one year, this is a

wonderful time to reassess your lending

and make sure that what you have in

place is the best fit for you and your

family.

Visit www.mylend.co.nz or call

Kim directly on 027 222 1044 for a

no obligation chat, and see how she

can help you be in control of your

finances today.

18 Bealey Ave, Merivale | www.mylend.co.nz

Cell: 027-222-1044 | Email: kim@mylend.co.nz

Say it with flowers...

With more than 37 years in the

industry, Leanne Lovell will celebrate

her second year as owner of Victoria

Florist on October 1st.

Leanne credits the increased success

of this well-established florist to the

popular addition of the Dried Flower

Den.

"Dried flowers are all the rage for

those who love the natural look. We

have bouquets available plus a large

selection of loose dried flowers,

perfect for those who like to create

their own bunches," says Leanne.

Leanne regularly starts her day at

5.30am, heading to the flower market

to select the freshest, brightest, most

beautiful flowers. "Because we have

a high turnover daily, this ensures

Cnr Wairakei & Idris Rds

Phone 03 351 7444

Mon-Fri 8.30am-5pm, Sat 9am-1pm

www.victoriaflorists.co.nz

our customers receive the freshest

flowers every time they shop with us".

The friendly, talented team are very

passionate about what they do. "We

love flowers, we love life, and we

believe in celebrating the big, small,

happy and sad times that are part of

life. We put love into every bouquet,

we really care." Leanne is happiest

when creating her exquisite funeral

arrangements. "If my flowers can

help families in grief – that means

everything to me" she says.

Nothing is too big or small to

celebrate with flowers and Victoria

Florist caters for every occasion. They

offer a great selection of vases, soft

toys, helium balloons, chocolates and

cards to accompany your bouquet.
---
12 Thursday September 24 2020

Latest Canterbury news at starnews.co.nz

NOR'WEST NEWS

News

Event to bring neighbours together

• By Bea Gooding

CHRISTCHURCH residents will

soon be reconnecting with their

neighbours in style.

The city council's Summer

with your Neighbours event is

due to start next month, which

brings people closer together

while celebrating

the unique

and diverse

mix of each

neighbourhood.

A strong

focus this

year was for

John Filsell

neighbours to

re-establish

connections with each other following

the Covid-19 lockdown.

The event allows residents to

apply for funding to organise

events within their community,

including street parties, neighbourhood

clean-ups, fundraisers

or sports days.

Said John Filsell, city council

head of community support,

governance and partnerships:

"Getting to know your neighbours

creates a greater sense of

community connectedness and

safety."

Following the 2010 and 2011

earthquakes, he said there was

a "huge swell" of community

connections with neighbours

developing strong relationships

and supporting each other.

The same could be said for the

current pandemic.

"Due to the Covid-19 lockdown,

people were out in their

neighbourhoods again and

connecting from a distance;

checking on vulnerable people

and making sure they had access

CONNECTING: Neighbourhoods can apply for funding to

organise a street party, clean-ups or sports day.

to food," said Filsell.

"Summer with your Neighbours

events will help bring

people together again and

provide an opportunity to build

on relationships, and even thank

neighbours for their help."

The event was previously

known as Neighbourhood Week

and was first held in 1998.

After community feedback, the

city council decided three years

ago to extend the event until the

end of summer.

"Weather was often an issue

during October, and by extending

it through to March allowed

events to be held over Christmas

and in the new year when the

weather tends to be better," said

Filsell.

Last year the Halswell-Hornby-

Riccarton Community Board

distributed $4500 in funding to

local events in the city's west.

• Summer with your

Neighbours starts

October 23 and will run

until March.

Reinforcing links

GETTING to know your

neighbour isn't just a nice thing

to do – it might help you and

your community meet and then

recover from shocks and crises.

Research suggests wellconnected

communities do

better in the aftermath of

natural disasters, University of

Canterbury Associate Professor

Lucie Ozanne says.

Their members also benefit

from a sense they live in

a community that is well

connected, that cares about

itself and the people in it, the

community resilience expert said.

"There are so many benefits

for the place and for the people

who live there," she said.

"The literature suggests there

are positives for people's sense

of belonging, their sense of

community, and even physical

well-being.

"So, the more we can do to

foster links with other people

in our neighbourhoods, the

more people will feel they are

somewhere that people care,

and will help them and the

wider community."

Ozanne welcomed the city

council's Summer with your

Neighbours programme

as a good way to help

neighbourhoods reinforce their

links.

The programme will this

year focus on re-establishing

connections following the

Covid-19 lockdown.

Applications were still being

processed, but it was anticipated

street parties, neighbourhood

clean-ups, fundraisers or sports

days would be in the mix.

Such events would

help reaffirm pride in the

community while introducing

people to each other, and

establishing new social links.

This was important in a city

where many neighbourhoods

had pockets of transient people,

or had many new residents, she

said.

Simply getting together with

others was difficult postlockdown,

as people continued

to be wary of others from

outside their bubbles.

The Summer with your

Neighbours programme could

help reintroduce people to their

neighbourhoods in the alert

level 1 environment.

Associate Professor

Billy O'Steen, an expert

on community and civic

engagement, said community

events could help foster

stronger neighbourhoods.

They could help break-down

social isolation by introducing

people to their neighbourhood,

and by encouraging people to

get to know each other.

"The key is, people need to

make it work. We all have a

responsibility to make the effort

to support each other, and make

the effort to be known to each

other."

People responded to the

shock of the March 15 terror

attacks by wanting to be part

of events and gatherings

that demonstrated a sense of

community.

Gatherings could help restore

community links postlockdown

- even while normal

life resumed.
---
NOR'WEST NEWS Latest Canterbury news at starnews.co.nz

Thursday September 24 2020 13

PROPERTY NEWS

Canterbury property

market exceeding records

August was a record month for the

Canterbury property market, and it's

showing no signs of slowing down

anytime soon. Recently released REINZ

statistics show the median property price

in Canterbury increased by a record 13

per cent in August 2020 on the same

period last year, with total sales volumes

up 14.5 per cent.

Bindi Norwell from REINZ says in

August the Canterbury region also saw

the lowest level of total inventory (2247)

since records began.

"We are seeing high levels of enquiry

continue across all price brackets, with

buyers keen to purchase a home," Bindi

says.

"There are approximately 30 per cent

more investors in the market compared

to last month, who are keen to invest and

take advantage of the low interest rates.

Over the next few months there will

be many factors that could impact the

market, but it is expected to continue as it

has been," she says.

The Nor'West property market is also

continuing its impressive growth incline

with the median price for property in

the area increasing by 10.7 per cent in

August 2020 on the same period last

year, bringing the median price in the

area to $549,000 for the month. Total

sales volumes for the Nor'West area also

increased for August 2020 to 158 sales,

with the median number of days to sell

sitting at just 31.

Owner of Ray White Bishopdale &

Strowan, Barry Ellis, says the Nor'West

market is one of the best in the region.

It's an area well-known for high-quality

properties and is attractive to a wide

range of buyers from first home buyers

to investors and families looking for

larger family homes in key school zones,

particularly right now as families start to

think about the new 2021 school year, he

says.

"We've got a lot of buyers actively

looking in the Nor'West area – there

simply aren't enough listings on the

market to meet the demand. Most

properties we are taking to the market

are often seeing 30 to 50 groups attending

the first day of open homes, with many

properties seeing well over 100 open

home attendees over the campaign.

"This level of enquiry is unprecedented;

it's certainly an exciting time for

Christchurch property owners,

particularly those looking to take

advantage of the current market

conditions," he says.

Co-owner of Ray White Bishopdale &

Strowan Karen Ellis agrees the property

market is booming, with auctions

proving an effective way to get top dollar.

"With so many

buyers in the

marketplace, auction

is proving the best way

to achieve top dollar

for your property by

creating competition

among the interested

buyers. In the last

three months we've

seen incredible auction

results."

Karen recently

marketed and sold

15 Karen Lane,

Beckenham at auction,

which sold for $567,000

after competitive

bidding between keen

purchasers (24 bids

in total) which was a

stunning $57,000 (11 per cent) above the

Rateable Value.

Ray White Bishopdale & Strowan have

another five auctions booked in the next

two weeks and are expecting to see more

incredible results.

"If you are thinking about selling, now

is a great time. You only have to look at

the results we're seeing, and the market

statistics being released each month to

realise it. And with spring well and truly

here, those property owners that take

Barry and Karen Ellis, Owners Ray White

Bishopdale and Strowan.

hold of the current momentum will be

rewarded," Barry and Karen say.

So, if you are curious to know what

your property could sell for, give them

a call and they will have one of the team

complete a market valuation.

"It's free, only takes 20 minutes, and

you could be surprised at the result."

For advice on your next real estate

transaction, contact Ray White

Bishopdale & Strowan on 0800

YELLOW (935 569).

Nor'West

Market Snapshot

August 2020

Median Sale Price

$549,000

(+10.7%)

Compared to $496,000

in August 2019*

Total Number of Sales

158

Compared to 155

in August 2019*

Total Sales Value

$108m

(+23%)

Compared to $88m

in August 2019*

Median Days to Sell

31

(+2%) (-13%)

Compared to 36

in August 2019*

What's your property worth?

Call 0800 YELLOW to find out

*Statistics have been sourced from REINZ

Ray White Bishopdale & Strowan

0800 YELLOW (0800 935 569)

rwbishopdale.co.nz | rwstrowan.co.nz

Inline Realty Limited (Licensed REAA 2008)

Proudly owned by

Karen Ellis

021 519 275

Barry Ellis

021 519 274
---
14 Thursday September 24 2020

Latest Canterbury news at starnews.co.nz

NOR'WEST NEWS

A School of Opportunity

ENROLLING

NOW!

Our school environment is one where

students are safe and have the confidence

to take risks with their learning. In this

way, the students at Casebrook are

supported and encouraged to become

self-motived, independent learners.

We value the partnership between home

and school. Together we can create an

environment where we foster feelings of

pride and belonging.

We are sure you will enjoy being a part of

our community and I would welcome the

opportunity to meet with you to discuss

your child's future at Casebrook.

Sharon Keen

Casebrook Intermediate School Principal

NO SCHOOL ZONE

RESPECT EXCELLENCE PERSEVERANCE

Veitches Road, Christchurch - Ph. 03 359 7428

Email: office@casebrook.school.nz

www.casebrook.school.nz

casebrookint

CASEBROOK
---
NOR'WEST NEWS Latest Canterbury news at starnews.co.nz

Thursday September 24 2020 15

News

Explore murals that

glow in the night

ELEVEN striking street

murals are in the spotlight

as a new night gallery

lights up across the central

city.

The Ōtautahi Street

Art Lighting Project –

supported with funding

from the city council's

Enliven Places Projects

Fund – sheds a night light

on many of the city's most

popular murals while also

creating vibrant after-dark

outdoor spaces.

Street art creative Watch

This Space has joined

forces with sustainable

solutions provider Gen

Green and installation specialist

Living Space to light

up often dimly lit vacant

spaces while celebrating

inner-city wall art.

Watch This Space

creative director Reuben

Woods describes the night

gallery as an opportunity

to "celebrate urban art" in

a new solar-powered light.

"We want to encourage

more people to explore our

city at night by activating

places of creative interest

and bringing fresh vibrancy,"

Woods said.

"The people behind the

solar lights, Gen Green,

along with installers Living

Space see the night trail

as an opportunity to contribute

to city regeneration

and use technology for the

good of Christchurch," he

says.

Woods believes the onehour

art trail – covering

sites from Armagh St to

Allen St via Cathedral

Square – will bring fresh

vibrancy as more people

engage with urban art at

night.

"We can honour and

highlight the works, bringing

a fresh sense of life to

the city as we engage with

SPOTLIGHT:

A portrait

of a late

Parihaka

elder by

Canadian

artist Kevin

Ledo on

the Crowne

Plaza.

PHOTO:

NEWSLINE

the familiar in a new light,"

he says.

A powerful portrait of

a late Parihaka elder by

Canadian artist Kevin

Ledo – painted on a wall

of the Crowne Plaza on

the corner of Colombo St

and Armagh St – will be a

focus.

City council urban design,

regeneration and heritage

head Carolyn Ingles

says that the city council

is strongly committed to

supporting nightlife in

Christchurch.

"We want to draw more

people into the central city

and help support a vibrant

environment into the

evening," she said.

Clare Reilly

INNER LANDS

Clare Reilly's work has

been described 26 September as Neo- – 28 October 2020

Romantic. Her paintings

are imbued with a poetic

stillness and calm.

She has a close affinity with

birds in the landscape, with

the bird motif signifying a

sense of joy in flight, and

hope and renewal. Clare

lives in Otago's Blueskin

Bay but also spends time

Main on Rd, Banks Little Peninsula River where | 03 325 1944 | art@littlerivergallery.com

she is inspired by the

landscape, flora and fauna.

Her career spans more than

three decades of painting

and exhibiting throughout

'The Chattering Stream' oil painting

New Zealand, with many by Clare Reilly exhibiting at Little River

works going overseas.

Gallery 26 September – 28 October

Inner Lands

Standing at the edge of the Inner land

Looking within and out again.

All is clouded and clear with

Insight, foresight, hindsight,

and still much unknown.

There was a time when,

the land was stilled and hushed.

As if resting, from the itchy human

activity, the earth sighed with relief.

The wind played its song

over the ridge lines and

the voices of birds rang out clear

into a cleaner, quieter air.

The streams chattered down into

gullies of bush and ferns, and the

passing of days were, at last,

observed by many, from inside

their bubbles.

A time of meditative connection

to leave distractions of everyday life

and find the meaning in being.

Now take me to those Inner Lands,

on the journeys of the mind,

where coastal forests give way

to the place of dreams, and

the mind can settle and rest,

and sustain the momentary

beauty of existence.

Clare Reilly - Sept 2020

Clare Reilly

INNER LANDS

26 September – 28 October 2020

Main Rd, Little River | 03 325 1944 | art@littlerivergallery.com
---
16 Thursday September 24 2020

Latest Canterbury news at starnews.co.nz

NOR'WEST NEWS

News

Christchurch

STORES

Foodbank adapts to

meet pandemic demands

Myriad groups help keep our

community moving. Reporter Bea

Gooding speaks to Foodbank

Canterbury co-founders John and

Janice Milligan about how the charity

has adapted to support vulnerable

Cantabrians

SURGE: Cofounder

and

general manager

Janice Milligan,

of Foodbank

Canterbury,

where demand

has increased

106 per cent

since the

beginning of this

year.

Downsizing? Decluttering?

Please help support local St John activities

by donating good quality pre-loved clothing,

jewellery, homeware, furniture and books to

one of your local St John Christchurch stores.

We welcome donations dropped of at either:

272 Lincoln Road, Addington or 180 Durham Street South, City

or please call 027 304 7821 to book a donation collection.

Could you tell me a bit

about what Foodbank

Canterbury does?

Foodbank Canterbury is a

secular, independent non-faith

based, non-politically aligned,

non-activist controlled food

rescue organisation with a

singular mission in mind – to

fight hunger, feed hope and

reduce food waste.

Under "normal" times, FBC

rescues two tonnes of food per

day which resources over 5800

meals daily for the vulnerable

and at-risk in the Canterbury,

South Canterbury and West

Coast regions.

We are a 100 per cent not-forprofit

organisation dealing with

over 135 agencies throughout

Christchurch alone – everyone

from The City Mission, St

Vinnies, the maraes and other

iwi organisations, Pasifika

groups, Women's Refuges,

Community Centres and food

pantries, school districts etc.

What kind of impact does

your charity have on the

environment and vulnerable

Cantabrians?

Collecting and distributing

nearly 1.8 million meals worth

of food each year through a

network of partner programs

gives us a stark understanding

of the everyday realities of food

insecurity.

On a per-volume basis,

FBC is the largest food relief

organisation in the South

Island, operating on a scale that

makes it crucial to the work

of the front-line charities who

are feeding vulnerable New

Zealanders.

FBC provides more than 70

per cent of the food rescued for

food relief organisations South

Island-wide.

Our volunteers are vital

to our success and have

contributed some 65,000 hours

of their time in the last twelve

months. To us, that's worth

over $1.6 million.

Foodbank represents

a 'triple-win' for our

communities – reducing food

wastage and protecting the

environment; providing food

relief to hungry and vulnerable

people; and strengthening our

society through collaboration

with local charities and

volunteerism.

What issues are the charity

currently facing in the wake of

Covid-19?

In the current Covid-19

situation, we are processing

and redistributing just on

100 tonnes of food product

monthly – resourcing around

9,000 meals per day. That is an

increase of 106 per cent since

the beginning of 2020.

We are under no illusions

about the challenge we are

embracing. The current

pandemic situation has made

us at FBC realise this even

more. Feeding the hungry is

paramount. We are feeding

people who have never put

their hand up in need before,

and the scary thing is that we

do not know where we are

going. There is no template.

In spite of our suppliers – the

supermarkets, manufacturers,

distributors, growers and

farmers being very supportive,

FBC is still having to raise

funding to buy-in staple food

products to supplement what

we distribute.

We are also concerned that

our rural areas are not being

served and we plan to resolve

this as soon as funding is

available.

We have seen over the

past months, an explosion of

altruism and co-operation.

Now we need to move

forward in not just a spirit of

collaboration, but in a realistic

act of collaboration to simply

achieve.

At FBC our byline is "fighting

hunger – feeding Hope."

It is this hope that impels us

to act.

How has the charity adapted

to these changes caused by the

pandemic?

In order to fill the gaps

in demand left by the more

tradition food pantries serving

individuals, FBC is introducing

the Hunger Action Team

programme in NZ.

By introducing HATs

Foodbank Aotearoa New

Zealand/Canterbury, it changes

what it means to be a food

bank. This is an innovation

driven by the current

environment.

HATs are groups of

individuals and organisations

working in collaboration to

solve hunger in a designated

community. They are coalitions

that bring people from across a

community together to develop

local solutions to hunger,

supplying 10 day, two-week

family packages of nutritious

food to vulnerable whanau.

Starting in Christchurch

with initial collaboration

with FBC, He Waka Tapu and

Rotary International, HATs

will be working in towns

and neighbourhoods across

the region – leveraging local

resources and relationships to

raise awareness about hunger,

connect services to make it

easier for people to get help,

and launch new initiatives that

strengthen each community's

capacity to meet local needs.

• Recycled junk, page 18
---
NOR'WEST NEWS Latest Canterbury news at starnews.co.nz

Thursday September 24 2020 17

Play time for kids planned on streets

SOME LOCAL streets could be

temporarily closed to traffic and

turned into play areas in a series

of pop-up events funded by the

Government.

The city council has received

a grant of just over $39,000 for

the Play Streets initiative.

The project is being led by

Sport Canterbury's Healthy

Families Ōtautahi Christchurch

team, and transport consultancy

ViaStrada with support from

the council.

There will be 12 Play Streets

events held around the city. A

street will be temporarily closed

to traffic and the local community

will be invited to scoot, bike

and play safely.

Play Streets is designed

to encourage kids to be active

and creative while boosting

social connections between

neighbours, and recognising the

importance of play to children's

lives and community well-being.

Council urban development

and transport committee chairman

Mike Davidson said many

children were able to use their

local street more during the

Covid-19 lockdown.

Many decorated pavements

with chalk art, played sport and

rode their bikes.

"By introducing the Play

Streets concept in Christchurch

we hope to give families the

opportunity to experience the

streets free of traffic for a short

time, and make them a lively

shared space for learning and

connecting."

Children will be able to walk,

bike or scoot around the

street and will be encouraged

to bring play items out of their

homes and garages to share with

friends and neighbours.

Sport Canterbury's Healthy

Families Ōtautahi Christchurch

play systems innovator Adam

Gard'ner is thrilled the project is

going ahead.

"Providing temporary closure

on some streets to allow neighbourhoods

and communities

to use the space to connect and

play can contribute to longer

term well-connected and safe

individuals, whānau, neighbourhoods

and communities."

ViaStrada Ltd senior transportation

engineer Gemma Dioni

said streets "are a resource that

are available to us all, and closing

them for a few hours on a weekend

will give the kids a chance to

play freely and actively outside

their front door in a safe and fun

environment."

Each event would last for

between two and four hours and

ACTIVE:

Closing

some streets

temporarily

for two to

four hours will

allow children

to play and

connect

with others.

PHOTO:

NEWSLINE

the timing will be arranged with

the community.

There will be temporary restrictions

on vehicle movements

through the street for residents,

as vehicles are not permitted to

travel through a road closure

(except for emergency vehicles).

Locations will be finalised over

the coming weeks. Play Streets

will be held from December 2020

to February 2021.

THE 2020 GENERAL ELECTION

AND REFERENDUMS

This year you can vote

in two referendums.

Enrol. Vote. Be heard.

vote.nz

referendums.govt.nz

0800 36 76 56
---
18 Thursday September 24 2020

Latest Canterbury news at starnews.co.nz

News

NOR'WEST NEWS

Harnessing creativity

from recycled 'junk'

Myriad groups

help keep our

community moving.

Reporter Bea

Gooding speaks

to Creative Junk

co-ordinator

Christine Jackson

about the

importance of

sustainable creativity

What does Creative

Junk do, and how did

it come to be what it is

today?

Originally set up in

1981, we service a demand

for affordable materials

that are used to promote

creative, imaginative

play and events in the

community — for

children, their families,

artists, designers, crafters,

cosplayers, wearable art,

early childhood services,

schools and a variety of

other organisations.

Our motto — Recycle,

Reuse, Rethink — reflects

the organisation's ideals

and its ethical and

environmental stance.

We are now looking to

expand our outreach to

more actively embrace the

environmental side of our

values

What are the issues that

your charity is currently

facing, and what is being

done to overcome them?

Our biggest issue at

present is funding, it's been

affected nationwide for

everyone by the Covid-19

crisis, so we here at

Creative Junk are trying

to become more selfsupporting.

We have our "spare parts

boxes" which raises money

for us, with schools or

anyone wanting creative

goods all over the country,

these boxes are posted to

them. We have also held

open days, sip 'n' craft

nights and car boot sales.

A local Lego group has

also stepped forward and

provided displays in our

upstairs space and charged

a gold coin donation to

view as a fundraising

event for us, as some of

the builders use materials

from our warehouse to

create landscapes for their

displays.

Another issue would be,

not enough people know

about us. Ideally, we would

like to employ another

person to assist with the

co-ordinator in being able

to get out to schools and

other groups to learn about

Creative Junk. Also to go

out to businesses educate

them, what we can use

instead of things going to

landfill.

Why is an organisation

like this important

for Christchurch in

terms of sustainability

and providing creative

resources?

We help businesses

and local people reduce

the amount of products

going into landfill, which

is currently a big problem

in Christchurch. We are

constantly connecting

with new companies who

have what they thought

was "rubbish" but we see

as products to turn into

useful creative items. Our

workshops also help to

educate children that they

can look around their own

homes and find things

to be creative with that

mum or dad was going to

throw away, and that's the

most important step in

sustainability - education.

Creative Junk is unique

and is important to all of

New Zealand.

What impact has

Creative Junk had on

groups who benefit from

the service?

We work with Ara, The

Repair Shed, The children's

university, UCA, Learning

Exchange Timebank,

Otautahi Christchurch

Creative Spaces, Skillwise

retraining, Waitaha School

and Volunteer Canterbury

to name but a few over our

39 years of being in the

community.

We have been able

to provide classes with

REPURPOSE: Creative

Junk manager

Christine Jackson

and volunteer Alexia

Martin, with creations

made from recycled

materials destined for

landfill.

PHOTO: GEOFF SLOAN ​

materials for projects

ranging from classroom

activities right up to

materials for school

performance costumes.

We have found

during hard times, like

earthquakes, people with

anxieties or wellbeing

and at the moment with

Covid-19, people go to

a happy place of craft,

drawing, knitting or just

making whatever for a feelgood

feeling within.

With families being at

home together because of

Covid-19 they are doing,

crafting, making things

together and thinking

outside the box, this is

what Creative Junk is

about.

In what ways can

people implement

environmentally

sustainable practices

while promoting

creativity?

The best way is to think

of a way to repurpose an

item before they consider

disposing of it. For

instance, an old golf club

can be repurposed into

a colourful bird garden

decoration or theheads of

a golf club can be fixed to

a board and turned into

a coat rack. An old lawn

bowl or bowling ball can

be turned into a bright

animal-themed doorstop.

The best thing people can

do is to stop and think

before they put anything in

the bin.

•Get in touch with

Creative Junk

through the website

or Facebook, www.

creativejunk.org.

nz, or email info@

creativejunk.org.nz.
---
TUESDAY, MARCH 24, 2020

Councillor takes

matters into

his own hands

Connecting Your Community

Page 3 Page 6

year.

city."

Davids heads

community board

advocating body

TUESDAY, MARCH 24, 2020starnews.co.nz

RESIDENTS MOST affected by

• By Louis Day

the new Northern Motorway are

WEDNESDAY, MARCH 25, 2020

Connecting Your Community

IT COULD

WEDNESDAY,

be a while until

MARCH 25, starnews.co.nz

2020

Connecting Your Community relieved to hear the Christchurch TUESDAY, starnews.co.nz

MARCH 24, 2020

Connecting Your Community

• By Georgia O'Connor-Harding

the eastern suburbs start to

Northern Corridor opening has

see Lianne Dalziel's campaign

been delayed by six months.

THE earthquake-damaged

aspirations for the area come to

The CNC was due to open in

former Sockburn Service Centre

fruition.

the middle of this year, but last

could finally be demolished in

During October's local body

week the New

July – if the funding needed is

elections, Ms Dalziel identified

Zealand Transport

Agency

It comes as the

obtained.

repairs to the eastern part of the

city's footpaths, pipes and roads

announced more

Halswell-Hornby-Riccarton

as one of her main priorities for

time was needed

this term.

to complete the

Community

"We need a fully integrated

$290m motorwayten

in its draft

Board has writ-

programme of works for the

east, I have loosely called this

The original

submission to

Readers respond

Chance to the eastern alliance, which

scope of the

the city council's

would essentially be an alliance

Victorious

Market day

project has been Mark Wilson

Annual Plan

Mike Mora

to supermarket

farewell Holden

of contractors who can take

extended include

stoked

goes green at 2019-2020,

captain the whole area bit by bit and

a third southbound lane on

requesting the city council addresses

the budget gap so the

rebranding

in style

systematically get the work

the Waimakariri River bridge and

flooding

with cup done," she said during the

a clip-on win

exit safer

Cashmere HS

cycleway.

buildings can be removed as soon

campaign.

St Albans resident Mark Wilson

as possible.

Page 8

GIRL Page BOSS: Julia 17 Holmes But chief wants executive to be a Dawn geneticist after Page high school, 3 and feels the GirlBoss Advantage programme will Page help 10 said GIRL the BOSS: community Julia Holmes are "somewhat

her achieve thankful" her for dreams. the delay.

Page 3

PHOTO: GEOFF SLOAN Page 11 said the final submission is yet to

wants to be a geneticist after high school, and feels the GirlBoss Advantage programme will help Board chairman Mike Mora

her achieve her dreams. Baxendale said any request to

PHOTO: GEOFF SLOAN

• By Bea Gooding

pursue a specific for biology, project in and the from a young Julia is one of 25 young were often male-dominated, •"The By community Bea Gooding will be somewhat

thankful for a reprieve of the

for biology, and from a young Julia is one of 25 young were often male-dominated, be completed but it was likely the

east would have age to has be always agreed been interested women chosen around the with particular focus on science,

technology, engineering

age has always been interested women chosen around the with particular focus on science,

technology, engineering requested.

demolition of the site would be

FIFTEEN-YEAR-OLD upon Julia by council.

effects of this motorway for six

South New Brighton School pupil Jacob McMillan enjoying the foam pit at Christchurch School of

City councillors are yet to pass

Gymnastics, which opened its doors to pupils while the school was closed due to fire damage.

Holmes is on a mission on to

in how things worked, often country to participate in the

FIFTEEN-YEAR-OLD Julia in how things worked, often country to participate in the

months, but it's still there. Until

taking things apart just to put GirlBoss Advantage programme

next month, designed She was shocked to hear the

and maths.

Holmes is on a mission to taking things apart just to put GirlBoss Advantage programme

next month, designed She was shocked to hear the Main South Rd, has been a source

and maths.

The former service centre, on

make a difference in the world. any guidance them to back staff together. around

decisions are made to put our

make a difference in the world. them back together.

•Story, more photos, page 5

PHOTO: GEOFF The SLOAN year 11 St Margaret's this, she said.

community first, then there is no

That passion has landed her to mentor the female leaders news from her mother.

The year 11 St Margaret's That passion has landed her to mentor the female leaders news from her mother.

of tension for years with residents

College student has a passion •Turn to page the 5

relief," he said.

opportunity of her dreams. of tomorrow in industries that • Turn to page 6

College student has a passion the opportunity of her dreams. of tomorrow in industries that • Turn to page 7

unhappy with the state of the site.

•Turn to page 6

•Turn to 5

BLINDS...Cleaned, Repaired & Restored...

Restore your oiled CEDAR BLINDS with our re-oiling service.

Rejuvenate your lacquered CEDAR BLINDS

High-tech Cleaning

We clean and repair all types of blinds –

• By Jess Gibson

Venetians, Cedar, Verticals, Roller, Hollands,

per blind

sought

Connecting Your Community

Page 3 Page 5

Lively group

celebrate

St Patrick's Day

TUESDAY, MARCH starnews.co.nz 24, 2020

Ge ry Brownlee

MP for Ilam

283 Gr ers Road Bryndwr,

Christchurch

ilam@parliament.govt.nz

0 359 0582

Funded by the Parliamentary Service.

Authorised by Ge ry Brownl e MP,

Parliament Buildings, We lington.

BLINDS...Cleaned, Repaired & Restored...

Restore your oiled CEDAR BLINDS with our re-oiling service.

Restore your oiled CEDAR BLINDS with our re-oiling service.

• By Matt Slaughter

Rejuvenate your lacquered CEDAR BLINDS

SPREYDON residents are

Rejuvenate your lacquered CEDAR BLINDS

High-tech Cleaning

preparing High-tech Cleaning

We clean and repair all types of blinds – Boats, Caravans, • By Devon to help Bolger members of

We clean and repair all types of blinds –

their community if they are

What's in store for

Venetians, Cedar, Verticals, Roller, Hollands,

Venetians, Cedar, Verticals, Roller, Hollands,

Romans and Pleated – with environmentally SAVE

RESOURCE consent has been

forced

ANY

to

DECISION

self-isolate

on

because

helping

of

people

Romans and Pleated – with environmentally

the property market

Motorhomes

Romans and Pleated – with environmentally

friendly cleaning products.

granted for a major commercial

Covid-19.

who may struggle to pay their rates

friendly cleaning products.

friendly cleaning products.

in 2020?

Temperature Controlled Drying

and residential development in

Temperature Controlled Drying

Expressions of interest sought Spreydon

will come

to Neighbourhood

from the Government,

Temperature Controlled Drying

Re-oiling & Rejuvenating

Lyttelton.

Re-oiling & Rejuvenating

rent covered and open space

Network

the district

in

Facebook

council

group

says.

admin

Re-oiling & Rejuvenating

Read the full article at

Fabric Blinds - such as Austrian and Buy Now.

Collett's Corner, a three-storey

Fabric Blinds - such as Austrian and

Sonya Hodder got behind

Said district

the

the above proposed centre based

Fabric Blinds - such as Austrian and

teamgriff.co.nz

Roman

complex, is now a step closer to

Roman

idea after one of its

council

members

chief

in I Zone Park Rolleston.

Roman

Same Day Pick Up & Drop Off Keep warm WE ARE OPEN being built on Oxford St after

Same Day Pick Up & Drop Off

posted asking if residents

executive

are

David

WE ARE OPEN

Same Day Pick Up & Drop Off

We offer a same-day, pick up and drop

Mon - Fri

We offer a same-day, pick up and drop

Mon - Fri

off service for most types of blinds. + Healthy

Christchurch City Council

willing to support people

Ward:

who

"(We) will

We offer a same-day, pick up and drop

On site facilities will include

8.00am to 5.00pm approved the consent application

off service for most types of blinds.

8.00am to 5.00pm are self-isolating

the following:

by

be

dropping

guided by

off

off service for most types of blinds.

Bookings are required.

from Ohu Development - the

Bookings are required.

D Security Fence, Swipe food card, and Gate other supplies.

government

D Dump Station On Site

Bookings are required.

Convenient Location

group behind the project.

Convenient Location

Entrance

Said Mrs Hodder:

policy

D Trickle "One

and

of Feed the Power

Convenient Location

We are located at 47 Mandeville St, ***NEW LOCATION***

We are located at 47 Mandeville St, ***NEW LOCATION***

The project is being funded by

D CCTV Camera ladies who is in Dthe guidelines

Office group works

in

And Toilet Complex

We are located at 47 Mandeville St,

Riccarton (next to Window Treatments Ph 377 0770,

Riccarton (next to Window Treatments Ph 377 0770,

Riccarton (next to Window Treatments

Caleb Griffioen 0276 370 231

NZ Ltd), parking available onsite

47 Mandeville St, Riccarton Ph 377 the first crowdfunding 0034 campaign

D Wash Down Facility for the Red Cross Dand relation

Affordable she's like

to fifnancial

David Ward

Rental Charges

NZ Ltd), parking available onsite

under taken in New Zealand for a

47 Mandeville St, Riccarton an emergency person, you

assistance

know,

NZ Ltd), parking available onsite

www.blindcare.co.nz

Christchurch www.dimocksenergy.co.nz sales@dimocks.net.nz

commercial development. www.blindcare.co.nz

Christchurch

she goes out with the

for

four-wheeldrive

ratepayers.

Reply to: rvstoragecentre@gmail.com

www.blindcare.co.nz

However, before work starts on

It is

and

likely

that, and

be a

she

national

came up

the complex, Ohu Development

with

decision."

the idea and so I agreed that

will need to raise between

we should

Mr Ward

use our

said

Facebook

it is still too

page

early

$800,000 and $1.4 million in its

as an

to tell

avenue

exactly

if anybody

what assistance

does

the

second round of crowdfunding,

need

community

help.

will need.

which is planned to start on

"I'm

"It's

not

very

sure

early

how

days

needed

and

that

I

PHOTO: GEOFF SLOAN April 2.

it will

think

be

that

because

we are

most

just

of

looking

the supermarkets

The public will decide whether

at how we

are

respond

providing

to the

online

virus.

DEDICATED: Dave Bryce is passionate about gardening as it is sustainable and promotes healthy eating. GIRL BOSS: Julia Holmes wants to be a geneticist after high school, and feels the GirlBoss Advantage programme will help

or not the second crowdfunding

delivery

For us,

and

it's

things

about responsiveness

like that but

her achieve her dreams.

PHOTO: GEOFF SLOAN

bid will go ahead on that date.

it's

to

just

the

hard

central

to know

government

how it's going

• By Jess Gibson

the chairman of Redcliffs/Te Features and was one of seven At the moment, edible

• By Bea GoodingIn a survey by Ohu from a young age has always Julia is one of 25 young industries that were oten maledominated,

with particular "I

guidelines,

to pan out.

the safety of staff

WITH MORE than 100 edible

Rae Kura Eco Village Group, recognised in the Residential items in Mr Bryce's garden

Development, people been can interested in how things women chosen around the

and

just

the

think

safety

they

of

[people]

our communities."

just

species in his garden, Dave

was successful at the Linwood- House Category.

include pumpkins, courgettes, WEST MELTON'S choose Julia whether they worked, think oten the taking things country to participate in focus on science, technology, need to let us know what they

Bryce would give any vegetable

Central-Heathcote Edible

The awards were presented to beans, lettuce, rhubarb, Holmes celery, is on a mission crowdfunding to campaign apart just should to put them back the GirlBoss Advantage engineering and maths.

need

It

and

follows

we'll

calls

do our

from

best to

shop a run for its money. Garden Awards.

Mr Bryce at a ceremony held at tomatoes, berries, nuts make and

Christchurch city councillors to

a difference continue, the world.

should together. be paused

programme next month,

She was shocked to hear the help," she said.

the worst happens.

Network] are about, that's why

Which is why the Mt

He received a special

the Matuku Takotako: Sumner herbs among others.

stop rates increases in response

The fifteen-year-old until has the Covid-19 outbreak That passion is has landed her designed to mentor the

news from her mother.

Mrs Hodder said there is no "I just think anything to help we exist.

to the Covid-19 crisis.

Pleasant resident, who is also award for Best Sustainability Centre earlier this month.

• Turn to page 6 a passion for biology, brought and under control. the opportunity of her dreams. female leaders of tomorrow in • Turn to page 5

need to panic but it is important our community, that's what we "We've got to look after each

those who can help do

• Turn

their

to

bit

page

if

3

[the Spreydon Neighbourhood other. I guess it's going to get

At The Laboratory

Buy your tickets online

Looking for a mortgage broker?

17 West Belt

or from the bar BLINDS...Cleaned, Repaired & Restored...

Lincoln

apollo.thelaboratory.co.nz

Restore your oiled CEDAR BLINDS with our re-oiling service.

lending for buying, building or renovating your new home

Rejuvenate your lacquered CEDAR BLINDS

Refinancing home loans to get best possible interest rates

High-tech Cleaning

available and a structure to suit your goal

We clean and repair all types of blinds –

Venetians, Cedar, Verticals, Roller, Hollands,

Lending for purchase of rental and investment properties

Romans and Pleated – with environmentally

Business lending

Do you have trouble

friendly cleaning products.

• Open 5 days a week •

A service that is totally mobile and at NO COST to you

hearing and need a

Temperature Controlled Drying

Re-oiling & Rejuvenating

hearing test? Your • Late night appointments (these fill fast!) •

Fabric Blinds - such as Austrian and

local hearing expert, • FREE adjustments for ACC funded clients •

Roman

Another Chance UK Feel Good Classic Cinema Jane Austin Comedy Historical Drama Family Fun

Brenna Sincock, is

Same Day Pick Up & Drop Off

• Fully funded ACC options •

Tuesday, 24 March

Thursday, 26 March

Saturday, 28 March

WE ARE OPEN

We offer a same-day, pick up and drop

11:00 AM The Gentlemen

R16 11:00 AM Little Women G

here to help you get

10:30 AM The Big Trip PG

Mon - Fri

• Hearing aids in all price brackets •

1:10 PM Parasite

R13 1:35 PM Jojo Rabbit M 12:10 PM Parasite R13

off service for most types of blinds.

8.00am to 5.00pm

3:40 PM The Invisible Man R16

your best hearing.

3:40 PM Parasite R13 2:40 PM Emma

PG

Bookings are required.

6:05 PM Emma

PG 6:10 PM Radioactive M 5:10 PM The Gentlemen R16

8:30 PM All at Sea

M 8:20 PM All at Sea M 7:30 PM All at Sea M

Convenient Location

Wednesday, 25 March

Friday, 27 March

Sunday, 29 March

We are located at 47 Mandeville St, ***NEW LOCATION***

www.stephaniemurray.mortgage

Michelle lindsay

Call (03) 390 2332

10:30 AM Mums and Bubs, All at Sea M 11:00 AM Emma PG 10:30 AM Emma

PG

Riccarton (next to Window Treatments Ph 377 0770,

12:40 PM Emma

PG 1:25 PM Radioactive M 1:00 PM The Big Trip PG

Mortgage advisor

Shop 40 Rolleston Square, 9 Masefield Dr, Rolleston 7614

3:10 PM The Gentlemen

R16 3:45 PM The Big Trip PG

NZ Ltd), parking available onsite

2:45 PM All at Sea M

47 Mandeville St, Riccarton

MichelleLindsayMortgageAdvisor

Phone 021 346 265

Rolleston | Darfield | Leeston | Lincoln

Local Selwyn Audiology

5:30 PM 1917

R13 5:30 PM All at Sea M 4:30 PM Little Women G

Christchurch

7:40 PM The Invisible Man R16 7:20 PM Emma PG 7:10 PM Radioactive M www.blindcare.co.nz

Take in an

ice cream or

drink

per blind

No review

over

multi-storey

house

she said.

Connecting Your Community

A message

of love, unity

and prayers

for peace

Page 3 Page 7

GET CO NECTED WITH

0800 726 724

www.scorch.co.nz

Cheap Tuesdays $10 Any Film, Any Time

Dine a the

La before

or after

Ge ry Brownlee

MP for Ilam

283 Gr ers Road Bryndwr,

Christchurch

ilam@parliament.govt.nz

0 359 0582

Funded by the Parliamentary Service.

Authorised by Ge ry Brownl e MP,

Parliament Buildings, We lington.

per blind

starnews.co.nz

BLINDS...Cleaned, Repaired & Restored...

per blind

WE ARE OPEN

Mon - Fri

8.00am to 5.00pm

***NEW LOCATION***

Ph 377 0770,

47 Mandeville St, Riccarton

Christchurch

Somerfield

03 337 0422

starnews.co.nz

destination

SUPPORT: Sonya

Hodder says

the Spreydon

Neighbourhood

Network will help

residents if they

have to selfisolate

because

of Covid-19.

PHOTO: GEOFF

SLOAN

tricky if the supermarkets stop

working and things like that, and

the doctors, it's hard for them as

well. People need to be encour-

• HAVE YOUR

SAY: Tell us

what you're

doing to help

your community

prepare for

Covid-19? Email

matt.slaughter@

starmedia.kiwi.

aged not to actually go there if

they're sick, but to phone in and

things like that," she said.

•Turn to page 6

Small batch made from scratch, Coffee to go!

NOR'WEST NEWS Latest Canterbury news at starnews.co.nz

Thursday September 24 2020 19

Classifieds Contact us today Phone our local team 03 379 1100

Community Events

ALCOHOLICS

ANONYMOUS, If you

want to have a drink that's

your business. If you want

to stop, we can help. Phone

0800 229-6757

Tuition

SINGER. GUITAR

TUITION available.

Enquiries to Vocalworks

Studio. Ph/txt 027

6966290. All ages

welcome

Wanted To Buy

AAA Buying goods

quality furniture, beds,

stoves, washing machines,

fridge freezers. Same day

service. Selwyn Dealers.

Phone 980 5812 or 027

313 8156

TOOLS Garden,

garage, woodworking,

mechanical, engineering,

sawbenches, lathes, cash

buyer, ph 355-2045

Trades & Services

& Property Maintenance

Paving

Patio - Pathways

New or Existing

Free Quotes -

Competitive Pricing

Blair Gibson

027 699 5815

Trades & Services

ROOF

PAINTING 24/7

Rope & harness

a speciality,

no scaffolding

required,

30 years of

breathtaking

experience.

FREE QUOTES

20% OFF other

roof quotes

Exterior staining,

exterior painting,

water blasting.

Moss and mould

treatment $300.

Phone Kevin

027 561 4629

BATHROOM

Renovations, complete

service from start to finish,

free quotes, ph Dave 027

334 4125

BRICKLAYER

George Lockyer. Over

40 years bricklaying

experience. UK trained.

Insurance work, EQC

repairs. Heritage

brickwork & stonework

a speciality. No job too

small. Governers Bay.

Home 329 9344. Cell

027 684 4046. E mail

georgelockyer@xtra.co.nz

CARPET LAYING

Exp. Repairs, uplifting,

relaying, restretching.

Phone John on 0800

003181, 027 240 7416

jflattery@xtra.co.nz

Trades & Services

CHIMNEY SWEEP

Time to service your fire.

From $80 + gst single

storey. 0800 SWEEP ME

or 0210 2771 927

ELECTRICIAN

Hickey Electrical.

Reasonable rates, no

call out charge. www.

electricnz.com Ph Jason

021 260 3426

PAINTER

Qualified local

professional, int/

Ext,roofs,wallpaller, call

or text Corban 027 846

5035

ROOFING REPAIRS

Fully qualified, over 40

yrs experience. Ph John

027 432-3822 or 351-

9147 email johnchmill@

outlook.com

STONEMASON

BRICK

&

BLOCKLAYER,

Earthquake Repairs, Grind

Out & Repoint, River/

Oamaru stone, Schist,

Volcanic Rock, Paving,

all Alterations new & old,

Quality Workmanship,

visit www.featureworks.

co.nz or ph 027 601-3145

STUMP GRINDING

Best price guarantee Tony

0275 588 895

TILING

Flooring - Splashbacks -

Wall incl tile removal, reg

master tiler, ph Dave 027

334 4125

VHS VIDEO TAPES

& all camera tapes

converted to DVD or

USB. Video taping

special occasions, www.

grahamsvideo.co.nz ph 03

338-1655

Trades & Services

concrete & paving

• Driveways

• Earthquake repairs

• New Home Specialists

• Patios & Paths

tel: 0508 873 7483

email: sales@affordableconcrete.co.nz

www.affordableconcrete.co.nz

PLUMBER

NEED A PLUMBER

Call us now for fast friendly service.

Get your problems sorted out

quick smart - on time!!

Phone for a

FREE

quote now.

Phone 03 377 1280 | Mobile 021 898 380

Keep

connected

Digital

editions

available on

your screen

24/7

Circulation 93,000 starnews.co.nz

Vaping rules

in CDHB

spotlight

www.starmedia.kiwi/digital-editions

– page 4

• By Louis Day

CALLS HAVE been made to

stop rates increases in response

to the Covid-19 crisis.

City counci lors James Gough,

Sam MacDonald, Catherine

Chu, Phil Mauger, Aaron Keown

and James Daniels have sent a

le ter to Mayor Lianne Dalziel

asking her to lead a conversation

as to how a zero per cent rates

increase could be achieved this

The city council is proposing

an average rates increase of 4.65

per cent across a l ratepayers in

this year's Draft Annual Plan

which is currently under public

consultation until April 5 and

wi l be finalised before July 1.

The 2018-2028 Long Term

Plan also predicts a 50 per cent

rates increase over 10 years.

Said Cr MacDonald: "In

the current environment it's

clear business as usual is not

appropriate and the council

needs to look at how we enable

this 12-month rates increase

freeze to occur, it's crucial for

the economic confidence of our

Ms Dalziel said the las thing the council's budget, which is urchNZ, the Canterbury Employers'

Chamber of Commerce Covid-19. We wi l discuss these

dinary circumstances related to

the city council needed was for not entirely funded by rates, and

someone to hi the panic bu ton. the consequences that wi l flow and other key players so we are options with elected members

"Calm heads must and wi l from decisions we make. best prepared for the economic as we develop the Annual Plan,"

prevail," she said.

"The Annual Plan is not cha lenges that lie ahead."

"Our residents and businesses signed off for three months so City council chief executive The push from city counci lors

wi l be depending on us to we have time to ge this advice. Dawn Baxendale did not rule a for a freeze on rates rises comes

make adjustments, and we wi l, A the same time, the council zero rates rise out.

shortly after Minister of Finance

however, we wi l need advice is meeting with our economic "We're considering a series of Grant Robertson announced

on the impacts on a l aspects of development agency, Christch-

options in light of the extraor-

a $12.1 bi lion package to aid

Thursday, March 19, 2020

Parent's

frightening

journey

– pages 6 & 7

Covid-19 prompts call for

zero per cent rates increase

The local news

destination

for Cantabrians

Eastern

Foam fun follows fire Julia's suburbs on

repairs

a mission could take

to make a while a

difference

Ro ler Blinds cleaned

from as li tle as $ 2

Views on

cricket nets

The local news

destination

for Cantabrians

Helpless to

stop property

Consent

Award for green-fingered Bryce Julia's granted on

Limited a mission

for Collett's

stock

Corner plan

Fujitsu 6kw to heat make pumpsa

$ 350 difference

Hear Better,

Live Better

Motorway

opening Julia's on

delay

brings a mission

relief to make a

difference

Ro ler Blinds cleaned

from as li tle as $ 2

Scorch

Broadband

Delay in

making mall

ACTION: Six city counci lors including

Catherine Chu, Sam MacDonald (top right),

James Daniels (above left) and Aaron

Keown have ca led on Mayor Lianne Dalziel

to lead a conversation on how to achieve a

zero per cent rates increase this year.

the economy in response to the

Covid-19 pandemic.

The biggest boost is $5.1

bi lion towards wage subsidies

for affected businesses in a l

sectors and regions.

•Tips for weathering virus, p3

•Mayor's column, p9

•From the editor's desk, p10

Bid to

secure

funding to

demolish

service

centre

Preparation Rates starts to support

decision

those to come who are self-isolating

R V STORAGE

from Govt

CENTRE

Ro ler Blinds cleaned

from as li tle as $ 2

Ro ler Blinds cleaned

from as li tle as $ 2

The local news

for Cantabrians

Place your orders now

I Spy Food

78 Barrington Street,
---
20 Thursday September 24 2020

Latest Canterbury news at starnews.co.nz

NOR'WEST NEWS
---
NOR'WEST NEWS Latest Canterbury news at starnews.co.nz

Thursday September 24 2020 21

Your daily adrenaline dose

and high octane fun!

We have something for everyone, whether you are

an expert adrenaline junkie go karting driver, or just

learning to drive. We can help with Team Building,

Corporate Events, Social Events, Stag and Hen

Nights and Kids Parties.

We have an excellent fleet of top quality French and

German engineered and manufactured, SODI and

Rimo Go Karts. Built for Safety and Speed, they can

really get you around our track fast

To find out more visit www.supakarts.co.nz
---
22 Thursday September 24 2020

Latest Canterbury news at starnews.co.nz

NOR'WEST NEWS

Great fun!

Adult Rides

from

$

30 pp

Drive NZ fastest indoor karts on our massive 200m long indoor track.

This is your daily adrenaline dose! If it's not, you're not driving fast enough!

Our adult rides are designed for drivers 14+ years old, and over 1.5 metres tall.

Check out our combo deals or like our Facebook page for the latest specials.

Family Rides

from

$

25 pp

Supa Karts family races are designed for young families or Adults that are

driving for the first time.

Self Drive from 8 years to 13 years old, and their family who are happy to

ride at children's speed.

Check out the 2 ride combo, which is great for children's birthday parties.

Tandem Rides

Wanting to get your younger child out on the track?

We currently have 2 tandem karts that allow an adult to drive their child

from the age of 4 years old as a passenger, in one of our family rides.

Please make a booking and let us know if you want to use a Tandem Kart, as

they can sometimes be under high demand.

from

$

35

per kart

If you are looking for some adrenaline pumping action, call 0
---
NOR'WEST NEWS Latest Canterbury news at starnews.co.nz

Thursday September 24 2020 23

Individual Grand Prix - IGP

The Individual Grand Prix is our ultimate race experience. Each driver gets

the chance to drive the track and get used to their go kart in a 10 minute

practice / qualifying race. The fastest qualifier starts in pole position in the

10 minute final race. We record your results, and penalize you for mistakes.

The winner is the driver who completes the most laps. Do you think you

have what it takes to beat your friends?

Great for Birthday Parties, Stag and Hen Parties, and Corporate Groups

Minimum 8 drivers.

Ideal for groups up to 24 drivers.

from

$

65 pp

Team Endurance Race

The Team Enduro race is great for large group bookings, such as Corporate

Team Building, and Social Clubs. These races are action packed with lots of

driver changes, and strategy.

from

$

65 pp

Each driver gets the chance to drive the track and get used to their go kart in a

5 minute practice, before heading into a special race strategy briefing. The race

is a team relay event, with each driver in the team completing two 10 minute

stints in the kart. We record your results, and penalize you for mistakes. The

winning team is the one who completes the most number of laps.

Great for large groups with 16 - 48+ drivers. Multi hour event

20 minutes racing per person not enough? Check out our website for a

longer race option.

CKT - Championship Kart Tournament

If you are wanting some more regular racing check out CKT.

Championship Kart Tournaments is New Zealand's leading Amateur Team

Karting Experience, whether you're a beginner or expert there is a place

for you in this tournament. Hosted at Supa Karts, there are 9 rounds yearly

from February to November. A championship leaderboard for all individual

drivers and a separate leaderboard for teams.

If you are an amateur racer, who likes to have fun, laughs, a wall of trophies,

and clean, competitive racing, this is for you!

Find them on Facebook or CKT.co.nz

3 374 9425 or visit www.supakarts.co.nz to book your race!
---
24 Thursday September 24 2020

Latest Canterbury news at starnews.co.nz

NOR'WEST NEWS

Get Ready, Set, Race!

Opening Hours

Monday - Thursday

12.00 noon to 6.00 pm

Friday

12.00 noon to 8.00 pm

Saturday

10.00 am to 8.00 pm

Sunday

10.00 am to 6.00 pm

We are open later in the evenings for

Race Meetings and casual rides by

prior arrangement

SCHOOL HOLIDAY HOURS -

WE OPEN EVERY DAY FROM

10:00am

Contact

03 374 9425

racing@supakarts.co.nz

www.supakarts.co.nz

/supakartschch

Corner of Buchan & Byron St,

Sydenham

Colombo St

Buchan St

Carlyle St

Byron St

Please book early to avoid disappointment at www.supakarts.co.nz