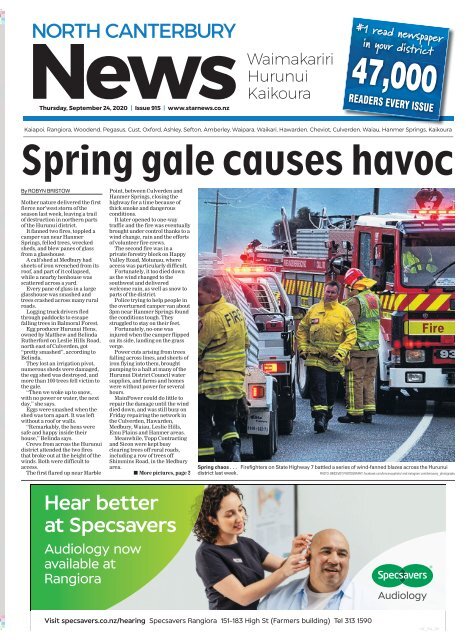 North Canterbury News: September 24, 2020
Create successful ePaper yourself
Turn your PDF publications into a flip-book with our unique Google optimized e-Paper software.
#1 read newspaper

in your district

#1 read newspaper

in your district

47,000

Thursday,September 24,2020 | Issue915 | www.starnews.co.nz

READERS EVERY ISSUE

Spring gale causes havoc

By ROBYN BRISTOW

Mother nature delivered the first

fierce nor'west storm of the

season last week, leaving atrail

of destruction in northern parts

of the Hurunui district.

It fannedtwo fires,toppled a

camper van near Hanmer

Springs, felled trees, wrecked

sheds, and blewpanes of glass

from aglasshouse.

Acalf shed at Medbury had

sheets of ironwrenched from its

roof,and part of it collapsed,

whileanearby henhouse was

scattered across ayard.

Everypane of glass in alarge

glasshousewas smashed and

treescrashedacrossmany rural

roads.

Logging truck driversfled

through paddocks to escape

falling trees in Balmoral Forest.

Egg producerHurunui Hens,

ownedbyMatthewand Belinda

RutherfordonLeslieHills Road,

northeast of Culverden, got

''prettysmashed'', according to

Belinda.

They lost an irrigation pivot,

numeroussheds were damaged,

the eggshed was destroyed, and

more than100 treesfell victim to

the gale.

''Then we woke up to snow,

with no power or water, the next

day,'' she says.

Eggs were smashed when the

shed was torn apart. It was left

without aroof or walls.

''Remarkably, the hens were

safe and happy insidetheir

house,''Belinda says.

Crewsfrom across the Hurunui

district attended the two fires

that broke out at the height of the

winds. Bothwere difficult to

access.

The first flared up near Marble

Point, between Culverden and

Hanmer Springs, closing the

highwayfor atime because of

thick smoke and dangerous

conditions.

It lateropenedtoone­way

trafficand the fire was eventually

brought under control thanks to a

windchange,rain and the efforts

of volunteer firecrews.

The second firewas in a

private forestry blockonHappy

Valley Road, Motunau, where

access was particularlydifficult.

Fortunately,ittoo died down

as the wind changed to the

southwest and delivered

welcome rain, as well as snow to

parts of the district.

Police trying to help peoplein

the overturnedcamper van about

3pm near Hanmer Springs found

the conditions tough.They

struggled to stay on their feet.

Fortunately,no­one was

injured whenthe camperflipped

on its side, landing on the grass

verge.

Power cutsarising from trees

falling across lines, and sheets of

ironflying into them, brought

pumping to ahalt at manyofthe

Hurunui DistrictCouncil water

supplies, and farmsand homes

werewithout power for several

hours.

MainPowercould do littleto

repair the damageuntil the wind

dieddown,and was still busy on

Friday repairing the networkin

the Culverden,Hawarden,

Medbury, Waiau, Leslie Hills,

Emu Plains and Hanmerareas.

Meanwhile, Topp Contracting

and Sicon were kept busy

clearingtrees off ruralroads,

includingarow of trees off

ShimminsRoad, in the Medbury

area.

More pictures, page 2

Spring chaos ... Firefighters on State Highway 7battled aseries of wind­fanned blazes across the Hurunui

district last week.

PHOTO: BMCEVOY PHOTOGRAPHY,facebook.com/bmcevoyphoto/ and instagram.com/bmcevoy_photography

Hear better

at Specsavers

Audiology now

available at

Rangiora

Visit specsavers.co.nz/hearing Specsavers Rangiora 151-183 High St (Farmers building) Tel 313 1590

NZ_RA_90
---
NEWS

2 North Canterbury News, September 24, 2020

Grow

customers,

sales and

profits

with North

Canterbury's

best read

newspaper

Pretty in pink ... Little Miss Kaikoura Hop winner Sophia Trybula, aged 9

months, was astandout on the day.

PHOTO: SUPPLIED

Buildings damaged, fires fanned in gale

From page 1

Hoporganisers pull

off the impossible

Morethan 1000 cars roared into Kaikoura over the

weekendtoset the town buzzing, despite alert level 2

restrictions.

Kaikoura Hop organiser Doug O'Callahan was

thrilled withthe turnout, afterastressful build­up

because of Covid­19.

''Itwas agoodweekend.Under level 2restrictions, we

managed to pulloff the impossible. It wasn't anormal

Hop,but bring it on next year. It's going to rock.''

While the car show, rock'n roll danceparty and

Sundayburn­outs were cancelled, therewas lots of

cruising aroundtown and about 250 carscruised to

Hanmer SpringsonSaturday.

''Itwas aplanned strategywith theKaikoura District

Council and the police to ease the pressure on the bars

and cafes, because we knew they would struggle to cope

withthe numbers.''

Readership: 47,000 weekly

Circulation: 30,150 copies delivered

to EVERY farm, RD, lifestyle block

and homes in Waimakariri, Hurunui

& Kaikoura every Thursday

news

Robyn Bristow

Managing Editor

027 312 1581

robyn.bristow

@ncnews.co.nz

Reporters

Neil Clarkson, David Hill,

Shelley Topp.

advertising

DaynaBurton

Sales Co-ordinator

027 312 0089

dayna.burton

@ncnews.co.nz

Amanda Keys

Advertising

027 536 6224

amanda.keys

@ncnews.co.nz

Kerryn Clark

Advertising

021 586 138

kerryn.clark

@ncnews.co.nz

getintouch

Editorial

info@ncnews.co.nz

Advertising

sales@ncnews.co.nz

Graphic Design

heather.hood@ncnews.co.nz

Distribution/Deliveries

03 314 8335

Amberley: 03 314 8335

119 Carters Road, Amberley

Rangiora: 03 313 2840

77-83 High Street, Rangiora

Christchurch: 03 364 7460

www.starnews.co.nz

Storm conditions ... Some of the

damage at Hurunui Hens.

PHOTO: SUPPLIED

Fanned ... The blaze at Marble Point, between Culverden and Hanmer. It was one of

several fires fanned by the wind.

PHOTO:BMCEVOY PHOTOGRAPHY

Torn asunder ... A

damaged calf shed

near Medbury, still

with its residents.

PHOTO:SUPPLIED

Authorised by Timothy Grigg, 160 Willis St, Wellington.
---
NEWS

North Canterbury News, September 24, 2020

3

Pair mark 60 years of marriage

By SHELLEY TOPP

Lorraine and Graham

Robinson are celebrating

their 60th wedding

anniversary next month

with afamily outing on the

Kaiapoi River Queen.

The octogenarians, from

Summerhill, near Cust, first

met when they were both

working in Amberley, where

Graham was doing an

apprenticeship at McLean's

Engineering shop.

Lorraine worked in a

drapery store in the town at

that time and often used to

go past the engineering

shop, but always on the

other side of the road to

avoid wolf whistles directed

at women passing closer.

However, Lorraine's

detour to avoid the

engineering shop didn't stop

Graham noticing her from

afar.

''She is anice looking

girl,'' he says. ''She still is. I

couldn't have done better.''

When the pair eventually

got together they found they

had amutual interest in

hunting, but for different

reasons.

''Graham enjoyed pig and

deer hunting but Ienjoyed

the tramping. Idon't like

shooting animals, but Ilove

LAWNMASTERESTATE ESTATE SPECIAL

Was $849

Now $749

Check

Out These

Features:

• NZ Made

• Ball Bearing Wheels

ESTATEECO READYSTART

• Ready Start Engines (no priming)

• Quality Alloy Chassis with LIFETIME Warranty

• 4Year Engine Warranty

• Oiled &Fully Assembled

*Excludes the Estate 400

Save $100 on the

Lawnmaster

Estate range *

360 FlaxtonRoad,Rangiora

Ph 03 313 5563

www.kingsmowersheating.co.nz

the outdoors,'' Lorraine

says.

However, she does enjoy

miniature rifle shooting and

is agood shot. ''She is better

than me,'' Graham says.

Lorraine says she admires

Graham's calm, placid

nature. ''Graham is very laid

back, very accepting,'' she

says.

The couple married on

October 1, 1960, at the tiny

Balcairn Church, which is

now aprivate residence.

They did aroad trip around

the North Island for their

honeymoon.

The year after Lorraine

and Graham married, his

father, Ernie, bought a

sheep and crop farm in Cust,

and in 1974 the couple

bought their own farm

nearby, a32­hectare

property at Summerhill,

where they still live.

Farming life and family

have provided many

highlights for the couple,

but they have also enjoyed

several overseas holidays

and were planning to do a

European River Cruise

earlier this year until the

Covid­19 pandemic

scuppered that.

They have five children,

eight grandchildren and two

great­grandchildren.

2307841

2187722

2095268

Kaiapoi Lodge

Residential Care

Nursing Home, Hospital and

Respite

Person Centred Care,

Care that's built

around you

6CassStreet,Kaiapoi

Ph 03 327 7235

Special anniversary ... Summerhill couple Lorraine and

Graham Robinson will mark their 60th wedding anniversary on

October 1.

PHOTO:SHELLEY TOPP

Shortcomings in elderly man'scare identified

The care of an elderly manata

Canterbury Rest Home has

been criticised in areport

releasedthis week.

The reportbythe deputy

health and disability

commissioner, Rose Wall, said

therewas alack of attention

and responsiveness to the

man'sdeteriorating condition

by multiple staff,and alack of

oversight by the clinical

manager.

The resident,inhis 80s, was

admitted to Ultimate Care

Karadean Court in Oxfordfor

hospital­level care. During his

six years at the facility his

health deteriorated.

He was eventually admitted

to public hospital, where he

died from blood poisoning and

askin infection.

The officeofthe Health and

Disability Commissioner

received acomplaint from the

man's familyconcerning his

careatthe Oxford facility.

Ms Wall found there were

several failingsbystaffatthe

facility.Her report says

interventions were required to

manage the man's continence,

hydration, medication,

diabetes,podiatry, pressure

areas, and pain.

''Overall, there was alack of

attentionand responsiveness

to his condition by multiple

staff, and alack of oversight by

the clinical managers.''

She was critical that

Ultimate Care Groupdid not

review the man's continence

careaccurately,did not

arrange podiatry reviews,did

not monitor the man's diabetes

or pain reliefadequately,and

did not obtain an air­relieving

mattress.

She was also critical of the

inaccuratedocumentation

recording the man's wound

care, and monitoring of the

man's pressure wounds, along

with the failure to seek

specialist adviceinatimely

manner. She also saidthere

were not enough registered

nursesavailable to provide

oversight to junior staff.

Ms Wall recommendedthe

group provide awritten

apologytothe man'sfamily,

and thatclinical managers

undertake trainingonclinical

documentation, care planning

and assessment, wound care

management, community, and

clinical leadership.

She also recommended it

shouldauditcompliance with

policies developed in response

to the complaint, review staff

levels, induction andtraining,

and equipment and supplies.

''I consider that deficiencies

in the careprovided by

multiple staff represent

systemicissues at (the

facility),'' she says.

SinceMsWall's provisional

opinion,staff training has been

carried out, staffing levels

increased, and there hasbeen a

consistent approach to achieve

quality outcomes for all

residents.

The provider has been

referredtothe Director of

Proceedings, who could

considerputting proceedings

before the healthpractitioners

disciplinary tribunal,and

the human rights review

tribunal.

The Widest

Music Variety

Tune in nowtolisten on

104.9 for North Canterbury

103.7 for Hanmer Springs

andKaikoura

Hula Hooping

Classes for Adults

with Julie Winton

When: Thursday nights x8 weeks

Starting: Thursday 15 th October 2020

Time: 7:00 -8:00pm

Where: Fernside Memorial Hall

Price: $120; with an Early Bird Price of

$100 if paid on or before the 1 st October.

2310682

Contact Julie on: 021 083 23703

or visit www.hulahoops.co.nz

to sign up &find out more about the health benefits

of Hula Hooping

2315110

Caring for North Canterbury

Dr John Dehn

Full Mole Checks

using Dermoscopy

Surgical Management

and Aftercare

Comprehensive, Affordable, Convenient

Ph 03 9204060

52 Pegasus Main Street,Pegasus 7612

www.pegasusmedicalcentre.co.nz

HOUSE

WASHING

Experts!

AFTER

Services Include:

0800101216

washrite.co.nz

Southern Cross

Affiliated Provider

For selected services

BEFORE

• House washing

• Roof Washing

• Moss and Mould Removal

• Driveway &Concrete

Cleaning

• Deck &Fence Cleaning

• Gutter Cleaning

• Spider proofing

FreeQuotes

1890742
---
NEWS

4 North Canterbury News, September 24, 2020

Samantha shines in butchery contest

By ROBYN BRISTOW

Impressive display ... Samantha Weller's efforts caught the eye of judges.

ARangiora butcher has cut her

way to the top after apressureladen

two­hour competition.

Samantha Weller, from

PAK'nSAVE Rangiora, won the

Alto Young Butcher of the Year

title at the Upper South Island

regional 2020 competition.

She was up against butchers

from across the upper South

Island who sharpened their

knives and cut their way

through atwo­hour competition

in the regional stages of the

2020 Alto Young Butcher and

ANZCO Foods Butcher

Apprentice of the Year

competition.

Samantha is no stranger to

the competition.

It was the fifth time she

entered, and she says there are

many positives to competing.

She says it provides young

butchers with the chance to

learn new skills, meet new

people and profile their

careers.

"I believe my final display

gave me the edge this year —I

worked really hard to make it

pop," Samantha says.

''I am really looking forward

to the grand final now and have

abunch of new ideas for my

next display.''

The contestants put their

boning, trimming, slicing and

dicing skills to the test as they

broke down asize 20 chicken, a

whole pork leg, and abeef short

loin into adisplay of valueadded

products.

Blair Wright, from Peter

Timbs Meats in Christchurch,

claimed first spot in the ANZCO

Foods Butcher Apprentice of

the Year category.

Samantha and Blair will

compete in the grand final on

November 10 at the ASB

Showgrounds in Auckland,

where they will further

showcase their skills, creativity

and knowledge of the trade

against the best in the country.

Head Judge Peter Martin,

who is the butchery manager of

Fresh Choice in Cromwell, is a

strong advocate of butchery

competitions.

"I believe the gains are huge

for every entrant who has had to

plan, practise and come up with

creative ideas in order to

compete against their peers

today.

"It not only boosts their

confidence, but helps to raise

the standard in the industry".

PHOTO: SUPPLIED

Peter is particularly excited

about the new mentorship

programme introduced to the

competition this year, which

has helped guide and support

entrants, giving them the

confidence to put their best

knife forward on the day.

Alongside industry and peer

recognition, the winning Alto

Young Butcher and ANZCO

Foods Butcher Apprentice of

the Year receive atrophy and a

study tour.

Stability

concerns

Aproposed shared

pathway for walkers and

cyclists on Flaxton Road

has gone back to the

drawing board.

Waimakariri District

Council staff have been

designing ashared

pathway alongside the

drainonthe westernside

of Flaxton Road, between

LinesideRoad and

Kingsford Smith Drive.

But investigations into

the long­term stabilityof

the drain banks showed

the proposed pathway

created an increasedrisk

of the path collapsing or

slumpinginto the drain.

If the pathwas to remain

on the western side,a

largelength of the drain

bank would need

substantialearthworks,

adding significant costs.

Staffare now talking to

businessesaboutpossibly

moving the path to the

eastern side of the road.

Rangiora­Ashley

Community Board chairman

Jim Gerard says the

boardbacks the proposal.

"We see the benefitsin

relocatingthe path.

''We lookforward to

working with (local

businesses) and hearing

theirfeedback, which will

go to the council on

October 6for afinal

recommendation."

SUPERMARKET ATRAVENSWOOD UNDER CONSTRUCTION

AFFORDABLE RESIDENTIAL SECTIONS

HOUSE &LAND PACKAGES

AVAILABLE NOW

STAGE 3A - 8SECTIONS LEFT FOR SALE

35 SECTIONS SOLD ORUNDER CONTRACT

Priced from $175,000

STAGE 2

SOLD OUT -139 SECTIONS

STAGE 1

SOLD OUT -197 SECTIONS

CALL US TODAY

JennyLake-03375 0010

live@ravenswood.co.nz

69 Tara Crescent, Ravenswood

www.ravenswood.co.nz
---
No surprises likely in

representation review

By DAVID HILL

No major changes are expected to come

out of the Waimakariri District Council's

representation review.

Mayor Dan Gordon believes the

balance of three wards, established six

years ago, is ''about right'', despite the

growth of Rangiora

compared with the rest of

the district.

The council is required to

review its model of

representation every six

years, including the voting

system, the number of

councillors, the composition

of wards, whether

councillors are elected at

large, and whether to

continue having community

boards.

''The process will need to

be informed by arange of

information, including

population changes,'' Mr Gordon says.

''I think the work done last time has set

us up pretty well, so I'm not picking we

will need to make any major changes.''

Six years ago the council changed

from four wards to three in abid to

address the population growth in

Rangiora.

Two community boards were created

in the Kaiapoi­Woodend ward —

Kaiapoi­Tuahiwi and Woodend­Sefton

Dan Gordon

—inresponse to community feedback.

Subdivisions were created in the

Rangiora­Ashley and Oxford­Ohoka

boards to ensure representation across

the community.

''It was amatter for that community (in

Woodend). They wanted to have their

own community board and that's what

the process is about,'' Mr

Gordon says.

''All our community

boards work really well and

Iget along along to as many

community board meetings

as Ican.''

Mr Gordon says the

community boards play an

important role in making

decisions for their

communities and in keeping

the council informed of

local issues.

''I place alot of

importance in community

board decisions and it

would take alot for me to not endorse a

board's recommendations.''

Arepresentation review committee

comprising the mayor, one councillor

from each ward and arepresentative

from each community board, has been

appointed to consider the

representation needs for the 2022 and

2025 local body elections.

It is expected that the first­past­thepost

voting system will be retained.

Council reviewing hazards

Waimakariri residents are being invited

to learn about the latest natural hazard

information in the area.

The Waimakariri District Council has

been updating models and planning

maps, to show the possible extent of

natural hazards on land in the district,

as part of its District Plain review.

Development planning manager

Trevor Ellis says improving the accuracy

of hazard maps is an important piece of

work because of legislative changes

around climate change, reducing

natural hazard risk and ensuring

preparedness and response to natural

disasters.

"Updating these maps is an ongoing

process. The environment is dynamic

and constantly changing,'' he says.

''As acouncil we update our maps to

show the latest information so property

owners can make informed decisions

before undertaking building works,

buying property or preparing for a

natural disaster."

The maps and models are available at

Waimakariri.govt.nz/letstalk.

The hazard information being updated

includes flooding from rainfall, coastal

inundation and stop­bank breaches, as

well as tsunami, liquefaction and fault

lines.

Hazard maps are used when

processing resource consents, rezoning

land, for project information

memoranda and for building consents to

ensure the risk from natural hazards to

people and buildings is assessed, Mr

Ellis says.

They are also referred to on land

information memorandum (LIMs) for

buyers and sellers of properties.

"We want to make sure people are

aware of the updated maps and know we

are available to answer any questions

regarding the update,'' he says.

"The next step in this process is

through the District Plan Review,

looking at how we can respond to this

new information so any future

development is done in as safe away as

possible."

Residents can view the models and

maps, ask questions, and offer feedback

online until October 19, or attend the

consultation evenings being held in the

Rangiora Town Hall on October 14, from

6pm to 9pm, or in the Ruataniwha

Kaiapoi Civic Centre on October 19, from

4pm to 7pm.

Election seminar to be staged

Social issues will be the focus of an

election seminar being held on

Wednesday.

Social Services Waimakariri (SSW)

will host an online webinar with localsector

groups informing election

candidates of the local issues, before

the candidates are invited to respond to

prepared questions.

''We are going to hear from speakers

from the four main sectors, giving five

minutes each —families with children,

youth, older persons and the disability

sector,'' SSW facilitator Nicki Carter

says.

Candidates from Labour, National,

the Greens and the New Conservatives

will then be invited to respond to

questions around social sector funding,

operating in the post­Covid

environment, and service provision in

rural areas.

Recent surveys conducted by SSW

following the Covid­19 lockdown reveal

the challenges faced by social service

agencies in rural communities.

The issues highlighted include

funding and the lack of acommunitybased

social worker in the Hurunui

district, Nicki says.

People can tune in to watch the forum

live at 3pm on September 30 on

YouTube at https://youtu.be/

ahg70WrlGS8.

It can be watched later at the same

address.

Light fest

Rangiora'sVictoria Park was

transformed intoafairylandlast night

as the Rangiora Light and Sound

Festival got under way.

The festival continues tonight,

Thursday,September 24, Friday, and

culminates on Saturday night with a

grandfinale.

The event is based on the popular

Botanic Delights Festival in

Christchurch, and is aimedatlifting

spirits of people wearied by the

disruptionofCovid­19.

Talking trees, discolights, music,

dancing lights,interactive lighting

displays, and smoke and bubble

machines glow in the darkness.

The Saturday­night grandfinale

includes afamily movie on abig

screen, light displays, music from local

bands, and aspecialappearanceby

the Rangiora Brass Band.

It runs from 6pm on week days.

Saturday'sgrand finale starts at 5pm.

The Rangiora Festival of Colour

follows on Sunday, 10am to 4pm.

Looking

to buy or

sell?

Aaron Clark

Residential &Lifestyle Sales Consultant

NEWS

North Canterbury News, September 24, 2020

M 027 873 5121

P 03 313 8022

E aaronc@pb.co.nz

Saturday 26 September

Creative Forum &Panel Discussion

'What is the value of arts and culture in our region?'

11 am -12.30 pm By registration: artsinoxfordgallery@gmail.com

Philip Trusttum

Artist Talk and Exhibition Opening

1.30 -4pm By registration: artsinoxfordgallery@gmail.com

Sunday 27 September

Public Maker's Day

Welcome all creatives. Learn, share and

interact with local artists

10 am -4pm

5

Fabric

Sell out

Discounted

prices

Sunday 4 th October

Time: 10am to 3pm

Rangiora RSA

Victoria Street, Rangiora

Liberty,Cotton &Steel, Andover,

Poppie Cotton, and many more!

Call Aaron today for

your chance to WIN

gift vouchers to the value

of $450 from

Appraise &list your property

and you're in the draw!

T's &C's apply.Offer ends 30 September 2020

Arts in Oxford Gallery Phone 03 312 1639 |www.artsinoxford.com

Open Friday to Sunday 10am –4pm |Closed Monday to Thursday and public holidays

2316556

2314755
---
OPINION

6 North Canterbury News, September 24, 2020

KAIKŌURA VIEWS

MAYOR CRAIG MACKLE

Learning agency aims

to make adifference

Te HaoMataurangaLearningin

Kaikoura is going great guns, with

funding from theMayoral Task Force

for Jobs.

The initiative, which is all about

creating, promoting and encouraging

learning opportunities in Kaikoura, has

filled three new positions: Sean

Maddenisthe employmentcoordinator,

Rosie Poharama­Hepi is the

youth employability facilitator, and

Renee Woodisthe drivingco­ordinator.

Thecalibre of applicantswas high.

Everyonehad something uniquetooffer

theteamandsomegreatexperience

they could bring to the role. Thank you

to everyone who applied.

The Porsche Club visitoverthe

weekend of September 5and 6wasa

greatsuccess, with 64 cars coming to

Kaikoura.

Feedback was that club members

were impressed with whatthe district

hadtooffer. They alsowantedtothank

allthe businesses in town for making

them feelwelcome, andextended a

personal note of thanks to the council

for the helpprovidedbycommunity

development/events co­ordinator

Joanne York.

It sounds like theywillbevisitingus

again.

TheChevyClubarrived intownthe

weekend after that,andthe Kaikoura

Hophas just takenplace with an

amended programme and Covid

restrictions in place.

However, it is not all about the

visitors that are coming to town. The

upcoming Spring Festival on October 2

and 3isachancefor ourcommunity to

gather andcelebrate the new season.

There willbelivemusic andgood

food. Therewill be interactivegames,a

LOST AND FOUND

The following property has been

reported as lost to NorthCanterbury

police.Have you seen it?

Agrey iPhone 6, ablack wallet, a

metre­long chrome strippaneloff a

vehicle, ablack Samsung S5, Coach

sunglasses, aSamsung phoneina

black leather folder, atan leather

❛The Porsche Club visit over

the weekend of September 5

and 6was agreat success,

with 64 cars coming to

Kaikoura. ❜

poetry reading, alip synccompetition,

and an organisedroadtrip.

It is safe to sayIthink there should be

something for everyone at the Spring

Festival.

The Provincial Growth Fund Marine

Development project is tracking nicely.

We are making headway with

appointing aproject leader,who will

takesomeofthe work off the

governance group and helpdevelop a

business plan for South BayHarbour.

Ihavebeenviewing thedemolition of

the buildings with atinge of sadness. I

have strong memories of working there

and the charactersImet along the way,

but Iamquiteexcited aboutthe future

of thespace and the opportunities that

this project presents.

Underlying all this news is the great

sadness Ifeel as we cope with the death

of oneofour young people. Ithink I

speak formanyinthe community when

Isaythat this tragic eventhas rocked

me to thecore andmademethink of

othersthat we have lost.

Thisisavery sadtimefor our

communityand my heartfelt thoughts

are with family and friends, and our

wider community.

Let's keeplooking after each other

through this difficult time.

wallet,agreen iPhone 11, an Apple

iPhone S5 in agreen/blackcase, a

white gold diamond ring with fiveor

six rows of small stones which

resemble asea shell,ablack and

orange shoulder bag, abrown leather

shoulder bag, and agrey iPhone 6ina

greydrop­proof case.

Busy crossing ... Woodend School road patrol students at work.

LETTER TO THE EDITOR

Dear Editor,

My suspicionshave proven correct.

The so­calledtemporary trading

hoursand days at the Kaiapoi Westpac

branch havenow been made

permanent.

ANZinKaiapoihas alsoreduced the

number of trading days tothree,

removing Monday and Friday from its

trading days in the process.

PHOTO: FILE

Wait for traffic lights

called akick in the guts

By STAFF REPORTERS

Traffic lights to help students cross

the main highway in Woodend safely

are months away.

They have been designed and will

be tendered in coming weeks, says

New Zealand Transport Agency

network manager, Andrew Crofts.

But they are not expected to be

operating until the start of the new

school year. The wait has riled local

MP Matt Doocey.

He says it is afurther kick in the guts

for the community.

''I'm devastated to learn of NZTA's

announcement that the signalised

crossing, which was promised to our

Woodend community in March, is

going to be kicked out to next year.

''The Woodend community is

running out of patience after going

through endless consultations and

meetings.''

Mr Doocey says moving the goalposts

yet again leaves residents with

no reason to trust that the lights will

be delivered next year. ''Any delay

will put children's lives at risk.''

Waimakariri Mayor Dan Gordon is

demanding atimetable from the

agency for safety improvements.

He had aZoom meeting last week

with the agency officials and planned

to meet regularly with them until the

promised improvements were

completed. ''I want to see that crossing

implemented and an engagement with

the community about projects NZTA

consulted on last year.''

These include safety measures at

the Pegasus/Ravenswood

intersection, lights at the Woodend/

Main North Rd intersection, aroundabout

at the Rangiora­Woodend Road

corner, and safety improvements at

Pine Acres.

''These are important projects for

our community and for the council,''

Mr Gordon says. ''These are NZTA

projects, but Ifeel it's important that

we work with them to ensure they are

implemented.''

Woodend School principal

Adrienne Simpson says the school is

looking forward to avisit from agency

officials this week to provide a

briefing on the signalised crossing.

The school is also working with the

agency and Mr Gordon to progress the

other safety projects.

''The school roll keeps growing and

we are starting to get the flow­on from

people moving into the Two Roads,

Ravenswood and Copper Beach

Estate subdivisions.''

The roll is expected to reach 370 by

the end of the year, with the school

able to take about 400 pupils. Future

building work will cater for up to 600.

TheBNZ remains the onlytrading

bank to retain Monday­to­Friday

trading withnormal trading hours.

This raises thequestion: Are Kaiapoi

customers less valuedatboth Westpac

and ANZ thanthose of Rangioraor

Christchurch?

Thereisaword for that: Contempt.

Yours,

John Moody

McALPINES MITRE 10 MEGA RANGIORA -OCEAN WATCH

This

Week

Sun

Fishing

Guide

Moon

Wind

Swell

Pegasus Bay

Tide Chart

3

2

1

Good

Thursday Friday Saturday Sunday Monday Tuesday Wednesday

Sep 24 Sep 25 Sep 26 Sep 27 Sep 28 Sep 29 Sep 30

Rise 6:14am

Set 6:27pm

Best

Times

6:03am

6:32pm

Good

Rise 6:12am

Set 6:29pm

Best

Times

7:00am

7:28pm

Good

Rise 6:11am

Set 6:30pm

Best

Times

7:56am

8:23pm

Fair

Rise 7:09am

Set 7:31pm

Best 9:49am

Times 10:14pm

Rise 7:07am

Set 7:32pm

Best 10:38am

Times 11:02pm

Rise 7:05am

Set 7:33pm

Best 11:25am

Times 11:47pm

Rise 7:03am

Set 7:34pm

Set 1:26am

Set 2:30am

Set 3:24am

Set 5:08am

Set 5:45am

Set 6:15am

Set 6:41am

Rise10:36am

Rise 11:30am

Rise 12:30pm

Rise 2:34pm

Rise 3:38pm

Rise 4:42pm

Rise 5:44pm

Fresh Nturning

Strong NW becoming Strong Weasing Light SWturning

Light Wturning

Moderate NW

NW

Moderate N

near gale W to moderate SW

E

S

E0.4 mturning NW 0.5 mturning

S0.5 mturning

S1.6 mturning

NW

S

NE 1.0 m

W SW 1.4 m S1.5 m SE 1.3 m

3 6 9 NOON 3 6 9 3 6 9 NOON 3 6 9 3 6 9 NOON 3 6 9 3 6 9 NOON 3 6 9 3 6 9 NOON 3 6 9 3 6 9 NOON 3 6 9 3 6 9 NOON 3 6 9

Good

Good

Fair

Best 12:08pm

Times

0

Highs Lows Highs Lows Highs Lows Highs Lows Highs Lows Highs Lows Highs Lows

Waimakariri 10:23am 2.5 4:03am 0.4 11:22am 2.4 5:02am 0.5

6:00am 0.5 12:47am 2.2 7:57am 0.6 2:42am 2.2 8:52am 0.6 3:33am 2.2 9:43am 0.6 4:21am 2.2 10:31am 0.6

Mouth

10:51pm 2.3 4:41pm 0.5 11:49pm 2.3 5:43pm 0.5 12:21pm 2.4 6:41pm 0.5 2:18pm 2.4 8:36pm 0.6 3:12pm 2.3 9:26pm 0.6 4:00pm 2.3 10:13pm 0.6 4:44pm 2.3 10:57pm 0.6

Amberley 10:23am 2.5 4:03am 0.4 11:22am 2.4 5:02am 0.5

6:00am 0.5 12:47am 2.2 7:57am 0.6 2:42am 2.2 8:52am 0.6 3:33am 2.2 9:43am 0.6 4:21am 2.2 10:31am 0.6

Beach

10:51pm 2.3 4:41pm 0.5 11:49pm 2.3 5:43pm 0.5 12:21pm 2.4 6:41pm 0.5 2:18pm 2.4 8:36pm 0.6 3:12pm 2.3 9:26pm 0.6 4:00pm 2.3 10:13pm 0.6 4:44pm 2.3 10:57pm 0.6

10:32am 2.5 4:12am 0.4 11:31am 2.4 5:11am 0.5

6:09am 0.5 12:56am 2.2 8:06am 0.6 2:51am 2.2 9:01am 0.6 3:42am 2.2 9:52am 0.6 4:30am 2.2 10:40am 0.6

Motunau 11:00pm 2.3 4:50pm 0.5 11:58pm 2.3 5:52pm 0.5 12:30pm 2.4 6:50pm 0.5 2:27pm 2.4 8:45pm 0.6 3:21pm 2.3 9:35pm 0.6 4:09pm 2.3 10:22pm 0.6 4:53pm 2.3 11:06pm 0.6

10:34am 2.5 4:14am 0.4 11:33am 2.4 5:13am 0.5 12:00am 2.3 6:11am 0.5 12:58am 2.2 8:08am 0.6 2:53am 2.2 9:03am 0.6 3:44am 2.2 9:54am 0.6 4:32am 2.2 10:42am 0.6

Gore Bay 11:02pm 2.3 4:52pm 0.5

5:54pm 0.5 12:32pm 2.4 6:52pm 0.5 2:29pm 2.4 8:47pm 0.6 3:23pm 2.3 9:37pm 0.6 4:11pm 2.3 10:24pm 0.6 4:55pm 2.3 11:08pm 0.6

10:29am 1.9 4:10am 0.3 11:29am 1.9 5:07am 0.4

6:04am 0.4 12:52am 1.7 7:59am 0.4 2:45am 1.7 8:53am 0.5 3:35am 1.7 9:44am 0.5 4:23am 1.7 10:33am 0.5

Kaikoura 10:59pm 1.8 4:50pm 0.3 11:57pm 1.7 5:50pm 0.4 12:27pm 1.9 6:48pm 0.4 2:23pm 1.8 8:42pm 0.4 3:16pm 1.8 9:31pm 0.5 4:05pm 1.8 10:18pm 0.5 4:51pm 1.8 11:03pm 0.5

*Not for navigational purposes. Wind and swell are based on apoint off Gore Bay. Maori Fishing Guide by Bill Hohepa. www.ofu.co.nz www.tidespy.com Graphic supplied by OceanFun Publishing Ltd.

2118223
---
Come along and see HSPA's musical adaption of the

classicC.S.Lewis storytheseholidays!

The Pevensie children discover amagical world called

Narnia inside the wardrobe ofanold mansion, after

they are sent there to escape the 1942 London Blitz.

In Narnia the evil White Queen and her crew, led by

Maugrim the wolf, hold everyone infear and have

cast aspell across the land making itwinter all the

time.

The children defeat the White Queen, with the help

of many magical friends they make along the way, as

MaisyEder

Specialty Dancer

Ihave been amember

of HSPA for 8yrs. Ienjoy

production time.

You put everything you

have practised into a

performance. It's

pretty busy but Iget to

see my friends a lot

more during the week

which makes the show

very worth while!

FelixHorwarth

Edmund

I've enjoyed playing a

leading role this year.

There is alot to learn

but it's a good challenge.

The show isgreat and I

can't wait to be doing it

with my friends.

well as Aslan, the great and benevolent Lion. Thus

bringing warmth andjoy to theKingdom once again.

Our story ends with all four children becoming Kings

&Queens of therealm.

This is atimely story ofhow courage and strength of

character helps our heroes overcome something that

has cast ashadow across the land, much as Covid has

cast ashadow acrossthe world at thistime. Originally

drawing parallels with both the Christian teachings

and the events of second world war, today this story

draws parallels with the war we are all currently

Hanmer Holiday Home

availablefor Hire January2021

6Oakview Close. Contact:

fighting againstCovid 19.

Performed by the entire student body of Hartley

School of Performing Arts, ranging from 4yrs –18yrs.

Featuring dance numbers, singing, acting, great costumes,and

fun special effects.

Afantastic musical showfor ourtime.

Tickets only $15. Available at Town Hall Cinemas both

over the counter andonlineunder'Live Shows'.

Group discountsare available.

Don't miss outonthisentertainingfamilyshow!!

Thankyou to theWDC Council &our sponsorsbelow.

Azaria Westeneng

Queen's Dwarf

I'm proud to have

gotten aspeaking part

in awhole school show.

I am playing a dwarf

and love that Iamplaying

acomical character.

I'm really looking forward

to getting back on

stage in front of alarge

audience.

Isabella

Westeneng

Specialty Dancer

I'm excited to be on

stage again. I will be

acting and tap dancing

andI'm lookingforward

to deing in 6 performances

thisyear!

Iona Main

Mr Beaver

Being a part of HSPA

and participating in the

shows for the last 7yrs

has been somuch fun. I

love getting to do

something I love with

best friends. This year

has been hard so it's

been amazing working

on this show. I can't

wait to getonstage.

Anabel&Rueben

Bester

Witch'sFollower

&Faun

This is our 4th Show

and itlooks like it will

be the biggest and

best! We have been

really enjoying all the

rehearsals with our

friends for The Lion,

The Witch and The

Wardrobe.

Lily Williams

Lucy

I've loved working on

production this year!

It's such agood experience,

and the rest of

the cast are super kind,

supportive people. I'm

super excited for the

opening next week!! I

can't wait to get into

the theatre and start

the performances

Currentlytakingenrolments

forTermFour2020!

Sian Hassan

Aslan

This year is my last student

year at HSPA and I

am leaving on a good

note! Working with a

such talented and passionate

cast and crew is

always ahighlight, andI

am especially grateful

for it this year! Get

readytobeinawe!

Jasmine-JayWhite

Good Narnian

Whilst certainly it's not

my first time on the

stage, Isure amlooking

forward to my debut

performance with my

HSPA family.

I love the stage and

performing in front of

an audience.

Olivia Houghton

NarnianHedgehog

this is my first production.

I've attended

some HSPA summer

camps and Iamreally

enjoying weekly drama

classes. Hedgehogs

are my favourite animals

and Ilove that I

get toplay ahedgehog

character. I can't wait

forthe show.
---
NEWS

8 North Canterbury News, September 24, 2020

Music concert

Agroup of musicians, MadeInHolland,

will perform in concert at theBalcairn

Hall this Sunday.

The concert, which will begin at 2pm,

was to have been held earlier this year to

celebrate the Dutch King's birthday on

April 27, but was postponedbecause of

Covid­19.

The concert will feature traditional

Dutch music, songs, fun and baking

treats, with aDutch afternoon tea during

the interval. Ticketsare $10 for adults

and $5 for students. They are available at

Blackwell's Department Store in

Kaiapoi, Artisan by Rangiora Bakeryin

Rangiora, and SallyMac's in Amberley,

with limited door sales. To learn more,

email deb.vink406@gmail.com.

2310971

"Aging isafact of life,

looking your age doesn't

havetobe"

•SkinPen microneedling for fine lines,

scarring andskin rejuvenation

•Botulinum (Botox)

•Dermal Fillers

•Radiofrequency Surgery

•Prescription Cosmetic Creams

Dr Peter Aspell

Specialising in Cosmetic Medicine

www.skinbetter.com

www.skinpen.com

15 Durham Street Rangiora |Phone: 03 313 4659

www.durhamhealth.co.nz

Live Local

Love Local

Hearing Tests

Hearing Aid Fittings &Support

Tinnitus Support &Advice

Your Favourite Country

Christmas Shop is Opening

Saturday 26 th September

Call 03 423 3158

PATAKA

Laybys welcome -Open every day 10am to 4.30pm

768 Marshland Rd (North End) Ph 03 323 8915

Amberley |Rangiora |Cheviot |Hanmer

On the move ... Quilters Quarters owner

Pauline Forrest is moving her Rangiora business

from premises near The Warehouse to the former

Rangiora courthouse building in Percival Street.

love your hearing

2314088

New home ... Gabrielle O'Connell, left, co­ordinator for the Cancer Society's new

North Canterbury Centre, with Tiffany Wafer, its fundraising and events manager,

outside the centre in the former Rangiora courthouse. The new centre opened in

the building in March.

PHOTOS: SHELLEY TOPP

Former courthouse now tenanted

By SHELLEY TOPP

The formerRangioracourthouse

building,which was built in the 19th

century, has been transformed into a

modernretailspace for two new tenants.

The CancerSociety established its

North Canterbury Centre in the building

at the start of March, and Quilters

Quarters, currently located near The

Warehouse at 9High St in Rangiora, will

join them during next month's Labour

Day Weekend.

The building is owned by the owner of

the QuiltersQuarters, PaulineForrest

and her husbandGrant Forrest, of West

Eyreton.

Paulinesaid she decided to move her

business to the Heritage New Zealandlisted

courthouse at 143 PercivalStreet

after the lease expired at her present

HighStreet location.

She says she is looking forward to the

move. ''Itisvery exciting.''

The Cancer Society's North

Canterbury Centre co­ordinator,

Gabrielle O'Connell, said it was exciting

to have aNorth Canterbury base in

Rangiora.

''Weare very fortunate to be here,'' she

said.

The centre has awelcoming fit­out,

complete with donated art work on the

walls, hand­made daffodilcushionson

the chairs, and ample spacefor

Have you

heard

a story

you'd like

to share

withyour

district?

Shareit

with us!

Call our

Editor,

Robyn,

on

03 314 8325

and let

her know

what's

happening

in your

area.

PUBLIC NOTICE

WestpacAmberleybranchhours.

Our branchtransactional hours are

Monday

Tuesday

Thursday

WestpacNew Zealand Limited.

administration work, organising

fundraisingevents. It provides all types

of support for cancer patients and their

caregivers, including transport to

treatment.

It is also aplacewhere people can

come to give adonation if they wish or

volunteer theirservicestohelp the

society.

The brick­and­limestone building was

designed to house the Magistrate's Court

in Rangiora and opened in 1893.

It was closed in December 2011 for

earthquake strengtheningand was

closed by the MinistryofJustice on

March 31, 2014.

In recent years, it has had extensive

earthquake strengtheningand

renovation work in preparation for its

new purpose.

10am –2pm

10am –2pm

10am –2pm.

Foranappointmentoutside these

hours please call the branchdirectly

on (03) 3149700.

We are locatedat113Carters Road,

Amberley7410.

Youcan also bank with us onlineoronthe

Westpac Oneapp,atour ATMs or call our

ContactCentreon0800400 600.

Whether it's face to face,overthe phoneor

online, we're committed to beingherefor you.
---
NICOL'S

BED SALE

ON NOW!

Massive deals on Selected

King Koil AHBeard&Sleepmaker

Beds,Pillows and Protectors

2314577-24/9

+12 MONTHS

INTEREST

ON PRODUCTS

FREE! $499 &OVER *

*Terms&Conditions Apply

343A FlaxtonRoad, Rangiora•Phone (03) 313 7886
---
NEWS

10 North Canterbury News, September 24, 2020

Te reo lessons in cafe setting

By SHELLEY TOPP

The Fresca Mediterranean

CafeinRangiora is the

meeting placefor asmall

group of people wanting to

learn te reoMaori.

The informal lessons are

being conducted by Desray

Lithgow, ateacherand artist

fromOkuku.

''They are gentle, light and

not boggeddownwith

technicalities,'' Desray says.

''There arenotests, there is

onlyaroha. We have been

joyfully meeting onceaweek

for overthreemonths now.

''The ropu (group of

people) all have different

motivations for comingalong.

One thingthey areunited in

is their desire to learn te reo

Maori andbuilding

community/whanaungatanga,''

she says. ''Wehave

betweensix and nine regular

attendees, and we cover

manythings like

pronunciation,mihi

(greetings), tikanga (Maori

customs), kiwaha(colloquial

sayings) andwereview and

build on our previousweeks'

work.''

The sessions areheldusing

alow key,drop­inapproach.

''They are open to anyone

who is interested, aimed at

beginners andinteractive

withnostress and no

minimum attendance,''

Desraysays. ''If thissounds

likeyou and youwouldliketo

❛There are no tests,

there is only aroha.

We have been

joyfully meeting

once aweek for

over three months

now.❜

—Desray Lithgow

get your lingual juices

running, comeondown,grab

acoffee and join us."

The group is built on

respect, shesays.

''Wediscuss howitfeels to

speak Maori whenyou feel

unsure,where we mightstart,

suchastalking to our pets,''

Desray says.

''Wesupport themistakes

so that the group may

improveand feel confident in

whattheytake out into the

wider community.''

The classes areheldat

FrescaeveryThursday at

9am,withattendance by koha

(donation).However Desray

has recentlystartedanother

class on Wednesday

mornings—''same time,

sameplace''—after she was

approached by someone

wanting to jointhe group at

the cafe.

''Tojoinatthisstage, when

so much has beencovered,

would be daunting,''she says.

Low key approach... Members of the Te Reo Maori Fresca

learning group, from left,Graeme andMargaretMartin, Joanne and

Bob Gumbrell, group tutor Desray Lithgow, Miranda Hales and Cathy

Batchelor outside the Fresca MediterraneanCafe in Rangiora, where

Desray takes the lessons.

PHOTO: SHELLEYTOPP

Watch out for

shearwaters

By DAVID HILL

Kaikouraresidents are beingasked to

keep an eye out for their feathered

friends.

The Hutton's shearwater/titilives on

the Kaikoura mountains and peninsula,

with the adult seabirds returning home

each spring for nesting, then flyingeach

autumn for their winterfeedinggrounds.

Adults andyoungbirds(fledglings) can

''crash land'' in and aroundKaikoura

because of artificial lighting at night.

Road users shouldapproach any dark

shapes on the road withcare.

Birdscan also gather in big groups

(known as rafts) when feeding, so boaties

should also takecare.

Anyone who findsalost Hutton's

shearwater should placethe birdina

non­airtightcontainer or cardboard box.

It will not need foodorwater and should

not be handled more than necessary.

Between Septemberand February,

keep the bird in aquiet, dry and cool

placeovernight and take it to Encounter

Kaikouraat96Esplanade between

7.30am and 6pm.

From March, takethe birdstraightto

the ''Hutton's Hub'', open 24/7 at 115

Ludstone Rd, for banding and checks.

Agrounded shearwater may appear

clumsy on land, unable to take­off or

walk,but this is normal.Ifthe bird has

any signs of injury, eyes shutting or an

inability to maintain balancewhen

sitting, it will need to be pickedup.

Call Kaikoura Wildlife Rescue on (021)

585 586, theDepartment of Conservation

on 0800 362468 or the Hutton's

ShearwaterCharitable Trust's Lorna

Deppeon(021)049 1486.Goto

huttonsshearwater.org.nz to learn more.

THE 2020 GENERAL ELECTION

AND REFERENDUMS

This year youcan vote

in tworeferendums.

Enrol. Vote.Beheard.

vote.nz

referendums.govt.nz

0800 36 76 56
---
WOODEND, WAIKUKU, PEGASUS

North Canterbury News, September 24, 2020

Fun day awelcome interlude

By DAVID HILL

11

Woodend School pupils enjoyed anoisy,

fun­filled day last Friday in what has

been achallenging year.

After the cancellation and

postponement of many events because

of Covid­19, principal Adrienne Stewart

said it was good for the pupils to have

some fun ahead of the end of term three,

which finishes tomorrow.

''The kids are just having agreat time

and we couldn't have got abetter day.

''Hopefully, we will have alevel 1term

next term and we can have all the

normal activities without any

disruption,'' she says.

The school held aWhare Manu Day,

full of fun activities and aspecial lunch.

The day was held instead of the Whare

Manu Big Day Out, which is normally

held in the second term.

''None of the venues we normally use

could take them due to the size of the

group because of level 2restrictions, so

we decided to do something onsite,'' Ms

Stewart says.

Level 2restrictions meant the event

was held without parents attending,

with teachers, student teachers and

New Builds |Renovations |Maintenance

Back flow prevention &testing

Phone 021 261 8678

josh@cottleplumbing.co.nz |facebook.com/cottleplumbing

www.cottleplumbing.co.nz

teacher aides running the activities.

Children rotated between ''top team''

challenges, and other activities.

The name Whare Manu comes from

the school houses, named after native

birds from the school's cultural

narrative.

Team work ...

Woodend

School pupils

attempt to

transport water

during atop

team challenge.

2316545

• WOF • Service

• Wheel Alignment

• Tyres

Dragon's

mouth ...

Pupils enjoy

playing on a

bouncy castle

with a

dragon's

mouth during

Woodend

School's fun

day on Friday.

PHOTOS: DAVID HILL

• Automotive Repairs

56 Main North Road

Woodend

03-312 7703

www.woodendautomotive.co.nz

2269513

Excavation through to Finished Product

on all Residential.

Pathways, Patios &Driveways.

Plain, Coloured, Sponge Finish &Exposed

Aggregate.

We offer Pumping, Placing &Cutting Deals

on House &Commercial Projects.

We have the expertise &equipment to

handle any size job.

For aFree quote on any size project:

Contact Russ: 021 786 642 or

russell@hardrockconcrete.co.nz

North Canterbury Based

2143193

Contact Ron or Annette

03 310 0604 / 027 271 7187

BloomfieldCourt

Small,familyfriendlyRest Home,

providing personalised care within a

homelysetting.

Single ensuited rooms with garden

outlook nowavailable.

No surcharges applied.

Privatelyowned and operated.

Within the heartofNorth Canterbury.

134 Rangiora-Woodend Road,Woodend

Forfurther information phone Lyn-Nurse Manager 03 312 7088

Email: nmbloomfield17@gmail.com www.eldernet.co.nz/bloomfieldcourt/

2316547

Lawns, Gardening,

Landscaping, fertilising,

spraying, chainsawing,

pruning, spouting cleaning,

Green waste removal

Whether you would like

manicured lawns /gardens,

aquick tidy up or ongoing

lawn/garden maintenance,

we can help.

Quotes provided including WINZ

2310143

• General Dentistry

• Hygienist

• Dental Therapy

• Periodontal Therapy

• Minor Oral Surgery

• Family Dentistry

2286891

Open Monday to Friday 8.30 to 5.30 |www.pagdental.com

PAGPegasus Dental

54 Pegasus Main St Pegasus

03 920 4003

pagpegasusdental@gmail.com

• Cosmetic Dentistry

• Facial Pain

• Oral Medicine

Specialist

• Oral Cancer Detection

• Ulcer Management

•Ample parking, easy

access

•Clinicians all New

Zealand trained

•Super Gold and

Community Services

Card Discounts

PAGSilverstream Dental

4/42 Silverstream Boulevard Silverstream

03 925 8003

pagsilverstreamdental@gmail.com
---
NEWS

12 North Canterbury News, September 24, 2020

Making his mark ... Len Holmes, of Kaiapoi, with his 1960 cobalt blue Ford Zephyr Mark 2convertible at the Rock'n'Wheels gathering

in Amberley.

PHOTO: SHELLEY TOPP

Rock'n'Wheels set to roll

By ROBYN BRISTOW

The wheels are finally set to

turn at the Amberley

Rock'n'Wheels car show.

The 10th anniversary show

opens at the Amberley

Domain, at 8am this Sunday,

September 27, after acouple

of false starts because of

Covid­19 level 2restrictions.

However, with level 1

kicking in this week, the

show will go on, with several

hundred cars expected to

arrive.

Cars, bikes, four­wheel

drives, campers —infact

anything on wheels —will

arrived from as far afield as

Motueka and Dunedin.

The community event is

now under the umbrella of

the Rock'n'Wheels Meet

Charitable Trust.

This year, the event will

benefit eight community

groups, all of which will be

helping on the day.

Trust spokeswoman

Katrina Platt says in spite of

having to push the event out

for several weeks, the day

will still offer plenty of good

old­fashioned family fun.

There will be swap­meet

sites, craft and food stalls,

live music, and

entertainment.

Cars turning up to

Rock'n'Wheels do not have to

have apedigree.

''If it has wheels and you

love it, bring it along,''

Katrina says.

Atotal of 104 vehicles

turned out to the first event.

It has since grown

substantially, with hundreds

of car owners taking the

opportunity to give their

vehicles arun to the

picturesque domain.

Entry is $10 per set of

wheels, including the driver

and one passenger. It will be

$5 for all extra people in the

vehicle, except for children.

Swap meet and craft sites

are $20 each.

Entry is $5 at the gate for

adults, with those under 15

free.

Public parking will be at

the Amberley School for a

donation.

The school is running the

car park as fundraiser.

In brief

Liquor decision pending

Adecision on an application by Thirsty

Liquor to open an outlet in Amberley is

pending,after athree­day hearing before

the District Licensing committee.Ninetythree

objections were received, with 16

opting to be heardbefore the chairwoman,

HurunuiMayor Marie Black, and

committee members Winton Dalley and

MichaelWard. Issues of alcohol abusein

the community, the liquor store's proposed

prominent siting on Carters Road in the

centre of town, the prospectofAmberley

becoming alocal centre for cheapbooze

and fuel, and concerns about liquorboxes

and bottlesbeing dumped alongthe

highwaywere raised by objectors. The

gallery was full duringthe hearing. The

committee has reservedits decision.

Rangiora police search

Astash of cash and cannabisplants were

found during apolice search at aRangiora

address last Wednesday.Police executed a

search warrantafter receiving information

which suggestedillicit activity at the

property. In all, 250 cannabis plants were

discovered, along with more than $100,000

in cash. A40­year­oldman has been

charged with cultivating cannabisand

possession for supply. He is scheduled to

appear in court later this week.

Rangiora Lionesses

An article in the September 10 North

Canterbury News wrongly reportedthat the

Rangiora Lionesses presented grants of

between$2000 and $10,000 to 16 schools in

the Rangioraand Kaiapoiareas for pupils

from families who have suffered hardship

becauseofCovid­19. In fact, the amounts

were $200 to $1000.The error is regretted.

HOT DEAL!

$ 99

12

2 for

$

25

Single Bottle

$14.99

ASAHI

12 x330ml

Bottles

$

22

99

springdeals

THE NED

Sauvignon

Blanc

750ml

Excludes PinotGris,

Rosé,Chardonnay,

PinotNoir

19 CRIMES

Range

750ml

MAC'S Range

12 x330ml

Bottles

$

24

99

$34

HOT DEAL!

99

each

$47

HOT DEAL!

99

BOURBON

MONTH

September 2020

HOT DEAL!

$ 4499

HOT DEAL!

$ 6499

STEINLAGER

CLASSIC

24 x330ml Bottles

$

39

99

BELL'S or FINLANDIA

1Litre

TANQUERAY

1Litre

JIM BEAM Black

Label Extra Aged

1Litre

Maker'sMark

1Litre

SMIRNOFFICE DOUBLE

BLACK &GUARANA

12 x250ml Cans, 7%

$

24

99

Shop local with

AMBERLEY,BARRINGTON,BELFAST,BRIGHTON, BURNSIDE, COLOMBOST, EDGEWARE, ELMWOOD,FERRYMEAD,

HALSWELL, HANMER SPRINGS,HORNBY, ILAM, KAIAPOI,LEESTON,LINCOLN,OXFORD,PAPANUI, PEGASUS, SEASIDE

Offersend close of trade 27th September 2020,while stockslast.Available at participating stores only.Multi Deal only available in store. Varietals mayvary by store. Limits may apply.

Wholesale (other liquor retail banners)not supplied. Terms and conditions may apply.Available 14th -27th September 2020 inclusive. Please see www.superliquor.co.nz fordetails.

superliquor.co.nz

SUP1889_C13
---
SPRING

Frenzy

C LEAN

THE COSMO

COLLECTION

ONLY

$

499

$

828 ONLY

ONLY

$

218

ONLY

$

799

SINGLEBED FRAME

UNDERBED STORAGE DRAWER $151

WARDROBE

FIVE DRAWER LOWBOY $504

TWO DRAWER

BEDSIDE

SEVEN DRAWER

TALLBOY

ALSO AVAILABLE

IN

ALSO AVAILABLE

IN

ONLY

$599

ONLY

$879

ONLY

$239

ONLY

$1139

SWIVELCHAIR

TYLER CHAIR

BUTTERFLYCHAIR

TWEENLOFT BED

14 STYLESINSTORE

COMET

•CONTINUOUS WIRE

SPRING UNIT

•LOFTED TOP

•COMFORT FOAM

RIVIERA

•POCKET SPRING

•QUILT FIBRE

•PILLOW TOP

ONLY $549

$699

•WAVE FOAM

•COMFORT FOAM

•FLEXI-SLAT BASE

SUMMIT

•ZONED DUAL POCKET

•VISCO MEMORY FOAM

•EURO TOP

•BLENDED WOOL

•PILLOWSOFT FOAM

•CONVOLUTED FOAM

•CHIRO-FLEX BASE

PINNACLE

•ZONED MINI POCKET

•NATURAL LATEX FOAM

•GUSSET EURO TOP

•BLENDED WOOL

ONLY ONLY $1629

ONLY $1799

•PILLOWSOFT FOAM

•CONVOLUTED FOAM

•CHIRO-FLEX BASE

QUEENMATTRESS&BASE

MATTRESSONLY $269

QUEEN MATTRESS&BASE QUEEN MATTRESS &BASE

QUEEN MATTRESS&BASE

MATTRESSONLY $429 MATTRESSONLY $1349

MATTRESS ONLY $1529

FINANCE

WE CAN HELP

WITH THAT

SEE ONLINE

OR INSTORE

FOR DETAILS

OUTDOOR

FURNITURE

ABOUT TO

ARRIVE!

FIND US IN THE OLD TARGET BUILDING

ON THE CORNER OF BLENHEIM &CURLETTSROAD, SOCKBURN

BOTANICAFURNITURE.CO.NZ 0800 268 264
---
NEWS

14 North Canterbury News, September 24, 2020

Walk planned for Sunday

Food security will be the focus of awalk

in Kaiapoi on Sunday.

The Kaiapoi River Wellbeing Walk is

back for the secondyear,leaving fromthe

Kaiapoi Food Forest after ashort talkon

food securitygiven by Brent Cairns at

9.30am.

Waimakariri Mayor Dan Gordon will

join the walk,which will do aloop around

the Kaiapoi River, before finishingatthe

Kaiapoi SpringFestival at Trousselot

Park at 11.30am.

Food security is ahot topic in the

district as it faces uncertainty because of

Covid­19. Satisfy Food Rescueisworking

with the Waimakariri District Council

community teamonafood security

initiative and has received funding from

theMinistry of Social Development.

While the walkisfree,donations to

Community Wellbeing North Canterbury

areencouraged.

Thewalk,organised by Walk forthe

Planet,was originally intended as partof

theChristchurch Walking Festival, which

waspostponeduntil April.

Walk for the Planet is involved in

organising other walks.

Formore information, visit the Walk

forthe Planet pageonFacebook.

Well, that'sahoot

Transport Manager -Bulk

GVT is based in Waipara, North Canterbury. Weoperate asuccessful, well established rural transport

company with 21 trucks (4 bulk, IHiab, 3spreaders and 13livestock trucks). An opportunity has arisen

to join our team, due to the impending retirement of along serving Manager.

The Bulk TransportManager looksafter the day to day operations of the bulk fleet, hiab and the consignment

fertiliser store. The role reports directlytothe Managing Director and hasplenty of scope to grow

Key Tasks &Responsibilities:

• Schedule dayswork for the department

• ManageBallanceConsignment Store

• Monitorstaff performanceagainstcompany

standardsand performance criteria andensure

an appropriatelevel of training which is

regularly assessed

• Coverall Bulk after hours related inquiries

• Liaisewith key contacts; agents, reps and

customers,toincrease the profile and

profitability of GVT.

• Ensure your department is working together

with otherdepartments, in particular maximising

use of our labour force.

• Maintain and enforcethe companystandards /

rules and regulations.

• Maintain health andsafetystandards.

• Ensure the fleet iswell maintained by

scheduling maintenancefor entirefleetweekly

and liaising with workshops, drivers andother

departments

• To promote self and GVT to ensure growth of

the business.

Key Skills and Experience:

• Greatcommunicationskills with staff and

customers

• Computer literate

• Ability drive atruck from time to time

• Ideally asimilar position in acurrent or previous

role

• Ability to train drivers

• To lead by example and maintaincompany

standards.

Position Requirements:

• Class5licence for aconsiderable length of

time andbemedically fit

• Must be able to work flexiblehours and cover

after hoursenquirers

• Ability to lead by example.

• To model and maintainstaff standards of

communication.

• Rural transport experience

Remuneration:

• GVToffers competitive remuneration andthe

use of acompany vehicle for workand personal

use.

GVT is an established rural transport operator we are committed tohealth and safety which includes a

comprehensivedrugand alcohol policy.Weaim to provide asafe workingenvironment

We are readvertising this job as we have not found that person with agood blend ofrural transport

experience andthe ambition to progress their career.

If you have the experience, skills and desire to join our team please apply with your

CV and acovering letter to the Managing director marco@landline.co.nz. or call

Marco on 027 496 5850.

2316558

The full Monty ... Dominic Stove's entry, Monty,which was named champion image

in the recent Open competition run by the Rangiora Photographic Society.

Monty took out the championimage

overall at the second Open

competition held recently by the

Rangiora Photographic Society.

Dominic Stove's entry was also

awarded A­grade honours, and the

best­in­grade competition.

Results:

Champion image overall: Monty,

Dominic Stove.

Best in grades

Agrade: Monty,Dominic Stove; B

grade: Kaikoura Minimalism,Nick

Hampson; Cgrade: Super Hornet,

Martin Kircher.

Honours Agrade

Monty,Dominic Stove; 3Days New,

Catherine Dalton; Starfish,Cathy

Price; Beyond the WebofDeceit,Cheryl

Muirson.

Honours Bgrade

Christchurch Art Gallery,Nick

Hampson; KaikouraMinimalism,Nick

Hampson; Man Up, Tabitha Andrews;

Farewell Spit Gannet,David Bayley.

Honours Cgrade

Super Hornet,MartinKircher; Red

Tailed Cockatoo in Flight,Amy Boyce.

Grab your girlfriends, mum

or daughters for agreat day out!

3&4October, Horncastle Arena

Opening hours: Sat 10am -5pm &Sun 10am -4pm

2-for-1

tickets on

• Over 180 Exhibitors • Taste Zone • Artisan Craft Zone • Fashion &Beauty

• Health &Fitness • Thin Lizzy Makeup Lounge • NZCollege ofMassage Lounge

• Sparklewhite Teeth Lounge • Batch 10 Cocktail Lounge • Goodie Bags &much more!

Door sales $10 &kids under 12 free!

Find out more at womenslifestyleexpo.co.nz
---
FINAL

WEeK!

SPRING CLEAN

STOREWIDE SALE

Recliner NOW $ 459

2 Seater Recliner

NOW $

799

3 Seater Recliner

NOW $

999

FAIRVIEW RECLINER

RANGE

ON SALE!

Lastchance to snap up theseawesome savings!

Corner Suite

NOW $

2499

Chia Single/Single Bunk

WAS $

1299

Dallas Queen Bed

WAS $ 399

NOW

$

299

Bahamas Trundler Bed Set

WAS $ 897

NOW

$

1099

NOW

$

698

SUPER DEAL!

SUPER DEAL!

ALL MATTRESSES

ON SALE!

ALL TIPAZ

ON SALE!

ON SALE!

Bench

W150

NOW $

275

Dining

Table W180

NOW $

799

Shop

Online

Nationwide

Delivery

Finance

Options

Come&checkout

ournewSTORE!

targetfurniture.co.nz

BuyNZMAde!

DOZENS OFSUPER DEALS IN STORE &ONLINE. SALE ENDS MONDAY 28.09.20.

250 Moorhouse Ave, Christchurch

Ph: 0800 TARGET (0800 827438)

Offers and product prices advertised here expire 28/9/20.

Sale excludes Manchester and Accessories.

Buffet

NOW $

799
---
House

and Home

Innovative log burner

has many admirers

HOME COMFORT

heat pumps HOME &airCOMFORT

conditioning

heat pumps &air conditioning

Call the experts on 03 313 0531 or visit our heating showroom at

694 Lineside Road, Rangiora |www.ncec.co.nz

2251870v1

Arevolutionary clean­air log burner is

acquiring alarge fan base among Heat

Store customers.

Blaze King, the popular Canadianmade

ultra­low emission log burner

sells itselfthroughword of mouth,says

Heat Store managerDavidChalklen.

''We get alot of referralsfrom

friends of customers who have bought

aBlaze King.

''Theyhave seen how the Blaze King

keeps their friend's homewarm and

cosy andthen choose to buy one

themselves.

''The feedback we get from

customers is phenomenal.''

Blaze Kingislike the old­style fires

that people love, but also meetsultrastrictclean­air

rules and will burn

through the night without needing to

be stoked, which can keep houses

warm 24 hours aday.

''It providesanice,even heat

throughout the house,'' David says.

''A large part of the Blaze King's

appealisbeing able to wake up to a

warm home in the morning without

worrying aboutthe fire going out

duringthe night.''

One customer,David Smith,says

Blaze Kingperforms brilliantly.

''As promised, it easily warms our

large home.

''It stays on all night and Heat Store

made the whole installation process

simpleand easy.''

The log burner uses catalyst cleanair

technology that not only burns

wood, but also thesmoke,generating

heat and therefore reducing wood

consumption.

Blaze Kinghas a40­year history of

makingwood fires and a30­year

award­winning history of making

catalytic wood fires, mainly to heat

homes in the freezing Canadian

winters.

Blaze King ... The revolutionary Canadianmade

log burners met ultra­low emission

standards. They are available in Canterbury

only from the Heat Store, in Christchurch.

Abuilt­inthermostatconstantly

monitors the heatoutput and

automaticallyadjuststhe air required

for combustion.

This enables an exceptionally long

burn time and makes the BlazeKing

firesamong the most efficient in the

world.

The BlazeKing is available in

Canterbury only at the HeatStore

shop,at472Blenheim Rd, in

Christchurch.

Residential and Commercial

Installation, Repairs, Maintenance &Alterations

Services we offer for all door types:

New Garage doors: Sectional, Roller,Tilt&

Cedar

Partsand Maintenance

Door Upgrades

Supply and install automatic door openers for

sectional tilt &roller doors

Phone 027 207 6128 |03310 6577

hamish@abelgaragedoors.co.nz

www.abelgaragedoors.co.nz

2257749v1

We can help you

with:

•All property matters

•Relationship property

(separation and agreements)

•Commercial

(leases and agreements)

•Subdivisions

•Estates

•Trusts

•Wills

PROVEN -PERSONABLE

PROFESSIONAL

7Ashley Street, Rangiora | 03 310 6464

admin@law4you.co.nz | www.law4you.co.nz

2257762v6

"Exclusive"

Blaze King ULEBWood Fires

Allan Pethig

For all your electrical needs.

Residential &Commercial

Phone 03 313 7144 | 027 432 1534

2278923

Fax 03313 2144

Pellet and Wood Fire Specialists

472 Blenheim Road

Sockburn

Phone: 03 343 1651

Open 8:30am -5pm

Sat 10am -1pm

www.heatstore.co.nz

rgrantelectrical@gmail.com

PO Box 69, Rangiora

www.rgrantelectrical.co.nz
---
NEWS

20 North Canterbury News, September 24, 2020

MEET THE CANDIDATES ­KAIKOURA

Simple steps to wellbeing ... Simple actions can be taken every day to help cope with

life's ups and downs

PHOTO: SUPPLIED

Walking the path to

better mental health

Mental Health Awareness Week runs until September 27. This year's

theme is Reimagine Wellbeing Together –HeTirohanga Anamata.

Wellbeing is for everyone, and it doesn't

mean changing yourwholelife, says

Deirdre Ryan,Manager of Community

Wellbeing North Canterbury Trust.

She saysthe Five Ways to Wellbeing are

simpleactionsthat can be takenevery

day to help cope with life's ups and

downs and boost mental wellbeing

They are:

Connect, me whakawhanaunga:

Building connections with people around

you will support and enrichyou every

day. Contact afriend you haven't seen in

awhile. Sharesome food and ayarn.

Meet anew neighbour;

Be Active, me kori tonu: Walk, run,

cycle,swim. Step intonature. Play agame

with your kids. Garden. Dance. Being

activemakes you feelgood and decreases

depression and anxiety. Discover what

you enjoythat suitsyour level of mobility;

Take Notice, me aro tonu: Be awareof

the worldaround you and what you are

feeling. What madeyou smile today?

Reflectingonyour experiences will help

you appreciate what matters to you;

Keep Learning, me ako tonu: Try

something new or rediscover an old

interest —itwill make you more

confident as well as being fun. Learn to

play an instrument, cook yourfavourite

recipe, speak anew language;

Give, tukua:Do something nice for a

friend, or astranger. Thank someone.

Volunteer. Join acommunity group.

Seeing yourself, and your happiness,

linked to the wider community can be

incredibly rewarding and creates

connections.

Free help is available:

1737: Free call or texttotalk to a

trained counsellor, anytime;

Lifeline: 0800 543 354 for counselling

and support;

Aviva (Family Violence Services):

0800 284 82 669;

Purapura Whetu Trust: 0800 4

WHETU (0800 494388);

Te Putahitanga oTeWaipounamu:

0800 187 689;

He Waka Tapu: 0800 439 252;

Etu Pasifika:033651002;

COVID helpline: 0800 358 5453.

If it is an emergency, or you,or

someoneyou know is at immediate risk,

dial 111.

Matt Flight

Labour Kaikoura candidate

Introducing Matt Flight

The Hurunui and Kaikoura districts

face particular challenges to come

through the economic impacts of

COVID-19.

Iwant to work as your Member of

Parliament tomake sure we can

overcome those challenges.

With Jacinda Ardern's leadership,

the Labour-led Government has

already made investments that will

make adifference for us.

With alot of small communities

scattered across the districts,

Hurunui and Kaikoura stand to

benefit from more than threequarters

of abillion dollars to help

councils upgrade under-pressure

water services. We all saw what

happened in Havelock North where

some died and thousands got sick

after such investments were not

made.

Our Government has also invested

nearly $2.5m across Hurunui

Tourism, Whale Watch and Dolphin

Encounter to keep tourism going in

Hurunui and Kaikoura.

As your MPIwill advocate for such

investment when and where it's

needed.

Iwas raised in asharemilking

family, soIknow about hard work.

Iqualified asanelectrician before

moving into amanagement role

maintaining Housing New Zealand

homes in the Kaikoura region.

I'm arugby referee, and I've been

aradio announcer. Istill MC at

weddings, school, and charity events.

My wife Dallas is medical scientist

and we have two sons Logan 12 and

Elijah 7. We've lived in our electorate

for 17 years.

If elected as your Member of

Parliament, Iwill work with Jacinda

Ardern and the Labour team in

Government to get the best support

for Kaikoura and Hurunui. Ihope I

can count on your support.

Thanks,

Matt

Matt Flight stands for:

Jobs – ensuring we create jobs and

support workers

Training - getting afair share of the

$1.6b training fund for Kaikoura and

Hurunui

Housing – using my background in

trade and housing to target support

for more new home builds

Environment - championing our

special environment and protecting it

from climate change

Matt Flight

Labour candidate

Kaikoura electorate

2312979

Spring has sprung in Kaiapoi

Matt Flight

forKaikōura

Bloomingtown ... Spring is in the air and Kaiapoiispositively blooming for this week's

Kaiapoi SpringFestival. The town centre has beendressed with lanterns and daffodils, and

shop windowdisplaysare adorned with aspring flavour. The town will cometolife this

Friday evening with the 10 YearsOnstreetparty in RavenQuay.The festival is settowrap

up on Sundaywith the Party in thePark in Trousselot Park.

PHOTO: DAVID HILL
---
MEET THE CANDIDATES ­KAIKOURA

North Canterbury News, September 24, 2020

21

John McCaskey -

Social Credit Kaikoura Candidate

Iamstanding in my 9th election since

1972. The incumbents are wedded

to adoctrine that has produced

an increasingly divided/unequal

community.

This is fostered by indoctrination

and brain-washing, not life

experience, especially in matters of

the land &water -the "commons".

My lifetime in North Canterbury has

two parts. The first, the post-war

pre-80s when tremendous social

and productive progress was in full

swing. The second is notable for

increasing social divisiveness and

no new productive infrastructure.

Governments appear fixated on

"patching up the holes" like adog

chasing its tail.

Over the past 4decades I've borne

witness to acountry indecay -once

near top of the world OECD rankings,

and proud of it. Now we're well beaten

by the Scandinavians who are lightyears

ahead in agriculture, forestry,

aquaculture and transport.

Don't believe me? Go -look, listen

and learn!

From my first working OE in

Australia in 1960, where Isaw water

harvesting, I've travelled widely. I've

walked through the slums of Nairobi

and Beijing and the "glitter" of St

Petersburg and New York.

My interests have always been the

people, the land, and how it is used,

from Siberia to Argentina, Kenya

to Helsinki and most others. More

recently, coming back to NZ from

Canada, I've asked myself "what's

happening to my country?"

My priorities for North Canterbury,

Hurunui, and my electorate which

I've fought for over 4decades are:

1: Aconstant pure water supply for

domestic use, stock, and irrigation,

and aself sufficient cheap source of

electricity. These can be supplied by

gravity feed to Amberley and all

townships upstream by harnessing

our own Lake Sumner potential.

2: Re-establishing commuter-rail

from the already existing facilities at

Waipara to Christchurch. This would

enable all surrounding areas north to

commute, if not every day, Monday to

Friday for medical, education, sport

and even social events. This would

help retain rural communities and

avoid exorbitant student loans

(accommodation &car expenses).

3: Future proof the fragile coastal

access route from Christchurch to

Picton by re-introducing the once

very successful Lyttleton-Wellington

overnight ferry service for passenger

and ex-road freight, thus lowering

emissions and costs. When, not if, the

Waipara (or Hurunui) bridges become

storm/flood/quake victims the only

way north could be via Arthurs Pass

and by sea!

4: Withdraw all long term

infrastructure planning from the

Resource Management Act and reestablish

the very successful M.O.W.

and Catchment Board models, fully

funded by Treasury. Cleaning out

"crack" willows from streams and

rivers is also apriority.

We,inNorth Canterbury/Kaikoura

electorate have so much untapped

economic potential, therefore social

enhancement. It's presently drowning

in aplethora of theory-based

negativity.

The key tounlock this is, and always

has been, WATER!

Only a"sea-change" to the political

landscape can release it!

My record up to the mid-80s

"reformation" proves it, but only YOU

can change it.

John McCaskey, Social Credit

Kaikoura electorate candidate 2020

www.socialcredit.nz

RECLAIM YOUR FUTURE

Vote for

JOHN McCASKEY

Stuart Smith

National Kaikoura candidate

Icome from aCanterbury family that

comprises five generations of sheep &

deer farmers. Iammarried toJulie and

father to three children.

Julie and Imoved to Marlborough in

1994 and began growing grapes. In

1996 we established our own wine label

and Ibecame interested in the wider

Viticulture industry, resulting in an early

involvement with the Marlborough Grape

Growers Association.

Since then Ihave held several local and

national roles including being President of

the New Zealand Grape Growers Council

and Chair of New Zealand Winegrowers. I

was subsequently inducted as aFellow of

the New Zealand Winegrowers Board for

services to the industry.

In 2014 Ientered Parliament winning

the election with amajority of around

12,500 votes and successfully held my

seat in the 2017 election by asimilar

number. Icurrently sit on the Economic

Development, Science and Innovation

Select Committees.

Iamalso the National Party's

spokesperson for Viticulture and

Immigration, as well as being Chairperson

for GLOBE-NZ, an association of national

parliamentarians working on sustainable

development policy whose mission is to

work across party political divisions to

develop legislative responses to the major

environmental challenges.

Iamcurrently the Member in charge of

my own members' bill, 'Insurance (Prompt

Settlement of Claims for Uninhabitable

Residential Property) Bill', which recently

passed its First Reading and is currently

with the Governance and Administration

Select Committee. This bill will aim

to facilitate the swift resolution of

uninhabitable property claims lodged with

insurance companies. My first Members

bill 'The Friendly Societies and Credit

Unions (Regulatory Improvements)

Amendment Act 2018' came into force on

1April, 2019.

Position Statement

Resource Management Act Reform

The RMA is New Zealand's biggest

barrier to future development. With New

Zealand facing an extraordinary jobs and

economic crisis, we simply cannot let the

RMA stand in the way of urgently needed

infrastructure development. National

will repeal and replace the Resource

Management Act, and reform New

Zealand's planning rules if elected in 2020.

The RMA has failed in its duty to

protect the environment and allow our

infrastructure to grow. There is now

widespread support for reforming how

we manage our resources. The dream of

home ownership is drifting further away

Stuart Smith

Kaikōura

Isupport:

Responsible Economic Management

Delivering Infrastructure

Reskilling and Retraining our Workforce

AGreener, Smarter Future

BuildingStronger Communities

in this country asthe sight of hammers

on building sites is replaced with people

filling out forms and paying consultants.

National will replace it with two new

pieces of law: an Environment Standards

Act, setting our environmental bottom

lines; and an Urban Planning and

Development Act, giving clarity and

consistency. Wewill begin this work

in our first 100 days. The building and

construction sector once exemplified the

best 'can-do' spirit of New Zealand, but

this has been ground out of people by

planning rules and their application.

It's near impossible to get aresource

consent within the statutory deadline of

20 working days. The cost of consenting

can quickly run into the tens of thousands

with council processing fees on top of

planning consultants charging hundreds

of dollars per hour. The RMA has become

afoil for anti-competitive behaviour.

National has worked with interest groups

that are looking at solutions to the RMA's

failures. National has the political will to

take onRMA reform because we believe

our complicated planning rules are largely

to blame for the unaffordability of houses

and urban land.

Taxes

National's policy is clear –wewon't

introduce any new taxes in our first term.

We know that what businesses need now is

confidence to invest and create more jobs,

not higher taxes.

We know the Labour lead Government is

desperate for higher taxes to pay for some

of their spending. This is concerning for

all hard working Kiwis and businesses

who risk being whacked with higher taxes

in atime ofeconomic crisis if Labour are

elected for another three years.

Only afew months ago they increased

fuel taxes -aclear signal that they saw

no problem with stinging New Zealand

households and businesses with higher

taxes in the middle of an economic crisis.

Labour plans on spending as much as

it takes in an attempt to keep their poll

numbers high until the election, and on

October 19 the smiles will drop and New

Zealanders will be presented with the bill.

National has avery different approach.

We will ensure all new spending is highquality

and promotes economic growth

–and unlike Labour we won't be afraid to

make hard decisions about eliminating

wasteful spending. Higher economic

growth, and amore disciplined approach

to spending, is the best way to keep debt

manageable –not the Labour-Green's

approach of higher taxes.

When you enter the polling booth it

is two ticks Blue for RMA reform and

sound economic management.

2309881

"It just makes sense"

Authorised by John McCaskey,257 McKenzies Road,Waipara

2310588

Authorised by SSmith22Scott St.Blenheim.
---
MEET THE CANDIDATES ­KAIKOURA

22 North Canterbury News, September 24, 2020

Richard Evans

ACT Kaikoura Candidate

Richard Evans, aBlenheim

based business owner and

resident for the last 22 years,

is once again standing as the

ACT Party's Kaikoura electorate

candidate. Richard has stood as

the ACT candidate since the 2011

election and continues to support

ACT's values of "Freedom and

Responsibility".

As along-standing resident

Marlborough/Kaikoura area, his

goal is to see the region recover

from the Covid-19 impacts quickly

with "Kiwi ingenuity" rather than

government intervention and

handouts –and has akeen interest

in supporting small businesses.

"Looking forward over the next

few years, our region's farms and

businesses face an uphill battle

for survival and Ibelieve the ACT

Party's policies around efficient

government spending and a

reduction in regulation burden

will go along way to supporting us

to survive" Mr. Evans said.

Originally from Malawi, the

chartered professional engineer

in (civil and structural) is an

employer of more than 25 staff in

the electorate and the business

provides support to people wishing

to develop their properties or

business.

Richard has akeen interest

in supporting small businesses,

including farming, he is strongly

backing the ACT Party's 5-point

plan to recovery.

"We really need to get as

many people back in work as

soon as possible and Isee the

governments' role as an enabler

to business so they really need to

be reducing red tape and rules

and supporting public health

initiatives that will reduce the

impact of the flip flop in and out

of COVID Restriction Levels "he

said.

As part of the ACT suit of policies

to support farmers and business,

Mr. Evans will support bringing

back the 90-day trial period for

all businesses as well as placing

athree-year hold on minimum

wage increases. In addition, ACT

would support privatization of

the managed isolation facilities

to enable the seasonal labour

shortages for dairy, viticulture

and horticulture to be met.

"We don't have alot of very

large employers that other

regions have and we are

running alot of smaller

businesses…it is important

for me to make things easier

for small businesses so we

can keep wheels turning,"

Mr Evans said.

He said the trial scheme will

make it easier for people to employ

and allow more opportunities for

untried mployees so they can pick

up jobs later on.

The scheme will also ensure that

people trying to transition from

sectors badly effected by COVID

downturn will get achance at a

trial.

"Being gainfully employed is a

huge positive for mental health

and the government must assist

where it can to ensure we are all

being effectively supported" he

said.

The ACT Party's proposal to

create an independent Mental

Health and Addiction agency

will go along way to ensuring the

varied needs of individuals can

be provided for whilst monitoring

providers to ensure cost effective,

high quality care is occurring.

"A Party Vote for ACT will ensure

more independent thinking MPs

support David Seymour in areal

change from the Red vsBlue

politics" Mr. Evans concludes.

Only the ACT Party iscommitted

to:

• Afully costed plan to start

repaying debt now and not leaving

it to the next generation to worry

about.

• Having and honest debate

about dealing to the debt –visit

debtdestroyer.nz to have your say

• Areal strategy to jump start

the economy through cutting tax

and bureaucracy, having smarter

borders and supporting farmers

and small businesses with less

legislation.

Jamie Arbuckle

NZ First Kaikoura Candidate

Jamie is aMarlborough District

Councilor with over 10 years'

governance in local government.

Jamie has worked across all facets

of Council and as aqualified

Hearings Commissioner, has

experience with Environment

Planning and the RMA. Prior to

Council and still apassion for

Jamie today, ishis involvement

in Horticulture. He is well known

from his time at local markets and

for his family's long involvement

in farming and fruit growing in

the region. Jamie completed

his Business and Management

Diploma at NMIT. His wife Sally, a

hairdresser, and their four children

aged 11 -20, have been actively

involved in local markets and

festivals. Youwill often find them

at local sporting events and day to

day schooling activities.

Being ahard worker, good

listener, communicator and an

active member of the community

-Jamie know the issues. There

are many major infrastructure

projects in the Kaikoura Electorate

that need Government support

including the Picton Ferry

Terminal upgrades, The Whale

Trail along the East coast of

Kaikoura, Irrigation Schemes and

future water storage proposals,

road and rail. The Provincial

Growth Fund will play acritical

role in our Region; Hanmer

Springs recently received $3.1m

towards domestic tourism to

improve the thermal pools and

Kaikoura received $10.88m for

the Wakatu Quay and South Bay

Developments which are important

for employment and growth.

Covid-19 has presented major

challenges for our local economy.

There are many affected

sectors such as hospitality,

tourism, accommodation, retail,

construction and the small to

medium sized businesses within

that. Primary sectors such as

viticulture, seafood, aquaculture,

farming and forestry will be critical

for our recovery. Afocus must be

on stopping business closure, job

losses and providing support to

our communities around mental

health. Parts of the Kaikoura

electorate are reliant on tourism

activities and it will be vital to

showcase our region as the gateway

to the South Island. There are

major opportunities with offshore

aquaculture -the resilience and

growth of primary industries

can be ensured with favourable

government policies and the right

investments into key strategic

assets.

What NZ First has achieved

NZ First has commonsense

policies that bring balance to any

government. With a regional focus,

NZ First has provided historic

investment into the regions.

We've increased frontline

police numbers by 2200 with the

commitment of another 1000 in the

next term.

We've secured an unprecedented

amount of funding for the defence

force to boost NZDF equipment

and capabilities.

Our seniors have seen arevamped

SuperGold Card and Winter Energy

Payments while our youth now

have free doctors' visits for under

14's and free trade training.

NZ First has rejuvenated our rail

network and invested arecord

amount in our health sector.

We've increased the minimum

wage and got rid of secondary tax.

We have stopped Capital Gains

Taxand have listened to farmers by

pulling back onextremes and bring

balance to the Zero Carbon Act.

Why Jamie's running for NZ First

NZ First has anexperienced and

strong Caucus that has been a

constructive Coalition partner.

Acore principle ofNZFirst is

putting New Zealand and New

Zealanders first in our decision

making. There has never been a

time when we must ensure more

than ever, that we protect New

Zealand businesses and jobs.

The Kaikoura Electorate needs

central government support and

recognition for the key role that we

play in the New Zealand economy.

NZ First has backed the regions

with support for primary industries

such as farming, forestry,

aquaculture, viticulture and

horticulture, vital to our region,

because of their employment and

export earnings.

To ensure we get Jamie Arbuckle's

effective representation in

Parliament for the Kaikoura

Electorate, Party Vote New Zealand

First.

2310626

PARTY

VOTE

Authorised by DSmith, 27GilliesAve, Newmarket, Auckland 1023

2310629
---
Trees and vegetation

What are you responsible for?

Treestoo closetopowerlinesare ahazardand amajor cause of powerfailures during badweather.

They can breakpower linesand networkequipment,resultinginrisk of seriousinjury ordeathas

well as causing widespread powerinterruptions.This inconveniencesfarms and households, affects

business productivity andcauses damagetocustomers' electronic equipment and appliances.

Tree Owners' Responsibilities

Underthe Electricity (Hazards fromTrees) Regulations,

tree owners areresponsiblefor their trees; theresults

of treedamagetopower lines can be asignificant

cost to atreeowner.Please check your trees, hedges

or shelterbelts regularly.Ifyou are notsurewhat to

look for, please callussowecan help.

Remember, treesneed to be kept asafedistance

awayfrom powerlinesand otherelectricity network

equipmentbecause:

•Children that climb trees close to powerlines are at

riskofserious injury or death.

•Insevere weather conditions,vegetation can

become electrically 'live' andmay electrocute

anyone coming into contact withit.

•Treesand vegetation coming intocontactwith

powerlines can cause poweroutages, not just for

the tree owners, but the wider community.

•Inbad weather, trees can topple or branches break

away causing damage to powerlinesresulting

in apoweroutage. In snoworicy conditions,the

additional weight on thetreecan causeasimilar

scenario.

•Treesclose to lines maycause electrical sparking

resulting in fire.

•Tree roots cangrowaroundundergroundelectricity

cables, rupturing theinsulationand causingpower

outages.

What do theElectricity (Hazards from Trees)

Regulations mean to you?

These regulations are toprovide asafe electricity

supply to you and to protect the security of

electricity supply to everyone inthe community.

The regulations place responsibilities ontree

owners (you) and the electricity network operator

(MainPower)

Following theregulations will help ensure securityof

supply to youand thewider community.

Pleasedon't wait to be reminded that your trees

need to be cut.Beproactive,regularly inspect your

trees and if they areineither the NoticeZone or the

Growth Limit Zone they must be trimmedsafely.

Calluson0800 30 90 80 forafree inspection and a

quotefromour utility arborists.Beaware thatifyour

trees cause anyproblems on our network,you canbe

charged forall costs of repair.

TheZones

Theregulationsspecify different zones fortrees

growing closetopowerlines andother electricity

network equipment: the Notice Zone and the

Growth LimitZone (illustrated below).

Tree "A"

In Notice Zone

needs trimming soon

Overhead line

Notice

Zone

Tree"B"

In Growth Limit Zone

must be trimmed

Growth

LimitZone

66,000V(highvoltage) 5.0 metres 4.0metres

33,000V (high voltage) 3.5metres 2.5 metres

11,000V (high voltage) 2.6metres 1.6metres

400V /230V(lowvoltage) 1.5 metres 0.5 metres

Notes:

•These distances are from the power line, not the

power pole.

•Thesedistancesare aminimum andapply in all

conditions, includinghigh wind or snow.

•Inmost instances,the powerlinesthatgoto a

houseorbuilding arelowvoltage powerlines.

•Powerlines thatgodownastreetmaybelow or

high voltage.

Cut/Trim Notice

If your tree is growing within the Notice Zone

(Tree A) youwillreceivealegal notice from us saying

that it must be trimmed soonbecause it is growing

tooclose to powerlines and equipment.

If your tree continues to growinto the Growth Limit

Zone (TreeB)youwillreceivealegal notice from

us requiring thetree to be trimmed (byaqualified

contractor)within aspecified time frame. This is

becausethe tree is nowtoo closetopowerlines and

equipment, and could cause apoweroutage and/

or harm thepublic. As youmight expect, thenotice

zonesvary depending on thevoltage of thepower

lines.

OffencesCommitted by Tree Owners

There arepenaltiesfor tree owners who do not

complywithawritten request to cuttheir trees, or do

notadvise MainPoweron0800 30 90 80 of thetime

andlocation of thecutting work.

On summary conviction,treeownersmay be liable

for afine not exceeding $10,000and afurtherfine of

$500 forevery dayonwhichthe offence continues.

If your trees are considered an immediate dangerto

our network,MainPowerhas an obligation to remove

anyhazard. If youhave failed to keep your trees

clear of powerlines, or have not respondedtoour

requests,thenasthe tree owner youare responsible

forall costs incurred by us toremoveany hazard.

Alwaysremember: Touching live powerlines,

or trees close to thelines, canresultinserious

injury or death. Please ensure that youengage

qualified contractors to carry outany trimming

work near powerlines.

Cutting TreesNear LiveLines

Trimming trees and vegetation closetopower lines

canbeextremely dangerousand must be undertaken

by acompetent worker.When selectingacontractor

please ensure they aretrainedtocarry outthis work.

MainPowerhas ateam of experiencedand qualified

utility arborists (arborists trained to work near live

lines).Youmay engage MainPower arborists, or other

arboristsofyour choosing,but it is essentialtoensure

that anyone working near powerlines is suitably

trainedand qualifiedtodoso.

Contactus:

mainpower.co.nz

info@mainpower.co.nz

0800 30 90 80

Further informationonthe Electricity (Hazards from

Trees) Regulations can be found on our website:

mainpower.co.nz.

MainPowerprovides afreecomplaints resolution

service. If youhave anyconcerns or acomplaint about

aMainPowerservice, please call us on 08003090 80

or email usatfeedback@mainpower.co.nz.

If youare not satisfied with theoutcome after

contactingMainPower.UtilitiesDisputes provides

afree and independentdispute resolution service

forelectricitycomplaints.MainPower is amember

of this scheme. Contact UtilitiesDisputesat:

utilitiesdisputes.co.nz orphone0800223340.
---
ELECTION 2020

24 North Canterbury News, September 24, 2020

BUY A

FAMOUS

FOUR SQUARE

PIZZA &PEPSI

1.5L COMBO

FORONLY

Greennew deal ... Green Party co­leaders James Shawand Marama Davidson

PHOTO:GETTYIMAGES

14 .99 Broccoli

NEW SEASON NZ

ASPARAGUS

Coming Soon!

In pursuitofthe

Green newdeal

Pams Fresh NZ

Oven Ready

Chicken 1.5kg

Pams FinestCookies 300g

$

3 69 ea

WHAT'SNEW AT FOUR SQUARE

A

Sweet Sapphire Grapes

Seedless

Be into

win

with FOUR SQUARE to cele

$

11 99 ea

TM

FRESH FROM THE U.S

BirthdayBox

ebrate

90 YearsofWeet-Bix

*

roccoli $

1 79

ea

ProductofNew Zealand

Puhoi Valley

Yoghurt 450g

1PRize

PER Store

Over $150 worth

of Sanitarium TM and Four Squaregoodies inside.

www.foursquare.co.nz

$ 4

99 ea

SEE INSTORE FOR

MORE INFO

facebook.com/FourSquareNZ

Specialsavailable South Island only from Monday21stSeptemberuntil Sunday 4th

October 2020 or while stocks last.Wine andbeer available at stores with an off

licence.Wineand beerpurchases restricted to persons aged 18 yearsold andover.

Green Party co-leaders James Shaw and Marama Davidson talk to

Mike Houlahan about polling and the Green new deal.

Green Party co­leader James Shawhas

mixed feelings about polling.

He cametoparliament in 2014 after

consistently high polls,when the party

recorded its second­best election result.

But, in 2017, he gavethe Green's

adjournment debatespeech, havingjust

been handedapoll saying the partywas

well under 5percent.

The numbers lookatouch better three

yearson, but co­leader MaramaDavidson

said she and the Green campaign team

were well awarethey were trying to defy

history —smaller parties haveconsistently

fared poorly after aterm as agovernment

support party.

''We have polledconsistently around

and above that 5% threshold, which is

absolutelyencouraging, and Ithink it goes

to bothwhat we have managed to get done

in government,aswell as being very clear

about how we would like to go further.

''We are notresting on any sort of

security,and what we havetodoisreally

focus on our policiesand get out there; that

it is the Green Party and only the Green

Party whowill prioritise astable climate,a

thriving environment, and making sure we

are taking careofeach other;that it is the

Green Party who are putting out abroad

visionfor the future of Aotearoa.''

The co­leaders' optimism perhaps

reflects the fact they wereinterviewed

beforedetails of Mr Shaw's advocacyon

behalfofaGreen schoolinTaranaki

becamepublic. Mr Shaw's backing ran

contrary to partypolicy, and alsoraised

questions about how stringentlyhehad

examined the proposal.

It remains to be seen whetherMrShaw's

profuse apologies and statement that he

would not make the same decision again

are enough to stave off serious harm to the

Green's electoral prospects.

Reviewingthe party'ssupport

agreementwith Labour, the Greens have

not achievedeverythingthe partysought,

but the pair felt initiativessuch as the Zero

CarbonAct and the ban on oil and gas

exploration marked asolid three years.

''Therewas thisview that youshould

never let the Greens nearthe levers of

government, theywill destroythe country,

they're crazy, they'lldestabilise the

Government,''MrShaw said.

''If you look at our actual track record,

we have been aresponsiblepartnerin

government, we havedelivered an

enormous amountand way more thanwe

actually anticipated whenwestarted,and

at the same time we know we need to go

further and faster thanwehave been able

to do in the pastcouple of years.''

Water —specifically the destiny of Lake

Manapouri—was the issue which more

than any othercreatedagreenpolitical

LEADERS INTERVIEW

movement in New Zealand. Fortyyears on,

the GreenParty now has to wrestle with

the future of the Tiwai Point aluminium

smelter—the facility for which Manapouri

was dammed to generate power.

Mr Shaw said with his Climate Change

Minister'shat on, part of him wouldlike to

see the smelter remainsothat New

Zealand had to take responsibility for what

it consumed.

However, with the closureofthe plant

announcedbyownerRio Tinto, Mr Shaw

was excitedatthe prospectofmore

environmentally friendly alternatives

replacing it.

''Thereare things that we can do to

diversify and support industry down there,

and actually utilisethe factthat we have

got thisincredibleresource in the area,if

we can retain alot of thoseengineers

involved and involve theminnew

industries down there.''

There is alsothe possibly vexed issue of

building new hydro generation

infrastructure—something with fiscaland

environmentalramifications.

Likeall parties, the Greens havehad to

recalibrate their election strategies, with

Covid­19 stillapresentdanger.

While the pandemic is unwelcome,ithas

resulted in some gains for the Greens, with

policies such as green jobs being

acceleratedtomeet the potentialneed of

workers laidoff to retrain.

''The $1.3 billionfor JobsFor Nature

schemewas an example of realising that

we can have agreenreset, thatwecan

have agreen reimagination of our

country,''MsDavidson said.

While economicswere certaintobea

major election talkingpoint, Mr Shaw said

the Greenphilosophy of sustainability

meant it brought aunique perspectiveto

the economic recovery picture.

''All that liquidity that we are pumping

into the New Zealand economy has to be

repaidbyafuturegenerationoftaxpayers,

who are alsogoing to be confronted,

whilstthey are paying that,with climate

change, ahousing crisis that hasn't gone

away, poverty whichhasn't gone away,the

cost of the threewatersinfrastructure

rebuild.

''Whatweare sayingis, everything we

are talking about, whether it is the poverty

action plan,the cleanenergy plan, the

other stuff we have got coming up, is the

Green new deal.

''We need to be putting everydollarwe

can of that stimulustowork solvingthe

long­term challenges so thatfuture

generationsdon't havetopay twice:you

can actually do two things at once.''
---
ELECTION 2020

North Canterbury News, September 24, 2020

25

Putting ahuman face on politics

NewZealand First leaderWinstonPeters talkstoMike

Houlahan aboutpolitical longevityand hisparty'srole in

thecoalition government.

Having first been elected to

Parliamentbefore manyyounger

MPs wereevenborn,New

Zealand First leaderWinston

Peters hasseen most of the

surprises that politics can

provide.

But even he cannot believe the

alarms andincursions that have

unfoldedover the pastthree

years.

''The level of outsideincursion

is unparalleled,''MrPeters said.

''I knowwehavebeen through

wartimeand lost far more

people, but we didhavesome

sort of fixonwhat we were up

against.

''Inthiscase (Covid­19), we

don't because itisasilentkiller

...and there is no reasontobe

careless.''

QuiteapartfromCovid­19 —

enough to testany government —

Mr Petershas,asdeputy prime

minister, beenalongsidePrime

Minister Jacinda Ardern as she

also dealt with terror attacksand

naturaldisasters.

Athree­partygoverning

arrangement, which sceptics

claimedwould not last three

months, has proven remarkably

resilient in thepast three years,

with Mr Petersmostlyrefraining

from goading favourite target

Green co­leaderJames Shaw

untilthe end of the

parliamentary term.

Much of New Zealand First

LEADER INTERVIEW

politicsfor the past three years

hasfocused on the provinces,and

it is in theheartlandwhere Mr

Peters hopes to find muchofhis

hoped­for 5percent of the vote.

Thediversity of Mr Peters'

portfoliosmeansthat while he

hasperhaps gainedfavourinthe

south for championinglocal

industry, he has alsoearned local

criticismasRacing Minister for

the revamp of the sport which

has cast realdoubt on the future

of somesmaller race venues.

''If youcan'tkeep it going how

doyou expect central

government to keep you going,

because youare just sucking the

wholelifebloodout of the

industry's future,solet's have

some rationalisation,''MrPeters

said.

''Parochialismhas stopped it

all this time, butanybody whois

interestedinracing's long­term

future,weare puttingitall

togethernow ...

''I knowthat people willbe

upsetand won't wantthisto

happen, but if you enjoyracing

youwant racing to be performing

like the Irish racing model does,

andwehaven't been.''

While Mr Peters claimsmany

winsonNew ZealandFirst's

watch, such as the provincial

growth fund,increased funding

forForeign Affairsand Trade,

andsubstantial investmentin

equipment for the defence

forces, it is perhapsanon­thehoof

policy change which was his

most significant politicalmoment

in the past three years.

Following the mosque

shootings, NewZealand First,

whichhad previouslyproven

difficult to budge on firearm

reform, agreed to sweeping

changes to gunlaws; Mr Peters

explainedsimply thatthe world

hadchanged.

Although it might have cost his

party some much­neededvotes,

he stands by his shift in position.

''We arefromthe countryside,

we havelivedonfarms, we have

used guns, we knowthat pest

control is massive anditis

literally amatter of survivalin

some cases.

''Weunderstand allthat, but

we werenever going to be the

puppets of the NRA(National

Rifle Association) from the

UnitedStates.

''Youcan't have 51 people lose

their lives and 49 almostdeador

damaged for the rest of theirtime

on this Earth withoutyou doing

something...We don't want to be

the party that does that.WhenI

waschallenged Isaid, 'yes, we

have changed ourmind'. We want

rules thatwork.''

Mr Peters saidthe past three

yearshad been hard work, and,

aswas to be expected, not allof

the governing partieshad agreed

Winston Peters

... He has seen

most of the

surprises that

politics can

provide.

PHOTO:GETTY IMAGES

all of the time.

He has copped considerable

flak from National—which

polledthe most partyvotesin

2017—for backing Labour,but

Mr Peters, aged75, contrasted

this term with his first in

parliament in 1979, when he was

partofaNational Partywhich

had10,000 fewer votes than

Labour, but asubstantialfirstpast­the­postmajority.

''At leastnow it is atransparent

and honest system,'' he said.

''My colleagues and Itooka

massiverisk goingwith Jacinda,

but we could seethattherewas a

better chance of aleadership

change and adirectional change

andthe systemwould regain its

humanface,and it has.''

Perfect time for creating

your dream pool

Anew swimmingpoolwill make asplash this summer

andyou will findyourfriends andfamilywillloveyour

poolasmuchasyou do.Withsummer on itsway,now

is theperfect time to organise theinstallation of your

poolwithlocal companyLagoonPools

Owners Julie andWarrenHastingsinstalls pools sized

from five metres to 12 metres in length to suit both

large and smallsections, with ahugevarietyofwidths,

coloursand shapes.

"Therereallyisapoolfor everysite,"saysJulie.

Lagoon Poolsisalsothe LeisurePools dealer formost

of theSouthIslandfeaturing 100%composite fibreglass

and, with patented innovations,every swimmingpool

is supportedbytheir lifetime structuralwarrantyand

alifetimeosmosis warranty –thismakes them the

strongest poolavailableonthe market.

Pool automation is becomingpopularwithequipment

monitoring andsettingsright at your fingertipsfrom

anylocation. Additional features includingpool

lighting, fountainsand spajets canenhance thepool

area,transformingitintoanextendedlivingspace

wherefamilyand friends canrelax in theoutdoors,

Juliesays.

It takesaroundfive days to install apooland the

finishingtouchescan take from four weeksdepending

upon thedesign.

ContactLagoonPools by phoningJulie or Warren

0800 927 282 or 03 349 2160. Youcan also visittheir

website www.lagoonpools.co.nztofind out more about

theirrangeofpools andother services they offer.

www.lagoonpools.co.nz

03 349 2160 or 0800 92 72 82
---
The show must go on ...and it will

Cause for celebration ... Cast members are jubilant at the move to alert level 1.

Some of the cast of the Hartley School of

Performing Arts' production of The Lion, the

Witch and the Wardrobe let out ajubilant

''whoop'' at news the region is moving to alert

level 1, allowing the much­anticipated show to go

on stage.

The 200­strong cast and the backstage crew

moved into the Rangiora Town Hall on Saturday,

in anticipation of the government's Covid­19

PHOTO:DALE HARTLEY­BROWN

level 1announcement on Monday afternoon.

The whole­school production marks the

school's 25th anniversary.

It will be performed in six shows, with daily

shows at 2pm from Wednesday, September 30, to

Saturday, October 3, and two evening shows from

7.30pm on Thursday and Friday.

Tickets are on sale at townhallcinemas.co.nz or

by calling into the Rangiora Town Hall.

NEWS

North Canterbury News, September 24, 2020

27

The WineO'clock Myth, by Lotta Dann

The Wine O'Clock Myth takesanin­depth

look at the drinking habits of Kiwi

women. It is through the lens of Lotta

Dann's own storyand her workinthe

fieldofrecovery and addiction. It

containsresearch from primary sources,

and numerousinterviewswith experts

in many fields. Thesepersonal

reflections contain tales of emotional

disconnection, diminished power,

confused thinkingand damagedrelationships. There are also

uplifting storiesofthe remarkable transformationsthat can

occurwhen alcoholisremoved.

COVID­19: Whatyou need to know

about the coronavirus and the race for

the vaccine, by Michael Mosley

This book charts the trajectoryofthe

Covid­19 virus, from its emergencein

China at the end of 2019 to its rapid

worldwide spread. Based on the latest

scientific discoveries, Dr Mosley givesa

detailedunderstandingofthe secrets of

this coronavirus, and follows the work

of leading doctors and virus experts as

they battle to find treatmentsand asafe

and effective vaccine.

Observations of aRural Nurse,bySaraMcIntyre

Sara McIntyre, the daughter of the

artist Peter McIntyre, was nine years

old when her family first came to

Kakahi, in the King Country, in 1960. On

family outings, McIntyre got used to her

father's frequent stops for subject

matter for painting.Fifty yearson,

when she movedtoKakahi to work as a

district nurse, she begantodothe same

on her rounds, as aphotographer. This

book brings together McIntyre's

remarkablephotographic exploration

of the district.

These titlesare available in both Waimakariri and

Hurunui libraries. Find out moreabout recent additionsby

goingtothe library catalogue at waimakariri.kotui.org.nz or

hurunui.kotui.org.nz, or contactyour locallibrary.

JOIN US NOW!

See website for details

Celebrate 150 Years

of Your Museum

JUSTBAGZ

Up to 50%off RRP

HALLENSTEINS

Hoodies $20. Jackets

$50.Selected styles.

While stockslast

UNDER ARMOUR

2tees &one shortfor

$100. T&Cs apply

KEEN

20% offstorewide.

Plus 40%off last pairs.

T&Cs apply

Join in the annual family favourite

Night atthe Museum

Find the missing treasure. You could win a prize. 6.00 – 8.00 pm, 6, 7, 8 October

The Widest Music Variety

STYLES MAY DIFFER TO IMAGE SHOWN

COTTON ON KIDS

Up to 50% offsale

items. 30% offfull

priceitems.

Sign uptoSmart Deals &beinthe monthly draw for a$100 Dress-Smart gift card!

Open 10am-5pm, 7Days 03 349 5750

CHRISTCHURCH 409 Main South Road, Hornby

www.dress-smart.co.nz

Tune in nowtolistenon104.9 North Canterbury

and103.7 Hanmer Springs andKaikoura
---
ADVERTORIAL

HOWYOU CANMONITOR

YOUR HEALTH WITH A

MARVELHEALTHSCAN

NEWS

28 North Canterbury News, September 24, 2020

Howdoyou know your body has healed

itself after an illness? Most people will

rely on their symptoms improving

as an indicator of howwelltheyare

healing, andrightfullyso. Symptoms

will improve andevendisappear when

thebodystartstoheal itself.However,

this doesn't mean that thecause of the

problem is no longerpresent in which

case thesymptomsmay recur.

Forexample,Candidacan cause

abdominal problemssuchasbloating,

diarrhoea andabdominal pain. It is a

very resilient microbe, andevenafter

treatmentmay remain in thegut in an

inactive statewithout causingsymptoms

andovertime, symptoms gradually

return.

The Marvel Health Scan examines

theentirebodyinminutedetailand

canmonitor therateofhealingin

theorgans of thebody. The scan can

tell,for instance,ifE-coli is no longer

present,orifinflammation has reduced

in thestomach andintestines. By using

percentages, thescancan also reveal the

rate of improvement or deterioration of

aregionorsysteminthe body.

The detailedcomparisonreports the

scan provides will notonlyallow a

doctor to make adjustmentstothe

recommendedtherapy;italsohelps

to guide apatientonthe lifestyle and

dietarychanges they need to make to

encourage thehealingprocess.

To bookaMarvel health Scan,call

03 6695410 or formore information,

visit www.marvel.health

On display ... Arts in Oxford Gallery volunteer Paul Smith with two of Philip

Trusttum's paintings, Suzuki,left, and Holden,inthe Christchurch artist's latest

exhibition at the gallery.

PHOTO: SHELLEYTOPP

Trusttum exhibition

marks anniversary

By SHELLEY TOPP

The Arts in Oxford Gallerybegan its 10th

anniversary celebrations last weekwith

the installationofanexhibition by

Philip Trusttum, one of New Zealand's

leading figurative, expressionist artists.

The Christchurch octogenarian, who

livedinOxfordfrom 1949 until 1954, is

also apatron of the gallery.

He is known for his large­scale,

energetic paintings,and the work in his

latest exhibition, What Have We Got

Here,istrue to form.

All of the confronting work in this

exhibition begs that veryquestion.

At firstglance, DonkyDance could be

aportrait of alarge voodoo doll but it is

actually a2018 figurativeportrayal of

one of the artist's grandchildren wearing

amask, purchased from a$2shop.

Suzuki,a2019 painting of the Suzuki

automotive emblem,iseasier to

interpretwith its give­away title.

However, the answer to ''what have

we got here'' is not so obviousfor Philip's

painting of another motor company

emblem, entitled Holden.

The 14 acrylics on unstretchedcanvas

in WhatHave We Got Here wereinstalled

at the gallery on Wednesdaylastweek.

An officialopening of the exhibition

willbeheld in the galleryat1.30pm this

Saturday.

Before theopening, acreative forum

and paneldiscussion will be held at the

gallery and, afterthe opening,Philip

willgive atalk and create a

collaborative artworkwith hisaudience.

Oxford Arts Trustchairwoman Areta

Wilkinson saysthe gallery is excited to

havePhilip's involvement in the

celebrations. The exhibition runs until

Sunday, November8.

Well said ... Winners and placegetters in the speech competition, from left, Millie

McIlraith, Joni Lester, Laura Cundy, Annie Francis, Catalina Serrano, Rosie Mones­Cazon,

Ebony Varnam and Rachael Dalmer.

PHOTO: SUPPLIED

Praise for quality of speeches

Twenty five young studentsshowed off

theirpublic speaking ability at the annual

Hawarden­Waikari Lions biennial school

speech competition.

Contestants from the Amuriand

Hurunui Area Schools, and the Waipara

and Omihi Schools, spokeoneverything

from getting active to the gendergap,

racism and fashion.

JudgeSally MacDonald congratulated

all students on their willingnesstotake on

the challenge of speaking to ahall full of

people and commended their efforts,

research and presentation.

Lionspresident BruceChurchward

presentedthe McIlwraith Cups to the

winners of the junior, intermediate and

senior sections.

Results:

Junior: Annie Francis(Amuri), Vegans

Have Got It Wrong, 1; Catalina Serrano

(Amuri), Get Active,2;Rosie Mones­Cazon

(Amuri), We Need to Reduce Obesity,3.

Intermediate: Millie McIlraith(Hurunui),

IdealHoliday Destination–Dubai,1;Joni

Lester (Hurunui), The Gender Gap Must be

Closed,2;Laura Cundy(Amuri), The

Amount of Rubbish in our Landfills Should

be Reduced.

Senior: Ebony Varnam (Hurunui), Racism

in New Zealand,1;Rachael Dalmer

(Amuri), Fast Fashion 2.
---
HAY, BALEAGE, SILAGE

30 North Canterbury News, September 24, 2020

HAY&BALEAGE

• Triple and Double Mower Conditioners

• 4x3 Large Square Baling

• Round McHale Fusion Individual Wrapped Bales

• Hay Tedder

• 9 Metre Rotary Rake

• Grass Sales and Purchases

1951426

Weather plays the game as season gears up

By ROBYN BRISTOW

Spring rainand snow

accumulationinthemountain

basins areincreasing farmer's

optimism as the baleage,silage

and hayseason cranksup.

Oxford Ag owner Steve

Macaulay says thespringrain

had topped up reserves, which

is welcome after an

exceptionally drywinter.

There is now some good early

growth.

''This is providingabit more

optimism forfarmers,'' he says.

His company, whichhas more

than20fulltimestaff, anda

seasonal staff of up to 50,is

having significantstaff

challenges because of Covid­19

borderrestrictions.

''But we have managed to

increase our training and

resourcesand embracedgood

peoplefromother industries,''

he says.

MrMacaulay saysheis

confidentthesesolutionswill

ensure OxfordAghas the

resourcesrequired to service

its clients'needs, butthisyear

there will be no overseas

seasonal staff to boostits

numbers.

''I havefour United Kingdom

ladswanting to comehere.

Their cars are parkedinthe

yardwaiting,'' he says.

However,the border

restrictionsmeantheywill not

❛All the international

indices in place show

our industry should be

shining.❜

—Steve Macaulay

be joining the teamthis year.

Mr Macaulay says,ingeneral,

theagriculturalindustryis

feeling under­valued by central

government andthe wider

populace.

He saysthe concernsfacing

theagriculturalindustryatthe

moment are much wider than

thechallengesofCovid­19.

''All the internationalindices

in place showour industry

should be shining,'' he says.

Butthe pressurefromcentral

government legislation meant

theindustry was ''really

struggling''.

''Weare trying to rightthe

wrongs of 150 years, andset up

thefuture for thenext100

years, in awindow of few

years,'' Mr Macaulay says.

''The measures being putin

placeare notgoing to be

effective to achieve the

outcomes required.

''Unfortunately,thatisgoing

to killthe industryand won't

getthe environmental gainsthe

legislationisaimed at,'' he says.

Also available •Horsch Terrano: Primary cultivator,chisel plough /ripper, discs &roller •Catros: secondary

cultivator,5.5 metre discs and roller •Cayena Seed Drill: 6metre Tyne Air Seeder Drill •6furrow reversible

plough •6metre maxi-till &roller with levelling boards combination •All tractors using GPS and Auto Steering

•Operating aLexion760 tracked combine •5.2 metre Heavy Rolling Road Transportable

Now Omihi Based -Please give Sam Bethell acall

HURUNUI PH 0274 360 342

B.A. MURRAY LTD

177 Mt Thomas Road, RD 1, Rangiora 7471

Phone: 0274 343 119 | Email: office@bamurray.co.nz

Web: www.bamurrayagriculture.co.nz

Promising start to spring ... An Oxford Ag tractor bales medium squares for baleage.

PHOTO: SUPPLIED

Key elements for great silage

It is impossible to produce high quality

silage from low quality pasture, no

matter how good the fermentation.

Both the quality of the ensiled

pasture and the quality of the

fermentation must be considered.

What is pasture silage?

Silage is pickled pasture. When

pasture is ensiled, its sugars are

converted into lactic acid by bacteria. It

is the lactic acid which pickles the

pasture, allowing it to be preserved for

alot longer than it would have been if

left in the open air.

With well­preserved silage, losses in

feed value during fermentation will be

small, and the final silage will be only

slightly lower in feed value than the

original pasture.

Good quality pasture silage is agood

source of energy and protein for a

milking cow and can be used as afibre

source when feeding high­sugar or

starchy feeds. However, apoor quality

pasture silage (made from low quality

pasture, or ensiled with low quality

fermentation, or both) will not support

high milk yield and will be suitable only

for dry cows, or as afibre source to

reduce risk of acidosis.

Losses when making pasture silage

Losses occur as sugars and protein in

the grass are broken down by enzymes,

and bacteria. This process starts as

soon as the grass is cut. Losses decrease

quality as well as quantity, because it is

the highly digestible components which

are most rapidly broken down.

Losses during harvesting

Losses depend on the dry matter of

the pasture. The optimum dry matter

for silage is 25­30%, because total drymatter

loss is minimised.

It is best to cut in the morning of a

sunny day for rapid wilting. Cutting

after 1to2days of sunny weather will

result in good sugar levels in the

pasture, even when cut in the morning.

Avoid wilting for more than 24 hours.

Compact the silage well.

In astack or pit, use the heaviest

wheeled vehicle available. —Dairy NZ

"FARMERS"

•Baling

•Silage

•Hay

•Cultivation

•Seeding

•Heading

•Beet Lifting

Contact Steve Murray 027 434 3119

……..New Zealand Rural Contractor Of The Year 2002…….

2315106

ELMWOoD AG

•ROUND BALING •

(Mowing through to Cartage)

Balage 1m -1.5m Hay 1m -1.6m

•CULTIVATION •

(Full Culitvation Service)

6m Roller Drill &6mDirect Drill

Rut Buster for HIRE

2202690

PHONE: Bill 027 485 8012 ~EMAIL: oxfarm@hotmail.co.nz
---
HAY, BALEAGE, SILAGE

North Canterbury News, September 24, 2020

31

Book in now for:

• Round baling

with aFusion baler

• Medium square baling

with on-board weight

system &moisture meter

• Vraking included

• Wrapping to suit your

requirements

We also offer:

• Reversible ploughing

• Fodder beet planting

• A Full range of cultivation and

drilling (with GPS auto steer)

Spring warmth ... Contractors are hoping for abusy season, but there has been alack of consistent spring rain so far.

Staffrecruited as

seasonbegins

By DAVID HILL

Spring is in the air and North

Canterbury agricultural contractors are

looking forward to abusy season.

Local contractors spoken to by North

Canterbury News say they have their

staff recruited and the machinery is

ready for whatever Mother Nature

throws at them.

''There's abit going on, but we are all

shaping up for adry one,'' Bethell

Agriculture owner Sam Bethell says.

''The winter crops are being reworked

and resown and the fodder crops

are in the ground, and it's not long until

the baleage starts.''

Adry winter, alack of consistent

spring rain and the predicted La Nina

weather pattern this summer has left

farmers and contractors on aknife­edge.

''It's very dry at the moment. We would

be lucky to have had half of our annual

rainfall so far, which doesn't bode well

with La Nina just around the corner,'' he

says.

Sam runs asmall operation with just

four staff.

Fletcher Farms owner Nigel Fletcher

says it has been aspring of extremes so

far, with last week's ''horrific''

northwesterly wind blowing away the

little bit of rain which had fallen, and

then followed up by about 2.5cm of snow.

''It's starting to get abit busier, but it's

very weather dependent,'' he says.

But he has had no trouble recruiting

staff.

''We advertised and we had 20­odd

people put their CVs in. Alot of people

were scared they wouldn't get skilled

staff, but Ifind more often than not

people from higher skilled jobs can

transition pretty quickly.''

BA Murray Ltd director Steve Murray

says he is enjoying abusy start to the

season.

''It's busy enough, which is interesting

in spite of the fact that everybody is

predicting it to be arecession.

Everybody Italk to is flat out.

''The silage started early and we're on

to cultivation and drilling. It's been an

interesting season.

''We started doing silage in August,

which is unusual.

''We normally start in September and

then November is manic, but for

someone to say get into it in August, it's

abit unusual.''

But Steve says the early­cut silage may

be needed later in the season if

conditions remain dry.

He has two more staff joining his

ranks over the next few weeks and then

his team will be full.

Sanders Contracting owner Stuart

Sanders says there has been some good

grass growth through the winter, but it is

too early to say whether the spring is

going to be agood one.

''These showers are good and, if they

keep up, it will make adifference, but

what snow there's been has been

disappearing pretty quickly.

''It's just amatter of staying positive

and see what Mother Nature throws at

us, because she will decide what work

there is.''

Stuart is asole operator, with acouple

of casual staff he can call on when

needed.

PHOTO:SUPPLIED

Harvest Time!

Local Business Serving The Local Area.

• Hay -Baleage -Straw

Medium square, round, conventional.

Double mower conditioners, wrapping.

• All agricultural and cultivation work

• Direct drilling -Giant discing -Ploughing

-Power harrow -Air seeding

We look after your needs like we look after our own!

Pankhurst

Contracting Ltd

Phone 314-3595

David 0274 337 004 Ben 0276 775 882

All heading and windrowing

requirements

• Daily Freight Run to Ch-Ch &Return.

Ph: 0274 517 063 (Darran)

0274 321 581 (Bus)

03 314 4565 (H)

1982614

HASSLE-FREE BALEAGE

ACROSS AMURIBASIN

Individual Wrap to 6String BaleorTube

Mowingtowraping –

One call takes care of it all.

Keeping your cost down andquality up!

2311846

2310490

Hay, Straw &Baleage

Tube &Individual

Wrapping

Medium Square &

Round Baling

4x3Baler

Mower &VRake

Direct Drilling &

Full Cultivation

1469536

Phone Stuart

0274 362 614

A/H 03 312 6861

Andrew Dalzell

0274 833 938

03 315 8312

dalcol@xtra.co.nz

"Coldstream" 197 Culverden Rd, Culverden 7392, New Zealand
---
RURAL LIFE

32 North Canterbury News, September 24, 2020

Cash needed to avert crisis

Ruralleaderssay more funding is needed

to supportmental wellbeing, before it

reaches crisis point.

NorthCanterbury Rural Support Trust

chairwoman Gayle Litchfield and Rural

WomenNew Zealand national president

FionaGower say morefundingisneeded

for frontlineinitiatives to reduce rural

suicide rates.

The pair were speakinginresponse to

the Zero Suicide Aotearoa report

commissionedfor Parliament's crosspartyMental

Healthand Addiction

Wellbeing Group.

''It tells us what we already know,that

suicide in rural New Zealand is an issue.

It's an appalling situation that needs

fixing,'' Mrs Gower says.

''It's great to see some thoughtand

commitment giventosolutions for rural

New Zealand. They havemerit,and

RuralWomen New Zealand wouldlike to

see every part and level of the community

included.

''We would like to see thatcommitment

materialise in fundingand resources.

The solutionsneed to be properly

resourced and funded.''

Whilemuch of the focushas been on

QUICKSCREEN FENCING

VERSATILE SCREENING SOLUTION

Quickscreen Fencing isaninnovative, easy-to-install,

aluminium slat screening system that offers the

latest in architectural style. Quickscreen Fencing is

tough, long lasting, low maintenance and can be

adapted to suit awide variety of applications.

•Available inWoodland Grey orBlack

•Blades donot warp, crack, orsplinter

•Non-weld assembly for easy installation

•Low maintenance"Stylish &easy to install"

QUALITY GARDEN SHEDS

"Stronger &sturdier storage sheds"

CHRISTCHURCH

Ph: (03) 338 9063 55 Hands Rd, Christchurch NZ 8024

www.stratco.co.nz

youth and men in rural communities as

being the most at­riskgroups, Mrs Gower

says rural women are equallyatrisk of

becoming isolated, especially in times of

adversity and low payouts.

''They talkabout the poor farmer who

worriesabout the farm and theiranimals,

butthe women also worry about the farm,

theanimals, the kids, the booksand the

community.

''Womenare the glue whichholds

communities together. The common

worry is 'ifsomething happens to me, who

will pickupthe pieces'. They are holding

everything together.''

Education around self­awareness of

wellbeing is agood place to start,Mrs

Litchfield says.

''Through education,wecan make sure

employers are more aware of their

employees'wellbeing and in turn their

ownwellbeing.

''We need to normalise 'baddays', that

it's OK to have 'bad days' and thatfeeling

stress andfatigue are normal andthat the

sundefinitely comes out the next day.''

Relationship building between farm

owners and their employees is another

wayofbreaking down isolation.

STRONG, HIGH QUALITY STORAGE SHEDS

Crisp, clean and uncluttered lines are afeature of

this attractive and economical storage shed.

The Stratco Garden Shed is asimple, strong and

secure, well designed storage unit that comes in a

size to suit every lifestyle and backyard requirement.

Quality construction means your Stratco Garden Shed

will be alasting investment. Stratco Garden Sheds are

made in Christchurch to withstand New Zealand

conditions. Strong, durable and made to last, the

Stratco Garden Shed can be installed yourself, or

Stratco can organise installation for you.

2309605

Not amused ... Federated Farmers North Canterbury president Cameron Henderson

is not impressed with the government's freshwater consultation.

PHOTO: FILE

Freshwater rules

continue to irk

By DAVID HILL

A''lack of goodconsultation''has led to

''badfreshwater regulation'', Cam

Hendersonsays.

The Federated Farmers North

Canterbury presidentsays theinitial

six­weekconsultation period, during

one of the busiest times on the farming

calendar, was not good.

The governmentextendedthe

consultation periodtoeight weeks and

received more than 17,000 submissions.

''To be fair to the government, there

were some changes made in theface of

that avalancheofopposition,'' Mr

Hendersonsays.

''Butwarnings at that time, and many

timessince, from Federated Farmers

and othersthat some of the proposals

wouldnot only be extremely expensive

but also unworkable in apractical sense,

were ignored.''

Agriculture Minister Damien

O'Connordisputedthis,saying extensive

consultation was done with farming

leaders ''over aperiod of many months

both before and after the public

consultation''.

''There were thousands of

submissions received as partoflast

year's consultations. The Government

listenedand as aresult many changes

were made to the original plan.''

Changes included alongertimeline to

implement changes, anational bottom

line for dissolved inorganic nitrogen not

to be implementedatthis stage, and

existing permanentfencesare not

required to be moved viaregulation, Mr

O'Connor says.

But Mr Hendersonsays the changes

HOMEKILL

&Wild Game

Meat Processing

313 0022

MEAT2U.NZ

do not go far enough, as the October and

November deadlines for re­sowing

winter cropped paddocks tookno

account of weather conditions,are

''unrealistic and are more likelyto

reduce water qualitythan improve it''.

Low slope mapsprepared for the new

stockexclusionrules are equally

confusing as consultation documents

identified 3.8 millionhectares as low

slopepastoralland, whereas the final

regulations identified aroundsix

million hectares, includinghill and high

country land, he says.

Mr O'Connorsays he is meetingwith

farmers around the country and,while

the policy is good, the implementation

may need to be adjusted for each region.

''Implementation comes downtothe

sensibleapplication of necessary

regulations. It became apparentthat

some of the regulations withinthe

freshwater standards,including ones

around winter grazing, needed to be

adjusted, so we did that.''

Meetingsare ongoing with Ministry

for the Environmentand Primary

Industries officials to work on making

the mappingdata more accurate, Mr

O'Connor says.

''Theintentisvery clear —tocleanup

our waterways. Where the regulations

are impractical or unclear, we will

continuetomake adjustments.

''It is achange in practice for some

farmers but we'llmake sure that it

achieves the outcomes that the vast

majorityoffarmers say they want, which

is better waterquality,betteranimal

welfare standards,and makingsure that

we can sell good quality producttothe

world.''

HIGH COUNTRY FENCING

HILL COUNTRY SPECIALIST -

Dozer and Digger

RURAL

STOCK YARDS

EARTHWORKS

WE STAND

BY OUR

WORK

GEOFF ROGERS

021 640 748

www.highcountryfencing.co.nz

2209036

2286247v1

•Land Clearing

•Road maintenance/

Construction

•General Cartage

•Driveways/ house

sites

•Tree trimming and

removal

• Excavators from

2to30ton

• Bulldozer -20ton

• Tip trucks from

5to45ton GVM

• Wheel Loaders -

Bucket and forks

• Transporter -can

cart up to 15 ton

We have been Contracting in Canterbury for 35 years

For anoobligation estimate

or quote, contact -

Tony Brand 0274 360 338

Tony Rossiter 0272 080 312

Office 03 313 8224
---
Rental Fleet

RENTAL COMPANYCLEAR ANCE

SAVE THOUSANDSONTHESE LATE MODEL LOW MILEAGE VEHICLES

MITSUBISHI MIRAGE XLS

5-StarANCAP Safety |Integrated

Audio and Air Conditioning

15" AlloyWheels

$12,990

MITSUBISHI ECLIPSE CROSS XLS

5-StarANCAP Safety |Forward

Collision Mitigation |Lane Departure

Warning |Smartphone Link Display

Audio System

$24,990

MITSUBISHI OUTLANDER 4WD VRX

5starsafety rating with 7airbags |Rear

view camera Touchscreen infotainment

with Bluetooth connectivity Electronic

traction control |Central locking

$34,990

*Vehicle supply is limited and colourchoice cannot be guaranteed. Vehicle images are fordisplay purposes only.. Finance criteria, terms and conditions apply.

RANGIORA MITSUBISHI

321 High Street, Rangiora | 03941 3175 | rangioramitsubishi.co.nz

SALES |SERVICE |FINANCE

GET INTOANEW NISSAN

WITH ONE OF THESE GREATWEEKLYRATES

FROM

ST

$

96A WEEK *

2WD MANUAL

RX

FROM $

97A WEEK *

NISSAN 150,000 KM'S

5YR FACTORY

WARRANTY

RANGIORA NISSAN, 321 High Street, Rangiora

Ph: 03 941 3175

www.rangioranissan.co.nz

ST FROM $

94A WEEK *

*O ffe r b a se d o n a N is s a n J u ke ST o f $ 3 4 ,7 5 0 inc lu d in g o n ro a d co s t s , w it h a n in itial c us t om e r d e p o s it/ tra d e - in o f $50 00.0 0, 2 5 9 we e k ly p aym e nts of

$ 94.97 an d a fi n a l p aym e n t of $1 0,4 2 5.00. To ta l a m o un t p ayab le is $3 5,0 2 2 .2 3. Offe r b a s e d o n a n ex-rent al Mit s u b is h i E c lip se Cro s s X L S , w it h a n in itial

c u sto m er d e p os it/ tra d e - in of $ 6,00 0, 1 6 0 we e k ly p aym e n ts of $97.3 4 . To ta l amo u nt p aya b le is $ 3 1 ,3 0 8.67. To ta l a mo un t p aya b le is $3 5,4 0 6.5 4 . O ffe r

b a se d on a N is sa n Nava ra R X 2 wd M an u a l of $31 ,9 90 p lus on ro a d co s ts , w it h a n in itial c u s t ome r de p os it /t ra d e- in of $6,61 8 .0 0, 2 5 9 wee k ly p aym e nts

o f $ 97.64 a n d a fi n al p aym e n t of $9,5 9 7.00. To ta l a mo unt p aya b le is $3 4,8 8 5.7 6. To ta l a m ou n t p aya b le s in c lu d e a n orig ina tion fe e o f $1 7 5, PP S R of $ 8.05,

d ocu m e nta t io n fe e of $3 75. E xc lu din g a ny in su ra n ce s a n d o ption a l a cce s s or ie s . N is s an F in a n c ia l S e r v ice s te rm s , co n dit io n s a n d s t a nd a rd le n d in g

c r ite r ia a p p ly. N o t availa ble in co n ju n c tion w it h a ny ot h er offe r. Offe r e n d s 3 0 S e p tem be r.

rangioranissan.co.nz
---
North CanterburyNews

PROPERTY

Timeless Elegance

1661 North Eyre Road, West Eyreton

Nestled in beautifully mature landscaped gardens down atree lined driveway, this lovingly

maintained original villa which boasts original features throughout is simply stunning.

The elegant kitchen/dining room has awonderful sunny aspect with double doors opening

out on to one of the verandas which is aperfect place to sit and enjoy the established

gardens.

There are two living areas, three bedrooms including master with en-suite, family bathroom

with separate toilet which are situated off the spacious wood panelled hallway.

The property also offers aseparate dwelling with huge potential to use ahome office, a

teenagers retreat or extended family members.

The soil is Mayfield Moderately Deep Silty Loam, which would be excellent for vegetable

growing, there is alarge four bay barn, woodshed and double garage with plenty of parking.

Deadline Sale

closing Wednesday 21 October

2020 at 2.00pm (unless sold prior)

For more information contact:

Carol Thompson

027 914 2341 |carolt@pb.co.nz

Katy Biggs

022 068 7415 |katyb@pb.co.nz

Property Brokers Ltd

Website ID #RU75181

Arealchange in

real estate.

The Property Brokers and Farmlands partnership means

great things forprovincial real estate*

Together our combinedstrengths complement

eachother to createbiggernetworks, more

buyers andbetterresults.

For more informationcall0800367 5263

orvisit pb.co.nz/together

Proudtobetogether

2310620

*Farmlands will continue to administer its property management portfolioand its West Coast real estatesites, pendingCommerce Commission clearance.

Property BrokersLtd Licensed REAA 2008
---
North Canterbury

Hanmer Springs 4/ 900 Woodbank Road

Auction

PARADISE FOUND

Discreetly hidden up aquietyet sunny valley only ashort drive from the idyllic thermal resort village of Hanmer Springs, you

find this amazing and unique 20halifestyle block. Nothing compares! It offers medium to steep hill with native bush,

extensive manuka, andnaturalwetlands. Watersupply is aspring fed pond, enjoy your water justasnatureintended. Approx

aquarter of the property hasbeen cleared, grassed, fertilisedand fenced (new electric topped post and netting) suitable for

sheep, cattle or horses. It is divided into 5paddocks, with aset of sheep yards. There is astunning elevatedbuildingsite just

below thespring,offering aNorth facing sunnyaspect, and the most amazing views over theHanmer Valley. Whatever your

purpose, be ityour dream home in apristine bush setting, aunique ecolodge, or just ahideawayfrom the realworld, this

property is one in amillion. Direct access into crown land for hunting.

Auction 1.00pm, Sat10th Oct, 2020, Rangiora Town Hall

View Sat 26 Sep 1.00-2.30pm

Web pb.co.nz/HSU77712

Janice Clyma

M 027 434 7090

E janice.clyma@pb.co.nz

Hanmer Springs 28 Caverhill Close

Auction

Central village rare opportunity

We are delighted to offer you thisquirky andinteresting double glazed 3brm plus attic home located on aprivate central site.

Ideally suited as afamily holidayhome, the kidswilllove the attic as aplay area. Lovely north facing living and deck ideal for

those evening BBQs. Logfire plusaceramicinfra redheater.Architecturally designed andbuilt in 1990's as aholiday home,

however would equally suit as apermanenthome or weekend retreat. Two bedrooms are generousqueen size, master has two

largewardrobes. The third bedroom is offthe lounge and ismore of astudy/office area butlarge enough foraset of bunks.

Single garage withinternal access. Separate entry area with coat space, and alarge separate laundry with lots of bigstorage

cupboards. Thesection is surrounded by mature native trees including recentlyplanted fruit trees. Well fenced and suitable for

pets and children. Location is an easystroll on formed public tracks to the forest walks.

3 1 1 1

Auction 1.00pm, Sat 10th Oct, 2020, Rangiora Town Hall

View Sat 26 Sep 11.00-12.00pm

Web pb.co.nz/HSU77892

Janice Clyma

M 027 434 7090

E janice.clyma@pb.co.nz

Property Brokers Ltd Licensed REAA 2008 |pb.co.nz

Proudtobehere
---
North Canterbury

Sefton 172 Douds Road

Auction

Grand Designs

Distinctive Norman castle andGothic inspired architecture designed by Dean Buckeridge, and apeerless location combine to

make our feature listing atruly spectacularproposition! This robustly constructed 453sqm home is superbly appointed, with

quality fixtures and medieval inspired fittingsthroughout. Accommodation is providedbyfivebedrooms (orfour plus office),

with thespacious master opening to the courtyard accompanied by awalk-in-robe and tiled ensuite which features aclaw

foot bath.All bedrooms are large, with walk in robes in most. The kitchenissure to warmthe hearts of those wholovetocook.

High ceilingswith amazingwoodcraftenhance thesense of space in theliving area -the architecture is superb;the versatile

living areas offer options forevery occasion. The enormous gamesroomupstairs boasts panoramic views, and again the

architecture and craftmanship is apparent.Other talking points are the turret with spiral staircase and balconies.

5 3 2 6

Auction 1.00pm, Sat 10th Oct, 2020, Rangiora Town Hall

View Sun 27 Sep 12.45 -1.30pm

Web pb.co.nz/RL70859

Aaron Clark

M 027 873 5121

E aaronc@pb.co.nz

Rangiora 11 Gerard Place

Auction

Contemporary classic, going, going, gone

Our subject property is an expansive,contemporary home on aquiet, family-friendly cul-de-sac. Designed andconstructed

with painstaking care and attention to detail, it's sure to exceed theexpectations of even the most discerning purchasers.

From themoment one sets foot inside the impressive entrancewaythe care andattention to detail that went into the

construction of this superlative homeisimmediately clear. Ample accommodation is provided by four good-sizedbedrooms,

while twoluxuriousbathrooms (including an ensuiteoff themaster) andanappropriately lavish kitchen with walk-in pantry

enhancefunctionality. Theopen-plan dining/living area is complementedbyaseparate formal lounge,with aheatpump

promising year-round comfort and effortless indoor/outdoorflow offering easy access outside. Outside,the immaculate

groundscreate an idyllic setting, while double internal-access garaging -complete withrear accessfor the boatortrailer -

completesthe appeal.

Property Brokers Ltd Licensed REAA 2008 |pb.co.nz

4 2 2 2

Auction 1.00pm, Sat 10th Oct, 2020, Rangiora Town Hall

View Sun 27 Sep 11.30 -12.15pm

Web pb.co.nz/RU77827

Aaron Clark

M 027 873 5121

E aaronc@pb.co.nz

Proudtobehere
---
North Canterbury

Ohoka 693 Tram Road

Auction

Vendors havepurchased

Lookingfor a4ha lifestyle property with ahighly convenient location, privacyand avery well presented 232 sqm four

bedroom home? Thentake alookat693 Tram Road. There is anewly completed92sqm addition withfloor to ceiling double

glazed glass doors, opening to astunning Kwila deck. This area has been built to ahigh standardand includes main living,

master bedroom and ensuite and asecondbedroom. This area has oak flooring and no expense hasbeen spared on the

plumbing,which includes aVailantcombi boiler which runs four radiatorsaswell as the hot water. Clad in Stria witha

Colorsteel roof and internalgutters it is ultra modern. Theland is subdivided into ninepaddocks, with cattle-yards and afour

bay barn,including one enclosed bay. With its ownwell,thereisplenty of water available for thegarden as well as the house.

With themotorway only 7kmaway and the well regarded decile 10 Ohoka school nearby it is anideal location.

4 2 2 1

Auction 1.00pm, Sat 10th Oct, 2020, Rangiora Town Hall

View Sat 26 Sep 2.45 -3.30pm

Web pb.co.nz/RL77927

Maurice Newell

M 027 240 1718

E mauricen@pb.co.nz

Hamish Anderson

M 027 678 8888

E hamisha@pb.co.nz

Oxford 497 Steffens Road

Auction

Job transfer dictates sale

This 398sqmhome, set inapicturesque park-like setting, consists of three separate accommodation areas. Currently -main

dwelling, "parents wing" and guestwing -providingfor atruly multi-generational living scenario. In the main dwelling, step

into abeautifulhome with character features, modern conveniences, open plankitchen/dining with generous walk-in pantry,

family lounge and large formal lounge, two very generous double bedrooms, family bathroom and walk-inlinen/storage room,

complimented by two fabulous outdoorentertaining areas. The tworemaining wingsare self-contained with their own

bathroom, bedrooms and living areas. Allwings have their own separate entry and inter-connect with the main dwelling. The

4ha of landissubdivided intofive paddocks ,withgoodqualityTempleton and Eyre-Paparua soils, (according to soil maps)

and you have your own well. Buildings and features outside consistof100sqm Totalspan garage/workshop, hayshed,tool

shed, wood shed.

Property Brokers Ltd Licensed REAA 2008 |pb.co.nz

5-6 3 4 2+

Auction 1.00pm, Sat 10th Oct, 2020,Rangiora Town Hall

View Sun 27 Sep 2.30 -3.30pm

Web pb.co.nz/RL77379

Maurice Newell

M 027 240 1718

Hamish Anderson

M 027 678 8888

E mauricen@pb.co.nz

E hamisha@pb.co.nz

Proudtobehere
---
North Canterbury

Sefton 107 Harleston Road

Auction

We're out, you're in

Our vendors are retiringand leaving their magnificent home that theylovingly built. Nowisyour opportunity.This versatile

rammed earth home has seven bedrooms, with awest wing of 180m2 comprisinglargeopen planlivingwith twobedrooms

plus an office, cool store room and bathroomdownstairs, as well as three bedrooms upstairs, with another bathroom and

kitchenette/living area. The east wing has two living areas, twobedrooms andashared bathroom.There is a100m2 shared

garage and off the garages, separate toilets andseparate laundries. Energyefficiency is afeature of this homewith thethick

rammed earth walls providing aheat sink for winter and keeping the interior cool in summer. In the west wing there is a

Warmington open fire as well as aRayburn withawetback which also provides underfloorheating through pipes which pass

beneathconcrete floor pavers. Thekitchen alsohas awalk-in pantry and abutlers sink. Theeast wing hasawood-burner.

8 3 3 4

Auction 1.00pm, Sat 10th Oct, 2020, Rangiora Town Hall

View Sun 27 Sep 1.30 -2.30pm

Web pb.co.nz/RR72756

Hamish Anderson

M 027 678 8888

E hamisha@pb.co.nz

Maurice Newell

M 027 240 1718

E mauricen@pb.co.nz

Rotherham 74 Topps Road

Auction

Call to action, call to auction

Our vendor is retiringafteralifetime of farming, thisproductive property is nowyour opportunity. Property Brokers are proud

to present this attractive and productive 83ha farm. The soils on the flat are predominately Ayreburn Deep Clay, with the

balance Waipara Moderately Deep SiltyLoam. Currentlythe flats are being irrigated with hard hose irrigatorsfrom hydrants

down the central lane.There are 45 Amuri Irrigation Company shares, which provide 27 litres/sec. The home is athree

bedroom wooden bungalow of approximately 186sqm with aseparate twocar garage, with power. There are alarge number

of support buildings including a9mx13.5m three bay shed,awoolshedofapproximately 120sqm,with additional storage

underneath, afour bay shed measuringapproximately 8m x16m, the red shed approximately 12mx10m, the fully lockable

shed, which is approximately 12mx9m, as well as an old dairyand piggery. There is apumpshed on the flatwhich is used for

irrigation.

Property Brokers Ltd Licensed REAA 2008 |pb.co.nz

3 1 2

Auction 1.00pm, Sat 10th Oct, 2020, Rangiora Town Hall

View By appointment

Web pb.co.nz/RR74876

Hamish Anderson

M 027 678 8888

Maurice Newell

M 027 240 1718

E hamisha@pb.co.nz

E mauricen@pb.co.nz

Proudtobehere
---
North Canterbury

Eyrewell Forest 599 Downs Road

Auction

Vendors downsizing

Our vendors have built in Rangiora and need to sell this beautifully designedthreebedroom, two bathroom home.One wing

contains the master bedroom with an ensuite and walk in wardrobe.Another winghas two bedrooms and the main bathroom.

There are two living area's with an openplankitchen living andaseparatelounge.The log-burner has awetback and there is

aheat pump as well.ABelling stove and AEG dishwasher are typical of the quality of the chattels and fit out. The garage is a

largesingle withanadjoining separate laundry and mudroom.Extra accommodation is available in the one bedroomflat

adjoiningthe shed, which has akitchen/living area andagood bathroom and is approximately 45m2.The shed itself is

approximately 150m2 with acommercial roller door and clear span, highstud steeltrusses. It has three phase power and

excellent lighting.The 24m2 studio is transportable, so could be sold separately if not wanted.

4 3 3 1

Auction 1.00pm, Sat 10th Oct, 2020

View Sun 27 Sep 11.15 -12.00pm

Web pb.co.nz/RL76179

Maurice Newell

M 027 240 1718

E mauricen@pb.co.nz

Hamish Anderson

M 027 678 8888

E hamisha@pb.co.nz

Oxford 7A Bay Road

Attractive Townhouse AMust View

This immaculatelypresentedthree-bedroom homeisthe idealstart forfirst home buyers, small families and retirees looking

for alowmaintenance property in beautiful surrounds. Located afew minutes fromOxford's bustling amenities, tuckedaway

in aprivate setting this attractive Oamarustonehomewith established gardens, patio,BBQ area andasingle internalgarage

provides all theessentials for comfortableliving. With Northfacingliving areas, the kitchen, diningand lounge receivethe full

benefit of the sun keeping these spaces warm and cosy. The bedrooms all havedouble wardrobes and anattractive updated

bathroomgives youabeautiful space to feel pampered in. Alightfilled kitchen looks out onto theattractive gardens and

indoor/outdoor access from the dining andlounge areas make it easy to enjoy alfresco meals and outdoor living. The home

has gas hot water, andaheat pump for the cooler months.DeadlineSale closes Tuesday 6th October 5:00 pm. Call Di nowto

see

Property Brokers Ltd Licensed REAA 2008 |pb.co.nz

3 1 1 1

Deadline Sale closes Tuesday 6th October, 2020at4.00pm,

(unless sold prior)

View Sun 27 Sep 1.00 -1.30pm

Web pb.co.nz/RU77963

Di Moreira

M 027 848 8020

E di@pb.co.nz

Proudtobehere
---
North Canterbury

Eyrewell 2199 South Eyre Road

Eyrewell Forest 805 Downs Road

Motivated Vendor

Only eleven years old,this propertyhas an excellent kitchen, open plan

living,separate lounge, two outstanding bathroomsand is heated by

two heat pumpsand Contessa log-burner with wetback. The living

areas enjoyasunny aspect, with seamlessflow to the patio. In

addition there is aseparate double garage with an attached office,

giving four cargaraging. On freedrainingsoil, it is ideal for horses or

any other classofstock. There is establishedshelteronfour sides, it is

private with plenty of shelter and hasit's ownwell. Just 30 minutes

from ChristchurchAirport.

3 2 2 4

For Sale $720,000

View Sun 27 Sep 12.15 -1.00pm

Web pb.co.nz/RL76076

Maurice Newell

M 027 240 1718

Hamish Anderson

M 027 678 8888

Forest Field Opportunity

Arare opportunity to purchase aproperty with access to arguably one

of the bestprivate airfields in the country.Situatedjust minutes by air

from Christchurch International Airport, it has three runwayscatering

for every wind direction.Our vendorismoving and wants it sold. The

hangar is approximately 16m X13.5m with avery high stud and 4m

high opening doors and there is athree bay barn, one of which is

enclosed with two roller doors, as well as tie down points forvisiting

planes. Thetemporary accommodationisapproximately 12m x7m

and has an insulated lunch roomand shower.

1 1 1 1

Deadline Sale closes Thursday 15th

October, 2020 at 4.00pm

View By appointment

Web pb.co.nz/RL77889

Maurice Newell

M 027 240 1718

Hamish Anderson

M 027 678 8888

Kaiapoi 148 Butchers Road

Rangiora 8/26 Victoria Street

Location, soils and Irrigation

Excellent opportunity to secure thisproductive propertylocated on

Butchers Road, close to Silverstreamretail villageand approximately

15 minutes to Christchurch International Airport. Good water supply,

includingtwo irrigation waterrights, one being from thecrystal clear

OhokaStream.Appealing, sunny 200 sqm four bedroomresidence

with two livingareas, heatedbyanew Masport log-burner andan

Everhot rangebyClassic Cookers, both with wet-backs. Extensive

mature shelter belts andtrees, 6.2ha of quality freedraining

Waimakariri Silt Loam soils.

4 2 2 1.5

Deadline Sale closes Wednesday 14th

October, 2020 at 4.00pm, (unless sold

prior)

View Sun 27 Sep 11.30 -12.30pm

Web pb.co.nz/RL78098

Maurice Newell

M 027 240 1718

Hamish Anderson

M 027 678 8888

Over 60's unit -Simply delightful

Lovelytwo bedroom unitthat has been designed withthe over 60's in

mind.Everything in thekitchen is at your fingertips andisopen plan to

be sunny and spacious. The wonderful compact garden is easily

accessed from the lounge. Themasterbedroomisspaciouswith a

good wardrobe, and the bathroom has aheatednon-slip floor and

large walk in shower. Aseparate laundry andsingle attached garage

roundsoff thiswonderfulproperty. Don't miss it, come and havea

look. The vendors are asking for offers over$340,000

2 1

Deadline Sale closes Wednesday 30th

September, 2020 at 4.00pm, (unless

sold prior)

View Sun 27 Sep 1.00 -2.00pm

Web pb.co.nz/RU77643

Bev Wright

M 027 434 2486

Property Brokers Ltd Licensed REAA 2008 |pb.co.nz

Proudtobehere
---
"Seriously on

the hunt for a

rural or lifestyle

property?"

New app out now
---
What's happening in your

community…

Bin Spot Checks

In October we start undertaking bin audits –

checking that people are putting the right things

in their bins. We're doing this because recycling

contaminated by rubbish has resulted in 179

truckloads ofrecycling going to the landfill.

To help educate people, we will be hitting the

streets to spot check that people are putting

the right items in the right bin. Learn more at

rethinkrubbish.co.nz

Cycleway Connection for Woodend

The Woodend-Sefton Community Board were

excited at their meeting on Monday tohear

more about the proposed extension of the

Rangiora Woodend Path to complete the

connection to Woodend.

Aworkshop was held explaining the options,

including the connection to the signalised

pedestrian crossing on SH1 outside the school that

NZTA has approved. Staff will make some changes

after feedback from the Board and then go out for

community consultation in coming weeks.

Natural Hazard Drop In Sessions

The Council has been updating models and

planning maps, to show the possible extent of

natural hazards on land in the Waimakariri District.

These models and maps are updated every few

years to provide the best possible information for

landowners looking to buy, build or develop.

If you want to find out more about the natural

hazard map update, Council staff are available to

answer your questions online and are also holding

in person drop-in sessions. Details are below:

18 September –19 October

Online event -waimakariri.govt.nz/letstalk

24/7 during duration

14 October

Rangiora Town Hall -303 High St, Rangiora

6pm –9pm

19 October

Ruataniwha Kaiapoi Civic Centre

176 Williams St, Kaiapoi

4pm –7pm

TwoFree Events this weekend –

Friday and Sunday

On Friday head to Kaiapoi to join the community

in acknowledging 10 years since the earthquakes

with afree festival. Join in the fun, food, fireworks,

market stalls and live entertainment at Raven

Quay in Kaiapoi from 5–8pm.

On Sunday the Rangiora Festival of Colour is held

in Victoria Park from 10am –4pm. You can expect

vibrant colours, cultural performances, great music

and food.

Park &Ride Coming Soon

We're improving facilities for people using bus

services, and work will soon start on Park &Ride

sites in Rangiora.

Work at the northern site on River Road beside the

dog park will start in late September, and will be

finished in late November. Dog park access will be

available during the work.

Work on the southern site on South Belt, alongside

Southbrook Park will start from early October and

will be finished inlate November. Park users won't

be affected by the work.

Acentral Rangiora site is located in White Street,

and Kaiapoi will have acentral site behind New

World, and asouthern site just south of the Tram

Road on-ramp.

The facilities will complement new peak hour bus

services, and make accessing the Christchurch CBD

easier for residents and commuters.

Have you signed up for

the Waimakariri District

Council Newsletter?

Tojoin visit:

waimakariri.govt.nz/subscribe

Checking in

on your bin…

We're doing

recycling bin checks

across the District to

make sure they have

the right items going

into them.

Check your letterbox for

an informationpack about

your bin check and how to

recyclethe right way.

COASTAL WARNING

SIREN TEST

MONDAY 28 SEPTEMBER1PM

Waimakariri Civil Defence will be testing the

District's coastal warning system at 1pm on

Monday 28 September.

Sirens are located at The Pines Beach/Kairaki,

Woodend and Waikuku beaches, however

depending on wind conditions, the sound may

travel further.

The test message will last for approximately one

minute and depending on how close you are, may

be quite loud.

FRI

25

SEP

5–8pm

Raven Quay

Kaiapoi

FREE

FESTIVAL

To Acknowledge 10 Years from The Earthquakes

Join us for Fun, Food &Fireworks

Food &Market Stalls +

Roving Entertainers +

Outdoor Screen Slide show

reflecting on 10yrs +

LIVE BAND

THE ALLIN DRIVE BAND

PROUDLY SPONSORED BY

AllTogetherKaiapoi acknowledgeand thank

those thathavesupportedthis event...

Visit Waimakariri, Waimakariri Creative Communities NZ, Harcourts,

Misco Joinery, Blackwell's Kaiapoi, Silverstream, Smith Crane &Construction,

Waimakariri Arts Trust, Waimakariri District Council, Kaiapoi Club,

Wilsons Traffic Management, Kaiapoi -Tuahiwi Community Board, Larsen

Sign Studio, Acropolis, Wentworth Carrying, Paper Plus, Corcoran French

rethinkrubbish.co.nz

For more information visit:

AllTogetherKaiapoi
---
Men book two finals berths

HOCKEY

Rangiora Hockey'sDivision 3Men

and Platinum Boys' Ateams will be

the club's only senior teams to contest

competition finals this weekend.

The Division 3men qualified

second in its grade and will meet

Southern UnitedinSunday's final

against ateam the side lost to earlier

in the season, butsoundly beatjust a

couple of weeks ago.

The Platinum Boys' Ateam was

demoted to the Division 2

competition earlier in the season and

since then has won every game,

including recently defeating Avon,

which they will face in the final.

Last weekend, Avon beat

Rangiora's Bteam in the semi­final,

meaning the Bs play off for third

against HSOB/Burnside.

Despite wins in the penultimate

round, Rangiora's Division 1and

Division 2women's teams will be

playing off for the minor placings in

their respective competitions.

Meanwhile, the season is over for

Rangiora's Division 1men and

Division3women.Losses last

weekend gives both sides abye.

The Platinum Agirls' team also

missed out on the final, losing to topof­the­table

HSOB/Burnside in its

semi­final.

The Rangiora Hurunui Mid Week

Women's team faced Southern

United in the Division 2minor semifinal

last Tuesday, after newspaper

deadline. The side will be hoping to

reach the final in only its second year

in the competition.

The Rangiora Allsorts Mid Week

Men's team willbeplaying off for the

Division2wooden spoon against

Southern next week after a

disappointing loss to Harewoodon

Monday night.

In the junior grades, the Kiwi

Sticks boys' teams both had big wins,

as did the Renegades Kwik Sticks

boys' team. The Rampage Kwik

Sticks boys and Rubys Kwik Sticks

girls drew their games against

Harewood teams,but, unfortunately,

the Rascals and Rhinos Kwik Sticks

girls teams lost, leaving them to

contest theminor placings in their

divisions this weekend.

Meanwhile, the Rangiora and

Kaiapoi High School hockey teams

have been performing well in

Canterbury competitions. The RHS

boys team won the School Sport

Canterbury competition, beating

Papanui High School in the final 2­0.

The KHS boys camethird in the

same competition after beating

In control ... Joe Taylor, for the Rangiora Allsorts, in action against Harewood. The

Allsorts suffered adisappointing loss.

PHOTO: SUPPLIED

Riccarton 2­1. This was atight

competition between five teams, with

RHS and KHS drawing both of their

encounters during the season.

The RHS girls' team finished third

in the School SportCanterbury

competition, beating the Riccarton

High1st XI in the play­off game 2­1.

Meanwhile, the KHS girls' team

entered the Canterbury HockeySSL

competition this year for the first

time.The side has lost only one game

this season –against Christchurch

Girls' High whichthey face in the

finalthis week.

Results

Division 1Men: Rangiora CBK 1lost to

Marist Mulisha 4. Women:Rangiora CBK

2(Sue Shearer 1, Jess Cooper 1) beat

Marist 1. MVP: Jess Cooper.

Division 2Women: Rangiora 1(Lucy

Asher 1) beat Hornby Panthers 0. MVP:

Lucy Asher.

Division 3Women: Rangiora 1(Maddi

Plimmer 1) lost to University Athenians

3. MVP: Annie Robertson.

Mid Week Open Men: Rangiora

Allsorts 1(Tim Hawke 1) lost to

Harewood Red 2. Women: Rangiora

Hurunui 2(Lou Mones­Cazon 1, Lucy

Murray 1) drew with Hornby Cats 2.

Platinum Men: Rangiora A4(Patrick

Green 1, Giles Witt 1, Ricco Pepper­

Edwards 1, Byron Turner 1) beat HSOB/

Burnside 0. MVP: Ricco Pepper­

Edwards.

Rangiora B0lost to Avon 8. Platinum

Women: Rangiora A1(Kaylee McDonald

1) lost to HSOB/Burnside 4. MVP: Olivia

Winn. RangioraB4(Brooke Cooper 1,

Anna Withers, Ella Kellman 1, Aimee

Planner 1) beat Harewood Green 0. MVP:

Sasha Smith.

Kwik Sticks Girls: Rangiora Rascals 1

(Rosie Mones­Cazon 1) lost to Carlton

Redcliffs 4. MVP: Rosie Mones­Cazon.

RangioraRubys 1(Sarah Walsh 1) drew

with Harewood 1. MVP: Libby Baggott.

RangioraRhinos 0lost to Southern

United 5. MVP: Brooke Neutze.

Kwik Sticks Boys: Rangiora Renegades

10 (Ollie Taylor 2, Luke Cherry 2, Logan

Austin 2, Connor Smith 2, Tenzin Woods

1Cody Harkess 1) beat Medbury 0. MVP:

Logan Austin. Rangiora Rampage 1

(Henry Webb 1) drew with Harewood

Blue 1. MVP: Jonathan Myall and Seth

Anders. Girls: Rangiora Raiders 1(Zara

Cartwright 1) lost to HSOB/Burnside

Llamas 4. MVP: Laura Blackadder &

Clementine Forbes. Rangiora Rainbows

7(Ruby Taylor 3, Sophie Cartwright 2,

Kayleigh Sweeney 2) beat Hornby Pumas

2. MVP: Sophie Cartwright.Rangiora

Rebels 9beat Waikirikiri Herons 0. MVP:

Bella Cherry. Rangiora Road Runners

won by default

Kiwi Sticks Boys: Rangiora Rogues 5

(Joel Pulley 3, Eru Te Awa 2) beat

Waikirikiri Rurus 2. MVP: Cameron

Kuch. Rangiora Rangers 6beat HSOB/

BurnsideWizards 1.

Mini Sticks Girls: Rangiora Rabbits 12

(Adele Ferguson 6, Emma McKellow2,

Catherine McKellow 2, Quincey Hawes 2)

defeated HSOB/Burnside Bunnies 2.

MVP: Adele Ferguson and Erika Zwick.

RangioraRockets 3(Arlette Newman 1,

Mya Dyndul 1, Caitlin Price 1) beat

HSOB/Burnside Piglets 2. MVP: Arlette

Newman.Boys: Rangiora Roadsters 1

(Jaks Joslen 1) lost to HSOB/Burnside

Leopards8.MVP: Patton Cooper.

SPORT

North Canterbury News, September 24, 2020

SPORT RESULTS

43

Rangiora Croquet

Theclub's 2019­2020seasons successincluded winning

four Canterbury titles.

Golf croquet: Knockout:(JohnFoster, AlisterNewey,

Lesley Smith, Hilda Neweyand Neville Turner). Pairs:

(Lesley Smith andNeville Turner). Division3:(Liz

Partridge,Wil Henderson,JennyGalbraith, Ivan

Hayward, Terry Greenand Joan Barnard).

Association Croquet:Pairs: (CarolKidd andAlister

Newey).

Club winners: Senior singles:Alister Newey. Division

two: GlendaHamilton.Handicappairs: Neville Turner

andWil Henderson.Mostimproved player:Alister

Newey. Most improvednovice:JohnWhyte.

Theclub alsowon the Canterbury Association's

Millennium Cup for the mostsuccess in provincial

competitionand —the jewelinthe crown —the North

CanterburySportand Recreation'sClub of theYeartitle

at its annualawards.

Amberley Smallbore Rifle Club

September14: DQuigley 99.6,KQuigley99.5,GWright

99.5, KBrown 99.5, MQuigley 98.5,OMitchell 95.2, H

Henderson 95.1,WParker 91.2,IFrazer 91.0,MParker

90.2, BParker 86.0, MPalmer 75.0.

September 20:DQuigley 99.6,KBrown98.6, MQuigley

98.5,KQuigley97.5,KMoriarty96.2, HHenderson95.3,

SBush94.3, SMoriarty 93.1,WParker 92.1, OMitchell

90.0,IFrazer85.0, MParker 85.0,BParker 84.0, M

Palmer68.0.

Rangiora Golf Club

Nine­hole stableford:Men:Tony Fox20, 1; JohnGardner

19,2;Dennis Brook 18, 3. Ladies: JanMoffatt20, 1; Rita

Moore17, 2; PatBenney 16, 3.

Ladiesstableford: Division1:JaneMoratti36. Division 2:

Julie Eliott31. Division3:Ann Woods 35.Division 4:

Denise Hall 39.

Midweekmen, stableford:NoelMcLaughlan 41,1;

Murray Fyall 40,2;AndyReeves 39.

Fridaymixedopen,stableford: TonyStephenson 36,1;

Mary Harris 36,2;Dennis Bennett 36, 3.

Weekend men:TeamYellow Ball stableford: Mark

Graham, Keith Anderson,Mike Block, Maurice McNally.

AmberleyGolf Club

Combined stableford: Ash Genet and DavidRowell 62,1;

Judy Brown andJannene Cumming, Grant Dunlop and

Scott Manson, Gavin Burrows andShaun Heslop, equal

2, 60; Robin Denby and Bruce Mills, 5, 57; Lyn Robertson

andBrian Fitzgerald,BrianGilland andTonyFleete,

equal6,56.

Nine­hole (stroke):Val Crooks541737, 1onac/b from

Heather Kemp572037. Men:Mike Carpenter 52 17 35,

1; John Evans 51 14 37, 2.

Men's mid­week(stableford):DavidRowell 41,1;Geoff

d'Auvergne,Neil Rhynd, equal 2, 38.

Ladies' mid­week 27 Hole Closed Tournament, VMW

Trophy: Judy Brown 74 Nett, 1onac/b from Kate Percy

74.

Rangiora BridgeClub

Saturday, September12, PocockPairs: N/S: Margaret

Pickering/Jeanette Chatterton 1, Janine Taylor/John

McKenzie2,Helen Dunn/Sue Solomons3.E/W: David

McRae/Fern McRae1,DawnSimpson/LindaHanham 2,

Norm Shipley/LesleyShipley 3.

Monday, September14, Rimu Pairs: N/S:Dave Tocker/

SueMcIlroy 1, David Rainey/DavidMcRae 2, Hilary

Lakeman/JillAmer 3. E/W PatGreen/Denise Lang1,

Gaynor Hurford/Lynda Grierson2,ShonaKeating/Linley

Thomas3.

Monday, September14, Evening:N/S:Liz Calder/

Lindsey Sigglekow 1, MarkApperley/JanetApperley2,

Annette Caldwell/Gail Dunlop 3. E/W:Murray Davis/

SharynDavis1,NoelLangdon/Gavin Dunnett 2, Fons

Saunders/Ellis Saunders 3.

Wednesday, Sept16, PremierPairs: N/S: JeanetteJoyce/

LizPartridge 1, JillAmer/Hilary Lakeman 2, Derek

Wilson/Alison Price3.E/W:NikkiLuisetti/Richard Peter

1, Liz Duke/Jenny Shore2,FernMcRae/David McRae 3.

Best Brands -Best Prices

FREE Pressure

check on Cars, Utes,

4WD &Trailers

5Star Service

346a Flaxton Road |Phone 03 310 6666

0800 226 324 for 24/7 Service

WHEEL

ALIGNMENTS

FROM $59

Bookings recommended, terms &conditions apply

2314312

Need help

fundraising?

Want to

promote

your club

or team?

Talk to us about

howwecan help

youreach your

goals faster!

For more

information email

info@ncnews.co.nz
---
NEWS

44 North Canterbury News, September 24, 2020

Cadets welcome return to level 1

By DAVID HILL

Waimakariri's CivilDefence

cadets are hopingfor more

consistencyafter apandemicaffected

first year.

MakaylaKoppert, aged 13, is

among agroupofyoung people

selectedfor the first intake of the

Waimakariri District Council's

Civil Defence cadetsprogramme,

which began in February.

But the cadets have been able to

meetonly during level 1, so

training opportunities have been

limited.

''Duringthe lockdown we did

sometraining fromhome (via

Zoom) and some paperwork, and

we hadreally only justgot back

intoitand then we wentback to

level 2,'' Makaylasays.

The cadets managed to have a

weekend camp in July, which was

meant to be thesecondcamp for

the year after the firstwas cancelled

because of the lockdown.

''Itwas really fun. Ididn't think

we would be doing as many

activities, but we got to use radios

and we learned about fire

extinguishers, and we got closer as

ateam,''she says.

Makaylahopestotrain as a

nurse and wants to be involved in

emergency services.

The cadets programme is the

first of its kindinNew Zealand,

but the initiative is popular in

Australia, says Waimakariri

DistrictCouncil civil defence

emergency management officer

Chris Field.

Chris is working alongside the

council's youth development

facilitator, Sam Redman,sothe

In training... Waimakariri DistrictCouncil Civil Defenceemergency management officer Chris Field, left, and cadet

MakaylaKoppert, aged 13, are looking forward to returning to cadettraining nightsunder alert level 1.

PHOTO:DAVIDHILL

trainingisabout developing young

leaders as well as trainingfor

emergency services.

''We think this is good for

Waimakariri.

''It fits in with the youth

development strategy,and in the

youthsurvey young people said

they wanted to be involved in the

communityand to be recognised

...as having value, and Ithink this

is agood way of doing that.''

The programme has good

support from other local

emergency, volunteer and cadet

organisations, such as Fire and

Emergency New Zealand, the

police, St John, theWaikuku

Beach Surf Life Saving Club, the

Rangiora 88 Squadron air cadets,

and the StudentVolunteer Army.

Chris hopes, with level1,the

cadets will have more time to get

involved in the community.

The programme is funded for up

to 20 cadets, so there will be

anotherintake next year.

In brief

Fisheriesmeeting

Acommunity meeting to

considerwhethertoreopen

Kaikoura's shellfish and

seaweedfisheries has been

called for Monday.The

Kaikoura coastal shellfish

and seaweedfisheries have

been closed for more than

three years because of

damage from the 2016

earthquake. Te Korowai is

hosting the gathering to

considerthe latestscience

and coastalrecovery

research, and to hear the

community's views. It will

be at the Kaikoura Trotting

Club Hall at the South Bay

Racecourse, with doors

opening at 3.30pm and

presentations from 4.30pm.

To learn more, visit

teamkorowai.org.nz.

Feedback on theissue will

be received until

Wednesday, September 30.

Proposals sought

The Kaikoura District

Council is seeking

expressions of interest to

develop the former

community swimming pool

site on The Esplanade. The

site, comprising about 1800

square metres,isclassified

as recreationreserve.

Expressions of interest are

open untilOctober19.

Contact dave.clibbery@

kaikoura.govt.nz for more

information.

Do youwant your businesstobe

the name theyremember?

And reach

47,000 readers?

Source 2018 Nielsen Readership research all people 10+ NCN Circulation area

Phone 03 314 8335 or

email info@ncnews.co.nz

to find outhow we canhelp you.
---
Outdoor spring burns

worry local firefighters

By ROBYN BRISTOW

Fire and EmergencyNew

Zealand (FENZ)iscalling on

Cantabrians to thinkbefore

lighting fires as spring's

nor'westwinds and dry

weather kickin.

Canterbury PrincipalRural

Fire Officer Bruce Janes says

windsand dry conditions

create the perfect recipe for

firestoget out of control.

''We knowalot of land

managers have been

undertakingpre­planned

burnsoverthe last coupleof

months, but we just want to

remind themtobecareful

aboutconditions if theyhave

any moreplanned overthe

next monthorsix weeks.

''We are expectingsummerlike

conditions to hit earlier

than previousyears,socaution

and care are needed when

planningand undertaking the

burn,'' he says.

FENZisalso calling for

caution if peoplehave had a

fireinthe pastweek or so.

Withhigh winds forecast, it is

important to ensure there are

no hot embers remaining,even

if it means turning over the fire

and pouring water on the ashes

to prevent flare­ups in a

howlinggale.

FENZwarnsthat fires in

nor'west winds limits its

resources, with aircraftnot

abletohelp in highwinds.

If anyone is planning afire,

FENZwouldlike to be

informed about howbig it is

expected to be, what timeit

was going to be lit, and if there

was any way FENZ could help.

''Wecan help with reviewing

weather patterns and

identifying safe areas to burn.

It is also important to be aware

of the weather conditions in

the days after your planned

burn, as fires could easily flare

up.''

UV water unit for Hanmer

Drinkingwater safety

standardsinthe Hurunui

District are keepingupwith

the latest technology.

The council recently

installed anew ultraviolet

(UV) disinfection unit for

Hanmer Springs.

Before the water reaches

households, it is exposed to

Guinea pig show

The organisation North

Canterbury Guinea Pigs

will hold anational guinea

pig show on Saturday,

October 24, from 10am to

3pm, at Woodend. There

will also be local events for

enthusiasts at 38 Rangiora

Woodend Road. Entry is by

gold coin entry. For

enquiries, ring Jenny on

(021) 145 7245.

Stage musical

The Hartley School of

Performing Arts will be

performing its wholeschool

production, The

Lion, the Witch and the

Wardrobe,atthe Rangiora

Town Hall. It will be

performed in six shows,

with daily shows at 2pm

from Wednesday,

September 30, to Saturday,

October 3, and two evening

shows from 7.30pm on

Thursday and Friday. The

show celebrates 25 years of

business for the school. It is

suitable for children of all

ages. Children aged seven

and under must be

accompanied by an adult.

Running time is around 140

minutes. Tickets cost $15

each or $55 for afamily of

four, plus abooking fee.

They are available at Town

Hall Cinemas, over the

counter, and online at

townhallcinemas.co.nz/

live­shows.

Ohoka School plant sale

The Ohoka School, on

Jacksons Road, will hold a

plant sale on Sunday,

UV light at aspecified

wavelength, which kills

bacteriaand protozoa.

Chief operations officer

Dan Harris said the unit

meets drinking water

standards. UV intensity is

continuously monitored and

alarmed, ensuring that the

water being supplied is safe.

October 18, from 10am to

1pm. Entry is free. More

than 15,000 plants will be

for sale at prices starting

from $2. There will be

hedging, natives, grasses,

trees, awide variety of

perennials, edibles, and

flower and vegetable

seedlings. Bring atrailer.

Check out the Ohoka

School Plant Sale on

Facebook.

Repurpose expo

An expo aimed at sharing

ways to look after and

transform objects and

materials, to save

resources and reduce

waste will be held at the

Amberley Domain on

Saturday, September 26,

from 12.30pm to 4.30pm.

Upholsterer Nigel Cook

will make achair from

recycled components and

artist Mark Lander will

make paper from flax fibre

and cotton rags, alongside

30­plus other creative folk

who will showcase their

arts and crafts. Repairers

will offer basic repair,

sharpening and mending

services for tools,

machinery, bikes, clothes,

and household items (not

electrical appliances).

Entry is $5 per person.

Children are free.

Refreshments are

included. Facebook: Time­

Bank Hurunui. Contact:

(03) 314 3406, (027) 524 7332,

or send an email to:

tbhlearningexchange@

gmail.com.

Situations Vacant

PEOPLE wanted for traffic

control work, factory

work and labouring roles.

A variety of shifts and

hours. We also do CVs.

Superior Personnel, phone

313 6180, unit 1/6 Cone St,

Rangiora. Or see

www.superiorpersonnel.co.nz.

MUSICAL

DIRECTOR

The North Canterbury

Academy of Music Inc

(NCAM)

currently has avacancy

for a Musical Director

to join our small and

dedicated team. Based

in Rangiora, the position

is for 4 hours per

week during term time.

Please see our website

www.ncam.ac.nz/

faculty-vacancies

for a full job description.

If interested please

email acovering letter

to

enquiry@ncam.ac.nz

Applications close

Friday 9th October

Situations Wanted

SEMI-RETIRED seeking

part-time weekday driving

/deliveries /courier type

work or open to offers.

Holds licence 1,2,4,6,F,R,

T,W,P endorsement. Excellent

work ethic, reliable and

honest Please phone Eric

027 600 9430.

Livestock

HOMEKILL

&Wild Game

Meat Processing

313 0022

2309602MEAT2U.NZ

WANTED

CULL COWS

Injured –ok

0272-63-28-28

2310154

Cars Wanted

CASH 4CARS

and 4WD'S

Phone

Automotive

Parts

03 313 7216

CARS, vans, 4WD's

wanted for dismantling or

repair. Phone 027 258

8366.

CASH /CASH ! for any

unwanted vehicles, ph 03

347 9354 or 027 476 2404.

Wanted To Buy

BUYING estate type old

china, crystal, collectables,

vases. Ph 027 350 3963, or

313 1878.

VINYL RECORDS

wanted by collector /seller.

7&12 inch LP'S, happy to

appraise. Also old guitars

or amps -working, broken.

Retro toys, 60's, 70's, 80's

&hot wheels &matchbox

as well. Please call Paul

022 694 5445.

$$$

Amalgamated Scrap Metal

Ltd. Specialists in farm

machineryand farm clean

ups, old vehicles etc.

100% locally owned.

Ph 0800 030 712 or

027 695 0480.

2312759

Situations Vacant

Customer Service /Administration Superstar

Amberley Based -30Hours per week

Monday –Friday9am –3.30pm

•Help us to deliver an exceptional customer experience

•Fast pacedand complex administration environment

Youwill be working in abusy,and challenging environment

where attention to detail is essential and communication

is key.

This is an important new role needing someone with great

people skills, who is resilient, efficient, enthusiastic and

quick to pick up and retain information.

Experience inadministration and front of house service is

essential -asisacan-do attitude, strong work ethic and

willingnesstolearn!

Ideal applicants will have:

Strong computer skills -includingMicrosoftOffice Suite

Excellent communication skills,both written and verbal

The ability to multitask and work to deadlines with

attention to detailand accuracy

Adesire to exceed expectations and become avaluable

partofacommitted team

Reliability, responsibility and the ability to convey a

professional corporate appearance atall times

If you're looking for avaried, rewarding position that will

see you kept on your toes... you've come to the right place!

Applicants for this position should live locally, have NZ

residency or avalid NZ work visa and be non-smokers.

Formore informationplease email

Cynthia.otto@hurunui.govt.nz.

To apply for this job go to: http://hdcjobs.co.nz/Vacancies

&enter ref code: 5214368.

Applications close 04 October 2020

North Canterbury

NEWS &CLASSIFIEDS

North Canterbury News, September 24, 2020

2316830

Citizens Advice Bureau North Canterbury

is looking for volunteers

Can you…

Solve problems? Do you…

Enjoy client liaison? Are you…

Ready to keep learning? Do you…

Value confidentiality?

Interested? Do you have a…

Confident telephone approach and

Excellent internet research skills?

At CAB we aim to give the best SERVICE

to everyone who needs our help.

Come and join us?

Application formavailable on

https://www.cab.org.nz/location/cab-north-canterbury

or collect from our office in the Rangiora Library,

141 Percival Street, Rangiora. Tel: 03 313 8822.

Applications close on Friday,16October 2020.

2316554

Wanting to buy or

sell something?

Advertiseinour

classified section

Phone Amanda 3132840 or

email info@ncnews.co.nz

For Sale

WOODEN PALLETS

1.2m by 1m, excellent condition,

$8 each. Please

phone 027 440 1230.

Educational

TUITION available. Primary

and secondary to

NCEA level 3. Math, Literacy

and Science (NCEA).

Each student on an individually,

tailoured programme.

Kip McGrath

Rangiora has been serving

the local community for 30

years. Give us a call or

book your free assessment

online 03 313 3638 https:/

/www.kipmcgrath.co.nz/rangiora.

For Sale

HONEY 4kg bucket

cooking honey, $30 special.

Available at Gracebrook,

Amberley. Telephone 03

314 7076.

Entertainment

TRADITIONAL Dutch

Music Concert, at the

Balcairn Hall, 4 Ashby

Road, Balcairn, Sunday

27th September 2pm, tickets

$10 adult, $5 student

from Blackwells Kaiapoi,

Artisan Rangiora, Sally

Macs Amberley. Limited

door sales / Dutch afternoon

tea. Internet bookings,

updates and enquiries to

deb.vink406@gmail.com.

45

Kaiapoi Christadelphians

"The Key of Knowledge .."(Luke 11:52)

BRITAININBIBLE

PROPHECY

This is acomprehensive examination of

the scriptures to find evidence that Britain

is mentioned and has asignificant part to

play regarding Israel. The nation of Tarshish

is mentioned often in the Bible. Does it give

clues to point to who this power is? Careful

reading leads to the answers.

DVD presentation:

Sunday 27th September -7.00pm

Kaiapoi Community Centre -Sewell Street

Information -phone 03 352 5453

Website -bibletruthandprophecy

2316766

First Aid Training

Meditrain South Central

are conducting Workplace

(one day) and Refresher First

Aid training (half day)

in Rangiora on:

Tuesday 6 th October

To enroll onto these courses

or for further details,

please contact us on

0508 428 428 or book on-line at:

www.meditrain-sc.co.nz/bookings.html

Meditrain is registered with NZQA as a Private

Training Establishment (PTE).

Our courses are recognised by the Ministry of

Education and meet the minimum workplace

requirements specified by Worksafe NZ.

2315606

Entertainment

Kun je zingen? Zing dan mee!

NEDERLANDS MUSIC CONCERT

MADE IN HOLLAND presents:

Traditional Dutch music

singalong and fun!

at BALCAIRN HALL,

4Ashby Road, Balcairn

Sunday, 27September

2.00 pm.

Tickets $10 adult,

$5 Dutch afternoon tea

Text 027 625 6485 to

reserve door sale /ticket enquiries

Garage Sales

78 MAYS ROAD, Leithfield.

Saturday 26th Sept,

9am -12noon. Small farm

and building tools, lambing

trailer for quad bike, tailing

irons (gas), wooden

ladders, paper back and

hardcover books (many NZ

history).

Public Notices

Pets

BICHON HOMESTAY

for smaller dogs. We look

after your dog in our home.

"No kennels". Phone today

03 314 6110.

2316641
---
CLASSIFIEDS

46 North Canterbury News, September 24, 2020

Public Notices

CALL FOR NOMINATIONS FOR ONE TRUSTEE FROM THE AMBERLEY

DISTRICT CATCHMENT FOR THE KATE VALLEY LANDFILL

COMMUNITY TRUST

The Kate Valley Landfill CommunityTrust is seekingnominations for one community

trustee from the Amberley Ward of the HurunuiDistrict for the Trust.

The principal task of this charitable Trust is to distribute funds provided by Transwaste

Canterbury for purposes that are beneficial to the community in the Waipara area.

This includes funding community activities or facilities in any location within the

Hurunui District which are capable of conferring such benefit.

In the event of more than one nomination being received, apublic meeting will be

held in the Amberley Memorial Library, Amberley,onMonday,16th November,2020,

where avote will take place to elect one trustee who will be appointed for aterm of

three years. It will be arequirement of those wishing to vote at this electionmeeting

to sign aregister stating their name and address in orderthat eligibility to votecan be

assessed. The initial trustee is notprecluded from offering themselves for election.

The Kate Valley Landfill Community Trust is made up of three Community trustees,

one Amberley trustee and two Settlor's trustees.

Who CanMake aNomination?

Any person over the age of 18 whose principal place ofresidence is within the

Amberley Ward of the Hurunui District identified on the plan in the Trust Deeds,

and whose name and address appears on the applicable current electoral roll, can

nominate people from the Amberley Ward.

How Can aNomination Be Made?

Writtennotice in the formofaletter of nomination is required. This must:

•Contain the full name and residential address of the person making the

nomination, and that person's date of birth and signature.

•Contain asignedstatementofwillingness to serve as atrustee from the person

nominated, together with his/her full name, date of birth and residential address.

•Becomplete in all respects and be received by The Secretary, ADRAInc, PO

Box87, Amberley on or before the closing date of Friday, 23rd October,2020.

Who CanBeNominated?

Any person over the age of 18 whose principal place ofresidence is within the

Amberley Ward of the HurunuiDistrict identified on the plan in the Trust Deed.

More Information

Acopy of the KateValleyLandfill Community Trust Deed can be requested by

phoning 0800 TRANSWASTE(872 679). The Deed sets out the purposesofthe

Trust and the way in which it operates.

2313311

CALL FOR NOMINATIONS FOR ONE COMMUNITY TRUSTEE

FOR THE KATE VALLEY LANDFILL COMMUNITY TRUST

The Kate Valley Landfill Community Trust is seeking nominations for one community

trustee from the Waipara Community Area.

The principal task of this charitable Trust is to distribute funds provided by Transwaste

Canterburyfor purposes that are beneficial to people whose principal place of residence

is within the contributing area to the Waipara School (the Community Area). This

includes funding community activities or facilities in any location that are capable of

conferring such benefit.

In the event of more than one nomination being received, apublic meeting will be held

in the Waipara Memorial Hall on Monday, 16 November 2020. Voting will be open from

6:30pm-7:30pm. Avote will take place to elect one trustee who will be appointed for

aterm of three years. It will be arequirement of those wishing to vote to be present on

the night of this election meeting and to sign aregisterstating their name and address in

order that eligibility to vote can be assessed.Noproxy/absentee votes will be accepted.

The existing trustee whose term isexpiring isnot precluded from offering themselves

for re-election.

The Kate Valley Landfill Community Trust is made up of three Community trustees, one

Amberley trustee and two Settlor's trustees.

Who Can Be Nominated?

Any person over the age of 18 whose principal place of residence is within the Waipara

Community Area identified on the plan in the Trust Deed.

Who Can Make aNomination?

Any person over the age of 18 whose principal place of residence is within the

Community Area and whose name and address appears on the applicable current

electoral roll.

How Can aNomination Be Made?

Writtennotice in the formofaletter of nominationisrequired. This must:

•Contain the full name and residential address of the person making the nomination,

and that person's date of birth and signature.

•Contain asigned statement of willingness to serve as atrustee from the person

nominated, together with his/her full name, date of birth and residential address.

•Becomplete in all respectsand be received byThe Secretary, Kate Valley Landfill

Community Trust, POBox 96, Amberley7441 on or beforethe closing date of

Friday,23October2020.

More Information

Enquiries can be directedtoSecretaryKVLCT@gmail.com

Officialcomplaints must be made to the Secretarynolater than 5days after the

electionresults announced.

Acopy ofthe Kate Valley Landfill Community Trust Deed can be requested by phoning

0800 TRANSWASTE (872 679).

2313315

Personal

Ladies 40+

Read Sammyjo's story

privatearrangements.co.nz

2310684

SEFTON HALL

Annual General

Meeting

Wednesday 21 st

October 2020

7.30 PM at the hall.

Please support

your local hall.

2315868

Public Notices

Stuart

Smith

Kaikōura

Isupport:

Responsible Economic Management

DeliveringInfrastructure

Reskilling and Retraining ourWorkforce

AGreener, Smarter Future

Building StrongerCommunities

Authorised by SSmith 22 ScottSt. Blenheim.

NOTICE OF RIGHT TO DEMAND

APOLL ON ELECTORAL SYSTEM

CanterburyRegional Council electorshavethe righttodemand apoll on the

electoral systemtobeused at the next twotriennial general elections

(2022 and 2025) forthe CanterburyRegional Council.

The choice is between the First Past the Post (FPP) and the Single Transferable

Vote (STV) electoral systems. Unless apolldetermines otherwise, the

CanterburyRegional Council will continue to use the FPP electoral system.

Avalid demand forapollmustbe:

• Made in writing.

• Signed by at least5percentofeligible electorsofthe CanterburyRegional

Council. This willrequireaminimum of 20,356 elector signatures.

• Delivered to the CanterburyRegional Council office,200 Tuam St,

Christchurch by 5pm Monday,22February2021.

Pride &Quality Painting

&Decorating Services

20 yrs exp, fast and friendly

service. For all your painting

needs, phone: Martin 310

6187 or 021 128 9867

DIRTY TILES &Grout?

Professional tile cleaning,

tiled shower restorations,

mouldy silicone, shower

glass & we can even

recolour your old grout!

For all your tile and grout

issues call Grout Pro for a

free, no obligation quote.

Ph Darryl 0800 882 772.

If avalid demandfor apoll is received after 22 February2021 apoll will be held This is the first publication STONEMASON, Brick

after 21 May2021 with the outcome applicable to the 2025 and 2028 triennial of this notice.

and Blocklayer. Earthquake

2314943v1

elections.

repairs, grind out and

repoint, River/Oamaru

Everyelector who signs ademand mustalso setout in it hisorher full name

stone, Schist, Volcanic

and the address forwhich he or she is qualified as an elector of the Canterbury

rock, paving, all alterations

Regional Council.

- new and old. Quality

workmanship. Visit www.

Stefanie Rixecker

Notice of AGM 2020 featureworks.co.nz or ph

ChiefExecutive

Tuesday 29 th September

027 601 3145.

16 September 2020

at 5.30pm ROOFER All roof repairs,

WarMemorial Hall

roof painting, water blasting,

moss treatment,

1AlbertStreet, Rangiora repointing, gutter cleans &

Please RSVP for catering snow straps. And more.

Connect Hurunui Inc.

purposes Free quotes. Phone Nathan

2020 AGM

027 516 6609.

03 313 3505

to be held at

PAINT & wallpaper

THE ROTARY

servicemanager

Amberley Bowling Club

services. Wayne Bryant.

@bsnc.org.nz

Exterior, interior. Qualified

tradesman. Free quotes. Ph

BOOK FAIR

2300810

on 8October at 7pm

Agenda:

313 5337 or 027 654 4568.

Trade&Services

1. Welcome and

PLASTIC WELDING

Apologies

ABEL &Prestige Chimney North Canterbury Specialist.

All plastic &fibreglass

FRIDAY 2ND &

2. Minutes of previous Cleaning. Nth Cant owned

repairs. Telephone James

SATURDAY 3RD

AGM, 8October 2019

& operated. Covering all

areas from Waimak to Hanmer.

Professional, guaran-

021 180 5103.

3. Matters arising

OCTOBER 2020

4. Chairperson's Report teed, service. Firebox SHEEP SHEARING,

drenching, feet trimming.

RANGIORA BOROUGH

5. Annual Financial repairs, carry most parts. Ph

For Lifestyle blocks. Call

SCHOOL HALL

Report

0800 661 244.

Stu 027 315 6916.

6. Election of Governance AFFORDABLE concrete

Group

cutting with quality and ARBORIST qualified.

HELP USTODOTHIS AGAIN BY

removal work. Free quotes. Copper Beech Tree

DONATING BOOKS, MAGAZINES,

7. Election of officers

No job too small. Ph 027 Services. Tree removal,

DVDS, CDS, PUZZLES, RECORDS.

8. Membership fees

442 2219, Fax 03 359 6052 pruning, height reduction,

9. Appointment of auditor or A/H 03 359 4605. hedge trimming, shaping,

10. General Business

tree planting, firewood.

IF YOU HAVE BOOKS

BRIAN'S Tree Services. Free quote. Contact Angus

All members are welcome. Tree felling, topping, Edwards 027 259 6741

ETC TO DONATE WECAN

Enquiries: 03 319 8413 shaping, firewood cut, rubbish

removed, stump grind-

copperbeechtreeservices@gmail.com

COLLECT THEM.

ing, branch chipping. CHIMNEY SWEEP...

PHONE 027 472 4439

Affordable rates. Phone 03 Time to service your fire.

327 5505 or 021 124 4894. From $80 + gst single

storey. 0800 SWEEP ME

or 021 0277 1927.

DROP BOXES ARE AVAILABLE

AT: Z RANGIORA

RANGIORA NEW WORLD.

Rangiora Charitable Trust

2316772

Waimakariri Access

Group AGM

To be held in the Ground

Floor Meeting Room

No 1, Kaiapoi Club,

113 Raven Quay,

Kaiapoi,

on Tuesday 13 October

2020 at 11.00 am.

All welcome

2316939

Public Notices

PUBLIC NOTICE OF

APPLICATION FOR

ON-LICENCE

SECTION 101, SALE

AND SUPPLY OF

ALCOHOL ACT 2012

Ryman Healthcare

Limited has made an

application to the District

Licensing Committee

for the Renewal of the

On Licence in respect

of the premises situated

at 24 Charles Upham

Drive Rangiora known

as Charles Upham

Retirement Village.

The general nature of the

business to be conducted

under the licence is a

Retirement Village. The

days on which alcohol is

(or intended to be) sold

under the licence are

Monday to Sunday 12pm

to 10pm.

The application may

be inspected during

ordinary office hours of

the Waimakariri District

Licensing Committee

at 215 High Street,

Rangiora.

Any person who is entitled

to object and who wishes

to object to the issue of

the licence may, not later

than 15 working days

after the first publication

of this notice, file anotice

in writing of the objection

with the secretary of

the District Licensing

Committee at Private Bag

1005, Rangiora.

No objection to the issue

of arenewal licence may

be made in relation to a

matter other than amatter

specified in section 131

of the Sale and Supply of

Alcohol ACT 2012.

BRICK &blocklaying. All

types of work undertaken,

repairs. Phone Hamish

0272 386 003 or 313 5678.

CARPENTER / Painter

specialising in alterations &

renovations, repairs &

maintenance, 35 plus years,

experienced licenced

builder. Telephone Trevor

313 5013 or 027 431 1864.

Trade&Services

DRESSMAKING Bev's

Sew Good Services. For all

your alterations, repairs,

dressmaking, curtains.

Phone 327 5535.

POWER TOOLS repairs,

parts &sales for over 40

years. All main brands serviced.

Grossman Trade

Tools, 23 Watts Road,

Christchurch. Ph 389 9230.

DECORATORS

Lilybrook Decorators. Now

semi-retired looking for

those odd jobs. Phone

Gordon 027 430 2938.

SHEEP SHEARING -

mobile. Fast, friendly, professional

service. 25 years

exp. Shearing, drenching,

hoof trimming etc. Call

Shaun 021 204 1274.

PAINTER, qualified, local

professional. Int / Ext,

roofs, wallpaper. Call or

text Corban 027 846 5035.

PAINTERS

Reg Tradesman

Interior,exterior.

North Canterbury Painters

specialising in decorating for

over 65 at adiscount rate.

Free quotes.

Covering Nth Canty,Oxford,

Kaiapoi, Rangiora, Amberley.

Rob 03 327 7899

or 027 432 3520 2227597

PAINTER & Decorator.

25 + years experience.

Interior /exterior, roofs &

waterblasting. For a free

quote, please ph Steve 03

314 4620 or 027 477 1930.

METAL WORX. Flashing,

Sheetmetal Fabrication,

Wrought Iron,

Welding, Custom Trailers,

General Metalwork. No job

too big or too small. Ph 021

265 5428 or 03 314 6908.

Find us on facebook/

Glenmark Metal Worx.

glenmarkmetalworx.ltd@gmail.com.
---
Trade&Services

RANGIORA Rubbish

Removal and RRR skips.

Wheeliebins any frequency

and skips from 1.5 cube to

9cube. Skips and wheelie

bins for any use, rubbish,

greenwaste, building sites

or just cleanups. Give us a

phone call 313 6957 or for

skips 021 313 255.

SCREEN PRINTING.

For all your printing

requirements. T-shirts,

Hoodies, Hi-Vis vests and

polos, Overalls, Caps etc.

Please phone Heather 03

313 0261 or email

heather.norstar@gmail.com.

SHEARER. Hap's Farm &

Lifestyle Services. Shearing,

crutching, drenching,

tailing, feet trimming &

health check. Trailer, generator

&mobile handpiece

available. Experienced,

reliable and honest. Ph 03

312 1214 or 021 267 4025.

VALUATION -

Specialising in North Canterbury.

Contact Geoff at

Maxwell Valuation. Phone

03 310 8541 or email

geoff@maxval.co.nz.

2070788

Computer Repairs

Bruce Evans

131 Ohoka Road

Kaiapoi

03 327 3111

021 293 6331

compucare@xtra.co.nz

www.compucare.co.nz

Computer Repairs &upgrades

Prompt professional services

Trade&Services

SEPTIC TANK

CLEANING

Bill's Liquid

Waste

You dump it...

Blair pumps it...

Blair Tavendale

Ph 03 314 9371

0275 379-694

Automotive &Recovery

• WOF Cars &Trailers

• Vehicle Servicing &

Repairs

• Tyres &Punctures

• Jump Starts

•

Towing &Salvage

• Courtesy Car Available

Ph Aaron Rowlands

0272 588 366

13 Stone Eyre Place,

Swannanoa

Eftpos available Mon –Fri 8am –5pm, Sat 9am –1pm

2225862

REMOVALISTS

2Men &agood

sized truck.

From $157 per hour

(incl gst).Kaiapoi based.

2225244

Call Gerard

027 668 3636

Gardening

A+ GARDEN hedges cut

to perfection. Tree &arbor

work. Also spraying. Free

quotes. Ph 03 312 0668 or

021 111 4322.

2276525v2

Virus &malware removal

New &UsedPC's4Sale

CLASSIFIEDS, TRUSTED TRADES &PROFESSIONAL SERVICES

North Canterbury News, September 24, 2020

Trade&Services

SUMMERFIELD

FENCING

IN YOUR AREA NOW.

Lifestyle or farm, sheep, cattle,

horse, all types of animals.

Fences, yards, sheds, arenas,

shelters, runs.

30+ years contract fencing.

Steve is available to help with

your design &planning.

Ph office03312 4747

2091848

ANTHONY SYMONDS

Forall your painting &

plastering requirements

Local with 30 years

experience

All workmanship

Guaranteed.

Phone 021 344 023

2220615

Gardening

PEASTRAW. Excellent

quality peastraw for sale.

Ideal for garden. $8.00 /

small bale ex - farm

Bennetts -Oxford. Ph 027

312 4009 or 03 312 4460.

Builder

Construction &Concrete

All Construction & Concrete Work

•Driveways, patios &paths

•Bridges and Culverts

•Floors, foundations

•Sheds and buildings

•Dairy Sheds, Herd homes

•Silage pits, effluent ponds

•Excavation and cartage

•Precast concrete

•Insulated panels

Trade&Services

Log Fires

Pellet Fires

Heat Pumps

Sales

Service

Installations

Free Quotes

03 343 1651

472 Blenheim Rd

www.heatstore.co.nz

Daryl Power

027 230 9401

concretepower@scorch.co.nz

www.concretepower.co.nz

2273277

Trade &Services

WINDOW TINTING

tintawindow

advanced film solutions

99% uv block

fade protection

heat control

reduce glare

25 Years Experience

privacy films

frosting designs

non-darkening films

Workmanship Guaranteed

Lifetime Warranties on Most Films

UV

block

Free Quotes Canterbury and Districts

03 365 3653 0800 368 468

DENTURE CLINIC

RANGIORA

DENTURE CLINIC

Garry WMechen

Registered Clinical DentalTechncian

Phone (03) 313-9192

38a Ashley Street, Rangiora

NEW N W DENTURES D N ES

*RELINE * *REPAIRS

* I S

HOURS

8.30am -12noon

- Monday to Friday

FREE E CONSULTATION O

AND ADVICE

A V C

For a/h repairs

phone (03) 310-3044

2089195v2-4/4-S

Accountant

Butchery

OxfordButchery

Shane and Leanne Frahm

We cankill&process yourstock

FourGenerations of Frahms

since 1957

Ph 312 4205

Oxford

47

Debra Jowsey &Karla Kilner

Ph 03314 9480

We help with all Taxreturns for the

salary &wage earner,self employed, rental,

business, farm,GST,pay dayfiling, rental returns

2287949

1680439

Number one

old-fashioned bacon

&ham curing.

A/H 312 4709

Electrician

Electrician

Scaffolding

Motorcycle Service &Repair

Allan Pethig

For all your electrical needs. Residential &Commercial

Phone 03 313 7144

027 432 1534

Fax 03 313 2144

rgrantelectrical@gmail.com

PO Box 69, Rangiora

Repiling /Relevelling

House re-piling &re-levelling

Foundation lifting &stabilizing

Free no obligation quotes

20 years

experience

North Canterbury

based

Phone Brett Kennedy 021 117 8531 or

03 312 9000 |Email bowhill1@hotmail.com

2314123

AARON HARRIS

ELECTRICAL LTD

NEW HOUSES • ALTERATIONS

ELECTRICAL INSPECTIONS • SMART WIRING

SYSTEMS AND MORE...

M: 0275 543 958 E: aaron@ahel.co.nz

Plumbing

For all

general

aspects of

plumbing

Discounts for over

65 years old

Fast friendly service

All work guaranteed

Aaron McCartney

Certifying Plumber

Cell 027 366 9091

A/H 03 310 2137

Free Call:

0508 44EVER

EMAIL:

plumber_27@yahoo.com

2172994

Water Blasting

ENVIROTEC

Waterblasting Ltd

Servicing Canterbury

Commercial &Residential

SPRINGTIME

Get cleanedupfor

the summer

months, getrid of

the winter grime.

W

FREE QUOTES

0800 SITECLEAN

(0800 748 325)

Mobile 0274 369 187

2020478

2197694

•Edge protection

•Working platform

Phone

0274 366 901

Plans for pricing

jas.rangiorascaffolding@xtra.co.nz

North Canterbury wide

1783878

Windows & Doors

WINDOW MARKET PLACE

• New & Used

• Timber & Aluminium

• Windows & Doors

8am-5pm Weekdays

8am-2pm Saturday

215 Waltham Rd, Sydenham

Ph (03) 379 6159 info@windowmarket.co.nz

Fax (03) 962 1012 www.windowmarket.co.nz

ncn1242200aa

South Pacific Motorcycle Services

"we're your LOCAL motorcycle guys"

• Service • Repairs • Tyres

• Motorcycle Rental

•Fully Equipped Workshop •Quality Work •Affordable Rates!

Ph: 03 312 0066 |office@motorbiketours.co.nz

www.motorbiketours.co.nz

2313195

SERVICES

CASH PAID FOR SCRAP

•Car Bodies •Scrap Steel•Specialists in Farm

Machinery•All non Ferrous

Contact Jamie for

your free quote:

027 2754099

info@jgbuild.co.nz

Scrap Metal

Builder

MAINLAND

METALS LTD

Ph (03)338 7000

Mike0274 818544 •Robbie0274818 027

Locally owned and operated

North Canterbury

owned &operated

1902273

Renovation specialists

New homes, alterations

&farm buildings

2309608
---
RangioraToyota

2018 Yaris GX

•1.3LPetrolAuto, ReverseCamera

•Bluetooth

•Only 37,600kms

$

15,995

2010 Toyota Ractis

•1.5LPetrolAuto

•Climate Air,

•KeylessEntry &Start/Stop

$

10,995

2010 Toyota Wish

•1.8L Petrol, 7-seater

•Alloys

•Climate air

$

11,995

2010 Toyota Prius S

•1.8L Hybrid Petrol Auto

•Keyless,ClimateControl

•Only 78,100km

WAS$17,995

NOW $

14,995

Signature

CLASS

S

Ex-Demo 2019 CorollaSXSedan 2013Toyota Prius S

•1.8L Hybrid Petrol,

•1.8L Hybrid Petrol Auto

•Satnav,TSS

$ •Keyless

33,995

• Only 150kms

•5-door Hatch

$

17,995

2016 Corolla GX Sedan

•1.8L PetrolAuto, Bluetooth

•ReverseCamera

•Done 63,500kms

$

17,995

2007 Toyota CamryGL

•2.4LPetrolAuto

•FM/AM &CDPlayer

•NZnew

$

6,995

2013Toyota Aqua

•1.5LHybrid PetrolAuto

•ParkingSensors

•Bluetooth

WAS$15,995

NOW $

14,995

2016 Yari ris SX

•1.5LPetrolAuto, Alloys

•Fog Lights

•Only 29,100kms

$

15,995

2016 Corolla GLX Sedan

•1.8L PetrolAuto, Alloys

•ReverseCamera

•Done 65,800kms

$

17,995

2017 Corolla GLX Sedan

•1.8L PetrolAuto, Alloys

•Satnav,Keyless

•Only 17,750kms

$

20,750

2018 Corolla GX

•2.0L PetrolAuto

•Satnav,Bluetooth

•Alloys, only 44,350kms

$

21,995

2018 Corolla Wagon GX

•1.5LPetrolAuto, Bluetooth

•ReverseCamera

•Only 13,450kms

$

19,995

2012Corolla WagonGX

•1.5LPetrolAuto

•Bluetooth/MP3,CD/USB

•Only 26,150kms

$

14,995

2015HondaJazzRS

•1.5LPetrolAuto, Satnav

•Alloys, ReverseCamera

•Only30,300km

$

16,995

2018 Corolla GX

•2.0L PetrolAuto

•Satnav,Bluetooth

•Alloys, only 49,000kms

$

21,995

2020 CamryV6

•3.5LPetrol8-speedAuto, Leather

•Satnav,Sensors/Camera

•Only 200kms

$

44,995

2017 CamryAtara SL

•2.5LHybrid Petrol, Alloys

•Leather,ReverseCamera

•Only 21,200kms

$

31,995

2005 Aurion Sportivo SX6

•3.5LV6Auto, Alloys

•Spoiler,Sports Seats

•91,300kms

$

10,995

2019 RAV4 AWD GXL

•2.5LPetrolAuto

•Toyota Safety Sense

•Satnav,only 17,350kms

$

37,995

2019 RAV4 GXL

•2.5LPetrolAutoAWD,Satnav,ReverseCamera

•Latest Shape

•Only22,200kms

$

37,995

2018 Highlander GXL

•3.5LPetrolAWD,Leather-7 Seater

•ReverseCamera

•35,300kms

$

46995

2018 LandCruiser PradoGX

•2.8L Turbo Diesel Auto

•7-seater, 4WD

•Only 48,300km

$

51,995

2009 LandCruiser 200 Seri

es

WAS$51,995

•4.5LTurbo-Diesel, V8

•8-seater, Satnav NOW $

• ClimateAir 49,995

2018 Toyota PradoGX

•2.8L Turbo Diesel, 7-Seater

•ReverseCamera

•Done 42,900km

$

51,995

2019 HiluxSR5 4WD

•2.8L Turbo Diesel, Satnav

•ReverseCamera

•Done33,750km

$

47,995

2017 HiluxSRPrerunner

•2.8L Turbo Diesel Manual

•ReverseCamera, Bluetooth

•Tonneau

2019 FortunerGXL

•2.8L Turbo Diesel Auto4WD

•Satnav,ReverseCamera

•Only 23,600

2019 Hiace ZR

•2.8L Turbo Diesel 6-SpeedManual

2015Hilux4x4 Single Cab

•3.0L TurboDiesel Manual

•Roof Racking

•Only58,650km

2016 HiluxSRPrerunner

•2.8L Turbo Diesel, Alloys

•ReverseCamera

•Done93,900km

$ $ •5-Door,Satnav

29,995

48,995

$

41,995

$

30,995

$

•ReverseCamera,only 250kms

30,995

Percival Street,Rangiora • Ph (03) 313-8186 any time • www.rangiora.toyota.co.nz

Signature

CLASS

2310619-s

FINANCE &INSURANCE AVAILABLE