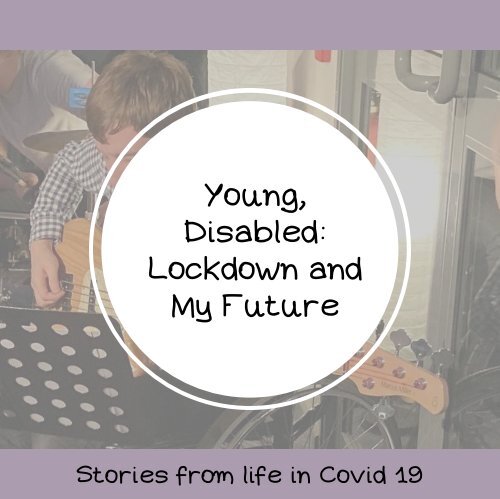 Young, Disabled: Lockdown and My Future
You also want an ePaper? Increase the reach of your titles
YUMPU automatically turns print PDFs into web optimized ePapers that Google loves.
Young,

Disabled:

Lockdown and

My Future

Stories from life in Covid 19
---
We wanted to hear from 16-25 year olds about their

experiences of lockdown in the Covid 19 pandemic. We

did some research and found that nothing was being

done nationally or locally for the younger generation,

so created an opportunity for young people to get their

voices heard.

They could do this through a short story, video, poem,

picture or poster.

We also asked them to discuss their hopes for the

future and what support they might need to make that

happen

They are the future!

WCIL User Engagement Team
---
WELCOME

In this magazine you will find very

different accounts of young peoples

experiences during lockdown.

We gained a lot from reading /

watching the stories / videos that

were shared with us, and we are sure

you will too.

Young, Disabled: Lockdown and My Future
---
Esperanza's Story
---
Abbie's Story

What has life been like for you during lockdown?

Life in lockdown has been unlike anything I have experienced in

my life so far. It's been challenging at times, frustrating,

disappointing, and boring, but it has also been fun and good

times as well.

Before lockdown I was balancing college life and tennis training

on and off court, planning a year of

international travel on the tour and was so positive and looking

forward to everything. Then like everyone life changed overnight

with lockdown, college, gym and tennis courts closed and

restrictions on seeing family and having the feeling of isolation,

and my international tour in shreds. I had been selected to

represent GB at the world Team Cup, which is such an honour and

cancelled like the rest, which was so disappointing.

My initial thoughts were great 'no college' how great is that, no

alarm, no homework, YES!! But then when I realised exactly what

this all meant, I realised it was not a good thing at all, with so

many people dying and being so ill, life and this virus was getting

really serious.
---
My college went online, so many hours of Zoom lessons. This for me was

quite challenging, as I have learning difficulties and so I get extra support

in my classes, which of course all stopped and it was now mum and dad

that were helping me.

The lack of exercise and no tennis was a real issue for me, so as a family

we decided to go to the local park every day, they walk 5k and I pushed

7-10k . With no gym the LTA updated my home program and helped

support me through having Zoom gym sessions, which I have really

enjoyed, and it was good to see others in our tennis squad. But all of a

sudden I had loads of free time, and I am not good when I have nothing to

do and felt a bit lost.

I think the hardest part has not being able to see my family and having a

hug, as we are such a close family and they support me in everything and

only seeing them on a screen was hard, especially when my Papa got ill.

We all quickly adapted to seeing each other virtually but it is just not the

same.

But for all the negatives there are positives as my sister came home from

uni after 3 years away in London, which was great to have her home. So

got to spend more time with her and mum and dad as a whole family

again, which has

been great. Instead of going out we had virtual parties and quizzes,

having fun in a different way.
---
What does life after lockdown look like for you? Has it changed

how you see your future?

So as lockdown is easing my first year at college has finished and I am back

on court training again, which is just great as I am learning every day. There

was a weird atmosphere when we all started back as everyone seemed

relieved to be back, out the house, and seeing other people again was great.

But at the same time very conscious to follow the new rules and guidelines

and some people seemed quite nervous about it all.

I love being active again and I am so much happier. However there is so much

uncertainty at the moment and that can be demotivating and a worry. As not

sure if I'm returning to college in September or not, the tennis tour is on hold

with no start date, which is so frustrating.

Unfortunately due to the economic mess the country is

in I have lost 2 sponsors, which are so vitally important to my training and

progression in my sport and will massively impact my future.

I am hoping that as horrific as this pandemic has been for the country and for

families that have lost loved ones that as a world we realise that what we do

can have big impact on others and that life can is so precious, but so fragile

and that we have to make the most of everything and remember that when

the worst happens we adapt, learn and move forward.
---
What support might you need after lockdown to achieve your

future goals?

My goals are to remain fit, health and to be in the best possible shape I can

be in for when the tour restarts. But I am worried about funding for the

future and know I will need support with obtaining it.

I know that when college does start again I need to be more honest with

my lecturers as to the support I need if we continue to work from home, so

that I can pass my course with a high grade to help secure a good future.

Being home and feeling isolated has made me realise that I need to learn to

communicate better with people, which I may need a bit of help with. I am

so looking forward to the time I can give my friend and family a hug and

for the feeling of normality again.

Long Term I dream of being the best wheelchair tennis player that I can be.

But to be happy in my life and know that I am loved and supported by my

family is most important.
---
My lockdown experience has been

spent with my family. It's been

stressful at times, but I wouldn't

have it any other way!

As things slowly, (carefully)

returns to the "new" normal my

hopes for the future is that we

continue to value the nhs and

other key workers who have

supported us throughout this

crisis.

But as human beings we carry on

being kind and supportive to one

another, not to much to ask is it!

Kieran Aged 21
---
Jack's Story

Hi my name is Jack 24, so a little about me I

have cerebral Palsy spastic Diplopic was

born at 26 weeks, weighing 1lbs 15 ounces. I

had quite an unusual to lockdown as it

started on the 16th of March. I work with

students with additional needs in the south of

England. Students seemed increasingly

anxious at the college, there was a sense of

not if but when we were closing.

I started my day and I believe that the situation was too much. I was anxious

and did not feel well. I went home (nothing Covid related as I just burnt out). I

got a call from my boss, Cerebral Palsy is on the list of high risk. At this moment

I get told I can't come back.

The new working day at home the beginning I personally feel for myself this is

great I can work, but I have more freedom to manage my body and energy until

lockdown. I just feel really tired. So, this was positive and COVID was

something we had to be sensible about wash your hands etc., but as long as I

was behind that front door, I felt safe.
---
I feel I used this time to reconnect with my family, we watched more films and just

spent more time together and this was amazing. Inevitably Lockdown life

expanded my waistline as lockdown culture seemed to be built around meals, as

there was a lack of conversation as we all felt we over spoke.

I was really beginning to miss other humans, wanted them to come in different

flavours. I had a few socially distanced meetings with my collages who very

nicely popped over to see me too and just break the feeling of social isolation,

because as humans we are social creatures.

I did notice that I would have a number of good days followed by lows, like a

sand dune constantly shifting in shape and height some days you could be sitting

on top others you could be sitting on the ground next to it.

What I have been doing? I have been working on a side project called

positivelycerebralpalsy on Instagram. I felt like I had time to invest in this project

and at a time of negativity, I thought I could share my story. I have recently in the

last week started walking as I need to lose some of that lockdown weight as I

prepare for a challenge a walk next Easter in the peak district and to feel better

about me.

I have learned to appreciate every day more and be more thankful, for example I

look at nature and I feel like the world has taken a deep breath and rest - the

world despite the situation looks healthier than it ever has. I enjoy car rides out to

mundane places.
---
Now the most interesting part of my lockdown story, that of my mum. Through the

power of Facebook she has been able to reconnect with her biological dad after

50 years. This has been a great experience for her and us as a family. This gets

you thinking the greater the emphasis we will place on human interaction. This

also coincided with my first ventures out. Everyone in my household was going out

and as a person shielding, I was beginning to lose. But as a person who is very

social and now being told to basically bolt the door up and don't go out for safety

can change your thinking that the outside had now become such a scary.

I went to the pub on Sunday, the day I was excited to be out and to be

reintegrated into something normal. I had been lucky enough to go on picnics with

my work colleagues so this again makes me appreciate the simple things in life

and these days were the days that could be the boost I needed.

The best way I can describe it is peaks and troughs and while it has made me

more aware, I am excited with what the future I am now looking to build a website

to work in different reaches and spread further positivity. I want to travel more,

having missed out on Amsterdam and Camp Ameri where I should have been in

Pennsylvania at Summit camp working with young people with additional needs.

While this was sad to lose these experiences at the time, I now have something to

look forward to.

positivelycerebralpalsy
---
Evan's Story
---
THANK YOU

We would like to say a massive thank

you to all the young people who took

time to be part of this project.

Your stories were honest,

inspirational and heartfelt. We are

sure people will enjoy reading /

watching them as much as we did.

Young, Disabled: Lockdown and My Future