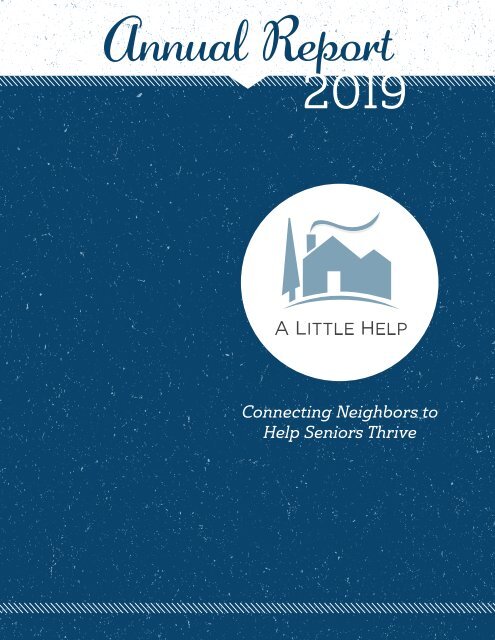 Create successful ePaper yourself
Turn your PDF publications into a flip-book with our unique Google optimized e-Paper software.
Annual Report

2019

Connecting Neighbors to

Help Seniors Thrive
---
GROWING SEEDS AND LEARNING HOW TO

cultivate THROUGHOUT Colorado

For nearly 15 years, A Little Help has been an advocate for an evolution in

how communities come together to support older adults navigating aging

in Colorado. We are proud to foster interdependence among older adults

and neighbors of diverse ages and backgrounds.

2019 NUMBERS AT-A-GLANCE 2019 GROWTH NUMBERS

Served Volunteering

Members Members

Denver 986 3,813

Northern Colorado 199 1,102

Roaring Fork Valley 45 46

Chaffee County through FEB* 229 318

North Fork Valley through AUG* 163 350

Total 1,622 5,629

308 • New Volunteers

(ongoing)

1,200 • Volunteers

(episodic)

234 • New Members

SERVICE BREAKDOWN

3,000+ SERVICES COMPLETED

9,200+VOLUNTEER HOURS

Rides = 40%

Visits = 22%

Yard Work = 20%

Inside Home Help = 8%

Office Work = 7%

Technology = 2%

Pet Care = 1%

2019 VOLUNTEER STARS

0 5 10 15 20 25 30 35 40

*2019 was a year of growth and cultivation. This year, we celebrated the launch of a new location in the Roaring Fork

Valley. We also embraced change as the seeds we planted in the North Fork Valley and Chaffee County became

independent operations to serve their communities. We updated our tracking model for new "ongoing" and "episodic"

volunteers to better reflect the number of neighbors actively engaged in our mission.
---
LETTER FROM OUR

Executive Director

As I reflect on 2019, it is easy to be humbled by the

incredible generosity displayed.

In the fall of 2019 A Little Help was granted our first

large government grants to reimburse our costs

for providing rides in Metro Denver by the Denver

Regional Council of Governments; we moved forward

in significant partnership conversations with healthy

nonprofits in Colorado and beyond; and we had the

largest donation period in our organization's history.

All of these events and others made the fourth

quarter of 2019 an amazing one.

I love A Little Help.

I love our mission, our members, our volunteers, our

donors, and our staff. Most of all, I love the impact

A Little Help has on the communities we serve.

We are growing seeds in the Roaring Fork Valley

and A Little Help roots are spreading in Northern

Colorado. It is also

amazing to see how

the impact of A Little

Help continues to grow

throughout Metro

Denver. Each older adult

member, volunteer,

donor, or cheerleader is

creating something that

wasn't happening just a

few years ago in their town or neighborhood. The

generosity and commitment to A Little Help are the

reasons we are connecting with older adults in your

neck of the woods. The time

spent giving rides, sharing

stories about A Little Help,

raking leaves, planning

get-togethers, and making

friendly visits to isolated

older adult neighbors is the

way A Little Help happens.

Thank you and let's keep

growing and cultivating those little seeds.

2019 will be Paul's last year as our Executive

Director. We are grateful for his leadership and

look forward to welcoming Hilary Lenz!

"We cannot thank Paul enough for leading

A Little Help for the past eight and a half years.

We wouldn't be where we are today without

Paul's compassionate and

inspirational leadership.

I'm so proud of the impact

A Little Help has today and

am incredibly honored to

pick up the torch and serve

as the Executive Director in

2020." – Hilary Lenz

2019 Board of Directors

Alan Walker – Board Chair

Hilary Lenz – Treasurer

Lori Tolle, Esq. – Secretary

Bob Brocker

Rio Chacon

John Chase, Esq.

Steve Davis

Shannon Love

Sean McBride, CPA

Jonathan Mueller

Mike Rengel

A Little Help | 1 | Cultivating throughout Colorado
---
WHO WE ARE

A Little Help is a grassroots organization continually seeking to expand to

meet the needs of Colorado's rapidly aging population. Since our inception,

we have grown through great neighbors who want to help the older adults in

their own communities thrive.

We help older adults age well in their homes

by connecting them to an important resource

plentiful in every community: good neighbors.

Many tasks around the house and yard chip away

at independence, but through A Little Help, good

neighbors can help with transportation, yard

work, handiwork, home organization, and social

engagement, empowering older adults to thrive

where they have lived for decades and put

down roots.

Our small staff supports our volunteers, who lead

the charge in their communities and are the key to

our service model.

"Thanks for always providing for my

needs, things I cannot manage by

myself, so I need not worry about

staying in my home."

"I want to send kudos

to the group that was

at my house. They did

a great job!"

A Little Help | 2 | Cultivating throughout Colorado
---
MOVING FORWARD together

Village to Village Network – A Little Help

is a proud member of the Village to Village

Network. This national nonprofit connects

villages throughout the country and

provides resources among organizations.

A Little Help has been a member for over

a decade and provides mentorship to

fledgling villages.

DRCOG (Denver Regional Council of

Governments) – Partnering with DRCOG enabled

us to expand services in the Metro Denver region.

This is our first large government grant and

reimburses our costs for providing rides in

this region.

Colorado Gives Day – This

event is one of the BIGGEST

fundraisers each year for our

important work. Including the

'halo effect' of giving around

CGD, more than 200 donors

contributed over$140,000 to

support older adults!

Xcel Energy's Day of Service – We are a proud

part of Xcel Energy's Day of Service in September.

In 2019, we were thrilled to be highlighted by

Channel 4 News while we engaged 40 volunteers

to serve 14 homes.

The Latino Age Wave

– In 2019, we began

working with The Latino

Age wave to serve older

adults in Montbello with

transportation services.

NextFifty Initiative – We received a $60,000

second round of funding in 2019. These funds

allowed us to invest in the launch of our Northern

Colorado office and has created a tremendous

impact in that area.

Community Foundation of Northern CO –

A number of Donor Advised

funds of the Community

Foundation of Northern

Colorado have allowed a

Berthoud Office to be staffed

and launch this year! We

specifically thank the Doyle and

Luvesta Jones Fund and the

Berthoud Fund.

Daniels Fund – We proudly accepted a $50,000

Daniels Fund grant this year.

The Daniels Fund, established by cable television

pioneer Bill Daniels, is a private charitable

foundation dedicated to making life better for

the people of Colorado, New Mexico, Utah, and

Wyoming through its grants program, scholarship

program, and ethics initiative.

A Little Help | 3 | Cultivating throughout Colorado
---
PROGRAMS AND FUNDRAISING

Summer

Picnics

Summer Picnics – Each

year, these events bring

together interested

neighbors, volunteers, and members of A Little

Help. We continued to add dates and activities in

2019, including at great public venues and people's

homes. If you're interested in hosting an event, let

us know!

Service Saturday! –

2019's events were BIG!

Across our four locations

statewide, 282 households received got help with

seasonal yard work from over 1,000 volunteers.

As more and more people became part

of this project, we expanded to organize

14 Service Saturday events statewide!

Tough Talks – Sometimes

"tough," often light, and always

relevant, expert panelists share

their knowledge and create

space for questions and answers about topics that

may be difficult to talk about.

T O U G H T A L K S

A Little Help Support Group – Thanks to a

devoted volunteer who is a psychotherapist, a

group of members are able to gather once a month

to visit and discuss the challenges of loss, grief

and caregiving.

A LITTLE

Community

A Little Community –

We continue to work with

companies and groups to

find engaging ways to meet

their service and social connection needs. Our

team built 27 custom days for 14 groups in 2019,

including work projects with older members and

social activities after the events.

A Little Help | 4 | Cultivating throughout Colorado
---
Events

A Little Soiree &

A Little Fest – Our

signature fundraisers!

The Soiree in Metro

A Little Soiree

A Little Fest

Denver and Little Fest in Northern Colorado brought

together over 100 donors and supporters. Silent

auctions, delicious food and drinks, and great music

highlighted two evenings of interactive fun.

A Little Breakfast

A Little Breakfast – Through A Little Breakfast,

A Little Help shares our mission with businesses and

professionals. We encourage our corporate partners

to engage with the older adults in their community,

as well as host keynote speakers to provide relevant

information about the aging workplace.

FINANCIAL HIGHLIGHTS

Revenue $662,119

4%

6%

■ Individual Donation = 46%

■ Foundation Grants = 22%

■ Government Grants = 4%

4%

18%

■ Fundraising = 18%

Expenses $642,940

■ Business = 4%

■ Programing = 80%

■ Membership = 6%

22%

46%

■ Fundraisers = 11%

■ Administrative = 9%

A Little Help | 5 | Cultivating throughout Colorado
---
Building

Compassionate

Communities

SOMETIMES WE DO OUR BEST WORK WHEN WE AREN'T ACTUALLY AT WORK

If you have a group interested in offering A Little Community help and can set a day or

half-day aside, we'd love to hear from you. We are connecting with leaders in the business

community because "a little help" goes a long way, especially when an entire office is

involved. We connect those who need help with real people in the community — people

like you and your group — who not only want to help, but also want to make a difference.

Our A Little Community help days are a win-win

for everyone involved. Older adults feel valued and

important, while volunteers leave feeling energized

and more connected to their volunteer team after

helping others improve their quality of life.

We look forward to hearing from you. Please contact

Jake Dresden, Outreach and Development Director

at jake@alittlehelp.org or 720-242-9032.

OUR 2020 IMPACT GOAL

As we continue to develop and grow relationships

and programming throughout the state, A Little

Help is especially grateful to our supporters. Your

impactful contributions have allowed us to cultivate

our model and continue to meet the needs of a

rapidly aging Colorado population. Our model of

connecting neighbors, and your willingness to

play a part, has us poised to make a significant

impact in 2020.

2755 S. Locust St., Suite 220, Denver, CO 80222

Metro Denver • 720-242-9032

Northern Colorado • 970-412-9396

Roaring Fork Valley • 970-404-1923

www.alittlehelp.org