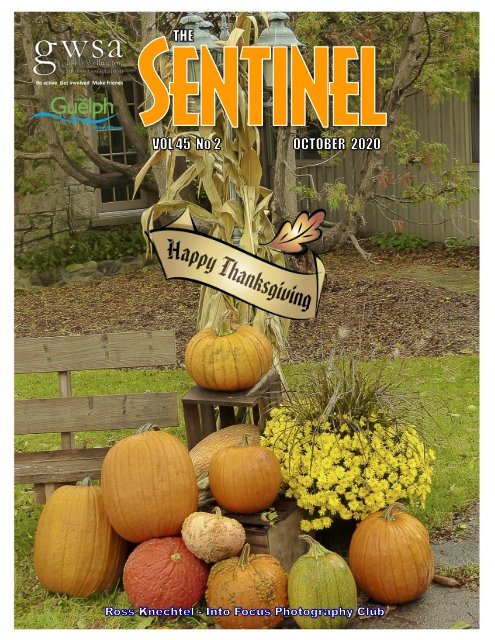 You also want an ePaper? Increase the reach of your titles
YUMPU automatically turns print PDFs into web optimized ePapers that Google loves.
Be active Get involved Make friends

The Sentinel - October 2020
---
2

Heather A. Oliver, RMT

Orchard Park Office Centre

Suite 129

(Ignatius Jesuit Property)

5420 Hwy 6 N., Guelph

519-837-9244

Registered Massage Therapy — NOW REOPENED

Do you enjoy having a greater sense of calm and

well-being? Are you needing to have your muscles

feel more supple and at ease?

Do you want a massage session blended with

soothing heated stones?

With over 20 years of Registered Massage Therapy

experience, Heather invites you to come for a

massage that is provided in a welcoming, calm

environment. Please check out her website for more

detailed information.

www.healingwithnaturestouch.com

Heather Oliver, RMT is a member of the CMTO (College of Massage Therapists of Ontario)

The Sentinel - October 2020 — Vol. 45, No. 2
---
The Guelph/Wellington Seniors Association

A non-profit organization based at the

Evergreen Seniors Community Centre

http://www.gwsa-guelph.ca

Ross Knechtel - Webmaster

Directors & Officers

Becky Fiedler — President

Brian Smith — Vice-President

Roger Stevens — Treasurer

Tonie Sacchetti — Secretary

Directors

Pat Gage Ken Fugler

Wenda King Athar Khan

Ross Knechtel Mike Woof

Adam Rutherford

The Sentinel Team

Carol Croft — Adminstrator, Printer

Linda Green — Editor, Printer

George Hughes, Ken Pagniez — Printers

tba — Delivery Supervisor

Bill Shephard, Ray Miller — Part-time

Assistants

All of the above GWSA members

are Volunteers.

GWSA Community Support Services Staff

Cheri Herdman — Manager

Audrey Bishop — Administrative Assistant

Margaret Iutzi — Move Well Co-ordinator

Molly Roberts — Eat Well Co-ordinator

Sophia Podrozny — Eat Well Co-ordinator

Paula Frappier — Outreach Co-ordinator

All others working for CSS

are GWSA Volunteers

City Staff

Adam Rutherford — Program

Manager

Darci Burgess — Customer Service Clerk

Tonie Sacchetti — Recreation Program

Director — Senior Services

Becky MacDonald — Recreation

Co-ordinator — Volunteers

Jocelynn Desroches — Chef

Janice Walls — Assistant Cook

Don Harris — Facility Maintainer

Lorne Wollis — Cleaner

Harvinder Marjara, Nathan Luck, Mary

Loudoun — Customer Service Clerk II

Lynne Briggs — Manager of Recreation

Services

Evergreen Seniors Community Centre

A City of Guelph Recreation Facility run in

partnership with the Community Services Department

of the City of Guelph and the Guelph/

Wellington Seniors Association

683 Woolwich St., Guelph, ON, N1H 3Y8

Tel.: 519-823-1291 / Fax: 519-823-8972

Hours: 8:30 am to 4:00 pm M-F

(closed Statutory Holidays)

Read The Sentinel on our website,

www.gwsa-guelph.ca

ISSN: 0383 817X

A MESSAGE FROM THE GWSA

BOARD

Hello GWSA Members,

Thanks to the GWSA members who attended the GWSA's first

Virtual Annual General Meeting on September 15. For some, it was

their first Zoom event and they quickly mastered the voting system

which allowed us to efficiently conduct the organization's business. If

you missed the meeting, you can find all of the information on the

GWSA website at https://gwsa-guelph.ca/board-minutes. Ross

Knechtel, GWSA webmaster, has posted a link to the presentation we

gave, the Minutes from the meeting, the audited finance report, as

well as the 2020 Annual Report.

Our current plan is to hold our next AGM in June as we have in the

past. We will decide between in-person or virtual format as the date

approaches.

Please welcome Wenda King, our newest Director to the Board.

Wenda brings a wealth of experience in the non-profit sector to the

Board and we look forward to having her join us. Pat Gage was

appointed to the Board in February to complete a vacated term and

was re-elected for her own three-year term at the AGM. Ross

Knechtel completed his first three-year term and was re-elected for

another.

The "new" Board had our first meeting on September 16. We

immediately started work on a new Strategic Plan. If you have

suggestions or input for direction, please use the contact form on the

GWSA website to share your thoughts with us. This will be the

Board's primary focus for the next several months, although we will

also continue to handle the routine business of the organization. The

Membership and Marketing Committee, under the leadership of Ken

Fugler, will be shifting their emphasis to membership services. Please

reach out to Ken using the Board of Directors link on the GWSA

website contact form: https://gwsa-guelph.ca/contact-us/

For now, the GWSA officers will remain the same as last year:

President: Becky Fiedler

Vice-President: Brian Smith

Treasurer: Roger Stevens

Secretary: Tonie Sacchetti

Once we complete the Strategic Planning process, we will consider

changes in the slate of officers. Our rationale is that having a strategic

plan in place will help us better identify the best leaders for the tasks

ahead of us.

As the weather cools and activities move inside, please redouble

your efforts to keep yourself, friends and family safe. Nothing is more

important to the Board of Directors than the health and safety of our

members.

NOTE: Disclaimer—The Sentinel and the GWSA do not necessarily agree

with or support statements in the Sentinel made by advertisers, or submissions

by writers (no political or religious topics please). Do you like what you see

here in The Sentinel? Stop by the Evergreen Seniors Community Centre at 683

Woolwich St. to get more! Single issues (or an extra copy) are available at the

Front Desk at the cost of $3.00 each + HST.

The Sentinel - October 2020

3
---
4

GWSA Email Update for the Month of September

Welcome to the September issue of the GWSA Email Update. The September issue of The Sentinel is also

available, but only online and you can access it here. Back issues of the Sentinel can be found here.

In and Around GWSA

GWSA Masks Sales

Thursday, August 20, the GWSA Quilt Group had another mask sale. They made $930 from this sale for a

total of $3,400 from sales of masks this summer. There were masks for adults, teenagers and elementary

school children. We had 125 children's masks left over and these were donated to the Shelldale Family

Gateway. We had 240 adult masks remaining which were donated to the GWSA Community Support

Services for their clients. A big thank you to the quilters who stitched away and provided the masks for our

community.

OACAO Free Financial Wellness Webinars

The GWSA is a member of OACAO, the Older Adult Centres Association of Ontario. This organization

has partnered with Eckler Ltd., a provider of financial wellness education, to provide several free financial

wellness webinars for members of Ontario Seniors Associations. These webinars are offered free of charge.

Eckler does not sell any financial products. The webinars are being provided with the sole goal of giving

you the information and tools you need to start on a path to financial wellness. You can learn more about

the webinars and find a link to register below. You can add the date and time directly to your calendar

through the registration link. At the end of each session, there will be an opportunity to ask questions.

Topics, Dates and Registration links:

Managing Money and Debt: October 27, 2020, 11:00 am EST

Where does your money go? Are you finding it difficult to get ahead and plan for your goals and dreams?

During this session, you will explore helpful concepts of financial well-being and learn proven techniques

for managing your money and debt, including tips and tricks on how to live within your means and avoid

harmful debt accumulation. We will evaluate different methods of optimizing your debt payments and

review a five-step process to reducing your debt.

Register here: https://us02web.zoom.us/webinar/register/WN_MMRBMT0IR9KnR_cQk2GZQA

Understanding Credit: November 24, 2020, 11:00 am EST

At some point, you may need to apply for credit products. Whether that's a mortgage for purchasing your

dream home or a loan to finance the purchase of a vehicle. In this session, you will learn about how to build

a credit history, you will see how your financial actions impact your credit score and discover how financial

(Continued on page 5)

The Sentinel - October 2020 — Vol. 45, No. 2
---
5

(Continued from page 4)

institutions assess your credit worthiness.

Register here: https://us02web.zoom.us/webinar/register/WN_n5chV38JQa-8Qu9WIL1PRA

Please register for each webinar separately.

Questions can be directed to Sue Holder at sue@oassisplan.com

We thank OASSIS for hosting these valuable webinars!

Community Support Services

As we continue to adapt our services to meet the growing needs of our members during this pandemic, we

encourage our community members to always reach out to our team for any support you require, or just to

say hello!

Our programs continue to operate, however, through a different lens to ensure safety for everyone. Our

Outreach and Diabetes group members continue to meet remotely with our Co-ordinators Paula and Molly

on an ongoing basis. Through continued programming and feedback from our members, we are working on

options around additional program models as we enter into the coming months. SOS (Seniors Offering

Support) is also still running and we are always welcoming new members to that program, whether by roles

of volunteer callers or members of the program. Our Eat Well Programs have pivoted their services to

include food delivery to almost 200 older adults in our community. To date, our CSS team has delivered

over 5,000 lbs of produce and almost 10,000 frozen meals to program members and we plan to be going

strong until at least March 2021 with this program.

BIG THANKS!

We have had tremendous community support around our new food initiative programs and want to take a

moment to recognize all the pieces of the puzzle that make it possible for CSS to offer this program in our

community.

City of Guelph - Jocelynn and Gareth from the Evergreen Centre have worked tirelessly since March to

cook and package almost 10,000 frozen meals for this program. There is no question that their hard work

has been the back bone of the success around this initiative, we are forever thankful and our members are as

well!

Bulk Barn, Stone Road - With the generous support of countless cases of plastic bags, we have been able

to package and deliver frozen meals and produce weekly to our members since March. We have also

received donations of chocolates and candies that have gone into our delivery bags and what a nice treat

they were for our members!

Costco, Guelph - We are very grateful for a generous gift certificate donation to CSS for our food program,

that has been used to buy sugar and flour in bulk and shared amongst our almost 200 members in the food

program.

Domenics No Frills, Guelph - As we have transitioned into a new phase of the food program, this has

included delivery of pantry items. Our team has been bulk shopping locally to prepare for this program and

we cannot say enough about the positive experience we received at this No Frills location. The team

members at this location understand and support our initiative and have become a partner in our shopping

experience to allow for us to plan and prepare for this new chapter in our food programming. Thank you

Domenics!

Join CSS on Facebook!

We have created a new Facebook group named GWSA-Community Support Services to focus on CSS

programming and services. Drop on by and follow our group for up-to-date information about all things

CSS.

(Continued on page 6)

The Sentinel - October 2020
---
6

(Continued from page 5)

In and Around Guelph

Guelph Public Library

The Guelph Public Library is returning to their regular schedule of times and fines.

Regular library hours and fines started again on Tuesday, September 8, 2020.

Note: Main Library will be open Mondays to Thursdays from 9 a.m. until 9 p.m. and Sunday service will

resume at all library locations on Sunday, September 13, 2020.

The fine "vacation" that was in effect since March 16, 2020, is coming to an end. Starting on Tuesday,

September 8, 2020, fines will be applied once again to items returned to the Library after their due date.

Solid Waste Management Master Plan

Recent additions to our project tile in Have Your Say Guelph

include a new StoryMap, an online version of what would have

been a public open house information session. It can be

found here.

Public Survey #1 is also available. Taxpayers, residents and

businesses in Guelph, and customers of our service, are

welcomed to complete the survey as well as share the link with

their Guelph friends and neighbours.

The Survey can be found by clicking on the Solid Waste

Management Master Plan tile at Have your Say Guelph, the

link to the survey is here. A link to the StoryMap is also

available there.

Guelph Community Foundation

The Guelph Community Foundation has been offering support to many groups and initiatives around

Guelph. For more information on their initiatives, follow this link.

Contact Us

GWSA website

GWSA contacts

GWSA email updates

GWSA donations

gwsa-guelph.ca

contact form

subscribe here

donate online

"Stay Together...Keep Distance"

The Sentinel - October 2020 — Vol. 45, No. 2
---
7

HAPPY THANKSGIVING!

As Canadians, our Thanksgiving is vastly overshadowed by America's turkey fest. In the media, it's all

about Plymouth Rock and the pilgrims. But while Canada's Thanksgiving may be less flashy, it has just as

rich a history as America's. It's also, unlike America's Thanksgiving, more than a month before Christmas,

which makes it automatically superior — spread those holidays out!

There are other things as well that make our holiday feast of plenty unique. Do you know what they are?

Take this quiz and see how much you know about Canadian Thanksgiving. Or, as we call it: Thanksgiving.

1. Our Thanksgiving is now celebrated on the second Monday of October, but it wasn't always so. When

did Canada celebrate Thanksgiving in its early days?

a) Oct. 25 b) Nov. 11 c) the third Monday in October

2. When was Thanksgiving officially declared to be on the second Monday of October?

a) 1910 b) 1918 c) 1957 d) 1970

3. Thanksgiving is a statutory holiday in most of Canada, but in a few parts of Canada, it's optional. In

which of the following provinces or territories is Thanksgiving not an official holiday?

a) Nova Scotia b) Nunavut c) Manitoba d) the Yukon

4. Both Canadian and American Thanksgivings usually centre around the cooking of the turkey. How many

turkeys were sold for Canadian Thanksgiving last year?

a) 2 million b) 2.5 million c) 3 million d) 3.5 million

5. But let's not forget the vegetarians! We don't know exactly how many turkey alternatives (Tofurkys,

Field Roasts, and so on) are sold. But as of 2003, what percentage of Canadians identified as vegetarian or

vegan?

a) 1% b) 3% c) 4% d) 7%

6. Which country celebrated Thanksgiving first?

a) Canada b) America

7. The traditions of eating turkey and pumpkin didn't originate in Canada. People from which country

introduced the idea of eating these foods on Thanksgiving?

a) Germany b) Spain c) America d) Sweden

8. Which of the following Thanksgiving foods is not native to Canada?

a) cranberries b) turkey c) apples d) pumpkins

9. Which province is Canada's biggest cranberry producer?

a) Quebec b) Alberta c) Nova Scotia d) British Columbia

The Sentinel - October 2020
---
8

GWSA Groups & Activities Contact Information

You may be required to show your up-to-date GWSA membership card at any activity.

Art In The Hall

Evergreen Hallway

TBA

Art Studio In 2

Evergreen Room 2

Brenda Brooks (519-824-3392)

Tuesdays 6:30-9:30 p.m.

Weeks 1, 3, 5 and Wednesdays,

1-4 p.m., Weeks 2, 4

Badminton

Evergreen Auditorium

Jeff Millard (519-993-1362)

Tues. - 7:00-9:30 pm - E

Thurs. - 9:00 am-12:00 noon - E

Fri. - 10:00 am-12:30 pm - E

Sun. - 1:15-3:15 pm - E

Mon. - 1:00-4:00 pm - West End

Wed. - 1:00-3:30 pm - West End

Casual Bicycling

Various Locations in and

around Guelph

Ned Coates (519-835-9799)

Wed. - May 1 - Oct. 31

9:00 am to Noon

Bid Euchre

Evergreen Room 4

Sharyn Richards (519-803-9500)

Mondays - 6:15-9:00 pm

Thursdays - 1:00-4:00 pm

6-Hand Bid Euchre

Evergreen Room 4

Dot Smith (519-836-6448)

Thursdays - 1:00-4:00 pm

Book Club 1

Evergreen Board Room

Veronica Sanche (519-821-1180)

Last Friday of month - 1-2:30 pm

Book Club 2

Evergreen Room 2

Christine Trimble (519-823-2086)

3rd Friday of month 1:30-3:30 pm

Bridge - West End Lion's Lair

David Pinkney (519-780-5302)

Mondays - 12:30-3:15 pm

Bridge - Evergreen

Evergreen Room 3

David Pinkney (519-780-5302)

Tuesdays - 6:30-9:00 pm

Peter Traulsen (519-265-2376)

Thursdays - 12:30-3:30 pm

Improving Bridge

Evergreen Room 3

Pauline Smith (519-835-8694)

Fridays - 9:00-11:30 am

Bunka Art Group

Evergreen Room 3

Diane Barber (519-763-2996)

designbunny@rogers.com

Wednesdays - 9:15 am-noon

Canasta

Evergreen Hallway

Lionel Churchill (519-835-4155)

Wednesdays - 1-4 pm

Canoe Club

John Ness (519-994-8611)

canoeclubmembership@gmail.com

Chess Club

Evergreen Hallway

Dave Wurr (519-509-1032)

Fridays - 9:30 am-noon

Computer Club

Evergreen Room 3

Ross Knechtel (226-706-4058)

Ken Chupa (519-829-2476)

September, November, January,

March, May

2nd Monday - 7:00-9:00 pm

Craft Club

Evergreen Room 2

Judy Montgomery (519-824-8047)

Fridays - 8:30 am-1:30 pm

Cribbage

Evergreen Room 3

Audrey Young (519-824-5891)

Joy Halliburton (519-822-9714)

Tuesdays - 12:45-4 pm

Darts Club

Evergreen Auditorium - Stage

Barry Scott (519-830-0081)

Wednesdays, Fridays & Saturdays

10:00 am to 12:00 noon

Dominoes

Evergreen Dining Room

Bev Baker (519-265-9139)

Tuesdays - 1:30-3:30 pm

Euchre on Monday

Evergreen Room 3

Maureen Baird (647-519-2006)

Mondays - 1:00-3:30 pm

Euchre on Wednesday

Evergreen Dining Room

Audrey Young (519-824-5891)

4th Wednesday - 1:30-4:00 pm

Euchre on Friday

Evergreen Room 4

Peter Smith (519-217-8986)

Fridays - 1:00-4:00 pm

Golf

Ted Pritchard (519-826-6121)

Mondays, May to September

Hearing Improvement

Evergreen Board Room

Sharing Information about

HEARING

Meet 1st Wed. of every month

From October to May

2:00-3:00 pm - it's free

Call Marianne at 519-822-3946

Line Dancing

Evergreen Auditorium

Phyllis Carnochan (519-836-9415)

Mondays - 9:30 -11:45 am

Thursdays - 1:00-3:00 pm

Mah Jongg

Evergreen Hallway

Georgia Taylor (519-265-8816)

Tuesdays - 12:30-3:30 pm

Instruction available

The Sentinel - October 2020 — Vol. 45, No. 2
---
Peer Learning

Evergreen Board Room

Geoff Richards (226-820-2950)

Mon., Tues., Thurs.

(times as assigned)

Into Focus Photography

Evergreen Room 4

Jean McClelland (519-763-4881)

jeanmcclelland@rogers.com

2:30-5 pm - last Monday of every

month - $24.00 a year

Pickleball

Rudy Simon

Neville Newman (519-400-9136)

gwsapickleball@gmail.com

Evergreen Auditorium

Tues. - 9:00 - 12:00 noon

(Beginners & Intermediate)

Friday - 12:45 - 4 pm

(all levels of play)

West End Rec Centre

Tues. - 12:00 noon - 4:00 pm

(advanced play)

Thurs. - 2:15 - 5:00 pm

(all levels of play)

Quilting

Evergreen Room 2

Beryl Drohan (519-827-0120)

Mondays - 12:30-4:00 pm

Scrabble

Evergreen Hallway

Beth Campeau (226-343-0415)

Thursdays - 12:45-3:45 pm

Shuffleboard

Evergreen Auditorium

Elaine Bigam (519-824-6498)

Ilbigam@gmail.com

Tuesdays - 1:30-3:00 pm

Wednesdays - 1:30-3:00 pm

Silver Seven Skating Club

Exhibition Park Arena

Corner of Exhibition &

Division Sts.

Sharon O'Sullivan (519-848-2084)

Saturdays - 8:00-9:50 pm

Silvertones Choir

Evergreen Room 3

Doreen Muir (519-831-8323)

Choir Director - Ann Sneyd

Pianist - tba

Fridays 1:00-3:30 pm

Ski Club

Evergreen Parking Lot by

The Enabling Garden

Shane Hamilton (519-994-2204)

Email: crs.hamilton@gmail.com

Mondays from January to the end

of March 2020

8:00 am car pool at Evergreen

to Blue Mountain

6:00 pm return to Evergreen

Evergreen Snooker Club

Evergreen Snooker Room

Nick Harris (519-836-4547)

Daily - 9:00 am-4:00 pm

Tuesday - 7:00-9:30 pm

1st Thursday of every month

7:00-9:30 pm

Table Tennis

Evergreen Auditorium

Ursula Rodrigues (519-837-3782)

Evergreen:

Monday - 3:30-6:30 pm

Wednesday - 9:00 am-12:45 pm

Saturday - 9:00 am-12:00 noon

West End: Friday - 1:00-4:00 pm

(WE - except July/August)

Texas Hold 'Em Poker

Evergreen Dining Room

Mike Rooke (519-824-2472)

Tuesdays - 6:30-8:30 pm

Walking Club

April to October

Thursdays - 9:30 am-12:30 pm

Brenda Langham (519-836-8366)

Gord Clegg (519-824-3293)

Watercolour Painters Club

Evergreen Room 2

Mary Mulholland (519-836-4889)

1st & 5th Wed. - 12:30-4:00 pm

3rd Wed. - 9:00 am-4:00 pm

West End Art Group

Rm 2 West End Rec Centre

Nancy Baker (519-822-6653)

September - June

Tuesdays - 12:30-4:00 pm

Membership is $20.00

West Hills Art Group

Rm 2 West End Rec Centre

Dale Vardy (519-823-5746)

bdvardy@rogers.com

Jan. - June; Sept. - Dec.

Thursdays - noon-4:00 pm

Membership is $25.00

Writers Club

Evergreen Board Room

Ross Coulter (519-821-3993)

2nd & 4th Thursdays - 1:00 pm

Be

active.

Get

involved.

Make

friends.

9

The Sentinel - October 2020
---
10

Guelph seniors boogie down during pandemic as the COVID-12 PACK

The COVID-12 PACK has been meeting virtually five days a week since March and have recently produced

a video.

Many people can experience loneliness during the pandemic, but one group of local seniors has managed

to avoid this by line dancing.

They call themselves the COVID (Carry On (punch out the Virus) In Dance) 12 PACK. Margaret

Waldron organized the group of 12 dancers after they learned that they would no longer be able to gather inperson

at the Seniors Centre.

Since March, they have been practicing different line dancing routines through virtual calls to continue

staying active and being social. As they've gotten used to using technology for their group, Waldron said

they decided to experiment by creating a video of one of their routines.

She said they thought it would be fun to develop a video to challenge people's perceptions of older

generations.

"We wanted to show

people that seniors are not

decrepit old people...we can

still dance! We consider

ourselves 'young seniors'."

said Waldron. "Everyone

that's seen it has been very

positive and we've loved

that."

In the beginning, COVID-

12 PACK started off with

groups of four on a virtual

call, with one person leading

the routine within each

group. These calls were held

five days a week. With

seven instructors in the

group. Waldron said she

manages a schedule for all of

them, ensuring each gets equal teaching time.

"We've learned a lot about technology this past year," said Waldron, "We were conference calling and

somebody would choose the dance and teach it, and we would all play it at the same time and dance at

home."

Now that restrictions have eased, the group will meet up at Riverside Park on Tuesdays and Thursdays to

practice outside. Waldron said they continue to maintain social distancing when meeting up. She adds all of

them have agreed to limit contact with other people so that they can continue practicing together.

"We're not asking more people to join us. We're just going to stick with our own group because we're all

familiar with each other and we're all being careful," said Waldron.

With winter approaching, the group is planning to make a Christmas video to share with friends and

family after the responses to their first one. Waldron said they will continue to use the park for as long as

they can, but are not afraid to go back to meeting virtually to practice.

"If it's not icy, we're still going to do dancing, even if it's in boots," said Waldron.

She said the experience has been a learning curve for all members, but she couldn't imagine what her

COVID-19 experience would be like without this group.

"I don't know what I would've done without this, as this has been a lifesaver for me, and others would

agree," said Waldron. "I can't tell you how much this has changed my life, because I thought I wouldn't be

doing anything during COVID. Getting this group together has been great. It has been super."

(Article and photo courtesy of Guelph Today)

The Sentinel - October 2020 — Vol. 45, No. 2
---
11

The Sentinel - October 2020
---
12

GWSA Email Updates

Each month, approximately mid-month, the Membership

and Marketing Committee at the

GWSA sends out the GWSA Email Update. It

highlights a few of the exciting things happening at

the GWSA, important communications from the

Board, and upcoming programs by CSS

(Community Support Services).

You can subscribe to receive the GWSA Email

Update by completing the steps below:

1. To begin, please send an email to:

subscribe@gwsa-guelph.ca . You can enter

Subscribe in the Subject line, or just skip that

part, it will work either way. In just a few

minutes, you will receive a message with a link.

2. Click on the link you received, fill in the appropriate

fields, and click "Subscribe to List".

3. To ensure you really want to receive GWSA

Email Updates – and to make sure all emails are

error-free – we'll send a message asking you to

confirm.

4. Once you respond to the confirmation message,

The Sentinel - October 2020 — Vol. 45, No. 2

your registration is complete and you'll receive

our Welcome Letter.

You can also subscribe from the "Popular

Links" section on the GWSA website. Starting

the process from the web page will take you to

step 2 above. Simply follow through with steps 2

to 4 to complete the process.

You can expect to receive your first GWSA Email

Update approximately mid-month after you sign

up.

You can unsubscribe from the GWSA Email Updates

at any time by clicking on the "unsubscribe"

link that is displayed at the bottom of every update.

Membership &

Marketing Committee

This graphic by Unknown Author is

licensed under CC BY-ND
---
13

No Job too Small - Call Ned Coates

519-835-9799

nedcoates7@gmail.com

INTERIOR PAINTING

… the third generation

Wild Child

Holistic Dog

Grooming

by Sandra Lee Berry

- Home visit

- Serving Guelph's Senior community and

the heartbeat at their feet

- Catering to small dogs up to 20 lbs. in

weight

- Using all natural products, non-toxic to

your pet and to our planet

- Services: nail trims, bath & brush,

mini-groom and full pet trim for easy

at-home maintenance

Phone:

647-678-2848

519-821-4189

Email:

sandraleeberry@gmail.com

Helping families to buy and sell since 2007.

Contact Jackie to enquire about Riverside Residence on the

Park — We have a waiting list, so call today.

HOMELIFE POWER REALTY INC., BROKERAGE*

1 & 2 Bedroom Units for Rent at 671 Woolwich Street, Guelph

• Clean & quiet seniors building next to the senior centre

• High rise building with elevator access

• Walking distance to Wal-Mart plaza and other amenities

• Ensuite bathrooms available

• On site laundry

• Heat & Hydro included

For viewings and more information call Michel at: 519-400-0297

The Sentinel - October 2020
---
14

Wellington Foot Clinic

Professional Footcare & Custom Foot Orthotics

Jessica K. Mann

Registered Chiropodist / Foot Specialist

Professional, Safe Treatment of a Variety of Foot Conditions

- Nail Disorders, Corns, Callus, Warts, Ingrown Toenails & much more

- Custom Foot Orthotics

- Covered by most extended health insurance providers

- No referral needed!!! Free parking

- Morning, Evening and Saturday Appointments Available

3 – 245 Edinburgh Rd S. (enter off Municipal or Edinburgh)

519-546-3737 wellfoot@outlook.com

The Sentinel - October 2020 — Vol. 45, No. 2
---
15

The Sentinel - October 2020
---
16

Fall always makes me think of squash. My favourite is acorn squash halves baked with butter and brown

sugar. One thing I'll never try again is making pumpkin pie from scratch (chopping, boiling, pureeing) —

it's so much easier to buy a tin of pumpkin filling!

Acorn Squash

Shaped like its namesake, these popular winter squash are reliable performers. They're

best baked or stuffed.

Buttercup Squash

These easy-to-grow, turban-shaped squash store well into late winter and are butterysweet

and satiny when baked and mashed. Bake, puree, and add olive oil and romano

cheese for an out-of-this-world sauce to toss with pasta.

Butternut Squash

Butternuts typically are cylindrical with a bulb-shaped end and a classic, tan rind.

You'll need a few weeks of storage for the flavor to develop, but they last for months

and months. They are prolific producers! Bake, sauté, or add to stews.

Dumpling Squash

These multi-colored squashes with a squat little shape are both pretty and edible. They're

prolific producers, and they can be baked, grilled, steamed, or stuffed.

Hubbard Squash

These squash have a tough, bumpy rind and range in color from bright orange to a

gorgeous aqua-blue color. Some varieties weigh in at 12 to 15 pounds each! Roast

the medium-sweet flesh, or chunk it for stews.

Kabocha Squash

These Japanese squash are similar in appearance to buttercup with

a flavor that's reminiscent of sweet potatoes. Bake, steam, or puree in soups.

Pumpkin Squash

Pumpkins actually are a type of winter squash, so they're not just for carving! Bake,

steam, put in stews, and roast the seeds. They're easy to grow!

Spaghetti Squash

These oblong-shaped squash have stringy flesh you can scrape out

after cooking to create spaghetti-like strands. Use as a pasta

substitute or in soups.

The Sentinel - October 2020 — Vol. 45, No. 2
---
17

CREMATION: $1935 +hst BURIAL: $5995 +hst

If prearranged and prepaid by December 31, 2020 If prearranged and prepaid by December 31, 2020

BIRTHDAYS

ANNIVERSARIES

Paxman, Len and Pat - October 19, 1946,

celebrating 74 years together.

PASSAGES

Eleanor, Morgan passed away on

Wednesday, September 16, 2020, in her

92nd year. She was a long-time GWSA

member and volunteered with the CSS

Outreach program.

JUKEBOX SATURDAY NIGHT

DJ Services — Have Music Will Travel

Special Birthdays — 60th and up

Anniversaries — Retirements

Christmas Parties — New Year's Eve

Surprise Parties — Jack and Jill Parties

How about an Old-Fashioned Rock & Roll Night

Celebrate With Music -

Oldies Unlimited

We play all your favourites from

the 50s, 60s, 70s and some 80s/90s.

Did you like the Disco Era or

Old-Fashioned Country 2 Step?

We've got that too!!

The Jukebox is Full and

Ready to Go!

To Avoid Disappointment — Book Early

Peter Smith: call or text

519-217-8986

Email: giantclassics@gmail.com

The Sentinel - October 2020
---
18

Membership Benefit:

Every Day is Seniors Day

at Bulk Barn!

For years, Bulk Barn has offered a Seniors Day

discount every Wednesday. Anyone over 65

years of age enjoyed a 10% discount on regular

priced merchandise. Now, Bulk Barn locations

in Guelph are offering this 10% discount every

day for all GWSA members. Show your

GWSA membership card to take advantage

of this special offer when you shop for your

favourite regular-priced Bulk Barn products.

Available at: 370 Stone Rd. W across from

Stone Road Mall, 49 Woodlawn Road W in the

Walmart Plaza, and 103 Clair Road E at the

Pergola Commons.

$25.00 discount coupon

with this ad

Please call 519-821-6683

The Sentinel - October 2020 — Vol. 45, No. 2
---
19

A VIEW FROM THE BOOK NOOK

Chris Fraser

The Book Nook —

"A Lending Library"

We are currently closed.

* * * *

Hello everyone, I hope you are staying safe and

healthy and enjoyed all the Fall colours.

With the Evergreen Centre now not opening

until next September, I realize I can no longer

recommend books with our library not being

open. I have suggested various books you could

download to your tablet and hope many of you

were able to do that, as I did.

If you still want to read the next Lucinda Riley

book in the series, "The Sun Sister", you may

still be able to purchase it at the Indigo store in

Stone Road Mall.

Once we have been able to re-open the Book

Nook, I will purchase some new books and will

then continue to write my monthly review of

books I recommend.

I hope you all stay well, and I look forward to

submitting my book reviews again in the Sentinel

after September 2021.

Happy Reading,

Your bookworm and Librarian,

Chris Fraser

The Sentinel - October 2020
---
20

(Continued from page 7)

1. c) Thanksgiving used to be a

flexible sort of holiday. Starting

in the 1800s, it would be

celebrated at various times in

October or November, and its

date was often moved around to

coincide with other holidays. In

1816, Upper and Lower Canada

had different Thanksgivings

celebrated in May and June to

commemorate the end of the war

of 1812. In 1921, Armistice Day

and Thanksgiving became a

single holiday, to be celebrated

on the Monday of the week of

November 11. They were later

made into two separate holidays,

and Thanksgiving was given a

more regular celebration date.

2. c) Not until 1957 did we

collectively get our act together

and declare that Thanksgiving

would be celebrated at the same

time every year.

3. a) Nova Scotia isn't the only province without a mandated day off on Thanksgiving. New Brunswick,

PEI, and Newfoundland and Labrador also don't officially recognize it as a paid holiday, though

workers still often do get the day off anyway.

4. b) About a third of Canadian households purchased turkeys for Thanksgiving 2019. That's also about a

third of the total number of turkeys sold all year.

5. c) A study by the Dietitians of Canada found about 4% of Canadians identify as vegetarian or vegan.

That's about 1.3 million Canadians not eating turkey on Thanksgiving.

6. a) That's right. While Americans may not give Canadian Thanksgiving proper credit, we actually did

Thanksgiving first. The first American Thanksgiving is generally regarded as happening in 1621 in

Plymouth, Massachusetts, whereas Canadians had theirs in 1578, when Martin Frobisher was exploring

what is now Newfoundland.

7. c) During the American Revolution, some American Loyalists who supported Britain fled the country

and came to Canada. They also brought some of their American Thanksgiving traditions, like eating

turkey, squash, and pumpkin.

8. c) The only apples that are native to North America are crab apples — not the delicious apples used in

pies at Thanksgiving. Those were brought to Canada by colonists starting in the 17th century.

9. d) British Columbia produces approximately 12% of North America's cranberries, fueling the ongoing

Thanksgiving dispute: cranberry sauce or gravy with your turkey?

The Sentinel - October 2020 — Vol. 45, No. 2