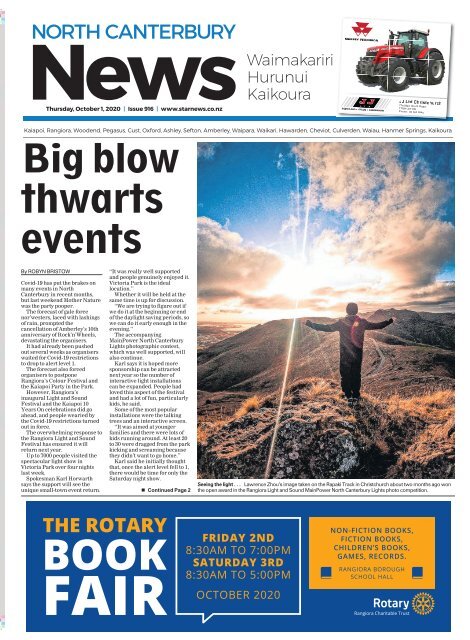 North Canterbury News: October 01, 2020
You also want an ePaper? Increase the reach of your titles
YUMPU automatically turns print PDFs into web optimized ePapers that Google loves.
Thursday,October 1, 2020 | Issue916 | www.starnews.co.nz

JJ Ltd Christchurch

726 Main South Road

TEMPLETON

Phone: 03 344 5645

Big blow

thwarts

events

By ROBYN BRISTOW

Covid­19has putthe brakeson

many events in North

Canterburyinrecent months,

butlast weekendMother Nature

wasthe partypooper.

Theforecastofgale force

nor'westers,laced with lashings

of rain, prompted the

cancellation of Amberley's 10th

anniversaryofRock'n'Wheels,

devastating theorganisers.

It hadalready beenpushed

outseveralweeksasorganisers

waitedfor Covid­19 restrictions

to drop to alert level 1.

Theforecastalsoforced

organiserstopostpone

Rangiora's ColourFestivaland

theKaiapoi Party in thePark.

However, Rangiora's

inaugural Light and Sound

Festivaland theKaiapoi 10

Years On celebrations didgo

ahead,and people weariedby

theCovid­19restrictions turned

outinforce.

Theoverwhelming response to

theRangiora Light and Sound

Festivalhas ensured it will

return next year.

Up to 7000 peoplevisited the

spectacular lightshow in

VictoriaPark over four nights

last week.

Spokesman Karl Horwarth

says thesupport will see the

uniquesmall­town event return.

''It was reallywellsupported

andpeoplegenuinely enjoyed it.

Victoria Parkisthe ideal

location.''

Whetheritwill be held at the

same time is up fordiscussion.

''We are trying to figureout if

we do it at thebeginning or end

of thedaylight savingperiods, so

we can do it early enoughinthe

evening.''

Theaccompanying

MainPowerNorth Canterbury

Lights photographiccontest,

which was well supported, will

also continue.

Karl says it is hoped more

sponsorship can be attracted

next year so the number of

interactivelight installations

canbeexpanded. Peoplehad

loved this aspectofthe festival

andhad alot of fun, particularly

kids,hesaid.

Some of the mostpopular

installations werethe talking

trees and an interactive screen.

''It was aimed at younger

familiesand there werelots of

kids runningaround.Atleast20

to 30 weredragged fromthe park

kicking and screaming because

they didn'twanttogohome.''

Karl said he initiallythought

that,once the alertlevelfell to 1,

therewouldbetimefor only the

Saturday night show.

Continued Page 2

Seeing the light... LawrenceZhou'simagetaken on the Rapaki Track in Christchurch about two monthsago won

the open award in the Rangiora Lightand SoundMainPower North Canterbury Lights photocompetition.

THE ROTARY

BOOK

FAIR

FRIDAY 2ND

8:30AM TO 7:00PM

SATURDAY 3RD

8:30AM TO 5:00PM

OCTOBER 2020

NON-FICTION BOOKS,

FICTION BOOKS,

CHILDREN'S BOOKS,

GAMES, RECORDS.

RANGIORA BOROUGH

SCHOOL HALL

Rangiora Charitable Trust
---
NEWS

2 North Canterbury News, October 1, 2020

Grow

customers,

sales and

profits

with North

Canterbury's

best read

newspaper

Readership: 47,000 weekly

Circulation: 30,150 copies delivered

to EVERY farm, RD, lifestyle block

and homes in Waimakariri, Hurunui

& Kaikoura every Thursday

news

Robyn Bristow

Managing Editor

027 312 1581

robyn.bristow

@ncnews.co.nz

Reporters

Neil Clarkson, David Hill,

Shelley Topp.

advertising

DaynaBurton

Sales Co-ordinator

027 312 0089

dayna.burton

@ncnews.co.nz

Amanda Keys

Advertising

027 536 6224

amanda.keys

@ncnews.co.nz

Kerryn Clark

Advertising

021 586 138

kerryn.clark

@ncnews.co.nz

getintouch

Editorial

info@ncnews.co.nz

Advertising

sales@ncnews.co.nz

Graphic Design

heather.hood@ncnews.co.nz

Distribution/Deliveries

03 314 8335

Amberley: 03 314 8335

119 Carters Road, Amberley

Rangiora: 03 313 2840

77-83 High Street, Rangiora

Christchurch: 03 364 7460

www.starnews.co.nz

Changes at medical centre

By ROBYN BRISTOW

Funding cuts by the

Canterbury District Health

Board have forced changes to

the Amberley Medical Centre's

after­hour service in the

southern Hurunui District.

The board will stop funding

the service on September 30.

Practice manager Denise

Cope said while she was

disappointed the board was

cutting the funding, the

medical centre remained

committed to providing an

after­hours service. It has been

working hard to find the best

sustainable solution for its

community, she says.

''Although we can no longer

provide in­person care

overnight, we will continue to

provide 24­hour care with

extended clinic opening

hours.''

Adoctor will always be

available to provide phone

advice and support, she says.

Nurse manager Chris Long

2095268

Weather

anuisance

From Page 1

But when he saw the amount of work

neededtolay the kilometres of

cable,hedecidedtoopenon

Wednesday night as initially

plannedand run through to

Saturday. And the crowds came,

increasing each night until Saturday

night'sfinale,when about3000

people enjoyedafilmonthe big

screen,bands, dancing and stalls.

Karlsaidthe event brokeeven,

but sadlythe ColourFestival

planned forthe Sunday,when all

the infrastructurewas in place, did

not go ahead,whichwill affectthe

bottomline.Itwillnow be held on

Saturday, October 4.

''Weleft it as late as possible (to

postpone) in the hopethe forecast

would change to give festival­goers,

our suppliers, foodies,market stalls,

performers,volunteers (30ofthem),

and,ofcourse,sponsors, as mucha

chanceaspossible to have an

event.''

Kaiapoi's Party in the Park, a

spring festivalevent, was also

postponed.Itwill now be held on

Sunday,October 25.

Photo contest,page 36.

Kaiapoi Lodge

Residential Care

Nursing Home, Hospital and

Respite

Person Centred Care,

Carethat's built

around you

6Cass Street,Kaiapoi

Ph 03 327 7235

says there is an average of four

after­hours calls aweek, with

65 percent of them before 8pm.

''We are therefore planning

to extend our opening hours

from 8am until 8pm, Monday to

Friday, to accommodate the

majority of those patients

needing urgent care afterhours.

''These extended hours will

also improve access to routine

primary health care with aGP

or nurse at the practice,'' she

says.

Denise says the extended

evening hours are also

designed to support those in

the community who may work

full­time or commute to work,

as well as providing flexibility

for families.

At weekends and public

holidays, urgent care walk­in

clinics, which run from 10am

to 1pm, will remain

unchanged. The second phase

will see the medical centre

extend its hours, opening for

12 hours from 8am.

The practice is running a

local awareness campaign to

encourage enrolled patients to

make contact with the centre

early in the evening if they

start to feel unwell, and think

care might be needed during

the night.

''That way we can try to

organise an in­person

appointment before 8pm and

reduce the need for any

patient to travel to town

(Christchurch) for care,''

Denise says.

The extended evening hours

and overnight service will be

specifically available to

patients enrolled at Amberley

Medical Centre, Cheviot

Community Health Centre and

visitors to the district.

Visitors include those

individuals travelling or

staying within the Hurunui

district.

For more information about

the practice, visit its website,

amberleymc.co.nz, or email

admin@amberleymc.co.nz.

Well framed ... Jayden Sherwood, aged 13, won the

under­16 title in the MainPower North Canterbury Lights

photographic competition with aview of the mountains

from the Ashley River.

Sat, 31 Oct

4.30 - 7.30pm | Wylie Park

Cnr Smith & Ranfurly Streets

KAIAPOI

2318737

LAWNMASTERESTATE ESTATE SPECIAL

Was $849

Now $749

Check

Out These

Features:

• NZ Made

• Ball Bearing Wheels

ESTATEECO READYSTART

• Ready Start Engines (no priming)

• Quality Alloy Chassis with LIFETIME Warranty

• 4Year Engine Warranty

• Oiled &Fully Assembled

*Excludes the Estate 400

Youth

plan

backed

By DAVIDHILL

Waimakariri could soon

have a''youth­friendly

plan''.

Hot on the heels of the

Age­friendlyPlan,

approved by the

WaimakaririDistrict

Council last year,aYouth­

Friendly Communities

Plan is being developed.

An onlineyouthsurvey

was launched lastmonth

with the help of a

University of Canterbury

student intern.

Youthdevelopment

facilitator SamRedman

hopestopresent the

findings to thecouncil in

November, before starting

work on the youthfriendly

plan.

The plan would build

on the Youth Development

Strategy adopted

two years ago.

''We had an intern last

year who completeda

project focused on youth

spaces, identifying what is

already there and where

thereare gaps,'' Samsays.

''Thesecond intern is

focusing on youth

activities,asking what

youngpeople spend their

sparetimedoing and

whereand there are

gaps.''

Educationopportunities,employmentand

transport willalso be

considered as part of

developing the plan, Sam

says.

''It's something I'm

quiteexcitedabout.

''Thepotential is really

big.

''If we can haveaplan

which bringsall of these

things together it will be

really positivefor the

community.

''It's still early on and

we wanttomake sure we

have areallystrongvoice

from youngpeople.''

The onlineyouthsurvey

is available on the

WaimakaririYouth

Council and WaiYouth

pagesonFacebook.

Save $100 on the

Lawnmaster

Estate range *

2187722

360 FlaxtonRoad,Rangiora

Ph 03 313 5563

www.kingsmowersheating.co.nz

2307841
---
Approval for $2m pool revamp

By ROBYN BRISTOW

After adecade of debate and

reports, a$2million heated,

covered pool should open in

Amberley late next year.

The Hurunui District

Council has backed the

South Ward committee's

recommendation to

refurbish the existing pool

in Douglas Road, using its

existing footprint, based on

adesign from Create Ltd.

Council community

activator and project leader

Roger Hornblow says the

aim is to have the project

''shovel ready'' by July 1.

He told the council last

week that it was ''pretty

exciting'' to get the project

over the line, with the only

disappointment being the

loss of an outside pool.

He said it became clear

money was better spent on

meeting the wishes of the

community to heat the pool,

particularly with the major

renovations needed.

It had taken 12 months to

analyse the needs of pool

users and come up with pool

designs and costings.

Mr Hornblow said anew

Nod for pools ... An artist's impression of the refurbished Amberley pool.

structure would be built for

changing rooms, toilets and

showers at the north end of

the pool. Access to the pool

for the elderly, disabled and

mums with toddlers has

Just like new ... The pool redevelopment will cost $2 million.

been made easier, and

swimming instruction would

be improved, with the

shallow end made slightly

shallower and the pool floor

gradient made safer.

''The deep end is still

going to be the current

depth.

''The fun factor is

enhanced with a'bombing

platform' at the deep end

and afamily friendly

outdoor area.

''The pool environment

will look and feel like anew

pool, with anew pool lining,

new filtration system, and

the surrounding concrete

levelled and covered with

an epoxy floor,'' he said.

There had been

frustration and

disappointment over the

past decade, but he hoped

the new design would give

IMAGES:SUPPLIED

the community something to

be excited about.

He said the Save our Pool

group had played an

invaluable part to date, and

would continue to do so in

the future.

Cr Michael Ward said it

gave him immense pleasure

to move the adoption of the

committee's

recommendation ''at long

last'', while Cr Geoff Shier

said it had been along

process that had polarised

people, but the community

could now come together

with the common goal of

raising funds for the project.

The council has

committed $1.5 million, with

the rest to be sought from

funding agencies and the

Save our Pool group, which

already has about $100,000

in the bank.

NEWS

North Canterbury News, October 1, 2020

3

TAXRETURNS

Debra Jowsey

Karla Kilner

Tax &Accounting

Consultants

since 1984

Overwhelmed? Confused? With the recent IRD

changes to tax returns, GST returns, rental returns

and pay day filing A-Plus Accounting is here to help.

Give us acall. Friendly,knowledgable staff.

A-Plus Accounting

☎ 03 314 9480

2293781

shoes lightweight &luxuriously

soft leathers

New Season's

Arrivals

Ooze

Black &Blush

Size 37-42

Ocean

White, Pewter

Size 37-42

Kaiapoi artist airs her heartfelt gratitude

Kaiapoiartist Christine Watton thanked

the Waimakariri DistrictCouncil for its

post earthquake vision for the town

during the opening of her first solo

exhibitionatKaiapoi's Art on the Quay

Gallery last month.

She said that the rebuild of Kaiapoi was

more than just reinstating infrastructure,

and that human connections were equally

important.

Theestablishment of the community

group, You Me We Us, bringing together a

bunchof''roll up your sleeves, let's get the

job done''people,was without doubt the

best gathering of local human resources

ever made, she said.

You Me We Us is now knownasAll

Together Kaiapoi.

Christine also thankedthe Waimakariri

Arts Trust, which manages the Kaiapoi

Art Expo,for providingthe exhibition

space where she developed the confidence

to publiclydisplay her artwork.

Exhibition opening, page 26

More styles in store

Kaiapoi Mill, Ranfurly Street, Kaiapoi

Monday –Friday 9am –5pm

Saturday 10am –1pm

Closed on Public Holidays

Ph 03 327 0576

2314766

Victa ride-on mowers

from $4299

BURKE'S

We've got your Spring all wrapped up

Victa push mowers

from $549

Vegetables and bedding plants

97

Come in and see Lindsay, Ann and Julie today or phone 03 314 0130

Markham Street, Amberley |www.arthurburke.co.nz

ARTHURBURKELTD

Established 1935
---
NEWS

4 North Canterbury News, October 1, 2020

Pupils enjoy cemetery project

By DAVID HILL

Kaiapoi High School pupils have

been helping to identify graves at the

local RSA cemetery.

AYear 11 literacy class spent time

at the Kaiapoi RSA Cemetery to

check off the grave sites and match

the names of old soldiers and their

spouses against amaster list.

The information will be used to

develop amap and plot­finder to

make it easier for people to find the

final resting place of family

members.

Deputy principal Elizabeth

McMeeken said the pupils completed

an NCEA Level 2project working in

groups, with each group allocated a

section of the cemetery, devising a

strategy, dividing up tasks and

carrying them out.

"The learning was the key thing,''

she said. ''They all knew what we

were aiming for and it's important

that they learn the skills of working

together, coming up with aplan and

seeing if it works."

Along the way the pupils

researched the acronyms for the

ranks and other military terms.

Pupils Kaleb Cahill, aged 16, and

Tyler Young, 15, said they enjoyed

working on the project, even though

they had to return to school early

after it started raining on the day.

"It was good to do something in the

community instead of just going to

school," Kaleb says.

Mrs McMeeken said it was good to

give her pupils the chance to do

something positive in the community.

''These students wouldn't normally

get involved in these sorts of

activities. They are teenagers, mainly

boys, and they are into outdoor stuff."

In memory ... It will soon

be easier to find old

soldiers at the Kaiapoi RSA

Cemetery. PHOTOS: DAVID HILL

Class work ... Kaiapoi

High School pupils Tyler

Young, left, aged 15, and

Kaleb Cahill, 16, enjoyed

working on aschool

project to help the Kaiapoi

RSA.

Looking to

the future

By DAVID HILL

Canterbury mayors are looking ahead to

2050.

An initiative has started to develop a

long­term visionofwhat the Greater

Christchurch areawill looklike in 30

years, Waimakariri Mayor Dan Gordon

says.

''We haveanopportunity to work

together alongside iwi and mana whenua

to set astrong direction for Greater

Christchurch and to strengthen our

relationship withcentralgovernment,''

says Mr Gordon,who is the Greater

Christchurch Partnership deputy chair.

''We needtobethinking now about the

future we want for our children and

grandchildren.''

Key to setting a2050 vision willbehow

the region recovers from Covid­19 by

planningfor growth, attracting

industries,employment and investment,

and providingprosperityfor the next

generation, Mr Gordon says.

''It will alsoaddress the impact of

climate changeonour environmentand

communities,and set out agreed actions

as we movetowards being azero­carbon

economy.''

The Greater Christchurch Partnership

is acollaborationbetween the

Christchurch, Selwyn and Waimakariri

councils, Environment Canterbury, Ngai

Tahu,the Canterbury District Health

Boardand government agencies.

Mr Gordon saysheremembers being

part of Greater Christchurch

conversations whichbegan in 2003 and

led to thedevelopmentofthe Urban

Development Strategy, which set avision

of what 2020 might look like.

Jamie Arbuckle

NZ First Kaikoura Candidate

Jamie is aMarlborough District Councilor

with over 10 years' governance in local

government. Jamie has worked across

all facets of Council and as aqualified

Hearings Commissioner, has experience

with Environment Planning and the

RMA. Prior to Council and still apassion

for Jamie today, ishis involvement in

Horticulture. He is well known from his

time at local markets and for his family's

long involvement in farming and fruit

growing in the region. Jamie completed

his Business and Management Diploma at

NMIT. His wife Sally, ahairdresser, and

their four children aged 11 -20, have been

actively involved in local markets and

festivals. Youwill often find them at local

sporting events and day to day schooling

activities.

Being ahard worker, good listener,

communicator and an active member of

the community -Jamie know the issues.

There are many major infrastructure

projects in the Kaikoura Electorate that

need Government support including

the Picton Ferry Terminal upgrades,

The Whale Trail along the East coast of

Kaikoura, Irrigation Schemes and future

water storage proposals, road and rail.

The Provincial Growth Fund will play

acritical role in our Region; Hanmer

Springs recently received $3.1m towards

domestic tourism to improve the thermal

pools and Kaikoura received $10.88m

for the Wakatu Quay and South Bay

Developments which are important for

employment and growth.

Covid-19 has presented major challenges

for our local economy. There are many

affected sectors such as hospitality,

tourism, accommodation, retail,

construction and the small to medium

sized businesses within that. Primary

sectors such as viticulture, seafood,

aquaculture, farming and forestry will be

critical for our recovery. Afocus must be

on stopping business closure, job losses

and providing support to our communities

around mental health. Parts of the

Kaikoura electorate are reliant on tourism

activities and it will be vital to showcase

our region as the gateway to the South

Island. There are major opportunities

with offshore aquaculture -the resilience

and growth of primary industries can

be ensured with favourable government

policies and the right investments into key

strategic assets.

2313584

2313663

Agreat kiwi pizza spread for groups of 15 or more.

Perfect for big families orworkshouts.

• We have plenty of good table choices

for big groups.

• Agreatselectionofkiwidrinksat

reasonableprices.

• Funatmosphere with plenty of room

for kids to runaround.

• $30 peradult.

• Thebiggerthe groupthe more pizza

variety. Letussurpriseyou or specify

yourfavourites.

• $15 for kidsindividual(choose their

owntopping) pizzas.

• We caterfor allallergies.

• Numbers need to be confirmedthe

dayprior.

• Plenty of food andvariety for

everyone!

• To start we will bringoutsome

freshgarlicbreads &our gourmet

flatbreads while youall gather

andcatch up.

• Followed by agreatselectionof

ourbest-sellinggourmet and

traditional pizzas.

• Served with crisphouse salad.

• Andbowls of fries &wedgesto

shareofcourse.

• Groupsof15-60 people.

Book by phoneon03313 7415or

e-mail us at

rangiora@winniebagoes.co.nz
---
Authors to chat over the tea cups

By ROBYN BRISTOW

NEWS

North Canterbury News, October 1, 2020

MASTER BUILDER

5

2021055

Since launchingin2008, the

Writers' Tea Partyatthe

Amberley Memorial Library

has becomeamuch­loved

event among New Zealand

writers.

This year, the tea­party

tradition of introducing

exciting and thought­provoking

writerscontinues.

Laura Borrowdale,a

feminist writer and mother of

two youngdaughters, will be a

guest. Lauraisinterested in

the multipleroles of women's

experience,and has just

published her first collection

of short stories, Sex,with

Animals.

The title is mischievous, a

punctuation joke. The stories

are actually about messy

human relationships. The

animalsare metaphors.

Laura is also the publisher of

Aotearotica,ahighly successful

literary art journal.

''I don'twant people to

misinterpretitasfrivolous,''

she says.

''Whenitcomes to sex, our

silence speaks volumesto

young people around us.''

PhilipNorman,anawardwinning

Christchurch­based

composer, author and highly

skilled public speaker, will

also visit.

His work spans the breadth

of the performingarts. It

includes choralmusic, opera,

balletssuch as Peter Pan,and

musicals such as Footrot Flats

and Loveoff the Shelf —

The experience of women ... Laura Borrowdale, afeminist writer and mother of two young daughters,

will be aguest at the annual Writers' Tea Party.

PHOTO: SUPPLIED

collaborations with Roger

Hall.

He has also worked withA.K.

Grant, Gavin Bishop and Fiona

Farrell, amongothers. His

biography, Douglas Lilburn:His

Life and Music,was the winner

of a2007 MontanaNew

Zealand Book Award. In 2015,

he was madeaCompanion of

the NewZealand Orderof

Meritfor services to music and

to music theatre.

AmericanDoc Drumheller, a

writer, musician and literary

entrepreneur, completes the

guest list.

BorninNorthCarolina, he

now lives in Oxford. He has

worked in award­winning

groups for theatre and music,

and has published 10

collections of poetry.

He travels the world

performing his poems in

places as diverse as Cuba,

Lithuaniaand China. He

publishes the literary art

journal Catalyst.His new book,

Election Day of the Dead,isdue

out fromCold HubPress this

year.

Friends of the Hurunui

District Libraries Inc will

present the tea party on

Sunday, October 18, at 2pm in

the Hurunui Memorial

Library, Amberley. Admission

is $5. Afternoon tea is provided.

Fabric

Sell out

Discounted

prices

Sunday 4 th October

Time: 10am to 3pm

Rangiora RSA

Victoria Street, Rangiora

Liberty,Cotton &Steel, Andover,

Poppie Cotton, and many more!

2316556

LocaltoNorth Canterbury.

CALL ARTHUR 027 2451601

arthur@robertsonbuilding.co.nz

www.robertsonbuilding.co.nz

BARNS/FARM BULDINGS•RIB RAFT FLOOR SYSTEM INSTALLATION

PROJECTMANAGEMENT•ADDITIONS•NEW HOMES

HOME MAINTENANCE•EQC REPAIRS•ALTERATIONS

FREE QUOTES

RAVENSWOOD SHOW HOME

VILLAGE NOW OPEN

Visit the Ravenswood Show Home Village in

North Canterbury and view the range of stylish

and affordable house designs available –there's

something tosuit all styles and budgets.

11 show homes now open with 2more coming soon.

YOU'LL LOVE THE DIFFERENCE

CHRISTCHURCH

®

Location: Bob Robertson Drive,

Ravenswood, North Canterbury.

www.ravenswood.co.nz/show-homes

CALL US TODAY

Jenny Lake 03 375 0010

live@ravenswood.co.nz
---
OPINION

6 North Canterbury News, October 1, 2020

Waimakariri

Focus from Dan Gordon, Mayor

Big voluntary effort

behind many events

It is greattobeatlevel 1. This past

weekendhas seen several community

events.Iwould like to commend the event

organisers for putting on suchawide

variety of activities for our communityto

enjoy.

The Lightand SoundFestival in Victoria

Park was excellent. Unfortunately,the

weather on Sunday saw both the Rangiora

Festival of Colour and the Kaiapoi Party in

the Park postponed.

We are luckytohave community

organisations that put in ahuge voluntary

effort so thatour community can enjoy

these events.

Friday night saw an event in Kaiapoi

acknowledging 10 years sincethe

September 4earthquake. This was to have

been celebrated on September 4, but was

delayedbecause of Covid­19.

The event was held to commemorate this

anniversary but, more importantly, to

celebrate how far we have come together

and achieved since that time. Whilethe

earthquakes represented asignificant

challenge, they also presented significant

opportunities.

Much has happened in those 10 years

and Iamparticularly proud of the way our

community and businessesralliedand

helped us rebuild.

Our recovery is testimony to the spirit

and strength of you all. Our community is

stronger than ever before.

OxfordArt Galleryalso celebrated10

years since it officially opened.Renowned

New Zealand artist and Gallery Patron

Philip Trusttum was present for the

openingofhis exhibition.

If you are in Oxford, or planning a

journeythere,itisworth atrip to see

Philip's work and support the gallery.

Personally, Ienjoy supporting the

creativepart of our community and

attending our galleries to see the latest

exhibitions, or attending the various

performingarts events.

We are fortunateasadistrict to haveso

much talent that we can enjoy and

appreciate.

Around the community there is

consultation under way for walking and

cycling improvements in Woodend that

will work in with the New Zealand

Transport Agency's new signalised

crossingplanned for Main North Road

outsideWoodendSchool.

McALPINES MITRE 10 MEGA RANGIORA -OCEAN WATCH

This

Week

Sun

Fishing

Guide

Moon

Wind

Swell

Pegasus Bay

Tide Chart

3

2

1

Good

Thursday Friday Saturday Sunday Monday Tuesday Wednesday

Oct 1 Oct 2 Oct 3 Oct 4 Oct 5 Oct 6 Oct 7

Rise 7:02am

Set 7:35pm

Best 12:29am

Times 12:50pm

Set 7:04am

Rise 6:46pm

Light Nturning

NE

Good

Rise 7:00am

Set 7:36pm

Best

Times

1:11am

1:31pm

Set 7:26am

Rise 7:46pm

Moderate NW

becoming fresh N

❛We are fortunate as adistrict

to have so much talent that we

can enjoy and appreciate.❜

The tender for this crossing has been

released, with construction to start before

Christmas. It will be completedbefore the

new schoolyear starts.

Seeing this completed, alongwith the

other signalled safetyimprovements, is

important. It is apriority for our council

and community.

Iknow the Woodendcommunity will

welcome the news.

The council is also consulting the

community about roading improvements

in FlaxtonRoad that will include anew

sharedpath for walkers and cyclists, and

join with anew roundabout at the corner

of Flaxton and Fernside roads. Once

completed,this is going to make a

significant differencetoroad safety and

traffic flow.

If you head to Christchurch you will have

noticedalot of work underway on the

Waimakariri Bridgepart of the motorway.

This is preparing for the opening of the

new Northern Corridor —aproject being

led by the transport agency.

It is expected that this will open mid­

December.

There will be anew high­occupancy lane

that will also take anew express bus

serviceand will link with park­and­ride

locations throughout the district.

These coming changes will make areal

difference for commuters and will be

operational early in the new year. Keep an

eye out for furtherinformation.

We appreciate your understandingwith

traffic delayswhile the finalstagesof

construction are completed.

Environment Canterbury undertooka

review of the Waimakariribus network

last year. The new bus timetabling

commenced this week.

For further information, visit metroinfo.

co.nz/upcoming­timetable­and­routechanges/

Iwelcome contactfrom anyonewho

needsassistance or has an issue that they

may want to discuss. Email me at

mayor@wmk.govt.nz or phone (021)

906 437.I'm heretohelp.

Good

Rise 6:58am

Set 7:38pm

Best

Times

1:51am

2:11pm

Set 7:47am

Rise 8:46pm

Strong Neasing

to fresh NW

Good

Rise 6:56am

Set 7:39pm

Best

Times

Set 8:09am

Rise 9:47pm

Data not

available.

Rise 6:55am

Set 7:40pm

Set 8:32am

Rise 10:48pm

Data not

available.

Rise 6:53am

Set 7:41pm

Set 8:58am

Rise 11:50pm

Data not

available.

Rise 6:51am

Set 7:42pm

Data not

available.

Data not

Data not

Data not

Data not

SE 1.3 m SE 0.9 m S0.8 m

available.

available.

available.

available.

3 6 9 NOON 3 6 9 3 6 9 NOON 3 6 9 3 6 9 NOON 3 6 9 3 6 9 NOON 3 6 9 3 6 9 NOON 3 6 9 3 6 9 NOON 3 6 9 3 6 9 NOON 3 6 9

2:32am

2:52pm

Good

Best

Times

Claire McKay

Environment Canterbury Councillor

Crucial steps toward

asustainable future

Many challenges face the current

generation if we are to ensure a

sustainablefuture.

Foryou,thebiggest challenges may be

considering the post­Covid future, dealing

withchanging climate, reducing

greenhouse gases,orthestressesof

everydaylife.

Regionalcouncilsand landownersare

nowfocusing onunderstanding and

implementing policy directives in the

Government's Essential Freshwater

package.

The primary pieces of legislationare the

National Policy Statement for Freshwater

(NPSFM), National Environmental

Standards for Freshwater (NES) and stock

exclusion regulations.

The NPSFM isabout improving the

health ofall water in both urbanandrural

areas.Awiderange of activitiesimpact

waterquality,somay alsobeimpactedby

thenew policy directives.

Whilethere isaremarkablesimilarity

betweentheoutcomessought in

Environment Canterbury's current

freshwater planning framework (the Land

and WaterRegional Plan) and much of the

new national directives,wenow need to

revisit our plans to incorporate these.

Environment Canterbury was the first

regional council to develop aplan under

the2011NPSFM—the Hurunui Waiau

RiverRegionalPlan,PlanChange 1of

whichhas recently been made operative.

Developing the current framework

collaboratively has come at considerable

cost to our communityand ratepayers in

termsofbothmoney andtime.

Engagement withmana whenua is

fundamental to incorporating thenew

NPSrequirementsinto ourfreshwater

plansbefore December 2024asweare

required to do. We must first understand

the concept of Te Mana oteWai, putting

LOST AND FOUND

The following property hasbeenreported

to police as lostinNorth Canterbury:

Ablack wallet, ablack Samsung phone,

atitaniumsilver engravedweddingring,

ablack bagwith "Hogs Dogs +Quads"

containing GPS/dog collars/camera/

binoculars, asmall yellowwallet, agold

pinkyring with three diamonds.

3:13am

3:35pm

Good

Best

Times

3:57am

4:19pm

Good

Best

Times

Set

4:42am

5:06pm

9:29am

❛It is important to

acknowledge the

improvements and investment

landowners, industries,

developers and others have

already made towards

improving water quality.❜

thehealthofthe waterbefore all other

considerations.

We will continue to work withour

community over the next couple of years

on what more we need to do and where,

and how it will be implemented.

Earlyindicationsare that theNPSFMis

farreaching, not only for Environment

Canterbury in terms of resourcingand

funding forplanning, consenting,

compliance and science, but also in

relation to the impacts of implementation

on the wider community.

Over thelast10years,recognising local

water quality challenges, Canterbury

communities have responded

collaboratively and engaged with regional

plan developmentand implementation.

It is importanttoacknowledge the

improvements and investment

landowners, industries, developers and

others have already made towards

improving water quality. Some of these

will take decades to become visible.

Our commitment to improve water

quality within ageneration will require

collaboration, innovation, increasing use

of new technology, and practical solutions.

Change has never been easy. It is even

harder when the scale of change seeks not

only to account for 150 years ofdevelopment,

but alsotoleave afuture legacy.

Thefollowingproperty is waiting to be

claimed fromthe KaiapoiStation:

Aladies white road bike, a Frozen

scooter, ayellow Leicacase/toolbelt, a

blue Milazo mountainbike, achild's

silver Bauer bike, adrone,and asilver

necklace which includesanangel

pendant.

0

Highs Lows Highs Lows Highs Lows Highs Lows Highs Lows Highs Lows Highs Lows

Waimakariri 5:05am 2.2 11:17am 0.6 5:48am 2.2

6:31am 2.2 12:21am 0.6 7:13am 2.2 1:02am 0.6 7:55am 2.2 1:42am 0.6 8:38am 2.2 2:23am 0.7 9:21am 2.2 3:05am 0.7

Mouth

5:26pm 2.3 11:40pm 0.6 6:06pm 2.3 12:00pm 0.6 6:47pm 2.2 12:42pm 0.7 7:28pm 2.2 1:23pm 0.7 8:11pm 2.1 2:04pm 0.7 8:56pm 2.1 2:46pm 0.7 9:42pm 2.0 3:30pm 0.8

Amberley 5:05am 2.2 11:17am 0.6 5:48am 2.2

6:31am 2.2 12:21am 0.6 7:13am 2.2 1:02am 0.6 7:55am 2.2 1:42am 0.6 8:38am 2.2 2:23am 0.7 9:21am 2.2 3:05am 0.7

Beach

5:26pm 2.3 11:40pm 0.6 6:06pm 2.3 12:00pm 0.6 6:47pm 2.2 12:42pm 0.7 7:28pm 2.2 1:23pm 0.7 8:11pm 2.1 2:04pm 0.7 8:56pm 2.1 2:46pm 0.7 9:42pm 2.0 3:30pm 0.8

5:14am 2.2 11:26am 0.6 5:57am 2.2

6:40am 2.2 12:30am 0.6 7:22am 2.2 1:11am 0.6 8:04am 2.2 1:51am 0.6 8:47am 2.2 2:32am 0.7 9:30am 2.2 3:14am 0.7

Motunau 5:35pm 2.3 11:49pm 0.6 6:15pm 2.3 12:09pm 0.6 6:56pm 2.2 12:51pm 0.7 7:37pm 2.2 1:32pm 0.7 8:20pm 2.1 2:13pm 0.7 9:05pm 2.1 2:55pm 0.7 9:51pm 2.0 3:39pm 0.8

5:16am 2.2 11:28am 0.6 5:59am 2.2

6:42am 2.2 12:32am 0.6 7:24am 2.2 1:13am 0.6 8:06am 2.2 1:53am 0.6 8:49am 2.2 2:34am 0.7 9:32am 2.2 3:16am 0.7

Gore Bay 5:37pm 2.3 11:51pm 0.6 6:17pm 2.3 12:11pm 0.6 6:58pm 2.2 12:53pm 0.7 7:39pm 2.2 1:34pm 0.7 8:22pm 2.1 2:15pm 0.7 9:07pm 2.1 2:57pm 0.7 9:53pm 2.0 3:41pm 0.8

5:09am 1.7 11:20am 0.5 5:54am 1.7

6:38am 1.7 12:29am 0.5 7:21am 1.7 1:11am 0.5 8:04am 1.7 1:53am 0.5 8:46am 1.7 2:35am 0.6 9:30am 1.7 3:18am 0.6

Kaikoura 5:34pm 1.7 11:46pm 0.5 6:17pm 1.7 12:04pm 0.5 6:59pm 1.7 12:48pm 0.5 7:41pm 1.7 1:31pm 0.5 8:25pm 1.6 2:14pm 0.5 9:09pm 1.6 2:58pm 0.6 9:55pm 1.6 3:44pm 0.6

*Not for navigational purposes. Wind and swell are based on apoint off Gore Bay. Maori Fishing Guide by Bill Hohepa. www.ofu.co.nz www.tidespy.com Graphic supplied by OceanFun Publishing Ltd.

2118223
---
For Continuity

Of Care

At Pegasus Medical Centre we pride ourselves on our commitment to our Staff,Patientsand the Community.

Pegasus Medical Centre is committed to its community.

As the busy practice continues to grow, itprovides

patients with access to avariety of clinics and specialists

at the practice.

Today it has seven doctors, six receptionists, five

nurses and aclinical assistant. It has ateam of visiting

specialists offering everything from Psychology,

Midwifery, Dietary, gynaecology, obstetrics, cardiology,

foot care, audiology, colorectal &General Surgery and

Hand &Orthopaedic clinics who use the Medical Centre

to support the wider North Canterbury community.

Practice Manager Nicky Sloss says this ensures lengthy

trips into the city can be avoided and patients are often

able to access the services they require quicker.

The practice recognises good healthcare can

strengthen acommunity and the Doctors, Nurses and

Administrative staff work hard to accommodate all

patients in atimely manner. This was especially true

during lockdown and the resulting Covid 19 levels that

followed.

We are absolutely committed to our community here at

Pegasus Medical centre and on the wellbeing of both our

patients and our Staff" she says.

Nicky said the response to the initial lockdown in March

by the practice was both quick and agile as they adapted

to meet the fast changing environment.

Owners Dr John Dehn &DrJanet Robinson

immediately put aplan in place to ensure all staff were

informed and supported, organising medical supplies

including PPE together with additional resources to keep

everyone safe.

"Covid 19 has been challenging for us and for our

Patients. We have worked extremely hard within the

guidelines set out by the Ministry of Health which have

changed sometimes on adaily basis to deliver the best

care we can particularly for our elderly and vulnerable

patients" says Dr Dehn.

Morning huddles at the start of the day kept staff

informed on the pandemic and provided an opportunity

to discuss updates and implement any changes required

to work within the guidelines.

Patients were to the fore as telephone consultations

were offered which for awhile replaced face to face

consultations in abid to decrease risk for everyone.

Patients requiring face to face consultations were initially

seen in the car park if they showed any Covid like

symptoms which often resembled awaiting room with

cars full of patients waiting to see the Doctors or get their

flu vaccines safely away from others.

"All the Staff worked extremely hard to accommodate all

requests often under very trying circumstances and are

to be commended for their dedication and resilience at

such adifficult and uncertain time" says Nicky.

Dr Dehn says anew Patient portal via the website is

now available to assist Patients to book routine online

appointments, request repeat prescriptions and to

access lab results. This will be agreat tool for our

patients and we hope more of them will take advantage

of this technology" he says.

Dr John Dehn continues to offer skin checks and minor

surgeries at the Practice. This year Dr George Dehn

joined the team as aGPand has aparticular interest in

Musculoskeletal disorders.

KAREN Sloss

NICKY Sloss

Clinical nurse lead Karen Sloss has been with the

Pegasus Medical Centre since it opened its doors in 2013.

"The growth has been incredible.We have moved from

the initial small complex across the road to our spacious

purpose-built facility which is great to work in" Karen

says.

As lead nurse Karen says her role, outside of the daily

general nursing duties, is to support the nursing team of

six, liaising with the GPs and practice manager on clinical

matters.

"We work hard to support each other and to use our

individual strengths to improve patient outcomes. For us,

the patient is the main focus."

Karen says it is great to work in an environment with

ateam that can offer awide range of services. "We offer ahigh level of acute care and a

variety of planned services."

Karen is particularly proud of her nursing teams' efforts during the Covid-19 lockdown

because alot of the initial communications with patients had to be over the phone.

This meant having to adapt to arapidly changing situation Karen says.

"It was achallenging time for us and our patients, but the team was flexible, responsive

and professional."

Nicky Sloss, the new Pegasus Medical Centre

practice manager arrived amid the Covid 19

crisis earlier this year.

"It was abit of abaptism of fire to be

honest" said Nicky but she was immediately

struck by the willingness of all the Staff to

do what was needed and by the unwavering

support and leadership of both John &Janet.

Nicky comes from aprivate surgical

hospital background where she was initially

responsible for scheduling surgeons

operating list to eventually working as Patient

Services Manager and managing Reception

and Concierge Staff.

She took ayear off to travel to the UK and on her return home at the end of

October last year enjoyed ashort stint working for her friend who has aflorist

shop in Rangiora.

Deciding she wanted to return to the healthcare industry Nicky isenjoying

the diversity and challenges of general practice and is feeling grateful to be

working for apractice that values its Staff and strives for excellence in the

delivery of community based healthcare.

Ph 03 920 4060

52 Pegasus Main Street, Pegasus 7612

www.pegasusmedicalcentre.co.nz

Monday to Thursday 8am -6pm

Friday 8am to 5.30pm

Saturday 9am -1pm

By appointment

2313657
---
NEWS AND OPINION

8 North Canterbury News, October 1, 2020

Problem with tree removals

started right at the top

Dear Editor

Regarding the article, ''Trees had to go''

(North Canterbury News,August 27), someone

needs to be held accountablefor the removal of

the trees.

Ibelieve Environment Canterbury (ECan)

chairwoman Jenny Hughey put her hand up

with her comments to that effect in the story.

The problem starts at the top, not the person

on the chainsaw.

If they are now preparing the area and

replanting, is that not putting trees back in the

same area?

Is the replanting with natives done at acost to

ECan and not charged to ratepayers?

There appears to many departments,

committees and subcommittees, and nobody

knows what's going on.

What happened to the timber that was felled?

ECan felled them and, if it's only good as

firewood,they should cut it up at their cost and

offer it free to locals who use logburners.Ifused

for other purposes, where are the funds?

They're going to the Waimakariri council, I

hope.

To the person with the tidy yard who dumped

their grass clippings on the side of Northbrook

Road around September 24, they should try

using the green wastebin. Thenthey wouldn't

be wasting petrol as well.

Yours,

Alan R.

Mother Nature

Dear Editor,

Once again, Mother Nature has shown her

power. Those old enoughhave experienced far

worse.

As Idrovehome from Kaikoura on Friday,

LETTERS TO THE EDITOR

September 18, it was as if the world had

stopped, the fragility of relying on the

electricity network exposed.There was no

power from KaikouratoGreta Valley.

Therefore, they was no eftpos, no petrol, coffee

or wi­fi. It was cash only (if you had some). No

water from pumped supplies or wells.

That was just anorth­westgale. What happens

when asolar flare zips down to Earth and

knocks out all the computer­reliant systems?

Chaos,that's what!

We no longer have the Ministry of Works and

the New ZealandElectricity Department that

had people on the groundthroughout our

communities. They could be on the job almost

instantly and knew what switch to pull —

provided the landline phoneswere working.

Ionce watched Balmoral Forest burn, only to

be flattened by agood old nor'wester about 25

years later, in 1975, and dust blanking out the

sun during the droughts of the 1970s.

North­west gales are part of North

Canterbury life. However, they do have a

potential upside in that they spill copious

amounts of rainfall on thisside of the Alps

which, so far, runs out to sea unharnessed.

Last week, during 96 hours of flood flow, the

34.5 million cubic metres of water generated

could have raisedLake Sumner 2.3 metres and

irrigated 7000 hectaresfor awhole year. We get

these repeated gales every spring and autumn.

We need desperately to get rid of aculture

that protects reactive governance and go back to

being Boy Scouts. Be Prepared.!

Yours,

John McCaskey,

Waipara

Talent on show ... The castofWaikari's term­three production. PHOTO: SUPPLIED

Joey finds his mojo

Joey runs away to thecircus

afterreceivingabad school

report, and deciding he is

useless at everything.

He thinksthat tryinghis hand

at circus acts might be

worthwhile.Unfortunately,

everything seems to go wrong.

Joey's plight set the scene for

the Waikari School's term­three

production last week.Itplayed

to full houses at the matinee and

nightperformance.

Eventually Joey, played by

Finn Fricker, findshecan drum

and the performanceendedwith

the children singing and dancing

to Try Everything from the movie

Zootopia.

The circus actsincluded

juggling, acrobats, clowns,

performing animals, SharpEdge

Eddie the knife thrower, and

many more.

The final act was DJ Philip, a

ventriloquist dummyplayed

expertly and hilariously by

Tanner Barton.

The production was supported

financially by the Hurunui

District Council through

Creative CommunityFunding.

Principal Yvonne Blairsaid it

was an amazing show, and ''we

battledthrough to makeitto

Level 1''.

This allowed larger audiences

to enjoythe students' talents.

Matt Flight

forKaikōura

Rakaia Gardens -home of

Sue &Ted Rollinson

282 Awaroa School Road,Dorie 11RD Rakaia

(signpostedoffSH1)

Come join us foragreat day. 70+ stalls,livemusic,

food &beautiful gardens to explore

Gate ticketsonthe day$20

Presale tickets $15;Children5yrs+ $5

ATMand EFTPOS available onsite

Garden Fete

Thursday15October 2020

10am -4pm

Tickets nowavailable

Ashburton) forphysical ticket outlets or

phone3087132

Raising funds forMid CanterburyStJohn
---
NICOL'S

SPRING

$1797

13KG

Frontloader

• 1100rpm

• AddWash

Feature

• H 984

W 686

D 864

Stainless Dishwasher

• 14 Places

• Flexible Third Rack

• H 845 x W 598 x D 600

$897

$899

$4899

5.5kgTop

Loader

• 6Wash Cycles

• 700rpm Spin

Speed

•H850 xW540 x

D560

$495x

$747

3 0 4 L F r id g e F r e e z e r

• D ig it a l In v e r t e r C o m p r e s s o r

• O p t im a l F r e s h Z o n e

• H 1 5 8 0 x W 5 9 5 x D 6 6 3

WhiteDishwasher

• 13Places

• 6Wash Cycles

• H 845 xW598 xD600

657L Family Hub

• Internal Cameras

• Built-In Speaker System

• Non-plumbed Ice & Water Dispenser

• H 1780 x W 912 x D 716

Built-In Oven

• 70 Litre Usable Capacity

• 6Functions

• Dual FanTechnology

$899

$1249

Induction Cooktop

•60cm width

•15Power Levels

•4Cooking Zones with FlexZone

+12 MONTHS

INTEREST

ON PRODUCTS

FREE! $499 &OVER *

*Terms&Conditions Apply

343A FlaxtonRoad, Rangiora•Phone (03) 313 7886

Giveyour home

aSamsung

makeoverand

get aPrezzy

Card

Receive aPrezzy Cardvia redemption whenyou spend

at least $2,500 on twoormoreselected Samsung

products
---
NEWS

10 North Canterbury News, October 1, 2020

School art expo

makes asplash

By DAVID HILL

Last week's Kaiapoi North

School art expo was achance

for pupils to show off their

creativity after adisrupted

year.

Principal Jason Miles said

staff had planned aschool

production this year as part

of its art rotation, but the

plans were scrapped because

of Covid­19.

''We decided to swap it and

have an art expo instead and

it worked out well, with the

move to level 1coming just in

time for the event.''

Art teacher Nicole

Duxfield worked with the

children across all year

levels to bring out their

creativity, he says.

''I like the way they are

given the same brief, but they

put their own individuality

into it.''

Mrs Duxfield says her

proudest exhibit was the

Bonded By Bubbles art work,

to which all of the children

contributed. It recognises the

lockdown experience.

''It was such astrange time

for all of us, so we wanted to

acknowledge it in apositive

way and the kids have

captured it beautifully.

''Our community has gone

through alot over the last 10

years, beginning with the

earthquakes and now with

Covid­19 and they have coped

well.''

Monster fish ... Singers perform during the Kaiapoi North School art expo last week. Adisplay of ''Pinch Pot

monster fish'' is in the foreground.

PHOTOS: DAVID HILL

Bonded By Bubbles ... Kaiapoi North School pupils Kahurangi,

left, aged 12, Summer, 12, and Thomas, 12, with Emily, front left,

7and Madeline, 5, are proud of the art display of Bonded By

Bubbles,towhich all the children contributed.

Montages ... Stella, left, aged 12, Indy, 8, and Summer, 12, admire the

photo montages made by pupils in Totara syndicate.

Penguins ... Josh, aged 7, enjoyed

the penguin art.

deals

forlongerdays

2 for

$

Single

20

Bottle

$10.99

WOLF

BLASS

YELLOW

LABEL

Range

750ml

2 for

$

Single

40

Bottle

$21.99

RUABY

AKARUA

CENTRAL

OTAGO

Pinot Noir

750ml

WITHER

HILLS

Range

750ml

Excludes

PinotNoir

$

13

99

$31

HOT DEAL!

99

$34

HOT DEAL!

99

International

vodka day

Sunday 4thOctober

2020

1.125LITRE

HOT DEAL!

$ 4499

HOTDEAL!

$

47

99

BRB Range

6x330mlCans

2 for

$

25

Single Pack

$14.99

$

24

99

STEINLAGER

CLASSIC

15 x330ml Bottles

$

39

99

$

24

99

$

42

99

SEAGERS Gin

1Litre

Also available: Lime TwistedGin

GRANT'S

1Litre

ABSOLUT

Vodka

1Litre

JIM BEAM

White Label

1.125Litre

CHIVAS

REGAL 12YO

700ml

CORUBAORIGINAL

DARK &COLA

12 x250ml Cans, 7%

STEINLAGER

PURE

24 x330ml Bottles

Shop local with

AMBERLEY,BARRINGTON,BELFAST,BRIGHTON, BURNSIDE, COLOMBOST, EDGEWARE, ELMWOOD,FERRYMEAD,

HALSWELL, HANMER SPRINGS,HORNBY, ILAM, KAIAPOI,LEESTON,LINCOLN,OXFORD,PAPANUI, PEGASUS, SEASIDE

Offersend close of trade 11th October 2020,while stockslast.Available at participating stores only.Multi Deal only available in store. Varietals mayvary by store. Limits may apply.

Wholesale (other liquor retailbanners)not supplied.Terms and conditions may apply.Available 28th September -11th October 2020 inclusive. Please see www.superliquor.co.nz fordetails.

superliquor.co.nz

SUP2002_C14
---
KAIAPOI 10 YEARS ON

North Canterbury News, October 1, 2020

11

Kaiapoi street party packs Raven Quay

By DAVID HILL

Afteranuncertain time, Kaiapoi

partied in the street to mark 10 years

sincethe Canterbury earthquakes.

RavenQuay was bulging at the

seamsasacrowd flocked to the

Kaiapoi10Years On

commemorations on Friday evening.

The event,originally planned for

Friday, September4,was postponed

for three weeks because of Covid­19.

All TogetherKaiapoico­ordinator

LindaDunbar said she was relieved

the event proved to be ahit withthe

community.

She admitted to somenerves early

on Friday, but she neednot have

worried as Waimakariri took full

advantage of the return to alert

level1.

The event was so successful that

several stall­holdersbegan running

out of foodwell before the8pm

closing time.

Speaking at the event,

Waimakariri Mayor Dan Gordon

reflected on the 10 yearssince the

firstmajorquake.

"Thiswas adefining momentin

our history. The impact of thisevent

has beenfelt ever since —and not

just with aftershocks.Much has

happenedinthose 10 years and Iam

particularly proudofthe way our

community and businesses rallied

together and helpedusrebuild.

"Our recovery is testimonytothe

spirit and strengthofyou all."

Mr Gordon paid tributetoformer

MayorDavid Ayers andWaimakariri

District Council chief executive Jim

Palmer, who is set to retire in March,

"who provided strong directionfor

recoverythat focused on people and

put the communityfirst".

Clowningaround ...

Adam Allsorts the clown

makesballoonanimals

and toys for children

during the Kaiapoi 10

YearsOn

commemorationslast

Friday night. PHOTOS:DAVIDHILL

Living statue ... A

living statue amused

passers­by.

High­five ... Astilt walker proves to be out of reach for

excited children.

•

•

•

•

•

•

•

•

•

•

•

•

•

•

•

•

✓

✓

✓
---
NEWS

12 North Canterbury News, October 1, 2020

Camping issues

discussed again

By ROBYN BRISTOW

The vexed question of freedom camping

created alongdebate, once again, at the

HurunuiDistrict Council.

Central to thediscussion was the

contentious issue of freedom campingin

HanmerSprings.

Officers hadbeencalled on to provide

areport to theSeptember meeting on the

feasibility of prohibitingfreedom

camping at theHanmer Springs War

Memorial car­parksite and providing two

additional freedom campingparks at the

ChisholmPark car­parksite.

Several councillors questioned if it was

appropriate to havecamping in the

middle of thetown.Ross Barnessaid

peopleshouldnot have to look outthe

kitchenwindow and seecampers, nor

shouldtheyhave to putupwithvans

arrivingall hours of thenight.

Cr Mary Holloway saidsqueezing four

sites into an already restrictedparking

space wasdangerous forpedestrians,

particularlychildrenexcited about their

holiday or visit to the town.

Winning form ...

Residents wanted the sites to be away

from the centreofthe village,she said.

Cr LindaMurchison said thecouncil

should simply admit it had notgot it right

and worktowardmaking changesin

Hanmer Springs.

The Freedom Camping Bylawcame

into effect in September, 2018.Changes

were madetoit in August 2019 andApril

2020.

She moved that thefeasibilityof

amendingitagain should be considered

alongside theLong Term Plan (2021­2031)

process.

This wasbecause areview was

requiredtogothroughaspecial

consultative procedure,which came at a

cost if consultantsorstaffcarrieditout.

It also tooktime,would impact on the

planning team's workprogramme, and a

review didnot necessarily meanthe

communitywouldget the outcome it

wanted.

The council agreed to consider shifting

the camping areas in HanmerSpringsto

the HanmerSports Reserve alongsidethe

Long TermPlan deliberations.

Matt Summerfield in action in the Spring Rally in South Canterbury.

PHOTO: GEOFF RIDDER

Summerfield in top form

Asecond successive victoryfor Matt

Summerfield in as many outingswith his

new MitsubishiMirageAP4 rally car

showsgood form heading intohis home

rallyinfour weeks.

The Rangiora­based top seed was

fastest on all butone stageofthe Spring

RallyinSouthCanterbury, winning by

almost aminute.

On the heels of victory at the Catlins

Rally, he led a59­strong fieldaway from

Levels Raceway,Timaru, for eight

special stagestotalling 130km.

Apartfrom droppingafew seconds to

youngRobbie Stokes(in aFord Fiesta

AP4) on the opening stage, Summerfield

won everyotherleg convincinglyto

finish 59.2 seconds aheadofStokes, with

Josh Marston third (in aHolden Barina

AP4) just1.8 secondsbehind.

''Stage one was getting the rust out of

the system, putting my ears back on and

learningtolisten again, so Igot through

that and didn't look back, really,''

Summerfield said at the finish.

Heading intothe Spring Rallywith a

new car and as the top seeds, Mattand

his co­driver, sister Nicole

Summerfield, knew there wouldbenew

lessons along the way.

''Good to get the win. Cominginto the

rallyitwas unknown how the speed was

goingtobeinthe firstnoted rally of the

year.

''Good being out the front.Therewas

alot of gravel on the road so we probably

escaped alittle bit of dust,sofrom that

pointofview it was pretty good for us.

''Andlearning aboutbeing number

one [on the road] was quite key.Where

to put thecar, hunting for some smooth

lines, smooth tracks. Worked on it. It was

good to do our own thing and get back on

some notes.''

The pair are using events thatallow

pacenotesaspreparationfor when

competition in the New Zealand rally

championship returnsnext year.

Victory in the first pacenote rally of

the year, after an absenceofnearly

12­months between ''calls'', is agood

start.

''It was reallyabout getting back into

the rhythm of the notes. Today,weused

amixture of this year'sand last year's

notes, and last year's was alittle bit

better and Ithink that's just because

we'd done rallies before thisone.''

Results

Spring Rally,SouthCanterbury Top 6:

Matt Summerfield/NicoleSummerfield

(Mitsubishi Mirage AP4)1hr 07m 35.0s 1;

Robbie Stokes/Amy Stokes (FordFiesta

AP4) +0:59.2s 2; Josh Marston/Andrew

Graves (HoldenBarina AP4) +0:01.8s 3;

ReganRoss/KatrinaRenshaw (Ford

Fiesta R5) +0:41.7s 4.; Marcus van Klink/

Dave Neil(Mazda RX8) +2:40.75;Sean

Haggarty/Sean Sands (SubaruImpreza

WRX) +0:03.7s 6.

MEET THE CANDIDATES ­WAIMAKARIRI

Leighton Baker

New Conservative Waimakariri candidate

Leighton started life as ayoung buck

up in the sunny North Island and

graduated from St Kentigern College.

After graduation he worked asafarm

hand on asheep and beef farm in

Dargaville, learning the value of along

day's work and how important it is to

think practically throughout life. This

also taught him how to understand the

nuances of farming and has helped

him realise today that the legislation

being put in place is not realistic or

workable.

He met his wife Sue (Waimak born

and bred) during amissions trip to

Fiji doing Cyclone relief and they

proceeded to get married and have

their first two children in Auckland.

He quickly learned (Sue may have

given him the nudge) that the place to

be was in North Canterbury, so they

moved their family and had two more

children in the South Island. Over

the 30 years he has now been in the

Waimakariri he has spent 6ofthose

tutoring youth to get them educated

around trades and into work.

Leighton has now built up

his multiple businesses in the

construction industry for the last 30

years which are focussed on creating

low energy and sustainable homes that

are safer and healthier for those living

in them. He has taken his construction

team over to Cambodia on multiple

occasions to help the local community

build aschool that was urgently

needed.

Afather of 4and agrandfather

of 5Leighton has seen it all and

understands how vital it is for families

to be supported and strengthened from

the inside out. He has been active

in his community volunteering with

running various kids camps, after

school programs and visiting prisons

to give the men hope to turn their lives

around.

Leighton has been avoice speaking

out against encouraging death in the

community, hestaunchly opposes

the euthanasia bill as New Zealand

already has one of the highest suicide

rates in the world and he believes

in encouraging life, this includes

standing against the new abortion laws

which allow abortion up until birth,

and in creating systems and building

communities that inspire hope and

help fight loneliness to give people

real connection. He also is opposed to

teaching gender ideology to children,

children need love and support and

encouragement, they do not need to

be confused about their gender or

taught to take chemicals or go through

procedures that they do not need.

Position Statement:

We have seen asteady decline in our

democracy over the last few years,

from the restriction of free speech,

the selling off of our assets without

democratic process, passing of laws

without proper consultation, at one

stage there was 15 passed in 24 hours,

not to mention the gun buy-back which

made out like honest licence holders

were criminals. Yet, we still have hope.

Here at New Conservative we still

remember the freedom that our

ancestors fought for and we respect

and acknowledge the sacrifice that

those who have gone before us have

given up. We believe in binding

citizens referenda, which would allow

Kiwis to have avoice in their nation,

you may not agree with all aparties

policies but the majority of our nations

voices need to be listened to and

binding referenda allows that.

New Conservative fights for our

economy, farming contributes 30% our

our GDP so we believe in supporting

farmers and getting out of the Paris

Accord and the ETS scheme which is

turning our prime farmland into pine

tree acreage that is then handed over

to foreign interests.

Finally, webelieve in families.

Families need to be able to support

each other and our income splitting

policies allows parents that much

needed boost in their back pocket. The

stronger our families are the stronger

our nation is.

So when you go to vote remember it's

your nation, it needs your voice.

2301754
---
MEET THE CANDIDATES ­WAIMAKARIRI

North Canterbury News, October 1, 2020

13

MattDoocey

MP forWaimakariri

Since being elected MP of Waimakariri six years ago,Ihave enjoyed

being ahands-on MP who has strived to be accessible and I'm always

looking at ways to help our residents beheard onwhat they need.

I'm committed tothe Waimakariri. Waimakariri is agreat place tobring

up afamily. Iknow this because Ilive and work in the electorate with my

wife, Viki, who is aswim teacher at Kaiapoi Aquatic Centre, and our two

children, who love attending their local schools.

Ihave fought hard for our community tomake sure wehave the

infrastructureand resources weneed to meet the demands of arapidly

growing community.

I've fought hard for our residents bysecuring afterhours health care;

saving the Waikukubus service; ensuring our region is resourced for

infrastructureto bring shorter travel times for our commuters; fighting

for the government to commit to the Belfast toPegasus motorway,

including the Woodend Bypass; and Istood up for our Belfast residents

against aproposal tostore 40,000 bales ofwaste near homes.

Being aware ofthe issues on the ground brings relevance tomy role

and it is by keeping connected to the local issues that Ihave been

most effective.

Ihave kept connected to our issues by making myself available to

meet with our residents atatime and place that suits them, whether

in my offices, communityconstituent clinics, night meetings or morning

coffee catch-ups. Your support has shown mehow much you value

accessibility and commitment to your area.

Before entering politics, Iworked in mental health both in New Zealand

and the UK. Iwent into mental health to make adifference and politics

is away of continuing to make that difference.

In Parliament, as National's first Mental Health Spokesperson, Iinitiated

New Zealand'sfirst mental health cross-party approach in Parliament

to develop long-term solutions for New Zealanders and to break down

the barriers toprogress inresponding to the growing demand for

mental-health services.

In my first term as Member of Parliament, Ibrought down Parliament's

Social Services Select Committee toCanterbury tohear directly from

service providers about their response toour communities' psychosocial

recovery needs. Iworked to ensure there was cross-party

representation for the visit in recognition of Parliament's continued

support ofour recovery.

I'm invested inthe Waimakariri. It's my home and yours. It is always

been my priority tohave the voice ofthe Waimakariri heard and this

is something Iwork hard at. Iamprivileged to represent you and Ilook

forward tocontinue working hard for Waimakariri.

National has always and will continue to support our farmers, as they

are the backbone of our economy and will help us through these

difficult times.

MattDoocey

Fighting hard for Waimakariri

9 Securing after-hours health care

9 Saving Waikuku bus service

9 Signalised crossing at Woodend School

9 Initiated across-party approach to

mental health inParliament

9 Stood up for Belfast residents againstan

ECan consent for 40,000 bales ofwaste

9 Fighting hard for the Government

to commit to the Belfast toPegasus

motorway including the Woodend Bypass

Dan Rosewarne

Labour Waimakariri candidate

Dan enlisted into the NZArmy at

the age of 18 and completed an Auto

Heavy Engineering apprenticeship.

After several years in this role Dan

moved up through the ranks and

took on various mentoring, training

and logistics management roles.

Dan believes that every New

Zealander deserves the opportunity

to reach their full potential and

have ashare in the Kiwi Dream of

home ownership, world class health

care and awell-paid job. Dan is

passionate about the trades and

believes that apprenticeships are

vital tobusiness and the economy.

Dan is committed to improving

pathways for young people to

get into apprenticeships and for

businesses totake on apprentices.

With the New Zealand Defence

Force, Dan has served on several

operational tours, including two to

Afghanistan. It is these experiences

that have helped shape Dan'sviews

on the importance ofequality, social

justice and providing opportunities

for everyone to get ahead.

Some ofDan's career highlights

include deploying as part of the

regional assistance mission to

the Solomon Islands in 2008.

and providing disaster relief

to Christchurch after the 2011

earthquakes. In 2016 Dan was

involved with the planning,

coordination and distribution of

essential supplies into Kaikoura

immediately after the earthquake.

Most recently Dan has been part

of the New Zealand Defence Force

contribution to the COVID-19 All

of Government response and has

been involved with the planning,

establishment and management

of the Canterbury based managed

isolation and quarantine facilities.

Dan and his Wife Sheree have

two young children and live in the

Woodend region.

"It is an absolute privilege to be

representing Labour in my home

region of Waimakariri. We have

come together to fight the virus as

acommunity. Now, our rebuild

will be an opportunity to reset NZ

and build equality back into the

economy.

This crisis has shown the

importance of astrong social

safety net. Many people are

accessing assistance who never

have had to before. Labour has a

plan to meet the needs of the post

COVID-19 New Zealand.

The Labour-led government

responded to COVID-19 with

support to over 1.6 million kiwis

through the wage subsidy scheme

and with one-year interest free

business loans to support small

businesses who need it. Part of

our recovery includes over $400

million to help tourism and big

health investments to catch up

on operations and to keep us

well. Our rebuild will include

$15 billion to build and upgrade

hospitals, roads and housing to

keep us moving. The cornerstone

of our rebuild is more new jobs

–tobuild schools, roads and

conserve our environment.

Istarted out my working life

in the trades and have gone

on to have asuccessful career

in the NZDF. With my proven

leadership ability, and my

experience contributing to the All

of Government response to many

of our recent natural disasters,

Iwill bring real life experience

with me to Parliament that will

be needed to meet the needs of our

community."

Authorised by Timothy Grigg, 160 Willis Street, Wellington.

Dan

Rosewarne

forWaimakariri

2313653

Authorised by MDoocey, Lvl 1, 188 High St, Rangiora.
---
Anew way of living

SELLING

NOW

InRangiora

LIFESTYLE COMESWITHAVIEWINRANGIORA

Superblylocated in Rangiora, Charles Upham

RetirementVillage is named in honourofa

pioneeringNorth Cantabrian whoset the

standardfor otherstofollow.

One-bedroom serviced apartments are

currentlyavailable

Featuringakitchenette and private ensuite

Choose from views of the villagegreen or

theSouthernAlps

Priced from $315,000

Ourbaseweekly feeisfixed forthe entire

time youoccupyyour apartment* andour

deferred managementfee is capped at 20%

-one of the lowest in theretirementsector

*Someconditions apply

Call Tracy formoredetails.

CHARLESUPHAM VILLAGE

24 Charles Upham Drive, Rangiora, 03 310 8644

rymanhealthcare.co.nz

1588
---
Cycleway

strategy

By DAVID HILL

Aworkinggroup has been set up

to consider the final leg of the

Belfast to Kaiapoi Cycleway.

The Kaiapoi­Tuahiwi

Community Boardhas approved

the setting up of aworkinggroup

to look at residents'concerns

over the potentialimpact on

parking, property values and

access for emergencyservicesif

the cycleway was to pass

through Perakiand Vickery

streets.

"Thisworking group gives us a

chance to work directly with

residents to find an optionthat

benefitspeoplewho liveon

thesestreets, as well as the

widercommunity who will be

usingthe cycleway,"board

chairwoman Chris Greengrass

says.

"I thinkthis projecthas the

potential to be areally positive

improvement for the area."

The working group will work

with council staff to consider

options to address residents'

concerns.

It will includepeople who live

on the affected streets, cyclists,

an independent trafficengineer,

and representatives from local

schools and emergency services.

The working group will report

back to the community boardto

make afinalrecommendation to

the council.

If no agreeablesolution is

found, it is possible the funding

may be allocated to asimilar

project in the district.

Ashgrove principal retires

By DAVID HILL

ChristineChadwick found out theremight be

an openingfor the principal's roleatAshgrove

School while visiting aschool gala.

Thatwas 14 years ago, and at the time

Christine was commutingfrom Rangiora to her

jobasprincipalatBreens IntermediateSchool

in Christchurch.

"The gala wasareal communityeventand

this is areal communityschool, and so I

applied," she says.

In her time,she has seenthe school grow to

apeak of 587 pupils. In the years afterthe 2010

and 2011earthquakes, the school was bulging

at the seams as families moved to Rangiora.

"It was adifficult time, but it was alsoan

interesting time wherewehad to rethinkwhat

we were doing," Christine says.

"Learning and teaching was changingaswe

reviewed our work andour teaching spaces,

but I've workedwith some amazing people in

my time."

Christine is thankfulfor the support of her

fellow principals. She chaired the North

CanterburyPrimary Principals' Association for

4 1 ⁄2 years,until justbeforeher retirement at the

end of term three.

"When we needeach other for support

there'salways someone you cantalk to. After

the earthquakes we found it was very

important that we looked outfor eachother, so

our focus as agroup has beenonthe welfare of

our principals.

"And morerecently, with Covid­19, it has

been about making sure we've all got the

resources and we share information to keep

each other well­informed aboutwhat's

happening."

Christine says the role of aschool principal

is "a multi­faceted job",asaleader, project

manager, an advocate for childreninacrisis,

supportingthe wellbeing of staff, supporting

fundraising efforts, and supporting the

community.

As amum herself, she is "verysympathetic"

to the plightofworkingmums.

Christine Chadwick

"My childrenwere veryused to comingto

schoolwith me or being dropped off at care. My

familyhas always been abig part of it all. All

they've ever knownismum beingatschool."

Her family was unabletoattend her final

schoolassemblybecause of Covid­19, but a

photographer was on hand to capture the

moment.

Christine has already been shoulder­tapped

about takingon"retirement roles",but for now

she is keen to take awell­earned rest.

"I started my teachingcareer in 1978and I

only took time off to havechildren and a

sabbatical.

"I may do abit of contractworkdown the

track.Idon't think Icould leave local

education altogether."

Ashgrove Schoolwill begin term four witha

new principal,Leon Van'tVeen­Gibbon, who is

returninghometoCanterbury after astint in

Auckland.

NEWS

North Canterbury News, October 1, 2020

15

Hopes high for

water upgrade

The PoyntzRoad watersupplyupgrade

is set to receive agovernment cash

injection.

The rural water supply is theonly

remaining drinking water supply in the

Waimakariri district that does not meet

nationalstandards.

Planstoupgrade it havebeen included

in the Waimakariri District Council's

delivery plan, which has been presented

to centralgovernmentinordertoreceive

an $8.02million stimulusgrant underthe

ThreeWaters Reformplan.

The PoyntzRoad watersource

upgrade is expected to cost $1.03m.

Otherprojects included in

Waimakariri's delivery plan include the

Fernside sewerupgrade, the Loburn Lea

sewerupgrade, Tuahiwi water and

wastewater servicing,Oxford wastewater

upgrades, the Ohoka water storage

upgrade, WestEyretonand Summerhill

storage upgradeand the central

Rangiora capacity upgrade stage 5A.

"Hopefully we can get the funding

across the line for PoyntzRoad and the

otherschemes,"MayorDan Gordon says.

"$8.02 million is our allocationand the

indications we havereceivedfor whatwe

are proposing havebeen positive, but it

stillneeds to go through the process.

"For schemes like Poyntz Road, it

makesabig difference to receive

assistancewith the cost, duetothe small

number of ratepayers on the scheme."

The council proposes to link Poyntz

Road residentswith the West Eyreton

and Summerhill watersupply,but there

is stillwater to go under the bridge, Mr

Gordon says.Ameeting with Poyntz

Road residentsprovedpositive and

council staff were to meet with the West

Eyreton and Summerhill Water Advisory

Groupthis week.

*T's &C's Apply

✓

✓

✓
---
SPRING

Frenzy

CLEAN

FROM

$1999

THE MAPLE

COLLECTION

MONARCH MODULAR CORNER SOFA

NZ MADE LOUNGE SUITE WITH

YOUR CHOICE OF GRADE AFABRIC

ONLY

$399

ONLY

$399

3DRAWER LOWBOY

BEDSIDE $179

LINGERIE

6DRAWER TALLBOY $569

ALSO AVAILABLEIN

$1049 ONLY

MADISONTHREE SEATER

OUTDOOR HAS

Arrived

ALSO

AVAILABLE

IN

ONLY

$1499

MILFORD DINING

7PIECE

ALSO

AVAILABLE IN

ALSO

AVAILABLE

IN

ONLY

$

2699

ONLY

$899

ONLY

$

599

PALM BEACH LOUNGE SUITE

BRIGHTON UMBRELLA

BRIGHTON BASE $159

RAGLAN

EGG CHAIR

FINANCE

WE CAN HELP

WITH THAT

SEE ONLINE OR

INSTORE FOR DETAILS

ONLY

$39

OUTDOORCUSHIONS

FIND US IN THE OLD TARGET BUILDING

ON THE CORNER OF BLENHEIM &CURLETTSROAD, SOCKBURN

BOTANICAFURNITURE.CO.NZ 0800 268 264
---
Professionals

in North Canterbury

WELCOMING

NEW PATIENTS

The caring and professional

health care team for you

and your family

03 314 7640 info@sasl.co.nz

5Beach Rd, Amberley

2302329

237 High Street

Rangiora

Ph: 313 7877

YOUR TIME IS LIMITED

SO DON'T WASTEIT

Helping you make your

business successful

Contact Prosser Quirke Accountants

Chartered Accountants &BusinessAdvisors

6Blake Street, Rangiora

Ph 313 7824

team@prosser-quirke.co.nz

2299722v2

Ready to help ... From left, Dean Seymour, associate; Tandy Gwaze­Musesengwa,

solicitor; Tania McKenzie, partner; Amanda Varga, solicitor; and Pip Masters, associate.

Good people, good advice

Williams McKenzie Lawyers has an

established history and asolid reputation,

having practiced law in Rangiora for more

than 85 years.

Alan Fraser firstopened an office in

Rangiora in 1934, and since then the firm

has been providingsensibleand costeffective

solutionsfor local peoplewith

legalissues and challenges.

Whiletimes have changed, the values

and traditions that make Williams

McKenzie atrusted name in the

community have been constant. Thathas

won the firm respect and enabled it to

grow withthe local community.

Ron Williams andTaniaMcKenzie are

the currentpartners, with Ron having

movedtoaconsulting role, providing staff

with his considerable knowledge and

expertise. Their currentlegal services

structure consists of five lawyers and 11

support staff with awell­balanced mix. It

includes threesupportstaff who have been

with the firm more than15years, amassing

considerable client knowledge and

expertise, as the firmhas grownand taken

on new clients and challenges.

Taniaisone of only two notary publicsin

NorthCanterbury, able to verify the

authenticity of documentsfor use

overseas.

Williams McKenzie hasthe expertise to

manageawide rangeoflegal

requirements, fromproperty and

commercialmatters, to family law and

litigation. Its staff are specialists in

residential and commercialconveyancing,

estateplanning and administration.

The firm has highly experienced

commercialand litigationstaff and its

family lawyers deal with all aspectsof

familylaw, including relationship

property and youth advocacy.

Peopleoften think that lawyersare just

corporatesuits, but at Williams McKenzie

they arefriendly peoplejust likeyou. They

talk your language ratherthan excessive

legal jargon, which helps you understand

what is goingonnomatter how complex

your legal matter is.

You can depend upontheir knowledge

to help you out across arangeoflegal

areasand provide experienced legal

mindswith afreshapproach to law.

When you're after good advicefrom good

people, Williams McKenzie hassensible

and cost­effective solutions provided by

friendly,approachable people.

2301753v1

Providing proactive accounting

solutions to North Canterbury

Businesses.

Contact Ben Shore or

Tsarina Dellowfor afree

consultation on your tax

and accounting needs.

2298662v1

Experienced Podiatrist;

New to Rangiora

022 1726 049

www.northcanterburypodiatry.co.nz

Over 135 yearsof

Beautiful

Funerals

2301633v1

Kaiapoi 118 Williams Street |Christchurch 15-19 London Street

03 327 7499 |www.johnrhind.co.nz
---
NEWS

18 North Canterbury News, October 1, 2020

Pop-up business expo draws 29 stall-holders

By DAVID HILL

Rangiora's pop­up business

expo has been declared a

success.

With 29 businesses setting up

stalls and others casually

visiting throughout the evening,

Rangiora Promotions coordinator

Belinda Topp was

relieved the evening went

ahead in the Rangiora RSA

after Covid­19 restrictions

threatened to derail it.

''It's been very hard to

anticipate what would happen

until we knew we were going to

alert level 1,'' Belinda said.

''It's been slow going the

whole way and then we had abig

rush with exhibitors and RSVPs

at the end.

''We had alot who enquired,

but they just couldn't commit in

this climate, so we are really

lucky to have this number and

thrilled to be at level 1.''

Rangiora Promotions first

held apop­up business expo in

2017 in the Waimakariri District

Council's Rangiora service

centre, with 20 businesses

participating.

''It was well received, so we

went on to organise abigger

event with more than 70

businesses exhibiting in the

North Canterbury Business

Expo over the last two years.

''But we realised we couldn't

do it again this year.''

While most of the stallholders

were from Rangiora,

Belinda said there were a

couple of businesses from

Amberley and Kaiapoi.

Networking ... Npower Business Solutionsdirector Dave

Houlihan, left, and Lucie Hartfield, of HartfieldPhysio, wereonhand

to promote the North Canterbury Rehabilitation Centre.

Supporting localbusinesses ...

Rangiora Promotions board

members Jim Gerard, left, and Cr

Joan Ward enjoy the RangioraPopup

BusinessExpo. PHOTOS: DAVID HILL

Event sponsor ... Lime Real Estate

business co­ordinator Anna Pethig was

pleased to support the expo.

Promoting local

business ...

Rangiora

Promotions coordinatorBelinda

Topp,left, and

boardmember

MargoHutcheon

were greeting

people as they

arrived.

Now helping

you hear, still

helping you save

Book your free 15-minute

hearing check today

Visit specsavers.co.nz/hearing Specsavers Rangiora 151-183 High St (Farmers building) Tel 313 1590

Your free 15-minute check isa15-minute appointment. If further testing is required in alonger appointment, afee may beincurred.

NZ_RA_180
---
NEWS

North Canterbury News, October 1, 2020

23

METRO

Newlook for

metro buses

Bees to benefit ... Sandra Duncan during the opening of her exhibition, Beelief,at

the Chamber Gallery in Rangiora.

PHOTO: SHELLEY TOPP

Exhibition is just

the bee'sknees

By SHELLEY TOPP

Bees may benefit from Sandra Duncan's

latest solo exhibition, Beelief,at

Rangiora Library's Chamber Gallery.

The Queenstown artist,formerlyfrom

Rangiora, is donating the $200 purchase

priceofone of her bee paintings to the

New Zealand Bumble Bee Conservation

Trust.

Bees feature prominently in the

exhibition, whichalso includes a

charmingset of drawingsdone by

Sandra during the level­fourCovid­19

lockdown.

The drawings provided adaily feature

on her Facebook page at that time and

attracted apopularfollowing.

Sandra saysdoing the drawings each

day gave her apurposeduringthe

unsettling lockdown.

''Words, actions and thoughts are like

bees,'' she says. ''Somecreate honey and

others leave asting.''

Many of Sandra's paintings and

drawings have the word''bee'' in the

titlesuch as Bee Kind, aGrandmother's

Love; Bee True To Yourself; To Bee or Not

2b;and Queen Bee,but herwork in

Beelief is also the storyofher life.

''Through these works my story is told

of my mostvulnerable moments and

finest memories, all of which Ibelieve

havemade me the person Iamtoday.''

She believes everyone is influenced

by the communities in which we live.

''Influencedbythe people you love,

the peopleyou meet,oreven including

those people you don't want to meet, the

community that supports andsurrounds

you has ahuge bearingonhow you view

life.''

Her painting, Landed,depicting an

older couple enjoying adance together,

is areflection of the gratitude she feels

for where her life is now.

Beelief opened on September20and

runs until October22.

Trio to play concert in Rangiora

Trio Jackson,afamilygroup that has been

playing togetherfor more than 20 years,

will perform in Rangiora's Chamber

Gallery this month.

The trio evolved from Duo Jackson and

features husband­and­wife Miles and

MargaritaJackson, and their daughter

Fleur, whorejoined them after

completingher Master's Degree in violin

performance at the Victoria University of

Wellington under Helena Pohl.

DuoJackson are well known for their

recordings andperformancesthroughout

Australasia and Europe.

Trio Jackson,with Miles playing the

guitar and Margarita and Fleur both

playingthe violin, heldasuccessfulNew

Zealand concert tour last year. This year,

they were invited to perform in Europe

and Australia, but the dateswere

cancelled because of Covid­19.

The classicallytrained ensemble hasa

wide musical repertoire, branching out

into an exotic array of genres to create

something unique, playing gypsy style to

jazz to Bach, Shostakovichand anything in

between.

The Trio Jackson concert is on Sunday,

October 11, from 5pm.

Tickets are available at the Rangiora

Library. They are $35 for adults and $15

for students.

Thomas on the rails for the holidays

Over thenextfew months,distinctive teal

coloured buseswill begintoappearonthe

streets as Metrointroduces anew exterior

designtoits fleet.

The newlivery designisinspired by the

foodsand resources shared by earlyMāori,

thenaturallandscape that connectedthem,

andthe mosaic of waterwaysthatformed

earlytravelroutes acrossour region –

representedtoday by theMetro network.

EnvironmentCanterburyCouncillor

Phil Clearwater said that thenew livery

simplifies Metro'snetwork foramore

approachable, user friendlyexperience.

"Wewanttomakeitclearer that this is a

single, reliable, connectednetwork that will

getyou anywhere youneedtogoingreater

Christchurch acrossthe day.

"Wefound that thenumerousbus brands

were dilutingthe messageofMetro's

connectednetwork,and so we have worked

with ourbus operators,GoBus,Red Bus

andRitchies, during theimplementation

of theirnew contracts to introduce asingle

look acrossall buses.

"Our changes aredesigned

to help usersright across

thenetwork,ratherthan

only thosetravellingonthe

MetroLines –whichmake

up only five of Metro's27

routes.

"Weare also preparing for

afuturewhere we will, in

time,growthe number of high

Is your bus

timetable

changing?

On the 28th of September some of our bus

timetablesare changing. These changes arepart

of improvements we aremaking to ourservice.

Bus timetablesthat will be changing:

1

95

97

125

1Rangiora–Cashmere(Blue Line)

95 Pegasus/Waikuku–City

97 Pegasus –Rangiora (New)

125Redwood–Westlake

Check what your new timetable

will be at metro.co.nz

frequency routes. Continuingwiththe

colour coded'MetroLine' approachwould

requiremoreand more colours, adding

complexity to thenetwork.

"Thenew operating contracts include

replacementofaround100 buses, or half

ourfleet, over thenexttwo years, so with

this many busesbeingproduced, this is the

time to update thelivery," he said.

EnvironmentCanterburyisintroducing

39 newultra-lowemissionbuses over the

next months to servegreater Christchurch

bususers. All of thesewill be builtlocally

in Rolleston. These will be followed by 25

zeroemissionelectricbuses in 2021, and

more newbuses in 2022.

Allbuses otherthanthe Orbiter will

be paintedinthe newMetro teal colour

to represent ourstronglinktowater, an

essentiallife-sustainingforce.

"TheOrbiter will remain in a

recognizablegreen livery,symbolic of the

land," said Councillor Clearwater.

The Metrolivery willbeintroducedtothe

fleetoverthe comingmonths.

Thomas and friends are back for the

school holidays.

Bring the children down to the North

Canterbury Model Railway Club rooms

in Blake Street, Rangiora, to drive

Thomas and friends on the club's large

layout.

It costs just 50 cents for afour­minute

session.

The clubrooms are open daily from

Monday, September 28, to Sunday,

October 11, from 9am to 3pm.

Phone (03) 745 9148 for more

information.
---
NEWS

24 North Canterbury News, October 1, 2020

Quarry plans given airing at public session

By SHELLEY TOPP

Taggart chief executive Paul

Taggart faced agrilling at a

public drop­in session about

the company's proposed quarry

at Rangiora Racecourse.

It was delivered by people at

last week's session who oppose

the company's proposal for a

quarry at the racecourse.

Mr Taggart, who lives in

Clarkville, said he understood

that many people in Rangiora

were opposed to the quarry, but

he believed those who attended

the drop­in session went away

with a''better understanding of

what we want to do and why''.

However, Sue Johnson, who

lives near the racecourse, told

Mr Taggart she was against the

quarry and believed it would be

''the nail in the coffin'' for

Rangiora.

''People won't want to live

here,'' she said. ''Rangiora is

filled with alot of families and

older people. We love living

here. We don't want to live near

aquarry.''

People attending were met at

the door by Hamish Peacock,

technical director of Pattle

Delamore Partners, an

engineering and environmental

consultancy company hired by

Taggart to outline the quarry

proposal to the public.

The consultancy had

installed atrail of information

about the quarry plan and the

Taggart company, pinned to

display boards in the room at

the racecourse hosting the

session.

The information included a

request for submissions on the

proposal and an assurance that

the consents process will be

publicly notified.

Waimakariri District Council

Mayor Dan Gordon, who

attended the session, said later

that Taggart formally filed an

application for the quarry with

the council on April 9.

''The applicant lodged

several versions of

documentation prior to this, but

these did not meet the

requirements of the RMA

(Resource Management Act) in

terms of information and were

formally returned,'' he said.

The Taggart application did

not request public notification.

''Technically, an applicant

cannot request nonnotification;

they can only

request public notification,'' Mr

Gordon said.

''However an applicant's

assessment of environmental

effects may conclude that no

persons will be affected by a

proposal,'' he said.

Notification requirements

for aconsent are set out in

section 95 of the act.

The decision on notification

or otherwise is made by an

officer delegated by the council

to make adecision under this

section, and is made after

considering areport from a

planning officer.

Mr Taggart said arevised

consent application for the

quarry would likely be lodged

with the district council within

the next two weeks.

Petition group ... Some of the

more than 4000 people who

signed apetition opposing a

Rangiora Racecourse quarry

proposed by Taggart were at the

racecourse on Wednesday last

week for an information session

about the proposal.

PHOTOS: SHELLEY TOPP

Discussing apoint ... Taggart

chief executive Paul Taggart, right,

with Waimakariri District

councillor Paul Williams, during

the information session.

2-for-1

tickets on

The ultimate girls' day out

THIS WEEKEND!

Sat 3&Sun 4October, Horncastle Arena

Opening hours: Sat 10am-5pm &Sun 10am-4pm

Come and support local businesses!

• Over 180 Exhibitors • Taste Zone • Artisan Craft Zone • Fashion &Beauty • Health &Fitness

• Thin Lizzy Makeup Lounge • Sparklewhite Teeth Lounge • Batch 10 Cocktail Lounge • Goodie Bags &much more!

Door sales $10 &kids under 12 free!

womenslifestyleexpo.co.nz
---
ALL MAISON

ON SALE!

Highboard

NOW

$

1099

Riley Chaise

WAS $ 1499

NOW

$

1199

ON SALE!

Buffet

NOW

$

999

Dining

Table

NOW

$

799

Trent Sofa Bed Chaise

WAS $

1199

NOW

$

899

ALL ATLANTIC

ON SALE!

Seychelles Queen Mattress

WAS $ 599

NOW

$

399

SUPER DEAL!

SUPER DEAL!

ON SALE!

5Drawer

Tallboy

NOW

$

399

ALL MEMPHIS

Light &Dark

ON SALE!

Shop

Online

Nationwide

Delivery

Finance

Options

Come&checkout

ournewSTORE!

targetfurniture.co.nz

BuyNZMAde!

250 Moorhouse Ave, Christchurch

Ph: 0800TARGET (0800 827438)

Offers and product prices advertised here expire 19/10/20.

Sale excludes Manchester and Accessories.

3Drawer

Bedside

NOW

$

179

DOZENS OFSUPER DEALS INSTORE &ONLINE. SALE ENDS 19.10.20.
---
NEWS

26 North Canterbury News, October 1, 2020

BUY A

FAMOUS

FOUR SQUARE

PIZZA &PEPSI

1.5L COMBO

FORONLY

Full bloom ...

Kaiapoi artist Christine Watton at the opening of her first solo exhibition.

PHOTO: SHELLEY TOPP

14 .99

Pams Fresh NZ

Oven Ready

Chicken 1.5kg

$

11 99 Broccoli

ProductofNew Zealand

$

1 79

ea

ea

NEW SEASON NZ

ASPARAGUS

Coming Soon!

Afloral statement

By SHELLEY TOPP

The first solo exhibition by Kaiapoiartist

Christine Wattonhas transformed

Kaiapoi's Art on the Quay Gallery into a

meanderingcottage gardenofpaintings in

full bloom.

She saysthe exhibition, Bloom,isabout

celebratingher artistic blooming over the

last 13 years, and to thank thosewho

helped along the way.

The journey began at an abstract art

classatPapanuiHigh School 13 years ago,

whereshe had Marie Smuts­Kennedy

inspire and instruct her.

Her son Jamie'sinterest in photography

also sparked Christine's interestin

learninghow to takephotographs, which

led to anotherPapanuiHigh School

connection, this time with adulteducation

photography tutor John Foster. It has, she

says,had awonderful spin­off for her

painting,inparticular in her understanding

of light and composition.

Although there are 23 paintingsin

Christine's exhibition, only sevenare for

sale.''They are still just babies,''she says.

''When they get to theirteens Iwill let

them go.''

Although the exhibition has provided

Christine with an opportunity to thank

people who have helped her develop as an

artist and photographer, Art on the Quay

Gallery manager Jackie Watson told

opening­nightguests that she wantedto

also thank Christinefor her extensive,

tireless, volunteer work in the community,

particularly in the artssector.

Bloom openedonThursday, September

17, and closesonWednesday,October 21.

Pams FinestCookies 300g

$

3 69 ea

Puhoi Valley

Yoghurt 450g

$ 4

99 ea

WHAT'SNEW AT FOUR SQUARE

Sweet Sapphire Grapes

Seedless

TM

FRESH FROM THE U.S

A

Be into

win

SEE INSTORE FOR

MORE INFO

BirthdayBox

with FOUR SQUARE to cele

ebrate

90 YearsofWeet-Bix

*

1PRize

PER Store

Over $150 worth

of Sanitarium TM and Four Squaregoodies inside.

www.foursquare.co.nz

facebook.com/FourSquareNZ

Specialsavailable South Island only from Monday21stSeptemberuntil Sunday 4th

October 2020 or while stocks last.Wine andbeer available at stores with an off

licence.Wineand beerpurchases restricted to persons aged 18 yearsold andover.
---
HDC in October

The latestlocal news, viewsand announcements fromthecouncil

Meetings

&Events

OCTOBER

6th: Hurunui Tourism Board

1.00pm, Mt Lyford.

13th: Hurunui Youth Council

5.00pm, Council Chambers, Amberley.

14: Hanmer Springs Thermal Pools and

Spa Management Committee

9.00am, Board Room, Hanmer Springs

Thermal Pools.

14: South Ward Committee

7.00pm, Council Chambers, Amberley.

15: Audit &Risk Committee

9.30am, Council Chambers, Amberley.

19: Hanmer Springs Community Board

1.00pm, The Gallery, Hanmer Springs

Library.

19: Hurunui-Waiau Zone Committee

3.00pm, To be confirmed.

20: Glenmark Community Committee

7.30pm, Motunau Community Centre.

21: Amuri Community Committee

7.30pm, Culverden Council Chambers.

22: Operations Committee

9.30am, Council Chambers, Amberley.

27: Cheviot Community Committee

6.00pm, Cheviot Library/Service Centre.

28: Hurunui Community Committee

7.00pm, Waikari Hall.

29: Council meeting

9.30am, Council Chambers, Amberley.

MAYORAL TASKFORCE FOR JOBS

For information, contact Chris:

Email,

Chris.King@hurunui.govt.nz

Phone 03 314

8816, 027 808 7006

Agood bit of schoolHYPe

The three colleges in Hurunui have been thoroughly

enjoying their regular visits by our Youth Development

Officer Ward Shearman. Circulating between Hurunui

College, Amuri Area School and Cheviot Area School, he

spends time playing ball sports, conducting skills sessions

and talking about Hurunui Youth Council. Applications for

2021 for HYP will be open October 16. Keep aneye on

HYP social media Facebook and Instagram.

Great newsfor the Amberley Pool.

Agreat young workforce

The Mayoral Taskforce for Jobs (MTFJ) has been ahuge

collaborative success. Hurunui District Council has

secured up to $500,000 of funding from Central

Government with the Ministry of Social Development, to

build working relationships between local businesses and

youths (aged between 18-24) who have been displaced

from work due to COVID-19. HDC Project leader Chris

King is very grateful to the local businesses who

responded; local farmers, Waghorn Builders, Nor Wester

Café, Bee Buzz Apiaries, White Lily Hairdressers, GVT

Landlines and JP Morgan Contracting.

Fun

fact!

Recognising our volunteers

Volunteers groups have been

celebrating those who make it all

happen. These have included Amuri St John, Waikari Fire Brigade,

and Cheviot St John. Pictured here is at Cheviot St John,

dedicating their new emergency response vehicle to three

foundation members who still live in Cheviot; Mr Tom Barnes, Mr

Bruce Childs, and Mr Eric Page.

Mayor Marie Black has enjoyed attending them all. "The heart of

the volunteer isnot measured in the size, but the depth of the

commitment tomake adifference to the lives of others."

The existing pool will now be heated, there will be new changing rooms, toilets and

showers. Access into the pool for the elderly, mobility impaired, and parents will be

made easy with apod system. The fun factor isenhanced with a'bombing platform'

at the deep end and afamily friendly outdoor area. The project will be shovel ready

July 2021. Mayor Marie Black was thrilled to see this given the green light last week.

"This is such wonderful news for Amberley and the wider community. Water safety is

an integral part of our society and having afantastic facility like this not only

helps with this aspect, but also creates asafe and fun option for activity and

social gatherings, for everyone.".

Aword fromyourCEO,

Hamish Dobbie.

"RURAL COMMUNITIES

ARE SPECIAL FOR THAT

REASON; EVERYONE

CHIPS IN AND STAYS

POSITIVE."

Just when we thought winter was behind us, arecent cold blast

reminded us that we live in arather changeable climate. From gale

force Nor' Wests to snow storms, it's been amixed bag to keep us

all guessing. Abig thank you to our 3Waters and Roading teams,

who worked all hours around the clock to make sure water remained

in our taps, our toilets flushed, and fallen trees were cleared from

roads as quickly as possible. And an equally big thank you to

everyone in the community for your cooperation, patience,

information sharing, and getting out there and helping out where you

could. Rural communities are special for that reason; everyone

chips inand stays positive. May the storms be behind us now!

Hurunui District has its own fossil, the Waiparaconus. First discovered by Julius von Haast in 1871.

It is found in avertical bed of greensand rock, containing a'writhing' mass of tubular stems, each

between 10 -15cm long; they look like tips of asparagus spears.

Want achat? Please contactus-

Phone: 03 314 8816 Web: hurunui.govt.nz
---
RANGIORA LIGHT AND SOUND FESTIVAL

28 North Canterbury News, October 1, 2020

RANGIORA LIGHT AND SOUND FESTIVAL

29

Victoria Park transformed into a

wonderland of light and sound

Ablaze with lights ...

Victoria Park was a

stunning sight during the

Rangiora Light and

Sound Festival.

PHOTO: COLLEEN LINNELL, RANGIORA

PHOTOGRAPHIC SOCIETY

Bright spark ... Samantha Rose, of Rangiora, soaks

up the atmosphere.

PHOTO: SHELLEY TOPP

Light fantastic ... Kim

Falconer and her son

Bailey enjoyed the

''awesome'' festival.

PHOTO: SHELLEY TOPP

Eerie sight ... Atree illuminated in the darkness.

PHOTO: DAYNA BURTON

Entertaining ... Festival­goers have fun with shadows and light.

PHOTO: SHELLEY TOPP

Moving shadows ... Matthew Pritchard, aged 10, and his sister Zoe, 6, chase

alight.

PHOTO: DAYNA BURTON

Fun with light sabres ... From left, Xavier Burton, aged 10, Colton Clark, 8, and

Charlie Bint, 7

PHOTO: DAYNABURTON

Fun time ... People dance to the music.

PHOTO: DAYNA BURTON

Glorious display ... Trees were ablaze with colour.

PHOTO: COLLEENLINNELL

Shining bright ... Visitors embraced the light and sound show.

PHOTO: SHELLEY TOPP

Big occasion ... The grand finale gears up on Saturday night. PHOTO:DAYNA BURTON Lighting with flair ... One of the festival's many sights. PHOTO: COLLEENLINNELL
---
NEWS

30 North Canterbury News, October 1, 2020

Golden Oldiesmusic

AfternoonMelodies with Smokey &

Lorraine,togetherwith their group

of entertainers,will be heldatthe

Rangiora RSA on Tuesday October

13, at 2pm. Arelaxing hour or so of

the old­time songs and sounds of the

guitar, banjo,accordion, harmonica

and keyboard. Rob,onhis keyboard,

will be the guest.Rest­home folkare

most welcome. Cost: $3. To learn

more,phone Lorraine on (03)

327 3231.

Toot NCroon

Thirdtime lucky! Toot NCroon,a

nine­piece local band, returns to the

Rangiora RSA on October 24 for a

nightofmusic fromthe 1950s and

60s. It startsat7.45pm.Admission:

$10 at the door.

Woodend movie afternoon

Jane Eyre willscreen at the

Woodend Methodist Church on

Wednesday October 7, at 1pm.

Afternoontea to follow. Entry by

gold coin donation. PhoneRuth on

(03) 312 2094 with any queries. All

are welcome.

Get to know your own car

Free session from 1pm to 3pm on

the first Saturday of the month at

CWR Motorsport, 5b Cone Street,

Rangiora, to get to know your own

car. Learn all you need to know

aboutkeeping your car running well

in between mechanic visits, from

checking oil,water and tyre

pressures, to changing awheel, and

everything in between.

All welcome.

Woodend singalong

A1940s singalong will be held at the

Woodend Methodist Church,

accompaniedbyalocal pianist,on

Sunday,October4,from 2pm.

Afternoon tea will follow.Cost:$5.

To learnmore,contactRuth

Vaughan on 312 7892 or Evelyn

Wilsonon312 7740.

FriendlyFriday

Friendly Friday starts again on

October 9, from 9am to 11aminthe

Church Linkarea at the Trinity

Methodist Church, King Street,

Rangiora.There will be plants,

produce, puzzles, baking, books, and

toysatbargain prices. Drop in for a

chat. Free tea or coffee.

Church garage sale

Agarage sale willbeheld on

Saturday, October 3, from 8.30am to

1pm,atthe Methodist Church,

Rangiora.Cakes,jams,sweets,

vegetables, andplants willbeon

sale, along with clothing, books,

games,bedding, and furniture.

Sharing ideas

The Crafty Placeat22Beach Road,

Kaikoura (opposite the Op Shop),is

open10am to 2pmonMondays and

Thursdays to share ideas, skills and

meetnew people. Everyone is

welcome to bring their knitting,

crochet, embroidery, card­making,

and othercraft projects. Tea and

coffee is provided. For more

information, contactMarz on (021)

02779288

Croquet days

Kaikoura HaveaGoGolf Croquet

dayswill be heldonTuesday,

October6,at5.30pm, and Saturday,

October10, at 1pm, at the Kaikoura

CroquetClub(next to the fire

station). Golf Croquet is suitable for

all ages. It is easy to learn, and fun

to play. It is aquick,friendly,

uncomplicated game. All equipment

is provided. Everyone is welcome.

Please wear flatshoes.

Talented... Kaiapoi Borough School pupils worked hard on theirentriesinthe Lions InternationalPeace

Poster competition. The winner of the school'scontestwas Caprece Stapylton­Smith, centre front. Second

was AngelaTeWhaiti, left, with thirdgoingtoStefan Hillis.

PHOTO:SHELLEY TOPP

Peace posters impress

KaiapoiBoroughSchoolpupilCaprece

Stapylton­Smith haswon aLions Peace Poster

competition.

The win puts Caprece, aged 13,inwith a

chance to win theinternational sectionofthe

annual LionsClubs International2020­2021

peace postercompetition.

Ninepupilsfrom Kaitlin Laing'sYear7and

Year8classes took partinthe Kaiapoi

Borough School competition,sponsored by

the Lions ClubofPegasus Town.

Angela Te Whaiti, 13, wassecond and Stefan

Hillis, 13, wasthird.

Caprece'sposterwill now be entered into

the nextstageofthe competition to choose the

Lions District 202E winner.

Then, from districtwinners, anational

winner willbechosen to represent New

Zealandinthe international sectionofthe

competitiontobejudged in Chicago.

The Lions ClubofPegasusTown eventcoordinator,

Brian Attenborough,said the

judges for theKaiapoi Borough School entries

hadadifficult jobchoosingawinnerbecause

of thehighstandard.

Lionsclubs worldwide have sponsoredthe

competitionfor nearlythree decades, with

each club supporting young artists from a

schoolorayouth group in theirareafor the

initial partofthe competition.

This year, more than450,000students

entered the competition,for students whowill

be 11, 12, or 13 by November15.

Each contestant hadtocreate apeace

posterwhichdemonstrates theirvisionof

peace and inspires theworldthrough artand

creativity.

TheLionsClub of Pegasus Town is always

lookingfor new members or volunteers.

Contact either Amanda Smith on (0274)

222648)orBrianAttenborough on (027)

9588888.

THE NEW LAND ROVER DEFENDER

WORKING REMOTELY

AVAILABLE NOW. BOOK ATEST DRIVE.

The new Land Rover Defender relishes challenges and doesn't care much for impossibilities. With permanent

all-wheel-drive and world-first configurable Terrain Response technology, ithas the capability to push boundaries

even further. Tested in every condition, in every environment, and on every surface you might encounter, it

always comes out the other side, ready for the next challenge. Defender. Anicon inacategory of one.

Yours from $89,900 plus on-road costs. *

Archibalds

38 Tuam Street, Christchurch

021 907 961 -Darren Griffith

archibalds.co.nz/newdefender

*Terms and conditions apply. Price shown relates to Defender 110and is the Maximum Retail Price (MRP). The standard scheduled 5Year servicing isincluded (different terms and conditions apply to different models). Contact Archibalds for more details or visit archibalds.co.nz/newdefender.

Image contains optional extras and is not representative ofMRP price.
---
30 %

off#

55"

SUMMER SORTED

Selected

HARDFURNITURE

EARLY

at Smiths City

50 %

off#

Samsung

55" 4K HDR

Smart TV

Limited

Stock!

BARGAIN!

$

1399

off#

Selected

Sleepyhead

BEDS

Rugged,

tough&

tested in

extreme

conditions!

55TU7000

IntelCeleron

N4120

Processor

4GB RAM

32GBSSD

Storage

30 %

Selected

Outdoor

FURNITURE

Chesterton

Dining

Setting

Cat B35 Rugged

4G Phone

$

149

11.6" N4120

Chromebook C733

$

449

Finance

SHOP WITH

AND PAY WHEN

YOU GET PAID

+

24 months

INTEREST FREE

on everything $ 499 &over *

HUGE IN-STORE

$1.1 MILLION

worth of stock

MUST GO

50 months

INTEREST FREE

on beds &furniture $ 999&over *

stock clearout

WE HAVE

MASSES OFPHONES,

TABLETS,BED LINEN &

MORE HARD FURNITURE

THAN YOU CAN IMAGINE!

ONCEIT'SGONE,

IT'S GONE

550Colombo Street | CnrBelfast andRadcliffeRoad Northwood, CHRISTCHURCH

Some products on displayinselected storesonly–pleasecall yourlocal storetocheck foravailability. Sale pricing inthisadis validWednesday 30th September until Tuesday6th October2020, while stockslastorunlessotherwisestated. #Discountisoffourfull retail price,not

in conjunctionwithany other offer. *Apple products,selected computers,game consoles,giftcards,clearanceitems and some promotionalitems arenot available in conjunction with interest free offers. Flooring available on amaximum of 18 monthsinterest free.Exclusions,

fees,terms, conditionsand creditcriteria apply. Available in-store only. Equalinstalment amountsinclude one-offbooking feeof$45.00,annualfeesof$45.00 p.a., andsecurityregistration feeof$8.05,and excludeinsurance.Currentinterest rate of 23.95% appliestoany unpaid

balanceafter expiry of (any)interestfreeperiod. Seein-store or visitsmithscity.co.nzfor details
---
NEWS

32 North Canterbury News, October 1, 2020

Field day on pest control

Biodiversity experts and local

volunteers will hold afield day at the

Port Robinson Reserve later this

month.

It will focus on controlling invasive

plants and animals that threaten

native flora and fauna.

Anyone interested in pest control on

farms, lifestyle blocks, urban sections,

or who wants to set up or join a

community initiative, are welcome to

attend on Monday, October 19, at 1pm

to 4.30pm.

Abarbecue, organised by the

Hurunui Biodiversity Trust, will

follow.

For more information and

directions, contact

hurunuibiodiversity@gmail.com or

call (03) 314 8293.

Those attending are asked to

respond by October 16.

Transport Manager -Bulk

GVT is based in Waipara, North Canterbury. Weoperate asuccessful, well established rural transport

company with 21 trucks (4 bulk, IHiab, 3spreaders and 13livestock trucks). An opportunity has arisen

to join our team, due to the impending retirement of along serving Manager.

The Bulk TransportManager looksafter the day to day operations of the bulk fleet, hiab and the consignment

fertiliser store. The role reports directlytothe Managing Director and hasplenty of scope to grow

Key Tasks &Responsibilities:

• Schedule dayswork for the department

• ManageBallanceConsignment Store

• Monitorstaff performanceagainstcompany

standardsand performance criteria andensure

an appropriatelevel of training which is

regularly assessed

• Coverall Bulk after hours related inquiries

• Liaisewith key contacts; agents, reps and

customers,toincrease the profile and

profitability of GVT.

• Ensure your department is working together

with otherdepartments, in particular maximising

use of our labour force.

• Maintain and enforcethe companystandards /

rules and regulations.

• Maintain health andsafetystandards.

• Ensure the fleet iswell maintained by

scheduling maintenancefor entirefleetweekly

and liaising with workshops, drivers andother

departments

• To promote self and GVT to ensure growth of

the business.

Key Skills and Experience:

• Greatcommunicationskills with staff and

customers

• Computer literate

• Ability drive atruck from time to time

• Ideally asimilar position in acurrent or previous

role

• Ability to train drivers

• To lead by example and maintaincompany

standards.

Position Requirements:

• Class5licence for aconsiderable length of

time andbemedically fit

• Must be able to work flexiblehours and cover

after hoursenquirers

• Ability to lead by example.

• To model and maintainstaff standards of

communication.

• Rural transport experience

Remuneration:

• GVToffers competitive remuneration andthe

use of acompany vehicle for workand personal

use.

GVT is an established rural transport operator we are committed tohealth and safety which includes a

comprehensivedrugand alcohol policy.Weaim to provide asafe workingenvironment

We are readvertising this job as we have not found that person with agood blend ofrural transport

experience andthe ambition to progress their career.

If you have the experience, skills and desire to join our team please apply with your

CV and acovering letter to the Managing director marco@landline.co.nz. or call

Marco on 027 496 5850.

2316558

Advocacy ... Labour justice spokesman Andrew Little, left, listens to Canterbury

Community Law solicitor Katrina Hope at the Kaiapoi Community Support office last week.

Labour's Waimakariri candidate, Dan Rosewarne, is at right.

PHOTO: DAVID HILL

Little highlights key

role oflaw centres

By DAVID HILL

Employment and family issueshave kept

Canterbury CommunityLaw busy in the

wake of Covid­19.

Labour justice spokesman AndrewLittle

and Waimakariri candidate Dan

Rosewarnevisited Kaiapoi Community

Support last weektohear from local

community law advocates.

The governmenthas provided an extra

$3.5 millioninfundingtohelp Community

Law Centresaround the country with their

extraworkload related to Covid­19.

''We knowthat it's caused disruptionto

all sortsofpeople for all sorts of reasons.

We knowpeople's employment has been at

risk and people have been losing jobs and

strugglingwiththeir pay,''MrLittle said.

''Theconsequence of Covid­19 is going to

take some time to wash through. Therewill

be employment issues,there will be family

issues, there will be all sorts of issues and

it's goingtotake some timetowork

through them.

''We haveagrowingproblem in New

Zealand with access to justice.The cost of

it is getting so great that unless you have a

claimthat's worth tens of thousands of

dollars,the easything is to say 'I can'tdo

this'.''

Mr Little said CommunityLaw Centres

played avital role in making legal advice

and advocacy affordable, and he would

like to see funding set aside to allow for

free legal advicefor people whendealing

with ACC or tenancy issues.

''Having represented people with their

ACC issues before, Iknow thatit's an area

of law where if you don't deal withthe

problemearly on, it can costeverybody.

''I think there's real valueinproperly

supporting the Community Law Centres

network rightacross the countryand I

thinkit's somethingACC shouldbedoing.

''It's in their best interests and Ithink it

wouldbenefit everybodyand it'scertainly

something Iwill be pursuing.''

Labour was committed to supporting

NorthCanterbury's Covid­19 recovery,

both in terms of providingjobs and

supporting the community, Mr Littlesaid.

The Waimakariri district has received

$9m from the government's ''shovel ready''

fund for flood protection workinKaiapoi.

''That's going to go along way to providing

jobs as well as providingbenefittothe

localcommunity,'' Mr Rosewarnesaid.

Akeen cyclist, Mr Rosewarne saidhe

wouldbeasupporter should anotherlocal

''shovel ready''project, The Wheelsto

Waipara cycleway, get the go­ahead.

CanterburyCommunity Law solicitor

Katrina Hope said she encouraged people

to seek adviceinuncertaintimes.

''Look for options, be aware of what your

rights are and seek legal advice,even preliminaryadvice,

to see where you stand.''

Domesticviolence, care­of­children

matters, relationshipproperty, employment

issues, redundanciesand debt issues

have been themost commonissues this

year because of Covid­19.

''I feelthatalot more will slowlytrickle

in the longer this goes on for, which may be

quitesome time,'' Ms Hopesaid.

Would the outcomes of

the referendums become

law straight away?

Know before youvote

Authorisedbythe Secretary forJustice
---
You

Deserve

Best

the Best

VOTING

THIS WAY

CARDEALER

ELECTIONS

2020

See the Good Sports.

CARDEALER

ELECTIONS

2020

YOUR FAVOURITE

CARDEALER

QUALITY

VALUE

SERVICE

VARIETY

CARDEALER NAME:

StadiumCars

$107.43

PER WEEK

$112.44

PER WEEK

$162.56

PER WEEK

$52.30

PER WEEK

2019 Ford EcoSport Titanium

998cc with 28,326kms, 7Airbags, 5Star ANCAP,

Auto, Paddle Shift, Alloys, AUX/USB/Bluetooth, ESC,

Cruise, Climate Air Con, ISOFIX, Fog Lights, Leather,

Reverse Camera, Smart Key,

Traction Control.

Balance of New Car Warranty!

$20,990

2014 Nissan Pathfinder ST 4WD

3498cc, Auto, 5Star ANCAP Safety Rating, Alloys,

6Airbags, Auto Air Con, AUX Input, CD Player,

Cruise, ESC, Factory Privacy Glass, Fog Lights,

ISOFIX, Smart Key with

Push Button Start, Traction

Control, Trip Computer.

$21,990

2019 Mitsubishi Outlander LS

7Seater 4WD 2360cc with 28,596kms,

Auto, 5Star ANCAP, 7Airbags, Alloys, Android

Auto, Apple CarPlay, AUX/USB/Bluetooth, Cruise,

ISOFIX, ESC, Auto Lights,

Smart Key, Rev.Camera.

Balance of New Car Warranty!

$31,990

2016 Hyundai Accent 1.6 VVTI

1591cc, Auto Tiptronic, 16" Alloys, 5Star ANCAP,

6Airbags, Air Conditioning, Auto Lights, CD Player,

AUX/USB/Bluetooth, Multi Functional Steering

Wheel, ISOFIX, ESC,

Remote Central Locking,

Traction Control.

$9,990

$92.39

PER WEEK

$112.44

PER WEEK

$132.49

PER WEEK

$137.50

PER WEEK

2017 Holden Trax LTZ1.4 Turbo

1364cc with 81,571kms, Auto Tiptronic, Auto Lights,

5Star ANCAP, Air Con, Alloys, AUX/USB/Bluetooth,

Reverse Camera, Cruise, Lane Departure Warning,

ESC, ISOFIX, Sportec Trim,

Smart Key, Traction Control,

Trip Computer, Fog Lights.

$17,990

2019 Kia Cerato LX

1999cc with 24,740kms, Auto Tiptronic, 6Airbags,

5Star ANCAP, Air Con, Alloys, ESC, Android Auto,

Apple CarPlay, Auto Lights, Blind Spot Monitoring,

Bluetooth, Rev. Camera,

Traction Control, Cruise.

Balance of New Car Warranty!

$21,990

2019 Nissan Qashqai ST 2.0

1997cc with 29,490kms, Auto Tiptronic, 8Airbags,

Air Con, 5Star ANCAP, AUX/USB/Bluetooth/CD,

Auto Lights, ESC, Cruise, Hill Start Assist, ISOFIX,

R/Camera, Alloys, Traction

Control, Trip Computer.

Balance of New Car Warranty!

2019 Suzuki Sx4 S-Cross

Prestige Turbo 1373cc with 11,838kms,

Auto Paddleshift, 5Star ANCAP, 6Airbags, Cruise,

Bluetooth, Dual Zone Climate, ISOFIX, Leather,

NZ Sat Nav, Rev. Camera,

ESC, Traction Control.

$25,990 $26,990

Balance of New Car Warranty!

$82.37

PER WEEK

$117.45

PER WEEK

$127.47

PER WEEK

$182.60

PER WEEK

2019 MG 3Core

1498cc with 9,463kms, Auto Tiptronic, 8Airbags,

Alloys, Apple CarPlay, Bluetooth, Cruise, Emergency

Brake Assist, ESC, ISOFIX, Reverse Camera, Touch

Screen Media Interface,

Traction Control, USB Input.

2013 Mitsubishi Outlander XLS

7Seater 4WD 2360cc with 72,493kms, ESC,

Auto, Paddle Shift, 5Star ANCAP, 7Airbags, Alloys,

Auto Air Con, USB/Bluetooth/CD, Cruise Control,

Smart Key, ISOFIX, MIVEC,

Reverse Camera, Traction

$15,990

Balance of New Car Warranty!

Control, Fog Lights.

$22,990

2018 Hyundai Sonata Elite

Series 2 2359cc with 65,115kms, 5Star ANCAP,

Auto Tiptronic, Android Auto, Apple CarPlay, ESC,

GPS/NZ Sat Nav, Heated Leather Seats, Cruise,

Dual Zone Climate Control,

Wireless Phone Charging.

Balance of New Car Warranty!

$24,990

2018 Hyundai Santa Fe DM 2.2D

2199cc, 5Star ANCAP, 7Seater, 8Airbags, Alloys,

Auto Tiptronic, Android Auto, Apple Car Play,

Cruise, Bluetooth, Emergency Brake Assist, ESC,

Reverse Camera, Traction

Control, Turbo Diesel.

$35,990

Balance of New Car Warranty!

$107.43

PER WEEK

$197.64

PER WEEK

$127.47

PER WEEK

$292.86

PER WEEK

2018 Toyota Corolla GX 2.0

1987cc with 42,410kms, Auto Tiptronic, Late Shape,

5Star ANCAP, Auto Air Con, Alloys, Cruise Control,

Daytime Running LED's, AUX/USB/Bluetooth,

ISOFIX, ESC, Factory Privacy

Glass, Reverse Camera.

Balance of New Car Warranty!

2017 Kia Sorento EX7Seater

AWD 2199cc with 54,064kms, Auto Tiptronic,

Alloys, 5Star ANCAP, Bluetooth, CD, Cruise, Dual

Zone Climate Control, ESC, Hill Start Assist, ISOFIX,

Touch Screen Media,

Reverse Camera, Traction

Traction Control.

Bluetooth, Turbo Diesel.

$20,990 $24,990

$57,990

Balance of New Car Warranty!

Control, Turbo Diesel.

$38,990

Balance of New Car Warranty!

Stadium Cars Rangiora 03 310 7940 | stadiumcars.co.nz

609 Lineside Road, Waimakariri, Rangiora OPEN 6DAYS

*Conditions apply. Not available with any other offer. Finance offer subject to credit and lending criteria. Finance calculation

based on 60 month term. No deposit with an annual fixed interest rate of10.95%, includes an establishment fee of$370.

See our website for full disclosure.

2018 Nissan X-Trail ST 4WD

2488cc with 62,884kms, Auto Tiptronic, 6Airbags,

5Star ANCAP, Air Con, Alloys, Cruise, AUX/USB/

CD/Bluetooth, Hill Descent Control, ESC, ISOFIX,

Rev. Camera, Smart Key,

2018 Toyota Landcruiser Prado

VX 2.8TD 2755cc with 52,225kms, Hi/Lo Ratio,

4WD, Tiptronic, 360° View Camera, 5Star ANCAP,

9Airbags, Blind Spot Monitoring, Leather Heated/

Cooling Seats, NZ Sat Nav,
---
Therewillbesafety

measures at all

voting places.

Hand sanitiserisprovided and physical

distancing will be practised when youvote.

vote.nz|0800367656
---
Top alpacas to strut the show ring

The nationalalpaca show,

featuring stock fromeight North

Canterbury breeders, wasin

jeopardy because of Covid-19

restrictions. Themovetoalert

level 1means it can go ahead this

week at CanterburyAgricultural

Park. David Hill reports.

Kaiapoi alpaca breeder Kit Johnson is

relieved the National Alpaca Expo is

going ahead tomorrow (Friday).

Alpaca breeders from all over New

Zealand are set to converge on

Canterbury Agricultural Park for the

national show, which runs until Sunday.

The Alpacas Association of New

Zealand secretary and national show coconvenor

is thrilled with the entries of

250 animals and 200 fleeces after Covid­

19 had placed the event in doubt.

"It's agood number considering

Covid­19,'' Kit says.

''The whole thing was in jeopardy for

awhile because one of the judges is

based in Auckland and we didn't know if

he would get down.

"Considering everything that has gone

on in the world this year, we are

delighted to have 10 breeders coming

down from the North Island and others

who couldn't make it have sent fleeces."

The move to alert level 1also means

the public is welcome to attend the

show, which will be held on the National

Bank Lawn at the park.

"We haven't done alot to promote the

show because of Covid­19, but it's agood

public spectacle to see all the different

colours and hear the judges' comments,

and there will be time to talk to

breeders," Kit says.

The fleeces have

already been

judged, with the

results announced

this week.

The alpacas will

be housed in the

cattle pens for the

duration of the

show, with judging

to take place inside amarquee.

There are 22 different colours across

the two alpaca breeds —suri and

huacaya.

Over the years, North Canterbury

breeders have dominated the huacaya

classes, and around seven or eight local

breeders are lining up this weekend to

vie for honours.

There are about 40,000 alpacas in New

Zealand and nearly three million

worldwide, with around 10 percent suri

and the rest huacaya.

Huacaya alpacas are like "an

elongated sheep", while the suri is

❛You need to benchmark

your animals and if you don't

havethese shows,it's very

hard to compare.❜

known for its "dreadlock" fleece.

The low numbers and the diversity of

colours makes it difficult to establish an

alpaca industry in New Zealand, Kit

says.

Lower quality fibre makes about $15 a

kilogram and is used as aliner for

duvets, while top quality fleeces fetch

about $60 akilogram, with white the

dominant colour.

New Zealand breeders were known

for the quality of their animals, with top

alpacas in demand in Europe and Asia.

They are selling for $20,000 to $25,000.

An alpaca male

—Kit Johnson

from Silverstream

Alpaca Stud, run by

Kit and his wife,

Sheryl, sold to a

British breeder for

$120,000 in 2007

after beating the

sheep and cattle to

win supreme

champion animal at

the Canterbury A&P Show.

But Kit says the competition is even

tougher these days and he will be

content to win afew classes and agegroup

competitions. He has 25 animals

and 30 fleeces entered.

"You need to benchmark your animals

and if you don't have these shows, it's

very hard to compare.

"We've only had one show prior to the

nationals so it's hard to know how our

animals will go, and different judges

look for different things; and the climate

on the day can have an effect the

animal."

Show time ... Kit

Johnson will be back at

Canterbury Agricultural

Park this weekend for

the National Alpaca

Expo. He is pictured at

last year's New Zealand

Agricultural Show.

PHOTO: SUPPLIED

Lifestyle Agricultural Specialists

cater for most of your lifestyle

requirements.

We specialise in small blocks

and do the jobs the larger

operator can't but also

doing industrial yards.

We do

• All spraying services

• Industrial yard spraying

• Solid fertiliser

• Liquid fertilisers

• Horse arena spraying

• Paddock topping

• Roadside mowing

• Soil testing

• Grazing of blocks

LIFESTYLE LIVING

North Canterbury News, October 1, 2020

35

We specialise in superior fencing

craftmanship which adds long term value

to your property investment.

Fencing in the greater Canterbury area.

Free Quotes.

• Small & Large

Scale Fencing

• Sheep & Deer

Fencing

• Sheep, Deer &

Cattle Yards

• Dairy

Conversions

• Horse Fencing

• Corrals, Yards &

Arenas

You'll get the Best Results from the Best Lime!

Our High Quality Agricultural Lime offers an outstanding

99.3% level of Calcium Carbonate!

We now also mix Lime, Mineral and Seed toYour Specifications.

Call the specialists...

022 500 6144

www.amurilime.co.nz

Email office@amurilime.co.nz

• Post Driving

• Post & Rail Fences

• Entranceways

• Wooden Gates

• Lifestyle Blocks

• Sub-Divisions

• Boundary Fences

• Vineyards

• Chicken Runs

• Sheds

• Animal Runs

Steve is available to help with your

Planning and Design

PHONE: 03 312 4747

MOBILE: 027 312 4747

www.summerfieldfencing.co.nz

summerfieldfencing@xtra.co.nz

Locally owned &operated in Waiau since 1945

2287776

2311838

• KITCHENS

• LAUNDRYS

• WARDROBES

• JOINERY

2264652-12/3-b

240CartersRoad (Cnr Grays Rd), Amberley,North Canterbury

MOBILE 0274593 832 • EMAIL gavinsjoinery@xtra.co.nz

Phone 027 2666 116

ben@lifestyleagri.com

Growsafe Approved

handler

2318418
---
MAINPOWER NC LIGHTS PHOTO COMPETITION RUNNERS­UP

36 North Canterbury News, October 1, 2020

Open ... Anglea Torrie

Open ... Penny Stewart

Open ... Teri Crowley

Junior, under 16 ... Isabella Urquhart

Open ... Briony Whitehead

Junior, under 16 ... Seth Green

Junior, under 16 ... Makenzy Sherwood
---
Help at hand for farmers

around biodiversity issues

RURAL LIFE

North Canterbury News, October 1, 2020

37

By DAVID HILL

AUniversity of Canterbury

academic hopes an expanded

forestry programme to

support farmers will be just

the beginning.

Forestry Professor David

Norton has been an advocate

for having funded

biodiversity advisers to

support farmers and is

thrilled the Te Uru Rakau

(Forestry New Zealand)

funded Restoration

Ambassador programme has

been extended until June

next year.

''The focus is to provide

independent, free advice on

how to do restoration

plantings and to help farmers

make applications to the One

Billion Trees programme,''

he says.

Dr Adam Forbes, a

University of Canterbury

graduate who has worked

with the Post Quake Farming

Project in the Hurunui

district, has been the sole

restoration ambassador since

the programme began last

year and has now been joined

by Josh Foster, aforestry

science graduate.

''He did his masters with

me and is pretty switched on

when it comes to

biodiversity,'' Professor

Norton said of Mr Foster.

''Adam and Josh don't work

❛The focus is to provide independent, free advice

on how to do restorationplantings.❜

for councils or DOC (the

Department of Conservation),

and they're not coming from a

regulatory perspective, so

farmers don't have to feel

threatened.''

Professor Norton hopes the

One Billion Trees

programme will continue

beyond the election and will

lead to other funded

programmes to offer farmers

advice on biodiversity.

''We are asking farmers to

do all this stuff to improve

biodiversity. Sure, they are

farming the land, but we are

asking them to do apublic

good and this is away we can

help farmers.

''Farmers are not

ecologists and the worry is

there's only ahandful of

people with the expertise to

write the biodiversity part of

farm environment plans.

Most ecologists don't know

farming and most farm

advisers aren't ecologists.''

Professor Norton is

involved in an application to

the Ministry for Primary

Industries' sustainable food

and fibre futures fund to

develop an online resource

—Forestry Professor David Norton

aimed at farmers to provide

advice on biodiversity and

writing farm environment

plans.

''I really believe that we

can somehow move away

from aregulatory environment,

which is turning

farmers off.

''A cheap investment would

be to employ 20 Adams (Adam

Forbes) and have them out

there offering advice and we

would make the changes we

want and still enjoy our

lattes.''

Having asecond

restoration adviser means Dr

Forbes can focus on the

North Island, where he is

based, while Christchurchbased

Mr Foster will focus on

the South Island, Professor

Norton says.

''There's huge interest

from farmers needing advice

on how to establish native

forests. Having two people in

the role will mean more free

and independent advice can

be provided to farmers, iwi

and others in rural New

Zealand on how to carry out

good quality, planned

ecological restoration.''

Biodiversity help ... Dr Adam Forbes has worked with the Post Quake

Farming Project in the Hurunui District as arestoration ambassador.

PHOTO: FILE

germinal.co.nz

The

cuttingedge

of grass

AberGreen –the high sugar grass

that improves livestockperformance

while reducing your carbon footprint.

Formoreinformation

0800 171825
---
Built to your budget!

-All types of fencing including:

-deer,sheep and cattle yards

-Retaining walls –Timber gates

-Full range of specialised equipment for farm fencing and

lifestyle blocks, offers you the complete land package.

KAIKOURA RESIDENTS

–NEED ASURVEYOR?

Surveying |Engineering |Planning |Subdivisions

Topographical Surveys |Resource Management

Land Development |Civil Engineering |Project

Management |Building &Construction Setout

Mark O'Connor is available

for free, no obligation

consultations at the PGG

Wrightson Kaikoura office

Wednesday fortnightly.

Appointments required.

RURAL LIFE

38 North Canterbury News, October 1, 2020

Ashley: 0274 364 776 ah: 314 8541

e: A.Duckworth@xtra.co.nz

www.duckworthfencing.co.nz

Post &Rail Fencing -Looks great &

makes life easy for the Rural Lifestyler!

Firewood &Coal

Coal

20 kg bags or 500kg bulk bags

Firewood

Pick up or deliver (delivery charges apply)

Free delivery toDarfield township when

3cubic metres or more is ordered.

Landscape Products

•Forest Mulch

•Bark Mulch

•Bark Nuggets (10/20mm)

•Premium Organic Compost

•Screened Soil

•Landscape Rocks

BIRCHFIELD

Energy &Resources

1972001

PHONE MARK 021 558 100

0800 802 4546 |Email: mark@bonisch.nz

•Paparoa Red Rock available in

3grades

•Railway Sleepers (2.1 Lengths)

•Kindling Wood

•Unscreened Bark

Delivery fees apply.

417 Creyke Road, Darfield Eftpos now

Phone 03975 4502 available

Open MondaytoFriday 6am-6pm,

Saturday 8am-1pm or after hours by appointment

WE BUY

STANDING

TREES,

TALK TO US FOR

ANOOBLIGATION

QUOTE

Call Tony

027 436 0338

2111416

2282437

Grand finalist ... Georgie Lindsay was the Tasman region representative in the 2019

FMG Young Farmer of the Year grand final.

PHOTO: FILE

Contest plans likely

to withstand Covid

By DAVID HILL

Planning is on track for the 2021 FMG

Young Farmer of the Year contest,

with district contests due to begin this

weekend.

New Zealand Young Farmers

(NZYF) is confident the district

contests, the first of which will be held

on Saturday, can be held at either

alert level 1or2,after adisrupted year

when the annual contest was

cancelled for the first time in its

51­year history because of Covid­19.

''At level 2wewould have some

protocols in place around managing

social distance or even having

spectators and contact tracing and

sanitiser would be in place,'' an NZYF

spokesperson said.

Organisers acknowledge there will

be difficulties if the country has to

move to alert level 3or4again.

''But, for the district contests, you

are generally talking about pretty

small numbers, so we think we can

manage that,'' the spokesperson said.

Protocols are still being worked out

so regional finals can go ahead if the

country or local regions are in level 2

at the time.

Regional finals, which will be held

from February to April, also include

the FMG Junior Young Farmer of the

Year and AgriKids regional

competitions, so attract much bigger

crowds.

The first district contests, this

weekend, will be in the Maniototo

(Otago/Southland region) and the

Waikato/Bay of Plenty region.

The Tasman region contests are

scheduled to be held on October 18

(Tasman south) and November 14

(Tasman north).

Some of the venues are still being

finalised after the recent cancellation

of A&P shows.

The 2021 grand final is scheduled to

be held in Christchurch in July, after

the region missed out on hosting this

year's showpiece.

2157353

2301305
---
Rental Fleet

RENTAL COMPANYCLEAR ANCE

SAVE THOUSANDSONTHESE LATE MODEL LOW MILEAGE VEHICLES

MITSUBISHI MIRAGE XLS

5-StarANCAP Safety |Integrated

Audio and Air Conditioning

15" AlloyWheels

$12,990

MITSUBISHI ECLIPSE CROSS XLS

5-StarANCAP Safety |Forward

Collision Mitigation |Lane Departure

Warning |Smartphone Link Display

Audio System

$24,990

MITSUBISHI OUTLANDER 4WD VRX

5starsafety rating with 7airbags |Rear

view camera Touchscreen infotainment

with Bluetooth connectivity Electronic

traction control |Central locking

$34,990

*Vehicle supply islimited and colour choice cannot be guaranteed. Vehicle images are fordisplay purposes only.. Finance criteria, terms and conditions apply.

RANGIORA MITSUBISHI

321 High Street, Rangiora | 03941 3175 | rangioramitsubishi.co.nz

SALES |SERVICE |FINANCE

GET INTOANEW NISSAN

WITH ONE OF THESE GREATWEEKLYRATES

FROM

ST

$

96A WEEK *

2WD MANUAL

RX

FROM $

97A WEEK *

NISSAN 150,000 KM'S

5YR FACTORY

WARRANTY

RANGIORA NISSAN, 321 High Street, Rangiora

Ph: 03 941 3175

www.rangioranissan.co.nz

ST FROM $

94A WEEK *

* O ffe r b a se d o n a N is s a n J u ke ST o f $ 3 4 ,7 5 0 inc lu d in g o n ro a d co s t s , w it h a n in itial c us t om e r d e p o s it/ tra d e - in o f $50 00.0 0, 2 5 9 we e k ly p aym e nts of

$ 94.97 an d a fi n a l p aym e n t of $1 0,4 2 5.00. To ta l a m o un t p ayab le is $35,0 2 2 .23 . Offe r ba s e d o n a n ex-rent al M its ub is h i E clip s e Cro s s XL S, wit h a n in itial

c u sto m er d e p os it/ tra d e -in o f $ 6,0 0 0, 1 6 0 we e k ly p aym e n ts o f $ 97.3 4 . To ta l a mo unt p ayab le is $ 3 1 ,3 0 8.67. Tota l a mo un t p aya b le is $ 3 5,4 0 6.5 4 . O ffe r

b a se d o n a N is sa n Nava ra R X 2 wd M a n ua l o f $31 ,9 9 0 p lu s o n ro a d co s t s , w ith a n in itial c u s t om e r d ep os it /tra d e- in o f $ 6,61 8 .0 0, 2 5 9 we e k ly p ayme n t s

o f $ 97.64 a n d a fi n al p aym e n t of $ 9,5 97.0 0. To ta l am o u nt p aya b le is $ 3 4,8 8 5.76. To ta l a mo un t paya b le s in c lu d e a n o rig in ation fee of $1 75, PP SR o f $8.0 5,

d ocu m e nta t io n f e e o f $ 3 75 . E x c lu din g a n y ins u r a n ce s a n d op tion a l ac c e s s or ie s . N is s an F in a n c ial S e rv ic e s ter m s , c o n d itio n s and s tan d ar d len d in g

c r ite ria a p p ly . N o t av a ilable in co n jun ction w it h a n y oth er off

e r . O ff er e n ds 3 1 O c tob e r .

rangioranissan.co.nz
---
RURAL LIFE

40 North Canterbury News, October 1, 2020

South Island field days planning in full swing

By DAVID HILL

Planning is on track for the 70th

anniversary South Island

Agricultural Field Days,

scheduled for March nextyear.

Covid­19 is creating some

uncertainty,but chairwoman

Michaela McLeodsays the

event,atKirwee, near

Christchurch, is the perfect

opportunity to celebrate the

industry considered the

backbone for New Zealand's

recovery.

"The agricultural industryhas

hardlyskipped abeat over the

past few monthsand we see the

2309605

HOMEKILL

&Wild Game

Meat Processing

313 0022

MEAT2U.NZ

The Widest

Music Variety

Tune in nowtolisten on

104.9 for North Canterbury

103.7 for Hanmer Springs

andKaikoura

South Island Agricultural Field

Days as the perfectplace for

farmers, contractors and our

industry to come together and

share theirstories, celebrate

their successes and look for

opportunities to improvetheir

businesses."

Contingencies are being

considered to manageany

Covid­19 restrictions, but

Michaela says the organising

committee is keentomark its

70th anniversary.

"It was sad thatthe

Canterbury A&P Showwas

understandablycancelledthis

year, which means the fielddays

will be the firstmajor

agricultural gathering of its size

to takeplaceinCanterbury post

lockdown."

The event is renowned for its

live demonstrations and will

increase the size of this area to

showcase large and small gear,

says committee member

AndrewStewart, who farmsat

Waikuku, north of Woodend.

"We see our event as the

perfect place for exhibitors to

demonstrate their equipment

and developments to as many

peopleaspossible.

"With that in minditmade

sense to offer alarger space to

see their equipment in full flight

and to expand thattosome of

the smaller equipment

exhibitors.''

He sees the event as an

opportunity for farmersand

contractors to engage in all sorts

of commerce over acouple of

days, as wellasaplace for them

to get off­farm and enjoy time

with their mates."

Around10hectares of

irrigated landhas beenset

aside to grow amix of barley

stubble, green feed oats,grass

and lucerne, to offer arange of

exhibitors the chance to

showcase their new equipment,

Andrewsays. "We will have

ploughs, large one­pass

cultivators,drills,mowers,

rakes, tedders, balers, forage

harvesters,sprayers and all

sorts of equipment on display.

''Because it's over three days

as well, it meanspotential

buyerscan take their time and

make any decisions without

feeling rushed."

Entries are openfor

exhibitors.Should it be

cancelledbecause of Covid 19,

the organising committee

undertakes to provide afull

refundofsite fees. To book a

site, visit siafd.co.nz.

Many farmers still have slow internet -survey

Most urbanNew Zealanders

can get on the information

superhighway at speed, but the

latest connectivity survey by

Federated Farmers shows too

many rural families and

businessesremain stuck in

second gearonapotholed

back­road.

Its president and telecommunications

spokesman

Andrew Hoggardsaid there

were nearly 900 responses

from members from every farm

type and geographical spread,

but abitter ironywas that

several more couldn't

completethe on­line questions

because their internetaccess

was too poor.

About68percent of

respondents had download

speeds of 20Mbpsorless, and

nearly 24% wereenduring

speeds of just 0­5Mbps.

''While around athird are on

unlimited downloadmonthly

plans, many of thoseoncapped

planscomplain they'd liketo

go unlimited buttheir ISP —

oftentheironly choice of ISP

—doesn'tprovide thatoption.

''It's interestingthat a

number of respondents told us

thatduring the level4lockdownsome

providers

extended unlimited downloads

to them.This wouldseem to

indicate it's not technical

issues gettinginthe way of

offering unlimited plans to

these rural clients,'' he says.

Mobile coverage remainsa

concern, with around one in

three farms indicating onlyup

to 50% of their farmgets a

connection.Not farshort of a

quarter get 25% of farm

coverage or less.

''And yet 92% of these

farmers had asmartphone, and

around75% told us they use

smartphoneapps to support

the farmbusiness.''

While improvements were

noted since the organisation's

2019survey,itwas usually only

by apercent or two.

''The task ahead is less oneof

pushing broadband intoever

moreisolated and remote

locations and more one of

addressingthe gaps in

coverage andconstraintson

capacity of earlier builds,'' he

says. ''More targeted investmenttowards

bespoke builds

would go along way towards

addressingconnection speed

and reliability concerns.''

Competition is aconcern,

withmany membersfinding

theyhave only one provider

and have to take it or leave it as

regards price and service.

''We've got to achieve faster

improvementsinthis space.''

Manynew technologies

employedonfarms,whether

cloud softwareorsmartphone

applications, require good

connectivity.

Farmersare also

increasingly expected to

engage electronically with

business servicesand

government agencies,such as

banks,IRD and local councils.

RangioraToyota

2019 LandCruiserPrado VX

•2.8L Turbo Diesel, Leather

•Toyota Safety Sense

•Only 31,100km

$

65,995

2017 HiluxSR5 Limited 4WD

•2.8L Turbo Diesel Auto

•Leather,18" Alloys

•Only 40,850km

$

44,995

2009 LandCruiser 200 Seri

es

•4.5LTurbo-Diesel, V8

•8-seater, Satnav

•Climate Air ,

WAS$51,995

NOW $

49,995

2020 Ex-Demo HiluxEdge4WD

•2.8L Turbo Diesel Auto

•Alloys, Flares

•Only 300km

$

47,490

2019 HiluxSR5 4WD

•2.8L Turbo Diesel, Satnav

•ReverseCamera

•Done33,750km

$

47,995

2017 HiluxSRPrerunner

•2.8L Turbo Diesel Manual

•ReverseCamera, Bluetooth

•Tonneau

$

29,995

Signature

CLASS

2019 FortunerGXL

•2.8L Turbo Diesel Auto4WD

•Satnav,ReverseCamera

•Only 23,600

$

48,995

2019 019HiaceZR

•2.8L Turbo Diesel 6-SpeedManual

•5-Door,Satnav

•ReverseCamera,only 250kms

$

41,995

2015Hilux4x4 Single Cab

•3.0L TurboDiesel Manual

•Roof Racking

•Only 58,650km

$

30,995

2016 HiluxSRPrerunner

•2.8L Turbo Diesel, Alloys

•ReverseCamera

•Done93,900km $

30,995

Percival Street,Rangiora • Ph (03) 313-8186 anytime • www.rangiora.toyota.co.nz

FINANCE &INSURANCE AVAILABLE

2313658
---
Rangiora Toyota

Rugby powerhouses ... Harris McRobbie, left, and James Mullan have been selected for the New

Zealand Rugby Barbarians Under 18 squad for 2020.

PHOTO: SUPPLIED

Rangiora pair selected

for Barbarians squad

The recent success and

development of the Rangiora

High School rugby

programme has seen James

Mullan and Harris McRobbie

selected for the New Zealand

Rugby Barbarians Under 18

squad for 2020.

Both have been in the

Rangiora High School 1st XV

for three years and both have

50 caps for the team,

including playing in two UC

Championship semi­finals

and the National Co­ed final

in 2018.

James, the team's hooker

and this year's captain, and

Harris, aprop, are part of a

dominant forward pack for

the school this season, which

is no surprise given that

head coach Craig Mullan is

an admirer and clever

technician of the ''dark art''

of front­row play.

Both players are dedicated

leaders with astrong

ambition to go further with

their rugby after they finish

school.

The pair worked hard in

the off season, as well as

through the disruptive

lockdown, to ensure they got

the most out of this restricted

season.

Both are big contributors

to the team on and off the

field.

It is the 10th year the 1st

XV has played in the top

Crusader School's 1st XV

competition (UC

Championship), and while

other co­educational schools

have had to combine to stay

competitive, Rangiora High

School has flourished, with

strong coaching and

management of the local

talent pool.

James and Harris will

assemble in Hamilton

following the regional Junior

Crusaders Camp in

Christchurch.

They will play in aone­off

fixture involving the Andy

Haden XV and Alan Whetton

XV on Friday, October 9.

Rangiora High School

team­mates Tamatoa

Nicholas and Charlee

Barrett were also selected,

along with James and Harris,

for the Junior Crusaders

Camp.

This success follows on

from old boys Fletcher

Newell who is currently

playing for Canterbury in the

Mitre 10 cup, Jermaine Pepe,

who played for the New

Zealand Under 18

Barbarians in 2019, and

George Prain, who toured

Australia with the New

Zealand Secondary Schools'

team in 2018.

Sadly, James and Harris

will not get this opportunity

because of Covid­19 border

restrictions.

Percival St, Rangiora

(03) 313-8186

www.rangiora.toyota.co.nz

Proudly supportingsport

in North Canterbury

Tennis weekend planned

Liam Adams, aformer Fernside

tennis player, who as ajunior

represented New Zealand, starts

his coaching career with his old

club this season.

Liam will be coaching

alongside long­term coach and

patron Marty Searle.

A Love Tennis weekend will be

held at the club on Saturday,

October 10, and Sunday, October

11, from 1pm to 4pm each day,

where people can try their hand

at tennis for free in afun

environment.

Tennis equipment will be

supplied, and there will be games,

prizes, vouchers, afree sausage

sizzle, lolly scramble, raffle and a

guess­the­number­of­tennis­balls

competition.

Aregistration area for the

2020/2021 season will also be

available, along with auniform

sale, and asecond­hand tennis

gear and racquet sale.

Acoffee cart, and aspeed radar

to record your serve, will also add

to the enjoyment.

The club is on Oxford Road, and

is part of the Fernside School

complex. It enjoys aclose

association with the school and

SPORTS RESULTS

Rangiora Bridge

Pocock Pairs: N/S: Judith Calder/Sue

McIlroy 1, Margaret Pickering/Jeanette

Chatterton 2, Lesley Shipley/Norm

Shipley 3. E/W: Helen Paterson/Denise

Lang 1, Robin Hassall/Gaynor Hurford

2, Dawn Simpson/Linda Hanham 3.

Rimu Pairs: N/S: Dave Tocker/Sue

McIlroy 1, Derek Wilson/Judy Hayton 2,

Helen Dunn/Janice Pickering 3. E/W:

Ken Johns/Jack Lyon 1, Jenny Hassall/

Shirley Ward 2, Lynda Grierson/Gaynor

Hurford 3.

Evening: N/S: Denis Milne/Gerrard

McRea 1, Fons Sanders/Ellis Sanders 2,

Mark Apperley/Janet Apperley 3. E/W:

Noel Langdon/Gavin Dunnett 1, Murray

Davis/Sharyn Davis 2, Marilyn Elliet/

Alison Howe 3.

Premier Pairs: N/S: Lynda Cameron/

Barry Smart 1, Shirley Symns/Darcy

Preston 2, Ken Johns/Jack Lyon 3. EW:

Owen Evans/Tony Biddington 1, Dawn

Simpson/Gaynor Hurford 2, Liz

Partridge/Jeanette Joyce 3.

Rangiora Golf

Nine holes, stroke less putting: Men:

John Gardner 14, 1; Ross Gillespie 15,

2; Mike Henry 15 (c/b), 3.

Ladies: Jan Moffatt 16, 1; Hilary

Lakemen 16, 2; Ann Cameron 16 (c/b), 3.

Ladies stableford: Division 1: Liz

Sinnott 38, 1. Division 2: Anne Perkins

41, 1; Gaye Edwards 37, 2; Kathy

Sutherland 35, 3. Division 3: Barbara

Trying tennis ... Fernside players,

from left, Tayla and Maddi Smart,

Jordan Silcock and Coach Marty

Searle, front, who last week gave

every Fernside School student a

chance to try tennis at school.

the Fernside Netball Club.

All ages are catered for, from

five to 70­plus.

Development of assistant and

junior coaches is astrong part of

the club's programme.

For more information, visit the

club's Facebook page.

Miller­Davies 40, 1; Sandy Hood 40, 2.

Midweek men, par: John Tavita +6, 1;

Brian Clegg +5, 2; Roger Dunn +5, 3.

Weekend men, stableford: Division 1:

Scott Daniels 38, 1; Martin Ashton 37, 2;

Lance Scott 37, 3. Division 2: John

Tavita 37, 1; Peter Furlong 37, 2; Brent

Nesbit 36, 3.

Amberley Golf

Ladies Par: Sandy Widdowson plus 2,

1; Ann Little all square, 2.

Men's Par: Gordon McGeddie plus 1,

1; Willie van Zuylen all square, 2; Ray

Wilshire minus 1, 3; Brian Gill, Bill

Balderstone minus 2

Nine holes, ladies: Val Crooks, Lyn

Edwards 14 pts, equal 1. Men: John

Evans, Owen Patchett 20 pts, equal 1.

Men's Midweek Keith Duns Trophy

winner: Neil Rhynd.

Stableford: Kevin Gussette 39, 1; Ian

Rouse, Brian Gill, 38, equal 2.

Ladies Midweek 4BBB: Margaret

Cottier and Julie Lucas 64 nett, 1; Tina

Esler and Pauline Mander 66, 2; Jan

Morgan and Judy Brown 67 ,3.

Waimakariri Women's Golf Club

competition

Jenny Esson Trophy stableford, 18

holes: JPottinger 41, RPilbrow 40, W

Mehrtens 38, LScott 38, IBeets­

Huchshorn 38, MRobertson 37, KBush

36, MWatson­Brown 35, JBlatch 35.

Nine holes: JFrahm 22, KRedwood

22, SFarrar 20, TCraig 20.

get backontrack

WITHPERSONALTRAINING

"There'snobetter waytoget your individual strength &fitness goals back on track than with

the help

of aPersonal Trainer."

Ourexperienced team of Personal Trainers covers awide range of expertise from weightloss to nutrition to

sport-specific training to pre&post-natal exercise to competitiveweightlifting and bodybuilding.

They are on siteready to help youwith all your specific health &fitness needs.

Visit i

us in Kaiapoi,

i, Amberley ey & Oxford Fitness Centres.

es

Need help

fundraising?

Want to

promote

your club

or team?

Mandy

Clinton

Holly

Monique

Fraser

Starz

Jesse

www.sportstrust.org.nz

Elsie

BEST VALUE FOR MONEY!

PT session

start from just

$22 per half

hour

Talk to us about

howwecan help

youreach your

goals faster!

For more

information email

info@ncnews.co.nz
---
North CanterburyNews

PROPERTY

Be On Holiday Every Single Day

27 Penfold Square, Leithfield Beach

With views out over the village green it's not hard not to fall in love with this fabulous beach house. An ideal

first home, investment or holiday retreat and one thing is for sure you'll never be aslave to the garden. A

super easy care home with aggregate patios facing north to enjoy all day sun, in all seasons. Just ashort

stroll to the beach or simply enjoy agame ofcricket on the reserve across the road. You'll certainly never tire

from the sounds of the sea and the call of the bellbirds.

Amodern kitchen offers everything you'll need to prepare and enjoy meals for family and friends and when

you step outside from the dining area you can feel the warmth of the outdoor fire whilst enjoying aspa in the

private and secluded patio courtyard. Generous open plan livingwithheatpump and aseparate formal lounge

enjoying the warmth and cosy feel of an open fire.

To complement this great property is adouble garage and studio, the perfect place to potter around in.

This family holiday retreat is very rarely used now and our owner has decided it is time to say good bye and

allow anew owner the opportunity to enjoy the benefits they have had in this great family friendly beach

house.

SOLD is the sound we all want to hear, loud and clear on auction day.

Auction

on site 24th October 2020

at 3pm (unless sold prior)

2 1 2 1 2

Open homes:

Saturday 12.00 -12.30pm

&Sunday 11.30 -12.00pm

Lisa Tippen

027 454 5416 |0800 864 387

lisa.tippen@harcourts.co.nz

View online @harcourtsfourseasons.co.nz

ID# RG9200

Four Seasons Realty 2017 Ltd

Licensed Agent REAA 2008

Four SeasonsRealty

2318368
---
Four Seasons Realty

Zealanders

New by

¥Voted

¥Voted

2018-2020

2018-2020

★

★

¥2018-2020

Real Estate Sales

Four Seasons Realty

Canterbury Equestrian Properties, in

conjunction with Harcourts Four Seasons.

Contact us nowifyou haveaproperty that

you would like listed for sale on the new

Canterbury Equestrian Property website

and Facebook page.

@CanterburyEquestrianProperty

canterburyequestrianproperty.co.nz

Top Lifestyle Sales Consultants. Nowalso specialising in

equestrian property sales, purchase and advice.

Richard Woerlee

027 220 7706 |03312 6161

richard.woerlee@harcourts.co.nz

Sue Woerlee

021 867 541 |03312 6161

sue.woerlee@harcourts.co.nz

Four Seasons Realty 2017Ltd | Licensed Agent REAA 2008

harcourtsfourseasons.co.nz

Your home forlocal property.
---
North Canterbury

Hanmer Springs 4/900 Woodbank Road

Auction

Paradise Found

Discreetly hidden up aquietyet sunny valley only ashort drive from the idyllic thermal resort village of Hanmer Springs, you

find this amazing and unique 20halifestyle block. Nothing compares! It offers medium to steep hill with native bush,

extensive manuka, andnaturalwetlands. Watersupply is aspring fed pond, enjoy your water justasnatureintended. Approx

aquarter of the property hasbeen cleared, grassed, fertilisedand fenced (new electric topped post and netting) suitable for

sheep, cattle or horses. It is divided into 5paddocks, with aset of sheep yards. There is astunning elevatedbuildingsite just

below thespring,offering aNorth facing sunnyaspect, and the most amazing views over theHanmer Valley. Whatever your

purpose, be ityour dream home in apristine bush setting, aunique ecolodge, or just ahideawayfrom the realworld, this

property is one in amillion. Direct access into crown land for hunting.

Auction 1.00pm, Sat10th Oct, 2020, Rangiora Town Hall

View Sat 3Oct 1.00 -2.30pm

Web pb.co.nz/HSU77712

Janice Clyma

M 027 434 7090

E janice.clyma@pb.co.nz

Hanmer Springs 28 Caverhill Close

Auction

Central village rare opportunity

We are delighted to offer you thisquirky andinteresting double glazed 3brm plus attic home located on aprivate central site.

Ideally suited as afamily holidayhome, the kidswilllove the attic as aplay area. Lovely north facing living and deck ideal for

those evening BBQs. Logfire plusaceramicinfra redheater.Architecturally designed andbuilt in 1990's as aholiday home,

however would equally suit as apermanenthome or weekend retreat. Two bedrooms are generousqueen size, master has two

largewardrobes. The third bedroom is offthe lounge and ismore of astudy/office area butlarge enough foraset of bunks.

Single garage withinternal access. Separate entry area with coat space, and alarge separate laundry with lots of bigstorage

cupboards. Thesection is surrounded by mature native trees including recentlyplanted fruit trees. Well fenced and suitable for

pets and children. Location is an easystroll on formed public tracks to the forest walks.

3 1 1 1

Auction 1.00pm, Sat 10th Oct, 2020, Rangiora Town Hall

View Sat 3Oct 11.00 -12.00pm

Web pb.co.nz/HSU77892

Janice Clyma

M 027 434 7090

E janice.clyma@pb.co.nz

Property Brokers Ltd Licensed REAA 2008 |pb.co.nz

Proudtobehere
---
North Canterbury

Rangiora 11 Gerard Place

Auction

Contemporary classic, going, going, gone

Our subject property is an expansive,contemporary home on aquiet, family-friendly cul-de-sac. Designed andconstructed

with painstaking care and attention to detail, it's sure to exceed theexpectations of even the most discerning purchasers.

From themoment one sets foot inside the impressive entrancewaythe care andattention to detail that went into the

construction of this superlative homeisimmediately clear. Ample accommodation is provided by four good-sizedbedrooms,

while twoluxuriousbathrooms (including an ensuiteoff themaster) andanappropriately lavish kitchen with walk-in pantry

enhancefunctionality. Theopen-plan dining/living area is complementedbyaseparate formal lounge,with aheatpump

promising year-round comfort and effortless indoor/outdoorflow offering easy access outside. Outside,the immaculate

groundscreate an idyllic setting, while double internal-access garaging -complete withrear accessfor the boatortrailer -

completesthe appeal.

4 2 2 2

Auction 1.00pm, Sat 10th Oct, 2020, Rangiora Town Hall

View Sun 4Oct 11.30 -12.15pm

Web pb.co.nz/RU77827

Aaron Clark

M 027 873 5121

E aaronc@pb.co.nz

Ohoka 693 TramRoad

Auction

Vendors havepurchased

Lookingfor a4ha lifestyle property with ahighly convenient location, privacyand avery well presented232 sqm four

bedroom home? Thentake alookat693 Tram Road. There is anewly completed92sqm addition withfloor to ceiling double

glazed glass doors,opening to astunning Kwila deck. This area has been built to ahigh standardand includes main living,

master bedroom and ensuite and asecondbedroom. This area has oak flooring and no expense hasbeen spared on the

plumbing,which includes aVailantcombi boiler which runs four radiators as well as the hot water. Clad in Stria witha

Colorsteel roof and internal gutters it is ultra modern. Theland is subdivided into ninepaddocks, with cattle-yards and afour

bay barn,including one enclosed bay. With its ownwell,thereisplenty of water available for thegardenaswell as the house.

With themotorway only 7kmaway and the well regarded decile 10 Ohoka school nearby it is anideal location.

4 2 2 1

Auction 1.00pm, Sat 10th Oct, 2020, Rangiora Town Hall

View Thu 1Oct 6.00 -7.00pm

Sun4Oct 2.15 -3.15pm

Web pb.co.nz/RL77927

Maurice Newell

M 027 240 1718

E mauricen@pb.co.nz

Hamish Anderson

M 027 678 8888

E hamisha@pb.co.nz

Property Brokers Ltd Licensed REAA 2008 |pb.co.nz

Proudtobehere
---
North Canterbury

Oxford 497 Steffens Road

Auction

Job transfer dictates sale

This 398sqmhome, set inapicturesque park-like setting, consists of three separate accommodation areas. Currently -main

dwelling, "parents wing" and guestwing -providingfor atruly multi-generational living scenario. In the main dwelling, step

into abeautifulhome with character features, modern conveniences, open plankitchen/dining with generous walk-in pantry,

family lounge and large formal lounge, two very generous double bedrooms, family bathroom and walk-inlinen/storage room,

complimented by two fabulous outdoorentertaining areas. The tworemaining wingsare self-contained with their own

bathroom, bedrooms and living areas. Allwings have their own separate entry and inter-connect with the main dwelling. The

4ha of landissubdivided intofive paddocks ,withgoodqualityTempleton and Eyre-Paparua soils, (according to soil maps)

and you have your own well. Buildings and features outside consistof100sqm Totalspan garage/workshop, hayshed,tool

shed, wood shed.

5-6 3 4 2+

Auction 1.00pm, Sat 10th Oct, 2020,Rangiora Town Hall

View Sun 4Oct 12.45 -1.30pm

Web pb.co.nz/RL77379

Maurice Newell

M 027 240 1718

Hamish Anderson

M 027 678 8888

E mauricen@pb.co.nz

E hamisha@pb.co.nz

Sefton 107 Harleston Road

Auction

We're out, you're in

Our vendors are retiringand leaving their magnificent home that theylovingly built. Nowisyour opportunity.This versatile

rammed earth home has seven bedrooms, with awest wing of 180m2 comprisinglargeopen planlivingwith twobedrooms

plus an office, cool store room and bathroomdownstairs, as well as three bedrooms upstairs, with another bathroom and

kitchenette/living area. The east wing has two living areas, twobedrooms andashared bathroom.There is a100m2 shared

garageand off the garages, separate toilets andseparate laundries. Energyefficiency is afeature of this homewith thethick

rammed earth walls providing aheat sink for winter and keeping the interior cool in summer. In the west wing there is a

Warmington open fire as well as aRayburn withawetback which also provides underfloorheating through pipes which pass

beneathconcrete floor pavers. Thekitchen alsohas awalk-in pantry and abutlers sink. Theeast winghas awood-burner.

8 3 3 4

Auction 1.00pm, Sat 10th Oct, 2020, Rangiora Town Hall

View Sun 4Oct 1.30 -2.30pm

Web pb.co.nz/RR72756

Hamish Anderson

M 027 678 8888

E hamisha@pb.co.nz

Maurice Newell

M 027 240 1718

E mauricen@pb.co.nz

Property Brokers Ltd Licensed REAA 2008 |pb.co.nz

Proudtobehere
---
North Canterbury

Rotherham 74 Topps Road

Auction

Call to action, call to auction

Our vendor is retiringafteralifetime of farming, thisproductive property is nowyour opportunity. Property Brokers are proud

to present this attractive and productive 83ha farm. The soils on the flat are predominately Ayreburn Deep Clay, with the

balance Waipara Moderately Deep SiltyLoam. Currentlythe flats are being irrigated with hard hose irrigatorsfrom hydrants

down the central lane.There are 45 Amuri Irrigation Company shares, which provide 27 litres/sec. The home is athree

bedroom wooden bungalow of approximately 186sqm with aseparate twocar garage, with power. There are alarge number

of support buildings including a9mx13.5m three bay shed,awoolshedofapproximately 120sqm,with additional storage

underneath, afour bay shed measuringapproximately 8m x16m, the red shed approximately 12mx10m, the fully lockable

shed, which is approximately 12mx9m, as well as an old dairyand piggery. There is apumpshed on the flatwhich is used for

irrigation.

3 1 2

Auction 1.00pm, Sat 10th Oct, 2020, Rangiora Town Hall

View By appointment

Web pb.co.nz/RR74876

Hamish Anderson

M 027 678 8888

Maurice Newell

M 027 240 1718

E hamisha@pb.co.nz

E mauricen@pb.co.nz

Eyrewell Forest 599 Downs Road

Auction

Vendors downsizing

Our vendors havebuiltinRangiora and need to sell this beautifully designedthreebedroom, two bathroom home. Onewing

contains the master bedroom with an ensuite and walk in wardrobe.Another winghas two bedroomsand the main bathroom.

There are two living area's with an open plan kitchen living andaseparatelounge.The log-burner has awetback and there is

aheat pump as well.ABelling stove and AEG dishwasher are typical of the quality of the chattels and fit out. The garage is a

largesingle withanadjoining separate laundry and mudroom.Extra accommodation is available in the one bedroomflat

adjoiningthe shed, which has akitchen/living area andagood bathroom and is approximately 45m2.The sheditselfis

approximately 150m2 with acommercial roller door and clear span, highstud steeltrusses. It has three phase power and

excellent lighting.The 24m2 studio is transportable, so could be sold separately if not wanted.

4 3 3 1

Auction 1.00pm, Sat 10th Oct, 2020

View Sun 4Oct 11.15 -12.00pm

Web pb.co.nz/RL76179

Maurice Newell

M 027 240 1718

E mauricen@pb.co.nz

Hamish Anderson

M 027 678 8888

E hamisha@pb.co.nz

Property Brokers Ltd Licensed REAA 2008 |pb.co.nz

Proudtobehere
---
North Canterbury

West Eyreton 1661 North Eyre Road

Timeless Elegance

Nestled in beautifully mature landscaped gardens down atree lined driveway, thislovingly maintained original villa which

boastsoriginal features throughout is simply stunning. Theelegantkitchen/dining room hasawonderful sunny aspectwith

double doors openingout on to one of the verandas which is aperfect place to sit and enjoy theestablished gardens.There

are two living areas,four bedrooms including masterwith en-suite, familybathroom with separate toiletwhich are situated off

the spacious wood panelled hallway. The property also offersaseparatedwelling withhuge potential to use ahomeoffice, a

teenagers retreat or extended family members.The soil is Mayfield Moderately Deep SiltyLoam,whichwould be excellentfor

vegetable growing, there is alarge four bay barn, woodshed and double garage withplenty of parking.

4 2 2 2

Deadline Sale closes Wednesday 21st October, 2020 at 2.00pm,

(unless sold prior)

View Sun 4Oct 11.00 -11.30am

Web pb.co.nz/RU75181

Carol Thompson

M 027 914 2341

E carolt@pb.co.nz

Katy Biggs

M 022 0687 415

E katyb@pb.co.nz

Oxford 7A Bay Road

Attractive Townhouse AMust View

This immaculatelypresentedthree-bedroom homeisthe idealstart forfirst home buyers, small families and retirees looking

for alowmaintenance property in beautiful surrounds. Located afew minutes fromOxfordsbustling amenities, tucked away

in aprivate setting this attractive Oamarustonehomewith established gardens, patio, BBQ area andasingle internalgarage

provides all the essentials for comfortable living. With North facing livingareas, the kitchen, diningand lounge receivethe full

benefitofthe sun keeping these spaceswarm and cosy.The bedrooms all have double wardrobes and an attractive updated

bathroomgives you abeautiful space to feel pampered in. Alight filled kitchen looks out onto the attractive gardens and

indoor/outdoor access from the dining and lounge areas make it easy to enjoy alfresco meals and outdoor living. Thehome

has gas hot water, and aheat pump for thecoolermonths.

3 1 1 1

For Sale By Negotiation

View Sun 4Oct 1.00 -1.30pm

Web pb.co.nz/RU77963

Di Moreira

M 027 848 8020

E di@pb.co.nz

Property Brokers Ltd Licensed REAA 2008 |pb.co.nz

Proudtobehere
---
North Canterbury

Rangiora 8/26 Victoria Street

Eyrewell Forest 805 Downs Road

Over 60's unit -Simply delightful

Lovelytwo bedroom unit that has beendesignedwiththe over 60's in

mind.Everything in thekitchen is at your fingertipsand is openplan to

be sunny and spacious. The wonderful compact garden is easily

accessed from the lounge.The masterbedroomisspacious with a

good wardrobe, and the bathroom hasaheated non-slip floor and

large walk in shower. Aseparate laundry andsingle attached garage

roundsoff this wonderfulproperty. Don't miss it, come and havea

look. Vendors askingfor offersover$340,000.

Kaiapoi 148 Butchers Road

2 1

Deadline Sale closes Wednesday 30th

September, 2020 at 4.00pm, (unless

sold prior)

View By appointment

Web pb.co.nz/RU77643

Bev Wright

M 027 434 2486

Forest Field Opportunity

Arare opportunity to purchase aproperty with access to arguably one

of the bestprivate airfields in the country.Situatedjust minutes by air

from Christchurch International Airport, it has three runwayscatering

for every wind direction.Our vendorismoving and wants it sold. The

hangar is approximately 16m X13.5m with avery high stud and 4m

high opening doors and there is athree bay barn, one of which is

enclosed with two roller doors, as well as tie down points forvisiting

planes. Thetemporary accommodationisapproximately 12m x7m

and has an insulated lunch roomand shower.

1 1 1 1

Deadline Sale closes Thursday 15th

October, 2020 at 4.00pm

View By appointment

Web pb.co.nz/RL77889

Maurice Newell

M 027 240 1718

Hamish Anderson

M 027 678 8888

Rangiora

Auctions...

Come alongand seethe

action at ourauctions!

Location and productive soil

Excellent opportunity to secure thisproductive propertylocated on

Butchers Road, close to Silverstreamretail villageand approximately

15 minutes to Christchurch International Airport. Good water supply,

includingtwo irrigation waterrights, one being from thecrystal clear

OhokaStream.Appealing, sunny 200 sqm four bedroomresidence

with two livingareas, heatedbyanew Masport log-burner andan

Everhot rangebyClassic Cookers, both with wet-backs. Extensive

mature shelter belts andtrees, 6.2ha of quality freedraining

Waimakariri Silt Loam soils.

4 2 2 1.5

Deadline Sale closes Wednesday 14th

October, 2020 at 4.00pm, (unless sold

prior)

View Sun 4Oct 11.30 -12.30pm

Web pb.co.nz/RL78098

Maurice Newell

M 027 240 1718

Hamish Anderson

M 027 678 8888

Saturday10th October 2020 at 1pm.

RangioraTownHall, 303 High Street, Rangiora.

To see what properties we have going under

the hammer, check out our window at the

Property Brokers office. Or call one of our team

today on 03 313 8022 formore information.

Property Brokers Ltd Licensed REAA 2008 |pb.co.nz

Proudtobehere
---
SPORT

North Canterbury News, October 1, 2020

51

Kaikoura 304 Inland Road

Your lifestyle dream fulfilled

2ha block with immaculate house and garden -

realise your dreams without the hard work!

From the central entrance opening to the

courtyard with solar heated salt water pool and

alfresco living area, there are two wings.

The main living room with stone open fire and

cathedral ceilings is part of the open plan

kitchen and dining area. Bi-fold doors open this

living to asunny deck area.

The office is adjacent to the dining room and

the hallway leads to the master suite. The

other wing of the house is the main bathroom,

separate toilet and two beautiful bedrooms.

Above the garage is alarge family/rumpus

room with great views to the ocean. Orchard

and vege garden and four bay shed complete

the property.

bayleys.co.nz/4150285

3 2 2 4

For Sale by Deadline

Private Treaty

12pm, Thu 15 Oct 2020

60 West End Parade,

Kaikoura

View by appointment

Linda de Vine 021 923 276

linda.devine@bayleys.co.nz

Office 03 578 7700

BE MARLBOROUGHLTD, BAYLEYS,

LICENSED UNDER THE REA ACT 2008 2317256

Do youwantyour

business to be the

name theyremember?

And reach

47,000 readers?

Source 2018 Nielsen Readership research all people 10+ NCN Circulation area

Phone 03 314 8335 or

email info@ncnews.co.nz

to find out howwecan help you.

On top ... The Rangiora Division 3men's champions with the 2020 Trophy.

PHOTOS: SUPPLIED

Division 3men in a

fairytale comeback

HOCKEY

From wooden spooners just acouple of

years ago, Rangiora Hockey Club's

Division 3men's team has triumphed in

its grade. It won the Canterbury Hockey

Division 3competition last weekend

with a2­1 win over top qualifiers

Southern United.

The team has been steadily building

over previous winter competitions and

was able to field aconsistent and quality

line­up that lost just four games through

the Covid­shortened season.

It is hoped that with the increasing

depth in the men's side of the club,

Rangiora Hockey will be able to field

Division 1, 2and 3men's teams next year

to match the women's line­up.

Meanwhile, the Platinum Boys Ateam

achieved ameasure of redemption by

winning the Platinum Division 2title in

ashootout with Avon.

The team, which had alimited preseason

because of the Covid­19

lockdown, was relegated earlier in the

season after astring of hefty losses.

However, the team dominated

Division 2, scoring 89 goals and

conceding only four in 10 games leading

up to the final.

Against Avon in the final, the teams

were locked 3­all at the end of regular

time, with apenalty shootout deciding

the division winner. Rangiora's goalkeeper

Joshua Ball was able to keep out

acouple of Avon's shootout attempts,

while his team­mates missed only one of

their goal shots to give the side the win

and the division title. Rangiora's

Platinum Bteams finished 4th in

Division 2.

The Hurunui Rangiora Mid Week

women play HSOB/Burnside in the

finals of their Division 2competition

this week (after publication deadline).

After finishing the round­robin in third,

the team put on astrong showing against

Southern in the semi­final, with its 3­1

win booking the side aplace against

HSOB —ateam it met three times

through the season for one win, one loss

and adraw.

Meanwhile, the Rangiora Allsorts mid

week men's team again struggled to

convert dominance into goals against

Southern United in its battle to avoid the

Division 2wooden spoon. Fortunately,

the side found the net later in the game

to record acomfortable but frustrating

5­1 win.

Results

Division 1Men: Abye, finished 5th in

division. Women: RangioraCBK 0lost to

University Huns 1. MVP: Sue Shearer.

Finished 8th in Division.

Division 2Women: Rangiora 1(Shontay

Simpson 1) lost to HSOB/Burnside Devils 2.

MVP: Sarah Hinchley GK. Finished 6th in

division.

Division 3Men: Rangiora 2(Tim Smit 2)

beat SouthernUnited 1. Finished1st in

Eyes on the ball ... PJ Macintosh, left, in

action for the Roadrunners Kiwi Sticks team.

division. Women:Abye, finished5th in

division.

MidWeek Open Men:Rangiora Allsorts 5

(Jon Green 2, Johnny King 2, Sam Terry 1)

beat Southern United 1. Finished 7th in

Division2.

Women Rangiora Hurunui 3(Lou Mones­

Cazon 1, Lucy Murray 1, Keighley Robertson

1) beat Southern United 1. MVP: Lucy Murray

and Natasha O'Laughlin. Playing for 1st in

Division2.

Platinum Men: Rangiora A3(Ryan Bassett,

Luke Waldin) drew with Avon 3. Shootout won

by Rangiora4­2. MVP:JoshuaBall GK.

Finished 1st in Division 2. Rangiora B0lost to

HSOB/Burnside 1. MVP: Sandro Marty.

Finished 4thinDivision 2.

PlatinumWomen: Rangiora A0lostto

Southern United2.Finished 4th in Division 2.

Rangiora B3(Brooke Cooper, Meg Habgood)

beat HSOB/Burnside Red 0. MVP: Caitlyn

Danko.Finished 3rd in Division 3.

Kwik SticksGirls: Rangiora Rascals5

(Rosie Mones­Cazon2,Emily Leech 1, Tasi

Syddall1,Perri Stevenson 1) beat Hornby

Tigers 0. MVP: Sophia George. Rangiora

Rubys 2(Tilda Webster1,Sarah Walsh 1) lost

to Malvern3.MVP: Sarah Walsh. Rangiora

Rhinos1(Eliza Smith 1) beat HSOB/Burnside

Red 0. MVP:Eliza Smith.

Kwik SticksBoys: RangioraRenegades 1

(Rubin Carter 1) drew with Southern United

1. MVP: Michael Hayes. Rangiora Rampage 2

(Henry Webb1,Joshua Metzger 1) drewwith

HornbyVipers2.MVP: Joshua Metzger and

Benjamin Lumsden.

Kiwi Sticks Girls: Rangiora Raiders 3

(AmeliaHutchison 3) lost to Southern United

Blue 4. MVP: AmeliaHutchison. Rangiora

Rainbows 3(Ruby Taylor 2, Sophie

Cartwright 1) beat Marist2.MVP: Brooklin

Glass. Rangiora Rebels 3drew with

Harewood Jets 3. RangioraRoad Runners8

(PJ Macintosh, Katie Lunn, Jess Bowler, Meg

Dunn) beat Harewood Dodgers 3. MVP: Meg

Dunn &Megan Green.

Kiwi Sticks Boys: Rangiora Rangers1

(CooperPayton 1) lost to SouthernUnited

Red 7.

Mini SticksGirls:Rangiora Rabbits 6

(CatherineMcKellow 3, Emma McKellow 1,

QuinceyHawes 1, Erika Zwick1)beat

Waikirikiri Kakas 1. MVP: Athena Vernall.

Rangiora Rockets 2(Shaylee Eastmond1,

Arlette Newman 1) beat HSOB/Burnside

Ducklings 1. MVP: Shaylee Eastmond.

Mini SticksBoys: RangioraRoadsters 0lost

to Marist Kiwis 10. MVP: Pearse Cooper.
---
What's happening in your

community…

Changes to Bus Routes and Timetables

Changes to Metro bus routes and timetables

are being rolled out this week, which will see the

1Rangiora -Cashmere (Blue Line) and the 95

Pegasus/Waikuku -City use different routes. Anew

97 Rangiora -Pegasus service also started from

Monday 28 September.

The Blue Line bus route changes mean that some

bus stops will be permanently moved, and bus users

are advised to take alook at the new routes and

timetables before they head out tocatch the bus.

Akey change for the 1Rangiora –Cashmere (Blue

Line) is that the service will travel via Williams

Street and Lineside Road. InRangiora, the service

will now use West Belt and Kingsbury Avenue to

access King Street rather than Enverton Drive. It

will continue touse the existing terminus on Ashley

Street in Rangiora. The service will continue to

operate at its current frequencies.

The 95 Pegasus/Waikuku –City service will travel

via Silverstream to Pegasus, operating half-hourly

at peak times on weekdays and hourly at all other

times. The service includes one trip on weekday

mornings and aernoons, diverting to Kaiapoi High

School so students can continue to access the

school. There will be one trip in the morning from

Waikuku, and two back in the aernoon/evening.

Temporary signage is in place until our contractors

complete the permanent installations, which

should be by early October. Bear with us as we

work to have all permanent signage in place by

early October.

The changes are aresult of the Waimakariri

Service Review, which was carried out by

Environment Canterbury in May and July last year.

The review looked at how the existing bus service

could be tailored to cover abigger area in our

Rangiora and Kaiapoi towns, and to provide better

connections between townships across the District.

Help Shape How Council Engages

The Council isupdating its Significance and

Engagement Policy –the document which details

how the organisation engages with the community.

We want to ensure the decisions made reflect

the aspirations of tangata whenua, residents,

ratepayers, community groups and business.

To help us to make the best decisions, Council

engages with our communities every day in a

number ofdifferent ways. Sometimes, this is us

providing information, and other times wedirectly

seek input into the decision-making processes.

Our Significance and Engagement Policy helps us

by doing two main things:

1. It outlines for the Council and the community

how wedecide what issues, proposals, decisions,

assets and activities are significant

2. Sets out how and when communities can expect

to input into council decision-making processes.

The primary update to the policy is to include

additional methods of engagement. The

consultation is open until 26October and you can

have your say at waimakariri.govt.nz/letstalk

To keep up to date with Council news,

follow usonFacebook or check out

waimakariri.govt.nz

Sunday18October 2020

9.30am–1.30pm

CanterburyAgricultural Park

Curletts Road, Christchurch

Find outmore: facebook.com/kickstartcanterbury

WOODEND WALKING

AND CYCLING

IMPROVEMENTS

Have you signed up for

the Waimakariri District

Council Newsletter?

To join visit:

waimakariri.govt.nz/subscribe

New Inflatable

Become anultimate ninja warrior

these school holidays...

Our new inflatable obstacle course has arrived

at Dudley Aquatic Centre, can you make it to

the end?

Available every day of the holidays from

1pm-3pm.

All facilities including the children's leisure

pool, lazy river and family spa are open under

Level 1.

We're extending the Rangiora Woodend

Path to connect to Woodend School.

We'd like your feedback on options for what the

path could look like in the wider area between

78 Rangiora Woodend Road and School Road.

Come along to talk more about the project in the

Sports Hall at the Woodend Community Centre on:

Thursday 8October from 7.30am until 9am

Thursday 8October from 4.30pm until 6pm

Let us know what you think before

Thursday 22 October 2020.

waimakariri.govt.nz/aquatics

Find out more at waimakariri.govt.nz/letstalk
---
Upcoming Council

meetings

The following meetings will

be held inOctober 2020. All

meetings will be held in the

Function Room, (upstairs)

Rangiora Town Hall, 303

High Street, Rangiora, unless

otherwise stated.

• Waimakariri Zone Committee

Monday5October commencingat3.30pm.

• Council

Tuesday6October at1pm.

• Oxford-Ohoka Community Board

Wednesday 7October at7pmatthe

OhokaCommunityHall, Mill Road,Ohoka.

(The Public Forumsection of theagenda

will occur from7pmto7.25pm.)

• Land and Water Committee

Thursday 8October at 9:30am.

• Council (Extraordinary to adopt

Annual Report)

Tuesday13October at 11am.

• Woodend-Seon Community Board

Tuesday 13 October at7pm at the Seon

Hall, Upper Seon Road.

• Rangiora-Ashley Community Board

Wednesday 14October at 7pm.

• Kaiapoi-Tuahiwi Community Board

Monday 19October at 5pm atthe

Ruataniwha Kaiapoi Civic Centre, 176

Williams Street, Kaiapoi.

• Mahi Tahi Joint Development

Committee

Tuesday 20 October at9:30am.

• District Planning and Regulation

Committee

Tuesday 20 October at1pm.

• Community and Recreation Committee

Tuesday 20 October at4pm.

• Multi-Sports Facility (Stadium

Waimakariri) Steering Group

Thursday 22 October at10.30am.

• District Licensing Committee

Friday 30 October at9am.

All meetings are open tothe public.

Agendas are available two working days

prior to meeting.

Agendas and minutes for the meeting

can be found onthe Council's website:

waimakariri.govt.nz

Retrospective show

just aweek away

By SHELLEY TOPP

NorthCanterbury Musicals is giving

away two freetickets to its new

show, Retrospective: ADecadeof

Favourites.

The theatre company is also

supplying the winners with the free

hire of two swanky outfits from its

costume hire shop to dressupfor

the night.

The show opens in the Rangiora

Town Hall on Friday, October 9, at

7pm and will feature music from

many of North Canterbury Musicals'

most popular shows, including The

SoundofMusic, Chicago, Aida and

many more.

Therewill be another evening

performance, also at 7pm, on

Saturday October 10, withthe final

show,amatinee, on Sunday,

October 11, from 2pm. Warwick

Shillitto will be master of

ceremonies. He will also be performing

in them with Jane Godfrey.

They will be reprising one of the

songsthey did together in The

SoundofMusic in 2017.

NorthCanterbury Muscials'

executive committee secretary

Angela Peverill says the theatre

company is ''packinginand having

dressrehearsalsthis week and are

very excited to be goinginto the

theatre''.

People wantingtoenterthe

Showtime ... Jane Godfrey and

Warwick Shillitto will be reprising a

number they did in the North

Canterbury Musicals production of

The Sound of Music in 2017 for the

theatre group's latest production.

PHOTO:ANGELA PEVERILL

competition for the ticketsand

costume hire can do so online at

ncms.co.nz. Otherwise, tickets can

be booked through iTICKET. They

are $25.

Brass concert planned

Brassand swing music will

once againjoin forces in

Rangiora this month.

Rangiora Brass and the

Sideline Swing Big Band from

Christchurch willagain

perform the Brass MeetsSwing

fundraising concertinthe

Rangiora Town Hall on Saturday,

October 31, from 2pm.

The concert was planned

for April, but was postponed

because of Covid­19.

''Thebands willproducea

big sound of music from

throughoutthe years,''

Rangiora Brass chairman

SteveDitmer says.

''Rangiora Brass will be led

by Dwayne Bloomfield, who

has recently joined the band

afterhaving been the band

master for the New Zealand

Army Band.

''Weare veryprivileged to

haveDwayne, who is also a

music composer,and he

promises agreat,varied

programme.''

Sideline Swing is led by

North Canterbury musician

Butch Greene, who is also a

former New Zealand Army

Bandplayer.

''Butch also has agreat

swing programme planned.

The bandswill thenjoin

togetherfor apowerful, fun

bracket to endthe concert,''

Steve says.

Tickets cost $12 fromthe

RangioraTown Hall or online

at townhallcinemas.co.nz/

live­shows.

Anyone who still holds

tickets to thepostponed

concert canswap them for the

new showatthe townhall.

Passchendaele service

Kaiapoi will host Canterbury's

Passchendaele Day

commemorative service on

Monday, October 12.

This year is the Kaiapoi

RSA's turn to host the official

North Canterbury service.

When president Neill Price

realised there were no other

regional events to remember

the day, he decided to invite

other Canterbury RSAs, too.

The service will be held at

Raven Quay from 10am.

This year's keynote address

will be given by New Zealand

RSA president BJ Clark, and

the Royal New Zealand Army

Band will perform.

The New Zealand Defence

Force will send Canterbury

representatives.

Raven Quay will be closed

from Black Street to Williams

Street, with the public invited

to attend and to lay flowers in

remembrance of their family

members who were involved

in World War 1.

Aparade will assemble

outside the Mandeville

Tavern and will leave at 10am

for aflag raising ceremony

and then aservice at the

Kaiapoi Cenotaph.

The Kaiapoi Club will be

opening especially for

Passchendaele Day from

10am to 3pm.

The Kaiapoi RSA is also

hosting the annual Seafarers

Service at St Bartholomew's

Anglican Church on Sunday

from 9.45am, with the Kaiapoi

Brass Band scheduled to

perform.

NEWS

North Canterbury News, October 1, 2020

WANTED

CULL COWS

Injured –ok

0272-63-28-28

2310154

Situations Vacant

North Canterbury

Citizens Advice Bureau North Canterbury

is looking for volunteers

Can you…

Solve problems? Do you…

Enjoy client liaison? Are you…

Ready to keep learning? Do you…

Value confidentiality?

Interested? Do you have a…

Confident telephone approach and

Excellent internet research skills?

At CAB we aim to give the best SERVICE

to everyone who needs our help.

Come and join us?

Application formavailable on

https://www.cab.org.nz/location/cab-north-canterbury

or collect from our office in the Rangiora Library,

141 Percival Street, Rangiora. Tel: 03 313 8822.

Applications close on Friday,16October 2020.

2316554

Livestock

HOMEKILL

&Wild Game

Meat Processing

313 0022

2309602MEAT2U.NZ

Spring

festival

The Sandwich Man Kaiapoi

Delivery Driver wanted

2days aweek, 4am start,

8hrs approx. Other work

available.

Factory Worker wanted

Sunday,4am start, approx

8hours.

Other work could become

available.

Duties preparing &making

sandwiches.

Phone Shirley 03 327 2464

please leave amessage, I

will get back to you.

Applications close

Thursday 8th October.

2318996

53

The KaikouraSpring into

SummerFestival

promises to put aspring

in your step.

The inaugural festival

this weekendisset to

transform thecentre of

Kaikoura with bouncy

castles, an obstacle

course, games for the

kids, candy floss, a

parade,live music, an

outdoor movieand

market stalls.

The event, on October

2, 3and 4, is thecreation

of the KaikouraDistrict

Council'scommunity

development and events

arm.

The festival is led by

Joanna York, who says it

will be agreat way to

bring everyone together.

''I felt that Kaikoura

had beenthrough so

much,and nowweneed

to be able to have some

fun and celebrate

together,'' she says.

Ms York says it is

expected the eventwill

start out relativelysmall,

but will build eachyear.

More detailsand the

schedule canbefound at

kaikoura.govt.nz andon

the council's Facebook

page.

Painter

Some experience

required.

Male or Female.

Located in North

Canterbury.

Full time.

Ph 027 414 0830

2317498
---
CLASSIFIEDS

54 North Canterbury News, October 1, 2020

Stuart

Smith

Kaikōura

Isupport:

Responsible Economic Management

DeliveringInfrastructure

Reskillingand Retraining ourWorkforce

AGreener, Smarter Future

Building StrongerCommunities

Authorised by SSmith 22 Scott St. Blenheim.

Sefton School

School Board ofTrustees Election

Nominations are open for the election of two parent

representativestothe board of trustees.

All eligible voters will receive anomination form and a

notice calling for nominations –you can use this form

to nominate yourself or someoneinyour community.

If you need more nomination forms, contactthe school

office.

Nominations close at noon on Sunday the 1st of

November 2020. Youmay provide asigned candidate

statementand photograph with your nomination.

The voting roll is held at the schooland can be viewed

during normal school hours.

As nominations are received, there will be alist of

candidates' names kept at the school upuntil election

day, whichyou can view.

Voting closes at 4pm on Friday the 4th of December.

Signed

Katie Cooper

Returning Officer

Sefton School 2318712

Situations Vacant

COOK

PARTIME/CASUAL POSITION

We are looking for the right person to join our

kitchen team.

Must demonstrate acaring disposition, flexibility

to work over arange of days includingweekends,

&willingness to comply with food safety /menu

requirements.

Expressions of interest &CVtoLyn Black,

Nurse Manager,Bloomfield Court, Woodend

nmbloomfield17@gmail.com

2319173

CUST SCHOOL

TEACHER –0.6 FTTE -YEAR 4Job Share

Position –Fixed term 2021

We arelooking for an amazing teaching professional who is

collaborative, collegial, hard-working and who understands

the special nature of working in asmall school.

This is ajob share position, likely to be at Year 4level -

three days per week –most likely to be Monday, Tuesday

andWednesday.

Must have astrong curriculum knowledge particularly in

literacy and numeracy.Strengths in working collaboratively,

commitment to your own professional growth and strong

and positive classroom management skills are required.

Our school has apassionate and supportive staff culture.

We look forward to hearing from you.

How to apply

Please send CV plus covering letter and names and contact

details of 2referees and for more information /direct

enquiries to:

RobertSchuyt, Principal

PO Box 28

Cust 7444

robert.schuyt@cust.school.nz

027 843 8814

Applications close Friday 23 October.

2319329

Public Notices

PUBLIC NOTICE OF

APPLICATION FOR

ON-LICENCE

SECTION 101, SALE

AND SUPPLY OF

ALCOHOL ACT 2012

Ryman Healthcare Limited

has made an application

to the District Licensing

Committee for the Renewal

of the On Licence in

respect of the premises

situated at 24 Charles

Upham Drive Rangiora

known as Charles Upham

Retirement Village.

The general nature of the

business to be conducted

under the licence is a

Retirement Village. The

days on which alcohol is (or

intended to be) sold under

the licence are Monday to

Sunday 12pm to 10pm.

The application may

be inspected during

ordinary office hours of

the Waimakariri District

Licensing Committee at

215 High Street, Rangiora.

Any person who is entitled

to object and who wishes

to object to the issue of

the licence may, not later

than 15 working days

after the first publication of

this notice, file anotice in

writing of the objection with

the secretary of the District

Licensing Committee

at Private Bag 1005,

Rangiora.

No objection to the issue

of arenewal licence may

be made in relation to a

matter other than amatter

specified in section 131

of the Sale and Supply of

Alcohol ACT 2012.

This is the second

publication of this notice.

This notice was first

published on 24 September

2020. 2314943v2

TAI CHI AND

QIGONG

CLASSES

There has never been a

better time to relax, be

healthy and stay balanced.

Find out about

classes by visiting the

website. Don't miss the

Hanmer retreat.

www.taichiwell.co.nz

SENIOR

COACHES

WANTED

Applications of interest are invited, for

2021 Rugby Season, for our Division

One and Division Two teams.

Expressions of interest to be sent to:

woodendrfc@gmail.com

Closing date Wednesday 18 th November 2020

PUBLIC NOTICE –NOTIFICATION OF PLAN

CHANGE 4TOTHE HURUNUI DISTRICT PLAN

Plan Change 4 relates to managing intensive primary

production activities (e.g. intensive poultry and pig farms)

and effluent activities as well as the relationship between

these activities and sensitive activities (e.g. residential

activities, visitor accommodation, community services,

healthcare facilities).

All information on the plan change can be found at

hurunui.govt.nz/report/consultations, including how to

make asubmission.

Submissions close5pm on 2November 2020.

For further information, please contact Kelsey Bewley on

03 314 0048 or kelsey.bewley@hurunui.govt.nz.

ANNUAL GENERAL MEETING

2319272

Wednesday,28 th October2020

4.30pm–5pm

Rangiora WarMemorialHall

Cnr High Street &AlbertStreet,

Rangiora

All Welcome

RSVP BY: Friday,23 rd October 2020

TO: admin.assist@wellbeingnc.org.nz

KAIAPOI CHRISTADELPHIANS

"The Key of Knowledge .."(Luke 11:52)

"GOOD NEWS"

What the Bible says about Jerusalem:

"Come ye let us go up to the mountain of the LORD, to

the house of the GOD of Jacob, and HE will teach us of

HIS ways, and we will walk in HIS paths: for out of Zion

shall go forth the Law, and the word of the LORD from

Jerusalem". Isaiah 2:3.

MILITARYEXERCISE

Soldiers Exercising

02 –30October 2020

Thegeneral public is to be advised thataNew

Zealand Army Exercise will be conductedaround

the Oxford, West Melton, Burnham areas and the

Waimakariri, Ashley andSelwyn riversystems over the

period 02 -30October2020.

Theexercisewill involveupto80personnel of Delta

Company, 2/1 Battalion from Burnham MilitaryCamp.

Training will involvesoldiers carrying individual

weapons systems whilst moving around the area,

blank ammunition will also be fired during this period.

AllBlankfiring activities will be limited to the defence

property and conservation area. Therewill be limit

use of blank ammunition and pyrotechnics.The

exercise will also involvethe movementoftroopsand

vehicles by dayand night.

Formoreinformationplease contact:

Mike Davis on 021 243 7405

2315107

2318053

75 TH ANNIVERSARY

CELEBRATION DINNER

SATURDAY 21

NOVEMBER 2020

Tickets $15 each

Registration and tickets

from Dave Woodcock

woodcockdesignltd

@gmail.comor

027 738 7708

Payment by

7th November2020

Doors Open 6pm

Rangiora RSA

82 Victoria St, Rangiora

2318056

Members and

Ex-members welcome

Rangiora Harness

Racing Club

Members of the Club are

advised that the AGM

will be held at 7.30pm

on Wednesday 21st

October 2020 in the Cafe,

Rangiora Race Course

Business

•Minutes 2019 AGM

•Annual Reportand

Financial A/cs 2020

•Appointment of

Committee

•Guest Speaker

Trade&Services

ABEL &Prestige Chimney

Cleaning. Nth Cant owned

& operated. Covering all

areas from Waimak to Hanmer.

Professional, guaranteed,

service. Firebox

repairs, carry most parts. Ph

0800 661 244.

AFFORDABLE concrete

cutting with quality and

removal work. Free quotes.

No job too small. Ph 027

442 2219, Fax 03 359 6052

or A/H 03 359 4605.

ARBORIST qualified.

Copper Beech Tree

Services. Tree removal,

pruning, height reduction,

hedge trimming, shaping,

tree planting, firewood.

Free quote. Contact Angus

Edwards 027 259 6741

copperbeechtreeservices@gmail.com

BRIAN'S Tree Services.

Tree felling, topping,

shaping, firewood cut, rubbish

removed, stump grinding,

branch chipping.

Affordable rates. Phone 03

327 5505 or 021 124 4894.

BRICK &blocklaying. All

types of work undertaken,

repairs. Phone Hamish

0272 386 003 or 313 5678.

CHIMNEY SWEEP...

Time to service your fire.

From $80 + gst single

storey. 0800 SWEEP ME

or 021 0277 1927.

CARPENTER / Painter

specialising in alterations &

renovations, repairs &

maintenance, 35 plus years,

experienced licenced

builder. Telephone Trevor

313 5013 or 027 431 1864.

2318060

Ashburton Fanciers

Society

POULTRY AUCTION

Sunday,October 11

Sports Hall,

Tancred Street West,

Ashburton

Viewing 11am

Start 12.30pm

Poultry,Bantams,

Ducks, Cavies

Fertile eggs for hatching.

Featuring two long time

fanciers dispersal of

birds.

2319046

DIRTY TILES &Grout?

Professional tile cleaning,

tiled shower restorations,

mouldy silicone, shower

glass & we can even

recolour your old grout!

For all your tile and grout

issues call Grout Pro for a

free, no obligation quote.

Ph Darryl 0800 882 772.

PAINT & wallpaper

services. Wayne Bryant,

exterior, interior. Qualified

tradesman. Free quotes. Ph

313 5337 or 027 654 4568.

POWER TOOLS repairs,

parts &sales for over 40

years. All main brands serviced.

Grossman Trade

Tools, 23 Watts Road,

Christchurch. Ph 389 9230.

PAINTER, qualified, local

professional. Int / Ext,

roofs, wallpaper. Call or

text Corban 027 846 5035.

PAINTER & Decorator.

25 + years experience.

Interior /exterior, roofs &

waterblasting. For a free

quote, please ph Steve 03

314 4620 or 027 477 1930.

METAL WORX. Flashing,

Sheetmetal Fabrication,

Wrought Iron,

Welding, Custom Trailers,

General Metalwork. No job

too big or too small. Ph 021

265 5428 or 03 314 6908.

Find us on facebook/

Glenmark Metal Worx.

glenmarkmetalworx.ltd@gmail.com.

SUMMERFIELD

FENCING

IN YOUR AREA NOW.

Lifestyle or farm, sheep, cattle,

horse, all types of animals.

Fences, yards, sheds, arenas,

shelters, runs.

30+ years contract fencing.

Steve is available to help with

your design &planning.

Ph office03312 4747

2091848

ANTHONY SYMONDS

Forall your painting &

plastering requirements

Local with 30 years

experience

All workmanship

Guaranteed.

Phone 021 344 023

2220615

SEPTIC TANK

CLEANING

Bill's Liquid

Waste

You dump it...

Blair pumps it...

Blair Tavendale

Ph 03 314 9371

0275 379-694

2286701

Trade &Services

PLASTIC

North Canterbury Specialist.

All plastic &fibreglass

repairs. Telephone James

021 180 5103.

2225862

ROOFER. All roof repairs,

roof painting, water blasting,

moss treatment,

repointing, gutter cleans &

snow straps. And more.

Free quotes. Phone Nathan

027 516 6609.

RANGIORA Rubbish

Removal and RRR skips.

Wheelie bins any frequency

and skips from 1.5 cube to

9cube. Skips and wheelie

bins for any use, rubbish,

greenwaste, building sites

or just cleanups. Give us a

phone call 313 6957 or for

skips 021 313 255.

STONEMASON, Brick

and Blocklayer. Earthquake

repairs, grind out and

repoint, River/Oamaru

stone, Schist, Volcanic

rock, paving, all alterations

- new and old. Quality

workmanship. Visit www.

featureworks.co.nz or ph

027 601 3145.

SHEEP SHEARING,

drenching, feet trimming.

For Lifestyle blocks. Call

Stu 027 315 6916.

SCREEN PRINTING.

WELDING For all your printing

requirements. T-shirts,

Hoodies, Hi-Vis vests and

polos, Overalls, Caps etc.

Please phone Heather 03

313 0261 or email

heather.norstar@gmail.com.

SHEARER. Hap's Farm &

Lifestyle Services. Shearing,

crutching, drenching,

tailing, feet trimming &

health check. Trailer, generator

&mobile handpiece

available. Experienced,

reliable and honest. Ph 03

312 1214 or 021 267 4025.

VALUATION -

Specialising in North Canterbury.

Contact Geoff at

Maxwell Valuation. Phone

03 310 8541 or email

geoff@maxval.co.nz.

Pride &Quality Painting

&Decorating Services

20 yrs exp, fast and friendly

service. For all your painting

needs, phone: Martin 310

6187 or 021 128 9867

Paving

Patio &Pathways

-New or Existing

Free Quotes

–Competitive Pricing

Blair Gibson

027 699 5815 03 313 7933

REMOVALISTS

Movemen Ltd

2Men &agood sized

truck. From $157 per hour

(incl gst). Kaiapoi based.

Call Gerard

027 668 3636

2316549

LANDSCAPES

Reliable new business based in and

servicing the North Canterbury area.

Here for all your garage door needs!

•Repairs •Servicing

•Installation

Give usacall/email today to discuss

any garage door issues with our

friendly and professional team.

Dean Sangster

027 225 7445 |03319 8549

dean@summitgaragedoors.co.nz

www.summitgaragedoors.co.nz

2253902
---
Trade &Services

WINDOW TINTING

tintawindow

advanced film solutions

99% uv block

fade protection

heat control

reduce glare

25 Years Experience

privacy films

frosting designs

non-darkening films

Workmanship Guaranteed

Lifetime Warranties on Most Films

UV

block

Free Quotes Canterbury and Districts

03 365 3653 0800 368 468

Builder

CLASSIFIEDS, TRUSTED TRADES &PROFESSIONAL SERVICES

North Canterbury News, October 1, 2020

Entertainment

RANGIORA Country

Music Club night is on the

7th October at the RSA

Victora St, Rangiora. Start

time is 7pm. All welcome.

Enquiries ph 027 928 1730.

Health &Beauty

TRADITIONAL Indian

Ayurvedic herbal massage

& treatment clinic. Phone

022 135 0177.

Educational

TUITION available. Primary

and secondary to

NCEA level 3. Math, Literacy

and Science (NCEA).

Each student on an individually,

tailoured programme.

Kip McGrath

Rangiora has been serving

the local community for 30

years. Give us a call or

book your free assessment

online 03 313 3638 https:/

/www.kipmcgrath.co.nz/rangiora.

Butchery

Cars Wanted

CASH 4CARS

and 4WD'S

Phone

Automotive

Parts

03 313 7216

CASH/CASH

for anyunwanted

vehicles,phone

3479354 or

027 476 2404

CARS, vans, 4WD's

wanted for dismantling or

repair. Phone 027 258

8366.

Garage Sales

RANGIORA Saturday 3rd

October, combined street

garage sale, Ebert Place,

starts 9am.

For Sale

WOODEN PALLETS

1.2m by 1m, excellent condition,

$8 each. Please

phone 027 440 1230.

ASPARAGUS, freshly

picked $10 for 1kilo, 304

Racecourse Road, Broomfield.

Open Sunday to

Friday.

FREE RANGE eggs, hens

run on grass, $5 dozen, can

deliver Rangiora district.

Phone 027 460 2228.

Gardening

A+ GARDEN hedges cut

to perfection. Tree &arbor

work. Also spraying. Free

quotes. Ph 03 312 0668 or

021 111 4322.

PEASTRAW.

quality peastraw for sale.

Ideal for garden. $8.00 /

small bale ex - farm

Bennetts -Oxford. Ph 027

312 4009 or 03 312 4460.

Wanted To Buy

BUYING estate type old

china, crystal, collectables,

vases. Ph 027 350 3963, or

313 1878.

VINYL RECORDS

wanted by collector /seller.

7&12 inch LP'S, happy to

appraise. Also old guitars

or amps -working, broken.

Retro toys, 60's, 70's, 80's

&hot wheels &matchbox

as well. Please call Paul

022 694 5445.

$$$

Amalgamated Scrap Metal

Ltd. Specialists in farm

machineryand farm clean

ups, old vehicles etc.

100% locally owned.

Ph 0800 030 712 or

027 695 0480.

Chiropractic Services

2312759

Pets

Excellent BICHON HOMESTAY

for smaller dogs. We look

after your dog in our home.

"No kennels". Phone today

03 314 6110.

Accountant

55

Debra Jowsey &Karla Kilner

Ph 03314 9480

We help with all Taxreturns for the

salary &wage earner,self employed, rental,

business, farm,GST,pay dayfiling, rental returns

Appliance Repairs

•REGISTERED TECHNICIAN

•AUTHORISED LOCAL SERVICE

F&P, Bosch, Smeg,

ASKO, Ariston, LG,Classique,

Haier, Samsung and more....

2287949

"For best resultsbesuretouseauthorised service"

NORTHCANTERBURY APPLIANCE SERVICES

Rangiora: 03 313 4420 Kaiapoi: 03 327 3810

Computer Repairs

1913020

OxfordButchery

Shane and Leanne Frahm

We cankill&process yourstock

FourGenerations of Frahms

since 1957

Ph 312 4205

Oxford

1680439

Number one

old-fashioned bacon

&ham curing.

A/H 312 4709

Dr Carissa McGregor Chiropractor

Injury, accidents and maintenance

ACC Registered and Accredited

Monday-Thursday | 03 313 0350

Libi McKinnon Physiotherapy

privatephysio@xtra.co.nz

027 868 2574

ACC Registered Provider | Tuesday&Friday

Select Health

51 Ashley Street, Rangiora

2227883

For all your computer repairs, parts, servicing, sales &more..

Come and see us for friendly &supportive service

2208126

Construction &Concrete

All Construction & Concrete Work

•Driveways, patios &paths

•Bridges and Culverts

•Floors, foundations

•Sheds and buildings

•Dairy Sheds, Herd homes

•Silage pits, effluent ponds

•Excavation and cartage

•Precast concrete

•Insulated panels

Daryl Power

027 230 9401

concretepower@scorch.co.nz

www.concretepower.co.nz

2273277

Doctors For Men

MenzMedical

The Doctors For Men

Vasectomy

No Scalpel Technique

Denture Clinic

AFFORDABLE DENTURE

CLINIC

(Formerly Riccarton Denture Clinic)

1843944

New Dentures

Relines

Repairs

BRYCE JWARD NZCDT

Kaiapoi

Ph (03)327-0077

Gold Card

Discount

KAIAPOI VILLAGEARCADE,

123 WILLIAMS STREET

YOU

COULD

BE

HERE

2089195v2-4/4-S

$485

*Guarantee:

*See website for guarantee details

2317499

912 Colombo Street

Ph: 03 981 8181 or 0800 4Males (0800 462 537)

www.vasectomy.nz

Electrician

AARON HARRIS

ELECTRICAL LTD

NEW HOUSES • ALTERATIONS

ELECTRICAL INSPECTIONS • SMART WIRING

SYSTEMS AND MORE...

M: 0275 543 958 E: aaron@ahel.co.nz

2020478

Advertise

your business

in our Trades

and Services

Phone

Amanda Keys

on

03 313 2840

2269236

Engineering

For your Engineering needs

187d Ohoka Road, Kaiapoi

Phone 03 327 5246 |027 495 2821

toppeng@xtra.co.nz

Repiling /Relevelling

House re-piling &re-levelling

Foundation lifting &stabilizing

Free no obligation quotes

20 years

experience

North Canterbury

based

Phone Brett Kennedy 021 117 8531 or

03 312 9000 |Email bowhill1@hotmail.com

2314123

Scaffolding

•Edge protection

•Working platform

Phone

0274 366 901

Plans for pricing

jas.rangiorascaffolding@xtra.co.nz

North Canterbury wide

1783878

Motorcycle Service &Repair

South Pacific Motorcycle Services

"we're your LOCAL motorcycle guys"

• Service • Repairs • Tyres

• Motorcycle Rental

•Fully Equipped Workshop •Quality Work •Affordable Rates!

Ph: 03 312 0066 |office@motorbiketours.co.nz

www.motorbiketours.co.nz

2313195

SERVICES

Scrap Metal

CASH PAID FOR SCRAP

•Car Bodies •Scrap Steel•Specialists in Farm

Machinery•All non Ferrous

MAINLAND

METALS LTD

Ph (03)338 7000

Mike0274 818544 •Robbie0274818 027

Locally owned and operated

1902273

CAP 65

CAP 40

CAP 20

Shingle

SHINGLE SUPPLIES

Quarry Prices

DRAINAGE CHIP

from $40 per cube

from $23 per cube

from $25 per cube

from $30 per cube

all +gst

Plus all excavation and truck hire

house excavations, driveways, subdivisions

CONTRACTING

Ph: KEN 027 201 3302

Email: stress@xtra.co.nz

2009594
---
HUGE DEALS ONKITSET BUILDINGS! *

GET YOUR PAWS ON

SOME GREAT PRIZES!

ENTER

ONLINE

Tractor Shed

7m x 6m x 3.6m

$

7,519 *

$

654

incl GST

KITSET ONLY

Flat Roof Double Garage

9m x 6m x 3m with Sectional

Door & Ranchslider

$

16,774 *

incl GST

$

1,240

KITSET ONLY

Storage & Lock-up

16m x 7m x 2.7m, 3 Roller

Doors, PA Door & Window

$

20,309 *

incl GST

$

1,669

KITSET ONLY

Heritage Barn

10.5m x 11m x 2.7m

3 Sectional Doors

$

26,060 *

$

2,213

incl GST

KITSET ONLY

127MainNorth Road,Woodend P: 03 3100247 E:northcanterbury@totalspan.co.nz

HC TLS2045

*Terms &Conditionsapply, pleaserefertoTOTALSPAN.CO.NZ for moreinformation. Promotion ends 31st October 2020.