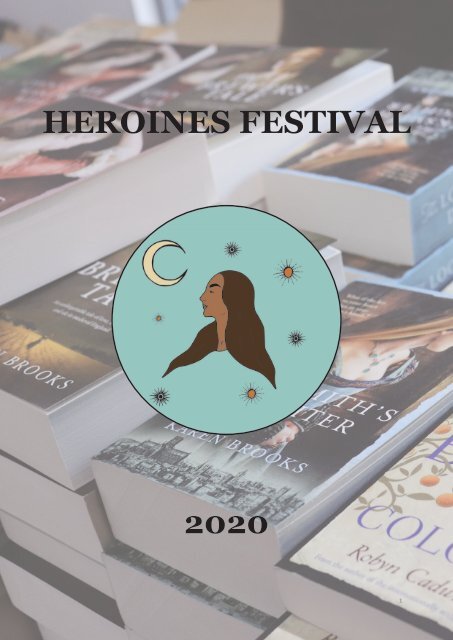 Heroines Festival Book Month Program
This is the full program for Heroines Festival's 2020 Book Month.
This is the full program for Heroines Festival's 2020 Book Month.
SHOW MORE
SHOW LESS
Create successful ePaper yourself
Turn your PDF publications into a flip-book with our unique Google optimized e-Paper software.
HEROINES FESTIVAL

2020

1
---
Heroines Literary Festival

Returns for 2020 with Heroines

Book Month

The Heroines Festival, Australia's first festival of women writers telling women's

stories, returns for its third year in 2020. For the first time ever, the festival features

a month-long program, the Heroine's Book Month, taking place between 15 October

– 15 November. This online program features book clubs, live author discussions and

exclusive writing workshops.

Heroines Festival Book Month amplifies and applauds stories told by women, about

women. We invite audiences to take part in our exclusive book groups celebrating

stories of rebellion, survival and resilience. Our panel of authors complement their own

creative works with a curated selection of fiction and memoir by and about women.

Authors will be available throughout the month to discuss their creative practice and

book selections via live Q&A video sessions.

Amra Pajalic will reflect on her mother's experiences of bipolar disorder and migration,

while S.L Lim' explores the psychic violence imposed by capital and borders. Bem Le

Hunte considers thresholds between both generations and cultures. Julie Janson will

navigate Aboriginal identity and survival against the backdrop of British colonisation,

while Lee Kofman investigates societal perceptions of bodily "imperfection."

Authors interrogate the past, uncovering stories of defiant and rebellious women

in Australia and beyond. Victoria Purman and Cathy Perkins will examine feminist

struggles in early 20th century Australia, while Karen Brooks turns to witchcraft trials to

illustrate women's defiance of authority.

Writing workshops coach writers through the processes of drafting, and creating

dynamic characters. Hayley Scrivenor will encourage aspiring authors to "Write Like

No One is Watching", to develop their work and create sustainable writing practices.

Lauren Elise Daniels hosts "Writing Rebel Heroines", teaching writers how to create

authentic, fully realised female characters.

Bringing together a diverse community of readers and authors, Heroines Book Month

celebrates strength, resilience and courage.

www.theneoperennialpress.com/heroines-bookmonth-2020

2 3
---
Heroines Book Month

Amra

Pajalic

& Things

Nobody Knows

But Me

Guests

Books

Amra Pajalic is an an editor, teacher and

award-winning author. Her debut novel

The Good Daughter (Text Publishing,

2009) won the 2009 Melbourne Prize for

Literature's Civic Choice Award. She is

co-editor of the anthology Growing up

Muslim in Australia (Allen and Unwin,

2019) shortlisted for the 2015 Children's

Book Council of the Year awards. Her

latest book is a family memoir Things

Nobody Knows But Me (Transit Lounge,

2019) shortlisted for the 2020 National

Biography Award. She is completing a PhD

in Creative Writing at La Trobe University.

www.amrapajalic.com

Amra's Book Club

Nomination

Amra's Book Club Nomination - You Must

Be Layla by Yassmin Abdel-Magied.

A beautiful novel about Layla who is of

Sudanese background and who dreams

of having adventures and inventions and

gets a scholarship to a prestigious high

school. She faces racism and discrimination

but through persistence and courage finds

her way. A great novel that challenges

stereotypes across race and gender Layla

is a strong courageous character that

I loved and that speaks to young girls.

Can't wait to recommend this book to my

students.

4 5
---
Cathy

Perkins

& The Shelf Life of

Zora Cross

Cathy's Book Club

Nomination

Cathy Perkins is a writer and editor from Sydney with an

interest in the life stories of forgotten literary figures. Her

recent biography The Shelf Life of Zora Cross uncovers

the life of a once-famous poet, journalist and actress who

published a provocative series of sonnets in 1917. The

Sydney Morning Herald's Spectrum called the book an

'imaginatively conceived biography' and a 'fascinating

read', and it was shortlisted for the Australian History

Prize of the NSW Premier's Literary Awards. Cathy edits

the award-winning SL magazine and other publications

at the State Library of NSW, and has worked as a book

editor, literary agent, bookseller, and for the Australian

Society of Authors. Her essays on Zora Cross have been

published in the literary journal Meanjin.

Cathy's Book Club Nomination - Friends

and Rivals by Brenda Niall

Brenda Niall's Friends and Rivals is a

vivid account of the intersecting lives of

four Australian women writers in the late

nineteenth and early twentieth centuries:

Ethel Turner, author of the children's classic

Seven Little Australians, Barbara Baynton,

who wrote of the harshness of bush life,

Nettie Palmer, essayist and critic, and

Henry Handel Richardson, of The Getting

of Wisdom and The Fortunes of Richard

Mahoney fame. Even readers unfamiliar

with the work of these writers will enjoy

this group biography that reveals the

challenges faced by women writers and

illuminates a fascinating time in Australia's

literary history.

6 7
---
Karen

Brooks

& The Darkest

Shore

Karen's Book Club

Nomination

Karen Brooks is the author of thirteen

books, a newspaper columnist, and is an

Honorary Senior Research Consultant with

the University of Queensland. She has a

Ph.D. in English/Cultural Studies and has

published internationally on popular culture,

education and social psychology. An awardwinning

teacher, she's keynoted at education

conferences around the country. Karen's

first historical fiction, The Brewer's Tale, was

published to critical and popular acclaim,

becoming a bestseller. Her subsequent works,

The Locksmith's Daughter – an Elizabethan spy

thriller - and The Chocolate Maker's Wife, a

Restoration story of love, cruelty, redemption

and chocolate have been successful here and

in the USA/UK. Her latest novel, The Darkest

Shore, is based on the true story of a witchhunt

in Scotland in the 1700s. It features a

group of feisty fishwives and covers themes

such as social justice, the power of female

friendship and resilience in the face of

terrible odds.

Karen's Book Club Nomination - Gulliver's Wife to revert back to the way it was - with him

by Lauren Chater

at its head and his every need and whim

While most of us either grew up with Jonathan met. This is the story Chater gives us - from

Swift's satirical travelogue/novel, Gulliver's the point of view of Mary and her daughter,

Travels, or know the extraordinary adventures Bess, with all its psychological and emotional

of its protagonist, ship's surgeon, Lemuel twists and pain. In this tale, Gulliver is not

Gulliver, through various popular culture the heroic survivor of ship-wreck and centre

retellings, not much thought at all is given of a wondrous tale, but a narcissist, unable

to his wife or family who were left behind. to see the damage his return, and inability

Well, Lauren Chater changes that. In Lemuel's to understand the changes that have been

absence, Mary Gulliver not only provides for wrought while he was away, causes. Filled with

her family through her formidable skills as a lyrical prose, it's a beautifully, heart-achingly

healer and midwife, but excels. Imagine then, told tale - realistic and raw. I was completely

after attaining liberty, repaying her selfish swept into this story and didn't want to part

8

husband's debts and raising her children, her with it.

husband returns, expecting his household

9
---
Lee

Kofman

& Imperfect

Lee Kofman is a Russian-born, Israeli-Australian author

based in Melbourne. Lee holds a PhD in social sciences

and MA in creative writing. She is the author of three

fiction books, and memoirs Imperfect (Affirm Press, 2019),

which was shortlisted for Nib Literary Award 2019 and

included in Books We Loved 2019 (The Age), and The

Dangerous Bride (Melbourne University Press, 2014),

which was included in Best Books 2014 (The Age and

Australian Book Review) and 2015 (The Age). Lee is the

editor of Split (Ventura Press, 2019), which was longlisted

for ABIA Awards 2020, and co-editor of Rebellious

Daughters (Ventura Press, 2016), anthologies of personal

essays by prominent Australian authors. Her short works

have been published in Australia, Scotland, UK, Israel,

USA and Canada, and her writing won numerous awards.

Her blog about writing was a finalist for Best Australian

Blogs 2014. Lee also teaches writing.

More at www.leekofman.com.au

Lee's Book Club Nomination -

Autobiography of a Face by Lucy Grealy

At age nine, Lucy Grealy was diagnosed

with a potentially terminal cancer. When

she returned to school with a third of her

jaw removed, she faced the cruel taunts

of classmates. In this strikingly candid

memoir, Grealy tells her story of great

suffering and remarkable strength without

sentimentality and with considerable

wit. Vividly portraying the pain of peer

rejection and the guilty pleasures of

wanting to be special, Grealy captures

with unique insight what it is like as a child

and young adult to be torn between two

warring impulses: to feel that more than

anything else we want to be loved for who

we are, while wishing desperately and

secretly to be perfect.

Lee's Book Club

Nomination

10 11
---
S.L

Lim

S.L Lim's Book

Club Nomination

& Revenge

S.L's Book Club Nomination - Rat Bohemia

by Sarah Schulman

S. L. Lim was born in Singapore and moved to

Sydney at the age of one. Their award-winning

first novel Real Differences was published by

Transit Lounge in 2019. They have appeared

at literary festivals including Melbourne and

Byron. They are a recent addition to the

transnational Out of the Woods collective,

investigating the twinned nightmares of

capitalism and climate change. They dislike the

global apartheid system of borders as

should you.

First published in 1995, this award-winning

novel, written from the epicentre of the

AIDS crisis, is a bold, achingly honest

story set in the "rat bohemia" of New

York City, whose huddled masses include

gay men and lesbians who bond with one

another in the wake of loss. Navigating

the currents of the city is Rita Mae, a rat

exterminator who holds the optimism of all

true bohemians--those who stand outside

of the prevailing social apparatus. She and

her friends seek new ways to be truthful

and honest about their lives as others

around them avert their glances. Inspired

by A Journal of the Plague Year by Daniel

Defoe, Rat Bohemia is an expansive novel

about coping with loss and healing the

wounds of the past by reinventing oneself

in the city. Rat Bohemia won the Ferro-

Grumley Award for Lesbian Fiction, and

was named one of the "100 Best Gay

and Lesbian Novels of All Time" by the

Publishing Triangle.

12 13
---
Victoria

Purman

& The Women's

Pages

Victoria's Book

Club Nomination

Victoria Purman is an Australian Top

Ten and USA Today bestselling fiction

author. Her bestselling The Land Girls

was published in April 2019. The Last of

the Bonegilla Girls, a novel based on her

mother's postwar migration to Australia,

was published in 2018. Her previous

novel The Three Miss Allens became a

USA Today bestseller in April 2019. Her

next novel, The Women's Pages, will

be published in September 2020. She

is a regular guest at writers festivals, is

a workshop presenter and was a judge

in the fiction category for the 2018

Adelaide Festival Awards for Literature.

Written with unerring skill and insight,

The Dyehouse is a masterly portrait

of postwar Australia, when industrial

work was radically transformed by new

technologies and society changed with it.

Mena Calthorpe—who herself worked in a

textile factory—takes us inside this world,

vividly bringing to life the people of an

inner-Sydney company in the mid-1950s:

the bosses, middlemen and underlings;

their dramatic struggles and their loves.

This powerful and affecting novel was first

published in 1961, and is the hundredth

book in the Text Classics series. The new

edition comes with an introduction by

Fiona McFarlane, acclaimed author of The

Night Guest.

14 15
---
Bem Le

Hunte

& Elephant's with

Headlights

Bem Le Hunte is Indian by birthright,

British by descent and Australian by

choice. She is the author of several short

stories and four novels. Her latest novel,

Elephants with Headlights, had a carefully

timed release for the month of March

when the COVID-19 lockdowns began! Her

first two novels, The Seduction of Silence

and There, Where the Pepper Grows,

have become number one bestsellers and

been published internationally to critical

acclaim. She is also an Associate Professor

at the University of Technology Sydney,

where she's the founding Course Director

of the Bachelor of Creative Intelligence

and Innovation, a transdisciplinary, futurefacing

degree that teaches creativity

across 25 different. Before that she had

a career spanning three decades in the

creative industries. She has a BA and MA

in Social Anthropology from Cambridge

University and a Creative Doctorate from

the University of Sydney. Writing has

always been her elemental passion, and

the gift of this calling has allowed her to

flourish in many ways and worlds – well

beyond the written word.

Bem's Book Club Nomination- A Room of

One's Own by Virginia Woolf

Virginia Woolf's A Room of One's Own

was a trailblazing imaginative exercise in

understanding why there were virtually

no women writers in the literary canon.

Placing herself as a researcher in the

'persona' of characters like Shakespeare's

sister (as talented as her brother) she

explored how impossible it would have

been to write fiction in that time unless

you were male.

Bem's Book Club

Nomination

She came up with the famous notion that a

woman had to have a room of her own and

an independent income to write fiction.

Her legacy survives to this day. Without

her there would possibly be no Heroine's

Festival!

16 17
---
Julie

Jansen

& Benevolence

Julie Jansen is a Burruberongal woman of Darug

Aboriginal Nation, a playwright, novelist and poet. She is

a Co-recipient of the Oodgeroo Noonuccal Poetry Prize

2016 and winner of the Judith Wright Poetry Prize 2019.

Her writing career began when she was a teacher who

wrote and directed plays in remote Northern Territory

Aboriginal communities and took part in traditional Yolngu

ceremonies. Fellowships include an Australia Council

Developing Writer's Fellowship, two Asialink Residencies

in Indonesia and a Tyrone Guthrie Writing Residency in

Ireland. She wrote her debut novel The Crocodile Hotel

while living in Rome on an Australia Council BR Whiting

Residency. Julie's historical novel Benevolence Magabala

2020, is an Aboriginal response to colonization and has

been long-listed for the NIB Literary Award 2020. She has

ten produced plays, including two at Belvoir St Theatre,

Black Mary and Gunjies. These plays are published by

Aboriginal Studies Press.

Julie's Book Club Nomination- Song Spirals

by the Gay'wu group of women

The Yolngu clans of North Eastern

Arnhemland have shared knowledge for

thousands of years. Song Spirals is a non

fiction book, written by the Gay'wu group

of women. It explores the essence of every

clan. The women recount how they belong

to the land and it belongs to them, it sings

of the stories that are the heart of creation.

Julie's Book Club

Nomination

18 19
---
DATE TIME AUTHOR BOOK

Thursday, 15 October

2020

6:30pm - 7:00pm S.L. Lim Revenge

Friday, 16 October 2020 5:00pm - 5:30pm Julie Janson Song Spirals

Saturday, 17 October 2020 2:00pm - 5:00pm Hayley Scrivenor Writing workshop

Sunday, 18 October 2020 12:00pm - 12:30pm Lee Kofman Imperfect

Monday, 19 October 2020 5:00pm - 5:30pm Julie Janson Benevolence

Tuesday, 20 October 2020 7:00pm - 7:30pm Victoria Purman The Women's Pages

Wednesday, 21 October

2020

Thursday, 22 October

2020

7:00pm - 7:30pm Karen Brooks The Darkest Shore

6:30pm - 7:00pm S.L. Lim Rat Bohemia

Saturday, 24 October 2020 1:00pm - 1:30pm Amra Pajalic You Must Be Layla

Monday, 26 October 2020 7:00pm - 7:30pm Victoria Purman The Dyehouse

Tuesday, 27 October 2020 6:00pm - 6:30pm Cathy Perkins The Shelf Life of Zora

Cross

Wednesday, 28 October

2020

7:00pm - 7:30pm Karen Brooks Gulliver's Wife

Friday, 30 October 2020 6:00pm - 6:30pm Cathy Perkins Friends & Rivals

Saturday, 31 October 2020 1:00pm - 1:30pm Amra Pajalic Things Nobody Knows But

Me

Saturday, 7 November

2020

7:00pm - 7:30pm Lee Kofman Autobiography of a Face

Sunday, 8 November 2020 11:00am - 1:15pm Lauren Elise Daniels Writing Workshop

Saturday, 14 November

2020

7:00pm - 7:30pm Bem Le Hunte A Room of One's Own

Sunday, 15 November 7:00pm - 7:30pm Bem Le Hunte Elephants with Highlights

20

2020

21
---
Kate Forsyth appeared at the 2018

festival on the "Hearing our Grandmother's

Voices" panel, and again at the 2019

festival discussing the French revolution

and Chinese mythology. While Kate is

best known for her fiction, she has written

a bibliomemoir of their great-greatgreat-great-grandmother

and author of

Australia's first known children's book,

Charlotte Waring, with her sister Belinda

Murrell. The book, Searching for Charlotte,

will be published by the National Library

of Australia and will celebrate the 180th

anniversary of Waring's A Mother's Offering

to Her Children.

Margaret Morgan's dark and speculative

novel The Second Cure is an exploration of

a world confronted with a pandemic. It is

eerily relevant in 2020, only two years after

its publication. Excitingly, in 2019 Margaret

announced the novel was being adapted

into a miniseries by Bunya Productions.

Bunya Productions is behind the 2017 film

Sweet Country, winner of 8 different awards

from the Australian Academy of Cinema

and Television.

Catching up with some of Heroines Festival's

previous guests

Ceridwen Bush

22 23
---
Lauren Chater's second novel, Gulliver's

Wife, was published in April 2020 to

rave reviews: "Innovative and unique,

this novel was gripping from the very

first page" (Theresa Smith Writes, 2020).

Lauren revisits the classic Gulliver's Travels

to explore Mary Burton Gulliver. Mary

is a fleeting and limited character in the

original but is reimagined with a voice

and life of her own. Gulliver's Wife is an

eloquent feat that tackles the historical

underwriting of women's stories.

Cat Sparks, a multi-award winning

Australian author, editor, artist, and

director of multiple speculative fiction

festivals, completed her PhD in creative

writing entitled Capitalocene Dreams: Dark

Tales of Near Futures & The 21st Century

Catastrophe: Hyper-capitalism and Severe

Climate Change in Science Fiction. Her

forthcoming projects include publications

in the 2020 Dark Harvest anthology and

Cthulhu Deep Down Under Volume 3.

Kerry Turner published her second

historical fiction novel The Daughter of

Victory Lights in January 2020. Karen

Brooks, author of The Locksmiths

Daughter, describes the novel as "an

exquisite, heart-aching tale of love, loss,

rejection and connection all set against the

backdrop of firstly, London during the Blitz

and, later, the post-war years and early

sixties".

2019 Festival guest Monica Tan's Stranger

Country won the Chief Ministers Book

Award for Non-Fiction and Jessica White's

Hearing Maud was shortlisted for the

National Biography Award by the State

Library of NSW.

Robyn Cadwallader appeared on

the "Hearing Our Grandmother's

Voices" panel at Heroine Festival in

2019. Described by Head of Fiction at

HarperCollins, Catherine Milne, as a

"moving and profoundly beautiful novel

of the human impulse towards creativity

and connection", her second novel, Book

of Colours went on to be the winner of the

2019 ACT Book of the Year.

24 25
---
Jesse

Blackadder

Vale Jesse Blackadder.

We were so saddened by the passing of author Jesse

Blackadder in 2020. It was a real honour to have Jesse

speak as a featured guest at Heroines Festival last year.

Jesse was a remarkable woman as evidenced in her

adventures to Antarctica, her historical research and

writing practice, and her work with Byron Writers Festival.

Jesse made a significant impact on the Australian literary

landscape, was much loved, and will be greatly missed.

26 27
---
We were profoundly lucky to be able to host Tara June Winch when she was in Thirroul

in 2019 upon the release of her most recent novel The Yield. The Yield went on to be

awarded three NSW Premier's Literary Awards: Book of the Year, Christina Stead Prize

for Fiction and the People's Choice Award, as well as the Miles Franklin Award. The

audiobook of her novel was also shortlisted for the Australian Book Industry Awards

Audiobook of the year. Tara's heritage is of the Wiradjuri nation in western NSW, and

she grew up in Woonona but is currently residing in France.

Home

Grown:

Writers from

the Illawarra

28 29
---
In January 2020, Helena Fox won the Victorian Premier's

Literary Award for Writing For Young Adults for her debut

novel How It Feels to Float. On top of this, her novel has

been shortlisted for the CBCA Awards, for Book of the

Year for Older Readers and the NSW Premier's Awards,

for the Ethel Turner Prize for Young People's Literature.

Helena has been spending her time reading and painting.

Chloe Higgins released her memoir

and debut novel The Girls as part of

her PhD study, which won the People's

Choice Award in the Victorian Premier's

Literary Awards in January 2020. A heart

wrenching novel of grief and growth,

The Girls was recommended by Readings

Australia for World Mental Health Day. As

well as writing, Chloe has been directing

the Wollongong Writer's Festival since

founding it in 2013.

Film director Zanny Begg appeared at

the 2018 festival on the "Resistance and

Rebellion" panel, where she discusses her

portrayal of historically rebellious women.

In 2019, Zanny was commissioned by

STARTTS (NSW Service for the Treatment

and Rehabilitation of Torture and Trauma

Survivors) to direct Stories of Kannagi, a

short film, featuring three Tamil women

and writers based in Australia, and in

2020 she was commissioned to create a

new digital work by the Australian Centre

for Contemporary Art in Melbourne,

titled Magic Mountains.

30 31
---
Announcing The Heroines/Joyce Parkes

Women's Writing Prize

Joyce

Parkes

Joyce's poetry has appeared in literary

magazines, journals and anthologies

in Australia, the UK, Finland, Canada,

Germany, the US, New Zealand, Northern

Ireland, Greece and the Netherlands. The

themes throughout Joyce's poetry are

often responses to the world around us.

Her work is dynamic and with a distinct

voice. She has written politically, about

worker's rights, with jarring sentences

and literary allusions; about the Australian

landscape tainted by colonisation, with

powerful metaphors entwined in graceful

prose. She writes of birds and fences,

belonging and leaves - combinations of the

natural world and the human. The life-long

and the quotidian.

Her activism extends beyond her writing.

Joyce was a member of the Western

Australian Discrimination Commission in

the 1970s, unveiling gender, race, and

age discrimination. In the 1980's she was

a committee member of the Fellowship of

Australian Writers (WA), and later of the

Western Australian Cultural Arts Policy

Committee. In 1991, she presided over the

PEN Perth Centre. Joyce is also the patron

for the Joyce Parkes Women's Writers'

Prize through the Australian Irish Heritage

Association.

Across history, women have always paved the

way for those that come after – consistently

fighting for futures and recognition that

they never saw. Contemporary women are

making history all around us. Joyce Parkes'

contributions to the literary scene in Australia

reflect this tradition. Based in Balajura,

Western Australia, we are thrilled to announce

that Joyce is the patron of Heroines/Joyce

Parkes Women's Writing Prize.

Each year, the Heroines Festival has published

an anthology of short fiction and poetry.

2020 will see out third anthology and the first

announcement of our writing awards. Joyce's

patronage will allow The Heroines Festival to

offer two significant prizes, for short fiction

and for poetry, from 2021.

32 33
---
34 35
---
Read What

Australian Women

are Writing

36 37
---
The Australian Women Writers Challenge

Reviews and Interviews

The Australian Women Writers Challenge is

run by a team of volunteers, as a response

to the gender division of major reviews of

books - the domain is dominated by male

authors, while novels written by women

neglected. The AWWC doesn't just want

to challenge newspapers, magazines, and

literary journals, but has invited teachers,

authors, and bloggers to commit to

reading and reviewing more books by

Australian women. The challenge began

in 2012, and the success and international

attention it drew has led it to continue to

2020. The team ensures space for diversity,

outlining books written by Indigenous

women, women with disabilities, and

lesbian and queer women.

From AWCC Review: Historical Fiction

Round Up – Autumn Edition.

Review of The Philosopher's Daughter by

Alice Booth by BookLover Book Reviews

"I was enthralled by The Philosopher's

Daughters literary narrative. Most

appealing though is the open-mindedness

and respect with which both sisters engage

with the land and all its inhabitants. And

of course, their stories of personal growth

and liberation in having done so. Alison

Booth's The Philosopher's Daughters is

quietly moving and captivating historical

fiction."

A tale of two very different sisters whose

1890s voyage from London into remote

outback Australia becomes a journey of

self-discovery, set against a landscape of

wild beauty and savage dispossession.

London in 1891: Harriet Cameron is a

talented young artist whose mother

died when she was barely five. She and

her beloved sister Sarah were brought

up by their father, radical thinker James

Cameron. After adventurer Henry Vincent

arrives on the scene, the sisters' lives are

changed forever. Sarah, the beauty of the

family, marries Henry and embarks on

a voyage to Australia. Harriet, intensely

missing Sarah, must decide whether

to help her father with his life's work

or to devote herself to painting. When

James Cameron dies unexpectedly,

Harriet is overwhelmed by grief. Seeking

distraction, she follows Sarah to Australia,

and afterwards into the outback, where

she is alienated by the casual violence

and great injustices of outback life. Her

rejuvenation begins with her friendship

with an Aboriginal stockman and her

growing love for the landscape. But this

fragile happiness is soon threatened by

murders at a nearby cattle station and by a

menacing station hand who is

seeking revenge.

38 39
---
Imbi Neemes' The Spill

Ceridwen Bush

"There was something about the

pressure of the breaks followed by

the release of the accelerator that

made her feel in control again."

What was the first prompt you had to

write this book?

A friend had a big argument with her sister

about an incident that occurred during

their childhood. Their memory of the

incident was so different, it was almost like

they were talking about two completely

separate events. The fact that two people

who were raised in the same household by

the same parents could experience – and

then remember – something so differently

absolutely fascinated me. I rummaged

around in my own memories, and soon

became fixated on a car accident I'd been

in with my mother and sister, which had

fundamentally changed me. So I decided

to use that as the inciting incident for two

fictitious sisters and their mother.

she ought to live and the life she longs to

live.

What do you think is important for

women who are aspiring to be writers to

know?

That you don't need hours and hours each

week to write. Nor do you need to make

it perfect the first time. When starting a

new manuscript, I set myself an achievable

word target (250 words) that I make sure

I meet each day. By maintaining that daily

contact with my manuscript, I'm able to

keep the story churning away in my brain

so that by the next time I sit down to do

my 250 words, I'm ready to write.

with a puzzle, the reader doesn't get the

pieces in order. In the beginning, we are

shown "after the spill" – a car accident,

a drunken mother and an afternoon

of watery lemonade - something that

signposted the end of young Samantha

In the novel, there is a chapter clearly

and Nicole's parents' marriage. In the

defined as "The Spill" - what is it about a

middle, we are given the spill itself: the

What did you learn - about anything, moment that marks it as a spill?

Imbi Neeme's first novel The Spill won the moment the car tumbles too fast around a

including yourself - along your writing In the book, the term "the spill" most

Penguin Literary Award in 2019. It is a fullbodied

examination of relationships and juxtaposed by all the other indistinct spills

Writing has always been a way for me heart of the story. But it's more than that

bend. The clarity of the spill in the novel is

process?

obviously refers to the car accident at the

trauma. It's a brilliant story of secrets that sprinkled in, including seemingly unrelated

to emotionally digest experiences or – it's the spilling of a jigsaw puzzle, the

absorbs its reader through loaded prose material – puzzles, vodka, tears – tiny

feelings (I've got decades of journals and spilling of liquid, the spilling of secrets. I

and complicated characters.

things that get lost in a moment.

notebooks as evidence of this!). While I like to make my titles work hard!

The story is told through the interchanging The everyday or usual as traumatic is a

often cannabilise my own life and the lives

perspectives of two sisters: Nicole and concept reminiscent of Virgina Woolf's

of those around me, I try to do so with as "The Spill" has a form that is deeply

Samantha. A formal choice that exemplifies Mrs. Dalloway. Woolf presents a similar

much kindness and empathy as I can and interwoven with the experience of

the novels themes of perception and juxtaposition of trauma: veteran Septimus

to move as quickly as possible into the trauma. What did the process of writing

memory, but also puts the experience of Smith and his explicit, visual, postwar

trauma, and Clarissa Dalloway's

I have little control over how people close Because I've never felt my own memory

realm of fiction. However, I've learned that something non-linear look like for you?

women at the forefront of the plot. The

diversity of secondary characters, both dissatisfaction with life and longing for

to me read my writing and that they'll is particularly linear, I had this idea of

men and women, is refreshing – nothing past connections. Like Woolf, Imbi Neeme

often find themselves in places I haven't structuring the book like a giant jigsaw

virtue signalling or irredeemably evil, just presents the reader with a traumatic event

put them!

puzzle, where I give the readers pieces

fully-fleshed. Despite never being in the so clear, it indirectly highlights the many

from different parts of the puzzle one at a

spotlight, I was fond of Nicole's partner, stitches of trauma in everyday life.

What would your ideal reader experience time. Slowly, they are able to connect the

Jethro. Imbi shows us not only Nicole and The Spill, just like it's protagonists, is

with this book look like?

pieces and see the bigger picture.

Jethro's first interaction – playful, awkward full of cryptic secrets. It is a series of

I would hope it would make people reflect

– but Jethro's and Samantha's – hostile and scattered pieces: to understand is to work

on their own family relationships and The writing process relied heavily on a big

uncomfortable. These little interactions backwards, something impossible in the

consider that there might be more to the spreadsheet I created to manage all the

are something that tie all of the characters real world. Finally, in "Before the Spill", the

past than they've remembered.

different puzzle pieces. It allowed me to

together. No moment is truly insignificant reader learns something that Samantha

sort the chapters in chronological order

in The Spill, nor in reality.

and Nicole never will. With this framework,

What are you reading at the moment? as well as in the order they appear in the

The Spill is a novel set against a backdrop the novel becomes a commentary on

I'm just starting 'No Small Shame'

novel, as well as track character's ages.

of two Australia's: the 1980's and now. It memory, truth, and trauma. Ultimately,

by Christine Bell. I met Christine at a

is a novel surrounding the spill: a clearly The Spill is a beautifully critical analysis of

workshop late last year and have been

defined moment in time, presented individual reality, and the trauma entwined

itching to read this, her debut novel. Set

differently in the beginning, middle, and in everyday life.

during the first world war, a woman is

end of the novel. It gives this feeling of

forced to make a decision between the life

collecting memories, or "pieces". Just as

40 41
---
Walking, an interview with Kim Kelly

Ceridwen Bush

Australian writer Kim Kelly is the author of

ten books. Her novel Walking, set across

two devastating wars and two great

romances, is inspired by a true story of

medical genius and betrayal. It is crisply

told tale of bigotry and obsession, love

and loss, that charts the path of a young

woman finding her feet in the world, and

the power of kindness that drives her own

ambition.

What was the first prompt you had to

write this book?

Years ago, while researching my first novel,

Black Diamonds, I came across the reallife

story of a brilliant surgeon, Max Herz.

His story was so big, he deserved his own

novel: a Jewish German-Australian, he

was persecuted, betrayed and imprisoned

during the First World War, but never

swayed from his dedication as a doctor,

particularly in treating children – to their

parents, he was the hero who had enabled

their children to walk. He changed the lives

of thousands of Australian kids.

It took me a long time to work out how

to tell his story, though. The crucial spark

only came when I found the sole biography

written about him, by an ex-patient, Joan

Clarke. Suddenly, the character of Lucy

Brynne stepped into my imagination as the

heart and driving force of the novel. Lucy

would tell not only the doctor's story but

her own, as an ex-patient and a medical

professional herself. Once I'd made the

decision to fictionalise the doctor as well,

calling him Hugo Winter, then we were

ready to set off on the writing adventure

together.

What did you learn - about anything,

including yourself - along your writing

process?

I learned a lot about early 20th-century

orthopaedics! I also found a deeper

understanding of how challenging it is

for a woman to be ignored professionally

in medicine, and how the dismissal

of her opinion can have devastating

consequences not only for herself but her

patients.

Personally, each novel is a new mountain

to climb, and I never stop learning in any

technical sense, but one thing I always

relearn about myself is tenacity. I have to

find the courage to continually renew my

love and respect for my work over the long

road, and that's not always easy, but it's

always worthwhile.

What would your ideal reader experience

with this book look like?

An emotional journey through love in all its

forms, and one that shows how kindness is

the greatest gift of healing we can share.

I hope readers feel a sense of building

confidence throughout the tale, so that

by the end, they want to step back into

the world with renewed determination

themselves.

What are you reading at the moment?

I'm absolutely delighting in The Mermaid

and Mrs Hancock by Imogen Hermes

Gowar right now, and looking forward

to The Dictionary of Lost Words by Pip

Williams.

What do you think is important for

women who are aspiring to be writers to

know?

I've worked in publishing for over 20 years

as a book editor and seen a few interesting

things in that time. The industry is not

always the kindest place – it is there to

make money – so be very wary of pinning

any hopes on the brand of success the

industry promises. Dig deep into the

reasons you want to write, give your

work the purpose, honour and respect

it deserves. You be the one to decide

what success means to you, and whatever

happens, make your best and most

beautiful work while you can. Don't wait

for permission; seek only the validation

of those who will engage with your work

constructively and help you build your

skills. No matter where you are along your

writing road, remember this is a long game

– and it's your game.

Walking is inspired by a true story. How

did you decide what to keep and what

must be left out?

I usually throw out all sorts – anything that

digresses too far from the steady unfolding

of story or character – but Walking was

a little different. Because I began with

a sketch of real-life facts, I slowly built

the characters and story threads around

it in my imagination as I gained more

information. When it came time to write

it, it came out as a whole thing and didn't

change that much through the editing

process – apart from lots of polishing.

What do you do with elements that don't

make the final edit?

Nothing is ever wasted – except for

embarrassingly bad sentences that must

get straight in the bin. It's always a lovely

thing when a chunk of research finds new

relevance, or a storyline I couldn't use in

one novel, finds its way into another. That's

how Walking began.

What is the relationship between love,

medicine, and health for you?

Walking is dedicated to my wonderful

friend, Dr Liz Hovey, who embodies the

way love and science can combine to

change lives for the better – just as my

characters Lucy and Hugo do. Without

compassion a doctor can be plain

dangerous, as the novel illustrates, too;

but a doctor who becomes over-involved

can lose their critical distance. It can be a

tricky balancing act, for sure.

These challenging COVID-19 times we're

experiencing right now have brought into

sharp focus how essential this relationship

between love, science and health can be.

Our best medical professionals are all in

one way or another grappling with a virus

that has as yet no cure; our lives are in

their hands. They truly are heroes, and

deserve our love in return.

42 43
---
Every Woman's Guide

to Retirement

Experienced lawyer Alice Mantel writes as

a friendly, wise adviser to clearly explain

the complex situations that many women

encounter during retirement. Her guide,

Every Woman's Guide to Retirement

responds to the fact that women

experience retirement differently to men.

Women generally live longer, have less

money and volunteer more than their male

counterparts. During the last third of her

life, women often takes on many roles –

caring for parents, children, grandchildren

and partners – that often leave them

little time for themselves. Every Woman's

Guide to Retirement offers personal and

comprehensive guidance using researched

information and case studies to assist

women to prepare and make the most of

their retirement.

Alice spoke with Alice Dale of the Law

Society. She explained that she started

writing this book before she retired: "I

was initially doing research to answer my

own questions. Years ago, when placing

my mother into a nursing home, I realised

how difficult it was to find any sensible

information to assist me. More recently,

I wanted some guidance when I was

thinking about closing my practice. After

a while, I decided that most books or

articles did not seem very relevant to me.

They were often very friendly but aimed

at chaps who were fairly well off or aimed

at women who presumably intended

to spend the last third of their life on

continual holidays. My research gradually

grew into a book that is far more extensive

than I had ever contemplated and includes

mundane topics like accessing your

pension as well as more interesting options

such as lifelong learning or starting a new

relationship."

What issues specifically apply to women?

I see retirement as very different for

women than men. Generally, women are

the main carers for their parents, children,

partners and grandchildren. At the same

time, they come into retirement with

significantly less financial resources but live

on average five years longer. If they do not

have enough resources, those last years

are going to be close to living in poverty.

It can be a very grim prospect if a woman's

health begins to suffer and there is not

always the certainty that your children will

be there to look after you.

What about social planning for

retirement?

Most women retiring today can expect to

have another 20 years of relatively good

health, so it simply isn't enough to plan

your one big overseas trip and think that's

all there is to it. For working women, one

of the major issues around retirement is

the loss of their work identity, the loss of

income and the social connectedness that

professional life brings. We need to plan

at least a year ahead of retirement about

how we can use our skills and experience

in the non-employment sphere – and let

me assure you, that is a very large sphere.

There are so many not-for-profit agencies

looking for directors on their boards or

volunteers for their operations. Not having

to follow a work routine means you can

finally pursue your real passion – whether

it is art, woodwork, or caring for your

grandkids and even if it might take a little

time to find what that is, it will give real

meaning to the legacy you leave.

Quotes from "Six minutes with Alice

Mantel" by Alice Dale, Law Society Journal

online.

44 45
---
SPONSORS

Owned by two sisters, our

local bookstore, Collins

Booksellers at Thirroul is

a supporter of Heroines

Festival

46 47

www.theneoperennialpress.com/
---
48