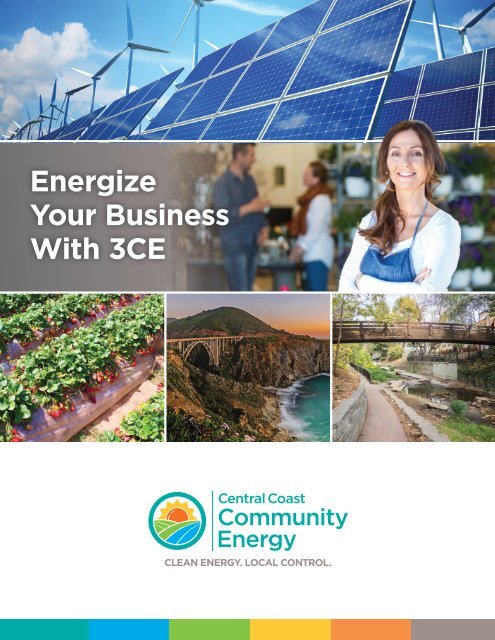 Do you know the secret to free website traffic?
Use this trick to increase the number of new potential customers.
Energize

Your Business

With 3CE
---
Delivering Value to Your Business

3CE is energizing economic benefits for all types of businesses along the Central Coast.

That's why 97% of all eligible commercial customers choose Central Coast Community Energy.

As a 3CE customer, you can expect value that goes beyond your bottom line to create new

opportunities for growth and innovation. Our commitment to competitive rates, clean

and renewable energy, and local reinvestment can add value for your business,

your customers and your community.

COMPETITIVE RATES

• 3CE is driven by innovative, efficient business practices that keep our agency nimble

and well positioned to deliver savings.

• We provide clean and renewable energy at competitive rates compared to PG&E and SCE.

• 3CE matches utility rate schedules and time of use periods to ensure consistency for

customers.

CLEAN ENERGY

• 3CE sources electricity from clean and renewable energy sources.

• We are enabling businesses and municipalities to achieve California emissions and

renewable energy mandates 15 years ahead of schedule – with competitive rates.

• 3CE is building new renewable energy infrastructure throughout California and the

Western U.S.

COMMUNITY REINVESTMENT

• 3CE invests millions annually through Energy Programs designed to assist customers and

communities with the transition from fossil fuel energy sources to clean energy solutions.

• 3CE is uniquely positioned to research, design and launch innovative, scalable Energy

Programs to accelerate electrification along the Central Coast; from transportation and

buildings to agriculture and energy resiliency.

• Through workforce training, job creation and contracting with local businesses,

3CE supports regional economic development.

PARTNERS IN INNOVATION

• 3CE was created by our community, for our community.

• We are committed to engaging with our customers so we can address the unique needs

of our diverse community.

• Our Energy Account Services team, stakeholder groups, Community Advisory Council,

and Public Engagement teams are just some of the ways we engage with our business

community.

"As a major agricultural engine along the Central Coast, Dole is constantly exploring

opportunities to reduce costs and create better products for our customers. Central Coast

Community Energy delivered on its promise for carbon-free electricity and its customer rebate

which Dole greatly benefited at over $50,000 in bill savings this year."

Tom Messenger, Facilities Manager, Dole Fresh Vegetables
---
3CE Serves:

• County of Monterey

• County of San Benito

• County of Santa Cruz

• City of Capitola

• City of Carmel

• City of Gonzales

• City of Greenfield

• City of Hollister

• City of Marina

• City of Monterey

• City of Morro Bay

• City of Pacific Grove

• City of Salinas

• City of San Juan Bautista

• City of San Luis Obispo

• City of Sand City

• City of Santa Cruz

• City of Scotts Valley

• City of Seaside

• City of Soledad

• City of Watsonville

SERVICE BEGINS

JANUARY 2021

• County of Santa Barbara

• City of Arroyo Grande

• City of Del Rey Oaks

• City of Grover Beach

• City of Guadalupe

• City of Paso Robles

• City of Pismo Beach

• City of Santa Maria

• City of Solvang

SERVICE BEGINS

OCTOBER 2021

• City of Carpinteria

• City of Goleta

SERVICE BEGINS 2022

• City of Buellton

Who is Central Coast

Community Energy (3CE)?

3CE is a locally controlled public agency, staffed by industry

experts and governed by Operations and Policy Boards

comprised of elected officials and city administrators

from our participating cities and counties.

PROVEN BUSINESS MODEL

3CE is one of 21 Community Choice Aggregators or "CCAs," currently

serving more than 10 million customers across California. Since 2010,

the CCA community has been providing communities with more

control and more choices when it comes to electricity service.

CCAs are expected to supply the majority of California's

electricity over the next decade.

In addition to delivering competitive rates and reinvesting in the

communities we serve, 3CE supports electricity generated from clean

and renewable energy resources.

FINANCIAL STABILITY

3CE repaid all startup loans and retired all lines of credit after

just seven months of operation. Looking ahead, 3CE will continue

operating with low overhead and conservative fiscal and risk

management policies designed to maintain stable and competitive

rates for our customers. 3CE dedicates 3-5% for Local Energy

Programs to assure that the communities we serve receive lasting

benefits and share in the economic and environmental progress

that our team is driving.

A PATHWAY TO 100%

RENEWABLE ENERGY BY 2030

3CE is now providing a more impactful and affordable pathway to

reduce greenhouse gas emissions by committing to 60% of energy

supply coming from new renewable resources by 2025 and 100% by

2030 – putting your community-owned electricity provider

15 years ahead of the state's clean energy goals.

WHO WE SERVE

3CE sources electricity from clean and renewable sources for more

than 400,000 municipal, commercial, agricultural and residential

customers in Monterey, San Benito, Santa Cruz, San Luis Obispo and

Santa Barbara Counties. 94% of all electricity customers in this service

area are enrolled with 3CE.
---
HOW DOES ENROLLMENT WORK?

• Central Coast Community Energy replaces PG&E or SCE's role in deciding how and where your

electricity is generated.

• Your PG&E or SCE will continue delivering electricity and maintaining electric infrastructure

along with billing. Customers still receive only one bill which now includes 3CE Electric

Generation Charges.

• Electricity customers have always paid for electric generation, but prior to 3CE service these

costs were part of your utility's Bundled Service charges. Now electric generation charges are

broken out on a separate 3CE page for more transparency.

• At the direction of your city or county, 3CE service begins for all eligible customers in your

community during the designated enrollment month – no action is needed to begin supporting

benefits for your community and your business.

• Net Energy Metering customers will be enrolled in one of three NEM enrollment phases.

Enrolling customers will be assigned to the enrollment phase that is closest to their existing NEM

True up date. Once enrolled, 3CE customers will receive monthly invoicing of 3CE generation

charges. For more information regarding your specific enrollment dates, please visit the

Enrollment page of the 3CEnergy.org website or speak with an Energy Advisor at 888.909.6227.

• Changes to your account can be made by visiting 3Cenergy.org or by calling 888.909.6227.

WHAT ARE MY SERVICE OFFERINGS?

At the direction of the cities and counties which 3CE serves, all eligible

electricity customers are enrolled with 3Cchoice when 3CE service begins.

You may choose to change service offerings at any time, at no cost.

3Cchoice supports community reinvestment as well as the growth of clean

and renewable energy sources. All new or returning 3CE customers are

enrolled in 3Cchoice unless they choose to opt-up to 3Cprime.

3CE's 100% renewable energy offering, 3Cprime supports local and state

clean-energy goals. Exclusively from California wind and solar, 3Cprime

supports these eligible renewable energy sources for an extra cost of

$.008 per kWh (aka eight-tenths of a cent).
---
FAQs

AS A 3CE CUSTOMER,

WILL SERVICE RELIABILITY

BE AFFECTED?

No, reliability will not be affected. 3CE provides

electric generation services, but responsibility

for power transmission, distribution, billing and

service reliability remains with your PG&E or

SCE. Depending on your service address,

PG&E or SCE will continue to maintain the

power distribution network and repair any

outages. The CAISO is responsible for balancing

the grid and the IOUs transmit and support

those efforts.

HOW ARE COMMERCIAL RATE

SCHEDULES STRUCTURED?

3CE follows the regional investor-owned utility

rate schedules as well as Time-Of-Use (TOU)

periods.

HOW DOES 3CE DELIVER

COMPETITIVE RATES?

3CE delivers competitive rates through low

overhead, zero debt, low administrative costs

and from sourcing competitively priced clean

and renewable energy. 3CE rates include our

operating costs, funding rate stabilization

fund as well as funding energy programs. 3CE

evaluates PG&E and SCE rates in order to assess

our competitiveness inclusive of fees.

HOW IS 3CE GOVERNED

AND FINANCED?

3CE is a Joint Powers Authority governed by

a Policy Board comprised of elected officials

representing the cities and counties which

3CE serves, as well as an Operations Board

assembled from administrators from the cities

and counties served. Additionally, 3CE reports

to a Community Advisory Council which

represents the Central Coast region's major

industries and demographic groups.

3CE reports to the California Public Utilities

Commission (CPUC) on grid reliability,

renewable energy portfolio standards and

customer privacy.

As a public entity, 3CE is solely funded by

its customers. 3CE ensures a strong financial

position and re-invests to customers through

stable and competitive rates as well as local

energy programs.

WHO DO I CALL FOR SERVICE?

Contact 3CE to evaluate your rate options,

review a rate analysis with your 3CE staff

member, discuss changes to your service

offerings, opt-out or return to 3CE service.

Contact PG&E or SCE for matters related to

your delivery rate schedules and to report

service issues including repairs, power outages

and stopping or starting electricity service.
---
Unifying the Central Coast

3CE is unifying the Central Coast through access to local control over electricity

needs and through opportunities to benefit from supporting clean and renewable

energy sources. By growing its service area, 3CE is sharing its proven benefits with

neighboring communities while increasing its buying power and opportunities for

innovation on behalf of all customers.

The momentum for 3CE began in Santa Cruz County and under the name of Monterey

Bay Community Power but the addition of communities in San Luis Obispo and

Santa Barbara Counties will make the benefits of the CCA model accessible to more

communities while plugging all 3CE customers into a clean, reliable and affordable

energy future.

Speak with a Local Energy Advisor:

888.909.6227 | info@3Ce.org

MAIN OFFICE: 70 Garden Court Suite 300, Monterey, CA 93940

SOUTHERN OFFICE: 71 Zaca Lane, Suite 140, San Luis Obispo, CA 93401

Contains recycled material.

Printed with soy-based ink.

Learn more about 3CE, service offerings and energy programs at 3Cenergy.org.