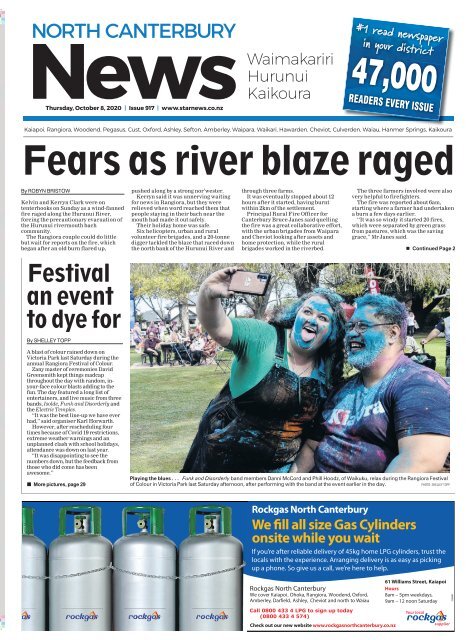 North Canterbury News: October 08, 2020
You also want an ePaper? Increase the reach of your titles
YUMPU automatically turns print PDFs into web optimized ePapers that Google loves.
#1 read newspaper

in your district

#1 read newspaper

in your district

47,000

Thursday,October 8, 2020 | Issue917 | www.starnews.co.nz

READERS EVERY ISSUE

Fears as river blaze raged

By ROBYN BRISTOW

Kelvin and Kerryn Clark were on

tenterhooks on Sunday as awind­fanned

fire raged along the Hurunui River,

forcing the precautionary evacuation of

the Hurunui rivermouth bach

community.

The Rangiora couple could do little

but wait for reports on the fire, which

began after an old burn flared up,

pushed along by astrong nor'wester.

Kerryn said it was unnerving waiting

for news in Rangiora, but they were

relieved when word reached them that

people staying in their bach near the

mouth had made it out safely.

Their holiday home was safe.

Six helicopters, urban and rural

volunteer fire brigades, and a20­tonne

digger tackled the blaze that raced down

the north bank of the Hurunui River and

through three farms.

It was eventually stopped about 12

hours after it started, having burnt

within 2km of the settlement.

Principal Rural Fire Officer for

Canterbury Bruce Janes said quelling

the fire was agreat collaborative effort,

with the urban brigades from Waipara

and Cheviot looking after assets and

home protection, while the rural

brigades worked in the riverbed.

The three farmers involved were also

very helpful to firefighters.

The fire was reported about 6am,

starting where afarmer had undertaken

aburn afew days earlier.

''It was so windy it started 20 fires,

which were separated by green grass

from pastures, which was the saving

grace,'' Mr Janes said.

Continued Page 2

Festival

an event

to dye for

By SHELLEY TOPP

Ablast of colourrained down on

Victoria Parklast Saturday during the

annual Rangiora FestivalofColour.

Zany masterofceremonies David

Greensmith kept thingsmadcap

throughoutthe day with random, inyour­face

colour blastsaddingtothe

fun. The day featured along listof

entertainers, and livemusic from three

bands, Isolde, Funk and Disorderly and

the Electric Temples.

''It was the bestline­up we haveever

had,'' said organiser Karl Horwarth.

However, after rescheduling four

timesbecauseofCovid 19 restrictions,

extreme weather warnings and an

unplanned clash with school holidays,

attendance was down on last year.

''It was disappointing to seethe

numbers down, but the feedback from

thosewho did come has been

awesome.''

More pictures, page 29

Playing the blues ... Funk and Disorderly band members Danni McCord and Phill Hoodz, of Waikuku, relax during the Rangiora Festival

of Colour in Victoria Park last Saturday afternoon, after performing with the band at the event earlier in the day.

PHOTO: SHELLEY TOPP

Rockgas NorthCanterbury

We fill all sizeGas Cylinders

onsite while youwait

If you're afterreliabledeliveryof45kghome LPG cylinders,trust the

locals with the experience. Arranging deliveryisaseasyaspicking

up aphone.Sogive us acall,we're heretohelp.

61 Williams Street,Kaiapoi

Hours

8am –5pm weekdays,

9am –12noonSaturday

2286893

Check out our newwebsite www.rockgasnorthcanterbury.co.nz
---
NEWS

2 North Canterbury News, October 8, 2020

Grow

customers,

sales and

profits

with North

Canterbury's

best read

newspaper

Brackenfields complex for sale

By ROBYN BRISTOW

The Brackenfields shopping

precinct in Amberley is for

sale.

The property, ownedbya

syndicateoflocal investors,

went on the marketthis week.

The shopping centre—the

land and buildings only—

includes a3564­square­metre

Countdown Supermarket and

retail stores. It is for sale by

deadlineprivatetreaty, with

offers due by November 5

unless sold prior.

Tim Rookes, the managing

director of real estate firm

CBRE Christchurch, says there

is 5790sqm of lettable area on a

27,021sqm sitewhich fronts on

to Carters Road (State

Highway 1), withaccess alsooff

Amberley Beach Road.

He says demandfor

supermarket­anchored

investments is at an all­time

highinthe Covid era, given

thatthey are tenantsthat

provide an essentialservice.

''CBRE has beeninstructed

to sell the landand buildingsas

atenanted investment,'' he

says.

''Weare not aware of any

tenant movement within the

centre.''

Mr Rookessays the climate

for commercialsales is pretty

tough.

However,therehad been

unprecedented resultsinthe

commercialsales spacethis

year.

This was notwithstanding

the arrival of Covid­19, with

recordsalesinChristchurch,

numerous inquiriesonone

property asset worth more

than $5m, and morethan 212

qualified parties enquiring

about the TerraceDowns golf

resort, which soldrecently.

''We are seeingareal spike

in owner­occupierenquiry,

fuelled by low interest rates

and the likelihood of negative

interest.

''We have also seen the

introduction of the 'essential

service' tag, which is seen as

valuable as agovernment

tenant.''

Thisapplied to Brackenfields,

with Countdownasthe

anchor tenant. ''As such,

expectBrackenfields to attract

goodnational interestas

supermarket­anchored

investments are seldom

available for purchase.''

The centre openedinMay

2014, with acore group of about

halfadozen retail outlets

joining Countdown.

However, asmall numberof

other tenants have quit, and

someretail spaces havenever

beentenanted in the past6 1 ⁄2

years.

The centre has plentiful

parking,and at one time there

was aproposalfor atavern in

the southwestcorner.

Evan'sefforts remembered by walkers

By DAVID HILL

Readership: 47,000 weekly

Circulation: 30,150 copies delivered

to EVERY farm, RD, lifestyle block

and homes in Waimakariri, Hurunui

& Kaikoura every Thursday

news

Robyn Bristow

Managing Editor

027 312 1581

robyn.bristow

@ncnews.co.nz

Reporters

Neil Clarkson, David Hill,

Shelley Topp.

advertising

DaynaBurton

Sales Co-ordinator

027 312 0089

dayna.burton

@ncnews.co.nz

Amanda Keys

Advertising

027 536 6224

amanda.keys

@ncnews.co.nz

Kerryn Clark

Advertising

021 586 138

kerryn.clark

@ncnews.co.nz

getintouch

Editorial

info@ncnews.co.nz

Advertising

sales@ncnews.co.nz

Graphic Design

heather.hood@ncnews.co.nz

Distribution/Deliveries

03 314 8335

Amberley: 03 314 8335

119 Carters Road, Amberley

Rangiora: 03 313 2840

77-83 High Street, Rangiora

Christchurch: 03 364 7460

www.starnews.co.nz

AformerRangiora High

School pupil's contribution to

restoringChristchurch's Avon

Riverwas remembered

during awalk on Sunday.

Evan Smith, who died last

August, was born in 1951 and

raised in Kaiapoi. He was

instrumental in efforts to turn

the Christchurch red zone

around the banks of the Avon

Riverinto apark.

Participants in the annual

GreatOtakaro AvonRiver

Walk stopped at aformer culde­sac

off River Road in

Richmond, where Mr Smith

and his familylived for many

yearsuntilitwas red­zoned,

to hear from membersofthe

Avon Otakaro Network

(AvON), which he co­founded.

''I think of this as the 'Evan

zone'and he'sleft his mark

everywhere really,'' AvON

secretary­treasurer Sarah

Butterfield says.

''As you come aroundthe

bend there's someamazing

plantings and some beautiful

artworksfrom childrenand

you look at the signage and it's

Wind fans blaze

From Page 1

The bach community was

evacuated by the Hurunui

District Council Civil

Defence team because of the

high risk of the fire running

down terraces directly into

the village.

Aspecialist dangerous

tree team was on site on

Monday, felling burnt trees

afantastic example of how

Evan collaborated withlots of

people.

Walk leaderMark Gibson,

who co­founded AvON with

Mr Smith, recalled the latter's

efforts to save red­zone trees.

''Early on Evan realised

they were bringingthe

bulldozers in and just

and keeping awary eye on

any flares­ups as the high

winds returned.

Mr Janes urges anyone

with old burns to check

them. There is no legal

requirement, but it made

good sense, he said.

An ongoing series of

north­west winds is lifting

the fire risk across the

region.

Your Favourite Country

Christmas Shop is

Now Open!

PATAKA

completely clearing sections,

fruittrees and beautiful,

established exotic and native

trees. Thankstohis tenacity,

and giving the council and

CERA (Canterbury

Earthquake Recovery

Authority) avery strong

message,those trees were

saved.''

Laybys welcome -Open every day 10am to 4.30pm

768 Marshland Rd (North End) Ph 03 323 8915

Fanned by winds ... The Hurunui River fire, when still 2km from

the river­mouth settlement.

PHOTO: PERC MCDONALD

2314089

Paying tribute ...

The Great Otakaro

Avon River Walk

founder Mark

Gibson, left,joined

Avon Otakaro

Network secretarytreasurerSarah

Butterfield and

chairman Dallas

Matoeinpaying

tribute to

environmentalist

Evan Smith, who

grew up in North

Canterbury,athis

former homeinthe

Christchurch red

zone. PHOTO: DAVID HILL

Mr Gibson recalled thatMr

Smith participated in several

of the river walks,including

one where he met the walkers

at his former property.

AvONchairman Dallas

Matoe says the groupis

fundraising to builda

memorialonMrSmith's

former property.

STOP BIRDS

hail, leaves, snow &vermin from

blocking &damaging your spouting

Quality materials: BHP Colorbond steel mesh with unique

patented louvre will even keep out pine needles. Will not rust or

sag with age or load. 10 year warranty,range of colours.

Proven in Australia &New Zealand over the last 15 years.

FOR SAFE, PURE DRINKING WATER

FROM YOUR ROOF.

NOW AVAILABLE: STAINLESS STEEL MICRO MESH

Call Rohan anytime Mon-Sat for

ano-obligation assessment &quote

03 982 8850 0800 486 532 www.gumleaf.co.nz

1637376
---
NEWS

North Canterbury News, October 8, 2020

3

Awoolly adventure unfolds

Local author Jennifer

Somervell, who is behind the

award­winning TalesFrom

the Farm series, launched

her sixth bookinOxford on

Saturday.

More than 80 people

attended, including Peter

Carrell, the Anglican Bishop

of Christchurch, who

described ABaa­rilliant

Adventure,as''a brilliant retelling

of the famous story of

the shepherds' visit to

Bethlehem''.

The book is not atale from

the farm likeJennifer's

other books, but atale from

Israel, inspiredbyavisitby

Jennifer to that nation in

2011.

''I imagined the angel

appearing to shepherds and

their sheepinthe fields

outside Bethlehem, and I

thought, 'what happened to

the sheep? Wouldn't they

followtheir shepherds?' ''

Adramatic adventure

results, as threesheep,

Rumbly, Tumbly and Woolly,

stumble after their

shepherds in the dark.

In keepingwith the

nativity­sheepthemeofthe

book, the mostpopular guest

for the 30 or so children at

the launch was Sooty, a

South Suffolk crossbred

lamb.

Children were entertained

by sheep­making, stardecorating,

colouring­in

activities,and face­painting

animals from the book.

Jennifer waited seven

years for the rightillustrator.

Atale with atwist ... Author of ABaa­rilliant Adventure,Jennifer Somervell, right, with the book's

illustrator, Zerika van Jaarsveld.

PHOTO:DANLIM DESIGNS LTD

''I needed an illustrator

who could capture emotion

and facial expression,

including in sheep.''

She met her Southland

illustrator, Zerika van

Jaarsveld, in early 2019 at

the Oxford Baptist Church.

''Fromthe momentIsaw

her first pictures,Iknew the

book would be special. They

were outstanding.''

Thoughthe story is

imaginative,itisset in an

accurate historic setting.

"I didn'twant white faces

and Romney lambs. We

neededthe right breed of

sheep —fat­tailed —and

clothing and footwear that

could havebeen worn 2000

years ago by Middle Eastern

shepherds."

Help was sought from a

scholar in Israel to clarify

pictures.

Jennifer's husband, Ken

Fletcher, researched the

non­fiction end section,

explaining the real nativity

history, and the close

relationship betweensheep

and shepherds of the time.

"There are layers in this

book. On one level it can be

read as adramatic storyof

rescue.But it alsospeaks of

the good shepherd and what

that means."

Books are available from

Emma's at Oxford; Paper

Tree and Wee Kiwi,

Rangiora; Route 72, Cust;

and online at

talesfromthefarm.co.nz.

Early polling places an hour away for some

By ROBYN BRISTOW

Voters keen to castanearly vote this week

in the generalelection face an hour­long

journey each way if theylive in some

partsofthe Hurunui district.

Voting facilitiesinthe district are not

available untilthis Saturday, meaning a

trip to Rangiora or Kaikoura for those

needing to votebeforethen.

Bill Blain, from Greta Valley, is

incredulous there are no voting booths in

the Hurunuidistrict, which is in the

Kaikouraelectorate,for residents to vote

beforeSaturday. He believes it is an

oversight and lacks common sense.

Mr Blainhas brought thematter to the

attention of the Electoral Commission

and MinisterofJustice AndrewLittle, but

is resigned to the fact his wife will haveto

traveltofindapolling booth before she

heads away ''intothe bush''before

facilitiestovote earlyopen on Saturday

throughoutthe district.

Maps availableonline on the Electoral

Commission's website show an

abundance of earlyvoting booths, but they

confirm that Saturday is the earliest

peoplecan vote withinthe Hurunui.

In Rangiora, there are facilitiesinthe

shoppingcomplex nearthe Warehouse to

castanearly vote todayright up until

Friday, October16. Opening timesvary.

In Kaiapoi, early votescan be cast at

the Kaiapoi Co­operating Parish each day

until Friday next week,but hoursvary.

Voters heading north to Kaikoura can

voteevery day until October16, but,once

again, voters needtocheckthe map for

times the booth is open.

Additionalbooths will be available in

all three towns, but at the weekend only.

2310682

Caring for North Canterbury

Dr John Dehn

Full Mole Checks

using Dermoscopy

Surgical Management

and Aftercare

Comprehensive, Affordable, Convenient

Ph 03 9204060

52 Pegasus Main Street,Pegasus 7612

www.pegasusmedicalcentre.co.nz

HOUSE

WASHING

Experts!

AFTER

Services Include:

0800101216

washrite.co.nz

Southern Cross

Affiliated Provider

For selected services

BEFORE

• House washing

• Roof Washing

• Moss and Mould Removal

• Driveway &Concrete

Cleaning

• Deck &Fence Cleaning

• Gutter Cleaning

• Spider proofing

FreeQuotes

1890742

Matt Flight

forKaikōura
---
NEWS

4 North Canterbury News, October 8, 2020

Ellie in top youth council role

By DAVID HILL

Waimakariri's new youth

leader is keen to promote

what young peopledoin

the community.

EllieTizzard, who was

Oxford AreaSchool's

head girland dux last

year,was elected

Waimakariri Youth

Council co­chair last

week,joining Arabella

Jarman.

She replacesJacob

Harford,aformer

Kaiapoi High School

deputy headstudent.

''It's exciting for me

beingonthe youth

council for the last three

yearsand it means that I

can support other likeminded

people who want

to do the same sortof

things Ido,''Ellie says.

''It's just cool to see

things that we work on in

ameetingroom cometo

life in the community.''

The youth council has

been working on a

project to make the

Dudley Park skatepark

area more familyfriendly,

and Elliesays it

is closetocoming to

fruition.

In partnershipwith the

council's Greenspace

team,the youthcouncil

hopestoput in new

seating and an entertainment

area. The youth

have lots of other ideas,

she says.

''It'sentirely youth­led

and it's exciting to

facilitatesomething

that'sgoing to be a

concrete project in the

community.''

Last year, Ellie was

chosenasWaimakariri

MP Matt Doocey's Youth

MP and hassince been

working on ayouth

employment project.

''Mattdid asurvey with

the council and

Enterprise North

Canterbury and there

were afew businesses

who mentioned some of

the concerns and challengesthat

they have

employingyoungpeople.

''Lackofexperience

was aproblem, especially

in these Covid times, so

without things like the

90­daytrial it's hard to

give them atrialand it's

expensive to train

people.''

Youth employment

was identified as an area

of focus in the

Waimakariri Youth

Development Strategy,

approved by the

Waimakariri District

Council two yearsago.

In her roleasco­chair,

Ellie hopes to raisethe

profile of the youth

Young leader ... Ellie Tizzard is the new Waimakariri

Youth Council co­chair.

PHOTO: DAVID HILL

counciland to continue

workingonbridging the

gap between employers

and youth.

Ellie is in herfirst year

studying criminal justice,

psychology,Maori and

human services at the

UniversityofCanterbury.

She hopes to join the

police, but politicsisa

possibility.

Keen and green... Members of Keep Rangiora Beautiful, the

Rangiora/AshleyCommunity Board and the Waimakariri District

Council at the end of avolunteer planting day at the Flaxton ponds

last Saturday.

PHOTO: SHELLEYTOPP

New name sought

By SHELLEY TOPP

Aformalname is being

sought for the Flaxton

stormwater management

area near akey entrypointto

Rangiora.

Seventy­six trees were

planted at the reserveonthe

corner of Flaxton and

Fernside roadslast Saturday

by volunteers from Keep

Rangiora Beautiful, the

Rangiora AshleyCommunity

Boardand the Waimakariri

District Council.

The plantings are part of a

plan to develop the councilownedarea,next

to Soda

Cafe and other businessesin

Kingsford Smith Drive, into a

community space. Keep

Rangiora Beautifulhas been

working withcouncil staffto

enhance the site for two

years, plantingtoadesign

createdbyFernside landscape

architect, Grant Edge.

It is hopedthe area will

eventually have awalkway/

cycleway aroundthe ponds.

The public entrance will

be from Kingsford Smith

Drive.

Although the areadoes not

haveaformal name,some

callitthe Flaxton Ponds.

Waimakariri councillor

Sandra Stewart, among

Saturday's volunteers, says

the area is officially called

''StormwaterPond C'' or just

''Pond C''atthe council, but

she would liketosee public

involvement in choosing a

formal name for the area.

Awardwinning winesfor

your occasion andbudget.

now!

IN-STORE

UNDER

$ 15

Banrock Station

Pink Moscato 2019

Fresh, frothy, frivolous

&alittle sparkly

Club Deal $9.99each

RapauraSpringsClassic

SauvignonBlanc 2020

Riper style classic Sauv

&great forgifts

Club Deal $11.99 each

Church Road Hawkes

BayMerlotCabernet

Sauvignon 2018

Big,intense &boldwith

texture&tannins

Club Deal $14.99each

Wither HillsMarlborough

PinotGris 2019

Versatile,crisp,clean

&food-friendly

Club Deal $12.99 each

MountBrown Estates

PinotNoir 2019

Sensational delicate Pinot from

North Canterbury's Waipara

Club Deal $18.99 each

The CraterRim

WaiparaViognier 2019

Peachy&spicy,like

Chardonnayonsteroids

Club Deal $18.99 each

te Pa Chardonnay 2019

Versatile Marlborough

Chardonnayatitsat delicious best

Club Deal $19.99each

Graham Norton's

Own Prosecco

Fresh, edgyand crisp,

star quality Prosecco

Club Deal $16.99each

UNDER

$ 20

UNDER

$ 25

LatenteReserva

Malbec 2017

Malbec–likeconcentrated

Syrahwith attitude

Club Deal $23.99 each

SugarLoafSouthern

Valleys Pinot Noir 2019

Agraceful blockbuster

brimming with flavour

Club Deal $22.99 each

The HuntingLodge

Seasonal Collection

Albariño 2020

AstepupfromSauv, like

Pinot Gris withanedge

Club Deal $22.99 each

ParituaStone

Paddock Syrah 2018

Sensational seductiveSyrah,

youthful yetmature

Club Deal $22.99 each

FIND OUTMORE… Explorethe TopDrops at newworld.co.nz/wineawards

Visit newworld.co.nz/winesampling to find complimentarysamplingatyourlocalNew World

Specials available South Island only,price valid until Sunday8November 2020 or

while stocks last.Due to current Licensing Trust laws, liquor not availableat

Elles Road, Windsor &Gore. Club Deals areonly available to ClubcardMembersat

New World South Island stores when theyscan their Clubcardatthe time of purchase.
---
Council and communities join

forces over coastal hazards

NEWS

North Canterbury News, October 8, 2020

5

LAWNMASTERESTATE ESTATE SPECIAL

Was $849

Now $749

Check

Out These

Features:

• NZ Made

• Ball Bearing Wheels

ESTATEECO READYSTART

• Ready Start Engines (no priming)

• Quality Alloy Chassis with LIFETIME Warranty

• 4Year Engine Warranty

• Oiled &Fully Assembled

*Excludes the Estate 400

Save $100 on the

Lawnmaster

Estate range *

360 FlaxtonRoad,Rangiora

Ph 03 313 5563

www.kingsmowersheating.co.nz

2307841

2187722

Changing coast ... Aresident surveys Amberley Beach during asoutherly storm.

PHOTO: FILE

By ROBYN BRISTOW

Hurunui coastal communities

will be the champions of the

coastalhazardand erosion

process, saysHurunuiMayor

MarieBlack.

The council willwork

alongside them to help codesign

away forward to help

thosemost at riskfrom coastal

hazards, such as erosion and

inundation,she says.

''While the council canhold

the penonthis, it is important

the communitiesdrive the

decision­making.

''It is their coastline,'' she

says.

The council has heldfive

meetings over the last two

weekstodiscussthe changing

coastal environment.

Areportprepared by

consultancy firmJacobs was

presented whichset out

potentialscenarios overthe

next35, 50 and 100 years.More

than140 people attended, with

the vibe generally positive and

inquisitive.

Councilchiefexecutive

Hamish Dobbiesaid the

scientific presentation from

Jacobs was onlypart of the

story, and the council needed

to hear from local experts to

build afull picture of the

changingcoastal environment.

The Jacobs reportsays

Amberley Beach,Motunau and

GoreBay settlementsare most

at risk fromcoastal erosion

hazards because of the

proximity of the settlements

to the shoreline.

The most at­risk critical

infrastructure from coastal

erosion was assessedasthe

coastal segments of roadat

Amberley Beach(GolfLinks

Road),Conway Flat (Conway

Flat Road)and Claverley

(ClaverleyRoad).

Sections of all these roads,

plus sections of Cathedral

Road and GoreBay Road in

Gore Bay,are projectedtobe

affected by erosion within30

years.

Properties and houses at

LeithfieldBeachand

Amberley Beachare deemed

most at riskfrom coastal

inundation.

The nextstepwill be aseries

of drop­in sessions in

Novembertolearn fromlocals

about whathas happened at

beach communities andhow

theysee steps being takento

protectthem.

The council emphasised that

one size willnot fit all, and any

approachneededtoreflect the

characterofeach area.

The finalstages willinvolve

identifying andassessing a

range of optionstohelp adapt

to the changing coastline.

Fromhere,the council

hopes to identifyapreferred

way forward, and trigger points

willbeidentifiedtoensure

theyare ready to be

implemented before the status

quo is no longeracceptable.

MarieBlack column, overleaf

2095268

Kaiapoi Lodge

Residential Care

Nursing Home, Hospital and

Respite

Person Centred Care,

Care that's built

around you

6CassStreet,Kaiapoi

Ph 03 327 7235

RAVENSWOOD SHOW HOME

VILLAGE NOW OPEN

Visit the Ravenswood Show Home Village in

North Canterbury and view the range of stylish

and affordable house designs available –there's

something tosuit all styles and budgets.

11 show homes now open with 2more coming soon.

YOU'LL LOVE THE DIFFERENCE

CHRISTCHURCH

®

Location: Bob Robertson Drive,

Ravenswood, North Canterbury.

www.ravenswood.co.nz/show-homes

CALL US TODAY

Jenny Lake 03 375 0010

live@ravenswood.co.nz
---
OPINION

6 North Canterbury News, October 8, 2020

An eye to the coast

The Hurunui District council has been

engaging in recent weekswith our

coastal communities to listenand work

together to understand the potential

consequences of our changing coastal

environment.

The council, like others across New

Zealand, has arangeofresponsibilities

set out in legislation that requires it to

look 100 years into the future.

It is therefore critical thatwework

together to understand the issues and

develop aplan that provides certainty

and direction for future decisions.

It is important thatthose wholive in

the coastal environment share their

knowledge as this will be valuable in

direction­setting.

Jacobs Consultancy has identified

what coastal hazards may or maynot be

an issue in 30, 50 and 100 years from

now.

Further opportunities for public

consultation will be confirmed during

November and it has been agreed that a

series of drop­in sessions willbe

hosted. Communication can also be

provided online at hurunui.govt.nz/

find/coastal­conversations or by

contacting the team by email on

coastal@hurunui.govt.nz.

Iwould like to acknowledge the work

of the council's Three Waters team,

LOST AND FOUND

The following property has

been reportedtothe police as

lost in North Canterbury:

AMitsubishi key and one

other, two keys on blue MVP

disk, prescription glasses with

thin black frames, abrown

fold­over wallet, ablack

leatherwallet, amulticoloured

credit card holder

with three cards, ablue Adidas

bag containing acellphone,

glasses, jacket and wallet,a

black iPhone 11, ablack

iPhone 8+, ablack pearl

Samsung S7 Edge cellphone, a

Nokia cellphone in ablack

wallet case, ared­and­black

wallet,ablack iPhone 8ina

black leather case, and ablack

folding wallet.

which has approved the first Water

Safety Plan under the Ministry of

Health's new framework. This is the

firstinNew Zealand, which is a

significant milestone.

The new risk framework evaluates

the source, treatment, storage and

distribution of water supplies.

Each water safety plan identifies

whatcould go wrong and whatisin

placetomitigate these risks.

These planswill be required on

eachofthe 19 schemes acrossthe

district.

This has required ahuge amount of

analysis,understanding and recording.

Welldone to council staff on this big

achievement. (Learn more, page 10)

Manyofour events have been

cancelled thisyear. However, some

iconic events are coming up, including

the Amberley A&PShow, the Hurunui

Garden Festival, the Country

Christmas Fete, and the Hanmer

Springs Fete.

This is amagic opportunity to

showcase our district and enjoy all that

it has to offer. Iwish them all well for

successful events.

The fire risk is high at present, with

frequentnorth­west winds anddry

conditions. Please consider your

actions.

Professor to talk

about farming tool

Dr Hamish Rennie will speak on The

Resilient Farm Planning Tool at an evening

hosted by Resilient Hurunui on October 22.

The tool helps farmers to cope with

significant natural adverse events, with the

prototype tested in the Hurunui district.

Dr Rennie is an associate professor of

planning in Lincoln University's Faculty of

Environment Society and Design.

He is ageographer, professional planner

and resource manager, and lectures in

environmental planning, policy and law.

He was raised on amixed cropping and

livestock farm at Irwell.

The evening will be held at the Amberley

School Hall at 7.30pm. A$5donation would

be appreciated.

The talk will be followed by aquestion

session and light refreshments.

Matt Doocey Dan Rosewarne Gerrie Ligtenberg

Candidates voice

support for NGOs

By DAVID HILL

Candidates at an election forum last

week say they are committed to

supporting social services in North

Canterbury.

The online forum, organised by

Social Services Waimakariri, was

different from most local forums as it

focused on the provision of social

services in rural areas rather than

being specific to the local electorate.

Candidates from several political

parties were invited to provide a

candidate, but just three logged in,

with Matt Doocey representing

National, Dan Rosewarne

representing Labour, and Gerrie

Ligtenberg stepping in for the Green

Party.

All three candidates agreed that

non­governmental organisations

(NGOs), which fulfill government

contracts in their local areas, were

under­funded and saw aneed for more

social workers to be employed in rural

communities.

Mr Rosewarne says recent research

shows NGOs are funded for just twothirds

of their actual costs.

''This has given the Labour Party

some figures to work with, but Covid­

19 has added ahuge layer of

complexity.''

Labour was committed to increasing

funding to NGOs to meet their costs

and to reduce the ''pay parity gap''

between NGO staff and state sector

employees, Mr Rosewarne said.

Mr Doocey questioned whether it

was possible for central government to

fully fund NGOs.

''There's aslight irony that it is

going to be more difficult financially,

sustainably for NGOs, but there's

going to be increased need and Ithink

it's incumbent on the government of

the day to understand about how they

can resource the NGO sector as afirst

line of defence.

''Because we know that if you can

get to people earlier before they

develop either an entrenched

behaviour or asense of crisis, then you

can keep them out of statutory

services.''

Ms Ligtenberg said it was time for

NGOs to be properly funded for their

contracted services.

''The Green Party believes that

where there is awill there's away. It's

very easy to say that you are unable to

pay for everything, but that's actually

not true.''

Covid­19 is an opportunity to do

something different, but it also

exposed inflexibilities in existing

systems and exacerbated pre­existing

issues, the retired nurse said.

''It (the social sector) needs to be

fully funded and it needs to be

necessary that there is pay equity.

''You cannot say that you want a

highly experienced nurse or social

worker and then say they are worth

less than someone who is working in a

hospital.

''And this is only atemporary cost,

because if you create an inclusive

society by having services available

from early childhood and people have

adequate incomes, you will save alot

of cost in the health service by

preventing people becoming sick.''

McALPINES MITRE 10 MEGA RANGIORA -OCEAN WATCH

This

Week

Sun

Fishing

Guide

Moon

Wind

Swell

Pegasus Bay

Tide Chart

3

2

1

Fair

Thursday Friday Saturday Sunday Monday Tuesday Wednesday

Oct 8 Oct 9 Oct 10 Oct 11 Oct 12 Oct 13 Oct 14

Rise 6:49am

Set 7:43pm

Best

Times

5:30am

5:55pm

Ok

Rise 6:48am

Set 7:45pm

Best

Times

6:21am

6:47pm

Ok

Rise 6:46am

Set 7:46pm

Best

Times

7:14am

7:41pm

Ok

Rise 6:44am

Set 7:47pm

Best

Times

Rise 6:42am

Set 7:48pm

Rise 6:41am

Set 7:49pm

Rise 6:39am

Set 7:51pm

Best 10:51am

Times 11:18pm

Rise12:51am

Rise 1:51am

Rise 2:47am

Rise 3:37am

Rise 4:21am

Rise 5:00am

Rise 5:33am

Set 10:05am

Set 10:49am

Set 11:41am

Set 12:42pm

Set 1:50pm

Set 3:03pm

Set 4:19pm

Light NWbecoming

Moderate NE Moderate NE turning

Moderate Wturning Gentle SW becoming Moderate SW turning

gentle NE

strengthening

SW

Moderate SW

SE

moderate SE

SE

SE 0.6 mturning

SE 0.7 m

NE NE 1.0 m NE 1.0 m NE 0.9 m E0.7 m E0.7 m

3 6 9 NOON 3 6 9 3 6 9 NOON 3 6 9 3 6 9 NOON 3 6 9 3 6 9 NOON 3 6 9 3 6 9 NOON 3 6 9 3 6 9 NOON 3 6 9 3 6 9 NOON 3 6 9

8:08am

8:36pm

Ok

Best

Times

9:03am

9:30pm

Fair

Best 9:57am

Times 10:24pm

Good

0

Highs Lows Highs Lows Highs Lows Highs Lows Highs Lows Highs Lows Highs Lows

Waimakariri 10:05am 2.2 3:49am 0.7 10:51am 2.2 4:34am 0.8 11:38am 2.2 5:22am 0.7 12:05am 2.0 6:11am 0.7 12:54am 2.1 7:02am 0.7 1:44am 2.2 7:54am 0.6 2:36am 2.3 8:48am 0.5

Mouth

10:29pm 2.0 4:17pm 0.8 11:17pm 2.0 5:07pm 0.8

5:59pm 0.8 12:27pm 2.2 6:49pm 0.7 1:18pm 2.3 7:40pm 0.6 2:11pm 2.3 8:29pm 0.5 3:04pm 2.4 9:20pm 0.4

Amberley 10:05am 2.2 3:49am 0.7 10:51am 2.2 4:34am 0.8 11:38am 2.2 5:22am 0.7 12:05am 2.0 6:11am 0.7 12:54am 2.1 7:02am 0.7 1:44am 2.2 7:54am 0.6 2:36am 2.3 8:48am 0.5

Beach

10:29pm 2.0 4:17pm 0.8 11:17pm 2.0 5:07pm 0.8

5:59pm 0.8 12:27pm 2.2 6:49pm 0.7 1:18pm 2.3 7:40pm 0.6 2:11pm 2.3 8:29pm 0.5 3:04pm 2.4 9:20pm 0.4

10:14am 2.2 3:58am 0.7 11:00am 2.2 4:43am 0.8 11:47am 2.2 5:31am 0.7 12:14am 2.0 6:20am 0.7 1:03am 2.1 7:11am 0.7 1:53am 2.2 8:03am 0.6 2:45am 2.3 8:57am 0.5

Motunau 10:38pm 2.0 4:26pm 0.8 11:26pm 2.0 5:16pm 0.8

6:08pm 0.8 12:36pm 2.2 6:58pm 0.7 1:27pm 2.3 7:49pm 0.6 2:20pm 2.3 8:38pm 0.5 3:13pm 2.4 9:29pm 0.4

10:16am 2.2 4:00am 0.7 11:02am 2.2 4:45am 0.8 11:49am 2.2 5:33am 0.7 12:16am 2.0 6:22am 0.7 1:05am 2.1 7:13am 0.7 1:55am 2.2 8:05am 0.6 2:47am 2.3 8:59am 0.5

Gore Bay 10:40pm 2.0 4:28pm 0.8 11:28pm 2.0 5:18pm 0.8

6:10pm 0.8 12:38pm 2.2 7:00pm 0.7 1:29pm 2.3 7:51pm 0.6 2:22pm 2.3 8:40pm 0.5 3:15pm 2.4 9:31pm 0.4

10:14am 1.7 4:02am 0.6 10:59am 1.7 4:46am 0.6 11:47am 1.7 5:31am 0.6 12:14am 1.6 6:17am 0.5 1:02am 1.6 7:06am 0.5 1:50am 1.7 7:57am 0.5 2:40am 1.7 8:50am 0.4

Kaikoura 10:41pm 1.6 4:31pm 0.6 11:28pm 1.6 5:19pm 0.6

6:08pm 0.6 12:35pm 1.7 6:56pm 0.5 1:26pm 1.8 7:45pm 0.5 2:17pm 1.8 8:34pm 0.4 3:09pm 1.9 9:24pm 0.4

*Not for navigational purposes. Wind and swell are based on apoint off Gore Bay. Maori Fishing Guide by Bill Hohepa. www.ofu.co.nz www.tidespy.com Graphic supplied by OceanFun Publishing Ltd.

2118223
---
Rotary book fair pulls the crowds

By SHELLEY TOPP

Along queueofbook lovers

waitedfor the Rangiora

RotaryClub's35th annual

book fairtoopen last Friday.

There was also aqueue of

customers waiting at the door

the following morning, keen

to peruse the books,

magazines,CDs, DVDs

jigsaws and vinyl LPs on offer.

Recordsales were

achieved duringthe two days,

with all proceeds going to

worthylocal causes.

''It was one of the bestfairs

we have had,'' said organiser

Bruce Walker, aRangiora

Rotarian.

"Everyone seems to have

used the lockdown period to

sort theirbooks and we had a

great selection of different

titlesthat appealedtoawide

audience.

''The strong support from

the community makes the

effortinmounting the book

fair very worthwhile."

Rangiora Rotary Club

presidentCraigSargison said

the clubappreciatedthe high

level of community support.

Rangiora'sTracey

Loffhagen nevermisses the

fair.She enjoysthe chance to

trawl through the cookbooks

on offerand ''grab agood

bargain''.

WaimakaririDistrict Mayor

Dan Gordon, who is also a

Keen cook ... Tracey Loffhagen, of Rangiora, peruses the cookbooks at the annual Rangiora

Rotary Club Book Fair last Saturday.

PHOTOS:SHELLEY TOPP

Rangiora RotaryClub

member, joined bookbuyers

at thefair.

''I purchasedabook called

TheShock of the New,by

Robert Hughes. Iregularly

read thisasatext bookwhile

at university studying art

history.''

He also bought afew other

booksand the set of Bridget

Jones' Diary DVDs for one of

his sisters.

Wide selection ... Book lovers explore the offerings.

NEWS

North Canterbury News, October 8, 2020

BEECHWOOD, RICHON, LEES VALLEY,

WOODBURN HEREFORDS

WOODBURN SPECKLE PARK/HEREFORDS

3 rd ANNUAL YEARLINGBULLSALE

7

Hundreds

enjoy shows

By DAVIDHILL

Determinationpaid off for the cast of The

Lion,The Witch And The Wardrobe.

The Hartley School of PerformingArts

25th anniversary production finally took

centre­stage at the Rangiora TownHall

last weekafter uncertainty over Covid­

19.

AlertLevel 2restrictions in the leadup

made rehearsalsachallenge, but it

didn't show as the cast rose to the

occasion.

School director Dale Hartley­Brown

says it has been close to asell­out season,

with more than300 people watching

each of the six performances.

''I'mvery happy and muchrelieved. I

couldnot have imagined it would sell

this well.Ithoughtpeople would be abit

reluctanttocome out, but Ithinkpeople

are just desperate to be out doing things

and they want to support localwhichis

really nice.''

The show itselftook the audience to

faraway places,with the opening

prologue catching the fear of wartime

London duringthe blitz.

Soon after,the audiencewas

introduced to the magicalland of Narnia

with adanceperformance to the Queen

classic It's AKind Of Magic,while

another Queen number, UnderPressure

kicked things off after the interval.

The musical score wasanappropriate

mix fromwartime classicstoold

favouritesand more modern songs.

The loveable lion Aslan, playedbySian

Hassan, provedtobeacrowd favourite

as she faced off againstthe White Witch,

played by MichelleO'Brien.

TUESDAY13 TH OCTOBER 2020

At 2pm – Viewing from 12pm

77 MASKELLS ROAD, AMBERLEY

FOR SALE

20 Hill Country commercial maiden

Hereford heifers

53 Herefords and 14 Speckle Parks

All BVD/EBL Tested and Vaccinated

Vendor Contact:Rob Burrows: 027 2633582

Rob Stokes: 027757 1673

HelenMolloy: 027203 3854

AgentContact: AnthonyCox: 027208 3071
---
NEWS

8 North Canterbury News, October 8, 2020

Thumbs up for jobs initiative

The Mayoral Taskforcefor Jobs is

provingsuccessful for local businesses

and the youth of Hurunui district.

The Hurunui District Councilisusing

$500,000 in funding from central

government, in ajoint project withthe

Ministry of SocialDevelopment, to build

working relationshipsbetween local

businesses and those aged18­24who

havelost jobs because of Covid­19.

Council project leader Chris King said

one majorpart of the successstory so far,

since starting mid­August,had been

connectingwith local farmerstohelp

manage theirnassella tussock control

programmes.

The youthsput in agood day'swork

while gainingskills andconfidence, and

the farmers were getting assistance with

anecessary but time­consumingannual

job.

Mr King is grateful to the local

businesses who responded positively to

the task force, as he has alsoestablished

placements with Waghorn Builders,the

Nor'wester Cafe, Bee Buzz Apiaries,

White Lily Hairdressers, GVT Landlines

and JP Morgan Contracting.

Local businesses receive funding to

helpwith workgear, travel, supportin

training, or anything else thatmakes the

transition backinto the workforceeasier

for those involved.

Mayor Marie Black spentanafternoon

on the hills in Greta Valley grubbing

nassellatussock last week,which

brought back memories of her childhood

in the Hurunui.

''This initiative is just wonderful.

Wholesome work like this providesthe

foundationfor theseyouths to put their

bestfoot forward and proveto

themselves and those they workfor that

theyhave skillsand drive that will

benefit our district,'' she says.

Thereisstill funding availablefor

localbusinesses and youths.

Contact Chris King at the council for

more information on (03) 314 8816, or

(027)808 7006.

Digging deep ... Hurunui Mayor Marie

Black tackles nassella tussock in the Greta

Valley.

PHOTO: SUPPLIED

Food banks

eye future

By ROBYN BRISTOW

The push is on to ensureNorth

Canterbury food banks havelong­term

supplies of food.

Hurunui District Council community

engagement officer Roger Hornblow told

the council recently that work was being

done to develop acollective approachto

meet the demand for food boxes,50of

whichare going out weekly aroundthe

district.

He says thereare three main

foodbanks, at Waikari, Waipara and

Amberley/Leithfield. Two others, at

Hanmer Springs and Waiau,had grown

out of acommunity response during the

Covid­19 lock down.

Mr Hornblow is working with

Waimakariri organisations in abid to get

acohesiveapproach to food gathering

and storage.

However, more needs to be done in the

area of food forests and working with

supermarkets to secure aconsistent

supply of food.

''We are now working on acollective

and setting up infrastructuretoensure

food security.

''It's not around supportingfood banks,

but aboutwhat is going to happenone

day whenwecan'tprovidefood,''hesays.

''We havetohave food provision longterm,through

foodforestsand other

initiatives and partnerships with

organisationssuch as Food Secure North

Canterbury.''

The work was exciting and involved

settingupastoragearea in the Hurunui

District, with tablesand afreezersofood

couldbedistributed to foodbanks. At

present, foodbank volunteersneeded to

go to Rangiora to collectfood.

Jamie Arbuckle

NZ First Kaikoura Candidate

Jamie is aMarlborough District Councilor

with over 10 years' governance in local

government. Jamie has worked across

all facets of Council and as aqualified

Hearings Commissioner, has experience

with Environment Planning and the

RMA. Prior to Council and still apassion

for Jamie today, ishis involvement in

Horticulture. He is well known from his

time at local markets and for his family's

long involvement in farming and fruit

growing in the region. Jamie completed

his Business and Management Diploma at

NMIT. His wife Sally, ahairdresser, and

their four children aged 11 -20, have been

actively involved in local markets and

festivals. Youwill often find them at local

sporting events and day to day schooling

activities.

Being ahard worker, good listener,

communicator and an active member of

the community -Jamie know the issues.

There are many major infrastructure

projects in the Kaikoura Electorate that

need Government support including

the Picton Ferry Terminal upgrades,

The Whale Trail along the East coast of

Kaikoura, Irrigation Schemes and future

water storage proposals, road and rail.

The Provincial Growth Fund will play

acritical role in our Region; Hanmer

Springs recently received $3.1m towards

domestic tourism to improve the thermal

pools and Kaikoura received $10.88m

for the Wakatu Quay and South Bay

Developments which are important for

employment and growth.

Covid-19 has presented major challenges

for our local economy. There are many

affected sectors such as hospitality,

tourism, accommodation, retail,

construction and the small to medium

sized businesses within that. Primary

sectors such as viticulture, seafood,

aquaculture, farming and forestry will be

critical for our recovery. Afocus must be

on stopping business closure, job losses

and providing support to our communities

around mental health. Parts of the

Kaikoura electorate are reliant on tourism

activities and it will be vital to showcase

our region as the gateway to the South

Island. There are major opportunities

with offshore aquaculture -the resilience

and growth of primary industries can

be ensured with favourable government

policies and the right investments into key

strategic assets.

2313584

ONE-STOP

SHOP EVENTS

Rural waste recycling

Agrecovery will be holding

rural waste recycling events

in Canterbury in November.

Here are the items we accept for recycling

or safe disposal:

• Agrichemical containers and drums

• Used motor oil

• Unwanted agrichemicals

• Seed, feed, and fertiliser bags

For one stop shop dates and locations in your area

and information on how toprepare waste

streams for drop off, see our website.

To register or find out more visit

www.agrecovery.co.nz

or call us on 0800 247 326

GET

INVOLVED!
---
After years ofrenovations and living

in cold damp rentals, Sarah and Nick

Hoffman's dream was tohave ahome in

which to watch their future family grow up

in.

They both agreed that when the day came

to build their dream home, itwould be

done properly.

Almost all the companies they went to

presented them with abook of plans as

aplace tostart. They were told "these

are our plans, this is our spec, so if you

makes changes, then there isachange in

the fee'' or "once you make changes after

this point, then we have to charge you a

modification fee''.

Feeling frustrated and unhappy with

what they were being offered, Sarah

went searching for acompany they felt

comfortable with. She discovered Build7 Christchurch.

Sarah and Nick meet with construction manager Jamie Cowan and were

presented with ablank sheet ofpaper and asked to write down their

wish list for their dream home.

He asked them tolist things they really wanted "that will make the home

work for you and your family both now and into the future''.

Jokingly Nick asked where the plan book was. Jamie replied Build7 did

not use them, "as we never build the same design twice''.

On presentation of the first concept anestimate, Sarah and Nick

were pleasantly surprised with just how different Build7's home

was compared to the others that were offered. It was clear Build7

had listened, understood and translated their wants into abeautiful,

architecturally, designed home.

With the design close, itwas time to start thinking about construction. Sarah and Nick had heard stories from friends

and family about the stress of building, and that being on site consistently each week was the only way to make sure

that things were being done right.

To add anextra complication, Sarah was now pregnant with the couple's first child, and the due date was expected to

be exactly onthe scheduled complete date. Stress levels were high for both ofthem. Nick told Build7 they had to be in

the home before their son was born. Jamie took it in his stride.

There were things during the build that did not goright. The difference

was Jamie knew about them before Nick and Sarah did, event hough

they were onsite every week. When Jamie told them about the issues,

he also told them he had asolution which hefelt would suit them both.

To his word, they moved intotheir new home on schedule. Charlie was

born aweek later.

After reflecting on the exciting and fun building process, coupled with

the extra pressure ofpregnancy, Sarah and Nick knew they had found

something special with Build7.

During Covid-19, Nick's job asanairline pilot was injeopardy. The family faced alot of uncertainty about whether he

would retain his job. One day they received aphone call from Jamie, who asked if they would like to come on board as

sales partners inBuild7 for the North Canterbury region.

Nick and Sarah never dreamed they would have been able tobuild anarchitecturally designed home with their budget

and enjoy the process. They wanted others to experience what they had in building their new home.

So Nick and Sarah are now helping bring dreams to life for clients inNorth Canterbury.

If you are looking for honesty, transparency, and something that you can truly be proud of living in, come and talk to

Nick and Sarah today.

2317502-S

Nick and Sarah Hoffman

build7.christchurch.co.nz

E nick@build7.co.nz

M 0276352753
---
NEWS

10 North Canterbury News, October 8, 2020

THE 2020 GENERAL ELECTION

AND REFERENDUMS

Caring for the

carers ...

Rangiora Lions

Club president

Tini Lawry is

keen to support

local carers of

people with

dementia or

other medical

challenges.

PHOTO:RANGIORA LIONS

Documentary to screen

The Rangiora Lions Club is focusing on

caring for the carers.

Carers of peoplewithdementia or

othermedicalchallenges are invited to

attend afree moviescreening at the

Town Hall Cinema with their family

member on Sunday, October 18.

Rangiora Lions has arranged two

screenings of the documentary Whispers

of Gold,whichfeatures the story of

Waiuta, agoldmining town near Reefton

on the West Coast.

The film is just45minutes, which

allows plenty of timefor socialising and

enjoying freerefreshments.

The event will takeplace in cinema 3

at the Rangiora Town Hall Cinemas,

with sessions at 1.30pm to 3pm and

3.30pm to 5pm.

PresidentTini Lawry says club

members recognise the hard workof

carers and that Covid­19 has been a

lonely time for many.

"Lockdown has been particularly

hard for dementia sufferers and their

carers as they haveoften been quite

isolated.

''We wanted to treat carers and their

family membertoafun, socialafternoon

out, where they can feel relaxed and

welcomed."

Application forms are available from

the Rangiora Library, Five Stags,

Rangiora RSA and Expresso Garden

Cafe at Mitre10MEGA Rangiora.

People can also apply by phoning

John on (03) 313 0116 or emailing

rangioralionsclub@gmail.com.

Call for better funding

By DAVID HILL

Advocateshave called for more funding for

social servicesinNorthCanterbury as the

country goes to the polls.

Affordable and healthy housing, poverty,

funding for mental health services, climate

action and investment in Maori family

education,income,healthand housing are

election prioritiesfor North Canterbury's

social service agencies.

Barnados rural social worker Sandy

Honeybonesays rural areassuch as the

Waimakariri and Hurunui are particularly

disadvantaged when it comes to accessing

central government­funded services.

''Barnados always has lengthy delays for

services in NorthCanterbury as we have

available funding for onlyone full­time

social worker.Yet in the Waimakariri and

Hurunui areaswehave seen multiple

setbacks which have impacted wellbeing.

''We would like to see afuturewhere

everychild growing up in this country has

what theyneed to thrive, so we believe we

need to put children at the core of the

election.''

Waimakariri Age­Friendly Advisory

Groupchairwoman Joanne Gumbrellsees

climate changeasthe biggest election

issue.

''We older people despairfor the lives of

the youngergeneration and the world they

will inherit.

''We fearfor our grandchildren and their

descendants, and mental health has

become abig issue.

''From all of theseemergesthe fact that

the number one issue is climate change.

Everything else willbetrivial unless the

worldattendstothat nowand New

Zealand must playits part.''

Joanne says Waimakaririhas an ageing

populationbut many olderpeopledonot

have access to adequate, affordable,

secure and warm housing.

''Retirement villages are therefor those

who can afford it, while rentals are often

expensiveand/or sub­standard, and with

no support systems shouldweneed them.

''We older people want to be heard, we

want to live well, we want to participate,

continuetolearnand to use our skills.

''We wanttofeel safe when we walk

alongour streets. No cycles and scooters in

town centres please.''

She alsocalls for fair pay for all health

and care workers.

Culverden water scheme gets ministry tick

The first Water SafetyPlan approved

underthe Ministry of Health's new

frameworkwas submitted by the Hurunui

District Council.

The Culverden scheme is thefirstto

receive ministry approval.

It is the result of nearlyhalf adecade of

work by the council's Three Waters team.

Chiefoperations officer DanHarris

says it is ahuge step for the council,

achieved after alot of work over afew

yearsbythe team.

''Theteam's effort is outstanding, and

the willingness and innovative thinking

throughout this process has been

validated.''

Increased automation at pump

stations, new sheds,re­plumbing, greater

security of reservoirs and backflow

preventionare examples of whatithas

taken to achievethe milestone.

It is about how to keep the water safe

and mitigaterisk across the 19 drinking

water schemes in the district. The Three

Waters teamwill eventually alignall of

them with the ministry'smodel.

Vote nowin the

GeneralElection

and referendums.

JOIN US NOW!

See website for details

Findyour nearest

votingplace at

vote.nz or call

0800 36 76 56

Sign uptoSmart Deals &beinthe monthly draw for a$100 Dress-Smart gift card!

Open 10am-5pm, 7Days 03 349 5750

CHRISTCHURCH 409 Main South Road, Hornby

www.dress-smart.co.nz
---
Sale

STOREWIDE

AURORA CORNER SUITE

INCLUDINGOTTOMAN

FROM

$3299

AVAILABLE AS ONE,TWO OR

THREE SEATER.CHOICEOF

FABRIC, LEGAND ARM STYLE

ALSO AVAILABLEIN

$

649 ONLY

MADISONCHAIR

ALSOAVAILABLE AS ATHREE-SEATER $1049

ALSO

AVAILABLEIN

ONLY $139

ONLY $1499

MARLEY CHAIR

PIHA EXTENSIONDINING TABLE

RIVIERA

•POCKET SPRING

ONLY $719

ONLY $1579

ONLY $1779

•QUILT FIBRE

•EURO TOP

•PILLOW TOP

•BLENDED WOOL

•WAVE FOAM

•COMFORT FOAM

•FLEXI-SLAT BASE

SUMMIT

•ZONED DUAL POCKET

•VISCO MEMORY FOAM

•PILLOWSOFT FOAM

•CONVOLUTED FOAM

•CHIRO-FLEX BASE

PINNACLE

QUEEN MATTRESS&BASE

QUEEN MATTRESS&BASE

QUEEN MATTRESS&BASE

MATTRESSONLY $439 MATTRESSONLY $1299

MATTRESS ONLY $1499

•ZONED MINI POCKET

•NATURAL LATEX FOAM

•GUSSET EURO TOP

•BLENDED WOOL

•PILLOWSOFT FOAM

•CONVOLUTED FOAM

•CHIRO-FLEX BASE

OUTDOOR

WAvailable

NOW

ALSO

AVAILABLE IN

ONLY

$829

BRIGHTON UMBRELLA

BRIGHTON BASE $149

ALSO

AVAILABLE

IN

ONLY

RAGLAN

EGG CHAIR

$

549

FINANCE

WE CAN HELP

WITH THAT

SEE ONLINE OR

INSTORE FOR DETAILS

ONLY

$2099

MILFORD OUTDOOR LOUNGE 2.5+1+1+ COFFEE TABLE

FIND US AT THE CORNER OF BLENHEIM

& CURLETTS ROAD, SOCKBURN

BOTANICAFURNITURE.CO.NZ 0800 268 264
---
House

and Home

We can help you

with:

•All property matters

•Relationship property

(separation and agreements)

•Commercial

(leases and agreements)

•Subdivisions

•Estates

•Trusts

•Wills

2257762v6

HOME COMFORT

heat pumps HOME &airCOMFORT

conditioning

heat pumps &air conditioning

7Ashley Street, Rangiora | 03 310 6464

admin@law4you.co.nz | www.law4you.co.nz

Residential and Commercial

Installation, Repairs, Maintenance &Alterations

Services we offer for all door types:

New Garage doors: Sectional, Roller,Tilt&

Cedar

Partsand Maintenance

Door Upgrades

Supply and install automatic door openers for

sectional tilt &roller doors

Phone 027 207 6128 |03310 6577

hamish@abelgaragedoors.co.nz

www.abelgaragedoors.co.nz

2257749v1

PROVEN -PERSONABLE

PROFESSIONAL

Trusted and popular business ... Allan Pethig has been at the helm of R. Grant Electrical

since 2014.

It'sall about quality service

AllanPethigspent18yearsworking for

Rangiora electrician RobertGrant,then

bought the business from him whenhe

retired.

The Rangiora electrician has owned the

business sinceAugust2014. He employs

threepeople and enjoys the work he does

because of the ''nice peopleImeet and get

to help''.

When Allantook over RobertGrant

Electricalherenamed it R. Grant

Electrical, but retained all the key trading

principles that had made the company

such atrusted and popular North

Canterbury business for 34 years.

''We are asmall company with afriendly

team,making good quality work and fast,

efficientservice our top priorities,'' Allan

says.

Theirwork includes residential and

commercial jobs around North Canterbury

and parts of Christchurch. ''We do

domesticand commercial, general wiring,

security cameras, burglar alarms and data

cabling. No job is too small for us.''

The domestic/residential workincludes

everything frominstalling anew oven to

wiringanew house, doing alterations, or

changing lights and switches. ''Every job is

important, regardlessofsize.''

The commercial workthey havedone

includes the stylish lighting showcasing

The Plough HotelinRangiora.

''Thatwas ajoint decisionwith what the

ownerswanted. We did someresearch and

came up with aplan for the finaldesign.''

R. Grant Electrical also doeselectrical

fitouts for shops, units, cafesand new

premises, plus alterations for work places

and maintenancework.

The business usesqualityproducts. ''We

like our service to be of good qualityand

this includes the materials that we use.

''We standbythe products we use. They

are not necessarilythe cheapest, but then

our electricians are not monkeys, so

quality of workmanship andproductis

preferred.''

Call the experts on 03 313 0531 or visit our heating showroom at

694 Lineside Road, Rangiora |www.ncec.co.nz

Building Trust.

2251870v1

"Exclusive"

Ravelli ULEB Wood Pellet Fires

Allan Pethig

For all your electrical needs.

Residential &Commercial

Phone 03 313 7144 | 027 432 1534

2278923

Fax 03313 2144

rgrantelectrical@gmail.com

PO Box 69, Rangiora

www.rgrantelectrical.co.nz

Pellet and Wood Fire Specialists

472 Blenheim Road

Sockburn

Phone: 03 343 1651

Open 8:30am -5pm

Sat 10am -1pm

www.heatstore.co.nz
---
NEWS

North Canterbury News, October 8, 2020

15

"Aging isafact afactoflife,

looking your age doesn't

havetobe"

There from the start ... Cheviot St John founding members, from left, Paul Bush, Eric Page, Tom Barnes and Bruce Childs, at the

dedication of the new first­response unit.

PHOTO: SUPPLIED

Specialist vehicle first in region

By ROBYN BRISTOW

Anew­generation of

emergency vehicles has

arrived in Cheviot.

Anew first­response unit

(FRU),the firstofits typein

North Canterbury, is now

housedatthe Cheviot St

John headquarters.

Its purchase was made

possible by the generosity of

Eric Seelan, who died

earlier thisyear and lefta

donation to St John.

The new Volkswagen

vehicle is designed

specifically for volunteer

teams,such as Cheviot.

Past and present members

of St Johngathered recently

for its dedication.

Founding members,

current crewmembers,the

area committee, and

Hurunui District Mayor

Marie Black attended.

Since receiving the FRU

in early August, CheviotSt

John has been busy,

responding to eightcall­outs

in September alone.

Area committee chairman

Emmett Dalytold those

gathered that it was only

throughthe generosity of

people such as Eric thatSt

John was able to provide the

essentialservice to the

community.

Young people raise their key election issues

By DAVID HILL

Mental wellbeing, access to transport,

climate changeand youth employment

are the leading issuesfor young people

goinginto theelection.

Waimakariri Youth Councilmembers

HollyDuff and Sasha Crawford

addressed election candidates lastweek

aboutissues facing young people.

Youthaged12to14number morethan

9000 in the Waimakariri district.

Hollysays Covid­19 had taken atoll on

youthmental wellbeing and was

impacting on NCEA assessments,which

addedtoanxiety levels.

''This is especially important with

Covid­19 expectedtodoublemental

health issuesamongst youth.

''[Mediareports have indicated]the

past decadesaw arapidand concerning

rise in youth mental distress and suicide

rates, and that the Covid­19 effects are

likelytobeextensive and enduring.

''Manyofmyfriendsare stressed, as

duringthe lockdown we had to rush

through assessments and so got lowerthan­expected

results.''

Alackofaccesstotransport means

many young are missingout on ''forming

connections withfellow youth'',

employment opportunitiesand

participatinginsports, community and

council run events, Holly said.

Sasha saidthe youthcouncil had

identified youth employmentasakey

issue,with alack of work experience

opportunities and concerns around

healthand safety and youth pay rates.

''Lastyear therewas ayouth employment

expo which was well attended. I

attended it and thought it was very worthwhile,

so good things are happening, but

there was asetback this year.''

The youthcouncil's survey in 2018

found thatyoung people ''care alot about

the local environment and protecting it

forfuturegenerations,'' shesaid.

Hawarden Youth Council member

Bradley White said wellbeing was a

challenging subject for youth, ''letalone

being in arural area''. Finding atrusted

individual to talk to was alwaysa

challenge, he said.

''I'd liketosee more youthful

counsellors/youth workers come into the

industry who are able to have that

connectionwith youngpeople, but still

being withinthe sameage demographic

where it's not awkwardtohave ayarn.''

The pressure of expectations of NCEA

can take atoll, he said,with burn­out a

major issue.

2310971

•SkinPen microneedling for fine lines,

scarring andskin rejuvenation

•Botulinum (Botox)

•Dermal Fillers

•Radiofrequency Surgery

•Prescription Cosmetic Creams

Dr Peter Aspell

Specialising in Cosmetic Medicine

www.skinbetter.com

www.skinpen.com

15 Durham Street Rangiora |Phone: 03 313 4659

www.durhamhealth.co.nz

up to

30 %

off

Resene Premium Paints,

Wood Stains, Primers,

Sealers and Wallpaper

plus 25% off DecoratingAccessories

and Cleaning Products

Come in and see us today!

Rangiora Resene ColorShop

83 Victoria St, (03) 313 7326

or shop online at shop.resene.co.nz

Discounts off thenormalretail price until 2November 2020 at Resene owned ColorShops

and participating resellers. Paint offers also available at participating Mitre 10 MEGA/

Mitre 10 stores. Valid only with cash/credit card/EFTPOS purchases. Not available in

conjunction with account sales,promotional vouchers/coupons or other offers.Excludes

trade, ECS,WallPrint, wall decals,Crown products and PaintWise levy.

IamRichard McCubbin and am standing for the second time as Green Party Candidate for the

Kaikoura Electorate. Iemigrated with my family to Waikari in 1986 and Deb and Imade our

home here with our 3children.

Iworked as aRural GP in Waikari till 2009, and since then as alocum all over North Canterbury

and in Kaikoura. Ihave met many hundreds if not thousands of rural families and understand the

stresses, strains, challenges and joys of rural life.

As well as being aGPand acandidate, Iamnew grandfather of two grandsons aged 19 months

and 12 months, and they are amajor reason for me standing for the Greens. This campaign is not

about me but about them, your grandchildren and all the grandchildren on the good planet Earth;

and it is about what sort of world they are going to inherit from us. The Green Party has always

been the only Party absolutely committed to the inseparable principles of justice for the planet,

bold action on Climate change, care for our precious environment and afair and just society.

The Greens are the Party who have the clear, focused and innovative policies to put this

commitment into action and to seize the opportunity to work alongside our rural communities to

apath to asustainable, low carbon, true clean, green and economically viable future.

AUTHORISED BY GWEN SHAW, LEVEL 1, 17 GARRETT ST, WELLINGTON

Time is short, we cannot keep pretending that Climate Change isn't happening. We know what

we have to do, and we can do it. Help us and we can do it together. Party Vote Green.

2

2
---
NEWS

16 North Canterbury News, October 8, 2020

COUNT THE TOTALNUMBER

OF SPECIALLYMARKED

SPOTMEMRFOUR

SQUARESINSTORE TO

BE INTOWIN A$50 FOUR

SQUARE GIFT CARD.

COMPLETEANENTRY FORM

WITH EACHPURCHASE IN STORE.

SPOTME

WIN *

& SPOTME

ONE

CARDPER

STORE

GIFT

CARD$50

*Only specially marked Spot Me Mr Four

Square pictured with a magnifying glass are

included as the count for this promotion.

Pams FreshNZ

Chicken Kebabs 8Pack

WHAT'SNEW AT FOUR SQUARE

Sweet Sapphire

TM

GrapesSeedless

FRESH FROM THE U.S

$

8 49 pk

GET RACING

READY ATFOUR

SQUARE

SEE INSTORE FOR MORE INFO

PamsFresh Asparagus

250gBunch

ProductofNew Zealand

PamsButter

500g

$

3 99 ea

Eta Ripple

Cut Chips

150g

ANY

2FOR

$

3 49

$ 5 79

ea

Pre­race talk ... Inaugural Pegasus Bay Vine Run organiser Mike Donaldson talks to

part of the large crowd of runners afew minutes before the start of the 6km and 10km

runs in 2018.

PHOTO:FILE

Vineyard'scharity

run apopular affair

The PegasusBay Winery's VineRun

has raisedmorethan $70,000 for the

New Zealand Brain Research Institute

overthe lastthree years.

It is hopedthatthe 2021event,on

January31, will pushthe funds raised

over$100,000.

All proceeds fromentryfees go to the

institute, withthe first200 entrants

eligiblefor the early­bird rate of $90for

the adults­only18km run, and$65 for

adults and $35for those under 18 forthe

shorter options.

After thecut­off,itwillbe$100,$75

and $40. Entrants 18 and over will

qualify foratrophy bottleofwine.

OrganiserMikeDonaldsonsays he

expects entries to hitthe 200mark in

the nextfortnight.

''It'sfilling fast,''hesays.

He says there had been great

feedback aboutthe 18kmoption,which

was added last yeartothe 6km and

10kmwalk/runs.

The longerdistance includes an 8km

looponaneighbour'sproperty, and

gives those taking part stunningviews

out to sea andoverthe Waipara Valley.

''The 18km runappealstoabroader

range of athletes. It is alsoacouple of

weeks beforethe Coast­to­Coast,so

peoplecould useitasatraining run,''

Mikesays.

However, theemphasisremained

firmly on afriendly, fun, family event.

People areencouraged to bring apicnic

lunch andenjoy it in thelawns of

PegasusBay Winery afterthe event,

where there will be entertainment, and

livemusic, alongwith some food

options.

Atentwill provideanadditional

shadedareafor peoplefinishing the

event so theycan relax,enjoy themusic

and picnic on the sheltered lawns.

Teamentriesare beingencouraged

so peoplecan haveabit of funand

enjoy some team bonding,while

entertainmentalongthe coursewill

includeastring quartet, theKaiapoi

Brass Bandand one or two other

surprises.

The Pegasus Bay Wineryand

Vineyardisafamily affair, withthe

Donaldsonfamilyseriously involvedin

the wine industrysince theearly1970s.

Theyare pioneers of the North

Canterbury wine region.

IvanDonaldsonhas been amember

of the NewZealandBrain Research

Instituteboard since2006and

established Friendsofthe NZBRI to

raise funds forneurologicalresearch.

He has had adistinguishedcareer as

an associate professor and consultant

neurologist. He is alsoawine writer

and wine judge, andoversees

viticultureand wine styles,startingthe

vineyard while holdingdownhis day

job.His family is deeply involved in the

winery in arange of roles.

To learnmore,visit vinerun.co.nzor

the Vine RunatPegasus BayFacebook

page.

a stationery

top up

one

per store

to be won

Purchaseany TipTop ® bakeryproduct, write your details on the entry form on the

back ofyour receipt and place it into the instoreprize box to be in the draw to WIN!

Visit foursquare.co.nz forfull terms andconditions.

www.foursquare.co.nz

facebook.com/FourSquareNZ

Specialsavailable South Island only from Monday5th October until Sunday18th

October 2020 or while stocks last.Wine andbeer available at stores withanoff

licence.Wineand beer purchasesrestricted to persons aged 18 yearsold andover.

Darfield Rec Centre,

North Terrace,Darfield

Artweek exhibition and sale

10am—5pm daily

Sunday, 18 October -10am—4pm

October 10 –18

Darfield Artweek Opening Night

Friday 11October 7pm—9pm

Pre-sale tickets $20 from Te Huanui

or via email at treasurer.mcac@xtra.co.nz

Telephone •03318 8702

darfieldartweek@xtra.co.nz

facebook.com/tehuanuigallery
---
FAIRVIEW CONCEPTS LTD

EXCEPTIONAL WINDOWS &DOORS

SUPPLIERS TO THE TRADE

Suppliers to

Quality Building

Contractors

See Glen Baynon

for your requirements

M 027 517 5991

E glen.b@fairviewconcepts.co.nz

WINDOW REPLACEMENT SPECIALISTS

BEFORE

AFTER

ACT NOW

Contact Dave

027 233 5221

(Sales Consultant)

NEW HOUSE AT THE OLD ADDRESS

call now for afree measure and quote

Sponsors of North Canterbury Sports

Rugby, League, Football, Cricket, Netball

from

Fairview Concepts Limited

26 Belfast Road, Belfast, Christchurch

03 323 8887 or

0800 Best Windows

www.fairviewwindows.co.nz

info@fairviewconcepts.co.nz

2319839
---
NEWS

18 North Canterbury News, October 8, 2020

Site to

be sold

Sturgeon to lead

Kaikoura project

By ROBYN BRISTOW

The former Amuri County

Council chamber site in

Culverden is for sale.

The Hurunui District

Council has backed a

recommendation from

the Amuri Community

Committee and decided

to put the land and

buildings on the site up

for tender.

Preference will be

given to abuyer intending

to retain the historic

former council building,

or at least the full facade.

The decision followed

extensive community

engagement, and calls for

expressions of interest in

leasing or developing the

site.

During earthquake

strengthening of the

facade, it was revealed

more strengthening work

on the building was

needed, so adecision was

made to consider options.

Atwo­storey building

built in the 1960s is

attached to the historic

chambers building. There

is also afour­bay open

shed and adepot built in

the 1970s, and three small

sheds built in the 1920s.

There is nearly 5000

square metres of land at

the Mountain View Road

site.

John Macmillan

John Appleby

Servicerecognised

Three memberswho together have

given 83 years service to the Amuri

St John Area Committee were

recognised for their commitment to

their community at the committee's

annual mid­winter dinner for

volunteers.

John Macmillan and John

Applebywere bothrecognised for

their long­standing commitment to

the ambulanceserviceinthe

Amuri, whileMareeHare served as

committee secretary for 21 years.

Mr Macmillangave 42 years of

servicetothe committee. He was

the primemover in the planning

and building of the ambulance

stationatCulverden,and the

Hanmer Springs Station.

John Appleby was amember of

the committee for 20 years.He

project­managed the building of

MacmillanHouse,whichprovides

accommodationand facilitiesfor

the dayand night crews operating

out of the Culverden station.

During her 21 yearsassecretary,

Mrs Hareguided the running of the

CulverdenServicethrough manyof

the major changes that tookplace.

Don McLean's nine­yearterm as

chairman was alsorecognised. He

is stepping downbut will continue

to serve as acommittee member.

Judith Hoban (Dame Grand Cross

of the Order) presented tokens of

appreciationtoall retiring

members of the committee and

certificates of achievement to

volunteers for years of service.

BruceAnink was awarded his

12­year medal of service.

By ROBYN BRISTOW

Chris Sturgeon has been

appointed to lead the

$10.98 million Kaikoura

Marine Development

Project, funded by the

Provincial Growth Fund.

He will report to the chair

of the project's governance

group, Danny Smith.

Since 2012, Mr Sturgeon

has been general manager of

Hapuku Lodge and Tree

Houses, recognised as one of

the country's leading luxury

lodges.

He has extensive

experience at executive

management level in many

sectors, leading significant

projects for the Ministry of

Foreign Affairs and Trade,

Meridian Energy and

Kiwibank. He has been

working as aconsultant

leading change for

businesses.

Mr Sturgeon says the

project is asignificant

opportunity for Kaikoura as

it rebuilds after the

earthquake and the Covid­19

pandemic.

''It will position us well for

the future and Iampleased

to have the opportunity to be

involved.''

Mr Sturgeon will be

responsible for overseeing

the $9.8m development of

Wakatu Quay and the $1.1m

business case study for

South Bay Harbour. The two

projects are part of the

council's vision to provide

jobs, attract investment and

enable sustainable growth in

the district.

Mr Smith said there were

quality applicants for the

role.

''We are pleased to

appoint Chris, considering

his extensive commercial

expertise and passion for

the development of

Kaikoura.''

Council chief executive

Angela Oosthuizen says she

is pleased someone

connected to the community

and invested in the future of

Kaikoura has been

appointed.

''The marine development

is an exciting proposition for

the district, and Ilook

forward to supporting Chris

and the Governance Group

as the project develops,'' she

says.

Wakatu Quay is currently

closed to the public.

Scope Ltd has removed the

asbestos and is now working

on the demolition of the

buildings.

The site is on target to be

open to the public in time for

the summer holidays.

Public engagement and

expressions of interest for

the development of Wakatu

Quay will be sought later in

the year.

WHAT'S YOUR VISION?

What kind of Greater

Christchurch do you

want in 2050?

Visit greaterchristchurch.org.nz

Tell us what you want tosee for 2050 by

answering afew quick questions around

our identity, the environment, climate

change, innovation, well-being, change

and more before 8November.
---
OXFORD &DISTRICTS LIONS CLUB

PRESENTS

An evening with

Richard Loe as MC &

Doug Avery on Mental Health Awareness

OXFORD TOWN HALL

FRIDAY 23RD OCTOBER 7.30PM

Charity Auction

Supper provided by View Hill School

TICKETS $10.00

1st 100 tickets sold go in lucky draw on the night

Door sales also on the night

Any funds raised go to support

the local community

For tickets leave message 03 312 3388

or Email

nanandphil.bay@gmail.com

secretary.odlc@gmail.com

Oxford &Districts Lions Club presents

Oxford'S

BIG Family

ENTRY

$20 per FAMILY car

$10 per single

OXFORD A&P SHOWGROUNDS

November 13th 2020

9.00am -3.00pm

LOTS OFGREAT

FAMILY EVENTS

FunDayOut

Wood Chopping > Shearing

Wonky Bikes > Animal Farmyard > Police Dog Display

Farm Pet Day > Line & Highland

Bouncy Castle > Pipe Band > Display & Food Stalls

Dancing > Horse Cart

Rides

PLUS MUCH MORE ...

OXFORD AND DISTRICT LIONS

GOLF MAJOR SPONSORS

• ACCESSMAN

• ALPINE JET THRILLS

• ANZCO MEATS

• ARTISAN BAKERS

• ARTHUR BURKE

• ASHLEY INDUSTRIAL SERVICES

• BAYLEYS REAL ESTATE

• BENNETTS SAWMILL

• BRANDS MOWERS &

CHAINSAWS

• BROWN GLASSFORD

• CALENDAR GIRLS

• DERMOSCOPY CENTRE

• DISCOVER TRAVEL

• ELMWOOD CONTRACTING

• FIVE STAGS

• FORSYTH BARR

• F M G INSURANCE

• FRESH CHOICE OXFORD

• FREWS TRANSPORT

• GLAMOROUS CALENDAR GIRLS

• GARY FOSTER SPRAYING

• JOHN MANUEL RESTORATIONS

• HAZLETT RURAL

• HELMORE STEWART

• LUISETTI SEEDS

• MALCOLMS PLUMBING

• MCALPINES MITRE 10 MEGA

• MOFFAT CONTRACTING

• NESBIT SHEARING

• NORTHWOOD NEW WORLD

• NORTH CANTERBURY ENERGY

CENTRE

• OXFORD AG

• OIL DISTRIBUTORS

• OXFORD CAR RESTORATIONS

• OXFORD CARTAGE

• OXFORD GAS

• OXFORD WORKING MENS CLUB

• PHIL RUSSELL LOGGING

• PGG REAL ESTATE

• PLASKETT FERT SPREADING

• PROPERTY BROKERS

• PROSSER QUIRK LTD

• PUMP SERVICES

• RANGIORA HYUNDAI

• READ INDUSTRIAL

• RURAL LIVESTOCK

• SHOWCASE JEWELLERS

• SOUTHBROOK LANDSCAPING

• STUBBS GROUND SPREADING

• WAIMAKARIRI GOLF CLUB

• WESCO FARM PRODUCTS

• WILLIAMS MCKENZIE

OXFORD &DISTRICT LIONS CLUB WISH TO THANK THE FOLLOWING MAJOR SPONSORS WHO CONTRIBUTED

TO THEIR ANNUAL CHARITY GOLF TOURNAMENT DESPITE THE EVENT NOT TAKING PLACE DUE TO COVID 19.

MANY OTHER LOCAL BUSINESSES CONTRIBUTED PRIZES TO SUPPORT THE DAY ASWELL.

DUE TO THEIR GENEROSITY WE WERE ABLE TO DONATE $8000 BETWEEN THE OXFORD COMMUNITY HEALTH

CENTRE AND THE AIR RESCUE TRUST.

2319332
---
Motoring

Guide

Your local motoring professionals

ALL

MECHANICAL

REPAIRS

WARRANTY

SERVICING

Call us now to book your service.

We have the latest Diagnostic Computer

Systems that are compatible with most

Vehicles. Loan Cars Available.

Wheel Alignment and Tyres available

at very Competitive Prices.

Discounts to superannuates.

2255010v8

77 Ivory Street, Rangiora Ph 313-5802

Mon -Fri 8.00 -5.30 Sat 8.30 -12.30

COME AND SEE

US FOR

• Commercial&

fleet repairs

• Buses, caravans

&motor homes

• Trucks,trailers,

buses &boats

No need to commute to

town, we can do it.

We can use genuine parts, so

your vehicle is still covered under

your new car warranty!

WE ARE

EXPANDING!!!!

Choose usfor all Panel

and Paint Repairs

Still providing our customers with everyday

crash repairs,bumps&scrapestomajor

smashwork

Qualityworkmanship&fastest turnaround

Fleet of courtesycars available

Contact: John Ph 313 6966

639 LinesideRoad, Southbrook

www.ncrcc.co.nz

2190152-22/8

Dedicated

to cars ...

Autotech

Services

offers a

specialist

service on

European

car models.

Apassion for cars

Fixing cars is more than ajob for the

passionate team at Autotech Servicesin

Rangiora.

Autotech Services has been lookingafter

cars in NorthCanterbury since 1993,

servicingeverything fromclassic cars to

the latest European models.

Receptionist Nicole Summerfield says

Autotech offers aspecialist service for

European cars, meaning localresidents do

not needtogointo Christchurch.

''We haveall the diagnostic tools and we

just upgraded them,soitsaves people

having to go into Christchurch,and we can

usually access the parts cheaperthan the

dealers are selling them for.''

The Autotech team includes specialist

European car mechanic Dan and

apprenticeMatt,who is being trainedon

all the intricacies of European models.

''It's Dan's forte. He loves the European

cars and he ownsaEuropean car, so he's

rightinto it,'' Nicole says.

''They are veryunique in the way they're

made,but Dan has beendoing it for along

time.He's got alot of experience and he

likesdealing with the people. He's really

good at explainingitinlayman's terms.''

Dan trainedonEuropean cars and is

familiar with issuesfor different makes.

Computersystems on the cars can make

them more complicated than other makes,

such as Toyota, but the diagnostic gear at

Autotech can unlock mostmysteries.

''It'sthe closest thing you get to the

factory equipment, so we can do pretty

much everything,'' Dansays. ''I like

everything about them(European cars).

They are justbetter.Better design, better

build and better quality, and they're just

bettertodrive.

''The thoughtprocess that'sgone into

designing themhas beentop notch.''

Nicolesays the Covid­19 situation means

there can be adelay in getting parts from

Europe. ''It can take aminimum of two

weeks to getparts fromFrance, but we do

have free loan carsand we don't mind

loaning them for that two­week wait.

''We try to make it as easy for people as

we can so they'renot inconvenienced.''

Autotech alsooffersafreepick­up and

delivery service for the Rangiora area.

Call in at Autotech Services at 77 Ivory

Street, Rangiora, phone (03) 313 5802, or

visit autotechservices.co.nz.Farmlands

cards are accepted and Gold Cardholders

can get a10percent discount.

FOR ALL YOUR LIGHT

AND HEAVY

TRANSPORT REPAIRS

Breakdown &

After Hours

Service

Available

Phone 03 313 6361

0275 200 711

307 Flaxton Road,

RANGIORA

brooktrucks@xtra.co.nz

Pebble Beach

Upholstery

2155281

www.pebblebeachupholstery.co.nz

Ph Brent – 027 724 6000

341e Flaxton Road

Southbrook

Rangiora

2162155

EYREWELL FOREST

MOTOR COMPANY

British and European

Performance Vehicles

2007 Aston Martin Vantage

-4.2 Litre V8 Petrol

-2WD Sportshift

-Black Leather interior

-WOF Till August 2021

-Travelled just 63,500kms

Only $64,990!

2010

2010

Porsche

Porsche

Panamera

Panamera

-4.8

-4.8

Litre

Litre

V8

V8

Petrol

Petrol

-WOF

-WOF

Till

Till

Aug

Aug

2021

2021

-7

-7

Speed

Speed

PDK

PDK

gearbox

gearbox

-Full

-Full

Tan

Tan

Leather

Leather

interior

interior

-Travelled

-Travelled

just

just

52,000kms

52,000kms

Only

Only

$39,990!

$39,990!

Ph Andrew 027 576 5576 or 312 5132

www.efmc.co.nz

andrew@efmc.co.nz

** Trade-ins welcome ** Finance Available ** Warranties Available **

Trade-ins welcome Finance Available Warranties Available

NEED TYRES?

• Punctures

• Balancing

• New tyres

• ATV tyres

• Motorbike tyres

(on and off road)

• Barrow tyres

• Mobility scooter tyres

• Bicycle tyres

Give usacall or come

and see us in store!

ARTHUR BURKE LTD

Markham St, Amberley

03 314 0137

We Do It All!

Your One Stopp

Mechanical Shop

Courtesy Cars, Van, Automatics Available

One Stop WOF Shop

AllMechanical Repairsand Servicing, Tyres,

Exhausts, Automatic TransmissionService

Burbidge Automotive

325 Flaxton Rd

Ph 03 313 3344

Ample

carparking!

2254991v9

PETROL&DIESEL

AVAILABLE

COMPLETE AUTOREPAIR SERVICE

WOF

Tune-ups

Lube-Oil changes

Full Diesel Service

Brakes &Clutches

Motor Work

Warranty Work

Light Engineering

Repairs

Ride-on Mowers

Pick up &Delivery

Sell &Sharpen

Horse Clippers &

Sheep Shears

Oils &Automotive Accessories, Postal

Services, Hot Pies, Sandwiches, Rolls,

Groceries and Sweet Treats

For your convenience

Sefton Garage

571 Upper Sefton Road, Sefton

North Canterbury. Ph03312-9713

2259663v1-S
---
NOW ON. SELECT SAVINGS +SUPER DEALS –INSTORE &ONLINE

ON SALE!

BuyNZMAde!

ALL BRIX

ON SALE!

Jenn Sofa Bed

WAS $ 379

NOW

$

279

ALL VENO

ON SALE!

Veno 5 Piece

Dining Suite

WAS $ 879

ALL PRESTIGE

&PRESTIGE ELITE

MATTRESSES

SUPER DEAL!

NOW

$

679

ON SALE!

Rivo 3 Seater Electric Recliner

WAS $

2699

NOW

$

2399

Dreaming of

summer sun?

Early bird gets the worm...

Shop

Online

Nationwide

Delivery

Finance

Options

DOZENS OFSUPER DEALS INSTORE &ONLINE. SALE ENDS 19.10.20.

Come&checkout

ournewSTORE!

targetfurniture.co.nz

250 Moorhouse Ave, Christchurch

Ph: 0800TARGET (0800 827438)

Offers and product prices advertised here expire 19/10/20.

Sale excludes Manchester and Accessories.
---
NEWS

22 North Canterbury News, October 8, 2020

Mayoral approval ... Hurunui Mayor Marie Black, second from left, joined Waimakariri Mayor Dan Gordon, fourth

from left, as well as councillors and council staff from the region, in an inspection of the Christchurch Northern

Corridor last week.

PHOTO: SUPPLIED

Corridor work impresses

By DAVID HILL

Dan Gordon is impressed by

progress on theChristchurch

Northern Corridor.

The WaimakaririMayorwas

joined by HurunuiMayor Marie

Black andWaimakariridistrict

and Christchurch city councillors

and council staffinaninspection

of developments on StateHighway

1north of Christchurch and into

the city.

''I was reallyimpressedwith

their project management.It'sa

big project with new(flyover)

bridges andsubways,''MrGordon

says. ''For our district,it's goingto

be agame­changer,particularly

with thecycleway.''

The$290 million project,

scheduled forcompletion in

December, includes the triplelaning

of the northern motorway

forboth northbound and

southbound trafficbetween

Belfast andTramroads,

strengtheningofbridges, thefourlaning

of CranfordStin

Christchurch,and the Belfast­to­

Kaiapoi cycleway.

Thethirdsouthboundlane will

be ahigh occupancy lane, for

multi­passenger vehicles and

buses.

Mr Gordon wasparticularly

impressedwith thesteel beams

placed underthe State Highway 1

WaimakaririRiver road bridge.

''It'smaking surethe

Waimakariribridge is goingtobe

safer and last foralongtime.''

''I'm veryimpressed with where

the projectisat. They were

certainlyabit behindwithCovid,

but they looktobewellontrackfor

mid­December,'' Mr Gordon says.

There is also an extensive

landscaping project, with630,000

plants beingplanted along the

corridor.

Workonthe park­and­ride

facilitiesinRangiora and Kaiapoi

is scheduled to begininJanuary.

Bureau worried by

digital exclusion

By ROBYN BRISTOW

The Citizens Advice

Bureau in North

Canterbury is concerned

at adrive to get people to

access government

services online.

Chairwoman Margaret

Finnie says the bureau is

concerned that

government services are

being withdrawn from

communities.

The service wants local

parliamentary hopefuls

to commit to ensuring

public services remain

accessible to everyone.

''People of all ages are

coming to us stressed and

frustrated about their

experiences of trying to

access government

services. It's getting

harder to access human

support from government

agencies, but people's

need for face­to­face

services is as real as

ever,'' she says.

''While online services

are great for some people,

the drive towards onlineonly

is leaving some of the

most vulnerable members

of the community

behind.''

Many individuals

sought support from the

bureau because they

needed access to face­toface

services, paperbased

resources, and

empathetic human

connection.

Earlier this year, a

report by the Citizens

Advice Bureau made it

clear the public sector

relied heavily on the

goodwill of the bureau

and volunteers to fill the

gap from the

government's withdrawal

from face­to­face and

paper­based service

delivery.

Election candidates are

being asked to support

the recommendations of

the report, particularly to

pledge support to leaving

no­one behind through

ensuring steps are taken

to address the digital

exclusion.

The bureau also wants

public services accessible

to all through off­line

channels, and for its

branches to be

compensated through

being properly funded to

meet the demands as a

result of government

services going online.

It is also asking the

public to get behind a

petition. Apaper copy is

available at the bureau in

Percival Street, Rangiora,

in the Trevor Inch

Memorial library.Phone

(03) 313 8822 of freephone

0800 367 222.

SCARILY LOW PRICES &

SPOOKYSPECIALS

$12 99

$12.99

EACH

$19.99

EACH

$20.99

EACH

$21.99

EACH

$21.99

EACH

$25.99

EACH

$25.99

EACH

Jim Beam /CC

4.8% 440ml 4pk (inc zero) cans

Midori 275ml 4pk bottles

$14.99

EACH

Woodstock TuiBourbon; VodkaSoda

7% 330ml 6pk (inc zero) cans

7% 12 pk range

$31.99

$9.99

EACH

EACH

EACH

2 FOR

$20.

00

Beefeater Pink/ Absolut

Lime /Malibu Passionfruit

250ml 4pk can ranges

$9.99

EACH

Jim Beam &Cola/CC

(incl zero) 4.8% 10pk cans

Jim Beam Gold 7% 8pk cans

$12.99

EACH

$12.99

EACH

Blackheart

Wild Moose

5% 12pk bottle &

7% can ranges

$13.99

EACH

Cruiser

7%12pk can range

$13.99

EACH

$14.99

EACH

Long White

10pk bottle range

Coruba &Cola

7% 250ml 12pk cans

2FOR

$18.00

$18.99

EACH

PALS

10pk can range

$27.99

EACH

$32.99

EACH

$29.99

EACH

$29.99

EACH

Cody's 7% cans

Woodstock 5% bottles

all 18pks

$34.99

EACH

Jack Daniels l & Cola

Double Jack

330ml 10pk cans

$36.99

EACH

$38.99

EACH

Woodstock

7% 250ml 18pk cans

$39.99

EACH

Jacobs Creek

(ex Sparkling range)

FiveFlax range

$40.99

EACH

Wolf Blass

YellowLabel range

Villa Maria

Private Bin

range (ex PN /Syrah)

$49.99

EACH

$54.99

EACH

Mudhouse

range (ex PN)

$64.99

EACH

Wither Hills

range (ex reds)

$72.99

EACH

Brown Brothers

Moscato range

$19.99

EACH

Wairau River

range (ex PN)

$23.99

EACH

Riverstone

range

Allan Scott Black

Label /Cecilia

range /Matawhero

Gisborne range

$24.99

EACH

Ivanov/Seagers

1L

$24.99

EACH

Larios 1L

JB Black 700ml

Midori 700ml

NEW

PRODUCT

BEER

SELTZERS

$21.999

EACH

Pure Pirana

10pk cans

Old Crow 1L

Teachers 1L

Sauza Gold/Silver

700ml

398 HIGH STREET, RANGIORA

03 313 7207

1275 MAIN NORTH ROAD, BRIDGEND

03 323 8833

585 SPRINGS RD, PREBBLETON

03 349 6031

Jack Daniels

(lncl Honey&Fire)

El Jimador range (Ex Anejo)

OldForesterall 700ml

Club Setter

10pk cans

$23.999

EACH

Absolut1L

Beefeater 1L

Ballantines1L

$24.99

EACH

Asahi

12pk bottles

Availablefrom 1st to 31st October2020 • Specials onlyavailablewhilst stocks last •Atparticipatingstores only

114 RAILWAYTERRACE, RAKAIA

03 302 7973

45 SOUTH TERRACE, DARFIELD

03 317 9499

1147WEST COAST RD, WEST MELTON

03 3478460

Jim Beam 1L

Canadian Club 1L

(lncl Spice)

$25.99

EACH

Export 33

15pk bottles

Malfy700ml

range

$26.99

EACH

670MAIN SOUTH RD, ISLINGTON

03 349 7337

69 MAIN ST,FAIRLIE

03 685 8061

118 LE CREN ST,TIMARU

03 684 3566

Appleton1L

$26.99

EACH

Glenfiddich

12yr 700ml

21 ALDWINS ROAD, LINWOOD

03 982 1753

9PARNWELL ST,BURWOOD

03 383 2564

495 PAPANUI RD, PAPANUI

03 260 2380

Hendricks

700ml

Tui/Export Gold/DB Draught Mac's Corona/Corona Ligera

15pk bottles 12pk beer&ciderrange 12pk bottles

65 VICTORIA ST,CBD

03 260 1155

KEEP

K N O W

Kingfisher

12pk bottles

$28.99

EACH

CALM

Y O U R

I M

L

I T

$37.99

EACH

Somersby

12pk bottle range

Lion Red/Waikato /Speights

Summit or LowCarb

24pk bottles

100% NZ

OWNED AND

OPERATED

$41.99

EACH

MonteithsBatch

Brewed &Cider 12pk range

Steinlager

24pk bottles

TWO FOR

$58.00

thirstyliquor.co.nz

Heineken

12pk bottles

HOT PRICE!

Haagen

24pk bottles

ASK ABOUT

LOYALTY CARD

BENEFITS &

GIFT VOUCHERS
---
Hurunui

Garden

Festival

Alexanders specialises in businessand accounting

advice foragribusiness. We treatour clientsas

partnersand as such,focus on growth anddevelopment.

We combineour experience andknowledgetocreate

innovative, client-focused solutions.

P03365 8400

admin@alexanders.net.nz

www.alexanders.net.nz

proudly supporting

2020

Ashowcase of inspiration

The Hurunui Garden Festival is acelebration

of inspirational gardens, coupled with the

hospitality of their owners, and the people of

the Hurunui district.

The festival which runs from Thursday,

October 29 to Sunday, November 1, will

showcase 17 gardens, two self-driven tours

off the beaten track, and garden-based

events to educate and entertain. The gardens

are open from 9am to 5pm each day.

The popularity of the annual event has

grown since being launched in 2018, and the

district is preparing to host abounty ofvisitors

keen to enjoy gardens from Amberley to Gore

Bay, and Hawarden to Hanmer Springs.

The committee hopes the festival will

provide the opportunity for visitors to enjoy

along weekend, and visit wineries in the

region and cafes, and enjoy the many other

attractions the district has to offer during their

stay.

Two self-driven tours, over well maintained

shingle roads, will run each day. The $95

cost includes entry to each garden, morning

tea, lunch, afternoon tea, or sweet treats and

refreshments.

Anew tour, Mysteries of the Waipara Gorge,

complete with iron sculptures, concretions

and moa bones, has been introduced, while

the Hidden Gems from the Lowry Hills to the

Sea, makes its return.

Garden entry tickets at $10 per garden, are

available online at

www.hurunuigardenfestival.com, until

October 18. After that date tickets can be

purchased on the day, atthe gate.

The 17 gardens, five of them new to the

event, feature in the programme. They are in

six geographically-based clusters making it

easy to plan visits to multiple gardens.

Each cluster has its own detailed map on

the website, or in the glossy guide that is

available, showing the exact locations of the

gardens, along with other useful information,

such as the location of public toilets, fuel

stations and food outlets.

Owners have been hard at work maintaining

their gardens, especially as Mother Nature

has sent gales and frosts to thwart their

preparation. However, the team has banded

together to give each other ahand toclear

fallen trees and any other damage, to ensure

the gardens are pristine.

Check the website and guides for

information about each garden and the list of

events (pages 26 to 28), that some gardens

are hosting, such as photographic and art

exhibitions, stalls, floral art, music and jazz

singing, and learning about natives and

planting.

All the information to help visitors to enjoy

the garden festival is available on the website

www.hurunuigardenfestival.com or email

info@hurunuigardenfestival.com.

NB: Four gardens will not open on

Thursday, October 29.

proudly supporting

2020

proudly supporting

2020

proudly supporting

2020

Bakery &Café

Blue House

proudly supporting

2020

Call Brad Mackenzie on0278013729,

Sean Lysaght on0275786631

or visit gsi.nz

TRUSTTHE

LOCAL

EXPERTS

At Totalspan, we're proud

to be partofthe North

Canterburycommunity.

We know things are

challengingrightnow,

andthatevery decision

counts.We're heretohelp

youfind the rightsolution

with our wide range of

farm buildings, garages,

sheds, barns,commercial

buildings and more.

proudly supporting

96b Carters Road

Amberley

Phone: (03) 975 3125

proudly supporting

2020

2020

98 Carters Road, Amberley

Phone: (03) 261 5111

Email: info@outofthebleu.co.nz

HC TLS2042

Totalspan anNorth Canterbury

127 Main nNorth Rd, Woodend

Ph: 03 310 0247

Email: northcanterbury@totalspan.co.nz

Proud Goldsponsors ofthe

Hurunui Garden Festival
---
29 th Oct -

1 st Nov2020

CathedralCliffs

Bed&Breakfast

proudly supporting

2020

FORBOOKINGSCALL03319 8667

www.cathedralcliffs.co.nz

Educate, entertain, inspire

The Hurunui Garden Festival was launched

in 2018 by agroup of keen local garden

owners to help the Hurunui district

recover form the impact of the devastating

earthquake of November 2016.

Many visitors turned out to the inaugural

event, making it along weekend so they

could enjoy the many attractions the district

has to offer, which this year will again

include the Hanmer Springs Fete onFriday,

October 30.

Hurunui Mayor Marie Black says the

festival offers the opportunity for aunique

chance to visit private gardens across the

district, three of which are under the New

Zealand Garden Trust, Gardens of National

and International Significance.

Hurunui Garden Festival Incorporated

(HGF), is committed to investing back in its

community. Itwill give astudent, graduating

from aHurunui secondary school, a

scholarship to the value of $2000 towards

study in horticulture at their choice of

University or Institute of Technology, onthe

occasion of HGF making areasonable profit.

Aphotographic competition is also being

run.

The Hero Photo competition invites people

and budding photographers who take photos

during the festival to submit selected high

resolution photos via email to the festival

organisers.

The photos will be used in all advertising

and marketing in 2021.

The winning entry will win anight for two at

the Hurunui Village Cottage at the Hurunui

Hotel with dinner (main, dessert and aglass

of wine), and adouble pass to the Hanmer

Springs Thermal Reserve hot pools.

The 17 gardens, in six clusters, are just

one hour's drive from Christchurch and

the airport, and garden owners are looking

forward to greeting visitors, and sharing their

stories of how they created them.

There are garden events to educate,

entertain and inspire.

This year's major sponsor is the Rata

Foundation, while the Hanmer Springs

Thermal Pools and Spa is aPlatinum

sponsor. Gold sponsors are BNZ,

Farmlands, FMG, John Rhind, Latitude,

Ribbonwood Country House, The St James,

Hurunui Hotel, Hanmer Springs Fete and

Totalspan.

Nursery &Garden

proudly supporting

2020

714 Rotherham Road South

Phone: 027 220 5186

lochlevennursery.co.nz

proudly supporting

2020

proudly supporting

2020

Garden of InternationalSignificance

Garden tour groupsand weddings

andspecialoccasions.

Cottageavailable foraccommodation.

Enquires throughour website

www.flaxmeregarden.co.nz

Loch Leven

342Allandale Road,

Hawarden 03 3144090

RIBBONWOOD

COUNTRY HOUSE

proudly supporting

We cater

for up to

100 guests!

proudly supporting

2020

2020

proudly supporting

2020

WAIHUIGARDENS

ROTHERHAM

Award-winningLuxury

GuestHouse &Day Spa

proudly supporting

Call 03 3198823 or visit

ribbonwoodcountryhouse.co.nz

2020

Make it aweekend to remember

and aunique country experience.

Phone 03314 4584 or visit

www.karetudowns.co.nz

Our intimate, country garden

is available for family gatherings and

bespoke wedding ceremonies.

We aresuited to allrequirements.Aregistered

wedding celebrant available ifneeded.

For more contact Meg on 03 315 6261

Privatelyowned garden open to the

public by appointmentonly.

197Culverden Road | Call 027437 1329
---
•Stop, Rest and Revive

•Exceptional Service

•Licensed

•Open 7Days

Monday -Thursday 8am –4pm

Friday -Sunday 8am –5pm

Enjoy arelaxing break and tasty

treat in our garden while touring

the Hurunui Garden Festival

Main Rd, Culverden

Ph 03 315 8492

2317495

NEWS AND SPORT

26 North Canterbury News, October 8, 2020

Players battle their

way to regional titles

Players had to fight hard for

all titles in the recent North

CanterburyTable Tennis

championships.

Junior and seniorplayers

fromClarkville,Oxford,

Rangiora,Woodendand

Kaiapoi took part.

JuniorsHector Harris

(Clarkville), JemimaTodd

(Rangiora)and Amelia Todd

(Rangiora)shone.

Hector won the under­18

junior and under­18 boys'

singles titles, whileJemima

put on apolished displayto

win the under­18 girls'

singles title, beating last

year's winnerMika Kawasaki(Rangiora)

in the final.

Sister Amelia,not to be

outdone,won the under­16

girls' singles title.

Jemima and Amelia

defended their under­18

girls' doubles title, and

Jemima joinedclubmate

JoshLubbers to win the

juniormixeddoubles.

Jemima entered the senior

events for the first time,

winning the openwomen's

doubles withGeorgina

Walker.

Junior Mika Kawasaki won

theopen women's singles

bracelet. Other outstanding

Juniors were Hunter Smith

(Clarkville),Thomas

McNabb(Rangiora)and Lily

McNabb (Rangiora).

Clarkville's Michael

TABLE TENNIS

Sumner regained theopen

men's singles titleand

combined with Clarkville

team­mateMichaelBonner

to win the openmen's

doubles for the seventhyear.

Georgina Walker (Oxford)

has wonthe open women's

singles title every year for a

decade. She joined with

JuniorchampionJemima

Todd to triumph in the open

women's doubles.

Both finalists in their

respective singles event,

Grant Ripley (Woodend)and

ClaireLoudon (Kaiapoi),

took the open mixeddoubles

title.Sharyn Bright (Kaiapoi)

won the veteran women' s

singleswhile Josh Svoboda

(Clarkville)won the open

men's singles plate.

In the Areserve grade,

Georgina won the titlefor the

third consecutive year.She

also won the Areserve

doubles with juniorHector

Harris. Jeff Erickson

(Oxford) won the Areserve

singles plate.

In the Bgrade,Johnny

Croft (Oxford) narrowlybeat

clubmate Warren Boocock in

the final. Johnnywent on to

win the Bgradedoubles,

joining withBarryDevine.

JuniorJosh Lubbers won the

Bgradesinglesplate.

Sisters aim to help

families with loss

By ROBYN BRISTOW

MiscarriageMatters NZ is

helping to show families that

theirexperience of losinga

baby to miscarriagematters.

NorthCanterbury sisters,

Aleisha Black and Corrine

Christian,started the charity

to supportfamilies and help

them find answers to

questions about miscarriage.

Aleisha explainsthat they

both became pregnant in 2018.

''ButIwas the only one who

got to meetmybaby.

''I am now mother to two

little boys aged 4and 2and

work part­time in acute little

gift shop in Amberley, Ruby

Six. Corrineisanoptometrist

at Rangiora Eye Carebut is on

maternityleave, caring for her

5­month­old babygirl.

Both knew littleabout

miscarriage, but through their

personal experience and

subsequent research they

discoveredmany thingscan

be donetoimprove the

experience, which prompted

them to form Miscarriage

Matters NZ.

To celebrate its launchand

to mark International Baby

Loss AwarenessWeek,which

runs fromOctober 9to15,

Aleisha and Corrine will host

afun run at The Groynes

Reserve, Christchurch, on

Sunday, October 11.

Aleisha says their

organisation is supported by

volunteers, and local

businesses.

''We have created awebsite

full of practical information

and advice, started a

Facebook page to be avoice

for miscarriage, and are

making and distributing care

packages in Canterbury.

''We try to put home­made

love into our carepackages, so

we sew the calico bags

ourselves, andwemake seed

bombs and keepsakestoput

in them.

''We know thatwecan'tgive

families backtheir babiesbut

we are trying to do everything

else that we can.''

Aleishasays there are no

official records of the number

of miscarriages in New

Zealand, but in partnership

with Sands Canterbury, they

are supplying50care

packages to Christchurch

Hospital every month to keep

up with demand.

They are also starting to

supply care packages to

Canterburymidwives, as

many women who experience

miscarriagedonot require

hospitalisation.

Ticketsfor the fun run can

be purchased through

eventfinda.co.nz. Spotprizes

have been donated by Rivers

to Ranges, the Christchurch

Symphony Orchestra, Dole,

Black Cat Cruises, Cloud9

Float Club, the Christchurch

Casino,and Dr Bugs Popcorn.

The Electric Smile

Better for

your health

Quiet

Cheap to

Operate

Powerful

Please review

ourwebsite

forthe full

productrange

Finance NowAvailable!

Normal credit criteria

applies

ADVERTISEMENT

How Marvel Health Delivers

Advanced Health Monitoring

The humanbodyiselectromagnetic,

andthismeans humanbeingsgenerate

andinteractwithelectricaland

magneticimpulses. Thisincredible

abilityofthe bodyisnot commonly

known. Nevertheless, severalmedical

diagnostic technologies analyse

electromagneticsignals from the

bodytodiagnosediseases. The EEG

(Electroencephalogram) andECG

(Electrocardiogram) interpretthe

electrical signals respectivelyfrom the

brainand heart.

Ultrasound analyses thebody's

interaction with soundwaves to

produce an imageofthe internal

organs.

The MRI (MagneticResonance

Imaging) analyses radio signals emitted

by thebodyafterexposing

it to strong magnetic

fields.

At Marvel Health,

ourdiagnostic

technologyworks on

asimilar principleas

theseother technologies

by readingand analysing

electromagneticfrequencies

generatedbythe human

body. Just as theBrain and

Heartgenerate electrical

ONLY

$395

signals,every organinthe bodyalso

generateselectrical signals as well as

biomagneticsignals.Livingtissues

andevenchemicalsand minerals in

thebodyall have unique biomagnetic

signatureswhichcan be analysed

to determinetheir nature.And by

readingthese signals,the Marvel health

scannerexamines theentirebodyto

determinethe stateofour organs and

thefactors that arecausingdiseases.

The scannerexploresthe bodyfor the

causes of inflammation anddisease

such as microbes (bacteria, viruses),

environmental contaminants, food

allergies, chemical sensitivities and

thestate of health of ourorgans and

systems.Adetailedhealth report is

generatedand reviewed by amedical

doctor.

Call Bruce on 027 223 0054 formoreinfo

or email bruce@meangreenmowers.co.nz

www.meangreenmowers.co.nz

Call TodaytoBook Your Full Body MOT

03-669-5410 | www.marvel.health

Unit 13/6 Cone Street, Rangiora, Canterbury, 7400

293 Durham Street, Awly Building, Christchurch, 8013

The inspections from the scan is not asubstitute for medical inspections. It is not assigned to state the final diagnosis
---
MainPower

Live Lines

Issue 189October 2020

Vote now!

Getting behind local

rugby

This past season,MainPowerhas sponsored several rugbyfeilds

aroundNorth Canterbury.The goal posts at theOhoka,Kaikōura,

Saracens and Amberleyclubs are now sporting new padding on

their premier fields.

Votinginthe MainPower Community

Fund is nowopen.

The $30,000fund willbenefit

community groups and schools that

aredoing great things forthe North

Canterbury region.

Please visit mainpower.co.nz to vote

before Friday 9October.

MainPowerisproudtosupportcommunity sportacross theNorth

Canterbury region.

Checkyourtrees

Therecent highwinds highlight theimportance of keeping trees

and vegetation well clear of powerlines.

Branches and debris coming into contact with power lines can

damagethe networkand causepower outages.

Take some time to do avisualinspection of vegetationon

your property.Ifyourtreesorvegetationisgrowing near,or

overhangingnetwork equipment, pleasedoyourpartand

arrange forthese to be trimmed back.

Workingnear power linesand electricitynetwork equipment

canbeextremely dangerous.Tree trimmingworknearpower

lines should only be undertakenbyqualified arborists.

If you needadvice, or wouldliketobook afree inspection,call

MainPower on 0800 30 90 80.

Trees and vegetation near power lines should always be

trimmed by a professional.

MainPower 24 HourFaults Line

0800 30 90 80
---
RANGIORA FESTIVAL OF COLOUR

North Canterbury News, October 8, 2020

29

Festival unfolds in ablaze of colour

Colourful day out ...

MichelleStone, of Pegasus,

during the Rangiora Festival of

Colour in Victoria Park last

Saturday. PHOTOS: SHELLEY TOPP

Colour my world ... Tess Row, from Shirley, Christchurch, with

her daughter Isabella, aged 3.

Fun with mum ... Sulene Odendaal, of Pegasus,atleft, with her son Liam,aged2. The sound of music ... Christchurch rock band Electric Temples performs.

Chilling out ... Leon Harimate, of Kaiapoi, with his son Tawhiri.

Colour

bomber ...

Master of

ceremonies

David

Greensmith

fires off

some colour.

Covered in colour ... Saedii James, aged 2, of Invercargill.

Colourful character ...

McCord, of Rangiora.

Sammi
---
Love the

Freedom

Readytorelax in aworry free home?

Summersethomes arewarm, modern anddesigned

witheverythingyou couldneedfor theperfect

retirementlifestyle.

There'snoneed to worryabout maintenanceand upkeep.

Youhavethe freedom to choose if youwanttomakeyour

garden your own, or if you'dpreferustotakecareofit.

Like to holiday?Lockupand leaveyourhome, knowing

everythingissafewhile youenjoy your next adventure.

It's allabout loving thelifeyou choose.

ThinkSummersetlivingsoundslikeyou?Visit anyofour

threeChristchurch villages during ourOpenWeekend,

Saturday 10 andSunday11October, from 10am till 3pm.

We'd love to take youonatourofour beautiful villagesand

showhomes.Wehaveplans andpricing availabletoview

andwe're sure you'll meet someofour wonderfulresidents

along theway!

Christchurch

Open Weekend

Saturday10October

Sunday11October

10am -3pm

SummersetatAvonhead

120HawthorndenRoad,

Avonhead

SummersetonCavendish

147CavendishRoad,

Casebrook

SummersetatWigram

135AwateaRoad,

Wigram

To orderyourfree information pack, call

0800 SUMMER(786 637) or visitsummerset.co.nz

Forup-to-dateinformation on visiting ourvillages,gotosummerset.co.nz/covid-19

SUM2489_37X8
---
Meetings go online in Covid era

By DAVID HILL

Federated Farmers is looking

to the future as it remembers

the past.

Afterachallenging year,the

NorthCanterbury provincial

executive has decided to hold

its 75th anniversaryannual

meeting online.

''With the country bouncing

in and out of Covid restrictions,

we weren'ttoo sure whether it

was worthplanning something

on­site for our 75th jubilee, so

we thought it would be better

to keep it low key,'' president

Cam Hendersonsaid.

''I think it willbe

rememberedfor other reasons,

as it willbeour first AGM by

conference call and it's in an

environment where the whole

worldhas changed.''

Normally, AGMs are held

alongside an on­farm field day.

This year's AGM was

originallyscheduled for May,

but was postponed in the hope

therewould be more certainty

laterinthe year.

It will nowbeheld from

5.30pm on Friday, October 16,

at theprovincialoffice in

Christchurch and will be

livestreamed.

''We willlook at havinga

cake forthose who are on­site

Cam Henderson ... The Oxford farmer has racked up three years as provincial president.

and we may lookatdoing

somethingspecial to mark our

76thnext year,'' he says.

The NorthCanterbury

provincialexecutive heldits

first meetingonline last week

and Mr Henderson wonders if

thiscould be the way of the

future.

''The AGM events are good

for the regulars, but because

we are ageographically

diverse province,it's not

always possible for some

memberstotake the whole day

off­farm, so we need to move

withthe times.

''Evenfor executive

meetings,itcan be achallenge

for those further from

Christchurch if it takes them

1 1 ⁄2 hourstocome to

Christchurchfor a1 1 ⁄2­hour

meetingand thenthey'vegot to

go homeagain, so it may be

easierfor members to get

involved online.''

Freshwater regulations are a

hot topic, so Federated

Farmers national board

memberChrisAllen and

Environment Canterbury

councillor ClaireMcKay will

be guestspeakers.

RURAL LIFE

North Canterbury News, October 8, 2020

PHOTO: FILE

Mr Henderson has

completed three years as

provincial president and is

willingtocomplete his fourth,

which meansthe province has

seven monthstofind his

successor.

Industry group annual

meetingswill be held onlineon

Wednesday, October 14, with

the dairy groupfrom 1pm and

the arablegroup and meat and

woolgroup both from 7pm.

For logindetailsfor the

various meetings, contact

Linda Donnelly on

ldonnelly@fedfarm.org.nz.

2309605

Fire fears aired

31

ThefireriskonDepartment of

Conservation (DOC) land is being

mismanaged and neglected, and needs

urgent review,FederatedFarmers says.

More than 1600 hectares burned this

week at Lake Ohau, with the loss of at

least 26houses. Fiveweeksago,around

300hectaresoftrees andscrubwere

turned to ashdown south.

Federated Farmers believes locking

up high country land without theproper

care is dangerous.

''Thisfireisanother redflag. How

many do we need?''asked Feds high

countrychairman Rob Stokes.

HOMEKILL

&Wild Game

Meat Processing

HIGH COUNTRY FENCING

HILL COUNTRY SPECIALIST -

Dozer and Digger

RURAL

STOCK YARDS

EARTHWORKS

313 0022

MEAT2U.NZ

WE STAND

BY OUR

WORK

GEOFF ROGERS

021 640 748

www.highcountryfencing.co.nz

2209036

2286247v1

•Land Clearing

•Road maintenance/

Construction

•General Cartage

•Driveways/ house

sites

•Tree trimming and

removal

• Excavators from

2to30ton

• Bulldozer -20ton

• Tip trucks from

5to45ton GVM

• Wheel Loaders -

Bucket and forks

• Transporter -can

cart up to 15 ton

We have been Contracting in Canterbury for 35 years

For anoobligation estimate

or quote, contact -

Tony Brand 0274 360 338

Tony Rossiter 0272 080 312

Office 03 313 8224

RangioraToyota

2019 LandCruiserPrado VX

•2.8L Turbo Diesel, Leather

•Toyota Safety Sense

•Only 31,100km

$

65,995

2017 HiluxSR5 Limited 4WD

•2.8L Turbo Diesel Auto

•Leather,18" Alloys

•Only 40,850km

$

44,995

2009 LandCruiser 200 Seri

es

•4.5LTurbo-Diesel, V8

•8-seater, Satnav

•Climate Air ,

WAS$51,995

NOW $

49,995

2020 Ex-Demo HiluxEdge4WD

•2.8L Turbo Diesel Auto

•Alloys, Flares

•Only 300km

$

47,490

2019 HiluxSR5 4WD

•2.8L Turbo Diesel, Satnav

•ReverseCamera

•Done 33,750km

$

47,995

2017 HiluxSRPrerunner

•2.8L Turbo Diesel Manual

•ReverseCamera, Bluetooth

•Tonneau

$

29,995

Signature

CLASS

2019 FortunerGXL

•2.8L Turbo Diesel Auto4WD

•Satnav,ReverseCamera

•Only 23,600

$

48,995

2019 019HiaceZR

•2.8L Turbo Diesel 6-SpeedManual

•5-Door,Satnav

•ReverseCamera,only 250kms

$

41,995

2015Hilux4x4 Single Cab

•3.0L TurboDiesel Manual

•Roof Racking

•Only 58,650km

$

30,995

2016 HiluxSRPrerunner

•2.8L Turbo Diesel, Alloys

•ReverseCamera

•Done 93,900km $

30,995

Percival Street,Rangiora • Ph (03) 313-8186 anytime • www.rangiora.toyota.co.nz

FINANCE &INSURANCE AVAILABLE

2313658
---
RURAL LIFE

32 North Canterbury News, October 8, 2020

2191656

FARMBIKE SPECIALISTS

Servicing North Canterbury for over 25yrs!

•Sales, Servicing &

Parts

•All Makes &Models

•Qualified Motorcycle

Engineers

(NCME, TRADECERT)

•Electrical &Mechanical

fault testing

•Quality 2nd Hand Bikes

&UTV's

•Repairs &Dismantling

•Insurance Repairs

2177981

FENCING

• Post Driving

• Stock Fencing

• Stockyards

• Post and Rails

• Lifestyle etc

Ph Andy Horn

021 214 1201 or

(03) 314 9460

163 Stokes Road, Balcairn

Ph (03) 312 9844 or 027 205 5724 (AH)

farmbikesnc@orcon.net.nz

www.farmbikeservices.co.nz

Amberley show body presses on

By DAVID HILL

The show must go on in Amberley. The

Amberley A&P Association has decided to

proceed with its annual showonSaturday,

October 31, under alert level1.

''There's no stopping us country folk.

Underlevel 1it's all go. It'sreally exciting,''

secretaryAmy Broomhall says.

With other Canterbury showscancelled

because of Covid­19, includingthosein

Rangiora, Selwyn,Ashburton and

Christchurch, Amberley could be in for a

busy day.

''We've have areallygood response from

exhibitors. No­oneseems to be deterred.

''We are certainlyexpectingabig crowd as

long as thesun shines on the day and, with

the horse section,thereisqualifying for

Horseofthe Year,sowe have riders coming

from all over the South Island.''

The show committeewill meet thisweekto

work out some of the details, such as Covid­

19 regulations andmanaging the crowd.

Entries closeonSaturday, October 10, and

can be made via the internet on

Showday.online. Schedulesare available in

Amberley and Rangiora.

Meeting Ceasar ... Annie McCracken, from Hawarden, and her grand­daughter

Izzy Stone, from Amberley, say hello to billy goat Ceasar at last year's Amberley A&P

Show.

PHOTO: SHELLEY TOPP

Lincoln dairy event set for October 15

The Lincoln UniversityDairy Farm is

gearing up for its first on­farm eventfor

farmers sinceFebruary.

It will run its spring focus day on

Thursday,October 15, from 10.15am to

1pm, in its first on­farm event since the

lockdown. Covid­19 forced the farm's

managementtogoonline for six months

to keep farmers up to date.

The focus day willbeachance for

farmers to get an update on the 2020/21

seasonsofar, progress on the farm's

matingand calving programmes,and get

tips on springfeeding, keeping cows at

peak milk production, and pasture

monitoring and feedbudgeting tools.

The new cap of 190kg of nitrogen per

hectare willalso be covered.

Participants willdiscuss what it means

for the dairy industry, and tipsonhow to

interpret and comply with the rules.

Should the regionreturn to alert level2,

the eventwill be limited to the first 100

RSVPs and willbestreamedonline.

It willbefollowed by alight lunch,

sponsored by Ravensdown. For more

information, phone (03)423 0022 or email

office@siddc.org.nz. Farmers can also

keep up to date online withthe weekly

farm walknotes at siddc.org.nz.

SPRING FLING -ONNOW!

Power: 2.0 kW

Petrol

Bar Length: 16"

Power: 230V

Bar Length: 14"

4.3kg (without fuel, bar &chain

Power Source: Electric

Save $10

0

MS230

Was$795

Was$595

16" BAR

CHAINSAW

4.6 kg

(without fuel, bar &

chain)

Save $2000

$595 Incl

GST

14" BAR

MSE170 CHAINSAW

Incl

$495 GST

MORE PRODUCTS ON SALE IN STORE

UP TO 10% DISCOUNT ON ACCESSORIES

Was $5,799

S a ve $55

Save $120

RE109

Voltage: 230V

Power: 1.7kW

7m Hose Length

110bar (1810psi)

6.3lt/min

17.7kg

Now

Now Now

N o w

Save

$300

Power: 1.4kW

Petrol

Bar Length: 16"

3.9 kg dry weight

LX42

RIDE ON

LAWNMOWER

20HP Kohler V-Twin

OHV

13LFuel Tank

0-8.4 km/h

4-10cm cutting height

40cm/16" turning radius

107cm/42" mowing deck

MS180

$5,499 Incl

GST

16"BAR

CHAINSAW

Was$495

RMA

235

WATER

BLASTER

Incl

$375 GST

BATTERY

LAWNMOWERKIT

Voltage: 36V

Weight: 14kg (without battery)

2.5-6.5cm Cutting Height

33cm

cutting width

Fill level indicator

T&C's apply.All pricing includes GST. Imagesmay varyfrominstoreproduct. Offersvalid until 31 October 2020 or while stockslast.

Store opening hours:All stores open7Days: Mon-Fri 8am -5.30pm,Sat 9.30am -3pm,Sun 10am -3pm. 12 monthinterestfree is available -see in store fordetails.

Save

$50

450E

Save $100 MORE BBQ DEALS

PLUS 10% OFF BBQ

Now

Now

ACCESSORIES

Incl

Was$425 $370 Was $710 $610 Incl

(in storeonly)

GST

GST

Save $30 Was$459

19"

LAWNMOWER

Briggs and Stratton 450E OHV

Chassis: Alloy

48cm/19" cutting width

2.5-7.5cm cut height

Cut, Mulch, Catch

Was $499

BABY

Q

1200cm² approxamate grilling area

14cm maximum height of roast

Built in thermometer

Up to 100 meals

per 9kg gas bottle

Now

$449 Incl

GST

Now

1200

BBQ

$429 Incl

GST

STIHL SHOP Northwood - 554 Main NorthRoad, Belfast,Christchurch -Ph: 03-974-2469

STIHL SHOP Rangiora-CornerLineside andStationRoad, Rangiora-Ph:03-313-3398

STIHL SHOP Fosters-559Blenheim Road,Sockburn, Christchurch -Ph: 03-343-6339

www.stihlshopchristchurch.co.nz

LOVE YOUR LAND
---
DRIVE A NEW

NISSAN FROM

$99PER WEEK*

48 MONTH | 10% DEPOSIT | 60,000KM | NFV

QASHQAI

NISSAN

5YR

150,000 KM'S

FACTORY

WARRANTY

WITH NISSAN

FUTURE

VALUE

RANGIORA NISSAN, 321 High Street, Rangiora

Ph: 03 941 3175

www.rangioranissan.co.nz

rangioranissan.co.nz

RANGIORA MITSUBISHI

321 High Street, Rangiora | 03941 3175 | rangioramitsubishi.co.nz

10 year /160,000km Powertrain Warranty(whichever comes

first)(nontransferable). 5year /130,000kmNewVehicle

Warranty(whichevercomesfirst) (non transferable).
---
Rangiora Toyota

Percival St, Rangiora

(03) 313-8186

www.rangiora.toyota.co.nz

Proudly supportingsport

in North Canterbury

Mitchell opens season in blistering form

BlackCaps starall­rounder

DarylMitchell enjoyed his first

tasteofCanterbury country

cricket on Saturday, but

couldn't help his new club side

to awin in the first match of the

season.

Mitchell, who moved from

Northern Districts to Canterbury

to playdomestic cricket

this season, electedtoplayhis

club cricket for Lincoln.

The 29­year­old has also made

himselfavailable for selection

for the Canterbury Country

representativeteam.

On Saturday, in the opening

roundofthe CRV Ambreed

Country Premier One Day

2020/21 cricket competition,

Mitchell madehis Lincoln

debutinblistering fashion,

scoring 90 runs off just 64 balls,

including eight sixes.

But it wasn't enoughtoget his

side an early competition win,

as it fell to astrong­looking

Leeston­Southbridge XI

coached by Toby Doyle.

Lincoln, thanks largely to

Mitchell, made 190 all out in 40

oversinits firstinnings at

Leeston Park.

Countrycaptain Harry

Chamberlain led hisside to the

comfortable eight­wicket win,

leading fromthe front with an

unbeaten 81 off 77 balls.Hewas

well supported by fellow

Country batsman RupertYoung

(39 off42) and Canterbury Kings

player Will Williams, who was

not outon55runs.

Gunninform

Aformer Black Cap starred in

Southbrook's 58­run win over

Cheviot, but it was 15­year­old

George Gunn who stole the show

CRICKET

with astunning bowling

performance.

Afterveteranopener Tony

Hancoxblastedaquick­fire

half­century for Southbrook,

formerBlack Cap Shanan

Stewart addedhis own 50 as

Southbrook, playingathome,

made 182 on alow, slow pitch.

The Cheviot Magpies flew off

to agood start in replywith the

bat, beforeanother Southbrook

stalwart, Darryn Boyle,came to

the bowling crease.

Boyleremoved the top order

and finished with three wickets.

But 15­year­old Gunn was the

star of theshow,coming on as

the fifthbowler and

immediately having an impact.

He ripped through the

Cheviot line­up, which went

from 92/3tobeall out in the 36th

over for 124.

Ryan Ellis,with 28 off 67 balls,

tried to stickitout, but wickets

tumbled around him.

Gunn finished with the

remarkable figures of five

wickets for nine runs.

Heartbreaker

Competitionnewcomers

Ohokalost aheartbreaker away

against SeftononSaturday.

Batting first, the SeftonSeals,

as they have done for many

seasons, got off to asolid start

through openerTim Harrison.

He anchored the innings with a

composed 51 runs off 114 balls,

with Matt Laffey chipping in

with 34 and Canterbury quick

bowlerFraser Sheat scoring 29

off 35 balls.

They were all out on the

Victors ... The Rangiora Hurunui Mid Week Women

claimed the Division 2title.

PHOTO: SUPPLIED

penultimatedelivery of the

side's allotted 45 overs for a

respectable, early­season score

of 185.

Ohoka will rue the missed

opportunity to getonthe

competition leaderboard

straight away, withmany of its

batsmen guilty of getting out

after making starts.

The match had athrilling

finish,with experienced allrounder

Paul Millerbeing left

stranded not out on 42 when last

manHamish Williams was

caught by Sheat,six runsshort.

Williams was McKenzieSmith's

fifth scalp,finishing with matchbest

figuresof5/34 off 6.3 overs.

In the final game of theround,

Darfield beatOxford­Rangiora

by four wickets. Weedons had

thebye.

Short scorecards

Lincoln 190 (D Mitchell 90, J

Williams 24, BAveyard 20; D

Neal 2/22, SChamberlain 2/23, T

Gruijters 2/38) losttoLeeston­

Southbridge 192/2(H

Chamberlain 81no,WWilliams

55no, RYoung39).

Southbrook 182(SStewart 58,

THancox 54; WSmith3/22,J

Hyde 3/33, TFitzpatrick 2/33)

beat Cheviot 124 (T Whelan34, G

Waddy 21;GGunn 5/9,DBoyle

3/41).

Sefton185 (T Harrison 51,M

Laffey 34, FSheat 29; GMauger

3/24, JMariu 3/36, HWilliams

2/33, AHamilton 2/35) beat

Ohoka 179 (R Miller 42no,R

Kelly 30, AHamilton, 23, R

Mariu 21, WHamilton 21, D

Lyons 20; MSmith 5/34, C

Warner2/26, JRoberts 2/33).

Oxford­Rangiora126 (D

Fulton 33; TInnes 4/30,R

Hughes 3/10, JFrew 2/21) lostto

Darfield 128/6.

Stunning opening form ... Black Caps star all­rounder Daryl Mitchell

is playing Canterbury country cricket this season. He opened with a

blistering 90 runs for Lincoln, but his side was unable to head off

Leeston­Southbridge.

PHOTO: FILE

Mid Week Women triumph in final

Rangiora Hockey Club'sMid Week

Women's team have won the Division

2title for the 2020 season witha3­1

win over HSOB/Burnside.

The team, comprising amix of

players from Hurunui, Waimakariri

and Christchurch, qualified in third

placefor the play­offrounds.

It startedthe season slowly,but

foundform at the righttime, with a

string of winsinthe final weeks.

HOCKEY

In the semi­final, the side

accounted for second­placed

qualifier Southern United 3­1, while

HSOB had an upsetwin over top

qualifiers Hornby.

This gave the Rangiora Hurunui

team confidence going into the final

at Nga PunaWai, even though it had

aloss and adraw against HSOB in the

round robin.

HSOB scored early in the final but

Rangiora Hurunui rallied to score an

equaliser late in the first quarter.It

added two more goals,and defended

welltonullify HSOB's attack.

CoachTania McCarthy saysmany

players travel for over an hour, from

as far as Rotherham, for games at

MainPower HockeyTurf each week.

Best Brands -Best Prices

FREE Pressure

check on Cars, Utes,

4WD &Trailers

5Star Service

346a Flaxton Road |Phone 03 310 6666

0800 226 324 for 24/7 Service

WHEEL

ALIGNMENTS

FROM $59

Bookings recommended, terms &conditions apply

2314312

Need help

fundraising?

Want to

promote

your club

or team?

Talk to us about

howwecan help

youreach your

goals faster!

For more

information email

info@ncnews.co.nz
---
North CanterburyNews

PROPERTY

Retirement Dictates Sale

281 Moderates Road, West Eyreton

Ourvendors have decided to sell their home of nearly 40 years. The approximately 220m2 four bedroom, two bathroom

home, sits surrounded by beautifully landscaped gardens. The dwelling has large bedrooms with generous storage,

excellent heating from alog burner in the lounge and apot belly stove with wetback in the kitchen. The expansive deck

is sheltered from the wind and there is acovered barbeque area.

There are alarge number of support buildings including atwo car separate garage, three bay shed, two bay shed, nine

bay shed, which would be ideal for horses, ahigh stud workshop, with three phase power, aswell as other smaller

buildings, cattle-yards and sheep yards. Shelter is afeature of this property with trimmed hedges around the buildings

and holding paddocks.

The land is subdivided into 5main paddocks and 5holding paddocks and according to soil maps, is mainly good

quality Pahau moderately deep silty loam, or Darnley silty loam. This property has it's own well, aproductive orchard,

including walnuts, apricots, nectarine, blackboys and feijoas among others, raised vegetable beds, aglasshouse and

good pastures.

It would be ideal for horses, calf rearing or finishing cattle. Very few properties with 24 acres and such infrastructure

come on the market, so this is worth consideration

Deadline Sale

closing 5November 2020 4.00pm

(unless sold prior)

Open Home

Sunday 11 October 2020

1.00pm to 2.00pm

For more information contact:

Maurice Newell 027 240 1718

Hamish Anderson 027 678 8888

Property Brokers Ltd

Website ID #RL78431

Arealchange in

real estate.

The Property Brokers and Farmlands partnership means

great things forprovincial real estate*

Together our combinedstrengths complement

eachother to createbigger networks,more

buyers and better results.

For more informationcall0800367 5263

orvisit pb.co.nz/together

Proudtobetogether

2319016

*Farmlands will continue to administer its property management portfolioand its West Coast real estatesites, pendingCommerce Commission clearance.

Property Brokers Ltd Licensed REAA 2008
---
North Canterbury

How does a FREE marketing

package plus $500toward

anot-for-profit of your

choice sound?

Good?More likegreat!

Call today 03 313 8022

pb.co.nz/sellingforgood

*Terms and Conditions apply |Property Brokers Ltd Licensed REAA 2008

Rangiora 11 Gerard Place

Auction

Contemporary classic, going, going, gone

Our subject property is an expansive,contemporary home on aquiet, family-friendly cul-de-sac. Designed andconstructed

with painstaking care and attention to detail, it's sure to exceed theexpectations of even the most discerning purchasers.

From themoment one sets foot inside the impressive entrancewaythe care andattention to detail that went into the

construction of this superlative homeisimmediately clear. Ample accommodation is provided by four good-sizedbedrooms,

while twoluxuriousbathrooms (including an ensuiteoff themaster) andanappropriately lavish kitchen with walk-in pantry

enhancefunctionality. Theopen-plan dining/living area is complementedbyaseparate formal lounge,with aheatpump

promising year-round comfort and effortless indoor/outdoorflow offering easy access outside. Outside,the immaculate

groundscreate an idyllic setting, while double internal-access garaging -complete withrear accessfor the boatortrailer -

completesthe appeal.

4 2 2 2

Auction 1.00pm, Sat 10th Oct, 2020, Rangiora Town Hall

View Sun 11 Oct 12.00 -1.00pm

Web pb.co.nz/RU77827

Aaron Clark

M 027 873 5121

E aaronc@pb.co.nz

Property Brokers Ltd Licensed REAA 2008 |pb.co.nz

Proudtobehere
---
North Canterbury

Sefton 107 Harleston Road

Auction

We're out, you're in

Our vendors are retiringand leaving their magnificent home that theylovingly built. Nowisyour opportunity.This versatile

rammed earth home has seven bedrooms, with awest wing of 180m2 comprisinglargeopen planlivingwith twobedrooms

plus an office, cool store room and bathroomdownstairs, as well as three bedrooms upstairs, with another bathroom and

kitchenette/living area. The east wing has two living areas, twobedrooms andashared bathroom.There is a100m2 shared

garageand off the garages, separate toilets andseparate laundries. Energyefficiency is afeature of this homewith thethick

rammed earth walls providing aheat sink for winter and keeping the interior cool in summer. In the west wing there is a

Warmington open fire as well as aRayburn withawetback which also provides underfloorheating through pipes which pass

beneathconcrete floor pavers. Thekitchen alsohas awalk-in pantry and abutlers sink. Theeast winghas awood-burner.

8 3 3 4

Auction 1.00pm, Sat 10th Oct, 2020, Rangiora Town Hall

View By appointment

Web pb.co.nz/RR72756

Hamish Anderson

M 027 678 8888

E hamisha@pb.co.nz

Maurice Newell

M 027 240 1718

E mauricen@pb.co.nz

Ohoka 693 TramRoad

Auction

Vendors havepurchased

Lookingfor a4ha lifestyle property with ahighly convenient location, privacyand avery well presented 232 sqm four

bedroom home? Thentake alookat693 Tram Road. There is anewly completed92sqm addition withfloor to ceiling double

glazed glass doors, opening to astunning Kwila deck. This area has been built to ahigh standardand includes main living,

master bedroom and ensuite and asecondbedroom. This area has oak flooring and no expense hasbeen spared on the

plumbing,which includes aVailantcombi boiler which runs four radiatorsaswell as the hot water. Clad in Stria witha

Colorsteel roof and internalgutters it is ultra modern. Theland is subdivided into ninepaddocks, with cattle-yards and afour

bay barn,including one enclosed bay. With its ownwell,thereisplenty of water available for thegarden as well as the house.

With themotorway only 7kmaway and the well regarded decile 10 Ohoka school nearby it is anideal location.

4 2 2 1

Auction 1.00pm, Sat 10th Oct, 2020, Rangiora Town Hall

View Thu 8Oct 6.00 -7.00pm

Web pb.co.nz/RL77927

Maurice Newell

M 027 240 1718

E mauricen@pb.co.nz

Hamish Anderson

M 027 678 8888

E hamisha@pb.co.nz

Property Brokers Ltd Licensed REAA 2008 |pb.co.nz

Proudtobehere
---
North Canterbury

Hanmer Springs 4/900 Woodbank Road

Auction

Paradise Found

Discreetly hidden up aquietyet sunny valley only ashort drive from the idyllic thermal resort village of Hanmer Springs, you

find this amazing and unique 20halifestyle block. Nothing compares! It offers medium to steep hill with native bush,

extensive manuka, andnaturalwetlands. Watersupply is aspring fed pond, enjoy your water justasnatureintended. Approx

aquarter of the property hasbeen cleared, grassed, fertilisedand fenced(new electric topped post and netting) suitable for

sheep, cattle or horses. It is divided into 5paddocks, with aset of sheep yards. There is astunningelevatedbuilding site just

below thespring,offering aNorth facing sunny aspect, and the most amazing views over theHanmer Valley. Whatever your

purpose, be ityour dream home in apristine bush setting, aunique ecolodge, or just ahideawayfrom the realworld, this

property is one in amillion. Direct access into crown landfor hunting.

Auction 1.00pm, Sat10th Oct, 2020, Rangiora Town Hall

View By appointment

Web pb.co.nz/HSU77712

Janice Clyma

M 027 434 7090

E janice.clyma@pb.co.nz

HanmerSprings 28 Caverhill Close

Auction

Central village rare opportunity

We are delighted to offer you thisquirky andinteresting double glazed 3brm plus attic home located on aprivate central site.

Ideally suited as afamily holidayhome, the kidswilllove the attic as aplay area. Lovely northfacing living and deckideal for

those evening BBQs. Logfire plusaceramicinfra redheater.Architecturally designed andbuilt in 1990's as aholiday home,

however would equally suit as apermanenthome or weekend retreat. Two bedrooms are generous queen size, master has two

largewardrobes. The third bedroom is offthe lounge and ismore of astudy/office area butlarge enough foraset of bunks.

Single garage with internal access. Separate entry area with coat space, and alarge separate laundry with lots of bigstorage

cupboards. Thesection is surrounded by mature native trees including recentlyplanted fruit trees. Well fenced and suitable for

pets and children. Location is an easystroll on formed public tracks to the forest walks.

3 1 1 1

Auction 1.00pm, Sat 10th Oct, 2020, Rangiora Town Hall

View By appointment

Web pb.co.nz/HSU77892

Janice Clyma

M 027 434 7090

E janice.clyma@pb.co.nz

Property Brokers Ltd Licensed REAA 2008 |pb.co.nz

Proudtobehere
---
North Canterbury

Rotherham 74 Topps Road

Auction

Call to action, call to auction

Our vendor is retiring afteralifetime of farming, thisproductive property is nowyouropportunity. Property Brokers are proud

to present this attractive and productive 83ha farm. The soils on the flat are predominately Ayreburn Deep Clay, with the

balance Waipara Moderately Deep SiltyLoam. Currentlythe flats are being irrigated with hard hose irrigatorsfrom hydrants

down the central lane.There are 45 Amuri Irrigation Companyshares, which provide 27 litres/sec. The home is athree

bedroom wooden bungalow of approximately 186sqm with aseparate twocar garage, with power. There are alarge number

of support buildings including a9mx13.5m three bay shed,awoolshedofapproximately120sqm,with additional storage

underneath, afour bay shed measuring approximately 8m x16m, the red shed approximately 12mx10m, the fully lockable

shed, which is approximately 12mx9m, as well as an old dairy and piggery.There is apumpshed on the flatwhich is used for

irrigation.

3 1 2

Auction 1.00pm, Sat 10th Oct, 2020, Rangiora Town Hall

View By appointment

Web pb.co.nz/RR74876

Hamish Anderson

M 027 678 8888

Maurice Newell

M 027 240 1718

E hamisha@pb.co.nz

E mauricen@pb.co.nz

Oxford 497 Steffens Road

Auction

Job transfer dictates sale

This 398sqmhome, set inapicturesque park-like setting, consists of three separate accommodation areas. Currently -main

dwelling, "parents wing" and guestwing -providingfor atruly multi-generational living scenario. In the main dwelling, step

into abeautifulhome with character features, modern conveniences, open plankitchen/dining with generous walk-in pantry,

family lounge and large formal lounge, two very generous double bedrooms, family bathroom and walk-inlinen/storage room,

complimented by two fabulous outdoorentertaining areas. The tworemaining wingsare self-contained with their own

bathroom, bedrooms and living areas. Allwings have their own separate entry and inter-connect with the main dwelling. The

4ha of landissubdivided intofive paddocks ,withgoodqualityTempleton and Eyre-Paparua soils, (according to soil maps)

and you have your own well. Buildings and features outside consistof100sqm Totalspan garage/workshop, hayshed,tool

shed, wood shed.

Property Brokers Ltd Licensed REAA 2008 |pb.co.nz

5-6 3 4 2+

Auction 1.00pm, Sat 10th Oct, 2020,Rangiora Town Hall

View By appointment

Web pb.co.nz/RL77379

Maurice Newell

M 027 240 1718

Hamish Anderson

M 027 678 8888

E mauricen@pb.co.nz

E hamisha@pb.co.nz

Proudtobehere
---
North Canterbury

Eyrewell Forest 599 Downs Road

Auction

Vendors downsizing

Our vendors havebuiltinRangiora and need to sell this beautifully designedthreebedroom, two bathroom home. Onewing

contains the master bedroom with an ensuite and walk in wardrobe.Another winghas two bedroomsand the main bathroom.

There are two living area's with an open plan kitchen living andaseparatelounge.The log-burner has awetback and there is

aheat pump as well.ABelling stove and AEG dishwasher are typical of the quality of the chattels and fit out. The garage is a

largesingle withanadjoining separate laundry and mudroom.Extra accommodation is available in the one bedroomflat

adjoiningthe shed, which has akitchen/living area andagood bathroom and is approximately 45m2.The sheditselfis

approximately 150m2 with acommercial roller door and clear span, highstud steeltrusses. It has three phase power and

excellent lighting.The 24m2 studio is transportable, so could be sold separately if not wanted.

4 3 3 1

Auction 1.00pm, Sat 10th Oct, 2020

View By appointment

Web pb.co.nz/RL76179

Maurice Newell

M 027 240 1718

E mauricen@pb.co.nz

Hamish Anderson

M 027 678 8888

E hamisha@pb.co.nz

West Eyreton 1661 North Eyre Road

Rangiora

Auctions...

Come alongand seethe

action at ourauctions!

Saturday10th October 2020 at 1pm.

RangioraTownHall, 303 High Street, Rangiora.

To see what properties we have going under

the hammer, check out our window at the

Property Brokers office. Or call one of our team

today on 03 313 8022 formore information.

Timeless Elegance

Nestled in beautifully mature landscapedgardensdown atree lined

driveway, this lovingly maintainedoriginal villa which boastsoriginal

features throughout is simply stunning. The elegant kitchen/dining

room has awonderfulsunny aspect with doubledoors opening out on

to one of the verandaswhich is aperfect placetosit and enjoythe

establishedgardens. Thereare two living areas, four bedrooms

including master with en-suite, family bathroom with separate toilet

which are situated offthe spacious wood panelled hallway. The

property also offers aseparatedwelling.

4 2 2 2

Deadline Sale closes Wednesday 21st

October, 2020 at 2.00pm, (unless sold

prior)

View By appointment

Web pb.co.nz/RU75181

Katy Biggs

M 022 0687415

Carol Thompson

M 027 914 2341

Property Brokers Ltd Licensed REAA 2008 |pb.co.nz

Proudtobehere
---
North Canterbury

Kaiapoi 148 ButchersRoad

Rangiora 17 Koura Drive

Location and productive soil

Excellent opportunity to secure this productive property located on

Butchers Road, close to Silverstream retail village and approximately

15 minutes to Christchurch International Airport. Good water supply,

including two irrigation water rights, one being from the crystal clear

Ohoka Stream. Appealing, sunny 200 sqm four bedroom residence

with two living areas, heated by anew Masport log-burner and an

Everhot range by Classic Cookers, both with wet-backs. Extensive

mature shelter belts and trees, 6.2ha of quality free draining

Waimakariri Silt Loam soils.

Property Brokers Ltd Licensed REAA 2008 |pb.co.nz

4 2 2 1.5

Deadline Sale closes Wednesday 14th

October, 2020 at 4.00pm, (unless sold

prior)

View By appointment

Web pb.co.nz/RL78098

Maurice Newell

M 027 240 1718

HamishAnderson

M 027 678 8888

Near new and perfect for you

Beautifully constructed to post-quake standards and immaculately

presented by house-proud vendors, this delightfulproperty represents

awonderfulopportunity to establish yourself in acontemporary home

without having to build from scratch.

Those with apenchant for entertaining will be inspired by the designer

kitchen and the mix of formal and informal living spaces, all of which

spill seamlessly outside. Accommodation is provided by four

bedrooms, including afabulous master complete with luxury ensuite

and walk-in robe.

Property Brokers Ltd Licensed REAA 2008 |pb.co.nz

4 2 2 2

For Sale By Negotiation

View Sun 11 Oct 2.00 -2.30pm

Web pb.co.nz/RU77928

AaronClark

M 027 873 5121

Do youwant your businesstobe

the name theyremember?

And reach

47,000 readers?

Source 2018 Nielsen Readership research all people 10+ NCN Circulation area

Phone 03 314 8335 or

email info@ncnews.co.nz

to find outhow we canhelp you.
---
Four Seasons Realty

Zealanders

New by

Voted

Voted •

2018-2020

2018-2020

★

★

2018-2020

• •

Real Estate Sales

Rangiora's best location to

live, learn &grow.

Titles available now!

Section sizes from 648 -783m2

Sections priced from $204,000

Services to the boundary

Te Matauru Primary School zone

Situated in West Rangiora, Townsend Fields

presents a living space that enhances your

outdoor experience with open countryside,

surrounded by recreational reserves,

waterways, native planting and recreational

walkways and paths. Simply put, it is the town's

newest, eco-friendly location to call home.

Plan now for a fabulous future in Townsend Fields.

To make an appointment today, or if you have any questions, simply phone or email

Christine.

Please phone for

viewing times

townsendfields.co.nz

Christine Tallott

027 4906 042 |03313 6158

sales@townsendfields.co.nz

Four Seasons Realty 2017 Ltd|LicensedAgent REAA 2008

harcourtsfourseasons.co.nz

Your home forlocal property.
---
tallpoppy.co.nz

Ref# TPNC9123

Ref# TPNC9197

It's Always About Location!

Easy Living onWhite Street

201 White Street, Rangiora 118 White Street, Rangiora

3 1 2 2 240 688 4 2 2 2 206 600

Located in the heart of the ever-popular northern side of Rangiora, this

substantial family home is offered tothe market by highly motivated vendors

who already have their hearts set on their next property.

April Wellington

Sales Consultant

027 722 7354

april.wellington@tallpoppy.co.nz

Areyou looking forabeautifullybuilt four-bedroom home in the desirable north

west of Rangiora? From the moment you enter this superb property you will

be captivated by its great layout, sense of peace and sense of space. Built of

permanent materials, this 206m2 gem sits on a600m2 section that has been

landscaped with easy care inmind.

Richard Green &Michelle Facer

Business Partners &Sales Consultants

R 027 307 4530 | M 0275 364 260

richard.michelle@tallpoppy.co.nz

Enquiries Over $539,000 Viewing: Sunday 1:30 -2:15pm Enquiries Over$560,000 Viewing: Sat12:30 -1:30pm&Sun3:30-4:00pm

Ref# TPNC8745

Lived it, Loved it, Leaving it

3Watkins Drive, Rangiora

Ref# TPNC9196

Simply Gorgeous!

16B Wesley Street, Kaiapoi

4 1 2 2 140 984

3 1 1 2 150

April Wellington

Sales Consultant

027 722 7354

april.wellington@tallpoppy.co.nz

Families and first-home buyers alike

will be drawn tothis charming home,

robustly constructed from permanent

materials and positioned in an

ever-popular and highly convenient

location. Agenerous open plan

entertainers "dream" kitchen/dining

are complemented by aseparate family

lounge.

Richard Green &Michelle Facer

Business Partners &Sales Consultant

R 027 307 4530 |M0275 364 260

richard.michelle@tallpoppy.co.nz

No work needed to be done here! Our

vendors have lovingly looked aftertheir

immaculate three bedroom home, you

can see this from the moment you walk in

the front door. Nestled on afullyfenced

back section away from the road, 16B

Wesley Street is an extremelytidy brick,

low maintenance home on with a

well-established, easily kept garden.

Enquiries over $458,000

Viewing: Sunday 12:30 -1:15pm

Enquiries Over$445,000

Viewing: Sat 2:00 -3:00pm &Sun 3:30 -4:00pm

Ref# TPNC9171

ASurpriseAwaits

21 Seddon Street, Rangiora

Ref# TPNC9032

Dare to be Different!

6Bridge Road, Fernside

3 1 1 2 233 525

4 1 2 2 330 6.2320

We knowyou will be surprised at what

is on offer here onthis private rear

section. This Townhouse features lovely

modern decorupdated kitchen, Solar

electricity, HRV,lovely garden and super

private.

Distinctive and fabulous, this carefully

designed 330m2 home offers the perfect

solution for all your family's needs -

robust construction, plenty of space,

land for all the living creatures and the

opportunity to bring work home with you.

Nancy Holmes AREINZ

Sales Consultant

027 282 8028 | 03 327 5896

nancy.holmes@tallpoppy.co.nz

Rachael Lay

Sales Consultant

027 442 2277

rachael.lay@tallpoppy.co.nz

Enquiries Over$439,000

Viewing: By appointment

Enquiries Over$1,100,000

Viewing: By appointment

BULSARA T/ATALL POPPY LICENSED UNDER REAA 2008
---
What's happening in your

community…

Council Submits $10m Water Infrastructure

List for Government Approval

The Council finalised a$10m+ list of projects

last week which will see residents benefit from

upgraded Three Waters infrastructure.

The funding ispart of astimulus package made

available to the Council in return for signing up to

the first stage of the Government's Three Waters

(drinking water, wastewater and storm water)

Reform programme.

This funding will allow anumber of projects, which

were planned for future years, to start immediately

without needing any significant up-front capital

costs from rates.

In order to access this funding, the Council was

required to submit alist of projects which

could start quickly and be mostly completed

within ayear.

Earlier this week the Council nominated the

following 11 projects:

• Loburn Lea Wastewater Upgrade

• Fernside Wastewater Upgrade

• Poyntzs Road Water Source Upgrade

• Tuahiwi Water and Wastewater Upgrades

• Oxford Wastewater Upgrades

• West Eyreton and Summerhill Storage Upgrades

• Ohoka Storage Upgrade

• Three Waters Reform Investigations

• Headworks Asset Management Improvements

• Drainage and Waterways Manager

• Central Rangiora Wastewater Upgrade.

The total value of these projects is $10.3m,

$8.02m of which will be covered by central

Government funding. The remainder will be

made up through targeted rates, development

contributions and general rates.

If the funding is secured, the communities that will

benefit from the projects can expect to hear from

the Council in the coming weeks and months as

detailed design work is completed.

Generally, the funding presents asignificant

benefit to the district providing much needed

infrastructure upgrades while minimising any

rating impacts.

Council expects to hear back from Government

regarding the approval of the nominated projects

within the coming month.

Walking and Cycling Made Safer

in Woodend

Kids in Woodend will soon have asafer way to

get to school thanks toanew shared path that

will link the existing Rangiora Woodend Path to

Woodend School.

The project aims to create apath where children

and families can bike and walk, and also to help

encourage more people to leave their car at home.

Residents have raised concerns about vehicle

speeds in the area and the Council is working with

the school toimprove safety in the area.

The new section of path will continue from the

existing path along the western side of Rangiora

Woodend Road, before crossing into School Road.

It will link with Waka Kotahi, NZTransport Agency's

planned signalised crossing point on State

Highway 1which will be ready for the new school

term in 2021.

Asection of Rangiora Woodend Road, near School

Road is also wide enough to look at options for

improving the layout of the road, such as adding

car parking onboth sides of the road and new

planting.

There are two options for locals to consider.

Feedback on the road layout is open until 22

October and drop-in sessions will allow directly

affected residents to talk through the proposals

with staff.

Find out more at waimakariri.govt.nz/letstalk

To keep up to date with Council news,

follow uson Facebook or check out

waimakariri.govt.nz

Free Computer Classes

at Waimakariri Libraries

Smart Phones

Kaiapoi and RangioraLibraries

Monday19October

Email

Kaiapoi Library Thursday29October

RangioraLibrary Friday30September

Tablets

Kaiapoi Library Monday2November

RangioraLibrary Wednesday4November

Each class runs for two hours

from 10am to 12pm.

Book on 03 311 8901 or steppingup.nz

Classes available at Oxford Library

on request.

libraries.waimakariri.govt.nz

Sunday18October 2020

9.30am–1.30pm

CanterburyAgricultural Park

Curletts Road, Christchurch

Find outmore: facebook.com/kickstartcanterbury

WAIMAKARIRI ACCESS GROUP –

AGM

Youare warmly invited to the Waimakariri

Access Group's Annual General Meeting.

11am Tuesday 13October 2020

Downstairs meeting room atthe Kaiapoi Club

on Raven Quay.

Our guest speaker is Pat Mock from the

Timebank Waimakariri.

The meeting will be followed bymorning tea.

The Access Group's primary aim istopromote

access topublic spaces and facilities; and have a

barrier-free, inclusive environment for all people

in the communities that make up our District.

For more information please contact the Chair,

Chris Greengrass on 021 781 939 or email

Chris.greengrass@wmk.govt.nz

F: facebook.com/WaimakaririAccess/
---
SPORT AND CLASSIFIEDS

North Canterbury News, October 8, 2020

45

SPORTS RESULTS

Give usyour

feedback

Rangiora Bridge Club

Individual: N/S: Warwick Wyatt/

Beverley Brain 1, Sue McIlroy/

DawnSimpson 2, David Rainey/

Liz Duke 3. E/W: Marion Lomax/

David McRea 1, Robin Hassall/

Gaynor Hurford 2, Fern McRae/

Veronica Hall 3.

Rimu Pairs:N/S: Heather

Waldron/RobinHassall 1, Rewi

Thompson/JennyShore 2, Sue

McIlroy/Dawn Simpson3.E/W:

Barry Smith/Jill McLean 1,

David McRea/Fern McRea2,

Ros Crighton/Sarah Waldron 3.

Evening: N/S: AnnetteCaldwell/

GailDunlop 1, GerardMcCrea/

Marilyn Elliet 2, Ann Bagrie/

KateWhitehead 3. E/W: Murray

Davis/Sharyn Davis 1, Fons

Sanders/Ellis Sanders2,

Lindsay Sigglekow/Liz Calder 3.

Amberley Smallbore Rifle Club

KQuigley 100.8,KBrown 99.6,D

Quigley 99.5, GWright99.4,

MQuigley98.2, WParker 95.3,

OMitchell94.3, HHenderson

94.2, CRhodes 93.2,RHarper

91.2, MParker 89.1,IFrazer

88.0, MPalmer 86.0, GRhodes

74.0.

Amberley Golf Club

Championship final,women:

SeniorChampion: Lyn

Robertson.

Intermediate:Judy Brown.

Junior: Sandy Widdowson.

Men:

SeniorChampion: Stuart

Dalkie.

Intermediate:Steve Hartley.

Junior: Dennis George.

Presidents champion: Bruce

Mills.

Women: 9Hole Champion:

Heather Kemp. Men:Ron

Kemp.

Men's SeniorPlate: David van

Turnhout.Intermediate: Rowan

Turnbull.Women, Intermediate

Plate:AdeleWilshire.

Flights: Brian Fitzgerald.

Mid week Men's Stableford: Bill

Balderstone 38 points,1;Murray

Carson,Paul Wylie,Jim

Stringleman 35, equal 2.

Ladies Midweek Cotton and

ParsonsTrophyStableford:

Rose Lester40, 1; Judy Brown

35, 2; Kate Percy 34, 3.

Rangiora Golf Club

Ladies:Stableford, Division 1:

Lois Archer37. Division 2: Ann

Perkins38, Jan Benney35.

Division 3: BiddyLedgard 39,

AdrienneSpark 38.

Midweek men: Stableford: Isaac

Grant 41, Ken McFarlane 40,

Kevin Kiernan39.

Friday mixed open: Stableford:

Wayne Hutchings 41, Jacob van

Petegem41, Neville Keen 41.

Weekend men: Grossless age —

Up to 55 y/o: Glen Allin 23,Mark

Batchelor 31, Grant Hoben 32.

55 y/o and up:Brian Clegg2,

JohnKissack 5, Wayne

Hawkyard 12(c/b).

New Inflatable

Become an ultimate ninja warrior

these school holidays...

Our new inflatable obstacle course has arrived

at Dudley Aquatic Centre, can you make it to

the end?

Available every day of the holidays from

1pm-3pm.

All facilities including the children's leisure

pool, lazy river and family spa are open under

Level 1.

Checking in

on your bin…

We're doing

recycling bin checks

across the District to

make sure they have

the right items going

into them.

Check your letterbox for

an information pack about

your bin check and how to

recyclethe right way.

waimakariri.govt.nz/aquatics

rethinkrubbish.co.nz

Situations Vacant

CUST SCHOOL

TEACHER –0.6 FTTE -YEAR 4Job Share

Position –Fixed term 2021

We arelooking for an amazing teaching professional who is

collaborative, collegial, hard-working and who understands

the special nature of working in asmall school.

This is ajob share position, likely to be at Year 4level -

three days per week –most likely to be Monday, Tuesday

andWednesday.

Must have astrong curriculum knowledge particularly in

literacy and numeracy.Strengths in working collaboratively,

commitment to your own professional growth and strong

and positive classroom management skills are required.

Our school has apassionate and supportive staff culture.

We look forward to hearing from you.

How to apply

Please send CV plus covering letter and names and contact

details of 2referees and for more information /direct

enquiries to:

RobertSchuyt, Principal

PO Box 28

Cust 7444

robert.schuyt@cust.school.nz

027 843 8814

Applications close Friday 23 October.

2319329

2320359

FITNESS CENTRE

CLEANER WANTED

4hour shifts on Friday and Saturday.

Cleaning experience preferred.

Gym membership included.

Expression of interests to

krobinson@sportstrust.org.nz

Applications close Thursday 15 th Oct.

MACHINE OPERATORS

KAIKOURA Experienced

Machinery Operator to operate

45t equipment in a

quarry in Kaikoura. Tasks

for this role will include

excavating boulders from

the riverbed; sorting and

screening shingle using

machinery and; unloading

and loading vehicles. You

will have previously operated

machinery including

excavators up to at least 45t.

Class 2, 4 and W, T, R

endorsements are an advantage.

Apply by sending your

CV to jobs@listorecruit.nz.

Call 0273647774.

WANTING a lady or

gentleman to do the

gardening, for 4 hours,

twice amonth, on acontinuous

basis, nice

conditions, light work, $21

per hour. Clarkville area,

close to Clarkville school.

Phone 03 327 8286.

WANTING atrustworthy

person to clean the house

for 4hours twice amonth,

on acontinuous basis, nice

conditions, light work, $21

per hour. Clarkville area

close to Clarkville School.

Phone 03 327 8286.

Orchardist

Situations Vacant

12 months fixed term opportunity

Kia hiwa rā!

Our OrchardislocatedinBalmoral, North Canterbury and consists of a

diversemix of 5applevarieties, berries, stone fruit and nuts. The orchard

is in the trial stage,with resultstodatebeingvery positive, and we are

looking forsomeonetotakeittothe next level of operation.

We arelookingfor atalentedand driven individualwith:

• Previous experienceinasimilar role preferableminimum of 5years

• Aself-starting outlook, and be abletodeliver whilstworking

autonomously

• Growsafecertificationorwilling to put themselves through Growsafe

certification

• Knowledge of the wholevalue chainand an abilitytoexecute

• Understanding of food safety, market certification and quality

requirements

• Knowledge of how to grow and harvest produce

• Sound knowledgeofsoil and nutrient management

What we willofferin return?

• Vehiclefor work-related useand modern machinery to use

• Access to and involvementwith industry-leading research

• Great opportunities forlearning and career progression

• Competitive remuneration packageand medical, Income Insurances

We offer a unique opportunity to work for a thriving iwi organisation.

We pride ourselves on being avalues-led organisation, investing in the

professional development of our employees alongside offering cultural

development opportunities.

To find out moreortoapplypleasevisit our websitewww.ngaitahu.iwi.nz

Nau mai, haeremai, tauti mai!

Coordinator/WellnessCoordinator/Secretary/Treasurer

Theabove positionhas become available with the North

CanterburyRural Support Trust.

TheTrust is aunique organisation workingwithindividuals

andfamilies in theNorth Canterbury Rural Community.

Ourareaextends from theRakaia Riverinthe South to

North of Kaikouraand includes Banks Peninsula.

Theposition requires aperson with acan do attitude, an understanding of farming andrural life,

hasawarm and empathetic personality,goodITskills,bookkeepingskills and abletobeflexible

withtime,10–25hours/week,and able to work from home.This position has astart date of early

January 2021 and is afixedtermannualcontract.

To request aposition description please email: ncrst.coordinator@gmail.com

Applications forthis positionclose-23rdOctober 2020

Educational

TUITION available. Primary

and secondary to

NCEA level 3. Math, Literacy

and Science (NCEA).

Each student on an individually,

tailoured programme.

Kip McGrath

Rangiora has been serving

the local community for 30

years. Give us a call or

book your free assessment

online 03 313 3638 https:/

/www.kipmcgrath.co.nz/rangiora.
---
CLASSIFIEDS

46 North Canterbury News, October 8, 2020

Public Notices

Stuart

Smith

Kaikōura

Isupport:

Responsible Economic Management

DeliveringInfrastructure

Reskillingand Retraining ourWorkforce

AGreener, Smarter Future

Building StrongerCommunities

Authorised by SSmith 22 Scott St. Blenheim.

Extraordinary Kaiapoi-Tuahiwi Community

Board meeting

An extraordinarymeeting of the Kaiapoi-Tuahiwi

Community Board was held on Wednesday

30 September2020 at 5pm in Meeting Room 1,

Ruataniwha Kaiapoi Civic Centre, 176 WilliamsStreet,

Kaiapoi. The meeting was not notified in accordance

with Section 46(6) of the Local Government Official

Information and Meetings Act 1987, due to time

constraints.

The resolution from the meeting was as follows:

THAT the Kaiapoi-Tuahiwi Community Board:

(a) Receives report No. 200925128263.

(b) Adopts the amendedPeraki Street/ VickeryStreet

Cycleway Working Group's TermsofReference

(Trim 200903116613) which will have the effect of

increasing the number of resident representatives

to up to eight, removing two Council staff and the

traffic engineerfrom the membership,removing

the word 'independent' relating to the chair,and

changing the meeting frequency to "as required".

(c) Appoints the followingPeraki and VickeryStreets

residents to the Peraki Street/VickeryStreet

Cycleway Working Group:

PDelis; BHogarth; CMiller;TTavendale;

FTavendale; RMcLachlan;MButton.

(d) Appoints Sandra James as the Chairperson of the

Peraki Street/VickeryStreet Cycleway Working

Group.

(e) Appoints the Chairperson of the Kaiapoi-Tuahiwi

CommunityBoard, Chris Greengrass, as an

alternate Board representative to the Peraki Street/

VickeryStreet Cycleway Working Group, if one of

the appointed Community Boardrepresentatives

was unable to attend.

Sarah Nichols

Governance Manager 2321137

Temporary closure

to ordinary vehicular traffic

The Council has approved an application from Autosport

Car Club Inc. organisers of the, 2020 Lone Star

Canterbury Rally for one day on Sunday 25 October

2020.

Roads affected are listed below. Partial or fullclosure of

these roads may occur for shortperiods, please refer to

our website for full details. www.hurunui.govt.nz

RamPaddockRd

Sinclair Rd

MacDonald Downs Rd Blythe Rd

Broxton Rd

Stonyhurst Rd

Kaiwara Rd

Onepunga Rd

Eggleston Rd

Berriedale Rd

Leamington Rd

Brodies Rd

Kaiwara West Rd

Happy Valley Rd

This closure is made under paragraph 11(e) of the Tenth Schedule of the Local

Government Act 1974. This applies to all vehicular traffic with the exception of

emergency services vehicles. It will be an offence under the above regulations

for anyperson, other thanthose under authority of an authorised permit, to use

the road for ordinaryvehicular trafficduring the period of closure. 2321126

Public Notices

Ashburton Fanciers

Society

POULTRY AUCTION

Sunday,October 11

Sports Hall,

Tancred Street West,

Ashburton

Viewing 11am

Start 12.30pm

Poultry,Bantams,

Ducks, Cavies

Fertile eggs for hatching.

Featuring two long time

fanciers dispersal of

birds.

Kaiapoi High School

School Board of Trustees Election

Nominations are open for the election of three parent

representatives to the board of trustees.

All eligible voters will receive anomination form and a

notice calling for nominations within the next week –

you can use this formtonominate yourself or someone

in your community.

If you need more nominationforms, contact the school

office.

Nominations close atnoon on Sunday 1st November.

You may provide asigned candidate statement and

photograph with your nomination.

The electoral roll is held at the school and can be

viewed during normal school hours.

As nominations are received, there will be alist of

candidates' names kept at the school up until election

day,which you can view.

Voting closes at 4pm on Friday December 4th.

Sophia Bidwell

Returning Officer

2319811

2319046

ENJOY The Port

Hillbillies at Balcairn Hall.

Bluegrass, American folk,

toe tapping, catchy tunes -

8pm, Saturday 7th November

2020. Free supper, alcohol

free event, raffles, CD

sales. Tickets $25 from

Sally Macs, Amberley,

Stan's 7 Day Pharmacy

Rangiora, Sefton Garage

and www.balcairnhall.com.

BROOMFIELD SCHOOL

Board of Trustees' Election

Nominations are invited for the election of two parent

representatives to the Broomfield School board of

trustees.

Anominationformand anoticecalling fornominations

will be posted to all eligible voters. Additional nomination

forms can be obtained from the school office.

Nominations close at noon on Wednesday 4th

November and may be accompanied by a signed

candidate statement and photograph.

The voting roll is open for inspection at the school and

can be viewed during normal school hours. There will

also be alist of candidates' names, as they come to

hand, for inspection at the school.

Voting closes at noon on 7December 2020.

Signed Megan Garside, Returning Officer

Broomfield School, 115 Mt Brown Road

Amberley RD2, 7482

2318419

Waipara School

Board of Trustees Election

Nominations are open for the election of two (2) parent

representatives to the board of trustees.

All eligible voters will receive anomination form and anotice

calling for nominations –you can use this form tonominate

yourself or someone in your community.

If you need more nomination forms, contact the school office.

Nominations close at noon on Sunday 1November 2020. You

may provide asigned candidate statement and photograph

with your nomination.

The electoral roll is held at the school and can be viewed

during normal school hours.

As nominations are received, there will be alist of candidates'

names kept at the school up until Election Day, which you

can view.

Voting closes at 4pm on Friday 4December 2020.

Signed

Isobel Whyte

Returning Officer

Waipara School

2320874

Public Notices

KAIAPOI CHRISTADELPHIANS

"The Key of Knowledge .."(Luke 11:52)

"GOOD NEWS"

What the Bible says about Jerusalem:

"And the LORD shall bless thee out of Zion: and thou

shalt see the good of Jerusalem all the days of thy life.

Yea, thou shalt see thy children's children and peace

upon Israel". Psalm 128:5-6.

PUBLIC NOTICE OF

APPLICATION FOR

ON-LICENCE

SECTION 101, SALE

AND SUPPLY OF

ALCOHOL ACT 2012

Andreassend Holdings

Ltd has made application

to the District Licensing

Committee at Rangiora

for the renewal of an On

Licence in respect of

the premises situated at

Kaiapoi River or the Boat

known as Kaiapoi River

Queen.

The general nature of the

business conducted (or to

be conducted) under the

licence is Cruises.

The days on which and

the hours during which

alcohol is (or is intended

to be) sold under the

licence are 7days -7am

to11pm.

The application may be

inspected during ordinary

office hours at the office

of the Waimakariri District

Licensing Committee

at 215 High Street,

Rangiora.

Any person who is entitled

to object and who wishes

to object to the issue of

the licence may, not later

than15working days after

the date of the publication

of this notice, file anotice

in writing of the objection

with the Secretary of

the Waimakariri District

Licensing Committee

at Private Bag 1005,

Rangiora.

No objection to the

renewal of alicence may

be made in relation to a

matter other than amatter

specified in section 131

of the sale and supply of

Alcohol Act 2012.

This is the first publication

of this notice.

2320032v1

Pets

Livestock

HOMEKILL

&Wild Game

Meat Processing

313 0022

2309602MEAT2U.NZ

WANTED

CULL COWS

Injured –ok

0272-63-28-28

2310154

2321278

Proposed Temporary

Road Closure of

Hawkswood Road

The Hurunui District

Council has received an

application from RATEC

Motorsport Inc. to run

the 2020 - Hawkswood

Sealed Sprint.

Requesting the temporary

closure of Hawkswood

Road on

•Sat 7&Sun 8

November 2020

•From 9am to 6pm

each day

•Two days

Objections to the

proposed closure will

need to be lodged with

the council by

•12noon

•Thursday 15 October

2020

email:

info@hurunui.govt.nz

post:

Hurunui District Council,

PO Box 13

Amberley 7441

Council will consider this

application on Thursday

22 October 2020

This closure is proposed under

paragraph 11(e) of the Tenth

Schedule of the Local Government

Act 1974. The proposed closure will

apply to all vehicular traffic with the

exception of emergency services

vehicles. 2321228

TAI CHI AND

QIGONG

CLASSES

There has never been a

better time to relax, be

healthy and stay balanced.

Find out about

classes by visiting the

website. Don't miss the

Hanmer retreat.

www.taichiwell.co.nz

Gardening

A+ GARDEN hedges cut

to perfection. Tree &arbor

work. Also spraying. Free

quotes. Ph 03 312 0668 or

021 111 4322.

BICHON HOMESTAY

for smaller dogs. We look

after your dog in our home.

"No kennels". Phone today PEASTRAW.

03 314 6110.

Excellent

quality peastraw for sale.

Ideal for garden. $8.00 /

small bale ex - farm

Bennetts -Oxford. Ph 027

312 4009 or 03 312 4460.

GARDEN PLANTS, pine

cones and more, for sale at

John Knox Centre, 6High /

King Street, Rangiora. Saturday

10th October 10am

to 2pm.

Wanted To Buy

2312759

Trade&Services

ABEL &Prestige Chimney

$$$ Cleaning. Nth Cant owned

Amalgamated Scrap Metal

& operated. Covering all

areas from Waimak to Hanmer.

Professional, guaran-

Ltd. Specialists in farm

machineryand farm clean teed, service. Firebox

ups, old vehicles etc. repairs, carry most parts. Ph

100% locally owned. 0800 661 244.

Ph 0800 030 712 or

AFFORDABLE concrete

027 695 0480. cutting with quality and

removal work. Free quotes.

No job too small. Ph 027

For Sale 442 2219, Fax 03 359 6052

or A/H 03 359 4605.

WOODEN PALLETS

1.2m by 1m, excellent condition,

$8 each. Please Tree felling, topping,

BRIAN'S Tree Services.

phone 027 440 1230. shaping, firewood cut, rubbish

removed,stump grind-

ASPARAGUS, freshly

picked $10 for 1kilo, 304

ing, branch chipping.

Racecourse Road, Broomfield.

Open Sunday to

Affordable rates. Phone 03

327 5505 or 021 124 4894.

Friday.

BRICK &blocklaying. All

FREE RANGE eggs, hens

types of work undertaken,

run on grass, $5 dozen, can

repairs. Phone Hamish

deliver Rangiora district.

0272 386 003 or 313 5678.

Phone 027 460 2228.

Wanted To Rent

2003 Holden Vectra, good

condition $2900, John

Young black leather 3piece

suite $450. Please phone

021 250 5816.

WANTED TO RENT

HOME IN THE COUNTRY

Two newly-retired folk require a

comfortable 3 bedroom home to

rent in aquiet, rural location in North

Canterbury. Weare totally reliable and

enjoy gardening.

Telephone 021 186 4284 or email

countrycolls@gmail.com

2320524

Cars For Sale

VOLKSWAGEN

2004, 135,000 kms, 1lady

owner for the last 6years,

excellent condition, new

tyres, $6250 ono. Phone

0274 347 355.

CARPENTER / Painter

specialising in alterations &

renovations, repairs &

maintenance, 35 plus years,

experienced licenced

builder. Telephone Trevor

313 5013 or 027 431 1864.

JIGSAWS, books and

more for sale at John Knox DRESSMAKING Bev's

Centre, Rangiora, Saturday Sew Good Services. For all

10th October 10am to 2pm. your alterations, repairs,

dressmaking, curtains.

HONEY 4kg bucket Phone 327 5535.

cooking honey, $30 special.

Available at Gracebrook, POWER TOOLS repairs,

Amberley. Telephone 03 parts &sales for over 40

314 7076.

years. All main brands serviced.

Grossman Trade

Health &Beauty

Tools, 23 Watts Road,

Christchurch. Ph 389 9230.

TRADITIONAL Indian DECORATORS

Ayurvedic herbal massage Lilybrook Decorators. Now

& treatment clinic. Phone semi-retired looking for

022 135 0177.

those odd jobs. Phone

Gordon 027 430 2938.

Wanted To Buy SHEEP SHEARING -

mobile. Fast, friendly, professional

BUYING estate type old

china, crystal, collectables, service. 25 years

exp. Shearing, drenching,

vases. Ph 027 350 3963, or hoof trimming etc. Call

313 1878.

Shaun 021 204 1274.

VINYL RECORDS PAINTER, qualified, local

wanted by collector /seller. professional. Int / Ext,

7&12 inch LP'S, happy to roofs, wallpaper. Call or

appraise. Also old guitars text Corban 027 846 5035.

or amps -working, broken.

Retro toys, 60's, 70's, 80's PAINTER & Decorator.

&hot wheels &matchbox 25 + years experience.

as well. Please call Paul Interior /exterior, roofs &

022 694 5445.

waterblasting. For a free

quote, please ph Steve 03

Cars Wanted

314 4620 or 027 477 1930.

DIRTY TILES &Grout?

CARS, vans, 4WD's Professional tile cleaning,

wanted for dismantling or tiled shower restorations,

repair. Phone 027 258 mouldy silicone, shower

8366.

glass & we can even

recolour your old grout!

For all your tile and grout

CASH/CASH issues call Grout Pro for a

free, no obligation quote.

for anyunwanted Ph Darryl 0800 882 772.

vehicles,phone PLASTIC WELDING

North Canterbury Specialist.

All plastic &fibreglass

3479354 or

repairs. Telephone James

027 476 2404 021 180 5103.

SHEEP SHEARING,

CASH 4CARS drenching, feet trimming.

For Lifestyle blocks. Call

and 4WD'S Stu 027 315 6916.

Phone ARBORIST qualified.

Automotive

Copper

Services.

Beech Tree

Tree removal,

pruning, height reduction,

Parts

hedge trimming, shaping,

03 313 7216 tree planting, firewood.

Free quote. Contact Angus

Edwards 027 259 6741

copperbeechtreeservices@gmail.com

Beetle

CHIMNEY SWEEP...

Time to service your fire.

From $80 + gst single

storey. 0800 SWEEP ME

or 021 0277 1927.

PAINT & wallpaper

services. Wayne Bryant,

exterior, interior. Qualified

tradesman. Free quotes. Ph

313 5337 or 027 654 4568.

ROOFER. All roof repairs,

roof painting, water blasting,

moss treatment,

repointing, gutter cleans &

snow straps. And more.

Free quotes. Phone Nathan

027 516 6609.

ALL TREE SERVICES,

chopping, pruning, firewood

cut. Affordable &

friendly service. Telephone

021 111 4322.
---
Trade&Services

STONEMASON, Brick

and Blocklayer. Earthquake

repairs, grind out and

repoint, River/Oamaru

stone, Schist, Volcanic

rock, paving, all alterations

- new and old. Quality

workmanship. Visit www.

featureworks.co.nz or ph

027 601 3145.

METAL WORX. Flashing,

Sheetmetal Fabrication,

Wrought Iron,

Welding, Custom Trailers,

General Metalwork. No job

too big or too small. Ph 021

265 5428 or 03 314 6908.

Find us on facebook/

Glenmark Metal Worx.

glenmarkmetalworx.ltd@gmail.com.

RANGIORA Rubbish

Removal and RRR skips.

Wheelie bins any frequency

and skips from 1.5 cube to

9cube. Skips and wheelie

bins for any use, rubbish,

greenwaste, building sites

or just cleanups. Give us a

phone call 313 6957 or for

skips 021 313 255.

Allan Pethig

For all your electrical needs. Residential &Commercial

Phone 03 313 7144

027 432 1534

Fax 03 313 2144

rgrantelectrical@gmail.com

PO Box 69, Rangiora

Builder

Construction &Concrete

All Construction & Concrete Work

•Driveways, patios &paths

•Bridges and Culverts

•Floors, foundations

•Sheds and buildings

•Dairy Sheds, Herd homes

•Silage pits, effluent ponds

•Excavation and cartage

•Precast concrete

•Insulated panels

Electrician

Trade&Services

SCREEN PRINTING.

For all your printing

requirements. T-shirts,

Hoodies, Hi-Vis vests and

polos, Overalls, Caps etc.

Please phone Heather 03

313 0261 or email

heather.norstar@gmail.com.

SHEARER. Hap's Farm &

Lifestyle Services. Shearing,

crutching, drenching,

tailing, feet trimming &

health check. Trailer, generator

&mobile handpiece

available. Experienced,

reliable and honest. Ph 03

312 1214 or 021 267 4025.

VALUATION -

Specialising in North Canterbury.

Contact Geoff at

Maxwell Valuation. Phone

03 310 8541 or email

geoff@maxval.co.nz.

REMOVALISTS

Movemen Ltd

2Men &agood sized

truck. From $157 per hour

(incl gst). Kaiapoi based.

Call Gerard

027 668 3636

2316549

Daryl Power

027 230 9401

concretepower@scorch.co.nz

www.concretepower.co.nz

2273277

CLASSIFIEDS, TRUSTED TRADES &PROFESSIONAL SERVICES

North Canterbury News, October 8, 2020

Trade&Services

PAINTERS

Reg Tradesman

Interior,exterior.

North Canterbury Painters

specialising in decorating for

over 65 at adiscountrate.

Free quotes.

Covering Nth Canty,Oxford,

Kaiapoi, Rangiora, Amberley.

Rob 03 327 7899

or 027 432 3520 2227597

ANTHONY SYMONDS

Forall your painting &

plastering requirements

Local with 30 years

experience

All workmanship

Guaranteed.

Phone 021 344 023

2220615

Pride &Quality Painting

&Decorating Services

20 yrs exp, fast and friendly

service. For all your painting

needs, phone: Martin 310

6187 or 021 128 9867

Doctors For Men

MenzMedical

The Doctors For Men

Vasectomy

2317499v2

Butchery

OxfordButchery

Shane and Leanne Frahm

We cankill&process yourstock

FourGenerations of Frahms

since 1957

Ph 312 4205

Oxford

Trade&Services

SUMMERFIELD

FENCING

IN YOUR AREA NOW.

Lifestyle or farm, sheep, cattle,

horse, all types of animals.

Fences, yards, sheds, arenas,

shelters, runs.

30+ years contract fencing.

Steve is available to help with

your design &planning.

Ph office03312 4747

Number one

old-fashioned bacon

&ham curing.

A/H 312 4709

No Scalpel Technique

$485

*Guarantee:

*See website for guarantee details

912 Colombo Street, Christchurch

Ph: 03 981 8181 or 0800 4Males (0800 462 537)

www.vasectomy.nz

2091848

SEPTIC TANK

CLEANING

Bill's Liquid

Waste

You dump it...

Blair pumps it...

Blair Tavendale

Ph 03 314 9371

0275 379-694

2225862

1680439

Trade &Services

WINDOW TINTING

tintawindow

advanced film solutions

99% uv block

fade protection

heat control

reduce glare

25 Years Experience

privacy films

frosting designs

non-darkening films

Workmanship Guaranteed

Lifetime Warranties on Most Films

UV

block

Free Quotes Canterbury and Districts

03 365 3653 0800 368 468

DENTURE CLINIC

RANGIORA

DENTURE CLINIC

Garry WMechen

Registered Clinical DentalTechncian

Phone (03) 313-9192

38a Ashley Street, Rangiora

NEW N W DENTURES D ES

*RELINE * *REPAIRS

* I S

HOURS

8.30am -12noon

- Monday to Friday

FREE E CONSULTATION O

AND ADVICE

A V C

For a/h repairs

phone (03) 310-3044

Electrician

AARON HARRIS

ELECTRICAL LTD

NEW HOUSES • ALTERATIONS

ELECTRICAL INSPECTIONS • SMART WIRING

SYSTEMS AND MORE...

M: 0275 543 958 E: aaron@ahel.co.nz

2020478

2070788

2089195v2-4/4-S

47

Motorcycle Service &Repair

South Pacific Motorcycle Services

"we're your LOCAL motorcycle guys"

• Service • Repairs • Tyres

• Motorcycle Rental

•Fully Equipped Workshop •Quality Work •Affordable Rates!

Ph: 03 312 0066 |office@motorbiketours.co.nz

www.motorbiketours.co.nz

2313195

Automotive &Recovery

SERVICES

Computer Repairs

Bruce Evans

131 Ohoka Road

Kaiapoi

03 327 3111

021 293 6331

compucare@xtra.co.nz

www.compucare.co.nz

Computer Repairs &upgrades

Prompt professional services

• WOF Cars &Trailers

• Vehicle Servicing &

Repairs

• Tyres &Punctures

• Jump Starts

•

Towing &Salvage

• Courtesy Car Available

Ph Aaron Rowlands

0272 588 366

13 Stone Eyre Place,

Swannanoa

Eftpos available Mon –Fri 8am –5pm, Sat 9am –1pm

2276525v2

Virus &malware removal

New &UsedPC's4Sale

Repiling /Relevelling

House re-piling &re-levelling

Foundation lifting &stabilizing

Free no obligation quotes

20 years

experience

North Canterbury

based

Phone Brett Kennedy 021 117 8531 or

03 312 9000 |Email bowhill1@hotmail.com

2314123

Plumbing

For all

general

aspects of

plumbing

Discounts for over

65 years old

Fast friendly service

All work guaranteed

Aaron McCartney

Certifying Plumber

Cell 027 366 9091

A/H 03 310 2137

Free Call:

0508 44EVER

EMAIL:

plumber_27@yahoo.com

2172994

Scaffolding

•Edge protection

•Working platform

Phone

0274 366 901

Plans for pricing

jas.rangiorascaffolding@xtra.co.nz

North Canterbury wide

1783878

Water Blasting

ENVIROTEC

Waterblasting Ltd

Servicing Canterbury

Commercial &Residential

SPRINGTIME

Get cleanedupfor

the summer

months, getrid of

the winter grime.

W

FREE QUOTES

0800 SITECLEAN

(0800 748 325)

Mobile 0274 369 187

2197694

Scrap Metal

CASH PAID FOR SCRAP

•Car Bodies •Scrap Steel•Specialists in Farm

Machinery•All non Ferrous

MAINLAND

METALS LTD

Ph (03)338 7000

Mike0274 818544 •Robbie0274818 027

Locally owned and operated

Windows & Doors

WINDOW MARKET PLACE

• New & Used

• Timber & Aluminium

• Windows & Doors

8am-5pm Weekdays

8am-2pm Saturday

215 Waltham Rd, Sydenham

Ph (03) 379 6159 info@windowmarket.co.nz

Fax (03) 962 1012 www.windowmarket.co.nz

1902273

ncn1242200aa
---
Arthur BurkeLtd

Trusted in NorthCanterbury since1935

2018 Holden EquinoxLTZ-V

2.0 Petrol

Turbo,AWD,

66,000km,Tow

bar,Balance of

Manufactures

FREE Servicing &

Warranty

2018 Mazda CX-5 GSX 2017 KiaSportage EX 2020 Holden Trax LTZ

2.5Petrol, AWD, 55,000km,

Reversing Camera, Cruise

Control, Balance of

Manufactures

Warranty

2.4Petrol, AWD,

65,000km, Front

&Rearparking

sensor's, Reversing

Camera,Leather

2019 Mazda3GLX 2019 Mazda3GLX 2018 Toyota Corolla GX 2016 Holden CaptivaLS

1.4 Turbo,Automatic,

9,000km,Leather, Front

heatedseats, Reverse

Camera,Sunroof,

Balance of

ManufacturesFREE

Servicing&Warranty

was$34,995 NOW $32,995

$32,995 $26,995 was $26,995 NOW

$24,995

2.0Petrol, 41,000km,

Reversingcamera,

CruiseControl,

Balance of

Mazda Care &

Warranty

2.0 Petrol, 36,000km,

Reversing camera,

Cruise Control,

Balance of Mazda

Care &Warranty

34,000km,2.0 Petrol,

ReversingCamera,

Navigation,

Balance of

Manufactures

Warranty

2.4 Petrol,7Seater

71,000km, Reversing

Camera, Towbar,

Parking Sensor's, 1

Owner

2017 Holden Trax LTZ

$23,995 $23,995 $21,995 $19,995

2018 Toyota YarisGX 2016 Holden Trax LS

2016 Holden Trax LS

1.4Petrol Turbo,

46,000km, Sunroof,

Parking Sensor's,

Reversing Camera,

Leather,Heated

front seats

33,000km,1.3

Petrol, Reversing

Camera, Balance

of Manufactures

Warranty

1.8Petrol, 107,000km,

ReversingCamera,

Parking sensor's,

Alloy's, Bluetooth

1.8 Petrol, 121,000km,

Parking sensor's,

Reversing Camera,

Bluetooth,

Alloys

$19,995

$15,995 $14,495

2010 Mazda Axela 2007 Daihatsu Terios

1998 Subaru Forester S/20 2004Nissan Murano

$13,995

1.5 Petrol, 90,000km,

ABS,Airbag's, Alloys,

CD Player

1.5Petrol, 4WD,

42,000km,Alloy's,

Airbags,ABS,1

Owner

2.0 Petrol, 4WD,

120,000km,

Automatic, Towbar,

Alloys, Airbags

SOLD

SOLD

3.5V6, 4WD,

171,000km, Leather,

Heatedseats,Tow

bar, Reversing

Camera

$10,995 $8,995 $6,250 $5,995

Sales: Tim 03 3140135 |Service: Michael 03 3140131|Bridgestone Tyres: Ash 03 3140137

2313694

CHANGE UP

FOR FREE

SAVE OVER

$1,000 *

MOREPOWER,SAMEPRICE.

Buy a KingQuad 500XP for $15,217+gst and we'll give you the choice

of taking a KingQuad 750XP at the same price instead!

KINGQUAD LT-A400F $11,300+GST

Sales:John 03 3140132|Service: Anton 03 3140134

MarkhamStreet,Amberley |Karaka Road, Waikari

www.arthurburke.co.nz

ARTHUR BURKELTD

Established 1935