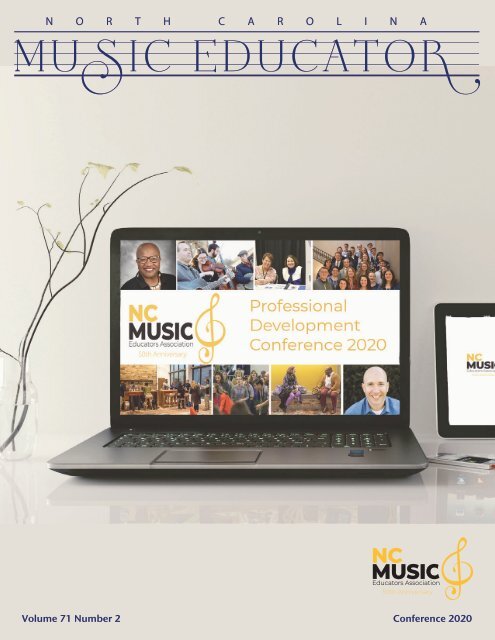 NC Music Educator Conference 2020
Professional journal for NCMEA Conference 2020
Professional journal for NCMEA Conference 2020
SHOW MORE
SHOW LESS
Do you know the secret to free website traffic?
Use this trick to increase the number of new potential customers.
N O R T H C A R O L I N A

MUSIC EDUCATOR

Volume 71 Number 2 Conference 2020

NORTH CAROLINA MUSIC EDUCATOR | 1
---
Online Master's Degree

in Music Education

East Carolina University® established the online MM in music

education program in 2004, making it the oldest online music

education curriculum in North Carolina.

EVEN TEACHERS

NEED TEACHERS

As an educator, one of the most impactful ways to improve is by educating yourself. That's

why the Yamaha Educator Suite (YES) helps music teachers access professional development

opportunities, music teacher resources, program health support, advocacy assistance and

more. YES brings you a network of like-minded teachers, experts and professionals, who want

to help you achieve your goals. Let us help you raise the bar. Go to Yamaha.io/educatorsNCME

Master of Music distance education classes are taught by the

same excellent East Carolina University School of Music faculty

that teach campus-based students.

For more information, contact Dr. Jay Juchniewicz, Coordinator

of Graduate Studies, at juchniewiczj@ecu.edu or 252-328-1251,

or visit ecu.edu/music.

2 | NORTH CAROLINA MUSIC EDUCATOR NORTH CAROLINA MUSIC EDUCATOR | 1
---
N O R T H C A R O L I N A

MUSIC EDUCATOR

History Making Law Passes

NCMEA Board Directory

NCMEA Executive Director's Message

Pat Hall

3

4

6

A special thank you to all our advertisers who

support music educators and music education in

North Carolina.

History Making Law Passes

for the Future of NC Students

NC Arts High School Graduation Requirement

Signed into Law by Governor Cooper

NCMEA President's Message

Carol Earnhardt

Connect, Rejuvenate, Energize from a Distance

Keynote Speakers

All-National Ensembles

General Music Interest Sessions

Art Education is Essential

Awards, Grants & Scholarships

NCMEA Past Presidents

Honorary Life Members

Band Section

Virtual Conference Info

Bandmasters 2020 Elections

Elementary Choral Section

High School Choral Section

Middle School Choral Section

Choral Sessions

Jazz

Jazz Ed & Racism

Todd Stoll

IVfME Webinars

Orchestra

Technology

8

9

10

11

12

13

19

20

20

22

25

27

30

34

35

35

38

39

41

42

48

Brevard College

East Carolina University

Hayes School of Music

Messiah University

NAfME

NCACDA

UNC Chapel Hill

UNC Charlotte

UNC Greensboro

UNC Pembroke

UNC School of the Arts

UNC Wilmington

Western Carolina University

Yamaha

29

1

15

Inside Back Cover

31, 41, Back Cover

36

23

21

33

7

45

17, 47

37

Inside Front Cover

Editorial: All editorial content should be sent to: Kimberly

Justen, Editor-in-Chief, at journal_editor@ncmea.net.

Advertising: Information requests and ad orders should

be directed to Kimberly Justen, Editor-in-Chief, at

journal_editor@ncmea.net.

North Carolina Music Educator is copyrighted. Reproduction

in any form is illegal without the express permission of the

editor.

Postmaster: Send address changes to: NC Music Educator, c/o

NCMEA, 883-C Washington Street, Raleigh, NC 27605.

Non-Profit 501(c)(3) Organization U.S. Postage Paid at Lubbock,

Texas. ISSN Number 0400-3332 EIN number

20-3325550

On July 2, 2020, Governor Roy Cooper signed Senate Bill 681

into law which, among other things, created an Arts High School

Graduation Requirement in North Carolina. Arts NC had worked

for this vital arts education legislation for over a decade and fully

supports this major breakthrough for equitable access to quality

arts instruction as part of a well-rounded education for every

North Carolina student. Now, according to NC State Law:

• A student must complete ONE arts credit (music, visual

art, theatre arts, dance) between grades 6 and 12 in order

to graduate from high school, beginning with those

students entering grade 6 in 2022.

• The NC State Board of Education will define the

standards of the arts credit and plan for its phased-in

implementation.

• The NC State Board of Education would report to the Joint

Legislative Oversight Committee on or before December

15, 2022 about the implementation of this high school

graduation requirement and of the three components

of Comprehensive Arts Education (arts education, arts

integration, and arts exposure)

It was June of 2010 when Rep. Becky

Carney and Rep. Linda Johnson first offered

an amendment to establish a Comprehensive

Arts Education plan, and both worked

tirelessly as champions for arts education

alongside former Arts NC Executive

Director Karen Wells to make the arts high

school graduation requirement a reality.

There have been half a dozen bills filed to

create this graduation requirement over the

last decade. Most recently H56 was filed in

2019 by Rep. Becky Carney and her fellow

Joint Caucus on Arts and Arts Education

House Chair, Rep. Jeffrey Elmore, who has

also been a champion for arts education

since his arrival at the NC General Assembly.

Senate Chairs of the Joint Caucus on Arts

and Arts Education, Sen. Deanna Ballard

and Sen. Mike Woodard, also filed an

identical bill (S238) in 2019, which additionally supported the

requirement's inclusion in the 2019 state budget. Although it

passed both chambers of the legislature, the Governor's veto

kept it from becoming law. This years-long effort and bipartisan

support enabled the language from those bills to be added to

S681 in committee on Thursday, June 25, and was approved by

both chambers of the NC General Assembly in the wee hours of

the morning. With Governor Cooper's signature, the Arts High

School Graduation Requirement became law in North Carolina.

Arts NC Executive Director, Nate McGaha said, "We want to

express tremendous gratitude to all the legislators and advocates

that never gave up on this issue over these many years. This

victory for arts education is a testament to the value of advocacy

and perseverance." This accomplishment is, of course, made

bittersweet by the fact that it cannot be shared with Rep. Johnson,

who passed away in February 2020. We are glad we can build on

the work that Rep. Johnson, Rep. Carney, and so many others

started, and together create a North Carolina where equitable

access to comprehensive arts education can be embraced by all as

indispensable.

2 | NORTH CAROLINA MUSIC EDUCATOR NORTH CAROLINA MUSIC EDUCATOR | 3
---
Board of Directors

EXECUTIVE OFFICERS

SECTION CHAIRS

COMMISSION & COMMITTEE CHAIRS

President: Carol Earnhardt*

Forsyth County

cearnhardt@ncmea.net

Immediate Past President:

Jazzmone Sutton*

Wake County

jsutton@ncmea.net

President-Elect: Johnathan Hamiel*

Forsyth County

jhamiel@ncmea.net

Recording Secretary:

Ruth Petersen*

Mecklenburg County

secretary@ncmea.net

Member-at-Large:

Lillie Allmond Harris*

Guilford County

member-at-large1@ncmea.net

Member-at-Large: Quincy Lundy*

Forsyth County

member-at-large2@ncmea.net

Band: Jason Barclift*

Guilford County

band_chair@ncmea.net

Band Section Delegate:

Alyssa Montgomery*

Wake County

band_delegate@ncmea.net

Collegiate NAfME: Molly Griffin*

Pitt County

collegiate_president@ncmea.net

Elementary: Dee Yoder*

Burke County

elementary_section@ncmea.net

High School Choral:

Bethany Jennings*

Gaston County

hschoral_chair@ncmea.net

Higher Education: Brett Nolker*

Guilford County

higher_education@ncmea.net

Jazz Education: Josh Cvijanovic*

Orange County

jazz_chair@ncmea.net

Jazz Section Delegate:

David Lail*

Mecklenburg County

jazz_delegate@ncmea.net

Middle School Choral:

Aaron Lafreniere*

Mecklenburg County

mschoral_chair@ncmea.net

Orchestra: Donald Walter*

Guilford County

orchestra_chair@ncmea.net

Orchestra Section Delegate:

Corrie Franklin*

Orange County

orchestra_delegate@ncmea.net

Exceptional Children & General

Music: Rue S. Lee-Holmes

Sampson County

exeptionalchildren_generalmusic@ncmea.net

Conference Chair: Barbara Geer

Forsyth County

conference_chair@ncmea.net

Asst. Conference Chair: Adam Joiner

Forsyth County

conference_assistant@ncmea.net

Mentoring: Windy Fullagar

Mecklenburg County

mentoring_program@ncmea.net

IVfME:

Jazzmone Sutton

Wake County

jsutton@ncmea.net

AWARDS, GRANTS

& SCHOLARSHIP CHAIRS

Music In Our Schools Month:

Angela Mangum

Granville County

miosm_chair@ncmea.net

Music Program Leaders:

Andrew Craft

Forsyth County

music_program_leader@ncmea.net

Research: Tim Nowak

Pitt County

research_chair@ncmea.net

Retired Membership: Libby Brown

Watauga County

retired_membership@ncmea.net

Student Activities:

Johnathan Hamiel

Forsyth County

jhamiel@ncmea.net

STANDING COMMITTEE CHAIRS

Teacher Education: Jose Rivera

Robeson County

teacher_education@ncmea.net

Technology Chair:

Howell "Howie" Ledford

Guilford County

technology_chair@ncmea.net

Tri-M: Jennifer Wells

Alamance County

tri-m@ncmea.net

Webmaster: Mark Healy

Wake County

mhealy@ncmea.net

Young Professionals: Lisa Qualls

Randolph County

young_professionals@ncmea.net

EX-OFFICIO MEMBERS

DISTRICT PRESIDENTS

Awards: Lillie Allmond Harris

Guilford County

member-at-large1@ncmea.net

Mini Grant: Jazzmone Sutton

Wake County

jsutton@ncmea.net

Summer Professional

Development Grant: Jose Rivera

Robeson County

teacher_education@ncmea.net

Scholarships: Quincy Lundy

Mecklenburg County

member-at-large2@ncmea.net

Advocacy: James Daugherty

Davidson County

jdaugherty@ncmea.net

Constitution: Maribeth Yoder-White

Watauga County

constitution_committee@ncmea.net

Finance: Jazzmone Sutton

Wake County

jsutton@ncmea.net

Membership: Johnathan Hamiel

Forsyth County

jhamiel@ncmea.net

Publications: Kim Justen

journal_editor@ncmea.net

Collegiate NAfME Advisor:

Lisa Runner

Randolph County

collegiate_advisor@ncmea.net

Editor: Kim Justen

journal_editor@ncmea.net

Executive Director: Pat Hall

Wake County

pathall@ncmea.net

Historian: Dr. John Henry, Jr.

Guilford County

historian@ncmea.net

District 1: Dawn Rockwell*

Beaufort County

district1@ncmea.net

District 2: Jeffrey Danielson*

Carteret County

district2@ncmea.net

District 3: Tonya Suggs*

Wake County

district3@ncmea.net

District 4: Tyler Harper*

Robeson County

district4@ncmea.net

District 5: Tonya Allison*

Forsyth County

district5@ncmea.net

District 6: Alice Pounders*

Lincoln County

district6@ncmea.net

District 7: Jonathan Chesson*

Burke County

district7@ncmea.net

District 8: James Phillips*

Henderson County

district8@ncmea.net

* Voting Member

Counties listed reflect the county taught in

883-C Washington Street

Raleigh, NC 27605

919-424-7008

www.ncmea.net

Executive Director: Pat Hall

pathall@ncmea.net

NCMEA OFFICE

Communications Manager:

Mark Healy

Wake County

mhealy@ncmea.net

Music Industry Rep.: Adam Frank

Mecklenburg County

music_industry_rep@ncmea.net

Parlimentarian: Dave Albert

Wake County

parlimentarian@ncmea.net

NCDPI Rep.: Brandon Roeder

Granville County

brandon.roeder@dpi.nc.gov

advancing music education by promoting

the understanding and making of music by all

4 | NORTH CAROLINA MUSIC EDUCATOR NORTH CAROLINA MUSIC EDUCATOR | 5
---
Notes from the Executive Director

Pat Hall

For better or worse, this pandemic has thrown all of us into

doing things differently than we have before. We were very

excited to be planning NCMEA's 50th anniversary year

with special performances from Voctave, Airmen of Note and

Boston Brass. All the section chairs

were inviting renowned national

speakers. The Honors Orchestra

commissioned a 50th anniversary

piece from composer Brian Balamages.

And we were planning a very special

awards luncheon featuring directors

ensembles for the last day of the

Professional Development Conference.

The conference planning

committee made the decision in

early June to present the conference

virtually this year. I just sat back and

said to myself, how do I do that? The

first thing that came to mind was using the conference mobile

app. Hey, it's paid for. It could be used the same way as in-person,

right? All we need to do is add the links for the Zoom sessions.

Fingers crossed.

The next challenge was figuring out many sessions we could

offer simultaneously. NCMEA only has one Zoom license. Yes,

we could purchase more Zoom licenses but with a staff of one

full-time and one half-time person, how would we run the

number of sessions already being planned?

We looked into several virtual event companies, including the

vendor who makes our app. The

cost was pretty high and we had

no way to gauge how many

of you would register and

pay for a virtual conference.

(We hope all of you will.)

The solution came from

board member and Teacher

Education chair, Jose Rivera.

We could use the Zoom

licenses at UNC Pembroke

and collegiate members could staff the computer lab. The more

than 50 LIVE sessions will be scheduled on three UNC Pembroke

Zoom licenses. NCMEA will increase our Zoom licenses from

one to three for meetings and networking sessions. We are also

offering more than 20 ON DEMAND

sessions that will link to NCMEA's

YouTube Channel.

Last year, you brought your tech to Conference.

This year, your tech is bringing Conference to you!

Registration

You won't want to miss the

Connect: Opening Session and

Energize: Closing Celebration that

NCMEA President Carol Earnhardt is

pulling together. They will be fun and

full of surprises!

Fingers crossed everything works

as planned!

We encourage you to register no later than

Nov 2 for early access to the App!

https://www.ncmea.net/ncmea-conference/conferenceregistration-info/

• Active Member $75

• Introductory Member $50

• Collegiate Member $35

• Non-Member $150

• Retired Member

FUTURE CONFERENCE DATES

November 6 – 9, 2021

November 5 – 8, 2022

November 4 – 7, 2023

November 8 – 12, 2024

No Fee

Faculty who do what they teach.

Our faculty are highly-credentialed scholars, educators,

and performers. We invite prospective students to take a

free lesson with a faculty member and learn more about

what it's like to be a student at UNCP.

NC Promise continues!

STUDY WHAT YOU LOVE

Study music...your way.

UNCP is one of the most affordable universities in the state.

In-state tuition is only $500 per semester!

B.M. in Music Education

B.M. in Musical Theatre

B.A. in Music (Liberal Arts)

B.A. in Music w/ Music Industry Emphasis

STUDY WITH PROFESSIONALS

STUDY IN A GROWING PROGRAM

Flourish in an inspiring environment.

With just over 100 music majors, students enjoy small class

sizes and personal attention. Our Musical Theatre program was

recently ranked in the Top 10 BM Programs by OnStage Blog.

STUDY FOR LESS

FOR REFERENCE:

WWW.ENTREPRISESCANADA.CA

NOW OFFERING ONLINE AUDITIONS! LEARN MORE AT UNCP.EDU/MUSIC

6 | NORTH CAROLINA MUSIC EDUCATOR NORTH CAROLINA MUSIC EDUCATOR | 7
---
President's Message

Carol Earnhardt

Connect, Rejuvenate, Energize...

From a Distance

2020 NCMEA Virtual Conference General Sessions

From 1976 to 2009, Paul Harvey hosted a radio show called

"The Rest of the Story." Harvey held many positions in

broadcasting, but it was this show that made him the most

popular radio personality in American history. In this show,

Paul Harvey presented the untold story behind some of history's

strangest forgotten or little known facts. The tagline of the story

was held until the end, and included the name of the celebrity,

historical figure, or politician to whom the story was about. He

would always end with, "and now you know... the rest of the story."

This week, most of us begin our fourth week of teaching. I have

never been more exhausted. After a summer spent digging for

resources I could use for online or hybrid teaching, I have spent

most of my time teaching kids how to use technology instead of

teaching them music. Don't get me wrong. There have been some

great moments in the past three weeks. I've learned more about my

students than I ever would have had things been normal. We have

all been so isolated for so long, it has been wonderful to hear their

stories from the past summer and see their resiliency as we tread

through these unknown waters.

I would like to say my students and I have settled into a routine.

But, the truth is, the future is full of uncertainty and that makes

us all feel out of sorts. Will online learning be the year-long

classroom? Will my school system switch to a hybrid schedule?

Will I be in the chorus room with all of my students before

graduation? I'm trying very hard to stay positive and project energy

into the zoom classroom – but teaching remotely feels so odd.

We've all done things to adjust to this crazy time in which

we are living. I am most proud of the board members who have

worked tirelessly on our virtual conference. In a typical year,

conference planners receive session proposals in March and have

most things planned for the conference by the end of the summer.

But this year, on top of all the other duties of being a "firstyear"

virtual/hybrid teacher, the NCMEA board members shifted

gears in August and have put together what will be an incredible

conference. Like remote and hybrid teaching, the 2020 conference

will feel odd in some ways. But, I am sure it will be a conference

in which you will walk away feeling connected, energized, and

rejuvenated. Like all of you, I know I will miss the interaction with

my colleagues from across the state. That is why a major goal of all

conference planners has been to make time for social interactions

virtually. The great thing is you can wear pajama pants while

meeting new friends!

Your NCMEA leadership team has also been hard at work this

summer. We have continued our advocacy efforts throughout

the summer, working with the North Carolina American Choral

Directors Association and with the North Carolina Bandmasters

Association to draft statements in support of music teachers across

the state. We have emailed Dr. Mandy Cohen, the secretary of

the North Carolina Department of Health and Human Services

(NCDHHS), concerning the document Strong Schools NC; Public

Health Toolkit (K-12), authored by representatives at NCDHHS.

On three separate occasions, we have urged Dr. Cohen to

change the wording in the document concerning singing in groups

and playing woodwind and brass instruments (see p. 4). We will

continue to advocate for statements that offer mitigation strategies

for these activities instead of advice to exclude these activities as

the document is currently written.

In June, the leadership team met for two days to discuss future

initiatives and goals of NCMEA. One such initiative was to launch

the Inclusive Vision for Music Education (IVfME) committee,

formerly the multicultural committee. IVfME will hold several

webinars throughout the year focused on inclusion, diversity,

equity, and access in the music classroom. Board members met

via zoom in August, and while the state of the world is uncertain,

NCMEA is a healthy organization that will weather this storm.

Paul Harvey passed away in 2009, but I still get nostalgic every

time I hear his voice. I wish I could hear him tell the rest of our

story when COVID-19 is a memory. The resiliency I have seen in

my students, I have also seen in music teachers across the state. I

know our story would be one of his most popular broadcasts:

A pandemic threatened the world. Music teachers were told

singing and playing instruments increases the spread of the virus.

Music teachers grieved over having to teach their students in a

"zoom room" or in a room where students were distanced apart

from one another in the classroom that was once loud, active, and

full of energy. Music making stopped and performances ceased.

But... music teachers adapted.

Their students continued to create, respond and perform

music virtually. They enriched and rejuvenated their students by

using music for the development of social and emotional skills.

And, they remained a beacon of consistency, warmth, trust, and

confidence in the lives of their students – proving, yet again, that

music teachers are the most innovative, flexible, devoted, and

hard-working teachers in the education workforce. When the

threat of the virus disappeared, students returned

to music classrooms everywhere with a

renewed hunger to create, to perform,

to make music... together. Everywhere

choirs, bands, and orchestras gathered

together again. As the music teacher

signaled for the first note to sound,

students learned how hard it is to read

music with tears in your eyes. And

now you know… the rest of the story.

CONNECT

Don't miss the opening session of the conference on Saturday, November 7, at 9 a.m., as we CONNECT with our past history and

with our parent organization, NAfME. We will be joined by keynote speakers Dr. Connie McKoy and Sonja Williams. Dr. McKoy is

one of the nation's top experts on culturally responsive teaching in music education. She will share with us the "merger story" - an

interesting and engaging historical piece that tells the birth of NCMEA in 1970. Sonja Williams is no stranger to us, as she is a North

Carolina native and a past president of NCMEA. Sonja is currently the president of the Southern Division of NAfME. She will bring

greetings from the Southern Division and National office of our organization and share with us the vision and future initiatives of

NAfME.

REJUVINATE

Lesley Moffatt is a high school band director from Washington State. In addition to authoring two books, I Love My Job But It's

Killing Me and Love the Job, Lose the Stress, she is an active teacher, clinician, and speaker advocating for the social and emotional

health of teachers. Join Lesley in a roundtable on Saturday, November 7, 12 – 1 p.m., as she REJUVINATES our spirit and our love for

teaching in a roundtable discussion about teachers' social and emotional health in the time of COVID-19 and beyond.

ENERGIZE

Join us for the general session on Tuesday, November 10, at 7 p.m., as we are ENERGIZED by keynote speakers Dr. Scott Edgar and

Anne Fennell. Scott Edgar is the author of Music Education and Social Emotional Learning: The Heart of Teaching Music. At the general

session, Dr. Edgar will talk to us about teacher social and emotional health during the pandemic. Don't miss Dr. Edgar's other sessions

– two sessions on the teaching of social and emotional skills through music education (Saturday, November 7, 1 – 2 p.m. and Sunday,

November 8, 9 – 10 a.m.). His final session on Sunday, November 8, 3 – 4 p.m., will offer a deeper dive into social and emotional

learning in the music education classroom. Anne Fennell, a music supervisor from California, will join us as the second keynote

speaker for Tuesday evening. Anne is a ball of ENERGY with a great heart for students and teachers. I am sure she and Dr. Edgar will

serve as a perfect closure to our conference!

A LITTLE SOMETHING EXTRA... from a distance!

Although the BIG celebration of our 50th anniversary is delayed until the November 2021 conference, there will still be some

exciting things happening at the general sessions to celebrate and congratulate you all on supporting music education for the past

50 years. Both the Saturday morning and Tuesday evening general sessions will include some surprise performances as well as guest

appearances by celebrities and advocates for music education. Several universities will perform for us... from a distance. Despite the

pandemic, there are many wonderful collegiate ensembles who are continuing rehearsals and performances with mitigation strategies.

The general sessions will be something you will not want to miss this year!

Register today

so you'll be ready for Conference in November! Don't forget your slippers!

https://www.ncmea.net/ncmea-conference/conferenceregistration-info/

8 | NORTH CAROLINA MUSIC EDUCATOR NORTH CAROLINA MUSIC EDUCATOR | 9
---
Keynote Speakers

Scott Edgar

Dr. Scott N. Edgar is associate professor

of music, music education chair, and

director of bands at Lake Forest College.

He received his Doctorate of Philosophy

in music education from the University of

Michigan, his master's in education from

the University of Dayton, and his Bachelor

of Music in music education degree from

Bowling Green State University.

His previous teaching experience in higher education includes

work at Adrian College and Concordia College Ann Arbor. Prior to

his work in higher education, he taught K – 12 instrumental music

in Ohio and Michigan. Edgar is the author of Music Education

and Social Emotional Learning: The Heart of Teaching Music and is

an internationally sought-after clinician on the topic. In addition

to clinics, he also teaches graduate courses on Musical Social

Emotional Learning at VanderCook College of Music.

He is an active clinician and adjudicator for both concert

band and marching band, and regularly presents at professional

development and research conferences. Edgar is a Music for All

educational consultant, a Conn-Selmer educational clinician and

VH1 Save the Music Foundation educational consultant. He is

a member of the National Association for Music Education, the

American Educational Research Association, the College Music

Society, Phi Mu Alpha Sinfonia Music fraternity and Kappa Kappa

Psi Band fraternity.

Anne Fennell

Anne Fennell is president elect for the

California Music Educators Association,

the music program manager for San Diego

Unified School District, and the immediate

past chair for the National Association for

Music Education's innovation council. She

holds a bachelor's in music education, a

master's in educational leadership studies,

Orff-Schulwerk Levels: I-II-III, and over 90

additional graduate hours.

Her experiences include 32 years of teaching music

composition and steel drum ensembles (grades 9-12), K – Grade 8

music through Orff-Schulwerk, and leading vocal and instrumental

ensembles in civic, professional, and national performances. Anne

is a published author with Pearson, the GRAMMY Foundation,

Percussion Marketing Council, and Disney's Little/Baby Einsteins.

She has received numerous state and national awards, including

the 2020 Technology in Music Education National Teacher of the

Year, 2017 Magnet Schools of America National Teacher of the

Year, top 10 GRAMMY Music Educator Finalist for 2016, and top 3

Music Educator award from Music and Arts in 2015.

Constance McKoy

A native of Fayetteville, Connie McKoy is Marion Stedman

Covington Distinguished Professor and director of undergraduate

studies in the UNC Greensboro school of

music, where she also teaches undergraduate

and graduate music education courses. She

holds a B.M. in music education from the

Oberlin Conservatory of Music and M.M.

and Ph.D. degrees from UNC Greensboro.

She has 19 years of public school teaching

experience as a general music teacher, choral

director, and band assistant.

Her research, which has been presented nationally and

internationally, has focused on music teachers' cross-cultural

competence, and culturally responsive pedagogy in music. Her

work has been published in numerous publications, including

The Journal of Research in Music Education, and the International

Journal of Music Education.

McKoy is an active clinician for state, regional, and national

music education organizations, and has been the keynote speaker

for foour state music education association conferences. She has

presented workshops at colleges and universities throughout the

United States. She is certified through Level III of Orff Schulwerk

pedagogy, and has taught recorder for Levels I – III. She has served

as conductor/clinician for elementary, middle, and high school

All-County choruses across North Carolina, and in 2010, she

conducted the North Carolina All-State Middle School SSA Choir.

In 2017 and 2019, McKoy participated in the Yale Symposium

on Music in Schools and contributed to the 2017 symposium

document, Declaration on Equity in Music for City Students. She

is co-author of Culturally Responsive Teaching in Music Education:

From Understanding to Application, published by Routledge.

Lesley Moffat

Lesley Moffat has taught high school

band for over thirty years in the Pacific

Northwest. Her ensembles have performed

all over the United States and in Canada,

including multiple performances at

Carnegie Hall. She has written two #1

international bestselling books and raised

three daughters.

Following decades of chronic illness

and exhaustion the result of the stress that comes with running a

band program that included over 300 students, she revamped her

teaching strategies to support a healthier balance and lifestyle.

Her first book, I Love My Job but It's Killing Me, became an

international bestseller as teachers all over the world recognized

their story in hers. Having applied the lessons she learned through

her own health challenges, she wrote her second book, Love the Job,

Lose the Stress as a lesson plan for music teachers in the process of

building music programs but who want to do it with the stamina it

takes to stay in it for the long haul.

Now on a mission to help other music teachers learn how to

navigate the responsibilities of teaching music in a post-pandemic

education system, she founded the mPowered Music Educator

Academy, where she runs Band Director Boot Camp, a program

that gives the passionate but overworked music teacher tools she

needs to build a successful program without burning out.

Sonja Williams

Sonja Zonetta McLean Williams, a

native of Jacksonville, N.C., received her

education in Onslow County. She continued

her studies at North Carolina School of the

Arts, where she received a Bachelor of Music

in vocal performance. After leaving NCSA,

Williams went to New York and received her

Master of Music in vocal performance from

Manhattan School of Music. While in New

York, she performed with the Opera Ensemble of New York in their

production of Four Saints in Three Acts.

She returned to North Carolina and began teaching at North

Carolina A&T State University. She married and went back to

Onslow County, where she taught K –5 general music at Richlands

Elementary School for two years. She received her K-12 Music

Certification from East Carolina University during that time.

Williams was also an adjunct instructor for Campbell University for

fourteen years.

She served the NCMEA Middle School Choral Section as

member-at-large, chair-elect, chair, solo/small ensemble/large choral

festival adjudicator. She served on the NCMEA board of directors

as member-at-large and scholarship chair. She is an NCMEA past

president, and is the NAfME Southern Division president.

In the community, she is the secretary of the local chapter

of Zeta Phi Beta Sorority, Inc., a community-conscious, actionoriented

organization. She served as the minister of music at

St. Julia A.M.E. Zion Church for 15 years. She has presented

workshops on hymns of the church, entitled "The Church Sings

Again." She continues to perform, adjudicate, and has conducted

All-County choruses throughout the state.

ALL-NATIONAL HONORS ENSEMBLES

Due to COVID-19, the National Association for Music Education (NAfME)

made the difficult decision to cancel the in-person All-National Honor

Ensembles, originally scheduled to take place November 4-8 in Orlando.

NCMEA congratulates the following students and their music directors that were

selected for the 2020 All-National Honors Ensembles!

CONCERT BAND

Hylton Baker, Flute 1

Central Davidson High School

Wesley Allred

Zachary Bonham, Trumpet 2

Corinth Holders High Schooll

Olivia Spell

Anthony Dockett III, Euphonium

New Bern High School

Christopher Elbing

Leon Gu, Clarinet 2

Panther Creek High School

David Robinson

Alex Troutman, French Horn 3

Leesville Road High School

Alyssa Montgomery

Derek Yao, Trombone 2

Chapel Hill High School

John Carmichael

JAZZ ENSEMBLE

Marvin Koonce, Piano

Cary Academy

Lester Turner

MIXED CHOIR

El Bloom, Alto 1

Enloe Magnet High School

Lauren Hallihan

Ethan Bunch, Bass 1

Enloe Magnet High School

Lauren Hallihan

Madison Hunter, Alto 1

Corinth Holders High School

Sarah Fawn McLamb

Rebecca Korzelius, Soprano 1

Longleaf School of the Arts

Devon Shook

Ellie Schneider, Soprano 1

Enloe Magnet High School

Lauren Hallihan

Tyler Stewart, Bass 2

Bandys High School

Allison Keisler

Mateo Vargas, Bass 2

Enloe Magnet High School

Lauren Hallihan

MODERN BAND

Alston Harris, Drums

RJ Reynolds High School

Johnathan Hamiel

Tanya Qu, Piano

NC School of Science & Math

Scott Laird

SYMPHONY ORCHESTRA

Luke Darney, Double Bass

Enloe Magnet High School

Elizabeth McCollum

Seungha Lee, Viola

Myers Park High School

Felicia Sink

Sophia Liu, Violin 1

Cary Academy

Yiying Qiao

Megan Talikoff, Clarinet 1

East Chapel Hill High School

Ryan Ellefsen

Evan Villani, Trombone 1

Green Hope High School

Creighton Flowers

10 | NORTH CAROLINA MUSIC EDUCATOR NORTH CAROLINA MUSIC EDUCATOR | 11
---
Ukulele Jam

Session

You Make the

Music – Bring Your

Ukulele

This jam session is for

anyone who wants to learn

some new songs, or maybe just play them on the ukulele for the

first time. We will be playing music you can use for classrooms,

after-school groups, and community hum-n-strums. McFerrin,

Mars, Beatles, Imagine Dragons, Maroon 5, Lizzo – Show up for

the fun, and leave with new tunes.

Sandra Teglas

Sandra Teglas is a National Board Certified elementary

music specialist with Guilford County Schools. She holds B.M.,

M.M., and Ph.D. degrees from UNC Greensboro, and Level

3 teacher certification in the James Hill Ukulele Initiative,

"Ukulele in the Classroom." Formerly at UNC Greensboro, she

has returned to public schools where she teaches K – 5 music,

and uses ukulele and modern band instruction with grades

K – 5. Her students perform regularly in the school, community,

and broader Greensboro area. In 2018, she was selected as the

NCMEA Elementary Music Teacher of the Year. She is published

in the Journal of Band Research, Music Performance Research,

Medical Problems of Performing Artists, and The International

Journal of Audiology. Her presentations include the International

Conference of Music Perception and Cognition (Bologna,

Italy), National Conference of Music Perception and Cognition,

Music Educator's National Conference, NCMEA Professional

Development Conference, Virginia Music Educators State

Conference, North Carolina – American Choral Directors

Association, and Music in Lifelong Learning Symposium.

Recognizing, Recovering from, and

Preventing Burnout in Music Teachers

Preventing burnout is critical to maintaining a successful

career in teaching. This session, co-presented by a music educator

and a music therapist, will focus on strategies to address and

prevent burnout in music educators. Educators can benefit from

learning to recognize early signs of burnout and unhealthy coping

strategies. The presenters will offer a variety of research-based

personal and professional strategies for maintaining a long and

successful career. Job fit, professional development, maintaining

emotional boundaries, time management, finding rejuvenating

hobbies, engaging with music in new ways, and learning when to

seek professional assistance are the beginning of building your

individual self-care plan.

Jim Waddelow

Jim Waddelow, a native of Oklahoma, joined the faculty of

General Music Interest Sessions

Sessions in this Journal are listed as of press time. For up to date listings, visit the Conference App.

Meredith College as director of instrumental

activities in 2007. He conducts the

Meredith College Philharmonic, Meredith

Sinfonietta and college opera and musical

theater productions. He is music director

of the Raleigh Symphony Orchestra. Other

artistic director appointments include

the Oklahoma Haydn Festival, White Iris

Light Opera, and the Next Generation Performing Arts Camp.

He has conducted over 80 musical and opera productions at

the professional and college level. A strong advocate of music

education, he has conducted over 250 guest appearances and

clinics in public schools across the country, and regularly

conducts all-state and all region orchestras.

Tips and Tricks for the Transient Teacher

This session is designed to assist teacher candidates who

are entering a multiple-school job or to expand ideas for those

who currently teach at multiple schools. This session will share

tips for how to increase the visibility of your programs, build

relationships with teachers and administration, set up a mobile

classroom cart, and avoid teacher burn-out. This session applies

to all content areas.

Corrie Franklin

Corrie Franklin is the orchestra

director at Chapel Hill High School and

Culbreth Middle School. She is a National

Board Certified Teacher and serves as

the current NCMEA's Orchestra delegate.

Prior to Chapel Hill, she taught elementary

orchestra in Wake and Orange counties,

and was the orchestra director at Raleigh

Charter High School. Franklin's ensembles have received superior

rankings at all-state performance and theme park adjudications.

She holds a bachelor's degree in music education from UNC

Greensboro. A passionate advocate for orchestra education,

she serves as a director for the Raspberry Ridge String Camp

in Durham, and worked as a camp counselor at the UNC

Greensboro Summer Music Camp. Franklin performs as a violist

in the Durham Symphony, where she previously served as the

Durham Symphony education representative. She believes all

students should have the opportunity to be in an orchestra, and

continues to serve and advocate for strings programs that are

accessible for all students.

Pathway to Success: Creating a Culture of

Excellence

In music programs across the country, student leadership

is often thought of in terms of titles, authority status, section

leader positions, and being in charge of others – a responsibility

Arts Education Is Essential

This statement of support for arts education has been reviewed and endorsed by the national organizations listed on pages two and three.

It is imperative that all students have access to an equitable delivery

of arts education that includes dance, media arts, music, theatre, and

visual arts that supports their educational, social, and emotional

well-being, taught by certified professional arts educators in

partnership with community arts providers.

Teaching and learning will never quite be the same in our post-COVID-19 world. However, our commitment to provide rich

and varied educational experiences remains unwavering. The arts have played an important role in these tumultuous times

and will continue to do so for all students, including the traditionally underrepresented, those with special needs, and from

low-income families. Here's why:

Arts education supports the social and emotional well-being of students, whether

through distance learning or in person.

Self-awareness, self-efficacy, self-management and perseverance, social awareness and relationship skills

are central to any arts education activity, no matter the age and ability of the student or the environment

in which the learning takes place. The arts, with their strong emphasis on team-building and self-reflection

are supremely suited to re-ignite students' interest in learning through collaboration, while simultaneously

fostering creativity, critical thinking, and communication.

Arts education nurtures the creation of a welcoming school environment where

students can express themselves in a safe and positive way.

Celebrating our ability to come together as educators and students is vital to creating a healthy and inclusive

school community. The arts, through a rich partnership among certified arts educators, teaching artists,

and community arts providers, play a valuable role in helping students and their families build and sustain

community and cultural connections.

Arts education is part of a well-rounded education for all students as understood and

supported by federal and state policymakers.

As defined in ESSA, "music and the arts" are part of a well-rounded education. Every state in the nation

recognizes the importance of the arts as reflected in rigorous PreK-12 state arts standards. Forty-six states

require an arts credit to receive a high school diploma, and 43 states have instructional requirements in the arts

for elementary and secondary schools. As noted in Arts Education for America's Students: A Shared Endeavor: "An

education without the arts is inadequate."

The healing and unifying power of the arts has been evident as the COVID-19 pandemic swept the country. We have

seen and heard it play out through works of art on sidewalks, shared musical moments from porches, in plays and dance

performances, and every other imaginable iteration of art making. As states and schools work through multiple challenges

in the years ahead, arts education must remain central to a well-rounded education and fully funded to support the wellbeing

of all students and the entire school community.

Arts Education Is Essential

12 | NORTH CAROLINA MUSIC EDUCATOR NORTH CAROLINA MUSIC EDUCATOR | 13

© 2020, SEADAE
---
assumed by only a select few. But what if we reframed and

broadened the idea of leadership to include all students as leaders

of their own pathway in life? Topics include key qualities of any

effective leader: communication, attitude, honesty, trust, integrity,

self-discipline, emotional health, goal setting, relationships,

cooperation, loyalty, selflessness. Students are challenged to

create a "moonshot" – to set a goal and achieve something that

has never been done before! All students can benefit when they

see themselves as their own best leaders, and therein lies the

foundation of creating a culture of excellence.

Habits of a SIGNIFICANT Music Educator

This clinic focuses on how knowledge, communication,

phys-ical energy, musicianship and effectiveness create synergy

to produce a successful music educator. "Who you are" as an

educator is explored in a meaningful way. We are in the music

and people business, and every student has a nugget of gold to be

found and cultivated. You can be both successful and significant

as a music educator. Success stops at retirement, but musical and

personal significance lasts for generations to come.

Scott Rush

Scott Rush is the director of fine and

performing arts in Dorchester School

District Two in South Carolina, and is the

former director of bands at Wando High

School in Mount Pleasant, S.C. He is a

graduate of the New England Conservatory

of Music in Boston, and the University

of South Carolina. He currently serves as

conductor of the Charleston Wind

Symphony, a semi-professional ensemble in Charleston.

Under his direction, the Wando symphonic band performed

at the 2007 Midwest International Band and Orchestra Clinic and

were recipients of the 2007 Sudler Flag of Honor administered by

the John Philip Sousa Foundation. His marching bands were twotime

BOA Grand National finalists and won the South Carolina

State 5A Marching Band Championships nine consecutive years.

Rush is active as a conductor, clinician and adjudicator

throughout the United States and Canada. He is lead writer for

the Habits series and has authored or co-authored ten highly

touted books for GIA Publications.

Rush served as president of the South Carolina Band Directors

Association and is a former member of the board of directors for

the National Band Association. In 2010, he was elected into the

prestigious American Bandmasters Association and in 2011 was

awarded the Bandworld Legion of Honor. In 2015, he was elected

into the South Carolina Band Directors Association Hall of Fame

and in 2016 was awarded the Edwin Franko Goldman Award by

the ASBDA for contributions to music education.

Positively Affirming and Representing

Student Identities in the Music Classroom

The purpose of this session is to discuss approaches music

educators can implement in their music classrooms to positively

affirm and represent the identities of students who represent

marginalized populations.

Dr. Jacqueline C. Henninger

Dr. Jacqueline C. Henninger (PhD, Music Education, MM,

Music Education, and BM Music Studies, The University of Texas

at Austin) began her position as an assistant professor of music

education at Texas Tech University (TTU) in August 2014. In

2018, she was inducted into the TTU Teaching Academy and

was also named a recipient of the TTU Alumni Association

New Faculty Award. Prior to joining the faculty at TTU, she was

a Fulbright Scholar in Sub-Saharan Africa, which enabled her

to teach and research at Tumaini University Makumira in Usa

River, Tanzania, East Africa from 2012 – 2014. From 2005 –

2013, Henninger was an assistant professor of music and human

learning at The University of Texas at Austin. Her teaching

responsibilities have included undergraduate and graduate

courses in music education, coordinating and supervising student

teachers, and advising master and doctoral level examinations,

projects, theses, and dissertations.

Her research, which has been presented at state, national, and

international conferences, is focused on two areas: teacher

preparation and multicultural music education. Henninger is

active in state, national, and international organizations. She

is currently the President of NAfME-Texas, which is the state

affiliate of the national organization. Prior to being elected into

the position of President, she served as President-Elect, Memberat-Large,

and was on the Council of Chairs for NAfME-Texas.

She has also served as the Chair for the Special Research Interest

Group (SRIG): Instructional Strategies with NAfME.

EdTPA 1, 2 3's For Music Teachers & Student

Teachers

This session will provide an overview of the EdTPA

(Education Teacher Preparation Assessment) and provide handson

activities for music teachers and music education majors.

This session will synthesize EdTPA components, specifically

addressing:

• What is EdTPA?

• What are the expectations of music/clinical teachers?

• What can teachers do to facilitate and support student

teachers?

• EdTPA and Performing Ensembles or General Music

Classrooms?

• Task 1, 2, 3 and Assessment Rubrics

Dr. José Rivera

Dr. José Rivera is coordinator of music education, conducts the

University Chorale, and is an associate professor of choral music

education at UNC Pembroke. His prior appointments include

University of Wisconsin – Milwaukee, choral director at Lawton

Chiles High School and J.S. Rickards High School in Tallahassee.

MUSIC EDUCATION MUSIC INDUSTRY STUDIES MUSIC PERFORMANCE

MUSIC EDUCATION MUSIC INDUSTRY STUDIES MUSIC PERFORMANCE

WELCOMES NEW FACULTY MEMBERS

MUSIC EDUCATION MUSIC INDUSTRY STUDIES MUSIC PERFORMANCE

MUSIC EDUCATION MUSIC INDUSTRY STUDIES MUSIC PERFORMANCE

MUSIC THERAPY SACRED MUSIC THEORY & COMPOSITION

music.appstate.edu | 828.262.3020

Laura Brown, PhD, MT-BC

Joseph Brown, DMA

MUSIC THERAPY MUSIC THERAPY SACRED

Lecturer in Music Therapy

SACRED MUSIC MUSIC THEORY

Assistant Professor

THEORY & COMPOSITION

of Trombone

& COMPOSITION

music.appstate.edu music.appstate.edu | 828.262.3020 | 828.262.3020

MUSIC THERAPY SACRED MUSIC THEORY & COMPOSITION

14 | NORTH CAROLINA MUSIC EDUCATOR NORTH CAROLINA MUSIC EDUCATOR | 15

music.appstate.edu | 828.262.3020
---
Rivera has served as clinician for numerous workshops,

honor choirs, and choral adjudications across the country.

He has conducted senior and junior high honor choirs at the

district, state, and regional levels and presented sessions at state,

divisional, and national music conferences of the American

Choral Director Association and NAfME.

He has guest conducted and presented sessions at the

Universidad National Autónoma de Mexico, Universidad de Las

Americas in Puebla, Instituto Superior de las Artes in Havana,

Cuba, and Universidad de Mendoza, Argentina. This year, Rivera

will be conducting a Latin-American Honor Choir at the ACDA

Southern Region Conference. He received his Ph.D., M.M.E.,

and Bachelor's in music education and conducting from Florida

State University. During his tenure in Florida, he was a successful

public music teacher at the elementary, middle, and high school

levels, where his advanced choirs received various regional and

national awards. Rivera just completed serving a six-year term as

ACDA national chair for ethnic music and currently serves on

the NCMEA board as Teacher Education chair.

Setting Yourself Up for Success – The Early

Years!

It is essential to begin your career with skills that provide a

successful transition into the profession. This session offers a

plan for pre-service teachers and those in their first few years

of the job to better prepare for the demands of teaching music.

With limited time to teach everything in the undergraduate

curriculum, this session helps to provide ideas on what you

should be doing now outside of your course work. This session

will deliver insights on how to begin developing the leadership

and professional skills necessary for successful teaching and steps

to continue to enhance your effectiveness as a teacher.

Dr. Tim Heath

Dr. Tim Heath is currently the director of athletic bands

and assistant teaching professor at Wake Forest University

in Winston-Salem, where he also serves as a member of the

conducting faculty. Previously, he was the director of athletic

bands and assistant professor of music education at Samford

University in Birmingham, Ala. Heath also served as assistant

director of the wind ensemble and was a member of the

conducting faculty during his tenure at Samford. Prior to

teaching there, he was a graduate teaching assistant with The

University of Alabama Bands.

Heath is an active clinician and adjudicator for both concert

band and marching band. As a music educator, Heath has

presented sessions and research at both the state and national

levels and is published in Percussive Notes, The Instrumentalist

and The National Band Association Journal. He holds a bachelor's

degree from UNC Greensboro, a master's degree from UNC

Pembroke, and a doctorate from University of Alabama. He

is an active member of the National Association for Music

Education, College Band Directors National Association,

National Band Association, College Music Society, Kappa Delta

Epsilon Education Fraternity, Mu Phi Epsilon, the Percussive

Arts Society's Scholarly Research Committee, and is an honorary

member of Kappa Kappa Psi National Honorary Band Fraternity

at University of Alabama and Wake Forest University.

Mind the Gap! Filling in the Blanks Between

College and the Reality of Teaching

The truth is that college does not teach you everything! This

session is geared specifically for college undergraduates and new

teachers and is meant to serve as the bridge between the textbook

knowledge they received during their undergraduate education

and the reality of being a music teacher in today's society. Topics

of discussion will include how to survive on a teaching salary, job

hunting tips, first week of school tips and much more.

Brandon Meeks

Brandon Meeks is from Charlotte, and received a Bachelor of

Science in music education from Western Carolina University.

While there, he was also a recipient of the North Carolina

Teaching Fellows scholarship program. In 2018, he received a

master's in music education from Florida State University.

From 2009 – 2016 he served as the director of bands at

East Lincoln Middle School in Iron Station, N.C. While there,

he grew the band program to over 180 students and changed

the face of the band program by placing high expectations on

musical excellence, responsibility, discipline, teamwork, and

respect. Under his leadership, the Falcon Band consistently

received superior and excellent ratings at state festivals,and was

undefeated in the Music in the Parks competitions at Six Flags

Over Georgia, Universal Studios, and Dollywood. In 2013,

Meeks was named the East Lincoln Middle School Teacher of the

Year and was a finalist for the Lincoln County Schools Teacher

of the Year. In 2014, he received National Board Certification.

In 2016, he received the N.C. South-Central District Young

Director Award of Excellence, an award which was voted on by

his colleagues in the South-Central District. Meeks is currently

pursuing a doctoral degree in music education from Florida State

University, where he studies conducting and engages in research

in the music education profession.

What do You Really Care About? –

Assessment in the Music Classroom

This session is meant to provide practitioners with methods

and strategies to assess in their classroom, both formally and

informally. However, the purpose of the session is not assessment

for assessment's sake, it is for the practitioner to choose and

design assessments thoughtfully around what it is they really

care about. Many early career professionals struggle to determine

what it is they should be assessing and how. Design of activities,

connection to rubrics, and the N.C. Essential Standards for Music

will be discussed. This session is designed to help young and

experienced professionals alike make those decisions and put

them in practice in their classrooms.

UNC WILMINGTON

SUMMER JAZZ WORKSHOP

July 11-16, 2021

Celebrating 24 years

of UNCW summer jazz

for middle and

high school students

FOR MORE INFORMATION, CONTACT

Dr. Frank Bongiorno

chair, department of music

bongiornof@uncw.edu

www.uncw.edu/music

UNCW is an EEO/AA Institution. Accommodations for disabilities may be requested

16 | NORTH CAROLINA MUSIC EDUCATOR

by contacting the Department of Music at 910.962.3415 at least NORTH 10 days CAROLINA prior to the event. MUSIC EDUCATOR | 17
---
edTPA - A Scorer's Perspective

As an edTPA scorer, I have read and scored the work of

many pre-service music teachers seeking licensure. Through

scoring, I have learned how to help students plan, carry out

their instruction, and reflect on their teaching while making

salient connections to research-informed teaching practice. This

session is meant to provide pre-service music educators, music

teacher mentors, and/or music teacher educators with strategies,

clarification, and best practices for completing the edTPA.

Morgan C. Soja

Morgan C. Soja is the coordinator of music education at

Gardner-Webb University in Boiling Springs. She supervises

student teachers, teaches methods courses in music education,

and directs the University Chorale. In addition to staying active

as a vocal, string, and woodwind performer, she also participates

in research with the Supporting Beginning Music Teachers Area

of Strategic Planning and Action. She was recently honored

with the Alfred and Shirley Wampler Caudill Rising Star Award

for teaching, service, scholarship, mentorship, and advising

excellence. Soja holds doctorate and master's degrees in music

education from UNC Greensboro, and a bachelor's degree in

music education from Bowling Green State University.

Rural Music Educators: Panel Discussion

In 2010, the U.S. Census Bureau classified approximately

one third of North Carolina's population as living in rural areas,

and nearly two-thirds of North Carolina counties as having a

majority-rural population. The music education profession has,

however, given proportionately less attention to the experiences

of rural teachers and students compared to those of urban and

suburban teachers and students. The existing research suggests

teachers in rural schools may feel professionally isolated, a

condition that might be exacerbated in music by a lack of

attention to their unique situations.

This session will provide rural music teachers in North

Carolina a chance to build professional support networks as we

explore the unique opportunities and challenges of teaching

music in rural areas. A panel of rural-area music teachers will

begin by sharing their experiences, and we will invite attendees

to share experiences of their own. We will then place those

stories in dialogue with current education policy and selected

research findings to examine ways in which rural music teachers

might build upon the unique strengths of their programs while

addressing the significant challenges they face.

This session is intended to be the first of many that will foster

stronger connections between music teachers in rural areas,

develop a vision to strengthen and advocate for rural music

programs, and build a working group to concentrate on the

concerns of music teachers and students in North Carolina's rural

areas as we move into the next 50 years of NCMEA.

Dr. Tim Nowak

Dr. Tim Nowak is assistant professor of string music

education at East Carolina University, where he teaches string

methods, large ensemble methods and supervises student

teachers. Prior to his work at ECU, Nowak was a faculty associate

at Arizona State University where he taught string methods,

general music electives and advised the collegiate NAfME

chapter. He was the director of orchestras at Victor Junior and

Senior High Schools in Victor, N.Y., for eight years, and directed

the high school orchestras, taught cello and bass lessons, and

advised the Tri-M Music Honor Society.

Nowak actively performs as a cellist and has performed with

various groups including the Trans-Siberian Orchestra, Alethia

String Quartet, Penfield Symphony Orchestra, Finger Lakes

Symphony Orchestra and the Blackfriar's Theatre. Nowak earned

a Bachelor of Music from Ithaca College, a Master of Arts from

the Eastman School of Music and a Doctor of Philosophy from

Arizona State University.

Earning a Masters: Is Online Learning

for You?

Online learning is ubiquitous and the Master of Music in

music education is a two-year degree that can be completed 100%

online. East Carlina University music education faculty teach

and mentor master students, with full access to the university

resources. Explore the variety of options available and speak with

faculty about how online learning is structured.

Dr. Cynthia Wagoner

Dr. Cindy Wagoner is an associate

professor and department chair of music

education at East Carolina University,

specializing in instrumental music

instruction and pre-service music teacher

education. Her regional and international

research presentations focus on music

teacher identity, mentoring new teachers,

and teacher pedagogy. Her publications appear

in Teaching Music Through Performance in Jazz, Teaching Music,

Psychology of Music, Research Issues in Music Education, Journal

of Music Teacher Education, and several book chapters. Her

heart still lies in the teaching of music through instrumental

performance, and she is dedicated to serving the music

education community in her current position at ECU. She

travels extensively, providing clinics for bands, conducting, and

presenting research.

Wagoner holds a B.S. and M.S. from Indiana State University

and spent 27 years in Indiana, teaching middle and high school

instrumental music, and had a large and successful program

across marching, concert, small ensemble, and jazz events.

Graduating from UNC Greensboro with a Ph.D. in music

education, she was honored with the Graduate Teaching Assistant

Award in 2009. Moving to East Carolina in 2011, she has been

nominated for several university honors and was awarded the

ECU Alumni Award for Excellence in Teaching in 2019.

NCMEA MINI-GRANT PROGRAM

The NCMEA Mini-Grant Program provides teachers an

opportunity to develop special projects to increase the existing

potential for a quality music education program and meets the

requirements outlined in the North Carolina Standard Course of

Study.

The NCMEA Board of Directors, with recommendations from

the Mini-Grant Committee, awarded five grants for the 2020 –

2021 school year for a total of $4,736.

Evelyn Snyder: The Bonnie Springer School at the

Murdoch Developmental Center

The Winds for All Project will provide Nuvo Instruments to

students in a statewide program where they live on the campus of

the North Carolina Development Center. These instruments will

include Toots, Doods, jFlutes, jSaxes and jHorns.

Melanie Watson: East Alexander Middle School

The commission of a new Grade I work from Mekel Rogers.

Students will work closely with a local composer collaboratively,

with the end result being a new musical composition available to

the public. Students will collaborate with the composer beginning

in August and present the new work in December.

Emily Casey: Hunter GT/AIG Magnet Elementary

School

Funds will be used to purchase tubanos, djembes and timbuas

which reflect the diverse population of students at Hunter GT/

AIG Magnet. Emily plans to incorporate the learning she gained

from NCMEA's conferences to integrate African drumming in

her classroom as well as school assemblies and interactive family

experiences.

Casey Johnson: Shady Grove Elementary School

Funds will be used to purchase ukuleles to be integrated

into the music classroom. These funds will support a class set of

ukuleles.

Mary Ludwig: Carolina Forest International

Elementary

This project will add three Remo Tubano World Drums to the

classroom. The drums will be used throughout the school year in

various lessons in multiple sessions.

NCMEA SCHOLARSHIP PROGRAM

NCMEA awards three $2,000 scholarships annually to

music education majors attending North Carolina Colleges and

Universities.

Awards, Grants & Scholarships

Barbara Bair Scholarship

A 2020 Barbara Bair Scholarship was

awarded to Malcolm Vaughn, a graduate of

Enloe High School in Raleigh. Vaughn will

be attending Appalachain State University

Hayes School of Music. In his essay he

states, "I will never forget the moment

I realized I would pursue a career as a music

educator in North Carolina. It was two years ago when I had my

first opportunity to attend NCMEA's North Carolina Honors

Chorus."

Vaughn seeks out every opportunity to grow and learn how to

become a better musician and teacher. His ability to connect with

students and his talent at teaching makes him a promising choral

music educator.

Bill McCloud Scholarship

The 2020 Bill McCloud Scholarship

was awarded to Holly Shrosphire, a music

education major at Wingate University.

Shropshire states in her application,

"Music is a passion I have and I strive

to be successful in a wide scope of areas

in my collegiate musical experience,

distinguishing myself in scholarship,

performance, leadership, and service." She maintains a very

good academic standing and has been called on as a mentor and

tutor for various subjects. She tutored in ear training, theory,

and music history in order to maximally cater to students who

struggle. She sings in both University Singers and Viva Voce.

Shropshire is a member of the Wingate CNAfME chapter and

served as president of the Wingate student chapter of ACDA.

Ruth Jewell Scholarship

The 2020 Ruth Jewell Scholarship was

awarded to Abigail Kolb.

She attends Campbell University's and is

president of the NAfME collegiate chapter.

She is a member of the Campbell University

Voices, the University Choir and Campbell

University's Opera Theater. In her essay

Kolb states, "Being a member of a chorus has

benefited me in countless ways since high school. I developed a

passion for music that I had not previously known. I learned how

to work as an ensemble and come together with my peers towards

a common goal. I made lifelong friendships and acquired a refuge

from the stressors of classes."

18 | NORTH CAROLINA MUSIC EDUCATOR NORTH CAROLINA MUSIC EDUCATOR | 19
---
these days of separation, we affirm music's power to bring us together.

In

these days of anxiety, we affirm music's power to lift our spirits.

In

PAST PRESIDENTS OF NCMEA

NCMEA resulted from a merger that occurred in 1970 between two professional organizations: the North Carolina Music Educators

Conference (NCMEC) and the North Carolina State Music Teachers Association (NCSMTA). The list of presidents which follows

represents those who have served since the inception of NCMEA.

1970 – 1971 James R. Hall

1971 – 1973 Hortense N. Reid

1973 – 1975 Homer Haworth

1975 – 1977 William G. Spencer

1977 – 1979 Robert B. Gaskins

1979 – 1981 Billiegene Garner

1981 – 1983 Mary Jane Crawford

1983 – 1985 Ralph B. Shumaker

1985 – 1987 Reta R. Phifer

HONORARY LIFE MEMBERS OF NCMEA

David S. Albert

Bob Alexander

Teresa Allred

Katherine Almond

Renee Anders

*Barbara B. Blair

*Louis V. Bean

Treda Berry

Chrystal Bachtel

Lucy M. Banner

*Earl E. Beach

*Julius A. (Sandy) Beam

Edward D. Benson

*Mary Earl Berger

Duane Best

*Maxine Blackwell

Diane Brooks

*Rebecca B. Carnes

*Herbert L. Carter

Elizabeth Chance

Richard G. Cox

Mary Jane Crawford

Jerry Cribbs

Carol Crocker

*Carl Cronstedt

William S. (Bill) Crowder

James Daugherty

*Joe DiNardo

*Katherine Detmold

*James A. Dillard

James E. Dooley

*Joe Fields

*Bernard Foy

*Judith Freeman

*Paul B. Fry

Billiegene Garner

Patricia Garren

*Robert B. Gaskins

Barbara Geer

1987 – 1989 Charles H. Gilchrist

1989 – 1991 Barbara B. Bair

1991 – 1993 John R. Locke

1993 – 1995 Frank E. Williams

1995 – 1997 Barbara L. Geer

1997 – 1999 Fran Page

1999 – 2001 William Crowder

2001 – 2003 Earl Taylor

*Charles Gilchrist

*James R. Hall

Dorothy Hampton

*Captain James Harper

*J. Kimball Harriman

Lawrence Hart

Homer Haworth

*Herbert Hazelman

*Samuel Hill

*Bernard Hirsch

*Arnold E. Hoffman

*Lara Hoggard

*Birdie Holloway

Richard Holmes

Karen Huey

*Charles Isley

*Ruth Jewel

Evelyn Johnson

*Thor Johnson

*Mrs. Eugene Johnston

*Richard E. Keasler

Genevra Kelly

*Doris Kimel

*Robert Klepfer

Barbara Koesjan

John Locke

*C.D. Kutchinski

*Adeline McCall

*L.O. McCollum

*Thane McDonald

Constance L. McKoy

*Harold McNeely

*Florine W. Marren

*Margaret Marsh

Nollie Mitchell

James D. Morgan

*Madeline H. Mullis

*Gordon Nash

*Josephine Osborne

2003 – 2005 Maribeth Yoder-White

2005 – 2007 Constance L. McKoy

2007 – 2009 Jerry Cribbs

2009 – 2011 David S. Albert

2011 – 2013 Sonja Z.M.Williams

2013 – 2015 Richard Holmes

2015 – 2017 James Daugherty

2017 – 2019 Jazzmone Sutton

Fran Page

*Paul Peterson

Reta R. Phifer

Mary E. Phillips

Walter E. Phillips

Walter Plemmer

*Bessie Ray

*Hortense N. Reid

*Blonza Rich

Lee Rigsby

*Edgar Q. Rooker

Tammy Shook

Ralph B. Shumaker

Elaine Sills

*Katherine Siphers

*Earl Slocum

*Richard Southwick

*Zelma G. Spears

*William G. Spencer

*Glen Starnes

Earl Taylor

Lue Taylor

Marie Teague

Martha Thomasson

Virginia Tull

*Eula Tuttle

*Walter L. Wehner

Frank E. Williams

Sonja Z.M. Williams

Susan Williams

*Margaret Wilson

*Louise Winstead

*Eva Wiseman

Ruby Woolf

Maribeth

Yoder-White

*Deceased

UNC CHARLOTTE

DEPARTMENT OF MUSIC

CREATE YOUR FUTURE WITH THE UNC CHARLOTTE DEPARTMENT OF MUSIC!

In these days of uncertainty, we affirm music's power to point us to a better future.

20 | NORTH CAROLINA MUSIC EDUCATOR NORTH CAROLINA MUSIC EDUCATOR | 21

music.uncc.edu
---
Band

Jason Barclift, Chair

Tradition.

Innovation.

Collaboration.

I

am very excited about this year's NCMEA Professional

Development Conference. I know it will be different, but we

have worked hard to provide sessions that are second to none!

I know you have been in so many Zoom meetings and Google

Meets in the past several months, but please make plans to attend

this year as the Band Section continues to include some of the best

educators in the country at our conference. Scott Rush and Bruce

Pearson are both known around the world as first class educators

and will be sharing their vast experience with us.

Habits of a Successful Band Director

This clinic focuses on the journey from the "components of

playing" to music making. Teaching strategies are the cornerstone

of the presentation, and they logically progress from being effective

with non-pedagogical issues to going beyond the notes. Nontraditional

means of assessment are also explored.

Creating Habits of a Success in the Young

Band Musician

This session provides solutions for all things beginner band

musicians face. Topics include the first days of instruction, initial

fundamentals on the mouthpiece, mouthpiece and barrel, reed,

bocal and reed, or headjoint prior to playing, sequential rhythm

vocabulary, first-time challenges for beginners, and teaching

strategies that address both technique and musicianship. The latest

breakthroughs in music technology in the classroom will also be

explored.

Scott Rush

Scott Rush is the director of fine and

performing arts in Dorchester School

District Two in South Carolina, and is the

former director of bands at Wando High

School in Mount Pleasant, S.C. He is a

graduate of the New England Conservatory

of Music in Boston, and the University

of South Carolina. He currently serves as

conductor of the Charleston Wind

Symphony, a semi-professional ensemble in Charleston.

Under his direction, the Wando symphonic band performed

at the 2007 Midwest International Band and Orchestra Clinic and

were recipients of the 2007 Sudler Flag of Honor administered by

the John Philip Sousa Foundation. His marching bands were twotime

BOA Grand National finalists and won the South Carolina

State 5A Marching Band Championships nine consecutive years.

Rush is active as a conductor, clinician and adjudicator

throughout the United States and Canada. He is lead writer for the

Habits series and has authored or co-authored ten highly touted

books for GIA Publications.

Rush served as president of the South Carolina Band Directors

Association and is a former member of the board of directors for

the National Band Association. In 2010, he was elected into the

prestigious American Bandmasters Association and in 2011 was

awarded the Bandworld Legion of Honor. In 2015, he was elected

into the South Carolina Band Directors Association Hall of Fame

and in 2016 was awarded the Edwin Franko Goldman Award by

the ASBDA for contributions to music education.

Band Talk with Dr. Charles Menghini

Host of the popular podcast, Band Talk, Dr. Charles

Menghini is planning a special conversation just for the North

Carolina Bandmasters Association. He will provide motivation

and encouragement for all of us during these crazy times. His

podcast features weekly guests who are big names in the world

of band from across the country. Charlie Menghini is putting

together a special conversation just for us that will include Dr.

Tim Lautzenheiser and Dr. Paula Crider, professor emerita of the

The University of Texas. You won't want to miss this outstanding

presentation.

Dr. Charles T. Menghini

Dr. Charles T. Menghini is president emeritus of VanderCook

College of Music in Chicago. Menghini served as professor

of music and director of bands from 1994 – 2017. Prior to his

appointment at VanderCook, he spent 18 years as a high school

band director in Missouri and Kansas where his bands earned

national acclaim.

Our premiere award for music majors includes

full tuition, room, board, plus additional

study funds.

Other scholarships available in brass, composition,

jazz, percussion, piano, strings, voice, and woodwinds

October 17 | November 21

December 12 | January 23

*Bachelorof Arts

*Bachelorof Music

(withoptionfor musiceducation)

919.962.1039 | music.unc.edu

22 | NORTH CAROLINA MUSIC EDUCATOR NORTH CAROLINA MUSIC EDUCATOR | 23
---
Menghini currently hosts two podcasts:

"Band Talk with Charlie Menghini and

Friends," available on Apple podcasts, and

"Essential Elements Band Talk" with Dr. Tim

Lautzenheiser and Paul Lavender and it is

available on the EEiblog.com website.

Menghini is a co-author of the Essential

Elements Band Method published by Hal

Leonard and is an educational member of the

Music Achievement Council for NAMM.

He is active as a speaker, clinician and conductor around

the nation. He frequently presents at state and national music

education conferences, works with teachers and school districts

in a variety of forums and continues to write for professional

magazines and journals. In 2019, Menghini was awarded the Medal

of Honor from the Midwest Clinic for his life's work as a band

director, teacher and educator. With degrees in music education,

administration and conducting, he is able to provide advice and

counsel on a variety of topics and issues.

Inspire Excellence in Your Young Band:

Achieve the Most in Every Lesson

Teaching beginning and middle school band can be exciting,

rewarding, and... challenging. This practical clinic will assist

band directors by demonstrating best practices for the critical

components of beginning and middle school band instruction,

ensuring motivated students and high achievement.

In this clinic Dr. Bruce Pearson will demonstrate effective

and time-tested strategies for teaching embouchure, good tonal

development, proper breathing technique, and characteristic tone

to beginning and middle school band students. He will show how

to develop rhythmic understanding along with audiation and

music reading skills, and will discuss a step-by-step process to

teach music reading using the effective "Sound Before Symbol"

music reading strategy.

Dr. Bruce Pearson

Bruce Pearson is a world-renowned

music educator, author, composer, and

clinician. He is the author of the Standard

of Excellence Comprehensive Band Method,

which has been regarded as the most

important contribution to the band music

field in the last three decades since for his

first contribution, Best In Class.

His newer method, Tradition of

Excellence, is co-authored with Ryan Nowlin. It is a performancecentered

curriculum that seamlessly blends time-tested and

innovative pedagogy with cutting-edge technology. Dr. Pearson's

Excellence in Chamber Music books are correlated with Tradition of

Excellence Comprehensive Band Method.

He also co-authored the Standard of Excellence Jazz Ensemble

Method and the Standard of Excellence Advanced Jazz Ensemble

Method with Dean Sorenson.

He has taught at the elementary, junior high, high school,

and college levels for over forty years. Twice nominated for the

prestigious Excellence in Education Award, he was recognized as

"most outstanding in the field of music" for the state of Minnesota.

In December, 1998, Pearson was awarded the prestigious Midwest

International Clinic Band and Orchestra Conference Medal of

Honor. In 2001, he was awarded St. Cloud State University's

Distinguished Service to Music Award. In 2007, he received St.

Cloud State University's Distinguished Alumni Award; and was

recognized as the first Patron for the Maryborough Conference in

Queensland, Australia. Additionally, he has been recognized as a

University of Northern Colorado 2017 Honored Alumni.

Women Band Directors PLC

In 2020, female band directors are still rare finds on high school

and college band podiums. It is not impossible to find them, but

the experiences women have had navigating a career in the band

field have not been easy. Women musicians, like all women, pay a

likeability tax when we are assertive and successful. Women are less

likely to take professional risks or think of ourselves as leaders. We

underestimate our own abilities or talents. For example, researchers

found that when male and female surgeons perform equally well,

the women are likely to believe they have performed worse than

the men.

Men are more likely to mentor young men than young women.

This makes sense, as we often mentor those we "see" ourselves in.

But we also live in a time with a heightened perception of fear that

the relationship will be viewed as romantic or sexual. Therefore, in

social settings where mentoring might best occur, young women

are less comfortable seeking out mentorship from those in the

field who could help most. Having an opportunity for women to

discuss our experiences, and find mentors, becomes even more

meaningful.

The focus of this year's PLC will be to create a space for

meaningful conversation and mentorship and explore the future

for the idea of a PLC for Women Band Directors in N.C. We will

examine how women, as musicians, teachers, and performers, can

nurture and create strong networks for ourselves and others in our

field.

Dr. Cynthia Wagoner

Dr. Cindy Wagoner is an associate

professor and department chair of music

education at East Carolina University,

specializing in instrumental music instruction

and pre-service music teacher education.

Her regional and international research

presentations focus on music teacher

identity, mentoring new teachers, and teacher

pedagogy. Her publications appear in Teaching

Music Through Performance in Jazz, Teaching Music, Psychology

of Music, Research Issues in Music Education, Journal of Music

Teacher Education, and several book chapters. Her heart still lies

in the teaching of music through instrumental performance, and

she is dedicated to serving the music education community in her

current position at ECU. She travels extensively, providing clinics

for bands, conducting, and presenting research.

Wagoner holds a B.S. and M.S. from Indiana State University

and spent 27 years in Indiana, teaching middle and high school

instrumental music, known for having a large and successful

program across marching, concert, small ensemble, and jazz

events. Graduating from UNC Greensboro with a Ph.D. in music

Virtual Conference

Information

November 7,8 & 10, 2020

Registration & Mobile App

Info

We encourage you to register no later than Nov 2 for

early access to the Conference Mobile App, which has the

most up-to-date schedule, speaker listings, and exhibitor

listings. And yes, you will still be able to track your CEU

credits.

https://www.ncmea.net/ncmea-conference/conferenceregistration-info/

Registration Rate

• Active Member $75

• Introductory Member $50

• Collegiate Member $35

• Non-Member $150

• Retired Member

24 | NORTH CAROLINA MUSIC EDUCATOR NORTH CAROLINA MUSIC EDUCATOR | 25

No Fee

All registered attendees will have access to the NCMEA

Conference Mobile App. The NCMEA Conference Mobile

App will have the most up-to-date schedule and location

information.

Attendees will be able to track CEU Credits on the Mobile

App. Pending approval from your school district or LEA,

Conference attendance hours may be used for credit toward

your license renewal. Session length 50 min = 1 hr.; 80 min = 1

½ hrs.

Make sure your NCMEA/NAfME membership is up-to-date.

We will ask for your membership expiration date at the time

you register. JOIN or RENEW online through the NAfME

website, www.nafme.org.

Conference Mobile App

• Search NCMEA Events in the Apple Store or Google

Play. As soon as your registration is paid you will provide

the password to the Conference Mobile App.

• You may edit your attendee profile. Add a headshot or

avatar!

• Use the Message Feature to communicate with your

colleagues.

• Be sure to take time to look through the Exhibitor Listing

and connect with vendor representatives through the app.

Thank them for their support of this conference.

Live & On Demand Sessions

• You will find the links to all the sessions on the Schedule

listing.

• Live Sessions are scheduled on Saturday and Sunday from

9 a.m. – 5 p.m.

• On Demand Sessions can be accessed anytime during,

or after, conference as long as you have the conference

mobile app.

• Many of the Live Session recordings will be available On

Demand after conference.

MORE CONFERENCE INFORMATION CAN BE

FOUND ON THE NCMEA WEBSITE

Connect, Rejuvenate, Energize... from a distance
---
education, she was honored for her teaching with the Graduate

Teaching Assistant Award in 2009. Moving to East Carolina in

2011, she has been nominated for several university honors and

was awarded the ECU Alumni Award for Excellence in Teaching in

2019.

Tools Versus Goals: Strategies for Better

Sequencing/Communication in Rehearsal

A teacher's talent to clearly communicate expectations is

vital to our students' ability to grow and succeed. This clinic will

focus on the ways we translate our expectations into sequenced

action through the planning and rehearsal process. Using active

participation, we will enter into a discussion of common situations

and difficulties encountered in the ensemble rehearsal and how we

tackle those challenges.

This session focuses on the idea of musical tools versus goals

and how we must identify and utilize both in an effective and

productive rehearsal. Some questions will be addressed: Am I

setting a goal without context or the necessary tools to achieve the

goal? Am I unintentionally asking for students to utilize tools but

forgetting to identify the goal? Session attendees will collaborate

to identify common rehearsal and musical opportunities in the

ensemble rehearsal. Following identification, we will discuss ideas

to make our rehearsal more productive and music-making more

mature.

This inclusive clinic will have application to band teachers of all

levels in all educational settings.

Dominic Talanca

Dominic Talanca is director of bands

and assistant professor of music at the UNC

Wilmington. He conducts the symphonic

band and pep band, teaches courses in

conducting and woodwind techniques,

and administers all aspects of the band

program. In addition to his responsibilities

there, he is the conductor of the Wilmington

Symphonic Winds and the OLLI New

Horizons Band.

Talanca received his Bachelor of Music Education and Master of

Music in wind conducting from the University of North Texas. He

is currently pursuing a Doctor of Musical Arts in wind conducting

at Northwestern University.

He taught for ten years in the Lewisville Independent School

District in the Dallas-Fort Worth metroplex. He served as associate

director of bands at Marcus High School in Flower Mound, Texas,

from 2006 – 2013, during which time the student musicians

were recognized for their performances in concert and marching

activities, earning numerous placements in the All-Region and All-

State ensembles as well as four consecutive biannual Texas 5A State

Marching Championship Awards.

Talanca was an assistant director at Durham Middle School

from 2002 – 2006, and during that time he began collaborating

with a few colleagues on the most effective approaches to teaching

beginning band students. This partnership has resulted in the

publication of a beginning band method entitled Musical Mastery,

published by MRNS Music.

The ART of the Rehearsal — It's Where the

ACTION is!

This clinic will present successful practical approaches to

making music in every rehearsal and practice session, regardless of

the age or ability of the student, or the medium.

Being a music educator is both an honor and a privilege.

Molding future musicians at every level of their musical learning

directly affects who they become as people. This undeniable truth

makes our profession meaningful, challenging and extremely

important.

Each and every rehearsal presents opportunities for great music

making to occur. Several topics to be addressed will include:

• Re...HEAR...sal – Opportunities, Strategies and Possibilities

• Solving technical issues through musical means

• The psychology behind each gesture and word used

• When is music truly made?...PERSPECTIVE

• Perception versus reality versus ACTUALITY

• The ART of the rehearsal – gesture – word – feeling – response

• Motivational techniques to inspire full potential

• Effective and meaningful personal practice techniques

The clinic will conclude collaboratively as the audience

members are welcomed to share their effective ideas and

techniques.

Dr. John Stanley Ross

Dr. John Stanley Ross is director of bands

in the Hayes School of Music at Appalachian

State University where he serves on the

graduate faculty, conducts the Appalachian

Wind Ensemble, Chamber Winds and

Concert Band, teaches courses in graduate

and undergraduate conducting, supervises

student teachers, serves as the advisor for

Kappa Kappa Psi and the Collegiate National

Band Association, and guides all aspects of the ASU BANDS

program. He is also the artistic director of the Charlotte Pride Band

and serves as a Conn-Selmer Educational Clinician.

Ross is a frequent guest conductor, adjudicator and clinician

throughout the United States and has also conducted in China,

Romania, and South Korea. Recent and future guest conducting

engagements include the 2019 North Carolina 11 – 12 All-State

Band and numerous regional and district honor bands throughout

the country. Ensembles under his direction have performed at state

conferences in Michigan, Minnesota, and North Carolina, and at

the ASBDA National Convention and the Mid-West International

Band and Orchestra Clinic.

His performances have been heard on National Public Radio's

"Performance Today" and have won the praise and admiration of

composers such as John Mackey, Karel Husa, Michael Daugherty,

Samuel Adler, David Gillingham, William Harbinson, and David

Maslanka.

The Tiered Band Student

This session will focus on creating a multi-tiered assessment

system to be sure the success of every student is accomplished. We

will focus on meeting students at their current needs within our

programs while establishing a culture of growth and rigor.

Daniel Scott

Daniel Scott is a graduate of Western

Carolina University where he received a B.M.

in trombone performance and a minor in

bassoon, as well as a B.S. Ed with a minor

in psychology, concentrating on adolescent

development. He is currently the director of

bands at Swansboro High School. In a little

under four years, Scott has increased the size

of the program by 150% and created a culture of

excellence.

Bandmasters 2020 Election

President

Jim Kirkpatrick

Jim Kirkpatrick is in his twenty-third year

of teaching and sixth year as director of

bands at T.C. Roberson High School in

Asheville. He previously taught at North

Forsyth High School and West Forsyth

High School in the Winston-Salem Forsyth

County Schools. He earned his Bachelor of

Music and Master of Music degrees from

UNC Greensboro.

Bands under his direction have consistently earned superior

ratings at North Carolina Music Performance Adjudication

events while performing Grade IV through Masterworks

programs. During his tenure at West Forsyth High School, the

wind ensemble was featured at the 2011 NCMEA Professional

Development Conference, and again in 2014 with the jazz

ensemble.

Kirkpatrick currently serves as secretary of the North

Carolina Bandmasters Association and has held that position for

two terms. He has twice served on the board of directors for the

Northwest District North Carolina Bandmasters Association. He

served on the N.C. Bandmasters Association state marching band

committee and was the Middle School All-District Honors Band

auditions co-chair for the Northwest District.

He has regularly conducted bands at the UNCG Summer

Music Camp since 2002, and is honored to have served as guest

conductor, adjudicator and consultant for concert and marching

band events across North Carolina, South Carolina and Virginia.

He is also a past director of the Asheville Community Band.

Kirkpatrick was selected by his colleagues for several

recognitions, including the Winston-Salem/Forsyth County Band

Director of the Year in 2006 and the Northwest District "Award of

Excellence" in 2011. He was inducted into the American School

Band Directors Association in June 2012. He is a National Board

Under his direction, the Swansboro concert and jazz programs

have received consistent superior ratings at music performance

adjudications. Students within the program have shattered school

records by increasing the number of students to make District

and Regional honor bands by 400% and the number of students to

make the North Carolina All State Band by 200%.

In 2019, he was named the Swansboro High School Teacher of

the Year and most recently was named the 2019 – 2020 Onslow

County Teacher of the Year for his school district, and the 2020

Burroughs Wellcome Fund Southeast Regional Teacher of the Year.

Scott has worked with numerous award-winning programs

across North Carolina, South Carolina, and Georgia. In the

summer of 2014, he was a member of The Cavaliers Drum and

Bugle Corps. He has been a member of the Spirit of Atlanta Drum

and Bugle Corps brass staff for five years and in 2019 was named as

the Brass Caption Head for the 2020 season.

Certified Teacher and has served on the

National Board for Professional Teaching

Standards assessor panel and as a mentor

for candidates pursuing certification.

Chris White

Chris White has been

the director of bands at

Hickory Ridge High School in Harrisburg

since the school opened in the fall of

2007. His duties at Hickory Ridge include

overseeing a comprehensive band program

which consists of concert band, symphonic

band, wind ensemble, jazz ensemble,

marching band, musical pit orchestra,

several small ensembles, and AP music theory. The Hickory

Ridge Blue Regiment has twice performed in the prestigious

London New Year's Day Parade, in 2009 and 2016, and in the

2020 Rome New Year's Day Parade. In 2018, the Hickory Ridge

wind ensemble gave a 10-day performance tour in China at the

invitation of the US-China Cultural and Educational Foundation,

giving four concerts in Shaoxin, Jiaxin, Shanghai, and Beijing.

In addition, over the past ten years, White's concert ensembles

have also performed in Washington, D.C., New York, Orlando,

and New Orleans. His students consistently participate in county,

district, state, and collegiate honor band clinics. Prior to White's

appointment at Hickory Ridge, he taught for six years in the

Charlotte-Mecklenburg school system.

White was selected as Hickory Ridge High School Teacher of

the Year in 2015 and was a top five finalist for Cabarrus County

Schools Teacher of the Year. He previously received recognition

as Charlotte-Mecklenburg New Band Director of the Year in

1999, the 2001 E.E. Waddell High School Teacher of the Year, and

received the Horace Mann Crystal Apple Award for outstanding

teaching. He has served as clinician, adjudicator, and guest

conductor for many marching and concert events.

26 | NORTH CAROLINA MUSIC EDUCATOR NORTH CAROLINA MUSIC EDUCATOR | 27
---
He served as chair of the South Central District and member

of the NCBA Board of Directors from 2018 – 2020, and

previously served as High School At-Large member, SCDBA

MPA site host, and SCDBA representative to the NCBA MPA

Committee.

His professional memberships include the American School

Band Directors Association, North Carolina Bandmasters

Association, North Carolina Music Educators Association,

National Association for Music Education, and the International

Trumpet Guild. He is a member of Phi Mu Alpha, Pi Kappa

Lambda, and Omicron Delta Kappa fraternities. He holds degrees

from Bridgewater College, Va., and Winthrop University. He is a

National Board Certified teacher.

Band Delegate

Drew Carter

Drew Carter is in his fifth year as band

director at Jay M. Robinson High School in

Concord, where he directs the symphonic

band, concert band, marching band, jazz

band, and percussion ensemble. He has

taught in public middle and high schools in

the South-Central, Central, and Northwest

Districts for eighteen years, earning many

accolades, including consistent Concert

Band MPA superior ratings in Grades

II – VI. His Jay M. Robinson Symphonic Band was selected to

play as a clinic band for Prof. Dennis Fisher at the 2019 NCMEA

Professional Development Conference and as part of 2019

President's Cup through the U.S. Army Band, "The Pershing's

Own."

Carter also conducts the Charlotte Concert Band, a band of

professional and dedicated amateur musicians which performs

regularly throughout the year at various locations in and around

Charlotte (www.charlotteconcertband.org). The band performed

at the NCMEA Professional Development Conference in 2008

and for its 50th Anniversary in 2015.

Carter earned his National Board Certification in Early

Adolescence through Young Adulthood in November of 2010,

and admittance into the American School Band Directors

Association in 2016. He received his Bachelor of Arts in music

(horn performance) in 2000 and his Master of Arts in teaching

in 2001, both from UNC Chapel Hill. He has received further

instruction in conducting from Prof. Daniel Cook, Prof. Eugene

Corporon, Dr. Donald Hunsberger, Dr. Mark Scatterday, Dr.

Mallory Thompson, Dr. Andrew Trachsel, and Dr. Eric Wilson.

He is married to his wonderful and supportive wife of fourteen

years, Mandy. They live in Cabarrus County with their two sons,

Van and Levi.

David Deese

David Deese graduated from Page High

School in Greensboro, and is thankful

to have had Charles Murph as his band

director. He attended Appalachian State

University and earned his bachelor's degree.

He also served two years as percussion

instructor and arranger for the Marching

Mountaineers. His student teaching was supervised by Jon Patton

at Wilkes Central High School.

In February 1993, Deese became director of bands at E.L.

Brown Middle School and assistant director to Ed Kiefer at East

Davidson High School. In the following 12 year period, the

Brown Middle School Concert Band earned superior ratings at

MPA in grade IV and one in grade V.

Upon Ed Kiefer's retirement, Deese became the director of

the East Davidson Bands. This year marks his 29th year with

the Brown Middle and East Davidson Bands. The program

continues to prosper and has two concert bands participate in

MPA each year. He also conducts two full jazz bands, both of

which participate in numerous Jazz Festivals. The Golden Eagle

Marching Band has also enjoyed great success and continues to

earn top honors each year.

Deese has been named Teacher of the Year twice. He was

Band Director of the Year in the Central District and received

the Award of Excellence in the Northwest District. He has

served as the clinician for both the Central and Northwest All-

District Bands and has taught numerous All-County Clinics. He

frequently adjudicates jazz, concert, and marching festivals. He

became a Nationally Board Certified teacher in 2002, and earned

re-certification in 2012. Also in 2012, he was honored by the

North Carolina Symphony as the winner of the Jackson Parkhurst

award for outstanding music educator.

Deese resides in Thomasville, with his wife, Ellen-Nora, and

five sons: Elijah, Alex, Payton, Levi, and Walker.

Olivia Spell

Olivia D. Spell is currently the director

of bands and ensembles at Corinth Holders

High School in Wendell. A 2009 graduate

of East Carolina University, she received the

Outstanding Senior Music Education Award.

After graduation, Spell landed in Franklin

County and served as director of bands at

Cedar Creek Middle School and Franklinton

High School. During her two-year tenure at

CCMS and FHS, she experienced exponential growth in both

programs, nearly tripling enrollment. Immersing the students in a

total music education, she restarted the marching band program,

began a winterguard program, participated in MPA and other

festivals around the state.

Entering her tenth year at Corinth Holders, Spell oversees

the marching band, fall concert band, spring concert band, wind

ensemble, basketball pep band, jazz band, winds, winterguard

and winter percussion ensembles. Growing this program from

the ground up has been one of the most rewarding parts of her

career! Not only has the program experienced growth under her

tenure, but the students and the program have seen a tremendous

amount of success.

The marching band has seen many caption and class awards

at NCBA shows across the state. The concert band and wind

ensemble have attended the NCMPA and received many excellent

and superior ratings. The winter ensembles have been highly

successful locally, regionally and nationally. The students of

the Corinth Holders band program are also actively selected

to participate in the JCPS All-County Honors Band, SEDBA

All-District Honors Band and NCBA All-State Honors Band as

well as the Macy's Great American Marching Band, Army All-

American Marching Band and the NAfME All-National Concert

Band.

In addition to her role as director of bands, Spell has

served as fine arts department chair and school improvement

team member at Corinth Holders. She currently serves as the

JCPS High School band liaison and the Southeastern District

Bandmaster Association chairperson. In her spare time, she

enjoys traveling, shopping and cooking. She also enjoys spending

time with her husband Ryan, and their children, Robbie and

Addie Jo. It is a busy life, but she would not have it any other way!

Secretary

Karen Williams Lanning

Karen Williams Lanning serves as the

band director for Swain High School in

Bryson City. She is a 2002 graduate of

Western Carolina University, earning a

Bachelor of Music Education as both a

saxophone major and piano minor. During

her tenure as director, Swain County band

students have participated in: District, State

and Honor Band Clinics, Solo and Ensemble,

Asheville Youth Orchestra, All-American Army Band, Honors

Performance Series at Carnegie Hall, International Tuba &

Audition Dates: www.brevard.edu/music

Information: musicinfo@brevard.edu

Euphonium Conference and NC Governor's School for Music.

Swain High ensembles participate annually in MPA events where

Swain High has received consistent superior ratings. Swain

County concert and marching band students have performed in

New York, Washington, D.C. and Hawaii.

Lanning is an active member of Women Band Directors

International, where she has served as scholarship chair,

recording secretary and conference presenter. Her presentation,

"Literacy within the Band Room" was presented during the

2016 summer conference held in Indiana. At the 2013 Chicago

Midwest Band and Orchestra Clinic, Swain High School was

awarded the Summa Cum Laude Award from WBDI, which

recognizes outstanding achievements in music education,

specifically within small high schools. She is actively involved

with NCBDA and is currently serving her second year as

president for the Western district.

Within the Swain County School System, Karen has served

on the Arts Center advisory board, serves as certified mentor for

beginning teachers, member of the Covey High School leadership

team, and school improvement team chair for Swain High. She

was named Swain County Schools Employee of the Year in 2008,

and Teacher of the Year in 2013. She is currently in the process of

pursuing National Board Certification.

Music Matters

28 | NORTH CAROLINA MUSIC EDUCATOR NORTH CAROLINA MUSIC EDUCATOR | 29
---
Elementary

Dee Yoder, Chair

Combining Music and English-as-Second

Language for Cross-Curricular Learning

Connections

This workshop is for anyone who teaches learners with

exceptionalities or English language learners in your music

classes. In this hands-on session, we will explore strategies for

incorporating language learning in general music classes. We

will discover the connections between ESL and music teaching

and practice several activities designed to accomplish musical

learning, focusing on musical and language literacies. Each of the

activities will give teachers fresh ideas to help students develop

musical knowledge, creative thinking, and skills, and to explore

the intersections between music and language.

Katherine Strand

Katherine Strand is the Dottie Sink Sykes Distinguished

Endowed Professor of Music Education. She taught K – 12 choral

and general music in rural and urban settings in Virginia and

Chicago Public Schools. She also served as the vocal/choir faculty

for the Virginia Governor's School for the Humanities and Visual

and Performing Arts for several summers. She co-developed and

taught a guitar program for first and second grade students in

partnership with the general music teacher, elementary school,

and the guitar department at Indiana University. This program

combines active music-making and theory-informed general

music learning practices with beginning guitar pedagogy. Her

interests include teaching for musical creativity, curriculum

analysis and critique, and musical identity. In addition to

authoring several pedagogical and research-based book chapters,

co-editing and writing chapters for Musicianship: Composing

in Choir, Strand has teaching articles in the Music Educators

Journal, Teaching Music, General Music Today, and research

articles in the Journal of Research in Music Education, Bulletin

of the Council for Research in Music Education, Journal of Music

Teacher Education, Philosophy of Music Education Review, and

Music Education Researcher.

Orff Meets Kodaly

The Orff approach and Kodaly's method are the most

widely-practiced approaches in teaching elementary general

music education in the United States. Often, teachers see two

approaches as opposing teaching styles. While each uses different

activities, they both champion active music-making for the

elementary-aged learner.

This session offers an exploration of the Orff and Kodaly

pedagogies through hands-on activities. The presenters will

lead vocal, instrumental, and movement-based activities

to demonstrate each approach. They will then explain the

philosophical commonalities as well as differences to encourage

understanding, collaboration, and sharing of effective teaching

strategies.

Although each pedagogy has its own unique identity, the Orff

approach and Kodaly's method have more in common than many

music teachers might think. Ultimately, both teaching styles

seek to promote quality music education through active musicmaking.

Come make music with us!

Daniel Johnson

Daniel Johnson is professor of music and music education

at UNC Wilmington. A Fulbright Scholar with over twenty-five

years of teaching experience spanning the PreK – University

gamut, he is an international authority on general music

education and music teacher education. Focusing on classroom

music instruction, music listening, and integrated arts education,

Johnson regularly offers teacher education courses and

workshops throughout the world, where his work often bridges

theory and practice. He has published in numerous eminent

journals including: The Journal of Research in Music Education,

The Bulletin of the Council for Research in Music Education, The

International Journal of Music Education, and Arts Education

Policy Review. In addition, he also has a long record of service

to NCMEA as chair of the Research and Higher Education

committees.

Professional Development Solutions for

Rural General Music Teachers

Elementary general music teachers have a unique set

of challenges and rewards. In particular, teachers in rural

schools face distinct obstacles and situations, different from

those in urban and suburban settings. To acknowledge and

address this form of geographic diversity, this session offers

an interactive, positive discussion about rural general music

NAfME

GRASSROOTS

ACTION CENTER

Add Your Voice to the Legislative Process

On the NAfME Grassroots Action Center page, you can:

• Support music education in federal education policy

• Get involved with the legislative process

• Engage your members of Congress

NAfME Public Policy staff regularly provide updates to the education

funding process and legislation that directly impacts music education

funding and access. On this page you can find ready-to-send letters

that you can customize and submit to your members of Congress to

take action on issues that affect music education.

Go to bit.ly/NAfMEgrassroots (case-sensitive) and take action today.

30 | NORTH CAROLINA MUSIC EDUCATOR NORTH CAROLINA MUSIC EDUCATOR | 31
---
implementing musical activities that use these props as a hook for

student engagement and a means of formative assessment.

Active Games for Practicing Active Music

Concepts

Active bodies activate learning in music class. Come learn

games that practice music concepts like steady beat, pitch

identification, rhythm and note values and more. Be inspired to

use games in your classroom to improve student engagement,

review concepts and assess learning.

teachers' challenges and provides numerous coping strategies.

The discussion topics come from the real-life experiences and

dilemmas shared by teachers who participated in an online,

professional development community representing remote and

rural elementary general music teachers in North Carolina,

Louisiana, and Texas (as facilitated by the presenters). To

demonstrate their commitment to reach all students, the teachers

engaged with topics including:

1) accessing quality resources and cultural events in rural

locations

2) creating ways for general music programs to positively

impact the musical life of a rural community

3) coping with budgetary and classroom resource limitations

4) dealing with feelings of professional and musical isolation

or "invisibility" as a teacher in a rural area

5) finding ways for meaningful collaboration with colleagues

who are geographically dispersed

6) using best practices for teaching transient, lower

socioeconomic student populations; and

7) advocating for a quality, high-impact, updated, and

relevant elementary general music curriculum.

Sing Me a Story, Read Me a Song

New ideas for using children's literature in the music

classroom will be shared in this fun session that will be sure to

make you smile. Harold the Farting Dog, Chalk and Grandma's

Feather Bed are just a few of the titles that will be utilized. Come

and sing, dance and laugh as we open books your K – 5 students

will want to hear again and again.

Fresh Ideas for Teaching Instrument

Families

Can you teach the basics of instruments families with an

empty water bottle? How can you teach instrument families

without any instruments to demo? This session will answer those

questions and more. Hands-on activities for crafting instruments,

using technology and implementing instrument workstations in

2nd – 5th grade classes will be shared.

Flashlights, Pool Noodles and Tennis Balls

Learn how to use flashlights to teach form and improve aural

skills, tennis balls to practice rhythm and pool noodles for almost

anything in this unique session. You will learn practical tips for

Tracy King

Tracy King is in her 25th year of sharing her love of music

with students and colleagues. Currently she teaches elementary

music and choir at Fredericktown Intermediate School in

Fredericktown, Missouri. In her career, she has experienced

teaching all grade levels, band and choir. In addition to her work

in her district, King has presented workshops on incorporating

music into regular classrooms using children's literature at the

Missouri State Teachers Association state convention and to

future teachers at College of the Ozarks. She travels across the

states presenting workshops for music educators. She served

on the committee that created the Missouri Music Grade Level

Expectations and has been featured in Teaching Music magazine,

as well as MSTA's School and Community Magazine. She is the

author of Bulletin Boards for the Music Classroom, a website for

music educators and can be found on Teachers Pay Teachers as

The Bulletin Board Lady. Her popular blog, Mrs. King's Music

Class, provides a way for her to share her teaching ideas and

inspire others. Her professional affiliations include MMEA,

NAfME, AOSA and MSTA.

Engage the Special Needs Students

in Your Room!

Learn effective and simple strategies to reach the students in

your classroom that need extra attention. Make music reading,

writing and playing fun and more accessible by using the

Concrete–Representational–Abstract Instructional Approach. We

will go through this methodology step by step to help all of your

students excel while still meeting the state standards. Walk away

with lessons that can be used immediately and throughout the

year.

Kristin M. Pugliese

Kristin M. Pugliese has been an educator for more than

15 years. She began her career in early childhood education

and soon moved into the music classroom. She has worked

almost exclusively in Title I schools in various states including

Rhode Island, Georgia and Massachusetts. As part of the music

department leadership committee, she helped create music

standards for the Cambridge Public Schools System. In 2009,

Pugliese founded Note Knacks Music, LLC. Following the 2009 –

2010 school year with Fulton County Schools (Ga.),she decided

to focus full-time on the company. She is passionate about how

knowledge is acquired and believes it impacts how children will

view learning later in their lives. Following her beliefs, Note

Knacks is dedicated to providing music educators with the tools

needed to make music more accessible for young children.

student

population

DEGREE PROGRAMS

Bachelor of Music

Music Education

Performance

Bachelor of Arts

Music

Arts Administration

Minors

Arts Administration

Music

Musical Theatre

Master of Music

Composition

Music Education

Music Theory

Performance

faculty

student to

faculty ratio

Post-Baccalaureate Certificate

Composition

Ethnomusicology

Historical Keyboard Performance

Jazz Studies

Musicology

Music Education

Music Theory

Performance Studies

Post-Masters Certificate

Music Theory Pedagogy

Doctor of Musical Arts

Doctor of Philosophy

Music Education

graduate

assistants

ensemble

opportunities

32 | NORTH CAROLINA MUSIC EDUCATOR NORTH CAROLINA MUSIC EDUCATOR | 33
---
High School Choral

Bethany Jennings, Chair

Middle School Choral

Aaron Lafreniere, Chair

Do you ever hear a choir in your mind? I don't mean during

a rehearsal or while studying a score. I mean, do you ever

find a particular song or soundtrack occasionally plays in

the background of your mind? Maybe it's just me.

Is it the entire song or is it just a snippet? For me, it's usually

one phrase, maybe two that repeat ad nauseam. It happens

unconsciously and is usually prompted by words I hear or

situations I find myself in. For me, this earworm can make itself at

home in my mind for days, weeks, and recently, months.

No surprise that this spring, the High School Musical hit, "We're

All in This Together" played like a broken record. The chorus

underscored any thought I had while trying to make sense of the

world around me. For a while the thought of being 'all in this

together' was one of comfort and security. But, as July faded into

August and school began, this track stopped abruptly with the

realization, we are not, in fact, all in this together. Not even close.

We are not all in the same boat. Perhaps we can claim the same

storm, but not the same boat, and we are certainly not together.

Today concluded my sixth day of class of the 2020 – 2021

school year. My momma always said if I didn't have anything nice

to say, to not say it at all. Period. So, this is where I'd like to end my

article submission for this issue.

Seriously… It's not that I don't have anything nice to say. I

have witnessed a few silver linings the past six days. My county is

currently serving our students in the Plan-B-Hybrid-Cohort-Split-

Face-To-Face-Remote-At-The-Same-Time model. #impossible.

By the time you recieve this, many of you will be transitioning

from the all-virtual Plan C (equally as impossible) to a Plan B

hybrid model, if you haven't already. Some of you are teaching

completely virtually and will continue to for the unforeseeable

future. As we have seen, school officials and administrators are all

handling, mandating, and allowing (or not allowing) a myriad of:

methods of instruction, protocols and procedures, and changing

every other minute how we should take attendance.

As a result, my usual go-to music educator friends are of little

help trying to help me strategize what may work in my context and

I am little help to them trying to suggest improvements in theirs.

The resources and mentors I usually lean on are without advice

because they lack my specific perspective. Our individual teaching

contexts are simply so complex and varied that the past couple of

weeks have been, without question, some of the loneliest, most

humbling weeks of my teaching career. I don't think I'm the only

one who feels this way.

Our annual Professional Development Conference is virtual

this year. This will not be just another virtual presentation! Aaron

Lafreniere, Middle School Section chair, and I put our heads

together to curate a conference track specifically designed to

address the fact that we are all teaching in incredibly diverse

contexts, we might feel lonely and overwhelmed, and by November,

we will definitely be in need of some new and innovative ideas, as

well as some inspiration.

Dr. Derrick Fox from the University of Omaha is our

headlining guest clinician and will bring inspiration in two sessions

for middle and high school choral educators. You may know Fox,

as he spearheaded a project through ACDA this past summer to

collect lesson plans from teachers across the country and has them

available for free!

Three incredible high school choral teachers from North

Carolina will offer sessions that propose strategies for working

smarter not harder, reimagine the delivery of content that fosters

and scaffolds musical skill building (even remotely), and challenge

us with innovative ideas to build community within our ensembles.

Exhibitors are scheduled to bring us new products and ideas, and,

just for fun, we will host a social hour to informally gather together

to say hello. Rest assured, there will be something for every teacher

in every context and don't forget about our Membership Meeting.

We will recognize our annual award winners, welcome new board

members, and vote for the upcoming election cycle positions. You

can read more on that on our webpage.

I've spent the majority of my career up to this school year

wondering day in and day out how I can be better at this job.

The past three weeks I've woken up every morning wondering

how I can be any good at this job given the circumstances. As I

mentioned above, "We're all in this together" ran its course in my

mind's soundtrack a while ago, but it was instantaneously replaced

by another song. The choir in my head now sings Stacey Gibbs'

arrangement of Hold On. In it, the lyricist charges us over and

over to, "Keep yo han' on the plow. Hold On, Hold On." This is

just what we have to do now. Regardless of your teaching context,

professional challenges, and personal circumstances, we must find

ways to keep our hands on the plow and hold on – just hold on.

Here's to the start of another school year… unlike any other.

So many of us are encountering different situations in our

"classrooms" this year. Some of us are teaching entirely

remotely and some of us are teaching in a hybrid setting. Whatever

our teaching situation looks like currently, things are bound to

change as the year progresses. This is not what any of us signed

on for, but we continue to persist through the challenges facing us

every single day. We're all in this together.

This year's Professional Development Conference will be unlike

any other. Bethany Jennings, the High School Choral section chair,

and I have been planning for this virtual conference. We hope you

are able to take away some useful information from the sessions we

have planned for you.

Over the course of conference weekend, you will be able to

attend sessions from Scott Rush, author and educator, on The

Pathway to Success and The Habits of a SIGNIFICANT

Music Educator; Andy Beck with Alfred Music Publishing on

Remote Resources for Middle School and High School

Choral Sessions

Simplifying Life with Google Sheets and

Mail Merge

From audition results, to online performance video evaluations,

to tracking student payments and event registrations, learn how

to simplify data storage and communications to your stakeholders

and make the most optimal use of your time.

Sarah Fawn McLamb

Sarah Fawn McLamb has been a music educator since 2001

and has been the choral director at Corinth Holders High School

since the 2011 – 2012 school year. She graduated from Meredith

College in 2001 with a Bachelor of Music in choral music

education. Previously, she was the director of choral programs at

Daniels Middle School in Raleigh, and the choral/music teacher at

Chesterbrook Academy in Cary. She has also been a private voice

and piano instructor. McLamb is currently serving as the co-chair

of the North Carolina All-State Choral Festival and as a member of

the NCMEA High School Choral executive board.

Choirs; Dr. Andrea VanDeusen from East Carolina University on

Engaging Student Leadership in the Choral Ensemble

Classroom; Michaela Kelly on Best Practices for Practice,

and much more. We have some other sessions planned for you

as well, and hope this preview gets you excited about "attending"

Conference.

Please remember to attend the General Membership Meeting

that will be scheduled during the weekend. There is a lot of new

information to be shared along with nominations, voting, and

elections that will take place during this meeting.

In closing, this is my last journal article as Middle School

Choral section chair. Thank you so much for allowing me to serve

in this capacity. I know we will be in good hands with Carla Reid,

who will be stepping up into the position. I wish I could end my

service to you under different circumstances, however, it has truly

been a privilege.

I look forward to seeing you at conference! Thank you for the

music! Excelsior!

If It Is To Be, It Is Up To Me!

In these ten powerful two letter words lives the key to protecting

our passion for music education during these trying times. This

session offers strategies for the P.A.S.S.I.O.N.A.T.E. music educator

looking to refocus their purpose and practice in the classroom.

Future Teaching Practices from the

Professional Choral Collective

The Professional Choral Collective was created by Dr. Derrick

Fox to provide a place for our choral community to share ideas

about how we can move forward in planning for the immediate

future of choral music. Through the collection of Future Teaching

Practices, we can share ideas and connect virtually to brainstorm.

Future Teaching Practices are meant to help the choral community

pivot instruction/rehearsing/performing to meet the musical needs

of their communities during the COVID-19 pandemic. Nothing

can replace in-person choral singing, but through collaboration

and positivity, we can keep our community in tact until we can sing

together again.

34 | NORTH CAROLINA MUSIC EDUCATOR NORTH CAROLINA MUSIC EDUCATOR | 35
---
Dr. Derrick Fox

Dr. Derrick Fox is the director of choral activities and associate

professor of music at the University of Nebraska – Omaha. He

earned degrees from Arkansas State University, the University

of Missouri – Columbia and Michigan State University. Fox has

conducted, presented and held residencies throughout the U.S. and

internationally. He conducted the 2019 National ACDA MS/JH

Honor Choir and traveled to South Africa with the ACDA-ICEP.

He is a published author and contributed to the Hal Leonard/

McGraw Hill Voices in Concert textbook. His compositions/

arrangements are published by Hal Leonard and Brilee Music

and his book, Yes You Can: A Band Director's Guide to Teaching

Choirs is published by Carl Fischer. He launched The Derrick Fox

Choral Series with Music Spoke to highlight works by, and about,

marginalized/underrepresented people.

Fox created the Professional Choral Collective during the

summer of 2020 to provide an online platform for choral directors

to create and share Future Teaching Practices for teaching choral

music during the COVID-19 pandemic and beyond. He hosts

online brainstorming work sessions that have been attended by

teachers from around the U.S. and Canada. He recently partnered

with the Country Music Association Foundation to use his

Professional Choral Collective model to create the National Unified

Voice for Music Education (UVME) platform for instrumental and

general music educators.

Create a Choral Program with Staying

Power: Part 1

This session will explore the hierarchy and structures needed

to build and maintain a high quality choral program. Specific

emphasis will be given to activities and organizations that can be

used and implemented in an all-virtual or semi-virtual learning

environment. Lastly, the session will touch upon retention and

directions for moving forward in the current choral music

education climate.

Kirby Treadaway

Kirby Treadaway is a seventh-year teacher who began teaching

at Northern Vance High School in Henderson. She is currently

the director of choral activities at Fuquay-Varina High School in

Wake County. She directs three ensembles, including the pride

of "the Quay" community, the FVHS Advanced Vocal Ensemble.

Most recently and notably, the Hickory Ridge High School choral

program under her direction received and accepted an invitation to

perform in St. Peter's Basilica in Rome, Italy in December, 2019.

Kirby loves to travel and has hoped to inspire the same passion

within her students, so it is only natural that a trip to Vienna,

Austria and Prague, Czech Republic is planned for April, 2022.

The program also participates annually in NC Honors Chorus,

9 – 10 All-Carolina Select Choir, Mars Hill University Choral

Festival, and N.C. All-State Choral Festival, for which Treadaway

has hosted the Western Region #1 Zone Rehearsal the past three

years. All three Fuquay-Varina ensembles participate annually

in Music Performance Adjudication, receiving superiors in both

performance and sight reading. She holds a Bachelors of Music

in choral music education and a Bachelors of Music in vocal

performance from UNC Greensboro.

Commercial

Music and

Audio

Production

arts.wcu.edu/cmap

2021 AUDITION DATES The School of Music has scheduled

two on-site audition days: January 16

January 16 and January 23, 2021. However, the

university's calendar may change at

January 23 any time. Please contact our individual

studio faculty members about

scheduling an on-campus or video audition. Requirements for each

instrument and voice can be found on the School of Music website. Please

contact Dr. Andrew Adams (aadams@wcu.edu) or Mrs. Whitney McCall

(wmmccall@wcu.edu) with any questions. You may also call the School of

Music office at (828) 227-7242. For information on scholarships please

visit https://www.wcu.edu/apply/scholarships.

For more information contact:

JIM ELENTENY | jelenteny@wcu.edu | 828-227-2733

JON HENSON | jhenson@wcu.edu | 828-227-2711

36 | NORTH CAROLINA MUSIC EDUCATOR NORTH CAROLINA MUSIC EDUCATOR | 37
---
Jazz

Josh Cvijanovic, Chair

Jazz Ed

and Racism

By the time you read this journal, you've been back teaching

for at least a few weeks now. And yet, I am certain each

day greets you with new challenges and opportunities.

As music educators, we are all navigating a landscape we could

never have prepared ourselves for, and yet day in and day out, we

teach. With all of that in mind, I am so excited to be working on

the first virtual NCMEA Professional Development Conference,

and am honored to have the opportunity to bring you sessions

that will hopefully provide you with some tangible ideas for daily

instruction, but also leave you energized and excited to continue

working for every student every day.

As you begin planning your weekend, I want to make note

of a few of the sessions provided in the Jazz track. As I approach

the end of my tenure serving as Jazz section chair, it remains my

primary drive that our section can help more directors across our

state realize there is a place in their classrooms for jazz.

In the spirit of that goal, we are excited to welcome many

clinics geared towards teaching young musicians how to speak

the language of jazz. Ocie Davis and Sean Higgins, from Jazz

Arts Charlotte, will be giving clinics on Teaching Beginning/

Intermediate Jazz Pianists and Jazz Drum Set Players.

For directors with little personal jazz experience suddenly thrust

into a program with the expectation of a jazz curriculum, Vince

DiMartino will be presenting Yikes! I Have to Teach a Jazz

Band! Or maybe you are interested in adding a jazz component

to your overall program, but there is simply no time in the class

schedule? I encourage you to attend Mark Cashin's clinic Jazz

Club – Incorporating Jazz without the Stress!

In addition to the other wonderful clinics presented by

some of our incredible colleagues from North Carolina, and the

Airmen of Note, I am excited to have Todd Stoll, vice president

of education for Jazz at Lincoln Center and immediate past

president of JEN, joining our virtual conference. After hosting

the 25th Essentially Ellington Festival virtually this summer, he

will be sharing his first hand experience on preparing students for

virtual honors ensembles and how to make these opportunities

successful. I am grateful to all of our presenters for being willing

to pivot and adapt their plans in order to bring us purpose driven

sessions this November, and I hope you will take advantage of all

these remarkable sessions.

Interpreting the Music of Duke Ellington

A discussion on ideas about introducing Ellington to high

school bands with some tangible ideas about teaching it.

Gregg Gelb

Gregg Gelb, D.M.A., is a saxophonist, clarinetist, band leader,

arranger, composer and educator. He is director of the Triangle

Youth Jazz Ensemble, founder and director of the Heart of

Carolina Jazz Orchestra and Jazz Society, and co-founder and

player with the North Carolina Jazz Repertory Orchestra. He has

many jazz groups that he founded and performs with regularly;

his Jazz Trio or Quartet, La Fiesta Latin Jazz Band, the Second

Line Stompers, and Gregg Gelb Swing Band. He plays often with

the North Carolina Symphony Orchestra. Besides always staying

busy performing, Gelb has always been a dedicated teacher who

has constantly brought jazz and music education to people in

North Carolina since arriving here in 1979.

Gelb is a recipient of a Jazz Composers Award from the North

Carolina Arts Council and four Regional Artist grants from the

Fayetteville/Cumberland County Arts Council.

38 | NORTH CAROLINA MUSIC EDUCATOR NORTH CAROLINA MUSIC EDUCATOR | 39

by Todd Stoll

Editor's Note: The opinion of the author is not necessarily endorsed by NCMEA. However, we believe articles relating to music education that

cause us to pause and reflect are worthy of publication.

This essay was written in June, 2020, as streets in cities

around the world were filled with protests. My thoughts

at that time were not much different than they are now;

we are a nation divided, and as our educators return to the

classroom, they now occupy the frontlines in the struggle for our

nation's collective soul. Many of these ideas were formed early on

in my nearly 25 years of actively teaching and promoting jazz in a

public-school setting. They are even more relevant and true today.

As I write this (and not worrying about the well-being of my

white children), I hear police and news helicopters circling my

Harlem apartment as people take to the streets. Our nation is in

a state of chaos, and frankly, discussing music education, jazz

education, one's upcoming livestream, and new online challenges

feels petty, insignificant, and tone deaf. We are a broken, hurt,

and rightfully angry nation. One that, prior to this last brutal act

of injustice, was on the cusp of the worst social, economic, and

political turmoil for more than a century.

With all of that in mind, I do not apologize to those of you

who may be offended by my words – this is too important a

moment for us to ignore. We must act. And whatever actions

you choose, whether it's protesting, voting, marching, speaking

out, checking our white friends and colleagues, speaking truth

to power, taking the risk that someone may unfriend you, not

hire you, not give you a donation, or fire you, they all pale in

comparison to losing your life.

In previous articles, I have raised issues that I believe are

of importance to the jazz community and the music education

community in general. I have covered topics ranging from the

ongoing "hustle," the dearth of early jazz, self-aggrandizing in

the name of competition, excellence in the classroom, quality

literature, and a column that was published twice about the lack

of diversity in our community. That last topic is something I have

felt strongly about for more than 25 years, and to be perfectly

honest, the lack of response from the jazz community was

deafening.

I generally receive several responses to any given column,

both supportive and opposing, but in response to those two

diversity columns? Nearly zero. There were a few private messages

from colleagues of color, but that was it. It was a microcosm

of what we have seen in our country for generations – people

of privilege staying silent in the face of the reality of systemic

oppression and racism. And, my friends, the jazz education

community is just as complicit as the rest of America.

I have stated this implicitly in my previous columns, and now

we need to fully embrace this basic truth – jazz education has the

power to be a force for racial understanding, healing, and justice.

To succeed, we must be cognizant of the way we program, teach,

and lead our respective programs, thinking deeply and honestly

about how we can confront these issues with the content we

teach.

When done in a manner that exposes our students to the

excellence of our black artists, the achievements of our black

elders, the triumphs of the ancestors, and the sheer statements of

artistic profundity made over nearly a century, our students can

be led down a path of enlightenment. It's not just about technique

– scales, arpeggios, ii-V licks, play-alongs, transcriptions, or your

new improv method. It's deeper than notes.

This music that comes from the literal blood of a marginalized

and oppressed people can educate all of us historically, culturally,

socially, and in so many other ways that make us human. It

demands to be taught better, more deeply, more thoughtfully,

more consciously, and with so much more care and attention that

we can't help but become a movement towards justice, equality,

and the end of oppression. We need to teach as if our students'

lives are at stake, because frankly, they are.

Let's face it, the beginnings of institutionalized jazz education
---
were not about black music. Some of our largest and most

lauded jazz institutions still do little to engage black students,

black faculty, black audiences, and black music. It's actually

tragic. I know white liberal educators who actively work against

black music and its larger meanings. There are high school and

collegiate jazz programs right now whose jazz music libraries

consist predominantly of white-composed and -arranged

music. Their bands' current folders contain charts by only white

composers. (Trust me, your students send me pictures of this all

the time, especially around all-state season).

Our business is corrupt, racist, and part of the systemic

nature of this problem. How we train teachers and recruit

students, program concerts, and the entire pedagogy, is playing

into the continued devaluation of black contributions and black

achievement, and the perpetuation of a racist viewpoint. Some

institutions go out of their way to ignore or even denigrate the

music of black elders like Louis Armstrong, not understanding

that his music was the highest form of protest of its kind. What

he represents – black excellence, black expression, freedom, and

dignity in the face of inhumanity – is larger than a style, current

trend, or slogan. If you can't understand that this is so much

larger and more profound than the ii-V's you have taught for 30

years, that this music is deeper than notes, you are part of the

system that supports racism.

Here are some ways you can check your privilege in the

classroom:

• Your programming is your integrity. Do you only

perform the music of white composers and arrangers?

• Who make up your guest artists and clinicians? Do you

only have white clinicians and guest artists?

• When you present workshops or appear as a clinician,

who do you reference? Is it only white artists like Woody

Herman, Stan Kenton, and Don Ellis?

• In rehearsals, do you only address the technical aspects

of your students' performances? Do you discuss the

artists, history, and culture surrounding the creation of

the works?

• In your classroom, address the cultural prerogatives

around the creation, performance, and subsequent

triumph of this music by referencing books and

recordings, and discuss black artists.

• Create a mechanism by which you recruit, retain,

support, and engage black students, black faculty, black

audiences, and your local black community.

Please note, these are all personal

experiences I have had with

colleagues, many of whom I love

and respect, but this is an important

inflection moment in our nation,

and one that we cannot let pass. We

must do better!

I close with the words of Duke

Ellington, one of the most eloquent

and prolific creative black voices

in our nation's history. A black

pastor invited Duke Ellington to speak at a Lincoln's Birthday

service at his Los Angeles church on February, 9, 1941. The

subject of Duke's sermon was "We, Too, Sing America," a riff on

the renowned poem "I, Too, Sing America" by Langston Hughes

and an epilogue to Duke's "Weary Blues" from 1926. Ellington's

remarks were reprinted in the California Eagle on February 13,

1941 as the speech of the week.

As America was not yet in the war in Europe, and the attack

on Pearl Harbor was still 10 months away, the reference to "an eye

overseas..." is most likely related to the current moment they were

in – Europe was in turmoil and the drums of war were sounding.

I believe these words ring especially true in this moment.

We [Negroes] play more than a minority role,

in singing "America." Although numerically but 10

percent of the mammoth chorus that today, with

an eye overseas, sings "America" with fervor and

thanksgiving, I say our 10 percent is the very heart

of the chorus: the sopranos, so to speak, carrying the

melody, the rhythm section of the band, the violins,

pointing the way.

I contend that the Negro is the creative voice of

America, is creative America, and it was a happy day

in America, when the first unhappy slave was landed

on its shores.

There, in our tortured induction into this "land

of liberty," we built its most graceful civilization. Its

wealth, its flowering fields and handsome homes, its

pretty traditions; its guarded leisure and its music,

were all our creations.

We stirred in our shackles and our unrest

awakened Justice in the hearts of a courageous few,

and we recreated in America the desire for true

democracy, freedom for all, the brotherhood of man,

principles on which the country had been founded.

We were freed and as before, we fought America's

wars, provided for her labor, gave her music, kept alive

her flickering conscience, prodded her on toward the

yet unachieved goal, democracy – until we became

more than a part of America! We – this kicking,

yelling, touchy, sensitive, scrupulously-demanding

minority – are the personification of the ideal begun

by the Pilgrims, almost 350 years ago.

It is our voice that sang "America" when America

grew too lazy, satisfied and confident to sing… before

the dark threats and fire-lined clouds of destruction

frightened it into a thin, panicky quaver.

We are more than a few isolated instances of

courage, valor, achievement. We're the injection,

the shot in the arm, that has kept America and its

forgotten principles alive in the fat and corrupt years

intervening between our divine conception and our

near tragic present.

It's deeper than notes. And it's time to do better.

IVfME (Inclusion Vision for Music Education)

The IVfME Committee (formerly the Multicultural Committee) has planned a series of

online webinars and Zoom meetings as a resource for music educators to implement

diverse and inclusive curriculum starting in October 2020.

Culturally Responsive Teaching: What it is and Why it's important in Music Education

Dr. Connie McKoy

October 17, 11 a.m.

The History of Hip-Hop and its place in the Music Education Classroom

Thomas Taylor

December (tentative) 11 a.m.

Gospel Pedagogy and it Use in the Music Classroom

Dr. Jason Thompson

February 20, 11 a.m.

Evolution of Contemporary Gospel Drumming

Dr. Lamon Lawhorn

April 3, 2021

40 | NORTH CAROLINA MUSIC EDUCATOR NORTH CAROLINA MUSIC EDUCATOR | 41
---
O

rchestra

I

hope this issue of the North Carolina Music Educator finds

you well. By now, you have begun the school year in a much

different manner than in previous years. Hopefully, you have all

been able to establish a rhythm working with your students during

our new normal. I don't know about you, but I feel like I have been

trying to drink from a firehose with all the technology and video

conferencing I have had the "opportunity" to learn!

NC All-State Honors Orchestra Update

Due to the pandemic, the NCHO is going to be virtual this year.

Kudos to Ryan Ellefsen for the amazing job he has done pivoting

from our traditional in-person event to a virtual one. With the

approval of the NCMEA Orchestra section executive board, the

2020 edition of NCHO has become a string orchestra that is going

to premiere a strings-only work by Brian Balmages.

The students will meet virtually with

Balmages so he can provide insight into the

composition process and highlight important

elements of the new composition. The

students will video their parts independently

and send them to Nathaniel Yaffe, the video

producer for the NC Symphony. He will

"stitch" the students' videos together to create

a virtual orchestra like you may have seen

recently on YouTube and television.

Brian Balmages

Expect the virtual premiere sometime this winter. For those

of you who are wondering, Balmages is also composing a fullorchestra

work to celebrate the 50 th anniversary of NCMEA. That

work will now premiere at the 2021 NC All-State Honors Orchestra

concert.

NCMEA Professional Development

Conference

Conference is going to look very different this year, but I

believe it will still provide many wonderful opportunities to enrich

our teaching practice. Our outside presenters this year are Dr.

Christopher Selby and James Palmer.

Selby is the orchestra director of South Carolina's Charleston

County School of the Arts, author of Habits of a Successful

Orchestra Director, and co-author of Habits of a Successful String

Musician and Habits of a Successful Middle Level String Musician.

Palmer is the orchestra director at Allatoona High School in

Donald Walter, Chair

Acworth, Georgia; the music director for the Youth Orchestras

of Greater Columbus in Columbus, Georgia; and the senior

conductor at the Florida State University Summer Music Camps.

He is also an editor, arranger, and featured clinician for Alfred

Music. They will present sessions on meaningful and useful

planning, teaching and rehearsing with artistry, and achieving

excellence in reherasals and performance.

Additionally, we have a wonderful slate of presenters from

within NCMEA this year. Presenters from our North Carolina

colleges and universities include Rebecca MacLeod and Heather

Lofdahl (UNC Greensboro), Mira Frisch (UNC Charlotte), Ellie

Wee (Appalachian State University), and Jim Waddelow (Meredith

College). Their topics include creativity in the beginning strings

class, teaching in an online environment, string pedagogy at

multiple levels, basics of cello playing, and dealing with (or

preventing) teacher burnout.

Presenters from our high school and middle school ranks

include Corrie Franklin, Christen Blanton Mack, and Scott Laird.

Franklin, our orchestra section delegate, will present Tips and

Tricks for the Transient Teacher, a session on how to

manage the juggling act of being between multiple schools.

Blanton Mack, and members

of her band, The Zinc Kings, will

discuss old time sting bands and how

that music can enrich our teaching

practice.

Finally, Rebecca MacLeod

will moderate a panel discussion

The Zinc Kings

presented by NC ASTA called,

Diverse Perspectives on Diverse Literature. I am very

excited for a conversation on this timely topic.

As well as our educational sessions, we will have the annual

NCMEA Orchestra section business meeting. At this meeting

we will discuss changing the audition requirements for high

school bass scales, modifications to student events for this year,

and other topics that arose during our September regional

meetings. In addition, I will transition to the past-chair position

and Ryan Ellefsen will become our new Orchestra chair. That

means we need to elect an Orchestra section chair-elect. Also,

we will elect an Orchestra section secretary. Further, Joey Walker

will lead the Music Performance Adjudication Graded Music

List approval meeting. If you have music you would like to

have considered added to the MPA list, please contact him at

joseph.walter@dpsnc.net.

I am looking forward to "seeing" you at conference this year. It

has been an honor to serve as the NCMEA Orchestra section chair.

Please feel free to contact me at orchestra_chair@ncmea.net with

any questions or concerns.

Creativity in the Beginning Strings Class

Children are inherently creative and musical, but we

sometimes inadvertently discourage creative thinking and

problem solving when teaching students to play an instrument.

How can we, as teachers, support our students' creative musical

voices? In this session, we will demonstrate how creative

activities can be incorporated into the beginning strings class by

focusing on students' musicianship skills, increasing exposure

to a wide variety of music, and offering opportunities for group

collaborations. Elementary, middle, and high school string

students from the Peck Alumni Leadership Program will serve as

the demonstration group for this session. Teachers are encouraged

to bring their instruments and participate in the creative process,

as well.

Creativity through Technology

Children are inherently creative and musical, but we

sometimes inadvertently discourage creative thinking and

problem solving when teaching students to play an instrument.

How can we as teachers support our students' creative musical

voices through the use of technology? In our proposed session, we

will demonstrate how creative activities can be incorporated into

the beginning strings class by focusing on students' musicianship

skills, increasing exposure to a wide variety of music, and offering

opportunities for group collaborations. Teachers are encouraged

to bring their instruments and participate in the creative process,

as well.

Heather Lofdahl

Heather Lofdahl is a string teacher,

conductor, and violist who is pursuing

a Ph.D. in Music Education at UNC

Greensboro. She teaches orchestra classes

through the Lillian Rauch Beginning Strings

Program and at Guilford Preparatory

Academy. She is the conductor of the

Greensboro Symphony Youth Strings and

also has a private violin and viola studio at The

Music Academy of North Carolina, where she was awarded the

Mary Elizabeth King Brown Teaching Excellence Award in 2014.

Prior to moving to Greensboro, Lofdahl taught orchestra

in Cobb County, Georgia. She also taught elementary through

university orchestra students in Illinois and North Carolina.

She serves on the faculty of the Florida State University String

Orchestra Camp every summer. Lofdahl is published in the String

Research Journal and American String Teachers (AST) Journal.

She is an active member of the American String Teachers

Association and the National Association for Music Education,

and serves on the AST editorial committee. Through these

organizations as well as the Suzuki Association of the Americas

and the International Society for Music Education, she has

presented research at the Symposium for Music Teacher

Education, International Society for Music Education Conference,

American String Teachers Association National Conference, and

various state conferences.

Lofdahl holds Bachelor of Arts degrees in music education and

viola performance from Augustana College and Master of Music

degrees in music education and viola performance from UNC

Greensboro.

Habits of a Successful Orchestra – Teaching

Concert Music and Achieving Musical

Artistry

We know there is more to making music than learning notes

and rhythms. So, how do we keep the joyful parts of music making

and artistic expression at the center of our concert music while we

teach all the notes, rhythms and technique our students need to

play well?

By rethinking how we teach concert music, we can get through

the note learning part of rehearsal much faster and attain higher

levels of artistry and musical expression in student performance.

In this session, attendees will learn:

1. The most common concert music mistakes orchestra

teachers make, and how to avoid them.

2. The "real objectives" of concert music – that is, what

students should be learning after they can play the

notes, rhythms, bowings and dynamics.

3. Effective strategies for improving the ensemble skills in

your ensemble; learn how to get students to listen and

pay better attention to each other.

4. How to select music, and know if a piece is too hard or

easy for your students.

5. Concert Festival Do's and Don'ts; learn important rules

and tips for improving your ratings, as well as student

musicianship.

Come learn valuable lessons that will reshape how you teach

concert music and improve student accuracy and artistry in

concert performances.

Creating Meaningful and Useful Long-Range

Plans in Orchestra

You want your orchestra to play harder repertoire; here's how

to plan and teach the skills they will need to play challenging

music well. We know what we want to rehearse, but what skills

are we supposed to teach? When and how do we teach them? In

this session, attendees will learn to identify what they want their

students to learn by the end of each year and how to create a plan

for achieving their year-end goals. Attendees will also:

1. Learn to identify the objectives they plan to teach in

each level of string orchestra class.

2. Identify exercises and strategies for teaching these

skills and objectives.

3. Learn how to incorporate assessment into the lesson

to give students a clearer goal for rehearsal and home

42 | NORTH CAROLINA MUSIC EDUCATOR NORTH CAROLINA MUSIC EDUCATOR | 43
---
practice.

4. Organize these lessons into units – tone, intonation,

rhythm, literacy – that are structured very differently

than the academic units other classes typically use.

5. Arrange these units into a meaningful and helpful

long-range plan that will organize what you want to

teach and when to teach it.

Instead of just giving out more music, teachers will learn to

plan and teach the technique their students need to make them

more skilled musicians. Come learn how to incorporate sequential

technique-building strategies into your orchestra rehearsals and

teach your students the skills they need to perform the great

orchestral music they deserve to play.

Christopher Selby

Dr. Christopher Selby is the author of

Habits of a Successful Orchestra Director,

Music Theory for the Successful String

Musician, and co-author of the Habits

of a Successful String Musician series, a

collection of string method books for

middle and upper level orchestras published

by GIA. He is an active clinician and has

presented sessions at two Midwest Clinics,

five ASTA National Conferences, and numerous state conferences

across America. Selby regularly guest conducts regional and All-

State Orchestras, and currently directs the high school orchestras

at the School of the Arts in Charleston.

Under his direction, the School of the Arts orchestras

performed at the 2019 Midwest Clinic, and they won the 2016

ASTA National Orchestra Festival's top award of Grand Champion

in the competitive public school division. He earned a music

education degree from the Hartt School of Music in Connecticut,

and a Master's and Doctorate of Musical Arts degrees in orchestral

conducting from the University of South Carolina.

He began teaching orchestra in 1992, and from 2001 – 2012,

where he was the orchestra coordinator in Richland School

District Two, where he taught high school and supervised the

district's orchestra curriculum and instruction. He was the

president of the South Carolina Music Educators Association from

2011 – 2013, and he served two separate terms as the president of

the state's Orchestra Division.

String Pedagogy for Orchestra from

Multiple Perspectives

The UNC Charlotte string faculty will partner with our new

director of orchestras and music education colleagues to present a

session on string pedagogy specific to the orchestra classroom. We

will use a demonstration ensemble composed of our own college

students and we will also invite any interested string teachers to

play along within the ensemble for an extra immersive learning

experience! We will give specific tips for improving the following

skills in an orchestral setting from the perspectives of the string

pedagogue, the conductor, and the music education specialist:

intonation, tone production, improving group pulse and a sense

of ensemble, left hand technique, and varied bow strokes (such

as which one to use, how students can better match their strokes,

where in the bow to play each stroke, and how to teach them). Our

team will offer tips for teaching these skills, as well as suggestions

for conducting gestures that will lead students to the desired

musical goal. We will use music of varied styles and levels in our

presentation in order to be inclusive of all students.

We will end with a Q&A session.

Mira Frisch

Mira Frisch is professor of cello and the

director of string chamber music at UNC

Charlotte. Her cello students have performed

as soloists with the Charlotte Symphony,

the Salisbury Symphony, the University of

Tennessee Symphony, and the Greensboro

Symphony Youth Orchestra, most often

after winning first place in a competition.

They have also served as principal cellists

with both the Charlotte Symphony Youth Orchestra and the

Greensboro Symphony Youth Orchestra, and they have performed

professionally in the cello sections of several orchestras including

the Charlotte Symphony and the Salisbury Symphony.

Graduates of her collegiate studio are attending graduate

school, performing cello, teaching music, or enjoying cello

while pursuing careers outside of music. Frisch has performed

throughout the United States and in the Netherlands, Bermuda,

Italy, and France. In the Carolinas, she has performed as guest

principal cellist with the Charleston Symphony, as a section cellist

with the Charlotte Symphony Orchestra, and with the Madison

Park String Quartet. Her chamber music recordings as a member

of Duo XXI, released on the Albany Records label, were called

"beautifully played" by American Record Guide and her ensemble's

"precise ensemble playing" was noted by Fanfare Magazine. Frisch

can also be heard on additional recordings produced by Albany

Records and Cantus Recordings. She has presented at national

conferences of the American String Teachers Association, College

Music Society, Music Teachers National Association, and the

Society of Composers.

Teaching Strings Online

This session will focus on strategies teachers can use to

increase student engagement online. We will present solutions

and alternatives to some of the common problems inherent

in virtual music instruction such as: teaching technique,

performing simultaneously, and offering opportunities for

students to collaborate. Bring your instrument and get ready to

engage in music making online.

Dr. Rebecca MacLeod

Dr. Rebecca MacLeod is professor of

music education at UNC Greensboro,

where she directs the string education

program and conducts the UNC

Greensboro Sinfonia. She is the author

of Teaching Strings in Today's Classroom

and is published in Journal of Research in

Music Education, International Journal of

Music Education, Bulletin for the Council

of Research in Music Education, Update: Applications of Research

in Music Education, Journal of Music Teacher Education, String

Research Journal, Psychology of Music, The Strad, American String

"At UNCSA, my professors believe in

me and push me harder than anyone

before. They let me prove to myself

that I can be the artist I want to be."

— Brianna Cantwell, '23

Dance

Design & Production

Drama

Filmmaking

Music

Powering

Creativity

Music

44 | NORTH CAROLINA MUSIC EDUCATOR NORTH CAROLINA UNCSA.EDU/MUSIC

EDUCATOR | 45
---
Teachers Journal, and various state music education journals. A

passionate advocate for increasing access to string education to all

students, MacLeod directs two community partnership programs

that provide string instruction to underserved students: the

Lillian Rauch Beginning Strings Program and the Peck Alumni

Leadership Program.

North Carolina Symphony Online Resources

Join the North Carolina Symphony and a panel of teachers

for a session focusing on online resources, lessons, and

activities to pair with the NC Symphony Education Concert

video. Presenters will share curriculum-aligned lessons

that integrate STEM and ELA standards, as well as provide

accountability questions for this time of virtual learning.

Attendees will have an opportunity to participate, engage, ask

questions, and share ideas for integrating Symphony resources

into their classroom.

Jason Spencer

Jason Spencer is director of education for the North

Carolina Symphony, which conducts one of the most extensive

education programs of any U.S. orchestra. In this role, he

oversees the planning and administration of more than 120

education programs and activities around the state each year.

Additionally, he works closely with music teachers and arts

leaders across the state to ensure programming and lessons

align with the N.C. standard course of study. Prior to joining

the North Carolina Symphony, he served as general manager of

the American Youth Philharmonic Orchestras in Washington,

D.C. A native of North Carolina, he holds degrees in clarinet

performance from UNC Greensboro and the University of

Michigan.

Cello Playing 101

This presentation will include fundamentals of cello playing,

common errors and how to fix them. This will be a useful

review session for orchestra teachers who are interested in

expanding their knowledge in cello playing.

Ellie Wee

Cellist Ellie Wee, D.M.A., has performed

as a soloist, chamber musician, and an

orchestra player in the United States,

France, Italy, Turkey, Japan and Korea with

such groups as Handel and Haydn Society,

Boston Baroque, Menotti Lyric Opera and

Arizona Opera. She has received numerous

awards and scholarships including the Anna

Rosenzweig String Award, the Regent Full

Scholarship Award, the Boston University Full Scholarship Award,

The American Conservatory Full Scholarship Award, to name a

few.

give recitals and master classes at Adnan Menderes University

State Conservatory, Aydin, Turkey. She has been invited to be

an adjudicator at such competitions including Tufts symphony

Concerto Competition and Tufts Youth Philharmonic Youth

Symphony Orchestra.Wee has taught at Arizona State University,

Northeastern University in Boston, and Stonehill College, Mass.

She has been a serving as an assistant professor at Appalachian

State University since 2017.

Artistry, Engagement, and Reinforcement:

Three Ingredients of Artistic Rehearsals

This session will present rehearsal strategies that will engage

the students and help ensembles of all levels achieve superior

results. Topics will include selecting repertoire, preparing your

score, rehearsal strategies, use of technology, and educational

resources.

Warm Up to Wrap Up: A Complete Creative

Approach to Achieving Excellence in The

Orchestra Classroom

Using a demonstration group, this session will present

creative warm ups, targeted application, rehearsal techniques and

pacing to prepare outstanding performances. The presenter will

demonstrate a variety of warm ups that directly transfer to the

repertoire. The presenter will also share ideas on creating warm

ups, resources and materials that contain warm ups, and lead the

audience through rehearsal techniques that transfer the warm ups

into technique studies and rehearsal pedagogy.

James Palmer

Recipient of the ASTA Elizabeth A. H.

Green Award for a distinguished career in

string teaching, James Palmer is an editor,

arranger, and featured clinician for Alfred

Music. He is also the Orchestra Director

and Fine Arts Department Chairman

at Allatoona High School in Acworth,

Georgia; the Music Director for the Youth

Orchestras of Greater Columbus in Columbus,

Georgia; and the Senior Conductor at the Florida State University

Summer Music Camps, a post he has held since 1996. Mr. Palmer's

orchestras have performed at several conferences including the

National ASTA Conference and Midwest Clinic.Jim Palmer

has received the Teacher of the Year Award in three separate

high schools and has been inducted into the Florida Collegiate

Music Educators Hall of Fame. He is a frequent clinician having

conducted All State and honors orchestras throughout the U.S.

Mr. Palmer has also maintained a career as a professional violist,

including serving as Principal Violist for the Sarasota Pops

Orchestra. Mr. Palmer is a member of GMEA, Past President of

Georgia ASTA, Past Chairman of the ASTA National Orchestra

Festival, and is a graduate of Florida State University.

MAKING MUSIC. MAKING A DIFFERENCE.

UNC WILMINGTON

DEPARTMENT OF MUSIC

UNDERGRADUATE STUDY

BACHELOR OF MUSIC IN MUSIC EDUCATION

BACHELOR OF ARTS IN MUSIC

PERFORMANCE:

instrumental · piano · vocal

JAZZ STUDIES

MUSIC TECHNOLOGY

GENERAL MUSIC

A dedicated teacher as well, her students were winners of

the Lowell Philharmonic Orchestra Concerto Competition

and state and national-level honors orchestras. As an active

performer, lecturer, and adjudicator, Wee has presented master

classes and concerts at some of the most prestigious performing

arts institutions and universities in the United States and

internationally. She also appears as a regular guest artist to

AN EEO/AA INSTITUTION.

Questions regarding UNCW's Title IX compliance

uncw.edu/music

46 | NORTH CAROLINA MUSIC EDUCATOR NORTH CAROLINA MUSIC EDUCATOR | 47

should be directed to TitleIX@uncw.edu.

MINORS

choral music · general music

jazz studies

2020 -21 "LIVE"

VIRTUAL AUDITIONS

Saturday, Dec. 5

Friday, Jan. 8

Saturday, Jan. 16

Saturday, Feb. 13

Saturday, Feb. 27

Saturday, March 20
---
Technology

Howie Ledford, Chair

I

hope this article finds you well. First, I want to thank you for

all the kind words you have given the committee regarding

the summer technology webinars. The webinar topics were

originally planned as our Professional Development Conference

sessions, but we offered them during the summer knowing teachers

would need the information before they started the school year and

dove into the world of remote and hybrid learning.

We offered the summer webinars at no charge to all teachers –

NCMEA members and non-members. We knew that in this time

of the "unknown," all teachers would need the support of NCMEA,

especially of the NCMEA technology section. If you did not attend

the technology webinars in the summer, many of them will be on

demand at our virtual conference in November. There was a lot of

good information given during those webinars. I would suggest you

take the time to look at them. They range from lesson planning to

what to buy to make you sound better in your conferences.

We have three to four presentations that will be done live, and

six to eight which will be on demand from our summer series. The

first live presenter will be Katie Lesko-Copeland and her ideas on

virtual recruitment. I am super excited to see this. In this day and

time, I think recruitment is going to be a big deal for programs.

Second, will be Kim Wangler from Appalachian State University.

She will be talking about careers in the music industry. This is a

topic I think we all need to hear something about. There are more

careers in the music industry than just performing. This is especially

true in this world we are living in now. The majority of them all

involve some type of technology.

Finally, I am also pleased to welcome back to the technology

platform, Barb Vinal. She has served as the music technology

chair and speaks nationally. She presently works for Wake County

as a digital learning coordinator. I am looking forward to her

presentation on Capturing Student Learning.

I believe we will have a fourth presentation, but as of press time,

I am still finalizing it. Please look at your conference app.

Over the Hills is Home. The lyrics are, "On the other side of night

there comes a day that shines so bright."

I want you to take two minutes out of your life. Take the time

to think about what you are doing now. Look at the tools you have

developed. Now imagine getting back to "normal" and what you

will do differently for students coming from this experience. I am

not a betting man, but I will say this: I will bet the house we will be

better teachers – and people – at the end of this. On those words, I

look forward to seeing you in November. Stay safe and sane.

Career Opportunities in the Music Industry

for Musicians

Many (if not most) of our young people today are avid

consumers of music, but few are aware of the career opportunities

the creation of that music affords. This presentation will introduce

some of the many professional aspects of the music industry that

may be of interest to young people with a love for music. With

the "coming of age" of streaming services (and the revenues

they create), the music industry has been revitalized and new

opportunities are developing. From arts administration to musical

instrument manufacturing to recording and studio management,

there are many avenues for being involved in the creative process.

Change is happening so rapidly that companies are actively seeking

bright young talent to stay abreast of current trends. Attendees will

leave with resources to help students discover the many paths they

could follow to pursue a career in this field.

Kim L. Wangler

Kim L. Wangler, M.M, M.B.A., joined Appalachian State

University in 2005 as the director of the music industry studies

program. She teaches music management, marketing and

entrepreneurship. She has served in the industry as president of the

board of directors for the Orchestra of Northern New York, house

manager for the Community Performance Series, and as CEO

of Bel Canto Reeds. Wangler currently serves as an independent

consultant for entrepreneurial musicians and holds positions as vice

chairman for the cultural resources board for Boone, and on the

board of the College Music Society in the first Music Business chair

and on the Music and Entertainment Industry national board of

directors. She is published through Hal Leonard, Sage Publishing,

and the MEIEA and NACWPI journals. Along with her academic

work, she enjoys performing on her bassoon with the Watauga

Community Band, Northern Symphonic Winds, and in solo and

APPLY TODAY

25

top

COLLEGE CONSENSUS

Best Online Christian

Colleges

Lastly, I want to take the time to say there are many different

situations going on in the world of music education right now.

Technology-wise, we are all in different places with different

717-796-5061

rules set by our school districts and our own personal situations.

However, I am seeing a body of professionals rise to the challenge

messiah.edu/gradprograms

placed in front of us. As a profession, we are trying to make this

work for our students. This time reminds me of a song by Take 6,

Online | Flexible | Affordable

chamber work at the Hayes School of Music.

48 | NORTH CAROLINA MUSIC EDUCATOR NORTH CAROLINA MUSIC EDUCATOR | 49

Earn

your

With a program and faculty reflecting a national

reputation for academic excellence, Messiah University's

master's degree in music conducting will enhance your

ability as an effective music educator and conductor.

your career

IN THE U.S.

Learn about our no-fee tuition and

graduate tuition discounts at

messiah.edu/gradcost

• Three specialized degree tracks to

advance your education and career:

wind, orchestral, choral

• Post-master's certificate

in music conducting

• Emphasis on summer and online

coursework, designed to fit the

schedules of busy professionals

• Our faculty are experienced music

educators and conductors, and

take time to mentor students

• Coursework is instantly applicable

to your everyday work setting

Experience the academic disctinction of a nationally ranked Christian university.
---
883-C Washington Street

Raleigh, NC 27605

Free Curriculum Units for the

Music Responding Standards

Created through the Teaching with Primary Sources program of

the Library of Congress

Focused on helping educators connect to the Library of Congress's digitized archives, and helping teachers learn how

to incorporate primary sources into the classroom, NAfME has created curriculum units connected to the Library's vast

resources in music, including audio, video, still images, and sheet music files.

• Band: middle and high school

• Orchestra: middle and high school

• Chorus: middle and high school

• Music Theory and Composition: high school

• General Music: K, 2, 5, 8

Download the newest curriculum units for Kindergarten General Music and High School Music Theory/Composition,

along with Band, Orchestra, Chorus, and General Music, at bit.ly/LOCcurriculum.

nafme.org | 1-800-336-3768

NORTH CAROLINA MUSIC EDUCATOR | 50