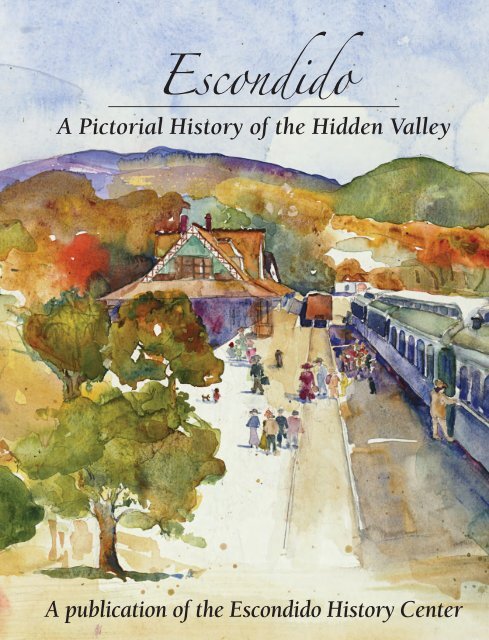 Escondido: A Pictorial History of the Hidden Valley
A publication of the Escondido History Center Published by HPN Books and Ledge Media ©2020 Visit www.ledgemedia.net/escondido to order printed copies And visit www.HPNBooks.com for info on how to publish your own book as a fundraiser for your community
A publication of the Escondido History Center

Published by HPN Books and Ledge Media ©2020

Visit www.ledgemedia.net/escondido to order printed copies

And visit www.HPNBooks.com for info on how to publish your own book as a fundraiser for your community
SHOW MORE
SHOW LESS
Create successful ePaper yourself
Turn your PDF publications into a flip-book with our unique Google optimized e-Paper software.
Escondido

A Pictorial History of the Hidden Valley

A publication of the Escondido History Center
---
Thank you for your interest in this HPNbooks publication.

For more information about other HPNbooks publications, or information about

producing your own book with us, please visit www.hpnbooks.com.
---
Escondido

A Pictorial History of the Hidden Valley

By Robin Fox & Carol Rea

Sponsored by the Escondido History Center

Published by HPNbooks, a Division of Ledge Media, Jackson, Wyoming
---
Legacy Sponsors

Through their generous support, the following companies helped make this project possible.

ALHISER-COMER MORTUARY

225 South Broadway

Escondido, California 92025

760-745-2162

www.alhiser-comer.com

KEN BLANCHARD COMPANIES

125 State Place

Escondido, California 92029

760-489-5005

www.kenblanchard.com

TOYOTA OF ESCONDIDO

231 East Lincoln Parkway

Escondido, California 92026

760-300-1112

www.toyotaescondido.com

THE HILLEBRECHT/EMERSON/ADAMS FAMILIES

First Edition

Copyright © 2020 HPNbooks/Ledge Media

All rights reserved. No part of this book may be reproduced in any form or by any means, electronic or mechanical, including photocopying, without permission in writing from

the publisher. All inquiries should be addressed to Ledge Media, 690 S Highway 89, Suite 201 Box 12679 Jackson, WY 83002. Phone (800) 939-5311, www.hpnbooks.com.

ISBN: 978-1-944891-69-5

Library of Congress Control Number: 2019954562

Escondido: A Pictorial History of the Hidden Valley

authors: Robin Fox, Carol Rea

cover artist: Gloria Warren

project manager and managing editor: Daphne Fletcher

contributing writers for "Sharing the Heritage": Kevin Kern, Marcus Matthew, Sid Shapira

HPNbooks/Ledge Media

publisher & CEO: Daphne Fletcher

VP & Director of IT: Rafael Ramirez

administration: Donna Mata, Kristin T. Williamson

production: Colin Hart, Christopher D. Sturdevant

2 F E S C O N D I D O : A P i c t o r i a l H i s t o r y o f t h e H i d d e n V a l l e y
---
A view of Escondido from the veranda of the Escondido Hotel, looking west, in 1910.

This book is dedicated to past, present and future pioneers of Escondido.

D e d i c a t i o n F 3
---
Contents

ACKNOWLEDGMENTS ..............................................................................................5

PREFACE ..............................................................................................................6

INTRODUCTION .....................................................................................................7

Jeffrey R. Epp

CHAPTER 1 — EARLIEST ESCONDIDO.....................................................................................8

The Beginning of the Story, Changing Landscapes

CHAPTER 2 — COMMUNITY ...............................................................................................28

Housing, Faith, Education, Historic Preservation,

Clubs & Organizations, Sports, Events, People

CHAPTER 3 — COMMERCE ................................................................................................60

Transportation Industry, Agriculture, Communications, Banks, Retail & Services

CHAPTER 4 — CULTURE ...................................................................................................86

Music, Visual Arts, Performing Arts, Literature, Museums

CHAPTER 5 — GOVERNMENT SITES & SERVICES ...................................................................99

Buildings, Parks, Law Enforcement, Fire Protection

ESCONDIDO TIMELINE ...................................................................................................118

SHARING THE HERITAGE INTRODUCTION ...............................................................124

Kristen Gaspar

SHARING THE HERITAGE .....................................................................................125

Quality of Life, The Marketplace, Building a Greater Escondido, Family Heritage

SPONSORS ......................................................................................................................241

ABOUT THE AUTHORS .........................................................................................244

ABOUT THE COVER.............................................................................................245

ABOUT THE CONTRIBUTING PHOTOGRAPHERS .........................................................246

ESCONDIDO AND THE CORONAVIRUS .....................................................................247

4 F E S C O N D I D O : A P i c t o r i a l H i s t o r y o f t h e H i d d e n V a l l e y
---
Acknowledgments

As the pages of this book suggest, Escondido has proven itself to always have been a community that comes together for positive

efforts and to help when needed. Many persons assisted in putting this book together and we appreciate them all, starting with the

community members who have graciously donated their family photographs to the Escondido History Center over the years. We

thank the City of Escondido for supporting this project, including City Manager Jeff Epp, Joanna Axelrod, Vince McCaw, Raymond

Seraile, Michelle Geller, Teresa Collins, Rick Vogt, Craig Carter, Ed Varso, Joyce Masterson and Linda Loughnane. Additionally, we are

grateful for the time, effort and support provided by Edith Hillebrecht and her late husband, Ben Hillebrecht, and to our many

sponsors who made this important historical book possible.

2020 Escondido History Center Board of Directors

June Rady, President

Carol Rea, Vice President

Rod McLeod, Secretary

Bob Johnson, Treasurer

Kent Baker

Edith Hillebrecht

Tom Humphrey

Jeff Johnson

Christ Miller

Fred Miller

Victor Pestone

A c k n o w l e d g e m e n t s F 5
---
Preface

In 1988, in celebration of the City of Escondido's Centennial, a book, The Hidden Valley Heritage, Escondido's First 100 Years, was

put together by a dedicated group of local history enthusiasts, led by Alan McGrew. Since that time, a few other books have focused

on specific areas of Escondido's history, but, in 2018, the Escondido History Center happened onto an opportunity to put together

another book about the history of the "Hidden Valley," in order to share more of its vast collection of photographs and other resources.

The result is the book you now hold in your hands, a review of our city's early history that includes rarely seen photographs from

long ago, as well as a range of newer photographs with information about our more recent history. The Escondido History Center

is pleased to be able to share these photographs and a glimpse into how quickly today becomes the history to be reflected

upon tomorrow.

Toward the back of the book, numerous Escondido families, businesses, and organizations have financially supported the printing

of this book by purchasing pages to share their own stories and supplement the historical content developed for the front. We thank

them for making the publishing of this entire book possible.

What was most striking, as we put this book together, was that our city has grown and changed dramatically since its early

beginnings, but it still remains a community of active and caring people who feel blessed to live, work, and play here. We hope you

will also feel that sense of community and you will enjoy seeing Escondido's past, some of the present, and look forward to a

continued sense of community into the future as we do.

The most challenging part of putting this book together was deciding what information and history, out of thousands of

photographs and events, to include within the set number of pages. We did our very best to represent key points in Escondido's

fascinating history, the story of a small town, developed by a savvy group of businessmen, as it grew to become the diverse and

successful city it is today. We hope that you enjoy your step back into time.

Robin Fox

Carol Rea

6 F E S C O N D I D O : A P i c t o r i a l H i s t o r y o f t h e H i d d e n V a l l e y
---
Introduction

Little did I realize what was ahead when I rolled into town some thirty-three

years ago. The occasion was a job interview for a deputy city attorney position.

Interstate 15 was still very new. A huge subdivision was contemplated for Daley

Ranch. East Valley was quiet and empty after the stores had moved to the new

shopping center south of town.

My office would be in the old City Hall, which used to sit on the knoll at Grand

& Valley Blvd. It's the same knoll in front of the old hospital which will soon be

demolished and replaced, probably with residential buildings. Two careers later,

I'm in the new City Hall, which itself is now twenty years old. Our new hospital

is already six years old.

Time marches on and nearly everything changes. Yet, as I looked at an old black

and white photograph of Escondido's first City Hall, I realized that the design

concepts on that building had carried over to our current building. Grand Avenue

and Grape Day Park have changed, but they still retain the rich, original character

that make them special places in Escondido. Lake Wohlford is still a great place

for fishing. The view from Bottle Peak remains awesome.

Sometimes the best way forward is pausing for a look back, and this book provides

that opportunity—especially for those who have a connection with this wonderful city. As you leaf through its pages, you realize how many

came before us, and they weren't all that different. You will turn the final page knowing that others will come after. And in between, you

will find that Escondido history adds that sense of community, of shared friends, families, and places that make up Escondido.

I am so pleased that the City of Escondido chose to participate in the development of this book with the Escondido History Center. A

city government, its citizens, and its history should be tightly interwoven. I will never forget that April evening in 1988 when hundreds of

Escondido's residents filled both levels of our newly constructed City Hall to celebrate. We have always had the warmth of a small town

and the benefits of a thriving city. Through the creation of this book, the Escondido History Center helps us understand that while working

together creates the future, we must also acknowledge the contributions of the past. It has been a pleasure to assist them in this endeavor.

Jeffrey R. Epp

Manager, City of Escondido

E S C O N D I D O

2 0 1 9 C I T Y C O U N C I L

From left to right: Council Member John Masson,

Deputy Mayor Consuelo Martinez, Mayor Paul

McNamara, Council Member Olga Diaz, Council

Member Michael Morasco.

I n t r o d u c t i o n F 7
---
Chapter 1

The Beginning

"Escondido is the

most stirring new City in

Southern California...its

streets are daily thronged

with new arrivals, who,

one and all, proclaim it

the Garden Spot of the

world," (November 4,

1886, The Times). This

photograph, looking west

down Grand Avenue, was

taken that same fall.

The name, "Escondido" is roughly translated to "hidden place" and the city 's fascinating history

began on land that formerly comprised the Rancho Rincon del Diablo, an old rancho predating

California's entrance into the United States. In 1886, the ranch was purchased by the Escondido Land

& Town Company (EL&T Co.), headed by the Thomas Brothers; Richard, Charles, John and William,

as well as Jacob Gruendike, Daniel Hale, Thomas Metcalf and several others. Numerous attempts had

been made to utilize the land before, but the actions taken by the Escondido Land & Town Co. were

the first to attempt to turn the area into a full-fledged city.

Escondido was just one of many Southern California towns that was established during the 1880s

land boom. The EL&T Co. immediately opened a San Diego office and began building a 100-room

hotel in Escondido. Proceeds from their first land sales were used to bring the railroad to Escondido,

thus ensuring their community would grow and prosper.

Offering free land to anyone who would build a church or school, the young community soon had

an elementary school (the Lime Street School), a large seminary built by the University of Southern

California (USC) for $75,000, and several churches. The EL&T Co. also sponsored the creation of a

local newspaper, The Escondido Times. The newspaper was used initially as an advertising tool targeting

mid-western farmers, luring them to Escondido's perfect year-round growing season.

Escondido was described as one of the most prosperous and rapidly growing colonies in southern

California. Two years after the EL&T Co. was formed, the city of Escondido was incorporated on

October 8, 1888. Local voters approved incorporation 64-19. The population was approximately 500.

The city grew slowly but steadily, as an agricultural center ideal for grapes, citrus and later for avocados.

Eventually, Escondido became the commercial center serving North San Diego County and encouraged

banks and financial institutions to locate here. Both World Wars contributed to an influx of people

and a labor force, light industries began moving in, and the groves and vineyards gave way to housing.

8 F E S C O N D I D O : A P i c t o r i a l H i s t o r y o f t h e H i d d e n V a l l e y
---
Early Escondido

In 1886, the townspeople stood in the middle of the weeds of Grand Avenue as the cornerstone was laid for the Bank of Escondido

(still standing) on the northwest corner of Grand Avenue and Broadway. The Escondido Hotel is under construction on the hill in

the background.

C h a p t e r 1 F 9
---
The Escondido Land

and Town Company set

up business first in San

Diego. They then opened

this office in the Bank of

Escondido building in

1887. Next door was the

office of the San Marcos

Land Company; Jacob

Gruendike was the

principle stockholder in

both companies.

1 0 F E S C O N D I D O : A P i c t o r i a l H i s t o r y o f t h e H i d d e n V a l l e y
---
A view of the Escondido Hotel under construction in 1886. When completed, the hotel had one hundred rooms and was the location

of many community celebrations.

Construction of the railroad between Oceanside and Escondido began in early 1887 and was completed by the end of December

that same year. This photograph was taken in the spring of 1888 before the construction of the Santa Fe Depot. A boxcar sits on a

siding north of Grand Avenue.

C h a p t e r 1 F 1 1
---
On February 7, 1888, a sixteen-car excursion train pulled into town to celebrate the coming of the railroad. According to the

Escondido Times, at least three housand people attended the event, which included dinner, bands from Escondido and San Diego, and

a "monster" tent featuring displays of fruit

The construction of the Escondido depot was completed in July 1888. It was located at the very west end of Grand Avenue. In

1984, the Depot was moved to Grape Day Park and is now one of the buildings in the museum complex of the Escondido History

Center. This view of the Depot was taken c. 1890.

1 2 F E S C O N D I D O : A P i c t o r i a l H i s t o r y o f t h e H i d d e n V a l l e y
---
Two little girls stand in an open field with downtown Escondido behind them. The photograph was taken c. 1894 from the

northeast corner of 7th Avenue and Quince Street.

A view of Grand Avenue looking west from the Escondido Hotel (the former Palomar Hospital site) in 1895. The first building on

the left is the Rainey building. The spire from the First Methodist Church can been seen just beyond. The first building on the right

is the Escondido Cannery.

C h a p t e r 1 F 1 3
---
Construction began on a

dam in Bear Valley in

September of 1894. The

Escondido Irrigation District

sold water bonds to pay for

the construction. The water

bond debt was finally paid

off on October 31, 1904. A

celebration was in order and

on September 9, 1905 Bond

Burning Day was inaugurated.

Everyone gathered in

front of the Lime Street

School to watch the water

bonds go up in smoke.

In 1905 people came from far and near to help Escondido celebrate their "Freedom" from the water bond debt. A procession started

at the train depot and went east on Grand Avenue. Every visitor went home with a basket of free grapes. This celebration was

commemorated each year until 1908 when the Grape Day festival began to be held annually.

1 4 F E S C O N D I D O : A P i c t o r i a l H i s t o r y o f t h e H i d d e n V a l l e y
---
The construction of the

water canal more than a

century ago was the first

reliable means of supplying

local water to early

Escondido, but led to a

bitter dispute over area

water rights promised by

the federal government to

the local Indian tribes. More

than fifty years of legal

battles finally gave way to

an impressive example of

camaraderie and teamwork

between the local Indian

bands and the City of

Escondido that led to a

historical settlement,

agreeable to all parties and

finalized by an act of the

United States Congress in

2016.

This c.1908 photograph was taken just west of Juniper Street, between 10th Avenue and Chestnut Street, looking toward Park Hill.

The Hooper House to the left still stands today at 1006 South Juniper Street.

C h a p t e r 1 F 1 5
---
The Beach House, built by Albert Beach in 1886 and still standing today, can be seen in this photograph taken from 8th Avenue,

looking north on Juniper Street toward Grand Avenue in the early 1890s.

Fumigating citrus trees with cyanide was an early form of pest control. This c.1890 photograph shows workers fumigating the trees

at the Escondido Hotel.

1 6 F E S C O N D I D O : A P i c t o r i a l H i s t o r y o f t h e H i d d e n V a l l e y
---
During the rainy season, fording the Escondido Creek was hazardous. A group of Escondido citizens banded together and decided

to build a wooden bridge in 1889. This is a photograph of the Lime Street Bridge, at what is now Broadway near Grape Day Park,

looking southeast in 1895.

The Stevenson Brothers General Merchants are making a delivery by horse-drawn wagon to this unidentified home, circa 1895.

Note the dormer windows protruding from the roof of the home and the differing colors of shingles in the roof, as well as the clothing

of the period worn by the family

C h a p t e r 1 F 1 7
---
Then and Now

Looking east down Grand Avenue from Tulip Street in 1903, the Escondido Hotel can be seen in the distance. The Hotel and the

Train Depot were separated by a distance of one mile.

Looking east down Grand Avenue from Tulip Street in 2018, the now vacant Palomar Hospital can be seen in the distance, built

on the site of the Escondido Hotel. Raymond Seraile photo.

1 8 F E S C O N D I D O : A P i c t o r i a l H i s t o r y o f t h e H i d d e n V a l l e y
---
Looking east along Grand Avenue from Maple Street in 1911, horses and motorized vehicles can be seen sharing the wide dirt road.

Looking east along Grand Avenue from Maple Street today reveals that the former Bank of Escondido building lost its ornate

architecture over the years, but the structure, itself, remains.

C h a p t e r 1 F 1 9
---
Left: Escondido postcard c. 1950s.

On the opposite page: Harry A. Erickson took

the 1936 photograph of the city and submitted

hundreds of other aerial photographs to the

Smithsonian Museum. Before drones with

cameras became available and affordable,

photographs were taken from the air through the

use of balloons, kites, blimps, airplanes,

helicopters, and even pigeons. The first aerial

photograph was taken in 1858.

Below: Using his drone, city employee Ray

Seraile took the current aerial photographs. The

greatest challenges were finding the right spot to

launch and photograph from and coping with

trees that have grown over the years.

This aerial photograph of Escondido is also looking east, but it was taken in 2018. At the left edge of the photo-graph, the Transit Center

covers the north side of the block along West Valley Parkway, with many of the old eucalyptus trees still in place. Construction equipment

can be seen on the site of the former Police Headquarters near the center of the page and freight cars stand on the railroad tracks, carrying

freight as they have for more than 130 years. Their destination is the silos belonging to Vitagold Brands, the only surviving poultry feed

mill in the county. Raymond Seraile photograph.

2 0 F E S C O N D I D O : A P i c t o r i a l H i s t o r y o f t h e H i d d e n V a l l e y
---
An aerial photograph of

Escondido looking east in

1936. Tree-lined Grand

Avenue can be seen in the

center of the bottom half of

the photograph. The train

depot is barely visible on the

east side of the track, south

of Grand. The next building

to the east along Grand is a

poultry and feed store,

Hawthorne's Country Store

today. The hill at the far end

of Grand Avenue is empty

after the Escondido Hotel

was demolished in 1925.

An aerial photograph of

Escondido looking east in

1987. The two-story Police

Head-quarters can be seen

slightly to the left of center

and, across Valley Parkway

on the left side of the

photograph stands the farm

workers' camp. On the right

side of the photograph, the

former site of the train depot

can be seen as an empty lot

between the grain silos and

the train cars.

C h a p t e r 1 F 2 1
---
Looking northwest from the grounds of the first Escondido High School at 3rd Avenue and Hickory Street in 1915, the Schnack

Apartments (later Trenton Apartments), built in 1912 at the corner of 2nd Avenue and Kalmia, can be seen in the center of the photograph.

The same view, looking

northwest from the former

grounds of the High School

at 3rd and Hickory, incudes

the Trenton Apartments, still

standing on the corner of

2nd Avenue and Kalmia

Street, but now obscured

by trees.

2 2 F E S C O N D I D O : A P i c t o r i a l H i s t o r y o f t h e H i d d e n V a l l e y
---
Looking west on Grand Avenue from Ivy Street c. 1969, lots of signage, streetlights, parking meters, and traffic made the downtown a

vibrant place to spend time.

Looking west on Grand Avenue from Ivy Street today reveals more trees, fewer signs, and no parking meters to give the downtown a

more sedate look.

C h a p t e r 1 F 2 3
---
Looking south from a hillside just north of Mary Lane in 1972. San Pasqual High School can be seen under construction. The bridge

over Lake Hodges can be found toward the top of the photograph.

Looking south from a hillside just north of Mary Lane in 2018. San Pasqual High School construction has long since been completed

and the campus includes additional buildings. The shopping mall and Kit Carson Park can be seen to the right and residential areas can

be seen covering the hillsides, surrounded by trees. Raymond Seraile photograph.

2 4 F E S C O N D I D O : A P i c t o r i a l H i s t o r y o f t h e H i d d e n V a l l e y
---
This plat map from 1886 shows Escondido as it was originally laid out. The Escondido Land & Town Company looked toward a future

of homes, schools, churches, and ranches and created the impetus to quickly make the "Hidden Valley" a thriving town. They hired

surveyor O. N. Sanford to plot Escondido townsite lots and five- and ten-acre valley ranches.

C h a p t e r 1 F 2 5
---
The map above shows the City of Escondido as it was in 1955. The boundaries had changed little sixty-seven years after incorporation

2 6 F E S C O N D I D O : A P i c t o r i a l H i s t o r y o f t h e H i d d e n V a l l e y
---
This 2018 map shows the lot lines within the city's current boundaries with the 1955 boundaries overlaid in yellow at the center. It's

obvious that the City of Escondido has grown exponentially over the last sixty-four years! Provided by the City of Escondido, Geographic

Information Systems Division.

C h a p t e r 1 F 2 7
---
Chapter 2

Community

The Escondido Duck

Derby of 1942, was sponsored

by the Escondido

Woman's Ambulance &

Transportation Corps, and

was meant to raise the

spirits of the community

during World War II.

Andy Andreasen, the City

Police Judge, officiated at

the event. The girls with

the ducks are (from left

to right): Pamela Baudy,

Natalie Wilder, Leona

Marin, and Eileen Beckley.

Escondido has a rich history of people of diverse cultural and ethnic backgrounds, coming

together as a community and that diversity continues to be one of its strongest features today. From

the beginning, when pioneering families settled in this hidden valley, it grew steadily with a boom in

the 1950s and it continued growing with a population that exceeds 145,000 today. Housing for the

expanding population has brought a variety of building methods and styles that has created a great

diversity of neighborhoods and often among individual homes within those neighborhoods.

We are also a community of faith. The Escondido Land & Town Company donated land to

churches in Escondido's early days and, since then, churches of many denominations have continued

to multiply and expand here. Several significant faith-based events have occurred over the years,

including the observance of the National Day of Prayer.

Schools and the way education is delivered have transitioned over the years. From the first elementary

school and then the USC seminary, a strong school system has grown. Public schools

and, more recently, charter schools and options for home schooling give families a wider variety of choices.

We care about our past, as well. A strong historic preservation program, instituted in 1992,

created the Old Escondido Neighborhood Historic District and is protecting and preserving our built

history throughout the city, while the Escondido History Center and the Library's Pioneer Room

maintain vast collections of photographs, documents, and artifacts.

2 8 F E S C O N D I D O : A P i c t o r i a l H i s t o r y o f t h e H i d d e n V a l l e y
---
From the earliest times, community members came together to form clubs and organizations, offering social, networking, and

community support opportunities. Community volunteers organized a variety of events over the years and sporting events, most often

featuring school teams, have long been popular in Escondido.

Housing

In 1843, the Mexican government granted 12,653 acres of land—the "Rancho Rincon del Diablo"—to Juan Bautista Alvarado; the

area that was to become the City of Escondido. This photograph is of the ruins of the adobe-brick built Alvarado home near presentday

San Pasqual Valley Road and Bear Valley Parkway.

C h a p t e r 2 F 2 9
---
The Stewart House is the

oldest house standing in

Escondido. Alexander Stewart

disassembled his two-story

Eastlake-style family home,

built in Nova Scotia in 1865,

and shipped it around Cape

Horn to Escondido. He then

reassembled it in 1894 where

it still stands today on 5th

Avenue, near Hickory Street.

Prior to the City's

incorporation, a brickyard

was established along the

Escondido Creek and

Chinese laborers were hired

to prepare the bricks for

firing in the kiln. Many

early structures were made

out of this material because

it was readily available and

less expensive than lumber

that had to be shipped from

the northwest. This home

is an example of an early

structure made from

Escondido brick. Built in

1885 for Charles E. Thomas

and his wife, Imogene, the

house still stands at 969

West 3rd Avenue.

3 0 F E S C O N D I D O : A P i c t o r i a l H i s t o r y o f t h e H i d d e n V a l l e y
---
The Thomas-Turrentine house was built circa 1885 by George V. Thomas, one of the five Thomas Brothers who founded the City

of Escondido. George was the manager of the Escondido Lumber Company and Brickyard. Possibly the oldest home originally built

and still standing in Escondido, it was the oldest home continuously owned by a single family in the County of San Diego, not

changing hands until it was sold in 2018.

The Thomas-Turrentine

House stands in this 2019

photograph with new paint

colors at its original

location, the northeast

corner of 5th Avenue and

Kalmia Street. The house

was added to the National

Register of Historic places

in 1992 and remains on

Escondido's Local Register.

The original two-story

Victorian period, Queen

Anne-style home was

altered between 1896 and

1907 with the addition of a

bay window on the south

side. In 1908, a Classical

Revival addition was built

on the east side and the

second floor was expanded

over the porch.

C h a p t e r 2 F 3 1
---
"Palma Vista" was built by L. V. Boyle on what is today Boyle Avenue and Oak Hill Drive. It later became the home of the John

Whetstone family. Elsie, Roy and Clyde Whetstone are shown in the front of the house in this photograph, taken c. 1910.

In 1911, Fred and Helen

Hall built a 2-½ story,

Craftsman-style home with

Tudor elements on 10th

Avenue near Maple Street.

Here, the spacious living

room can be seen, decorated

for a card party in 1914.

3 2 F E S C O N D I D O : A P i c t o r i a l H i s t o r y o f t h e H i d d e n V a l l e y
---
Many houses were built along Grand Avenue

and on other streets in the downtown area in

early Escondido. In 1912, local photographer

Peter Schnack built Escondido's first apartment

building on what is now 2nd Avenue. Built of

redwood, only the city's citrus houses boasted

more square footage. It featured 22 three- and

four-room suites, as well as 10 single rooms, surrounding

a central atrium. Renamed the Trenton

Apartments after World War I, when all things

German were frowned upon, the unique building

still stands today.

The idea of living downtown has become popular once again, and a relatively recent plan by city leaders to create more density in

the downtown area has resulted in apartments under construction and planned for the downtown area, built to house thousands of

new residents. The Latitude 33 Apartment Community, at the corner of Washington and Centre City Parkway is an example of the

current trend in downtown living.

C h a p t e r 2 F 3 3
---
The dramatic increase in population after World War II brought a housing boom to Escondido and the "mid-century" styles

brought a new look to town. Mid-century modern homes with clean, simple styles, and ranch-style homes became popular. This

ranch-style house was built in 1950 by B.A. Sweet, a partner in the Pine Tree Lumber Company. Photograph by Katalin Cowan.

Having rented a small bungalow across East 7th Avenue for nearly seven years, Bud and Cordia Sayre bought the empty lot across

the street in 1946, ready to build their own home. Bud, shown in the photograph on the left, utilized Escondido granite rocks left

on the lot and found elsewhere for free and learned how to split them with a weed-burning torch in order build a lovely Colonial

Revival bungalow with 14-inch thick walls. The photograph on the right shows the house as it appeared in 2007.

3 4 F E S C O N D I D O : A P i c t o r i a l H i s t o r y o f t h e H i d d e n V a l l e y
---
Thanks to L.R. Green and his Adobe Block Company, the Weir Brothers and other builders were able to utilize this ancient building

material, making it popular again in the mid-twentieth century. Green Ranch and Longview Acres in south Escondido were adjacent

subdivisions made up entirely of adobe homes. Many others were built around the city and, as a result, Escondido has more adobe homes

than any other city in California. This photograph shows adobe blocks drying at L. R. Green's adobe brickyard along Highway 395

(I-15) in 1949.

The "Castle House," built for James and

Gretchen Jackson in 1964 on Palmas Avenue, is a

Weir Brothers adobe home, uniquely dominated

by an exterior welcoming turret. In this case, the

bricks were made on site.

C h a p t e r 2 F 3 5
---
Faith

The Escondido Land & Town Company gave

free land to any congregation that wanted to

build a church here. Seven faiths accepted the

offer and, in 1886, the Methodist Episcopal

Church was the first to build, choosing the

corner of Grand Avenue and Ivy Street. The

church was sold in the 1920s to the first Grace

Lutheran Church. Prior to being torn down in

the late 1960s, the building was the home of

Georgia Copeland's School of Dance.

More than three hundred San Diego County Adventists attending a conference posed for this photograph in 1914. The church, built in

1887 for a Southern Methodist congregation, was sold to the Seventh Day Adventists in 1900. In 2005, the Iglesia Monte de los Olivos, a

non-denominational Latino congregation, purchased the building that still stands today on the corner of 4th Avenue and Orange Street.

3 6 F E S C O N D I D O : A P i c t o r i a l H i s t o r y o f t h e H i d d e n V a l l e y
---
The Escondido Mennonite Brethren Church,

known also as Bethania Mennonite Brethren

Church, was founded in Escondido in 1908 by

Elder Abraham Schellenberg. The small Germanspeaking

Mennonite colony remained in

Escondido for 10 years and had a congregation of

approximately 70 people. Mennonite churches

are identifiable by the two entry doors; one for

men and the other for women. The building was

sold in 1921 and its exact location is unknown.

In 1931, a large group of Filipino workers began meeting in homes and rented halls to study the scriptures and share their newfound

faith in God. By 1936 they bought and renovated a small saw-sharpening shop located at the corner of 401 West Grand Avenue

and South Orange Street. The congregation named their church "Calvary Lighthouse Mission." In 1946, the congregation sold the

property and constructed a new church at 950 E. Ohio Street and the church was renamed "Calvary Assembly." Unfortunately, the

church was destroyed by a suspicious fire in 2014, but eventually rebuilt and reopened for services by 2018. In this 1941 photograph,

the members of the Calvary Mission congregation bid farewell to their pastor.

C h a p t e r 2 F 3 7
---
Franklin Graham, son of well-known minister Billy Graham, launched his "Decision America." California Tour in Escondido In May

2017. Standing on a stage in Grape Day Park in front of approximately ten thousand people, Graham mentioned his early days,

accompanying his famous father to Escondido when they visited friends in the area. Photo courtesy of Billy Graham Evangelistic

Association. Used with permission.

A 4-½-ton statue of

Buddha, made of rare dark

jade, and valued at $5

million was displayed in

Escondido in 2010 on its

first stop in a U.S. tour,

intended to spread peace and

happiness. The 8-foot, 10-

inch statue was displayed at

both Grape Day Park and the

Phap Vuong Monastery.

3 8 F E S C O N D I D O : A P i c t o r i a l H i s t o r y o f t h e H i d d e n V a l l e y
---
In 2010, the Escondido City Council gave a Proclamation for October 27, 2010 to be named "Day of Peace" and placed a Peace Pole

in Grape Day Park. More Peace Poles followed and, as of 2018, there are 11 Peace Poles located in the City, this one located at the First

United Methodist Church. The purpose of the pole is to be a symbol of the dream for Peace in our hearts, lives, homes, schools and city.

The community organization, "DOVE," (Dreaming of a Violence Free Escondido) has challenged each business, organization, place of

worship and school to erect a peace pole in solidarity with this message.

C h a p t e r 2 F 3 9
---
Education

Among the first buildings constructed in the new town of Escondido was an elementary school named the Lime Street School. Situated

in what is now Grape Day Park, the Escondido Creek ran behind the school but the sandy shores of the creek did not provide an adequate

foundation; the building was deemed unsafe in 1909 and torn down. A new school was built on 5th Avenue at Broadway in 1910.

Central School was built in 1938 at the site of the previously demolished Fifth Avenue School. In November 2014, Escondido voters

passed Proposition E, a $181.2 million bond measure that meant new buildings and modernization for Central School, but many historical

features were left intact, including murals in the multipurpose room, "cloak closets" inside the older classrooms, and the classic original

look of the older buildings that allow access to individual classrooms via indoor corridors.

4 0 F E S C O N D I D O : A P i c t o r i a l H i s t o r y o f t h e H i d d e n V a l l e y
---
Built by the University of Southern California

(USC) as a college in 1888, the large gothic brick

building became the first Escondido High School

in 1894. Because the Escondido Creek was the

only place to swim at that time and it would dry

up at the peak of every summer, the high school

boys took it upon themselves to dig a hole, by

hand, for a swimming pool that was sorely

needed in this hot inland valley. It took two years

for the boys to dig the hole large enough and the

school board had the big basin coated with

concrete in 1909. At the time, the boys and the

girls of Escondido used the pool separately and

this photograph of the boys cooling off in the pool

was taken circa 1912.

By 1927, the first Escondido High School was no longer big enough to accommodate the growing number of students. A new high

school was built that same year just down the block at 4th Avenue and Hickory Street. On the first day of class, the students walked with

their chairs from the old school to the new school. This photograph shows the "new school" in 1938. This school was condemned in 1955

and a newer school, which is the current Escondido High School, was built on North Broadway.

C h a p t e r 2 F 4 1
---
John Paul the Great Catholic University opened in 2006 and moved to Escondido in 2013, first occupying the former J.C. Penney's store

on Grand Avenue. The University has grown steadily and has purchased multiple properties along Grand and in the Downtown area, to allow

more classroom space as well as housing for students seeking degree programs in communications media, business, and the humanities.

There was no Reformed seminary in the

western part of the United States until Westminster

Seminary California (WSC) welcomed its first

students in the fall of 1980, committing itself to

providing the finest in theological education. With

an established a campus featuring an extensive

library, a comprehensive curriculum, and a full

faculty of teachers who were both experienced

pastors and experts in their academic disciplines,

WSC has attracted students from all over the

United States and many foreign countries.

Westminster Seminary California Photograph

4 2 F E S C O N D I D O : A P i c t o r i a l H i s t o r y o f t h e H i d d e n V a l l e y
---
Historic Preservation

By the 1980s, a heavy concentration of

Escondido's earliest homes could still be found

standing in the neighborhood south of

Escondido's historic Downtown, but the area had

fallen into serious decay and the potential for

demolition posed a significant threat. With the

help of Councilmember and then Mayor Doris

Thurston, it was designated the city's first

Neighborhood Group in 1988. The founders of

the Old Escondido Neighborhood Group can be

seen in the 1992 photograph on the left. Shown

are (from left to right): Margaret Moir, Sharon

Kramer, Doris Thurston, and Ginny Leighton. Old

Escondido Historic District Photograph.

The City of Escondido was designated a

Certified Local Government (CLG), by the

California Office of Historic Preservation in

1989, after six women, all dedicated and

persistent historic preservationists, spent more

than eight years convincing the city to apply for

the distinctive Federal preservation program. As

a CLG, Escondido is responsible for designating,

saving, and protecting historic structures

throughout the city. In the photograph are three

women who were instrumental in establishing

the program (from left to right): Mable

Dalrymple, Harriett Church, and Margaret Eller.

Others who were vital in creating the program

included Dorothy Mortensen, Meg Mount,

Janean Young, and Lucy Berk.

Dedicated historic preservationist and local historian Lucy Berk served on the Historic

Preservation Commission from its inception until she stepped down in 2012. Her contributions in

terms of preserving Escondido's history, both in tangible structures that were saved and protected, as

well as by documentation, are immeasurable.

C h a p t e r 2 F 4 3
---
The Old Escondido Historic District was established by the City Council in 1992 and is comprised of Escondido's oldest neighborhood,

with homes in a variety of styles dating back to 1886. The neighborhood has held home tours to raise funds and awareness for more than

thirty years. The photograph on the left is from June 1990. The annual Mothers Day Home Tour, as shown in the 2018 photograph on the

right, has become a tradition for many families. Photographs courtesy of Old Escondido Historic District

Inarguably the most notable house in the Old Escondido Historic District is the Beach House, located at 7th Avenue and Juniper Street.

Lovingly restored, beginning in 1998, by art dealer Harry Parashis and his wife Letitia with guidance from San Diego's Save Our Heritage

Organization, the Queen Anne Victorian, built in 1896, stands out today as the Crown Jewel of Old Escondido. The Beach House is on

both the National Register of Historic Places, as well as on the Local Register, here in Escondido.

4 4 F E S C O N D I D O : A P i c t o r i a l H i s t o r y o f t h e H i d d e n V a l l e y
---
Clubs & Organizations

Escondido has been the home of fraternal and

service clubs over the years. In Escondido, the

Kiwanis Club was the first service organization

formed, just a few weeks before the Escondido

Rotary Club, both having been established in

1924. This photograph shows the men of the

Kiwanis Club at one of their lunch meetings at

the Charlotta Hotel in 1935.

The unique East End Club was organized in 1907 by women who lived on isolated ranches at the east end of the Escondido valley

and its sole purpose was to create opportunities to strengthen friendships. Remarkably, the East End Club still exists today, making it the

oldest social organization in Escondido. In celebration of the club's 100th anniversary, members posed for this photograph at the

Escondido History Center on May 11, 2007.

C h a p t e r 2 F 4 5
---
Founded in 1924, the Escondido Country Club started with a stone clubhouse and course built by the members' own hands, but

the property was sold during the depression. Re-established in 1965, the manicured grass, majestic trees, and welcoming facilities of

the new Escondido Country Club property provided beauty and value to create one of the most treasured neighborhoods in Escondido.

The clubhouse and golf course closed in 2013 and the property was sold to a Los Angeles developer with plans to build homes. While

the owners of surrounding homes and the developers continued to disagree over plans for the property, a fire destroyed the clubhouse

in 2017 and the controversy continues.

Started in 2006, the Escondido Charitable

Foundation's mission is to increase responsible

and effective philanthropy through annual

grants to charitable nonprofits serving the

residents of Escondido. Through the generosity

of one of its members, The Escondido Charitable

Foundation is donating a community gateway

arch to the City of Escondido in 2019. Artist's

conception of the Arch provided by the Escondido

Charitable Foundation.

4 6 F E S C O N D I D O : A P i c t o r i a l H i s t o r y o f t h e H i d d e n V a l l e y
---
The Escondido Creek Conservancy was incorporated in 1991 with a mission to preserve and

restore the Escondido Creek watershed. Since that time, the Conservancy has helped preserve

more than four thousand acres of land. The Conservancy also provides outdoor education

programs for 3,500 youth and adults every year as in this photograph showing students releasing

trout as part of the Conservancy's 2018 Trout in the Classroom program. Escondido Creek

Conservancy photograph.

Interfaith Community Services was founded in 1979 by a handful of diverse faith communities to address the needs of low-income,

homeless, and under-served people in North San Diego County. Over the years, Interfaith has evolved into a broad variety of programs

and services that assist people in crisis to stabilize and rebuild their lives.

In 1989, leaders from the Escondido Union

and Escondido Union High School Districts,

Escondido Chamber of Commerce, and the City of

Escondido formed an organization committed to

developing and implementing community-wide

programs to support youth, calling it Education

COMPACT, for "Creating Opportunities, Making

Partnerships and Connecting Teens. In the

photograph from 2015, COMPACT staff and

youth pose with Escondido Police Chief, Craig

Carter, at the ribbon cutting of the new high

visibility crosswalk at the corner of Ash Street and

Mission Avenue. This crosswalk was the numberone

priority identified by Mission Park residents to

improve their kids' Safe Route to School. Escondido

COMPACT Photograph.

C h a p t e r 2 F 4 7
---
Sports

In 1908, the Escondido High School (EHS)

football team played remarkably well,

considering none of the young men had played

football before. EHS played San Diego's Russ

High School twice and won both times. The

other county team was comprised of men from

the San Diego Y.M.C.A., whose members'

individual average weight was greater than that

of the high schoolers, but EHS held their own

and lost by only four points.

This giant bonfire in 1949 was representative of school and

community spirit before the annual Escondido High School football

game with their rival, Oceanside High School. The week before the

big game, boys from EHS would leave school early to gather wood of

any kind, from trees to outhouses, and it was piled in the baseball

field just west of Grape Day Park. The pep rally began at the high

school campus on 4th Avenue and Hickory Street when the students

held hands, formed a serpentine chain, and ran from the school

down Grand Avenue to the park, where they met up with the pep

band, cheerleaders, football players, and others to cheer and chant

before the big bonfire was ignited.

4 8 F E S C O N D I D O : A P i c t o r i a l H i s t o r y o f t h e H i d d e n V a l l e y
---
Baseball games were played on a field at the

corner of 4th Avenue and Spruce Street.

Escondido's town team aided greatly in the

development of several players who went on to

play professionally. Outstanding among the

local players were the Coscarart brothers. The

oldest, Joe, eventually played for the Boston

Braves, Steve played minor league baseball at

Kansas City, and Pete, the youngest, played for

the Brooklyn Dodgers. In this 1925 photograph

are, top row (from left to right): Ted Wright, Hal

Finney, Joe Coscarart, Lefty Hunt, Richard

Spaulding, Sam Kolb, Dan McGrew. Bottom row

(from left to right): Rupert Baldridge, Felix

Quisquis, Steve Coscarart, Lloyd Babley, Dean

Oliver, Marcus Alto, Pete Coscarart.

This 1941 photograph shows the "Fordettes," a local girl's baseball team that was formed to keep the baseball tradition alive in the

absence of many men during World War II. The Fordettes, sponsored by Homer Heller Ford, played in an all-female league with other

teams from around Southern California.

C h a p t e r 2 F 4 9
---
Escondido was a softball town in the 1950s

and '60s. They called it Night Ball and each

summer, life revolved around Finney Field,

adjacent to Grape Day Park. This was the first

softball field built with lights in Escondido.

Watching from the stands or from an

automobile was a favorite summer time activity

for all ages. Finney field was named after Harold

Finney, the man who helped form the

Escondido Night Ball Association in 1927 and

served as its president for 27 years.

The 1981 Escondido

National Little League All-

Stars, standing on the steps

of the Escondido History

Center office, were the only

undefeated team that went to

the Little League World

Series that year in South

Westport, Pennsylvania.

They were the Western Little

League Champions and it

was the first team from San

Diego County to reach the

Series since La Mesa won it

in 1961. Even though the

team lost, when they

returned home there was

plenty of Little League spirit

and town pride. The players

were: Alex Borboa, Brett

Salisbury, Russell Brooke,

Frank Escalante, Nick Scales,

Gary Larrabee, Bobby

Esposito, Kelly Simpson,

Jason Hobbs, Mike Hopkins,

Peter Villalobos, Gary Kinch,

and John Moran. The coach

was Mike Pumar.

5 0 F E S C O N D I D O : A P i c t o r i a l H i s t o r y o f t h e H i d d e n V a l l e y
---
Events

In 1917, two circuses paraded their animals,

bands and performers down Grand Avenue, two

days in a row. Al G. Barnes Wild Animal Circus

performed on March 9, 1917, and Cole Brothers'

Big Three-Ring Trained Wild Animal Show

appeared the following day. Each gave an

afternoon and evening tent show, following their

parade. Pictured is the Cole Brothers' troop of

animals and performers. The Cole Bros. Circus

was founded in 1884 and, in 1939, was the last

circus to feature a horse-drawn parade. As of

2014, Cole Bros. Circus was one of the few

traditional circuses in the U.S. to perform under

the "Big Top" tent, but just two years later was

seriously struggling, apparently in response to

animal rights activists protesting the use of

animals in live performances.

At each Grape Day Parade, vehicles were backed into position against the curbs along the Grand Avenue parade route so that their

occupants could comfortably watch the procession pass by. The parade was a highlight of the Grape Day Festival, which began in 1908

and was in its heyday in the 1920s and '30s, when it drew up to 30,000 spectators annually. This photograph, taken from a rooftop

perch, shows the parade in 1926.

C h a p t e r 2 F 5 1
---
Celebrating their first-place prize at the county fair, the Pio Mighetto Winery entered this float in the 1939 Grape Day Parade. The

float included a cask of wine, supported by a giant mound of grapes, in addition to four beautiful young women who posed gracefully

while holding the fair's first-place silver trophy above their heads.

When the Grape Day Festival was revived in 1996,

Grape Day Royalty was selected using different criteria

than in its early days and choices were based on

service to the community. In 2003, two queens were

selected, Ruth Thomas and Helen Heller, in honor of

their many years of service in the Palomar Hospital

Auxiliary and running the hospital gift shop.

5 2 F E S C O N D I D O : A P i c t o r i a l H i s t o r y o f t h e H i d d e n V a l l e y
---
This 2018 photograph shows the start of the 8th annual Grape Day 5K in 2018 at Grand Avenue near Orange Street; from here the

participants followed the established course along Grand and south into the Old Escondido Historic District. The Escondido Sunrise

Rotary Club initiated the annual 5K event, which was initially scheduled in conjunction with the Grape Day Festival, and benefits the

National Multiple Sclerosis Society. More than 600 people participated in 2018, as did many spectators and local high school

cheerleading squads, while the Escondido Police Department re-routed traffic.

Kit Carson Days, sponsored by the Chamber of Commerce, celebrated the opening of Kit Carson Park, in 1969. Colorado resident,

Kit Carson III, 86-year-old grandson of the famed frontiersman, was invited to the festivities. This photograph shows him speaking

to the crowd. The three-day festival included Square and Western dancing, a horse show, talent contest, and barbecue. The event was

celebrated for the last time the following year.

C h a p t e r 2 F 5 3
---
In December of 2000, the Jaycees Christmas Parade

celebrated its 50th anniversary with giant balloons. Rarely seen

in this part of the country, the giant balloons made this

landmark parade year very special. Members of local

organizations were the balloon handlers with a quick hands-on

training the morning of the parade. Each balloon was sponsored

by a local business. "The Snowman" was sponsored by the Law

Offices of Paleck & Skaja and the Escondido Rotary.

It started in 1966 with 325 lights on a young deodar cedar.

Eventually, this annual Christmas display blossomed into an

awesome tree with 1,800 lights and Santa's village in the front

yard. John and Velma Myers decorated their front yard at 920

East 5th Avenue for more than twenty-five years and attracted

multiple generations of Escondidans, as well as holiday visitors

from around the world. This holiday ritual came to an end in the

1990s after John Myers passed away, ironically the same year he

was slated to be the grand marshal of the Jaycees Annual

Christmas Parade.

5 4 F E S C O N D I D O : A P i c t o r i a l H i s t o r y o f t h e H i d d e n V a l l e y
---
In 1988, at the invitation of Congressman

Ron Packard, George H.W. Bush visited

Escondido while campaigning for president. His

campaign stop happened to fall in the midst of

Escondido's centennial celebration and he spoke

from the newly restored Santa Fe Depot in Grape

Day Park. It's interesting to note that his son,

George W. Bush, would also visit Escondido, 19

years later, to tour the 2007 Witch Fire disaster

areas and thank the firefighters who had staged

at Kit Carson Park.

On February 22, 2009, Escondido hosted the finishing leg of the Amgen Tour of California, an annual, professional cycling event on

par with the Tour de France. More than 100,000 spectators gathered along the race route that day, including tens of thousands of people

along Grand Avenue. The Amgen Race would return in May of 2013, when Escondido hosted the starting leg of the tour, the first time

the famous race ever started in Southern California, and headed north. Again, more than 100,000 spectators lined the route to watch

the cyclists and it was broadcast around the world. This 2013 photograph provided courtesy of Amgen Tour of California.

C h a p t e r 2 F 5 5
---
On Friday nights from April through September, Downtown sidewalks fill with more than 5,000 people of all ages, looking at the

pre-1970s cars displayed along both sides of the streets and listening to live bands while old and new cars cruise up and down Grand

Avenue. "Cruisin' Grand" was initiated by car enthusiast and local merchant Steve Waldron; the well-loved tradition started on April

7, 2000 and has brought more attention to Escondido than any other event in decades. In commemoration of 9/11, each September,

Fire Truck Night brings dozens of old and new fire trucks out in full force and, high overhead, a very large American flag hangs from

a fire truck's extended ladder. This enhanced photograph of one of those occasions was taken by Heidi Hart in 2013 and entered into

the City's "Happy Birthday, Escondido" contest.

Also satisfying the area's hunger for vintage

vehicle events, is the annual American Heritage

Car Show, sponsored by the Escondido History

Center. The Car Show has been bringing

together enthusiasts to "park on the green" of

Grape Day Park since 1997. Photograph from

the 2009 event.

5 6 F E S C O N D I D O : A P i c t o r i a l H i s t o r y o f t h e H i d d e n V a l l e y
---
People

A familiar Escondido sight at the turn of the

twentieth century was San Pasqual Indian

princess Felicita with her husband, Boley

Morales, on their donkey. In 1906, they were

found destitute in an old hut in one of the

canyons leading into San Pasqual Valley.

Elizabeth Judsen Roberts befriended the couple,

and cared for them. She eventually wrote a

book, Indian Stories of the Southwest, based on

Felicita's local accounts. Felicita died in 1916

and, in 1920, a pageant was written in her

honor. A county park now bears her name as

does a street and several shopping centers.

Scrap drives were a regular occurrence throughout World War II. As this delightful photograph from our archive illustrates, these

youngsters managed to make it fun. Loading up scrap metal for the war effort in their wagon, made from a citrus box and bike wheels

and pulled by a goat, are Tom Hinrichs, George Payne, and Jerry Smith.

C h a p t e r 2 F 5 7
---
Escondido's first barber, Leo Escher stands

behind a wire fence with his pet goat in this c.

1910 photograph. A native of Germany, he

named the goat "Glocke Baah" because of the

bell that hung around its neck. "Glocke" is

German for "bell." "Baah" represented the

sound the goat made. Whenever Escher would

sit down, this particular goat would climb up

on his shoulders and Leo would walk around

the property at ease, just as you see him in

the photograph. With limited space on his

property at 109 West 7th Avenue, Escher raised

goats instead of cows for their milk and to

make cheese.

Known as the "Golden Greek," Jim

Londos was a professional wrestler in the

1920s, '30s, and '40s. During his career,

professional wrestling was a big sport in

this country, a genuine athletic event, not

mere theater. A resident of Escondido for

almost forty years, Londos retired from the

sport as world champion in 1946

5 8 F E S C O N D I D O : A P i c t o r i a l H i s t o r y o f t h e H i d d e n V a l l e y
---
Amateur astronomer Clarence Friend looks through the lens of the 16-inch

telescope that he built in his backyard orange grove. From his backyard

observatory, Friend became world-renowned as the discoverer of three comets

that bear his name. He was also co-discoverer of another comet and of a nova

(new star) in the constellation of Puppis. His discoveries won him many

accolades, including a membership in the Royal Astronomic Society of London,

England; the most famous of all astronomers' groups. Upon his death in 1965,

his widow donated his telescope to Palomar College.

Silent movie actor Billy Beven and his dog, Spot, pose in this 1927 photograph at his ranch in southwest Escondido. Well known

as one of the early movies' comical Keystone Cops, Beven purchased his 31-acre ranch in 1924 and planted 15 acres in citrus and

then more in avocados. Eventually he built a home and dubbed it "Rancho La Lomita." He is credited with introducing the use of

wind machines to combat frost in cold pockets of avocado and orange groves. The idea caught on and the use of wind machines was

generally adopted by growers throughout the area.

C h a p t e r 2 F 5 9
---
Chapter 3

Commerce

Grand Avenue was a

bustling, vibrant place in

Escondido's early days.

Businesses of all types

lined the wide dirt road.

This postcard, mailed in

December 1911, shows

the view from the 100

west block toward the

east. Horse-drawn wagons

share the road with

automobiles and the

ornate Bank of Escondido

building can be seen on

the corner at the left.

While the area had been farmed for many years, the Escondido Land & Town Company was

Escondido's earliest commercial enterprise, a group of developers looking toward a future of other

businesses, homes, schools, churches, and ranches in this Hidden Valley. They developed a clever

marketing plan and it worked; a lumber company and brickyard were soon started to handle the

building surge. Blacksmiths and wheelwrights like Thomas Bandy and Alexander Stewart set up

businesses to repair wagons and forge hardware and tools. The hospitality industry began with the 100-

room Escondido Hotel, built to accommodate the many early visitors. Later, as horse drawn wagons

were replaced by automobiles, surfaced streets began to crisscross the County and by the 1940s, motor

courts and motels became economical "homes away from home" for families seeing the country.

Agriculture, started on early ranchos, continued to grow along with the city. Census reports from

the early 20th century reflect an influx of farmers, especially from the East, Midwest, and Europe.

Families like the Hillebrechts and the Henrys ran large farms on the outskirts of town, still operating

today. Grapes were Escondido's largest crop in the early days, later to be replaced by citrus fruit and

avocados, but the fertile soil and mild weather meant that nearly everything could grow here. Edward

Paul Grangetto, Sr., first arrived in Escondido in 1913 and, in 1952, he started Grangetto's Farm and

Garden Supply, still run by the Grangetto family today.

Before the prohibition era, there were at least a dozen wineries in Escondido, but only the Ferrara

Winery survived beyond that time and it continued to operate until 2011. The historic site was taken

6 0 F E S C O N D I D O : A P i c t o r i a l H i s t o r y o f t h e H i d d e n V a l l e y
---
over about six years later by new owners joining multiple new wineries in and around Escondido. Also becoming popular more

recently are local craft breweries, the most successful and now thriving internationally, Stone Brewing Company.

In time, other businesses needed by the growing township lined Grand Avenue in the Downtown. Pharmacies, general stores,

restaurants, and markets featuring locally grown produce, brought commerce to Escondido. Services, like those provided by barbers

and photographers, came along, as well.

In later years, as the town continued to grow, malls became popular. The Escondido Village Mall, the Auto Park, and North County

Fair brought numerous businesses into single shopping sites to make it easier for shoppers to spend their money.

Truly diverse companies have made Escondido their home over the years. Dr. Bronner's Magic Soaps was founded in 1948 by Emanuel Bronner,

a third-generation master German soapmaker, and it became a company respected world-wide; the headquarters and manufacturing plant operated

here on West Mission from the 1960s until 2014 when it moved to Vista California. The Ken Blanchard Company, Escondido Disposal, and Alhiser-

Comer Mortuary have all served the community for many years while relatively newer ventures like Trapeze High, a unique school for teaching the

art, have also become established.

Transportation Industry

The Escondido Land & Town Company initiated the construction of a rail line from Oceanside to Escondido in 1887 for hauling

freight and to bring prospective settlers to the town. The Santa Fe Depot was built near the corner of Grand and Spruce Street, where

this photograph was taken around 1890. Passenger service ended in 1945 and the depot was moved to its current site in Grape Day

Park in 1984 when it was no longer needed for freight storage. A freight train continues to run through the area at night. The Sprinter,

a 22-mile light rail system run by the North County Transit District, re-established passenger service with 15 stops along the way to

Oceanside in 2008.

C h a p t e r 3 F 6 1
---
The Escondido Hotel, on the knoll of East Grand Avenue was

built by the Escondido Land & Town Company in 1886 and

purposely located at the east end of Grand Avenue, across town

from the railroad depot, to provide visitors with an opportunity

to see more of the lovely Hidden Valley before reaching their

accommodations. The three-story building included 100 rooms.

In this photograph from 1890, the stagecoach is carrying passengers and freight along the narrow dirt road that was the only link

between San Diego and Escondido. The eight-hour trip would include a break for lunch in what is now Poway. Still unpaved by the

turn of the twentieth century, motor vehicles found it a challenge, but by 1910, they would outnumber the horse-drawn wagons and

the road was paved in 1920. The grade would eventually become part of Route 395, the only direct route from San Diego to the

Canadian border.

6 2 F E S C O N D I D O : A P i c t o r i a l H i s t o r y o f t h e H i d d e n V a l l e y
---
The Lake Hodges Dam was completed in 1918, flooding the area, and the Lake Hodges Bridge was added in 1919. In the late

1960s, needed improvements and realignment of the road meant that the bridge was demolished and a new one built in 1969. That

bridge, too, would be demolished and replaced again in 1981 when the route became I-15, and it was widened in 2006-2009. In

2009, a second bridge across Lake Hodges, built for pedestrians and cyclists, was opened slightly to the west. When built, it was the

longest of its type in the world, designed for the least amount of impact on the sensitive habitats located there.

The newly built Highway 395 "freeway," as shown in this 1959 photograph, is now Centre City Parkway. The palm trees had been

planted along Grand Avenue in 1914. Route 395 was designated historic by the State of California in 2008.

C h a p t e r 3 F 6 3
---
In 1945, railroad passenger service ended

between Escondido and Oceanside. Homer

Heller Company provided a station wagon to

transport passengers between Escondido and

Oceanside, beginning in September with four

daily runs. As ridership increased, a pre-war

school bus that Homer Heller whimsically

labelled a "stage" came into use, later replaced

by a regular transit bus.

Escondido has had three

very small airports. The most

significant was Engel Field,

developed in 1942 by Anna

von Seggern. Featuring two

runways it was located on 60

acres north of what was the

Talone Meat Packing plant, in

the northwest part of town.

Other sites for a larger airport

were considered in the

1960s, but interest waned

and Palomar Airport at

Carlsbad was deemed close

enough. Anna von Seggern,

is shown in the photograph

with her husband, John

Engel, at the airport that bore

his name.

6 4 F E S C O N D I D O : A P i c t o r i a l H i s t o r y o f t h e H i d d e n V a l l e y
---
Families enjoyed trips in the family car and

multiple motor courts, less expensive than

hotels and featuring convenient parking stalls

near each unit, sprang up along the way. Several

motor courts can still be found here, like this

one on Escondido Boulevard.

Pine Tree Lumber Company owner B. A. Sweet used massive redwood timbers to build the Pine Tree Motor Lodge in a western

ranch style in phases, between 1953 and 1958. Located at what is now Mission and Centre City Parkway, it was the first place to settle

in as travelers came into town from the north. Sweet served on the City Council and also on the County Board of Supervisors when

he wasn't managing the lodge and running Pine Tree Lumber. His grandson, former state senator Mark Wyland, learned to swim in

the Pine Tree Lodge swimming pool.

C h a p t e r 3 F 6 5
---
Located adjacent to the Pine Tree Motor Lodge, the Wagon Wheel Restaurant was a popular place to eat for locals and travelers

alike from 1953 until 2014. When the Charger football team's practice field was located in Escondido during the 1960s, the team

members often ate breakfast here. Numerous celebrities dined here, as well, including Robert Young, Jim Kennedy, and Dale

Robertson. The "sputnik" was added to a cupola, and later plywood horses added to the roof, making the restaurant truly unique.

The horses blew over in a windstorm and the sputnik mysteriously disappeared after the restaurant closed. The Wagon Wheel

Restaurant and the Pine Tree Lodge were both demolished in 2017 to make room for a shopping center and carwash.

The Car Hop Drive-In Café was built in

the early '40s at 314 East Grand Avenue. The

place to hang out after school, games, and

dances, it was so popular that cars usually

parked three deep. When the first car in line

was ready to leave, the two cars behind

would have to pull out and then drive back

in. This photograph was taken c. 1945; the

business closed by 1964.

6 6 F E S C O N D I D O : A P i c t o r i a l H i s t o r y o f t h e H i d d e n V a l l e y
---
Agriculture

Agriculture was Escondido's most significant

money maker in the early years. Its growth

depended on the construction of the Bear

Valley Dam, and the expansion of a water

system was completed in 1895. In time, the

formation of the Escondido Mutual Water

Company stabilized the availability of water to

most ranches, farms, and homes that

functioned without wells. With water, the

grape industry expanded.

The construction of the Escondido reservoir

and canal more than a century ago was the first

reliable means of supplying local water to early

Escondido, but led to a bitter dispute over area

water rights promised by the federal

government to the local Indian tribes. More

than 50 years of legal battles finally gave way to

an impressive example of camaraderie and

teamwork between the local Indian bands and

the City of Escondido that led to a historical

settlement, agreeable to all parties and finalized

by an act of Congress in 2016.

C h a p t e r 3 F 6 7
---
Lewis B. Boyle irrigated his orange trees using a wooden water flume. His property and house were on Boyle Avenue near Midway

Street and Oakhill Drive.

Grapes thrived in the Escondido soil and climate and the Muscats grown here were considered the sweetest tasting anywhere. Here, a

group pauses for a photograph while picking grapes in 1910.

6 8 F E S C O N D I D O : A P i c t o r i a l H i s t o r y o f t h e H i d d e n V a l l e y
---
The Escondido Lemon Association was the

largest citrus grower in the state and their

packing plant, seen here in 1928, was located at

Tulip and Del Dios Road. Designed in the

Mission Revival style by architect J. Rex Murray,

it was the largest packing house under one roof

in the citrus belt. More than 800,000 field boxes

of lemons were processed here annually.

Inside the Escondido Lemon Association packing house, lemons were washed and graded. Many women were employed in the

plant, which was the largest employer in the city at the time. In the photo, you can see recently picked lemons packed into boxes in

the fields and stacked prior to processing.

C h a p t e r 3 F 6 9
---
In addition to their packing house, the Escondido Orange Association operated this plant where ice was manufactured and stored

to pack into produce transporting railroad cars before refrigeration was available. During World War II, high school students helped

load ice when the regular workers were called away to war. Much of the ice plant, located on what is now Metcalf, remains there today

and a later "ghost sign" is still visible.

This picking crew, made up mostly of Filipinos,

worked in the groves for the Escondido Lemon

Association. In addition to picking the fruit, they

were responsible for planting new trees, cultivating

the soil, fertilizing, pruning, and protecting the trees

from frost.

7 0 F E S C O N D I D O : A P i c t o r i a l H i s t o r y o f t h e H i d d e n V a l l e y
---
When the Filipinos were drafted during WWII,

Mexican Nationals were hired and a camp with kitchen

and dining hall was provided at Quince and Valley

Parkway, where the Transit Station is now located. Many

Latino families remember the camp as the place of origin

of their Escondido past. Max Atilano, foreman for the

fruit picking crew, and best remembered as an

entertainer, penned music for a corrido about life at the

camp. This photo, most likely from the 1960s, shows the

vacant buildings of the camp among the eucalyptus trees.

In the 1920s, most homes in Escondido had a flock of chickens to feed the family, but raising poultry turned into a profitable industry.

Hatcheries were lucrative businesses well into the 1930s, as Escondido's population grew. Here, Ralph Squier stands with his daughter,

Geraldine Squier (Beckman), in front of their chicken coop at his truck farm.

C h a p t e r 3 F 7 1
---
Pigs and cattle were also raised here and a slaughter house near the railroad tracks was established in the 1930s when Henry and Mario

Talone opened a packing house and market on Hale Avenue, shown in this photograph from 1959. It would change hands and variety of

services over the years until it was finally closed and left vacant for several years; it was destroyed by fire in 2016. Multiple dairies and

creameries were located in the Escondido area over the years, as well.

The San Diego County Farm

Bureau was one of the earliest

farm bureaus organized in the

state. The first formal meeting

was held on Feb 20, 1914 at the

Spreckels Theater in San Diego.

Today, the San Diego County

Farm Bureau is a non-profit

organization supporting the

more than 5,700 farms within

the county. The San Diego Farm

Bureau "AgHub" moved to 420

South Broadway in 2018. The

Hub serves as local agriculture's

key site for sharing knowledge

and a place for agricultural

groups to hold meetings and

exchange ideas.

7 2 F E S C O N D I D O : A P i c t o r i a l H i s t o r y o f t h e H i d d e n V a l l e y
---
Communications

The Escondido Times was the town's

first newspaper, founded in 1886 and

published by Amasa Sibrent Lindsay, a

Civil War veteran and experienced

newspaperman and his partner, Richard

Beavers. The first office for the Times

was located on Grand Avenue, on a lot

donated by Thomas Metcalf. Still

standing today at 114 West Grand

Avenue, it can be seen in this 1889

photograph, taken during the

Decoration Day parade. The Advocate

was founded in 1891 and it would

merge with the Times in 1909. Through

name changes and mergers, it became

one of the longest-standing institutions

in Escondido. In 2012, it was purchased

by the San Diego Union Tribune and

publication ended in 2013. A few free

and online papers have provided news

since, including The Paper, The

Grapevine, and eventually, the new

Times Advocate.

In 1952, Kay Owens started

Escondido's only radio station and

the call letters, KOWN, came from

her name. It was first located on

Hale Avenue between the Patio

Playhouse's first site, and Verne

Williamson's septic tank business.

Alan Skuba, who would become

mayor, bought KOWN in 1964 and

moved it to the Escondido Village

Mall on West Valley Parkway. In

this photograph from 1965, on the

right, Skuba is seen interviewing US

Senator and former actor George

Murphy in the Village Mall studio.

C h a p t e r 3 F 7 3
---
This photograph, from July 4,

1905, shows the entire staff of the

Escondido Telephone company,

which served Escondido, San

Pasqual, and San Marcos. Left to

right: Ed. J. Hatch, Manager;

Harry Smith, "trouble shooter;"

Olga McCorkle and Pearl

Trumbley, operators; and "Daddy"

Black, another trouble shooter. In

1919, the telephone business

office moved to the corner of 2nd

Avenue and Broadway and, while

the names have changed, a

telephone company has remained

there ever since.

In 1899, the first Escondido

telephone directory was published

and listed 18 phone numbers. By

1955, when this photograph was

taken, the number of homes with

phones had increased dramatically

and the phone company had many

employees handling calls, before

the advent of self-dialed phones.

Women were considered to have

more soothing voices and from

early on, telephone operators were

women. Westminster Seminary

California Photograph

7 4 F E S C O N D I D O : A P i c t o r i a l H i s t o r y o f t h e H i d d e n V a l l e y
---
Banks

The first bank was the Bank of

Escondido, established in 1887.

During a financial downturn in

1890s, it was the only local bank to

survive. Shown here in the 1890s at

the Northwest corner of Grand

Avenue and Lime Street (now

Broadway), the building features an

addition and is surrounded by the

wooden boardwalk. The structure

has experienced multiple changes

with many details lost and covered

over, but returned to a more classic

look by realtor and property

developer, James Crone.

Built in 1975 for the

headquarters of North County

Bank, this unique structure was

located at the corner of 5th

Avenue and Escondido

Boulevard. Architect Chris Abel

from Laguna Beach was

responsible for the unusual

design. Other tenants who did

business in the building

included Ken Hugins, former

city treasurer for more than

thirty years, and George

Chamberlain, local financial

expert and broadcast

personality. The building also

housed the headquarters of

Robert Klark Graham's Nobel

prize winner sperm bank. In 2000, when North County Bank merged with Wells Fargo Bank, it became a Wells Fargo branch. After

Wells Fargo closed the office, the building sat empty and was allowed to deteriorate for nearly a decade except for a brief period when

a church leased it, but with no plans to replace it, the building was demolished in early 2017.

C h a p t e r 3 F 7 5
---
Retail & Services

The Board of Trade was founded in

1886 but it was renamed the Chamber

of Commerce in 1895. In 1919, ground

was broken for a California mission-style

building located at Grand Avenue and

Maple Street. After moving to Escondido

Boulevard and 5th Avenue in 1960, the

Chamber would again move to the

corner of Park Avenue and Broadway in

1982. They remain at that location today

although the building was replaced; the

new one dedicated April 19, 2005. The

Chamber of Commerce has been

instrumental in bringing businesses to

Escondido and helping businesses

succeed for 130 years.

The Avenue Livery Stable was located next door to McDonald & Rechnitzer House and Carriage Painting in the 300 block of East Grand,

shown here in 1910. Horses and mules were the primary means of local transportation and Speer's Truck & Transport carried commercial

items as well as household items, like the trunks loaded in the back of the wagon in the photograph.

7 6 F E S C O N D I D O : A P i c t o r i a l H i s t o r y o f t h e H i d d e n V a l l e y
---
A surprising number of women owned and

operated businesses in Escondido's early days.

This photograph of Mrs. Pendergast and her son,

standing on the steps in front of her Chicago

Millinery Store with Mrs. Stiles standing next to

them, was taken around 1895.

Loomis & O'Dell sold second hand goods in a store at 237 West Grand Avenue, a building that still stands today. Their slogan, "Will

trade you what you want for what you don't want—we buy everything," appeared on their Grape Day float in 1919, along with their

phone number; 167-J.

C h a p t e r 3 F 7 7
---
From 1886 to 1896, there was

only one phone in the area,

located at Graham & Steiner's

General Store on the southwest

corner of Grand and Broadway.

Graham & Steiner's was the first

grocery store in Escondido and,

shortly after Escondido became

incorporated in 1888, they added

a wider variety of stock,

converting it into an early

department store. The upstairs

space was a community space,

"Eagle Hall," but in 1960, it, like

most other second floors in the

downtown area, was removed out

of concern for earthquake risks.

Horace Lyon was 73 years old when he built the Escondido Mercantile Company on the southwest corner of Grand Avenue and

Kalmia in 1905. The 50- x 70-foot store stood on two lots and boasted a wide variety of mens and womens wear, shoes for adults and

children, and sewing notions and materials. Who the legs belong to in the lower left corner of the 1905 photograph and why the person

is lying in the street remains a mystery.

7 8 F E S C O N D I D O : A P i c t o r i a l H i s t o r y o f t h e H i d d e n V a l l e y
---
Ting's Pharmacy, located on the northeast

corner of Broadway and Grand, was owned and

operated by Darwin M. "Pete" Ting, who owned

and operated the store from 1920 to 1960. The

fountain inside was a popular gathering place

for enjoying coffee, milk shakes, or lunch.

By 1927, when this photograph was taken, the

streets downtown had been paved and striped for

diagonal parking. The flag pole was installed at the

intersection of Grand and Broadway on June 12 of

that year, in honor of Flag Day, but it was removed in

1944 because rust had damaged its structural

integrity. The pole was cut into pieces and the longest

piece now stands in front of City Hall, still flying the

American flag and, now, the City flag, as well.

The Downtown continued to draw

considerable activity in the 1960s and the look

of many of the buildings was changed to reflect

the times. The building that once housed the

Graham and Steiner store was "modernized" and

a band of tiny mosaic tiles edged the overhang.

The remarkable vertical sign at the corner makes

it very clear that this was now a drugstore.

C h a p t e r 3 F 7 9
---
Probably the most interesting grocer in

Escondido history was Rube Nelson. After

buying a smaller store on Broadway with his

brother in 1937, they expanded their stock

until they needed a larger new store a block

north at Washington. Rube became the sole

owner of the "Country Corner," which sported

an array of over-sized animals on the roof and

grounds. Rube sold the business and property

to the Albertson's chain and retired a millionaire

in 1983, but, quite a character, Rube is still

fondly remembered by many in the community.

Edward Woolley was a professional golfer from Scotland who began making golf clubs at the age of 12. He emigrated to the US in

1922 and, after World War II, bought Chicago-based Golfcraft. In 1952, he moved the company to Escondido where this plant was

built at 1021 West Mission, bringing 22 workers and their families from Chicago to work there. Golfcraft would eventually employ a

total of 167 workers and produce 600,000 golf clubs, the third largest producer of golf clubs in the United States. The company's Vice

President, Edward Redmond, served on the City Council from 1955 to 1962. Golfcraft also developed and was the first company to

manufacture fiberglass golf club shafts. The property was sold to the manufacturer of Titleist golf equipment in 1969 and more

recently purchased by Escondido Disposal Incorporated, who adapted it as part of their state-of-the-art recycling center.

8 0 F E S C O N D I D O : A P i c t o r i a l H i s t o r y o f t h e H i d d e n V a l l e y
---
As the city grew, businesses could be found in other areas,

often grouped together. These fashion show models from the

Walker Scott Department Store are standing in front of the

Escondido Village mall. Built in 1964, it was the first enclosed

mall west of the Mississippi River, but only two decades later, it

wound up in bankruptcy. A Los Angeles-based company

purchased the property in 1984 and, later, when it faced stiff

competition from the new North County Fair Mall, Escondido

Village underwent a major renovation and turned into a strip

mall, offering easier access to individual shops by their

customers that has proven successful.

An aerial view looking west, with Valley Parkway running along the far-right side from the lower righthand corner, shows the old

Vineyard mall, built in 1974, with its wood-clad angular buildings that housed a two-screen movie theater, a radio station and several

quality restaurants. To the west of the Vineyard is the Village Mall, closer to the top of the photograph, and another strip mall can be

seen to the east, toward the bottom of the photograph.

C h a p t e r 3 F 8 1
---
North County Fair, the largest mall in the

county, boasted six anchor stores when it was

opened on February 20, 1986, with confetti

shot from rooftop cannons, 5,000 helium-filled

balloons and seven huge hot-air balloons,

cheerleaders, magicians, music makers and

speeches. The mall was purchased by Australian

firm, Westfield, who renamed it Westfield

North County in 1998 and completely

renovated the shopping mall in 2012. In 2017,

Westfield Corp., including their 16 malls in

California, was sold to French commercial real

estate giant Unibail-Rodamco.

In 1970, five auto dealers came

together as the Escondido Auto

Dealers Association and they

decided that Escondido should

have an auto park. In 1977, two

realtors were able to convince 29

separate property owners to sell

their 78 acres north of Valley

Parkway, east of the I-15 freeway.

Today, the five posts bearing flags

at the entrance to the Escondido

Auto Park still represent those

initial five auto dealers, and 14

automobile dealerships line the

loop at "the Home of the Full

Circle Test Drive."

8 2 F E S C O N D I D O : A P i c t o r i a l H i s t o r y o f t h e H i d d e n V a l l e y
---
George Weir started out by driving a pickup

truck around town, filling potholes; the

photograph of George is from the late 1970s or

early 80s. His work ethic would lead to the

development of several businesses and Weir

became well known for his philanthropy. From

filling pot holes for the city at no charge, to

helping create the Heritage Garden at Juniper

and Grand and enhancing outdoor areas at the

Center for the Arts, George and his wife, Cynthia

have quietly made a difference in Escondido.

The Treasure House, shown in this 1947 photograph, was located at the corner of Grand and Quince. Customers could store their

frozen food here when space at home was absent or lacking in size. The building stands today and can be recognized by the curved

window of glass blocks at the corner. Next to it was an earlier site for Pyramid Granite, a granite cutting factory.

C h a p t e r 3 F 8 3
---
The Offshore Model Basin, formerly on Enterprise Street, contained a 300-by-50-by-15-foot-deep indoor pool capable of creating

significant waves. It was often used to test boats and underwater equipment by companies and organizations from around the country.

It also hosted an annual submarine race for college students, as shown in the photograph, and used for making movies, including

scenes from the movies Titanic, True Lies, and Free Willy. Photograph courtesy of Jill Campbell.

Stone & Glass is an art glass and mixed

media studio and gallery that began in a tiny

500-square-foot studio in 2001, the

culmination of James Stone's lifelong dream to

be a full-time working artist. In 2015, the

owners were drawn to Escondido for its history

of glass arts and art culture and moved into the

industrial area. Following a fire that started in

a neighboring business, Stone & Glass moved

into their current location on Grand where

emerging artists continue to be mentored and

students are taught the art. Photograph courtesy

of Stone & Glass

8 4 F E S C O N D I D O : A P i c t o r i a l H i s t o r y o f t h e H i d d e n V a l l e y
---
Giants of Business

The Joor Muffler Man has stood steadfast on the corner of Juniper

Street and Valley Parkway in the Downtown since he was placed in

front of the muffler shop in the 1960s. Made of fiberglass, he stands 22

feet tall on top of a concrete base and has had quite a wardrobe through

the years. Below, the Joor Muffler Man can be seen in his Santa suit,

enjoying the holidays.

In addition to its unique sign in the front parking

lot, the Ups 'N' Downs Roller Rink on North

Broadway featured a giant roller skate on the roof.

The roller skating rink was built in 1959.

The Muffler Man was wearing his Amgen vest and

cap to honor the Amgen Tour of California bicycle race

that started in the Downtown in 2013.

C h a p t e r 3 F 8 5
---
Chapter 4

Culture

The Escondido Band

lined up for the

Decoration Day parade on

May 30, 1889 in front of

the Methodist Episcopal

Church, the first church

constructed in Escondido.

Barber Leo Escher can be

seen on the very left,

wielding a baton as the

drum major.

Escondido's relationship to the arts and its endeavor for cultural development began almost at the

city's incorporation in 1888. The first city band was formed by twelve local musicians. In 1889, a band

stand was built on the southeast corner of Grand Avenue and Maple Street. Band concerts often made

Sundays and holidays merry occasions. These early days also boasted local celebrations, eventually

including the Grape Day Festival, which always had a musical component. Early theatrical productions

were also quite common in the schools, churches and clubs.

In the 1920s and 30s, the Community Arts Association was organized to give attention to arts and

drama. About the same time, local optometrist, Benjamin Sherman, who had studied drama at leading

Southern schools, gathered local young people together and presented several plays at the Kinema

Theatre. Audiences of 500 to 700 attended. Later, he wrote the outdoor play "Felicita." In more recent

history, the Patio Playhouse Community Theatre has been providing local, live theatre since 1967.

In 1946, the Philharmonic Arts Association was formed and launched its first concert series,

held in the Escondido High School auditorium. Through the Association's efforts, Escondido was

host to world-renowned artists such as Risë Stevens, Jose Greco, Artur Rubenstein and the Los

Angeles Philharmonic.

In the 1970s, the Escondido Regional Arts Council was created to bring visual arts to North County.

The first gallery was in the Vineyard Shopping Center on East Valley Parkway. Today, the Municipal

Gallery and the Escondido Arts Partnership both provide venues for local artists to exhibit their work.

8 6 F E S C O N D I D O : A P i c t o r i a l H i s t o r y o f t h e H i d d e n V a l l e y
---
The City established a Public Art Program in 1988 and more than 22 public art projects have been installed by the City of Escondido

and private developers under the guidance of the Public Art Commission.

Also in the 1970s, the cultural history of the community came into focus with the establishment of Heritage Walk in Grape Day Park.

The City's first library was identified and moved to the Walk, opening in 1976 as the first local history museum. Since that time, other

historic buildings have been added to Heritage Walk to help keep the history of Escondido alive. Additional museums and galleries have

been established in the City, over time, to provide the people of Escondido with well-rounded cultural opportunities.

With the success of the Regional Arts Council, a stronger, more comprehensive Felicita Foundation was formed, which successfully

lobbied to use the city's old library space upon completion of the new library in the early 80s. With the support of the National Endowment

for the Arts, the Felicita Foundation was able to use the newly acquired space to present both visual and performing arts in a limited scope.

Sparked by this civic vision that recognized how vital the arts are to a community, Escondido voters, in 1985, approved the building

of a $73 million arts center that would bring music, dance, theater, education and the visual arts together on one dynamic campus as

part of an overall redevelopment project. Since its opening in 1994, the California Center for the Arts, Escondido has been dedicated to

promoting the arts along with their power for community building and enhancement, and to enrich the lives of Escondido citizens.

Literature has always played a key role for Escondido residents, as well. First librarian Mina Ward authored a book that included

her own stories as well as articles from technical magazines to assist in gauging shorthand speed. Several other notable authors have

made Escondido their home, including, more recently, Martha C. Lawrence and former Escondido Police Officer Neal Griffin; as well

as childrens book illustrator Debbie Tilley.

Music

The Escondido Band added "Cornet" to its name and and later donned uniforms to pose for this professional photograph, c. 1890.

C h a p t e r 4 F 8 7
---
Max Atilano and his Mexican Troubadours

were a constant at the Grape Day Festivals from

1920-1940. They also provided music for the

outdoor play, Felicita. Shown in this c. 1925

photograph are (from left to right): Pete Ruiz,

Frank Salcido, John Cosio, Ted Borja, Senorita

Paquita Cantu, and Max Atilano.

"Sound Town" was one of the original stores in the Escondido Village Mall and one

of the favorite hangouts for those who enjoyed music. This 1965 photograph shows

Lawrence Welk promoting one of his albums at the popular store as the featured star

of the day. Welk had a special connection to the area and visited often because of his

Lawrence Welk Resort just north of Escondido. He sometimes produced his popular

TV show in Escondido, which brought national exposure to the city. Photograph by

Bill Rutledge

John Marikle built his art and music store on

South Kalmia in collaboration with photographer

Louis Havens, who built his photograph studio

next door and took many of the early photos

found in this book. Both businesses opened in

1911. Each family lived in an apartment above

their respective store.

8 8 F E S C O N D I D O : A P i c t o r i a l H i s t o r y o f t h e H i d d e n V a l l e y
---
In 1970, artist Frank Matranga, was commissioned to create four murals portraying scenes from San Diego's history to be installed

over the entry doors of a new Sears building on East Valley Parkway in the mid-1970s. When the building, which had also been

occupied by the Fedco membership store from 1986 to 1989, was demolished in the early 1990s, the murals were saved. One,

depicting a scene from the 1846 Battle of San Pasqual, can be seen today on the front of the Children's Discovery Museum at 320

North Broadway while another can be found on a median wall along South Date Street.

Queen Califia's Magical Circle is the only

American sculpture garden and the last major

international project created by French artist

Niki de Saint Phalle, one of the most significant

female and feminist artists of the twentieth

century. Inspired by California's mythic,

historic and cultural roots, the garden is located

at Kit Carson Park. In the photograph, taken at

her home where the maquette was displayed,

stands Niki de Saint Phalle with her arm raised

and to her immediate right, Mayor Lori

Holt Pfeiler. Don E. Anderson photograph.

C h a p t e r 4 F 8 9
---
Since the Public Art Program began in 1988, more than 22 public art projects

have been initiated by the City of Escondido and private developers. The Public

Art Program has received a number of local and national awards for its projects.

This bronze fountain at the right, designed by James Hubble in 1989, is a

memorial to Joyce and Irvin Malcolm, prominent supporters of the arts and the

preservation of Escondido. It can be found at Trinity Episcopal Church, 9th

Avenue and Chestnut Street.

In 2000, Wick Alexander created Pillars of the

Community in multiple locations along South

Escondido Boulevard. The entire Public Arts

project included nine obelisks, three murals,

and sundials and historic street names incised

into the surface of the sidewalks. The obelisks,

like the one at the left, start at the southeast

corner of 6th Avenue and end at the southeast

corner of 15th Avenue.

The mural at right with a self-guided walking

tour of historic homes that had been located at the

corner of Escondido Boulevard and 8th Avenue

fell into disrepair and was removed in 2017.

Located in the Maple Street Plaza, between

Grand Avenue and West Valley Parkway, artist

Paul Hobson created a fountain and curved seat

wall to celebrate the importance of Escondido

Creek. The risers in the water feature were

inspired by historic agricultural flood irrigation.

Brad Ansley photograph.

9 0 F E S C O N D I D O : A P i c t o r i a l H i s t o r y o f t h e H i d d e n V a l l e y
---
Military Tribute, created by Gale Pruitt in 2007, is one of

several veterans memorials in Grape Day Park. Bronze statues

depict a female fighter pilot representing Women Air Force

Service Pilots of World War II; a tall male soldier symbolizing

those currently in combat; and a youthful ROTC student

representing the future. The statues are flanked by the Walls of

Courage, inscribed with names of local veterans.

Community was created by Jeff Lindeneau in 1990 as

one of the early public art pieces.. Two cast bronze

triangles featuring silhouettes of human figures stand

atop two copper clad and granite slabs, facing each

other, connoting a passage way.

Also created as a Public Art project, the 2011 New Leaf by artist Dan Dykes is

located on South Centre City Parkway near Felicita Avenue. According to the

artist, the green patina represents Escondido's agricultural past, the stainless steel

represents modern manufacturing, and the stainless-steel mesh at the top

symbolizes the history of Escondido, coming together to form a new leaf.

C h a p t e r 4 F 9 1
---
Performing Arts

The annual Felicita

Pageant featured 200 local

thespians and was held from

1927-1932 in the Quiet

Hills area near Felicita Park

in south Escondido. The

play was written by

Benjamin Sherman, a local

optometrist, and based on

Elizabeth Judson Robert's

book, Indian Stories of the

Southwest. The pageant

attracted hundreds of guests

every year to sit under a

canopy of oak trees while

viewing the play. This

photograph was taken

during the 1930 production.

In 1923, The Tom Thumb Wedding was performed by a group of children at the Kinema Theater on Grand Avenue. In 1935, the

children of the Methodist Church performed in a similar production, taking the roles normally played by adults.

9 2 F E S C O N D I D O : A P i c t o r i a l H i s t o r y o f t h e H i d d e n V a l l e y
---
This photograph was taken on April 14, 1916

and shows the cast of the Escondido High School

production of Gilbert and Sullivan's, H.M.S.

Pinafore. The operetta took place at the school in

the Robert's Auditorium and the special scenery

was produced by the Art Department. Although

the operetta story-line centers around the British

Navy, it's interesting to note that American flags

were used in the production.

The first Patio Playhouse opened with its first

play in 1971 in this remodeled machine shop on

Hale Avenue. The founders sought to provide a

creative outlet for talent, young and old, and to

bring live theater to the community. The

founders were Curtis Babcock; Dale Baldridge,

and Greg and Don Krueger. Today, it is the oldest

continuously-operating community theater in

San Diego County.

Georgia Copeland, a former MGM starlet who danced in

numerous musical movies, opened her dance studio in

Escondido in 1953, making it the oldest dance studio still

operating in North San Diego County today. Georgia personally

produced more than 40 professional dancers in the course of her

teaching career. When Georgia died in 1998, Sue Gibson

assumed the operation of the studio. The snapshot shows

Georgia on the left and Sue Gibson on the right. Photograph

courtesy of Georgia's Dance Studio

C h a p t e r 4 F 9 3
---
This aerial photograph shows the California

Center for the Arts under construction in April

1992, located just west of Grape Day Park, along

Escondido Boulevard. Escondido voters

approved spending $73 million to build the

Center that would bring music, dance, theater,

education and the visual arts together on one

dynamic campus as part of an overall

redevelopment project.

The completed Center for the Arts, Escondido, is shown in this September 1994 photograph.

9 4 F E S C O N D I D O : A P i c t o r i a l H i s t o r y o f t h e H i d d e n V a l l e y
---
The Kinema Theatre opened at the 200 block

of east Grand Avenue in December 1920 and is

featured in this photograph from 1929. The

Kinema hosted Escondido's first motion pictures

with sound and was the place of many

community gatherings. In 1931 it became

known as the Pala Theater.

The Ritz Theater, near the southeast corner of Grand Avenue and Juniper Street opened during the Grape Day Festival in 1937. In

1950, a fire damaged much of the interior and this photograph from 1952 shows the wood barricades in the doorways prior to its reopening

in 1953. The theater managed to stay open for a time, then closing and re-opening multiple times under a succession of

owners until it closed for the final time in 2003. The Grand Market, in the companion building next door on the corner with similar

art deco features, was the first grocery store in the city to have wheeled shopping carts. In 2015, it would become an Arthur Murray

Dance Studio.

C h a p t e r 4 F 9 5
---
On June 19, 1950, a 2,080-pound replica of

the Liberty Bell visited Escondido. The bell was

one of 52 replicas donated to the U.S. Treasury by

America's copper industry. The visit was part of a

state-wide tour being made in connection with

"Independence Drive," a program to increase the

sales of U.S. Saving Bonds. The photograph

shows the procession in front of the Pala Theater,

which was located near the corner of Grand

Avenue and Kalmia Street. Shortly after this

photograph was taken, the theatre was converted

into an eight-lane bowling alley, Pala Bowl.

The Escondido Drive-In opened on July 6, 1950, at 755 West

Mission Avenue and the price of admission for that night's

feature, The Boy from Indiana, was 50 cents. California political

hopeful and future President, Richard Nixon, made a campaign

stop at the drive-in that same year, and in 1962, a local pastor

began holding Sunday worship services in the lot. The drive-in

could accommodate about 320 cars and films such as 1959's Ben

Hur sold out several times each night. The owner, Dan Johnston,

moved the drive-in to West Mission Avenue in 1967 to

accommodate the thriving business. This drive-in closed

September 8, 1985.

In 2000 and 2001, Escondido's last two movie theaters

closed, forcing residents to drive to theaters in San Marcos or

Oceanside to see new movies on the "big screen." The

community was pleased to have a local theater again, when a

new 16-screen multiplex with stadium seating, shown in the

2018 photo, opened on January 30, 2004, at the site of the old

Montgomery Ward store on the corner of Valley Parkway and

Escondido Boulevard.

9 6 F E S C O N D I D O : A P i c t o r i a l H i s t o r y o f t h e H i d d e n V a l l e y
---
Literature

Harold Bell Wright was a best-selling American writer of

fiction, essays, and nonfiction. Although mostly forgotten or

ignored after the middle of the twentieth century, he is said to

have been the first American writer to sell a million copies of a

novel and the first to make $1 million from writing fiction.

From 1935 until his death in 1944, Wright lived on his "Quiet

Hills" farm in south Escondido. Two of his most popular novels

are: Shepard of the Hills and The Winning of Barbara Worth.

Frances Beven Ryan taught home economics

in Escondido schools for thirty years and then

wrote several books about Escondido history,

based on stories told to her by her relatives,

who were among Escondido's founders and first

settlers; Early Days in Escondido (1970),

Yesterdays in Escondido (1973), and Escondido As

It Was (1980). She also wrote a weekly history

column for the Times-Advocate. The Escondido

Library Pioneer Room was established as a

bequest by Ryan in 1992. In the photograph

from 1971, she is seen handing one of her

books to then Mayor Allen Skuba while William

Fark sits to the right and her husband, Lewis,

stands by her side at the dedication of the

recently relocated original library.

Another Escondido native, William Maurice Culp, whose uncle was the town marshal for a

time, wrote several childrens books, including Tumba of Torrey Pines in 1931, Jeremiah in 1932,

as well as And a Duck Waddles Too in 1939.

C h a p t e r 4 F 9 7
---
Museums

The San Diego Children's Discovery Museum provides hands-on educational exhibits and programs focusing on science, art, and world

cultures for children. In 1999, it was founded by local resident Katie Ragazzi as a traveling education program in science and art. The

following year, it incorporated as the Escondido Children's Museum. In 2001, the doors to the first museum facility opened in a small

storefront on Grand Avenue. Three years later, it moved to a larger venue on the campus of the California Center for the Arts Escondido.

With the opening of its third and current location on North Broadway, the Escondido Children's Museum changed its name to San Diego

Children's Discovery Museum.

Keith Roynon began collecting his first fossils

as a young child and, in 2000, began inviting

school children to his home where his large

collection was displayed. After a complaint was

filed in March 2015, the City notified Roynon

that the residence could no longer open its

doors for the thousands of students who came

every year. Community volunteers quickly

intervened, finding and renovating acceptable

quarters in a storefront on Grand Avenue to

house Roynon's entire collection of more than

4,000 artifacts. The Roynon Museum of

Paleontology was voted "Best Museum in the

San Diego area" for 2016, according to the San

Diego A-List website but would close in 2019

due to operational challenges.

9 8 F E S C O N D I D O : A P i c t o r i a l H i s t o r y o f t h e H i d d e n V a l l e y
---
Chapter 5

Government Sites and Services

Escondido was incorporated in 1888 as a result of a 64-19 vote by city residents, who also elected

the first members of the Board of Trustees. The Board met monthly, upstairs at 110 West Grand. In

1930, the Board of Trustees became the City Council and the chairman became the mayor. In 1955,

an ordinance was adopted, setting up the current Council-Manager form of government.

A Public Library was Escondido's first city service. In the early 1900s, the city also began paving

roads. The Parks and Recreation Dept. was formed in 1956, later to become part of the Community

Services Department. Escondido has always offered a wide variety of outdoor recreational

opportunities, including camping, fishing, picnicking, hiking, and boating. Currently, the City

maintains Dixon Lake, Lake Wohlford, Daley Ranch, and nine urban parks.

The scope of city services has steadily increased over the years, particularly as the city limits

extended outward and the population grew. Eleven different departments, in addition to the City

Manager's, City Attorney's, City Treasurer's, and City Clerk's offices, now provide residents with a

wide range of services.

Escondido has experienced very few major crimes that have attracted national attention. Sadly, a

post office shooting in 1989 became the second postal shooting in the country, followed by others in

different cities that led to the term "going postal." Also receiving national attention was the murder

in 1998 of Stephanie Crowe, who was stabbed multiple times in her bedroom. Another tragic murder

In celebration of the

City's Centennial, a time

capsule was buried under

the center of the dome of

the new City Hall and covered

by a bronze marker.

City employees Jerry

Chappel (left) and Dave

Cramer (right), are shown

installing the time capsule

in this 1988 photograph.

C h a p t e r 5 F 9 9
---
occurred in 2009, when Amber DuBois was

abducted on her way to school. Her murder,

and Chelsea King's of Rancho Bernardo,

by the same man, led to the passing of

Chelsea's Law, which, among other provisions,

increased penalties, parole provisions, and

oversight for violent sexual predators who

attack children.

Fires have taken lives as well as damagied

and destroyed property throughout Escondido's

history. Thankfully, however; the number of

fires has steadily decreased, thanks to stricter

fire codes, including mandated fire sprinklers

in new construction, as well as more advanced

firefighting equipment and strategies. The Fire

Department also began offering medical aid and

transport in 1977 with those calls now making

up 80 percent of fire department calls while

fire-related calls constitute only 1.7 percent of

their nearly 16,000 annual calls.

Ol' Betsy housed at Station 1.

Buildings

By 1890, the first dedicated City Hall was located on Grand Avenue and a small building to the rear served as the City jail. Note

the sunrise decoration above the windows and doors; similar detail adorns the front of the current City Hall.

1 0 0 F E S C O N D I D O : A P i c t o r i a l H i s t o r y o f t h e H i d d e n V a l l e y
---
A City Hall built of adobe block and made possible by the Works Progress Administration (WPA), was finished in 1938, in time to

celebrate the city's fiftieth anniversary. It housed city offices, including the Police Department, and the Fire Station, which was added

onto the north side a year later. The building was located on what is now the front lawn of the vacated Palomar Hospital, downtown,

where Valley Parkway and Grand split.

In 1988, a new 108,000-

square-foot City Hall was

built at the corner of Valley

Parkway and Broadway.

The design was chosen by a

public process, and a

nation-wide competition

was held. The 108 entries

were reviewed by 1500

citizens and, using their

comments, a jury chose the

design submitted by Pacific

Associates Planners and

Architects, a San Diego

firm. The building won

several prestigious awards,

including the Urban Land

Institute Award for

Excellence in 1989. This

photograph shows the

building's dedication

ceremony with Mayor Doris

Thurston at the podium.

C h a p t e r 5 F 1 0 1
---
Escondido's first Public Library was built in

1894 and the City assumed responsibility for its

operation in 1898. The first librarian was Mina

Ward and she was initially responsible for more

than 300 books, all donated by the community.

The building was moved to Grape Day Park in

1971 and now houses the Escondido History

Center offices and research center.

On March 25, 1910, the cornerstone was laid for the Carnegie Library, which opened in October of that year. Books could be checked

out every day except Sunday, when the library was open for quiet reading only, to honor the Sabbath. Businessman and philanthropist,

Andrew Carnegie, donated money for building libraries around the world; 2,509 libraries were built between 1883 and 1929. This

photograph is from a 1938 time capsule located at the adobe city hall and opened in 1988.

1 0 2 F E S C O N D I D O : A P i c t o r i a l H i s t o r y o f t h e H i d d e n V a l l e y
---
Also outgrown, the Carnegie Library was

replaced in 1956 by this building on the left,

designed by popular architect George Lykos. The

strong example of Mid-century Style, named for

art and culture advocates, Bob and Ruth Mathes,

still stands at the northwest corner of Kalmia

Street and 3rd Avenue.

Its distinctive light-controlling louvers recently removed, the Mathes Center

continues to house meeting rooms and the Pioneer Room, which was established

in 1992 with local historian Frances Beven Ryan's collection and other historical

and genealogical research material.

In 1981, the 40,000-square-foot library was

built next door and is still in use with more than

1,000 visitors daily. A major renovation was

performed in 2009 to better accommodate

today's technological needs and make it more

attractive to visitors. In a controversial move,

the City Council voted 4-1 to privatize the

library services in 2017.

C h a p t e r 5 F 1 0 3
---
Parks

Grape Day Park was the

city's first park, donated to

the city to celebrate Grape

Day, beginning in 1908.

This photograph from 1976

shows the welcome sign

and fountain, which still

stand today. At one time,

the park featured a bandshell

and baseball fields as

well as "the plunge," the

first community pool.

The second oldest and largest in the county, this grand, multitrunked

eucalyptus tree sheltered Grape Day Park visitors for

decades. Out of safety concerns, it was cut back significantly in

2013 with the tall stump remaining as a reminder of its earlier

glory, while a design for its future use is being considered.

Nearby, when a restroom was needed for the Heritage Walk

location, the last bid opened offered to do the job for only $1.

Immediately accepted, the gazebo-shaped facility was completed

by the community minded K. L. Wessel Construction Company.

1 0 4 F E S C O N D I D O : A P i c t o r i a l H i s t o r y o f t h e H i d d e n V a l l e y
---
"The Plunge" swimming pool in Grape Day Park was a popular place to cool off in the 1950s. A replacement municipal pool, built

closer to Woodward Avenue, was named after Jim Stone, an Escondido High School teacher who worked as aquatics manager for the city

during the summer. Stone was in charge of pool programs for more than twenty years.

James B. Dixon, superintendent of the Mutual Water Company, urged the City to build a dam, northeast of the city at this location,

and the Dixon Lake Recreation Area was dedicated on May 12, 1977. The lake area continues to provide opportunities for fishing,

camping, and picnicking. Eric Johnson photograph.

C h a p t e r 5 F 1 0 5
---
Robert Daley built a small cabin and settled in the valley around 1869. In 1925, he built a ranch house of single board, heart

redwood that still stands today. In 1996, developer plans for the land surrounding it were halted when the Escondido City Council

voted to purchase and forever protect the 3,058-acre ranch as a habitat preserve. Today, Daley Ranch offers more than 20 miles of

trails for hiking, mountain bikes, and equestrian use and the ranch house is available for public use.

Named after the famous scout who also

fought in the Battle of San Pasqual, the 285

acres where Kit Carson Park sits was purchased

from the City of San Diego in 1967. One

hundred acres have been developed into ball

fields, tennis courts, and the Sports Center

Complex. It's also the home of an amphitheater,

Queen Califia's Magical Circle and the Iris Sanke

Arboretum. The popular Escondido Rotary

Club Disc Golf Course, depicted in this 2013

photograph, was established in 2010. The

course meanders through a creek, oaks, alders,

and manicured grass. 185 acres of Kit Carson

Park have been preserved as natural habitat.

1 0 6 F E S C O N D I D O : A P i c t o r i a l H i s t o r y o f t h e H i d d e n V a l l e y
---
The photograph on the left, from January,

1952, shows Escondido Creek at a higher than

average level, flowing through Grape Day Park.

The City "Plunge" swimming pool can be seen

toward the center back of the photograph.

Flooding along Escondido Creek could be even

more problematic.

In the 1960s, a flood control channel, shown

in an early photograph on the right, was

constructed to prevent flooding that occurred all

too often throughout the community. The

channel has been effective but not attractive,

especially as it has collected trash, and the

original wildlife habitat was greatly compromised.

In 2010, Landscape Architecture students at

California State Polytechnic University, Pomona

developed the "Revealing Escondido Creek Vision

Plan." In it, all portions of the concrete drainage

canal running through Escondido would be

redesigned to return Escondido Creek to its more

natural state while still retaining the ability to

control flood waters as needed. As a result of that

study, the City of Escondido began implementing

the 100-acre linear park in phases.

In 2011, a portion of the Creek Trail was

staged in conjunction with the grand opening of

the adjacent Juniper Senior Village as shown in

this photograph.

Deemed successful, the improvements were

made permanent.

C h a p t e r 5 F 1 0 7
---
Law Enforcement

When Escondido was first incorporated, the town's law enforcement consisted of one man, who held the title of city marshal. In the

photo, Marshal Luther Culp, who served from 1910 to 1916, is directing traffic on Grand Avenue. By 1956, the number of all law

enforcement personnel stood at 15 but by 1986, the number had climbed to 125. Today there are 170 sworn police personnel, 93 nonsworn

support personnel, and 73 volunteers.

After the new adobe City

Hall at 100 Valley Boulevard

was built in 1938, a small

police headquarters and jail

were constructed, also of

adobe, north of and

immediately adjacent to the

City Hall. In this photograph

from 1955, motorcycle

officers are seen lined up for

inspection by the police

chief and the mayor behind

City Hall.

1 0 8 F E S C O N D I D O : A P i c t o r i a l H i s t o r y o f t h e H i d d e n V a l l e y
---
In 1976, a new one-story Police Department

headquarters, was built at 700 West Grand

Avenue, while Lester R. Lund was Chief of Police.

Plans had included a second floor but it was

eliminated when city officials realized it would be

too expensive, leaving two odd vertical features

rising from the roof. When Lund became chief in

1956, the total department personnel numbered

15 in all ranks, but the population skyrocketed

from 6,544 in 1950 to 64,355 in 1980 and the

need for more police officers to provide service

became obvious. By the time Lund retired in

1986, there were 125 employees. Escondido

Police Department Photograph.

In 1982, to accommodate increasing staff numbers, a second floor was finally added to Police Headquarters at 700 West Grand

Avenue and the look of the building was drastically different. It served for another 27 years until it was replaced in 2009 by a new

facility shared with the Fire Department Administration on Centre City Parkway. Escondido Police Department Photograph.

C h a p t e r 5 F 1 0 9
---
In 2004, Proposition P was passed by the

voters, providing $84.3 million to fund the

construction of several fire stations and the

construction of a $61 million combined state-ofthe-art

Police and Fire Headquarters building on

Centre City Parkway. Shown in this photograph,

groundbreaking for the 115,000-square-foot,

three-story headquarters on Centre City Parkway

at Decatur Way took place in September, 2006.

The building was fully operational by May 2010.

Escondido is the only city in the county that has its own

dispatch center for handling both police and fire emergency calls.

This photograph, probably taken in the 1980s, shows Zelda White

and Deanna Concannon at the far side of the room, handling

emergency calls when it was located at the 700 West Grand Police

Headquarters. Escondido Police Department Photograph.

Today's communications center, located in the more spacious

Police and Fire Headquarters building, is staffed by 25

employees, working shifts to ensure that phones are answered

24/7 and 365 days per year. In the photo, Dispatcher Kim

Rodriguez is viewing one of the five computer monitors at her

station, typical for each of the dispatch stations in the center. In

2017, Dispatch answered more than 200,000 calls for service.

Escondido Police Department Photograph.

1 1 0 F E S C O N D I D O : A P i c t o r i a l H i s t o r y o f t h e H i d d e n V a l l e y
---
A mounted police posse was formed by Police Chief Lloyd "Lefty" Mitchell in 1948, the first chartered mounted posse in the State of

California. The Posse continues a fine tradition today, a popular riding group in local parades, including the Pasadena Rose Parade in 2012.

At one time, Escondido's small police force was bolstered by county deputy

sheriffs stationed here, primarily to serve at the County Courthouse, located on East

Valley Parkway. In October, 1958, Sheriff Deputy Neil Poole, who is pictured here,

was involved in locating two bodies left by Harvey Glatman, the notorious "Glamour

Girl Slayer," in the desert east of Escondido.

C h a p t e r 5 F 1 1 1
---
Fire Protection

In Escondido's earliest days, the town marshal

would ring a hand bell along Grand Avenue when

smoke was detected, replaced by a large bell at

City Hall in 1892. Firefighting equipment

consisted of a two-wheeled cart with a garden

hose wrapped around a central cylinder, pulled

by anyone who could respond; the original cart is

shown in this photograph.

This 1914 Federal fire truck, with a maximum speed of twenty miles per hour, was the volunteer fire department's first motorized piece

of equipment. When it was overwhelmed during a major fire that destroyed the Escondido Vineyard and Winery Company on the west

side of town in 1926, funds were allocated for a 1926 La France fire truck with a 500-gallon water tank. Leather helmets and canvas turnout

coats were purchased at the same time. In 1922, a 20-man volunteer fire department was established.

1 1 2 F E S C O N D I D O : A P i c t o r i a l H i s t o r y o f t h e H i d d e n V a l l e y
---
In 1939, the first fire station was constructed

on the north side of the year-old city hall. The

two-story structure included a brass pole to speed

the firefighters' descent to the first floor. By 1953,

the former all-volunteer Fire Department had two

paid firefighters who alternated 24-hour shifts.

The position of fire chief wasn't full time until

1958 when 18 full-time firefighters were hired

and a Fire Prevention Bureau was established.

This photograph was taken in 1987, the year

before the fire station was demolished along with

the old City Hall.

Brand new Cadillac ambulance, c. 1916, driven by Escondido resident, Charles B. Weseloh for the San Diego Health Department. Photo

provided by his grand-daughter, Jean Wold, who is currently serving along with her husband in the Escondido Fire Department.

C h a p t e r 5 F 1 1 3
---
In 1961, a new main fire station with administrative offices was built on Quince north of Valley Parkway. It was heavily

remodeled twice in its lifetime and demolished and replaced in 2008. By 1984, there were five fire stations in Escondido and two

more by 2009.

In addition to the new Police/Fire Headquarters, Proposition P funding also provided for the construction of three fire stations and for

the rebuilding of Fire Station 1 on Quince Avenue, which opened in September 2009. The 28,340-square-foot facility includes a state-ofthe-art

six-story training ground with tower.

The city's first major fire occurred in 1929 when the first high school, then located at 3rd Avenue and Hickory Street, burned to the

ground. Flames could be seen from at least as far as Poway. Unfortunately, the new 1926 La France fire engine, now on display at Fire

Station 1, broke down and was unable to be used to fight the fire.

1 1 4 F E S C O N D I D O : A P i c t o r i a l H i s t o r y o f t h e H i d d e n V a l l e y
---
Working in an area completely surrounded

by wildland areas, Escondido fire crews have

fought numerous fires in rough terrain and with

development pushing outward from the city,

wildland/urban interface fires have meant

defending increasing numbers of homes located

there. The fire in this photograph, looking west,

shows a brush fire near Lake Hodges Dam in

November 1944.

Flame (below) was a tiny puppy who became

the last animal to be rescued from the tragic

Humane Society fire (right) in January 2001.

Approximately 85 animals were rescued

overnight, but Flame had been overlooked in

the darkness and wasn't brought out from the

rubble until the following morning, 11 hours

after the fire had started. The tragic fire, which

killed at least 100 animals, garnered

international attention and Flame was featured

in an interview on the Today Show.

Adopted by the department's Public Education Specialist, Flame made several

public appearances to teach fire safety behaviors before taking an early retirement.

The two-alarm fire was determined to have been the result of arson, although

an intensive investigation never uncovered the identity of the perpetrator. Flame's

photo by Julia Escamilla.

C h a p t e r 5 F 1 1 5
---
The events of 9/11 deeply affected our nation, and Escondido mourned the loss of our own Juan Pablo Cisneros, a beloved 24-yearold

graduate of Orange Glen High School, who perished in the North Tower of the World Trade Center as a result of the terrorist attack.

In response to the unprecedented loss of emergency responders, a small group of Escondido firefighters climbed into a borrowed

motorhome with a supply of custom-printed T-shirts to sell and drove across country, collecting more than $250,000 from communities

along the way. When they reached New York City, the firefighters presented a check and connected personally with families and friends

of the firefighters who had perished. Shown in this photograph of the firefighters being blessed by the Police Department Chaplain are,

(from left to right) Chris Sovay, Chaplain Pat Kenney, Mike O'Connor, Eric Souza, Mike Bertrand, and Mike Diaz.

Escondido firefighter Pete Ordille, standing

upright in the center of the photograph, was

part of the Federal Emergency Management

Agency Urban Search and Rescue team from San

Diego, sent to New York City to work in the

aftermath of 9/11. Deployed from September 17

until October 8, they worked "the pile" in 12-

hour shifts. Pete Ordille photograph

1 1 6 F E S C O N D I D O : A P i c t o r i a l H i s t o r y o f t h e H i d d e n V a l l e y
---
The Witch Creek Fire of 2007 started east of Julian and

combined with the Guejito Fire in the San Pasqual Valley,

spreading nearly to the coast, and burning more than 197,990

acres and killing 2 people. The fires triggered the largest

evacuation in county history with more than 500,000 people

evacuated and a final total cost of $1.339 billion. The Witch

Creek and Guejito Fires were among twenty-one wildfires

burning in Southern California at the time. Escondido Fire

Department photograph.

The largest structure fire in the city's history destroyed four

four-story condominium buildings under construction in

downtown Escondido in 2007. The dry wood framing, much of

it still surrounded by scaffolding, burned explosively with 300-

foot flames and a 1,000-foot tall column of smoke visible from

as far as the coast. The active fire continued from early afternoon

until well into the night. A total of 100 firefighters responded

along with 25 engines, including all five of Escondido's and 20

others from across North San Diego County. Damage was

estimated at $6 million. Troy Burlington photograph.

The city's second four-alarm fire occurred in

2017 when the abandoned historic Talone's meat

market and slaughter house on Hale Avenue, next

to the I-15 Freeway, burned to the ground and

presented a risk to the Sprinter light rail line.

Escondido Fire Department photograph

C h a p t e r 5 F 1 1 7
---
Escondido Timeline

1000 BC-1700 AD

First people in area were the Kumeyaay Indians

1843 Governor Micheltorena granted Escondido Valley to

Juan Bautista Alvarado, who named the 12,653 acres "El

Rincon del Diablo."

1846 Battle with Mexico fought at San Pasqual, December

6, 1846

1847 Treaty of Guadalupe Hidalgo

1850 California became a state

1855 After Alvarado died, his descendants started selling off

his land and Judge Oliver Witherby of San Diego began

buying portions of El Rincon del Diablo. It took him 10

years to purchase the entire ranch.

1884 Post office name changed from Apex to Escondido.

1885 The Thomas brothers came to California. Five of the

brothers, Jacob Gruendike, and seven others formed the

Escondido Land and Town Co. and purchased the

12,814-acre valley for $102,042.

1886 Construction began on the Escondido Hotel on the east

end of Grand Avenue. The University of Southern

California, with Methodist backing, was given land to

build a church on Grand Avenue and a seminary at 3rd

and Hickory. Graham & Steiner opened the first store in

town. The Escondido Times, a local newspaper, began

weekly publication. The Board of Trade was founded,

renamed the Chamber of Commerce in 1895.

1887 Construction of the Oceanside-to-Escondido railroad

line began in March 1887 and was completed in January

1888. The Lime Street School, in what would later

become Grape Day Park, opened. The first stagecoach

travelled between San Diego and Escondido.

1888 The City of Escondido was incorporated on October 8.

It consisted of 1854 acres.

1890 Population: 541. Escondido Irrigation District proposed

a $450,000 bond issue to build a reservoir.

1868 Nathaniel Harrison, a freed slave, homesteaded on the

side of Palomar Mountain. Witherby sold Rancho del

Diablo to John, Josiah, and Matthew Wolfskill and Ed

McGeary for $8,000.

1870 Zena Sikes built his adobe home (across Bear Valley

Parkway from today's Westfield Shoppingtown,

North County)

1891 Grand Avenue, downtown, had at least 12 oil lights. The

Advocate, the second newspaper in town, began

publication.

1893 50,000 fruit trees were planted.

1883 Valley purchased by the Stockton Company, a group

formed by fifteen men from Central California. They

planted grapes next to the Escondido Creek. It rained

fifty inches which was too much for the grapes.

1 1 8 F E S C O N D I D O : A P i c t o r i a l H i s t o r y o f t h e H i d d e n V a l l e y
---
1894 Construction of Bear Valley Dam began. USC's seminary

became Escondido High School.

1895 Bear Valley Dam completed. Water became available.

City's first library built.

1900 Population: 755. Grove owners formed the Citrus

Union within the decade.

1901 Street lights were changed from oil to gas.

1905 The water bonds were paid off on October 31. Grand

Avenue received sidewalks.

1907 Two inches of snow fell in February and again in April.

A movie theater opened. Escondido High School

students dug a pool by hand, next to the school.

1908 The first official "Grape Day" was held on California

Admission Day, September 9.

1914 Palm trees were planted on Grand Avenue from the train

depot to Maple Avenue.

1915 Hotel Charlotta opened. Escondido Humane Society

was organized.

1916 "Hatfield's Flood," 24.1 inches, ruins railroad tracks. No

trains in or out of Escondido for a month.

1917 San Diego Gas & Electric purchased the Escondido

Utilities Company and provided 24-hour service.

1918 Lake Hodges Dam was completed.

1920 Population: 1,789. Prohibition began, banning

manufacture, sale, and transportation of alcohol while

thousands of acres of grapes are being grown in Escondido.

1921 First service station started in town.

1909 Giant eucalyptus tree was planted in what will become

Grape Day Park. Local newspapers, the Escondido Times

and The Advocate, merged into The Times-Advocate.

1910 Population 1,334. The first electric service in town was

available on March 5 from sundown until 10:00 p.m.

The Lime Street School, the city's first, was torn down.

Escondido Women's Club was organized. Carnegie

Library replaced city's first library.

1911 Natural gas became available. In December, William

Alexander bought the Escondido Land and Town

Company.

1912 Grand Avenue was fully paved.

1922 A 20-man volunteer fire department was established.

1923 Escondido Hotel, built in 1886, is torn down.

Escondido Hospital, the first in town, was opened on

Grand Avenue by six doctors.

E s c o n d i d o T i m e l i n e F 1 1 9
---
1924 Escondido Dam and Lake becomes Lake Wohlford.

Kiwanis and Rotary clubs form.

1927 Escondido High School moved into new building at the

corner of Hickory Street and 4th Avenue. The Masons

erected a flag pole in the middle of the street on Grand

at Broadway. The Felicita Pageant debuted.

1928 Escondido Fruit Growers divided into Escondido

Lemon Association and Escondido Orange Association.

First commercial avocados planted.

1936 WPA built an adobe band stand in Grape Day Park.

1938 Escondido celebrated its fifty-year anniversary. The

second City Hall, built of adobe, opened at Grand

and Valley.

1940 Population: 4,560.

1929 A. L. Houghtelin constructed a 50-foot-diameter

wooden tepee, which became a local landmark for

nearly 50 years. First Escondido High School burned

down. Lemon packing house opened.

1930 Population: 3,421. Post office began home delivery of

the mail. Many street names changed. The city's Board

of Trustees changed their name to the City Council.

1931 Lake Hodges overflowed the first time.

1933 Charlotte Baker and Elizabeth Martin started the city's

second hospital in a former egg and poultry business on

the west side of Lime Street, now Broadway, just north

of 2nd Avenue.

1941 World War II troops camped in Grape Day Park.

1944 Flagpole on Grand Avenue at Broadway was removed.

1 2 0 F E S C O N D I D O : A P i c t o r i a l H i s t o r y o f t h e H i d d e n V a l l e y
---
1945 Local lemon production reached a peak, with 1,159,039

field boxes. Railroad passenger service between

Escondido and Oceanside was discontinued.

1947 Escondido High School had its first night football game.

1948 Palomar Observatory was completed. Palomar Hospital

District was formed.

1949 Highway 395 opened through town.

1950 Population: 6,544. Highway 395 to San Diego was

opened. Palomar Hospital opened with 10 patients.

Cora Swingle was the first woman elected to serve on

City Council. The Ritz Theater was gutted by fire.

1951 The city's first annexation added 8.7 acres to the city.

1952 Ups N Downs Roller Rink opened. Kay Owens started

Escondido's only radio station, KOWN.

1955 After a construction flaw in Escondido High School was

discovered, the student body was divided, with some

attending a new campus on North Broadway. The rest

were taught in temporary classrooms on the original

campus.

1967 Four inches of snow fell in December. Patio Playhouse

opened.

1969 Kit Carson Park was dedicated.

1970 Population: 36,792.

1971 Dixon Dam and Lake were dedicated. City's first

library building was moved from Grand Avenue to

Grape Day Park.

1956 New library at 3rd Avenue and Kalmia Street replaced

the Carnegie Library. The Escondido Historical Society

was established.

1959 Entire student body attended Escondido High School

together again at North Broadway site.

1960 Population:16,377. Lemon packing house closed.

1962 Orange Glen High School opened.

1964 Escondido Village Mall was built on East Valley

Parkway.

1966 Medians were added to Grand Avenue. The first

Escondido Drive-In opened.

1972 San Pasqual High School opened. San Diego Zoo's Wild

Animal Park opened.

1974 Lorraine Boyce was the first woman to be elected mayor.

1976 New Police Headquarters was built at 700 West Grand.

Heritage Walk was established in Grape Day Park.

1977 Dixon Lake Recreation Area was dedicated. Escondido

Auto Park was built. The Tepee, a large wooden

structure and local landmark for nearly fifty years was

blown down by the wind.

1980 Population: 64,355.

E s c o n d i d o T i m e l i n e F 1 2 1
---
1981 Current library at Broadway and 2nd Avenue was built.

Escondido Auto Park opened. Escondido National Little

League All-Star team played in the Little League World

Series in Pennsylvania.

1982 Rube Nelson's Country Corner grocery store closed.

2000 Population 133,630. Steve Waldron started the Cruisin'

Grand event.

1984 Santa Fe Depot was purchased from the Santa Fe

Railroad Company and moved to Grape Day Park.

2001 Escondido Humane Society in Kit Carson Park burned

down. Escondido Children's Museum opened on Grand

Avenue.

1986 North County Fair Shopping Center (currently Westfield

North County), a regional shopping center, opened.

1988 Escondido celebrated its centennial. City personnel

moved into a new City Hall at the corner of Broadway

and Valley Parkway. Biannual Street Faire began.

1989 Downtown Farmers Market began in October

1990 Population: 108,635

1994 California Center for the Arts opened.

1995 East Valley Community Center opened. First Night

began December 31, 1995. Escondido Arts Partnership

was established.

1996 Grape Day Festival and Parade were revived. City

purchased Daley Ranch.

2003 Queen Califia's Magical Garden by Nikki de Saint Phalle

opened in Kit Carson Park. In October, firestorms

raged. Mingei International Museum satellite opened

downtown. Escondido Humane Society opened new

facility on East Valley Parkway.

2004 Escondido Children's Museum moved to Studio One at

the California Center for the Arts. "Vinehenge," public art

that doubled as a playground opened in Grape Day Park.

2006 Escondido Historical Society celebrated its fiftieth

anniversary with a name change to Escondido History

Center

2007 Witch Creek fire destroyed more than 200,000 acres

and caused two deaths. President Bush landed at San

Pasqual High School to tour the devastation. Paramount

Condominiums, under construction on Escondido

Boulevard, burned down.

1 2 2 F E S C O N D I D O : A P i c t o r i a l H i s t o r y o f t h e H i d d e n V a l l e y
---
2010 Population: 144,464 California State Polytechnic

University, Pomona developed plan for "Revealing

Escondido Creek" to create a linear park to ultimately

replace most of the flood control channel.

2008 Sprinter light rail system began running between

Escondido and Oceanside.

2012 The new 740,000-square-foot, 11-story Palomar

Medical Center on the west side of Escondido was

opened.

2013 The first leg of the Amgen Race of California started in

Escondido.

2014 Maple Street Plaza, a pedestrian mall with public art pieces

opens across from City Hall. For the first time, four of the

five City Council Members were elected from individual

districts with the mayor elected by all city voters.

2015 After more than 50 years, most departments in the

Palomar Medical Center downtown campus closed. The

Roynon Museum of Earth Science and Paleontology

opened to the public on Grand Avenue.

2009 Final stage of the Amgen Race of California brought

thousands of bicycle enthusiasts downtown.

2016 New agriculture-themed playground area opened at

Grape Day Park. EcoVivarium, a "living museum,"

featuring reptiles, amphibians, and arthropods opened

to the public.

2017 Talone's meat market and slaughterhouse, vacant for

several years, burned down.

2018 Signage added to History Center's Heritage Walk Buildings

and Grand Avenue receives a new "Escondido" sign.

2020 Like so many communities around the country, many

businesses, recreational hotspots and civic events also

faced hardships as a result of the COVID-19 pandemic.

E s c o n d i d o T i m e l i n e F 1 2 3
---
Introduction

Escondido is a city rich in history, zealous for innovation, and thriving with culture. As a regional destination, Escondido is loved

by everyone from hikers to vintners, car enthusiasts to animal lovers. Every time I visit Escondido, whether it is for a football game

or a Rotary meeting, I am welcomed by the friendly faces and inviting places that make this city so special.

Escondido's unique blend of nostalgic history and vibrant future can be viewed as you walk or roll down Grand Avenue on a Friday

evening in June during Cruisin' Grand. Its deep ancestral roots can be discovered as you spend a Saturday hiking the trails of Daley

Ranch. The city's abundant offering of nature is best experienced by spending an evening camping under the stars at Dixon Lake. And

the essence of the community can be felt as you trick-or-treat through the Old Escondido neighborhood on Halloween.

Arts and culture are alive in Escondido. Just take a stroll through the Escondido Arts Partnership Municipal Gallery during the

Farmers' Market on a Tuesday or catch a performance by the students from A Step Beyond on the big stage at the California Center

for the Arts. Enjoy a Broadway-worthy production from Patio Playhouse this summer at Kit Carson Park Amphitheater or bring your

littlest ones to play and explore at the San Diego Children's Discovery Museum. My family has made so many incredible memories

with Escondido as our backdrop.

As you take the time to explore the jewel of the hidden valley through the pages of this book, I leave with you a quote by American

cultural anthropologist Margaret Mead. "A city is a place where there is no need to wait for next week to get the answer to a question,

to taste the food of any country, to find new voices to listen to and familiar ones to listen to again." May you always cherish what you

love about Escondido and embrace what you may have never known.

Kristen Gaspar

Supervisor, San Diego County

Left: San Diego County Supervisor Kristen Gaspar.

Right: The San Diego County Board of Supervisors (from left to right): Greg Cox, District 1; Kristen Gaspar, District 3; Nathan

Fletcher, District 4; Dianne Jacob, District 2; and Jim Desmond, District 5.

1 2 4 F E S C O N D I D O : A P i c t o r i a l H i s t o r y o f t h e H i d d e n V a l l e y
---
Sharing the Heritage

P r o f i l e s o f b u s i n e s s e s ,

o r g a n i z a t i o n s , a n d f a m i l i e s t h a t h a v e

c o n t r i b u t e d t o t h e d e v e l o p m e n t a n d

e c o n o m i c b a s e o f E s c o n d i d o

Q U A L I T Y O F L I F E ...........................................................1 2 6

T H E M A R K E T P L A C E .................................................................1 6 6

B U I L D I N G A G R E AT E R E S C O N D I D O .......................................1 9 4

F A M I LY H E R I T A G E ...................................................................2 0 4

S h a r i n g t h e H e r i t a g e F 1 2 5
---
Carmichael & Sons' General Store, February 1910.

1 2 6 F E S C O N D I D O : A P i c t o r i a l H i s t o r y o f t h e H i d d e n V a l l e y
---
Quality of Life

H e a l t h c a r e p r o v i d e r s , f o u n d a t i o n s ,

u n i v e r s i t i e s , a n d o t h e r i n s t i t u t i o n s t h a t

c o n t r i b u t e t o t h e q u a l i t y o f l i f e i n E s c o n d i d o

The American Heritage Charter Schools ............................................1 2 8

Palomar Health ............................................................................1 3 2

Graybill Medical Group .................................................................1 3 6

Escondido History Center ...............................................................1 3 7

Escondido Union School District ......................................................1 3 8

Neighborhood Healthcare ...............................................................1 4 2

City of Escondido ..........................................................................1 4 6

The Grand ...................................................................................1 5 0

Boys & Girls Clubs of Greater San Diego ..........................................1 5 2

Citracado Dental ..........................................................................1 5 4

Friends of the Escondido Library .....................................................1 5 6

North County Cemetery District ......................................................1 5 8

Rotary Club of Escondido ...............................................................1 6 0

Escondido Union High School District...............................................1 6 2

Assistance League ® of North Inland County .......................................1 6 3

Interfaith Community Services ........................................................1 6 4

Q u a l i t y o f L i f e F 1 2 7
---
THE AMERICAN

HERITAGE

CHARTER

SCHOOLS

G

Above: Setting the tone: Five bronze

statues salute the American flag at the

ECHS entrance.

Below: "Coach" Dennis Snyder,

Founder & First Executive Director

In 1992 the California State Legislature

passed the Charter Schools Act, which allowed

the formation of independent public schools that

were free from many of the bureaucratic burdens

placed on regular public district schools. These

new independent public schools were

established to provide educational choice and

competition, encourage innovation in public

schools, and improve student achievement.

These new schools were also required to operate

under a 'charter' granted by the local school

district and are therefore commonly referred to

as 'charter schools'.

In August 1996, under the guidance of Dennis

Snyder—referred to as "Coach" Snyder by

staff, students, parents and community members,

Escondido Charter High School (ECHS) received

its charter from the Escondido Union High

School District and began operating in a

business complex at 1855 East Valley Parkway,

Escondido, California with 62 students. From

the outset, ECHS focused on small class sizes

that provide academic excellence, back-tobasics

education (reading, writing, math and

science), technology/computer competency, and

character development based on traditional

American culture and values: honesty, integrity,

individual initiative, service to others, personal

responsibility and the entrepreneurial spirit.

ECHS has grown steadily since the beginning

by steadfastly maintaining its focus and

providing a solid, top-notch educational choice

for thousands of students.

Since 1996 "Coach" Snyder has assembled

outstanding teams of educators and has overseen

the expansion of the American Heritage Charter

Schools from its first school, ECHS, to now include

Flex Learning—9th to 12th grades; Heritage

Elementary Charter School—K to 6th grades;

Heritage Junior High Charter School—grades 7th

& 8th grades; and Heritage Flex Academy—K to

8th grades. "Coach" Snyder's vision to provide

'educational choice' in the local public school

system has become a reality for students and their

families in and around Escondido.

The Escondido Charter High School is

committed to providing a safe and orderly learning

environment in which teachers are responsible for

implementing a curriculum based on the

fundamental skills that form the foundation of

learning: reading, writing, mathematics, and

computer skills. Accomplishment in academic

areas is stressed. In addition, the Escondido

Charter High School emphasizes the

understanding and appreciation of American

Civilization and United States History.

The Escondido Charter High School believes

that parents and the school share a dual

responsibility in developing the education plan that

will provide the individual student the opportunity

to succeed both as a scholar and as a citizen.

All the American Heritage Charter Schools

fill a very important role. The schools have

dedicated staff members who are committed to

helping students succeed. A safe, orderly and

secure environment is provided at all of the

schools and the staff members understand the

sacrifices that families make, and they support

the vital role that parents play as partners in

providing the education of the students.

The over-riding mission of the American

Heritage Charter Schools is to help prepare

students for a successful, meaningful,

productive life—whether it be continuing their

education, entering the workforce, joining the

military, or establishing a home. Upon

1 2 8 F E S C O N D I D O : A P i c t o r i a l H i s t o r y o f t h e H i d d e n V a l l e y
---
graduation ECHS students have been accepted

at top-rated colleges/universities. This mission

is accomplished by developing students with a

solid base of foundational knowledge, critical

thinking skills and previously listed positive

character traits stressing honesty, integrity,

personal responsibility and by instilling

traditional American ideals of hard work,

discipline and service that is necessary to

provide leadership in the community.

In addition to providing academic rigor, the

American Heritage Charter Schools provide a

full range of athletic opportunities as well as

many extra-curricular activities including a

Robotics Program, an Academic League Team, a

very active National Honor Society and a Civil

Air Patrol Cadet Squadron #714 that is a US Air

Force Auxiliary.

ECHS is known for its magnificent statues...The

life-size bronze statues on ECHS' campus reinforce

our American history, culture and values.

• The Flag Raising—created by artist/sculptor

Phyllis Peuker Raynes of Valley Center—was

unveiled in August 2003 and displays respect

for our nation's flag. As Raynes created these

five life-size, bronze figures, she gave a name

to each one: Penny, Roberto, Isabelle, Donald

and Edward. The first letter of each name

spells "PRIDE."

• Lincoln—created by world-renowned sculptor

Mark Lundeen of Loveland, Colorado, was

unveiled in February 2005 in the ECHS

courtyard in front of the school's library. This

life-size, bronze statue shows Abraham

Lincoln holding a page from his famous

Second Inaugural Address.

G

Above: The Flag Raising figures show

respect for our flag.

Below: The statue of Lincoln holds a

page from Second Inaugural Address.

Q u a l i t y o f L i f e F 1 2 9
---
G

Above: The Spirit of '76 painting

brought to life.

Below: A Patriot Day assembly

at HK-6.

• The American Spirit—also created by

artist/sculptor Phyllis Peuker Raynes—was

unveiled in May, 2008 in front of the

American Spirit Theater on the ECHS

campus. These three life-size, bronze figures

celebrate the founding of our nation and

bring Archibald Willard's famous painting,

The Spirit of '76, to life. As Raynes created

each figure, she named them: Ulysses,

Samuel, and Adam. The first letters of their

names spell: "USA."

American Heritage Charter Schools'

innovative programs provide a seamless

academic progression from kindergarten through

high school and accommodate the varying needs

of the student population.

• Escondido Charter High School (ECHS), 9th

to 12th grades, 1868 East Valley Parkway,

Escondido, California 92027

• Flex Learning, 9th to 12th grades,

463 North Midway Drive, Escondido,

California 92027

1 3 0 F E S C O N D I D O : A P i c t o r i a l H i s t o r y o f t h e H i d d e n V a l l e y
---
• Heritage Elementary School, Kindergarten to

6th grades, 1855 East Valley Parkway,

Escondido, California 92027

• Heritage Junior High School, 7th & 8th grades,

2255 East Valley Parkway, Escondido,

California 92027

• Heritage Flex Academy, Kindergarten to 8th

grades, 2269 East Valley Parkway, Escondido,

California 92027

When Escondido Charter High School, the

flagship school for the American Heritage Charter

Schools, was established in 1996, the policies and

procedures were adopted by the founding Board

members: Neal Steinbeck, President, and Keith

Battle, Anita Powell and RoseMarie Crouch. The

school's founder, "Coach" Dennis Snyder, was the

first Executive Director for ECHS and from the

beginning provided important leadership and

guidance and selected Ron McCowan to serve as

the first Director/Principal. The school's 'tone' was

set! The vision for 'improving pupil learning'

continues as the focus for all the schools with the

staffs and parents working together—

TEAMWORK—making a difference in the lives of

the students. From vision to reality—a reputation

of excellence has been established by the

American Heritage Charter Schools and continues

through the on-going dedication of the staffs,

students and parents.

School colors: Black, maroon and white

School mascot: White Tigers

School motto: "We will face any challenge with

strength and pride."

For additional information about American

Heritage Charter Schools, call: (760) 737-3154 or

visit www.americanheritagecharterschools.

G

Below: Heritage Junior High School.

Q u a l i t y o f L i f e F 1 3 1
---
PALOMAR

HEALTH

G

Above: Charlotta Baker Hintz and

Elizabeth Martin founded Escondido's

first hospital in 1933.

Below: Palomar Memorial Hospital

opened on Feb. 16, 1950 with 37 beds

and 35 staff. The hospital grew to

more than 300 beds by 1976 and was

fully operational until 2016.

Palomar Health has a long and rich history

dating back to 1933 when a nurse and dietician

from Orange County lead a grass-roots effort to

establish Escondido's first permanent hospital.

Those early roots sprouted into what is today

the largest public health district in California.

Through name changes, expansions, and facility

movements, Palomar Health has stayed true to

its roots by meeting the health and well-being

needs of a growing community.

Mrs. Charlotta Baker Hintz, a nurse and Miss

Elizabeth Martin, a dietician, life-long friends

from Friedensau, Germany, founded "Escondido

Community Hospital" in the fall of 1933 (North

County Inland's first hospital) in a vacated egg

and poultry building at 125 South Broadway in

downtown Escondido.

It originally began as thirteen beds but

quickly grew to twenty-five, leaving little space

to walk between beds and putting patients on

waiting lists. Newborns slept in cardboard cribs.

Emergency operations were performed on a

stretcher in the bathroom. Patients with

infectious diseases were placed next to noninfected

patients. By 1945, the community

realized it needed a new and expanded facility

to meet growing demand.

In 1945, a citizen's group formed the

Escondido Valley Hospital Association and

began raising money to build a new hospital.

They set a goal of $150,000, about one-third the

cost of the building with the remainder to be

supplied by state and federal grants. They held

benefit dances, rummage sales, raffles, etc., and

raised the money in five months and eventually

identified the ideal property on a nine-acre hill

on Grand Avenue and Valley Parkway. The

property was purchased from Numerologist

Stewart Henderson for $12,965 (after offering

$20,000) because he looked on the new hospital

as representing LIFE. (The specific offer

corresponds to L being the 12th letter of the

alphabet, I the 9th, F the 6th, and E the 5th and

Henderson believed if he sold the land for

L-I-F-E it would bring him good fortune).

In 1948, two historic events took place in

Escondido: the completion of the Palomar

Observatory and through a vote of the people,

the formation of Palomar Health, the largest

public healthcare district in California covering

eight hundred square miles. Less than two years

later, the new hospital was constructed and on

1 3 2 F E S C O N D I D O : A P i c t o r i a l H i s t o r y o f t h e H i d d e n V a l l e y
---
February 16, 1950, ten patients transferred

from the hospital on South Broadway to

Palomar Memorial Hospital, named in honor of

local veterans who died during war. The thirtyseven

bed hospital would become an iconic

figure in the heart of Escondido for the next

almost seventy years. On opening day it had 35

employees, a monthly payroll of $9,000 and a

daily private patient room rate of $13.

The hospital grew in size with multiple

additions throughout the 1950s and '60s to

keep pace with the population growth in north

San Diego. In 1970, the iconic nine-story

McLeod tower was constructed and by 1976,

total bed capacity reached 306. The district

opened its second hospital, Pomerado Hospital

in Poway, on June 29, 1977. In 1985, Palomar

Memorial Hospital received full designation as a

trauma center and was renamed Palomar

Medical Center in 1987.

As the region continued to grow and new

hospital building codes made retrofitting the

60-year-old facility a costly endeavor, Palomar

Health hosted a series of more than 200 town

hall meetings to discuss the future of healthcare

in north inland San Diego County. Ultimately

Proposition BB passed with nearly seventy

percent of voters saying yes to a bond measure

in November 2004 to construct a new hospital

in Escondido and upgrade existing facilities. In

August 2012, the district's third hospital,

Palomar Medical Center Escondido, opened on

Citracado Parkway. The new 288-bed acute care

facility was known as "The Hospital of the

Future," earning multiple awards for its quality

of care, architecture, technology, and small

carbon footprint. In June 2015, Palomar Health

decided to close the downtown campus and sell

the land to use for housing.

Two of the most prominent Escondido

physicians during the mid-twentieth century, and

activists to build a new hospital, were Dr. Martin

B. Graybill and Dr. Linus Adams. Dr. Adams

opened his practice in what is now Rosemary-

Duff Florist shop on Broadway and 2nd Avenue in

1931 next to the mortuary and what would

become Escondido's first hospital.

Dr. Adams loved to practice "country

medicine," his daughter, Edith Adams

Hillebrecht said, meaning doing a little bit of

everything. She says he had his own pathology

lab with a scope, operating room, x-ray machine

and three separate rooms for people who were

contagious. He had the same nurse, Lena, for

the entire duration of his practice.

Dr. Adams was instrumental in forming

the Escondido Valley Hospital Association to

raise funds for the new hospital and became

chief of the medical staff in 1956 during a

time when every physician in town took turns

doing shifts at the hospital. When he retired in

1965, a wing of Palomar Medical Center was

named for him.

Dr. Douglas Moir, a long-time Escondido

resident and respected cardiologist, began his

practice in 1975 and as of 2019 serves as the

Chair of the Palomar Health Board of Directors.

As a community activist, Dr. Moir was heavily

involved in the fundraising and promoting of

Proposition BB to build the "Hospital of the

G

Above: Escondido Community

Hospital opened in a vacated egg and

poultry building at 125 South

Broadway in downtown Escondido.

Below: Palomar Medical Center

Downtown, c. the 1970s.

Q u a l i t y o f L i f e F 1 3 3
---
G

Right: Dr. Doug Moir has been

actively involved in promoting the

health and well being of Escondido for

more than forty years as a

cardiologist and community activist

and philanthropist.

Below: Palomar Medical Center

Escondido was hailed as the Hospital

of the Future when it opened in 2012.

Future" on Citracado Parkway. Together with his

wife and friends, Dr. Moir also started one of the

first hospital pet visiting programs in the nation

at Palomar Health, Rx Pets (now known as

Palomar Paws) that became a national model.

Dr. Moir is a founding member of the California

Center for the Arts and the Escondido

Charitable Foundation and has been an active

philanthropist in the community. In 2018, the

North County Philanthropic Council awarded

Dr. Moir with the "Robert Krejci Standard of

Excellence Award" for his tireless effort to

promote and support the community.

Palomar Health provides comprehensive

coordinated care that extends from traditional

hospital services to the community and your

home. However, meeting the needs of the

community goes beyond the normal breadth

of services.

In 1991, Palomar Health committed to

helping survivors of sexual assault and child

abuse by founding Forensic Health Services

(FHS) to provide forensic medical evaluations

and evidentiary examinations to hold

perpetrators accountable. Today it serves more

1 3 4 F E S C O N D I D O : A P i c t o r i a l H i s t o r y o f t h e H i d d e n V a l l e y
---
than a thousand victims of domestic violence

and sexual assault each year.

Palomar Health maintains industry-leading

standards as the only hospital-based home

health care provider in San Diego County

allowing patients to have peace of mind that

they will receive top-quality care in the comfort

of their home.

To uphold the mission "to heal, comfort and

promote health in the communities we serve,"

Palomar Health holds more than six hundred

free health education classes each year so

residents can make the best health care decisions

for their families.

Palomar Health is committed to supporting

the healthcare workforce of tomorrow by

operating the Pathmaker internship program

that provides hands-on opportunities for more

than 850 high school and college students

performing 165,000 internship hours every year.

Throughout the past eighty-five years,

Palomar Health has continued to meet the

needs of a growing community by providing

industry-leading health care close to home. In

that time, the physicians, nurses, technicians

and the entire workforce have been recognized

with numerous national awards and

designations including Centers of Excellence in

Orthopedics, Heart and Vascular Care,

Bariatrics, and Stroke care. The district

operates the only Level Two Trauma Center in

North San Diego County and one of

the busiest Emergency Departments in

California. In 2014, Palomar Health passed

Mayo Clinic's rigorous evaluation process and

was named California's first member of the

Mayo Clinic Care Network, bringing expertise

from this top-ranked hospital to the residents of

North San Diego County.

Palomar Health is as committed as ever to

heal, comfort, and promote health in the

community and be the health system of choice

for patients, physicians and employees for

generations to come.

G

The Pathmakers internship

program is developing healthcare

leaders of tomorrow..

Q u a l i t y o f L i f e F 1 3 5
---
GRAYBILL

MEDICAL

GROUP

G

Right: Dr. Martin Graybill.

Below: Graybill Medical Group's office

at 225 East Second Avenue.

Escondido was a small town of just thirty-five

hundred residents when a young Dr. Martin B.

Graybill and his wife, Ruth, arrived in 1931. As he

later recalled for Escondido historian Frances Ryan,

"On Christmas Eve that year, Ruth and I stood on

a hill in West Escondido and saw the panoramic

view of Palomar Mountain covered with snow, the

beautiful greenery in all areas, and the beautiful

orange trees just below us. I said to Ruth, 'This is

paradise. Here is where we should settle.'"

Thus began a decades-long legacy of healthcare

service to the community. In 1932, Dr. Graybill

and Dr. Henry C. Barron opened the first Graybill

Medical Office at 145 West Grand Avenue, on the

second floor of what was then Escondido Hospital.

During those early years, the physicians delivered

babies, performed surgeries, took turns covering

the emergency room at the hospital, and worked

as a team helping each other with a wide variety of

medical procedures. The Group remained in its

original location for more than two decades before

moving to a new building at 250 South Kalmia.

Economic development and a growing

patient base resulted in growth for the Group

and, eventually, a need for larger facilities. In the

mid-1990s, the Group relocated to a new multistory

medical office at 225 East Second Avenue.

Today, Graybill occupies nearly the entire

50,000-square-foot building.

Today, Graybill Medical Group has locations

throughout North San Diego County plus

Murrieta and Temecula in Riverside County. It

provides more than 350,000 patient visits

annually. More than eighty physicians and

advanced practitioners offer the following services:

• primary care services, including family

medicine, internal medicine, and pediatrics

• urgent care

• specialty care services, including cardiology;

ear, nose & throat; functional medicine;

gastroenterology; general surgery; orthopedic

surgery; sports medicine; and urology.

In 2020, as a result of the COVID-19

pandemic, the Group instituted enhanced safety

measures at all locations to avoid the transmission

of coronavirus. This included taking temperatures

of all who enter the premises, requiring the

wearing of facial coverings, encouraging social

distancing, and recommending the use of

telehealth whenever possible.

Dr. Graybill continued to practice medicine

until his death in 1979. His values of quality,

personalized health care remain the Group's

guiding principles today.

1 3 6 F E S C O N D I D O : A P i c t o r i a l H i s t o r y o f t h e H i d d e n V a l l e y
---
The Escondido History Center is a

non-profit 501(c)(3) organization. The

grass roots community organization was

formed in 1956 as the Escondido

Historical Society. Its purpose: to collect

photographs, artifacts, and documents.

In January 2006 the organization's name

was changed to the Escondido History

Center. The History Center relocated

the city's first library to Grape Day Park

in 1971 and it became the first

component of the Center's museum.

The Escondido History Center has a photograph

collection of over 8,000 images of Escondido

and the immediate area, and a collection of over

30,000 artifacts that emphasizes items with a

clear connection to Escondido either by

manufacture or use. Much of the History

Center's archival materials, including rare

books, manuscripts, maps and paper files are

currently on long term loan to the Pioneer

Room of the Escondido Public Library where

they are accessible to the public.

The Escondido History Center's largest

accomplishment is saving a number of significant

buildings from destruction and moving them to

Grape Day Park where they now form our local

history museum. By visiting the Escondido

History Center, visitors gain an understanding of

Escondido's history, and see how the city has

grown and changed since it was incorporated in

1888. The museum buildings represent the many

facets of our community: residential, agricultural,

business, transportation, and cultural life.

With the initiation of the museum, the

Escondido History Center began a period of

great growth and organizational progress which

continues through today. The History Center's

many activities are as follows:

• operating a free public museum

• operating a working blacksmith and wheelwright

shop

• providing blacksmithing and wheelwright

classes

• providing access to research materials

• promoting local history through various

educational programs

• conducting school tours and group tours

• producing a quarterly newsletter and other

publications

• interpreting Escondido history through

exhibits, events and tours

• producing annual events such as the

American Heritage Car Show, Adobe Home

Tour, Grape Day Festival, and Movies in

the Park

• conducting monthly walking tours of

historic Escondido

ESCONDIDO

HISTORY

CENTER

G

Above: A view of the Escondido

History Center from Broadway

looking west. The History Center is

comprised of six historic buildings

which include the 1895 Escondido

first library; an 1890 Victorian

country home; the 1907 Penner Barn;

the 1908 Bandy Blacksmith and

Wheelwright Shop; the 1888 Santa

Fe Depot; and a 1929 Pullman

railroad car.

Bottom, left: A major function of the

Escondido History Center is to

promote local history education to the

schools in the area. Volunteer, Norm

Barnhard, can be seen leading a

group of 3rd graders through the

Santa Fe Depot.

Bottom, right: Movies in the Park is

an annual event produced by the

Escondido History Center in

partnership with the City of

Escondido. Free to the public,

four family-friendly movies are

shown each summer attracting

hundreds of participants.

Q u a l i t y o f L i f e F 1 3 7
---
ESCONDIDO

UNION SCHOOL

DISTRICT

G

Above: Orange Glen School was built

quickly to replace Oak Glen School,

which was destroyed by fire in 1894.

PHOTO COURTESY OF THE FRANCES RYAN

COLLECTION, ESCONDIDO PUBLIC LIBRARY

Below: Bus driver Jack Stoft and his

young passengers paused for a photo

in front of Escondido Grammar

School, located at Fifth Avenue and

Broadway (formerly Lime Street)

c. 1919.

PHOTO COURTESY OF THE ELOISE PERKINS

COLLECTION, ESCONDIDO PUBLIC LIBRARY

Escondido Union School District (EUSD) has

been a proud member of the community for more

than 135 years—well before Escondido became a

city in 1888. EUSD has been educating, nurturing,

and empowering the children of Escondido since

the 1880s, giving the district a strong sense of

community and commitment.

EUSD is hardly stuck in the past, however.

Serving nearly 16,000 children from preschool

through 8th grade, the district is a forwardthinking

community that believes in educating

and caring for the whole child—preparing them

for success in our neighboring Escondido Union

High School District, in college, and beyond.

From the district's humble beginnings, at the

Little Rock Springs School, to our newest school

community, at Quantum Academy, EUSD has

grown and changed with the times.

Had a visitor from the future told Elizabeth

Judson, Escondido's only teacher in the 1880s,

what was to come for the community's schools a

century later and beyond, she likely would have

thought it the stuff of science fiction: Children

building robots, writing computer code, designing

presentations on handheld electronic devices,

taking instantly viewable photographs, making

movies. In the 1880s, no one would have guessed

that a woman would ever lead the school district.

But that did happen, in 2006, when Jennifer

Walters became superintendent.

Much of the work that today's Escondido

students produce also would be recognizable to

nineteenth-century teachers. It's just on a much

bigger scale. EUSD children grow fruits and

vegetables in large school gardens. They study

the local environment. They create art and make

music. They conduct science experiments. They

exercise and compete in sports. They write

stories, poems, and essays. They add, subtract,

multiply, and divide—albeit in a much more

thought-provoking manner than a century ago.

EUSD's roots in the community are deep, and

it's been a generous, give-and-take relationship

from the beginning. Residents in 1894 rallied to

rebuild a fire-stricken Oak Glen School into

what would become Orange Glen School—

thanks to the donation of orange trees from

orchard owner B.F. Dixon. In the 1930s and

1940s, the small neighboring districts of

Oakdale, Richland, and Rincon needed help

educating their children, and they were

added to the Escondido district. In 2014,

residents overwhelmingly supported the district

with the passage of a $182.1 million bond that

1 3 8 F E S C O N D I D O : A P i c t o r i a l H i s t o r y o f t h e H i d d e n V a l l e y
---
today is providing much-needed modernization

upgrades to our campuses.

Community partnerships give Escondido

students access to extraordinary enrichment

experiences. Today, EUSD is fortunate to call

more than two dozen organizations true

community partners in the education and care

of our students. These include—but are far from

limited to—an arts center, a state university, a

technology company, a museum, an orchestra,

health agencies, environmental organizations,

charitable foundations, youth agencies, local

government, and much more.

These partners aim to get our students out in

the field learning to protect our watershed. They

work to shade our kindergartners from the

bright Southern California sun. They raise funds

for innovative classroom projects like a

hydroponic garden. They enrich our students'

musical education experience. They support our

families with an extra layer of social-emotional

resources. These are parents and taxpayers who

support multimillion-dollar bonds to modernize

our campuses.

EUSD families want their children to have

opportunities that enrich their lives and are

relevant to the things they are learning. EUSD

students have opportunities that go beyond

reading, writing, and arithmetic. The district

achieves this by creating enrichment programs

with partners in the community. These programs

provide hands-on experiences in and outside the

classroom that would expose students to realworld

applications of the lessons they are learning

in science, math, art, music, and more.

One of those most valuable partners has been

the California Center for the Arts, Escondido,

(CCAE), which provides professional performance

space for our students as well as numerous arts

education programs. The crowning achievement of

this partnership is the annual smART festival. The

visual and performing arts showcase, which began

in 2013, is a flagship event for the district,

featuring thousands of pieces of art and numerous

band and theater performances. Its growth and

success is a testament to the partnership between

the district and CCAE.

In 2019, one of these programs was awarded

an Honorable Mention Inspire Award in the

Classroom of the Future Foundation's annual

Innovation in Education Awards. That program,

"Protecting Our Watershed: Inquiry to Action,"

was spearheaded by an EUSD science educator,

who brought together The Escondido Creek

Conservancy, San Elijo Lagoon Conservancy,

and San Diego Zoo to give every 3rd-, 4th-, and

5th-grader hands-on field work experience.

This extraordinary field work also happens for

our middle-schoolers thanks to the Friends of

Daley Ranch.

EUSD's partnership with Escondido's own

San Diego Children's Discovery Museum

supports our youngest learners and their

families, with field-work visits to the museum

and complimentary museum memberships so

students can return with their parents. The

Summer Scholars program with the Palomar

G

Above: Escondido Grammar School,

completed in 1910, also known as the

Fifth Avenue School. The two-story,

red-brick school was similar to its

predecessor, Lime Street School.

PHOTO COURTESY OF FRANCES RYAN

COLLECTION, ESCONDIDO PUBLIC LIBRARY

Below: First-grade teacher at Rose

Elementary, Stephanie Glanz was

honored as a "San Diego County

Teacher of the Year for 2018-19." She

teaches in the same classroom where

she sat as a second-grader.

CREDIT: COURTESY OF ESCONDIDO UNION

SCHOOL DISTRICT

Q u a l i t y o f L i f e F 1 3 9
---
1 4 0 F E S C O N D I D O : A P i c t o r i a l H i s t o r y o f t h e H i d d e n V a l l e y

Family YMCA combines academic work with

enrichment activities. In addition to extra

academic support, students had the chance to

learn to swim and try other sports.

These partnerships support our children and

families beyond academics and focus on health

and well-being to ensure that students are ready

to learn when they arrive in class every day. With

school social workers, family liaisons, and

counselors in every school, backed by a stellar

intervention and Integrated Student Supports

team, our students and families are well-assisted.

The district's community collaborative

partnership program, born as the award-winning

CARE Youth Project, has made a tremendous

impact on our students and schools. This project

earned a prestigious Golden Bell Award from the

California School Boards Association, and a

Public Health Champion Award from the County

of San Diego Health and Human Services Agency.

In 2015, EUSD was one of 11 school districts in

California to be designated as a model of

attendance improvement by the State School

Attendance Review Board.

These are just a fraction of the dozens

community partnerships of which we are proud

to be involved.

EUSD programs are admired near and far. The

Technology and Innovation team's work is just

one example. Its iREAD program has been

modeled around the world, with educators from

Japan and New Zealand making repeat visits to

EUSD to learn more and replicate the program's

success. Our technology initiatives continue to

grow, with one-to-one iPads rolling out across all

grade levels, accompanied by the highest level of

professional training for all teachers in order to

maximize the potential of this education tool.

This technology enhances the learning experience

for students, giving a boost to communication,

collaboration, creativity, and critical thinking. It

comes as no surprise that EUSD is a three-time

recipient of the Apple Distinguished Program

award that recognizes innovation, leadership, and

educational excellence.

Today, EUSD educators and support staff are

committed to opening the doors to the unlimited

potential for every student through award-winning

academic, arts, technology, and family engagement

programs. In EUSD, all means all when preparing

our students for the twenty-first century.
---
G

Opposite, top: Lincoln Elementary

students grow food in a hydroponic

indoor garden established by teacher

Melody Crook. Everything the

students harvest is used in the

school cafeteria.

COURTESY OF THE ESCONDIDO UNION

SCHOOL DISTRICT.

Opposite, middle: Del Dios Academy

of Arts and Sciences was established

as a specialty school in 2014. In

2018, the school unveiled a state-ofthe-art

STEM lab that was made

possible by a $100,000 grant from the

Northrop Grumman Foundation.

COURTESY OF THE ESCONDIDO UNION

SCHOOL DISTRICT.

It's no wonder that so many of our students,

parents, teachers, and staff members are 2nd-,

3rd-, or even 4th-generation EUSD families.

One of EUSD's award-winning educators

teaches in the very classroom where she sat

years ago as a 2nd-grader.

The Escondido Union School District is

dedicated to providing a high-quality, enriching

educational experience for all students. It is a

school district that is constantly moving forward

in an upward trajectory.

The sky is the limit for EUSD students, and

they are ready to tackle the world. See for

yourself: We encourage community members to

set up a visit to one of our beautiful campuses or

attend one of our festive events.

Opposite, bottom: EUSD was a

pioneer in using hand-held digital

devices to enhance learning and

instruction. By 2020, every student in

the district will be assigned an iPad to

use for classwork and homework.

COURTESY OF THE ESCONDIDO UNION

SCHOOL DISTRICT.

Above: EUSD boasts a robust visual

arts program, and students'

creativity is showcased at the annual

smART Festival.

Left: Broadcast production programs

are in place at five middle schools and

numerous elementary schools in

EUSD, with students producing daily

and weekly news programming.

COURTESY OF THE ESCONDIDO UNION

SCHOOL DISTRICT.

Q u a l i t y o f L i f e F 1 4 1
---
NEIGHBORHOOD

HEALTHCARE

It was 1969, the year that man landed on the

moon. The possibilities seemed endless and a

spirit of unity was foremost in the minds of local

Escondido residents.

Buzz Aldrin and Neil Armstrong left a plaque

on the moon in July 1969 that said: "Here men

from planet Earth first set foot upon the Moon.

We came in peace for all mankind."

If we could land on the moon, surely

concerned Escondido leaders could bring a

spirit of unity and collaboration to solve our

problems right here at home. A handful of

concerned Escondido citizens did just that by

opening Escondido's first, free community clinic

in September 1969.

Thanks to the determined efforts of Dr. and

Mrs. Oliver Thomas, along with Dr. and Mrs.

William Boyce and others, the free clinic called

"Escondido Community Clinic" became a

reality. City volunteers paid the city one dollar

for a one-year "lease" for a building in

downtown Escondido.

Once the clinic opened its doors, Dr. Thomas

began seeing patients at no charge for three days

a week and free healthcare was available for

anyone in need.

Why the need for a free clinic? It was quite

simple. Sick children who were missing school

could now get help and medication when

their parents could not afford to pay a doctor.

Adults could get care as well. Adults checking

into Palomar Hospital's emergency room with

a toothache, the flu or a bad back now had

access to a new "medical home" at Escondido

Community Clinic and could avoid going to the

local emergency room.

Fifty years later, Neighborhood Healthcare

(Escondido Community Clinic) now boasts

sixteen health centers located throughout San

Diego and Riverside counties. Since that first

clinic's opening in 1969, each successive decade

has brought more growth and diversification to

Neighborhood Healthcare, which incorporated

in 1971.

In the 1970s, the clinic acquired nonprofit

status, added volunteer dental services, and

moved into a new facility to allow more patients

to get care.

In the 1980s, the clinic's services expanded to

include prenatal care for moms and babies. Tracy

Ream was named chief executive officer, the clinic's

first full-time physician was hired and Saturday

hours were added. Because of the extraordinary

demand for its services, Neighborhood Healthcare

outgrew its original health center and renovated a

retail building on Elm Street in Escondido, thanks

to financial assistance from Palomar Health. The

center offered prenatal care, vaccines, and medical

services for those without health insurance.

Five new clinics—in Temecula, Pauma Valley,

Lakeside, El Cajon, and La Mesa—opened in the

1990s. In partnership with Palomar Health and

Escondido Women's OB/GYN group, a nurse

1 4 2 F E S C O N D I D O : A P i c t o r i a l H i s t o r y o f t h e H i d d e n V a l l e y
---
midwife program for comprehensive prenatal,

deliveries, and postpartum care for low-income

women was initiated in 1995. The same year, an

adult medicine office in Escondido specializing in

care for the HIV population was opened under

the expertise of Dr. Daniel Harrison, an internal

medicine doctor who specialized in treating the

exploding population of HIV positive individuals.

In 2002, Neighborhood Healthcare merged

with East County community health centers

in Lakeside, El Cajon, and La Mesa and was

designated to receive federal funding. In

response to the increased demand for geriatric

services, Neighborhood Healthcare purchased

and renovated a building in Escondido to serve

older adults in 2008.

The next decade brought further growth and

accomplishments for Neighborhood Healthcare.

In 2016, the organization successfully

completed a $3-million campaign for the Gold

Family Health Center in Poway. This milestone

was celebrated with a groundbreaking ceremony

and, in 2018, The Gold Family Health Center in

Poway opened its doors.

Meanwhile, Tracy Ream retired as CEO in

November 2017 after thirty-one years of

service. The Board of Directors named Dr.

Rakesh Patel as her successor. Dr. Patel worked

at Neighborhood Healthcare for fifteen years

prior to his appointment as CEO. He began

working as a family physician in 2002,

spending much of his time caring for the

Middle Eastern refugee population seeking care

at Neighborhood Healthcare, El Cajon. Over

the years, he had moved into more

administrative leadership roles.

"I am honored to be part of an organization

where hearts still guide our mission and where

I am supported by the hardest working and

most compassionate employees, leadership and

board of directors out there," said Dr. Patel.

"Our mission is to improve the health and

happiness of the communities we serve by

providing high-quality healthcare to all,

regardless of situation or circumstance has

never changed in fifty years. That's what makes

the relationship we have with the communities

we serve so special."

During Tracy Ream's remarkable tenure, she

led a nonprofit community healthcare agency

that transformed from a tiny office provided by

G

Neighborhood Healthcare builds

lifelong relationships. A patient as a

child, this young woman (left) is now

employed with us as a nurse. We are

so proud!

Q u a l i t y o f L i f e F 1 4 3
---
G

Above: Breaking ground for the Gold

Family Health Center.

Below: Growing access to quality

healthcare for the community.

the City of Escondido for a dollar's rent per year

to a two county, 14-site health system serving

67,000 low-income and uninsured patients and

comprising some 271,000 medical, dental and

behavioral health visits a year.

Since its inception, Neighborhood Healthcare

has been committed to providing quality

healthcare and promoting wellness to everyone in

its communities. Over the years, Neighborhood

Healthcare has expanded its services to include

not only medical care, but also dental, behavioral

healthcare, chiropractic care, acupuncture care

and podiatry. In addition, various educational

programs to encourage healthy lifestyles are

offered as well as teen wellness clinics. This

program helps local teenagers address healthcare

1 4 4 F E S C O N D I D O : A P i c t o r i a l H i s t o r y o f t h e H i d d e n V a l l e y
---
issues and includes screening for depression.

Teens discuss traits of healthy relationships and

staff teach interested students how to prepare for

a college education.

Neighborhood Healthcare now operates 16

health centers in two counties, cares for 66,500

patients, employs 720 staff members, and has

an operating annual budget of $75 million.

Clearly, the little neighborhood clinic has

grown up quite nicely. And, in 2019,

Neighborhood Healthcare celebrates an

enduring milestone—fifty years of healing and

hope to its neighbors in need!

G

Top: The generous support of the

Escondido community has allowed

Neighborhood Healthcare to grow to

16 health centers serving 66,500

patients each year.

Middle: The annual Pace Setter Gala.

Bottom: Celebrating fifty years

of service.

Q u a l i t y o f L i f e F 1 4 5
---
CITY OF

ESCONDIDO

The City of Escondido's rich past brings

charm and stability to the community. You can

see it in the historic homes of Old Escondido or

experience it in the thriving downtown area and

the weekly blast from the past, "Cruisin' Grand."

Yet integrated with Escondido's treasured

heritage is a progressive future, bright and

brimming with promise. New jobs, new cultural

amenities, new entertainment venues, new

choices for residential living, and a new vision

for Escondido's future make Escondido a safe,

clean, and efficiently run city.

Incorporated in 1888, Escondido is a fullservice,

general-law city with four Council

Members elected by district, and a Mayor

elected at large. These elected officials create the

policy that shapes the City while navigating

challenges and prioritizing the safety and

quality of life in Escondido. The City operates

under the Council-Manager form of government

1 4 6 F E S C O N D I D O : A P i c t o r i a l H i s t o r y o f t h e H i d d e n V a l l e y
---
that combines the strong political leadership of

elected officials in the form of a Council with

the strong managerial experience of an

appointed local government manager.

More and more people are making

Escondido their "City of Choice." As the heart

of San Diego's North County, it is one of the few

remaining communities where people of all

income levels can enjoy the Southern California

lifestyle. Escondido offers attractive homes in a

wide range of prices, education options from

grade school to university, two lakes, several

parks, a sports center, golf courses, restaurants,

breweries and wineries, shopping centers, an

established auto park, comprehensive

healthcare and the nearby San Diego Zoo's

Safari Park. In addition, our beautiful local

theaters bring world class entertainment to the

area at the California Center for the Arts,

Escondido, Patio Playhouse, the Amphitheater

at Kit Carson Pak, and the Welk Theater. Queen

Califia's Magical Circle sculpture garden was

donated by late internationally renowned artist

Niki de Saint Phalle and opened in Kit Carson

Park in 2003.

In recent years Escondido was named

by Money Magazine as the "Best Place in

the West" in which to retire and, at the

other end of the spectrum, was named a

"Kid-Friendly City" for our broad range of

Q u a l i t y o f L i f e F 1 4 7
---
1 4 8 F E S C O N D I D O : A P i c t o r i a l H i s t o r y o f t h e H i d d e n V a l l e y

youth programs. Ladies Home Journal also

ranked Escondido number eight among the

"Top Ten Cities for Government."

The Escondido City Council adopted a

Council Action Plan in 2000 to provide a

comprehensive road map for achieving goals.

The City Council Action Plan represents the

City Council's collective vision for Escondido's

future and the key strategies that will be used to

achieve that vision. It is developed biennially

following a workshop where key policy

interests are identified and discussed by the

City Council, City staff and the public. City staff

then work collaboratively to make sure the City

Council's goals remain a top priority across all

departments. The current Council Action Plan

is focused in four areas:

Economic Development—A key priority for

the Escondido City Council is to ensure the

City's business community thrives. Staff have

expanded Escondido's Comprehensive

Economic Development Strategy to target

specific geographic areas based on factors such

as demographics and emerging trends. To keep

Escondido positioned as a business forward

community, the City has partnered with the

other five cities in the North County region

along the Highway 78 Corridor to form

Innovate 78 to collaborate as a hub for

innovation. Escondido strives to maintain a
---
strong relationship with business groups in

the City including, the Escondido Chamber

of Commerce, the Downtown Business

Association, and the Mercado Business District.

Fiscal Management—The City of Escondido

weathered the Great Recession that began in

2007. During that time, the City reduced

government size, improved efficiencies, and

streamlined regulations. Because it proactively

responded to the economic downturn, the City

now boasts a bond rating of AA- and has built a

General Fund reserve surpassing $17 million. In

an effort to continue to protect the City's fiscal

health, the Escondido City Council has started

to contribute surplus funds to the employee

pension trust.

Neighborhood Improvement—A key priority

for the Escondido City Council is enhancing the

quality of life in the City. Strategic goals have

been set to improve our neighborhoods:

increasing proactive code enforcement staffing

and activity, aggressively addressing issues

related to homelessness, improving traffic flow,

rehabilitating pool and recreation facilities, and

developing more opportunities for youth.

Public Safety—Escondido is a full-service

city with our own police and fire departments,

and providing top notch public safety services

is central to our mission. In the past few years,

the City has developed unique and effective

strategies to partner with the community to

enhance public safety. These programs—

the Neighborhood Transformation program

(NTP) and the Neighborhood Enhancement,

Awareness and Training (NEAT) program are

thriving and creating a strong sense of

empowerment in the City's neighborhoods.

Escondido continues to be a great city in

which to conduct business, to explore, and to

call home.

Q u a l i t y o f L i f e F 1 4 9
---
THE GRAND

G

Above: The site of The Grand,

c. the 1950s.

Below and opposite page: The Grand

Opening, October 2020.

THE HISTORIC RITZ THEATER

The cultural heart of Escondido has always

been on Grand Avenue, and for much of the

city's early history, an icon of Grand Avenue was

the Ritz Theater. Originally built in 1937 by Mr.

and Mrs. John Johnson, the historic theater was

once a vibrant place of community life in the

early-mid 20th century until 1951 when a fire

gutted the interior. It reopened in 1954, but

struggled and eventually even became an X-

rated movie house in the early 1970's called the

Pussycat Theater. After being shut down for a

time, the theater was reopened with family films

in 1976 and renamed the Bijou Theater, but the

venture failed. The theater was remodeled again

in 1981 and featured Spanish language films. In

1993, the theater was renamed once more as the

Big Screen Theater and showed art films, but

that did not last long. In 2003 the theater was

once more called by it's original name the Ritz

Theater, but the double bill only lasted nine

days and the theater closed, remained vacant for

over 15 years.

In 2018, New Vintage Church, a local nondenominational

church led by Pastor Tim Spivey,

launched an exciting, fresh project to restore the

Ritz and redevelop the adjacent corner building

into a stunning new performing arts complex and

community events venue, called The Grand. This

reimagined and fully renovated space would not

only function as a theater, but now serve multiple

uses, bringing new people, vibrancy and cultural

activity back to the heart of Escondido.

Working closely with a world-class team of

architects, city council and planning officials, as well

as the Escondido Historical Society,

Pastor Spivey and his team were very

intentional about honoring the historic

significance of the original Ritz Theater,

utilizing the art-deco elements that are

reminiscent of the theater's golden era,

including a newly commissioned mural

by esteemed artists Darren LaGallo and

Chandler Woods. The result was a

beautifully expanded and enhanced

structure, including the iconic corner

blade sign that is now a landmark,

making this one of Escondido's most

significant buildings in the same style as

the California Center for the Arts and

City Hall.

1 5 0 F E S C O N D I D O : A P i c t o r i a l H i s t o r y o f t h e H i d d e n V a l l e y
---
A GRAND NEW ERA

The new Grand building opened Fall of

2020. The renovation included a fully updated

Ritz, with the addition of state-of-the-art

lighting and sound and a 477-seat theater that

accommodates not only movies, but also

includes the addition of a stage for live

performing arts productions and concerts. A

mezzanine level was also added to the theater

space to provide a versatile event and cabaretstyle

venue.

Interior design pay homage to some of the

original design elements, including decorative

seat ends similar to the original 1937 theater

seats. Whether showing vintage films, featuring

civic youth orchestra, or showcasing the

developing talents of young theater performers,

this theater is once again the cultural heartbeat

of Escondido.

Additionally, The Grand features 20,000

square feet of public gathering and event

spaces, including the only rooftop patio venue

of any kind on Grand Avenue and Manzanita

Roasting Company, a nationally recognized craft

coffee café, owned and operated by Samantha

and Weston Nawrocki. These beautiful spaces

bring people from all over the region together to

connect and celebrate. Part of the Grand design

was to provide classy, high-end gathering spaces

that help build Escondido's reputation as an

event and recreation destination.

Finally, The Grand remains the home and

primary worship space for New Vintage

Church. While it will never resemble what

most people think of as a traditional church

building, Pastor Spivey believes this facility to

be the kind of endeavor that churches of the

future will need to grow and thrive. "We

believe that the gospel of Jesus restores," states

Pastor Spivey, "not only individual lives, but

communities and cities. The idea that the

gospel can restore life, beauty, art, culture,

education, and community back into this

prominent and visible historical corner is part

of what we believe God is calling us to do. This

corner of Grand Avenue, both its location at

the heart of our city marketplace and its

cultural significance as a historic theater, is an

ideal location for our church to make a

positive impact."

Q u a l i t y o f L i f e F 1 5 1
---
BOYS & GIRLS

CLUBS OF

GREATER

SAN DIEGO

G

Above: Historical and current photos of

the Conrad Prebys Branch Clubhouse.

Below: Pool builder Bruce Dunn

makes a splash with Club kids

during the Baker Branch pool

opening ceremony.

In 1954, Escondido resident Lefty Mitchell,

sought to provide a place where boys could

gather for constructive activities after school. As

chief of police, Mitchell saw a need for youth

guidance and started the Escondido Boys Club

with the support of several business and

community leaders.

The Boys Club quickly became a second

home that instilled morals, gave members a

sense of responsibility and hope for a better

future. Six years after seeing the influence of The

Boys Club, Soroptimist International opened the

Escondido Girls Club to serve girls in the area.

Through the course of twenty-seven years,

the Boys Club added a gymnasium, a child

development program, and a teen center. Due to

changing demographics, which resulted in

families with both parents working, the two

organizations combined in 1981 to create the

first merged Boys Club & Girls Club in San

Diego County. In 1989, the organization opened

a second clubhouse in Escondido—the Neville

& Helen Baker Family Branch. The club

currently operates multiple school and public

housing based sites in the community.

Today, the Conrad Prebys Escondido Branch

is part of the Boys & Girls Clubs of Greater San

Diego. The organization's largest clubhouse, it

serves over 1,200 youth annually, with its two

gymnasiums, ball field, computer lab, dance

studio, and arts room. The branch offers youth

the opportunity to explore sports, technology

and the arts. Through after school programs and

day camps, the club promotes the social,

emotional, mental, and physical development of

school age boys and girls. The Club also

provides licensed child care for children, ages

six weeks through six years.

1 5 2 F E S C O N D I D O : A P i c t o r i a l H i s t o r y o f t h e H i d d e n V a l l e y
---
In its 65 years of service, the Boys & Girls

Clubs of Greater San Diego have impacted

over 100,000 children and has mentored

influential community members such as renowned

wildlife artist Joe Garcia, NFL quarterback

Sean Salisbury, television actor Randy Vasquez,

PGA golfer Mark Wiebe, and State Senator

Mark Wyland.

G

The Albert & Wilma Wilson Ball Field

opened in 2016.

Q u a l i t y o f L i f e F 1 5 3
---
CITRACADO

DENTAL

WILLIAM R.

JUNGMAN, DDS

JULIE E.

KANGAS, DDS

ROBERT W.

JUNGMAN, DDS, FAGD

G

NICOLAUS R.

JUNGMAN, DDS

AND

ASSOCIATES

Above: Dr William Randy Jungman

and Dr Julie Kangas in the late

1980s.

Below: Dr Robert D. Jungman and

son Dr William Randy Jungman with

the senior Dr.'s first dental office door

from Iowa, celebrating the completion

of their current, Citracado Dental

office, 1996.

Opposite page, top and middle: The

Citracado legacy continues with two

of Dr Jungman and Dr Kangas' sons

now a part of the dental

practice. Shown in this 2019 photo

are (from left to right) Dr. Robert

Jungman, Dr. Julie Kangas, Dr. Wm.

Randy Jungman, and Dr. Nicolaus

Jungman.

Opposite page, bottom: (From left to

right) Eagle Scout Nick Jungman,

Eagle Scout Brian Jungman, proud

mom Dr. Julie Kangas, happy dad Dr.

Randy Jungman, Eagle Scout David

Jungman, and Eagle Scout Dr. Robert

Jungman, 2013.

There is no greater example of a legacy

family dental practice in San Diego County

than Escondido's Citracado Dental Group.

Founded by second generation dentist, Dr.

William Randy Jungman in 1980, he followed

his father and brother into dentistry. Dr. Randy

met the love of his life, Dr. Julie E. Kangas, and

they married upon her 1981 graduation, also

from USC.

The dental legacy began with Dr. Robert D.

Jungman (University of Iowa-1947). Practicing

a few years in West Des Moines, he was called to

Korean War duty as a U.S. Navy dentist.

Stationed in San Diego, which he loved,

discovering that "winters are optional" here. Dr.

Randy Jungman spent time in his father's office

and saw that this profession offered him a

perfect mix of serving in healthcare, getting to

know people on a personal level, and using his

loves for art and science. Dr. Jungman's older

brother, Dr. Greg Jungman, moved to Colorado

in 1976.

Dr. Randy Jungman opened his first office in

a tiny building on Broadway. After working

opposite days with his wife and dental partner,

they moved to the Del Norte Plaza in 1985. By

the early 1990's it was apparent that the

personalized dental care provided by Dr.

Jungman & Dr. Kangas was successful beyond

their imagination. They were fortunate to be

able to build a larger and more modern office. In

1996 they moved into their third and final

location for Citracado Dental, on El Norte

Parkway. This mission style building was

designed by a college friend, architect Art Sturz

of Santa Barbara. Designed from the inside out,

it accommodates all the modern and

technological advances that are needed today, in

a very timeless and comfortable office.

Doctors Jungman and Kangas have been

continually busy seeing patients, and growing

their dental practice. They have always had a

personal commitment that dental care be

available to as many in our community as

possible. This has included extended hours and

Saturdays. In addition to the Jungman and

Kangas family, Citracado has had other long

term associates to provide their same level of

care. They maintain a team of skilled dental

hygienists, and are committed to their patient's

preventive health. Additionally, they provide the

specialty services of a periodontist and an

endodontist to provide complete family

dentistry in their office. They value their long

term staff, and know patients love seeing their

familiar faces when they come in. Citracado

Dental has over 150 Five Star Google reviews

from their wonderful and thoughtful patients.

1 5 4 F E S C O N D I D O : A P i c t o r i a l H i s t o r y o f t h e H i d d e n V a l l e y
---
Citracado Dental has continued to stay at the

forefront of dentistry. They offer "same day"

crowns, 3-D x-ray technology, as well as

Invisalign orthodontics and dental implants in

our office. Among their newest professional

services offered are dental sleep apnea appliances

and saliva DNA testing for advanced periodontal

care and total health dentistry. Their love for

dentistry was passed on to their children, as two

of the four sons followed them into dentistry. Dr.

Robert W. Jungman (named after his grandfather)

graduated from the UCLA School of Dentistry in

2012, and after a residency at UCLA, he joined

the practice. He is now a partner and the clinical

director. Dr. Nick Jungman graduated from USC's

School of Dentistry in 2018, like his parents, and

after completing his residency in Santa Barbara,

he joined the practice as well.

They have also been very involved with the

Escondido community from the beginning. Dr.

Jungman has become and remained very

involved with the Escondido Jaycees, The Boys

& Girls Clubs and the Boys Scouts of America.

Dr. Kangas is active in the American Business

Woman's Association and is a Chamber of

Commerce Ambassador. They are proud parents

of four Eagle Scouts.

The doctors and team of Citracado Dental are

committed to providing the highest level of care

in a comfortable and affordable manner. From

our family to yours-we promise to always treat

you like family!

Q u a l i t y o f L i f e F 1 5 5
---
FRIENDS OF THE

ESCONDIDO

LIBRARY

G

Above: Jean Farke (left) and Marjorie

Vaile, members of the Steering

Committee for the Friends of the

Library in 1970.

The Friends of the Escondido Library

2018-2019 Board of Directors. Seated

(from left to right): Patricia Crosby,

library director; Mary Roy, secretary;

Jim Tisdale, vice president; Elmer

Cameron, president; and Cookie

Allen, library volunteer coordinator.

Standing (from left to right): Directors

Linda Faulkner, Marlene Hoover,

Georgia Chonko, Marge Kelley, Linda

Parker, and Judy Tisdale; and Linda

Atkinson, shop coordinator. Not

shown: Christel Luther, treasurer.

Friends of the Escondido Library began with

a seven-member steering committee of local

citizens who agreed to handle details of

organizing this group. Dorothy Flessa chaired

the committee and the charter meeting of

the Friends was held June 7, 1970, at which

time forty-four charter members adopted

the organization's constitution and bylaws.

Richard Kornhauser served as president for

the initial 1970-71 term. Graham Humphrey

was librarian.

At that time, the 6,000-square-foot library,

built in 1956, was located at Kalmia and

Third Avenue. It is now the library's Pioneer

Room which houses its collection of local

Escondido history and genealogy research

materials. The current two-story, 40,000-

square-foot library on the same block was

built in 1980 and underwent a major renovation

in 2010.

The Friends held their first of many book

fairs and sales October 28, 1972, earning about

$450. Most of the items for sale were discards

and duplicate books weeded from the Library's

existing collection. In April 1973, Friends

volunteers began manning a small area within

the old Library on the first Friday of each month

to sell books and records. That little area grew

into a small shop.

Now, approaching 50 years from the Friends

founding, a current 11-member Board of

Directors administers the Friends of the Library

and membership averages about 300 people,

with some 50 volunteers helping to operate the

shop. The Friends Book Shop occupies a

prominent space inside the library and is open

forty hours a week.

The shop is stocked with books, magazines,

CDs, DVDs, and more, all donated from

residents of the community. Books are priced

very reasonably all the time, and half-price sales

are held in the shop almost every month.

Proceeds from the shop consistently average

about $75,000 a year which allows the Friends

1 5 6 F E S C O N D I D O : A P i c t o r i a l H i s t o r y o f t h e H i d d e n V a l l e y
---
to provide college scholarships to dedicated

staff employees, and to sponsor a host of

library programs that serve all ages of the

community. We support a very active and

progressive library and just some of these

programs are listed below.

Every year, the Summer Reading Challenge

enrolls hundreds of patrons in all age groups.

Youth Services Division presents BabyLapsit for

newborns to toddlers to enjoy great books, fun

songs and rhymes; The Toddler Tales program

shares bilingual stories and songs; Inclusive Art

Club where children of all ages and abilities

enjoy stories and create art from favorite

pictures books; Rhymes and Reading Storytime

aimed at preparing preschoolers to enter

kindergarten; Knights Realm Chess Club for

ages 6-12; Paws for Reading for children to read

aloud to Certified Pet Therapy Dogs and

improve their reading skills; an occasional PJ

Storytime where kids come to the library in the

evening in their pajamas and bring their favorite

stuffed animal to listen to some great stories,

and a Sci-Fun Science Club offering cool science

experiments for kids, taught by a retired

scientist. A big hit is the annual John Abrams'

Animal Magic program.

Teen programs include a Burritos & Books

reading club; TeenTasticFunTime arts & crafts;

Safe Space Escondido for ages 12-17 in a safe

and friendly space to be yourself, meet new

people, and participate in craft activities; Virtual

Reality at the library for teens and adults to

interact with unusual creatures and explore

familiar and otherworldly landscapes.

Adult programs include a very popular Winter

Concert Series of professional musicians;

Escondido Writers Group; Rincon Literario

Bilingual Book Club; Second Tuesday Book Club;

two Adult Graphic Novel Clubs; Book Club in a

Bag program; and a variety of occasional events

like (Halloween) Boos & Booze to learn about

brewing craft beers, and a Succulent Swap for

gardeners and gardeners-to-be.

G

Above: The Friends of the Library

Book Shop.

Below: Attendees line up in the

Children's Library area in anticipation

of the Animal Magic program.

Q u a l i t y o f L i f e F 1 5 7
---
NORTH COUNTY

CEMETERY

DISTRICT

The North County Cemetery District—a

consolidation of the Escondido Cemetery

District and the San Marcos Cemetery District—

was formed in 1984. This combined the

resources of the two districts to provide a higher

level of service and to standardize the policy and

prices for residents and taxpayers of the district.

The roots of the North County Cemetery

District can be traced all the way back to the late

1800s. In fact, the first recorded burial in

the area occurred in 1878. With the death of

Charles Thomas (part of the family which

established the Escondido Land & Town

Company) eleven years later, the Oak Hill

Cemetery was officially established. The

Escondido Land & Town Company deeded

thirty-four acres of land along the southeast

border of Rincon Del Diablo for use as a

burial ground.

"Back then, the location was quite a distance

from town," said Dennis Shepard, general

manager of the District Office. "Of course, the

town has grown quite a bit since then. Our site

has grown from 34 acres to 150 acres."

The Oak Hill Cemetery Association, a

voluntary group, was formed in October of 1889

to administer the cemetery. Many local

volunteers assisted. Albert Bandy constructed a

decorative archway for the entry gate which

remains to this day.

Oak Hill Memorial Park is a public owned

cemetery, paid for by a specific population

through their taxes. The North County

Cemetery District administers the cemetery and

is governed by a five-member Board of Trustees.

The district consists of two cemeteries—Oak

Hill Memorial Park on Glen Ridge Road in

Escondido and San Marcos Cemetery on

Mulberry Drive in San Marcos.

1 5 8 F E S C O N D I D O : A P i c t o r i a l H i s t o r y o f t h e H i d d e n V a l l e y
---
"We provide a history of service to the

community," said Shepard, who has served with

the district in two different capacities since

1991. "The individuals involved with the

district are members of the community who

have helped the community grow."

One constant remains. Community residents

value their cultural and family histories.

"During services or watching people visiting

their families here, you can't help notice the

tremendous pride they have in family heritage,"

said Shepard.

Serving its community and providing

outreach within the community is very important

to the North County Cemetery District.

"We do our best to positively impact our

community," said Shepard. "We partner with the

Allied Veterans Council of Escondido for a

Memorial Day service. We also partner with

other organizations, such as the Audubon

Society, whose members stop by on a regular

basis. Our location is ideal for birdwatching.

Then, there are those people who like to visit

the grounds to take walks every day."

Each Memorial Day at Oak Hill, a special

service is held to honor American war dead. The

service features an avenue of flags, ritual of the

flowers and a roll call of the current year's

deceased veterans.

That's not the only special event to be held at

the cemetery. In 2004, the cemetery introduced an

event in late October called "Echoes of the Past."

Organized by the Escondido History Center, its

purpose was to breathe life into memory by

selecting some of the decedents and having actors

portray them for visitors. Dressed in period

clothing, the actors were coached to accurately

interpret the individuals being depicted. The event

attracted residents to one of Escondido's beautiful

landmarks and generated pride and interest in the

community's unique history and heritage.

Clearly, Oak Hill Memorial Park has done its

part to positively impact the community it serves.

But, it is always a work in progress. The past

copings surrounding family plots, the windmill

and reservoir, and some roads have been either

removed or changed. Now, a lake and niche area

is on the west side and Babyland is gently tucked

on the east corner. In the future, Oak Hill will

have features for a scattering garden, a committal

center for ceremonies and family gathering.

Irrespective of design, Oak Hill Memorial Park

will continue to represent the community.

Q u a l i t y o f L i f e F 1 5 9
---
ROTARY CLUB

OF ESCONDIDO

G

The members of the Rotary Club of

Escondido in 1959.

Rotary is an organization of business and

professional men and women united worldwide

who provide humanitarian service, encourage

high ethical standards in all vocations and help

build goodwill and peace in the world.

The first organizational meeting of the Rotary

club of Escondido was held at the Lake Hodges

Restaurant in March of 1924. Club 33 of San

Diego sponsored the chartering of the

Escondido Club on October 20, 1924. The charter

membership of the club consisted of 25

Escondido business and professional leaders

including bankers, farmers, businessmen, a

newspaper editor, a doctor, dentist, lawyer,

pharmacist, and school superintendent. In

November of 1924 the club held its first meeting

at the Vale View Restaurant just east of 9th

Avenue. Today, no less than 10 North San Diego

County Rotary Clubs claim the Rotary Club of

Escondido as their sponsor.

At the time of the Rotary Club's chartering in

1924 Escondido's population of 3,000 inhabitants

enjoyed a prosperous city whose major

crops were grapes and a growing citrus industry.

Escondido had incorporated October 8, 1888,

and annually celebrated a Grape Day Festival

every September 9th, California Statehood Day.

The event drew thousands of people from

around the area, some arriving by train from

Oceanside. The only parade with more entries

in Southern California was the famous Rose

Parade in Pasadena.

The Rotary Club of Escondido and its members,

as do all Rotary Clubs, believe that the

objective of Rotary is to "encourage and foster

the ideal of service as a basis of worthy enterprise."

There are four areas by which this "ideal

of service" is fostered: through the development

of acquaintance as the opportunity for service;

the promotion of high ethical standards in business

and professions; through service in one's

personal, business and community life; and the

advancement of international understanding,

goodwill and peace.

Over the years since the Chartering in 1924,

the Rotary Club of Escondido has built and

maintained strong Community and

International ties. Throughout the years

Community Service Grants through the Club's

501(c)(3) Escondido Rotary Foundation have

contributed millions of dollars to several

Escondido non-profits and charitable organizations

including scholarships given to deserving

seniors from area high schools. Local elementary,

middle school and high school aged students

have been annually honored for their

scholarship and Service-Above-Self.

Since 1998 the Rotary Club of Escondido has

been recognized as one of the largest contributors

in all of the District 5340 to the Rotary

1 6 0 F E S C O N D I D O : A P i c t o r i a l H i s t o r y o f t h e H i d d e n V a l l e y
---
International's Polio Plus Program. Also on the

international Rotary scene the Club has contributed

time, medical supplies and money to

areas in the world consumed by local disasters

and need including building houses in Ecuador

and Thailand. Through participation in

International Grants the club has provided

funds for Education and Literacy in Liberia,

Monrovia East Africa and Ghana, Africa.

Support has been given to disease prevention

and treatment in Uganda, Africa, clean water

projects in Ecuador and through the 1,000

Smiles Dental Project in Ensenada, Mexico.

For the past several years The Rotary Club of

Escondido has supported the San Pasqual

Academy through many activities such as issuing

school supplies and clothing for the popular

"Shop 'til you Drop" day. Funds and labor were

provided for a storage shed augmenting the

Academy's athletic field and provided building

materials and labor for a "Serenity Garden" constructed

during the annual "Rotarian's at

Work Day." Holiday gifts from Escondido

Rotarians are made available to all Academy students

at Christmas.

What is the future of the Rotary Club of

Escondido? The membership aspires to be a

group of irreverent jokesters, full of fun with the

desire to sing and sing loudly, on or off key. The

Club consists of local leaders who want to give

back to the community supporting local nonprofits,

our youth and charities. The Rotary

Club of Escondido will continue to look for

avenues to grow, personally, and to help others,

throughout the nation and the world.

We are proud to be Rotarians.

G

Above: The Rotary Club of Escondido

present day.

Below: Past presidents of the Rotary

Club of Escondido.

Q u a l i t y o f L i f e F 1 6 1
---
G

ESCONDIDO UNION HIGH SCHOOL DISTRICT

Above: The original Escondido

High School.

Below: Del Lago Academy–Campus of

Applied Science.

What are the hallmarks of an outstanding

educational system with a commitment to the

academic and social/emotional well-being of its

students? For over 125 years, the Escondido

Union High School District (EUHSD) has been

committed to providing its students with the

necessary skills to be successful in the school to

career pathway. Since the District first opened

its doors in 1894, EUHSD has inspired and

guided students to reach their personal goals.

Beginning with Escondido High School in

1894 and now on every campus including

Orange Glen (1963), Escondido Adult School

(1968), San Pasqual (1972), Valley (1971), and

Del Lago Academy–Campus of Applied Science

(2013), you will find a unique learning

environment in which students are thriving. With

nationally recognized Advanced Placement,

Career Technical Education, Independent Study,

after school enrichment, career exploration,

STEM and more, opportunities to explore and

grow are abundant. Today, over 180 courses are

available and rigorous graduation requirements

help to ensure the more than 7400 diverse

students are well prepared for the competitive

and global world of tomorrow. Graduates

showcase their readiness for their future by

earning acceptance into some of our nation's

most prestigious colleges, universities, and trade

schools. Others admirably commit to the military

or choose to pursue a variety of career pathways.

Many remain in, or return to, Escondido sharing

their expertise, running their businesses, or

raising their families.

The District embraces the responsibility of

public education for every child. EUHSD

teachers, staff and administrators work alongside

parents and community members to inspire and

reassure students as they develop into

responsible, productive and engaged citizens.

We are fortunate to be able to offer personalized

assistance to students through support services

such as special education, counseling and

tutoring programs. Students also learn the value

of making wise informed choices to positively

impact their future physical/emotional health.

Each EUHSD campus is committed to

building critical thinking and problem solving

skills so that when students graduate, they are

ready for college, ready for work–ready for life.

The Escondido Union High School District

remains dedicated to educating future

generations as they develop their knowledge

and skills for success.

1 6 2 F E S C O N D I D O : A P i c t o r i a l H i s t o r y o f t h e H i d d e n V a l l e y
---
ASSISTANCE

LEAGUE ® OF

INLAND NORTH

COUNTY

Escondido is home to Assistance League ® of

Inland North County, an all-volunteer nonprofit

organization helping to transform the lives of

children and adults through community programs.

In 1982, a group of eighty women

established a chapter of National Assistance

League ® . To fund the programs of the chapter, a

thrift shop called The Bargain Box was opened

in a rented building on Escondido Boulevard

with a cigar box as a cash register.

After several years, a capital campaign to

purchase a building was established. This

campaign along with $50,000 in winnings from

the Paul Newman recipe contest won by

member, Janet Sutherland, and $10,000

donated by Major Market, enabled the chapter

to purchase the AAA property on East Valley

Parkway. With the growth of the chapter and its

programs, a larger building rapidly became

necessary. In 2005, a two-story facility was

constructed at the East Valley location thanks to

a second capital campaign and a generous

donation from Matt and Jean McLaughlin.

The chapter has grown to over 150 members

and nine community service programs that assist

children, homeless adults and seniors in need.

Operation School Bell ® helps build self-confidence

and improve school attendance by providing new

clothes and shoes to over 2,000 students in grades

K-12 each year. The Scholarship Program awards

over $100,000 to high school seniors and college

nursing, paramedic, trade and industry students.

Students graduating from San Pasqual Academy, a

residential school for foster teens, are helped toward

an independent life through Operation Duffel Bags.

The donated duffel bags are filled with items

graduates need to begin life on their own. Recently,

Escondido Union High School District foster and

homeless graduates were added to the program.

The chapter continues to fund its programs

through its Thrift and Consignment Shop located at

2068 E. Valley Parkway. The shop offers quality

items in a clean and friendly environment. It accepts

donations of gently used items during business

hours from 10 a.m. to 4 p.m., Tuesday through

Saturday. Please call (760) 746-7532 or visit

www.assistanceleague.org/inland-north-county.

Q u a l i t y o f L i f e F 1 6 3
---
INTERFAITH

COMMUNITY

SERVICES

G

Above: Betty and Melvin Cohn.

Below: Hawthorne Veteran and

Family Resource Center.

On May 20, 1979, volunteers from fourteen

different faith communities in the Escondido

and surrounding inland area met to respond to

the growing crisis of poverty and homelessness

in their communities. Each congregation agreed

to take ownership of one month by voluntarily

distributing emergency food, clothing and other

basics resources. In 1980, Mary Dunn became

first board president.

Working alongside other local organizations

and people from all walks of life, Interfaith

Community Services became a secular 501c (3)

not-for- profit organization in 1982. Although

Interfaith had primarily been a volunteer-led

organization up to this point, Suzanne Pohlman

became its first employee that same year.

Celebrating forty-two years of service,

Interfaith has grown to become the largest social

service organization in North San Diego County.

With over 220 employees and thousands of

volunteers, Interfaith offers its multi-faceted

programs at numerous locations. Services include

food and basic needs assistance, employment

help, tax and legal services, mental health and

substance use services, and housing. Last year,

Interfaith served 20,717 unique people, including

5,328 children, 798 veterans, and 1,477 men,

women and children housed. Interfaith's model of

Helping People Help Themselves ensures the

commitment of each person served to be part of

the positive change in their own life.

Currently led by CEO, Greg Anglea

and Board Chair, Reverend Meg Decker,

Interfaith pays honor to its historical donor and

volunteer leaders:

• Betty and Melvin Cohn Center, Interfaith

headquarters

• Hawthorne Veteran and Family Resource Center,

in honor of Dorothy and Tom Hawthorne and

home to the Recuperative Care Program,

• Raymond's Refuge, in honor of Caroline and

Jack Raymond

• Escondido Community Sobering Services, a

program of the Joan and Lee James Recovery

and Wellness Center.

For five years, Interfaith has achieved a fourstar

rating from Charity Navigator. Only twelve

percent of charities in the U.S. have attained this

prestigious rating.

1 6 4 F E S C O N D I D O : A P i c t o r i a l H i s t o r y o f t h e H i d d e n V a l l e y
---
Palomar Mountain's historic artesian well. Daphne Fletcher photograph.

Q u a l i t y o f L i f e F 1 6 5
---
1 6 6 F E S C O N D I D O : A P i c t o r i a l H i s t o r y o f t h e H i d d e n V a l l e y

The historic Ferrara Winery. Forgotten Barrel,

LLC, photograph.
---
The Marketplace

E s c o n d i d o ' s r e s t a u r a n t s , b a n k s , a n d

r e t a i l a n d c o m m e r c i a l e s t a b l i s h m e n t s

o f f e r a n i m p r e s s i v e v a r i e t y o f c h o i c e s

The Ken Blanchard Companies ® .......................................................1 6 8

Toyota of Escondido .......................................................................1 7 0

Alhiser-Comer Mortuary ................................................................1 7 2

El Plantio Nursery ........................................................................1 7 4

Arie de Jong and Hollandia Dairy ....................................................1 7 6

Palomar Mountain Spring Water ......................................................1 7 8

Rancho Guejito .............................................................................1 8 0

Filippi's Pizza Grotto ....................................................................1 8 2

Henry Avocado Corporation ............................................................1 8 3

Esperanza's Tortilleria ...................................................................1 8 4

Jack Powell Chrysler Dodge Jeep Ram...............................................1 8 5

West Escondido Automotive & Transmission .......................................1 8 6

OneWest Bank ..............................................................................1 8 7

Volvo Specialist of Escondido ..........................................................1 8 8

Sunny Side Kitchen .......................................................................1 8 9

Visit Escondido .............................................................................1 9 0

Downtown Business Association .......................................................1 9 1

Ledge Media dba HPNbooks ............................................................1 9 2

T h e M a r k e t p l a c e F 1 6 7
---
G

Above: Spencer Johnson (left) and Ken

Blanchard (right), co-authors of The

One Minute Manager ® , in 1982.

Below: Ken and Margie Blanchard at

a ribbon-cutting ceremony in 1985.

THE KEN BLANCHARD COMPANIES ®

Ken Blanchard is one of the most influential

leadership experts in the world. He is co-author

of the iconic bestseller The One Minute

Manager ® , with Spencer Johnson, and more than

65 other books that have combined sales of 22

million copies in 47 languages.

The roots of The Ken Blanchard Companies ®

began in 1976 when Ken, his wife, Margie, and

their children, Scott and Debbie, traveled to San

Diego during a sabbatical from his tenured

professorship at University of Massachusetts. After

his speeches wowed attendees at a Young

Presidents' Organization (YPO) event, YPO leaders

urged Ken to start his own consulting firm.

With this encouragement from YPO, Ken and

Margie decided to stay in San Diego. After a year

of running successful seminars, they invited six

of their UMass colleagues—Laurie Hawkins, Fred

Finch, Drea Zigarmi, Pat Zigarmi, Don Carew,

and Eunice Parisi-Carew—to join them as

founding associates of their new company. They

incorporated Blanchard ® in 1979 and had three

goals: to make a difference in people's lives; to

drive human worth and effectiveness in the

workplace; and to help each organization they

work with become the provider, employer, and

investment of choice. Today, Blanchard is one of

the largest family-owned businesses in San Diego.

Ken, Margie, Scott, Debbie, and Tom McKee

(Margie's brother) own and operate the company.

In their quarterly Family Council meetings, they

further support each other in the multitude of

issues related to running the business.

Blanchard offers award-winning training

programs with powerful models that are

instantly applicable to the workplace. Based on

decades of research and experience by renowned

thought leaders, programs include such topics as

1 6 8 F E S C O N D I D O : A P i c t o r i a l H i s t o r y o f t h e H i d d e n V a l l e y
---
trust, motivation, change, self leadership, and

customer service as well as two of the world's

most widely used leadership frameworks: SLII ®

and The One Minute Manager ® . Program content

is proven to help organizations achieve

operational goals while creating a great

workplace experience for employees.

Year after year, Blanchard has been recognized

as a top place to work in San Diego and one of the

top leadership training companies worldwide.

Much of this acclaim can be attributed to the

company's unique culture.

Employees receive a daily morning message

from Ken with inspiring thoughts, shared

victories, and requests for support.

When the industry was impacted by September

11, 2001, Ken was adamant about avoiding

layoffs. Top leaders agreed to defer all raises and

aggressively cut expenses. After three lean years

without a layoff, the business flourished, and the

entire company went to Hawaii to celebrate. Then

when the 2009 recession hit, everyone assembled

again to brainstorm ways to increase revenue and

reduce expenses—and again Blanchard came

back, stronger than ever.

Blanchard has a decades-long history of

supporting local communities.

• Blanchard for Others is an employee-driven

program that contributes to charitable

organizations and relief funds.

• A percentage of company profits go to

Blanchard's Give Back program, in which

each employee chooses a 501(c)(3)

organization to receive a donation from

Blanchard in their name.

• The Blanchard Ambassador Program invites

associates to spend up to forty paid hours per

year in service to others.

• The Blanchard Institute provides access to

training and development programs that help

students of all ages develop leadership skills.

• Blanchard's Infant at Work Program

encourages parents to bring their baby to

work until the age of six months, providing

peace of mind for parents, reduced stress for

coworkers, and socialization for the baby.

• By enhancing systems and products to conserve

natural resources, Blanchard's corporate

Sustainability Team ensures that sustainability

is ingrained in the company culture.

Finally, servant leadership is at the root of

everything that Blanchard does. "On the road to

success, many organizations hit a plateau and

struggle in getting to the next level," says Ken.

"We believe the key to breaking through is servant

leadership—a management approach where

people lead best when they serve first."

G

Left: Ken and Margie Blanchard.

Below: The Ken Blanchard

Companies ® Family Council (from

left to right): Debbie Blanchard, Scott

Blanchard, Ken Blanchard, Tom

McKee, and Margie Blanchard.

T h e M a r k e t p l a c e F 1 6 9
---
TOYOTA OF

ESCONDIDO

G

Above: Nancy and Gary L Myers.

Below: Toyota of Escondido is located

at 231 Lincoln Parkway.

The Myers family purchased Toyota of

Escondido in October 1978 with the dream

of building a family-owned and operated Toyota

dealership. Now, more than forty years later,

Toyota of Escondido continues to serve

thousands of satisfied customers throughout

the county.

With more than 300 employees and more

than 1,200 new and used vehicles in its

inventory, Toyota of Escondido is one of the

largest family-owned dealerships in southern

California and the second-largest car dealership

in San Diego County.

Located at 231 Lincoln Parkway, where

Highway 78 meets Broadway, the dealership is

headed up by family patriarch Gary L. Myers, a

graduate of Los Angeles State University and

a former member of the Air National Guard

where he served with honor. The family laid

the groundwork for the dealership you see

here today.

The early years focused on the development of

the sales and service departments as well as a

management team to steer the ship. With the

addition of some key, hardworking employees,

the dealership began to flourish.

Meanwhile, the family was growing alongside

the business. Gary pursued his passion for

offroad and sailboat racing while wife Nancy

Myers, a graduate of Criss Business College, was

enjoying racing Flight of the Snowbirds,

Lehmans, and Sabots. A clear theme was

emerging—this family loved the outdoors! From

the deserts to the ocean, racing was in their

blood. A lifestyle that each of their children has

adopted as well.

Son Stephen Myers, a graduate of Southern

California Christian College serves as CFO at

Toyota of Escondido while spending his spare

time racing with his two daughters in the deserts

of California and Baja.

Daughter Cindy Myers relocated to Hawaii

where she is raising her two sons, following her

time in the 63rd U.S. Army Reserve Command in

Desert Shield and Desert Storm. Cindy has her

captain's license and private airplane license. Son

Daniel Myers is a graduate of California State

University Long Beach with a business degree.

Dan works for Toyota of Escondido as the general

manager. Dan has two girls and one boy and still

enjoys off-road racing regularly.

Son Andrew Myers is a graduate of California

State University Long Beach with a business

degree. Andrew has two daughters and enjoys

off-road racing as well.

1 7 0 F E S C O N D I D O : A P i c t o r i a l H i s t o r y o f t h e H i d d e n V a l l e y
---
"Toyota of Escondido has truly become a

family business and it's been a great source of

pride," said Gary Myers. "It's been a thrill to watch

my sons embrace the automotive business."

Over the years, Toyota of Escondido has

continually led San Diego County in new

Toyota truck sales and Toyota certified used

sales. Toyota of Escondido has also consistently

ranked in the top 10 of all 77 dealers in

the Los Angeles region in total new Toyotas

sold annually.

With a total of 70 service stalls, including 20

built to accommodate Toyota's new and much

larger full-size Tundra trucks, Toyota of

Escondido is readily equipped to handle all of

its customer needs. The dealership also takes

pride in its wide assortment of parts and

accessories for both cars and trucks.

Toyota of Escondido's Truck Center also offers

one of the most complete truck parts and

accessories selections in the region, with a large

inventory of custom tires, wheels, suspensions

and performance exhaust systems. Its awardwinning

Truck Center is an expert in installing

lift kits, performance exhaust systems, custom

tires, wheels and much more.

Clearly, the success of Toyota of Escondido is

a testament to the commitment and hard work

of the Myers' family. With a team of dedicated

and experienced employees, they will certainly

achieve their dream of continuing to grow and

expand as a successful family-run business.

T h e M a r k e t p l a c e F 1 7 1
---
ALHISER-

COMER

MORTUARY

G

Alhiser Comer Mortuary has been

located at 225 South Broadway

since 1897.

The oldest, continually-operating familyowned

business in Escondido has adopted a

simple, effective and compassionate approach

in dealing with its customer base.

"We put the needs of the family first," said

Megan Comer, President of Alhiser-Comer

Mortuary. "We are here to walk beside them in

their most difficult time and to make sure that

we treat them like family. They are part of our

extended family."

The mortuary has been operating in the same

location at 225 South Broadway since 1897. In

fact, the chapel used to be the stable where the

horses would transport the deceased. The old

stable floor remains underneath the carpet today.

Over the years, the facility has undergone

significant expansion and enhancements. The

Wilson family, which took over the business in

the late 1940s, renovated and doubled the

floorspace of the mortuary. The business was

known as Alhiser-Wilson Mortuary at that time.

In 1989, Stuart Comer, a second-generation

funeral director, purchased the mortuary and

extensively refurbished and updated the

building. In 2000, the name was changed to

Alhiser-Comer Mortuary. Stuart also opened a

crematory in order to meet the needs of

families in a changing industry.

Stuart's daughter, Megan Comer, took over the

business in 2013. The third generation of Comers

1 7 2 F E S C O N D I D O : A P i c t o r i a l H i s t o r y o f t h e H i d d e n V a l l e y
---
in the business, Megan works alongside her sister,

Nicole, who serves as a funeral director.

Since then, they have incorporated more

upgrades into the building, including the most

recent addition—a new reception room to better

serve families while still maintaining the

integrity and charm of the building.

Not only has the facility changed over time,

but the industry has transformed as well.

"There's definitely been a rise in cremation,"

said Comer. "It's increased steadily in recent

years. In the state of California, it should be

close to seventy percent cremation in the next

few years. That has changed the dynamics of the

business. Traditional funerals with limos,

hearses, church services and viewings are

becoming a tradition of the past."

The reason for this transformation is

two-fold—people are going greener and it is

much cheaper.

"There's been an increase in online

cremation," said Comer. "Families never come to

the building. They just complete the paperwork

online. The funeral industry tends to be a little bit

behind other industries in the technology arena,

but it's starting to catch up."

Another dramatic shift has been in people

attitudes from mourning a life to celebrating a life.

"Now people want to have some drinks and a

meal and celebrate a person's life rather than sit

in black in the front row and cry," said Comer.

"There's been a shift in society to celebrating

a life."

Having grown up in Escondido, Comer quickly

realized the importance of community involvement.

"We've always been a part of the community,"

she said. "We are part of the Chamber of

Commerce and we were named family-owned

business of the year in 2017. We've always made

it a priority to help out our community in

whatever way we can—from providing birthday

cakes for senior centers to volunteering in the

community or donating money."

One of Alhiser-Comer Mortuary's bigger

projects recently was creating the new family

viewing room—comprising warm colors and a

calming nature wall—at the new Palomar

Medical Center.

"It was very important that we built a room

that was comfortable for families viewing their

loved ones," said Comer.

Being considered part of the fabric of

Escondido is very important to Alhiser-Comer

Mortuary. The Comer sisters are honored to

continue their father and grandfather's legacy

and commitment to the community. Sadly,

Stuart Comer passed away in 2018.

"There are a lot of family-owned businesses

in Escondido, but not many have been around

for as long as ours has," said Comer. "We want

to do our part to help make our community a

good place."

G

Above: Nicole Comer, Stuart Comer,

and Megan Comer with their Family-

Owned Business of the Year Award,

2017.

Below: The Comers with the building

staff of Palomar Medical Center in

the Family Viewing Room, 2016.

T h e M a r k e t p l a c e F 1 7 3
---
EL PLANTIO

NURSERY

G

Above: The El Plantio storefront,

c. 1959.

Below: The original El Plantio Nursery

sign in the parking lot, c. 1960.

El Plantio Nursery & Landscaping has been

in existence since 1959 and has been a familyowned

business for more than half a century. In

1969, Nathan Snapp, who had studied forestry

in college, bought the nursery and ran it for

seven years.

Prior to purchasing the business, Nathan

worked for the city of Escondido as a personnel

manager. When a new city manager came on

board, Nathan and several other employees quit

in protest. As the nursery was in line with what

he had studied in college and he had always

enjoyed the outdoors, Nathan decided to buy it.

And, it has remained in the family ever since.

Nathan's passion for plants rubbed off on

two of his sons—Bill and Warren—who began

working with him full time. After a few years,

Nathan felt it was time to let them take over the

reins. Warren and Bill bought the business and

assumed ownership on January 1, 1976.

Meanwhile, Warren's three children—Nolan,

Lloyd and Melinda—are now the third

generation of Snapps to be involved in the

business. Nolan works as landscape construction

manager while Lloyd serves as operations

manager and Melinda functions as landscape

designer. All three hold horticulture degrees.

In the early 1970s, Bill and Warren began

working for their dad at the nursery. A couple of

years later while in college, Warren was

summoned to work full-time in the business.

"My dad discovered that his manager was

stealing from him," said Warren. "I had to quit

school and start working for him full-time."

Throughout the years, the Snapp family has

handled the gardening needs of multiple

generations of Escondido families which gives

them great satisfaction.

"We take the time to talk to them, find out

their needs and educate them in an applicable

way," said Lloyd. "A lot of people value that.

1 7 4 F E S C O N D I D O : A P i c t o r i a l H i s t o r y o f t h e H i d d e n V a l l e y
---
We're like barbers and therapists in that our

customers really open up to us. We help them

improve their garden spaces which in turn

brings them joy."

As Warren is quick to add: "Gardening is

therapeutic. We want to help people have a

good experience by getting close to nature."

And, being in the community for so many

years, El Plantio Nursery has become part of the

fabric of Escondido.

"We are members of the Rotary Club, the

Chamber of Commerce and we helped revitalize

the river walk by designing a pocket garden

along the flood control channel," said Lloyd. "In

addition, we hold a number of classes and

educational seminars at the store on topics

ranging from tomatoes to fruit trees to drought

tolerant plants."

El Plantio has about 25 employees. What

separates them from many other nurseries is

that they provide a turnkey service. This

includes all landscape services – maintenance,

design, installation and construction. They also

install irrigation, new patios, pergolas and

outdoor barbecues.

Bill Snapp manages the landscape maintenance

portion of the business. In that regard, El Plantio

crews are out and about every week maintaining

larger residences and commercial properties,

including apartment complexes, homeowner

associations and museums, among others.

"We are able to install an entire yard and

maintain it," said Lloyd.

Most gratifying to the Snapp family is the

impact the nursery has had on its community

and its residents.

"Every week, people come in and say they've

lived in the area for 20 years and they've finally

had a chance to stop in," said Warren. "They

remember coming into the nursery with their

parents and grandparents and are now just

rediscovering the store. And, then there are

others who have been coming here for decades.

Now, their kids are all grown up and getting

their own yards in order."

The term "El Plantio" means planted area or

garden place in Spanish. Without question, this

fixture on the Escondido landscape fills an

important niche among true dirt-under-thefingernails

plant lovers and novices, alike.

G

Top, left: Warren Snapp.

Top, middle: An aerial photo of El

Plantio, 1989.

Top, right: Bill Snapp.

Below: El Plantio in 2019.

T h e M a r k e t p l a c e F 1 7 5
---
ARIE DE JONG

AND

HOLLANDIA

DAIRY

G

Above: Maartje & Arie de Jong, Sr.

Top, right: Arie de Jong, Jr., in front of

Milne Motors in Escondido.

Below: Arie de Jong, Jr., making sales

calls in Escondido.

For Dutch businessman and philanthropist,

Arie de Jong, life in Southern California after

his immigration from Holland has been good.

Arie was born in 1939 in Alphen on the

Rhine, a town in the province of South Holland,

between Amsterdam and Rotterdam.

Like most families, the de Jongs had little

money during the Depression. During World War

II, the Germans occupied Holland, including the

dairy the de Jong family operated. The de Jongs

were allowed to stay and manage the dairy, since

the Germans were soldiers and not dairy farmers.

In 1942, the residents of Alphen began

feeling the negative effects of food shortages

and rations. Arie's father, Arie Sr., decided to

take action.

"People were starving all around us," recalled

Arie. "We had food and we used it to barter for

other items. I served as a courier and delivered

packaged food to all the neighborhoods in

the area."

Arie Sr.'s twin sister, Henrietta, had

immigrated to the United States from Holland in

the 1920s. His oldest son, Tom, wanted to move

to the U.S and declared his intentions to his

uncle, Sam Bruinsma, Henrietta's husband. Sam

owned a dairy in Artesia, California, but really

wanted to be a rancher. He sold his dairy, bought

a ranch in Poway, California, and sponsored

Tom's immigration to America in 1948.

After Tom's arrival, he wrote letters to his

family in Holland, raving about his new home.

He made a deal with his uncle—if Sam built a

dairy and became a sponsor for them, Tom's

family would provide the necessary labor to run

the dairy.

"We arrived in America with only $35 in our

pockets," said Arie. "We left almost everything

behind, including money, in Holland."

The de Jong family settled in Poway on Sam's

cattle ranch, the Bar 'C' Bar, which is now

Metate Lane, off Pomerado Road, the old

Highway 395.

"I was ten years old when we arrived and

that was the only year in which I didn't have a

job," said Arie. "I learned English at school."

1 7 6 F E S C O N D I D O : A P i c t o r i a l H i s t o r y o f t h e H i d d e n V a l l e y
---
On a trip to Escondido, Arie Sr. and Sam

passed a small, five-acre dairy with a "for

sale" sign posted. In 1950, the de Jong

family purchased the dairy, including a cash

and carry drive-in store, with a $7,000 cash

down payment.

The dairy was named Hollandia Dairy, in

honor of the Hollandia Creamery back in

Holland, where the milk from their dairy in

Alphen was taken to be processed.

Eleven-year-old Arie and his older siblings

helped feed and milk the cows. At sixteen, he

became a delivery driver, and soon became a

sales manager for the dairy.

The Hollandia Dairy brand was expanding.

The de Jongs began lobbying the Southern

California school boards to deliver

their milk products to schools throughout

Southern California.

They started with one school in the

early 1960s and eventually grew to include

over 1,000 schools in Riverside, San Bernardino

and San Diego counties. Hollandia also

expanded and became a supplier of milk and

dairy products to hospitals, prisons, jails and

military installations.

When Arie was sixteen he delivered

milk to the Green Oak Boys Ranch, a 143-acre

ranch in Vista belonging to the Los Angeles

Rescue Mission. It was a rehabilitation

facility for the homeless and recovering addicts

and alcoholics.

In the mid-1990s, Arie heard the ranch was

for sale. He became acquainted with the

director and purchased the ranch to keep it

going as a rescue mission. He renamed it Green

Oak Ranch Ministries, a faith-based, nondenominational

organization.

"We usually have about 40 to 80 people in

residence on a regular basis," said Arie. "Our job

is to get them off drugs and alcohol and back

into a stable position. They have to stay with the

program for nine months before they graduate."

From their business successes to

philanthropic support, the de Jong family has

clearly developed deep roots in Southern

California.

G

Above: Back row (from left to right):

Elso, Maartje, Arie Sr., Ellie, and Piet.

Front row (from left to right): Kees,

Arie Jr., Mary, Jet, John, and Karel.

Below: In front of the cash and carry

on the corner of 17th and Center City

Parkway. Standing: Arie Sr. and,

Maartje. Kneeling (from left to

right): Arie Jr., Teun, Piet, Karel,

and cousin Rudy.

T h e M a r k e t p l a c e F 1 7 7
---
PALOMAR

MOUNTAIN

SPRING WATER

G

Above: Eric de Jong

Below: Conrad Pawleski, Eric de Jong,

and Silvia de Jong.

In June 2005, North County resident Eric

de Jong and his wife, Silva, purchased Palomar

Mountain Spring Water and its distribution

facility. It had previously been owned by

Dick Einer.

Eric is part of the de Jong family that has had

strong ties in the community ever since his

grandparents, parents, and aunts and uncles

emigrated from the Netherlands in 1949.

"My father, Arie, who owned a dairy business

with his siblings, was instrumental in the

purchase," said Eric. "He was always envious of

the water business. He liked that there were

fewer hurdles than in the milk business—no

spoilage, no refrigeration, and no storage issues.

Dad also knew the Einer family and said I

should look into it."

Since acquiring the company, Eric has

made efficiency improvements and expanded

the suite of waters to include, among others,

sparkling water and flavored water. Palomar

Mountain Premium Spring Water has also

been made available to restaurants in

returnable, refillable glass. However, he did not

change the bottling process, which has

continued to be the success of Palomar

Mountain Spring Water. It has the only bottled

water from a private spring source in Southern

California—water from the springs to the

consumer in its most natural state.

Today, Palomar Mountain Premium Spring

Water is delivered to homes, offices and

restaurants. Its fine water is available at the

Palomar bottling facility and selected

convenience stores. Palomar Mountain Spring

Water offers a variety of waters and dispensers

to meet every residential and commercial need.

The natural spring water is sourced from

free-flowing springs high atop 160-million yearold

Palomar Mountain in San Diego County,

Southern California. The springs lie away from

civilization, high above smog levels,

contaminants or additives.

Palomar Mountain Spring Water is a onestop-shop

for local spring water as it solely

manages the flow of bulk hauling, bottling and

delivery of spring water. Water is collected

straight from the spring and transported directly

to its bottling facility in state certified water

trucks. There, it is filtered to remove possible

1 7 8 F E S C O N D I D O : A P i c t o r i a l H i s t o r y o f t h e H i d d e n V a l l e y
---
microorganisms, and passed through high

intensity, ultraviolet light to destroy any

possible bacteria. The result is true, pure, clean

and healthy bottled water.

Conrad Pawelski serves as chief financial

officer/general manager of Palomar Mountain

Premium Spring Water. He was working for Eric

at the time Eric bought Palomar Water and was

actively involved in the purchase of the

company out of bankruptcy in June 2005.

"The business has grown more than tenfold

from the time we bought the business," said

Conrad. "We will be bringing back our

sparkling water with natural fruit extracts and

no sweeteners, and provide more of our water

in refillable and one-way glass bottles. We have

also expanded our production to include a 4.5-

acre facility in Oceanside for small pack bottling

capability so that we can get our products into

more San Diego North County locations."

Both Eric and Conrad have deep roots in

the community.

Eric was born in Escondido and raised in

Escondido and San Marcos. He graduated from

Calvin Christian High School in Escondido.

Eric and his wife have three children—a

daughter, Ella, and sons Robert and Niels, who

all work in the family businesses.

Conrad has lived in North County since

he was two years old. He grew up in Vista

and resides there now. After attending Cal

Poly, he earned his MBA from Cal State

San Marcos.

A family-owned spring and distribution

company, Palomar Mountain Spring Water is

exactly as advertised—true spring water,

straight from the source.

T h e M a r k e t p l a c e F 1 7 9
---
RANCHO

GUEJITO

G

Before Escondido, before statehood—

Rancho Guejito, sustainably ranching

since 1845.

1 8 0 F E S C O N D I D O : A P i c t o r i a l H i s t o r y o f t h e H i d d e n V a l l e y
---
T h e M a r k e t p l a c e F 1 8 1
---
FILIPPI'S

PIZZA GROTTO

G

Right: Bobby DePhilippis performing

with his band, The Sound Doctors.

Below: The front of Filippi's Pizza

Grotto on West Grand Avenue in

Escondido during opening night of car

show in 2018.

Any list of popular Italian restaurants in

San Diego County is certain to include the

name Filippi's.

Filippi's Pizza Grotto has been revered since

its first restaurant was opened in Little Italy in

1950 by the patriarch of the family, Vincent

DePhilippis. Since then, the Filippi's brand has

expanded to include 15 restaurants, including

one in Escondido on W. Grand Ave.

Vincent's grandson, Bobby DePhilippis, moved

here from Philadelphia in 1965 and has carried

on the tradition since 1972. He manages locations

in Escondido (the chain's busiest), Poway, Jamul

and Santee. His daughter, Michelle, the fourth

generation of restauranteurs in the family, runs

the Imperial Beach site.

The Filippi's story began when Vincent and

his wife Madeline arrived from New York in

1947. Vincent opened an Italian grocery store

on India Street and built a 30-seat restaurant

behind it. Then, they purchased the property

next door and today Filippi's is the biggest

Italian restaurant in town with 220 seats.

"In 1950, the area consisted entirely of

fishermen," said Bobby. "If you didn't speak

Italian, you could get waited on in the store."

Vincent, who passed away in 1957, created

the recipe for lasagna which still thrives at

Filippi's locations today.

"My grandfather's recipe is nothing fancy—

garlic, oil and tomatoes, without the peels," said

Bobby. "We use the best whole milk mozzarella

and the best flour."

Bobby's father, Roberto, was more of a

steakhouse and cocktail guy. He launched a

restaurant called Caruso's and then opened

Butcher Shop steakhouses in Chula Vista and

Mission Valley.

"My father taught me how to treat people,"

said Bobby. "Always have a smile and say hello

to everybody. And, if there are any complaints,

take care of it yourself right away."

The restaurant business has been part of

Bobby's DNA for some 50 years. But, he still finds

time to pursue other interests. He promotes

boxing events (he's been inducted into the

California Boxing Hall of Fame and the West Coast

Hall of Fame) and sings in a band called The

Sound Doctors. And, for good measure, he is a

founding board member of Seacoast Commerce

Bank of Rancho Bernardo which began in 2003.

1 8 2 F E S C O N D I D O : A P i c t o r i a l H i s t o r y o f t h e H i d d e n V a l l e y
---
Henry Avocado was founded in 1925 by

Charles and Florence Henry, who were among

the first to plant avocados in San Diego County.

Prior to service during World War I, Charles

Henry worked as a gardener in Los Angeles. On

one of the estates, he took special note of some

newly planted avocado trees and marveled at

how well they did in the Southern California

climate. In the early 1920s, he and Florence

Schoeffel were married. Her family owned citrus

groves which they had developed in the late 19th

century along the foothills of the San Gabriel

mountains. Because of their mutual interest in

farming, Charles and Florence searched for a

location to plant avocados and raise a family.

They found an ideal eighty-acre parcel on the

hillsides of Escondido. In 1925, they started

planting Fuerte trees, which, at that time, was the

most popular avocado variety. Over the years, the

original trees were replaced with the Hass variety.

By the 1930s, they had built a packinghouse

and were delivering avocados to many Southern

California customers. Even though times were

difficult during the depression, avocados were a

specialty fruit that commanded high enough

prices to keep the farm going. Florence and

Charles soon realized they needed a distinctive

name for their product. Gil and Warren, their two

young sons, were taking piano lessons from Lyle

Barber, a classically-trained piano teacher. He was

over for dinner one night to celebrate the Henry's

recent blue ribbon for their avocado entry at the

Los Angeles County Fair. He tasted one of the

award-winning avocados, and, using the musical

term to praise an excellent performance, exclaimed

"Bravo". They all thought that sounded fitting, so

"Bravo" was combined with "avocado" to become

"Bravocado". The company has continuously used

Bravocado for its premium label ever since.

After serving in the military during World

War II, the Henry's eldest son, Gil returned to

Escondido to assist his parents. Gil's brother,

Warren, after military service in the Korean War,

also joined the company and both took on

added responsibilities after their father, Charles,

was killed in a tractor accident in 1953. Warren

focused on farming and Gil handled packing,

while their mother continued to do the

accounting. Later in the 1950s, Florence's

nephew, George Schoeffel, joined the company

to handle sales. In subsequent years, the

company dramatically increased production by

developing additional groves.

Henry built the avocado industry's first

forced-air ripening room in the early 1980s.

Ripening ensured that all avocados in the same

container ripened faster and more evenly, so

consumers could receive a fresher avocado in the

desired stage of ripeness. This was recognized by

consumers as an added value resulting in higher

demand. To supply its expanding demand, in the

1990s, ripe distribution centers were added in

Phoenix, Arizona, and San Jose, California. In

subsequent years, distribution centers were

added in San Antonio and Houston, Texas, and

Charlotte, North Carolina.

In 2018, the company moved its headquarters

from the original property to a modern

distribution building in Escondido, although the

original grove remained in avocado production as

it has since 1925. Throughout its history,

members of the Henry family have been involved

in numerous farming-related associations such as

the Farm Bureau and the California Avocado

Commission, in addition to local civic and

charitable organizations.

Over the years, additional owners were added

to assist and replace the retiring original partners.

The current managing owners are Phil Henry,

president; Don Hoey, vice-president of Sales; Rick

Opel, vice-president of farm management; and

Vic Varvel, vice-president of packing operations.

In the early years, Henry was strictly a grower

and packer of California avocados. Today, the

Henry's are still growers, but the company is

better described as a year-round distributor of

custom-ripened fresh avocados.

HENRY

AVOCADO

CORPORATION

T h e M a r k e t p l a c e F 1 8 3
---
ESPERANZA'S

TORTILLERIA

G

Top: From left to right, Luis

Martinez—Victors older brother.

Victor Martinez. Picture taken in

1960 when the two worked at El

Charro Tortilleria.

Below: Victor and Teresa Center. Left

to right: Raymond, Manuel, Hugo, &

Gabriel. Picture taken at 2017

holiday party. Victor named the

business in honor of his mother

Esperanza.

Esperanza's Tortilleria, founded in 1980 by

Teresa and Victor Martinez, is a family-run

business that believes tortillas, chips, tostadas,

masa (dough) for tamales and other corn and

flour-based products should be made using

traditional techniques.

Victor, a native of Guadalajara, Mexico,

immigrated to California when he was seventeen

years old. Family friend and former owner of El

Charro Tortilleria, Alejandro Lievanos, assisted

Victor's father, Victoriano Martinez, by offering

him, his wife, Esperanza, and their children—

Luis, Victor, and Jose—jobs and by sponsoring

the Martinez family in applying for permanent

residency. Victor worked there from 1959 to

1980, all while saving up for his own tortilleria,

which he opened with his wife.

Victor and Teresa, having only a sixth-grade

education, shared a vision of one day owning

their very own tortilla business. Gathering their

limited resources, they decided to take a chance

and move forward with their dream—one which

has led to today's enterprise.

Now onto its third generation of tortilla

specialists, Teresa and Victor's sons—Manuel,

Gabriel, Raymond, and Hugo—have been

involved in its management and expansion.

Originally located in San Marcos, the tortilleria

moved to its current location in Escondido in 1996.

Behind an interior door of a small Mexican

market lies a factory filled with loud, rumbly

machinery. Thousands of flour and corn tortillas

are produced every day that will later be served in

homes and restaurants as part of authentic meals.

All the corn products are made from whole

ground corn and are grounded by limestone; a

traditional grinding method started by South

American Indians.

"We like the texture, we like the smell, and

especially like the taste which goes great with

Mexican dishes," said Hugo Martinez, company

vice president.

Over the years, Esperanza's has earned an outstanding

reputation among its customers due to its

simple, yet consistent recipes and strong service.

A wholesale and retail tortilleria, Esperanza's

distributes to restaurants, grocery stores, and catering

businesses throughout Southern California

and is increasing its clientele to further regions.

1 8 4 F E S C O N D I D O : A P i c t o r i a l H i s t o r y o f t h e H i d d e n V a l l e y
---
JACK POWELL CHRYSLER DODGE JEEP RAM

Celebrating its sixty-second year in

Escondido, the family-owned Jack Powell

Chrysler Dodge Jeep Ram has roots in

Dearborn, Michigan, where Dodge dealer Jack

Powell, Sr., ran Jack Powell Motors from 1933

until 1952, when he moved his family to

California. In 1958, Powell established Jack

Powell Desoto-Plymouth. The company, located

at 332 South Escondido Boulevard, eventually

obtained a Chrysler franchise, following

Desoto's discontinuation in 1960.

In 1971, Jack Powell, Jr., a USC graduate,

assumed management of the company, which

then sold 10 to 12 new cars per month,

maintained a seven-bay service department,

and employed 11 people, including Jack

Jr.'s mother Anita, who was the bookkeeper.

In 1973, the Arab Oil Embargo was a

significant test of Jack Jr.'s leadership. After

successfully seeing the dealership through

that challenging period, he bought the

business from his father.

In the mid-1970s, Escondido's auto

dealers recognized the need for larger

facilities and organized to create an auto

retailing cluster. Over a five-year period,

Powell Jr., along with the owners of four

other local dealerships, bought and developed the

78 acres of land that comprise the Escondido Auto

Park. In 1987, Jack Jr. merged Jack Powell Chrysler

Plymouth with his new Dodge franchise to form

Jack Powell Chrysler Dodge, located at 1625 Auto

Park Way. Today, with 15 franchises and

approximately 3,000 vehicles, the Escondido Auto

Park ranks as the city's primary sales tax generator.

Jack Jr.'s children, Jasmine and Jasen Powell,

entered the family business in the early 2000s,

each receiving extensive training in every

department. This third generation of Powell

auto dealers would help navigate the 2008

financial crisis and the subsequent addition of a

Jeep franchise. In 2012, Jack Jr. retired, selling

the business to Jasen and Jasmine, who, as partowners,

oversee all operations. Jack Powell

Chrysler Dodge Jeep Ram employs over 100

people, carries about 1,000 vehicles, and boasts

and annual sales volume of over $100 million.

G

Top, left: Jack Powell, Sr.

Above: Jack Powell Motors opened

in 1958.

Below: Jack Powell Chrysler Dodge

Jeep Ram in the Escondido Auto Park.

T h e M a r k e t p l a c e F 1 8 5
---
WEST

ESCONDIDO

AUTOMOTIVE &

TRANSMISSION

G

The West Escondido Automotive &

Transmission facility at 2200 Auto

Park Way.

West Escondido Automotive & Transmission

began in August 1993 when Brian Bowersock, a

23-year-old Master ASE (Automotive Service

Excellence) Certified Automotive Technician, took

over a failing transmission facility encompassing

4,500 square feet at 644 9th Avenue in Escondido.

Not only did the business name change, but

Brian and his brother, Kevin, immediately went

to work to transform the scope of the business.

In addition to performing transmission repairs,

rebuilding and servicing, they would also

become a general automotive service facility,

covering everything from simple engine oil

changes, smog, drivability and diagnosis, to

major transmission rebuilds.

As the business grew, more space was needed

and the business moved to a 7,500 square-foot

(now covering 10,000 square feet) facility at

2200 Auto Park Way. West Escondido

Automotive employs eight Master ASE Certified

Technicians, a manager, two service consultants,

a parts manager and two customer service

drivers. Kevin Bowersock has headed up the

transmission department since 1995.

From the outset, Brian Bowersock has

maintained a simple and effective philosophy.

"Our vision is to provide the highest level of

automotive and customer service to everyone in

the community," said Brian. "With some of the

longest warranties in the industry, it makes for a

great automotive experience."

And, the business keeps growing every year.

With locations in Escondido, El Cajon, Kearny,

Mesa, and its newest facility in Miramar/UTC,

the West Automotive Group plans to open from

two to four more locations in the future.

And, Brian's industry knowledge and reputation

has made him a media personality. For 15 years, he

has done weekly auto segments as the "AutoMan"

on the CW San Diego Channel 6 and Fox 5 News

along with for the better part of a decade, he has

served as host of Auto Talk Radio on KFMB 760 and

now the Answer San Diego 1170 radio.

In addition, West Automotive Group

maintains a strong commitment to its

community. For many years, it has sponsored

youth baseball leagues and boy scout functions

in Escondido.

1 8 6 F E S C O N D I D O : A P i c t o r i a l H i s t o r y o f t h e H i d d e n V a l l e y
---
OneWest Bank, CIT's Southern California

branch bank, is committed to supporting the

local community of savers and small businesses

through deposit products, lending solutions and

community investments. With over 60 locations

spanning from San Diego and Ventura County,

we proudly offer a personal, high-level customer

experience across our branch network. In 2018,

OneWest won a Gold Stevie award for

excellence in customer service.

In addition to serving customers' everyday

financial needs, OneWest's employees regularly

aid in volunteer efforts, such as providing

assistance at senior centers and food banks.

Chief among its philanthropic pursuits,

OneWest's Escondido branch is proudly

partnered with Operation HOPE, a nonprofit

organization that empowers low to moderate

income youth and adults with financial dignity,

to offer one-on-one counseling at no cost to

clients via the HOPE Inside programming

model. Financial wellbeing coaches help clients

meet their goals, which might include boosting

credit scores, home buying, entrepreneurship,

and better money management.

John Hope Bryant began Operation HOPE in

Los Angeles in 1992 as a means to financially

empower those affected by that year's riots.

Since then, the organization has expanded its

reach across the country and internationally

through the HOPE Inside network of more than

120 locations, promoting personal fiscal

responsibility, small business development and

job creation. Operation HOPE has touched the

lives of four million people, thereby generating

over $3 billion in economic activity within

underserved communities.

ONEWEST

BANK

G

Above: Clyde Taitano vice president of

OneWest Bank.

Below: Clyde Taitano with Operation

Hope founder John Hope Bryant.

T h e M a r k e t p l a c e F 1 8 7
---
VOLVO

SPECIALIST OF

ESCONDIDO

G

Volvo Specialist of Escondido is

located at 235 North Andreasen

Drive in Escondido.

Established in 1984, Volvo Specialist of

Escondido is the premier destination for Volvo

repair service, A small, high-end repair shop in a

relatively small city, customers travel to Escondido

from Los Angeles, Arizona, and Nevada to receive

quality service for their Volvos.

Vol-Spec's factory-trained mechanics work in

clean, full-service work bays, servicing the entire

range of Volvo vehicles. Additionally, it is one of

the only shops in San Diego County that offers

Volvo hybrid repair service. Volvo Specialist of

Escondido has the highest-quality diagnostic and

repair technology, the same equipment that is

found in Volvo dealerships. For those customers

who need to leave their vehicle with Vol-Spec, the

shop offers complimentary rentals and Uber rides.

Volvo Master Technician Axel Cojulun is the

current owner of Volvo Specialist, having

purchased the business four years ago. With over

twenty-five years of hands-on experience with

Volvos, he has worked as an import/export parts

manager, technician, and technical trainer. His

extensive background with Volvo includes

technical work at the company's Gothenburg

headquarters and the management of a training

center in Latin America. He has shared his

cumulative expertise with Volvo dealerships

worldwide. The technicians of Vol- Spec continue

to attend Volvo training sessions to stay informed

about the latest industry developments.

Axel lives with his wife and children in a

historic residence, once named "San Diego

House of the Month." Having lived all over the

world, Axel is proud to call Escondido home.

He considers it a town on the rise and, through

Vol-Spec, delivers the kind of skills and service

that you'd expect to find in larger cities.

For more information or to schedule a repair,

please visit www.volvoserviceescondido.com.

1 8 8 F E S C O N D I D O : A P i c t o r i a l H i s t o r y o f t h e H i d d e n V a l l e y
---
SUNNY SIDE

KITCHEN

Though it only seats about 24 in

approximately 600 square feet, downtown

Escondido's Sunny Side Kitchen makes a big

statement as a two-time winner of Yelp's

nationwide "Top Places to Eat."

"We are a mom and pop panini shop," said

owner Kate Carpenter. "But thanks to our

amazing customers we earned a spot on Yelp's

annual list of top 100 places to eat in the nation.

We are honored."

Open since 2015, Sunny Side Kitchen

specializes in grilled to order panini sandwiches,

homemade soup, fresh seasonal salads, and

made from scratch bite-sized cookies and glutenfree

muffins. The restaurant's best-seller is "The

Works," which features egg, honey cured bacon,

smashed avocado and three melty cheeses on

locally baked sourdough bread.

"The thing that defines us at Sunny Side

Kitchen is handcrafted deliciousness," explained

owner Bob Carpenter. "We keep that in mind for

everything we do, from making old-fashioned

lemonade one at a time with farmers' market

lemons to our oven roasted, hand shredded

chicken that goes into the signature Tuscan

chicken panini and all the other details that make

a difference."

The recipes are from family members and

from Kate's collection of cookbooks acquired

during her years as a food editor.

"Ever since I was a kid watching my mom in

the kitchen, I have loved cooking, baking and

eating!" she said."My kids always said I make

the best grilled cheese sandwiches," Bob said.

"And now that I have made thousands of them,

I think a lot more people would agree!"

Sunny Side Kitchen is happy to be located in

Escondido, where Bob and Kate live. They feel

like they are becoming an established part of the

historic downtown business community, one

bite-sized cookie, cheesy panini and Yelp review

at a time!

Sunny Side Kitchen is located at 155 S.

Orange St., in downtown Escondido. Hours are

6:30 a.m. to 2:30 p.m. Monday through

Saturday. Catering available. The web site is

www.SunnySideKitchen.com and the phone

number is 760-294-4450.

G

Bob and Kate Carpenter.

T h e M a r k e t p l a c e F 1 8 9
---
VISIT

ESCONDIDO

G

Top: Queen Califia's Magical Circle.

COURTESY OF VISIT ESCONDIDO.

Middle: San Diego Zoo Safari Park.

COURTESY OF VISIT ESCONDIDO.

Bottom: Hungry Hawk

Vineyards & Winery.

COURTESY OF VISIT ESCONDIDO.

Escondido may mean "hidden" in Spanish

but it is no secret there is a lot going on here!

Located just 30 miles north of downtown San

Diego and 20 minutes from the coast,

Escondido is home to major attractions,

beautiful wineries, craft breweries, unique arts

and theatre, delicious culinary experiences and

a charming historic downtown. Visitors and

locals alike enjoy the beautiful climate with

year-round golfing, hiking, biking, fishing, and

fantastic events!

The list of "must-do sights"

includes the California Center for

the Arts, Escondido, a unique

performing arts complex,

museum, and conference center;

the San Diego Zoo Safari Park, an

expansive wildlife sanctuary and

conservatory; Stone Brewing

World Bistro & Gardens; and the

amazing sculpture garden, Queen

Califia's Magical Circle, created by

the late world-acclaimed artist

Niki de Saint Phalle. The San

Diego Children's Discovery Museum is a

fantastic family resource with interactive

learning activities and the outdoor expanse of

Daley Ranch's wilderness preserve provides

extensive hiking, biking and equestrian trails

located adjacent to Dixon Lake with great

fishing and camping grounds.

Escondido is host to over thirty-five major

annual events including Cruisin' Grand

Escondido , which has been one of the greatest

ongoing vintage car show traditions in Southern

California since 1999. More recent to the

local event scene is the Escondido Tamale

Festival in November, which attracts over

twelve thousand people and celebrates

Escondido's Latino culture.

Embracing a farm-to-table experience,

Escondido offers a variety of culinary

experiences with chef-owned restaurants

and local eateries that are very popular in the

San Diego foodie world. There are also three

weekly farmers' markets and several year-round

farm stands that supply the community with

fresh produce, flowers, honey, and goods from

local farmers.

Escondido's regional wineries offer over

twenty diverse tasting experiences from

cool urban wineries and tasting rooms to

hilltop terraces with spectacular views. Guests

can spend relaxing afternoons with friends

and enjoy casual opportunities to meet the

vintners and learn about their award-winning

wines. The Escondido Wine Region is rich in

California's historical significance for both grape

growing and wine making. Some of California's

first wine grapes were grown and pressed right

here, starting the state's wine making traditions

dating back to the late 1700s.

San Diego is considered the "Capital of Craft

Beer" and Escondido is renowned for having the

largest and most historically significant brewery

in Stone Brewing and one of the newest, and the

smallest brewery in the County at the

Escondido Brewing Company.

With a small-town feel and diverse attractions

and things to do, Escondido is a wonderful place

to explore, experience and enjoy!

1 9 0 F E S C O N D I D O : A P i c t o r i a l H i s t o r y o f t h e H i d d e n V a l l e y
---
DOWNTOWN

BUSINESS

ASSOCIATION

The Downtown Business Association (DBA)

of Escondido was established in 1962 by some

community—minded downtown business

owners. The main thoroughfare of downtown—

Grand Avenue—dates back to 1888.

"The primary function of the DBA is to

promote our historic downtown as a shopping,

dining and entertainment destination," said

current board president, Alex MacLachlan.

"We've learned from the experiences of the past

and we're developing our own path."

One means by which the DBA promotes

downtown Escondido is through developing

events or assisting in the development and

running of events. Currently, the DBA sponsors

three recurring events in the community—

Escondido Street Faire (held twice annually in

May and October), For The Love of Chocolate

Festival in February and the Escondido Tamale

Festival in November.

These events bring shoppers, investment,

visitors and awareness to Grand Avenue and to

the city in general. In addition, they support the

economic health and cultural tourism goals of

the district.

One event on the DBA's wish list is the

establishment of an annual outdoor music

festival in downtown Escondido. This festival

would be similar to the former San Diego Street

Scene, albeit smaller in scale.

Always looking to enhance the beauty of the

community, the DBA recently collaborated with the

city of Escondido in a median beautification

program along Grand Avenue. This project

involved the removal of old eucalyptus trees and

replacement with drought tolerant trees and plants.

A key function of the DBA is for business

owners to get to know their fellow

entrepreneurs and business neighbors while

serving as an advocate and promoter of

downtown Escondido. This goal has been

achieved through regular meetings that bring

downtown business owners together.

"We used to have a handful of people

showing up at a monthly merchant meeting,"

said MacLachlan. "Now, we get 40 to 50

business owners together every three months.

We meet at a different business each quarter and

discuss the issues affecting the community. We

are proud of the camaraderie we've been able to

build among business owners in Escondido."

G

Above: The always popular Escondido

Tamale Festival draws big crowds

very year.

Below: The Downtown Business

Association board.

T h e M a r k e t p l a c e F 1 9 1
---
LEDGE MEDIA

DBA

HPNBOOKS

Ledge Media is a leading-edge multimedia

and publishing company, now headquartered

in Jackson, Wyoming. Its origins can be traced

back to 1973 where a small regional publishing

company based in San Antonio, Texas was

helping businesses and historical societies tell

their stories in the most compelling and

powerful ways possible. Working with a wide

variety of clients—from corporations to civic

organizations to individuals and families,

Ledge Media has emerged as a force in the

publishing industry.

In the mid-1990s, a new division was created,

the Historical Publishing Network, better known

as HPNbooks, and this division focused on

producing hardcover coffee table-style history

and photo-journal type cityscape books. The

first of these was Fire and Gold: The San

Francisco Story. In the ensuing years, HPN

Books has perfected the sponsored-book model

of publishing.

Conceived around the idea of an ultra-highquality

hardcover chronicle of a city or county's

past, these exceptional books were also designed

to raise funds for a sponsoring organization. As of

2020, HPNbooks has published more than 200

titles, while raising hundreds of thousands of

dollars for its many partnering groups. Now a

woman-owned company, Ledge Media has further

developed their publishing network and

incorporated many new modern technologies

including augmented reality which embeds video

and other information into printed materials.

The unique mix of talents and expertise

brought to bear in a Ledge Media/HPN project

culminates in a remarkable creation—everything

from breathtaking, photo-rich, coffee table

books and other printed materials to stunning

websites and captivating video productions.

For more information, or to inquire about

producing your own publication, please visit

www.ledgemedia.net or www.HPNBooks.com.

1 9 2 F E S C O N D I D O : A P i c t o r i a l H i s t o r y o f t h e H i d d e n V a l l e y
---
Escondido from the Daley Ranch.

T h e M a r k e t p l a c e F 1 9 3
---
Webb Brothers Trucking Company, on Grape Day in 1920.

1 9 4 F E S C O N D I D O : A P i c t o r i a l H i s t o r y o f t h e H i d d e n V a l l e y
---
Building a

Greater Escondido

E s c o n d i d o ' s e n g i n e e r s , r e a l t o r s , a n d u t i l i t i e s

p r o v i d e t h e e c o n o m i c f o u n d a t i o n o f t h e c i t y

Richard Meyst and Fallbrook Engineering .........................................1 9 6

San Luis Rey Indian Water Authority ...............................................2 0 0

Traci Bass & Associates .................................................................2 0 3

B u i l d i n g a G r e a t e r E s c o n d i d o F 1 9 5
---
RICHARD

MEYST AND

FALLBROOK

ENGINEERING

G

Young Richard Meyst.

Richard Meyst, CEO of Fallbrook Engineering,

the influential medical engineering company, has

been instrumental in developing health care

technology that many of us utilize today.

A medical device design and development

expert, Meyst was an engineer long before

receiving his diplomas from the University

of Wisconsin, Madison. In fact, it was winning

a high school science fair project, in which

he measured the effects of G-force on

hamsters, that really propelled him on his

career path. It also earned him a tour of the

university's physics and engineering labs back

in the 1960s.

"The local newspaper (Milwaukee Journal)

sponsored the science fair," said Meyst. "One of

the perks for winning the competition was

getting to spend a week at a Navy base and

going out on a ship. We stayed in the barracks

and went out on a destroyer. It was quite

an experience."

Born in Milwaukee and raised in suburban

Elm Grove, Meyst began his career in

northern climes before an opportunity arose in

Southern California.

"After graduating from UW Madison, I

landed a job in Glens Falls, New York with a

medical device company in the research and

development area," said Meyst. "Glens Falls

averages more than two hundred inches of snow

a year. After two years there, I moved to Crystal

Lake, Illinois where I worked for Baxter

Healthcare. Five years later after enduring

three of the worst winters I can remember, I

was recruited by a neighbor who was an

executive with an electronics company (Oak

Industries) that was relocating their

headquarters to Rancho Bernardo."

The idea of living in Southern California after

those miserable winters certainly appealed to

Meyst, who moved to Valley Center in 1980.

Unfortunately, the company fell on hard times

and Meyst returned to working for a medical

device company. He spent five years with Imed

Corporation and another two years with Diatek,

Corp., a medical products design and

manufacturing company. He held various

technical and management positions with those

companies in developing and manufacturing

new medical products.

Meyst left Diatek in 1988 and began

consulting with Fallbrook Engineering as an

independent contractor. After a year, he became

a partner and a year later became vice president.

In 2003, the company founder retired and

Meyst became the sole owner, president and

CEO. Bill Atkinson, a long-time employee of

Fallbrook Engineering, serves as vice president.

Shortly after Meyst became sole owner,

the company headquarters was heavily

impacted by the San Diego County wildfires—

specifically the Paradise fire—in October 2003

which destroyed two of its four buildings. With

the assistance of employees, friends, colleagues,

and a great insurance policy, the company

rebuilt and, after a year, was performing better

than ever.

1 9 6 F E S C O N D I D O : A P i c t o r i a l H i s t o r y o f t h e H i d d e n V a l l e y
---
G

Left: A newspaper clipping of a

teenage Richard Meyst winning an

award at the Southeast Wisconsin

science fair.

Below: FEI President and CEO

Richard Meyst.

"Then, the wildfires of October 2007 once

again threatened our property," said Meyst.

"Fortunately, we were spared, but it became

apparent that our location was vulnerable. So,

we made the decision to move to a safer, more

central location."

In January 2008, Fallbrook Engineering

moved its offices from Valley Center to its

current location in Escondido.

The core of its business is product design

and development. And, all these years later,

that is something that still energizes Meyst to

this day.

"Being able to design and develop products

that improve the health and overall life

experience of so many people is what drives

me," said Meyst. "Our project teams

have worked in concert to find design solutions

to many challenging new medical product

opportunities. Satisfaction comes from seeing an

inventor's dream or napkin sketch product idea

turn into a manufactured product that really

does improve people's health and saves lives."

To Meyst, design is the science of compromise.

Its purpose is to find optimal solutions to a myriad

of difficult design challenges that result in safe,

effective, reliable and economical new products.

Over the years, Meyst has been involved in

numerous medical product inventions. In fact,

he has 16 patents to his credit. When asked to

identify his most memorable invention, he is

quick to mention his very first one ranks right

at the top.

B u i l d i n g a G r e a t e r E s c o n d i d o F 1 9 7
---
G

Above: FEI Vice President

Bill Atkinson.

Below: FEI's offices at 355

West Grand.

"That first product was a blood transfusion

filter that was better than all other products on

the market," said Meyst. "It was able to filter

more blood, cleaner and faster than all the

competition. And, my co-inventor and I

developed the product in record time. That

product was sold for better than 20 years at the

rate of 50,000 per month."

Fallbrook Engineering has many projects

currently in the works. For starters, they are

1 9 8 F E S C O N D I D O : A P i c t o r i a l H i s t o r y o f t h e H i d d e n V a l l e y
---
developing a computer-controlled device to

keep track of a patient's medications and even

dispense them.

"People who are very sick often have complex

medication requirements, and doctors need a way

to improve compliance and make sure patients

take their medications on time," said Meyst.

They are also working on an ergonomic

hand piece for laparoscopic surgery to reduce

fatigue and allow the surgeon to be faster

and more precise. Many instruments used

today are uncomfortable and don't fit any

natural hand motion.

Fallbrook Engineering is also developing an

improved method of collecting umbilical cord

blood. When a baby is born, the umbilical cord

and placenta are eventually thrown away, but

the cord blood is rich in stem cells, so they are

looking at a faster and easier way to collect and

store more blood.

"This is the project I've been working on the

longest," said Meyst.

Much of Meyst's time today is spent as an

expert witness where he has learned many

valuable lessons that can be utilized in current

and future design projects.

"Many of the expert witness projects I take

on are patent infringement legal cases," said

Meyst. "Oftentimes, the case is complicated

by the fact that the original patents in suit

were not written well or did not anticipate

being challenged in a lawsuit. When we are

working with our clients and their patent

attorneys, we try to look down the road and

help ensure any new patents are properly

researched and documented, technically

complete, meet all of the clients' needs and will

stand up to future scrutiny."

Over his long and eventful career, Meyst has

certainly carved out a strong niche as a medical

device design and development expert.

And with all that experience and knowledge,

he has a simple message for students and those

just getting started in their careers: "Do what

makes you happy, and you will do an excellent

job, whether you're an engineer or anything

else. If you don't enjoy it, find something else.

You have a long career ahead of you."

Those are definitely words Meyst has taken

to heart.

G

Above: A FEI staff meeting.

Below: The lab on the second story of

FEI's offices.

B u i l d i n g a G r e a t e r E s c o n d i d o F 1 9 9
---
SAN LUIS REY

INDIAN WATER

AUTHORITY

G

Below: The birth of Lake Wohlford.

Bottom, left: Laying a siphon at La

Jolla Reservation.

Bottom, right: Lake Wohlford, 1924.

The San Luis Rey Indian Water Authority, a

federally charted government agency, was created in

1984 by the La Jolla, Pala, Pauma, Rincon and San

Pasqual Bands of Mission Indians and ratified in the

settlement act. The Authority was originally created

to direct and manage the federal litigation related to

misappropriation of water rights associated with the

San Luis Rey river which was the primary source of

water for the reservation lands of all five Bands.

The Luiseno people have lived in the San

Luis Rey Basin of northern San Diego County

for thousands of years. Beginning in the mid

and late 1800s, reservations for the La Jolla,

Pala, Pauma, Rincon and San Pasqual Bands of

Mission Indians were established along and near

the San Luis Rey River.

The La Jolla reservation, which was established

in 1875, is located on the Southern slopes of

Mount Palomar off State Highway 76, about 25

miles east of Escondido and 60 miles northeast of

San Diego. Its population today is about 615.

The Pala reservation, established by Executive

Order in December 1875, is situated about forty

miles northeast of San Diego and on the San Luis

Rey River. Its current population is about 1,125.

The Pauma reservation, established in 1893, is

located in the northeastern corner of San Diego

County in the foothills of Mount Palomar about

sixty-five miles from downtown San Diego. Its

population today is approximately 150.

The Rincon reservation was established in

1875 and is located in the northeastern corner of

San Diego County, along the San Luis Rey River.

Its present population is about fifteen hundred.

San Pasqual reservation, established in 1910,

is situated about 40 miles north of San Diego

and 12 miles from Escondido in the community

of Valley Center. Its current population is

slightly more than five hundred people.

In 1895, a diversion dam was built on the La

Jolla reservation, without the tribes consent,

diverting the water for the five reservations to

the newly founded city of Escondido. The water

was diverted from the San Luis Rey River

through the Escondido Canal, which crosses

several reservations to Lake Wohlford, owned by

2 0 0 F E S C O N D I D O : A P i c t o r i a l H i s t o r y o f t h e H i d d e n V a l l e y
---
the city of Escondido. The United States

government sanctioned this project and the

State of California was complicit in this action.

In 1969, the five bands filed a lawsuit

maintaining the Federal Government had violated

its "Trust" relationship with the Bands by allowing

their water to be diverted to Escondido and Vista..

The lawsuit accused the United States, the Vista

Irrigation District and the city of Escondido of

acting to illegally divert ninety percent of the San

Luis Rey River water to an aqueduct—even though

the five North County Indian tribes relied on the

water to supply their lands.

The parties came together to support Public

Law 100-675 San Luis Rey Indian Water Rights

Settlement Act, which was passed on November

17, 1988. In an act to settle water rights, Congress

concluded that "the La Jolla, Rincon, San Pasqual,

Pauma, and Pala Bands of Mission Indians on or

near the San Luis Rey River in San Diego need a

reliable source of water." This Law established a

$30 million Tribal Development Fund and

allocated 16,000 acre-feet of supplemental water

per year to the Indian Water Authority.

On January 18, 2001, the Secretary of the

Interior signed a preliminary agreement to restore

water rights to the La Jolla, Pala, Pauma, Rincon,

and San Pasqual Bands after years of litigation over

the diversion of the San Luis Rey River by the city

of Escondido, the Escondido Mutual Water

Company and the Vista Irrigation District.

Mission accomplished? Not so fast.

G

From top to bottom:

Water from the San Luis Rey River

flowing to Escondido.

Building Escondido canal

Building the All-American canal.

Lake Wohlford today.

B u i l d i n g a G r e a t e r E s c o n d i d o F 2 0 1
---
G

Above: Tribe members at the historic

signing of the agreement returning

water rights to the tribes in 2016.

Below: Allen E. Lawson signing

the agreement restoring tribal

water rights.

After decades of debate and litigation, a

settlement in the case was tentatively reached in

2014. But, Congress wasn't allowed to act after the

Congressional Budget Office labeled the deal as

having a fiscal impact because it would enable the

tribes to fully deplete a fund created in the late

1980s that was specifically earmarked for ending

the dispute. After several amendments to the bill,

the agreement was finally signed into law by the

United States government on December 16, 2016.

The settlement finally took effect on May 17, 2017

after it had been approved by the Federal District

Court in San Diego and the Federal Energy

Regulatory Commission in Washington, D.C.

The big breakthrough in the lawsuit came in

the mid-late 2000s when parts of the All-American

Canal and the Coachella Canal—which both bring

water from the Colorado River to parts of Southern

California—were lined to stop about a hundred

thousand acre-feet of water from seeping into the

ground each year. The first sixteen thousand acrefeet

of the captured water was set aside for the

tribes, as per the 2014 settlement, to make up for

the river water taken from them years earlier.

The San Luis Rey Indian Water Authority was

formed to manage this litigation on behalf of the

tribes. For 47 years, the Indian Water Authority and

the five tribes fought the federal government, the

city of Escondido and the Vista Irrigation District to

return the water rights that had been taken from

them. Long overdue, it was finally realized in 2016.

Unfortunately, litigation carried on for so many

years that by the time the agreement was reached

in late 2017 many of those who had fought so

hard for the deal had already passed away.

For Bo Mazzetti, chairman of the Rincon band

of Mission Indians, it was indeed a bittersweet

moment. He admitted that his biggest regret was

that none of the original people who labored so

diligently for the agreement were not alive to see

it come to fruition.

This included deceased board members Henry

Rodriguez, Robert Lofton, Lester Nelson, Leonard

Nelson, and Rose Hatfield (La Jolla Band of Luiseño

Indians); Leland Majel, Benjamin Magante, Sr.,

Florence Lofton, and Lorena L. Dixon (Pauma

Band of Mission Indians); Mary Matteson, Agustine

Orosco and Ray Natividad (San Pasqual Band of

Mission Indians); Don Magee (Pala Band of Mission

Indians); Vernon Wright, Leo D. Calac, Max

Mazzetti, Donald Calac, Edward T. Arviso, Douglas

Calac, Frank Mazzetti and Richard M. Sola (Rincon

Band of Luiseño Indians).

2 0 2 F E S C O N D I D O : A P i c t o r i a l H i s t o r y o f t h e H i d d e n V a l l e y
---
TRACI BASS &

ASSOCIATES

Traci Bass moved to Escondido in 1985 from

the Silicon Valley to be close to her sisters. Traci

got her Real Estate license in 1985 and her Brokers

license in 1992. She is a mother of four and

grandmother to five beautiful little girls. Dedicated

to being a presence in their lives, she nevertheless

hasn't slowed down her drive for Real Estate.

Working with both buyers and sellers, Traci is

constantly giving her clients one hundred percent

of her attention and helping to build their dreams

of homeownership. Traci has been rated top agent

in sales with her company for over the years and

continues to treat her clients like family, always

giving them her best service. Traci has been

growing her team, and her son Ryan Bass and

daughter Barbie Bass are now assisting her with

making her clients' dreams come true, no matter

the market.

Traci has made her stamp here in San Diego

County and continues to help families reach their

dream of home ownership, either here or relocating

away. With thirty-four years of Real Estate passion,

you're definitely in good hands with Traci

and her team.

G

Above: For over thirty years, Traci

Bass has been helping her clients

make Escondido their home.

Below: Ryan, Traci, and Barbie Bass.

B u i l d i n g a G r e a t e r E s c o n d i d o F 2 0 3
---
G

Santa Ana photographer Edward Cochems and family at Escondido Grape Day, Escondido, 1912.

COURTESY OF TUSTIN AREA HISTORICAL SOCIETY AND ORANGE COUNTY PUBLIC LIBRARY

2 0 4 F E S C O N D I D O : A P i c t o r i a l H i s t o r y o f t h e H i d d e n V a l l e y
---
Family Heritage

F a m i l i e s a n d i n d i v i d u a l s w h o s e

l e g a c i e s c o n t i n u e t o s h a p e

t h e f u t u r e o f E s c o n d i d o

S P E C I A L

T H A N K S T O

The Hillebrecht/Emerson/Adams Families ..........................................2 0 6

The Bandy Family

(Crandall, Kelsey, Loomis, O'Dell, Bandy) ...................................2 1 1

D'Agosta Shoes .............................................................................2 1 2

The Knappe Family .......................................................................2 1 7

Bob Wilson ..................................................................................2 1 8

The Homer Heller Ford Family ........................................................2 2 0

Chick Embry ................................................................................2 2 2

The Von Seggern Family .................................................................2 2 4

Neri Hoxsie .................................................................................2 2 6

The Lusardi Family .......................................................................2 2 8

The Humphrey Family ....................................................................2 3 0

The Baker Family..........................................................................2 3 2

The Alto Family ............................................................................2 3 4

Judy and Eric Kroesche ..................................................................2 3 5

The Hawthorne Family ...................................................................2 3 6

The Redmond Family and Golfcraft ..................................................2 3 7

The Witman Ranch ........................................................................2 3 8

The Prior Family ..........................................................................2 3 9

Gloria Warren ..............................................................................2 4 0

The Bates Family &

Bates Nut Farm

15954 Woods Valley Road

Valley Center, CA 92082

760-749-3333

www.batesnutfarm.biz

F a m i l y H e r i t a g e F 2 0 5
---
THE HILLEBRECHT/EMERSON/ADAMS FAMILIES

Hillebrechts have been farmers in Southern

California for four generations. George and Caro

Stone Bass were married in 1925. Georgia,

James Henry, and Benonia Bass were born

during 1926-1929. Caro Stone Bass Hillebrecht

died in 1947. George struggled with the family

farming business. Ben learned how to farm

from his dad, but received a college degree from

Cal Poly State University.

Ben married a widow, Frances Emerson

Miller, daughter of Eric and Ruth Smitley

Emerson. Eric Emerson had brought his family

to Escondido from Ohio in 1943 and

established an accounting business.

The Ben Hillebrecht family grew with Michael

Miller, Mary Caro, Sally Ruth and Laura Jane, all

two years apart. The growing family and farming

demands created long days of hard work. Each

offspring after graduating from college received

over twenty acres of land in 1990. Michael Miller

Hillebrecht married Carol Anne Spoelstra and

raised three children. Lisa, Robert and Joni grew

up on this farm called Brecht Farm. Mary Caro

manages farmer's markets in San Diego. Sally

Ruth married Martin Pozzi, a hay broker and

cattle/sheep rancher in Petaluma, Ca. Laura Jane

married John Kapusnik, an engineer. Ben and

Frances worked to improve the quality and

diversity of their crop offerings, and opened two

farm stands that John and Laura continue to

operate "Farm Stand West" and "Fran's Original

Farm Stand" along with growing produce on

their land. Frances died of cancer in 2004 at the

age of 73.

Ben formally transferred over a hundred

acres to the third generation with hopes for their

success, but remains in the homestead on 40

acres of the farm he loves.

2 0 6 F E S C O N D I D O : A P i c t o r i a l H i s t o r y o f t h e H i d d e n V a l l e y
---
T H E E M E R S O N / H I L L E B R E C H T F A M I L I E S

The great grand-children

of George and Caro

Hillebrecht are Lisa, Robert,

and Joni Hillebrecht; Regina

and Steven Pozzi; and

Christina, Adam, Samuel,

and Jillian Waldum

F a m i l y H e r i t a g e F 2 0 7
---
In 2005, Ben married Edith Anne Adams Blood, a widow

with her own local roots.

Her parents, Dr. Linus Emanuel Adams and Helen Louise

Neill Adams, came to Escondido to start their family in 1931.

Dr Adams, newly graduated from medical school, was one of

the few doctors in a then-small farming town of less than four

thousand people. Dr. Adams was the first doctor to have an

office with all the modern medical equipment, including an

X-ray machine with developing room, operating-room,

pathology lab, and three rooms for bed patients.

Linus and Helen raised three children: Jane Louise, Edith

Anne, and Richard Lee.

Jane Louise married Robert Charles Froeschle and raised two children:

Richard Craig and Anne Louise. Edith Anne, a teacher, married James Richard

McKenzie and raised three children: David Neill, Kathryn Jane, and Julie Anne.

Richard Lee, a pharmacist, married Susan Jeffers (also an Escondido family)

and raised three children: Barbara Lynne, Roderick Colley, and Mark Clement.

Jane Louise married Robert Charles

Froeschle and raised two children: Richard

Craig and Anne Louise. Edith Anne, a teacher,

married James Richard McKenzie and raised

three children: David Neill, Kathryn Jane, and

Julie Anne.

Richard Lee, a pharmacist, married Susan

Jeffers (also an Escondido family) and raised

three children: Barbara Lynne, Roderick Colley,

and Mark Clement.

G

Left: from left to right. Siblings Edith Anne, with Mom (Helen

Louise Neill Adams), Jane Louise, Richard Lee in Palm Springs,

California 1998.

2 0 8 F E S C O N D I D O : A P i c t o r i a l H i s t o r y o f t h e H i d d e n V a l l e y
---
T H E A D A M S / H I L L E B R E C H T F A M I L I E S

F a m i l y H e r i t a g e F 2 0 9
---
Today, Ben and Edith continue to live on the

Hillebrecht family farm while also traveling and

enjoying their blended grandchildren and

extended family.

Ben says, "The forty acres is more than

enough to retire, but difficult to maintain the

farm with raising costs of water." Growth of this

wonderful city, called Escondido, continues to

flourish with the new modern ways of the San

Diego County.

G

Top: Catalina Institute of Oceanography Sailing Camp 2015:

Edie and Ben, Samuel, Kate, Julie, and Jillian.

2 1 0 F E S C O N D I D O : A P i c t o r i a l H i s t o r y o f t h e H i d d e n V a l l e y
---
THE

BANDY FAMILY

(CRANDALL,

KELSEY,

LOOMIS,

O'DELL,

BANDY)

The lineage began with George Wyatt Gibson

(Civil War VET) and wife Liddia Warren, who

moved from Arkansas to Oklahoma. After

Liddia died, George moved with daughter Susan

Bandy's family to Escondido in 1908. When

George passed away in 1909, his death made

the front page of the Escondido paper.

Esther Kelsey married Augustine O'Dell Jr in

Michigan. After Augustine died, Esther moved

with William Loomis to Escondido. They

married in 1908. Esther's son Emery followed

later. Will and Esther owned Loomis & O'Dell

second-hand goods store on 227 W Grand Ave.

Emery O'Dell married Hattie Crandall in

Michigan. Hattie died in 1918 after traveling to

California. Emery worked with his step-father

and mother until he opened his own furniture

store next door to theirs. Emery and his

children, including Pansy, lived in the basement

of that store.

Tom Bandy and Susan Gibson married in Pauls

Valley, OK. They had nine children, including

Albert. Tom opened a blacksmith shop called "Tom

Bandy and Sons" in Escondido in 1908, which later

moved to the Heritage Park. The family owned a

Victorian-style house on S Juniper Street that is on

the National Register Home listing.

Albert Richard Bandy and Pansy Mae O'Dell

met in Escondido, got married and had Pamela

Condry, Jacqueline Rigg and Allene Robinson.

Albert bought the blacksmith shop from his father

when Tom Bandy retired. Pansy and Albert did

volunteer work. Pansy served as treasurer/Sunday

school teacher at First Congregational Church.

They lived on a ranch on N Fig Street.

Jacqueline Bandy married Edward James Rigg, a

WWII VET serving in the Marines. Jacqueline was

born in 1927 in the house at 832 Escondido Blvd,

now a beauty shop. They had four children,

Cynthia MacDonald, Deborah Sitlington, Christy

Hendrickson and Edward A. Rigg. Sadly, Jacqueline

Jean (Bandy) Rigg passed away on December 6,

2019 at the age of ninety-two.

Our family fondly remembers trips to visit

our grandparents, aunts and cousins in

Escondido. We also shared memories of our

great aunt Mary Bandy, a respected interior

designer in Beverly Hills, who decorated homes

for many celebrities and also maintained a home

in Escondido.

G

Above: Tom and Sue Bandy.

Below: Pansy and Albert Bandy.

F a m i l y H e r i t a g e F 2 1 1
---
D'AGOSTA

SHOES

A long time Escondido business establishment

was opened at 146 East Grand Avenue in 1931 by

Alfio D'Agosta who immigrated from Sicily in

1921. He originally opened it as a shoe repair

shop. He and his wife, Josephine, lived behind

the store with their family. The photo above

shows Alfio and his children, Tom and Josephine

(Johnston). Son Cirino (Sid), who is not shown,

had joined the Navy and was off serving his

Country. If you look closely at the calendar on the

wall, you will see the year was 1942. Also, note

the many cowboy boots left for repair by the

Wranglers at Daley Ranch. At this point in time,

Escondido had developed a thriving agricultural

community that included many ranchers and

farmers in need of boot repairs.

In 1946, Alfio relocated the family business

to 106 West Grand Avenue. Solid and sound

operation through the depression years and

through the years of World War II, when

rationing and shortages made business difficult

marked the store's history. When World War II

ended, Sid D'Agosta became manager and the

store opened a new department featuring men's

work shoes. Since then the store expanded its

offerings to include both women and children's

shoes and it became noted for the quality of its

shoes and repair work.

In August of 1960, Alfio D'Agosta established

his second shoe store in Vista. It would be

managed by his son, Tom D'Agosta, and assisted

by his sister, Josie D'Agosta (Johnston). The

Escondido store would be managed by Sid

D'Agosta. Bennie Colia, who joined the family

business in 1946, was named Assistant Manager

of the Escondido store.

D'Agosta Shoes would remain in business on

Grand Avenue in downtown Escondido for 67

years. Alfio D'Agosta would continue working at

the store until he was 92 years old.

2 1 2 F E S C O N D I D O : A P i c t o r i a l H i s t o r y o f t h e H i d d e n V a l l e y
---
F a m i l y H e r i t a g e F 2 1 3
---
2 1 4 F E S C O N D I D O : A P i c t o r i a l H i s t o r y o f t h e H i d d e n V a l l e y
---
MEMORIAL TRIBUTE TO TOM D'AGOSTA

OCTOBER 24, 1938 TO AUGUST 2, 2020

Those of us who knew and loved Tom

D'Agosta miss him dearly. Tom had such a great

sense of humor and was generous to a fault.

Tom D'Agosta was born at home in

downtown Escondido on October 24, 1938. He

joined two siblings, Josie and Sid D'Agosta. He

attended grade schools here and graduated from

Escondido High School in 1958. Tom joined the

family shoe business in 1958. Right away it was

clear that Tom had the mind of a businessman.

D'Agosta Shoes opened a second shoe store in

Vista which Tom successfully managed.

Expanding his entrepreneurial skills and his love

for motorcycles, he opened the very first Suzuki

motorcycle dealership in San Diego County in

Vista. His second Suzuki dealership was opened

in Escondido and a third he opened in Poway.

Tom decided Escondido could use a broader,

more exciting nightlife. He opened his first

restaurant—The Chez Orleans restaurant and

the nightclub Time Machine—in Escondido in

1980. His grand opening spanned two

weekends with a total of over 4,000 attendees.

Disco had come to Escondido.

In the same year he opened D'Agosta Realty

and D'Agosta Development. Tom was a General

Contractor. He built and ran the Sheridan Inn

on the corner of El Norte Parkway and Centre

City Parkway and was involved in building

many developments in Escondido, including

the project that became known as Circle R.

In 1994 Tom took his love for cooking, fine

dining and delicious food to the next level and

opened Sirino's Restaurant on his beloved

Grand Avenue. Tom had a vision that Grand

Avenue could attract people who loved to eat,

shop, and congregate and would become once

again the centerpiece of Escondido.

Tom was a true visionary and had big ideas

for Escondido. He served on the Escondido City

Council from 2000 to 2004. Too often people

run for elected office for personal gain. That

wasn't the case with Tom. His motivation was to

give back to the community he loved. Tom was

the sort of homegrown local boy who just

wanted to make sure that government did right

by his neighbor. That's why he served.

Tom loved life. He loved riding his

motorcycle. He loved red wine and good food.

He loved his community and his country. And

most importantly, he loved the people in his

life—number one was the love of his life, June,

the kids he inherited as well as the grandkids,

and the friends that he cherished so deeply. If

you were lucky enough to be in his circle, you

were certainly the better for it.

We miss you, Tommy D. We love you.

F a m i l y H e r i t a g e F 2 1 5
---
2 1 6 F E S C O N D I D O : A P i c t o r i a l H i s t o r y o f t h e H i d d e n V a l l e y
---
Julius Knappe (b: 1871) met his future wife,

Bertha Koch, (b: 1882) on a Berlin, Germany,

trolley. After marrying in 1903, the couple sailed

to England then to Canada, where Margaret was

born (1904-1978). The Knappes entered the US

via the Great Lakes. Elsie (1906-1991) was born

in Indiana. The family finally settled in San

Diego where Oscar (1909-1989) was born as

was Helen (1910-1998). The family moved to

Escondido in 1911. Julius, a tailor, opened

Knappe Kleaning Kompany at 437 E. Grand

Avenue. The family lived in the rear. The arrivals

of Bertha (1912-2005) and Frieda (1918-2001)

completed the family.

Upon Julius' death in 1939, the business

was sold to Hoovers Cleaners. Bertha remained

on their vineyard property at Hill Avenue (El

Norte Parkway) and Broadway. Bertha remarried

in her sunset years to Horace Gilbert. She

passed away in 1973. Later, Oscar developed

the homestead into a neighborhood shopping

center, sold in 1989.

The Knappes celebrate four generations of

descendants born in Escondido. It began when

Margaret married Henry Junge, citrus rancher.

Bertha married James "Cy" Adkins, orthodontist.

Oscar married Leona Wells. Oscar's Escondido

business endeavors included Valley Oil Co.,

North County Employers' Association and

The Fabric Mart.

The other Knappe offspring settled within

the county—close enough for family reunions.

THE KNAPPE

FAMILY

G

Left: Julius and Bertha Knappe,

wedding photo 1903, in

Charlottenburg, Germany.

Below: Knappe Kleaning Kompany

Bertha, Julius and Oscar Knappe. c.

1930, Grand Avenue, Escondido.

Bottom: Oscar and Leona Knappe,

50th anniversary celebration, 1984.

The tailor shop's large window faced Grand.

Julius, just over five feet tall, was often seen

cross-legged on the cutting table hand-stitching

a suit.

Julius and Bertha, with six other German

immigrant families, founded Grace Lutheran

Church in May, 1919. Their first sanctuary, on the

corner of Grand and Ivy, built by Chinese labor,

was purchased from the Methodists for $2500 in

1920. Grace Lutheran Church and School, now

located at 13th and Redwood, celebrated its

100th anniversary in May, 2019. Arlene Knappe

Shuster (Bob), Julius and Bertha's granddaughter,

co-chaired the event and is the only living

descendant of the founding families still an active

member at Grace.

F a m i l y H e r i t a g e F 2 1 7
---
BOB WILSON

G

Above: Bob Wilson and his twin

brother, Bill.

Bottom, left: Bob Wilson's family at

the Richland Schoolhouse at his 90th

Birthday Celebration.

Bottom, right: Richland Elementary

School students in 1938. Bob is in the

back row on the far right.

Growing up in Escondido...The Bob Wilson

story began on January 23, 1929, the day he

and his twin brother, Bill, were born in their

family's home at the northeast corner of Fourth

and Grape Streets in Escondido.

After the birth of the twins, Bob's father went

to settle up with the doctor.

He asked, "What do I owe you, Doc?"

"Delivering a baby and the pre-care is a

standard $50," replied the doctor.

"But, doc, there were two," said Mr. Wilson.

"You're right," said the doctor. "Throw in an

extra five dollars for the second one."

His father's resourcefulness was evident to

Bob. A post office worker, his father enlisted the

help of his fellow colleagues to help build his

new home.

"Dad didn't have any money to speak of, yet

he managed to not only oversee, but physically

assist in the construction of a small house of

about six hundred square feet," said Bob. "It

consisted of one bedroom, a bath, kitchen and

living room/dining room combination, along

with a detached garage."

When the house was finally ready, Bob's

father carried his bride over the threshold,

through the front door, and set her down on the

kitchen counter at their new home.

"To his horror, the varnish was not yet dry,"

said Bob. "As a result, her dress stuck to the

counter when she tried to get back on her feet."

Nearly two years after Bob and Bill were born,

a younger sister, Carol, arrived in late 1930. ten

years later, younger brother, Martin, was born.

Tragically, an older sister, Charlotte Jean, died

from polio at the age of seven in 1934.

When Bob and Bill were seven, Mr. Wilson

purchased a ten-acre plot of land in Richland,

four miles west of the city. This became the site

of their second home. Because he couldn't afford

to own two houses, he moved the family to a

house on 7th Street which he rented. This was

where Bob would begin the first grade. The

country home was finished by the time Bob and

Bill entered second grade. Bob cherishes the

lifetime friendships that were forged in those

early years.

Life in Richland was a wonderful experience

for Bob. His father was a "gentleman farmer" in

that farming wasn't his profession, but it became

a way of life. Most of what they ate came from the

farm. Bob's mother canned vegetables in season

to be consumed in winter when fresh vegetables

were not available. Protein came from chickens,

rabbits and the occasional turkey. And, they had

a cow for milk, butter and cottage cheese.

Bob and Bill were enrolled at Richland

Elementary School. There was one room and

one teacher for all eight grades. At the time,

2 1 8 F E S C O N D I D O : A P i c t o r i a l H i s t o r y o f t h e H i d d e n V a l l e y
---
there were just 12 students in the entire school,

three of them from the Wilson family.

Bob and Bill then made the giant leap from the

rural, one-room school to the imposing new

world of Escondido High School, complete with

six hundred students. Their mother purchased

shiny new lunch pails for the boys. When the bell

rang to signal lunch, Bob and Bill grabbed their

lunch pails and followed the other kids out to the

lawn to eat. To their horror, the twins noticed

everyone else was eating out of brown paper

bags. Not one other lunch pail could be spotted!

Needless to say, that was the last day they would

venture to school toting their lunch pails.

At a high school reunion thirty years later, a

female classmate remarked to Bob: "I remember

you and Bill on your first day in school. You

were the ones with the lunch pails."

The Wilson boys survived that first year. The

following year, they both went out for football and

made the team. Soon, they joined social clubs and

Bob became student body president in his senior

year. After that inauspicious start, they had arrived.

Bob Wilson was feted with a celebration at

Escondido High School in 2019 to mark his

90th birthday with more than 300 people in

attendance. To cap off the day, Escondido mayor

Paul McNamara proclaimed February 10, 2019,

as Bob Wilson Day in honor of the graduate

from the class of 1947.

G

Above: Bob and wife Marion.

Below: Bob, Marion and their sons.

F a m i l y H e r i t a g e F 2 1 9
---
THE HOMER

HELLER FORD

FAMILY

G

Top: Helen and Homer Heller,

founders of Heller Ford.

Middle: Helen and Don Heller. Don

was named general manager of Heller

Ford in 1969.

Bottom: The Homer Heller Co.

Stage in 1945. Shown are (from left

to right) John R. Crenshaw, service

manager; Homer M. Heller, owner;

Fred Rich, driver; and Percy

Evans, owner of the Escondido

Times-Advocate newspaper.

The Homer Heller Ford Family is proud of its

seventy-two-year heritage in Escondido. Three

generations of Hellers kept pace with the city's

growth, by expanding and relocating their Ford

dealership facilities and volunteering seven

decades of community service.

The Heller family's legacy began in

September 1940 when Homer and Helen Heller

moved from Long Beach, California, with their

two children, Marilyn, age three, and Don, nine

months, to Escondido's growing community of

4,560 residents.

The Hellers' dream of owning an automobile

dealership came true on January 14, 1941,

when Ford Motor Co. granted them Escondido's

franchise at 224 East Grand Avenue. A few years

later, Homer was awarded the Oceanside

franchise and partnered with Long Beach friend

Vince Dixon, who became sole owner of Dixon

Heller Ford in 1960.

During World War II, dealers were denied

new cars, so Heller built a thriving used car sales

and auto repair business. Both Escondido and

Oceanside had train stations carrying auto parts

from the East Coast. Heller realized the need for

residents to travel between the two cities to visit

friends and meet trains. Heller was granted a

State of California franchise for passenger service

in 1945 between the two cities, thus setting up

his Homer Heller Co. Stage Line (from station

wagon to school bus to NCTD today).

Heller remodeled the Grand Avenue

storefront in 1946, and opened a full-service

Texaco station at Grand and Kalmia Streets.

Heller also built on Grand Avenue, the Patio

Shops and two-story Arcade Building. The "mini

malls" are still in use today.

The dealership relocated to 400 West Grand

Avenue at Freeway 395 in 1951. It brought

visitors from throughout Southern California to

view the modern facility which served the North

County for thirty years. An innovative "Jewel

Box" featured the latest Ford model on its

2 2 0 F E S C O N D I D O : A P i c t o r i a l H i s t o r y o f t h e H i d d e n V a l l e y
---
evolving turntable. During the holidays, the

building was crowned with a lighted, waving

Santa and eight prancing reindeer.

In 1959, the Heller family suffered the loss of

Homer Heller who was killed in a private

airplane crash. Helen was in the unique position

of possibly being the first woman to own a Ford

dealership. After a hard-fought battle, she earned

the Ford franchise in 1960. Son Don Heller

joined the business that year as assistant general

manager and became general manager in 1969.

In the early 1970s, Don was eager to move

the city's economy forward. He played a key role

in the ten-year planning to establish the new

Escondido Auto Park in which Heller Ford was

the first to open on January 7, 1983. Don added

a Suzuki franchise in 1985 and replaced it with

a Hyundai franchise in 1987. Don's son, DJ

Heller, joined the dealership sales team in 1991

and worked his way to become general manager

of both the Ford and Hyundai franchises. The

Hyundai store was the highest volume franchise

in San Diego County under DJ's leadership.

The Hellers' opportunities for community

service began in 1941 when Homer became the

fundraising co-chairman to build Escondido a

new, modern hospital. In 1950, the thirtyseven-bed

Palomar Memorial Hospital on East

Grand Avenue was dedicated to World War II

Veterans. Helen, a charter member of the PMH

Auxiliary, managed the gift shop which opened

in 1960. It was named "Helen Heller Gift Shop"

in 2002 to honor her 43 service years and

75,000 volunteer hours.

The Hellers served on boards of directors for

many Escondido organizations including

Elementary School Board, Chamber of Commerce,

Planning Commission, Escondido Auto Park,

History Center and its Endowment Foundation,

Girls Club, Girls Softball and its Kit Carson Park

Field Development. Sponsorships were given for

Girls and Women's Softball, American Legion

Baseball, Boys and Girls Club activities. Heller

Ford loaned used cars to Escondido Police

Department for surveillance work, donated autos

to Escondido High School for Drivers Education,

and participated with cars and floats in the Grape

Day Parades.

Retired from the auto industry since 2013, the

Hellers are thankful for their loyal customers,

excellent employees and wonderful friends who

have supported them throughout the years.

G

Above: The Heller Ford "Jewel Box" at

400 West Grand Avnue topped with

Santa Claus and reindeer in

December 1951.

Below: The Heller family, c. 1991.

Shown are (from left to right) DJ

Heller, general manager; Don Heller,

president; Marilyn Heller Keast,

secretary; and Mrs. Helen Heller,

Founder. Helen passed away in 2006

and Don passed away on February

24, 2020, just eleven days after his

eightieth birthday..

F a m i l y H e r i t a g e F 2 2 1
---
CHICK EMBRY

Robert Dale Embrey was born July 21, 1927,

to parents Howard and Edna Embrey on a farm

near Hawley, in Northwest Oklahoma. Taking

the advice of a relative, they decided to move to

Escondido in 1936. Loading up as much of their

belongings as possible in their 1930 Dodge

Sedan (it had big trunk on the back), they

arrived in Escondido just in time for the start of

the new school year. Chick's father leased a

service station and home on Old Highway 395

(now West Mission and the home of Superior

Ready Mix) and the family made Escondido

their permanent residency.

His older brother Leland attended Oceanside

Junior College, now Mira Costa; his sister

Virginia enrolled as a freshman at EUHS; and

Robert would start the fourth grade at Central

School. It was at Central School that he would

acquire the nickname "Chick" because a

classmate thought he looked like his brother,

Chick Broerman, the original owner of Frazee

Paints. Leland, now deceased, would end up

being the manager of the San Francisco

Social Security Office. Virginia graduated from

Biola College and UCLA, and would spend

sixty-five years with Wycliffe Bible Translators,

living with the Zapotec tribe of the Isthmus

helping translate the New Testament into

their native tongue. At age ninet-six, she is

currently living near Tucson, Arizona, in an

assisted living home.

Athletics would become a major part of his

career for the next forty-seven years. At

Escondido High School, Chick played football

for four years and was captain his senior year,

and named to the Helms Athletic Foundation's

All Southern California Second Team in 1944.

He also lettered in basketball and track. Fellow

students elected him as ASB president his senior

year (1944-1945).

Immediately after graduating from EUHS in

1945 he joined the U.S. Navy and was stationed

at the San Diego Naval Training Center until the

end of World War II. Discharged in September

1946, he enrolled at Fullerton Junior College,

where he played football and basketball

(captain), and was ASB president in 1947. More

importantly, that was where he met his wife

Ann. They celebrated their seventy-first year

together on August 14, 2019. In 1948, he

transferred to San Diego State University where

Chick played football for three years, making

first team CCAA defensive back in 1950.

Upon completing his teaching credential in

1952, he became the 7th and 8th grade P.E.

teacher at Central School. When an opening

became available at Escondido High School, he

took over the Varsity reins in 1956. He led the

Cougars for twenty-two years, before handing

the head job over to his longtime assistant

Denny Snyder. During his 22 years as varsity

head coach, his Cougar teams won 144 games.

His teams had 9 seasons in which they won 8 or

more games, and 5 seasons where they lost only

one game. All those wins amounted to a .682

winning percentage. With this winning pattern,

the Cougars won or shared the Avocado title

and the Metropolitan League titles 10 times, and

reached the semifinals of CIF 9 times. They won

three CIF titles, the last being shared with San

Diego High School in 1969.

Robert "Chick" Embrey is quite modest

regarding Escondido High School's Chick

Embrey Field at Wilson Stadium, mostly

attributing his namesake to having just been

around for such a long time. However, it is

not for nothing that a person's name is

emblazoned on a local landmark, and indeed

Chick has long been a beloved member of the

community. While winning football games was

important to Chick Embrey, being a coach was

much, much more. Coach Embrey's real

greatness is the esteem shared by players, fellow

coaches and all those who have come in contact

with him.

Following his example, many of his former

players became coaches or were involved in the

field of education. Coach Embrey set the

example for developing lasting relationships,

building character and genuinely caring for

others in all aspects of their lives. Many of the

lasting relationships were developed during the

pre-season when the Cougar coaches would

organize a five day trip to the High Sierras.

Many of the team members would pile into an

Emmanuel Faith Community Church bus,

guitars in tow, and travel to the High Sierras.

Backpacking into the Mammoth Lakes

wilderness, the camaraderie developed during

the few days spent together hiking and fishing

proved invaluable. In addition, the evenings

around the campfire singing with guitars and

2 2 2 F E S C O N D I D O : A P i c t o r i a l H i s t o r y o f t h e H i d d e n V a l l e y
---
ending up with a Bible study for all who wanted

to attend, paid lasting dividends on and off the

football field. Today, many former players make

the same journey with their own families.

Chick maintains close ties with many former

players who have kept in touch with him well

into adulthood. Many of his former players and

coaches are members of the Cougar Alumni

Athletic Club. Besides having many outstanding

speakers every quarter, the club raises

scholarships for soon-to-be graduates of EUHS

who wish to pursue higher education. With the

help of Bob and Marion Wilson, a permanent

endowment fund has been established, with

scholarships given to four outstanding athletic

and academic students each year.

Chick's coaching ability extends to much of

his family. He and Ann raised three sons, Bobby

(deceased) (wife Ruth Ann), Mark (wife Patti),

and Danny (wife Kathy), all of whom were

outstanding athletes at Escondido High School

and had successful years in coaching. Chick and

Ann also have nine grandchildren, many of

whom are involved in teaching and coaching.

They also lay claim to fourteen great

grandchildren in their family tree.

F a m i l y H e r i t a g e F 2 2 3
---
THE

VON SEGGERN

FAMILY

G

Above: The J. H. von Seggern Family,

1910. Seated (from left to right):

Ernest 5, Elise 39, Henry 8, and J. H.

52. Standing (from left to right):

Albert 12, Otto 16, and Anna, 13.

Below: The ranch in 1946. The dotted

line marks the ranch's boundaries. A

is the barns and the house, B is North

Broadway. C is Iris Lane. D is Rincon

Avenue. E is North Broadway to

Reidy Canyon. F is Jesmond Dene

Road. G is the First Barrel of San

Diego Aqueduct that was under

construction. H is North Avenue. I is

is Conway Drive.

Escondido pioneer Johann Hinrich "J. H." von

Seggern arrived in New York in 1881 from the

family home, Hedenkamp, at Bookholzberg,

Oldenberg, Germany. He visited relatives in

Nebraska, then went to Pecos, Texas, working as

a cowboy. His oldest son, Otto, later recalled that

his father didn't like the "Six Shooter," but

preferred a rifle. A relative, Bernhard Friedrich

"B. F." von Seggern, who had been wounded in

the Franco-Prussian War, sought the healthful,

dry California climate. The two cousins joined up

in San Diego, outfitted a heavy wagon, and

looked for land to farm. In 1884, B. F. purchased

from John Hicks land and a house in Bear Valley,

east of Escondido. In 1894, B. F. sold this farm to

the Escondido Irrigation District when they built

the Bear Valley Dam (now Lake Wohlford). Other

property which B. F. owned to the north of the

lake was transferred to J. H. in 1900; in 2018 it is

still family-owned. By 1910, B. F. had returned to

Germany. J. H. became a U.S. citizen in 1898.

J. H. (1858-1922) married Elise Albers (1871-

1936) in Nebraska in 1893. Her family

immigrated from Sandhatten, Oldenburg,

Germany, to Nebraska in 1885. J. H. and Elise had

five children and established a ranch and dairy in

Bear Valley east of the Escondido Reservoir, on

116 acres bought from Samuel Striplin in 1898.

Their children were Otto (1894-1992), Anna

(1897-1986), Albert (1898-1980), Henry (1902-

1978), and Ernest (1905-1991).

Otto, a civil engineer, married June Sweet in

1923. Anna married John Engel in 1933. He

owned groves, Engel Aircraft Specialties, and an

airport, whose hangar is still in use at the J&W

Lumber Co. Anna became an attorney in

Escondido and later partnered with builders

Chamberlain & McCurdy to build the industrial

area on property she owned. Dairyman Albert

did not marry. Henry, a mechanical engineer

and dairyman, married Los Angeles teacher

Blanche Dessery (1914-2014) in 1945. Ernest, a

mechanical engineer in Burbank, married Helen

2 2 4 F E S C O N D I D O : A P i c t o r i a l H i s t o r y o f t h e H i d d e n V a l l e y
---
Millard in 1943; she had been a teacher at

Escondido High School.

After the Escondido Mutual Water Co. raised

the dam in Bear Valley, causing flooding of the

family land, it purchased the property in 1928.

The dairy and ranching operations moved in

1929 to two hundred acres north of Escondido

along Lime Street (later North Broadway), and

located between Rincon and North Avenue and

along Jesmond Dene Road. The location, on the

north end of Mexican Land Grant "Rancho Rincon

Del Diablo," was the site of the Wolfskill ranch

headquarters, where the first wood-framed house

in the valley stood. The ranch was also the site of

the one-room Rincon School, at Lime Street and

Jesmond Dene Road. The entire ranch was made

up of smaller parcels previously owned by

Cassou, Lyon, Schunemann, and Dunn. Albert

and Henry formed a good partnership in the dairy,

with Albert being the "animal and crop" person,

and Henry the "vehicle and machinery" person.

Technology changed frequently on the ranch.

One of Henry's many photographs is captioned:

"Power On, Dec 19, 1931, at 5 pm." This ushered

in a major change from gas engines powering

water pumps and lighting to electricity driving

milking machines and vacuum pumps, making

milk cooling easier and more dependable. In

1950, a tanker truck began hauling milk that had

previously moved in ten gallon cans. Horses,

rakes, and hay stackers gave way to tractors and

automatic hay balers. Milk contracts changed from

local creameries, to Qualitee, then Carnation.

The ranch lands, now known as Reidy Creek

& Brookside Estates, were sold in 1977.

Henry and Blanche raised two children on

the ranch: Carl, interested in mechanics,

construction, and real estate, lives in Escondido

and is married to Ju lia Greeley, R.N.; and Ellen, a

Smithsonian Institution researcher, is married to

Jan Paul Richter, aerospace and intelligence

analyst, and lives in Annapolis, Maryland. Carl

and Julia have two sons: Erik, who runs an

internet truck parts business in Escondido; and

Kurt, an airline pilot and lives in Texas. Kurt

married Amy McNerney, R.N., and they have two

children: Kaylee and Isaak.

G

Above: Cows grazing in the late

1940s. This view looks north across

the center of the ranch. The Wolfskill

house was near the large barn, seen

near the center of the photo.

Below: Carl von Seggern, standing by

a corn binder being driven by his

uncle, Albert, 1950.

F a m i l y H e r i t a g e F 2 2 5
---
NERI HOXSIE

G

Right: Neri Taylor Hoxsie, Jr., with his

Dodge stage on Grand Avenue in

Escondido, 1918. Behind him are

the Palace Hotel, where he had his

stage office, Pioneer Meat Market and

just beyond the parked car Young's

Music Store.

Neri Taylor Hoxsie, Jr., nicknamed "Nein,"

came to Escondido with his widowed mother,

Elza, and brothers Ray, Orton, Floyd, and Percy

in 1893.

All worked for the railroads but, Neri, after

working many other jobs, was more interested

in automobiles. He became a driver for the auto

stage lines that connected Escondido with San

Diego, Oceanside, and Los Angeles. The auto

stages transported travelers, but also

newspapers and mail between the cities.

In January 1916, Neri was an operator for the

Scenic Stage Line. The favored route to San

Diego went south across the San Dieguito River

bridge at Bernardo, on to Poway, up the Poway

Grade with its hairpin curves, across Miramar

mesa, down Murphy Canyon, across the San

Diego River bridge, up the opposite canyon

(now Texas Street), taking University Avenue to

Hillcrest and down Fifth Avenue to downtown.

But, that January, the great "Hatfield" rains

fell from January 14-19 and from January 24-

28, totaling 19.55 inches for the month. The

deluge washed out roads and railroads. At the

time of the second downpour, Neri was

stranded in San Diego with his auto stage and

two sacks of mail and newspapers.

Escondido merchants worried that business

would suffer with no mail service. The flooding

washed out every bridge in the county except

the one between Ocean Beach and Mission

Beach. On January 29, in his effort to get the

mail to Escondido, Neri took the only possible

route through Ocean Beach to La Jolla, across

Miramar to Poway and on to Bernardo, where

he waded across the river with the sacks of mail

on his back.

The Escondido newspaper hailed his resolve:

"Hoxsie first man from San Diego. Plucky stage

driver came through Sunday after a two days'

trip…his trip from San Diego was one of

hardship and hard work." He got the mail

through and was the hero of the hour at a mass

community meeting that afternoon.

Opposite, top: The remains of the

Bernardo bridge on February 4,

1916, at the San Dieguito River

crossing. The town of Bernardo is

in the background.

Opposite, bottom: Neri Hoxsie fording

the Bernardo River, February 4, 1916.

Neri Hoxsie is piloting the lead car, a

Dodge, followed by a Ford as they are

towed by Mr. Weaver and his team

across the river.

2 2 6 F E S C O N D I D O : A P i c t o r i a l H i s t o r y o f t h e H i d d e n V a l l e y
---
G

This is a sample caption.

XXXXXXXXXXXXXXXXXXXXXXXXXX.

F a m i l y H e r i t a g e F 2 2 7
---
THE LUSARDI

FAMILY

G

Left: Francesco Lusardi.

Right: Marguerite Lusardi.

Francesco Lusardi set out for San Diego from

his home in Parma, Italy, around 1869. After

crossing the Atlantic, he worked his way to

California, probably buying passage by rail or

wagon train in bits at a time. When he arrived

in 1873, he reunited with his brother, Pietro,

who had emigrated a few years earlier. The two

began acquiring land and herding sheep

between the Black Mountain area and the lower

slopes of Palomar Mountain.

In 1880, Francesco returned to Italy, where

he married Marguerite Bernieri. Two years later,

the newlyweds were back on Palomar

Mountain, where they welcomed their first of

eleven children, Henry Lusardi. After several

years, the brothers ended their thriving

sheepherding business and turned to dry

farming in Black Mountain, where they

prospered, establishing a school and post office

in what became known as Lusardi District

(present-day Fairbanks Ranch). Francesco and

Marguerite added six children to their family

during the eight years that followed: Josephine,

Camille, Louis, Rachel, Mary, and Frank.

The Lusardis lived in a small adobe house

where, along with farming, they raised sheep,

pigs, chickens, turkeys, horses, and cows.

They did their own butchering and preserved

the beef by dehydration. Religion also played

an important role in the family's life. Though

the journey was long, the family often made the

trek from Lusardi District north to the San Luis

Rey Mission in present-day Oceanside, where

their children were baptized and received their

first communion.

In 1895, Francesco sold his interest in

Lusardi District and moved his family to Aliso

Canyon in Escondido, where they raised cattle,

made homemade wine, and added four more

children to the family: John, Peter, Julia, and

August. Camille remembered that she and Louis

would walk the mountains barefoot each

evenings to round up the cattle—dodging

rattlesnakes and coyotes as they went.

All the Lusardi children learned early in life

how to work. Henry quit school at age 15 and

became lead butcher for Louis Cassou in

Escondido. Most of the Lusardi sons left home

to find work in their teens; the daughters

likewise supported themselves before marrying

and raising their own families. Even when they

had their own young families to attend to, the

siblings continued to look out for one another.

In 1911, the Lusardis' second son, Louis, was

in a runaway horse-and-buggy accident at the age

of 20. He survived, but his legs were badly

injured and he suffered some paralysis. He spent

the rest of his life on crutches and in chronic

pain, but supported himself in a variety of

businesses, making doll furniture, raising bees

and fishing worms, and sharpening lawn

mowers. He was well-respected among his

2 2 8 F E S C O N D I D O : A P i c t o r i a l H i s t o r y o f t h e H i d d e n V a l l e y
---
G

Above: The Lusardi family's

adobe house.

Left: The Francesco and Marguerite

Lusardi family, c. 1913.

brothers and sisters and became a voice of

wisdom in the family, especially after his father's

death in 1915.

When Francesco died, Marguerite and her

unmarried children moved to Escondido to be

nearer her sons Frank, Louis, and John. Frank

went to Europe and fought in the expeditionary

force in WWI. When he returned, he worked for

Webb Brothers Trucking and Equipment

Company. John and Peter became carpenters, and

Peter went on to co-found Lusardi Construction

Company with his son, Warner. It became one of

the largest building contractors in San Diego

County. Marguerite passed away on July 29,

1933, in Escondido, California, and is buried

next to Francesco at Mission San Luis Rey.

The legacy of Francesco and Marguerite

Lusardi is one of strong moral values that

distilled through their children in the form

of hard work, good heartedness, and integrity.

Many of their grandchildren and great

grandchildren—including Jack Riedel, Leroy

Lash, Jim Lusardi, and Margaret Eggleton, to

name a few—attended Escondido schools

and went on to raise their own families in

the city. By living honorable lives, they and their

children helped shape the present and future

of Escondido.

F a m i l y H e r i t a g e F 2 2 9
---
THE HUMPHREY

FAMILY

G

Right: Graham at the wheel of his

roadster with Elsie and his dog, Zan,

and other friends and family

members, c.. 1919.

Below: Graham Humphrey (left) with

unidentified workers preparing

heating pipes for delivery, c. the

late 1930s.

Opposite, top: Graham Humphrey

(right) with unidentified worker ready

to deliver two 'Craftbuilt" furnaces

from shop at 120 West Ohio Ave. to

Camp Elliot, c. 1942.

Opposite, bottom: Elsie and Graham

taken from north side of their home at

820 East Third Avenue, May 1979.

The Humphrey family has enjoyed a colorful

history in Escondido. William and Gertrude

Humphrey moved from Orange, California to

Escondido in 1911. They had five children—

daughters Pearl, Edith and Grace, along with

sons Norman and Graham. The Humphreys

purchased land for a lemon grove at the east end

of Birch Avenue in Escondido.

Graham Humphrey, who was born in 1893,

did not serve in World War I as he had

a deferment because he drove a milk truck

for Webb Brothers Dairy from San Pasqual

to San Diego. However, he did report for duty

on November 11, 1918, but was sent home

without serving.

Graham's wife, Elsie Mary Robson, was

born in 1896 in Geneva, Minnesota. She moved

with her family, including brother Harvey

John and sister Anna Geneva, to Escondido

in 1913. The John Thomas Robson family

lived at 820 East Fifth Ave. The street name was

later changed to East Third Ave. That included

most of the property between Date and Elm

Streets and Second and Fourth Avenues. The

land was used for farming with crops such as

wheat, oats and alfalfa. It also included a

chicken ranch.

Graham and Elsie met at a Methodist Church

Epworth League meeting in Escondido. They

were introduced by Graham's brother, Norman,

and married in 1919 in the Robson home.

Graham and Elsie raised four children—Harriet,

Mary Anna, Graham, Jr., and Tom – all of whom

graduated from Escondido High School, where

they shared some of the same teachers.

Graham and Elsie were active in the

community. Graham was a Kiwanian for thirtyfive

years while both were California Farm

Bureau members.

In 1927, Graham and Elsie, along with their

young daughters, moved into their long-time

residence at 820 East Third Avenue where they

lived until Elsie's death in 1981. They were

married for 62 years and resided in their home

on Third Avenue for 54 years. Graham passed

away in 1985.

2 3 0 F E S C O N D I D O : A P i c t o r i a l H i s t o r y o f t h e H i d d e n V a l l e y
---
Interestingly, that house was physically

transported via truck to 1130 South Juniper

Street in the late 1980s.

"We took quite a circuitous route to avoid

power lines," said Tom Humphrey, son of

Graham and Elsie. "The location on Juniper

Street was only about a mile away, but the trip

took nearly three hours to complete."

Tom and his sister, Harriet, developed the

land on East Third Avenue to convert into

condominiums, which prompted the physical

move of the house.

Graham founded the Escondido Sheet Metal

Works in the late 1920s, establishing the

business at 120 West Ohio where the Escondido

City Hall is now located. The floor of this

building was briefly flooded in 1931 when the

Escondido Creek overflowed.

While building his business over thirty years,

Graham became involved in numerous civic

activities. He served as a volunteer fireman for

many years. In 1927, these courageous

volunteers fought to save the old high school at

Fourth and Hickory during a blaze. Graham's

efforts helped save school furniture while Elsie

helplessly watched the flames from their home

just three blocks away. An iconic photograph of

Graham and his colleagues is displayed in the

city's Fire Department Museum on Quince Street.

Graham was elected to Escondido city

council in the 1930s where he served several

years, including a two-year term as mayor pro

tem. The plunge at Grape Day Park was built

during this period. That is approximately where

the current railroad station is located.

Meanwhile, Elsie graduated from Escondido

High School in 1915 and always enjoyed the

50+ gatherings when she became eligible. She

was a loving, caring mother, who immersed

herself in her children's school activities. She

volunteered as a pink lady at Palomar Hospital,

at her church and assisted in various civic

efforts, including the Red Cross during World

War II.

Graham and Elsie had eleven grandchildren.

Harriet and husband, Roy Schulbach, had four

children. Mary Anna and husband, Joe Pauletto,

had five. and Tom and wife Sue had two. Tom

and Sue live in Vista, while Graham, Jr. lives in

Edmonds, Washington. Harriet and Mary Anna

and their husbands are deceased.

F a m i l y H e r i t a g e F 2 3 1
---
THE BAKER

FAMILY

G

Top: LeRoy Baker putting on climbing

hooks, 1922.

Middle: The original check written to

purchase Dietrich Electric in 1938.

Bottom: Neville Baker reviewing plans

with Pat Davis and Zeke Schmidt.

The Baker family has had a major impact on

business and charitable activities in Escondido

since the late 1930s.

It began when LeRoy and Constance

Baker, moved from Missoula, Montana to

Southern California in 1937. LeRoy was an

electrical engineer in search of warmer weather,

and it didn't hurt that Constance's family lived

in Escondido.

In 1938, LeRoy purchased Dietrich Electric

of Escondido for $4,000. The new company

was renamed Escondido Electric.

Since then, four generations of the Baker

family have been involved in the business,

which was renamed Baker Electric in 1950. The

company has evolved into a full service electrical

and solar contractor, servicing clients

throughout Southern California, still based

in Escondido.

LeRoy Baker led the company for the first

decade before his son, Neville, took over the

business in 1947. Neville and his wife, Helen,

had moved west from Louisiana in 1942 to

become involved in the family business. In

1953—after the passing of his father—Neville

became president of Baker Electric. He managed

the business until he handed over the

reins to his son, Kent, in 1982.

In 1964, Neville Baker along with four other

Escondido businessmen formed Escondido

National Bank. In 1983, Neville merged Baker

Electric, Knight Security, and San Diego Wood

Preserving Company into Tri-Baker Holding

Company. After Neville's passing, his sons separated

the companies. Kent took over Baker

Electric while Jerry and Mark took over San

Diego Wood Preserving Company, and its

Mexican subsidiary, SANCO.

Kent's brothers, Jerry and Mark, along with

their wives, are involved in different family

businesses and countless charitable endeavors.

Ted Baker, Kent's son, started with Baker

Electric in 1994 and became president in 2000.

Today, Kent serves as chairman of the board at

Baker Electric and Mark serves as treasurer.

Kent and Ted attribute much of Baker

Electric's success to the diversity, loyalty and

stability of its employees. The average length of

time for an employee in a management role is

fifteen years.

"We are proud of our close-knit core group

of employees who are dedicated to delivering

successful projects from concept through completion,"

said Ted Baker.

Earning a reputation for excellence in

workmanship, Baker Electric has successfully

completed multi-million-dollar contracts for

education, government, residential, commercial,

and other markets. The company has experience

2 3 2 F E S C O N D I D O : A P i c t o r i a l H i s t o r y o f t h e H i d d e n V a l l e y
---
in all areas of commercial electrical and

solar construction.

Steady growth prompted the relocation to

larger facilities. In 2006, the company moved

into its fourth location in Escondido, an

expanded facility at 1298 Pacific Oaks Place.

Baker celebrated its eightieth anniversary in

2018 and continues its path of diversification

by adding commercial solar, utility scale solar,

battery storage with two outlying offices in

Rancho Cucamonga, and the Cerritos/Los

Angeles area.

The Baker family's community and charitable

involvement is unparalleled. Among their many

affiliations are the Boys & Girls Club of

Escondido, Escondido History Center, Junior

Achievement, TERI, The Jacobs & Cushman San

Diego Food Bank, and the National Electrical

Construction Association (NECA).

Neville Baker was inducted as president of

the San Diego Chapter of NECA in 1961. He

helped create Little League in Escondido and

was one of the founders of the Boys Club of

Escondido, which in its current state is the Boys

and Girls Club of Greater San Diego. Like his

father before him Kent Baker is also active in

NECA and was inducted president of the NECA

San Diego Chapter in 1983. Kent has also

served on the board for many years.

One of the club's branches carries the name

of Neville and Helen Baker Family Branch,

thanks to a large financial gift from their sons.

The technology center at the main club also

bears the Baker name. The club's first recipient

of a Silver Medallion awarded by the Boys &

Girls Club of America, and is the highest honor

for a local board member, was Mark Baker.

In addition, Rotary, Escondido Chamber of

Commerce, and California Center for the Arts,

Escondido have benefited from the Baker family's

philosophy of giving back to the community.

"We've been part of the part of the Escondido

community for more than eighty years," said

Kent Baker. "It is a vibrant, diverse community

with just the right blend of small-town values

and big-city amenities. We are delighted to

support our community in various forms."

G

Above: Four generations of the Baker

family have led Baker Electric.

Below: Baker Electric is part of the

Life Changers Club of the Boys &

Girls Clubs of Greater San Diego.

F a m i l y H e r i t a g e F 2 3 3
---
THE ALTO

FAMILY

Raymond E. Alto was born 1952 in the City

of Escondido to Raymond (Moonshine) and

Barbara Bumgartner Alto. His Grandfather was

Marcus (Hotrod) Alto and Grandmother

Nestora Atilano Alto. His parents both

graduated from the Historic Escondido High

School. His Grandfather Hotrod and his Great

Uncle Max Atilano were prominent men within

the Sunkist Packaging Company. His Father,

Moonshine, Uncle Marcus Jr. and Benji all

played on the Sunkist Packaging Softball night

league under the lights of Finney Field

throughout the 1950's.

Growing up in an impoverished family,

Raymond went to work at the young age of ten.

He had a paper route and started shining shoes

on the streets of Grand Ave in Escondido. He

would rouse business outside the Skippers Club,

Honest Johns and The Metro, as well as the

barber shops. Juan's, Joe Grace, and Arcade

Barber with Wedekings Bakery next door. When

he was old enough, his first hired job was at

Lawrence Welk Resort. He met Mr. Welk a few

times and exclaimed he was a very nice man. He

worked at the Bumsteer, Obriens, Dantes, Quails

Inn, and the Country Club. His first restaurant

was purchased from Oscar Champion. He

named it Raymond A's Café. He went on to own

9 more restaurants in Escondido including JKs in

the Vineyard, Dante's, The Historic Fireside,

Jalapeno Grill and currently owns an Escondido

Landmark, La Tapatia.

Raymond raised his family in Escondido with

his adoring wife Arvid Castellanos Alto and his

wonderful children Raymond Joseph,

Dominique and Andre. His contribution to this

community is commended and is acknowledged

by the vast amount of patrons throughout the

years. He thanks everyone!

2 3 4 F E S C O N D I D O : A P i c t o r i a l H i s t o r y o f t h e H i d d e n V a l l e y
---
The Kroesche family has been synonymous

with Escondido since the mid-1960s. Eric and

Judy Kroesche moved from Orange County to

Escondido in 1965 when Eric purchased Inland

Oil Company, a petroleum distribution business,

located on W. Mission Avenue.

Eric began his career as a human resources

manager and had worked at Disneyland in

employee relations. He met Judy, an education

major, at Occidental College in Los Angeles and

they've been together ever since.

"My father-in-law encouraged me to start my

own business," said Eric. "He was a great mentor.

So, I bought the business and it was definitely onthe-job

training."

Inland Oil Company was renamed SKS, Inc.

after the purchase. The first "S" stood for Claud

Sympson, Judy's father, who was a silent partner

and mentor. During his career, Claud had been a

national beverage executive. The "K" stood for

Kroesche while the second "S" stood for John

Slack, an initial partner in the company.

Eric expanded the business over the years and,

at one time, SKS, Inc. had fourteen automated

service stations (Exxon Mobil and a Valvoline

distributor) in Southern California, including San

Diego, Imperial, Orange, Riverside, Los Angeles,

and Ventura Counties. Over the years, SKS, Inc.

bought several other companies, including San

Diego Petroleum and Neptune Oil Company. At its

peak, SKS, Inc. had eighty-five employees.

Judy served as secretary on the board directors

while two of their three children—Kitty and John

—worked in the business. In 2015, after fifty years

of ownership, the Kroesche family sold the

business to Flyers Energy of Auburn, California.

Son John was involved in the sale and is still

involved with the company.

Eric and Judy, who now reside in Coronado,

treasured their many years in Escondido. In fact,

Eric still maintains an office in Escondido.

"It is the perfect little community," said Judy.

"Initially, we thought the business was in

Encinitas. We thought it was on the coast."

They soon discovered that about seventy

percent of their sales were farm sales. All the big

growers became their customers.

"For more than fifty years, we handled all the

big names in farming in the area," said Eric. "Of all

the trade associations we were involved with over

the years, the San Diego Farm Bureau was the best."

During his many decades in the industry, Eric

was heavily involved with trade associations. He

served as president of the Petroleum Marketers of

America and as a board member of the San Diego

Farm Bureau.

In the 1970s, Eric joined North County Bank

during which he served as chairman for more than

twenty years. He continued his community

involvement by serving as president of the

Escondido Chamber of Commerce and in a similar

capacity with the Kiwanis Club of Escondido.

Eric's approach to business included adopting

many adages over his career. Two of his favorites

are: "You don't have to go to every fight to which

you're invited," and "If you destroy one's dignity,

you have an enemy forever."

An avid outdoorsman, Eric has a family cattle

ranch outside of Warner Springs and enjoys flyfishing

and sailing.

Meanwhile, Judy, who taught elementary school

in Costa Mesa, has been active in charitable

endeavors her entire life. She is past president of

Chapter B Escondido PEO. This international

women's organization is focused on providing

educational opportunities for female students

worldwide. She also served on the board for the

Palomar YMCA and has worked on numerous

fundraising projects.

In addition, Judy served as president of the San

Pasqual High School PTA in Escondido. Their

three children—Kitty, John, and Suzy—are

graduates of the Escondido school system.

Eric and Judy hosted foreign exchange students

from Luxembourg, Germany, and Norway, and

SKS, Inc., employed interns from local high schools

and from the families of business associates. Many

became permanent employees of the company.

The Kroesche family has certainly left an

indelible mark in Escondido.

JUDY AND ERIC

KROESCHE

G

Top: The Kroesche children (from left

to right): John, Kitty, and Suzy at Kit

Carson Park in 1976.

Middle: Eric Kroesche at his office desk

in the early 1970s.

Bottom: Eric and Judy at country

western party during twentieth

anniversary party at SKS, Inc.,

in 1985.

F a m i l y H e r i t a g e F 2 3 5
---
THE HAWTHORNE

FAMILY

The Hawthornes have been in San Diego

since 1956 and Escondido since 1962. The four

Hawthorne brothers, Tom, Paul, Jack, and Gary,

are in the construction equipment business and

own Toolshed Equipment Rental, which they

founded in 2008.

To say that heavy equipment is in the

Hawthorne brothers' blood would be an

understatement. Their father, J. B. Hawthorne,

founded L.A. Tractor in Los Angeles in 1947.

Sensing the growth, the industry would see as a

result of the Federal Highway Act of 1956, he and

his son Tom acquired the Caterpillar dealership

for San Diego County. Hawthorne Machinery Co.

would contribute to San Diego's growth over the

next sixty years and continues today.

Toolshed Equipment Rental is located on

property that has been an equipment rental yard in

Escondido since the late 1950s. For several

decades, it was known as McArthur's Rentals. Tom

and Paul manage the financial and operations of

the business, Jack oversees equipment purchases

and equipment service operations, and Gary is the

manager of sales and marketing. A thirdgeneration

of the family has joined the company—

J. Paul Hawthorne, is the marketing coordinator

and fleet compliance manager.

The Hawthorne's have always believed in

giving back to the community. Their charitable

contributions over the years have helped local

schools, sports, and non-profits throughout

the community.

2 3 6 F E S C O N D I D O : A P i c t o r i a l H i s t o r y o f t h e H i d d e n V a l l e y
---
THE REDMOND

FAMILY AND

GOLFCRAFT

G

From top to bottom:

Left: In the summer of 1952, Ed and

Terese Redmond moved their family of

six children, ages 6 to 18 to Escondido.

Ed was vice president of Golfcraft Inc.,

which had moved its entire golf clubmanufacturing

operation along with

its employees and their families from

Chicago, Illinois, to Escondido,

California. Golfcraft was the largest

employer in town.

Right: Terese and Ed Redmond at Ed's

retirement dinner, 1969.

Left: Ed and Terese with some of their

children. From right to left: Ed, Tom,

Terese, Sue, Edward, and Noreen

(standing, back).

Right: Nancy and Mary Redmond.

Rick and Mary Hill's wedding day,

June 16, 1968. From left to right:

Frank DeMartino, Noreen

DeMartino, Tom Redmond, Karen

Jobbett, Edward Redmond holding

Kathy Klein, bride Mary Redmond

Hill, groom Rick Hill, Terese

Redmond, Sue Klein, Ed Redmond,

John Klein holding Nick Klein, Nancy

Lowrey, Jack Lowrey, children

standing in front. Steve DeMartino,

Pete Klein, Joy DeMartino, and

Johnny Klein.

Terese Redmond with her children on

her eightieth birthday, November 18,

1987. From left to right: Sue Klein,

Edward Redmond, Terese, Noreen

DeMartino, Nancy Lowrey, Tom

Redmond, and Mary Hill.

F a m i l y H e r i t a g e F 2 3 7
---
THE WITMAN

RANCH

G

Three generations of the Witman

family (from left to right) Matt,

Witman, Tom Witman (baby), and

Bill Witman, c. 1992.

The Witman Family began farming in San

Diego County in the 1920s when Harry Witman,

then ranch general manager for the Santa

Margarita Ranch (present-day Camp Pendleton)

oversaw the ranch's vast cattle operation. In the

1940s, Harry Witman planted an eighty-acre

lemon grove on some land that he leased from the

U.S. Marine Corps. It was then that Harry's son

Bill Witman left the army to begin his farming

career. After a few years working on the lemon

grove he began vegetable farming in the San Luis

Rey Valley. Sweet potatoes was the primary crop

but broccoli and cauliflower were also grown.

In the mid-1960s in a desire to diversify, Bill first

came to the San Pasqual Valley and in 1966 planted

a Valencia orange grove on land leased from the

City of San Diego. Shortly thereafter more and

more of the farming was moved to San Pasqual

from San Luis Rey until eventually that part of the

operation ceased. In 1983 Matt Witman, Bill's son,

joined the business. Continuing their belief in

diversification, they began to grow flower bulbs,

sweet corn, peppers, watermelon, turf, avocados,

and all types of citrus crops. All of this was done in

the San Pasqual Valley known for it's rich soil and

plentiful water. The Witman's also have an avocado

and citrus ranch in Ramona, farming exclusively

with recycled water. Tom Witman, Matt's son

joined the operation in 2015. Together, Matt and

Tom will work to keep the family business thriving

into the future.

Throughout the four generations there have

been the heartache of frost, fires, floods, winds,

and insect invasions. But there have also been

the joys of a life on the land surrounded by

nature and wonderful people. If you asked any

of us, we would say that we wouldn't have

wanted it any other way.

2 3 8 F E S C O N D I D O : A P i c t o r i a l H i s t o r y o f t h e H i d d e n V a l l e y
---
Frank attended Stanford University, then

labored in a "Bull Gang" in the Salt Creek Field,

Wyoming. He subsequently worked his way up

to become president of Standard Oil of Indiana.

William also attended Stanford and worked

as a corporate lawyer.

John Sr. inherited the Prior Ranch. He

planted the first avocado tree in San Diego

County and developed a strain of short-thorn

lemon trees known as Prior Lisbon. He married

Louise Crenshaw of Kentucky.

Their daughter, Mabel Louise, married Roy

Riffle and they had three children—Mike, John,

and Katherine—all of whom stayed in

Escondido and inhabited the house as the

generations passed on.

Their son, John Jr., married Georgia Hillebrecht,

whose family were also farmers in the Escondido

area. Their children, Greg and Caro, also spent

most of their adult years in Escondido.

THE PRIOR

FAMILY

G

Left: Laetitia Miller Wistar, born

in 1870.

Below: Palm drive leading through

the grove to wide front porch of

Prior residence.

The Prior family history in Escondido began

in 1891 with the arrival of William Wilson Prior

Sr., from Salem, New Jersey, and his bride Laetitia

Miller Wistar from Philadelphia, Pennsylvania.

They were the first couple to be married in the

newly-built Trinity Episcopal Church. They

settled in a farmhouse above Hill Avenue, now El

Norte Parkway.

In 1912, they also bought their neighbor's

house, a two-story, craftsman-style home and

moved in. The succeeding generations lived in

this residence, keeping all of