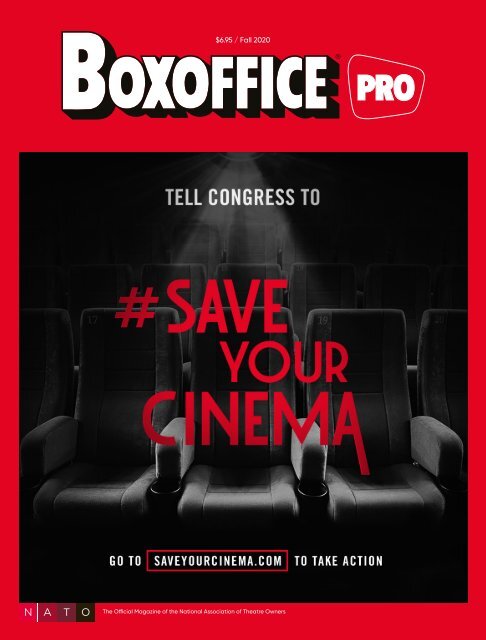 Boxoffice Pro Fall 2020
Boxoffice Pro is the official publication of the National Association of Theatre Owners.
Boxoffice Pro is the official publication of the National Association of Theatre Owners.
SHOW MORE
SHOW LESS
You also want an ePaper? Increase the reach of your titles
YUMPU automatically turns print PDFs into web optimized ePapers that Google loves.
$6.95 / Fall 2020

The Official Magazine of the National Association of Theatre Owners
---
Fall 2020

01

01_AD-RCM-Media.indd 1 30/09/2020 08:10
---
PAGE TITLE

We are the experts in developing and manufacturing

compliant life safety venue luminaries for over 50 years.

MOUNTAIN VIEW SHOWPLACE ICON

Safety Illuminaon

San Antonio

Soluons

Centre - Mountain

forTheaterand

View, CA

Auditorium Venues for50+ Years

CEILING LIGHTS WALL SCONCE STEP AND AISLE SAFETY LIGHTING

Engineering life safety illuminaon soluons for theater and auditorium venues for over 5 decades.

Tivoli has maintained a customer-first approach, with quality products and uncompromising service

delivered by our team, year aer year.

02 Fall 2020

www.tivolilighting.com • sales@tivoliusa.com

02_AD-Tivoli-Lighting.indd 2 29/09/2020 12:28
---
We're in this

together.

We're here to help. NCM creates

Noovie, the nation's #1 pre-show,

supported by thousands of

national, regional, and local

advertising partners that help

supplement your revenue.

Now more than ever, there's

no better partner than NCM.

Jennifer Lupo I 303.792.8784 | jennifer.lupo@ncm.com

Fall 2020

03

03_AD-NCM.indd 3 29/09/2020 12:29
---
PAGE TITLE

20

AUG

Whether building and equipping an

entire theatre, diagnosing problems

on your equipment or finding and

installing the replacement parts you

need, Sonic has the super powers to

handle it all.

THE TECH

04 Fall 2020

04_AD-Sonic-Equipment.indd 4 29/09/2020 12:29
---
PAGE TITLE

PREMIUM

PROJECTION

SCREENS

FOR 2D & 3D APPLICATIONS

Reflecting every detail with

clarity and precision

Proud manufacturer of Highwhite Screens

with RealD®️ Precision White️ Screen

Technology since 2013. Now available to

all our clients worldwide!

PREMIUM HGA SILVER SCREENS | NORTHVIEW HORIZON

WHITE GAIN SCREENS | FOLDABLE 3D SCREENS

www.strongmdi.com | 1 877 755-3795 | info@strongmdi.com

05 Fall 2020

05_AD-StrongMDI.indd 5 29/09/2020 12:29
---
PAGE TITLE

ON-LINE CONFERENCE AND TRADE SHOW

READY. SET. CINEASIA.

04-05 NOV 2020

Join Us for the CineAsia On-Line Conference & Trade Show

Some of Our Upcoming

Programming for our

4-5 November 2020 show:

Welcome Address:

Khun Vicha Poolvaraluck,

Major Cineplex, Bangkok

Executive Roundtable:

Andrew Cripps, Warner Bros;

Stephen O'Dell, Sony Pictures;

Mei Lee Koh, Golden Screen

Keynote: Gerald Dibbayawan,

Cinepolis, Indonesia

Perfect Storm=Perfect Opportunity:

Arturo Guillen, Comscore

Overview of the Hong Kong

and Chinese Market:

Dr. Man Nang Chong,

GDC Technology

Global Cinema Federation:

Alejandro Ramirez,

Cinepolis, Mexico

Motion Picture Association:

Belinda Lui, President

and Managing Director

MPA Asia Pacific

Protocols & Guidelines

with presentations from

Mark Shaw, Shaw Theatres;

Suvannee Chinchiewchan,

SF Cinema City;

Irving Chee, Golden Screen;

Oscar Zhang, Lumière Pavilions;

and Dinh Huong, Galaxy Studios

Exciting New Products:

Patrick Von Sychowski, Celluloid Junkie

Enhanced On-Line Trade Show

with Pre- and Post-Show Access

PLUS: Studio Messages from Lionsgate, Paramount Pictures,

Walt Disney Studios, Universal Pictures, Sony Pictures, Unifrance,

Warner Bros., Studiocanal, and Galaxy Films

06 Fall 2020

CINEASIA.COM

SE_AD.indd 06_AD-CineASIA.indd 2

6 29/09/2020 9/14/20 1:11 12:30

PM
---
© 2020 Disney/Pixar. All Rights Reserved.

Fall 2020

CONTENTS

56

Soul

Pixar returns to the big

screen with Soul.

18

The New Normal

Cinemas in North America

Join Forces to Launch

CinemaSafe

46

Next Act Cinema

How an Independent Cinema

Weathered the Shutdown

50

Pivoting in the Pandemic

How New Jersey's Cranford

Theater Is Surviving (and

Thriving) in the Pandemic

52

Mighty Maysles

Harlem's Documentary

Theater Stays Connected to Its

Community

Fall 2020

07

07-08_Contents.indd 7 30/09/2020 17:14
---
CONTENTS

INDUSTRY THEATER ON SCREEN

14

16

18

22

NATO

The Who, What, and How of the

NATO Executive Board

NATO: A Safer Cinema

Exhibitors Embrace 'CinemaSafe'

Health and Safety Protocols

The New Normal

Cinemas in North America Join

Forces to Launch CinemaSafe

Guest Columns

Welcome Back!

46

50

52

A Next Act for Next Act Cinema

How an Independent Cinema

Weathered the Shutdown

Pivoting in the Pandemic

How New Jersey's Cranford Theater

Is Surviving (and Thriving) in the

Pandemic

Mighty Maysles

Harlem's Documentary Theater

Stays Connected to Its Community

56

64

71

Feeling the Soul

Pete Docter and Kemp Powers

Tread New Ground with Pixar's

Metaphysical Latest

Coming Attractions

Upcoming wide releases

Booking Guide

28

Charity Spotlight

A recap of industry-wide charity

initiatives

32

A Century in Exhibition

The 1970s: A New Hope

42

Industry Insiders

Shelly Olesen on Nearly

30 Years at C. Cretors & Company

"We have issues that our

community is facing, but then

you have an entertainment

establishment that's supposed

to be uplifting. That's what

we're trying to remember.

That's our mission."

p. 48

Next Act Cinema

08 Fall 2020

07-08_Contents.indd 8 30/09/2020 08:20
---
THE FEATURES YOU NEED.

THE OPTIONS YOU WANT.

THE COMPANY YOU TRUST.

When it comes to concessions,

it comes from Cretors.

Only Cretors combines five generations of industry leadership with more than

130 years of forward-thinking innovations. Backed by our industrial manufacturing

R&D for global snack food giants, we bring revolutionary products to the

concessions marketplace, time and again. Whether it's an industry-changing

safety feature, a long-sought-after option or a customizable machine made

for the way you sell anywhere in the world, there's no limit to our ingenuity.

Made in America, loved world-round!

Contact Shelly Olesen at 847.616.6901 or visit www.cretors.com

Fall 2020

09

09_AD-Creators.indd 9 29/09/2020 12:30
---
BOXOFFICE MEDIA

CEO

Julien Marcel

SVP Content Strategy

Daniel Loría

Creative Direction

Chris Vickers & Craig Scott

at She Was Only

EVP Chief Administrative Officer

Susan Rich

VP Advertising

Susan Uhrlass

BOXOFFICE PRO

EDITORIAL DIRECTOR

Daniel Loría

DEPUTY EDITOR

Rebecca Pahle

EXECUTIVE EDITOR

Kevin Lally

MANAGING EDITOR

Laura Silver

CHIEF ANALYST

Shawn Robbins

ANALYSTS

Chris Eggertsen

Jesse Rifkin

EDITORIAL ASSISTANTS

Vassiliki Malouchou

ADVERTISING

Susan Uhrlass

63 Copps Hill Road

Ridgefield, CT USA 06877

susan@boxoffice.com

SUBSCRIPTIONS

Boxoffice Pro

P.O. Box 215

Congers, NY 10920

833-435-8093 (Toll-Free)

845-450-5212 (Local)

boxoffice@cambeywest.com

CORPORATE

Box Office Media LLC

63 Copps Hill Road

Ridgefield, CT USA 06877

corporate@boxoffice.com

Boxoffice Pro has served as the

official publication of the National

Association of Theatre Owners

(NATO) since 2007. As part of this

partnership, Boxoffice Pro is proud to

feature exclusive columns from NATO

while retaining full editorial freedom

throughout its pages. As such, the

views expressed in Boxoffice Pro

reflect neither a stance nor an

endorsement from the National

Association of Theatre Owners.

Due to Covid-19, Boxoffice Pro will

be adjusting its publishing schedule.

For any further questions or updates

regarding your subscription, please

do not hesitate to contact our

customer service department at

boxoffice@cambeywest.com.

DATABASE

Diogo Hausen

CONTRIBUTORS

Erin Von Hoetzendorff

Kathy Conroy

Boxoffice Pro (ISSN 0006-8527), Volume 156, Number 6, Fall 2020. Boxoffice Pro is published by

Box Office Media LLC, 63 Copps Hill Road, Ridgefield, CT USA 06877. corporate@boxoffice.com.

www.boxoffice.com. Basic annual subscription rate is $75.00. Periodicals postage paid at Beverly

Hills, CA, and at additional mailing offices. POSTMASTER: Send all UAA to CFS. NON-POSTAL

AND MILITARY FACILITIES: send address corrections to Boxoffice Pro, P.O. Box 215, Congers, NY

10920. © Copyright 2020. Box Office Media LLC. All rights reserved. SUBSCRIPTIONS: Boxoffice

Pro, P.O. Box 215, Congers, NY 10920 / boxoffice@cambeywest.com. 833-435-8093 (Toll-Free),

845-450-5212 (Local).

Box Office Pro is a registered trademark of Box Office Media LLC.

10 Fall 2020

10-11_Colophon-Executive-Letter.indd 10 30/09/2020 08:24
---
EXECUTIVE LETTER

THE RECOVERY

EFFORT

It is a daunting state of

affairs, one that will require

every bit of passion and

resiliency from an industry

that has always met

hardships head-on.

It's difficult to find a way to start

this letter, not because I don't have

things to say but because I don't know

where we'll be as an industry by the

time you read it. Nothing this year has

happened as we expected. Like you, we

are still learning how to cope with the

uncertainty as we go along.

Covid-19 first appeared in our digital

coverage in January, when we reported

on Chinese theaters closing ahead of that

nation's Lunar New Year celebration—one

of the busiest periods at the Chinese box

office. It was clear even back then, weeks

removed from a record $42.5 billion year at

the global box office, that this virus would

have a tangible impact on our industry

and our lives.

As the virus spread in February, so did

our coverage: closures in South Korea, followed

by northern Italy, followed by all of

Italy. By March, the epidemic had become

a full-blown global pandemic, as cases

skyrocketed worldwide. My last day at the

office was March 11; an hour after arriving

home, I turned on my computer to report

on the cancellation of CinemaCon 2020.

Within a week of that evening, nearly every

cinema in North America had suspended

operations indefinitely. Soon the scope

of the situation came into focus: a global

health crisis that would completely upend

our society and could pose an existential

threat to theatrical exhibition. Cinemas

around the world went dark simultaneously,

unified by a commitment to curb

the spread of the virus—without knowing

when or how they would reopen.

Our most recent issue covered that

challenge, the early part of the crisis we

referred to on our cover as an "Intermission."

With this issue, we begin the second

act of this story: the Recovery Effort.

While the onset of the Covid-19 crisis

was sudden, the recovery is showing no

signs of such brisk efficiency. Exhibition

had hoped the long-awaited release of

Christopher Nolan's Tenet in September

would serve as a catalyst in that effort. Instead—available

to only about 70 percent

of the market in its first month of release,

and despite strong figures overseas—its

disappointing domestic box office performance

led to an additional slew of release

delays and cancellations. It set the stage

for what will be an extremely challenging

two months—from late September to late

November—with cinemas operating at

under half capacity and without a single

major studio release on the schedule. It is

a daunting state of affairs, one that will

require every bit of passion and resiliency

from an industry that has always met

hardships head-on.

In light of that, this issue includes a

number of stories and profiles of those

who have fought the odds to move ahead

during this period. The coverage is by no

means exhaustive. We look forward to

continuing to document their stories in

our upcoming issues, as we join others in

our industry in recovering from the crisis.

Daniel Loria

SVP Content Strategy & Editorial Director

Boxoffice Pro

Fall 2020

11

10-11_Colophon-Executive-Letter.indd 11 30/09/2020 08:24
---
PAGE TITLE

12 Fall 2020

12_AD-TBCo.indd 12 29/09/2020 12:31
---
NATO 14 | Guest Columns 22 | Charity Spotlight 28 | A Century In Exhibition 32

INDUSTRY

Cineplex

"We've always looked at alternative content and attracting

different audiences into our theaters."

Sports at the Cinema, p. 30

Fall 2020

13

13_INDUSTRY-Opener.indd 13 30/09/2020 08:28
---
Industry NATO

RESULTS

ARE IN!

The Who, What, and How of

the NATO Executive Board

BY ERIN VON HOETZENDORFF

The National Association of Theatre

Owners Executive Board election

results are in! After plenty of campaigning

by all 14 of the brilliant candidates, Bo

Chambliss (Georgia Theatre Company),

J.D. Loeks (Studio C), and Joe Masher

(Bow Tie Cinemas) were each reelected

to represent mid-sized companies on the

board. In the independent category, John

Vincent (Wellfleet Cinemas) was reelected,

and Donald Fox (Fox Theatres) was elected

for his first term.

The news of newly elected board

members is exciting, but we also realize

that the Executive Board of NATO might

be a mystery to some, so we wanted to

take a moment to explain to (or remind)

Boxoffice Pro readers what exactly the

NATO Executive Board is and how these

elections work.

According to NATO's bylaws, "The

Executive Board is the legally constituted

governing body of the Association and

may bind the Association." In other words,

NATO's Executive Board is a 17-member

governing board that makes important

decisions about NATO's priorities, press

strategy, major projects, and annual budget.

The Executive Board meets often virtually

and at least twice a year in-person at

CinemaCon and the NATO fall governance

meetings to discuss important issues

affecting the exhibition industry. The

Executive Board also considers and votes

on all Advisory Board resolutions.

Most NATO initiatives pass through

an approval process with the Executive

Board. NATO's Executive Board is

responsible for driving the strategic

direction of the association, setting

policies and priorities, and managing risk

and accountability for NATO, CinemaCon,

and NATO-PAC.

The eight largest cinema companies in

the domestic market (U.S. and Canada),

ranked by screen count, hold automatic

seats on the Executive Board. These eight

seats are reevaluated each year based on

screen counts at the end of NATO's fiscal

year, in late June. Four elected seats are

held by exhibitors in each of the regional/

mid-sized categories (companies with

75 screens and over who are not part of

the top 8) and the independent category

(companies with 1–74 screens). NATO's

certified regional associations are

represented with one elected seat as well.

Only members of NATO's Advisory

Board are eligible to run for elected

seats. The terms are two years, and

elections are staggered in the regional/

mid-sized circuits and independents

categories, so that an election is held

each summer, usually for two of the

four seats representing those categories.

Board members can be elected for four

consecutive terms. After that, they must

sit out at least one two-year term before

they can run again.

Only Advisory Board members in the

specific category of the elected seats are

eligible to vote. In other words, only midsized

Advisory Board members can vote in

the mid-sized election, only independent

Advisory Board members are eligible to

vote in the independent election, etc.

All of this is to say that the NATO

Executive Board is meant to be a

representative voice for all NATO members.

If you are a NATO member, we highly

encourage you to reach out to your elected

representatives to discuss any thoughts,

ideas, and opinions you have that might

help NATO members. Of course, you are

also always welcome to contact NATO

staff, but we want to ensure that the NATO

Executive Board members accurately

represent you. NATO is a member-driven

organization, so your active engagement is

important to us.

Erin Von Hoetzendorff is the Industry and

Global Affairs Coordinator at NATO

NATO'S 2020–2021

EXECUTIVE BOARD

Eight Automatic Seats

(listed by company's domestic screen count):

1. Adam Aron, AMC Entertainment Inc.

2. Moshe Greidinger, Regal Entertainment

Group

3. Mark Zoradi, Cinemark USA Inc.

4. Ellis Jacob, Cineplex Entertainment LP

5. Rolando Rodriguez, Marcus Theatres Corp.

6. Dan Harkins, Harkins Theatres

7. Eddy Duquenne, Kinepolis/Landmark/MJR

8. Robert Bagby, B&B Theatres

Four Regional/Mid-Sized Circuit Seats

(listed alphabetically by last name):

1. Bo Chambliss, Georgia Theatre Company

2. Ron Krueger, Southern Theatres LLC

3. J.D. Loeks, Studio C

4. Joe Masher, Bow Tie Cinemas

Four Independent Seats

(listed alphabetically by last name):

1. Donald Fox, Fox Theatres

2. Joe Paletta, Spotlight Theatres Inc.

3. John Vincent, Wellfleet Cinemas

4. Dave Wright, Linway Plaza Cinemas

(MCIC Inc.)

One Regional Associations Representative

1. Chris Johnson, NATO of Illinois

14 Fall 2020

14_NATO-Board.indd 14 30/09/2020 08:29
---
Fall 2020

15

15_AD-Telescopic-Seating.indd 15 29/09/2020 12:31
---
Industry NATO

A SAFER

CINEMA

Exhibitors Embrace

'CinemaSafe' Health and

Safety Protocols

BY KATHY CONROY

"In this new pandemic world,

moviegoers need to know that

there is a consistent, scienceand

experience-based set of

health and safety protocols in

place no matter what theater

they visit."

The National Association of

Theatre Owners (NATO) launched

CinemaSafe, a set of voluntary health

and safety protocols for exhibitors in the

Covid-19 pandemic era. More than 380

exhibition companies in the U.S., comprising

more than 3,000 locations and 33,000

screens, have voluntarily agreed to meet or

exceed the set of baseline Covid-19 health

and safety practices. Participating movie

theaters are now displaying the CinemaSafe

logo and protocols on their websites, as

well as at their theater locations, to assure

moviegoers that important steps have been

taken to protect their health and safety.

Developed in consultation with leading

epidemiologists and industry experts,

and consistent with Centers for Disease

Control (CDC), World Health Organization

(WHO), and Occupational Safety and

Health Administration (OSHA) guidelines,

the protocols call for mandatory mask

wearing by employees and patrons (even

in states that do not require it), physical

distancing, limited capacity in auditoriums,

enhanced ventilation, extensive

cleaning, contactless transactions,

employee training, and more. NATO's

Cinema Reopening-Operations Task

Force studied the recommendations of

experts and developed the guidelines

over the early months of the cinema closures.

NATO's Executive Board reviewed

and approved the protocols, and the

CinemaSafe program was launched

on August 21, 2020, in a virtual press

conference.

John Fithian, president and CEO of

NATO, said, "In this new pandemic world,

moviegoers need to know that there is a

consistent, science- and experience-based

set of health and safety protocols in place

no matter what theater they visit. This

unprecedented industry-wide effort is a

promise designed to meet that need."

David F. Goldsmith, PhD, an occupational

and environmental epidemiologist

at George Washington University's

Milken Institute School of Public Health,

reviewed the CinemaSafe protocols and

observed, "It is important to note that, in

my review of the medical literature, not a

single case of Covid-19 has been traced to

a movie theater around the world, either

before the shutdown, or since theaters

have reopened in many countries and

some U.S. states. These protocols, and the

way they were developed, demonstrate a

serious, comprehensive effort by movie

theater owners to examine every aspect of

their operations, identify potential risks,

and reduce them. Their emphasis on the

health and safety of their employees is an

indication of their preventative commitment

to moviegoer safety."

Joyce Sanchez, M.D., an infectious

disease specialist and director of Travel

Health Clinic at Froedtert & the Medical

College of Wisconsin, as well as an assistant

professor of medicine at the Medical

College of Wisconsin, also examined the

protocols. "First," she said, "these protocols

outline that it is of the utmost importance

to be flexible, to respect local and

state public health department guidance,

and to respond to changes. Secondly, they

address two of the three general concepts

that factor into activity risk: distance, dose,

and duration. The CinemaSafe protocols

include physical distancing, limited

capacity in auditoriums, mandatory mask

wearing, frequent disinfection of surfaces,

specific safety training for employees,

and optimization of HVAC systems. They

also offer a touchless experience. As far as

duration, the length of a feature cannot be

controlled. However, the length of a movie

is similar to the amount of time spent on

a domestic flight or dining at a restaurant.

While every activity outside the home

carries risks, these additional measures

can help to mitigate them."

NATO and its member companies are

engaged in a wide-ranging campaign

to educate the public on what to expect

as they return to movie theaters and to

encourage responsible behavior toward

their fellow moviegoers.

Kathy Conroy is Vice President and Chief

Operating Officer at NATO

16 Fall 2020

16-17_NATO.indd 16 30/09/2020 08:34
---
THE CINEMASAFE

HEALTH AND SAFETY

PROTOCOLS INCLUDE:

MASKS REQUIRED

All employees must wear a face covering or

mask. With limited exceptions, patrons must

wear a face covering at all times while in the

auditorium and common areas of the theater.

Exceptions to this policy include those unable

to wear face coverings such as children under

2 years of age and individuals with certain

medical/physical conditions that inhibit

their ability to safely wear face coverings. In

addition, face coverings may be removed for

the limited purpose and limited time period

necessary to consume food and beverages, if

approved by state or local health authorities.

Those who are unwilling to wear a face covering

will be denied entry.

FREQUENT HAND WASHING

Employees should be trained on handhygiene

practices and are required to wash

hands frequently at easily accessible handwashing

facilities.

HAND SANITIZER

Hand sanitizer with at least 60% alcohol (EPA

approved ethanol or isopropyl) will be liberally

placed in easily accessible public areas,

and patrons will be encouraged by staff and

appropriately placed signage to practice

hand hygiene.

PHYSICAL DISTANCING

Appropriate physical distancing must be

maintained at all times between patrons,

except members of the same household or

those who attend together.

REDUCED CAPACITY

Theaters will explore novel options to minimize

the number of patrons in an auditorium.

Appropriate physical distancing must be

maintained at all times between patrons, except

members of the same household or those that

attend together.

MODIFIED CONCESSIONS

Minimize cash transactions and encourage

credit cards or contactless payments whenever

possible. Theaters will eliminate communal food

and condiments that require shared serving

utensils or equipment.

ENHANCED CLEANING

Auditoriums should be carefully disinfected

between movie screenings. High-touch

surfaces should be wiped down periodically

with EPA-registered disinfectant.

EMPLOYEE HEALTH TRAINING

All employees should be trained on the signs

and symptoms of Covid-19 as well as local

theater policies and procedures.

AIR FILTRATION

All HVAC systems should be in working order

with increased ventilation whenever possible.

The complete set of CinemaSafe protocols

are available at: www.CinemaSafe.org.

MOBILE TICKETING

Tickets sales should be available online or via

phone whenever feasible to reduce the need

to stand in line for tickets. Alternatives to paper

tickets should be used whenever possible.

Fall 2020

17

16-17_NATO.indd 17 29/09/2020 12:32
---
Industry TRENDS

THE NEW

NORMAL

Cinemas in North America

Join Forces to Launch

CinemaSafe, Instituting

Industry-Wide Health & Safety

Standards in Reopening

BY DANIEL LORIA

Back in August, as the September

release date of Christopher Nolan's

Tenet approached, cinemas in North

America began opening their doors to

welcome patrons back to the movies.

The reopening efforts, however, did not

occur simultaneously.

Although nearly every cinema in

the United States closed over a span of

four days in mid-March, the domestic

reopening process proved to be fractured

across state lines. Certain states, such

as Georgia and Texas, allowed cinemas

to reopen as early as April, while others,

such as Michigan and New York, had not

even released a provisional time frame for

reopening by the time Tenet opened.

The campaign to reopen cinemas in

the United States has been stymied by the

challenge of inconsistent state policies. In

an effort to address those gaps, members

of the National Association of Theatre

Owners (NATO) came together to create

CinemaSafe, a protocol of uniform health

and safety guidelines put in place across

380 cinema operators.

"With so many different guidelines in

different states, we believe it is critical

that movie theaters commit to following

basic guidelines no matter where they

are, so moviegoers can return to their

favorite pastime with confidence in our

commitment to their health and safety,"

said NATO president and CEO John

Fithian, at a press conference unveiling

the CinemaSafe campaign.

The guidelines, developed in

consultation with epidemiologists and

industry experts, include policies such as a

mask requirement for all staff and patrons,

reduced capacity in each auditorium,

increased air-filtration measures,

enhanced cleaning, and a decreased

reliance on touch points through mobile

ticketing and modified concessions sales.

"On reviewing the protocols in place

here, I think they address two of the three

major factors that determine activity

risk. When we think about activity risk,

including going to the movies, there's

really no activity outside of the home

that has no risk. The three determinants

are distance, dose of potential virus, and

duration," said Joyce Sanchez, M.D., an

infectious disease expert at the Froedtert

Hospital and the Medical College of

Wisconsin Network.

Sanchez cites social distancing

between seats in auditoriums under

reduced capacity, along with adherence

to mask requirements, as factors that

mitigate the risk of attending a movie

theater during the pandemic. As for the

third concern—duration, the amount of

time people congregate in an enclosed

space—Sanchez concedes it cannot

be controlled when it comes to the

moviegoing experience. "When I think

18 Fall 2020

18-20_CinemaSafe.indd 18 29/09/2020 12:32
---
about that variable in terms of risk, it's

pretty similar to the amount of time on

a short-distance domestic flight, which

a lot of America is doing at this point, or

spending time at a restaurant," she said.

"There have been no published medical

or epidemiology findings that show a

link between going to see a movie and

contracting Covid-19. Having said that,

there is no ironclad guarantee that there

is zero risk," added David F. Goldsmith,

PhD, an occupational and environmental

epidemiologist at George Washington

University's Milken Institute School of

Public Health. "With these protocols,

we are taking advantage of the skills

of the staff, infectious disease experts,

industrial hygienists, and people who

were involved in the HVAC system to

increase the air circulation. Their clearcut

goal is to reduce, as much as possible,

some possibility of there being a risk of

contracting this virus."

The press conference, organized by the

National Association of Theatre Owners,

featured the participation of the heads of

the top four circuits in the United States.

Speaking on behalf of AMC Theatres, CEO

Adam Aron noted that collaborating on a

national reopening protocol was crucial to

begin recovering consumer confidence in

the midst of a global pandemic.

"From the day we shut down back in

March, we knew at AMC—as the largest

"They need to know that

moviegoing is safe, wherever

you go see a movie, and

whatever theater that

you visit. That's what

CinemaSafe is all about."

exhibitor in the world—that opening up

our theaters was the single biggest, most

important issue to restore consumer

confidence, so that our industry could

recover from what has now been more

than five months of a shutdown here in the

United States," he said. "We also realized it

wasn't enough to just have an AMC safety

initiative. We needed to participate in an

industry-wide initiative. Consumers can't

always distinguish between one circuit

or another, one theater over another;

they need to know that moviegoing is

safe, wherever you go see a movie, and

whatever theater that you visit. That's

what CinemaSafe is all about."

In June, AMC Theatres found itself at

the center of a national debate over face

mask policy when it announced it would

strongly encourage, but not require, masks

in its cinemas. "That announcement

was made at six o'clock on a Thursday

evening. By seven o'clock, our customers

told us loudly that it was not enough,"

said AMC's Aron. "We had something like

50,000 social media contacts in the first

few hours, and we instantly knew that just

strongly encouraging masks is not enough.

By the next morning, we announced that

we were going to step up our game, that

we're going to listen to our customers

and require masks. I'm very pleased that

Regal and Cinemark did the same thing

so it's easy to enforce this policy, because

Fall 2020

19

18-20_CinemaSafe.indd 19 30/09/2020 08:35
---
Industry TRENDS

this is what moviegoers want—we know

that because they told us—and we will be

enforcing it very carefully. We will not let

people into our theaters if they don't wear

masks. We will not let them stay in our

theaters if they don't keep their masks on,

except for those few minutes when they're

sipping on their [soda] or eating their

buttered and salted popcorn."

Mask enforcement has been a

recurring concern for moviegoers and

industry observers waiting to go back

to the movies. Mark Zoradi, CEO of

Cinemark Theatres, which was among

the first major circuits to open select

locations across the country, noted that

mask enforcement has been a "small or

nonexistent issue" at his circuit thus far.

"The vast majority of people are showing

up with their masks," he said. "We have

very good signage on our website, our

app's ticketing function, and at the door

that they're required. All our employees

are wearing them," he said. "For the very

few [patrons] that show up that don't

have them, we're offering a mask for free

and explaining the situation. There has

been very little pushback on it. In the

isolated case or two that we've had, we've

just explained the situation and offered

a refund. It's notable there have been no

incidents at 60 of our theaters in multiple

states. I think the word is out that this is

the policy with other national retailers,

from Target to Costco. I think the consumer

understands the situation at this point:

If they're going to go into a public retail

environment, masks are required."

According to Dr. Sanchez, distancing

between seats, required mask wearing

(while minimizing the time spent

consuming concessions), and fewer

interactions with staff, other patrons, and

high-touch surfaces can help decrease the

risk of moviegoing during the pandemic.

She also believes that assessing one's own

local environment is crucial when making

the decision to return to the movies: Is the

pandemic in the area under control? Or is

there a rise in cases?

"Some of the factors we think about

are the environment, the person and the

behavior they're engaged in, and the

virus," she said. "The virus is the same;

that variable is fixed. One community may

have higher levels of virus transmission

than others, but for the most part the

way the virus behaves is the same. Then

we look at the behavior that people are

engaging in, and when we think about

bars, we think about people coming

together, drinking alcohol or nonalcoholic

beverages, but coming together and

speaking without wearing masks for the

majority of the time that they're there.

In restaurants, the situation is similar

when people are coming together in an

enclosed environment mostly without

masks, because the primary purpose

of a restaurant is to consume food and

beverages. Now, when we think about

a movie theater, that same contained

environment [is the same] as a place of

worship or as a restaurant, that doesn't

change, but the behavior is different.

People, for the most part, are going to be

wearing masks. People are not speaking,

they are not singing, doing the types of

activities that propel respiratory droplets."

Cineworld and Regal CEO Mooky

Greidinger backed the doctor's observations,

noting that cinemas are unique among

indoor communal activities. "We all need

to remember that in the cinema you sit

in one place, everybody is looking in the

same direction, there is almost no talking.

There is almost no movement through the

running time of the movie."

The press conference served, in part, as

a response to the ongoing lack of a time

frame or guidelines for cinemas to reopen

in the state of New York, home to the

most lucrative market in the country. In a

press briefing, New York governor Andrew

Cuomo deemed cinemas to be "less

essential" than gyms or bowling alleys,

defending his stance by questioning the

circulation of air in cinemas.

"I noticed that Governor Cuomo in New

York recently said that movie theaters have

just one air-conditioning system," said

Fithian. "Obviously, we are hoping to correct

him on the facts, because there are multiple

systems. Often a six-plex will have eight

different air-conditioning systems. The idea

that Covid would flow from one auditorium

to the next is just not based on fact."

"I've seen a lot of publications that seem

to think our systems are taking air from

one screen and putting it in another, or

the circulation is going from one screen to

another. Most of the cinemas in the world,

their systems are independent between

each screen. This is also very important to

understand," reiterated Greidinger.

Despite these challenges, the

executives participating in the press

conference expressed faith that they

could recapture consumer confidence

in the United States with help from

the CinemaSafe guidelines. In other

countries, where cinemas have been

open since as early as June, admissions

figures fluctuated largely due to the lack

of new Hollywood releases. In some cases,

titles outperformed even pre-pandemic

expectations, but a real measure of the

audience's appetite for moviegoing will

likely occur over time, as more audiences

feel comfortable returning to theaters.

Cineworld's Greidinger nevertheless

has faith in the industry's resiliency to see

it through this crisis, regardless of how

long it takes. "We need to remember our

industry is more than 120 years old," he

said. "This industry has passed through

wars, revolutions, recessions … this is not

the first pandemic in our history."

"People, for the most part, are

going to be wearing masks.

People are not speaking, they

are not singing, doing the

types of activities that propel

respiratory droplets."

20 Fall 2020

18-20_CinemaSafe.indd 20 29/09/2020 12:32
---
LOEWS MIAMI BEACH HOTEL, MIAMI BEACH

CONVENTION & EXPO

7-10

DEC

2020

SHOWEAST.COM

LET'S MEET IN MIAMI BEACH

It's time for the industry to connect once again and celebrate the reopening of movie theatres

in North and South America. ShowEast is making that possible and affordable:

REGISTRATION

PRICES CUT!

It's been a tough year for everyone,

so we've reduced our rates in all categories

for 2020 in the hopes that you can join us.

HOTEL FEES

SLASHED!

We've negotiated a new hotel policy

for 2020 where you can cancel for

a full-refund up until November 2.

Fall 2020

21

SE_AD.indd 21_AD-ShowEast.indd 1

21 29/09/2020 9/14/20 1:11 12:33

PM
---
Industry GUEST COLUMNS

WELCOME BACK!

FILM EXPO GROUP

Andrew Sunshine, President

To all of our friends and industry

associates, welcome back. While

these past six months have been nothing

short of a nightmare, the light at the end

of the tunnel is starting to come into view.

Sometimes we sit around and think that

the movie exhibition business has been

knocked down and given a standing eight

count. We were not knocked out, just hurt,

and now it is time to come back bigger and

better than ever to win the fight.

As of this writing, theaters around the

world have already opened, and those here

in North America are starting to open their

doors to the public as well and get back

on their feet. Getting together with the

community to sit in that dark space and

experience the magic of a movie is something

we are craving. We have all watched

enough online product to last a lifetime

these past few months, but it just doesn't

compare. We need our theaters back up

and running and for our studio partners to

start releasing product for all to enjoy on

the big screen.

As much as the public is longing to

get back to the cinema, the same goes

for our professionals who make up our

great business. It has been almost a year

(ShowEast 2019) since we were all together

networking, socializing, and doing business.

We need conventions back just as

badly as we need theaters back. Industry

events are an important part of what we

do, and the Film Expo Group is doing its

part to make that happen.

This past June, when we were forced

to cancel CineEurope in Barcelona, we

launched our first online event with great

success. Now with the cancellation of

CineAsia, we will be doing another online

program on November 4 and 5 for the APAC

(Asia Pacific) community. And, of course,

we will keep our fingers crossed that the

postponement of ShowEast to December

7–10 will allow enough time for travel

restrictions to lift and for our colleagues to

gather in Miami to celebrate together.

This will then lead us into 2021 and what

will be a return to our regular schedule

with CineEurope, June 21–24, in Barcelona;

Showeast, October 18–21, in Miami; and

CineAsia, December 6–9, in Bangkok.

It is our time to shine as an industry,

and we will all come out of this nightmare

better than ever. We may have been

knocked to the canvas, but it doesn't

matter how hard you get hit, it is how you

respond after getting back up.

We wish you all health and great box

office success in the meantime.

GLOBAL CINEMA

FEDERATION

Welcome back! To our exhibitor and

trade-organization members and

colleagues around the world, to those

who never closed, those who reopened

months ago, and those who are just getting

their popcorn machines started again,

we at the Global Cinema Federation are

delighted that you are once again able to

offer audiences around the world a chance

to escape into a new adventure within

your darkened cinemas. This escape may

look and feel a bit different, with social

distancing, masks, and copious amounts

of hand sanitizer, but it is an escape all

the same. Our living room couches are

relieved to see us go.

Over the past few roller-coaster months

of reopenings, reclosings, and reopenings

again, two things have been made clear:

The global exhibition community is strong

and it is supportive. We are strong in our

resilience against "existential" threats,

strong in our determination to reopen

safely for our guests, and strong in our

conviction that the theatrical experience

is irreplaceable. During this time, we have

seen the global exhibition community

come together to support one another

through this unbelievably difficult time.

Competitors became friends, sharing

ideas and solutions that would help the

industry safely emerge from this crisis.

Everyone has been rooting for each other.

We all felt the deep pang of anguish when

it was announced that cinemas in China

were ordered to close again after a brief

reopening in March. We collectively held

our breath as films were rescheduled, and

cheered together when it was clear that

Unhinged and Tenet were actually going

to be released, thanks to the commitment

and leadership of people such as Mark Gill,

Christopher Nolan, and Emma Thomas.

We all jumped for joy when South Korean

exhibitors experienced huge box office

success with the releases of films such as

Peninsula and #Alive. And again, when

Padre no hay más que uno 2 was a smash

in Spain. And again, when The Eight

Hundred triumphed in China. We have a

feeling all of this joyful jumping will get us

back into prequarantine shape soon.

During this time, the GCF has shifted

our attention completely to this crisis.

We have worked hard to lobby studios to

hold release dates. Our members from

around the world have sent in valuable

survey responses about the effects of

Covid-19 on the cinema industry in their

region(s). We will continue to focus on

issues surrounding Covid-19 until it is

deemed unnecessary, but we also hope

we can soon return to our priority issues

including accessibility, international trade

and investment, movie theft, music rights,

and theatrical exclusivity.

The Global Cinema Federation has

missed meeting in person. It has been

over a year since we last gathered faceto-face

at CineEurope 2019. Organizing

a webinar for members located in every

corner of the world is no easy feat. When

we held a virtual advisory board meeting

in July, it meant 7:00 a.m. for some and

11:00 p.m. for others. Still, being able to

gather was a collective bright spot for us.

As always, if you would like to become

22 Fall 2020

22-27_Guest-Columns.indd 22 29/09/2020 12:33
---
a GCF member so that you can tune in

to future correspondence and meetings,

please visit https://globalcinemafederation

.org/members/ and fill out the membership

form. We are anxiously awaiting the

next time we can gather in-person. Until

then, we will see you on Zoom for upcoming

GCF advisory board meetings!

IFC FILMS

John Vanco, Senior Vice President and

Jasper Basch, Director, Sales & Distribution

To all our partners in exhibition:

Welcome back! It feels odd to

welcome you all back, because throughout

this period, we've remained connected

with you all. We know you were never truly

gone, and in our conversations over the

last six months, we've come to know each

other better than we ever have.

We've all heard this time described

as "unprecedented," and it certainly has

been for IFC Films. We've released over a

dozen titles since cinemas closed in March,

including one new film weekly in July and

August. It was uncharted territory, yet we

forged onward and made sure there were

films on the schedule for cinemas to play.

For the first time in our company's 20-year

history we had the No. 1 movie in America,

with Dave Franco's directorial debut, The

Rental. IFC Films has had three films

gross over $1 million in box office since

theaters closed, and has grossed over $4.5

million across all our titles. None of our

success would have been possible without

our friends in exhibition, who define

what it means to be great partners. What

gives us hope is this collaborative spirit;

by working together, we will rebuild the

theatrical business.

We have no illusions about the massive

changes under way in all aspects of our

lives. "Normal" after the pandemic will

not look like the "normal" we knew, and

we are not out of the woods yet. In these

Obviously, it's a better way

to experience a film than at

home. The screen is bigger;

the lights are darker; the

sound is better—it's how all

movies were meant to be

experienced!

uncertain times, we want to sincerely

thank exhibitors for your partnership and

welcome you back.

The role of the movie theater within

the community will remain unchanged, if

not bolstered. Obviously, it's a better way

to experience a film than at home. The

screen is bigger; the lights are darker;

the sound is better—it's how all movies

were meant to be experienced! Beyond

presentation, though, the cinema is an arts

and entertainment center that serves the

community. The quality and community

of the theatrical experience cannot be

replicated at home by any streaming

service or transactional platform.

This pandemic brought with it a hard

stop to operations, but now comes an

opportunity to point ourselves in a new

direction. We are thinking about who

exists within 30 minutes of a movie theater

and hasn't come in the last few years—and

why haven't they come? This phase is

an opportunity to market the cinematic

experience, and everything that means.

This is more than just a big, dark theater.

Modern cinemas have existed for over a

hundred years, and while their role in the

community hasn't diminished, how they

engage with and reach their community

has. It's not inconceivable that in the new

landscape, the number of people who

identify as "moviegoers" will be lower than

it used to be, and it's certainly possible that

this number was already declining. It's

a scary thought, and so we must ask the

hard questions: Why is this, and how do

we cultivate new audiences and win back

the old ones? The films themselves will

only do so much, as will studio advertising

and publicity. The truth is that the best

answer is going to vary; it will be specific

to each theater and to each community

served. Theaters know their communities

better than anyone else could. Therefore,

theaters can know better than anyone

how to reach them, with studios being

a valuable resource available to help

theaters fulfill their individual goals. Since

Fall 2020

23

22-27_Guest-Columns.indd 23 30/09/2020 08:38
---
Industry GUEST COLUMNS

there is no road map and autopilot isn't

functional, this is an opportunity to swing

for the fences and to try something new.

To us, that's exciting!

In the past few months, IFC Films has

helped theaters reach out to groups for

new partnerships, in hopes of bringing in

new audiences who can become regular

moviegoers. We've worked with theaters

to poll patrons to decide which of our

films to program in areas that "don't play

indie." We provided copies of movies for

floor staff to watch; if a theater wants

staff to engage with audiences in the

lobby about the movie, or if they want the

nerdiest usher to talk about movies on

TikTok where their enthusiasm can reach

prospective audiences, we are happy to

assist! As you are being welcomed back,

you can come back as whoever you want

to be within your community. "Exhibitor

relations" extends beyond just fulfilling

one-sheet orders and asking for trailer

placements; it's making sure that when

a theater books a movie, the theater has

the tools needed to fully actualize its role

within the community.

IFC Films' commitment to theatrical is

unwavering. We have three films on the

release schedule for November: Kindred

(11/6), Embattled (11/20), and Stardust

(11/25). We also have three films on the

release schedule for December: Dear

Santa (12/4), Farewell Amor (12/11), and

Hunter Hunter (12/18). We are delighted to

have new product available for exhibitors.

These films will be resources available to

you as you reestablish the importance of

cinemas within your communities.

We love movie theaters. We are excited

for movie theaters to be back and to work

with you on ensuring that movie theaters

remain a vital part of American culture

and of the film industry. The partnership

between studio and theater is essential in

restoring theaters to their vital roles within

their communities, and we are excited to

traverse this new world with you.

KINO LORBER

Richard Lorber, President & CEO

Hello movie lovers!

When the pandemic took hold

in spring and independent theaters

nationwide began to close, we knew we

had to figure out a way to support them.

We launched our Kino Marquee virtual

cinema platform in mid-March with about

a dozen theater partners, but it quickly

swelled to over 400 participating venues

that were showing our films and making

precious revenue while their doors were

closed. The message was clear: Film lovers

care deeply about the art of cinema and

the survival of their beloved theaters.

As theaters slowly begin to open

again, Kino Lorber is proud to welcome

audiences back to see our films on the big

screen. Cinemas are cultural communes

where we gather to explore and share

what it means to be human. We'll see you

at the movies!

LIONSGATE

As more and more theaters reopen

and welcome back guests, Lionsgate

celebrates the unique and critical role

movie theaters occupy in the largest

cities and the smallest towns. For over

100 years, the movie theater has been a

beloved destination, where relationships

are forged, friends reconnect, the latest

and greatest cultural entertainment is

consumed, and people escape from

everyday life. During these unprecedented

times, Lionsgate was proud to support our

partners in exhibition through Lionsgate

Live! A Night at the Movies, which helped

remind moviegoers what makes the

communal experience of movie theaters

so special. The program also raised over

$200,000 to support the Will Rogers

Motion Picture Pioneers Foundation,

which grants aid for out-of-work theater

employees. Lionsgate continues to be

committed as a company to the theatrical

experience—we know the business of

theatrical motion picture exhibition will

continue to rebound and in time will come

back as strong as ever.

We are enthusiastic about the future

of moviegoing with some of the projects

we have in the pipeline. We are navigating

Covid-19-era production logistics and

are excited to be resuming filming once

again. We recently wrapped principal

photography for the upcoming horror film

The Devil's Light, in which a young nun

pursues her calling to become an exorcist.

Additionally, we have the meta actioncomedy

The Unbearable Weight of Massive

Talent going into production next month,

where Nicolas Cage prepares to take on

the role of a lifetime—himself. Also in

the works is Spiral, the latest thrilling

entry in the Saw universe, starring Chris

Rock and Samuel L. Jackson. Jackson will

also reteam with Ryan Reynolds as the

most violent odd couple of all time, with

costar Salma Hayek joining the fun and

mayhem in The Hitman's Wife's Bodyguard.

Kingdom Story Company and directors

Jon and Andy Erwin prepare to bring the

incredible true story of Kurt Warner's rise

from bagging groceries to the pinnacle

of NFL achievement to the big screen in

American Underdog: The Kurt Warner

Story. And, also in the works, from writer/

director Kelly Fremon Craig and Oscarwinning

producer James L. Brooks comes

a feature adaptation of the timeless Judy

Blume coming-of-age classic Are You

There God? It's Me, Margaret. While we are

thrilled to be bringing these titles to you

soon, we are also eager to share even more

exciting films in the future, as our slate

includes such highly anticipated releases

as John Wick: Chapters 4 and 5, Knives

Out 2, The Hunger Games: The Ballad of

Songbirds and Snakes, and many more.

The future of moviegoing is brighter than

ever, and we can't wait to see you back at

the theater. Save us the aisle seat.

24 Fall 2020

22-27_Guest-Columns.indd 24 29/09/2020 12:33
---
Since their inception, movies

have been our favorite way

to escape the news of the

moment and enjoy a pure

entertainment experience.

No matter how big your

television is or how complete

your surround sound, only a

movie theater can provide

that escape as we take in a

story together.

SONY

Adrian Smith, President, Sony Pictures

Releasing and Steven O'Dell, President,

Sony Pictures Releasing International

To all our friends and our most

valued partners, welcome back!

We are thrilled to be back working with

you. Releasing films theatrically is integral

to our core business and, as always, we

remain committed to the theatrical

experience.

The year began on a high note

with a franchise high for Bad Boys for

Life breaking January box office records,

and with cinemas slowly reopening

around the world, we are optimistic that

audiences will continue their return

to theaters. After the studio's recent

successful openings of Padre no hay

más que uno 2 (Father There Is Only One

2) and Little Women, along with other

studio releases, we are encouraged that

consumers still have a strong appetite

for theatrical content. On September 11,

we released Natalie Krinsky's romantic

comedy, The Broken Hearts Gallery, from

executive producer Selena Gomez. The

audience's terrific response and strong

reviews leave us feeling optimistic that

the film will play well as it slowly rolls out

across key territories.

Next year will be a big year, with three

of Sony Pictures' Marvel characters hitting

the screen: Morbius, one of Marvel's

most compelling characters; the highly

anticipated sequel to Venom, Venom: Let

There Be Carnage; and the much-awaited

sequel to Spider-Man: Far from Home. We

are also very excited to work with you

all on Cinderella, a vibrant, musically

driven reimagination of the traditional

Cinderella story, starring a diverse, starstudded

ensemble cast including Camila

Cabello; the next chapter in the original

Ghostbusters universe, Ghostbusters:

Afterlife, from director Jason Reitman and

producer Ivan Reitman; and Uncharted,

based on the critically acclaimed and

top-selling PlayStation video game series,

starring Tom Holland and Mark Wahlberg.

We are proud to be part of an industry

that comes together in tough times, and

we are excited to once again celebrate

successes with you across our richly

diverse slate of films.

STX FILMS

We had a feeling that when movie

theaters reopened for business, we'd

see a robust response from moviegoers,

but we could not have imagined how

pent up the demand for theatrical

motion picture entertainment would

be. Fans are driving for hours for the

chance to once again experience the

magic of going to the movies. And it's a

worldwide phenomenon. As we have seen

with the No. 1 release of Greenland in 13

international markets, audiences keenly

want to return to their neighborhood

theaters. Since their inception, movies

have been our favorite way to escape the

news of the moment and enjoy a pure

entertainment experience. No matter how

big your television is or how complete

your surround sound, only a movie theater

can provide that escape as we take in a

story together.

At STX, we have been working on a

number of exciting titles that will serve

as the next wave of our slate. Films like

Gunpowder Milkshake, starring Karen

Gillan; the pandemic thriller Songbird,

produced by Michael Bay and shot

during lockdown in L.A.; the upcoming

Kevin Macdonald project formerly titled

Prisoner 760, starring Jodie Foster, Tahar

Rahim, Shailene Woodley, and Benedict

Cumberbatch; and Elisabeth Moss's ghost

story Run Rabbit Run are all perfectly

suited to the company's release strategy in

North America and abroad.

And the next wave of films to

follow promises even greater heights

Fall 2020

25

22-27_Guest-Columns.indd 25 30/09/2020 08:38
---
Industry GUEST COLUMNS

of entertainment to draw audiences to

your theaters. In recent weeks, we have

acquired the rights to reteam with Guy

Ritchie and Miramax on the action thriller

Five Eyes, starring Jason Statham. We

also recently announced we are joining

with Sony Pictures to handle the overseas

distribution of Devotion, director J.D.

Dillard's historical war epic. This true

story stars Jonathan Majors and Glen

Powell as elite U.S. Navy fighter pilots.

STX Films is also lacing up for American

Sole, a high-stakes, high-top dramatic

comedy starring Pete Davidson and

O'Shea Jackson Jr. and set in the world of

after-market sneakers, one of the fastestgrowing

areas of in-demand streetwear.

The film will be written and directed by

Ian Edelman and produced by Kevin

Hart, along with NBA All-Star Chris Paul.

And we could not be more excited to

reunite with Bad Moms star Kristen Bell

for Queenpins, a female-driven comedy

inspired by the true story of the largest

coupon counterfeit scam in U.S. history.

Bell will reteam with her "The Good

Place" and "Veronica Mars" co-star Kirby

Howell-Baptiste, as well as Vince Vaughn

and Paul Walter Hauser.

Recent days have only confirmed

that theatrical motion picture exhibition

is the lifeblood of our industry. We are

committed to filling your theaters with

great movies and popcorn-crunching

customers, and we could not be more

thrilled that you are taking tickets once

again. We have a lot we are working on and

look forward to sharing with you some of

the great movies that will have audiences

lining up at your door.

UNIC – UNION

INTERNATIONALE DES

CINÉMAS

Laura Houlgatte-Abbott, CEO

Welcome back!

A warm welcome back to our

members, colleagues, and partners!

After months of lockdown followed by a

gradual reopening, audiences can now

once again enjoy watching films together

on the big screen in the majority of

cinemas across Europe.

As of the end of August, an estimated

70–75 percent of European cinemas had

reopened, which—given recent and

ongoing challenges—is nothing short of

remarkable. These figures are a testament

to the industry's hard work and resilience

and provide a much-needed lifeline for the

thousands of dedicated staff that remain at

the heart of the big-screen experience and

whose passion for cinema has remained a

constant in these turbulent times.

2020 will clearly be remembered as

the most challenging period that cinema

exhibitors across the world have ever

faced. Now, everyone's focus is on how

best to adapt to the "new normal" and

take the first steps toward sustaining a

strong recovery.

Cinemas have been busy preparing

to reopen from day one, working with

their local authorities and partners.

Many have actively engaged with their

audiences during closure and have put

together brilliant, large-scale "back to

the cinema" campaigns. They have also

strived to implement new health and

safety measures to welcome back their

cinemagoers and their teams in the best

possible conditions.

Through all of this, the response of film

fans has been amazing—it's clear that

they've missed going to the cinema above

almost any other experience. Recent

box office figures from Tenet, Padre no

hay más que uno 2, Tout simplement

2020 will clearly be

remembered as the most

challenging period that

cinema exhibitors across the

world have ever faced. Now,

everyone's focus is on how

best to adapt to the "new

normal" and take the first

steps toward sustaining a

strong recovery.

26 Fall 2020

22-27_Guest-Columns.indd 26 30/09/2020 08:39
---
noir, and Little Women are a sure sign

of the eagerness of audiences to again

experience a collective, shared experience

like no other. These releases, as well as

providing much-needed incentives for

audiences to return, have proved that an

exclusive, cinema-first strategy remains at

the heart of our industry.

All that said, it's clear that the road

to recovery will take some time. Cinema

operators must comply with—and

adapt to—ever-evolving restrictions and

health and safety measures as national

governments work to curb the pandemic,

which have brought about unforeseen

challenges. Mask wearing, capacity limits,

and even audience tracking are now part

of the cinemagoing experience for many.

While governmental support for culture

remains crucial in getting the industry

back on its feet—something we at UNIC

will continue to emphasize in the coming

months—the focus of the entire film and

cinema industry must be on ensuring that

recovery can be sustained.

We've said it before, and we'll say it

again—we are all in this together and

everyone has their part to play. In order

to recover from this crisis, all those who

depend on the success of the film industry

must band together and work to preserve

the fundamental principles that lie behind

the success of European film and cinema.

An essential part of this is, of course,

making new films available for audiences.

At UNIC, in addition to our regular

advocacy work, we've been keeping

everyone up to date about the range

of support cinemas may be eligible for

at national and European levels. We're

also providing information about the

reopening process and related health and

safety guidelines, practical and technical

recommendations for operators, and best

practice in the field of audience initiatives.

We have been in constant dialogue with

national and European lawmakers to

stress the key role of cinemas from an

economic, cultural, and social standpoint.

We've also conveyed this message in

the media and in collaboration with

colleagues from the audio-visual sector.

And, while we couldn't gather in the

beautiful city of Barcelona in June, we

ran a successful online CineEurope and

also launched the fourth edition of our

mentoring scheme. More information about

all our work and actions can be found on

our website: www.unic-cinemas.org.

As much as we've missed seeing you

all in person, the ongoing crisis continues

to restrict our ability to schedule large

gatherings. Therefore, we've decided to

organize UNIC Cinema Days, which has

taken place every year in Brussels and was

scheduled to take place on October 12–13,

as a virtual event in 2020. Please save the

date, and we hope you can join us from

wherever you are!

And, in any case, we very much

look forward to seeing you soon—be it

virtually or in person, perhaps even in a

screening room!

UNIVERSAL

Veronika Kwan Vandenberg, President,

International Distribution, Universal

Pictures and Jim Orr, President, Domestic

Distribution, Universal Pictures

A resounding "Hello" and "Welcome

Back" to all our industry friends and

colleagues in exhibition from Universal

Filmed Entertainment Group!

As theaters across the globe reopen

their doors to eager audiences, we are

proud to join all of you as partners

in this new frontier and constantly

shifting landscape. Covid-19 has brought

our industry to the brink, with levels

of uncertainty, anxiety, and repeated

disappointment as relaunches have

been delayed and regulations reworked

based on new data and information. The

challenges presented in the first half of

2020, however, have demonstrated the

resilience of our industry and proven that

quality films and masterful storytelling are

more impactful than ever before.

The theatrical experience offers all

of us what we have been craving these

past few months—communal human

interaction. Each theater represents a

microcosm of global communities coming

together to enjoy unique narratives and

breathtaking visuals projected onto the

big screen. We tip our hats and honor you

and your teams for the commitment to

both promoting cinematic excellence

and public safety, as we all move through

this "new normal" of masks, social

distancing, and ever-changing protocols.

Universal is dedicated to supporting all of

our exhibition partners throughout this

process to ensure their success.

Although challenges continue to

emerge as our new understanding

of consumer behavior requires even

more flexibility and optionality, we are

dedicated to the revitalization of the

theatrical experience as we soar beyond

this crisis to new heights. This fall, horror

fans will embrace the twisted new take

on the body-swap movie in Blumhouse's

Freaky. People will be jumping out of their

seats to cheer Daniel Craig's James Bond

as he jumps off the screen in No Time to

Die. And families around the world will

enjoy a movie night, once again gathering

to see their favorite prehistoric family face

its biggest challenge of all in The Croods: A

New Age later this year.

Universal is focused on rebuilding the

short- and long-term health of our industry,

and we are confident that audiences are

yearning to escape the world with popcorn

in hand. It is a privilege to work with all of

our exhibition partners, even in "normal"

times, but even more so during these times

of crisis. Thank you for all that you do to

keep the screens lit and the stories shared.

We wish you safety, good health, and huge

success throughout the rest of this year

and beyond!

Fall 2020

27

22-27_Guest-Columns.indd 27 29/09/2020 12:33
---
Industry CHARITY SPOTLIGHT

CHARITY

SPOTLIGHT

Image courtesy Variety - the Children's Charity

Omniplex Cinemas

Image courtesy Omniplex Cinemas

Variety, National Capital Region

Studio Movie Grill

Image courtesy HungerBusters

Will Rogers Motion Picture Pioneers

Foundation

The Will Rogers Motion Picture Pioneers

Foundation continues to provide vital assistance

to furloughed, laid off, or reduced-pay

employees in the exhibition, theatrical

distribution, or vendor spaces through

its Covid-19 Emergency Grant. Currently

in phase 2, since launching in late March

the grant has given a total of $2.8 million

to more than 8,000 people. Will Rogers

is still accepting both grant applications

and donations; for more information, visit

wrpioneers.org/covid19grant/.

Variety – the Children's Charity

Variety – the Children's Charity invites

you to participate in their safe, socially

distanced Variety Holiday 5K Virtual

Run! Run or walk, indoors or outdoors,

on your own schedule from November 29

to December 5. Your $20 registration fee

will help empower children in the United

States who live with special needs or are

disadvantaged by providing them with

the equipment, services, and experiences

they need to thrive. Register at

usvariety.org.

Variety – the Children's Charity of the

National Capital Region provided 27 Covid-

19 emergency grants to parents of children

with disabilities. The Monocacy Foundation

in Frederick, Maryland, matched

Variety's grants in their region and toured

Frederick's Warehouse Cinemas (pictured)

to plan future events together.

Studio Movie Grill

In August, aware that many of their

friends, families, and neighbors have

been hit hard in the devastating wake of

Hurricane Laura—and wanting to offer

some respite in already tough times made

even tougher—the team at Studio Movie

Grill launched their Help a Fellow Texan

Out campaign, offering free tickets to

those directly impacted by the hurricane,

including first responders and volunteers.

During the month of August, Studio

Movie Grill also supported the American

Red Cross by offering free tickets to blood

donors as well as parking lot space for several

mobile blood drive locations in Dallas.

The parking lot of their Chatham location,

on the South Side of Chicago, temporarily

served as a much-needed Covid-19 testing

center. Additionally, the Texas-based

chain supported August's Hunger Busters

Operation Healthy Summer Box food drive

(pictured), aimed at getting healthy food

to families in need.

Ireland's Omniplex Cinemas Makes

Christmas Come Early

Omniplex Cinemas, an Irish chain with

33 cinemas across the country, hosted a

charity event that brought the trappings of

Christmas—trees, music, and movies—to

its theaters in the month of August.

28 Fall 2020

28-29_Charity-Spotlight.indd 28 30/09/2020 17:16
---
Home Alone, Die Hard, Elf, Love

Actually, and Frozen 2 were all shown on

Saturday, August 22. Every Christmas

ticket sold included a €1/£1 donation to

Barnardos Children's Charity, which works

to protect vulnerable children in Ireland

and Northern Ireland. Over 4,000 customers

were in attendance.

"It's been a tough year so far for everyone,

and we just want to have one magical

day that you can tell a funny story about

in years to come—let 2020 be the year your

local cinemas did Christmas four months

early," said Mark Anderson, director of

Omniplex Cinemas. "We're also very proud

to be supporting Barnardos Northern

Ireland (NI) and Barnardos Ireland

Children's Charity with this event. [They]

need fundraising help more than ever to

support families in our local communities."

Every year, Barnardos NI and

Barnardos Ireland work with over 30,000

children and families across the island

of Ireland. "Christmas is a special time

for children, but for many vulnerable

children it can be a difficult time," said

Suzanna Connolly, CEO of Barnardos Ireland.

"By supporting Christmas in August,

not only are people creating wonderful

childhood memories, and recalling their

own, but they are also supporting Barnardos

to help create lasting and happy

childhood memories."

Michele Janes, head of Barnardos NI,

gave thanks to everyone who is supporting

Omniplex's event, adding, "By doing so, you

are helping us make sure that vulnerable

children are safe, supported, and cared

for—at Christmas and all year round."

Since reopening in July 2020, Omniplex

has implemented a strategy to ensure

guests can enjoy a safe cinema trip,

including dynamic in-cinema seat separation,

hand-sanitizing stations, increased

cleaning regimens, and Perspex placed

throughout the theaters.

Fall 2020

29

28-29_Charity-Spotlight.indd 29 29/09/2020 12:33
---
Industry CHARITY SPOTLIGHT

SPORTS AT

THE CINEMA

Cineplex Channels a Love of

the Game into Money for a

Good Cause

BY REBECCA PAHLE

With a content slowdown in the

summer and autumn of 2020,

Canada's Cineplex looked at a nonfilm

solution for getting butts in seats—and

giving money to charity.

Starting August 1, Cineplex partnered

with Sportsnet, owned by Canadian

telecom giant Rogers Media, and Canadian

sports channel TSN to screen select

NHL and NBA playoff games in cinema

locations—with the number of screens

kept flexible to adjust to the schedule of

particularly well-loved teams, like the

NBA's Toronto Raptors and the NHL's

Calgary Flames. Tickets were free with a $5

donation to Boys and Girls Clubs of Canada,

and over $10,000 was eventually earned.

Cineplex, explains Executive Director,

Communications, Sarah Van Lange, has

"had sports on the big screen in a number

of ways over the years," from screening

Olympic hockey games to inviting people

out to the cinema to see the Toronto

Raptors' winning streak last year. "The

Raptors are Canada's team, so we were

able to have a truly national celebration

in our theaters across Canada," she says.

For last year's Raptors championship run,

Cineplex partnered with Maple Leaf Sports

Entertainment (MLSE), with charitable

proceeds going to the MLSE foundation.

An ongoing partnership with the NFL,

meanwhile, allows Cineplex to screen

Sunday Night Football in its VIP Cinemas

locations. "We've always looked at

alternative content and attracting different

audiences into our theaters," says Van

Lange, noting that it's part of Cineplex's

DNA to "[think] about our theaters as

community hubs and places where people

can gather."

Part of Cineplex's community

involvement is repeated collaborations

with the Boys and Girls Clubs of Canada,

which served as the beneficiary of the

chain's 2019 Community Day. Held

in December, the event paired free

screenings of classic Christmas movies

with heavily discounted concessions;

proceeds from select concessions sales

as well as donations went to the Boys and

Girls Clubs. "It's really an organization that

we've had a long-standing relationship and

partnership with," explains Van Lange—

one that continued with this year's sports

screenings, as connection and a sense of

community were more important than

ever. "They're all about facilitating play

and leadership skills with young people,

and as one of Canada's largest employers

of young people, that's something that

we're really passionate about."

"The Raptors are Canada's

team, so we were able

to have a truly national

celebration in our theaters

across Canada."

Cineplex

30 Fall 2020

30-31_Charity-sports.indd 30 30/09/2020 08:53
---
Fall 2020

31

30-31_Charity-sports.indd 31 29/09/2020 12:33
---
INDUSTRY A CENTURY IN EXHIBITION

'

0 s

72020 marks the 100th anniversary of

A CENTURY

IN EXHIBITION

The 1970s: A New Hope

BY VASSILIKI MALOUCHOU

the founding of Boxoffice Pro. Though

the publication you hold in your hands

has had different owners, headquarters,

and even names—it was founded in

Kansas City by 18-year-old Ben Shlyen

as The Reel Journal, then called Boxoffice

in 1933, and more recently Boxoffice

Pro—it has always remained committed

to theatrical exhibition.

From the 1920s to the 2020s, Boxoffice

Pro has always had one goal: to provide

knowledge and insight to those who bring

movies to the public. Radio, TV, home

video, and streaming have all been perceived

as threats to the theatrical exhibition

industry over the years, but movie

theaters are still here—and so are we.

We at Boxoffice Pro are devotees

of the exhibition industry, so we couldn't

resist the excuse of a centennial to

explore our archives. What we found was

not just the story of a magazine, but the

story of an industry—the debates, the

innovations, the concerns, and above

all the beloved movies. We'll share

our findings in our year-long series,

A Century in Exhibition.

32

Fall 2020

32-40_CiE-70s.indd 32 29/09/2020 12:34
---
When moviegoers sank into their

seats in the dark auditorium of the

Loew's State Theatre in New York City on

March 14, 1972, to watch a drama about

the Italian American Mafia, little did they

know they were making movie history.

The Godfather became the best-selling

title of the year and the first American

film to gross $100 million domestically

in its initial release. The Godfather was

also making history in a different way: It

encapsulated the contradictions of the

decade. On the one hand, director Francis

Ford Coppola represented the generation

of "movie brats," young male directors

fresh out of film school, like Martin

Scorsese, Brian De Palma, and George

Lucas, who represented New Hollywood

at its peak. On the other hand, The Godfather

was a precursor to the blockbuster

phenomenon that buried New Hollywood

in the second half of the decade. Like

the countercultural revolution that had

been embraced by so many young people

in the 1960s, The Godfather spoke to the

disillusionment of the Vietnam War and

Watergate era. But in other ways it was a

nostalgic film about the waning of white

male patriarchal power amid the ascendance

of the women's rights, gay rights, and

Black Power movements.

The 1970s were, in fact, a period of

rapid and contradictory transformations

for exhibition. At the beginning of the

decade, weekly admissions continued

their decline. Admissions in 1970 were 18

million, down from 30 million in 1960, in

part because of rising ticket costs, cable

TV, theaters playing the same film for an

extended period (a practice Boxoffice

Pro founder and editor Ben Shlyen

criticized), and a lack of both film variety

and advertising. Dwindling admissions

and the collapse of the studio system

made room for New Hollywood but also

for cheap, shocking exploitation films. The

civil rights movement and the realization

that African American audiences had box

office potential launched blaxploitation,

while the failures of the MPAA's rating system

opened the door for raunchy sexploitation.

Though not without some success,

these films were not enough to prevent the

downtown houses and movie palaces that

showed them from going quiet as (white)

audiences and exhibitors rushed to theaters

in suburban malls. Movies became another

expression of consumerism, epitomized by

the rise of blockbusters—with their wider

releases and expensive marketing strategies—

ushering in an era of new vitality for

the industry.

Fall 2020

33

32-40_CiE-70s.indd 33 30/09/2020 08:55
---
INDUSTRY A CENTURY IN EXHIBITION

Power to New Audiences

The early 1970s saw an industry in crisis.

And as many as many such industries do,

the film business sought to make money

cheaply and quickly. With exploitation

films, dabbling in on-trend subjects like

martial arts and eroticism, studios were

able to attract moviegoers without investing

in the sort of big-budget spectacle that

had flopped in the 1960s. One of the most

important exploitation sub-genres was

blaxploitation. The civil rights movement

had obliged exhibitors to open their doors

to Black audiences and brought new ways

of thinking about race relations.

For the first time since the birth of cinema,

the integration of theaters gave African

Americans a wider platform and showed

the importance of catering to a diverse

audience.

Melvin Van Peebles's 1971 film Sweet

Sweetback's Baadasssss Song is believed to

be the first blaxploitation film. The movie

features a male prostitute, Sweetback,

who evades the police and protests against

white authority. It established one of the

genre's core themes: A Black person fights

the system, and for the first time wins.

Despite its X rating (the movie tagline was

"X-rated by an all-white jury"), the film

grossed $15 million and pushed Hollywood

toward a new audience. That same year,

MGM's Shaft became an instant hit.

Boxoffice Pro reported that it played 24

hours a day for the first week of its opening

in some theaters, like the DeMille Theatre

in New York City's Times Square. Unlike

many Hollywood films, the genre also

made room for women stars, such as icon

Pam Grier, "the "Queen of Blaxploitation."

Film historians still try to understand

the significance and impact of the

genre. Was it an expression of Black

empowerment, a manifestation of their

anger toward the system, or just a new

marketing angle for Hollywood? Blaxploitation

was indeed criticized by some

African Americans and by the NAACP for

perpetuating stereotypical images of Black

people as criminals. Others criticized the

lack of originality of the genre, which by

the middle of the decade had resorted to

horror, western, and kung fu film remakes.

In the pages of Boxoffice Pro,

blaxploitation films were received with

mixed reviews. Steven Jacobson, head of

the independent production company

Xanadu Productions, acknowledged in

November 1975 that "Black films make

money." But, criticizing their hyper-focus

on Black audiences, he continued that

"it's in the best interest of the industry

to be sensitive to the needs of the [entire]

moviegoing public." A semiretired trade

paper editor, Don Carle Gillette, criticized

their quality. "Too many exhibitors still are

more interested in making money from

sales of popcorn, cold drinks, and hot dogs

than from the sale of box office tickets. …

But tawdry exploitation pictures can draw

many munchers while quality films attract

a more discriminating clientele that sits

Film historians still try to

understand the significance

and impact of the genre.

Was it an expression of

Black empowerment, a

manifestation of their anger

toward the system, or just

a new marketing angle for

Hollywood?

34 Fall 2020

32-40_CiE-70s.indd 34 29/09/2020 12:34
---
attentively all through a performance. …

So what's best for the industry—quality

films or popcorn pictures?" he asked.

Downtown Theaters Are Shuttered

Criticism aside, blaxploitation films did

invigorate Black filmmakers and audiences,

especially urban moviegoers. But their

success was not enough to keep downtown

theaters from closing. In the local news

sections of Boxoffice Pro, articles about

theater closings proliferated. In an article

dated February 1976, Shlyen attributed

this to "conditions which [small theaters]

have been unable to control," including

product shortages, excessive rental terms,

and extended runs in inner-city theaters

that "did not provide sufficient patrons to

sustain such extended needs." Moreover,

as an anonymous contributor wrote in

1972, "The audience that once looked

to moviegoing big-city wise as a steady

habit, has moved increasingly to the

outlying sections and spilled over to the

fast-growing suburban towns." Because

of the "frightening displays of violence

in the streets, choking traffic conditions,

[and] reduced parking availability," they

continued, "it's a matter of persuading

entertainment-seekers to 'return' to the

central-core city after dark."

Suburbanization was taking a toll on

drive-ins too, as more and more were razed

to the ground to make room for parking

lots and malls. Another institution of

American moviegoing was particularly

hard hit during that period: movie palaces.

A September 1979 editorial entitled "Grand

old houses fast becoming a memory"

explained that "many of the survivors are

threatened with extinction either through

demolition, recycling, or restoration projects

that would render their once grand

appeal antiseptic by former standards of

excellence—a sad throwback to the proverbial

winds of change that we all so proudly

hail as progress." Boxoffice Pro advocated

for the protection of these historically

and culturally significant theaters, but the

high costs of maintenance in the context

of a wider moviegoing crisis made the task

almost impossible.

Some movie palaces, like the Hollywood

Pantages or Radio City Music Hall, were

converted to performing arts centers.

Others were transformed into churches.

Drive-ins, meanwhile, hosted swap meets

to bring in additional revenue during the

day. NATO dedicated many conferences

and roundtables to the problem, with

debates on topics like "Unconventional

Uses for Conventional Theaters" or

"Daytime Dividends for Drive-ins." NATO's

1972 Showmanship Award winner, Joe

Vleck, the advertising director of National

General Theatres in Los Angeles, suggested

making the theaters available for beauty

operators' conventions, travel agencies,

garden-equipment dealers, sports-equipment

suppliers, and savings and loan

shows. In the end, it was grassroots activism

from local moviegoers that contributed

most to the preservation of movie palaces.

Historic theaters like the 4,000-seat Chica-

Fall 2020

35

32-40_CiE-70s.indd 35 29/09/2020 12:34
---
INDUSTRY A CENTURY IN EXHIBITION

Movie advertising in Boxoffice Pro

during the 1970s ran the gamut, from

more "respectable" pictures to the

exploitation fare that kept downtown

theaters running—for a time.

36

Fall 2020

32-40_CiE-70s.indd 36 30/09/2020 08:59
---
go Theatre or the Bandbox in Philadelphia

were registered as historical landmarks

thanks to their efforts.

Movies Go to the Multiplex

Suburban theaters were popping up just

as fast as downtown houses were disappearing.

The magazine's Modern Theater

section was continuously dominated by

news of the construction of multiplexes,

shopping center theaters, and "multi-mini-theaters,"

defined as multiplexes with

smaller auditoriums. Suburban theaters

had their roots in the postwar years, but

the 1970s truly became the decade of the

"complex theater type," as M.A. Lightman,

president of Malco Theatres, described

it in 1970. Shopping center theaters and

multiplexes, where exhibitors could show

more movies simultaneously to smaller

audiences, were now the norm. This coincided

with the phenomenon later known

as the "malling of America," a period from

1960 to 1980 in which an estimated 17,500

malls were built. These malls catered to a

suburban crowd of largely white, middle

class moviegoers—still considered the

backbone of the exhibition industry.

Far removed from the harsh realities of

city life, shopping center theaters were

places where cinema's escapism could be

literally felt.

The multi-theater concept can be attributed

to Stanley Durwood, president of

Durwood Theatres, the Kansas City–based

circuit that eventually became the exhibition

giant AMC. After the success of its

Parkway Twin in 1962, AMC pioneered the

multiplex with the first-ever quadruplex in

its hometown in 1966. In April 1971, Boxoffice

Pro reported from Kansas City that

AMC would open 70 new auditoriums and

17 multiplexes in 13 cities in "one of the

most intensive expansions in the history of

motion picture exhibition." AMC's growth

was such that it managed to become a

nationwide franchise in less than 10 years.

Stanley Durwood described the company's

"fresh and imaginative" approach in

a press release: "The patron-oriented

convenience, comfort, and choice add up

to a totally unique experience that has met

with immediate success everywhere it has

been introduced." Durwood also touted

the free parking and the availability of "a

wide variety of entertainment for a variety

of patrons in a single complex."

Accounts from exhibitors supported

Durwood's argument. The genius of the

mall multiplex was that when families

were done with their shopping, they could

all go to the movies without being obliged

to watch the same film. They could go

to the theater "together but separately,"

wrote one mini-theater exhibitor in 1970.

Multiple exhibitors pointed out that the

cost of running a multiplex was now

about the same as running a single-screen

theater with 500 seats or more, thanks to

advances in automation, which allowed

theaters to serve multiple auditoriums

from a single projection booth as well as

invest in only one lobby, box office, and

concession stand. Ben Shlyen, still urging

the protection of smaller urban theaters,

congratulated "progressive theatermen

for their capacity to innovate and keep up

with demographic changes," as he wrote

in 1973. "Competition may come and go,

but the movie theater goes on forever.

This has been shown in the upbuilding

of new theater structures, improvement,

and modernization of the existing ones

that have kept apace of the demands of

the times, population, and urban changes,"

he argued.

The Blockbuster Phenomenon

With the "malling" of cinemas, movies

were now less a cultural form of entertainment

than a consumerist hobby. That shift

was accelerated and epitomized by the

advent of the blockbuster.

After a harsh admissions crisis at the

beginning of the decade, "lost" audiences

started returning en masse in 1974 when

hits like The Exorcist (which broke The

Godfather's box office record) and The

Sting contributed to an increase of weekly

attendance from 16.6 million in 1973 to 20

million. But the history of the blockbuster

cannot be told without Jaws. In 1975, a

young director named Steven Spielberg

created one of the biggest cultural

phenomena in the history of the industry.

Jaws became the highest-grossing film

ever, as well as the most talked-about

movie of the year. The movie was a

landmark as well for its unprecedented

release: It opened simultaneously in 409

theaters nationwide, while most films

until that point would hit screens in a few

key locations before rolling into new ones.

Jaws was also the first film to understand

the power of the ancillary markets. It

launched the biggest TV campaign up

to then with a $700,000 spend for three

nights of nationwide prime time TV ads

Fall 2020

37

32-40_CiE-70s.indd 37 29/09/2020 12:34
---
INDUSTRY A CENTURY IN EXHIBITION

on all networks. And then came Star Wars

(Episode IV – A New Hope). After opening

on May 25, 1977, George Lucas's opus

became an instant hit. Its record-breaking

success was made evident by the endless

lines in front of theaters. "It broke records

in every house in which it opened and set

cumulative box office records in most of

the cities where it is showing," Boxoffice

Pro breathlessly reported on the sixth day

of its opening.

Thus was the modern blockbuster born.

Bigger, high-concept movies that generated

"buzz" started flooding the market.

New practices in marketing, wider releases

in the summer, and longer runs steadily

became the norm. Ben Shlyen pondered

the social roots of the phenomenon in

January 1979. "Has the public simply tired

of the 'deep think' and 'message films'?

Some say that the type of pictures America

chooses to watch are indicative of what we

may be currently experiencing as a people.

That is, the recent dramatic shift to the

just-for-fun brand of motion pictures is

symbolic of what the country is experiencing

in the late '70s. … Today's audiences

are tired of inflation, leery of politics, and

are turning to the movies again as a source

of entertainment."

What certainly amplified the escapism

and wow effect of blockbusters were their

special effects and sound innovations.

True to its capitalist foundations,

Hollywood seems to follow an economic

cycle of booms and busts, the latter often

accompanied by surges in technological

invention. Much like the gimmick frenzy

of the fifties meant to combat TV, the 1970s

witnessed a technological boom that was

supposed to attract the "lost" audiences

flocking to cable and video cassettes.

While advances in sound and special

effects had been happening for decades,

they gained an unprecedented popularity

in the 1970s thanks to the blockbuster.

One of those innovations was Imax,

which premiered at the Expo '70 World's

Fair in Japan with the 17-minute-long

Tiger Child. Special effects also captivated

audiences in memorable sequences in

films like The Exorcist, Superman: The

Movie, and Alien. Star Wars perhaps did

more than any other movie to popularize

special effects with its first extensive use

of animated 3-D CGI, widely lauded in the

pages of Boxoffice Pro. The film's VFX

editors, including several of George Lucas's

Industrial Light and Magic co-founders,

went on to receive the Academy Award for

Best Achievement in Visual Effects.

Star Wars also cemented Dolby's

dominance as surround sound made its

comeback. In 1971, A Clockwork Orange

had become the first film to use Dolby

technology for recording sound and

noise reduction. Dolby Stereo, an optical

four-channel sound system technology,

was used in A Star Is Born five years later.

But to quote famed sound designer Walter

Murch, "Star Wars was the can opener that

made people realize not only the effect of

38 Fall 2020

32-40_CiE-70s.indd 38 29/09/2020 12:34
---
sound but the effect that good sound had

at the box office." When Star Wars opened

in the summer of 1977, only three prints

out of the 40 screens where it played were

Dolby. Lucas, despite distributor 20th

Century Fox's objections, had insisted

on using Dolby Stereo. As the Star Wars

phenomenon took off, so did the demand

for Dolby. In the first weeks after the

launch of the film, more and more space in

the magazine was dedicated to the installation

of the system in theaters all over

the country. Exhibitors bragged about the

modernity of their theaters and the box office

effects of the technology. A showman

in Louisville was reported as saying that

the Dolby system was "excellent, making

even regular films sound better." Another

exhibitor in Milwaukee boasted about

recently installing the system, "which

people tell [him] is half the film."

Dolby Stereo had become a must. For

many, it was the way to fight home entertainment.

Dennis Udovic, a Wisconsin

projectionist writing to Boxoffice Pro

in September 1977, argued, "The basic

movie customers are young people, and

stereophonic sound is right up their alley."

Two years later, writer John M. Novak

urged exhibitors to abandon the view that

stereo sound was "just another fad" and

advised them to invest in the technology.

"The average theater is 30 years behind

the times in terms of sound quality. … In

competition with the quality of today's

home stereo components, never mind

what's in store for tomorrow; the average

theater sound system would lose by

forfeit," he argued.

The blockbusters, in combination

with multiplexes and technological

innovations, gave new life to the industry

and changed it forever. Ben Shlyen wrote

in March 1976 that good blockbusters

have "caused people, again, to talk

enthusiastically about motion pictures."

Nevertheless, as waves of blockbusters

overwhelmed theaters, critics—including

Shlyen—pointed out that the lack of diversity,

embodied by the predictable stories

copying the Star Wars and Jaws formulas,

coupled with long runs could eventually

hurt the market. It was not enough to have

big films. They needed to be good as well.

Many articles in Boxoffice Pro warned

of the importance of protecting smaller,

high-quality films. One writer in Knoxville,

in a 1976 review of Stanley Kubrick's Barry

Lyndon, declared, "It takes a lot of guts

to assemble a film of this magnitude to

compete with today's made-for-money

movies." The exhibition landscape was

indeed very different from what it was in

the early 1970s, with its independent New

Hollywood productions.

Sex, Censors, and Videotapes

The end of the 1970s was radically

different in another respect. The first half

of the decade did not only see the height

of New Hollywood and blaxploitation—it

was the heyday of sexploitation. MPAA

"Competition may come

and go, but the movie

theater goes on forever."

Fall 2020

39

32-40_CiE-70s.indd 39 29/09/2020 12:34
---
INDUSTRY A CENTURY IN EXHIBITION

president Jack Valenti's rating system had

failed to trademark the X rating, which

led to a boom of adult films in downtown

theaters. In particular, 1972 and 1973 were

the golden age of sexploitation. Deep

Throat was mainstream (even Jacqueline

Kennedy Onassis saw it, and Bob Hope

talked about it on TV), and adult film

exhibitors, now organized in their own

trade group, the Adult Film Association

of America, were preparing their own

ratings code. And while Boxoffice Pro

frequently wrote about the need for more

general and family products, most of the

ads in the magazine during that period

were for X-rated films.

Sexploitation relaunched debates about

censorship and the precise meaning of

"obscenity" and "pornography," which

lacked an official legal definition. Roth v.

United States had established in 1957 that

sex and obscenity were not synonymous

but did not define what obscenity actually

was. A few years later, an exhibitor from

Georgia, Billy Jenkins, was arrested for

showing Mike Nichols's Carnal Knowledge.

His case was taken to the Supreme Court,

which ruled the movie was not obscene.

But in 1973, the Supreme Court found that

obscenity should be defined "by contemporary

community standards," leading

many local courts to ban erotic films.

Adult theaters were subject to crackdowns

by the police and picketed by citizens.

Some cities even developed zoned areas

specifically for adult theaters, as many

people feared their effects on children. In

fact, another debate frequently animating

the magazine was the impact of these

movies on the behavior of audiences. Most

of the studies presented concluded that

pornography had no impact on "moral

character and sexual orientation."

James H. Nicholson, president of

American International Pictures, said in a

keynote speech at a NATO convention in

1970: "I cannot believe we are all voyeurs,

and I know this present 'flash' of box

office gold is mostly the result of fleeting

curiosity." Looking at the example of

Europe, he warned, "The audience who

liked the almost pornographic films got

tired of them, and the audiences they had

alienated no longer cared about going to

the movies." Letters from exhibitors in the

magazine certainly show that there was

indeed sexploitation fatigue by the mid-

1970s. However, it was not the end of that

"fleeting curiosity" that killed adult film

exhibition. Adult exhibition was an early

victim of the industry's newest threat,

video cassettes, which were to become so

contentious in the eighties.

40 Fall 2020

32-40_CiE-70s.indd 40 29/09/2020 12:34
---
Fall 2020

41

41_AD-Dolphin-Seating.indd 41 29/09/2020 12:34
---
Industry INDUSTRY INSIDERS

POPCORN

POWER

Shelly Olesen on Nearly

30 Years at C. Cretors &

Company

BY REBECCA PAHLE

Photo: Shelly Olesen

It was during her job interview that

Shelly Olesen knew she belonged

at C. Cretors & Company. "I looked at the

guy who was interviewing me and I said,

'OK, no, you have to hire me. This is the job

for me,'" she recalls. "I knew it. It felt like

home." Nearly 30 years later, the job title

has changed, but the feeling of belonging

hasn't. Now, as Cretors's V.P. sales and

marketing, overseeing the company's

sales to theaters, bars, bowling alleys, and

the like, Olesen's love and pride for her

company, her industry, and (naturally)

popcorn comes through loud and clear.

It's not uncommon at Cretors, says

Olesen, for people to stay as long as

she has—but 30 years is nonetheless

a small span compared to the history

of the company, founded in the 1880s.

Charles Cretors, so the company history

goes, invented the popcorn machine

back in 1893, inspired by watching street

vendors pop their wares over an open

fire. He wheeled his new machine over to

Chicago's World's Fair later that year, but

"nobody wanted to buy the product. They

didn't know what it was," says Olesen.

Undeterred, Cretors began giving the

popcorn away for free; after 10 minutes,

the line was so long that he could start to

charge for it. "With that one invention, he

not only gets credited with inventing the

first popcorn machine," says Olesen, but

also with being a "catalyst that started the

concession industry."

From humble beginnings, Cretors

expanded. Horse-drawn carts soon added

products like chewing gum, beverages,

and cigarettes to the standard peanuts and

popcorn, bringing wares to fairgrounds,

baseball parks, and movie theaters. They

(the concessions vendors, not the horses)

weren't allowed inside the theaters until

the Depression, when theater owners

realized that selling food—and keeping a

cut of the proceeds—could help them stay

open through tough times.

During World War II, Cretors took

a government-mandated break from

making popcorn machines for two years,

shifting operations to parts for radios and

machine guns to aid the war effort. In the

'60s, Charles D. Cretors—current CEO

and great-grandson of founder Charles—

invented the industrial popcorn machine,

allowing factories to make popcorn in

large volume. And the '90s, when Olesen

was new to the company, saw a boom in

the construction of multiplexes, causing

an increased need for popcorn machines

among rapidly expanding chains. "It was a

really busy time," she modestly recalls.

Since that first foray into the World's

Fair, Cretors has stayed in the family while

expanding its product line to include

nonpopcorn concessions machines and,

more recently, Covid-19 safety equipment.

The company has also expanded across

borders; per Olesen, international sales

make up approximately 60 percent of

Cretors's business.

Not that Olesen knew much of the

company's history when she went in for

that first, fortuitous interview. She studied

elementary education and science at

the University of Illinois at Urbana-

Champaign, but since "teaching jobs

were hard to come by," she moved to New

York to work for her father's friend doing

sales. Two years later, she realized that

sales was for her but New York wasn't. She

moved back to Chicago and got in touch

with a placement agency; her only hard

and fast criterion was that the company

she worked for had to be the "Cadillac" of

its particular industry, selling a top-ofthe-line

product that she'd be proud to

promote.

"'What? How many can you sell?"

Olesen recalls thinking when she found

out she'd be interviewing for a job selling

popcorn machines. But the interview

wasn't even over when she was convinced

that Cretors was the sort of place where

she could settle down permanently.

"Sometimes you have to follow your gut.

I knew it was a good company. I knew

[it had] family-owned values. Good

midwestern values. … [The Cretors family]

treat you like family. And they're fair. I

think people just want to be treated well,

treated fairly. It's not hard to work here."

(Cretors is a family business in more

ways than one for Olesen, who met her

future husband, Martin Olesen, on the job

when he moved from Denmark to work

in international sales. Yes, they did serve

popcorn at the wedding.)

Though selling popcorn machines

seems a far jump from what Olesen

initially wanted to do for a living, she

finds that her educational background

comes in handy. In fact, teaching others

all that she's learned about Cretors since

that first interview has become one of her

favorite parts of the job. "I like to share

the way I feel about the company, the way

I feel about the industry," she says. The

42 Fall 2020

42-43_Industry-Insiders.indd 42 29/09/2020 12:34
---
"We have a small

museum here. We have

popcorn machines that

go back to the 1800s.

And they still work!"

industry of making popcorn proved much

more interesting and complex than Olesen

first imagined, particularly given Cretors's

focus on engineering and inventing. As a

company, it mixes the high tech with the

old school, integrating new techniques

and materials into its products to provide

improved ROI for customers, while still

remaining connected to its past. "We have

a small museum here. We have popcorn

machines that go back to the 1800s. And

they still work!" Olesen says.

For Olesen, sharing her knowledge of

popcorn—the history, the maintenance

practices to keep machines working longer,

the percentage of moisture needed in

every kernel to make it pop ("about 13.5

to 14%," if you're curious)—comes with

learning from others, as well: customers,

fellow vendors, and all the various other

attendees of the 20-plus trade shows

Olesen typically attends in a year. Her

very first trade show was the NAC's yearly

expo in 1991; it's an organization she "can't

speak enough about."

"I think associations are important,"

she adds—something she believes

people will come to feel more strongly

in the wake of a global pandemic that's

brought trade shows to a near standstill.

"It's not just meeting the customers.

It's meeting people like you. It's

meeting other vendors." Getting "fresh

perspectives" from people both inside and

outside the industry—the NAC features

members representing a variety of sports,

recreation, and entertainment industries,

not just movie theaters—allows Olesen to

be more fluid in the way she operates. "If

you're not constantly reevaluating and

learning from new stuff coming in," she

says, "then you're missing out on a really

good opportunity."

For now, the face-to-face meetings

Olesen prizes so much are on hold. But

working for a company with such a deep

history has made Olesen hopeful that the

theater industry will be able to bounce

back. "Something on the outside of your

business often affects your business. We've

been through the Spanish Flu, two world

wars, the Great Depression. The coming of

the television—everybody thought movie

theaters would go out of business," she

says. "We know that it was popcorn and

soft drinks that kept the movie theaters

open in the 1920s. And it'll be popcorn and

soft drinks that bring it back out" today.

AN INDUSTRY THAT STOPPED. AND HOW IT WAS BORN AGAIN.

CINEMA POS

HEAD OFFICE

CUSTOM

DEVELOPMENT

DREAM BIG

FEATURING

DRAG & DROP REPORTING

UPSELLING & UPSIZING

LIVE MANAGER

DASHBOARDS

FILM RENTAL

DATA

ANALYTICS

LOYALTY & MEMBERSHIP

LIVE OVERTIME ALERTS

From the producers of internetticketing.com

A JACRO production for over 25 years

www.jacro.com

internet

ticketing

.com

from JACRO

1981 JACRO Advert (Landsape) ART.indd 1 16/09/2020 14:17

Fall 2020

43

42-43_Industry-Insiders.indd 43 30/09/2020 09:01
---
44 Fall 2020

44_AD-BXCo-x2.indd 44 29/09/2020 12:34
---
Next Act Cinema 46 | Cranford Theater 50 | Maysles Documentary Center 52

THEATER

Cranford Theater

"I wanted to do something that would make people happy.

Movies have always been an escape from reality."

Pivoting in the Pandemic, p. 50

Fall 2020

45

45_THEATER-Opener.indd 45 30/09/2020 09:02
---
Theater NEXT ACT CINEMA

A NEXT ACT

FOR NEXT ACT

CINEMA

How an Independent Cinema

Weathered the Shutdown

BY REBECCA PAHLE

In March 2019, Anthony Fykes and

Robert Wright officially became

cinema operators with the grand opening

of Next Act Cinema. Located in Pikesville,

Maryland, about a half hour outside

Baltimore, Next Act Cinema began its

life as a '30s art deco theater that closed

in 1984 and subsequently went through

several changes in ownership. By the time

Fykes and Wright found the space, it had

been closed since 2016.

Recalls Fykes, "We weren't really sure

how to build [Next Act Cinema] and

structure it so that it would be inviting to

the community." Despite the challenges

of being first-time theater owners, the pair

successfully launched Next Act Cinema

and integrated it into the Pikesville

community through their thoughtful

and responsive programming. "Everyone

knows that it's really hard to turn a profit

at a movie theater," says Fykes. But "in

our first year, we were doing pretty well.

Before Covid hit."

Almost a year to the day after opening

its doors, Next Act Cinema closed—and

it remained closed for over five months,

before being one of the first cinemas to

46 Fall 2020

46-48_Next-Act.indd 46 30/09/2020 09:03
---
"A lot of movie theaters

don't want to be in

economically underserved

communities."

Photo: Next Act Cinema

welcome moviegoers back over Labor

Day weekend for the release of Warner

Bros.' Tenet.

Next Act Cinema is one of a very small

handful of Black-owned cinemas in the

United States. Minority-owned theaters

were more common between 1905 and

the 1950s, notes Fykes, when segregation

meant that Black audiences would have

their own, dedicated theaters. (Not that

this was necessarily a golden age of Blackowned

theaters; many of them were run

by Black managers but owned by white

men, and certain cities with high minority

populations—including Charlotte and

Chapel Hill, N.C.—never had a dedicated

theater for Black audiences.) Former

basketball player and entrepreneur

Magic Johnson founded his own cinema

circuit in the '90s, making Magic Johnson

Theatres the only Black-owned chain in

the U.S. at that time; now, those theaters

are owned by AMC. Though it's difficult to

get an accurate number as to how many

Black-owned theaters currently exist in

the United States, Fykes knows of only

four others. "A lot of movie theaters," he

says, "don't want to be in economically

underserved communities."

It was never the intention of Fykes

and Wright to be a quote-unquote "Black"

cinema—Pikesville itself is a diverse

community, containing a mix of Black,

white, Hispanic, and Orthodox Jewish

populations. "We have to be sure that we're

showing movies that appeal to a wide

audience," Fykes says—which is why, when

the two-screen theater opened in 2016,

they screened Captain Marvel. Though

the duo "didn't honestly know how people

were going to perceive us" when they

opened, Next Act Cinema held its own with

that film, "against the AMCs and the Regal

that are our competitors in the area."

For the next movie, something changed

that would impact Next Act's mission

and programming strategy going forward.

"When Us came out, we couldn't get it,

actually. … And so we had our movie

booker basically complain and say, 'Listen,

you have a Black-owned theater showing

the movie Us. Why wouldn't they be able

to get it?' Without going into a whole long

drama—we got the movie literally about

two days before it was going to be released."

Next Act Cinema put some social

marketing together for Us—"a little more,

not much more" than what they'd done

with Captain Marvel. And the floodgates

opened. Email and social interactions

came pouring in, from moviegoers excited

that they could see Jordan Peele's Us in

a theater owned and run by Black men.

"There was one guy—I kid you not, he

was our influencer, because he put us on

the map. I'll never forget this guy," says

Fykes. "He came in with about three or

four friends, and they took a video. And

what he said on social media was, 'We are

watching Us inside of us,' basically." D.L.

Hughley and Steve Harvey reached out

to do interviews. Us outgrossed Captain

Marvel at Next Act Cinema and "really put

us on the map."

Us represented a shift in how Next Act

could best serve its customer base—not

only people in Pikesville, but those driving

from Virginia and D.C. It's best summed

up by a piece of advice Fykes gives to

aspiring exhibitors: Be able to pivot. Fykes

and Wright initially thought that Pikesville,

being an older community, would enjoy

classic films like Casablanca and Gone

with the Wind. Harlem Nights and Coming

to America were also on the docket in

those early days. It didn't work—Fykes

estimates that five people total showed up

for Coming to America.

"You have to keep your ear to the

ground, understanding what your local

market is demanding to see" he says. Older

films that people could rent for a few bucks

at home didn't draw people in during those

opening months. Next Act eventually

found success in mixing big Hollywood

blockbusters, with their wide appeal, with

medium-budget, Black-led films like

The Banker, Queen and Slim, 21 Bridges,

Black and Blue, and Harriet. The Harriet

Tubman biopic earned more money for

Next Act Cinema than Avengers: Endgame,

the highest-grossing movie of 2019.

With dozens of movies coming out each

month and only two screens to put them

on, picking the right movie can be a matter

of "luck," Fykes admits—but Next Act

Cinema weights the scales in their favor

by providing experiences around many

of the films they program. The theater

lobby was decorated for The Lion King and

Harriet. Shaft and Avengers: Endgame

had people dressing up in cosplay. "We

created a boutique-type experience, where

the guests would feel part of the movie

from the lobby to the big screen. … That's

making us stand out. We're very focused

on doing that, because the community

then doesn't just see us as a movie theater.

Fall 2020

47

46-48_Next-Act.indd 47 29/09/2020 12:35
---
Theater NEXT ACT CINEMA

It's a destination. They have an experience.

They can eat, they can drink, but they also

can take pictures with the owner, take

pictures with the staff. We decorate it with

them in mind."

Community helped Next Act Cinema

even before it opened—Fykes remembers

people from local churches coming in to

lend their expertise on audiovisual tech.

Once Next Act Cinema was screening

movies, fraternities and sororities would

rent out theaters to see Harriet. Even

after the Covid-19 pandemic cut them

off from their patrons in a physical sense,

community remained on the cinema

owners' minds.

"All the things that the country is going

through right now with the deaths of

George Floyd and Breonna Taylor—we're

a part of that," Fykes says. As such, Next

Act hosted a Juneteenth celebration that

also served as a sort of soft opening for the

theater; an outdoor portion of the event

got rained out, but inside the theater, staff

acted out their own sitcom, played music,

and performed comedy—all viewable

to customers sitting at home on their

computers. "Juneteenth is supposed to

be a celebration. We got so many emails

and thank-yous after we did that," says

Fykes. "As a small, boutique theater, even

a large theater, you have to be engaged

with your customer base." Theaters and

customers need each other, he argues. "We

have issues that our community is facing,

but then you have an entertainment

establishment that's supposed to be

uplifting. That's what we're trying to

remember. That's our mission."

And it's a mission that—based on

conversations Fykes and Wright have had

since founding Next Act Cinema—other

Black entrepreneurs and movie lovers are

hungry for. Neither man had experience

in the exhibition world before opening

Next Act. Wright knew audiovisuals, and

Fykes knew operations, but everything

specific to running a theater had to be

learned. The bank turned them down, so

when it came to financing, "We kind of

had to figure it out ourselves." Two years

later, Fykes is unaware of a mentorship

program or something similar geared

toward people of color who want to get

into the exhibition space, noting that "I

would have loved to have a mentorship

or a roadmap." Now, Fykes and Wright

are considering writing something

themselves, "something that would help

the next Rob and Tony. Or the next Next

Act Cinema."

For now, the pair is busy. In June, they

launched a crowdfunding campaign for the

cinema that, as of press time, has earned

just north of $11,000. And finally, over Labor

Day weekend, a long-awaited moment: the

reopening of Next Act Cinema.

"It was like turning the Titanic," Fykes

recalls—updating systems, securing staff,

and retraining that staff where necessary

in a matter of two or three days. "We had

such a short window. We thought we

would get at least a week!" Not wanting

to miss Tenet's opening weekend—and

wanting to show their support for director

Christopher Nolan, whom Fykes admires

for his strong advocacy on behalf of

theaters—Fykes, Wright, and their staff

kicked it into high gear and got Next

Act open on Friday, September 4. Fykes

guesses that about half of the openingweekend

crowd were people who had

never been to Next Act before, drawn in by

a combination of outreach the theater has

done during its shutdown and the relative

lack of other open theaters in Maryland.

Speaking to Boxoffice Pro shortly

after his theater's (re-)opening weekend,

Fykes said he understands that not

everyone feels ready to return to the

movies, though he's confident more

people will be swayed as word of mouth

spreads about the theater's safety

measures. These include following the

government-mandated capacity limit of 50

percent, as of press time, plus closing the

bar area, installing air purifiers, instituting

a one-way flow of traffic, and having a

Photo: Next Act Cinema

staff member in place to give patrons hand

sanitizer when they walk in. For those who

wanted to show their support for Next Act

without actually seeing a movie there, the

cinema turned one of their windows into

a guest book where people could come

by and share their good wishes. "We said,

'Hey, listen, if you don't feel comfortable

coming in to watch a movie, just come

in and buy some popcorn and sign our

window with the marker,'" Fykes says. "I

hope that theaters across the country are

seeing the same thing. Because it is fun.

You want to remember, 'Netflix and chill'

has its place. But movies are social."

Visit BoxofficePro.com/Boxoffice-Podcast/

(episode 17), for a conversation with Next

Act Cinema's Anthony Fykes.

"We have issues that our

community is facing, but then

you have an entertainment

establishment that's supposed

to be uplifting. That's what

we're trying to remember.

That's our mission."

48 Fall 2020

46-48_Next-Act.indd 48 29/09/2020 12:35
---
RTS

Change with the Changing Times

#UpgradeTo

info@galalitescreens.com

www.galalitescreens.com

Fall 2020

49

49_AD-RTS-Galalite.indd 49 29/09/2020 12:35
---
Theater CRANFORD THEATER

PIVOTING IN

THE PANDEMIC

How New Jersey's Cranford

Theater Is Surviving (and

Thriving) in the Pandemic

BY CHRIS EGGERTSEN

Like many exhibitors in the age of

Covid-19, Cranford Theater owner

Doreen Sayegh is leaning into the drive-in

model, giving many customers their first

taste of the resurgent moviegoing format.

As it turns out, it's new for her, too.

"I have to be honest, [I'd] never been

to a drive-in," says Sayegh, who in June

opened a "pop-up" location in the parking

lot of a swimming pool located just a short

drive away from her five-screen theater in

Cranford, New Jersey. "Once the movie

starts, I park my car in the back."

Sayegh is far from the only U.S. theater

owner who has opened a so-called pop-up

drive-in since the coronavirus forced a

shutdown of hardtop theaters beginning

in mid-March, but her approach has been

more creative than most. At the Cranford

drive-in, screenings of old classics come

with a variety of bells and whistles, from

costumed employees to tailor-made preshow

PSAs to themed souvenirs. Guests

who arrived at a recent screening of the

original Superman received a custom dog

tag; for a "Christmas in July" screening of

Elf, moviegoers were checked in by men

dressed as Santa Claus and Buddy; and

to secure entry to an August 5 screening

of the 1971 classic Willy Wonka and the

Chocolate Factory, potential customers

had to track down one of 65 tickets by

shopping at local businesses. On the night

of the screening, each car was handed a

Wonka bar—one of which held a Golden

Ticket that won the lucky guest a one-year

supply of Ferrara candy.

Sayegh is driven by a sense of

purpose that goes beyond just keeping

the Cranford afloat during the crisis. "I

wanted to do something that would make

people happy," she says. "Movies have

always been an escape from reality."

The theater has also baked in a

charitable component to every screening.

In addition to an ongoing canned-food

drive for the local homeless shelter, the

Cranford has partnered with nonprofit

organizations including the Christopher

and Dana Reeve Foundation, which

solicited donations from customers at the

Superman screening and even brought in

a speaker to raise awareness about spinal

cord injuries, which Christopher Reeve

suffered during a 1995 horseback-riding

accident. (The theater has also agreed to

match every donation that comes in and

is hosting a virtual donation box for the

foundation on the drive-in's concessions

page.) A portion of ticket proceeds from

a recent screening of Despicable Me went

to support the Children's Specialized

Hospital's Better Together initiative; in a

partnership with Buddy Valastro, star of the

TLC reality series "Cake Boss," each car at

the screening also received a "sweet treat"

from the New Jersey baker. The theater is

additionally hosting a virtual donation box

for the hospital on its website.

These activations are Sayegh's way of

adding depth to the drive-in experience,

which prior to the pandemic had been

whittled down to just over 300 drive-in

theaters across the U.S.—down from a

high of around 4,000 in the late '50s and

early '60s. So far, the experiment has

been a rousing success; with a capacity of

roughly 60 cars, the drive-in sold out its

first week of screenings in less than three

minutes. In the second week, she says, two

showings of The Goonies sold out in just a

minute and a half.

"When we looked at the analytics … in

the queue, [there] were hundreds of people

five minutes before tickets went on sale,"

says Sayegh. "They were waiting."

50 Fall 2020

50-51_Cranford.indd 50 29/09/2020 12:35
---
"I wanted to do

something that would

make people happy.

Movies have always been

an escape from reality."

Photo: Cranford Theater

Photo: Cranford Theater

Sayegh has a lifelong history in the

exhibition business. When she was a child,

her father owned a chain of movie theaters

in New Jersey that included the Cranford.

"I always worked for him," she says. After

the chain's business operations (though

not the properties themselves) were sold

in 2010 to DigiPlex Destinations—later

acquired by Carmike—Sayegh remained

on board, only opting to leave after AMC's

subsequent acquisition of Carmike would

have required her to relocate. She went

on to consult for ScreenVision for a time

and was on the cusp of switching careers

altogether when fate intervened.

"I was actually just about to go into

a whole different industry [when] the

company that was operating our theaters

in Cranford and Westfield abandoned

both buildings at the end of the summer

last year," says Sayegh. Noting that the

previous tenants had left the Cranford

in "really bad shape," she spied an

opportunity to return the 100-year-old

theater to its former glory. Thus began a

process of renovating the Cranford and

bringing it up to code before reopening it

on November 8, 2019.

By Sayegh's account, business was brisk

at the Cranford for the first four months—

and then came the coronavirus. "By the

first week of March, my staff was already

in gloves and masks, and the numbers

had declined terribly," she says. Two

days before the government mandated

it, Sayegh shut the theater down. "People

were scared and, you know, I didn't want

my staff getting infected," she says. "It

wasn't socially responsible to stay open."

A hardened survivor in an industry that

has faced constant threats to its model

over the last several decades, Sayegh

jumped into action almost immediately,

selling concessions, gift certificates, and

T-shirts and creating gift packs, including

discounted movie tickets, to encourage

customers to return to the theater once it

reopened its doors. By the end of April, she

caught wind of the phenomenon of popup

drive-ins—some of which, she found,

were established by people outside the

exhibition business.

"I said to myself, I'm going to really kick

myself if I don't do this, because I'm in the

business," she says. "If anybody should do

it, it should be one of us."

What followed was a nearly two-month

period that saw Sayegh researching,

planning and, finally, putting together

a proposal for the Cranford mayor and

city council. Once approved, plans for

the Cranford drive-in were published in

the township newsletter and ultimately

made their way onto social media and

local news outlets. Sayegh's own Facebook

and Instagram posts on the project were

collectively shared over 2,000 times,

increasing the theater's social media

footprint and more than tripling the

circulation of its newsletter.

Though setup costs for the Cranford

drive-in "were up there" (the theater

erected a high-quality 40-foot screen and

also built a projection/concessions booth

out of an oversized shipping container),

Sayegh is quick to note that the investment

has been worth it. Sellouts have continued

for forthcoming screenings of films

including The Karate Kid, Uncle Buck, and

Beetlejuice, and some customers have even

begun to ask if the theater is planning to

continue with the concept next summer

(it's currently slated to run through Labor

Day and potentially into October). With

no end to the pandemic in sight, Sayegh

certainly isn't ruling it out. Whatever the

future looks like, she's determined to keep

the Cranford—not to mention the business

that has shaped the trajectory of her life

and career—alive.

"I'd say there's definitely some concern,"

says Sayegh when asked if she's worried

about the viability of her industry during

the pandemic. "But I'm definitely not

going down without a fight."

Visit BoxofficePro.com/Boxoffice-Podcast/

(episode 19), for a conversation with

Cranford Theater's Doreen Sayegh.

Fall 2020

51

50-51_Cranford.indd 51 29/09/2020 12:35
---
Theater MIGHTY MAYLES

MIGHTY

MAYSLES

Harlem's Documentary

Theater Stays Connected

to Its Community

BY REBECCA PAHLE

New York City has no shortage of

independent and art house theaters,

but Harlem's Maysles Documentary Center

is something different. The Maysles was

established by late documentary pioneer

Albert Maysles in 2005—with the physical

cinema opening three years later—as a

place to explore and discuss documentary

films. Core to its mission are conversation

and community involvement—made more

complicated by a pandemic that has shut

the theater's doors and driven many of its

customers inside. But the Maysles forges

ahead, never forgetting the community it's

here to serve.

On Saturday, July 25, the Maysles took

advantage of its copious sidewalk space (a

rarity in New York City) to host an outdoor,

socially distanced screening of John Lewis:

Good Trouble (pictured), about the late

congressman. The event was the first in

the Maysles's Sidewalk Cinema series—a

"spontaneous, slightly guerrilla" bit of

programming, explains Executive Director

Dale Dobson, that caters to "people on a

sidewalk in New York trying to find some

normalcy [in] their lives through the kinds

of things that they enjoy doing." Future

Sidewalk Cinema events, said programmer

and cinema manager Allason Leitz after

that initial screening, would be kept

intentionally small, with seats laid out solo

or in small groups so that people—whether

visiting the Maysles intentionally or

just passing by on still-bustling Lenox

Avenue—can stop and see a movie on the

screen hung in the theater's front window.

For Dobson, a major part of the

Sidewalk Cinema's appeal is that it allows

the theater "to make certain that people

Image courtesy Maysles Documentary Center

52 Fall 2020

52-53_Maysles.indd 52 30/09/2020 09:11
---
within the local community are getting

something that they're accustomed to

from us." Since shutting down in March,

the Maysles—like many other art house

cinemas across the United States—has

provided content digitally, offering film

screenings and educational programming

online. But to offer only online programming,

Leitz explains, runs counter to the

Maysles's goal of "bringing in people from

across economic backgrounds in Harlem."

In normal times, the Maysles runs on

suggested donations; as long as there are

open seats, no one is turned away for lack

of money. But with digital programming,

there are more than financial barriers—

viewers need computer equipment and

know-how to access the Maysles's virtual

theatrical platform. Sidewalk Cinema,

Leitz continues, "has been a way for us to

equalize, as much as we can … who has

access right now."

"It's really important to our mission

that we serve our local community," says

Dobson. "And if the local community

doesn't have the tools, that's concerning."

To that end, the Maysles is exploring additional

ways to provide in-person screenings,

both in Harlem and elsewhere in

the city, potentially by collaborating with

outside groups. Meanwhile, the Maysles's

virtual programming continues—providing

opportunities that this small, 51-seat

theater didn't have before.

Traditionally, Dobson says, "it's

difficult for a cinema like ours to do a lot

of first-run docs" due to high licensing

fees. Now, with the digital business

model operating "more like a rev share,"

the Maysles has been "able to [program]

some of those best-in-class, theatrical

docs, particularly [ones] that would be of

interest to a POC audience." And the audience

itself has expanded; Dobson was

surprised to see, on attending a digital

documentary and poetry workshop held

in May, that there were participants from

"Ireland and Romania—all these parts of

the world."

While digital has opened some doors

for the Maysles, it has also required the

cinema to be vigilant about its identity

and its brand, Dobson says. Without the

physical atmosphere and little theatrical

"It's really important to our

mission that we serve our local

community. And if the local

community doesn't have the

tools, that's concerning."

extras, like the intimate Q&As that were a

signature part of the Maysles experience,

there's not as much to separate one theater

from another, she says, especially if there's

substantial overlap in programming. The

key, then, is to more tightly embrace the

Maysles's highly curatorial approach. "We

needed to make sure that we carried the

essence of what people look for in our

curation into the digital space," Dobson

says. "The curation of the programming

[needs to have] the certain quality that

we've been known for, for over a decade."

The Maysles's curatorial approach to

programming allows them to be involved

in conversations about issues of racial

justice, even at a time when their doors

are closed. The cinema's first outdoor

event—a live V.J. set that took place in

mid-July—brought together audio and

video, from the Harlem Renaissance

to today, to encourage contemplation

and conversation about how lessons

from the past can inform a fight for a

new future. And the concept of Western

civilization—and its roots in imperialism

and conquest—is interrogated by 12 films

in the Maysles's After Civilization series

(some with accompanying Zoom Q&As).

After Civilization, like much of the

Maysles's online programming, is paywhat-you-can.

Indoor screenings, when

the Maysles could still hold them, operated

on a suggested donation basis. "The

bulk of how we work as an organization

is through grants," Dobson explains. She

expresses gratitude and "pleasant surprise"

that people are still donating to the theater,

and the Maysles has received some

emergency money from the government,

as well. But the life of a nonprofit remains

a "constant cycle" of fundraising—something

that hasn't changed, even if the rest

of the exhibition landscape has. "What I

really think has been beautiful this year,"

says Dobson, "is I've seen us really come

together and work harder. I've never seen

my board work as hard. I've never seen my

staff work as hard before. … You're in such

uncharted terrain. You have no playbook."

Fall 2020

53

52-53_Maysles.indd 53 30/09/2020 09:11
---
ADVERTORIAL

RCM MEDIA'S NEW

DIVISION, RCM LIVE,

INTRODUCES NEW 360

CONTACTLESS APP

Innovation is at the heart of any

successful industry, and exhibition

is no exception. That's why RCM Media,

the company that helped revolutionize

the world of concessions merchandise, has

kept working to bring new products into

the industry over the last two decades.

"It's been nearly thirty years since the

introduction of Movie Graphic Collectible

popcorn tubs into the market, but it still

seems like yesterday," says Jim McGinness,

CEO and Co-Founder of RCM Media.

The industry has undergone several

changes in that interim, which is why RCM

Executive Vice President and Co-Founder

Mark Osborn made sure to add "When we

started RCM, we added 'Media' to our name

because it was always our ambition to be

more than a concessions supplier. "At the

heart of our business, we are specialists at

building and executing integrated theater

marketing and media campaigns with

Hollywood's biggest studios for movie

theaters across the nation."

That innovative spirit continues to this

day, with the launch of RCM Live, a new

division dedicated to digital marketing

initiatives. "It's a new world out there,

and RCM wants to be at the forefront of

technology. That's why we're launching

our new 360 contactless app this Fall,

right as theaters welcome back audiences,"

says Rick Vegaz, VP of Marketing and

Digital Technology.

Using the app, audiences can access

movie trailers, reserve seats, purchase

tickets, and even buy all their concessions

items right from their phone. Theaters

looking for a contactless and cashless

solution can also feature RCM's movie

branded concessions merchandise is

available through the app, allowing

operators to upsell and generate ancillary

revenue during this critical time.

"That's the beauty of our 360 App,"

says Vegaz. "We can change concessions,

promotional items, and pricing tiers at

the flip of a switch—just like with a digital

menu board."

ACTIVATE AR

EXPERIENCES WITH

RCM LIVE AND

BOXOFFICE PRO

1.

Open your phone's camera or

QR Code scanner. Then tap

the link to launch in Chrome

or Safari.

2.

Allow permissions to activate

the experience.

3.

Once the camera is open,

hover over the film stills

containing this image to

access additional content.

Using the app, audiences

can access movie trailers,

reserve seats, purchase

tickets, and even buy all

their concessions items

right from their phone.

Scan here

Scan this QR code to check

out the 360 App for yourself!

54_AD-RCM-Media-Advertorial.indd 54 30/09/2020 09:16
---
Filmmaker Interview 56 | Coming Attractions 64 | Booking Guide 71

ON SCREEN

Watch trailer

Nicola Dove © 2020 Danjaq, LLC and MGM. All rights reserved.

No Time To Die

In Theaters on November 20

Scan the QR code with a mobile device to

watch the official trailer.

Fall 2020

55

55_ON-SCREEN-Opener.indd 55 29/09/2020 12:36
---
On Screen FILMMAKER INTERVIEW

FEELING

THE

SOUL

Pete Docter and Kemp Powers Tread New

Ground with Pixar's Metaphysical Latest

BY REBECCA PAHLE

56 Fall 2020

56-63_Soul.indd 56 29/09/2020 12:37
---
Fall 2020

57

56-63_Soul.indd 57 29/09/2020 12:37
---
On Screen FILMMAKER INTERVIEW

"I feel like when you have an

opportunity to do something at this

scale, you can't hold any part of yourself

back." So speaks Kemp Powers, who logs

his first co-directorial credit with Disney-

Pixar's Soul, in theaters November 20. A

writer whose credits include TV's "Star

Trek: Discovery" and the upcoming One

Night in Miami, which he adapted from

his own play, Powers prefers to think

of himself simply as a storyteller. "The

medium might change," he explains.

"But the one thing that's never changed

is you're always chasing after telling a

"I have a feeling—

and I think that most

people have this in

their gut—that we're

more than just our

physical stuff."

really great story, a story that connects to

people." The story Powers is after in Soul

is a big one. As put by Soul director Pete

Docter, Soul was developed around the

idea of "proving the worthiness of life."

Tackling big ideas through the medium

of animation is nothing new, either for

Pixar or Docter himself, whose Inside Out

(co-directed by Ronnie Del Carmen) took

on nothing less than how the human brain

works. "The research we did on Inside

Out"—in which characters personify a

young girl's basic emotions—"was very

much based on things you can measure,"

58 Fall 2020

56-63_Soul.indd 58 29/09/2020 12:37
---
Below left: Joe Gardner

(voiced by Jamie Foxx)

represents history for

Pixar as the studio's first

Black lead.

Below right: Kemp Powers,

Pete Docter, and producer

Dana Murray work out the

meaning of life behind the

scenes on Pixar's Soul.

Docter says. The germ of Soul began with

such spiritual questions as, "'Where

is it that we come from? How is it that

we're born into the world with a sense

of personality?'" says Docter. "I have a

feeling—and I think that most people

have this in their gut—that we're more

than just our physical stuff."

The film's core questions—Why are we

here? What is our purpose on this planet?—

are examined through the character

of Joe (voiced by Jamie Foxx), a music

teacher and aspiring jazz musician who

finally lands his dream gig—only to have

an accident that puts him in a coma. He

initially looks to be on his way to the Great

Beyond (maybe he'd have met some of the

characters in Pixar's Coco?) before going

rogue and landing instead in the Great

Before, where souls develop personalities

before being sent off to Earth to be born

in human bodies. In the Great Before, Joe

meets a soul named 22 (Tina Fey), who's

skeptical that this whole "being alive"

thing is all it's cracked up to be.

Asked how one gets from "What is the

meaning of life?"—a concept so basic yet

so expansive— to concrete characters and

story, Docter jokes, "If I knew, it might

be easier! Each one of these [movies] is

very different than the others." Prior to

directing Soul and Inside Out, Docter

helmed Monsters, Inc. and Up in addition

to notching myriad credits on other

Pixar films, going all the way back to Toy

Story (on which he was a story artist/

supervising animator and helped devise

the original story) and earlier shorts. His

work with the studio has gotten him two

Oscars (Best Animated Feature for Up and

Inside Out) and landed Pixar its first Best

Picture nomination (for Up).

To stick the landing on Soul, Docter, a

bona fide veteran of animation, turned

to Powers, who had never worked on an

animated project before. Docter had first

worked with Mike Jones, with whom he

"laid some of the very broad strokes of

the story." Powers was brought on as a

writer and co-director whose "specialty

and focus was writing, initially. But then,

as we got into it, I realized how over my

head I was about the cultural specificity

of things. The design of, say, even [Joe's]

apartment or the type of clothing he

would wear. All these things that are

beyond my life experience. And so Kemp

really became a vital part of not only the

writing, but the crafting of the world and

the characters."

Soul is Pixar's first film with a Black

lead, something that Kemp—himself,

like Joe, a Black man in his 40s, born

and raised in New York City, with an

interest in jazz—does not take lightly.

"I'm a Black man. I never forget that. It's

been the case with everything that I do

that I'm always thinking about what it's

going to be like for my children and my

family to see my work on-screen. And

I take that responsibility very seriously

because, unfortunately, there hasn't been

a great deal of representation of Black

characters—in animation in general,

and particularly at Disney." (It was 2009

before Disney's famed set of princesses

Fall 2020

59

56-63_Soul.indd 59 30/09/2020 09:17
---
On Screen FILMMAKER INTERVIEW

had its first Black member—Tiana, from

The Princess and the Frog.)

Determined to ensure the accurate and

respectful depiction of Black characters

in Soul, Powers acknowledged from the

get-go that he, by himself, should not—

and could not—be the sole arbiter of what

Blackness would look like in this film.

"'Please do not assume that I represent

every opinion of all Black people,'" he

remembers telling his new team. "'In

fact, anyone who ever steps forward

and tries to convince you that they do

speak for all Black people, that should

alert you to the fact that they're a fraud.

"I love the fact that we

took the deep dive of

inviting so many voices,

both internally and

externally."

Because such a thing is pretty much

impossible.'"

Enter a "culture trust" of Black

consultants—people both within and

outside Pixar—to "make sure we were

getting things right," says Docter. Issues

of clothing (would this character wear

a chain or would he not?), design (what

should the barber shop Joe visits look

like?), lived experiences (what's it like

being a teacher in Queens?), and more

were discussed at length to ensure

authenticity in the final product. "I love

the fact that we took the deep dive of

inviting so many voices, both internally

60 Fall 2020

56-63_Soul.indd 60 29/09/2020 12:37
---
Below: A middle school

music teacher, Joe has

dreams of leaving the

classroom behind for

the stage.

and externally. And it's not a rubber

stamp thing. It's very easy to just say,

'Here's this film we've done. Is it OK with

you guys?' But that wasn't the case with

Soul," says Powers. Consultants were

brought in "particularly at the early stages,

when it came to character design, sets, so

many details."

Later in the process, Selma and "When

They See Us" cinematographer Bradford

Young—who became the first Black

cinematographer to be nominated for an

Oscar for his work on Arrival—came on

to instruct Soul's lighting crew on how to

light various Black complexions. "I really

enjoyed watching and being a part of the

presentations that involved showing best

case scenarios and situations where Black

skin is lit correctly," recalls Powers, noting

that a good chunk of those examples are

from recent projects—"films that Bradford

Young shot or [from] TV shows like

'Insecure.' [The proper lighting of Black

skin is] not something that I think the

industry really was that concerned about

until very recently. And I'm glad they

finally are, because a film like Soul gets to

be the beneficiary."

The team at Pixar, always a proponent

of heavy research, also consulted with

people of different faiths and cultural

traditions—pastors and theologians,

philosophers and rabbis ("It's going to

sound like a joke in a minute," quips

Docter)—about their beliefs about the

human soul, both what it is and, crucially,

what it looks like. On the latter front,

"there were a lot of things that we found

that were very similar," Docter says.

"People talked about it being breath or

light or ethereal or nonphysical. And

invisible. And that was all interesting,

but it doesn't really help us too much in

terms of nailing down the design, because

of course you can't draw that." The end

Fall 2020

61

56-63_Soul.indd 61 30/09/2020 09:18
---
On Screen FILMMAKER INTERVIEW

design of the soul became "sort of foggy

and semitranslucent and somewhat

ghostly—but we wanted to be clear that

they weren't ghosts."

For the human characters, meanwhile,

a challenge was crafting designs that

diverge enough from those in previous

Pixar films to be unique, but not so much

that they're "stylized just for the sake of

stylizing them," Docter says, an approach

that can land the animator in the land of

"unappealing or distancing effects, where

the characters look weird or puppet-y or

doll-like in a way that makes you pull back

a little bit. I was really proud of the design

group on this film, because I think if you

put our characters next to, say, Toy Story

or [Finding] Nemo, or something like that,

they don't fit in. It's a different approach to

doing the humans. And yet, to me, they're

very appealing, still."

In terms of character design, animation

still has "a lot of room to explore," Docter

says. "Once we find something that works,

I think the industry tends to churn around

in that same zone." In not just the look, but

the sound of Soul, Docter and Kemp sought

to stretch the boundaries of what had

previously been done at Pixar. Three core

people contributed to the score. The first,

Grammy-nominated musician Jon Batiste,

is responsible for all the jazz compositions

heard in the film. He was brought in early

in the process, because Docter, Kemp, and

their team—armed with dozens of GoPro

cameras—had to record him and the

other musicians playing, so the film's jazz

performers could accurately match the

movements of their real-life counterparts.

Brought in later in the process, but

still earlier than is typical for previous

Pixar films, was the duo of Trent Reznor

and Atticus Ross, whose moody, synthheavy

score for The Social Network netted

the film one of its three Oscars. Their

SOUL

SEARCHING

"The thing that we did first was to

try to figure out what do various

religious traditions and historical

traditions, cultural traditions, tell us

about how people view the soul?

Are there any commonalities?"

—Pete Docter

62 Fall 2020

56-63_Soul.indd 62 29/09/2020 12:37
---
Left: Joe's No. 1 argument

to 22 (Tina Fey) as to why

life is worthwhile: pizza.

Right:Jazz great

Dorothea Williams

(Angela Bassett) gives

Joe his big break.

All images

© 2020 Disney/Pixar.

All Rights Reserved.

"You could have the best

TV and sound system in the

world in your house, and it

will not be the equivalent of

seeing it in a theater."

subsequent work on projects like Gone

Girl or HBO's "Watchmen"—or, for that

matter, Reznor's status as founder and

front man of Nine Inch Nails—doesn't

exactly scream "Pixar movie." Getting

Reznor and Ross to do Soul's score was

another "example of us going, 'OK, how

can we shake things up a bit?" says Docter.

"I'm certainly very proud of the music in

all our films. It's beautiful. But how do we

get a different sonic thumbprint to this

film? How can we make it feel unique and

special?" Working with frequent Pixar

collaborators like Randy Newman or

Michael Giacchino, Docter notes, involves

the bulk of the score being written after

the film is "more or less locked." With

Soul, Reznor and Ross came in earlier,

writing "themes and cues that we started

cutting into the film as we were crafting

the story"—a melding of music and image

befitting the film's roots in jazz.

Pixar, jazz, and Trent Reznor and

Atticus Ross—"When you see those

names on paper, it seems like it would

clash," Powers admits. "But it's actually

very symbiotic. I don't want to spoil it, but

there are a few moments in the film that I

find transcendent, and it's actually [due

to the melding of] the work of Trent and

Atticus and Jon Batiste." While Soul gives

its viewers—or listeners—a different sonic

experience than what they might expect

based on previous Pixar movies, ultimately

"it works better than even I suspected it

would."

And it's a musical experience that's

more than worthy, Powers argues, of the

theatrical experience. "You could have

the best TV and sound system in the

world in your house, and it will not be the

equivalent of seeing it in a theater. The

film was made for theater. I really hope

that everyone has at least an opportunity,

or a choice, to see it that way. Because it's

pretty incredible. It's a big-screen film.

That's for sure."

Fall 2020

63

56-63_Soul.indd 63 30/09/2020 09:19
---
On Screen COMING ATTRACTIONS

COMING

ATTRACTIONS

All release date information is accurate as of September 23.

Sony Pictures Animation. © 2019 CTMG, Inc. All Rights Reserved.

CONNECTED

TBD 2020 / Sony Pictures Animation

When Katie is accepted into the film school of her

dreams, her plans to meet "her people" at college are

upended when her nature-loving dad decides that the

whole family should drive her to school and bond as

a family one last time. But the ultimate family road

trip is interrupted by a tech uprising, as all around the

world the electronic devices people love decide it's

time to take over.

Voice Cast: Abbi Jacobson, Danny McBride, Maya Rudolph, Eric

André, Olivia Colman

Director: Mike Rianda

Rating: PG Running Time: TBD

Watch trailer

64

Fall 2020

64-69_Coming-Attractions.indd 64 30/09/2020 09:36
---
THE CLIMB

November 13 / Sony Pictures Classics

Zach Kuperstein, courtesy Sony Pictures Classics

Kyle and Mike are best friends who share a close

bond—until Mike sleeps with Kyle's fiancée.

The Climb is about a tumultuous but enduring

relationship between two men across many years

of laughter, heartbreak, and rage. It is also the story

of real-life best friends who turn their profound

connection into a rich, humane, and frequently

uproarious film about the boundaries (or lack

thereof) in all close friendships.

Cast: Michael Covino, Kyle Martin, Gayle Rankin, George

Wendt, Judith Godrèche

Directors: Michael Covino, Kyle Martin

Rating: R Running Time: 94 Min.

AMMONITE

November 13 / Neon

BFI London Film Festival 2020

In 1840s England, acclaimed self-taught fossil

hunter Mary Anning (Kate Winslet) and a young

woman (Saoirse Ronan) sent to convalesce by

the sea develop an intense relationship, altering

both their lives forever.

Cast: Kate Winslet, Saoirse Ronan, Fiona Shaw, Gemma

Jones, Charlie Rushbrook

Director: Francis Lee

Rating: TBD Running Time: 136 Min.

Fall 2020

65

64-69_Coming-Attractions.indd 65 30/09/2020 09:56
---
On Screen COMING ATTRACTIONS

SOUL

November 20 / Disney

Ever wonder where your passion, your dreams, and

your interests come from? What is it that makes you

... you? In 2020, Pixar Animation Studios takes you

on a journey from the streets of New York City to

the cosmic realms to discover the answers to life's

most important questions.

Voice Cast: Jamie Foxx, Tina Fey, Phylicia Rashad,

Daveed Diggs, Ahmir Questlove Thompson

Director: Pete Docter

Rating: TBD Running Time: TBD

© 2020 Disney/Pixar. All Rights Reserved.

HAPPIEST SEASON

November 25 / Sony-TriStar

Happiest Season captures the story of a young

woman (Kristen Stewart) whose plan to propose

to her girlfriend (Mackenzie Davis) while at her

family's annual holiday party is upended when

she discovers her partner hasn't yet come out to

her conservative parents.

Cast: Kristen Stewart, Mackenzie Davis, Mary Steenburgen,

Victor Garber, Alison Brie

Director: Clea DuVall

Rating: PG-13 Running Time: TBD

Lacy Terrell, courtesy TriStar Pictures

66 Fall 2020

64-69_Coming-Attractions.indd 66 30/09/2020 09:56
---
Nicola Dove © 2020 Danjaq, LLC and MGM. All rights reserved.

NO TIME TO DIE

November 20 / United Artists

James Bond (Daniel Craig) has left active service and

is enjoying a tranquil life in Jamaica. His peace is

short-lived when his old friend Felix Leiter (Jeffrey

Wright) from the CIA turns up asking for help. The

mission to rescue a kidnapped scientist turns out

to be far more treacherous than expected, leading

Bond onto the trail of a mysterious villain armed with

dangerous new technology.

Watch trailer

Cast: Daniel Craig, Ralph Fiennes, Lea Seydoux, Rami Malek,

Jeffrey Wright, Ana de Armas

Director: Cary Joji Fukunaga

Rating: PG-13 Running Time: 163 Min.

Fall 2020 67

64-69_Coming-Attractions.indd 67 30/09/2020 09:36
---
On Screen COMING ATTRACTIONS

NOMADLAND

December 4 / Searchlight Pictures

Nomadland is a road movie following Fern (Frances

McDormand), a woman in her sixties, who after

losing everything in the Great Recession embarks

on a journey through the American West, living as a

van-dwelling modern-day nomad.

Cast: Frances McDormand, David Strathairn, Linda May,

Charlene Swankie

Director: Chloé Zhao

Rating: R Running Time: 108 Min.

Photo courtesy Searchlight Pictures

DEATH ON THE NILE

December 18 / 20th Century Studios

Belgian sleuth Hercule Poirot's Egyptian vacation

aboard a glamorous river steamer turns into a terrifying

search for a murderer when a picture-perfect

couple's idyllic honeymoon is tragically cut

short. Set against an epic landscape of sweeping

desert vistas and the majestic Giza pyramids,

this tale of unbridled passion and incapacitating

jealousy features a cosmopolitan group of impeccably

dressed travelers and enough wicked twists

and turns to leave audiences guessing until the

final, shocking denouement.

Cast: Kenneth Branagh, Gal Gadot, Letitia Wright, Armie

Hammer, Annette Bening, Ali Fazal

Director: Kenneth Branagh

Rating: TBD Running Time: TBD

© 2020 Twentieth Century Fox Film Corporation. All Rights Reserved. Photo by Rob Youngson.

68 Fall 2020

64-69_Coming-Attractions.indd 68 30/09/2020 09:37
---
Clay Enos © 2018 Warner Bros. Entertainment Inc.

WONDER WOMAN 1984

December 25 / Warner Bros.

Fast forward to the 1980s as Wonder Woman's

(Gal Gadot) next big screen adventure finds her

facing an all-new foe: The Cheetah (Kristen Wiig).

Cast: Gal Gadot, Kristen Wiig, Chris Pine, Pedro Pascal

Director: Patty Jenkins

Rating: TBD Running Time: TBD

Watch trailer

Fall 2020 69

64-69_Coming-Attractions.indd 69 30/09/2020 09:37
---
Big

PAGE TITLE

screen.

Bigger cause.

St. Jude Children's Research Hospital® is

leading the way the world understands,

treats and defeats childhood cancer and

other life-threatening diseases. But, we

couldn't do it without you. By donating

pre-show advertising to screen the annual

St. Jude Thanks and Giving® movie trailer,

you support our lifesaving mission: Finding

cures. Saving children.® The generosity of

you and your patrons helps ensure that

families never receive a bill from St. Jude

for treatment, travel, housing or food—

because all a family should worry about is

helping their child live.

St. Jude patient

Luigi

Art inspired by St. Jude patient Jaden

For more information, please email

chance.weaver@stjude.org or visit stjude.org/theaters

70 Fall 2020

©2020 ALSAC/St. Jude Children's Research Hospital (PRNS1692)

20-PRNS-1692 70_AD-St-Judes.indd T&G Box 70Office Ad_FY20-FullPg-8.25 x 10.875.indd 1

29/09/2020 2/20/20 1:36 12:38 PM
---
ON SCREEN BOOKING GUIDE

BOOKING

GUIDE

Release calendar for theatrical

distribution in North America

Release dates are accurate as of September 23. For the latest

schedule, visit www.boxofficepro.com/release-calendar.

RON'S GONE WRONG

Fri, 4/23/21 LTD

Rating: NR

Genre: Ani

Death on the Nile

Fri, 12/18/20 WIDE

20TH CENTURY STUDIOS

310-369-1000

212-556-2400

DEATH ON THE NILE

Fri, 12/18/20 WIDE

Stars: Kenneth Branagh, Annette

Bening

Director: Kenneth Branagh

Rating: NR

Genre: Cri/Dra/Mys

DEEP WATER

Fri, 8/13/21 WIDE

Stars: Ana de Armas, Ben Affleck

Director: Adrian Lyne

Rating: NR

Genre: Thr

THE EMPTY MAN

Fri, 10/23/20 WIDE

Rating: NR

Genre: Cri/Dra/Hor

FREE GUY

Fri, 12/11/20 WIDE

Stars: Ryan Reynolds

Director: Shawn Levy

Rating: NR

Genre: Com/Act

WEST SIDE STORY

Fri, 12/10/21 WIDE

Stars: Ansel Elgort, Rachel Zegler

Director: Steven Spielberg

Rating: NR

Genre: Mus

THE LAST DUEL

Fri, 10/15/21 LTD

Stars: Matt Damon, Ben Affleck

Director: Ridley Scott

Rating: NR

Genre: Dra

EVERYBODY'S TALKING ABOUT

JAMIE

Fri, 1/22/21 WIDE

Rating: NR

Genre: Dra/Mus

THE KING'S MAN

Fri, 2/12/21 WIDE

Stars: Ralph Fiennes, Gemma

Arterton

Director: Matthew Vaughn

Rating: NR

Genre: Act

BOB'S BURGERS

Fri, 4/9/21 LTD

Stars: H. Jon Benjamin, Kristen

Schaal

Rating: NR

Genre: Ani

© 2020 Twentieth Century Fox Film Corporation. Photo by Rob Youngson

UNTITLED 20TH CENTURY 2021 2

Fri, 9/10/21 LTD

Rating: NR

UNTITLED 20TH CENTURY 2021 2

Fri, 12/3/21 LTD

Rating: NR

DISNEY

818-560-1000

Ask for Distribution

BLACK WIDOW

Fri, 5/7/21 WIDE

Stars: Scarlett Johansson,

David Harbour

Director: Cate Shortland

Rating: NR

Genre: Act/Adv

Specs: 3D

SOUL

Fri, 11/20/20 WIDE

Stars: Jamie Foxx, Tina Fey

Director: Pete Docter

Rating: PG

Genre: Ani

Specs: 3D/Dolby Vis/Atmos

ETERNALS

Fri, 11/5/21 WIDE

Stars: Richard Madden,

Angelina Jolie

Director: Chloé Zhao

Rating: NR

Genre: Act/Adv/SF

RAYA AND THE LAST DRAGON

Fri, 3/12/21 WIDE

Stars: Awkwafina, Cassie Steele

Directors: Paul Briggs, Dean Wellins

Rating: NR

Genre: Ani

Specs: 3D

Fall 2020

71

71-79_Booking-Guide.indd 71 29/09/2020 12:38
---
ON SCREEN BOOKING GUIDE

SHANG-CHI AND THE LEGEND OF

THE TEN RINGS

Fri, 7/9/21 WIDE

Stars: Simu Liu, Awkwafina

Director: Destin Daniel Cretton

Rating: NR

Genre: Act/Adv/Fan

CRUELLA

Fri, 5/28/21 WIDE

Stars: Emma Stone,

Emma Thompson

Director: Craig Gillespie

Rating: NR

Genre: Com

LUCA

Fri, 6/18/21 WIDE

Director: Enrico Casarosa

Rating: NR

Genre: Ani

JUNGLE CRUISE

Fri, 7/30/21 WIDE

Stars: Dwayne Johnson,

Emily Blunt

Director: Jaume Collet-Serra

Rating: NR

Genre: Act/Adv

Specs: Dolby Vis/Atmos

THE BEATLES: GET BACK

Fri, 8/27/21 WIDE

Director: Peter Jackson

Rating: NR

Genre: Doc

UNTITLED DISNEY ANIMATION 2021

Fri, 11/24/21 WIDE

Rating: NR

Genre: Ani

UNTITLED DISNEY LIVE ACTION 2021

Fri, 12/17/21 WIDE

Rating: NR

FOCUS FEATURES

COME PLAY

Fri, 10/30/20 WIDE

Stars: Gillian Jacobs,

John Gallagher Jr.

Director: Jacob Chase

Rating: PG-13

Genre: Hor

LET HIM GO

Fri, 11/6/20 LTD

Stars: Kevin Costner, Diane Lane

Director: Thomas Bezucha

Rating: NR

Genre: Thr

LAST NIGHT IN SOHO

Fri, 4/23/21 LTD

Stars: Anya Taylor-Joy,

Thomasin Harcourt McKenzie

Director: Edgar Wright

Rating: NR

Genre: Hor/Thr

Specs: Dolby Vis/Atmos

FREESTYLE RELEASING

310-277-3500

Ask for Distribution

2 HEARTS

Fri, 10/16/20 WIDE

Stars: Jacob Elordi, Adan Canto

Director: Lance Hool

Rating: PG-13

Genre: Rom/Dra

GREENWICH ENTERTAINMENT

HARRY CHAPIN: WHEN IN DOUBT,

DO SOMETHING

Fri, 10/16/20 LTD

Director: Rick Korn

Rating: NR

Genre: Doc

IFC FILMS

bookings@ifcfilms.com

SHITHOUSE

Fri, 10/16/20 LTD

Stars: Cooper Raiff, Dylan Gelula

Director: Cooper Raiff

Rating: NR

Genre: Com

KINDRED

Fri, 11/6/20 LTD

Stars: Tamara Lawrence,

Jack Lowden

Director: Joe Marcantonio

Rating: NR

Genre: Thr

EMBATTLED

Fri, 11/20/20 LTD

Stars: Stephen Dorff,

Darren Mann

Director: Nick Sarkisov

Rating: NR

Genre: Act

STARDUST

Fri, 11/25/20 LTD

Stars: Johnny Flynn, Marc Maron

Director: Gabriel Range

Rating: NR

Genre: Dra

DEAR SANTA

Fri, 12/4/20 LTD

Director: Dana Nachman

Rating: NR

Genre: Doc

SAVE TIME

SAVE MONEY

Stadium Savers delivers the highest quality riser systems

in the industry; ensuring project success by providing a

tiered seating system that is time and cost conscious. For

more information call our headquarters at 616-785-5598

or visit us at www.stadiumsavers.com.

Like us on

72 Fall 2020

71-79_Booking-Guide.indd 72 29/09/2020 12:38
---
FAREWELL AMOR

Fri, 12/11/20 LTD

Stars: Ntare Guma Mbaho Mwine,

Zainab Jah

Director: Ekwa Msangi

Rating: NR

Genre: Dra

MLK/FBI

Fri, 1/15/20 LTD

Director: Sam Pollard

Rating: NR

Genre: Doc

LIONSGATE

310-309-8400

FATALE

Fri, 10/30/20 WIDE

Stars: Hilary Swank, Michael Ealy

Director: Deon Taylor

Rating: NR

Genre: Sus

VOYAGERS

Fri, 11/25/20 WIDE

Stars: Tye Sheridan,

Lily-Rose Depp

Director: Neil Burger

Rating: PG-13

Genre: SF/Thr

THE DEVIL'S LIGHT

Fri, 1/8/21 WIDE

Director: Daniel Stamm

Rating: NR

Genre: Hor

CHAOS WALKING

Fri, 1/22/21 WIDE

Stars: Tom Holland, Daisy Ridley

Director: Doug Liman

Rating: NR

Genre: Adv/SF

THE UNBEARABLE WEIGHT OF

MASSIVE TALENT

Fri, 3/19/21 WIDE

Stars: Nicolas Cage

Director: Tom Gormican

Rating: NR

Genre: Act/Com

THE ASSET

Fri, 4/23/21 WIDE

Stars: Maggie Q,

Samuel L. Jackson

Director: Martin Campbell

Rating: NR

Genre: Act/Thr

SPIRAL

Fri, 5/21/21 WIDE

Stars: Chris Rock,

Samuel L. Jackson

Director: Darren Lynn Bousman

Rating: NR

Genre: Hor

BARB & STAR GO TO VISTA DEL

MAR

Fri, 7/16/21 WIDE

Stars: Kristen Wiig, Annie Mumolo

Director: Josh Greenbaum

Rating: NR

Genre: Com

Spiral

Fri, 5/21/21 WIDE

THE HITMAN'S WIFE'S BODY-

GUARD

Fri, 8/20/21 WIDE

Stars: Ryan Reynolds,

Samuel L. Jackson

Director: Patrick Hughes

Rating: NR

Genre: Act/Com

AMERICAN UNDERDOG: THE KURT

WARNER STORY

Fri, 12/10/21 WIDE

Director: Jon Erwin, Andrew Erwin

Rating: NR

Genre: Dra

Brooke Palmer, courtesy Lionsgate

It's Easy to Go Green with PCI!

Environmentally Friendly Paper Straws and 100% Biodegrable Leak Proof Popcorn Bags

PCI is committed to manufacturing a variety of products for your eco friendly packaging needs.

Contact us to see how we can be your green packaging partner.

TM

Manufactured in the USA

9832 EVERGREEN INDUSTRIAL DRIVE | ST. LOUIS, MO 63123 | WWW.PACKAGINGCONCEPTSINC.COM | 314.329.9700 TEL | info@packagingconceptsic.com

Fall 2020

73

71-79_Booking-Guide.indd 73 29/09/2020 12:38
---
ON SCREEN BOOKING GUIDE

JOHN WICK: CHAPTER 4

Fri, 5/27/22 WIDE

Rating: NR

Genre: Act

MAGNOLIA PICTURES

212-379-9704

Neal Block

nblock@magpictures.com

COLLECTIVE

Fri, 11/20/20 LTD

Director: Alexander Nanau

Rating: NR

Genre: Doc

ZAPPA

Fri, 11/27/20 LTD

Director: Alex Winter

Rating: NR

Genre: Doc

CROCK OF GOLD – A FEW ROUNDS

WITH SHANE MACGOWAN

Fri, 12/4/20 LTD

Director: Julien Temple

Rating: NR

Genre: Doc

IP MAN: KUNG FU MASTER

Fri, 12/11/20 LTD

Stars: Dennis To

Director: Li Liming

Rating: NR

Genre: Act

NEON

hal@neonrated.com

Rumble

Fri, 1/29/21 WIDE

AMMONITE

Fri, 11/13/20 LTD

Stars: Saoirse Ronan,

Kate Winslet

Director: Francis Lee

Rating: NR

OPEN ROAD FILMS

AFTER WE COLLIDED

Fri, 10/23/20 LTD

Stars: Josephine Langford,

Hero Fiennes Tiffin

Director: Roger Kumble

Rating: NR

Genre: Rom

PARAMOUNT

323-956-5000

COMING 2 AMERICA

Fri, 12/18/20 WIDE

Rating: NR

Genre: Com

RUMBLE

Fri, 1/29/21 WIDE

Stars: Will Arnett, Terry Crews

Director: Hamish Grieve

Rating: NR

Genre: Ani

UNTITLED LEE DANIELS BILLIE

HOLIDAY FILM

Fri, 2/12/21 WIDE

Director: Lee Daniels

Rating: NR

Genre: Bio/Dra

TOM CLANCY'S WITHOUT RE-

MORSE

Fri, 2/26/21 WIDE

Rating: NR

Genre: Thr

A QUIET PLACE PART II

Fri, 4/23/21 WIDE

Stars: Emily Blunt, Cillian Murphy

Director: John Krasinski

Rating: PG-13

Genre: Hor

INFINITE

Fri, 5/28/21 WIDE

Rating: NR

Genre: SF

MICRONAUTS

Fri, 6/4/21 WIDE

Rating: NR

Genre: Act

TOP GUN: MAVERICK

Fri, 7/2/21 WIDE

Stars: Tom Cruise, Miles Teller

Director: Joseph Kosinski

Rating: NR

Genre: Act/Adv

Specs: IMAX/Dolby Vis/Atmos

THE TOMORROW WAR

Fri, 7/23/21 WIDE

Stars: Yvonne Strahovski,

Chris Pratt

Director: Chris McKay

Rating: NR

Genre: Act/SF

PAW PATROL

Fri, 8/20/21 WIDE

Rating: NR

Genre: Ani

JACKASS

Fri, 9/3/21 WIDE

Rating: NR

Genre: Com

MY LITTLE PONY MOVIE

Fri, 9/24/21 WIDE

Rating: NR

Genre: Ani

SNAKE EYES

Fri, 10/22/21 WIDE

Stars: Henry Golding, Andrew Koji

Director: Robert Schwentke

Rating: NR

Genre: Act/Adv

CLIFFORD THE BIG RED DOG

Fri, 11/5/21 WIDE

Rating: NR

Genre: Fam

MISSION: IMPOSSIBLE 7

Fri, 11/19/21 WIDE

Stars: Tom Cruise

Director: Christopher McQuarrie

Rating: NR

Genre: Act

SEARCHLIGHT PICTURES

212-556-2400

NOMADLAND

Fri, 12/4/20 LTD

Stars: Frances McDormand,

Linda May

Director: Chloé Zhao

Rating: R

Genre: Dra

ANTLERS

Fri, 2/19/21 LTD

Stars: Keri Russell, Jesse Plemons

Director: Scott Cooper

Rating: R

Genre: Hor

SONY

212-833-8500

HAPPIEST SEASON

Fri, 11/25/20 WIDE

Stars: Kristen Stewart,

Mackenzie Davis

Director: Clea DuVall

Rating: NR

Genre: Rom/Com/Hol

Paramount Animation

ESCAPE ROOM 2

Wed, 12/30/20 WIDE

Director: Adam Robitel

Rating: NR

Genre: Hor/Thr

74 Fall 2020

71-79_Booking-Guide.indd 74 29/09/2020 12:38
---
Top Gun: Maverick

Wed, 7/2/21 WIDE

Paramount Pictures

Fall 2020 75

71-79_Booking-Guide.indd 75 29/09/2020 12:38
---
ON SCREEN BOOKING GUIDE

DIGITAL SIGNAGE

Integrated Digital Signage,

Concession Signs, Lobby &

Directional Signs, Custom Graphics

MOBILE APP &

WEBSITES

Web Management, Website

Design and Programming,

Online Ticket Purchasing,

Mobile App Development,

Mobile Ticketing Sales

INTERNET TICKETING

Online Ticket Sales with Theatre Branded Interface

Your Complete Theatre

Management Solution

Starts Here!

TICKETING & CONCESSION

POINT-OF-SALE

Touch Screen Ticketing,

Concession Point-of-Sale,

Two-in-One Terminals, Kiosk Sales

& Redemptions, Assigned Seating

BACK OFFICE

MANAGEMENT

Show Scheduling, Inventory,

Cash Control, Remote Access,

Labor Management,

Real-Time Corporate Reports

GIFT CARDS & LOYALTY

PROGRAMS

Gift Cards, Virtual Gift Card

Sales, Customer Rewards

888-988-4470 Sales

FILM RENTAL MANAGEMENT

Automatically Calculate Weekly Film Rental, Create

Payment Vouchers, Settle Films & Manage Credits

NETWORK &

IT SERVICES

Network Support, Hardware

Monitoring, Phone & Surveillance

System Support, ISP Monitoring,

Security & Antivirus

RetrieverSolutionsInc.com

76 Fall 2020

71-79_Booking-Guide.indd 76 29/09/2020 12:38
---
PETER RABBIT 2: THE RUNAWAY

Fri, 1/15/21 WIDE

Stars: James Corden, Rose Byrne

Director: Will Gluck

Rating: PG

Genre: Ani

CINDERELLA

Fri, 2/5/21 WIDE

Rating: NR

Genre: Fan

GHOSTBUSTERS: AFTERLIFE

Fri, 3/5/21 WIDE

Stars: Carrie Coon, Finn Wolfhard

Director: Jason Reitman

Rating: NR

Genre: Hor/Com/SF

MORBIUS

Fri, 3/19/21 WIDE

Stars: Jared Leto, Matt Smith

Director: Daniel Espinosa

Rating: NR

Genre: Act/Thr/SF

FATHERHOOD

Fri, 4/2/21 WIDE

Stars: Kevin Hart, Melody Hurd

Director: Paul Weitz

Rating: NR

Genre: Dra

MONSTER HUNTER

Fri, 4/23/21 WIDE

Stars: Milla Jovovich, Tony Jaa

Director: Paul W.S. Anderson

Rating: NR

Genre: Act/Fan

VIVO

Fri, 6/4/21 WIDE

Rating: NR

Genre: Ani

VENOM: LET THERE BE CARNAGE

Fri, 6/25/21 WIDE

Stars: Tom Hardy, Woody Harrelson

Director: Andy Serkis

Rating: NR

Genre: Act/SF

UNCHARTED

Fri, 7/16/21 WIDE

Stars: Tom Holland,

Mark Wahlberg

Rating: NR

Genre: Act/Adv

HOTEL TRANSYLVANIA 4

Fri, 8/6/21 WIDE

Rating: NR

Genre: Ani/Com

MAN FROM TORONTO

Fri, 9/17/21 WIDE

Rating: NR

Genre: Act/Com

The Father

Fri, 12/18/20 LTD

UNTITLED SPIDER-MAN: FAR FROM

HOME SEQUEL

Fri, 12/17/21 WIDE

Stars: Tom Holland

Rating: NR

Genre: Act

SONY PICTURES CLASSICS

Tom Prassis

212-833-4981

THE CLIMB

Fri, 11/13/20 LTD

Stars: Michael Covino, Kyle Marvin

Director: Michael Covino

Rating: R

Genre: Dra/Com

THE FATHER

Fri, 12/18/20 LTD

Stars: Anthony Hopkins,

Olivia Colman

Director: Florian Zeller

Rating: NR

Genre: Dra

THE TRUFFLE HUNTERS

Fri, 12/25/20 LTD

Directors: Michael Dweck,

Gregory Kershaw

Rating: NR

I CARRY YOU WITH ME

Fri, 1/8/21 LTD

Stars: Armando Espitia,

Christian Vazquez

Director: Heidi Ewing

Rating: NR

Genre: Dra

NINE DAYS

Fri, 1/22/21 LTD

Stars: Winston Duke, Zazie Beetz

Director: Edson Oda

Rating: NR

Genre: Dra

THE HUMAN FACTOR

Fri, 1/22/21 LTD

Director: Dror Moreh

Rating: NR

Genre: Doc

FRENCH EXIT

Fri, 2/12/21 LTD

Stars: Michelle Pfeiffer,

Lucas Hedges

Director: Azazel Jacobs

Rating: NR

Genre: Dra/Com

UNITED ARTISTS RELEASING

310-724-5678

Ask for Distribution

NO TIME TO DIE

Wed, 11/20/20 WIDE

Stars: Daniel Craig, Rami Malek

Director: Cary Joji Fukunaga

Rating: NR

Genre: Act/Thr

Specs: IMAX

RESPECT

Fri, 1/15/21 WIDE

Stars: Jennifer Hudson,

Forest Whitaker

Director: Liesl Tommy

Rating: NR

Genre: Dra/Mus

UNTITLED GUY RITCHIE

Fri, 1/15/21 WIDE

Director: Guy Ritchie

Rating: NR

DOG

Fri, 5/7/21 WIDE

Stars: Channing Tatum

Directors: Reid Carolin,

Channing Tatum

Rating: NR

Genre: Com

SAMARITAN

Fri, 6/4/21 WIDE

Stars: Sylvester Stallone

Director: Julius Avery

Rating: NR

Genre: Act/Thr

UNTITLED RUSSO BROTHERS FAMILY

FILM

Fri, 8/13/21 WIDE

Rating: NR

Genre: Fam

DARK HARVEST

Fri, 9/24/21 WIDE

Director: David Slade

Rating: NR

Genre: Hor

UNTITLED ADDAMS FAMILY

SEQUEL

Fri, 10/8/21 WIDE

Rating: NR

Genre: Ani

Sean Gleason. Courtesy of Sony Pictures Classics

Fall 2020

77

71-79_Booking-Guide.indd 77 29/09/2020 12:38
---
ON SCREEN BOOKING GUIDE

GUCCI

Fri, 11/26/21 WIDE

Rating: NR

Genre: Dra

UNIVERSAL

818-777-1000

FREAKY

Fri, 11/13/20 WIDE

Stars: Kathryn Newton,

Vince Vaughn

Director: Christopher Landon

Rating: NR

Genre: Hor/Com

THE CROODS: A NEW AGE

Fri, 11/25/20 WIDE

Stars: Ryan Reynolds, Emma Stone

Director: Joel Crawford

Rating: PG

Genre: Ani

NEWS OF THE WORLD

Fri, 12/25/20 WIDE

Stars: Tom Hanks

Director: Paul Greengrass

Rating: NR

Genre: Dra

UNTITLED BLUMHOUSE PRODUC-

TIONS

Fri, 1/8/21 WIDE

Rating: NR

Genre: Hor

355

Fri, 1/15/21 WIDE

Stars: Jessica Chastain,

Lupita Nyong'o

Director: Simon Kinberg

Rating: NR

Genre: Thr

MARRY ME

Fri, 2/12/21 WIDE

Stars: Jennifer Lopez, Owen Wilson

Director: Kat Coiro

Rating: NR

Genre: Rom/Com

NOBODY

Fri, 2/19/21 WIDE

Stars: Bob Odenkirk

Director: Ilya Naishuller

Rating: R

Genre: Act/Thr

UNTITLED UNIVERSAL EVENT FILM 1

Fri, 3/5/21 WIDE

Rating: NR

THE BOSS BABY 2

Fri, 3/26/21 WIDE

Rating: NR

Genre: Ani

F9

Fri, 4/2/21 WIDE

Stars: Vin Diesel, Charlize Theron

Director: Justin Lin

Rating: NR

Genre: Act/Adv

Specs: IMAX/Dolby Vis/Atmos

BIOS

Fri, 4/16/21 WIDE

Stars: Tom Hanks

Director: Miguel Sapochnik

Rating: NR

Genre: SF

UNTITLED SPIRIT RIDING FREE FILM

Fri, 5/14/21 WIDE

Rating: NR

Genre: Ani

JURASSIC WORLD: DOMINION

Fri, 6/11/21 WIDE

Rating: NR

Genre: Act/Adv

MINIONS: THE RISE OF GRU

Fri, 7/2/21 WIDE

Stars: Steve Carell,

Taraji P. Henson

Director: Kyle Balda

Rating: PG

Genre: Ani

THE FOREVER PURGE

Fri, 7/9/21 WIDE

Director: Everardo Gout

Rating: NR

Genre: Hor

UNTITLED M. NIGHT SHYAMALAN

THRILLER

Fri, 7/23/21 WIDE

Director: M. Night Shyamalan

Rating: NR

Genre: Thr

UNTITLED BLUMHOUSE PRODUC-

TIONS

Fri, 8/13/21 WIDE

Rating: NR

Genre: Hor

THE BAD GUYS

Fri, 9/17/21 WIDE

Director: Pierre Perifel

Rating: NR

78 Fall 2020

71-79_Booking-Guide.indd 78 29/09/2020 12:38
---
UNTITLED FANTASTIC BEASTS 3

Fri, 11/12/21 WIDE

Rating: NR

Genre: Fan/Act

KING RICHARD

Fri, 11/19/21 WIDE

Rating: NR

Genre: Dra/Bio

BLACK ADAM

Fri, 12/22/21 WIDE

Stars: Dwayne Johnson

Director: Jaume Collet-Serra

Rating: NR

Genre: Act/Fan

Dune

Fri, 12/18/20 WIDE

Chiabella James, courtesy Warner Bros.

WELL GO USA ENTERTAINMENT

theatrical@wellgousa.com

SYNCHRONIC

Fri, 10/23/20 LTD

Stars: Anthony Mackie,

Jamie Dornan

Directors: Justin Benson,

Aaron Moorhead

Rating: NR

Genre: SF/Hor/Thr

UNTITLED UNIVERSAL EVENT FILM 2

Fri, 9/24/21 WIDE

Rating: NR

HALLOWEEN KILLS

Fri, 10/15/21 WIDE

Director: David Gordon Green

Rating: NR

Genre: Hor

SING 2

Fri, 12/22/21 WIDE

Rating: NR

Genre: Ani/Mus

WARNER BROS.

818-977-1850

DUNE

Fri, 12/18/20 WIDE

Stars: Timothée Chalamet,

Rebecca Ferguson

Director: Denis Villeneuve

Rating: NR

Genre: SF

WONDER WOMAN 1984

Fri, 12/25/20 WIDE

Stars: Gal Gadot, Kristen Wiig

Director: Patty Jenkins

Rating: NR

Genre: Act/Adv/Fan

Specs: IMAX/3D/Dolby Vis/Atmos

MORTAL KOMBAT

Fri, 1/15/21 WIDE

Rating: NR

Genre: Act

THE LITTLE THINGS

Fri, 1/29/21 WIDE

Rating: NR

Genre: Thr

TOM & JERRY

Fri, 3/5/21 WIDE

Rating: NR

Genre: Ani

THE MANY SAINTS OF NEWARK

Fri, 3/12/21 WIDE

Rating: NR

Genre: Dra/Cri

TOMB RAIDER 2

Fri, 3/19/21 WIDE

Rating: NR

Genre: Act/Adv

REMINISCENCE

Fri, 4/16/21 WIDE

Rating: NR

GODZILLA VS KONG

Fri, 5/21/21 WIDE

Stars: Millie Bobby Brown,

Eiza González

Director: Adam Wingard

Rating: PG-13

Genre: SF/Act

Specs: IMAX/3D/Dolby Vis/Atmos

THE CONJURING: THE DEVIL MADE

ME DO IT

Fri, 6/4/21 WIDE

Stars: Patrick Wilson, Vera Farmiga

Director: Michael Chaves

Rating: NR

Genre: Hor

Specs: Dolby Vis/Atmos

IN THE HEIGHTS

Fri, 6/18/21 WIDE

Stars: Anthony Ramos,

Corey Hawkins

Director: Jon M. Chu

Rating: NR

Genre: Mus/Rom/Dra

SPACE JAM: A NEW LEGACY

Fri, 7/16/21 WIDE

Rating: NR

Genre: Ani/Com

THE SUICIDE SQUAD

Fri, 8/6/21 WIDE

Stars: Margot Robbie, Taika Waititi

Director: James Gunn

Rating: NR

Genre: Act

UNTITLED NEW LINE HORROR FILM

2021

Fri, 9/10/21 WIDE

Rating: NR

Genre: Hor

THE BATMAN

Fri, 10/1/21 WIDE

Stars: Robert Pattinson, Zoë Kravitz

Director: Matt Reeves

Rating: NR

Genre: Act

UNTITLED ELVIS FILM

Fri, 11/5/21 WIDE

Director: Baz Luhrmann

Rating: NR

Genre: Dra/Bio/Mus

Fall 2020

79

71-79_Booking-Guide.indd 79 29/09/2020 12:38
---
MARKETPLACE

Our Sponsors

Advertiser

Page

Cardinal Sound Systems 80

CineAsia 6

Cinionic

IFC

Cretors 9

Dolphin Leadcom VIP 41

Enpar Audio 76

Galalite 49

Gold Medal 29

Jacro 43

MOC Insurance Services 10

NCM 3

Odell's/Ventura Foods 78

PCI 73

QSC

BC

RCM Media 1, 54

Ready Theatre Systems 49

Retriever Solutions 76

Sensible Cinema Software 80

Sonic Equipment 4

ShowEast 21

Stadium Savers Ltd. 72

St. Jude Children's Re- 70

Strong MDI Screens 5

Telescopic Seating Systems

15, IBC

The Boxoffice Company 12, 44

Tivoli Lighting 2

ADVERTISE IN THE

WINTER ISSUE OF

Call or Email to book

space today!

Susan Uhrlass

susan@boxoffice.com

310-876-9090

80 Fall 2020

80_AD-Index-Fractionals.indd 80 30/09/2020 09:42
---
you dream big

we deliver

Barco Series 4

Cinema is about so much more than a picture

on a screen. It's about creating an experience

that feels real. Cinionic introduces the new Series 4

family members designed for bigger screens.

You dream big. We deliver.

Discover more at www.cinionic.com

Powered by:

200928-BoxOffice-Fall-Cover.indd 3-4 29/09/2020 13:04