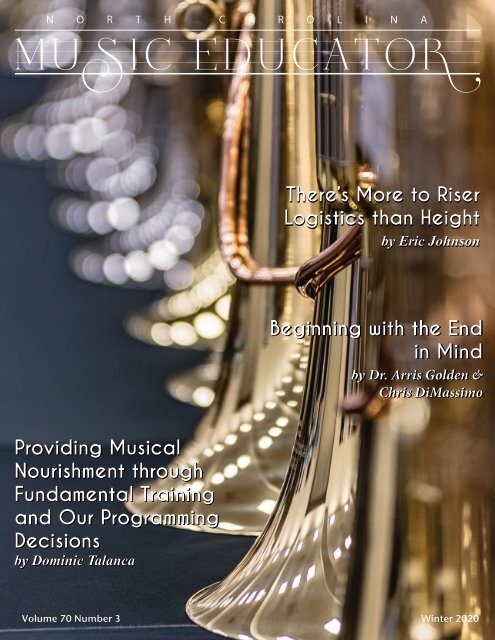 NC Music Educator Winter 2020
North Carolina Music Educator Journal Winter 2020
North Carolina Music Educator Journal Winter 2020
SHOW MORE
SHOW LESS
Create successful ePaper yourself
Turn your PDF publications into a flip-book with our unique Google optimized e-Paper software.
N O R T H C A R O L I N A

MUSIC EDUCATOR

There's More to Riser

Logistics than Height

by Eric Johnson

Beginning with the End

in Mind

by Dr. Arris Golden &

Chris DiMassimo

Providing Musical

Nourishment through

Fundamental Training

and Our Programming

Decisions

by Dominic Talanca

Volume 70 Number 3 Winter 2020

NORTH CAROLINA MUSIC EDUCATOR | 1
---
Making music for today and a lifetime.

UNC WILMINGTON

DEPARTMENT OF MUSIC

UNDERGRADUATE STUDY

BACHELOR OF MUSIC

IN MUSIC EDUCATION

BACHELOR OF ARTS

IN MUSIC

• PERFORMANCE:

instrumental

piano

vocal

2019-20 AUDITION DATES

Saturday, February 8

Saturday, February 22

Saturday, February 29

• JAZZ STUDIES

• MUSIC TECHNOLOGY

• GENERAL MUSIC

MINORS:

• choral music

• general music

• jazz studies

EMPOWERING TEACHERS TODAY

POWERS THE MUSIC OF TOMORROW

As an educator, one of the most impactful ways to improve is by educating yourself. That's

why the Yamaha Educator Suite (YES) helps music teachers access professional development

opportunities, music teacher resources, program health support, advocacy assistance and

more. YES brings you a network of like-minded teachers, experts and professionals, who want

to help you achieve your goals. Let us help you raise the bar. Go to YamahaEducatorSuite.com

for more information

Dr. Frank Bongiorno

chair

bongiornof@uncw.edu

uncw.edu/music 910.962.3415

AN EEO/AA INSTITUTION.

Questions regarding UNCW's Title IX compliance

2 | NORTH CAROLINA MUSIC EDUCATOR NORTH should CAROLINA be directed MUSIC to TitleIX@uncw.edu.

EDUCATOR | 1
---
N O R T H C A R O L I N A

MUSIC EDUCATOR

Dance

Design & Production

Drama

Filmmaking

Music

A special thank you to all our advertisers who

NCMEA Board Directory

NCMEA President's Message

Carol Earnhardt

NCMEA Executive Director's Message

Pat Hall

Band Section

4

6

8

10

support music educators and music education in

North Carolina.

Brevard College

East Carolina University

Guilford County Schools

27

11

9

—Jane Koelsch

School of Music

Providing Musical Nourishment

through Fundametal Training

and Our Programming Decisions

Dominic Talanca

Elementary Choral Section

Middle School Choral Section

Jazz Section

There's More to Riser Logistics than Height

Eric Johnson

16

18

20

22

24

Hayes School of Music

Music and Arts

NAfME

Pfeifer University

Rosen-Schaffel Competition

Smoky Mountain Music Festival

UNC Charlotte

15

Inside Back Cover

19

7

31

19

21

Powering

Creativity

Beginning with the End in Mind

Dr. Arris Golden & Chris DiMassimo

Orchestra Section

Research

Conference 2019

28

30

32

34

UNC Greensboro

UNC Pembroke

UNC School of the Arts

UNC Wilmington

Yamaha

13, Back Cover

25

3

1, 23

Inside Front Cover

Music

Editorial: All editorial content should be sent to: Kimberly

Justen, Editor-in-Chief, at journal_editor@ncmea.net.

Moved Recently?

Notify NAfME of your change of address.

By doing so, your NCMEA membership

address is automatically updated as well!

NAfME: www.nafme.org/login

Advertising: Information requests and ad orders should

be directed to Kimberly Justen, Editor-in-Chief, at

journal_editor@ncmea.net.

North Carolina Music Educator is copyrighted. Reproduction

in any form is illegal without the express permission of the

editor.

Postmaster: Send address changes to: NC Music Educator, c/o

NCMEA, 883-C Washington Street, Raleigh, NC 27605.

Non-Profit 501(c)(3) Organization U.S. Postage Paid at Lubbock,

Texas. ISSN Number 0400-3332 EIN number

20-3325550

Music has the power to inspire. Join the next generation of creative innovators.

UNCSA.EDU/MUSIC

2 | NORTH CAROLINA MUSIC EDUCATOR NORTH CAROLINA MUSIC EDUCATOR | 3
---
Board of Directors

EXECUTIVE OFFICERS

SECTION CHAIRS

COMMISSION & COMMITTEE CHAIRS

President: Carol Earnhardt*

Forsyth County

cearnhardt@ncmea.net

Immediate Past President:

Jazzmone Sutton*

Wake County

jsutton@ncmea.net

President-Elect: Johnathan Hamiel*

Forsyth County

jhamiel@ncmea.net

Recording Secretary: Ruth Petersen*

Mecklenburg County

member-at-large1@ncmea.net

Member-at-Large: Lillie Allmond Harris*

Guilford County

member-at-large1@ncmea.net

Member-at-Large: Quincy Lundy*

Forsyth County

member-at-large2@ncmea.net

District 1: Dawn Rockwell*

Beaufort County

district1@ncmea.net

District 2: Jeffrey Danielson*

Carteret County

district2@ncmea.net

District 3: Tonya Suggs*

Wake County

district3@ncmea.net

Band: Jason Barclift*

Carteret County

band_chair@ncmea.net

Band Section Delegate:

Alyssa Montgomery*

Wake County

band_delegate@ncmea.net

Collegiate NAfME: Molly Griffin*

Pitt County

collegiate_president@ncmea.net

Elementary: Dee Yoder*

Burke County

elementary_section@ncmea.net

High School Choral:

Bethany Jennings*

Gaston County

hschoral_chair@ncmea.net

Higher Education: Brett Nolker*

Guilford County

higher_education@ncmea.net

DISTRICT PRESIDENTS

District 4: Tyler Harper*

Robeson County

district4@ncmea.net

District 5: Tonya Allison*

Forsyth County

district5@ncmea.net

District 6: Alice Pounders*

Lincoln County

district6@ncmea.net

Jazz Education: Josh Cvijanovic*

Orange County

jazz_chair@ncmea.net

Jazz Section Delegate:

David Lail*

Mecklenburg County

jazz_delegate@ncmea.net

Middle School Choral:

Aaron Lafreniere*

Mecklenburg County

mschoral_chair@ncmea.net

Orchestra: Donald Walter*

Guilford County

orchestra_chair@ncmea.net

Orchestra Section Delegate:

Corrie Franklin*

Orange County

orchestra_delegate@ncmea.net

District 7: Jonathan Chesson*

Burke County

district7@ncmea.net

District 8: James Phillips*

Henderson County

district8@ncmea.net

* Voting Member

Counties listed reflect the county taught in

Exceptional Children & General Music:

Rue S. Lee-Holmes

Sampson County

exeptionalchildren_generalmusic@ncmea.net

Conference Chair: Barbara Geer

Forsyth County

conference_chair@ncmea.net

Asst. Conference Chair: Adam Joiner

Forsyth County

conference_assistant@ncmea.net

Mentoring: Windy Fullagar

Mecklenburg County

mentoring_program@ncmea.net

Multi-Cultural Awareness:

Jazzmone Sutton

Wake County

jsutton@ncmea.net

AWARDS, GRANTS

& SCHOLARSHIP CHAIRS

Awards: Lillie Allmond Harris

Guilford County

member-at-large1@ncmea.net

Mini Grant: Jazzmone Sutton

Wake County

jsutton@ncmea.net

Summer Professional

Development Grant: Jose Rivera

Robeson County

teacher_education@ncmea.net

Scholarships: Quincy Lundy

Mecklenburg County

member-at-large2@ncmea.net

883-C Washington Street

Raleigh, NC 27605

919-424-7008

www.ncmea.net

Executive Director: Pat Hall

pathall@ncmea.net

NCMEA OFFICE

Music In Our Schools Month:

Angela Mangum

Granville County

miosm_chair@ncmea.net

Music Program Leaders: Andrew Craft

Forsyth County

music_program_leader@ncmea.net

Research: Tim Nowak

Pitt County

research_chair@ncmea.net

Retired Membership: Libby Brown

Watauga County

retired_membership@ncmea.net

Student Activities: Johnathan Hamiel

Forsyth County

jhamiel@ncmea.net

STANDING COMMITTEE CHAIRS

Advocacy: James Daugherty

Davidson County

jdaugherty@ncmea.net

Constitution: Maribeth Yoder-White

Watauga County

constitution_committee@ncmea.net

Finance: Jazzmone Sutton

Wake County

jsutton@ncmea.net

Membership: Johnathan Hamiel

Forsyth County

jhamiel@ncmea.net

Publications: Kim Justen

journal_editor@ncmea.net

Communications Manager:

Mark Healy

Wake County

mhealy@ncmea.net

Teacher Education: Jose Rivera

Robeson County

teacher_education@ncmea.net

Technology Chair: Howell "Howie"

Ledford

Guilford County

technology_chair@ncmea.net

Tri-M: Jennifer Wells

Alamance County

tri-m@ncmea.net

Webmaster: Mark Healy

Wake County

mhealy@ncmea.net

Young Professionals: Lisa Qualls

Randolph County

young_professionals@ncmea.net

EX-OFFICIO MEMBERS

Collegiate NAfME Advisor: Lisa Runner

Watauga County

collegiate_advisor@ncmea.net

Editor: Kim Justen

journal_editor@ncmea.net

Executive Director: Pat Hall

Wake County

pathall@ncmea.net

Historian: Dr. John Henry, Jr.

Guilford County

historian@ncmea.net

Music Industry Rep.: Open

music_industry_rep@ncmea.net

Parlimentarian: Dave Albert

Wake County

parlimentarian@ncmea.net

State Department of Public Instruction

Rep.: Brandon Roeder

Wake County

brandon.roeder@dpi.nc.gov

advancing music education by promoting

the understanding and making of music by all

4 | NORTH CAROLINA MUSIC EDUCATOR NORTH CAROLINA MUSIC EDUCATOR | 5
---
President's Message

When I was in 2nd grade, I complained to my mom

that I couldn't see what the teacher was writing on the

chalkboard. I had to step closer to the board and to

wall posters to read the words and see the pictures. My mom took

me to be examined by a local eye doctor who convinced her that

there was nothing wrong with my eyesight.

His diagnosis was that I had a desire to own a pair of glasses.

According to him, my vision was fine. My mom trusted him

and I continued well-established habits of sitting in front of

the classroom, listening carefully to verbal instructions, and

asking my classmates for help. Two years later, it was my fourth

grade teacher who convinced my mom I had a serious visual

impairment. This time, my mom took me to a different doctor,

one who was highly recommended by community members. The

doctor fitted me for glasses designed to cure my vision problems.

When I walked out of the office lobby with my new "cool"

glasses, I began pointing excitedly and proclaimed to my mom,

"Look! There is a cow in that field! Oh my gosh mom! I can see

every leaf on that tree!" Before owning a pair of glasses, cows

were invisible and trees looked like green blobs. That day, I

experienced perfect 20/20 vision for the first time.

Since the beginning of the new year, I have seen countless

memes and heard several witty comments relating the year 2020

with perfect vision. I couldn't pass up the opportunity to talk

about our organization's vision for music education.

Vision 2020

In 1999, 150 people attended the Housewright Symposium

in Tallahassee, Florida to discuss the future of music education.

The group included K – 12 music teachers, higher education

professors, music industry representatives, community members

and NAfME leadership (then called MENC). The culmination

of their meeting was the Housewright Declaration, a summation

of agreements intended to steer the course of music education

Carol Earnhardt

over the next decades. The participants agreed to call their efforts

Vision 2020.

These leaders were looking two decades ahead, imagining

societal and political changes while dreaming of the directions

necessary to support music education through the beginning of

the millennium. It's interesting to read Vision 2020 (Madsen, C

& Music Educators National Conference, 2000) from our end of

the time-line. Hindsight is always 20/20. It is much more difficult

to imagine a vision beyond what you know in the present. Those

who participated in the symposium were called to serve as

prophets for our profession.

It was the vision of James R. Hall, Hortense Kerr, and many

other music education leaders to merge three organizations into

the organization we know today as the North Carolina Music

Educators Association. The story of this merger is a beautiful

rendition of foresight and courage that led to the birth of NCMEA

in 1970 (Kerr, 2019). This year, our organization will celebrate

50 years of members who have worked towards the vision of

advancing music education in North Carolina and empowering

generations to create, perform and respond to music. It will be

an exciting year as we celebrate our past and look towards our

future. I encourage each of you to imagine what your classroom

will look like in the next decade; think beyond this year.

• How might NCMEA help you to achieve that vision?

• What support do you need to fulfill the goals set forth by our

organization in our values and in our strategic plan?

Thankfully, North Carolina has continued to house some of

the best musician/leaders in the nation.

Conference

This year's conference was spectacular. Over 2,000 teachers,

students, and parents visited Winston-Salem in November to

support music education and music educators. I especially

enjoyed this conference.

I have attended the

NCMEA conference for

nearly 30 years, but this

was the first year I was

able to attend sessions

outside of my section.

On Saturday

night of conference, I

couldn't stop smiling as

I watched and listened

as orchestra teachers read

through some music. Every person in the room looked so happy.

Honestly, I felt like I should have paid admission for their concert.

It was enlightening to see music through the lense of an orchestra

director. Thanks to everyone who worked behind the scenes to

make our conference so spectacular.

Share Your Vision

I am excited about the new and returning members of our

board for 2020. Please familiarize yourself with these new

members. Let your voice be heard on ways NCMEA can support

you in providing music education to your students. Share your

vision with the chair of your section, your district president, or

any of the other members of your NCMEA board. Help us to see

clearly our professional surroundings. Get involved! Currently,

voting is open for NAfME representation at both the national and

Affordable.

Tradition.

Home.

The Piedmont Institute for

Communication, Music and Art (PICMA)

Annual competitions and scholarships for

high school students.

Learn more at pfeiffer.edu/picma

800-338-2060 or admissions@pfeiffer.edu

Apply today: pfeiffer.edu/apply

divisional levels. Go to nafme.org/about/2020-nafme-elections/

to read about the candidates. Make sure you vote before the

February 12 deadline.

Ten years ago, I had Lasik surgery. After a lifetime of glasses

and contacts, a 15-minute procedure cured my distance vision for

good. I only use reading glasses now, but that is just a sign of a

long life. There is no apparatus or surgery that could help us see

ahead to create a better world for music education. It is through

NCMEA that we are provided with leaders, colleagues, advocates

and friends who encourage and enlighten us as professionals and

provide the lenses needed to see us through each new challenge.

References

Kerr, H. (2019, Fall). The merger story. The merging of musical minds and

how NCMEA came to be. North Carolina Music Educator, 69 (3), 26-28.

Madsen, C., & Music Educators National Conference (U.S.). (2000). Vision

2020 : The housewright symposium on the future of music education.

Reston, VA: MENC.

BEST

COLLEGES

RANKINGS

pfeiffer.edu

6 | NORTH CAROLINA MUSIC EDUCATOR NORTH CAROLINA MUSIC EDUCATOR | 7
---
Notes from the Executive Director

Pat Hall

Many thanks to all of you who made your vote count. At

the NCMEA board meeting at the close of conference,

the following new board members took the oath of office

for two-year terms:

President-Elect: Johnathan Hamiel

Director of Bands, RJ Reynolds High School, Winston-Salem

Recording Secretary: Ruth Petersen

Director of Bands, Bailey Middle School, Cornelius

Member-At-Large 1: Lillie Allmond Harris

K-5 General Music, Union Hill Elementary School, High Point

Member-At-Large 2: Quincy Lundy

Director of Bands, Walkertown Middle & High Schools,

Walkertown

District 1 President: Dawn Rockwell

Beaufort County

District 2 President: Jeffery Danielson

Carteret County

District 3 President: Tonya Suggs

Wake County

District 4 President: Tyler Harper

Robeson County

District 5 President: Tonya Allison

Forsyth County

District 6 President: Alice Pounders

Lincoln County

District 7 President: Jonathan Chesson

Burke County

District 8 President: James Phillips

Henderson County

ADVOCACY UPDATE

The long legislative session has finally come to an end. The

General Assembly spent the last week of October rushing to

tie up loose ends before adjourning. In November, legislators

primarily dealt with redistricting and adjourned on November

15.

House Bill 377, approved by the General Assembly and sent

to the governor for signature, provides an average raise of 6.2%

for principals and implements annual step increases for teachers.

Senate Bill 354, providing 3.9% raises for teachers and 2.1%

raises for non-instructional staff was also sent to the governor.

The bill includes a $500 bonus for teachers with more than

25 years of experience, signing bonuses for teachers in small

WHO CAME

to CONFERENCE

1,061

Active

Members

37 First

Year

Teachers

314

Collegiates

96 Retired

Members

116 Exhibitors

Conference Wrap-Up

We hope you had a great experience at conference and

were able to bring renewed energy and new skills back to your

classroom.

Mark your calendar for November 7 – 10, 2020, as we celebrate

NCMEA's 50th Anniversary!

If you would like to share a piece of NCMEA history, we would

like to hear from you. Throughout the Conference schedule we'll

share legacy stories, recognize recent and past NCMEA Awardees,

and look to the future of music education in 2020 and beyond!

counties and a teacher bonus program. Higher teacher raises

would be implemented if the state budget bill became law.

The House overrode the Governor's budget veto on

September 11. The Senate leadership put the vote to override

the budget veto on the calendar and then took it off the calendar

ultimately never holding a vote. Legislators continued to pass

"mini budgets" but never took teacher pay raises for a vote.

We will continue to update NCMEA members on

developments when the Legislature reconvenes on January 14.

In the meantime, we are closely following the budget issues.

Our lobbyist, Ashley Perkinson, is continuing to build strong

relationships with education and education appropriations

leaders in both the Senate and the House.

8 | NORTH CAROLINA MUSIC EDUCATOR NORTH CAROLINA MUSIC EDUCATOR | 9
---
B

and

Jason Barclift, Chair

2019 NCBA Award Winners

Award of Excellence

The Award of Excellence is given to band directors across

our state who demonstrate excellence in all facets of

instrumental music education. Each of the six districts in

our state nominate and vote on one person each year to receive this

honor in our organization.

Central District – Renee Todd

Renee Todd is a Maryland native.

She holds a Bachelor of Science in music

education from the University of Maryland.

While there, she served as principal

trumpet in the Wind Ensemble, drum

major and section leader for the Mighty

Sound of Maryland, and received the Otto

Siebeneichen Award for Most Outstanding

Senior Musician.

Todd is currently in her fifth year as director of bands at Ligon

GT Magnet Middle School and twenty-fourth year of teaching

music. Under her direction, the Ligon Band program has grown to

over 250 band members, with four wind bands and a jazz ensemble

achieving superior ratings at both local and national music

festivals. The Ligon Band was chosen to perform at the NCMEA

Professional Development Conference in 2015. In 2016, Todd was

awarded Band Director of the Year for the NC Central District.

Before her appointment at Ligon, she was nominated Teacher

of The Year at Dillard Drive and at Wendell Middle. Under her

direction, the Wendell Band program grew to three wind bands,

and two jazz ensembles, achieving superior ratings at local and

national festivals. She has served as site host for the Central District

Band Middle School MPA and for the Wake All County Middle

School Band. She is currently on the board of directors for the

Central District Band Association.

Todd is an active freelance trumpeter, guest clinician and

conductor for concert and jazz honor bands as well as a private

instructor in the Triangle area. She has private studios in Wake

Forest and Raleigh. She performs with area orchestras, bands and

brass quintets, including the Triangle Brass Band and Resurrection

Lutheran Brass. She has also performed with the Triangle Wind

Ensemble, North Carolina Wind Orchestra, Raleigh Symphony

Orchestra, and Tar River Symphonic Band.

Eastern District – Kim Barclift

Kim Barclift began her teaching career

in 1999, serving and conducting in both

middle and high school settings. Since

2017, she has been the director at Broad

Creek Middle School, in Newport, NC.

Throughout her career, her bands have

consistently received Superior ratings at the

North Carolina Concert Band MPA, as well

as numerous marching accolades during her

leadership at West Carteret High School.

Barclift graduated Magna Cum Laude from East Carolina

University as a North Carolina Teaching Fellow in 1999, with

a Bachelor of Music in music education. In 2008, she received

National Board Certification in music for early adolescents

and young adults, and recently renewed her certification for an

additional 10 years. She earned her Master of Music in music

education from Boston University in 2012.

In addition to teaching band, Barclift has served as department

chair, lead mentor for new teachers, and supervised clinical

interns for East Carolina University. She served the NCBA Eastern

District for many years as the All-District Band Clinic Host and

Chairperson and is currently serving as the NCBA Eastern District

President.

Online Master's Degree

in Music Education

East Carolina University® established the online MM in music

education program in 2004, making it the oldest online music

education curriculum in North Carolina.

Master of Music distance education classes are taught by the

same excellent East Carolina University School of Music faculty

that teach campus-based students.

For more information, contact Dr. Jay Juchniewicz, Coordinator

of Graduate Studies, at juchniewiczj@ecu.edu or 252-328-1251,

or visit ecu.edu/music.

10 | NORTH CAROLINA MUSIC EDUCATOR NORTH CAROLINA MUSIC EDUCATOR | 11
---
Northwestern District – Haskew Smith

Haskew Smith is band director at Newton-

Conover High School and Middle School.

A 1992 graduate of Appalachian State

University and a National Board Certified

Teacher, he is in his twenty-eighth year of

teaching in North Carolina; 26 have been

at Newton-Conover. While there, Newton-

Conover bands have earned high marks in

concert, jazz, and marching performances.

Moreover, the bands have given countless performances in the

community for the people of Catawba County, North Carolina and

the U.S.

During his career, Smith has been involved in many different

professional organizations. At Newton-Conover High School

he has served numerous years as the arts department chair. As

a member of NCMEA, he was involved in the introduction and

development of the Jazz Section and its west region division. There,

he served as chair, hosted auditions and was clinic chair for ten

years. He currently serves as treasurer of Newton-Conover NCAE.

For the past 15 years, Smith has been a founder, host, member,

and leader in the Newton-Conover Community Band. From

2015 – 2018 he served as director for the Community Jazz Band

and now co-directs the concert band. In 2015, and again in 2019,

he was the Catawba Valley Band Director of the Year.

Southeastern District – Steve West

Steve West is a native of Fayetteville. He earned a Bachelor of

Science in music education from Pembroke State University in

1987. He began his teaching career in Robeson County before

brief stints teaching at Spring Lake Junior High, Stedman Middle

School, Reid Ross Middle School, and in Bladen County.

He returned to Cumberland County to serve as the director

of bands at Massey Hill Classical High School for four years prior

to becoming the first band director at Gray's Creek High School.

For the past 16 years, he has led the Gray's Creek band program to

numerous superior ratings with his concert and marching bands.

His students have consistently placed in All-County, All-District

and All-State Honors Bands.

As an accomplished saxophone performer, West has graced

the stage with several professional musicians including the Roy

Roach Dance Band, Lloyd Hinson Dance Band, Ringling Bros.

and Barnum and Bailey Circus, Cape Fear Regional Theater, 2nd

Time Around Jazz Band, and the Cape Fear and Moore Regional

Community Bands.

South Central District – Bart Tulbert

Prior to his appointment to the position

of Cabarrus County Schools K–12 fine arts

coordinator, Bart Tulbert was the director of

bands at Mount Pleasant High School from

2002 – 2018. Under his baton, the Mount

Band enjoyed success on the field and in

the concert hall. His ensembles received

numerous awards throughout regional

competitions, and consistent superior

ratings at North Carolina MPA.

Tulbert was awarded the honor of Mount Pleasant High

School Teacher of the Year in 2013, and again in 2018, and the

Time Warner Cable Star Teacher Award in 2008. Originally from

Mooresville, he is a 1996 graduate of Mooresville Senior High

School, a 2001 graduate of Appalachian State University (BM), and

a 2010 graduate of the University of Southern Mississippi (MM).

Western District – Allen Klaes

Allen Klaes is a graduate of Travelers

Rest High School and Western Carolina

University. As a euphonium player at

WCU, he participated in the Pride of the

Mountains Marching Band, wind ensemble,

symphonic band, tuba euphonium

ensemble, Men's Cathouse Band, and

Women's Cathouse Band.

He has served as the 11 – 12 All-State

Band Clinic chairman and the Western District Bandmasters

president. He also served as the NC Honors All-State Band Clinic

Chairman for 11 – 12 Band. In 2011, he was awarded the Encore

Award by NC ASBDA.

He is a brother of Phi Mu Alpha Sinfonia, and a member of

NCMEA. He is also a member of the American School Band

Directors Association.

Klaes has been the band director at West Henderson High

School for 12 years, where the band has earned superior ratings

at MPA. WHHS students have performed in the US Army All-

American Marching Band, BOA's Honor Band of America, All-

District Band, and All-State Bands.

In the West Henderson Band you will frequently hear, "This is

supposed to be fun. I never said it would be easy, I said it would be

worthwhile. You think you are learning about music, but you are

really learning about life."

NCBA Hall of Fame

Jay Bolder – Nominated by Jim Hill

Jay Bolder is a Monroe native. After

graduation from Wingate University in

1980, he began his career in Cumberland

County, teaching in middle and high

school programs, where he remained for

30 years until retirement in 2010. From

2011 – 2013 he held interim positions in

both Cumberland and Scotland counties.

Since 2013, he has served as a part-time

assistant director and academic teacher

at Central Academy for Technology and Arts in Monroe. He has

served as a clinician in both Carolinas.

He is a prolific composer, arranger and adjudicator. His bands

have been exemplary in many areas: marching bands, concert

bands, jazz bands, pop bands and full orchestra. His programs

also participated annually in solo and ensemble. His personal

philosophy for music education is to offer music to anyone who

would like to learn. His bands garnered 41 superior ratings at

MPA, usually taking three bands per year and once taking four

bands. His bands performed in North Carolina, South Carolina,

Georgia, Philadelphia, Florida, California, Virginia and a cruise

to the Bahamas. Forty of his students have enrolled in college

America's Most Popular!

July 12–17, 2020

July 19–24, 2020

smcamp.uncg.edu

800-999-2869 • smcamp@uncg.edu

12 | NORTH CAROLINA MUSIC EDUCATOR NORTH CAROLINA MUSIC EDUCATOR | 13
---
as music majors, many as band directors. He has performed in

musicals, community bands, symphony orchestras, top 40, and jazz

groups. His varied experience includes casting and choreographing

scenes for the movie Bolden.

Bolder has received The Order of the Long Leaf Pine, the

highest civilian award the state can bestow. Hope Mills, the

town where he taught, honored him with "Jay Bolder Day". He

is a member of our state music and instrumental organizations.

In addition, he has held memberships in the Cumberland

County Band Directors Association, Southeastern District Band

Association, South Central District Band Directors Association

and is a member of the American School Band Directors

Association.

Blair Smith – Nominated by Chris White

Blair Smith retired after 30 years of service

in North Carolina public education. He

is from Mechanicsville, Virginia, and

graduated from East Carolina University in

1985.

He began his teaching career at Chaloner

Middle School in Roanoke Rapids, before

moving to Central Cabarrus High School in

1991. While at Central, he benefited from

the musical knowledge of Ed Powell. Smith retired as the director

of bands at Jay M. Robinson High School in Concord, which

opened in August 2001. He now works for Digital Performance

Gear, which provides apparel for the marching arts.

His students have performed with the All-County, All-

District, and All-State Honors Bands, the Honor Band of America

Symphonic Band, the Honor Band of America Marching Band and

the Governor's School Wind Ensemble and Orchestra. His students

have been featured soloists with the Charlotte Symphony and

Charlotte Youth Wind Ensemble. Solo and ensemble performances

by his students received superior ratings at all grade levels of music.

Former students have continued to become music educators, as

well as making careers in the music industry. He has supervised

numerous student teachers during his high school teaching career.

His Wind Ensemble performed at the NCMEA Professional

Development Conference in 1997. Percussion ensembles under

Smith's direction performed twice at the North Carolina Day of

Percussion. He has also served as former director of percussion

studies with the Charlotte Youth Wind Ensemble. His marching

bands have received consistent superior ratings at local, regional

and national performances. As a prominent Bands of America

participant, his bands were consistent finalists at the regional and

national level. His Central Cabarrus Marching Band was the last

North Carolina band to make finals at the Bands of America Grand

Nationals. The Jazz Band at Robinson received superior ratings at

state jazz festivals and regularly featured nationally accomplished

jazz soloists.

Smith states, "I have had the good fortune of learning from

some of the best mentors and teachers anywhere. I hope that I have

passed on part of my love of music and enthusiasm for band to my

students. There is not a better profession in the world, and I cannot

imagine doing anything else as a career. We should be humbled

that we have the ability to change a student's life. With the amount

of time students put into a band program, a director's positive role

model can make all the difference. Music is, and always will be, an

extension of the soul. My goal was for each and every rehearsal to

have the opportunity for at least one musically moving moment.

The excitement in a student's face after an inspiring performance

can't be duplicated. I am honored and very grateful that I worked

with the best professionals and best people in the country."

Don Peach – Nominated by Rodney Workman

Donald Peach, former director of bands

and music coordinator at Hickory High

School, recently served for the second time

as the interim associate director of bands at

Appalachian State University, where he was

director of the Marching Mountaineers and

symphony band. He is a graduate of Mars

Hill College with a Bachelor of Arts in music

education.

Peach was the Lincolnton High School band director from

1973 – 1994, during which time his bands received numerous

superior and excellent ratings and attended the 1985 Inaugural

Parade in Washington, D.C. After formally retiring from public

school teaching, he was an educational representative for Music &

Arts Centers for six years and rehearsed the Pride of the Mountains

Marching Band at Western Carolina University for 12 years during

their camps.

He carries a flame of energy, fun, and dedication in all of his

roles. He served as past-president of Northwestern District Band

Directors Association and is a member of Phi Mu Alpha Sinfonia,

the American School Band Director Association, and NCMEA.

He has served as an adjudicator and presented various band clinics

and workshops around the nation.

Peach also served as the curriculum section chair on the state

task force that revised the North Carolina music curriculum. In

addition, he was the assistant director of the Spirit of America

National Honors Band and Freedom Singers, which performed

throughout Europe in 2001. He also enjoyed directing the

orchestra for the Lincoln County Theatre Guild during their

summer productions of Hello Dolly, The Sound of Music, Fiddler on

the Roof, Oklahoma, and Music Man from 1981 – 1986.

Currently, he informally mentors young band directors, and

formally is academic music supervisor for student teachers and

practicum interns at Appalachian State University's Hayes School

of Music.

Marsha Smithwick – Nominated by Joshua

Potter

Marsha Smithwick retired in 1999

after having served for 30 years in the

Bertie County schools, teaching at the

elementary, middle, and high school levels

simultaneously for the duration of her

career. Her concert ensembles at Bertie

earned consistent superior ratings at MPA in

Levels IV and V. Her marching bands earned

consistently high rankings and ratings

throughout her career as well. She developed

a solo and ensemble program that performed local recitals as well

as district events.

Smithwick served as president of the NCBA Eastern District

for two terms, as well as president-elect, and past president for

each term. She served as the Senior High All-State Honors Band

auditions chair for many years. She was recognized with the NCBA

Award of Excellence, and the Bertie County Young Educator

Award, an Award of Excellence from the Bertie County Board of

Education. She was an elected member of the American School

Band Directors Association. She has conducted many All-County

Honor Bands, as well as the Eastern District Senior High All-

District Concert Band.

While most of her students could not afford private lessons,

Smithwick worked diligently with each of them individually to help

them prepare for Honor Band auditions. Her students consistently

earned spots in All-District and All-State Honors Bands. She had

two students participate in the Sousa National Honor Band. Many

of her students went on to become music educators. She was able

to bring out the best in her students because they knew she would

accept no less.

Smithwick served as cooperating teacher for many student

teachers and as president of the East Carolina School of Music

Alumni. She took an interest in many of the young band directors

and was always someone interested in helping others further their

careers. As someone who was a bit of a pioneer for female band

directors, she was always ready with a funny story and a supportive

comment when the young women musicians needed it.

Smithwick instilled a love of music education and the arts in the

hearts of her students. She helped to bring culture to students in a

very rural and socioeconomically disadvantaged area.

Perhaps the greatest testament to her is that she used music

and the arts as a venue to bring empowerment, a sense of worth,

and pride to her students. Her students attribute the work ethic

and sense of pride that she instilled in them to meet goals and

challenges as major contributors to their success today as music

educators, regular educators, and with careers in many different

fields.

One of her former students says, "On the days when teaching

feels too hard, I press forward because I know that I just might be

'that' teacher for a student in my classroom. And "that" teacher is

the kind of teacher that Mrs. Smithwick was. The one who touches

your mind and heart in an unforgettable way and gives you the

skills and beliefs to help you become all that you're meant to be.

Having had her for a teacher feels like I was given a gift that I will

never be able to reciprocate, but I will strive to do so by being the

best teacher I can for my students."

MUSIC EDUCATION

MUSIC THERAPY

SACRED MUSIC

THEORY & COMPOSITION

MUSIC PERFORMANCE

MUSIC INDUSTRY STUDIES

SCHOLARSHIP AUDITION SCHEDULE

January 18, 2020 (Instrumental and Vocal Areas) *

January 25, 2020 (Instrumental and Vocal Areas) *

February 8, 2020 (Instrumental Areas)

February 22, 2020 (Instrumental and Vocal Areas; for Admission Only)

*To be considered for the Hayes Young Artist Scholarships and to participate in the competition process,

prospective students must audition on one of the "starred' dates.

music.appstate.edu | 828.262.3020

14 | NORTH CAROLINA MUSIC EDUCATOR NORTH CAROLINA MUSIC EDUCATOR | 15
---
y Dominic Talanca

Teaching is a lot of things. For many of us, it is a labor of

love that follows us home at the end of a long day. We often

give our teaching more time and thought than many other

aspects of our life. Sometimes it is a source of anxiety. How can

something we love so much bring about this inner turmoil?

Setting aside all of the factors beyond our control, at our core,

our feeling of stress likely stems from the fact that we care deeply

for our subject matter and for our students, and we want to do

right by both. The fact that we teach music adds another complex

dynamic that blends craft and skill with art. As music educators,

our focus must be on the delicate blend of skill building and music

making in a way that allows them to coexist without having a hyper

focus on one and not the other. This brief article will address one of

our most important jobs as music educators: programming for our

ensembles… and the way it highlights our priorities as musicians

and educators.

More than anything, I hope this commentary will serve as a

reminder of things we already know but may lose sight of when

focusing on the daily onslaught of emails, assessments, and

administrative work. If the ideas discussed are new, then that's

great; I hope they can be of use to you. If they resemble notions you

have heard before but never fully applied, or ones that have fallen

out of habit, then I hope this may bring new life to these concepts

in your teaching and programming.

Context and Lead In

I have been doing CrossFit for a little over two years. Over

that time, I have come across some quotes and online content that

SCALE JAIL

Providing Musical

Nourishment through

Fundamental Training

and Our Programming

Decisions

resonated with me and the musical/educational aspects of my

life. One tidbit is from Unity Gym in Sydney, Australia. At Unity,

they do not focus on diet and exercise; they focus on nourishment

and movement. Sounds simple enough, but I think the nuance

in the difference is significant as it relates to how we approach

teaching and how we apply that teaching to music-making and

performance. I came across a quote that made me laugh at first and

then made me think: "Exercise is a celebration of what your body

can do – not a punishment for what you ate."

Programming should be a celebration of goals, priorities, and

the current and future achievements of our student musicians. In

that way, as music educators, we are also soothsayers. We must

endeavor to HEAR into the future to determine what is possible

when factoring in our resources, our own efforts at planning, the

current and future skills of our students, and the fundamentals we

are fostering and teaching them on the regular.

Is It a Warm-Up or a Time for Fundamental

Development?

Wait! This is supposed to be about programming – nobody said

anything about "the warm-up" or scale jail, as some may refer to

it. Whatever you call it – that period of time in the beginning of

rehearsal is one of the most important factors in determining the

direction of your music program and your ensemble's repertoire

possibilities. I would argue that this is the time to build the skills

that you want to celebrate through musical expression. So, the

next question is, HOW are we using that time? Are we taking time

to "tune the instruments" or are we utilizing that time to teach

students to use their ears and adjust? Are we progressing through

a routine to get through the warm-up, or are we creating variety

in a way that requires students and teacher to mentally and aurally

remain on their toes?

The most creative educators can utilize 45+ minutes on skillbuilding/fundamentals

in a 90-minute rehearsal in an engaging

way. I am not saying half of every rehearsal should be used in

this way, but I contend if we look at how we use that opening

segment of time in our rehearsal, we can create something more

developmental and less "routine-oriented." Productive doesn't

necessarily mean short.

Fighting the Good Fight

Have you ever thought, "I love that piece, but it was more work

than it was worth, and I won't be teaching it again?" I know I have.

Being honest with myself, I think it really means I programmed

something that I wanted to do, but the students did not have the

current fundamental skillset with the appropriate trajectory for

improvement to perform at the standard that I'd like to instill in

them as musicians. It may also mean I didn't plan well enough to

foster the growth of those skills during our fundamental sequence

to make it possible.

Keeping with the theme of performance being a celebration

of what our students can do, we do not want every piece to feel

stressful to rehearse/teach. That's not fun or rewarding for anyone

involved. It's not wrong to program a heavy hitter, but we should

ask ourselves how many of those pieces are being programmed

in one concert cycle and whether it is conducive to achieving our

larger set of goals. Our repertoire/programming is our curriculum.

This means that simply playing a particular piece should not be the

goal – it should be the tool/vehicle used to tend to a larger agenda.

Back to Fundamentals

We have established that the fundamental/skill-building

portion of our rehearsal can be utilized in a productive or

unproductive way. We may also agree we do not want to feel like

it is soul crushing to learn the repertoire we program. With these

ideas in mind, I would offer the thought that, in an ideal world,

our fundamental sequence would be the most challenging thing

we do. This is not always possible, but if we strive to challenge

our students by building their fundamental skillset, then we can

make learning repertoire an exercise in the application of their

fundamentals and not rely solely on our ability to teach (force feed)

the piece.

If students only experience the most extreme tessituras,

dynamics, tempi, articulations, intervallic or tonal expectations,

etc. in our chosen repertoire, there is no way the performance

will be as mature as it could be if those things were a focus in the

fundamental portion of rehearsal. There are too many elements in

much of our repertoire to expect students to learn the necessary

skills in addition to executing them at the same time.

It's Not One or the Other

I want to be clear, I'm not proposing only performing music

that is easily achieved. I am just suggesting we ask ourselves what

the piece is doing to serve the larger set of goals we have for our

students and ourselves as musicians/educators. Our fundamentals

and chosen compositions can build musical muscle, but I am also

suggesting we include pieces that are not back breakers – those

pieces that allow for heightened focus and work on the nontechnical

aspects of music making. More clearly put: we should

pair repertoire that builds musical muscle with those pieces that

allow for the most mature and sophisticated musical expression

and nuance possible. The easy pieces are only easy if we do not

use the available brainpower to focus on more sophisticated ideas.

Can we, as educators, identify special musical opportunities in our

repertoire?

What's on the Menu and Don't Skip Leg Day

We have all heard the analogies relating programming and

repertoire selection to a buffet or even a balanced diet. We should

all feel obligated to ask, how are we nourishing our musicians?

Have we fallen into certain programming ruts by neglecting or

favoring music that is comprised of similar characteristics or

challenges? The qualities are too countless to list in this setting, but

diversity in all regards is a necessity for the musical nourishment of

our students and of our own musicianship. When programming,

we have all selected music to highlight the strengths and hide

the weaknesses of our ensemble, but how often do we take good

risks to grow and nourish the things that need attention? Are you

skipping leg day?

Musicianship First

Most of us were musicians before we decided to be educators. I

think it is worthwhile to frequently remind ourselves of that. I am

a musician. I am a musician. I am a musician. I noticed that as my

skills in rehearsing, cleaning, fixing, etc. improved, I became more

focused on the craft of being a band director, and I lost sight of

the need to imbue my own musicianship into the ensemble I was

teaching. As teachers, we become good at eliminating unsavory

moments (i.e. fixing stuff that's wrong), but does the music we

select have opportunities to create special musical moments that

make us say "YES!"? What do those special moments look like?

I don't know; they are unique to each individual and unique to

each composition. Every piece in a concert should be different, and

the compositions should reveal to us, the teachers, the things that

deserve special musical attention.

Final Stretch

Developing musical muscle through skill building is imperative.

However, it is more important to look for ways to use that muscle

to support our musical endeavors through the performance of a

varied repertoire, in turn providing nourishment to our students

and ourselves. Yes, pick pieces that challenge students not only

technically, but also choose pieces that look easy so time can be

spent celebrating and expanding upon their musical vocabulary

in performance as well. Our priorities as musicians and educators

should draw a clear line to our curriculum and programming.

It is possible to be a great teacher while never forgetting we are

musicians first.

Dominic Talanca is assistant professor of

music, and director of bands, music education

and conducting at UNC – Wilmington

16 | NORTH CAROLINA MUSIC EDUCATOR NORTH CAROLINA MUSIC EDUCATOR | 17
---
Elementary

Another year has passed, another fabulous conference is

in the books and another crazy Christmas, Chanukah,

Kwanzaa holiday season is over. Now, we are enjoying the

unpredictable weather of this beautiful state. As we plan our lessons

and teach our students, we are often looking at what the winter

weather will bring. Many of us don't know if we will go to school on

a delay or even go at all.

There are often days we may need lessons we can complete in

one class or just ones that fill in the short schedule gaps this weather

can create. Lesson planning can become a challenge. Yet, we prevail

with excellent teaching, fabulous lessons and sharing joyful music.

We all have those tried and true lessons we fall back on and use,

recreate and adapt each year. As we almost always are, we are alone

in our endeavors. However, this amazing group has so much to

share, we just need a place to do it.

I've created a place on our Facebook page, NCMEA Elementary

Section, to share these and other lesson plans with each other. Select

groups (Lesson Plan Ideas) from the left side menu. Where you

would normally post a comment, select More then Add Files. There

you will be able to add your lesson plans. Of course, you will be able

to access lesson plans others uploaded. As with all items you share,

please be sure to give credit where credit is due, and to give links to

purchase or access resources rather than sharing them directly.

Have an idea for a presentation or clinician? Are you willing to

teach a topic for the mini-conference? Our fourth annual miniconference

planning is underway and I want you to be an integral

part! The board members are looking for a venue in the central

piedmont region to host the event. We are considering several

places, however, suggestions are welcome.

We're currently looking for clinicians for the mini-conference.

We often have the common pedagogies, Kodály, Orff, Dalcroze,

and Gordon represented when we can. There are always ideas

outside these topics. Last year, we explored Trauma in the

Music Room, Singing Games for 3 – 5, Garage Band, Creative

Movement, Gordon Learning Theory, Ukulele Jam Session,

Honors Chorus How To's, and a great Make It, Take-It session,

among others. If you'd like to submit a proposal, please email me at

elementary_section@ncmea.net. More details to come, so check our

Facebook page and in our monthly newsletter from Pat Hall.

We look forward to this time to learn more, as well as spending

time with one another before our final programs. Mini-conference

refreshes and rejuvenates us, to finish out another great year.

Dee Yoder, Chair

Teacher of the Year

This year, the Teacher of the Year selection committee had a

high caliber of music educators to select from. I had the honor and

privilege to present the Teacher of the Year

award to Dawn Wilson at our conference.

She is currently teaching in Beaufort

County at John Cotton Tayloe Elementary.

In a nomination letter, she was called

"magnetic and one with the ability to make

others feel welcome and appreciated." The

letter goes on to say Wilson has a magic

way of teaching that makes interns feel

empowered and confident.

It was also said that she brings her A-game with her all the time.

I know this first hand. She was a more than a valuable asset during

our 2019 Conference. Her ability to go with the flow, easily deal

with challenges and see solutions not problems helped everything

go smoothly. I am extremely appreciative of how she stepped in and

helped. We are blessed to have her, both as a member, and as the

Elementary Section chair-elect. We appreciate her hard work and

dedication more than words can say.

As your section chair, it is important to me that we

communicate with one another through as many means as possible.

We are often the only music educator in our building. Often in our

LEA, there is little to no communication between music teachers.

There can be no one to bounce ideas off of or to seek advice. It is my

vision to open lines of communication between members, sharing

and encouraging each other. We, as a whole, are stronger when we

work together, supporting each other.

As musicians, our programs are often the public face of the

school. We bring in parents and community members as well as

those around the school. While our efforts are appreciated, that

isn't always shared with us. I appreciate each and every one of you.

Please feel free to reach out to each other, myself included. Join our

Facebook group and start talking with each other. Our students will

benefit from this!

As I close, please take a moment to think about our

organization. NCMEA will celebrate 50 years STRONG at our 2020

Professional Development Conference. How lucky we are to have

each other and this organization!

Music is the

language of the

spirit. It opens

the secret of life

bringing peace,

abolishing strife.

– Kahlil Gibran

Save the Date!

2020 NAfME

All-National Honor Ensembles

Orlando, Florida

November 4–7, 2020

Elementary, Middle, and High School

Band, Choir, and Orchestra

www.SMMFestival.com or call:1-855-766-3008

18 | NORTH CAROLINA MUSIC EDUCATOR NORTH CAROLINA MUSIC EDUCATOR | 19

2020:

April 3

April 17

April 24

2021:

April 9

April 16

April 23

2022:

April 8

April 22

May 6

The All-National Honor Ensembles

represent the top performing high

school musicians in each state

across the country.

School ensemble directors must be

a member of NAfME for students to

be eligible to apply.

Participants will learn under

renowned conductors and

showcase their musicianship in a

final gala concert.

Audition Deadline:

May 1, 2020, 11:59 PM EDT

Learn more: nafme.org/ANHE
---
Middle School Choral

Aaron Lafreniere, Chair

Department of Music

music.uncc.edu

Welcomes New Faculty for 2019-2020

It's hard to believe one year has already passed since I was

elected to serve as chair of this amazing section! I want to

say again how grateful I am to all of you for your support. Of

course, I could not do it without all of the help of our past chair,

Catherine Butler, and the amazing dedication and hard work from

our executive board and event chairs.

I hope you enjoyed conference this year! I felt like I was

running around the entire time, but the sessions were great and it

was wonderful to see all of you there! The North Carolina Middle

School Honors Chorus performance,

under the direction of Dr. Amanda

Quist, was astounding. I want to

express my profound gratitude to

Robert Waller, Honors Chorus event

chair, for his continued efforts with

the organization and efficiency in

coordinating this event.

The two conference performing

choruses were exceptional as well!

Congratulations to Charlotte Latin

School, under the direction of Emily

Shusdock, and Southeast Middle

School, under the direction of

Angel Rudd, on absolutely superb

performances. I am very thankful to Eileen Kress, performing

choirs chair, for all of her coordination with this process and these

groups.

While all of the sessions were informative and enlightening, a

few sessions stood out to me: IPA from Jonathan Saeger, repertoire

from Eric Johnson, and developing community in the classroom

with Meg Stohlmann and Nicole Sonbert. I'm looking forward to

incorporating these techniques. I would love to hear your thoughts

about the sessions at conference as well. As I begin to plan for next

year, please consider being a presenter. There's a lot a great teaching

going on in our state and we only get better by sharing our craft

with each other. If you feel like you have something to bring to our

community, please be on the lookout for a call for proposals email

from Pat Hall. You do not have to be a college professor, or getting

your doctoral degree, to present at conference, although we love

our presenters at that level, too.

By the time you read this, you will probably be planning and

preparing for MPA. Please keep in mind there are two changes

in MPA for this upcoming year. Both changes are regarding the

sight-reading portion. The first change is that sight-reading is now

required for all registered groups. Almost all of the groups who

register to perform were already participating in sight-reading, but

for those who were not, or are still apprehensive about this process,

simply register for "Comments Only" for the sight-reading portion.

This means that your group will not receive a rating for their

sight-reading, but will still receive feedback from the sight-reading

judge. Another change this year

is that directors are now allowed

to conduct during the rhythmic

portion of the sight-reading

process. The executive board

hopes you find these to be positive

changes within our policies and

procedures. Please do not hesitate

to reach out to your MPA site

host if you have any questions

or concerns about these exciting

updates. I would also like to

extend my appreciation to Susan

Townsend, Dave Dobbins, Paul

Flowers, and Stephanie Peo for

being a panel for the MPA session

at conference and taking the time to share their tips for success.

I would like to take this moment to remind you the deadline

for the NC Middle School All-State Chorus documents is

Sunday, March 1. Be sure to have your documents postmarked

by this date. Please do not send documents via certified mail. It is

too difficult for our event chairs to make a trip to the post office to

sign for these documents. The practice tracks should be available

in February. Please use these tracks in addition to having beforeor

after-school rehearsals with your students to make sure your

singers are prepared for these state-level honor choir ensembles.

All-State Chorus takes place this year on April 17 – 18 at the

Greensboro Coliseum. Our renowned clinicians this year are Tesfa

Wondemagegnehu with the Mixed Chorus, Alison Allerton with

the Treble Chorus, and Emily Burch with the Sixth Grade Chorus.

I look forward to seeing you all there!

Please feel free to reach out to me with any questions,

comments, or thoughts at mschoral_chair@ncmea.net. Excelsior!

Sequina DuBose

Assistant Professor of

Classical and Contemporary Voice

Shayna Stahl

Associate Director of Bands/

Director of Athletic Bands

Audrey Babcock

Assistant Professor of

Classical and Contemporary Voice

Eric Millard

Assistant Professor of Trumpet

Bachelor of Music in: Composition | Jazz Studies | Instrumental or Vocal

Performance | Instrumental/General or Choral/General Music Education | Elective

Study in an Outside Field

Bachelor of Arts in Music | Undergraduate Certificate in Musical Theatre

Minor in Music Performance

20 | NORTH CAROLINA MUSIC EDUCATOR NORTH CAROLINA MUSIC EDUCATOR | 21
---
Jazz

Josh Cvijanovic, Chair

UNC WILMINGTON

SUMMER JAZZ WORKSHOP

Thank you to everyone who helped make the 2019

Professional Development Conference a success! To

everyone who performed, presented, or worked behind

the scenes to make the logistics happen, you all have my sincere

thanks. I am grateful to have the opportunity to work and learn

from so many wonderful musicians and educators, and as we

begin looking toward the 2020 Conference, I'm more than excited

to celebrate the 50th anniversary of NCMEA with such amazing

colleagues.

One of the wonderful sessions this year I was lucky enough to

preside over was Teaching Beginning Jazz Improvisation by Bryan

Castro of Hope Middle School. The room on Sunday was standing

room only, and I wanted to use this journal article to share some

of his thoughts with anyone who was unable to be in attendance.

This is only a bit of the great information he shared with us, and

I encourage you to check out the remainder of his session on his

website: hopeband.weebly.com/

A few thoughts...

The concepts used in jazz improvisation are not hard.

Successful execution, however, requires a lot of work. Sounds

are more meaningful than scales. You cannot expect students to

spontaneously improvise in the beginning stages. It takes many

years of work to get to that point in their playing.

Everything is about tension and release. Playing in a swing feel

is most important. Simple ideas played with a good swing feel are

better than complex finger running that is not!

Strategies for teaching improvisation to

beginners

Begin with rhythmic improvisation on a single note. Strive for

complete ideas or sentences. Play this over a vamp. Introduce a

second note. The flat 7 of the first note (key) you chose. Now you

have a tension note. Use those two notes to form complete ideas.

Really stress to students how these notes feel over the chord, as

well as the resolution and tension from both notes. They can begin

organizing in their mind and understand how these two notes are

used.

Introduce the third – another resolution (happy) note. Now

students have three notes to choose from and form complete ideas.

Introduce the fifth – another resolution note. More choices. I call

the root, third, and seventh Home Base notes. This makes it easy

for students to know instantly how to construct musical sentences

in other keys and other chord types.

Introduce the 9 (second). I call this a wandering note. It does

not have as much tension as the b7, but it doesn't quite resolve. It

wants to move somewhere, usually down, yet another choice to use

in their sentences. Repeat the above process with the fourth and

the sixth. They are wandering notes also. You have now covered

every note in the scale (dominant scale/mixolydian mode). Again,

it is really important that the students feel how each of these notes

work over the chord. They choose how they want their sentences

to sound based on note/word choice. They learn to end ideas on

chord tones. I don't introduce scales first because students have the

tendency to just run notes and not think about how they apply over

the given chord. They will end on nonchord tones and their ideas

will just sound like random notes.

Harmonic Rhythm

One of the hardest tasks beginning improvisers face is keeping

up with the harmonic rhythm – playing the right set of notes at a

specific time over a set of chord changes. I begin with a two-chord

vamp. The I7 and the IV7 chords, four measures each respectively

and repeat; for example, Bb7 and Eb7.

First, repeat all of the previous exercises on the new chord.

Students need to be just as familiar with this second chord and

notes as they are on the first one you introduce. This also begins

to teach thinking about ideas as scale degrees and the idea of

transposition. If the ninth sounds like a wandering note in the

key of Bb it will also sound like a wandering note in the key of

Eb. They learn how those scale degrees relate to a chord. They

can begin to copy an idea or sound to other keys. Now have the

students play over the vamp. The goal is that they change to the

correct set of notes over measures five through eight and back

again when the eight bars repeat back to the beginning.

Harmonic Rhythm Exercises

Using the two-chord progression: Have students play whole

notes through the entire chord progression. All root one time. Then

the third, etc. Stress how each note feels over the chord. Have the

students play the seventh of one chord resolving to the third of the

next chord over the barline. Reverse the order of the above. Have

the students play whatever they want over each chord but still play

the above note changes at the specific times as above. Note: You

can have the students who aren't soloing continue to play the first

exercise while individual students improvise. This keeps them

engaged, ingrains harmonic rhythm, and serves as an auditory cue

to the improviser that they are in sync with the chord progression.

July 12-17, 2020

Celebrating 24 years

of UNCW summer jazz

for middle and

high school students

FOR MORE INFORMATION, CONTACT

Dr. Frank Bongiorno

chair, department of music

bongiornof@uncw.edu

www.uncw.edu/music

UNCW is an EEO/AA Institution. Accommodations for disabilities

may be requested by contacting the Department of Music

22 | NORTH CAROLINA MUSIC EDUCATOR at 910.962.3415 at least 10 days prior to the event.

NORTH CAROLINA MUSIC EDUCATOR | 23
---
There's

More to Riser

Logistics than

Height

uncp.edu/music • music@uncp.edu • 910.521.6230

by Eric Johnson

When I began teaching, I knew one of the keys to

success was a clear, concise seating chart. These were

painstakingly created based on voice parts, singer

strengths/weaknesses, blend, and who could get along with

whom. The chart was constructed to work within the confines of

my classroom. For months we lived and rehearsed in that seating

chart, but come concert time, I simply lined them up from tallest

to shortest and brought them onto the risers. The result was a choir

balanced by height, but the sound was never what it had been.

The journey from classroom to concert stage is multi-faceted,

but one that can easily be missed is attention to singer formation

and spacing on the concert stage. There is a wealth of information

that has been gleaned from careful research and practical

experience relating to how formation and spacing can help or hurt

choirs. Choral directors can use the suggestions provided from the

research to align with their personal preferences, and the needs of

their students, to make decisions regarding formation and spacing

for both rehearsal and performance.

Voice Matching and Compatibility

Existing research

found that specific

placement of voices

in an ensemble

based on vocal

compatibility, and

frequency of tone

has a noticeable

impact on choral

tone and blend

(Killian & Bassinger,

2007; Tocheff, 1990).

Weston Noble

was a well-known

proponent of vocal

compatibility with

his voice matching

techniques that he utilized at Luther College. In an interview with

R. Paul Crabb (2002), Noble explained the first step is to find two

voices within a section that have a natural blend. Once they are

established, singers should be added one by one until all singers

within that section are in a horizontal line. Noble felt that blend

must be present on both sides of the singer and found that often

times opposite voices have the best potential for blend. Additional

research studies in this area have shown acoustical placement may

impact overall choral sound along with individual vocal production

(Ekholm, 2000; Willetts, 2000).

Formation and Spacing

Two key factors of choral configuration are formation and

spacing. The standard formations most commonly utilized by

directors are section blocks, mixed, and columns. As early as 1974,

mixed choral arrangements were frequently being utilized and

found to produce a better balance of voices and improve intonation

(Lamb, 1974). Lamb posited this formation worked best with

homophonic music as polyphonic music suffers in mixed formation

because the clarity of the line is lost. Lambson (1961) agreed

polyphonic music works best in a sectional block formation. Other

researchers have confirmed formation should be determined by the

music that is being sung (Ehmann, 1968, Hylton, 1995).

James Daugherty (2001), a pioneer of choral acoustics, found

that while mixed formations did not produce a noticeably better

sound for the audience, it is however preferred over sectional

formations by experienced singers. Daugherty's work supports

the processes of Weston Noble, as he also encourages vocal

compatibility for choirs of all ages since it encourages sensitivity to

the ensemble sound. Vocal compatibility is most successful when

members of the choir have a voice in the process.

Daugherty (1999, 2003) conducted several other studies

that related to the placement of singers and its correlation to

the perceived blend of a choir. In his study conducted in 1999,

Daugherty used a high school choir to determine the preferences

of auditors for singers in sectional and mixed formations with

MUSIC EDUCATION

MUSICAL THEATRE

BACHELOR OF ARTS

MUSIC INDUSTRY EMPHASIS

Accredited by the National Association of Schools of Music

This publication is available in alternative formats upon request. Please contact the Accessibility Resource Center, D.F. Lowry Building, Room 107, or call 910.521.6695.

24 | NORTH CAROLINA MUSIC EDUCATOR NORTH CAROLINA MUSIC EDUCATOR | 25
---
varying spacings between singers. The spacings used in this study

were close (approximately one inch shoulder to shoulder), lateral

(approximately 24 inches shoulder to shoulder), and circumambient

spacing (lateral spacing with a vacant row between singers) with

each configuration. The auditors were able to detect differences

between the formations, but the greatest difference was attributed to

the spacing of the singers. Both the auditors and singers preferred

the overall sound in mixed formation trials.

In a 2003 study, Daugherty found that once again, spacing

between singers had more effect on auditor's perceived blend than

the formation. Singers in the study preferred lateral spacing and

felt it improved their vocal production and the ability to hear both

self and others. Daugherty's findings from multiple studies suggest

singer spacing has a larger impact on choral sound preferences than

formations.

Acoustical Considerations

Sten Ternström (1991) found that the performance of a choral

singer is based on two acoustical signals, his/her own voice

(feedback) and the rest of the choir (reference). The loudness of

each choral singer has both an upper and lower limit. The upper

limit comes from the singer's desire to blend with other members of

the choir and the lower limit is determined by the singer's need to

hear his/her own voice. Ternström asserted that mixing the sections

helps with feedback since standing next to someone who is singing

another part is the biggest mask of individual feedback.

The Lombard effect also impacts choral sound. This refers

to a person's tendency to increase their volume when in noisy

environments. Applied to choral music, this is seen when a person

has a tendency to over-sing so as to hear themselves within the

ensemble. This can be resisted if singers are given proper instruction

and enough physical space to help prevent over-singing.

In 1999, Ternström looked at the use of optimal spacing with

regards to the Lombard effect and developed the self-to-others ratio

(SOR). This refers to a singer's ability to hear themselves and the rest

of the ensemble at the correct spacing ratio for optimal sound. If the

SOR is low/negative, the singer cannot hear themselves. This can

be caused by the acoustics of the room, or by close spacing in the

formation. This leads to an increase in problems with intonation,

vowel shapes, and results in over-singing. The SOR will grow with

an increase in the absorption of sound in the room, increase in

spacing, or a decrease in the number of singers. The optimal ratio

is not the same for all singers. Ternström (1999) found that higher

voices prefer a higher SOR levels than lower voices.

Considerations for the Choral Music Educator

These empirical research studies provide valuable, practical

information for directors to reference when considering how

to place singers in performances and rehearsals. Rehearsing in

different combinations of formations and spacing options, singers

are better prepared for unexpected changes that may occur once

in the performance space. When exploring these options be sure

to consider the acoustical properties of the performance space. A

gymnasium is vastly different than a traditional performance hall.

Gather as much information about the space as possible so that a

plan can be in place upon arrival if it is an unfamiliar one. Once in

the space, allow the singers to share feedback so that adjustments

can be made. Since configuration changes affect the singers, their

input is a valuable part of the process when making decisions about

formation and spacing.

The size of an ensemble will greatly change the formation and

spacing. Ternström (1999) has suggested smaller ensembles may

need the comfort of a close spacing to feel more secure in their

parts. He also states that some small ensembles may benefit from

increased spacing so as to avoid the Lombard effect. Often times the

ensemble may be so large, there is no way to increase the spacing in

the traditional sense. Do not feel confined to the risers. Utilize the

entire space by filling in the floor and all parts of the stage. Multiple

researchers have provided evidence that singer spacing may be

the most important factor in all formations in both the audience

perception, and individual vocal production (Atkinson, 2010;

Daugherty, 1999, 2001, 2003; Ternström, 1999).

It is often hard to balance the needs of the individual singer

with that of the ensemble when it comes to formation and

spacing. Sometimes the individual needs must adapt to the needs

of the group. If individuals are struggling to hear themselves, an

adjustment to their spacing or placement within the ensemble may

be beneficial. Ternström (1999) concluded the outside of the risers

allows for a higher SOR than the inside. If a singer is struggling to

hear themselves, a simple move to the end of the risers may help. If

a section is experiencing a blending issue, it might be beneficial to

re-evaluate that section's acoustical placement. With younger and

developing choirs, placements will need to be modified as voices

grow and change.

There are many things that can effect a choral performance.

With careful planning and a willingness to experiment, singer

formation and spacing does not have to be one of them. Proper

attention to configuration can lead to better vocal health for each

singer by safeguarding them against over-singing and addressing

blend without altering individual vocal production. Applying

the knowledge gained through research into the areas of singer

formation and spacing can help to improve the experience of each

singer and the sound of the choir.

References

Atkinson, D. S. (2010). The effects of choral formation on the singing voice.

Choral Journal, 50(8), 24-33.

Crabb, R. P. (2002). Choral audition procedures of six well-known

conductors: Webb, Noble, Bruffy, Carrington, Ehly, and Warland. Choral

Journal, 42(9), 35-51, 54-58.

Daugherty, J. F. (1999). Spacing, formation, and choral sound: Preferences

and perceptions of auditors and choristers. Journal of Research in Music

Education, 47(3), 224-238. doi: 10.2307/3345781

Daugherty, J. F. (2001). Rethinking how voices work in a choral ensemble.

Choral Journal, 42(5), 69-75.

Daugherty, J. F. (2003). Choir spacing and formation: Choral sound

preferences in random, synergistic, and gender-specific chamber choir

placements. International Journal of Research in Choral Singing 1(1), 48-59.

Ehmann, W. (1968). Choral Directing. Minneapolis, MN: Augsburg Publishing

House.

Ekholm, E. (2000). The effect of singing mode and seating arrangement on

choral blend and overall sound. Journal of Research in Music Education,

48(2), 123-135. doi: 10.2307/3345571

Hylton, J. B. (1995). Comprehensive choral music education. Englewood

Cliffs, NJ: Prentiss-Hall, Inc.

Killian, J. N. & Basinger, L. (2007). Perception of choral blend among choral,

instrumental, and nonmusic majors using the continuous response digital

interface. Journal of Research in Music Education, 55(4), 313-325. doi:

10.1177/0022429408317373

Lamb, G. (1974). Choral techniques. Dubuque, IA: Sm. C. Brown Company

Publishers.

Lambson, A. R. (1961). An evaluation of various seating plans used in

choral singing. Journal of Research in Music Education, 9(1), 47-54. doi:

10.2307/3344394

Ternström, S. (1991). Hearing myself with others: Sound levels in choral

performance measured with separation of one's own voice from the

rest of the choir. Journal of Voice, 8(1), 293-302. doi: 10.1016/S0892-

1997(05)80277-2

Ternström, S. (1999). Preferred self-to-other ratios in choir singing. Journal of

Acoustical Society of America, 105, 3563-3574. doi: 10.1121/1.424680

Tochneff, R. (1990). Acoustical placement of voices in choral

formations. (Electronic Thesis or Dissertation). Retrieved from

https://etd.ohiolink.edu/

Willers, S. (2000). Beyond the downbeat. Nashville, TN: Abbingdon Press.

Pursue Your Passion - Find Your Path

Music at Brevard College

• World-class performance

facility, breathtaking scenery,

rigorous training and

collaborative community

• Degrees in Music & Music

Education (K-12 licensure)

• NASM accredited since 1967

For more information, contact:

Dr. David Gresham, Music Major Coordinator

at musicinfo@brevard.edu or

visit www.brevard.edu/music

Audition dates:

• Saturday, December 14, 2019

• Monday, January 20, 2020

• Saturday, February 15, 2020

• Saturday, March 21, 2020

Generous financial aid packages are available for qualified students.

26 | NORTH CAROLINA MUSIC EDUCATOR NORTH CAROLINA MUSIC EDUCATOR | 27
---
Beginning with the

End in Mind

Perspectives on Student Teaching

for the New Millennium and

Beyond

by Dr. Arris Golden & Chris DiMassimo

Part One: The Mentor Teacher's Perspective

One of the most important relationships in music education

is the relationship between mentor (cooperating) teacher

and student teacher. Many times approached as a shortterm

interaction to be maintained only through the internship

period, this relationship can and should be a rich interaction,

sustained throughout the career of both the mentor teacher and the

student teacher.

"Setting the Stage"

Before the

student teacher

arrives on site,

there are many

things the mentor

teacher can prepare

to ensure the

student teacher feels

comfortable and,

more importantly,

welcomed into his/

her new setting.

First, preparing a workspace the student teacher can call their

own is a key element in ensuring they feel welcomed. Finding

a desk or small table that can be placed in the mentor teacher's

office space will give the student teacher a space to store work

items, a place to work during the school day, and a place where

conversations can readily be held with the mentor teacher.

The mentor teacher also has the opportunity to prepare key

pieces of information to assist the student teacher in "learning the

ropes" in the following areas:

At your school. Securing a copy of the faculty handbook and

pointing out key features and operational policies of the school will

allow the student teacher to understand the school setting quickly

and effectively. Other helpful items include:

• school bell schedules (all forms),

• a faculty roster,

• a copy of the school-wide extra duty schedule,

• a copy of the countywide calendar,

• a copy of required staff development activities,

• and a copy of the district calendar for band/orchestra.

All of these may be organized into a Google doc, allowing the

student teacher access to it for future use.

Preparing your colleagues/faculty. Your colleagues will be

more supportive of your student teacher if you ensure they know

you will have one. Once the student teacher arrives, introducing

them to your colleagues will help make them a part of the school

community quickly. Additionally, introducing them to the key staff

members in the building (secretaries, bookkeeper, data/attendance

managers, custodians, and cafeteria staff) will allow them to

be a familiar face to these important members of the school's

operational group.

Preparing your administration. First, your administrators

should agree for you to host a student teacher prior to you agreeing

to host a student teacher from an area college/university. Once this

occurs, ask them to assist you in helping the student teacher secure

a county-based email address and access to any other technology

that will support them during their time with you.

Band/Orchestra program specific information. Giving the

student teacher copies of the music library, instrument inventory,

and booster bylaws will allow them to examine one option for how

these important documents might be designed and will give them

a model for future use. Class rolls for all classes are also essential

for student teachers so they can learn each student's name – seating

charts with student names listed are also helpful. Finally, copies of

methods books used for each grade level and of the score for each

piece of repertoire (and audio file or youtube links, if available) will

help the student teacher become integrated into the total band/

orchestra program more easily.

"During the Internship"

Interactions with my first student teacher helped me realize

the first thing I should do is understand the person with whom I

am working. The following questions are essential to establishing

an efficient and, more importantly, productive relationship with a

student teacher:

• Who are they as a person (philosophy, belief systems) outside

the music classroom?

• Who are they as a person (philosophy, belief systems) inside

the music classroom?

• How do they learn, and how quickly?

• How do they best receive feedback and constructive criticism?

Answering these questions will allow you and the student

teacher to establish your relationship effectively and will allow you

to understand what your classroom interactions can, and will, look

like.

Of all the things you will do with, and for, the student teacher,

the most essential is providing feedback. Feedback must be as

consistent and constructive as possible. We have to remember they

are young teachers, but they are students first, and this is the final

time they will be able to have dedicated time to learning our craft

before they become "one of us." Ensuring there are specific times

on a daily or every other day basis to have conversations about

their teaching, but maybe more notably, teaching in general, is vital

to their growth and ultimate success as teaching professionals.

Finally, ensuring they are aware of the developing job market

as they complete their internship is paramount. Making sure you

use any contacts you have to stay aware of jobs as they become

available will help them find a first position. Making sure you

have completed and submitted all the requisite paperwork to the

university so that their certification can be completed and teaching

license issued is imperative. A final task to complete is submitting

any/all recommendation letters you are asked to complete so that

missing documents will not impede the student's ability to secure a

position.

"After the Internship"

The thing I have always found most rewarding about the

student teacher/mentor teacher process is the relationship that

develops once the student teaching assignment ends. Helping

former teachers make connections with colleagues, find their

first teaching positions, and watching them find success in those

positions is quite rewarding. Once they begin these positions,

remaining available to them as they develop and progress as

teachers is essential, not only to their success, but to the future

success of our profession.

Part Two: The Student Teacher's Perspective

Perhaps the

most influential

experience in the

teacher training

process is the

student teaching

internship. As a

student teacher, you

immerse yourself

in the role of

teacher and begin to

seriously think (and

act) like a teacher. It's difficult to find shortcuts or quick-and-easy

answers for making the student teaching experience one hundred

percent successful, but the guidelines discussed here can allow for a

meaningful and positively influential internship.

"Packing Your Suitcase:" Student Teaching Preparation

Content knowledge. You know those awkward fingerings for

the note F on oboe? You're going to need them! Whether you are

a freshman or a first-semester senior, it's never too early to begin

mastering the content area. Spend quality time in your methods

courses studying, reviewing, and truly learning the pedagogy. This

will spare you much stress and trouble in the future.

Commence relationships. Teaching is all about relationships—

those with your students, parents, community, within your school,

and with your content area. Learn to give each of these a bit of your

time and energy allowance, and your life as a teacher will blossom.

Set up a time to meet and observe your mentor teacher.

Stepping foot inside of the school and classroom before day one of

student teaching makes things a bit easier when it's time to begin

on the first official day.

Meet with your university supervisor. This person will serve

as a bridge between your dual life as a teacher and a university

student. Take advantage of his/her content knowledge, experience,

pedagogical ideas, and connections.

Arrange the practice and personal. What will you eat for

lunch? What time do you need to leave in the morning? How much

gas money will you need each week? How much personal/prep

time will you have in the evenings?

"The Immersion Trip:" During Student Teaching

Build Relationships. Your mentor teacher is your biggest ally

in this experience. Take advantage of the time you have together

during your internship to pick their brain, observe them teaching

and interacting with students/parents/colleagues, and work to

accept the feedback they provide.

Learn to foster a positive relationship with your students. You

are on your own next year, so take this time to learn to connect

with these characters – see what they enjoy outside of school,

attend a school sporting event, and ask them genuine questions

before/after class.

If you have the chance, connect with some of the staff at your

school. Practice developing professional relationships with your

temporary colleagues, especially the office staff, administration,

and nearby teachers. You will surely need these connections (and

the skill) when you begin your own teaching career in a new

school.

Ask Questions. You definitely don't know everything, and no

one expects that of you – there's loads of necessary learning to be

gained through experience. While you have the opportunity and

the set-up, learn to ask questions!

Learn to Think Like a Teacher. The biggest transition I

experienced during my student teaching internship was how to

think like a teacher: how do I process things in the moment, and

how should I reflect? Allow time each day to reflect aloud, and seek

feedback with your mentor teacher.

Plan Like Your Hair's on Fire. Spend quality time outside of

the internship day to study your scores, thoroughly and carefully

plan your rehearsals, apply the feedback you receive, and practice

teaching the "right" way. The initial investment of time and energy

continued on page 31

28 | NORTH CAROLINA MUSIC EDUCATOR NORTH CAROLINA MUSIC EDUCATOR | 29
---
O

rchestra

Hello all! Congratulations on a great conference. The

performing groups were excellent and the presentations were

very informative. The orchestra section was proud to present the

following awards to very deserving music educators.

Eastern Regional Orchestra Teacher of the Year

Joseph Walker is in his twelfth year of teaching in the public

schools of North Carolina, currently serving as the co-director of

orchestras at Durham School of the Arts, along with Jody Crafford.

After completing music education studies at East Carolina

University, he began his teaching career in Onslow County

Schools, founding the programs at Southwest Middle School and

Southwest High School in Jacksonville. Walker has served NCMEA

in many capacities, including audition host; event chairperson; a

term as the delegate to the NCMEA board; and currently as the

Eastern Region chairperson. In addition to local engagements, he is

an active clinician throughout North Carolina, conducting honors

ensembles across the state. He is honored to be recognized by

his colleagues as the Eastern Region Teacher of the Year, and will

continue to serve NCMEA to promote string playing in schools

throughout our great state.

Western Regional Orchestra Teacher of the

Year

Sarah Russell is the strings and AP music theory instructor

at Providence Day School in Charlotte. Under her direction,

enrollment in the strings program has tripled in the last five

years. Before joining PDS, she was the director of orchestras at

Providence High School, where she also was the music theory

instructor, assistant director of bands, and assistant choral director.

Russell's ensembles have received consistent superior ratings

at adjudicated festivals. Under her direction, the PHS Chamber

Orchestra was selected to perform at the NCMEA Professional

Development Conference in 2009. She has conducted numerous

middle and high school all-county and honor orchestras, including

the NC Senior High West Region Repertory Orchestra (2012), the

NC Junior High Eastern Region Repertory Orchestra (2015), and

the NC Senior High East Region Stringed Orchestra (2018). She

will conduct the Kentucky All-State Commonwealth Orchestra in

2021. She has adjudicated the SCMEA Midlands Region CPA and

the Guilford County Schools Orchestra Festival. She adjudicated

the Greenville (SC) SCMEA CPA in March 2019.

Donald Walter, Chair

Russell has served as adjunct string faculty for Appalachian

State University's Cannon Music Camp and as conductor of junior

and senior orchestras at UNC – Greensboro's Summer Music

Camp. She is the immediate past chair of the NCMEA Orchestra

Section.

She received her Bachelor of Music from Appalachian State

University. She achieved National Board Certification in 2010

and is a graduate student in music education at East Carolina

University. She is a member of NAfME, NCMEA, ASTA, and Phi

Kappa Phi.

Lifetime Achievement Awards

Ed Allison

Ed Allison had a long and distinguished career as an orchestra

director in Shelby. After he retired, he taught part-time in the

Wilmington area and served as an adjunct faculty member

at Appalachian State University where he worked with future

orchestra teachers.

He served as the long-time music librarian, western region

treasurer, chaired multiple section events, and served as the chair

of the orchestra section three times. He also chaired the first North

Carolina All-State Honors Orchestra. Allison was instrumental in

revising the Orchestra Section by-laws, and, as the NC orchestra

programs grew in number and size, he assisted in creating the

east and west divisions we use today. He has served as a mentor

for many of the teachers who are teaching today. We owe a huge

debt of gratitude to this amazing individual and teacher for his

many years of dedicated service in helping to promote, support

and ensure a clear and positive future for the NCMEA Orchestra

Section.

Joli Brooks

Joli Brooks is the director of orchestras at Jacksonville High

School, where she also teaches Advanced Placement Music Theory

and International Baccalaureate Music, and serves as the director

of the school's Creative and Performing Arts Academy. She began

playing the violin as a sixth grader in the public schools of Sanford.

She was blessed to have compassionate and encouraging teachers,

including Karen Huey, Dorothy Kitchen, and Rodney Schmidt.

She earned a Bachelor of Music Education and a Master of

School Administration from East Carolina University, and a

Certificate of Advanced Graduate Studies in music education from

Boston University. Brooks has served as a clinician and adjudicator

in North Carolina and Virginia, and has been host and chair of

various state, regional and local activities for school orchestras for

much of her career. She is National Board Certified in the area of

Early Adolescent through Young Adulthood Music.

She was selected by her peers as the 2012 – 2013 NCMEA

Eastern Regional Director of the Year. In 2013, she was awarded

both the Jackson Parkhurst Award for Special Achievement by

the NC Symphony, and the Distinguished Alumna Award by the

ECU School of Music Alumni Association. She was honored by

the Onslow County Board of Education as the 2018 – 2019 Onslow

County Schools Arts Educator of the Year, and was also named

Jacksonville High School Mentor of the Year. She is an adjunct

instructor of music at Coastal Carolina Community College, and

conducts the Coastal Carolina Community Orchestra.

continued from page 29

is certainly worth the dividends in the long run.

Keep Track of Your Feedback. How will you keep track of all

the feedback you receive? (Hint: don't fool yourself into thinking

you'll be able to store all of it in your head). Take note of what you

taught, the feedback you received, and how you can improve.

"Unpacking Your Luggage:" After Student Teaching

Continue to Grow. Even though you've "passed" student

teaching, continue to seek out opportunities to learn and grow in

the profession: attend conferences, observe respected teachers,

connect with your state music education association and sign-up to

be part of its mentoring program, if available.

Connect with Colleagues. Once you secure a job for your first

year, connect with other music teachers/directors in your school

system. It may be beneficial to set-up an informal mentorship with

one of those colleagues. Ask your administration if you can take a

day each semester to observe awesome teachers teach or rehearse.

Stay in Touch. Your mentor teacher is your ally, reference, and

connection to the profession. Let them know about any pending

applications or upcoming interviews, and reflect upon those

experiences. Continue to use your mentor for guidance during

your first years of teaching.

Keep Your Passion Alive. Remember why you got into this!

How will you continue to fuel your passion for music? Whatever it

is, set your heart on it and just do it!

BOONE, NORTH CAROLINA

THE ROSEN-SCHAFFEL COMPETITION FOR

YOUNG AND EMERGING ARTISTS

Celebrating 10 Years!

co-presented by An Appalachian Summer Festival and

the university's Hayes School of Music.

~ JULY 2020 ~

PRIZES:

First Place Winner: $2,000

Second Place Winner: $1,500

Third Place Winner: $1,000

Audience Choice Award Winner: $1,000

APPLICATION DEADLINE: APRIL 1, 2020

For complete eligibility requirements and application procedures, visit:

rosen-schaffelcompetition.appstate.edu

Dr. Arris Golden is a member of the conducting faculty at

Michigan State University, serving as assistant director of bands and

associate director of the Spartan Marching Band. In this position,

she conducts the Concert Band, the Spartan Youth Wind Symphony,

Spartan Brass, and the 300-member Spartan Marching Band, and

teaches courses in conducting and marching band techniques. She

can be reached at goldenar@msu.edu.

Chris DiMassimo is currently the assistant band director at

Rachel Carson Middle School in Herndon, Virginia. Prior to this

position, he served as the director of bands at Gravelly Hill Middle

School in Efland (2014 – 2019), and as an itinerant band director in

Carteret County (2011 – 2014). He was named Teacher of the Year

for the 2016 – 2017 school year at Gravelly Hill Middle School. He

can be reached at chris.dimassimo@orange.k12.nc.us.

References

Alsobrook, J., & Lautzenheiser, T. (2002). Pathways: A guide for energizing

& enriching band, orchestra & choral programs. Chicago: GIA Publications.

Colvin, G. (2008). Talent is overrated: What really separates world-class

performers from everybody else. London: Penguin Books.

Dweck, C. S. (2006). Mindset: The new psychology of success. New York:

Random House.

Gumm, A. (2003). Music teaching style: Moving beyond tradition. Galesville,

MD: Meredith Music Publications.

Wong, H. K., & Wong, R. T. (2009). The first days of school: How to be an

effective teacher. Mountain View, CA: Harry K. Wong

30 | NORTH CAROLINA MUSIC EDUCATOR NORTH CAROLINA MUSIC EDUCATOR | 31
---
Research

2019 Research Posters

by Tami Draves, past Chair

Research can be an impactful form of professional

development that changes your classroom practice. As a

teacher, you research regularly what's happening as you

follow your curiosity about how teaching and learning takes

place in your classes. Perhaps you are interested in systematically

investigating which students choose to participate in middle school

music programs, what kinds of programming parents expect in

elementary music, or the types of repertoire that interest your high

school students.

Once you decide to follow a research question through

collecting and analyzing data, you may want to share it. Many of

the workshops offered at the NCMEA Professional Development

Conference are a result of teacher research. The poster session of

the 2019 NCMEA Conference also boasted a selection of highquality

research projects. Topics ranged from culturally responsive

pedagogy to virtual reality. Consider submitting your teacher

research, sometimes called action research, for presentation at

the poster session in 2020. It is a way to share your investigation

of music teaching and learning with colleagues, improve practice

for yourself and others, and influence the broader music teaching

community. If you missed the poster session this year, keep reading

for a sample of some of the projects that were presented.

Instrumental Music Education in Rural North

Carolina: A Descriptive Study

Melody Causby, The University of Southern Mississippi

In this study, a survey of rural NC band and orchestra

teachers was used to identify the skills most needed by secondary

instrumental music teachers in rural areas, as well as their biggest

challenges and rewards. Results indicate the skills most necessary

for teaching secondary instrumental music deal with developing

relationships with students and being creative with the resources

given. Teachers identified their largest challenges as lack of support

from parents and administration and limited funding. Because

music education research in rural areas is limited, this study can

help begin the dialogue between pre-service teacher trainers and

their students about what they may face in the classroom that can

vary from region to region.

Effect of Virtual Reality on Attainment and

Transfer of Wind Band Conducting Skills

Evelyn K. Orman and Jennifer A. Whitaker, UNC – Charlotte

We investigated the possibility of participants being able

to transfer gains for correct eye contact, torso movement and

conducting gesture acquired through the use of an immersive

augmented virtual reality learning environment to a musical

selection for which they did not receive training. Our experimental

design had six undergraduate instrumental music education

majors conduct two musical works performed by a live ensemble.

Participants were then immersed in an augmented virtual reality

learning environment over a period of three weeks for one of the

musical selections followed by a post-test where both pieces were

again conducted using a live ensemble. Recordings of participants

conducting in the pre- and post-test conditions were analyzed and

gain scores calculated. We found indications of both replicated

findings from previous research and transfer. However, caution is

advised due to the limited number of participants.

A Critical Examination of Pre-Service Music

Teacher's Writing on the edTPA Portfolio

Cynthia Wagoner and Jay Juchniewicz, Eastern Carolina University

The edTPA K-12 Performing Arts is a performance-based

assessment designed to evaluate beginning teachers' ability to

teach in the field of K – 12 performing arts (SCALE, 2016). This

portfolio requires teacher candidates to demonstrate competence

across three areas: planning, instruction, and assessment. Further,

candidates are required to develop and apply knowledge of subject

matter, students' needs, as well as to "reflect on...the effects of

instruction on student learning" (SCALE, 2016, p. 1).

The primary purpose of this study was to examine student

written artifacts on pre-service music teacher potential success

with the edTPA. Data was collected over a four-year period from

a midsize southeastern state university that included K – 12

Performing Arts edTPA portfolios for 67 music education students,

along with reflective writing submissions from 42 students who

had completed a junior level instrumental methods course.

Significant differences were between overall word count

and edTPA scores, along with a moderate correlation between

overall word count and overall score. Similarly, when examined

by individual tasks, significant differences were found between

groups for Task One, Task Two, and Task Three, along with positive

correlations for individual task word count and individual task

score. Significant differences were also found between groups

for students' use of edTPA-specific vocabulary and edTPA score.

However, no significant differences were found between word

count of previous reflective writing and edTPA scores.

A Descriptive Analysis of Instrumental Music

Educators' Knowledge and Uses of Culturally

Responsive Teaching Approaches in Middle and

High School Instrumental Music Classrooms: A

Literature Review

Patrick Bennington, UNC – Greensboro

The purpose of this literature review was to explore prior

research that investigated culturally responsive pedagogy as it

exists in general education and music education. Several findings

emerged from the general education literature on culturally

responsive teaching including the transition to becoming a

culturally responsive teacher, student points of view regarding their

own cultures in classrooms, and culturally responsive curricula.

Compared to the general education literature, music education

literature has a somewhat limited number of studies on culturally

responsive teaching, with elementary general music studies most

represented. Instrumental music education studies were very

limited in number, perhaps due to the manner in which these

classes are typically taught, i.e. as mostly performance-based

classes.

The general education literature on culturally responsive

teaching suggests that culturally responsive teachers tend to

advance the accomplishments of racial and ethnic minority

students. Applying culturally responsive teaching techniques to

instrumental music class teaching may prove beneficial as well,

but with the limited number of studies conducted on culturally

responsive music teaching, more research is necessary.

Factors that Influence Second-Year

Participation in a University Marching Band

Timothy Heath, Wake Forest University

Retention rates for college marching band participation show

a considerable number of students choose to drop out every year,

with a range of 17.6 % attrition at smaller universities and 42%

in larger Division 1 Programs ("A recent series of studies", 2014;

Townsend, 2004). In this study, the University of Alabama's Million

Dollar Band (MDB) was examined. The MDB is widely known

regionally and arguably throughout the United States for its close

involvement to its storied football program and for excellence in

music performances across many decades. Unfortunately, at the

time of this study, the first-year member retention rate for the

MDB was only 66.4%.

To determine those factors that may improve retention, all

first-year members of the MDB (N=144) in 2015 were invited

to complete a survey two months before registering for fall 2017

classes. The questionnaire included 22 items, evaluating each factor

as (1) not influential, (2) somewhat not influential, (3) undecided,

(4) somewhat influential, and (5) influential. Participants were also

asked to share three items they enjoyed the most and least during

the marching band season. Participants' responses were classified

into four areas that influenced their intended decision to return

for a second year: time requirements, degree responsibilities,

performance enjoyment and financial opportunities. Common

ideas emerging from participants' open-ended responses to items

enjoyed were social, travel, performance, pride, and game day,

while items they did not enjoy were time commitments, number of

rehearsals, external factors, leadership, and musical selections.

Research poster presenters included (acoss both pages, l-r): Melody Causby, Timothy Heath, Jennifer A. Whitaker, David Miller, William Beach, Patrick

Bennington, and Stacey Garrepy

32 | NORTH CAROLINA MUSIC EDUCATOR NORTH CAROLINA MUSIC EDUCATOR | 33
---
Professional Development Conference

2019

34 | NORTH CAROLINA MUSIC EDUCATOR NORTH CAROLINA MUSIC EDUCATOR | 35
---
MEET SOME OF OUR NORTH CAROLINA

EDUCATIONAL REPRESENTATIVES!

145+

FULL-TIME

ED REPS

220+

RETAIL LOCATIONS

175+

REPAIR

TECHNICIANS

NATIONWIDE

2020 ELECTRONIC MUSIC

COMPOSITION COMPETITION

The NAfME Electronic Music Composition Competition recognizes

outstanding compositions and highlights the effectiveness of music

technology in the school curriculum. Entries will be judged based on

their aesthetic quality, use of electronic media, and the power of the

composition.

LOCAL, PERSONAL EXPERTISE

• Guaranteed regular service to your schools

• Our customized database saves your instrument

preferences

• We are former music educators and pro musicians

who know music

EXCELLENCE IN RENTALS

• 100% rental equity, no obligation to purchase

• Competitive rental rates on instrument outfits you can

customize

• Open rental reports available for your school

• Choose from all major brands in your rental

preferences

CUSTOMIZED PROGRAMMING

• Free workshops on repairs, advocacy, recruitment,

and more

• Sponsorship assistance available for your program

• Program recruitment assistance, our reps are industry

experts in music program growth

ONLINE EDUCATOR PORTAL

• Automatically apply special school discounts

and free shipping

• Share shopping carts with administrators

• Pay online with your school Pcard or we can invoice

your school account

• Over 165,000 items available

Association member adjudicators will select a winner in each of the

following categories:

1. Grades K-8

2. Grades 9-12

3. Collegiate

Each entrant must be sponsored by a NAfME member teacher, or be a

NAfME Collegiate member in good standing.

Compositions should be 5 minutes or less and should either be composed

electronically or include electronic instruments (vocal and/or acoustic

instruments may be combined with electronic instruments).

Entries must be received by April 10, 2020

bit.ly/NAfMECompetitions

SUPERIOR REPAIR SERVICE

• 175+ full-time repair technicians across the country

• Highly developed refurbishment process completed

on every rental instrument

JASON GILATRIST

NC Educational Representative

WHAT CAN YOU DO THAT

MY CURRENT REP CAN'T?

Our stores, Educational Representatives, instrument

rental fleet, and repair technicians are all part of the

same national network so you will receive consistency

in product and service no matter where your school

or career takes you.

I'M A NEW BAND DIRECTOR.

WHO IS MY MUSIC & ARTS ED REP?

We have 145+ reps across the country servicing

school music programs. Every rep is assigned a

territory and our nationwide presence

means you are covered.

NATION'S LARGEST LESSON PROVIDER

• Over 1.5 million private lessons taught annually

• Free clinics at our retail stores to strengthen your

ensemble

DANRICK GLEN

NC Educational Representative

CONTACT US FOR MORE INFORMATION ON HOW OUR TEAM CAN HELP GROW YOUR PROGRAM!

MUSICARTS.COM/SCHOOLSERVICES

36 | NORTH CAROLINA MUSIC EDUCATOR NORTH CAROLINA MUSIC EDUCATOR | 37
---
North Carolina Music Educators Association

883-C Washington Street

Raleigh, NC 27605

Audition Dates for 2019–20

January 25, 2020

February 8, 2020

February 22 , 2020*

*final date for scholarship/assistantship consideration

For complete degree offerings, application information,

and audition requirements, please visit music.uncg.edu.

Degree Programs

Bachelor of Arts

Bachelor of Music

Master of Music

Doctor of Musical Arts

Doctor of Philosophy

Post-Baccalaureate Certificates

Post-Masters Certificate

NORTH CAROLINA MUSIC EDUCATOR | 38