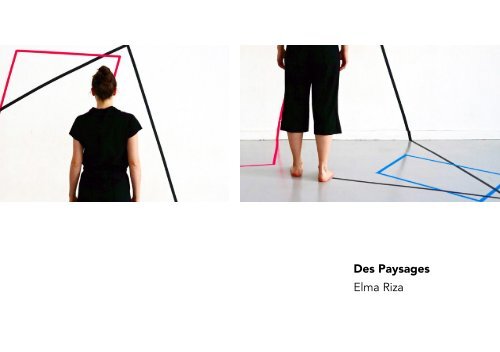 Des paysages
In this catalog Elma Riza presents her approach to the theme of landscape in her video and photo work. 2020
In this catalog Elma Riza presents her approach to the theme of landscape in her video and photo work.

2020
SHOW MORE
SHOW LESS
Create successful ePaper yourself
Turn your PDF publications into a flip-book with our unique Google optimized e-Paper software.
Des Paysages

Elma Riza
---
Des Paysages

Elma Riza

photography & video work

2007 - 2020
---
4 Des Paysages _ Elma Riza
---
5
---
6 Des Paysages _ Elma Riza
---
Franco-Tunisian artist, I was born in France in 1986. I graduate

of the College of Fine Arts in Berlin - KHB, I live

and work in Berlin since 2007 in the field of visual arts. I

work with different mediums such as photography, video,

installation "In situ", performance...)

My artistic practice unfolds around the desire to create

two-dimensional, or three-dimensional images, where

the notions of place (topos) in relation to the created

(imaginary) space and the presence of the body (of the

spectator or mine) propose an approach to fiction in an

abstract and sensitive way, a fiction of the created space

or the filmed space. Wall, ground, rock, forest, objects

become the supports of a visual intervention, which invite

the spectator to a concentration of the senses on

the visible and the sensitive, initiated by the tension between

the concrete and the abstract.

graphic elements and bodies are put in dialogue with a

place, an architecture, a landscape. I explore the relationship

between two elements that are foreign to each

other, a tension where fiction begins, letting the landscape

emerge to the detriment of the narrative, thus bringing

the viewer back to the role of observer. Inviting him

to look. They are also experimental fictions, which expect

the spectator to imagine the story.

Photography and video were my first mediums during

my studies at the Beaux-Arts of Nantes. Nourished by

a passion for cinema, I realized in 2007 the photographic

sequence "Un visible" in homage to Michelangelo

Antonioni, which was the beginning of a research where

7
---
The Landscape

Definition: A landscape is a view of a portion of the earth's

space, perceived by the human senses or various visual

arts and represented or observed, in most cases horizontally

and photographically by an observer; it therefore implies

a point of view.

The landscape is presented in the in-between that connects

the landscape and the landscape-scenery. It is

at the same time subjective and objective, sensitive as

well as symbolic, physical and phenomenal, ecological

and imaginary. This articulation between these elements

emphasizes the necessary link between the individual and

the country in the elaboration of the landscape. In this

perspective, landscape is not just topos, places or sites

considered in themselves, but a qualified space or place,

named by the gaze and vision of a subject and in this case

of the camera.

For me the landscape is first of all a visual environment.

But it is above all a place, which invites to stop, to contemplate,

as one contemplates a painting ... I want to

show this moment, this composition, whether it is abstact

or real, urban or natural. I want to show by interacting

directly with the place, perhaps with the camera, but also

physically through an intervention, a staging.

The first idea is to give to see, to make the spectator's

gaze linger on a detail or a panoramic view and to create

a friction, an expectation, a space-time, which sends the

spectator back to his role as observer.

Historically the landscape appears at the end of the 15th

century in Europe, in Flanders more precisely, during the

Renaissance period, in paintings with nature as a subject.

The word designates both the representation, i.e. the act

of painting a nature and the thing represented, i.e. nature

itself, before giving its name gradually and by extension

to the pictorial genre.

8 Des Paysages _ Elma Riza
---
Staging and fiction

There is staging from the moment I choose a place and

introduce a foreign element, creating a dialogue, a contrast,

an echo or a fiction.

Classical fiction, with a beginning, a drama, an end, does

not interest me, I am more in search of a moment in between,

what I will call experimental fiction.

If there is fiction, the characters always remain in the

background, from behind, anonymous. Because it is not

a question of telling a story and above all it is a question

of making room for the landscape. To the landscape character.

What I call experimental fiction, is an abstract fiction built

on the border between abstract fiction and narrative fiction.

Raymond Bellour describes it perfectly in his book

"L'Entre -Images _ Photo, cinema, video":

"Fiction would thus have two centers. An abstract center

(we can say the most concrete as well), where it begins:

a sort of minimal framework that creates a relationship

of event between at least two elements, at this level a

point and a surface are enough. And on the contrary a

concrete center (we can feel it as the most abstract and

in any case more illusory) the event becomes a story that

happens to characters situated in a time and in a setting

with an effect of reality that seems natural, has appeared

and still appears to us, against all naturalness, even if it is

quite cultural. »

9
---
Landscape Frictions

10 Des Paysages _ Elma Riza
---
11
---
12 Des Paysages _ Elma Riza
---
City Landscape _ Details

The urban landscape is approached in detail in the work of Elma Riza.

Often related to walking, strolling and the desire to show what is not visible at first glance. The idea is to make visible.

13
---
Leave a trace in the landscape or take a trace from

the urban landscape...

The projects, "Golden fragements" and "Promenades

tracées" both reflect a displacement in the

city, each one makes visible details of the urban

landscape, details that at first glance are not visible.

Crossing landscapes: an act of resistance to our

daily lives, focused on the desire to get from point

A to point B as quickly as possible. It is also a sign

of resistance to the definition of spaces, between

productive and leisure areas, often leaving only

protected natural areas as places to walk, free of all

constraints. The act of walking in the landscape is

an act of claiming a common territory.

Thus a walk such as a hike or a stroll is a walk of the

moment, where the goal is not an end in itself but

the walk itself and where the landscape becomes

present again in our perception. Urban or natural

landscapes then echo the movement of our body

in space.

14 Des Paysages _ Elma Riza
---
15
---
Lanscapes and memories

16 Des Paysages _ Elma Riza
---
Tryptique 2007 - 2009

Des Champs vides

Couleurs d'une ville

Aniba

All three of them are videos that stage non-places, wastelands,

places that will disappear with gentrification.

These places are like echoes of the city that surrounds

them, Nantes and its old port, Berlin and its History.

Female characters wander around and appropriate

these uncertain places. A form of dialogue emerges

between presence, idleness and expectation.

18 Des Paysages _ Elma Riza
---
19
---
"Un Visible", was realized in 2007 in Nantes, it was my first sequence of photos and my

first approach of the urban landscape with a camera. This project was inspired by Deserto

Rosso by Michalngelo Antonioni.

20 Des Paysages _ Elma Riza
---
"With the question of the work and the place, it is thus the question of memory that arises (...) "*, of the memory of places

and landscapes. Because video, or photography, however subjective, captures an image of our world, of our time. It

bears witness to a presence in a particular place. Without necessarily having a documentary aspect, it acts as a mediation

between the place and the spectator. It is in itself a tool, a language, but above all a tangible trace.

* "Œuvre et lieu", Anne Marie Charbonneaux and Norbert Hillaire, 2002

21
---
A landscape of abstraction

22 Des Paysages _ Elma Riza
---
23
---
Since 2014, I have been working with the line. The

line that is part of our everyday landscape:

"Lines, I insisted, are phenomena in themselves.

They are really there, in us and aoround us. Indeed

there is no esca- ping them, for in any attempt

to flee we only lay another one. (...) Why should

theory and methaphor be thought to be the only

alternatives for the lines? Why cannot the line be

just as real as whatever passes along it, if indeed

the two can be distinguished at all? And if the idea

that lines can be real is alien our sensibilities, then

what was it that tipped me into this strange world

of entanglement?(...)".

In my performances, I use the line to redraw

spaces, change our perception of places, create

imaginary landscapes in relation or not to architectures.

The line is then an abstract element, creating pure

geometric forms, placed in a large scale space,

they have this capacity to create spaces in between,

spaces that are made visible by the idea of

limit, border. It is a landscape in constant evolution

that takes shape before the eyes of the spectators

and proposes them to enter into another space-time.

That of a spatial composition, which invites

contemplation.

"Lines_ A brief history" by Tim Ingold, Rutledge

2007

24 Des Paysages _ Elma Riza
---
(…) You start to compose a landscape within wich an event can take place

without necessarily knowing what kind of event it will be. But as you begin to assemble objects you are already discovering

something about it´s dimension and qualities. Shaping and reshaping the landscape is an integral part of improvisation

(…)"

"Body, space, image: notes towards improvisation and performance" Miranda Tufnell, Chris Crickmay, Dance Books,

1993

25
---
Landscape character
---
28 Des Paysages _ Elma Riza
---
29
---
"If the landscape is a scenography or a painting in which our culture expresses itself, we can also think that the landscape

is a veil that can hide the world of other cultures from us or, on the contrary, can show us the point of contact between

our culture and others. Looking at the landscape then means looking for this frontier and stopping at the threshold of

our knowledge: it becomes a way of looking beyond ourselves, of trying to see or glimpse what is behind the painting,

behind the scenography, what we have never wanted to know. »

Antonioni. Landscape character, by Sandro Bernardi, 2006

«Si le paysage est une scénographie ou un tableau dans lequel s'exprime notre culture, nous pouvons aussi penser que

le paysage est un voile qui peut nous cacher le monde des autres cultures ou qui peut au contraire nous montrer le point

de contact entre notre culture et les autres. Regarder le paysage signifie alors chercher cette frontière et s'arrêter sur le

seuil de notre savoir : cela devient une manière de regarder au-delà de soi-même, de chercher à voir ou entrevoir ce qui

est derrière le tableau, derrière la scénographie, ce que nous n'avons jamais voulu connaître. »

Antonioni. Personnage paysage, de Sandro Bernardi, 2006
---
"This fable begins with a deserted place, our main character (but can we call that a character?). (...) Our secondary character

will be, singular among others, a surveyor of a place, a man walking. He walks endlessly - it is said to last forty years,

but since his ability to count the days has been exhausted fairly quickly, the real time of his walk no longer has anything

to do with the time that is likely to have passed: he is therefore tested by walking endlessly, walking endlessly in the absence

of any trace, of any road. »

Georges Didi-Huberman, The Man Who Walked in Color, 2001

«Cette fable commence avec un lieu déserté, notre personnage principal (mais peut-on appeler cela un personnage ?).

(…) Notre personnage secondaire sera, singulier parmi d'autres, un arpenteur de lieu, un homme qui marche. Il marche

sans fin – cela durera quarante années, paraît-il, mais comme sa faculté de compter les jours s'est assez vite épuisée, le

temps réel de sa marche n'a plus rien avoir avec le temps vraisemblablement écoulé : il s'éprouve donc en marchant sans

fin, marchant sans fin dans l'absence de tout tracé, de toute route. »

Georges Didi-Huberman, L'homme qui marchait dans la couleur, 2001
---
32 Des Paysages _ Elma Riza
---
Table of contents

«Fata Morgana», photography, 2015 _ Image de couverture

«Quand une ligne part en promenade», video, 2020/21 _ pages 4 & 5

«Cent Titres», Photography, 2019 _ page 11

«Golden Fragments, video, 2020 _ pages 12 & 13

«Promenades tracées», photography, 2020 _ pages 14 & 15

«Aniba», video, 2007 _ page 17

«Des Champs vides», video, 2007-2010 _ page 18

«Couleurs d'une ville», 2010 _ pages 18 & 19

«Between the Lines», video, 2015 _ page 24

«Présences», video, 2010 _ page 26

«La Traversée, video, 2012-2020 _ pages 28 & 29

«Un visible», photo sequence, 2007 _ pages 20, 21, 32

33
---
Catalog Design

Elma Riza

Berlin, 2020

elmariza.com