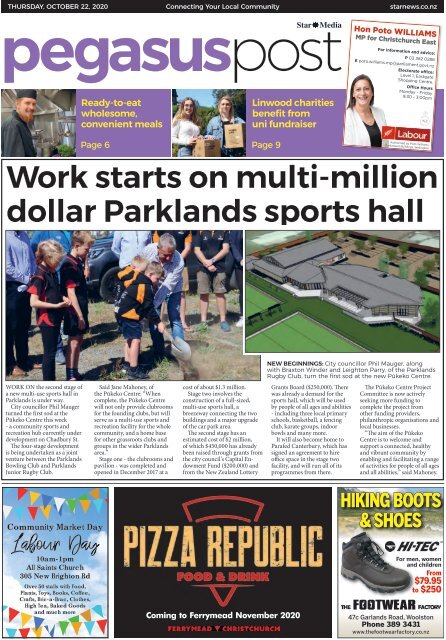 Pegasus Post: October 22, 2020
Create successful ePaper yourself
Turn your PDF publications into a flip-book with our unique Google optimized e-Paper software.
THURSDAY, OCTOBER 22, 2020

Connecting Your Local Community

starnews.co.nz

Hon Poto WILLIAMS

MP for Christchurch East

For information and advice:

P 03 382 0288

E poto.williams.mp@parliament.govt.nz

Ready-to-eat

wholesome,

convenient meals

Linwood charities

benefit from

uni fundraiser

Electorate office:

Level 1, Eastgate

Shopping Centre.

Office Hours

Monday - Friday

9:30 - 3:00pm

Page 6 Page 9

Authorised by Poto Williams,

Parliament Buildings, Wellington

Work starts on multi-million

dollar Parklands sports hall

WORK ON the second stage of

a new multi-use sports hall in

Parklands is under way.

City councillor Phil Mauger

turned the first sod at the

Pūkeko Centre this week

- a community sports and

recreation hub currently under

development on Chadbury St.

The four-stage development

is being undertaken as a joint

venture between the Parklands

Bowling Club and Parklands

Junior Rugby Club.

Said Jane Mahoney, of

the Pūkeko Centre: "When

complete, the Pūkeko Centre

will not only provide clubrooms

for the founding clubs, but will

serve as a multi-use sports and

recreation facility for the whole

community, and a home base

for other grassroots clubs and

groups in the wider Parklands

area."

Stage one - the clubrooms and

pavilion - was completed and

opened in December 2017 at a

cost of about $1.3 million.

Stage two involves the

construction of a full-sized,

multi-use sports hall, a

breezeway connecting the two

buildings and a major upgrade

of the car park area.

The second stage has an

estimated cost of $2 million,

of which $450,000 has already

been raised through grants from

the city council's Capital Endowment

Fund ($200,000) and

from the New Zealand Lottery

NEW BEGINNINGS: City councillor Phil Mauger, along

with Braxton Winder and Leighton Parry, of the Parklands

Rugby Club, turn the first sod at the new Pūkeko Centre.

Grants Board ($250,000). There

was already a demand for the

sports hall, which will be used

by people of all ages and abilities

- including three local primary

schools, basketball, a fencing

club, karate groups, indoor

bowls and many more.

It will also become home to

Parafed Canterbury, which has

signed an agreement to hire

office space in the stage two

facility, and will run all of its

programmes from there.

The Pūkeko Centre Project

Committee is now actively

seeking more funding to

complete the project from

other funding providers,

philanthropic organisations and

local businesses.

"The aim of the Pūkeko

Centre is to welcome and

support a connected, healthy

and vibrant community by

enabling and facilitating a range

of activities for people of all ages

and all abilities," said Mahoney.

Community Market Day

Labour Day

10am-1pm

All Saints Church

305 New Brighton Rd

Over 50 stalls with Food,

Plants, Toys, Books, Coffee,

Crafts, Bric-a-Brac, Clothes,

High Tea, Baked Goods

and much more

Coming to Ferrymead November 2020

HIKING BOOTS

& SHOES

For men, women

and children

From

$79.95

to $250

47c Garlands Road, Woolston

Phone 389 3431

www.thefootwearfactory.co.nz
---
2

Thursday October 22 2020

what's on

this week

Latest Canterbury news at starnews.co.nz

PEGASUS POST

GENERAL INQUIRIES Ph 379 7100

CLASSIFIED ADVERTISING Ph 379 1100

Star Media, a division of Allied Press Ltd

PO Box 1467, Christchurch

starmedia.kiwi

NEWS

Bea Gooding

Ph: 021 911 576

bea.gooding@starmedia.kiwi

ADVERTISING

Frank Greenslade

Ph: 364 7441

frank.greenslade@starmedia.kiwi

Your local community news

delivered to 17,598 homes

within The Star each week.

Linwood • Avonside • Richmond • Shirley • Bexley

Burwood • Dallington • Wainoni • Bromley

Aranui • Avondale • New Brighton • Northshore

Queenspark • Parklands • South Brighton

Kawhe & Kōrero

Thursday, 10-11am

New Brighton Library

Build your confidence in te reo

Māori skills with other fellow learners.

Free, no booking required.

Barrier-Free Computing

Saturday, 10am-noon

New Brighton Library

Tutors from the Computers for

Special Needs Trust will be available

to provide assistance with emailing,

accessing the internet, playing games

and researching. Free event.

Rotary Market

Sunday, 8.30am-12.30pm

Woolston Club, 43 Hargood St

A variety of stalls will be available,

including fresh produce, jams and

preserves, and recycled clothing,

books and tools. Every fine Sunday,

with all proceeds supporting the local

community. For site inquiries, phone

Vance at 022 382 0086.

Creative Writing on Sundays

Sunday, 1-3pm

Linwood Library

Writing group leader Jennifer will

work with group members to craft,

create and develop their own stories.

Take some pens or pencils, paper, or a

laptop. This class is free.

Marshland Table Tennis Club

Monday, 7.30-9.30pm

Marshland Memorial Hall

Become a member or a casual

Linwood Annual Fair, Saturday, 9am-noon, Holy Trinity Church, 168

Stanmore Rd. Cakes, trash and treasure, books, plants, arts and craft, sausage

sizzle and a morning tea will be on offer. ​

player with a friendly group every

Monday night. All abilities welcome.

Phone Lynley at 021 205 1106 for

more information.

JP Clinic

Tuesday, 10am-1pm, at Linwood,

10am-1pm, at Shirley

Linwood and Shirley libraries

A justice of the peace will be

available to witness signatures

and documents, certify document

copies, hear oaths, declarations,

affidavits or affirmations, as well

as sign citizenship or rates rebates

applications.

Citizens Advice Bureau

Tuesday, 11am-2pm

Linwood Library

Citizens Advice Bureau provides

free and confidential advice. They

take the time to listen and equip you

with the information, options and

support that fit your needs. Phone 366

6490 for more information.

Reading to Dogs

Tuesday, 3.30-4.30pm

Shirley Library

A relaxed, non-threatening event

designed to encourage children to

practise reading skills and develop

a love for reading. Registration required.

Phone 941 7923 to register.

SeniorNet

Thursday, Tuesday, Wednesday,

10am-noon

202 Marine Pde, New Brighton

Go along and learn how to use

modern technology and the internet,

such as smartphones, tablets, laptops,

cameras and more. Bookings required.

Phone 382 6048 to register.

South Brighton Voices Choir

Wednesday, 7.30-9.30pm

New Brighton Methodist Church

If you love singing, go along

and join the friendly choir each

Wednesday. New members welcome.

Ph 388 3727 for more information.

ATTACK RISING DAMP

HEAT PUMP

SALE NOW ON!

Amazin' Spring Specials!!

90%

SubSidy

Warmer KiWi HomeS

Programme

*Eligibility criteria apply

• We will offer you the best quality brands and

option of heat pump for your home/business

• Providing Heat Pump solutions for over 18 years to Cantabrians

• We personally guarantee all our products & installs for 5 years

(providing annual maintenance has been completed)

Phone us today for your free consultation & quote

T. 03 376 4608 E info@foamconcrete.nz

W. www.foamconcrete.nz

41A SHAKESPEARE RD, WALTHAM

PHONE 03 366 0525

www.enviromaster.co.nz

"A local team for local people"

$

37

million

in total written sales for September

Our results & our care have allowed us

to deliver extraordinary sales for our

clients.

It is a MUST to contact us!

Brendan

Hart

Cameron

Bailey

Catherine

Aitken

Harrison

Hopman

LICENSED SALES CONSULTANTS REAA 2008

P 027 555 7079 or 03 352 6166

E cameron.bailey@harcourtsgold.co.nz

cameronbailey.harcourts.co.nz

No.1 Harcourts Consultant Christchurch 2012-2020

No.1 Harcourts Consultant New Zealand 2017-2020

No.1 Harcourts Consultant Internationally 2017-2020
---
PEGASUS POST Latest Canterbury news at starnews.co.nz

Thursday October 22 2020 3

Gautam's determination pays off

• By Bea Gooding

AFTER MIGRATING from a

small town in India to building

a life in Christchurch for the last

17 years, Sunita Gautam believes

it's her time to give back.

A determination to serve

her community has paid off,

as she has now been elected to

represent the Central Ward in

the Linwood-Central-Heathcote

Community Board.

Last week's by-election results

saw the Edgeware resident

receiving 958 votes for the

seat, over candidates Celeste

Donovan, Clive Antony, Paul

Lonsdale, Wayne Hawker,

Faimeh Burke and John Stringer.

Gautam is looking forward to

the journey ahead and is taking

over the position after the death

of long-serving community

board member and former city

councillor Sally Buck.

"I'm excited, this is just the

beginning. I'm really proud of

the Central Ward," she said.

"I really want to thank the

people of central Christchurch

for seeing beyond my skin

colour. I'm grateful for the opportunity

and I will not let them

down."

Her vision for the ward includes

making it a place where

PRIDE: Sunita Gautam wants to improve the state of Linwood Village as the newlyelected

Central Ward representative of the Linwood-Central-Heathcote Community

Board.

PHOTO: GEOFF SLOAN

everyone felt safe, valued and

had a sense of belonging.

"We also need to sort out

parking for residents, unhosted

home-share accommodation and

footpaths and roads."

A major focus was on encouraging

more civic participation in

her ward as she identified a lack

of engagement and education on

what a community board can do

for residents.

The recent by-election saw a

23.46 per cent voter turnout, and

33.43 per cent at the local elections

last year.

"Engagement – it's what is

lacking and it's a frustration.

I want to make sure the community

understands the process

as people have no idea what the

structure is," she said.

"Like if people want to move

a tree on their street, you need

to go through the community

board. Most of the time the

process isn't clear to the public."

She also wanted to prioritise

taking steps to ensure Linwood

Village gets a revamp and becomes

a safer place to be in.

Gautam moved from Shaktinagar

(UP) – a small Indian town

700km north-west of Kolkata

– to Christchurch nearly two

decades ago after an arranged

marriage to join her husband,

Sunil Ranjan, in the city.

In that time she has worked as

a business mentor, a justice of the

peace, a marriage celebrant, and

a business and management lecturer

at Canterbury University.

She will also be finishing her

PhD later this year in immigrant

entrepreneurship at UC.

Gautam's experience in the

migrant and wider community

and a passion for people was

what drew her to the Central

Ward role.

"The council is doing great, but

I wanted to be at the table where

decisions are made," she said.

"I'm not a complainer, I'm a

person who looks for solutions

and I was getting frustrated that

things weren't getting done."

Up

to

16¢ off

all supermarket discount dockets

INStANt 6¢ off

Super Gold Card Discount

LpG RefILL 9kG foR $28

tRAILeR HIRe

6 hours $30 12 hours $50

Terms and conditions apply on all promotions

175 Wainoni Road, Avondale

Phone: 03 388 4373

NUMBER ONE SUPPLIER

TO THE NZ JET BOATING

COMMUNITY FOR OVER

50 YEARS

up to

30 %

off

Resene Premium Paints,

Wood Stains, Primers,

Sealers and Wallpaper

plus 25% off Decorating Accessories

and Cleaning Products

Come in and see us today at

your local Resene ColorShop!

resene.co.nz/colorshops

RiccaRton

37 Main South Road

RedcliffS

2 augusta Street

Summer Toenails

Sorted

Book your Nail Reconstruction

appointment today!

MaRSHlandS

427 Marshland Road

PH 348 7910 | www.feetfirst.co.nz

before

after

daRfield

darfield Pharmacy

SERVICING

or shop online at shop.resene.co.nz

Discounts off the normal retail price until 2 November 2020 at Resene owned ColorShops

and participating resellers. Paint offers also available at participating Mitre 10 MEGA/

Mitre 10 stores. Valid only with cash/credit card/EFTPOS purchases. Not available in

conjunction with account sales, promotional vouchers/coupons or other offers. Excludes

trade, ECS, WallPrint, wall decals, Crown products and PaintWise levy.

• Part Boats & Hulls

• Turn Key Packages

• New Jet Units

• Custom Fabrication

• Expert Advice

• Spare Parts Retailer

• Jet Unit Refurbishment

• Engine Tune-Ups

• Insurance Repairs

• Impellor Reconditioning

Peter Tonkin

03 962 0505

peter.tonkin@hamjet.co.nz
---
4

Thursday October 22 2020

Latest Canterbury news at starnews.co.nz

PEGASUS POST

Shop

Win

& Relax

WIN

1 OF 5 FAMILY

GETAWAYS

TO HANMER

SPRINGS

SHOP AT THESE

BUSINESSES TO GO

THE DRAW

for everything

christmas

• Trees / Decorations

• Swagging / Wreaths

• Father Christmas's & much more

Pataka

christmas shoP

*Ts & Cs apply

OIL & FILTER

SERVICE

FROM$84.95 *

Premium

Tyres & AuTo

• New & secondhand tyres

New tyres from $70, Secondhand tyres from $40

FREE fitting & balancing on all tyres sold by us

• Vehicle servicing from $85

• Punctures only $25 for most vehicles

• Brake pads from only $130 fitted

• WOFs • Oil Changes • Alignments

245 Dyers roAD

(Cnr Wickham St). Ph: (03) 384 2080

768 Marshland Road (North End)

Open 7 Days • 10.00am-4.30pm

2 LOCATIONS

HORNBY Ph 349 2567

375 Main South Rd

PAPANUI Ph 354 4421

Cnr Main North & Northcote Rds

RICCARTON Ph 341 3020

64 Riccarton Rd

www.oilchangers.co.nz

CALL

NoW!

HourS:

MonDAY - FriDAY

8am - 5pm,

SAturDAY 9am - 2pm

(Linwood)

72 Brighton Mall, New Brighton | Phone: 03 388 1809

Monday to Saturday 9:00-5:30

www.paperplus.co.nz

222 LiNWooD AVe

(Beside Burger King). Ph: (03) 380 5020

ADVANCED JOINT CARE

ARE YOUR JOINTS PAINFUL, STIFF,

NOISY, SWOLLEN OR INFLAMED?

Natural high potency comprehensive

formula to support joint health:

• Cartilage, ligaments &

connective tissue regeneration

• Joint flexibility & pain relief

• Inflammation & swelling relief

• Healthy joint function

Bringing You the Best in Natural Health

SUPER LOW

PRicE!

60 Capsules

only $16.90

120 Capsules

only $29.90

240 Capsules

only $47.80

Mail Order

Available

MARSHALLS HEALTH & NATURAL THERAPY

CONSULTING - PRESCRIBING - DISPENSING - MANUFACTURING - MEDICAL HERBALISTS

101 SEAVIEW RD, NEW BRIGHTON • PH 03 388 5757 • Email: enquiry@marshallshealthshop.co.nz

- WE ARE ALWAYS HAPPY TO HELP! -

Sizzling $22

Saturday

WOF

For

$5 OFF

Mens Cuts on Tue, Wed, Thu, Sat

or

$10 OFF

Fridays for Colours and Foils

BARBER SERVICE

LADIES CUTS

(colours only done on Fridays)

Tues, Wed, Thu and Sat

Wed, Thu and Fri only

ZoZo's Hair

Cnr Fitzgerald Ave & Hereford St.

P: 365-5220 E: workshop@a1auto.co.nz

Bookings essential. Conditions apply.

Present this voucheR

Voucher valid till May 2021

330c Stanmore Road,

Richmond. 03 381 4105

Open: Tue - Fri 9am to 5pm, Sat 9am to 2pm. Sun and Mon closed.
---
PEGASUS POST Latest Canterbury news at starnews.co.nz

Thursday October 22 2020 5

Heritage areas to derelict properties

KIA ORA koutou.

September was a big month for

the Waikura/Linwood-Central-

Heathcote Community Board.

Now we are back in level 1 we

are looking forward to easily

welcoming more of you to our

board meetings.

While we commemorated 10

years since our first September 4

earthquake, we also said goodbye

to our dear friend and colleague

Sally Buck.

Sally was a staunch advocate

for the communities she represented

and worked tirelessly

behind the scenes to make true

positive change in Ōtautahi. I

would like us to acknowledge

the inroads she made for our city

especially in the environmental

sector.

The board has now started the

process of looking at derelict

properties on the east side of

Christchurch.

We are seeing massive issues

with many properties that have

been left by owners for many

different reasons. These properties

lower community well-being

and are causing health and safety

concerns for so many.

We are hoping to create a

plan around locating all properties

that are in our ward area

then work with owners, city

council and direct communities

to come to a conclusion

From the board

Alexandra Davids, chair

Waikura/Linwood-Central-Heathcote Community Board

that finally will see antisocial

behaviours, litter, illegal dumping,

health, safety and fire risks

addressed.

We are also advocating for

Heritage Parks in the ward area

for the community to use to their

appropriate and full capacity.

We, unfortunately, are seeing

our Heritage Parks with so many

restrictions around them that

they are not able to cater to their

communities needs.

Avebury House gardens is an

example of how we could be utilising

a beautiful outdoor area for

NEEDS: The gardens at Avebury House could

be used for the greater good of the community.

The Ferry Rd and Woolston Village upgrades are

still under way, an artist's impression shows how

the village will look when work has finished.

the greater good and well-being

of the wider community.

The Ferry Rd and Woolston

Village upgrades are still under

way. We want to thank you all

for your patience and support of

the businesses at this time.

We know it's a frustrating time

for many but thank you all for

continuing to shop local.

Remember you can email

Haidee Scott for more

information and feedback at

haidee@nowweretalking.co.

nz.

Nga mihi.
---
6 Thursday October 22 2020

Latest Canterbury news at starnews.co.nz

PEGASUS POST

CONTENT MARKETING

Ready-to-eat meals wholesome and convenient

PASSIONATE: Northwood New World's in-store chef Jeremy

loves creating popular Kiwi dishes.

RECOGNISING THAT people

lead much busier lives these

days, the team at New World

Northwood are stepping in to

help by providing two different

ready-to-eat meal options

designed to not only save their

customers time and effort, but

also offer them a wholesome, delicious

alternative to takeaways.

The hot dinner box is a firm

favourite, freshly cooked every

day by in-store chef Jeremy, who

loves to create popular Kiwi

dishes for customers to enjoy.

There are two meal choices available

Tuesday to Saturday, while

on Mondays there is always a

flavoursome curry on offer and,

of course, a mouth-watering

roast on Sundays.

The hot dinner box is served

daily from the bain-marie in

the foyer from 4.30pm and runs

until 7pm unless sold out prior.

They are great value for money

and customers can purchase

these generous-sized meals while

they are in store or order online

at nwfoodtogo.co.nz for a quick

and easy 'click and collect' option.

Mealeze is also a very popular

choice with customers, made

fresh to order for collection

from the store after 1pm on

Wednesdays and Fridays. Tasty

and nutritious, these wholesome

QUICK AND EASY: One of New World Northwood's hot

dinner boxes which can be ordered online and collected

in store.

meals are ideal for anyone

who is time-poor, cooking for

one, recovering from illness or

perhaps just finding it difficult

to cook for themselves every

night.

They are also a great option for

elderly customers, who love the

old favourites such as lamb's fry

and bacon.

Served in microwavable trays,

there are four choices every

week, always including a vegetarian

meal and a roast option. And,

because the meals are made fresh

to order by the in-store chef,

they can be kept in the fridge for

eating over the next few days, or

frozen for future use.

All hot dinner box and

mealeze meals include fresh

seasonal vegetables or salad, and

a potato or rice accompaniment.

As store owner Kathy Frampton

says, everyone wants to stay

healthy and enjoy life to the max,

so these ready-to-eat meals from

New World Northwood make it

easy to eat well, no matter how

busy life gets.

•To check out the menus

and place your click-andcollect

order, go to the

website nwfoodtogo.co.nz.
---
PEGASUS POST Latest Canterbury news at starnews.co.nz

Thursday October 22 2020 7
---
8

Thursday October 22 2020

Latest Canterbury news at starnews.co.nz

PEGASUS POST

BRIngIng ThE

ATMOSphERE

FROM ThE FIELd TO yOUR hOME

MITRE 10 CUP PREVIEW SPECIAL

SEPTEMBER 2020

LIAM MESSAM

'KORO' BACK TO HELP

YOUNG MOOLOOS

THE CLEAR

FAVOURITES

WHO CAN STOP

A STACkED

MAkO DOING

THE DOUBLE?

BRAYDEN IOSE

TURBOS-CHARGED NO 8

OUR GREATEST

BLUES XV

rrp $10.99

• M10 CUP: ALL THE INS AND OUTS

• MATT ELLIOTT: WHY I LOVE THE NPC

• CALL HIM LOYAL: ALAN DAWSON

SUBSCRIBE

FROM AS

LITTLE AS

$20

9 416770 121325

rugbynews.co.nz | 0800 77 77 10
---
PEGASUS POST Latest Canterbury news at starnews.co.nz

Thursday October 22 2020 9

Linwood charities benefit from uni fundraiser

MORE THAN 1000 packs of

sanitary products have been

donated to two charities in

Linwood who support victims of

violence and sexual harm.

Canterbury University

students are fighting the

country's period poverty crisis

by donating sanitary products

to Te Puna Oranga and Aviva

Families, raising $1000 in the

process.

In the first week of fundraising,

the students have collected

more than 1000 packs of sanitary

products, which have been

donated to the Linwood-based

charities.

Students Romy Gellen, Serena

Cooper, Caitlin Baker, Olivia

Dobbs and Charlotte Hawkins

have been inspired by their

media and social change course

project.

As part of the project, the

students have analysed a New

Zealand-made short film from

Stuff's Someday Stories series

named Super Special.

"When we saw the film about

period poverty right here in

Aotearoa, we were upset to

find it was a reality for so many

young people," said Gellen.

"The group project made us

really passionate and drove us to

actually do something to combat

the issue."

Baker said they have chosen Te

Puna Oranga and Aviva Families

because they want to support

local organisations.

A 2019 study showed that

"12.5 per cent of students who

had had their first period

missed out on menstrual items

due to cost, and that 7.5 per

cent had missed school because

they couldn't access menstrual

products."

In some lower socio-economic

areas, period poverty was as high

as 20 per cent, she said.

Course lecturer Dr Maja

STIGMA:

(From left) –

Canterbury

University

students

Romy Gellen,

Olivia Dobbs,

Charlotte

Hawkins,

Caitlin Baker

and Serena

Cooper have

launched a

fundraising

initiative to

combat period

poverty in New

Zealand.

Zonjić said period poverty is

a fact of life for many people

in Aotearoa New Zealand and

is compounded by the social

stigma surrounding menstruation.

"To see my students get

inspired by their final group project

to tackle this critical issue

and start such an important initiative

is incredibly humbling,"

she said.

"I am very proud of them and

I hope their actions encourage

others to positively contribute to

their communities."

WISEMAN E-TYPE | RALPH WATSON'S BSA SPECIAL | LEON WITTE | FLEETWOOD MUSTANG | SCHLUMPF COLLECTION

JUL-AUG 2020

ISSUE 90

RALPH WATSON: A SPECIAL ENGINEER & HIS BSA SPECIAL

MACAU GP TRIUMPH SPITFIRE | MAX RUTHERFORD | BARRY KEEN & BEGG | GRANT WALKER | FORD CAPRI | MISS VICTORIOUS: JACK NAZER'S VAUXHALL VICTOR | A FALCON FROM GISBORNE

$9.95

JULY-AUGUST 2020

WINGED WARRIOR

THE SCOTT WISEMAN E-TYPE JAGUAR

Stunning Kiwi-built Tribute Car

KIWI RACERS: THE JOHNSTON FORMULA FORDS | LEON WITTE:

A CLASSIC MOTORING LIFE | THE FLEETWOOD MUSTANG

GRANT WALKER: RACE MECHANIC & CHAMPION RACING DRIVER

A VISIT TO THE SCHLUMPF COLLECTION $9.95

SEP-OCT 2020

ISSUE 91

MAX RUTHERFORD: FROM PADDOCK TO PODIUM

MACAU GRAND PRIX SPITFIRE

MISS VICTORIOUS: JACK NAZER'S VAUXHALL VICTOR | DON ELVY'S CHEV-POWERED CAPRI

BARRY KEEN: GEORGE BEGG'S ORIGINAL DRIVER

PRE-1960 RACING | NEW COLUMN: FROM THE COMMENTARY BOX

SEPTEMBER-OCTOBER 2020

NEVER

MISS AN

ISSUE

SUBSCRIBE

FROM $49

Subscribe:

classicdriver.co.nz

0800 624 295
---
10

Thursday October 22 2020

Latest Canterbury news at starnews.co.nz

PEGASUS POST

If you want more information about an item or to contact a

seller, visit www.postanote.co.nz and search the ID#

Land Rover Series 3 Safari

Cargo Barrier for

Subaru Outback

2012 Mitsi Galant Fortis

High Pressure 3-point Pump

100mm

Haines Hunter Boat V17r

Queen Anne-style Mahogany

Dining Table

$15,000

ID 35898

$250

ID 36027

$8,000

ID 35818

$1,200

ID 36030

$10,000

ID 35724

$150

ID 36001

2007 VW Touareg 3 TDi

Fisher & Paykel

Fridge-Freezer

Navigator South

1-2 man Hiker Tent

Elite E10 Sport Upright

Exercycle

1998 Toyota Harrier

Casio Digital Keyboard

$9,750

ID 36057

$100

ID 35807

$70

ID 36023

$200

ID 36003

$2,000

ID 36020

$200

ID 36022

Steelcraft Pram

French Style Armoire New

Metal Music Themed Wall

Display Item

Mercedes-Benz E200

9G Tronic

Yamaha AG100

Highback Chairs & 2 Stools

$80

ID 35979

$2,350

ID 35170

$10

ID 36000

$59,000

ID 36016

$1,200

ID 35718

$180

ID 35958

Handbag

Hyundai Imax CRDi

1969 Land Rover Series 2a

Safari

2004 Ford Falcon XR6 Turbo

Bmachk(beamerchick)

Number Plates

British-themed Canvas Art

$40

ID 35987

$28,000

ID 35735

$15,000

ID 35897

$5,000

ID 36012

$600

ID 35960

$15

ID 35988

Haier 6.5kg Fuzzy Logic

Washing Machine

Cheap Daily/or Learner Car

Trekking Gear

Walls Realtree Camo Overalls

Raised Planter Boxes

Honda Accord Euro VTEC 2.4

$130

ID 35952

$1,999

ID 35046

$700

ID 35993

$49

ID 26808

$420

ID 35959

$7,650

ID 35984

2005 Honda Accord Euro 2.4

Ford Falcon 3-speed Gearbox

Electric Toy Car

Mazda 6

Trojan Duratorque Axle

Travelling Irrigator

$5,200

ID 35294

$450

ID 35946

$400

ID 34300

$6,000

ID 36053

$500

ID 35619

$4,000

ID 35917

Mazda Roadster

Ice Cooler Box

Hen House, #2 large,

on skids

2004 Peugeot 206 Cabriolet

RT Charger

Marble Slab Table Top & Legs

$15,990

ID 35411

$180

ID 35524

$999

ID 35895

$6,000

ID 36049

$120,000

ID 29072

$90

ID 35847

1020h02
---
PEGASUS POST Latest Canterbury news at starnews.co.nz

Thursday October 22 2020 11

Classifieds Contact us today Phone our local team 03 379 1100

Situations Vacant

Collision Repairs

Trades & Services

Trades & Services

Trades & Services

Reporter - Christchurch

• Great media opportunity

• Be part of an award winning team

• A media company which is growing its reach

Who we are

Allied Press Limited employs over 450 people on a permanent basis

across our 15 sites in the South Island. We operate across multiple

media platforms (print, on-line, digital) delivering news, information and

entertainment through our various regional and city publications, including

Christchurch-based Star Media.

The role

Reporting to the editor, the main purpose of the position is to file

compelling news articles and backgrounders for both print publications

and online platforms.

Your skills and experience

We are looking for a journalist with two to three years experience,

preferably in a metropolitan environment, but someone who has less

experience but who has already displayed the qualities and drive to

become a topline journalist will be considered.

In addition to your interest in equity and diversity you will demonstrate:

• A great work ethic

• A competitive nature

• An eye for detail

• Accuracy

Further details

This is a full time, permanent position.

We can offer you a great team environment, professional development

opportunities and an opportunity to grow.

If you think this role is for you, please apply by way of CV and a

covering letter. Informal inquiries about the role are welcome and

should be directed to Editor in Chief Barry Clarke 021 359-426 or

barry@starmedia.kiwi.

All applications will be treated in the strictest confidence.

Please note you must have the right to work in New Zealand to

apply for this role.

Disclaimer: Allied Press does not accept unsolicited agency resumes.

Allied Press is not responsible for any fees related to unsolicited resumes.

QEII Collision Repairs.

Free Courtesy Cars

(conditions apply),All

Insurance work, Rust

Repairs & Private work.

Spray-painting.

Free pickup & delivery.

Ph. 03 388 5187

Community Events

ALCOHOLICS

ANONYMOUS, If you

want to have a drink that's

your business. If you want

to stop, we can help. Phone

0800 229-6757

Wanted To Buy

TOOLS Garden,

garage, woodworking,

mechanical, engineering,

sawbenches, lathes, cash

buyer, ph 355-2045

Trades & Services

FOR ALL YOUR

★Garden Clean-ups

★Pruning

★Lawn Mowing

★Garden Maintenance

Call us today for a FREE quote

PH 0800 4 546 546

(0800 4 JIMJIM)

BRICKLAYER

George Lockyer. Over

40 years bricklaying

experience. UK trained.

Insurance work, EQC

repairs. Heritage

brickwork & stonework

a speciality. No job too

small. Governers Bay.

Home 329 9344. Cell

027 684 4046. E mail

georgelockyer@xtra.co.nz

CARPET LAYING

Exp. Repairs, uplifting,

relaying, restretching.

Phone John on 0800

003181, 027 240 7416

jflattery@xtra.co.nz

ELECTRICIAN

Prompt & reliable

registered electrician

with 24 years experience

for all residential and

commercial work, new

housing and switch board

replacements. Phone Chris

027 516 0669

GARDENING

Maintain upkeep, general

tidy, planting advice. 25

yrs exp. Phone Margaret

383-8486

PAINTER

New, older homes,

interior, exterior. We stand

by Canterbury. Ph Wayne

0272 743 541, 385-4348

STUMP GRINDING

Best price guarantee Tony

0275 588 895

VHS VIDEO TAPES

& all camera tapes

converted to DVD or

USB. Video taping

special occasions, www.

grahamsvideo.co.nz ph 03

338-1655

VHS VIDEO TAPES

& all camera tapes

converted to DVD or

USB. Video taping

special occasions, www.

grahamsvideo.co.nz ph 03

338-1655

ADVERTISE

YOUR

BUSINESS HERE

Phone for further details

(03) 379 1100

ROOF REPAIRS

Locally owned & operated with

over 30 years experience.

• Extensions & repair • Roof coating

• Concrete & clay tiles • Butynol

• Malthoid • Asbestos Certified

• Coloursteel • Old iron • Guttering

Phone Dave 981 0278

or 021 223 4200

E: dave@beaumontroofing.co.nz

BEAUMONT ROOFING LTD

TREE SERVICES

CRAIGS

TREES

Our services include:

Tree felling

Branch chipping

Trimming and pruning

Crown reduction

Stump grinding

P: 027 2299 454

E: craigstrees@xtra.co.nz

www.craigstrees.co.nz

Fully insured

growing with you Three Time winner of NZCNA Best Magazine | July 2020 | 100%

Our shrub

Of the month

Why you need a

smoke bush

Gardening

in Glass

The art of

making

terrariums

Start your

StrawberrieS

Priming for sweet

success this summer

Are you ready

to grow?

Kiwi Gardener is your

practical guide to gardening

in New Zealand.

SubScriBe FrOM $20

$7.90 incl. GST

Pass the

Potato

A Canterbury family

keeping one special

variety growing

stars of the winter staGe

daphnes, camellias, hellebores & more

SubScriptionS

Freephone 0800 77 77 10

www.Gardener.kiwi
---
12 Thursday October 22 2020

Latest Canterbury news at starnews.co.nz

PEGASUS POST

Every Day is Open Day

Once again, the New Zealand educational curriculum is

in the firing line – and it is perhaps hard to argue that it

shouldn't be.* On the all-important international stage, the

latest data from PISA, the Programme for International

Student Assessment, indicates our Kiwi kids are on the

slide. The downward trend in results over the last decade

shows a lost equivalent of three to six terms of schooling in

the key subjects of Reading, Maths and Science.

This is despite a 32% increase in per-child spending since

2001 and, in Christchurch at least, the construction of

purpose-built modern learning environments deliberately

designed to foster the national curriculum's child-centred

orthodoxy.

Of course, every child should be at the heart of their own

learning. How could they now be! But let's not throw the

baby out with the bathwater. A child's education should be

a balance of subject knowledge; essential skills; teaching

programmes developed to suit their demonstrated

knowledge, understanding and progress; and assessment

that offers you, your child and their teachers, honesty and

evidence of this progress.

All parents, teachers and coaches know that children learn

best when they are interested in what they are learning.

Making subject knowledge and skills

interesting is the ongoing and exciting

challenge for all of us who educate and

motivate our children.

Located in the heart of our city, St

Michael's has been educating and

nurturing the children of Christchurch

for 169 years. For our young pupils

have limitless potential to lead exciting

and generous lives, and we have the

responsibility to educate and inspire

them, to encourage every child to flourish

in mind, body and spirit.

St Michael's is a prep school for girls and

boys in Years 1-8. 'Prep' as in preparation

for secondary school, a foundation for a

fine life. For at the heart of St Michael's

are the essential values of Christian faith

and good citizenship: respect, integrity, community, faith,

hope and love.

An independent school education at the primary level is

a great gift. Our classes are small, with year-groups of 20

pupils, ensuring your child is an individual, well known by

staff and fellow pupils alike.

Traditional foundations in English and Maths are

assured. This academic rigour then underpins our wider

curriculums in History, Geography, Science and Spanish.

IT literacy is taught, not assumed, and computer use is

measured. We like teaching and talking to our pupils!

A prep education offers balance. St Michael's cultural

and sports' programmes further develop your child's

foundation, as creativity and problem-solving come in

many forms. Specialist art and music classes are enjoyed

weekly. We have three choirs, and most pupils participate

in instrumental or speech & drama lessons with our ten

itinerant staff.

Nestled on the banks of the Avon, opposite the Riverside

Farmers' Market, our extended campus is spectacular: the

Art Gallery, Museum, Tūranga – the

central library, and Hagley Park are

just minutes away.

Many of our parents now work in

the thriving city centre or Lincoln

and Riccarton Road hubs, but they

live city-wide. They comment on the

comfort of knowing their children are

in school nearby and the benefits of

popping over for an hour to catch a

performance or watch a race. With the

central exchange only a block away,

senior children arrive by bus from all

corners of the city.

You and your child are warmly

welcome to discover our purposeful,

wholehearted and inclusive prep

school. Our next Open Day is

coming up, on Tuesday 3 November. Pop in during

the day between 8.30am – 4.00pm for a tour, and to

book an appointment on the day with the principal,

please contact registrar, Bec Hitchcock: registrar@

saintmichaels.co.nz or 03 379-9790.

St Michael's School

Your school at the heart of the city

✓ Co-educational, Years 1-8

✓ Small classes

✓ Specialist teachers

✓ Musical excellence

✓ Christian values

✓ Traditional classrooms; academic rigour

✓ Before & after school care: 7.30am - 5.30pm

✓ Central city location; easy access

Taking enrolments for 2022.

Some places available for 2021.

Open Day: Tuesday 3 November

www.saintmichaels.school.nz 249 Durham Street Phone (03) 379 9790 to book your tour.