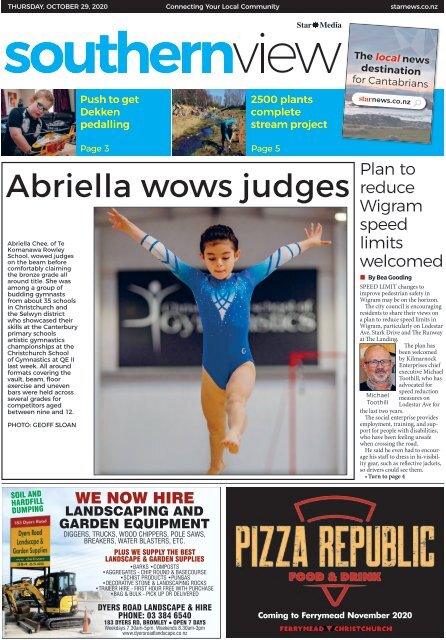 Southern View: October 29, 2020
You also want an ePaper? Increase the reach of your titles
YUMPU automatically turns print PDFs into web optimized ePapers that Google loves.
THURSDAY, OCTOBER 29, 2020

Connecting Your Local Community

starnews.co.nz

The local news

destination

for Cantabrians

Push to get

Dekken

pedalling

2500 plants

complete

stream project

Abriella Chee, of Te

Komanawa Rowley

School, wowed judges

on the beam before

comfortably claiming

the bronze grade all

around title. She was

among a group of

budding gymnasts

from about 35 schools

in Christchurch and

the Selwyn district

who showcased their

skills at the Canterbury

primary schools

artistic gymnastics

championships at the

Christchurch School

of Gymnastics at QE II

last week. All around

formats covering the

vault, beam, floor

exercise and uneven

bars were held across

several grades for

competitors aged

between nine and 12.

PHOTO: GEOFF SLOAN

Page 3

Page 5

Abriella wows judges

Plan to

reduce

Wigram

speed

limits

welcomed

• By Bea Gooding

SPEED LIMIT changes to

improve pedestrian safety in

Wigram may be on the horizon.

The city council is encouraging

residents to share their views on

a plan to reduce speed limits in

Wigram, particularly on Lodestar

Ave, Stark Drive and The Runway

at The Landing.

The plan has

been welcomed

by Kilmarnock

Enterprises chief

executive Michael

Toothill, who has

advocated for

Michael

Toothill

speed reduction

measures on

Lodestar Ave for

the last two years.

The social enterprise provides

employment, training, and support

for people with disabilities,

who have been feeling unsafe

when crossing the road.

He said he even had to encourage

his staff to dress in hi-visibility

gear, such as reflective jackets,

so drivers could see them.

• Turn to page 4

SOIL AND

HARDFILL

DUMPING

WE NOW HIRE

LANDSCAPING AND

GARDEN EQUIPMENT

DIGGERS, TRUCKS, WOOD CHIPPERS, POLE SAWS,

BREAKERS, WATER BLASTERS, ETC.

PLUS WE SUPPLY THE BEST

LANDSCAPE & GARDEN SUPPLIES

•BARKS •COMPOSTS

•AGGREGATES - CHIP, ROUND & BASECOURSE

•SCHIST PRODUCTS •PUNGAS

•DECORATIVE STONE & LANDSCAPING ROCKS

•TRAILER HIRE - FIRST HOUR FREE WITH PURCHASE

•BAG & BULK - PICK UP OR DELIVERED

DYERS ROAD LANDSCAPE & HIRE

PHONE: 03 384 6540

183 DYERS RD, BROMLEY ● OPEN 7 DAYS

Weekdays 7.30am-5pm. Weekends 8.30am-3pm

www.dyersroadlandscape.co.nz

Coming to Ferrymead November 2020
---
2 Thursday October 29 2020

Latest Canterbury news at starnews.co.nz

GENERAL INQUIRIES Ph 379 7100

CLASSIFIED ADVERTISING Ph 379 1100

Star Media, a division of Allied Press Ltd

PO Box 1467, Christchurch

starmedia.kiwi

NEWS

Bea Gooding

Ph: 021 911 576

bea.gooding@starmedia.kiwi

ADVERTISING

Mark Sinclair

Ph: 364 7461

mark.sinclair@starmedia.kiwi

Your local community news

delivered to 21,586 homes

within The Star each week.

Spreydon • Hoon Hay • Hillmorton • Cracroft

Cashmere • St Martins • Somerfield

Sydenham • Addington • Waltham • Opawa

Beckenham • Huntsbury • Woolston

Josh Bashford

Josh Bashford & Fatu Feu'u

& Fatu Feu'u

what's on

this week

Ferrymead-Sumner Men's

Probus Club

Thursday, 10am

Redcliffs Bowling Club, 9 James St

Monthly meetings are held on the

last Thursday of each month, featuring

guest speakers. This month's speaker

is Andrew Close of SBS Bank NZ, who

will be speaking about the future of

banking. Phone Mick at 027 451 0063

for more information.

Wā Kōrero: Storytimes

Thursday, 10-10.30am, at Linwood,

11-11.30am, at Halswell and South,

Friday, 10.30-11am, at Spreydon

Halswell, Linwood, South and

Spreydon libraries

Storytimes is an interactive programme

including books, songs,

rhymes and play. Recommended for

children 2-years-old and older. No

bookings required.

JP Clinics

Thursday, 10.30am-1.30pm, at

Spreydon, Tuesday, 10am-1pm, at

Halswell, South and Linwood

Halswell, Linwood, South and Spreydon

libraries

A Justice of the Peace will be available

to the community to witness

signatures and documents, certify

document copies, hear oaths, declarations,

affidavits. Free.

Mah-Jong

Thursday, 1-3.30pm

Vincent Pl, Opawa

If you are interested in playing

mah jong, go along whether you are a

Abundant life embraces a sense of down in New Zealand. Cycling around

connection, to family faith community, the 31 Little Oct River - area, 25 he Nov observed 2020 the

and the natural world, and particularly vehicles that could go nowhere, but

to the places we call home - in

also the rivers and waterfalls that

Bashford's 31 Oct case, - both 25 Samoa Nov and 2020 Little offered sanctuary and refreshment;

River in Canterbury, NZ. A stunningly figures emerged as Bashford imagined

beautiful series emerged from a visit to connecting with family who could not

Samoa in late 2019, when he reached be visited in person.

to the beauty of the natural world 'Then the Kererū became meaningful

there to find equilibrium in the midst of symbol as lockdown lifted, all the works

the measles epidemic.

are kind of pointing up; they are kind

Returning, he again sought the uplift of of a righteous bird, with attitude and

Fatu Feu'u acrylic on canvas

nature as the Covid pandemic Main locked Rd, us Little gratitude... River | 03 they 325 eat 1944 too much | art@littlerivergallery.com

and Feu'u's abstract, exuberantly colourful

fall down, so there's a sense we have paintings sit happily beside Bashford's

been locked down but now we have dynamic prints.

Little River | 03 325 1944 | art@littlerivergallery.com

got a taste of freedom – this sense

The pair met in 2011 when Josh, then

of refreshment and looking after

a student at Canterbury University

ourselves.'

Fine Arts, was introduced by the head

The major Kererū series builds on his of school to Feu'u who was that year,

previous Regeneration woodcuts - large 'Macmillan Brown' artist in residence.

works on unstretched canvas, brimming Feu'u showed an interest in the young

with birdlife and waterways. Together, Bashford's work and soon a firm

Abundant life shows a confidence and friendship was formed. Their shared

an extension of the unique works which Samoan heritage, faith and desire

have already established Josh Bashford to foster creative outlets for young

as a strong artistic voice who will be Samoans has seen them travel and

heard, like the Kererū, for a long time work together in Samoa. They have

to come.

shared experience of life's adversity,

Superstar of the Pacific artworld, they relate and inspire each other

Fatu Feu'u joins Josh in their second artistically to many and diverse creative

Josh Bashford woodblock print on canvas duo exhibition at Little River Gallery. endeavours.

Judge a Book by its Cover, Friday, 3.30-4.30pm, Te Hāpua: Halswell

Centre. Judge books based on their covers. Go along and take a deeper look

at Christchurch City Libraries' reads for intermediate school readers (9 to

13-year-olds). Free, no bookings required. ​

beginner or an advanced player. Phone

Noel at 322 8636 for more information.

Manga Club

Thursday, 4– 5.30pm

Tūranga

Enjoy all things manga? Want to

have a go drawing some, or just want

to chat? Then go along to the Manga

Club at Tūranga. Free, no bookings

required.

Rotary Market

Sunday, 8.30am-12.30pm

Woolston Club, 43 Hargood St

A variety of stalls will be available,

including fresh produce, jams and

preserves, and recycled clothing, books

and tools. Every Sunday, with all proceeds

supporting the local community.

For site enquiries, phone Vance at 022

382 0086.

Creative Writing on Sundays

Sunday, 1-3pm

Linwood Library

Writing group leader Jennifer will

work with group members to craft,

Essence Print Satin

Charmeuse Blue Lily

Exclusive to Lingerie On Barrington.

While stocks last!

Short

Chemise

XS - XL

$65

Long

Chemise

S - 2XL

$70

Long Wrap

Robe

XS - 2XL

$120

No Sleeve

Top

S - XL

$55

Also available

in short sleeve

S - 2XL

SOUTHERN VIEW

create and develop their own stories.

Take some pens or pencils, paper, or a

laptop. Free.

Technology Help Drop-In

Sessions

Tuesday, 10.30-11.30am, at

Spreydon, 2-3pm, at Halswell,

Wednesday, 11am-noon, at South

Halswell, South and Spreydon libraries

Need help using your computer,

smartphone, or tablet? Take your

device to the drop-in sessions for help

with general computer and internet

queries. Free, no bookings required.

Tai Chi: Meditation in Motion

Tuesday, 7-8.30pm

St Anne's School hall, 739 Ferry Rd

Tai Chi is a low impact mind and

body exercise known for its many

physical and mental health benefits.

First class is free. Phone Frances on

027 6980 057 for more information.

Not-for-profit organisations can

send their What's On listings to

southern@starmedia.kiwi

Josh Bashford

& Fatu Feu'u

Long PJ Pants

XS - L

$59

Many more styles in store

MADE IN NEW ZEALAND

31 Oct - 25 Nov 2020

Main Rd, Little River | 03 325 1944 | art@littlerivergallery.com

Shop 48 Barrington, Barrington St

Phone 03 337 6609

www.lingerieonbarrington.co.nz

03 322 4548 | Easy Parking

17 Lillian Street, Halswell

Open Mon-Fri 9.30am - 5.00pm

Saturday 10.00am - 1.00pm

LAYBY WELCOME
---
SOUTHERN VIEW Latest Canterbury news at starnews.co.nz

Thursday October 29 2020 3

Desperate push to get Dekken pedalling

• By Bea Gooding

FOR MANY children, learning

to ride a bike is seen as a luxury,

but for six-year-old Dekken

McClintock, it's a matter of

necessity.

Born with Prader-Willi

syndrome which causes weak

muscles, obsessive eating, and

slow development, the rare genetic

disorder has led to further

complications. Over a period of

time spinal deterioration has led

to him developing scoliosis.

His mother, Rachelle Mitchell,

is now on a desperate mission to

raise $10,000 towards the cost of

a specialised trike in order for

her son to build muscle strength

before it is too late.

She said because he was

diagnosed early, there was still

time for him to gain strength

before running the risk of being

wheelchair-bound and undergoing

further operations later in

life.

"Because he has a really low

muscle tone, he can't sit on a

normal bike and balance as he

Thank you

It's a privilege and I look forward to

working with everyone in Wigram again.

doesn't have the core strength,"

said Mitchell.

"In my eyes, the trike isn't a

luxury item, it's a necessity. We

don't have the luxury of being

able to go to The Warehouse or

Kmart to buy a $100 bike."

The specialised trike by Trikes

NZ designed for disabled riders

has an upright seat with a back,

JOIN US NOW!

STRENGTH:

Dekken

McClintock,

6, needs a

specialised

trike for

disabled riders

in order to

stop further

deterioration

in his spine

caused by

Prader-Willi

Syndrome.

PHOTO:

GEOFF SLOAN

a harness and pedals at the front

rather than the sides.

Dekken would be able to use

the trike into adulthood because

the base had the ability to extend

as he got older, with the possibility

of converting it to electric in

the future.

"His legs will be outstretched,

and there's something special on

See website for details

the pedal that means he doesn't

need to have power behind the

push as long as he can move

them. It doesn't matter if he can't

push strong," she said.

"It will stop the scoliosis from

getting worse as he will get a

healthy blood flow through his

body and it will increase his cardio,

strengthening core muscles.

"If it gets worse he'll end up

really hunched over making it

more difficult to walk than what

it already is."

Dekken was born prematurely

at 34 weeks weighing only

1500gm after six weeks in neonatal

care.

He has had seven operations

since then, including a double

hip and femur surgery, and five

surgeries to rectify obstructive

sleep apnoea – a condition which

can cause breathing to stop during

sleep.

Said Mitchell: "He gets tired

really easily and struggles to

keep up with other kids his age.

Because he can't regulate his

emotions, he gets frustrated at

not being able to do things like

everyone else."

•Donations towards

Dekken's cause can be

made at https://givealittle.

co.nz/cause/trike-needed

STYLES MAY DIFFER TO IMAGE SHOWN

If you would like to get in touch with me

please call my office on 03 338 6347 or email

megan.woodsmp@parliament.govt.nz

The revolution

in heat pumps

is here now!

Authorised by Hon Megan Woods MP, Parliament Buildings, Wellington

The revolution in heat pumps is here now!

Say hello to Fujitsu's latest lifestyle range

HEAT PUMPS FROM $1999 inc GST INSTALLED!

The Fujitsu e3series

The brilliant

heat pumps from Fujitsu

e1 : efficiency

e2 : environment

e3 : economy

Website: www.pshc.co.nz

Finance available

2020

Heat Pumps

NEW ZEALAND'S FAVOURITE AIR ®

Conditions apply

Fujitsu's Catechin Filters are

approved by the Asthma and

Respiratory Foundation NZ's

Sensitive Choice ® programme.

ADIDAS

Buy 3 items get 50% off.

29 Oct to 1 Nov only.

Exclusions apply.

Must include 1 item of footwear.

SKECHERS

Up to 50% off selected styles.

UNDER ARMOUR

Mix and Match Tees.

2 for $60. 3 for $80. 4 for $100.

T&Cs apply. Ends 1 Nov

BENDON

The Next Level Sale.

Bras from $10, Briefs from $5,

sleepwear from $20.

T&Cs apply. While stocks last

JUST BAGZ

Up to 50% off RRP

Sign up to Smart Deals & be in the monthly draw for a $100 Dress-Smart gift card!

FREE consultation from your local

Accredited Heat Pump Expert

Phone today: 03 381 6950

INSERT DEALER DETAILS HERE

Email: info@pshc.co.nz

Open 10am-5pm, 7 Days 03 349 5750

CHRISTCHURCH 409 Main South Road, Hornby

www.dress-smart.co.nz
---
4 Thursday October 29 2020

Latest Canterbury news at starnews.co.nz

SOUTHERN VIEW

In Brief

CYCLEWAY WORK

Construction as part of the

Nor'West Arc Cycleway has

now started at the intersection

of Ferniehurst St and Ashgrove

Tce. Footpath, kerb and

channel, road construction and

landscaping work, including

block paving, is taking place as

part of the cycleway network

being built around the city to

make it safer for cyclists, and to

ease pressure on roads. Access

to Cashmere Rd via Ferniehurst

Bridge will be temporarily

closed. Ferniehurst St between

Molesworth Pl and Ashgrove

Tce will also be closed, and

Ashgrove Tce will be reduced

to one lane. Detours are in

place. Work is expected to be

completed in four weeks.

COMMUNITY HOUSING

Feedback on the city council's

draft Community Housing

Strategy is now open. The city

council is aiming to identify

what strategic roles and actions

can be taken to ensure sufficient

community housing is provided

for in Christchurch. Share your

vision on what the priorities

should be on meeting housing

needs in the city. Consultation

closes on November 16 and can

be found at https://ccc.govt.nz/

the-council/consultations-andsubmissions/haveyoursay

Call for centre line on Lodestar Ave

• From page 1

Said Toothill: "We're very

pleased that it's got to this stage,

but the concerns have continued

to grow rather than get better.

Traffic has picked up, and many

cars are doing closer to 60km/h.

"But I'll feel relieved when

it's actually been put in place.

Every day something is not

implemented is a risk to our

employees."

Along with the speed limit

change, Toothill wanted a centre

line painted on the road.

"It's been proven that when

there's a centre line, people tend

to go slower with the perception

of a narrower road," he said.

Residents of Lady Wigram

Retirement Village were also

calling for a lowered speed limit

and heavy vehicle restrictions on

Lodestar Ave after long-standing

issues with noisy trucks.

The city council has since

proposed to reduce the speed

limit from 50km/h to 40km/h on

Lodestar Ave and Strark Drive.

It also proposed to reduce the

limit from 60km/h to 50km/h

in Awatea Rd, Wigram Rd and

Wilmers Rd; from 50km/h to

40km/h in the Wigram Skies,

Broken Run, Awatea Park,

Awatea Green and Magnolia

Estate subdivisions, and from

50km/h to 30km/h at The

PROPOSAL: Speed limit changes may be a possibility in Wigram to improve pedestrian

safety, including Lodestar Ave outside Kilmarnock Enterprises. PHOTO: GEOFF SLOAN

Runway at the Landing.

City council transport

operations manager Steffan

Thomas said the "safer speeds

will benefit residents in a

growing and very popular area

of the city."

"Many families – along with

several businesses – have moved

to the wider Wigram area and

we are very conscious of the

need to ensure that speed limits

support a safer environment," he

said.

"It is not just about keeping

the driver and passengers of a

car safe, it is also about keeping

vulnerable road users safe."

Public feedback on the draft

plan closes on November 18.

A final decision is due in

December, with any changes

implemented by the end of

January next year.

new services offered at longestablished

podiatry clinic

For more than 25 years, Charlotte

Russell and her team at Feet First

Podiatry have been providing a full range

of professional podiatry services at their

Upper Riccarton clinic. Over that time,

they have continually kept abreast of

innovations in the profession ensuring

New Podiatry

Assistant

Agata in

discussion

with a client.

clients receive the most up-to-date

treatment for their feet.

Now, a new Podiatry Assistant has

joined the team. Trained and qualified

in Europe, Agata is providing general

podiatry services, including a new service

the clinic has introduced – Toenail

Reconstruction. A painless cosmetic

procedure, this restores the natural

appearance of nails that may have been

damaged through accident or have

become discoloured or unsightly due to

fungal infection. Lasting six to eight weeks,

the cosmetic nail allows a new, healthy nail

to grow underneath.

Full information on the procedure

can be seen on the Feet First Podiatry

website, www.feetfirst.co.nz.

Another new service being offered

at Feet First Podiatry is the Medi-Pedi,

(medical pedicure), which is a safe,

hygienic pedicure service carried out in

their clinic with sterile instruments.

Recently, there have been reports of

clients suffering from nail infections after

visiting nail bars for pedicures, which were

likely caused by the use of non-sterile

instruments and nail varnishes that had

been applied to multiple clients.

before

after

A toenail before and after Toenail

Reconstruction has been carried out.

The cosmetic nail has restored the

toenail's natural appearance.

As Charlotte explains, in Christchurch

there are no by-laws governing nail bars,

so clients have no protection from any

unhygienic, unprofessional practices.

On the other hand, at Feet First Podiatry,

Charlotte and her team provide an

hygienically clean environment with health

and safety guidelines being followed and

all instruments sterilised by autoclave.

Clients are also invited to bring their own

nail varnish.

Located at 37 Main South Road, Feet

First Podiatry is open Monday to Friday

from 8.30am to 5pm, with late nights

on Tuesday and Thursday to 7pm by

appointment. Off-street parking is

available.

Feet First also runs several satellite

clinics. These are at the Marshland

Family Health Centre, Marshland Road

on Mondays, the Redcliffs Clinic, Augusta

Street, on Wednesday afternoons, and at

Darfield Pharmacy on alternate Fridays.

Complementing the services offered at

Feet First Podiatry is their retail store The

Shoe Room, located opposite the Lone

Star in Riccarton Road. The store offers an

extensive range of specialised footwear for

people that have foot problems, difficulty

finding shoes or simply those looking for

stylish, comfortable shoes.

Opening hours are Monday 10am-

5.30pm, Tuesday to Friday 9.30am-

5.30pm with a late night by appointment

on Thursday, and Saturday 10am-4pm.

RiccaRton

37 Main South Road

RedcliffS

2 augusta Street

MaRSHlandS

427 Marshland Road

daRfield

darfield Pharmacy

PH 348 7910 | www.feetfirst.co.nz
---
SOUTHERN VIEW Latest Canterbury news at starnews.co.nz

Thursday October 29 2020 5

2500 plants complete stream project

A MORE than $600,000 project

to restore Cashmere Stream is

now complete with 2500 new

native plants at the site.

Local landowners and

community members helped

the Cashmere Stream Care

Group complete the final

stage of the four-year restoration

and enhancement planting

project.

Sedimentation from bank

damage from stock and the

loss of native trees and plants

contributed to the deterioration

of the clarity and quality of the

water.

Fencing and plantings will

protect the banks of the springfed

stream against erosion and

keep the water temperature

cooler for the tuna, eels and bullies

in the stream.

The shade provided by the

plants will help decrease weed

species in the stream and the

habitat will be more suitable for

kōura/freshwater crayfish, which

have been spotted in the catchment.

Since 2016, more than $60,000

of Immediate Steps biodiversity

funding has been allocated to the

project, as recommended by the

Christchurch West Melton Water

Zone Committee.

Paired with the IMS funding

and city council, contributions

GROWTH: Landowners and community members helped to plant 2500 natives at

Cashmere Stream. ​

through labour, resource and

assistance, the total value of the

restoration project is around

$668,930.

"There was a lot of work that

went into preparation of the

site by our group members,

landowners, Christchurch City

Council, Ravensdown and

Environment Canterbury,"

Cashmere Stream Care Group

chair Ken Rouse said.

"It's been a long journey but

it's great to see the outcome

with well-established trees and

the final round of plants in the

ground."

Protecting Cashmere Stream

remains a priority for the health

of the waterways throughout

the catchment, including the

Heathcote/Ōpāwaho River

downstream, CWMWZC chair

Kevin Brown said.

"Seeing a project like this run

so well and so collaboratively has

been really inspiring."

Collett's Corner

nears final

design phase

LYTTELTON development

Collett's Corner is set to move

into its final design phase.

THe crowdfunding campaign

closes tomorrow but by Monday

it had reached just over $900,000,

exceeding its goal of $800,000.

The public can buy shares in the

project at $120 per share with the

aim of raising up to $1.4m.

Founding partner Camia Young

said with the minimum funding

being secured the project would

head to the final design phase,

which will start on Monday and

would last about a year.

Those behind the development

are forecasting an average return

of about 11 per cent over a 10-year

period for those who invest at this

stage.

The three-storey communityowned

$14 million project by Ohu

Developments is planned for a

974 sq m site on the corner of

London and Oxford Sts.

It will feature a wellness centre,

hospitality outlets with shops on

the ground floor, and 20 privatelyowned

apartments above.

The project gained resource

consent in March, with a goal

to open by June 2023 – about

six months later than what was

forecast before the Covid-19

pandemic struck.

Slice up your life

Small batch made from scratch, Coffee to go!

I Spy Food 78 Barrington Street, Somerfield | Phone: 03 337 0422

HALLOWEEN

PARTY

Saturday 31st October, | 3pm - 6pm

• Best costume + spot prices

• Drink specials

• Live entertainment

• October 31, starts 8pm

THE BLACK HORSE HOTEL 33 Lincoln Road

3 6
---
6 Thursday October 29 2020

Latest Canterbury news at starnews.co.nz

SOUTHERN VIEW

ADVERTORIAL

New offer makes joining easy

at community-focused gym

The Sydenham-based Concrete

Health & Fitness is known as one of the

friendliest gyms in Christchurch, says

owner Keith Symes, a qualified personal

trainer.

And with their new offer they are also

likely to be one of the easiest to join – sign

up today and make no payments until

2021. Ts and Cs apply.

A community-focused gym with 24/7

access, Concrete Health & Fitness offers

classes to suit all ages, fitness levels and

abilities. There are 14 group fitness classes

every week, including stretch, spin, core,

circuit, step, pump and box fit.

They also offer five seniors-based classes

and the gym works closely with the

physiotherapy clinic next door, who run

two stroke classes each week out of the

Concrete Health & Fitness facility.

For those that have never been to a gym,

but would like to have a go, there is a trial

membership – $19 for three weeks, with

access to all classes and facilities. Every

new member and trial member is entitled

to a free initial consultation and exercise

programme from the gym's qualified and

experienced team.

Other membership benefits include

'bring a friend days' every Wednesday and

Friday, monthly weekend giveaway raffles,

two massage chairs, a 'bring a friend'

membership and discounts from over 10

local businesses.

There is free parking, coffee and wi fi,

while a children's corner makes training a

little easier for parents.

Check out the gym's website,

gymchristchurch.co.nz, for details of all

the classes and facilities, and you can join

up online too. Or give them a call on 332

2604 for further information on the new

offer mentioned above.

Concrete Health & Fitness is located

at 300 Colombo Street in Sydenham,

opposite McDonalds. Keith and his

team look forward to welcoming new

members.

JOiN NOw!

makE NO PaymENtS

uNtil JaNuary 2021

Access card fees apply

Concrete Health and Fitness prides itself on looking after

their members and supporting local community business.

• Get access to discounts from over 10 locals businesses.

• All new members pay nothing for their first 8 weeks.

300 Colombo Street, Sydenham

Ph: 332 2604

concretehf@gmail.com

OPEN 24/7

www.gymchristchurch.co.nz

/concretehf

/concrete_health_and_fitness
---
LIvIng LIfe

OCTOBER 2020

DisCOv ERing

P O siT ivE

RETi REMEn T

new audIo tour

ShowCaSeS

CIty'S antarCtIC

ConneCtIonS

voLunteerIng

Canterbury

offer your tIme

and SkILLS

Category: retaIL

assisting in op Shops – a great way to be

part of a team, meet new people and pick

up or enhance your customer skills. Charity

shops play a valuable part in assisting people

to recycle and also provide affordable quality

clothing and other goods to those who need

them. In an op Shop there will be roles for

those at the cashier desk, sorting donated

goods, preparing donated goods for onsale in

the shop. So a great variety of opportunities

within one location. these shops play an

important part in fundraising for the charity

which they support. Check out available roles

in these shops at www.volcanmatch.com,

category 'retail'.

living

lifE

TOUR

vOlUnTEERing

Ōtautahi Christchurch's links to the icy

continent are celebrated in a new interactive

audio tour through the city centre.

The Antarctic Gateway City Trail has been

put together by ChristchurchNZ and The

Christchurch Antarctic Office and starts on

Colombo Street, near Victoria Square.

The trail takes listeners on a comprehensive

tour of the city and includes 17 geo-location

audio clips detailing a rich Antarctic history

and the stories of scientists, artists and

experts who have visited the icy continent.

The trail provides exclusive insight into

the two new pieces of street art, including

the Scott Base and penguins mural in

Cathedral Square, which is one of the city's

largest murals. It was created by Oi You! for

ChristchurchNZ.

To access the tour, download the Listen Up

Ōtautahi app in the App Store or Google

Play, or follow the tour on your computer

at https://listenupotautahi.stqry.app/.

Experience the connection.

Category: drIvIng

there are always not for profit organisations

looking for assistance from drivers – you could

be taking patients to medical appointments,

older folks to social/activity programmes, or

others to courses. Check out the available

roles that require a clean driver's licence at

www.volcanmatch.com, category 'driving'.

379 9920 | www.johnrhind.co.nz
---
living life october 2020

Discovering Positive retireMent

law

Puzzle

UnDERStAnDinG

CAPACitY

As lawyers, we are required to

meet with you and take your

instructions in order to help

you complete the particular

legal task you are planning.

Sometimes when we do this,

we need to take a little extra

time to consider your mental

capacity to make decisions.

Mental capacity is a client's

capacity to make a decision.

Decision making requires

living that a client:

EXERCiSE thE minD

of the mind that could distort

life • understands the decision their decision making.

SUDOKU - EASY SUDOKU - mEDiUm

they are having to make

• can discuss with us the

possible options available

to them in a way that shows

they appreciate the risk and

or benefit of those options

• understands the impact

that a decision, or the lack of

a decision, may have on them

or their loved ones

• is able to articulate and

discuss all of the above with

us.

It is important to note that

the level of capacity required

isn't the same in every

situation. For example, to

make a Will, the legal test

is whether the client knows

they are making a Will

and the effect of doing so,

whether they understand the

extent of the assets they are

dealing with, whether they

comprehend the moral claims

which they ought to give

effect to, and finally whether

they are free of any disorders

However, when giving

instructions to complete

Enduring Powers of

Attorney, the test is lower

and is satisfied if a client

understands the broad

consequences of granting an

enduring power of attorney

and can process the relevant

information and appreciate

the nature and effect of the

power they are giving.

Having these discussions can

be difficult. However if there

is a risk that a client's Will or

Enduring Power of Attorney

or other decision of a legal nature might

be challenged it is wise for the client to

obtain a medical certificate in respect of

their capacity in consultation with their

lawyer.

A failure to take this basic precaution

may cause uncertainty, delay, cost and

distress later on.

If a client is concerned about this risk it

SOlUtiOnS On lASt PAGE

is best to discuss with your legal advisor

or general practitioner.

At Harmans we have a specialist seniors

team to help you through the process of

setting up your legal deeds and dealing

with any queries you may have. Contact

Phillipa Shaw on 352-2293 to arrange an

appointment to discuss your situation.

Family Owned & Operated

RetiRement Village

Apartment for sale

Priced from $215,000

1 bedroom

Inquiries to Karen 021 668 140

Get In touch:

437 Armagh Street,

Linwood, Christchurch 8011

Call Jess for care bed inquiries.

General Inquiries:

(03) 982 2165
---
living lifE OCTOBER 2020

DisCOvERing POsiTivE RETiREMEnT

SharIng joy

through bISCuItS

C ommunity inf luencer

The aroma of biscuits has filled the home of Gianni

Barbafiera since childhood. Moving his wife and

young daughters from South Africa decades ago

in the quest for a safer environment and a more

opportune life, Gianni spends his days working

for Hamilton Jet and his Saturday mornings at the

Riccarton Farmers Market showcasing his variety

of cultural delicacies at his booth, Wooden Spoon.

Referred to as the 'biscuit man', we caught up with

him to talk about his customers favourites.

what's your history with

biscuits?

My father was born in a small Tuscan town in Italy.

He migrated to South Africa in the early sixties,

where he met my lovely mother and my four

siblings, and I grew up.

My earliest recollections, when I was very young,

probably only three or four years old, include

wonderful memories of a weekly home baking

routine. My grandmother employed a wonderful

cook, who would make a selection of biscuits,

my favourites being the flower shaped one with

a cherry in the middle. Baking was part of my

childhood and upbringing.

The nineties were a period of uncertainty in South

Africa, and so my young family at the time, arrived

in New Zealand, ready to re-start our lives.

a biscuit smorgasbord

Most of our early biscuits had an Italian origin,

but not being bound by the restrictions of Italian

traditions, we were free to explore the entire world

of biscuits. Not only Italian Ricciarelli, Cavallucci

and Biscotti, but German Pheffer Küken,

American Snickerdoodles, Scottish shortbread,

English Garibaldis and more.

My wife is the baker and I'm the front of the house.

We pride ourselves on tradition, authenticity and

quality.

any time for a hobby?

Week days are spent with a job I enjoy, Saturdays

are filled with talking with customers who have

become friends, family and I do like to sing in our

Parish choir. Stop by the Biscuit stall, The Wooden

Spoon Saturday morning 9-12 at the Riccarton

Farmers Market.

gIveawayS

enter to win a bag of one

dozen cookies of your choice

from the wooden Spoon.

email your name and contact

details to giveaways@

starmedia.kiwi

drawing held november 15th.

living

lifE

Pet Pet friendly friendly around

accommodation

New Zealand

around New Zealand

COMMUniTy

inflUEnCER

If your family includes a

If your family includes a

If your dog,

dog, family cat,

cat,

bird includes bird or

or

other

other a dog, furry

furry cat, bird

creature or other then furry we creature have some then some

we have good some news good for news you

for you

Pets Can Come Too has a long list of holiday

Pets Can Come Too has a a

homes throughout New Zealand that will give

long list of holiday homes

your whole family a warm welcome

throughout New Zealand

that that will give your whole

family a warm welcome

family warm welcome

Ph 021 255 5859

www.petscancometoo.co.nz

Ph 04 293 2705

www.petscancometoo.co.nz

Ph 04 293 2705

www.petscancometoo.co.nz
---
living lifE OCTOBER 2020

DisCOvERing POsiTivE RETiREMEnT

living

lifE

TEChnOlOgy

nzteCh refLeCtS new

zeaLand'S future

Thanks to COVID we are in the middle of a digital

revolution that is changing the way the world does

business. Technology is supporting the industries

and people that are being disrupted right across

society. Yet the tech sector fails to reflect the

diversity of the world it is enabling.

In a committed move to address this long-standing

issue, NZTech campaigned hard for more diverse

candidates to consider standing for its board.

The message was well received and NZTech's new

board is the most diverse the sector has ever seen,

which puts the NGO in a great position to better

help the tech ecosystem, and New Zealand, adapt

and evolve in the time of COVID.

NZTech is the voice for technology in New

Zealand. It is a not-for-profit, organisation which

brings together 20 tech associations and more than

1500 member organisations which collectively

employ more than 10 percent of the New Zealand

workforce. The companies and people work

together to help create a more prosperous New

Zealand underpinned by technology.

With three Maori tech leaders on the board the

organisation is well placed to evolve to support

better inclusion in the sector. The NZTech board

has seven women with three in their thirties

spread across New Zealand including Auckland,

Hamilton, Wellington and Christchurch.

Maori and Pasifika tech success will be a

critical driver of economic well-being for all

New Zealanders in coming years, presenting

opportunities for the development of new tech

businesses, new jobs and the creation of a globally

unique approach to New Zealand tech.

While covid is having a detrimental impact on

much of the economy, the New Zealand tech

sector continues to grow and create jobs.

There are more than 100,000 people employed

in New Zealand in the tech sector with several

thousand new tech jobs created every year.

Tech exports are likely to be the second biggest

export earner for New Zealand in 2020, generating

more than $12billion in revenue last year for the

top 200 tech exporters.

"NZTech is working with the Ministry of Business,

Innovation and Employment on the development

of an industry transformation plan designed to

further increase the growth of the tech sector so

it can help economic recovery with increasing

exports and jobs," says NZTech chief executive

Graeme Muller.

SoLutIonS PuzzLeS

eaSy

medIum

Luxury Seat

Full Suspension

LED Lights

Speed 14kph

Distance 40km

Full Warranty

Thinking about pre-arranging

your funeral?

A funeral plan provides you

and your family peace of mind

in knowing that your funeral

wishes are in good hands.

The Lamb & Hayward Funeral

Trustee Ltd. is a secure scheme.

For more information call

0800 99 22 00

or to request a free information pack

We Come To You Canterbury / South Canterbury wide

www.lambandhayward.co.nz

Call 0800 1155 76 Showroom: 18 Main North Rd, Papanui

www.mrmobilitynz.co.nz
---
SOUTHERN VIEW Latest Canterbury news at starnews.co.nz

Thursday October 29 2020 11

CONTENT MARKETING

Secure a Kairua industrial site in prime Hornby location

KAIRUA, Ngāi Tahu Property's

new Ahumahi-Industrial development

in the heart of the Hornby

industrial area is selling now.

Wilmers Rd, Hornby, is a prime

location for small to mediumsized

businesses in Ōtautahi-

Christchurch.

Lot sizes are from 803 sq m

to more than 4000 sq m and are

priced from $368,000 + GST.

Ngāi Tahu Property development

manager Dean Christie

says buyers have the flexibility to

design and build their own new

facilities.

"Kairua is in a prime location in

an established and highly-sought

after industrial and commercial

zone. We are offering a rare opportunity

for small to medium-sized

firms to own premises on freehold

land."

Wilmers Rd offers excellent

transit link access to the state

highway network, port of Lyttleton,

Christchurch International

Airport, and the Southern Motorway.

"Kairua is in a great location

for numerous industries including

construction, warehousing,

manufacturing, logistics support,

storage, and vehicle services."

Construction is complete and

titles will be available from October

2020.

The second stage of Ngāi Tahu

Property's large format Tawhiri

Ahumahi-Industrial development

in Rolleston is also well under way.

Work on stage two was accelerated

following intense interest in the

site, and much of stage one already

sold or under contract.

"Ngāi Tahu Property was founded

on delivering high-quality

industrial solutions for businesses

in Canterbury and beyond. Kairua

and Tawhiri show we remain committed

to the region's industrial

sector."

Kairua – Prime Industrial Lots, Hornby

TITLES

AVAILABLE

DECEMBER

Lots sized from 803m²

to more than 4,000m²

Prices start from $368,000 +GST

Situated in a prime location in an

established and highly-sought after

industrial park zone in Hornby

A rare opportunity for small

to medium-sized firms to own

premises on freehold land

Construction is complete and

titles available in December

ahumahi.nz

Register your interest today:

dean.christie@ngaitahu.iwi.nz
---
12

Thursday October 29 2020

Latest Canterbury news at starnews.co.nz

SOUTHERN VIEW

Shop

Win

& Relax

WIN

1 OF 5 FAMILY

GETAWAYS

TO HANMER

SPRINGS

SHOP AT THESE

BUSINESSES TO GO

THE DRAW

NATIVE PLANT NURSERY

speCialisTs in

• Groundcovers

• Ferns

Trees for CanTerbury

• Grasses

• Small to big sized shrubs

Helping our community grow

• Shelterbelts

• ALL grades

www.treesforcanterbury.org.nz

• Expert advice

• Planting now

42 Charlesworth Street | Ph/Fax (03) 982-1028 | OPEN 7 DAYS

ADVANCED JOINT CARE

ARE YOUR JOINTS PAINFUL, STIFF,

NOISY, SWOLLEN OR INFLAMED?

Natural high potency comprehensive

formula to support joint health:

• Cartilage, ligaments & connective

tissue regeneration

• Joint flexibility & pain relief

• Inflammation & swelling relief

• Healthy joint function

SUPER LOW PRicE!

60 Capsules

only $16.90

120 Capsules

only $29.90

240 Capsules

only $47.80

Mail Order Available

MARSHALLS HEALTH & NATURAL THERAPY

CONSULTING - PRESCRIBING - DISPENSING -

MANUFACTURING - MEDICAL HERBALISTS

101 SEAVIEW RD, NEW BRIGHTON • PH 03 388 5757

Email: enquiry@marshallshealthshop.co.nz

Bringing You the Best in Natural Health!

Authentic

Thai Cuisine

Lunch Tuesday – Saturday, 11am to 2pm

Dinner Monday - Sunday, 4.30pm to 9pm

Lunch Special Tuesday - Saturday

$ FROM

10

I can see

clearly now

GREAT BUY!

$29.60

HOON HAY THAI RESTAURANT

Open 7 Days • Lunch & Dinner • 9 Coppell Place • Phone 339 0320

BARRINGTON, 256 Barrington Street | PH 332 1730 | www.suckling.co.nz

Sizzling $22

Saturday

WOF

Cnr Fitzgerald Ave & Hereford St.

P: 365-5220 E: workshop@a1auto.co.nz

Bookings essential. Conditions apply.

GREAT AFFORDABLE

PRICES! Ladies from $ 18

Men from $ 12

Kids from $ 18

022 424 5624 282A Colombo Street, Sydenham

"In joy or sadness, flowers are

our constant friends"

- Okakura Kakuzo

250 Moorhouse Ave, Level 2 Harvey Norman Centre

Cnr Wairakei & Idris Rds

Phone: 351 7444 www.victoriaflorists.co.nz

OIL & FILTER

SERVICE

FROM$84.95 *

HORNBY Ph 349 2567

375 Main South Rd

PAPANUI Ph 354 4421

Cnr Main North & Northcote Rds

RICCARTON Ph 341 3020

64 Riccarton Rd

www.oilchangers.co.nz

Little ones coming to stay? We do short-term hires!

Christchurch

We have a great selection of short-term

hire items, not just car seats. Highchairs,

buggies, cots, bouncers and more!

*Ts & Cs apply

NORTH / 03 960 9752

Unit 3 & 4, 515 Wairakei Road, Burnside.

north.christchurch@babyonthemove.co.nz

CENTRAL / 03 421 3243

87a Gasson Street, Sydenham.

central.christchurch@babyonthemove.co.nz

0800 222 966

www.babyonthemove.co.nz
---
SOUTHERN VIEW Latest Canterbury news at starnews.co.nz

Thursday October 29 2020 13

HEALTH & AWARENESS

Joint pain: Do I have arthritis or

could it be mainly my muscles?

The team at Physical Sense in Sydenham

sees clients with a range of symptoms but

many of their middle-aged and senior clients

visit complaining of pain in one of their joints.

Physiotherapist Ietje van Stolk suggests

that a major part of the pain could be due

to muscle pain rather than simply arthritis.

"Even if an x-ray shows arthritis, the reason

for the pain may be the muscles around

the joint," she explains. The images show

how a muscle knot (the crosses) in a back

muscle can give hip pain (aches and pain

are the red areas in the drawings), a knot

in a muscle on the back of the shoulder

blade can give a deep pain in the front of

the shoulder and a muscle knot all the way

near the groin can give an ache in the knee

(especially at night in bed).

Ietje recalls one case where an 89 year

old client with severe arthritis who walked

with a stick, told her, "I will end up in

a wheelchair, I cannot put any weight

through my right leg due to pain in my hip

and buttock". "Within 4 treatments, she

was walking with her stick but without the

severe pain," says Ietje. "The arthritis was

one of the factors that made her muscles

spasm but the other was that older people

move less and the flexed position the hip

is in when we sit is particularly bad for

the hip." Ietje is happy with the fact that

although the client was 89 and could have

been "given up on" or told to live with the

pain, she made a difference to her health

and wellbeing.

The same lack of movement can be the

reason for your knee pain or your shoulder

pain and the same few treatments could

make a huge difference for you.

At Physical Sense, hands-on techniques

(massage and triggerpoint deactivation

techniques) are used to release the muscles.

The client also gets a home exercise

program designed to mobilize and stretch

the joint, strengthen the important core

muscles and increase general strength and

SHOULDER

PAIN

KNEE PAIN

balance. They teach a movement sequence

that stretches the joint in all directions

whilst the client is able to lie safely on their

bed, perfect for older or less mobile clients.

In many cases having the muscles

released and being taught how to maintain

it, is enough to stay on top of the problem.

HIP PAIN

(the crosses are the areas of the muscle spasms, the red areas is where the pain is felt)

If severe arthritis is the underlying cause,

some maintenance therapy may be

necessary, but that is often more affordable

and, for older patients, better tolerated

than surgery. After only one treatment you

should know that it will work for you. Call

and only pay $50 on that treament.

Physical Sense Gym and Physio is located at 300 Colombo Street, Sydenham. The Blue Line Bus stops in front of the

door and there is ample parking. To enquire about joint pain treatment, phone 377-2577 or visit www.triggerpoints.co.nz

UNDER NEW MANAGEMENT

WOOLSTON

Bumper to Bumper repairs

þ ALL MECHANICAL REPAIRS

Servicing. lubes, cambelts, tyres, exhausts,

suspension, batteries, water pumps, etc.

þ VTNZ WOF ON SITE

þ VTNZ CERTIFIED REPAIRER

þ COURTESY CAR AVAILABLE

BE IN TO

WIN

YOUR

SERVICE

Book in your vehicle for

a service and go into our

monthly draw to *WIN back

the cost of your service.

*Conditions apply

WOOLSTON AUTO SURGERY

693 FERRY RD | PH 03 384 9092

Discover Christchurch's

best pet

accommodation

• Daycare - all breeds

• Long stay/short stay

Call now to

book in your

fur baby,

inspections

welcome

anytime!

ALAMEDA

KENNELS & CATTERY

271 Dyers Road | Ph 384 1297

www.alameda.nz
---
14

Thursday October 29 2020

Latest Canterbury news at starnews.co.nz

SOUTHERN VIEW

WE SATISFy yOUR

RUgBy FIx FOR WhEn yOU

CAn'T MAkE ThE MATCh

MITRE 10 CUP PREVIEW SPECIAL

SEPTEMBER 2020

LIAM MESSAM

'KORO' BACK TO HELP

YOUNG MOOLOOS

THE CLEAR

FAVOURITES

WHO CAN STOP

A STACkED

MAkO DOING

THE DOUBLE?

BRAYDEN IOSE

TURBOS-CHARGED NO 8

OUR GREATEST

BLUES XV

rrp $10.99

• M10 CUP: ALL THE INS AND OUTS

• MATT ELLIOTT: WHY I LOVE THE NPC

• CALL HIM LOYAL: ALAN DAWSON

SUBSCRIBE

FROM AS

LITTLE AS

$20

9 416770 121325

rugbynews.co.nz | 0800 77 77 10
---
SOUTHERN VIEW Latest Canterbury news at starnews.co.nz

Thursday October 29 2020 15

Classifieds Contact us today Phone our local team 03 379 1100

Situations Vacant

Wanted To Buy

Trades & Services

Trades & Services

Reporter - Christchurch

• Great media opportunity

• Be part of an award winning team

• A media company which is growing its reach

Who we are

Allied Press Limited employs over 450 people on a permanent basis

across our 15 sites in the South Island. We operate across multiple

media platforms (print, on-line, digital) delivering news, information and

entertainment through our various regional and city publications, including

Christchurch-based Star Media.

The role

Reporting to the editor, the main purpose of the position is to file

compelling news articles and backgrounders for both print publications

and online platforms.

Your skills and experience

We are looking for a journalist with two to three years experience,

preferably in a metropolitan environment, but someone who has less

experience but who has already displayed the qualities and drive to

become a topline journalist will be considered.

In addition to your interest in equity and diversity you will demonstrate:

• A great work ethic

• A competitive nature

• An eye for detail

• Accuracy

Further details

This is a full time, permanent position.

We can offer you a great team environment, professional development

opportunities and an opportunity to grow.

If you think this role is for you, please apply by way of CV and a

covering letter. Informal inquiries about the role are welcome and

should be directed to Editor in Chief Barry Clarke 021 359-426 or

barry@starmedia.kiwi.

All applications will be treated in the strictest confidence.

Please note you must have the right to work in New Zealand to

apply for this role.

Disclaimer: Allied Press does not accept unsolicited agency resumes.

Allied Press is not responsible for any fees related to unsolicited resumes.

AAA Buying goods

quality furniture, beds,

stoves, washing machines,

fridge freezers. Same day

service. Selwyn Dealers.

Phone 980 5812 or 027

313 8156

TOOLS Garden,

garage, woodworking,

mechanical, engineering,

sawbenches, lathes, cash

buyer, ph 355-2045

Trades & Services

ROOF

PAINTING 24/7

Rope & harness

a speciality,

no scaffolding

required,

30 years of

breathtaking

experience.

FREE QUOTES

20% OFF other

roof quotes

Exterior staining,

exterior painting,

water blasting.

Moss and mould

treatment $300.

Phone Kevin

027 561 4629

PAINTER

Houses Interior/Exterior

27 years exp.

Tidy workmanship

On the spot written quotes

Phone: 0274 360 298

Trades & Services

FOR ALL YOUR

★Garden Clean-ups

★Pruning

★Lawn Mowing

★Garden Maintenance

Call us today for a FREE quote

PH 0800 4 546 546

(0800 4 JIMJIM)

BRICKLAYER

George Lockyer. Over

40 years bricklaying

experience. UK trained.

Insurance work, EQC

repairs. Heritage

brickwork & stonework

a speciality. No job too

small. Governers Bay.

Home 329 9344. Cell

027 684 4046. E mail

georgelockyer@xtra.co.nz

CARPET LAYING

Exp. Repairs, uplifting,

relaying, restretching.

Phone John on 0800

003181, 027 240 7416

jflattery@xtra.co.nz

ELECTRICIAN

Prompt & reliable

registered electrician

with 24 years experience

for all residential and

commercial work, new

housing and switch board

replacements. Phone Chris

027 516 0669

PAINTING

Indoor / Outdoor, over 30

yrs exp, same day quotes,

ph Steve 021 255 7968

PAINTING & TILING

• PAINTING • TILING

• PLASTERING

• WALLPAPERING

Phone Kevin Steel

• Interior/Exterior

• New Homes & Repaints

• Quality workmanship assured

• Correct preparation always undertaken

• 20+ years experience

• Earthquake repairs

(Painting/Plastering/Wallpapering/Tiling)

Ph 027 216 8946

www.facebook.com/kevinsteelpainters&decorators

PAINTER

New, older homes,

interior, exterior. We stand

by Canterbury. Ph Wayne

0272 743 541, 385-4348

ROOFING REPAIRS

Fully qualified, over 40

yrs experience. Ph John

027 432-3822 or 351-

9147 email johnchmill@

outlook.com

ROOFER

All roof repairs, Roof

Painting, Waterblasting,

Moss Treatments, Re

pointing, Gutter cleans,

repairs, Snow straps,

Exterior Painting & more.

Free quotes, call Vinnie

027 505 7779

STONEMASON

BRICK

&

BLOCKLAYER,

Earthquake Repairs, Grind

Out & Repoint, River/

Oamaru stone, Schist,

Volcanic Rock, Paving,

all Alterations new & old,

Quality Workmanship,

visit www.featureworks.

co.nz or ph 027 601-3145

STUMP GRINDING

Best price guarantee Tony

0275 588 895

VHS VIDEO TAPES

& all camera tapes

converted to DVD or

USB. Video taping

special occasions, www.

grahamsvideo.co.nz ph 03

338-1655
---
Advert: FCSV2910 Newspaper: Southern View

16 Thursday October 29 2020

Latest Canterbury news at starnews.co.nz

SOUTHERN VIEW

Shop online at

FreshChoiceYourWay.co.nz

or download the

FreshChoice app

New Season

Strawberries

250g punnet

$

3 80

ea

Fresh NZ

Lamb Loin

Chops

$

17 90

kg

Cadbury

Chocolate

Share Packs

150-180g

2 for

$

5 00

Fresh NZ Skinless

Chicken Breast

Fillets

$

9 90

kg

Fresh NZ Beef Sirloin

Steak

$

22 90

kg

Pick of the Crop

Tomatoes 750g

$

3 00

bag

Barrington

City Market

Open 7am – 10pm, 7 days a week.

barrington.store.freshchoice.co.nz

Open 7am – 9pm, 7 days a week.

citymarket.store.freshchoice.co.nz

Prices apply from Monday 26th October to Sunday 1st November 2020, or while stocks last at FreshChoice City Market & Barrington only. Limits may apply.

FreshChoiceNZ

OWNED &

OPERATED BY

LOCALS

FCSV2910